A well-designed patio can offer an ideal retreat for relaxing, outdoor entertaining, or simply enjoying the beauty of nature. There is a patio perfectly suited for every home, lifestyle, and budget. Patios can be designed in every shape, color, size, and material imaginable. Before you start laying down the first pavers or pouring concrete, you should consider your options. Today's patios are more versatile and offer a wide range of options in design.
If you are wondering how to build a patio, you have come to the right place. First and foremost, you will need to formulate a plan of action. Brainstorm and pinpoint what sort of outdoor space would best suit your lifestyle. Contrary to popular thought, patios do not need to be strictly an outdoor space. Canopies, awnings, pergolas and umbrellas can be added for shade. Additionally, patios can offer up a variety of options for entertaining, dining, and seating. The addition of patio ideas such as an outdoor kitchen, a fire pit, built-in seating, and planters should be considered before construction begins.
Patio Inspiration – The 50 Best Patio Ideas of the Year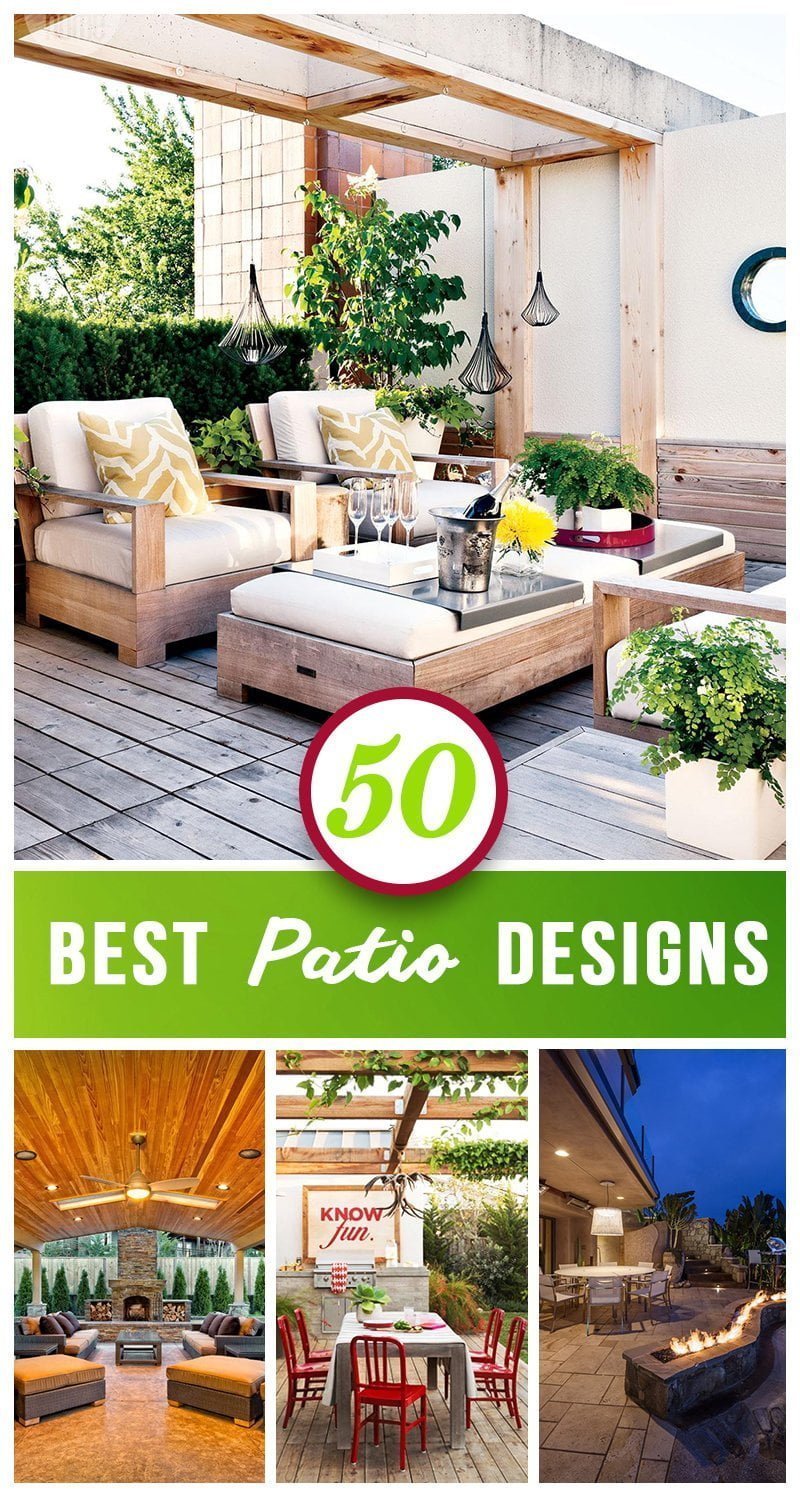 When planning a patio project, you are faced with a barrage of patio ideas and choices in patio designs. From the options in materials, patio decor, patio furniture, and various choices in patio design, there are many ways to customize your outdoor living space. Patios today are made out of many materials. Stone, cement, wood, slate, sandstone, brick or granite. The possibilities are seemingly endless when considering the options for constructing your patio.
Every patio project begins by building a solid base. This first step is crucial and if mishandled may lead to a patio that does not last more than a year. The base of a patio may either be constructed with gravel, sand, or concrete. No matter what kind of material you use, the base should be from six to eight inches deep.
Concrete can be used as a flooring material for the patio, and can be surprisingly versatile. Concrete, can be painted, shaped, and formed into patterns. Alternatively, interlocking stone can be used as a base. Stones have become an appealing option in recent years, and can help to properly drain rainwater away from the home.
Please enjoy this list of the 50 Best Outdoor Patio Design Ideas. If you are considering the question of how to build a patio of your own, we invite you to peruse this list of backyard patio ideas for inspiration. We also invite you to use any of the outdoor patio ideas as a jumping off point in creating your own outdoor space.
1. Turn Up The Heat With A Glowing Pergola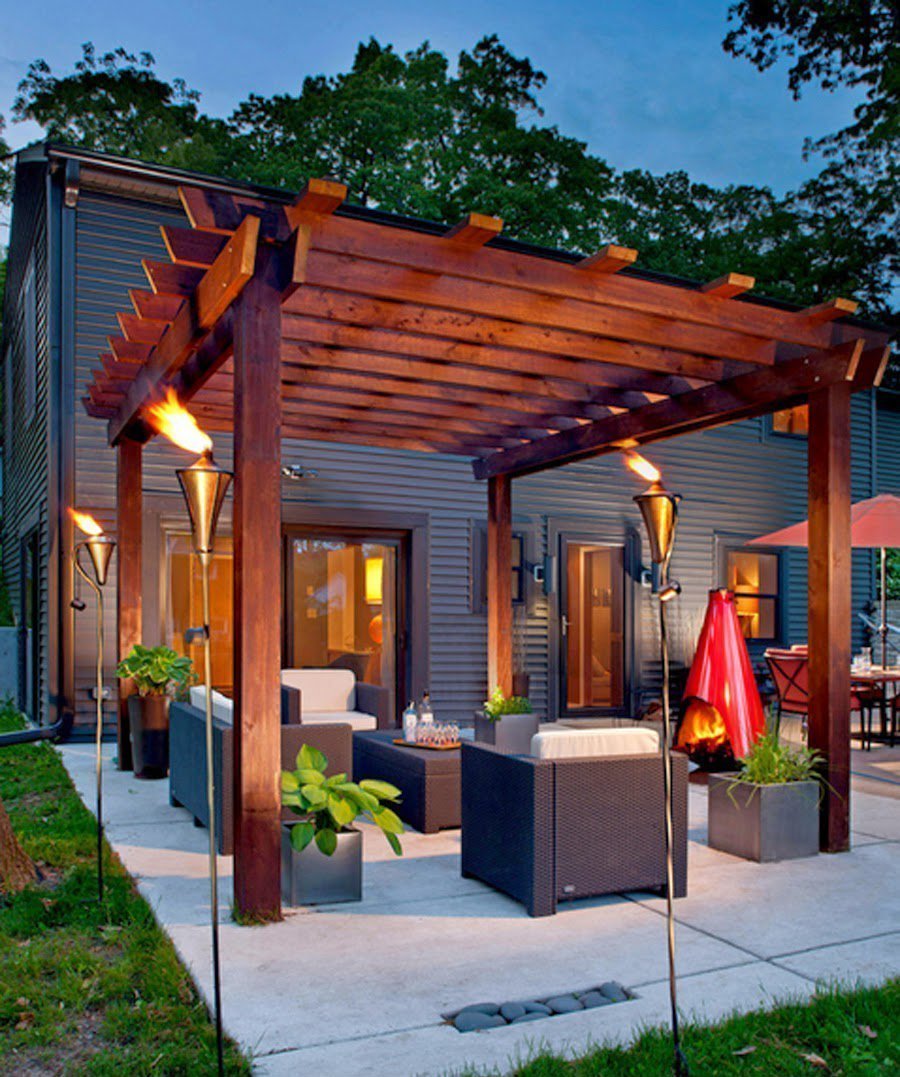 This sturdy wood pergola is shaded to perfection, and has just the right amount of fiery charm. The concrete slabs form a minimalist backdrop to the sleek lines of the modern outdoor furnishings. The ultra hip monochromatic furnishings and planters are contrasted by bright and fiery pops of red. The cherry stain on the pergola perfectly echoes the fiery theme. Though this patio is brimming with masculine elements, the result is that of a charming and elegant retreat.
2. A Refreshing Mix Of Fire And Water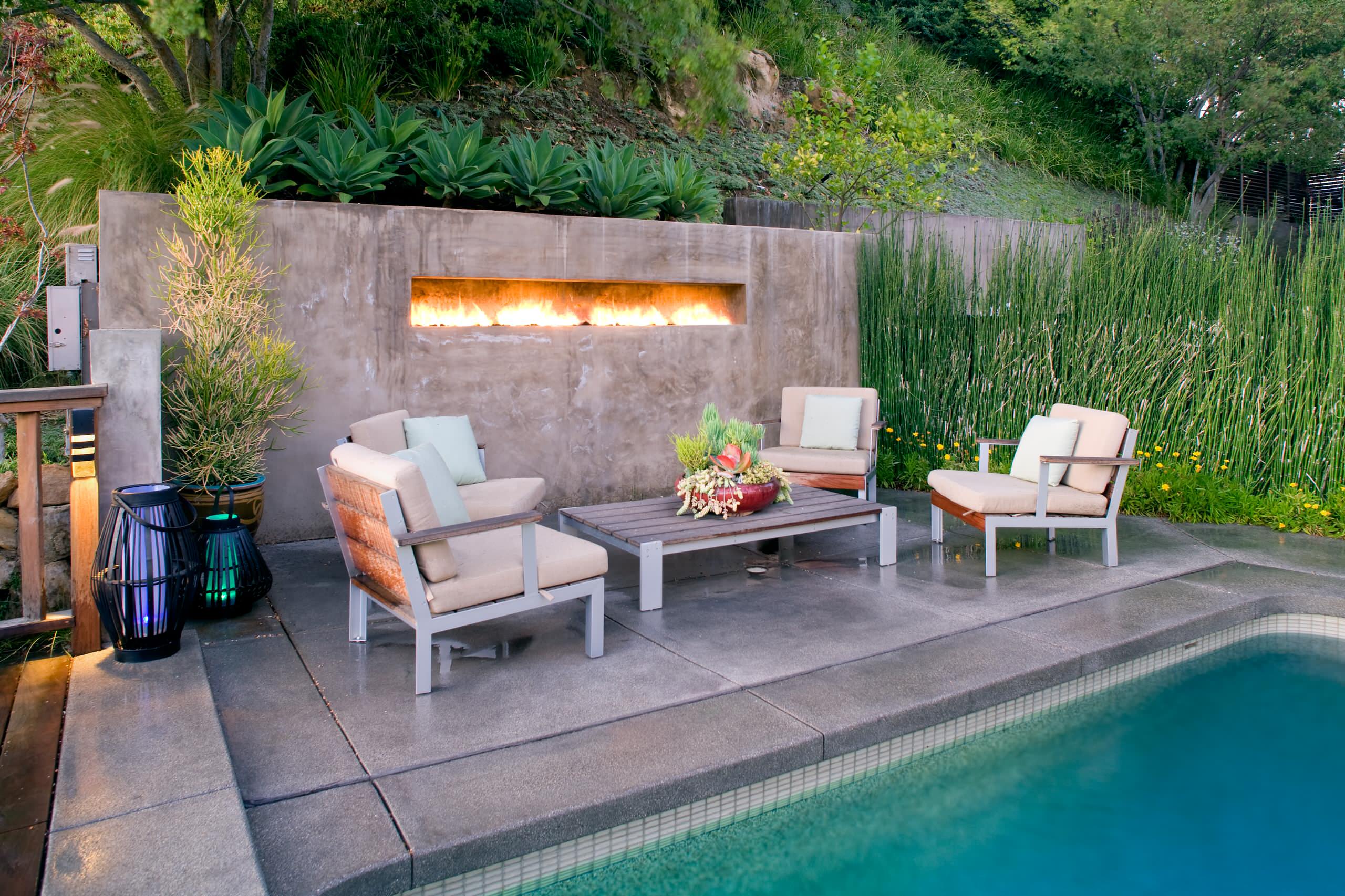 Who says that fire and water do not mix. This laid-back patio oasis reflects all the best elements present in modern design. Clean lines and a modern use of concrete embellishments form the foundation for this modern seating area. The bold use of modern materials is subdued by the refreshing additions of water and the lovely verdant hues present in the garden. When designing your perfect patio, remember that sometimes unlikely mixes make the best matches.
3. Subdued Outdoor Seating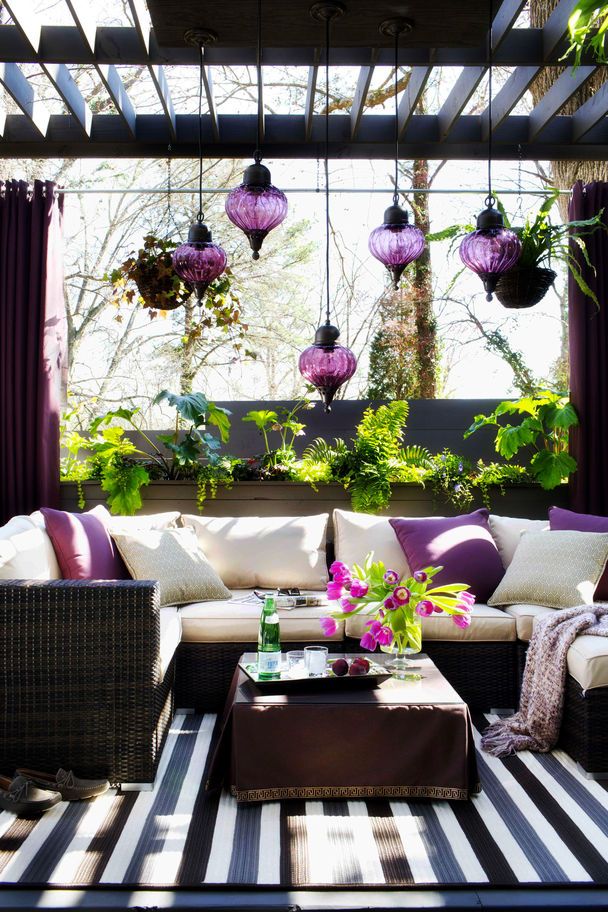 Outdoor living can be comfortable. This snug outdoor seating area is practically inviting you to prop up your feet and have a drink. The cozy outdoor furnishings are expertly embellished by the use of home decor, such as an outdoor rug, plush pillows, and a sweet little lilac throw. In shades of purple and subdued blues, the vertical patterning creates a deepening sense of space. The lines of the pergola offer shade and privacy for the little outdoor living room. Additionally, the privacy curtains can be drawn to provide the backdrop for quiet conversation.
4. Above It All Patio Idea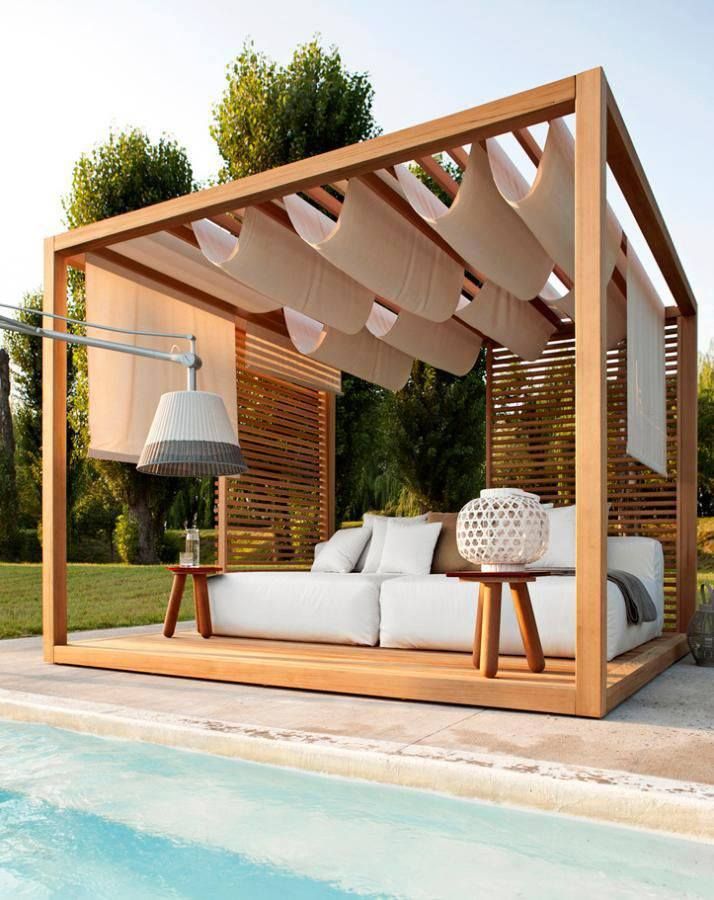 Heaven awaits in this ethereal pergola located poolside. This stunning wooden structure forms the skeletal frame for a perfectly draped canvas screen and provides additional shade for retreating swimmers. An oversized modular day bed fills the surface of the elevated wooden platform and provides a cozy place to relax poolside. The elegant outdoor living space is a functional hideaway and a lovely addition to any back yard.
5. Rustic Charm Meets Elegant Outdoor Living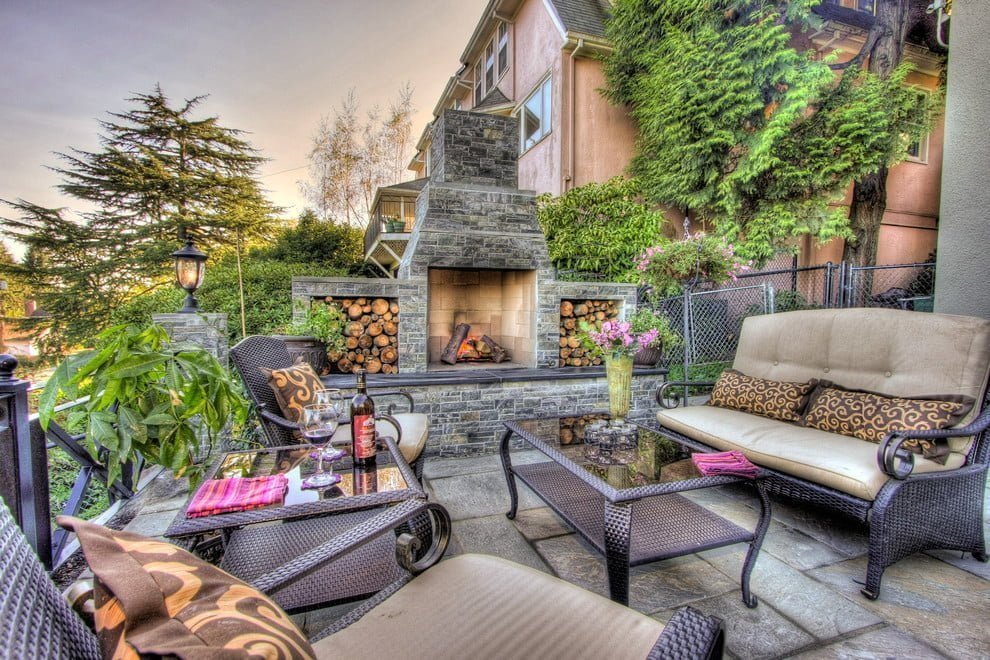 Everything was accounted for in the outdoor patio of this charming mountain abode. Relax and enjoy the warmth of a cozy fire, sip on a glass of wine, and rest upon the refined, elegant, and yet modern patio chairs. The well-stocked rustic fireplace forms the focal point for this elegant seating area. The expertly laid stone of the fireplace and patio are further embellished by the addition of classical elements, such as those as found in the lighting, and the elegant scroll pattern of patio chairs and pillows.
6. Modern Rooftop Terrace Retreat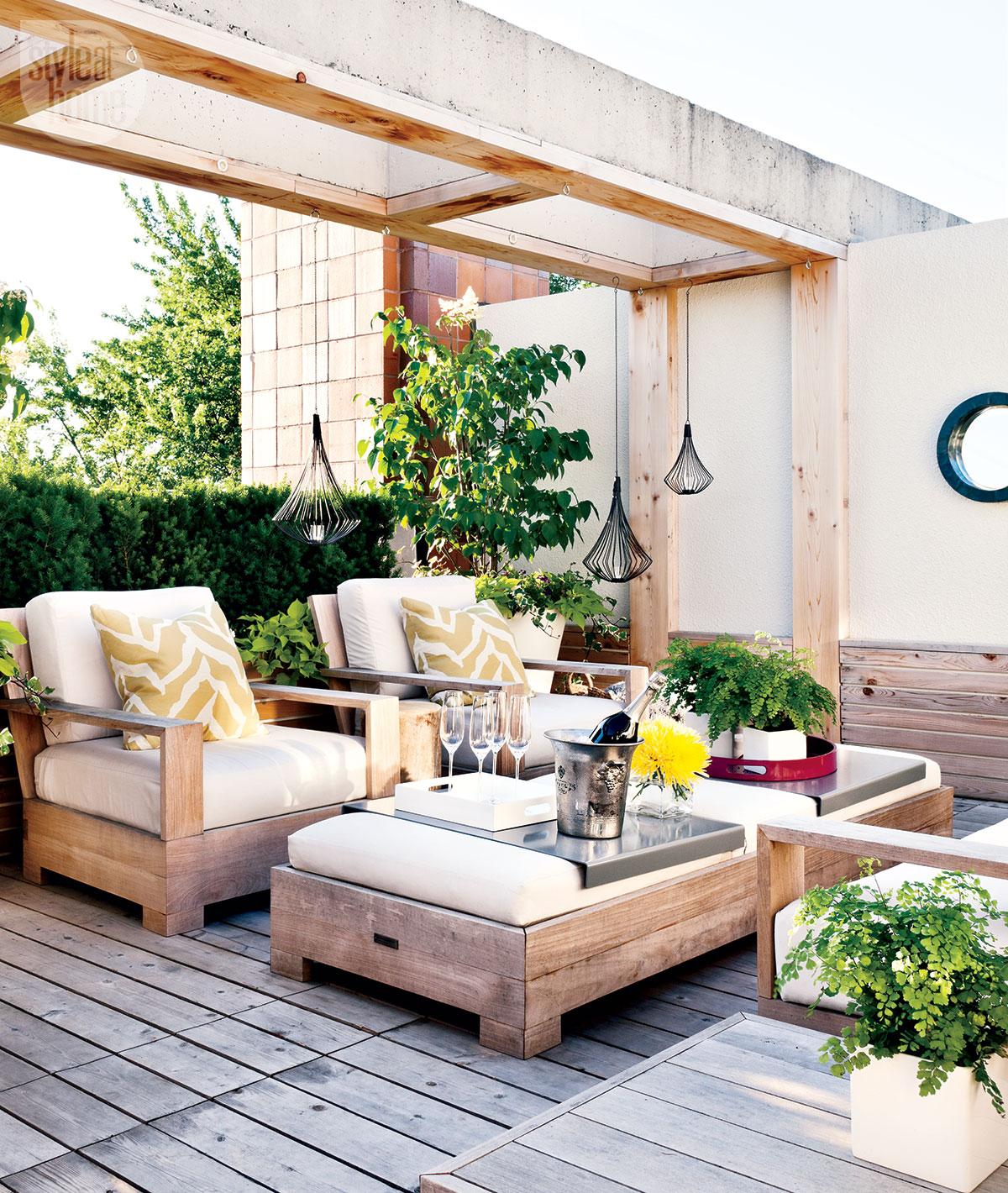 Cubist principles meet garden patio in this unique match-up of style savvy patio design and fun but modern patio decor. Almost everything has been reduced to its simplest form, and what was once a rooftop terrace has been transformed into a modern garden patio oasis. Natural elements, such as wood and greenery have been added to bring tranquility into an urban space. Transitional home decor pieces, such as lighting and pillows have been added for additional interest.
7. Magical Oceanside Patio Design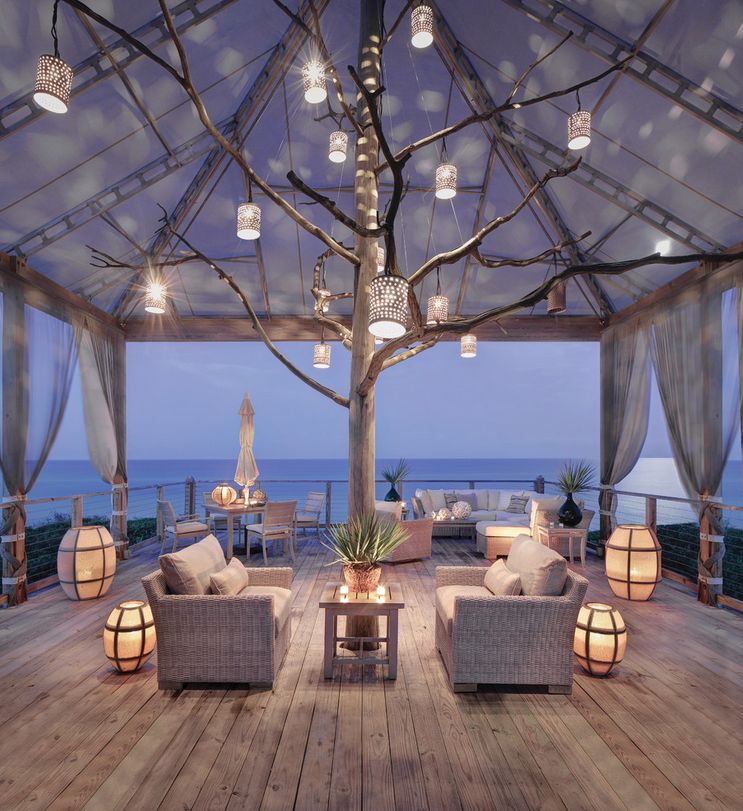 All the elements of this seaside patio design come together and form a truly magical space. The patio's addition of an elegant bare branched tree adds whimsy to the more traditional outdoor patio decor. The punched tin lanterns and large glowing vessels cast a magical luminescence around the canvas covered patio. The soft glow of the cast off light subtly illuminates the subtle shades present in the natural timber flooring and billowing curtains. In creating your own magical space, consider adding materials that truly inspire you.
8. Boldly Styled Atrium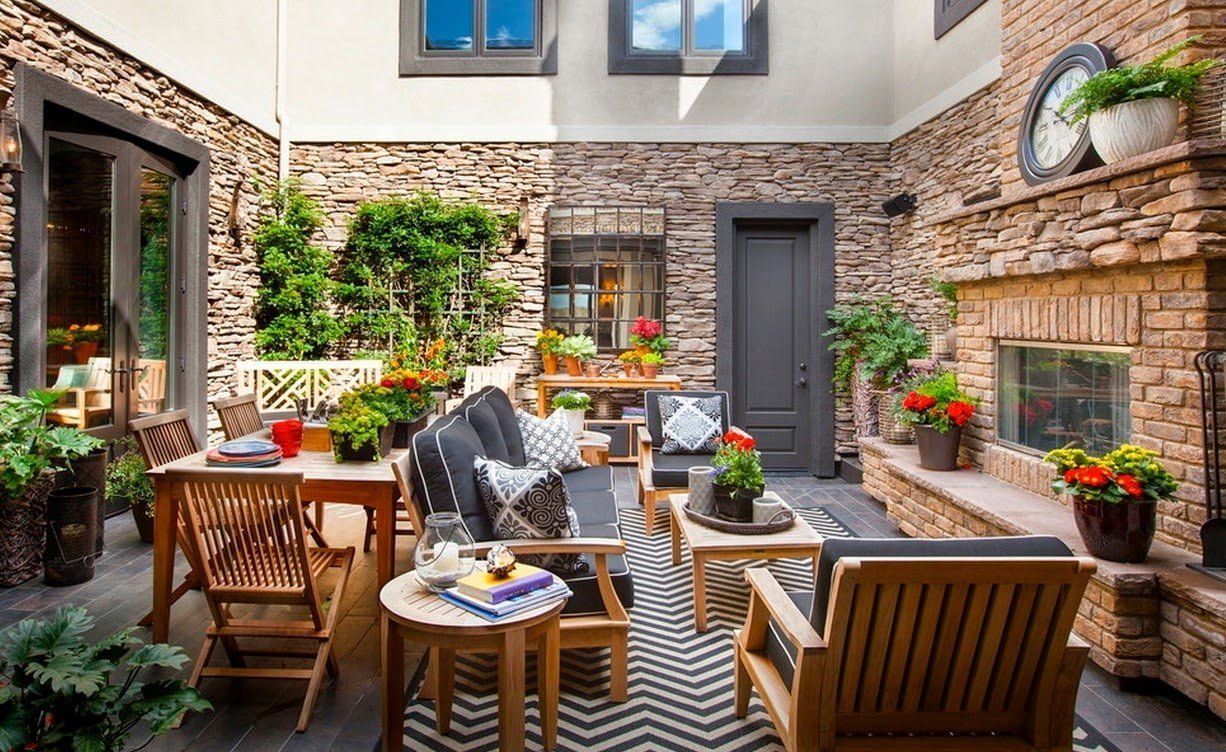 This central courtyard spares no expense in achieving an all-together bold and ultimately unique style. Patio designs such as this harken back to the ancient Roman tradition of incorporating large open spaces into a home's interior. This wonderful example of an interior courtyard is able to meet a multitude of needs. The outdoor space as a dining area, sitting area, and a gardening space. However, the multiple uses of the space do not diminish the spaces use of stylish patio decor. The home decorations offer a dazzling display of color and pattern. From the undulating black-and-white chevron rug to the stylish fleur-de-lis patterned throw pillows, this living space is oozing with style.
9. Laid-back Garden Patio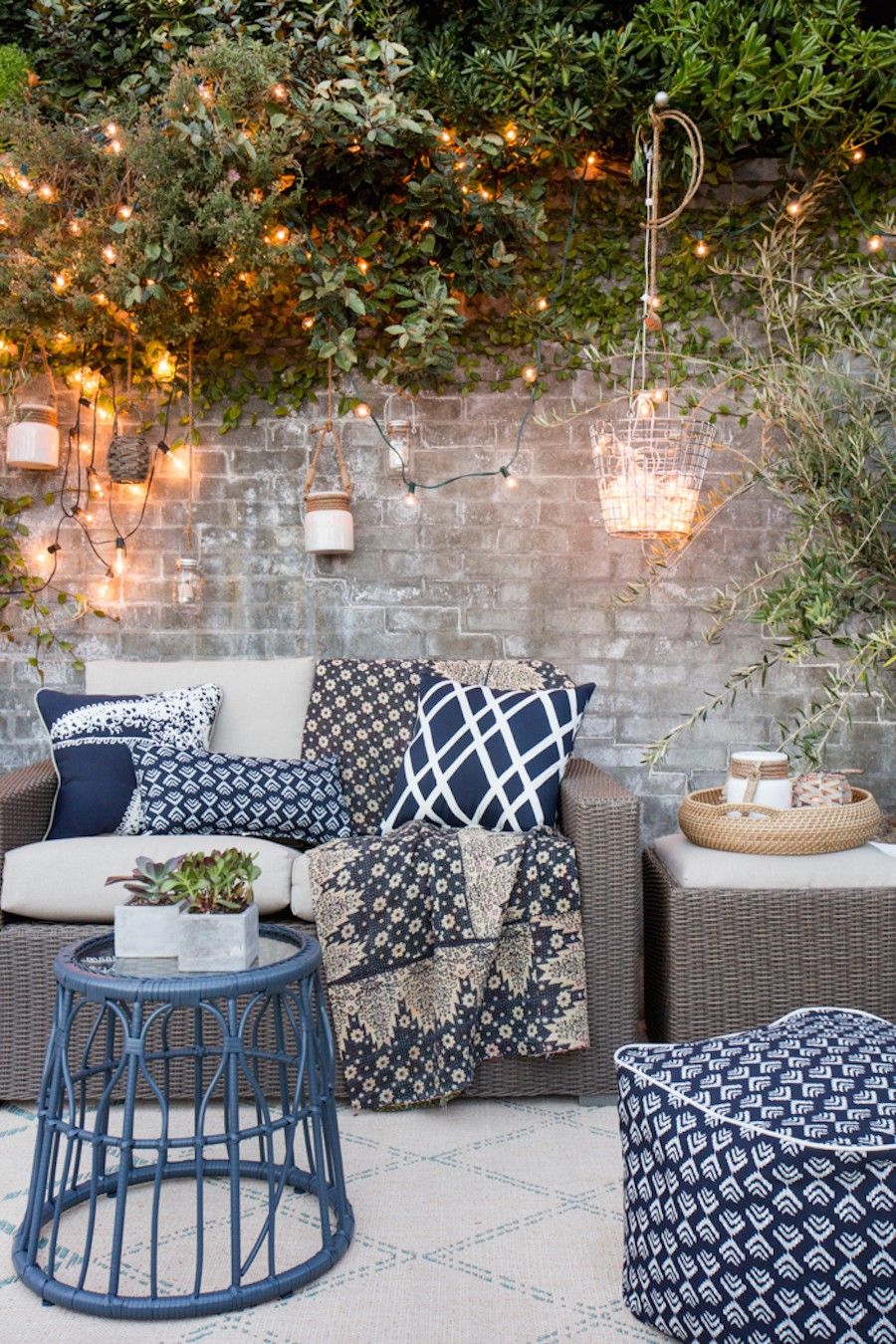 Casual style spells the name of this laid-back garden-side patio. Dappled in cool hues of blue, the color is strengthened by the subtle use of earth tones in its outdoor decorations, such as the outdoor rug, the throw, the woven basket, and the outdoor furnishings. This patio design proves that the incorporation of unique backyard patio ideas and do-it-yourself lighting can be wonderful when handled just right. When creating your own space, consider what colors you would like to incorporate. Color themes can help keep your space looking its best.
10. Concrete Built-ins With Style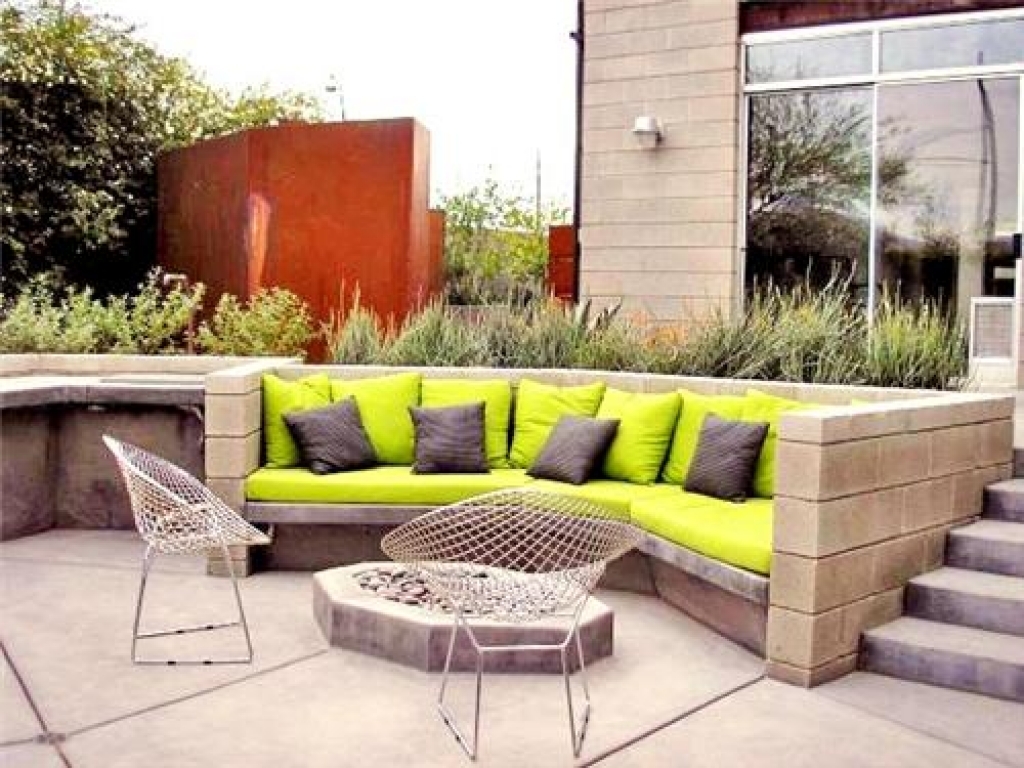 Built-in seating, patio bar, and planters are just some of the ideas featured in this modern concrete patio. The high-end and modern look of this patio's style is achieved through its clever use of built in features and bold styling choices. The lime green pillows can be removed for an updated look. When planning your space, think long term, and consider using transitional pieces that can be updated over time.
11. Neon Lined Pool Patio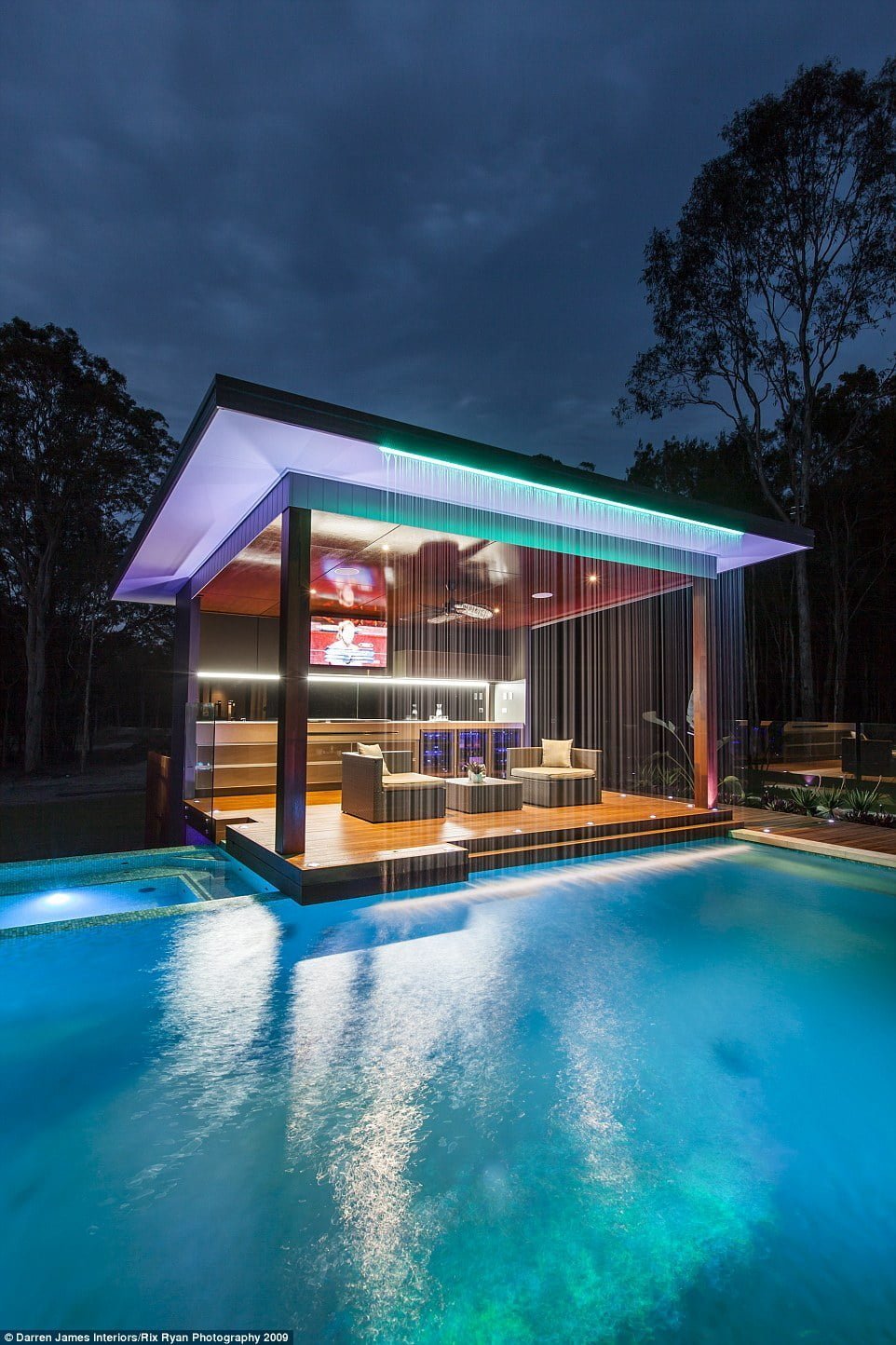 This stunning outdoor retreat is a unique combination of modern man-cave and pool-side oasis. The neon-lined covered patio overlooks the pool through a thin, vertical curtain of water. The stunning effect adds to the thoroughly modern look of the outdoor seating area. The patio is stocked with everything from modern home decor to a flat screen television, which hovers eloquently above the modular patio chairs. When creating your own retreat, consider what features would help you to fully un-wind.
12. A Quiet Outdoor Retreat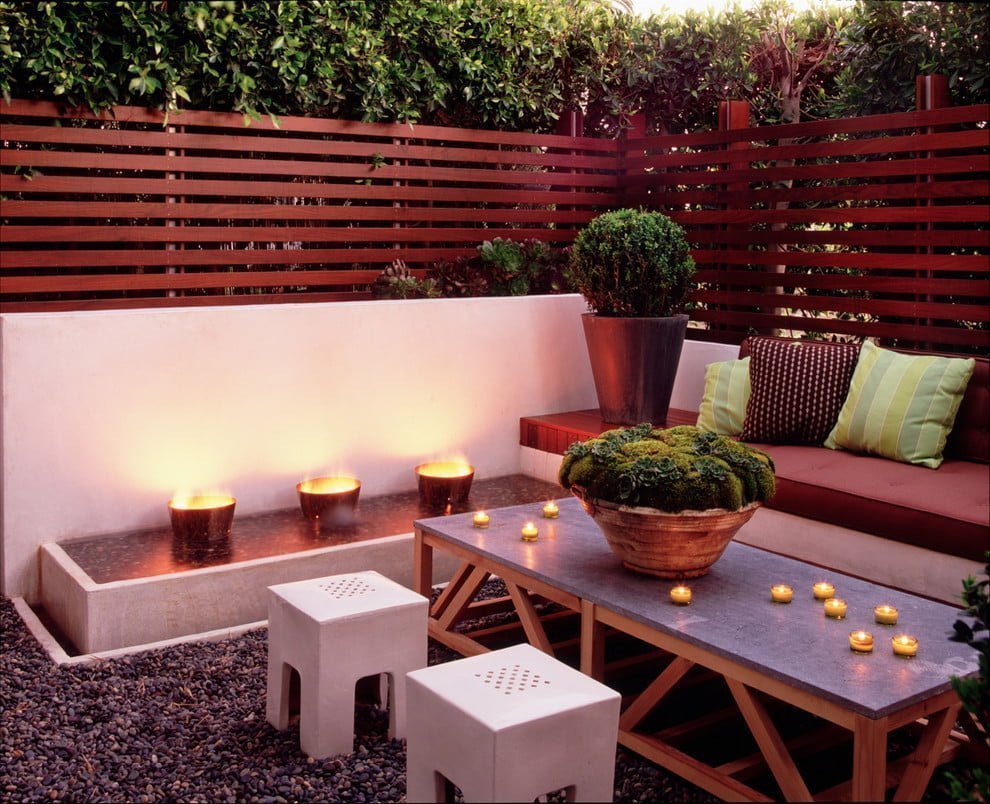 There is nothing square about the solid construction and modern look of this quiet outdoor oasis. The modern built-in seating and unique style of the outdoor decorations form an area that offers both privacy and style. The high, red slated privacy screen is backed by a deep green vertical hedge. The deep box formed by these barriers gives one room to enjoy quiet conversation in a lush and tranquil setting. When creating your own outdoor space, consider how many people you would like to sit comfortably in your extended living space.
13. Flowering With Beauty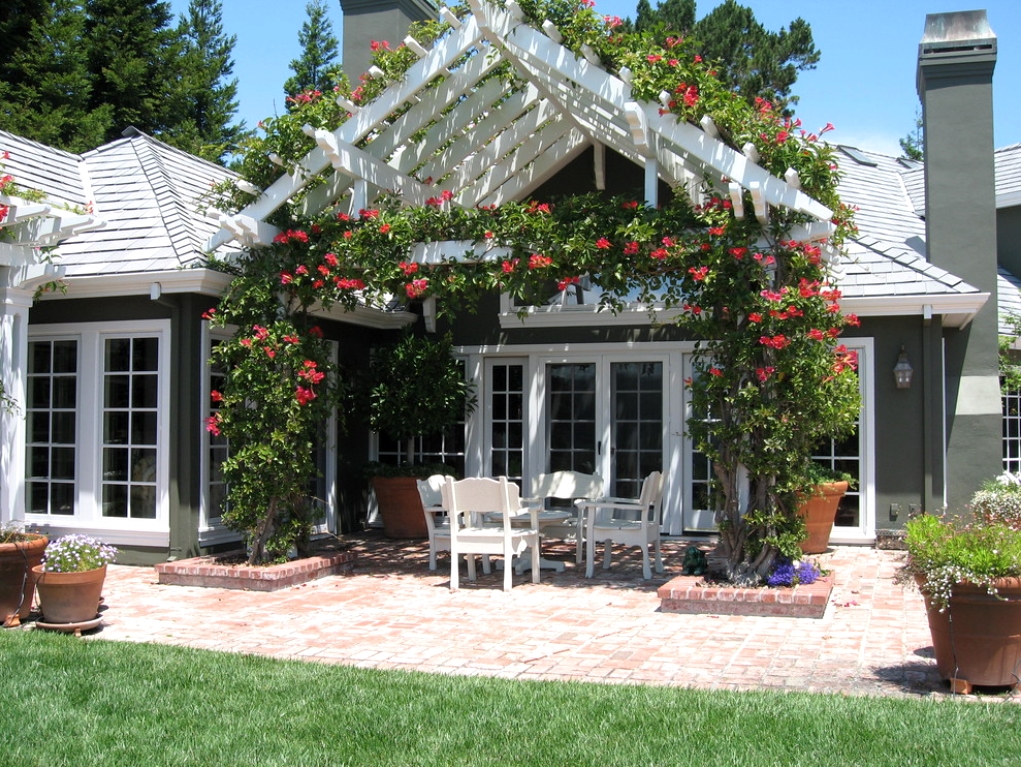 This hibiscus laden veranda is a show-stopper. Thick green boughs are crowned with gorgeous blooms of pink hibiscus. The showy carpet of flowers shades the classic brick patio. Additional blooms line the patio in large pots that are scattered around the patio's lovely seating area. With such a perfect design, additional patio decor hardly seems necessary. This straightforward design proves that the most simple outdoor patio ideas may be the best. When desiring your own patio space, consider what plants and flowers you would like to incorporate into your overall design.
14. The Top Of The World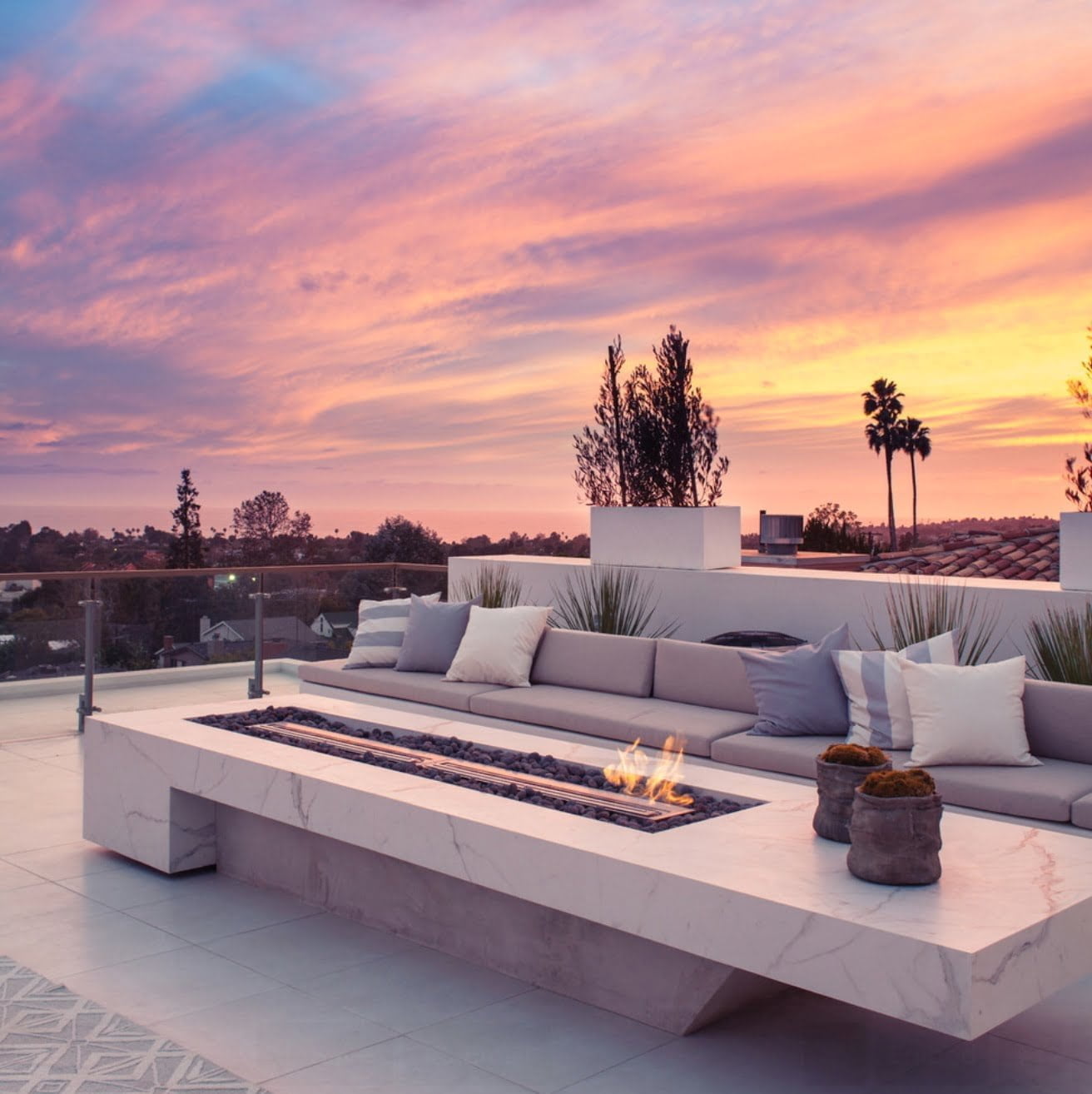 Living the high-life is easy on this elegant rooftop terrace. The perfectly modern terrace features everything you will need to feel at peace with the world. The built-in seating, planters, and fire pit form an area perfect for relaxing, entertaining, or enjoying the fantastic 360-view. The marble fire pit and clean lines, give the patio its signature high-end look. When meditating on this zen-like structure, you are sure to feel truly on the top of the world.
More patio design ideas on the next page…