The best elegant silver home decor ideas and designs can elevate your space to new levels of sophistication. From crushed diamond glamor to understated silver elegance, stylish silver decor can achieve lots of different looks. Figuring out what silver style you prefer is the first step to finding the right silver home decorations for you. Then, comes texture. To give your space that final touch, decide which finish is right for your room.
23 Best Elegant Silver Home Decor Ideas and Designs for a Stylish and Sophisticated Space

As gray's shiny cousin, silver effects can be achieved through mixing black, white, and lots of sparkle. Why is this important? Building a silver space that you want to spend time in means including more than just one kind of silver. Incorporating rich blacks, cool whites, soft grays, and shiny clears with your silver design ideas can give your space dimension. Will you lean into the moodier side of silver decor with a wealth of blacks, dark grays, and reflective silvers? Maybe your style is closer to silver's light side with bright whites, magical iridescence, and glamorous crushed diamond.
Although often associated with metal, silver decor can manifest in nearly any material. While metallic silver decorations will always be popular, you can feature silver in a wide variety of ways. Silver silk can make a great window treatment. When the rest of the room is decorated in silver hues, mirrors are a fantastic way to emphasize that ambiance. An item's finish plays a pivotal role in how it will interact with your other decor. Silver reflective surfaces can act as mirrors. Brushed metal exudes sophistication. Glitter and crushed diamond textures give your space opulent and glamorous vibes. Using a variety of these finishes in your space is the best way to achieve a room with dimension. That does not mean it is the only option. Designing this silver-hued room is your journey, and that means you can let your creativity run wild.
1. Cascades of Glitter and Glass Canvas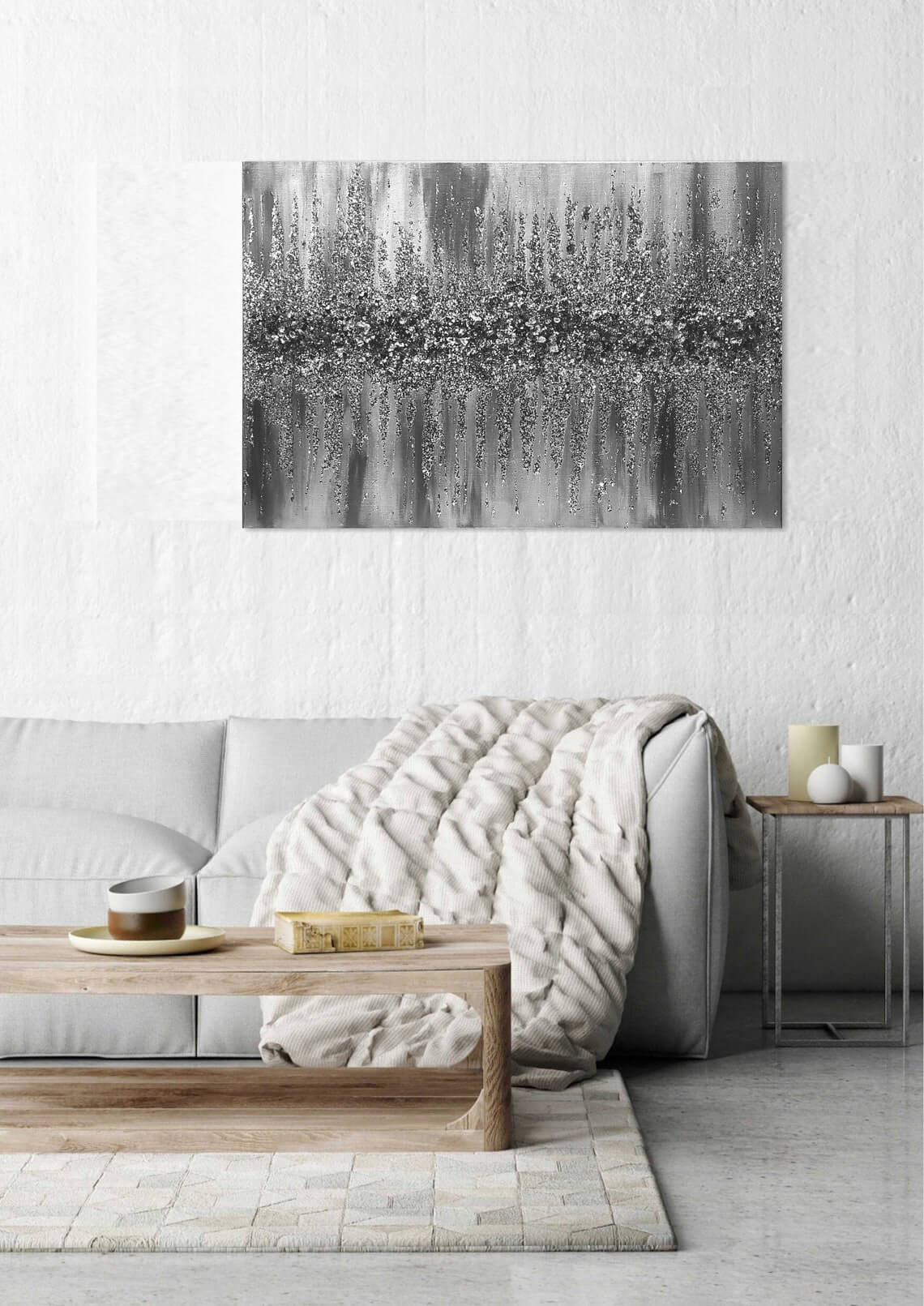 Artistic and mesmerizing, this canvas is nothing short of absolutely dazzling. Holographic glitter and shards of black glass create a reflective surface that changes with the lighting. No matter how long you gaze at it, there will always be new details to discover. The best elegant silver home decor ideas and designs are only enhanced with a piece of artwork like this. To personalize this canvas to your decor, you can ask the artist to emphasize darker or lighter grays or even to introduce an additional color. As shown in this image, it is a show-stopping focal point that will literally sparkle in your space.
2. Reflective Silver Balloon Dog Sculpture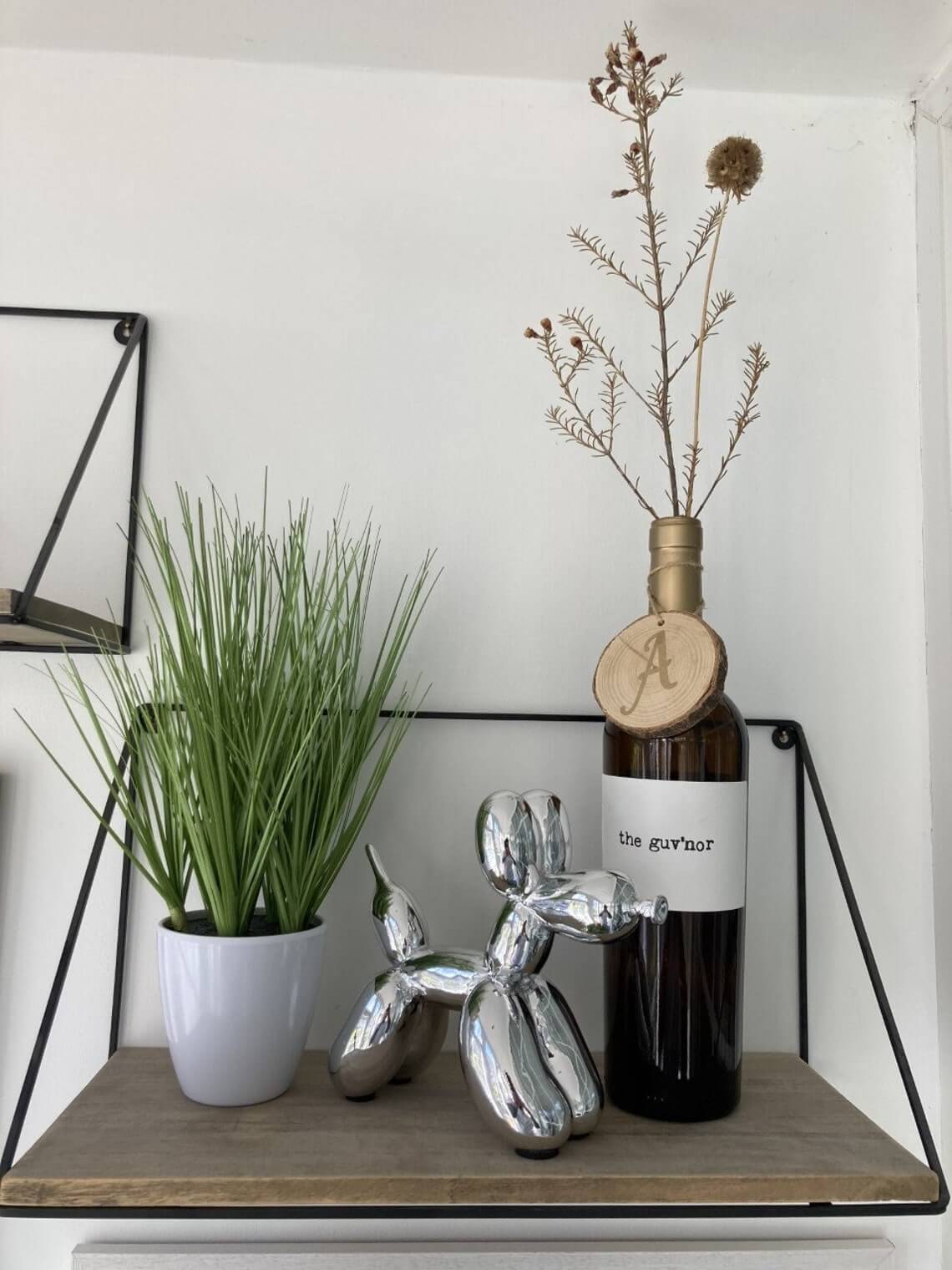 Why not include a touch of playful quirkiness in your silver design ideas? Seeing a balloon dog in an elegant silver room is such a pleasant surprise that it is sure to induce a smile every time it catches your eye. Because the mirror-like silver surface draws attention, smiles will happen quite often. The beauty of this sculpture is that it really looks good wherever you put it. Use it with crushed diamond decor to create some variation. As shown in this image, it looks great when paired with luscious green plants. Put a woven textile like a table runner or bandana underneath it to really show off some interesting textures.
3. Glamorous Silver Book Set Encrusted in Gems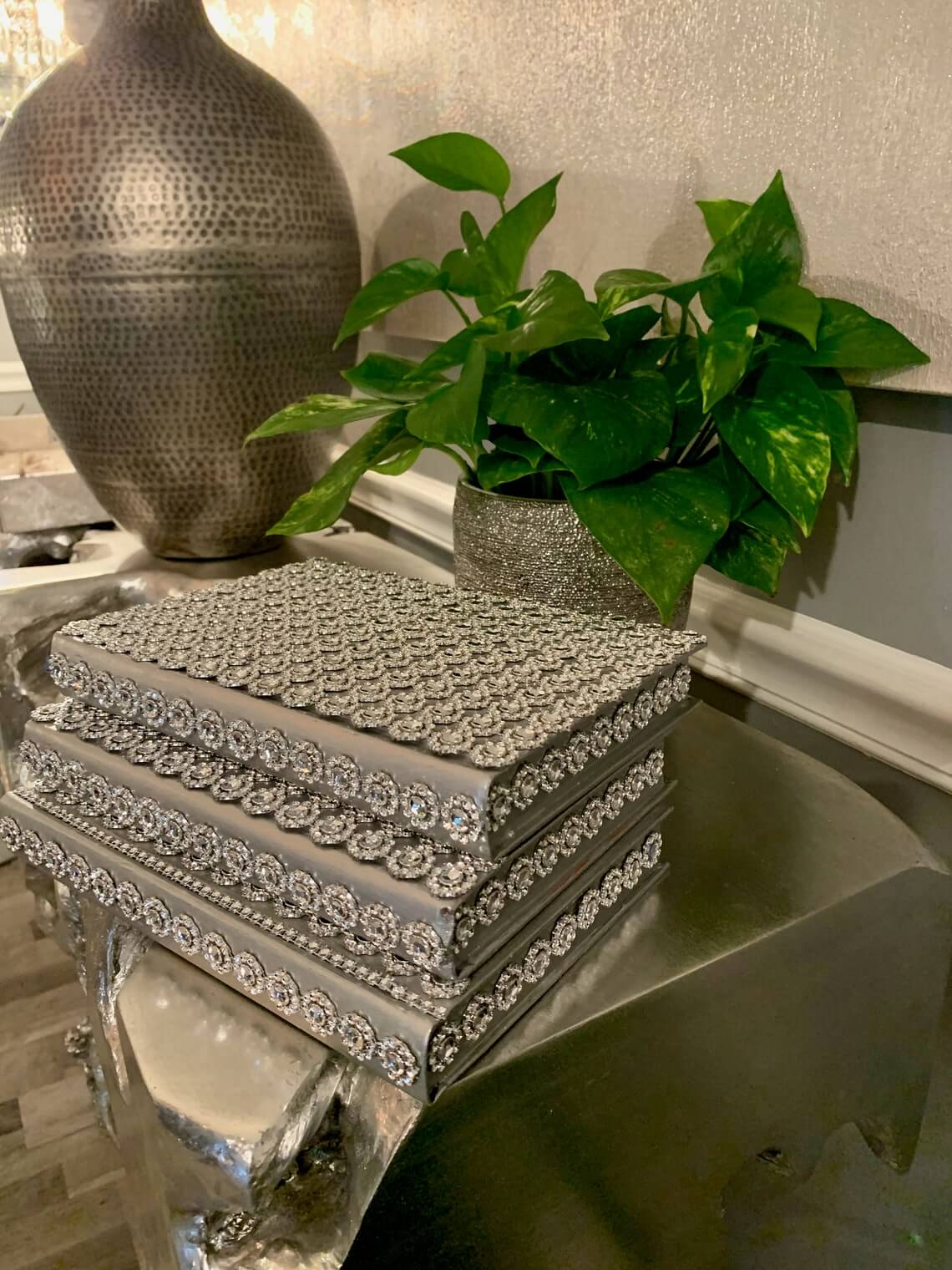 One of the easiest ways to add elegance to a space is to add some books to your decor. The glitzy books shown in this image are a fantastic way to showcase sophistication that ties into the rest of a glamorous space. Because they come in a set of three, there are so many ways to display them. To give your space some cohesion, separate them. Intensify the sparkle by keeping them together. Pair with another shiny decor to up the glamor, or let them shine as the center of attention. When they arrive in beautifully wrapped packaging, it really does feel like a decadent gift to yourself.
4. Silver Sparkling Remote-Controlled Flameless Candles Set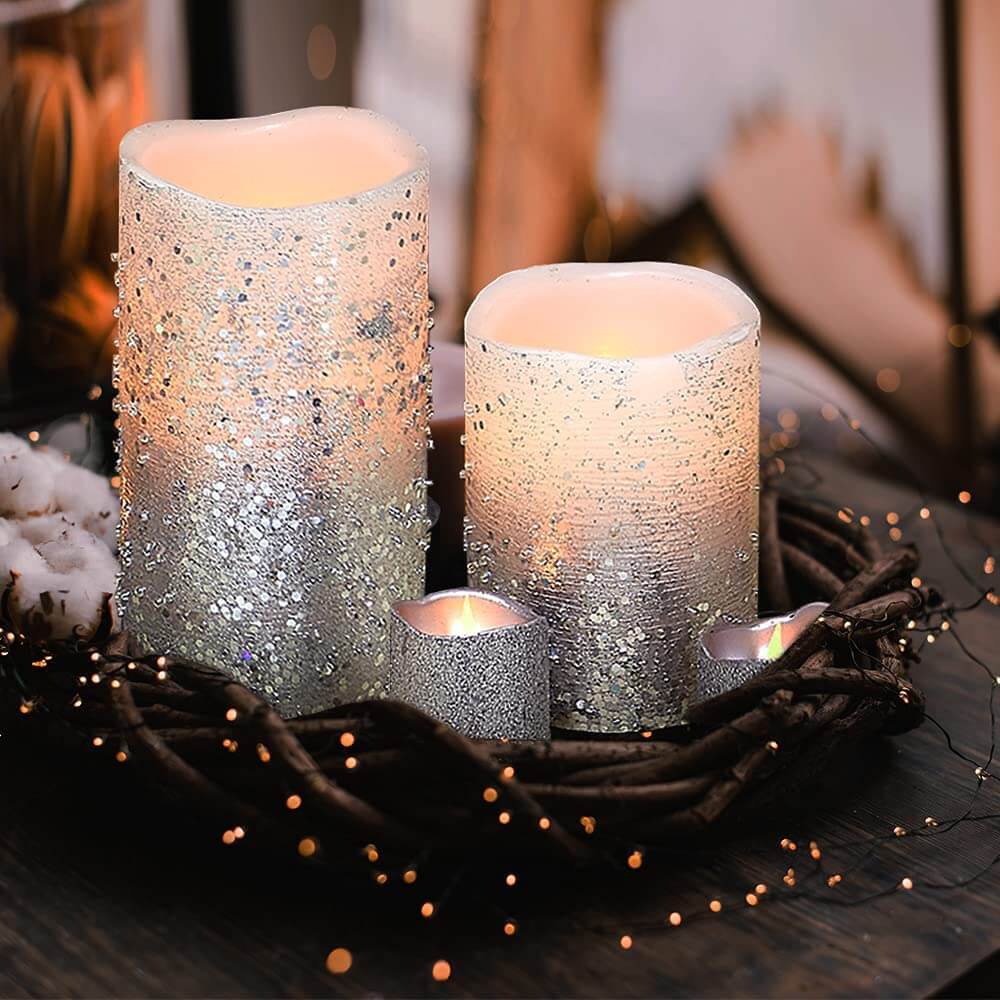 Because each candle in this eight-candle set arrives pre-loaded with batteries, these are ready to illuminate your silver design ideas. All eight candles are made from real wax and covered in an attractive spray of iridescent silver glitter. All that glitter makes them photograph-worthy even when switched off. There are two 6-inch candles, two 4-inch candles, four votive candles, and one remote in each set. That variety of sizes means that you will have fun deciding where each flameless candle will live. Beyond turning the candles on, the remote controls the brightness level and flickers.
5. Hammered Metal Moons Linked with Silvery Chains
Because this lunar garland can be hung vertically or horizontally, you have lots of flexibility. When hung vertically, the garland creates a decorative line in your space. If you hang it horizontally, changing where the endpoints are anchored can achieve some dramatic swoops. Hammered silver is a tasteful texture, which, if positioned correctly, can create some fun interplay with light. Even the delicate iron chain that links the phases of the moon glimmers subtly. To give these silver decorations an elegantly rustic twist, you can switch out the iron chain for twine. For maximum silver impact, leave it as.
6. Silver and Crystal Mirrored Tray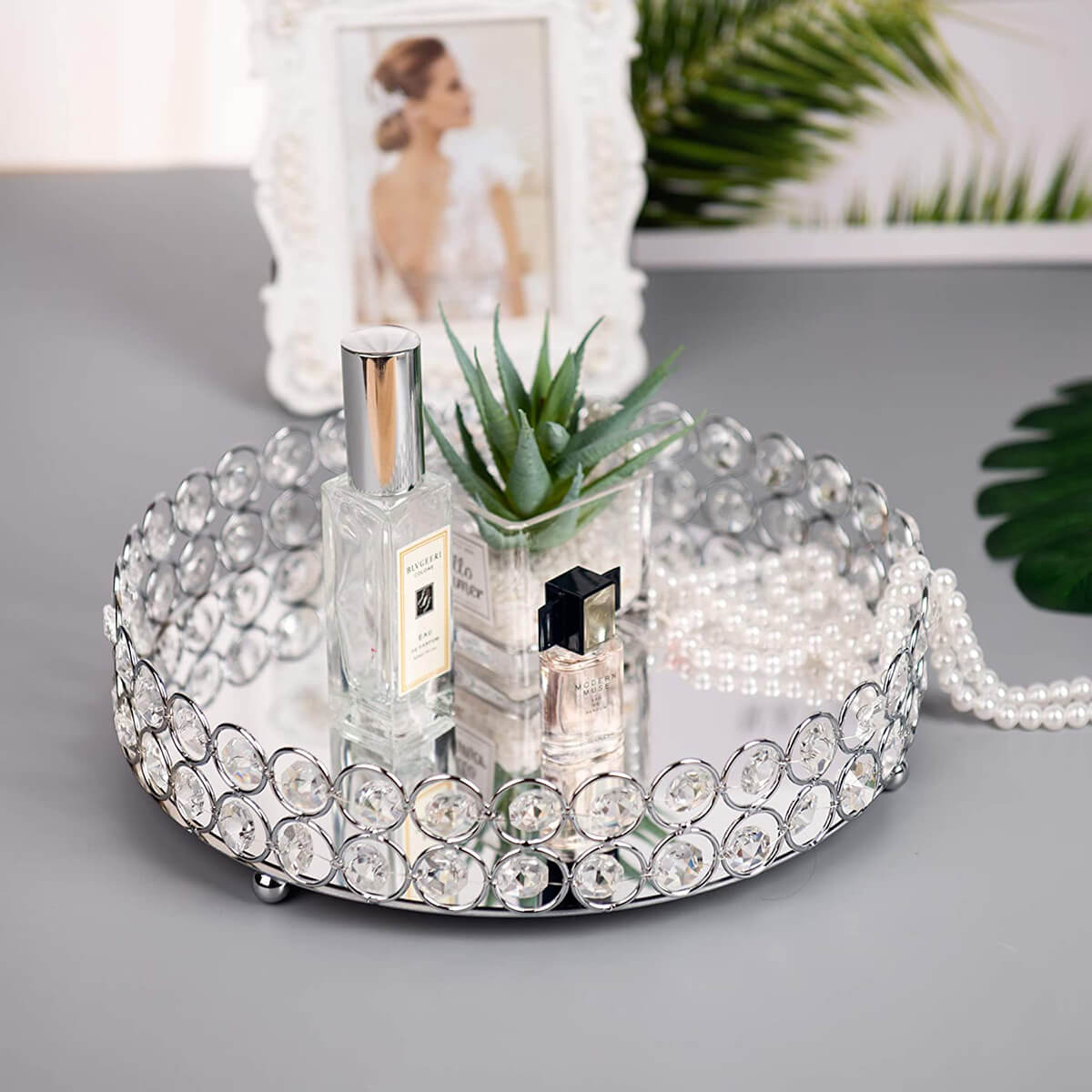 The best elegant silver home decor ideas and designs still need storage solutions. This dazzling mirrored tray opens the door for a stylish solution. Use it in your bedroom for jewelry or in the bathroom to hold your beauty essentials. It can contain all the remotes in your living space or showcase your hospitality with a tasteful selection of lotions and soaps in your guest bedroom. Beyond functional applications, imagine using it as a frame for your favorite silver-themed sculptures. If those ornaments are glittery, the mirrored surface doubles the sparkle. If your silver-themed space does not use blue as an accent color, make sure to remove the blue protective film before display.
7. Farmhouse Silver "Home" Adhesive Letters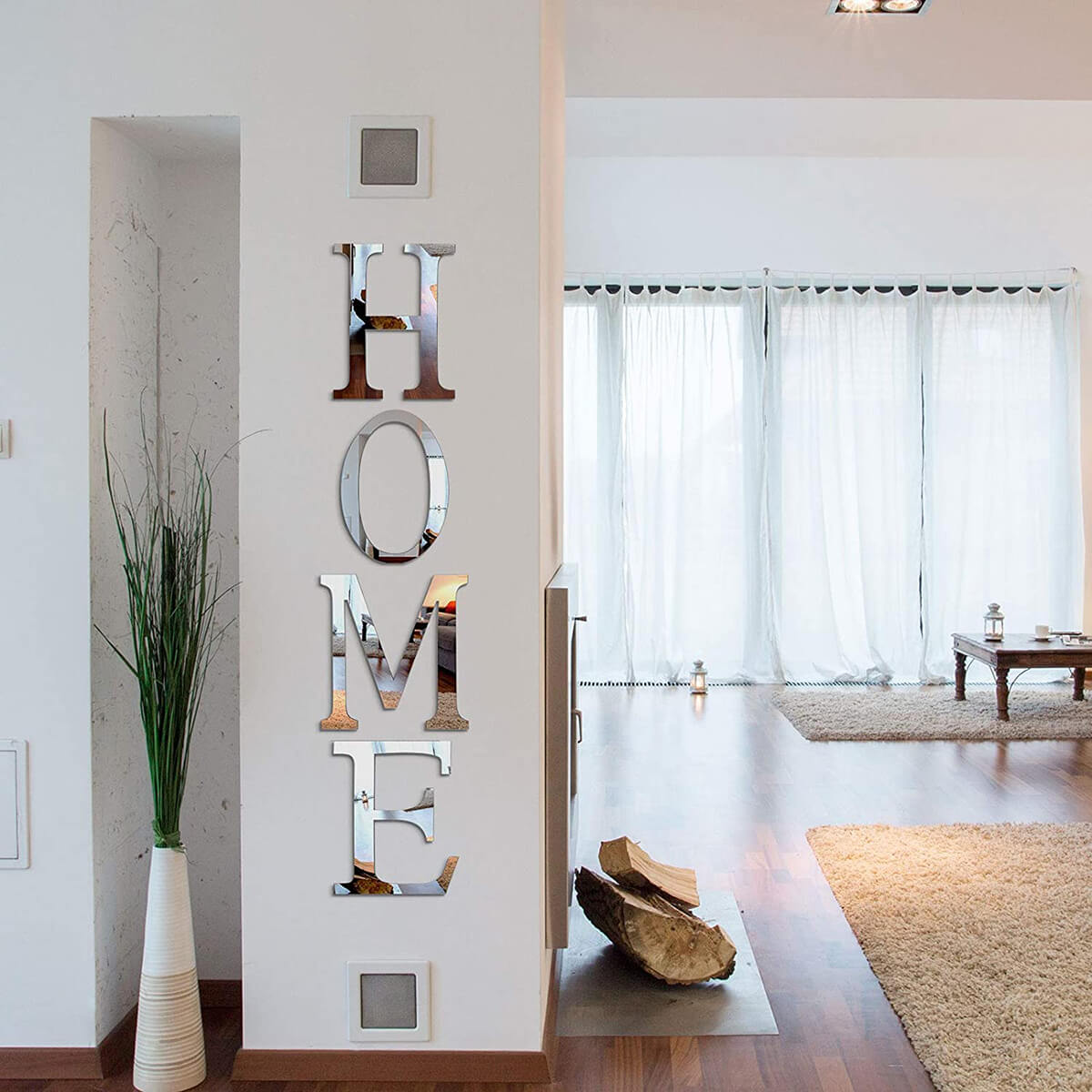 Nothing says "home" like having it spelled out on your home's walls. These mirror-like letters give a farmhouse space some glamor without being overwhelming. Although they are easy to adhere to, the glue only sticks once. A feeling of laid-back elegance is achieved via the serif font and the cozy message. Display these letters all on their own or use them to mix up the textures on a gallery wall. Because they are large, these adhesive letters are the perfect addition to any wall that has too much empty space. Best of all, the reflective surface reflects your home to show everyone what is most important to you.
8. Set of Three Mosaic Glass Orbs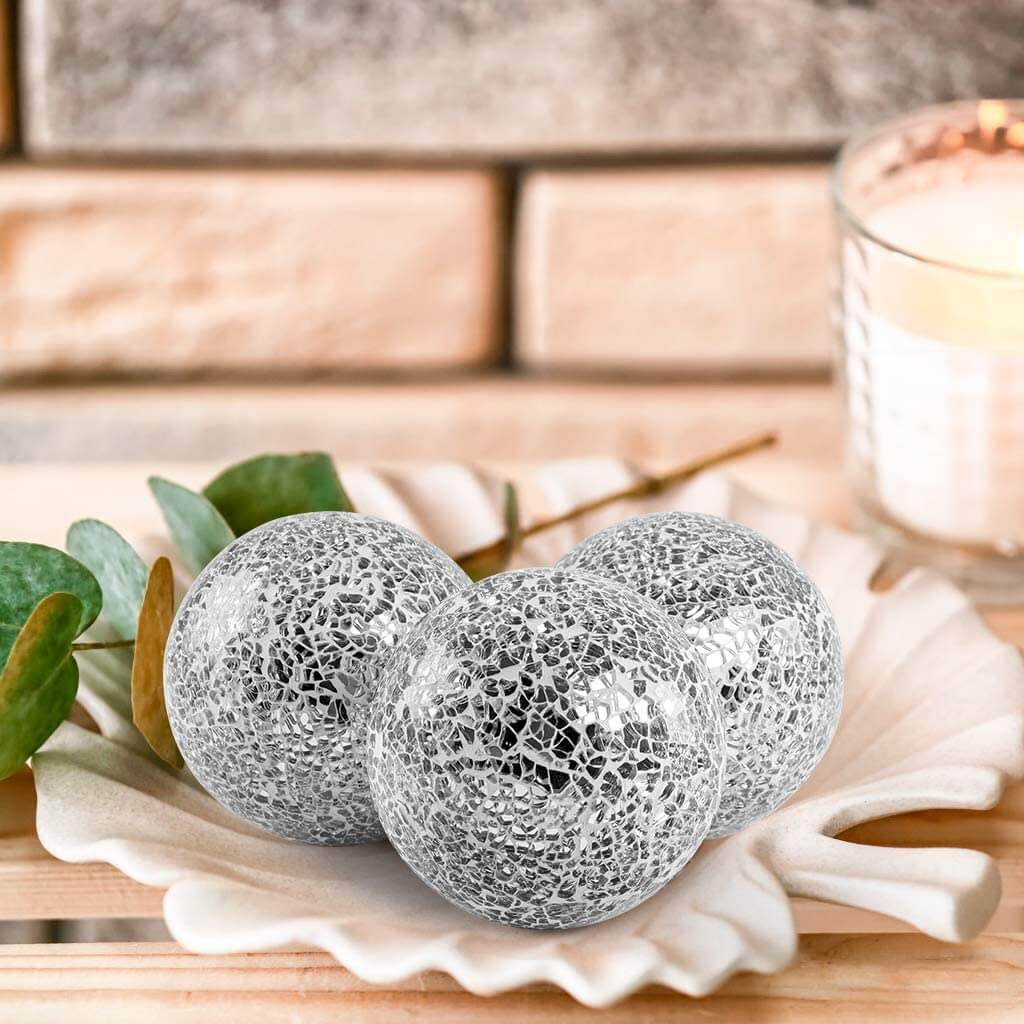 Empty bowls and trays can leave your space feeling unfinished and unpolished. Luckily, filling these decorative bowls and trays can be a lot of fun. These sparkling balls of joy are a great way to make that happen. Made from mosaic glass, they have a pleasing weight and an interesting texture. Place them in the sunshine to create brilliant reflections throughout your room. While the mosaic orbs in this image are crystal and white, there is a crystal with black option. Either will create a stunning accent so that your favorite bowls, trays, and vases shine to their fullest potential.
9. Silk Curtains with Silver Sequins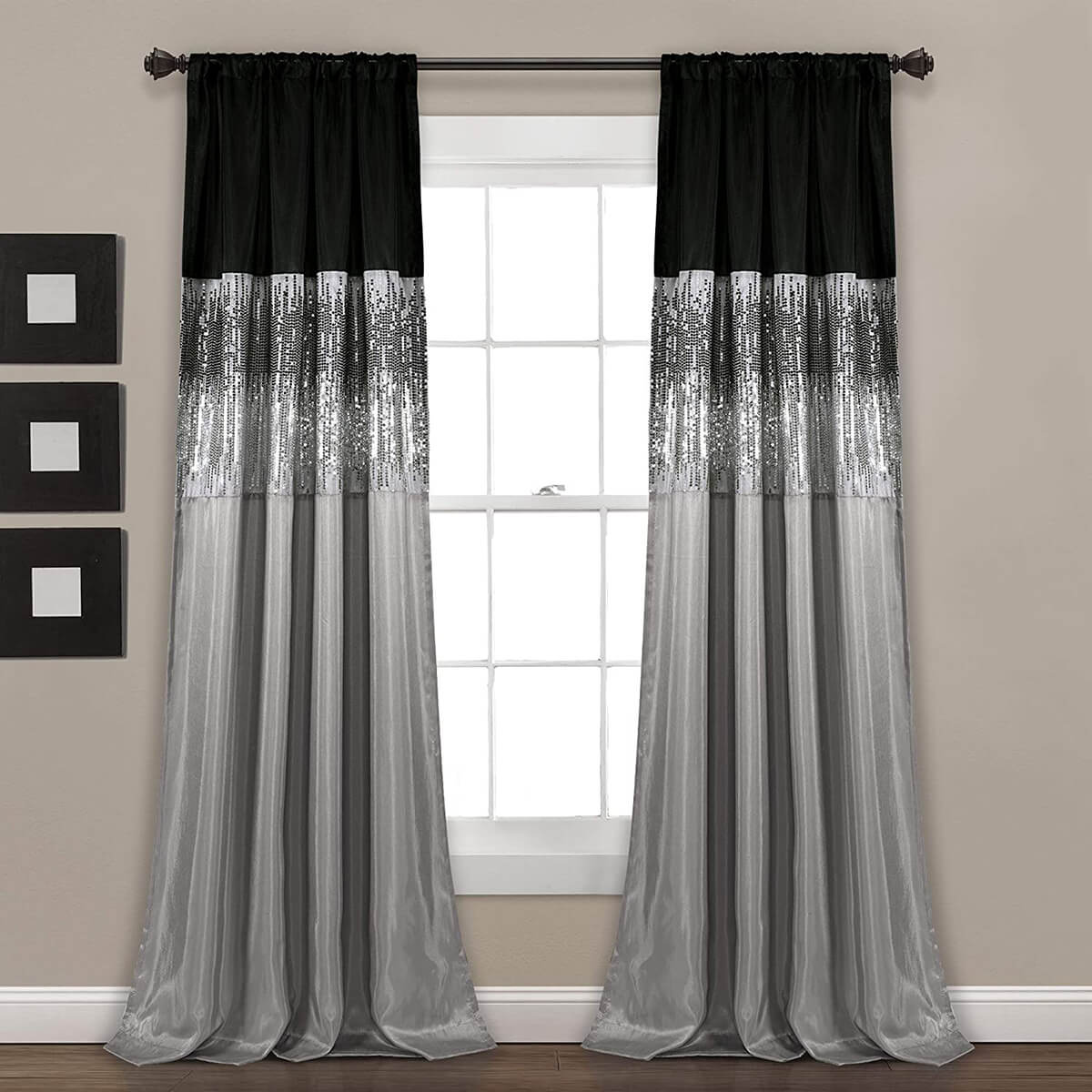 If the glimmering twilight could be distilled into window treatments, it would look like these shimmering curtains. Lustrous faux silk and sparkling sequins channel those fleeting moments between day and night when anything seems possible. These curtains are a fantastic addition to modern-inspired spaces or any room where glamor reigns. Be aware that each panel is purchased separately, and you may want to purchase more than two panels for larger windows. Because these curtains are reversible, you can choose whether the silver portion should hang towards the top or the bottom. This flexibility makes them a great choice for anyone who loves to frequently change up the decor.
10. Unique Silver and Mosaic Glass Tray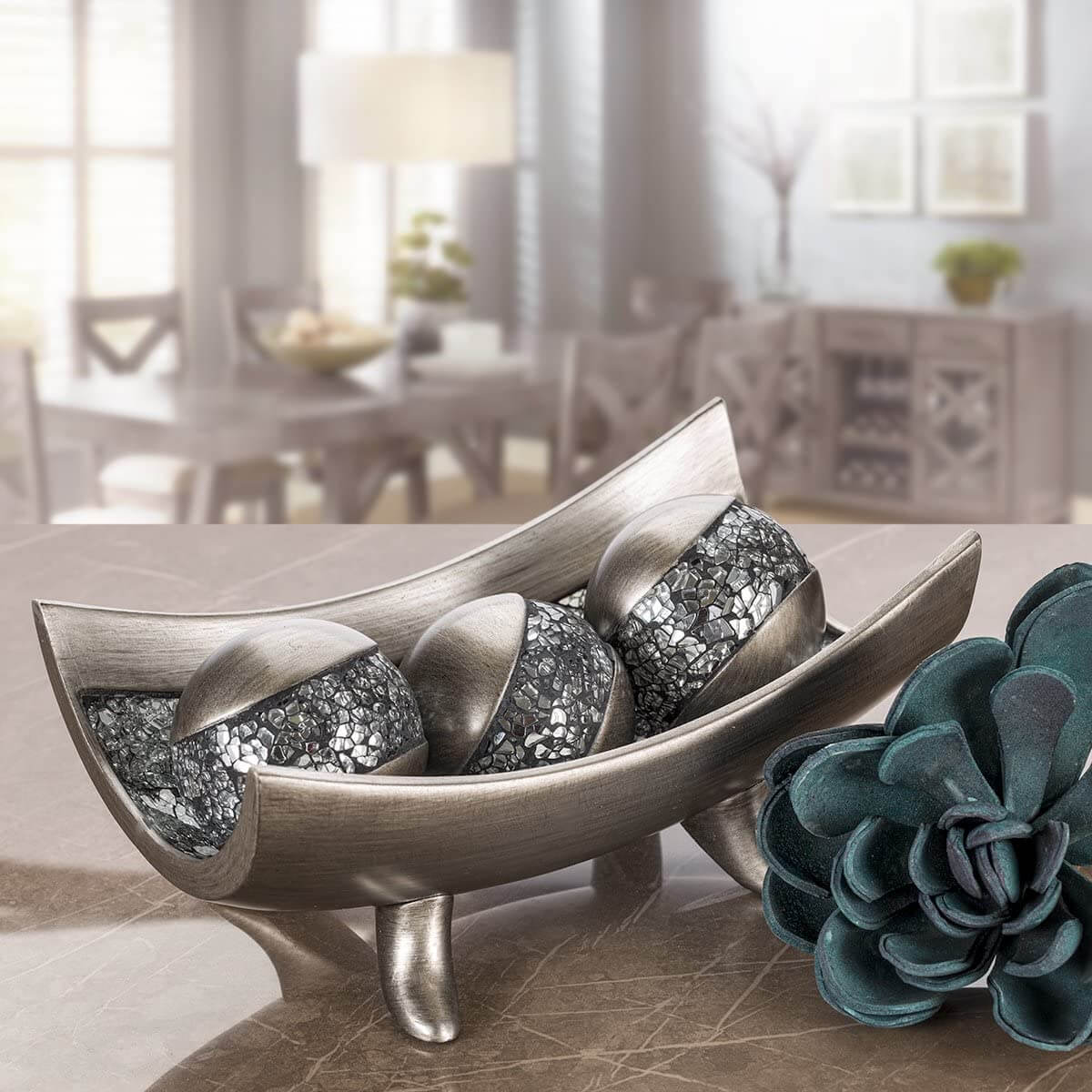 A tray like this can take your silver home decorations to the next level. Cracked mosaic glass and a brushed metallic finish come together to create a sophisticated and contemporary ambiance. Pedestal legs elevate the tray and give it that little extra touch to make it really stand apart. While you can purchase the matching orbs to complete the look, this tray is a versatile piece of decor. Use it as a tray for your keys, mail, small beauty essentials, candy, or fresh flowers. Depending on the mix, you may even be able to use this tray to hold potpourri.
11. Modern Crystal Candelabra with Graceful Lines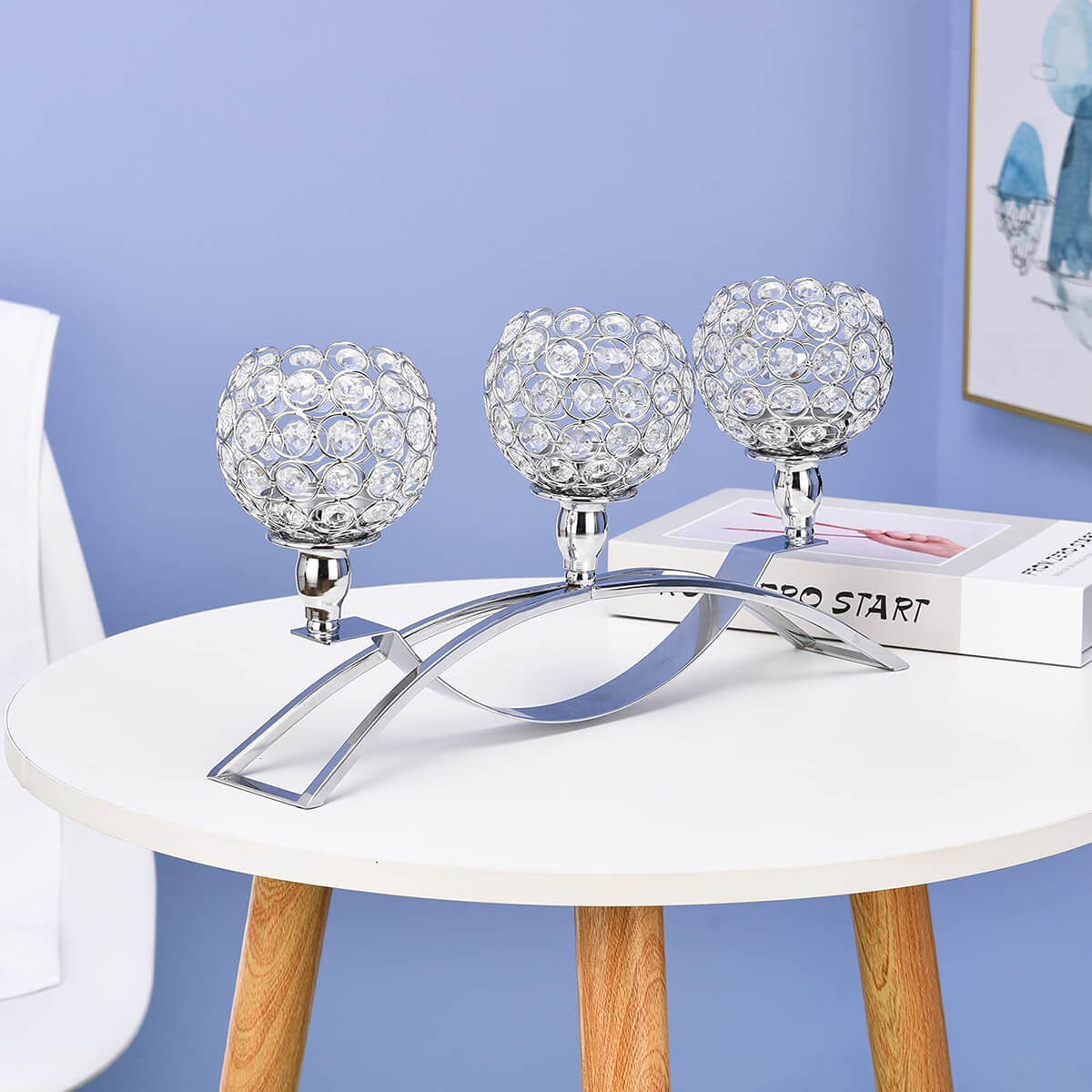 With a swooping design inspired by bridges, this candelabra works wonderfully to connect crystal decor with silver design ideas. After all, nothing says extravagance quite like reflective silver and glimmering crystals. Each candle cup cradles a single votive candle, but the crystals maximize the candlelight for an enchanting effect. Small felt stickers on the bottom mean that you do not have to worry about scratched furniture. Be aware of your surface size, however. At 16 inches long, this candle holder is large enough to act as a focal point on a smaller table but is best suited as an accent on larger tables.
12. Dainty Crystal Candle Holder Set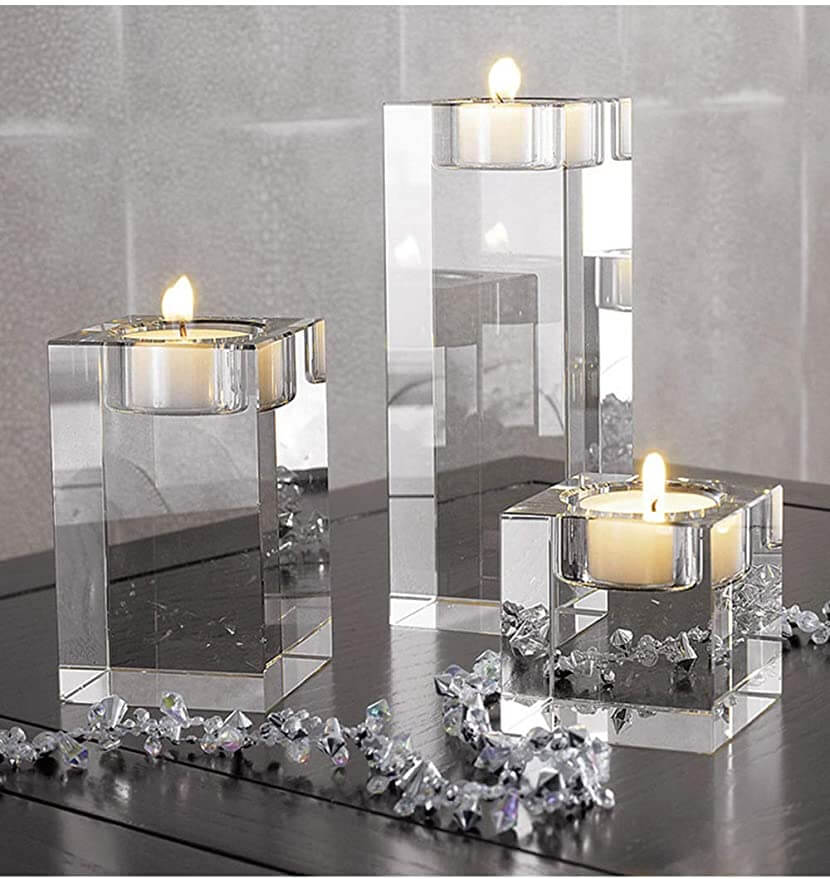 Only using silver is an easy mistake to make when assembling the best elegant silver home decor ideas and designs. To create the perfect silver landscape for your space, it is important to incorporate non-silver colors, textures, and materials to help accent those silver home decorations. Clear crystal is the perfect way to add some contrast to your space. Each of these votive candle holders is made from genuine crystal, and the quality shows. Because they are so small, you can put them almost anywhere it is safe to put votive candles.
13. Crushed Diamond and Crystal Cookie Jar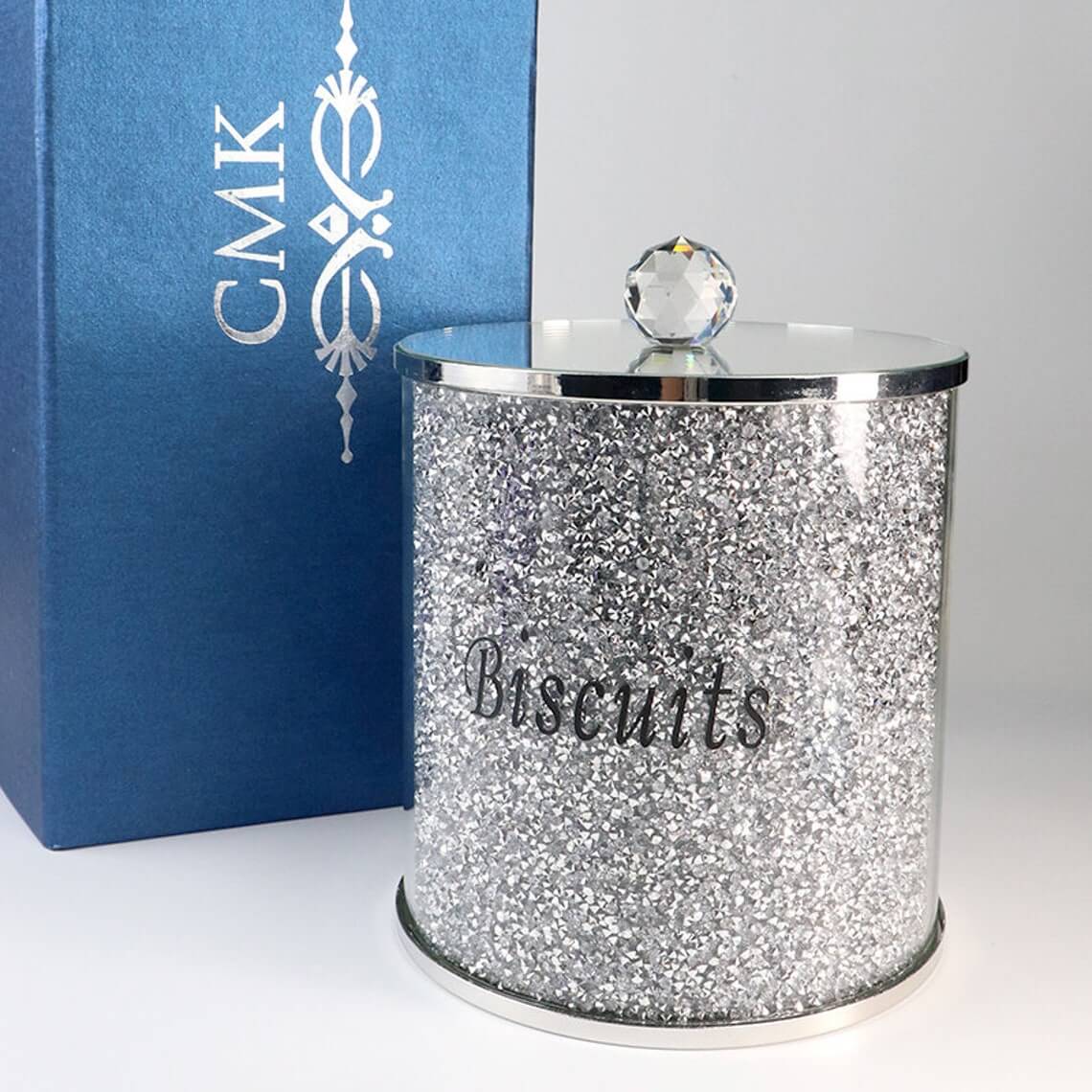 This kitchen storage barrel arrives in a luxurious silk-lined box. Open it, and you are met with a large crystal handle, a stunning array of sparkling crushed diamonds, and a high-quality kitchen storage container. The word "Biscuits" across the front pays homage to British and Australian English and imbues your kitchen with international glamor. If that is not your style, turn the tin around such that the world faces a wall, and you are left with a pristine landscape of sparkling diamonds. As you fill it with your favorite sweet treats, be aware that it should be cleaned only with a damp cloth and can never be submerged in water.
14. Brazilian White Agate Coasters Kissed by Silver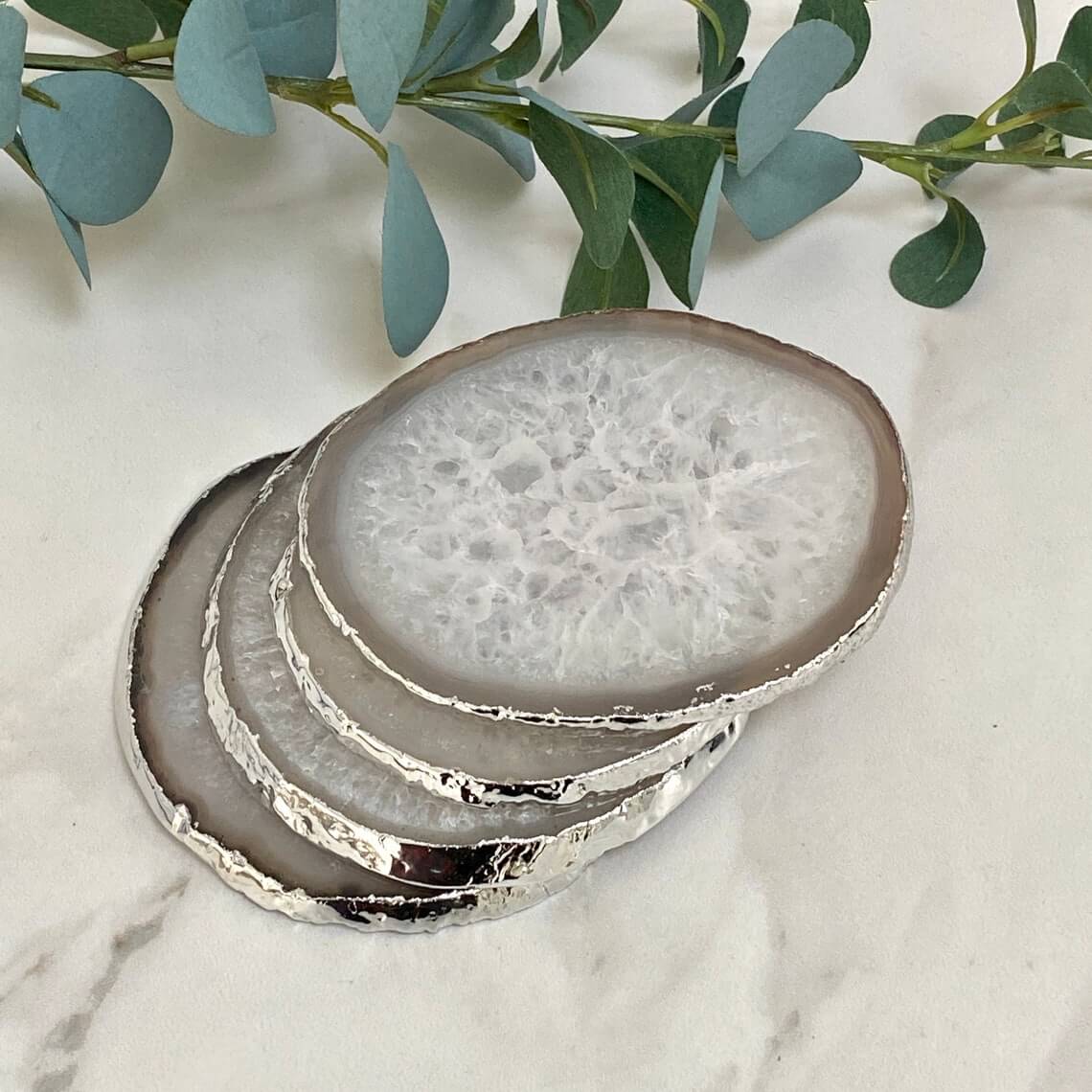 Agate coasters display some of the earth's natural beauty in a useful way. White crystal adds opulence to a space without excess gaudiness. The silver edging gives them just enough glamor to really shine when used with the best elegant silver home decor ideas and designs. Abstract patterns in the crystals give your space a little more nuance. Because each Brazilian agate is unique, each coaster will have its own personality. To make sure they do not scratch anything, rubber grips are affixed to the underside. Even if you already have enough coasters, place these under petite plant pots or small sculptures to keep them from damaging furniture.
15. Silver Owl Statue with Circular Accents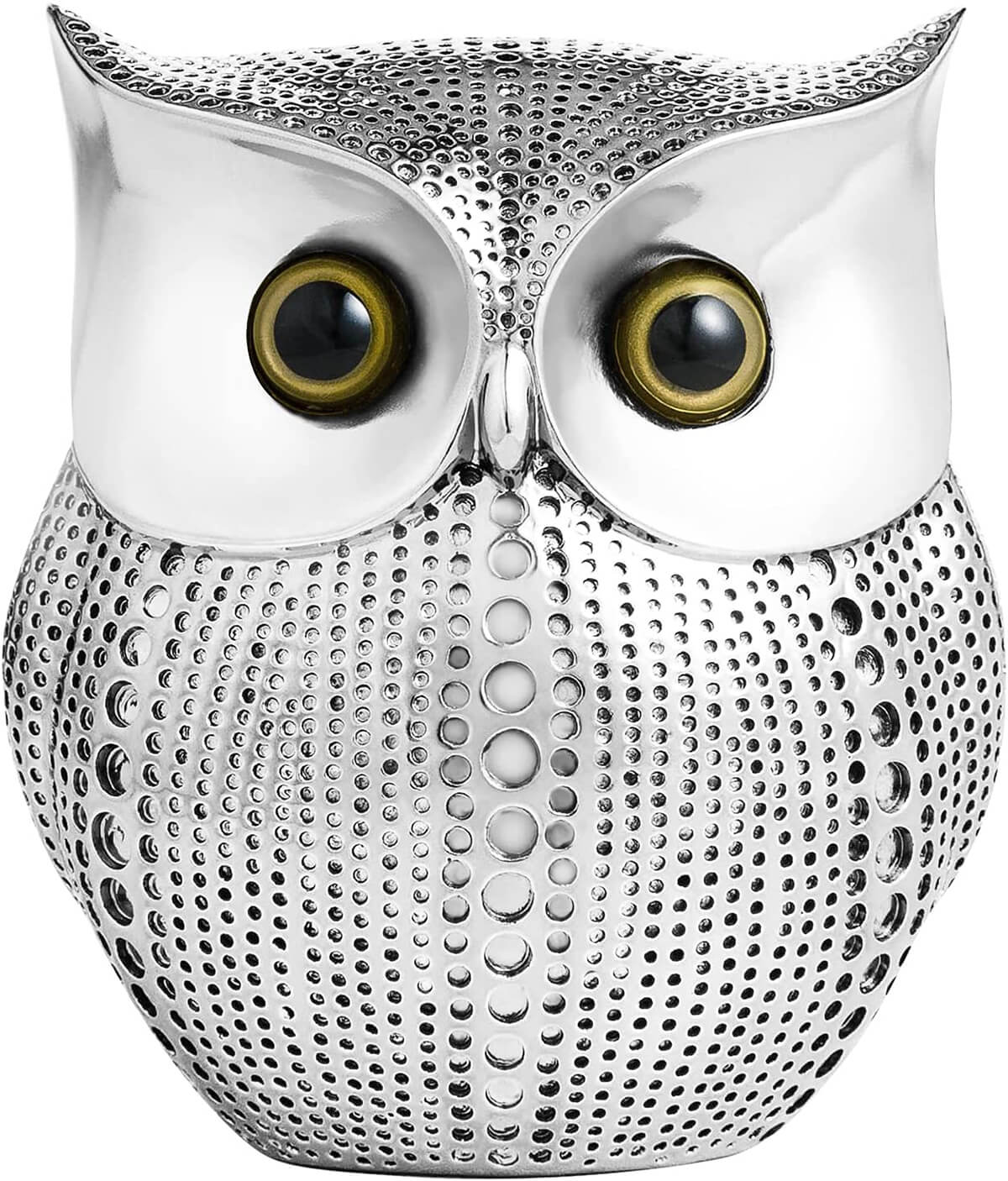 As a symbol of wisdom, an owl figurine can lend your space a sense of scholarly elegance. Depending on where you place it, this owl can look inquisitive, commanding, playful, or knowledgeable. Because the dots are indentations instead of paint, this owl contributes dimensional interest to your decor. Large yellow-green eyes add some color contrast, although you could paint them black for a more stylized owl. All those circular indentations would make this an ideal statuette to include in an industrial-themed space. With the right surroundings, it could even look at home in a silver farmhouse, steampunk, or Bohemian space.
16. Flock of 48 Fluttering Butterflies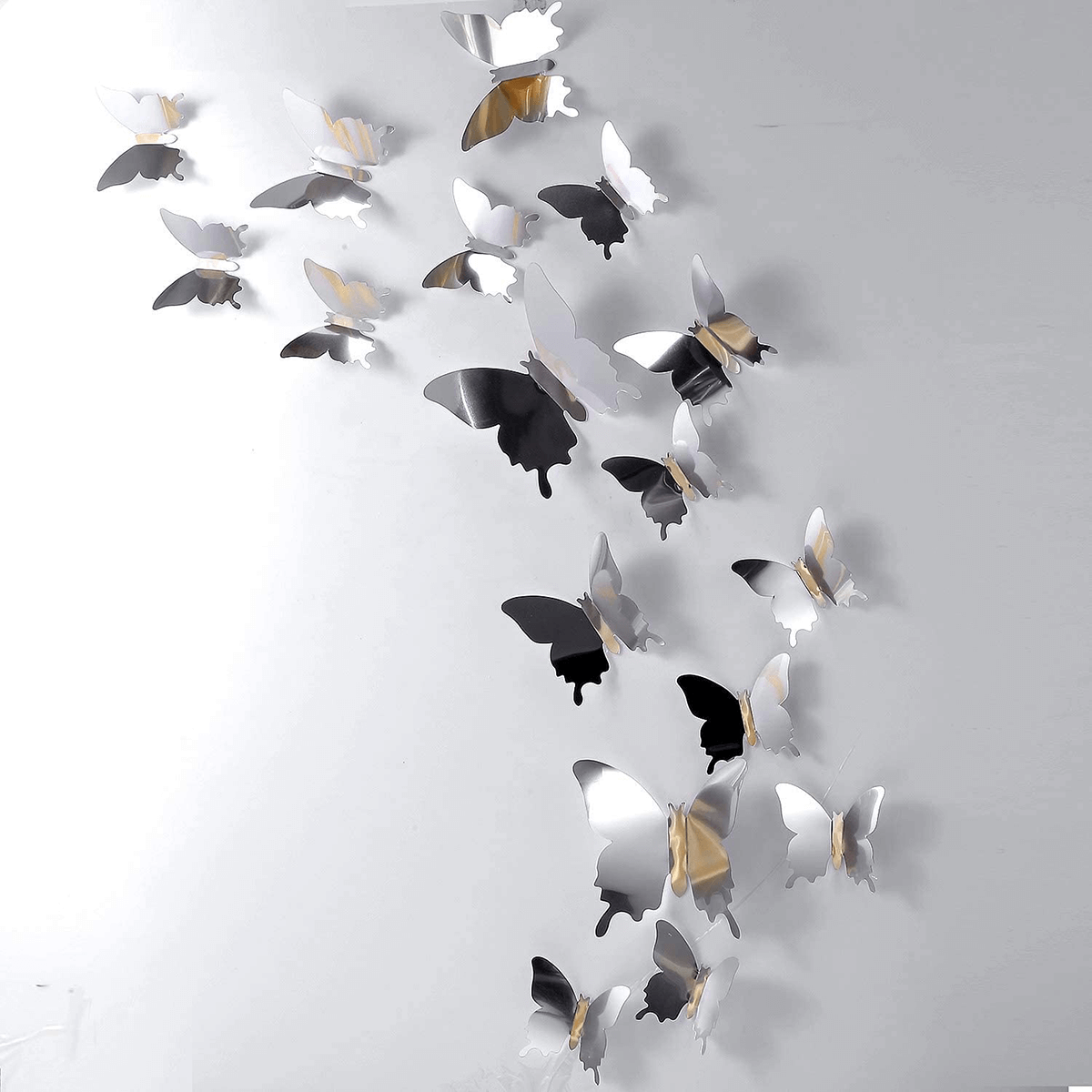 Yes, it is possible to balance whimsical bliss with refined elegance. With delicate silver wings and a highly reflective surface, this flock of butterflies is the perfect way to give a space a friendly feel. How you choose to arrange them can help define your ambiance. A straight line can give your space a more formal atmosphere while an organic spray of shiny butterflies will feel straight out of a storybook. Place them on picture frames to emphasize a photograph or piece of artwork. The adhesive backing makes it possible to position them wherever and however you please.
17. Silvery Crushed Diamond Heart Sculpture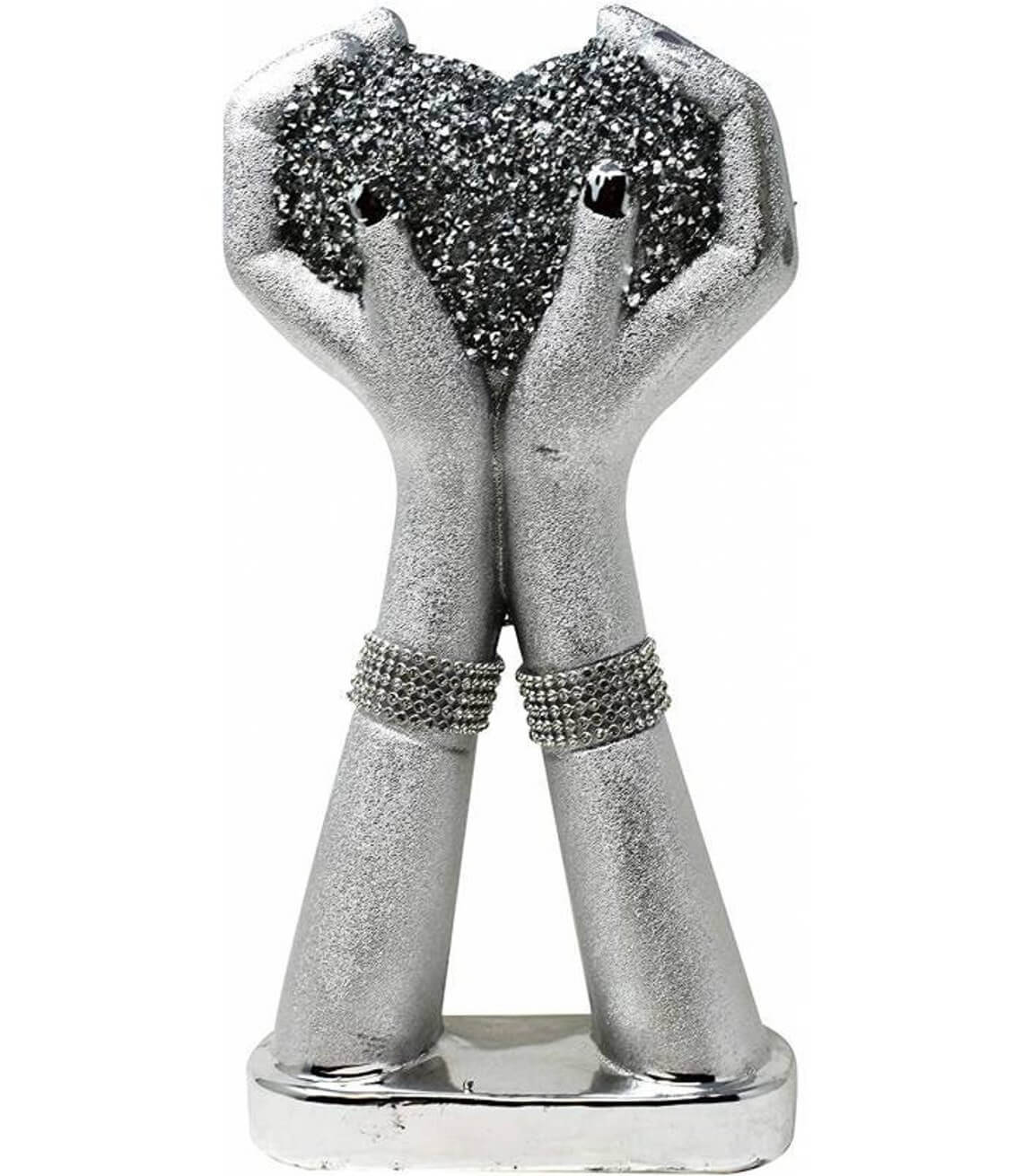 A stylish sculpture is a great way to finish your space. With bling-bedecked wrists, reflective nails, and a heart made from crushed diamonds, this opulent sculpture will take your silver-themed space to the next level. To make this sculpture an area's focal point, place it with shorter decorations. Use low-lying greenery that vines to create an atmosphere of sprawling luxury. Alternatively, you can use this handmade sculpture to emphasize another decor by pairing it with decorations that are either taller or shinier. Wherever you choose to display this ornament, it will add a cool aura and show your passion for all things glitzy.
18. Round Frameless Mirror with Plenty of Pizazz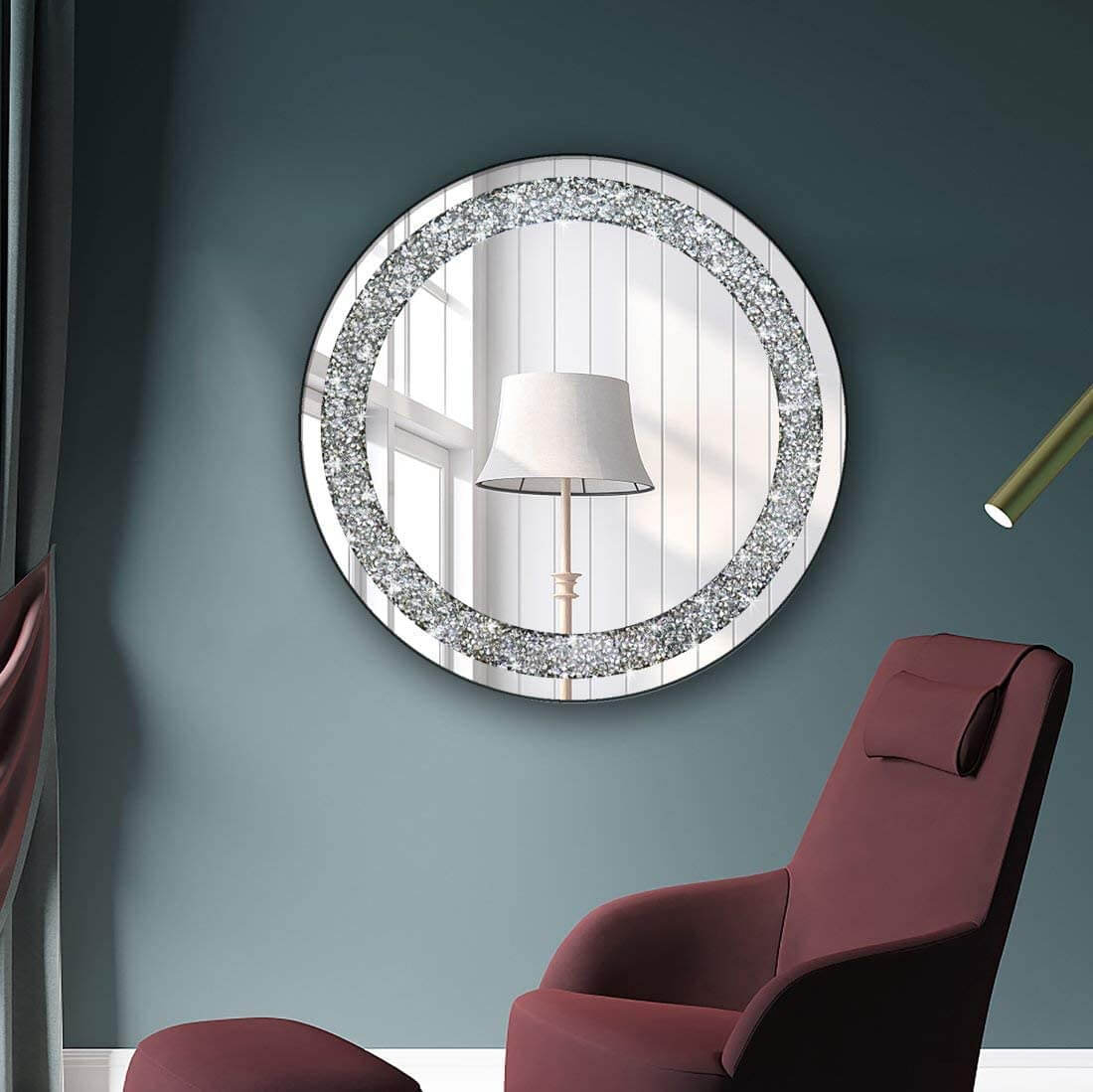 Banded by a sea of sparkles, this frameless mirror is a way to add elegant extravagance to any space. The crushed diamond halo gives this frameless mirror enough detail to be interesting without being too visually overwhelming. Every designer's arsenal should include mirrors because they are so effective in increasing light and helping small spaces feel bigger. Of course, if you are working with a large space, this mirror has larger size options. Depending on which size you choose, it is important to hang it properly because this mirror is not lightweight. Like all glittery decor, you can experiment with lighting for interesting reflections.
19. Elegant Chandelier Dripping with Crystals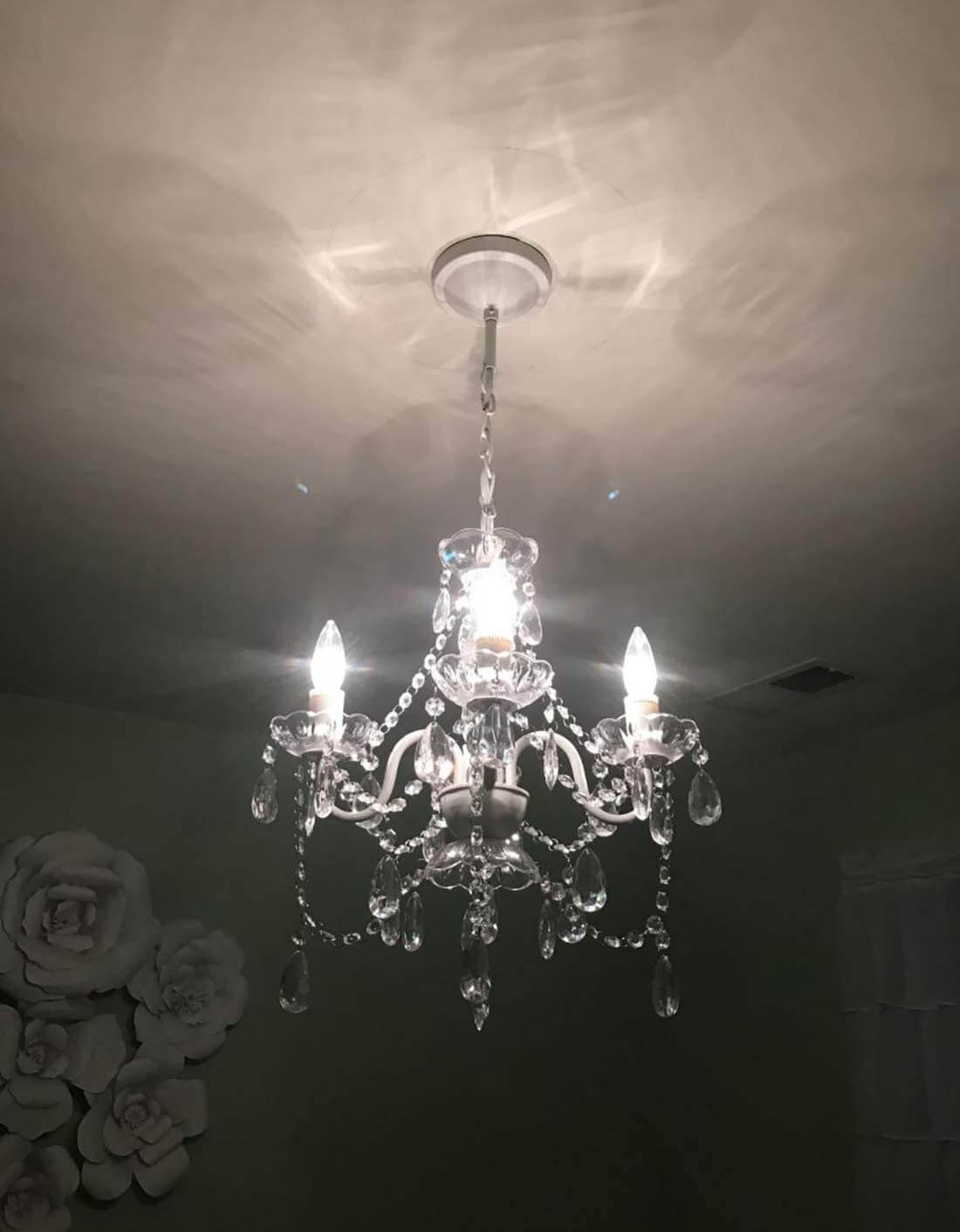 Nothing says classical refinement like a traditional chandelier. When lit, the crystals and beads add a little sparkle to your space. Flameless candles and lustrous crystals are the perfect way to illuminate all of your silver home decorations. Because the crystals are made from polycarbonate instead of conventional glass, this chandelier is more budget-friendly and easier to install. Depending on your space, you can choose whether you need a hardwired chandelier or one with a plug. If your silver design ideas are on the darker, moodier end, you can choose a chandelier with dark paint and black-tinted crystals.
20. Mirrored Vase Overflowing with White Glitter Roses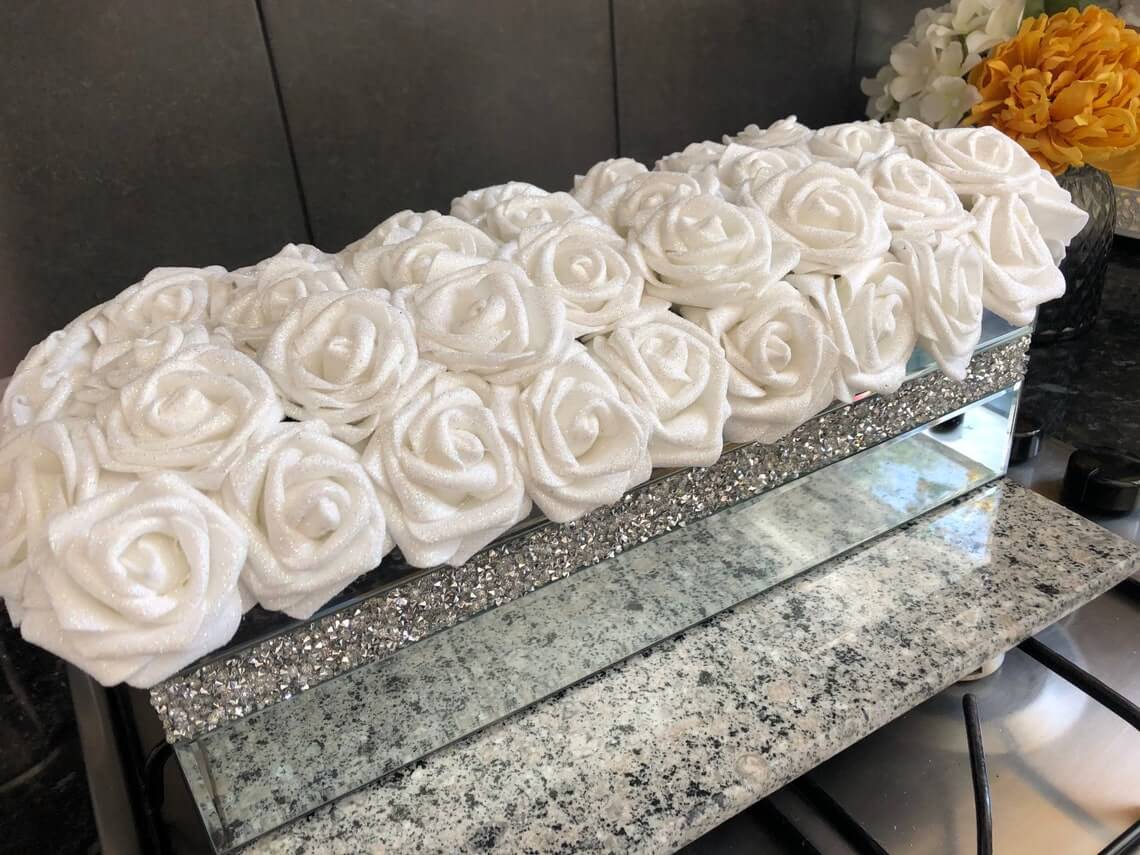 This vase has it all – crushed diamond trim, reflective mirrors, and enchanting roses. With their soft texture and sparkling finish, the roses steal the show with nuanced elegance. The beauty of using mirrors in your silver home decorations is that they reflect their surroundings. Place it in a room with lots of silver, and you will see even more silver. Because mirrors increase light, you can illuminate your silvery space by pairing this vase with a candle in a silver candle holder. In the candlelight, the strip of crushed diamond trim will glint and glimmer for an absolutely beautiful effect.
21. Silver Applique Kit for Renewing Dressers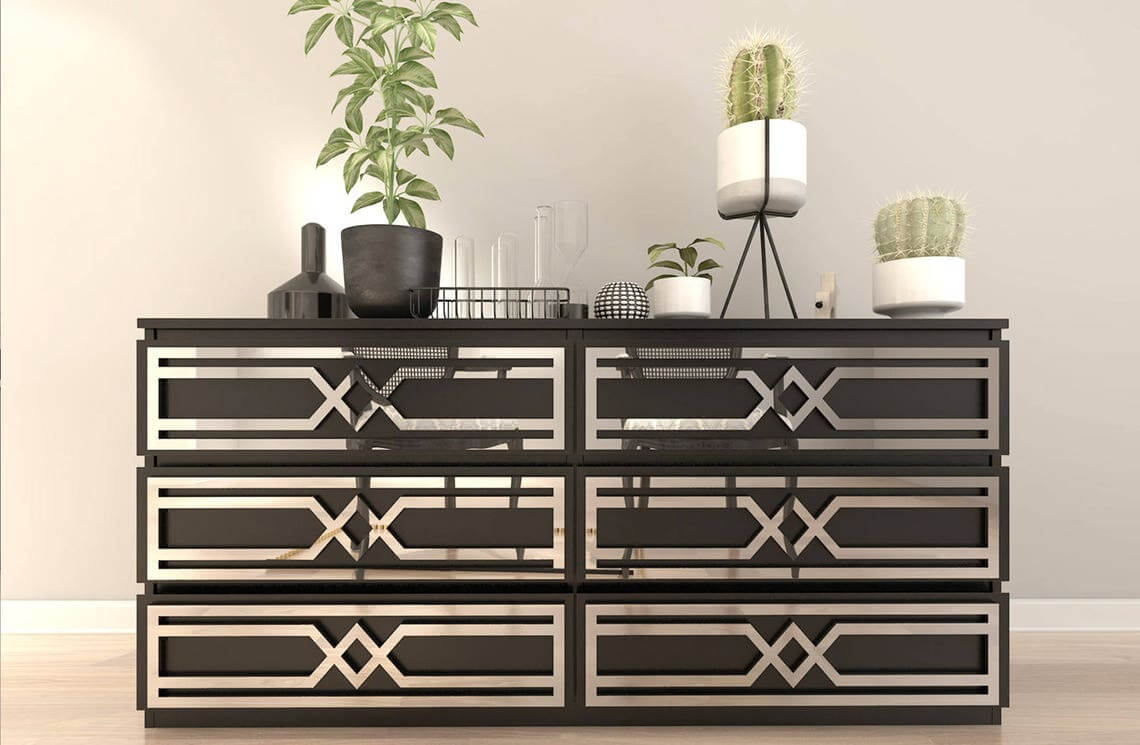 Designed as a way to upgrade Ikea MALM-series dressers, this applique is a way to add a layer of delicious complexity to your bedroom furniture. Although designed for use with Ikea furniture, you can use it on rescued non-Ikea drawers if you double-check the measurements first. Two of the six finish options are silver. You can choose reflective silver, as shown in this image, or brushed silver. Mirrored silver gives off glamorous vibes while brushed silver exudes a more subdued ambiance. Both are gorgeous and will transform your drawers into something photograph-worthy. Best of all, this applique is easy to apply.
22. Silver Picture Frame Featuring Etched Leaves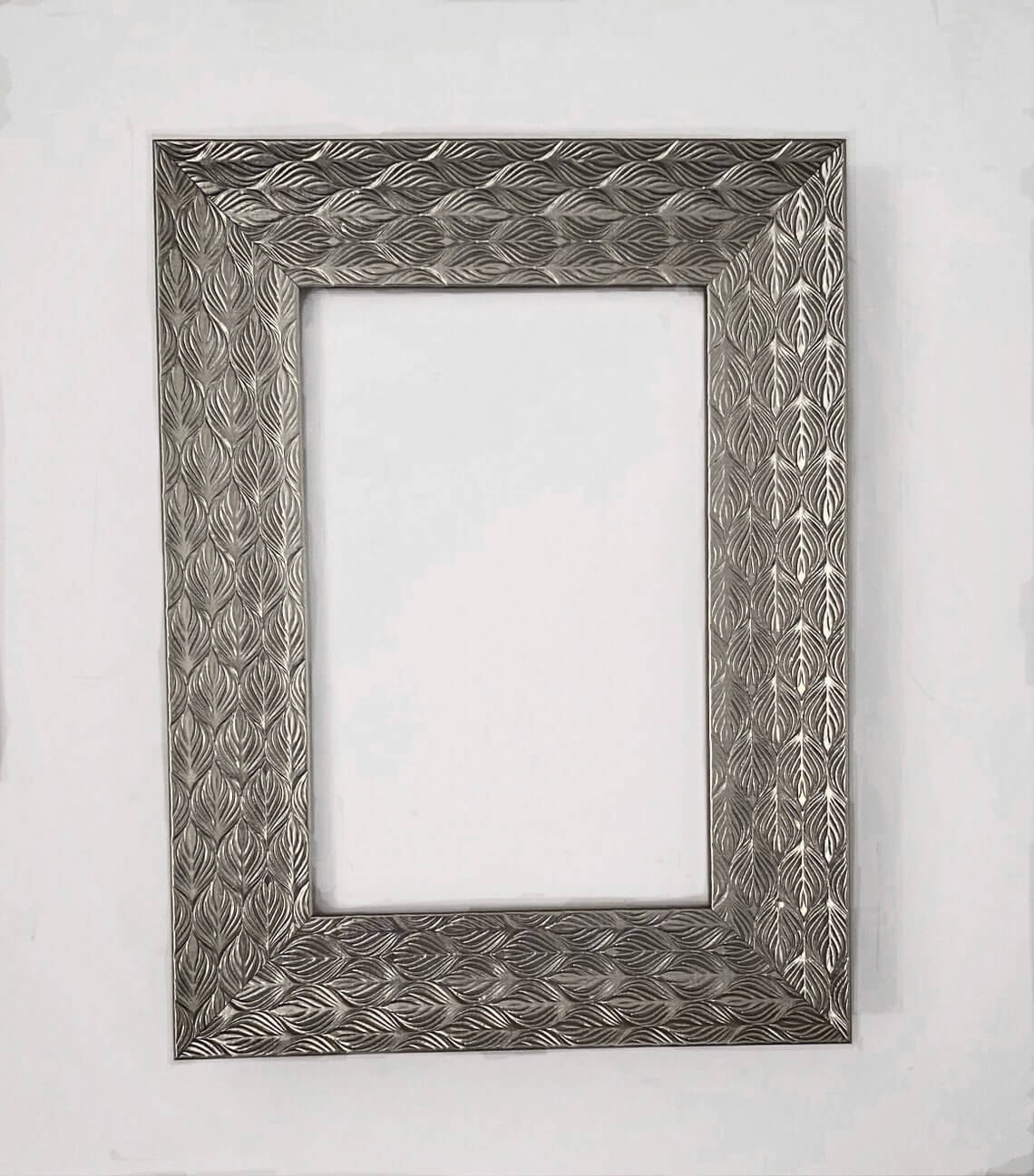 Lots of little touches are the secret to achieving a complex ambiance. Because this etched picture frame features subtle detail, it will add to a space without fighting with the focal point. The repeating pattern adds just enough interest to add a layer to your ambiance without being distracting. As a three-dimensional art form, the pattern etched into the silver will change depending on your lighting. To help tie it into your decor, you can pair it with a broad-leafed plant or use it in a room where feathers are a decor accent. Depending on your space, you can hang this frame or display it freestanding on a table.
23. Silver Crushed Diamond Resting Feline Sculpture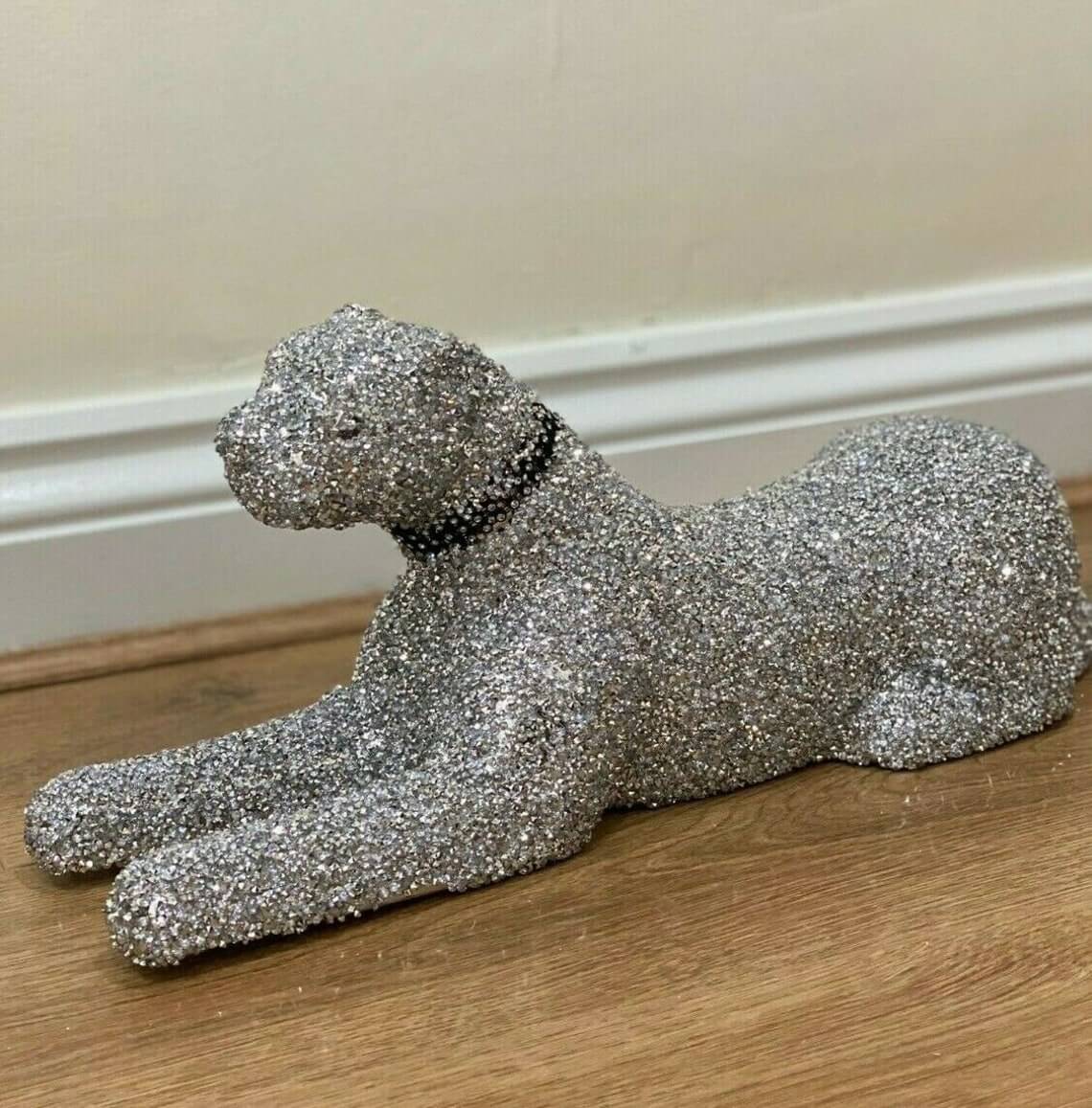 Channel the energy of your favorite big cat with this shimmering sculpture. Because it is coated in crushed diamonds, this ornament could be a leopard, cheetah, jaguar, lioness, or tiger. The restful pose is a reminder to take a deep breath and relax. All that sparkling means that it reflects light and exudes its iridescent energy throughout your room. Pair this sculpture with the best elegant silver home decor ideas and designs to achieve an atmosphere that is at once unique, untamed, and sophisticated. From the stylized shape to the flashy collar, this is the perfect ostentatious ornament to spice up a space that has become too monotonous.
23 Fun Ways to Incorporate the Best Elegant Silver Home Decor Ideas and Designs into Your Style
Depending on your style, silver can achieve many elegant effects in your space. Choose highly reflective finishes, crushed diamond, and glitter-covered surfaces for a lavishly glamorous effect. To build a more nuanced ambiance, use silver materials like hammered metal, etched silver, and natural materials. To ensure you have some classy contrast, do not be afraid to include non-silver materials like crystal, glass, stone, and greenery.
As you finalize the best elegant silver home decor ideas and designs for your space, remember to include light in your plans. Because most silver decor is reflective on some level, it will interact with light in a magical way. Candlelight and sunlight can be tools in your design arsenal to take your silver design ideas to the next level. Integrating silver decor into your designs can mean that you get to play with the light in a whole new way. Light interplay extends beyond the silver decor – crystal, glass, and mirrors add their own spin to the lighting in your space. No matter what your décor style, infusing silver in your space is an easy way to dial up the elegance.