Mirrors are magical. They can make a tiny and narrow space such as the entryway look bigger than it is. They can amplify the brightness of a hanging lamp, chandelier or the light that falls through a window or open door. Best of all, entryway mirrors welcome guests and allow the members of the household to give themselves a last check before they go out into the world. They also allow a lovely view from inside of the house.
11 Imaginative Entryway Mirror Ideas Your Guests Will Remember
An entryway that is big enough to be treated like a separate room offers the homeowner many ways to be creative, especially with their mirrors. Mirrors can be grouped with on the wall with works of art and be framed like a work of art itself. Frames are traditionally made of fruitwoods and hardwoods but can also be made of metal, plastic, glass and other materials, and some can be bought with matching wall sconces.
Frames can be chosen or painted to match or complement the color scheme of the entry hall, and mirrors can be the same style as the furniture around them. For example, a Louis XV side chair can be matched with a console and mirror in the same style. On the other hand, styles can contrast with each other such as a girandole mirror paired with a mid-century modern cabinet. Here are some entryway mirror ideas.
1. Rustic Sunburst in the Entry Hall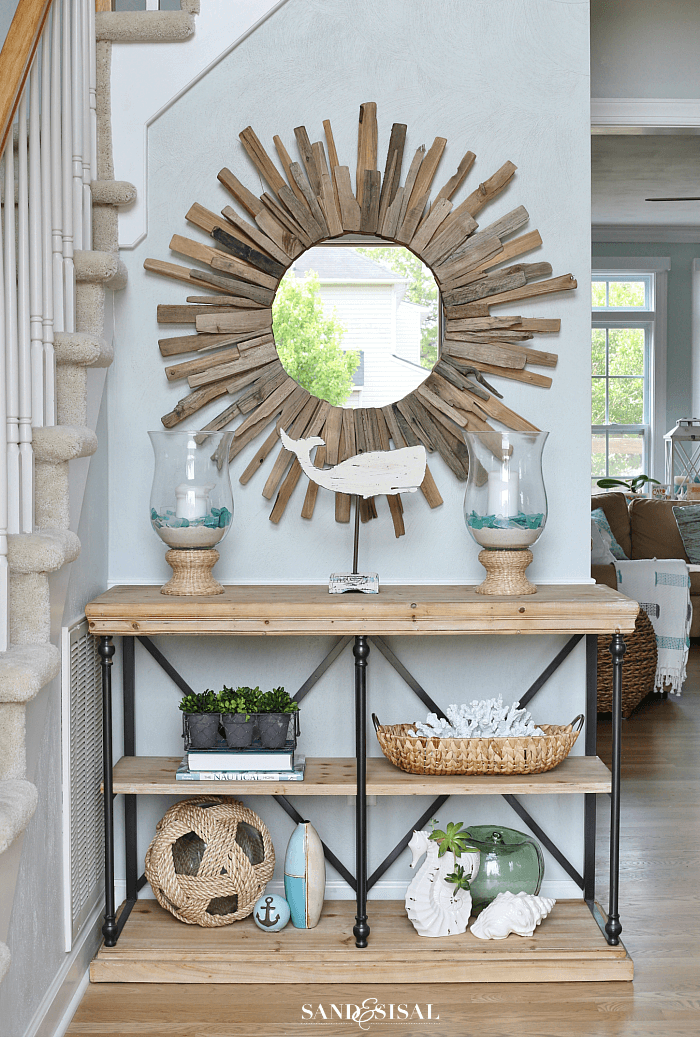 A roundish mirror with a frame made of bits of reclaimed wood is just right for the entryway of a rustic country home. Shelves made of metal piping and rough-hewn wood or repurposed pallets echo the countrified look of the mirror frame. Treasured family objects arranged on the shelves complete the look.
2. Simplicity Itself Boosts Natural Light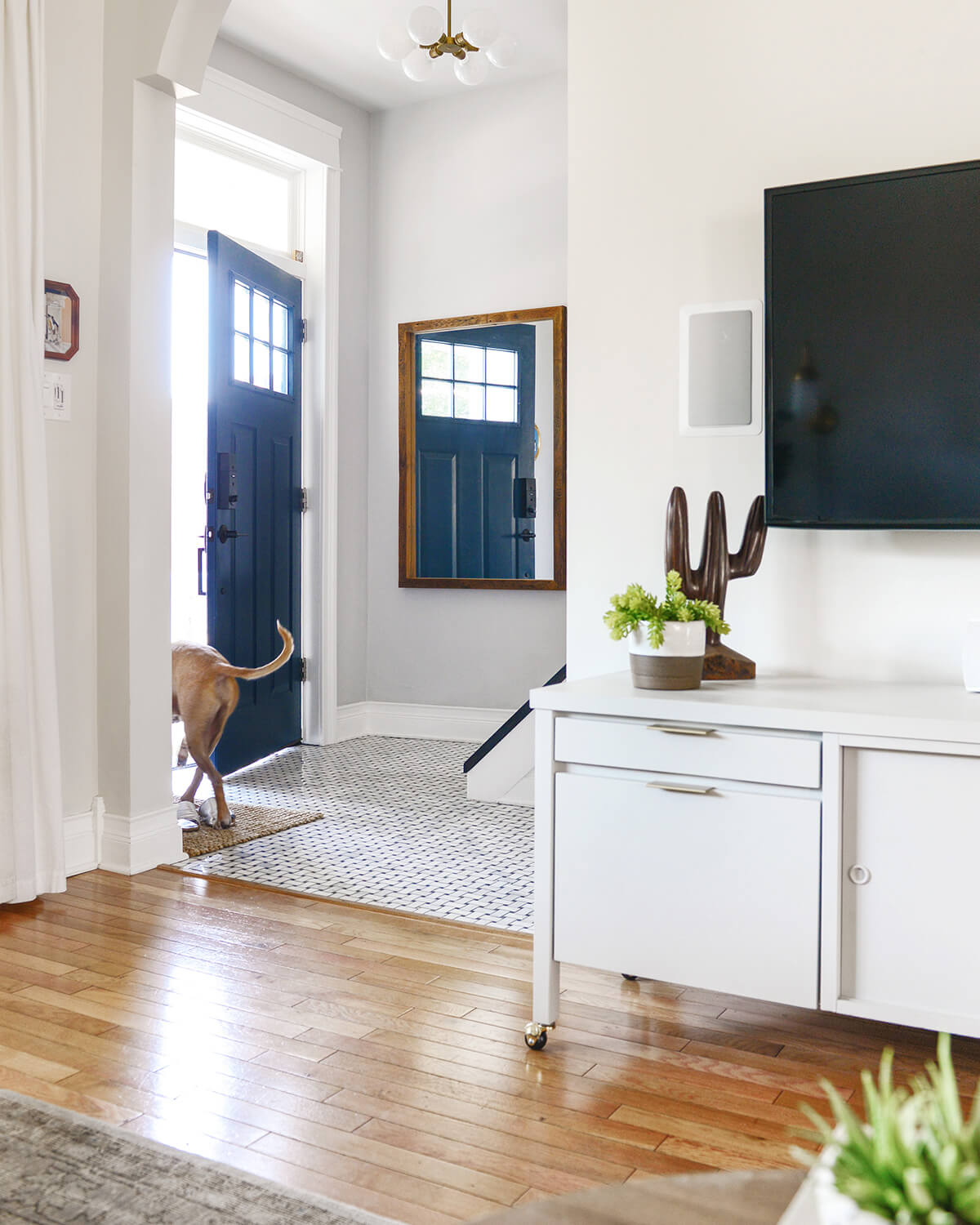 Entryway mirror ideas don't have to be fancy. A large rectangular mirror in a simple wood frame keeps a tiny entryway from being uninteresting and makes it look bigger and more welcoming. When the front door is opened, the mirror reflects it and enhances the light that pours into the hall, down the step and onto the polished wood floor of a room.
3. Golden Sunburst Has Timeless Look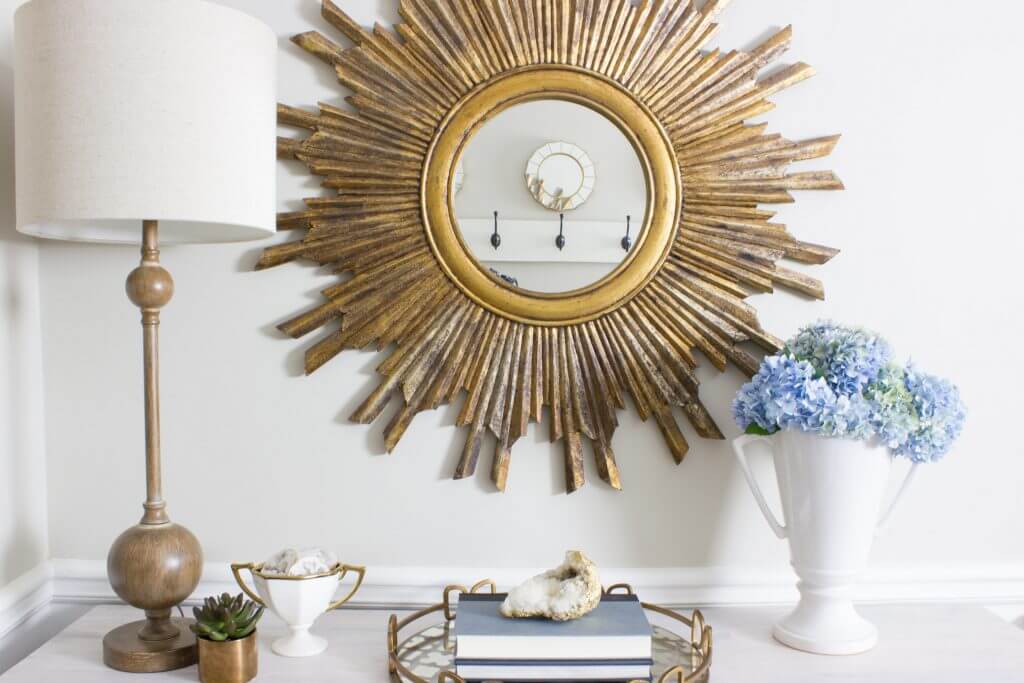 A more sophisticated cousin of the rustic sunburst, the golden ring around the mirror glass that separates it from the rays of sunshine gives it an antique, classic look. Such a mirror hung on the wall opposite an interesting view such as a fireplace or a window to the garden doubles the view and doubles the pleasure.
4. Terra Cotta Frame Keeps Room Earthbound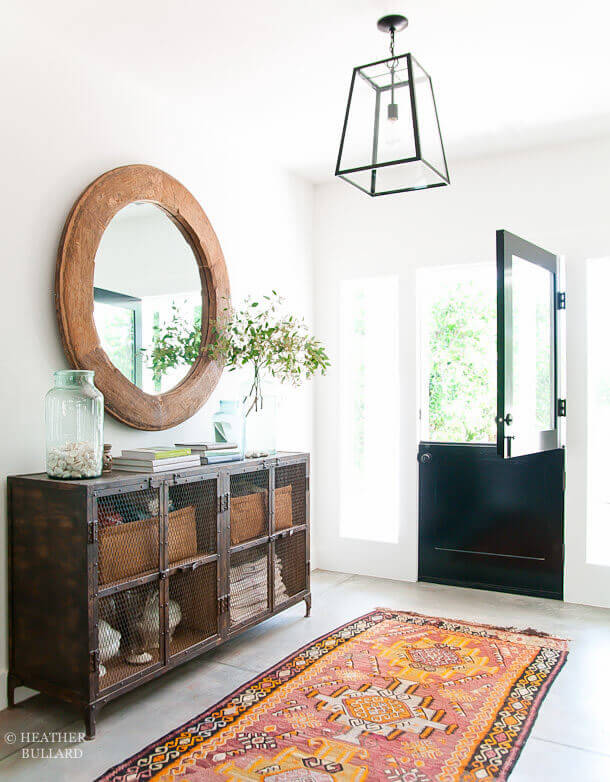 A big round mirror with a frame made of terra cotta or even leather automatically catches the interest of a visitor in a room whose walls, floors and ceilings are done entirely in white. A traditional rug can echo the earth colors of the mirror frame, and a repurposed sideboard with open shelves or doors with chicken wire panels keep everything grounded.
5. Repurposed, Galleried Tray Table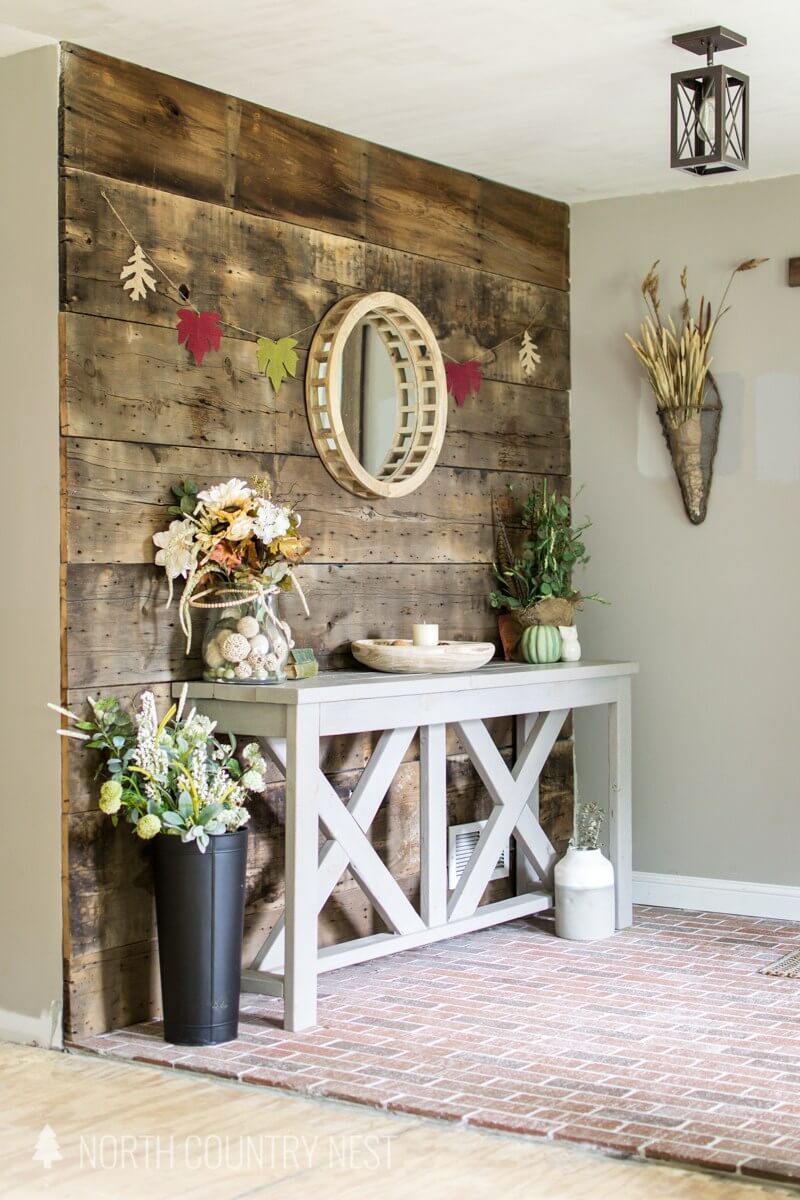 Another of the entryway mirror ideas repurposes furniture that's seen better days. A galleried tray table makes an excellent wall mirror. Some of these tables already come with mirrored tops, but the owner can have a mirror custom-made for the table top before it is hung in the entryway. Rusticated walls and furniture make a nice contrast to the elegant mirror.
6. A Frame of Concentric Cannonballs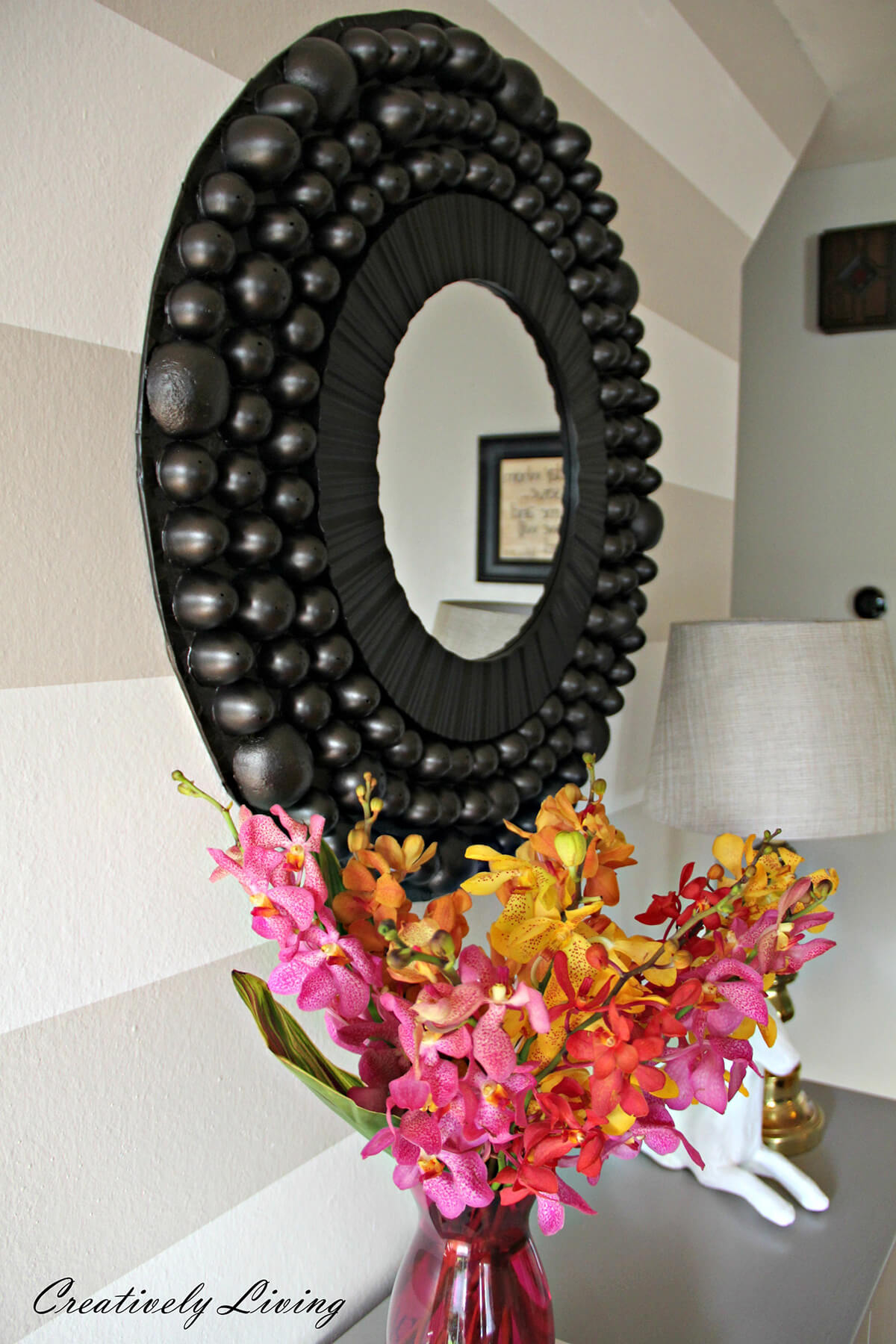 Entryway mirror ideas easily embrace mirrors with alternative frames. The mirror glass, which can be small, can be surrounded by a pleated frame which is in turn surrounded by a frame that looks like its made of concentric circles of small cannon balls, Minié balls or tumbled stones in different sizes. If the frame is one neutral color, an arrangement of wildly colorful flowers set on the console table lightens and softens it.
7. Moonburst Brings Out Your Playful Side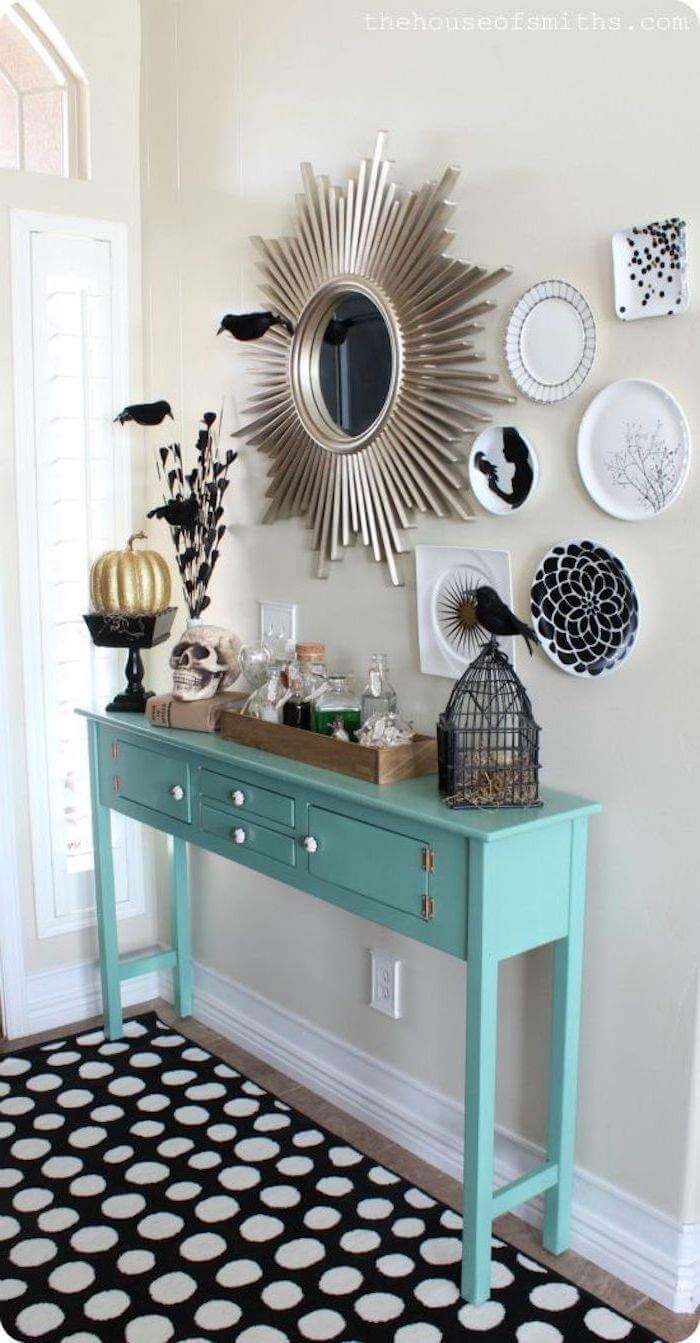 If some mirrors are surrounded by sunbursts, why shouldn't others be surrounded by moon bursts? The difference is one is golden and the other is silver with the mirror glass sunk deep into the frame for interest. These kinds of mirrors are just the thing to bring out the owner's playful side, so add decorative plates around it, a pastel-colored sideboard beneath it and other quirky bric-a-brac.
8. Half-Moon Rising with Skirt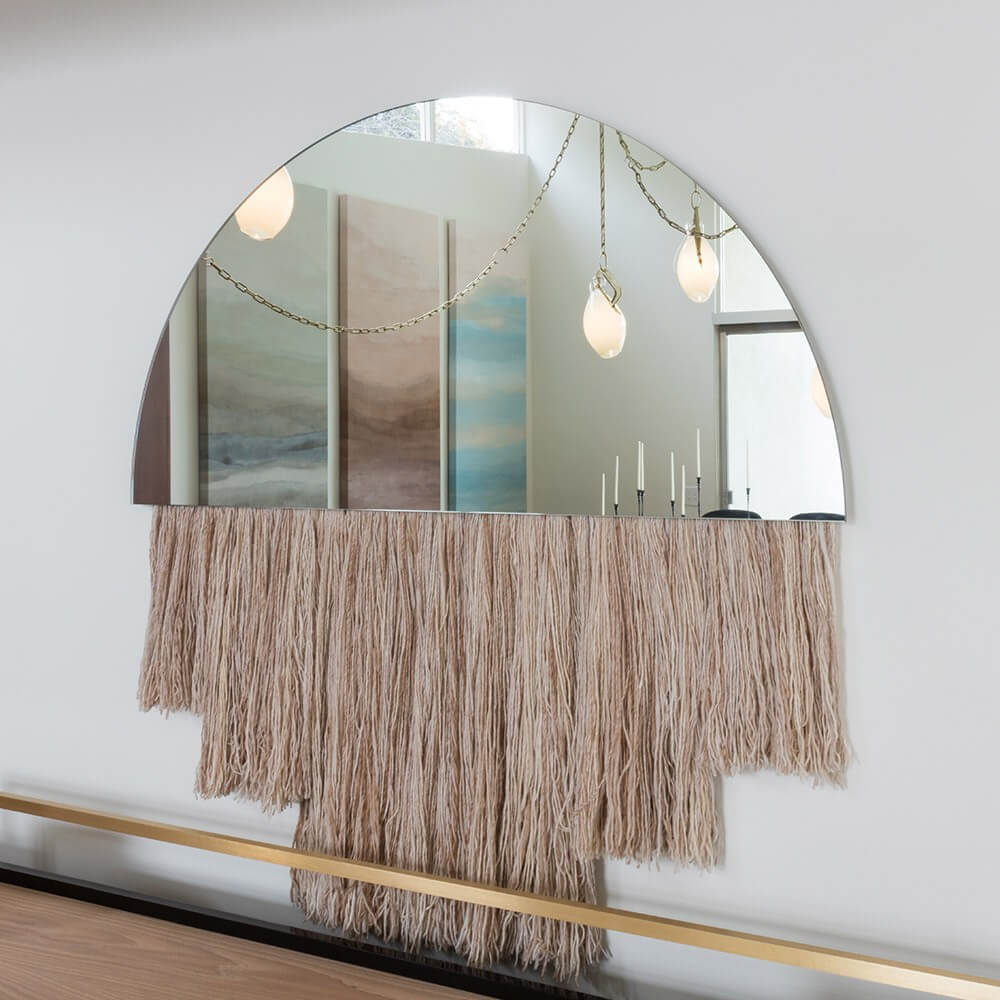 Place a metal backing behind the glass of a semi-circular window, hang it on the wall and you have a mirror. Placed opposite hanging lamps, the mirror is big enough to reflect them and bounce their light around the room. To keep the mirror from looking too stark, the owner can add a skirt made of macrame, grass or other textiles.
9. Small and Classy Quatrefoil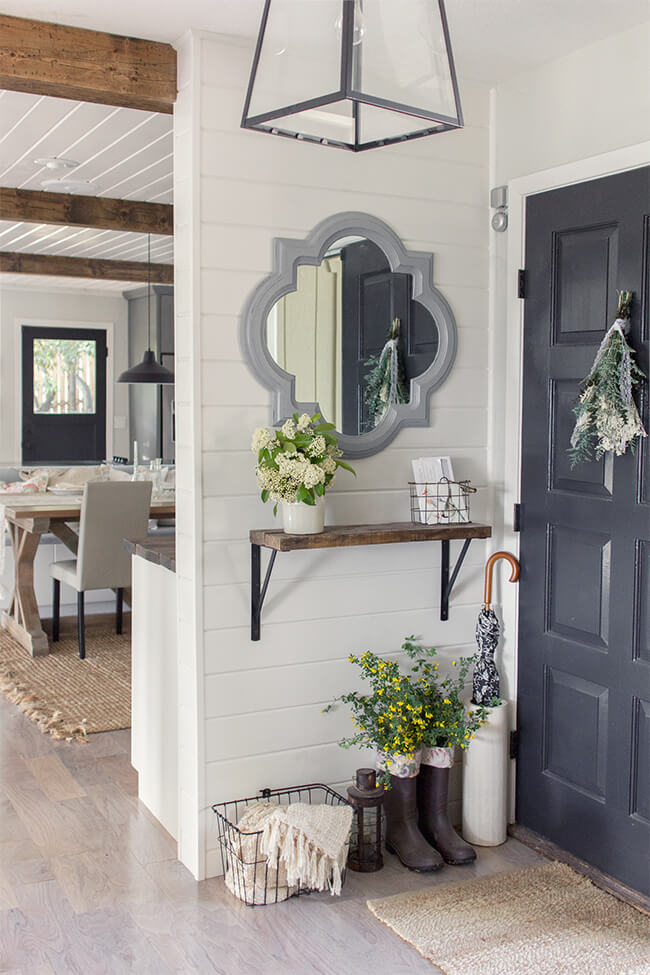 A quatrefoil shaped mirror can bring an old-fashioned but graceful touch to a tiny entryway. All such a mirror needs around it is a simple shelf, an umbrella stand, and a wire basket to hold sundries. A paneled door a few shades darker than the mirror frame with a wreath of dried flowers is nicely reflected in the glass.
10. Window on the World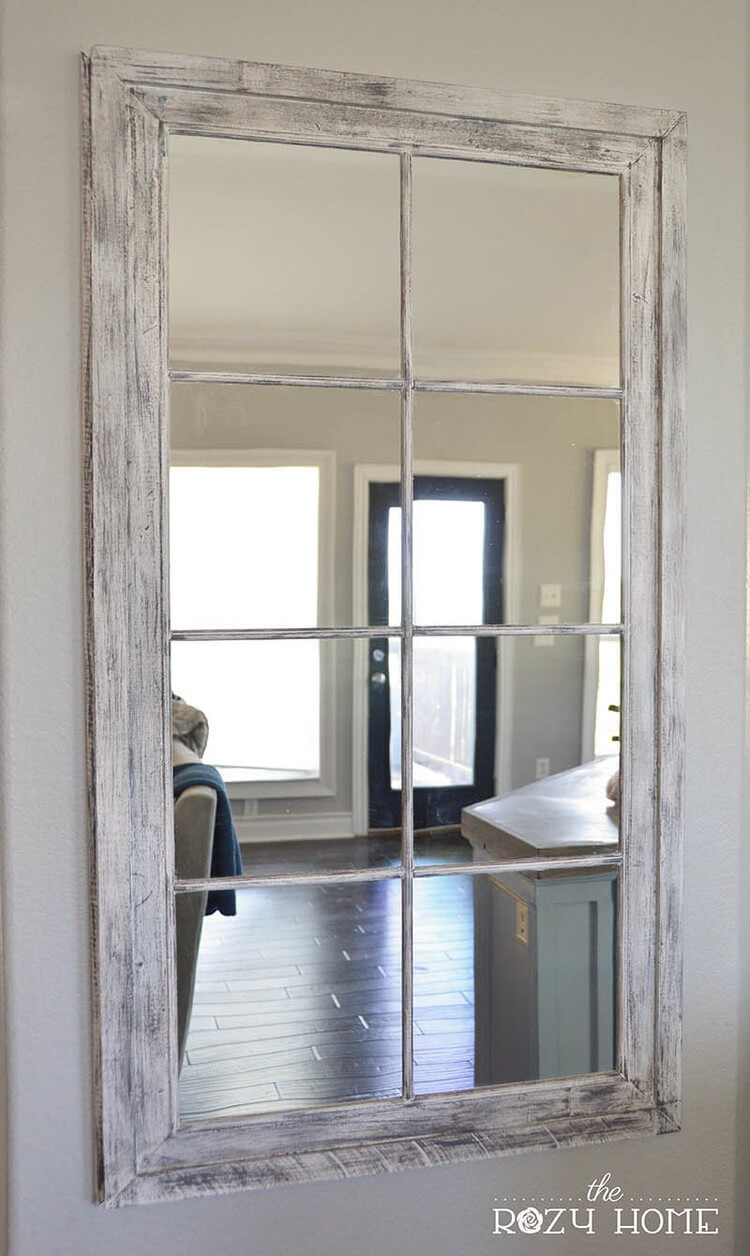 A mirror can also be made out of an old, mullioned window that's seen better days. All it needs is the metal backing and to have its wooden frame and mullions cerused, or white-washed. Placed in just the right spot on the entryway wall, it can reflect much of the room in front of it, and make it seem brighter and more spacious than it is.
11. Blue and Gold Porcelain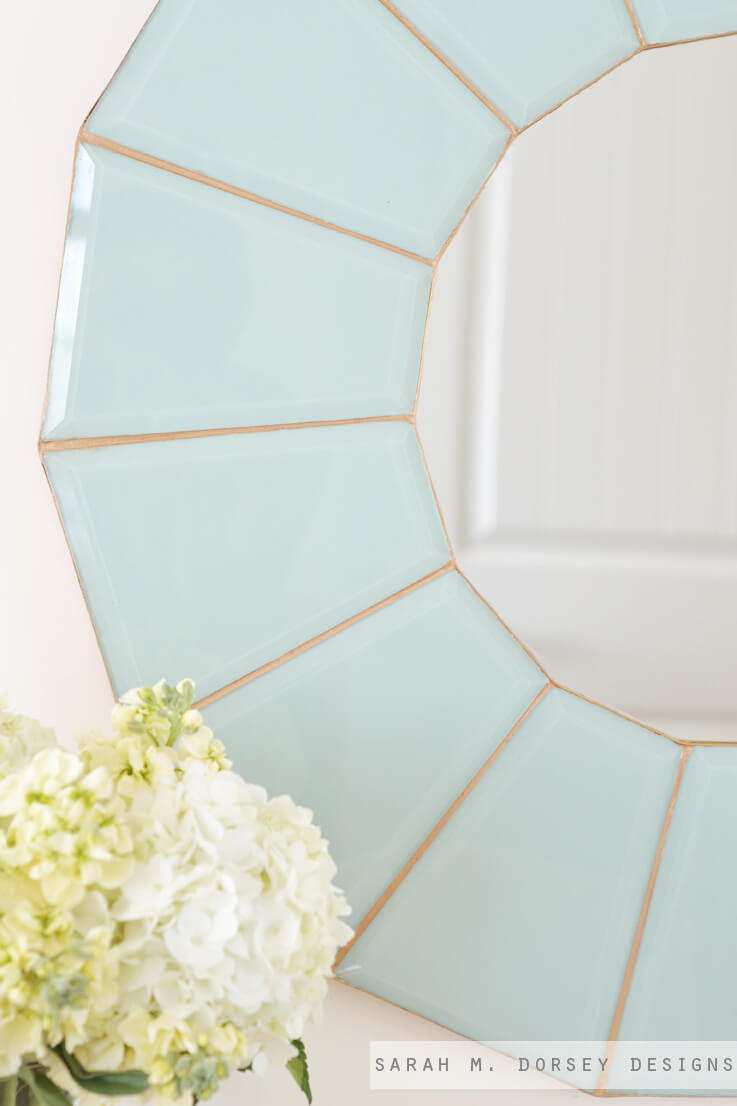 Porcelain, or a material made to look like porcelain, is a stylish solution for a mirror frame. The material can come in the form of wedge-shaped, pastel-colored tiles that are set around the glass in an aesthetically pleasing way. The "grout" can be represented by gold-colored paint, or if the owner wants to really splurge gold leaf.