Every home needs mirrors. Mirrors are a beautiful complement to the farmhouse style. Mirrors help to reflect the space in the home, making the home feel larger. In the farmhouse home, they are frequently created from reclaimed wood or repurposed exterior windows. The farmhouse style often incorporates distressed or weathered finishes, bringing a vintage feel into the home.
40+ Farmhouse Mirror Ideas that are Both Functional and Stylish

Farmhouse mirrors use various architectural features, including sliding barn doors and elegant finials. Vintage items are repurposed, like old hand mirrors hung on the wall. Mirrors created from old doors are often stood up against the wall, giving a casually elegant look.
In the bath, mirrors are essential. Farmhouse bathroom mirrors can be elegantly carved or made from plain lumber. To create a vintage look, use wood that has been stamped or printed, or stencil it yourself.
For a creative touch, try creating a sunburst mirror with planks of reclaimed wood. This combines contemporary style with a weathered flair. Mirrors can also be practical, with hooks under them to hang household essentials.
Try these 40+ farmhouse mirror ideas to bring an extra sense of charm and grace to your home. Any of these ideas will enhance the farmhouse style of your home while providing a beautiful accent to your décor.
1. Graceful Distressed Mirror over an Entry Table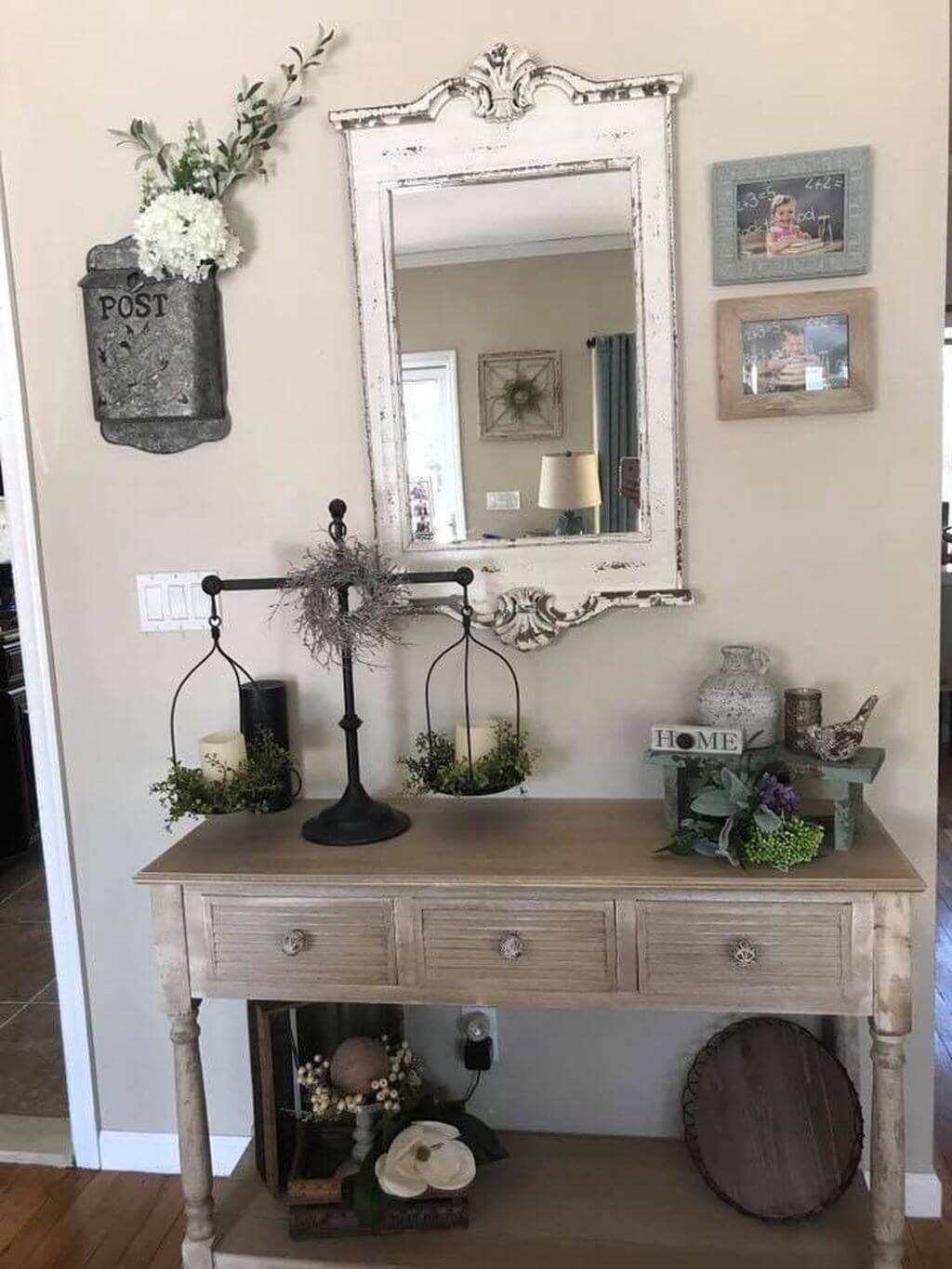 3. Three Rustic Framed Mirrors in the Bedroom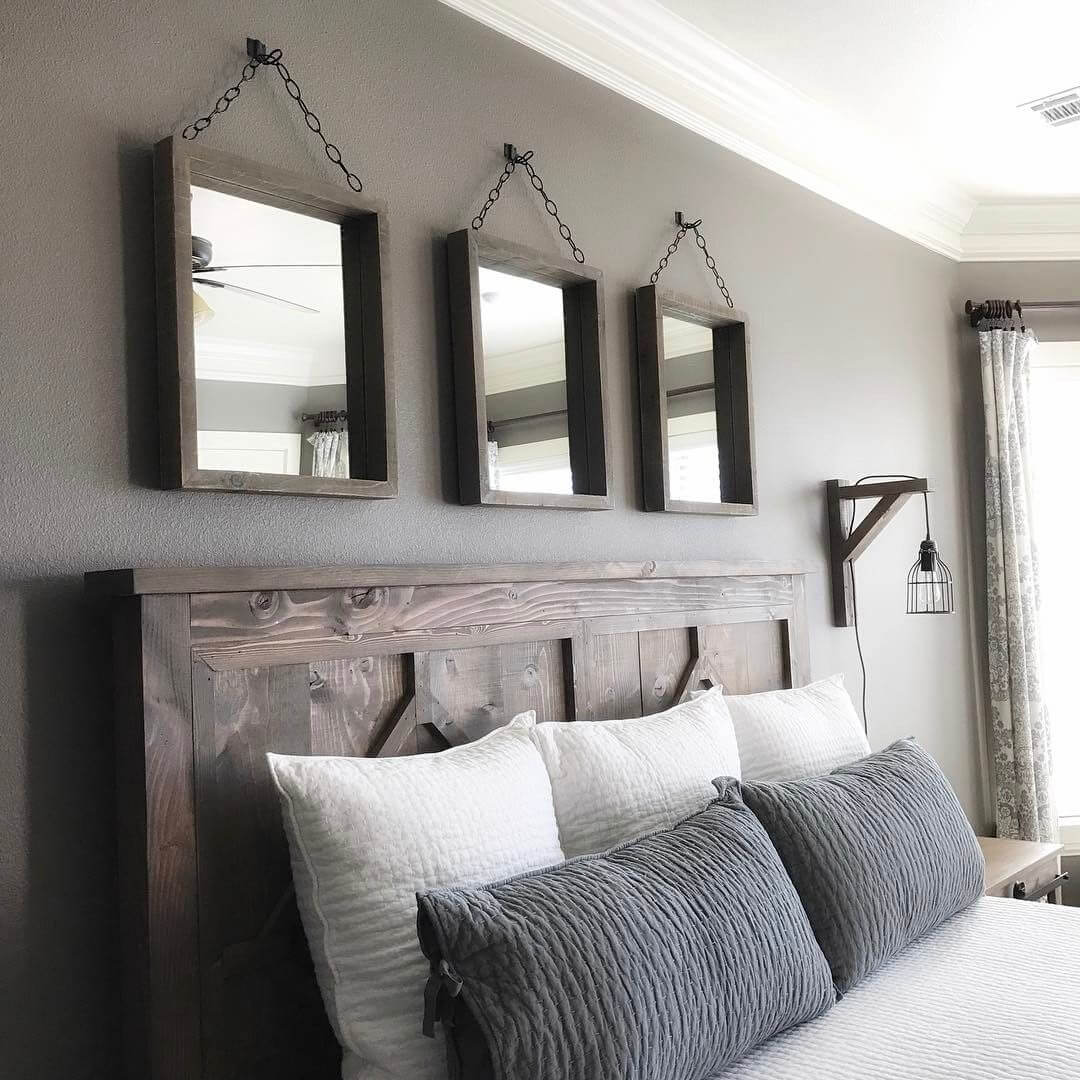 4. Charming Old Door with Mirror Glass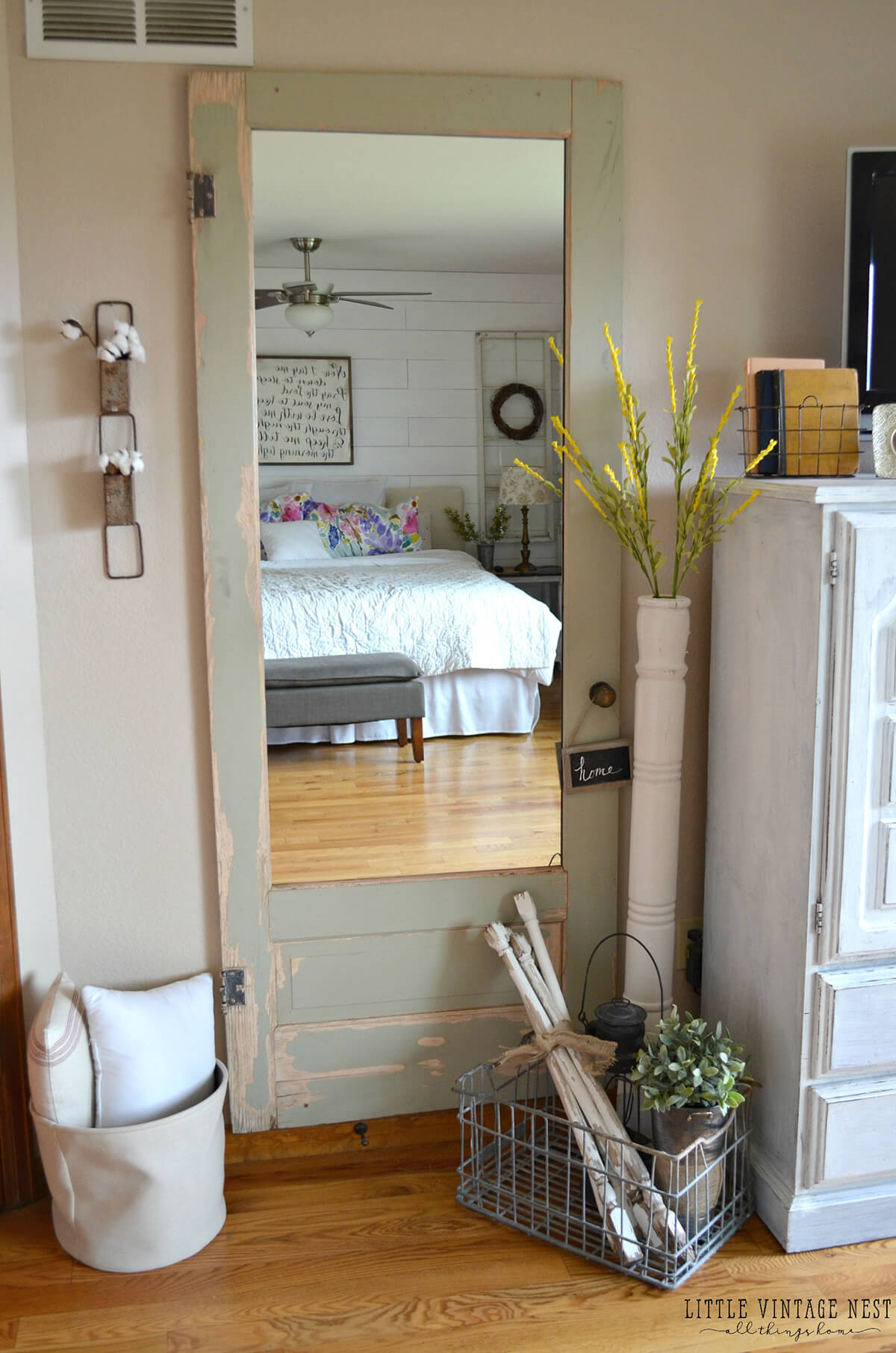 5. Mullioned Window Mirror over a Farmhouse Sink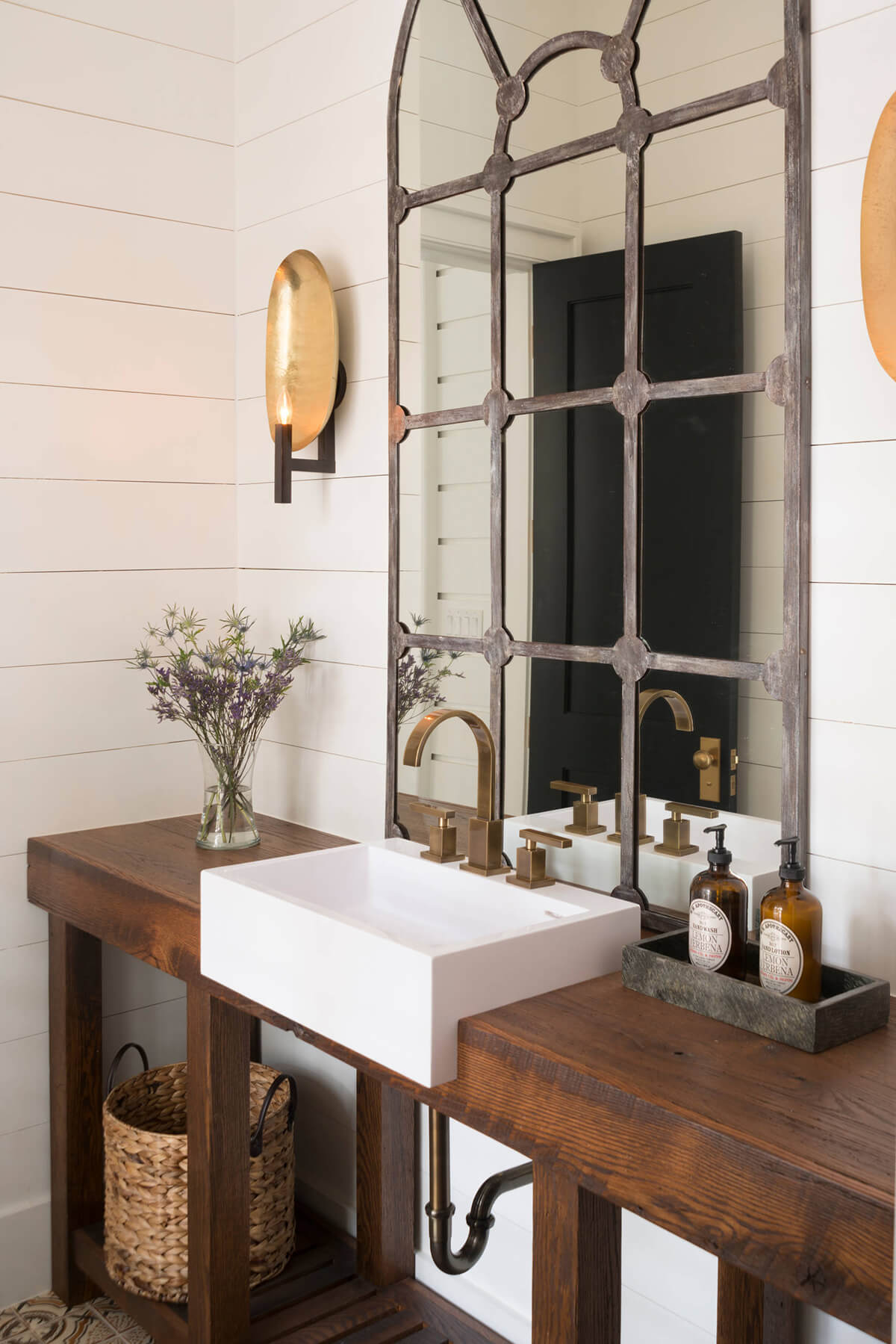 6. Weathered Wood Circular Mirror for the Bath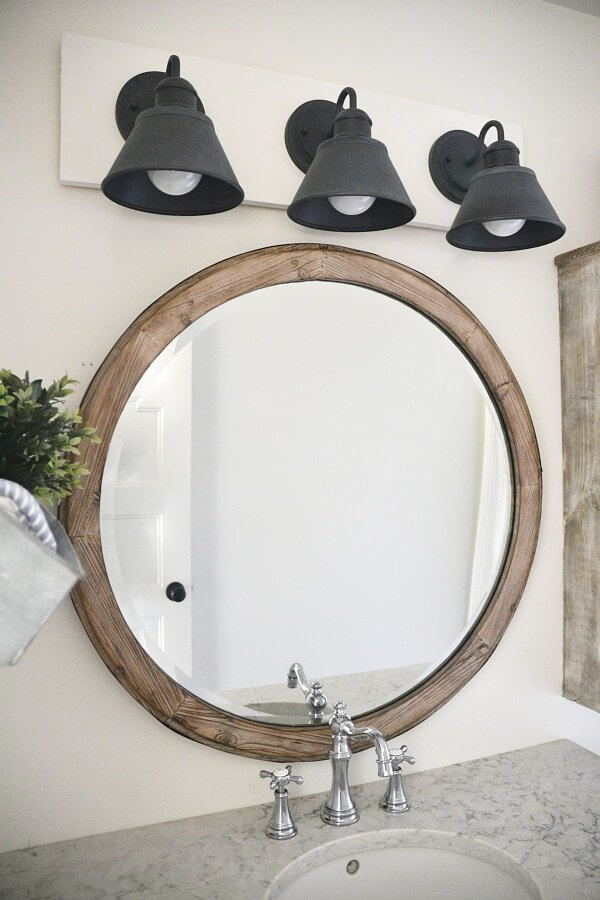 7. Distressed White Window Farmhouse Mirror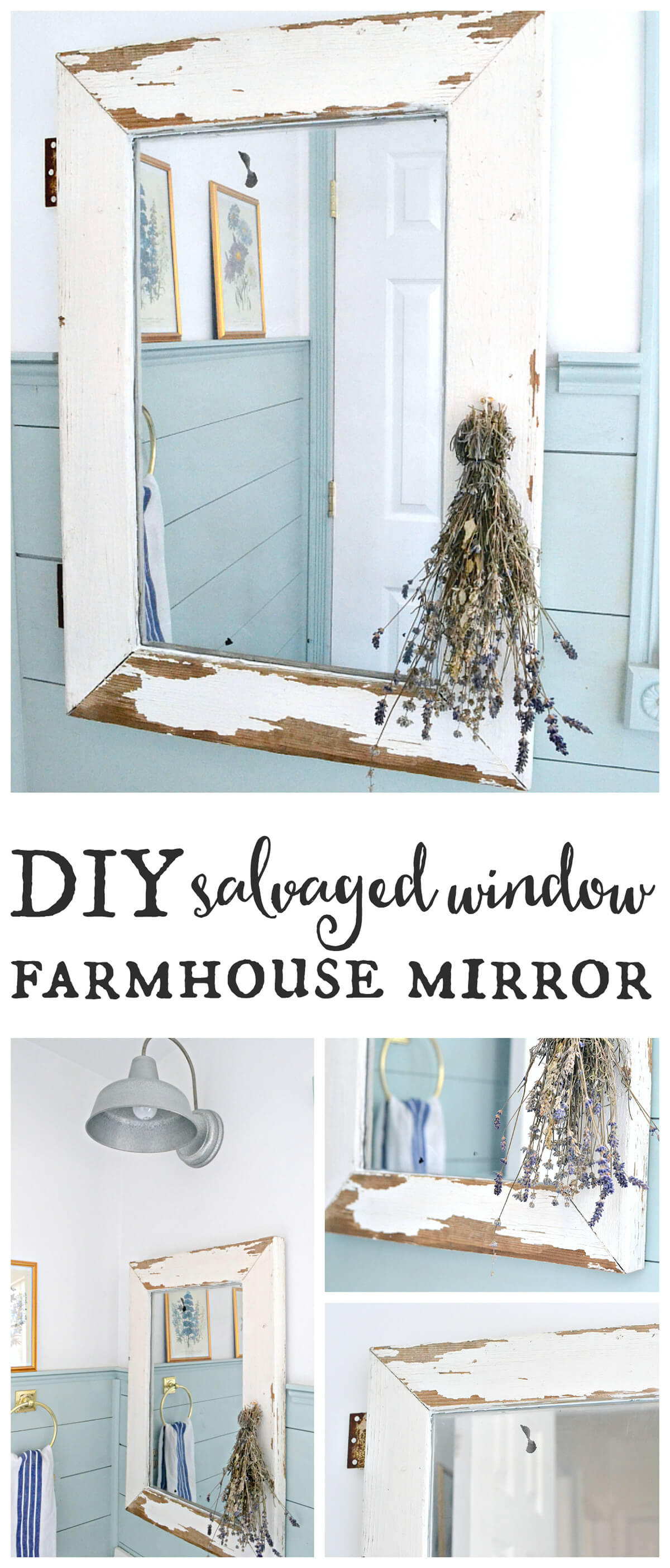 8. Diamond Patterned Weathered White Mirror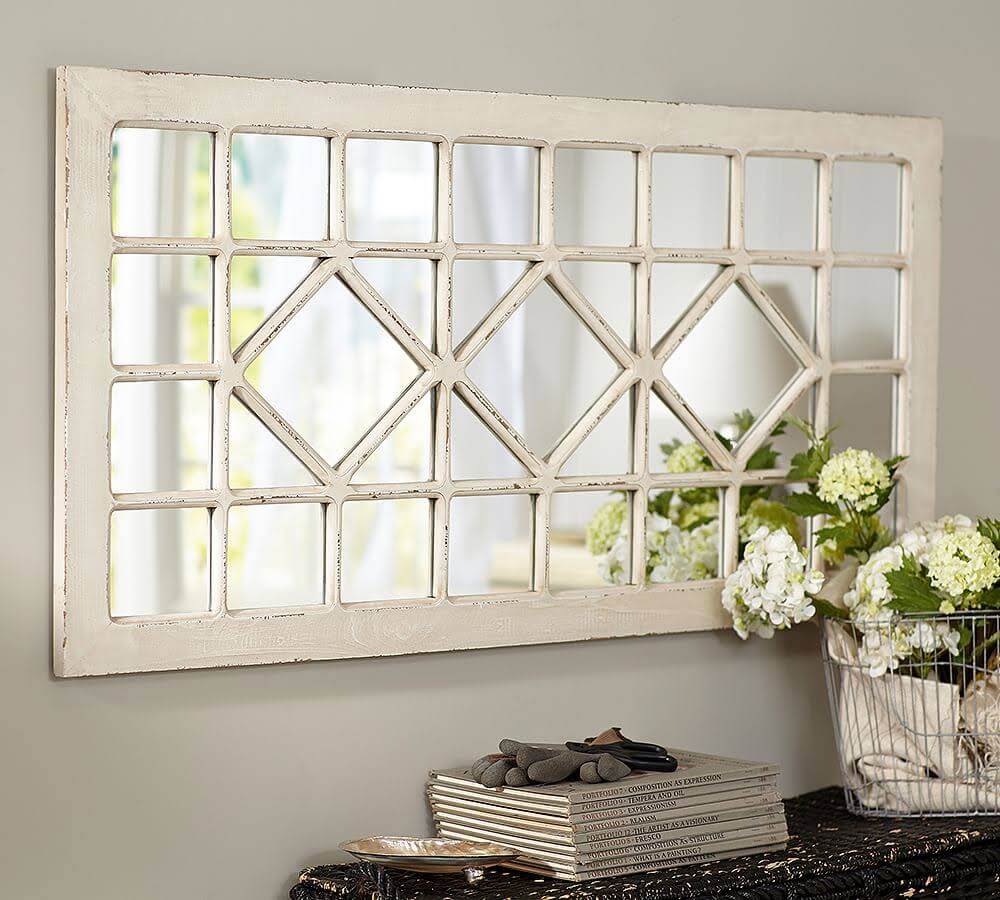 9. Gracious Framed Farmhouse Mirror Idea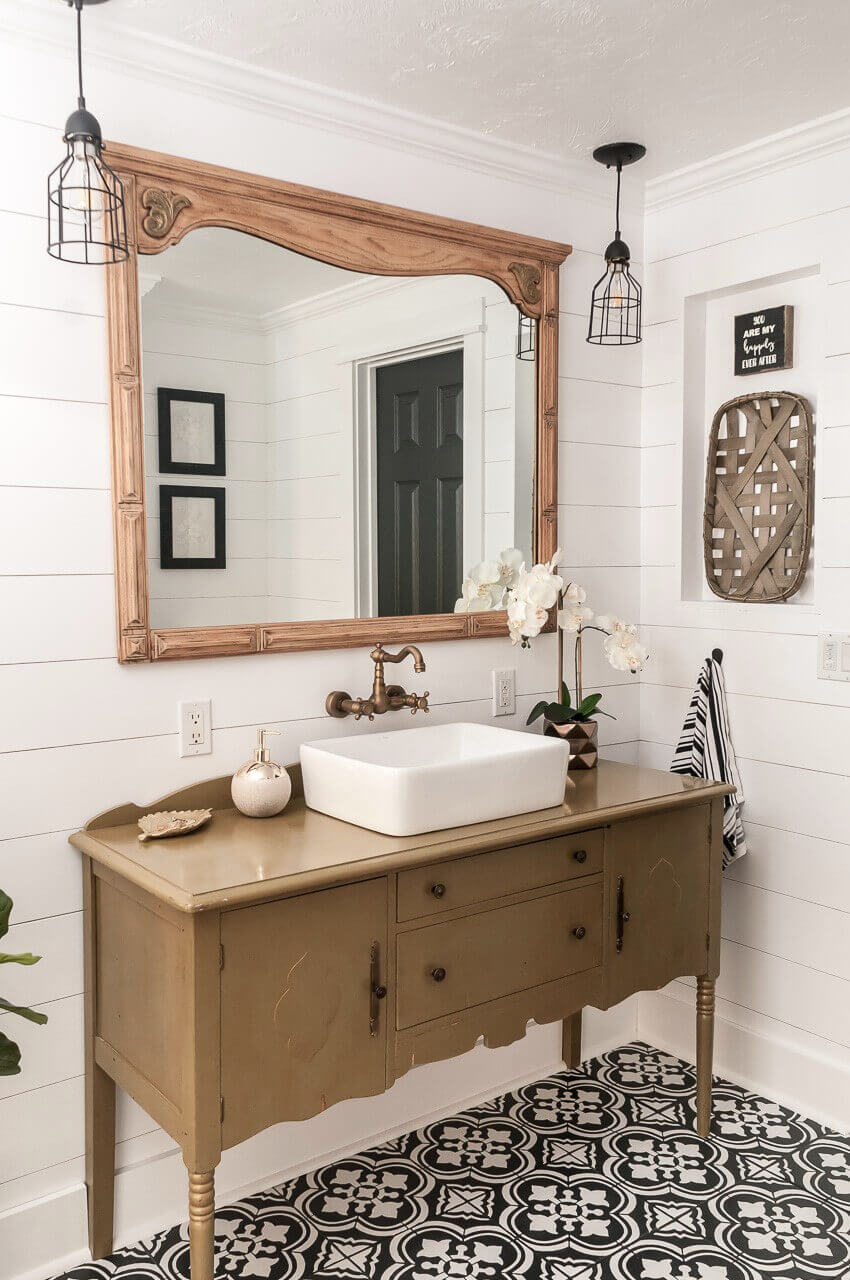 10. Practical Mirror with Thick Frame and Hooks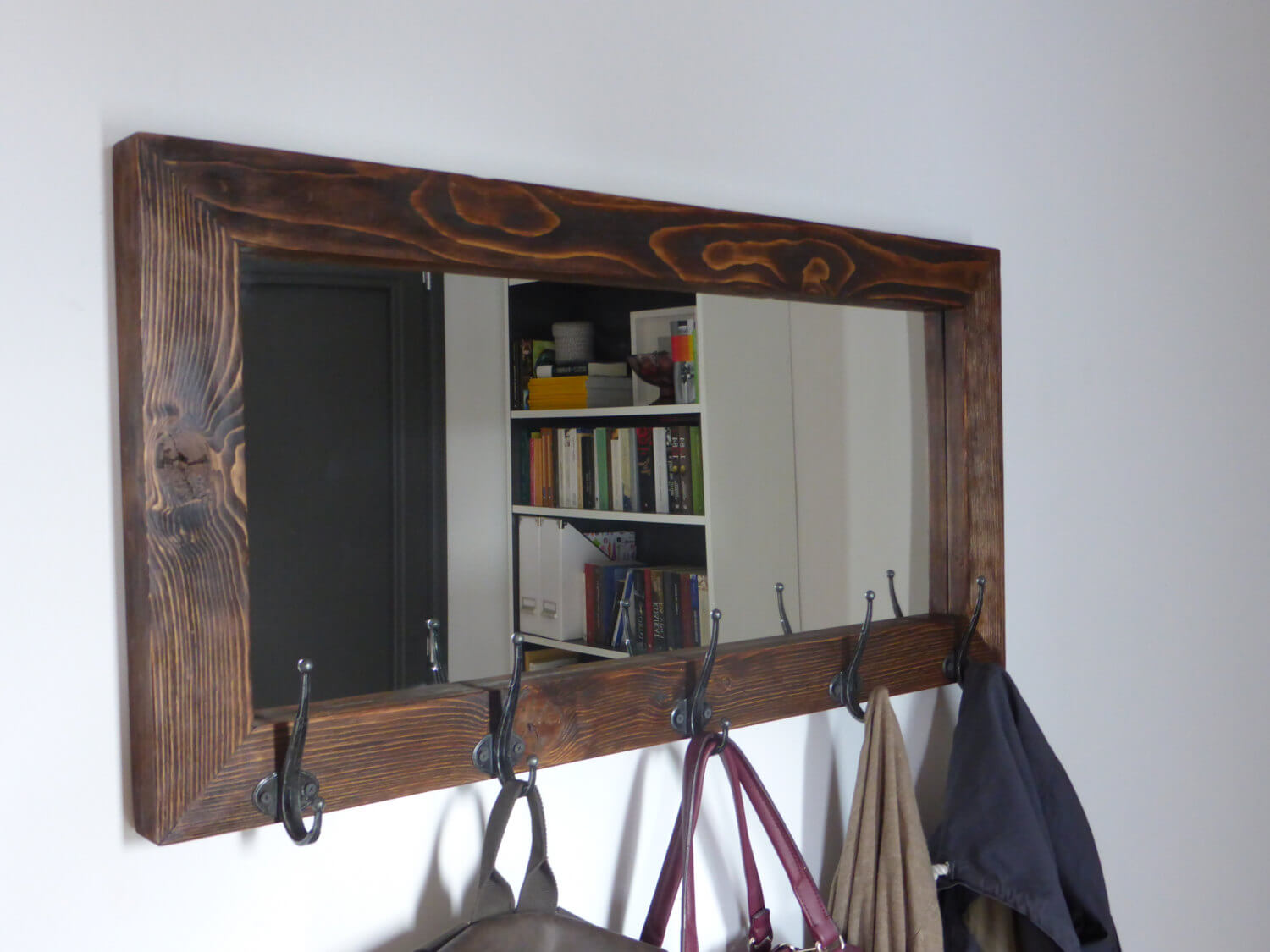 11. Window Frame Mirror over the Sink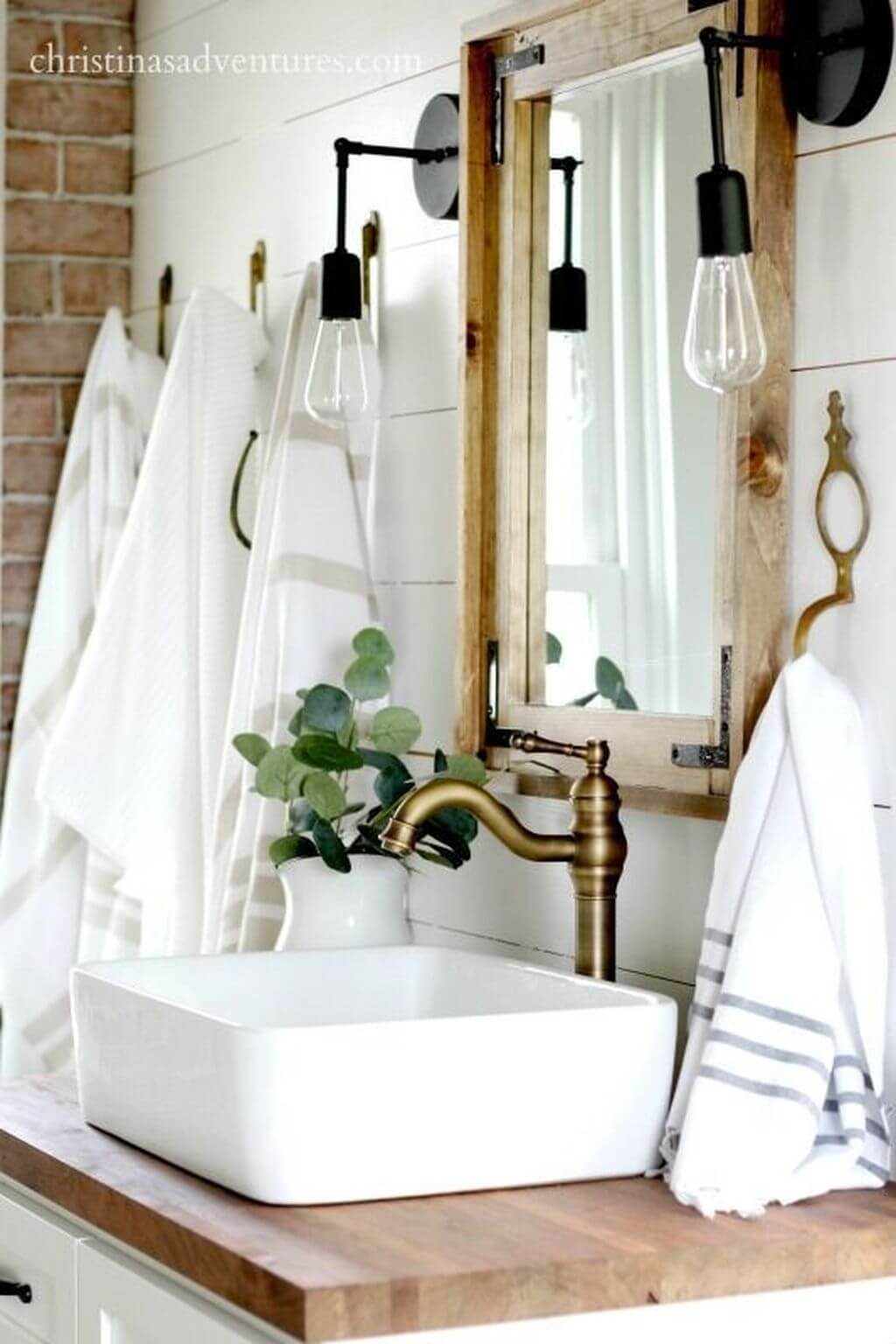 12. Simple Circular Mirror Reflecting the Living Room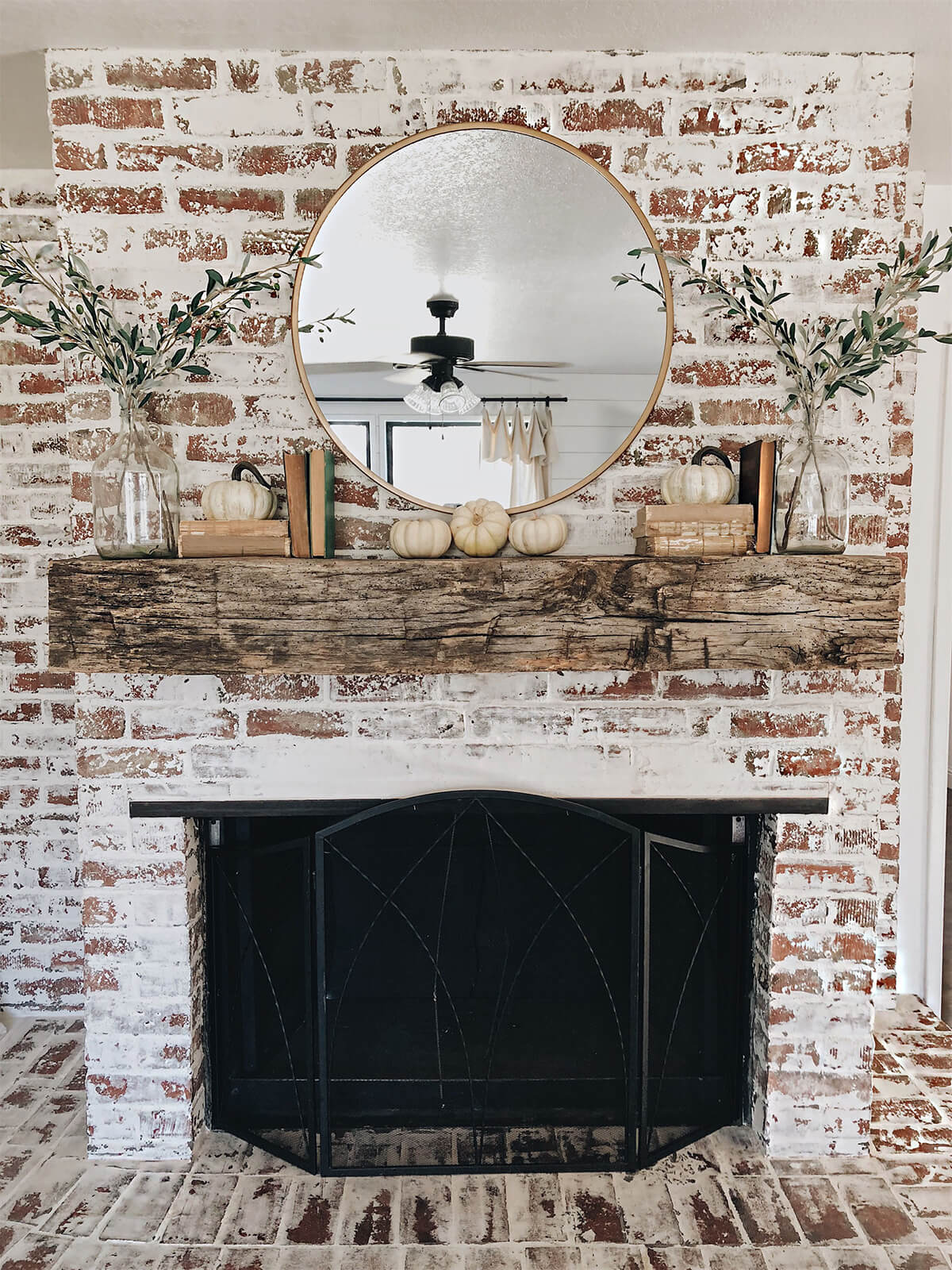 13. Old Barn Shutter with Mirror and Hooks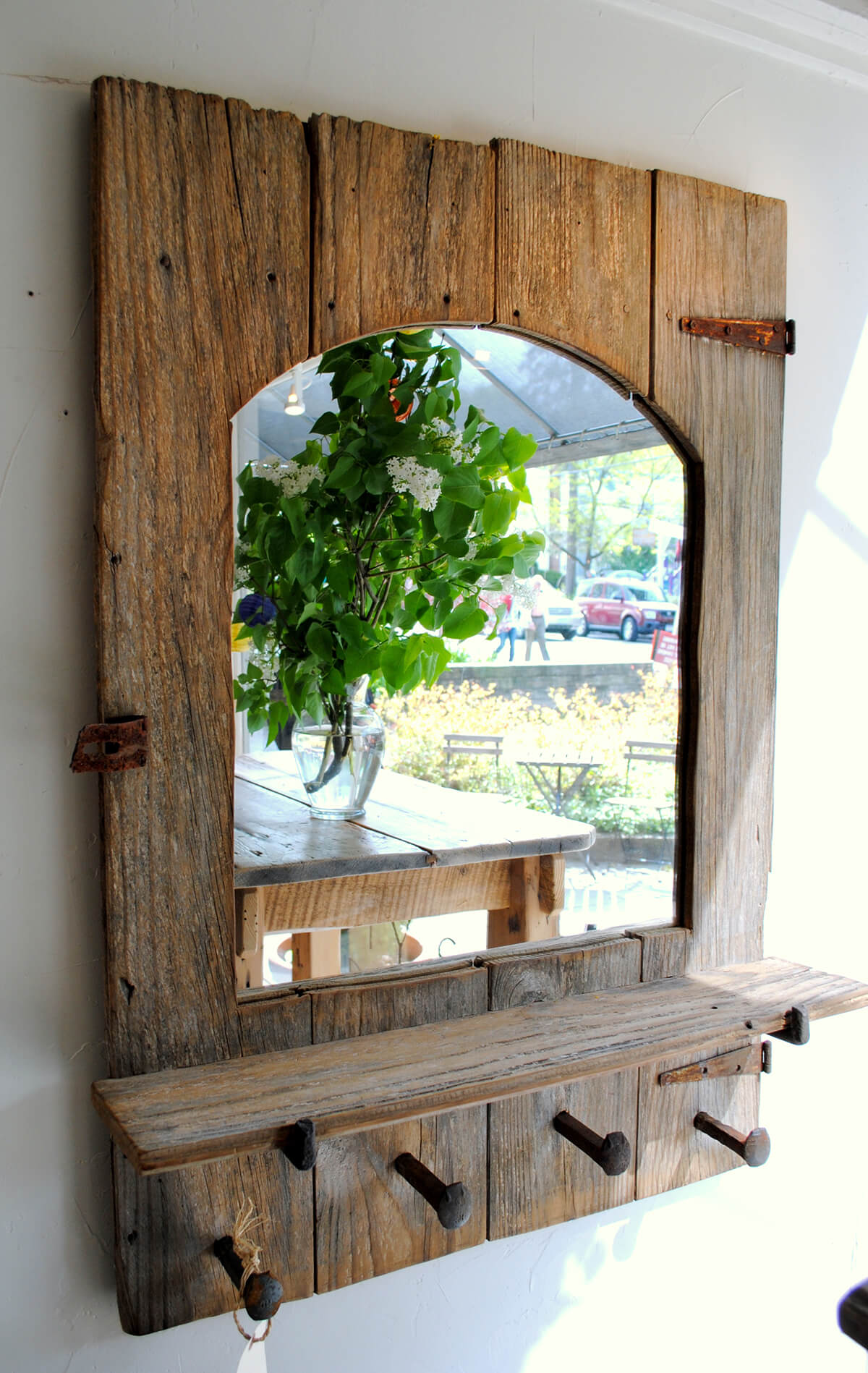 14. Pair of Charming Dual Vanity Sink Mirrors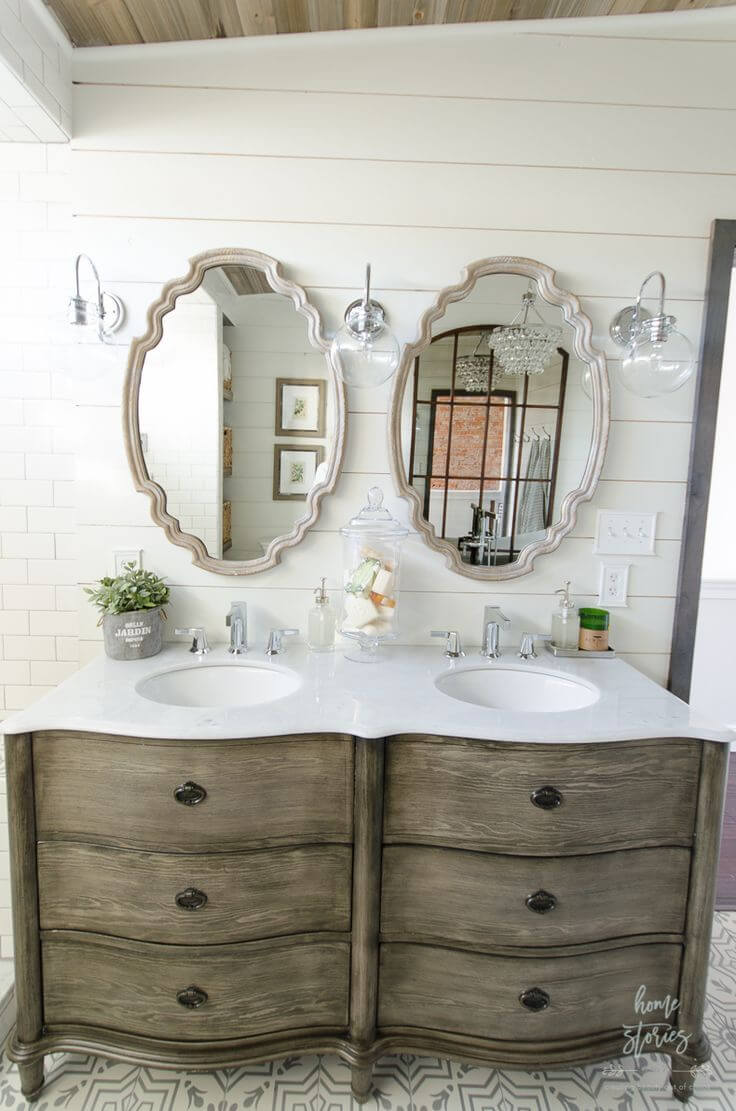 15. Hang Vintage Hand Mirrors on the Wall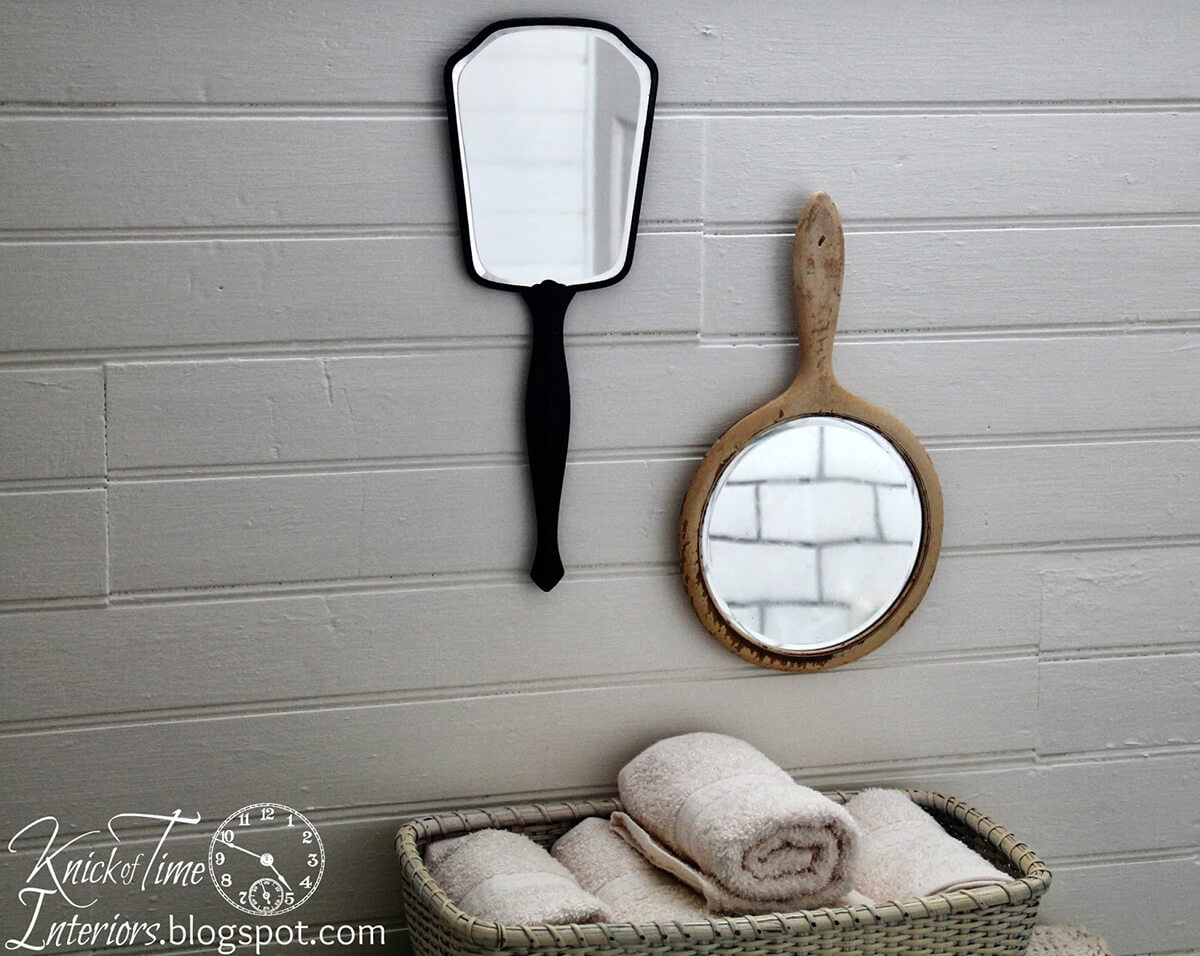 16. Farmhouse Mirror Idea with Sliding Doors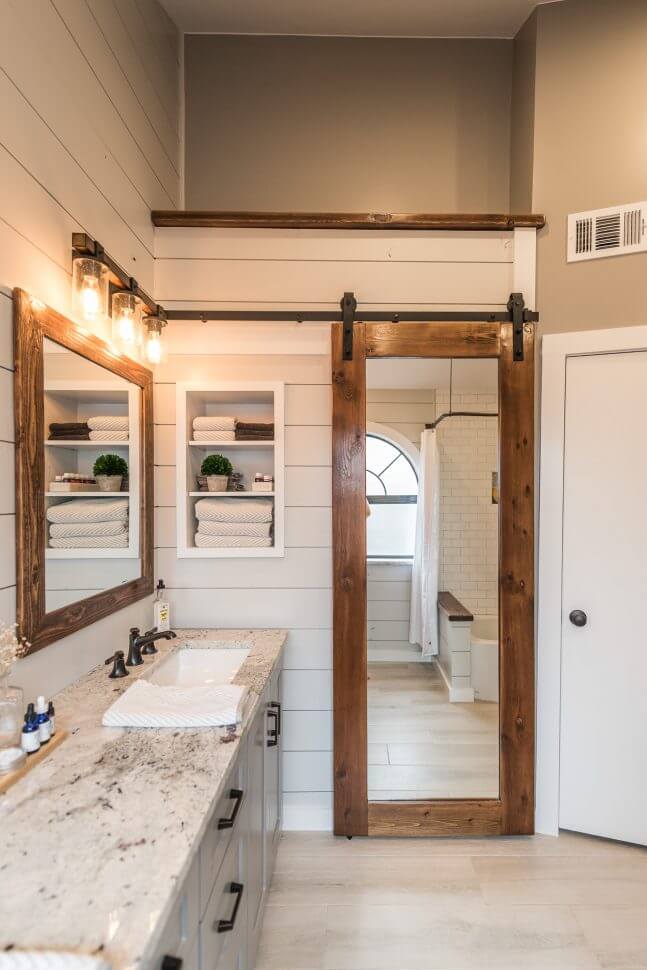 17. Weathered Old Door with Mirror Glass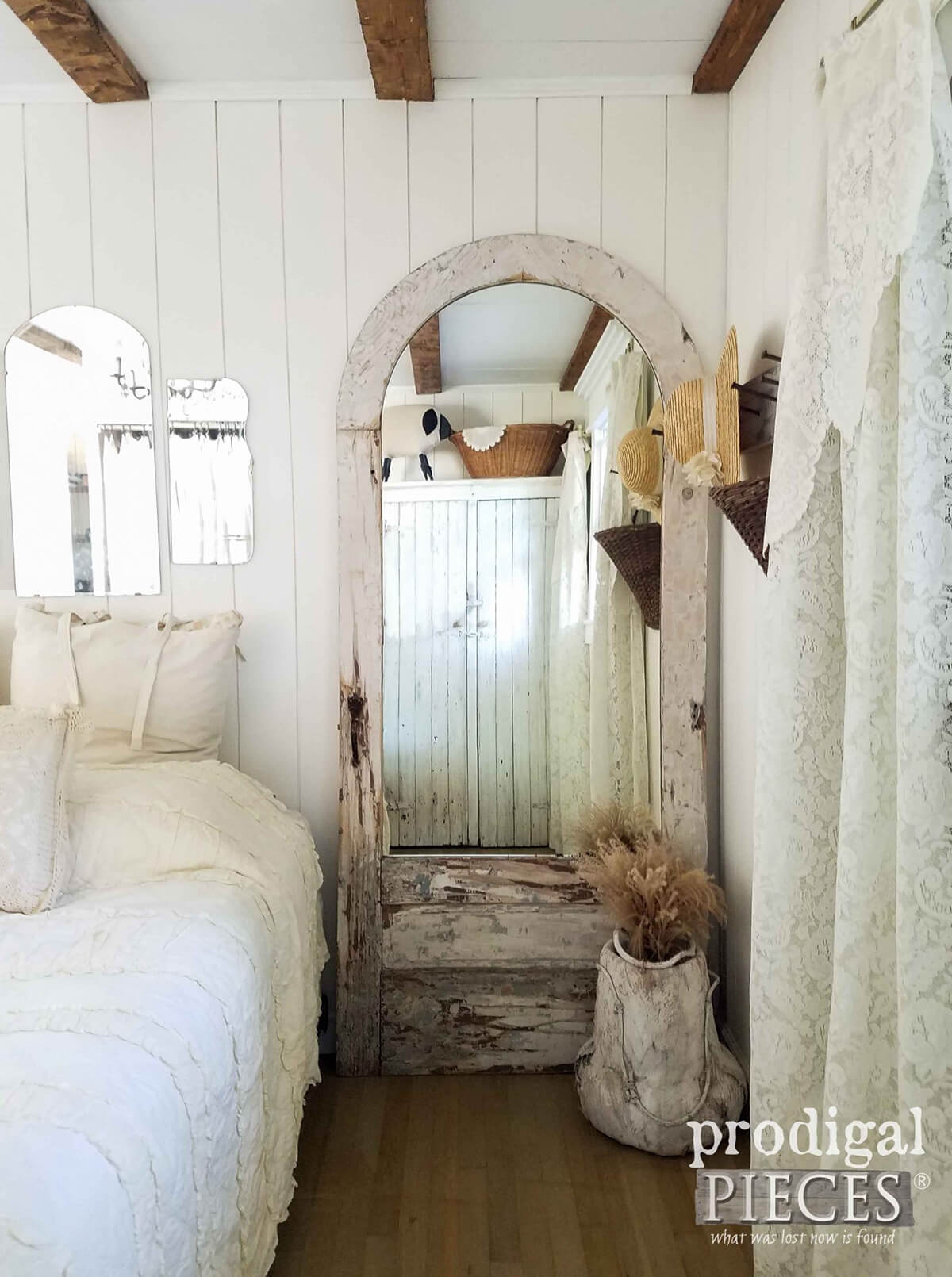 18. White Wall Mirror with Ornate Carvings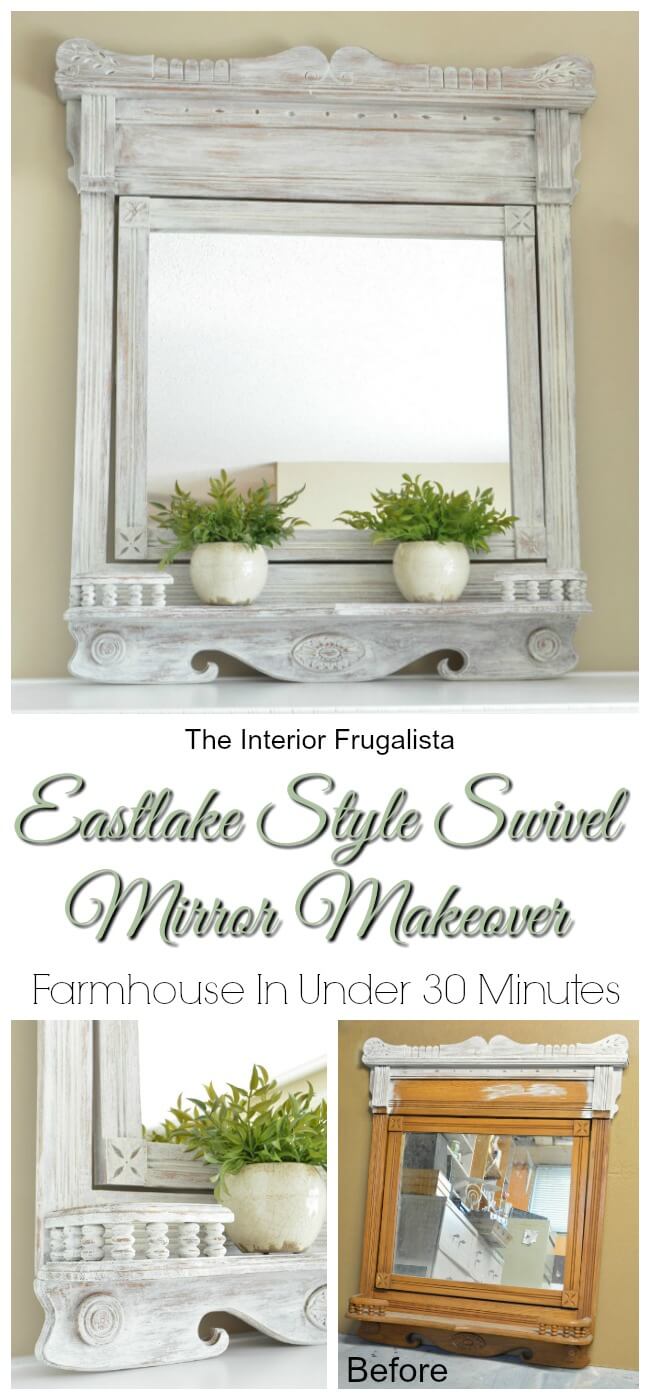 19. Softly Finished Mirror with Finials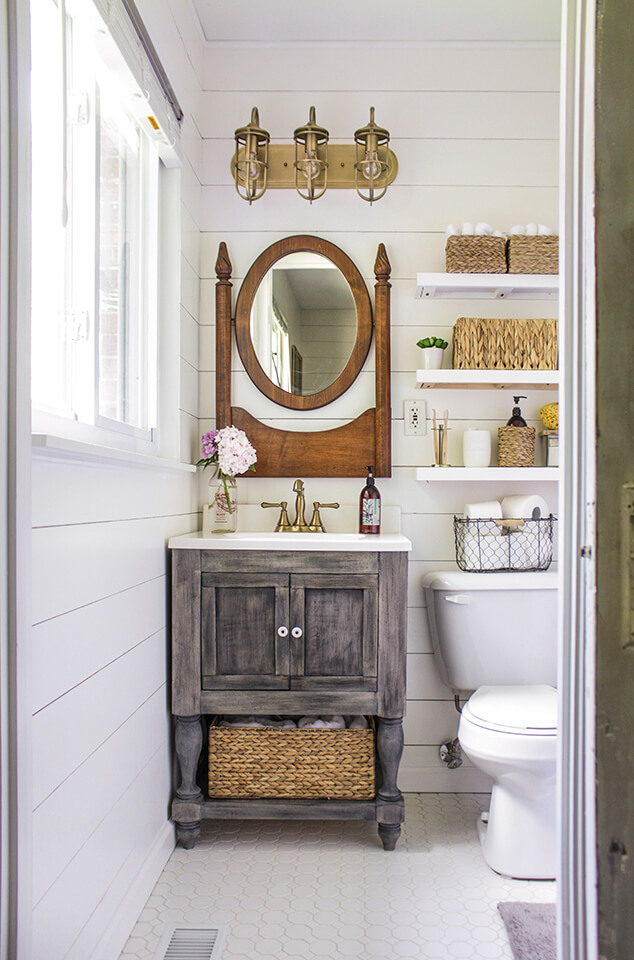 20. Simple Mirror with a Hanging Wreath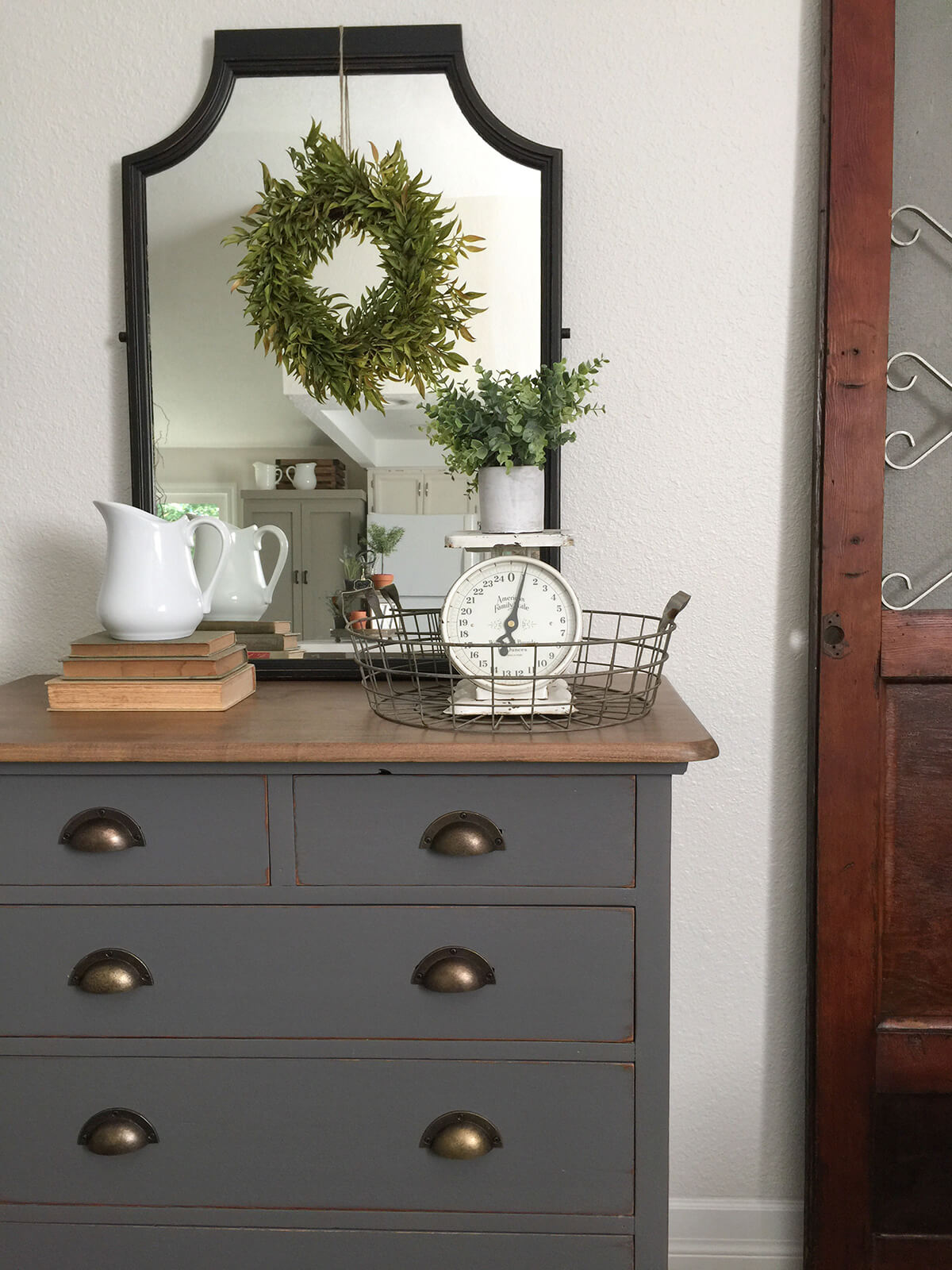 21. Oversized Mirror with Printed Lettering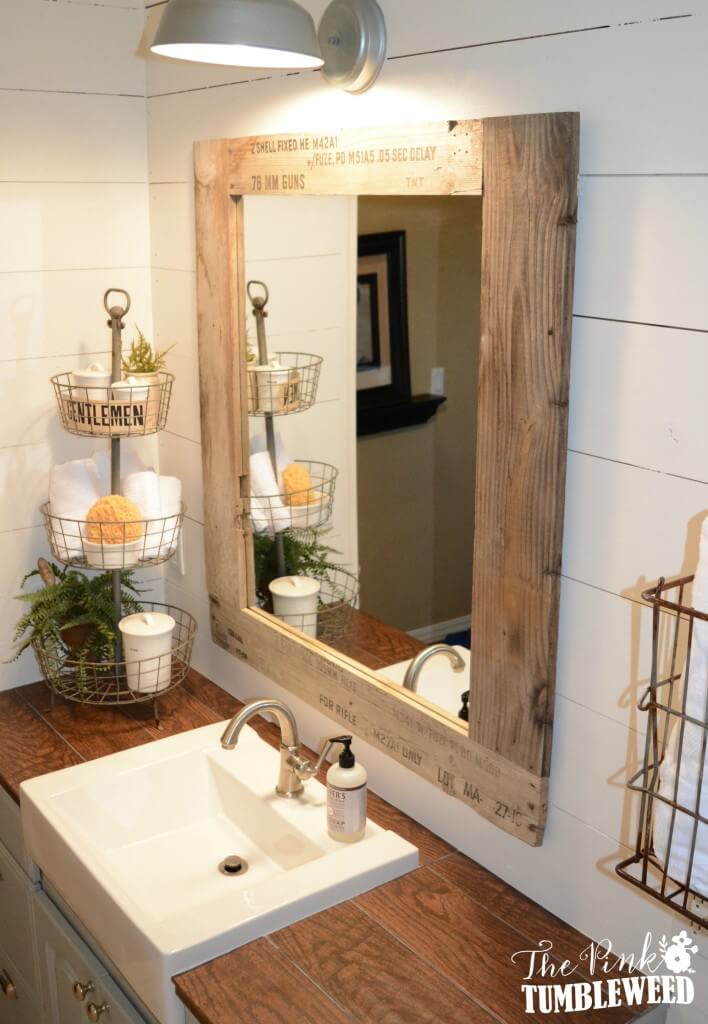 22. Sunburst Mirror Made with Reclaimed Wood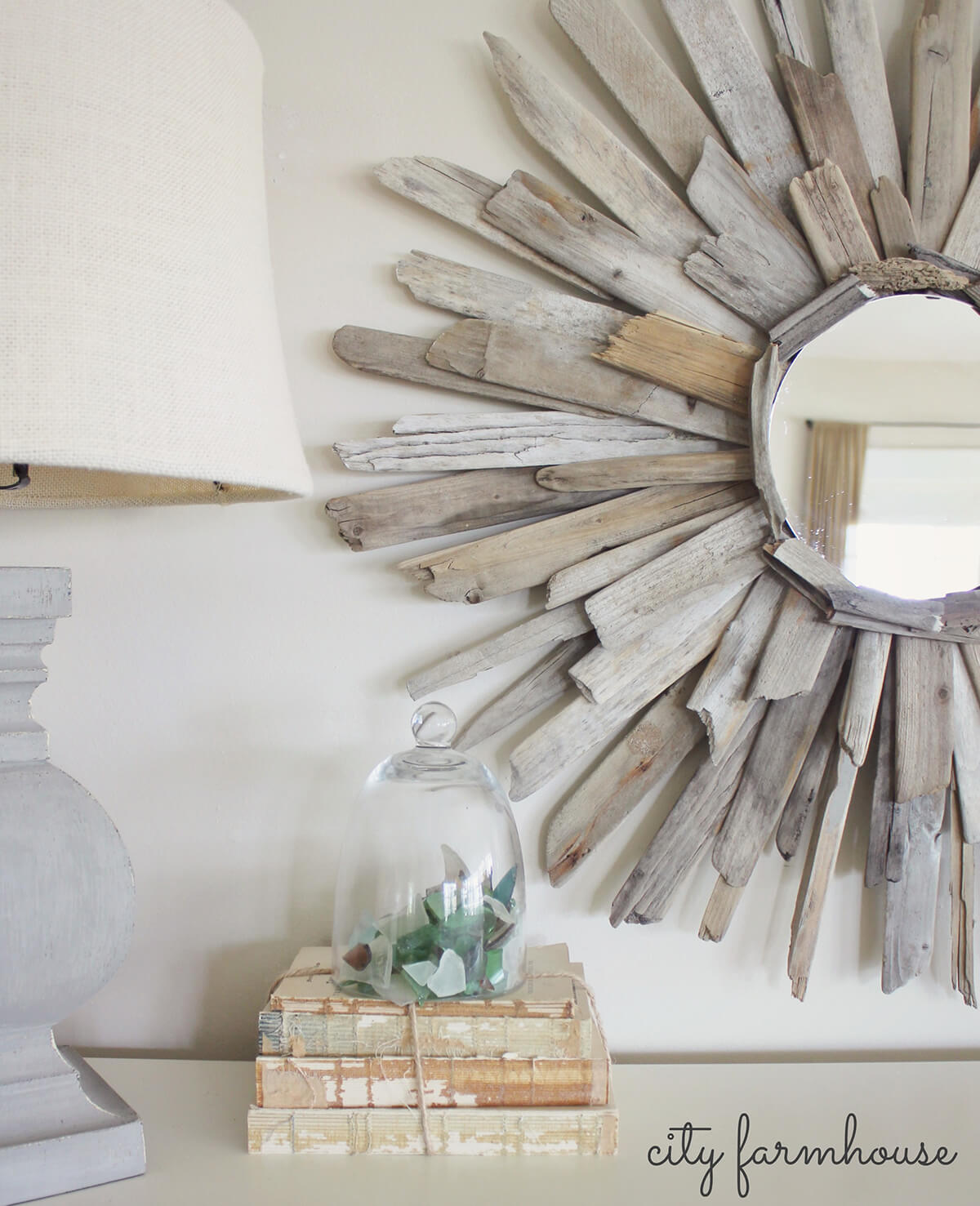 23. Round Silver Mirror Hanging on the Wall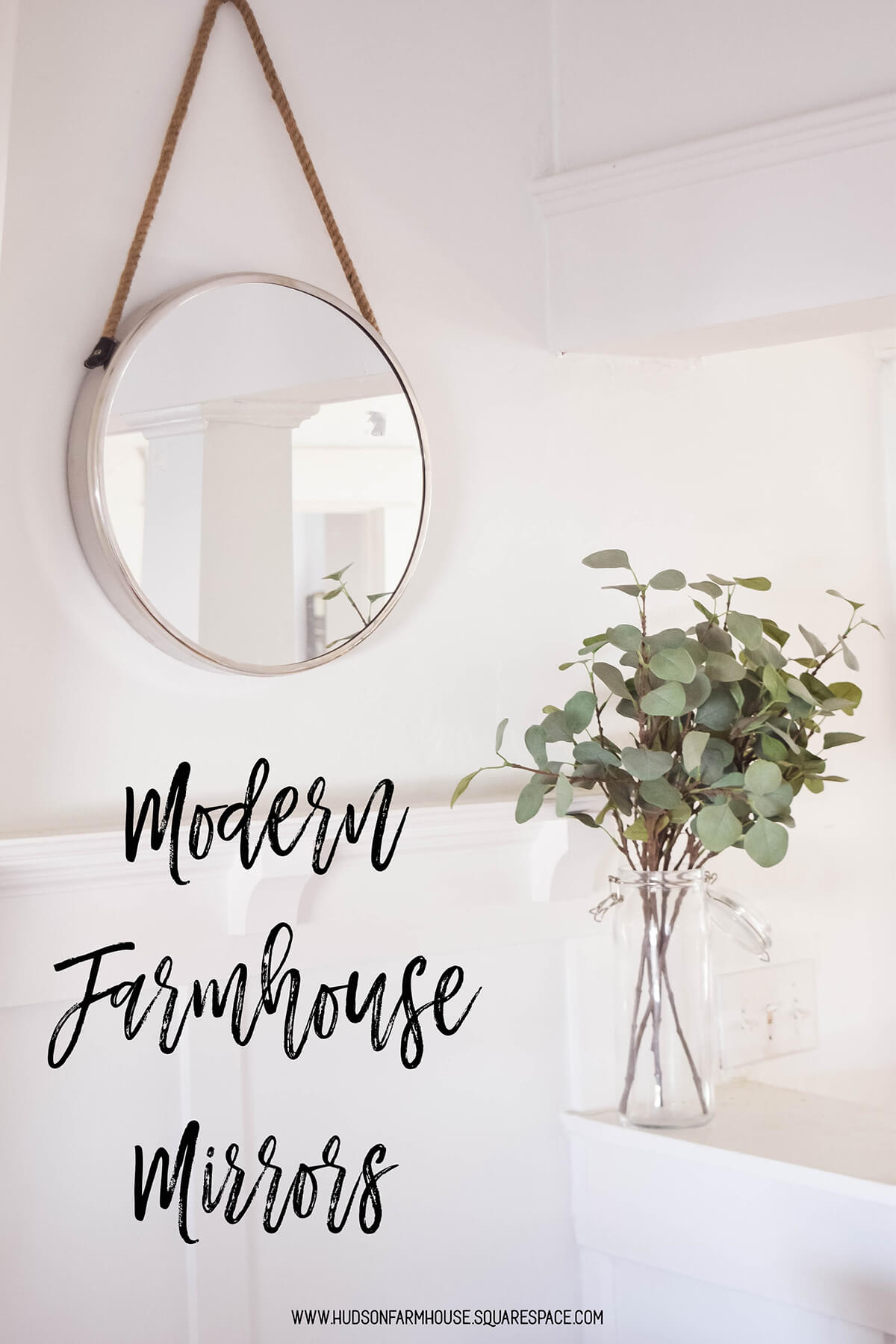 24. Window Pane Mirror with Distressed Wood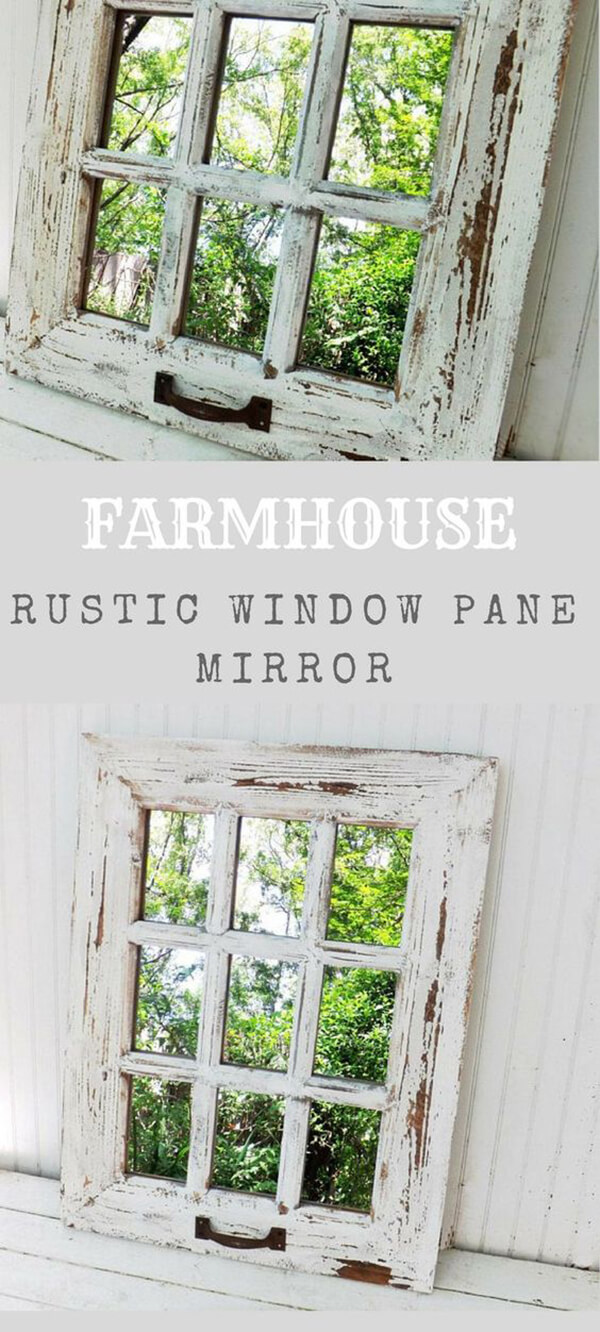 25. Oversized Mirror by the Bathtub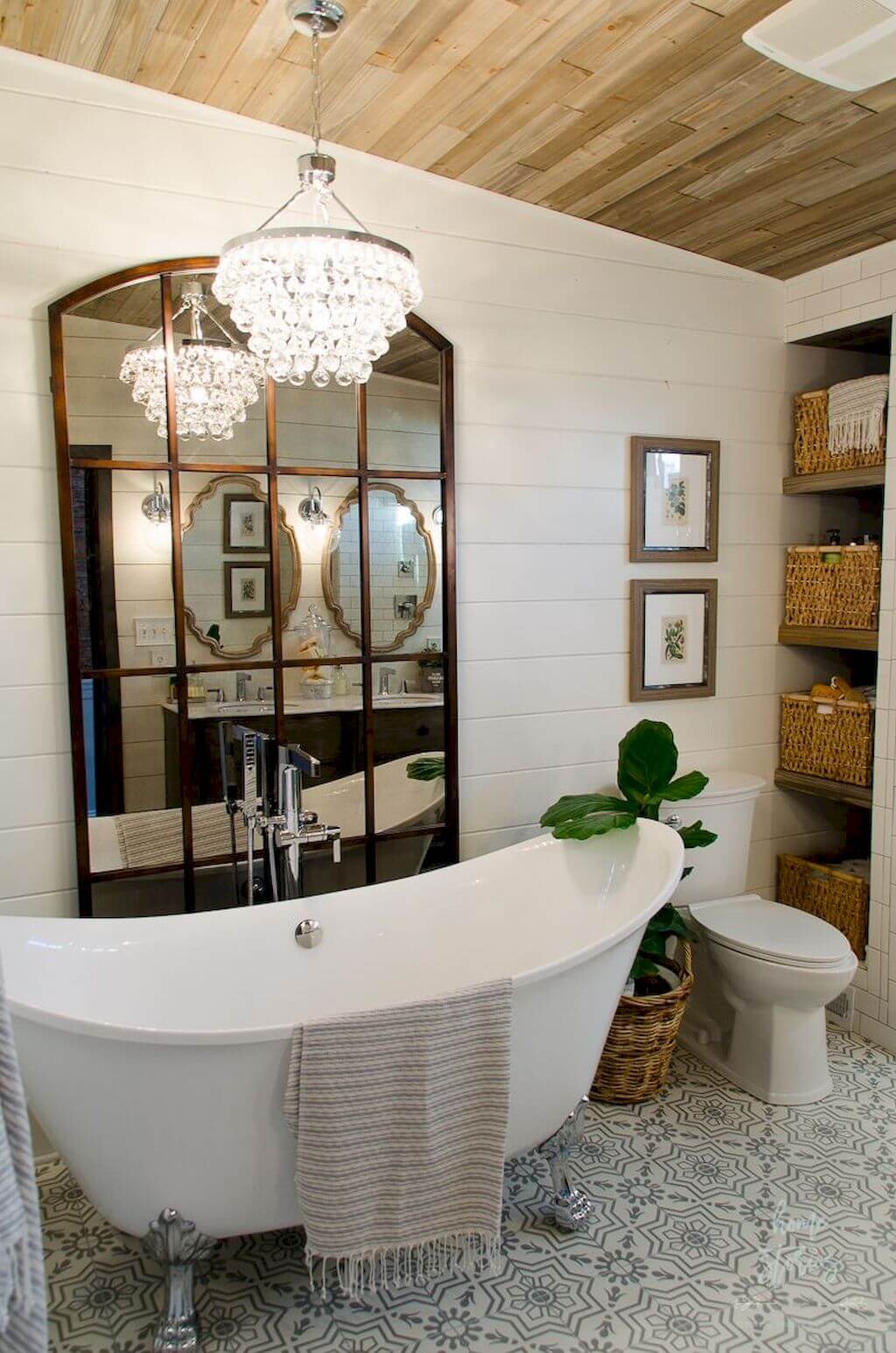 26. Distressed White Farmhouse Old Window Mirror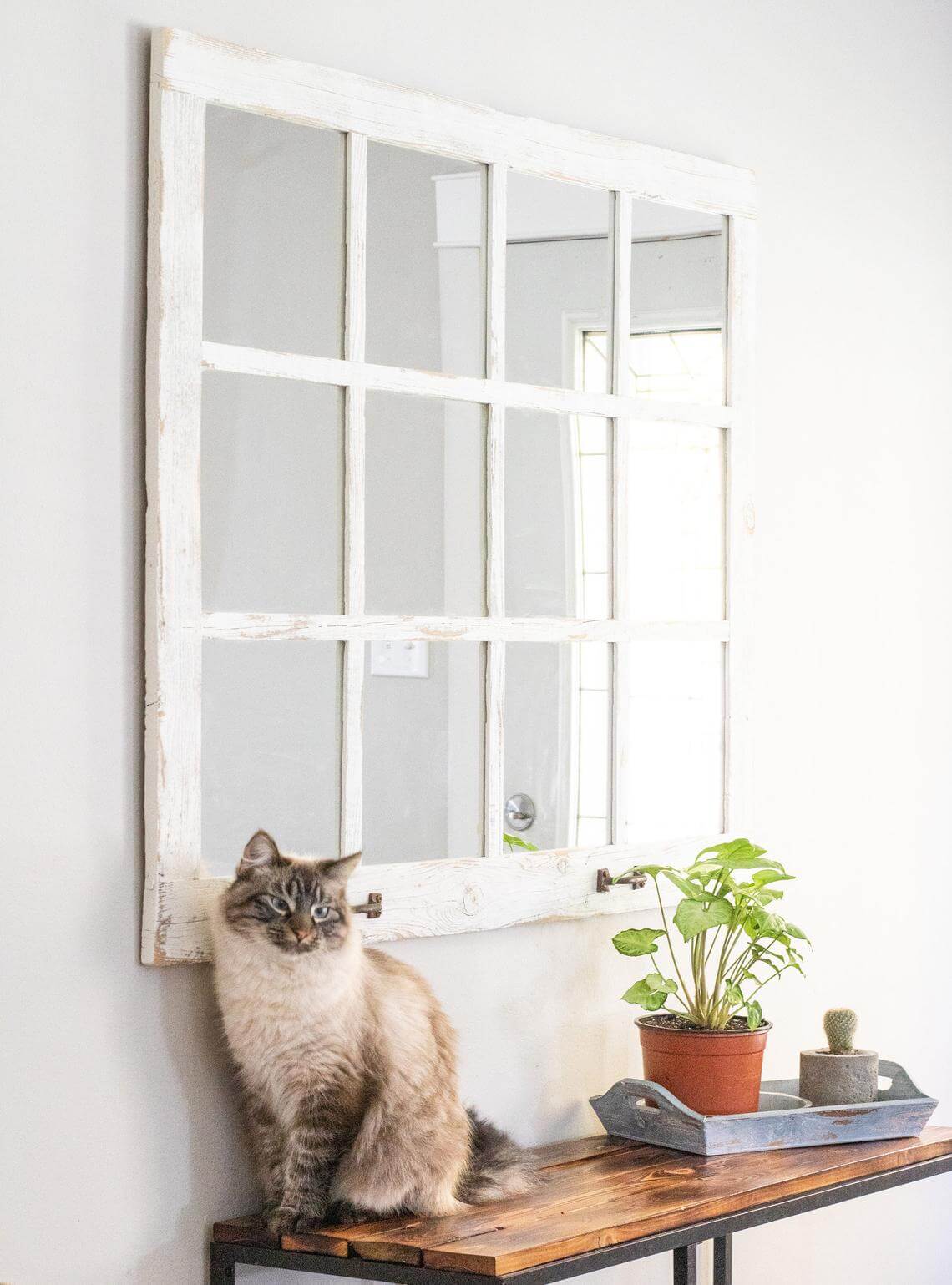 This large and in-charge farmhouse mirror would be an amazing addition to your welcoming entryway space. With its distressed white finish, it exudes a unique patina and easily incorporates into your home's farmhouse decor. At the bottom, the two metal handles add a little character and charm too.
27. Rustic and Weathered Gray Barnwood Farmhouse Mirror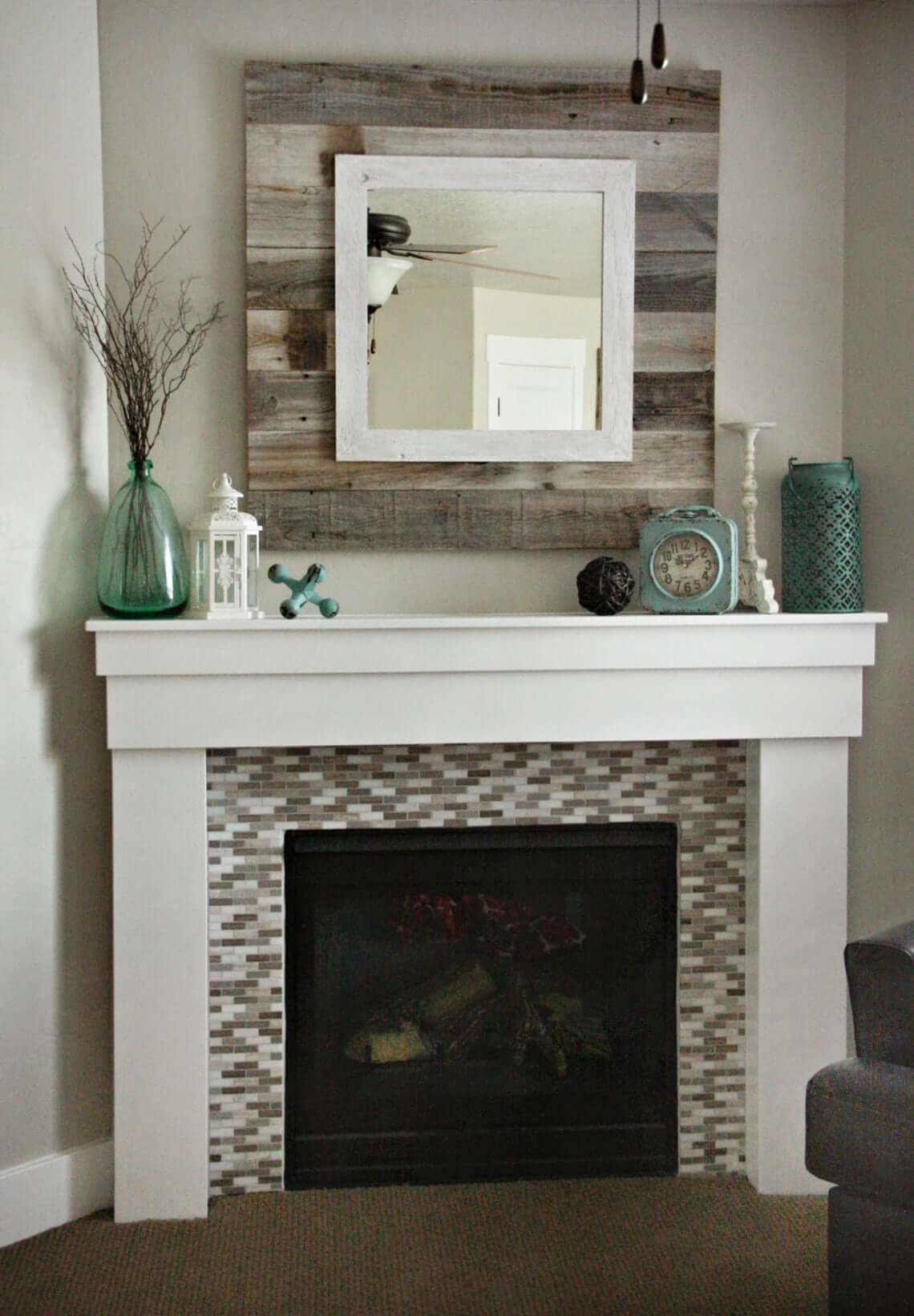 Take a look at this square mirror trimmed in a white border that looks gorgeous as it is set upon a foundation of weathered barn wood. Such an over-sized piece makes a spectacular focal point over your fireplace.
28. White Shiplap Framed Farmhouse Mirror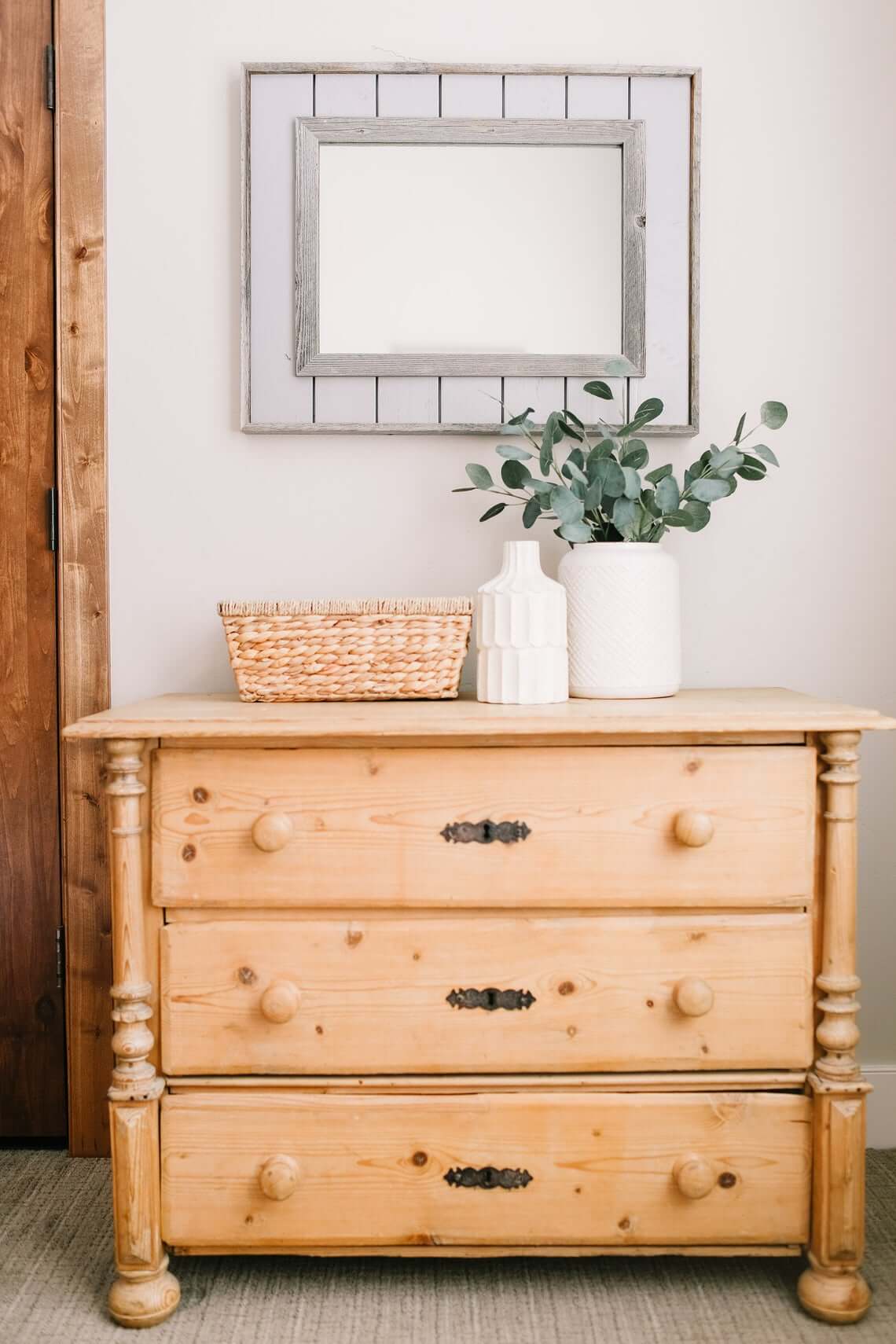 Every home needs a mirror and adding one to your modern farmhouse is easy when it's trimmed in white shiplap! This white shiplap framing is accented with worn gray trim to really make this farmhouse mirror pop. Hang it in any bedroom to make it feel right at home.
29. Stunning and Rich Wood Trimmed Vanity Mirror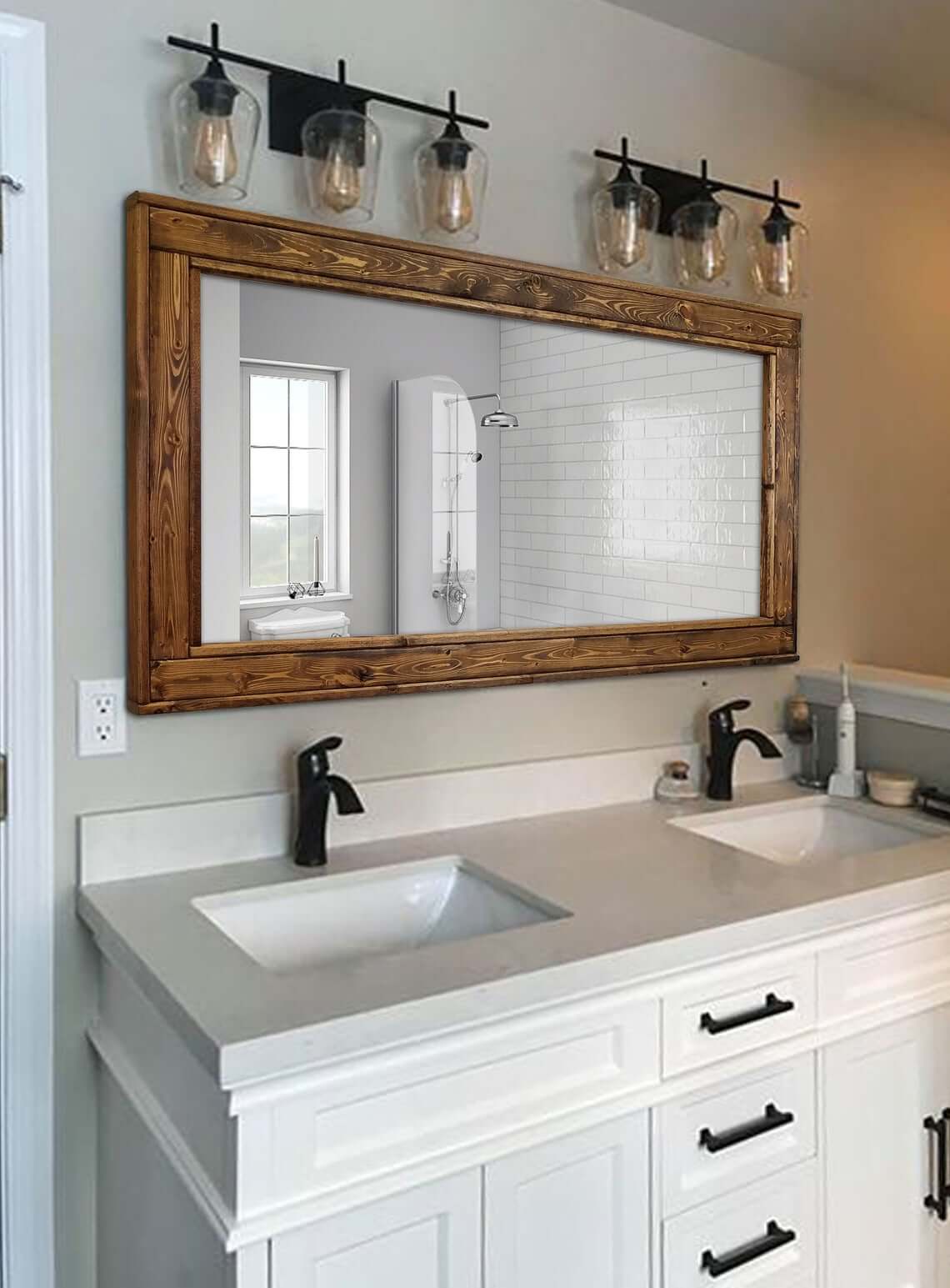 What a wow factor you'll bring into your master bath with this large vanity mirror. Framed in a thick and rich earthy brown wood, this rectangular mirror is both practical and pretty.
30. Vintage Window Mirror with Farmhouse Shutter Accents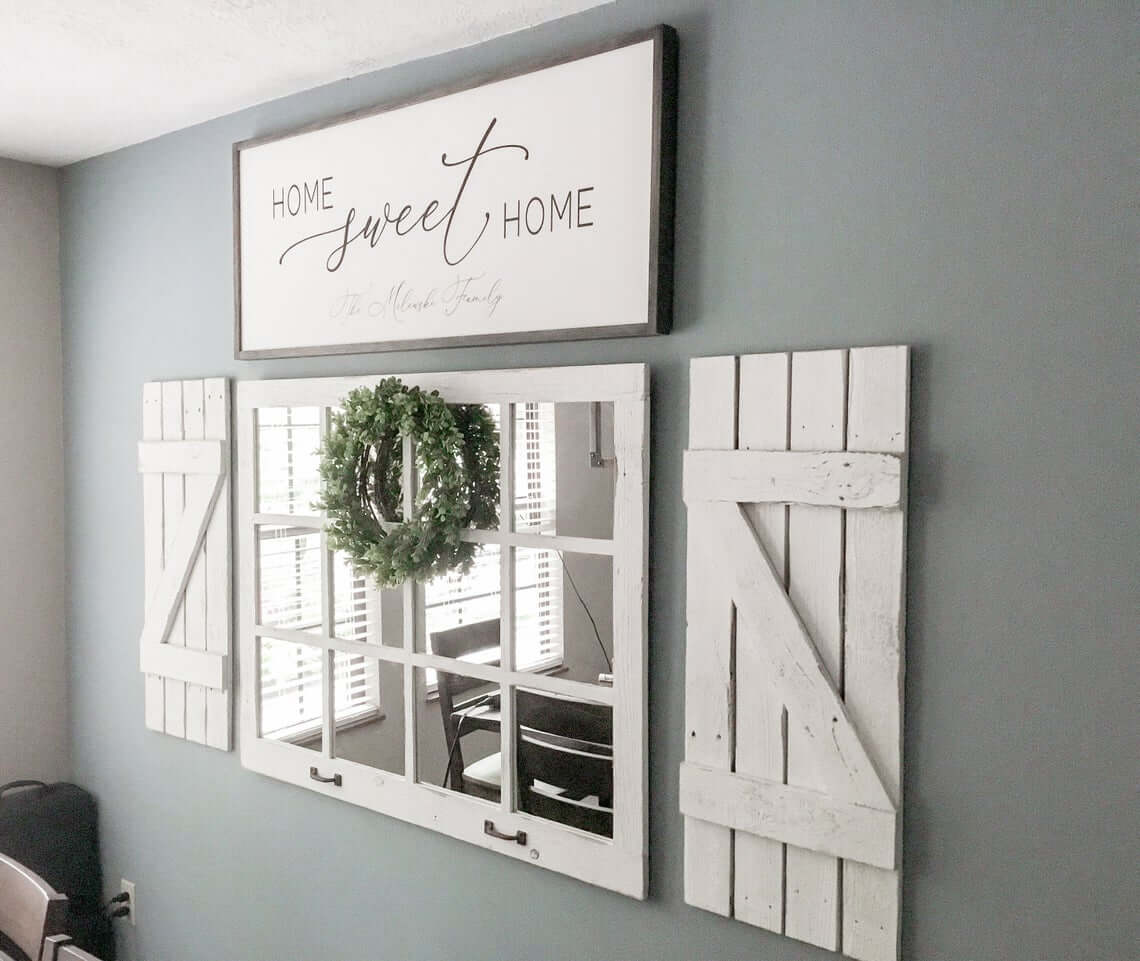 Tie the entire look together and make your home decorating scene look like it came from the pages of a magazine! Joining this vintage white window mirror is a set of country wooden white shutters. Adorn the wall above your sofa with this trio for a fun farmhouse update.
31. Rustic Wood and Metal Brackets Farmhouse Mirror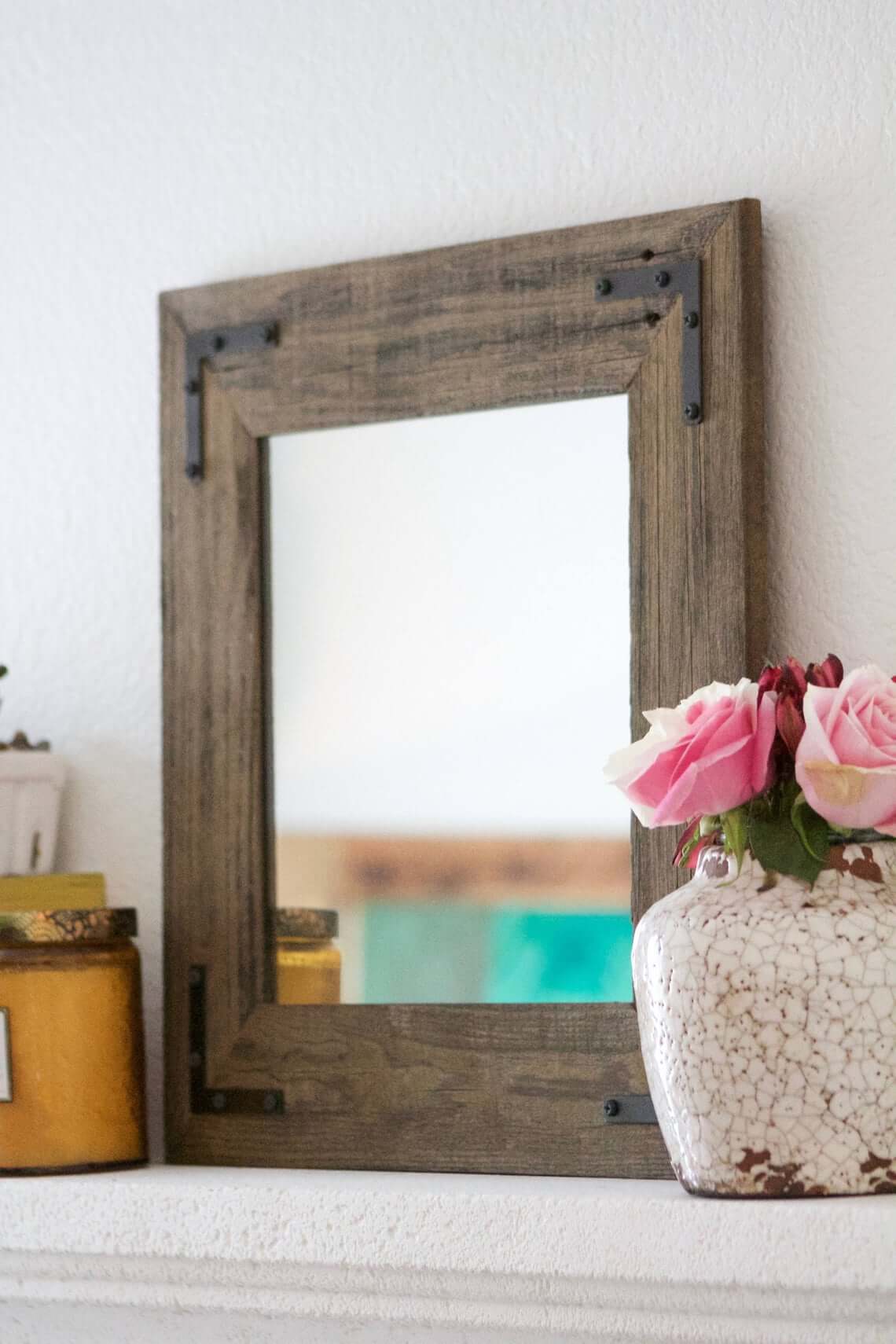 Choose this smaller sized wood and metal mirror to add some interest and charm to your fireplace mantel. It reflects just enough light to make the room inviting as the fire ignites the warmth from below. Although it's a simple piece, the use of metal bracket detailing gives it a small dose of charm for your farmhouse design.
32. Double Layer Wooden Trim Vanity Mirror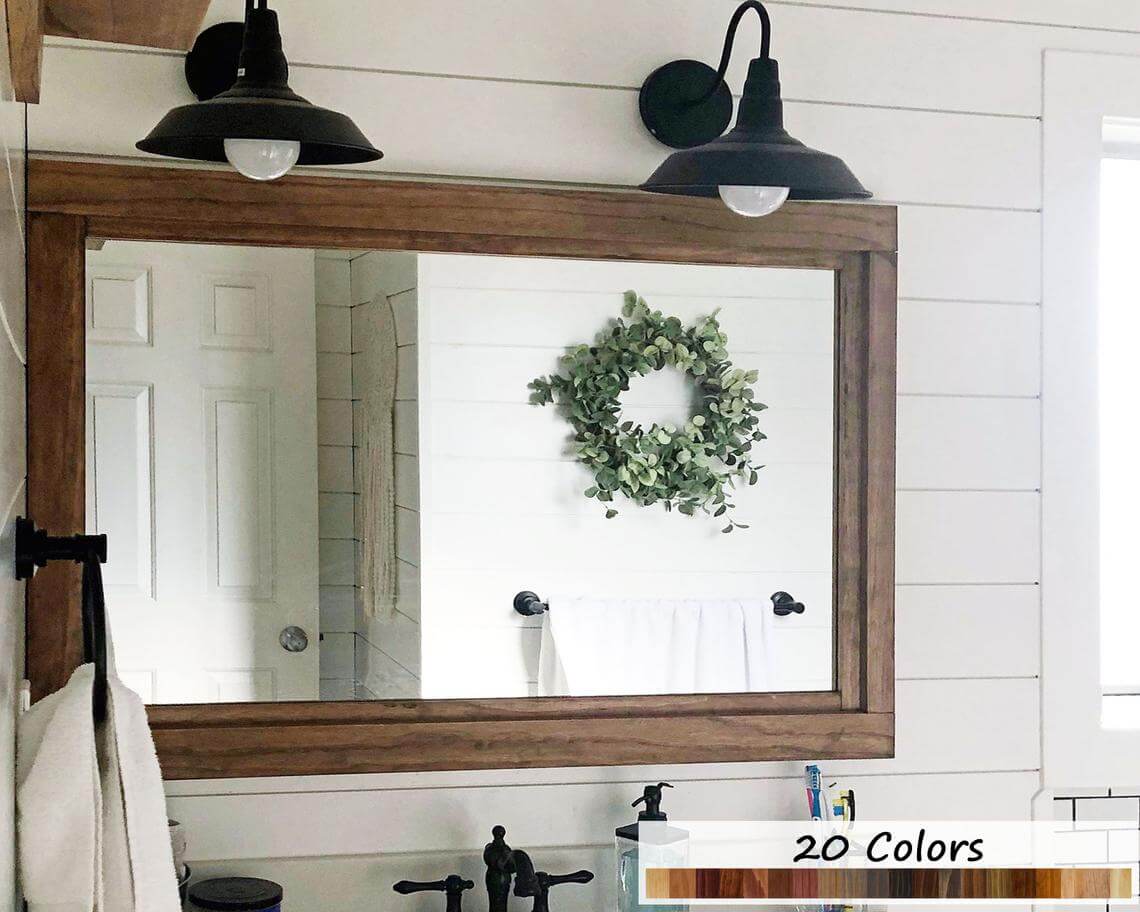 Here's a piece you can customize to fit into your bathroom decor. What's not to love about the special detail of the double layer framing that adds depth to this beautiful wooden design? Your master bath will love featuring this farmhouse mirror above its vanity.
33. Lots of Knots and Character Wooden Mirror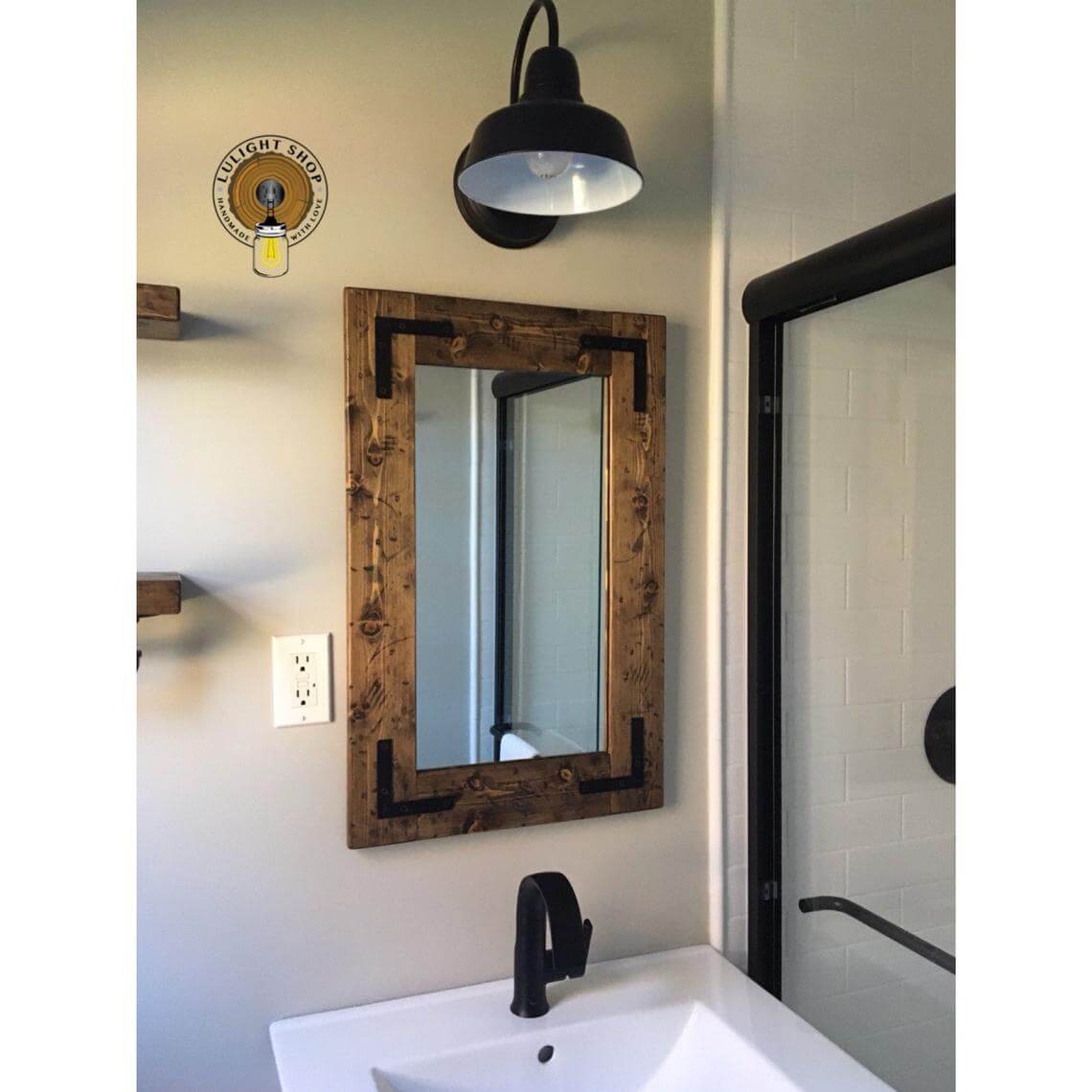 While this is "knot" your average vanity mirror, it is certain to add a lot of character and charm to your bathroom decor. The size fits perfectly over your single sink basin. Every morning you'll enjoy looking at the beauty and charm of the beautiful knots and grain in this wooden frame.
34. Double Your Fun Wood Farmhouse Mirror Duo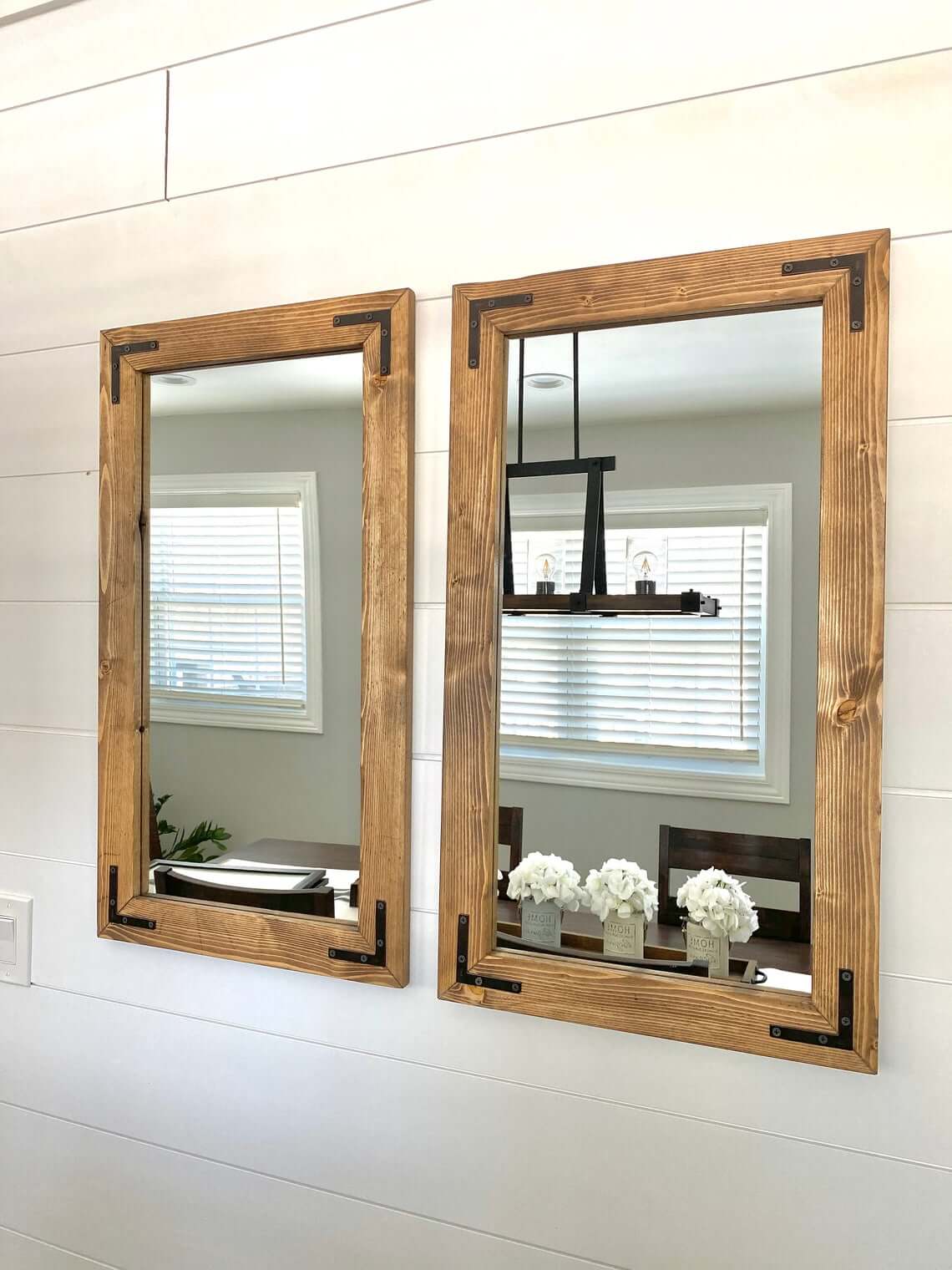 What's more fun than one farmhouse mirror? Two, of course! Double up this fabulous pair of wooden farmhouse mirrors to fill the large wall space in your dining room instead of the traditional larger single choice.
35. Slim and Straight Rustic Wooden Mirror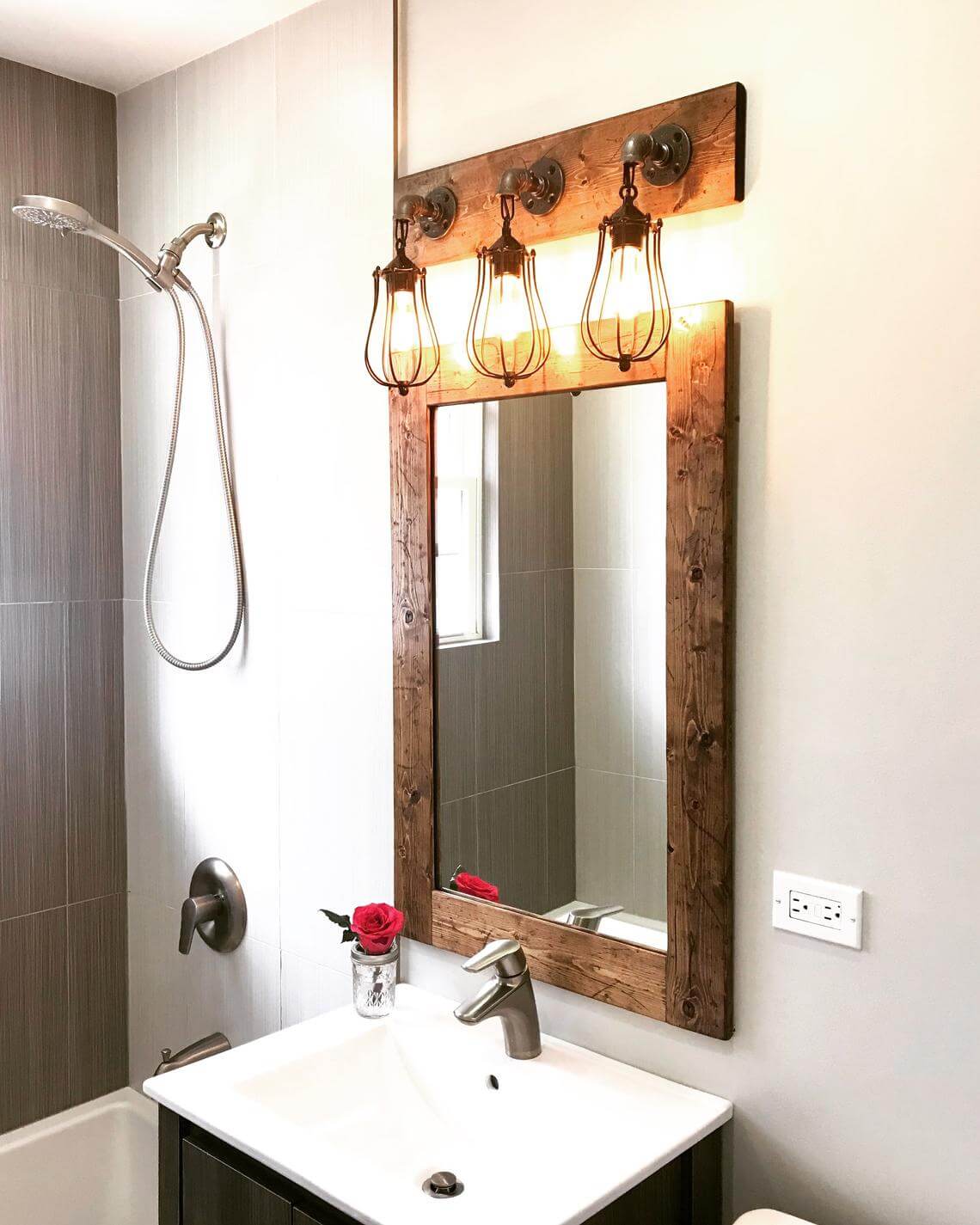 Here's a mirror that's a no-frills and no-fuss decoration and perfect for anyone who's no-nonsense. The classic framing trims the rectangular mirror as it showcases its natural beauty in the lavish lines and grains of the warm and earthy brown wood.
36. Intricate Black Geometric Overlay Decorative Mirror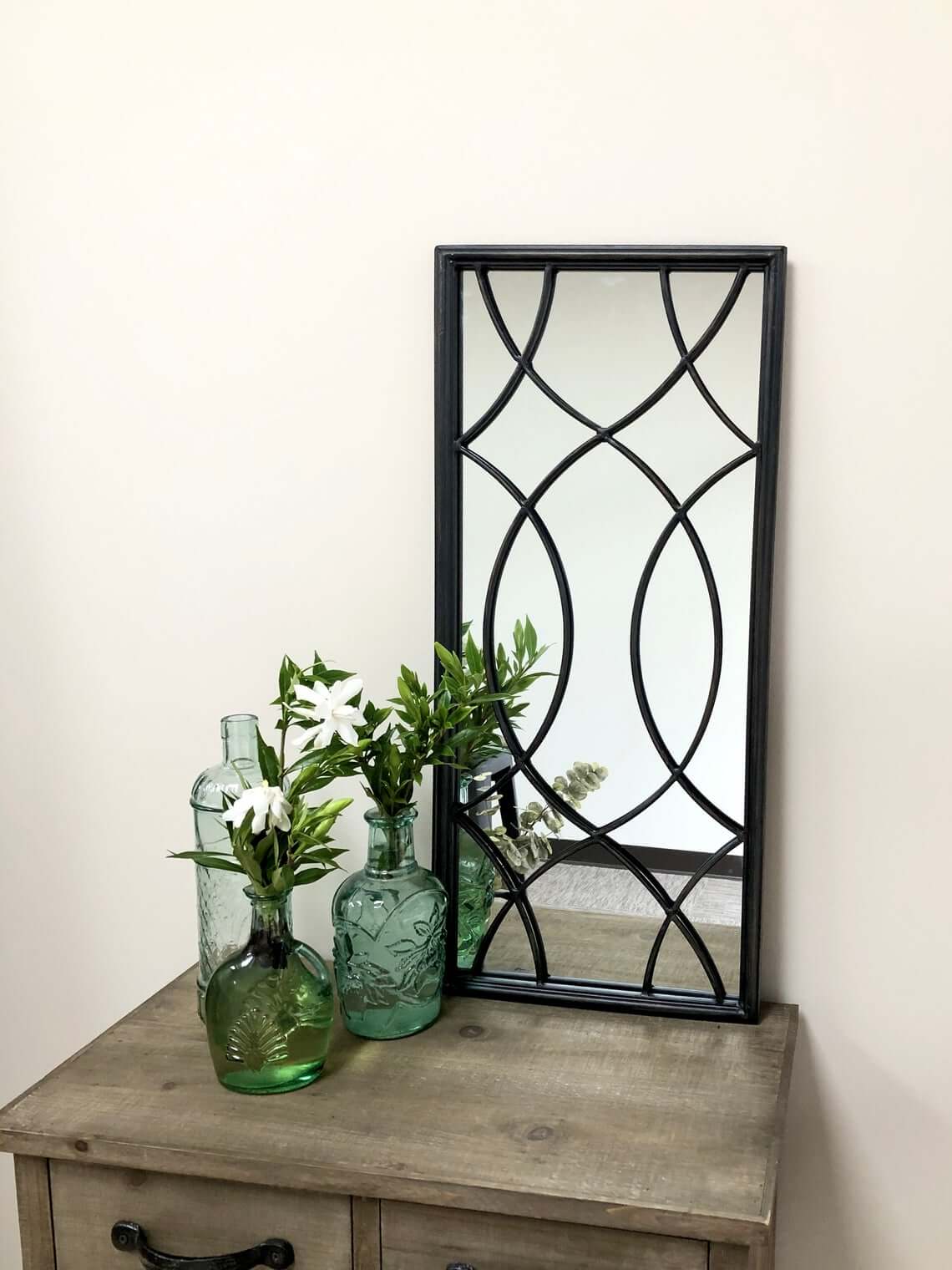 Add some character and charm in a modern style with this geometric black mirror overlay. Propped up against the wall on top of your side farmhouse table display, it is sure to get noticed and blend in with any existing decor.
37. Antique Cathedral Church Vintage Window Pane Mirror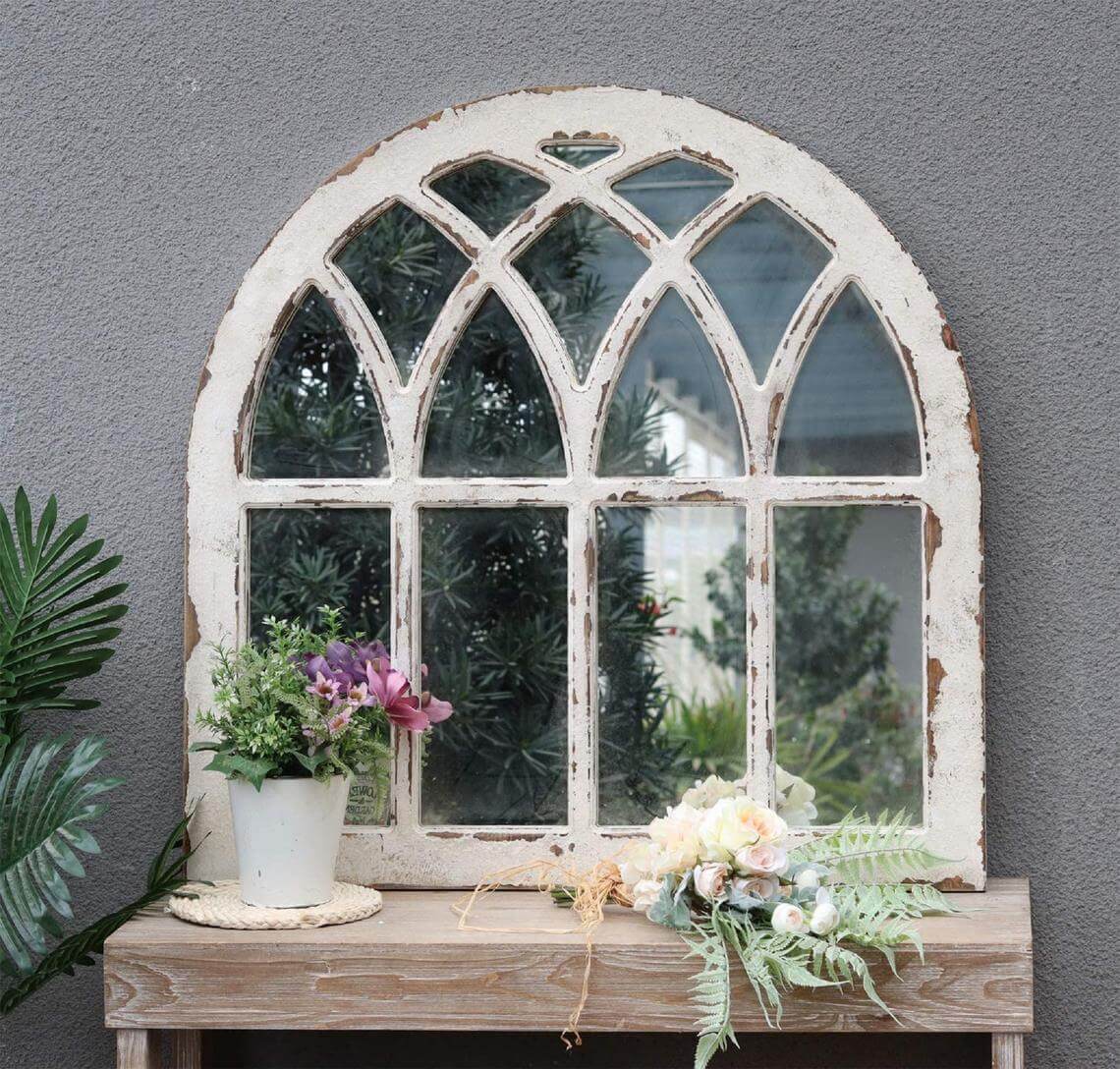 Bring this statement piece into your decorating scene to add beauty and interest to your home. The lovely architectural detail in the shape and texture make this mirror a unique addition to your farmhouse design. Be intrigued at its beauty and the magnificence it reflects.
38. Queen Anne Traditional Scrolled Decorative Mirror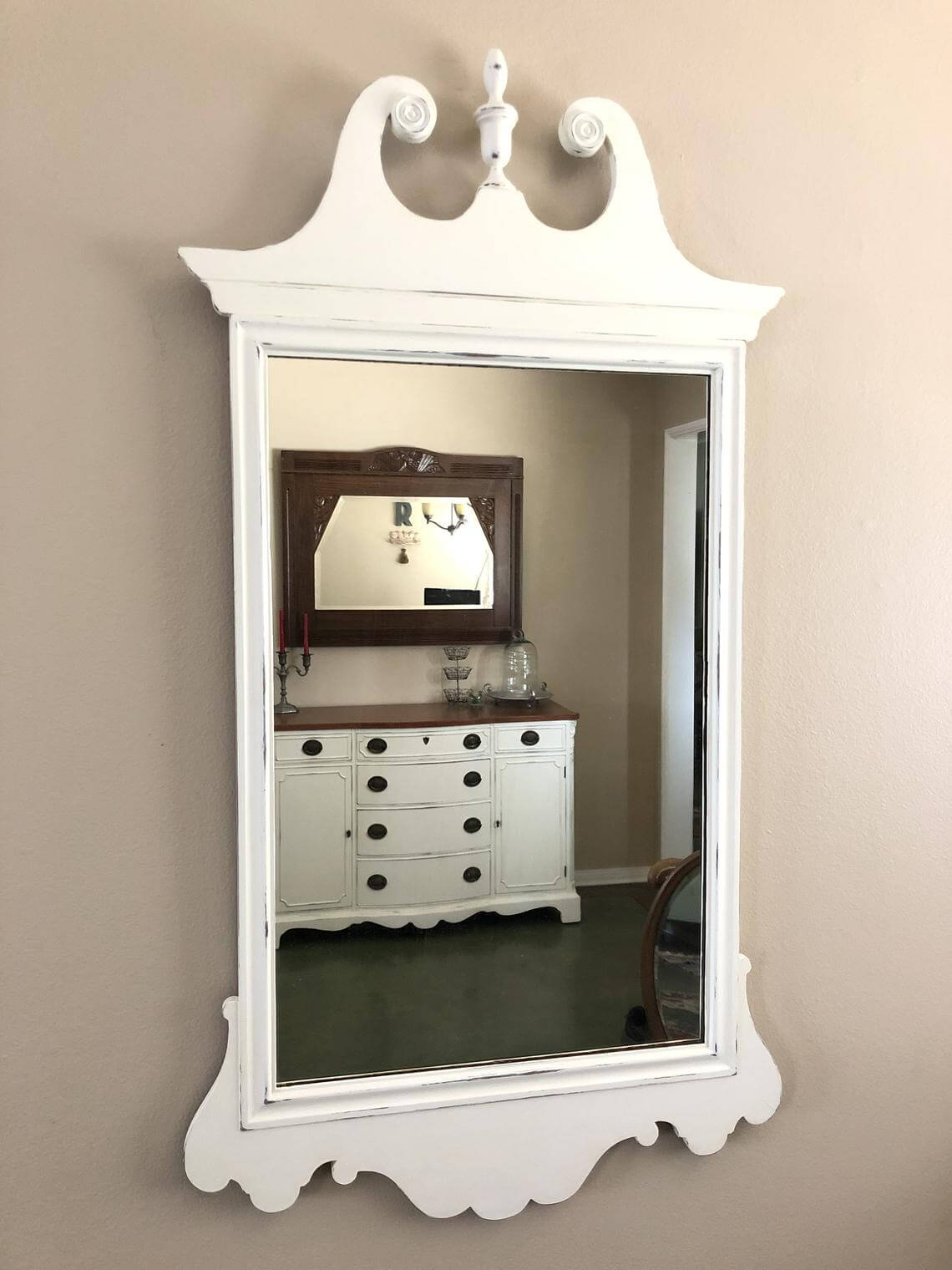 Painted white, this traditional scroll frame design oozes timeless beauty. Its masterful design has transcended time and would be a perfect piece for your inviting entryway. Surround it with some floral beauty to continue its classic and timeless elegance.
39. Rich Dark Wood Mirror with Built-In Shelf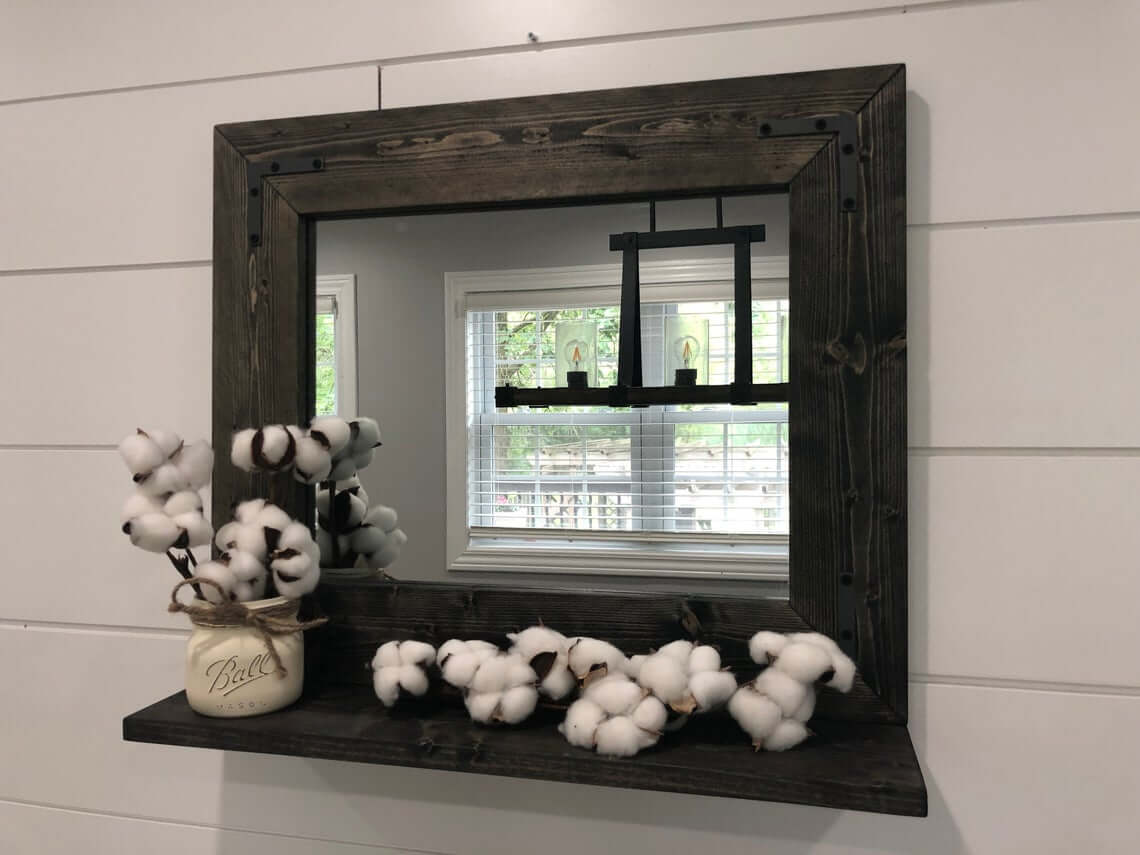 Kill two birds with one stone, so to speak, with this dynamic duo of mirror and shelf all-in-one! Not only will you add some charm to your wall space, but you'll also find a perfect perch to display some of your favorite trinkets or small succulents.
40. Wooden Church Window Pane Mirror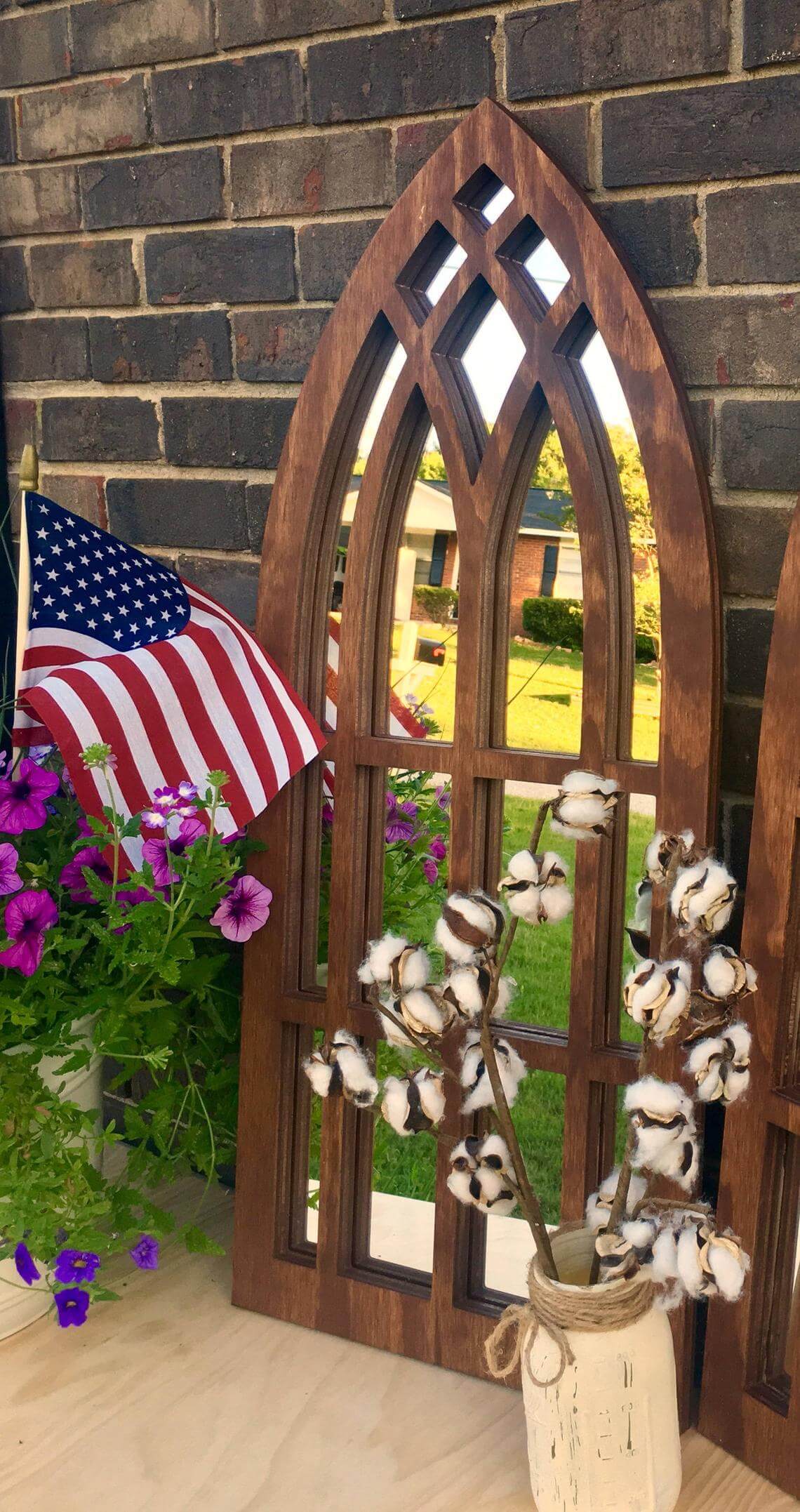 This beauty looks like it just came from the walls of the old cathedral with its gorgeous lines and designs creating a breathtaking indoor mirror. Hang it alone or group a few as a set for a more dramatic display. Combining the look of an old-world window with a mirror makes decorating double the fun!
41. Traditional and Simple White Trimmed Mirror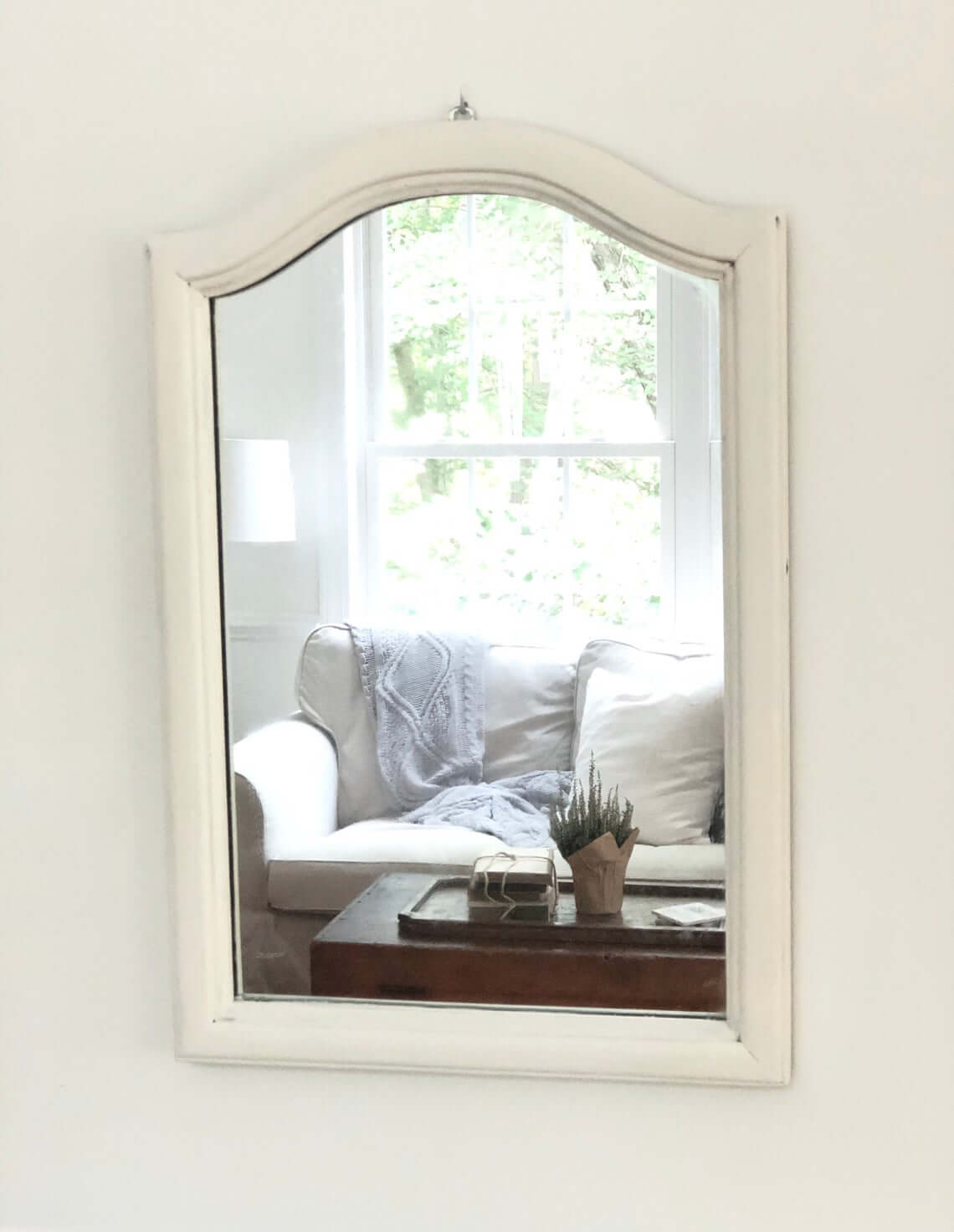 With its ever so slightly curved top, this simple mirror is the understated grace and elegance your modern farmhouse desires. It would be a welcomed addition to your foyer or main living space as it offers soft simplicity and a spot to reflect the sun's warm glow throughout the year.
42. Distressed and Worn Black Window Pane Mirror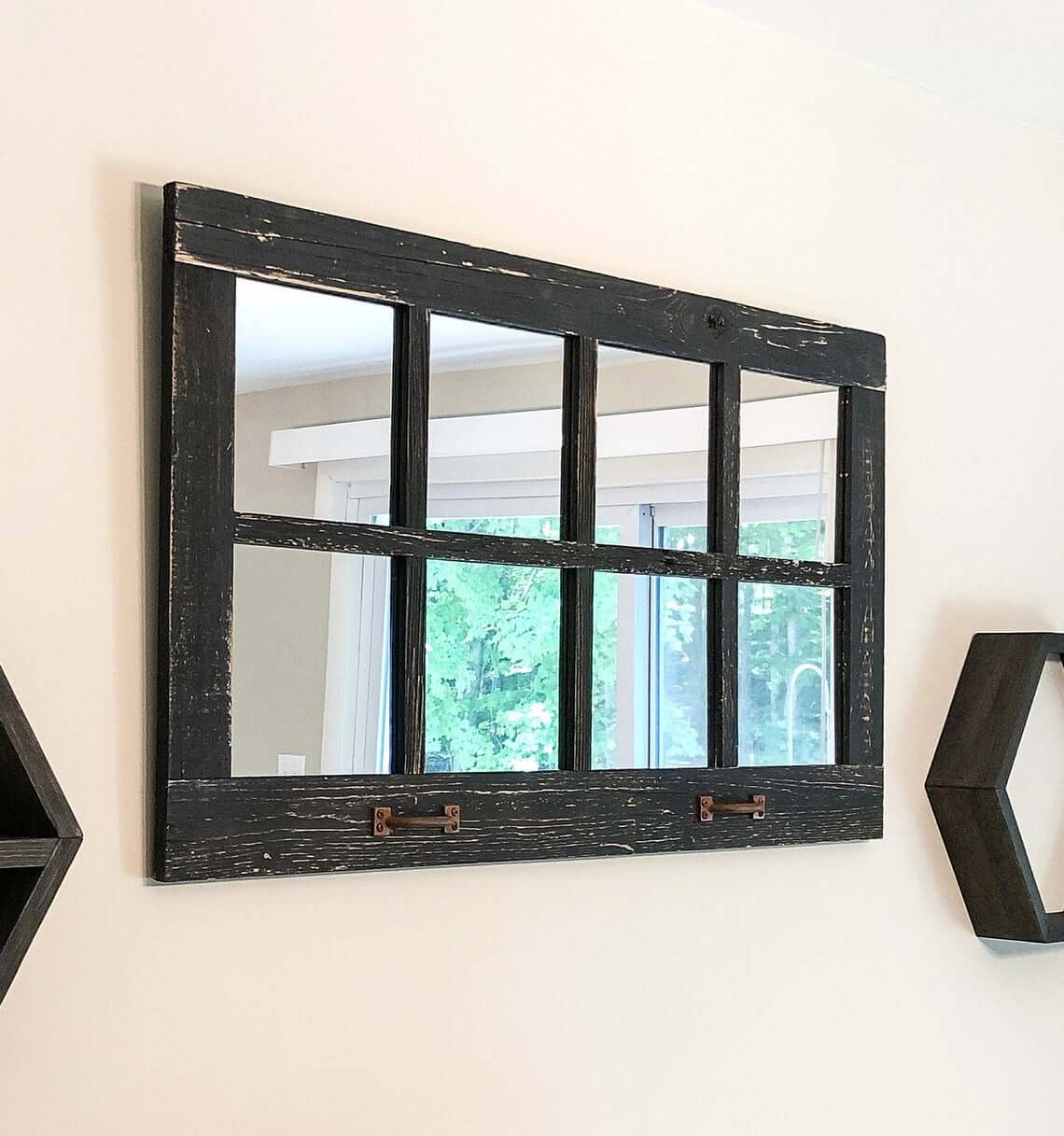 The distressed black finish of this windowpane mirror adds unique character and charm to your farmhouse home. The metal handles at the bottom further embody this feeling and look. Place it above your main sitting space or along the hallway where everyone can take notice of its originality.
43. Hallway Hooks White Window Pane Mirror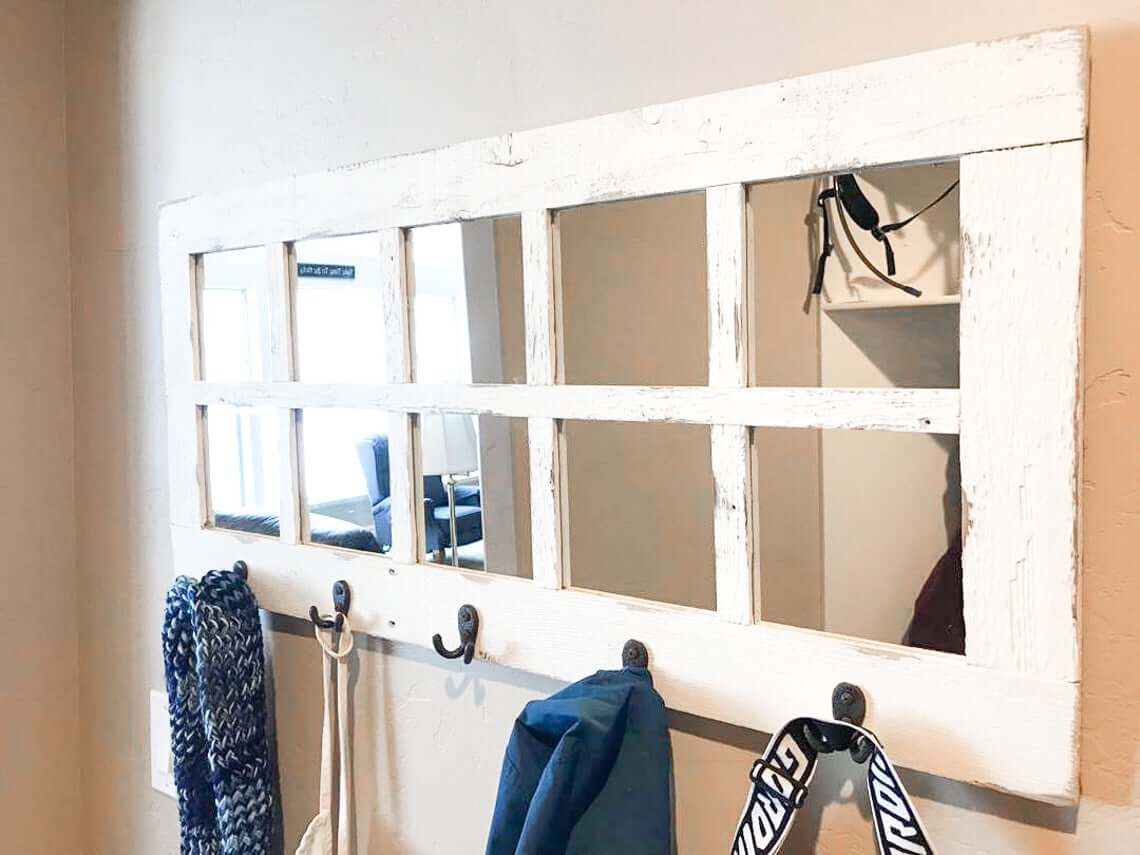 Make your mudroom an extension of your home with some dedicated design by adding this cute creation to space. The pretty window pane mirror is a decorative piece on its own merit, but the addition of the hooks at the bottom gives it purpose as you have a pretty place to hang your jacket or bag.
44. Small Distressed Red Mirrored Window Pane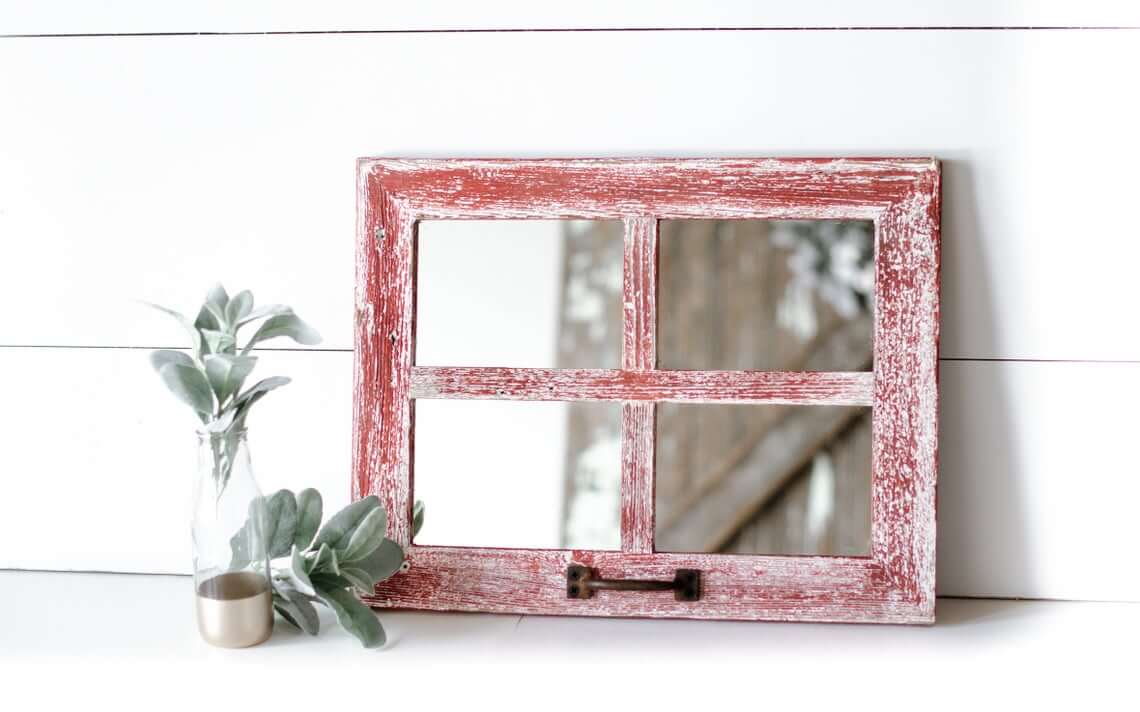 Red isn't only for dressing up your home during the holidays. Use this bold color throughout the year! The distressed finish on this windowpane mirror gives a vibrant finish to this small decorative mirror that looks terrific propped on your shelf or above your fireplace on the mantel.
45. Beige and Gray Barnwood Window Mirror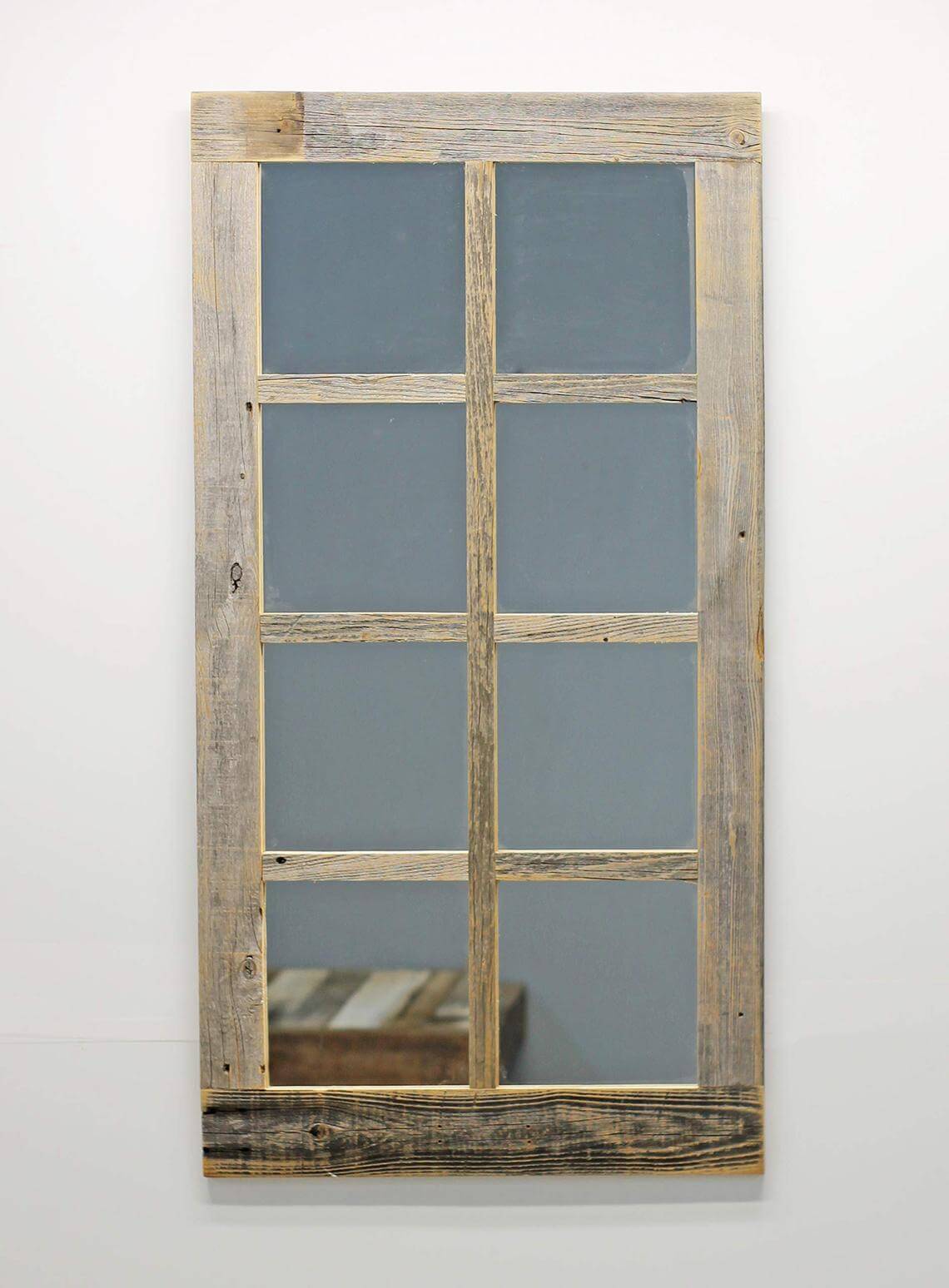 This rustic framed mirror pays respect to the love and sentiment housed within the old family barn. Bring a little piece of the outdoors and your family's heritage inside your home by hanging this simple window pane mirror on your wall.
46. Round White Washed Finish Decorative Mirror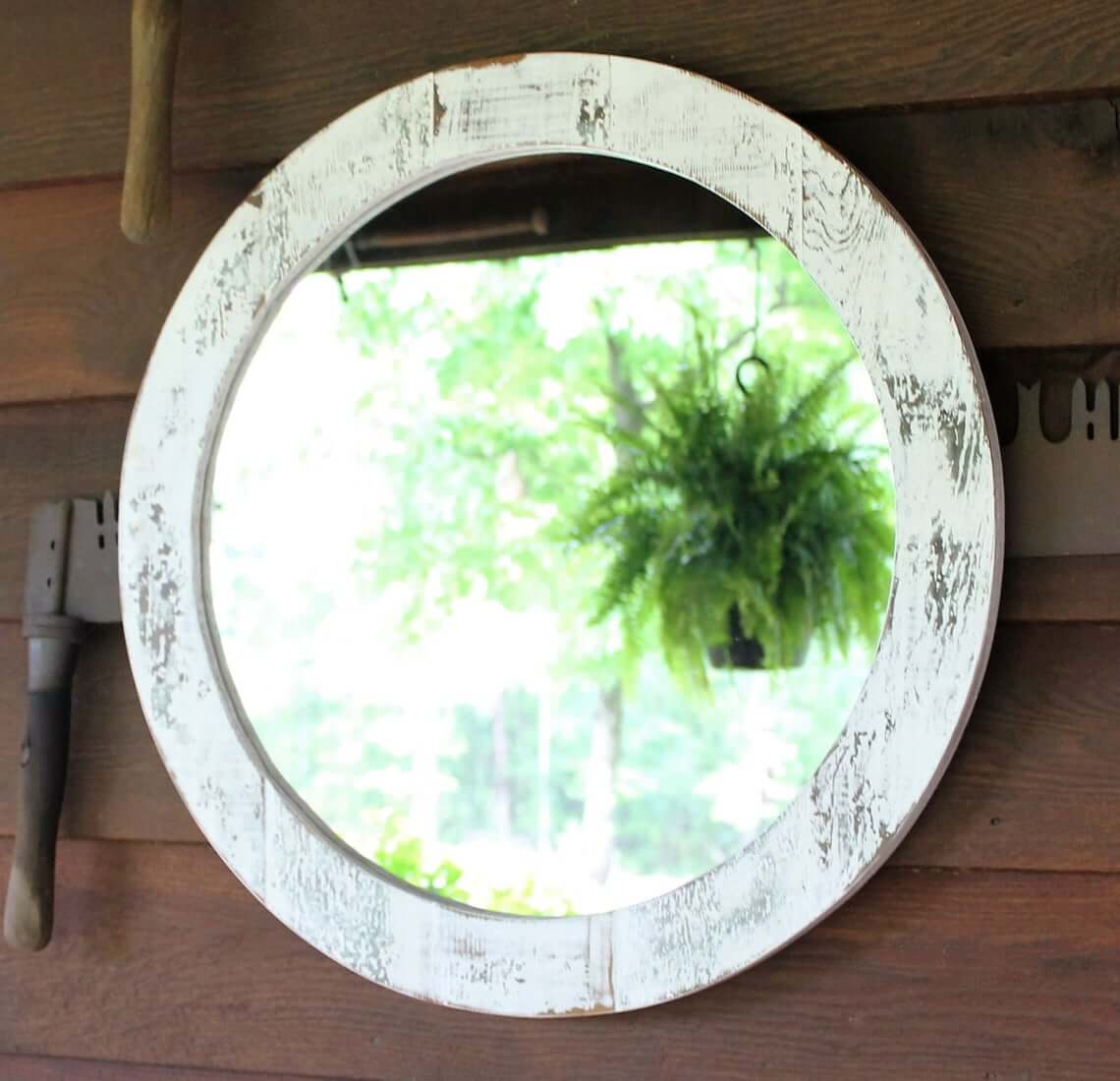 Shift shapes when it comes to traditional mirror design and consider this circular mirror. Its smooth shape and unique white finish give it loads of charm to put into your home. Use it as a half bath vanity mirror or within the hallway.

Our Favorite Farmhouse Wall Storage Items to buy on Amazon