With the best epoxy DIY decoration ideas, you can craft stunning décor for any room in your home. Epoxy resin is a unique and creative way to stretch your crafting skills. It's no surprise then by how popular the material is among DIYers. With epoxy resin, you can make anything look store-bought and expensive, elevating your crafts to a professional level no matter how long you have done it. Another wonderful thing about using epoxy resin is that there is so much versatility in what you can create.
22 Incredible DIY Epoxy Decorations

You can make lovely handmade epoxy decorations small and large. On the smaller scale, you can make anything from bookmarks to trinkets to dress various rooms in the house with. You can even craft some beautiful jewelry for yourself, family, and friends. Maybe your home is severely lacking in coasters, and you want something more distinctive to preserve the look of your tables. You can readily make some with epoxy. Going small is a good idea if you have never done this before as it can help ease you into things, allowing you to become familiar with the process so you can tackle bigger projects in the future.
On the large-scale side of the story, there are just as many ideas waiting for you. As we mention coasters, you can transform that coffee, side, or console table into something more with epoxy resin. This leaves you with a shiny, smooth, and attention-grabbing table that turns into the centerpiece of any room. Or maybe your wall is lacking in some cool art? The right epoxy resin project can help you there too, creating incredible artwork or even some name art for a child's room or nursery.
With that said, it's easy to find yourself at a loss for where to start your epoxy journey. Not to worry though. We have some of our favorite DIY epoxy ideas to help you discover a newfound passion and get more creative with your home décor.
1. Stunning Epoxy Resin Painting Project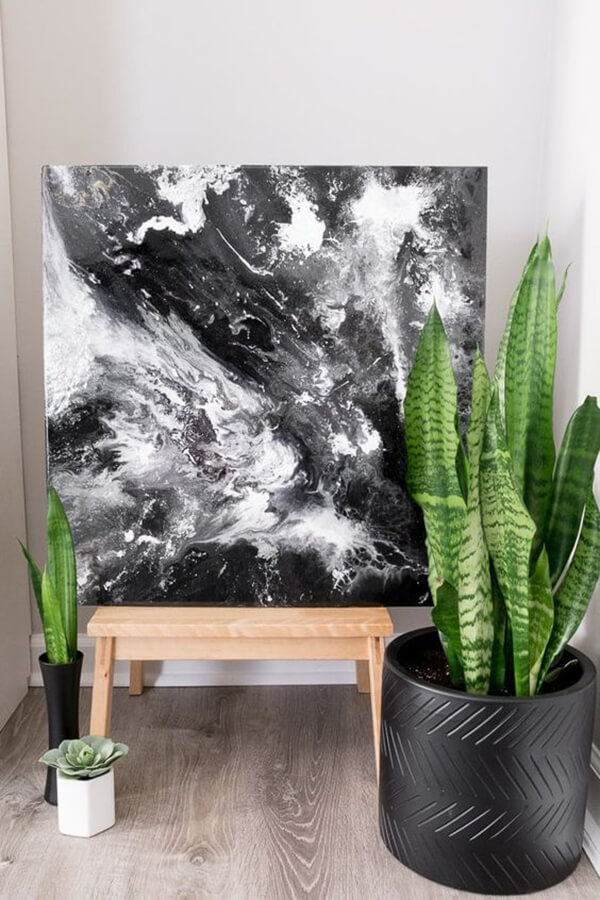 If you want a different approach to decorating with epoxy resin, then consider pulling out any artistic skills you have and design your own painting. In fact, you don't even need that many skills to do this project. Resin is a wonderful way to let your creativity to go wild on a canvas, leaving you with something that's abstract and personal. Best of all, you can hang this up anywhere to breathe a bit more life into the atmosphere. This also gives you a fun way to play around with different colors, giving you the experience you want to feel more comfortable expanding your epoxy resin projects later on.
2. Colorful Hexagon Epoxy Resin Coasters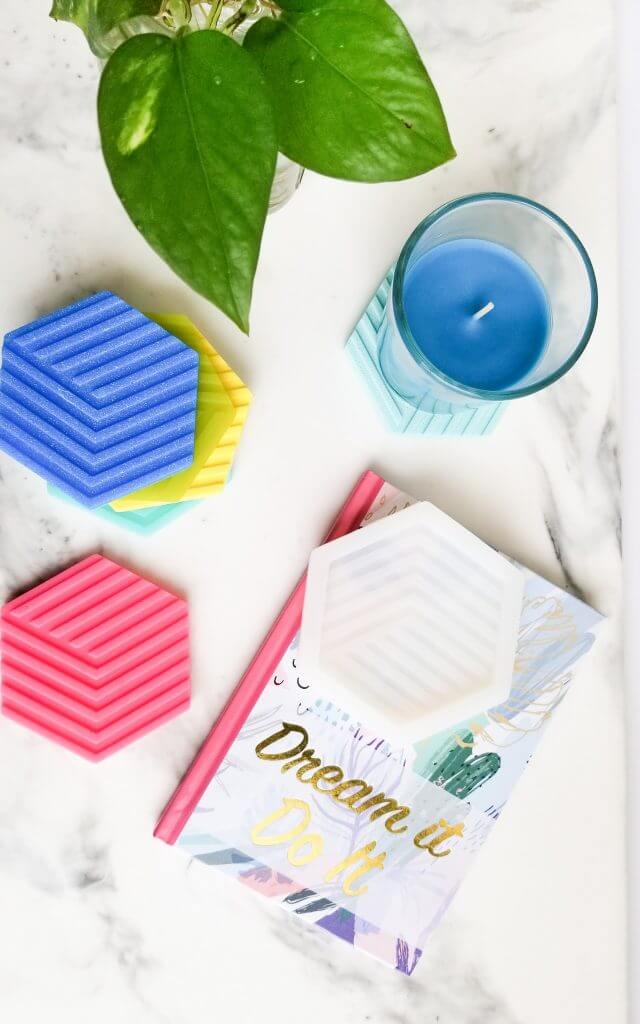 Whether springtime or summertime, it's always the right moment to pull out the colorful coasters. These work for everyday use or at those awesome backyard bashes with friends and family. With epoxy resin, you can make some remarkable and vibrant coasters. Add on a nice design to really elevate the coasters too. The hexagonal shape is impressive also, giving you coasters that are more distinctive and stand out against the crowd.
3. Fun Glitter Epoxy Resin Nametag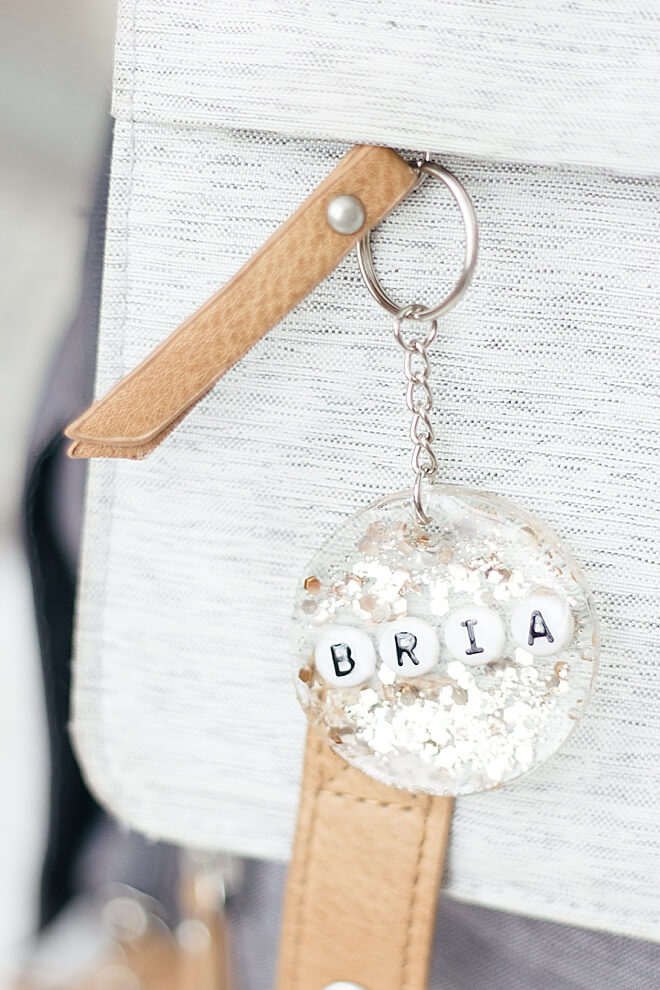 Got yourself a special occasion to plan like a wedding reception? Or maybe you just want a more creative way to leave a name on your pet's collar, a child's school bookbag, or even your baby's diaper bag? Well, this epoxy project is an ideal solution for you. You can make adorable glittery charms that will help anyone's name shine. Make them for yourself or give them away as gifts to loved ones. With how small this project is, this is also the perfect epoxy DIY experience for those of you just starting out with the material. Plus, you can make numerous nametags, improving your skill each time.
4. Unique Faceted DIY Resin Magnets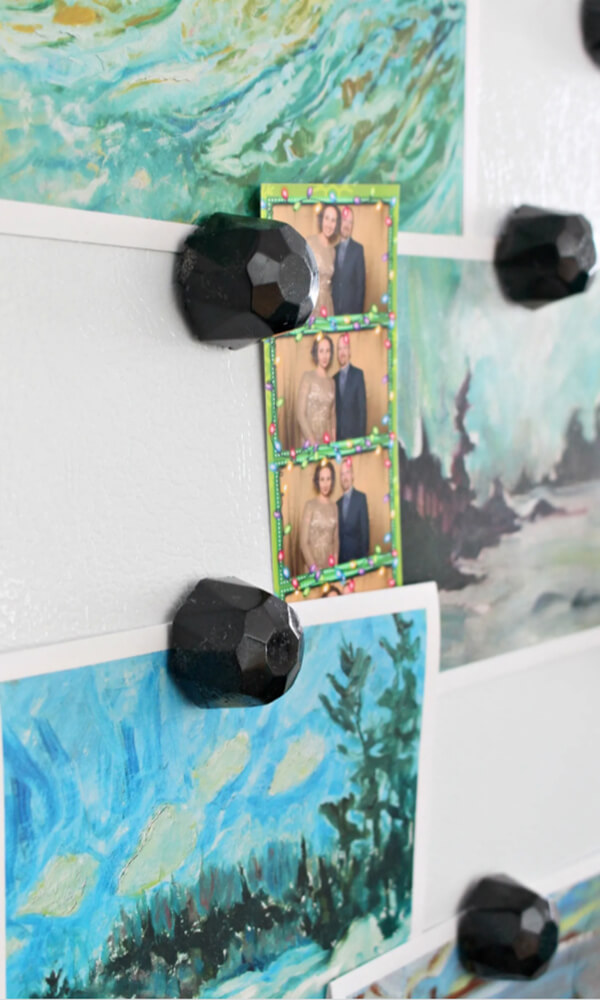 Looking for something small, yet functional, to create with epoxy resin? Then maybe consider these resin magnets. Depending on the shape you go for, you can create something that is more elegant or rustic. It's all based on the theme you want this to work alongside with. These magnets give you some incredible freedom from the shape to the color. Regardless of how you decide for them to look, the result will help anything you place these magnets on stand out even more. Add some spice to your refrigerator, for instance, pinning up important papers or beloved photos in style rather than with some average magnets.
5. Colorful Rainbow Resin Unicorn Comb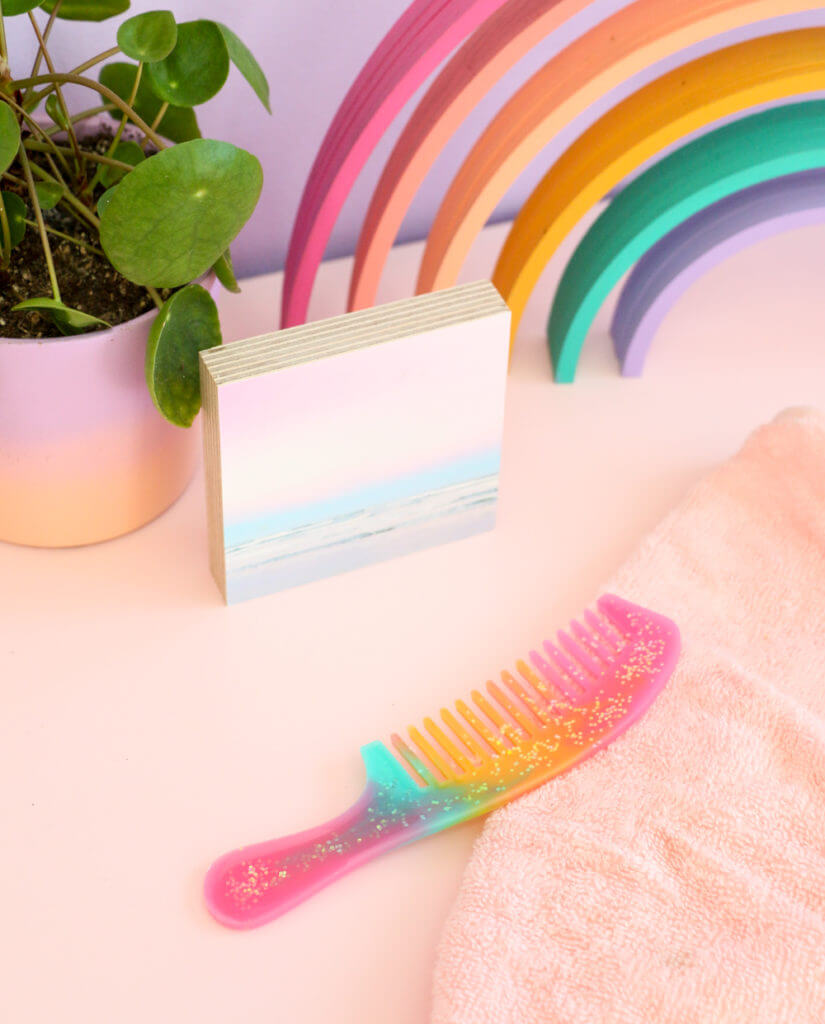 This rainbow resin comb is great for any unicorn lover. The comb is a lovely size for children, and you can even create numerous combs for a unicorn-themed party. All of the colors work lovely together to create the rainbow effect, blending perfectly into each other so that it all flows. Additionally, this attention-grabbing comb features some pretty glitter accents throughout. These help the comb truly shine so it can stand out no matter where you decide to use it. In fact, it will blend well into a unicorn-themed bedroom, capturing the right fun and playful vibe that naturally comes with unicorns.
6. Beautiful Handmade Epoxy Resin Coasters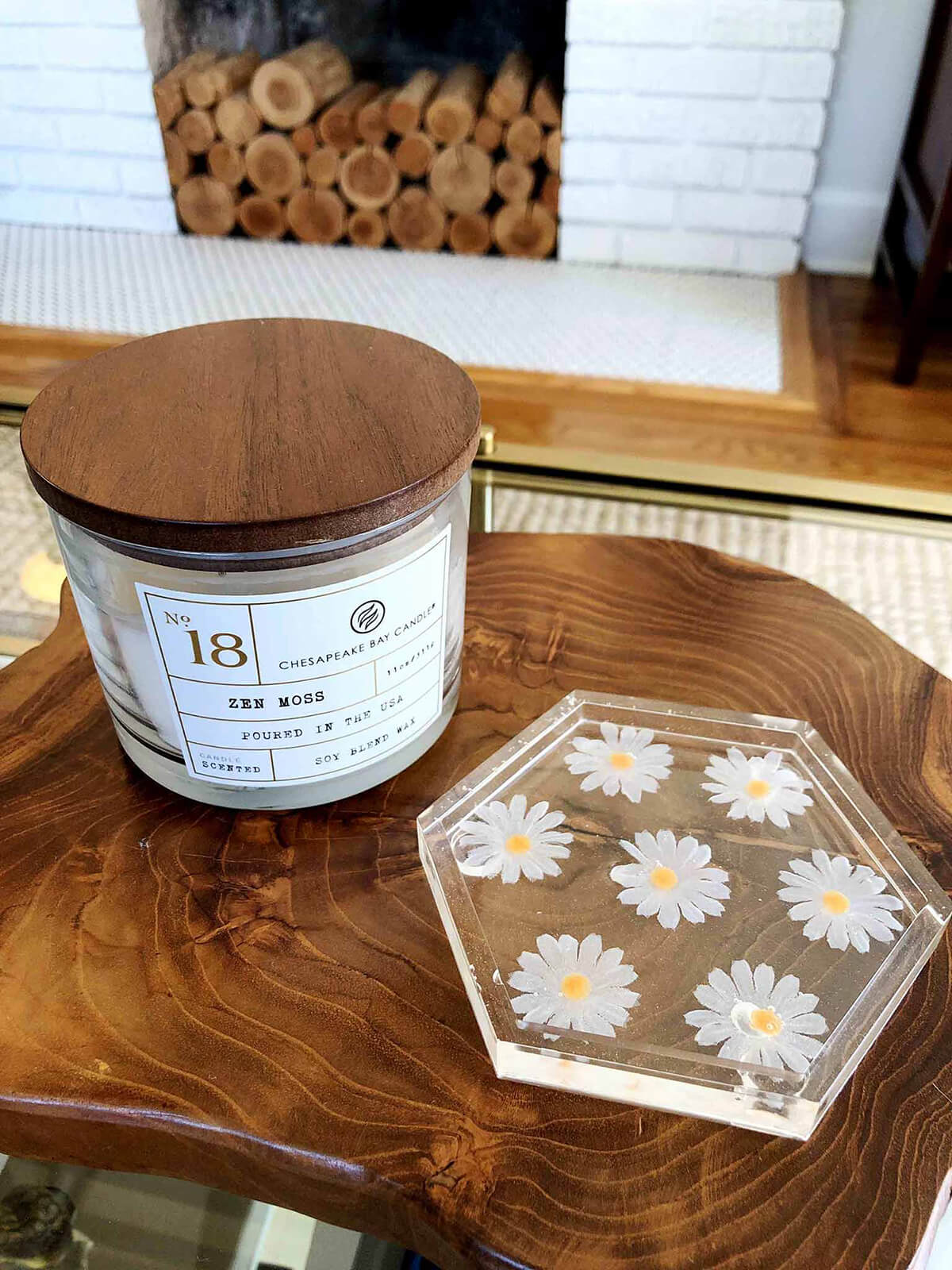 You can never go wrong with a good set of coasters in the home, especially if they are decorative and help your table look even more eye-catching. Well, you can always create some yourself with epoxy resin. These coasters have incredible personality while also being wonderfully functional for everyday use. You can embed some pretty interesting designs inside too so that the coasters work with your style even more. Also, you can play around with the shape of the coasters from making the common rounded style to something a bit more distinctive like a diamond shape. These can make protecting the surface of your tables more fun.
7. DIY Beaded Epoxy Resin Letter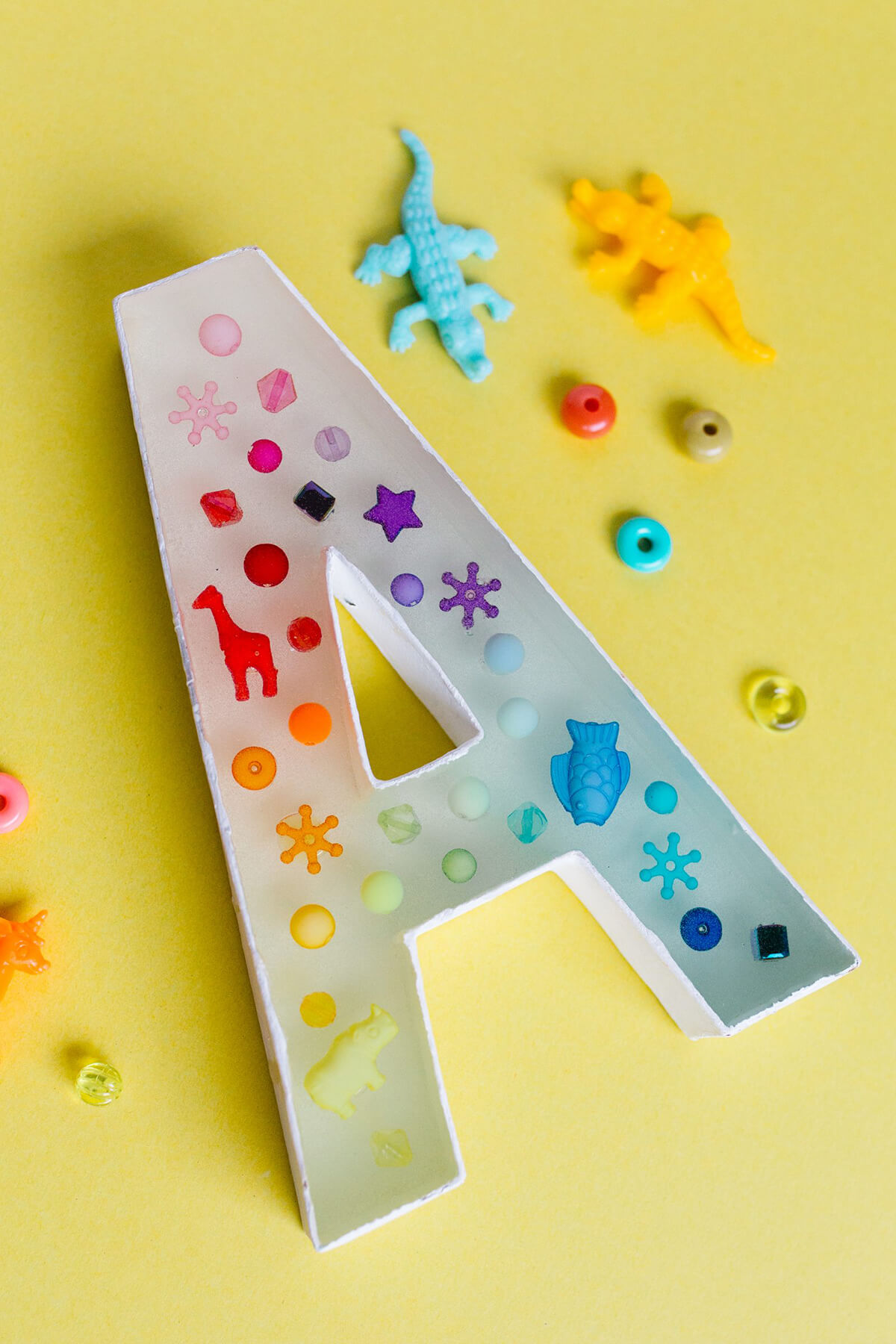 Giant letters are always nice to hang up in a bedroom as they can go along with just about any decorative style. You can stretch your resin DIY skills with this handy project. It can elevate the letter, allowing it to look far more appealing and instantly stand out against any other wall décor you may have. Plus, this lets you add in additional theme-based items inside that further fit any theme in the room. This can be a lovely choice for a child's room especially or even inside a nursery.
8. Easy DIY Epoxy Resin Table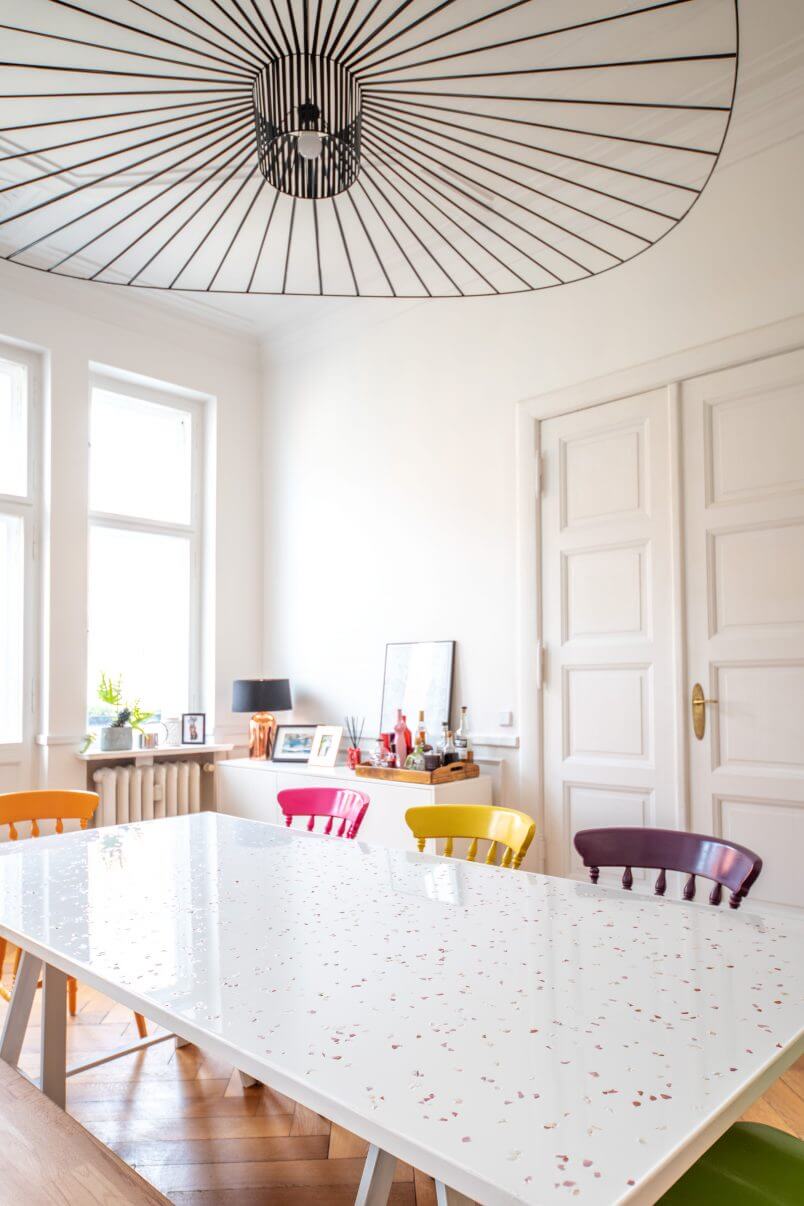 Transform your dining or kitchen table into something more eye-popping with epoxy resin. This way, everyone can always bask in your cool creation anytime they come to your home for a visit. It's a big job, but it isn't difficult to finish. What you are left with is the table of your dreams without spending too much on those more expensive decorative tables. This can also be a wonderful upcycling project as well since an epoxy resin pour can make an aged table look brand new.
9. Colorful and Sleek Resin Pencil Holder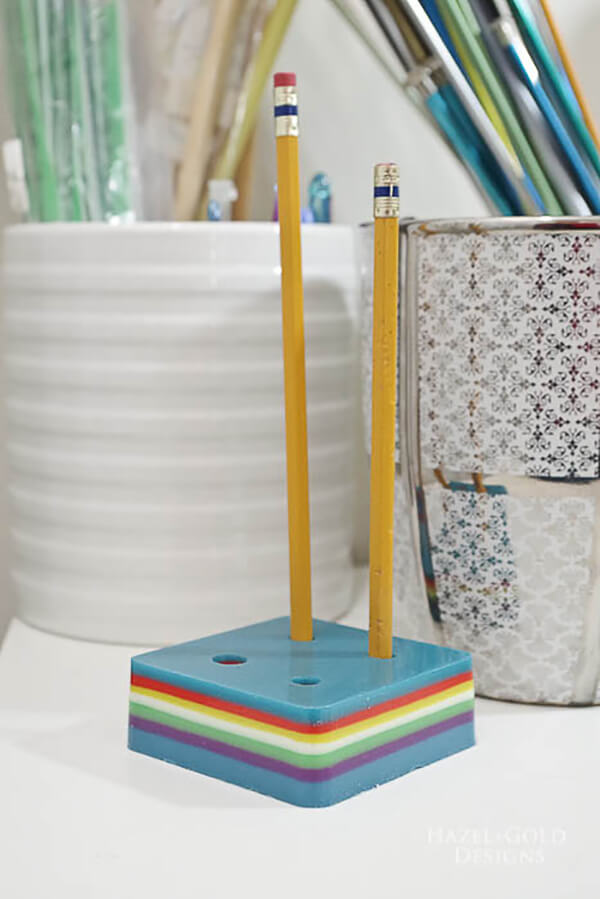 You don't need to settle for an average pencil holder as long as you have the best epoxy DIY decoration ideas like this one. With this, you don't even have to craft anything too large. This is clean, simple, and effective. The use of multiple colors is what helps this resin project boldly stand out. Thanks to the layered effect, you can create a fun rainbow-like look. This makes setting up your pencils and pens an exciting process, especially since the holder alone just looks nice sitting on a desk. It is certainly an excellent way to add more color to your office or school area.
10. Incredible DIY Resin Agate Serving Board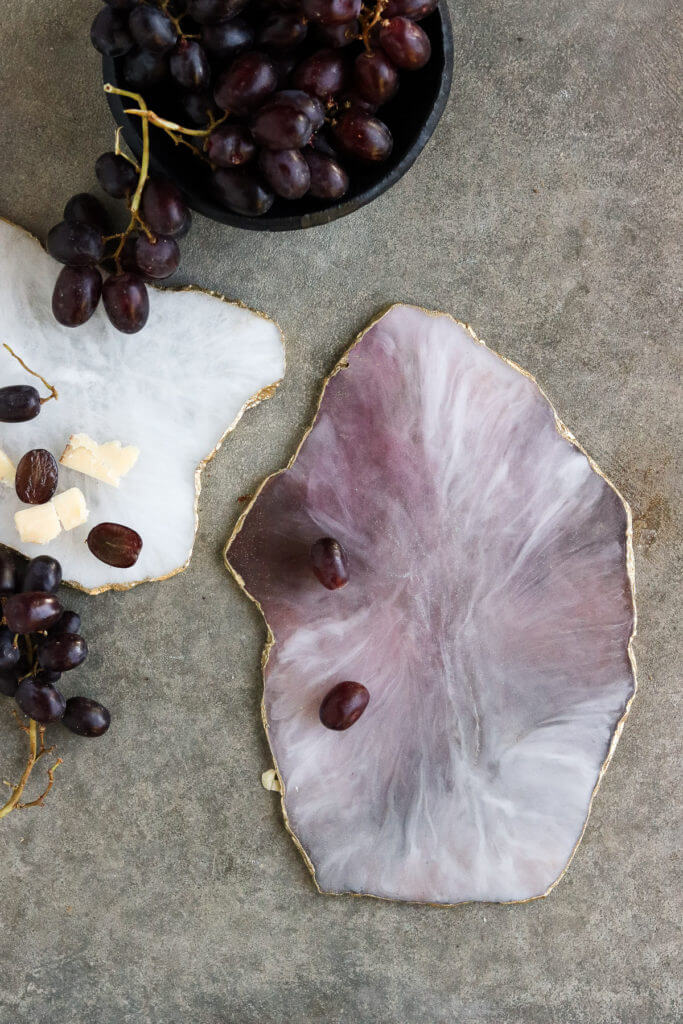 Serving boards all too often look a bit boring or plain. Well, that's nothing a good epoxy resin project can't fix. The serving board has a jagged-like design that helps it stand out even more. It's not exactly "perfect", but it is more creative than anything else. These will certainly capture attention when you bring them out at your next party or small get together. Consider using a faded color effect too so that the boards appear even more artistic.
11. DIY Epoxy Pour Tabletop Design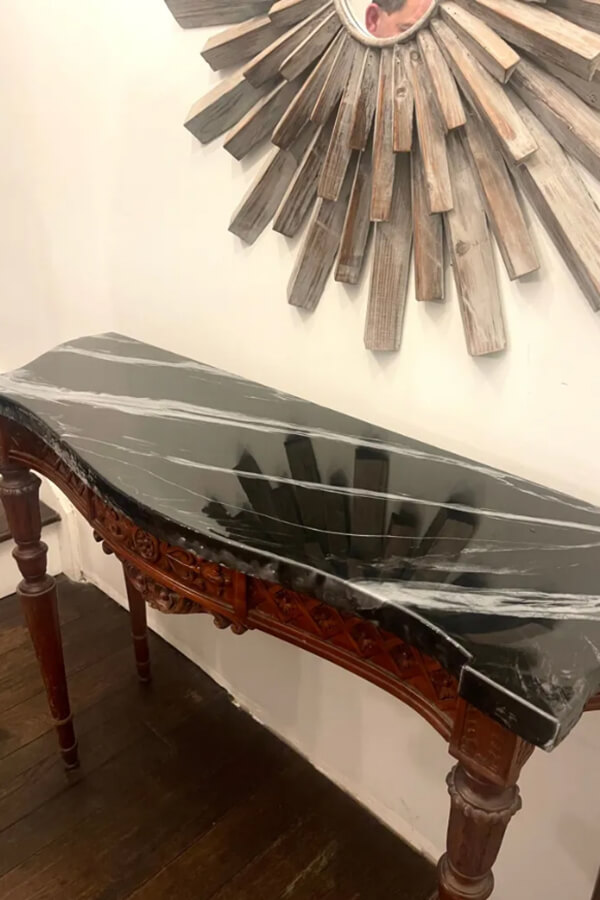 If you want to do something big with your epoxy, consider using a pour technique to enhance a tabletop. Perhaps your coffee table could use some sprucing up, or that console table in the entryway could better blend with the rest of your décor? No matter your needs, an epoxy pour is a perfect method to utilize resin and reinvigorate your furniture. This can even help your table not just look brand new, but come across as more expensive. There is a pleasing sense of elegance that epoxy pour gives a tabletop that you may be tempted to use this technique on more surfaces throughout your home.
12. Galaxy Themed Resin Phone Stand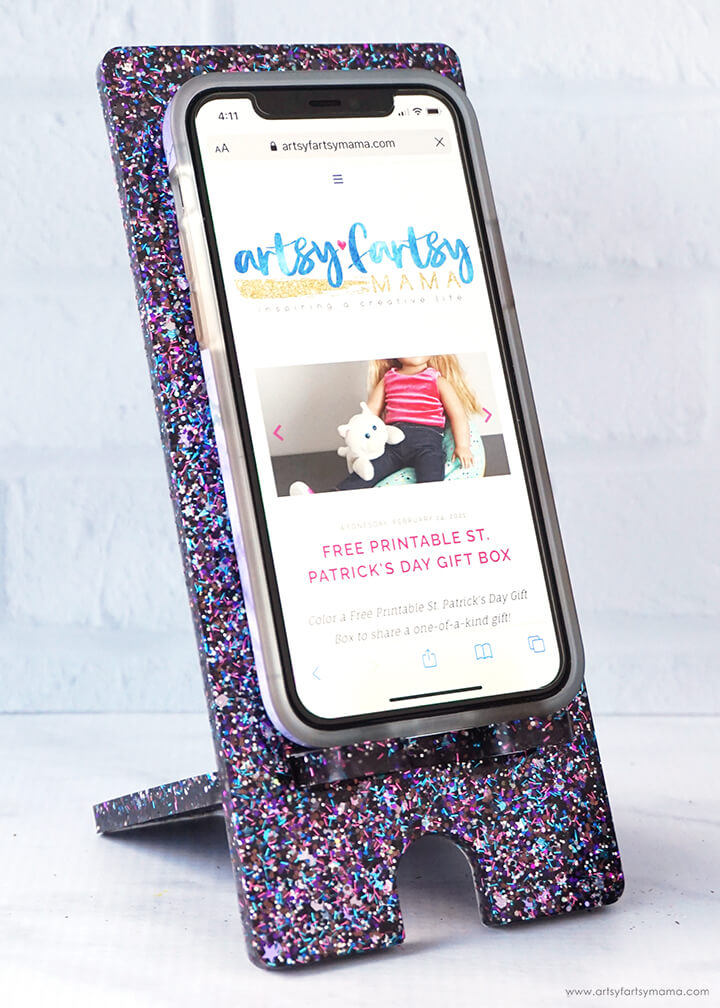 Who couldn't benefit from a phone stand when you want to chat or binge your favorite shows and movies? Well, using something you made yourself can give a wonderful feeling of accomplishment. Plus, this gives you the chance to make it as large as you'd like to best fit your phone. So, you are left with something remarkably helpful whether you're sitting at a desk or lounging in bed and need to prop something on a nightstand. At the same time, this resin stand has a sweet galaxy appearance that allows this to be as decorative as it is functional. Even when it's not in use, it stands out well.
13. Charming Leaf Epoxy Resin Magnets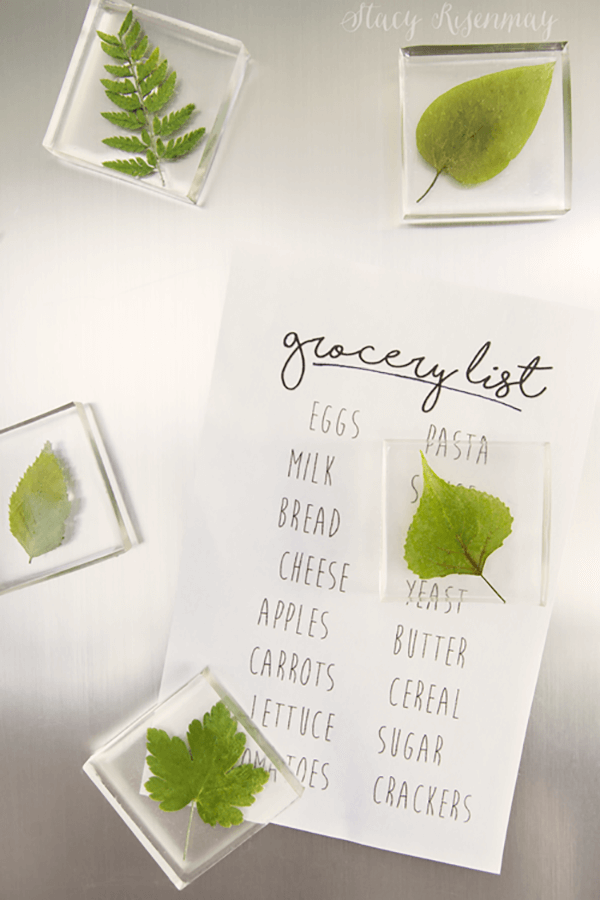 Collecting fun magnets is a good way to fill up the refrigerator while also holding all your important items. However, you can make even cooler magnets with epoxy resin and some simple, tiny leaves. Using just a singular leaf inside makes negative space look bolder and more appealing than ever compared to larger magnets. It's a charming way to add just a hint of color to your décor without overwhelming the space.
14. Elegant DIY Epoxy Resin Bookmarks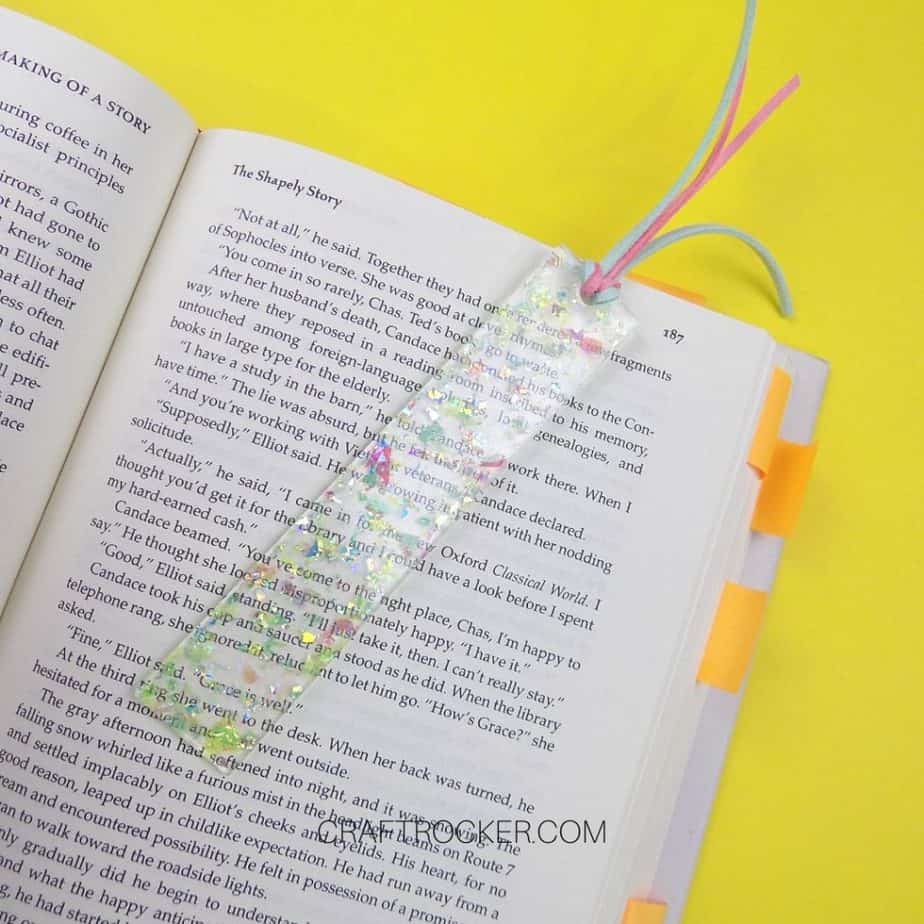 Book lovers rejoice that you can have a bookmark that won't bend easily or just looks plain. Instead, you can create a stunning bookmark with epoxy resin, crafting any design that comes to mind. You can always keep things simple too, sticking to a basic color (or no color at all) while adding in some sparkly flecks so that everything pops. These can make for some pretty gifts to any book lover in your life too, or they can work out well as party favors seeing as how small they are. Something like this is also a nice entry-level project if you wish to play around with DIY epoxy projects.
15. Adorable DIY Epoxy Cactus Coasters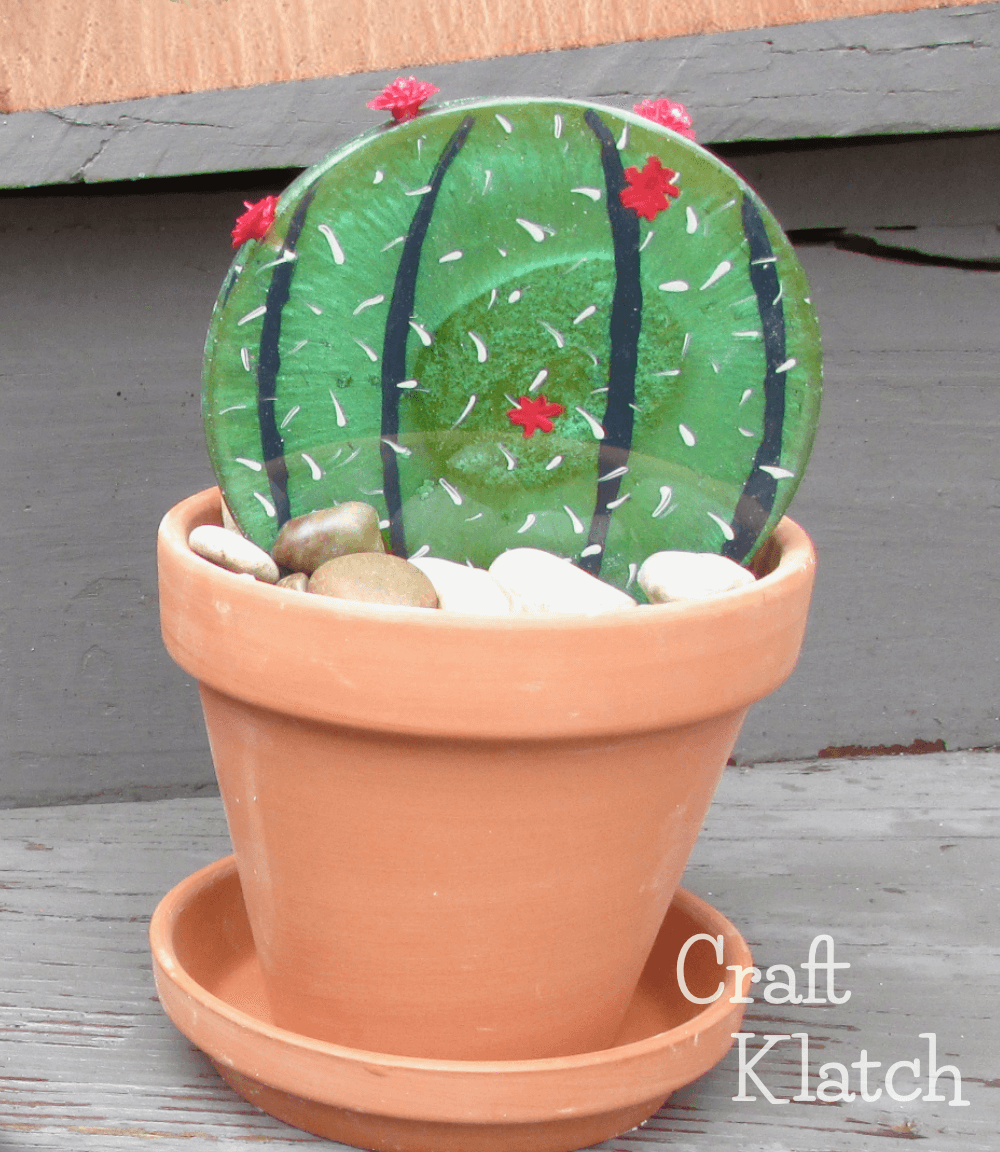 Coasters don't just have to be useful. They can be fun and cute too, perfectly fitting in with a more carefree style. It's something that is readily achievable with an epoxy resin home project. These adorable cactus coasters don't have to be something you just pull out when the drinks are ready either. Rather, why not have them out all the time? These make for distinct and bold decorations, especially in the summertime. They are even ideal to pull out in a party situation to brighten up the décor even more.
16. Epoxy Resin Pour Canvas Painting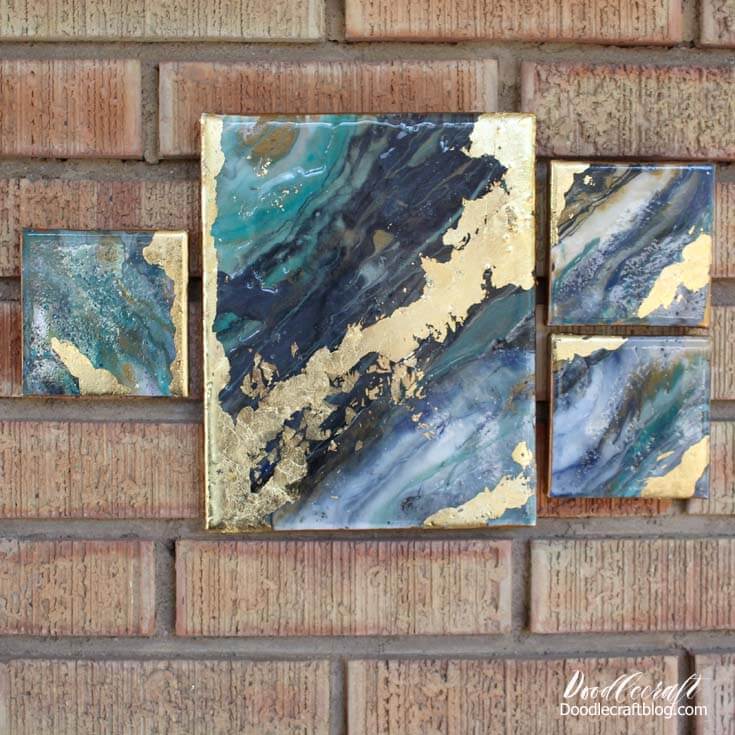 Fill up some of that empty wall space with some handmade epoxy decorations made with a pouring technique. A personalized painting is always fun to make. You can go smaller or opt for a large canvas. Or maybe you can aim for a few different canvas paintings since the pour technique allows you to create a new design each time. You don't even have to use bright colors with this either. Darker tones work just as well with only a splash of something bright like gold. This is a nice method to show off your creative skills and more of your personality in your home décor.
17. Dried Flowers Epoxy Resin Design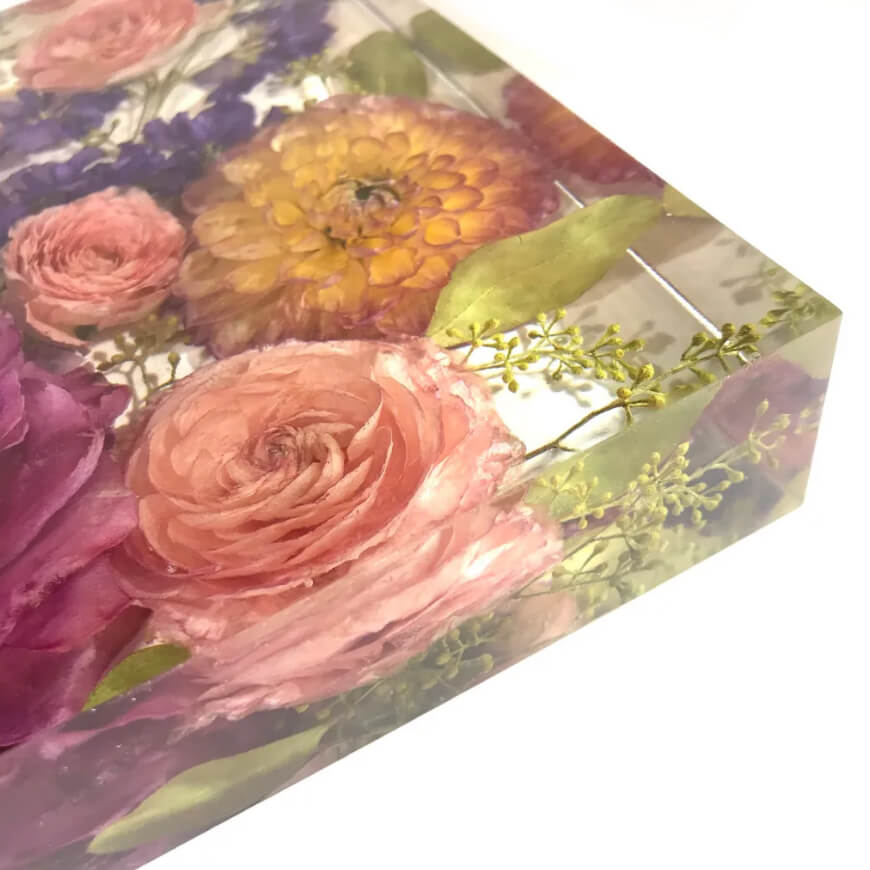 With so many options for creating something with epoxy resin, beginners can easily become overwhelmed. Well, this is a nice project to get your hands dirty in the early stages. With some dried flowers, you can use them as the base for your overall design with this piece. They make for a wonderful coaster too. Also, if you use real flowers, this can help you add a bit of woodsy vibe to your décor, perfect for anyone who wants to show off their love of the outdoors in a more interesting and distinctive fashion. Consider using a host of different flowers too to leave a more colorful impression.
18. Unique Epoxy Resin Sculpture Design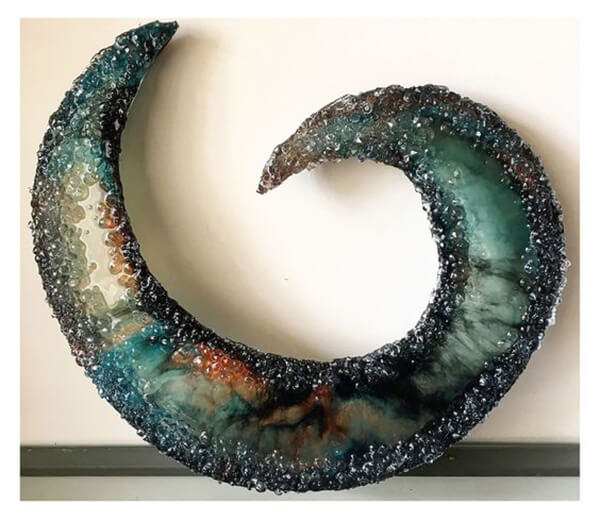 Take your art to new levels by crafting an epoxy resin sculpture. Artwork is among the best epoxy DIY decoration ideas since it lets you truly show off what you're capable of. A sculpture takes things a step forward as it is a bit more difficult than your usual pour technique. You can play around with different designs too, crafting anything your imagination comes up with. Your finished piece works as great décor in any room in your home from the living room to your bedroom.
19. Stunning Pressed Flower Epoxy Resin Tray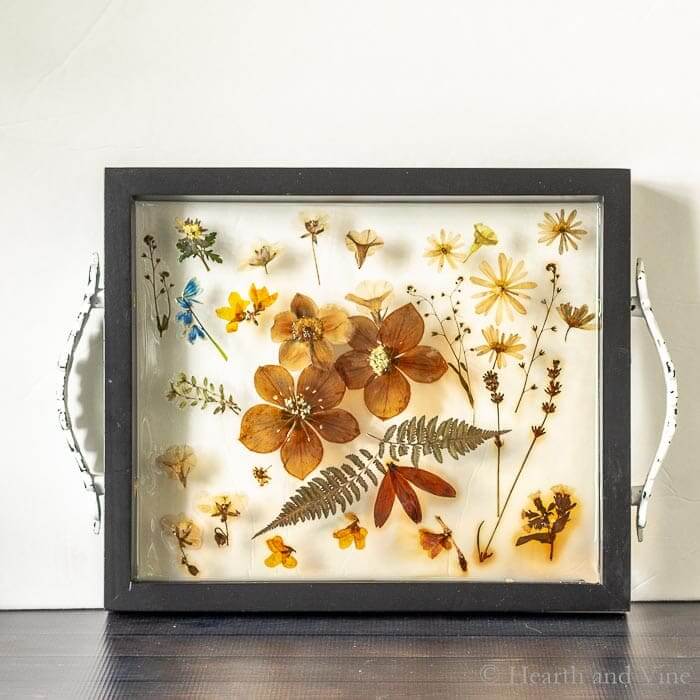 If you need DIY epoxy ideas to leave a lasting impression, then consider creating this pressed flower resin tray. This combines well with an upcycling project too since you can use a picture frame, old or new, to complete your project. The pressed flowers inside look remarkable once finished, allowing this to come across as a work of art rather than a serving tray. In fact, you can leave it bare to serve as decoration rather than use it if you'd like.
20. Wood Table Epoxy Resin Décor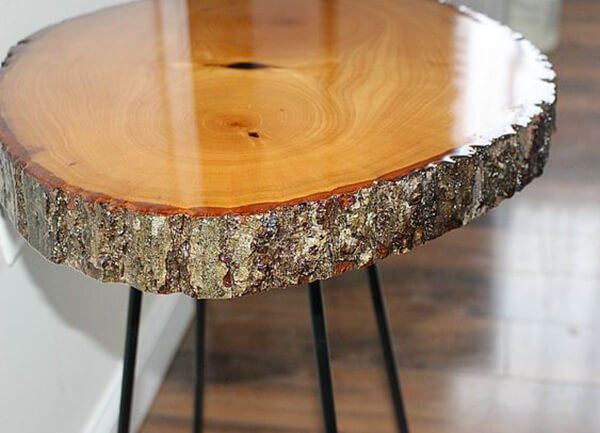 A wood table is such a good way to bring in a more rustic and outdoorsy style to your home. However, you can do so while still adding a fashionable elegant touch to the piece, allowing for a style that is more blended than anything else. Epoxy resin for the tabletop works out well in this case. This leaves behind such an attractive shine, creating almost an illusion with the wood beneath it since it is smoother than what you would think.
21. Epoxy and Cement Trinket Tray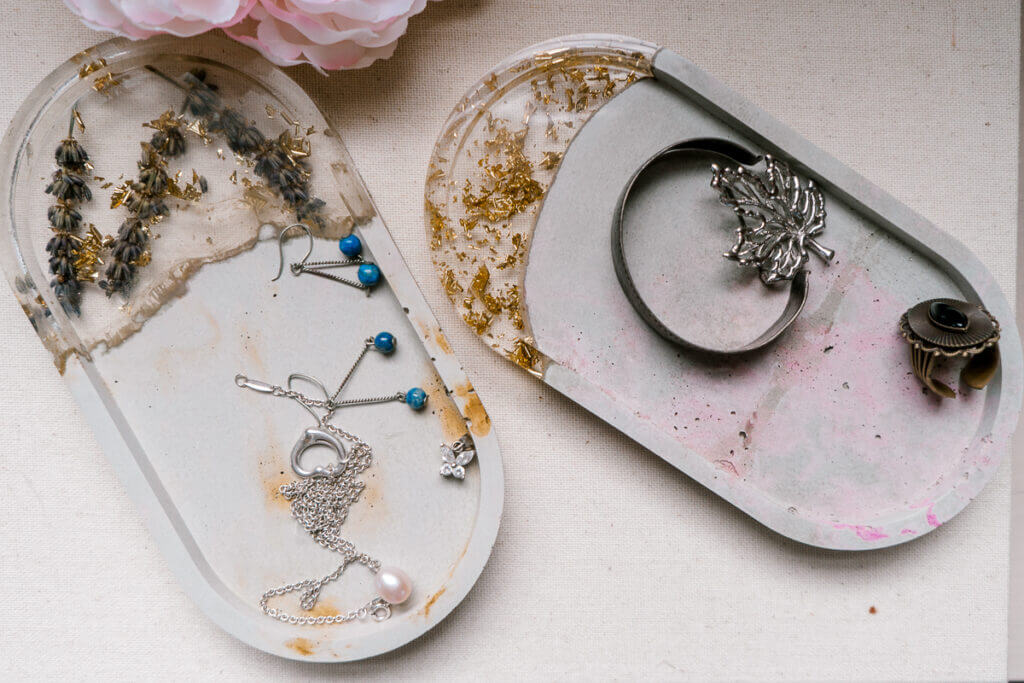 A trinket tray is more than useful to keep everything organized, easy to find, and decluttered. So, why not go all out and create a trinket tray that's not just long-lasting, but stylish? Combining two different materials with this project is wonderful too as it leaves you with something that can stand the test of time. Also, there is a nice blended look about this, giving it a more unique presence overall. Consider using any color or design with the resin that allows it blend with ease into your personal style. This trinket tray can even make for a nice gift to a loved one.
22. DIY Heart Themed Epoxy Coasters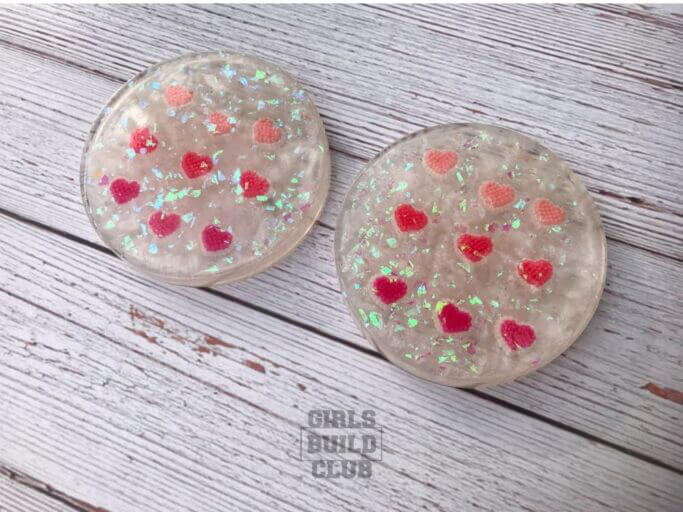 Themed coasters are always exciting to bring out for special occasions. These heart themed epoxy coasters can work for holidays like Valentine's or even for celebrating milestones like anniversaries. Or maybe you just love hearts and candy, and combining them with epoxy resin is simply a way to show off your love of this style. Whatever your reasons, these coasters will definitely leave a smile on anyone's face, especially if you give them away as gifts.
22 Beautiful DIY Epoxy Ideas to Explore Your Creative Side
Epoxy resin is such a fun tool to use in any DIY decoration project. This is also a great entry tool for those of you new to creating your own home decorations. Not only is it simple to learn, but there is so much versatility in what you create no matter how large or small the project is. You can make something to hang on the wall, or you can even craft a gift as small as some cool jewelry. If you want to really show off your handiwork to anyone that comes into your home, then you can always work with a table, transforming the surface into an epoxy masterpiece.
The only limitation to possibly stand in the way is your own imagination. If you are still stuck on where to start, our list of some of the best epoxy DIY decoration ideas should help make the situation easier to manage. We ensured that we discovered a host of different types of projects for anyone to enjoy no matter your skill level.