With the weather getting cooler, the trees adorning themselves with vibrant reds, orange, and yellow hues, Autumn brings a sense of awe and beauty that we just want to capture in a bottle and put on our mantlepiece. Well, in one sense we do just that by decorating our homes, porches, and gardens with fall decorations. There are all sorts of decoration ideas out there to spruce up your home with wreaths, abundant flower arrangements, and rustic signs that give homage to our love of Autumn. If you're wanting to get in the spirit of this pumpkin-pie, cinnamon-scented, sunflowers and twine season, then we have some fabulous fall décor ideas for you. And if you're overwhelmed by the sheer abundance of ideas out there, we have narrowed it down to 21 great Etsy fall décor finds.
21 Fabulous Fall Décor Ideas for Your Home

1. Country Inspired 'Fall' Sign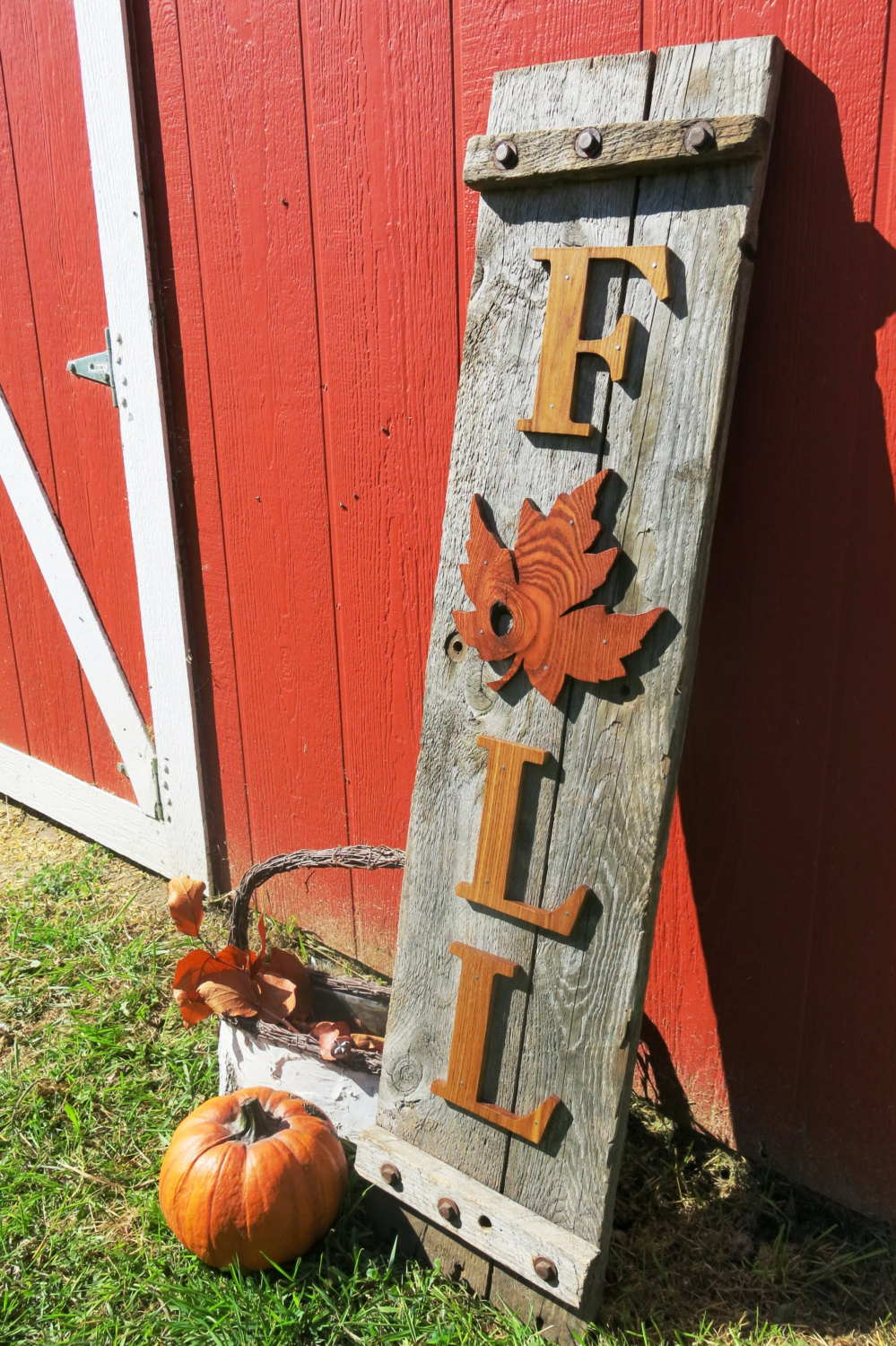 This is a beautifully hand-crafted rustic sign that you can display on your front entryway. The sign is made from reclaimed wood and embellished with a lovely stained maple leaf. The gorgeous red oak tree stain of the leaf gives the whole sign a nice 'pop' of color. Customers love the quality of this item and are not disappointed. The hand-cut letters and leaf motif are finished on all sides and edges giving it a clean-cut and professional look. As each sign is made to order, you can be assured of a quality piece made just for you. No sloppy stain work or rough edges. The picture is true to the item if not even more beautiful, especially as it adorns your own front porch.
2. Rustic Wood Pumpkins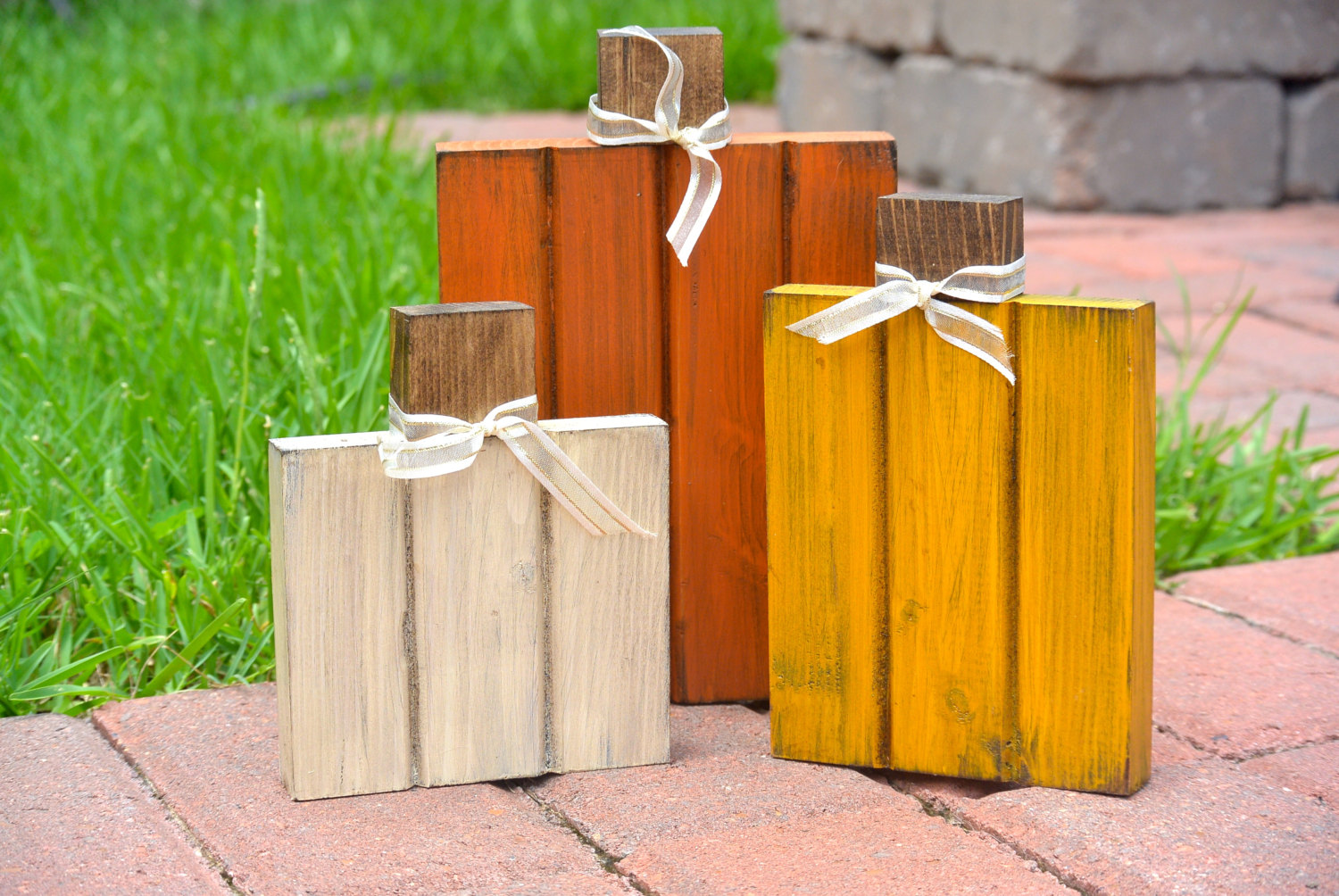 Here's a simple yet effective fall décor idea from Etsy that will look charming on a dining table or mantlepiece. Three pine wood pumpkins are painted mustard yellow, burnt orange, and cream and are then adorned with ribbon. Each pumpkin measures 5.5″x8.5″, 4.5″x6.5″ and 4.5″x5.5″ respectively. The pumpkins are also 'antiqued' so to give a rustic charm. These pieces are a perfect addition to your fall decorations with their simplistic design and vintage appearance. Customers are in love with products from this Etsy seller. WhiteAspenStudio delivers in quality and customer service. They have been given 5 stars over and over for their custom made, quality products. Each pumpkin is hand crafted, painted, and antiqued and made to order.
3. 'Happy Fall' Rustic Wood Sign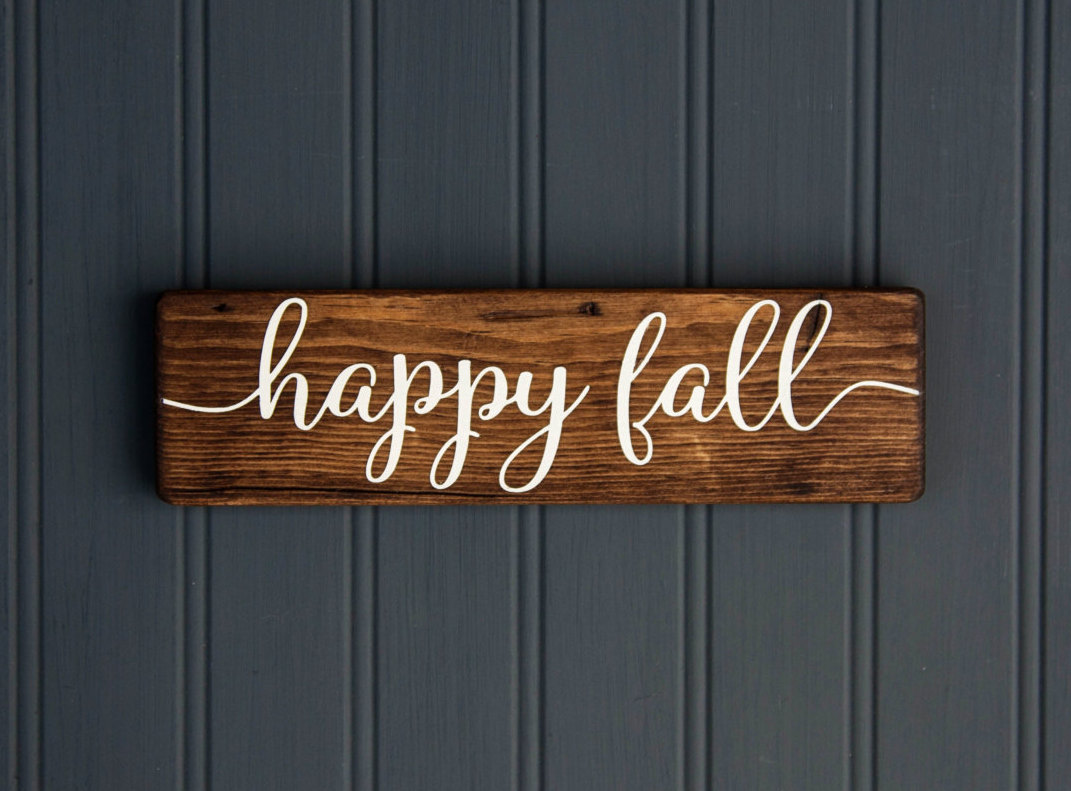 What better way to greet the fall season than with this rustic wood sign that would look great on your front door, entryway table, or mantlepiece. 'Happy Fall' is beautifully hand painted in a cream chalk paint on a 9″ long x 2.5″ high piece of wood. Each sign is unique in its own way since the wood is real and not fabricated; no one sign is exactly alike. Each sign is stained a dark walnut color which contrasts nicely with the cream colored letters. A protective matte coat allows this Etsy fall décor item to last you many seasons. A sawtooth hanger is on the back of the sign to make for easy hanging. You could even use this sweet decoration idea to place on your dining table as a fun centerpiece for your Thanksgiving or seasonal festivities.
4. Flowers & Twine 'home' Wine Bottles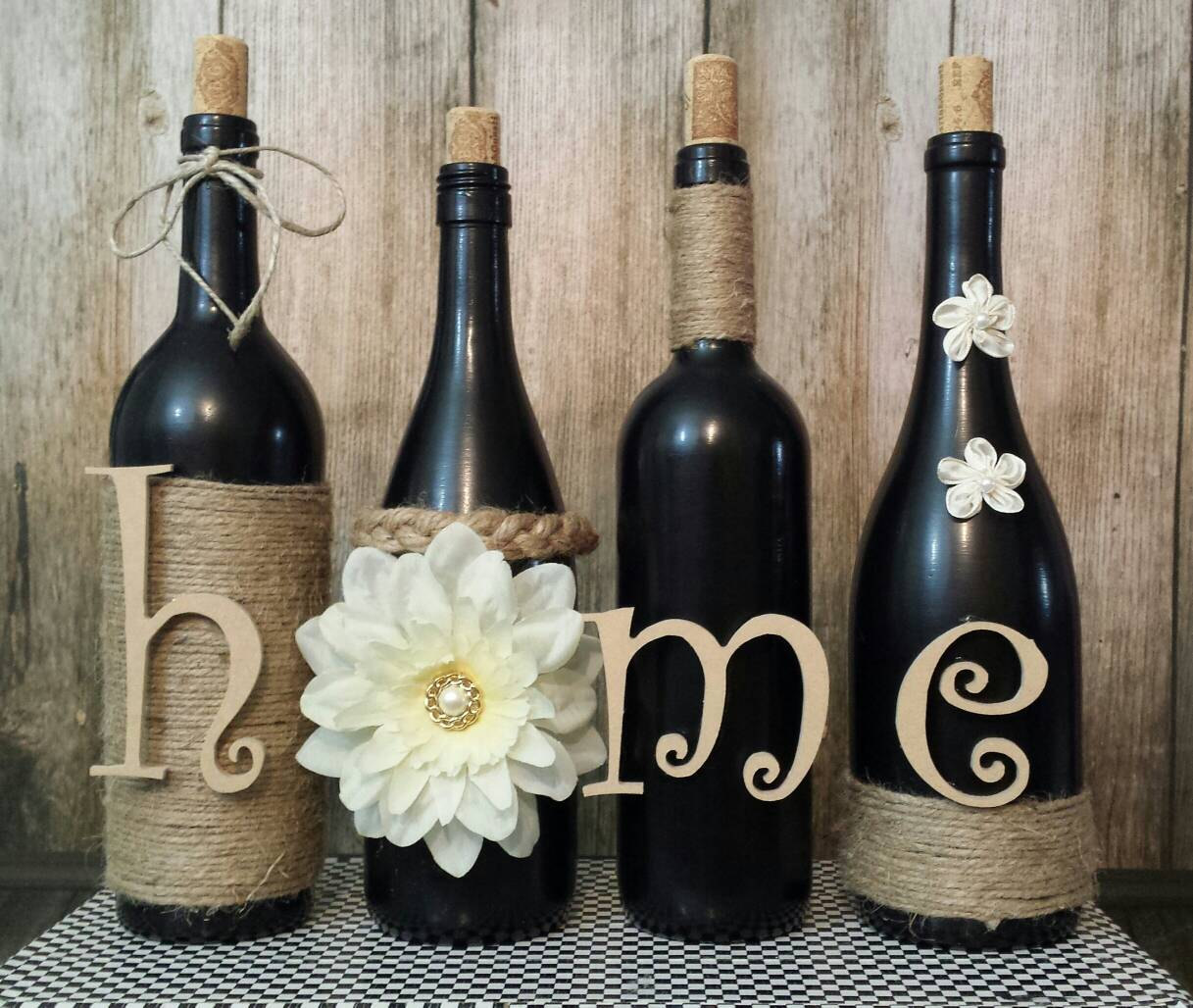 Four wine bottles are decorated whimsically with twine and flowers and spell "home" when placed side-by-side. This is a fun decoration idea for any time of year. Each bottle is hand-painted with a special gloss coat before being fired. This process ensures that the paint will not chip and the pieces will have a long shelf-life! A gorgeous satin flower embellishes one of the bottles, being in the place of the 'o' for 'home.' Pearls and gold accents also adorn the bottles adding a touch of class and elegance. Choose from the cream-colored flower which is pictured or contact the seller with a difference color preference. Customers have raved over both their 'home' bottles and the interactions they had with the seller. Packaging was taken with care to ensure safe delivery of the bottles and as one customer said, they "exceeded expectations." Make your home more 'homey' with this fun decoration idea.
5. Shabby Chic Mason Lid Pumpkins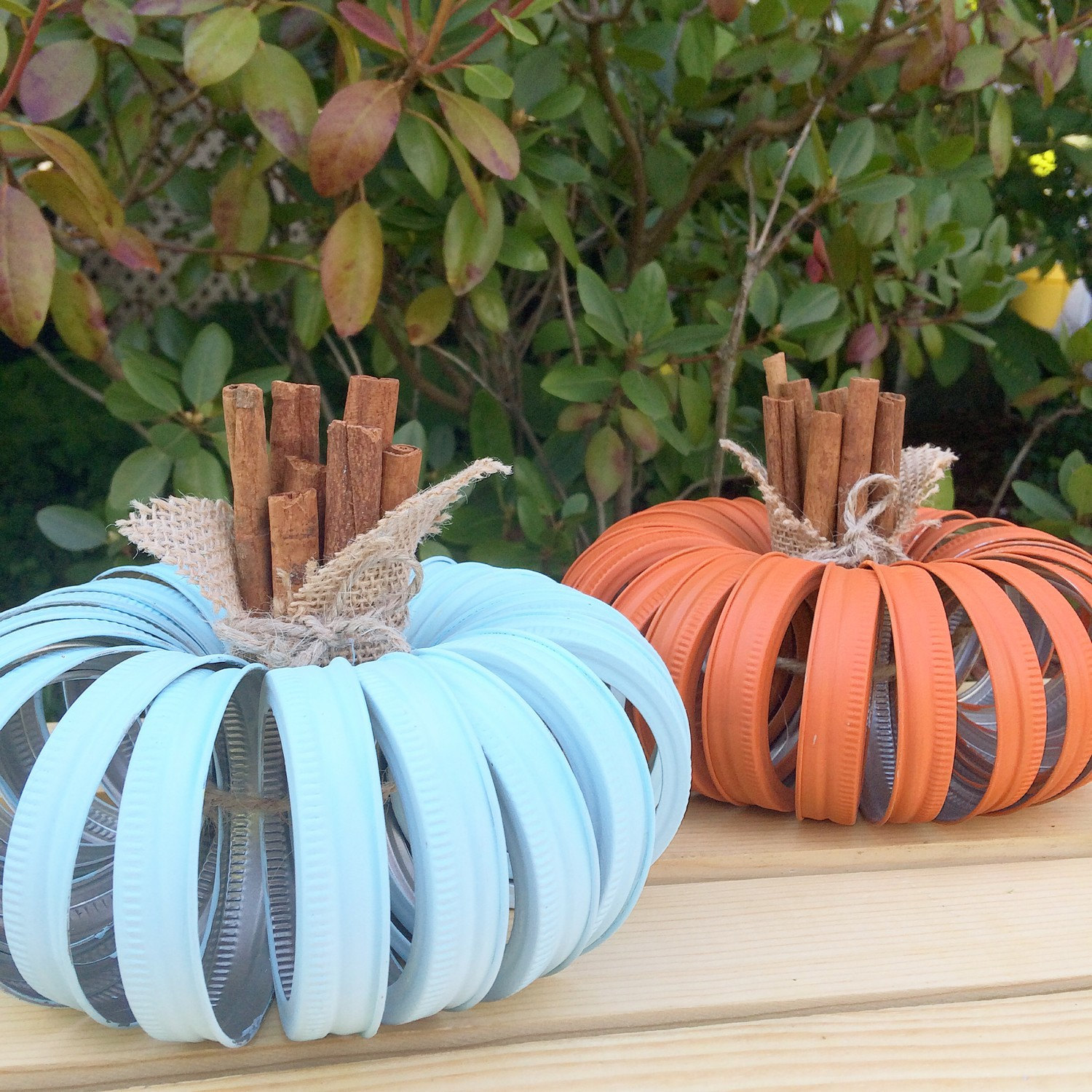 These pumpkins are truly exquisite and so creative! You will wonder why you didn't think to save mason lids and use them to create such a fun fall decoration. Purchase a trio of these pumpkins or choose one in harvest orange, shabby blue, or vintage white to add an eccentric flair to your home. (Having one in each color looks amazing!) Each mason lid is hand painted and then sealed with a matte sealant. The painted metal lids give a nice worn/rustic look! Cinnamon sticks are placed in the center to create the stem which add a nice fall scent. Each pumpkin is then finished with some great textural burlap leaves and a jute twine bow. Place these pumpkins anywhere for your enjoyment! The seller is also open to paint color suggestions if you prefer a color other than the ones listed. Each piece is hand made just for you.
6. Customized Fall Wood Block Set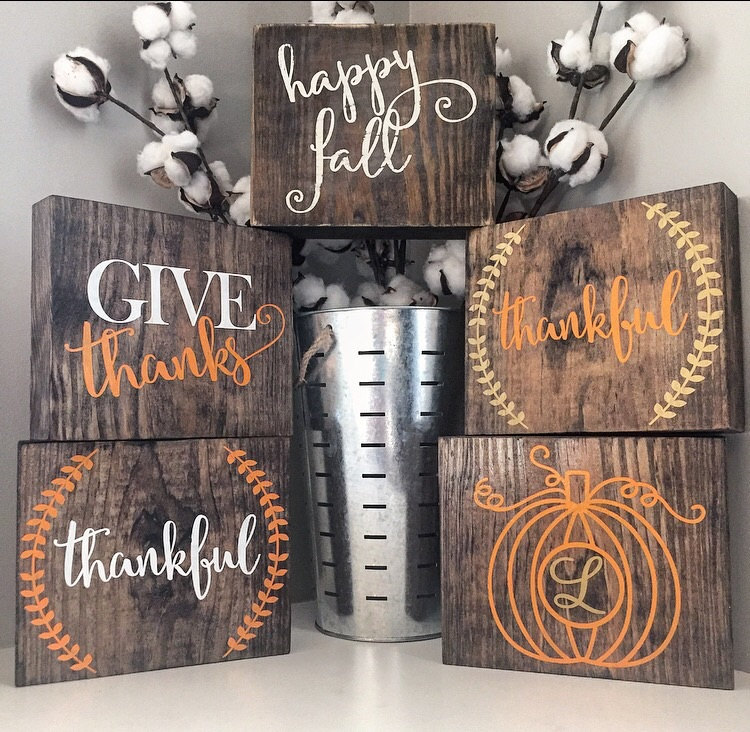 /div>
Let your imagination be your guide when you choose this Etsy fall décor item. This is a great item that allows your creativity to shine: you get three walnut stained and distressed (if you choose) pieces of solid wood that the seller will then customize for you with whatever greeting or monogram that you wish. You can even choose the colors to coordinate with your home décor and make it unique to you. Each sign is stained, hand painted, and sealed before becoming uniquely yours with whatever phrase you choose. Examples such as 'Give Thanks,' 'Happy Fall, Y'all,' and 'Trick or Treat,' are just some ideas that you can have painted on your blocks. Each block measures at 6″ wide x 7.5″ long x 2″ deep but can also be made larger or smaller. These blocks are lovingly made and have customers cherishing their personalized creations.
7. Beautiful Fall Hydrangea Wreath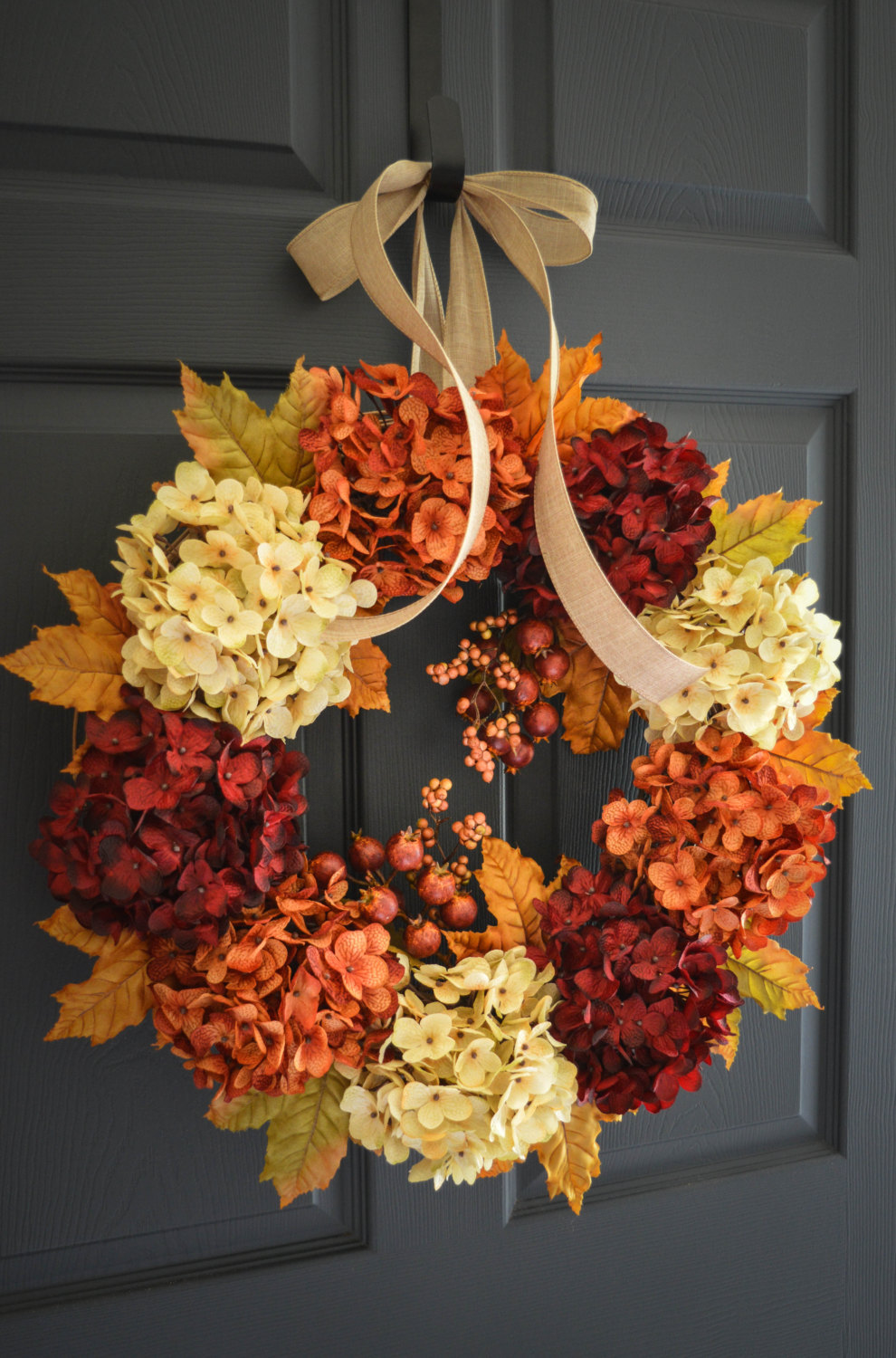 Wreaths are a classic fall décor idea that can really liven up your interior living space or grace your door with gorgeous autumn colors and foliage. Made with natural grapevine for the base, each wreath is artistically hand made and assembled with faux hydrangeas, foliage, and berries before being finished with ribbon and a wreath hanger. Choose between the 9 hydrangea option which measures at 19-20″ in diameter and 5″ deep, or the 12 hydrangea which is slightly bigger at 22-24″ in diameter and 5″ deep. Upon ordering this wreath you can choose to have a complimentary UV resistance coating which will help reduce color fading of the flowers and foliage over time. With the lovely flower hues of cream, orange, and red, this is a perfect addition to your fall decorations.
8. Set of 6 'Thanks' Mason Jars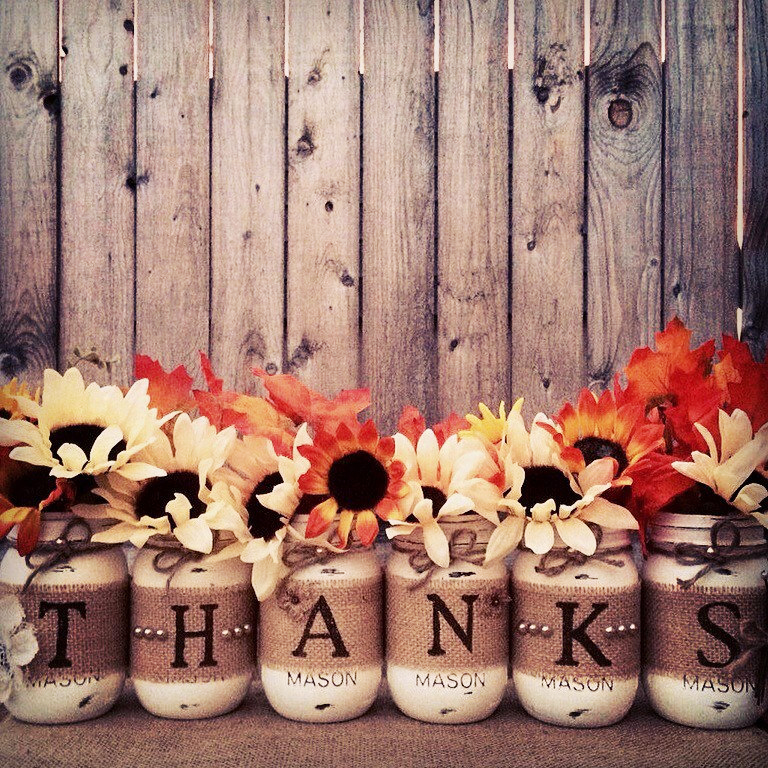 Gather your favorite bunch of autumn flowers and foliage and create a stunning fall display in these mason jars. Place the six mason jars side-by-side to spell 'Thanks' and you have a beautiful table decoration. These pint size mason jars look great as center pieces, on bookshelves or mantlepieces. Each jar is hand painted with antique white, distressed to give a rustic charm, and then wrapped in burlap. A hand painted letter on each jar completes the 'Thanks' set. The jars are sealed to protect from occasional water splatter so feel free to fill them with your favorite real or faux flowers and then adorn your living space with this fun Etsy fall décor idea. You can even customize your order with a different word, color, or size of jars. The seller has great customer feedback and is happy to help you personalize your order.
9. Hillbilly Mason Jar Sconces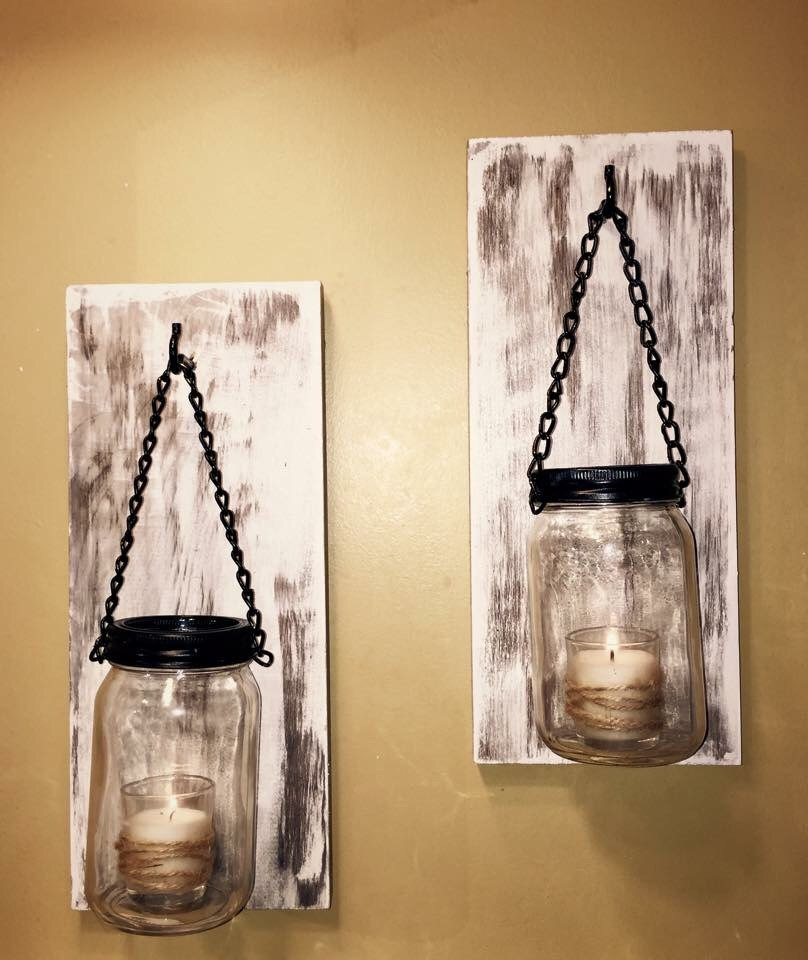 Shabby chic or hillbilly vibe, whatever your décor theme preference, these sconces will jazz up any space in your home. These inventive mason jar candle lights, or wall sconces, are a beautiful and unique addition to a living room space, dining area, bedroom, or even bathroom to create a romantic mood. Each pair of mason jars is painted with an elegant dark stain and then distressed to give that rustic look. The jars are wrapped in twine which adds to their country-home appeal. These are great for everyday use or pull them out on a seasonal basis for a nice fall décor idea. You have your choice between medium-sized jars, measuring at 12in x 5.5in, or a larger size which measures 14in x 7in. Brackets and candles are included from the seller.
10. 'Pumpkins, Apple Crisp, Autumn Time' Fall Sign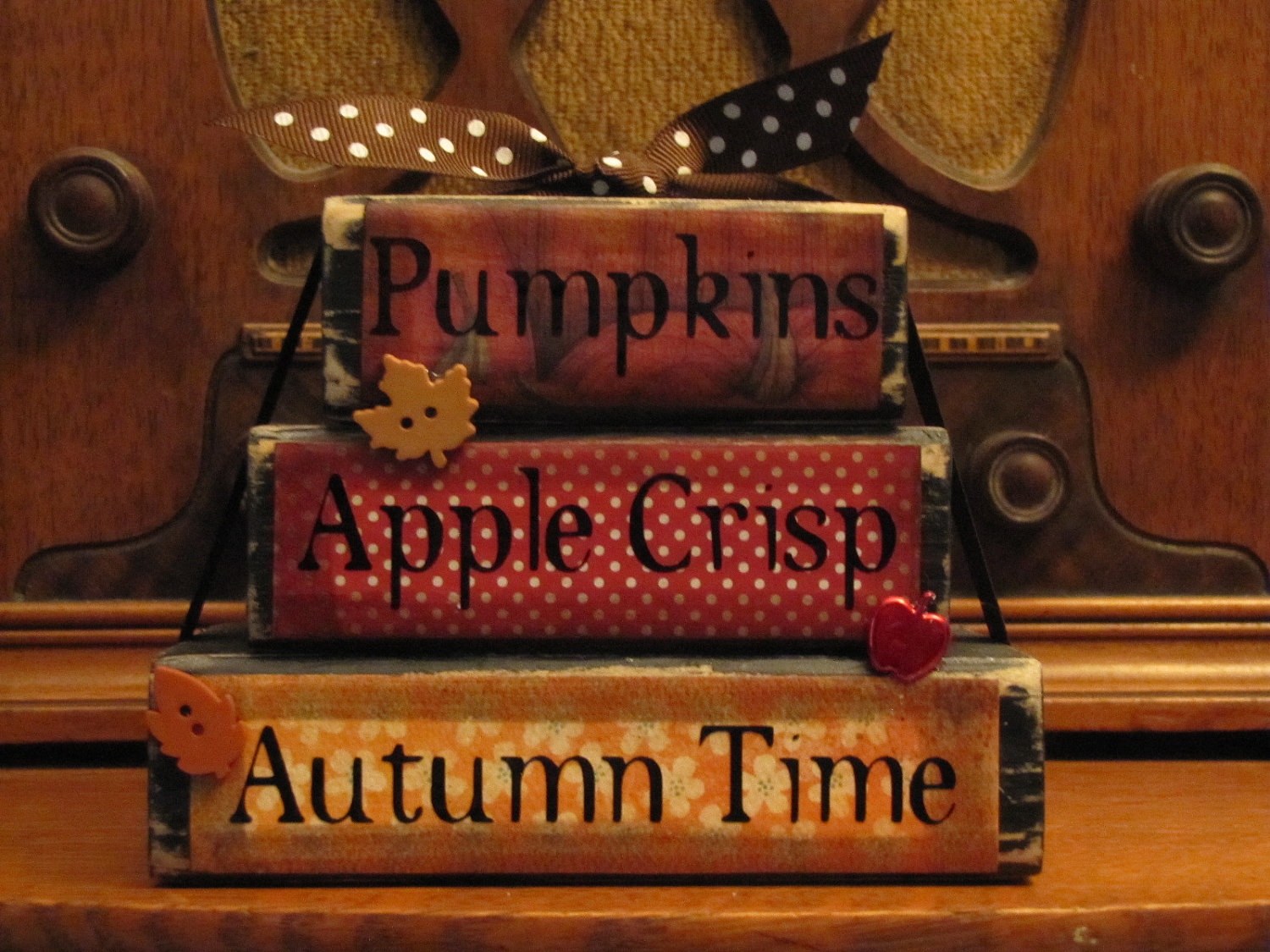 Who doesn't enjoy all three of these things, especially at the same time? Celebrate the season with this sweet Etsy fall décor item that will remind you of three of the best things about the cooler weather. Each phrase is embellished on its own wood block and then stacked on top of each other to create a trio of wood blocks. The sign measures 4.5″ tall x 5.5″ wide and is adorned with printed scrapbook paper, leaf and apple buttons, and polka dot ribbon. This is a cute addition to any home that would also make a great gift to cheer someone up! Happy customers love the vibrant colors, vivid printing job, and quick shipping.
11. 'Home Sweet Home' Rustic Sign with Mason Jar Vase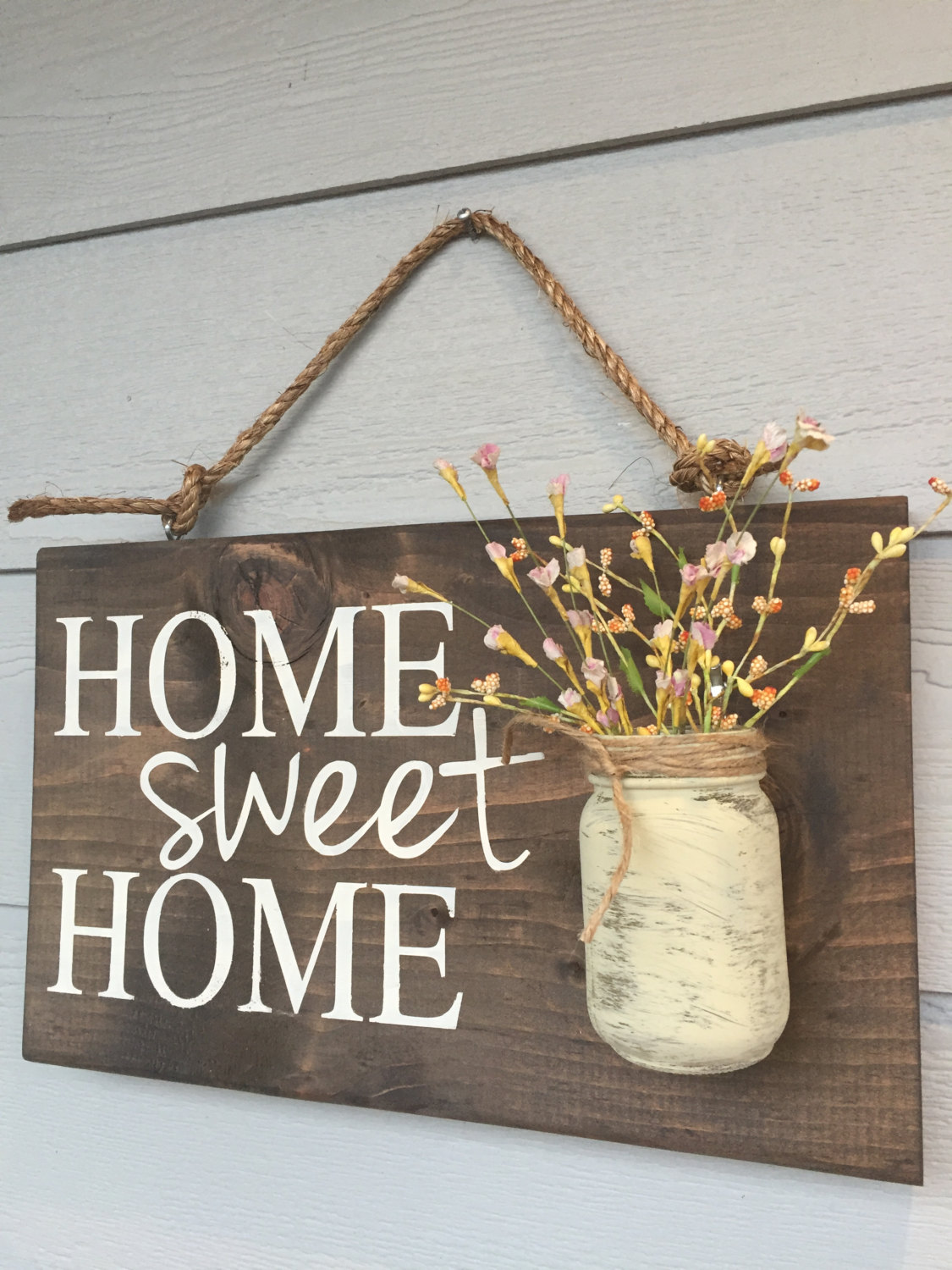 A pretty sign like this is a must for every happy home. It makes you happy just looking at its handpainted letters and shabby chic mason jar vase that you can fill with your favorite flowers. Hang on the outside of your door for a nice decoration idea that can be used year round or seasonally. It also makes a nice gift for your newlywed friends/family. Each sign is custom made from solid wood and stained with a dark walnut color which contrasts nicely with the cream colored letters. Approximate size is 12 x 18 inches with a 5 inch depth due to the mason jar. Since reclaimed wood is used to make your sign, you can be assured that you are receiving a one-of-a-kind sign, unique to you just as each piece of wood is unique with its varying knots and gnarls. You can customize even further with this sign by contacting the seller and changing up the color or wording on the sign. She makes her signs to please and has many happy customers.
12. 'Happy Fall Y'all' Fall Printable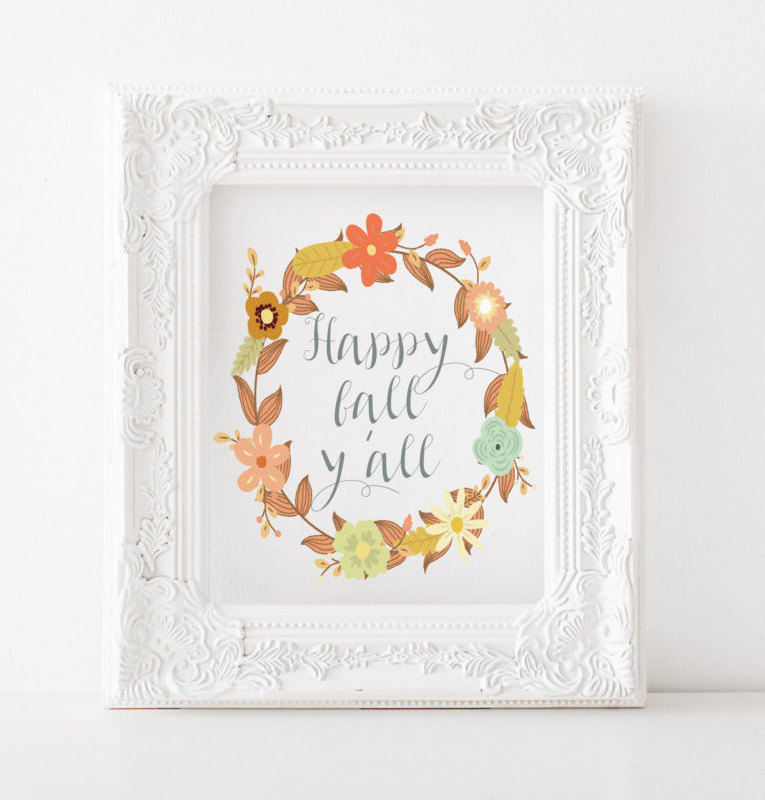 You can print this sweet little fall decoration piece in the comfort of your own home. With the addition of a nice frame of your choosing (not included with printable), you can have this 8 x 10″ design hanging anywhere in your home. Pretty, warm, earthy tones along with the scripted phrase "Happy Fall Y'all" make this piece beautiful and enjoyable. Here's how it works: Once you place your order and your payment goes through, you will be directed to a download page. Just click on the download button and save the file to your computer and then print it! Voila! Instant art just in time for the fall season. Customers give 5 stars for the ease of ordering and the quality of the print.
13. Decorative Fall Owl Cushion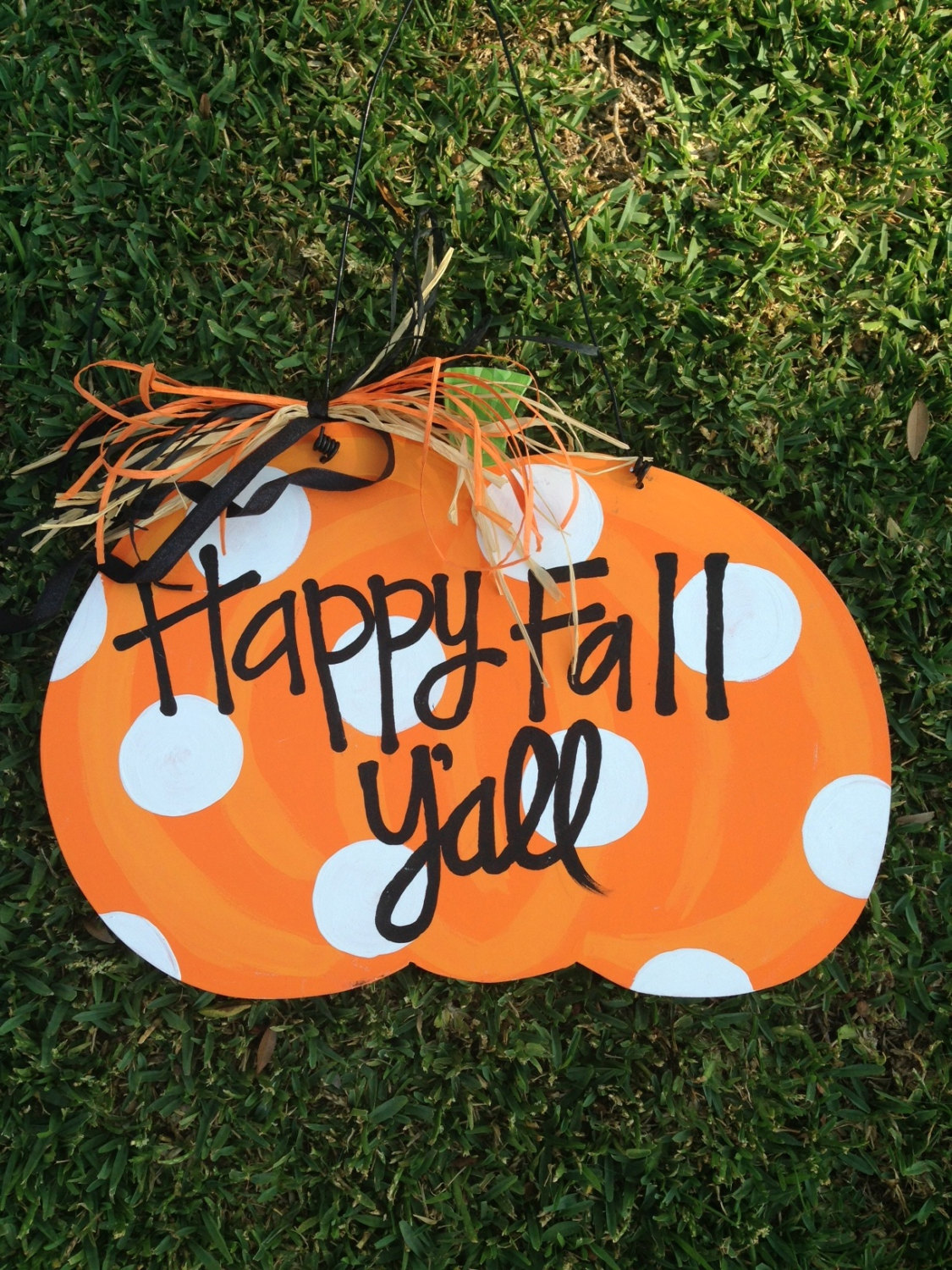 Your fall décor ideas are incomplete without there being an owl somewhere in the midst! This little owl and his pumpkins are an adorable addition to your home. Place the cushion on your sofa, or use it as decoration by your mantle with other pillows and decorations. Each cushion is handmade from burlap material and sewn with appliqués from recycled sweaters. You can choose from a number of varying sizes at checkout to suit your home decoration needs. Between the burlap and the recycled sweaters, you can't go wrong with achieving a cozy, rustic, and charming decoration pillow that adds a bit of cuteness to your room. Your friends and family will get a hoot out of it too!
14. 'Fall' Wooden Letter Blocks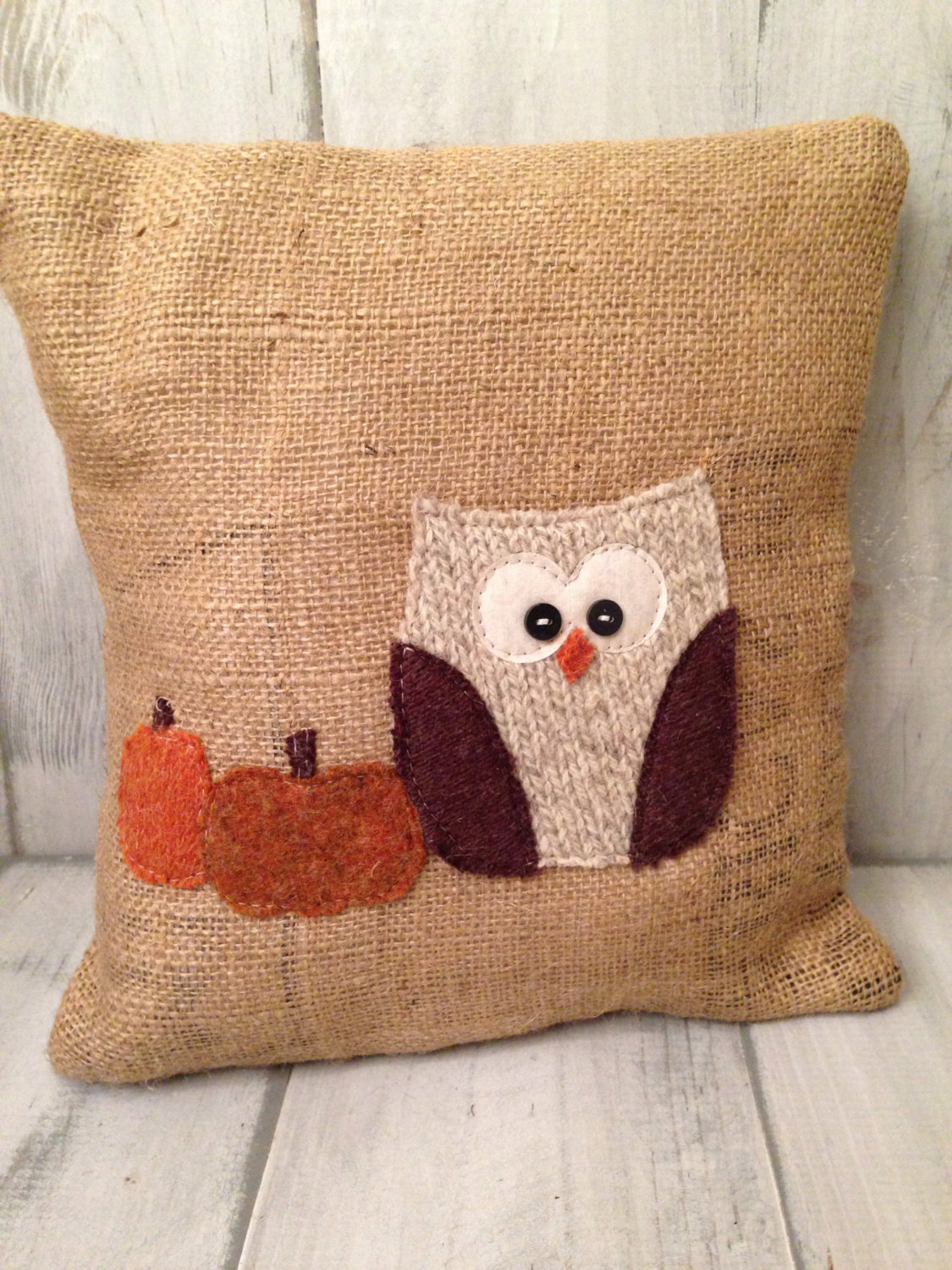 Beautifully crafted wooden letters that spell "FALL" are a perfect decoration idea for your patio, entryway, living space, or centerpiece. Greet the season with these festive letters which are made from wood and then decorated with patterned scrapbooking paper, paint, whimsical wooden accents, buttons and ribbon. Each piece is made to order and sure to please – as many customers have said. The letters measure 8″ tall, 5″ wide and 1.5″ thick and they stand alone. If you prefer a different phrase such as THANKFUL, THANKS, GIVE THANKS or AUTUMN, just let the seller know and you can customize your order.
15. Burlap Bunting with Fall Leaves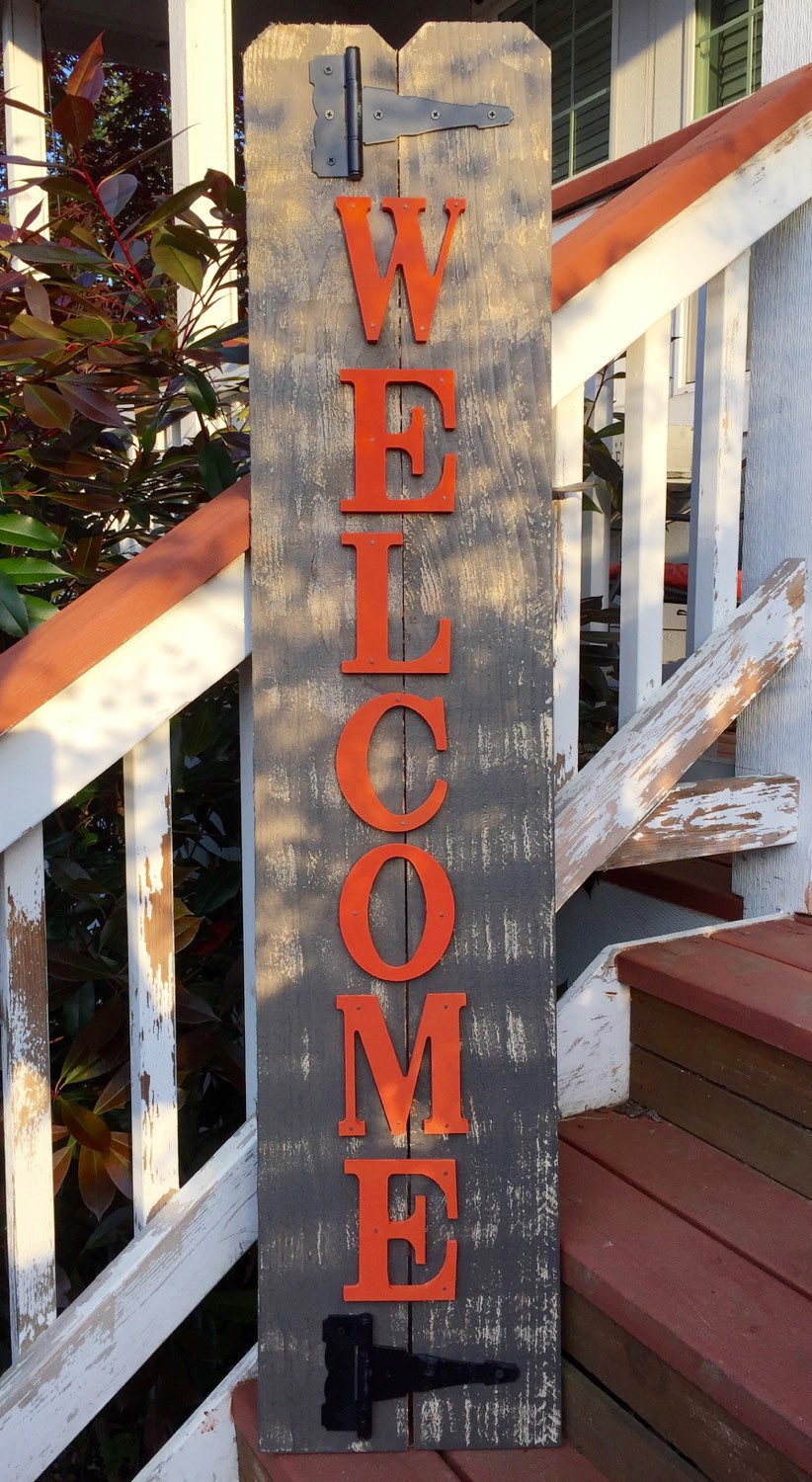 You don't have to wait for the next birthday party to hang up some cute bunting! Burlap bunting with colorful autumn leaves is a perfect way to celebrate the season. Hang your bunting anywhere for a lovely garland effect that gives your room a pop of autumn color. This is a fun decoration idea that also works great as a photography prop for that family reunion you have coming up. Each flag measures 5 inches down and 3 inches across with the leaves measuring at 3 inches by 2 inches. The garland as a whole is approximately 42 inches long, so start deciding where this adorable piece of fall flair is going to hang in your home.
16. Rustic Burlap Sunflower Wall Hanging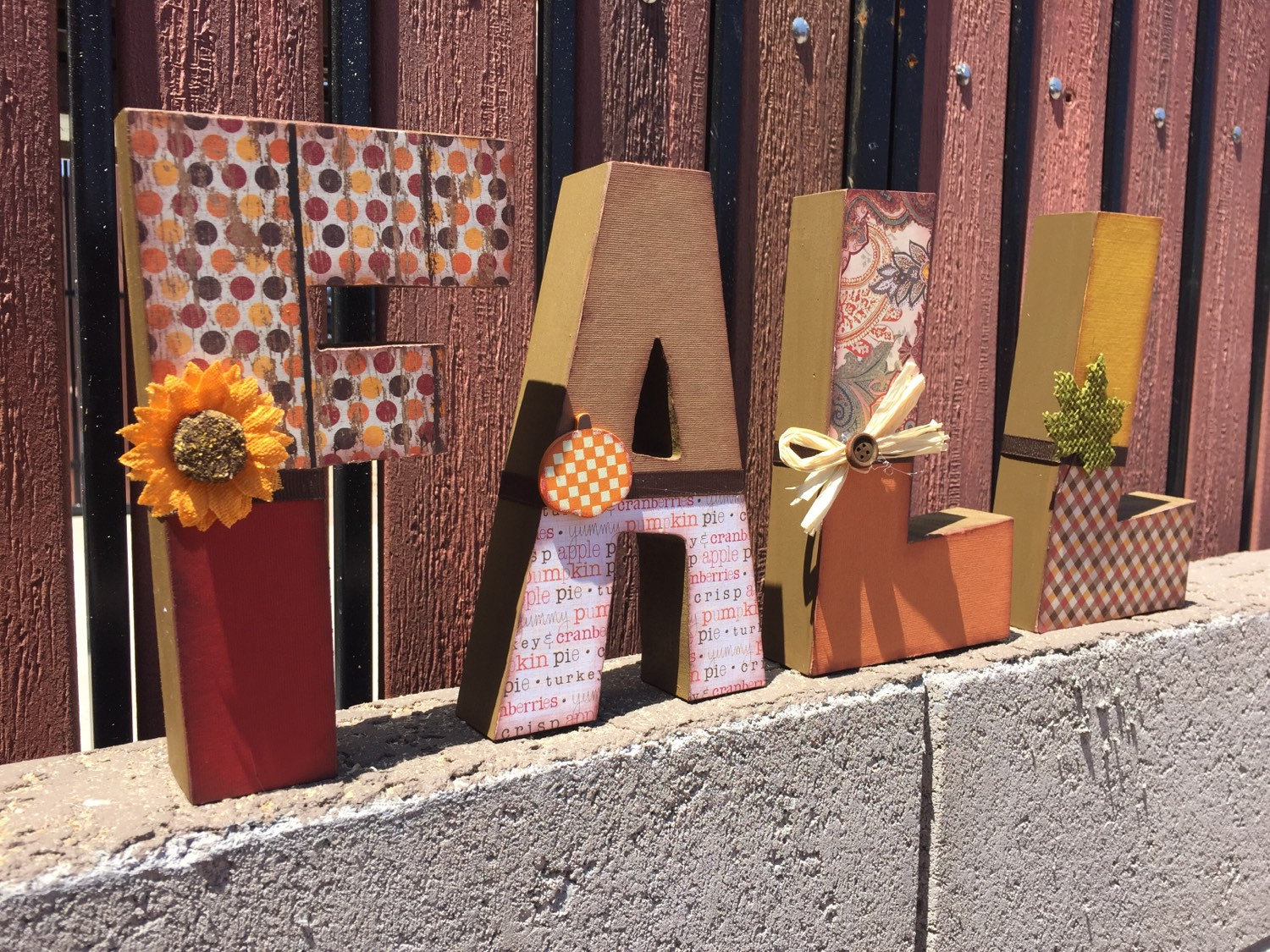 If you love wreaths but want to diverge from the more traditional type, check out this lovely handcrafted burlap sunflower. With an abundance of burlap petals and a chocolate brown burlap twirled center, this beautiful piece will be the envy of your neighbors as you display it on your front door. The sunflower measures approximately 20 – 22 inches wide and fits perfectly on a front door. It's built on a metal frame and the burlap is sprayed with stiffener to keep your sunflower from wilting! The seller notes that she creates other flower variations so be sure to ask her any questions. Customers love their sunflower wreaths, either hanging them indoors or as a wreath on their front door. One review said that it makes a great "wall statement" and another said it "screams fall." Be sure to keep this fall décor idea at the top of your list this season!
17. Beautiful Berry Wreath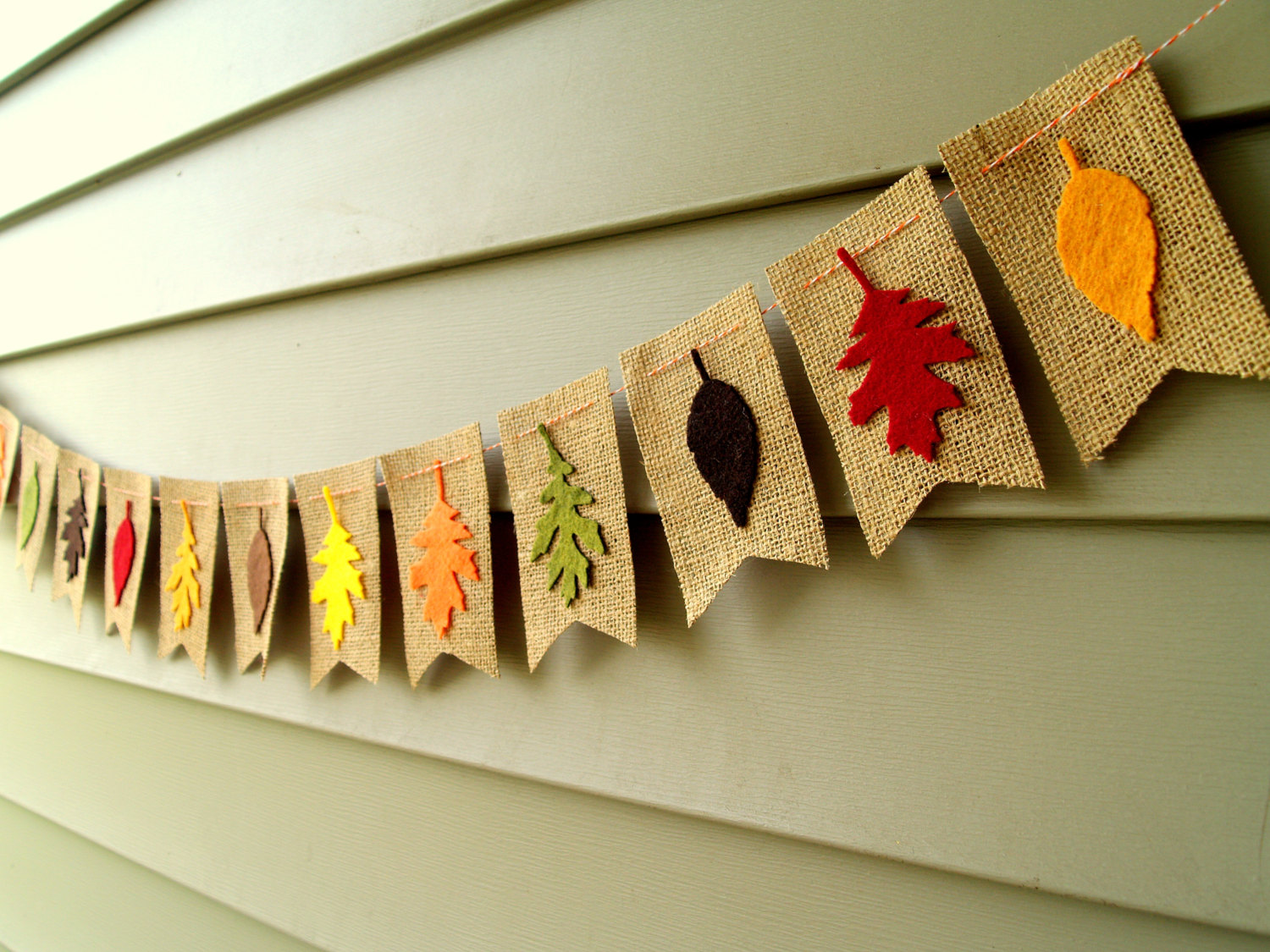 This wreath has made a statement in some well-known magazines and blogs. You could say it's a celebrity wreath and on the "must have" list for Autumn décor. For style and elegance, this beautiful berry wreath gets two thumbs up and five stars. A gorgeous array of bright orange-red berries is hung by a lovely satin ribbon and set with your monogram in the center. An exclusive detail to these wreaths is that the berries are weather and water resistant which protects it from the outdoor elements and keeps your wreath in great shape to be used every season. Your monogram letter, made of Baltic birch, is also painted with a protective clear coating to maintain its natural beauty. If you prefer to have the letter painted a color other than clear, just let the seller know and you can further customize your order. Hang this burst of fall colors on your door this season.
18. 'Home' Sign with Mason Jar Vase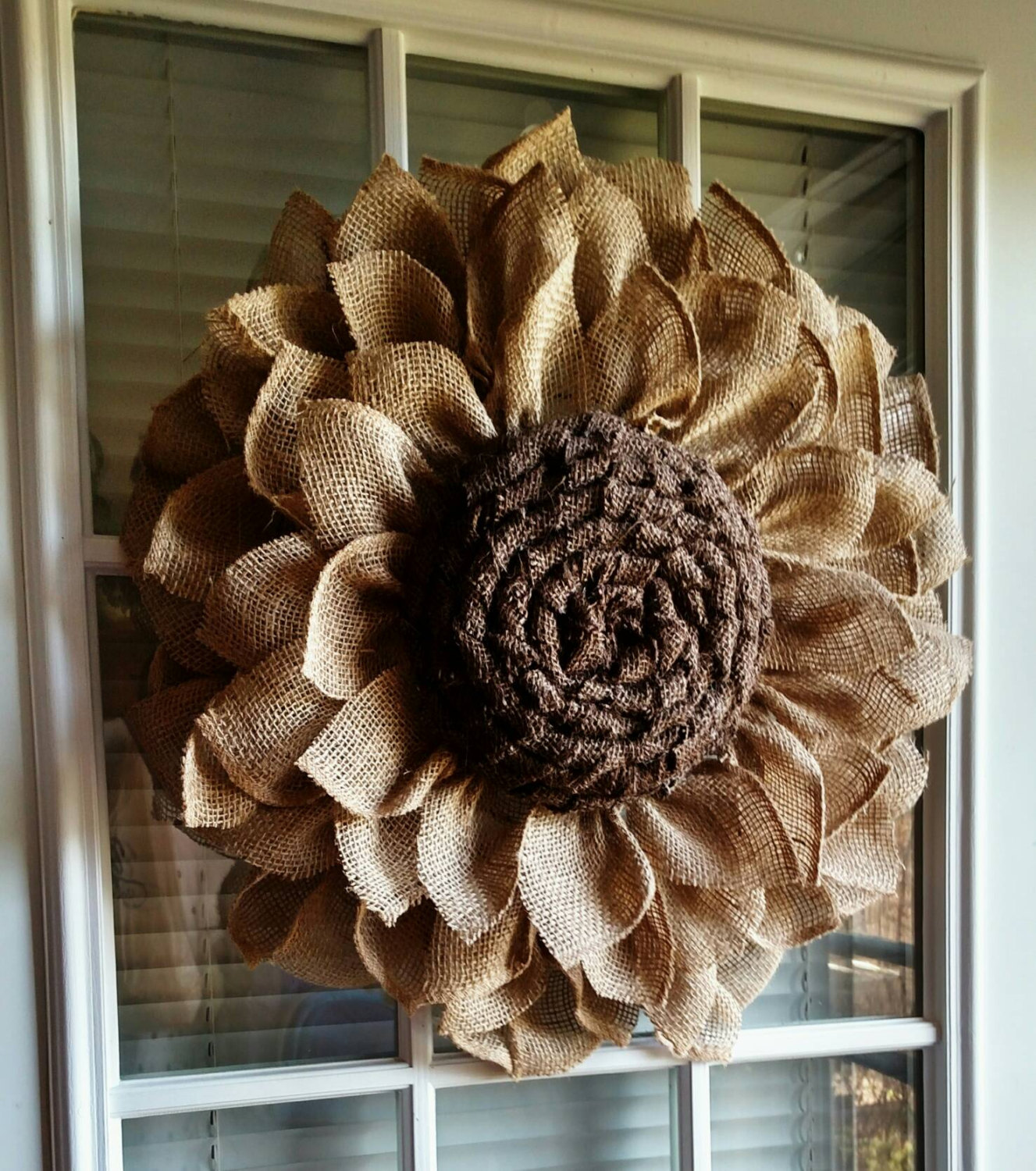 This is a lovely piece of country chic craftsmanship that will add a nice rustic touch to your home. The sign is stained a deep walnut color and then whitewashed to create the shabby chic look. Choose from a list of colors for the mason jar vase that will coordinate nicely with your own home décor – the picture shows a beautiful seafoam green color. Fill your mason jar vase with real or faux flowers and admire your delightful 'home' sign. Customers are saying great things about their 'home' signs. The craftsmanship is "highly recommended" and the image on site is true to what they received.
19. Three Little Knitted Pumpkins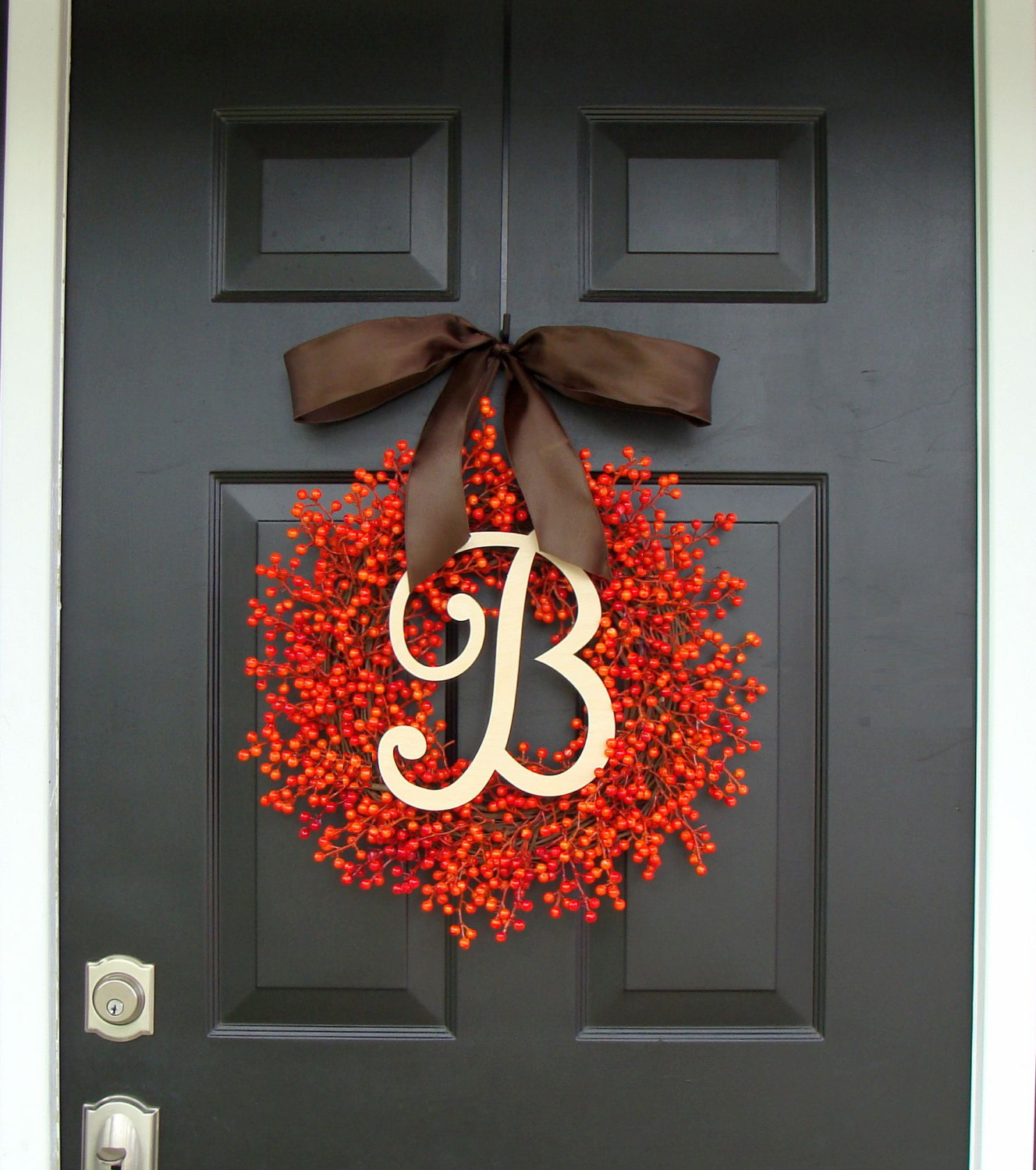 Three cute little gourds add the perfect fall touch to your home during the festive seasons of Halloween and Thanksgiving. Knit from 100% acrylic and polyester fiber, these handmade items are sure to give your space a pop of color. The sizes of the pumpkins range from 2 – 3 inches high and can make great little pincushions too! Decorate your dining table with the orange trio, give them as gifts to little ones, and enjoy the playfulness they bring to your festive décor. Pumpkin recipients are more than pleased with the "fantastic quality" of these knit veggies. Enjoy these sweet pumpkins in your home that will never go bad!
20. 'Happy Fall Y'all' Pumpkin Door Hanger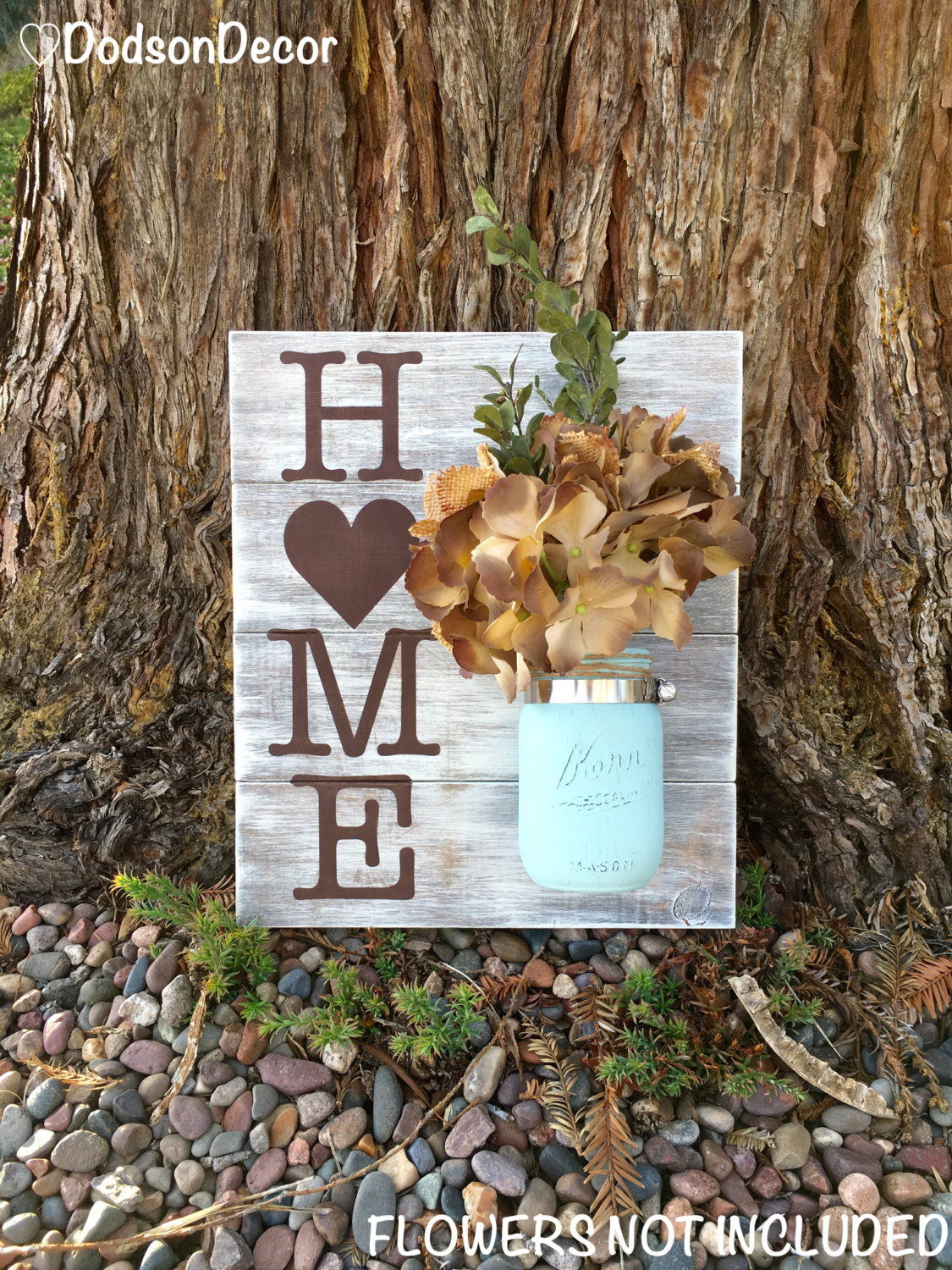 This fun and festive polka-dotted pumpkin is a welcome sign to Autumn and a great addition to your fall decorations. A little less rustic and a little more whimsical in design, this fun little pumpkin sign with its bright orange paint and big white polka dots is sure to please all ages. The pressed wood sign measures at 14″ x 9″ and is complete with wire for hanging, ribbon and bow for adornment. Enjoy this handmade fall decoration for your home or make it a nice gift for family and friends! This happy pumpkin makes happy customers – they give it five stars.
21. Rustic Style Wood Welcome Sign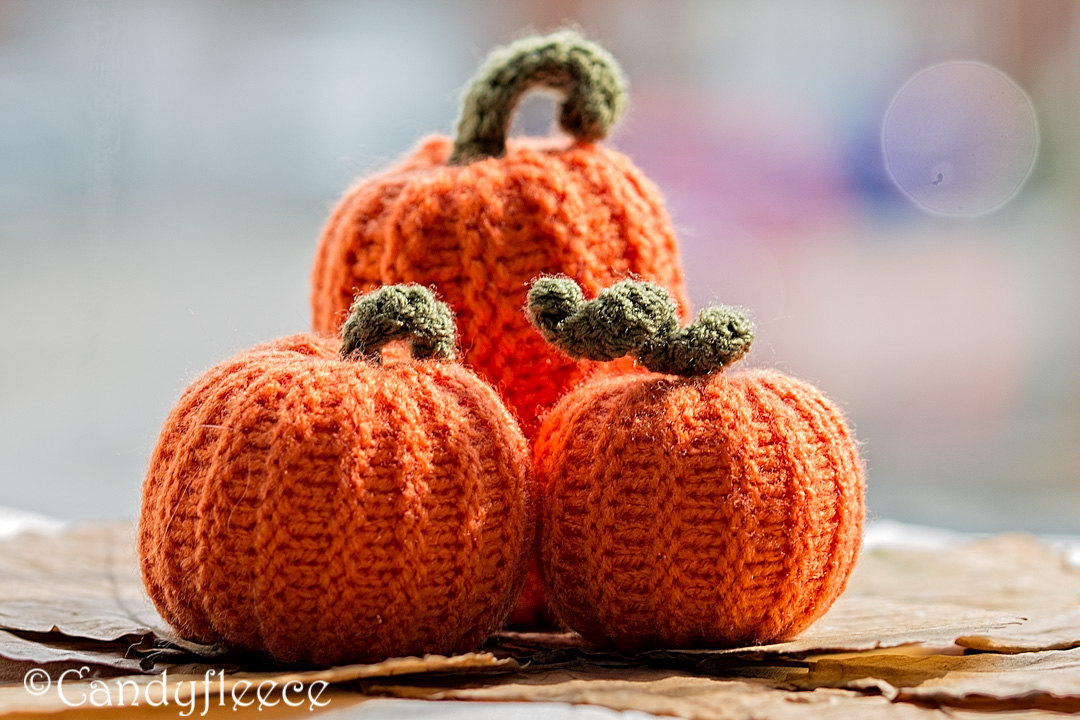 Here's a wonderful down-home sign to greet guests into your abode this fall. What better way to welcome one and all than by having your very own customized "Welcome" sign? Choose from a bright array of colors to have your letters hand-painted onto new or reclaimed cedar boards. The boards look like they're part of a backyard gate, complete with fun hinges for decoration. This sign measures approximately 10.5 x 52 inches and is made to order with your choice of tan, white, yellow, gray, teal, black, barn red, green, or dark red letters (other color options are available upon request).
Let the Decorating Begin!
You are without excuses when it comes to decorating your home this fall. Twenty-one brilliant fall décor ideas are ready to grace your home. From pumpkins, festive signs, burlap bunting, and flowers in all shapes, sizes, and colors, you are ready to fall into the season in a heap of fun, whimsical, and elegant fall decorations.