As the air is turning cooler and the nights are getting longer, that can only mean one thing – Halloween is quickly approaching. For lovers of the holiday, they know that the right decorations are all it takes to get into the right spooky spirit. But as the first holiday of the fall season, you can't simply coat your house in black and orange and think that is enough.
Trying to Build a Haunted House? These 25 Ideas Will Help You Get There

In some neighborhoods, Halloween means going all out. From carving pumpkins to creating a full-blown haunted house in your front yard, Halloween is potentially one of the most celebrated holidays across the country. As trick-or-treaters go from house to house collecting candy, they also get to experience the look and feel of different decorations up close and personal.
But Halloween decorations don't need to be dark, dreary and drab. Even if you're not looking to scare the neighborhood children, you can still get in the Halloween mood. If you're looking for some decorations that will make your home unique, check out these Etsy Halloween ideas.
1. Happy Halloween Wooden Pumpkins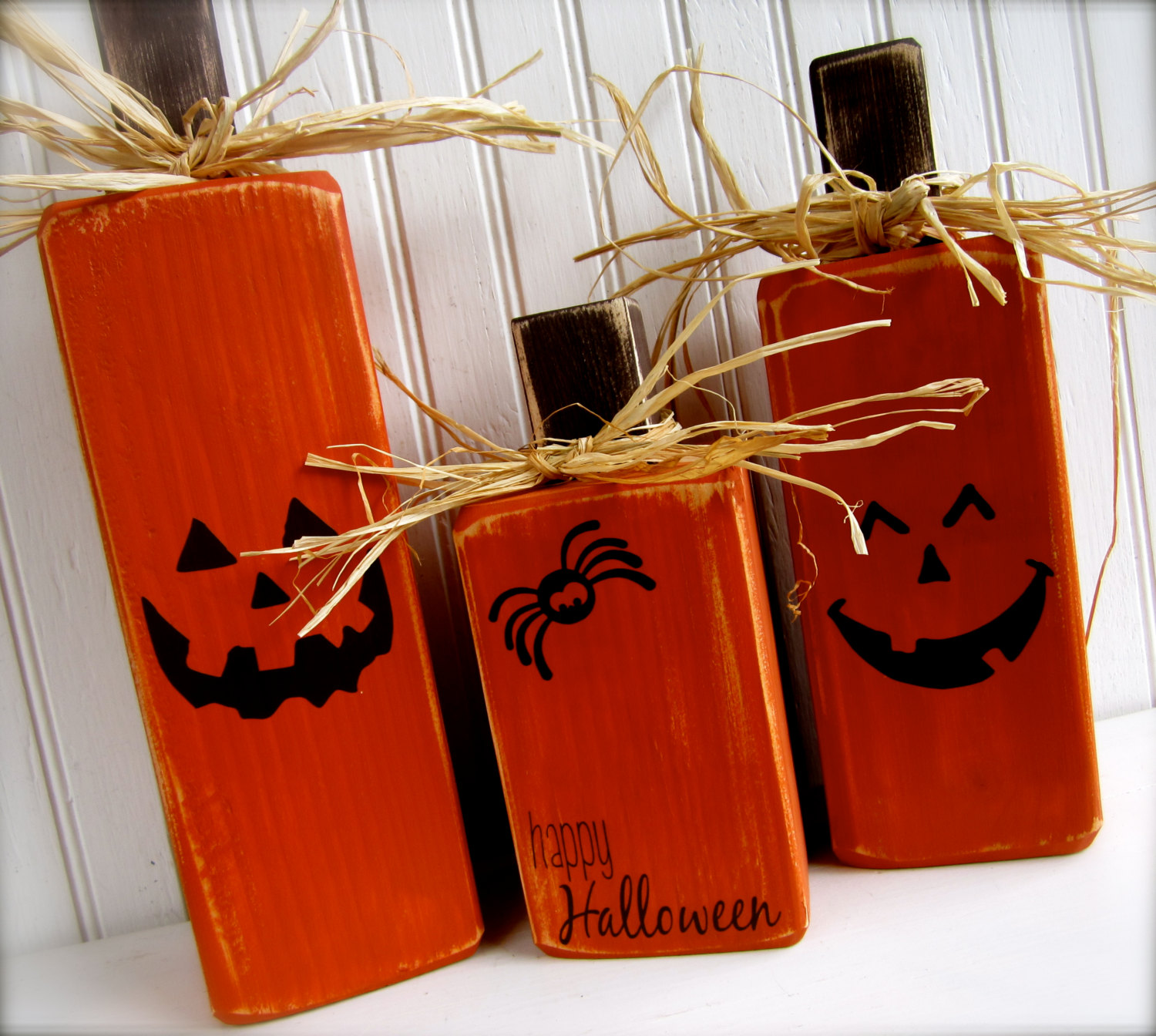 These Happy Halloween Wooden Pumpkins come in a set of three wood-carved rectangular pumpkins. While the two larger wooden pumpkins, which have been painted orange and brown as a real pumpkin would be, have painted on jack-o- lantern faces. The third pumpkin of the trio, the smallest in the set, has a small spider and the words "Happy Halloween" painted on instead. Each pumpkin is tied off with a handful of straw, giving them a straight-from-the-pumpkin-patch feel. Because the Happy Halloween Wooden Pumpkins are made from wood, they can be a great addition to a porch or outdoor area you're looking to decorate. But their smaller size can also make them a great contribution to an indoor area.
2. Halloween Themed Ornamented String Lights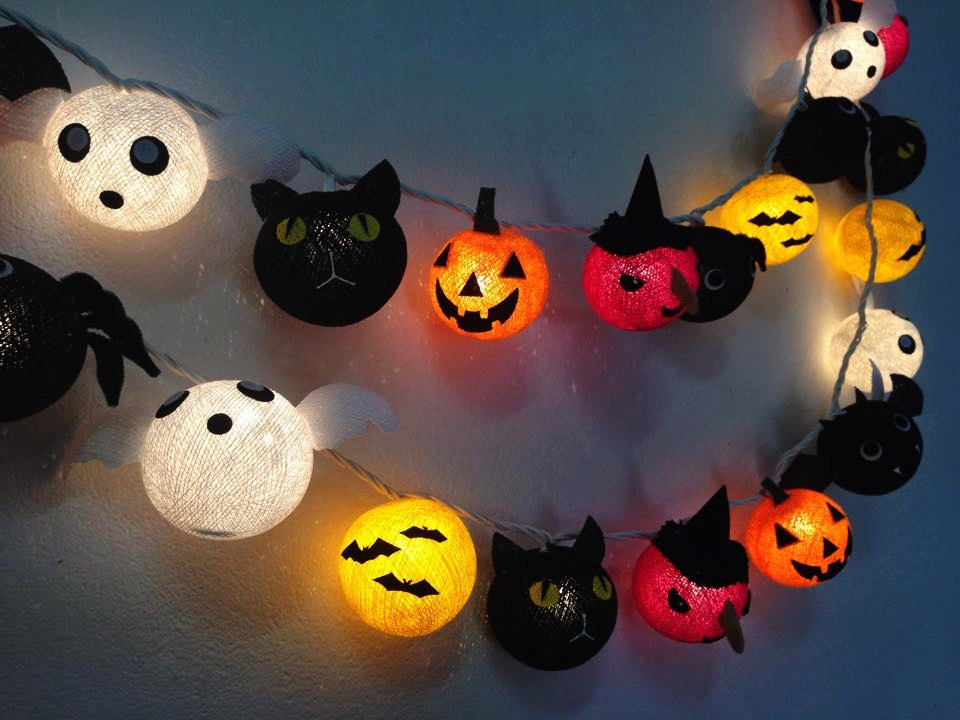 When we think of string lights, we almost exclusively think of Christmas. But as decorations get more and more creative, there are no "traditional" decorations anymore. These Halloween Themed Ornamented String Lights can prove that. From a standard string of lights, the Halloween Themed Ornamented String Lights showcase a ghost, a jack-o-lantern, a black cat, a spider, a witch, and bats flying off into a moonlit sky. Made with yarn and felt details, these lights can show your Halloween spirit while plugged in or even if only used as a garland of sorts. Hang them outside as you would during the Christmas season or feature them on an empty wall in your home – the possibilities are endless.
3. "Not Every Witch" Framed Print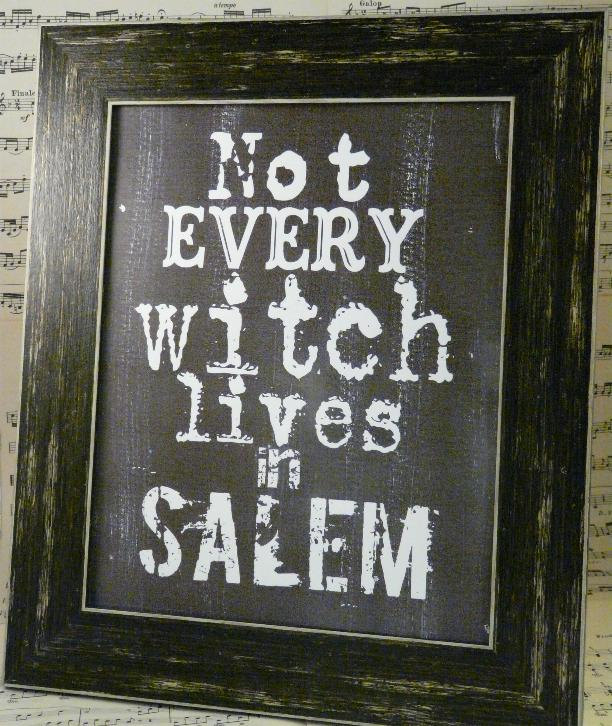 If you're the kind of decorator who enjoys changing out seasonal prints, the "Not Every Witch" Framed Print is the perfect mix of fun and sophistication. In a simple black and white color scheme, the full print reads "Not EVERY witch lives in Salem." In a weathered black frame, this print is both fun and simple and won't clash a sophisticated interior decoration design. Hang this print on its own for an interesting burst of Halloween fun or put it in a collage of other Halloween-themed prints.
4. Monster Mash Throw Pillows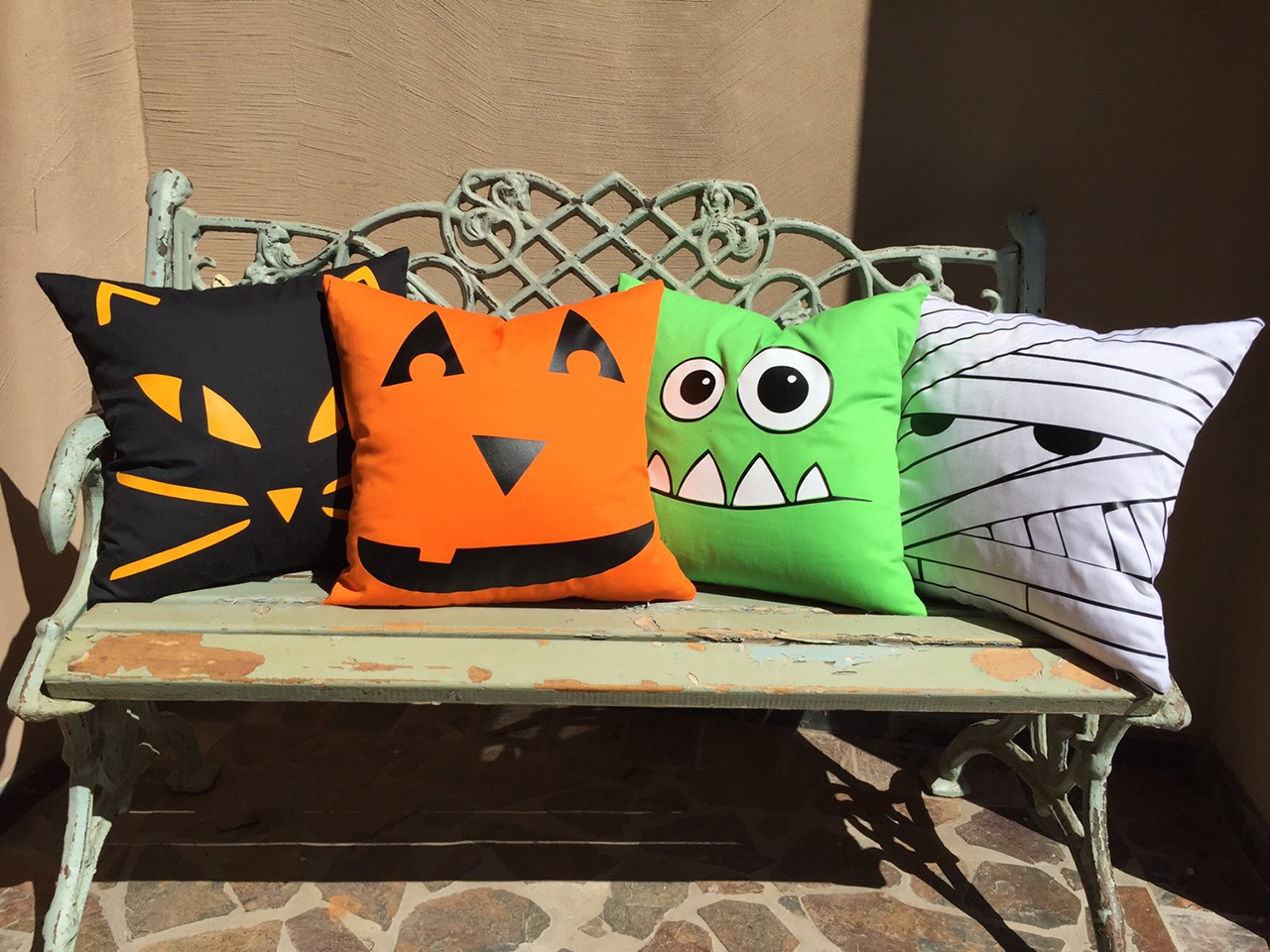 The Monster Mash Throw Pillows give a Halloween spin to your standard, square throw pillows. With pillows featuring a black cat, a jack-o-lantern, a mummy, a ghost, and a green monster, you can purchase just a few of your favorite Halloween characters or the whole gang. These pillows measure 16 x 16 and have a zipper closure for easy removal or cleaning. The pillow cover is made from a polyester material and can be used both outdoors and indoors. As a handmade item, these pillows are made to order, so keep that in mind if making a timely purchase.
5. Witch Burst Wreath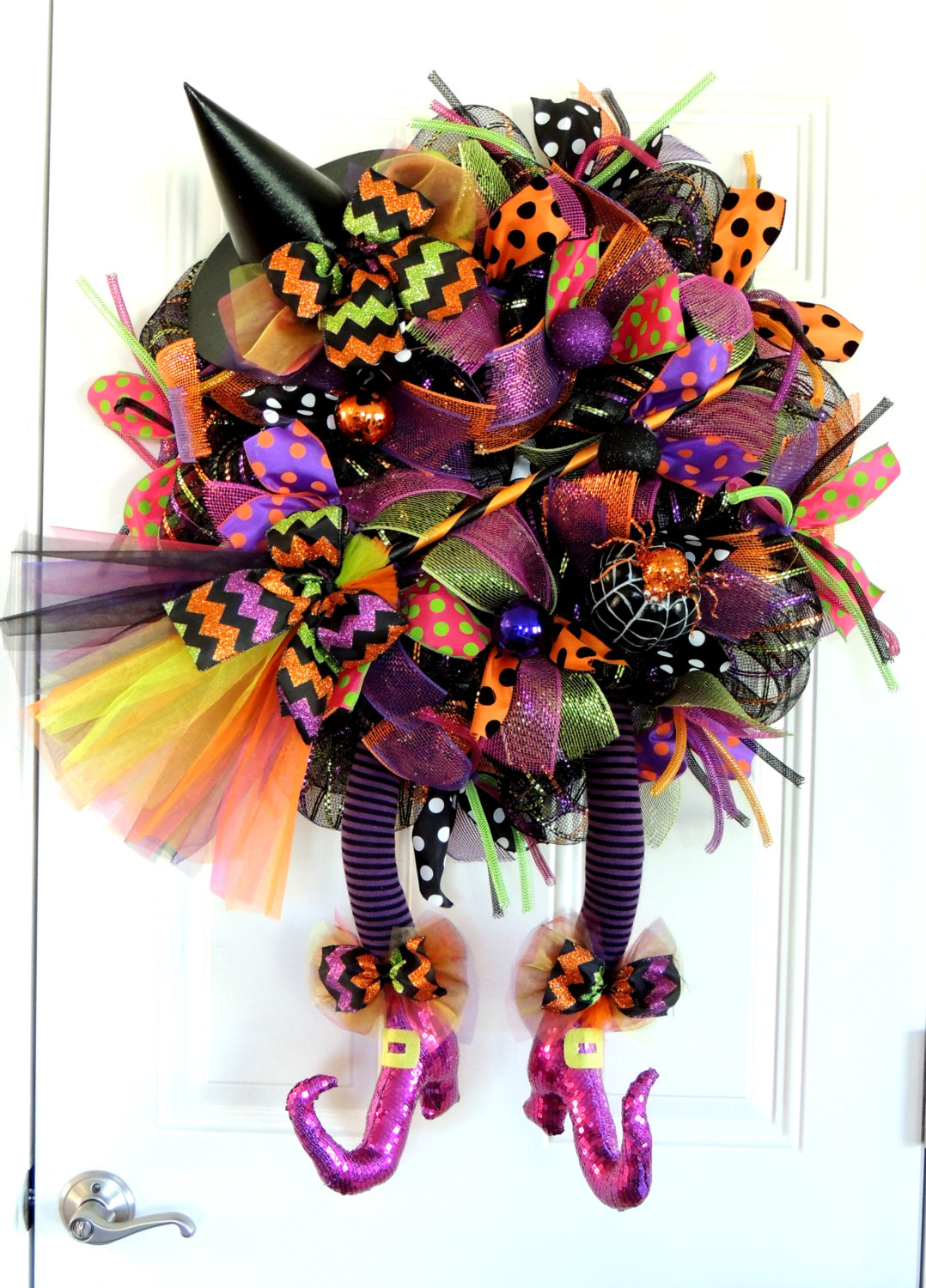 The Witch Burst Wreath brings a pop of color to sometimes dark and drab Halloween decorations. This fun mix of purple, orange, green, yellow, and black can keep you in the Halloween mood without darkening your home. As a wreath that is meant to go on the outside of your house, the Witch Burst Wreath provides a fun pop against the darker colors of late fall. This wreath, which resembles a witch being tacked to your door in a burst of ribbons, ornaments, and fun foam coils, has fun hanging legs, a witch's hat, and even a witch's broom found somewhere in the mix of ribbon.
6. Spooky Shadows Halloween Candleholder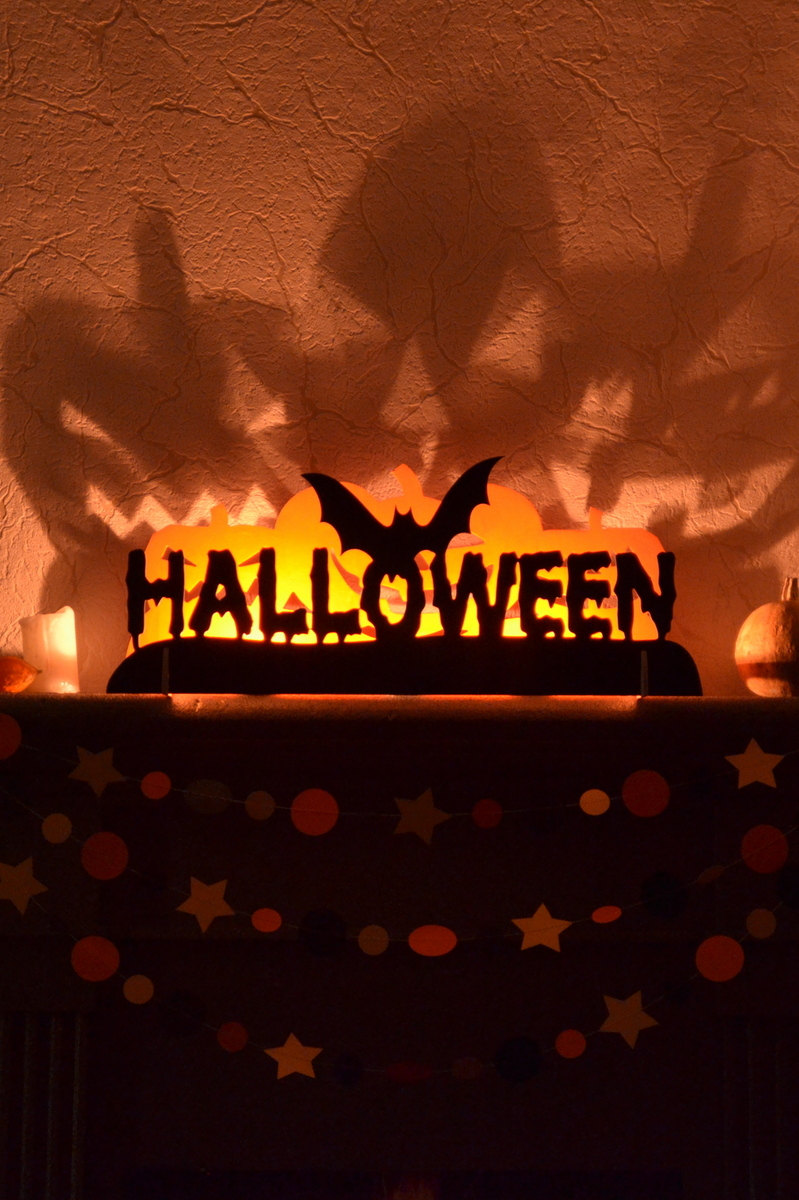 This Spooky Shadows Halloween Candleholder uses a simple box-like structure to cast spooky shadows on your wall. In the front, painted in black, reads the word "Halloween" in dripping letters. You can even see a bat about to take flight from the letter "O." In the back, painted in orange, are three jack-o-lanterns with menacing looks on their faces. Between the two rows are spaces to put candles of your choosing, although small tea lights are recommended. As you place the candles under the smiles of the jack-o-lanterns, their spooky smiles are casted as shadows on the walls. This candleholder is perfect for the fireplace, a dresser, or even on the steps of your porch.
7. Day of the Dead Sugar Skull Wine Glasses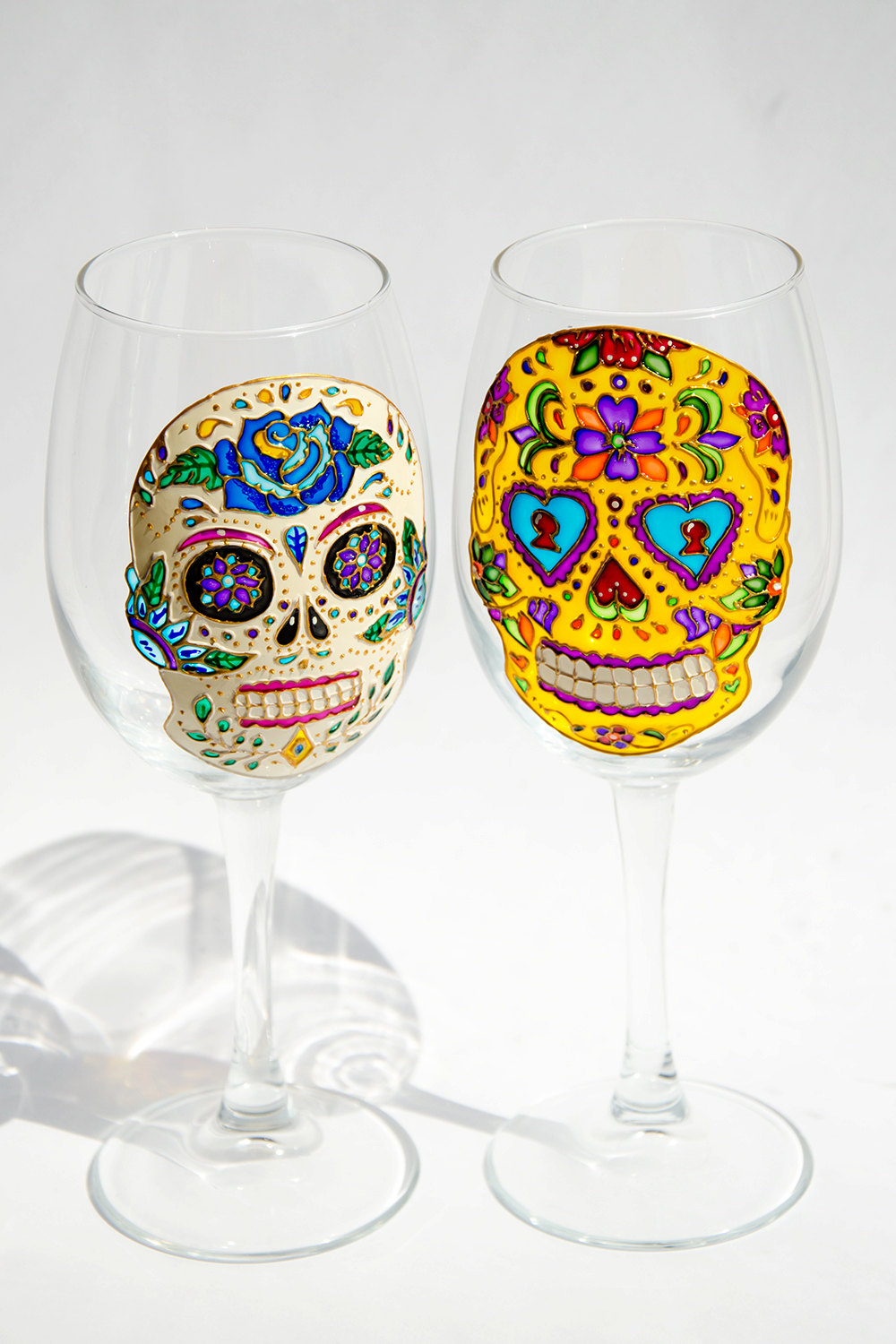 If you're hosting a Halloween party, these Day of the Dead Sugar Skull Wine Glasses are the perfect Halloween decoration to get everyone in the mood. With intricate and colorful paintings, you'll want to use these sugar skull wine glasses year round. This Etsy Halloween piece of decor takes regular wine glasses up a notch to feature colorful sugar skulls as the main feature. Sip wine all fall to get in the Halloween mood or save them for a special Halloween occasion.
8. A Witch, A Devil, and Some Little Monsters Sign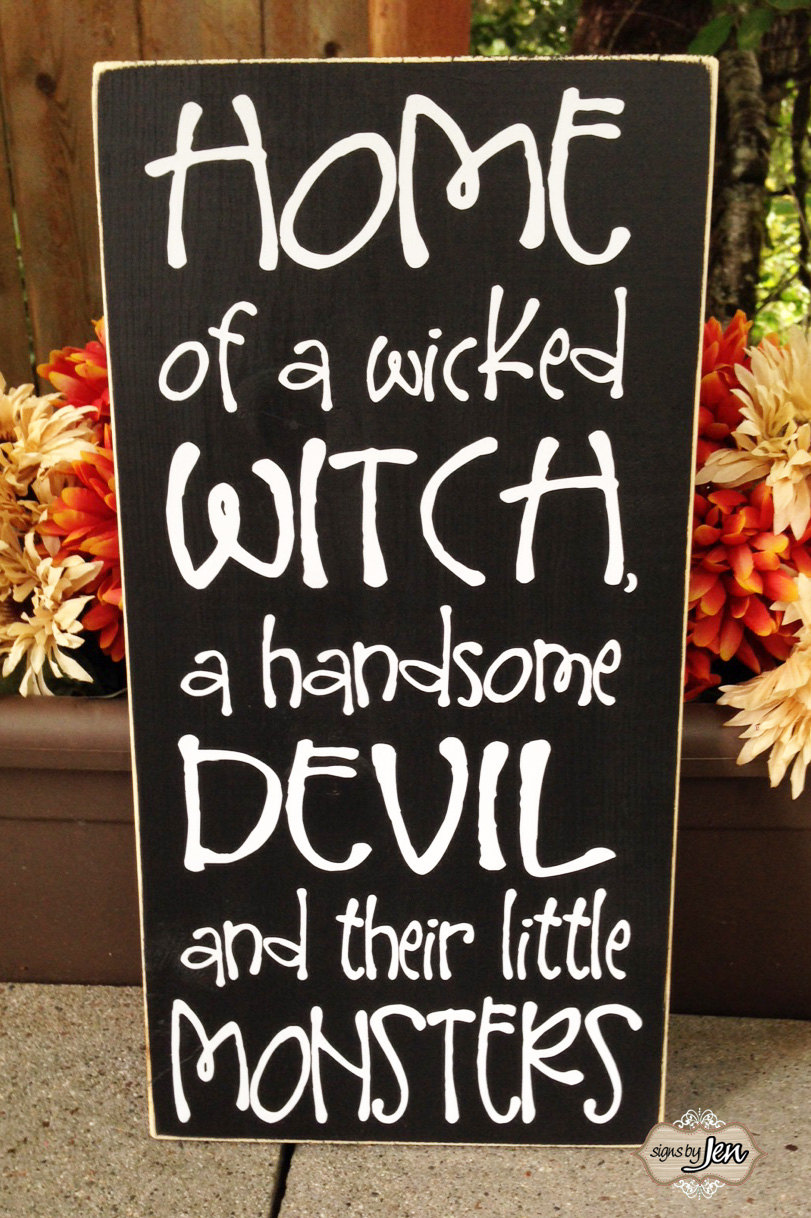 Get the entire family in the mood with this Halloween idea for an outdoor sign. On a black background with white lettering, the whole sign reads "Home of a wicked witch, a handsome devil, and their little monsters." This Halloween sign is simple yet makes a statement, allowing you to mix it in with other Halloween decorations or you can leave it on its own. As trick-or-treaters or neighbors walk by, this sign can give them a clear idea of just the kind of people that live in your house.
9. Skull Plant Holders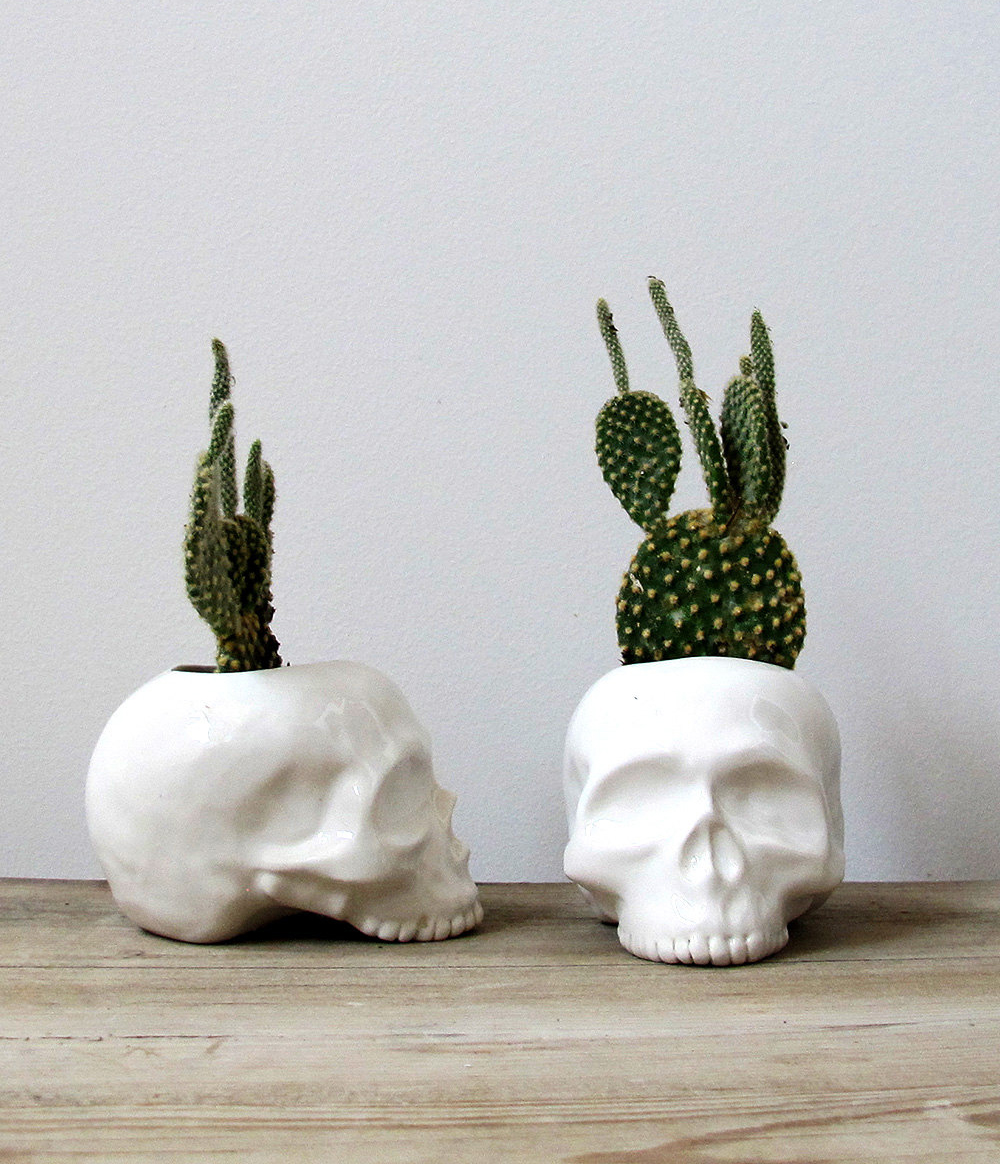 Why use normal plant holders when you can use these tabletop realistic skull plant holders? As a small decoration you can place on a fireplace mantel, coffee table, or even windowsill, these skull plant holders can be a great Halloween idea for smaller appointments or those who want to keep their Etsy Halloween décor classic and sophisticated. Whether you would like to put a small plant in these plant holders or a cactus or succulent, the use of the Skull Plant Holders can give allow you to decorate for the season in a simple way that contributes to the overall feel of your home.
10. BOO! Halloween Wreath Print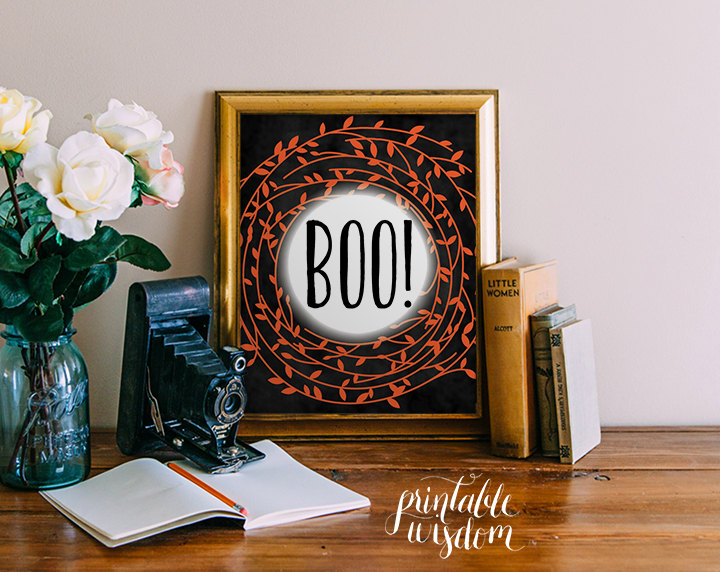 Sometimes the best decorations are the simplest. If you're tight for space but still want to decorate, adding some Halloween themed prints to your walls can be one of the best ways to get you and your visitors in the holiday spirit without needing to take up extra space. This BOO! Halloween Wreath Print comes in classic Halloween colors of black, orange, and white so it will fit well in a frame collage of other similar prints. The background is black with a simple, orange wrap of a wreathe around the word BOO! which comes from a white burst, almost like a full moon.
11. Witch and Pumpkin Halloween Décor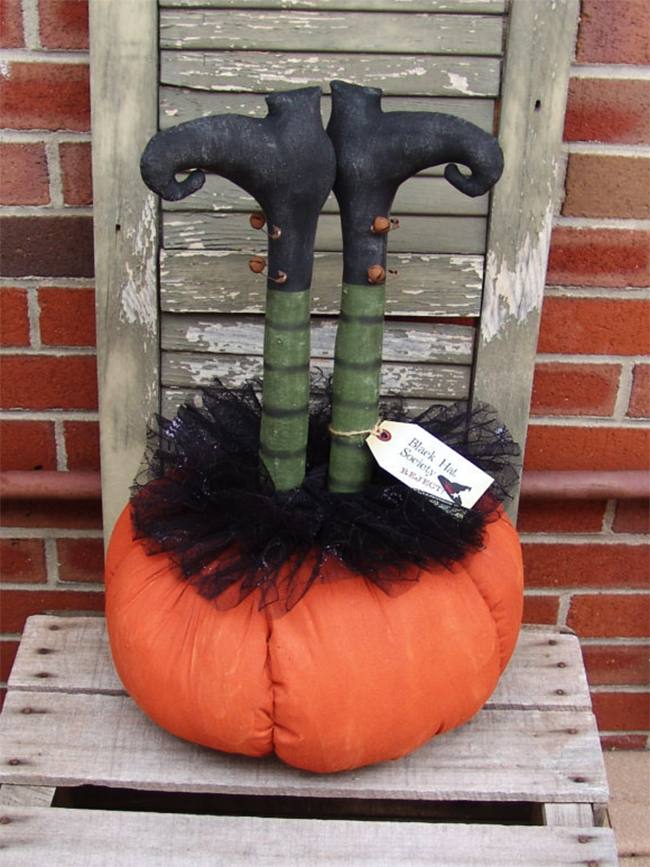 This Etsy Halloween piece of décor features the legs of a witch trapped in a pumpkin, giving the impression that the clumsy witch has gotten herself trapped upside down in a hollowed out pumpkin decoration. This Witch and Pumpkin Halloween Décor is an item that can be used both inside and outside of the house. As a plush item, it may not be recommended to keep the witch and pumpkin outdoors if it is rainy or windy. But if the weather is permitting, the Witch and Pumpkin Halloween Décor is great for on the front porch, on your stairs, or even placed in a feature location within the home.
12. Candy Corn Welcome Sign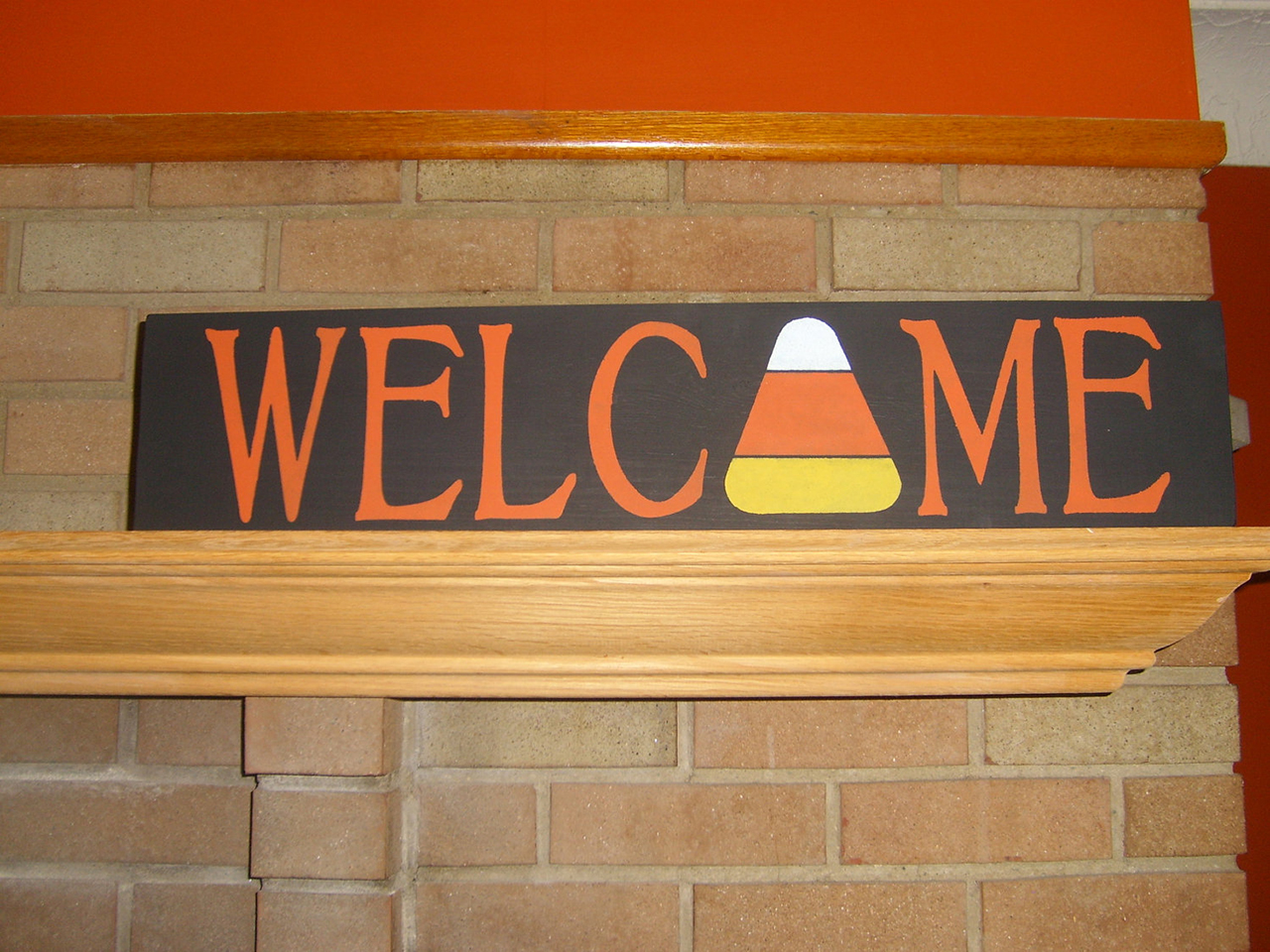 Halloween isn't just about spooky ghosts or scary witches – it's also about the candy. One of the most traditional forms of candy for the Halloween season is candy corn and this Candy Corn Welcome Sign is sure to showcase that. As a standard welcome sign, there is a black background with orange letters. But what makes this Candy Corn Welcome Sign seasonal and fun is that the O in "welcome" has been replaced with a candy corn. You can place this welcome sign on your front porch to greet visitors before walking in your front door or place it in an entry way or foyer to welcome them to your home as soon as they step inside.
13. Spider Pumpkin Holder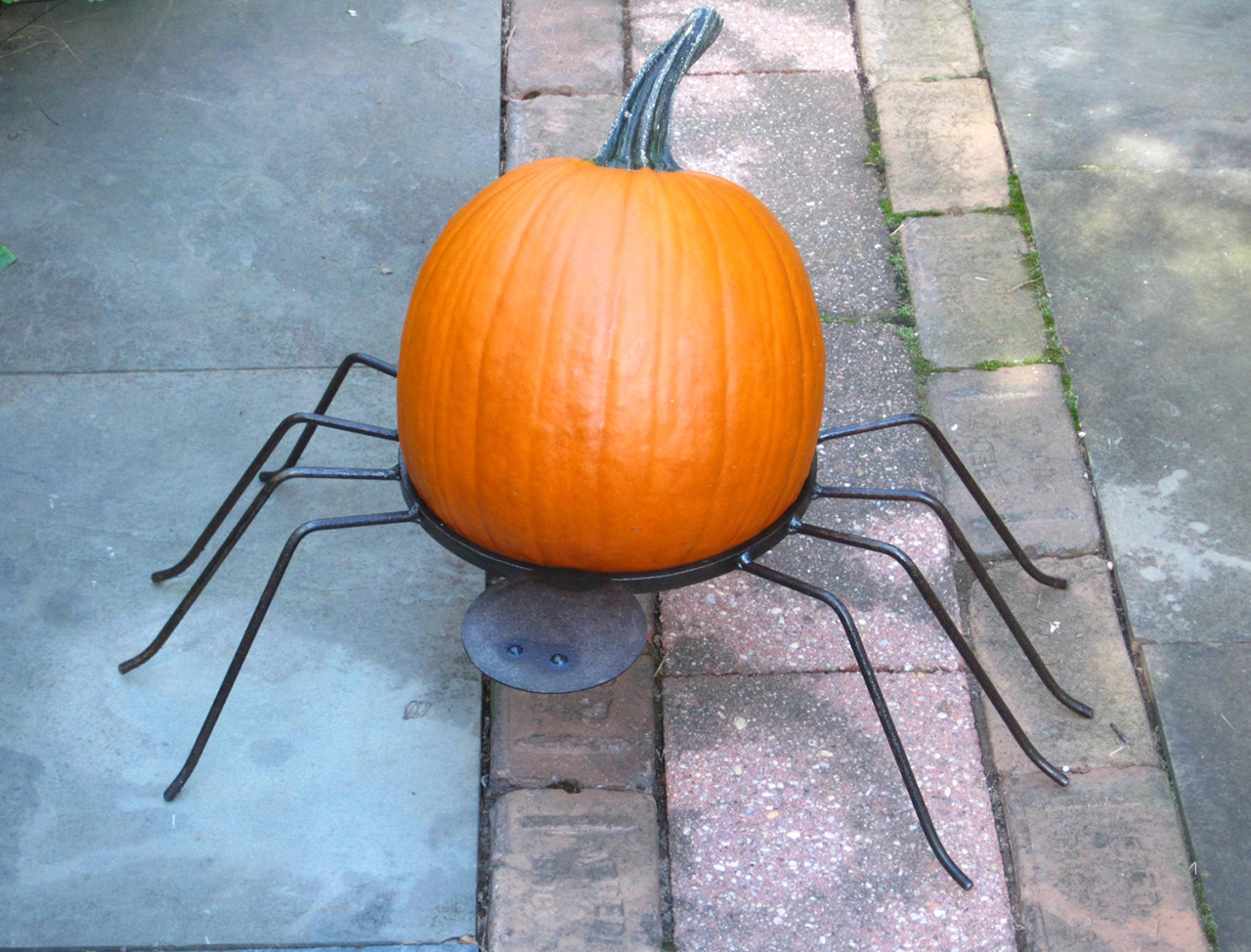 If you and your family enjoys carving pumpkins each Halloween season, you are probably used to simply displaying them by placing them on your house front steps. Why not take your pumpkin display to the next level with this piece of Etsy Halloween décor. As a metal spider with an open body, you can place either complete pumpkins or carved jack-o-lanterns in the body of the spider. This can elevate your pumpkins to really show them off to passers by while adding a new kind of decoration to your front porch.
14. Burlap Jack-o-Lantern Wreath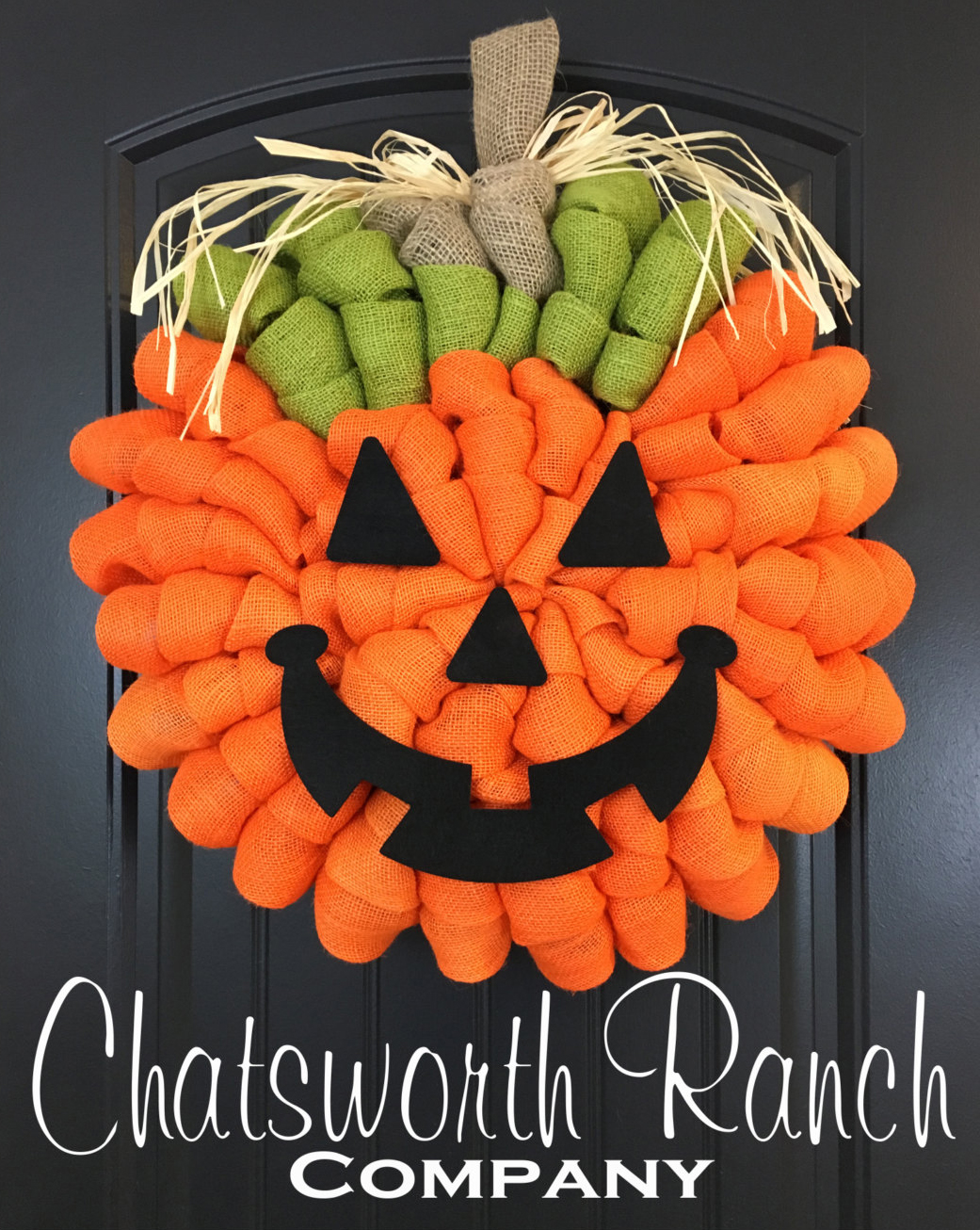 If you learn one list from this list of Halloween ideas it is that wreaths are not just reserved for Christmas time, and this Burlap Jack-o-Lantern Wreath proves just that. Unlike other wreaths on this list, the Burlap Jack-o-Lantern Wreath focuses on simplicity and providing a rustic feel. The foundation of this wreath is orange, green, or tan burlap shaped in a way that resembles a pumpkin. With felt details and a straw bow, you get a true jack-o-lantern feeling that is charming and welcoming. Place this on your front door as the first decoration guests or trick-or-treaters will see when they approach your home.
15. Zombie Hand Cupcake Decorations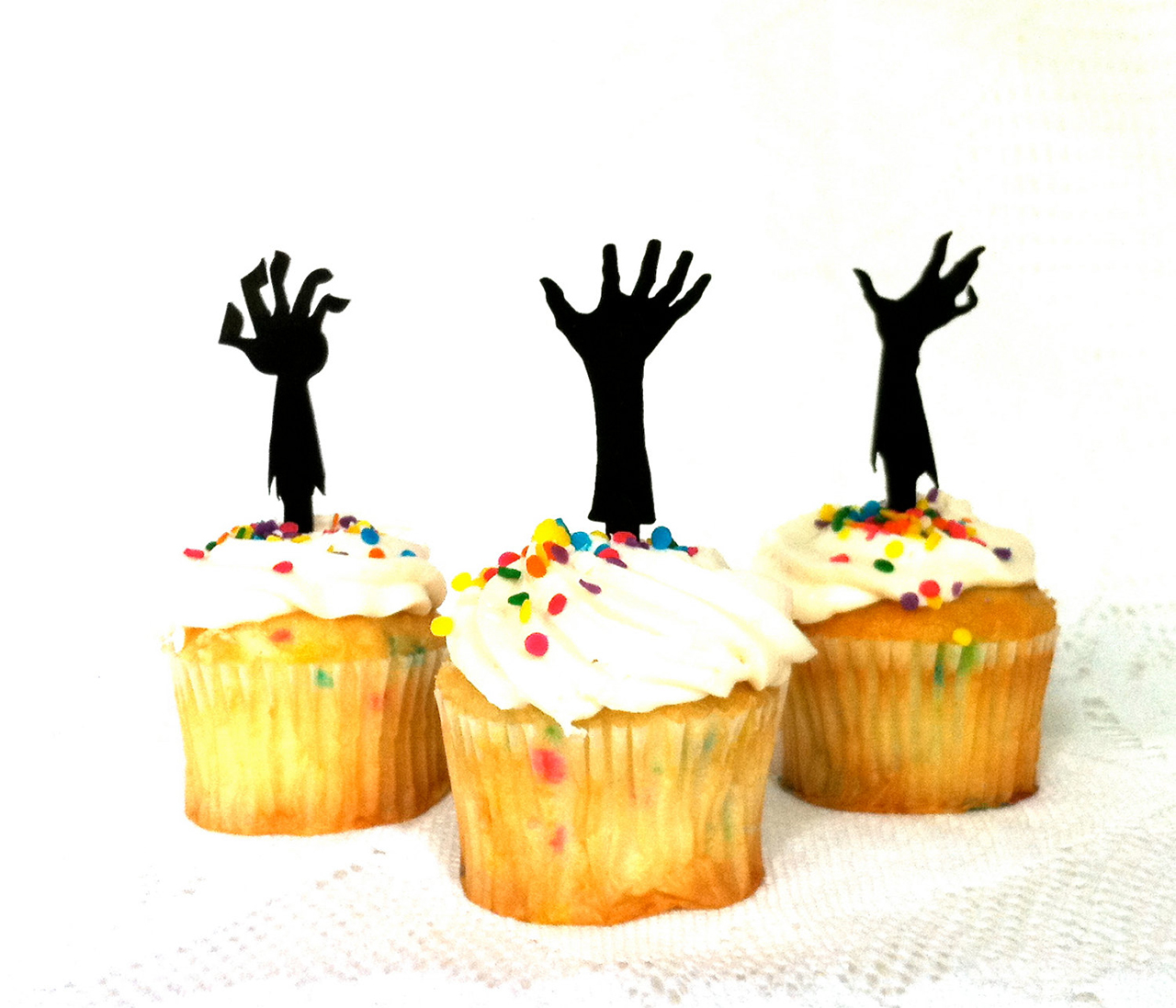 One of the best parts about Halloween are the Halloween parties. With great costumes and seasonal food, a Halloween party is a great way to get in the holiday spirit and these Zombie Hand Cupcake Decorations are the perfect addition to any Halloween party. These Zombie Hand Cupcake Decorations work like tooth picks, so they have a pointed end that can go directly into cupcakes or other finger foods you may be serving. When pushed into a food item, it will look as if a zombie hand is freeing itself from a grave within your cupcakes.
16. Bat Wall Decals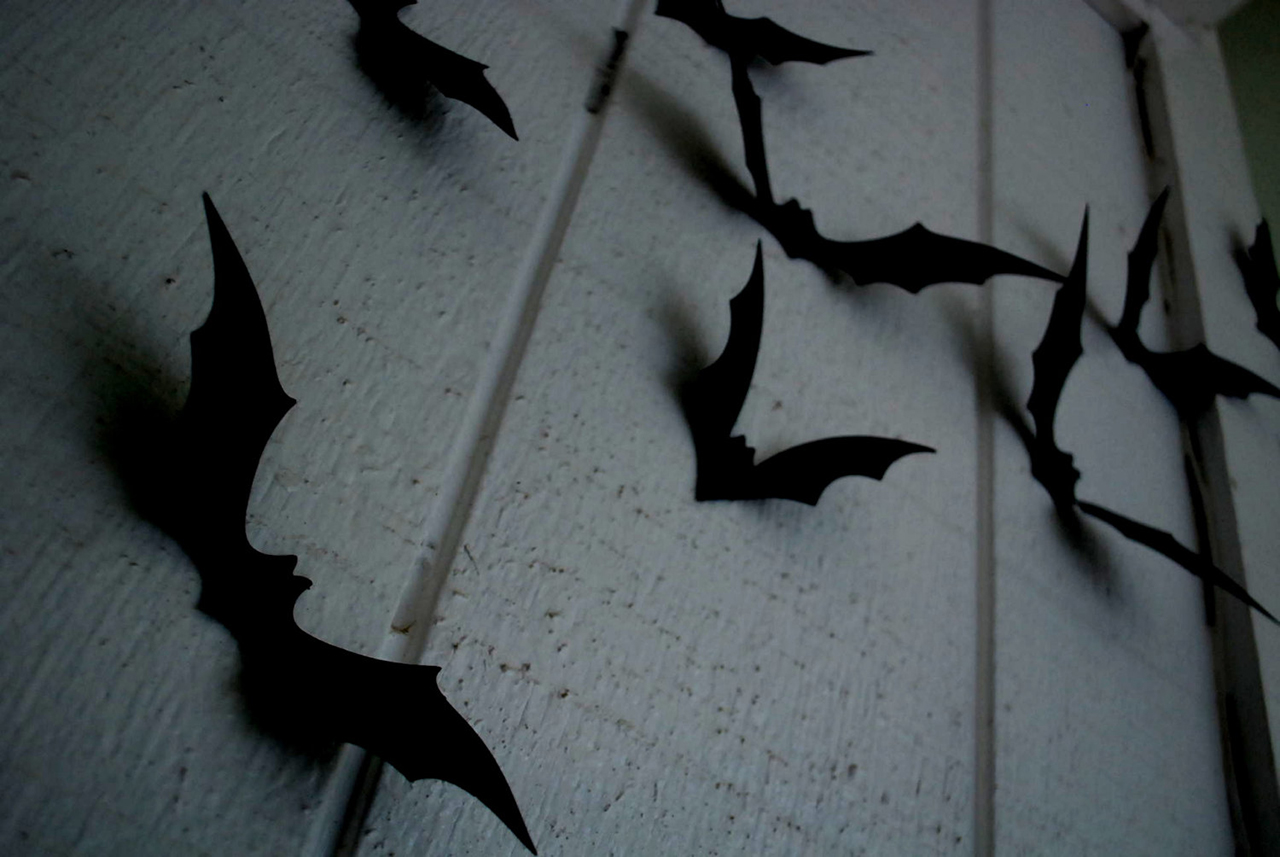 During the other 11 months of the year, bats in the home are something we hope to avoid at all costs. But when October rolls around bats – at least fake ones – are welcomed guests. With these Bat Wall Decals, you can make it look like a group of bats are setting themselves free from inside your home. As 3D style decals, the wings of each bat are bent to look as if they are flying. The bodies of these Bat Wall Decals are sticky, so you can place them on your wall inside or outside of the home. Place the bats in a cluster to make them appear as if they're escaping together or scatter them throughout your house for a small detail that visitors won't forget.
17. Trick-or-Treat Garland Sign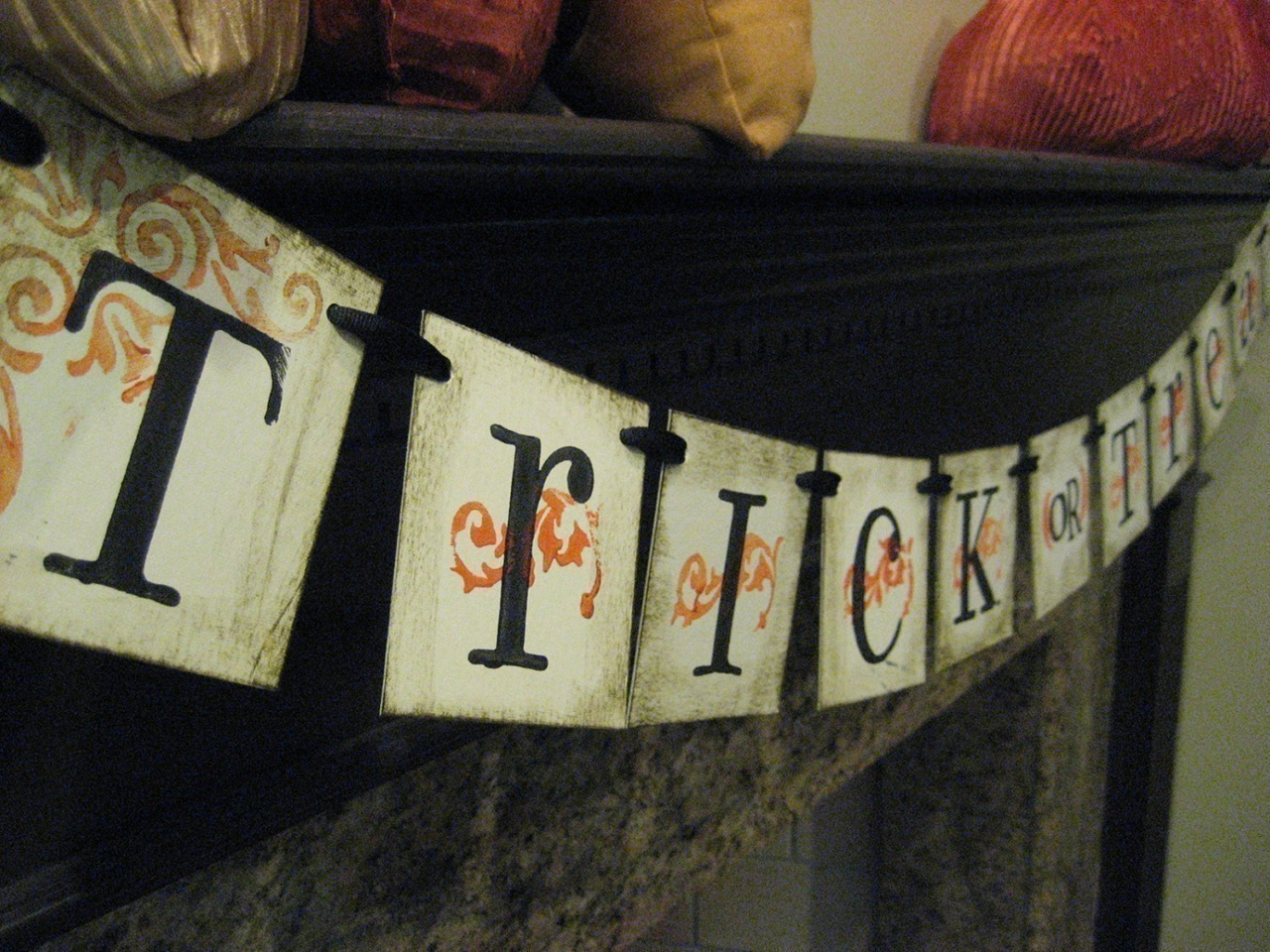 This Trick-or-Treat Garland Sign is comprised of small wooden tiles strung together to create a long sign that is perfect for hanging on a fireplace mantel, over a doorway, or even on an empty wall. On each tile, one letter is painted on in black with orange intricate detail. The backdrop of each tile, which is a weathered white, gives the feeling that they were pulled right from a haunted mansion. With a simple ribbon that holds each tile together, you can easily hang the Trick-or-Treat Garland Sign wherever you please.
18. Halloween Date with Spider Sign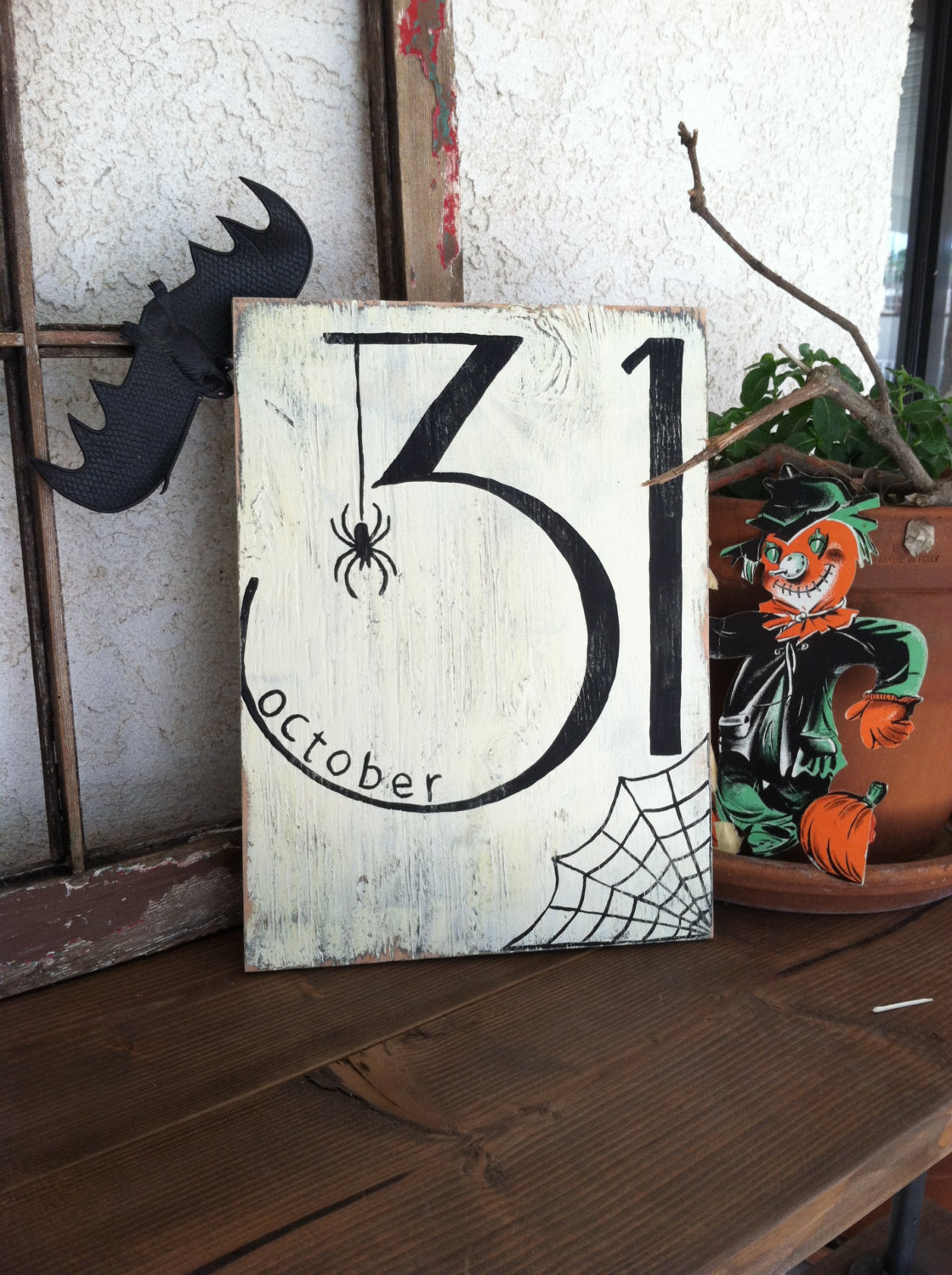 We all know that Halloween falls on October 31st of every year, but while the date may be easy to remember, this Halloween Date with Spider Sign ensures you'll never forget. The weathered white background creates the perfect backdrop for the large black painted 31. As a spider dangles off the tip of the 3, a cob web home waits in the corner of the sign. As something subtle yet clear, you can hang this Halloween Date with Spider Sign inside your home or outside your home. Rest it against a wall in a cluster of other decorations or give it a solo spot hanging in a wall of your home.
19. Mini Ghost Candles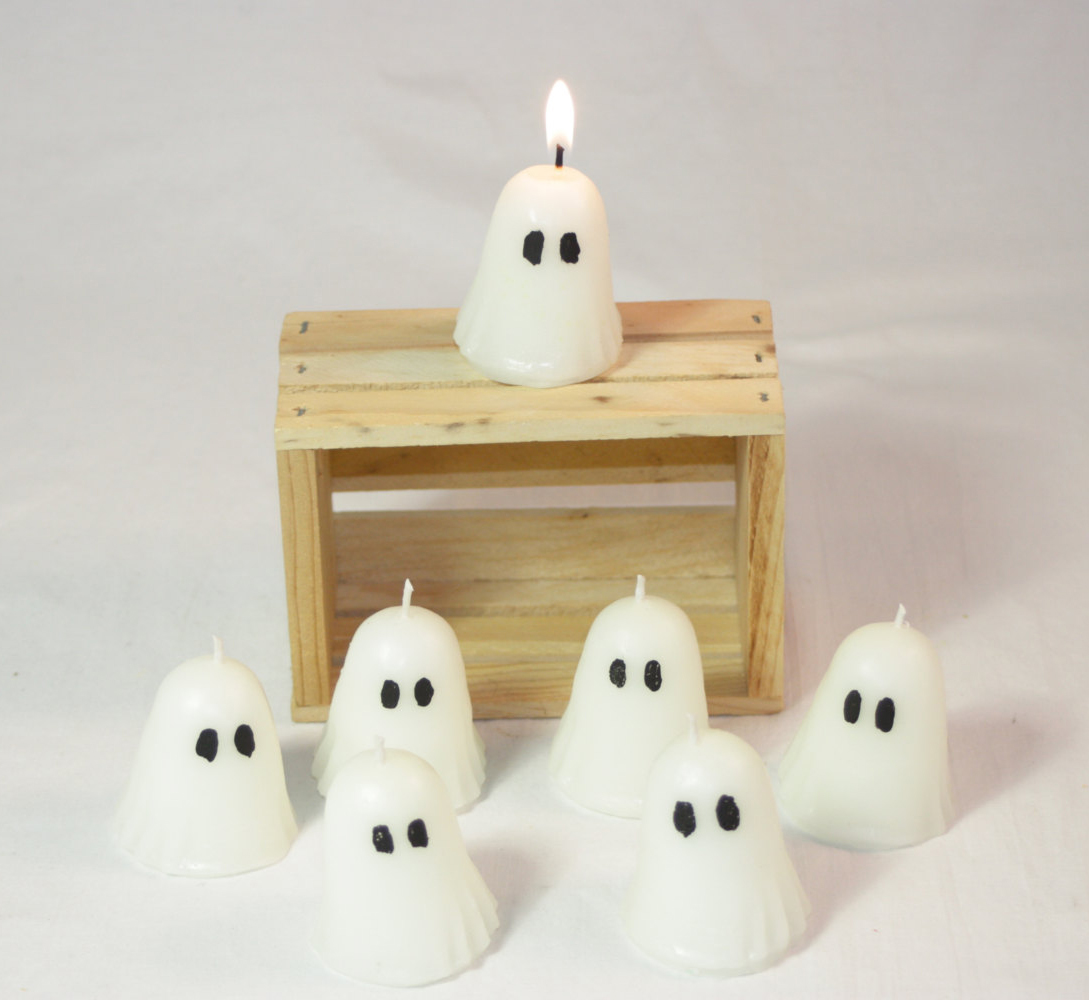 When people begin decorating for Halloween, they almost always look at the big picture and fail to remember that sometimes the smallest details can make the most difference – especially if you're looking to decorate a small space like an apartment, a bathroom, or want a Halloween-inspired gift for visitors of your holiday party. These Mini Ghost Candles make the perfect addition to coffee tables, window sills, bookshelves and more. Because they are small enough to fit into the teeny tiny spaces, this Halloween idea ensure that your house is ready for Halloween – and smells great too.
20. Halloween Party Display Set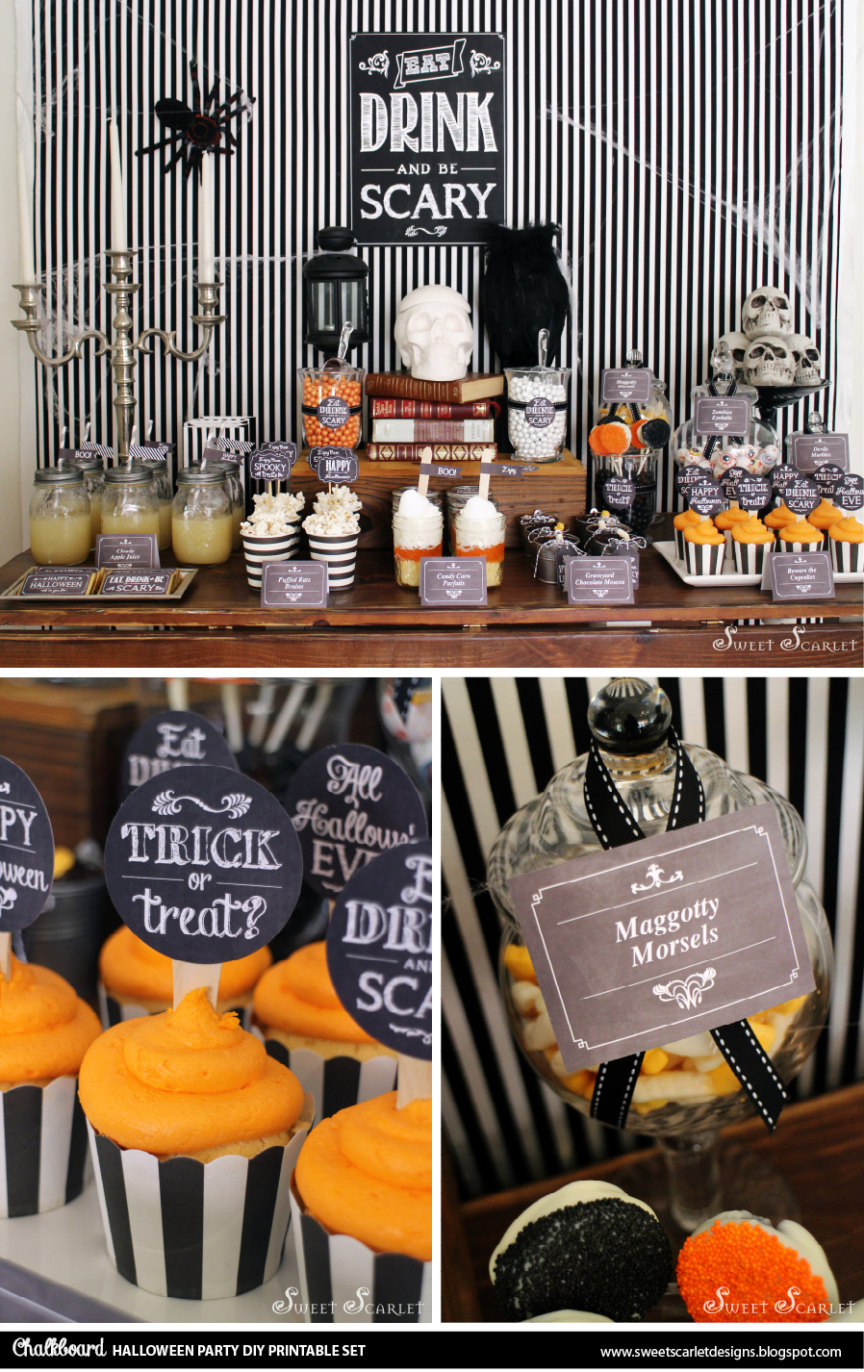 When hosting a Halloween party, the small details are what really gets your party remembered. With this customizable Halloween Party Display Set, your visitors and guests will know exactly what they are eating when they dive into your delicious holiday treats – or they'll at least know the Halloween version of it. Create your own display cards for your food items featuring disturbing descriptions like "Maggoty Morsels" or "Graveyard Chocolate Mouse." With signs featuring classic Halloween sayings like "Trick or Treat?" "All Hallows Eve" "Eat Drink and be Scary," the Halloween Party Display Set is both spooky and fun.
21. Coffin Display Chest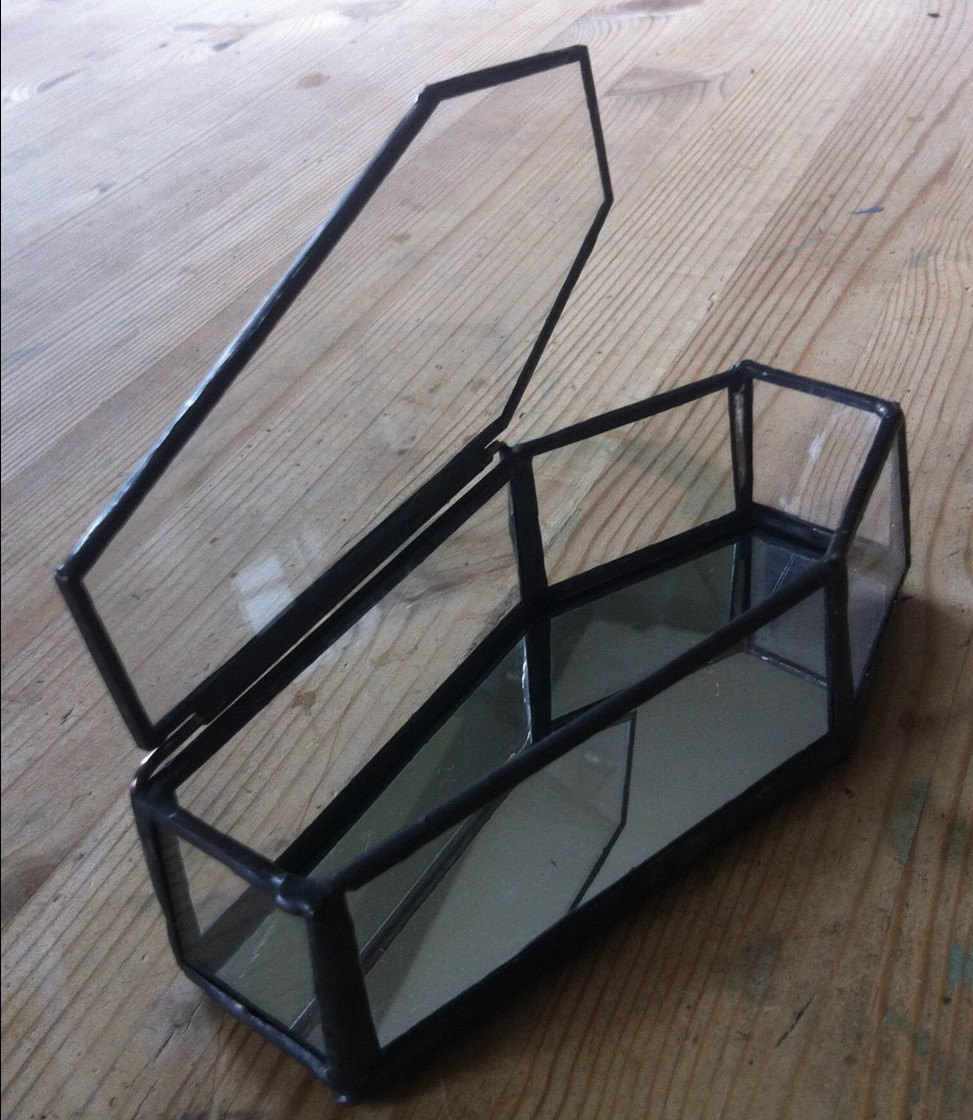 This glass coffin display chest takes a spin at classic gothic Halloween décor. Whether you're looking for something to place on display during the fall months of you hope to use your coffin trinket box year round, the Coffin Display Chest is the perfect size for holding keys, storing jewelry or change, or even to just put on display on the coffee table or in the bathroom. The Coffin Display Chest has a mirrored bottom for depth and to peak interest. As a smaller and more subtle Halloween decoration, the Coffin Display Chest is great for someone looking to keep their decorations clean, classic, and sophisticated.
22. Plush Ghost Ornaments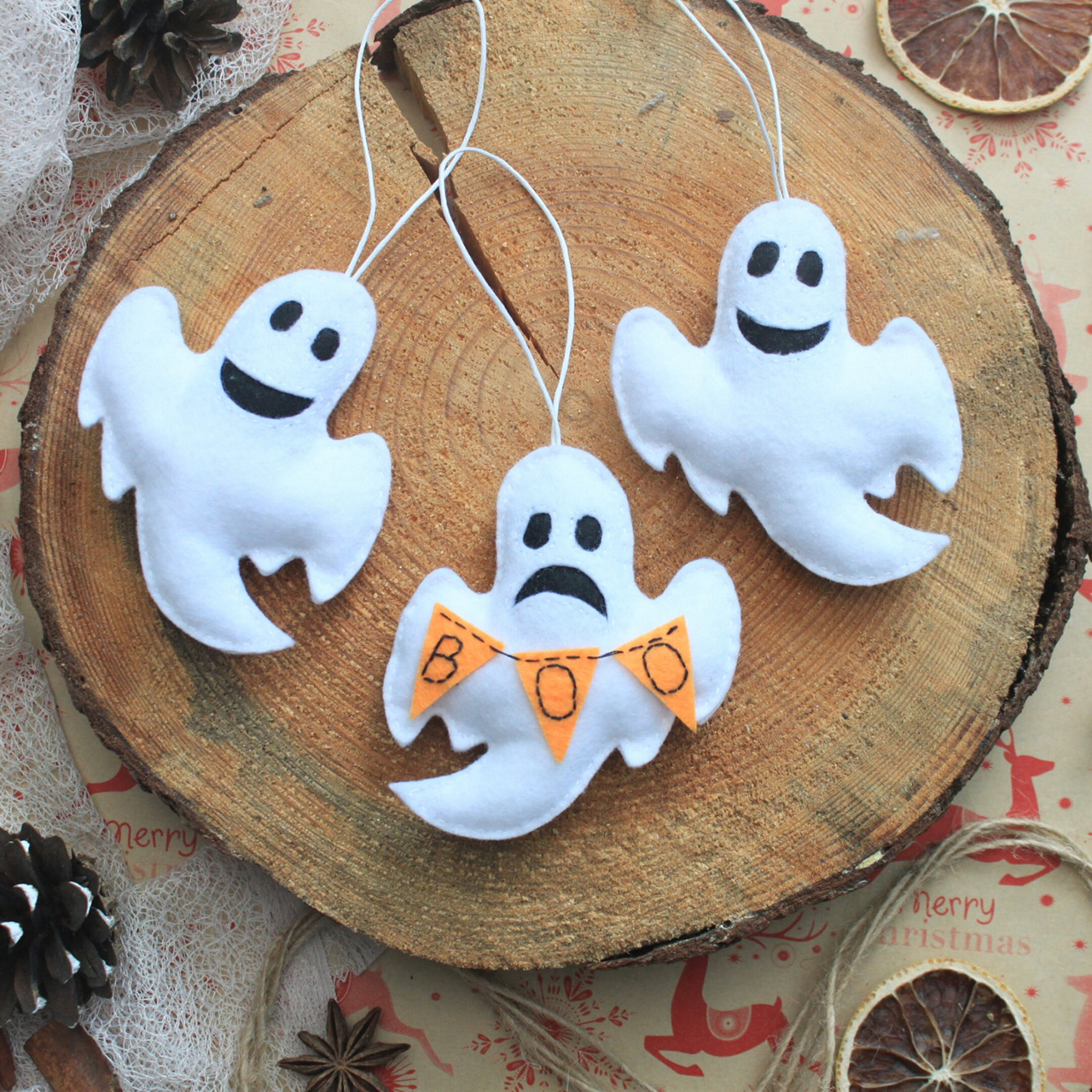 These plush ghost ornaments are simple and fun, making them a perfect addition to any home. Because these ghosts come with a string hook, they can be hung in a variety of places to infuse a bit of Halloween spirit. Use the hooks to hang these ghosts on doorknobs or even on cupboard hooks in the kitchen. The Plush Ghost Ornaments come in two kinds. First, you have the friendly ghost smiling at visitors and guests. If you're more into the spooky side of Halloween, another Plush Ghost Ornament option features a distraught looking ghost holding a sign that says Boo! If you're looking for a simple and easy decoration to give to guests at a Halloween party, these Plush Ghost Ornaments make an excellent parting gift.
23. Black and White Skeleton Wreath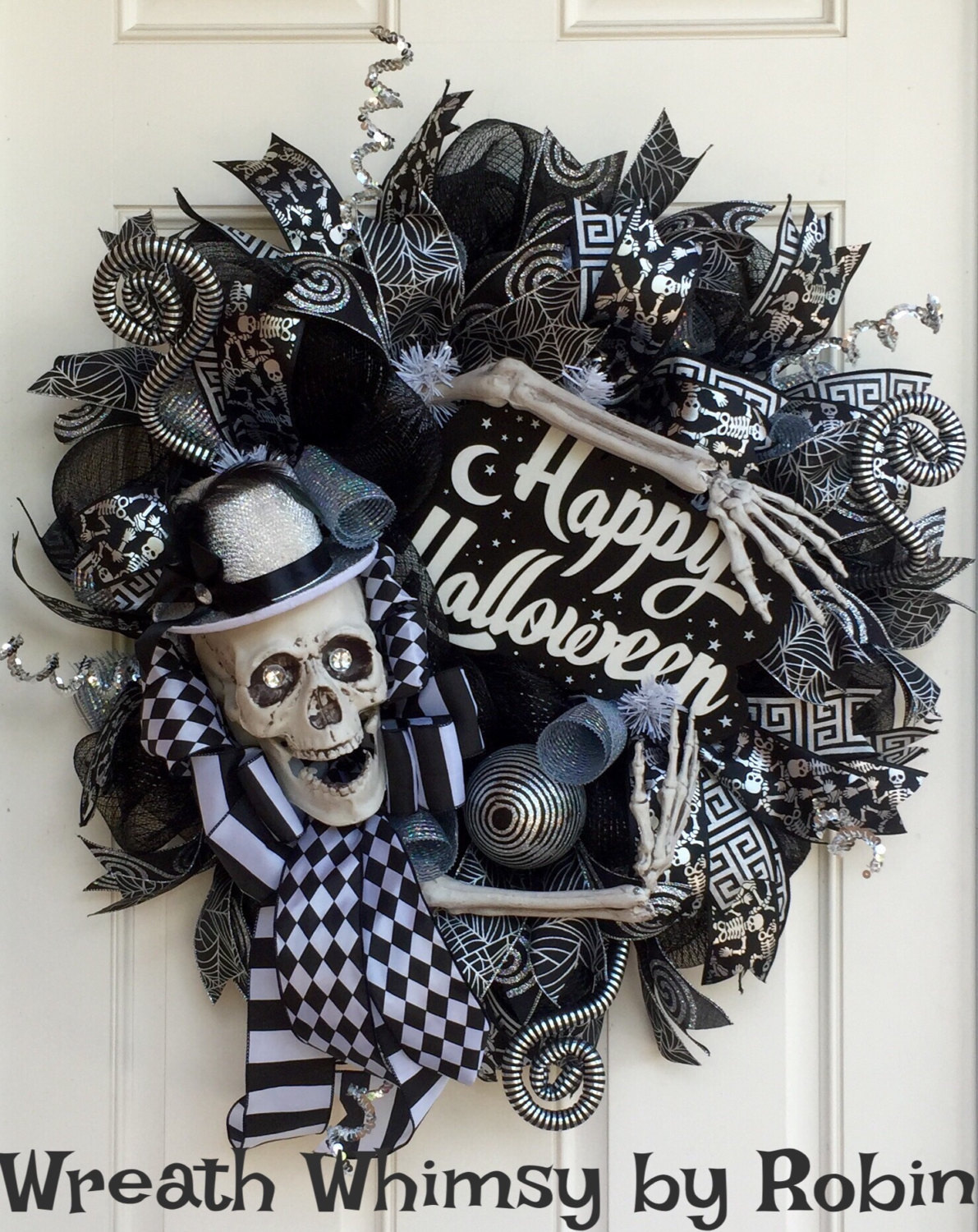 This Halloween wreath may only be black and white, but it is anything but boring. The spooky skeleton who calls this wreath home lives within coils of ribbon, tinsel, and ornaments, all tied up with a sign that reads "Happy Halloween." Hang this wreath on the outside of your front door to allow Mr. Skeleton to great guests, trick-or-treaters, or just those wanting to get a closer look at your awesome Halloween decoration. This Halloween wreath is simple yet interesting, meaning it can stand out well on its own or will mesh seamlessly with other Halloween-themed decorations you choose to put out. As an decoration designed for the outdoors, show your neighbors and community that you're serious about decorating for Halloween.
24. Table Top Witch Hat Stand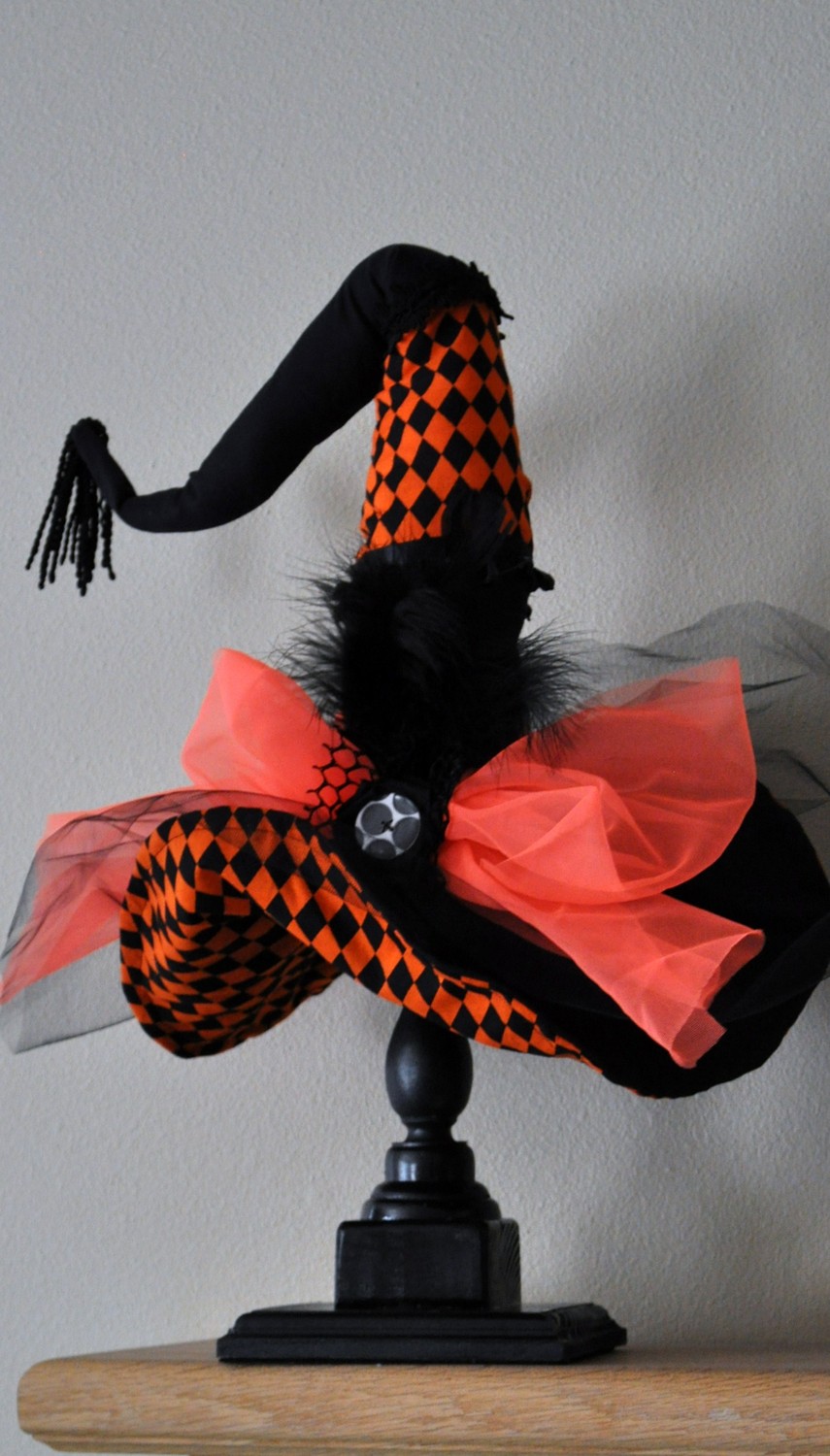 Show off your favorite witch hat with this Table Top Witch Hat Stand. With its own built-in stand that allows you to place this witch hat wherever you please, decorating inside your house has never been easier. Simply place the Table Top Witch Hat Stand on your fireplace mantel, a dresser, or even on an entry way table to be the first thing your visitors see when they walk into your house. This particular witch hat has a classic color combination of black and orange, but things get spruced up a bit with a giant bow and decorative tool. With a bit of black fur and tassels at the end of the hat tip, you know whatever witch wears this hat knows style.
25. Black, Orange, and Tan Spider Halloween Wreath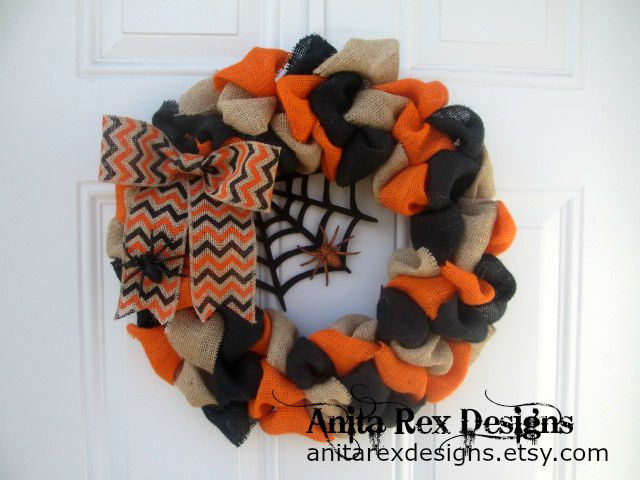 As another Etsy Halloween wreath on this list, the Black, Orange, and Tan Spider Halloween Wreath is a simple option for anyone looking for less ribbon or flash than the other wreaths on this list. With a classic circular design, this wreath takes black, orange, and tan burlap and braids them together in an interesting and classic way. The addition of a black, orange, and tan burlap bow ties the entire wreath together. But as an added Halloween bonus, the wreath also comes infested with (fake) spiders, taking an otherwise beautiful wreath and adding a level of uneasiness – perfect for the Halloween season!
Halloween is one of the most fun holidays to decorate for. With so many different kinds of decorations and styles that you could go with, decorating for Halloween can be fun for everyone. Whether you're looking to decorate a small apartment or you have an entire home and front porch you would like to spruce up, try out a few of these decoration ideas for your home.