Halloween is a chance for kids and adults alike to enjoy seasonal, spooky fun. In keeping with this festive atmosphere, millions of Americans choose to decorate their homes to celebrate. While many families spend a considerable amount of money on store-bought Halloween decorations for their homes, the holiday offers plenty of opportunities for families to make a variety of decorations. For anyone who is willing to get creative, Halloween decorations can work in almost every room of the house. And by using common household items to make these creations, kids who are old enough can work alongside their parents to make these exciting decorations.
October 31st Is Coming: Get Ready With 50 Must-Have Halloween Decorations

Because it falls on October 31, Halloween is the perfect time to take advantage of the cooler weather and the falling leaves to create a seasonal vibe throughout your entire home. Scary, whimsical, and fun decorations can be easily made at home. And while it's always fun to carve a pumpkin to make a Jack-O-Lantern, there are plenty of opportunities to make home decor that is unique and interesting. Themed decorations for each room can be a challenge, but the projects below are fun and enjoyable and will leave you with a fun feeling throughout the entire house. Best of all, do-it-yourself Halloween decorations will impress visitors with your creativity, design savvy, and festive spirit.
1. Spooky Fireplace Crackles with Fun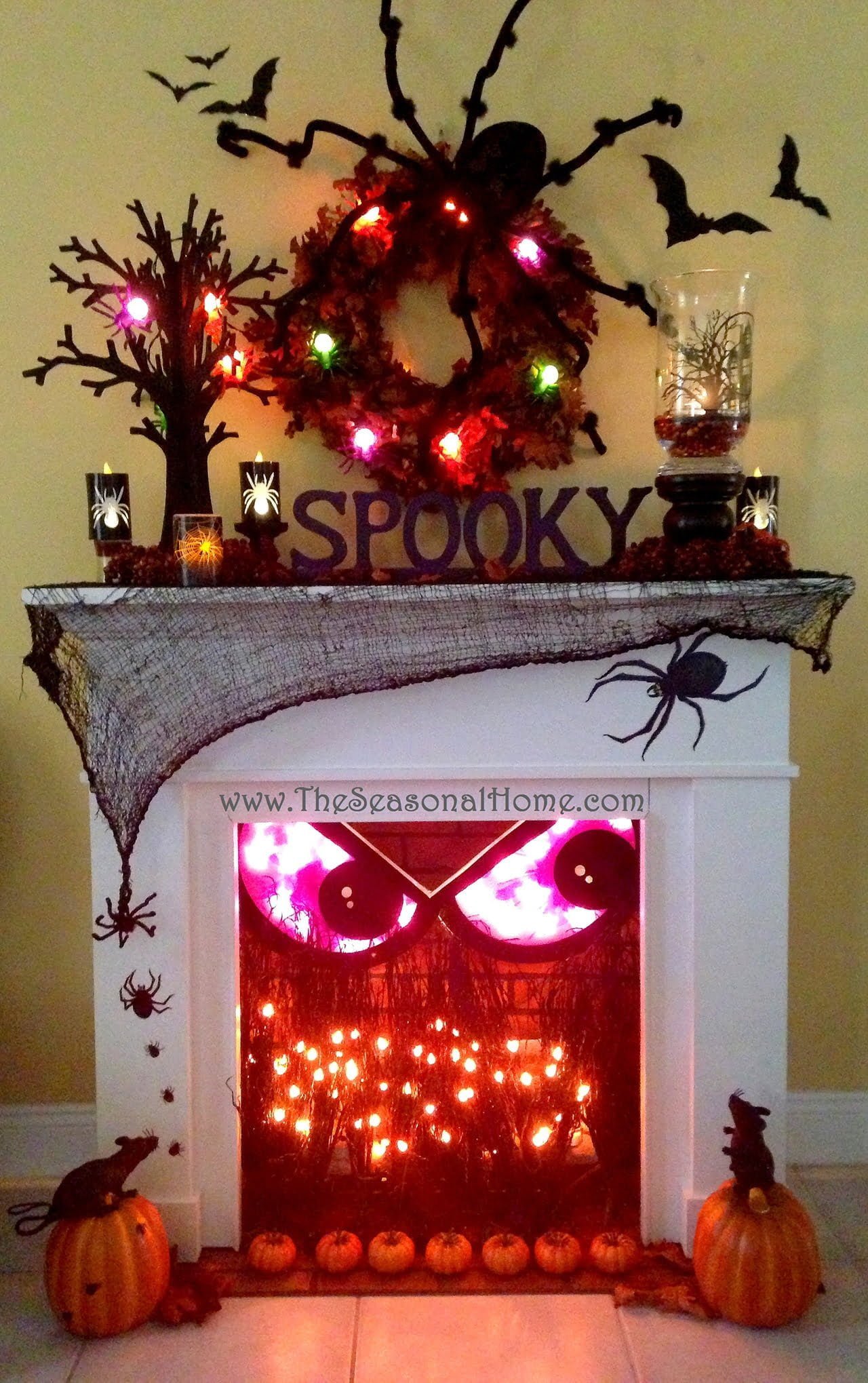 The fireplace is the perfect place to put seasonal decorations in any home, whether it is stockings at Christmas or this spooky twist on Halloween. For this Halloween indoor decoration idea, all you have to do is find a few common household items and throw them together around your fireplace to create a ghoulish look that your friends will find exciting and interesting. All it takes is a few leftover Halloween decorations, a few LED lights (just like the kind you might keep away in the attic for Christmas), and some fabric to create a spooky look. Because they offer a unique twist on what all of us expect from a fireplace, the lights combine with these other items to create a particularly nice aesthetic in a living room.
2. Spooky Witch Leg "Chandelier" Shines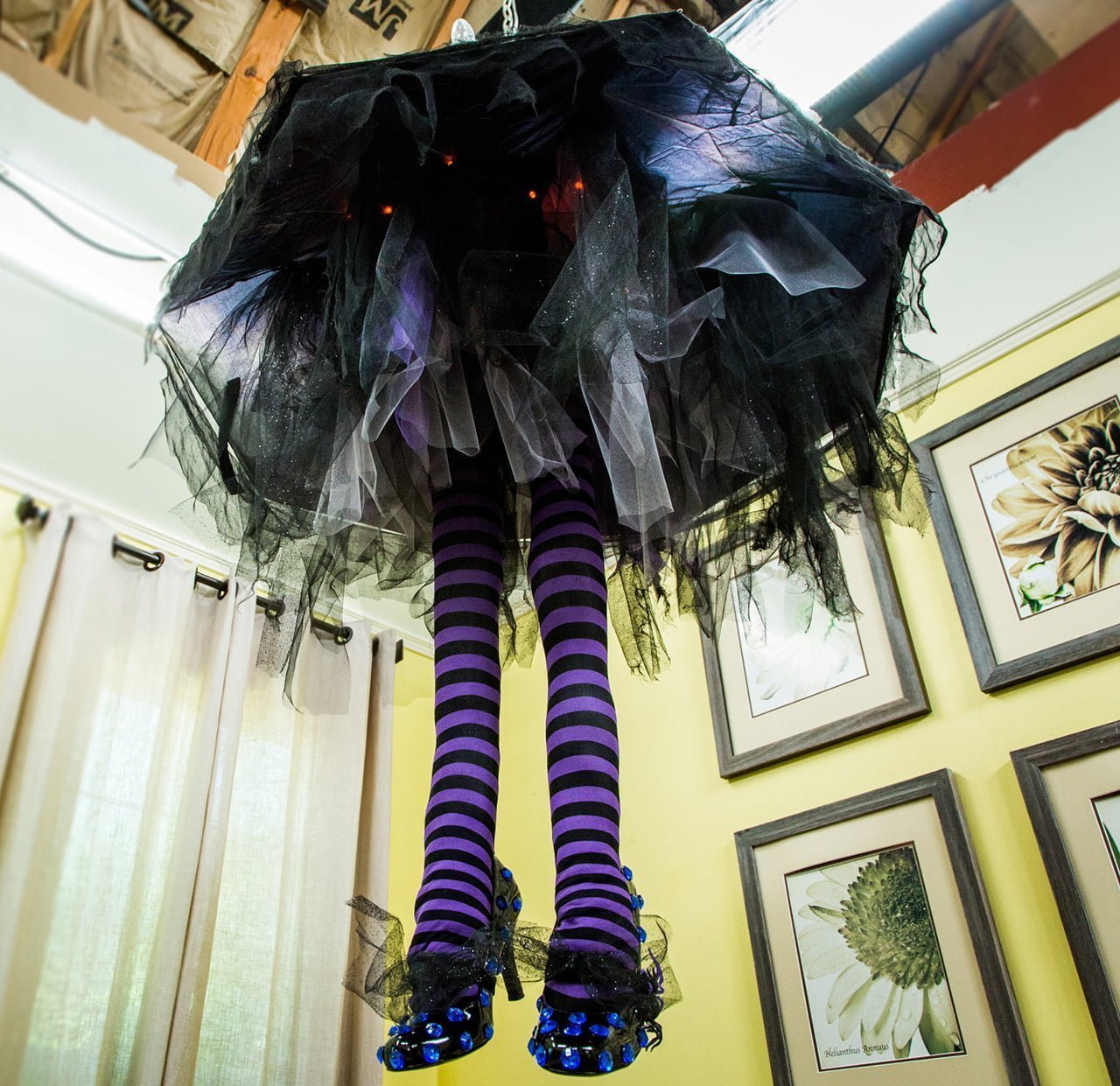 Everybody has a few pairs of striped stockings, old shoes and an umbrella. But how many people would consider throwing the three together to make a "chandelier" that fits Halloween perfectly? This cute hanging object is a perfect way to deliver a shocking surprise to house guests. This clever project allows you to create the allusion of two hanging legs and – if you choose to customize it with LED lights – actually produce light for a living or dining room. And what could fit Halloween better than the ghoulish idea of two hanging witches' legs producing light that delights?
3. Super Spiders Invade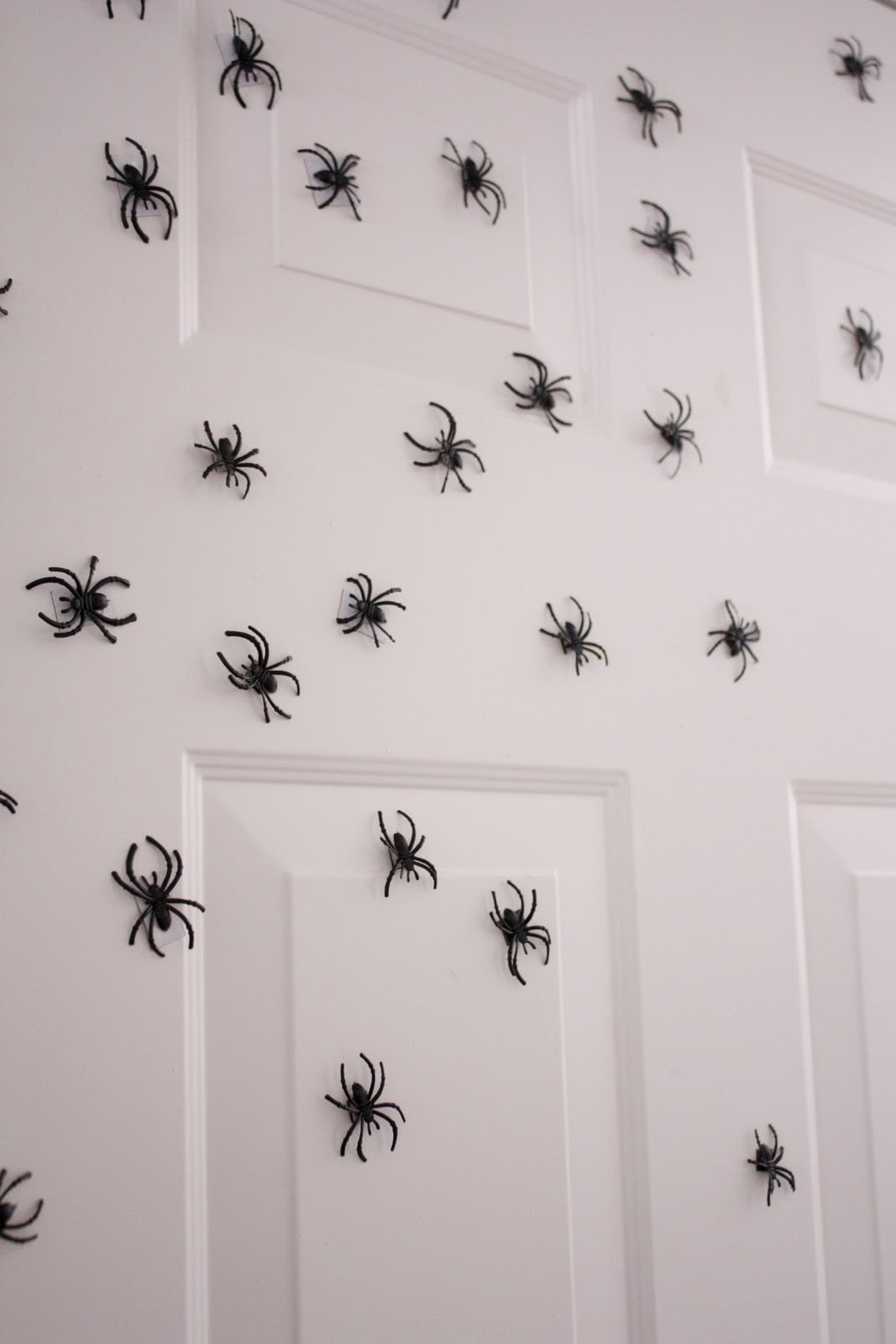 Alongside witches, spiders are one of the themes most associated with Halloween. Having a gang of magnetic spiders invade your home, and cover a few of your doors, is one of the easiest ways to create a fun Halloween surprise. By taking a few of the black spiders sold at every convenience store around Halloween and attaching magnets to them with hot glue, you can turn any metal surface into a surface that spiders have invaded. And this fun project is perfect for kids, who can rearrange the magnets into any number of fun patterns that let them explore their creativity with your creative DIY project!
4. Glass Pumpkins Still Shine Bright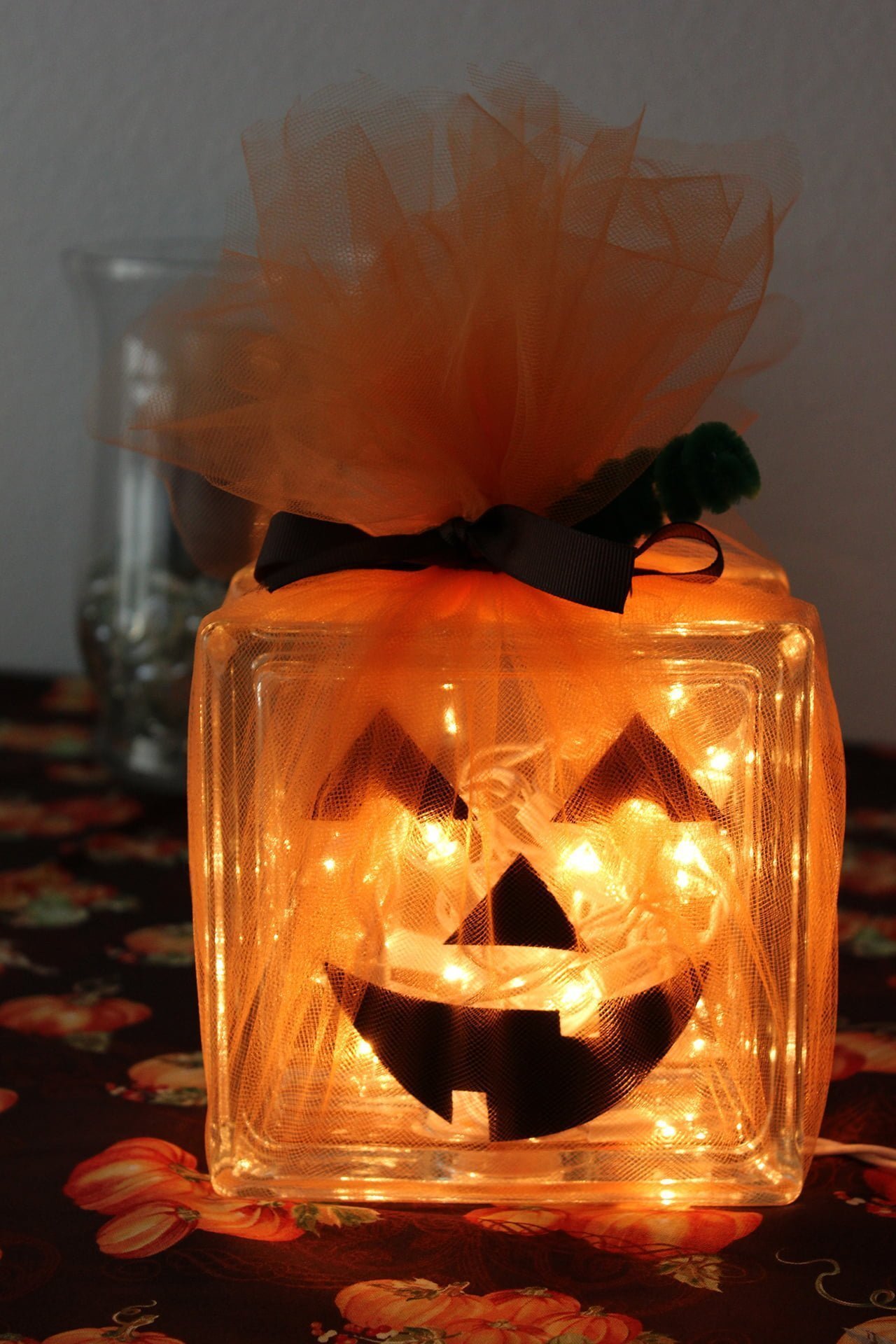 By Halloween tradition, almost every family carves a pumpkin that sits outside their house. But what about creating a different kind of "pumpkin" lantern? This clever piece of decor utilizes the kind of glass block that you can find in any craft store. Add just LED lights and pipe cleaner, you can create a beautiful orange light that is perfect for the season and adds a fun, slightly spooky feel to your home. You could even make a few of these blocks and use them to light a stairwell or use a slightly larger block and make this glass "pumpkin" the centerpiece of your dining table!
5. Stylish Letters Sweeten Pumpkins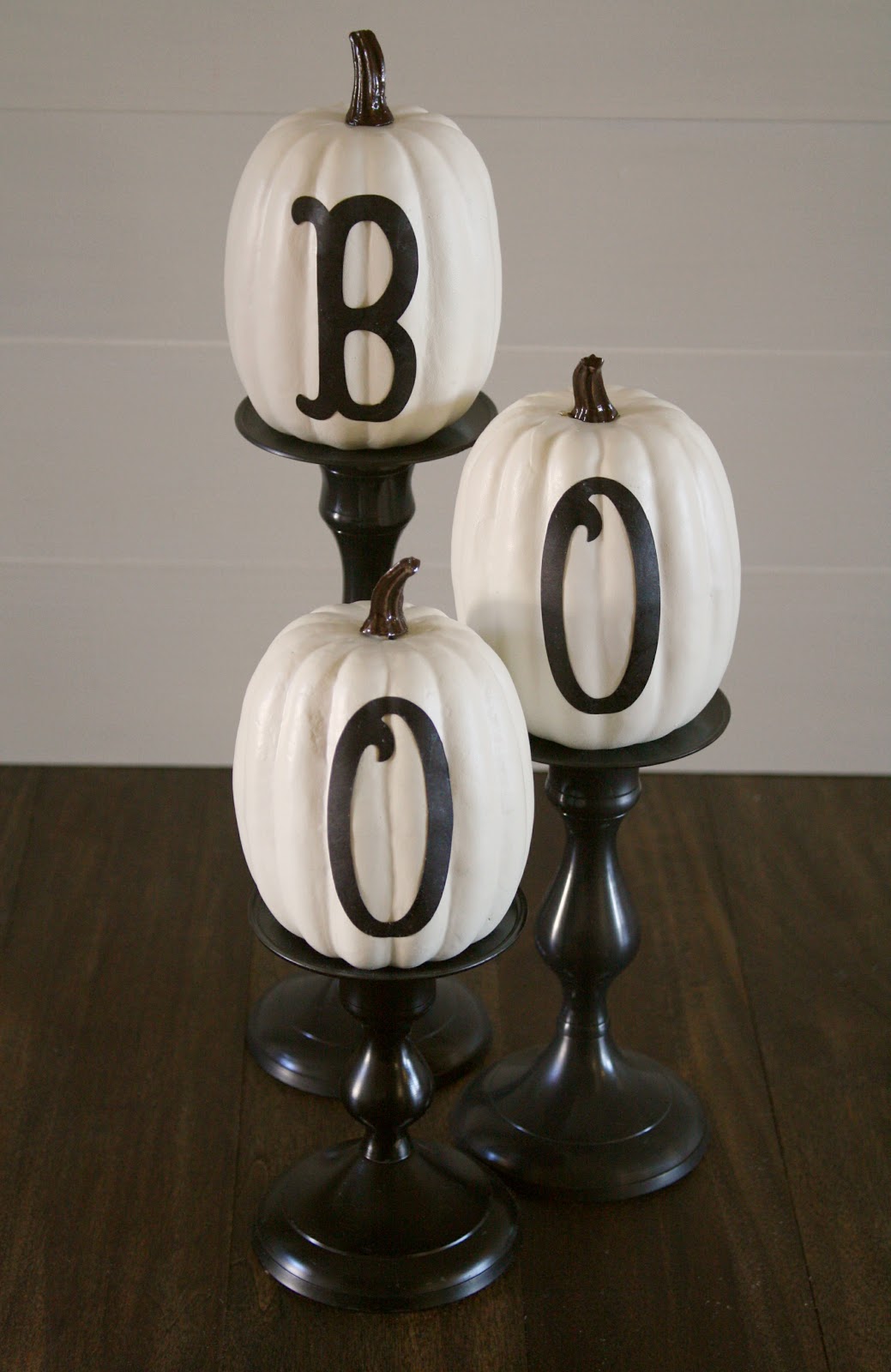 If creating your own shining glass pumpkin isn't your style, you can still brighten up your home with real pumpkins and a bit of creative placement. This classy project is simple: using high quality, stylized lettering and attaching them to real pumpkins. The color is key: Instead of using the orange pumpkins that are so familiar, try a different colored gourd that is sure to be a conversation starter. And by placing these pumpkins – and the letters attached to them – on cake stands, you can spice up your kitchen with seasonal style.
6. Make Magic with Halloween Optical Illusions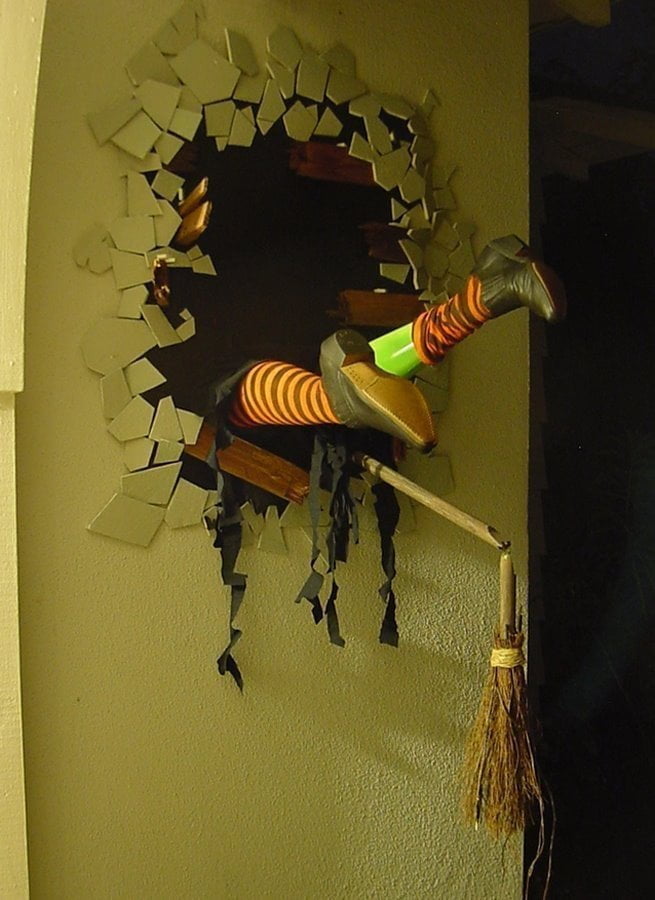 The United States isn't the only country that celebrates a rather morbid holiday in the fall. Many Spanish-speaking countries celebrate the "Day of the Dead." This Halloween indoor decoration of a witch crashing into a wall comes from Mexico. While it may seem a bit intensive, all you need to create this optical illusion an old pair of shoes, stockings, a broomstick and a few pieces of craft paper. To make this sophisticated design even easier, consider attaching everything to a posterboard and then attaching that to the wall with easy to use hanging tape.
7. Apothecary Jars Add Panache to Everyday Decorations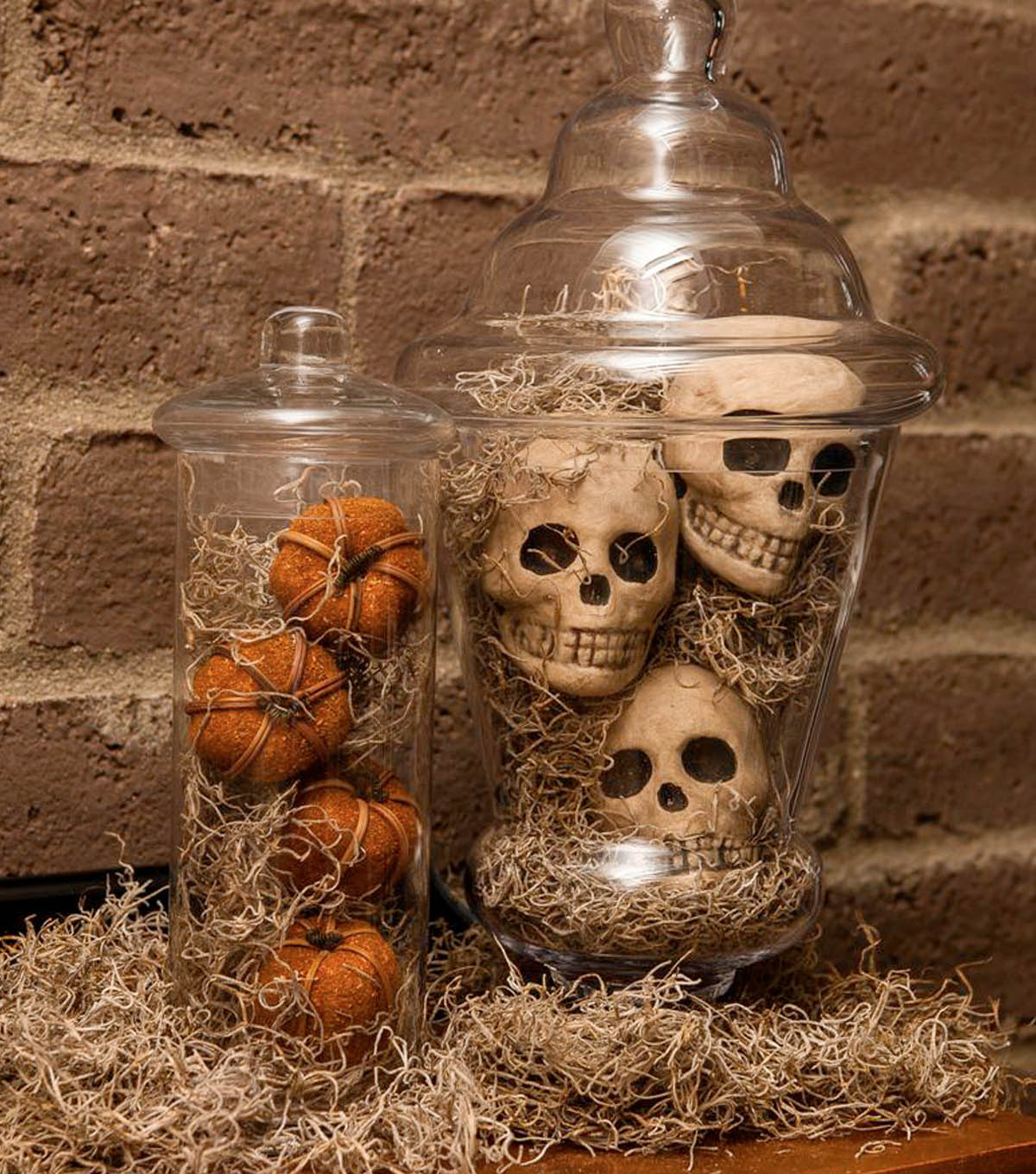 If you're like many of us, you have some old Halloween decorations laying around the house that are crying out for a creative use. Instead of simply displaying them on a table, you can easily repurpose them with a neat solution: apothecary jars. These stylish containers can be picked up nearly anywhere. Filled with Halloween decorations like pumpkins, they can be cute. With skulls and bones, they can be creepy. Pick up some replica Spanish moss at a craft store to make these decorations stand out even more.
8. Bats Fly with Paper Cutouts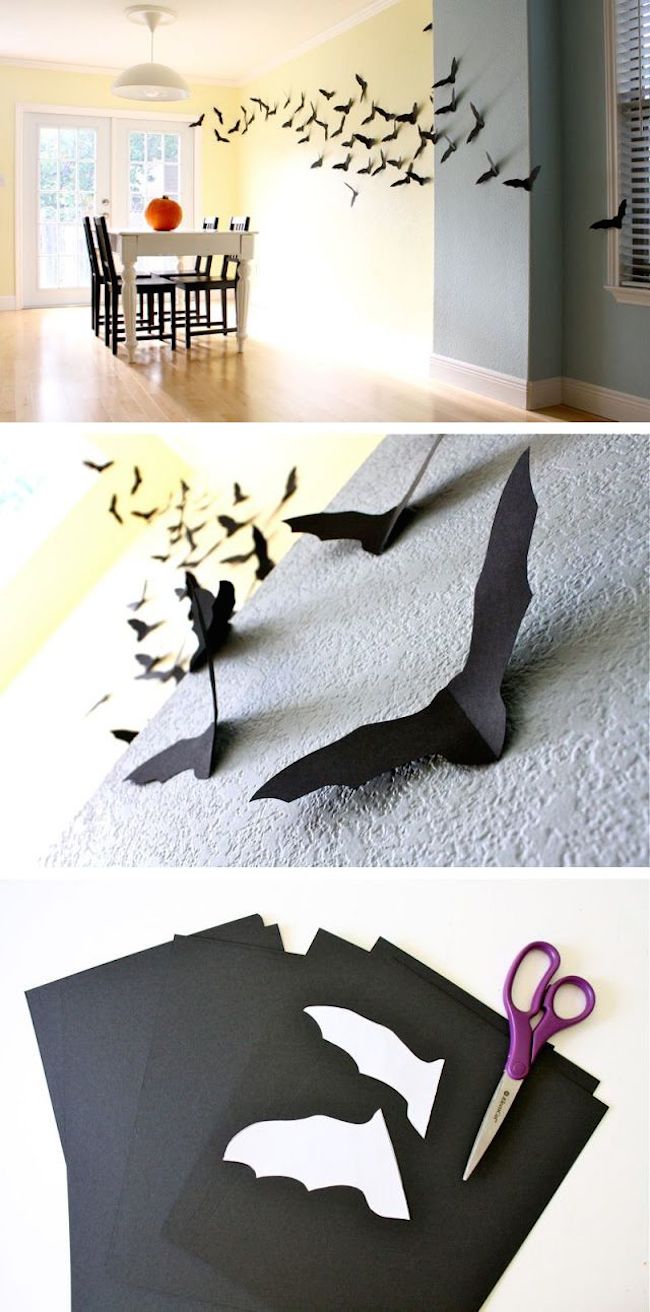 The fall – and Halloween in particular – always seem to remind us of bats flying through the sky. With this easy project, you can create a flock of bats as a decoration for interior walls. A very simple endeavor, all you need to do is make a template and cut out paper bats from black construction paper. When you attach them to the wall, you can create any number of designs. This is a particularly great project to do with kids; many of them will enjoy making the bats and using them to decorate a wall or walls in their room!
9. Break The Jack-O-Lantern Mold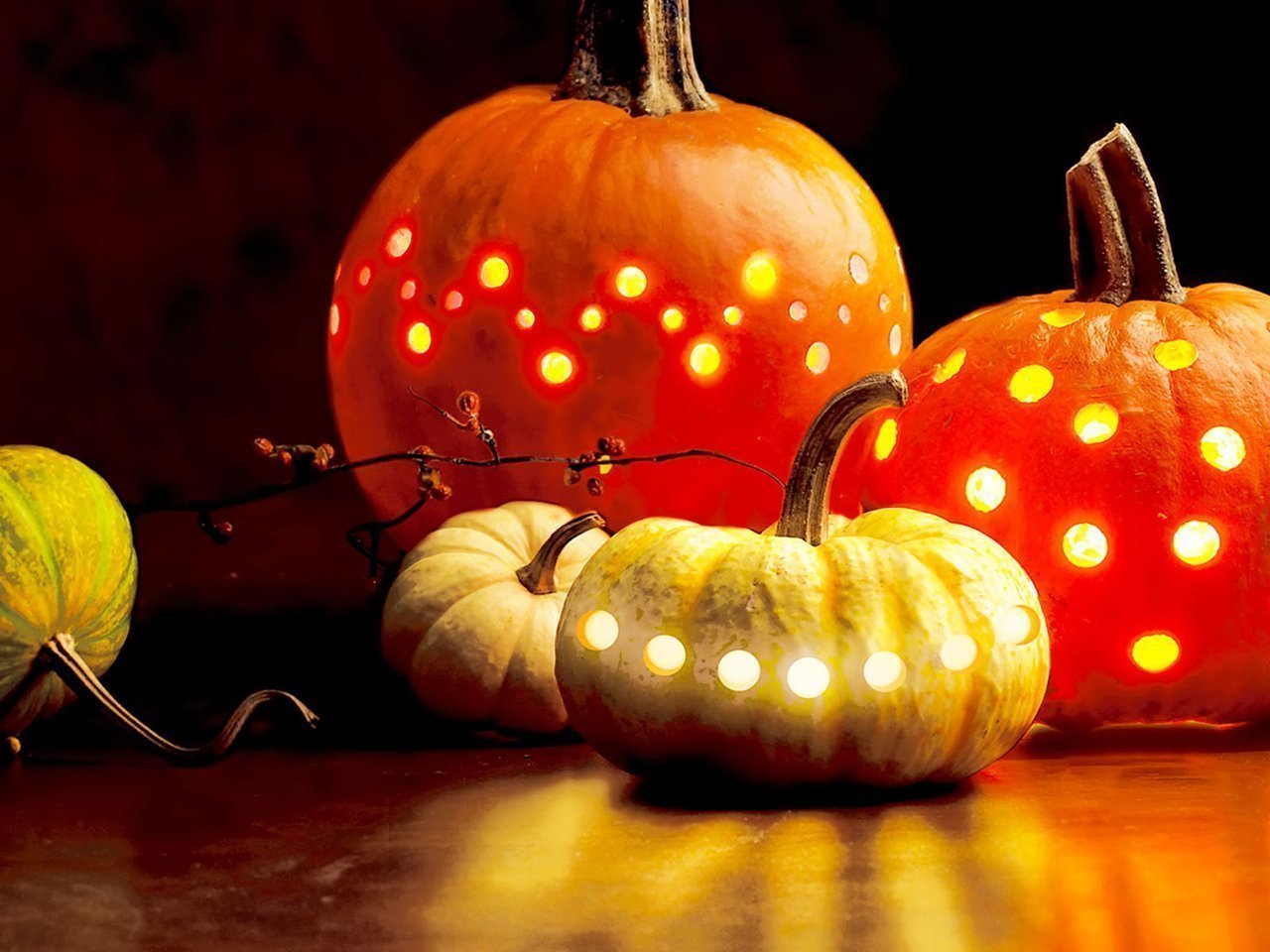 Pumpkins are a staple of Halloween, but you can do more than just display them with a cute carving and a candle. In this Halloween indoor decoration idea, you can carve small holes in a series of pumpkins and connect them with small LED lights. While it looks labor intensive, it's a fairly easy project. You can also use a variety of gourds, not just pumpkins, to add pizazz to the look. And the result is a much more creative decoration than the traditional pumpkin. It's also perfect as a centerpiece or on a side table.
10. Soft Lights Bring Spiders to Life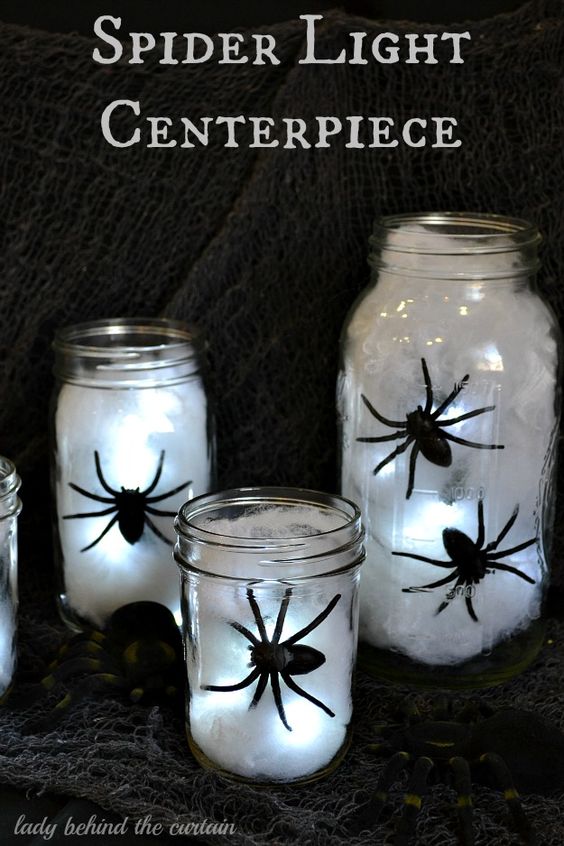 Mason jars are all the rage these days, and these nifty, spooky spider lights are perfect to take advantage of the trend. Easy to make, you simply fill a Mason jar with spider web material and black spiders – found at almost every major craft store. Adding a battery-powered white light creates an inviting soft light that accentuates the slightly wicked nature of the spider inside. It's a perfect light for a party and can also be used as a centerpiece. Smaller Mason jars with the spider and lights also fit perfectly on a mantle or coffee table.
11. Bewitch Your Dining Room with Table Leg Covers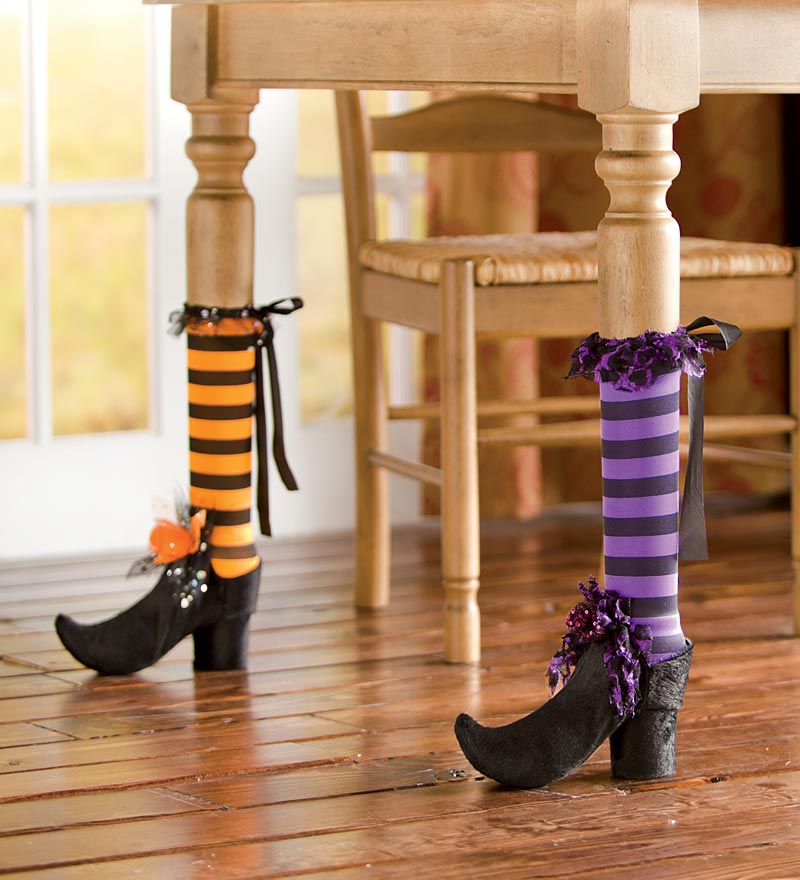 While centerpieces can always help with a cool look, it can sometimes be hard to think of other creative Halloween ideas for a dining room. These creative tab leg covers, which can be easily made with some leftover curtain fabric and old shoes are perfect for adding a fun, innovative look to any dining room or kitchen table. Combined with a centerpiece that fits with the Halloween theme, these witches' leg table leg covers are perfect to help you celebrate the holiday in every room of your home.
12. Scary Spiders Make Spooky Rooms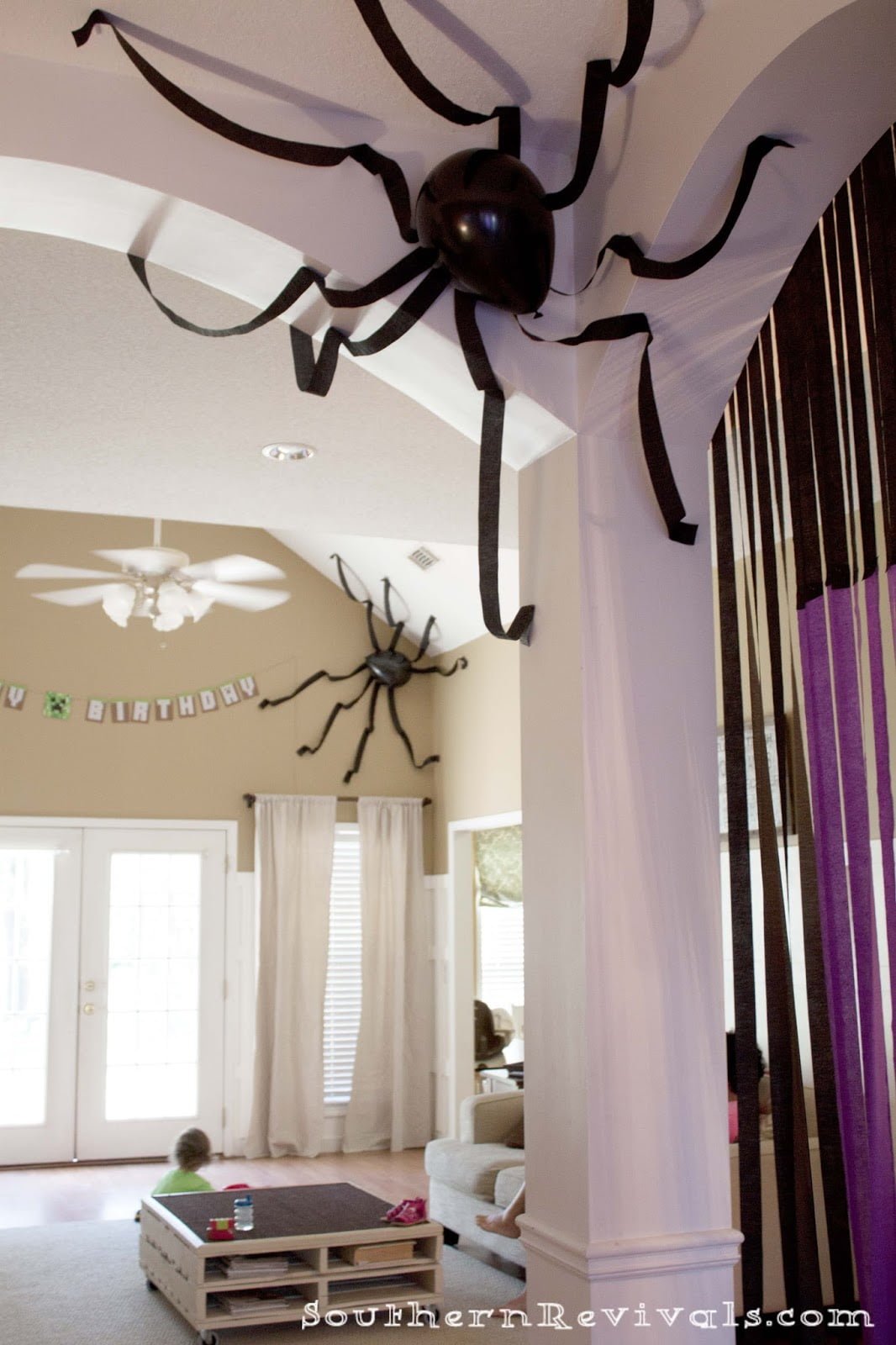 Perfect for a Halloween party, creating these big spiders is easy and fun. Simply using a balloon and some crepe paper, you can build spooky spiders that stick to the wall or the ceiling. Adding three or four to a room, especially if they are on the ceiling, can create a perfect holiday vibe. In fact, a room with these spiders on the wall is the perfect Halloween mix of unsettling and fun. Plus kids love the opportunity to blow up balloons – and maybe even pop them come November 1.
13. String Makes Scary Skull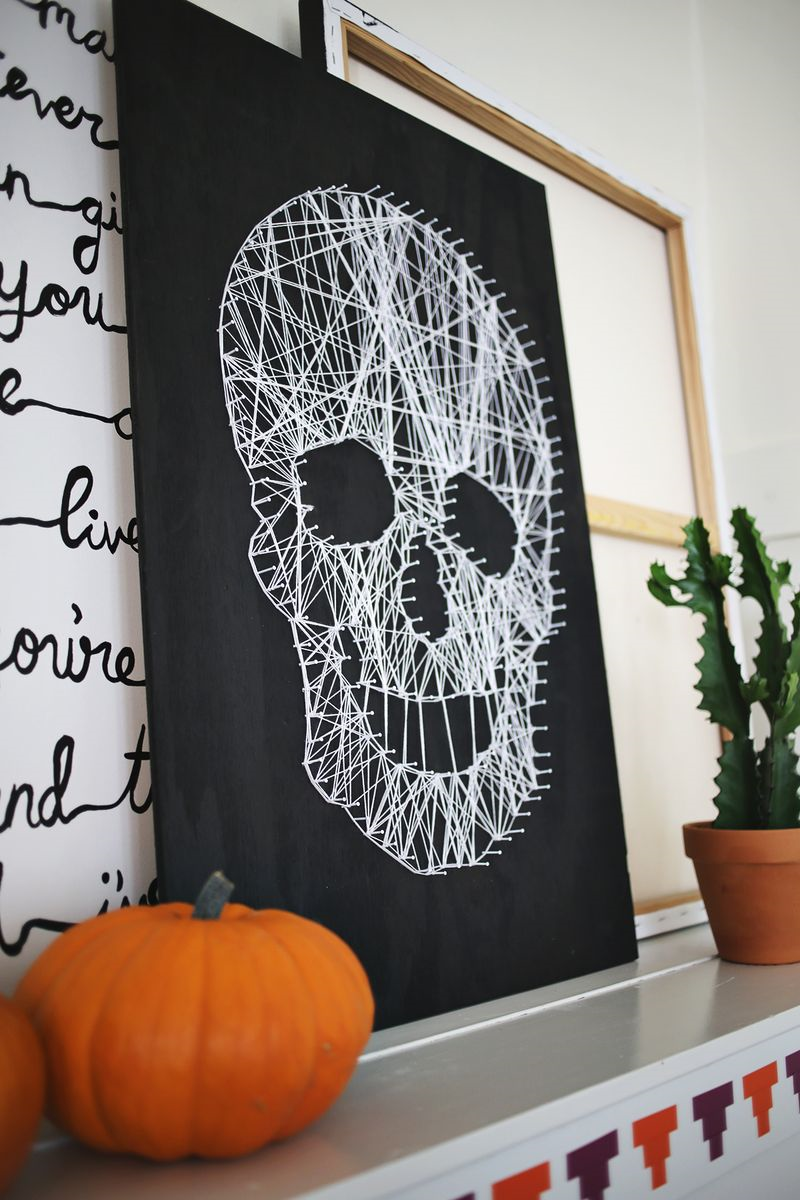 Different from the traditional types of Halloween decorations, this relatively easy item looks and feels like the kind of art you'd pay big bucks for. Starting with just a small piece of wood and an attached piece of black fabric, you can use a few nails, string and twine to create the image of a skull. This is perfect to display above a fireplace or positioned in your home's entryway for a Halloween party. Your friends will probably even ask what gallery you got such a haute piece from!
More Halloween indoor design ideas on the next page…