Celebrate the sunny summer season with decorations that are equally and sunny and fun. You can spruce up your yard, decorate your patio or porch, add bold color to your home's interior, or simply just show your appreciation for all things summer with these incredible decorations from Etsy. Handmade home and garden decor is on the rise. On Etsy, every artist creates unique and original pieces that you can't find it anywhere in stores. Whether your style is more farmhouse, vintage, classic, or whimsical, Etsy is a great place to find inspiration for bright and fun summer decor ideas.
34 Fun and Colorful Etsy Decor Ideas that are Full of Summer Charm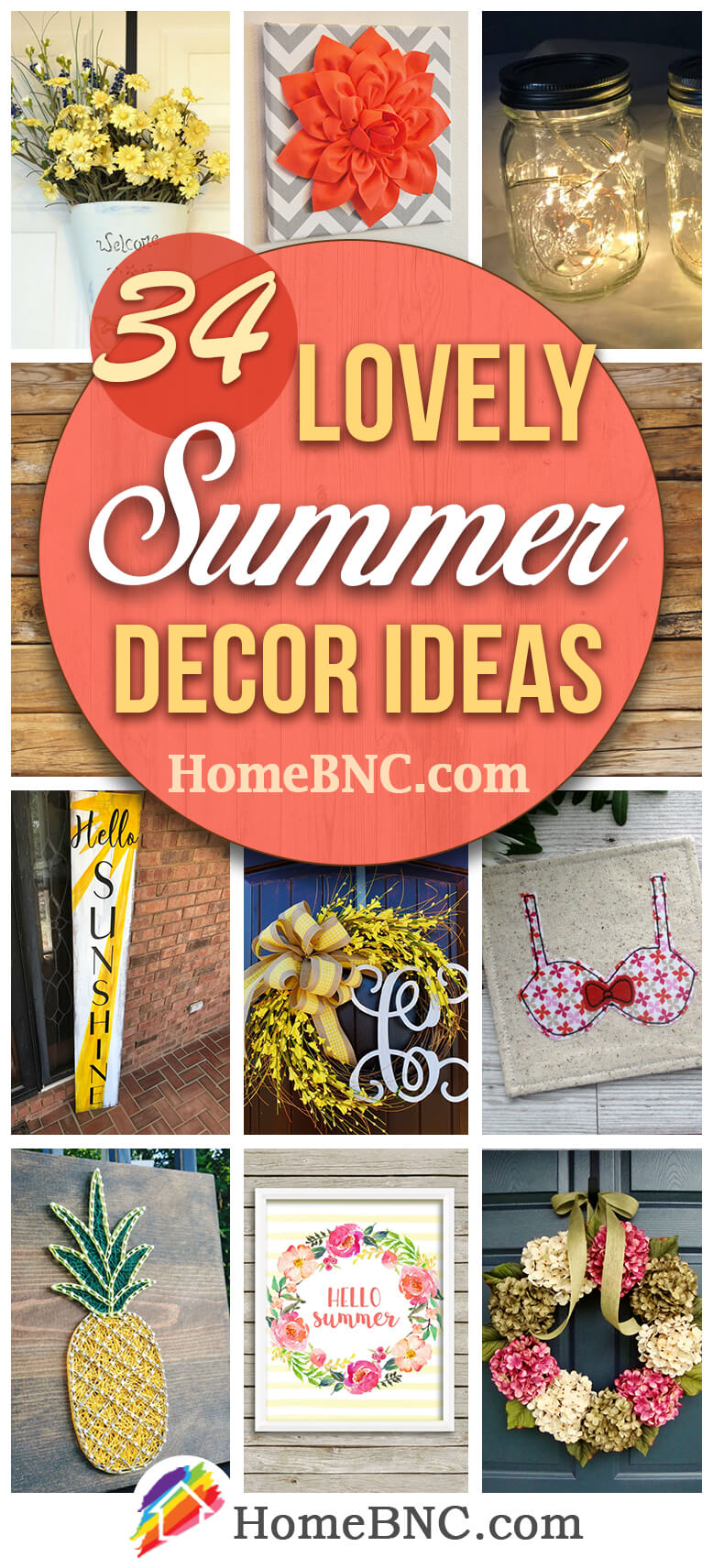 What makes handmade decorations so special? The features of summer decor items are dependent upon the style you're going for. Some popular techniques for creating decorations are distress painting and sanding, aging and burning, custom printing, sewing, and many others. There is an abundance of creativity, love, and hard work that goes into every piece. Whether you're shopping or looking for inspiration to create your own summer decor, check out these 34 amazing summer decor ideas from Etsy.
1. Whimsical Watermelon "Summer" Banner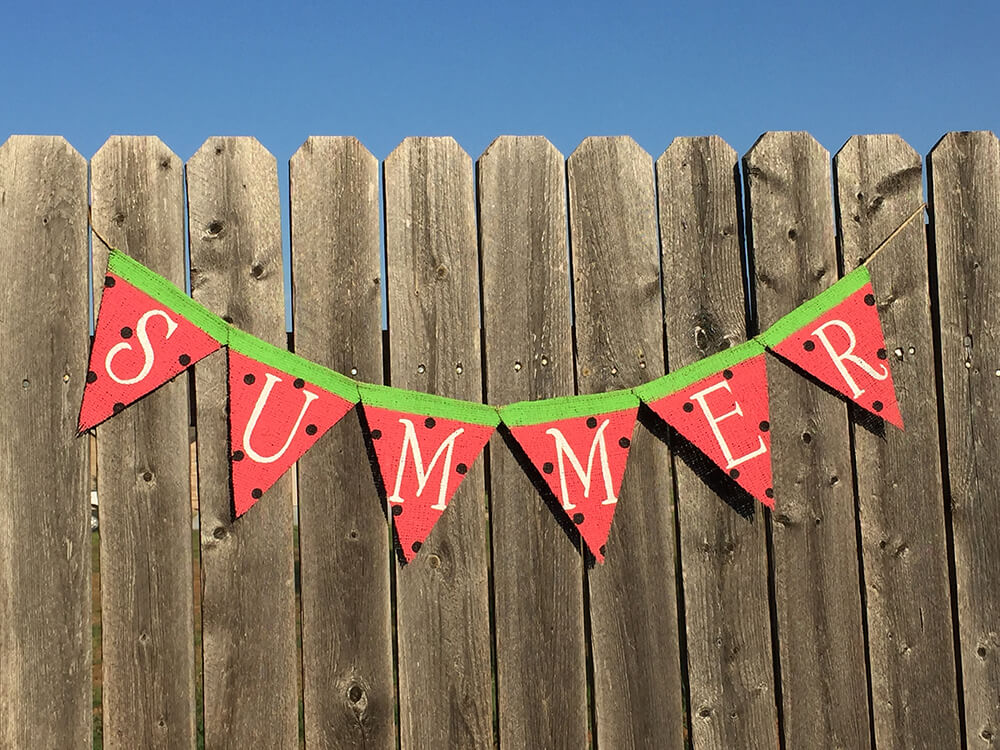 Nothing says "summer" more than watermelon! This drool-worthy watermelon-themed banner is brightly hand-painted on triangular pieces of burlap strung on jute twine. Measuring in at approximately 33" inches in length, this banner is lightweight and perfect for indoors or outdoors. It can be used as a festive decoration for summer parties or just to add some fun color to your environment.
2. Sunny Forsythia Monogram Wreath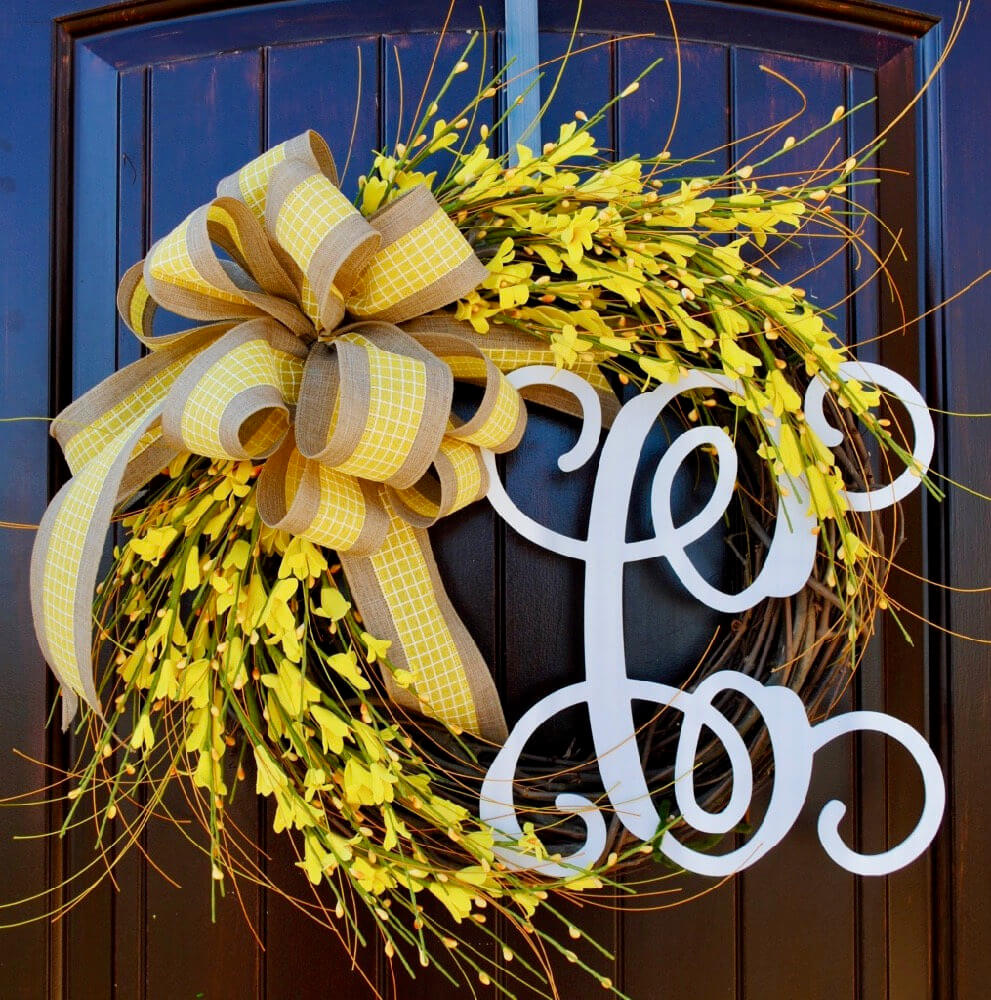 Bright and cheerful, yet very classic and elegant, this faux forsythia wreath is an absolutely stunning addition to your interior walls, front door, or covered porch. A grapevine base adorned with sweet yellow forsythia and a large bow accompany a custom monogram letter. Imagine the curb appeal this will bring to your home, even on a rainy day!
3. Warm White Fairy Lights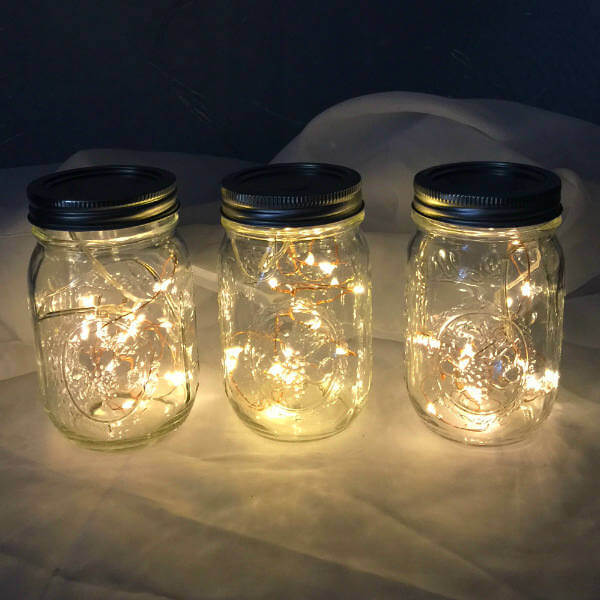 There is nothing more romantic than warm white lights adorning a beautiful summer evening. They are reminiscent of catching fireflies in a jar as a child. These lights can be placed in mason jars, vases, strung up, or just about anything else you can think of! Imagine using these lights as beautiful centerpieces for an evening wedding, or stringing them outside for a late-night dinner on the patio.
4. Adorned Wooden Scrapbook Blocks

These pine blocks are hand painted and antiqued before being finished with bold summery scrapbook paper and vinyl lettering. The mixed color and block height scheme makes for a seemingly random and whimsical design. These blocks would be perfect as a mantel decoration. Often, we find there are tons of mantel decorations for winter and Christmas, but very seldom for summer!
5. Tropical Canvas Printed Pillow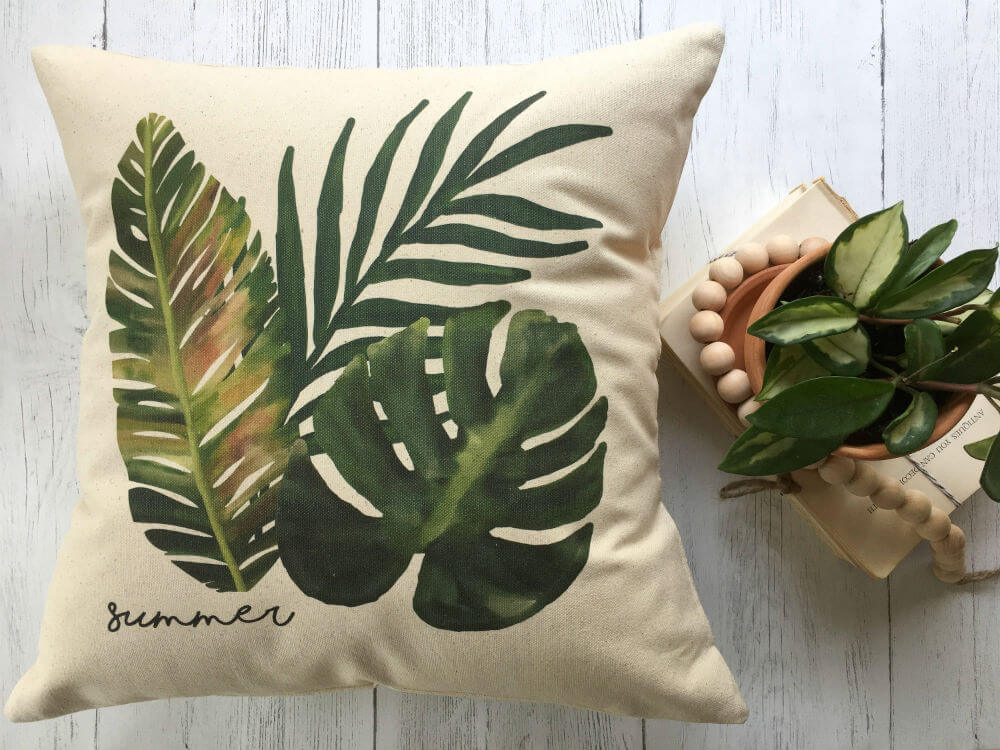 Tropical green leaves set upon an unbleached cotton canvas backing make for the perfect earthy summer decoration. While this is an indoor pillow, it makes a great summer decor idea for indoors or outdoors. This would look beautiful on any patio set, sun-porch, or living room set, adding just the right amount of a tropical vibe without being overly bright or bold. The deep green hue would also look wonderful paired with a bold color scheme!
6. Farmhouse "Hello Sunshine" Sign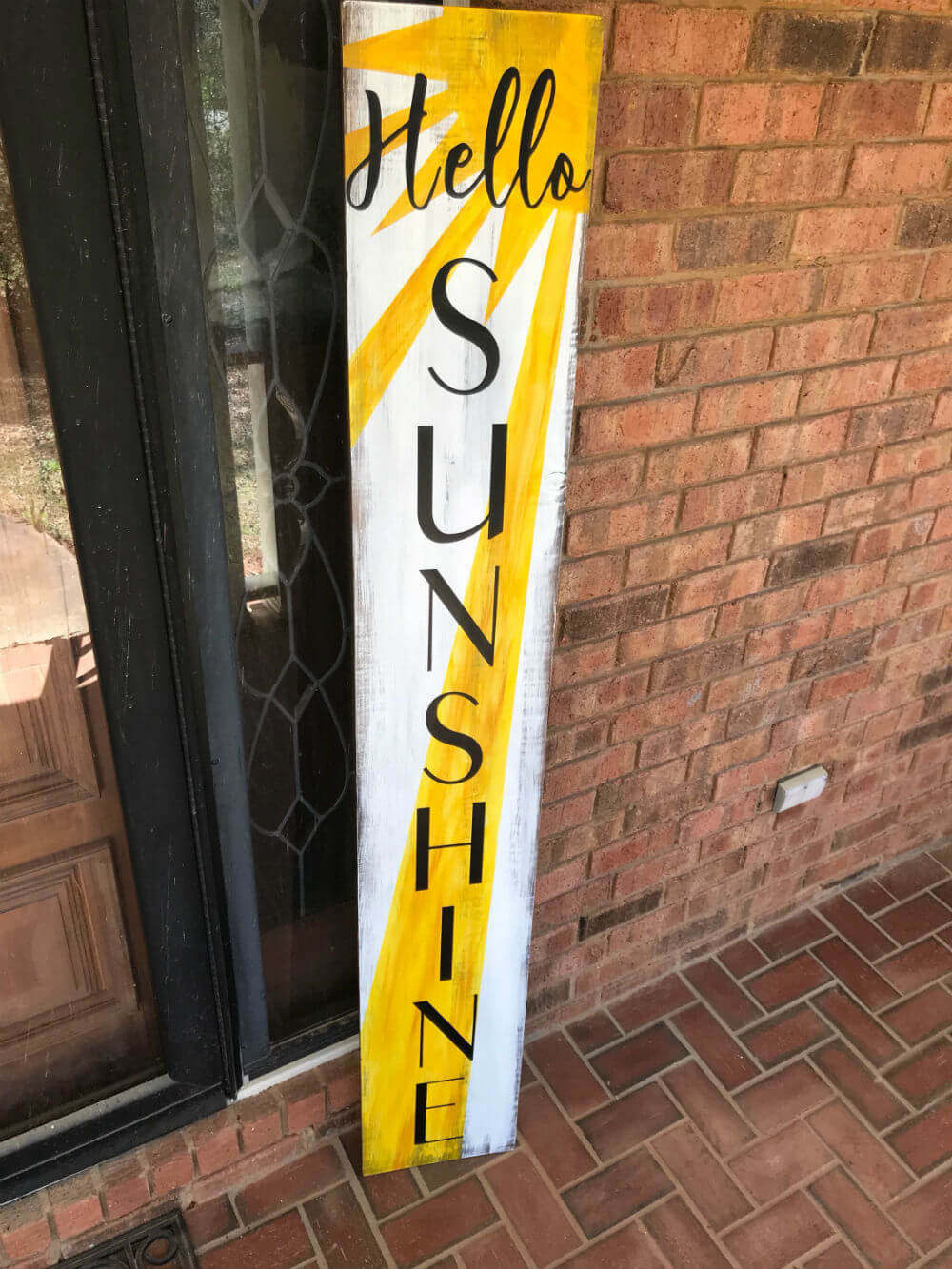 The farmhouse-themed decor is all the rage right now and for good reason! This wooden piece is stained dark and then distressed with white paint. On it, "Hello Sunshine" is painted in black with gorgeous yellow sun rays streaking behind it. At six feet tall, this piece is sure to be an attention-grabber. Perfect for leaning against the porch with some flower pots or adding a touch of summer to your interior.
7. Vibrant Banana Leaf Banner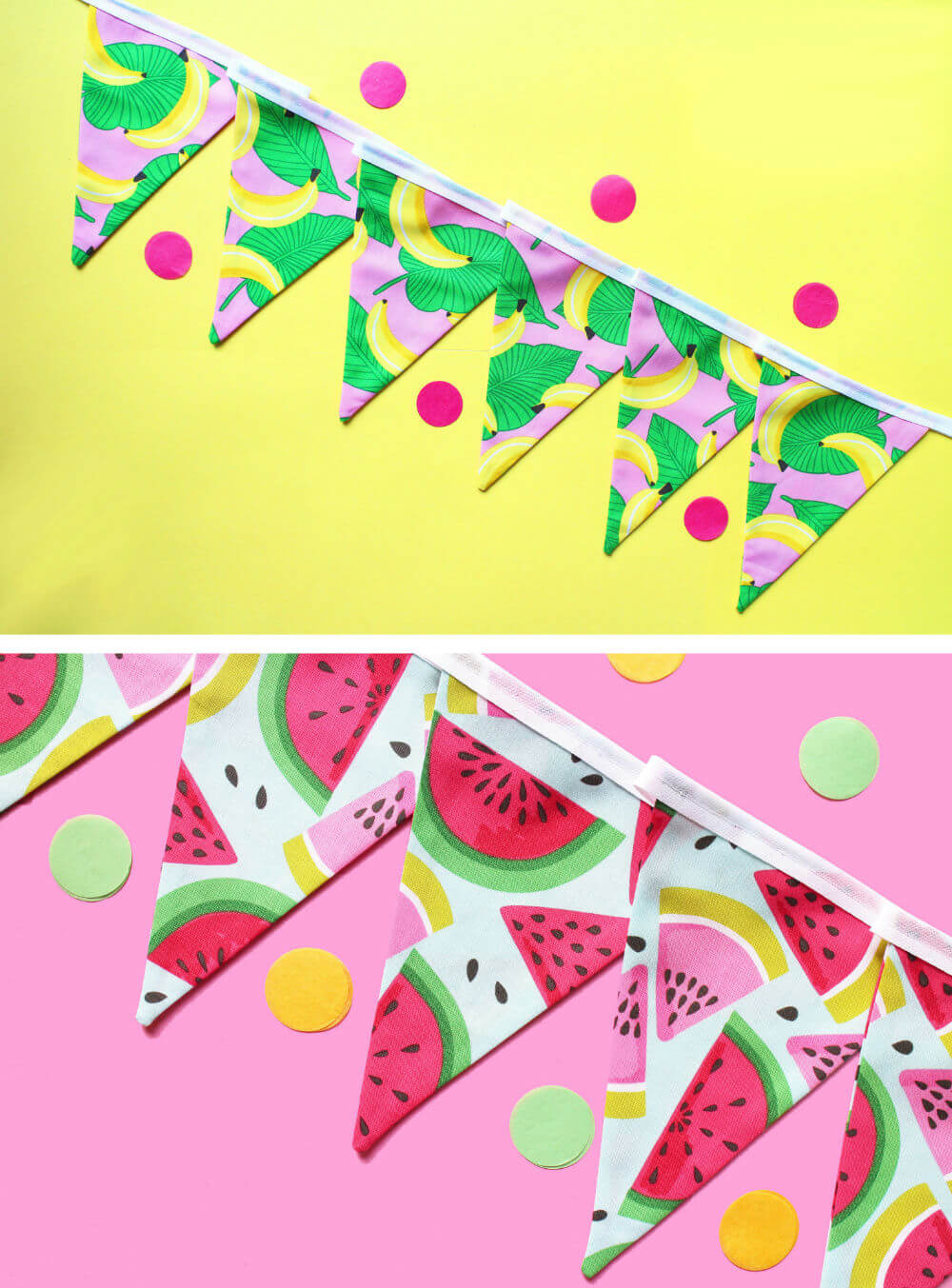 This tropical banner is excellent for summer parties, barbecues, or even Hawaiian themed luaus! It is sewn from a cotton fabric and measures about 6 feet in length when hung. It's also double-sided, which makes it perfect to hang overhead in a doorway or outdoors as the design can be seen from both sides.
8. Bumble Bee Hanging Ornament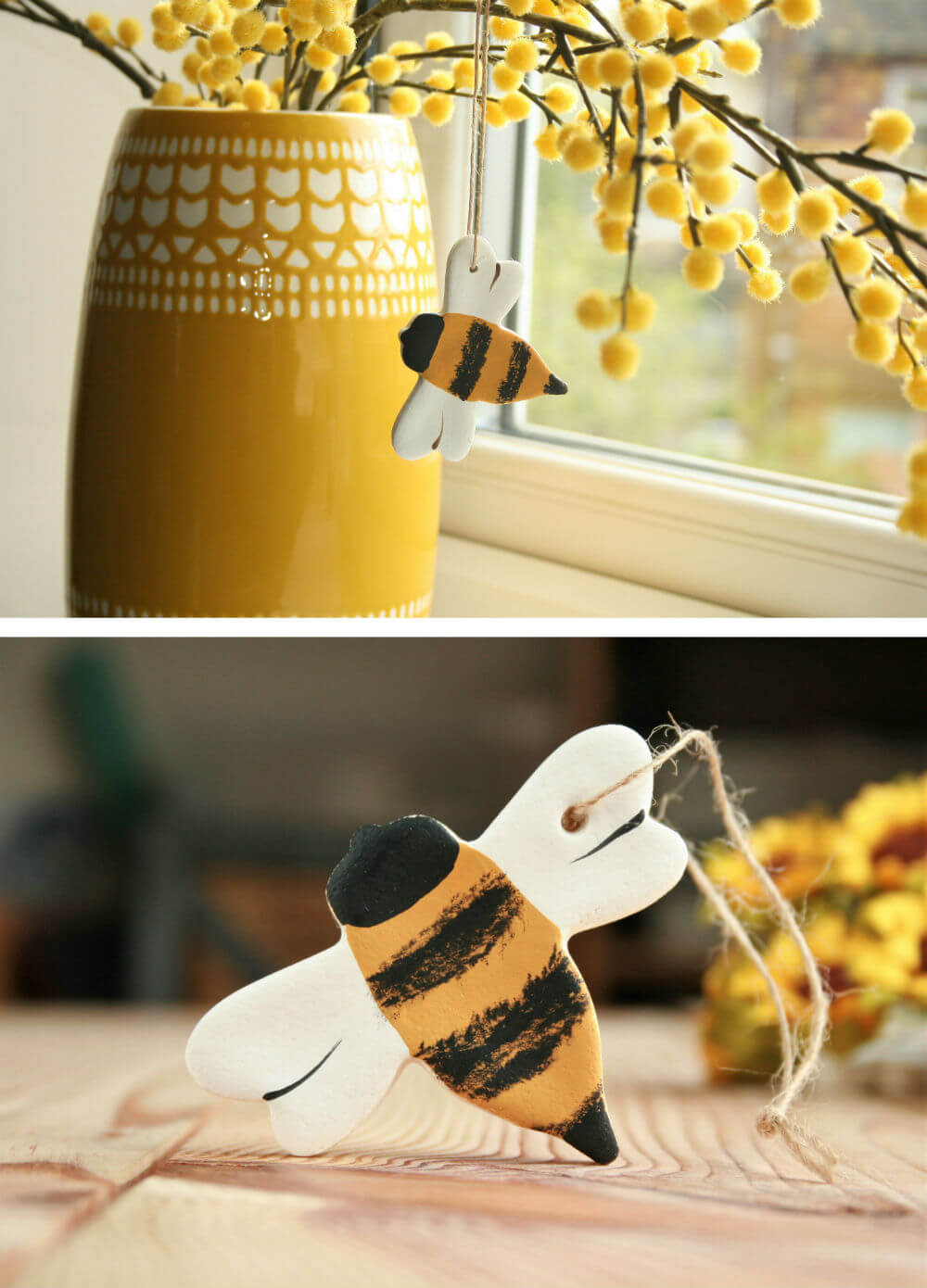 Who says hanging ornaments is just for Christmas trees?! This adorable salt dough bumble bee ornament will prove you otherwise. It's completely hand-cut and hand-painted and affixed to a natural jute chord. This would look excellent hung on your indoor plants, hung onto other home decor items, or even used as party favors!
9. Rose Gold Metal Sign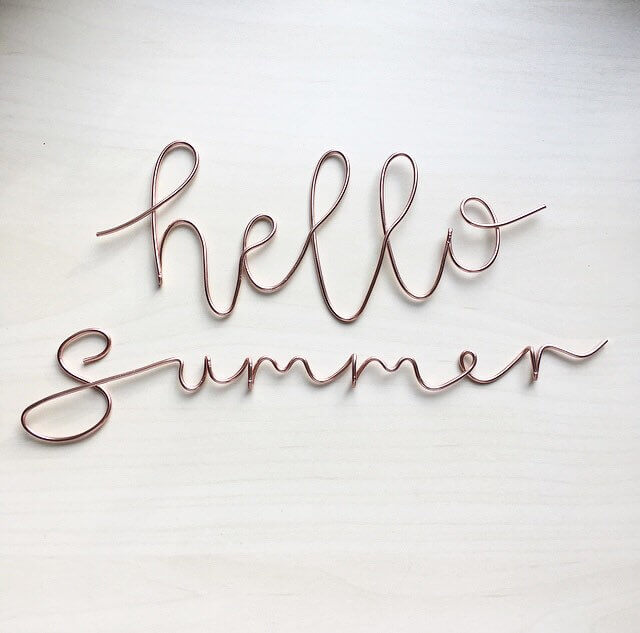 This sleek cursive sign made out of aluminum that says, "Hello Summer," is a perfect summer decor idea for those who are looking for something classic and elegant without too bold of a pop of color. Its compact size also makes it extremely versatile. This would look perfect hung literally anywhere!
10. Summer Bucket List Art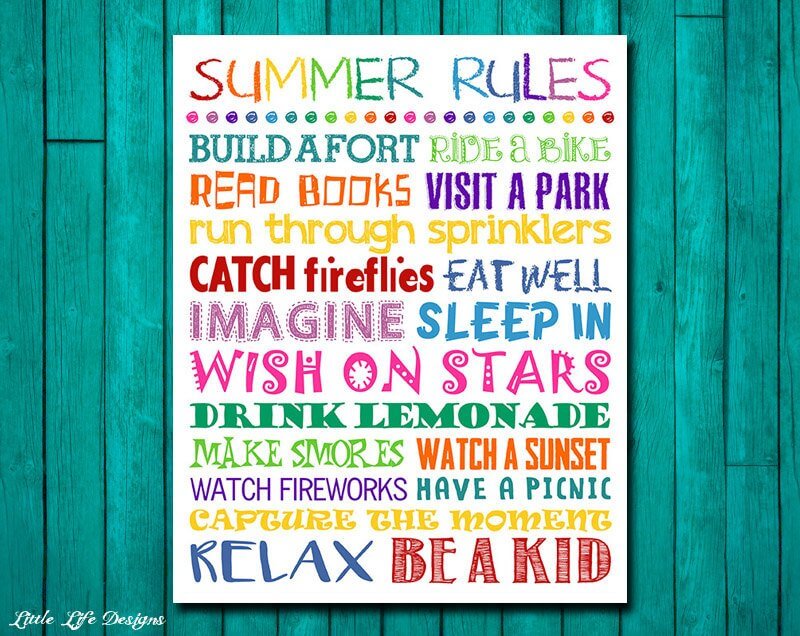 Not only is this colorful artwork adorable, but it is also inspirational. This creation comes in a downloadable high-resolution image which allows you to do whatever you want with it. You can print it and frame it or you can have it mounted on canvas. It makes a colorful decoration and a great reminder of things to do for when the kids complain they're bored this summer!
11. Tea Stained Daisy Bucket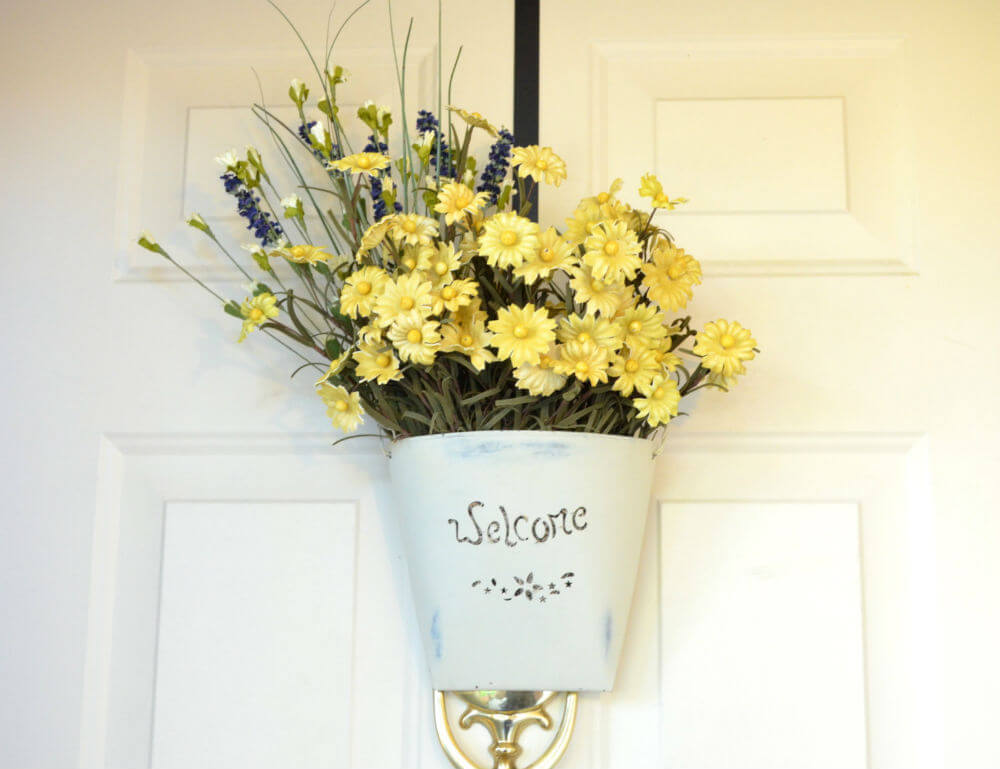 A cream-colored wall bucket is filled with gorgeous tea-stained silk daisies. The tea-stained color results in a subtle yellow hue that matches perfectly with the cream bucket. In the bucket, "Welcome" is carved, making it a perfect summer decor idea for the front door in lieu of a traditional wreath.
12. Sweet Coral Dahlia Canvas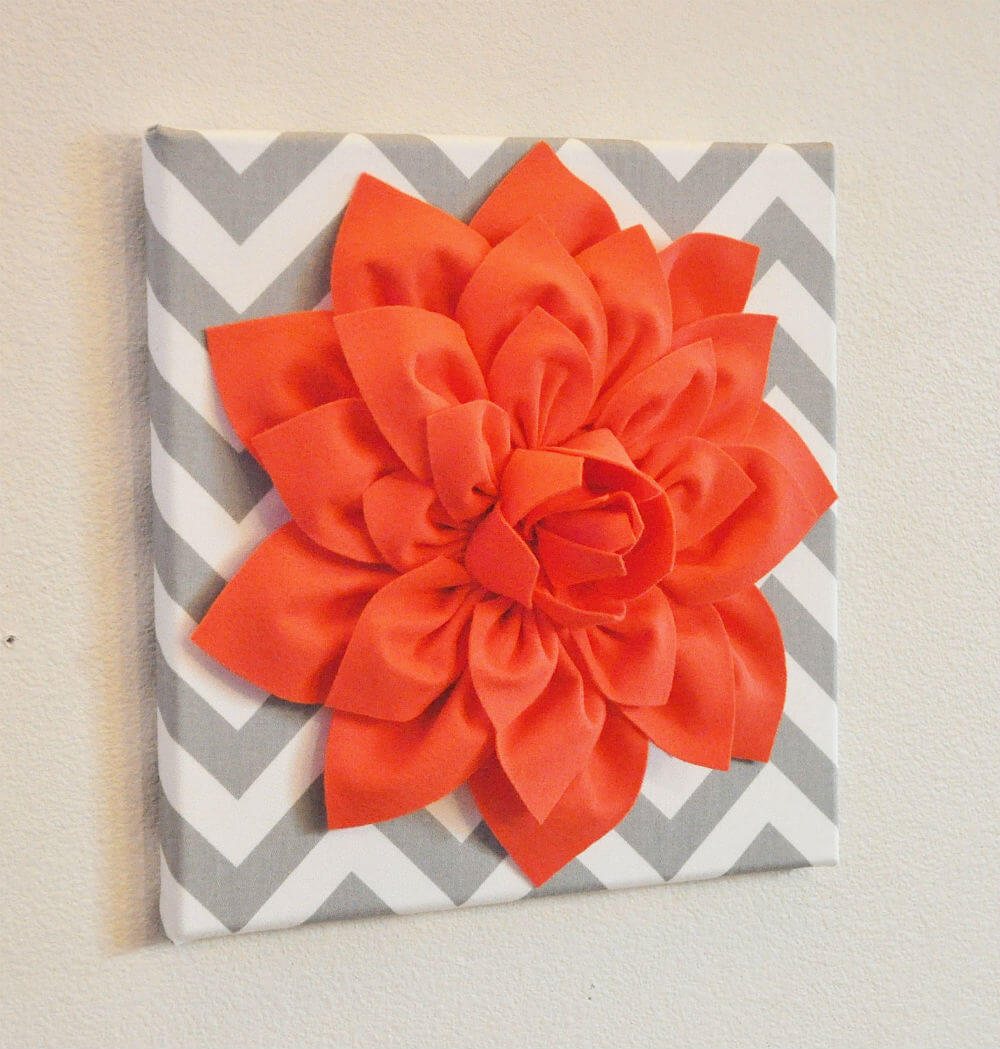 Are you, or is someone you know, having a summer baby? This stunning canvas art would make a beautiful addition to the nursery. A high-quality felt coral dahlia flower is mounted on a gray and white chevron wrapped canvas. It is simple and sleek with a bold pop of color.
13. Fun Pineapple String Art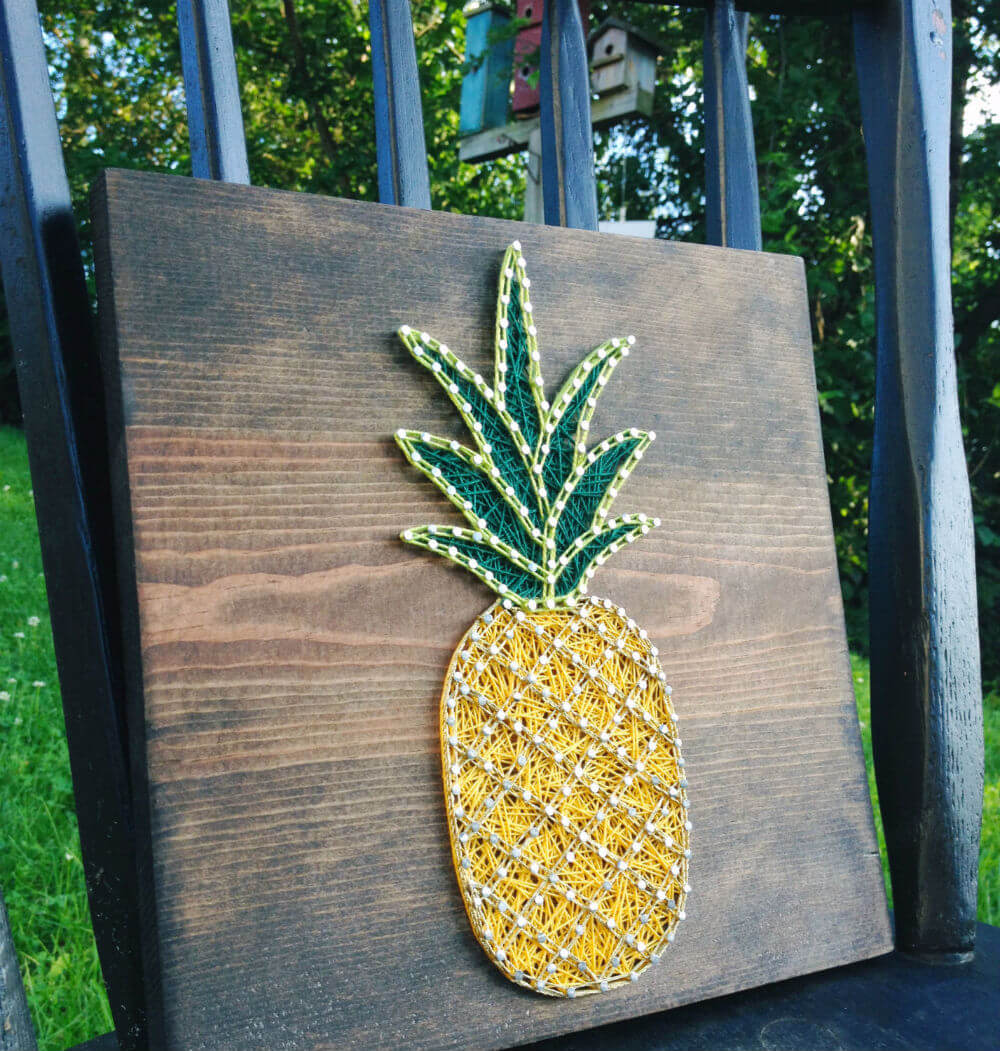 This unique piece of art is created using nails and string attached to a solid wood base. The Etsy artist allows for full customization of the item, from wood stain color, paint color, and even the color of the nails! Pineapple decor will instantly remind you of summer and with the variety of colors and options you can choose, it can literally go with the decor in any room!
14. Watercolor Popsicle Print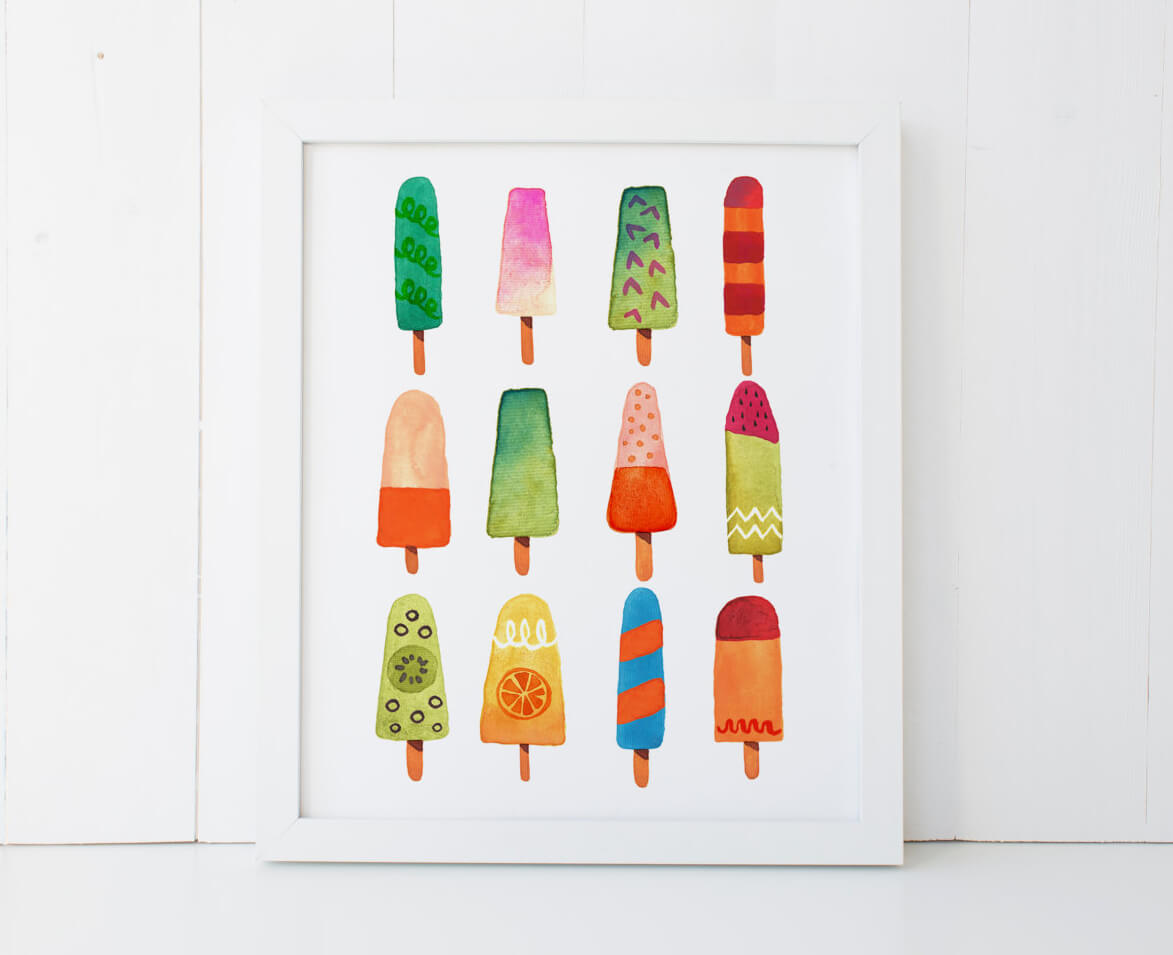 Another amazing downloadable file that allows you to use it however you choose in popsicle print! This watercolor painting would look great printed and framed or mounted on a canvas to add a sweet, child-like touch of summer to your home. Warning though: It will definitely make you crave popsicles!
15. Summery Felt Ball Garland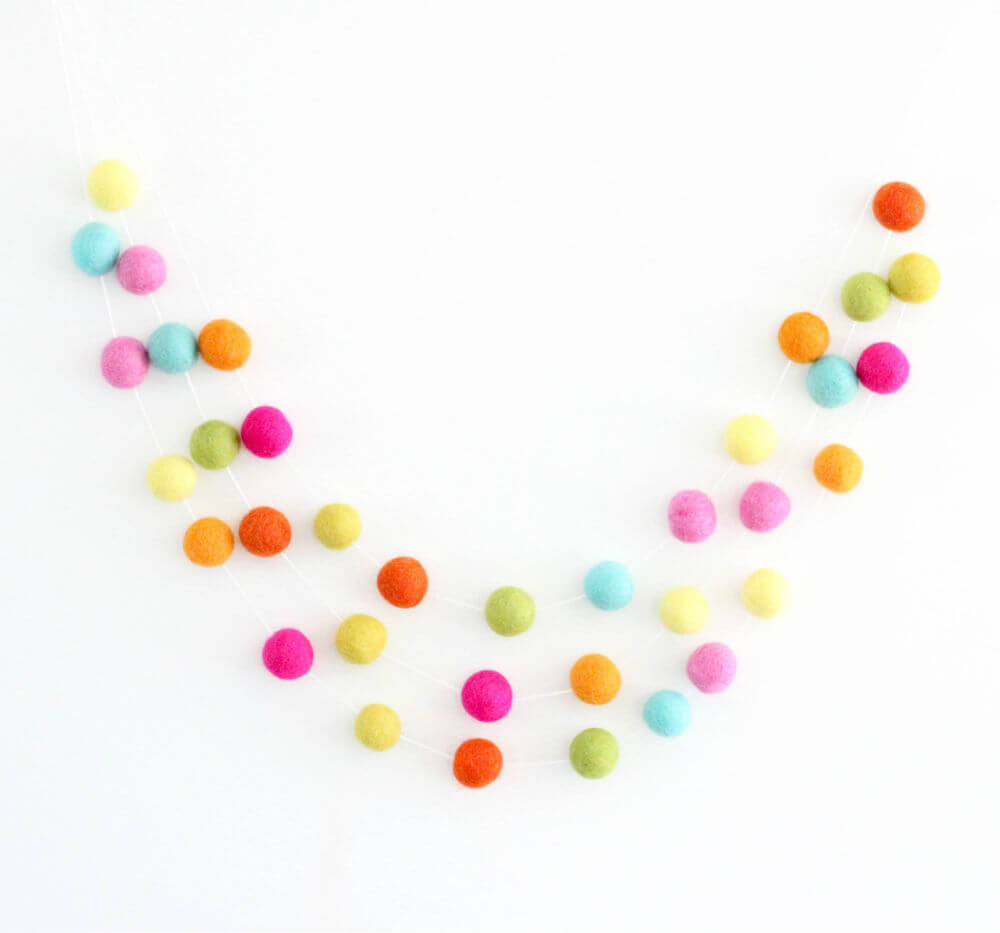 These neon-colored felt balls are strung on white cotton cording and will certainly remind you of a sweet sorbet on a hot summer day. This garland is simple yet bold and very versatile. It would look great in a summer baby's nursery or hung up as colorful decor for a summer party.
16. Lush Hydrangea Wreath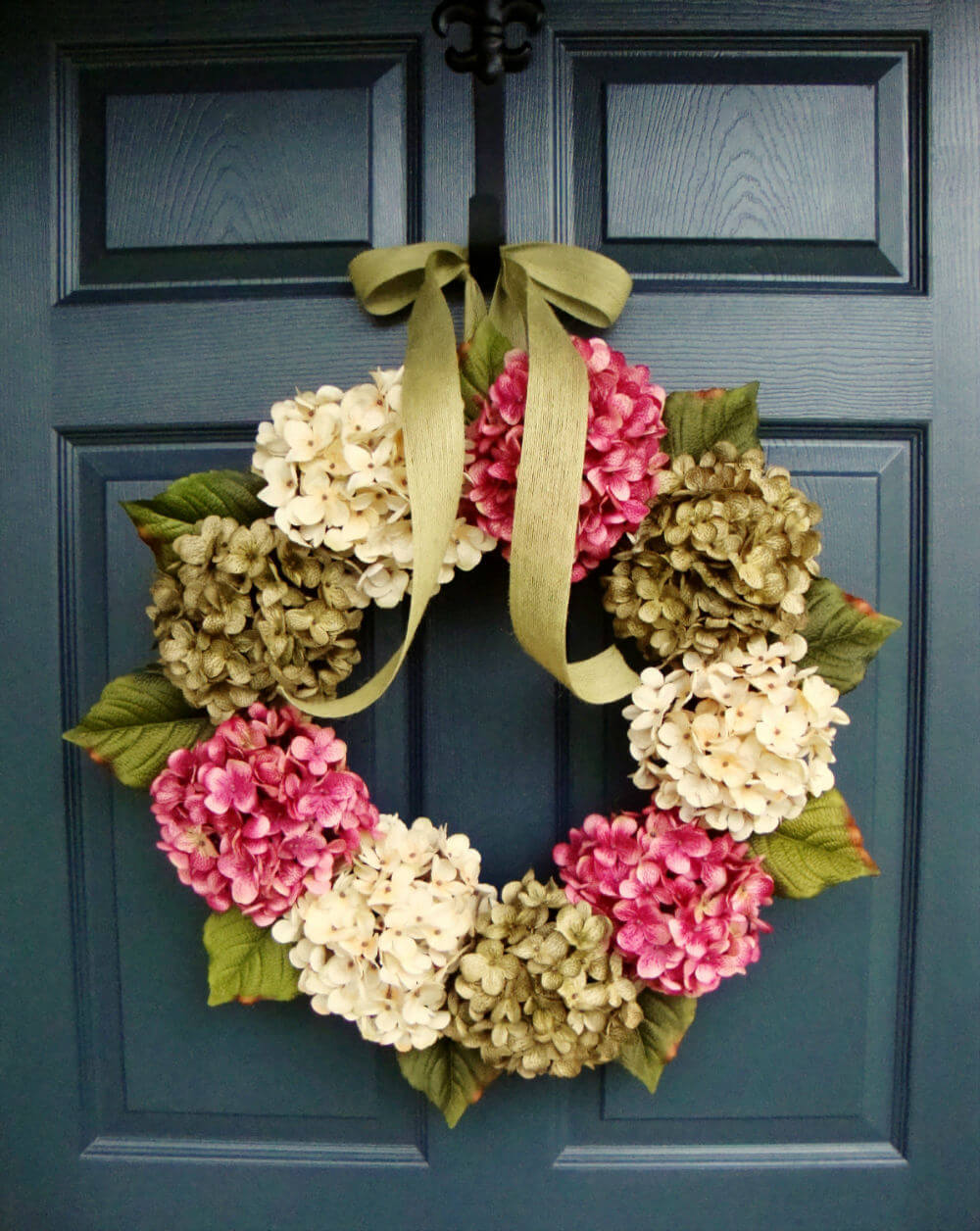 Rose pink, earthy green, and cream hydrangeas fill this beautiful grapevine wreath. It is so full and stunning, it looks like its own little garden on your door! This would be a beautiful addition to any home looking to add some spring or summer-themed curb appeal outdoors or a gorgeous focal point to a bare wall.
17. "Hello Summer" Watercolor Wreath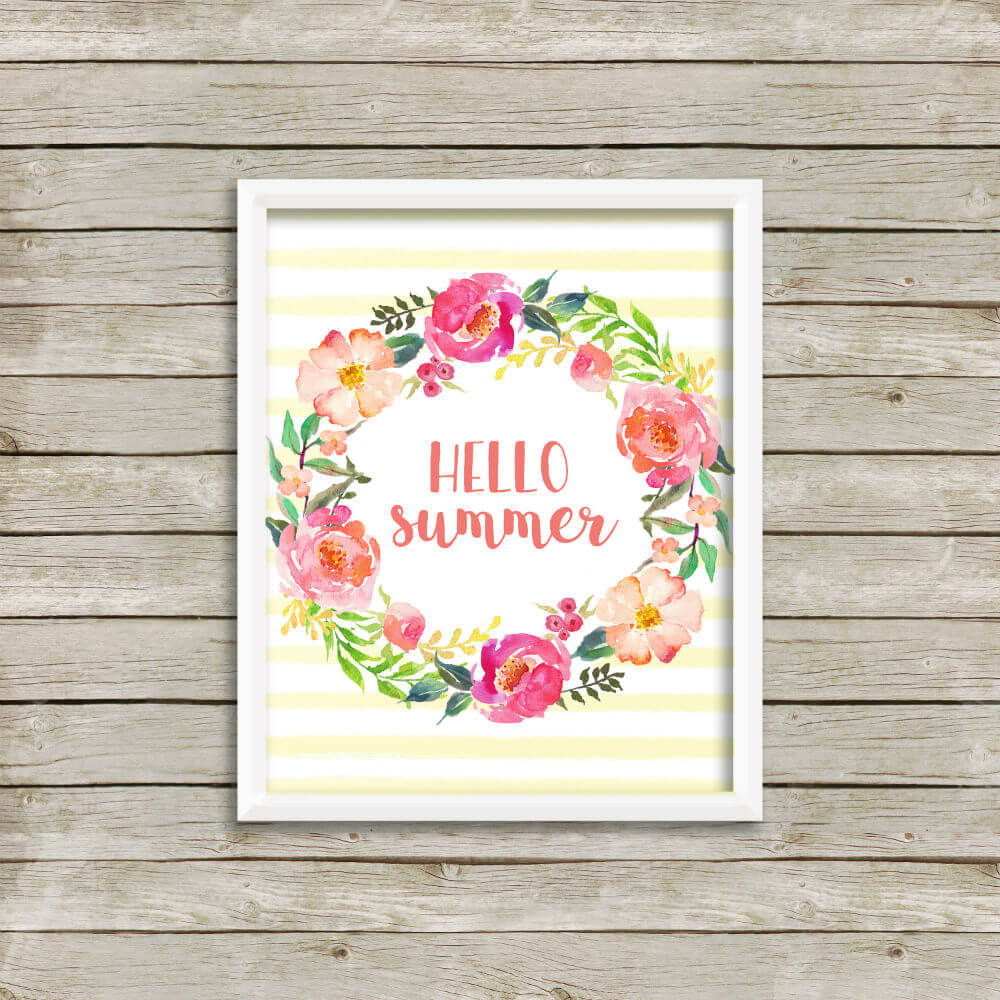 Pastel watercolor pinks, peaches, greens, and yellows adorn this sweet "Hello Summer" artwork. The print is available for instant download and is very versatile. It can be framed or mounted on canvas. The wreath shape would make it an excellent addition to your front door in lieu of a traditional wreath.
18. Summer Lovin' Block Set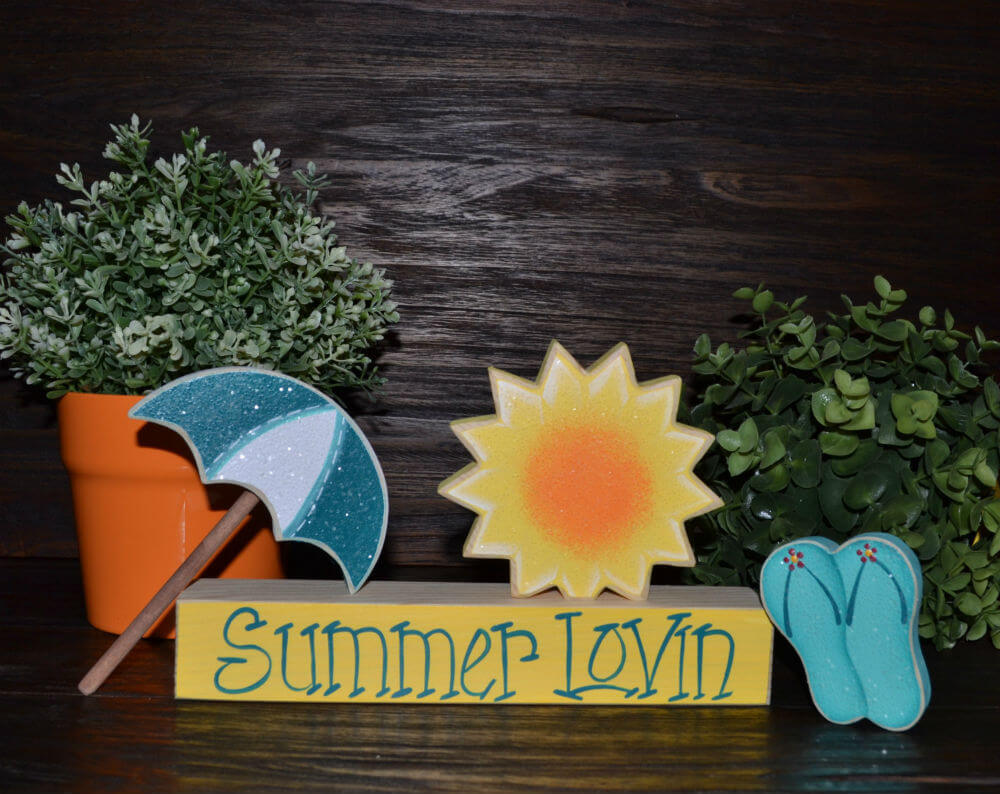 Add some beachy vibes to your home or office with this whimsical block set. It contains four beach-themed blocks that are fully hand-crafted and painted. The blocks are completely separate and can be arranged however you'd like. With the largest block being only 9 inches in length, this cute little set would make the perfect addition to your bookshelf, mantel, window sill, or desk.
19. Hand-Painted Sweet Tea and Sunshine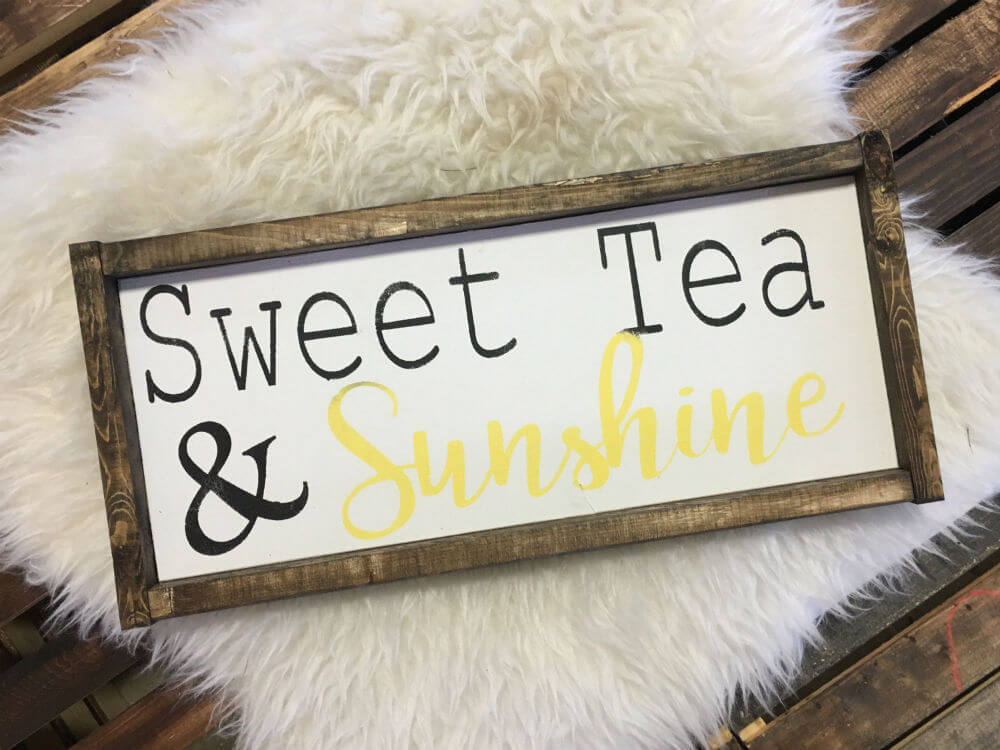 This hand-painted wooden sign reminds me of a farmhouse. It contains a white background with black and yellow text that reads, "Sweet Tea and Sunshine." This sign would look great in any kitchen and would make a thoughtful gift for anyone who enjoys making their own sweet teas in the summer.
20. Fun Bikini Drink Coasters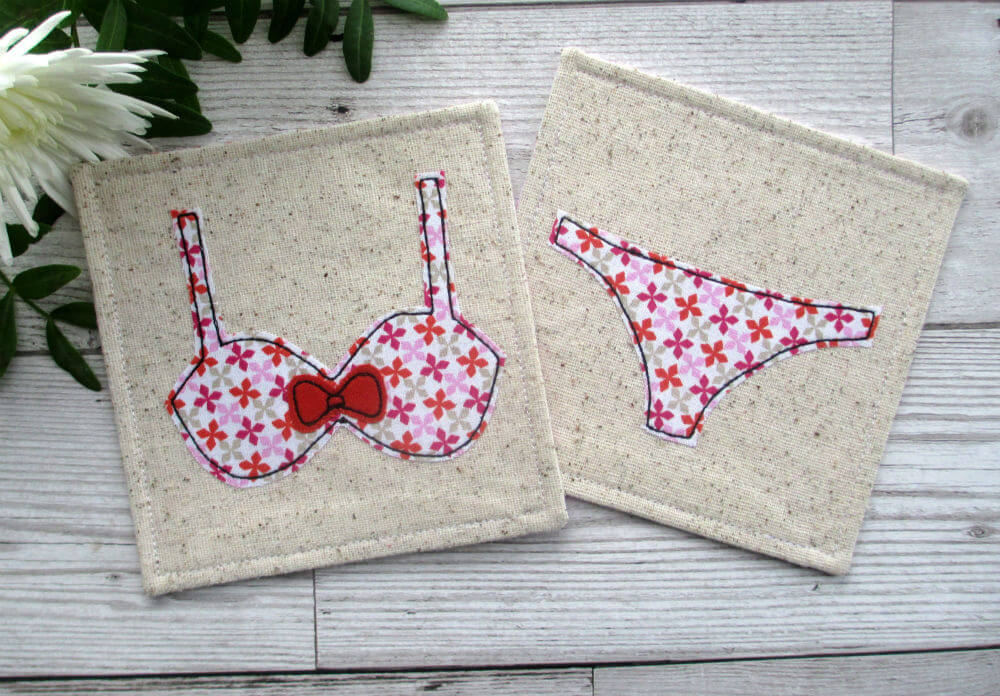 These bikini drink coasters are a spunky summer decor idea! They're adorably hilarious. They are made from 100% cotton fabric and are completely washable. These coasters would be perfect for a pool party or just as a regular indoor summer-themed coaster to protect your furniture from all those condensation rings!
21. Sweet Flamingo Kitchen Towel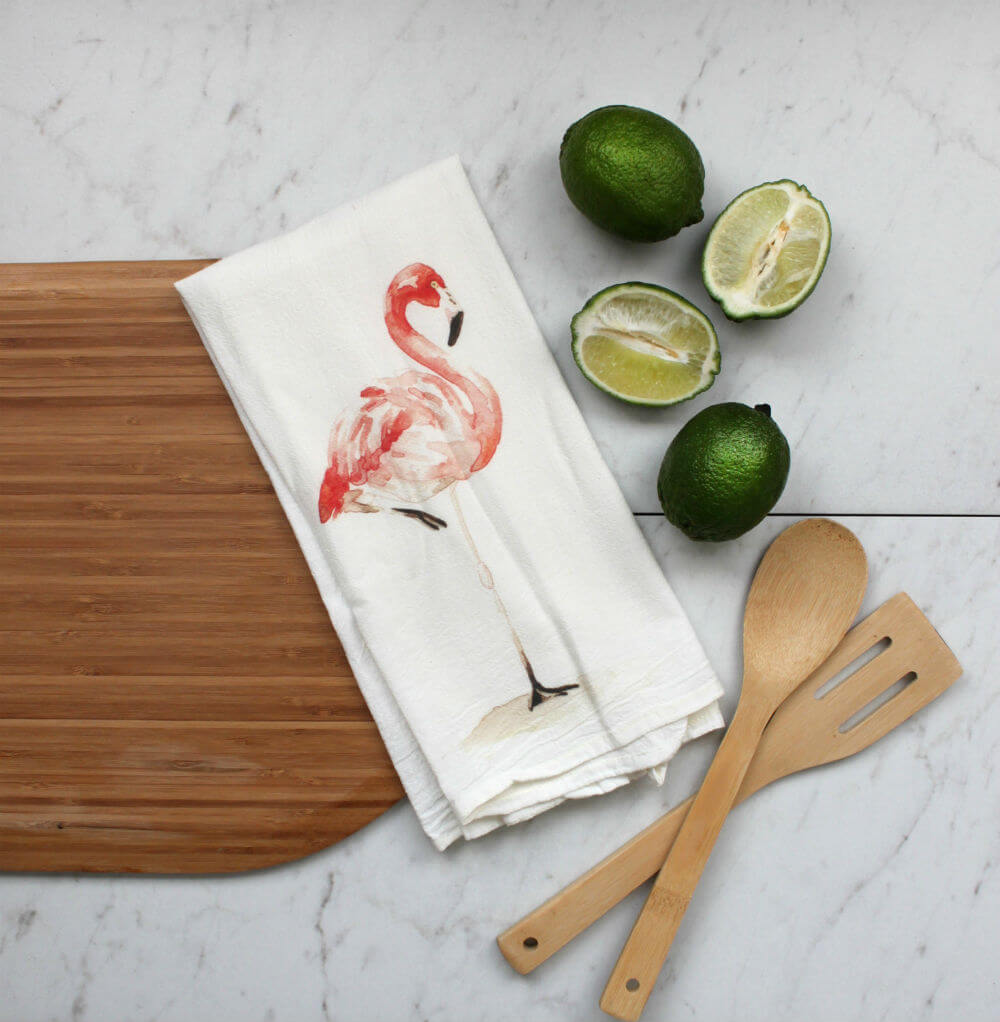 A lot of work went into these beautiful flamingo flour sack tea towels. The artist hand-painted the flamingo using watercolor paint and then printed the painting onto the towels. Although these are fully usable and washable, I'd probably never want to soil them! The soft pink colors on white towel make a beautiful addition to your kitchen summer flare.
22. Stunning Sunflower Mason Jar Set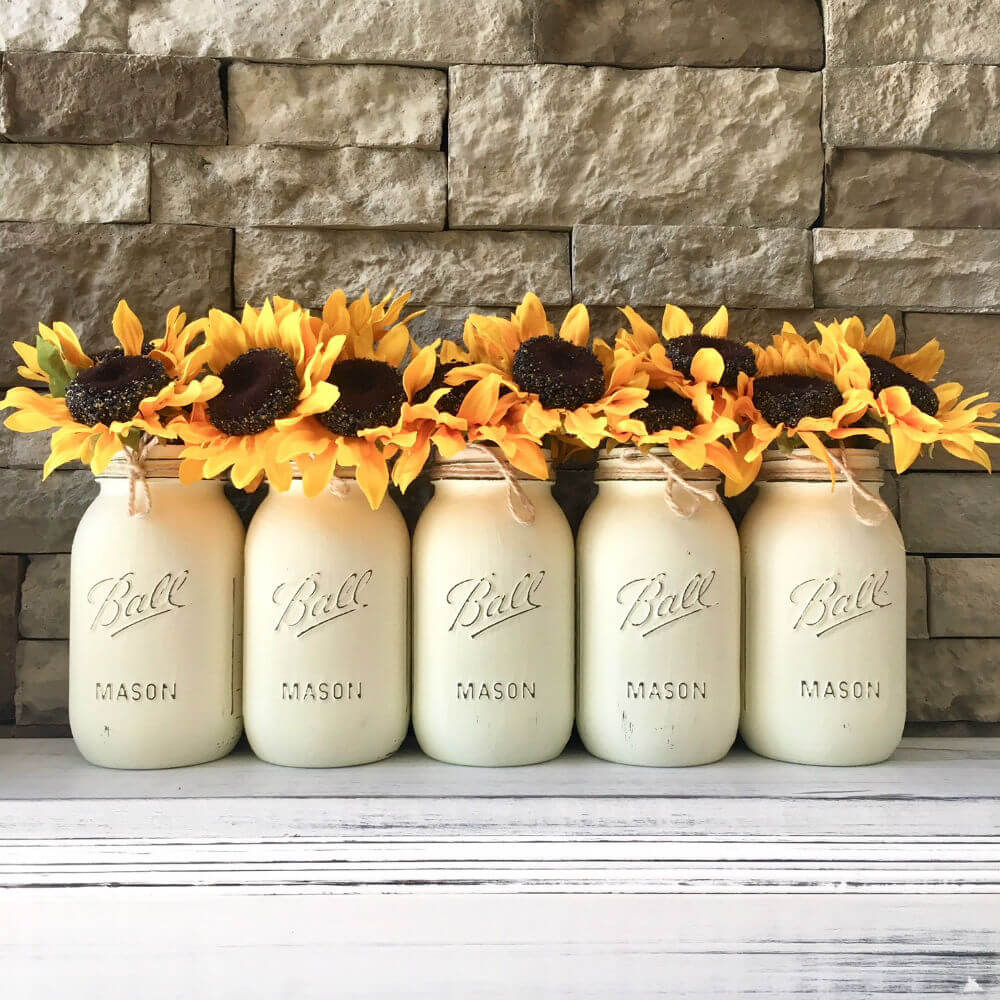 High-quality Ball mason jars are painted with a soft beige color and filled with vibrant silk sunflowers. This set can be used as a beautiful wedding or party table centerpiece or placed on a mantel. With so many different flowers and paint colors available, this summer decor idea can be customized in a multitude of ways.
23. Reclaimed Wood "Hello Summer" Sign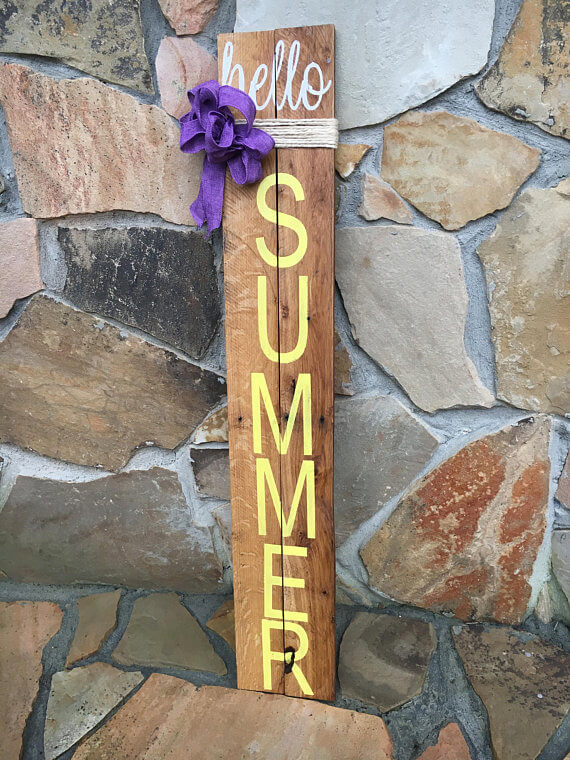 This fun summer sign is made from a sanded, stained, and painted piece of reclaimed wood. It has an adorable accessory made of wrapped jute cord and a purple burlap bow. Reusing old wood is a thrifty and creative summer decor idea with an abundance of different customizable options.
24. Monogram Boxwood Wreath
This gorgeous all-season wreath is constructed from faux boxwood that is able to withstand the elements! It also contains a fully customizable monogram letter and a burlap bow that comes in a multitude of colors. To make this wreath especially summery, a bold pop of color in the bow would stand out beautifully amongst all the green foliage that summer has to offer.
25. Fun Kitchen Pineapple Print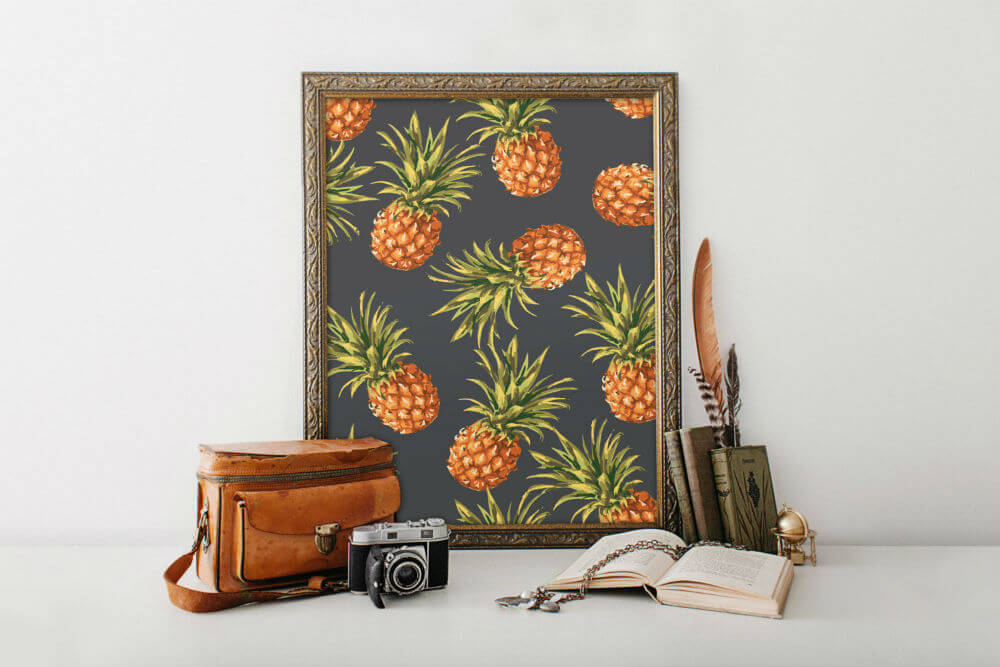 This particular pineapple print is stunning because it contains extremely detailed pineapples strewn about a charcoal-colored background. The dark background color makes the pineapples pop! This comes in a high-quality instant download, making it a perfect piece of art to frame, add to a canvas, or print on anything you can envision for your summer decor ideas.
26. Turquoise and Yellow Daisy Wreath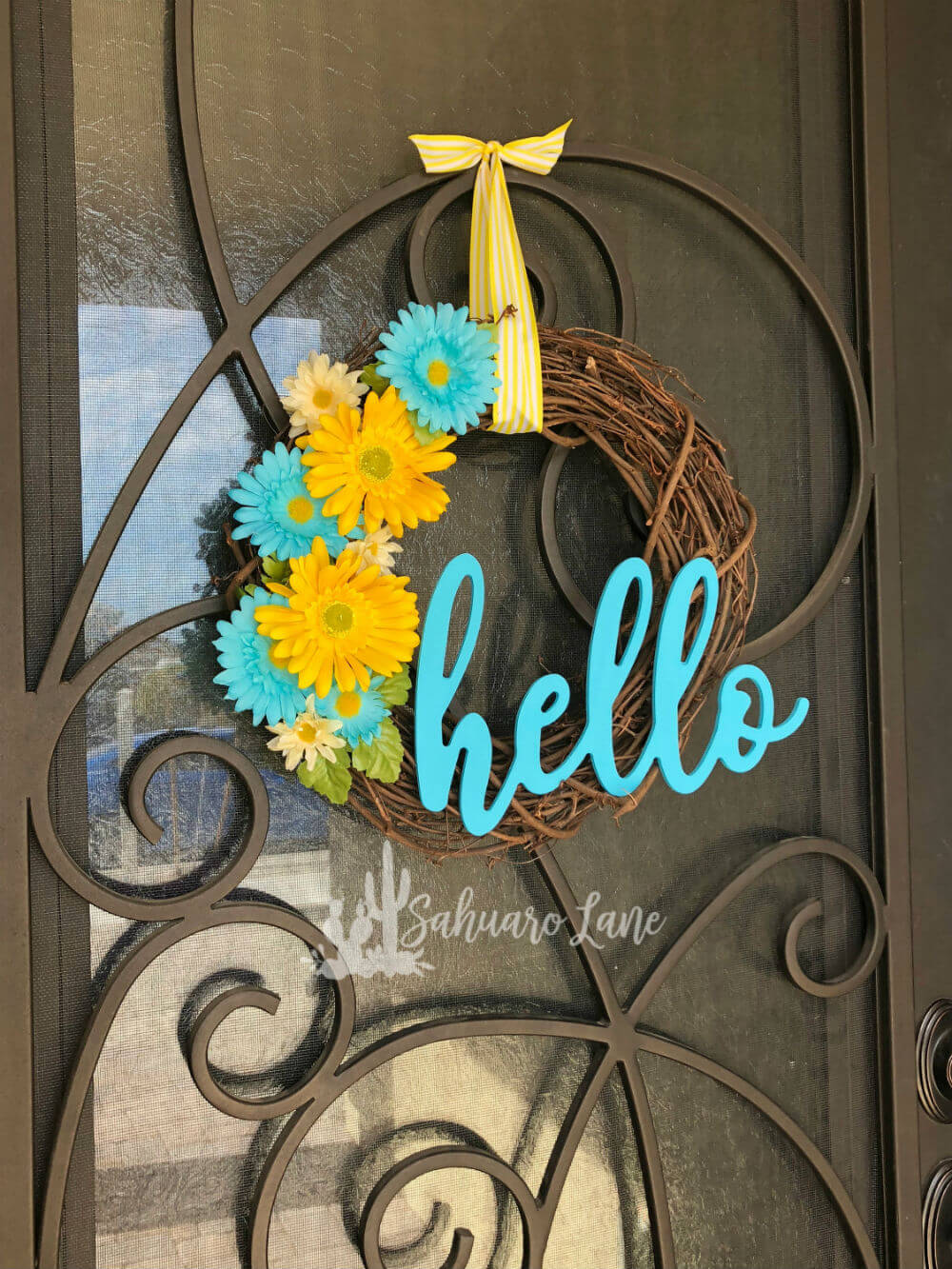 A gorgeous grapevine wreath adorned with turquoise and yellow daisies as well as a painted turquoise, "Hello," carved from wood. The turquoise and yellow colors are vibrant and ideal for either spring or summer. It is also adorned with a yellow and white striped ribbon for hanging.
27. Girly Popsicle Print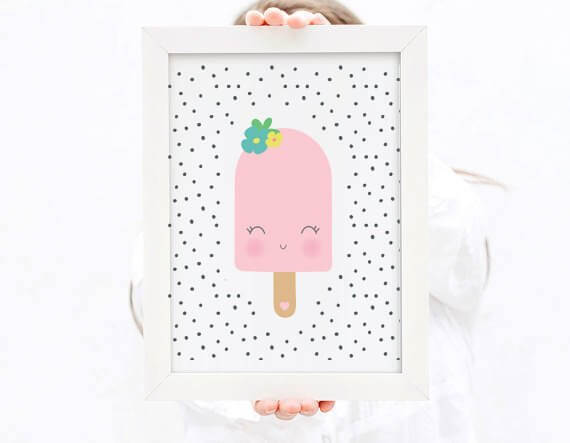 This is an adorable high-resolution downloadable piece of artwork that contains a girly pink popsicle wearing teal and yellow flowers among a polka dot background. This artwork would be perfect for a baby girl's nursery or as a sweet summer decor idea for your little girl's room. It comes in 3 different sizes and is printable at any size to make it perfect for your own creation.
28. Moroccan Hand-painted Mason Jar Lanterns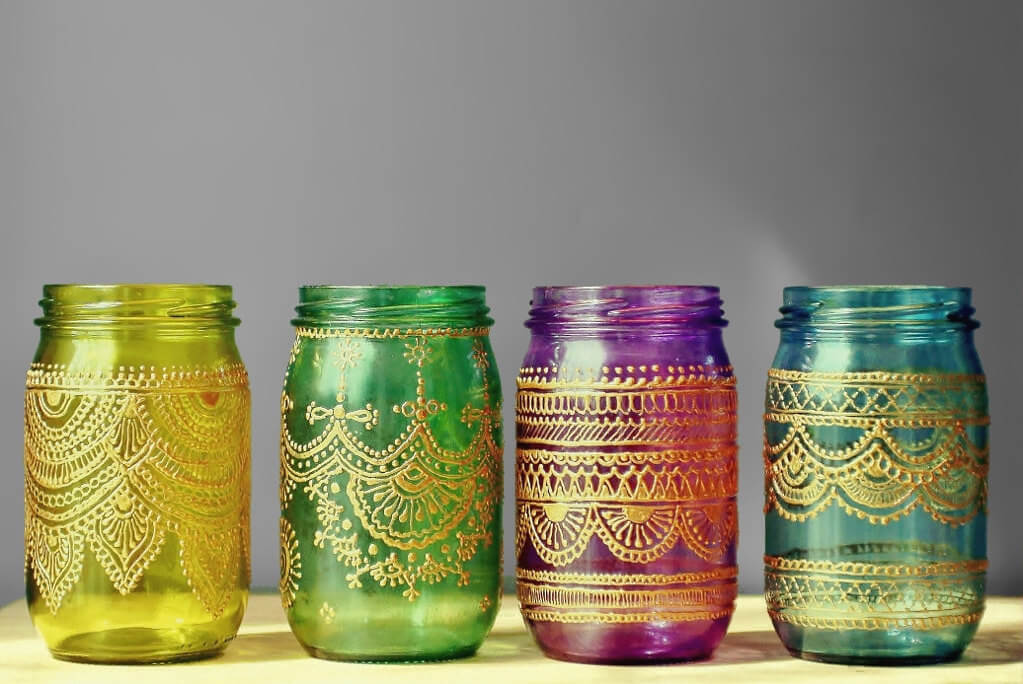 This exotic mason jar set comes in a variety of fun summer colors. All are jewel-toned glass with stunning henna-themed patterns painted on in a metallic gold. They are weather and water resistant, making them excellent for use as vases, lanterns, or strung up as outdoor string lights. These are a great summer decor idea for any patio or romantic evening.
29. Floral Summer Printable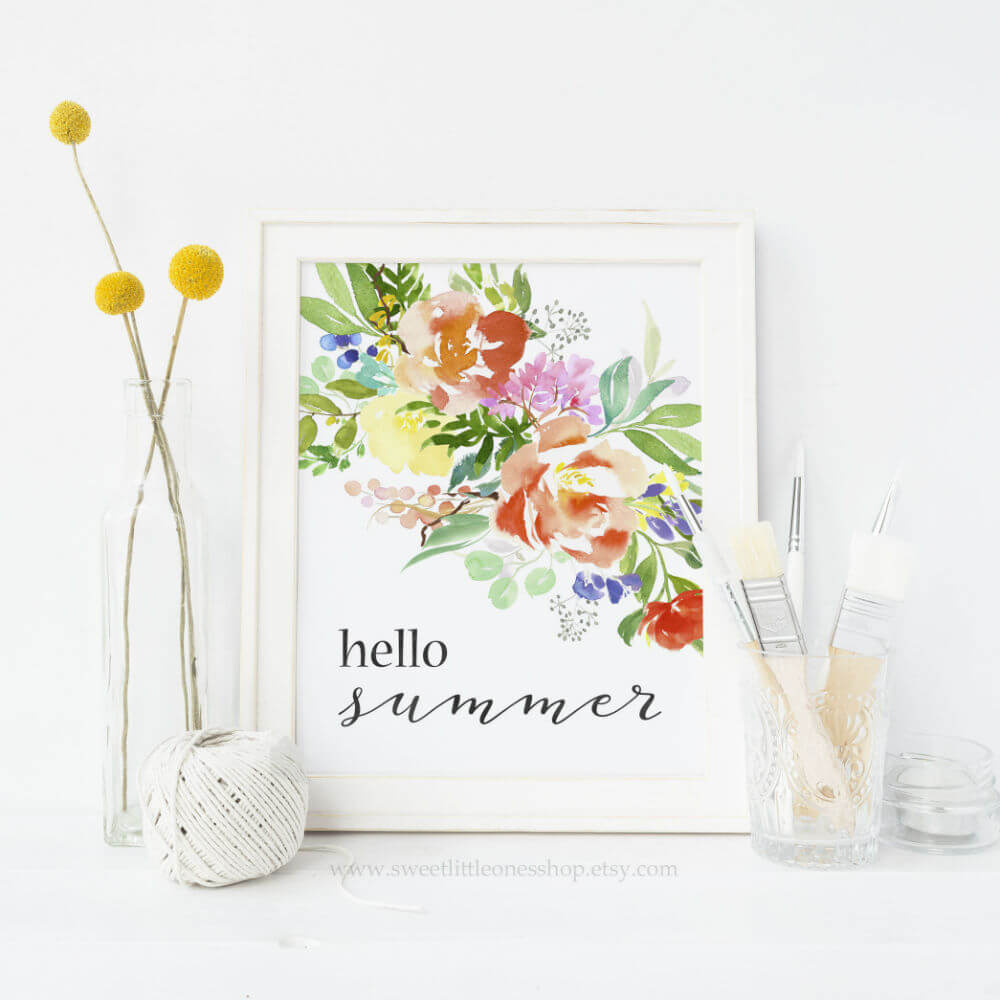 Another stunning downloadable piece of art, this artwork contains a boldly painted watercolor bouquet against a white background with, "Hello Summer" written beneath it. The high-quality print can be framed or mounted on canvas or used to create your own customized summer decor idea.
30. Sweet Ice Cream Rubber Stamp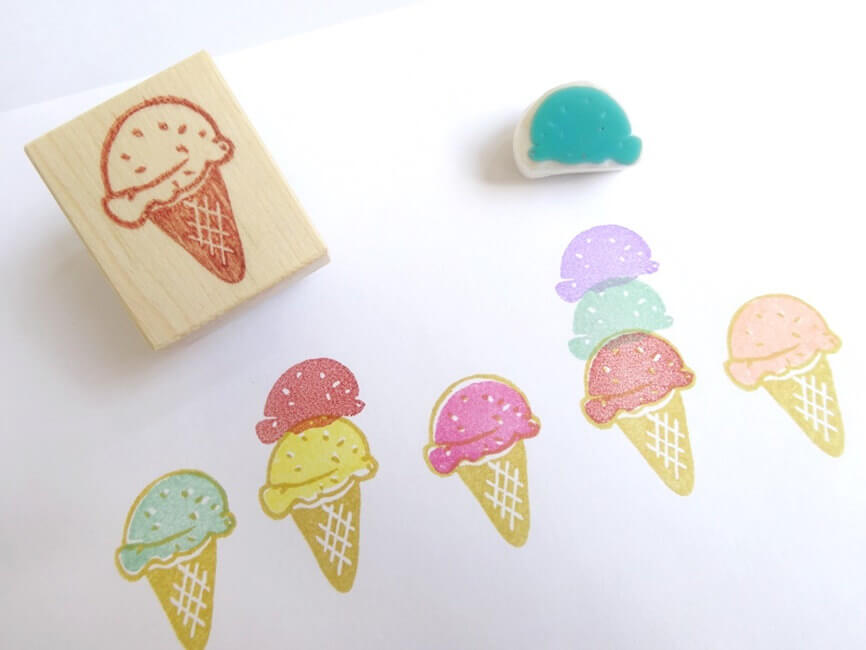 An adorable custom-made stamp can be used to create an abundance of your own original summer decor ideas. This particular ice cream stamp can be used to create a cute little ice cream pattern on a flag banner or as a fun, colorful background for a framed piece of artwork. It would also make a great party favor for a children's summer birthday!
31. Customizable Sea Shell Pillow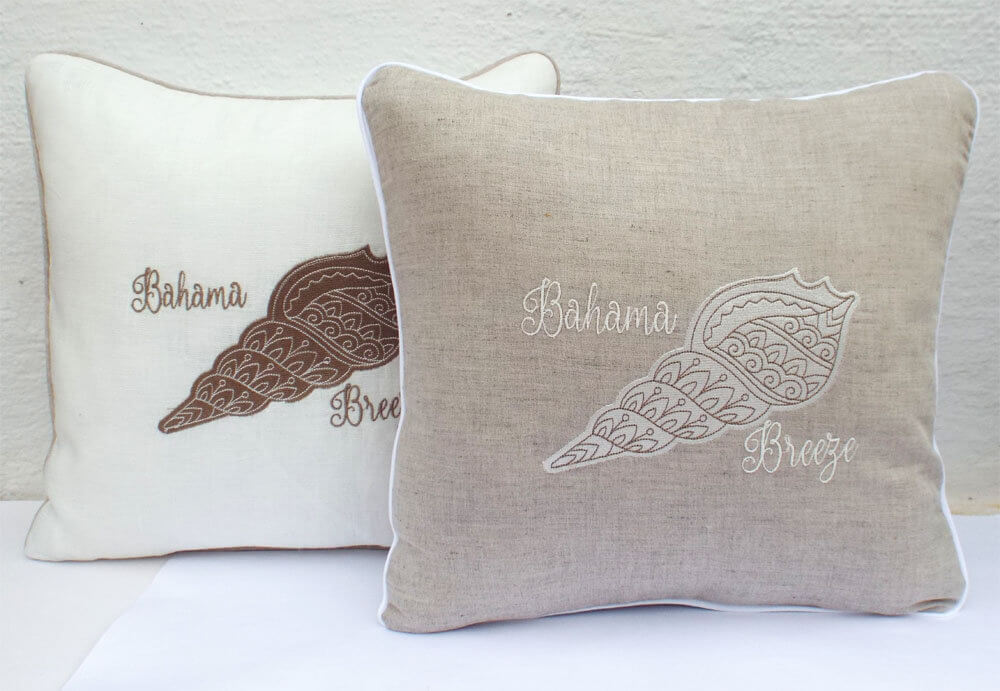 This customizable linen pillow comes in either ivory or beige with a seashell embroidered on it in the contrasting color as well as a contrasting piping around the edge. This would make a perfect summer gift as it can be customized with the name of a family, home, or boat. It is also totally machine-washable!
32. Retro Swimmer Print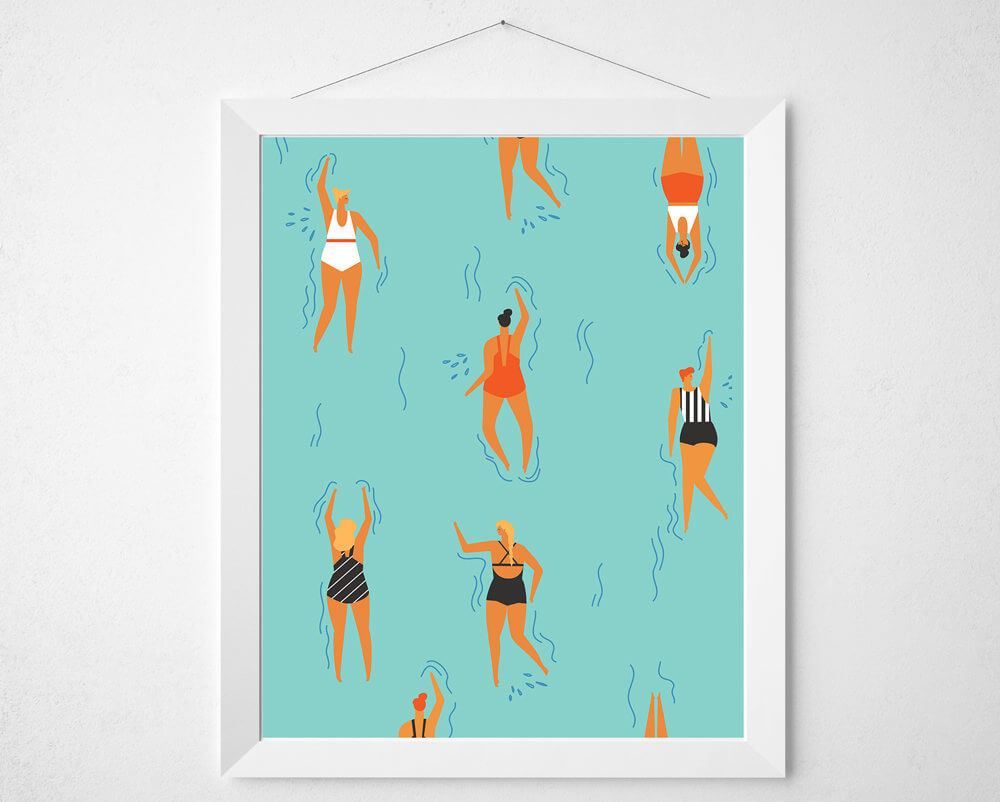 Available in two sizes, this is a retro-style print that arrives at your home on a high-quality luster archival paper. It features various abstract swimmers swimming against a bold teal background. This would be a stunning piece to frame and place on your mantel or wall.
33. Hand-crafted Summer Bug Set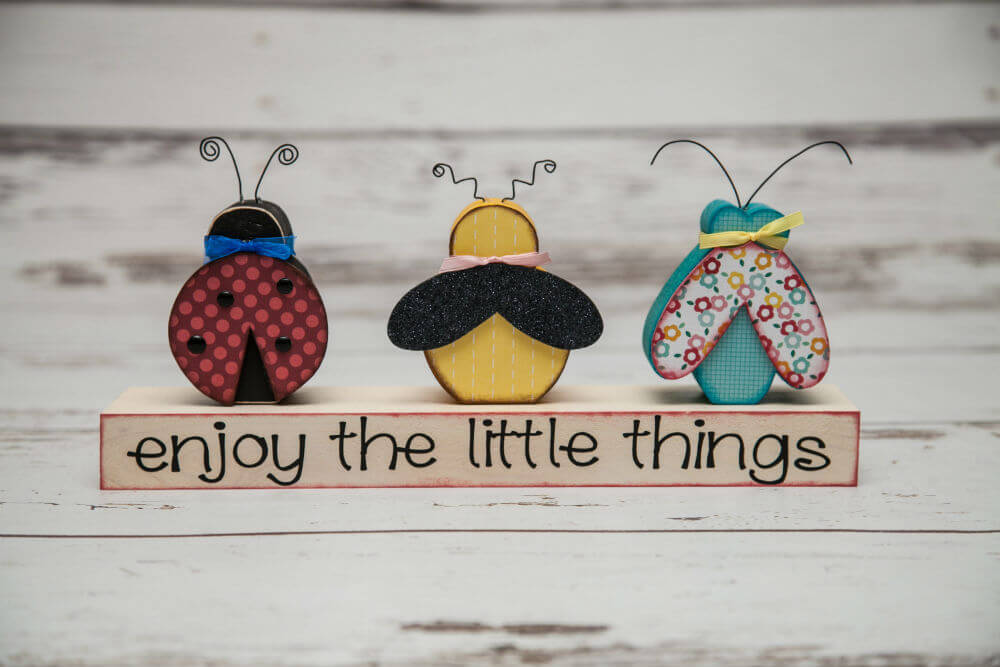 Adorable little 4" bugs are carved out of pine wood and hand-crafted using paint, glitter, ribbon, and cardstock. They're each separate and stand on their own, so they'll make an adorable desk decoration when placed all together, or as a whimsical addition to any room if placed sporadically.
34. Vibrant Red Geranium Wreath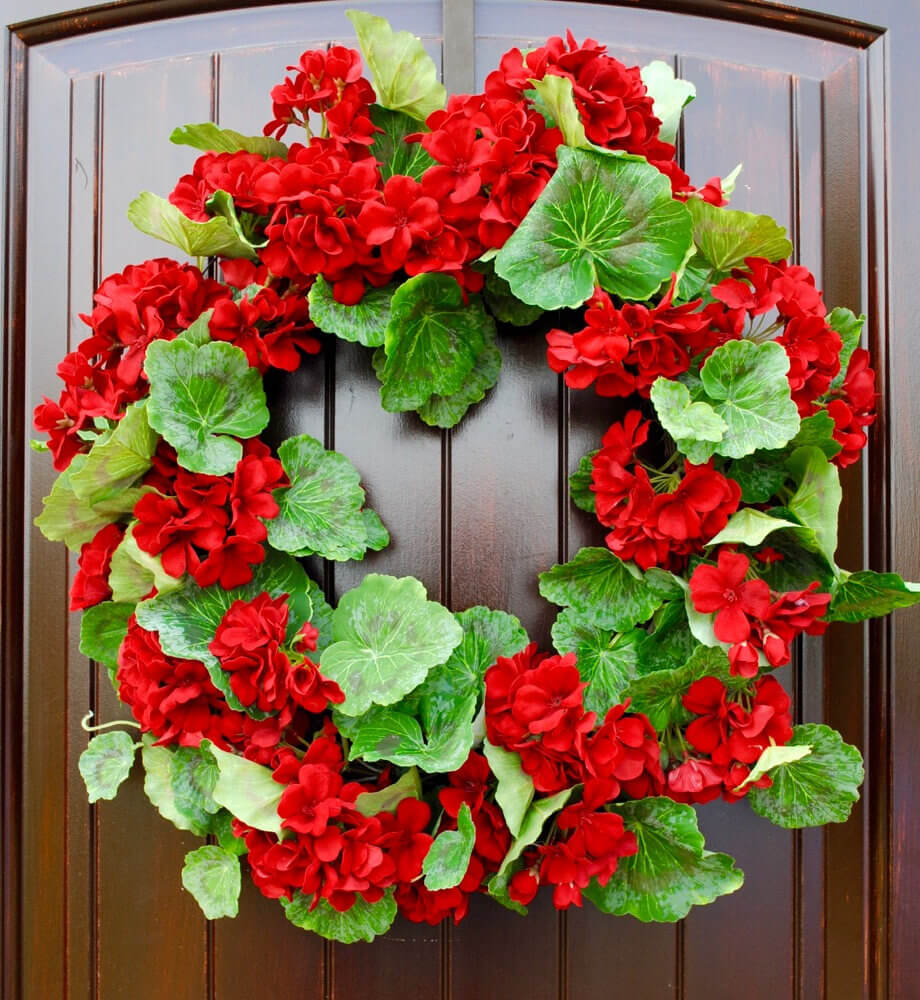 A grapevine sets the base for this stunningly eye-catching wreath. It contains abundant silk geraniums and realistic green leaves, making it a very full-bodied wreath. It is customizable in that a burlap bow can be added in a few different varieties that are available. This would look wonderful on a front door or even on an open wall in your home.
These fun summer decor ideas are an excellent way to bring a pop of color and excitement into your home. So many of these ideas are customizable to suit your own home decor and style. Many of them can also be used to create your own decor items. Whether you're looking to add decorations to a party or cookout, a romantic summer evening, a wedding, a nursery, or simply to just bring a touch of summer into your home or yard, you're bound to find some amazing summer decor ideas on Etsy that suit your personal taste and spark your own creativity.