Wall stickers are an amazing new home décor trend. With changing seasons and changing styles, wall stickers do the best job of keeping up with the trends at a reasonable cost. With their ease of use and abundance of design, wall stickers are sure to keep gaining in popularity.
35 Fun and Playful Wall Sticker Ideas to Brighten your Home

Usable in nearly every room of your home and on most surfaces, wall stickers vary greatly in size, shape, and design and are thus the perfect way to add accents here and there without necessitating bulk or clutter. You can choose from designs that look as though they were painted on, to your favorite characters, to practical clocks or calendars, or even favorite quotes. The sky is the limit.
Here are a few great wall sticker ideas found on Etsy to give you an idea of the wide variety available. These will get you thinking about what might go well in your home, and in what rooms. Wall stickers are super easy to install, and then, when you are ready to change it up, are a breeze to take down. Expand your ideas of home décor beyond a frame and nails. Check out these simple and fresh takes on wall art.
1. Gold Honey Bee Vinyl Wall Decals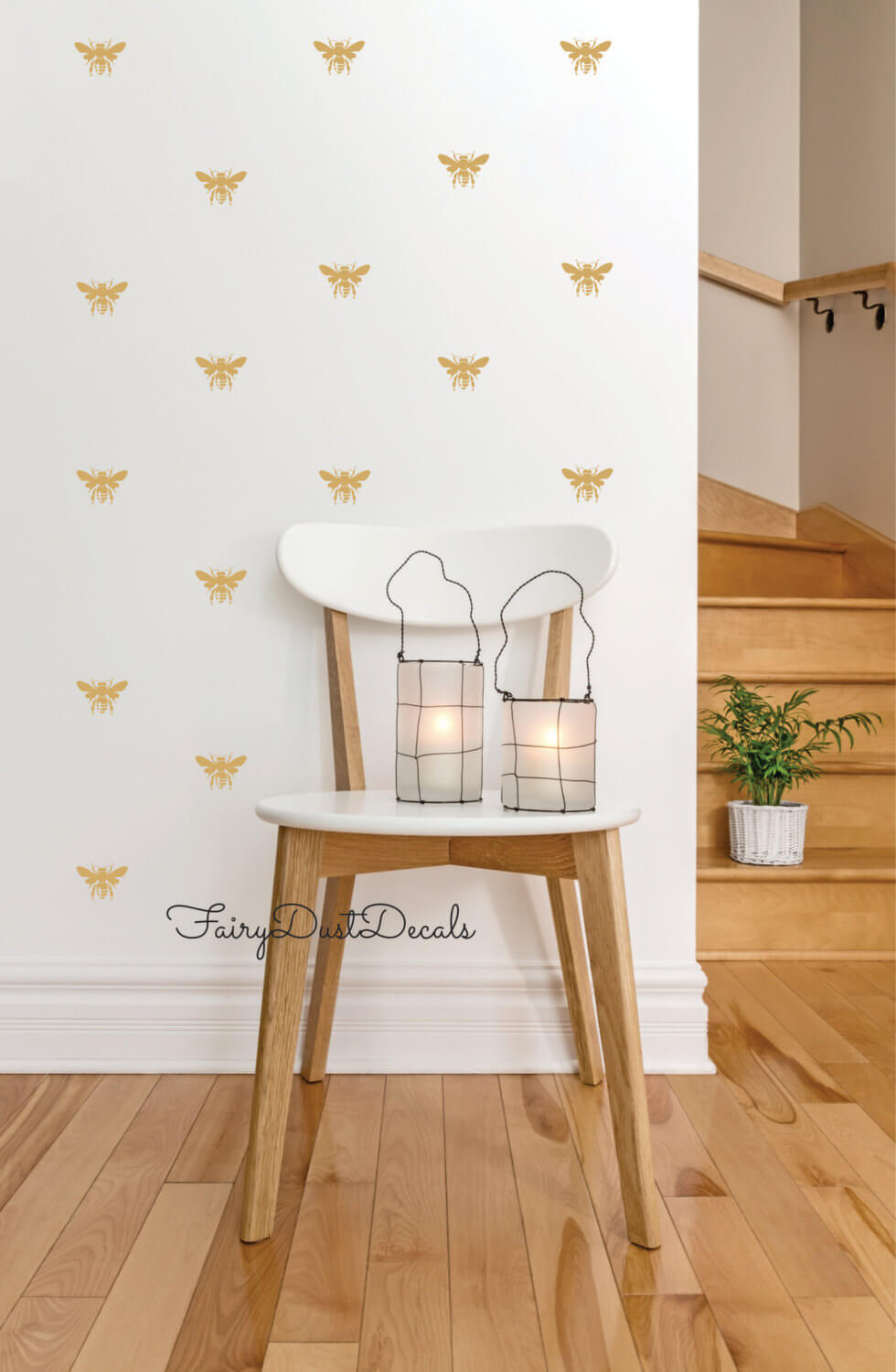 A great alternative to wallpaper, wall stickers are much simpler and customizable. These beautiful golden honey bees are a great example of taking a small sticker and making it into something that can cover any sized wall or space. Buy only as many as you need, in whatever color you choose, and your walls will soon be abuzz with these lovely bees.
2. Birch Tree Leaf Wall Stickers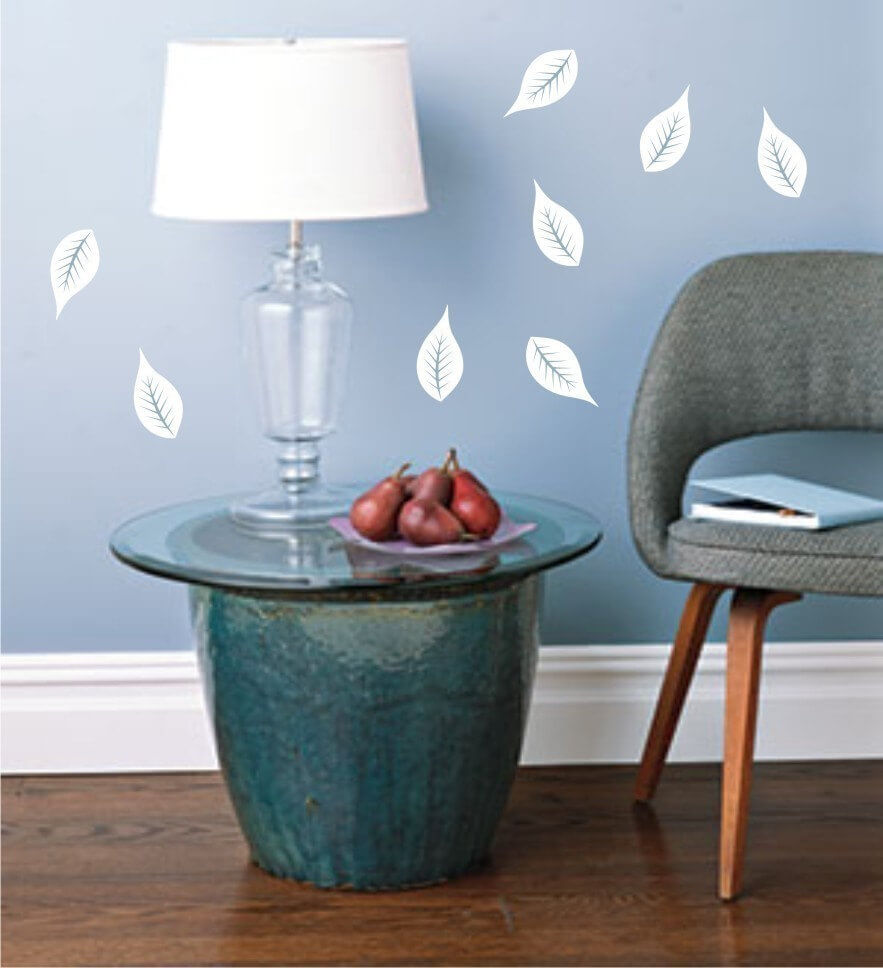 These gentle and woodsy leaves come in a variety of colors and set sizes so that you can customize them to fit with your current décor. Great for fall, these individual leaves can be adhered with your discretion at different angles or heights, and can look like autumnal foliage gently floating to the ground. Alternately, they can be combined with vines or limbs for a colorful complete look.
3. Watercolor Peony Large Self Adhesive Wallpaper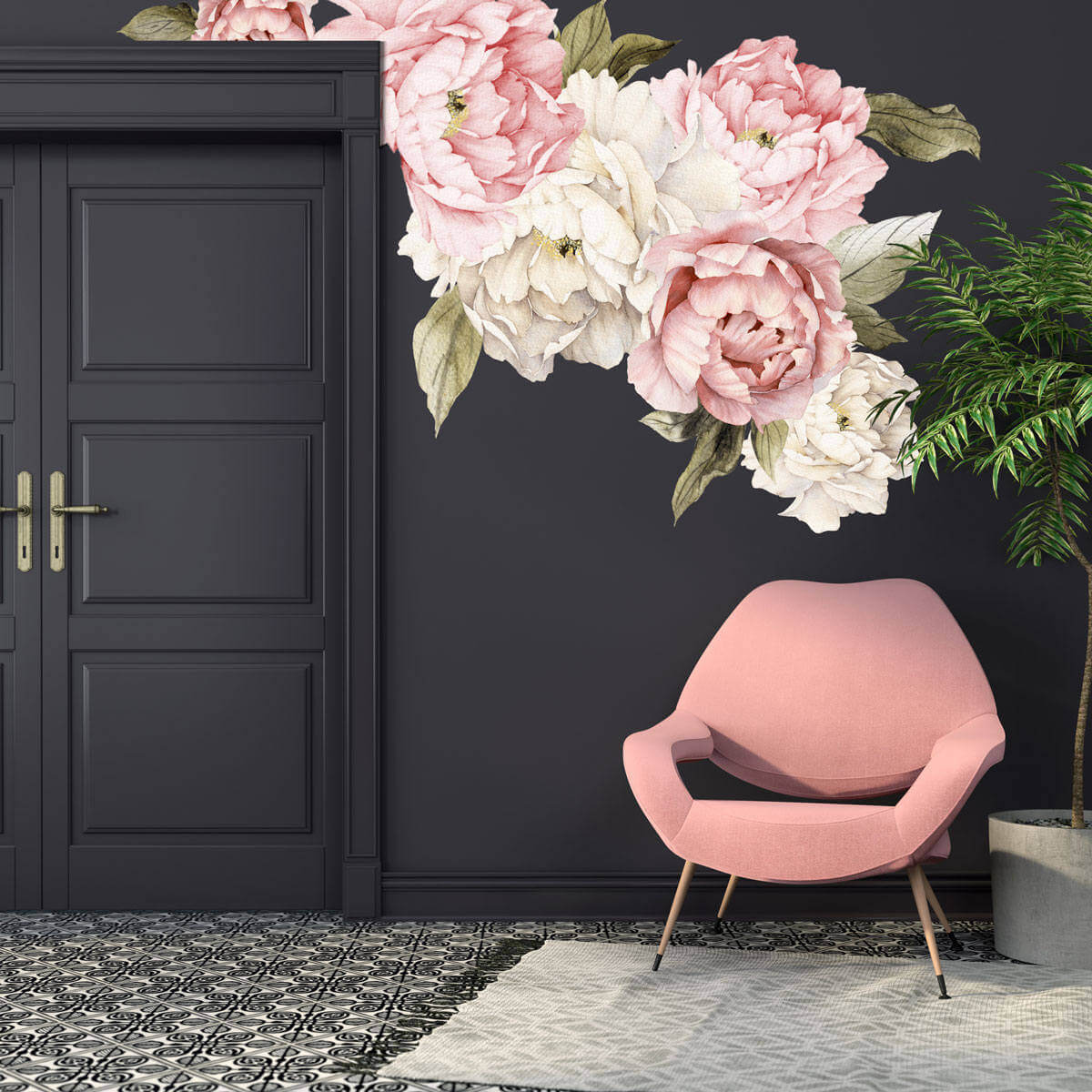 An amazing alternative to paint or wallpaper, this gorgeous, lush peony wall sticker makes a big statement for any room or office space, but without the big price tag to match. These lifelike blossoms add romance and drama while maintaining an air of delicate elegance. Offering many floral designs, this seller has perfected their garden-inspired decals.
4. Spooky Bats and Moon Halloween Wall Decor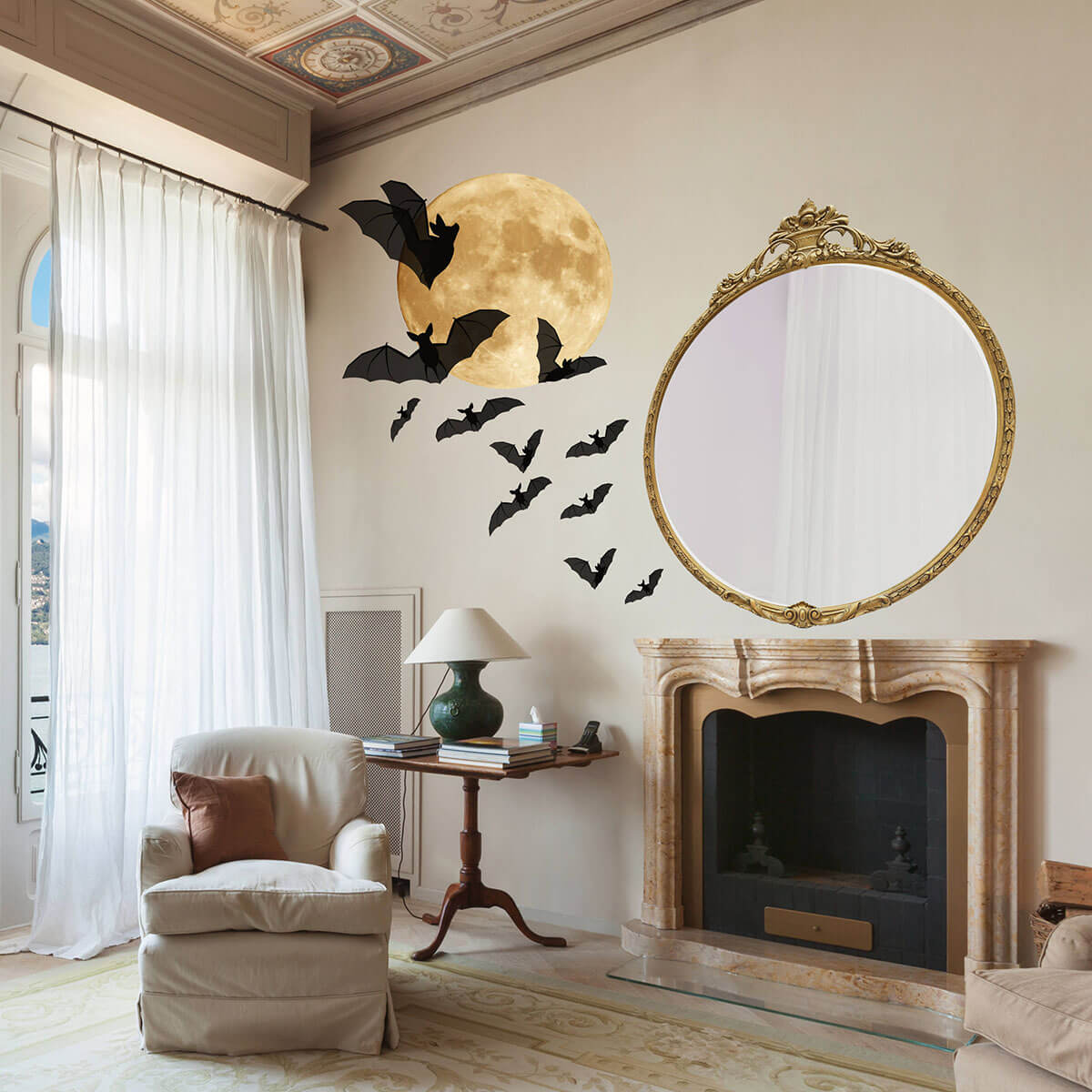 When the weather starts to chill and the leaves start to turn, everyone is ready for some fun Halloween-themed décor. These whimsical bats set against this lifelike moon give this display a sense of action and movement. One great feature of this set is that the bats come completely separate so that you can place them wherever works best for you.
5. Peel and Stick Tropical Wallpaper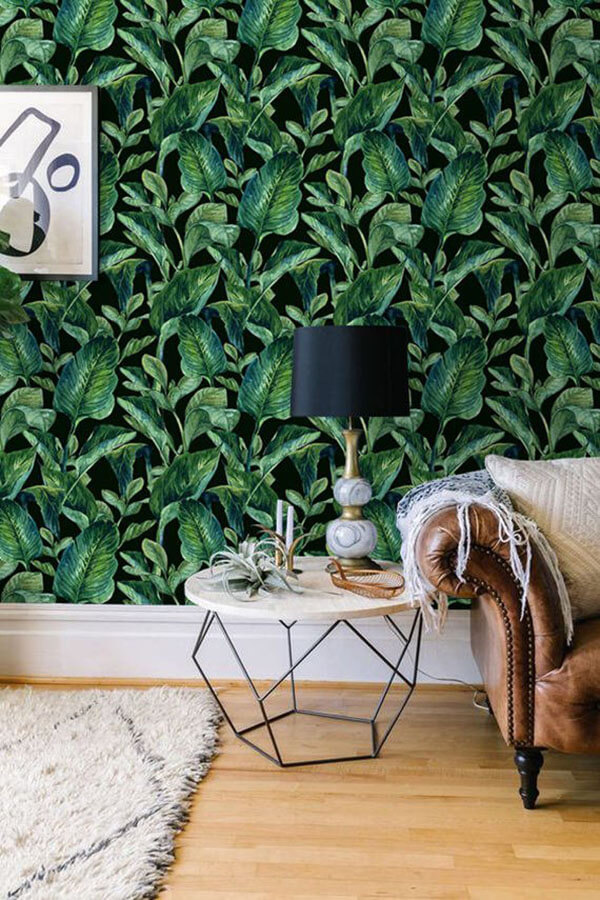 Turn your favorite room into a lush tropical paradise with this fantastic boho chic peel-and-stick wallpaper. A great complement to hardwood, this wall sticker comes in a variety of sizes to suit whatever room you decide to enjoy it in. Consider adding some colorful plants to complete the look.
6. Colorful Rainbow Rain Drops Sticker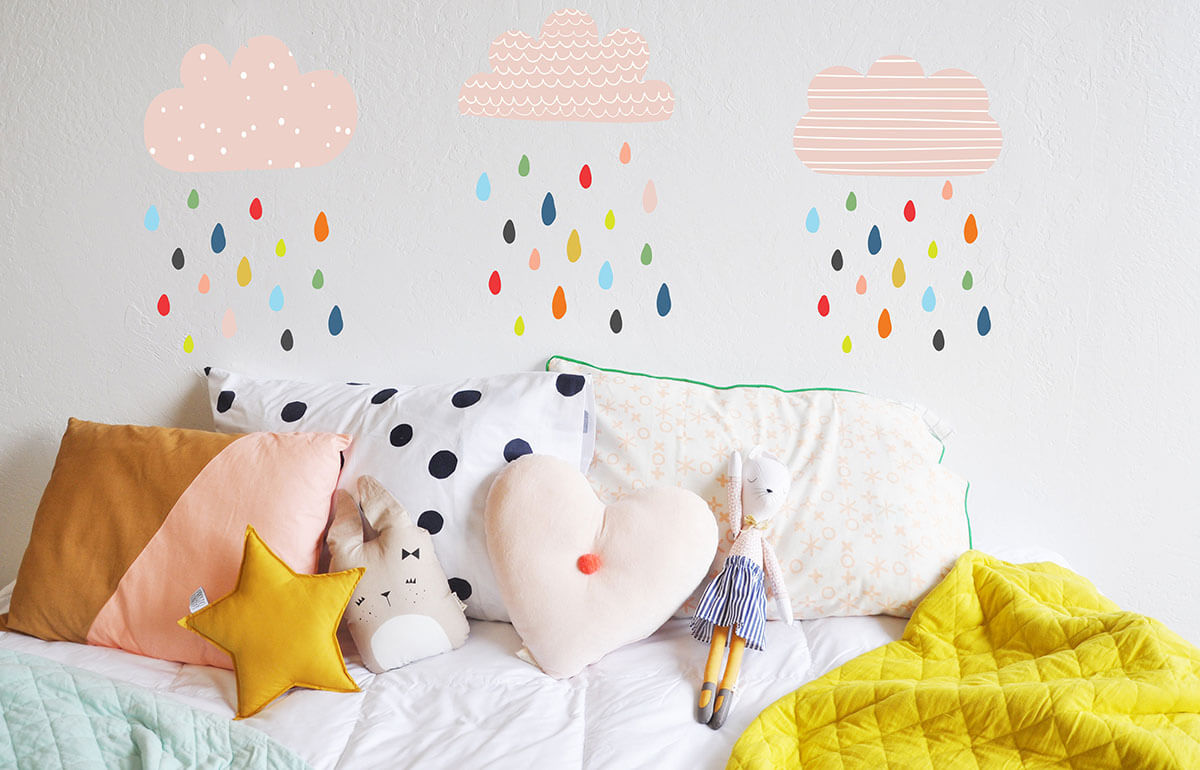 What better way to brighten a rainy day than with these super cute rain cloud multi-colored wall stickers. Great for a nursery or kid's room, these pieces of wall art add a splash of storybook fun to your wall décor. With totally customizable colors, this lovely set of three will perfectly fit in with your current pallet.
7. Bringing the Outdoors In Wall Decals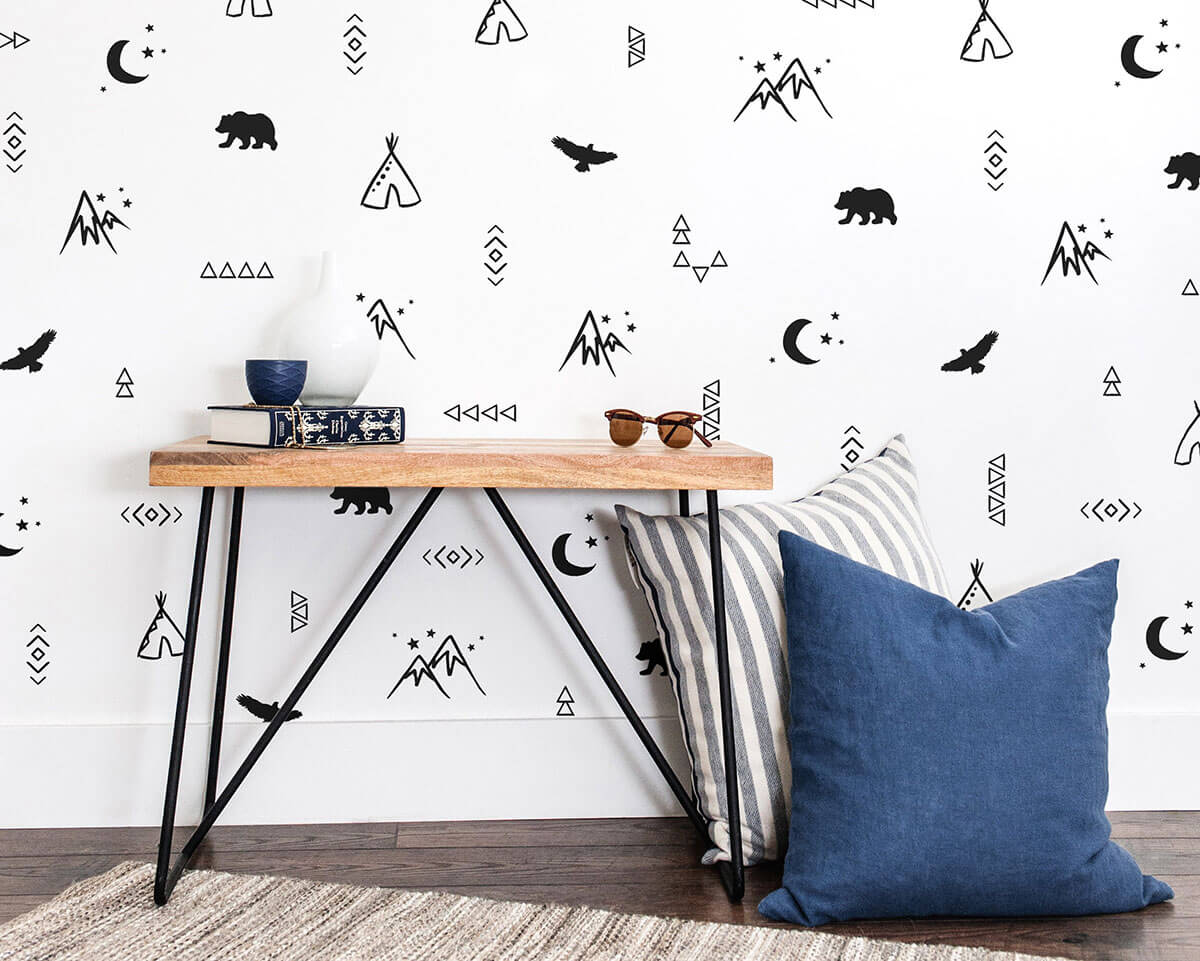 These charming, small wall stickers are a great way to bring a love of nature indoors. With 17 different tribal-inspired designs, this set comes with 75 decals so that you can create a large mural on any wall or spread them out to create continuity between spaces. With a wide variety of colors, these designs will complement any look.
8. Cherry Blossoms and Blue Birds Wall Art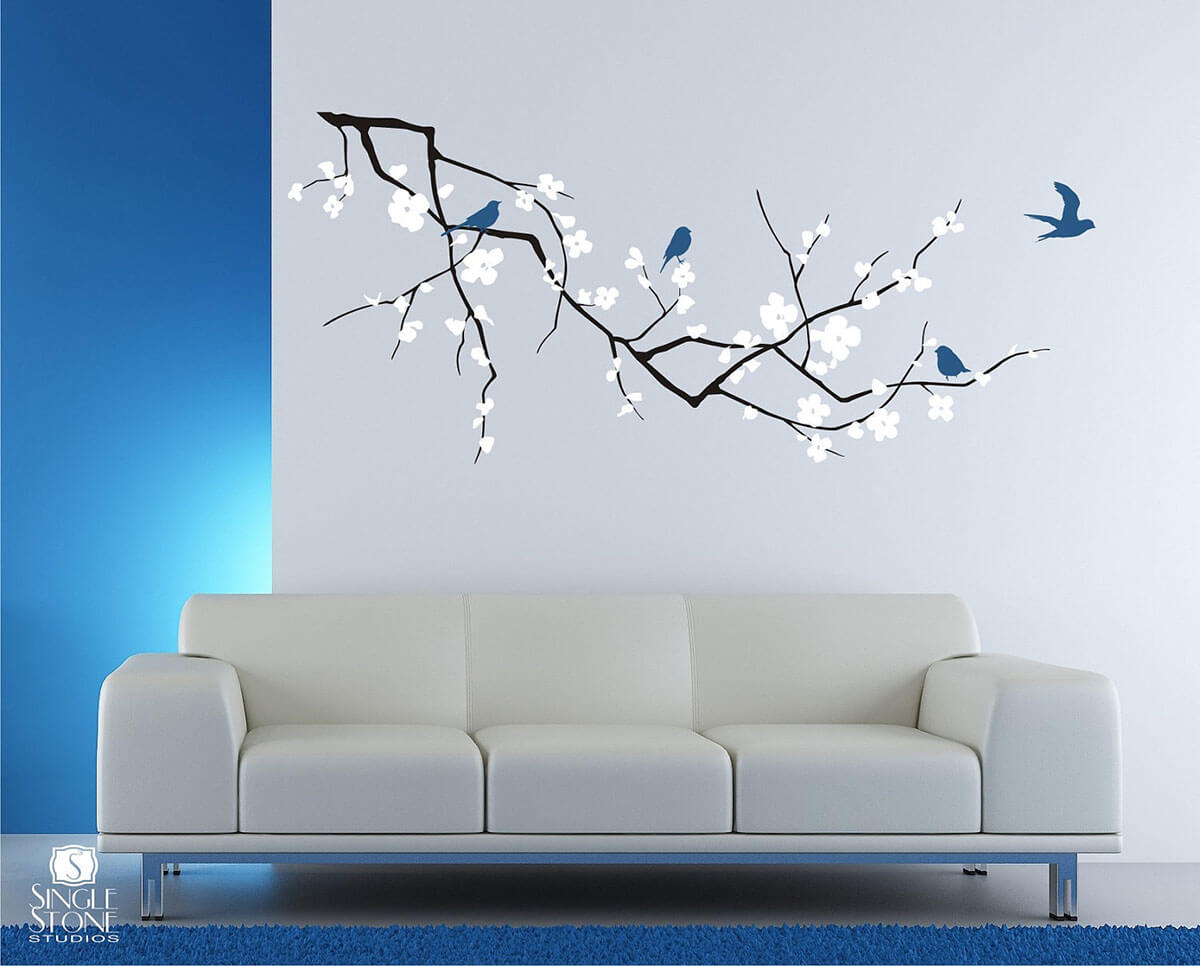 When contemplating great wall sticker ideas, consider adding both charm and life with sweet cherry blossom stems and little friendly bluebirds. Extending either left or right and offered in a variety of sizes, this nature-inspired piece looks great in any open space. Perfect for a living space or kitchen, these birds bring joy wherever you place them.
9. Customizable Happy Unicorn Sticker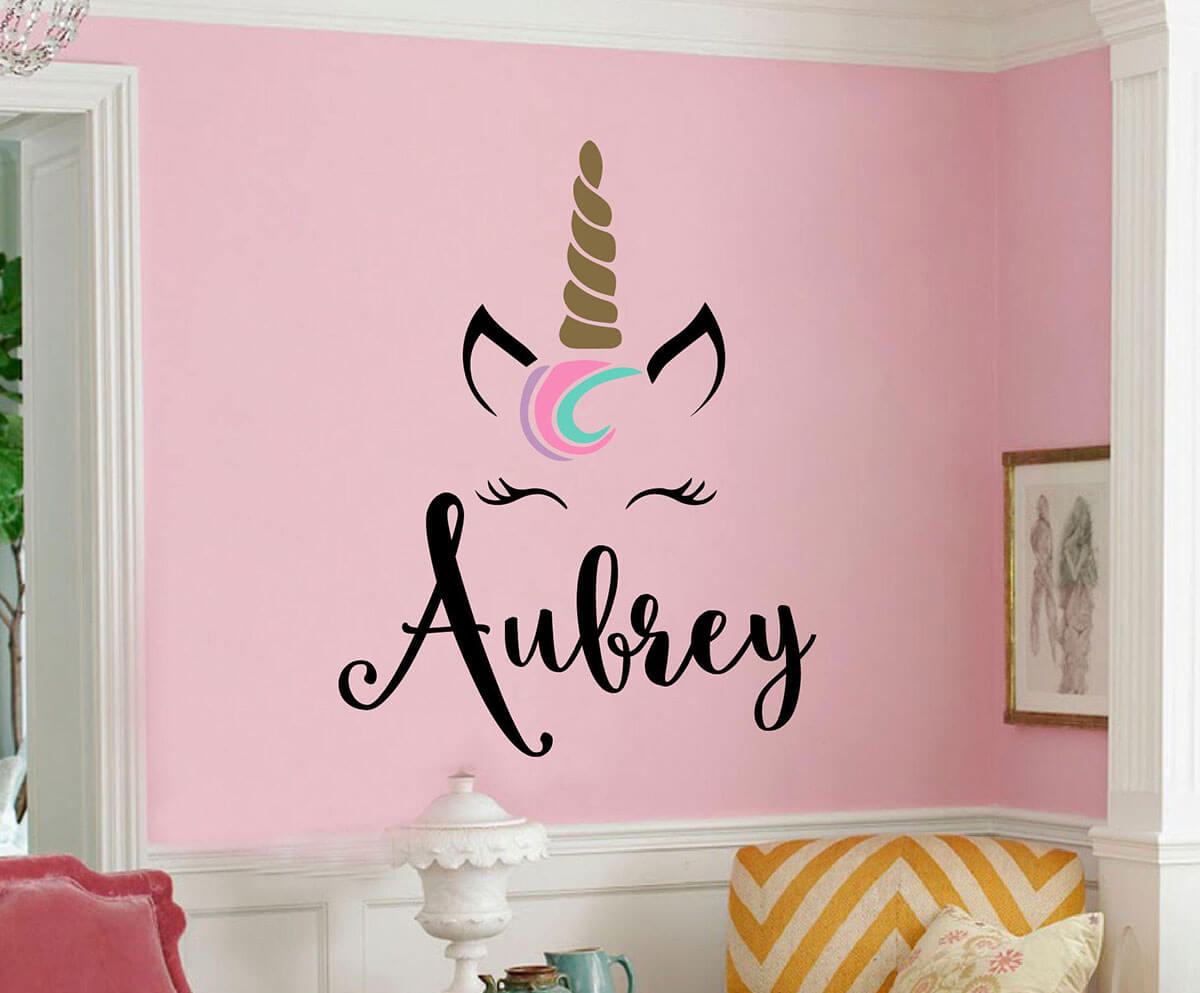 Unicorns are a current hot trend and for good reason. Their beauty and magic make them the perfect fairytale creature. Now, you can bring this shy, beautiful creature to life with this lovely minimalistic and totally customizable wall sticker. The simplistic design makes this piece suitable for many ages and works great for everyday use or for a party.
10. Whimsical Metallic Gold Polka Dots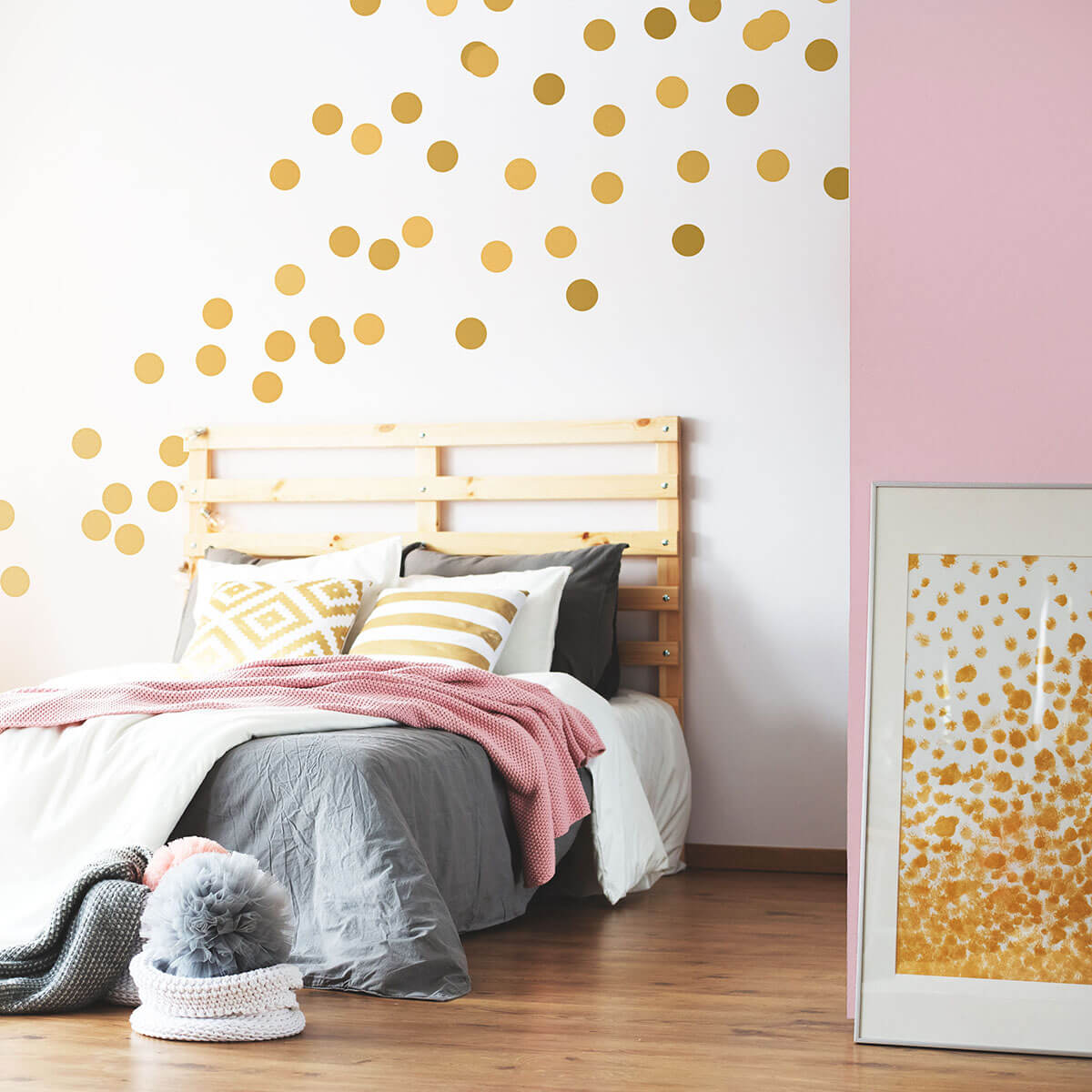 These playful metallic gold dot stickers are reminiscent of the playful little bubbles that tickle your nose in a glass of champagne. Easy to customize, you choose where to place each dot. With all the options available, you could even order dots in multiple colors to give your wall art depth and interest. Free samples are available if you want to test them first.
11. Night Sky in the Nursery Sticker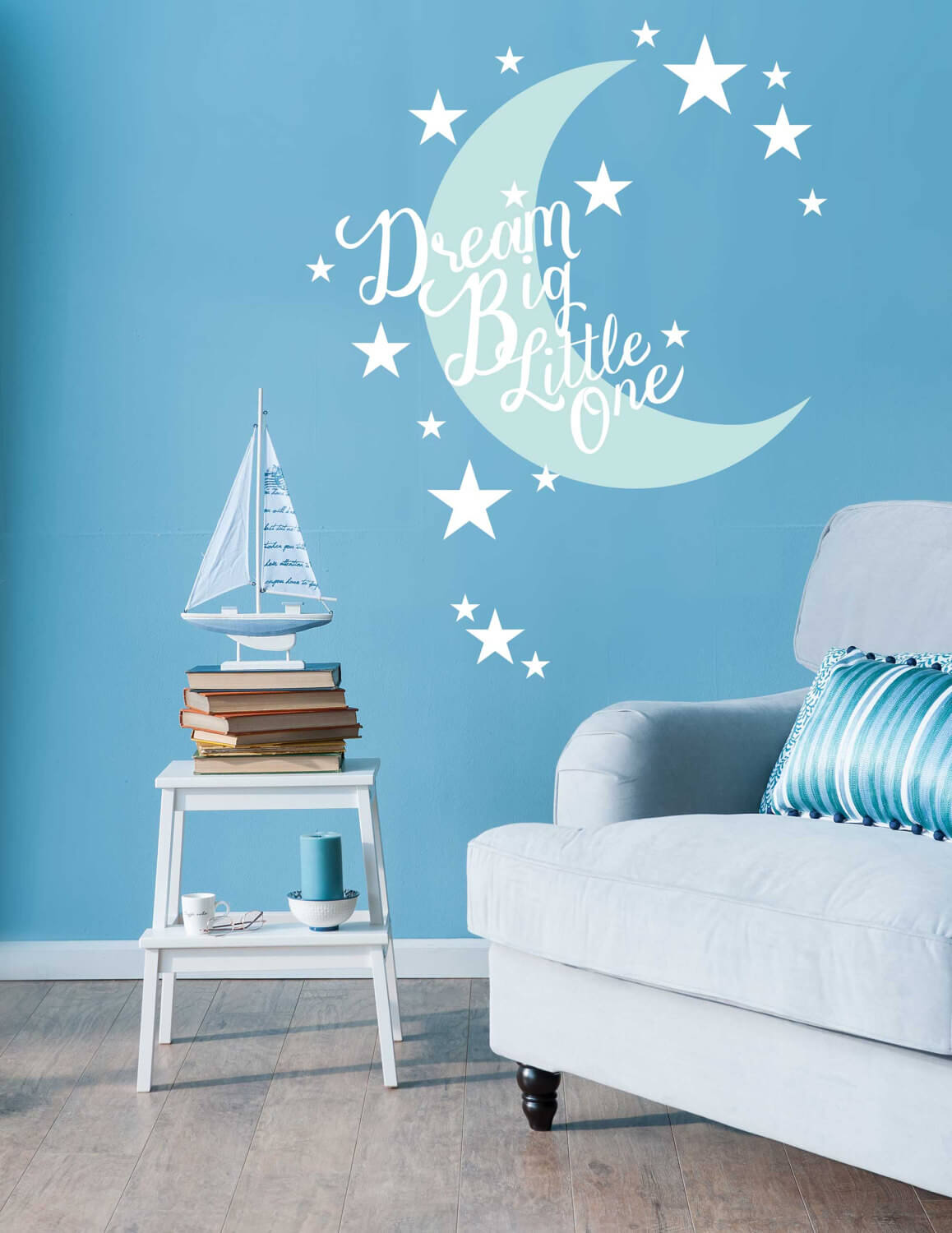 Beautiful reminders, like this stars and moon wall decal, are perfect for a nursery. With beautiful and varied color selections, you will surely find a good fit and will have these lovely encouraging words up in your baby or child's room in no time. With the option to add more stars, you can make a small display or create a full night sky.
12. Modern and Chic Moon Décor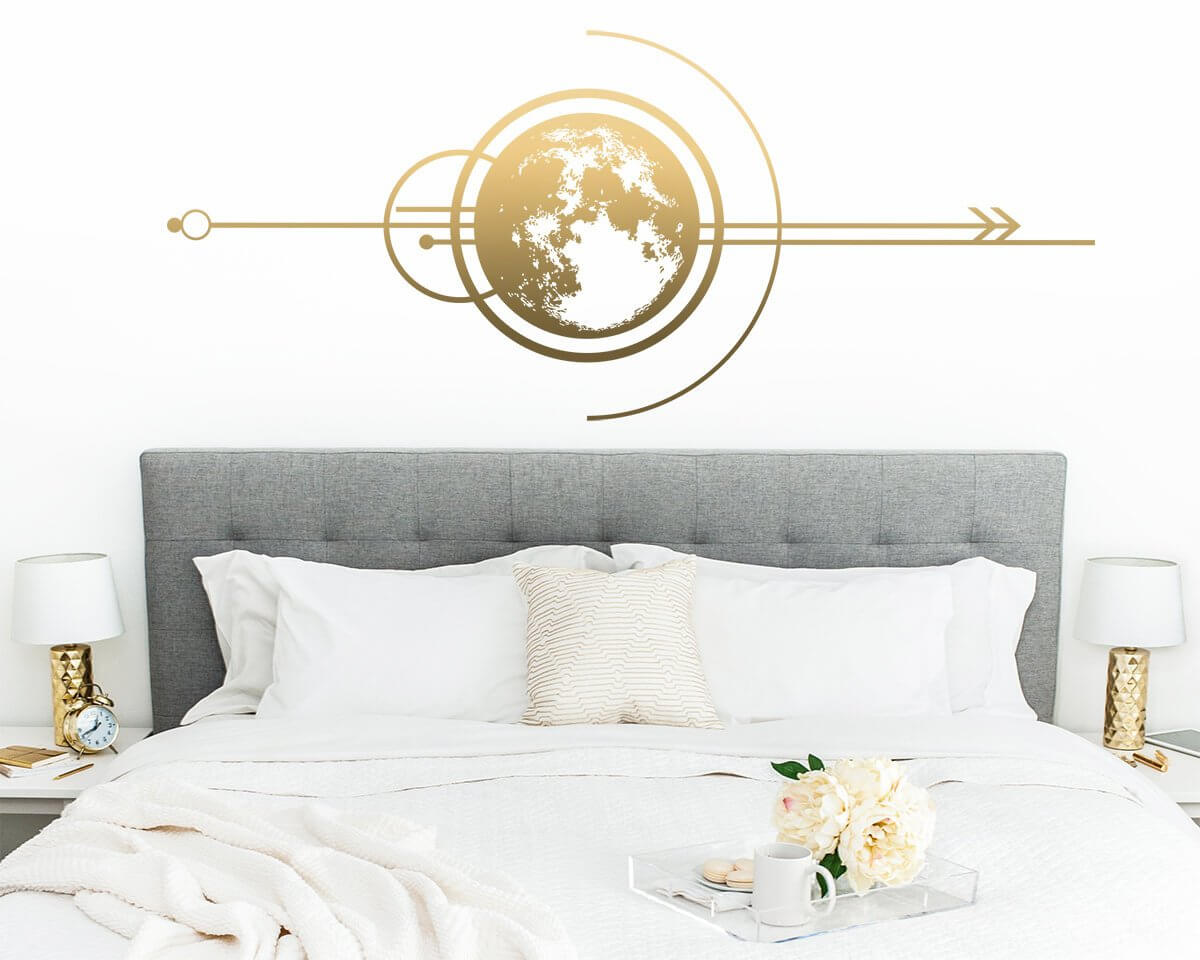 Reminiscent of mid-century modern stylings, this cool geometric moon and arrow design makes for a great headboard design or can work equally well in more frequented living spaces. With clean lines and a smooth matte finish, this piece will turn heads and have everyone asking where you found it. Futuristic yet familiar, this is a fun and unique wall sticker.
13. Cute Cartoon World Map Decal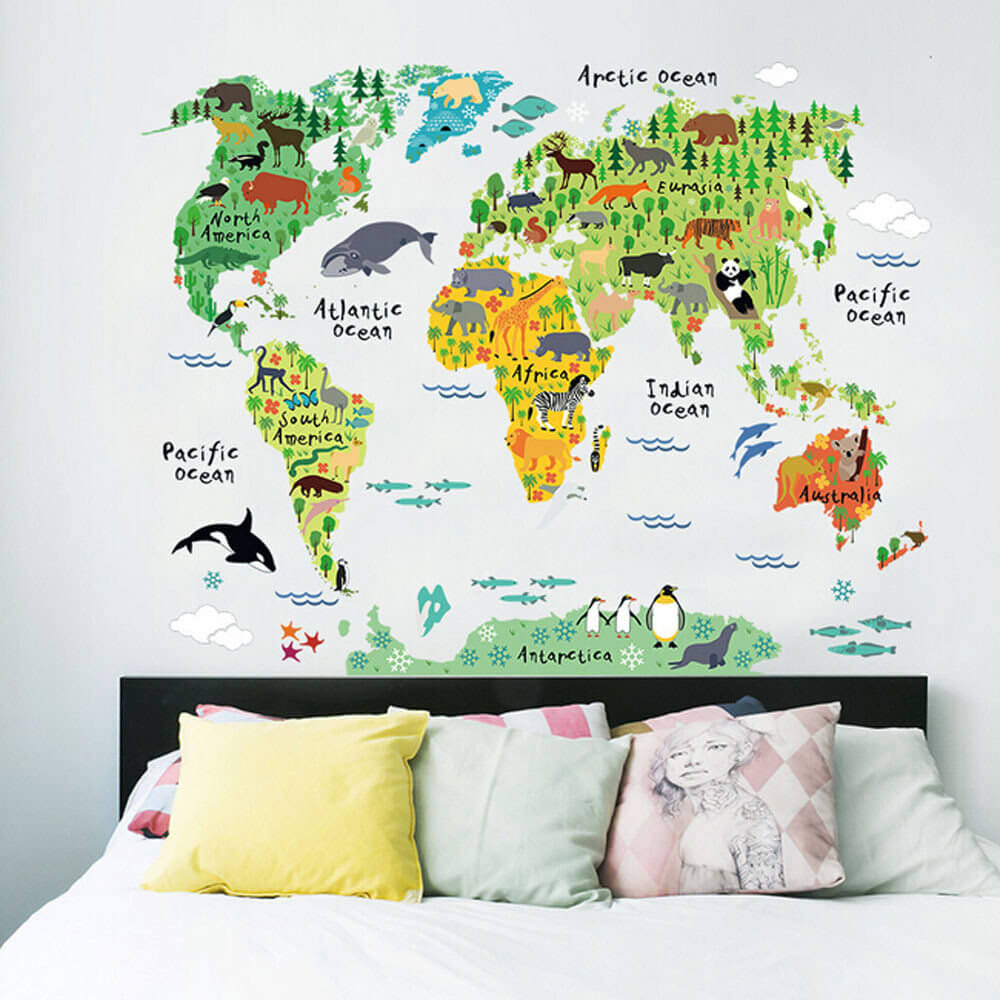 Wall stickers that also incorporate learning elements are a great choice for children's rooms. Unlike many wall decals, this is one large piece so that you can be sure nothing is misplaced. Displaying the animals where one would find their real-life counterparts, this map will help your child get to know the continents and see where their favorite animals come from.
14. Cozy and Quiet Birch Trees Art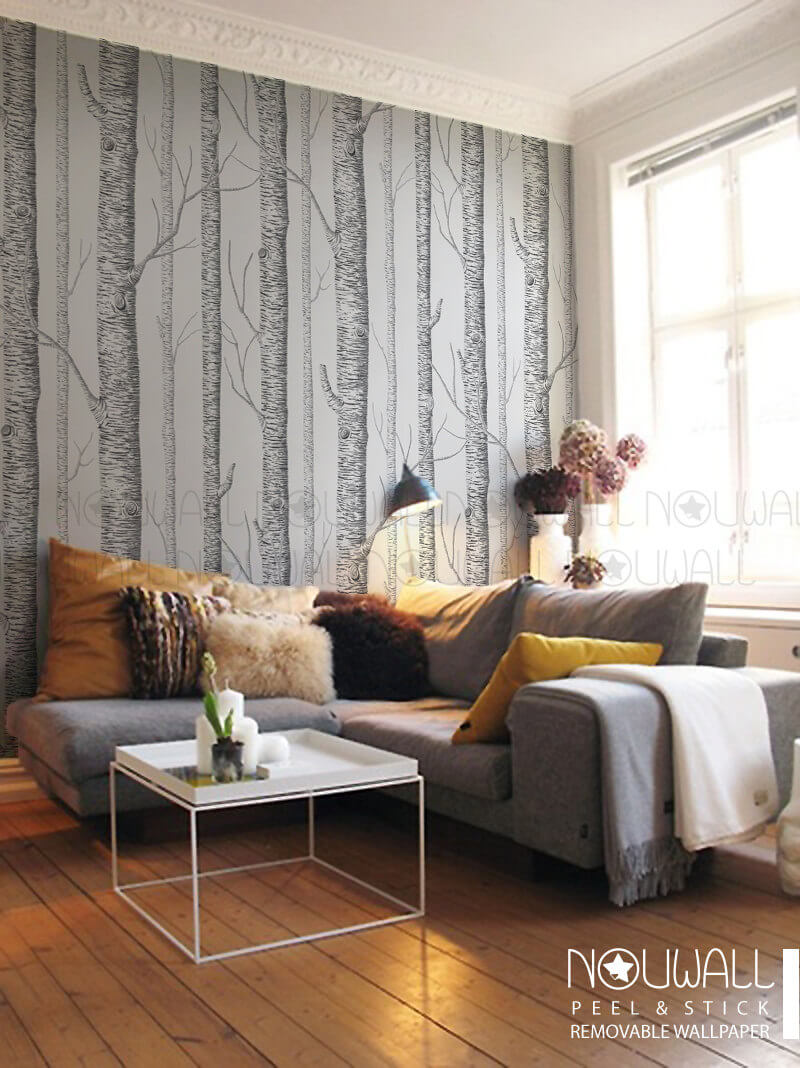 When adding large mural-like wall stickers, it is important to consider the mood that the particular sticker will set. These cool and natural bare birch trees create a sense of calm and serenity that you would experience in nature. Turning one wall of your living space into a whimsical woodland is a great way to unwind and relax.
15. Vivid Flourishing Blossom Vintage Wall Decals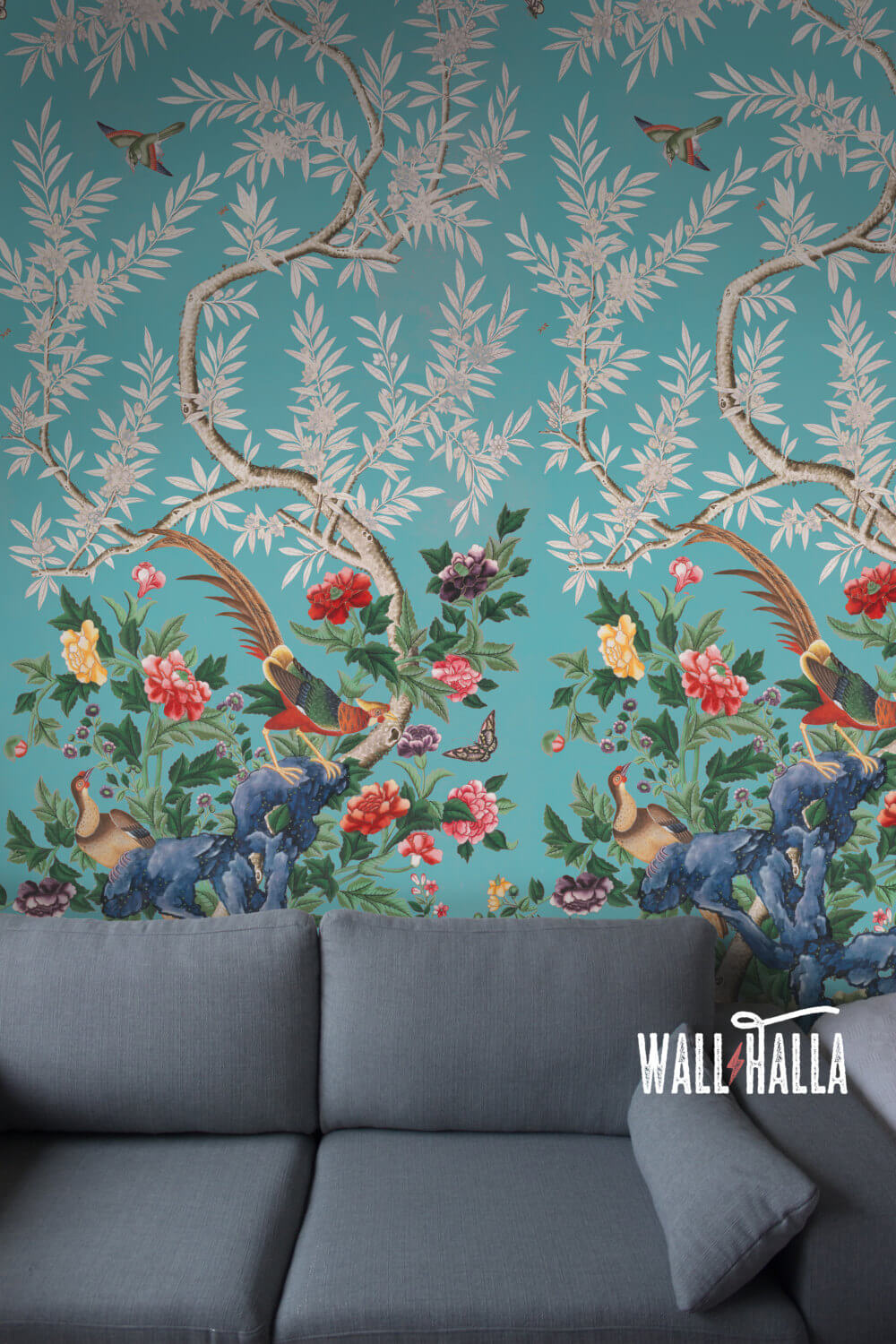 If you like the idea of retro stylings in your home and are thinking of trying a vintage-style wallpaper, consider instead this lightweight, easy-to-apply wall sticker alternative. Boasting bright birds and lush flowers, this decal offers all the beauty and design of wallpaper without the difficulty, heaviness, or damaging effects.
16. Pretty Tropical Palm Leaves Wall Art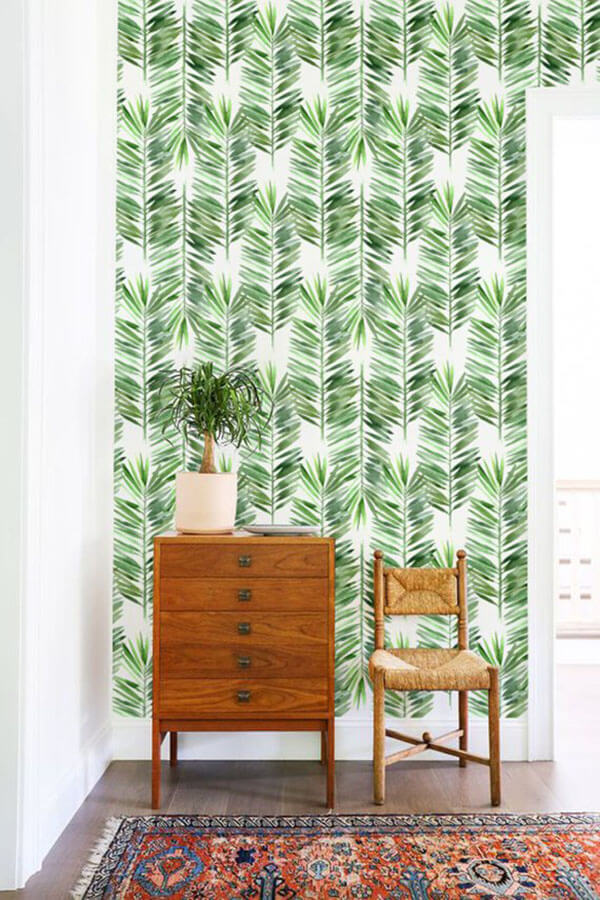 One of the best ideas is to add a fresh natural look without having to tend to live plants or take up floor space with an unsightly fake plant. This gorgeous bright green palm wall sticker is the perfect solution. It provides the fresh outdoor feel that humans naturally long for but requires no maintenance, and it is super easy to install.
17. Gentle Water Color Bunny Wall Sticker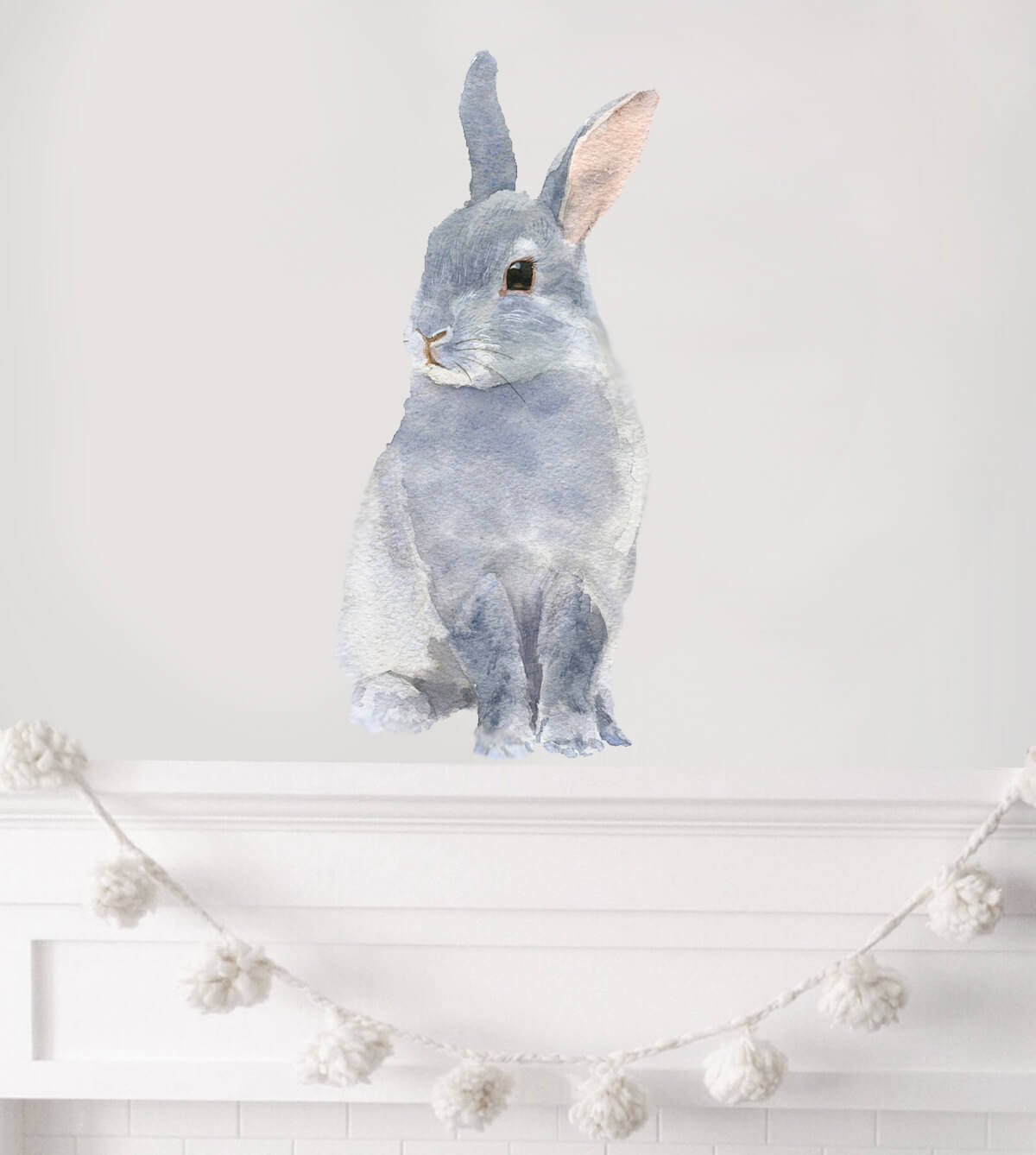 This sweet little critter makes for a great fluffy friend in a playroom or nursery. His warm watercolors make him look like he just hopped out of the pages of a favorite storybook. Your children will love having this small friend watching over them as they play and sleep.
18. Capturing the Moon Wall Art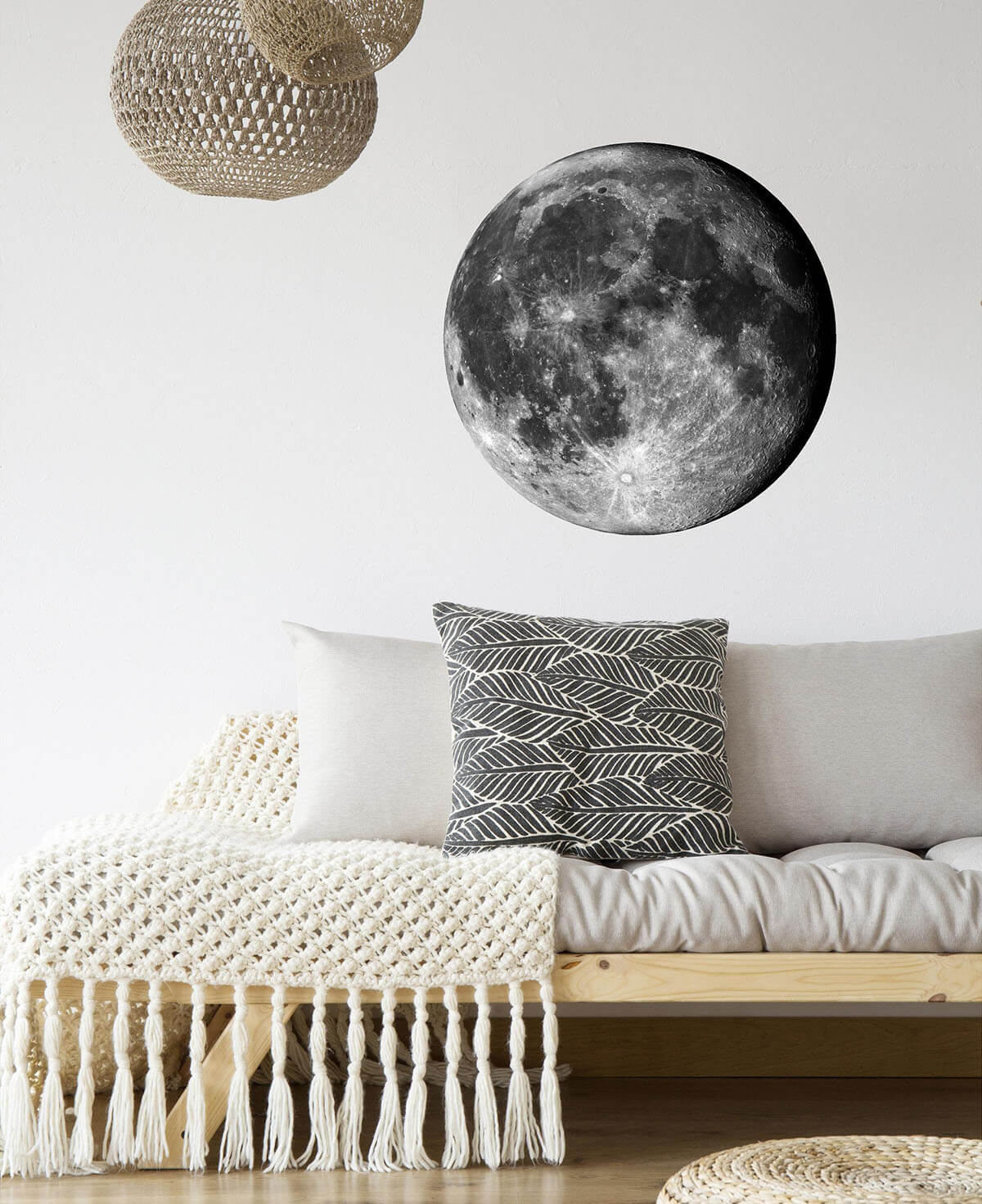 That hunk of rock floating in space some 239,000 miles away will feel up close and personal with this beautifully detailed wall sticker photo. The details are what make this one so special: the high-resolution vinyl photo will remind you that it's no ball of cheese up there, but a fascinating surface of craters, mountains, and celestial wonder.
19. Girl Power Shakespearean Quote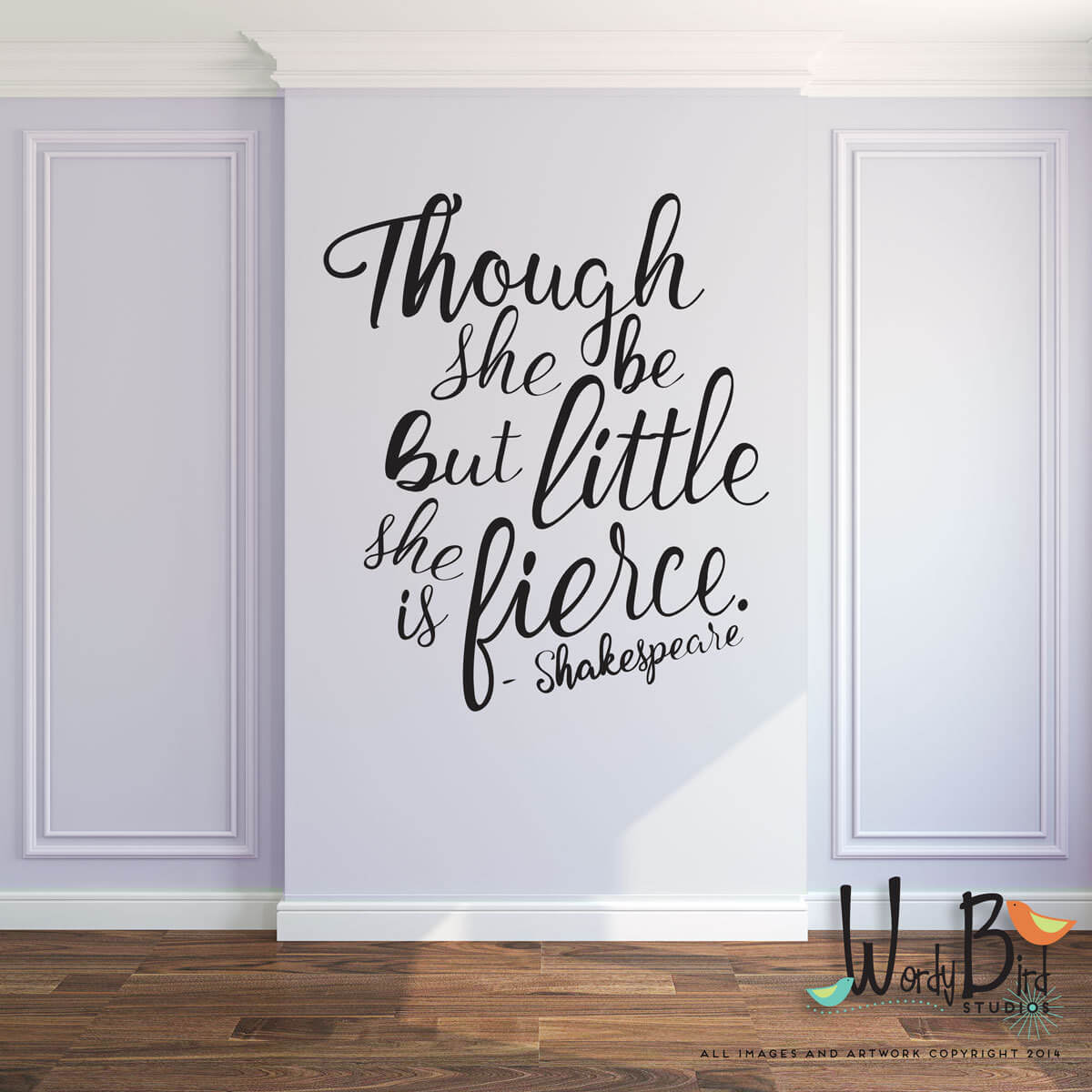 Create a midsummer night's dream in your baby girl's room with this glitzy yet literary wall sticker. The lively font – with that special emphasis on "little" and "fierce" – make Bard's words come to life, capturing a fantastic quality in your little one. They are timeless words for a priceless stage of your girl's life.
20. Mix and Match Pineapples Wall Art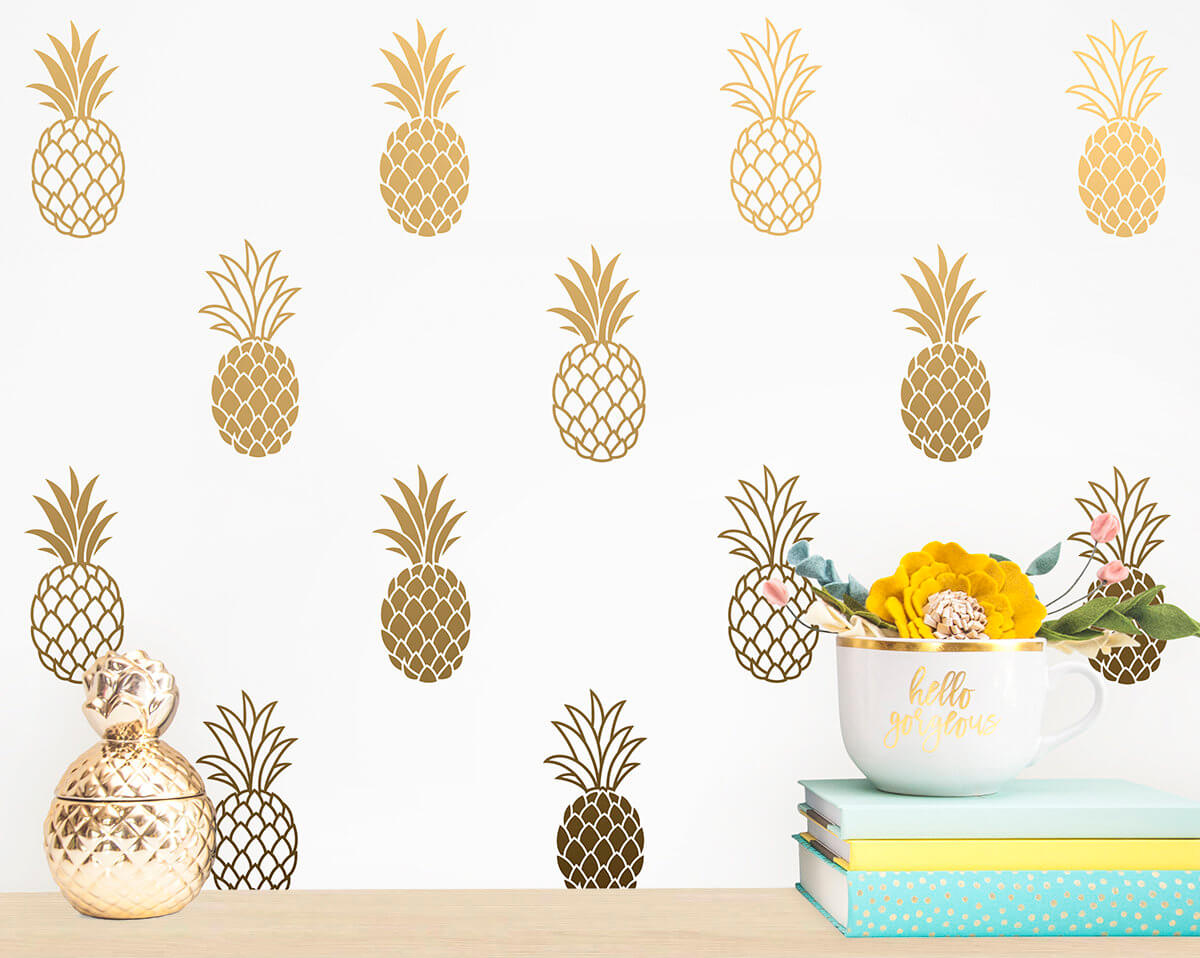 This simple and attractive design might just have your mouth watering and your mind wandering to a beach in the tropics. With a nod to the Art Deco aesthetic, this wall display comes in more color options than there are piña colada flavors at your favorite watering hole. Use this wall sticker to dress up the bedroom with some flair and flavor.
21. Remembering the Importance of Family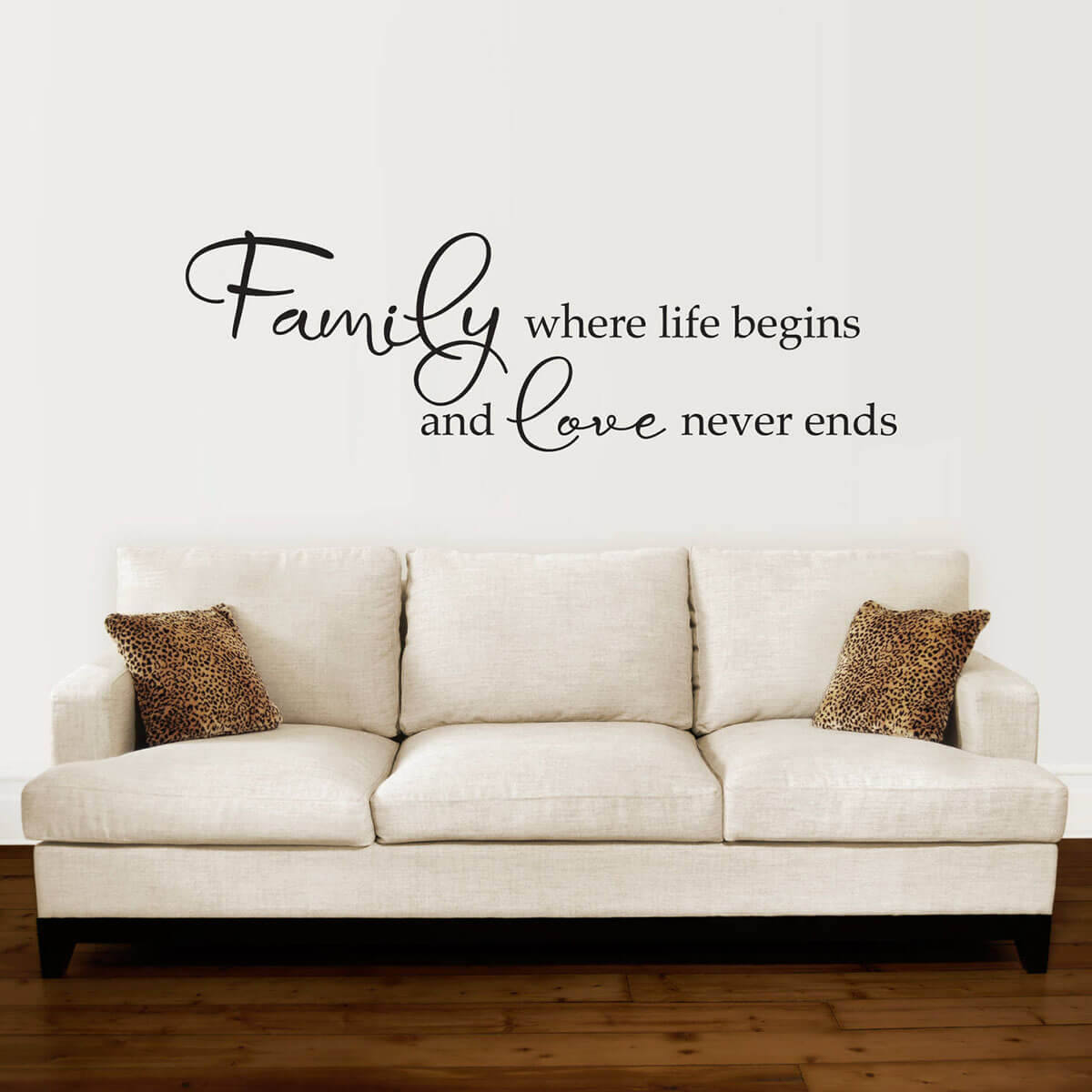 A lovely reminder of how much family can mean, this beautifully stylized quote serves as a great reminder for your family and as a representation of your home to guests. With multiple sizes and color choices, the options – like love – never end. This decal is perfect for a wall behind a sofa or over an entryway or kitchen sink.
22. Modern Lunar Phases Moon Sticker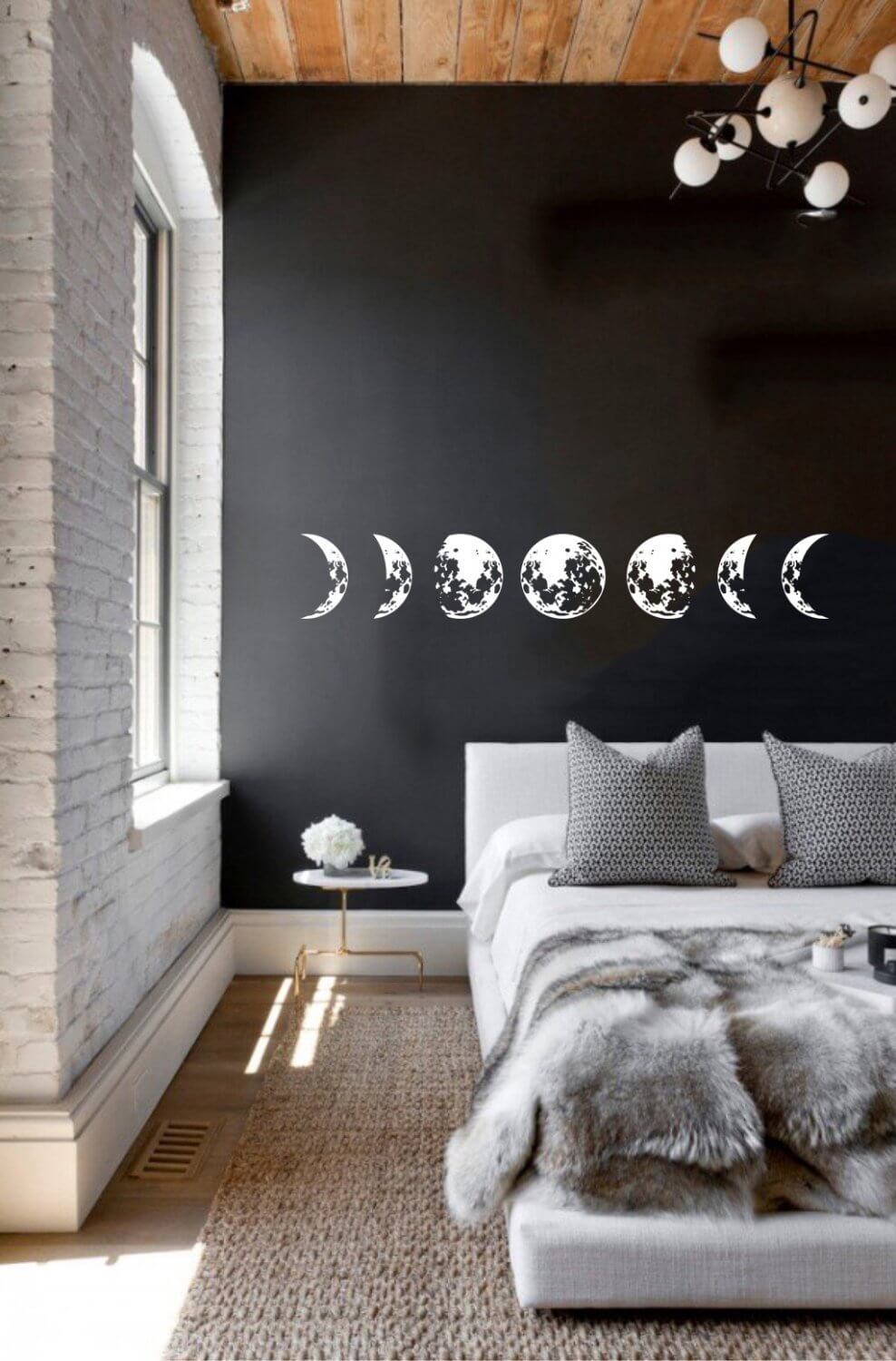 A waxing and waning lunar wall display is a great showpiece and offers a sense of unity and completion to your home. Choosing a color that stands out against a wall makes for a dramatic effect, like the option pictured here. You could also choose a color that nearly matches your wall for a look as subtle as the changing moon.
23. Magical Children's Circus Animals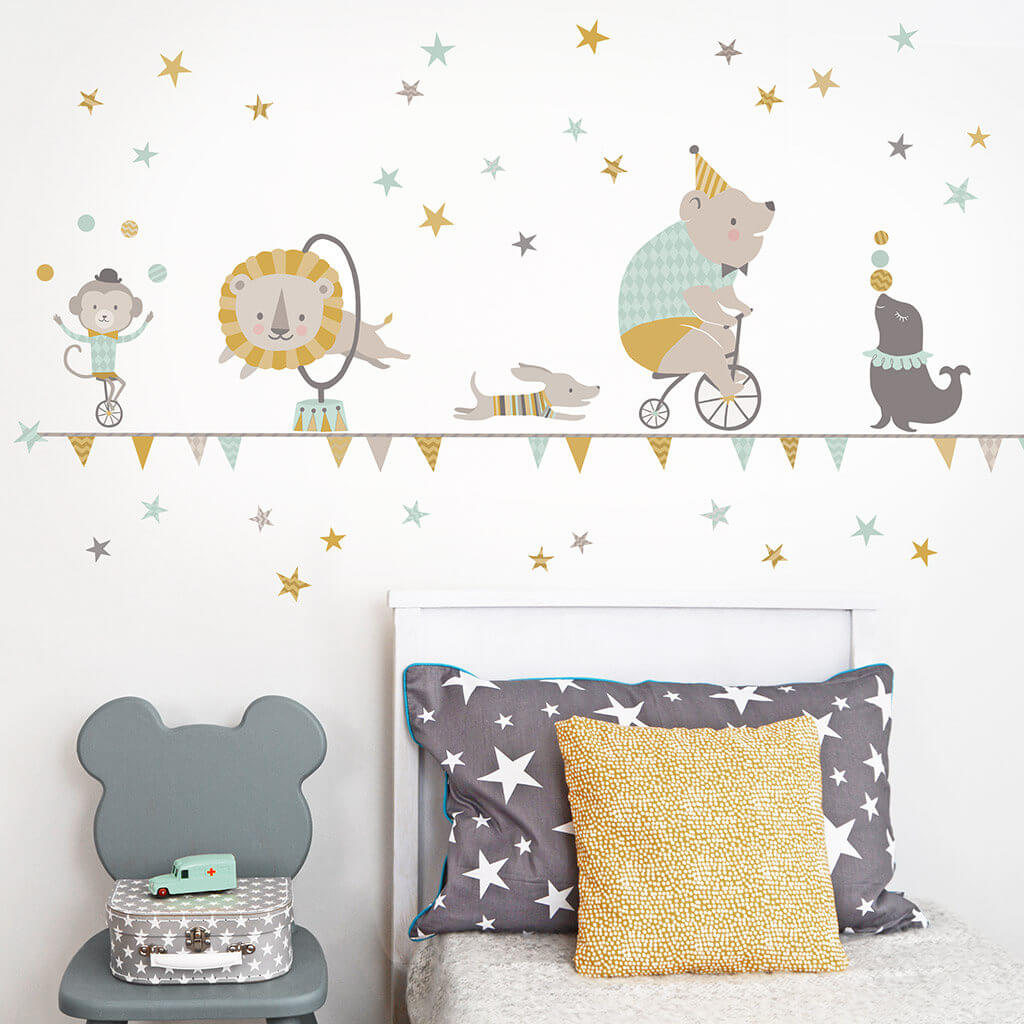 Everyone's favorite circus pets display their talents in this cute decorative wall sticker. One of its best features is that once you are ready to change your décor, it is not only easy to remove but made from eco-friendly biodegradable fabric adhesive. This means they won't last forever in a landfill and that they are durable and can be reused.
24. Stellar Constellation Collage Modern Wall Decals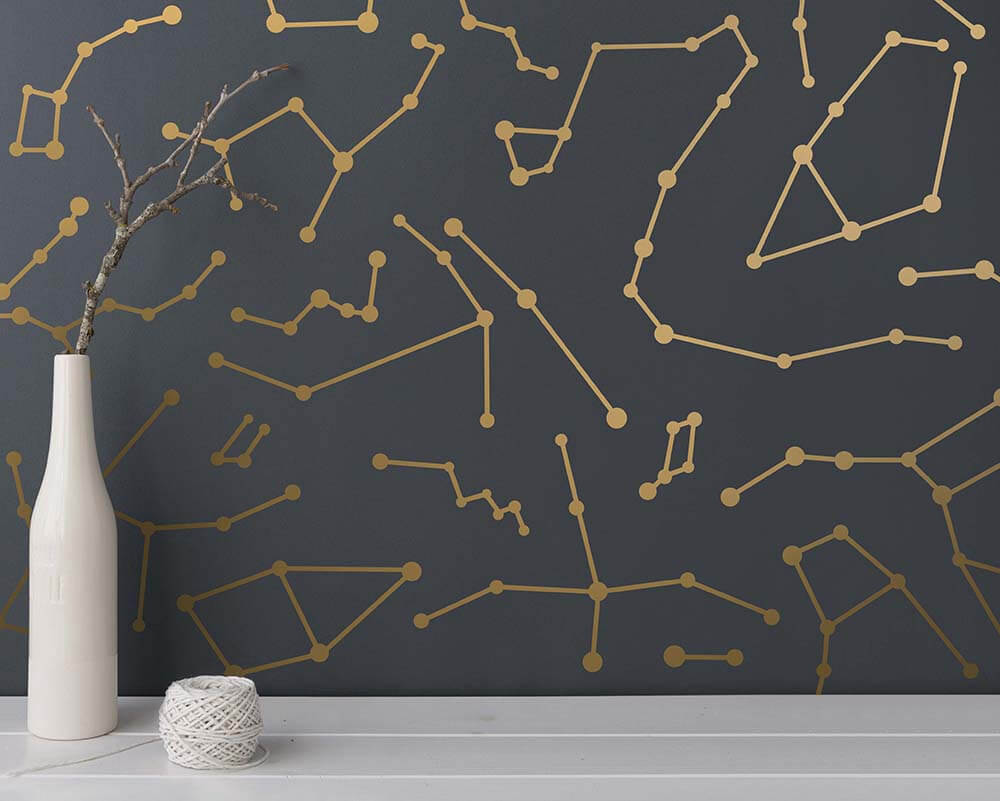 Few wall sticker ideas offer as much fun and freedom as these artful and interesting constellations. Although the design is simple – mere dots and connecting lines – these stickers are completely recognizable. Stay true to the night sky or mix it up and play with their placement. The alignment of these stars is totally up to you.
25. Display the Magic of Disney Art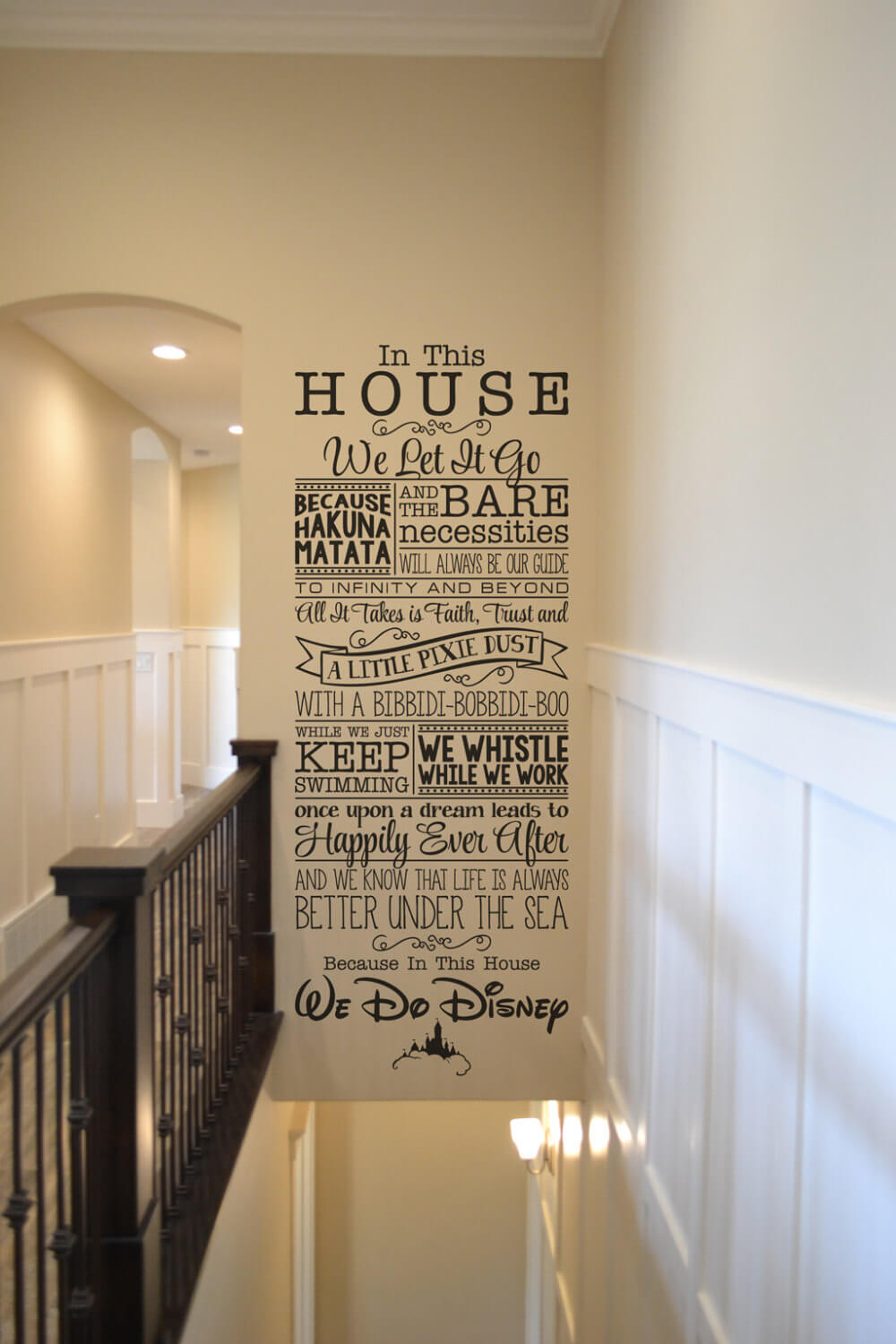 If your family is one that "does Disney," then this playful vinyl word art is just for you. With quotes from your favorite movies in fonts to match, everyone will admire this positive and upbeat homage. Ranging as far back as Snow White and all the way up to Frozen, every generation will find something they relate to.
26. Bathroom Wash your Hands Reminder Sticker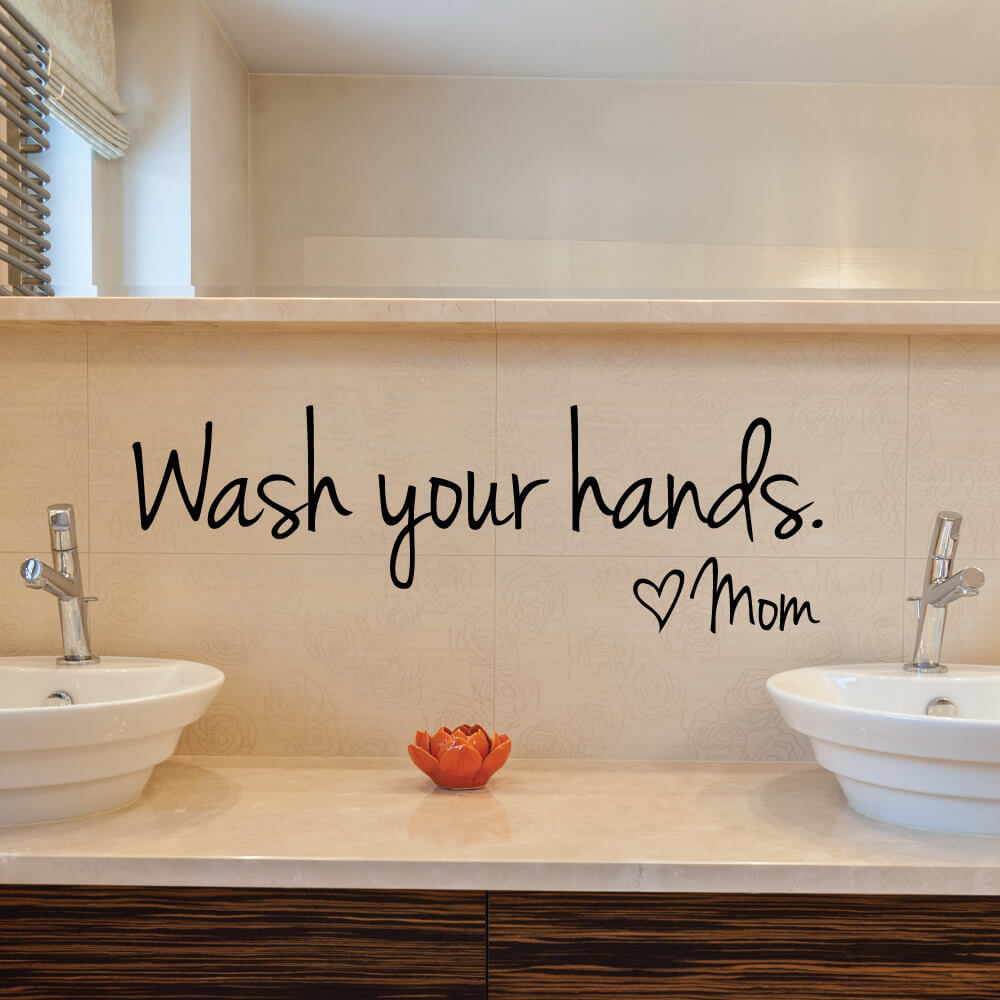 The bathroom can be a tricky place to decorate. There often is not an abundance of wall space and getting a theme right can be a challenge. This fun reminder is a great choice and will stick well to many different bathroom surfaces. Funny, cute, and endearing, it will also save mom the trouble of always having to remind everyone.
27. Bon Appetit Kitchen Wall Quote Sticker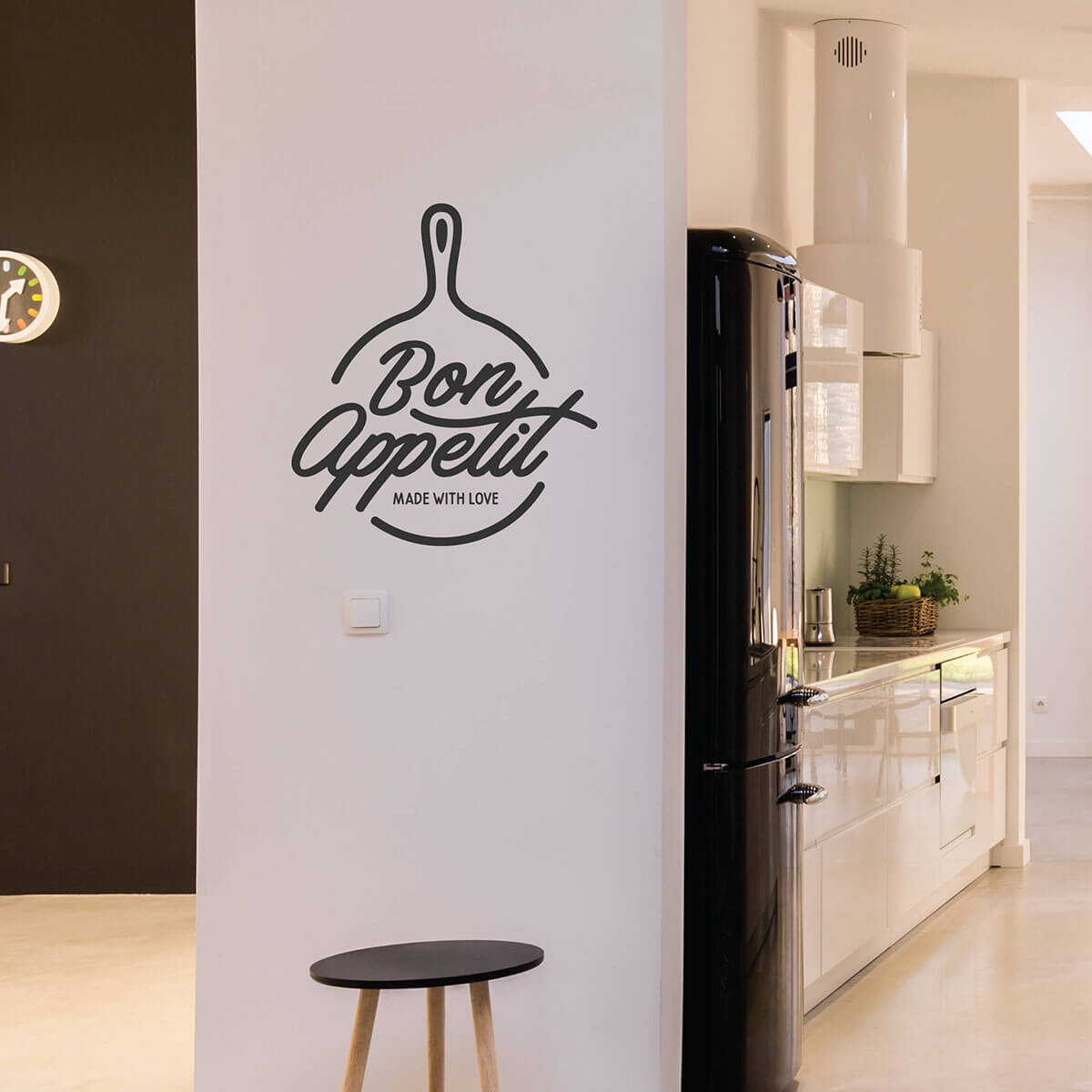 Give your home a gourmet touch with this charming bon appétit wall sticker. Décor like this lets everyone know that you take pride in your kitchen and cooking and that you look forward to sharing food at the family table. This is the perfect small addition that speaks volumes.
28. Clock With Surname Wall Sticker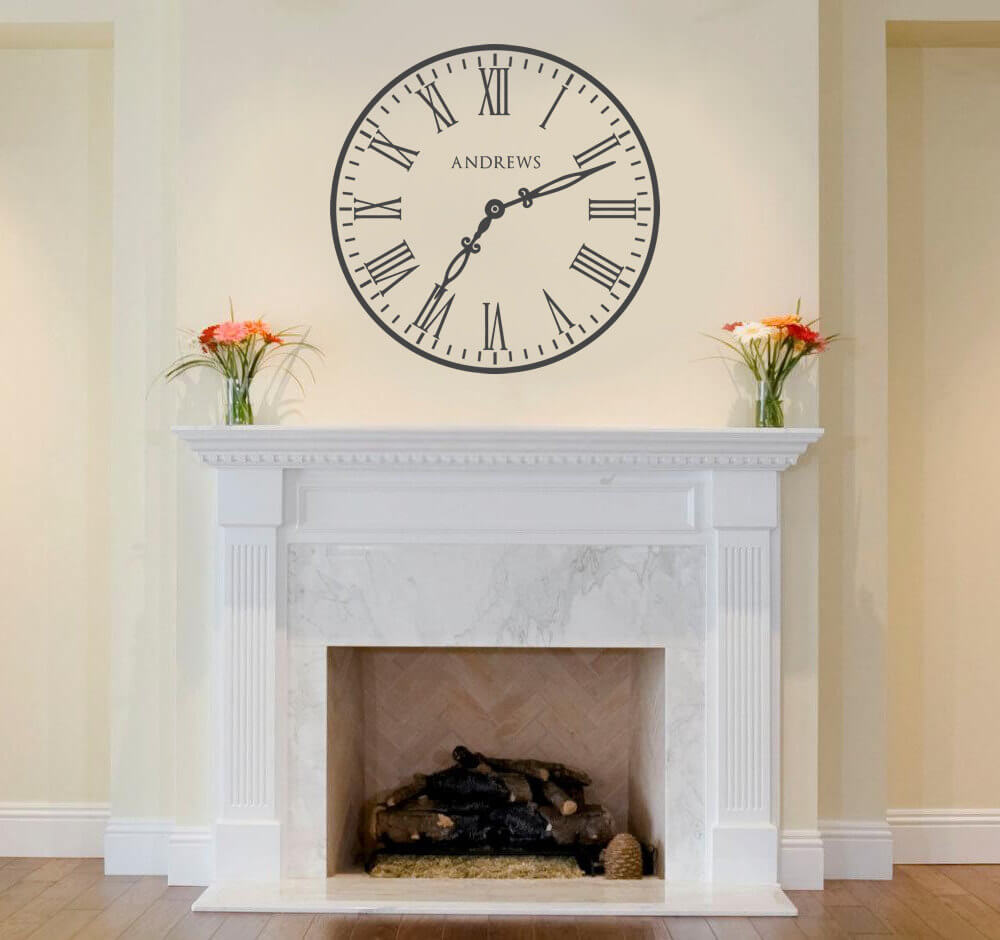 This personalized clock includes your family name and can be "set" to everyone's favorite time of day, or you can choose to add your own hands to create a functional clock. Available in two sizes and multiple colors, this old school classic clock is a great standard living room piece.
29. Practical Chalk Board Decals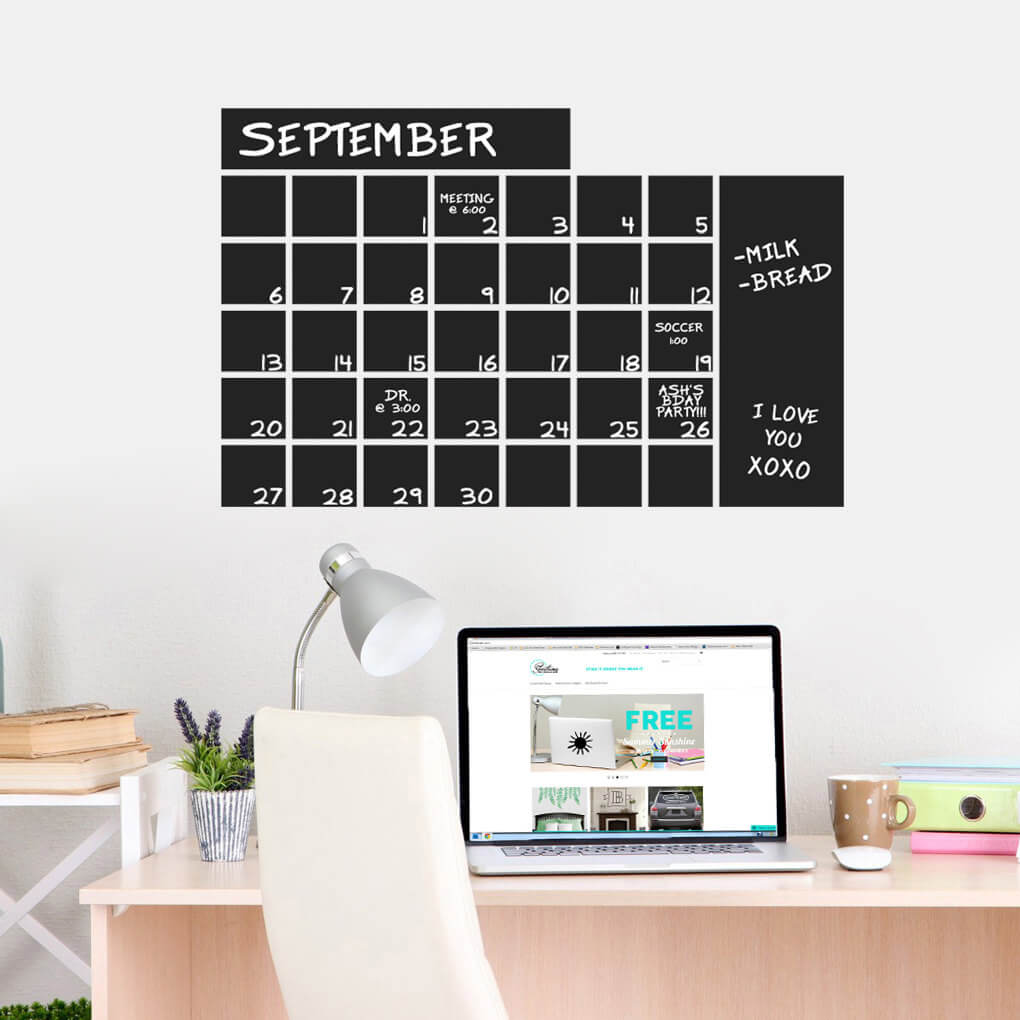 Cool and creative, this totally modifiable chalkboard-style wall decal is one of the best and most practical wall stickers. Both fun and functional, you can use this calendar to help remind everyone of important upcoming dates or write each other messages. Then, at the end of each month, simply wipe it all away and start afresh.
30. The Cat's Meow Cute Vinyl Decal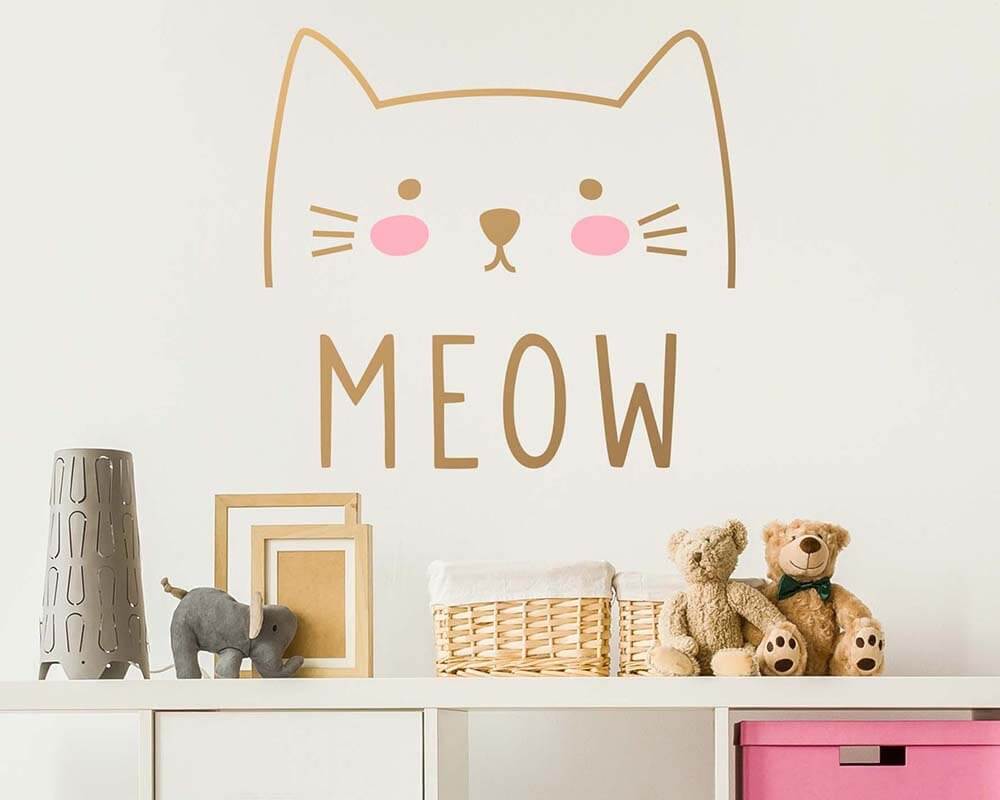 Everyone loves this super cute cat vinyl wall sticker, and for good reason – it is totally adorable, and the colors are fully customizable. Whether you want a navy cat with red cheeks or a mint cat with bubblegum cheeks, this seller has got you covered. Cute and cuddly cats are super chic, but – just like real-life felines – still, maintain a mysterious side.
31. Words to Represent your Home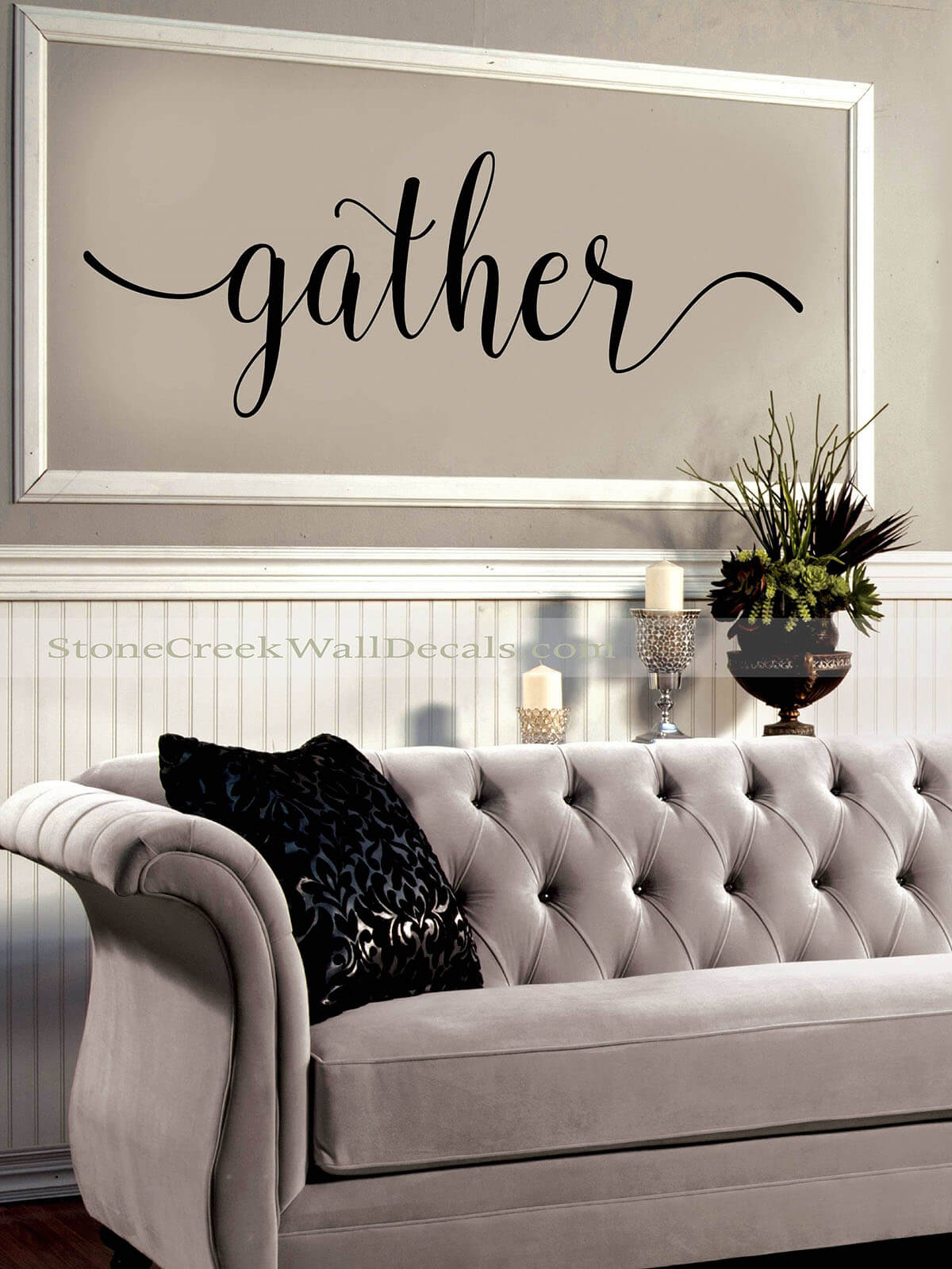 Let guests know they are welcome with this beautiful cursive wall sticker, perfect for dining rooms, kitchens, or living spaces. Warm and welcoming, it is amazing that a simple word can convey so much about your family values. This versatile wall sticker can be combined with a frame or used to make your own hanging piece.
32. Bathroom Rules in French Wall Sticker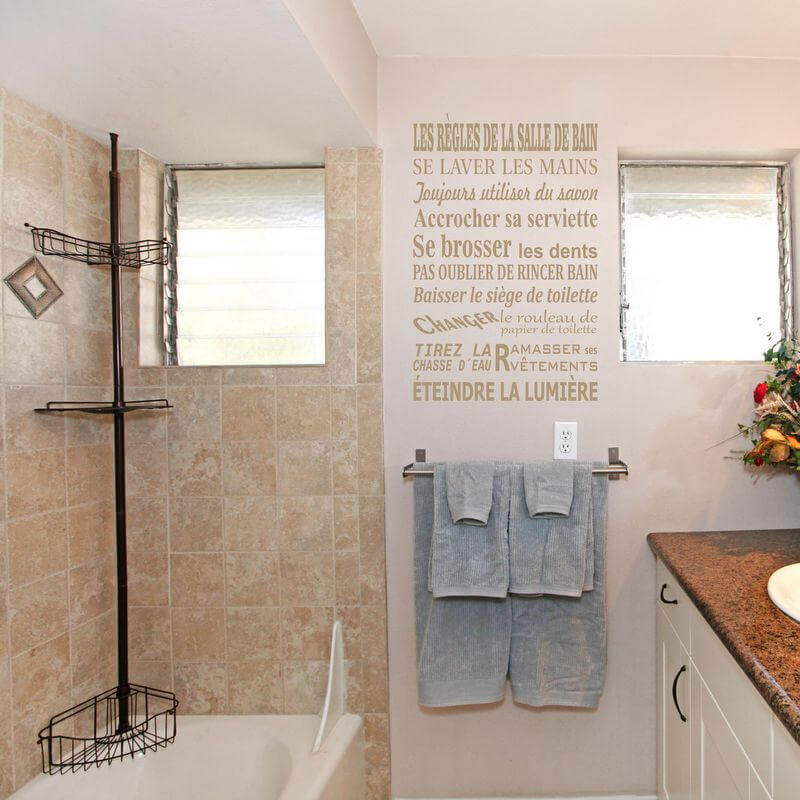 For the European at heart, this Francophile list of courtesy reminders is must-have décor for your salle de bain. And if you don't speak French, there is no need to worry – it turns out that bathroom etiquette has no borders or mother tongue. There's never been a fancier way to remind guests to wash their hands and put down the seat.
33. Custom Name Cutesy Custom Prancing Llama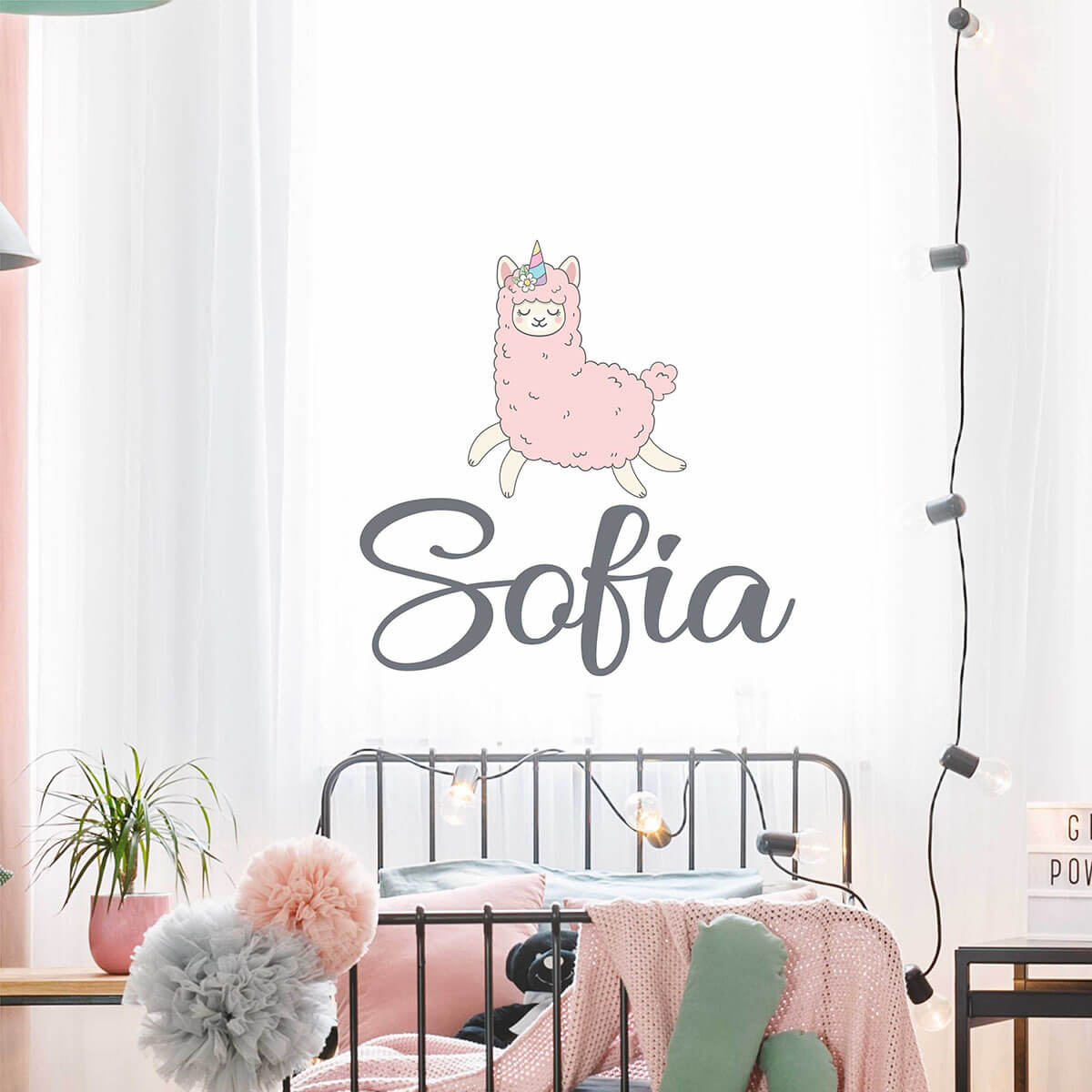 Great for a birthday party or for a fun way to celebrate all year long, this fluffy llama will happily prance with any name you like. With a rainbow birthday hat, this Llama is always having a good time and is sure to lift spirits on any gray day. This vinyl sticker is reusable and can be saved from party to party.
34. Night Sky 3D Effect Ceiling Wallpaper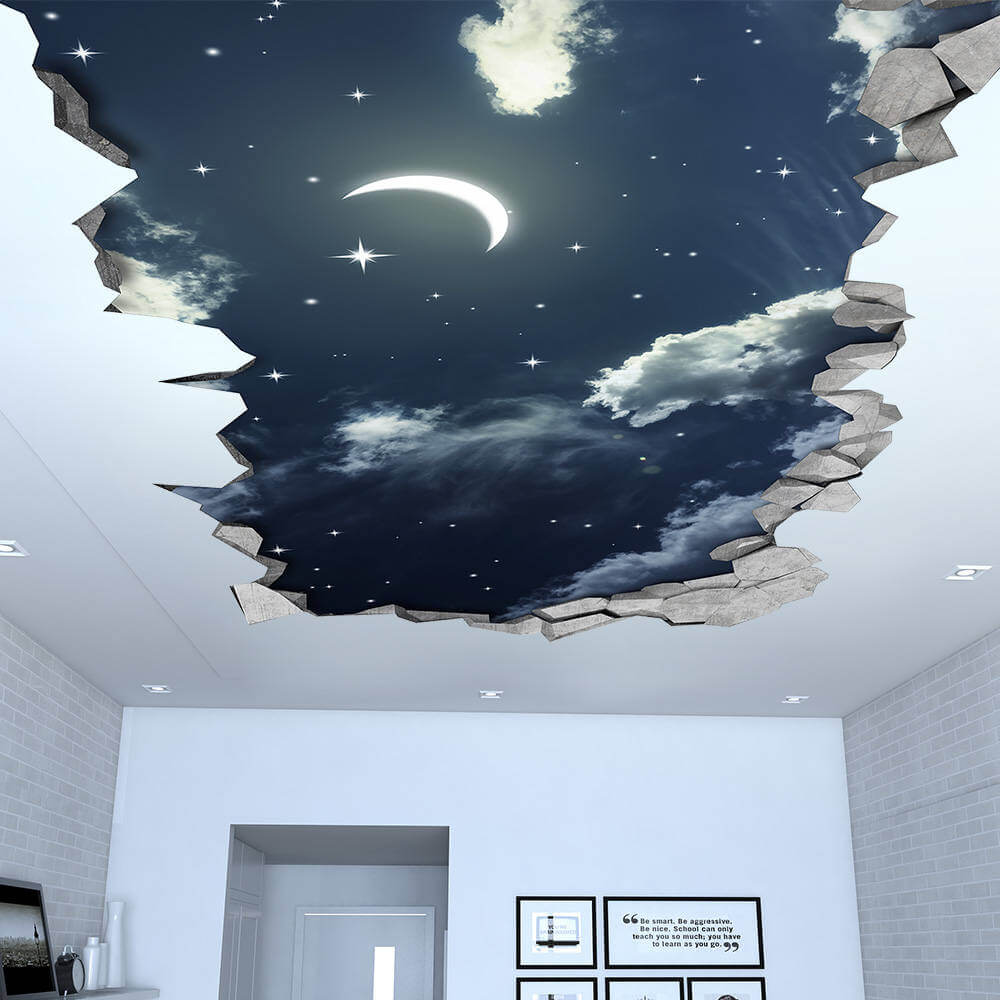 A most dramatic display, this vinyl sticker gives the impression that the ceiling has been torn asunder to provide you with a lovely view of a beautiful clear night sky. Suitable for smooth ceilings, this sticker takes more effort and time to install, but once you have it placed, the awe that it inspires will be worth the extra work.
35. Sleepy and Lovely Lash Lids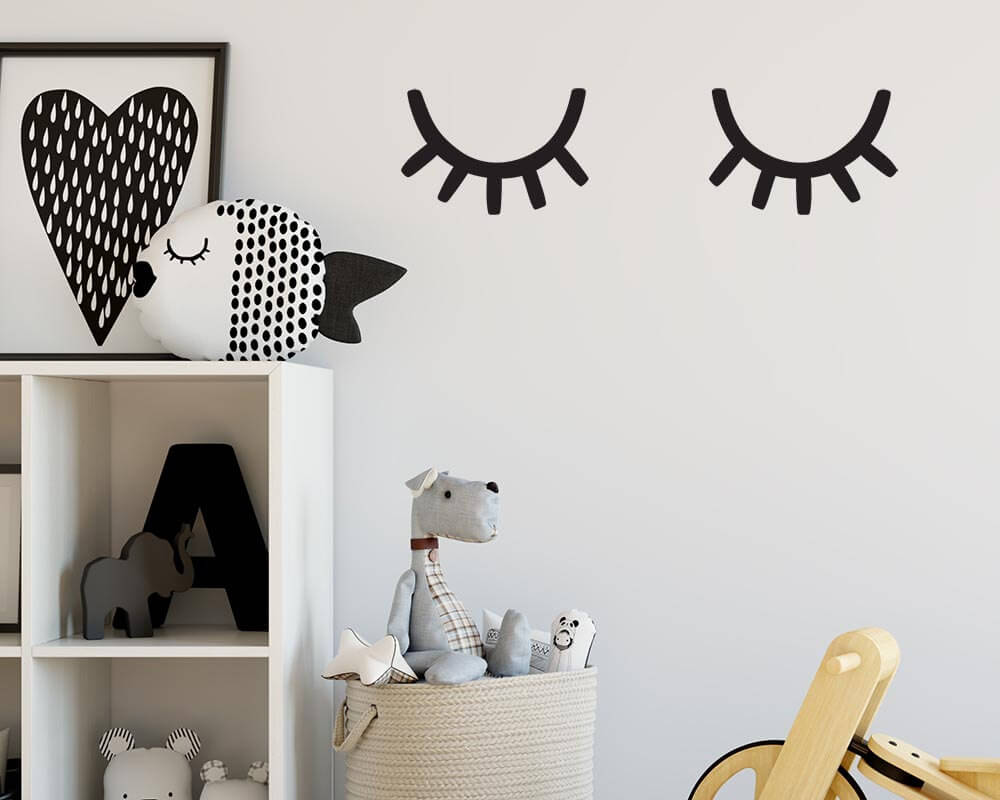 When it's time to put the kids down for the night, what better way to get everyone in a sleepy mood than this adorable set of closed eyelids. A very simple addition to any bedroom wall, those heavy lashes will have a contagious effect, bringing the bedroom to life to say, wordlessly, "the day is done and now it's time to rest."
With an abundance of wall sticker ideas out there, you are sure to find something beautiful that works for your home. This list gives you a wide array of options and perfectly demonstrates the variety and capabilities of vinyl wall stickers. Ranging from giant, wallpaper-like displays to simple nods to classic designs, wall stickers are becoming a preferred method of décor for their customizability, simplicity, and low cost. These 35 unique ideas show that nearly any room of any home can be stylishly adorned with wall stickers, whether it is the nursery, the kitchen, the living room, or the bedroom.