If you're welcoming the season of fall into your home, don't forget to include some of the best fabric pumpkin decor ideas into your decorating! These little plump pretties are such a versatile decoration to have in your design arsenal because they don't take up much space, making storage during off-season easy, and they blend into almost any decor while sharing their piece of fall.
Give your Home a Fall Tone with these 33 Fabric Pumpkins

One of the favorite ways to display these pumpkins is down the center of your dining room table. Just imagine how little or large you envision your Thanksgiving centerpiece and one or ten of these little cuties is sure to make your dreams come true. You could even nestle one on each person's place setting to cozy up the atmosphere of your fall feast.
They are wonderful centerpieces beyond the Thanksgiving table too as they look fabulous for a fall wedding. Seated in the center of the reception tables, wedding guests will relish in the beautiful simplicity of these darling and original wedding decor ideas. They could be used as wedding favors as well or even placed at the end of each row of seats in lieu of traditional floral and ribbon bouquets.
Another fabulous way to decorate your home with fabric pumpkins is lining them up across the mantel or window sill. Maybe you have an old, antique buffet in your dining room where they would feel right at home. You may choose to line them up in a straight line or group them in twos or threes for added appeal. Keep in mind though, these festive fall accents aren't only for the eating spaces of your home.
Consider the nightstand of your guest or master bedroom. One of these black and white plaid pumpkins would be just enough autumn to make your night time retreat a little more seasonal. Or if you have younger children around, they would certainly delight in playing with them and have easy access to a nice, wooden basket filled with them.
Don't be afraid to take them out of the front door either because they are a fun way to add some texture to your front porch. You can blend them with real pumpkins that are fresh from the patch and maybe a cut-out scarecrow too. A small table between two classic rocking chairs is the perfect place to rest a collection of these festive miniature pumpkins that will last for many falls to come!
And since they are out of the house, why not let them out of the bag too! These fabric pumpkins are a great way to add an embellishment to your fall gift giving. Use them in place of a traditional ribbon and bow or throw them into a gift bag filled with all sorts of fall-themed goodies from candles to candy corn.
Leftover material finds a new purpose as you gather all your gal pals for a fun Friday night get-together where you can get your craft on and catch up with each other at the same time. Even the younger girls and boys will enjoy a party like this so you could choose to host a craft party for all your neighborhood kids or make it a cousin craft party. Adults and children alike enjoy working with their hands and being creative. Hosting a craft party is a win-win since everyone enjoys the activity and hanging out together, plus they also get to take home a cute, new decoration for fall!
However you choose to use your newest little pumpkin from the fabric patch, you're sure to add some character and charm into the hearts of all who enjoy their sweet and plump fall goodness.
1. Pretty Plaid Fabric Pumpkins with Felt Leaves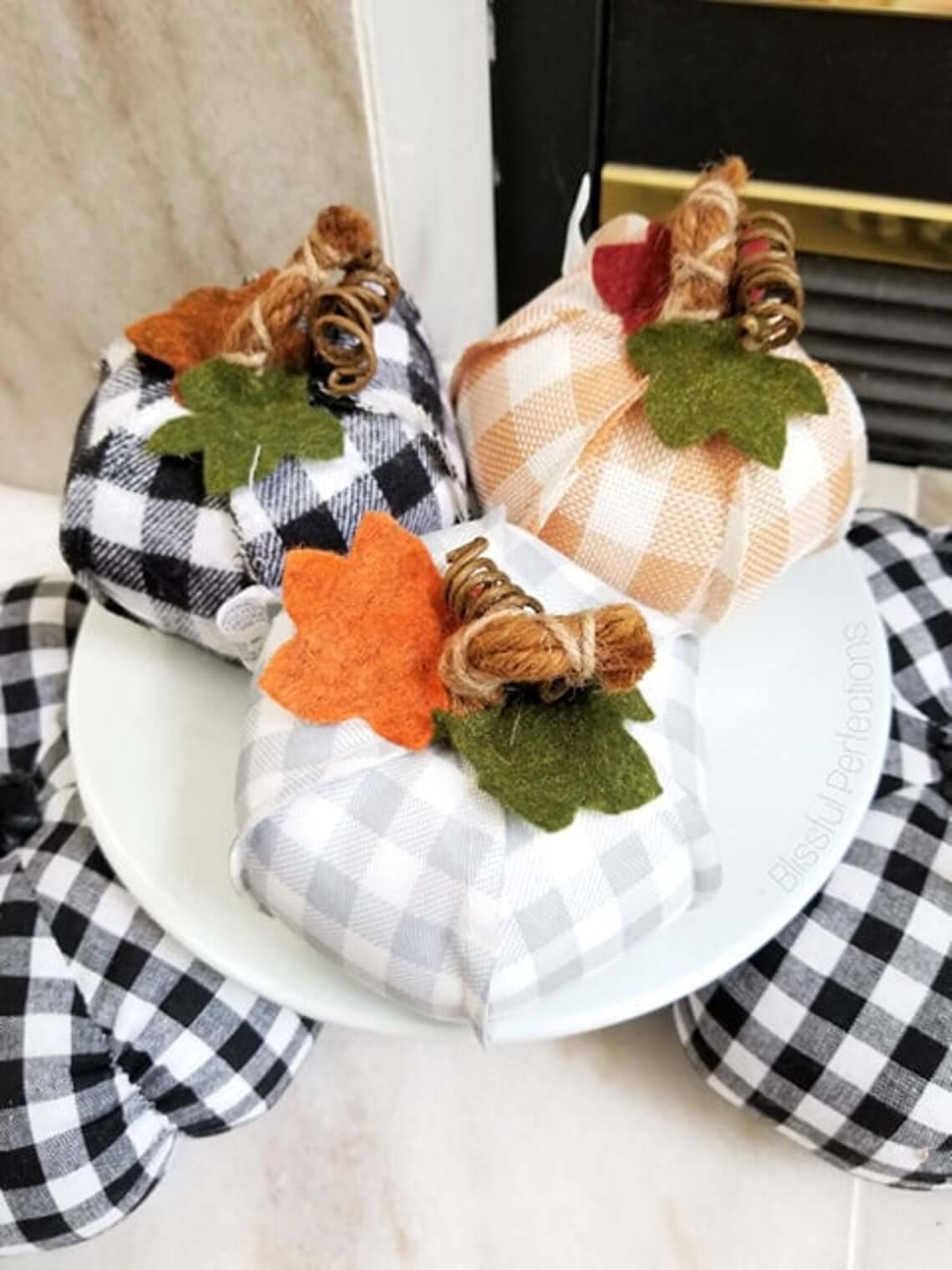 Here's a pretty way to welcome fall into your home with these plaid fabric pumpkin decorating ideas. From traditional black and white to butterscotch or gray checks, these pretty plaid pumpkins are perfect for placing on a teacher's desk, kitchen windowsill, or nightstand. They are a super simple craft created with super simple supplies. The tops are finished off felt leaves and complete with stems and vines to give them an authentic pumpkin look. What a great, budget-friendly craft to discover at a vendor's market or fall festival! Grab a few to use throughout your home and to keep on hand for your gift-giving pleasure.
2. Romantic and Rustic Fall Wedding Pumpkin Centerpiece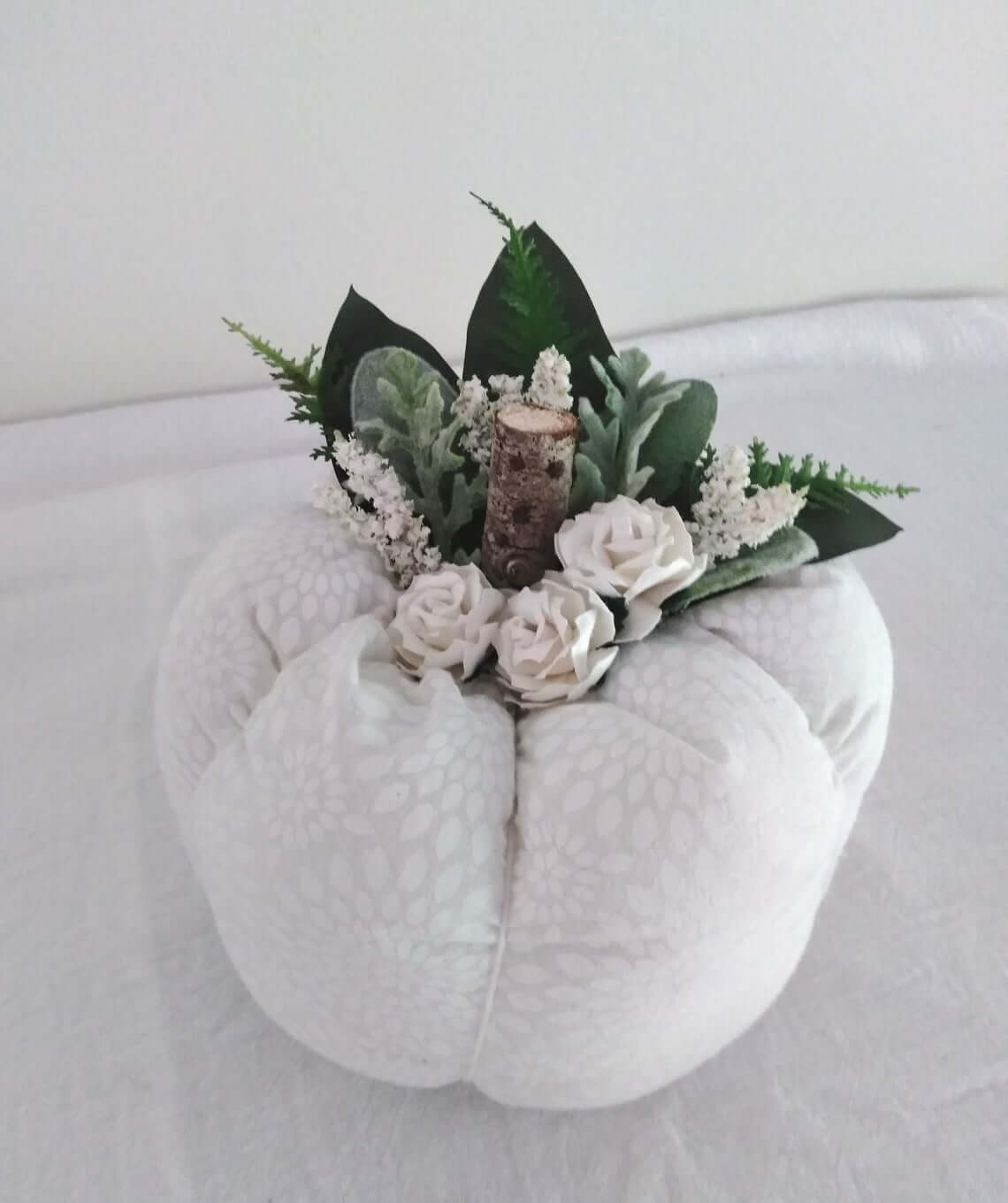 Planning a fall wedding? Look no further for this awesome and unique romantic and rustic centerpiece for your reception. This is the best fabric pumpkin decoration for blending simple elegance with everyday charm. Using a delicate white fabric featuring a muted floral print, this pumpkin has the little extra element to make it ideal for your wedding celebration. Around the wooden stem, there is a beautiful arrangement of leaves and greenery that rivals any bridesmaid bouquet.
3. Plush Pumpkin in Rich Purple Velvet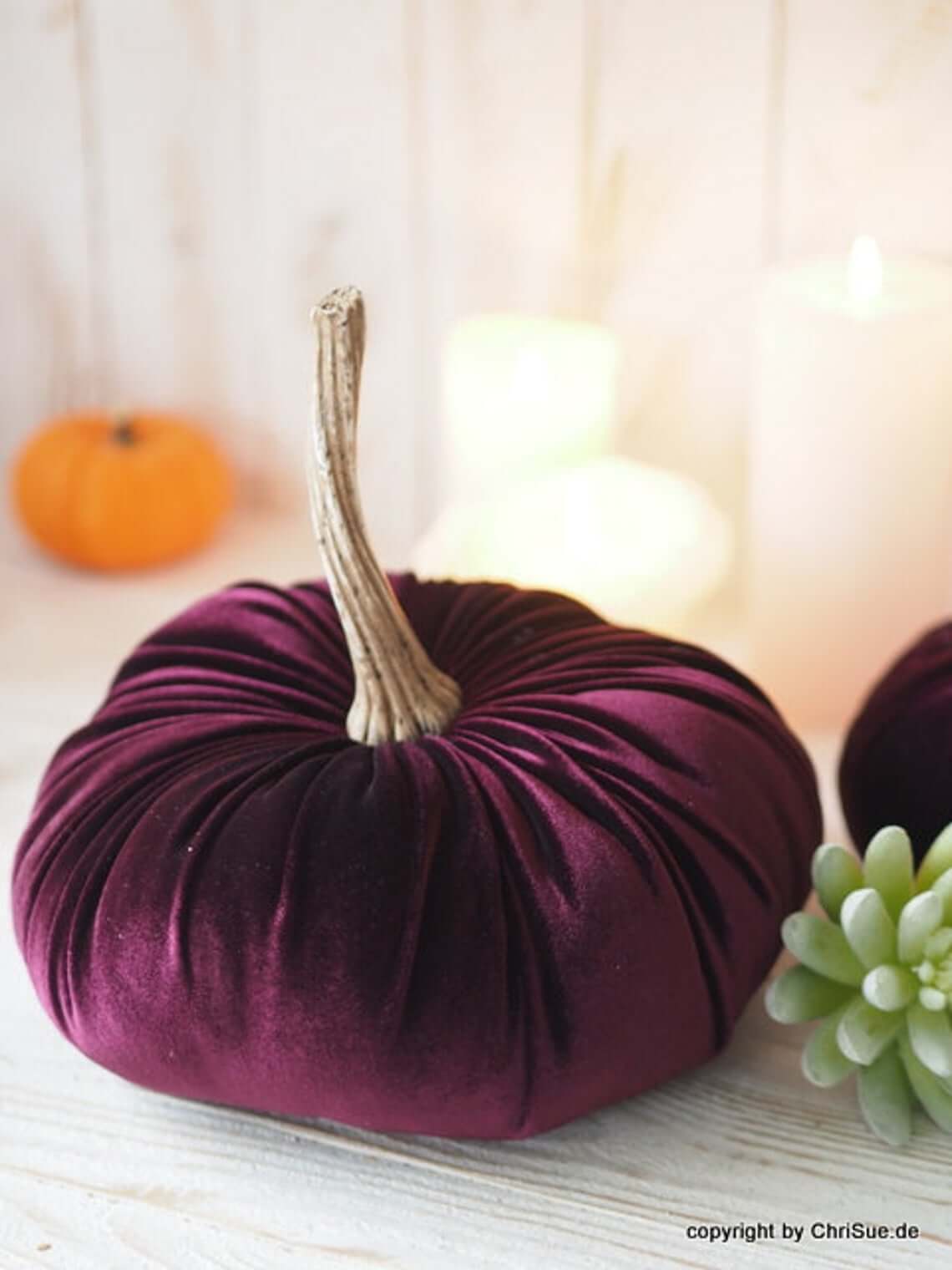 Bring some rich purple onto the scene in your fall decorating scheme as you incorporate this rich and rustic velvet fabric pumpkin. Don't you love the way the sophisticated and bold velvet is accented using a real pumpkin stem on top? It's the perfect blend of rustic and modern in this combination of textures. The deep and luxurious purple hue would be a bold splash of color for your traditional orange and red fall spread. It's the best way to add some rich and royal flavor to your home this autumn.
4. Buttery Yellow Chenille Fabric Covered Pumpkins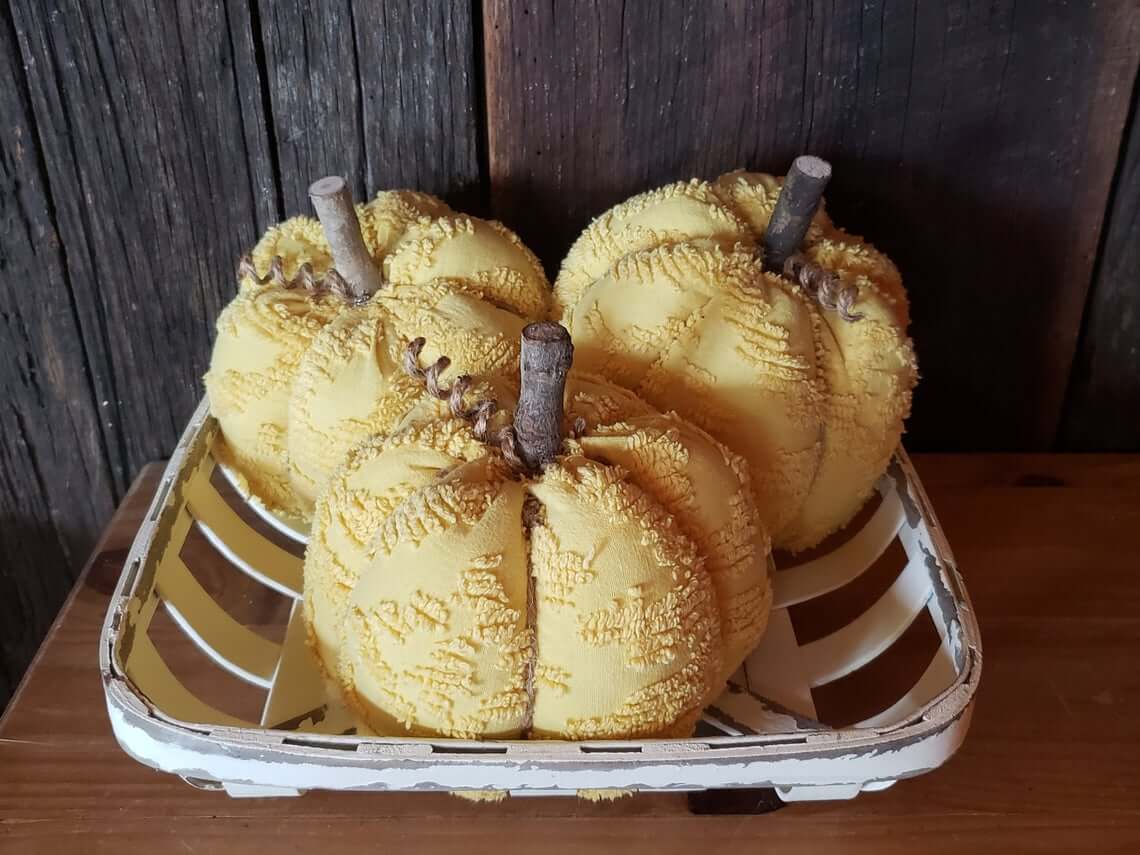 Why not repurpose those old, antique quilts from grandma into something pretty and practical? The rich and smooth buttery yellow in this chenille fabric creates some of the most unique fabric pumpkins for sale. A large quilt would create several of these plump decorations, so spread the love and give each grandchild a memento to remember grandma. These pumpkins lend themselves into shabby chic interior design with their cross of vintage and rustic charm. The wooden stem and twine curly-cue vine are the icing on the cake in this cool and creative fall decor item. You can choose to arrange them individually or in a group gathered in a fun wooden crate or tray to achieve the decorating design your heart desires.
5. Super Luxurious Chenille Yarn Crocheted Pumpkins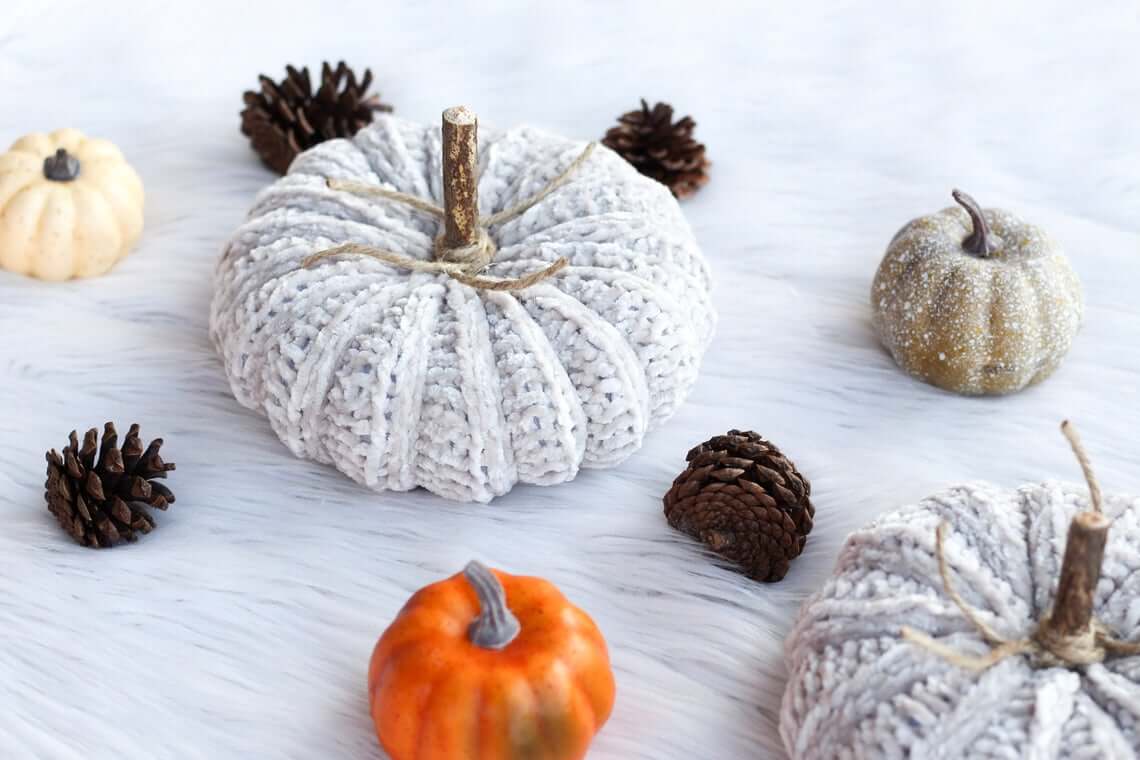 Your choice of yarn can create any atmosphere you choose for your home this season. The luxurious feel of chenille lends a soft, richness to your rooms while exuding a sense of times past. The simple stick stem with tied twine adds a contrast to the soft and smooth chenille. This is one of the best fabric pumpkin decorating ideas for including in your fall mantel display. Placing it on top of a present would be an extra gift in itself or you could tie it to a gift bag as its finishing bow decoration.
6. Glistening Gold and White Chevron Pumpkin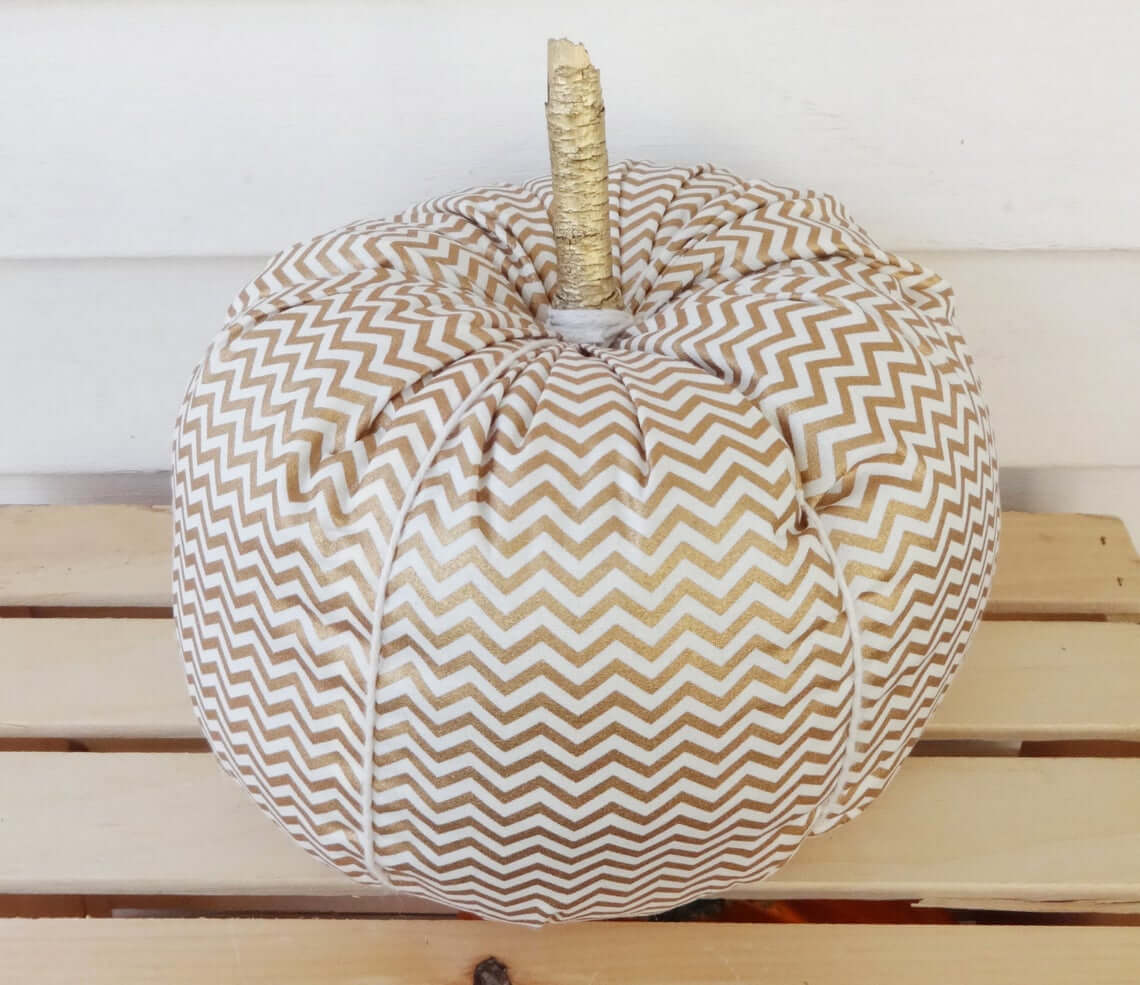 Let the shimmer shine through into your fall home decoration arrangements with this glistening gold and white chevron printed fabric pumpkin. The metallic flair highlighted in the gold chevron stripes adds interest and intrigue to traditional fall color palettes. A hand-painted golden stem continues the metallic shine as these fabric pumpkin decor ideas is a great concept for a fall bridal shower.
7. White Canvas Fabric Pumpkin Fall Decoration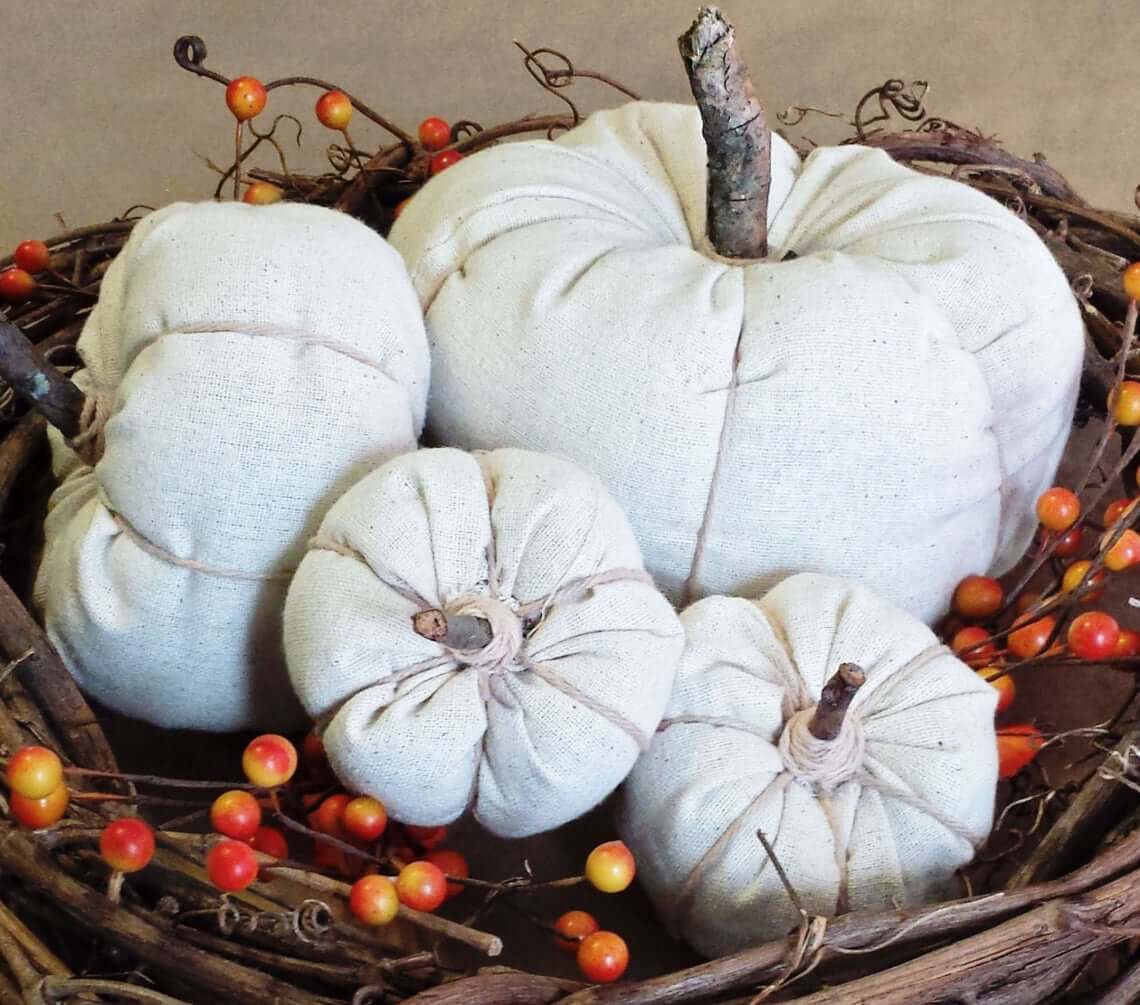 Check out this bundle of cute white canvas pumpkins that are nestled in this twiggy fall wreath. They are literally a blank canvas upon which you could stencil your own unique ideas. Maybe you need an initial to use them as at your turkey day dinner or you could have a bunch of kids enjoy a fall painting party where they can design them their own way. You can always leave them white to provide a solid statement in your fall decorations. No matter what you choose, make them yours this fall.
8. Gorgeous Burlap and Tweed Textured Fabric Pumpkins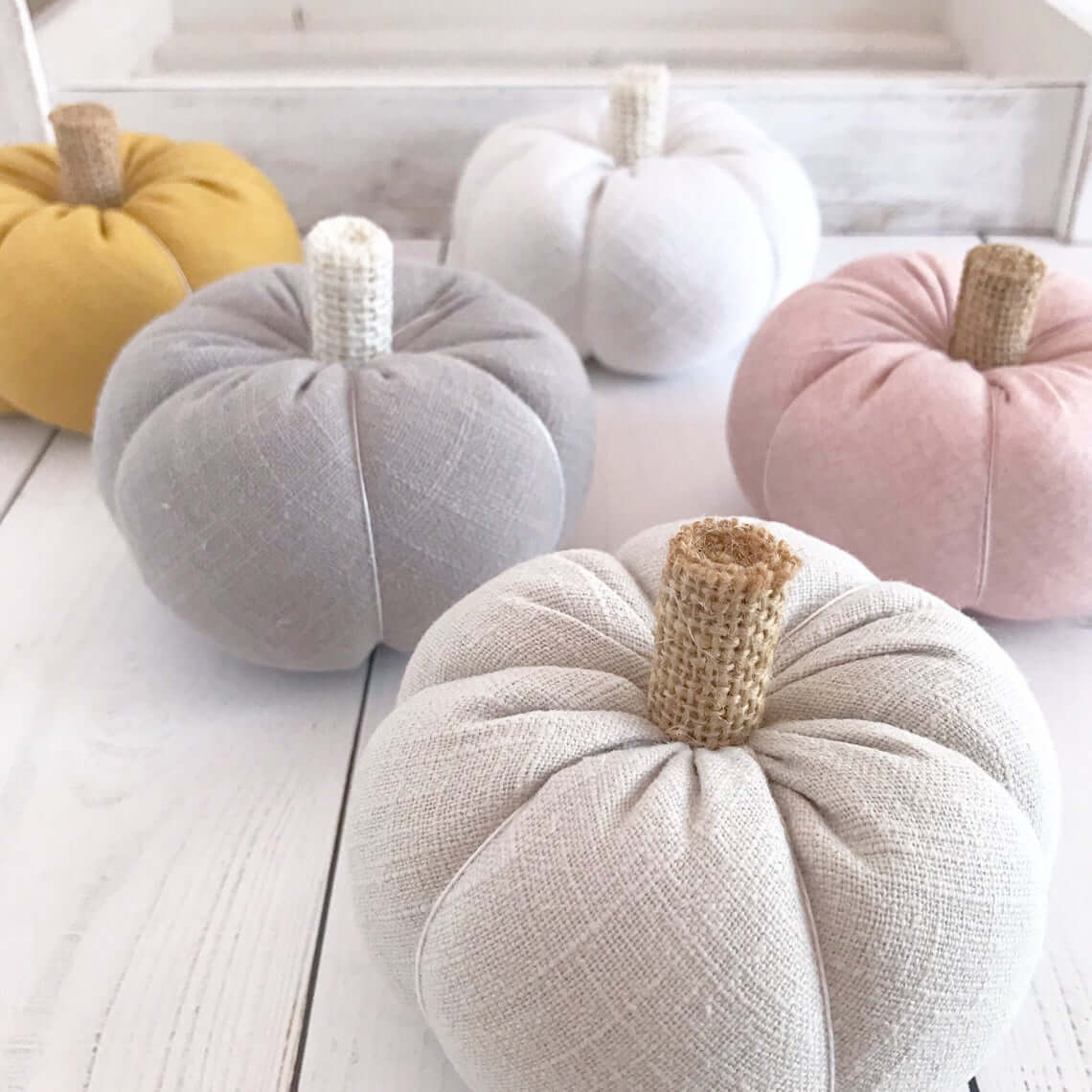 The terrific texture is alive and well in these burlap and tweed pumpkins. Crafted in a variety of colors, these perfectly sized pumpkins are an awesome idea for infusing some subtle color into your home for fall. Group them together or set them apart to create the look you wish. Several of these would work together quite nicely in a round circle forming a wreath to hang on your front door. Or you could place this wreath on your coffee table or in the dining room with a fragrant warm vanilla candle resting inside.
9. Great Grandma Inspired Crocheted Pumpkin Decorations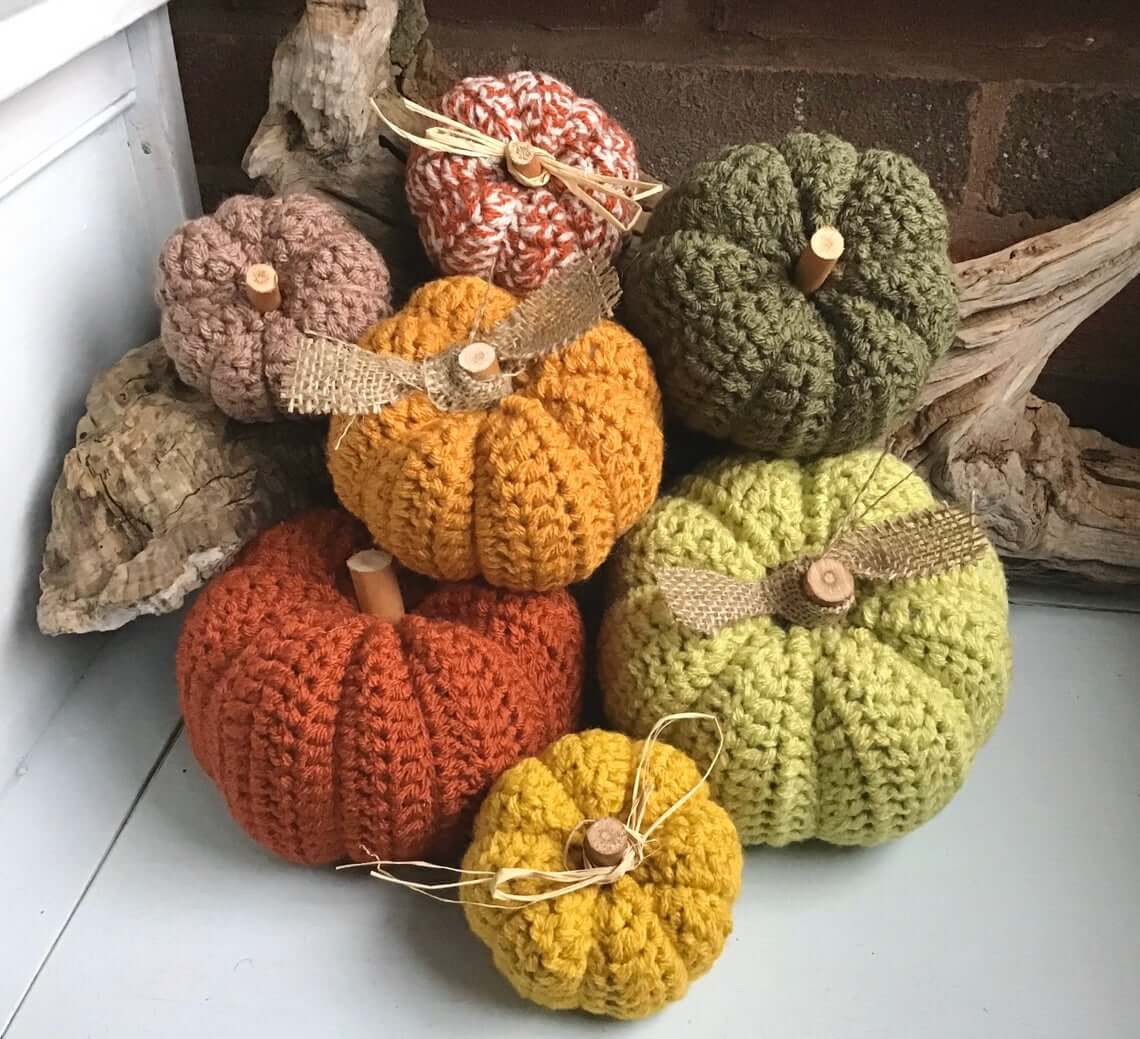 From mustard yellow to olive green, these warm fall colors take center stage in the final product of these crocheted pumpkins. A great beginner or advanced project, these cool pumpkins are a great alternative to real pumpkins because they can be reused every year in your home. Spend some time with the younger ladies in your family and pass down this domestic skill while creating some cute gifts and home decorations this fall.
10. Black, White, and Butterscotch Pumpkins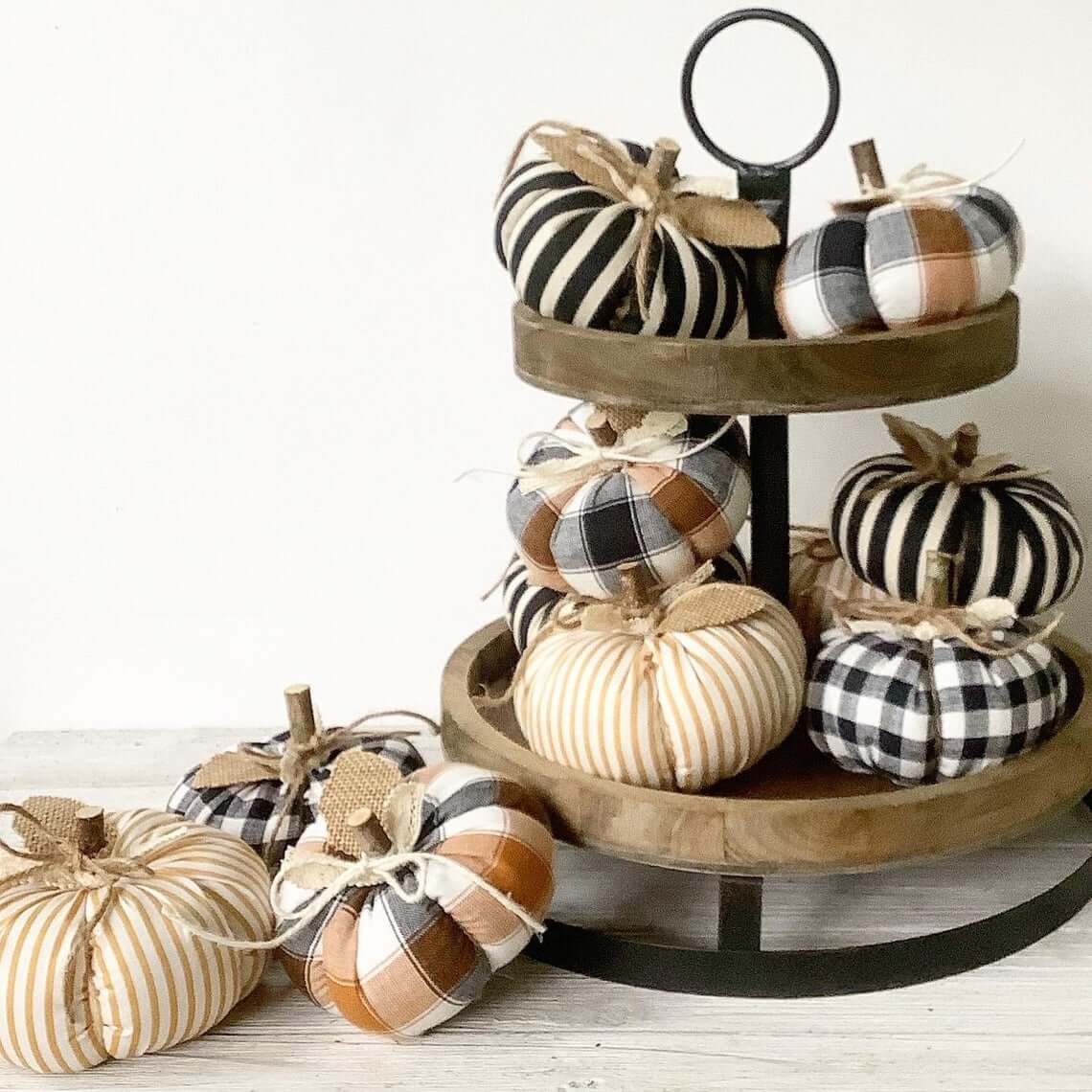 Dress up your home with these cute fabric pumpkins crafted in gorgeous plaids and stripes. The fun designs liven up the room with their style and trendy color scheme. Use them in a modern design to soften it up, or place them around your farmhouse for some extra pizazz. Arranged on a tiered shelf is a wonderful way to show them off or they could be lined up in down the center of the dining table in a pattern format. They would be an awesome idea for a cool door prize at your next party too!
11. Orange and White Chevron Pumpkin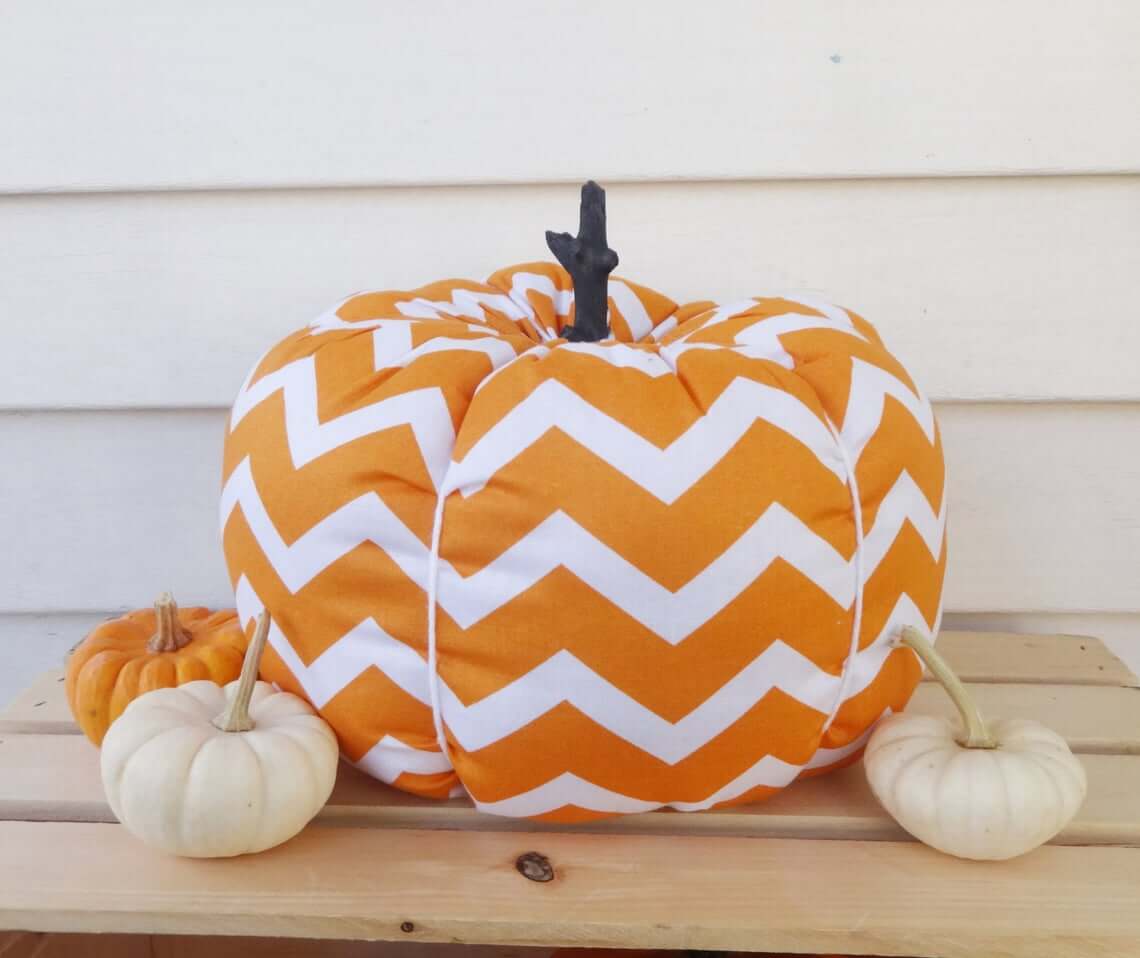 Mix modern with traditional when you gather this orange and white chevron fabric pumpkin with your homegrown miniature ones. The combination works well and looks fantastic in your home decorating scene this fall. Using a fun chevron print in your fabric choice allows for more detail and interest in your typical plaid productions. This would be a fabulous way to spruce up your front porch with the iconic pumpkin front and center in your design.
12. Plump and Pretty Neutral Pumpkin Decoration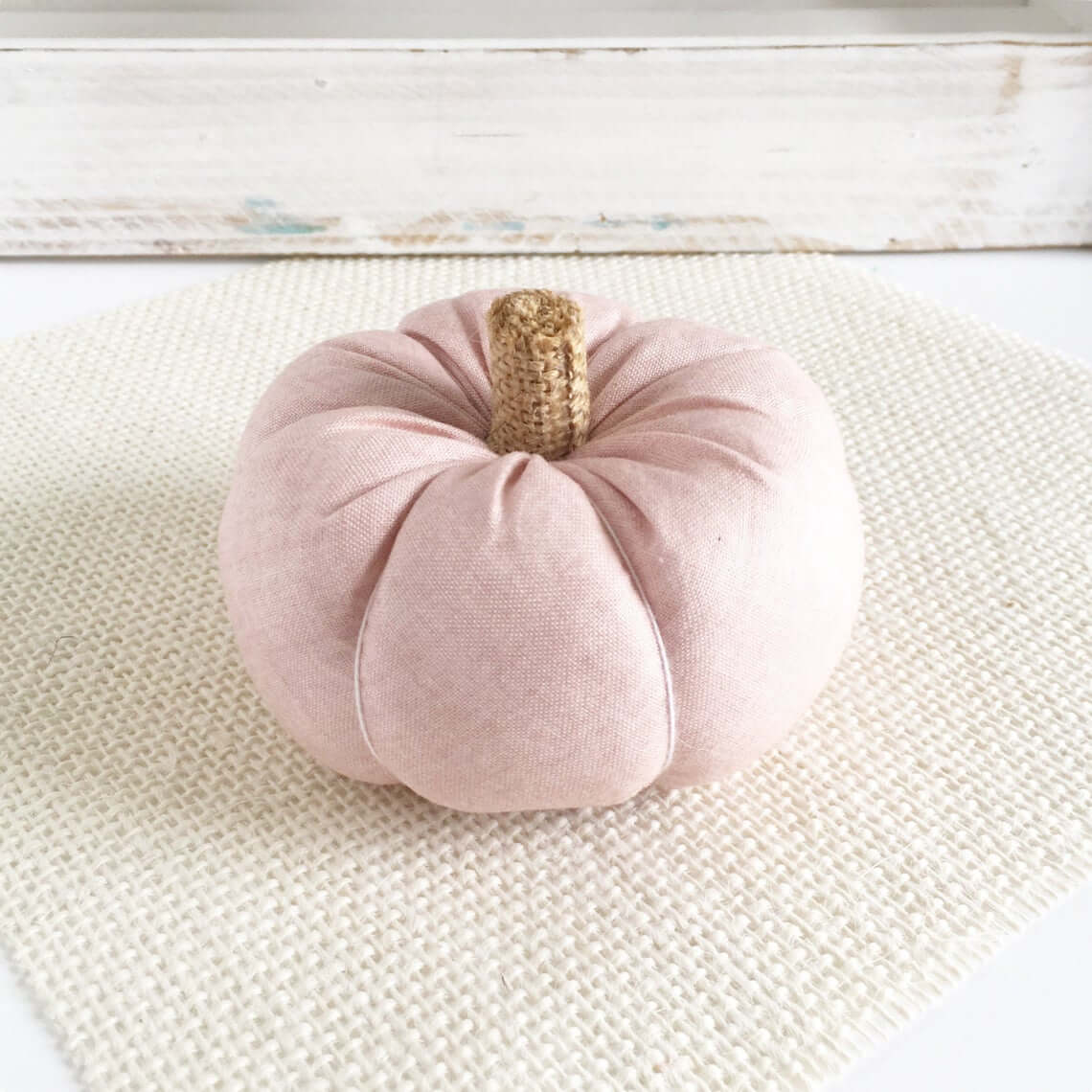 Here's a sweet little fall home decoration that works in nearly any design style. Its neutral, creamy color blends into nearly any color scheme, and its plump size makes it easy to love. The adorable burlap-wrapped stem is a darling touch to top off this fun fabric pumpkin fall accent. Nestle one beside the lamp on your bedside table or add it to your Thanksgiving table as you enjoy your feast with your family.
13. Dainty and Feminine Mustard Fabric Pumpkins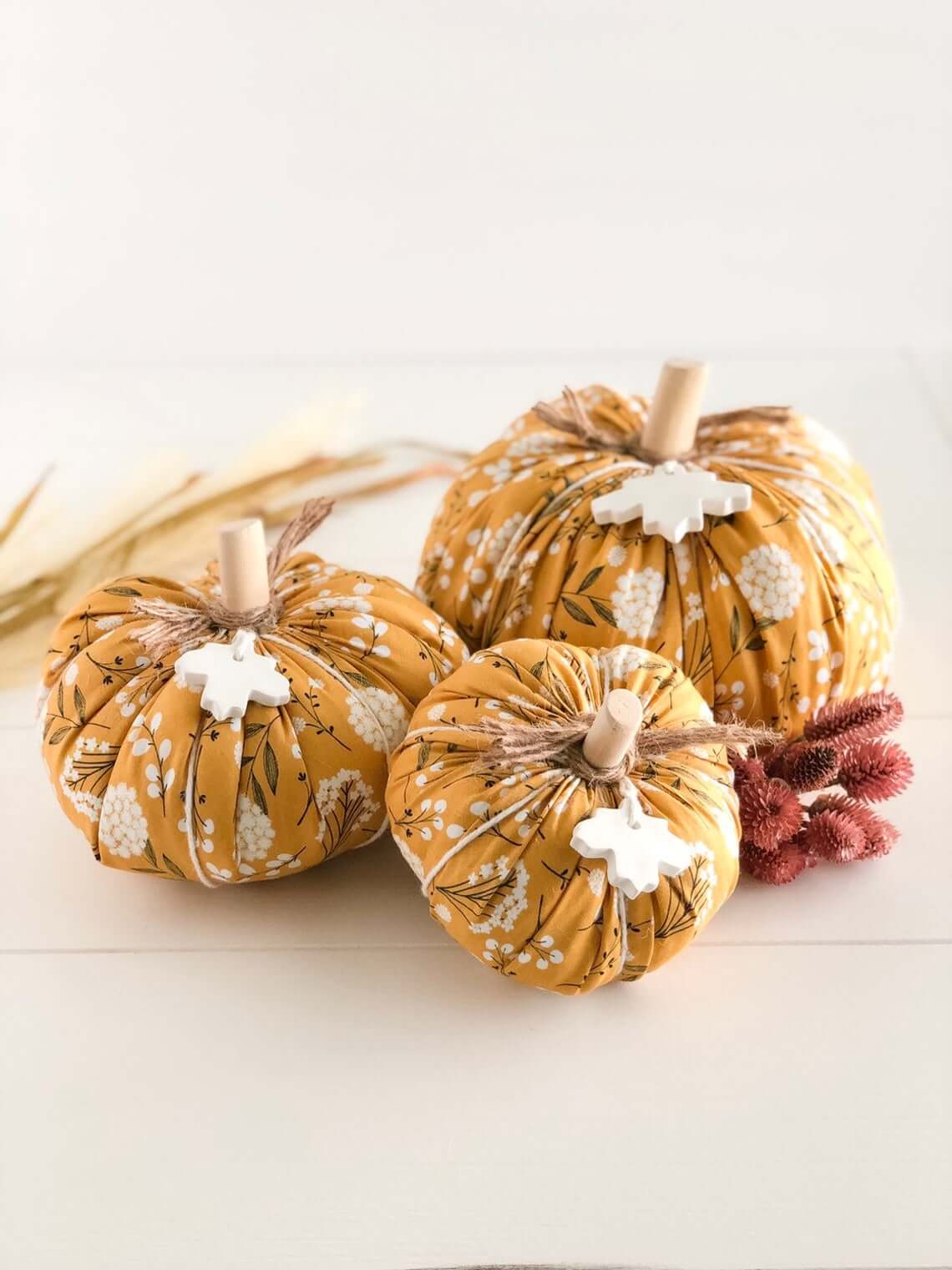 Enjoy this golden mustard hued fabric pumpkin set as addition to your fall decor. The pattern print of white cotton blossoms set on this rich golden color brings softness to your autumn decor that's reminiscent of the sweet fall breeze. Around the stem, there's a super cute, tiny white wooden leaf that further engulfs the dainty and feminine beauty of these fabric pumpkins for sale that you need to get your hands on soon.
14. Distressed Gray with White Stripes Fabric Pumpkin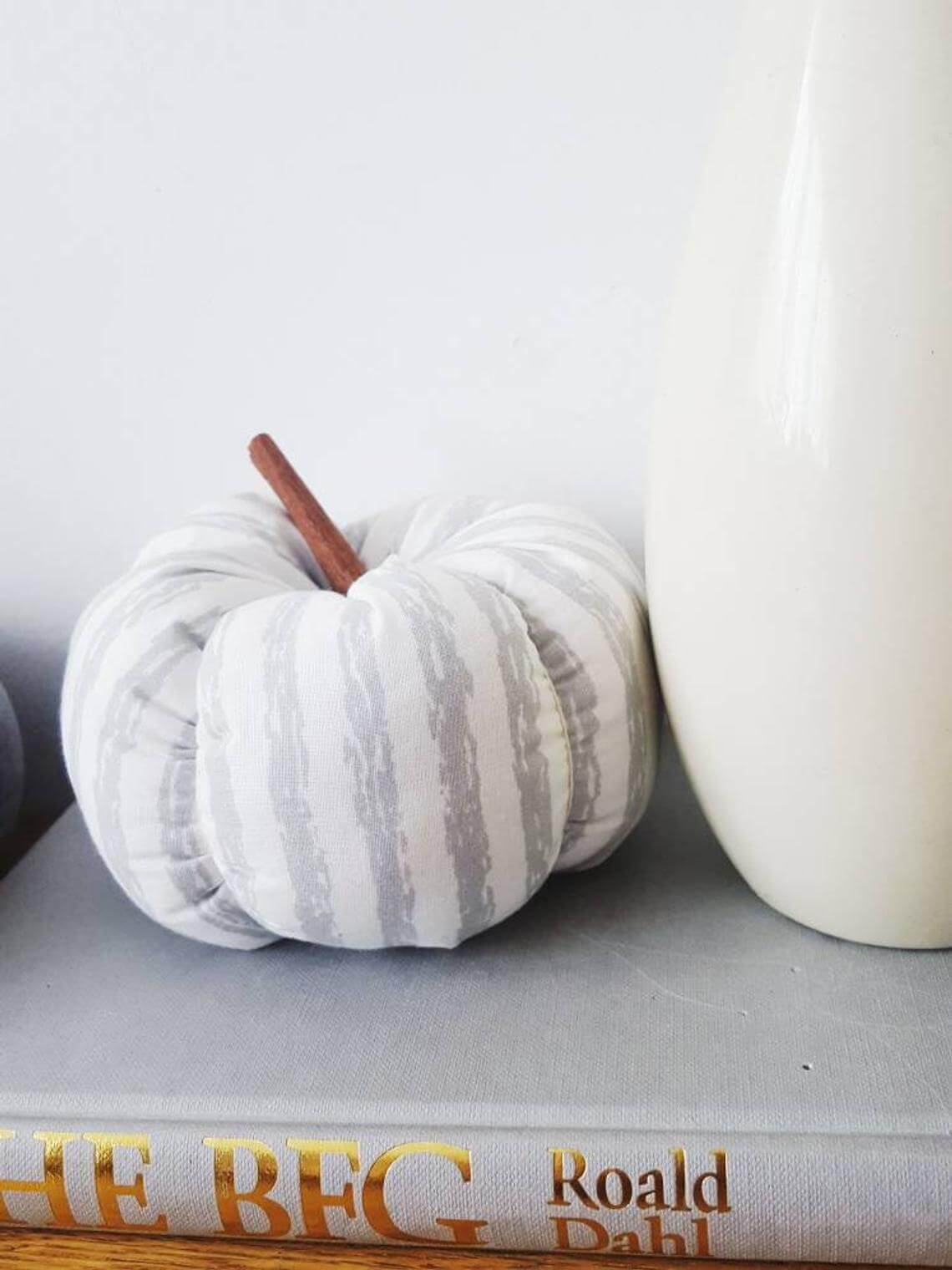 Incorporate your favorite icon for the season of harvest, along with the on-trend and in-style color of the moment with this fabric pumpkin featuring a distressed gray stripe. There's no need to worry about this fall home decoration clashing with the colors of your existing gray decor since this pumpkin highlights this stylish color. Place this next to a white piece of pottery or set atop a classic novel for some cozy comfort in your home. it can easily stand alone as a decorating piece or mix into your already established decorating displays.
15. Creamy Chenille Fabric Covered Pumpkin Decoration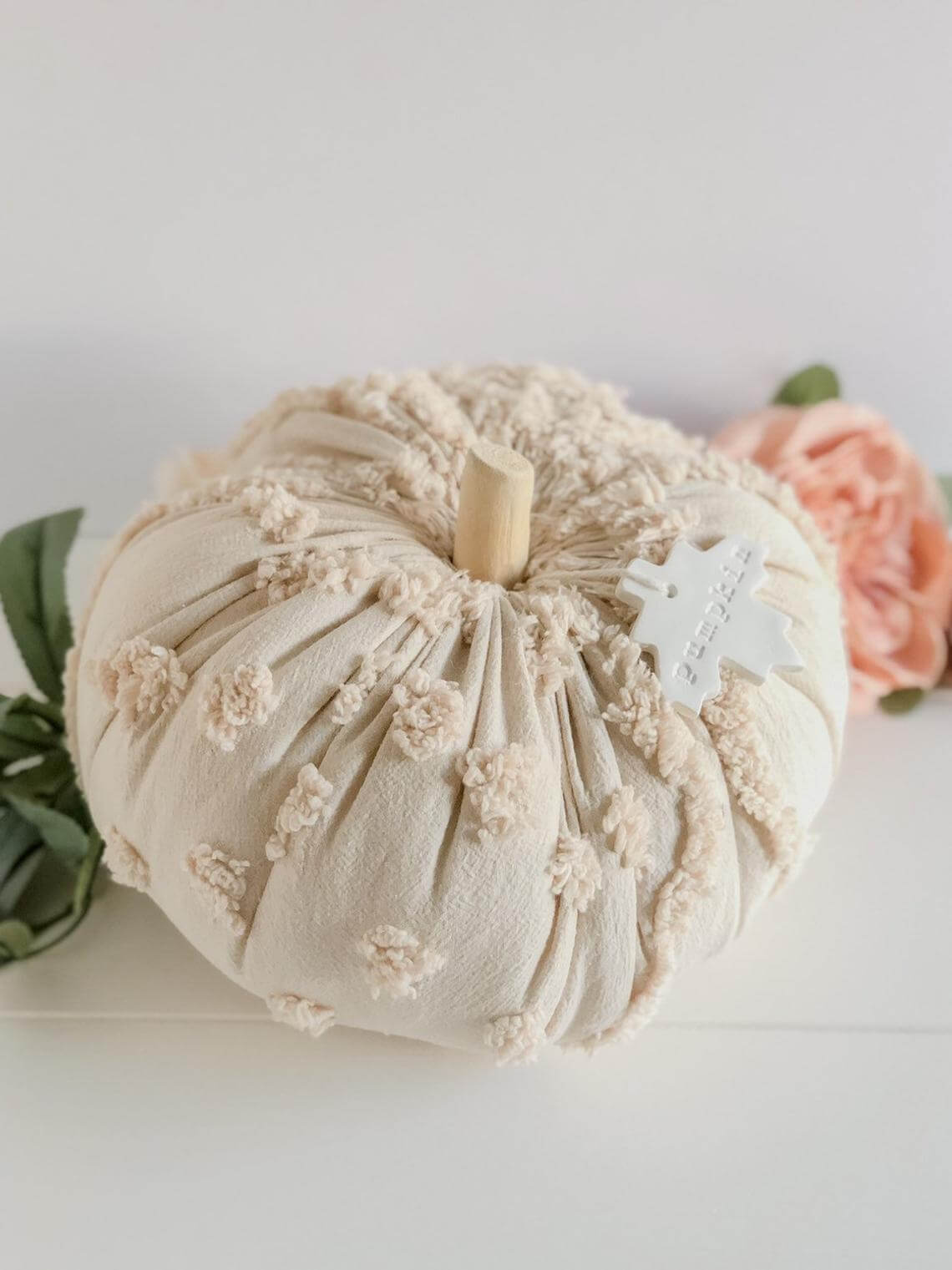 Look at these classic polka dots accented all over this beautiful chenille covered pumpkin! Channel your inner shabby chic diva and pull out all the stops with this show-stopping fabric pumpkin. Using a vintage material like chenille further complemented with its classic polka dot pattern makes this one of the best fabric pumpkin decorations you can find. Gift one to all of your gal pals on your fall girl getaway as a way of thanking them for their friendship.
16. Romantic Silver and Shiny Wedding Time Pumpkins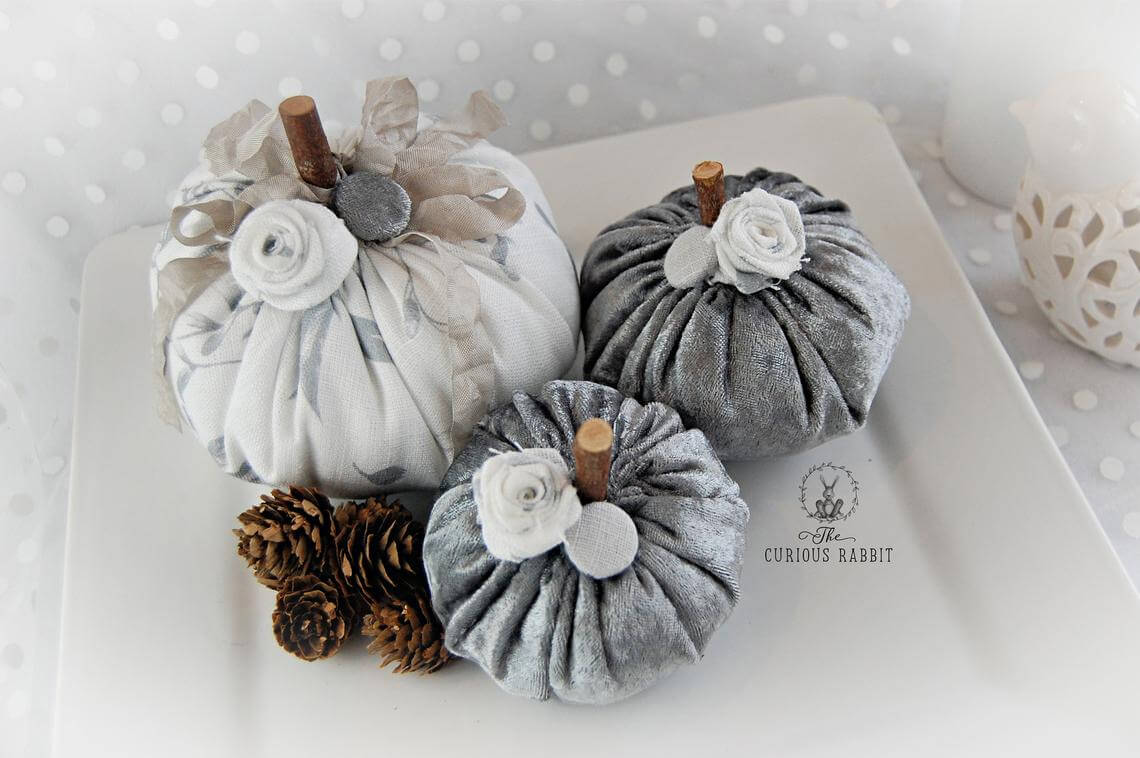 Add some sheer romance to your fall wedding decor with these fabric pumpkin decorating ideas. The silver velvet provides some luxurious feel to the wedding atmosphere. Each reception table will look fabulous with this trio of silver and white fabric pumpkins as the centerpiece. Snuggle in some votive candles to add to the ambiance for a soft glow. You can mingle in a few along the food table to further tie the look together.
17. Damask Fall Floral Fabric Pumpkin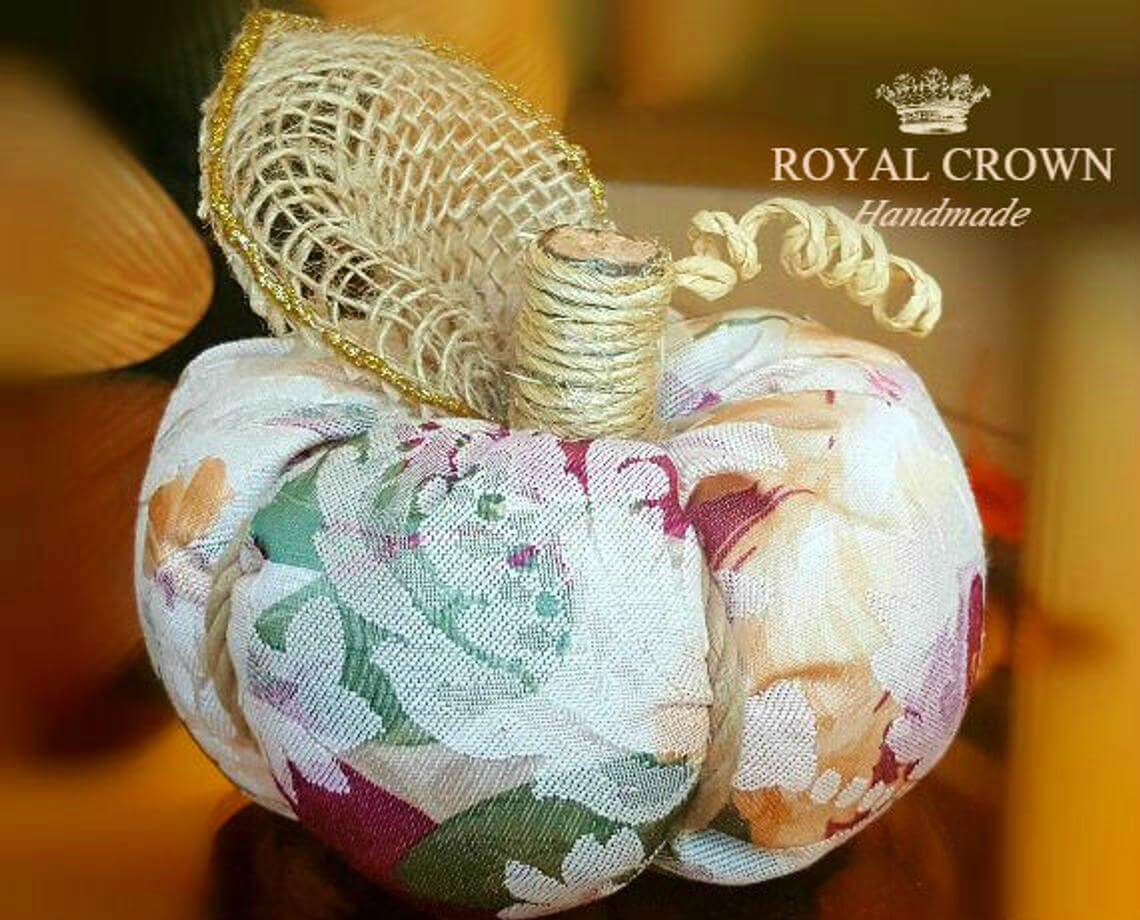 The golden trimmed leaf on this crafty pumpkin adds some bling to your beautiful fall decor. Classic floral damask fabric creates an elegant take on your pumpkins this year. The old world print lends itself to a traditional living room or guest bedroom. Featuring all of the colors represented by this leaf-falling season, this is one of the best fabric pumpkin decorations for mixing into your existing home decor. An old tablecloth could be repurposed into this crafty creation in little to no time. Have all of your girlfriends bring over one and host a DIY fabric pumpkin party!
18. Glitzy and Glam Sparkly Orange Pumpkin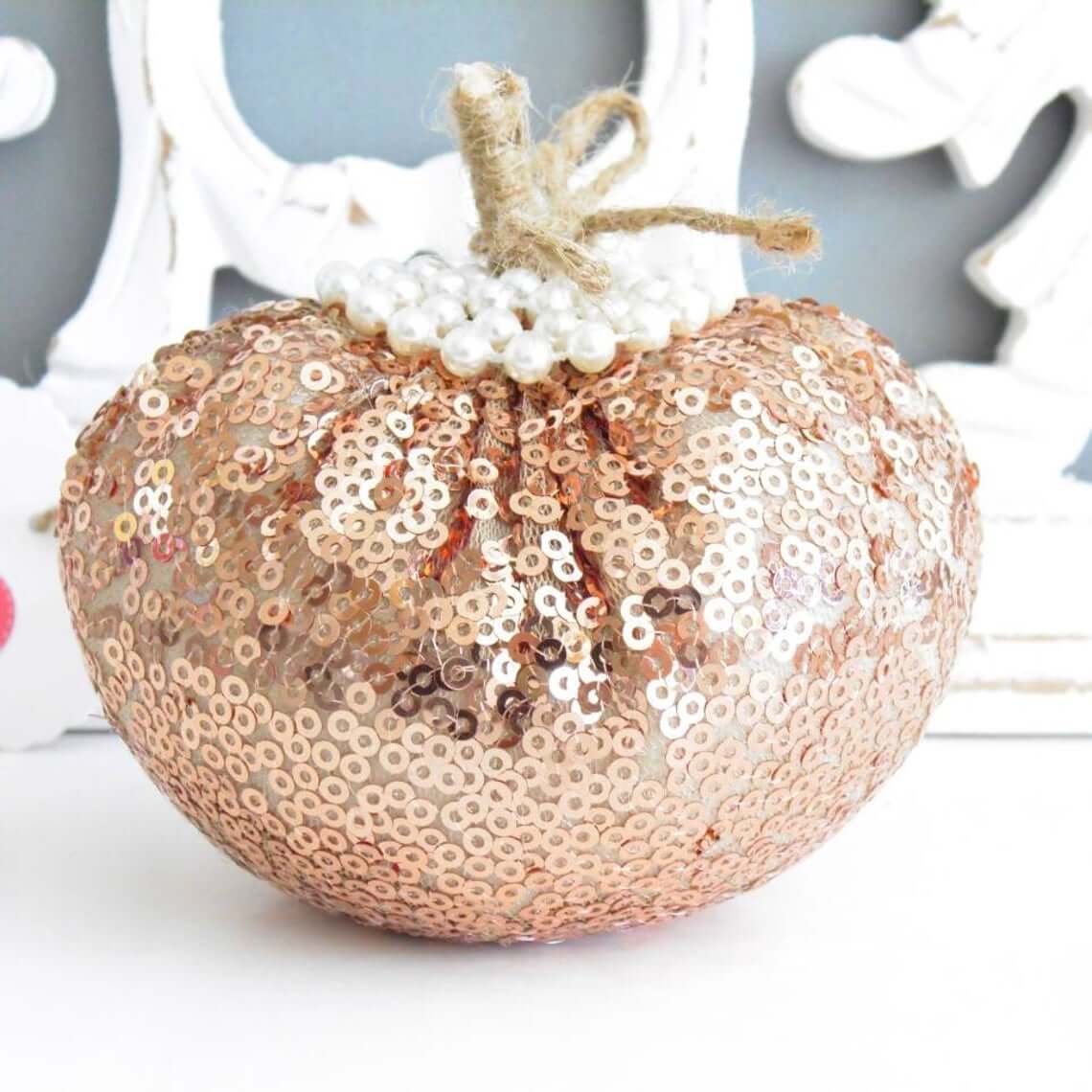 Elevate your pumpkin game with this darling pearl and sequined sparkly pumpkin. It brings the girly glamour your wedding needs to glisten this fall. These fabric pumpkins for sale are a great idea for hosting any type of party from retirement to reunion. Use them as centerpiece decorations that double as door prizes. Guests will delight in their beauty and elegant spin on plain fabric pumpkins.
19. Fabric Pumpkin with Real Stem Fall Decoration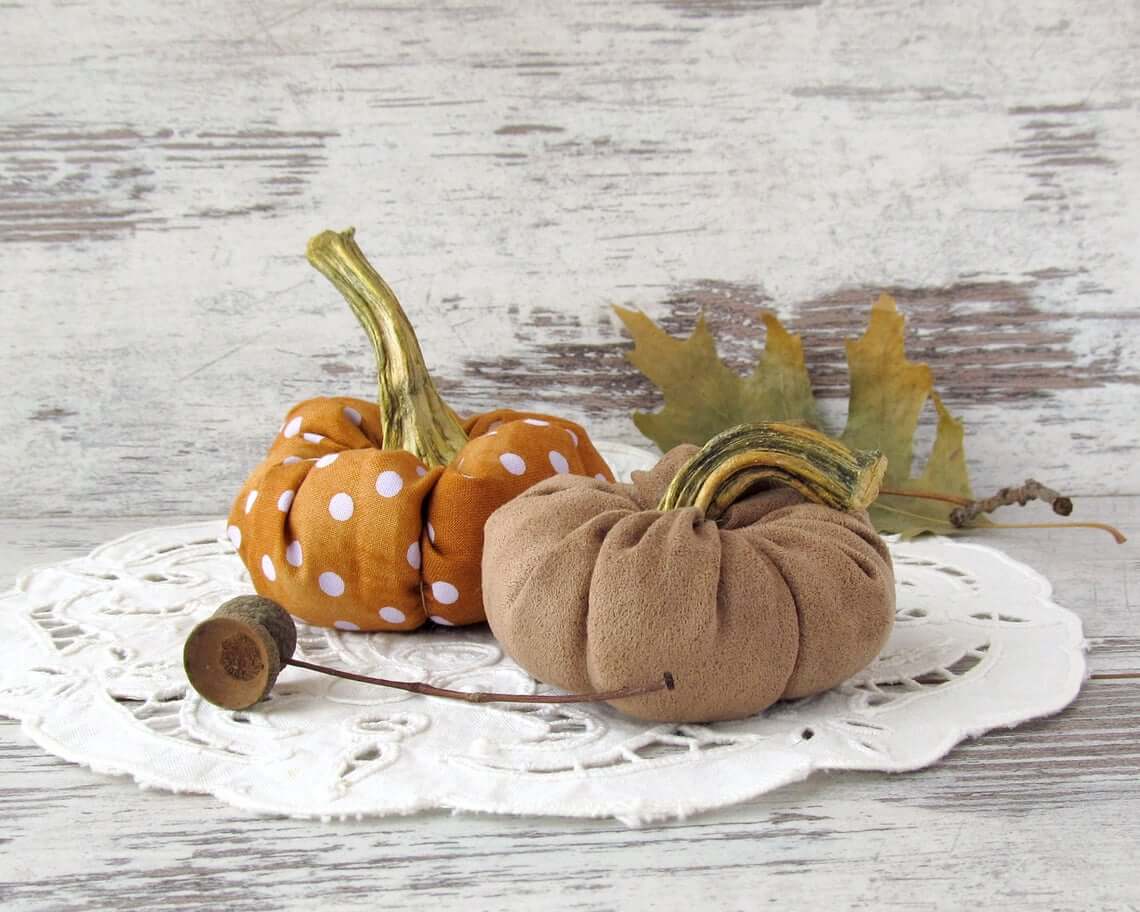 Bring a little comfort to the office with these fabric pumpkins featuring a real pumpkin stem. You'll feel right at home by including some of your favorite fall home decorations by your side while you're away at the office. Set one near your computer so it's always in view. Maybe you want to keep it subtle, so simply choose a smooth, mocha toned fabric that's neutral and plain enough to blend in with your workspace. Or if you like something with a little more flavor, you can opt for the vibrant orange with white polka dots.
20. Primitive and Pretty Plump or Thin Pumpkins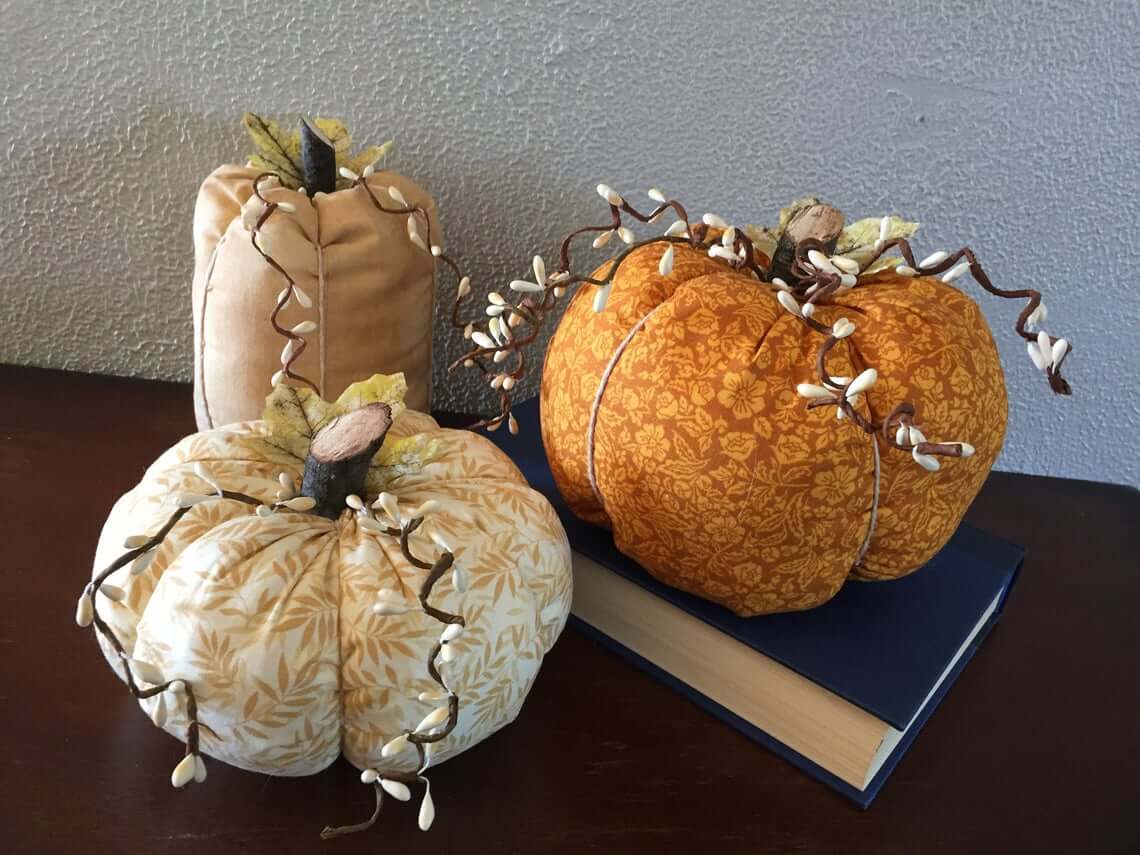 Group your pumpkins according to color and size or mix it up by blending the best of both worlds. The choice is yours with these pretty, primitive pumpkins. Featuring a primitive white berry vine wrapping around the base of their stems, these fabric pumpkins are a wonderful way to display some fall decor while keeping in line with your home's style. The lovely twine details add some texture while plumping up these rounded beauties.
21. Warm Vanilla Soft and Sweet Thankful Pumpkin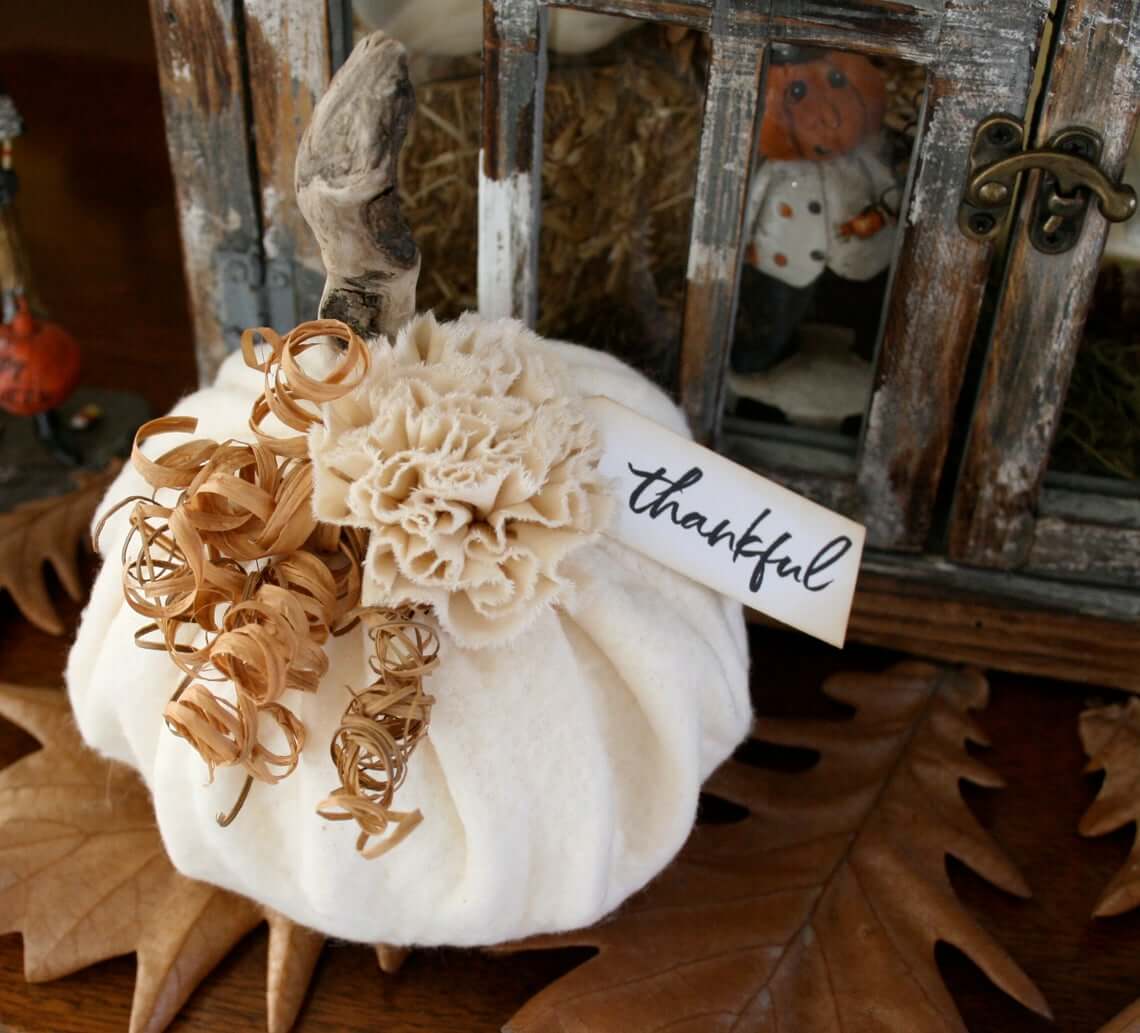 Forget about Pumpkin Spice Lattes and focus on the rich aroma of warm and soothing vanilla as you decorate your home for fall. Draped in a soft and luxurious creamy fabric, this spectacular pumpkin delivers a much-deserved recognition to its intended recipient. Another creative way to say thanks to your hairstylist or overtime-clocking front line worker. Showing someone how much you care is always on-trend and this soft and sweet pumpkin is a positively pleasant gift to do the trick.
22. Black, Red, and Tan Plaid Pumpkin Family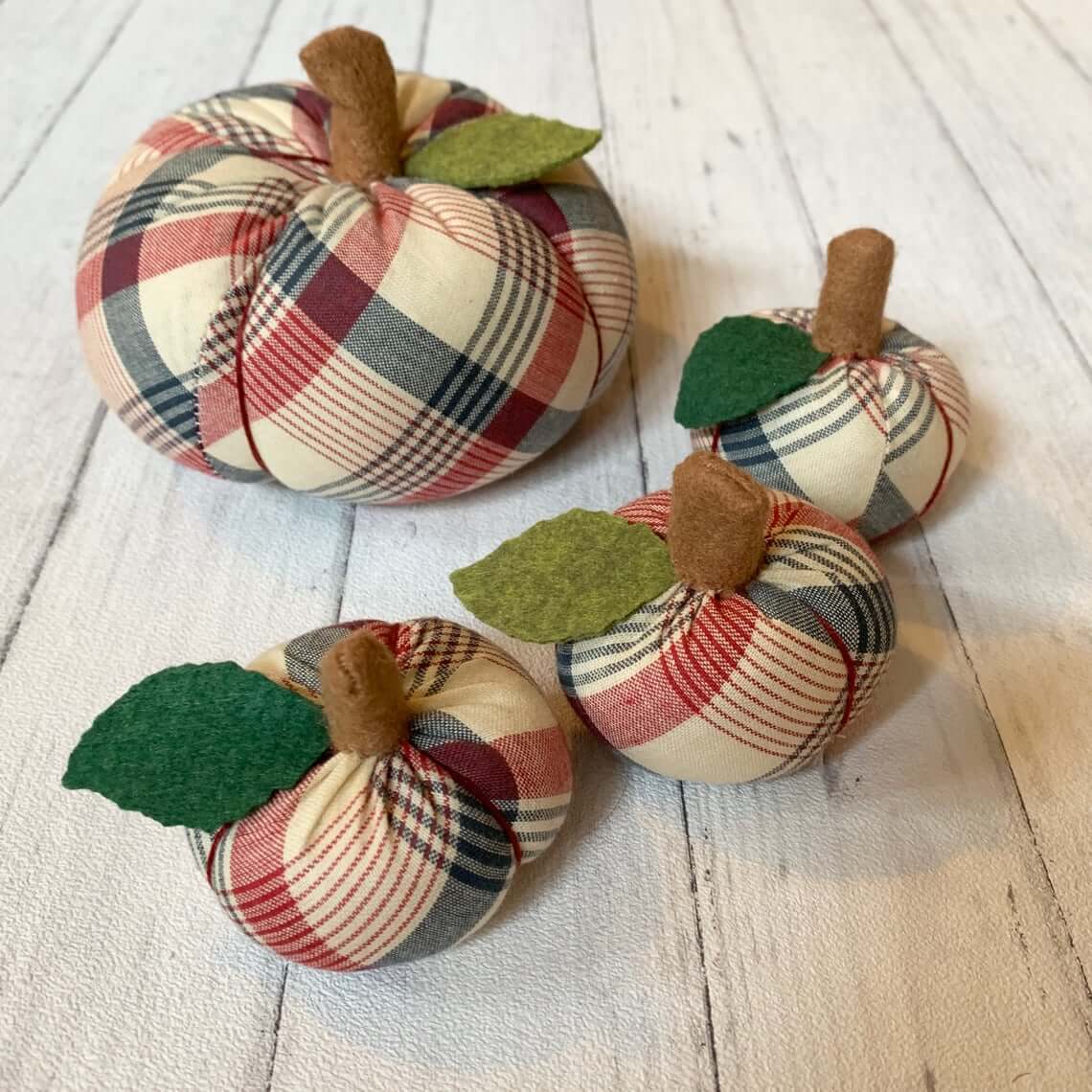 Selecting the color trio of red, black, and tan achieves a stylish display that speaks to both men and women. The plaid lends a playful print while the colors keep the masculinity in check. From big to small, this family set of one of the best fabric pumpkin decorations is on-point this season! They provide just enough pop of color for your neutral interior spaces and make equally cute decorations for your gift-giving needs. The variety of green felt used as the leaves clearly sets off these pumpkins and makes them standouts in the crafty pumpkin category.
23. Circles and Flowers Fall Mustard Crafty Pumpkins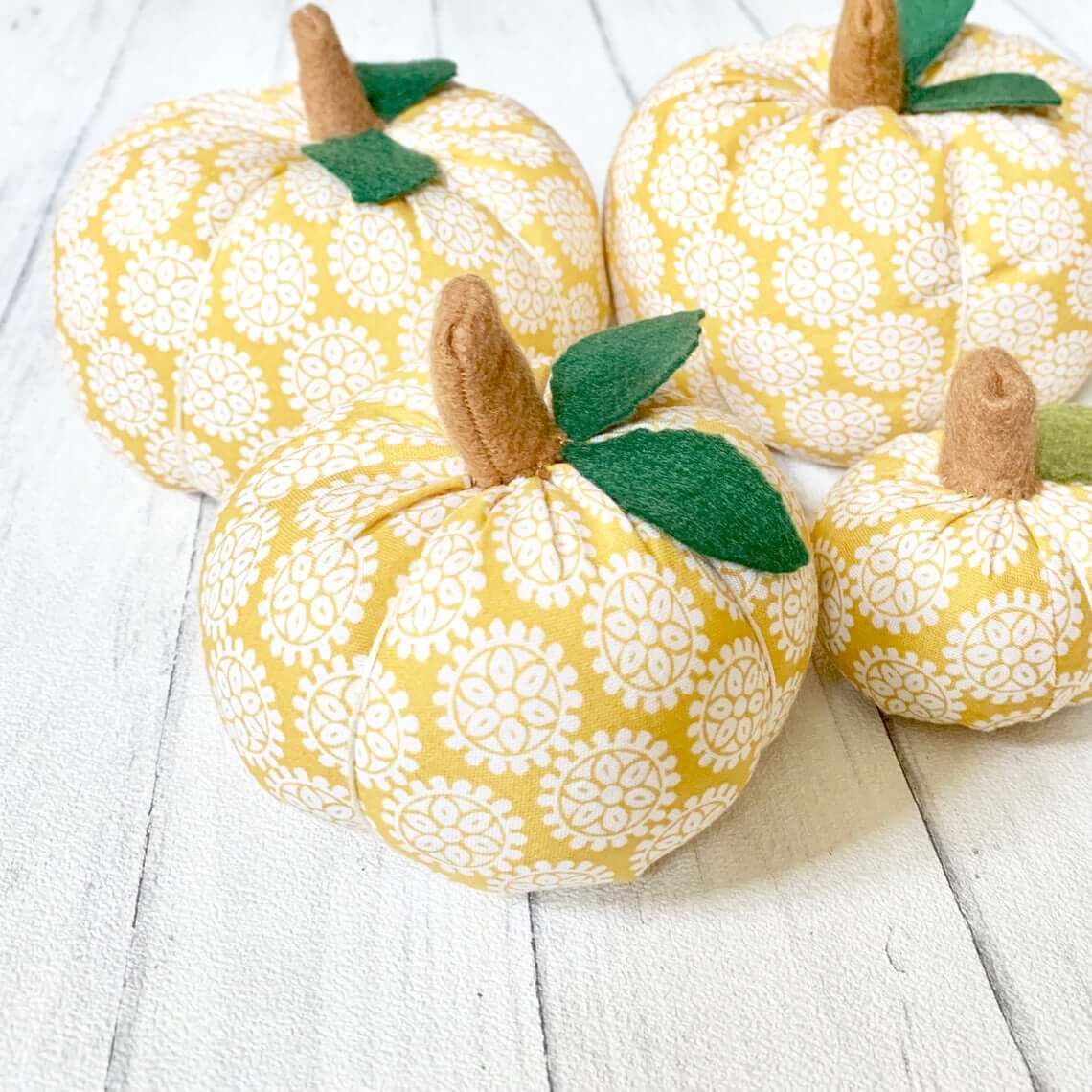 Grab some felt and a little leftover material and you're ready to embark on a fabric pumpkin making adventure! The mix of fibrous felt paired against smooth and soft fabric intrigues the eye into this classic gourd for fall. Soft, yet durable, these happy pumpkins would be a fun autumn version of a hot potato to keep the kids entertained as you roast hotdogs over an open flame. The winner of the game could keep this felt and fabric game piece as a prize for winning! And since you have several on hand, each child has a great opportunity to win one as they continue the hot potato fun!
24. Charming Chenille Companions Set of Pumpkins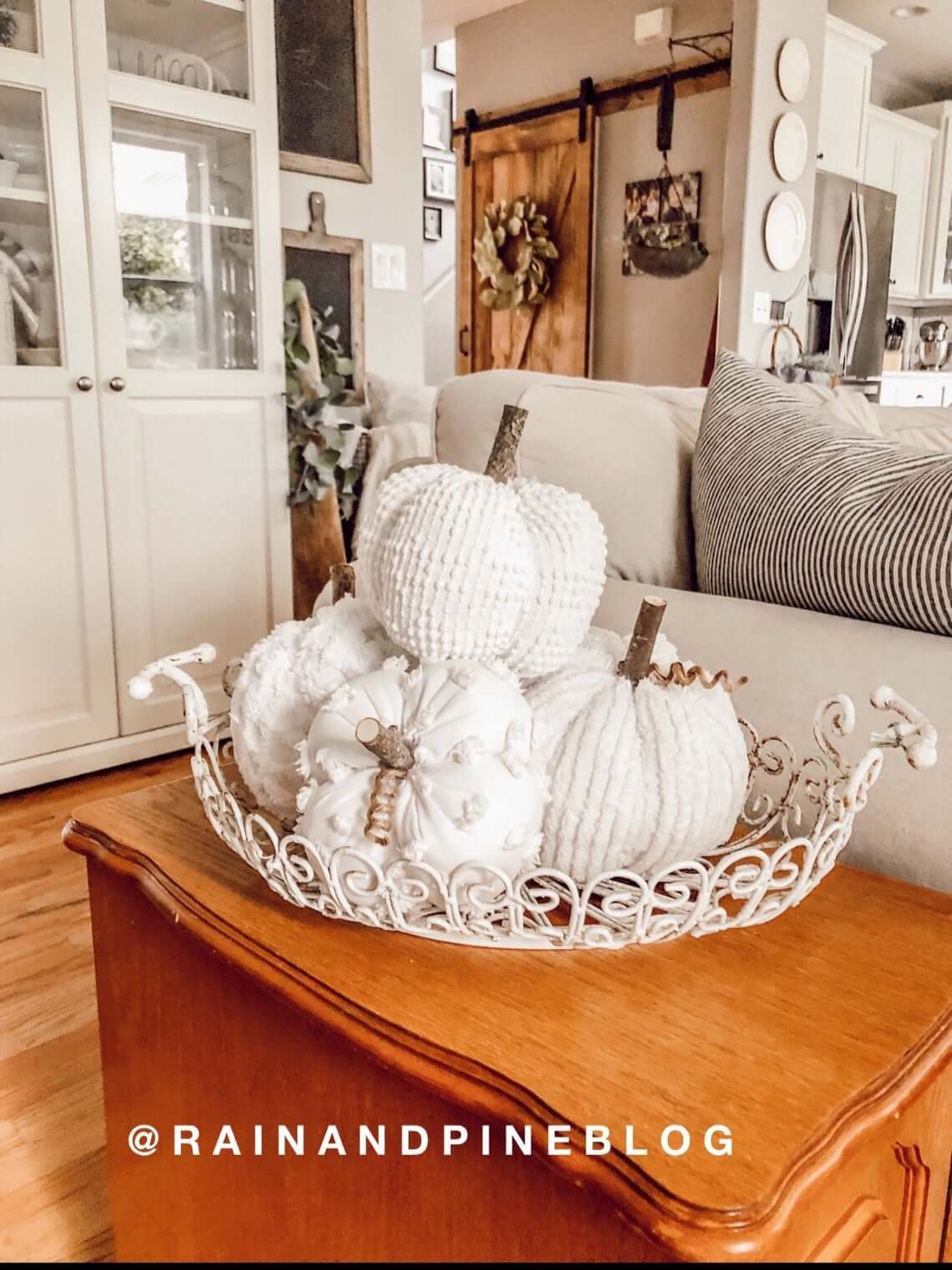 Meet this charming girl gang of chenille pumpkins! Quite the dainty display, this feminine powerhouse of fall decor offers so much texture and style as it graces your living room. Who wouldn't love receiving this as a gift or even gifting it to yourself to celebrate the changing of the leaves? A shabby chic cottage would welcome this vintage-inspired seasonal favorite that would work well in a traditional or modern farmhouse design as well. Keep the color palette simple and neutral without being sterile by displaying these textured goodies front and center this fall.
25. Down on the Farm Denim Pumpkin Decoration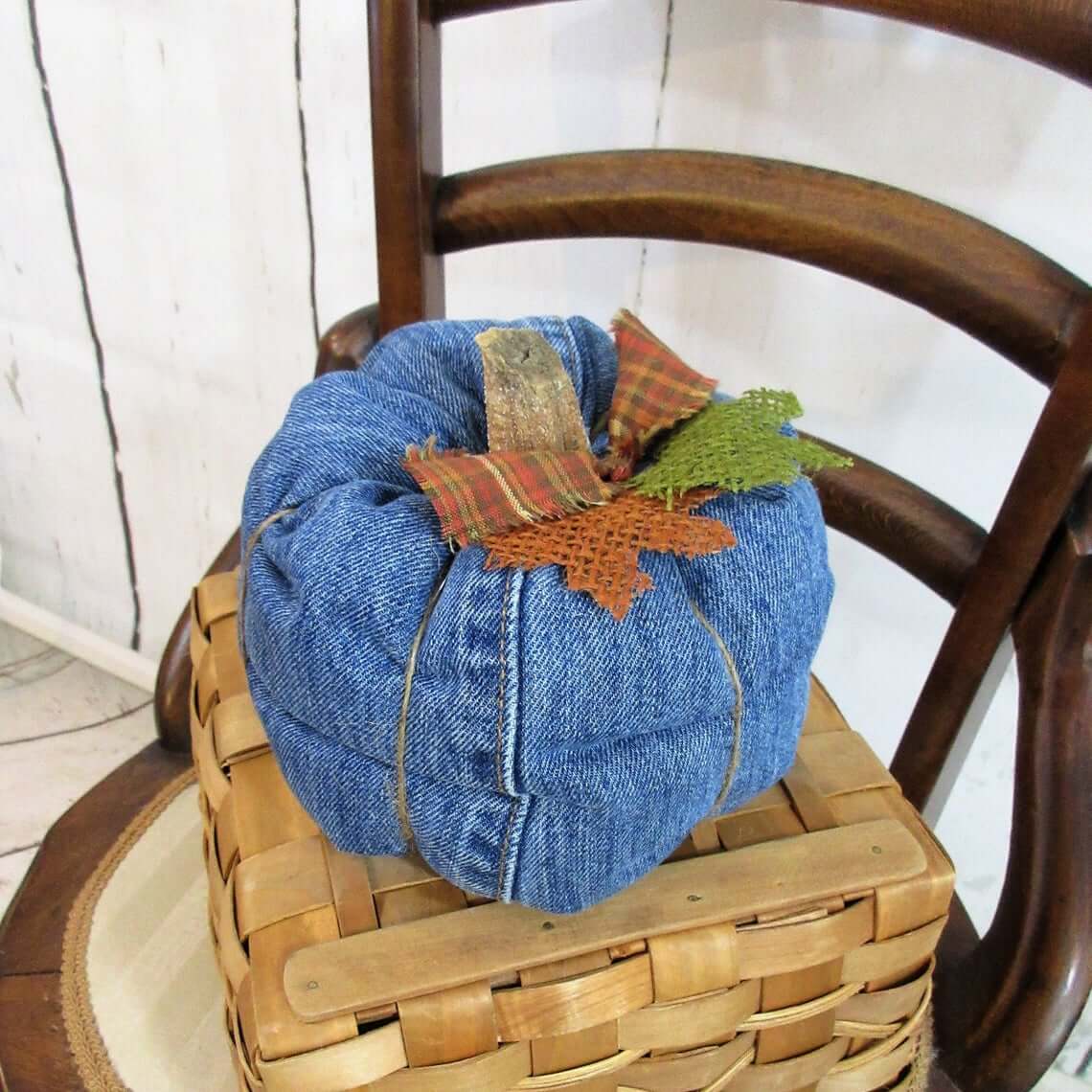 After spending the day on the tractor, those worn-out denim jeans could be repurposed into a fabulous fabric pumpkin complete with a plaid ribbon and burlap leaves. The incorporation of the variety of textural elements further captures the essence of the farm as these upcycled denim pumpkins find a new place to rest inside your home. Everyone has that denim-loving friend who even ventures out in head-to-toe denim on occasion, so why not share this delightful denim pumpkin with her? Even a grandpa would enjoy this cute decoration that could be created by his very own grandchildren.
26. Vintage Floral and Colorful Tassel Leaf Pumpkin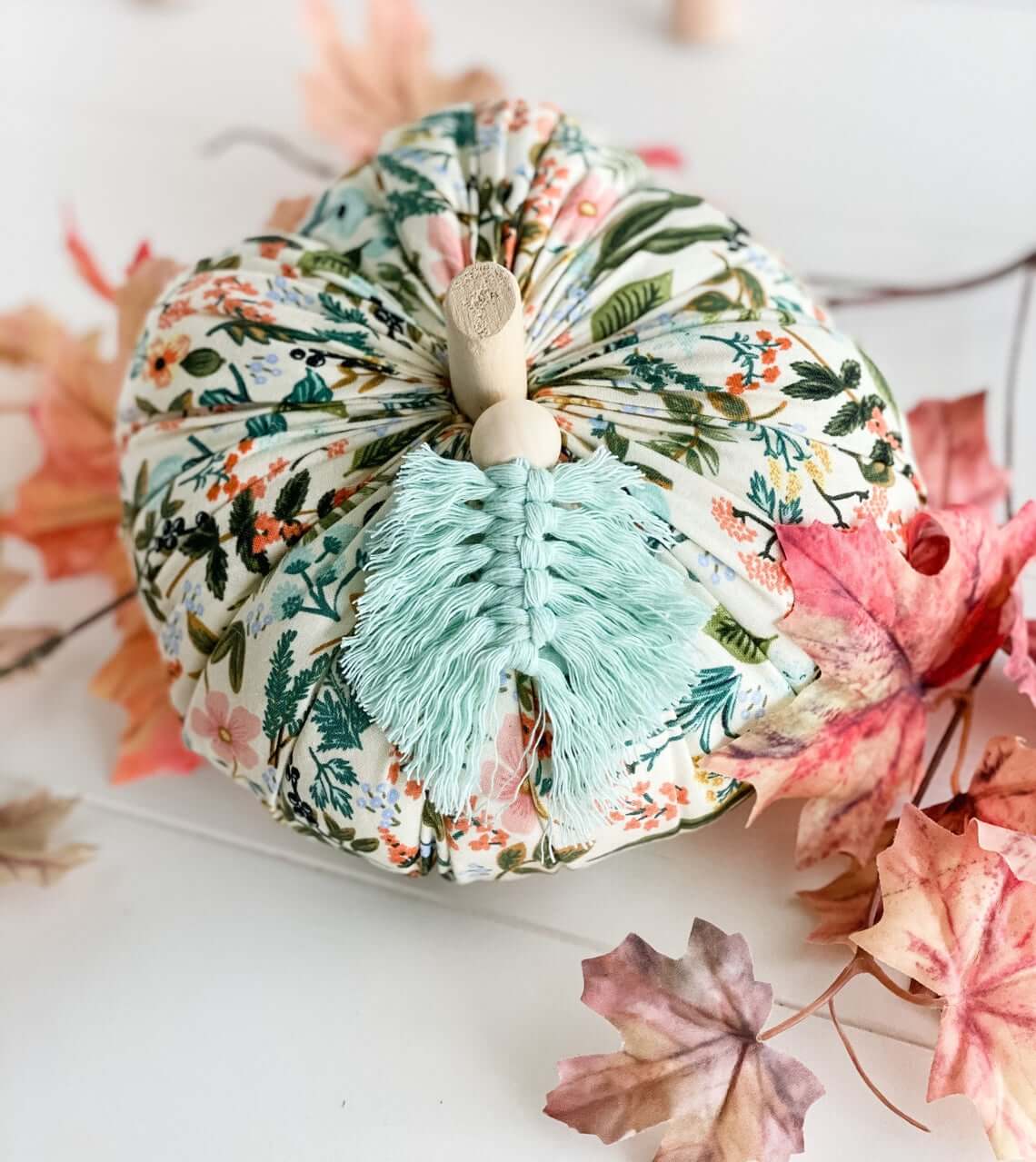 Check out the gorgeous detail in this fabric pumpkin that's just what you need for fall! Exquisite fabric featuring a vintage floral motif has been used and accented with a one-of-a-kind tassel leaf. Surprise your craft buddy with one or throw one on the coffee table in your living room. If you host an Air BNB, maybe it would be a nice way to thank your guests as you leave it for them with a sincere note. All of the gorgeous colors from teal to orange jump off this white background and catch your eye. It's certainly a change of pace from the plain pumpkins in the patch.
27. Pumpkins in the Palm of Your Hand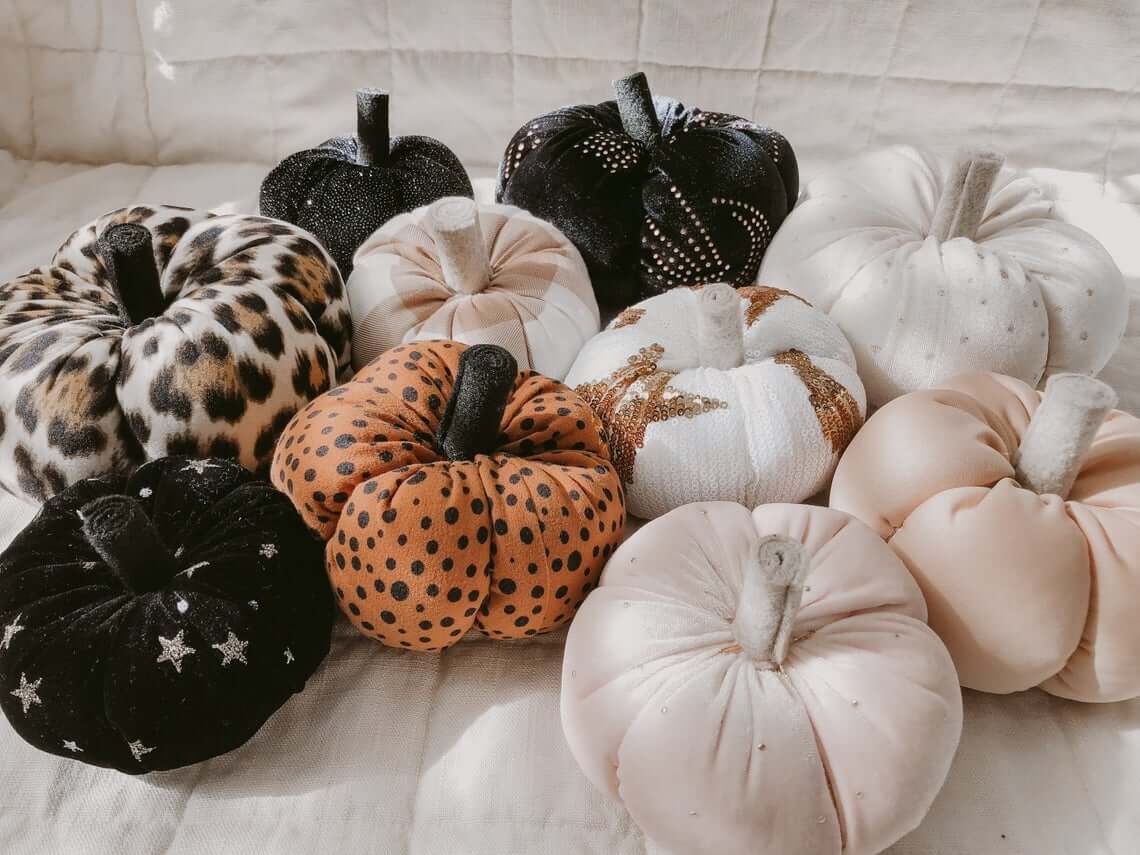 Just the right size to fit in the palm of your hand, these adorable fabric pumpkins are the bees' knees! From popular prints like a cheetah to classic white, there is an option to speak to your inner child this Halloween. Maybe your current fall decor needs a little something extra. Here's your chance to add some silver stars on a black background or an orange pumpkin speckled with black polka dots to up the visual appeal in your home. Fill a basket full of these pretty pumpkins and give out at your Halloween bash. They make a spooktacular treat to send home with your guests.
28. French Country Blue Floral Pumpkin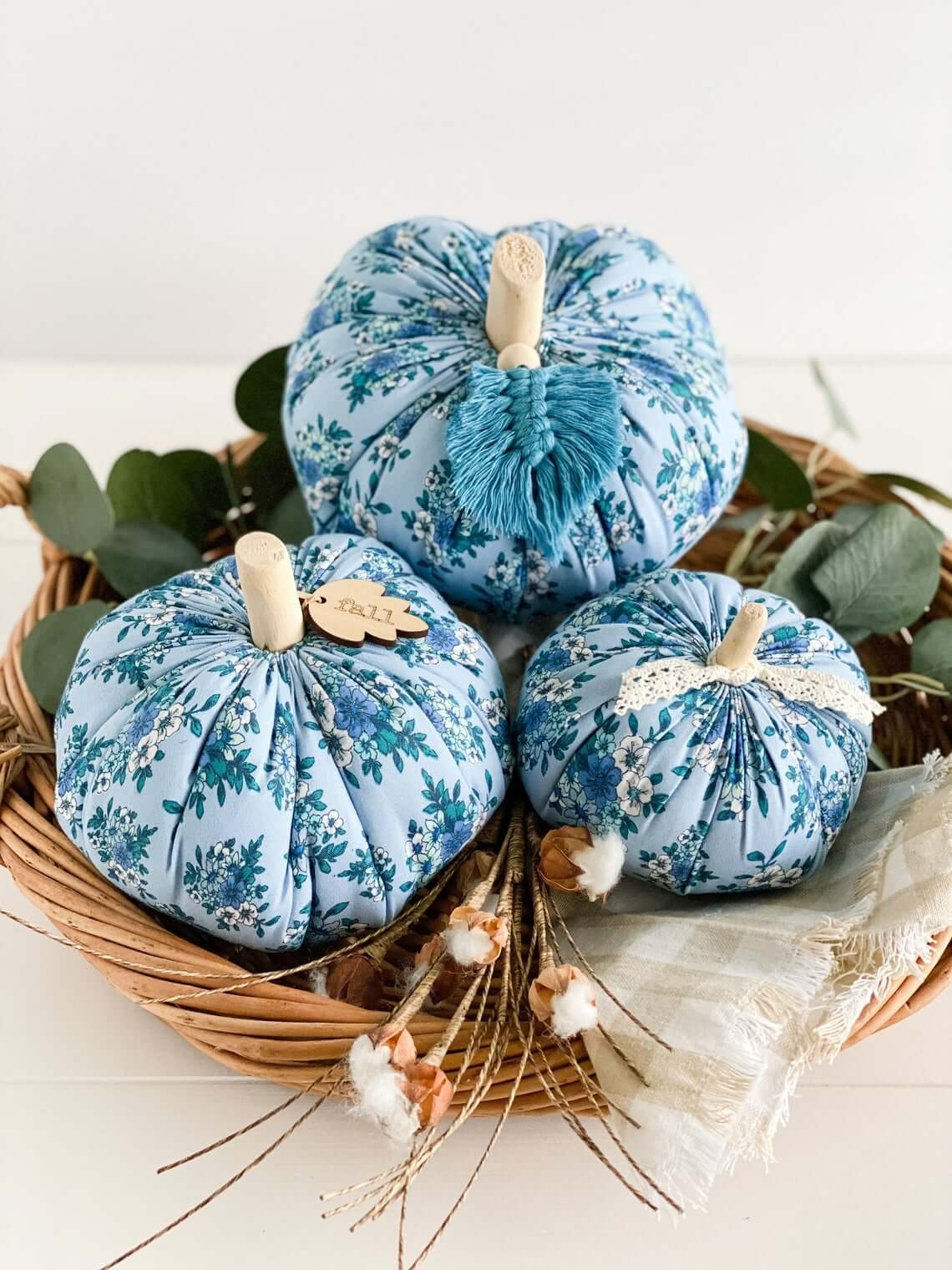 Channel in some classic French country beauty in your home as you prepare for the changing of the seasons. The warm hue of this blue brings softness and feminine edge to your harvest time celebration. Place them in the kitchen or cozy up your living room space. They also are the right size to adorn a nightstand. Around their stems, they boast a beautiful embellishment such as a fringed tassel, wooden leaf, and a decorative ribbon. Keep the trio together, or set them apart to achieve the look you wish.
29. Spectacular Stem Stopper Fabric Pumpkin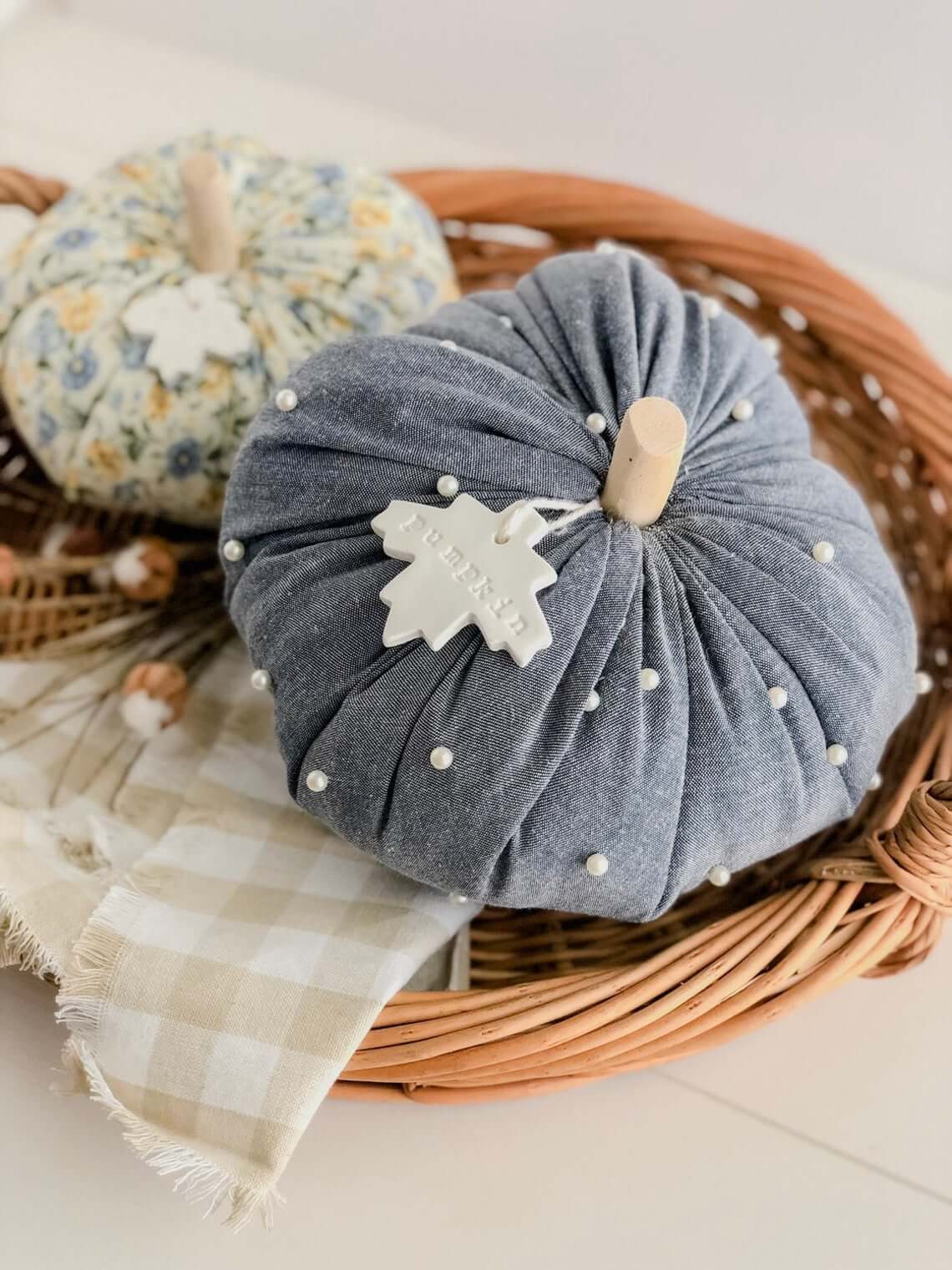 Look how darling these small accessories look on their fabric pumpkin bodies! With tender care, these white crafted leaves have been engraved with the word "pumpkin" to further their style and grace. Adding such an accessory really increases the appeal of these fun, little fall decorations. Extending the charm is the delicately placed pearl beads. These beads are just the extra touch of class and girliness that your friends will enjoy this season of Friendsgiving.
30. Black and White Plaid and Felt Unite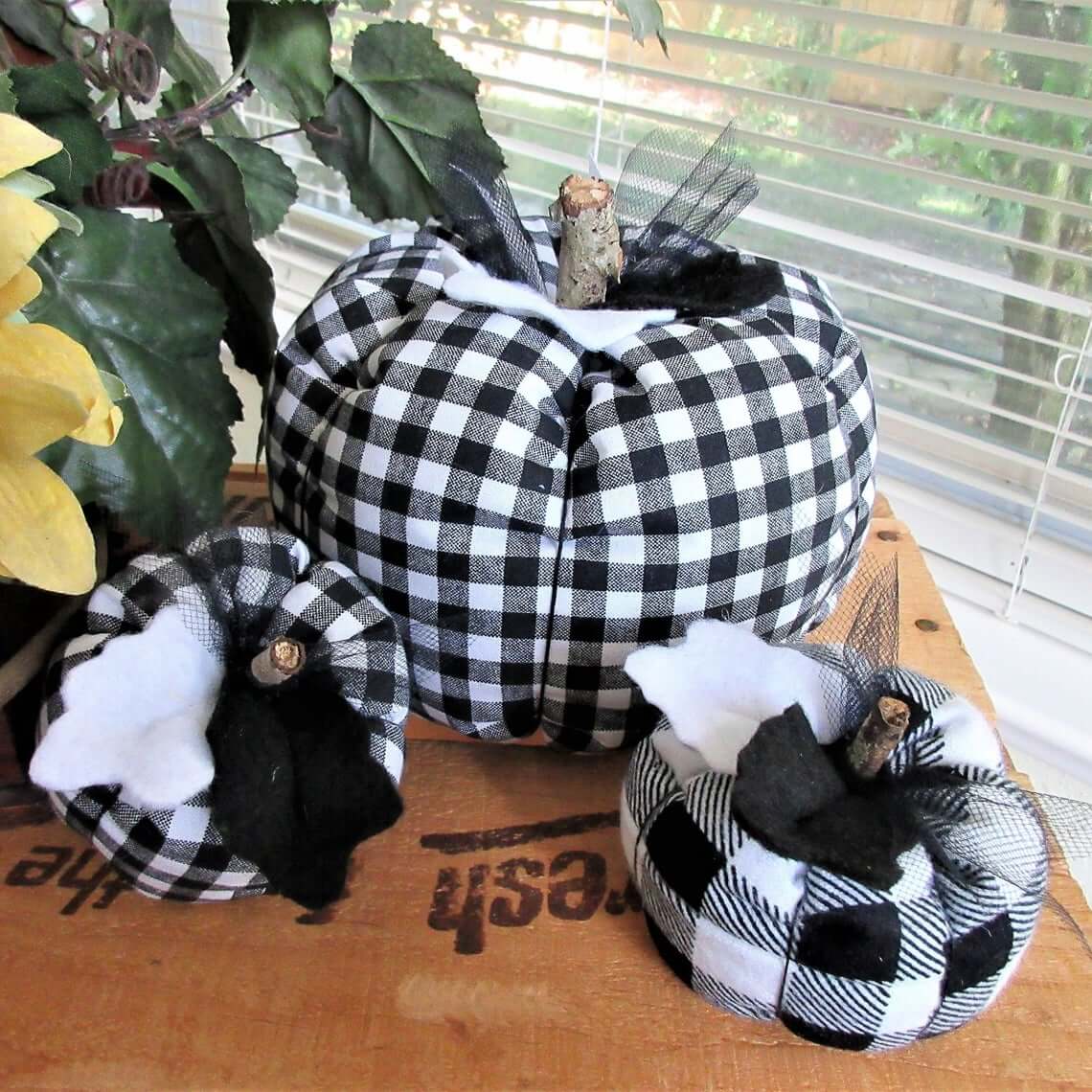 The classic combination of black and white is front and center in this always-in-style pumpkin design. Featuring plaid and check prints, the felt leaves offer a different texture to increase the autumn appeal. Rough up the soft look by placing a rustic wooden stick stem in the top. A piece of sheer black tulle is a fun extra design element too. If you're looking for a contemporary centerpiece that isn't larger than life, these plaid pumpkins are a perfect choice!
31. Simplistic and Neutral Wide Fabric Pumpkin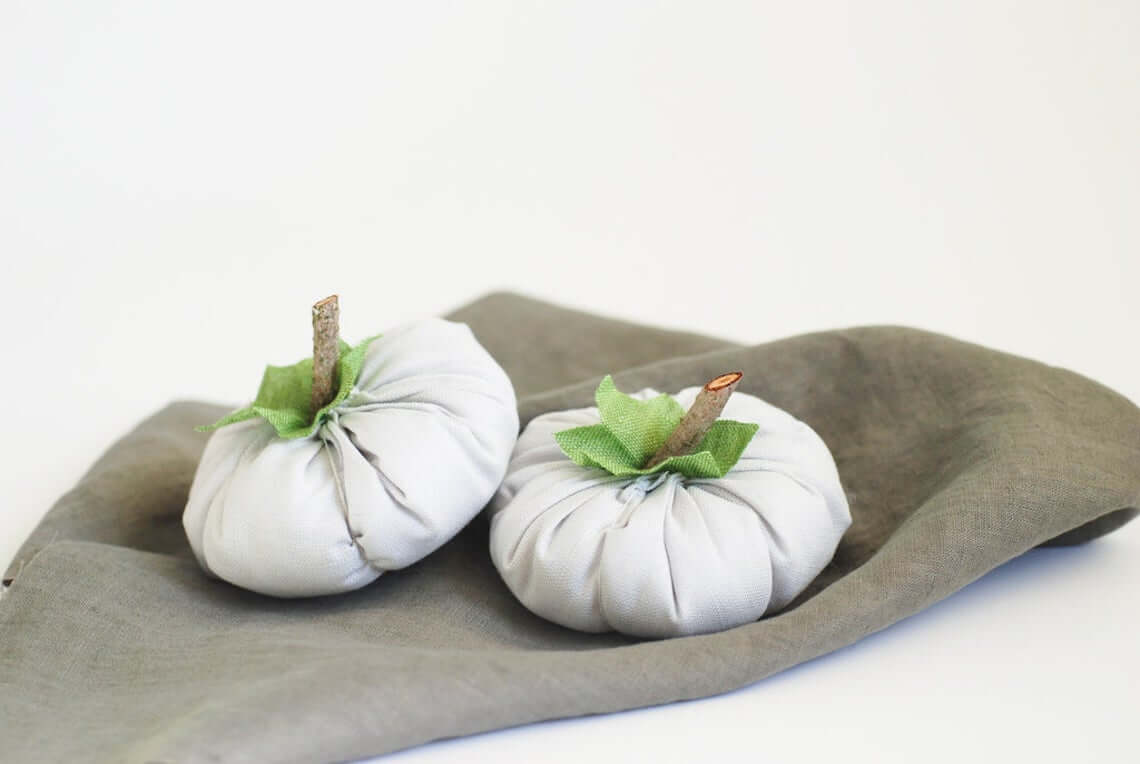 Take a look at these non-traditional miniature pumpkins that feature a wider stance and highlight the stem and leaves on top. Their flatter stature offers a lower profile and minimizes the height in your fall arrangement. Give one of these to all of the ladies who gather around your family holiday table this November. Each simple pumpkin provides a neutral addition to your fall decorating scheme.
32. Luxurious and Rich Velvet with Pearl Pumpkin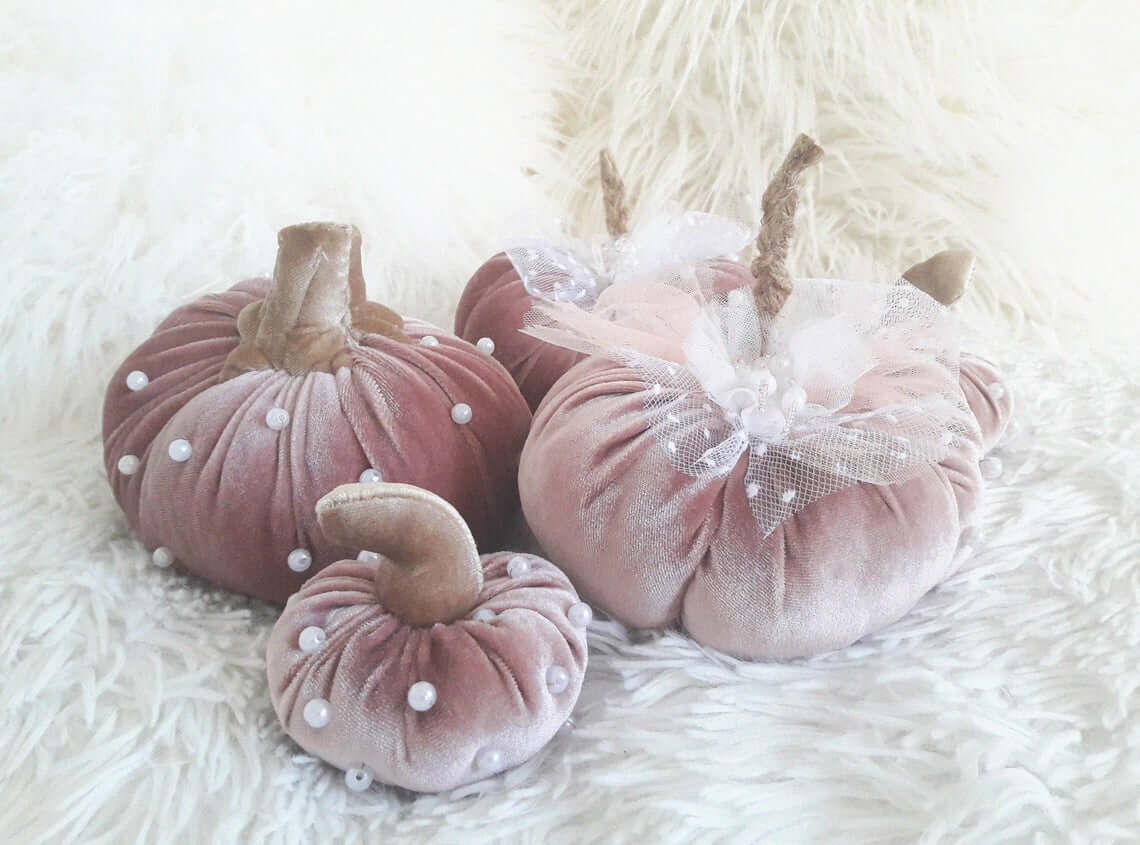 Fashioned in sultry mocha brown velvet, these pearl studded pumpkins are sure to turn some heads. They are a delightful decoration for an elegant fall wedding that takes place just after dark. Turn on the warm white lights and let them guide your way to the dance floor as you celebrate the wedded bliss at the outdoor reception. Each table is complete when you place these velvet beauties in the center of your conversation stations.
33. Stripes of Black and White Fabric Pumpkins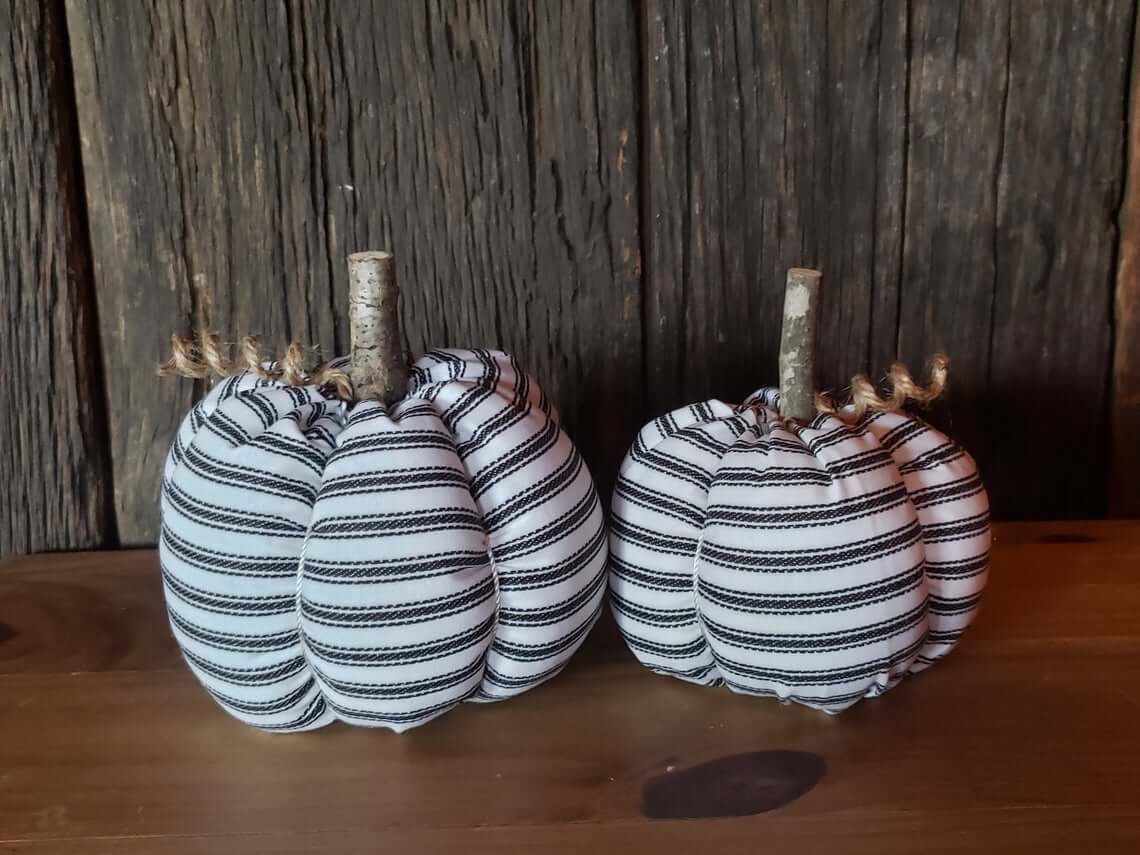 Horizontal stripes of black and white look amazing on this set of fabric pumpkins. They bring a homey feel to your stale office space without causing too much distraction from work. Classic black and white work at home or work, so why not have a pair for both places? Add them to a fall-themed goody bag for an adult Halloween party or share them with your friends at work.
33 Charming Fabric Pumpkin Decor Ideas that are Perfect for Fall
It really doesn't matter if your style is modern farmhouse, shabby chic, or contemporary because these fabric pumpkins are able to adapt and get noticed in any decor. Your Thanksgiving tablescape will bask in the addition of some of these plump pumpkins as they work their way down the center and make themselves at home as a place setting superstar in the middle of each guests' plate. At the end of the feast, each beloved member of the family may take theirs home as a holiday memento. Or you can cozy up your cottage with a lineup proudly representing the season of falling leaves as they rest along the mantel.
Don't forget the elegant options from the fabric pumpkins designed with sequins, silver accents, or golden chevron to make your fall wedding a spectacular event. Here again, you can jazz up your tables at your reception with a collection of these cute and romantic pumpkins. They can line the ends of the pews in the church as well. And at the end of the night, they make a dainty and divine thank you gift to serve as your wedding favor. Perhaps this is one of the only wedding favor ideas that will actually be used again and not throw into a drawer or nearby trashcan.
You could even bring in some non-traditional colors by selecting the French country inspired floral printed ones. A farmhouse kitchen would be a great place to bring these beautiful tiny members of the squash family.
From favors to fun fall decorations, you can't go wrong with one or a bushel full of these fabric pumpkins. The crisp blue fall sky is the limit for the colors and prints that can be found in these plump pumpkins that make some of the most versatile fall decorations you'll ever need.