The bedroom being where you decompress and recharge after a busy schedule, there is no reason for not embracing the best fairy bedroom ideas to make it feel like a retreat. With simple upgrades, such as soothing colors, smart furniture, tasteful accessories, and window treatments, it is possible to achieve your much fancied, inviting bedroom.
Although designing a bedroom can be exciting, it can be overwhelming because getting the right balance of function and form has its share of challenges. Your style notwithstanding, the small details and the big picture are equally critical. From selecting the right furniture to identifying the perfect color palette, everything has to be remarkable.
Your space can feel fresh, refined, trendy but still timeless with something modest as a colorful throw pillow, accent wall, or sleek lampshade. When rightly designed, your bedroom can be converted into a place of peace and tranquility, where you can relax, reset, restore, revitalize and renew, the ultimate getaway to help you maintain your best self.
21 Creative Decorating Ideas for Fairy Bedroom Design

I believe a great design can foster a positive mood, and a sizable portion of the scientific community does not dispute this. The room's ambiance affects your emotional wellbeing, and since your bedroom is the place for rest and unwinding, it should certainly assist you in achieving just that. Are you looking for simple ways to guarantee that your fairy bedroom design encourages a positive mood and remains a place to unwind?
Reflect on your preferences and style; include your favorite patterns, colors, and materials; illuminate the right light, and maximize on space. If you need the inspiration to give your bedroom a facelift, look no further. We have brainstormed the 19 best fairy bedroom ideas to assist you in developing a perfect fairy-themed room. Notwithstanding the size and design preferences of the room, these carefully sampled fairy room ideas will inspire deeper slumbers.
1. Fairy Makeover Using Upcycled Wardrobes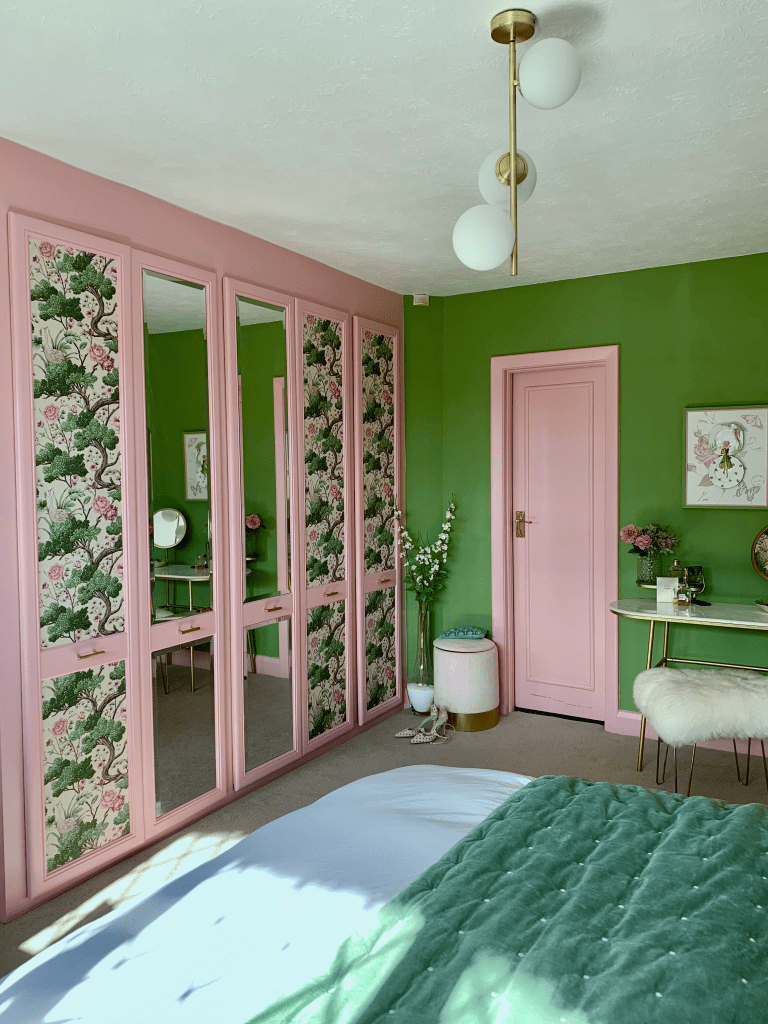 An upcycled wardrobe presents an opportunity to make your bedroom as stylish as your outfits, using colors and wallpapers that oozes personality and character. The mirrors create a sense of space, creating a unique haven that is stylish and reflective of individual personality. The beautiful and nostalgic wallpaper is inspired by classic fairy tales that have integrated a new dimension to the already whimsical design. The mirrors attached to the upcycled wardrobes create an eclectic space with a contemporary vibe through the combination of pattern, texture, and color. The design makes gorgeously curated and created spaces by layering in vintage items along with new furnishings.
2. Gorgeous DIY Floral Garland for A Rustic Touch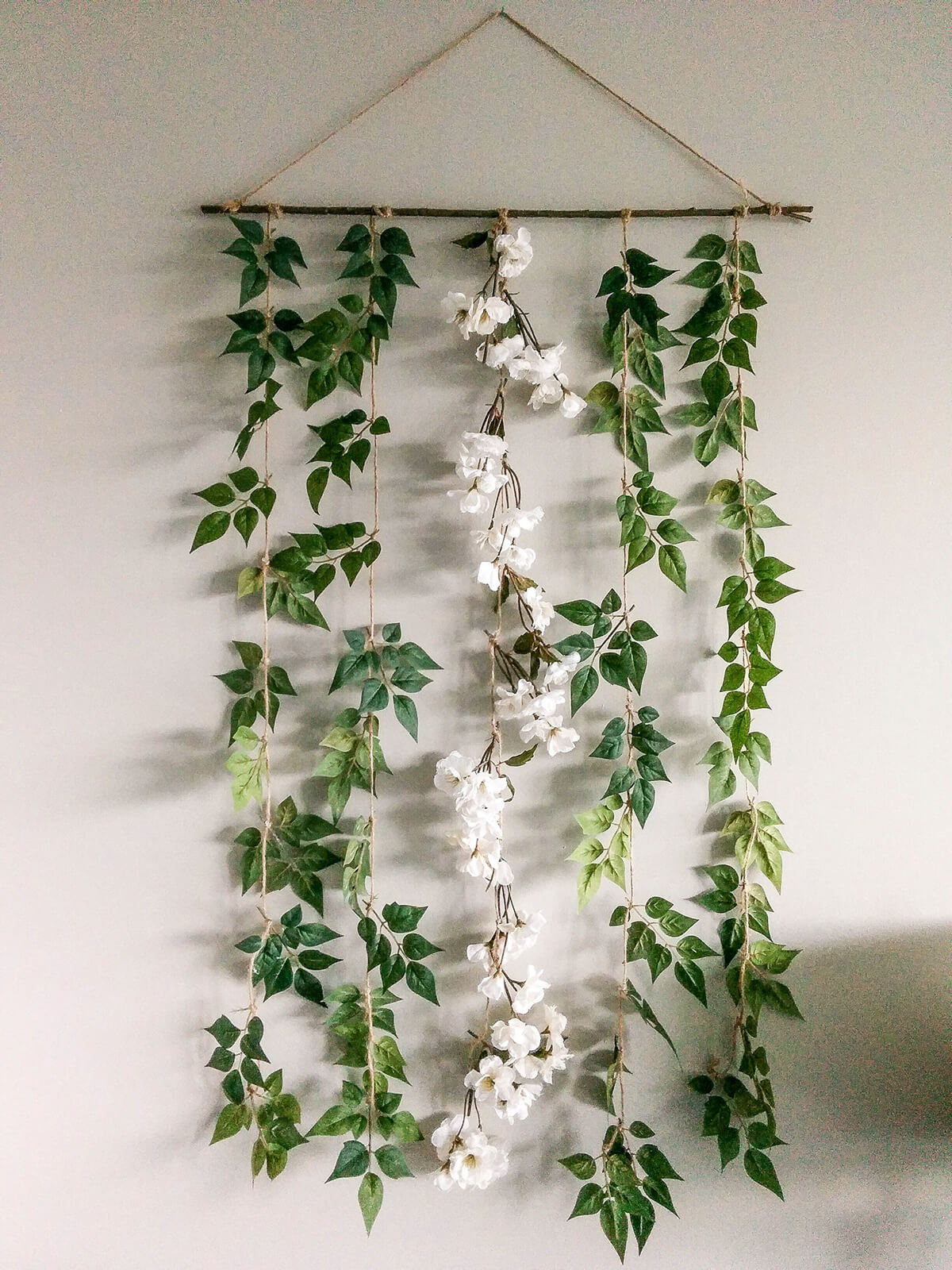 Floral décor remains the most prominent theme for ornamenting rooms and events for years now, and its fan base continues to increase despite the embrace of modernity. Now that autumn is approaching, funky tapestries and elegant flower garlands seem to be the simplest way to dress our homes and alter the bedroom's atmosphere. The easy-to-hang wall hanging creates a stunning backdrop on the simplest walls. It appears to be the most popular piece to display in a fairy-themed room, as the picturesque beauty renders a blissful and charming atmosphere. The floral-themed décor adds a sense of allure and chicness to the bedroom in ways that will make every visitor go wow.
3. Photo Clips in Fairy Lights for Wall Hangings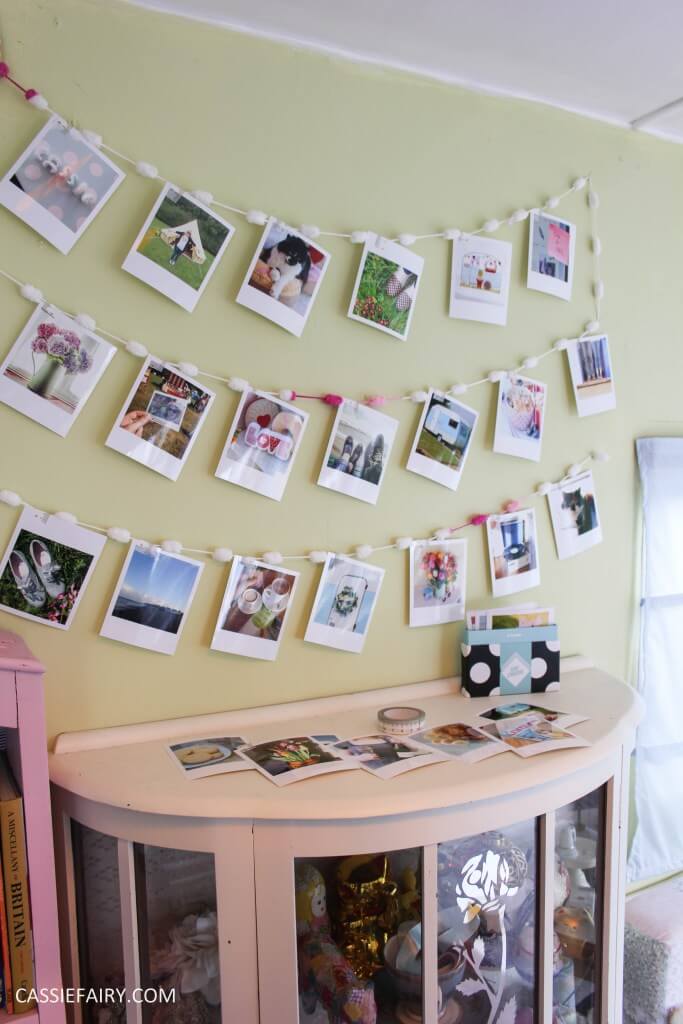 Are you having trouble showcasing your photos, memos, artworks, and much more? Apart from the soft, warm light supplied by the Christmas decoration, it also can serve as an anchor for displaying family pictures and other unforgettable memories. The images have enlivened the otherwise plain space and blissfully transformed it. Surrounded by the places and people you love and cards, paintings, and all things that are of importance to you, your bedroom will come to life. The photo clip light is the way to go when the objective is to achieve a cheerful and warm atmosphere.
4. Unique Fairy Themed Bedroom Shuffle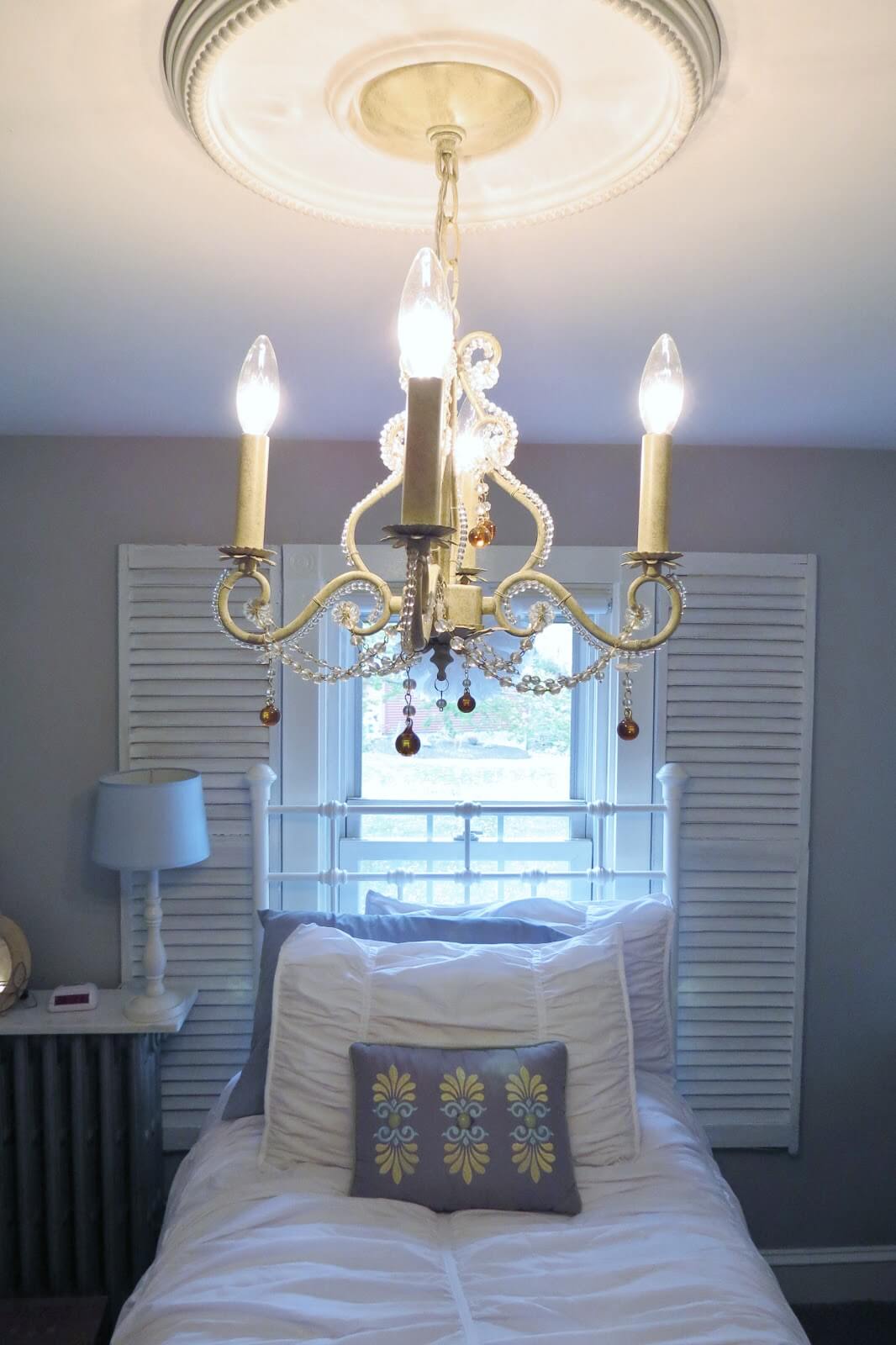 The fairy chandelier provides a cozy feeling similar to the ambiance evoked by a gaze on the sky on a cloudless night. The lighting is thoughtfully designed to create a mellow atmosphere that incorporates modern design and an elegant finish. The chandelier is a cool blend with the Sherwin-William Extra White that adorns the walls, the lampshade, and the beddings. The design is excellent for those seeking a bright, crisp shade of white. The clean and fresh theme is the textbook backdrop to showcase favorite works of art. Furthermore, the window design provides just the right balance of texture across the walls. As mirrored by unique décor accents and organization, the simplicity of the design fully satisfies the constraints of function and form.
5. Awesome Dreamy Light-Up Headboard from String Lights and Curtains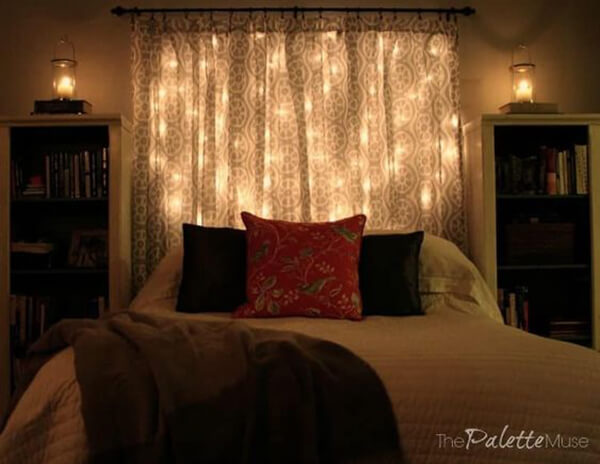 The dreamy light-up headboard is whimsical, combining its exquisiteness with the charm of the bedroom to deliver a dreamy appeal. Given the flexible nature of the string lights and the multiple styles they combine, they create an incredibly excellent design with enough light for reading and maintaining a cozy ambiance. They emphasize the secure and intimate feeling of space, radiating peaceful and calm lighting vital for unwinding. Using curtain and string lights rather than a headboard is the best way to spice your bedroom and create a perfect element that is stunning and functional.
6. Whimsical Fairy Lights Bed Hanging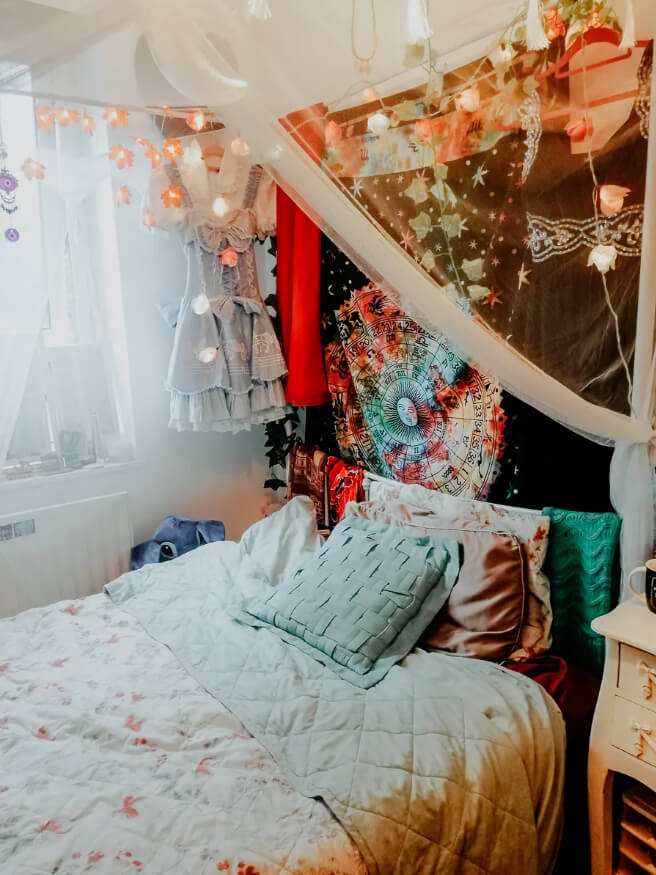 One of the best ways to spruce up your bedroom is by decorating around the bed. It is the centerpiece of the room, after all, so it deserves a little attention, especially if you have a poster bed. An excellent way to do that is by using some fairy lights and string them up around the bed. Since fairy lights come in numerous styles, consider aiming for the ones that have some type of design such as flower lights. They work even better if you have some see-through curtains too as the lights further stand out, giving the room that imaginative feel.
7. Fairy-Theme Inspired Decorative Vines Set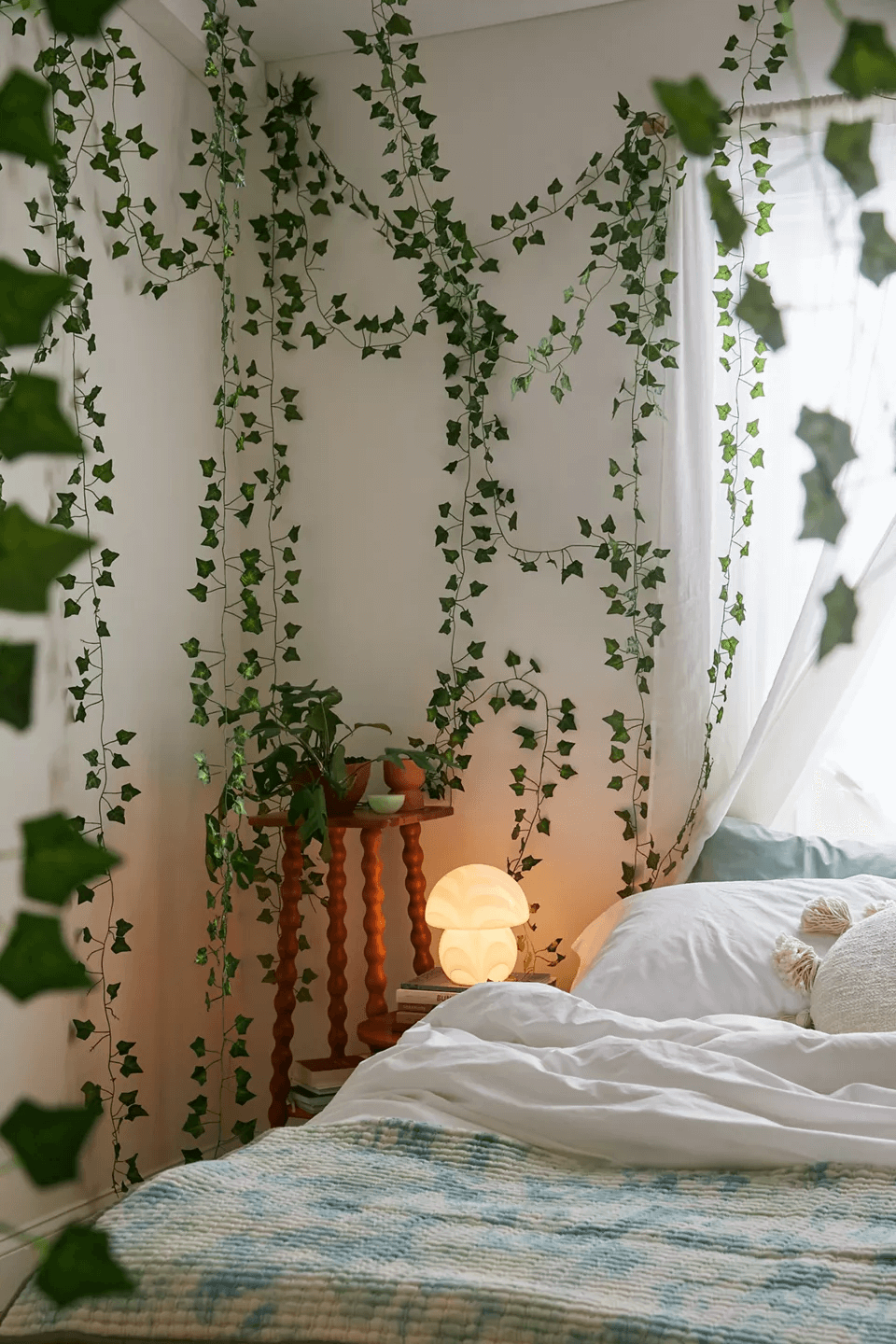 The artificial Greenery Vine cannot be missed with its attractive texture and astonishingly lifelike foliage blossoming from the planters. Take yourself closer to nature perpetually and bask into the cool vibes emitted by vines specifically designed to grace not only your bedroom space but also the outdoor. The stunning runners and centerpieces cleverly accent the walls, windows, and doors while providing a sense of freshness. The vines add color where none existed and do not need any form of care. For those up for a green challenge, greenery vines create a flowing spectacle that transforms the desire to turn dull spaces into life-brimming ones.
8. Honey Bloom Mural for A Perfect Fairy Backdrop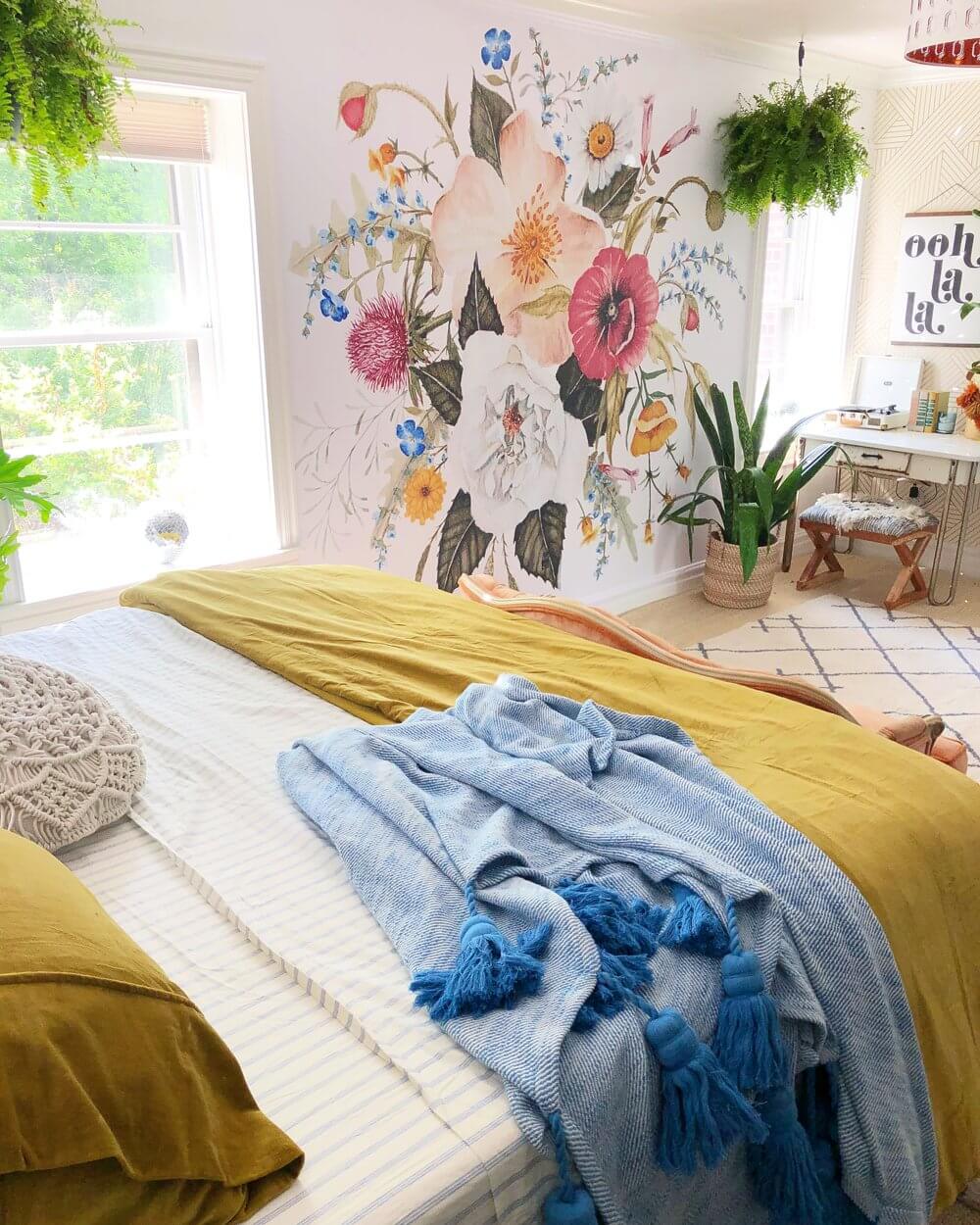 Large-scale florals are the trend, and a gorgeous mural makes just the perfect backdrop for your fairy bedroom. The enthralling floral print radiates light, brimming freshness and life into spaces. Featuring a bouquet of burnt orange, dainty blue, and blush pink, these vibrant flowers are a joy to watch. Despite the endless possibilities, the strikingly bright floral is enriched with blush hues that complement the surrounding décor style and is perfect for a bedroom accent wall. Fresh flowers are a delightful gift from nature that makes us realize the brilliance of colors. The floral mural creates a botanical dream thanks to the pristine flowers and fairies in beautiful blush hues.
9. Versatile Mason Kreations Hanging Fairy Lights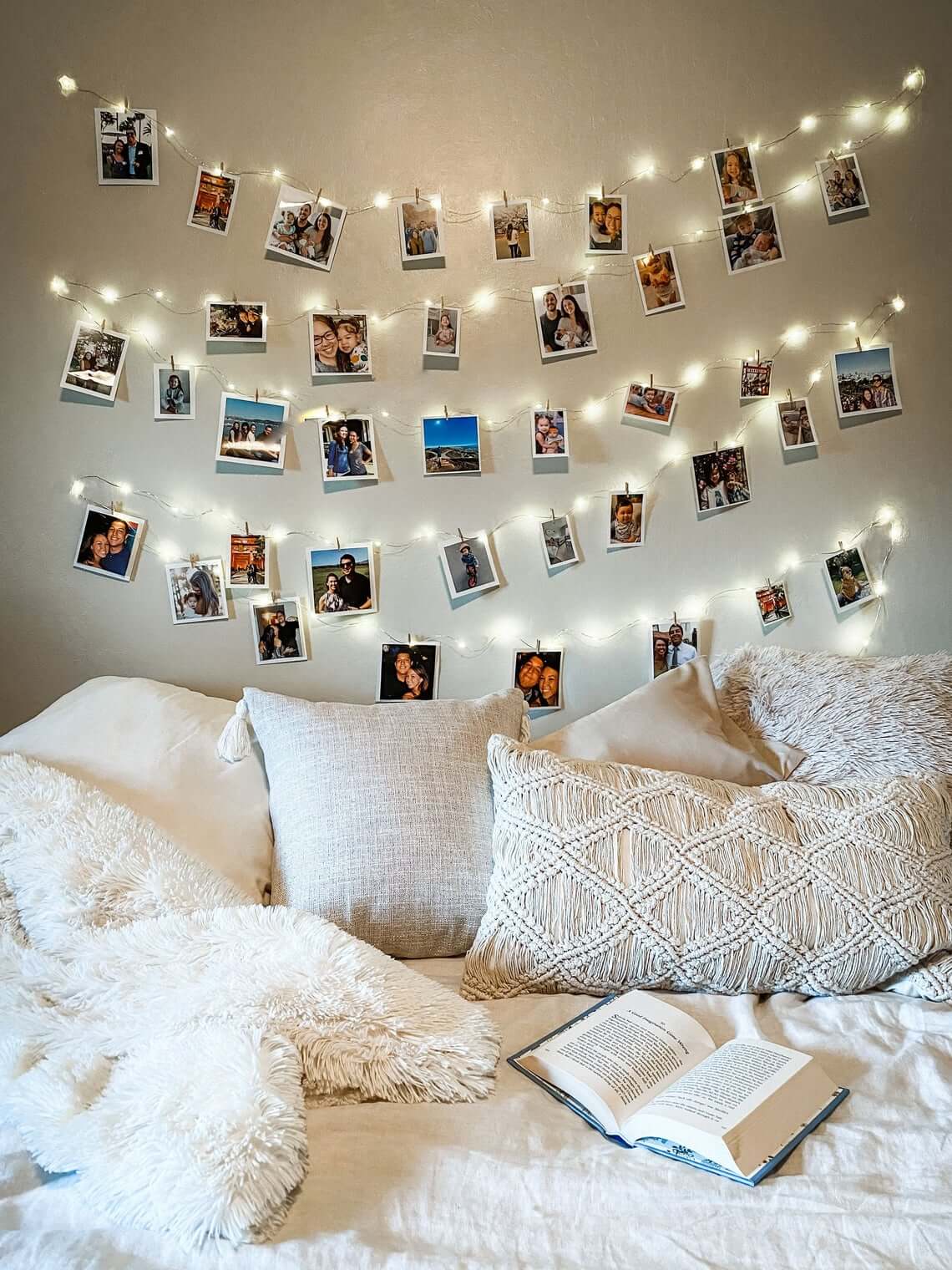 What makes your room your home is personal touches, and nothing does this well as artworks and family photos. However, finding creative ways to integrate a photo display into interior decor may prove challenging. Other pieces of art, color schemes, and general atmosphere need consideration, including the images themselves. Fairly lights make things better as they incorporate some magic into your bedroom space with their twinkling lights. The transparent clips allow you to nip photos to create a warm atmosphere and excellent illumination that spreads across the entire room. The twinkle lights are great, and creative fairy room ideas enliven your bedroom walls. They are also ideal for hanging artworks, photos, and other lightweight items, as well as seamless lighting for fairy-themed bedrooms.
10. Vintage-inspired Decorative Mirror with Moss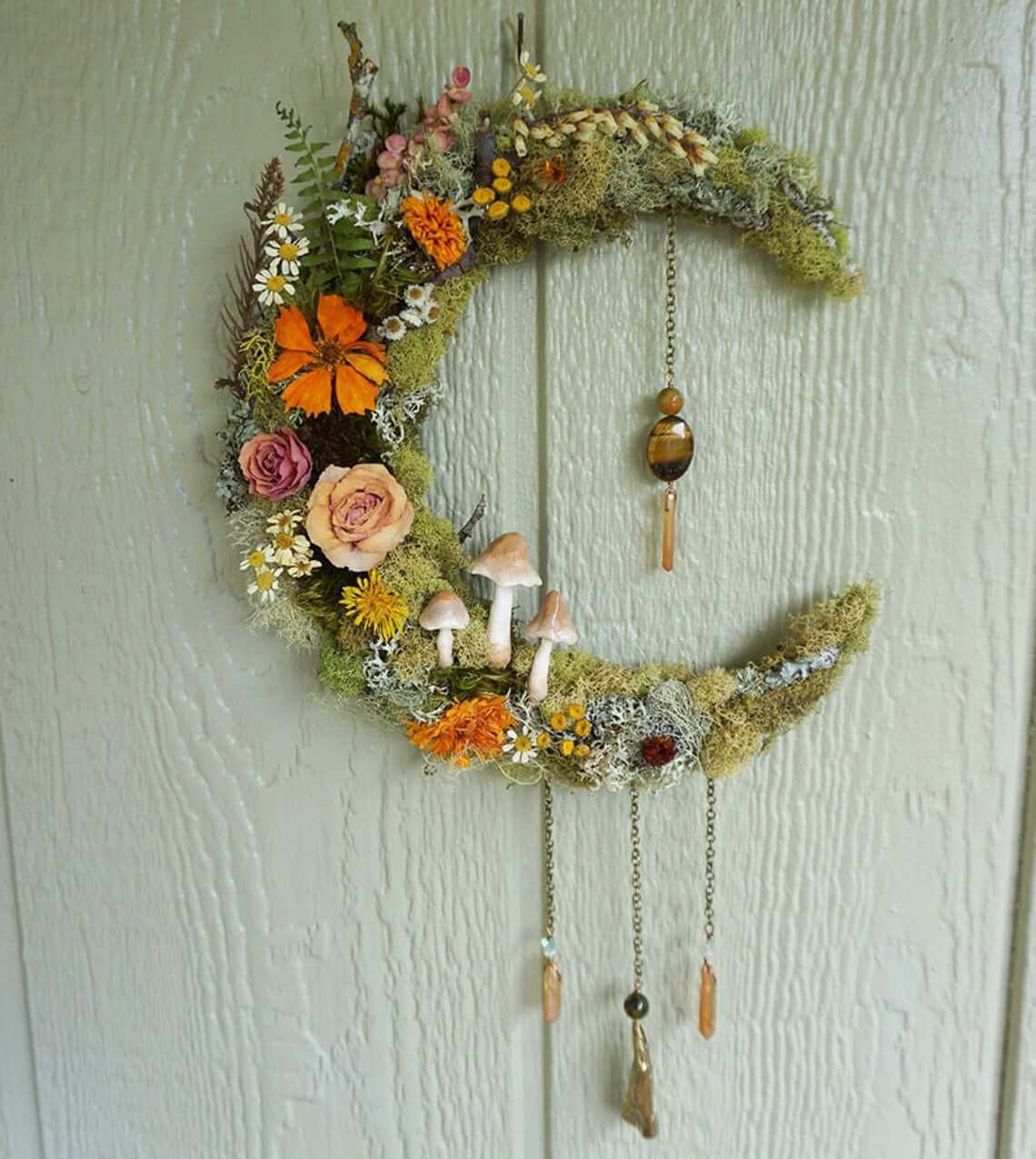 Fairy is not just something for children. They represent the much-needed 'what if' and whimsy in the present-day of the modern age. You do not need to give your bedroom the complete charming forest treatment to integrate a magical touch into your room. The delicately crafted decorative mirror is subtle enough to grasp the glimpse of the most observant visitor. The piece of art is a sure delight and provokes a unique form of summertime charm. Its fairy bedroom design mirrors the early twentieth century's atmosphere visible in French cafes. The cant edges that are characteristic of the shapely outline with the framing effect are vintage-inspired.
11. Fairy Lamp – Porcelain Lithophane Luminaire Accent Lamp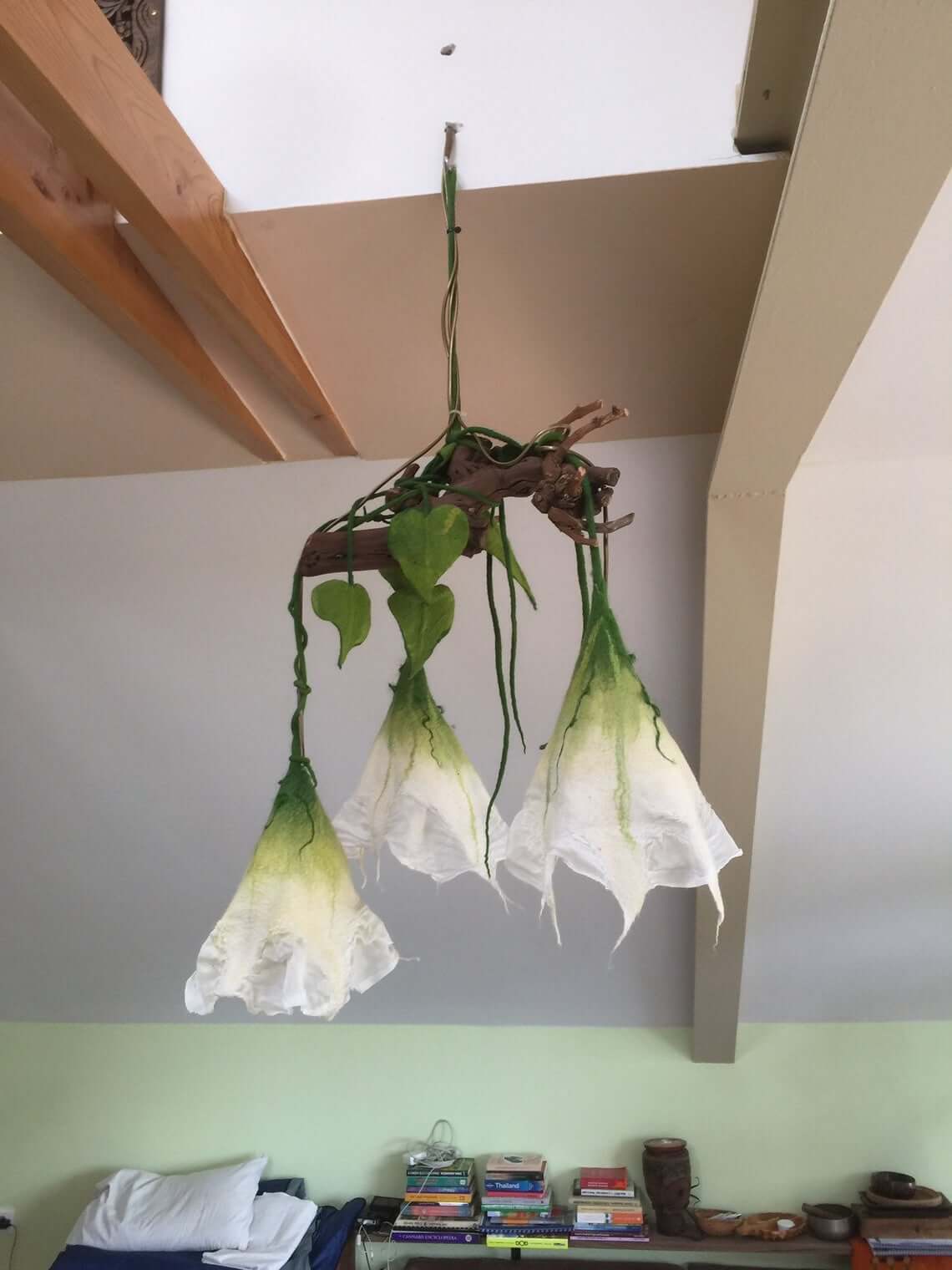 The lithophane lamp comes with thin luminous porcelain panels developed from the 1800's art. The lamp, which is lit from behind, radiates a light that shines across the various shadings of the carving, rendering a highly detailed image that seems magical. The illuminated image is of a unique photographic quality due to the relief the carvings deliver. The three-dimensional quality lithophane is a practical and beautiful work of art that will complement your fairy theme bedroom. Based on the original antique from France during the eighteenth century, it comes with a bulb that replaces the old candles for its glow.
12. Decorative Ideas Using Flower Fairy Framed Picture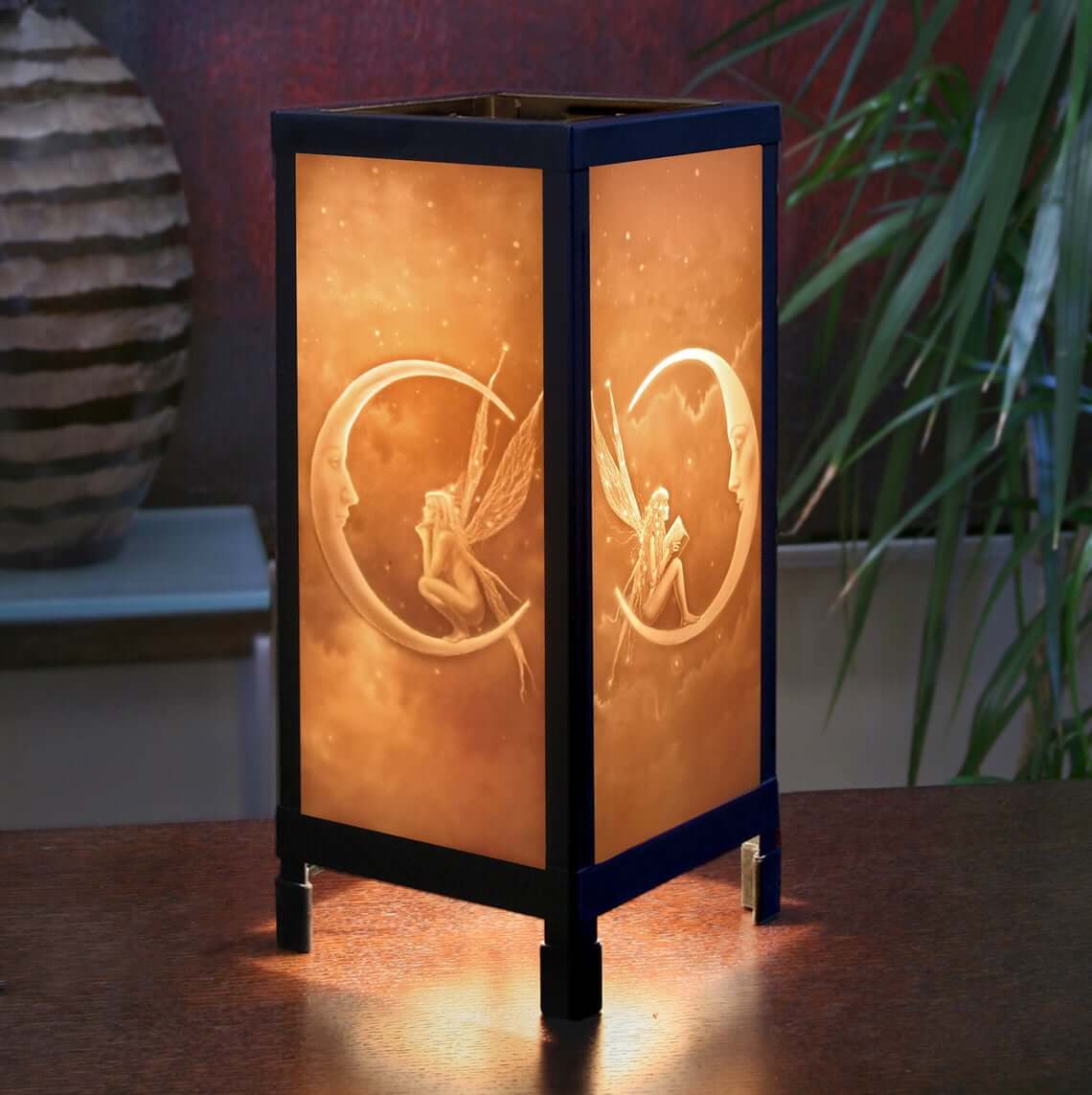 Small children and babies spend a considerable amount of time imagining and living in new and magical worlds. It is clever to surround them with an appropriately personalized environment to stimulate the imagination. Guided by the best fairy bedroom ideas, selecting a bespoke and inspired design that comes with the flower fairy framed picture will give your bedroom a fresh look that perfectly fits the backdrop. The vintage frame that encircles the fairy picture fits perfectly with the fairy theme. I believe playrooms are of extreme importance and are a place where imagination comes into play. As such, the bedroom is possibly the most suitable place to apply fairy tale pictures and themes.
13. Flower of Life Boho Style Table Lamp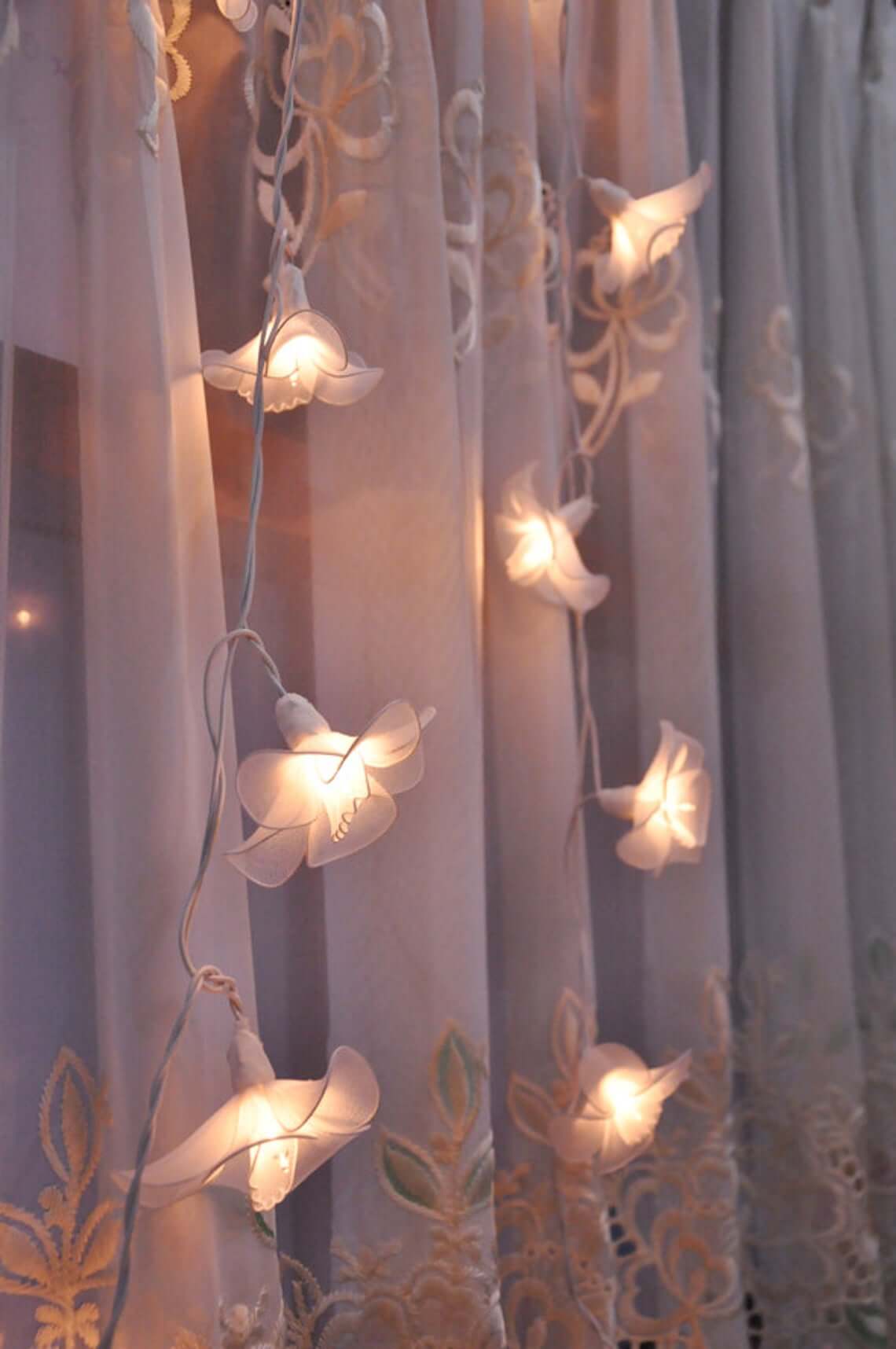 For those wishing to create a galaxy of their own, the flower of life boho style table lamp delivers a world of serenity and perfection in your bedroom thanks to its play of light transfer. It creates a sustained state of relaxation and elevation, love, and absolute acceptance. The perfectly crafted lamp ushers the beauty and light of nature into your bedroom. The uniquely engraved pattern delivers an astonishing atmosphere that fully transforms your bedroom interior all day and night. It comes with a small-sized and designed wooden base fitted with amethyst crystals to emit soothing and sedative energy.
14. Flashy Forest Canopy Light for Great Ambiance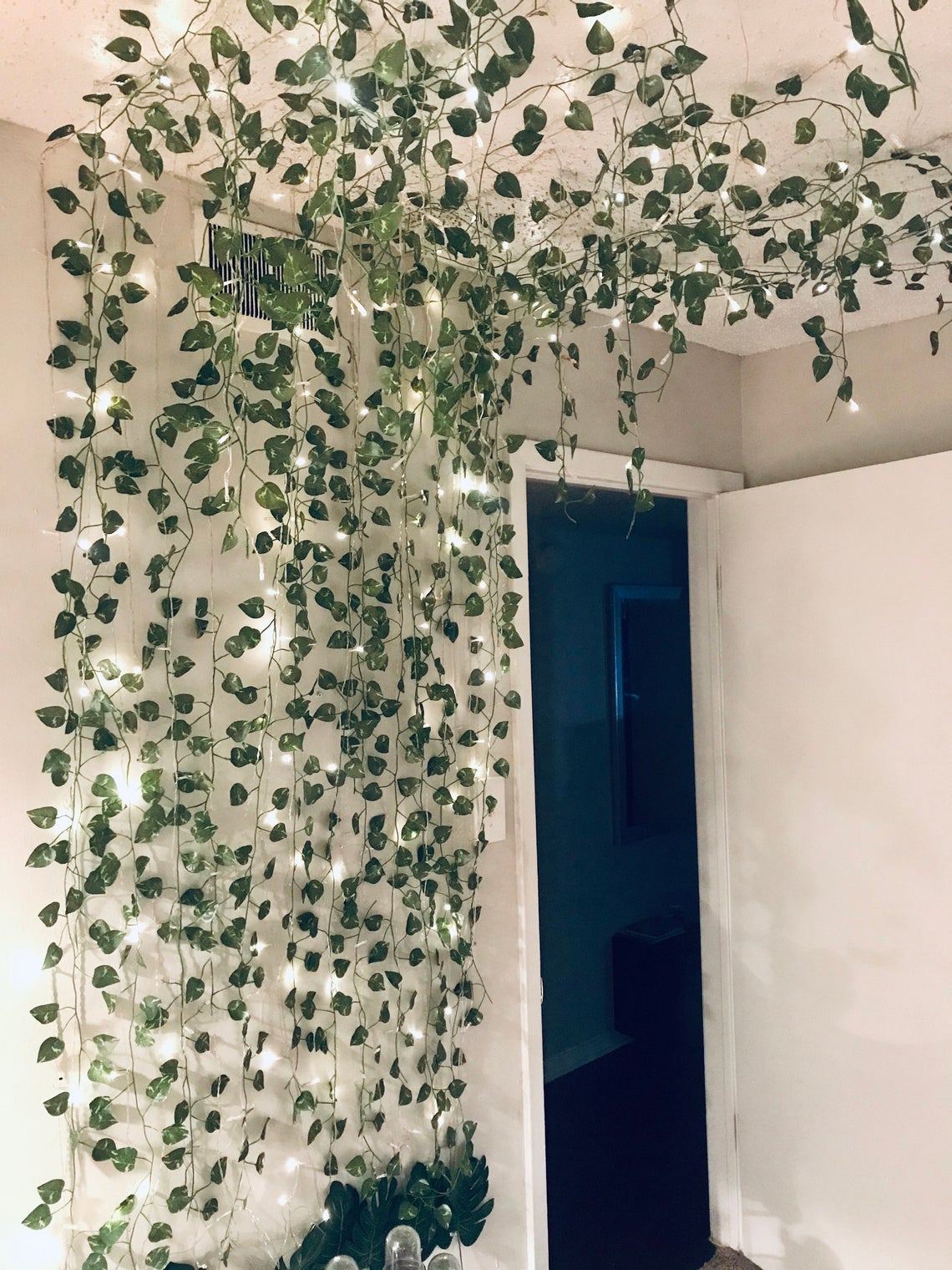 Falling into slumber has never felt so serene. The bedroom must be a place for relaxation, peace, and quietness after a busy day. The forest canopy light is great for unwinding as it brings the outdoor fairy atmosphere to your bedroom space. It supplements the golden glow from the sun during blissful summer nights, adding the forest feeling and accent lighting to your bedroom. The décor is a beautiful statement that can be placed anywhere from your window to your bed's headboard. Each strand can be pinned at different angles and lengths on the ceiling to deliver the full canopy effect.
15. Rustic Fairy on Herbal Moon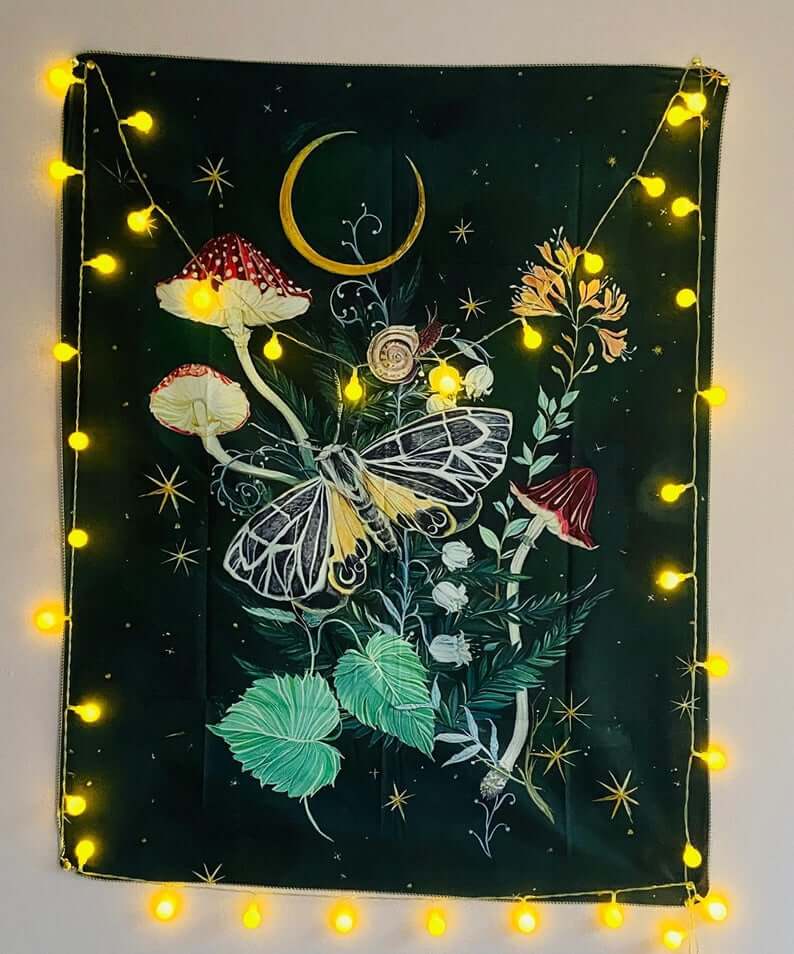 Spiritually, the half-moon is a representation of fertility and relates to life and death. Pinpointing the changing seasons and the associated inundations, it heralds fertility. Transferred to Artemis, the earth mother's offspring and known as the protectress of the newborn, the half-moon highlights the divine epiphanies, cosmetic events, and the transient nature of human history and life. The herbal moon, made from biodegradable and renewable materials, manifests a minimalist feel that creates a relaxing mood in the bedroom. The dream catcher is a fantastic fit for a fairy-themed room and adds unique touch based on the rustic interior concept, a fabulous gift for new parents.
16. White Love Flower String Lights for Patio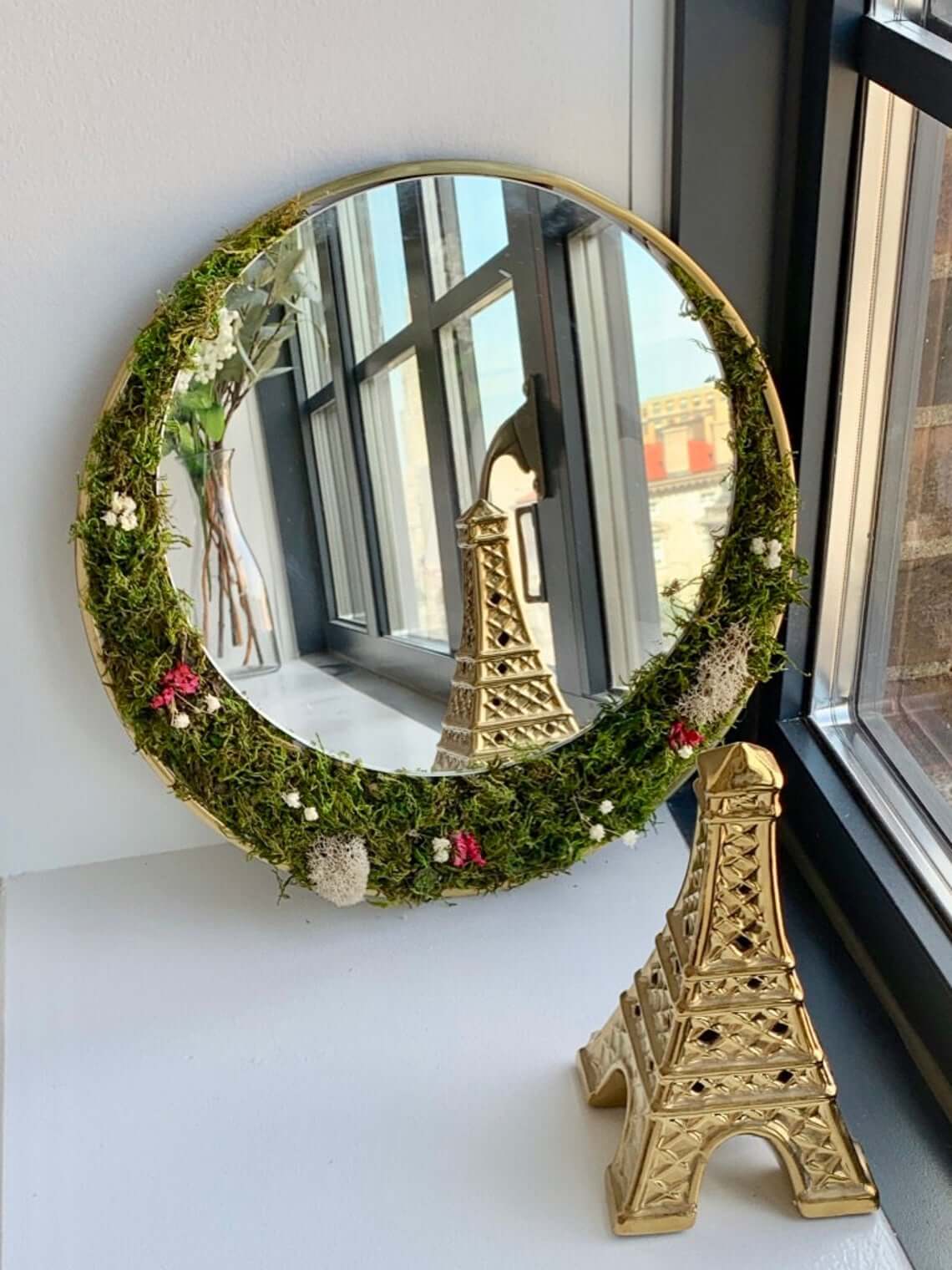 The bedroom atmosphere will always fall short without flowers and lighting that help set the mood for a dreamy night. While you may illuminate your bedroom with everything from modern candles to romantic candles, the most typical is the string lights. You will love this guise for its fairy-tale, whimsical vibes. Incorporating string light in your bedroom will provide a sparkling setting, considering the different fairy room ideas for combining them. The fairy flower string lights can cascade overhead to give a romantic vibe. Among other best fairy bedroom ideas, you can try attaching the glowing coils to the curtain rails to set the stage for the amazingly frozen wonderland.
17. Copper Cholla LED Mushroom Lamp from Silicone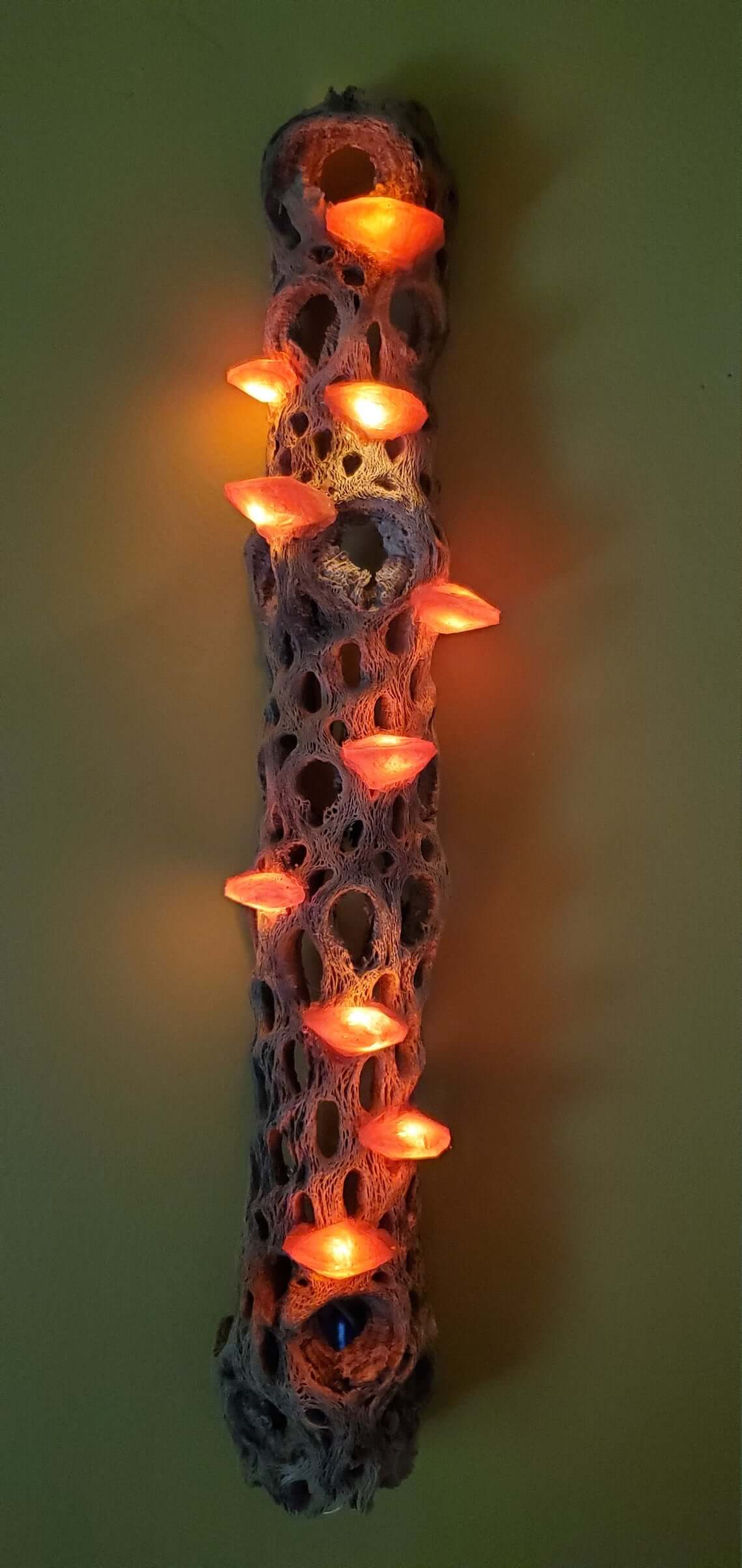 It is often tasking to be up to date on emerging bedroom trends that progressively flood our feeds online. If this is not enough already, the Copper Cholla LED Mushroom Lamp has emerged to escape nick the widespread design spotlight. A combination of the 70s trend meets modern-day quirk, and the fairy lamp is just as it sounds: a fungi-shaped light fixture. It is more about a heartwarming light radiated from its irrefutably whimsical design. The lamp renders cramped space cozy woodlands and transforms its owners into enchanted creatures in an attempt to replicate a fairy-themed room. If your goal is to introduce some charm into your supposedly barren wall or illuminate improvised workspace through bewitching vibes, Copper Cholla LED Mushroom Lamp is one of the best fairy bedroom ideas to consider.
18. Battery-Powered Bonsai Tree Lamp for Your Fair Bedroom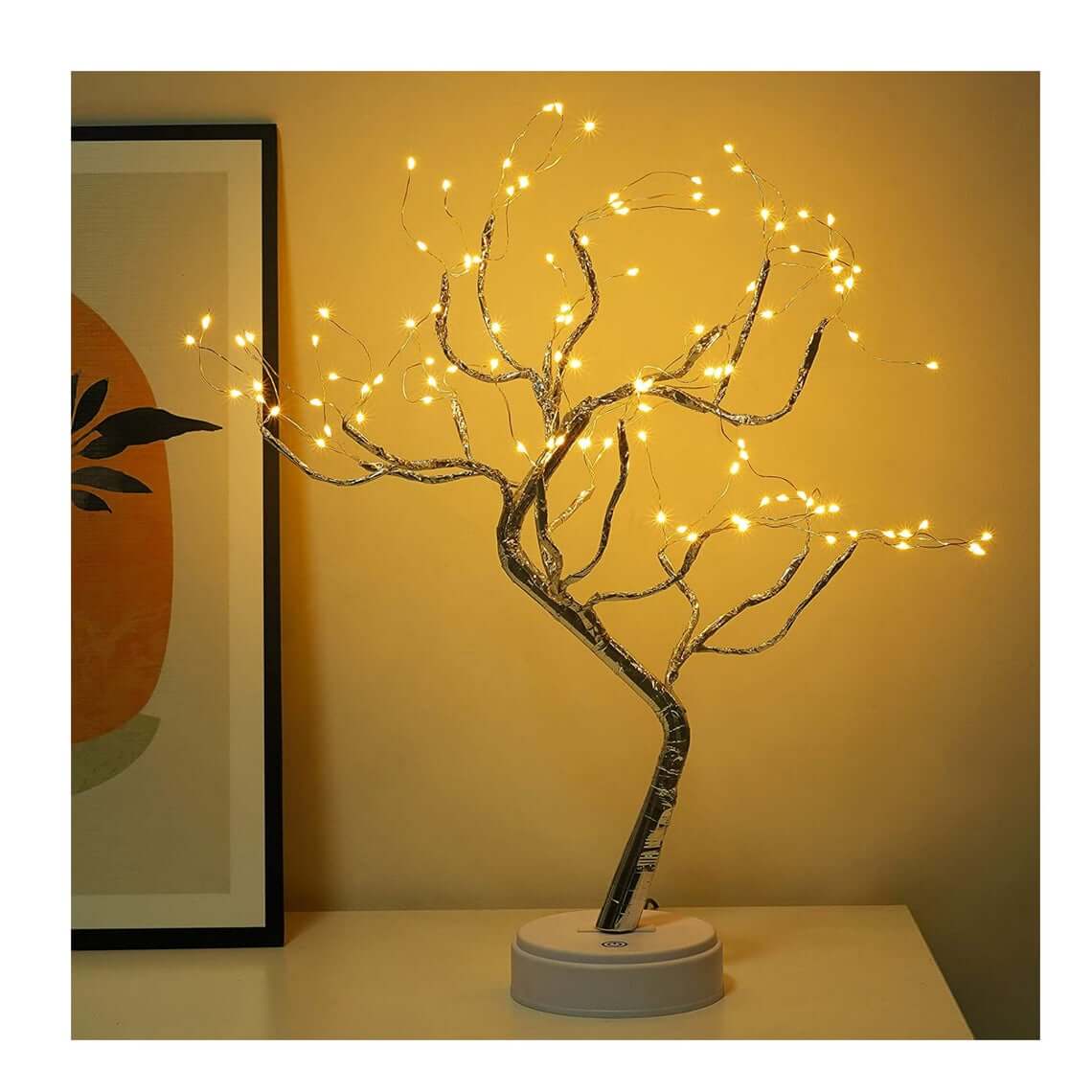 A walk in the forest can be extremely relaxing, imagining the beautiful fresh air that artistic trees exude. However, not everybody has an opportunity to pay homage to the forest. Adding a plant or two is one of the many ways to lift your room scheme. A bonsai tree lamp is one of the fairy room ideas that can engender the feeling of class and calm to your bedroom's interior décor and can be a relaxing hobby as you compare the small branches to the outstretched silhouette of its grander cousins. The attached string lights mirror the harmony that exists between nature, man, and soul. It invites you to gaze outside and reconnect the bedroom with space.
19. Tapestry Psychedelic, Astrology Wall Hanging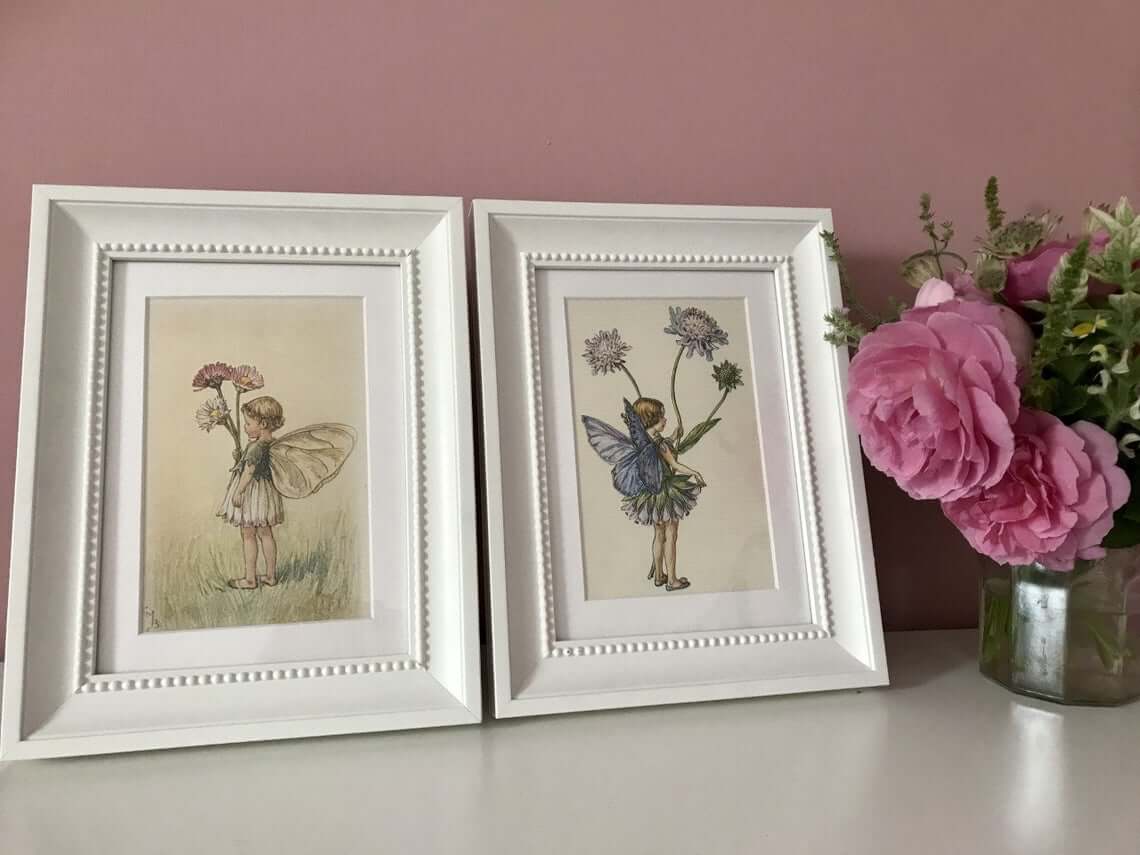 The light blue psychedelic tapestry is a blend of soothing colors that enhance your bedroom with an ethnic touch. With its 1960s counterculture roots, the decorative wall hanging features surreal visuals that enhance, evoke, and convey psychedelic experiences. The piece reveals a perfect union of detail, style, and craftsmanship. Use the delicate tapestry to decorate your bedroom walls or use it as a headboard. The paisley pattern and the brightly contrasting colors coupled with extreme depth of stylization and detail delivers an elegant look. The conventional work of art will render a complete makeover of your bedroom wall.
20. Minimal Domes Micro Fairy Lights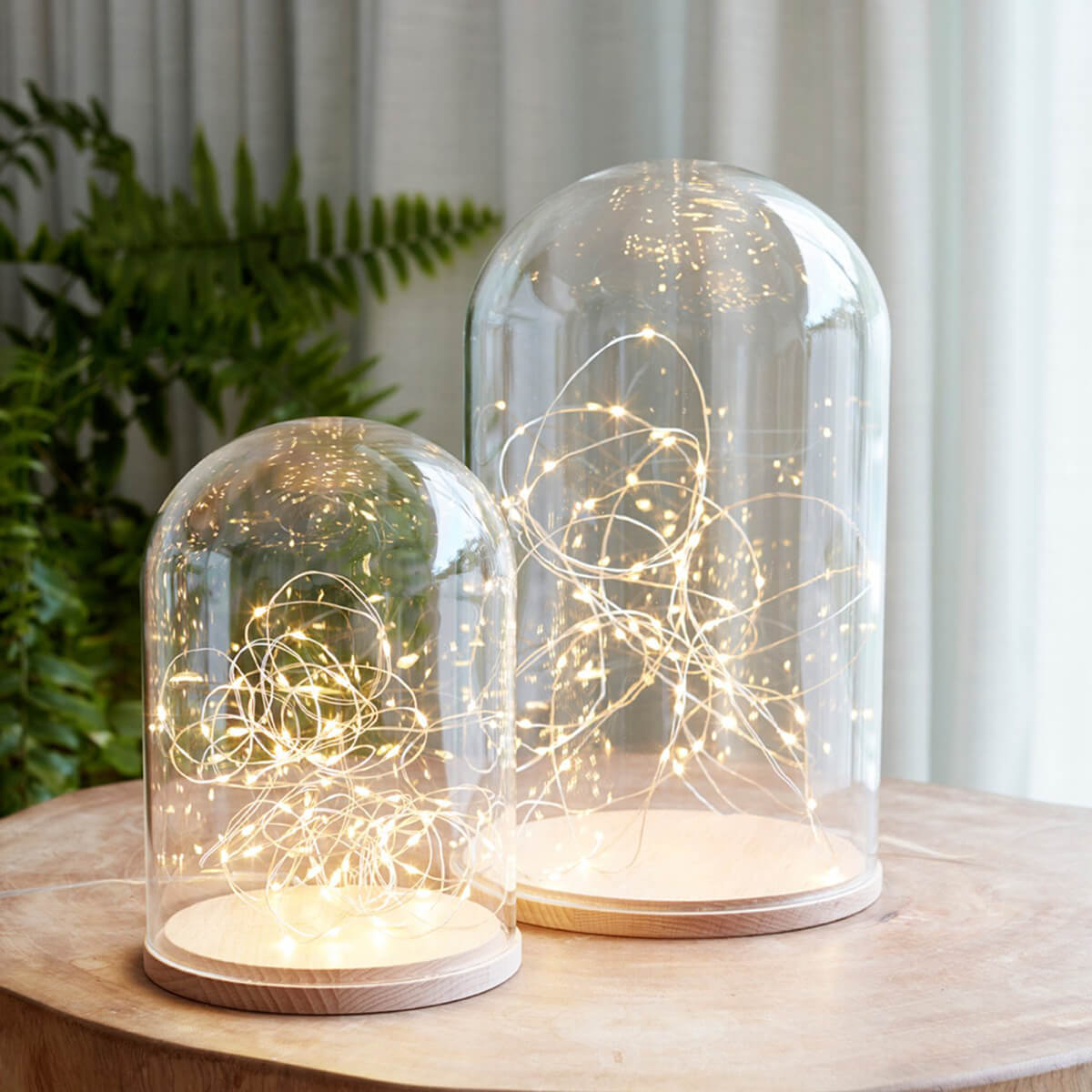 With these glass dome duos, you can bring some beautiful lighting fixtures to your bedroom. Inside each dome is a bundle of 50 microlights, warm and white in color. They feature malleable silver wire too, allowing them to easily be shaped in numerous ways. Such a swirling setup contributes to the overall playful feel of the lights. The domes are different sizes as well, giving you the freedom to set them up in various ways as you see fit for your décor. Place them on a dresser or a nightstand to bathe your bedroom in a relaxing and fantastical light.
21. Incredible Fairy Window with Twinkle Light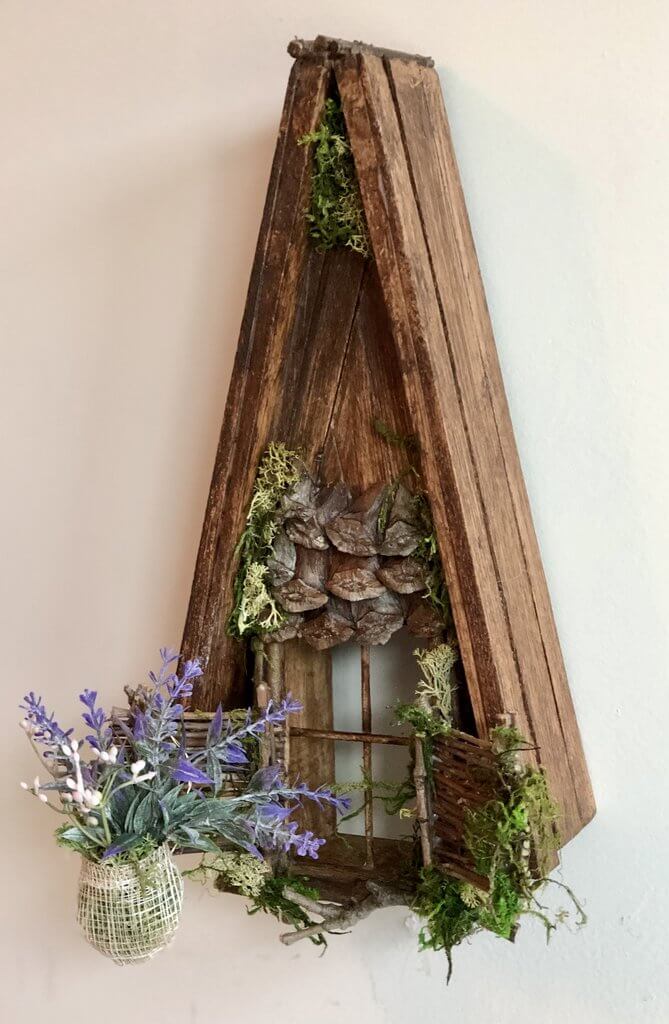 A cool way to cement the fairy décor theme you have in your room is with this remarkable fairy window. This window has such a realistic layout that it wouldn't look out of place if found in a fantasy story. There are several intricate details throughout that compel you to look closer. From the greenery that's meant to resemble moss growing all around, to the awesome rocks that give the piece more texture, there is something to enjoy on this window from every section. The twinkle light is a nice little touch to giving even more life to the window.
21 Fantastic Ideas for Decorating Your Fairy Bedroom
The bedroom design can be the difference in how we feel and sleep. Despite this, bedrooms can be a challenge to designers when handling issues, such as storage, minimal square footage, and functionality constraints. Decorating a bedroom can pose significant challenges and present an excellent opportunity to integrate the best fairy bedroom ideas into your interior decors.
Much of the effort of interior décor tend to concentrate on the communal sections of the house because they are areas where we spend most of our quality time. Moreover, the kitchen, living room, and bathroom are open to guests and often echo the host's personality and habits. As such, we tend to overlook the primary location for relaxation, the bedroom. Uniquely designed bedrooms and creative interior design are critical to a beneficial sleeping environment and fostering restful slumbers.
Sometimes, it may be the less used room in a home, but since sleep fills a sizable chunk of our lives, it is more critical than we imagine. We share and have different tastes and preferences; some are attracted to sophisticated and modern, some are drawn to the rustic country or scruffy charm, and others are darlings of unique décor accents and vibrant pop of shades. Although tastes and preferences may vary widely, one aspect that applies to all fairy bedroom designs is that cozy factor or sheer comfort.