With the best fairy lights bedroom ideas, you can transform the average room into something spectacular.
Fairy lights have served many people well when seeking something refreshing to use to decorate a room. It is mainly due to the fact that these lights are so incredible to look at while also being versatile. Sometimes, you can find simple Christmas lights that will have the effect you're looking for, and they can go well when hung up around anything such as your bed headboard.
24 Incredible Fairy Lights Room Decor Ideas for a Fantastical Setting

On other occasions, you may in fact find some fairy lights that have specific designs to them. They may be shaped a certain way like in the case of flowers. These offer you a more personalized approach to decorating while using lighting. You can, of course, find any fairy lights in the store. Some of these pair well with certain wall art too, highlighting everything in a way that will instantly grab attention.
In other cases, you may want to flex your creative skills and create your own fairy lights design. These projects are best done using regular fairy lights and instead of adding them to something more like your own homemade vase. It allows for even more personalization with your decorating so that you can truly leave your imprint on your bedroom style.
No matter which approach you decide to take, you will notice that fairy lights in general will provide a completely different vibe to the room once they are lit. Things can appear almost like a fairytale or something out of this world. It is almost relaxing, making them fit perfectly in a bedroom setting. This is especially true if you opt to use them in a nursery or child's room to help soothe them to sleep as they work as good nightlights too.
Seeing as there are so many avenues to travel down when using fairy lights whether you buy them or create some pieces yourself, we took it upon ourselves to find dozens of different ideas and products to help you along in your journey.
1. Bed Headboard Fairy Lights Setup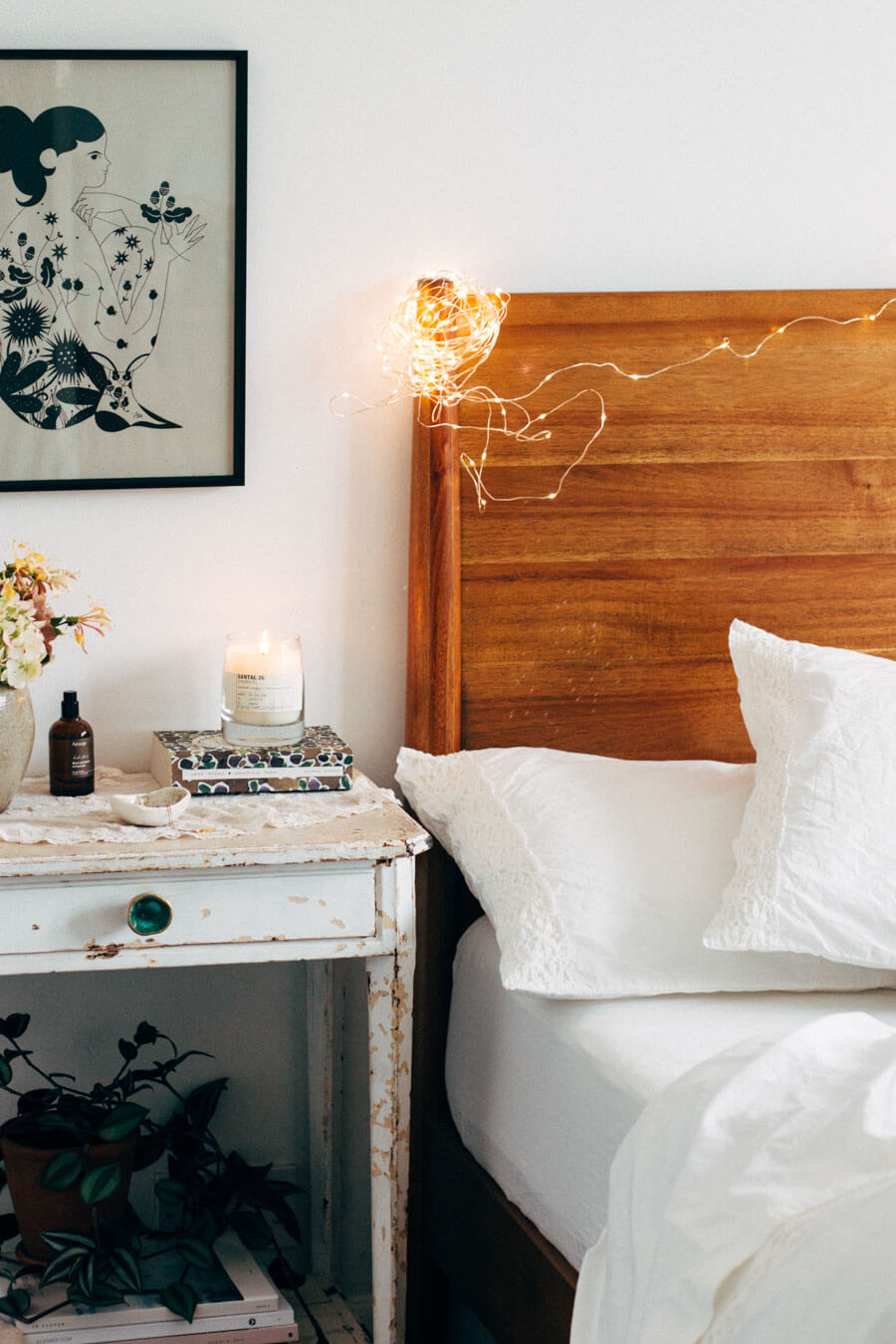 It's true that fairy lights can look incredible on beds made in a four-poster style, but even those that have a simpler headboard can still take advantage of the style. A great way to add some unique lighting to your bedroom is by starting with a bundle at one end of your headboard. From there, you can just drape them across to set the right vibe in the room. It is a more minimalistic approach that works in the long run of adding some ambiance to a space. Also, it is a wonderful way for you to completely transform an average-looking headboard into something that is a bit more eye-catching.
2. Fairy Lights Vanity Mirror Display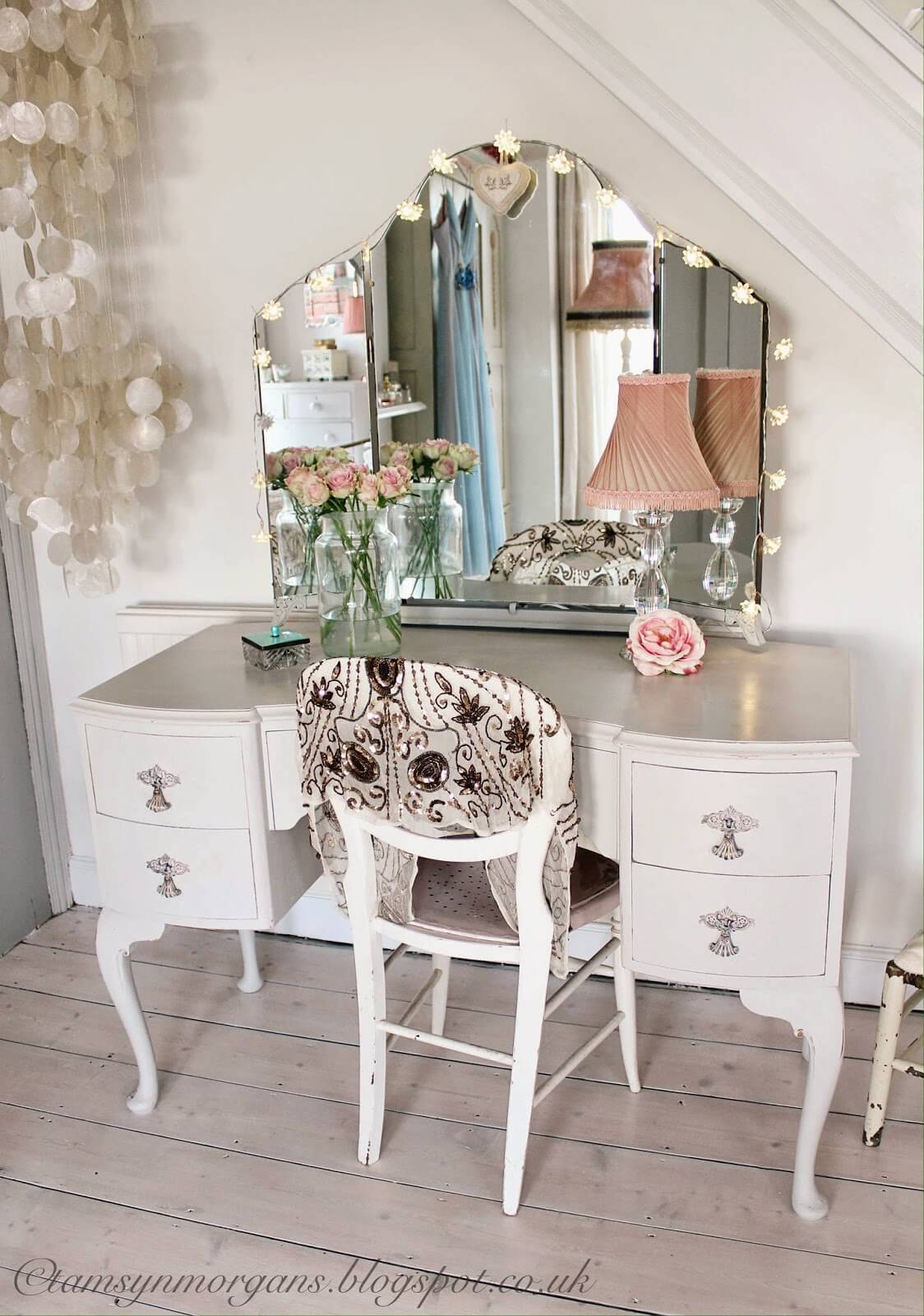 A vanity mirror needs proper lighting if it's to be used the right way, and what better way to go about that than with fairy lights? This is especially fun since these come in a variety of styles so if you don't want the standard lights, you can always find some with a specific design like flowers to further emphasize the overall theme in the room. These can also make your vanity appear far more creative and interesting. Furthermore, this fairy lights room decor is an ideal way to add some more life to your room through the use of ambiance lighting.
3. Beautiful Long Curtain Fairy Lights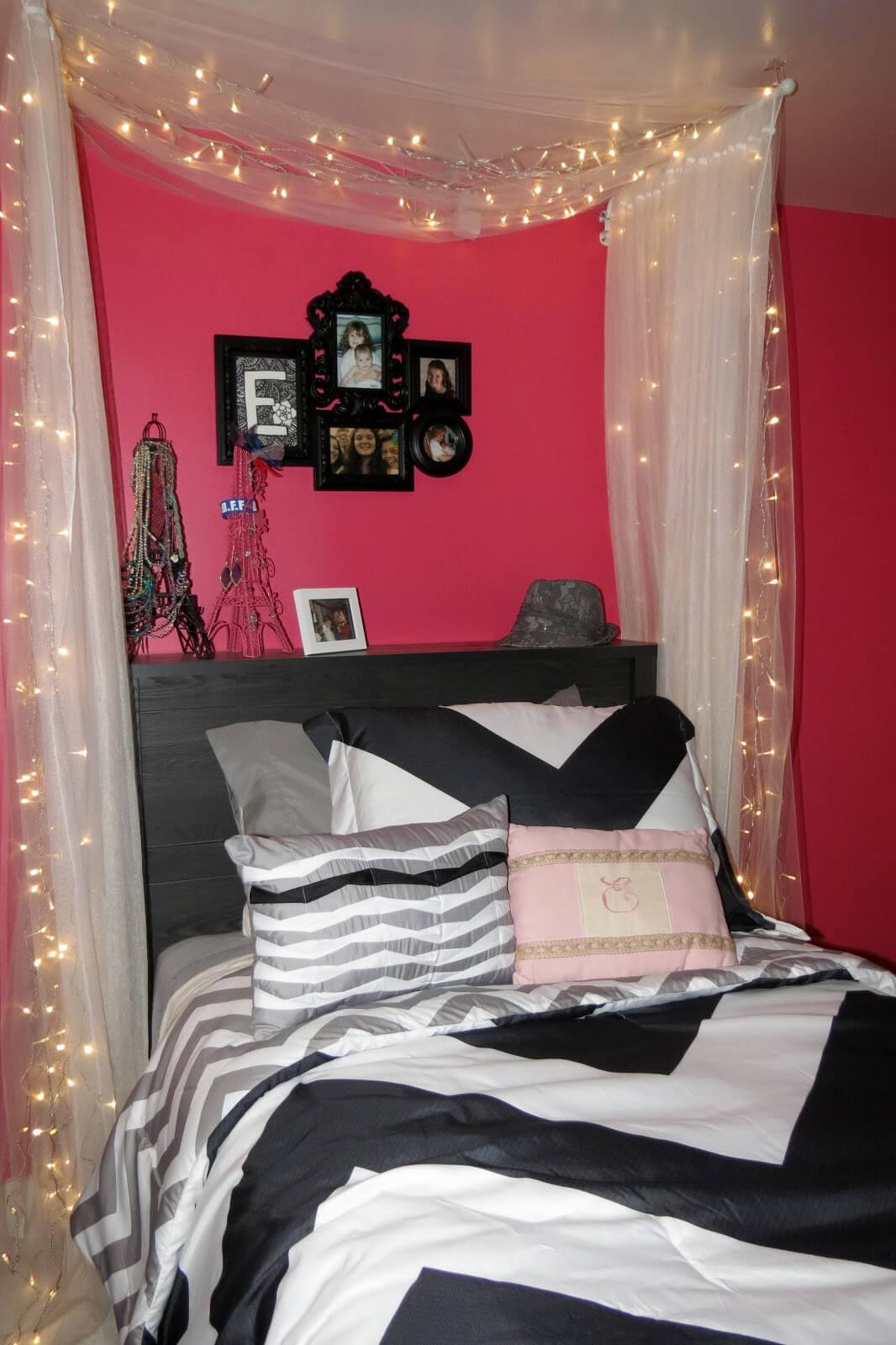 Draping curtains can add a lovely touch of elegance to your room no matter the size of the bed these curtains hangover. Once you add on the fairy lights, you can completely transform the appearance of them and your room into something taken right out of a fairytale. Consider floor-length curtains too since this gives you more space to add the lights. Once you lay back at night, the fairy lights will gleam over you while also basking the rest of the room in such a warm glow that you may just be hesitant to ever leave your bedroom again.
4. Upcycled LED Fairy Lights Lantern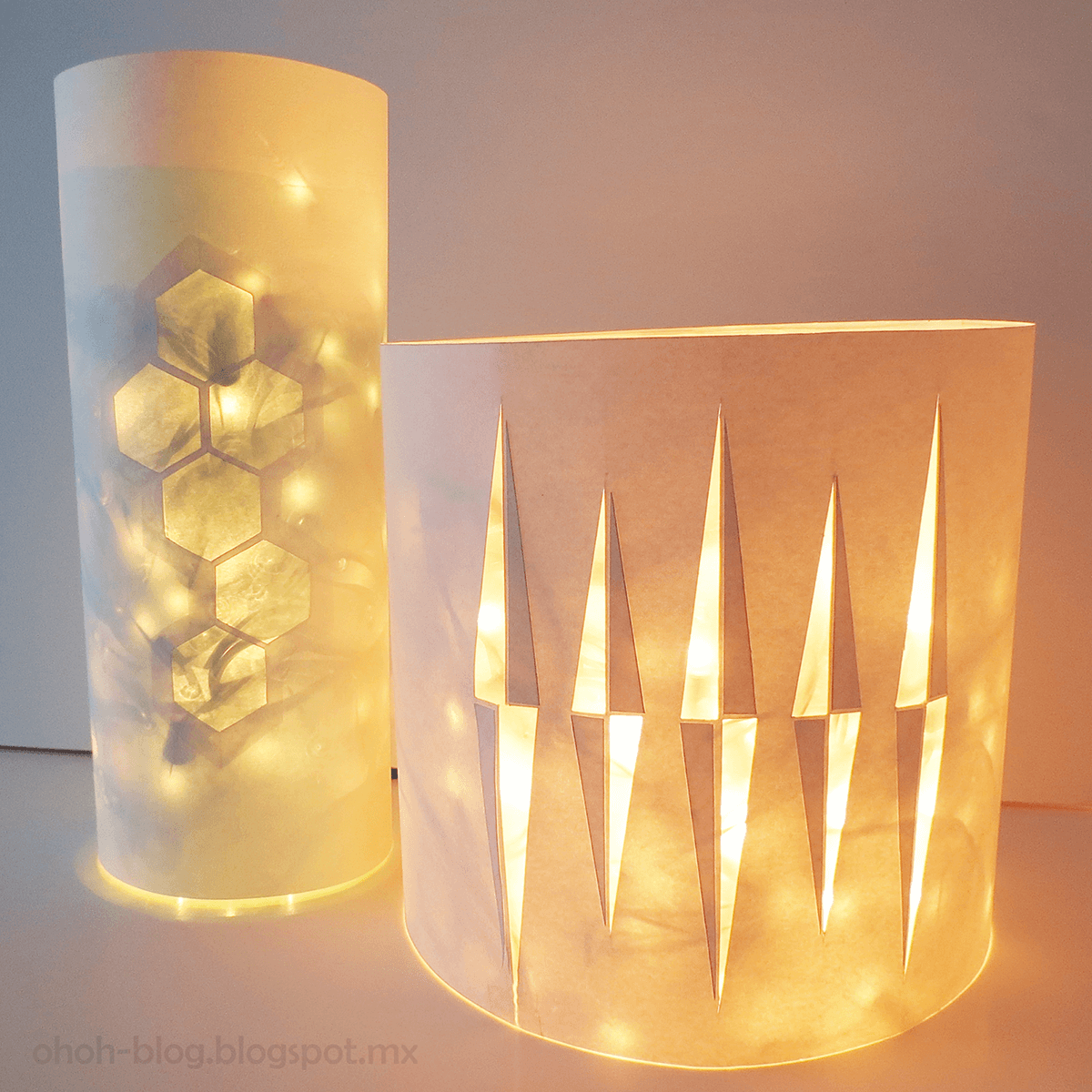 Some of the best fairy lights bedroom ideas come from upcycling things you already have around your home. Take a large plastic bottle, for instance. Rather than throw it away or recycle it, you can elevate that empty plastic bottle into something far more useful such as a lantern. Tossing on a paper cover that has a cool design is helpful so that once you slip the fairy lights inside, they will reflect that lighting in numerous ways. It is such a fun project as you can create these faux lanterns in different sizes by cutting different bottles as well as making various shapes in the paper covering.
5. Underwater Mermaid Fairy Lights Lantern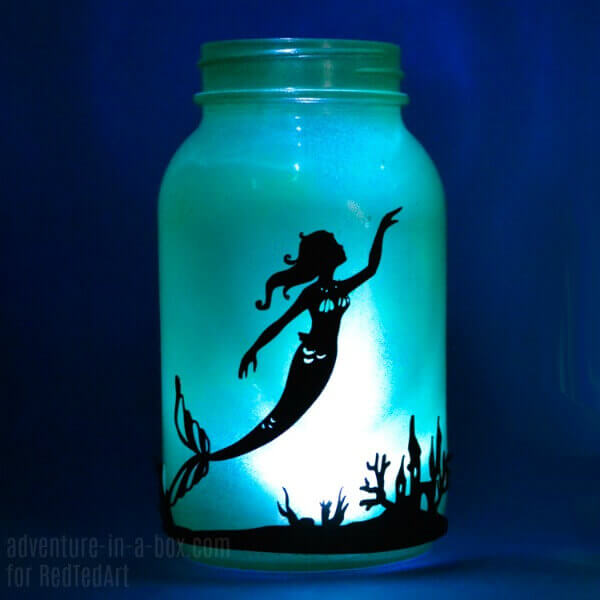 This craft project is a great one for the entire family. A mason jar, some paint, stencils, and fairy lights can help you create an outstanding underwater wonderland in the form of a lantern. The color pairs well with the overall theme, and once you drop in the fairy lights, you're left with jars that look like they are truly glimmering underneath the sea. It's almost magical, making this a fitting fairy lights room decor option for a children's room. Even so, this gorgeous lantern can still work well in anyone else's bedroom too if you simply appreciate more imaginative settings.
6. Awesome Curtain Headboard Fairy Lights Design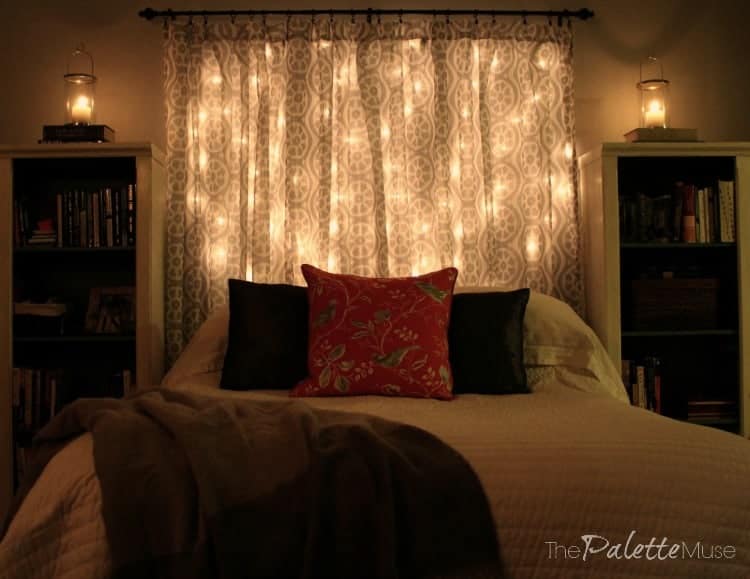 If you lack a headboard, you can always make one up with the right materials, and what you're left with is something that is more remarkable than you can ever buy in the store. What is even better is that this can blend effortlessly with the rest of your room while also standing out in its own right, especially once you turn off the lights. Depending on the size of your bed, you can add a host of fairy lights to create a whimsical feel. Once it's all set up, this is a great source of lighting in your room at night to create a warmer vibe.
7. Mason Jar Fairy Lights Lamp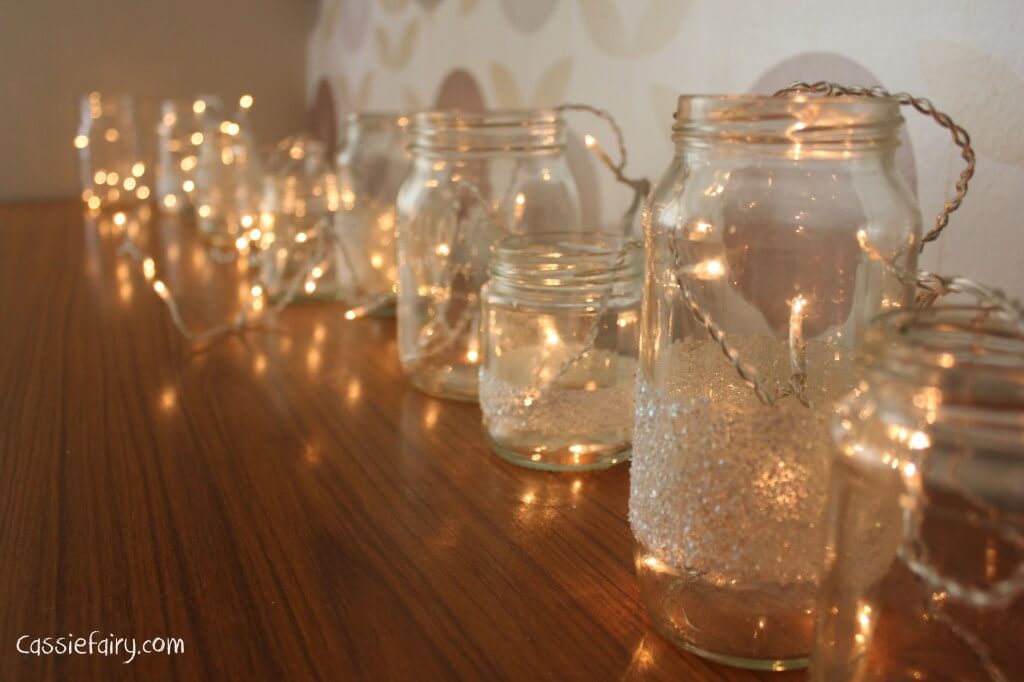 Homemade lamps are a beautiful way to personalize your space while adding more light sources without wasting energy. Combining fairy lights with mason jars is a perfect place to start. As mason jars come in a variety of sizes, you are free to experiment to work toward a specific setup for your decorative lighting. Additionally, you can choose from clear jars or ones with a bit of color if you are looking to create a certain style. Feel free to add some more decorations to the jars too as anything you put on will have a lovely gleam courtesy of the stunning fairy lights.
8. LED Wine Bottle Lamp Design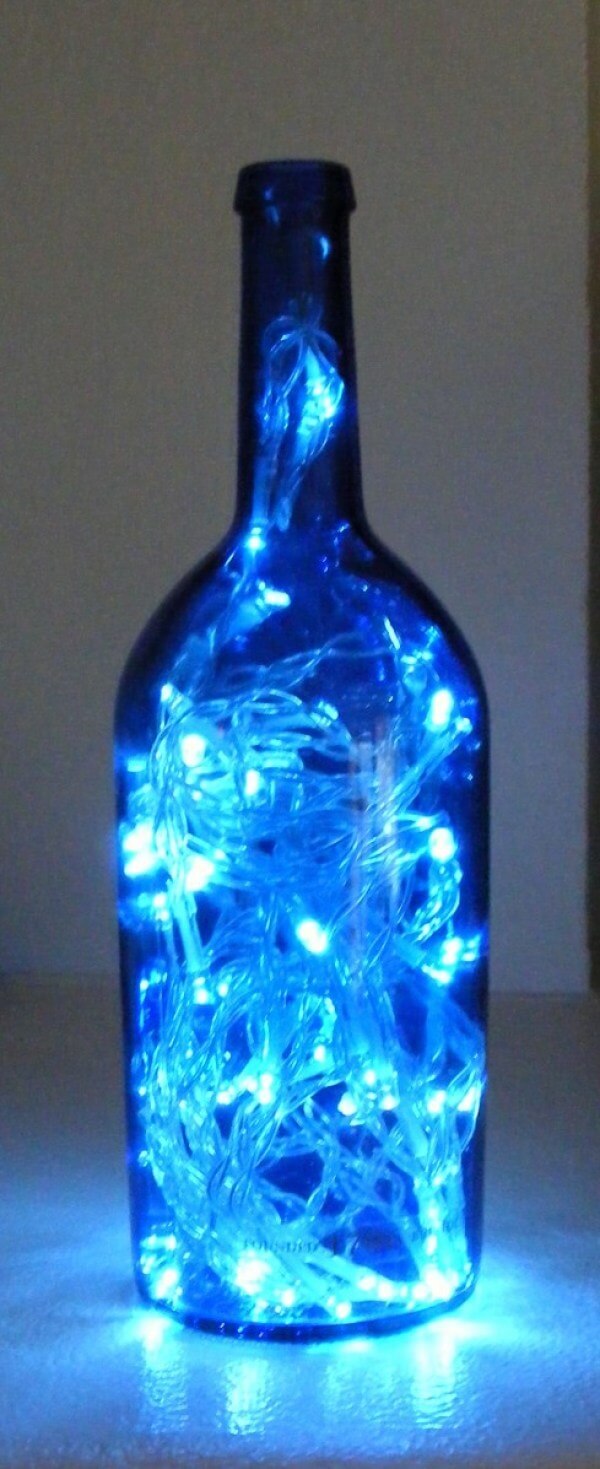 The LED style is simply so fascinating that you no longer have to buy it from the store to get that vibe in your home. Instead, you can make one yourself that is far more distinctive and fitting for your personality and the theme of your décor. This project is one of the more interesting string light ideas for bedroom decorations. It leaves you with such an awesome piece that works no matter where you set it up in the room. Also, the entire mood of this lamp design can change depending on the color of the wine bottle you use.
9. Bulb Flower String Fairy Lights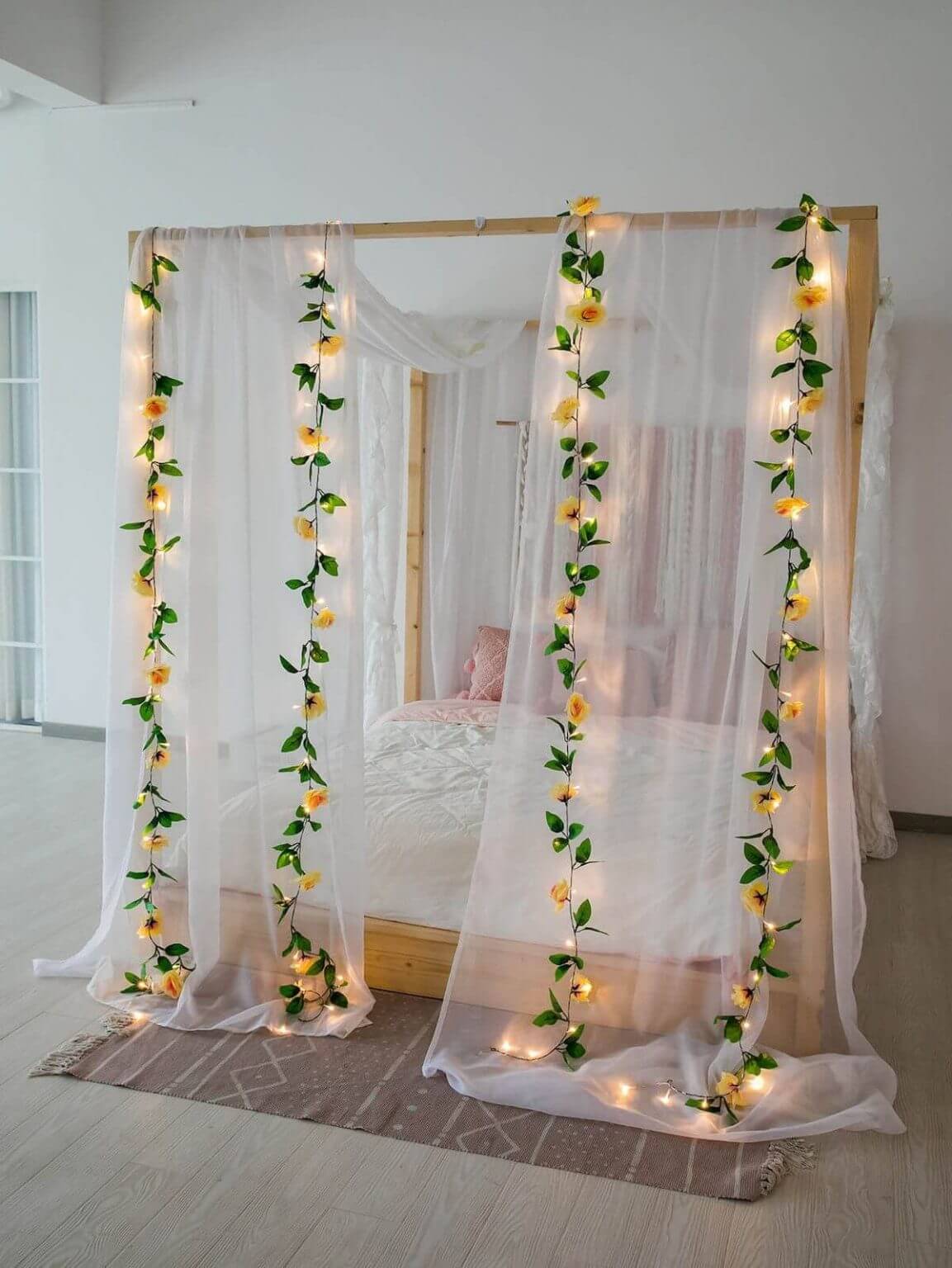 A nice way to blend color and lights is with these beautiful flower string fairy lights. They look almost like vines with gorgeous flowers growing off them. In fact, you can hang them around the bedroom like vines or have them going up and down instead. There are many ways to utilize these fairy lights so that they build on the right sort of atmosphere. The green and yellow tones provide some warm coloring around that can blend with various décor. With the actual lighting effect, they manage to glow even more so that they stand out with ease. The lights aren't overly bright either so that they provide comfortable brightness.
10. Solar Themed Moon Himalayan Salt Lamp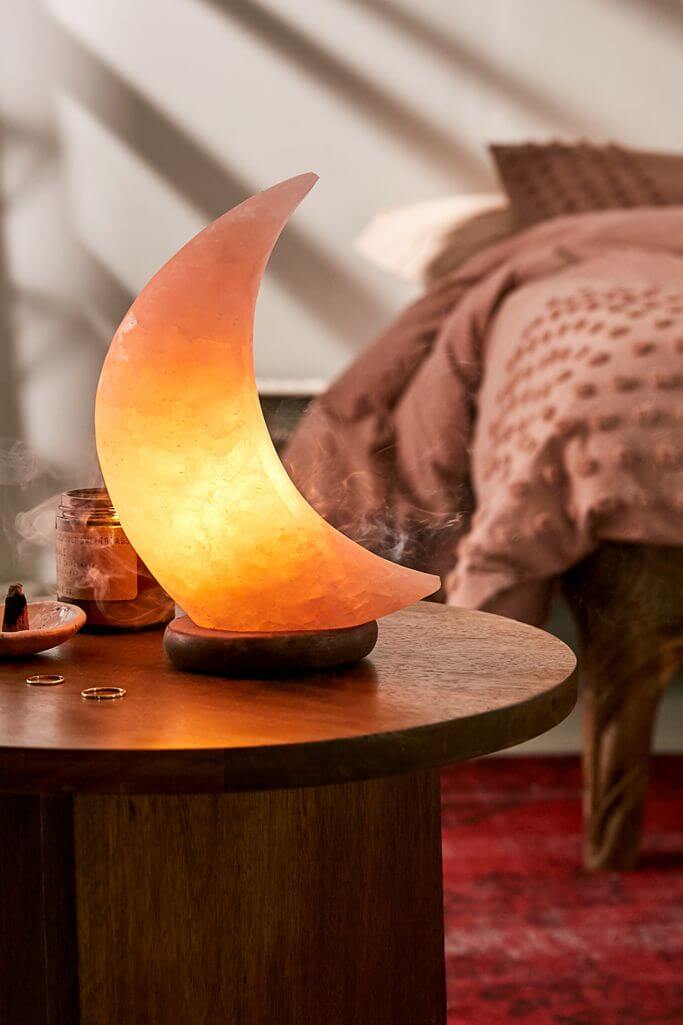 A Himalayan salt lamp is a gorgeous means of lighting up a space with something that looks just as good and decorative when it isn't lit up. This crescent moon sits upon a stunning, sturdy wooden base that blends well with the overall solar-like theme of the piece. The salt lamp looks great in a bedroom that features any style too. When it is lit up, the lighting is strategic enough that to give this moon an ethereal, warm glow that will attract attention from anyone. This lighting isn't overly powerful so that it can even serve as a wonderful nightlight if needed.
11. Decorative LED Wall Fairy Lights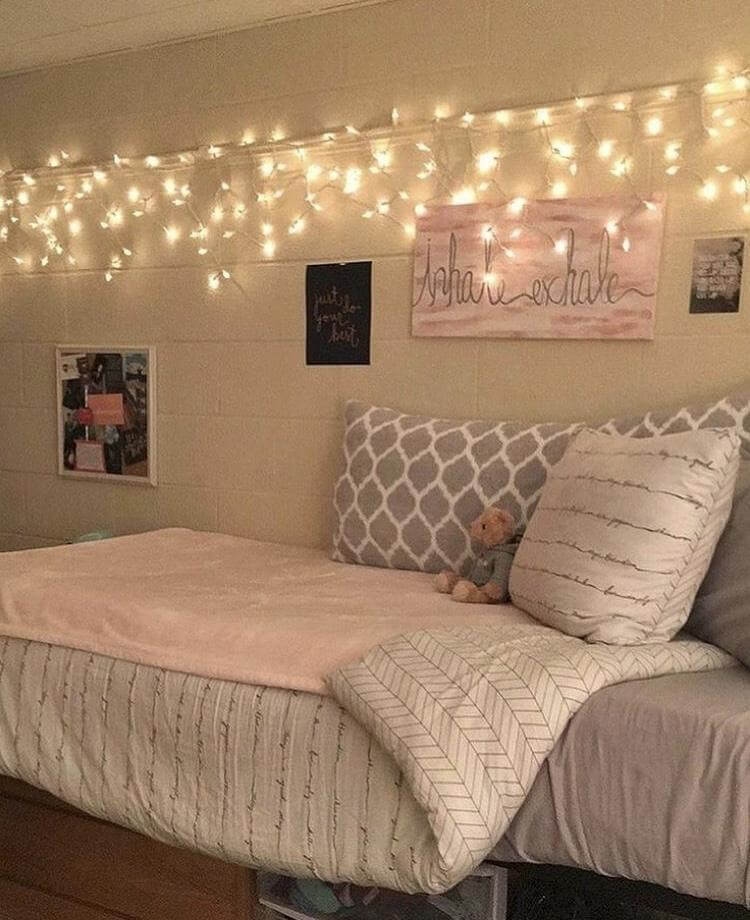 Help style your bedroom with a fun boho look thanks to these LED wall lights. They are as straightforward as they come while still having that unmistakable relaxing vibe that fairy lights generally give off. They are a good length too as they come in at 7ft long and feature 150 LED lights. These can go perfectly against a wall to act as a main source of light. You can string them up around your bed too for that extra bit of ambiance lighting. They are bright enough so that you may easily see with them on such as for reading.
12. Lengthy Waterproof Micro LED Fairy Lights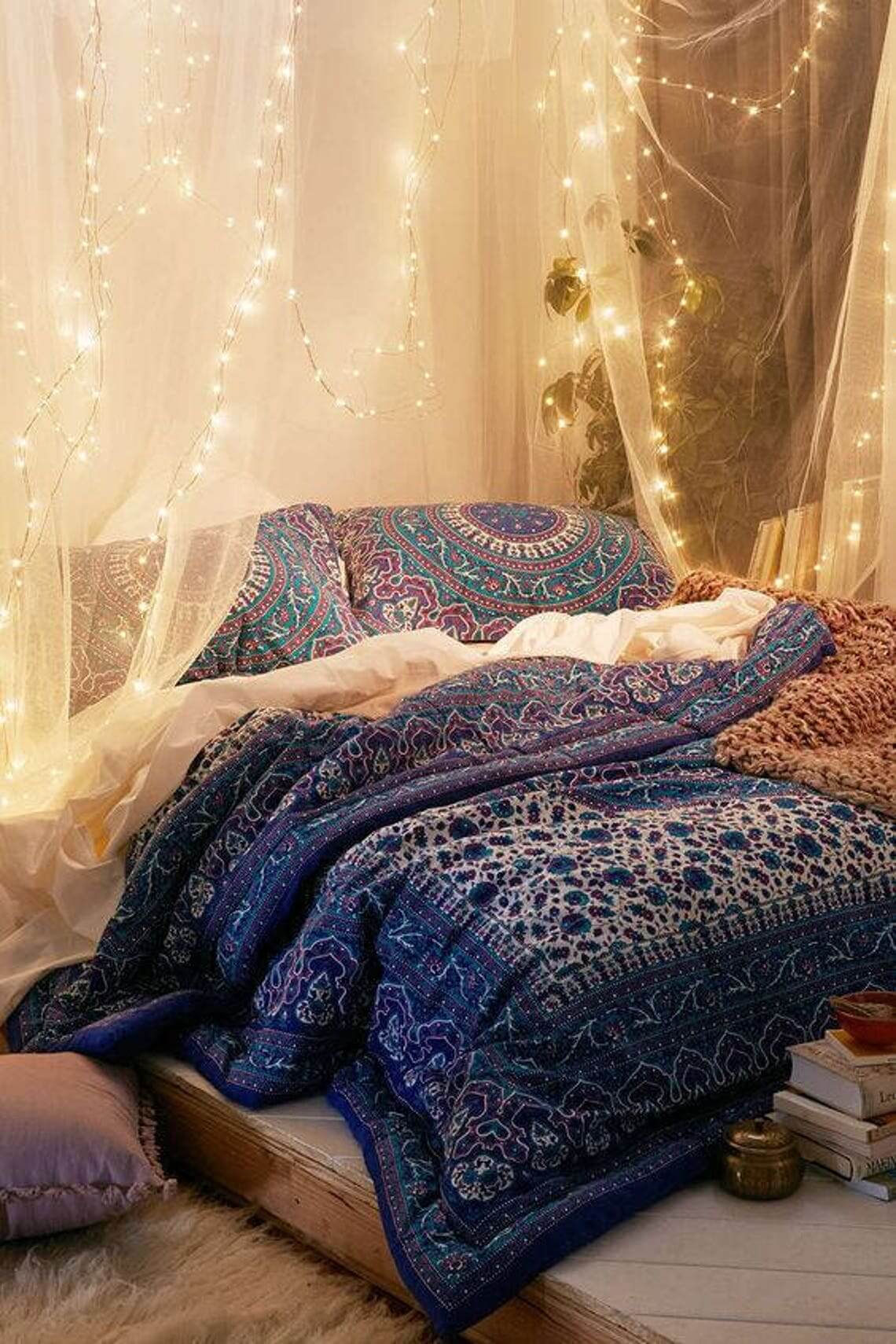 When you have some string light ideas for bedroom use, these lengthy fairy lights will give you enough to play with without causing harm since the lights themselves don't get hot. They are designed with good flexibility, freeing you up to set them along your wall, desk, headboard, etc. without worrying about them not moving the way you want them to. You get 150 lights in all and 49ft. worth of string to handle. This is plenty long for most to successfully decorate a room and bring it to life a bit more.
13. Long Micro LED Fairy Lights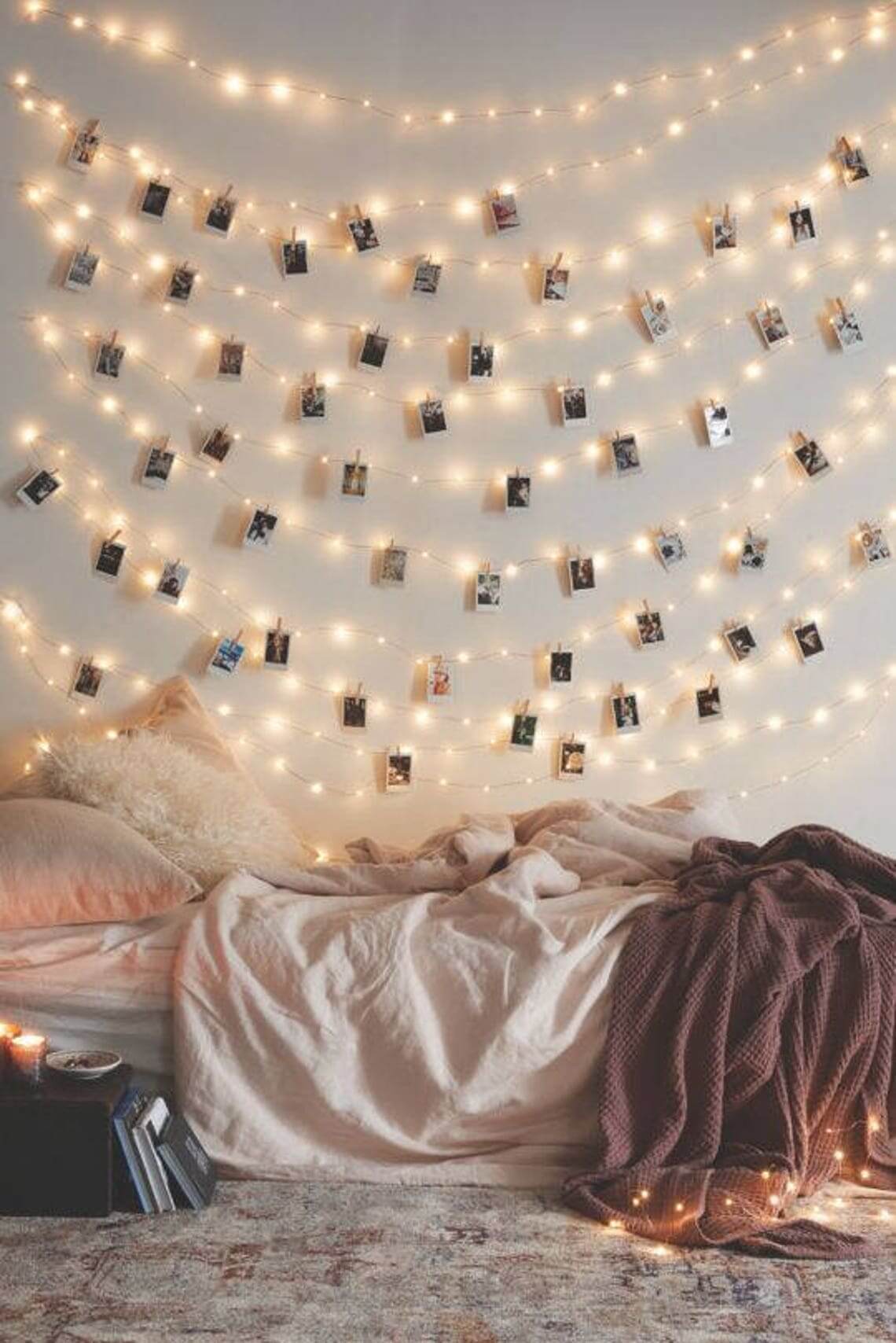 If you need a good length of fairy lights to string up, then this set of micro LED lights will do the trick effortlessly. As they are very tiny, they pair together well with a bold brightness that illuminates anything with ease. They are about 65ft long too so that you have more than enough to work with to decorate as you see fit. The wire they are on is flexible too, making it easier than ever to twist and turn them so that they fall exactly the way you wish them to in your bedroom. You can select from either silver or copper wire as well as from warm white and white coloring for the lights.
14. Beautiful Mega Monarch Wall Décor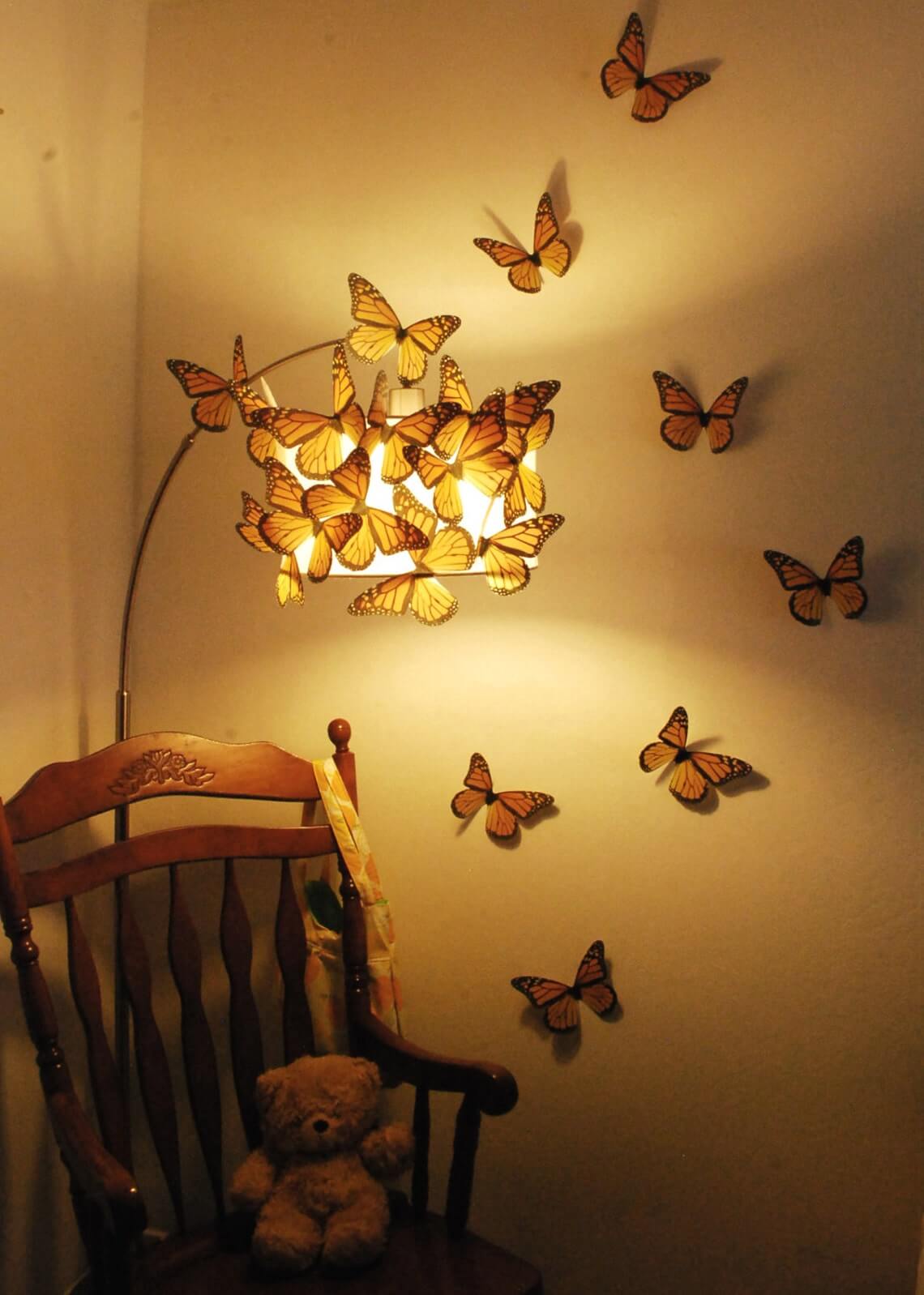 This piece is an ideal choice for anyone that adores butterflies. In this set, you will receive 20 of these mega monarchs. Each of them has a wingspan that stretches out an estimate 7in, making them massive enough to snatch attention on any wall you place them on. Since they are individual, you can place them around as you see fit. The jelly-like adhesive is designed to go on well and stay on without ruining anything you stick them to. Also, the butterflies feature a translucent paper material so that lighting can show through them, fitting when used around fairy lights.
15. Mysterious Raincloud Table Top Lamp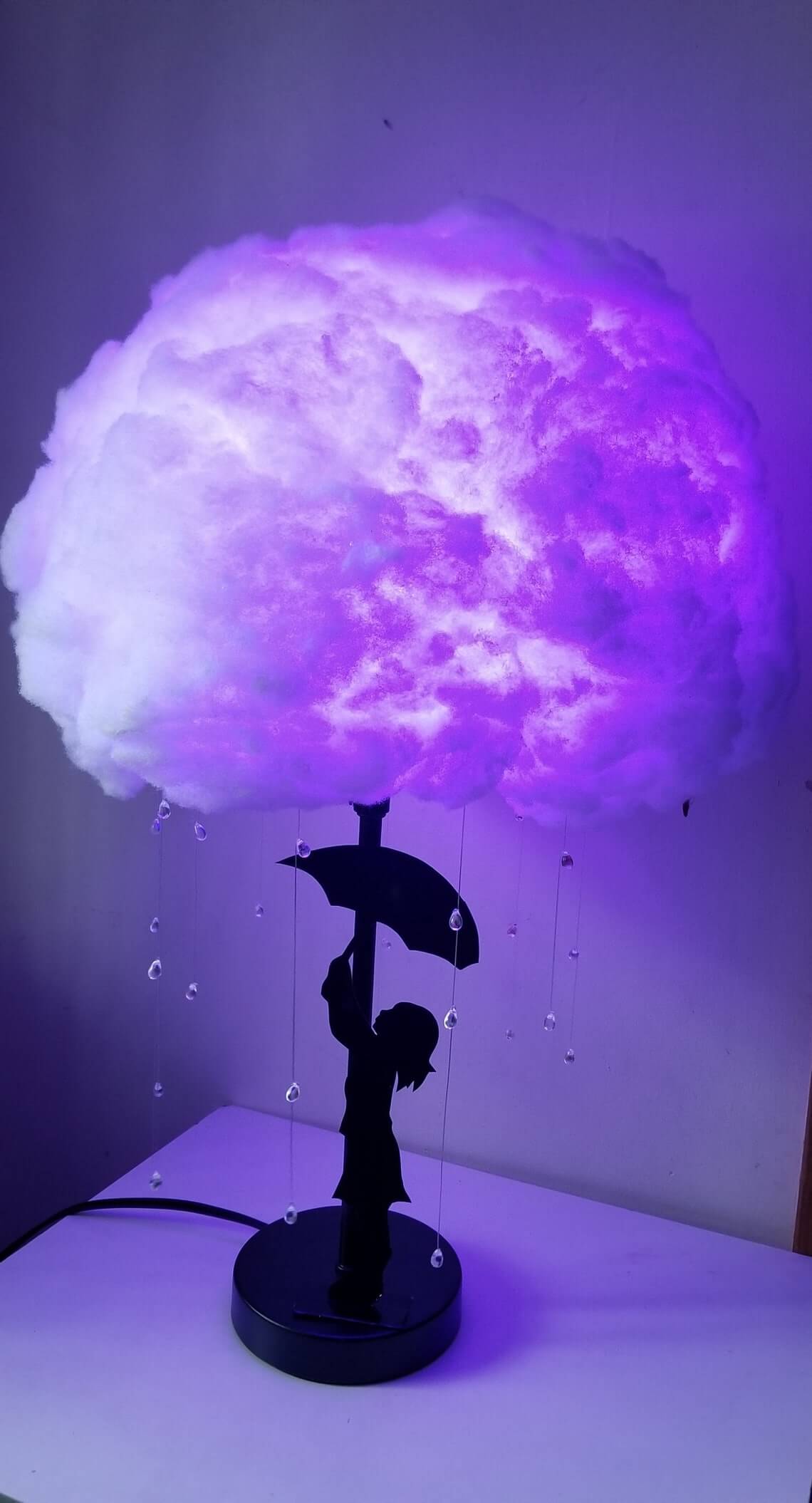 There is nothing quite as otherworldly as this incredible raincloud lamp. There is so much to admire with this piece that anyone will love to get a closer look. The cloud itself is bold, large, and filled with gentle coloring to look like a true storm cloud. From there, you'll notice the raindrops that fall down from the cloud in such a simple, yet elegant, manner. Then there is the little girl that stands underneath the storm, and she is available in multiple styles. It is a wonderful way to take a step away from the usual fairy lights room decor and go toward something that stands out in a different manner.
16. Poinsettia Decorative Floral Christmas Lights Lamp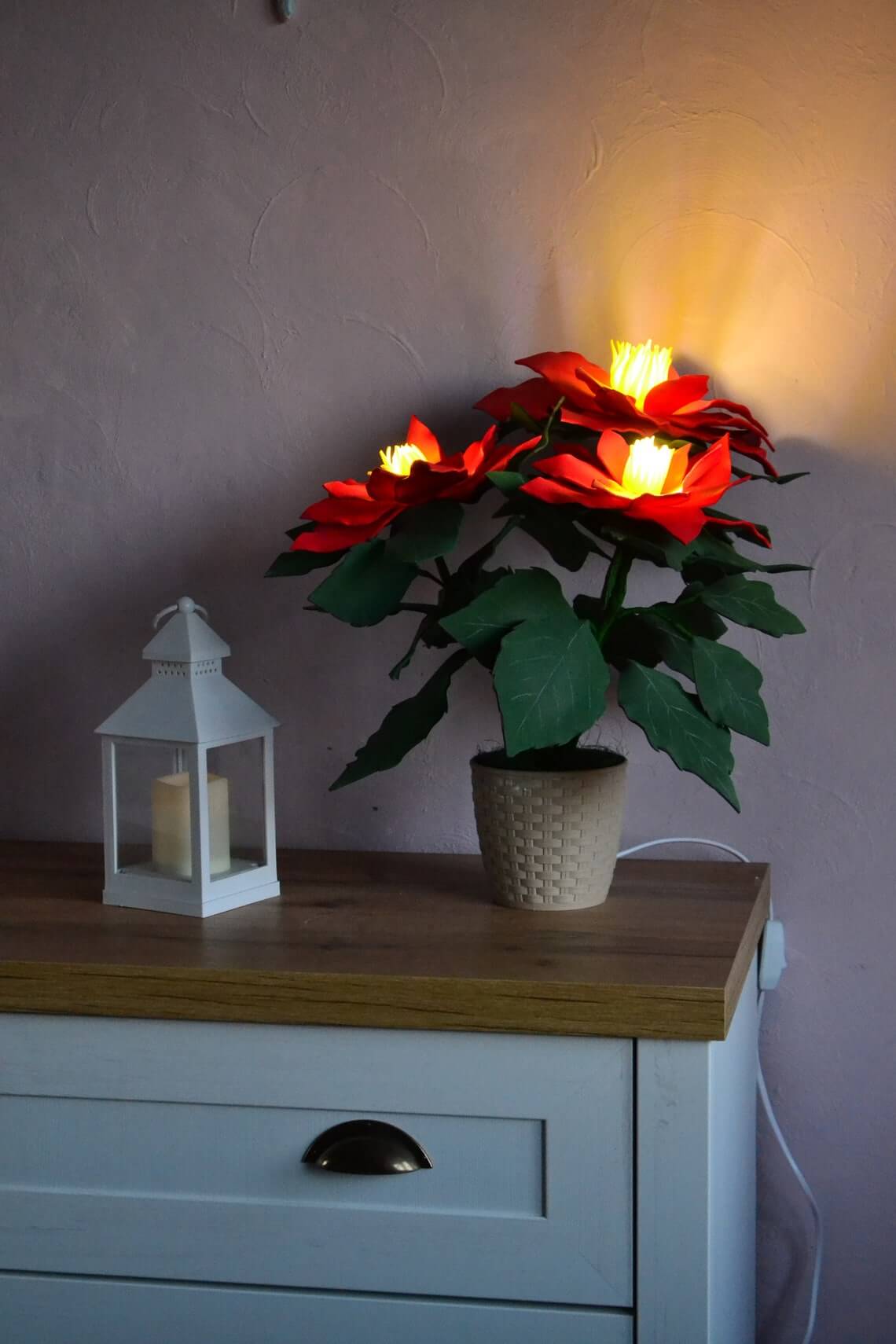 Poinsettias are all the rage when it comes to holiday decorating, but with this lamp, you can take things a step further by having something that is more unique than anything else. There is plenty of color with this lamp still to highlight the faux flower, allowing it to look just as good if it isn't lit up. However, once you do turn the light on, the lamp truly shines and shows off its distinctive flair. The lighting source is placed well too so that it truly beams on the flowers from the top, creating a comfortable and warmer feel that will liven up any room.
17. Cool Starburst Black Fairy Lights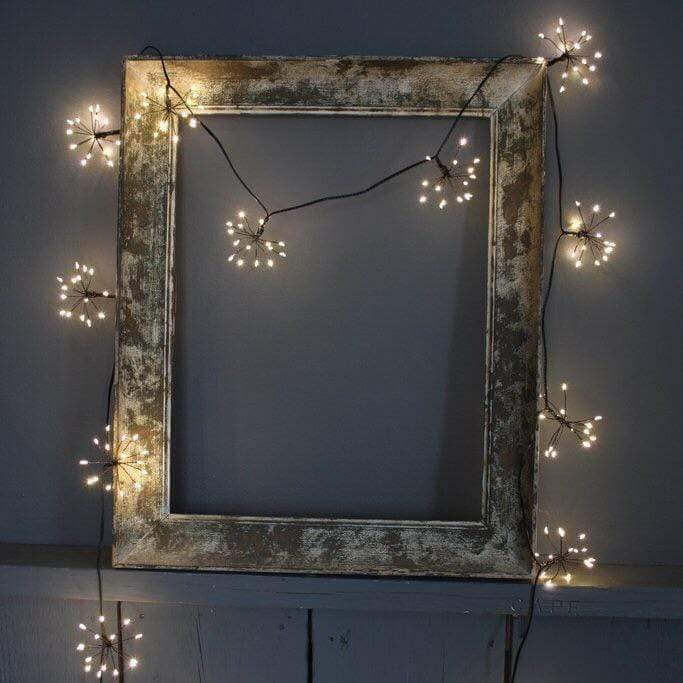 These awesome starburst black fairy lights are a nice way to invite lighting into your bedroom without sacrificing the style of your décor. The eye-catching design can appeal to anyone, while their overall darker coloring allows it to blend effortlessly into an incredible gothic-like aesthetic. On the other hand, their style has a modern touch to it that lets them work in a brighter room as well by adding some lovely contrast. You can buy medium ones that are solar-powered, or you can opt for short ones that are battery-powered. This way, not only will these fit with your aesthetic, but they will also work with your lifestyle and needs.
18. Warm White LED Fairy Lights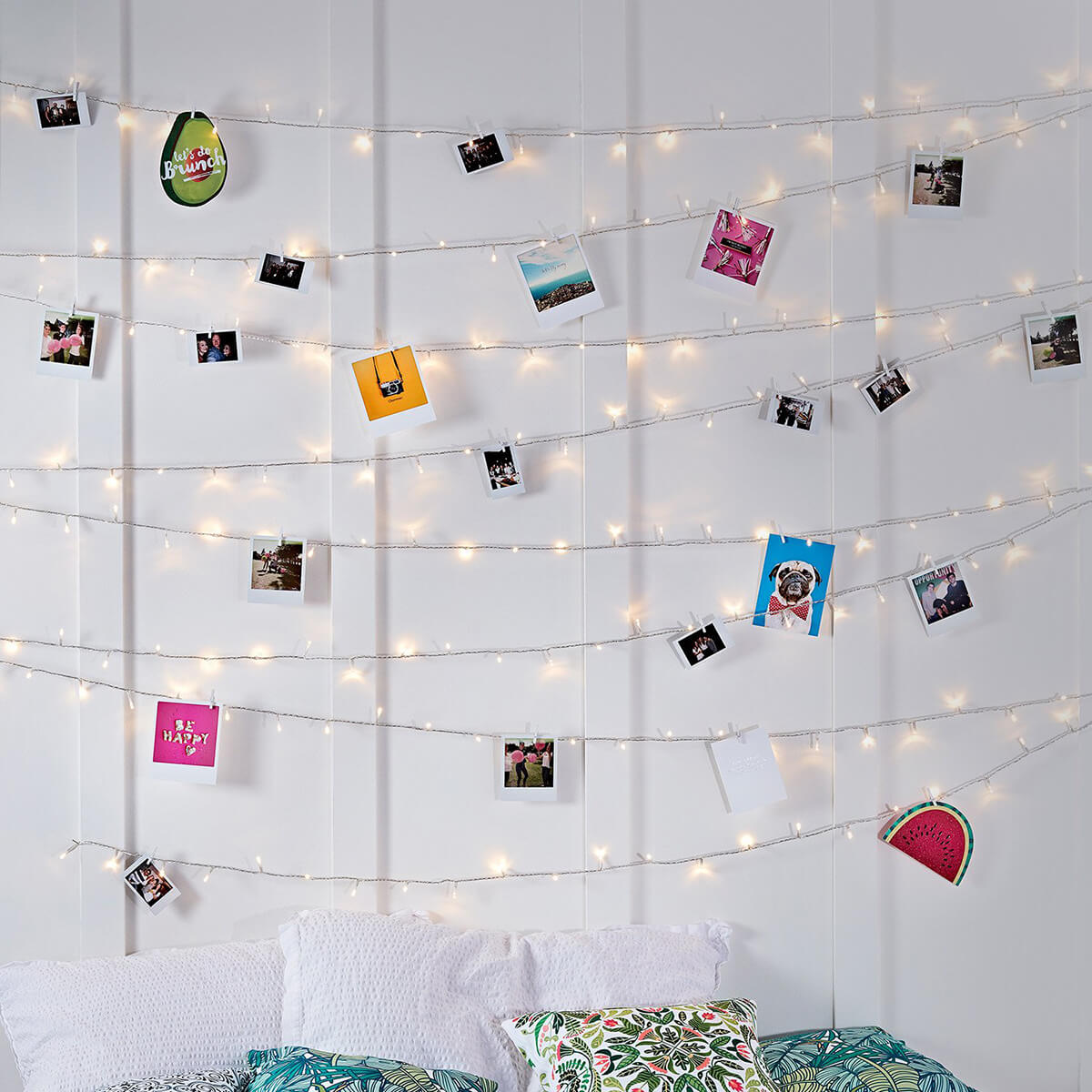 With these warm LED fairy lights, you can effortlessly enhance the coziness of your bedroom. There are 100 of them in this collection, giving you plenty to work with. They are evenly spread out too so that when you do set them up, the lights flow so well that they encourage the eye to follow each one. They have a static lighting effect too that will consistently send out that laidback vibe the entire time you have them on. The lights are made cool to the touch as well. This way, you can easily hang them up while they remain lit so that you can see how they'd look the entire time.
19. Decorative Figurines Ornaments LED Lamp Light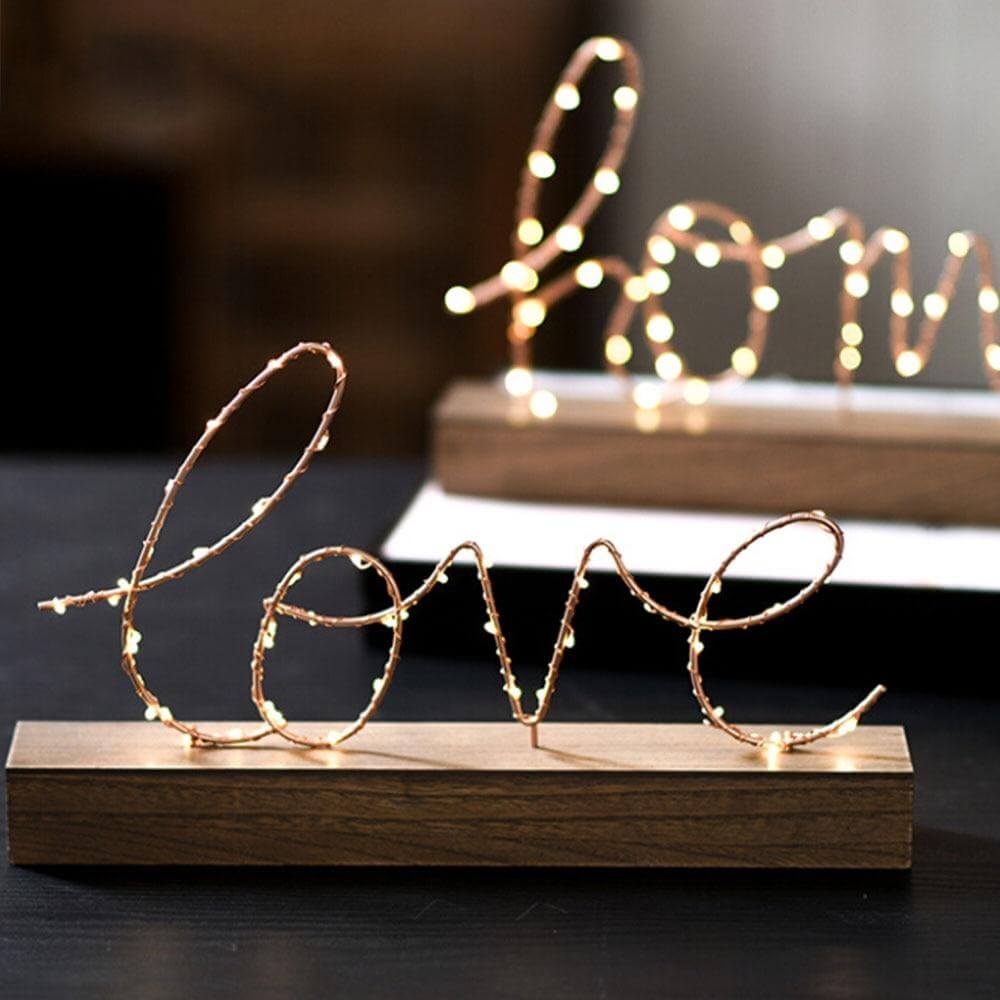 Among the best fairy lights bedroom ideas when you are looking for something more distinctive is this lovely decorative LED lamplight. You can choose from either "home" or "love". No matter which style you go for (or both!), you are left with stunningly perfect decorative lighting. The LEDs are gentle, yet filled to the brim with warmth. They pair well with the words at hand to create a welcoming vibe. Thanks to the wooden block, you can set the lamp light up just about anywhere in the bedroom to add that pleasant decorative touch without overdoing anything. Also, it simply blends into just about any style.
20. Stylish Crescent Moon Fairy Light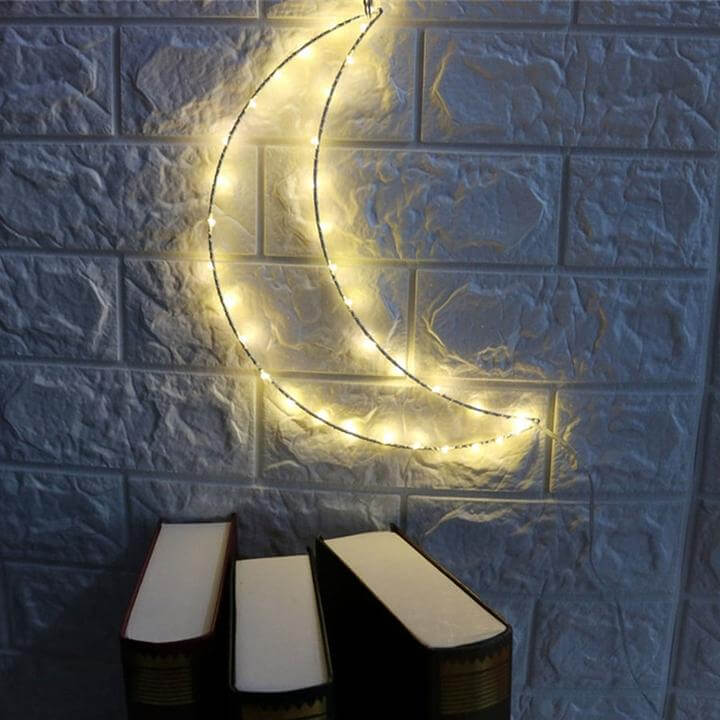 If you are aiming for a solar-themed or simply moon-themed décor in your bedroom, then this crescent moonlight will serve as wonderful accent lighting. It looks good in a children's room or a nursery as well. This is simplistic and effective all the same thanks to its straightforward design and lovely LED light source. It adds just the right amount of brightness to any dark room to stand out among another décor. Also, this is a versatile piece as you can set it up to sit on a dresser or nightstand. Or you can choose to hang it up on the wall.
21. Whimsical Photo Clip String Lights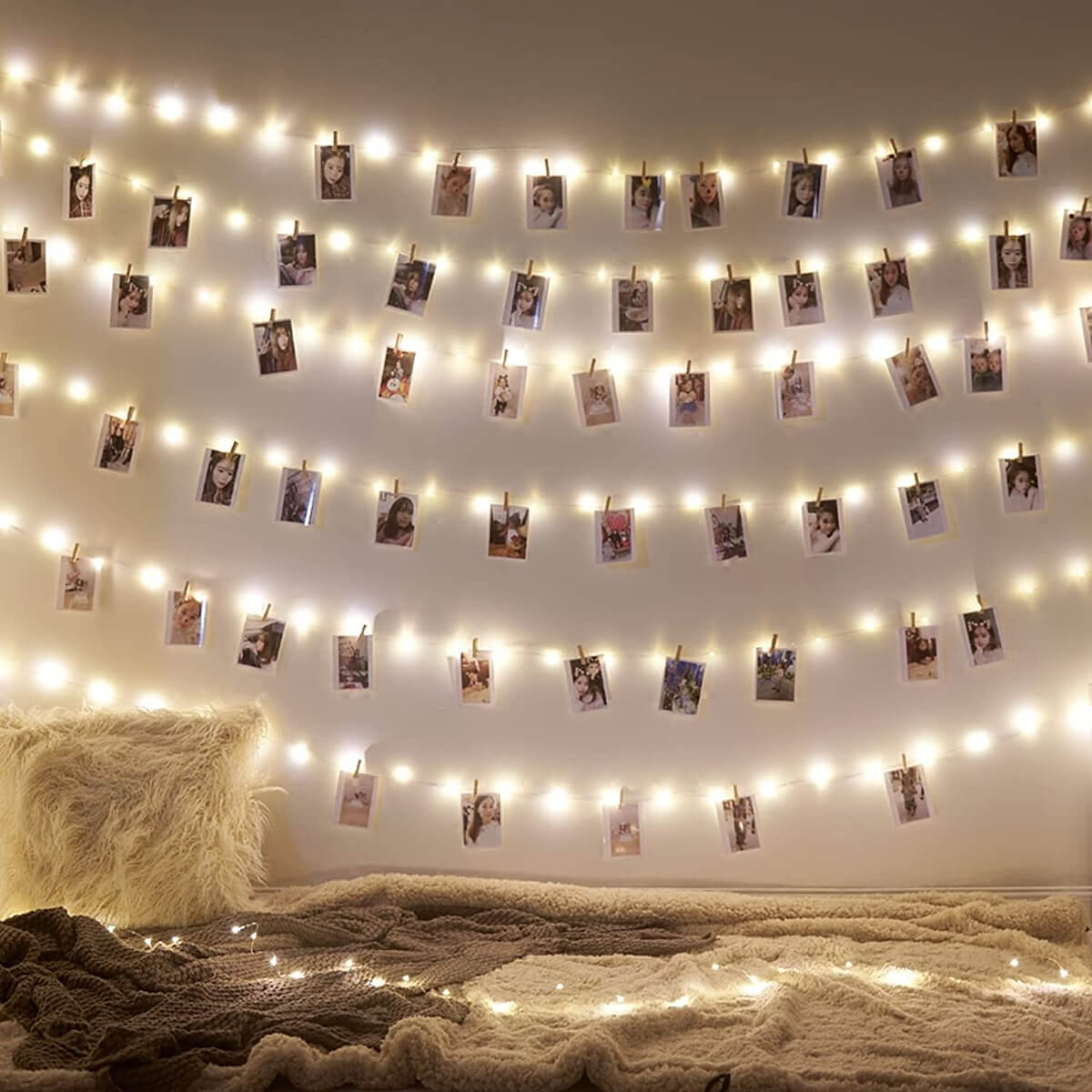 These photo clip string lights are among some of the best string light ideas for bedroom use. It blends two incredible things: photo mementos with pretty fairy lighting. This comes with clear clips so that nothing will interfere with the vibe of the overall piece. Show off your favorite photos whether in your bedroom or in a child's bedroom. The lights effectively highlight each of your best memories, raising them up individually. At the same time, the lights work to create a more cohesive centerpiece that anyone will enjoy looking upon your wall that shows off your beloved history.
22. "Live Your Dreams" Elegant Sign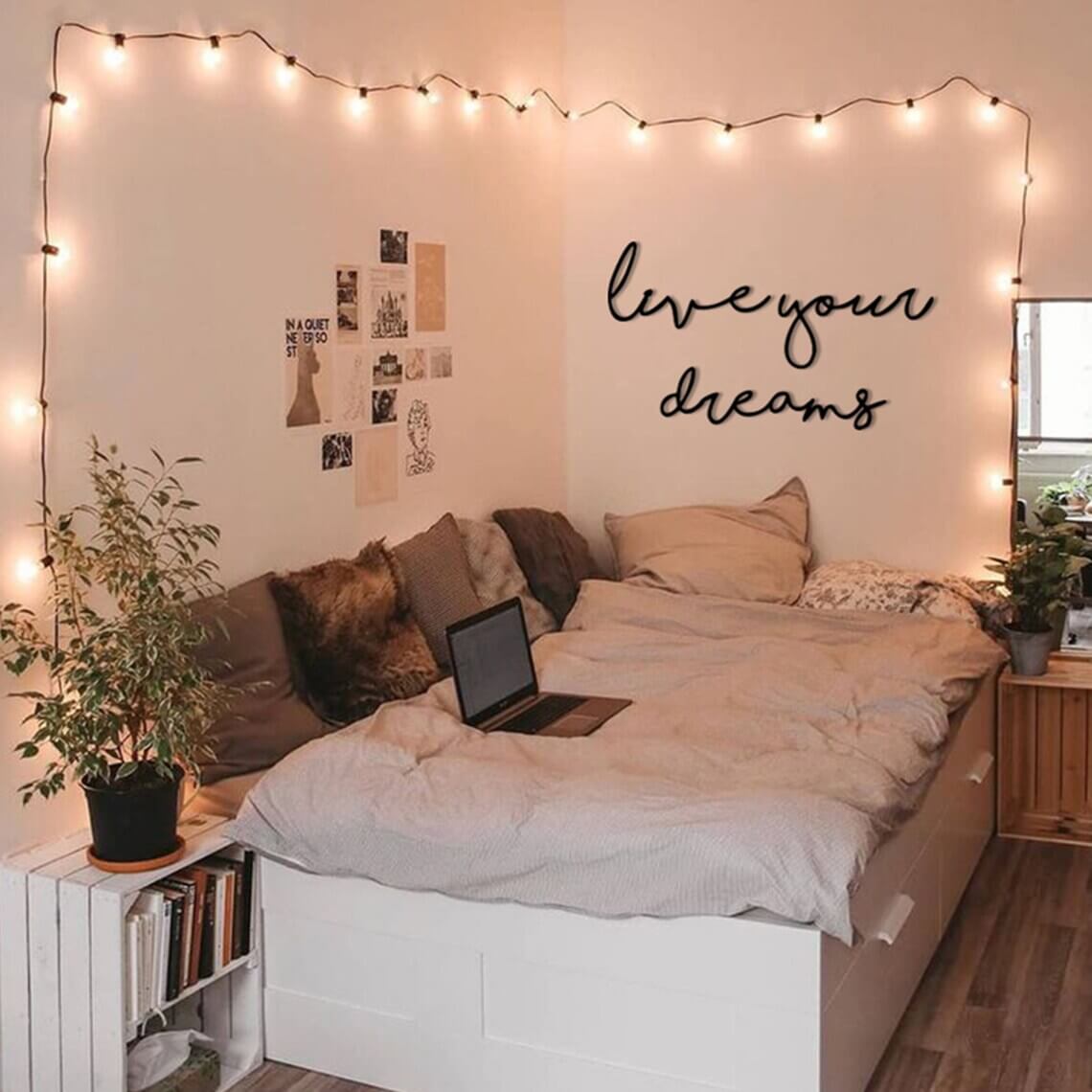 Word wall art is such a pleasant way to decorate the walls of your bedroom. This one features elegant writing with a nice saying. At the same time, this still has a boho-like feel to it that makes this piece of wall art a good choice to use in a bedroom with a blended style overall. This is also made in such a nice large size that it won't get lost in any other décor you may have along the wall. Instead, it will stand out in its own right, especially if framed by fairy lights, so that anyone who comes into the room will instantly find their eye attracted to the piece.
23. Incredible Twinkling Star LED Fairy Lights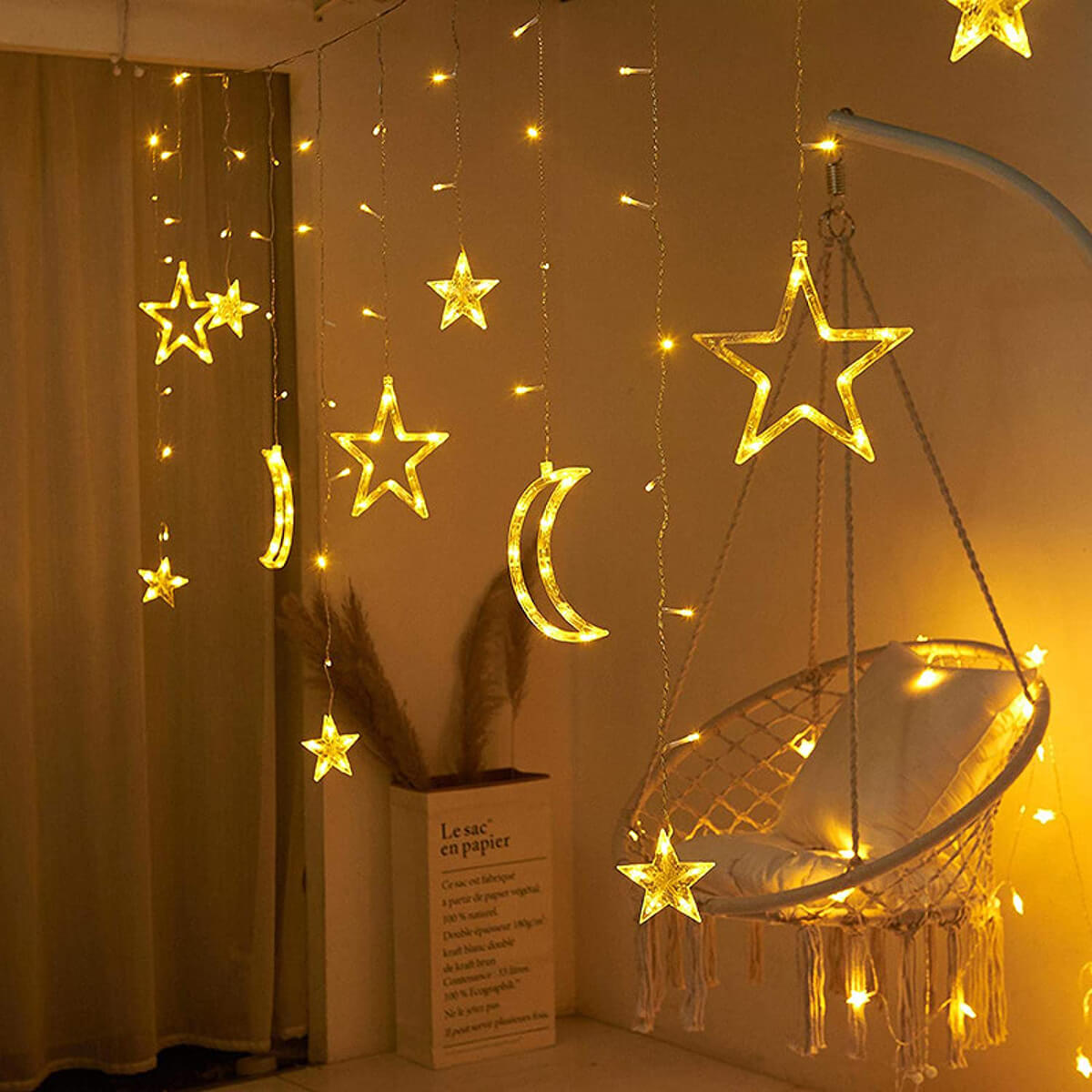 Whether you are creating a fairytale vibe in your bedroom, a child's room, or a nursery, these LED fairy string lights will do the job and more. They are among the best fairy lights bedroom ideas that feature a more unique style. The LEDs are shaped with stars and moons, and this design can help these lights fit inside a room with a more out-of-this-world theme. Designed with a long life so that you can freely use them time and time again, you can find these stunning fairy lights in either a warm white color or in a multicolor style.
24. Fairy String Lights for Bedroom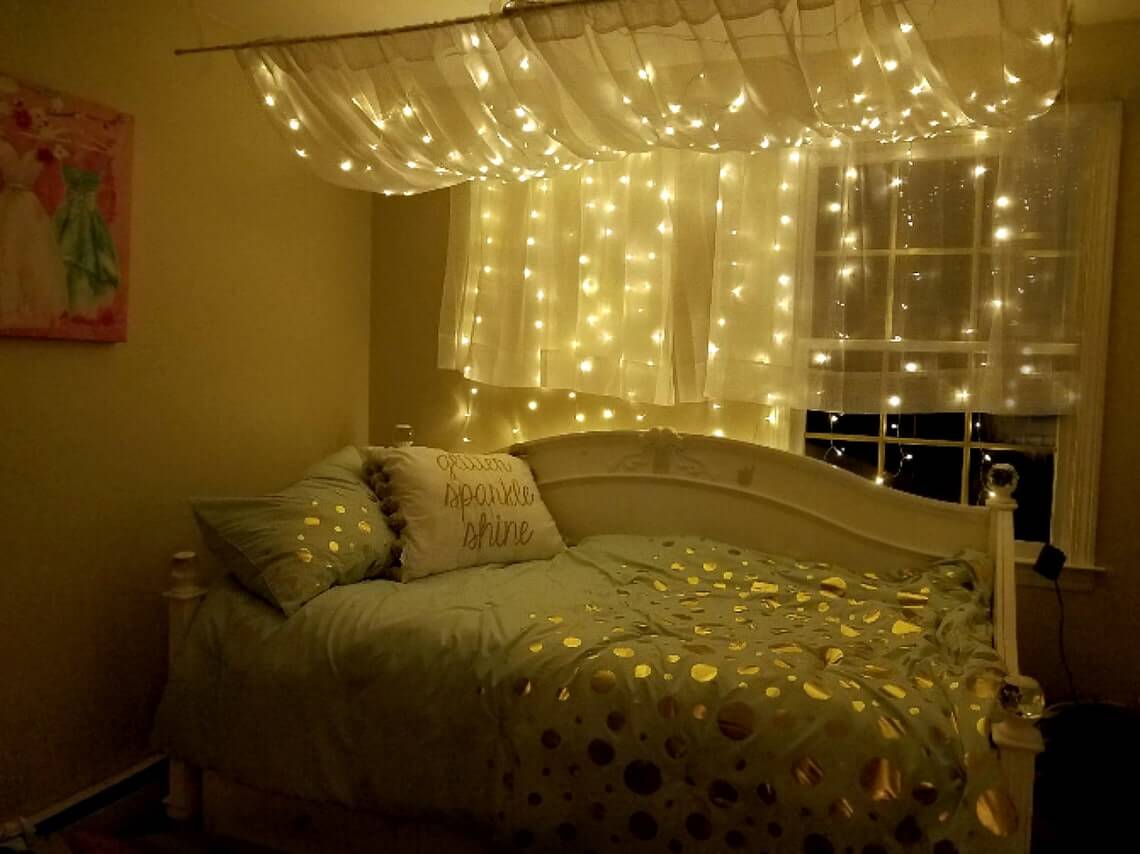 Create that fairytale feels in your bedroom with these fairy string lights. With 300 LED lights in total, your bedroom will be graced with a fantastical lighting effect. These lights are spaced out rather well too, granting everything a warmer feel that gently highlights the rest of the décor in your bedroom. This is comfortable enough that it will work well hung around your bed so that it doesn't overpower anything when you turn them on at night. They look more like relaxing nightlights than anything, which can also help them fit well in a child's bedroom. These are about 6.6ft long with a 9.8ft height span.
24 Cool Fairy Lights Room Decor Ideas for Unique Lighting Effects
Fairy lights work as many people's go-to source of adding that extra ambiance lighting to a room, more so when they are used in a bedroom environment. They are never too bright to completely overwhelm your room so that you can't have any other lighting or have trouble sleeping at night. If anything, these lights manage to successfully work hand in hand with the rest of your décor. With the number of ways you can approach this, the lights can easily blend into any styled room and still manage to make a statement.
If you are unsure at all where to begin, our string light ideas for bedroom designs should put you on the right track to finding the right setup that best fits your specific style and needs. Feel free to check out any products and ideas to get started on your next redecorating project.