Many home owners think cluttering their porches with harvest-themed decorations will give the spaces a fall feel. Like decorating for any other time of the year, fall decor requires the right combination of fall porch decorating ideas to be memorable and well-done. With simple pumpkin, leaf, flower and squash-themed decorations, you can make a statement without going too over the top or spending a lot of money.
40+ Genius Decorating Ideas to Give Your Porch a Fall Tone

Home decor not only helps to create a mood within your home but says something deeper about your personality. By going with simpler decorations, you can communicate to others that you appreciate simple yet stylish touches. Through your choice of decorations, you can also make your porch a more inviting space for visitors during the fall season.
Effective fall decorating is all about choosing the right combination of color palettes and schemes. With fall decorations, this means combining browns, oranges, yellows, reds and greens in a way that is pleasing to the eye and right for your porch space.
When choosing from different fall porch decors, it is important to take the overall style of your home into consideration. The wrong porch decorations could detract from your home's charm if not done correctly. You should take time to consider different fall porch design ideas and choose one that works best for your porch.
1. Old Door Turned Front Porch Decor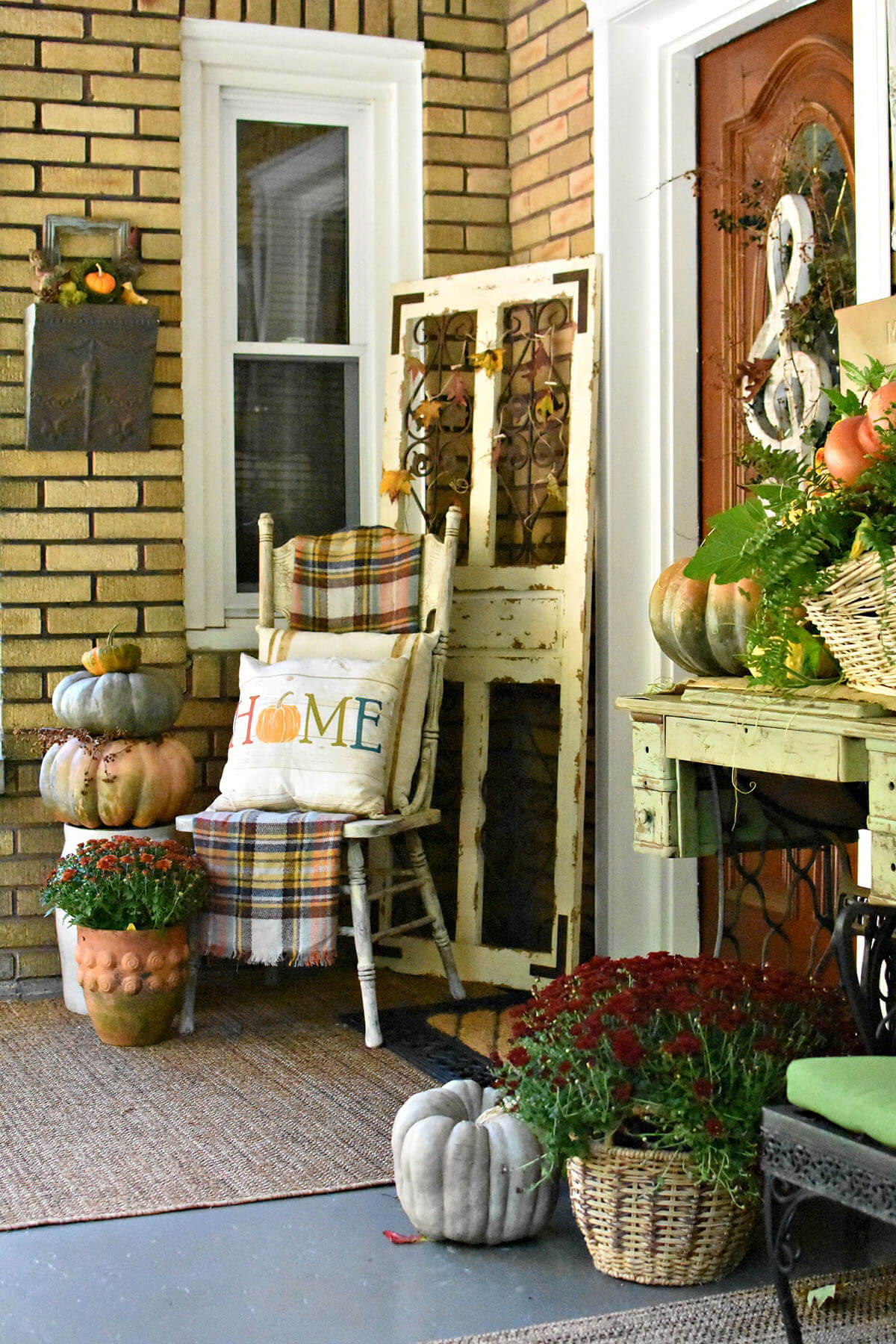 Set the fall scene on your front porch this year with mums, pumpkins, and leaves. Repurpose an old door into a perfect corner companion. Weave some leafy garland in fall's hottest shades of oranges and reds to create a focal for your fall friends to enjoy.
2. Black and White Farm Harvest Porch Decor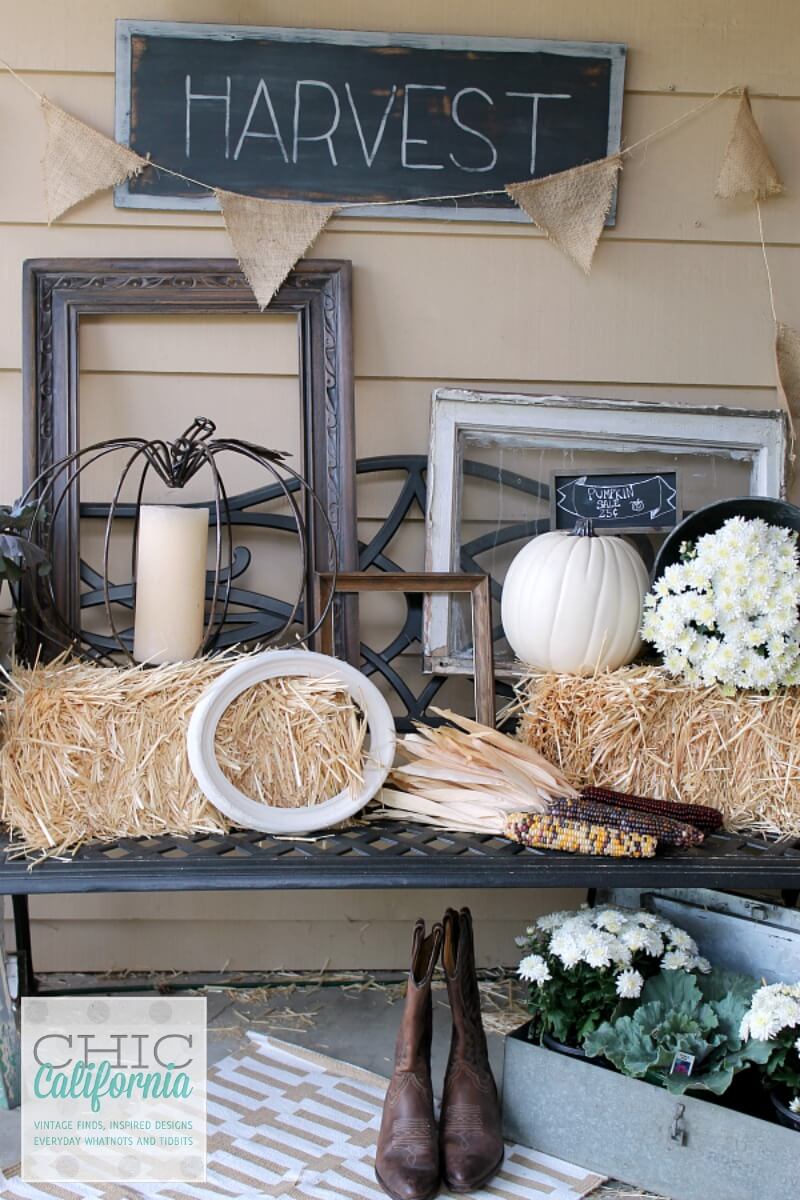 Keep it simply stated by using a black and white neutral color scheme for your fall porch decorations. Work in a small burlap pennant along with some open picture frames to achieve a layered look. White pumpkins and mums complete the autumn effect.
3. Light Up the Night Fall Porch Decor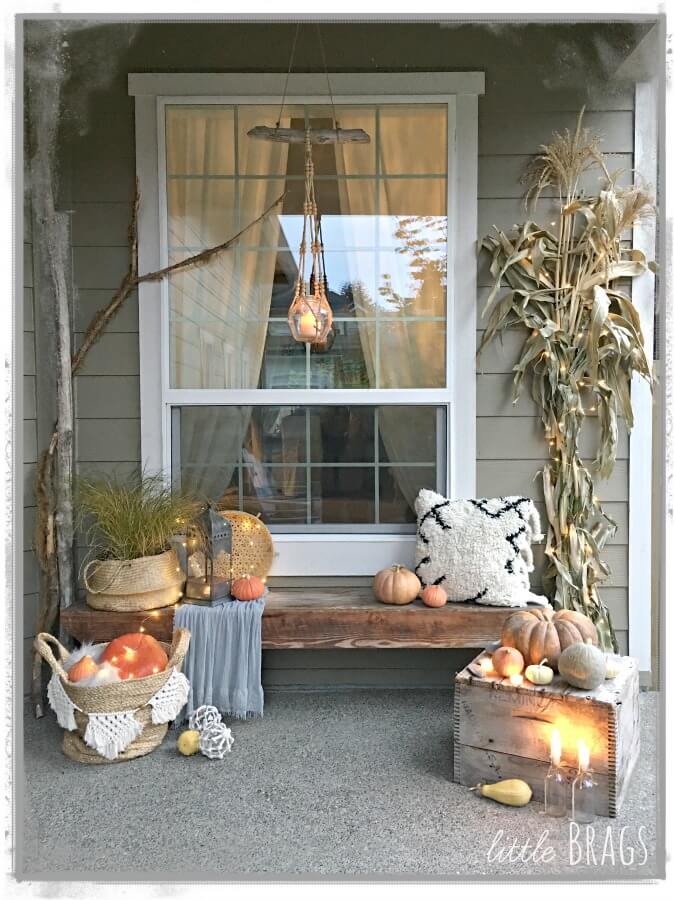 Foddershock, orange pumpkins, and comfy pillows are brought to life with the warm glow of some strings of twinkle lights. Enjoy the cool evenings with your friends as you take in the soft light during your catch-up conversations. The wooden bench is the perfect porch hangout and these lights accessorize it just the right way.
4. Wooden Pumpkin Shaped Planters Perfect for Fall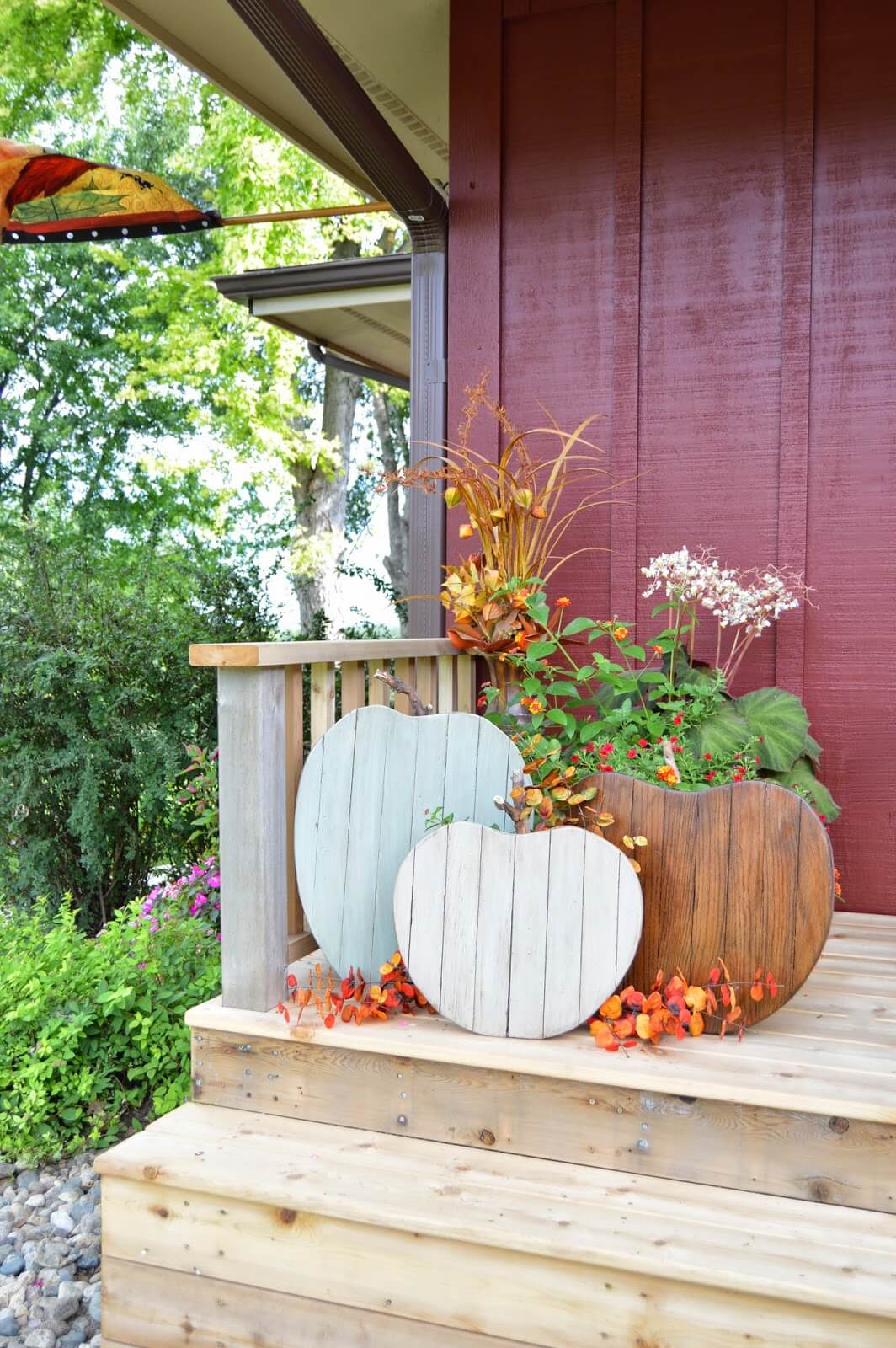 Elevate your plant game this fall with these perfect porch planters that are shaped like the season's favorite vegetable plant- the pumpkin! You can use the natural wood hues or paint them white or orange to achieve the look you desire. They look great even when they aren't filled with your favorite fall flower.
5. Primitive Country Tall Pumpkin Porch Companion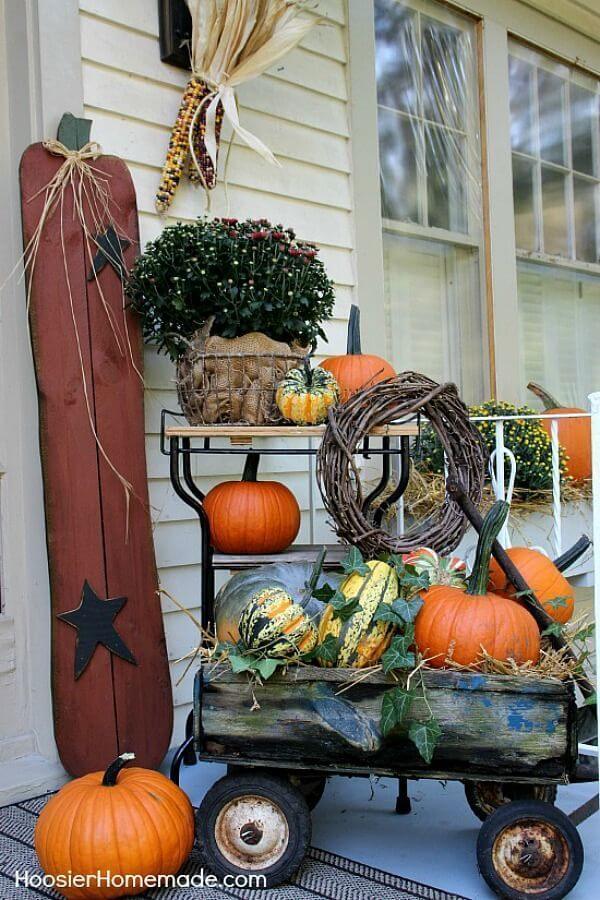 Take up some vertical space on your porch with this tall primitive pumpkin decoration. Nestle it amid a grouping of real pumpkins for the wow factor. A few gourds and hardy mums further incorporate the symbols of fall as they greet guests at your front porch.
6. Leafy Pinecone, Pumpkin, and Gourd Autumn Wreath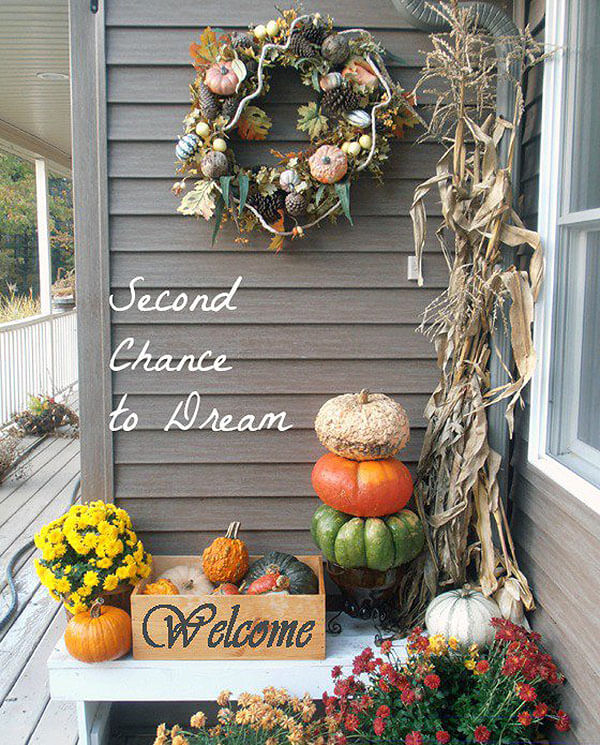 Collect all of the signs of the season and arrange them into this awesome autumn wreath. Filled to the brim with great gourds, small pumpkins, leaves, and pinecones interspersed throughout, this autumn wreath is the ideal welcome to the fall season.
7. Happy Fall Y'all Ombre Autumn Pallet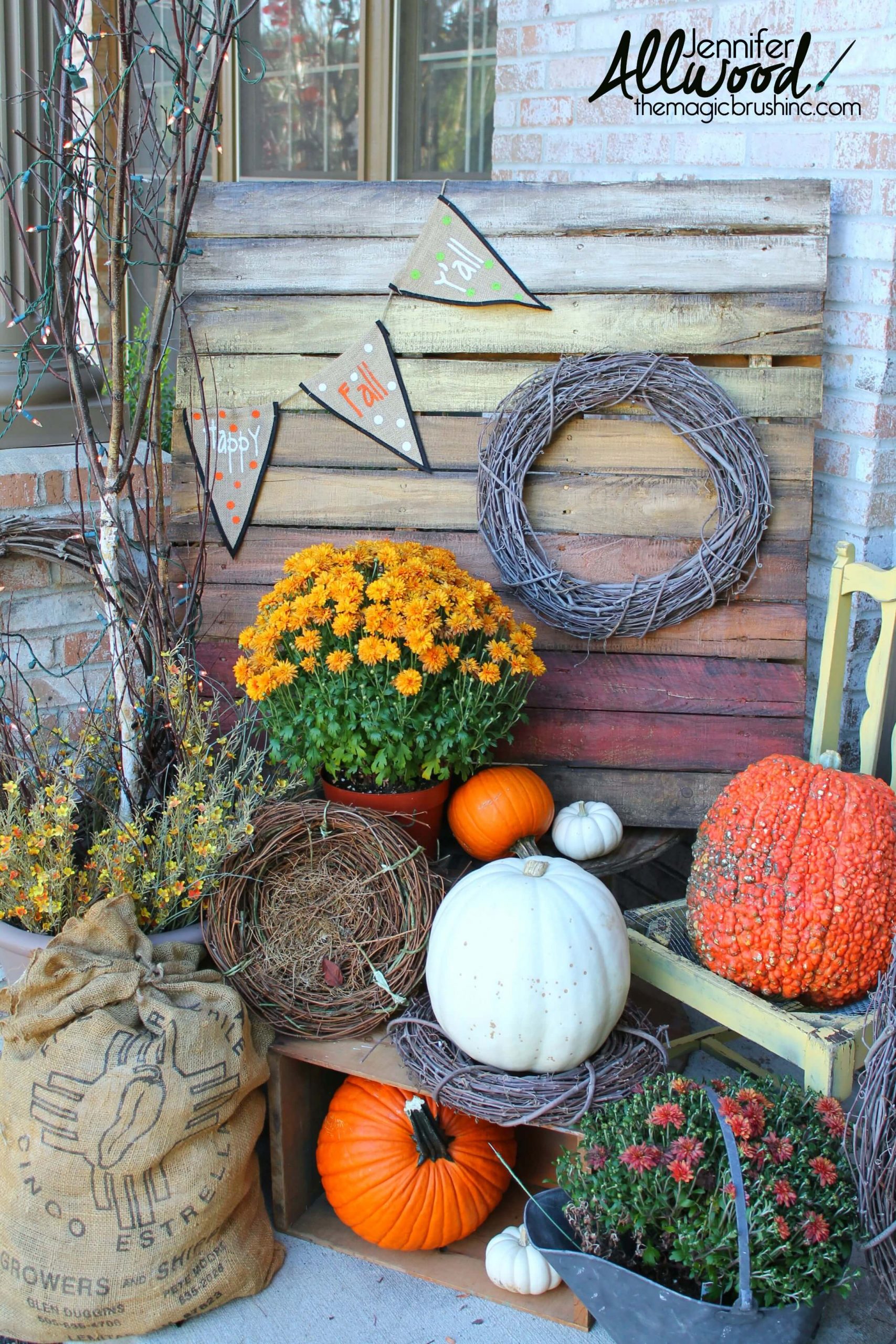 Ranging from red to orange and yellow, this DIY pallet project makes the most of your front porch decor this fall. A bucket of mums and a chair full of pumpkins spruce up the space for some happy harvesting appeal.
8. Rustic Wood, Bright Pumpkins & Hearty Mums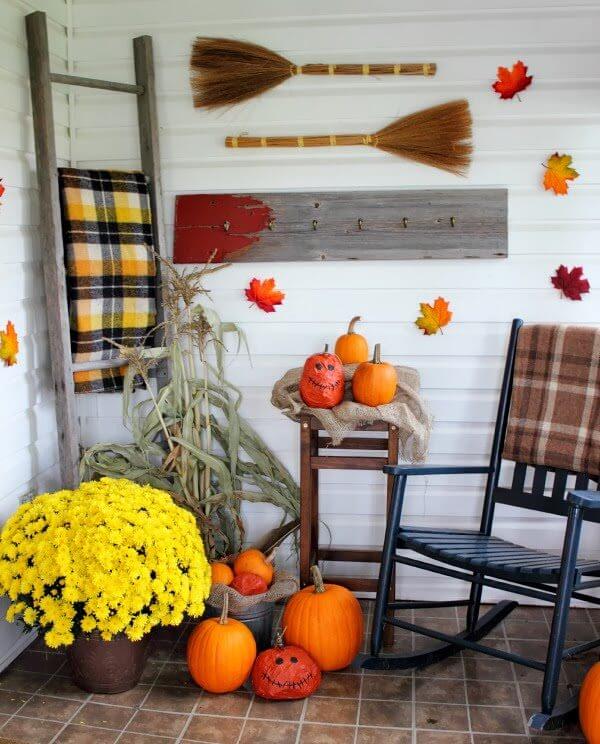 Capitalize on this rustic hook shelf by surrounding it with all things fall. From a blanket ladder holding a yellow plaid throw to plump bright orange pumpkins, the vivid yellow mums and rustic brooms bring more warmth and coziness to your porch paradise.
9. Witches Brew Creepy Halloween Porch Decor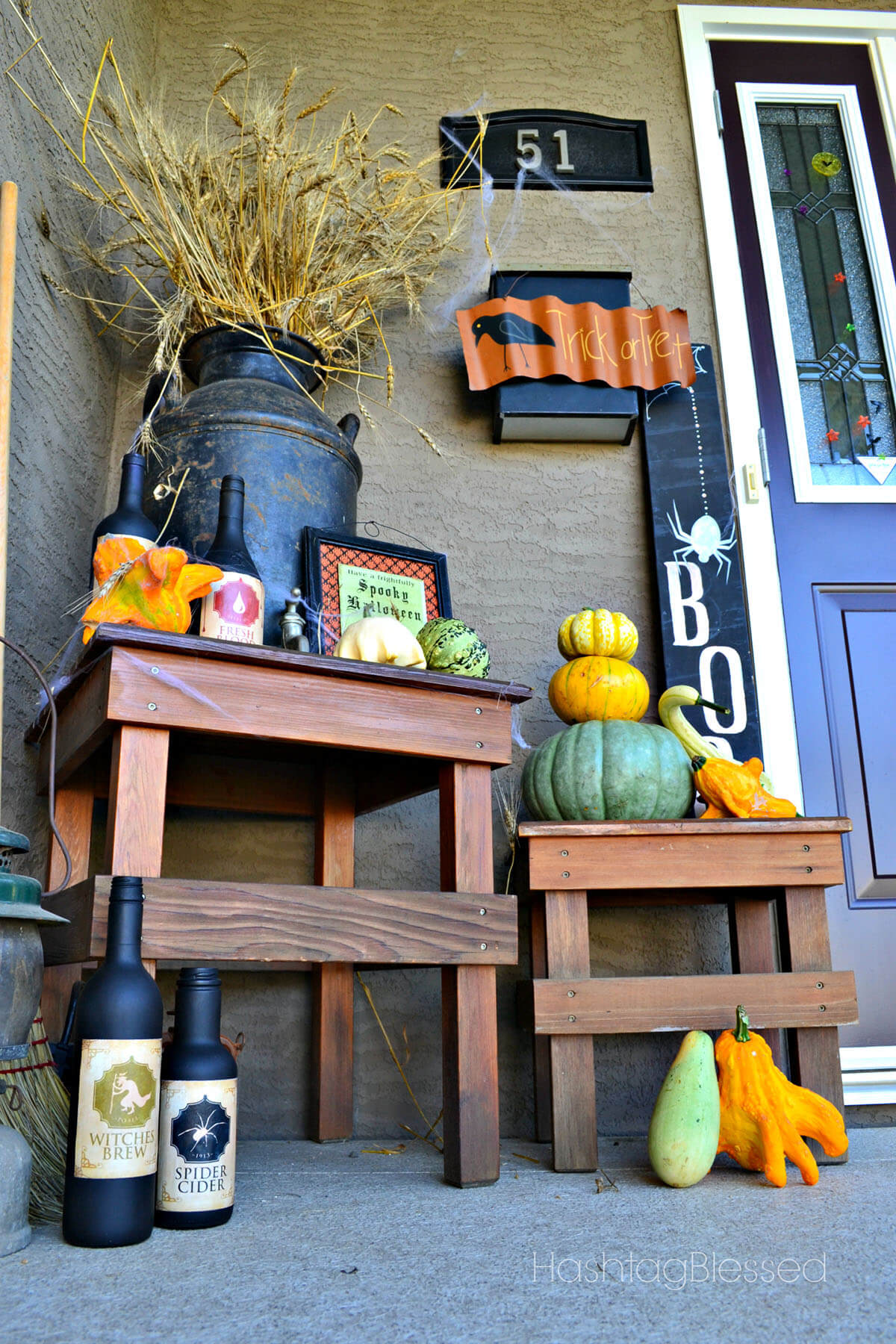 Infuse some darkness into your porch scene this Halloween. The bottles of witches' brew and Trick-or-treat with spider sign set the tone for some adult fun this Halloween.
10. Basket Bounty with Fall Flowers & Lined Pumpkins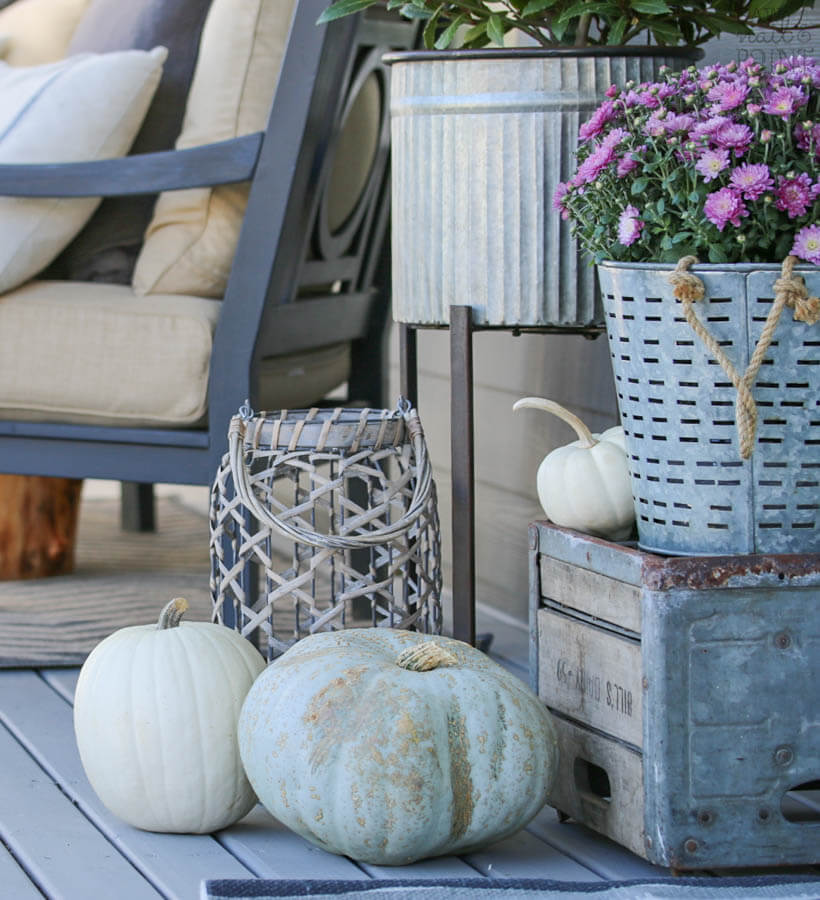 Grab a few mixed texture baskets to secure the set of your fall porch decor and give your favorite hardy mums a place to call home. Two or three neutral white pumpkins add some depth and texture to this small display that is perfect for a small corner space or between two seating areas.
11. Rake Round-Up with Fall Garland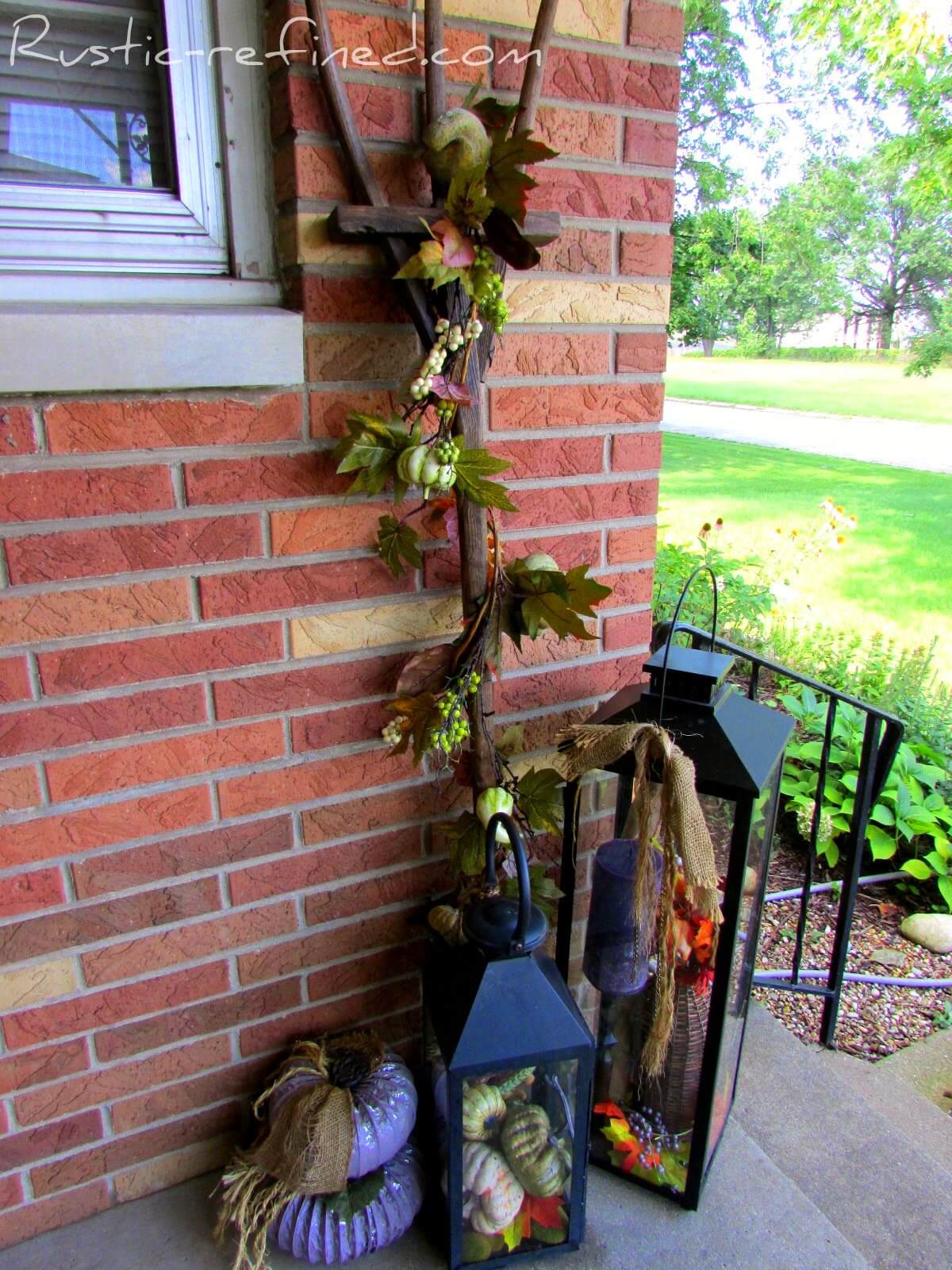 Take your fall porch decor to new heights with this rake. As it stands tall, it boasts beautiful fall garland filled with pumpkins, leaves, and grapevines. The duo of lanterns filled with fall goodies resting below complete the gorgeous look.
12. Line the Way with Burlap Fall Flowers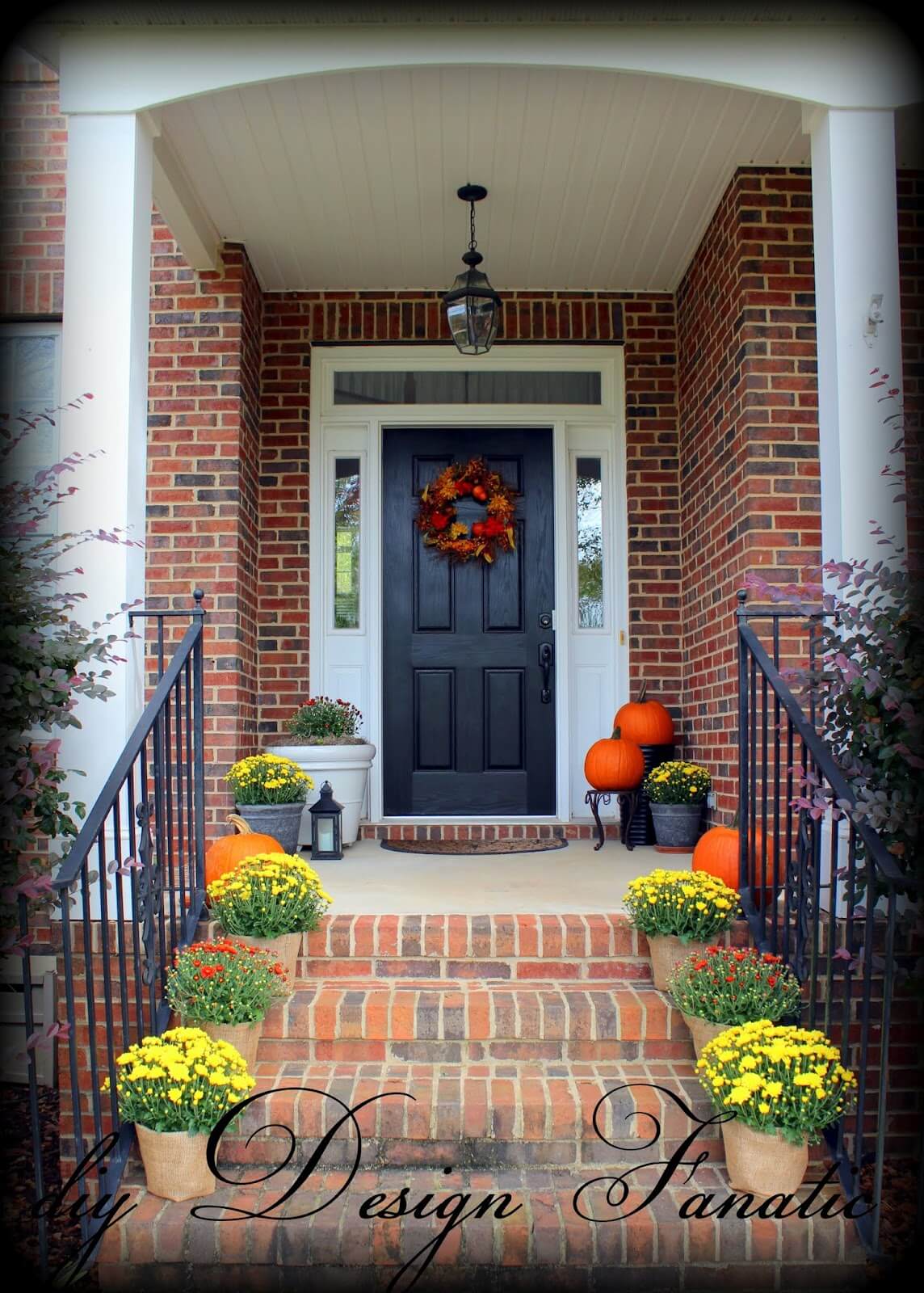 Adorn each step leading to your front door with a set of burlap flower containers. The burlap provides the perfect fall foundation for your hardy mums as they line the way to guests entering your home. Place a few pumpkins and hang a wreath to increase the orange a "peel" to your porch appeal.
13. Orange Pumpkin Topiary Fall Entryway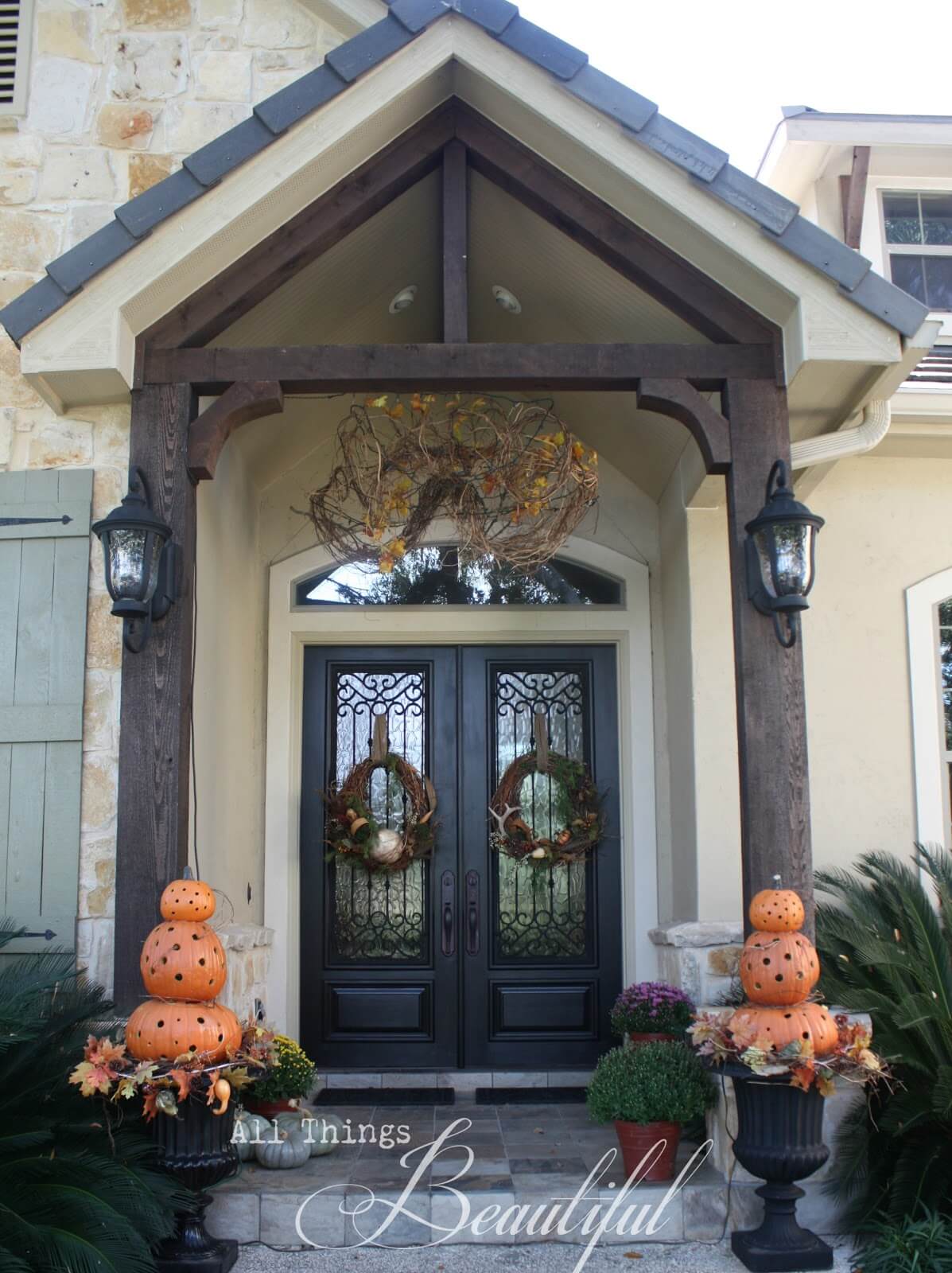 Make your fall decor more elegant than ever before with these sleek orange topiary pumpkins. Set as a pair to frame your front entryway, these topiaries are unique and perfect for the season of fall. Wrap the bottom with a leafy garland to round out this seasonal look.
14. Flint Corn and Miniature Pumpkins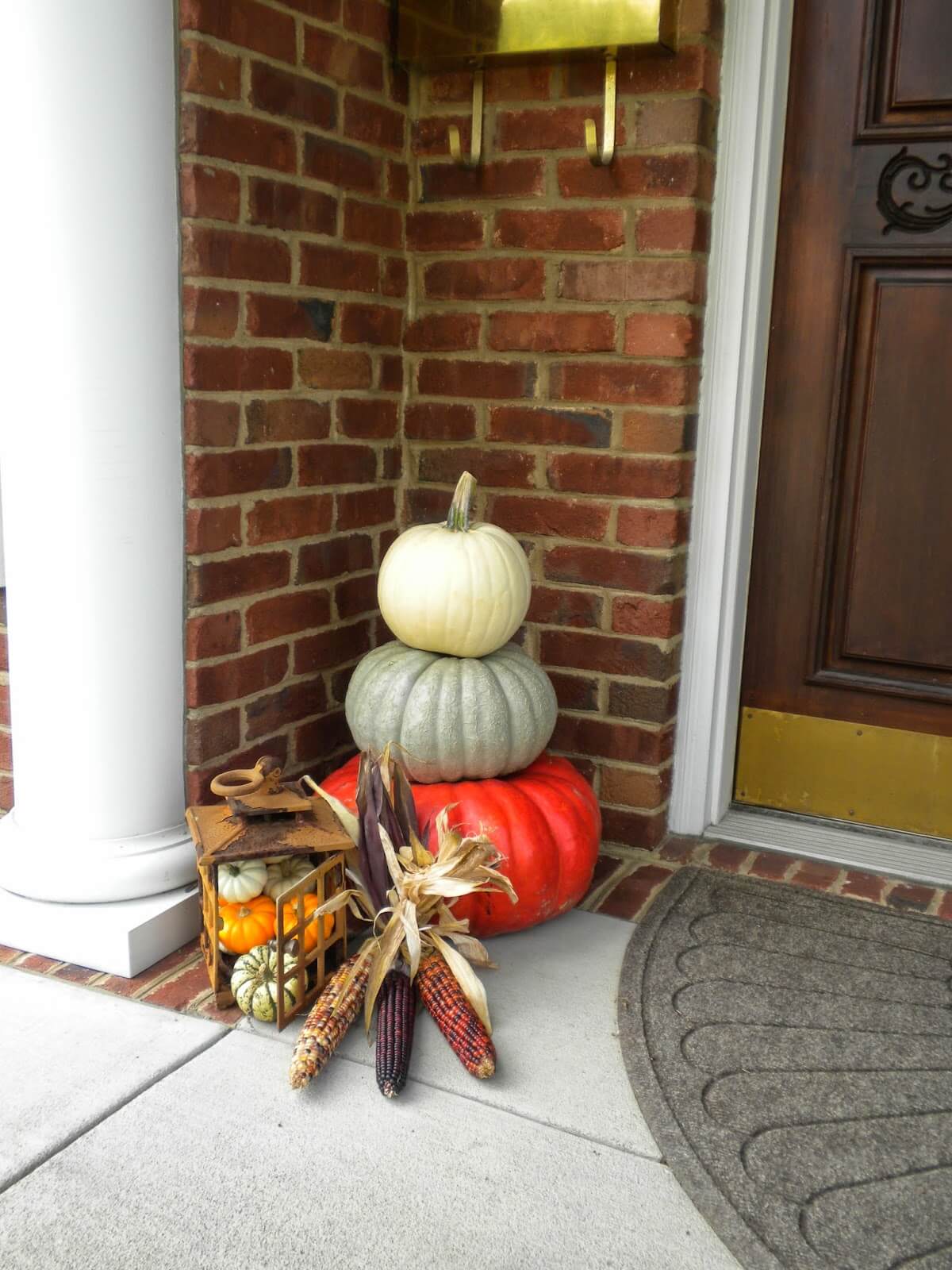 Pretty colors all around are what you'll find with these gorgeous purples and yellows seen in this flint corn. The miniature orange and white pumpkins incorporate even more fall favorite colors as they fill the space of this front porch lantern.
15. Full and Thick Fall Leaves Door Garland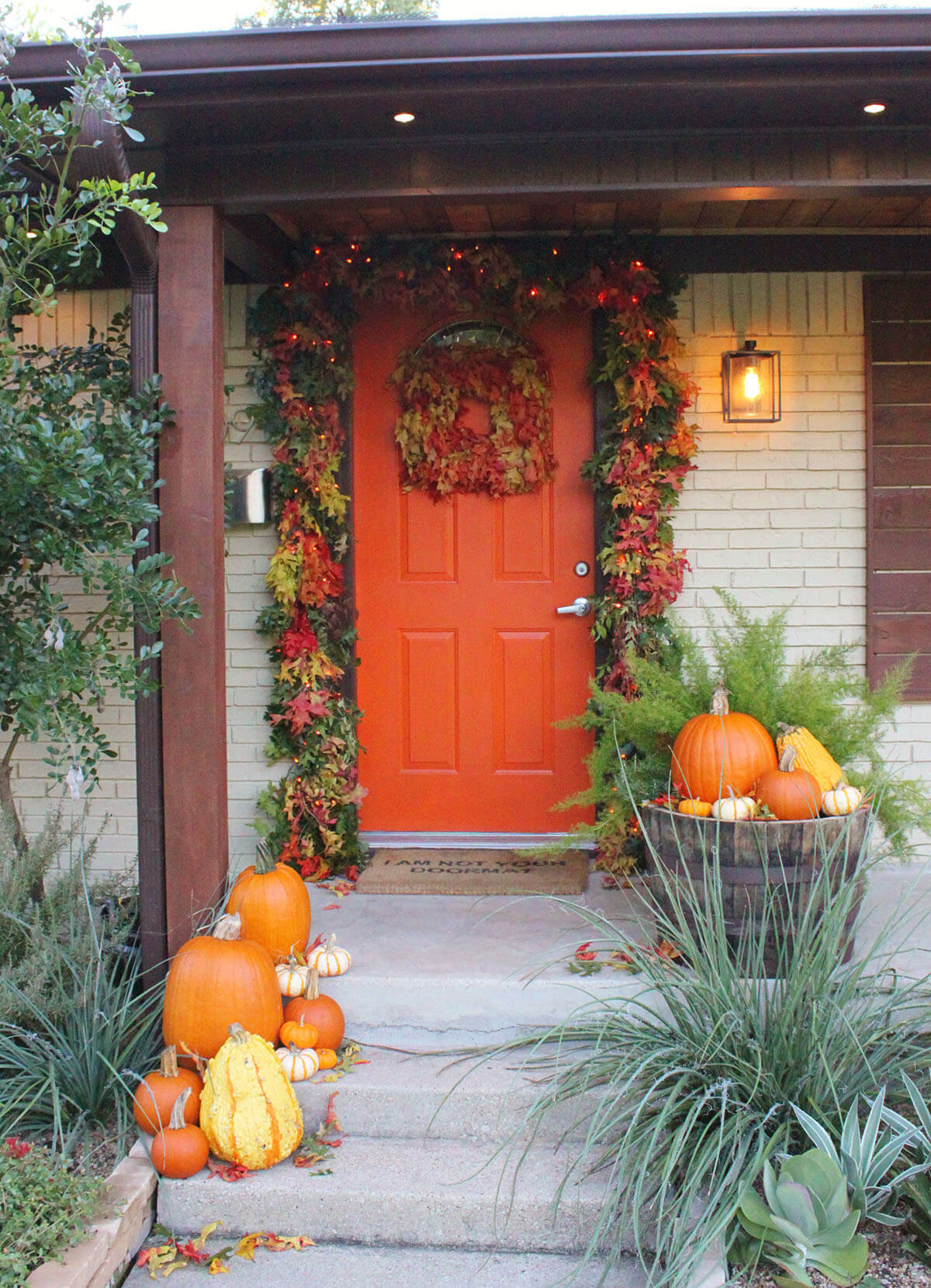 Reds, oranges, yellows, and greens unite as they intermingle to create this large and in-charge front door fall garland. The bold orange front door is highlighted with the bushel of pumpkins to draw the eye into this fall porch getaway.
16. Pumpkin Planter and Address Sign Fall Decor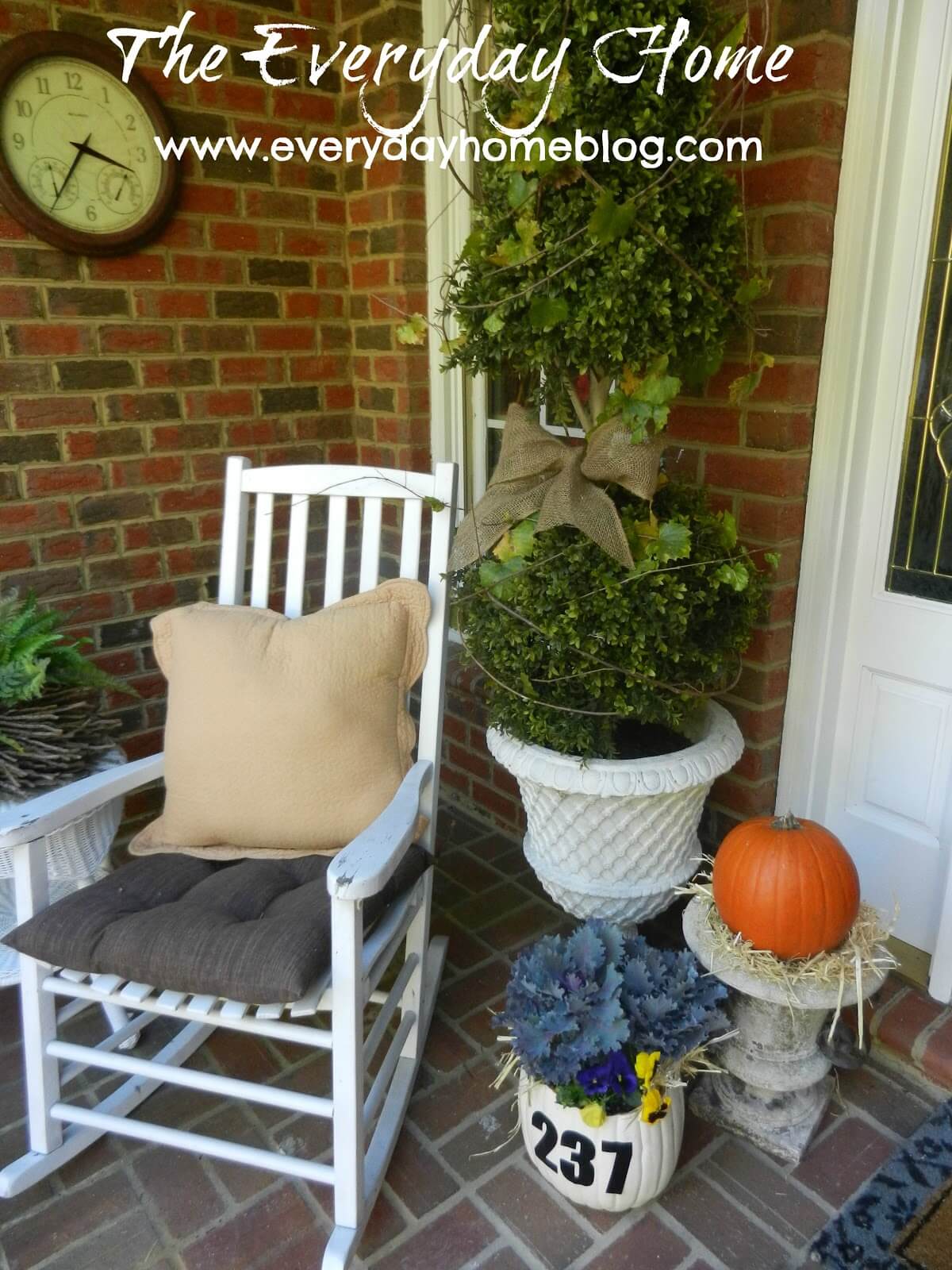 Kill two birds with one stone as you hollow out a pumpkin to create a perfect planter for your fall mums, but also a great place to display your house number. A unique idea, this would be a great gift to a new homeowner or your friend who celebrates a fall birthday.
17. Rocking into Fall with a Cozy Throw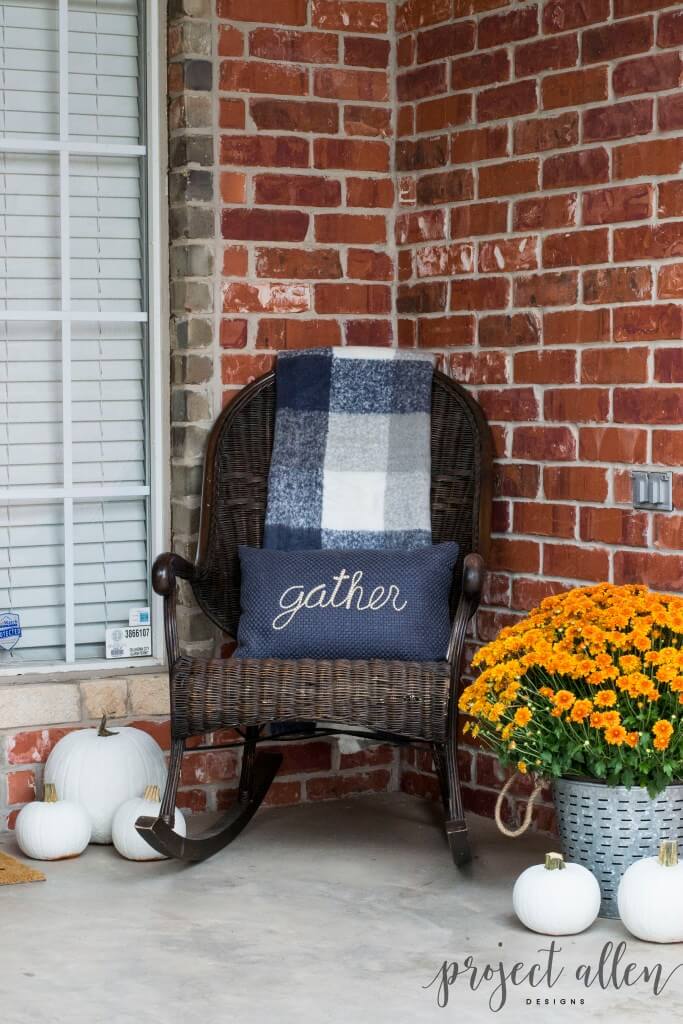 Angle your rocker in the corner nook of your porch to create a comfortable and cozy place to enjoy the season of falling leaves. As the trees change colors, update your porch look with a plaid throw and a bountiful bucket of bright yellow mums. Mixing in some white pumpkins adds a nice, polished look too.
18. Fall Pumpkins and Branches Window Box Display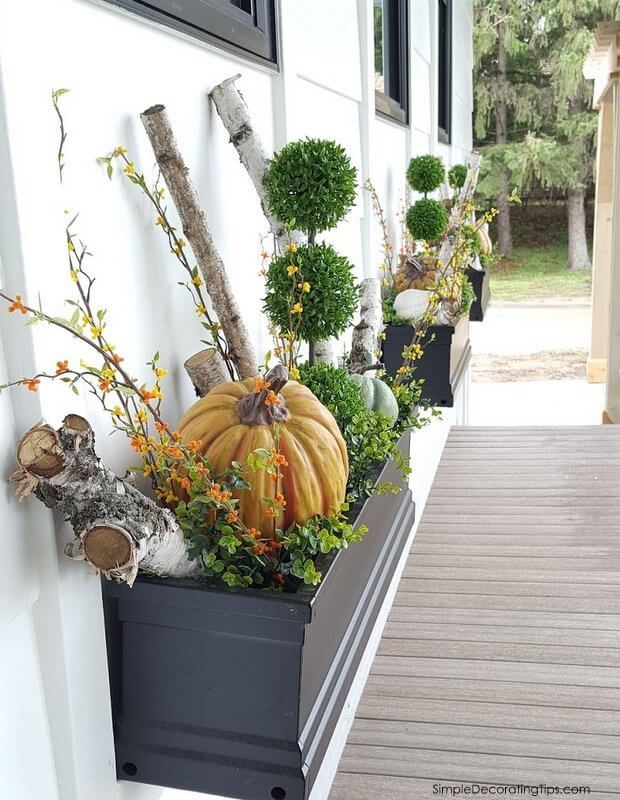 Set lower than the traditional just-below-the-window box, these rectangular planters are bursting with fall flavor. From strips of bittersweet orange strands and pumpkins to sawed pieces of Birch trees, the mixture of colors and textures provide the right look for what is synonymous for fall.
19. Wooden Pumpkin Cut-out with Engraved Leaf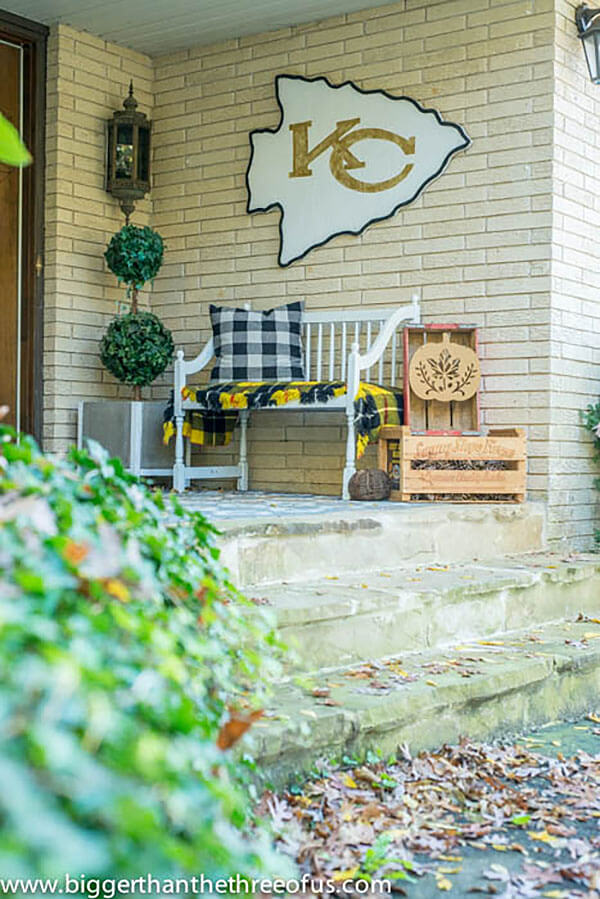 Feature a pumpkin on your porch that won't decay with a cut-out pumpkin that you can re-use year after year. It could be hung as part of a group display with crates, real pumpkins, and mums or you could adorn it on your front door. You could even paint the pumpkin or the leaf portion for added appeal.
20. Hand-painted Welcome Sign with Fall Colored Leaves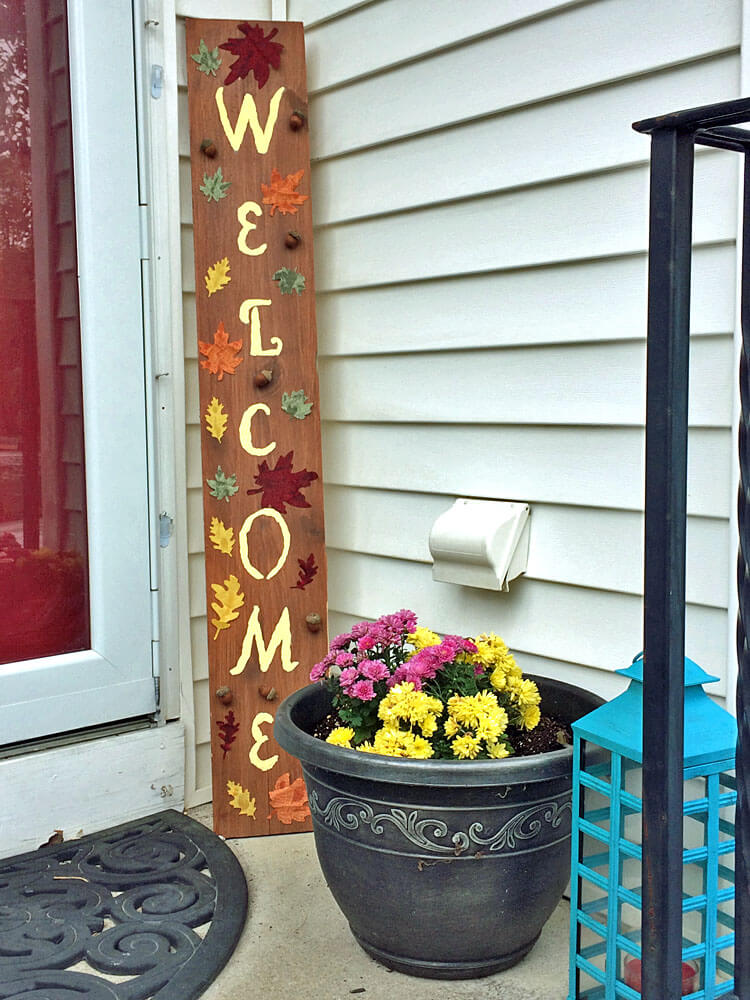 Greet your guests with some homemade fall art with this welcome sign next to your front door. The warm brown wood makes the fall leaves nearly pop off the board as guests are greeted with this red, orange, and brown beauty. Grab some stencils and your besties to enjoy an evening of simple painting and lots of laughs as you make a fall sign and loads of memories.
21. Scarecrows, Pumpkins, and Mazes- Oh My!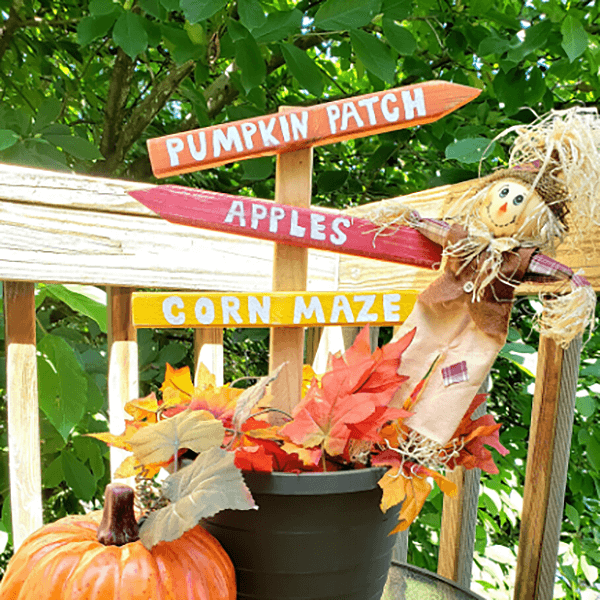 Add a touch of whimsy to your fall planter with this orange, red, and yellow corn maze sign trio. The scarecrow livens up the side as you stroll through the pumpkin patch or enjoy your fresh apple cider. Place it near your back door or garage to incorporate some fall charm all-around your home.
22. Bushel Basket of Fall Colors Galore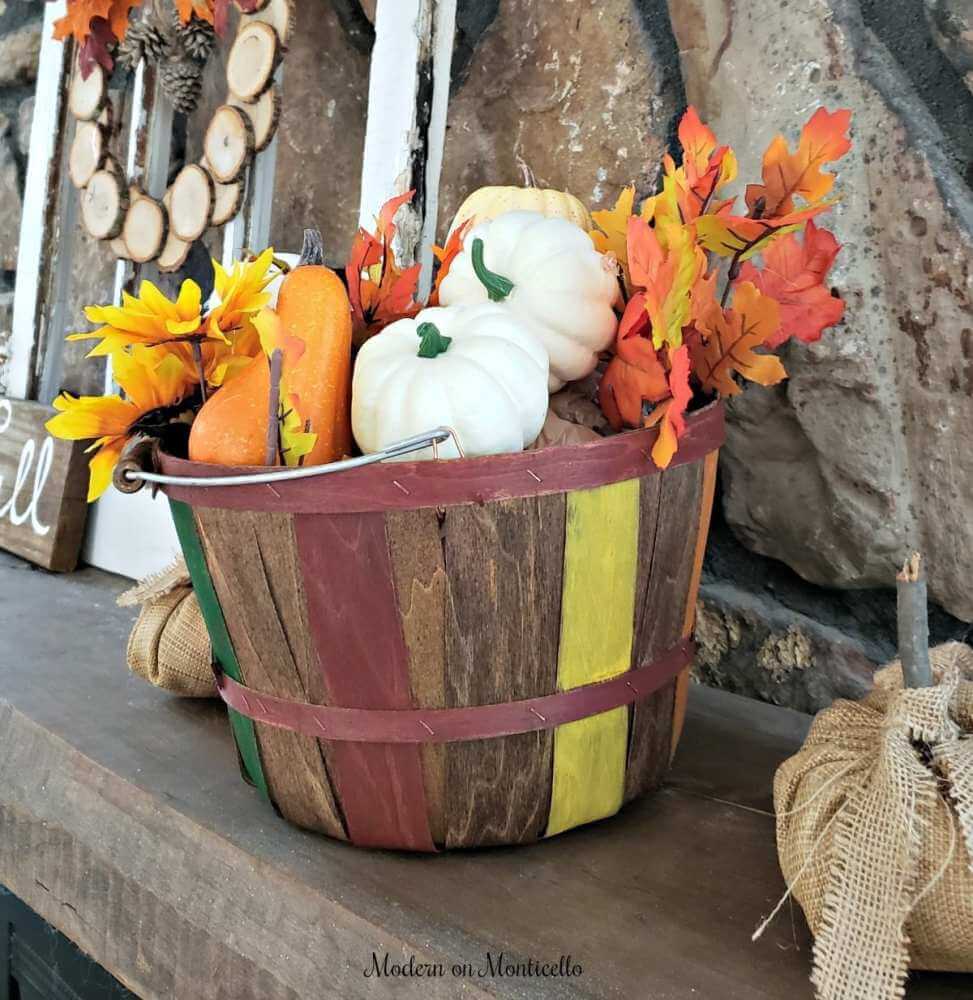 From the basket to the goodies inside, this bushel is bursting with the colors of autumn. The colored strips mingled with the brown make this a unique and gorgeous basket for your porch. Toss in a few of your favorite gourds, pumpkins, and faux flowers to brighten up the space even more.
23. White Jack-o-lantern Resin Planter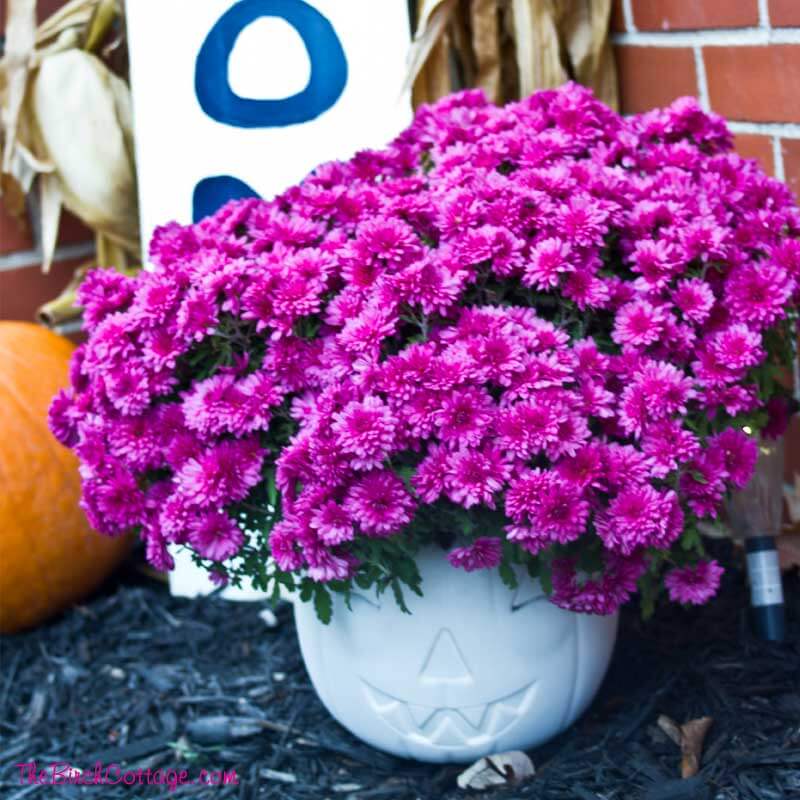 Give your hardy fall mums a nice autumn home with these resin planters. They are a great alternative to the messy traditional Jack-o-lanterns but contain the same smiling spirit. Painted in white, these planters are certain to be the perfect home for whichever bright and bold mum color you choose to put on display.
24. Pumpkin Harvest Sign with Burlap Bow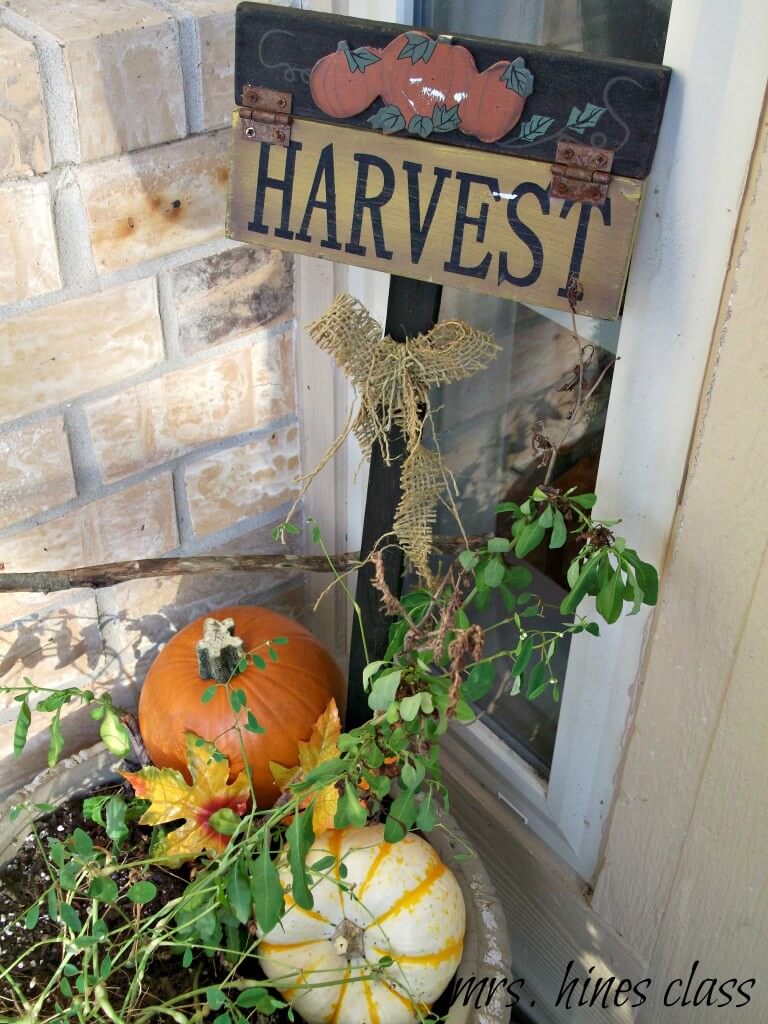 Add a little extra touch to your porch planter with this pumpkin harvest sign. Featuring a burlap bow, this stick sign is perfect for placing with your collection of small to medium-sized orange and white pumpkins. You could even place this below your mailbox or next to your driveway to add a touch of fall in your front yard space.
25. Falling Leaves Wreath with Leaf Lovin' Bow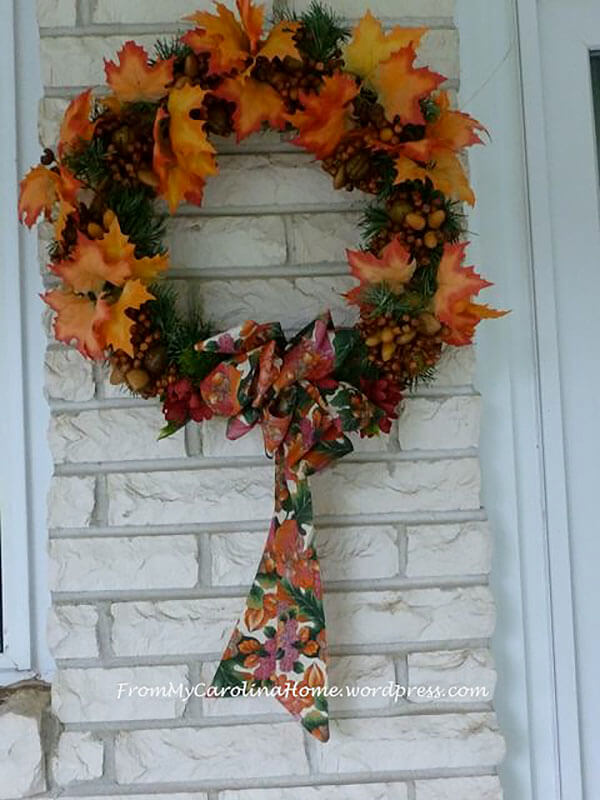 Filled to the brim, this fall wreath is full of gorgeous fall-hued leaves. It's nearly stuffed to the max as the leaves push together to create a sturdy and spectacular leaf display. Tied with a bow that bestows even more fall goodness with flora and fauna of the season, it's a quick way to welcome guests and the season of campfires, pumpkins, and cooler evenings.
26. Rustic Gourds and Stick Spheres Fall Display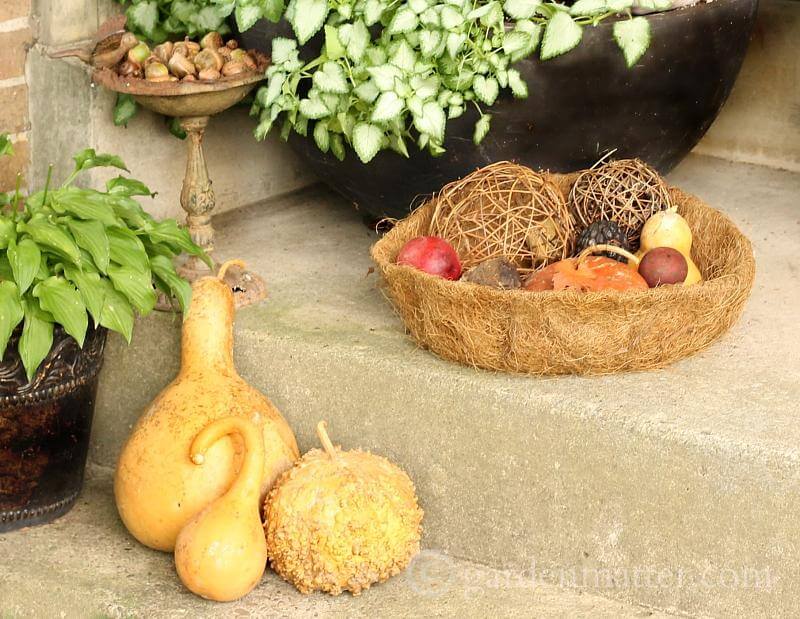 You don't have to spend much money to bring some fall favorites into your porch decor. A basket full of woven sticks shaped into balls and some gourds of all sizes will add the texture and interest you have been searching for! A wooden or metal bowl filled with acorns is another great way to bring the forest onto the scene in your fall porch scheme.
27. A Playful, Country-themed Fall Porch Décor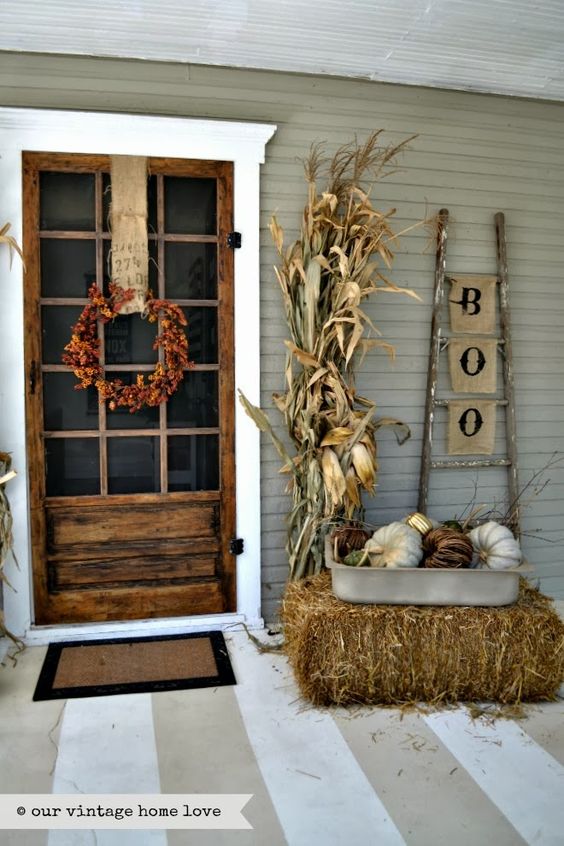 This rustic fall display is easy to create. It complements the porch, and the components are not that expensive. Take a drive to a nearby farm market, and you will find everything you need. A little quick arranging, and you can have an inexpensive, eye-catching fall farmhouse harvest-look display in minutes.
28. A New Take on the Classic Pumpkin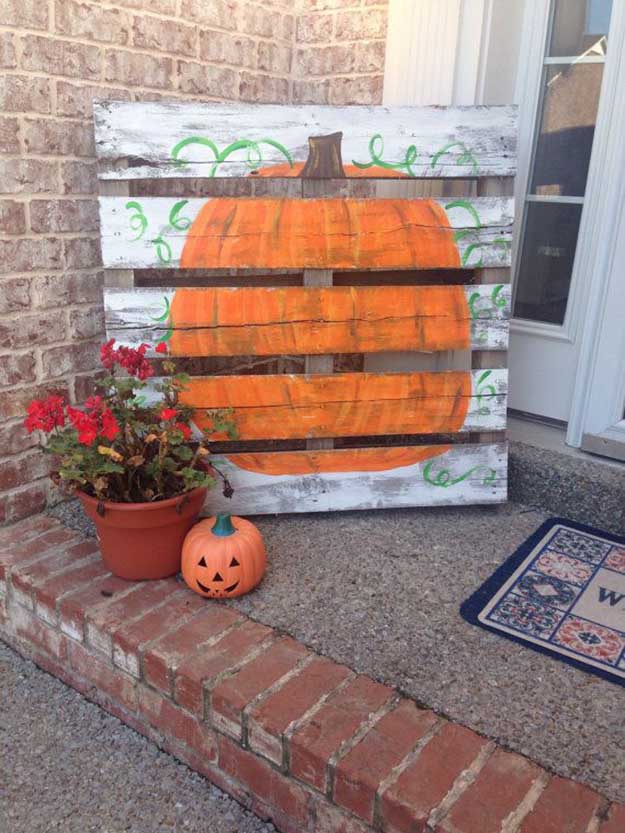 This is a fun display that does not overpower a small porch, and it doesn't require any more artistic skill than carving a pumpkin. Just grab a pallet, some paint, and free your inner childhood creativity. When you are done, you will have a large pumpkin that can be used as the background for fall displays for years.
29. A Glowing Homage to Fall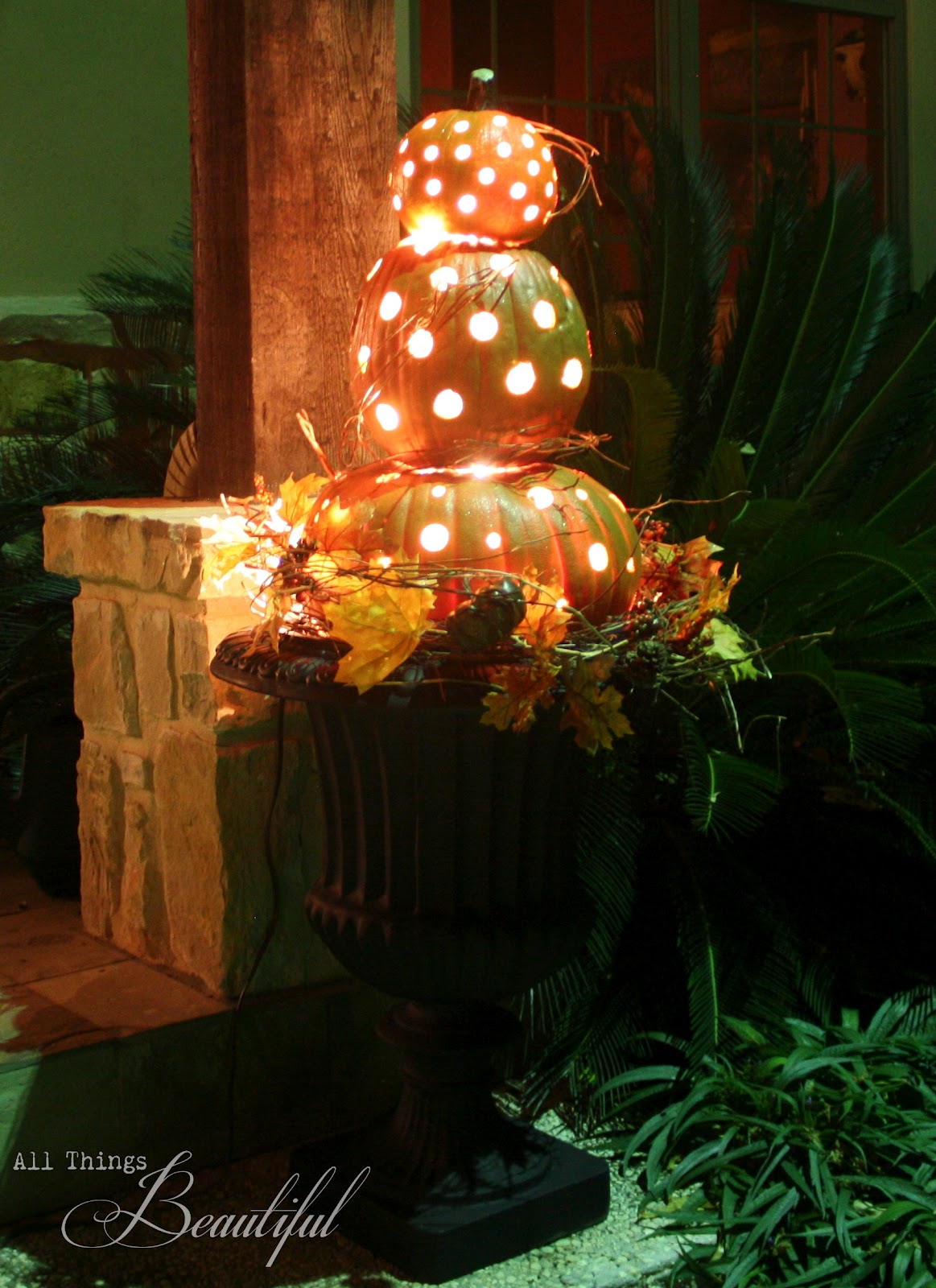 This pumpkin topiary can be used on one or both sides of your porch. It coordinates well with the plants beside the porch, and it adds sophistication to your fall display. Your topiary adds a lighted fall display to your porch, and the lights inside the pumpkins let it stand out even at night.
30. Cute Rustic Fall Porch Decoration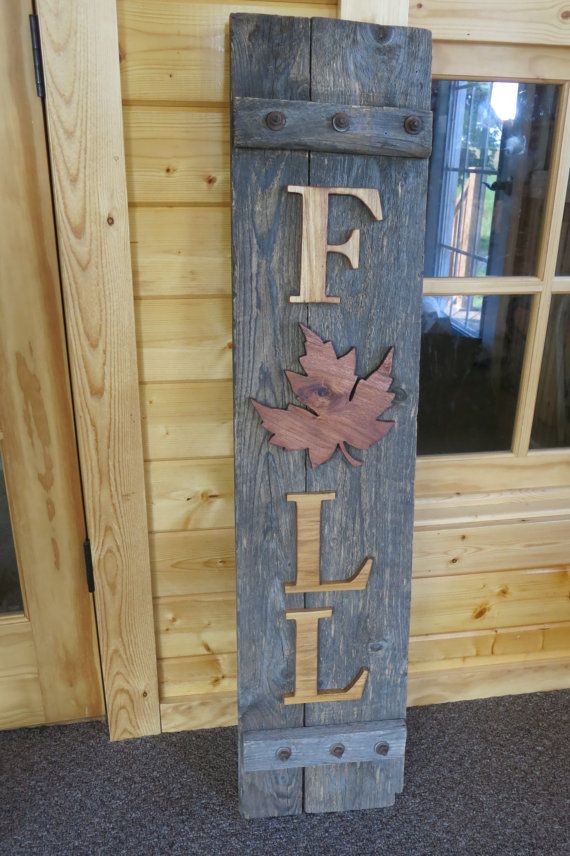 This wooden "Fall" sign can be part of a rustic fall display. Add some pumpkins, gourds, and a bale of straw to create a fall farm market feel that will fit on even a small porch. You will want to sit out on your porch with a glass of cider.
31. A Pumpkin and Flower Harvest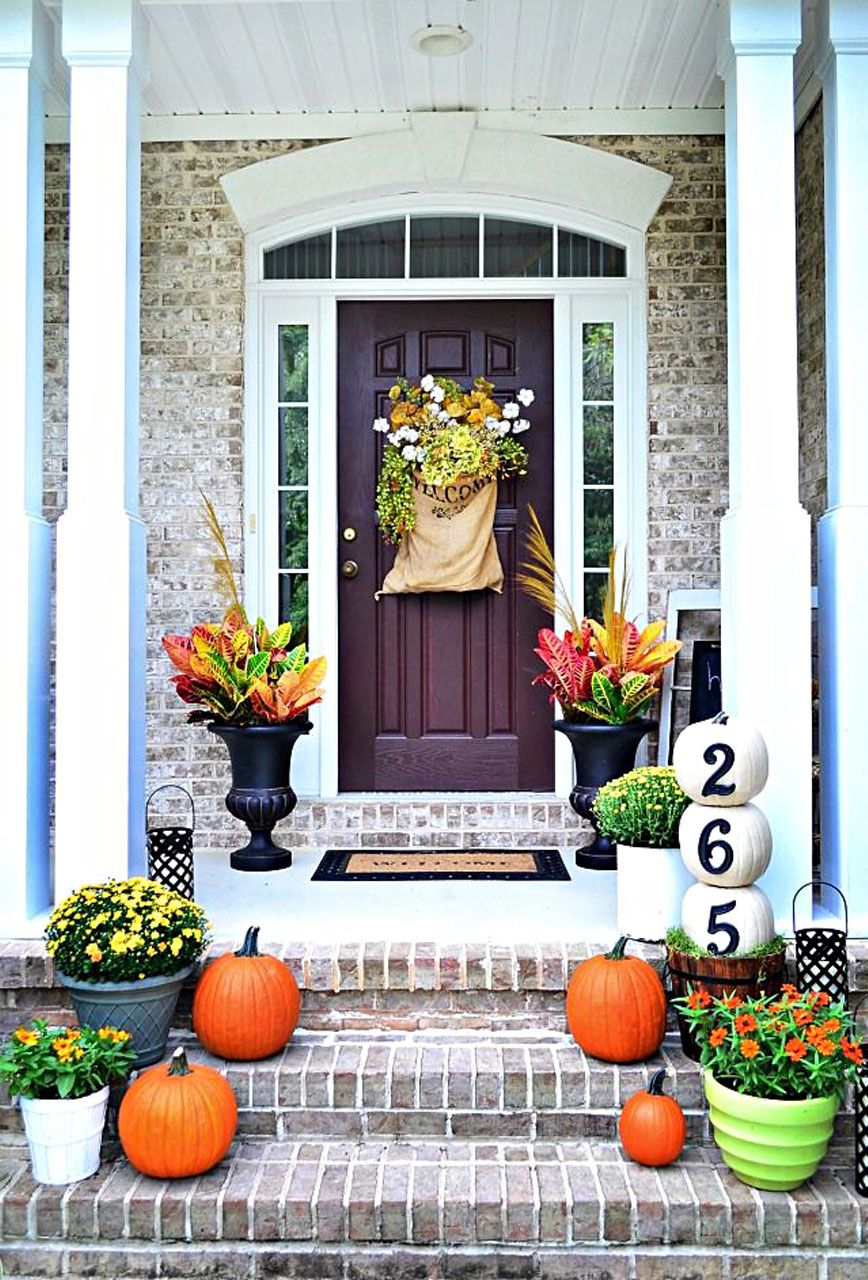 This porch display on the steps and both sides of the door draws your eye up to the unique substitute for a wreath on the door. Each step offers something unique, and, on the door, the flowers look like they are growing in the burlap bag. Your guests will comment on the originality of your door decor.
32. Words of Gratitude for a Good Harvest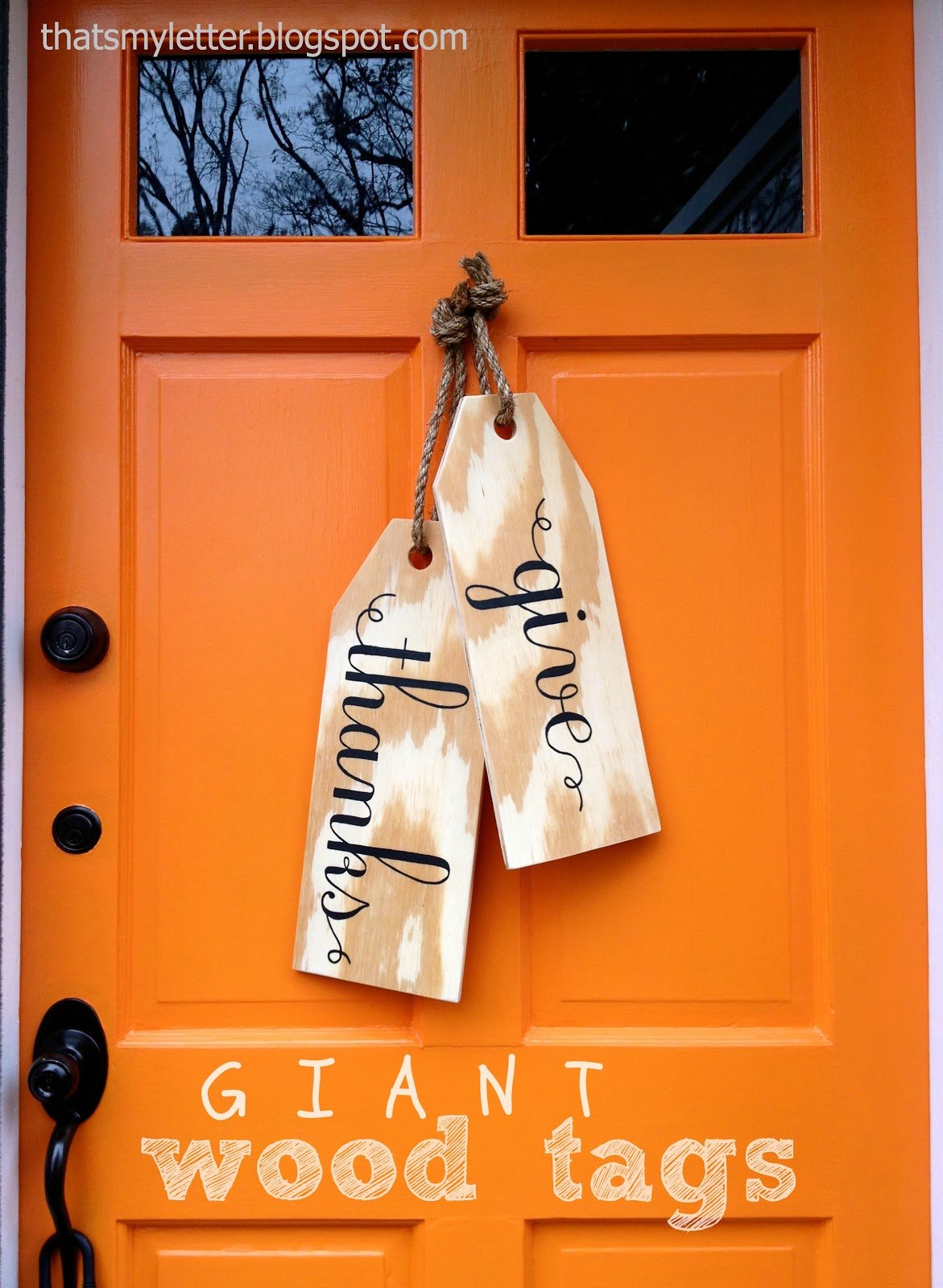 These wood tags with jute cords are another idea you can use on the front door instead of a wreath. If you want to add a little more to your door, you can create a vertical swag by tying together branches of fall foliage, berries, and whatever else you can find.
33. Welcoming in the Season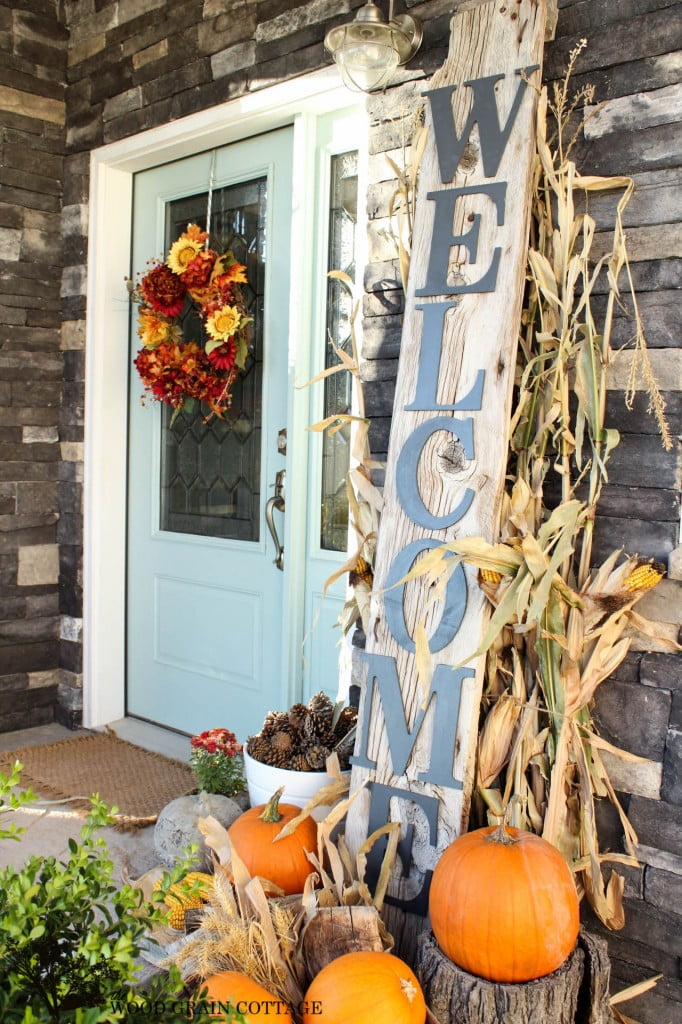 This welcoming display can be quickly and easily assembled. Most of the components are readily available. Crates or bales of straw can substitute for the tree stump. This overflowing display gives the feel of an abundant fall harvest. Your porch will say welcome to your guests and welcome to fall.
34. An Homage to Season Traditions of the Past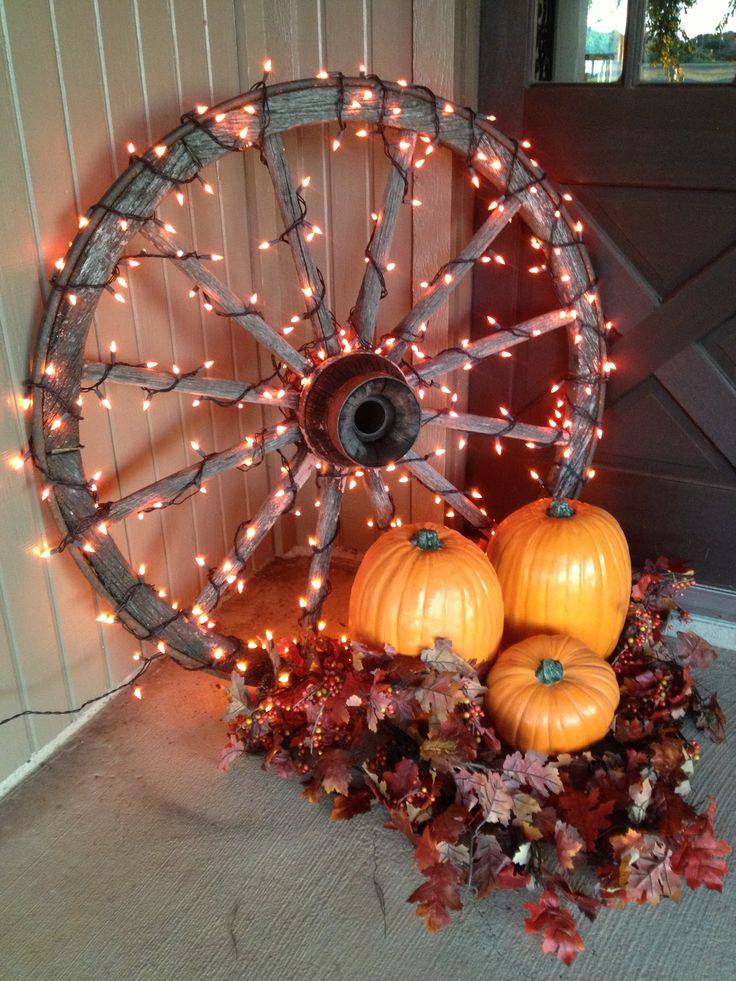 This rustic display can be quickly assembled with whatever you have. If you don't have a wagon wheel, just look around your house for something vintage or with a vintage-look. Add pumpkins, leaves, and lights to create a glow, and you have a nice rustic display for a small porch. This is quick to create for busy people who need some decorating ideas.
35. A Classic Take on the Harvest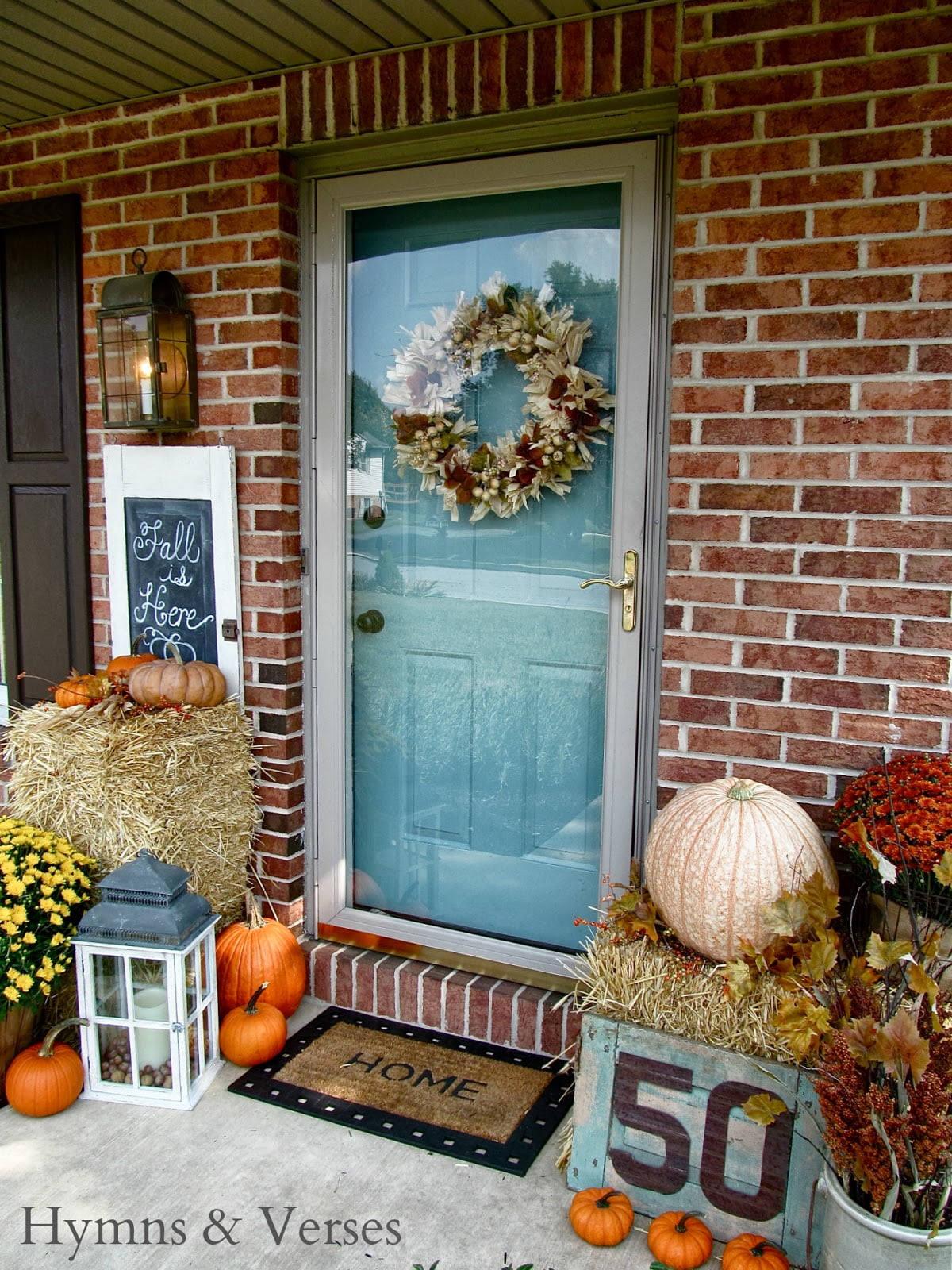 Fall is a casual, relaxed season, and creating a display for your porch should be casual and relaxed also. Bales of straw make great bases and mix well with fall produce and vintage pieces. So, just collect fall-themed items and play around with them until you get a look you love.
Our Favorite Front Door Flower Pots to buy on Amazon

More fall porch decorating ideas on the next page…