Perspective is key to good overall well-being, and while gaining a positive perspective many seek the comfort of a mantra through the best family quote signs. A phrase or group of words they can repeat throughout the day is a helpful and calming reminder that sets the tone for their outlook on life. Adding a family mantra like a family quote into your home decor is a fabulous way to achieve this goal of a positive perspective.
28 Amazing Family Quote Signs that will Always Remind You of Your Loved Ones

Maybe you have gained consistency in your positivity, so why not share it with those dearest to you? Gift one or hang one in a prominent place in your own home to get your point across and make everyone know the importance of family and positive vibes. No matter if you seek a design that embodies modern farmhouse or contemporary decor; there are an assortment of shapes, sizes, and sentiments to suit your taste buds.
There is a wide assortment of materials available in these pieces of art where wood, metal, and paint combine. With all of the possibilities, the list of 28 family quote pieces of art are a great way to find the gift for that hard-to-buy-for person on your list or simply add to your own cozy cottage. A familiar and famous Bible verse is even an option in this amazing design series.
Whether you're using a whimsical family tree image or a grouping of hearts to represent each member of the family, the entire family unit can feel right at home with these fun and cheerful family quote signs. Check out this listing of 28 of the best family quote signs. From clean white lines to rustic warm brown wood, there are so many fun styles that will definitely make your positive nature contagious.
1. Together is Our Favorite Place to Be Black Wall Sign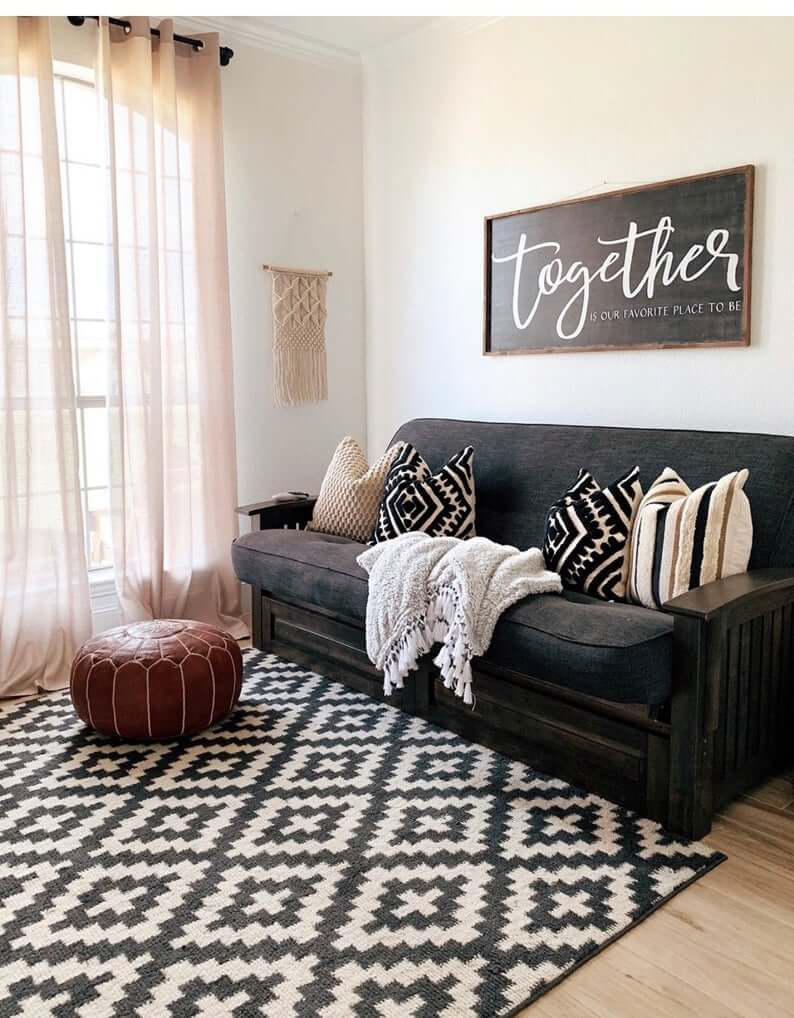 Pack quite a punch with this bold, black wall sign. A wonderful way to make a big statement with few words in any room, this unique design uses a rough, rustic wooden frame as to not take anything away from the sign itself. Welcomed additions to any couple's home without the typical feminine design feel, this sign is a neutral piece that would work in almost any space. The large size gives this statement the stage it so rightly deserves. Hang in the hall or behind the couch so it can scream your passion without saying a word. This is a wonderful use of contemporary design with a homey feel.
2. Modern Farmhouse Wooden Frame Family Life and Love Sign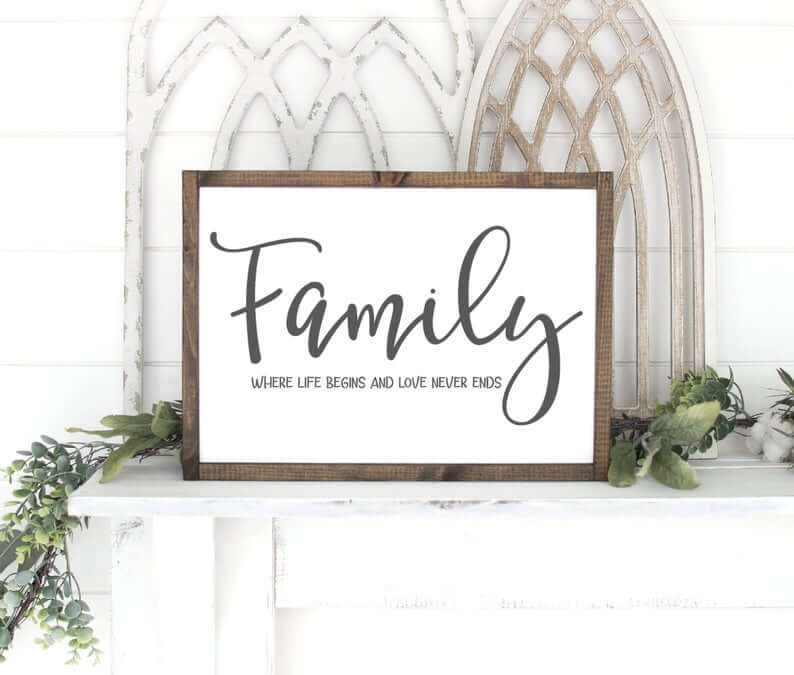 This sign is made with a modern farmhouse feel and delivers in a crisp white background. The black script is fun and uses a large font size for the word "family" with a smaller font for the "where life begins and love never ends" phrase resting just below. An outdoor wedding would be a cool home for this sweet sign as it could blend into the reception decor as two families are becoming one. Such a sign as this would transition into the newly wed's home so it would be both a practical reception and home decoration.
3. Black and White Contemporary Plain Family is the Key to Happiness Sign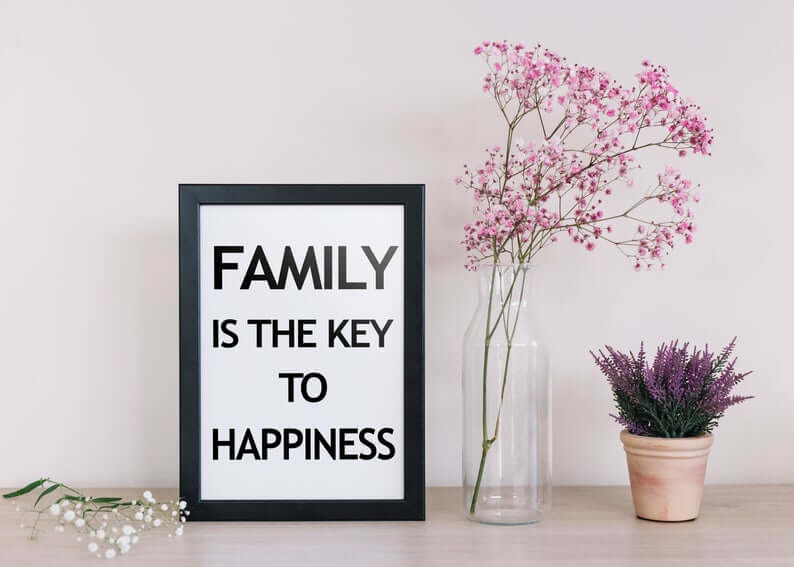 With smooth and clean lines to create a shiny black frame, this family sign mixes the most classic of all color combinations with a fun family quote. "Family is the key to happiness" makes an ideal way of thanking your clients if you happen to be a realtor or to welcome a friend or family member into their new home. The white background and black lettering are just what is needed to create simple elegance in this little sign.
4. Family is Forever Clean White Sign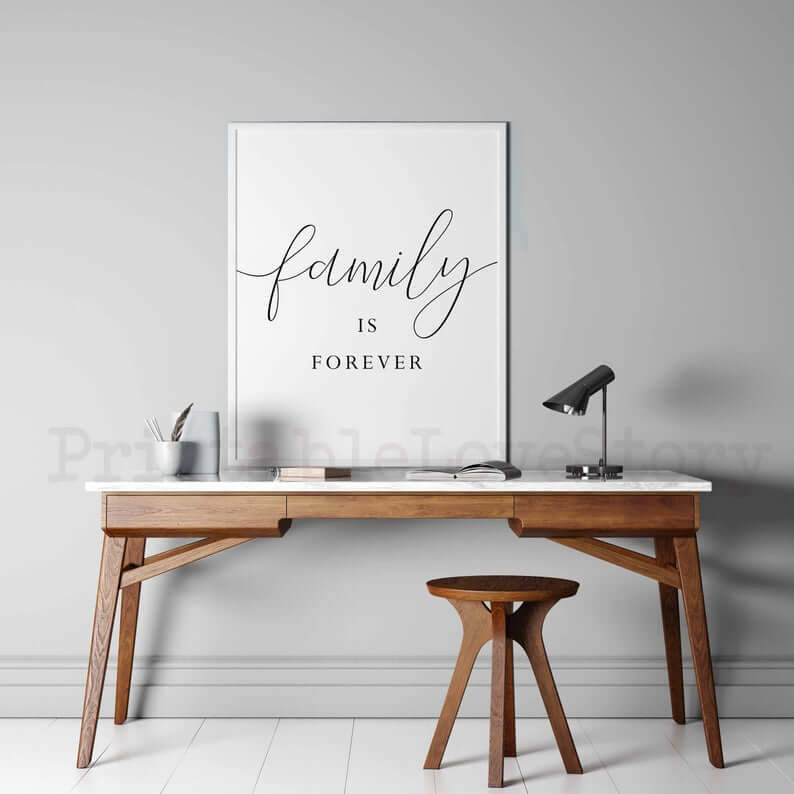 The simple elegance of this sign and its sentiment is what makes it one of the best family quote signs around. White is always on-trend so this sign not only stays on pace with style but is a classic color that continues to stand the test of time. Hang this in your modern white kitchen or dining room. Maybe you could even gift it to someone who just lost a loved one to send them a gentle reminder of how a family is always there for them.
5. This is Us Wall Photos Title in Black Lettering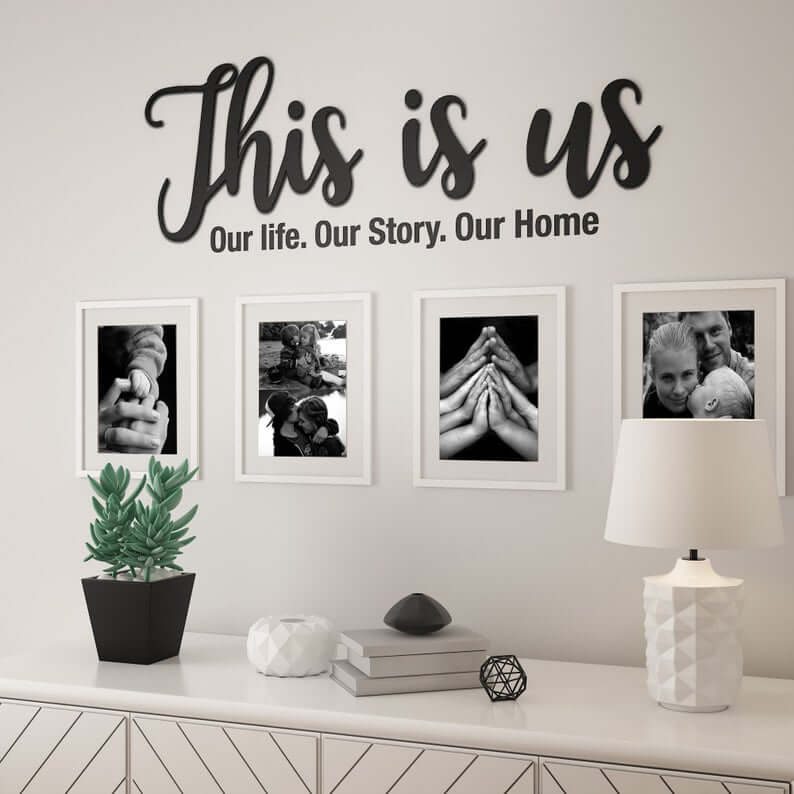 Black laser cut out words create a fabulous way to give a designated space to some of your most loved pictures. A collection of black and white photos lends itself nicely to the featured cut-outs of "This is Us. Our life. Our story. Our home." What a gorgeous display of your family on a featured wall within your home. As the years go by, you can update the photos with more recent and/or favorite memories and continue to use this laser-cut title. The black lettering along with the black and white pictures is a modern and clean style for today's home design.
6. Wood on Wood Home is Where the Heart is Sign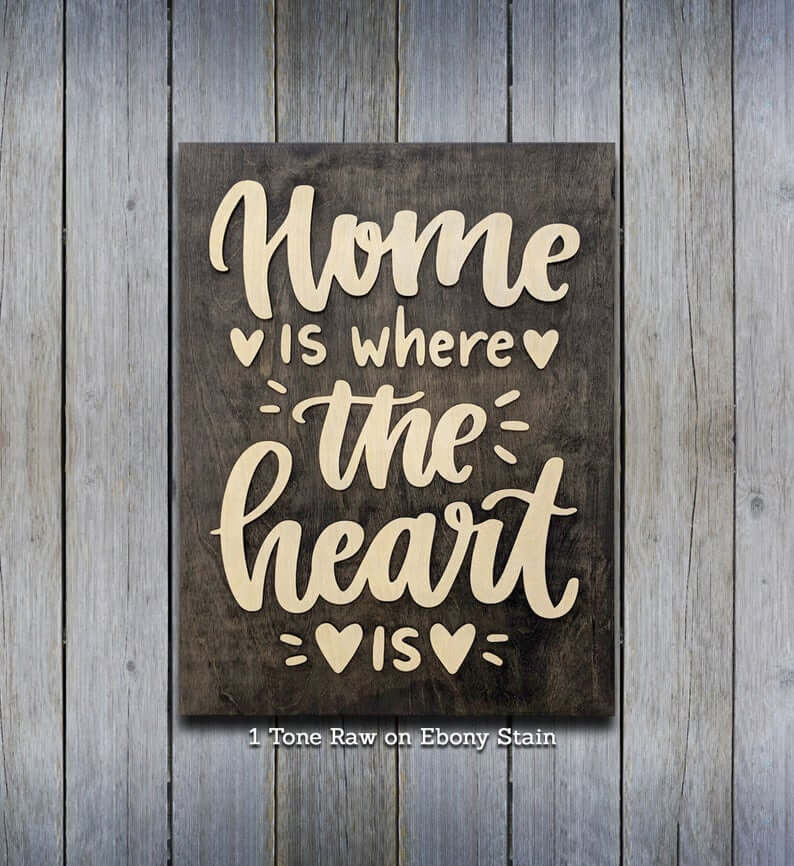 What a creative way to add some dimension to an ordinarily flat and simple sign design. The dark ebony-stained background is a solid way to make the natural-toned wooden letters leap from the sign. Designed with a fun font, the "Home is where the heart is" gives a gentle hug to the family home. Perhaps consider adding a leather piece of string to hang this on your front door too. It would be a wonderful addition to any family's existing home decor.
7. Black Chalkboard Style Family Adjectives Wooden Wall Sign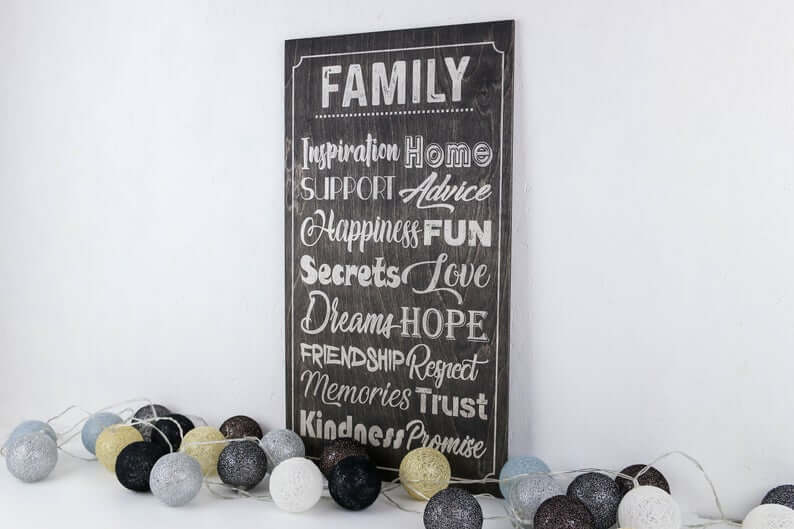 Math and English collide as this rectangular wooden wall sign lists a plethora of adjectives to accurately describe the term family. With a distressed black background, the white lettering pops off the sign and is an awesome idea for hanging near the family's command center of dry erase boards and calendars. Keep it all organized and in perspective as the many wonderful and cute words that so lovingly describe family life are presented in this wooden wall sign. Buy one for yourself or get it as a cute gift for a close friend or family member.
8. Family Meal Time Prayer Boho Chic White Sign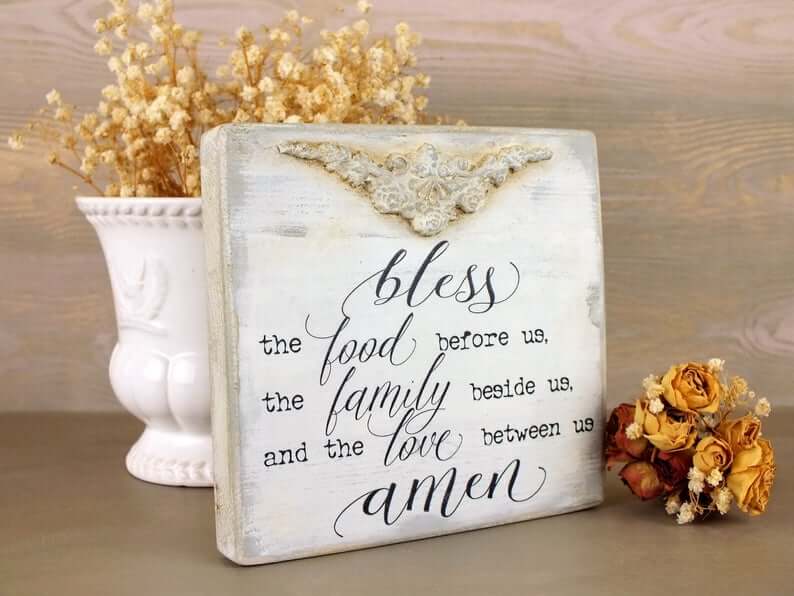 One of the best family quote signs features a new take on the traditional mealtime prayer of God is great, God is good. Here is a white vintage-looking square sign with the new day mealtime prayer to "bless the food before us, the family beside us, and the love between us" to make your dining room warmer and inviting than ever before. With a flair of cottage charm, this sign is a perfect gift for a Sunday School teacher, friend, or young couple. The beautiful script highlights the most important words to draw your eye to the significant points acknowledged here.
9. Wood Slice Sign Family Tree Roots Remain as One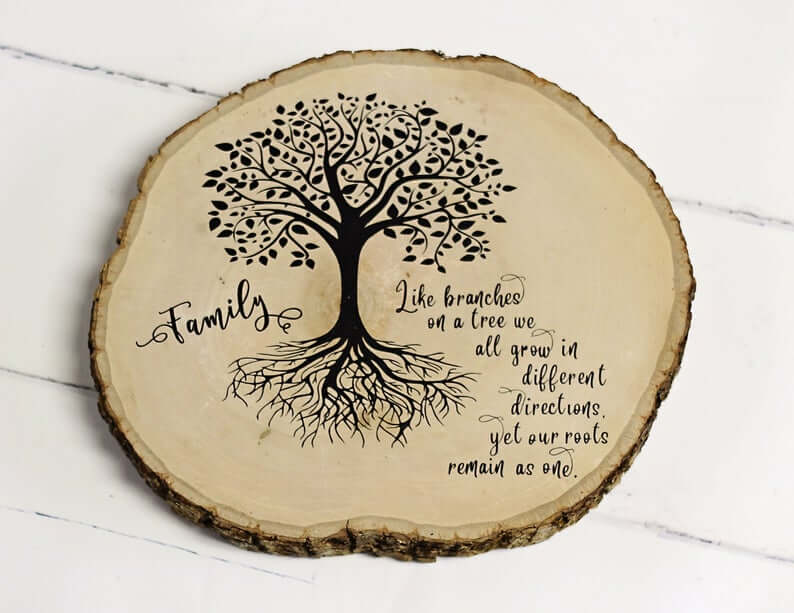 Possibly one of the best family quote signs for blending family love and rustic charm, this wooden slice is the ideal canvas for such a sweet sentiment. As a family grows, so does the branches of a tree, and although the branches and family members go in different directions they remain connected in their common roots. A gallery wall full of family pictures needs a sign like this to tie it all together. Give this as a gift for the grandparents along with some framed favorite family prints. Since a gallery style wall is one of the top trends in home decoration, this is the essential sign to get the job done!
10. Modern White Family Definition Frame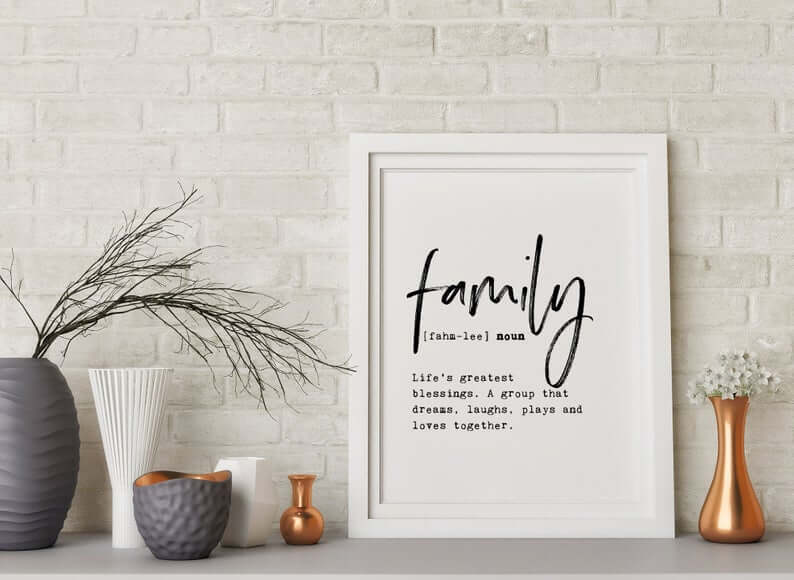 Constructed with clean lines, this white frame houses the definition of what a family is. Using a black script design, the definition is easy to read and gives a modern and contemporary feel to the overall cool appeal of the sign. What a great way to welcome a new member to the family! This would also be a great present for Mother's Day or for a favorite grandma or aunt. Make a statement as to the importance of family in your home without the primitive, homemade feel with this modern family definition sign.
11. White and Gray Family Forever Sign with Wooden Frame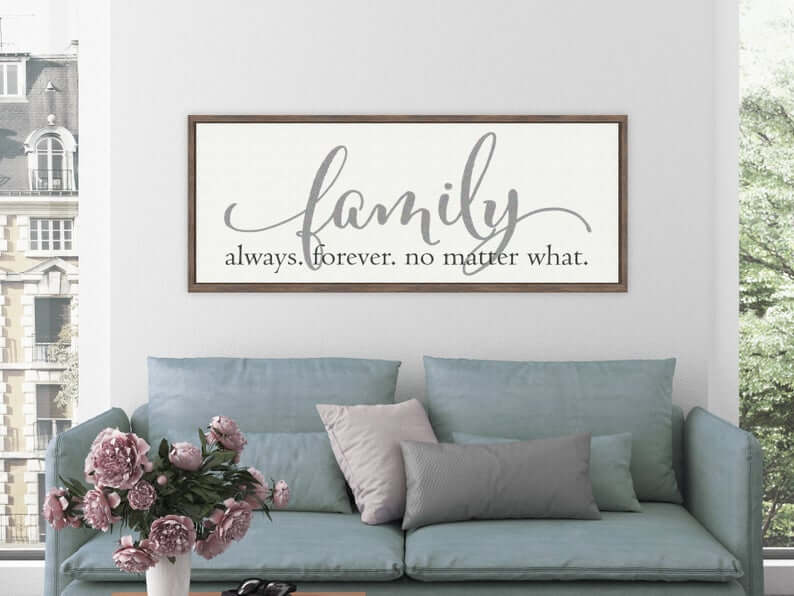 Larger than life, this white background displays the "Family. Always. Forever. No matter what." creating one of the modern signs with family quotes perfect for adding to your home. Its large size lends it nicely to becoming your new standalone piece of wall art behind your couch or sectional sofa. The addition of the grey lettering gives a modern and contemporary feel that works well in today's home design.
12. White and Rainbow Colored New Family Large Wall Art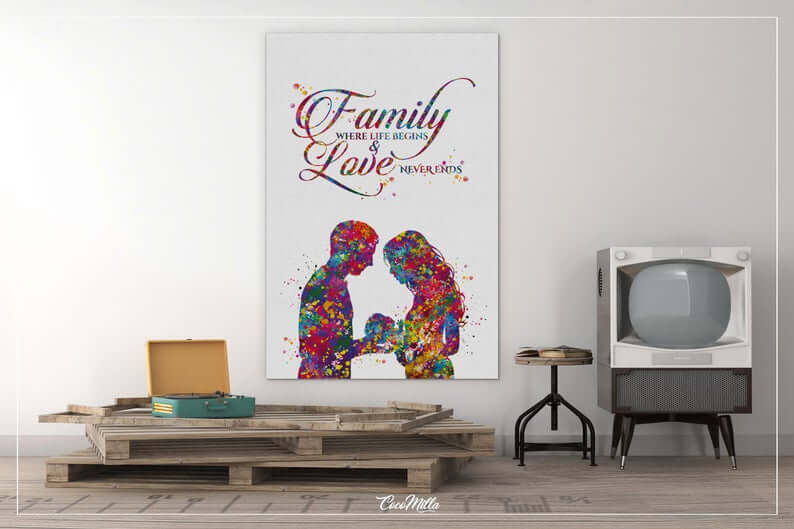 Bring the wow factor into your home as you welcome your newest member. This over-sized white sign is such a pretty way to provide a backdrop for the beauty in the work of art displayed as the parents hold their new baby in this piece of wall art. Lending it to a modern and contemporary feel from the use of white, the rainbow paint splatter hues nearly bring the silhouettes to life as they seem to lift off the wall. Sneak into the new parents' home and prop this up where they will easily be greeted by this breathtaking piece of art. A fun and original baby shower gift that is sure to not be duplicated yet embraced by all is what you get with this creative piece.
13. Grey with Gold Love is the Tie That Binds Wooden Sign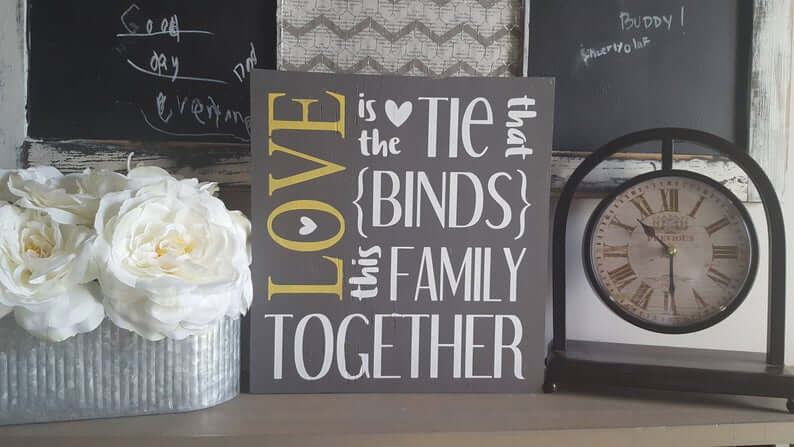 Finished in grey background with white and gold lettering, this square wooden sign uses fun and cute writing style to get its point across to the world. Everyone knows that love is the family's glue so why not choose this as one of the favorite signs with family quotes to adorn the wall in your home? This could be an easy stencil DIY project for a rainy day that would make a perfect gift for a close relative. It's just the right size to hang in the half bath or as part of a gallery wall where mixed media and color adds to the appeal.
14. It is Well with My Soul Wooden Laser Cut Sign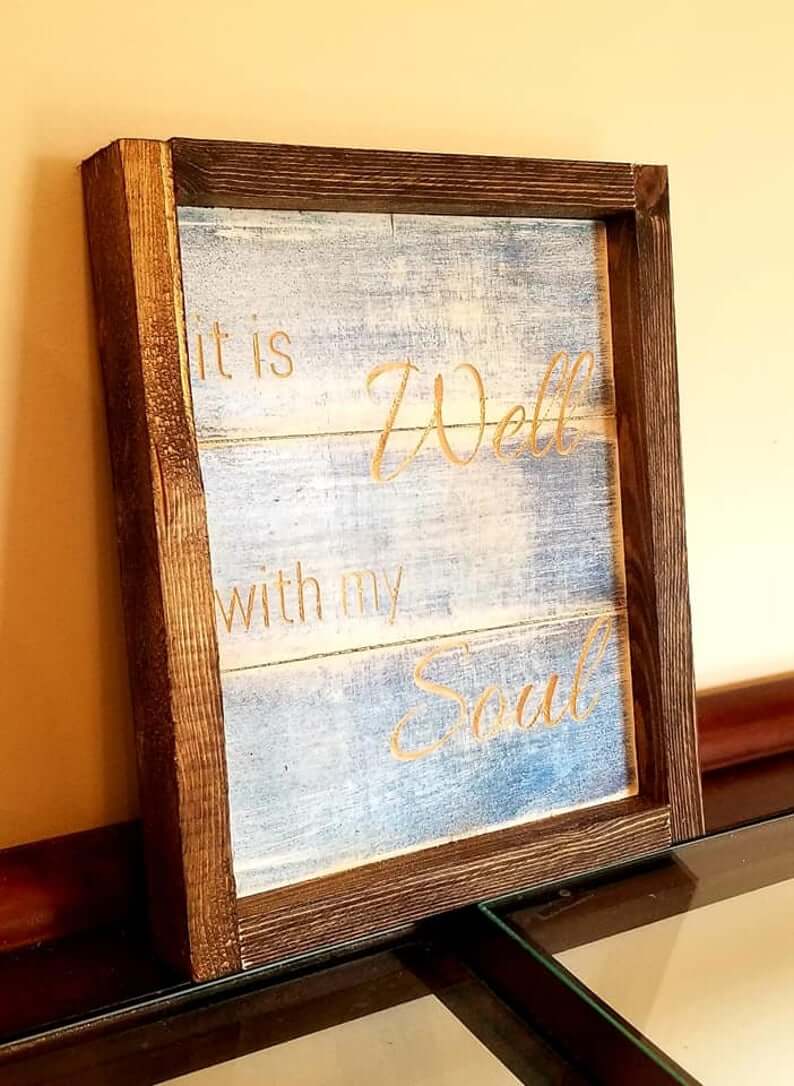 Rustic wood pieced together creates this old and cabin-feeling frame to hold such a serene and calming Bible verse in "it is well with my soul." Perhaps one of the most quoted lines from the great book; this verse offers peace and tranquility when so much in the world seems uncertain. Take comfort in this gentle reminder of hope in God by hanging this sign in your family's personal space. The barn wood canvas for the laser cut lettering adds some original design in the use of gold and grey tones. Give this as a gift to the one who started your solid foundation in the scriptures or for your church's pastor as a way of saying thanks.
15. Wooden Cut Out Hearts with Family Members' Names Hanging Sign
Displaying each family member's name is a good way to show that "together we make a family." A great way to celebrate adoption and show the new addition to how they work together with the other family members to complete the unit. Also, a fun way to let grandma know there's another grandchild on the way! The natural wood tones are soft and neutral to match most decor.
16. Braver Than You Believe Wooden Home Decor Sign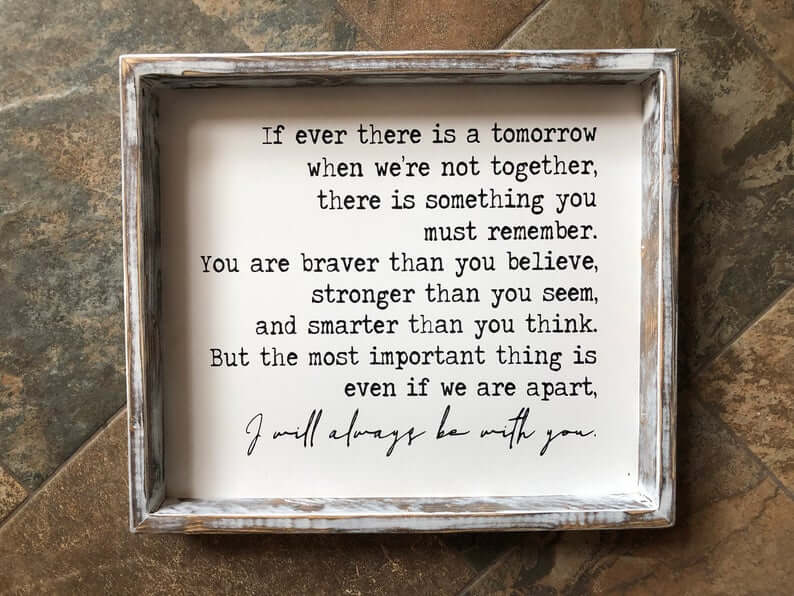 Created with a rustic wooden frame, this family decor sign is perfect for the modern farmhouse design in your home. Featuring a popular sentiment in the "smarter than you think, braver than you are" mantra, this sign would be a perfect gift for a child going off to college or a friend that has recently gone through a divorce. This square sign has a white background with black lettering that would easily fit into any room with its standard size and neutral design. Add a little extra warmth to the room with this encouraging quote sign.
17. Pretty Black Vinyl Family Circle Wall Decal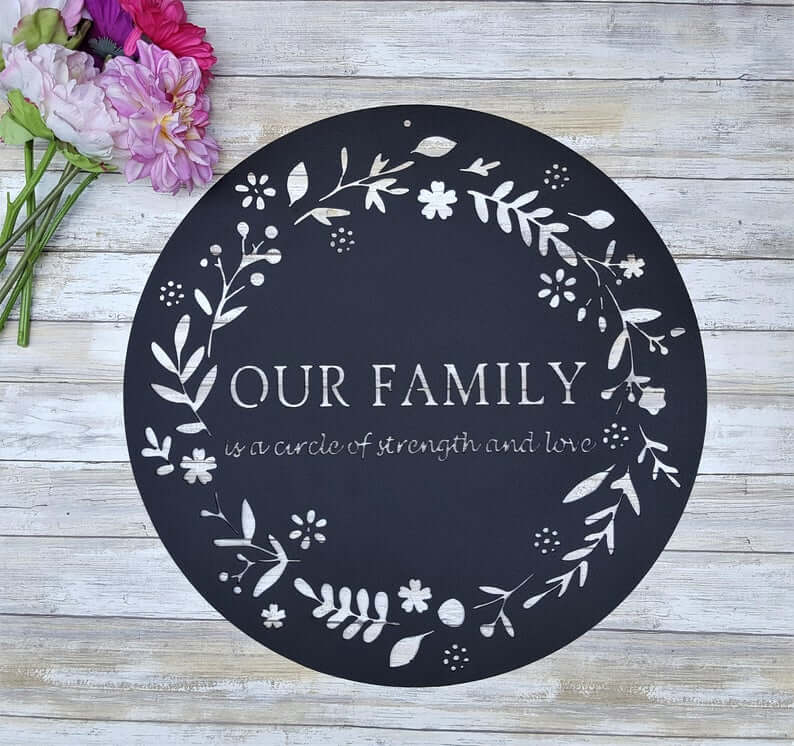 What better way to embody the trust and love of a family than with a wall decal displaying their circle of trust? This black vinyl wall decal features the saying, "Our family is a circle of strength and love" inside a wreath of floral cutouts making it both inviting and inspiring. The attention to detail in the handiwork of creating these floral cutouts makes it one of the most unique and best family quote signs available.
18. Rough Brown Wooden Family Sign with White Lettering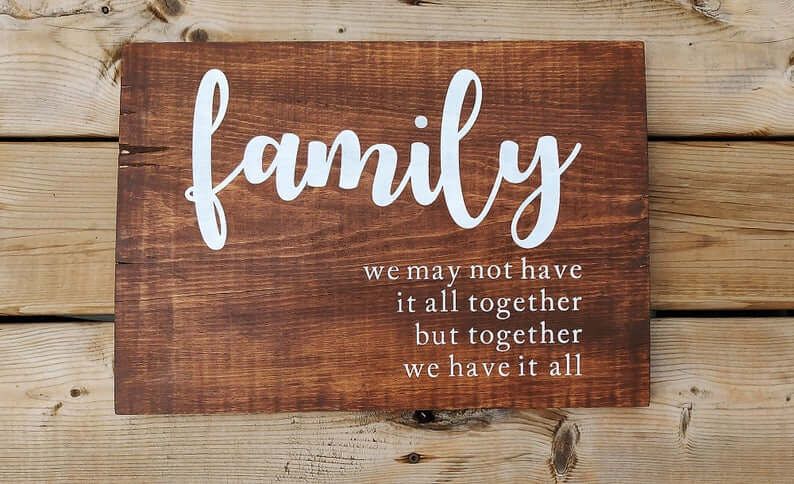 Defining a normal family is hard to do, so why even try? Take this rough wooden sign and let it serve as your family's mantra, "we may not have it all together, but together we have it all." Too often we compare our lives to those around us only to be left feeling down so why not direct your attention and boost your mood with this quirky family sign? It's ideal for a passing party gift for almost any age or gender. The warm brown tones in the background add to the comfort of the overall design. Take the dysfunction out of dysfunctional with this fun sign.
19. Family is Everything Wooden Sign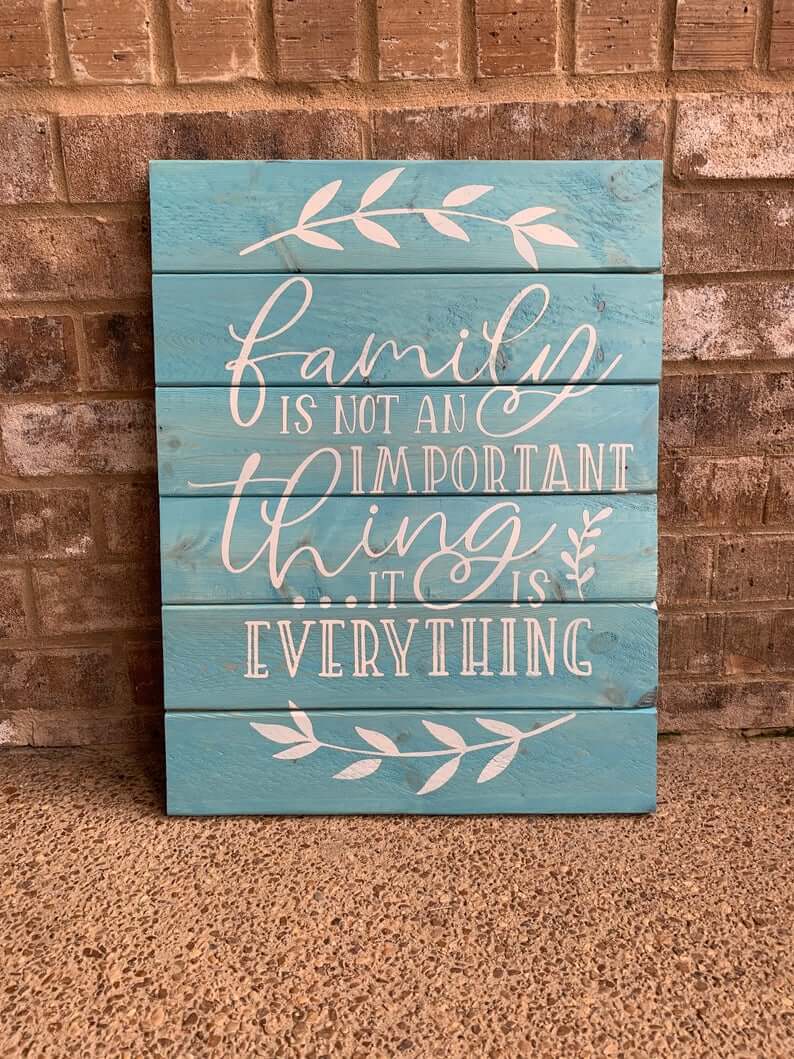 Decked out with decorative vines at the top and bottom, this warm blue toned wooden sign displays the "family is not an important thing, it is everything" quote in white lettering. Prop this piece up along with an arrangement of vases and decorations along the mantel or hang it on the wall of your home. The warmth generated from the blue hue gives an otherwise neutral space a hint of color.
20. Laser Cut Wooden Family Tree Sign
Sport your family's name proudly with a laser cut sign. Engineered in a natural wood tone, this family name sign is complemented with a central tree with roots to add to its appeal. The traditional tree with roots that is seen on so many family schemes, this laser-cut version will stand out on any wall you choose as its backdrop. Embellishing an entryway or hanging on the covered porch, this handcrafted beauty is a nice addition to your family's favorite hangout.
21. Cute Cactus Love of Family Makes a Home Sign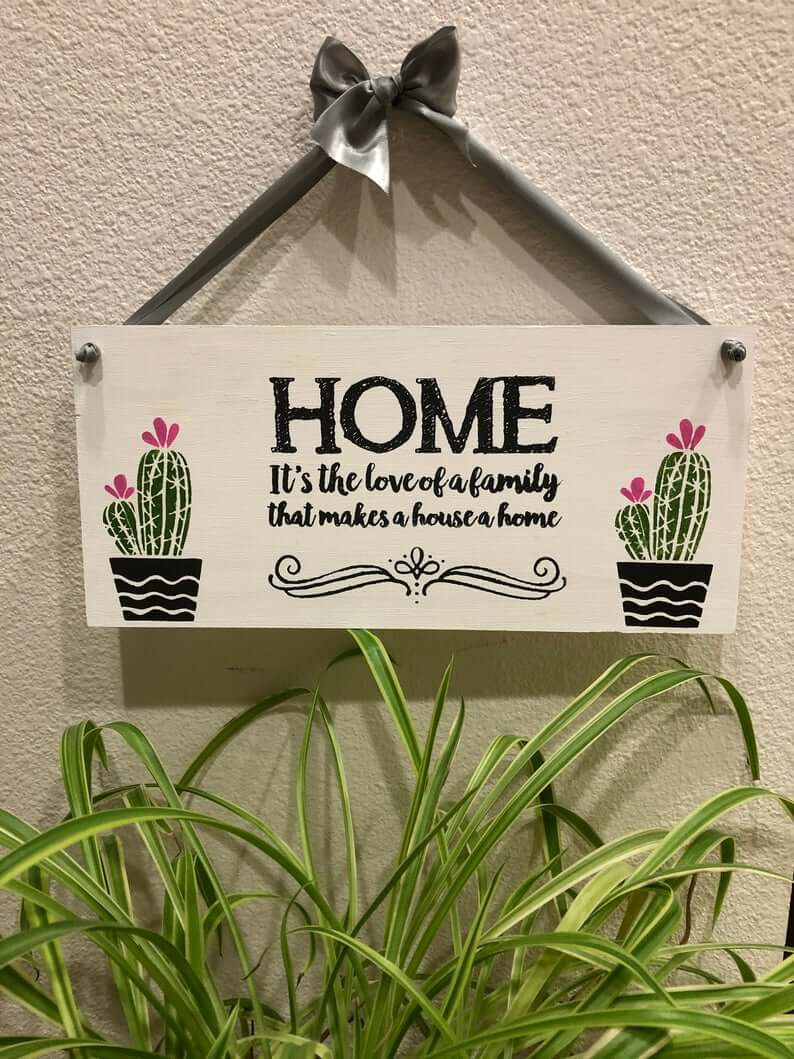 Adorned with a silky grey ribbon, this cute cactus sign welcomes family and friends to your home. The pop of pink in the cactus flower adds just enough color without taking away from the message. Gift this to your plant lady aunt or cousin for happy homemaking welcome. Or better yet, grab some paint, stencils, and ribbon to create your own masterpiece in a DIY adventure you plan for all the art-savvy people in your circle.
22. Oblong Distressed White Family Wooden Wall Sign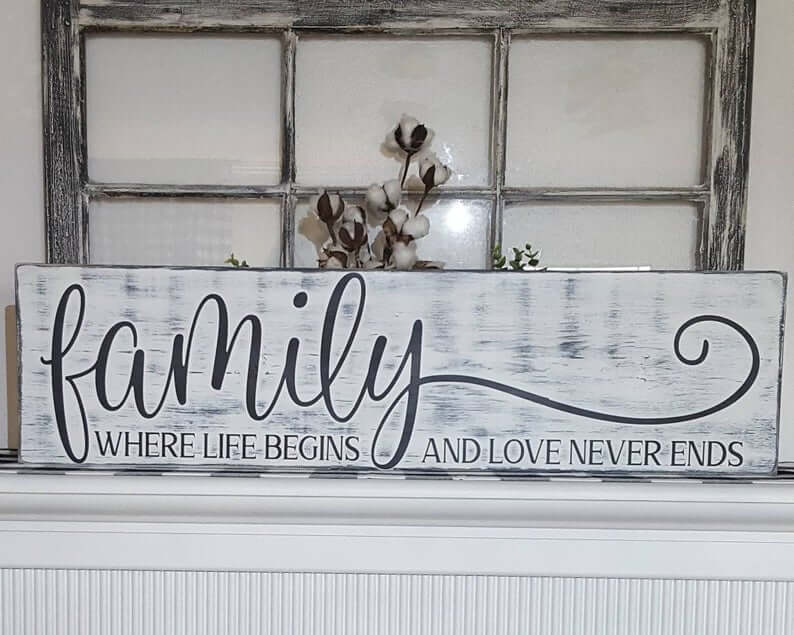 Scripted grey lettering spells out "Family" along with printed "where life begins and love never ends" to create some depth and diversity to this modern rustic sign. Hang this above a prominent doorway or along the top of your kitchen cabinets to put some charm into some often unused decorating space. This sign would also work well in a neutral nursery palette too. The style of the sign draws the eye across the horizon adding some girth to your overall design and gives the room a cozy climate.
23. Fun Friends Sitcom Family Sign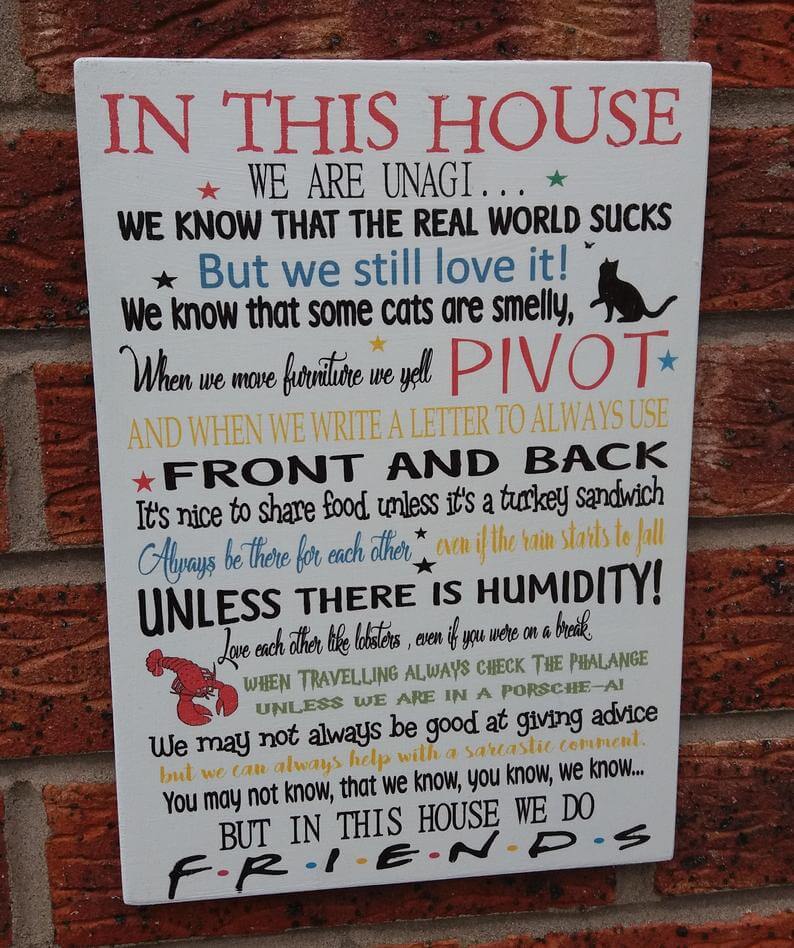 Add some personality into your personal space with some of the most loved phrases from the sitcom Friends throughout your decor with this fun sign. From smelly cats to sarcastic comments, any fan of the show is certain to enjoy this piece of wall decor. Black and white with the primary colors make this an easy to read piece. Give this gift to one of your besties who knows every line of the show by heart or add it to your existing decor in some of the conversation spaces in your home.
24. Black Vinyl Family Together Wall Decal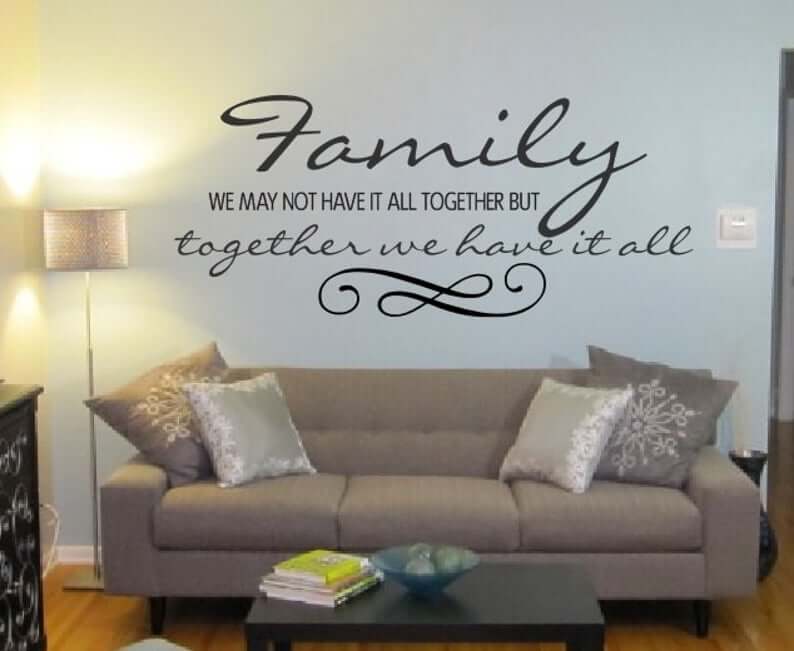 Step inside and discover a friendly reminder that even though things aren't perfect, just being together with family is what matters most! This black vinyl wall decal is easy to apply and doesn't ruin your existing wall space. The saying is a large statement piece that would be wonderfully placed behind the focal point in the living or dining room as well as on the large wall space of the staircase. Incorporating a much-needed gentle reminder of the simple things in life is often times all we need to get through a tough day. This would also be a fun gift to give during a family gift exchange as it will work in any home since it is basically a one-size-fits-all type of present.
25. Black Metal Heart and Infinity Loop Family Sign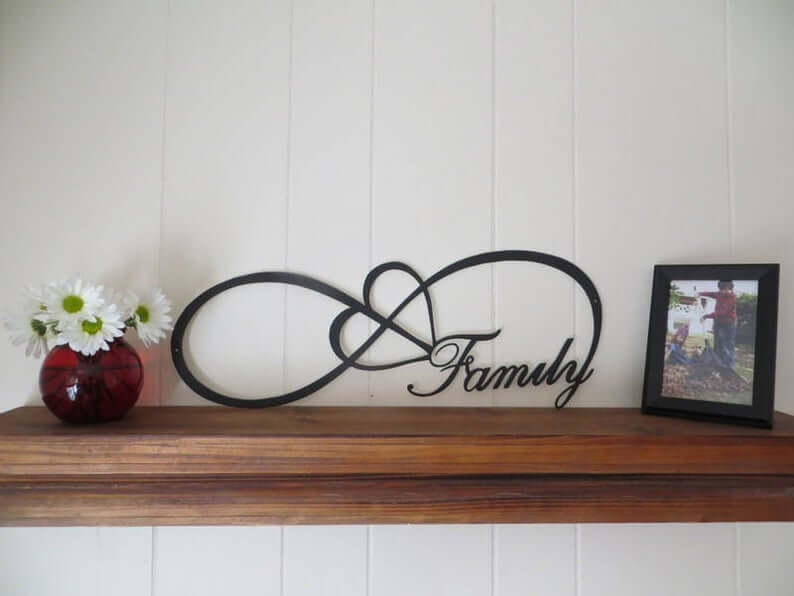 Constructed from metal with a black finish, this infinity loop is like no other. Housing a heart within its center, this infinity loop incorporates the word "family" as it gracefully winds around into a complete circle. Rest this one of a kind family sign on your mantel or along the windowsill behind your kitchen sink. It can be hung on the wall too so it offers a diverse way of displaying it.
26. Laser Cut Together is My Favorite Place to Be Wall Art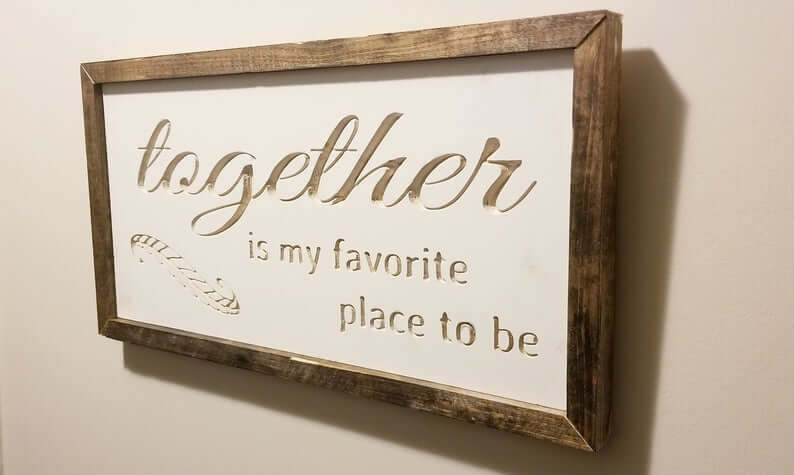 Constructed using a plain white background, this laser-cut lettering adds a creative spin on the traditional painted strokes of most family quote signs. Giving an edge of character into the design, this laser-cut piece is outlined with a wooden frame to complete its overall look and feel. The addition of a fun and whimsical design in the left bottom corner simply enhances the appeal. Use this as a non-traditional gift idea for that someone special to hang in their personal space or add it to your master bedroom.
27. Vintage Feel Family Sign with Date of Establishment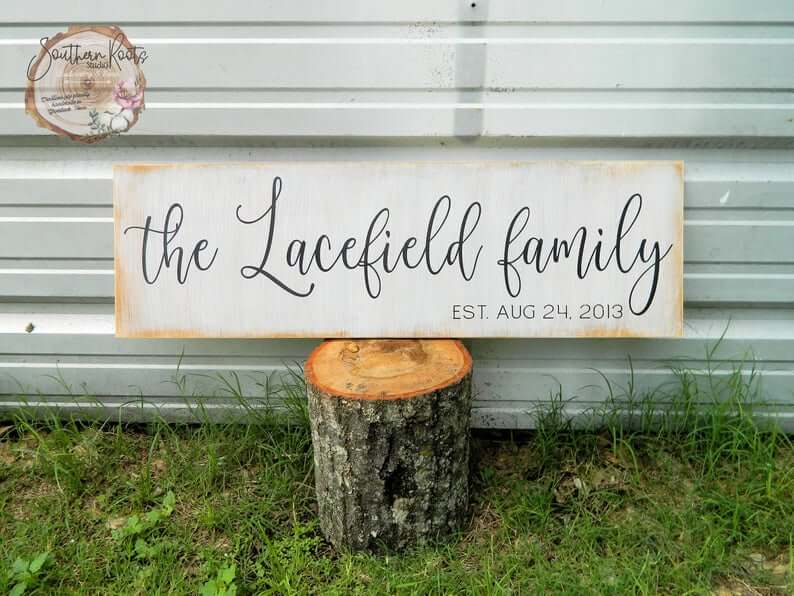 Here is the top of the list in the best family quote signs for newlyweds. This wooden sign is sure to become one of the most loved and cherished gifts they receive. With a simple and elegant script of their family name and printed date of their wedding, this sign will work in any home style. Anytime a personalized gift is received, love and care are exchanged too. Celebrate this way or use it as an anniversary gift to remind and reminisce of that special day.
28. Family is Where Life Begins and Love Never Ends Metal Sign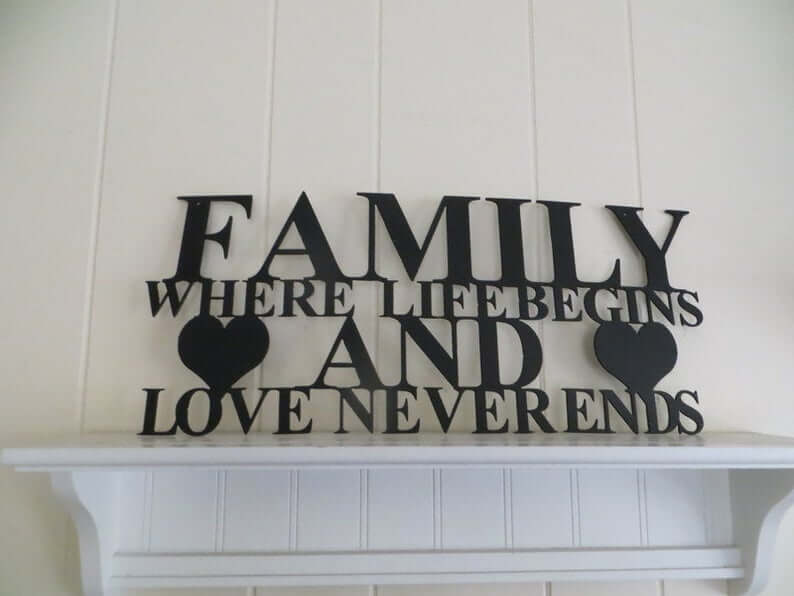 Here is one of the signs with family quotes that functions in almost any decorator's space. Made from metal with a black finish, this sign proudly acknowledges the substance of family life as it is where our life starts, and love never stops. Remind your grown children that no matter where life has taken them, your love remains as constant and strong as ever. An awesome idea for Mother's Day or grandma's birthday as it is always a sweet sentiment to acknowledge the life and love graciously given from the matriarchs in the family.
28 Heartwarming Family Quote Signs that will Cozy Up Your Home
There you have it! A complete collection of the family-inspired home designs that can be purchased or made in a creative DIY party setting on a laid-back weekend at home. Invite the girls or go it alone, as you bring your own vision into the realm of family quote sign design.
A black metal infinity symbol showcasing the love of family as the center of it all and the contrasting all-white signs offer the best of both worlds in terms of color and style. Together we have it all is one of the greatest ways to show your loved ones how much they matter to you.
Enter your southwest backyard with a fun, cactus adorned sign that shares the difference of a house and a home with all of your guests. It's also an exciting gift choice to present the newlywed couple with a custom sign paying homage to their special day. With their surname and date of wedded bliss elegantly scripted on a white sign, anyone would adore adding this sign into their humble abode.
One of the newer and on-trend concepts in handmade design is the laser cut application. The use of this tool creates a visually stimulating piece that projects an addition of depth and dimension which adds uniqueness to the overall look and feel of the sign.
Pairing the traditional and classic color combo of black and white is widely used and meshes with most decor. There is also coziness in the use of warm and rich brown tones in some of the pieces. The mix of wood on wood adds an interesting element of texture and is further embellished by contrasting the tones of the wood pieces.
Incorporating a family sign into your existing decor is a fresh way to update a space without breaking the bank or exhausting your already hard-to-find free time. Whether you wish to choose a laser cut motif, a metal piece of artwork, or a traditionally painted sign, you can't go wrong with any of the marvelous options above.
Choose Rustic Wall Decor Ideas to Make Your Home Warm and Inviting