Do you want to transform your bathroom into a rustic country paradise? This list of 36 gorgeous farmhouse bathroom design ideas can help. You will find everything from quaint decorations to storage solutions to aesthetic inspiration. Whether you love to DIY projects, want to buy everything new, or enjoy upcycling old items, you will find farmhouse bathroom decorations that fit your budget and style.
36 Ways to Create a Charming Farmhouse Bathroom

The farmhouse theme is actually ideal for people on a budget because it uses so many repurposed elements! These ideas use favorite farmhouse bathroom décor items like old wood, mason jars, galvanized metal, and concrete to give your space a cozy, homey feeling. Many of these designs are as pretty to look at as they are functional so it is like getting art and a storage system in one! Because most of these projects are DIY, they are totally customizable so you can give your bathroom a farmhouse feel regardless of its size or shape! From unique vanities to fun storage solutions, this list of farmhouse bathroom design inspiration has everything you need to take your space from boring to beautiful! Read on for tutorials, shopping lists, and more for each of these 36 awesome ideas.
1. DIY Concrete Farmhouse Bathroom Countertop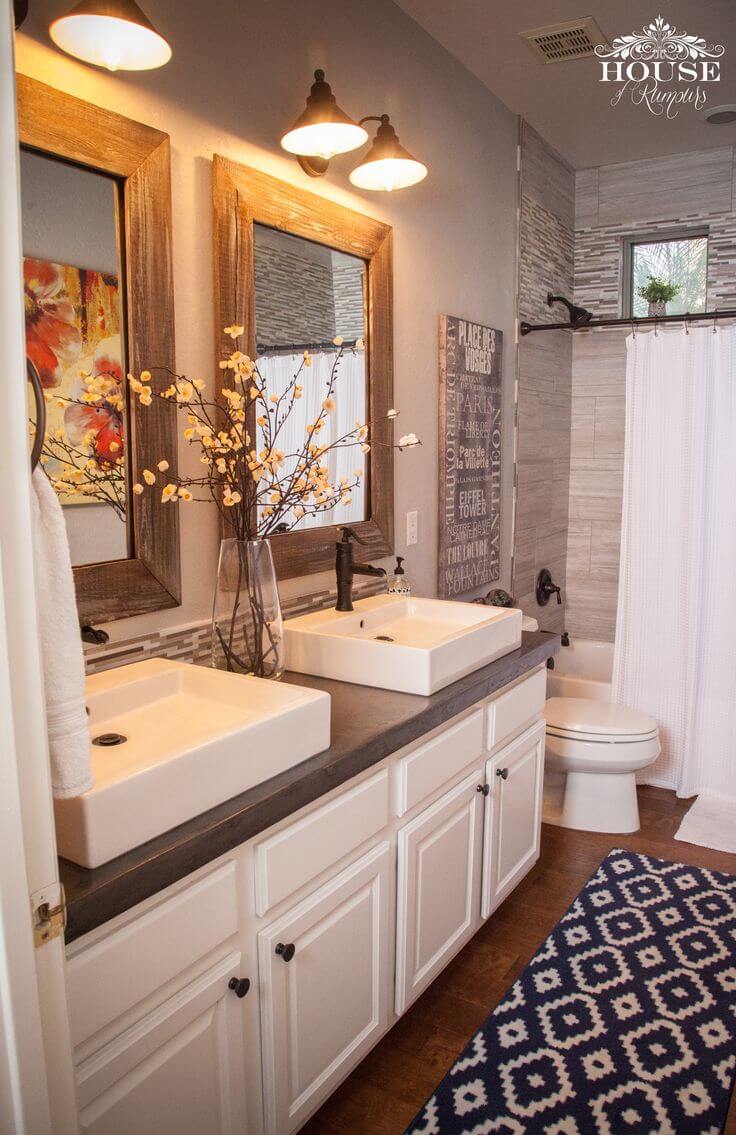 Sophisticated with rustic touches, this bathroom design won't go out of style anytime soon. The soft gray shower, clean white cabinets and square white sinks keep it bright and classic. Wooden framed mirrors and copper fixtures add warmth. The navy geometric rug is a fun accent!
2. Upcycled Window Frame Towel Rack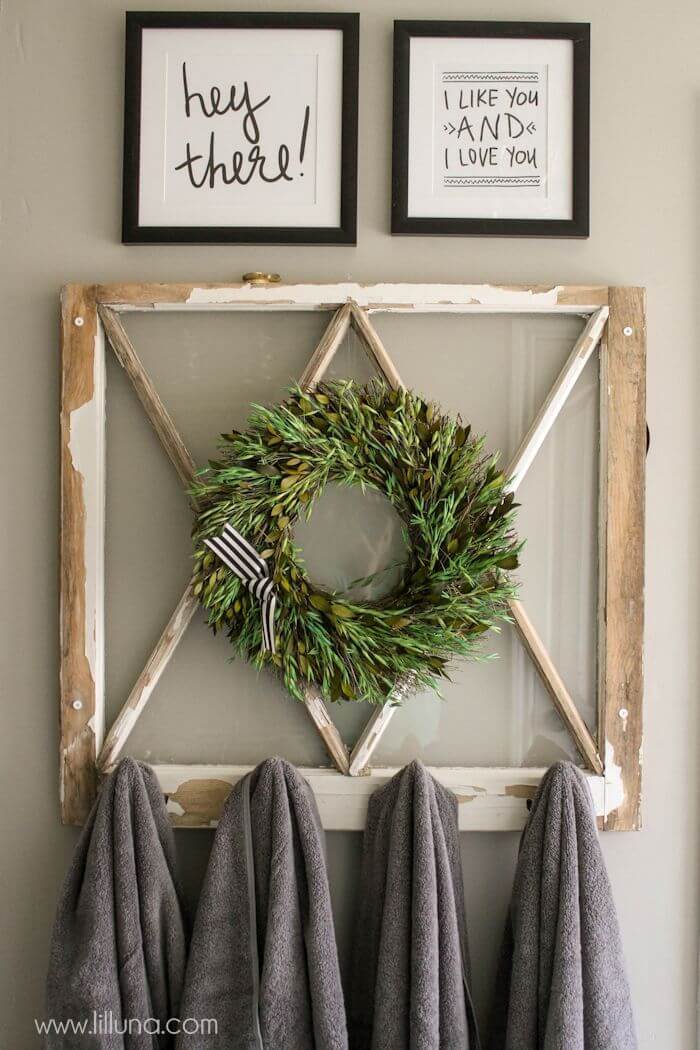 Upgrade your stick on bathroom hooks to this shabby chic accent piece. Both attractive and useful, it doubles as a towel holder and a beautiful wall decoration. The unique triangle design and boxwood wreath add visual interest.
3. Sliding Barn Door for Master Bathroom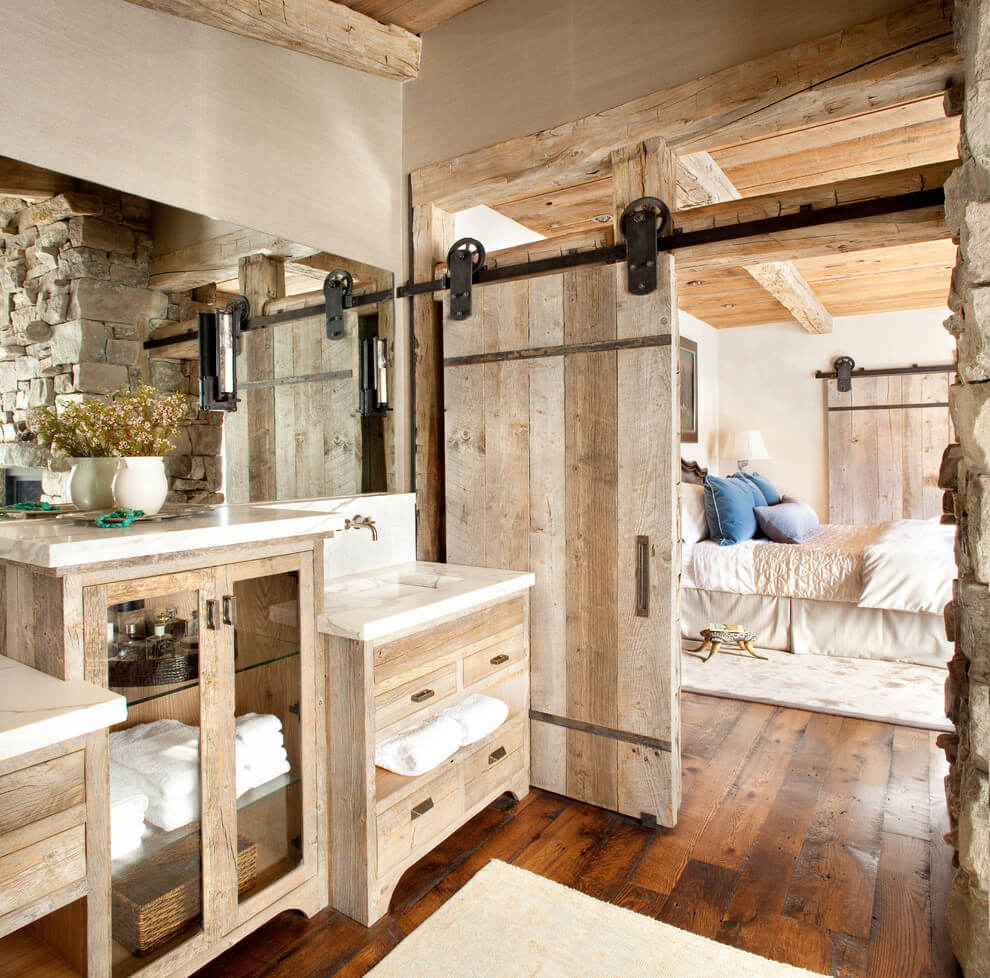 This bathroom takes the farmhouse look to a new level. There's nothing boring about the neutral colors with the different textures and colors of the stone, wood floors, and wooden beams. The sliding barn door is a stunning touch that pulls it together.
4. Flower Crate with Mason Jar Vases Decoration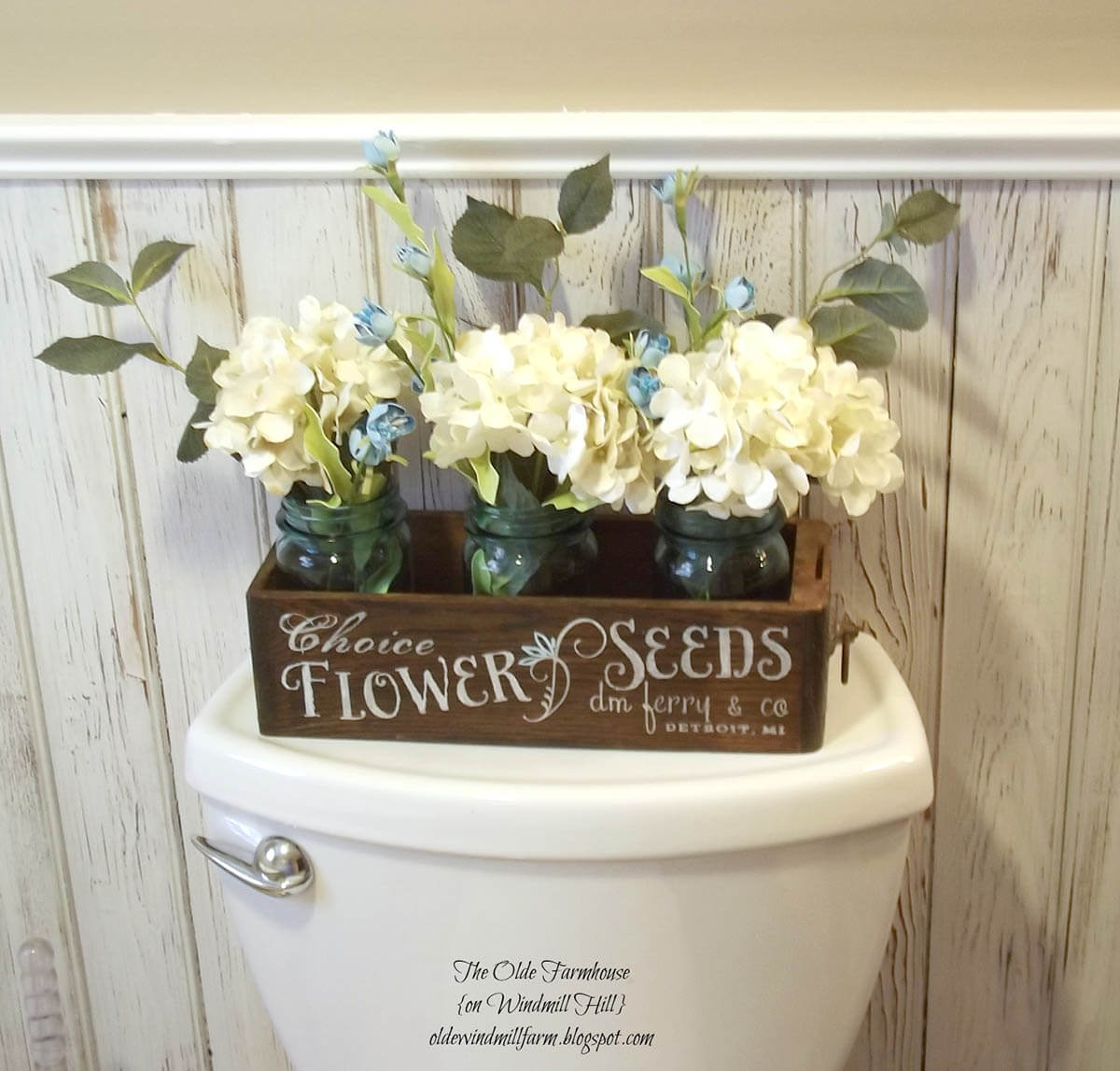 Here's a great way to decorate a necessary part of the bathroom – the toilet. This vintage style wooden crate filled with blue tinted mason jars and white hydrangea blossoms is a sweet way to spruce up the space.
5. DIY Rustic Wood Bathroom Vanity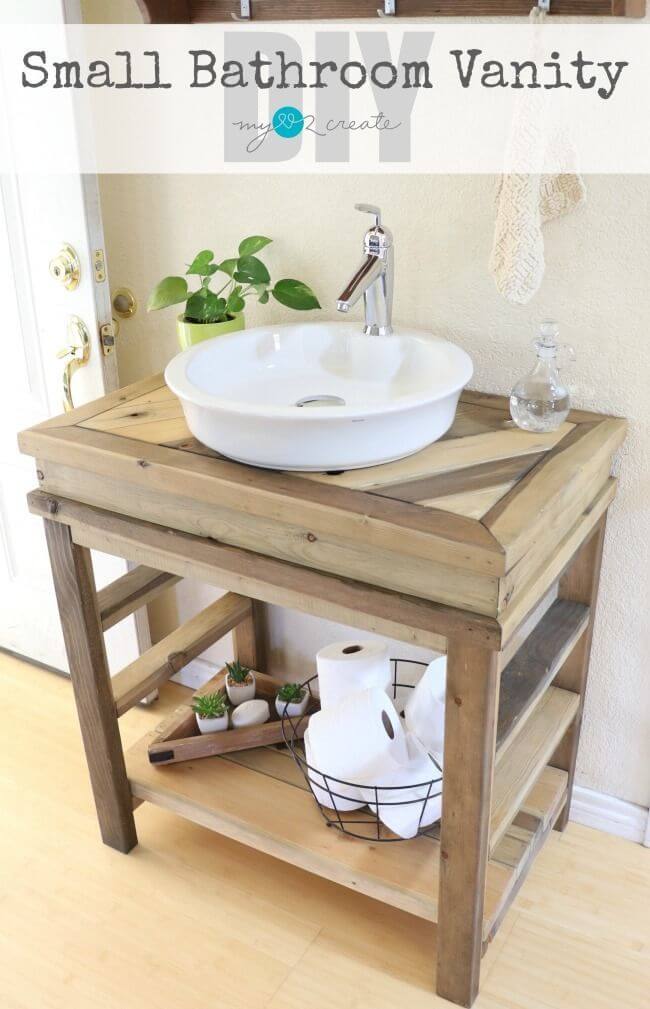 This bathroom vanity highlights the beauty of the minimally finished wood. The unique design, especially that gorgeous top, add visual interest. The clean white basin sink and pops of green complete the simple but detailed look.
6. Farmhouse Bathroom Design with Wood Accents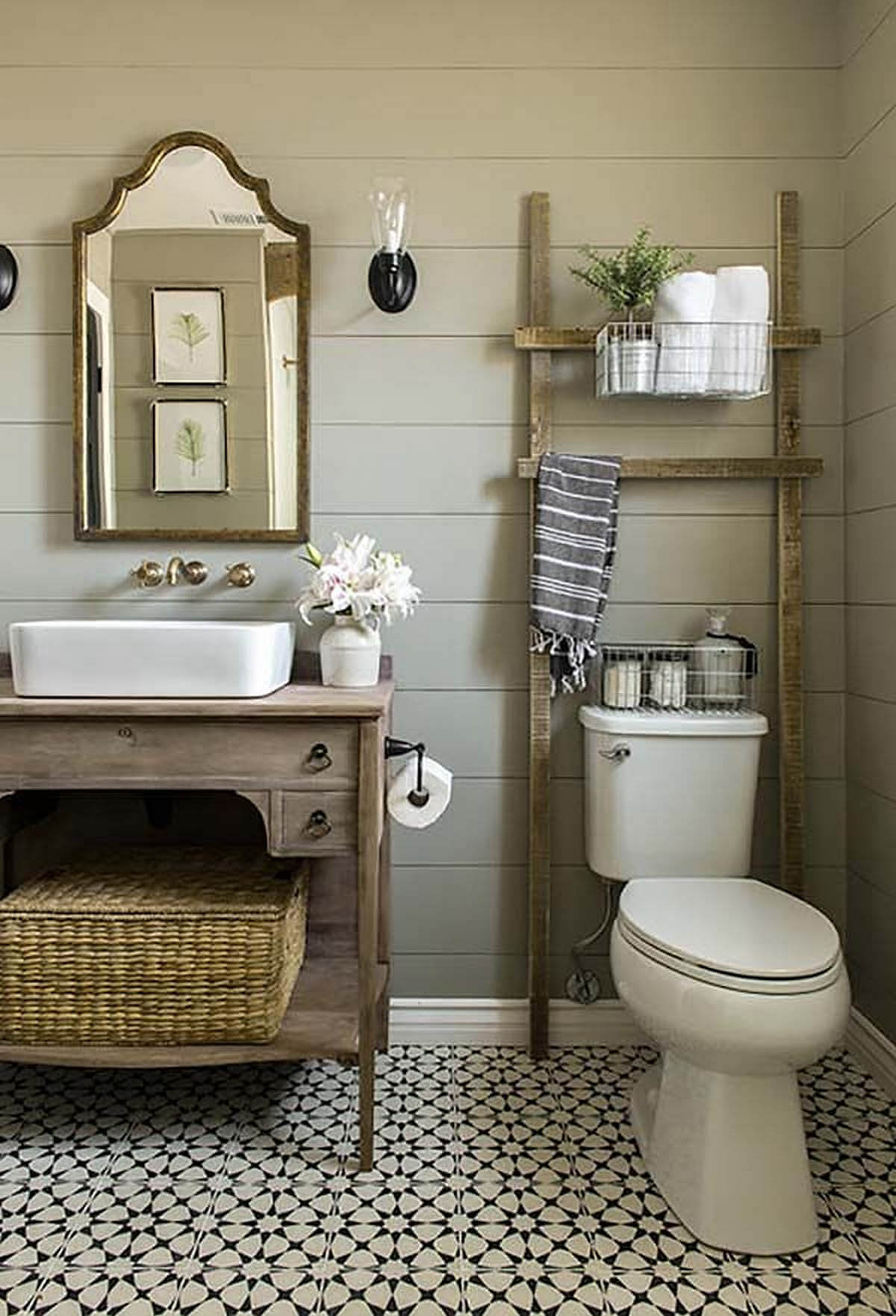 The details come together in this bathroom design that's full of character. The grey shiplap walls allow the beautiful black and white tiled floor to star. Mixed metals, antique inspired vanity, and a unique faucet add the perfect touches.
7. DIY Mason Jar Light Fixtures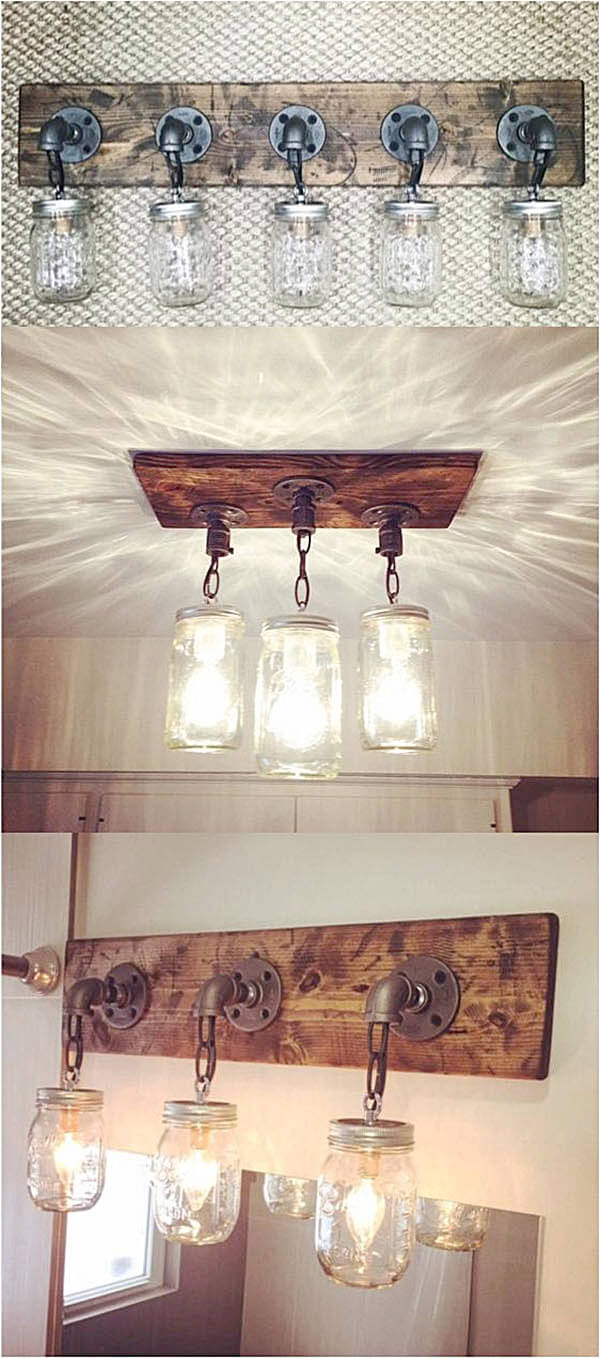 These mason jar light fixtures will be the talking piece of the room. Weathered wood and industrial pipes combine with the vintage jars to create a one-of-a-kind bathroom lighting.
8. Rustic Wood Beam Bathroom Shelves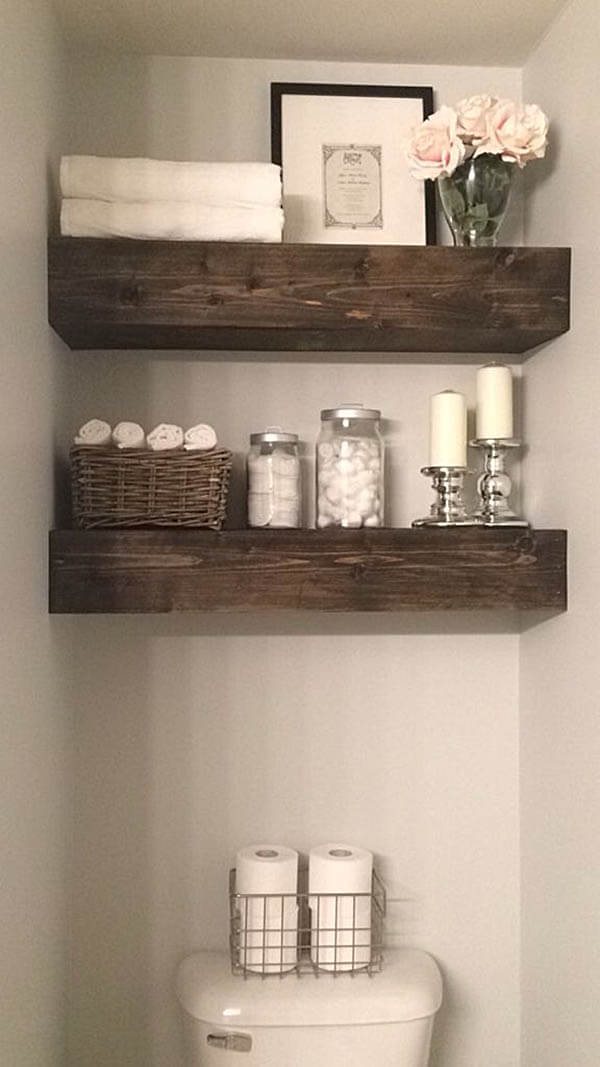 These chunky wood stained floating shelves are gorgeous yet practical. They add beauty and always in demand bathroom storage space. Towels and washcloths get to double duty as decor, along with the other pretty accents.
9. Wood Bucket Toilet Paper Holder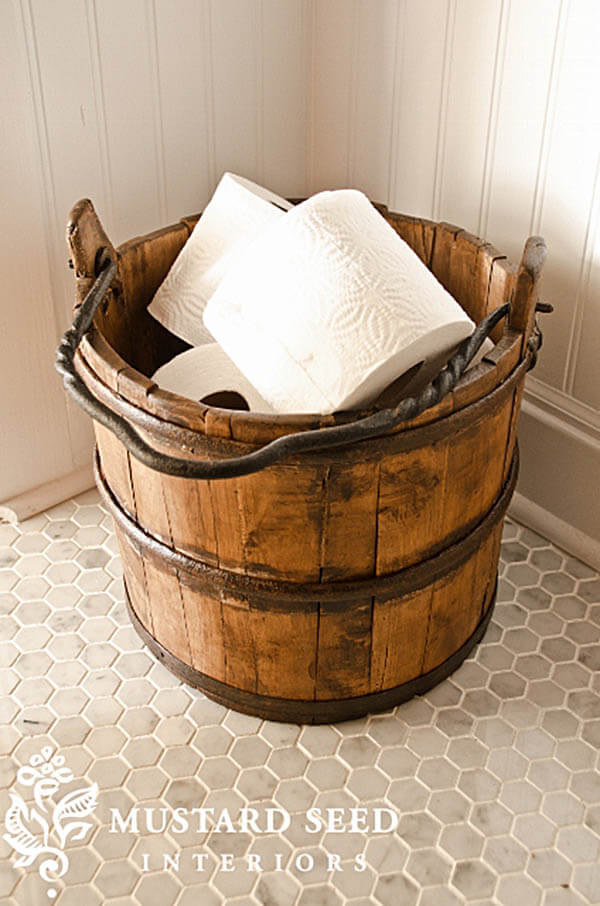 This farmhouse wood and metal barrel is the perfect storage spot for extra toilet paper or other bathroom accessories. It's convenient and beautiful at the same time.
10. DIY Farmhouse Bathroom "Flush" Sign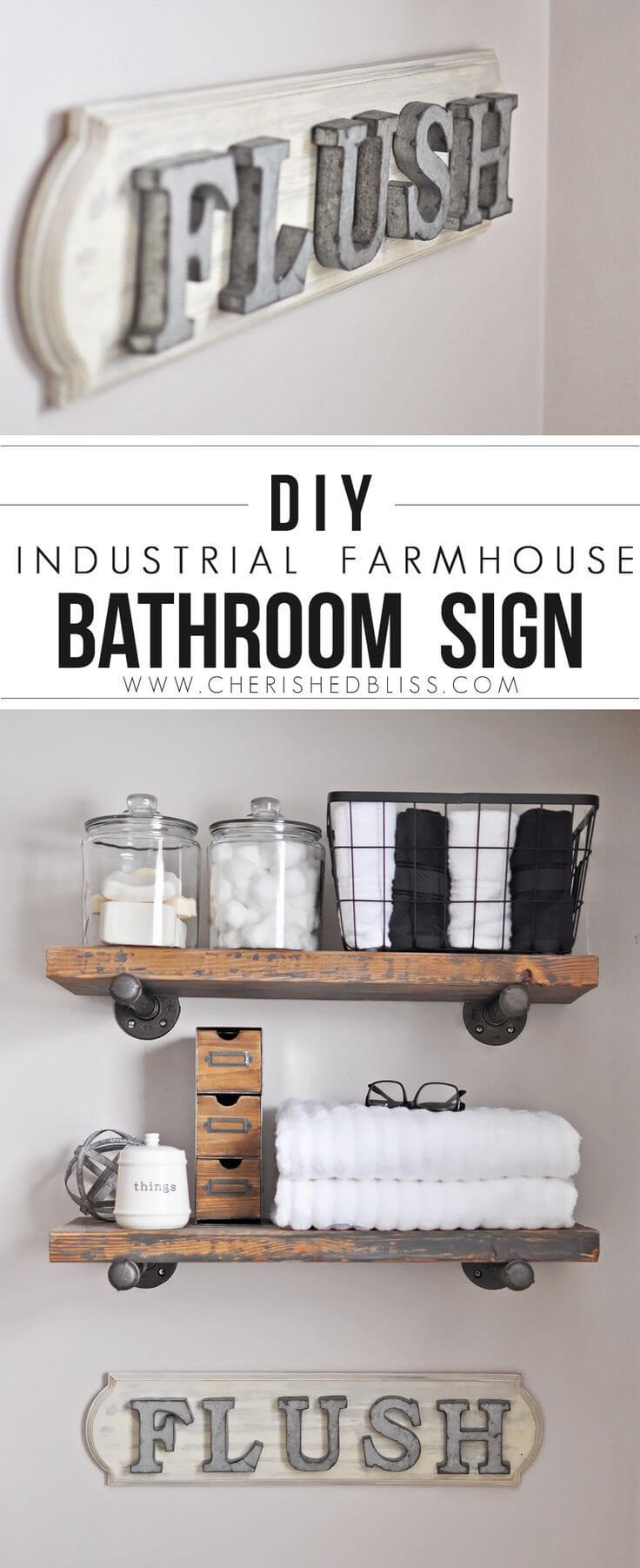 Industrial farmhouse floating shelves add unique storage space to the bathroom. The combination of reclaimed wood and pipes makes fluffy towels and clear glass jars really stand out as added decoration. The design is complete with a fun vintage inspired bathroom sign.
11. Antique Wood Ladder Towel Rack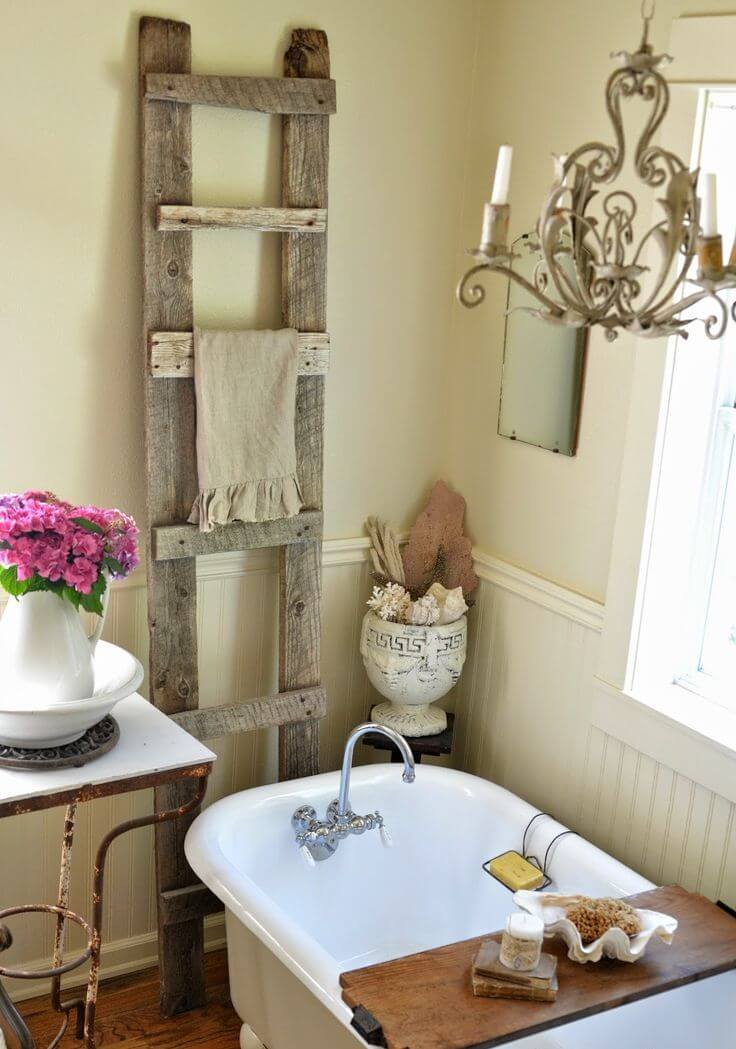 Escape reality for a while in your own bathroom retreat. The standalone tub and white wood paneled walls with a contrasting cream color create a simple and bright oasis. A wood ladder towel holder and floral candle lit chandelier add the vintage feel.
12. Barn Door Bathroom Cabinet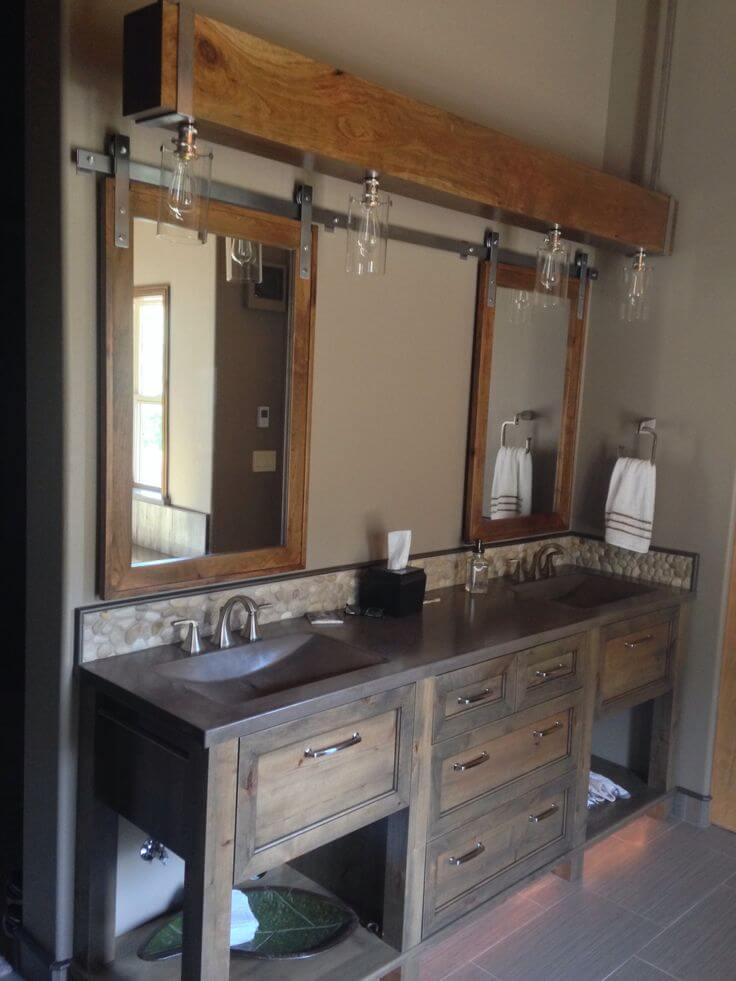 If you need to hide away bathroom supplies, this shabby-chic sliding barn door cabinet will do the trick. Cover up the less attractive items on one side and get creative with the exposed shelving and pretty accessories on the other.
13. Rustic Wood Bathroom Accent Wall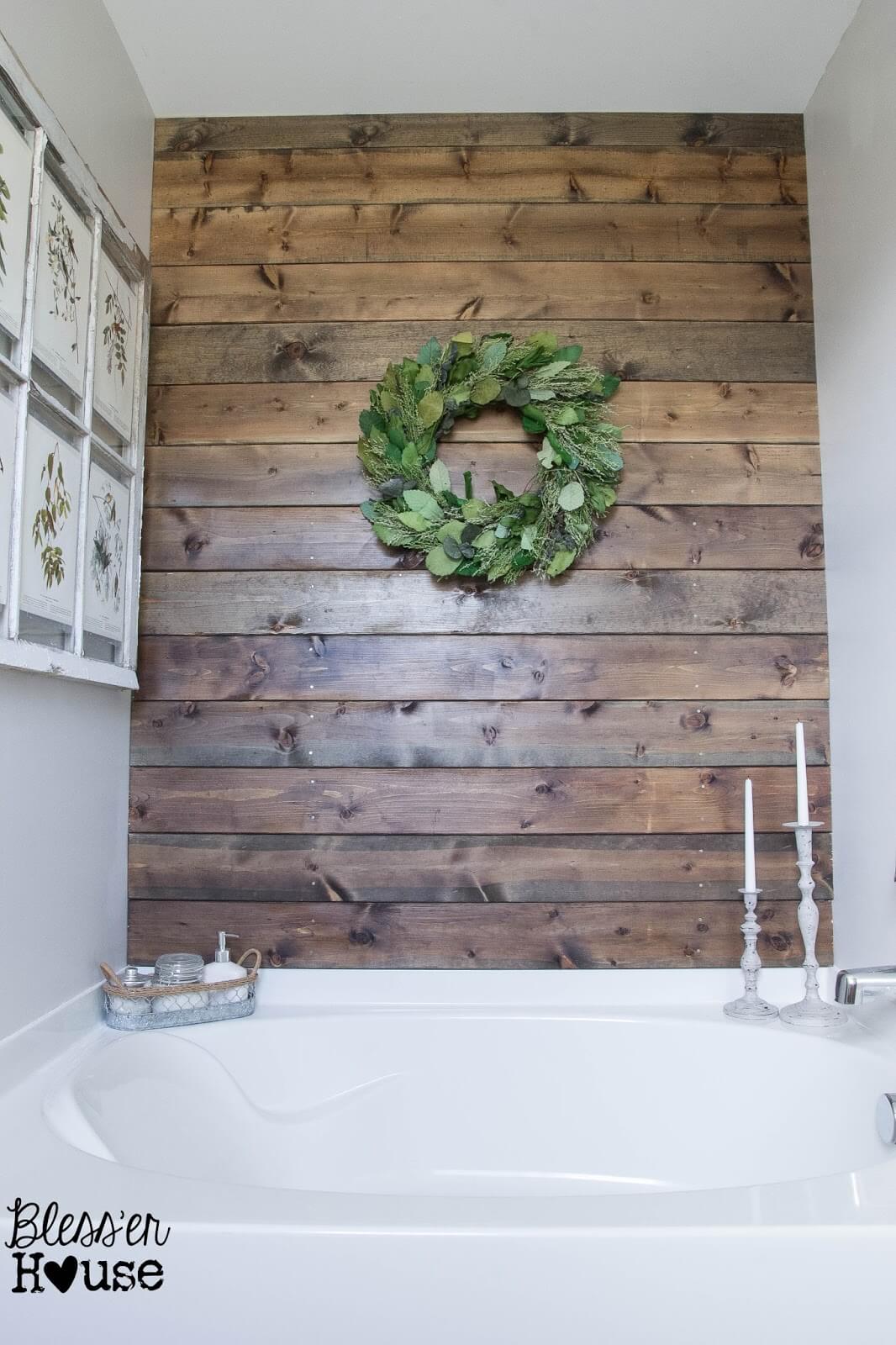 Even the bathroom can have statement walls. This beautiful stained wood panel wall creates a perfect backdrop for a bright white bathtub. A green boxwood wreath adds a pop of color for a simple bathroom oasis.
14. Wooden Above Toilet Shelf Organizer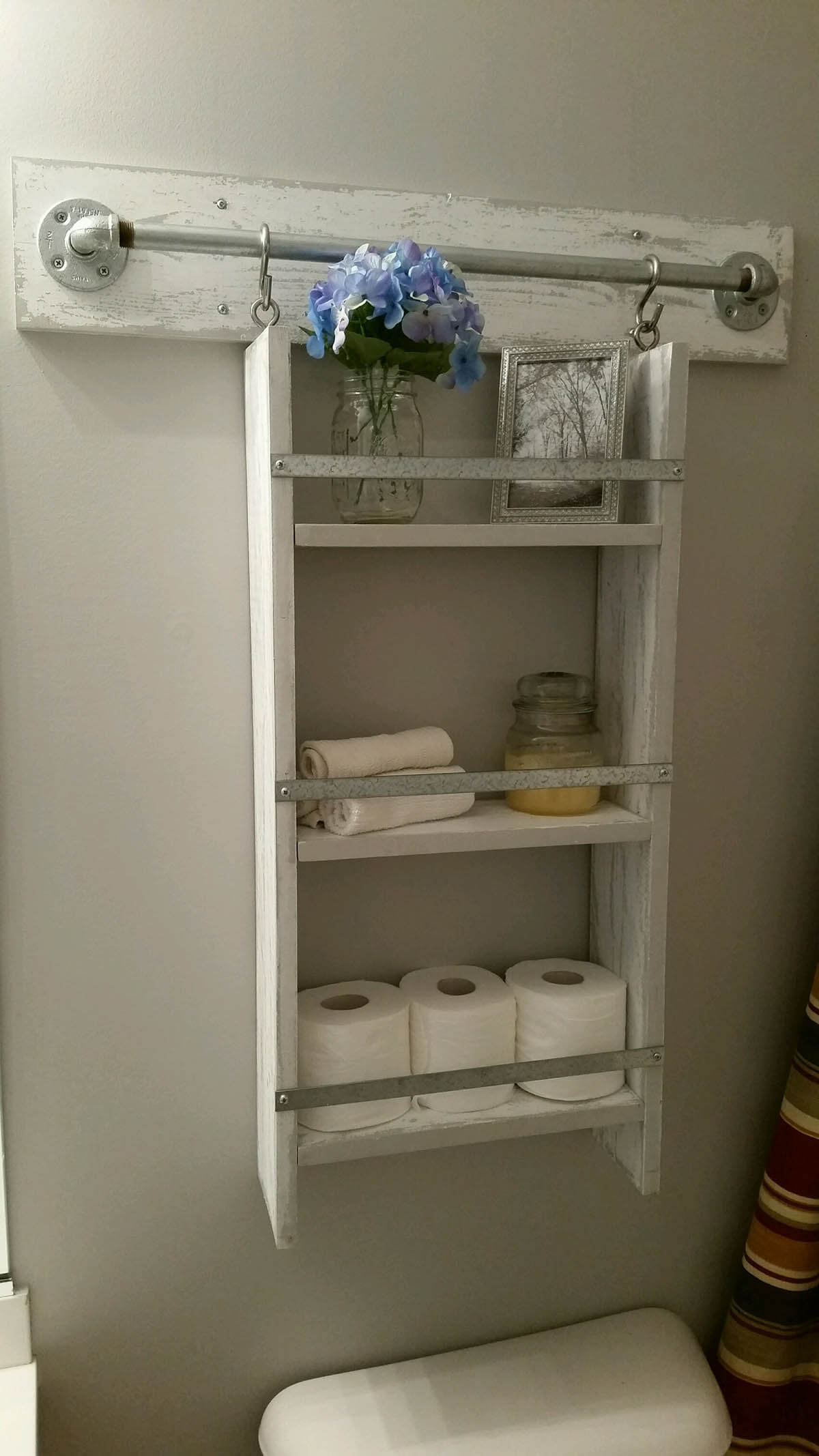 This one of a kind shelving unit hangs from a towel bar to provide storage for small items, candles, and other fun bathroom accessories. It can also be moved easily without damaging the wall.
15. Ladder Display and Bathroom Organizer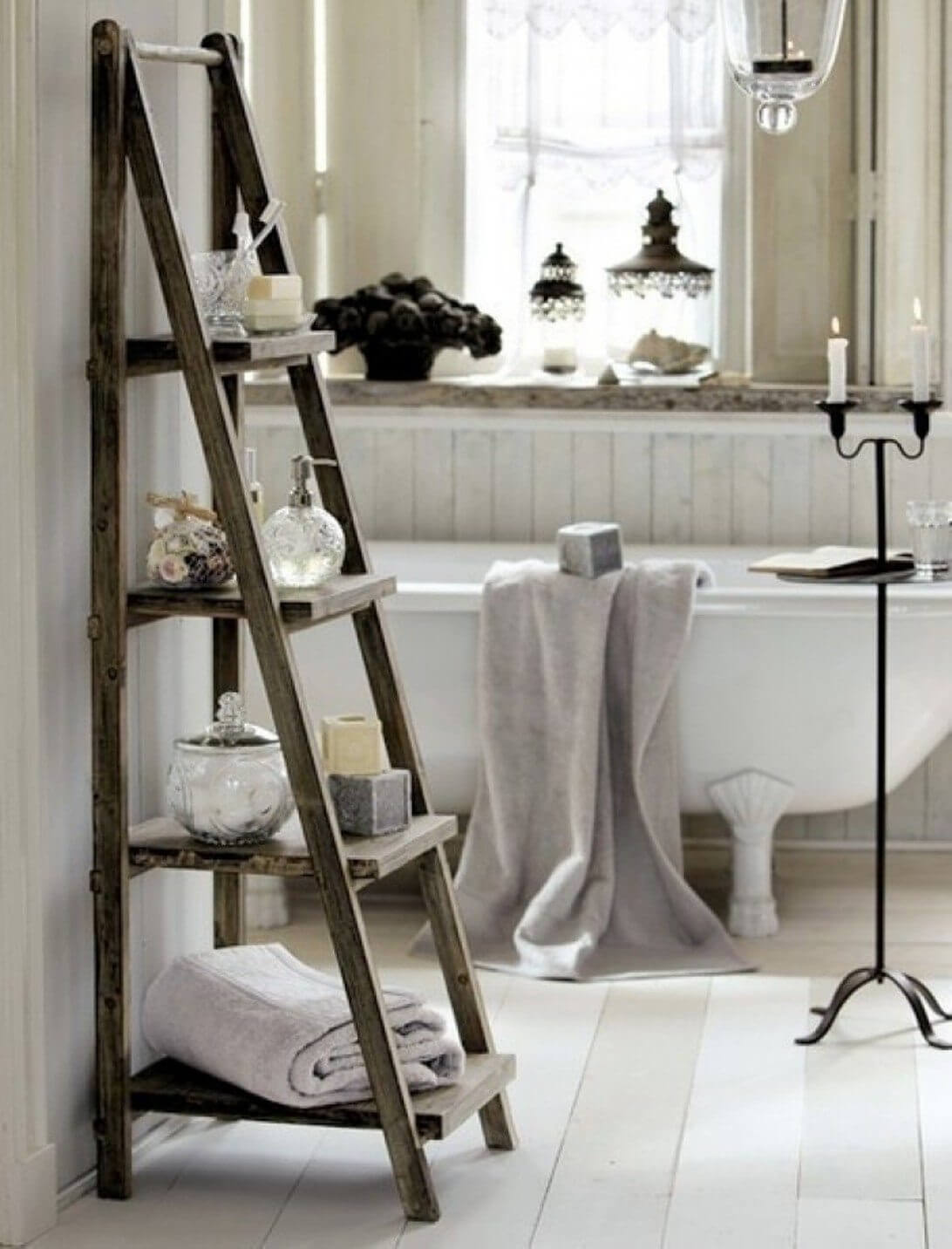 Rustic yet elegant, this is a bathroom you'll never leave. The gorgeous clawfoot tub was made for luxurious soaks with room for bathtime storage on the ladder shelving nearby. The various hues of white and standing candelabra finish the sophisticated design.
16. Galvanized Metal Tub Double Vanity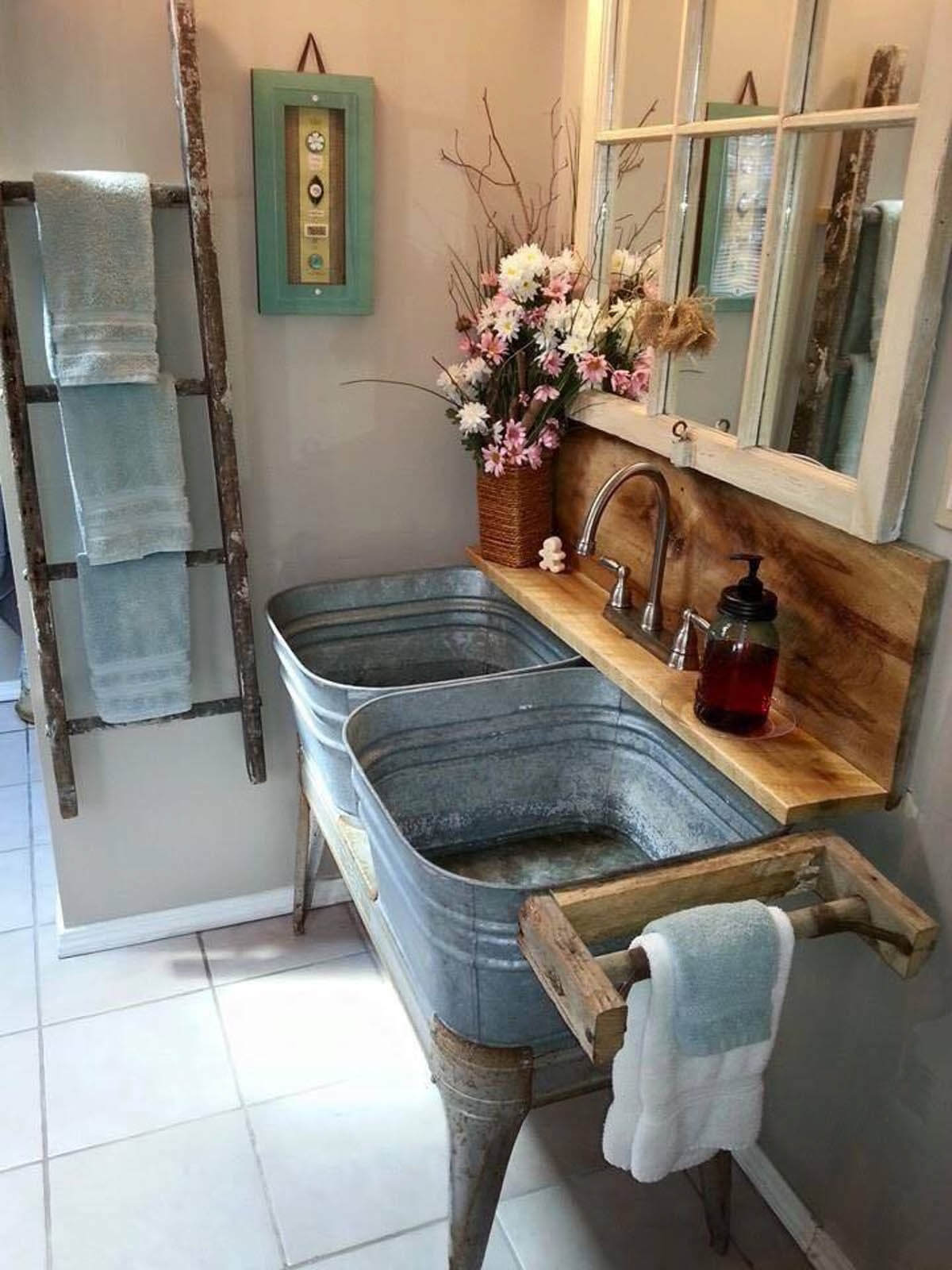 A double sink "vanity" with deep galvanized tubs is the dramatic focal point of this farmhouse inspired bathroom. A wooden shelf and wood ladder towel rack add to the farmhouse feel. The white window mirror contrasts the wood and metal tones.
17. Barn Board and Lace Bathtub Privacy Curtains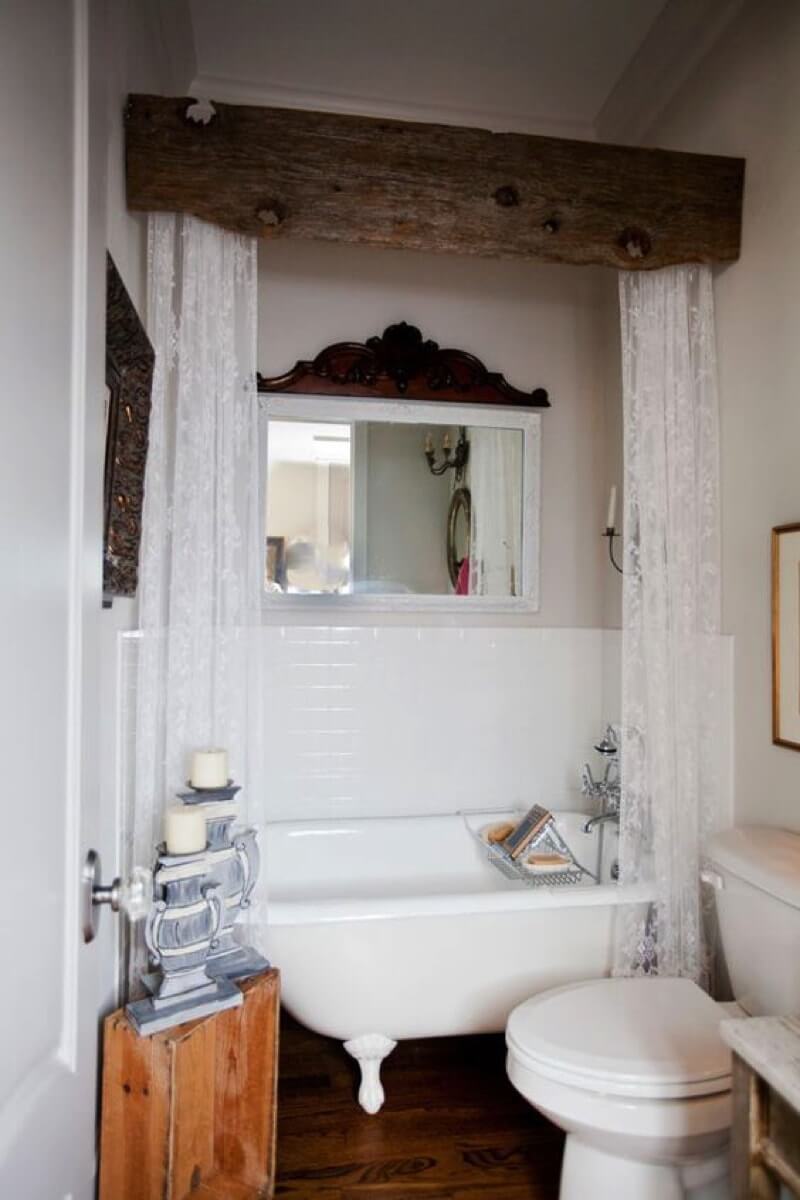 This bathroom design is sweet and bright. The white lacy shower curtain and white tiles contrast beautifully with the dark reclaimed wood beam and wooden floors. The rustic upturned crates make fun side tables for candles and storage.
18. DIY Farmhouse Vanity Light Fixture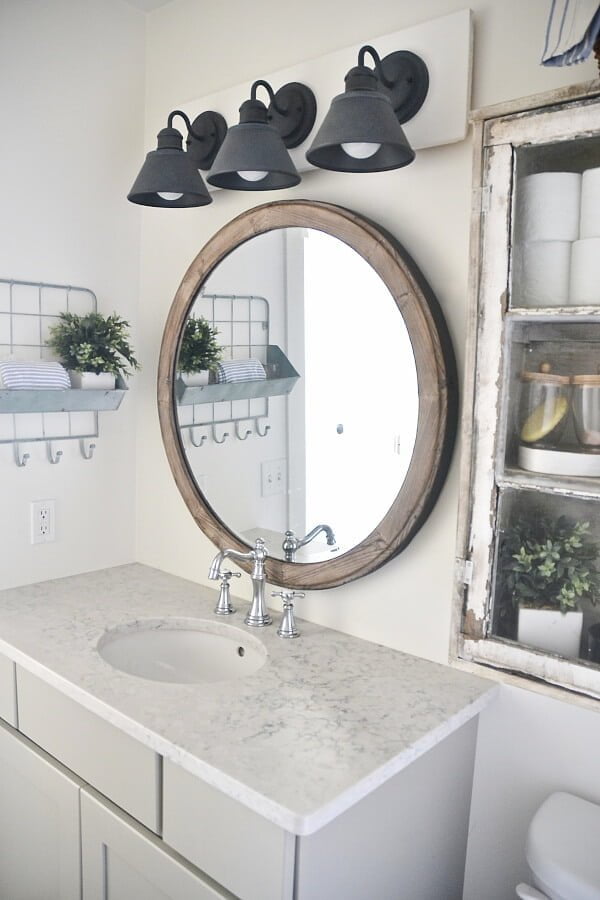 A huge wooden framed circular mirror is the centerpiece of this rustic yet modern bathroom. Black coned light fixtures highlight the mirror, while the simple vanity and sleek white marble countertop help balance the old and new.
19. Antique Wood Vanity and Towel Organizer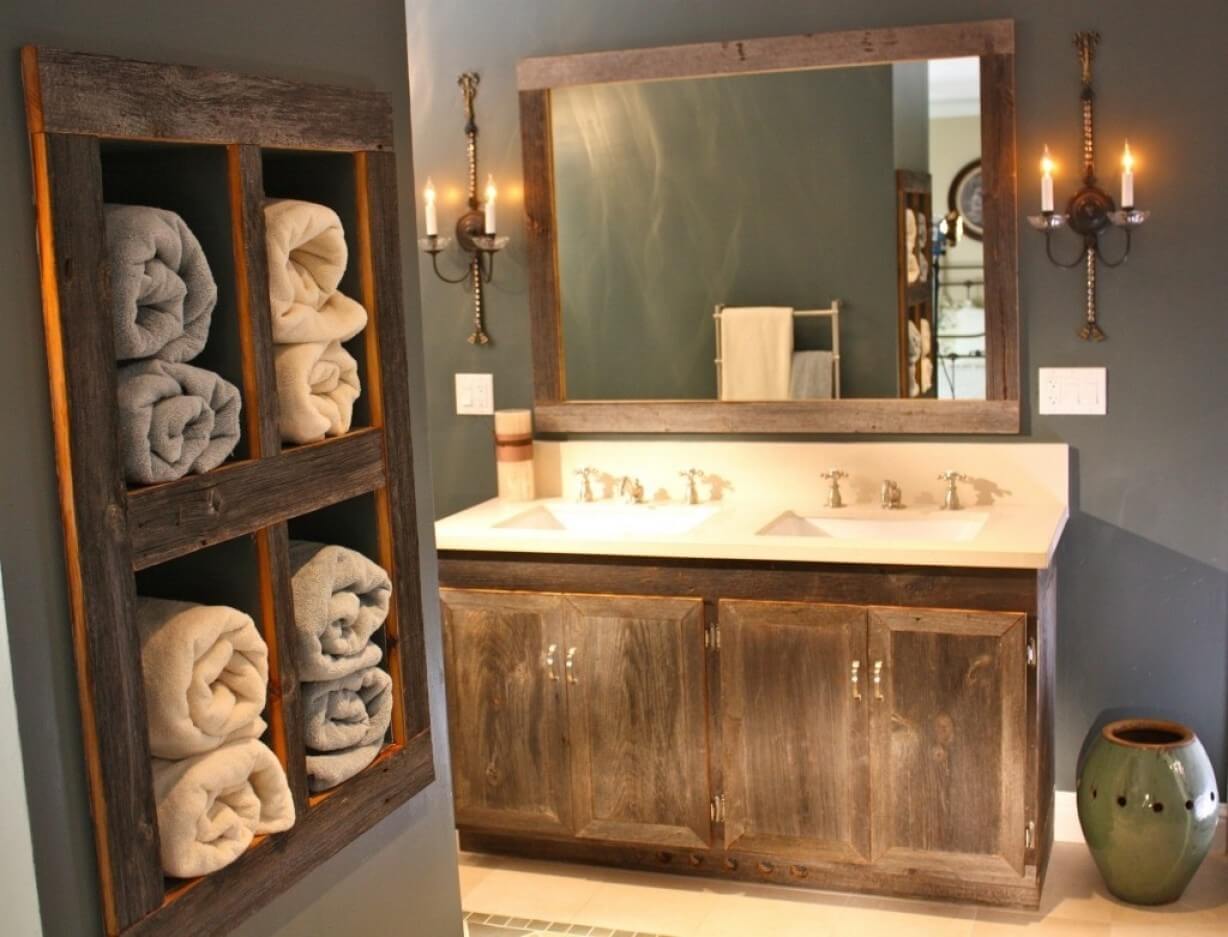 Muted gray walls and weathered wood elements make this bathroom design one that women will and love and men will feel comfortable in. The copper candle wall sconces lend a bit of elegance and brightness to the otherwise subdued ambiance.
20. Rustic DIY Bathroom Wall Shelf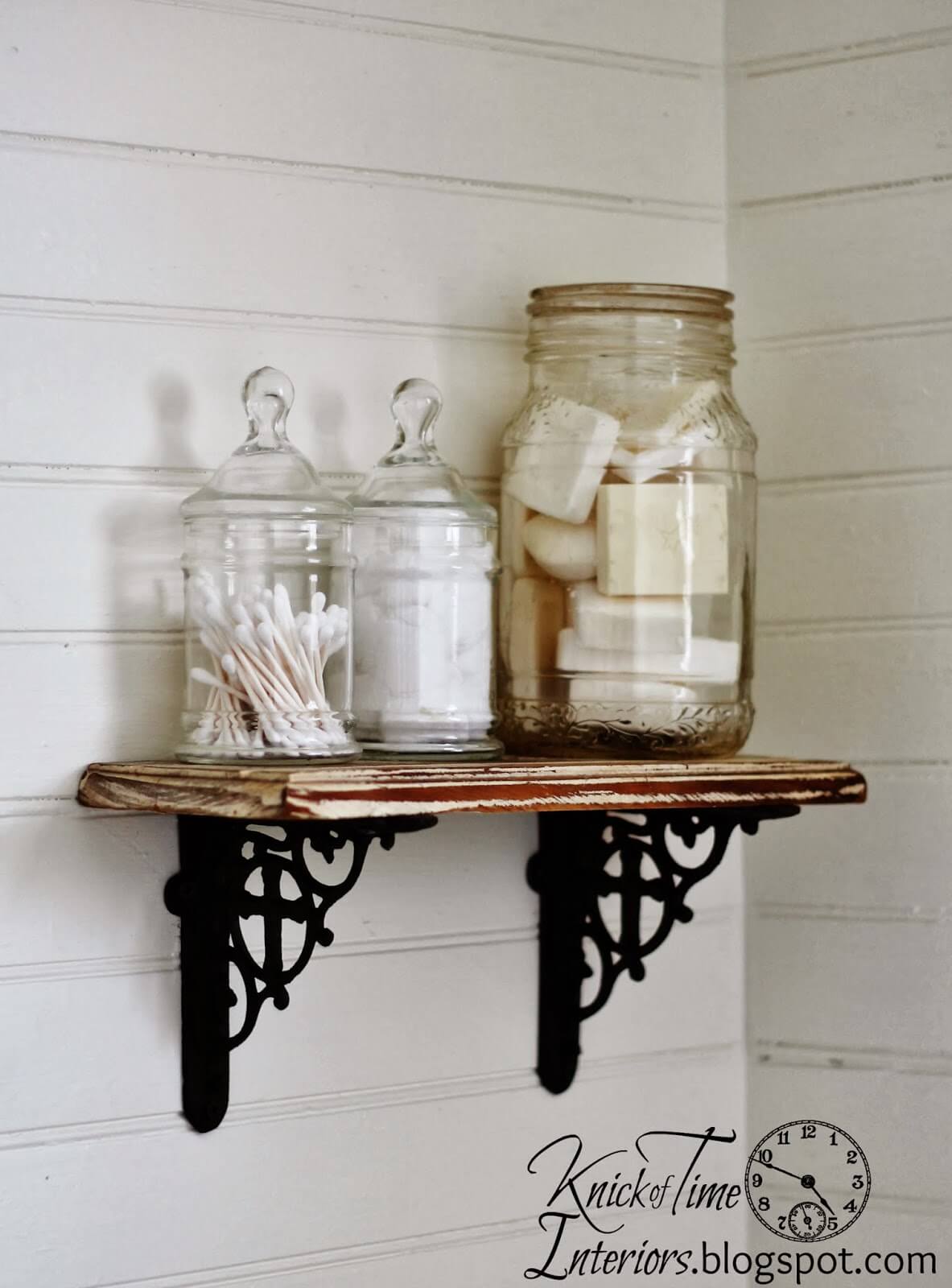 Distressed wood placed on top of intricate black iron brackets make for a special combination art piece and shelf. Functional and beautiful, the shelf provides great storage for useful but stylish bathroom accessories.
21. Rustic Sisal Farmhouse Bathroom Rug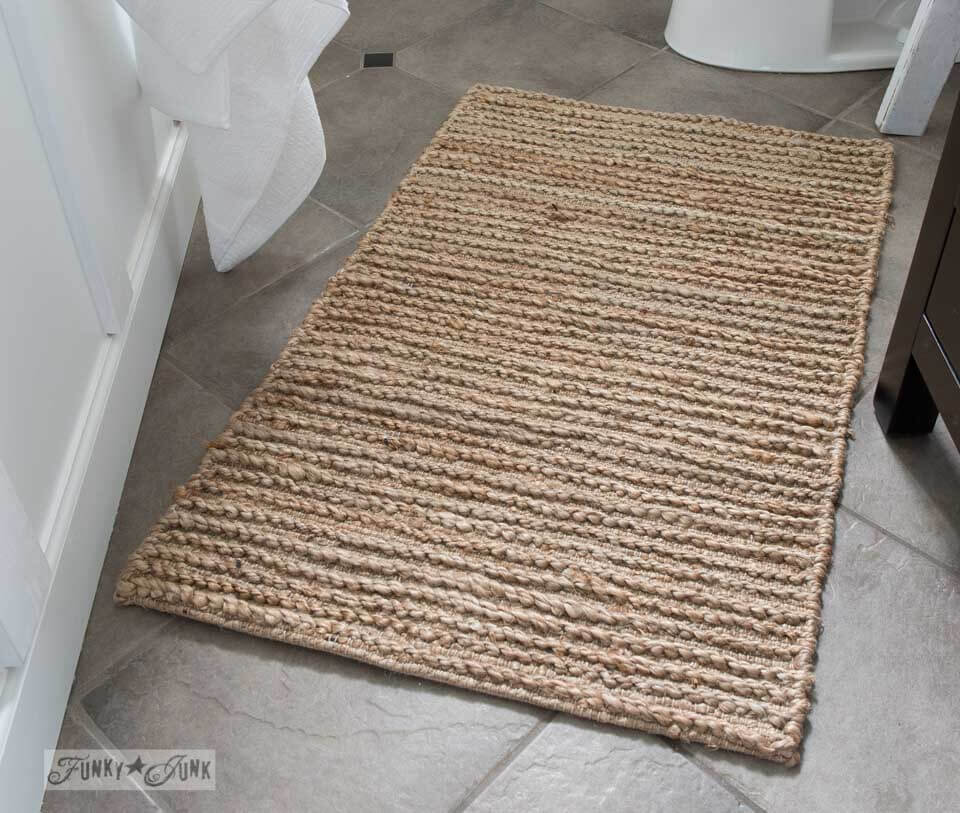 This braided rug is the perfect compliment to the bathroom floor. It's sturdy enough for family use, while pretty enough to be in a designer bathroom. The neutral tone will go with everything while the texture makes it stand out.
22. Bright Farmhouse Bathroom with Wood and Flowers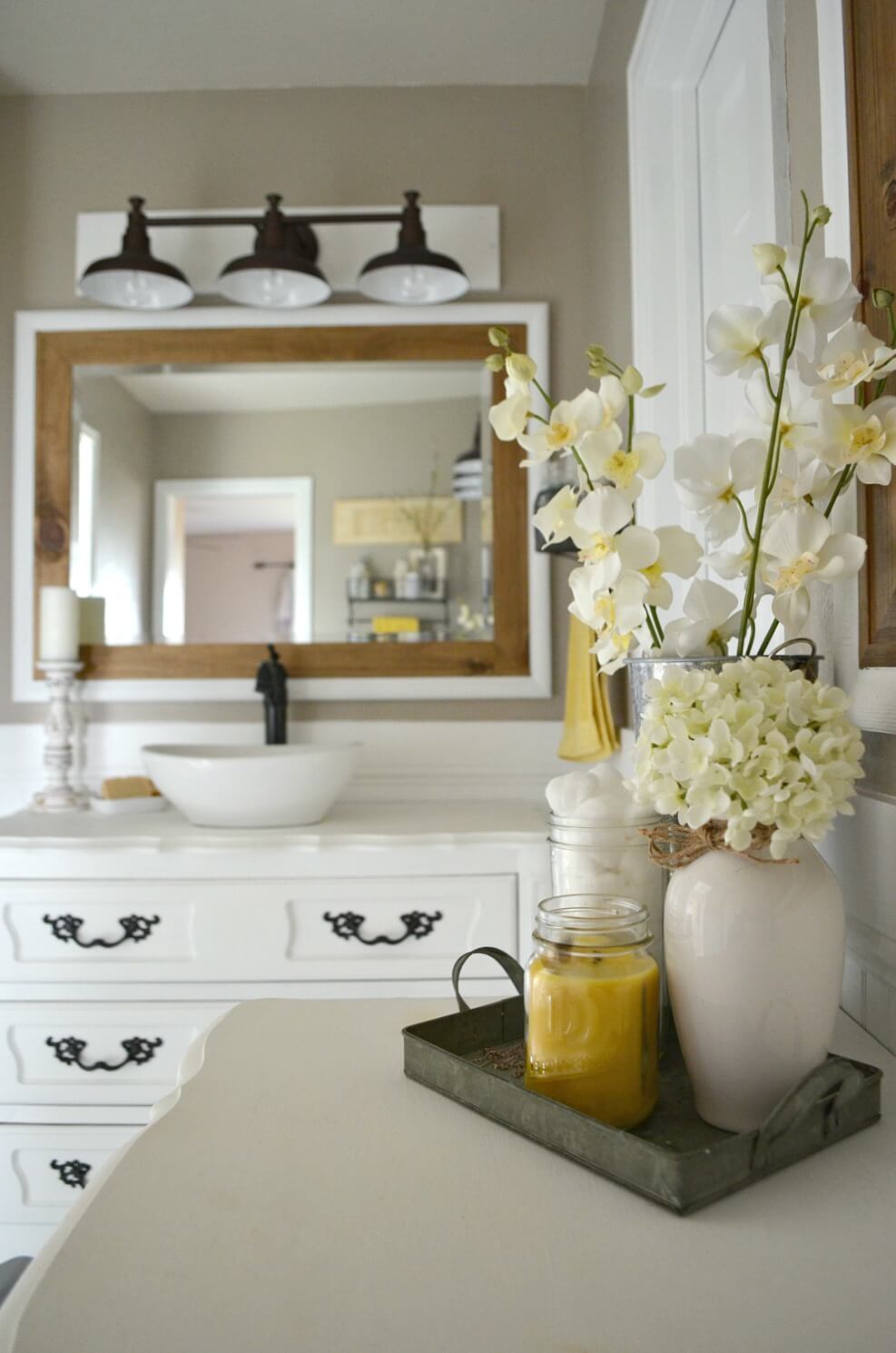 A white bureau style vanity and free standing bowl sink are the standout features in this bathroom design. The black iron faucet, light fixtures, and drawer pulls along with the cheerful hints of yellow contrast beautifully with the bright white room.
23. Vintage Hand Mirrors Wall Decoration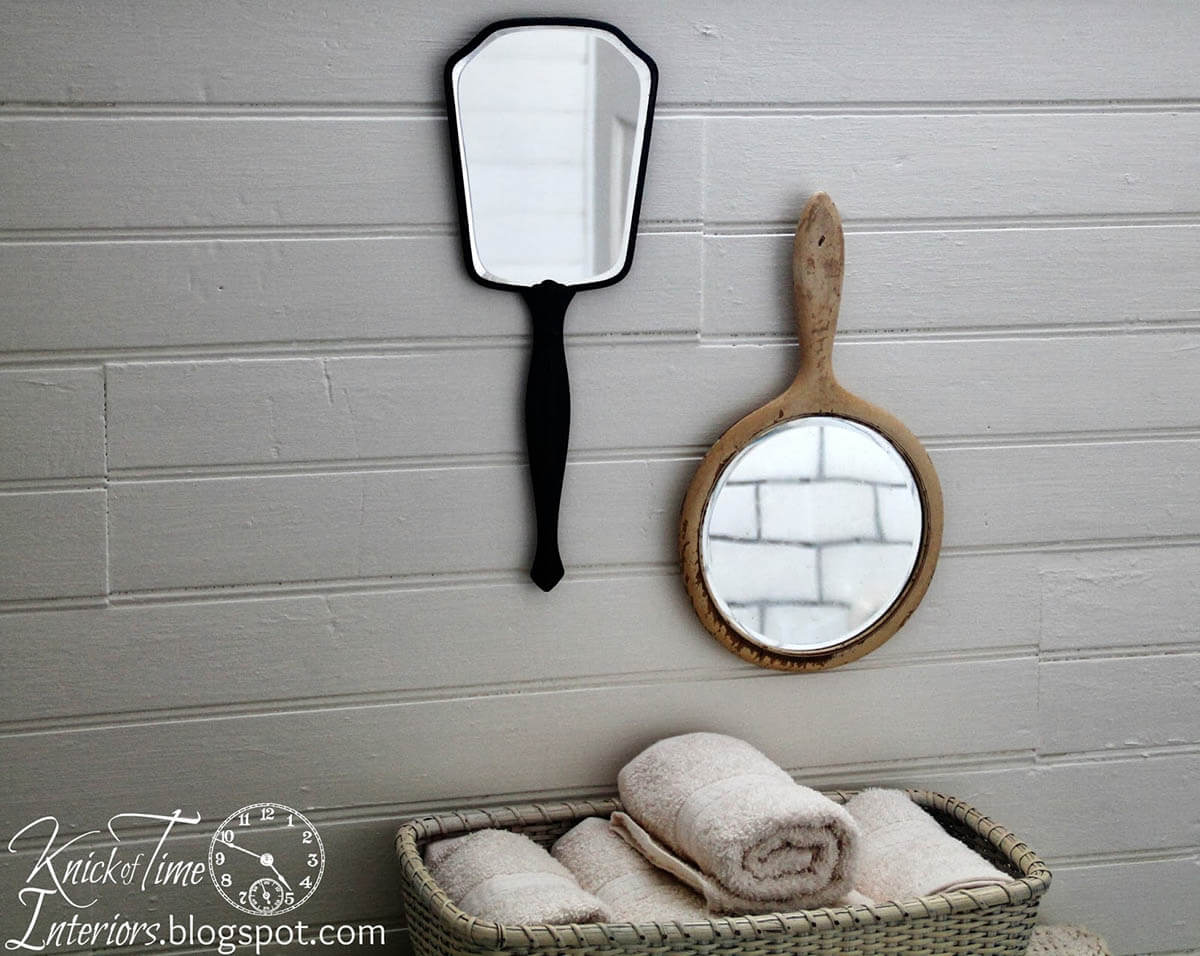 You can never have too many mirrors. Even small ones like these two add light and depth to a room. The mismatched and unique shapes add a bit of vintage fun.
24. Farmhouse Bathroom Décor with Elevated Bathtub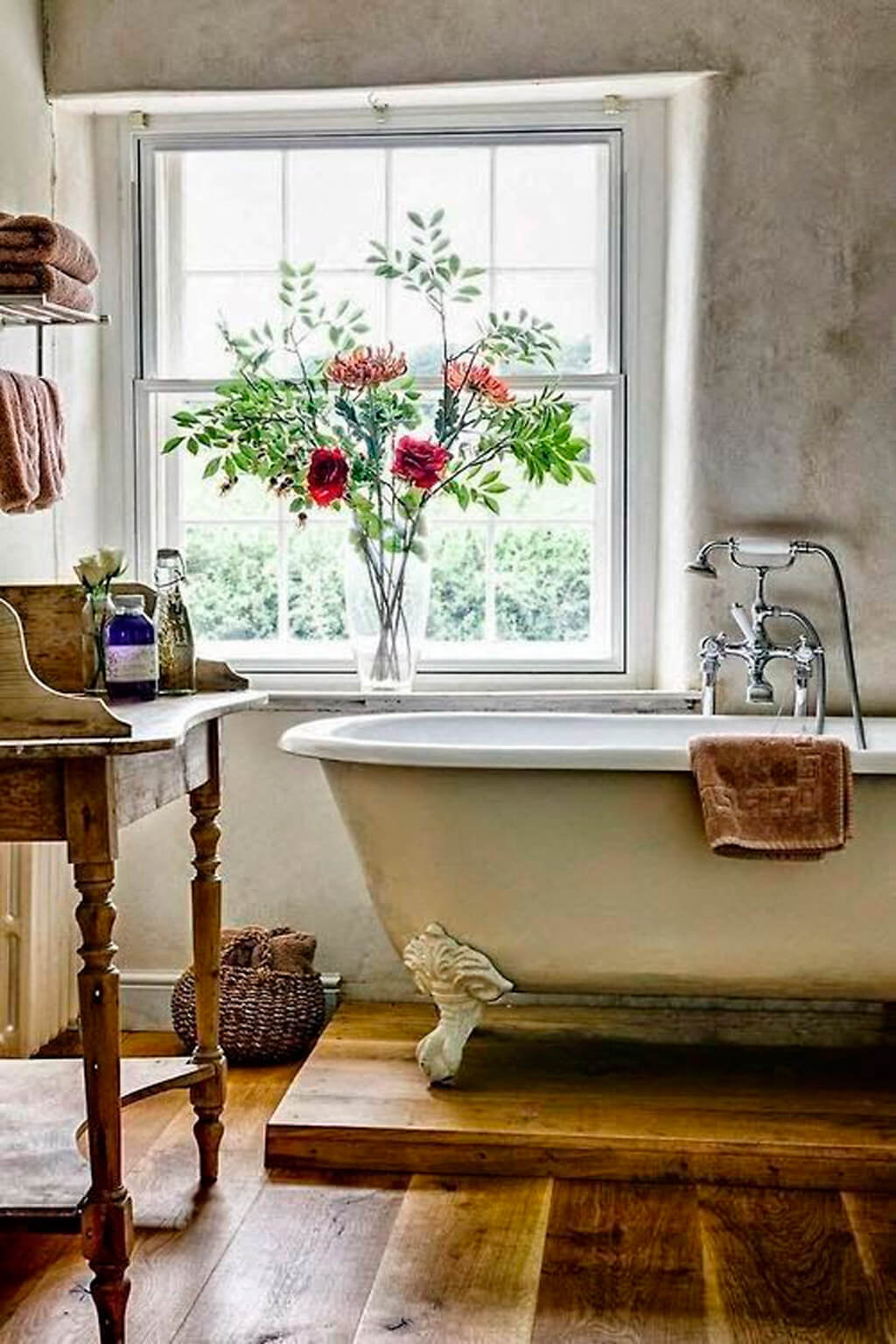 This bathroom is cozy and inviting with warm wood tones and soft neutral patterned walls. Amber colored towels and a large but simple flower arrangement make it feel like home.
25. DIY Wood Towel Rack and Organizer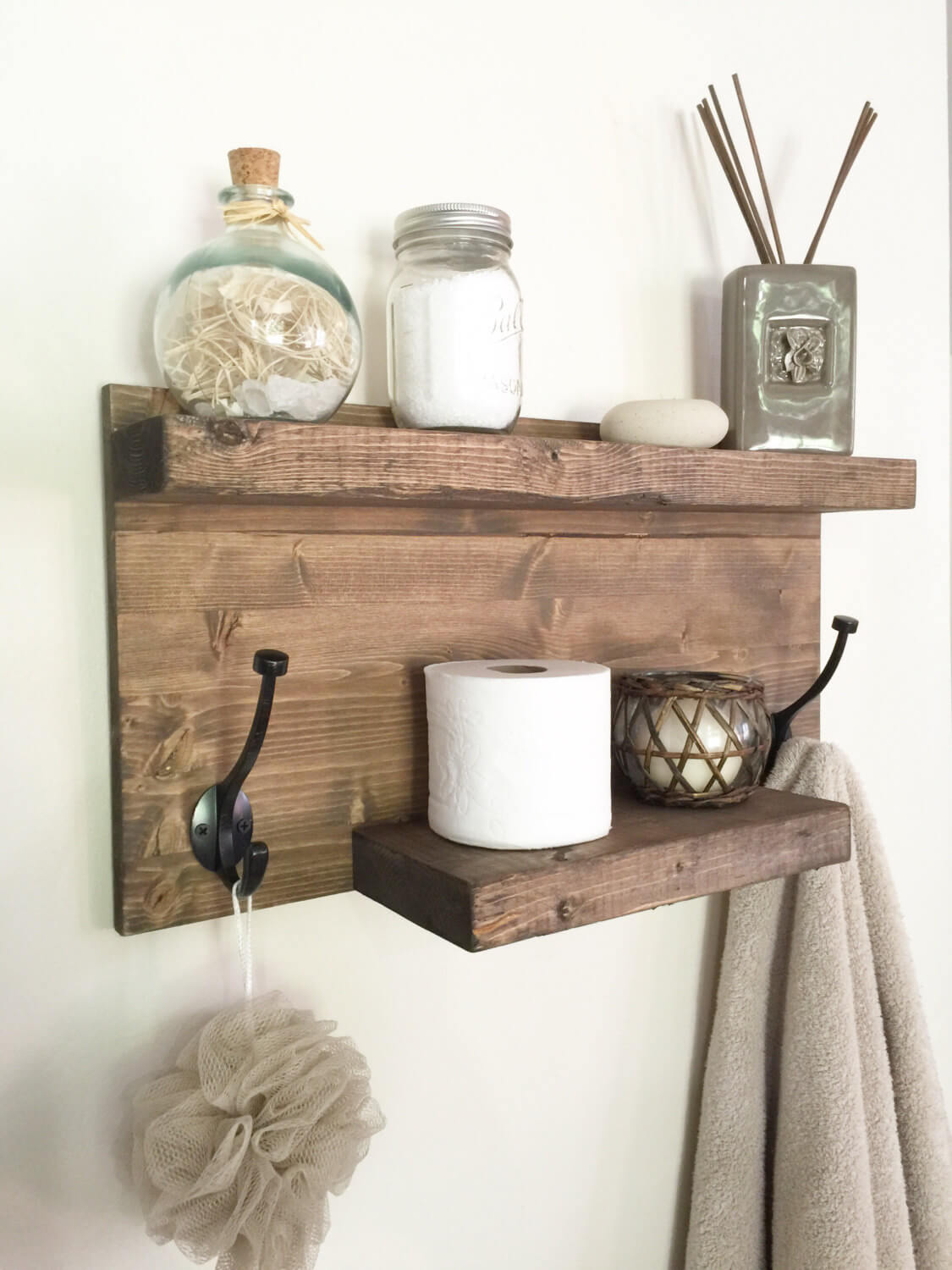 You can never have enough shelves, but don't settle for boring ones. With dark grain wood and two double hooks,this two level shelf and hook combo is a simple but eye-catching architectural statement.
26. Antique Boot Stand Toilet Paper Holder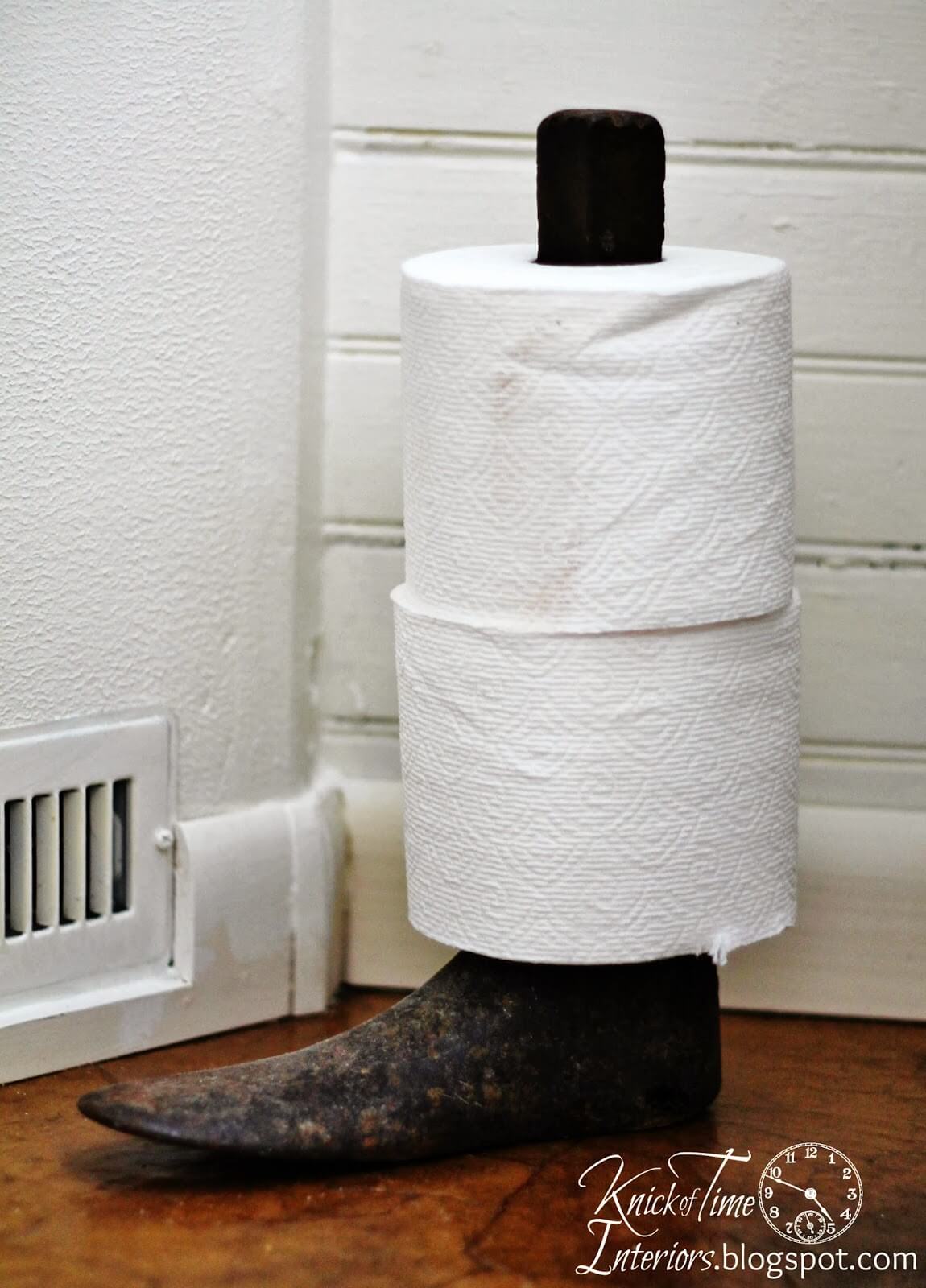 Even toilet paper holders can serve as decor pieces. Instead of hiding extra toilet paper in the cabinet, this rusted iron boot is a unique piece to complement the farmhouse style.
27. Wood and Wicker Bathroom Organizing System
Floating exposed shelving is a trend that's here to stay. These dark stained shelves are styled beautifully with wicker and metal baskets while scattered pops of white and greenery give life and brightness.
28. Easy DIY Jewelry Organizing Tree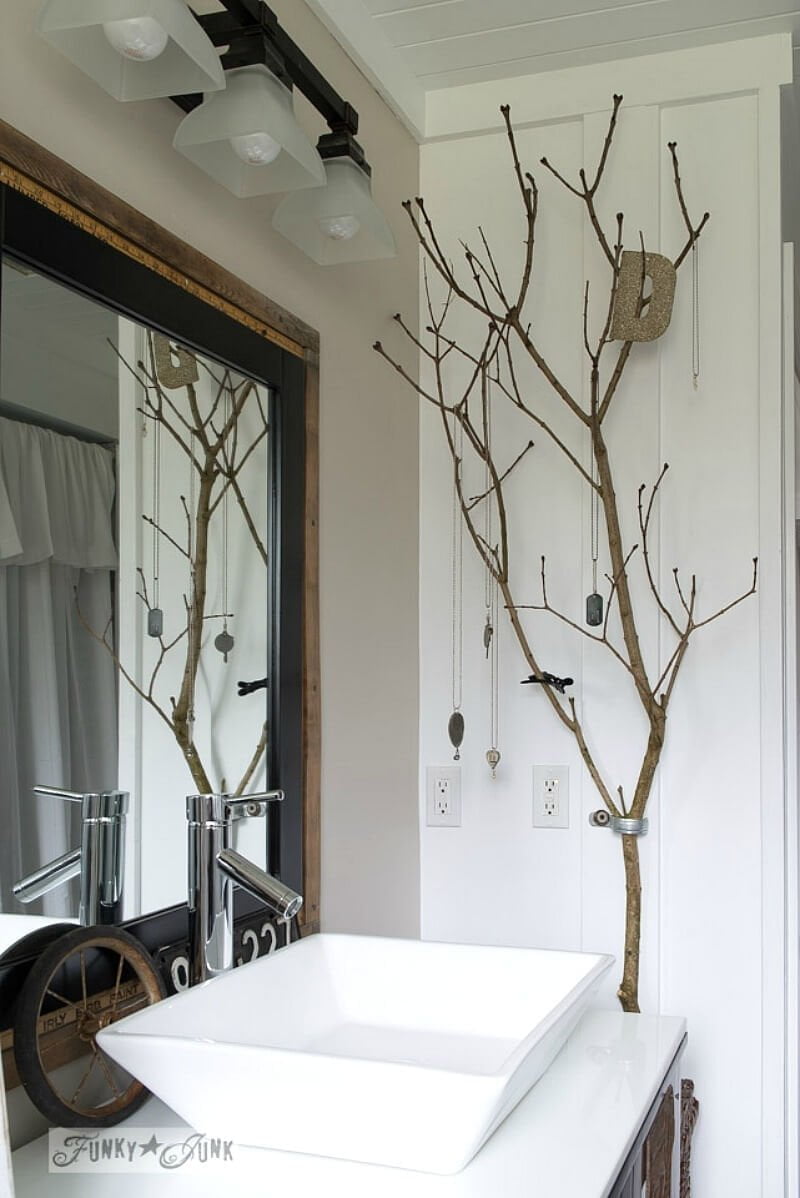 This bathroom design brings the outdoors in. The bare tree branch serves a double purpose as a key visual element and necklace holder. The rest of the room is clean and simple, with the unpainted wood framed mirror and black light fixture.
29. Tiered Metal Basket Bathroom Organizer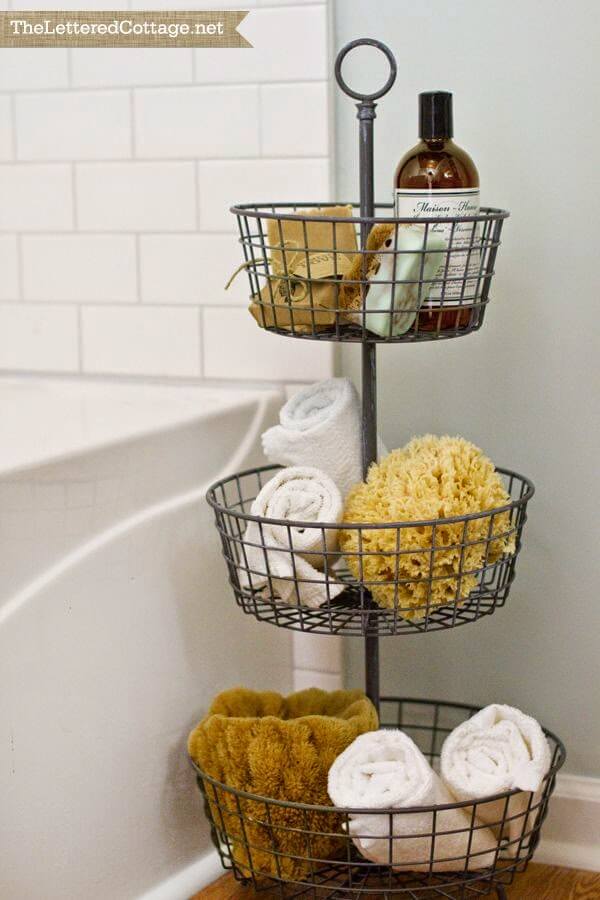 Normally you see these 3-tiered baskets in the kitchen for produce, but it makes a beautiful storage option for the bathroom. Natural sponges, washcloths, and soap make for a very useful decoration.
30. Wood Farmhouse Vanity with Aged Bronze Fixtures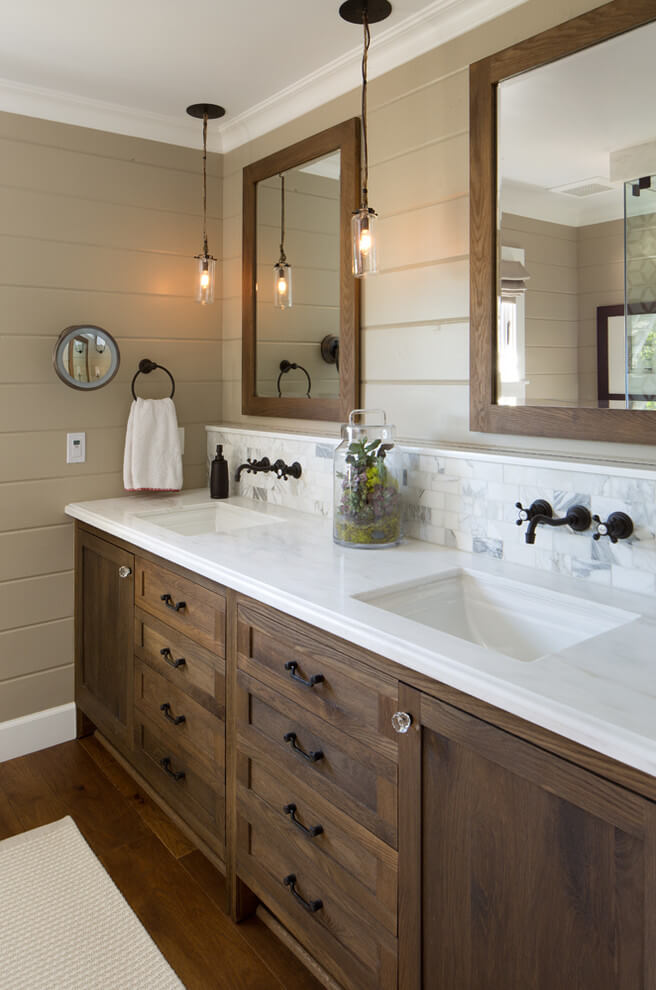 This spacious bathroom design provides an elegant place to hide away all those toiletries and hair tools. There's more than enough room for two at the deep double white marble sinks. The playful neutral patterned tile contrasts nicely with the sophisticated room.
31. DIY Galvanized Metal Tub Farmhouse Sink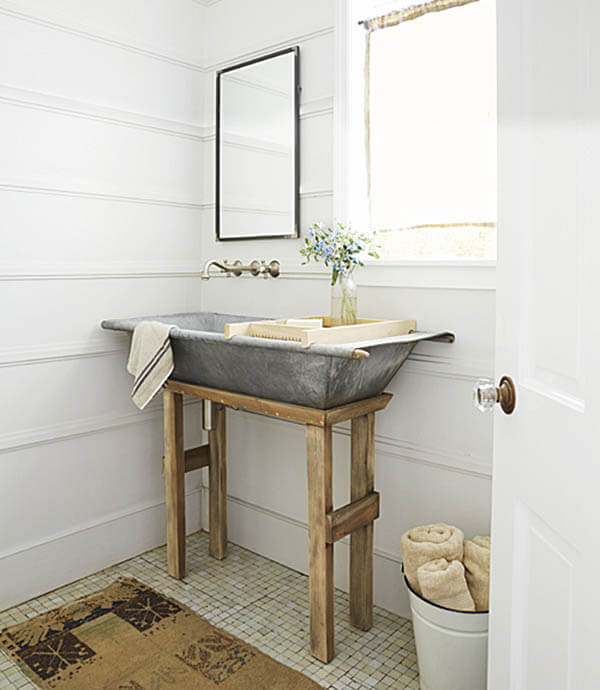 Horizontal board and batten walls make a statement in this simple bathroom. The modest natural wood vanity lets the metal sink shine as a another feature piece. A neutral tile floor complements the unique elements of this design.
32. Tiered Wooden Box Bathroom Storage Idea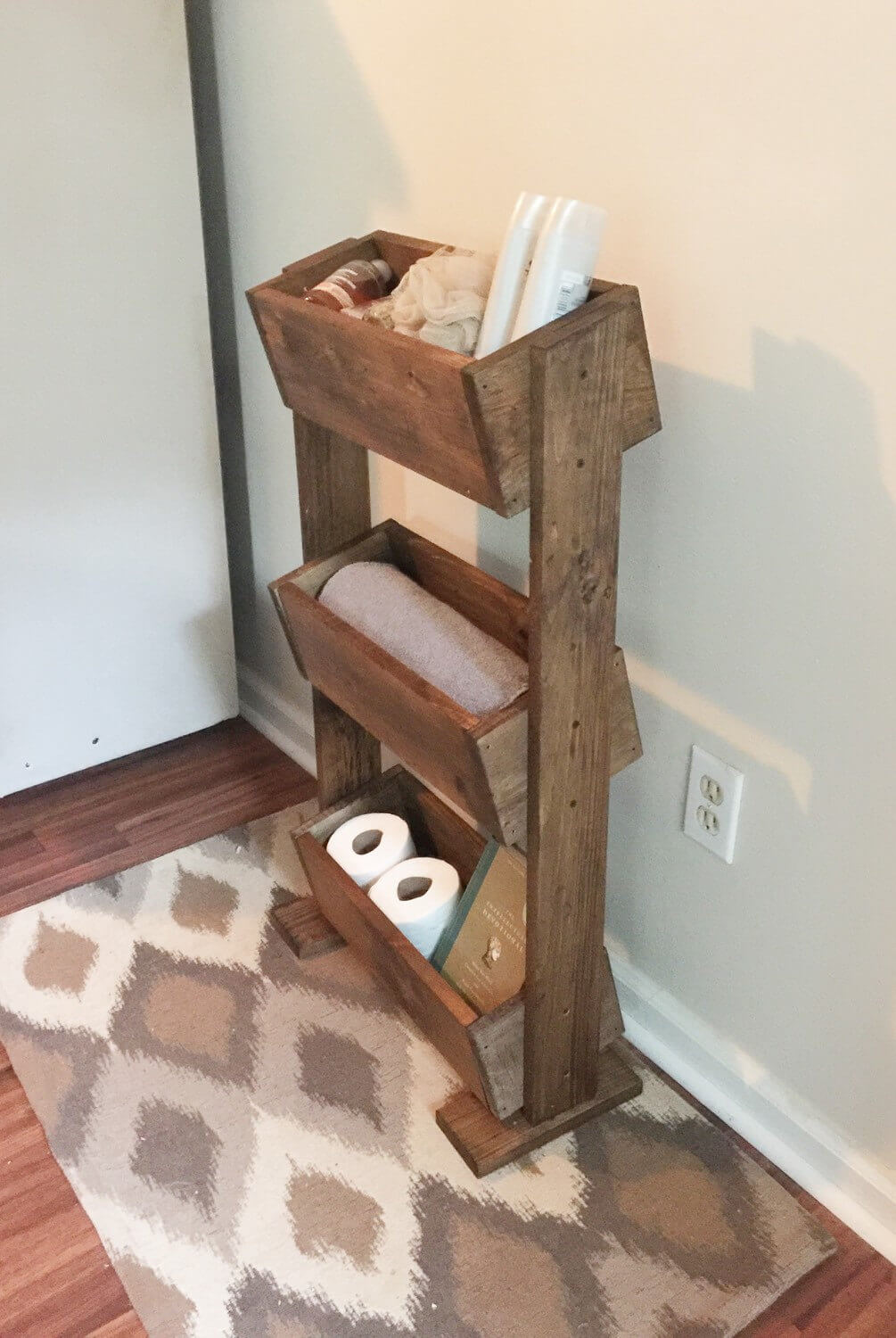 Bathrooms are often small, so functional but beautiful storage is a must. This narrow 3 shelf storage piece won't take up a lot of room, but provide ample space for bathroom necessities in the deep wooden boxes. The unique tilt makes it easy to access items and adds visual interest.
33. Antique Window Frame Decoration and Towel Rack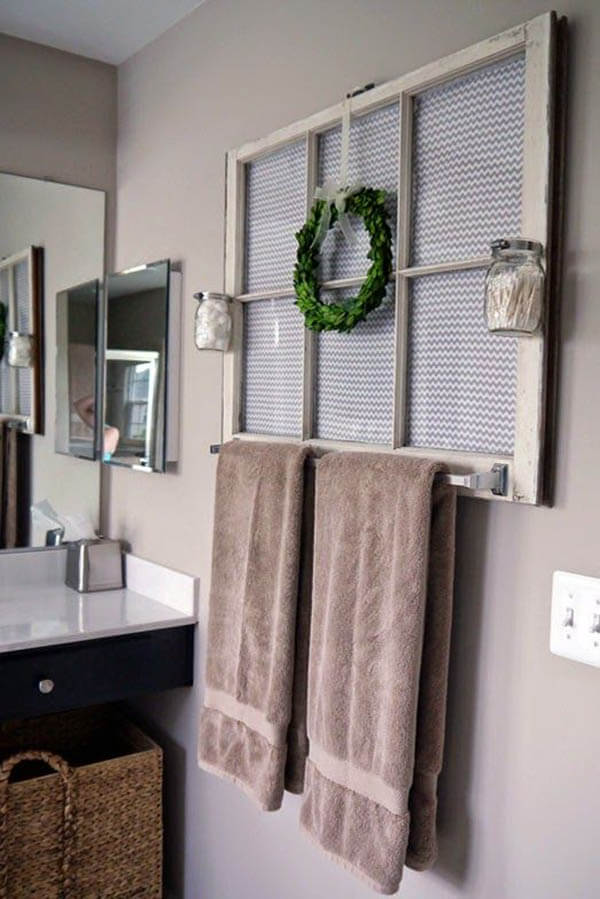 Windows don't have to look outside! Here a repurposed window frame over decorative fabric becomes a shabby-chic multipurpose piece. There's a place to hang towels and store small bathroom items. Gorgeous and practical.
34. Metal Bucket Flower Planter Bathroom Decorations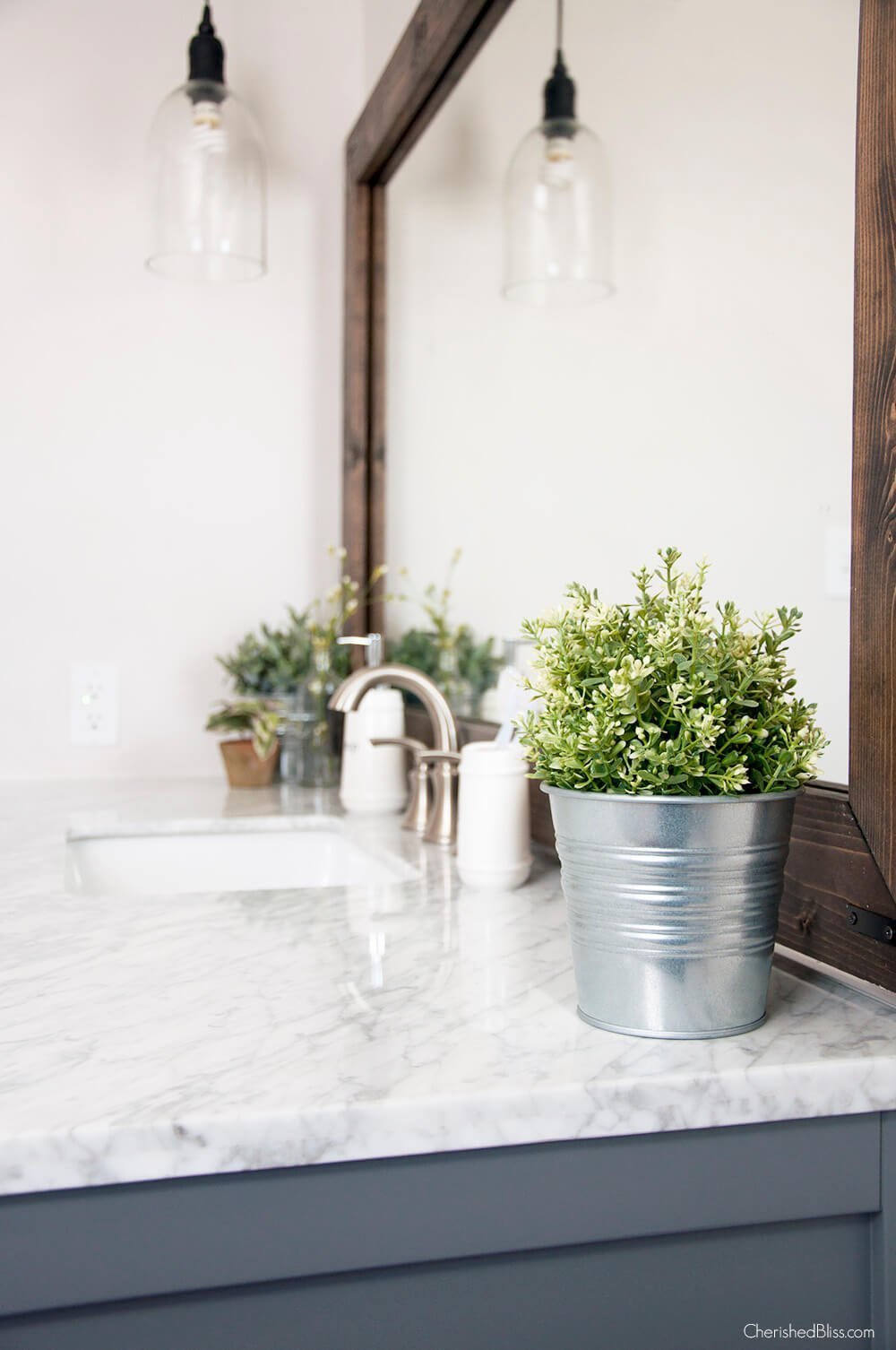 Neutral gray vanity and natural wood framed mirror complement the stunning white marble bathroom sink. They create a perfect backdrop for touches of green, chrome, and a pretty glass bell pendant light fixture.
35. Wall Mounted Metal Baskets for Storage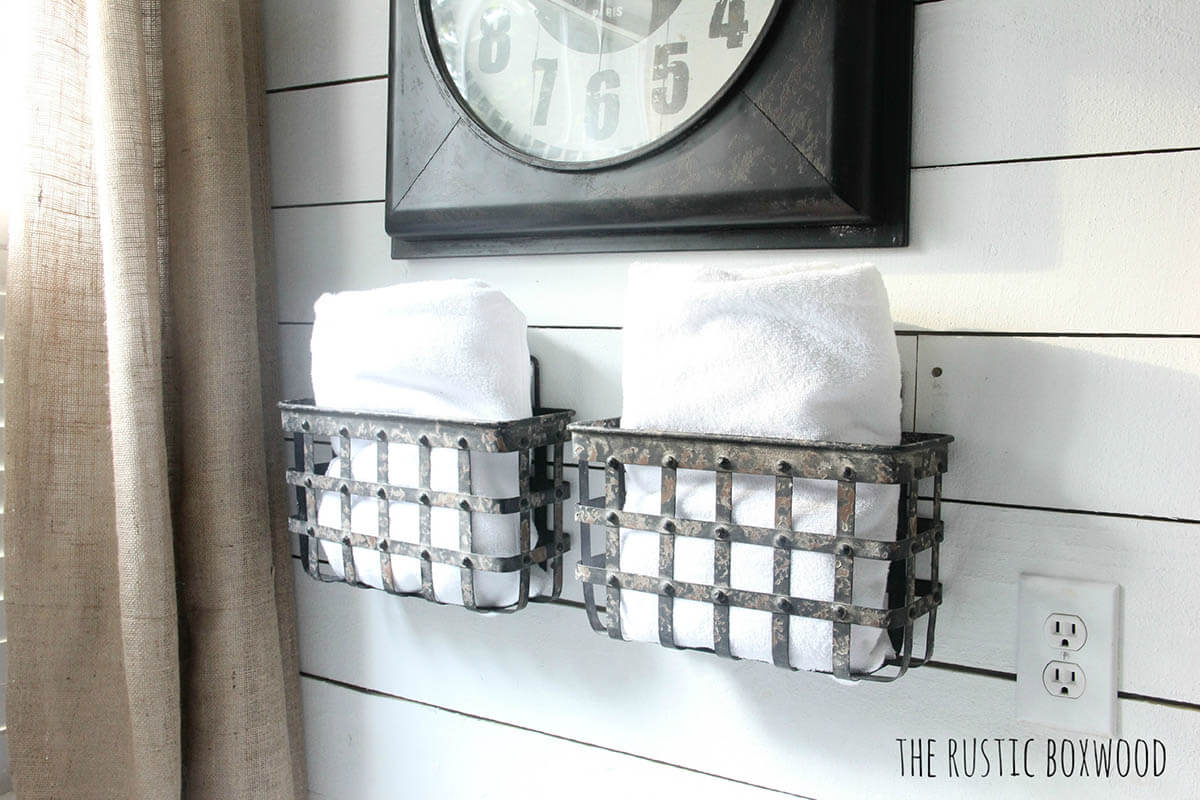 The galvanized metal baskets double as towel holders and wall decor on the white wood panel walls. A neutral linen curtain and big clock complete the rustic look.
36. DIY Wood and Metal Cubby Organizer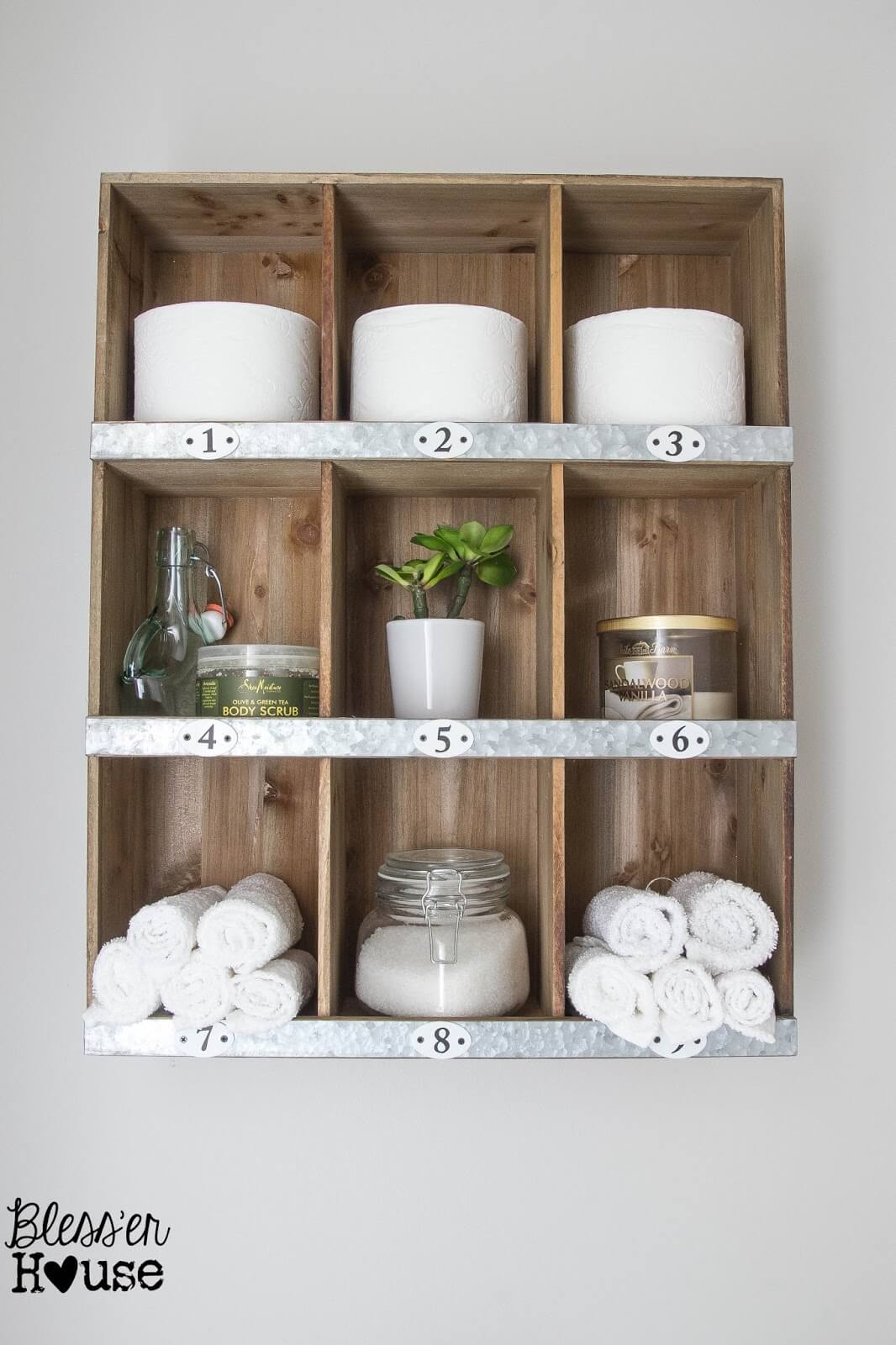 Vintage cubby storage is always a win. There's lots of spaces for practical items and treasures. The metal strips and numbered boxes add fun touches to this useful decorative piece.
Our Favorite Farmhouse Baskets and Bins to buy on Amazon