One of the best farmhouse home office ideas begins with the perfect desk. And it doesn't matter if your space is large or small; there is a unique farmhouse desk to fit the bill.
You can choose from a rustic live edge slab top that floats from the wall or dream up a corner space with an l-shaped design. The materials available will meet your needs and there are a variety of wood finishes and metal accents to mix it up
21 Ways You can Bring the Farmhouse Charm into Your Home Office

First, you'll need to decide how much workspace you will need and where you'll be locating your home office. Is it a personal space for yourself or a hub where 2-3 of your family members may gather and collaborate at once? Are you utilizing a free wall space in your living room or devoting an entire room to your needs? Either way, check out this amazing list of 21 farmhouse office ideas to make the vision inside your head become a reality in your home!
1. Gray Reclaimed Barn Wood Farmhouse Office Writing Desk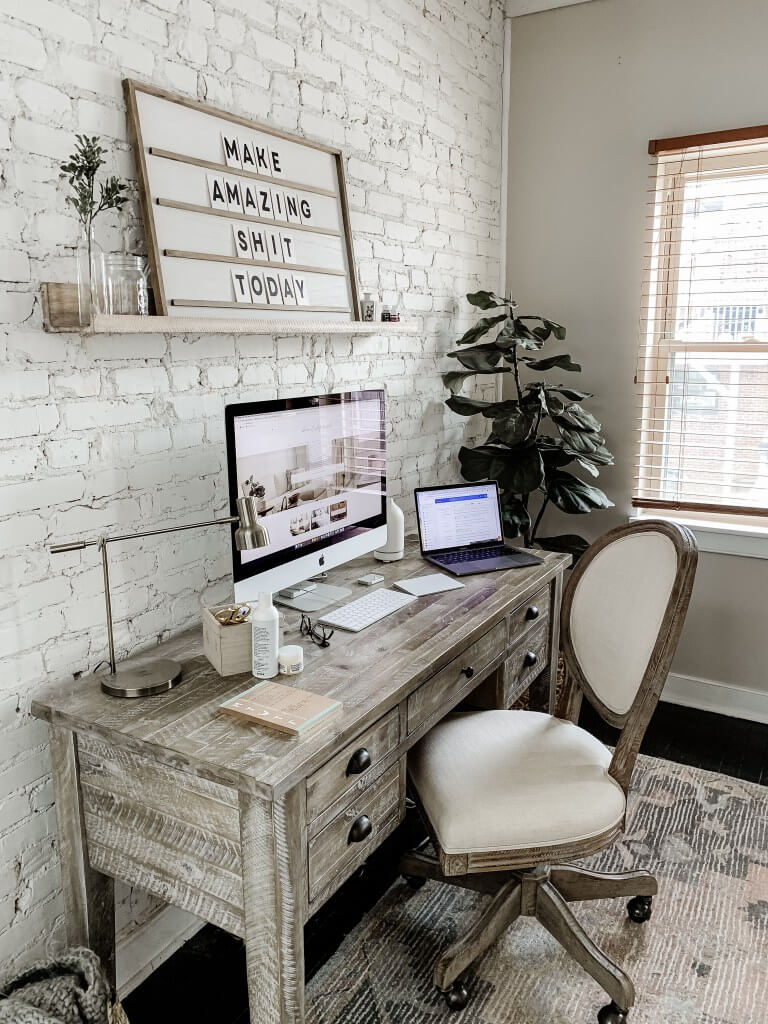 Clean lines and gray wood lead the way in this amazingly awesome idea for your modern farmhouse home office. Create the workspace of your dreams where fabulous meets function! The sleek design of this writing desk provides the ultimate in style when it comes to working from home. Style it with a cool lamp or some trendy trinkets to create a cozy and casual atmosphere. Even if you don't have an entire room to dedicate to your office space, this streamlined desk has all the drawers and space you desire without taking up much room. Place it along the wall and incorporate it into your living space by making a special nook for it to call home.
2. Classic White Saw Horse with Wooden Table Top Office Desk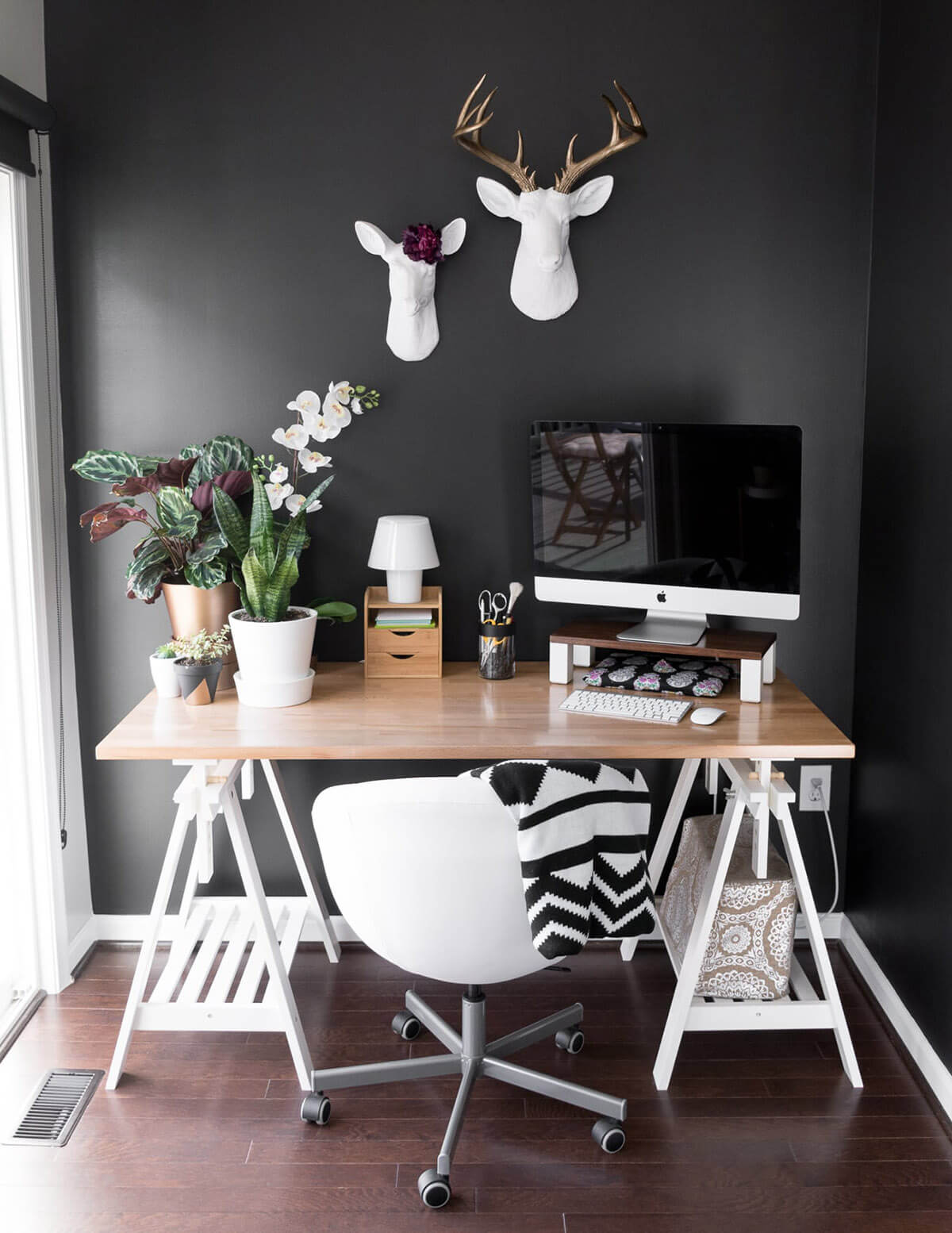 Upgrade your work-at-home space with the classic and contemporary design of this farmhouse desk. The legs of this desk are truly unique as they embody the look and feel of saw horses and certainly get the job done as they hold up a gorgeous, wooden tabletop. Although there are no drawers, there are two large spaces below to help store and organize your office supplies. Arrange a house plant or trio to add some natural beauty and purify the air you breathe as you finish the task at hand. The use of classic white adds a modern feel which works great in both a city apartment and suburban house.
3. Warm and Earthy Live Edge Slab Desk Top with Black Metal Legs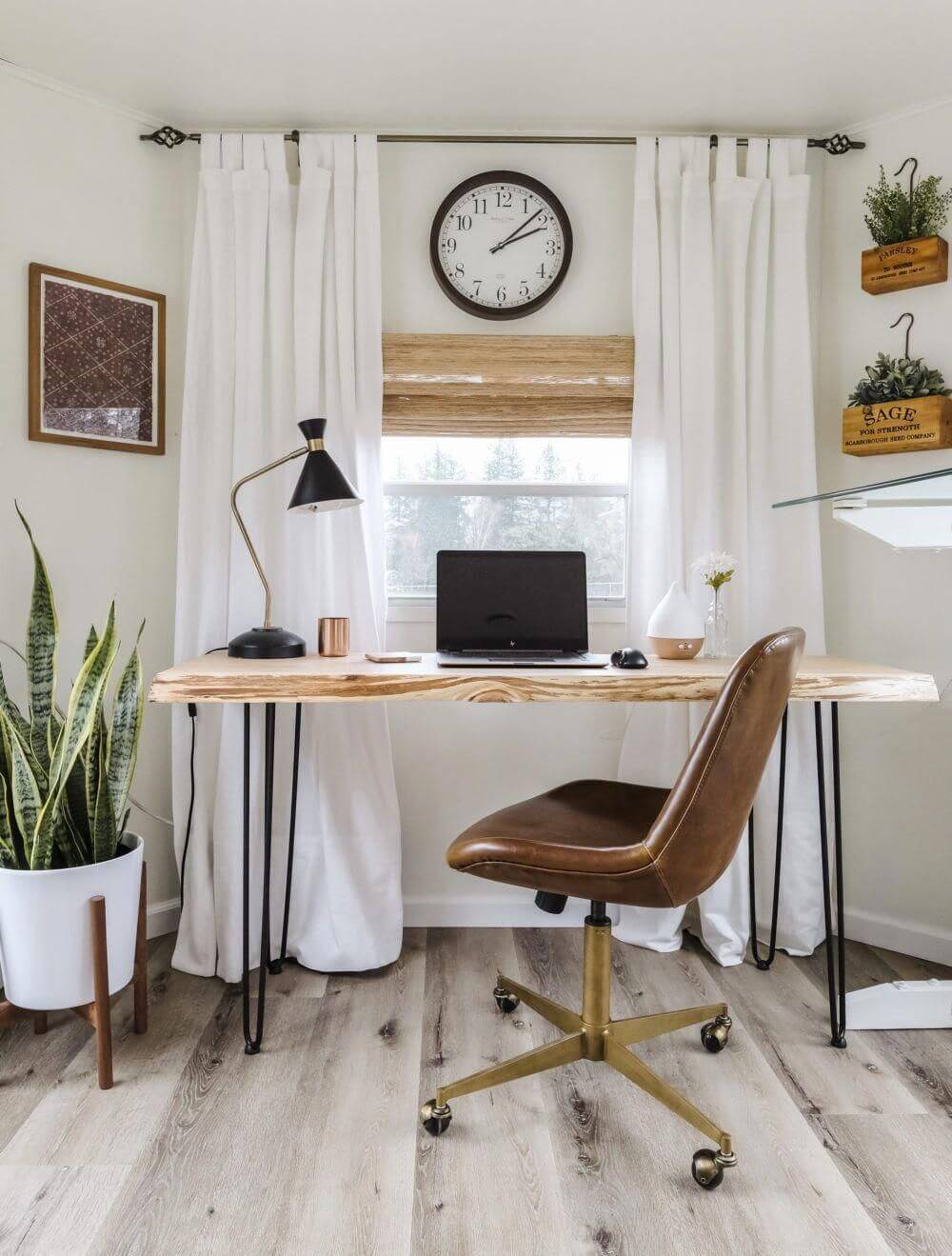 Invite the farmhouse trend to live in your home with this masculine live edge wood slab-top desk. The incorporation of the skinny, black metal legs adds a modern vibe to give this office mate loads of stylish appeal. Adding this incredibly cool piece into your home will multiply the wow factor of your workspace. All you need is a smooth leather chair to complete the look and you are ready to pay the bills the posh way.
4. Rustic Brown Wooden 3-Drawered Desk with Art Deco Black Metal Legs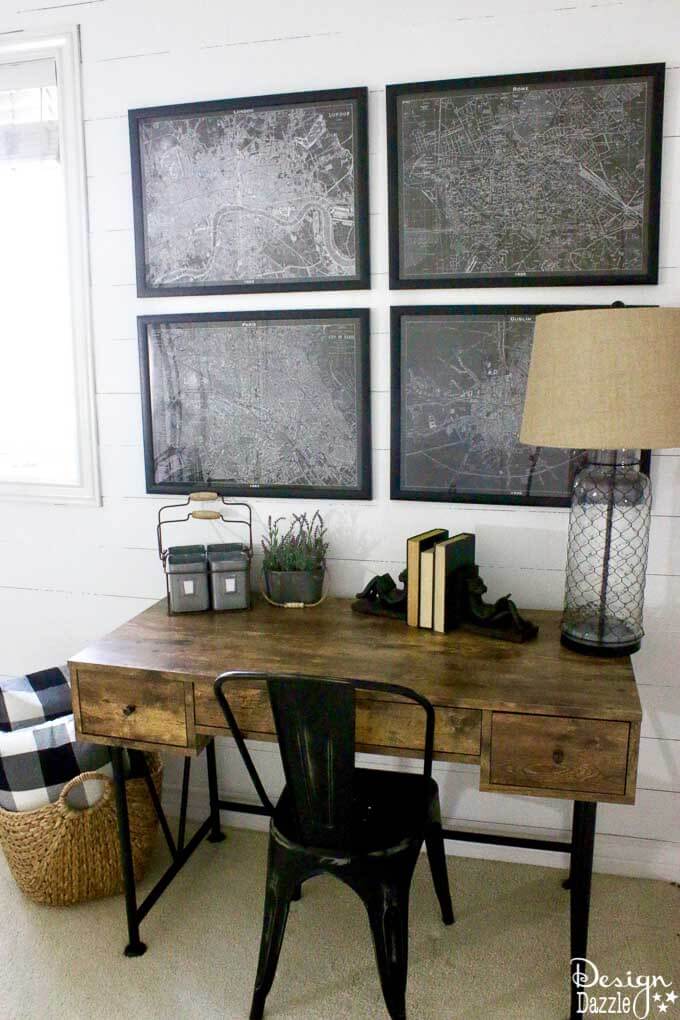 Even if you are limited in space available in your home office area, you don't have to be limited in style. Check out this cute warm brown wooden desk featuring three drawers. The squared Art Deco-inspired legs add to its charm as it provides a quaint corner to make working from home a little more enjoyable. A chicken wire wrapped lamp adds to the modern farmhouse feel for your home office.
5. Large and In Charge Rich Wooden Home Office Desk and Hutch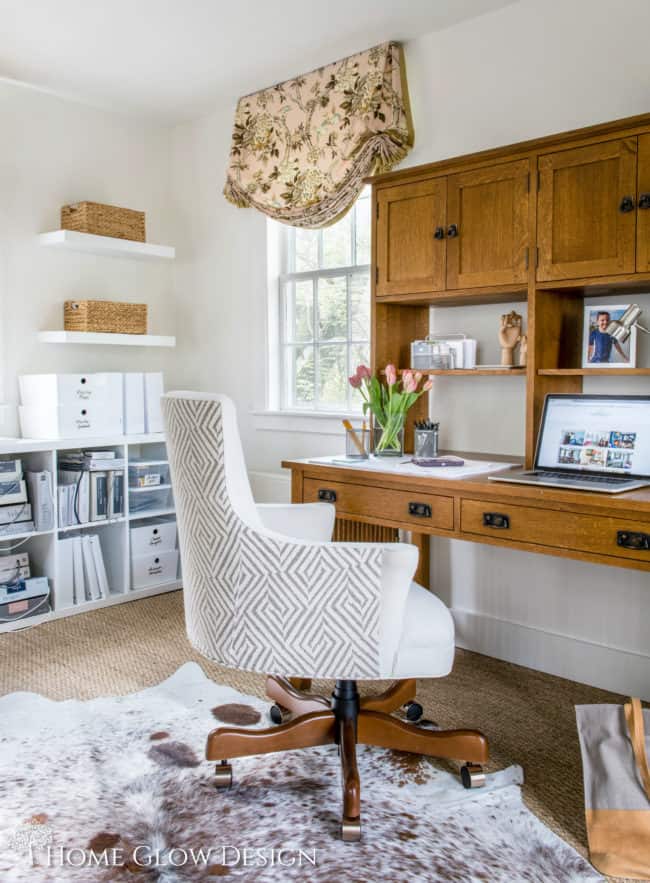 Take charge of your business as you organize your home workspace with this big wooden desk and hutch farmhouse furniture set. You now have plenty of room to organize and store both your personal and professional office items with the abundance of cabinet space available. The middle row offers shelving space so you can add your personal touch with a picture, decorative art, and/or organizational tool. Everything you need is right at your fingertips as you earn your hard-earned dollar from the comfort of your own home.
6. Classic White Farmhouse Office Style with Glass and Wire Decor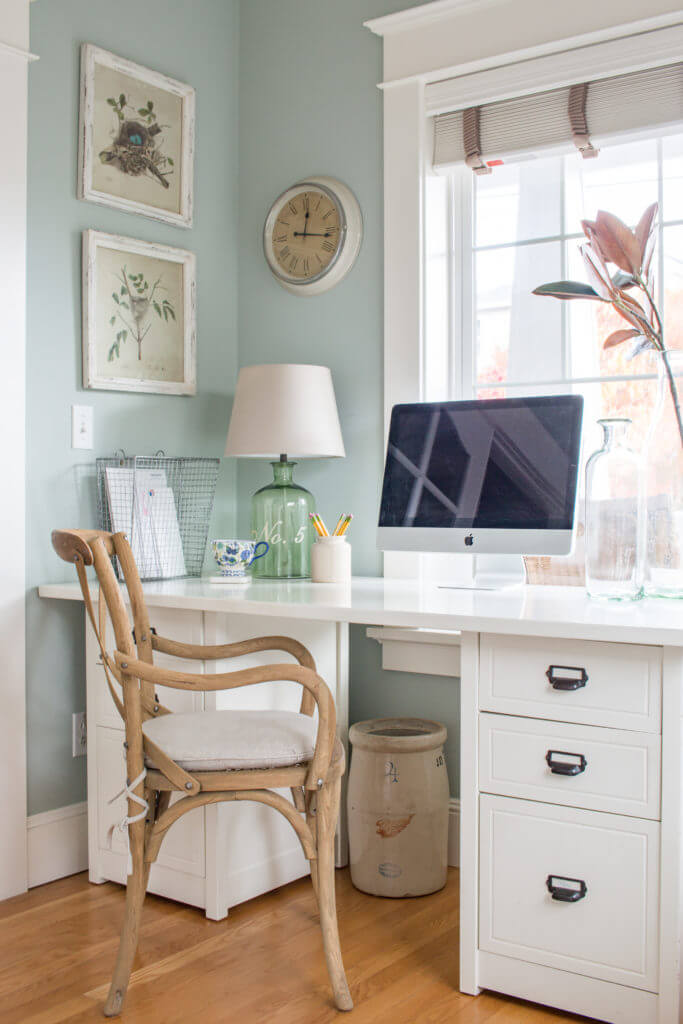 Nestled in a cool nook in the comfort of your own home is exactly where you'll find the perfect place to complete the necessary paperwork for both work and home. Creating a space you enjoy working from home is more important than ever. Here is a great way to achieve one of the best farmhouse home office ideas by incorporating some glass and lamp décor, as well as a wired basket to be your personal assistant in the home office organization.
7. Double-Duty Home Decor Where Home School and Home Office Unite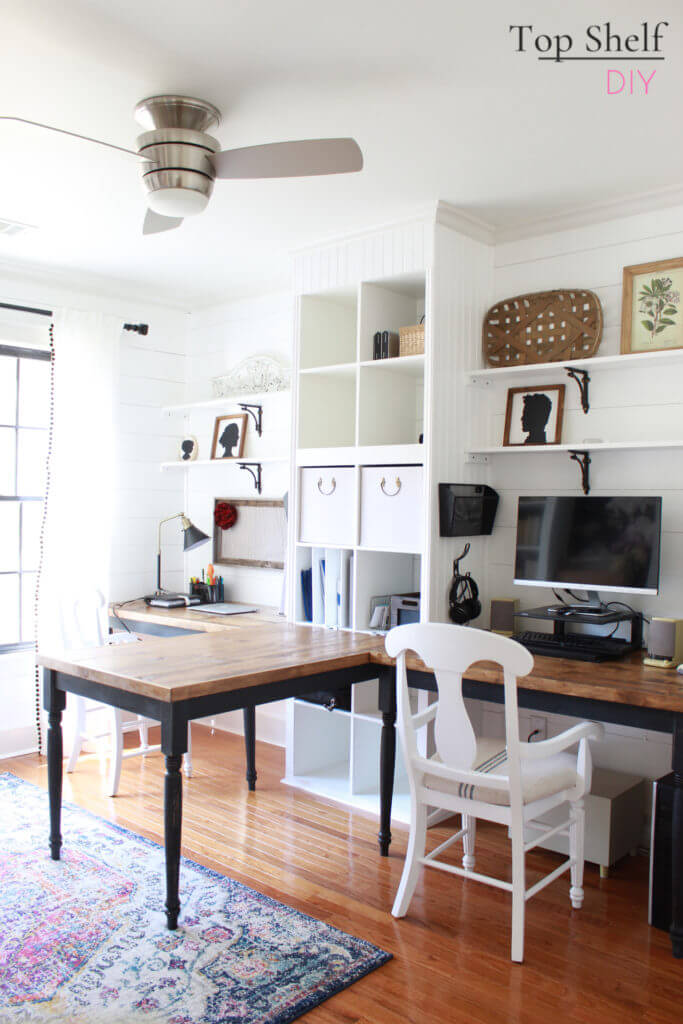 Make the most of your space by utilizing a combination of three separate work stations in this one home office/school work area. Featuring a central hub for the ultimate in organization, these cube bins are an awesome idea for housing all the necessary supplies you need at the office or school scene. In the middle, you'll find a desk that's perfect for laying out project ideas and arranging presentations. Then you can cuddle up to your personal computer complete with shelving above to hold all the personal touches while putting the homey feeling in your home office.
8. Traditional Farmhouse Desk Takes Center Stage in a Modern Home Office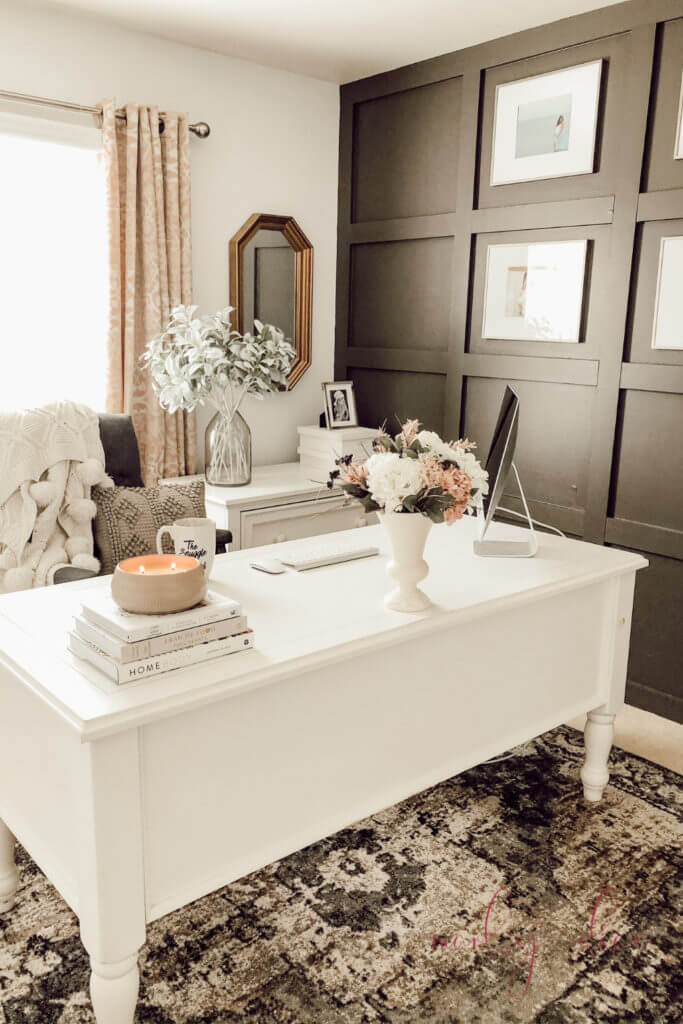 Set the stage for a great workspace from the comfort of your own home with this gorgeous modern and clean home office. From the clean and classic white desk to the elegant brown dimensional wall, you will enjoy amazing home decorations when you surround your desktop with some of your personal favorites. An arrangement of candles is sure to be cute and create an inviting aroma to relax your over-run mind and a vase of beautiful blooms is a wonderful addition too. A cozy throw and soft accent pillow are a nice touch to take comfort and cozy feel up to the next level.
9. Simple and Rustic Wooden Farmhouse Furniture Perfect for the Home Office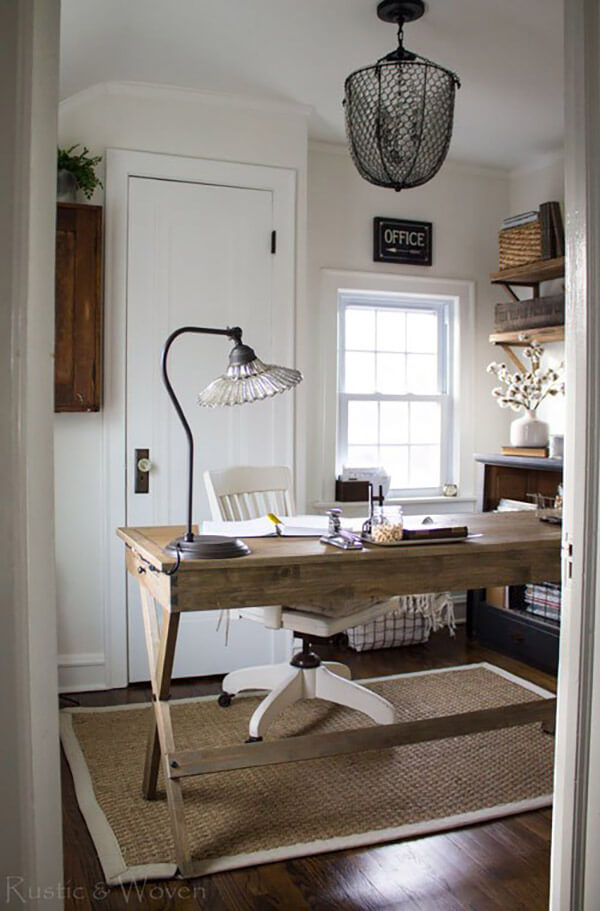 Add a solid white wooden swivel chair to complete the unique look of this modern farmhouse office space for your home. Set a small and sweet metal lamp on the corner to cast a soft glow when you're burning the midnight oil to tackle a big job. Place a cute white jug filled with cotton blossoms to really increase the farmhouse feel in this cozy and cool workspace. Hanging some shelves provides fun and function as you can use them to display some amazing home decorations and some great organizational tools.
10. Ultra-Hip and Modern Floating Wooden Slab Work Desk Hub
Make the super cool space you've always dreamed of with this ultra-hip and modern floating slab workspace. Going to the office has never been more fun nor had such a short commute as it does today with this great center where the money is made. With a calendar, computer, and clean slate to house all of your important paperwork, this work wonderland is as cool as it is essential. The addition of the upper three floating white shelves makes the overall look of the work hub a masterpiece with plants, pictures, and a plethora of office home decorations.
11. Cool, Classy, and Chic Cozy and Comfortable Home Office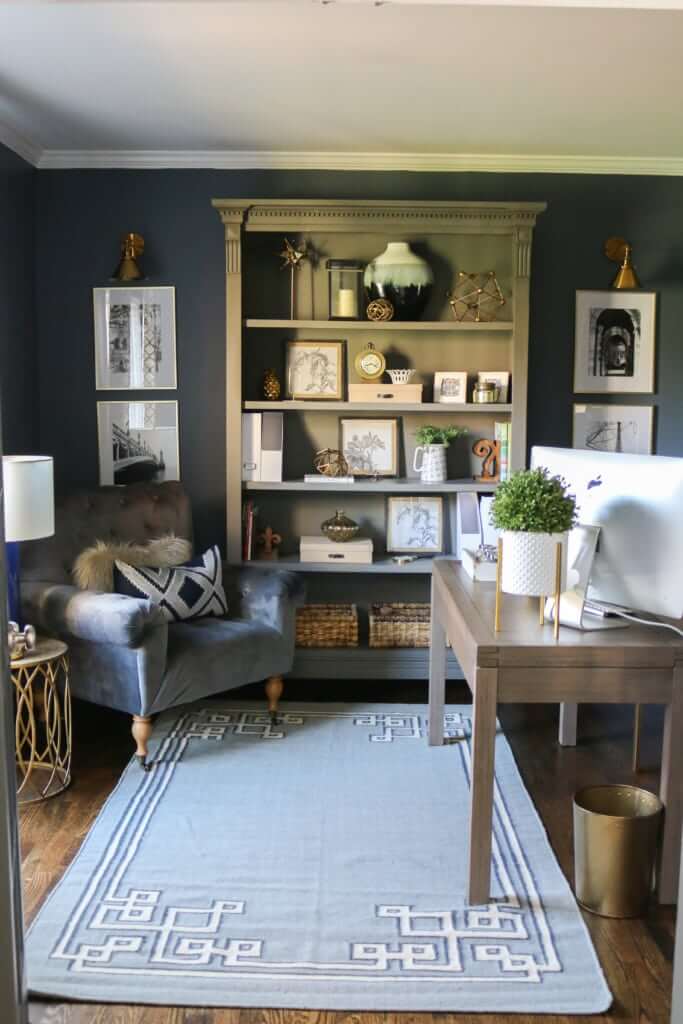 Take the vision inside your head and bring it to fruition with this breathtakingly beautiful classy and chic home office. Your spare bedroom gets the love it deserves when you transform it into a more usable and workable space. The geometric muted aquamarine rug grounds the whole look together as the gold accessories add just that special touch to give it a wow factor. Neutral prints, planters, and trinkets are highlighted against the deep steel blue walls giving this cozy space the perfect union of masculine and femininity rolled into one.
12. Simple and Solid Streamlined Wooden Desk with Accent Wall Office Space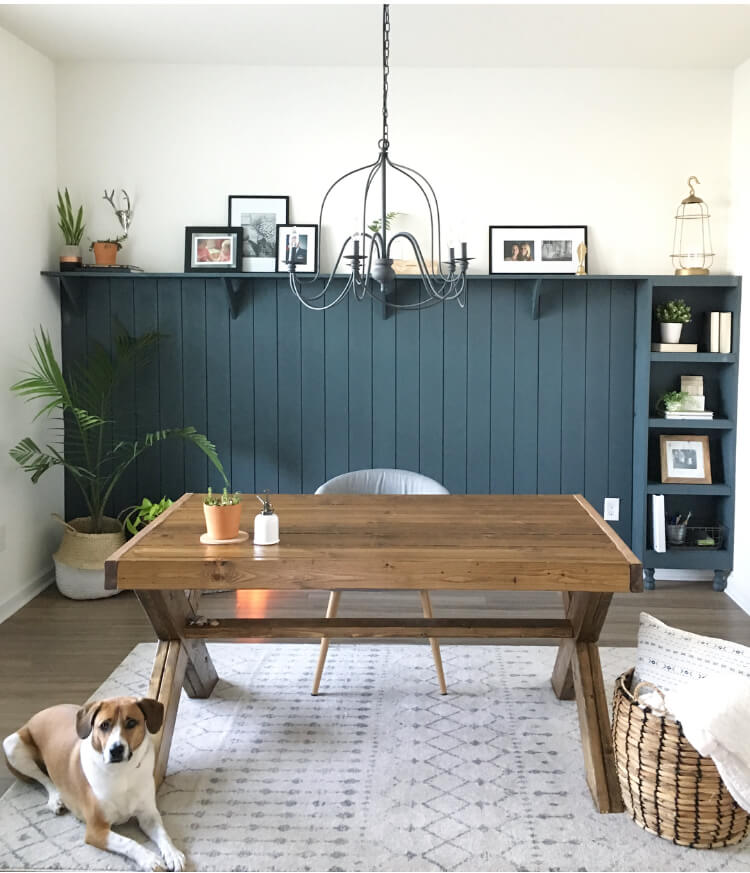 Avoid too many distractions by designing a workspace that is plain and simple. This solid wooden desk gets the job done without all the fancy frills of some of its counterparts. Keeping the accent items on the back wall and off the desk is a sure-fire way to avoid putting your pending work on the back burner. Your chair and clean desktop are ready to join you in completing your corporate or domestic duties whenever you are. Housing a plant on the floor in the corner and a woven basket of blankets beside you is a great way to warm up the typical cold feeling of an office while adding some air purification and organizational items as well.
13. Gear Up for Work with a Great Gray Small Farmhouse Table Turned Desk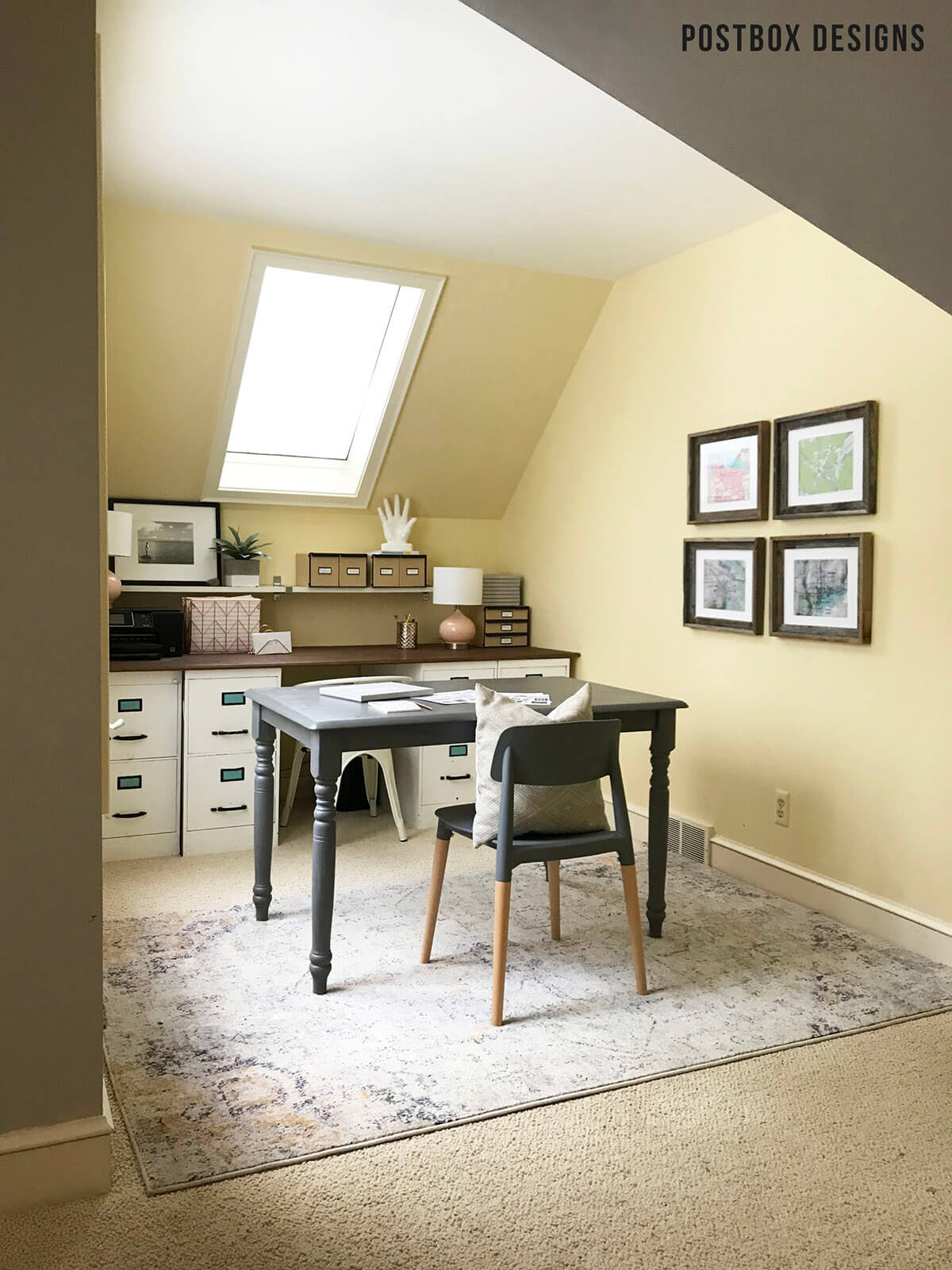 Hand-painted gray goes a long way in making this home workspace productive and efficient with a small table that is one of the best farmhouse office ideas available. Place this cute and quaint table in the middle of your den and surround yourself with all of the other office essentials. On your back wall, you can install an easy extra counter space as you utilize filing cabinets to serve double duty as document holders and foundations for this additional go-to workspace.
14. Large Work Space Black with Distressed Edges to Add Character Farmhouse Table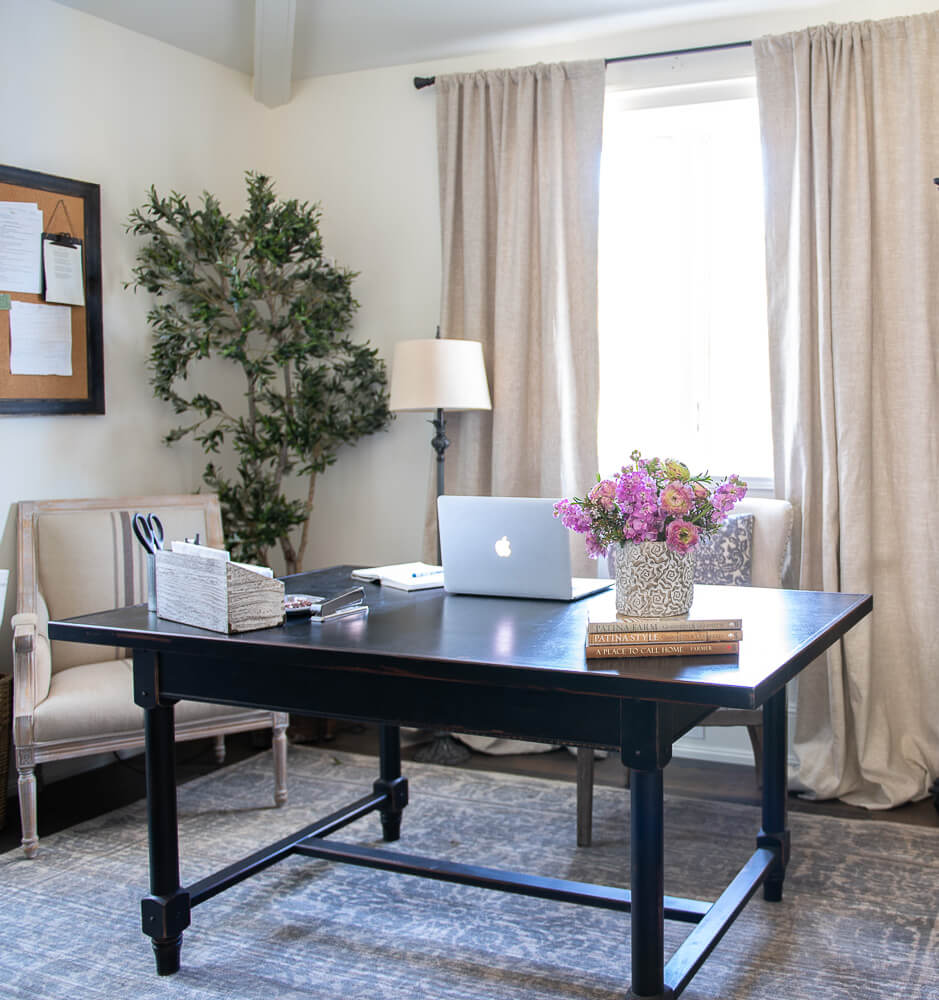 If you're looking to incorporate some farmhouse decor ideas into personal home office space, this large table should be on your list. The distressed finish on the black patina adds charm to your room. As the sunshine from the large window lights up your workspace, a corner house plant takes delight as it purifies and refreshes your breathing space. An accent lamp and chair finish off the room to give a more relaxed vibe. You might begin to look forward to coming to work when you remember the breath of fresh air this cozy space delivers.
15. An abundance of Organization for Your Craft Studio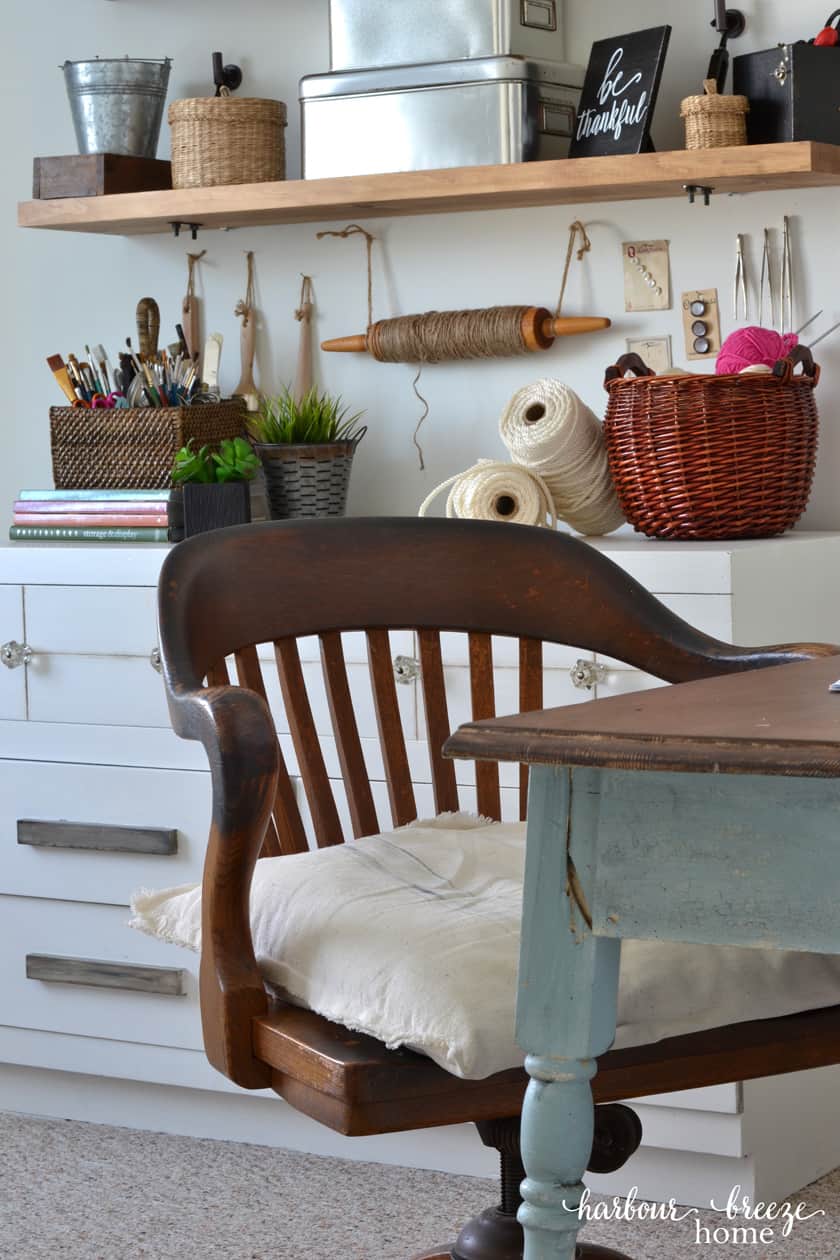 Take your organization skills to the next level with this amazing display of ways to keep your crafting tools handy with this stupendous studio set up. A gorgeous wooden dresser sets the pace on this nearly perfect collaboration of crafting supplies. Fill the drawers with odds and ends or larger items that you wish to keep out of sight, but on hand. Above it, a wooden floating shelf houses harder to fit items that are frequently used to add ease and comfort while your creative genius is flowing. Right next door, you can set up your tablespace complete with a comfortable swiveling chair to make your transition from the table to storage a breeze.
16. Rustic and Charming Warm Wooden Table with Storage Bins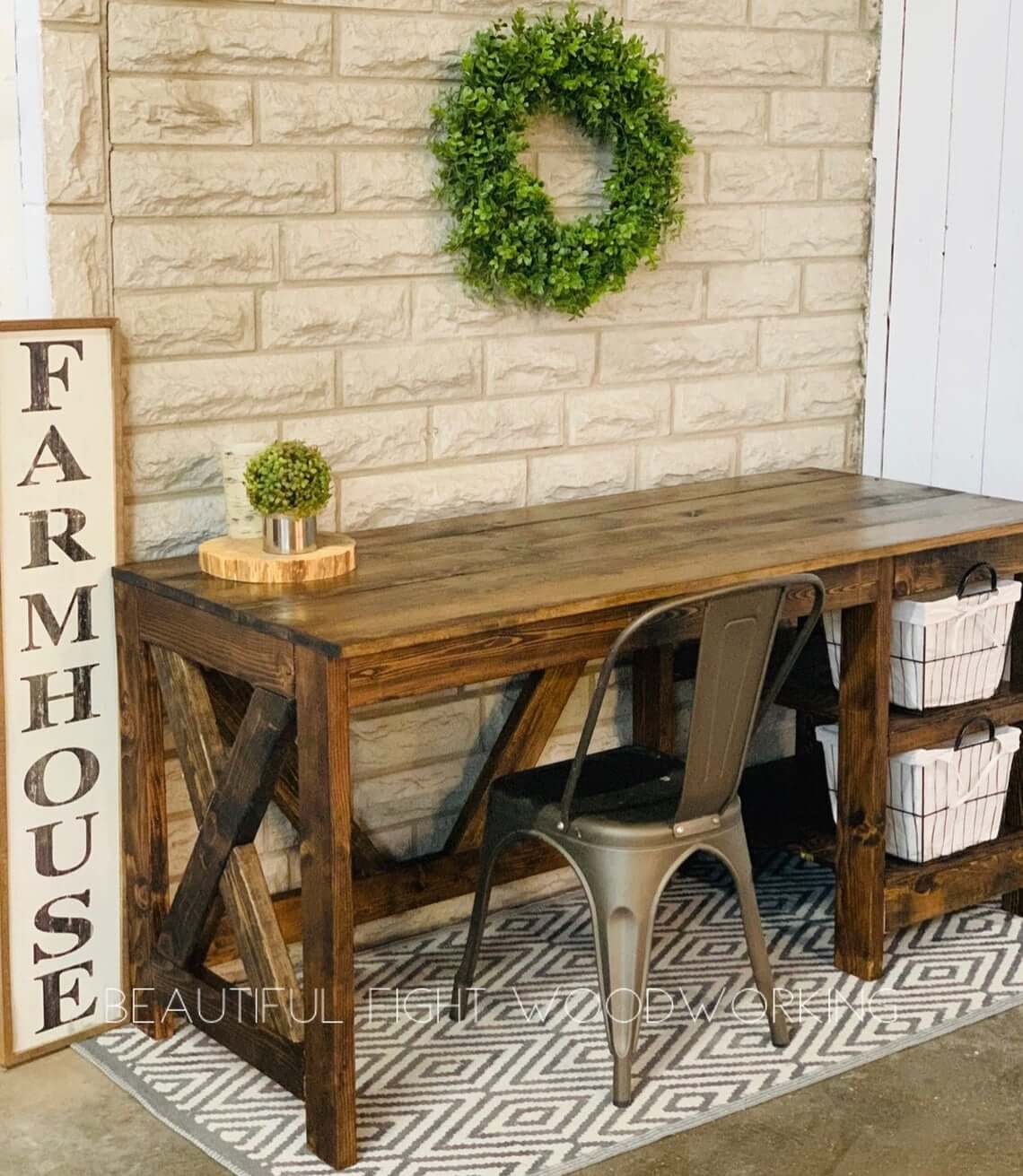 Possibly one of the best farmhouse home office ideas begins with a simple and rustic warm brown wooden table like this one. The ideal foundation for a stylish working space, this brown table includes two storage bins using fabric-lined wire baskets to add interest to your storage solutions. Adding a hanging bold green boxwood wreath overhead is a fun way to add a pop of color while keeping a natural feel to your space. The freestanding "farmhouse" sign brings a touch of the designer's mind into your workspace. Be sure to keep this solid wood desk as the star of the show by featuring a plain metal industrial chair that does not distract the eye from the beauty of the brown wood. Who wouldn't want to complete his/her work or school project in this amazing space?
17. Old Fashioned Card Catalog Inspired Writer's Desk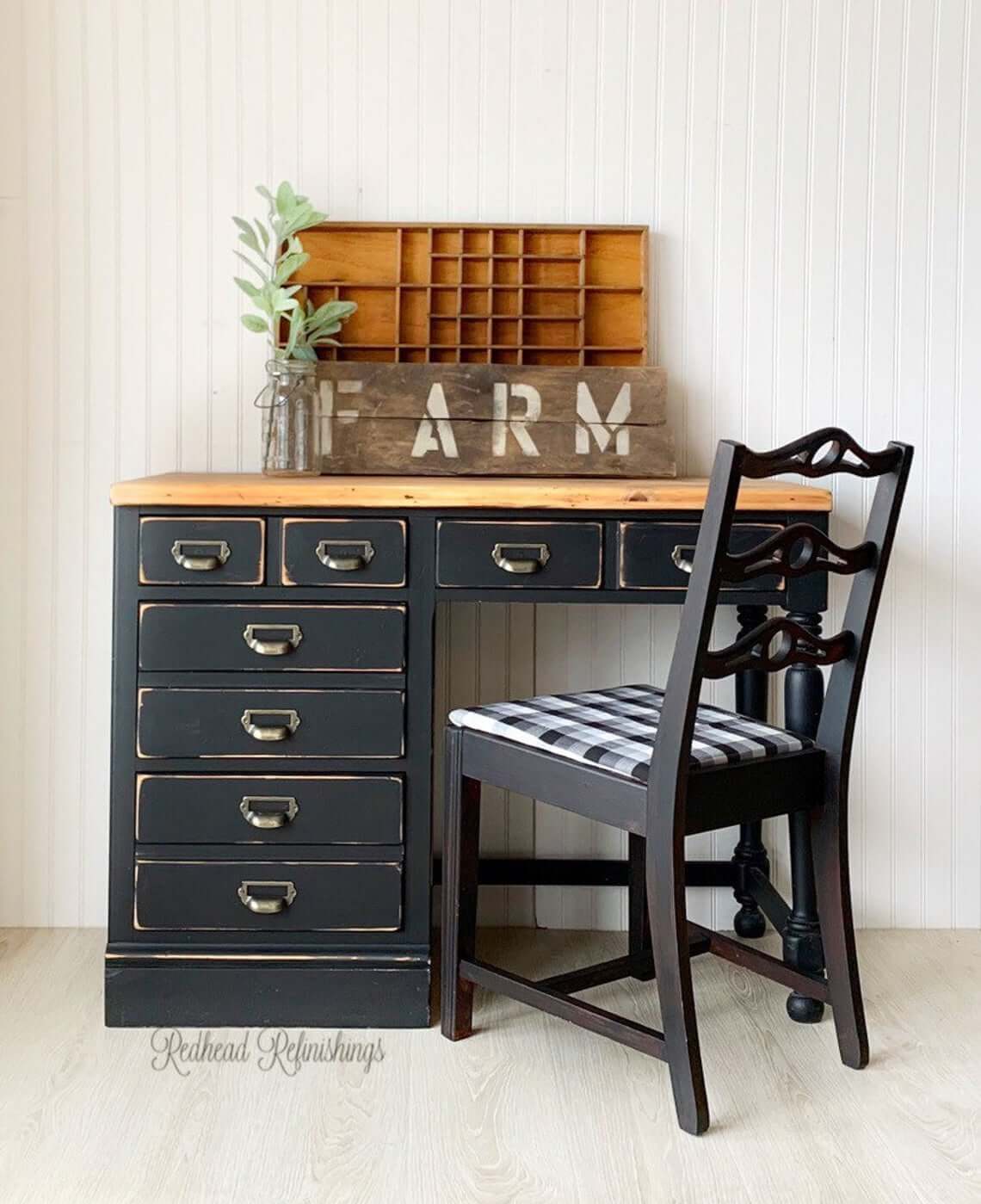 Remember the old library card catalogs of yesteryear? Channel their character and charm with this writer's desk featuring pull tabs inspired by the book worm at heart. Although a writer's desk is smaller in stature, it still packs quite a punch in terms of storage with all of the drawers it holds. If you're short on space, this might be a top pick for a farmhouse furniture piece to meet your needs. Adding a slender, traditional chair gives a little flair of style as it features a black and white buffalo plaid seat.
18. Dark Vintage Table Turned Writer's Space Farmhouse Decor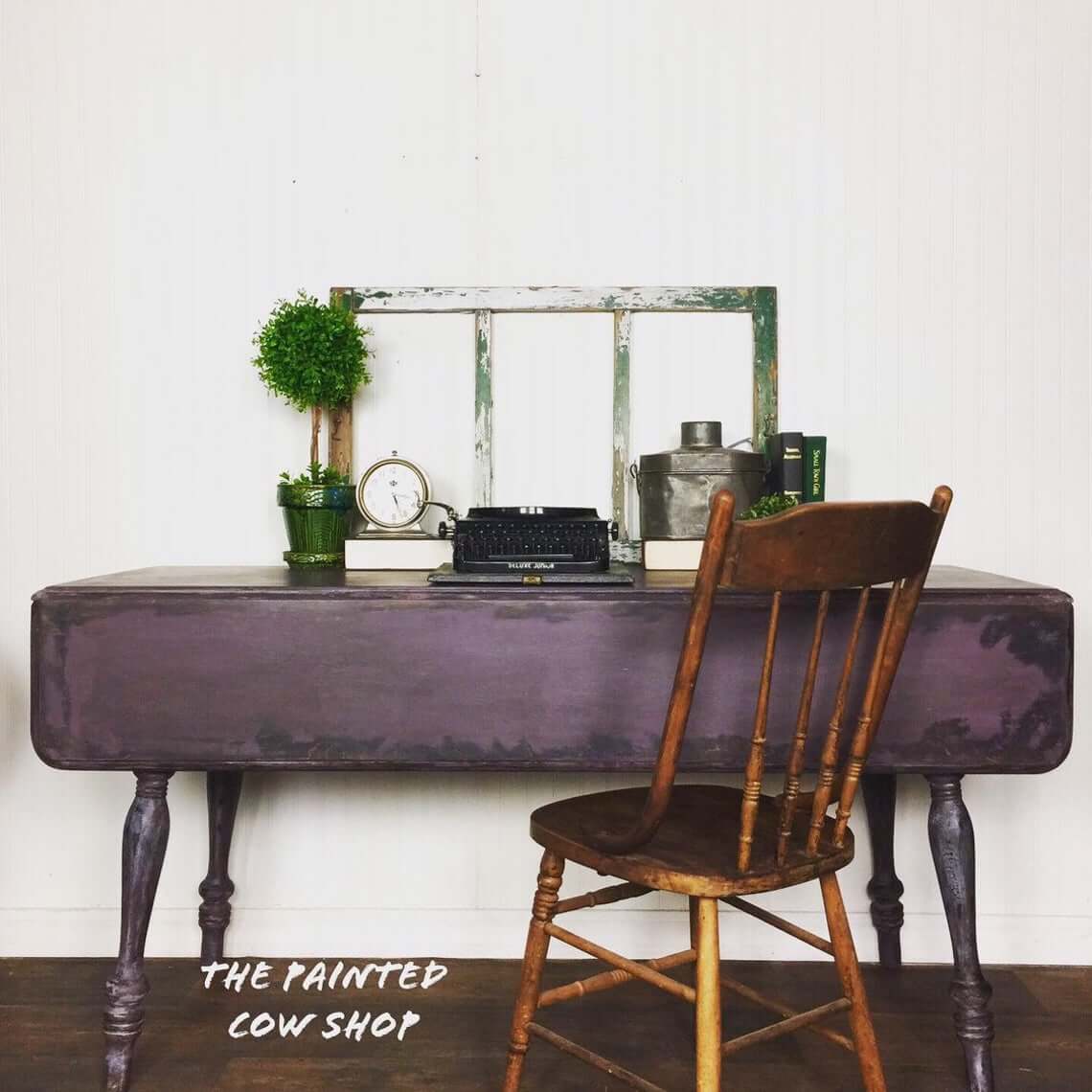 Redesign a portion of your living space to accommodate an interesting nook for the author in your family. This dark painted, antique table offers charm, character, and just enough room to make the words on your paper come to life. An old window and a glass jar of flowers cast a soft and gentle ambiance to prevent you from developing writer's block. Your vintage typewriter and a few classic books are all you'll need to top off the cool factor in this farmhouse decor ideas for your home office space.
19. Handy Dandy Quick Set Up Portable Wooden Desk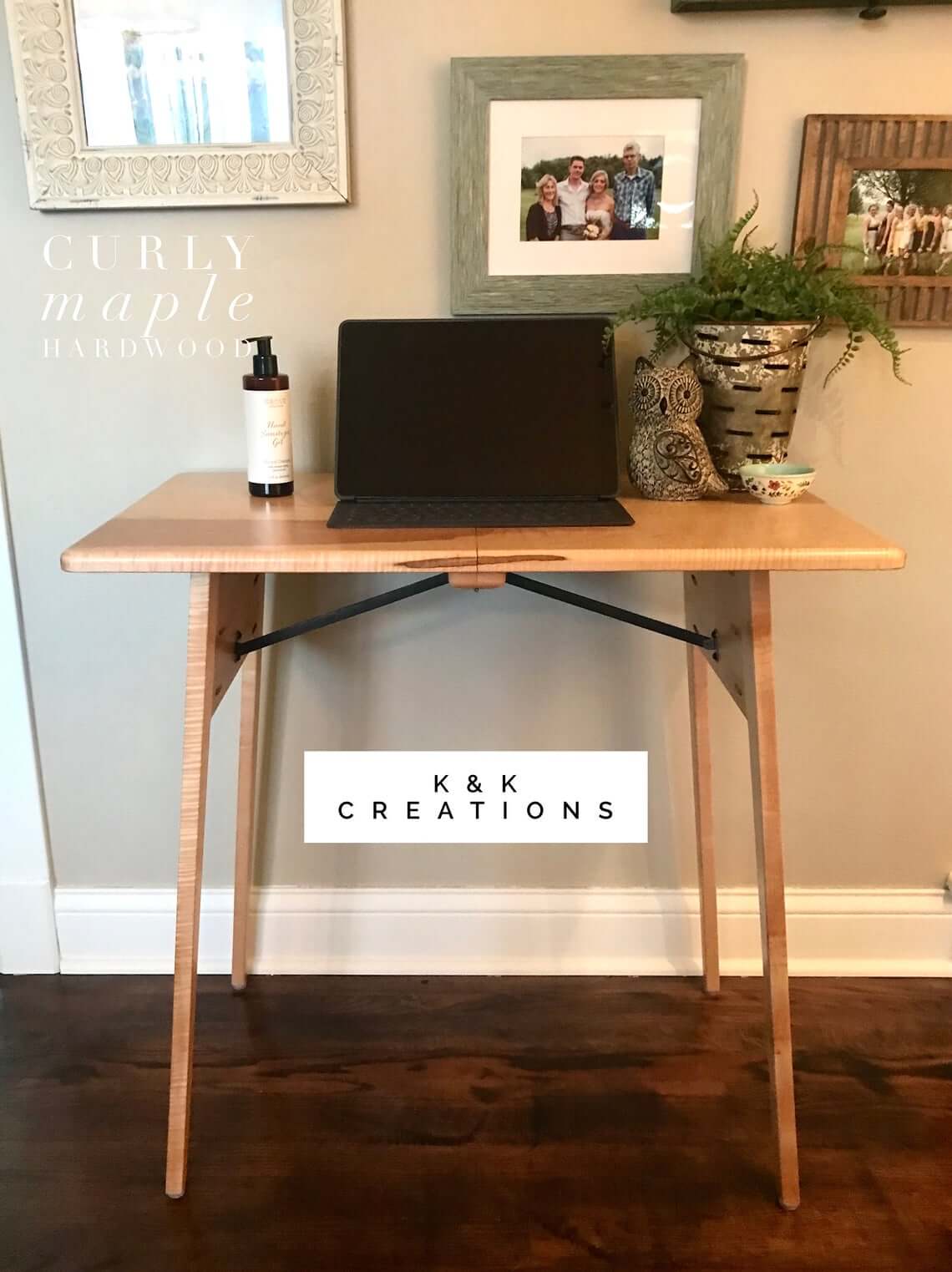 Here is the perfect way to have an office space that's ready whenever and wherever you are! With its slender lines and small size, this lightweight table collapses down to make it the ultimate in portability. If the schools close and you need to set up a nook for homeschooling to abound, this desk can be set up wherever you need it. Or you may need to finish some work from the office one evening and don't want to take up all the space on the dining room table. If so, this portable wooden desk can be popped up wherever you need it to get the job done.
20. Simple and Classic Small White Writer's Desk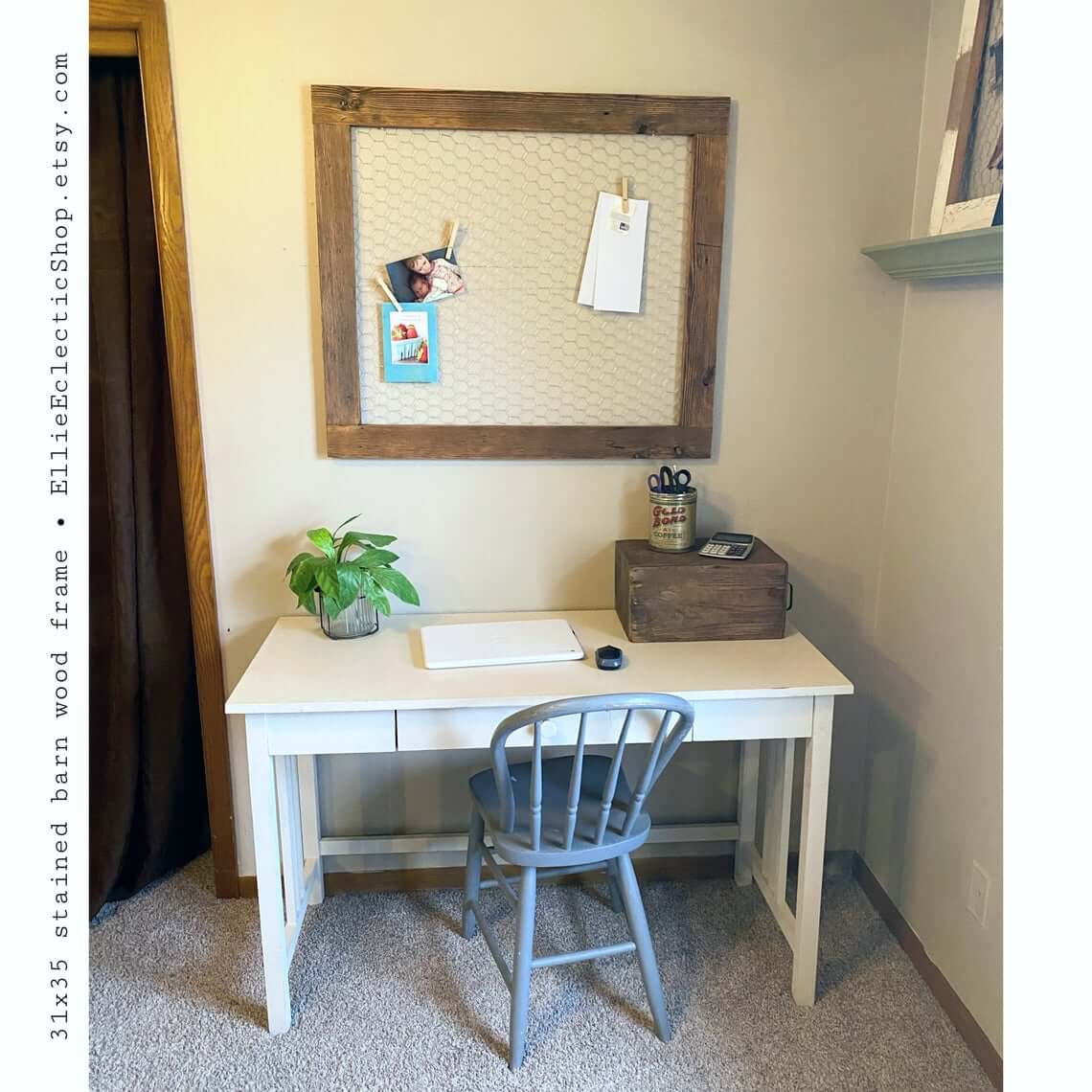 This is the desk that works great in almost any space, no matter the size or design. Crafted in traditional lines, this white desk is not too big and not too small so anyone from baby bear to papa bear would be able to use it. The large middle drawer is the perfect place to store all of the important office supplies from paper to pens to scissors. Arrange a small house plant and a decorative wooden box on top to add some charm and coziness to your corner workspace. The small size makes this desk easy to house within a small nook in any living space or even along the wall in a small bedroom. Hanging a chicken wire picture holder above is one of the best farmhouse home office ideas as it brings some of the farm rights to your fingertips as you display some of your fondest memories.
21. Long and Lanky L-shaped Farmhouse Desk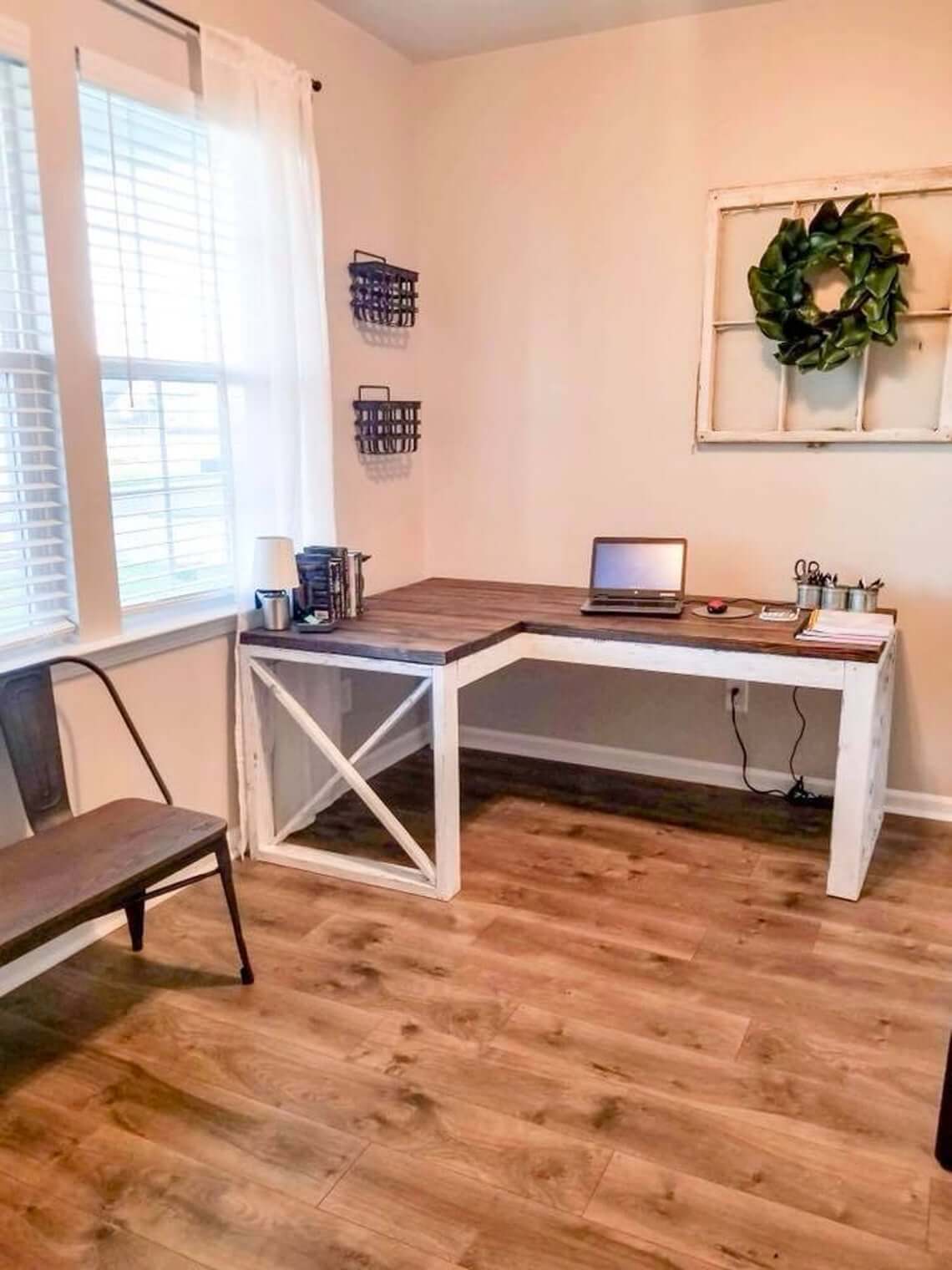 Make the most of your floor space by slipping this jewel of a farmhouse desk into the corner! Constructed in an l-shape, this desk provides plenty of computer workspace without sacrificing surface space for spreading out all of your supplies and materials. The warm and inviting rich brown tones of the top are contrasted by the white of its legs securing its foundation. A trio of silver metal cans is a wonderful way to repurpose some items into usable storage solutions. With so much space and organization, your work can be more productive and efficient with this long corner desk that is fabulous farmhouse furniture finds!
21 Farmhouse Home Office Ideas that will Make You Love Working from Home
From simple writing tables to structured desks devoted to home organization, there is a workspace certain to make your heart skip a beat. As you find yourself spending more time at home and more of that time devoted to school and work tasks, the time has never been better to designate a space just for those occupational needs. By creating a dedicated area for school and/or work, you'll find more constructive use of your time and energy as you are less distracted and better able to focus on your daily agenda.
Adding some small touches makes it more personal too, so don't forget about those air-purifying house plants that work overtime as they give you a breath of fresh air and welcome you in with their green magic. Placing some floating shelves overhead is a fantastic way to incorporate more storage space without taking up extra room on the floor.
Whatever your workspace calls for, here are 21 ideas that indulge in the modern farmhouse feel from large to small space. From chicken wire picture displays on the wall to glass bottles and metal baskets on the desktops, these are some of the best farmhouse home office ideas you'll find and one of them is eagerly waiting to become part of your home.
Our Favorite Farmhouse Decorations to buy on Amazon