Farmhouse homes are charming and stylish. Featuring light colors and various wood finishes, these homes incorporate touches from bygone days. Combining old-fashioned touches with the modern amenities of today's laundry room provides a nice contrast and makes us more grateful for the ease of doing laundry in this day and age.
60 Old-Fashioned Farmhouse Laundry Room Ideas that are Impossible to not Love

Many of these farmhouse laundry ideas are easy to incorporate with just a few easy decorating touches. Hanging signs on the wall gives your space personality and provides some tongue-in-cheek humor. Signage can also be practical, especially when it makes a temporary resting place for lost socks.
Containers are another way to easily transform your space with farmhouse style. Try using galvanized buckets, wooden crates, and Mason jars to store your items.
One of the most popular items in the laundry room is the farmhouse sink. Not only decorative, these sinks can be a great help when it comes to rinsing and pre-soaking dirty laundry. When combined with wide countertops, there is plenty of space to get daily chores done.
Give your laundry room a new coat of paint and find some of these fun period touches to enhance your space. You will be able to enjoy your space on a new level and get your chores done with a smile.
1. Fluff & Fold Farmhouse Laundry Room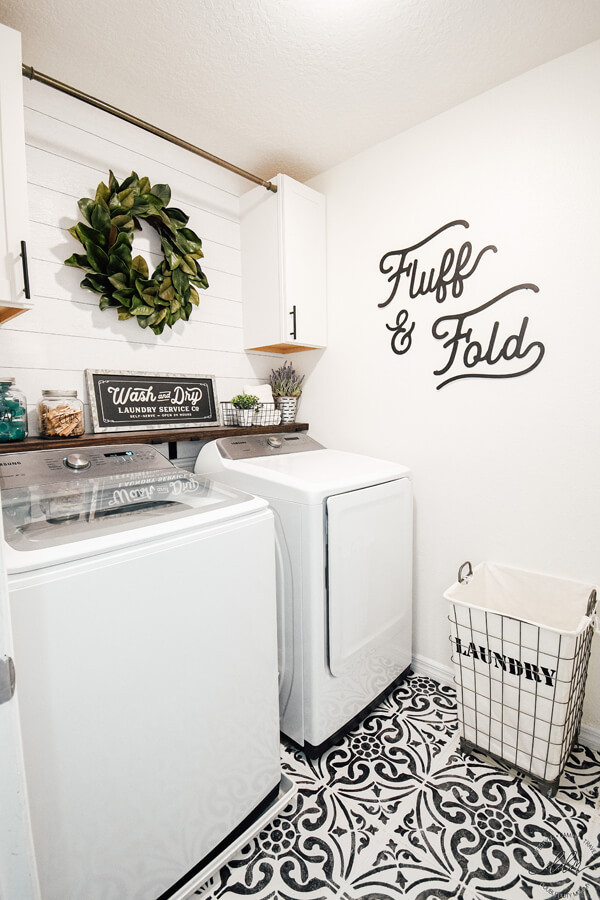 Dress up your modern farmhouse laundry room with some cute signs and a shiplap wall. The white styling is accented with the bold black and white tiled flooring that is full of modern flavor. Make laundry more enjoyable with the ease of a wired basket on wheels to give you the housekeeping assistant you've always wanted. The wooden shelf above the washer and dryer is the perfect spot for housing all of those detergent pods, clothespins, and laundry essentials in a most organized and eye-pleasing way.
2. Modern Farmhouse Laundry Nook with Chalkboard Wall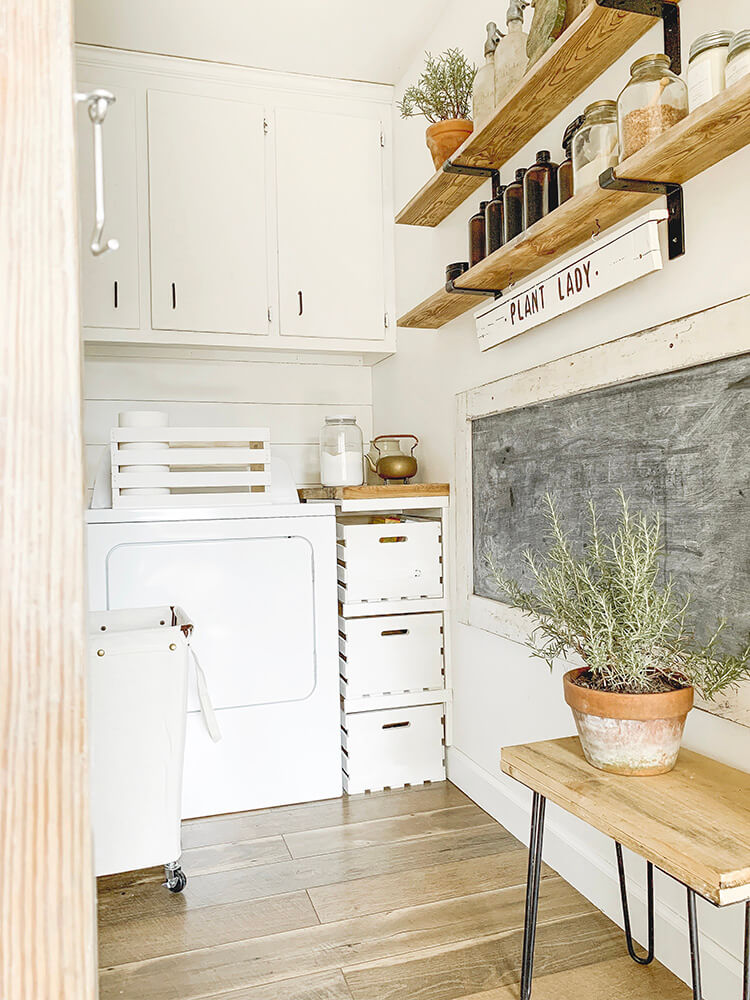 Create a cozy space for your modern washroom with this inspiring concept featuring a wooden shelf ledge, white crate storage bin area, and a vintage-feeling chalkboard wall. Use the mini chalkboard wall to jot down any items that require special washing instructions or simply use it to share funny jokes with your family. Maybe you can keep track of who washes the most loads with a tally chart. Whatever the case, you can feel right at home in this cozy and cute laundry nook.
3. Easy Peasy Lemon Squeezy Laundry Room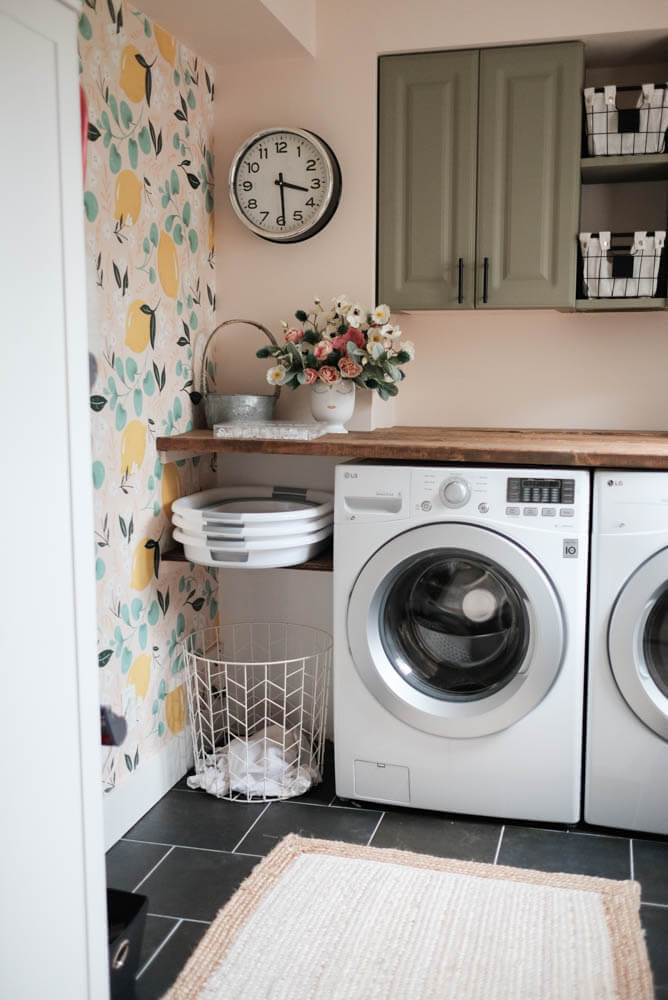 Check out the details in this retro and modern farmhouse laundry room. Overhead, the olive-colored cabinets keep hazardous materials out of reach for those little hands. Besides the machines, there is a great space to vertically organize all of your laundry baskets and bins. The lemon print wallpaper adds a fun and lively pop of color and makes this a great space to keep the family fabrics clean.
4. Classic White Subway Tile Laundry Wall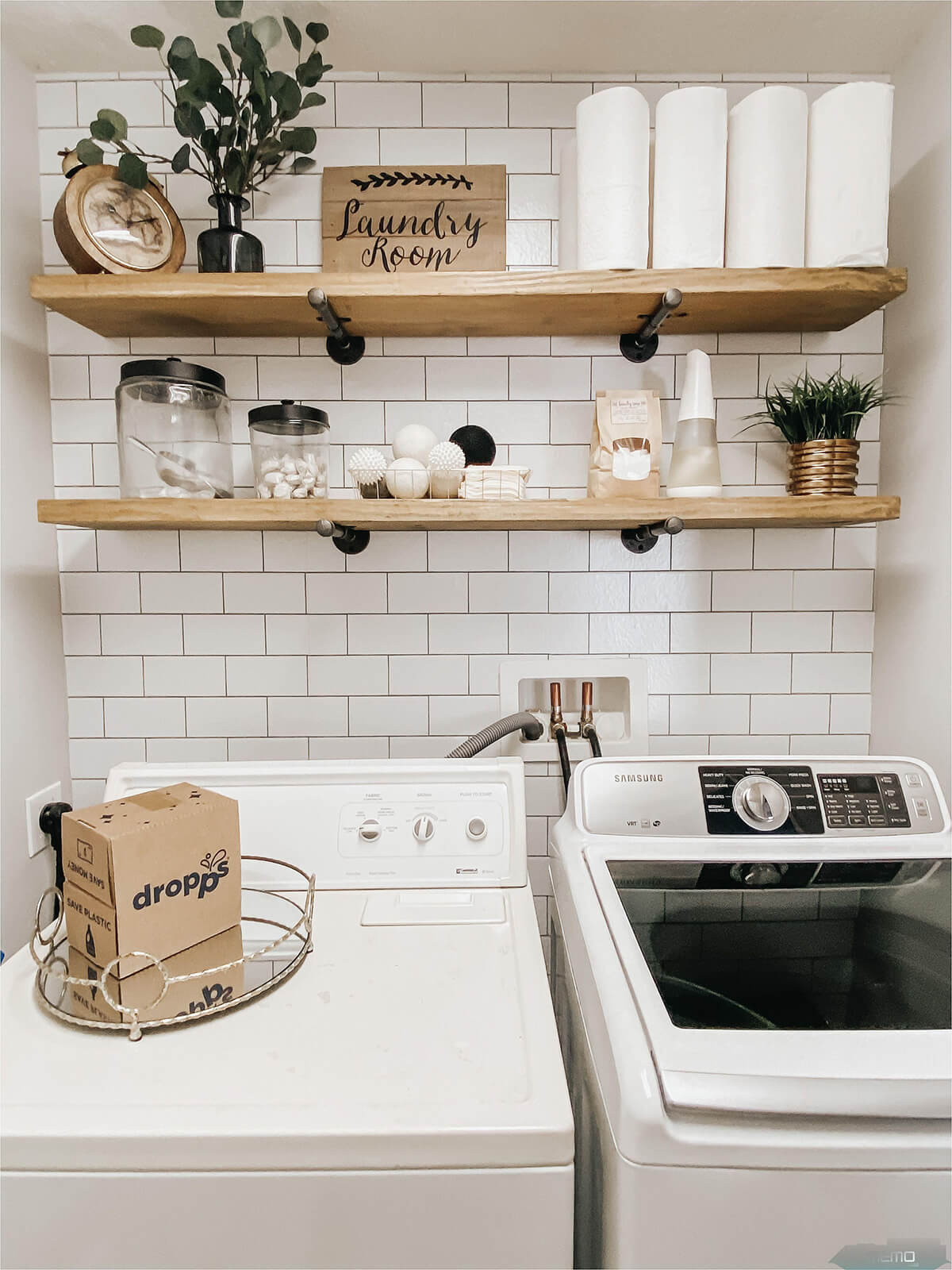 Keep it classic and simple with this spectacular white subway tile wall for your laundry room. Jazz up the room with some wooden industrial shelving to give your space the organization it craves while remaining stylish! The open shelving makes it easy to grab the supplies you need and see which ones you need to replenish on your next trip to the store.
5. Ladder Shelf Makes Amazing Indoor Clothes Line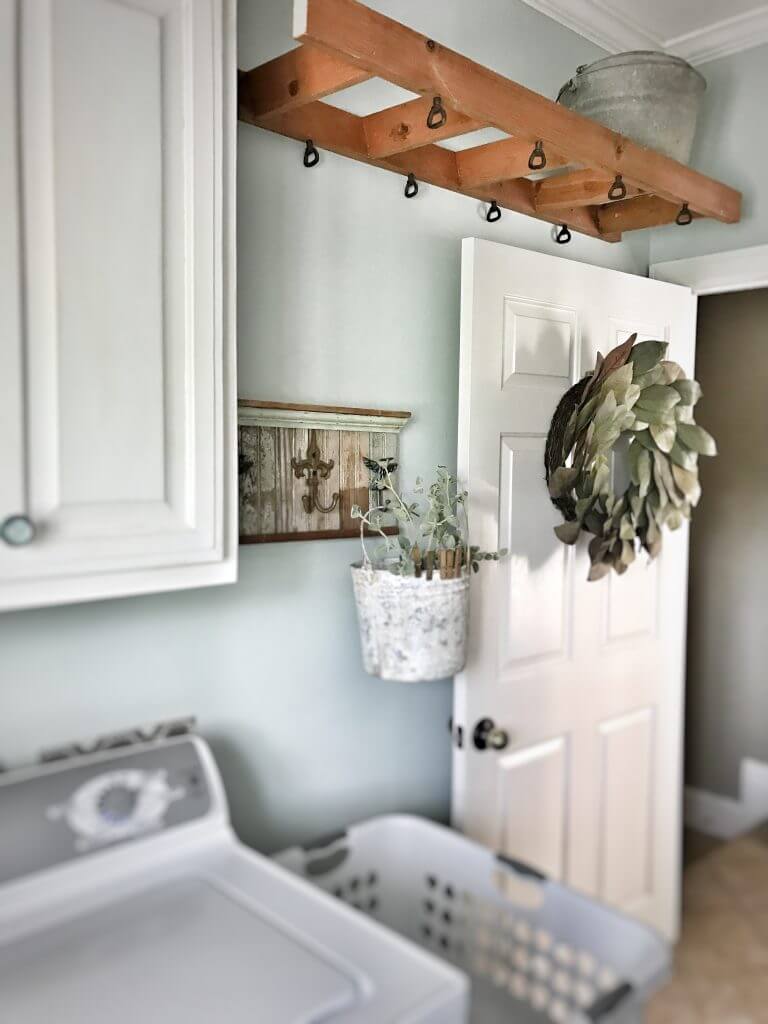 Utilize every inch of your space by including the ceiling in your design. This ladder shelf works perfectly as an indoor drying rack for all of your delicate clothing pieces. Whether you need a place to hang your kid's soccer jersey or air dry your favorite jeans, this overhead ladder shelf offers you all of the hanging space you crave. If you have an old ladder that you no longer need, this is a perfect DIY project that's useful and gives your garage a little extra space.
6. Antique Washing Bin with Wire Basket Storage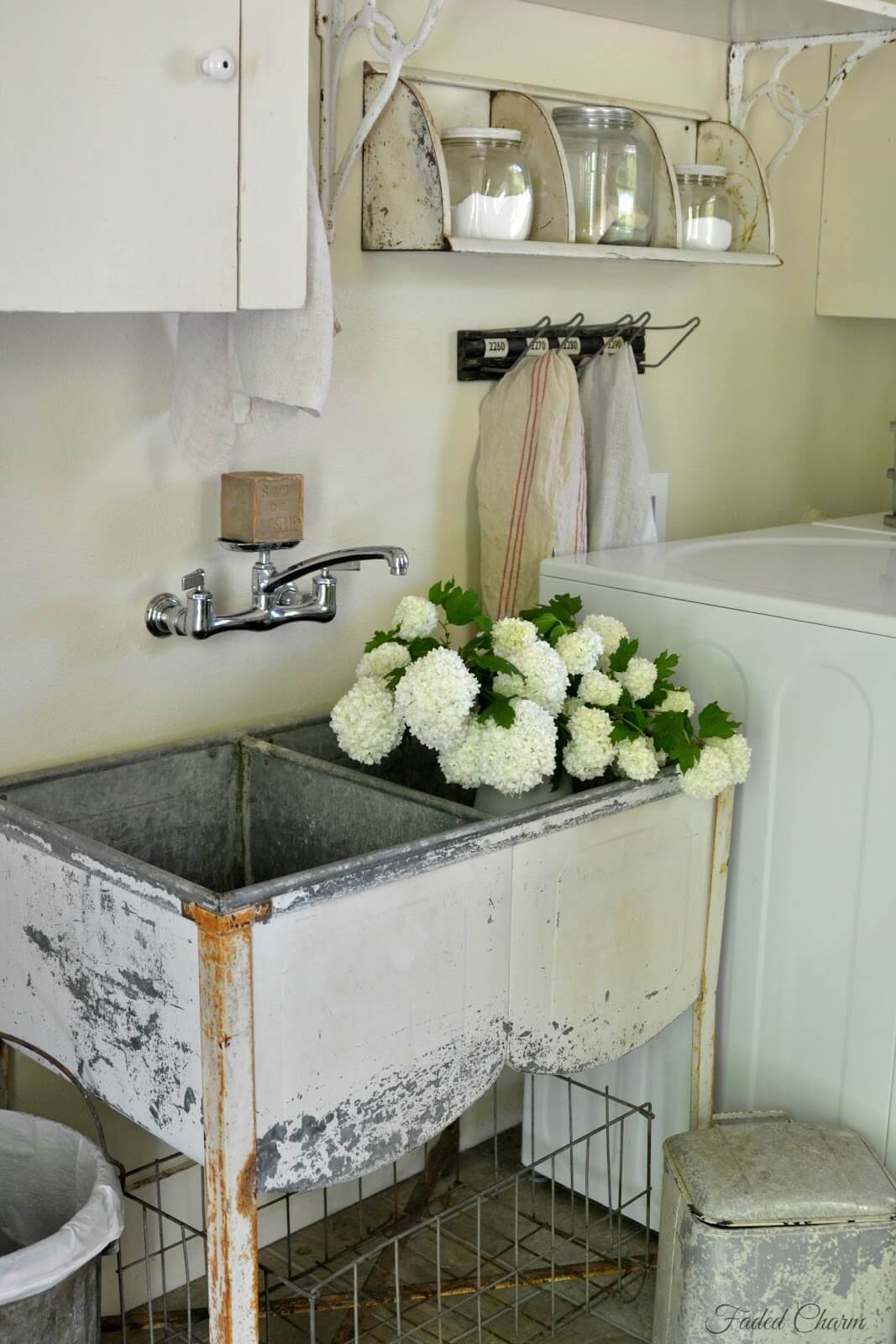 Channel that antique and vintage treasure of old into your new farmhouse design. From the oversized antique washing tub to the feed trough storage shelf, these pieces give both needed storage solutions and country charm. An oversized sink is ideal for soaking your kids' stained clothes and making tie-dye shirts or any other host of adventures your clothes find themselves in.
7. Plant Lady Vibes Cozy Laundry Closet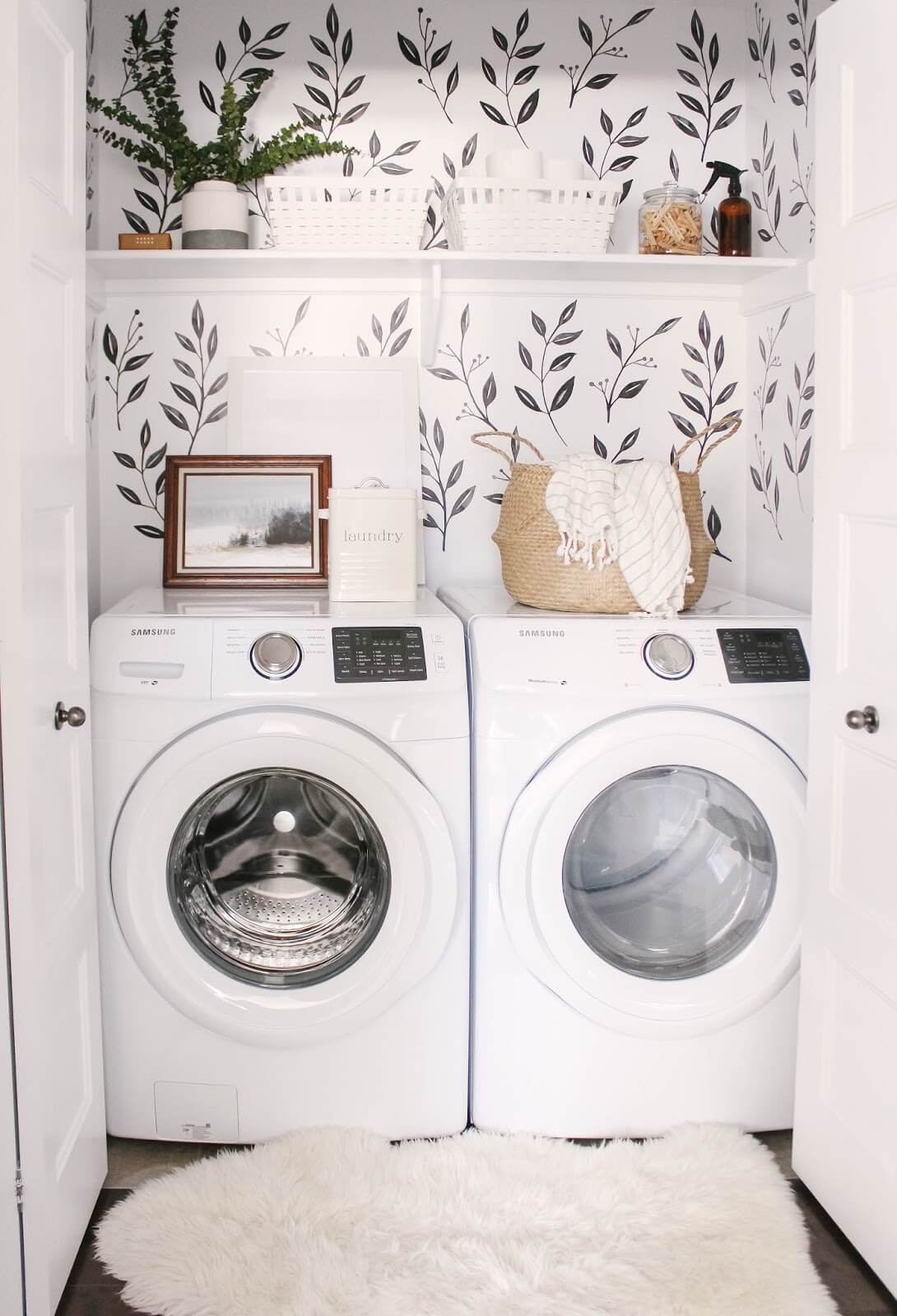 Tucked away and out of sight, this cozy laundry closet is both cute and convenient. Even though it's small in size, it can provide plenty of power in terms of style with its leafy wallpaper. Using this green leafy branch white wallpaper is the perfect way to add some color and design to this small laundry hub in your home.
8. Hexagon Haven in Your Farmhouse Laundry Room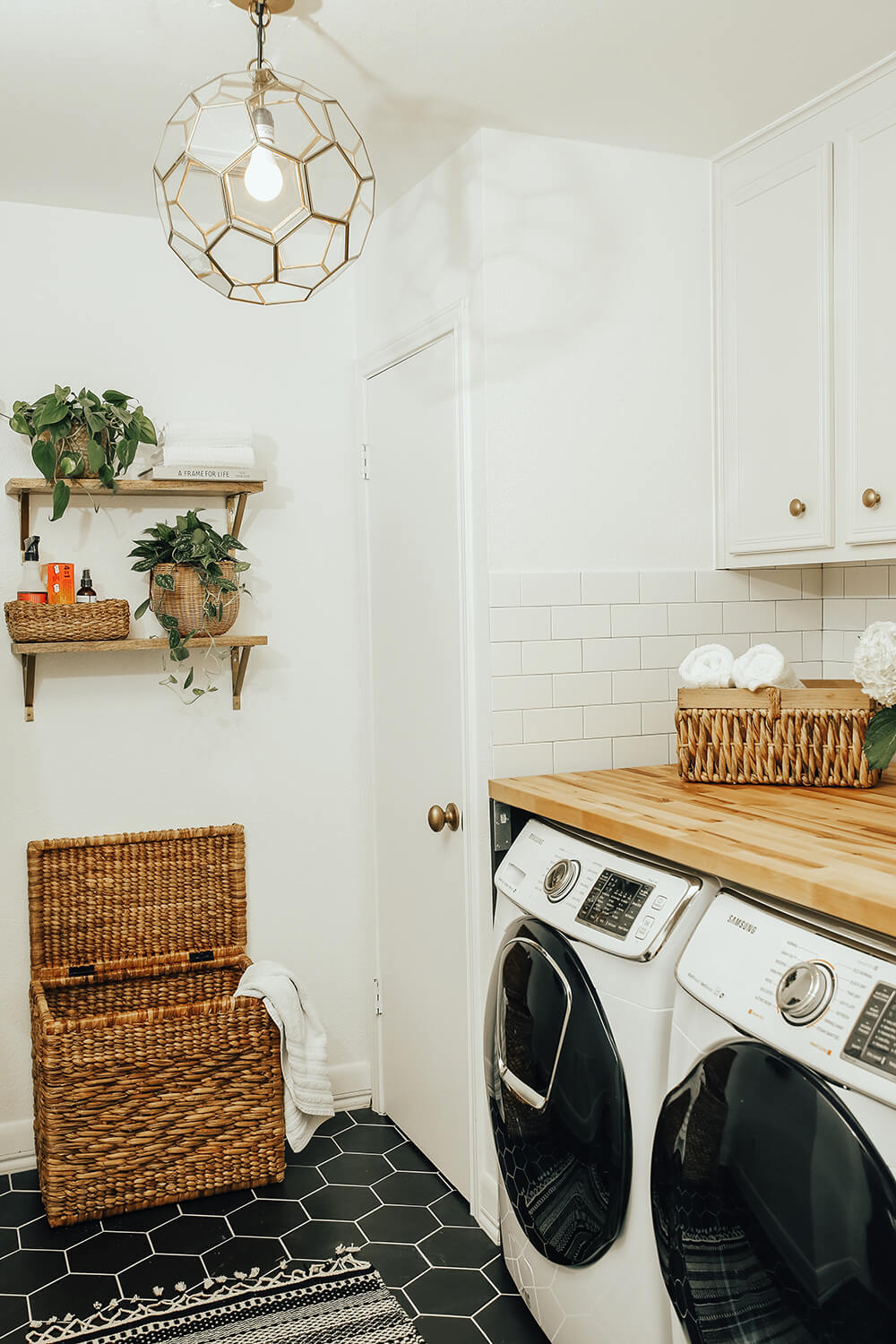 Shape up your farmhouse laundry room with some amazing honeycomb tile. This hexagon-shaped tile looks marvelous on the floor as its bold black color sets off this mostly white space. The theme is carried above into the pendant lighting fixture that showcases the shape on all of its sides; giving it a near soccer ball appearance. On the backsplash of the washer and dryer, you'll notice the white subway tile that incorporates an additional geometric element in the design. Finishing the room with a wooden counter for folding laundry ties the room together nicely.
9. Pristine and White Fresh Linens Farmhouse Laundry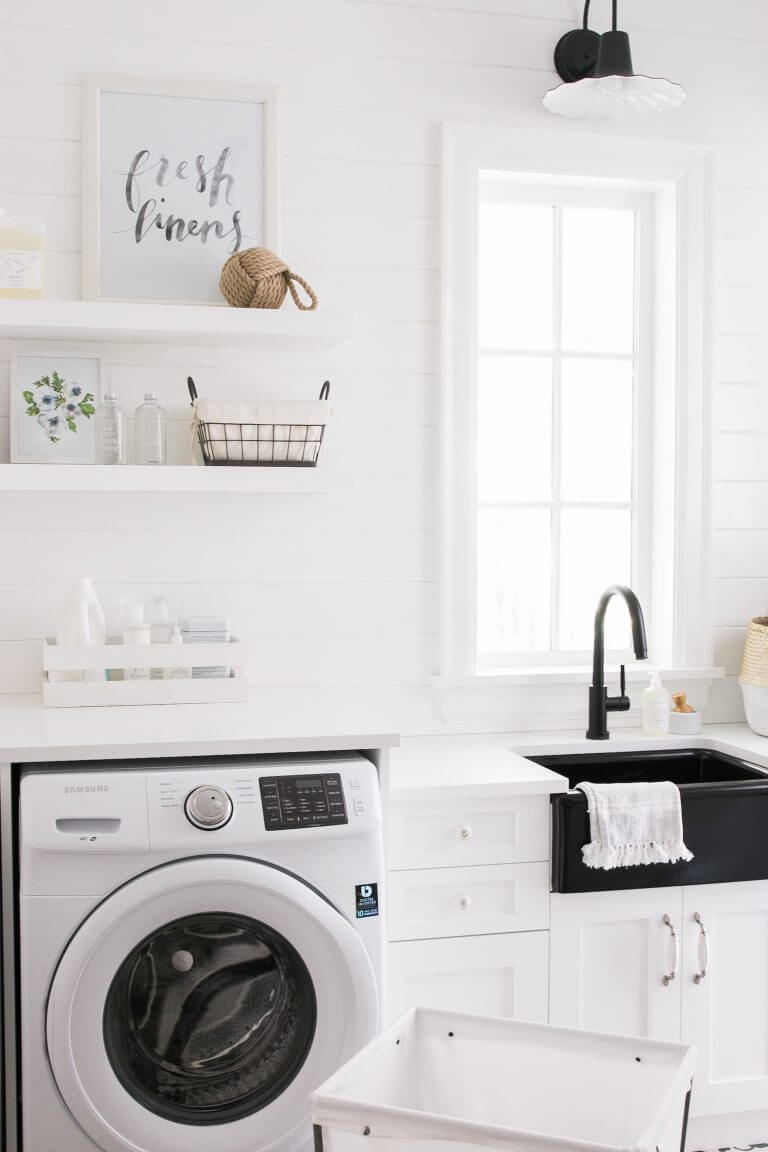 This classic white laundry space is highlighted with a deep and black farmhouse sink where soaking your threads has never been easier! From the open slat white crate to the wired bin on the shelf, organizing your go-to laundry essentials has never looked better! Add a rolling cart to assist you in your sorting and transporting makes laundry day even more enjoyable than ever.
10. Super Storage Solutions Laundry Closet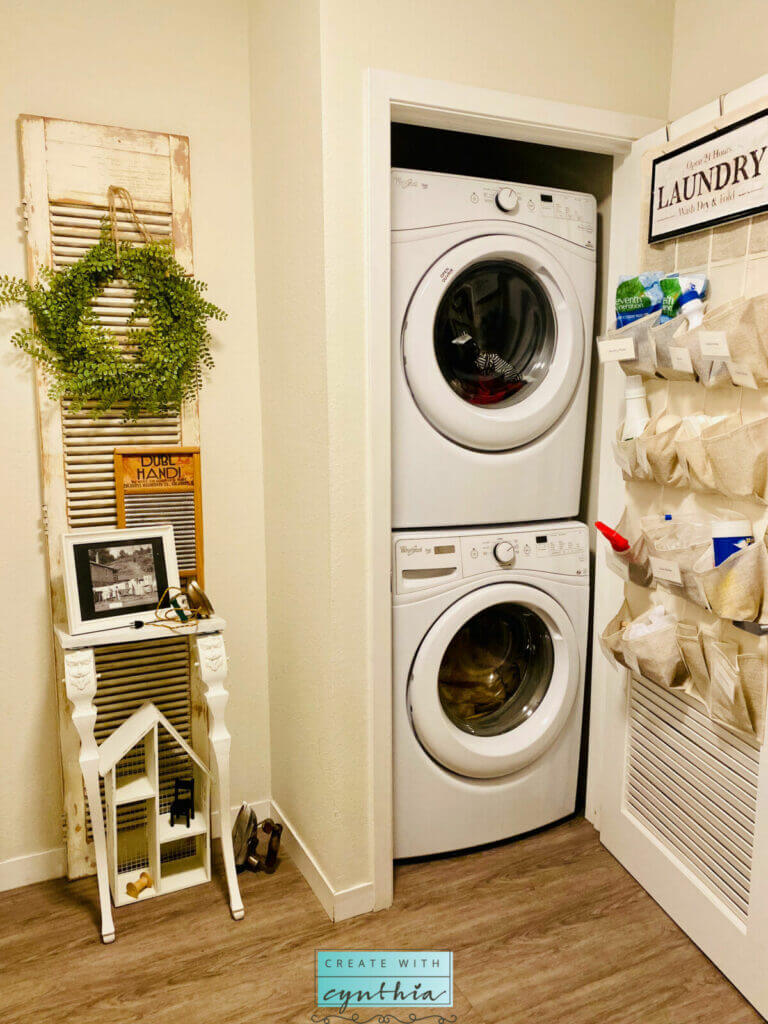 Get the most storage out of the smallest spaces by housing your stackable washing units in a closet. And for the cherry on top, include a hanging shoe organizer of the door to give you all of your detergents and dryer sheets within reach. This convenient and affordable storage solution works great for keeping supplies at hand as well as a location for collecting loose change, notes, and any other items that might be found in your family's pockets.
11. Optimal and Vertical Laundry Organization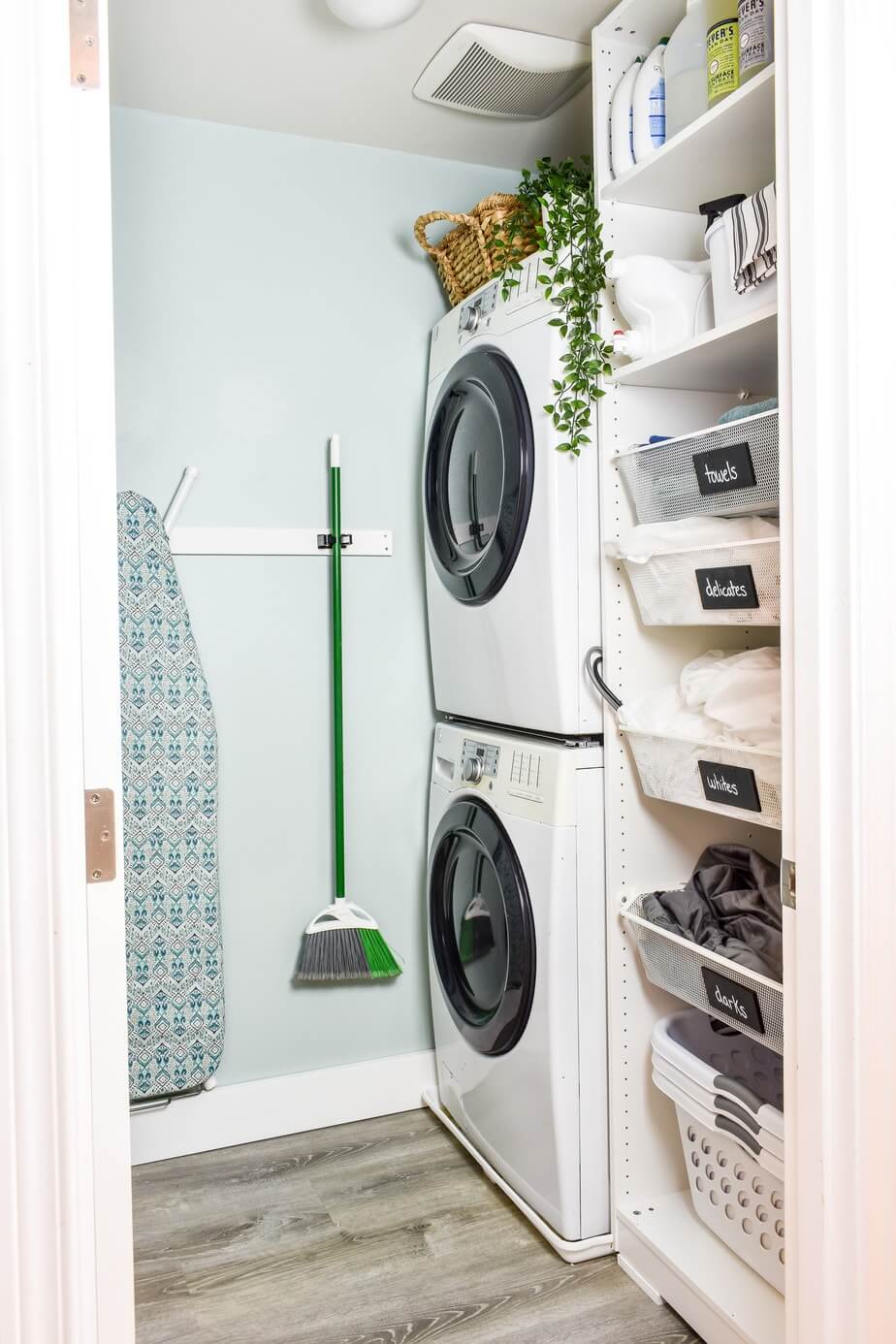 Keep it simple and to the point with this clever vertical laundry storage space. Featuring an open concept, everyone will easily see where their dark, whites, delicates, and towels belong when they head to the laundry department. With clearly marked baskets, it's easier than ever to make your laundry experience as efficient as possible. No more excuses when it comes to washing!
12. Laundry Company with Bundles of Baskets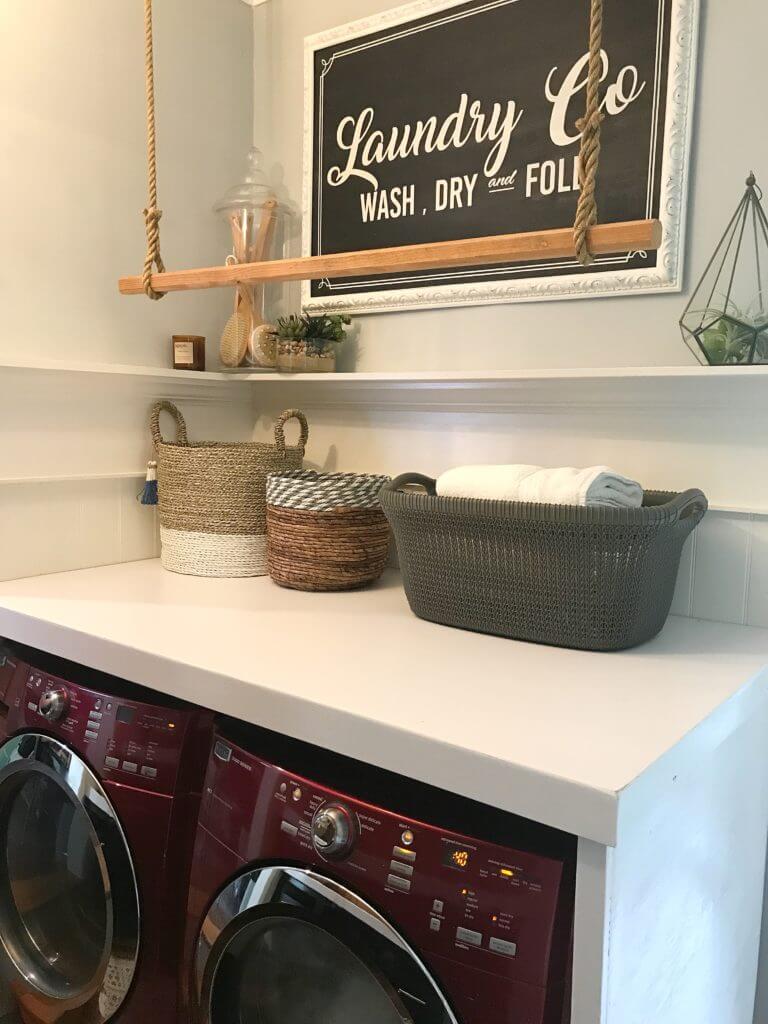 Here's a fun way to style your farmhouse laundry space. A gorgeous new take on a hanging rod is created with this thick rope and solid wood pole. It's both visually appealing and a great place to hang those items that need to be air-dried. Adding a fun "Wash, Dry & Fold" sign further decorates this chore corner. Use a variety of sized baskets on top of your machines as they can handle any load of laundry that needs to be sorted or folded each day.
13. White and Wood Laundry Shelf and Storage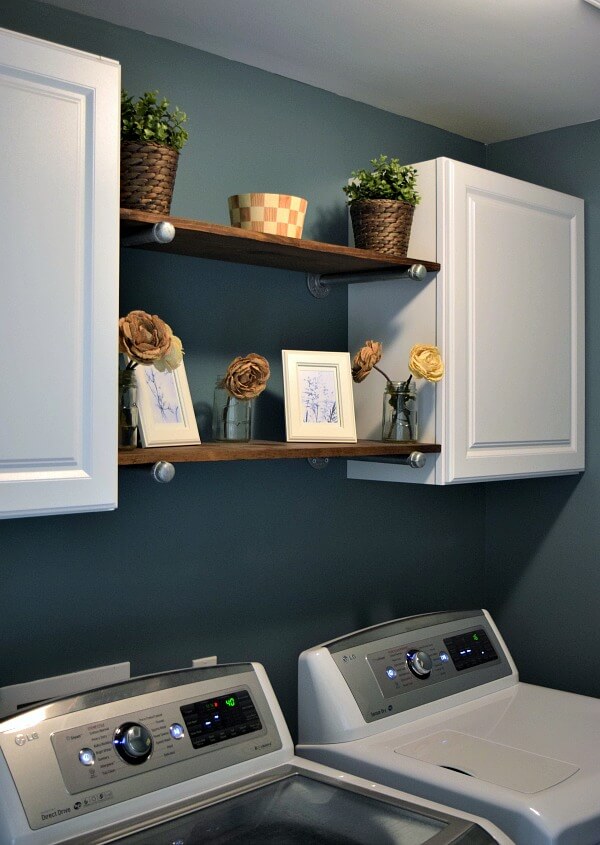 Cupboards and shelves are tried and true ways to meet all of your home's storage solutions. In the laundry room, they make great places to hide detergent, bleach, and fabric softener while keeping these harmful products away from the little folks in your home. The decorative wooden shelf is also practical as it displays some decorative pieces to give life to this drab and dreaded task. Using the mixture of rich and earthy wood between the plain white cabinets makes a great farmhouse look.
14. Wallpaper and Gorgeous Lighting Laundry Nook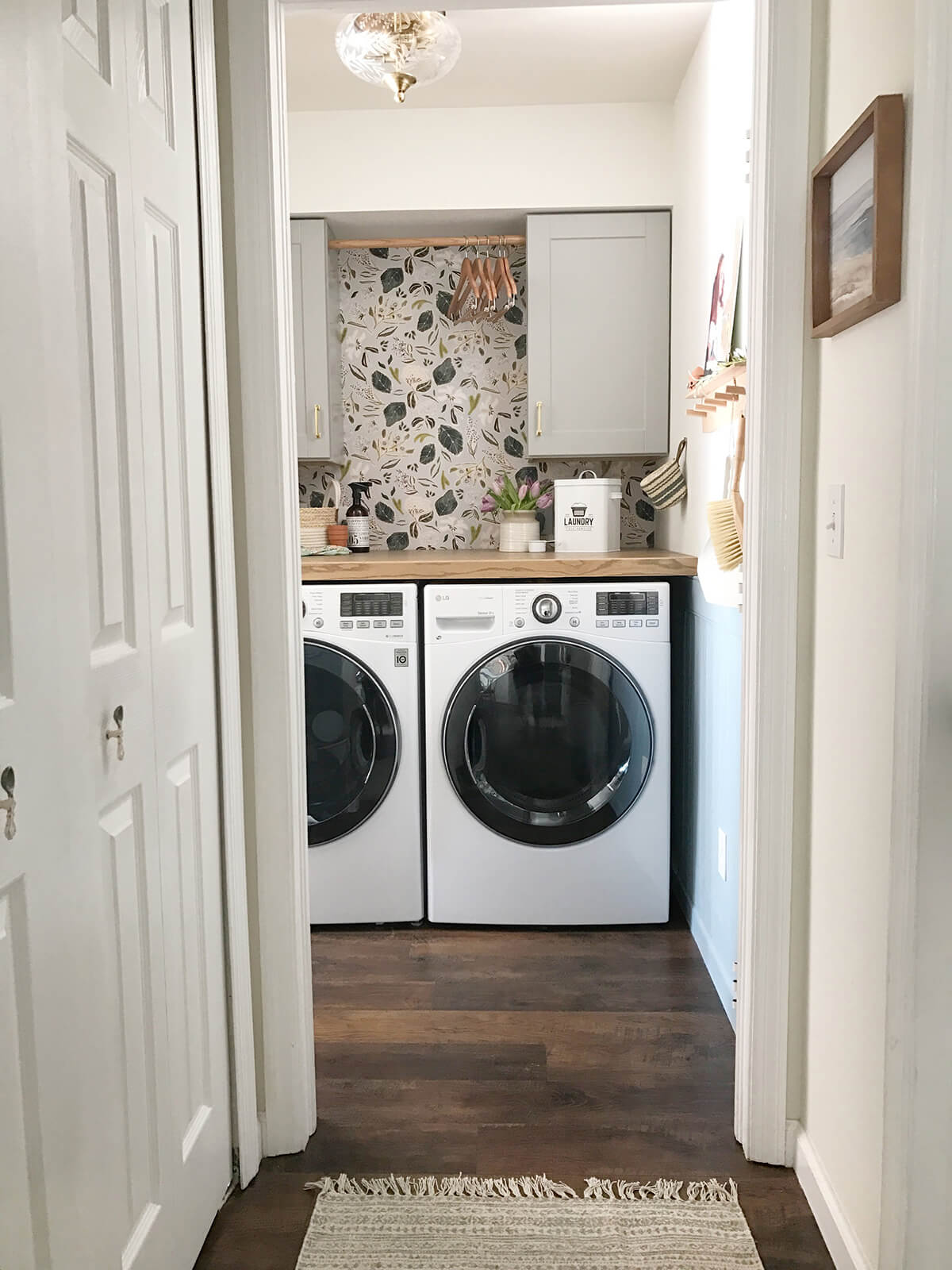 Brighten up your laundry space with some designer wallpaper as the backdrop. You'll discover an instant update to your clean white space with this simple trick. Incorporating both a wooden rod overhead and a wooden counter on top of the washer and dryer provide all the necessary spaces to check the laundry off your list. Clothing is able to be hung overhead and out of the way, while towels and washcloths can be neatly folded on the counter. A cute detergent bin looks great on the counter where it's within reach and serves as a stylish element in your design.
15. Repurposed Dining Hutch Turned Laundry Cabinet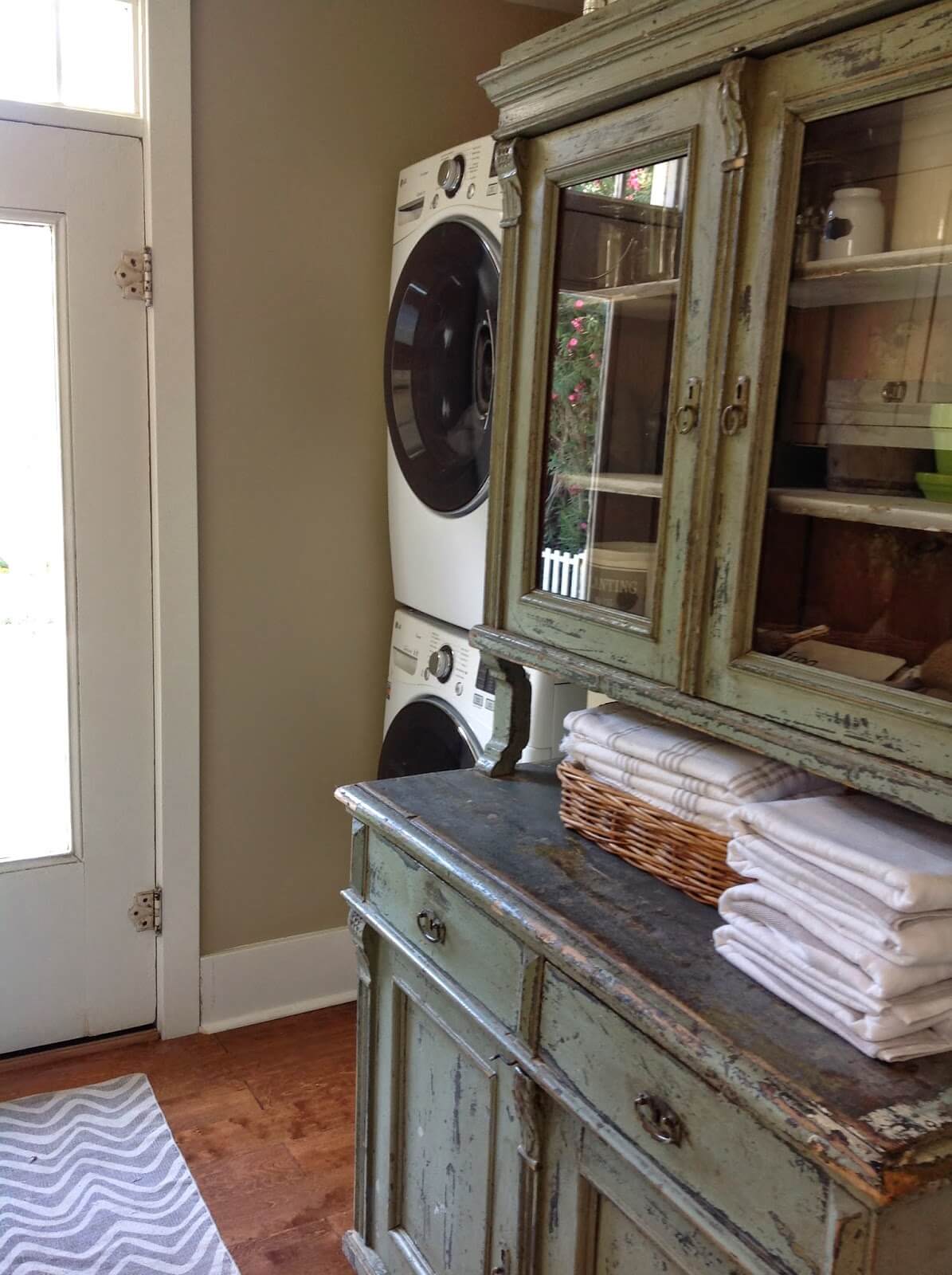 Rethink and repurpose some of the items in your home by transitioning them into another room. This once elegant furniture piece reserved for the formal dining room gets a new life as a practical everyday storage space in the laundry room. Providing a built-in counter space for sorting and folding, this hutch cabinet has plenty of room to store all your washing and drying essentials and keep them in an easy to find a place.
16. Crisp and Clean White Linen Laundry Lounge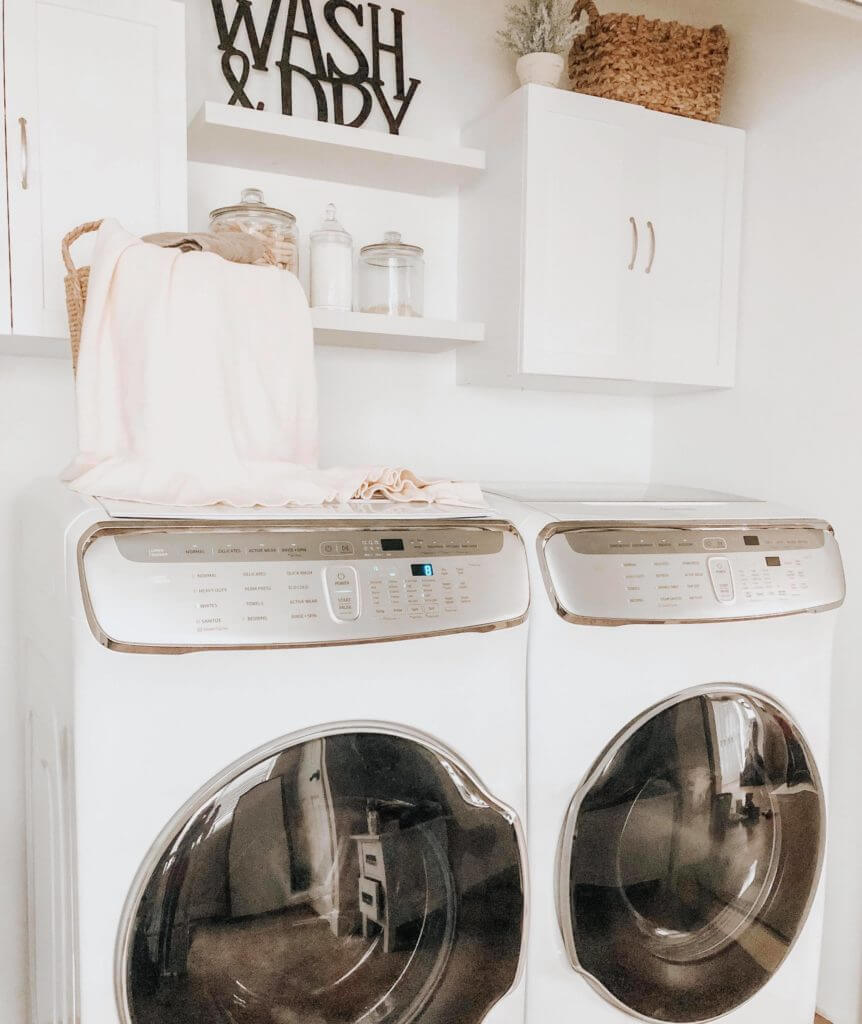 Create a laundry lounge in your home that's as clean and crisp as your linens. This super bright white space gives your clothes and textiles the cleaning room they need. The glass apothecary jars are charming ways to hold anything from detergent to clothespins. From the white cabinets and shelving to the brown woven baskets, you'll have all the storage space you need in one clean place. Your darks and whites will both take delight in this clean and crisp laundry lounge.
17. Retro Laundry Mat Style Laundry Cart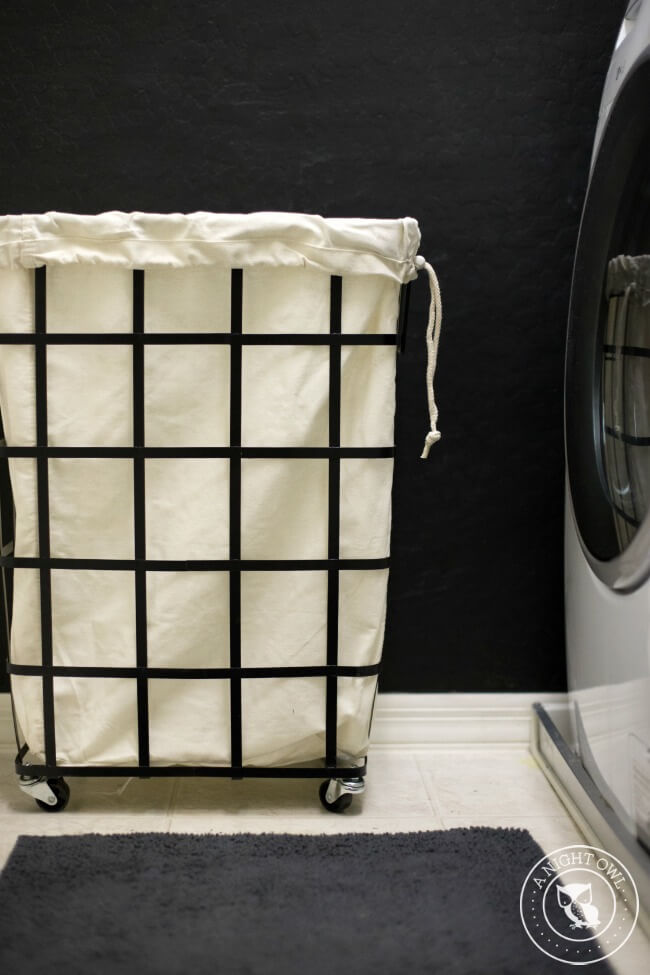 Remember the good 'ole days with this throwback to those oversized metal carts on wheels. While they don't require you to leave your humble abode, these modern and slimmer styled carts are trendy, yet full of purpose. Make laundry more fun and get everyone in the family involved by assigning a cart to each member. When it's full, simply roll it to the laundry room and let the fun begin! The black metal wire design gives it a modern farmhouse vibe and offers a convenient removable bag to make washing a cinch!
18. Great Grains Galvanized Metal Wash Tub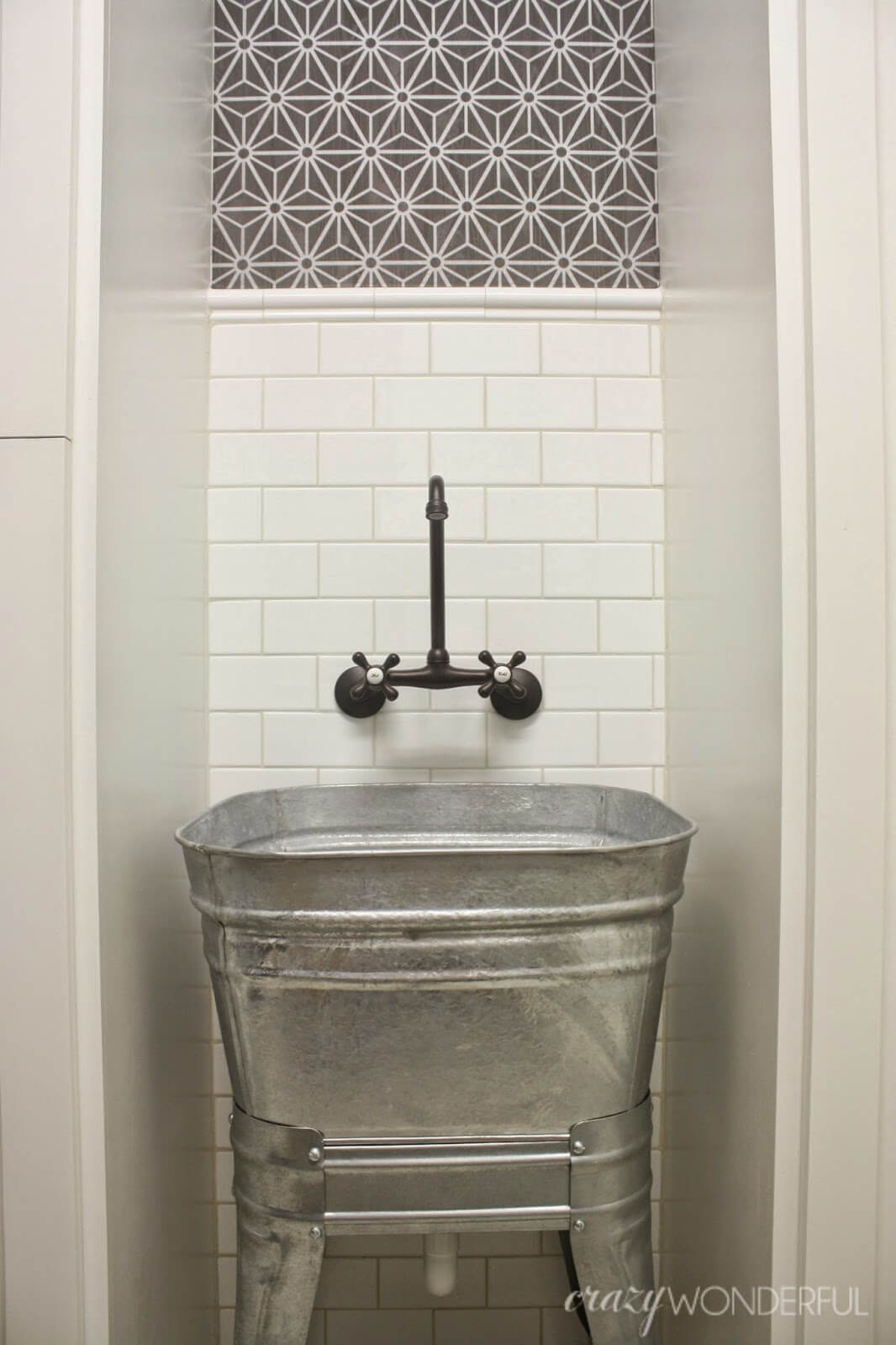 Every great laundry space needs an oversized washtub for soaking all of the dirt and stains out of your favorite garments. This galvanized metal washtub offers the perfect way to get this accomplished while remaining on-par with your modern farmhouse decor. Keep the look sophisticated by adding a retro antiqued brass faucet along a wall of white subway tile.
19. Wood, Grey, and White Farmhouse Laundry Room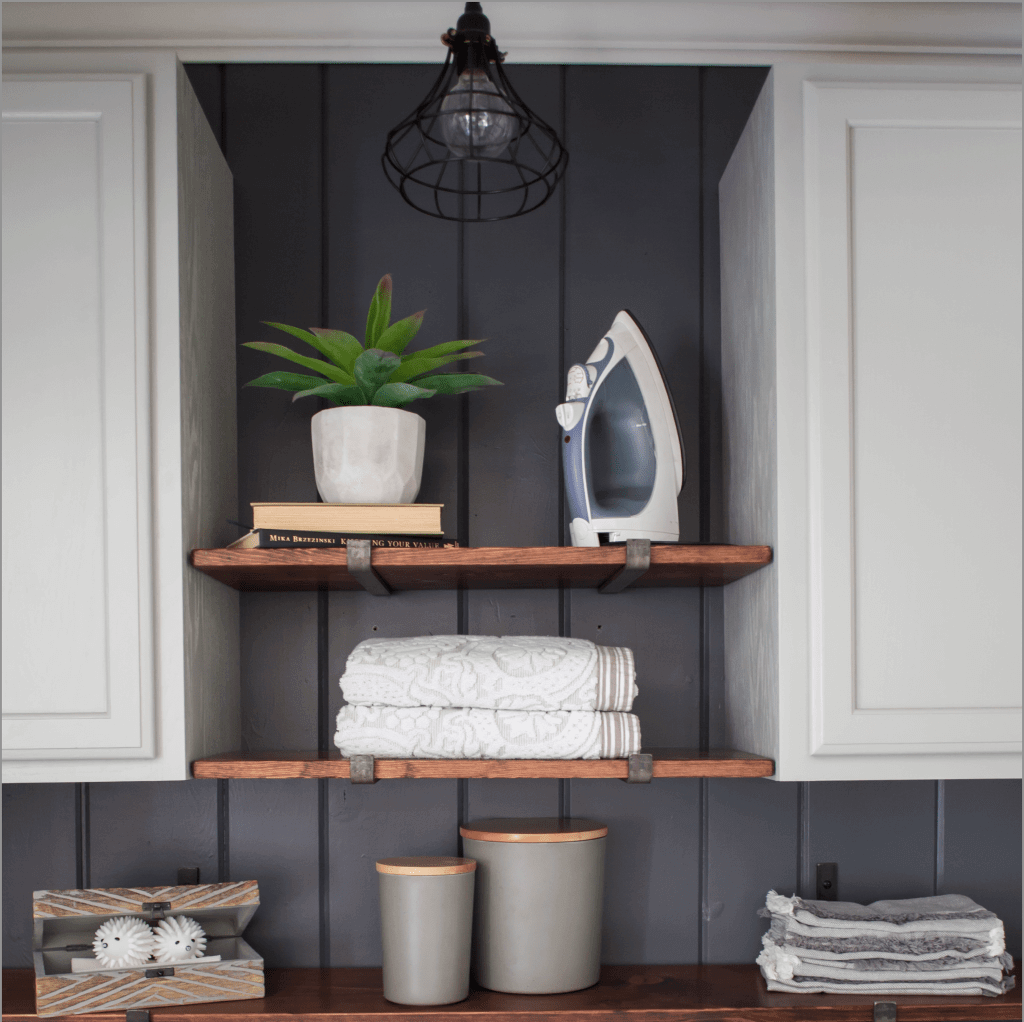 Imagine your clean, modern farmhouse decor extending into the nooks and crannies of your laundry room. What you might find is this combination of greys, wood, and white. Classic white cupboards anchor the space above the washer and dryer allowing for a set of two wooden shelves nestled between to provide all of the storage solutions your laundry room needs. Rest some cute decorations on one shelf and store your iron on another. The wooden counter on top of the machines gives you the folding space you desire and offers a place for your grey canisters to call home.
20. Farmhouse Grey Wood Wall for Laundry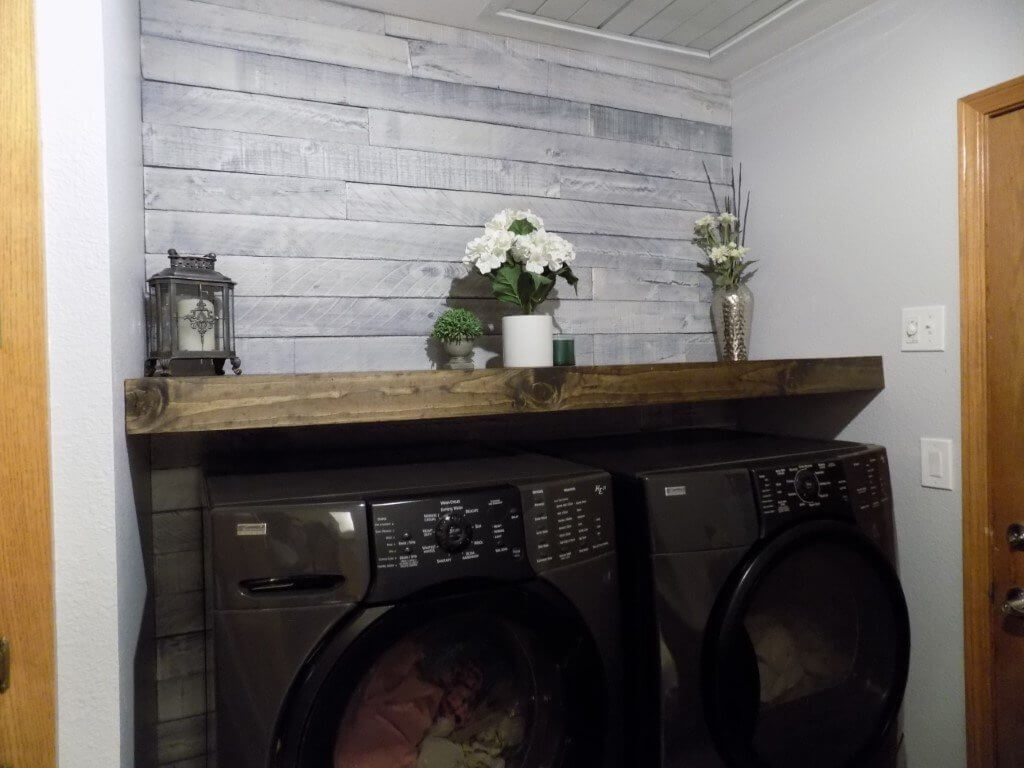 Update your laundry room with some modern farmhouse appeal by adding a wall of grey wood behind your washer and dryer. Mount a large and rustic wooden slab above these machines to give you some shelf space as well as more farmhouse appeal. Slide your units underneath and you've got a great place for all of your laundry needs.
21. White Washed Grey Laundry Cabinets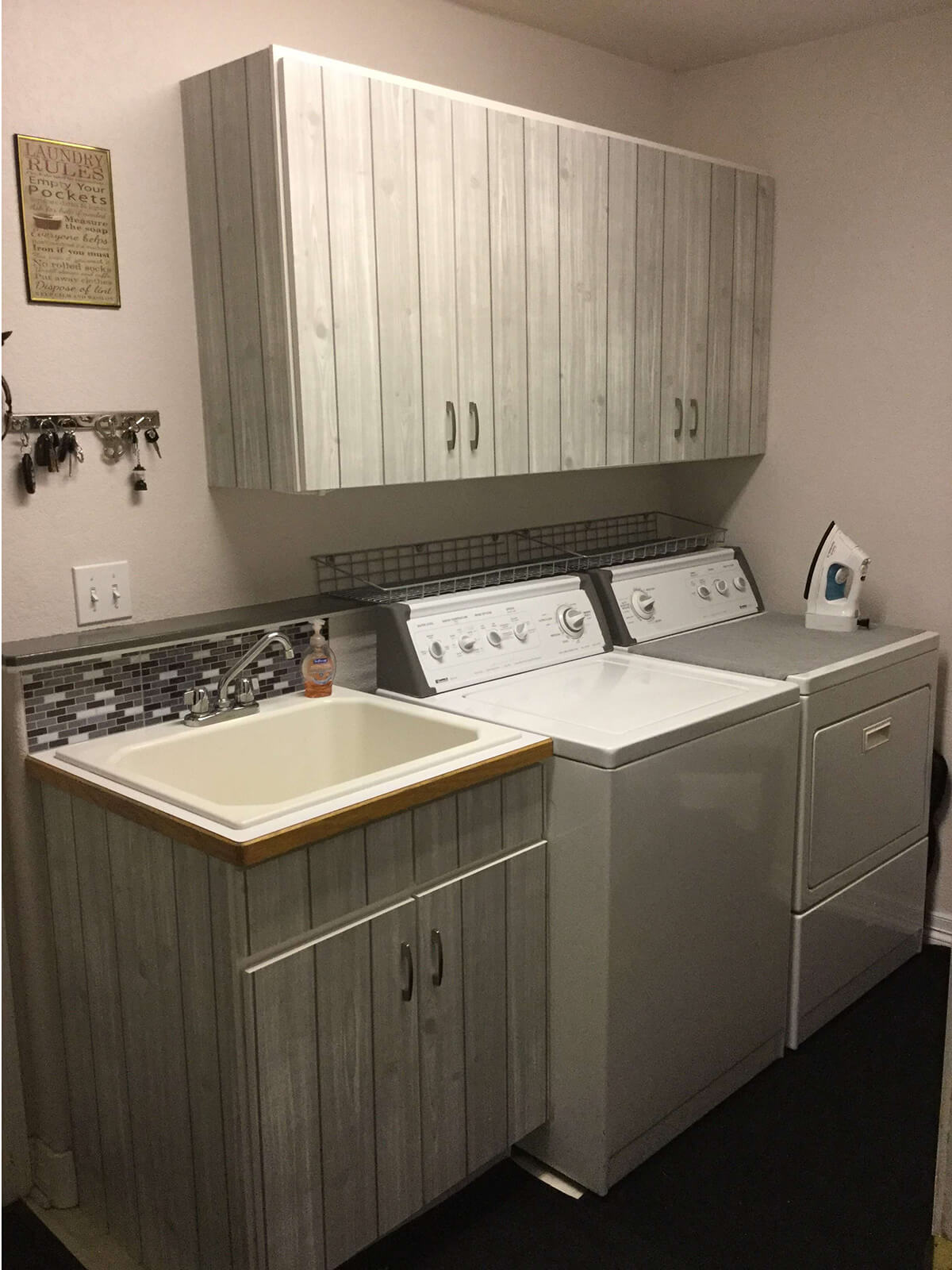 Place these whitewashed grey cabinets over top of your washer and dryer to give you ample storage space. You can also use another to hold a utility sink to keep the look continuous. Place some silver wire metal bins on top of your machines to give you a great place to toss some lost socks or loose change from your last load. If your laundry room doubles as you mudroom, it's easy to make both work by including a small bench for taking off your shoes and a caddy to hold your keys.
22. Black, Gold, and Bold Laundry Room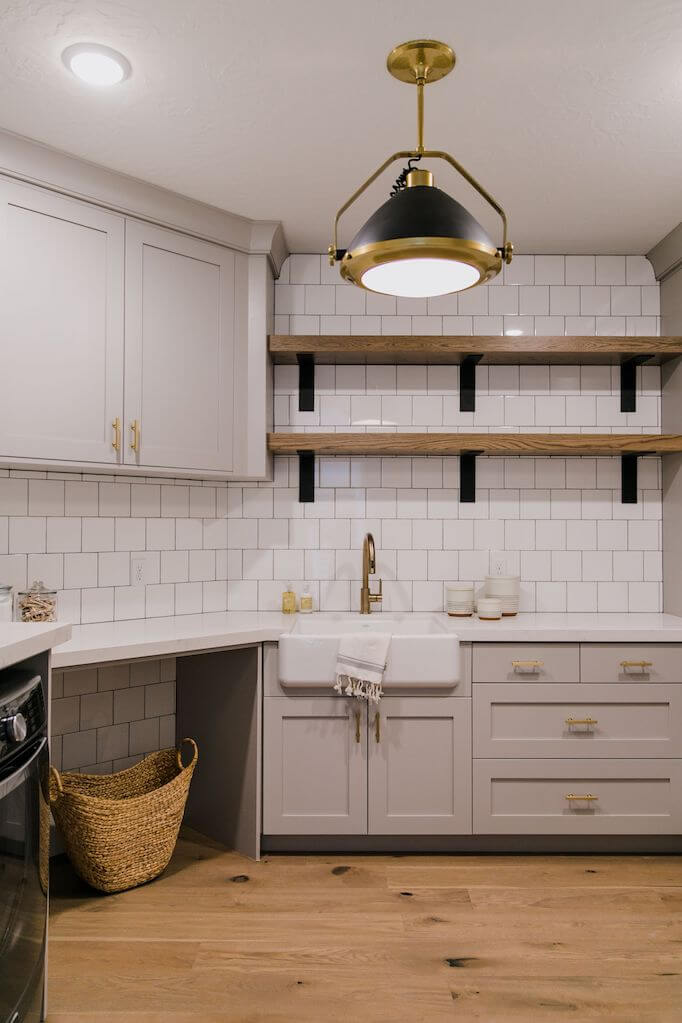 Look at this elegant and bold laundry room! It's a great combination of style and sophistication in one of the home's most overlooked rooms. Check out the amazing light fixture featuring black and gold. The white subway tiled walls make the room seem larger than it is and look super clean and tied together. Black brackets holding up the wooden shelves give a farmhouse vibe to the overall design. Everything works together like magic as the faucet and all hardware mimics the gold-tone seen on the overhead lighting.
23. In-Between Laundry Cart on Wheels
Short on space? No problem when you have this slim rolling cart that slides right in-between your washer and dryer. The three tiers offer all the storage space you need for your everyday laundry needs. Adding a large and thick wooden shelf on the sidewall offers more storage and hooks for your garment hanging pleasure. No matter how small your laundry space is, you can still squeeze in the extra storage you need to keep all of your detergents, stain removers, and bleach in one easy-to-reach space.
24. All-in-One Mud & Laundry Room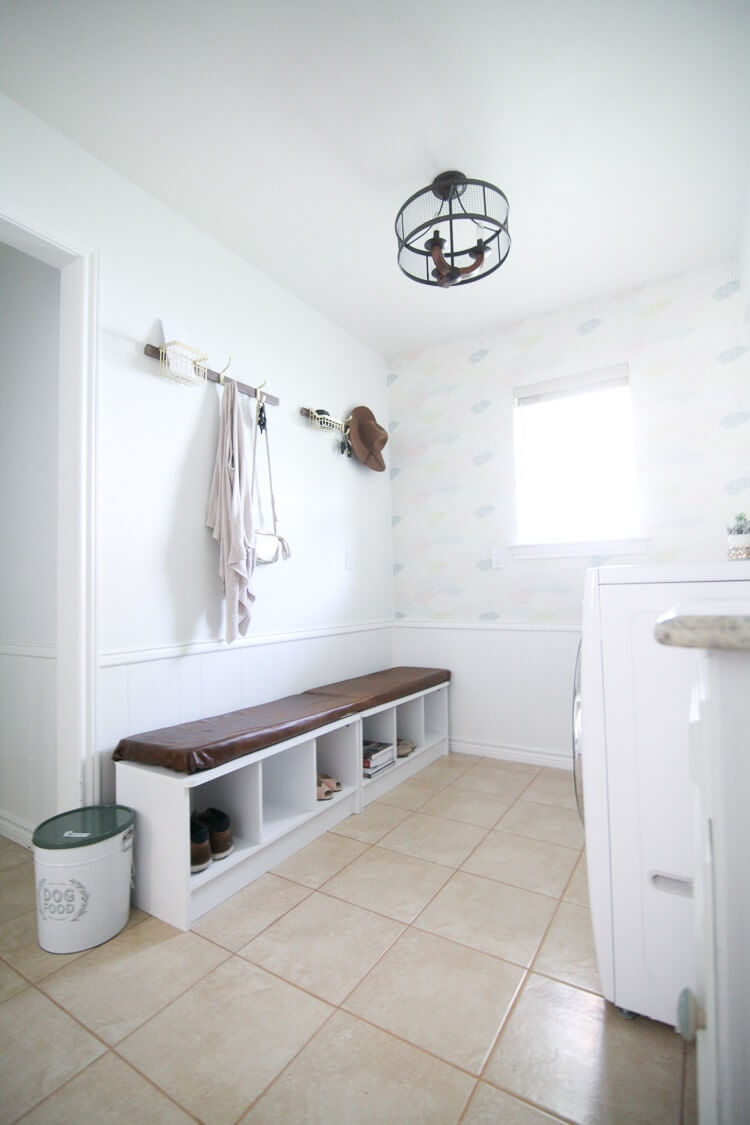 Kill two birds with one stone as you utilize your space and make the most of your mudroom. After a sweaty game, your kids can toss their jerseys right into the washer and keep their dirty shoes off your clean floors by sticking them in one of the many storage bins. With a cushioned seat, this storage bench is a perfect place to sit and remove those dirty shoes from the soccer field or barn. With a strip of hooks overhead, you can hang your entire dog walking essentials, as well as backpacks, purses, and jackets. Keeping everything in one easy-to-find place makes getting out the door each morning a little easier!
25. Industrial Pipe and Wood Utility Shelf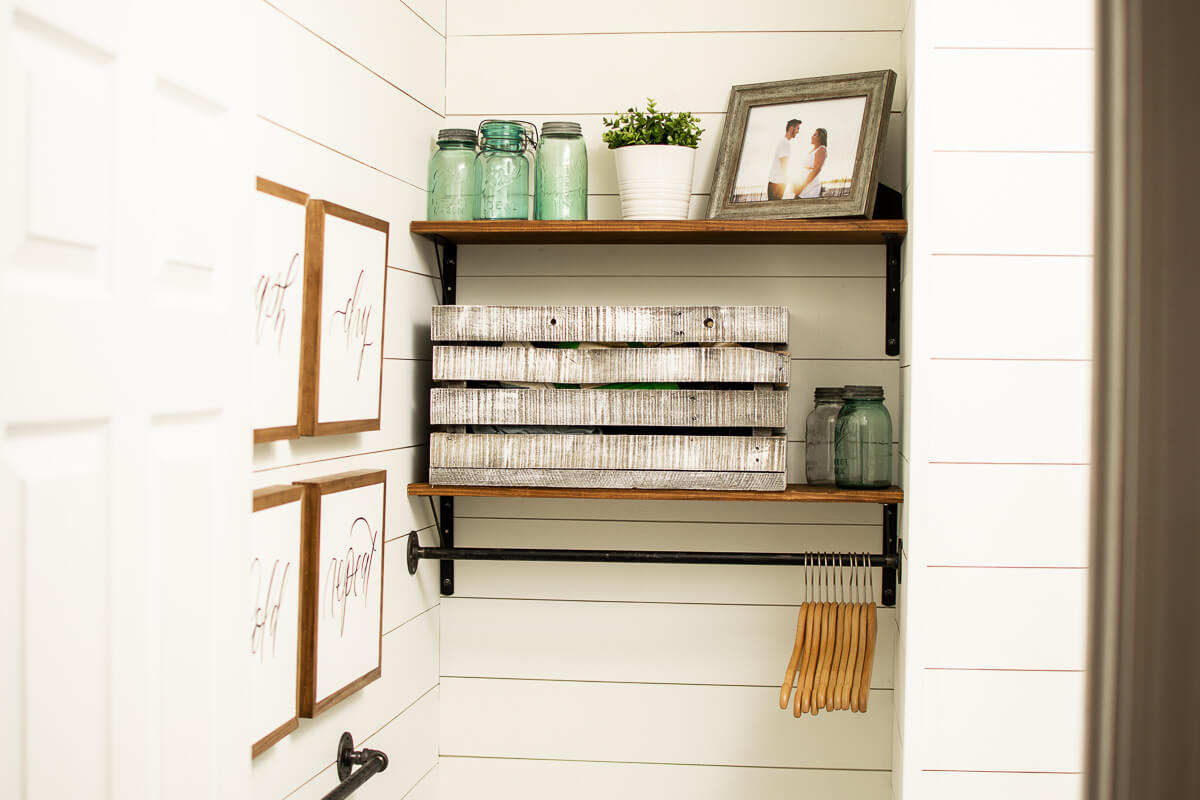 Achieve the organizational goals of your dreams without being boring. These gorgeous black industrial pipes provide stylish bars for hanging all of your delicates and the wooden shelves look great too. Place a distressed wooden crate on one for added storage while still keeping the modern farmhouse feel. You don't have to have a big space to make the most of your storage. The mason jars and framed print give the laundry space a warm and cozy touch to make it feel like an extension of the rest of your home.
27. Black & White Farmhouse Laundry Room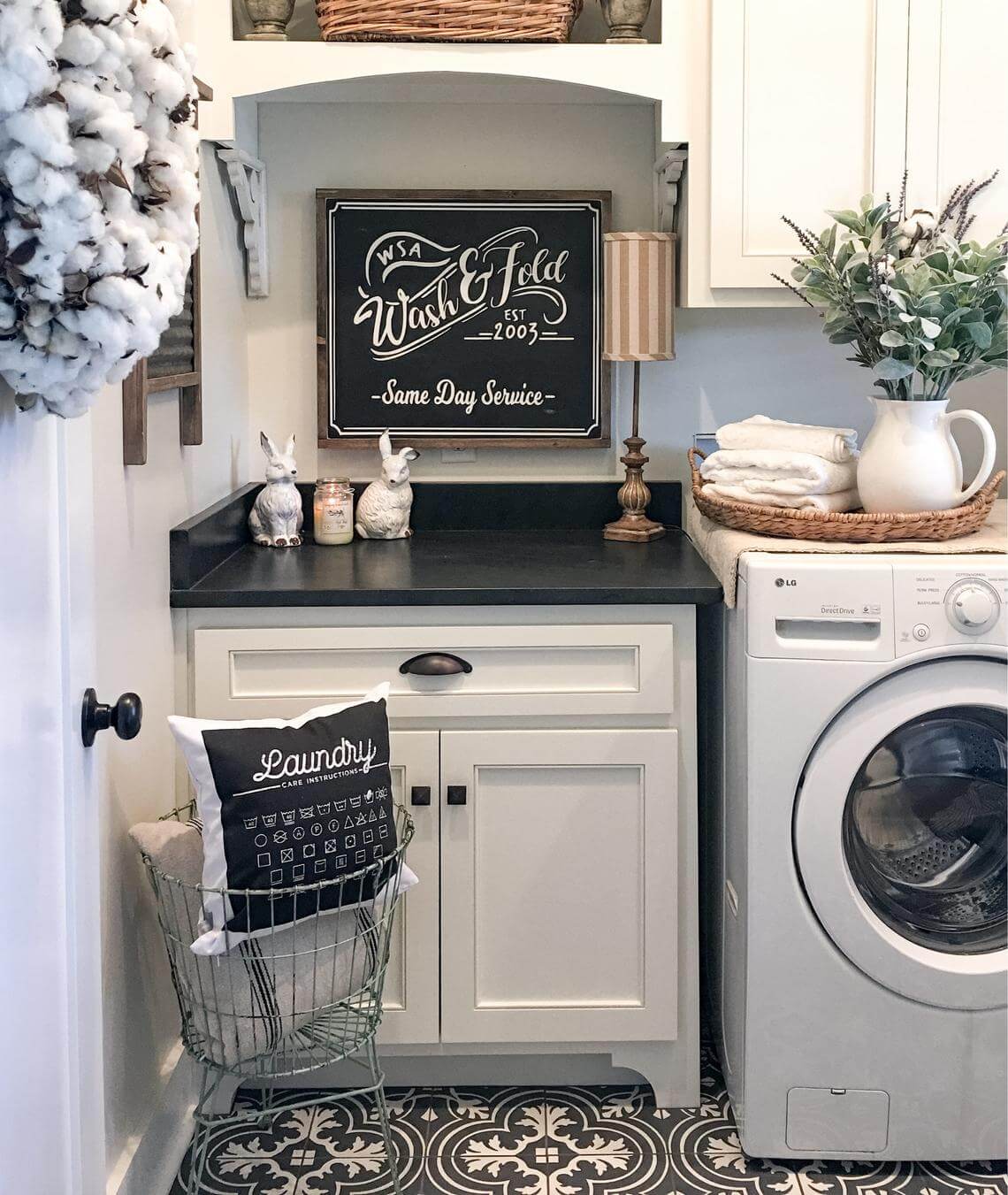 Enjoy the comfort of same-day service from your modern colored farmhouse laundry room. Featuring the classic combo of black and white, this quaint laundry space has all you need from your machines to nice, clean counter space. From decorating with a freshly picked cotton wreath to an antique washboard, your laundry room is transformed into a featured room of your home and not hidden in the basement.
29. Fun Laundry Sign and Metal Wash Tub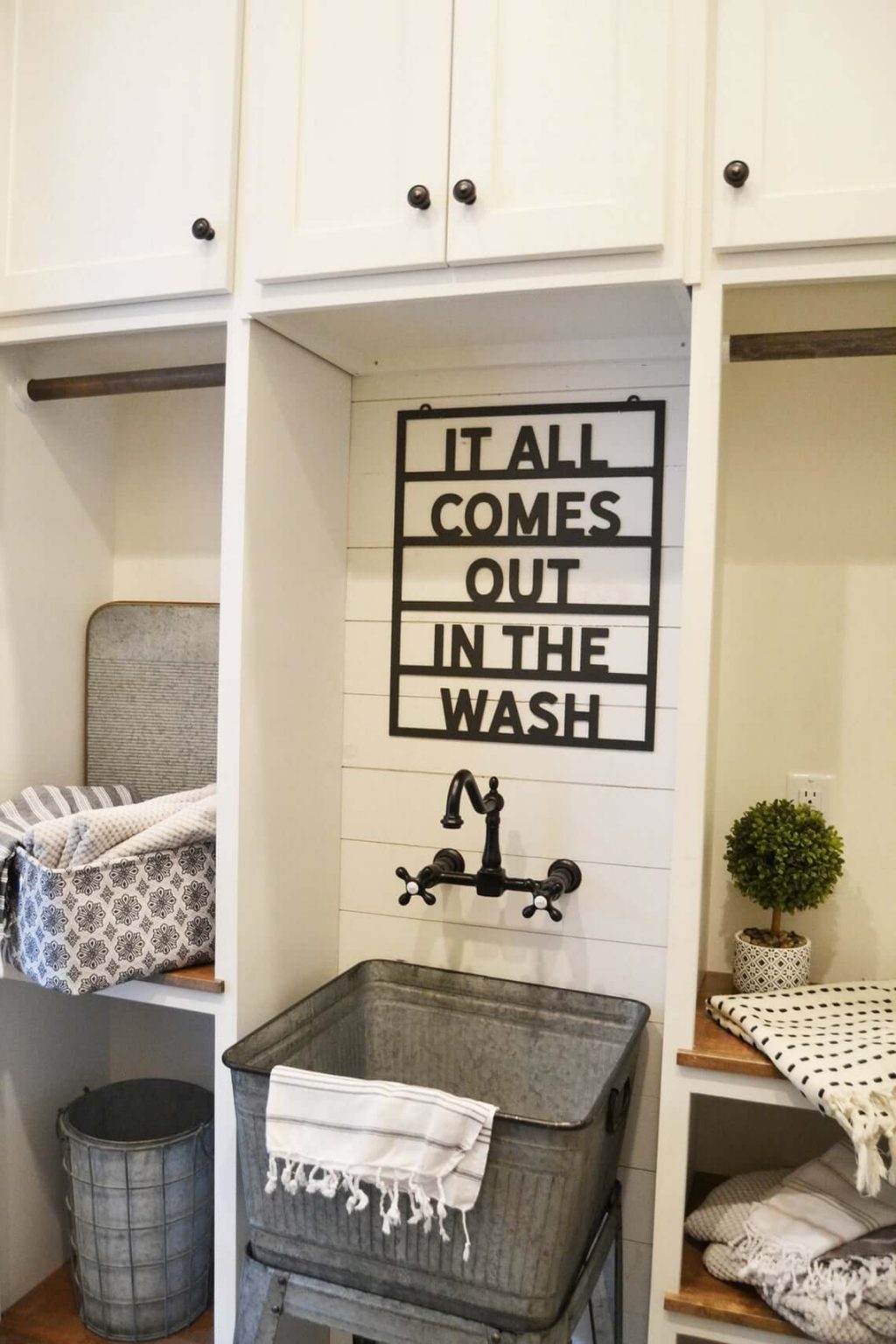 Add a load or two of fun in your laundry with this sign and metal washtub. This oversized washtub constructed in galvanized metal adds a farmhouse element from years past with all of the conveniences of the modern-day. Above, a fun sign makes the tedious task of another load a little easier to bear. Nestled between two top-to-bottom shelves gives you all the storage space your laundry room needs.
30. Tile Backsplash over the Washer and Dryer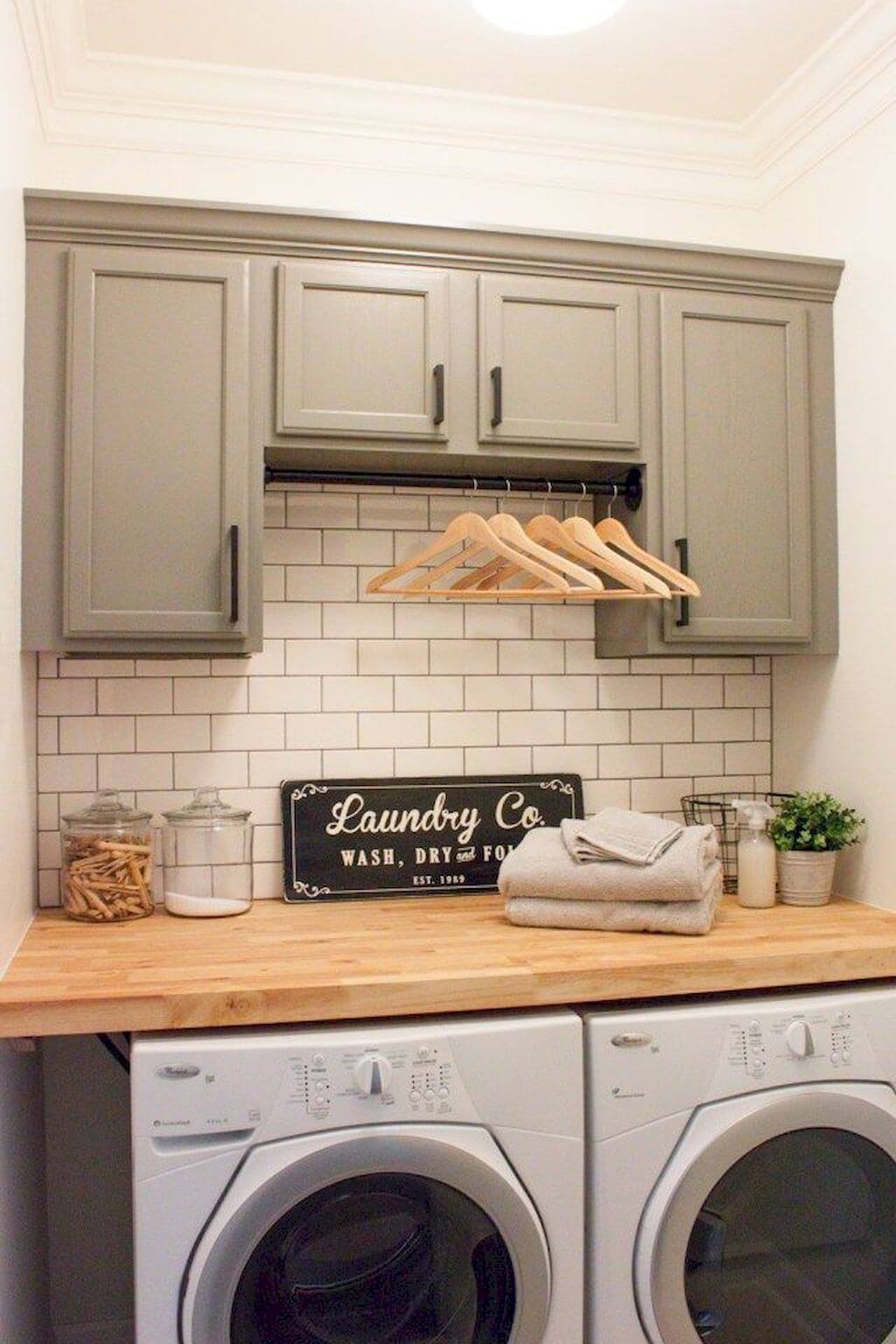 31. Cute Stenciled Signs for the Laundry Room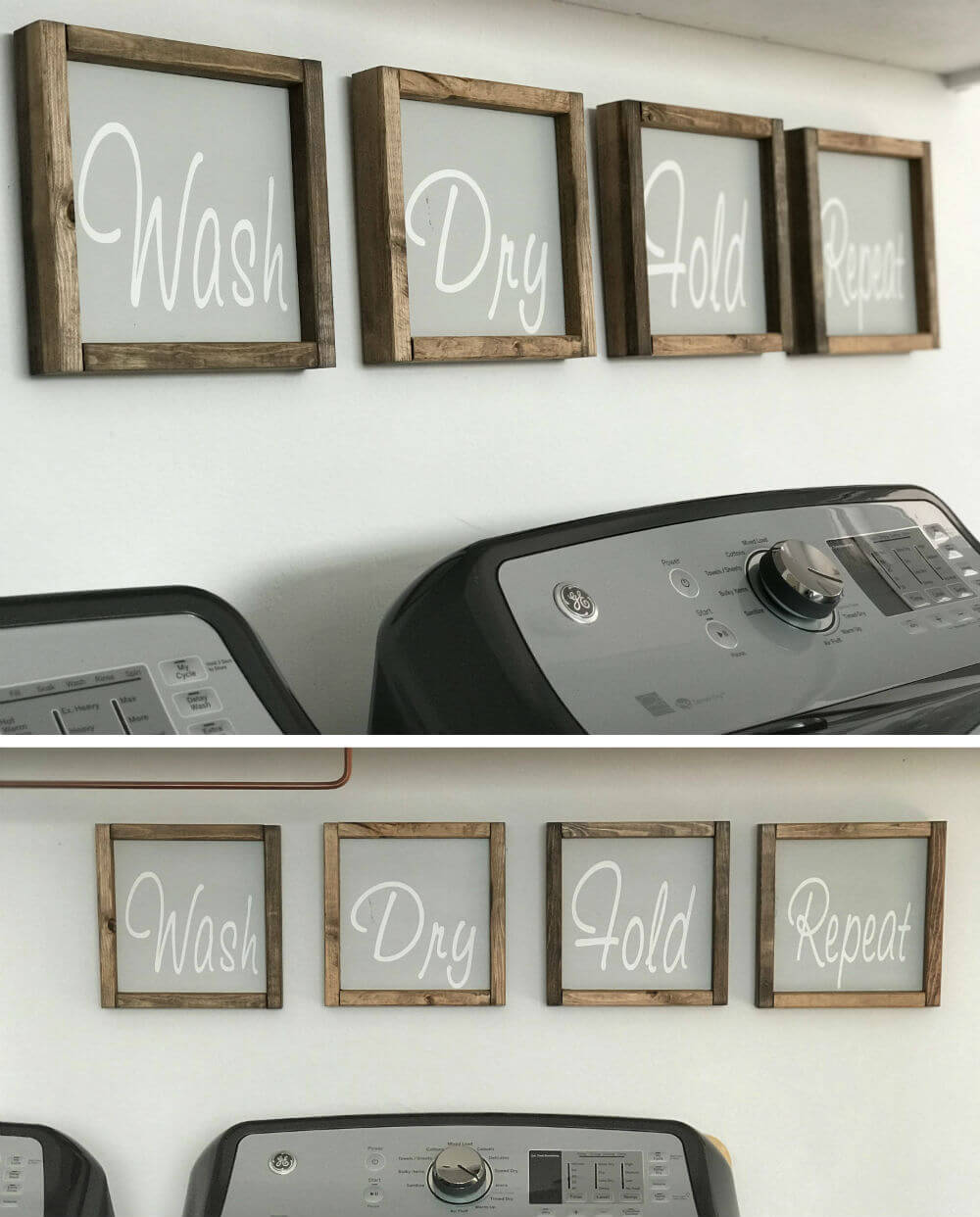 32. Built In Shelving with Stained Wood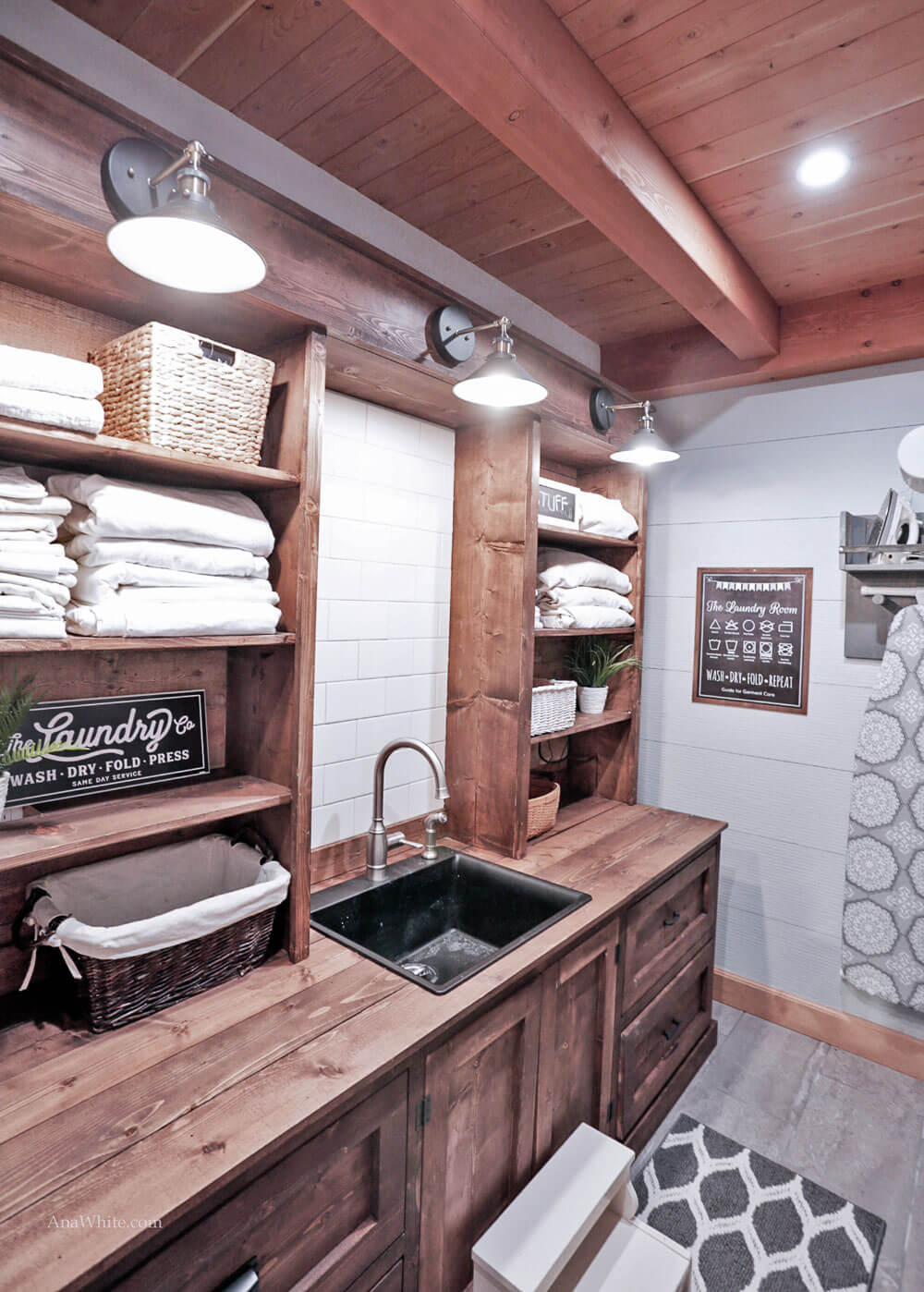 33. Charming Barn Lighting Fixture for Laundry Room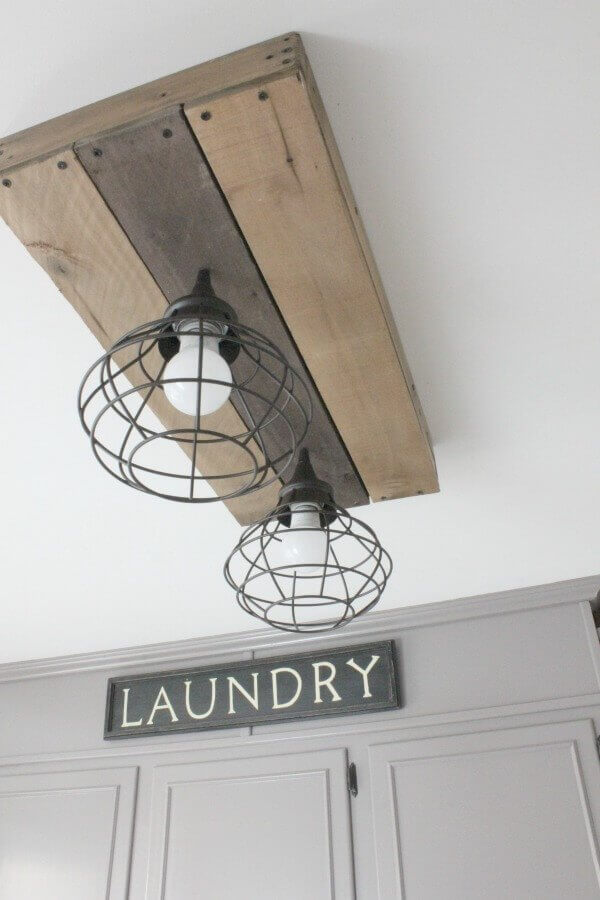 34. Oversized Hampers and Glass Jars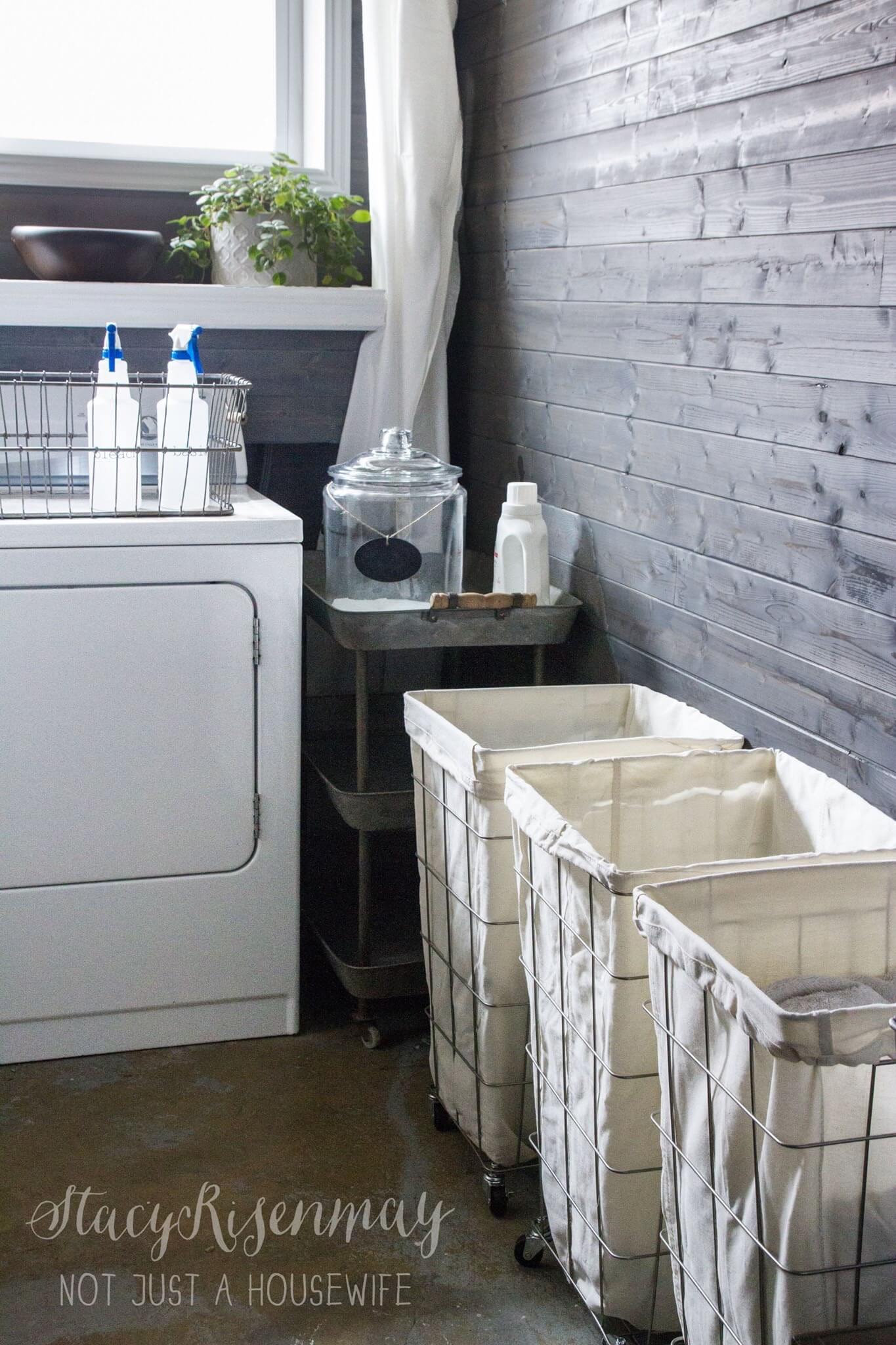 35. Clean White Cabinets with Hanging Shelves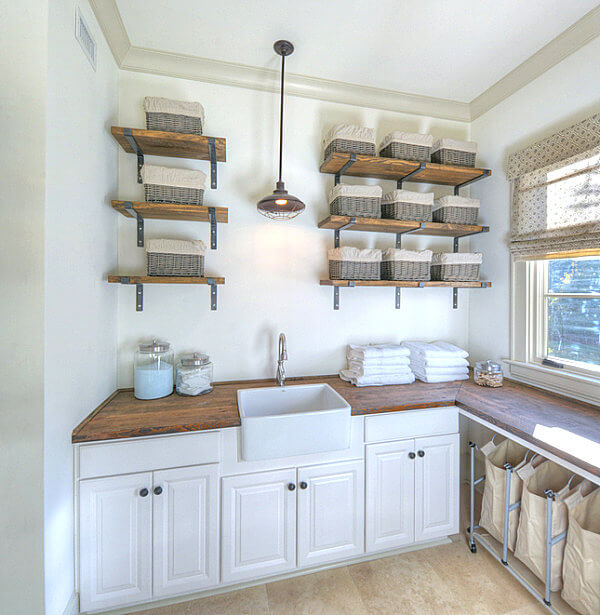 36. Adorable Place to Store Lost Socks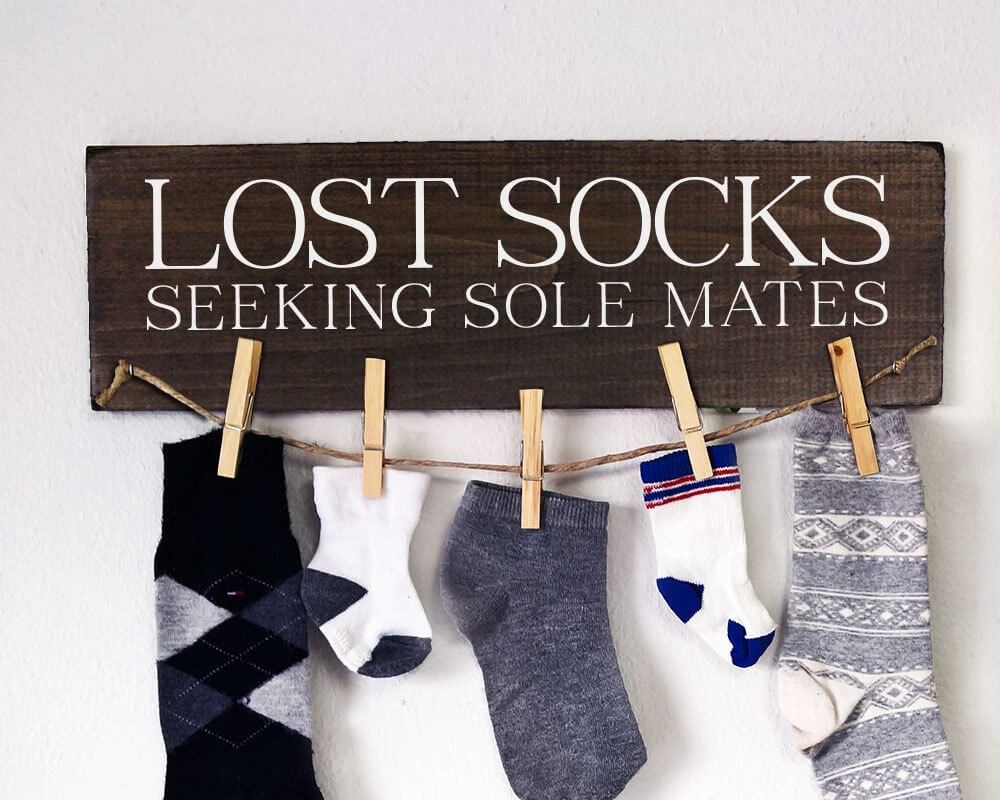 37. Use Mason Jars to Store Laundry Detergent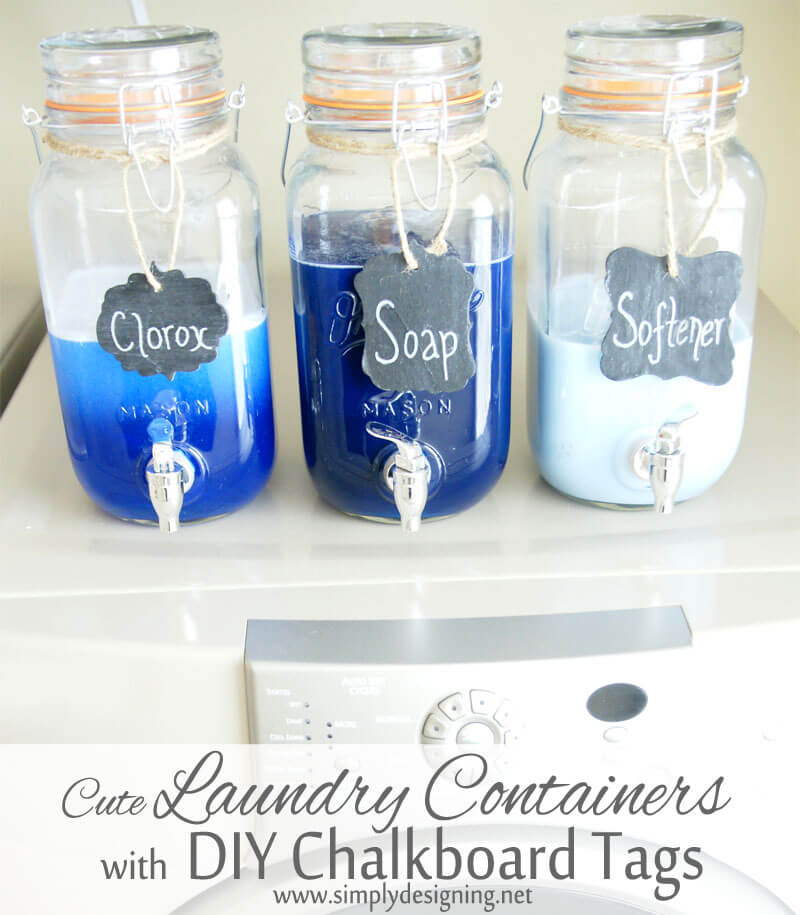 38. Hang Your Ironing Board in Style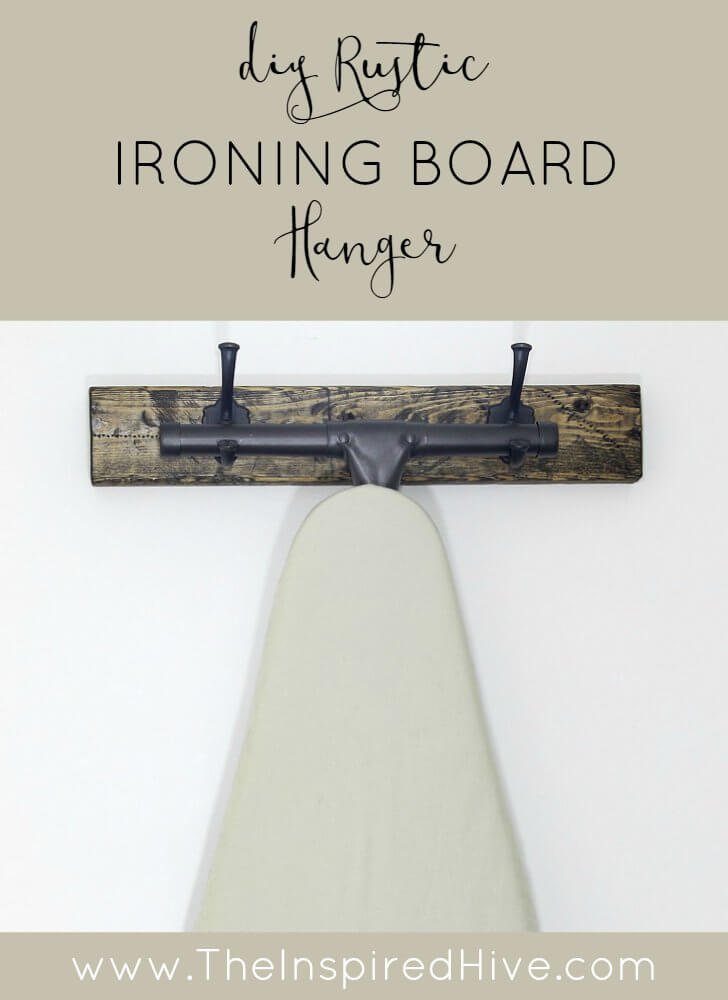 39. Display with Old Canisters and Washboard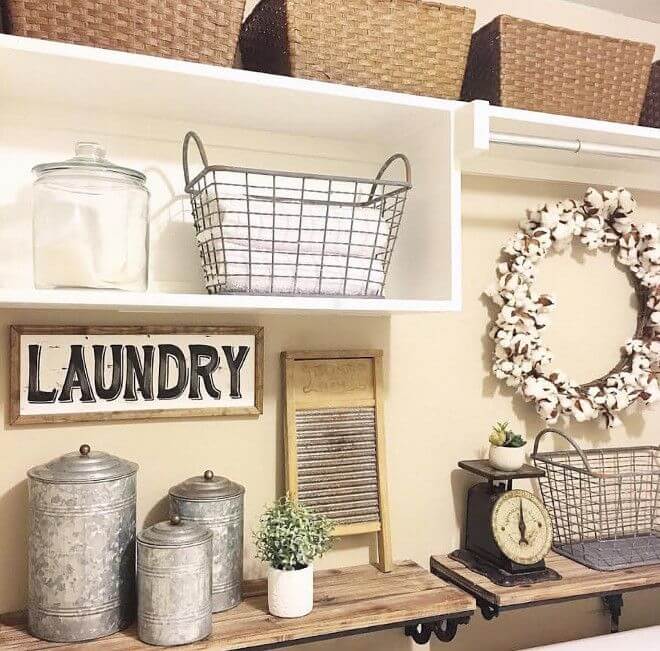 40. Laundry Room with Chicken Wire Light Fixture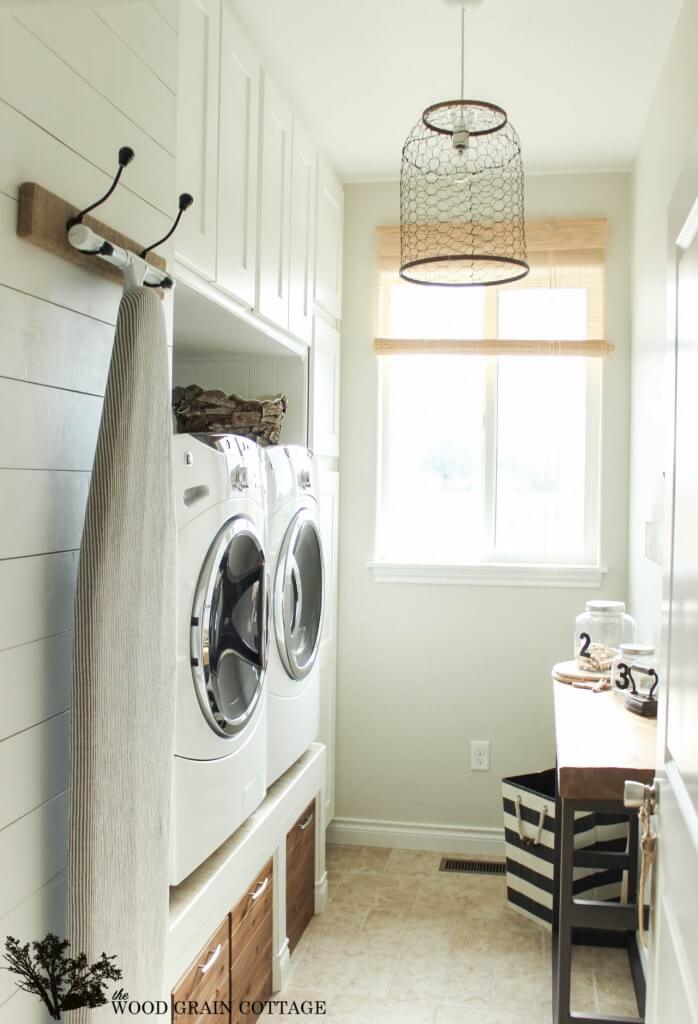 41. Charming Display with Stenciled Board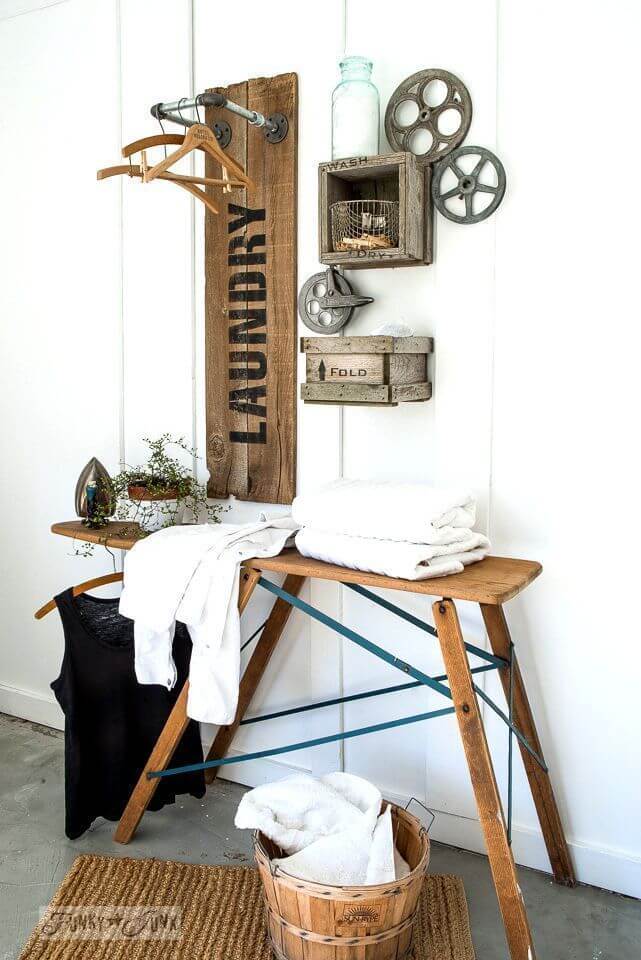 42. Organizer for Your Farmhouse Laundry Room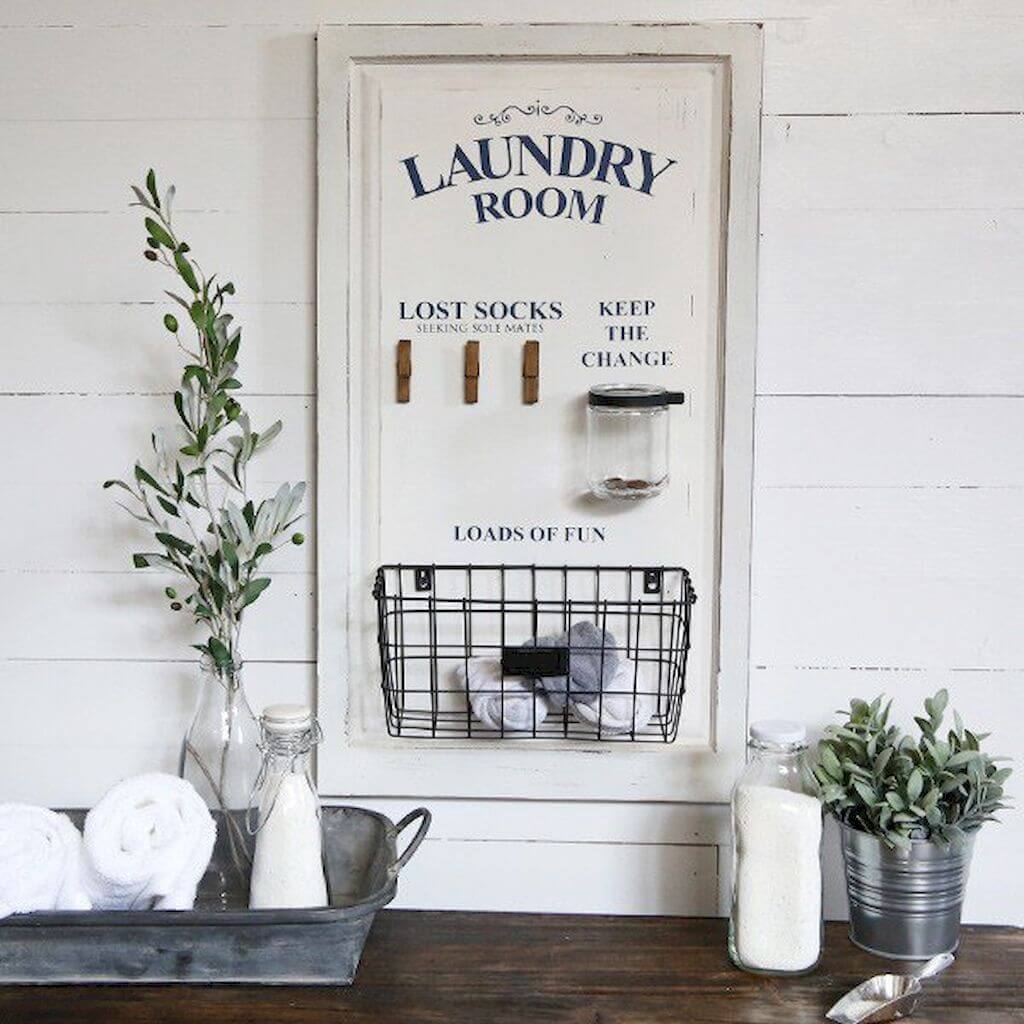 43. Open Shelving with Antique Lanterns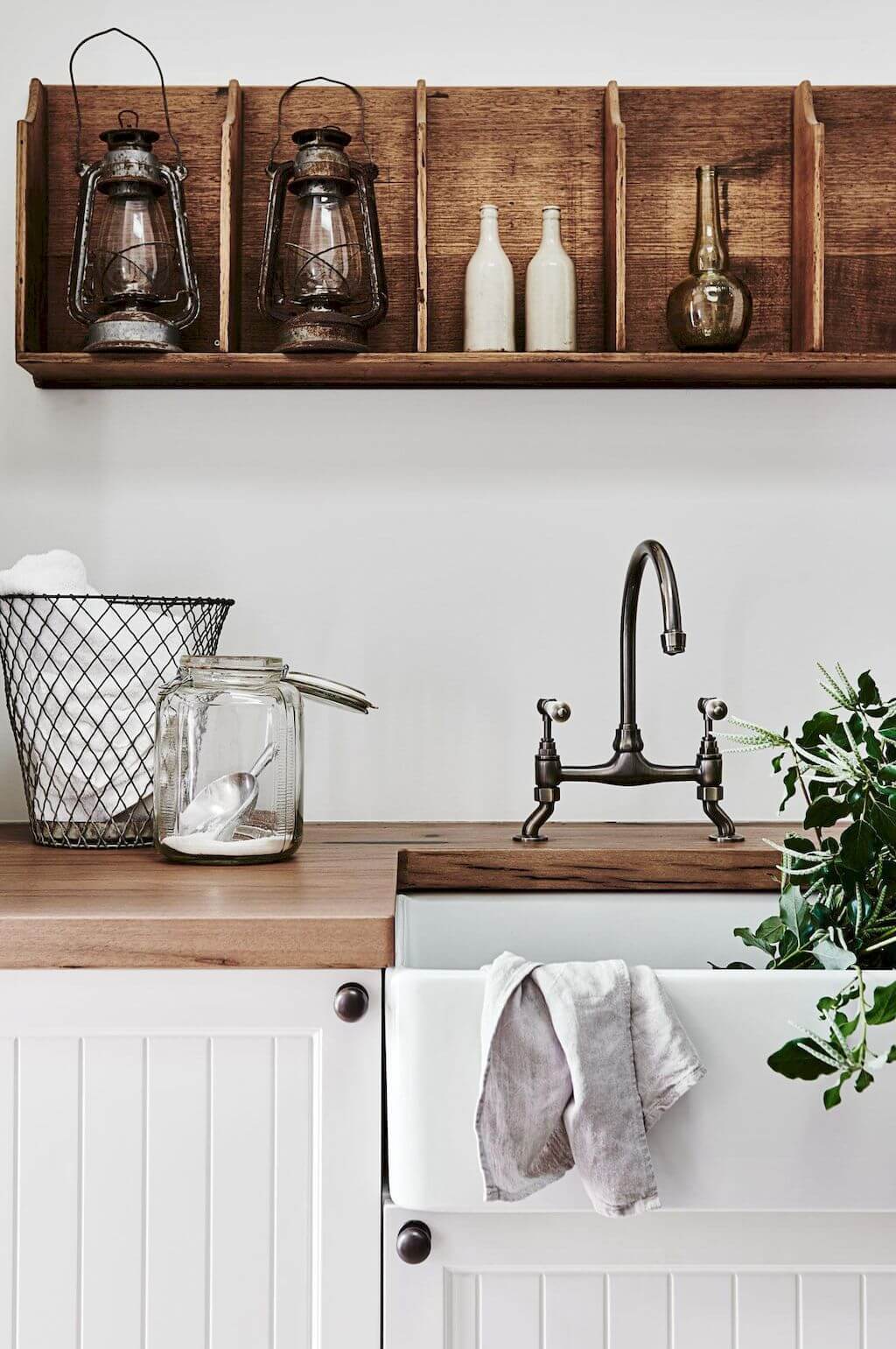 44. Keep Your Washer and Dryer Under Wraps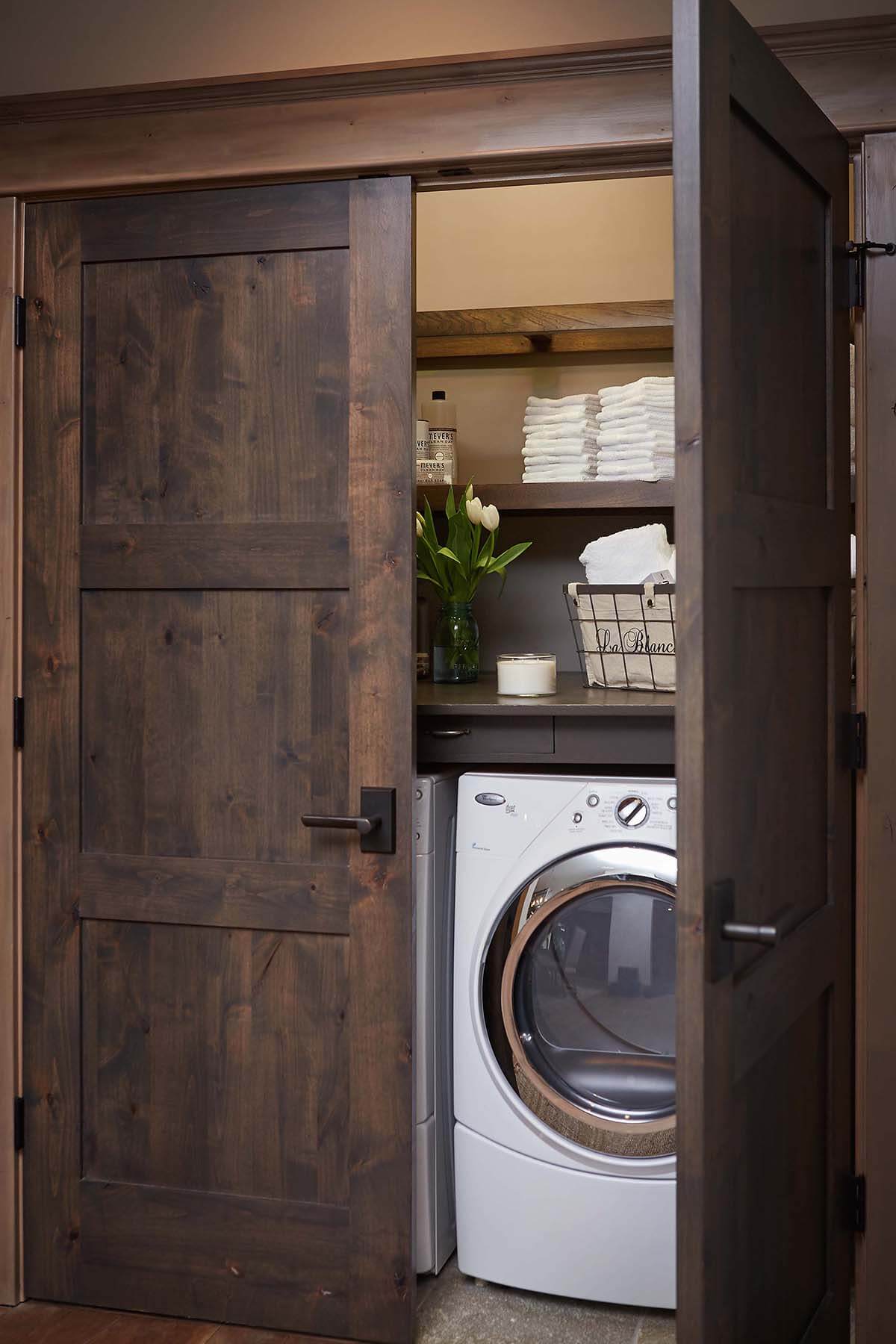 45. Painted Sign over the Farmhouse Sink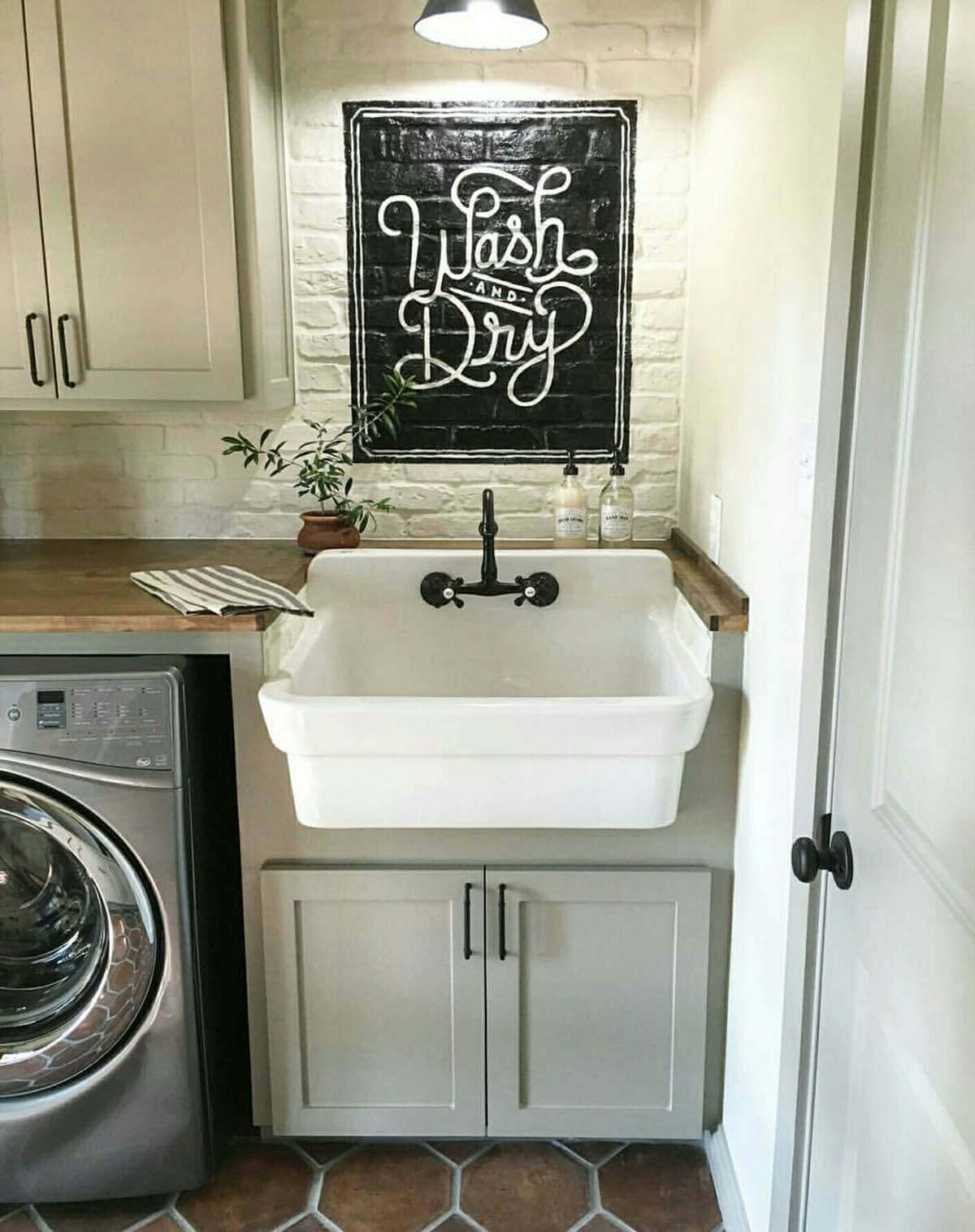 46. Funny Sign for Your Farmhouse Laundry Room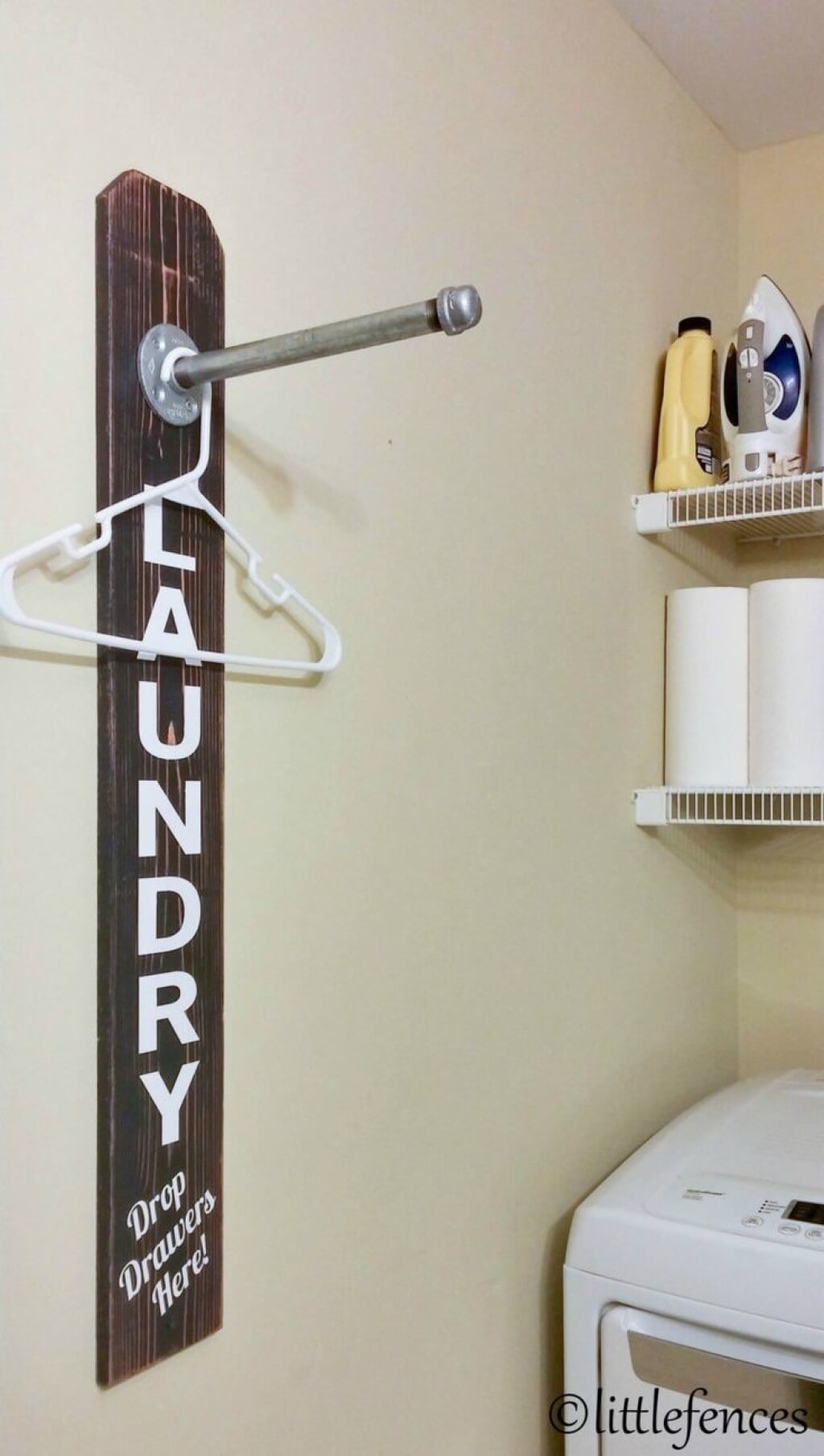 47. Painted Chalkboard Sign over the Washer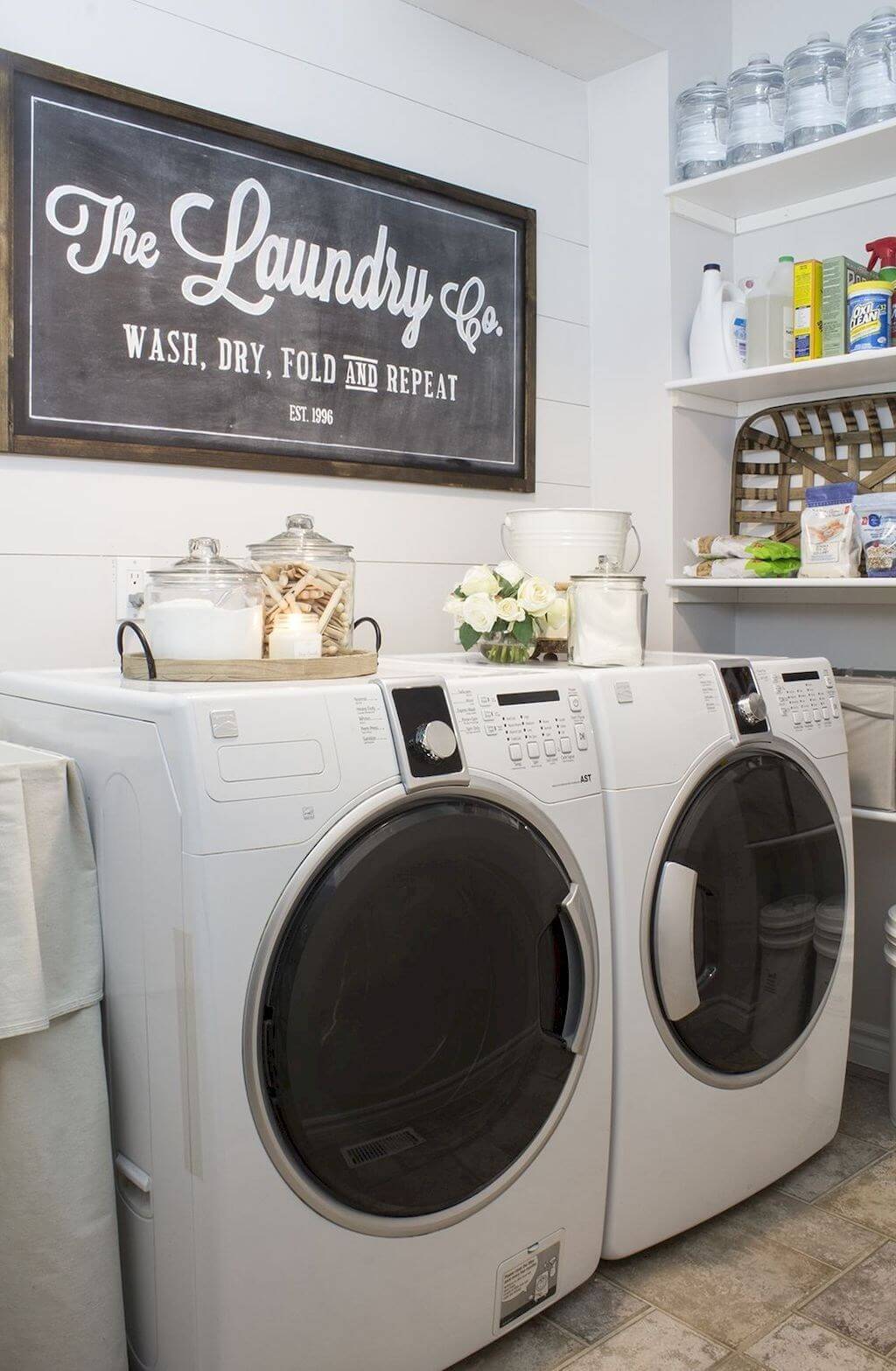 48. Cheeky Sign for Your Farmhouse Laundry Room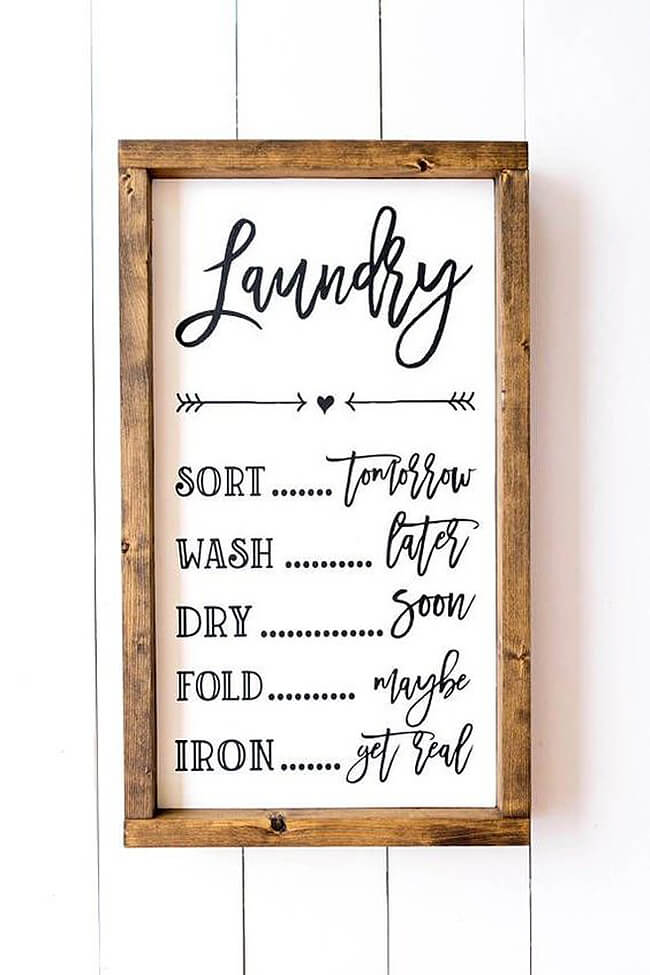 49. Tall Sliding Door Cabinets for Laundry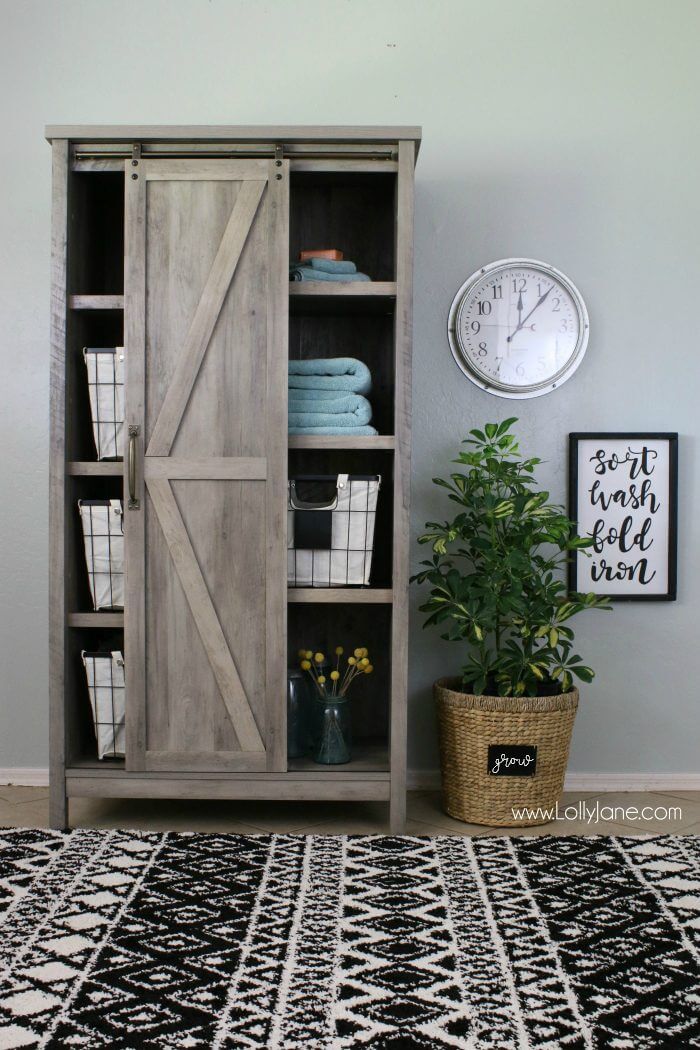 50. White On White Laundry Room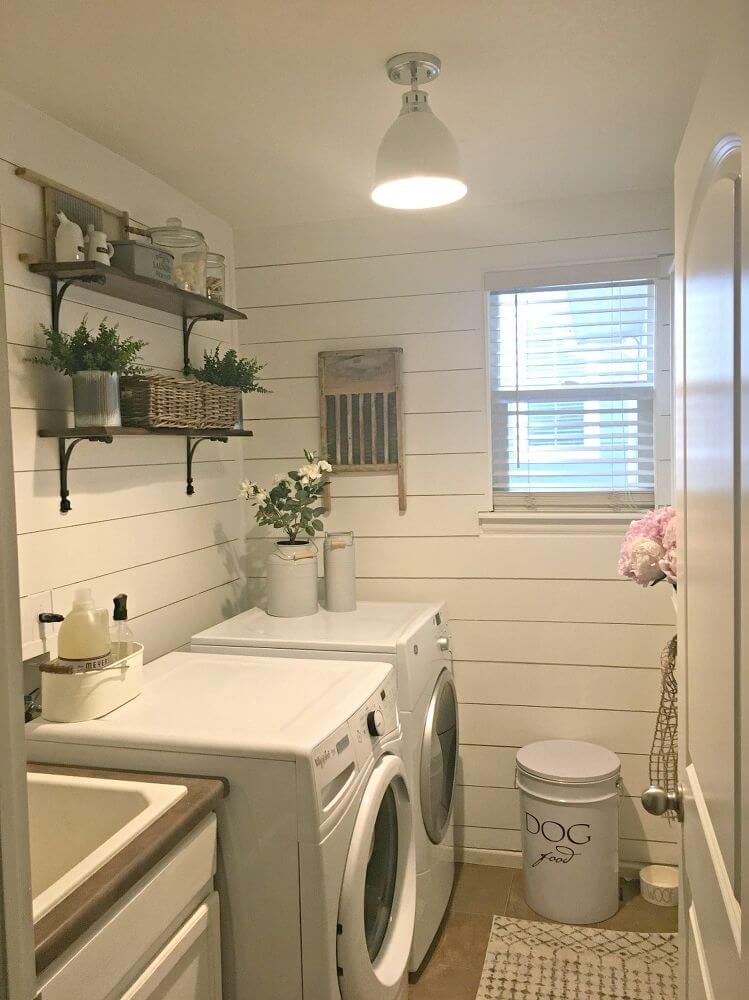 51. Sliding Barn Door and Cute Ruffles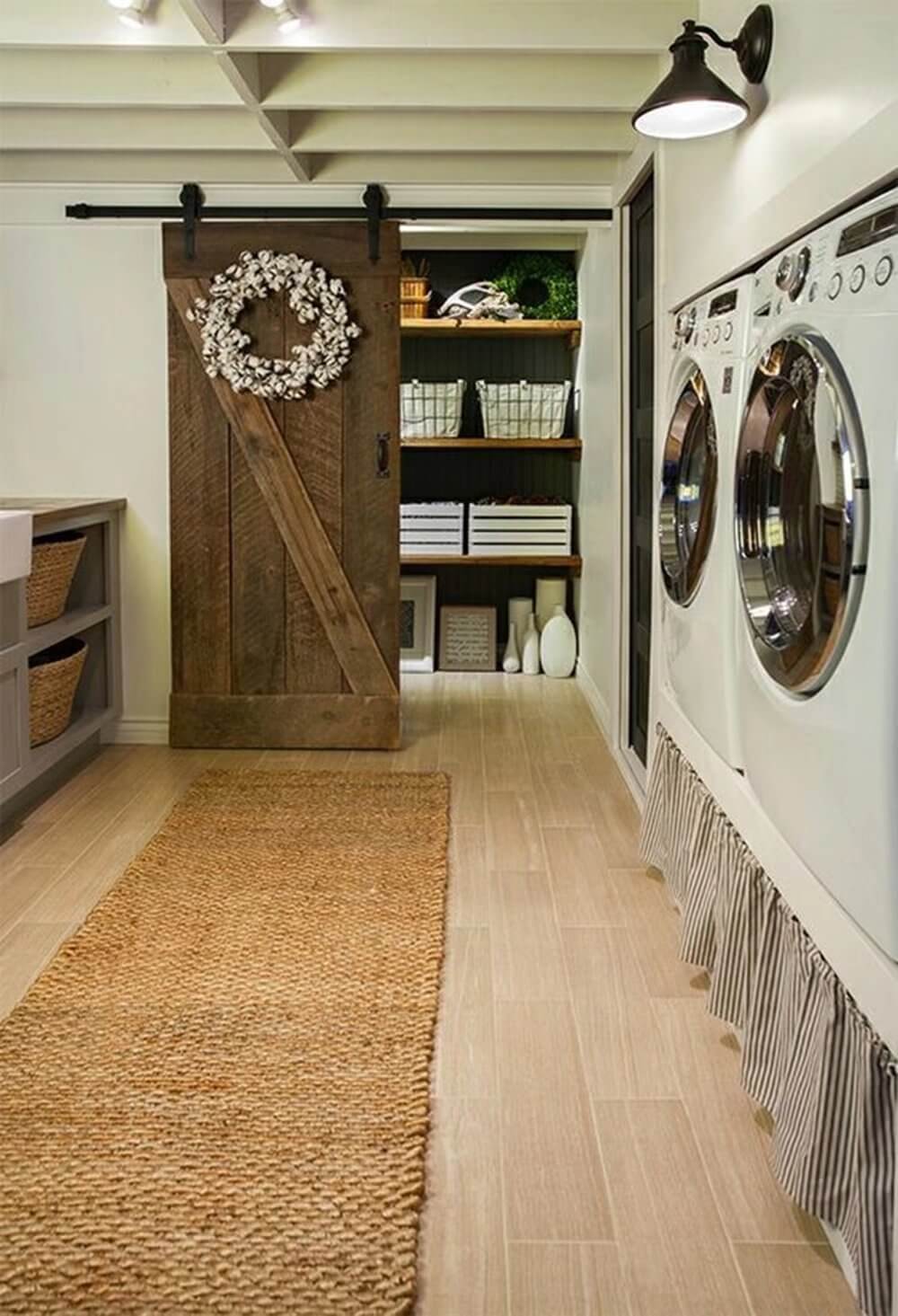 52. Galvanized Bucket for Lost Socks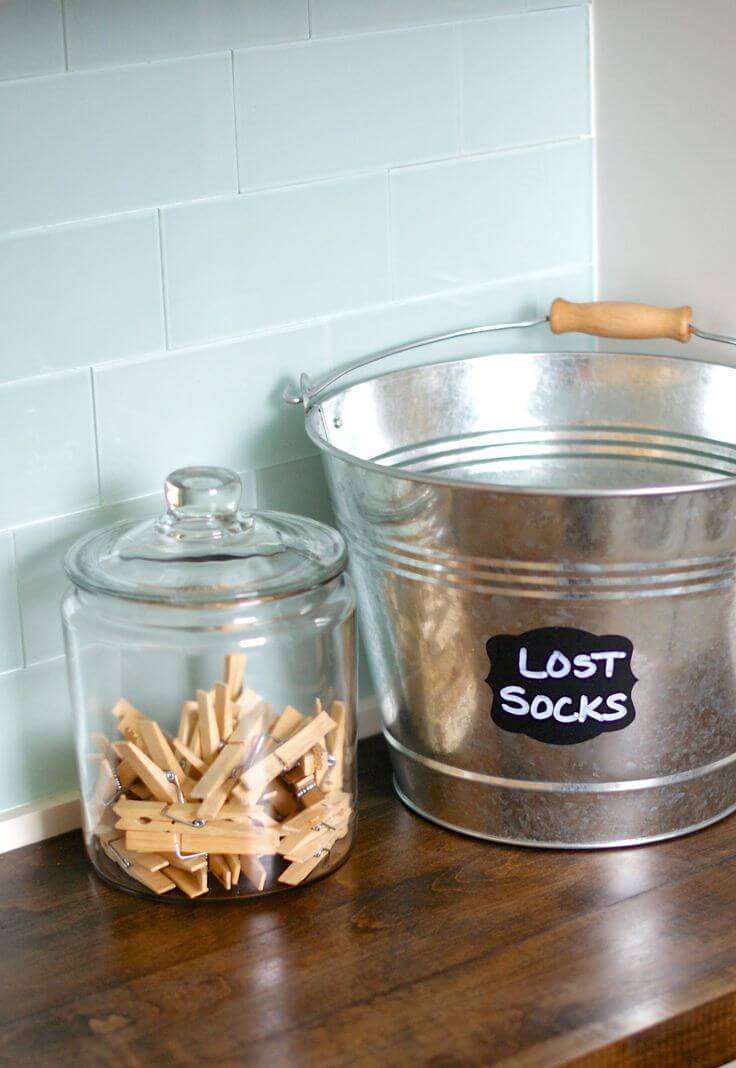 53. Metal Storage Buckets and Wooden Shelves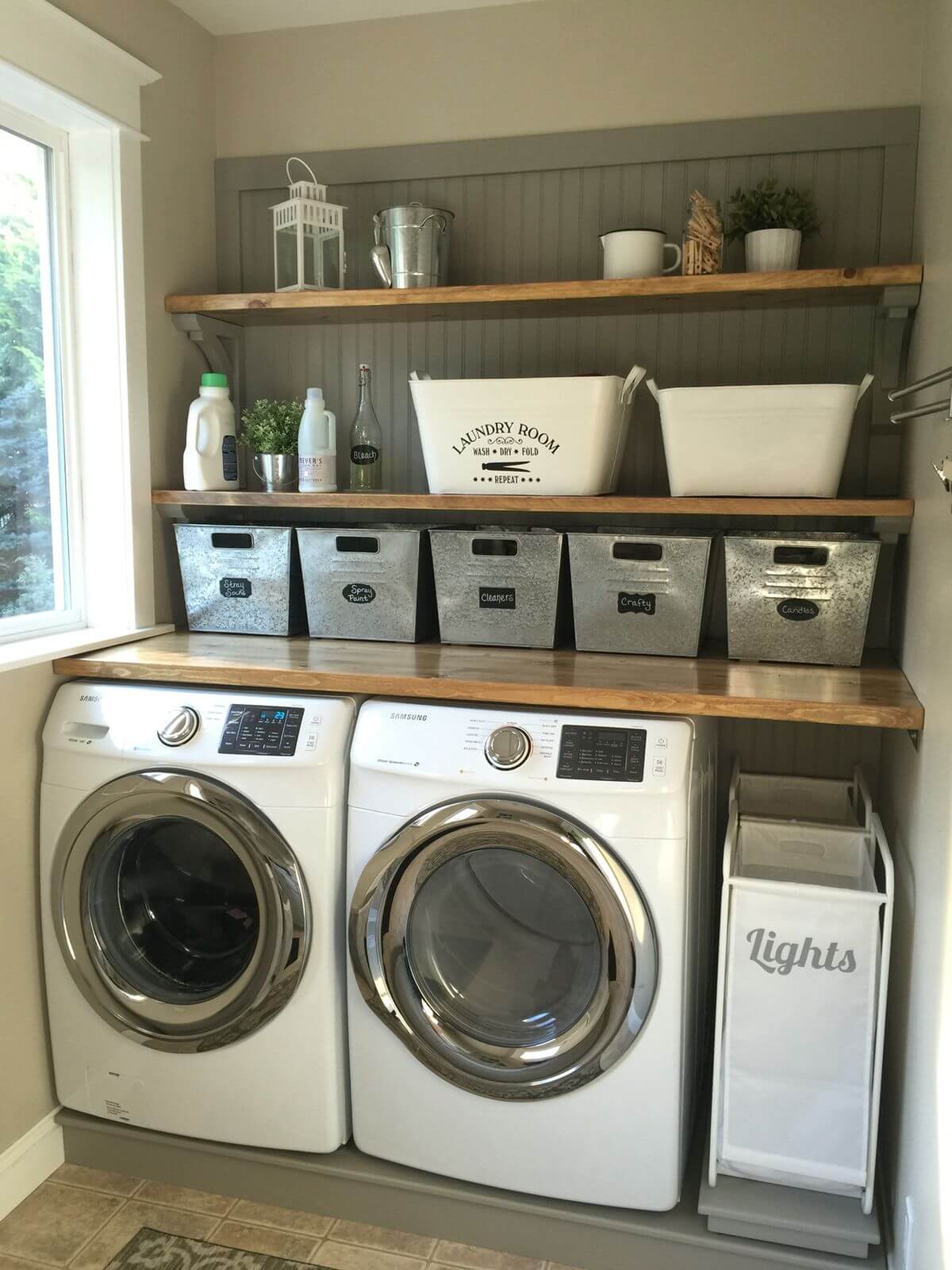 54. Inspirational Sign for Your Farmhouse Laundry Room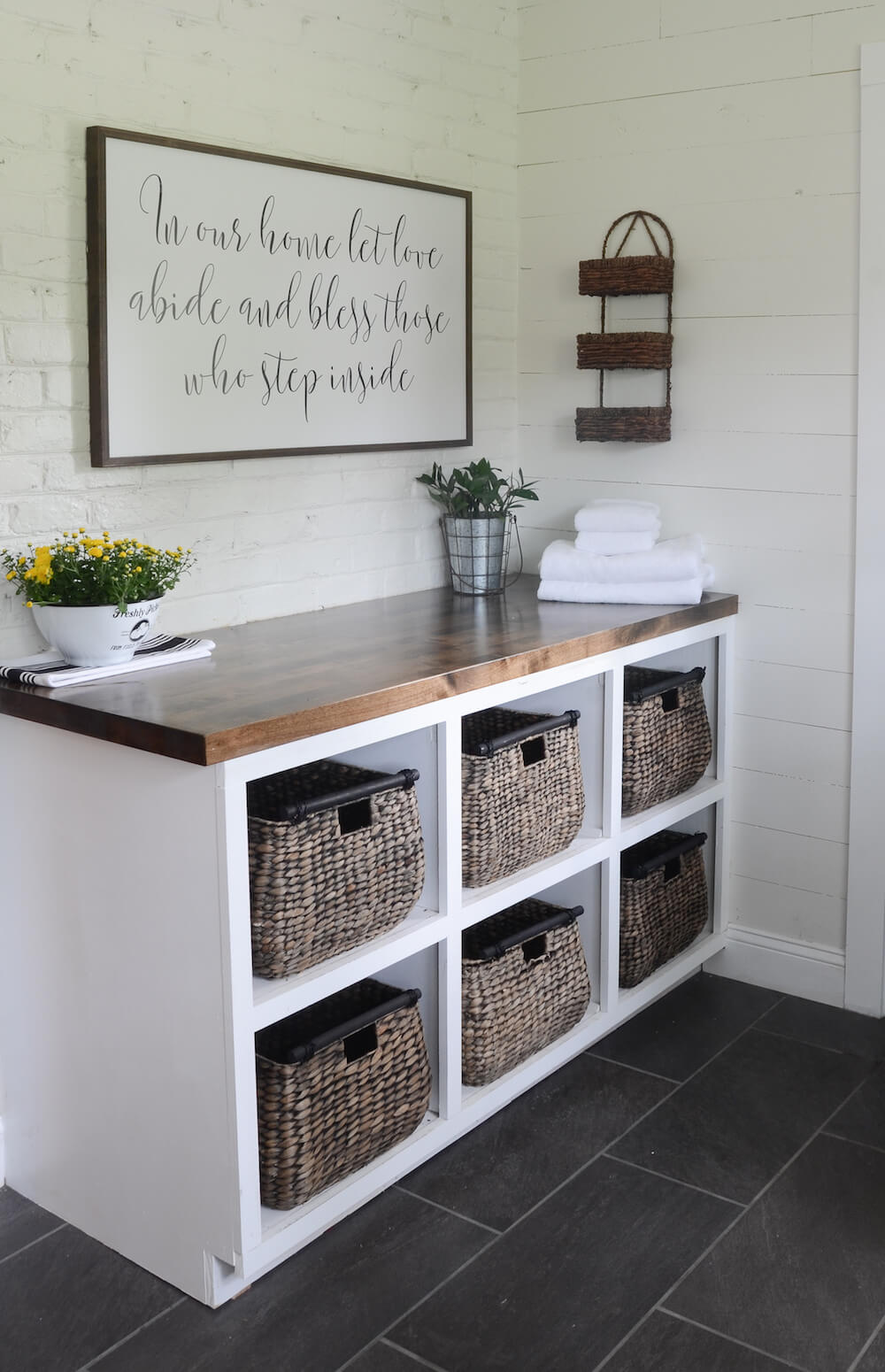 55. Reclaimed Wood Door for the Laundry Room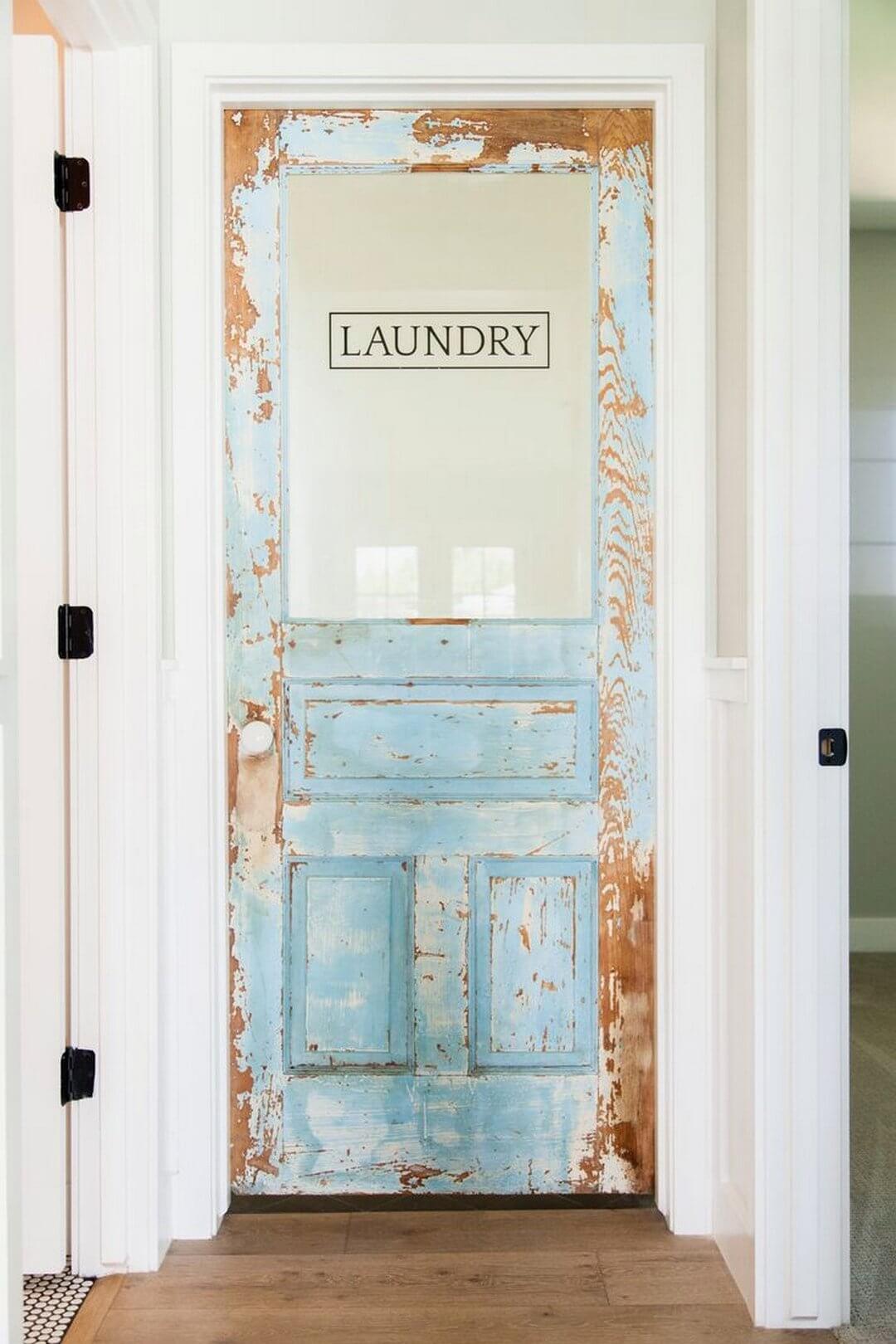 56. Fun Display with Signs, Vases, and Plants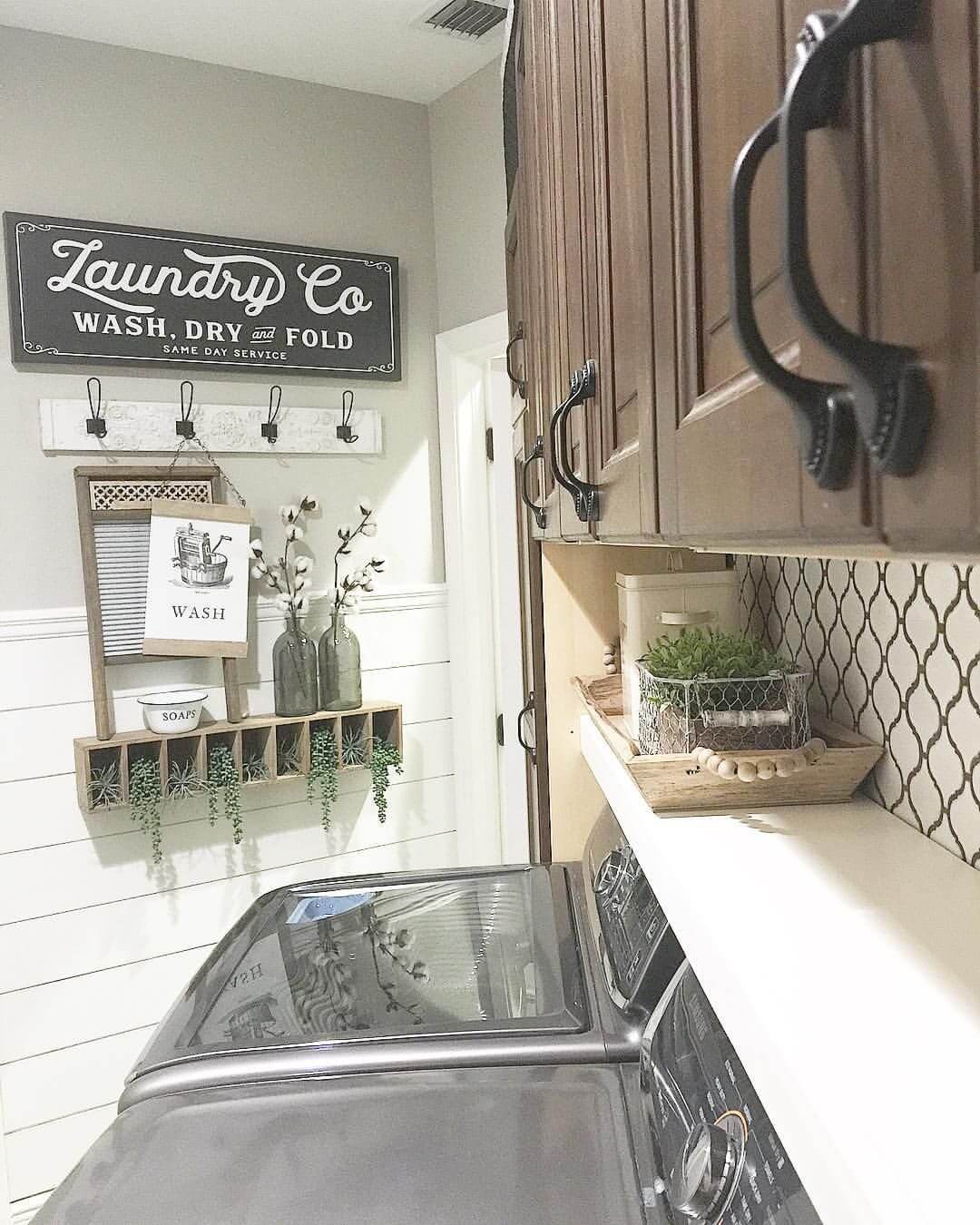 57. Organized Laundry Room with Charming Accents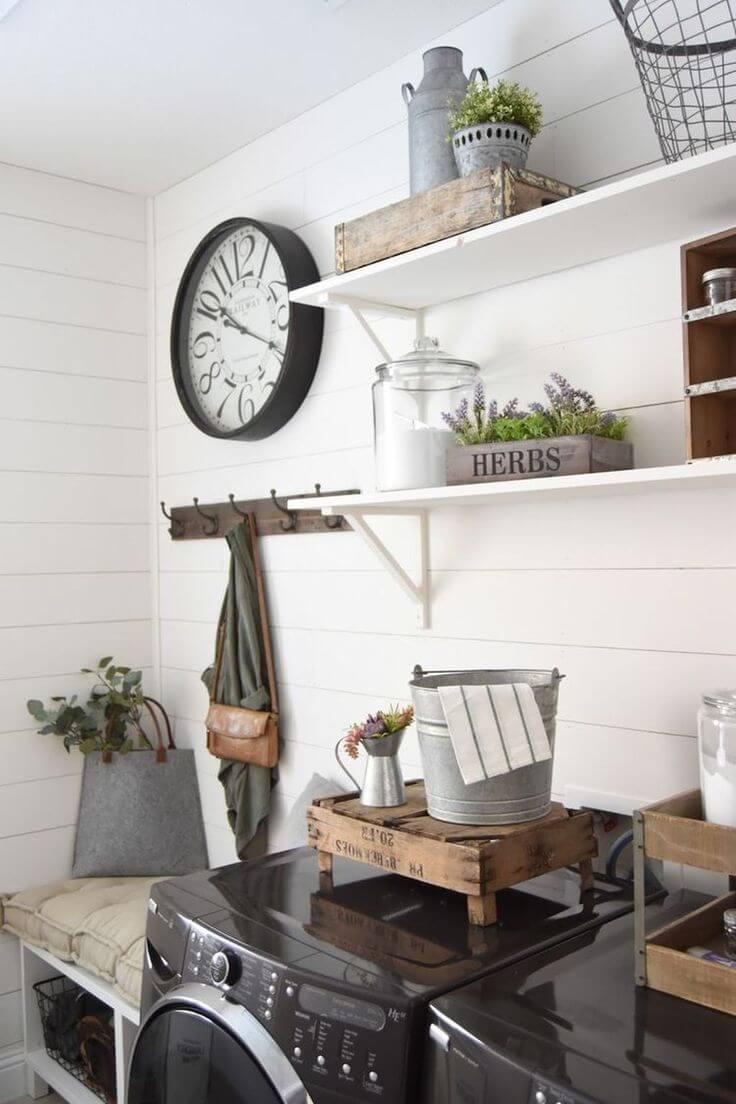 58. Laundry Room with Chicken Wire Light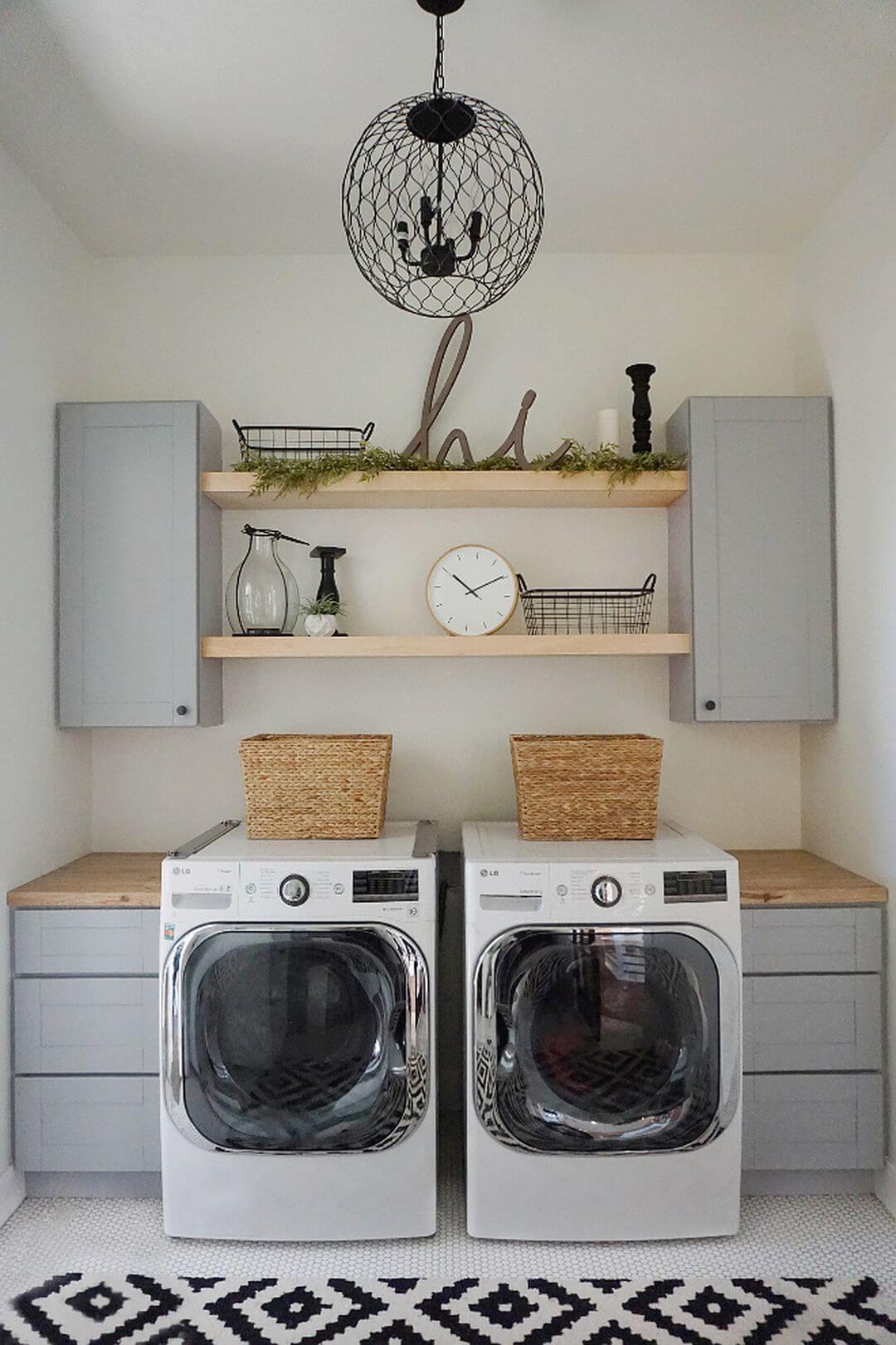 59. Metal Sign and Marble Counters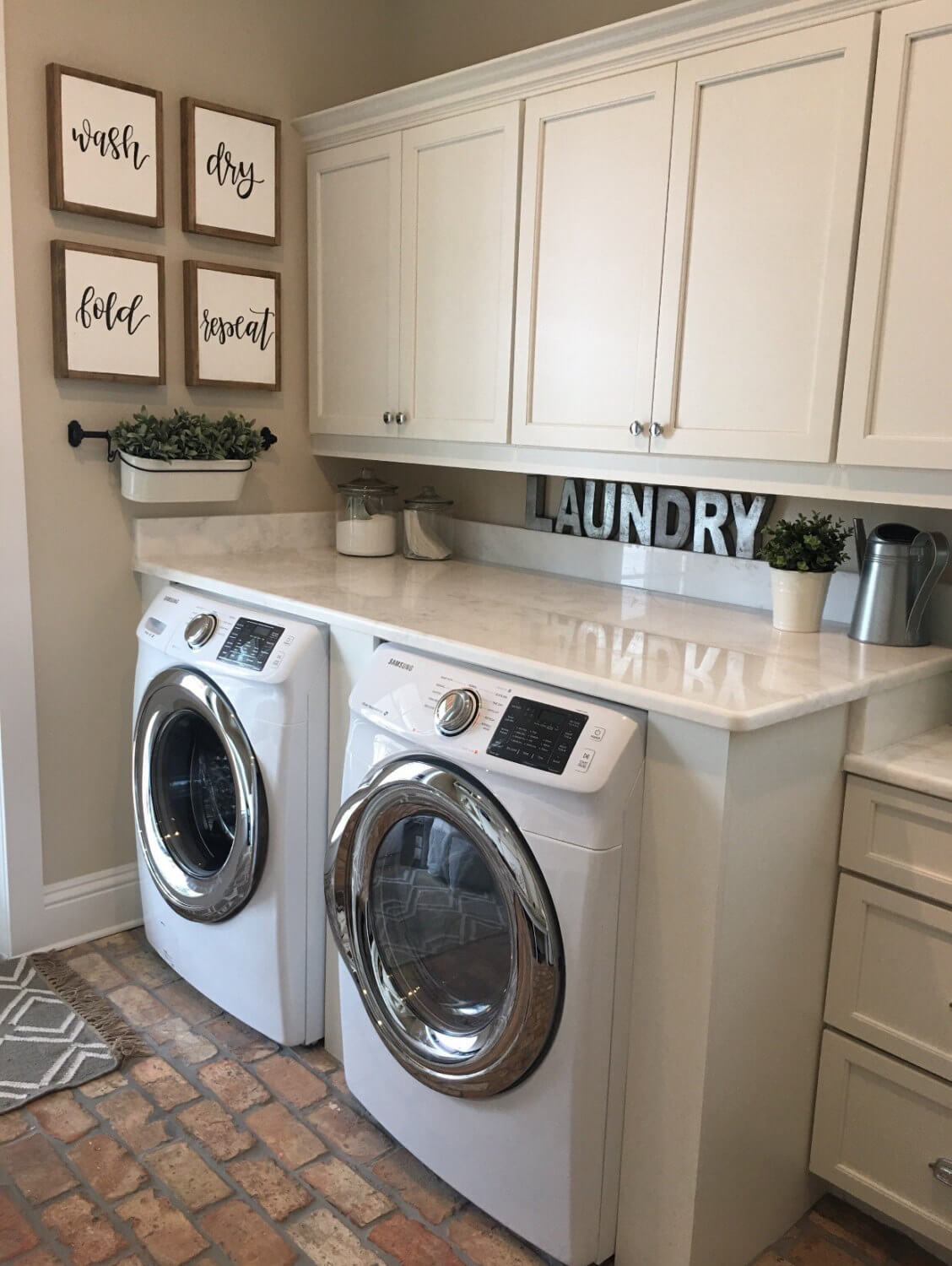 60. Homey Old Fashioned Touched Laundry Room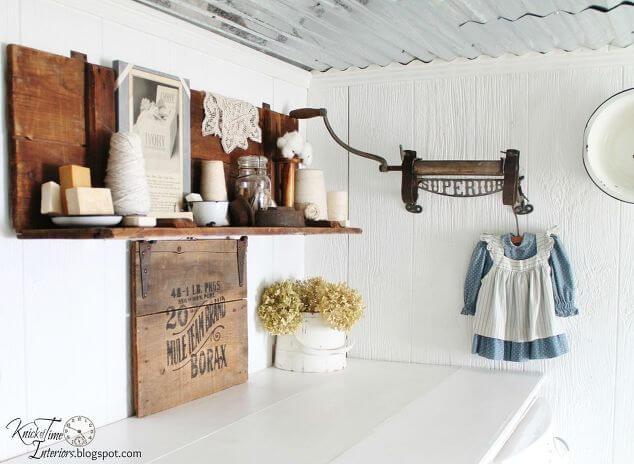 Our Favorite Outdoor Decorations to buy on Amazon