There's just something so warm and inviting about a home full of charm, cozy character and rustic design. Back in the day, farmhouses were decorated using whatever was on hand and practical. Now, thanks to the lovely Joanna Gaines, the farmhouse style has blossomed to new heights with a more modern, rustic feel with every detail being well thought out and executed.
16 Farmhouse Rug Ideas to Update Your Living Space

Classic farmhouse décor brings feelings of warmth and comfort. It's all about mixing those traditional pieces with antiques and salvageable materials like wrought iron accents and reclaimed wood. With an earthy color palette, you can really spruce up your space with a variety of décor. You want to create a space that's both functional and streamlined. To achieve this look, opt for vintage accents or heirlooms that really pop, fresh flowers to bring in the nature of the outdoors, open shelving for storage and let's not forget about stylish floor décor.
Yes, I'm talking about rugs! Rugs play an important role in your home décor. Not only do they protect your carpets (or hardwoods) from everyday wear and tear, but also they add texture and character to your space. Rugs serve almost like a backdrop to your furniture and have so much visual appeal. They are an effortless way to transform any room of your home and I'm going to show you exactly how you can make your home resemble a chic rustic retreat with these elegant farmhouse rug ideas.
1. Stylish, Practical Hand-Woven Jute Rug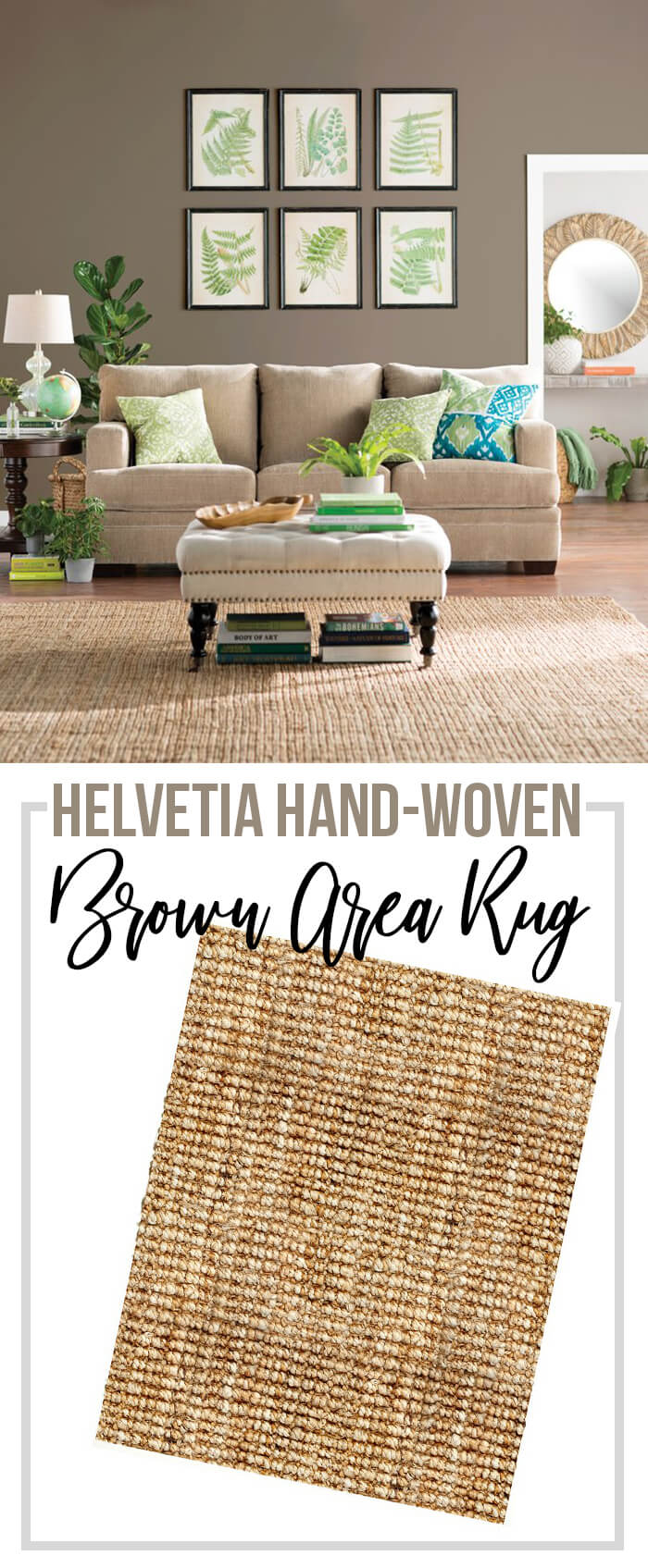 Jute rugs, despite their exotic texture, are actually pretty soft to the touch. They are made of natural fibers from plants and this one, in particular, is hand-woven by artisans in India. It's actually GoodWeave certified, which means that you're not only buying a gorgeous handmade rug, but also making a difference in the world by helping to support fair working conditions. This warm, earth tone rug fits perfectly in both casual and formal settings. I think the best part of all, is that this rug is so versatile and relatively low maintenance. It adds such a great finishing touch to any space whether on hardwood floors or carpet. It also goes perfectly with any home design style, but I especially love this rug in a farmhouse-type of setting where its natural elements can really shine.
2. Masterfully Woven Beige & Silver Area Rug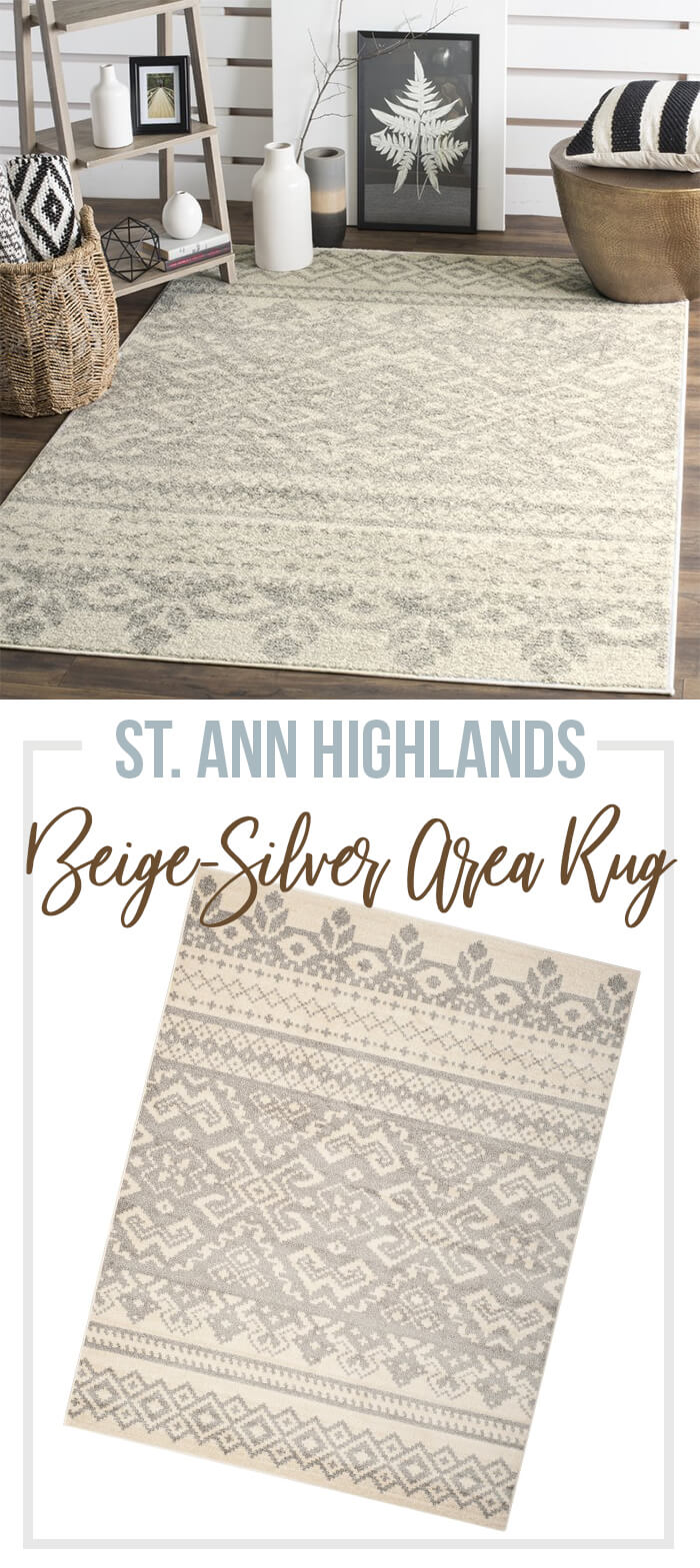 There are so many reasons why area rugs are so popular, but the most obvious reason is for the looks. They are such an easy way to improve your space and even accent your décor, which is why I am really loving this St. Ann Highlands beige and silver area rug. The neutral Fair Isle-inspired design really ties together the whole traditional farmhouse theme. This rug is essentially fuss-free in that it's stain and fade resistant, can withstand high-traffic areas, and can be easily vacuumed which is every woman's dream, am I right? Such a warm and inviting addition to any living space.
3. Muted Neutral Round Area Rug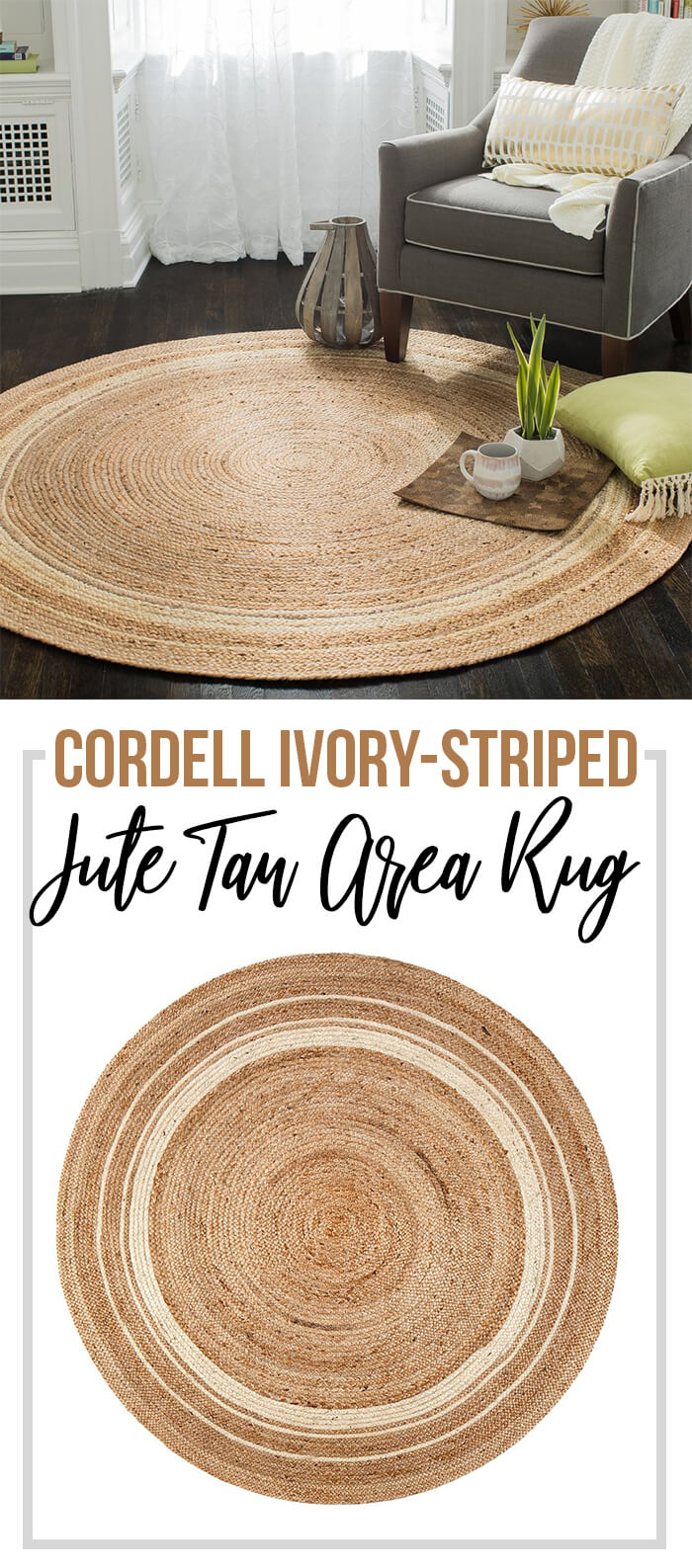 Add this globally inspired, handmade rug to your dining room, living room, bedroom or other living space to create a unique and tasteful farmhouse décor statement. Round rugs can seem intimidating when deciding where to place it. Show off your rug's curvy round shape best in a minimally designed room. Keeping your gorgeous décor and furnishings to a minimum allows your round area rug to really stand out. Comfort is key for this Cordell ivory-striped area rug as the hand-woven jute fibers have insulating, moisture and anti-static properties. Style your home while also supporting artisans and the environment when you purchase this unique handmade rug.
4. Southwestern-Inspired Union Rustic Area Rug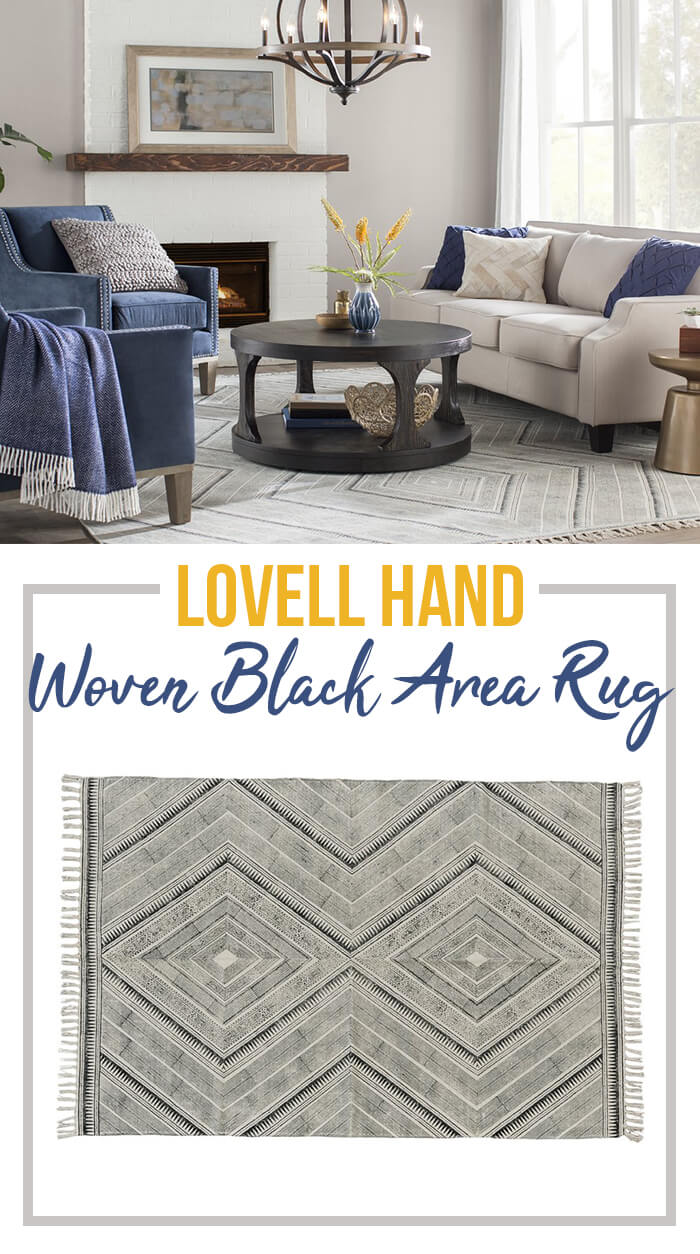 Update any room of your home instantly with this handcrafted, flat weave cotton rug. It features a chic southwestern style print that adds the perfect touch to give your home that farmhouse feel. What I love the most about hand-woven rugs is the lifespan. Most hand-woven rugs generally take several months or even years to complete and are often made from either wool or silk. Since they're made of natural material, their longevity is so much greater than manufactured rugs made of synthetic materials and made by machine. This woven black area rug is so charming and sure to become a conversational piece in your home which is why I just had to add it to my list of farmhouse rug ideas.
5. Vintage Meets Farmhouse, Sofia Collection Area Rug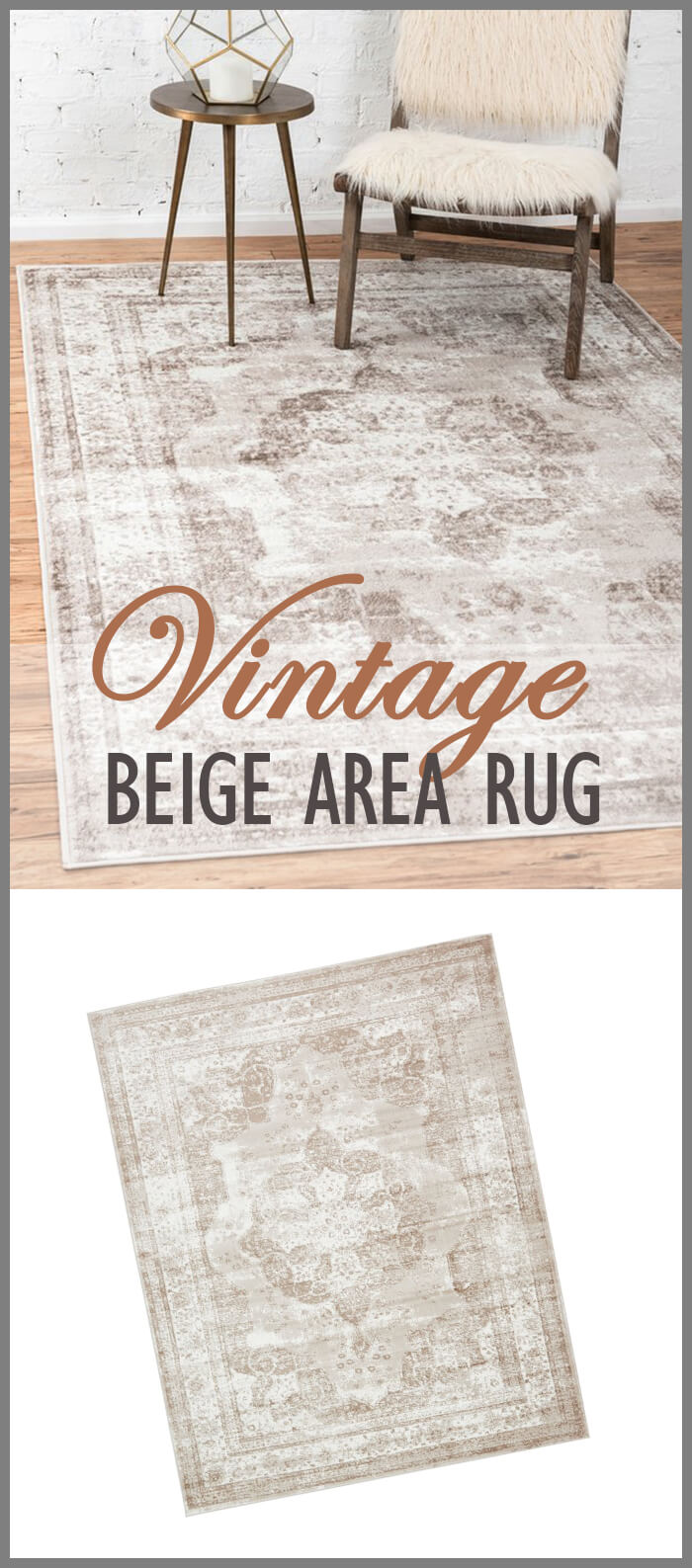 This Unique Loom Sofia rug has a traditional style with a contemporary twist. The beige, brown and ivory colors in this rug are beautiful against dark hardwood flooring and will flow smoothly with your décor. This rug is made of polypropylene making it easy to clean, resistant to stains and won't shed. The cotton backing provides extra durability and softness. It's such a versatile design and perfect for high-traffic areas like doorways and hallways, or in front of couches and chairs. You can also purchase this rug in various sizes and shapes so finding the perfect place for this gorgeous rug shouldn't be difficult.
6. Pleasantly Chic & Versatile Natural Ivory Area Rug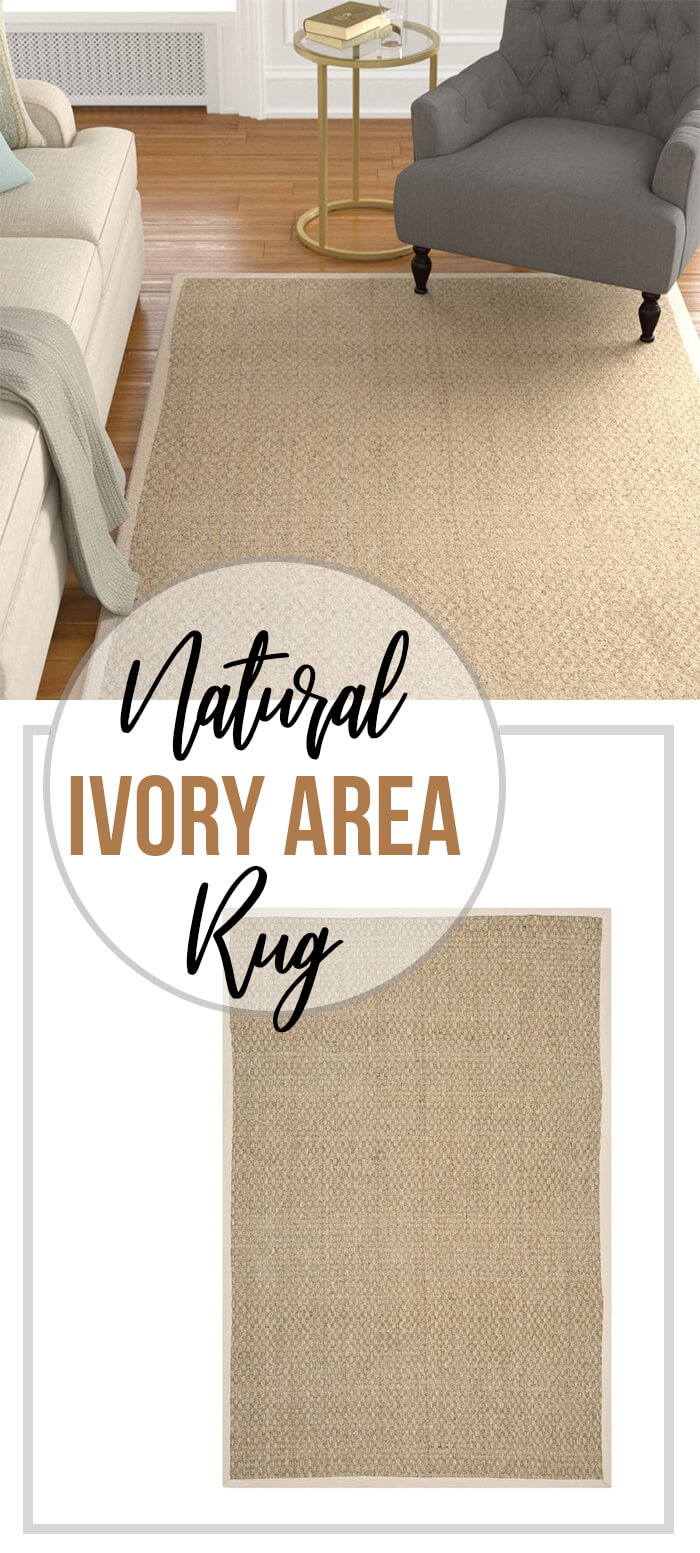 Bring the outdoors in with this textured, basket weave constructed ivory area rug. It's made from seagrass and bamboo, making it stain and fade resistant. There's something about this rug that looks so warm and homey, really exuding that natural and earthy appeal with the braided detailing. This rug would make the perfect addition in front of your couch in your living room, under the dining room table, at the foot of your bed or even in front of the entryway for a more modern approach. The opportunities for placement are endless with this rug, not to mention the cozy rustic feel it gives off!
7. Corrigan Studio Indoor/Outdoor Ivory Area Rug

Give your bare floors a quick and easy makeover with this beautiful handmade Corrigan Studio Ardagh rug. I feel like handmade rugs all have that look that really evokes a simple farmhouse style. This hand-woven indoor/outdoor rug screams farmhouse with its ivory and beige geometric detailing. It would blend seamlessly into any room of your home. I'm imagining this rug fitting perfectly next to a repurposed storage bench in the entryway to really tie in your farmhouse décor. I'm really loving the indoor/outdoor versatile farmhouse rug ideas. Since this rug can be used both inside and out, you can place this gorgeous rug on the patio, next to a pair of poolside chairs or on the deck giving your outdoor kitchen a little extra flair.
8. Indoor/Outdoor Farmhouse Boucle Area Rug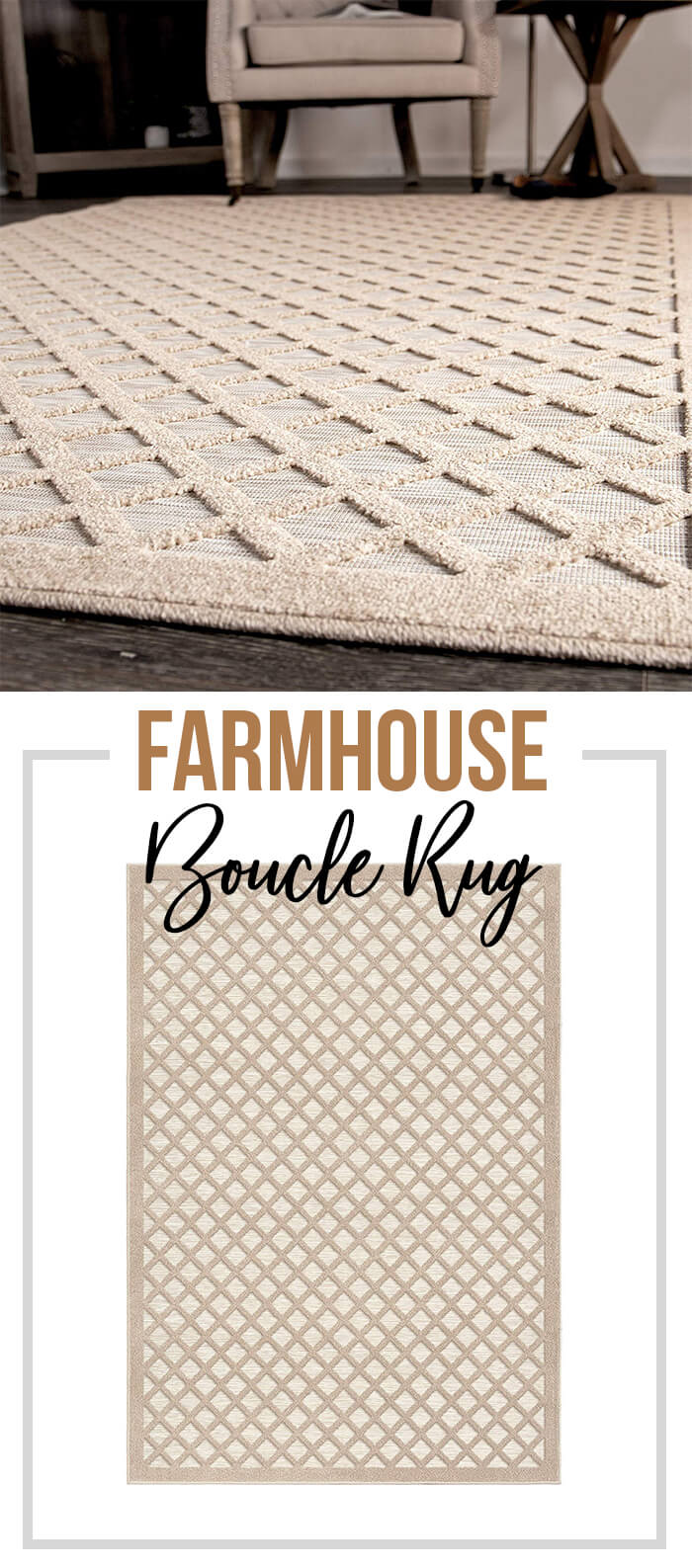 Inspiring easy living with a pleasing pattern and soothing shade comes to this Orian Farmhouse Lattice area rug. It's the perfect way to tie together any area of your home with its neutral beige color and texture. This high-low rug is made of polypropylene fibers providing adding durability and softness. It is completely fade resistant and super easy to clean which makes it such a great outdoor stylish piece of décor. This rug is sure to create a comfortable space for you and your guests whether indoors or outdoors. I just had to add this stylish rug to my list of farmhouse rug ideas since the reviews on this rug are fantastic with most people really loving the texture and softness this area rug provides.
9. Define Space with the Kulpmont Hand-Braided Area Rug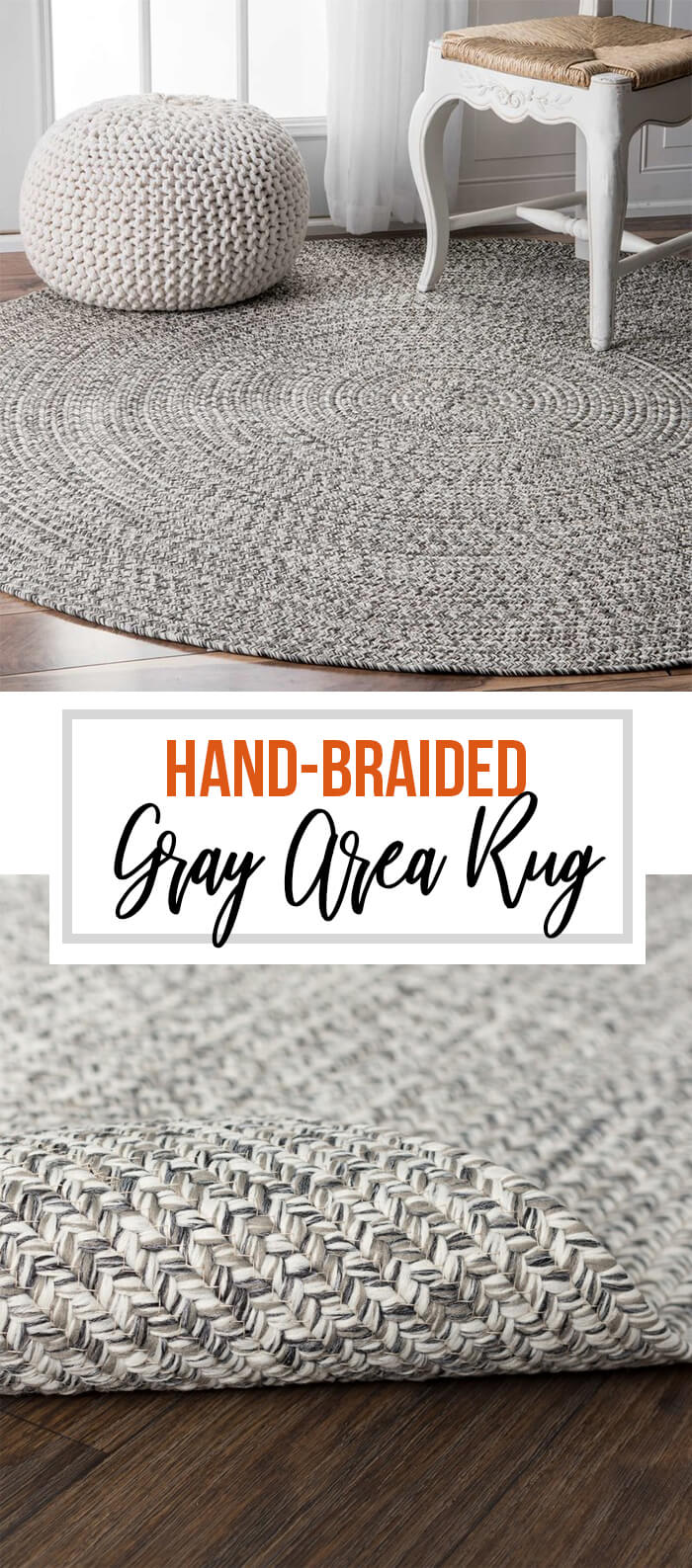 Featuring a woven design for added texture, this handmade indoor/outdoor Kulpmont rug is the perfect foundation for your traditional farmhouse décor. The grey hue is neutral in color fitting virtually into any space of your home. This rug is very family-friendly with its added durability making spills easy to clean with effortless upkeep. This hand-braided rug comes conveniently in many shapes and sizes. Choosing an area rug's shape should all depend on your furniture and the shape and size of your space. I can totally see this rug being used for layering. Imagine how chic and classic this farmhouse rug would look with a white faux fur rug layered over top!
10. Comfortable, Functional & Eco-Friendly Woven Eleanora Rug

Add rustic charm to your space with this nuLOOM natural fiber rug. This rug features a navy border design adding the perfect pop of color without taking away from the traditional farmhouse feel. It's made of 100% jute, which is an environmentally friendly material and extremely sturdy and long-lasting. Though not as soft as a shag rug, jute rugs are still very comfortable. This rug is so easy to decorate with and its neutral colors really allow you to switch up your décor as often as you'd like without having to worry about compromising your style. This natural beauty can easily adapt to any color scheme, which makes it such a great farmhouse rug idea.
11. Persian-Inspired Distressed Beige Area Rug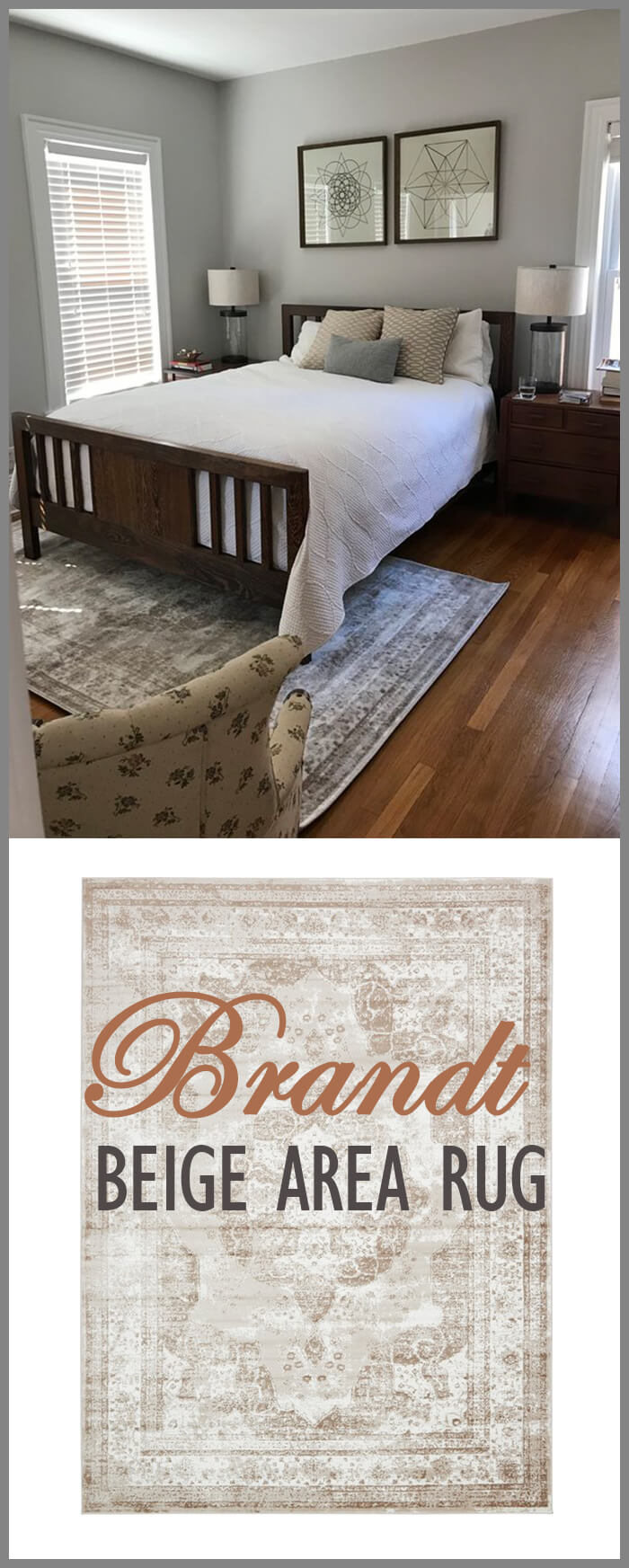 Another one of my favorite farmhouse rug ideas I wanted to feature is this antique heirloom rug that adds elegance to any room. Its neutral hues of beige and brown blend beautifully with the farmhouse vibe and I'm just loving the faded, worn look of this rug. It's such a timeless piece to own and will always be in style. The classic design and colors complement any style of home adding such a unique artsy feeling without even purposely trying. The reviews in particular on this rug are phenomenal. It brightens up any room, has a gorgeous subtle print that isn't overly dramatic and everyone is raving about the price point on this Persian-inspired rug!
12. Cute, Upscale Grey Farmhouse Area Rug

This Clair grey area rug is one of my personal favorite farmhouse rug ideas. It offers a distressed geometric motif in a neutral grey and cream color scheme that really ties together the farmhouse vibe. It's so stylish and can really transform any room that you place it in. The print is so unique that it stands out, but at the same time isn't overwhelming. This rug is made of high-quality material, is very soft on your feet and doesn't show any dirt or stains. People who have purchased this rug have been very satisfied with their purchase overall!
13. Oriental Distressed Ivory Area Rug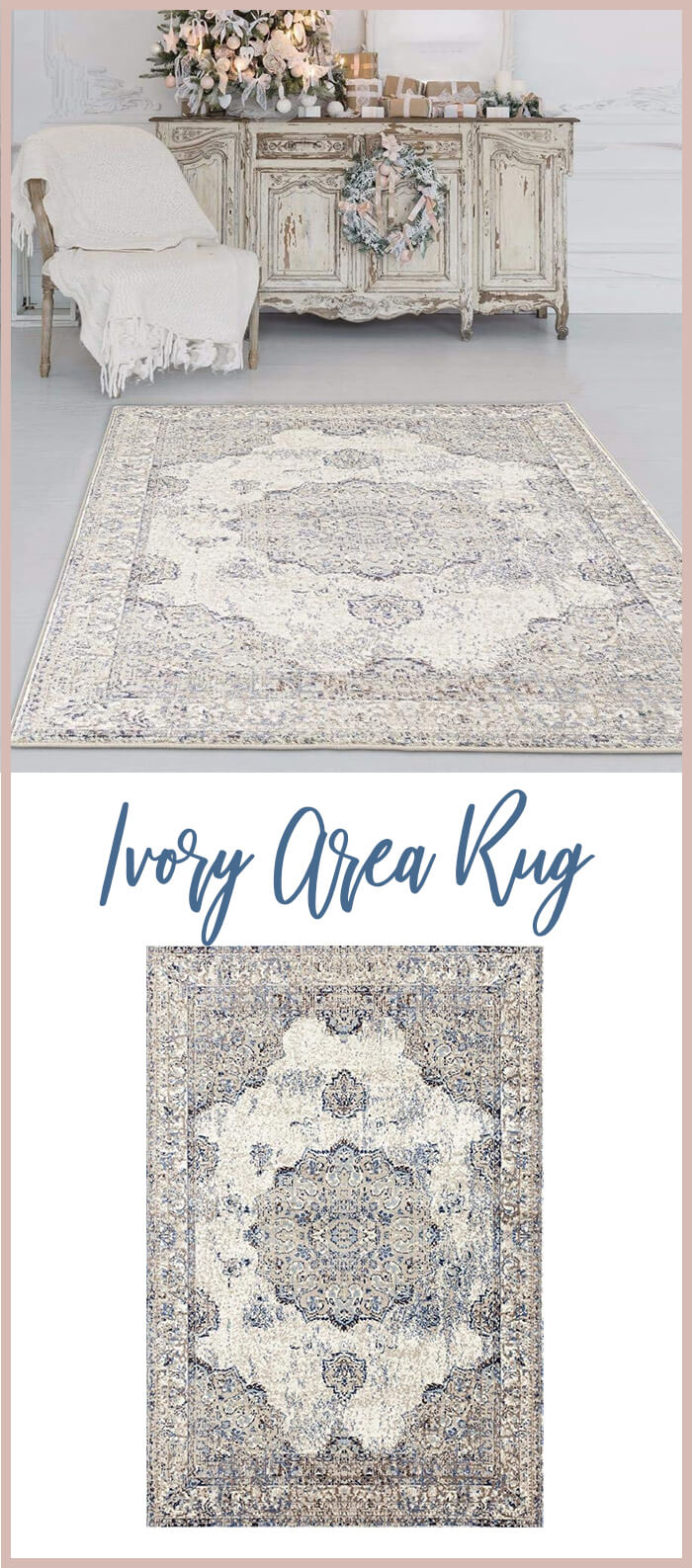 Add the perfect finishing touch to your dining room, living room, bedroom or any other area with this affordable and finely crafted rug. It's a gorgeous mix of both modern and elegant design, perfect for your rustic décor. Oriental rugs are woven with strong, high-quality fibers so they can endure everyday wear and tear, plus they don't shed and are very easy to clean. This distressed ivory rug boasts personality for any décor. The blue accents add bold definition, while the neutral ivory and beige gives it natural balance. I love how it's somewhat of a conversational piece and really makes a statement.
14. Earthy & Natural Seagrass Area Rug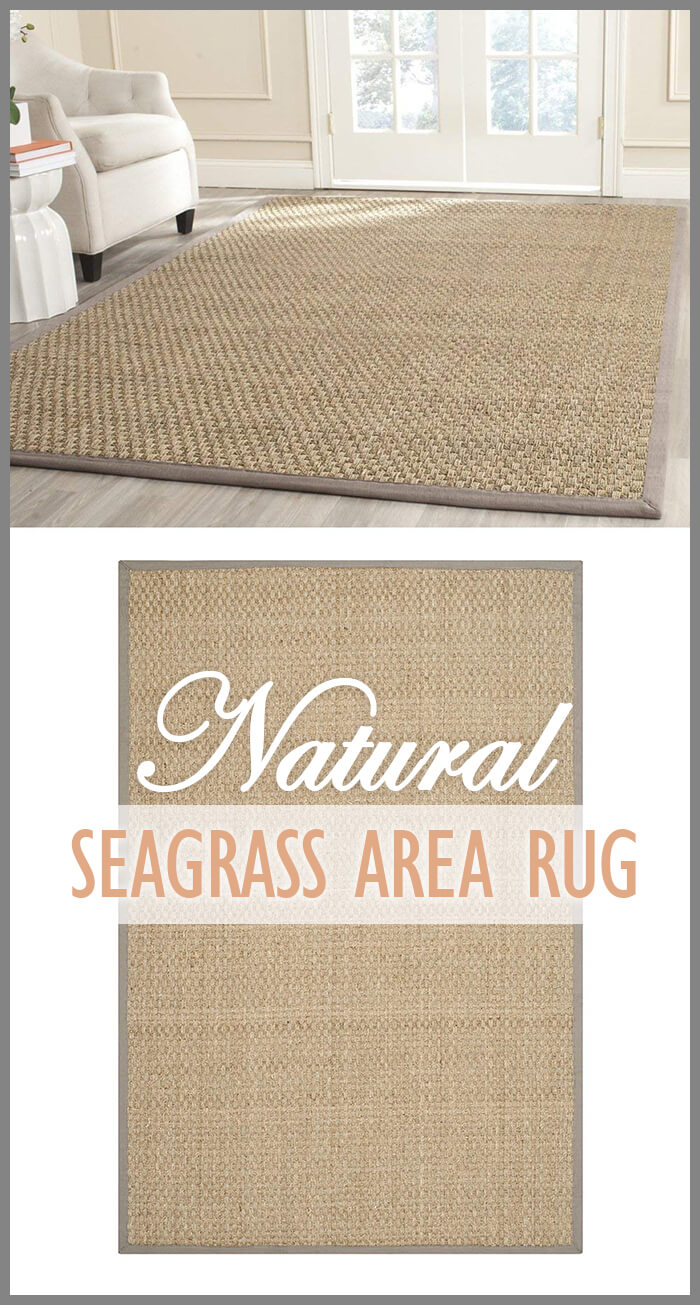 This charming basketweave patterned rug boasts both contemporary and farmhouse décor styles. It's made from sustainable seagrass fibers that really add a warm and homey feel to any living area. This rug also features a cotton beige border with a polypropylene backing for stability and would look great as a layering piece underneath another rug for added texture and dimension. Placement possibilities are truly versatile with this rug as its neutral pigments flow effortlessly into virtually any space. Its sleek low pile height also provides easy placement for under any furniture piece in your home. You absolutely cannot go wrong with this natural farmhouse rug idea.
15. Stylish Antique Rustic Glam Farmhouse Area Rug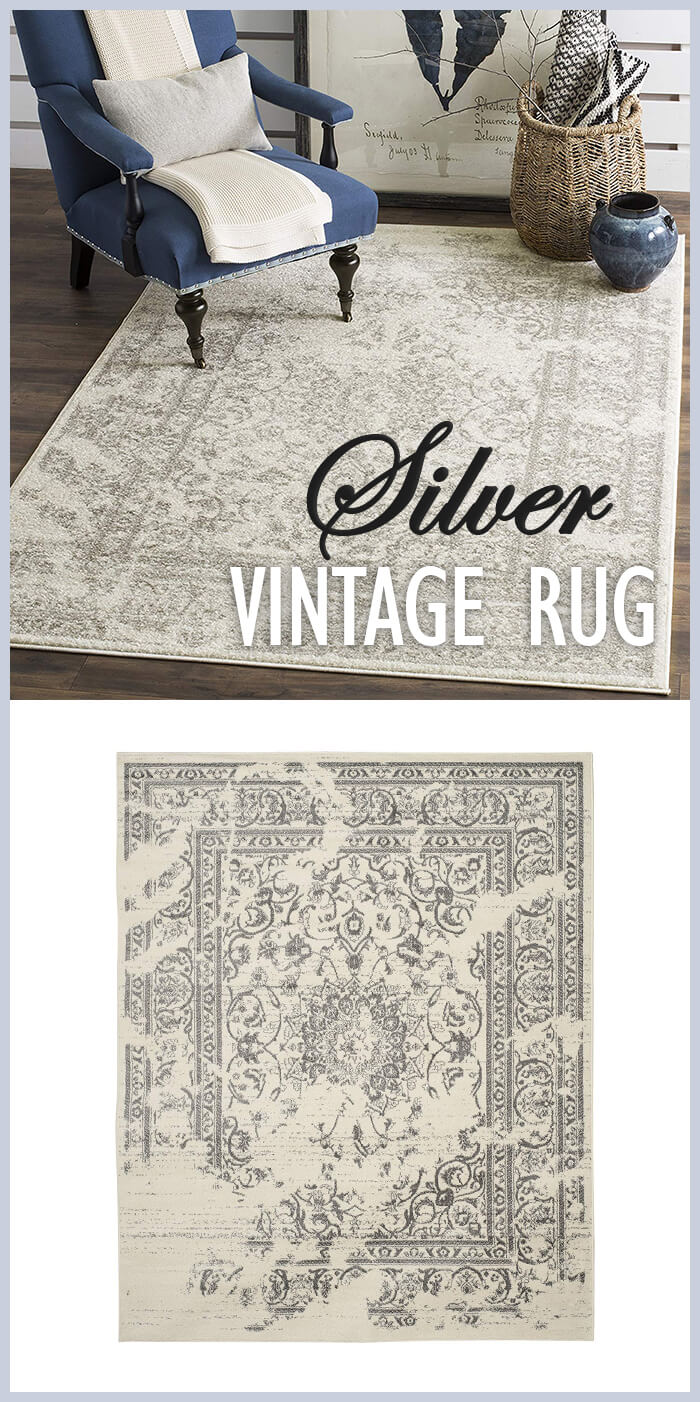 This Safavieh Adirondack ivory and silver oriental vintage area rug will make such a striking fashion statement in your home. It features fading, distressed flair, a modern traditional oriental design and low-pile height for a sleek finish. This is truly a conversational piece that your guests will immediately be drawn towards. The best part about this stylish oriental rug is that it's easy to care for, extremely durable and a focal piece that flows elegantly in any room. It's such a neutral color that compliments any color scheme making it a great rug for your farmhouse styled home.
16. Handwoven Natural Jute Area Rug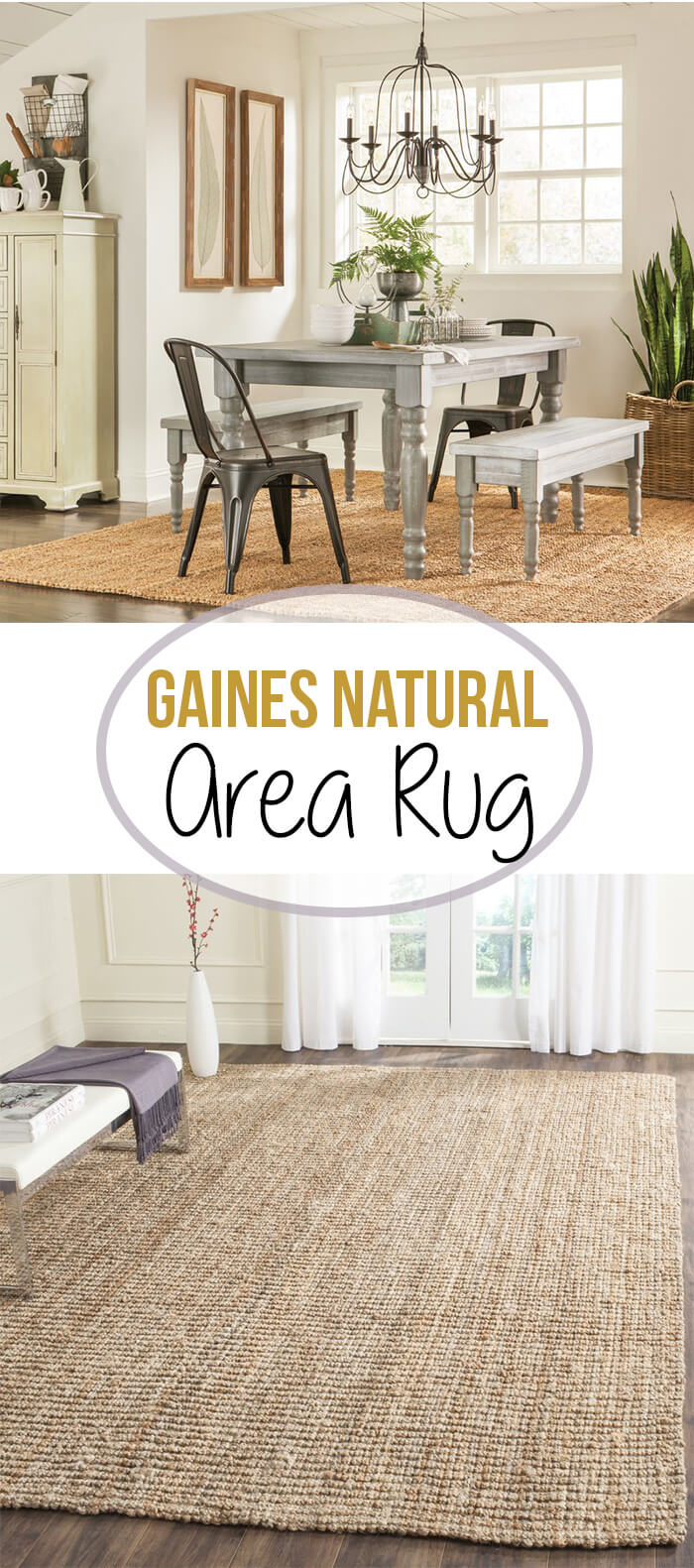 Provide your home with a sense of warmth with this Gaines natural area rug. It features such a beautiful weave that adds both a natural and neutral feel. It is made of 100% jute weave, making this rug very low-maintenance and adds the perfect amount of texture to your living space. This rug is perfect for high-traffic areas such as your living room or entryway and is very easy to clean. To maintain your rugs natural appearance, it is recommended to vacuum it regularly to prevent dirt, dust, and build-up from settling to the roots.
Finding the perfect farmhouse rug can be a challenge, especially if you like to change your mind often or like to switch up your décor frequently. Sticking to a more neutral color palette is key when choosing the perfect rug for your home as it adds dimension and texture to your space without taking away too much attention from your other décor.
Consider your area rug as a key foundation in any room. When choosing a rug for your living room, it's recommended that you leave a good foot or two of exposed floor around the perimeter of the rug. Larger rugs give your space a more coordinated aesthetic, as opposed to smaller rugs that can sometimes make your furnishings look uncoordinated. When choosing a rug for your dining area, the general rule of thumb is that both table and chairs should all fit comfortably onto the rug even when pulled out. If you have a roundtable, complimenting it with a circular area rug is attractive and can really tie the whole room together. Now for your bedroom, you want to choose a rug size that accommodates your bed. It's recommended to place your rug beneath your bed exposing it in the front and on both sides.
I hope you enjoyed these farmhouse rug ideas! It is incredible how you can simply transform any room of your home with an area rug. Which rug was your personal favorite?