When considering new pieces to add to your farmhouse themed décor, florals should – both figuratively and literally – always be on the table. Finding just the right vase and just the right flowers for your home can be a bit tricky, though. You don't just want any old arrangement, after all. You want something that is romantic yet rustic, delicate yet hardy, something that will match the natural, unadorned beauty of your own style. To give you a few ideas and a whole lot of inspiration, feast your eyes and imagination on this list of 14 fresh-as-a-daisy farmhouse style flower arrangements that will get you started on your own farmhouse chic additions.
14 Fabulous Farmhouse Style Flower Arrangements to Give Any Home that Southern Charm

Just keep in mind that when you're trying to decide on the perfect floral display, you can't limit yourself to the conventional. Out with the perfectly sculpted dozen roses and in with the real-to-life arrangements that will make your heart long for the countryside. These pieces incorporate fresh, dried, and silk flowers along with Mason jars, wood boxes, and watering cans. The options for design and color are endless. Remember that many of the best farmhouse décor pieces are repurposed or upcycled, so always keep your eyes peeled for your next vase, and don't be afraid to borrow liberally from these incredible farmhouse floral designs.
1. Whimsical and Romantic Hanging Floral Display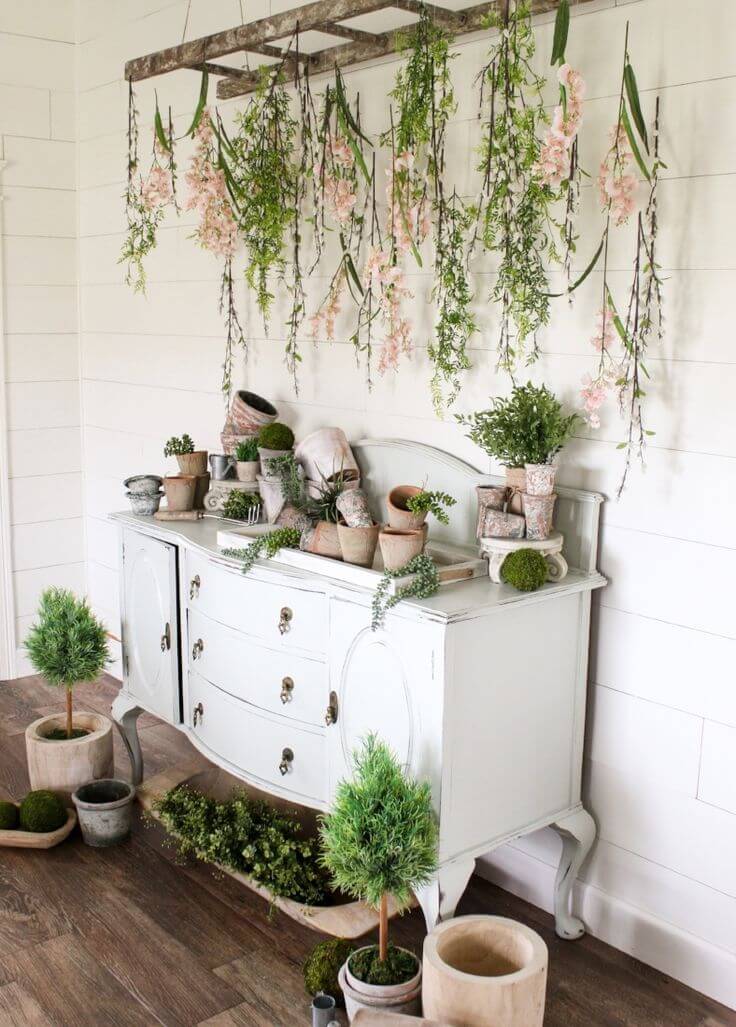 This display perfectly blends the whimsy of a hanging garden with the rustic hominess of farmhouse décor. Use this display in an entryway or garden as both a storage space and as a gentle, lovely way to welcome in guests. Use fresh, dried, or silk flowers to create your desired outcome.
2. Sweet Display in a Rustic Country Jug
Wild and woodsy, these lovely forever flowers will add a French farmhouse feel to any room. Perfect for the kitchen or living space, the soft and natural greens and yellows pair in a fun, friendly way with the distressed styling of the recycled jug, which works perfectly as a farmhouse authentic vase.
3. Authentic Watering Can with Lovely Lavender
A galvanized watering can – especially one that has spent some of its life out in the soil – makes for a delightful vase for your favorite sprigs from the garden. Adding an extra element of the outdoors to your table, this watering can makes the farmhouse look feel that much more authentic. The long lavender stems bring balance to the height of the makeshift vase.
4. Cozy Shabby Chic Cotton Display Box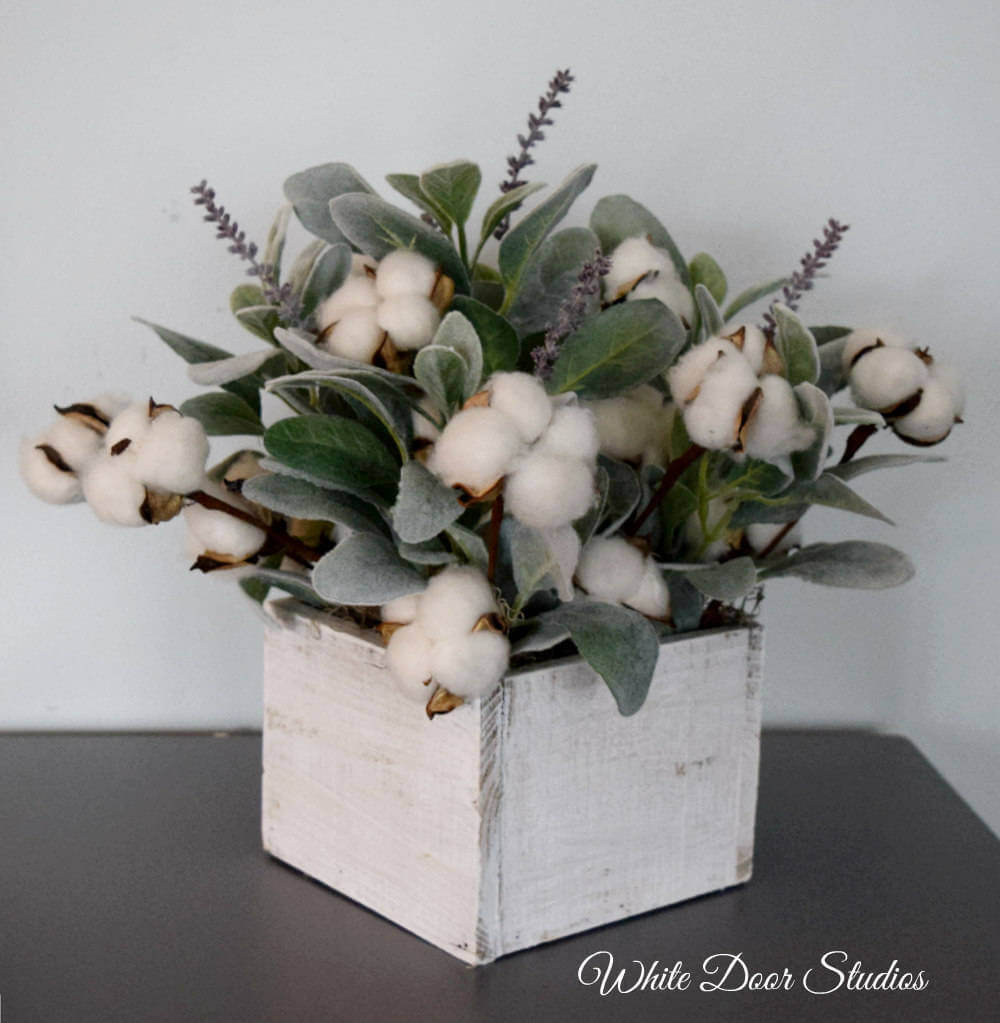 This small display is perfect for an end table, entryway, or nightstand. The warm and fluffy cotton and simple white-washed wooden planter box add a rustic southern charm alongside the friendly lavender and lamb's ear greenery. This farmhouse décor staple will blend easily into any room, and can, of course, be customized to match even better.
5. Bright and Warm Floral Centerpieces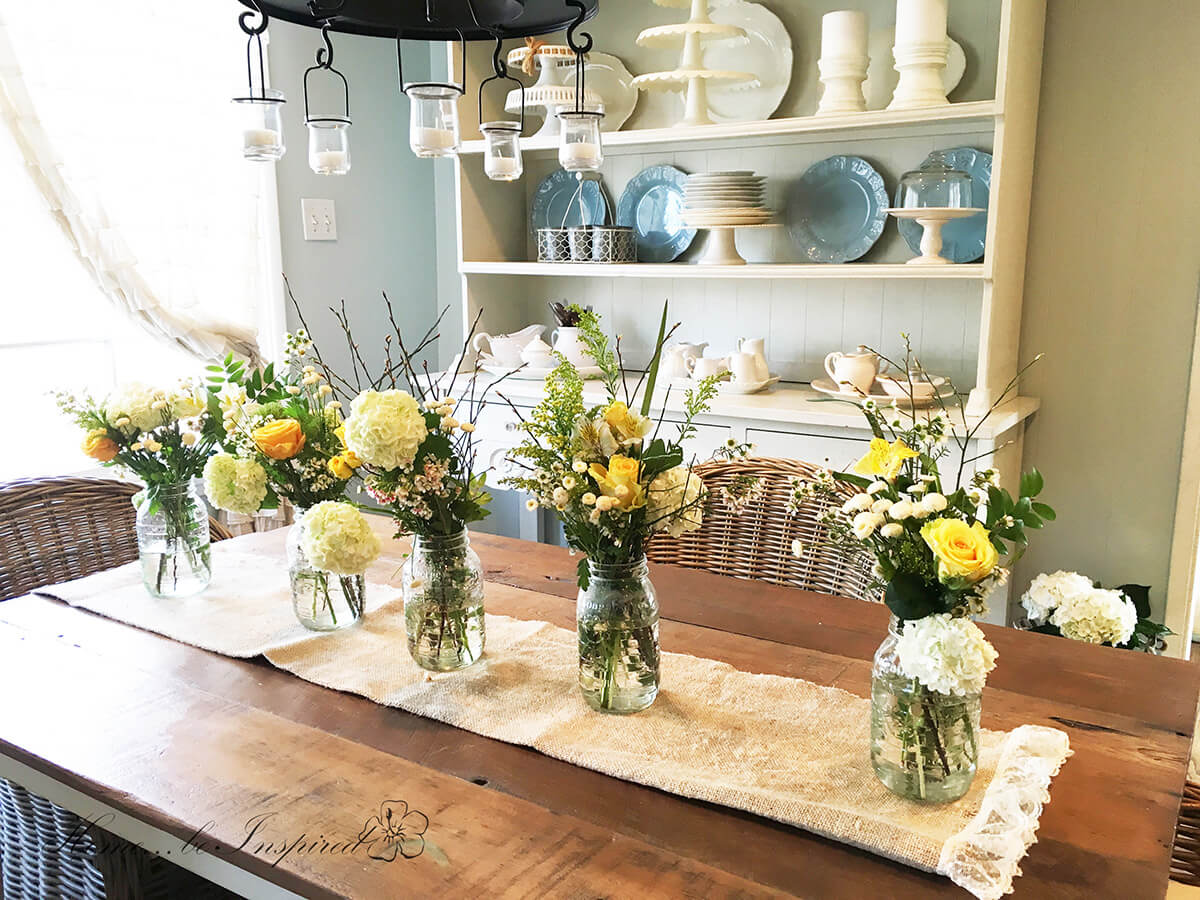 If you have a passion for flowers, then a beautiful display like this is just for you. Multiple Mason jar arrangements stretching the length of a beautiful burlap-style runner make a big statement on any dining table. Use this arrangement at home or down long tables at a garden party or other outdoor event.
6. Farmhouse Painted Mason Jar Planter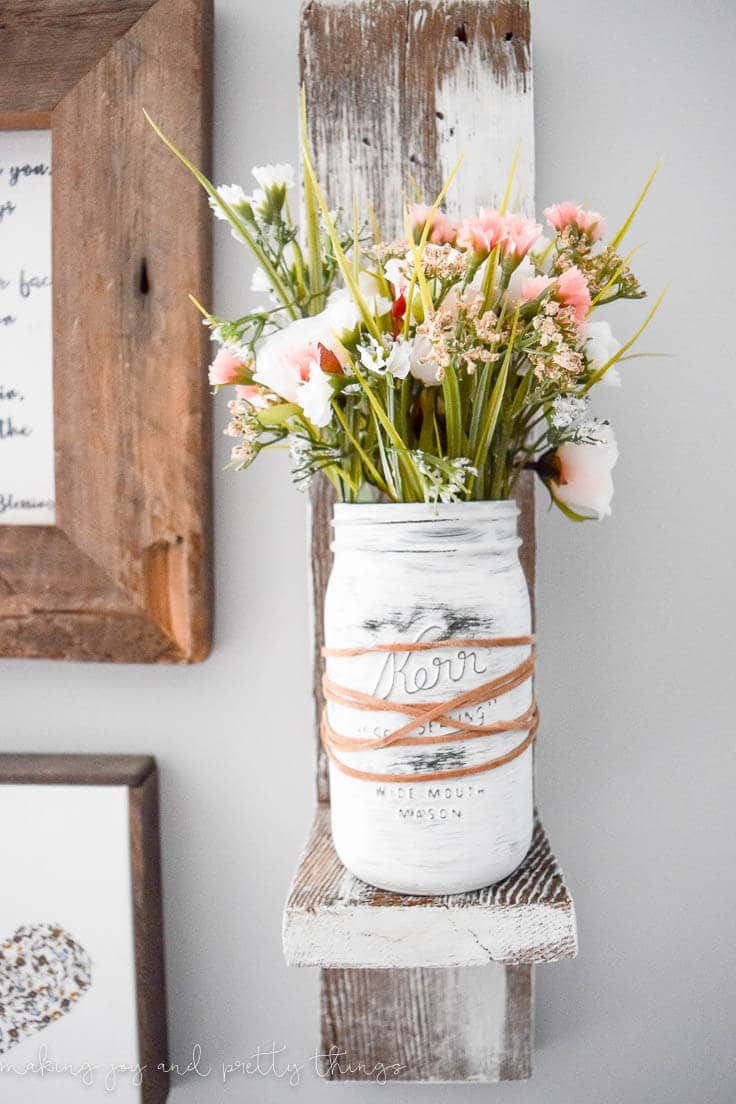 For a simple yet elegant DIY project to add a breath of springtime to your home, take some time out of your day to craft this lovely painted Mason jar planter. You won't regret having this lovely piece to display either fresh cut flowers from your garden or a beautifully composed silk bouquet. Paint or add accents according to your personal style.
7. Lush Blossoms on a Galvanized Tray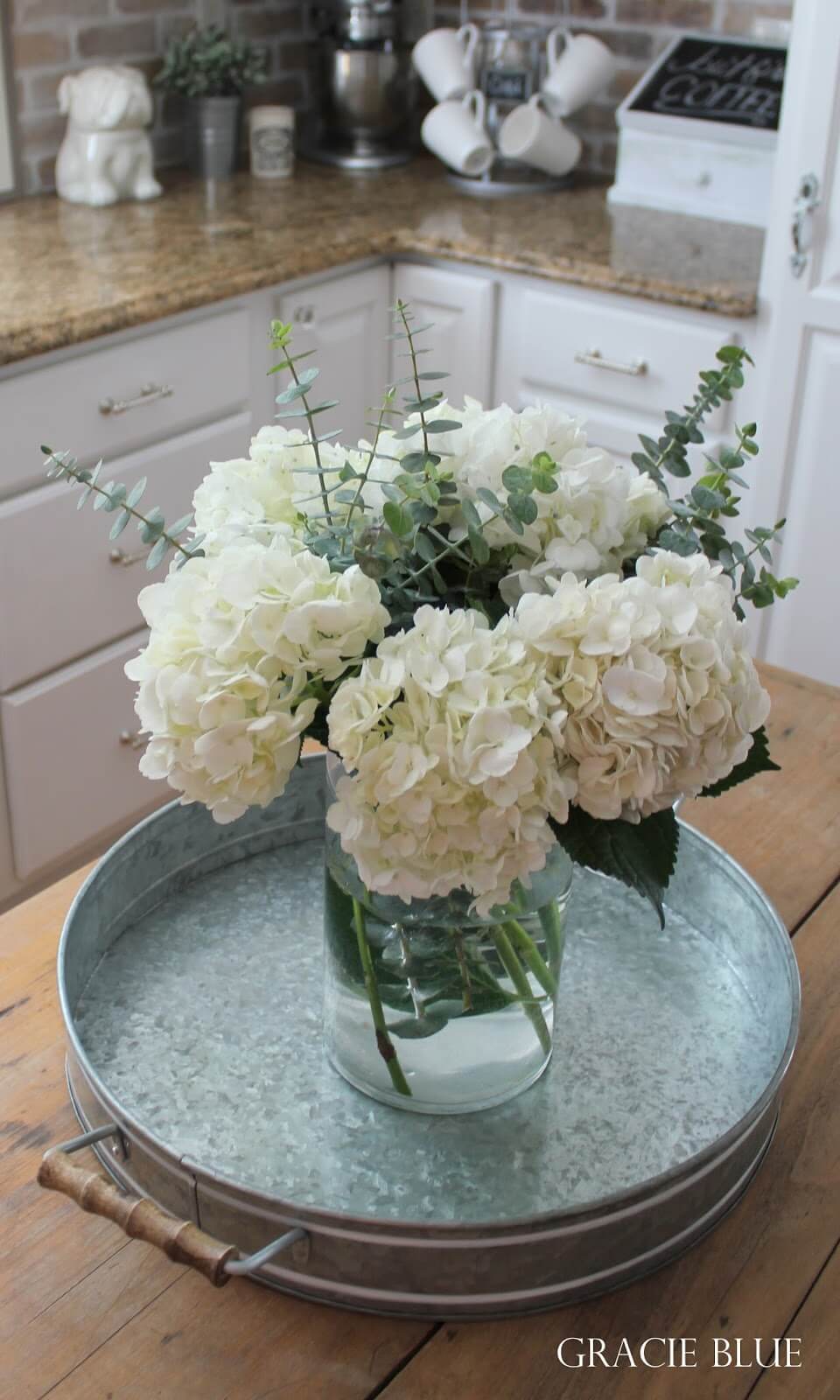 When decorating your home to match a farmhouse theme, it is important to consider what details or pieces you want to create to stand out. This striking galvanized tray is the ideal farmhouse centerpiece and works flawlessly as a base for a crystal clear vase and sumptuous hydrangeas. The full white blossoms are reminiscent of soft fluffy cotton and perfectly fit the charming farmhouse feel.
8. Super Soft Dreamy Farmhouse Bouquet
With small accents of lavender, this vase and bouquet exude both a warm welcome and soft serenity. Reminiscent of farm days with cotton floating through the air, this light display is a perfect centerpiece. The bright vase with its simple burlap bow augments the gorgeous bouquet and makes this piece that much more charming.
9. Repurposed Glass Bottle Arrangements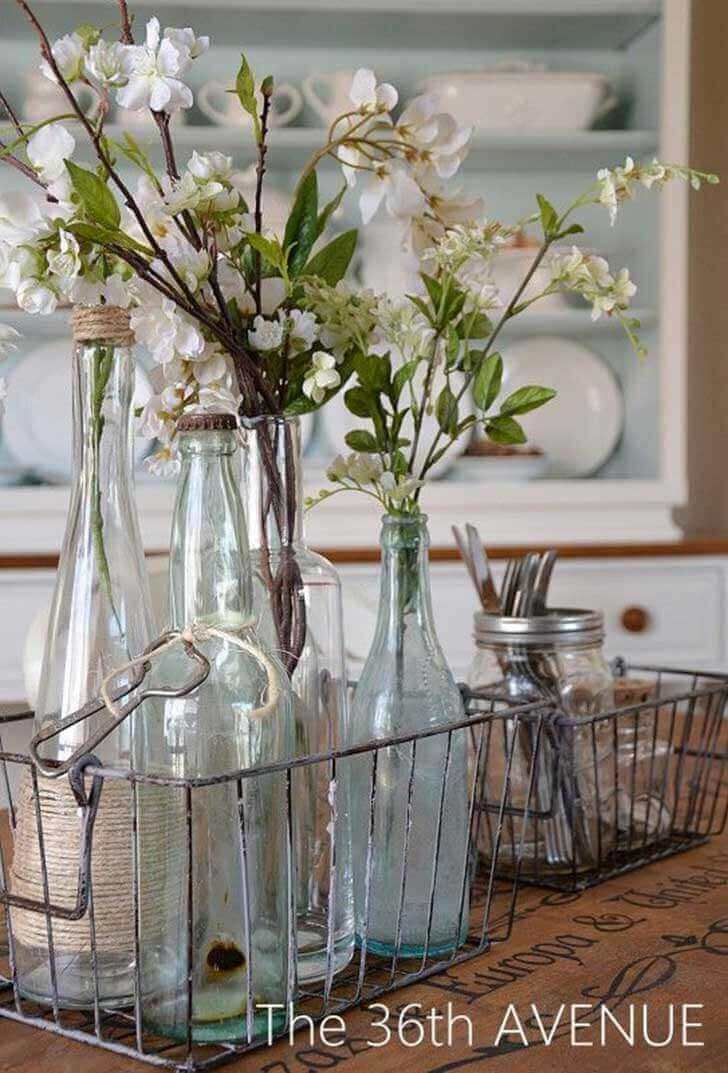 Adding small sprigs of springtime blossoms to a table can brighten up any space. For this project, you need only hold on to a few glass bottles and in no time you will have a set of perfect vases. Mix and match sizes and shapes, add some twine here and there, and before you know it you will have a perfect homemade farmhouse centerpiece.
10. Dried Bouquet in A Jar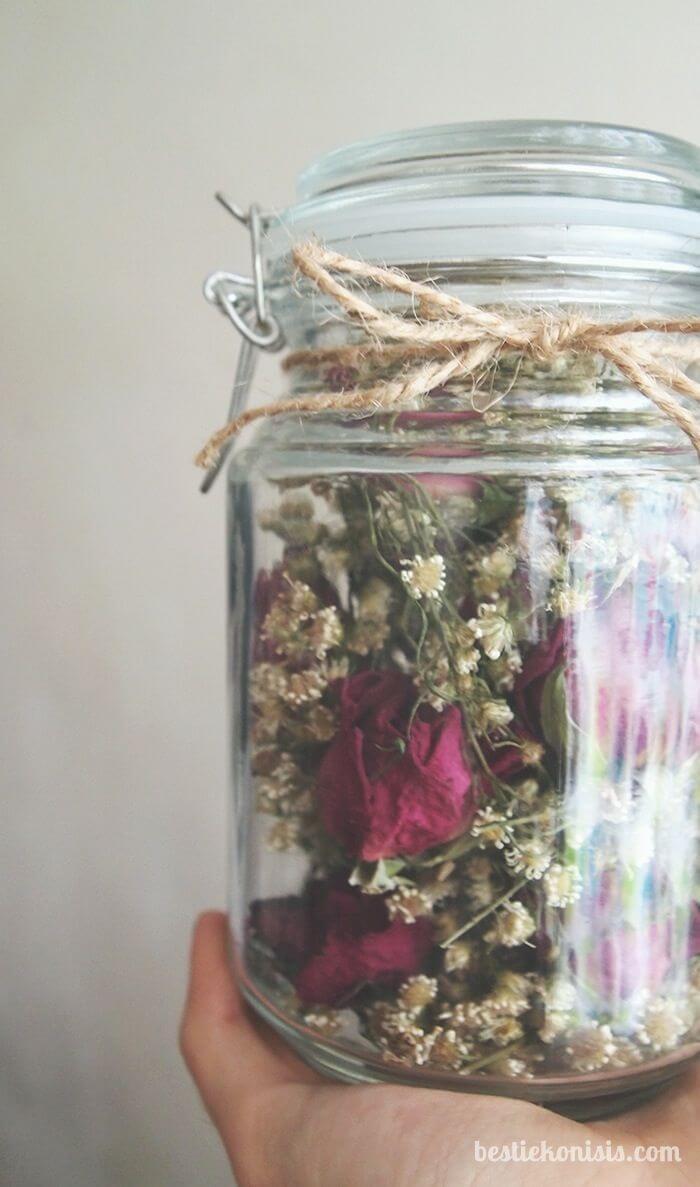 If you have ever received a romantic bouquet, you know that it is hard to see those flowers wither and make their way to the compost. Next time, instead of tossing the flowers, hang them upside down to dry them out. Then, simply find a large jar and re-arrange your now dried bouquet inside. Tie it off with some simple twine and you have a beautiful memory forever.
11. Mediterranean Farmhouse Bouquet of Olive Stems
Simplicity is the name of the game here. The lovely feature of these olive stems – other than their own natural pale green beauty – is that you can easily dress them up or down. Hang a single olive stem on the wall for a sparse accent, or arrange several stems in a glass vase for a complete look on the dining table.
12. Charming Mounted Bouquet Basket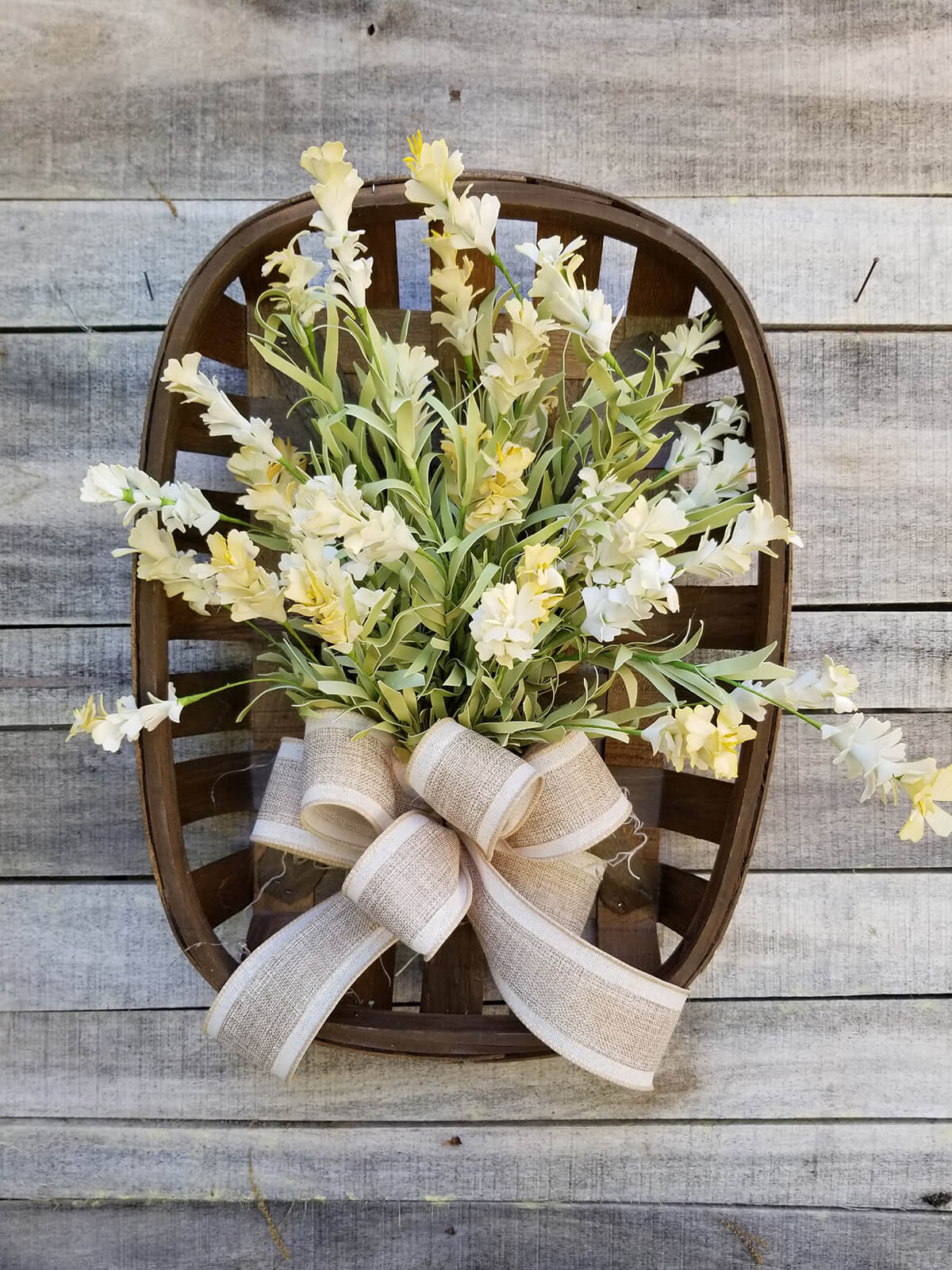 The farmhouse chic look works best when you can swap pieces in and out to make exciting new combinations. This adorable tobacco bouquet set inside a woven basket will work in nearly any room and will complement virtually any farmhouse chic décor. You can post it on your front door, mount it on the wall, or set it horizontally to use as a centerpiece or mantle topper.
13. One-of-a-Kind Hanging Succulent Arrangement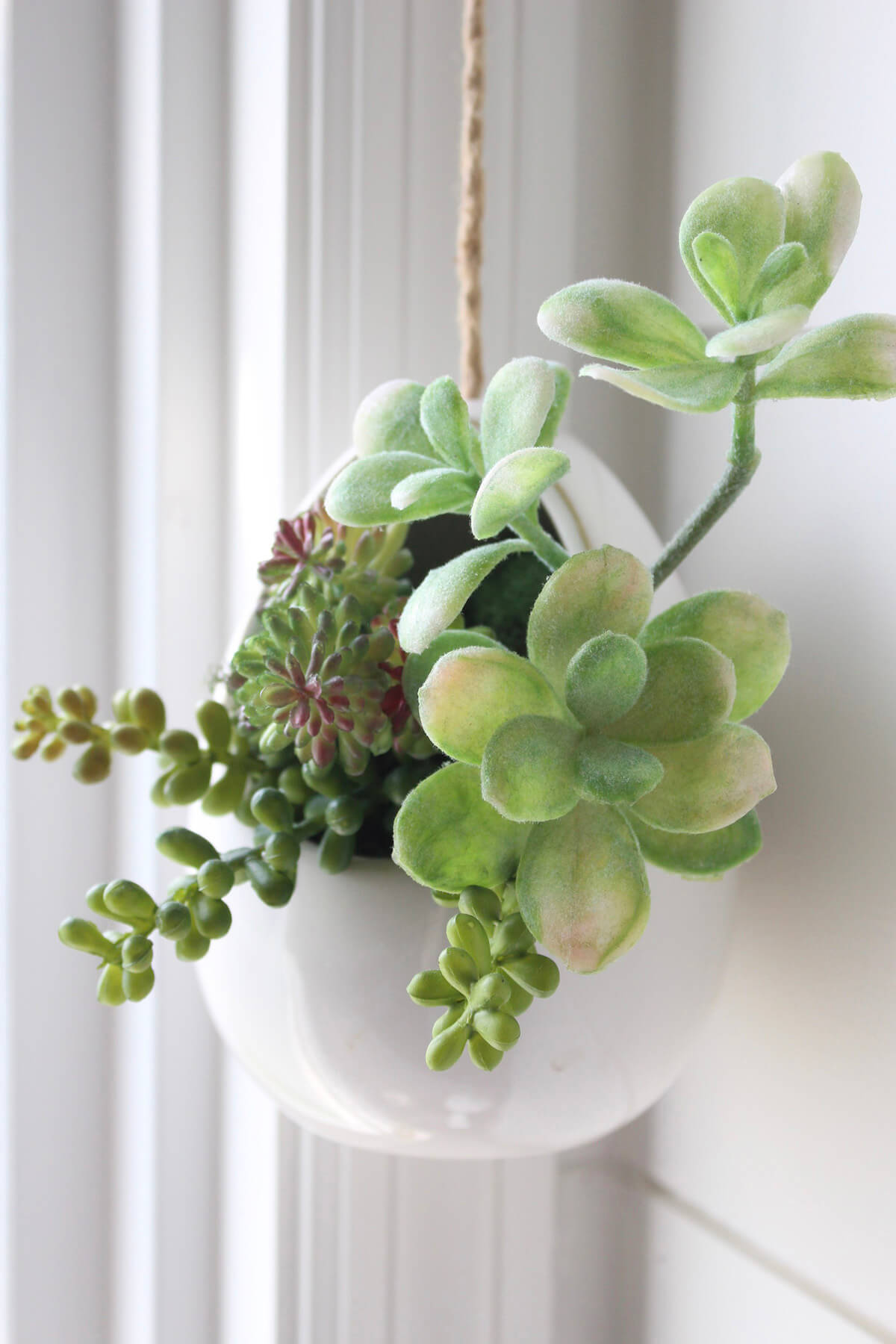 You've probably placed a succulent arrangement at table's center or on a window sill before, but what about elevating your floral décor? This hanging egg planter shows off the miniature succulent arrangement without using a square inch of counter space. The inspiration for this piece is a DIY project, so you can customize using your own hang-able knick-knacks or antique shop gems.
14. All-Season Faux Peony Bouquet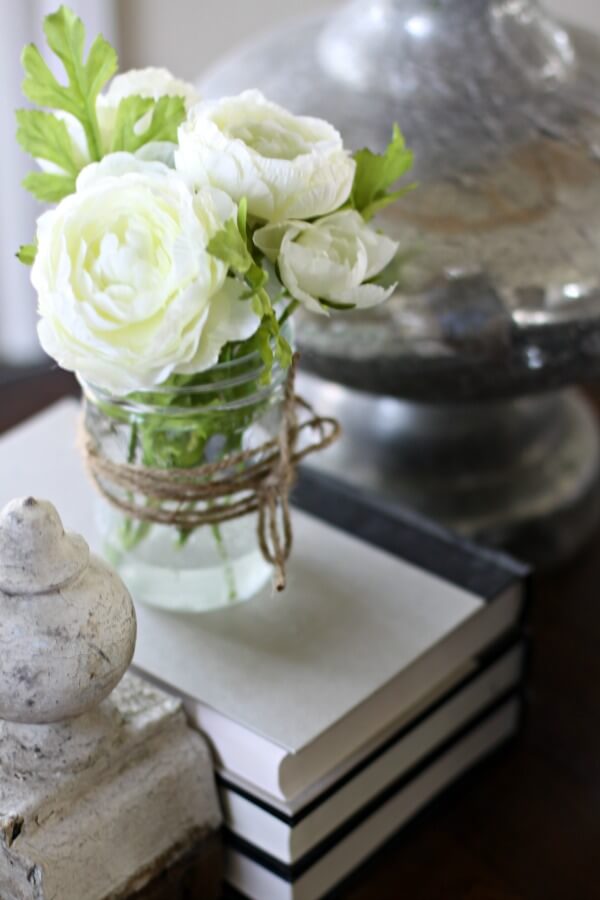 Sometimes you just want a little springtime in your life, even if it's the dead of winter. With these precious faux peonies, you can enjoy the brightness of fresh flowers without the cost of an expensive faux flower arrangement. This bouquet – made with just five basic DIY materials and tools – will enliven any room, any time of year.