The fireplace has been a place to gather with family and friends for centuries. It's a focal point in any room, beckoning those who enter to sit down and enjoy its warmth. Because of its rich history and presence, decorating the fireplace is only natural, especially during the Holidays.
19 Inspirational Fireplace Decor Ideas to Spark Your Creative Side

You will see a myriad of ideas among these displays of fireplace decor. Whatever your style, you will find at least one that sparks your imagination. It all starts with your fireplace. It may be traditional or rustic. It might be round or tall. The good news is that decorating is just a few pictures and an inspiration away.
What tickles your decorating fancy? How about a unique mirror sitting hanging above the mantle? How about a winnowing basket instead? Everyday items can become the perfect thing to display around the fireplace. An old toolbox or an old window frame can personalize and liven up any fireplace you have. Candlesticks of all sizes and shapes are natural accessories.
The cooler weather of fall and winter makes it natural to want to decorate the fireplace. Pumpkins, acorns, and branches of fall leaves bring the natural elements forward. Warm colors easily stand beside neutral palettes. Garlands of berries, burlap, and cranberries festoon the mantle. Add baskets and chairs to the fireplace front to complete your home's fireplace display.
Which one of these fireplace decor ideas inspired you?
1. Red Plaid and Sparkling White Fireplace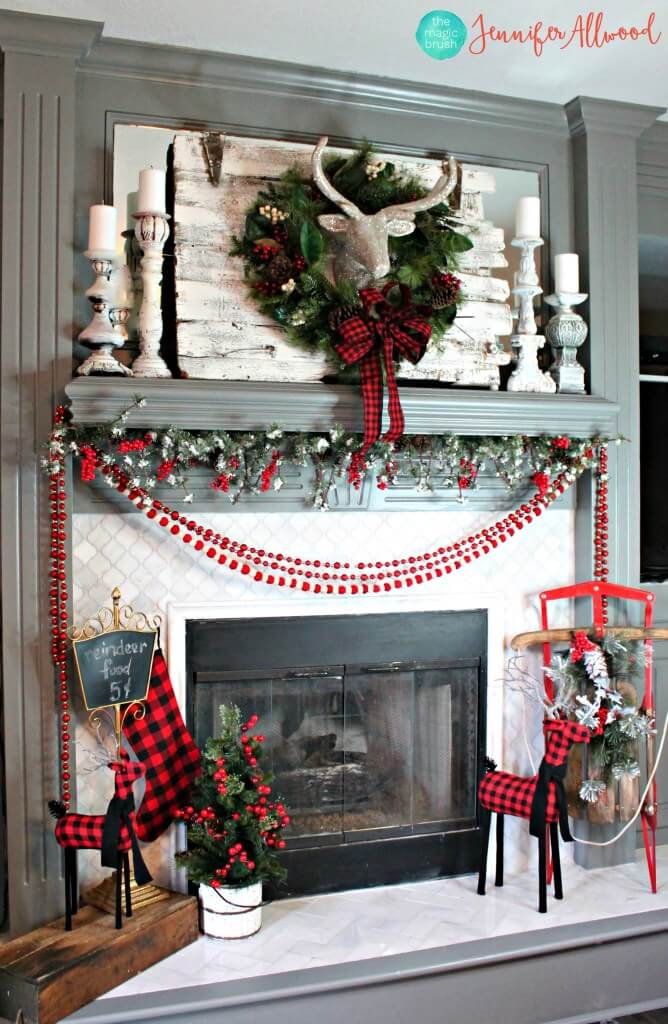 Winter and fireplaces simply go together. Add in some Holiday decor and the match becomes perfect. A sparkling white reindeer head peaks out from an evergreen garland up top for a traditional fun look. Down below red plaid bedecked reindeer stand beside a sled and matching plaid stocking. The rich red color of the garland strands pops off the soft gray fireplace surround.
2. A Natural Autumn Fireplace Display in Orange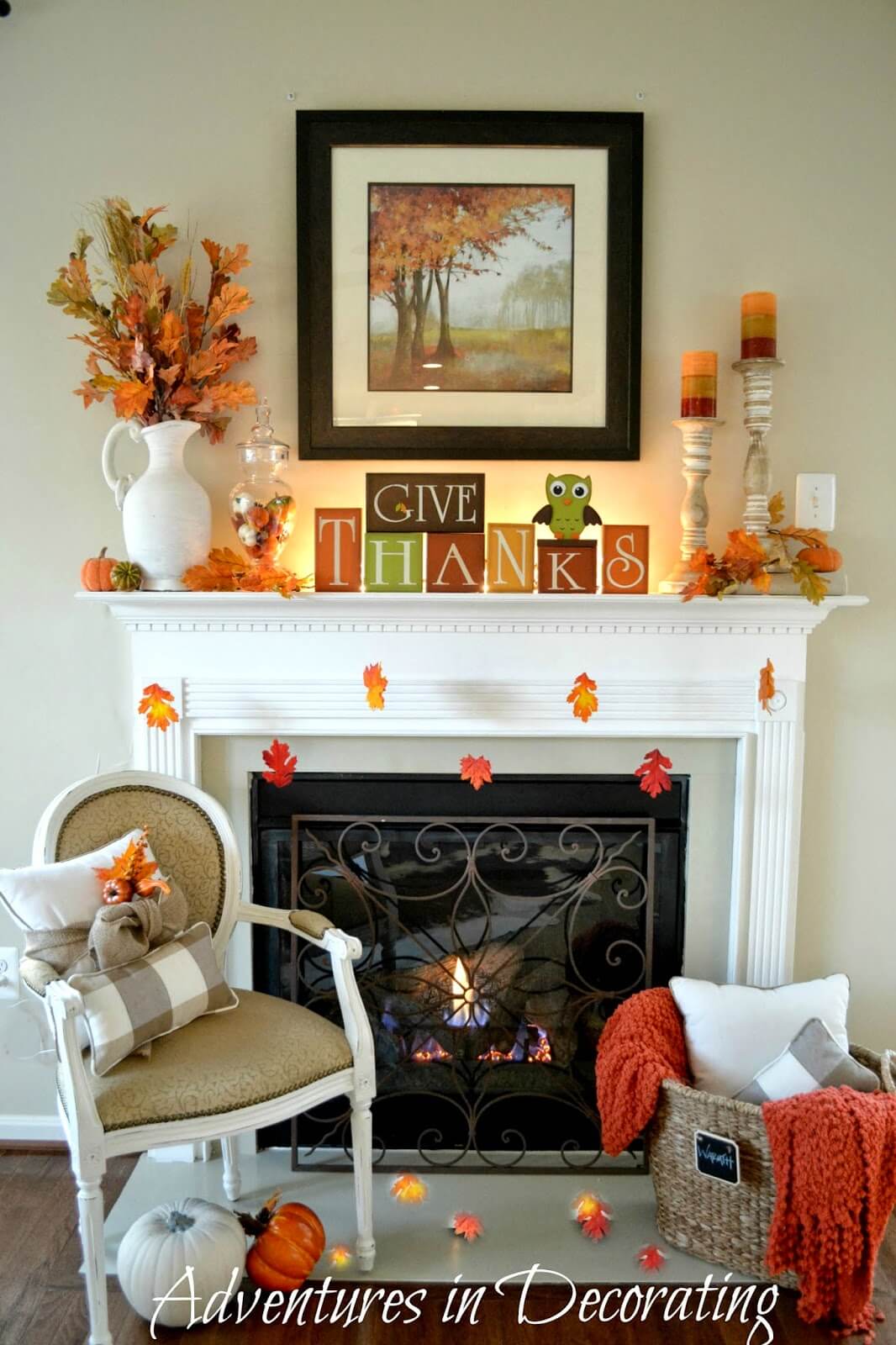 Among these fireplace decor ideas, this one showcases autumnal orange at its finest. The neutral background shade of the wall and fireplace allow the colors of the accessories to pop. Leaves, candles, pumpkins, and a warm throw, all in orange with hints of red and green, harmonizes this fireplace display. Natural textures on the chair and basket match perfectly.
3. Rich Colors and a Burlap Acorn Garland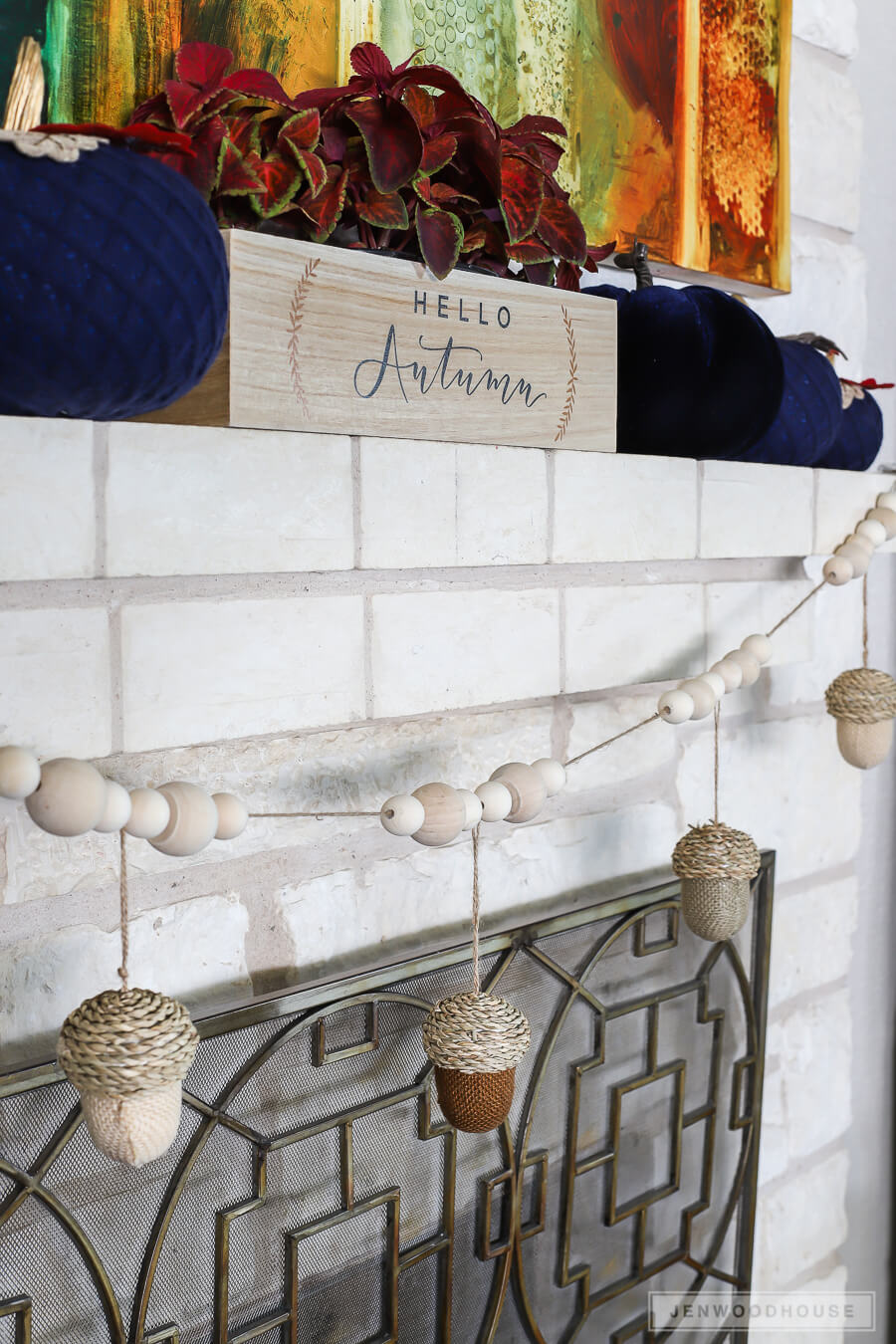 Fireplaces offer you a chance to mix and match colors and textures. In a balanced display, this particular fireplace surround shows rich colors above and blended shades below. Blue pumpkins sit next to the rich reds of coleus above a "Hello Autumn" sign. Large burlap acorns dangle from jute twine in front of the neutral color of the fireplace.
4. Old Arch Window in Top of Curved Hearth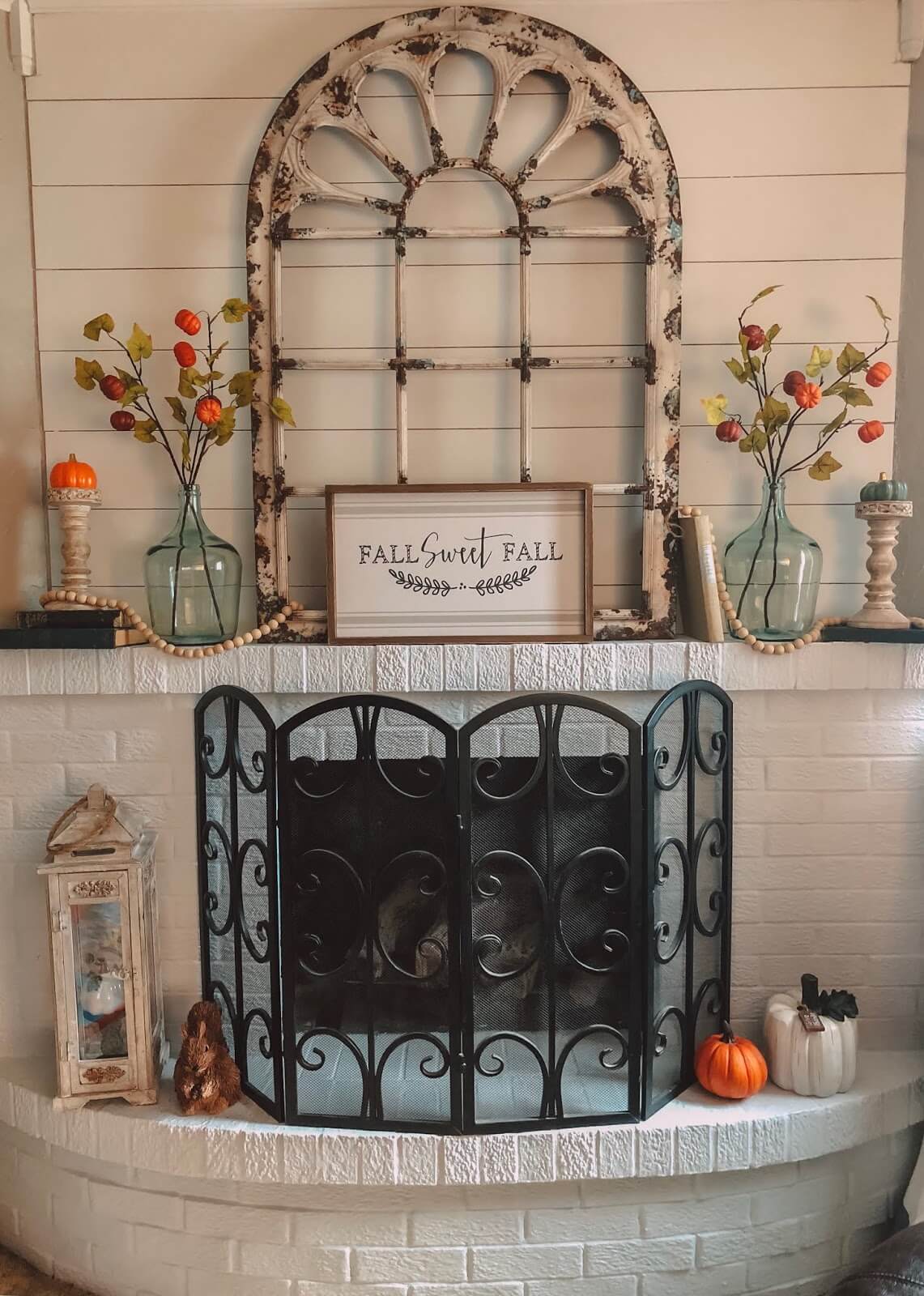 Straight lines and rounded curves combine in this rustic fireplace display. Up above a beautifully arched metal window frame offers a bold focal point. Clear jugs display faux pumpkin branches alongside farmhouse candlesticks. Down below pumpkins and rustic accessories sit atop the curved hearth that reflects the arched window above.
5. White, Pink, and a Modern Fireplace Screen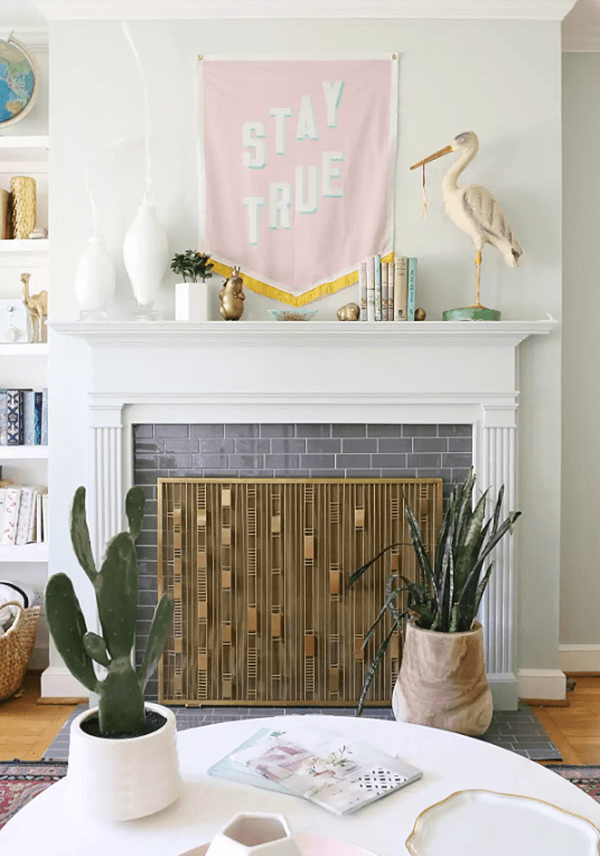 Why be traditional? When it comes time to choose a fireplace screen, you have a ton of options available. If you want to go modern, go for it. This brass fireplace screen boasts bold vertical lines that stand in contrast to the bricks surrounding it. White accessories and a pink banner above give this fireplace a modern youthful vibe.
6. Colorful and Funky Fireplace Decor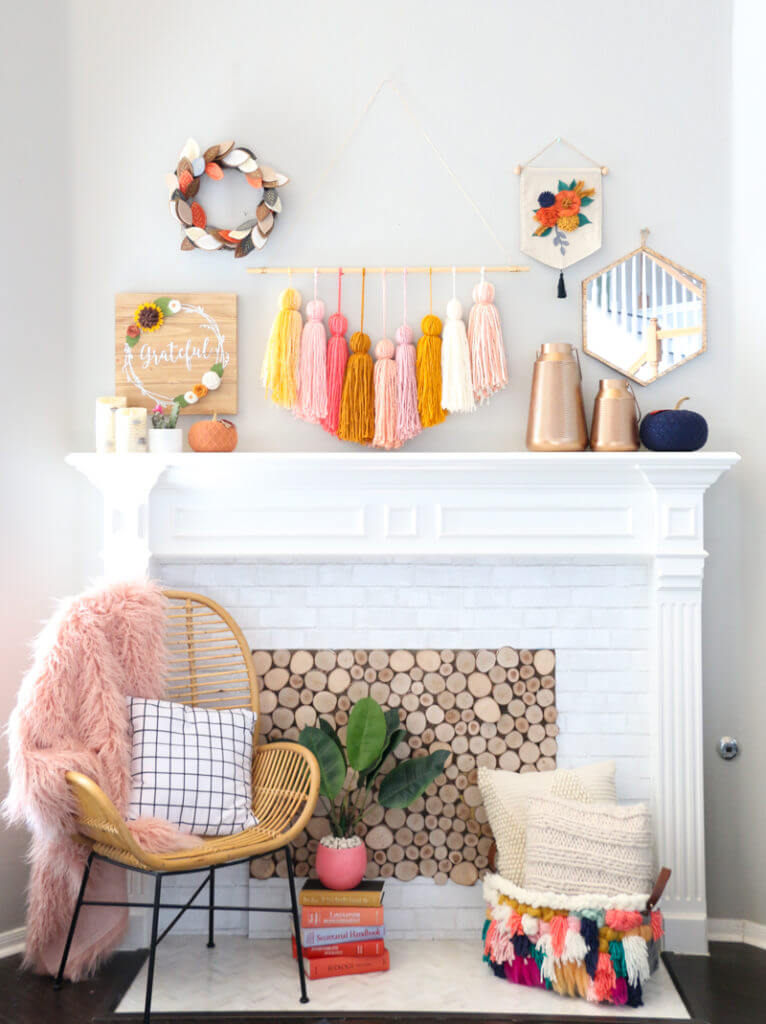 Feathers, tassels, and fluff create a dramatic fireplace display. The white fireplace and the neutral light gray walls allow the color of all these accessories to pop. Handmade banners and swags made of yarn provide visual appeal above the mantle. Down below a feathery blanket embraces a wicker chair next to a colorful basket of pillows.
7. Rustic Accessories and Comfortable Fireside Chairs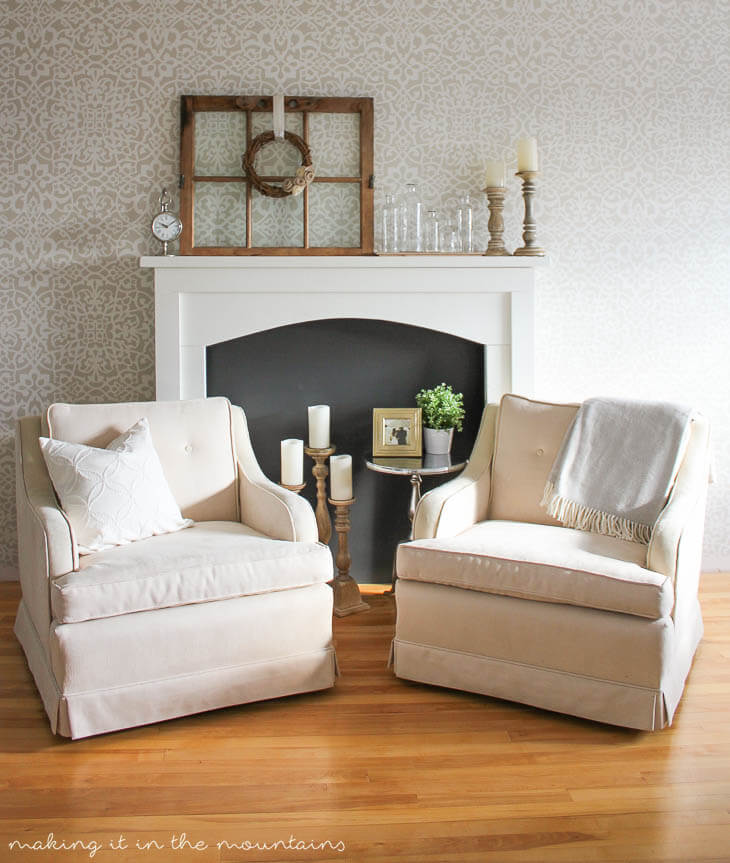 Fireplaces call for people to come close and get warm. The two comfortable chairs nestled in front of the fireplace offer a cordial welcome. A small console table and tall candlesticks fill the space in front of the fireplace opening. Up above the mantle, an old rustic window frame gives height while bottles and candlesticks provide visual movement.
8. A Curved Fireplace Decorate in Brass and Nature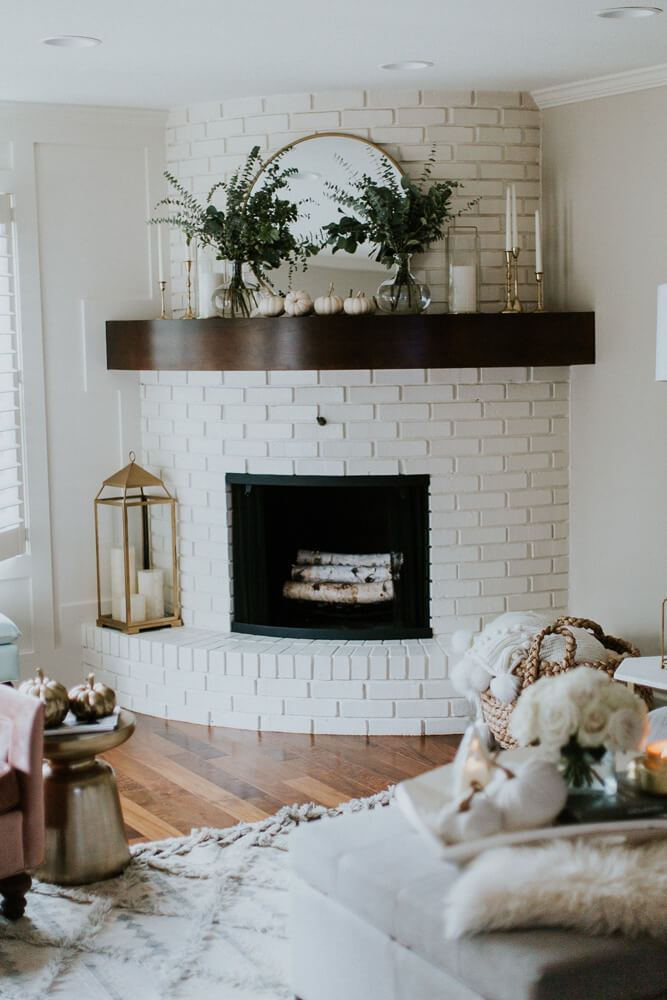 Curved fireplaces bring visual appeal into any room. Decorating it requires acknowledging its rounded curves without detracting from them. This fireplace's rich wooden mantle holds vases filled with greenery along with brass candlesticks and whit pumpkins, all in front of a round mirror. A large candle lantern in brass sits on the hearth rounded below.
9. Books and Glass on an Old Farmhouse Fireplace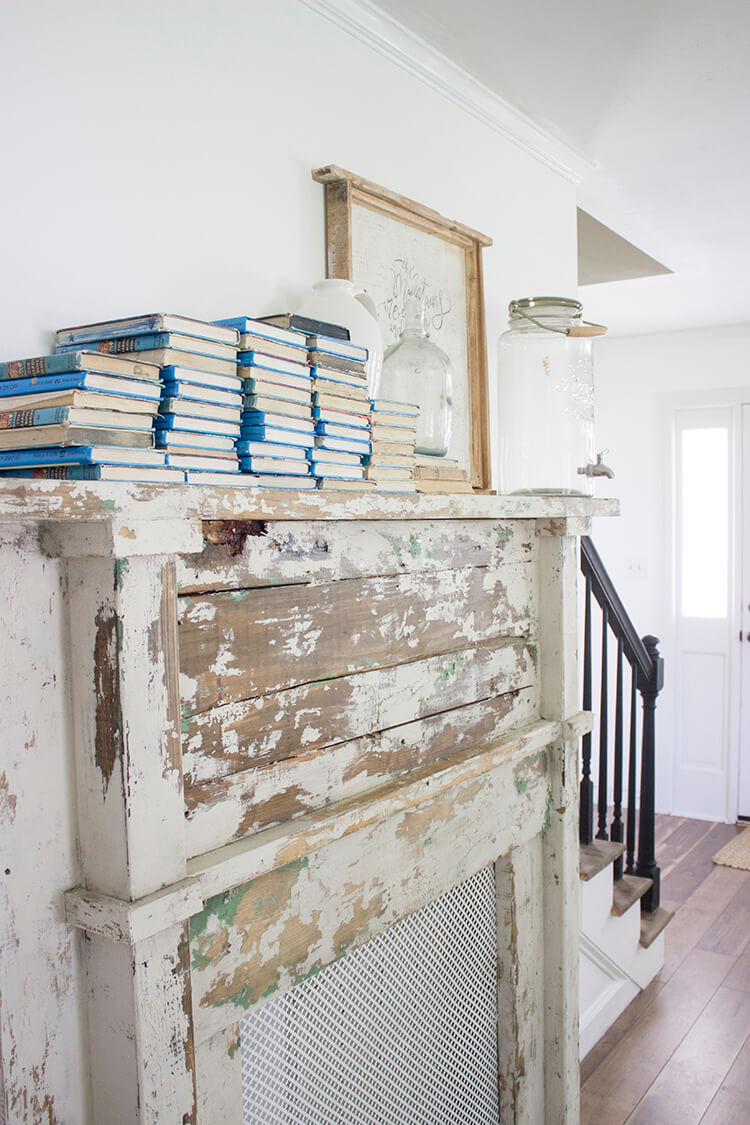 Farmhouse rustic centers on the beauty you can find in old common, everyday items. An old farmhouse fireplace mantle demonstrates this decor perfectly. The faded, chipped paint of the fireplace makes a timeless statement. On the mantle, stacks of old books provide a colorful contrast to the delicate picture and large glass containers on the other side of the mantle.
10. Rich Vertical Wood and Rustic Accessories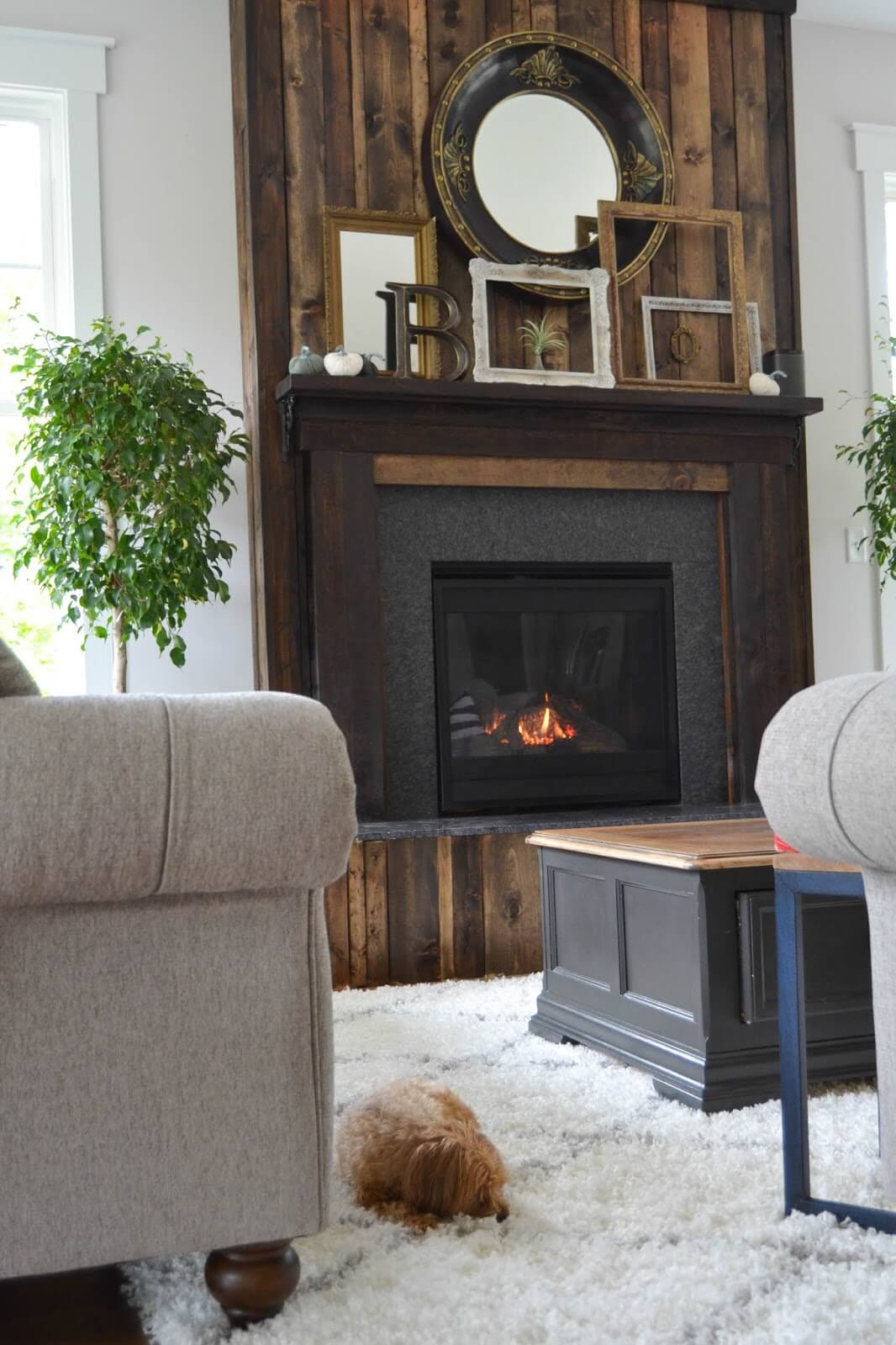 The rich grains of this dark wood fireplace surround draws your eye immediately. Its strong vertical lines give visual height to the room and provide a marked contrast to the accessories on top of the mantle. Old pictures frames and two old mirrors bring texture and visual appeal to the area above the fire.
11. Antique Mirror Surrounded by Wheat and Pumpkins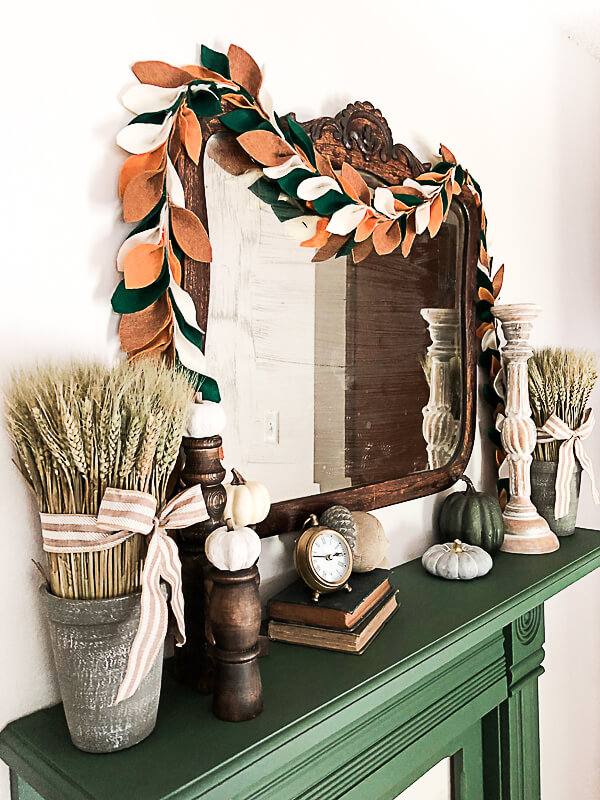 Selecting the focal point above your fireplace is important among fireplace decor ideas. This beautiful antique mirror gives this painted fireplace a natural presence. Signs of autumn are reflected on the mantle as well as the mirror. Sheaves of wheat sit in galvanized buckets while a garland of colorful faux leaves embrace the mirror. Pumpkins and candlesticks fill out the display.
12. Window Frames, Pewter, and an Old Toolbox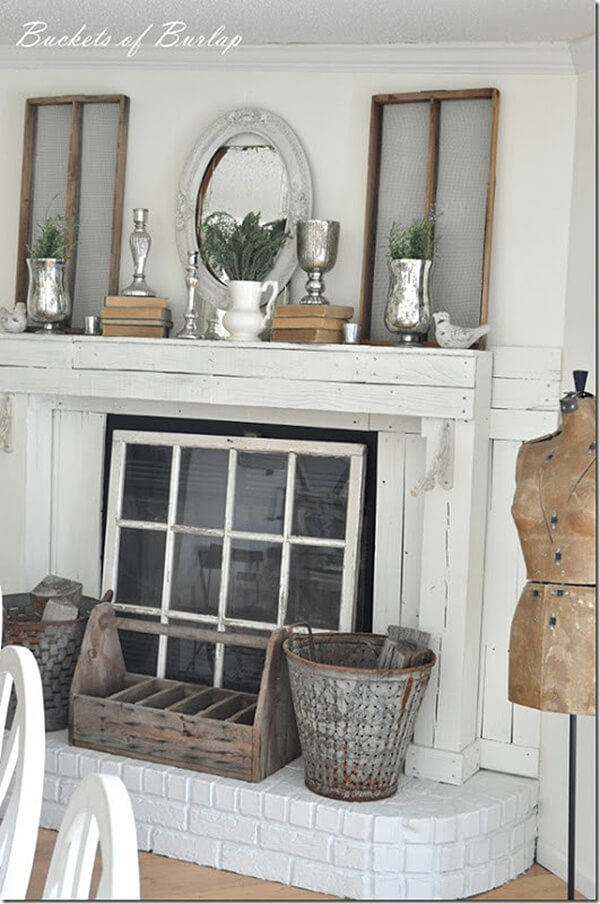 A rustic fireplace surrounded by antique everyday things harkens back to simpler times. Window frames give height to the display as well as working as a useful firescreen. Pewter vases and candlesticks bring a bit of sparkle to the mantle, while an old toolbox and metal harvest basket fills out the hearth below.
13. Handmade Crafts and a Lovely Message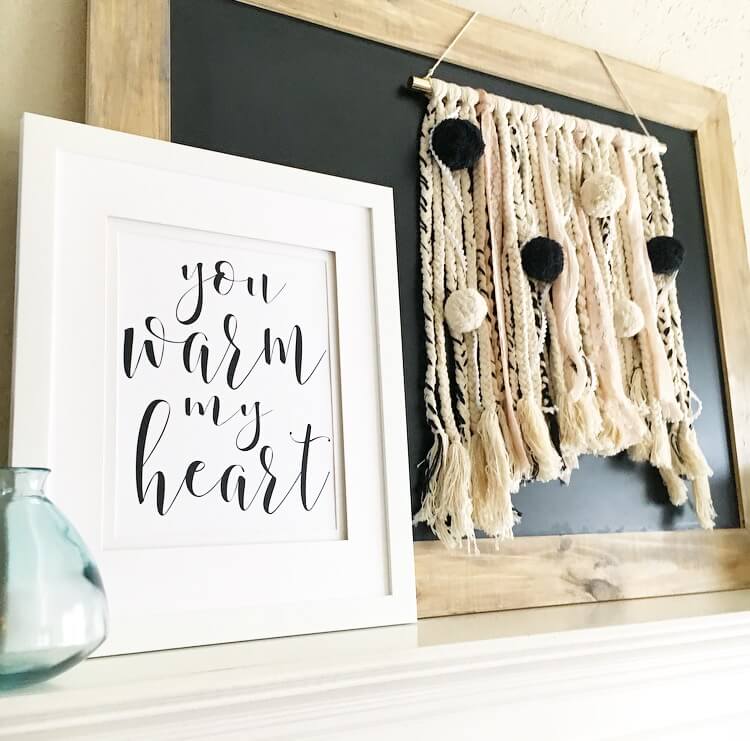 Your fireplace is a place you can personalize in any manner you want. An easy way to do that is to display a message that comes from your heart. Displaying it alongside handcrafted wall art, in front of a dark-framed board, helps make your personal message the center of attention.
14. A Big Clock and Neutral Textures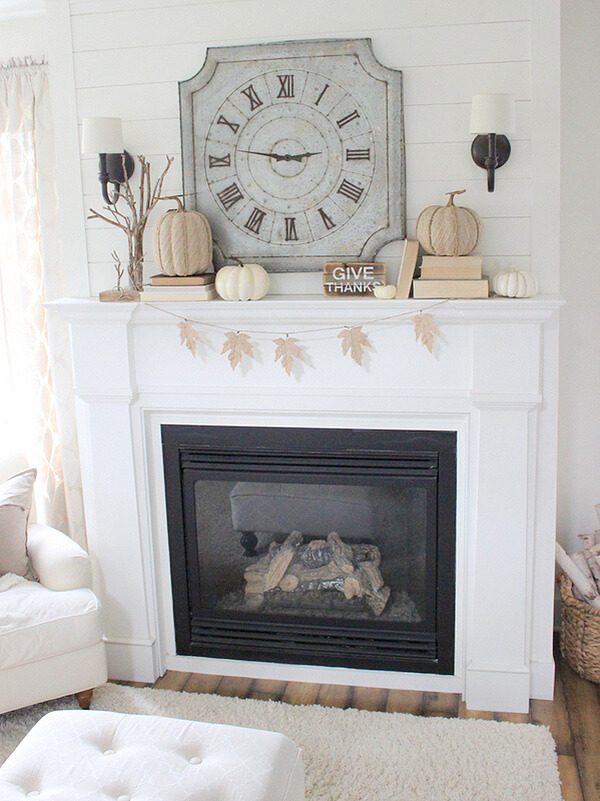 An oversized clock brings your eye up from the hearth to see what is on the mantle. This rustic clock, flanked by simple sconces, allows you to see what time it is without straining your eyes. The small branch and neutral colored pumpkins blend harmoniously with the white fireplace and off-white walls. "Give Thanks" is the perfect autumn touch.
15. A Copper Pumpkin Amidst Autumn's Splendor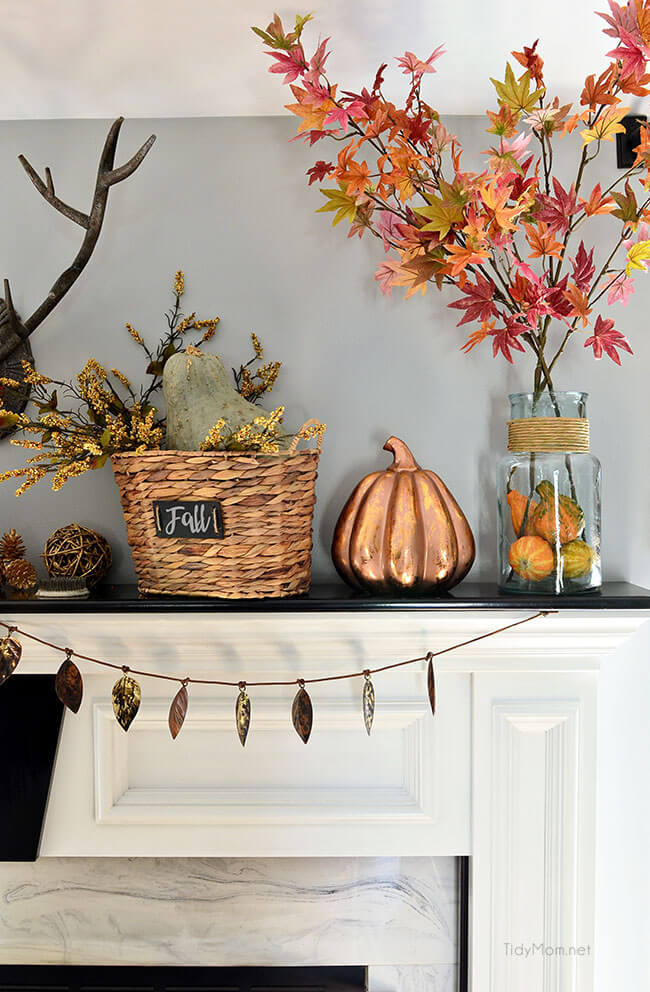 Natural colors and textures are the hallmark of this fireplace display. A bright flash of leaves marks the entire length of the tall branches, sitting in a clear vase filled with pumpkins. A woven basket spills over with goldenrod and other autumn flora. Sitting in the midst of the natural splendor a copper pumpkin lends it rich colors to the party.
16. A Fireplace in White and Gray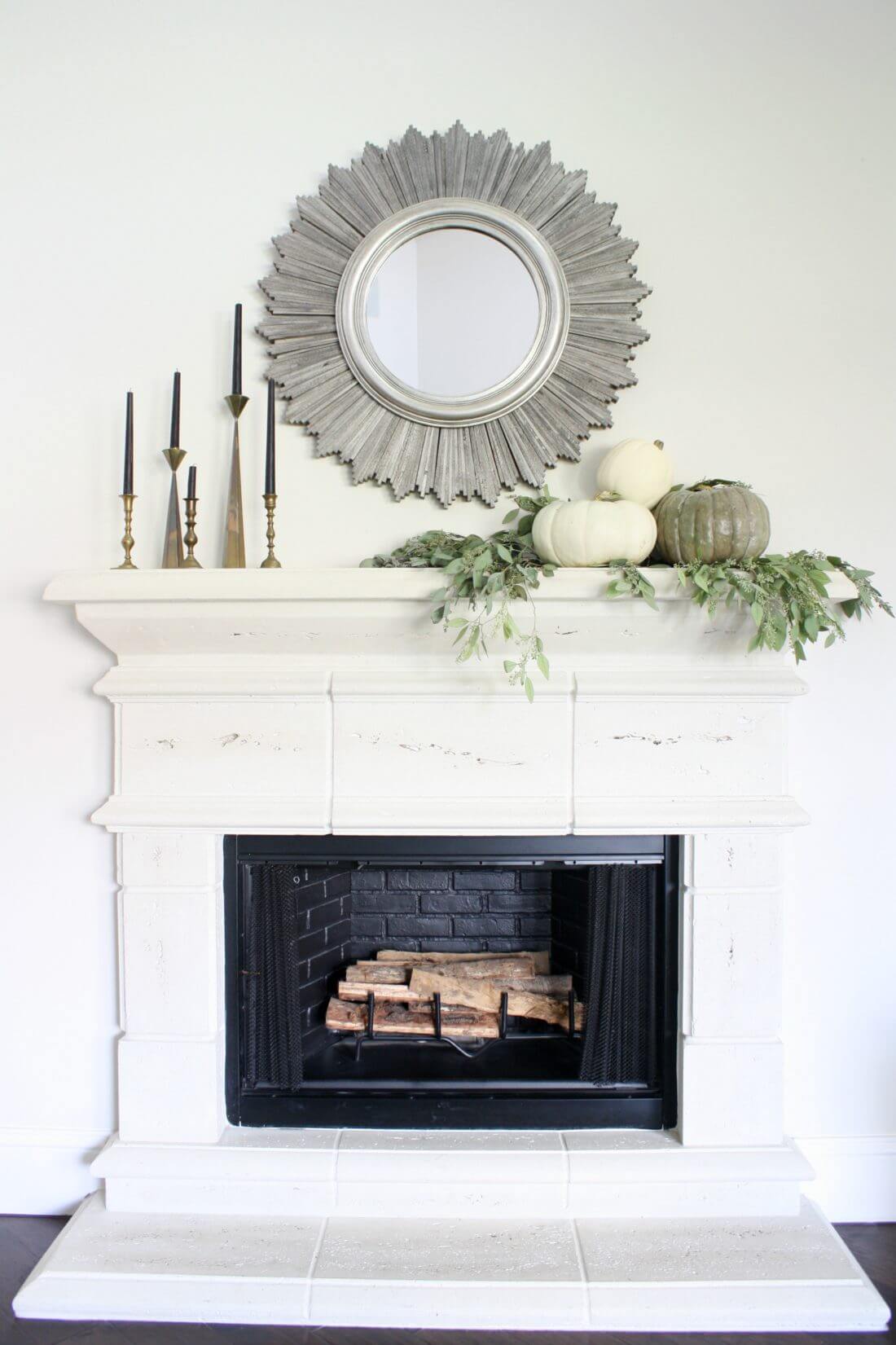 A white fireplace surround is timeless and classic. It gives the hearth a clean look that works well in traditional and modern homes. Gray accessories offer a subtle hint of color without standing too far forward of the white behind and below. Weathered wood radiates out from the round mirror, blending beautifully with the pumpkins, foliage, and candlesticks below.
17. Wheat and an Old Winnowing Basket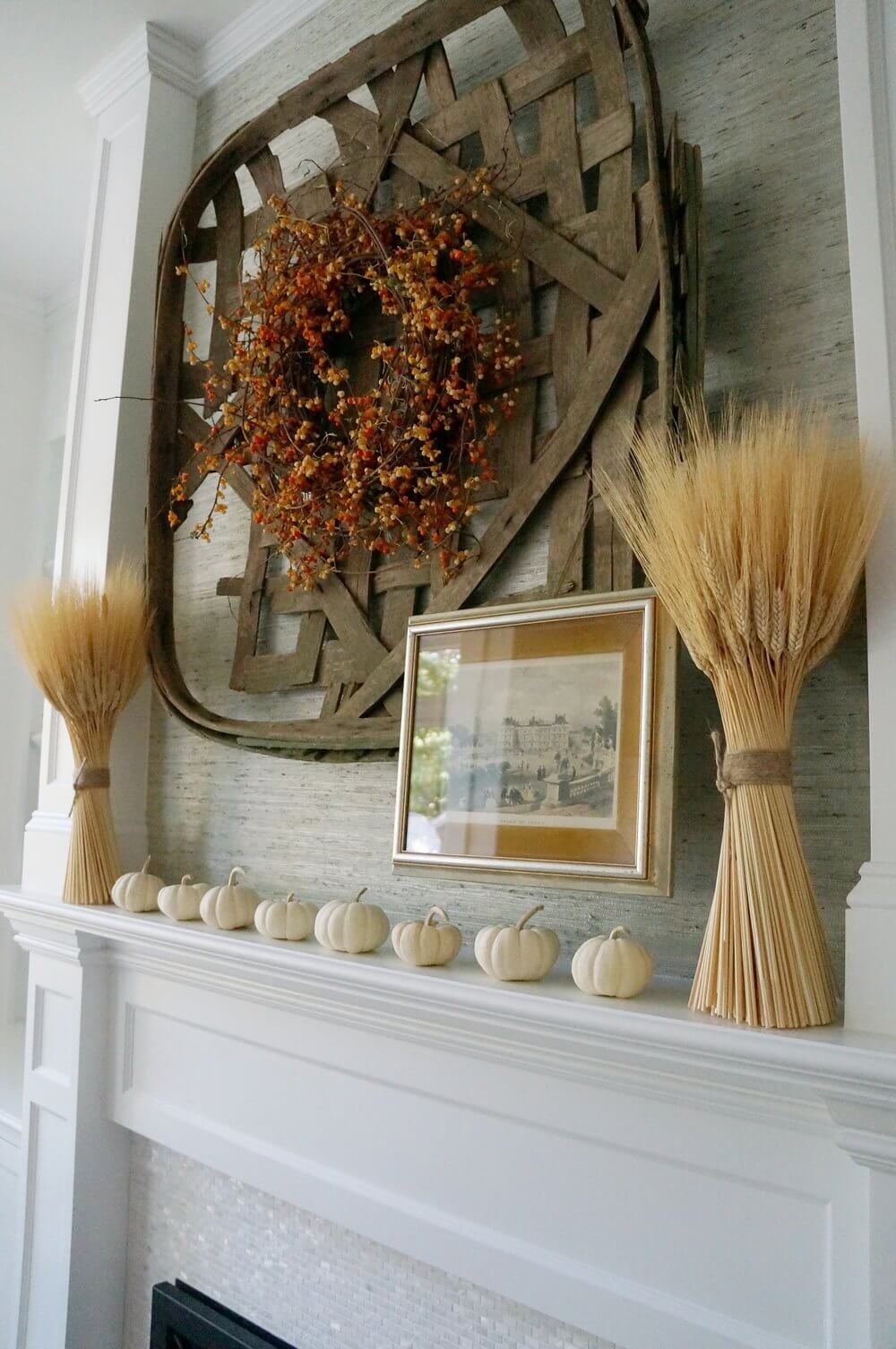 Back before the invention of modern farm machinery, the process of separating the wheat from the chaff started with the use of a winnowing basket. This old winnowing basket brings natural texture atop this fireplace, making a perfect frame for an autumn wreath and a treasured photo. Sheaves of wheat and small white pumpkins are the perfect accessories.
18. Hydrangea Blossoms, Mirrors, and Porcelain Vases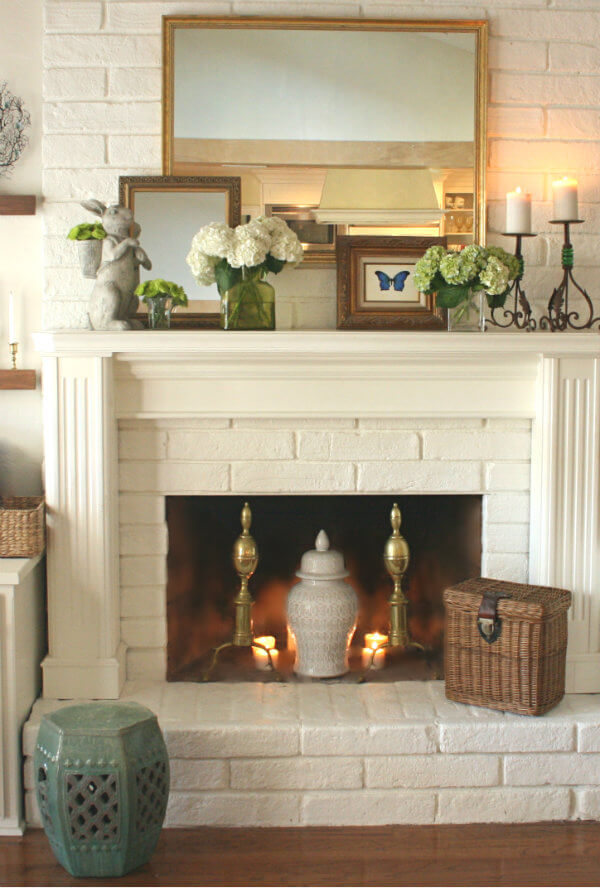 Layering items on the mantle gives it a depth and richness. It's one of the fireplace decor ideas that you can use year round. Mirrors provide a reflective background to small vases filled with hydrangea blossoms. Candles and a small picture add additional dimension. Porcelain vases and a warm woven basket bring interest to the hearth.
19. Brass, White, and Wood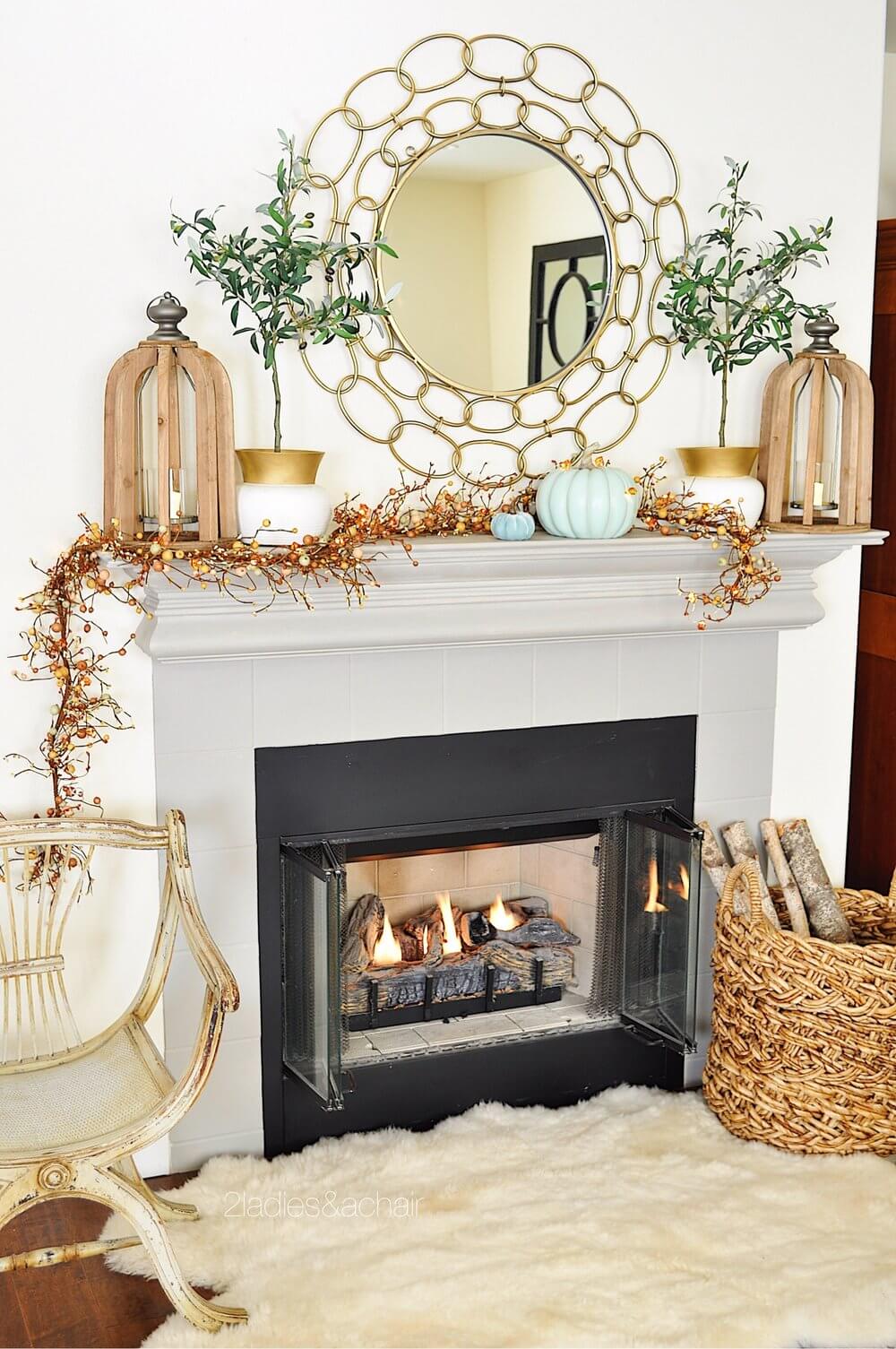 Tarnished brass oval rings interlock to create a stunning display with this fireplace mirror. The rich color of the bronze gets repeated in the base of the small topiaries on either side of the mirror. Wooden candle lanterns anchor the mantle both left and right. The fall garland filled with light weaves its way through the white pumpkins and down the side.