Flower chandeliers are a beautiful way to finish your next big event, so having the best DIY flower chandelier ideas can come in handy. You can be able to make your chandelier as how you like it. There are endless ways to design, and I wouldn't finish if I were to start mentioning. You may even hang the chandelier in your room using silk flowers. Another way is a wreath chandelier designed like a wreath and may be illuminated with the addition of battery-operated lights. A dangling chandelier will not light up, but it is still lovely in its own right.
Bring Spring into Your Home with these Gorgeous DIY Flower Chandelier Ideas

Flower chandeliers are increasingly becoming a significant design feature for many of life's large and small festivities. Whether arranging a bridal shower, holding an outdoor dinner party, or celebrating a birthday, raising your flower arrangements to new heights looks lovely and smells amazing. Be inspired to include a chandelier in your home. Below is a fully-fledged list of our favorite flower chandelier ideas anyone can try out.
1. DIY Floral Chandelier Garland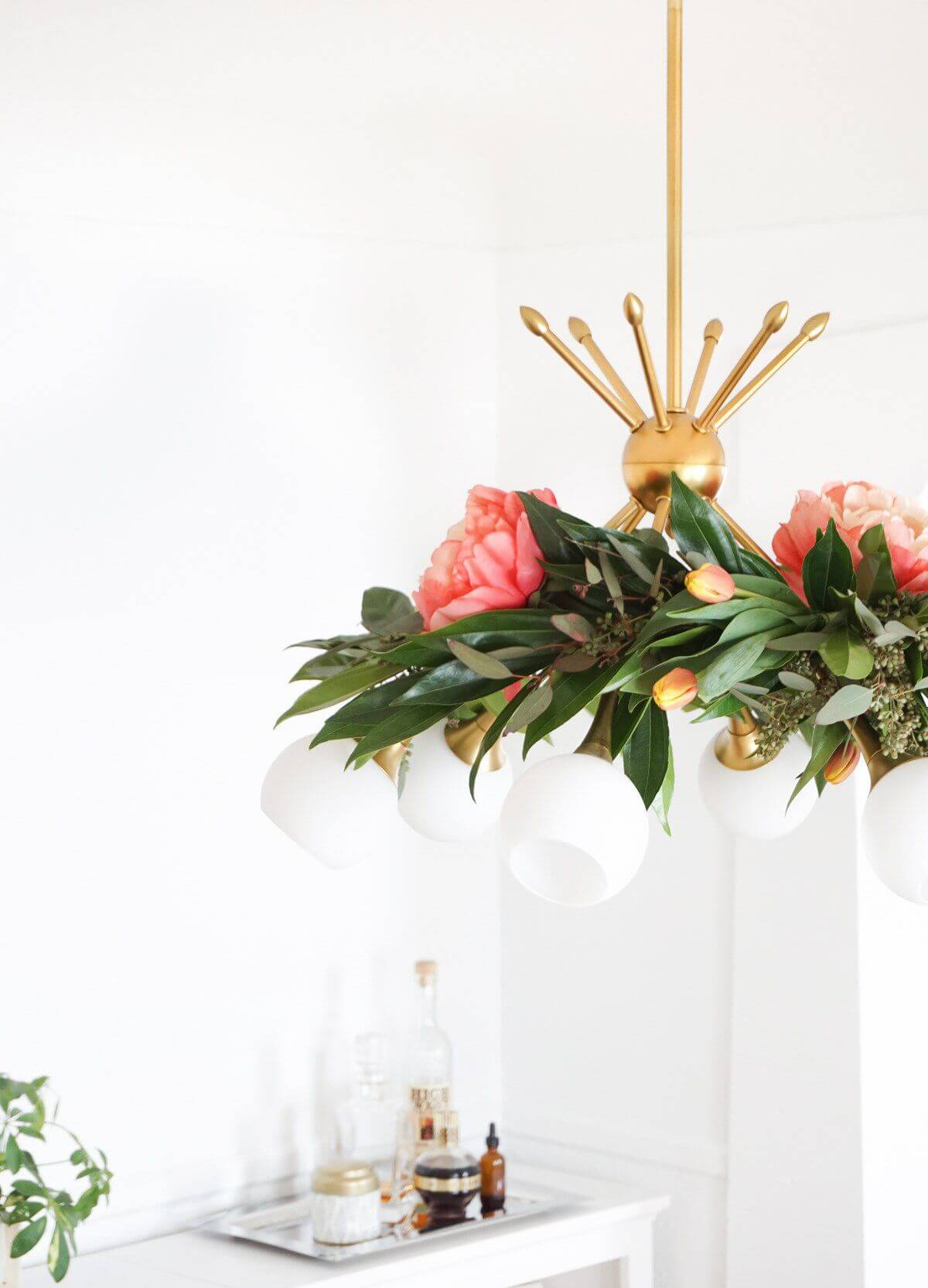 Spring and summer seem jam-packed with parties and events, from Mother's Day to birthdays to wedding season, and when it comes to party decor, my favorite item to use is flowers and greens. The main reason is that they make such a lovely statement without any effort on my part. They also make the gathering room seem festive enough that it's generally the only type of decorating I need to do. Behold the Floral Chandelier Garland.
It's made easier by assembling several small bouquets and connecting them with floral wire. When you're ready to hang it, just drape it over the arms of your chandelier and secure the loose ends with floral wire. The key to keeping the garland looking fresh throughout the celebration is to use 100% fresh greens, filler flowers, and silk blooms for the statement flowers. Greens hold a lot of water, and the silk blossoms look great all day. Not to mention that if you have other occasions, you can reuse the silk flowers in each garland and save a lot of money.
2. DIY Floral Chandelier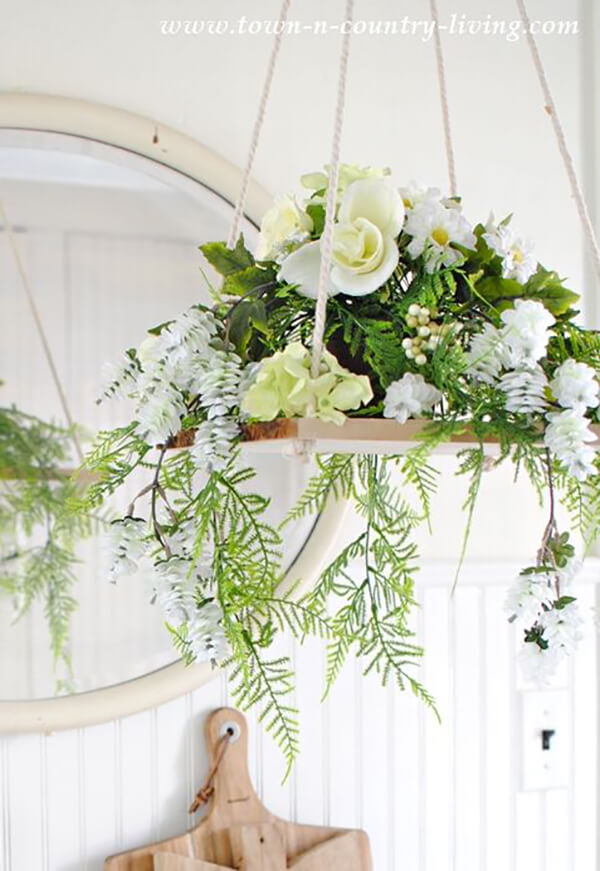 This floral chandelier is one of a kind. Silk flowers are used, but you can also use any other flower in place of silk flowers. A birch wood slice is used as the base. You can find these in craft stores; they come in various sizes, and you can choose a square, circle, or rectangle.
Ropes are twined in the wood slice for support. The flower arrangement is magnificent. The vines spill over the edges. You can also use faux plants for this. A white and green theme is perfect for this floral chandelier. Look at flowers in nature … they're never grouped perfectly.
3. Flower Chandelier Idea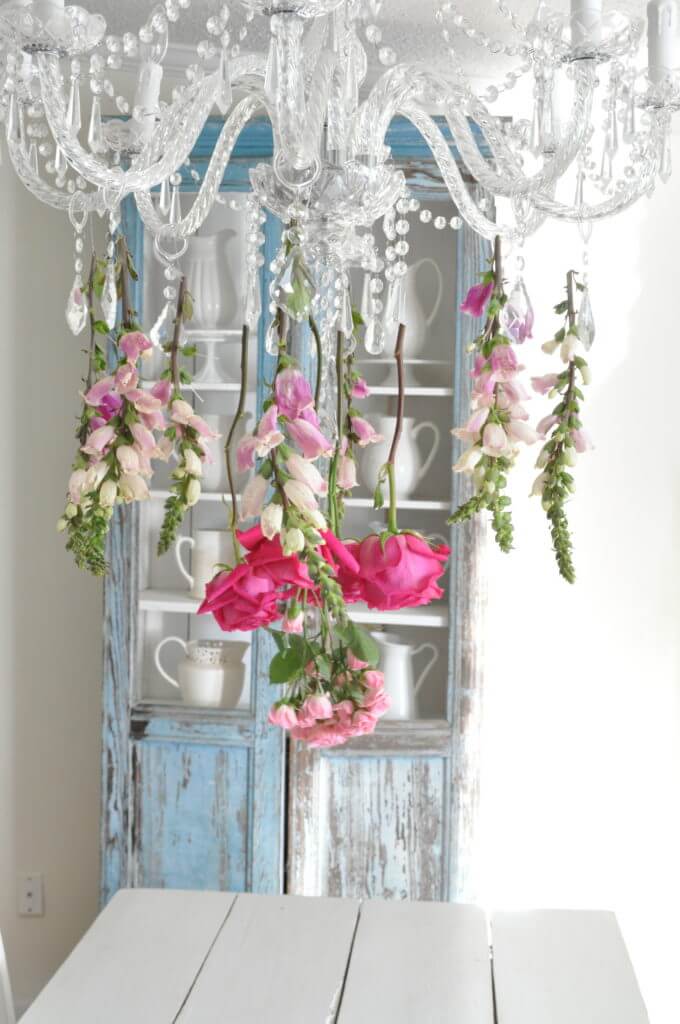 One of the best DIY flower chandelier ideas out there. Wouldn't a flower chandelier be pretty over a table for a bridal luncheon or baby shower? All you need is a chandelier and a bunch of flowers, preferably different types of flowers. In addition, a package of bendable wire ornament hangers to hang each flower from the chandelier. You can try it out with regular roses, foxgloves, and spray roses. Alternate the flowers for a more eye-catching display in whatever way suits you. From start to finish, this project takes about an hour. You only need about 20-30 fresh flowers (faux would also work) and a package of ornament hangers. Oh, and there's a chandelier. I'd love to hear if you make one for a party, a shower, or fun at the dinner table.
4. DIY Polish Chandelier Planter Idea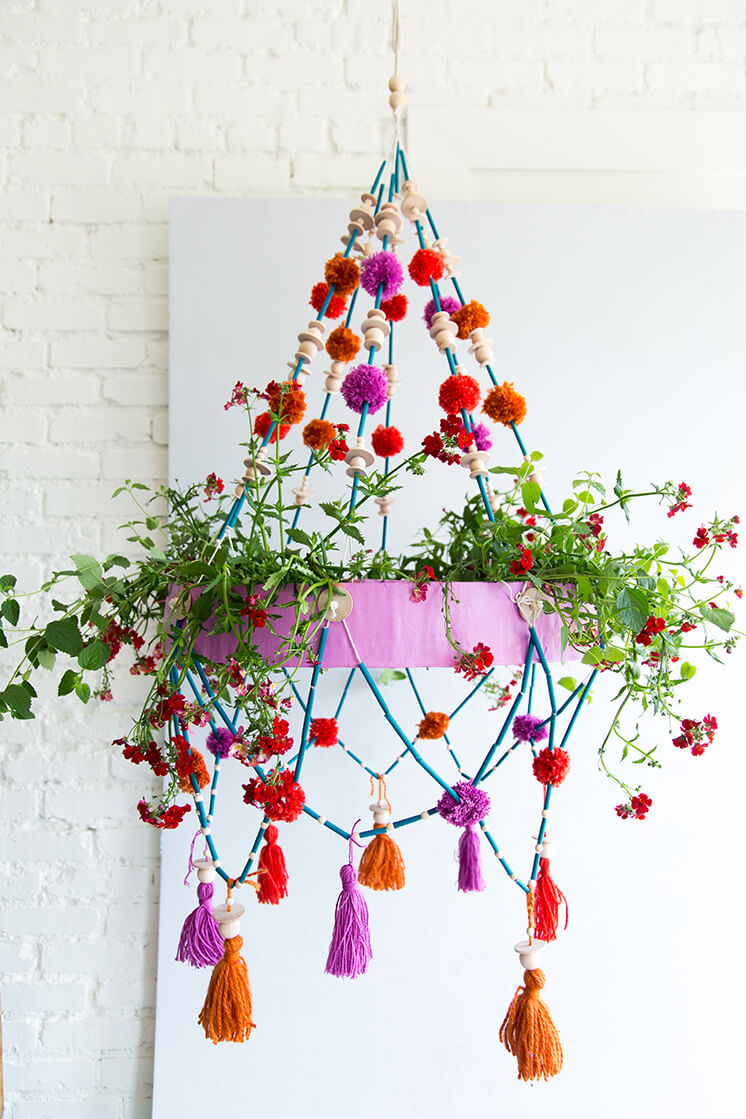 A Polish chandelier planter! One of the best DIY flower chandelier ideas I know. This historically beautiful object, combines the best of both worlds: gorgeous aesthetics with a utilitarian purpose. Polish chandeliers are a wonderful way to brighten up any room- they provide a unique touch! I like the notion of something eye-catching that attracts attention up to the ceiling but does not have to be permanent. They were (and still are) a cheap way to spruce up a living area. They might be either complicated or quite basic.
5. DIY Floral Chandelier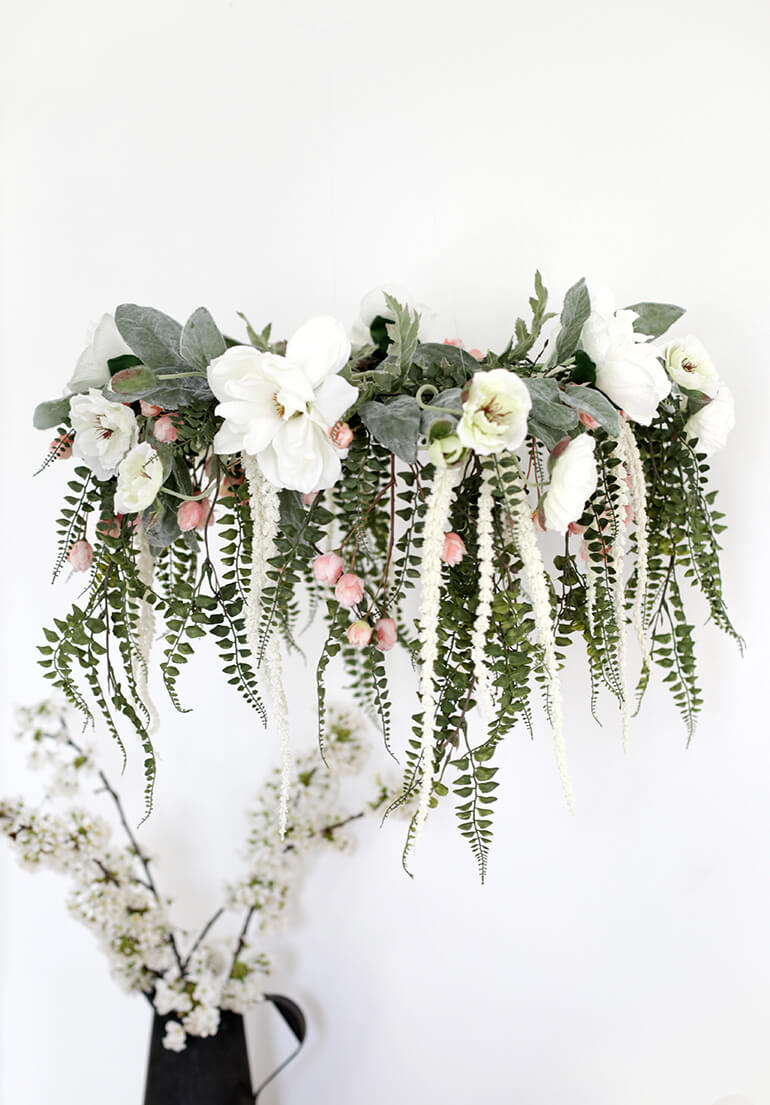 This DIY project is ideal for summer bridal showers, weddings, and any other summer celebrations you may have planned. This is one of my personal favorites. This flowery chandelier is the ideal focal point for a party. While we like to utilize fresh flowers wherever possible, for items that we want to be able to reuse or manufacture ahead of time and have last for more than a day or two, fake is the way to go!
Consider this Pretty DIY Flower Chandelier if you're a bride who likes the simple elegance of nature and wants to include it in your wedding. Its traditional beauty will boost the aesthetic of your wedding without being overpowering. Make a few of these flowery decorations for your hanging flower garden, or just one for a truly unique piece. In any case, a DIY chandelier will likely be a one-of-a-kind touch that guests will remember.
6. DIY Floral Chandelier With Fairy Lights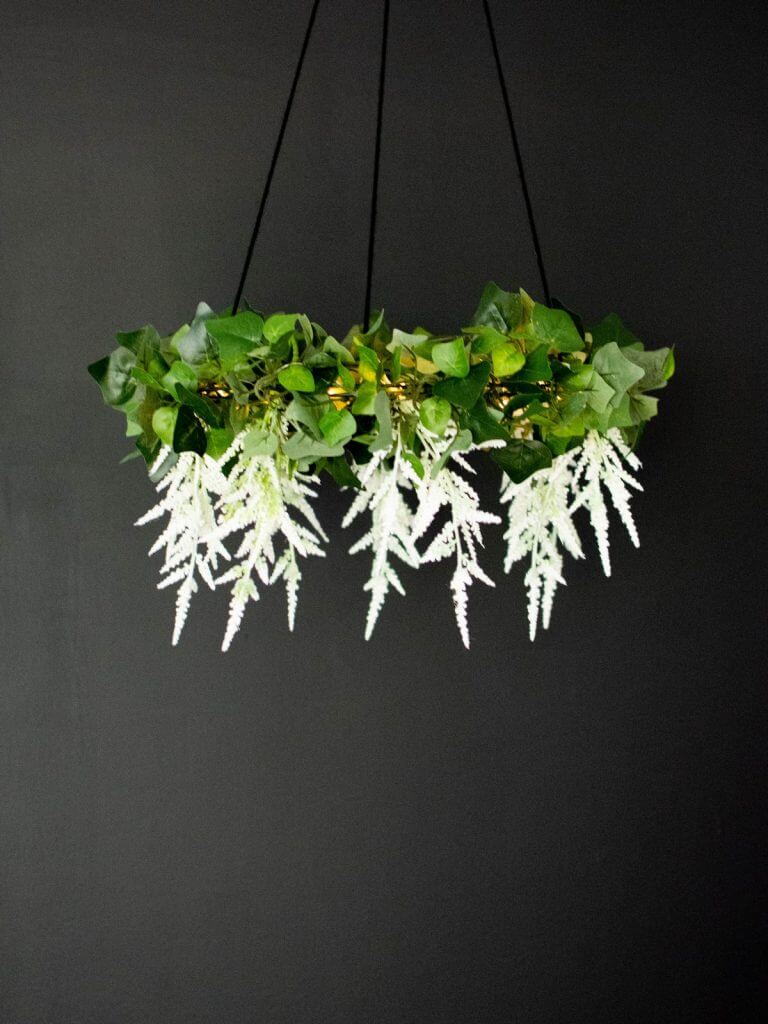 How about a simple and fast DIY chandelier? This DIY Floral Chandelier with Fairy lights will likely take you less than an hour to complete. Gather the items required for the color scheme you choose. A green and white color scheme was employed for this DIY. As a result, you may purchase a green garland with white flower decorations. Make sure you choose fairy lights with a smaller battery box to fit within the wreath ring.
The flower supplies may be far less expensive on Amazon than at your local craft store. However, when you shop at a local store, you may view the actual colors and mix choices before buying. If you prefer to design it yourself, this flowery chandelier may be placed in a child's room, over a dining table, in a lofty foyer, or even in a wedding hall. Depending on where you want to hang this flowering chandelier, size up or down.
7. Paper Greenery Chandelier Idea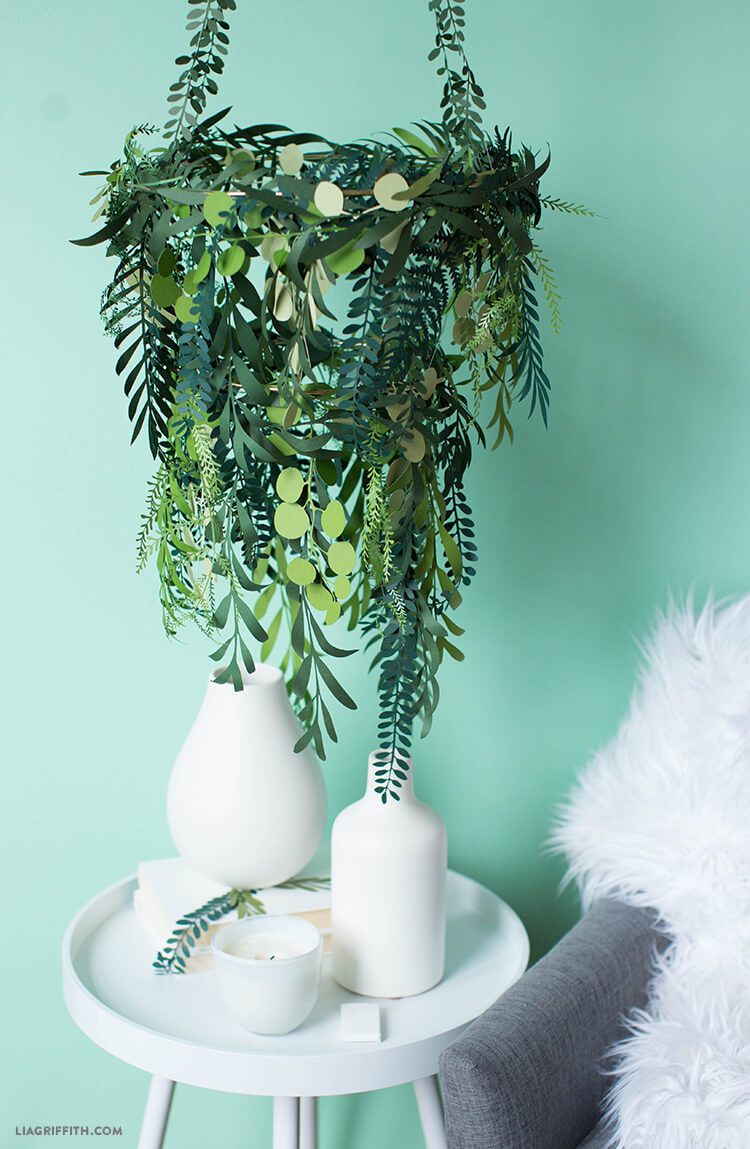 We prefer to stay current on home decor and wedding trends, whether a particular material, color palette, or styling approach. We've become obsessed with substituting typical flower arrangements and displays with enthrallingly lush bunches of greenery. You may start by building a DIY paper greenery chandelier if you want to include part of this trend in your home or wedding décor. This DIY greenery chandelier is a simple homemade floral chandelier to customize. It has three kinds of ferns, silver dollar eucalyptus, an olive branch, and a palm leaf. Mix in some Queen Anne's Lace or dusty miller for added diversity from our rustic bridal bouquet. You may make the chandelier appear to float by using a fishing line, but you can add a rustic touch by using jute twine instead.
When you're constructing, this paper greenery chandelier may be used in various ways. Wedding décor is apparent, but this idea would look fantastic on your back deck or patio during the warmer months. Of course, you don't have to stick to only foliage for this design; add a few fresh or paper blossoms if you feel creative! Make a rich floral baby mobile instead.
8. DIY Geometric Floral Pendants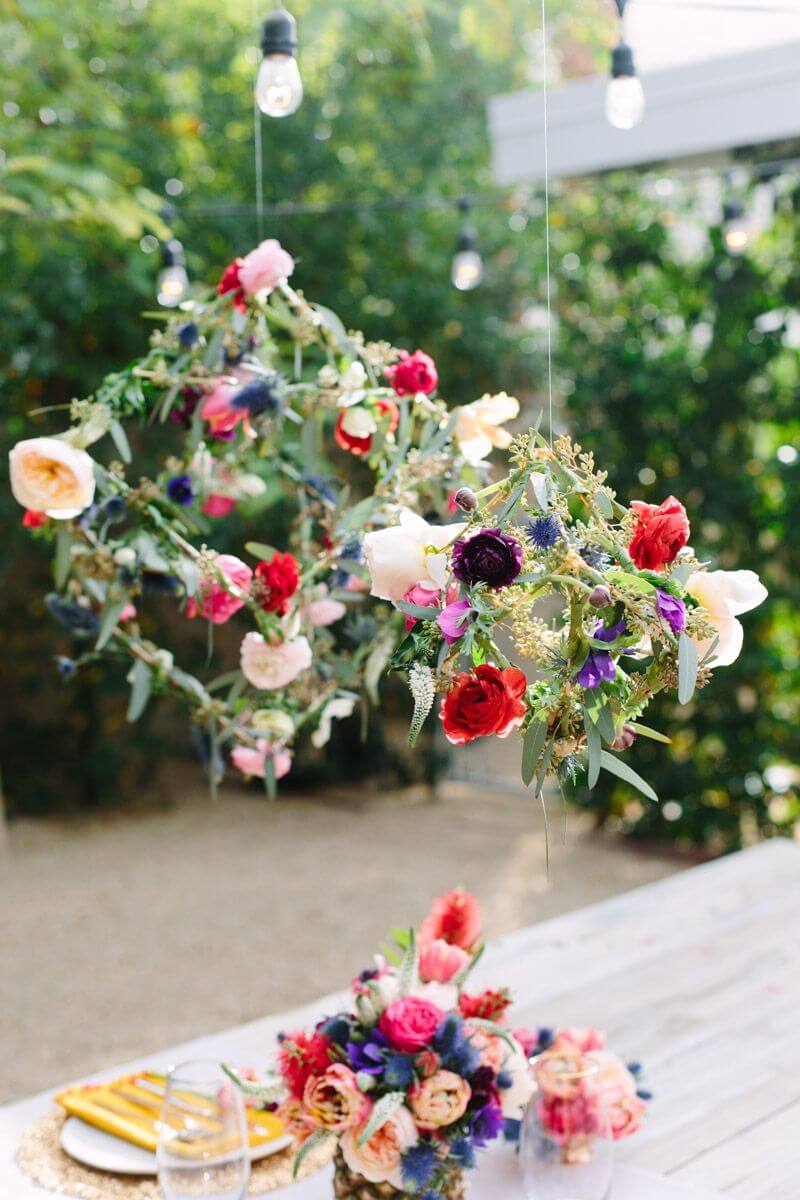 Another of the best DIY flower chandelier ideas I know is this one. They are a lifesaver for those who have delayed until the last minute to acquire a gift or a fun endeavor for those who love handcrafted gifts. Not every item on this list needs to be a bouquet. Flower DIY ideas like handmade flower chandeliers and stunning lampshades make for a gift that will last longer than any bouquet of tulips. From flower-infused honey to potted floral confections, these DIY floral presents are perfect for the sweetest rose in your life.
9. DIY Floral Mobile Chandelier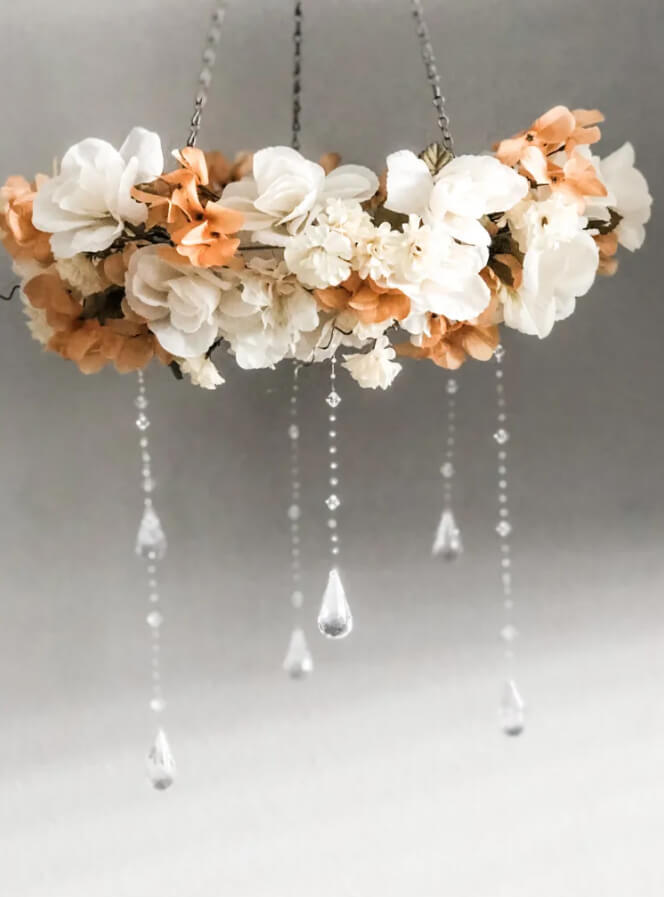 Love those lovely handmade flower chandeliers you see on Pinterest and Etsy but don't want to pay a fortune? Don't look any further! Check out this easy DIY Flower Chandelier that will please you and your pocketbook! Who can resist those stunning chandeliers adorned with flowers and greenery?
This is a bespoke item for a flower mobile/floral chandelier finished with a lace ribbon and Swarovski crystals in stunning neutral antique beiges, ivory, and soft peach tones. A fantastic accent for your child's room, nursery, or children's room. It may also be utilized in the bedroom or as a stunning accent for a photo session or wedding. Colors may be changed to match your décor or color scheme! A fantastic baby shower or birthday present! The mobile was created with high-quality fake flowers. Flower and color variations will occur according to availability.
10. DIY Flower Mobile- Baby Girl Nursery Decor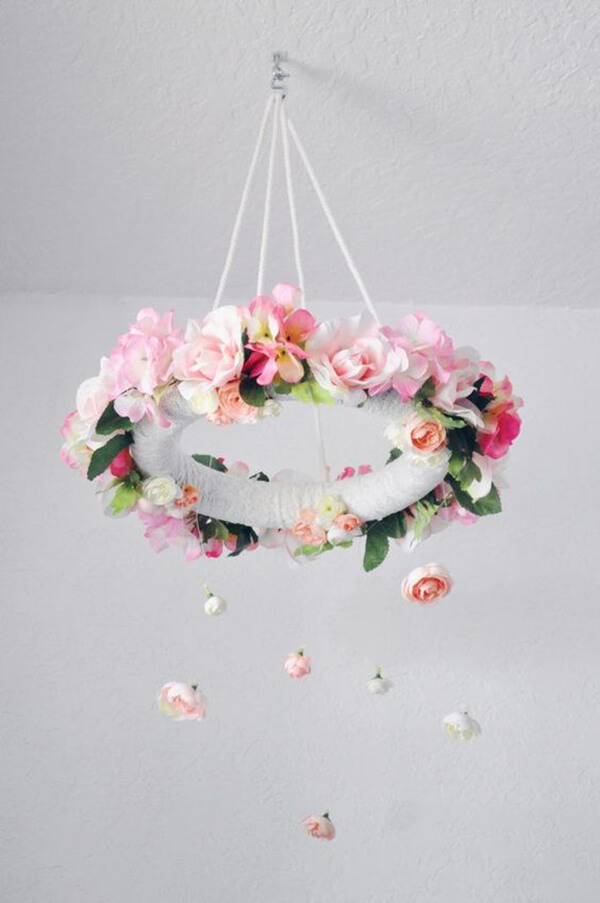 One thing people like when getting a nursery ready is the decoration. At the same time, no one wants to spend a ton of money on just decoration. So it's often a great idea to save money by getting one at Etsy, which can go up to $75. You can also pick supplies you need at your local craft store or on Amazon. Your baby will look at the flower mobile from the bottom, so don't waste time or money decorating the top of the foam ring. That space is better left untouched.
You can cover any unsightly rope knots with flowers if you don't like them as is. Look for various flower shapes and sizes, but keep the colors consistent for a cohesive look. You can choose all white and pink flowers, but each bouquet's styles and "realistic" look vary quite a bit. It's hard to notice that, though, due to the clean color scheme. How cool.
11. DIY Vintage Garden Mobile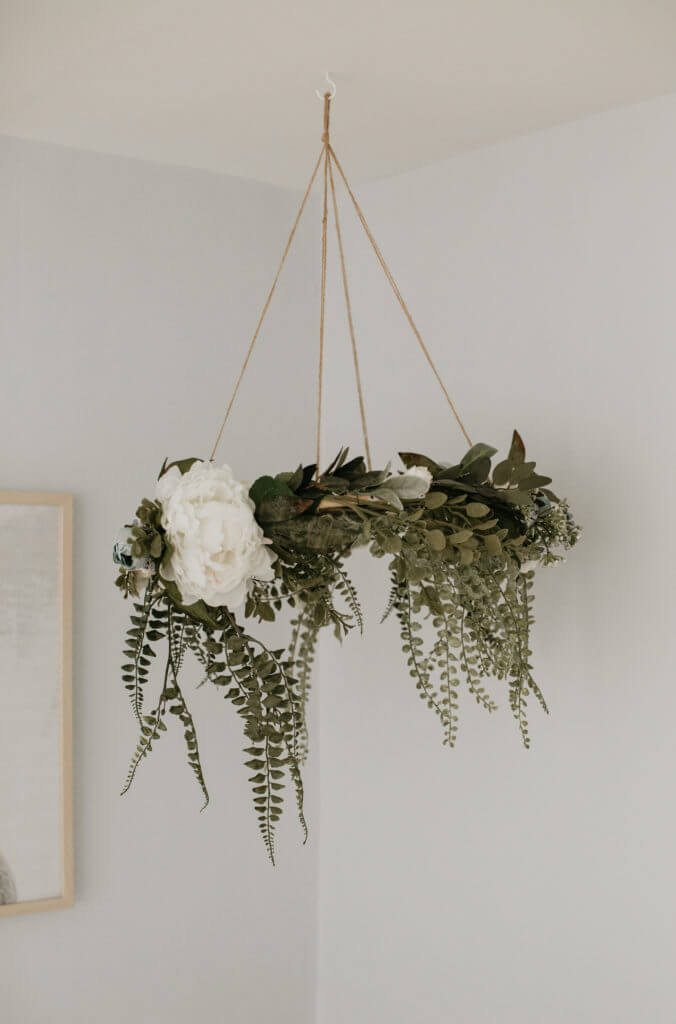 This is another one of the best DIY flower chandelier ideas I know. This DIY crib mobile is made of draping faux greenery, white flowers, and blue flowers glued around a large wooden embroidery hoop and hung with twine. Create a custom mobile for your baby's nursery that has your style yet also offers a visually entertaining decoration for your little one. Your baby's mobile must not be built on primary colors and toys. This vintage flower creation makes that happen. A collection of twines and flowers adds a vintage vibe and appeal. Choosing white and green colors for the flowers and twines make the entire display look incredible.
If your teenage daughter seems overly bored on a rainy day, I suggest this fun and colorful DIY vintage chandelier project. You can also use your creativity to make it look better; it doesn't have to be the same. Make unique color combinations and patterns from the flowers and twines. The exquisite and delicate style of these vintage garden chandeliers is so cool. Sweet Vintage!
12. Wisteria Flower Mobile, Nursery Mobile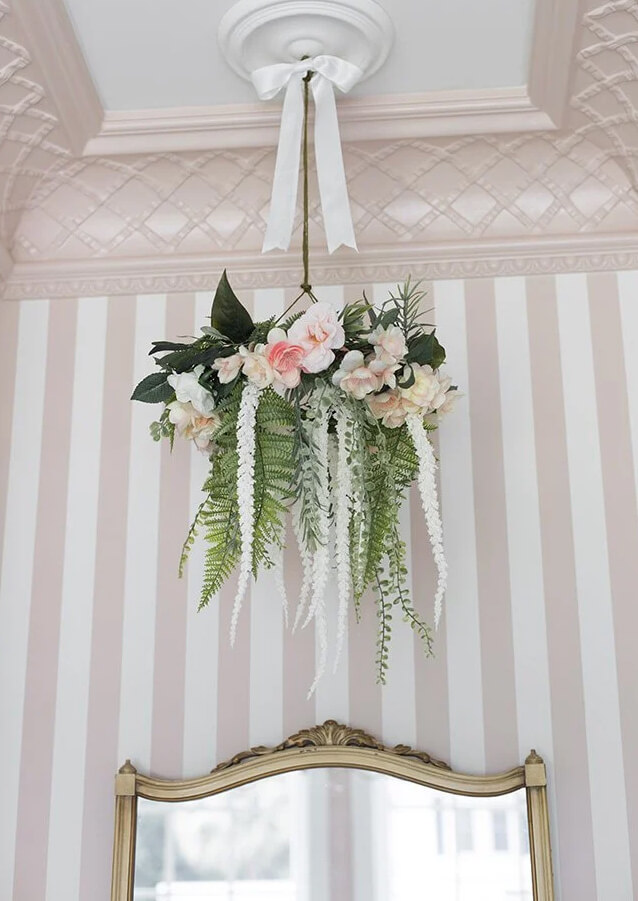 This beautiful daisy flower mobile is the perfect addition to any room. Flowers hang delicately and move beautifully in a light breeze. The original pink and gold ink wisteria baby mobile! This Flower mobile is hand-made from scratch, hand-cut, and hand-sewn each item with quality wool felt. It is an excellent gift for baby shower gifts, kid room decor, for adults who love to decorate their home, etc. Colors elements Pink Mobile: gold, blush, pink, moss Color for White flowers: gold, white, natural. Moss The flowers are all supported on a wooden frame.
13. Felt Rolled Flower Hanging Mobile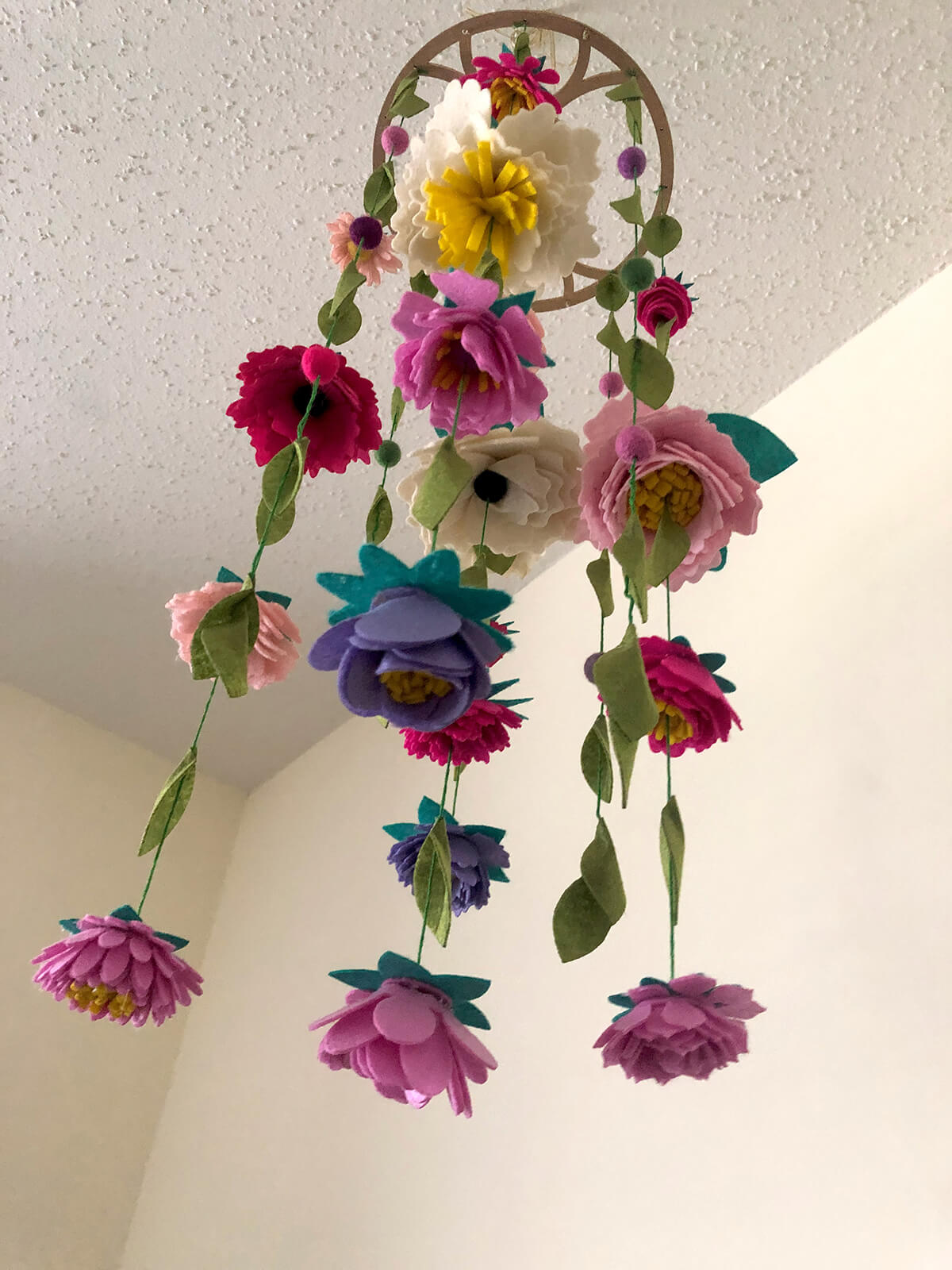 This lovely homemade floral chandelier is ideal for your baby's bedroom! This mobile is designed to entertain your baby as they lie on their back and gaze up at the handmade flowers and leaves! This mobile comprises a long-lasting wool blend felt with foliage and flowers. A 9-inch wooden hoop with nine strings of green foliage and six felt flowers in light pink, pink clover, fuchsia, and cream. The additional flowers along the dangling vegetation are a great finishing touch to this mobile. It has a cord for hanging. The shortest and longest lengths are 12 and 18 inches, respectively.
14. DIY Boho Nursery Chandelier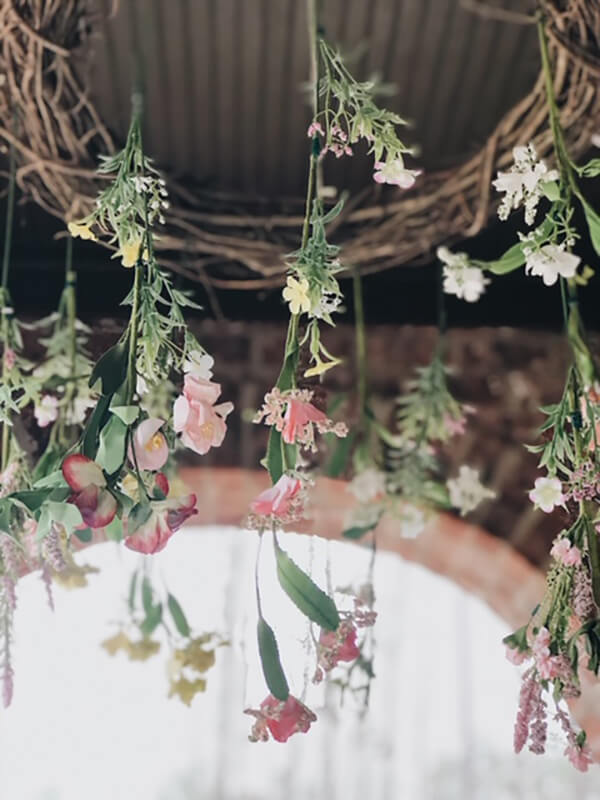 This is one of the best DIY flower chandelier ideas I know. This flower, foliage, and natural wood branch wall hanging will provide a sense of nature, freshness, and rustic outdoors to your young girl's nursery decor. This bohemian floral wall hanging may be customized in any size to fit your room precisely. This fantastic artwork is crafted of fake foliage and flowers tied to a genuine driftwood branch using natural hemp string to secure each hanging strand to the branch.
15. DIY Floral Mobile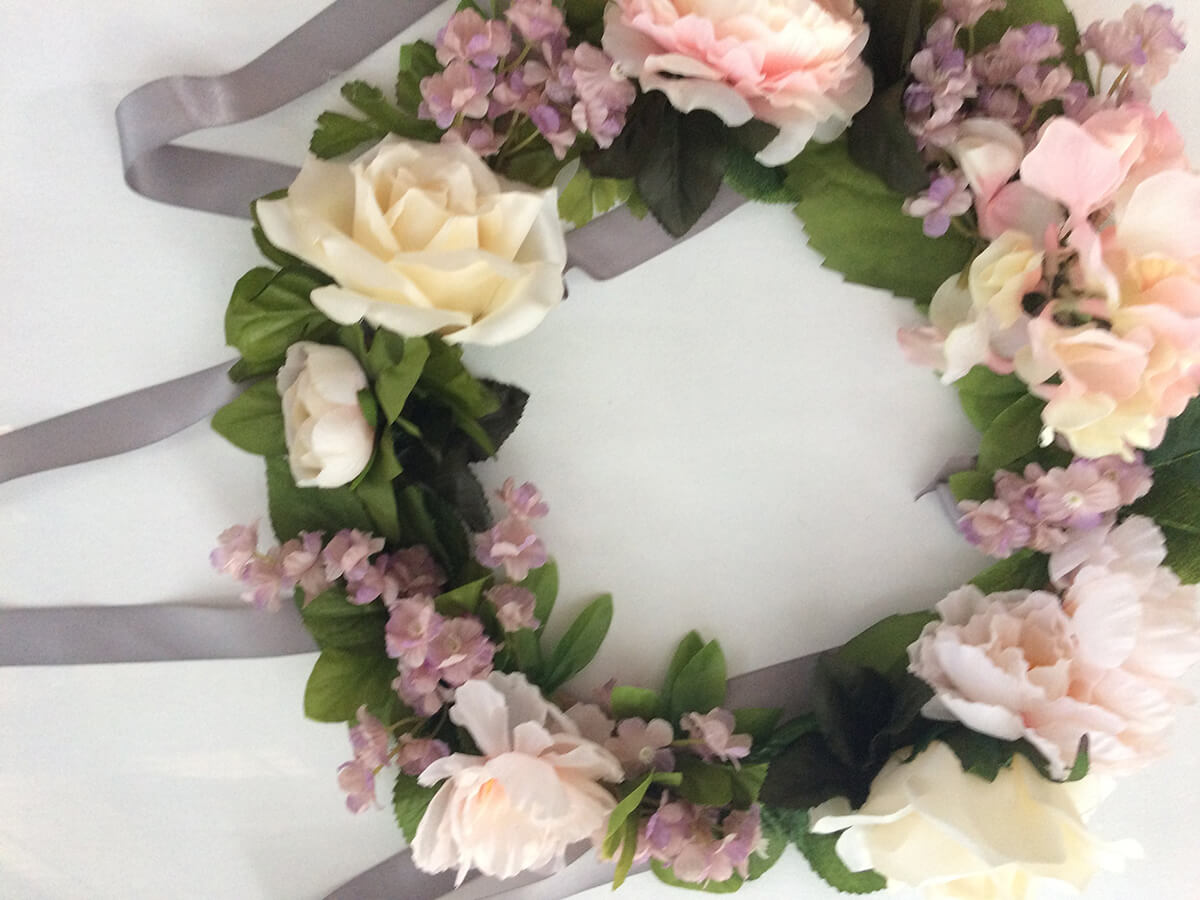 This is a beautiful Handcrafted flower design created with love and attention. These faux flowers and foliage are wrapped around a wooden hoop frame that can be hung anyplace in your home. The alternating flowers just make it adorable. This is a special one for your daughter's room as it gives off a Disney princess vibe. It's also easy to make; you probably should team up with your daughter to do this fantastic DIY project.
16. Ivory Floral And Greenery Crib Mobile For Nursery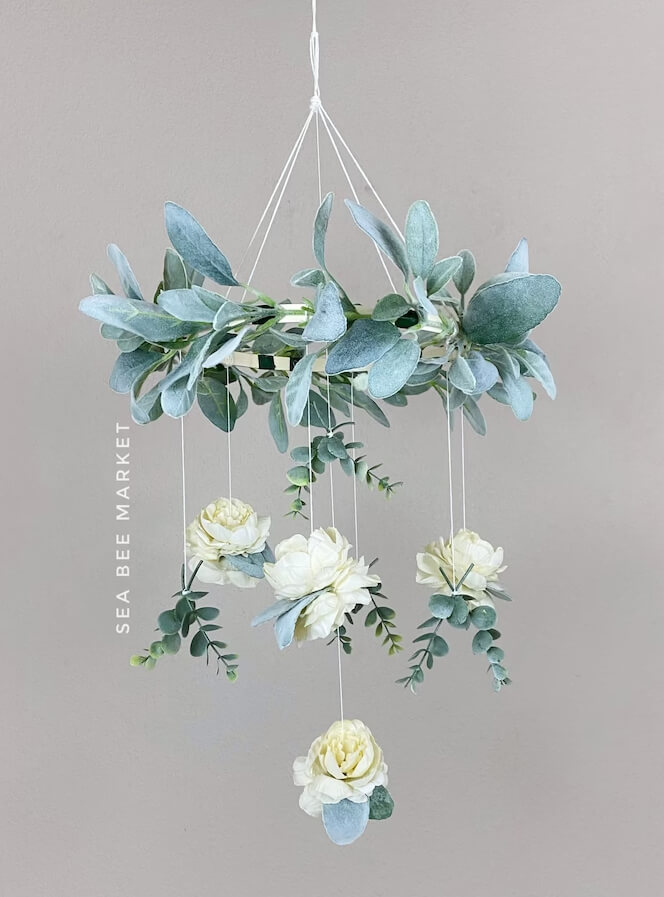 This lovely homemade floral chandelier /crib mobile is really lovely. It's ideal for a baby girl's nursery or a big girl's room! The mobile adds a touch of sweet elegance and is the ideal accessory to grow with your kid. It is artistically organized and properly balanced from a wood hoop with off-white peonies, eucalyptus, and lamb's ear foliage for a stunning completed effect. It'd look excellent above a crib or in a reading corner! It also comes with string, so you may hang it to your desired length from the ceiling. It's classic and magnificent, with a lovely mix of foliage. You maare an infinite number of ways to design it. It all depends on your preferences. It is You may also be creative by adding colors and patterns of your choice. Quite adaptable and will complement a wide range of nursery themes.
17. Baby Flower Mobile Idea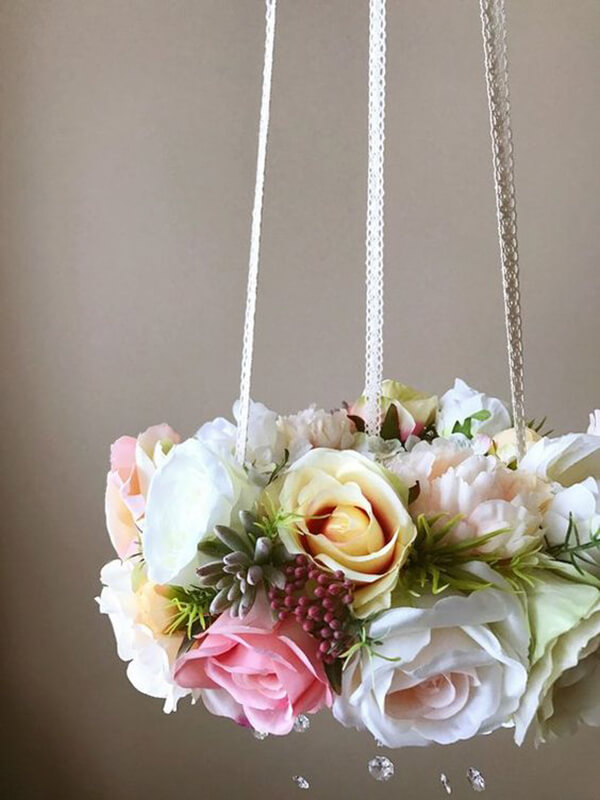 The mobile is completed with lace ribbons and genuine Swarovski crystal or flower strands giving it a beautiful and elegant display. This is a Perfect decor for your little one's room, nursery, or children's room, and it also can be used in the bedroom or as a beautiful accent for photo shooting, baby showers, or weddings. It can also be an Awesome gift idea for mom-to-be. Naturally brings out a happy mood from the color accent it has.
18. White Wisteria Flower Chandelier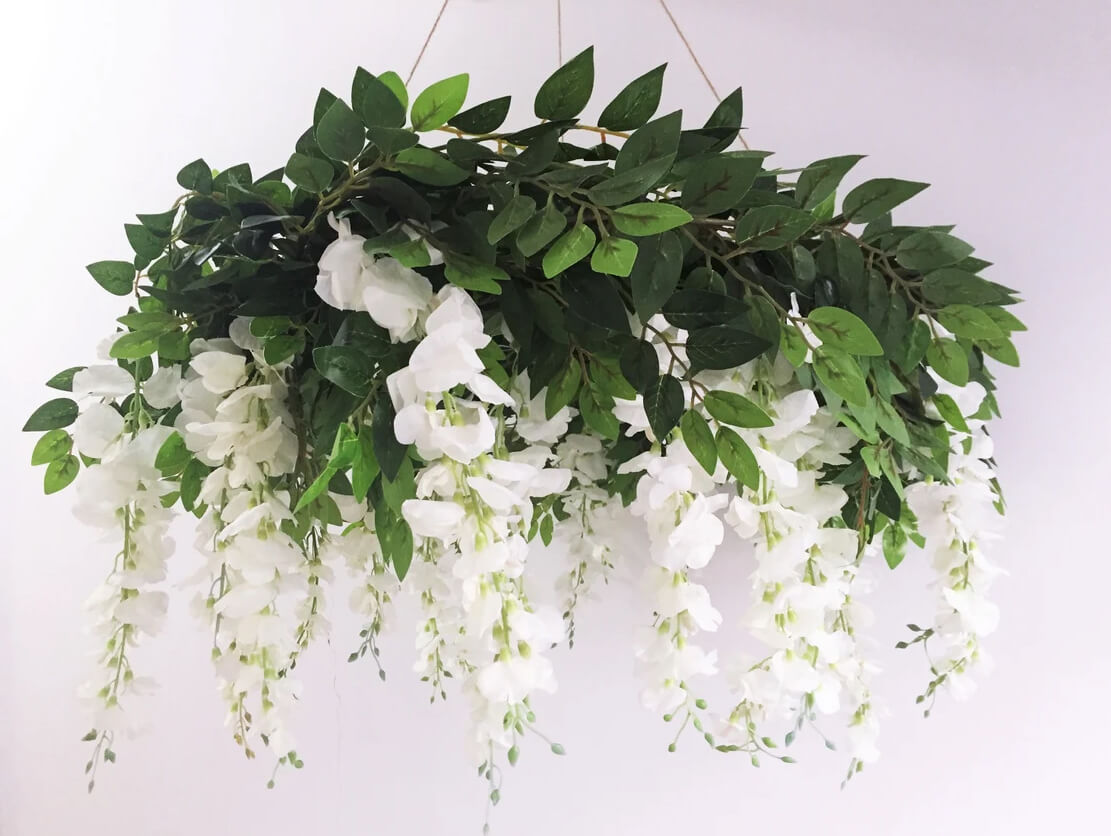 This is an awesome handmade flower chandelier you should try out. White Wisteria Flower Garland in a Farmhouse Style 7 pure white cascading wisteria flowers adorn this 6-foot floral garland. Each flower is 9 inches long. Green leaves are the ideal artificial foliage for this stunning bridal garland. Excellent quality. This Garland Decor is ideal for a mantle, background, bridal arch, wall decor, backdrop, or nursery garland.
18 Fabulous Flower Chandelier Ideas
As you have seen from the above list, flower chandeliers are a perfect decor, be it at weddings, baby showers, living rooms, baby nurseries, and many more. Flowers are a must-have décor element for all of life's most memorable occasions. Something is amazing about adding flowers on important occasions, whether wrapped in a bouquet, covered with vines, or suspended from unprecedented heights.
They become a part of the memories we create. Whatever sort of event you are planning, you may discover a flowery chandelier that matches your aesthetic and enhances your setting. Not to mention that making new DIY décor items will keep your wallet full. There are several creative methods to create the floral chandelier of your dreams.