Fresh flower arrangements are the perfect way to add instant ambiance to both indoor and outdoor settings. Professional decorators and event planners use flower arrangement ideas to elevate a simple space into an evocative environment full of scents, colors and textures that enhance the room's specific style.
The best flower arrangement ideas leverage foliage and blooms to set the desired tone. For instance, pairing warm orange begonias, carnations and roses with the blue-green leaves of succulents and air plants can give a room a warm and welcoming autumnal glow. Using dainty baby's breath, fern fronds and lace can lend Victorian elegance to the décor, while casual clusters of wildflowers in recycled glass containers add a carefree vibe to a room.
Thoughtfully designed flower arrangements are the perfect touch for special events as well. Browse our curated list of flower arrangement ideas and you'll find ways to add bounteous cheer to fall celebrations, festive floral sparkle to winter holiday gatherings, or fresh and lively decorations for spring weddings and garden parties.
Whether you're looking for ways to brighten dreary winter days or ways to bring the bounty of a spring garden inside, you'll find plenty inspiration in the collection of flower arrangement ideas below.
50+ Innovative Ways to Arrange Fresh Flowers
1. Classic Ginger Jar Flower Arrangement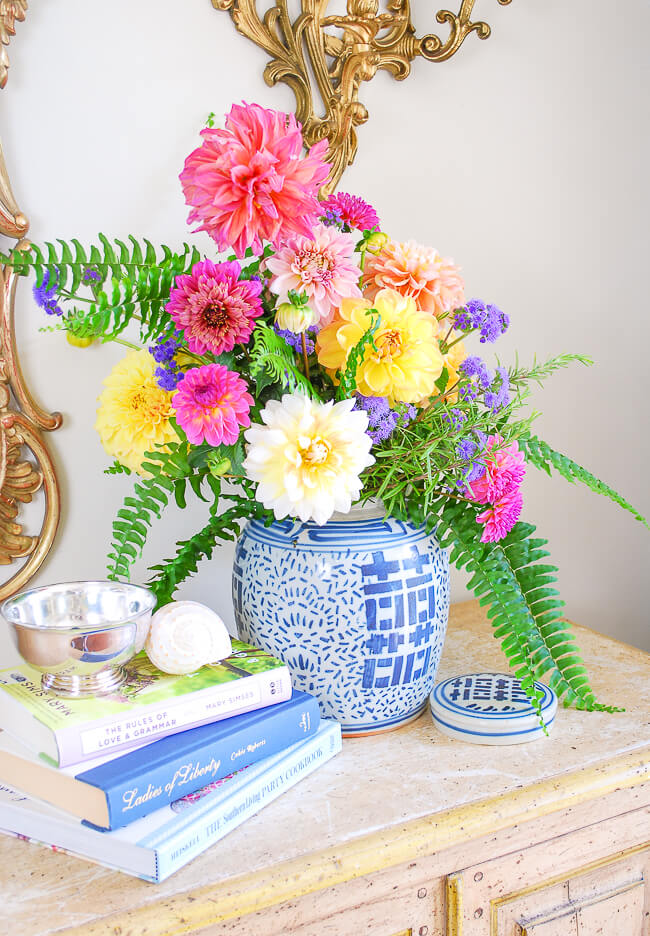 A classic ginger jar can be the perfect setting for a floral arrangement, especially with its bright colors. Consider going for an arrangement with something just as bright yet not a direct match for the vase. This way, both sections can stand out and give the arrangement a sense of flow. Some greenery hanging out helps to separate the sections more.
2. Large and Dry Blooming Hydrangeas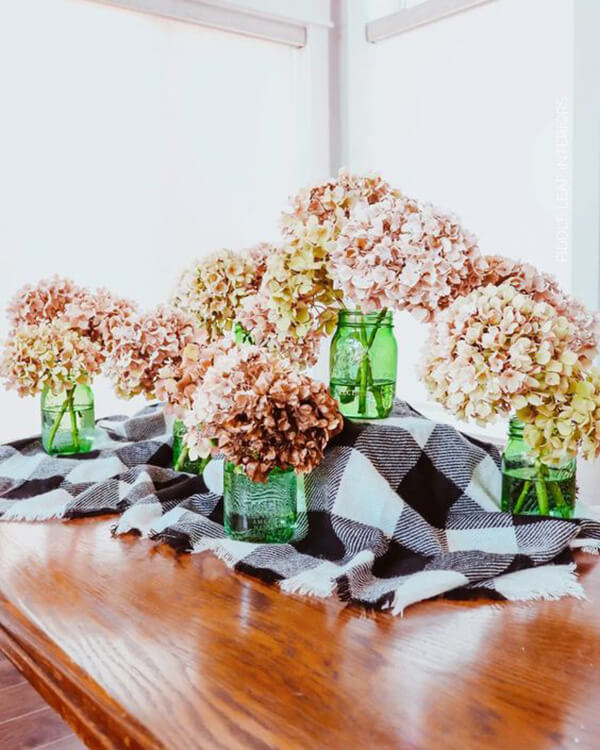 Hydrangeas offer incredible blooms, making them work exceptionally well in arrangements where you want the flowers to instantly capture attention. Drying out hydrangeas can make them appear completely different too, so you can consider the technique so that the arrangement better matches the season. Using mason jars is a great choice too as they simply work well with this type of flower.
Related: 40+ DIY Mason Jar Flower Arrangements for a Cute and Inexpensive Home Decor Upgrade
3. Pretty Asparagus Based Flower Arrangement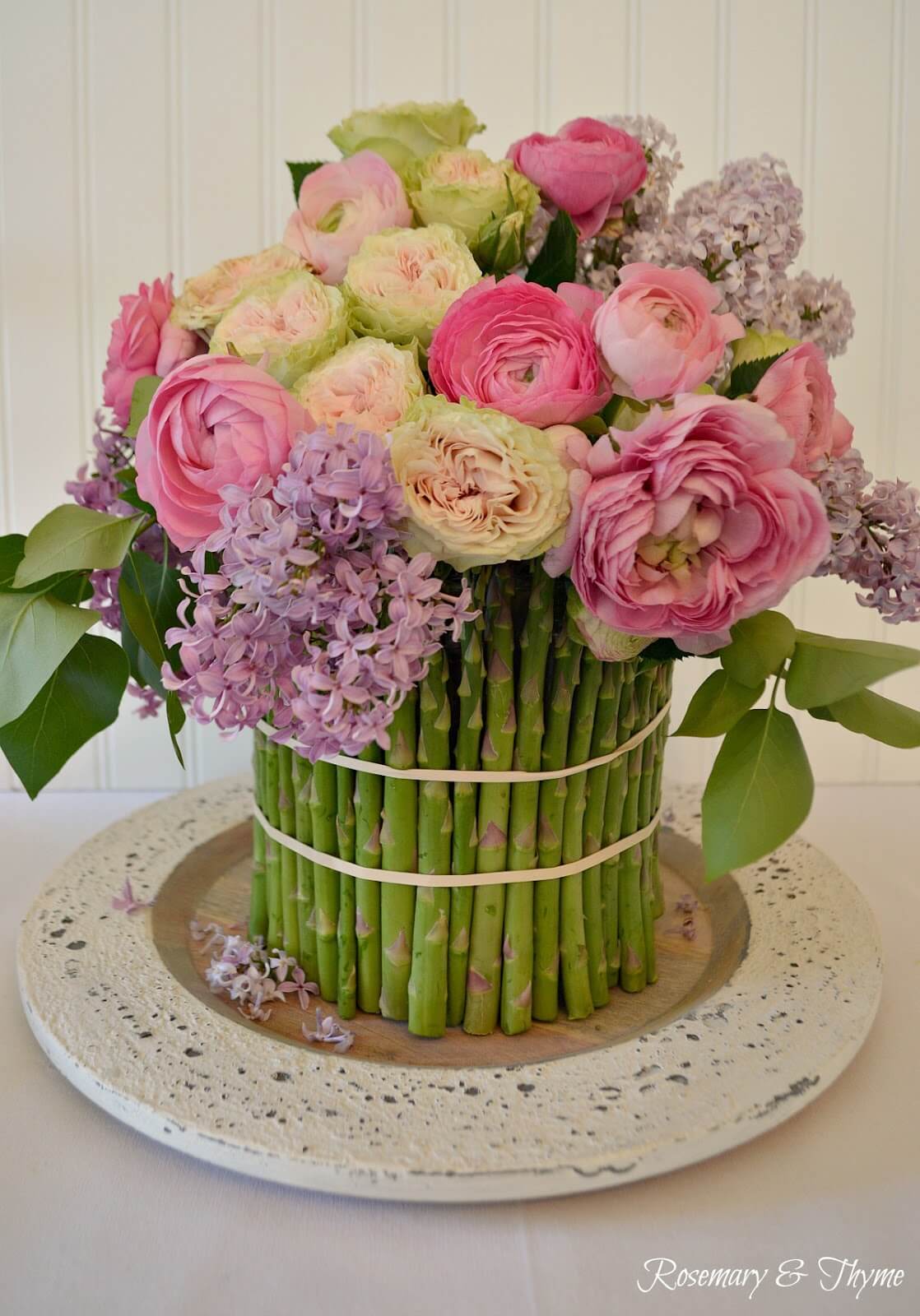 Who would have thought how functional asparagus can be when it comes to creating flower arrangements? With this project, you can take a simple vase and elevate it with such a unique material. It's perfect for a spring theme arrangement too as it adds additional layers of colors to blend with the flowers.
4. Amazing Tulip and Greenery Display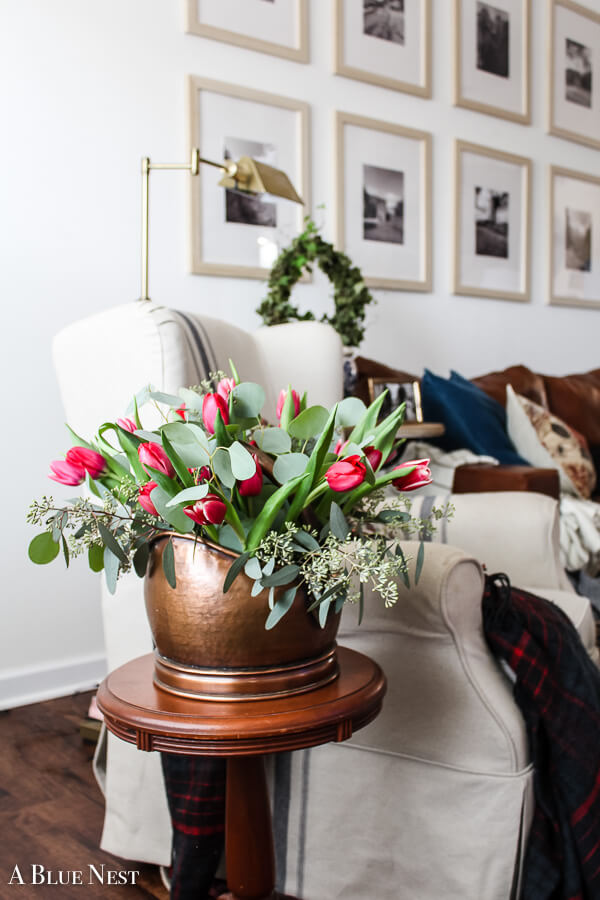 Tulips are always a popular choice when it comes to creating floral arrangements. They come in so many different colors so you can go with the option that best suits your likes and specific décor. The greenery adds a nice touch as each individual tulip can better stand out. For the vase, you can go for anything you'd like, but a copper bucket can make a bold statement.
5. Beautiful and Color Blooming Winter Flowers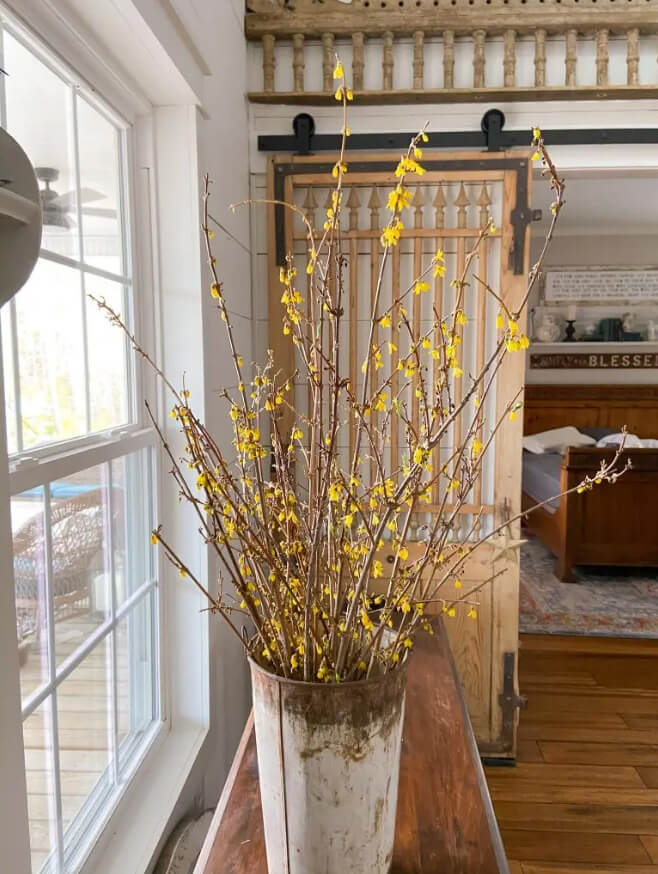 No longer do you have to wait for spring or summer to see a gorgeous and colorful flower arrangement. Once you force a bloom, you can create something truly stunning. At the same time, it still perfectly matches the season. Tuck it in a rustic holder to complete the theme.
Related: 14 Lovely Farmhouse Style Flower Arrangements to Brighten Up Your Décor
6. Cute Handmade Plaster Flower Vase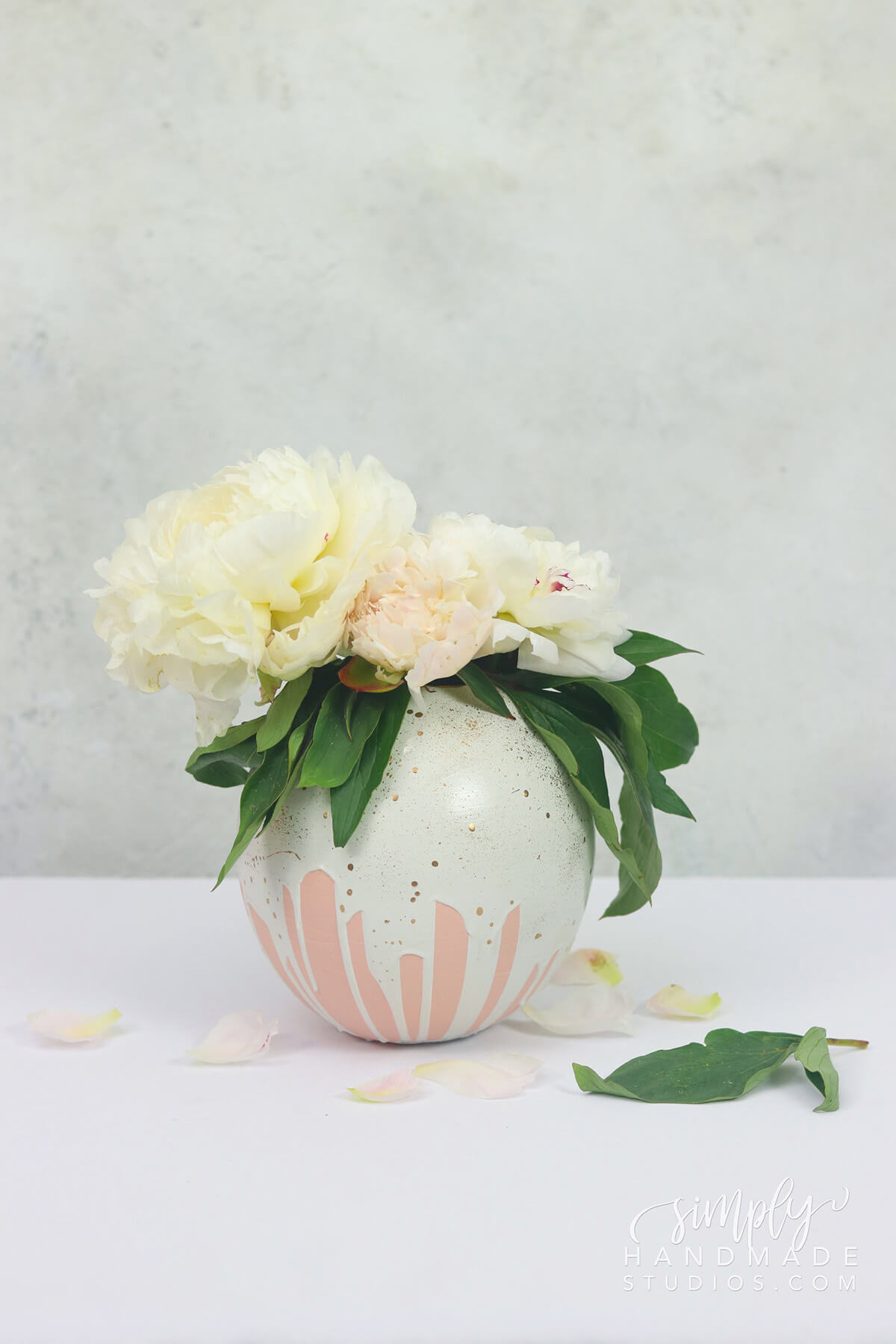 A great way for a flower arrangement to stand out is with a stunning vase. For crafty individuals, this plaster vase can work for any occasion from decorating your home to completing the theme of a wedding or party. Some plaster and a balloon go a long way to creating something unique and attention-grabbing.
7. Gorgeous Flower Arrangement with Vintage Vase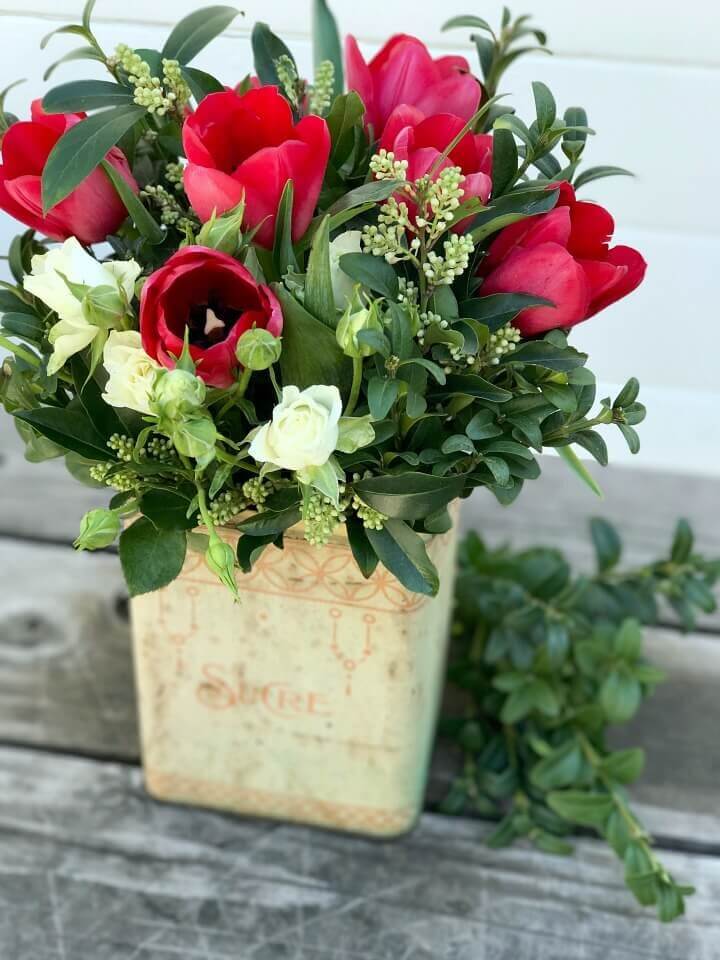 The right vase can instantly change the overall feel of any floral arrangement. It doesn't have to be something fancy either as this vintage container can work as an instant attention-grabber. The classic look of the container provides a pleasant balance with the colorful arrangement. It's perfect for a home decorated with other vintage items.
8. Unique Decorative Flower Chandelier Display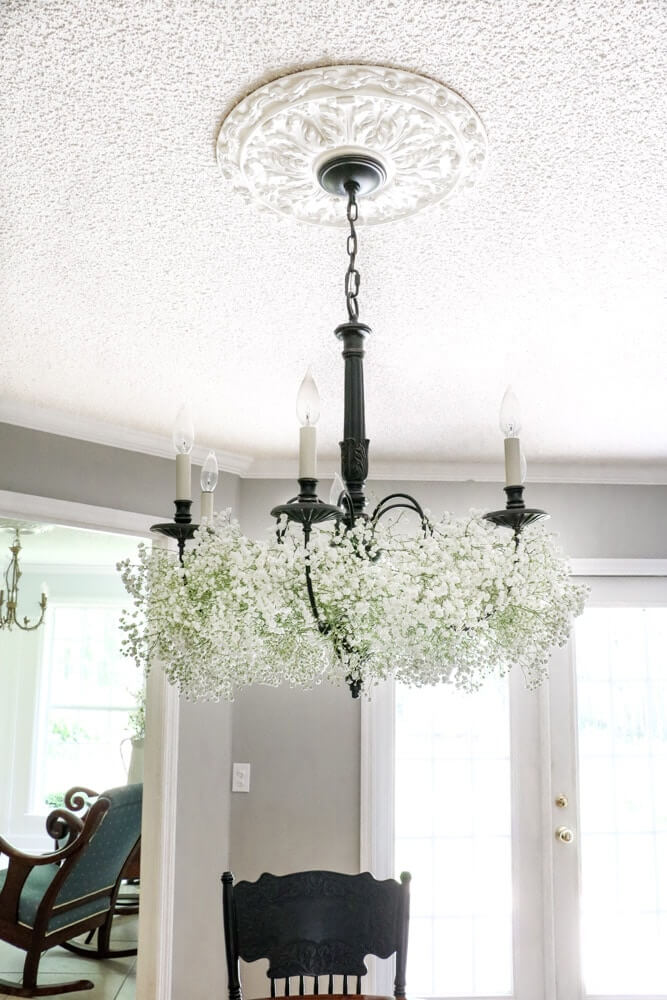 If you already have a chandelier in your home, consider elevating it to a new level by using it as a base for a floral arrangement. It is a simple way to change up the décor in your home. This works well as a permanent fixture or merely to brighten up the setting for a party.
9. Fall Themed Warm Floral Arrangement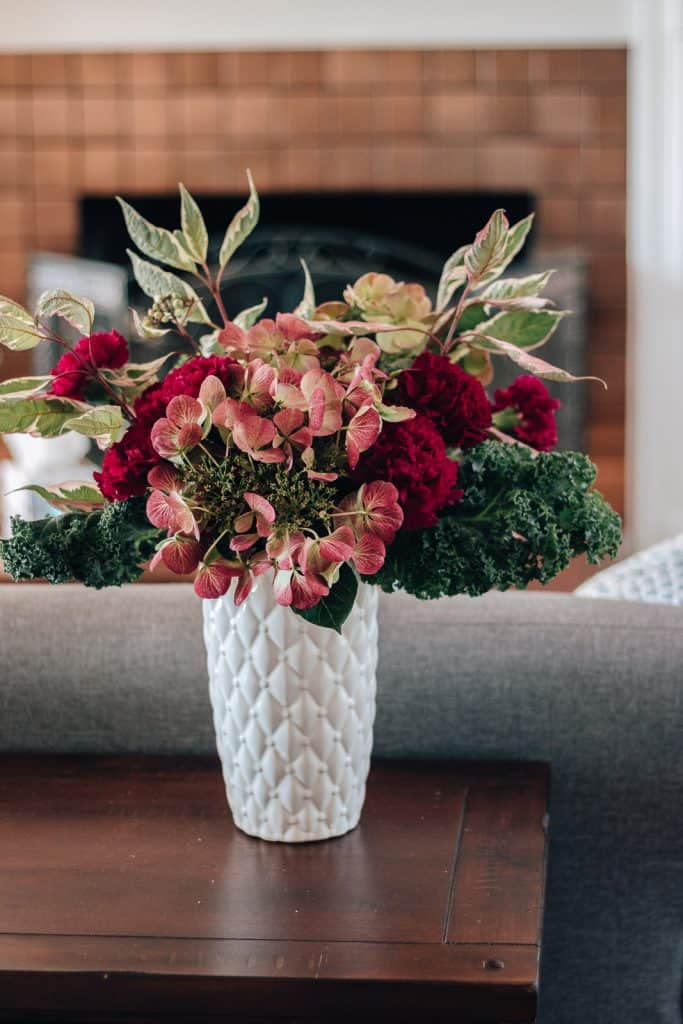 For a simple approach to making your own arrangement, you can follow this general guide that will lead you to create a beautiful piece. This sticks to a similar color scheme, which is perfect if this is the first time you're making your own arrangement as it can help you create something more cohesive. The added use of some scattered greens ensures the colors won't be muted.
Related: 16 Cool Ideas for DIY Fall Flower Decorations to Brighten your Home
10. Silk Fall Beautiful Flower Display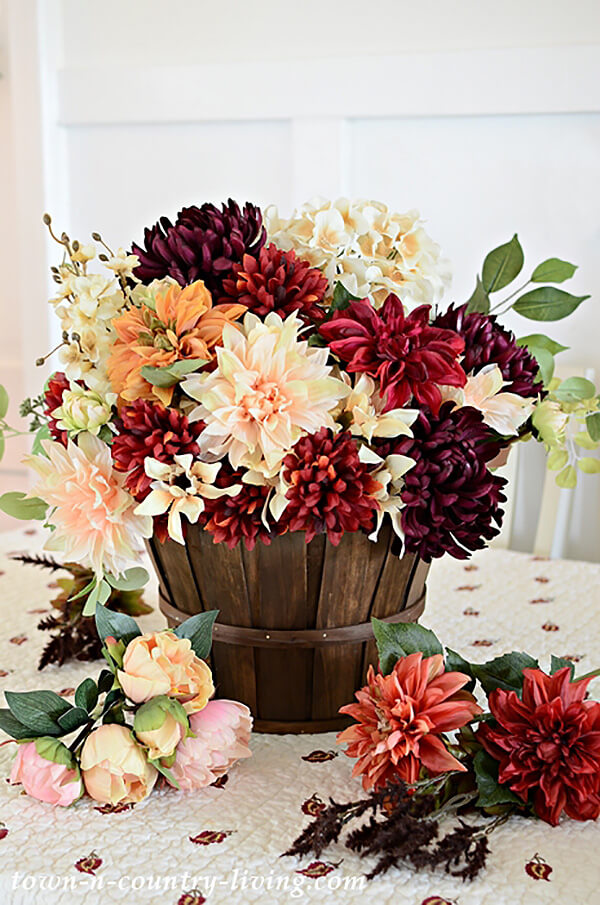 A good way to set up a fall flower arrangement is not just by using colors fitting for the season, but also choosing the right vase to go along with them. Mixing deeper colors with a few brighter hues makes for an elegant piece as it contrasts well. Afterward, place them all in a bushel basket creates a natural, vintage feel to it all.
11. Enchanting Queen Anne's Lance and Poppy Mallow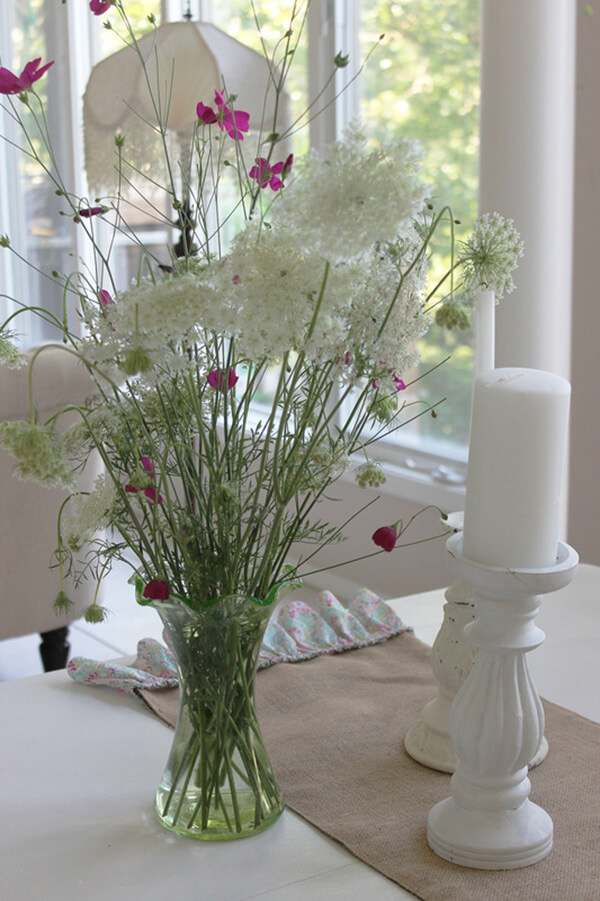 Queen Anne's Lance always steals the show with how delicate and beautiful they appear. Blending them with poppy mallow is the perfect way to give them some color without overwhelming the tiny flowers. Also, when they're combined, they work well in a room with a shabby chic décor.
12. Stunning Flower and Herb Corsage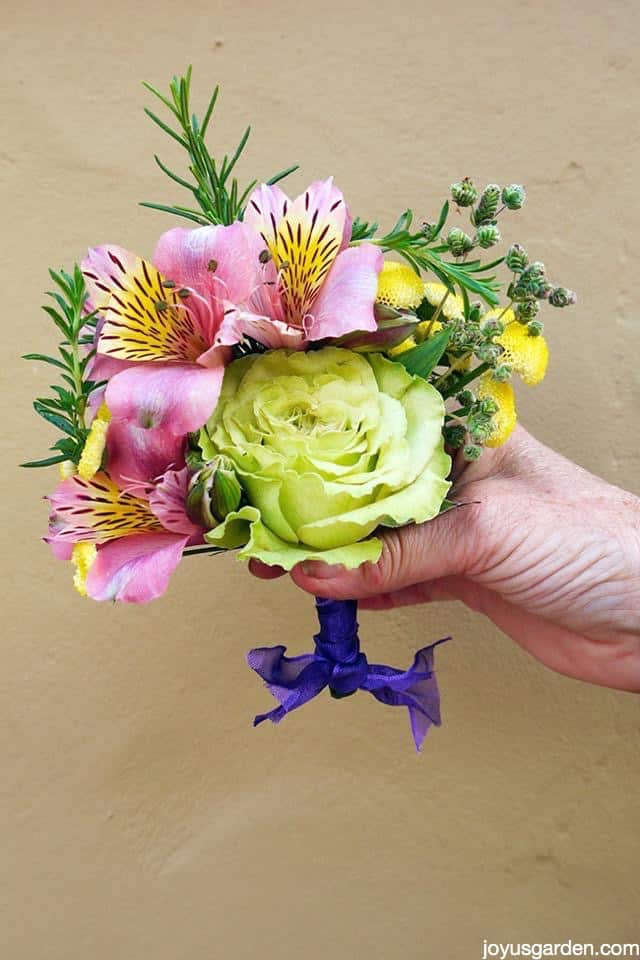 Corsages don't have to be plain or fake anymore. Consider designing a cool, personalized flower and herb arrangement. The more diversity is seen, the better. It winds up making a colorful and vibrant piece. At the same time, the corsage will actually smell good so whoever's wearing it can thoroughly enjoy it.
13. Discount Rose and Greenery Flower Display
You don't have to spend much to create an appealing flower arrangement display. Quality items can always be found on a value, and based on how you place them and the jar you use, you can build a piece that looks professional. If you want to opt for a single flower, then consider using different types of greenery all around it to make it a focal point.
14. Colorfully Bold Spring Floral Arrangement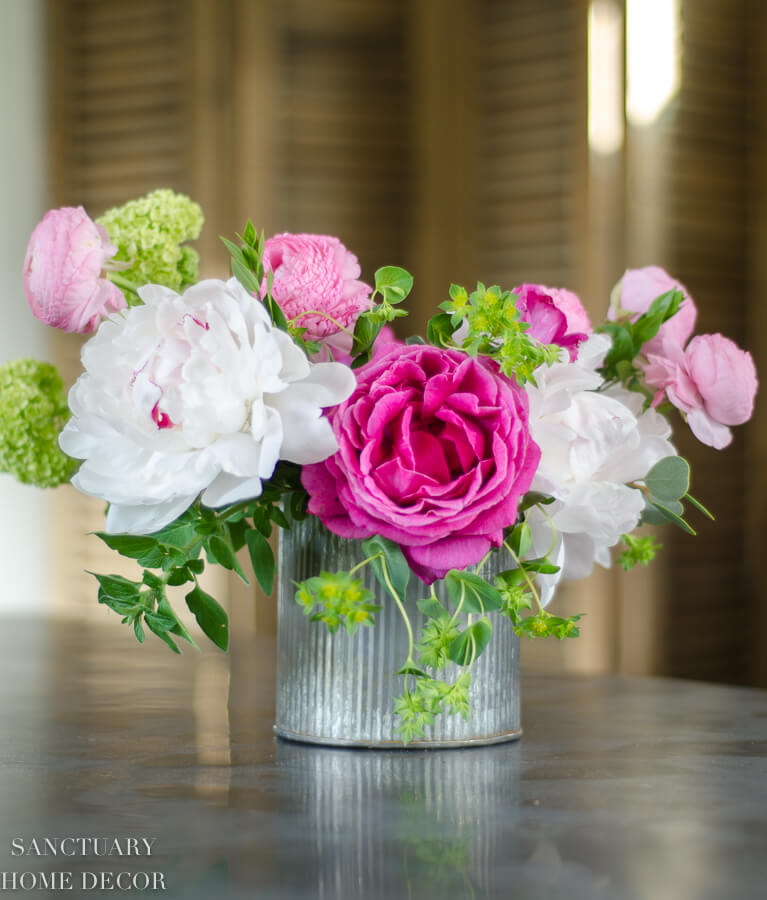 You can mark any special occasion with this stunning floral arrangement. It perfectly utilizes spring-themed colors. Blending white with other colors helps this piece make an even bigger impact, especially with oversized flowers. You can also keep the vase itself rather short as this may help further emphasize the flowers.
15. Modern Styled Tulips within a Tall Vase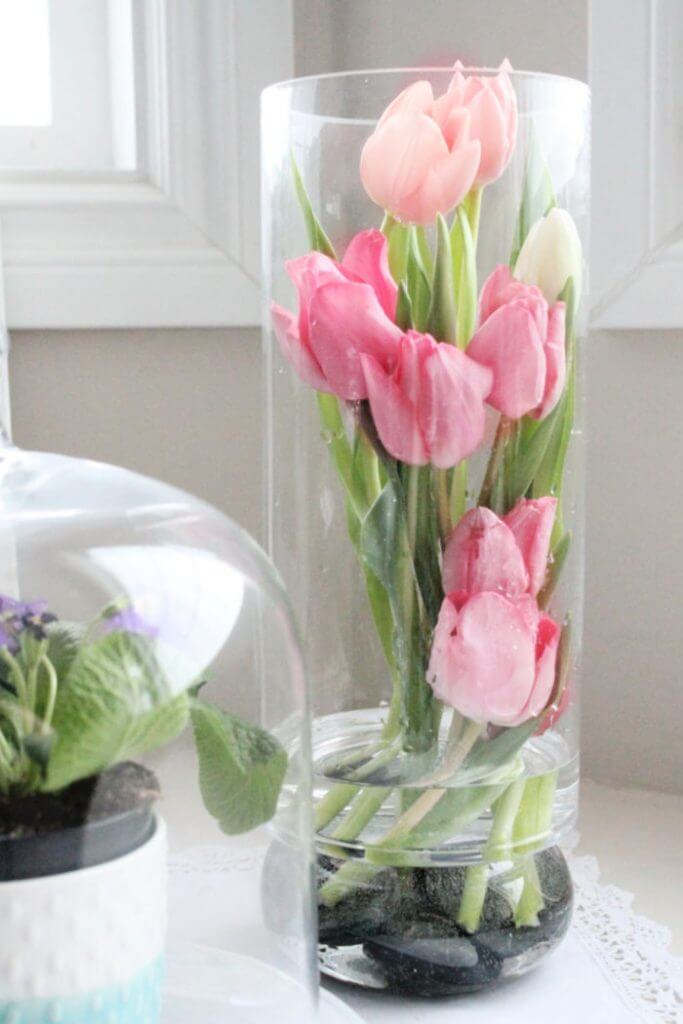 Tall vases are a wonderful way to make your décor have more of an impact and serve as a focal point in the room. Tulips are beautiful on their own, but when used in a clear tall vase, they seem to come across as even more stunning. What's so good about this style is that you can create more than one and set them up as they don't take up too much space.
17. Bold and Bright Yellow Flower and Pink Arrangement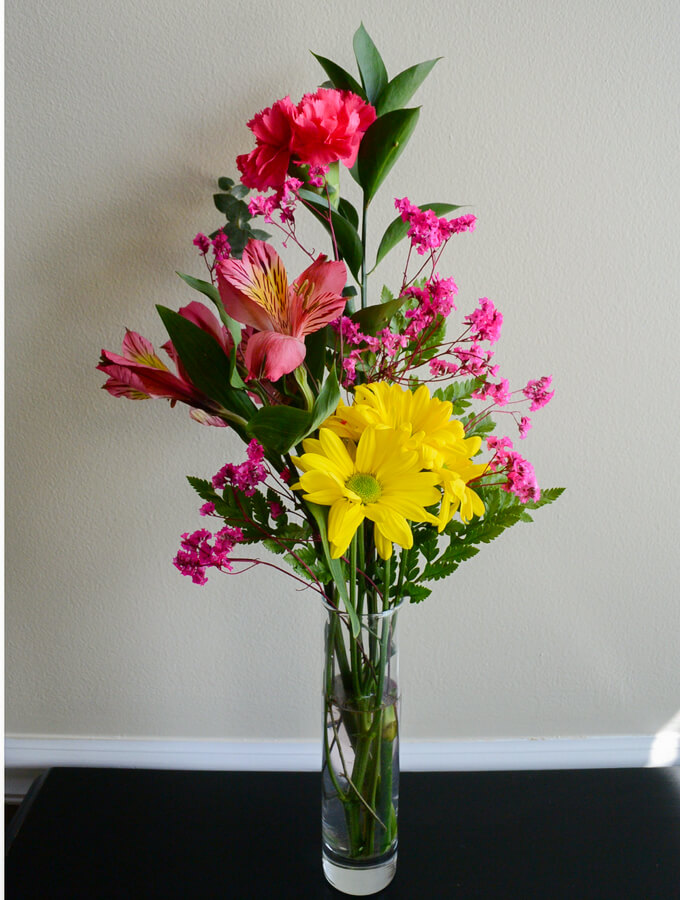 Bring a breath of fresh air into your home with this bright and bold flower arrangement. The rich yellow, deep pink, and lush greenery provide the perfect accompaniment to the small tiger lilies that are certain to steal the show. Although this arrangement isn't super-sized, it packs a big punch in terms of color and flair. The beauty of some of nature's most beautiful everyday flowers like daisies, carnations, and lilies are always a great choice for a pretty flower arrangement.
18. Cute Professional Looking Floral Arrangement
You don't have to be an expert to create a compelling flower arrangement. The right flower picks and the perfect amount of greenery can make a homemade setup look professional quality. You don't need anything too extravagant for the vase either as a clear one will do the job.
19. Cute Spring Floral Branch Arrangement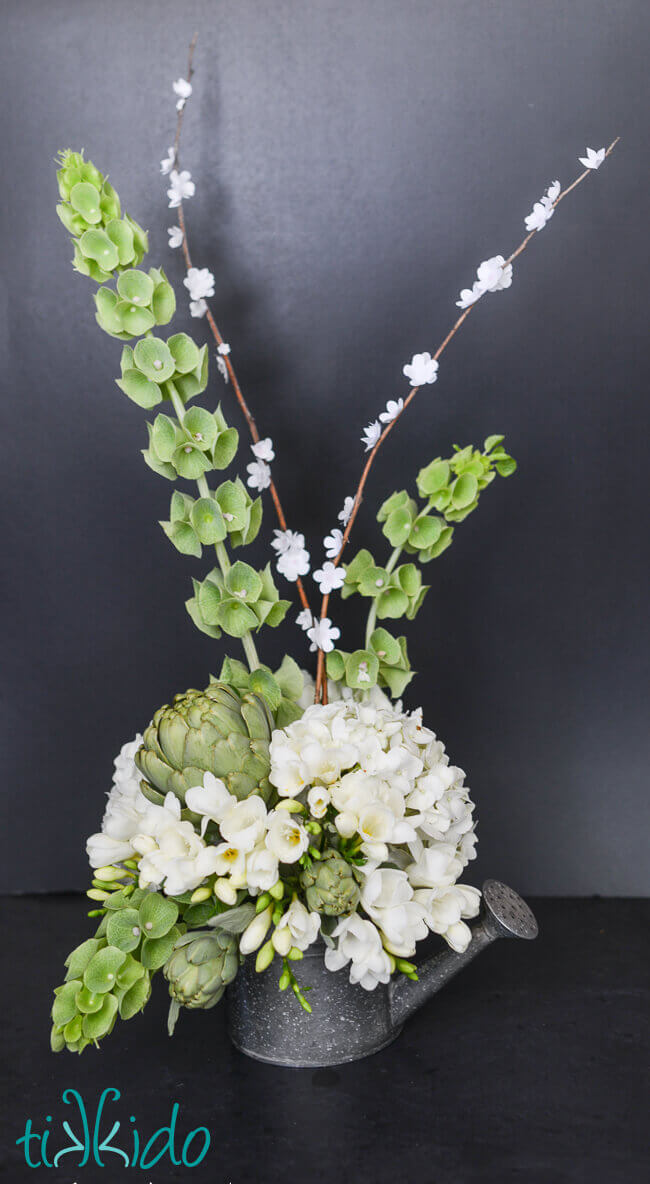 Fresh greens are always a good choice to bring a bold pop of color to any arrangement. In this case, it works well when used alongside white flowers. If you want to give it more personality, floral branches are a good way to go. Using faux flower for this entire setup is more ideal.
20. Diverse Freshly Cut Bowl of Flowers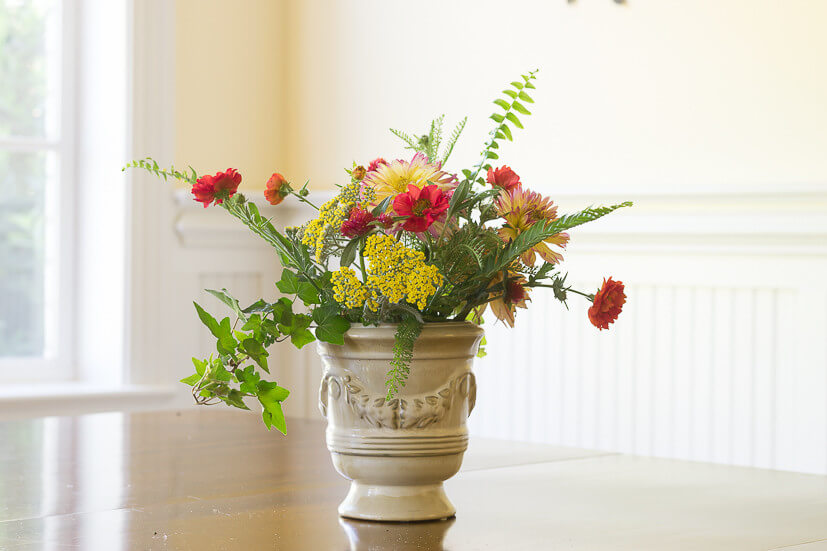 A bowl of flowers is always a wonderful way to breathe new life into a room. If you're using a container with muted colors, consider warmer flowers as they blend well. Always remember to weave in some greenery between the different types of flowers too so that each part of the arrangement captures attention.
21. Colorful Boxed Centerpiece Flower Arrangement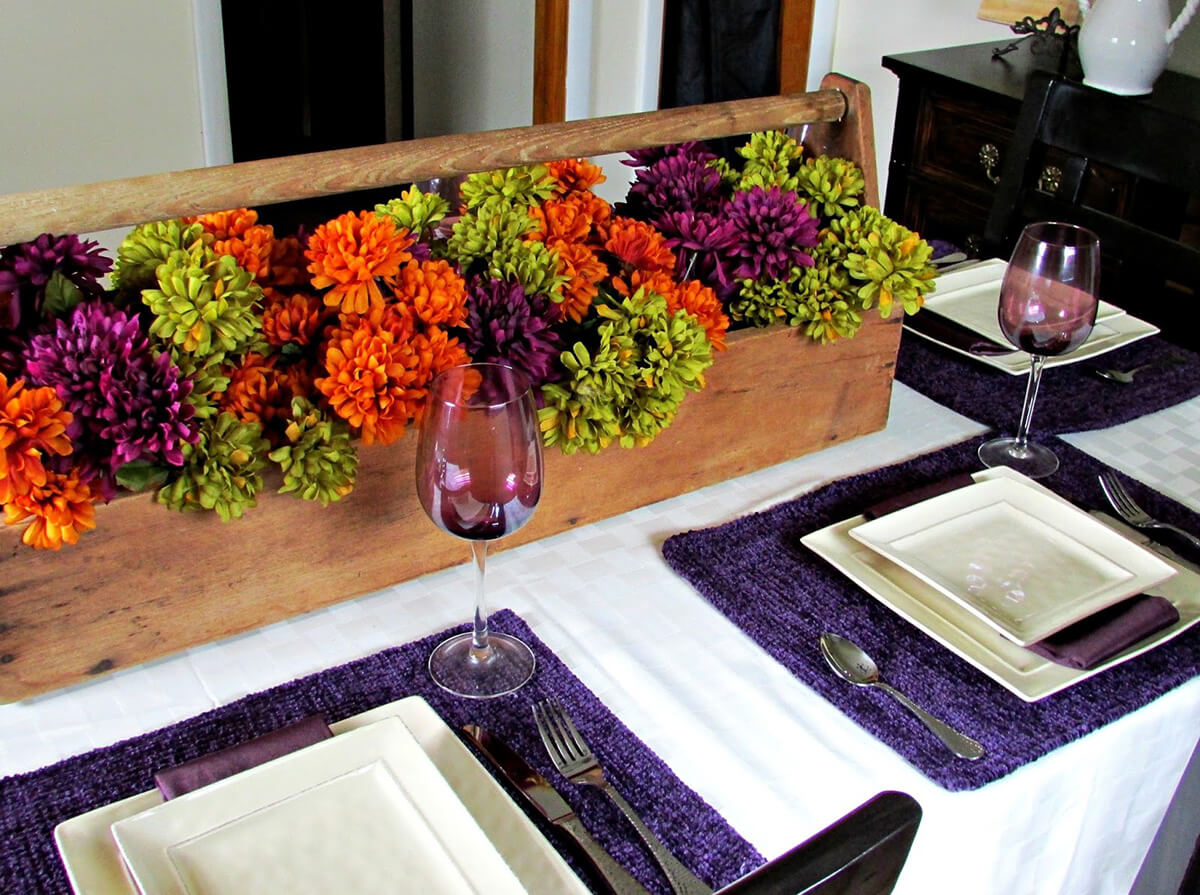 Nothing quite says that autumn is here than with this interesting floral arrangement. It's a great way to fill up some empty space on a rather long dining room table. Using a box for the vase is another good choice as it allows you to utilize several flowers. Going for a patterned multicolor approach instantly brightens up the room.
22. Compact Fresh Floral Ribbon Arrangement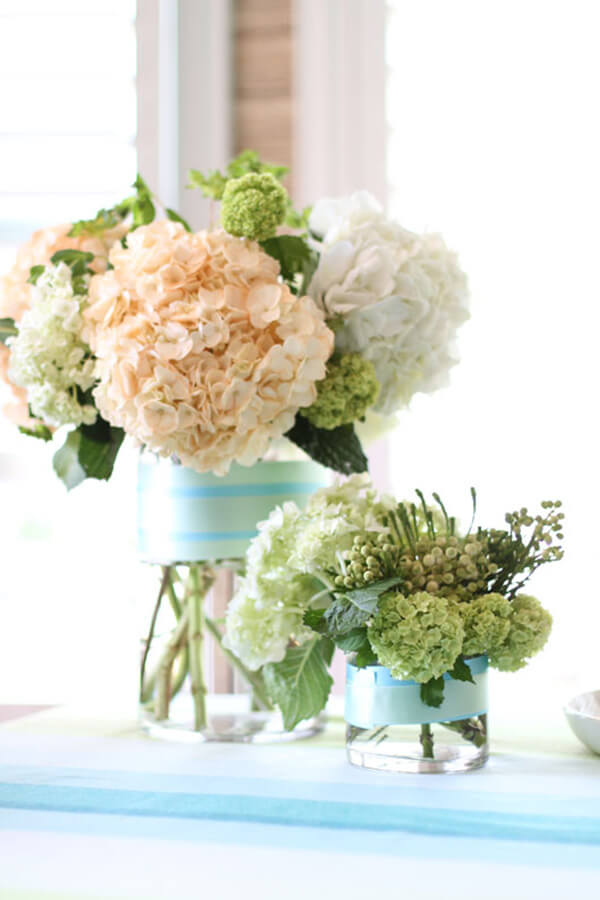 Attractive flower arrangements don't need to be tall to stand out. You can keep things simple with this setup. Rather than several different types of flowers, consider utilizing size and proportions more. Opt for a few larger and smaller flowers while keeping the stems short enough to fit the compact vase.
23. Pale Pink and Orange Flower Arrangement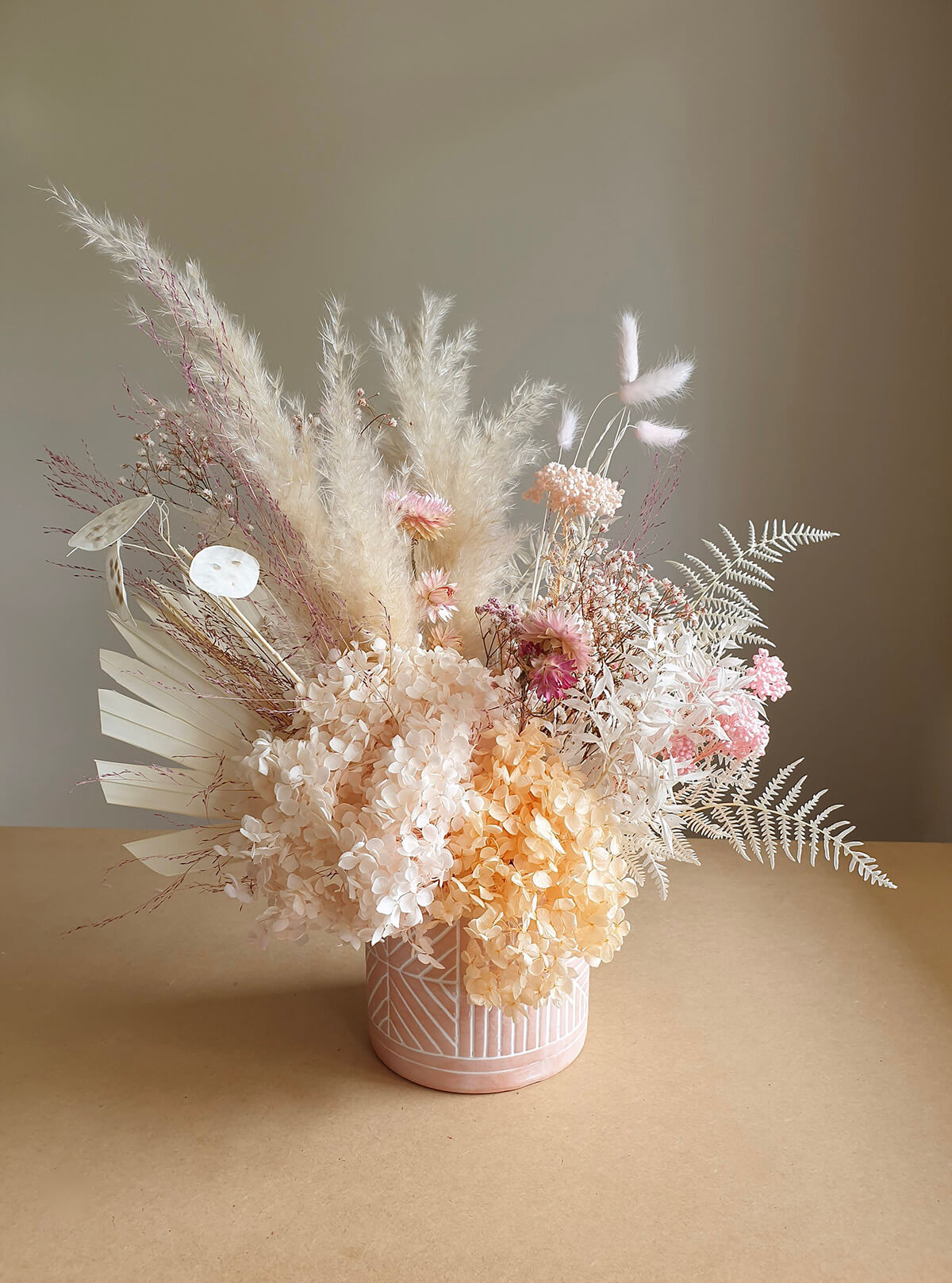 This elegant piece features numerous flowers. There are preserved hydrangeas as well as baby's breath, Ruscus, bunny tails, and more. All of them work together using orange, cream, and pale pink hues to create a remarkably stunning setup. It's brought together in a cute terracotta-white patterned vase.
24. Artificial Silk Rose Flower Arrangements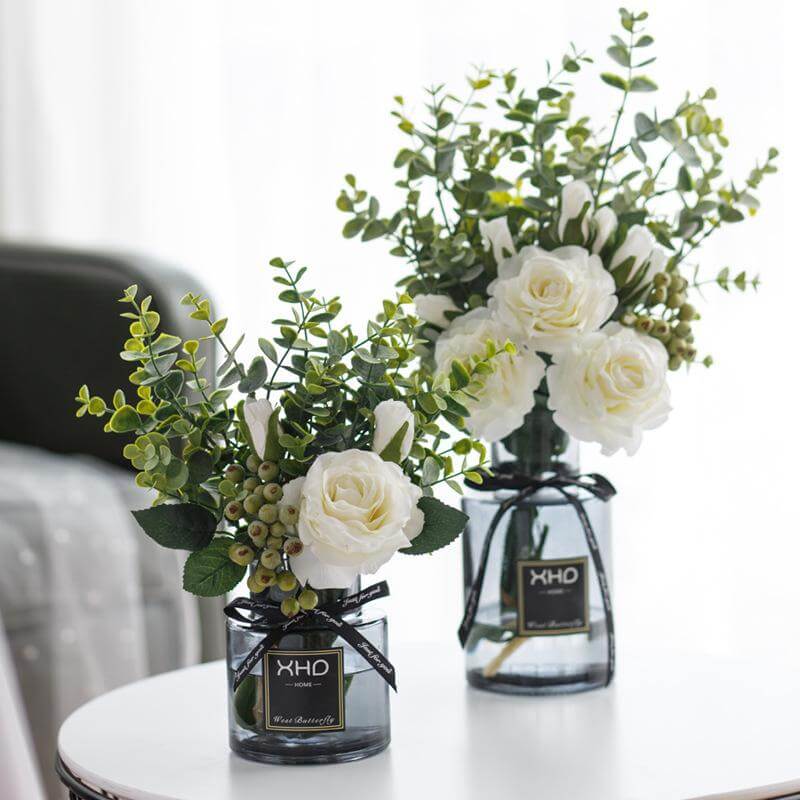 In this setup, artificial flowers look pleasantly real. In this Rose Canvas Series, you get your choice of numerous colored roses to pick. These stunning creations can work well in any room in your home among any kind of décor.
25. Be Mine Valentine's Day Flower Arrangement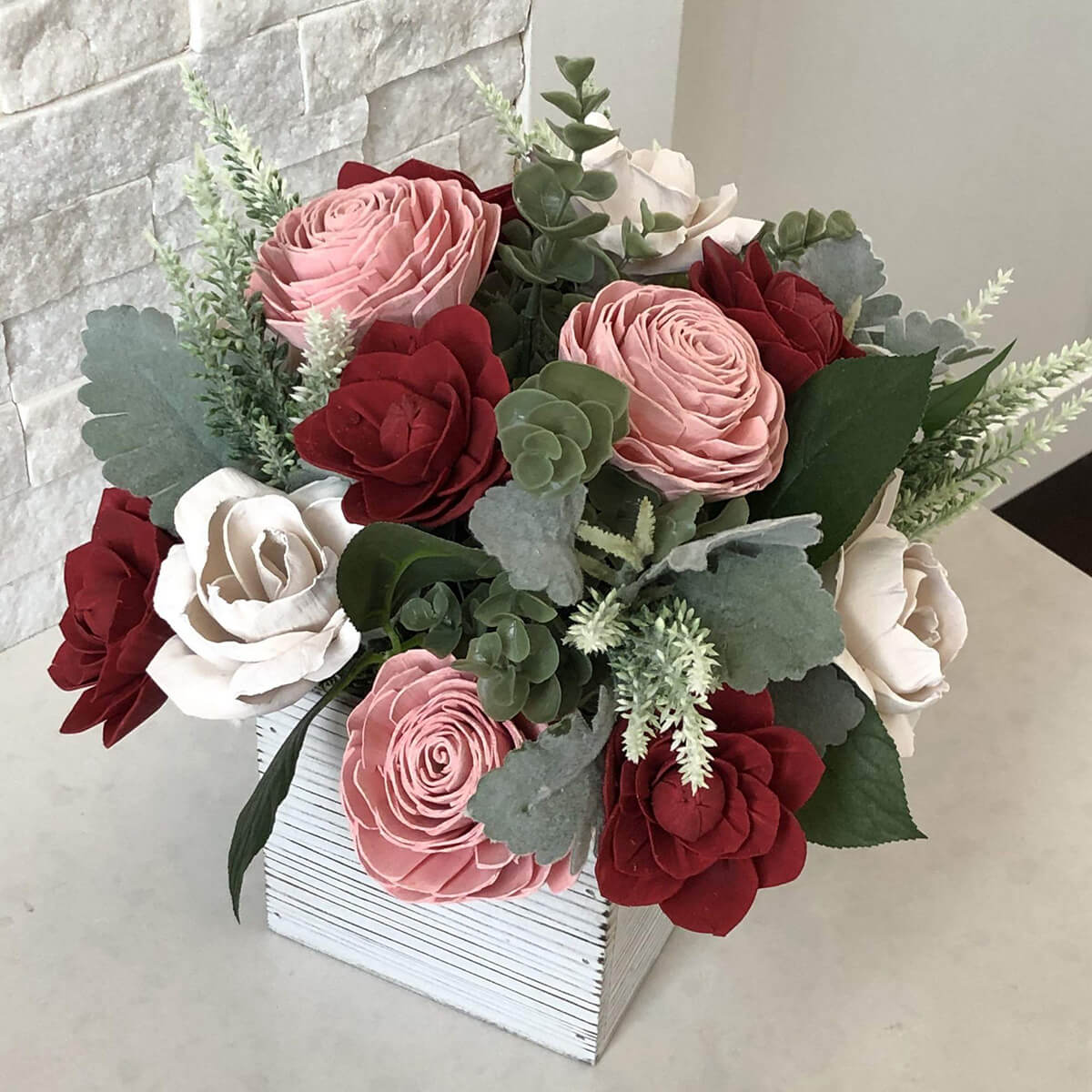 Placed in a simple, yet cute, box, this arrangement makes for the perfect gift on that special day. This features a mixture of wood flowers using red, white, and pink colors. Blended within them is artificial greenery that still appears full of life. As a handmade product, each one will always be unique.
26. Cool Mint Teapot Bursting with Fiery Blossoms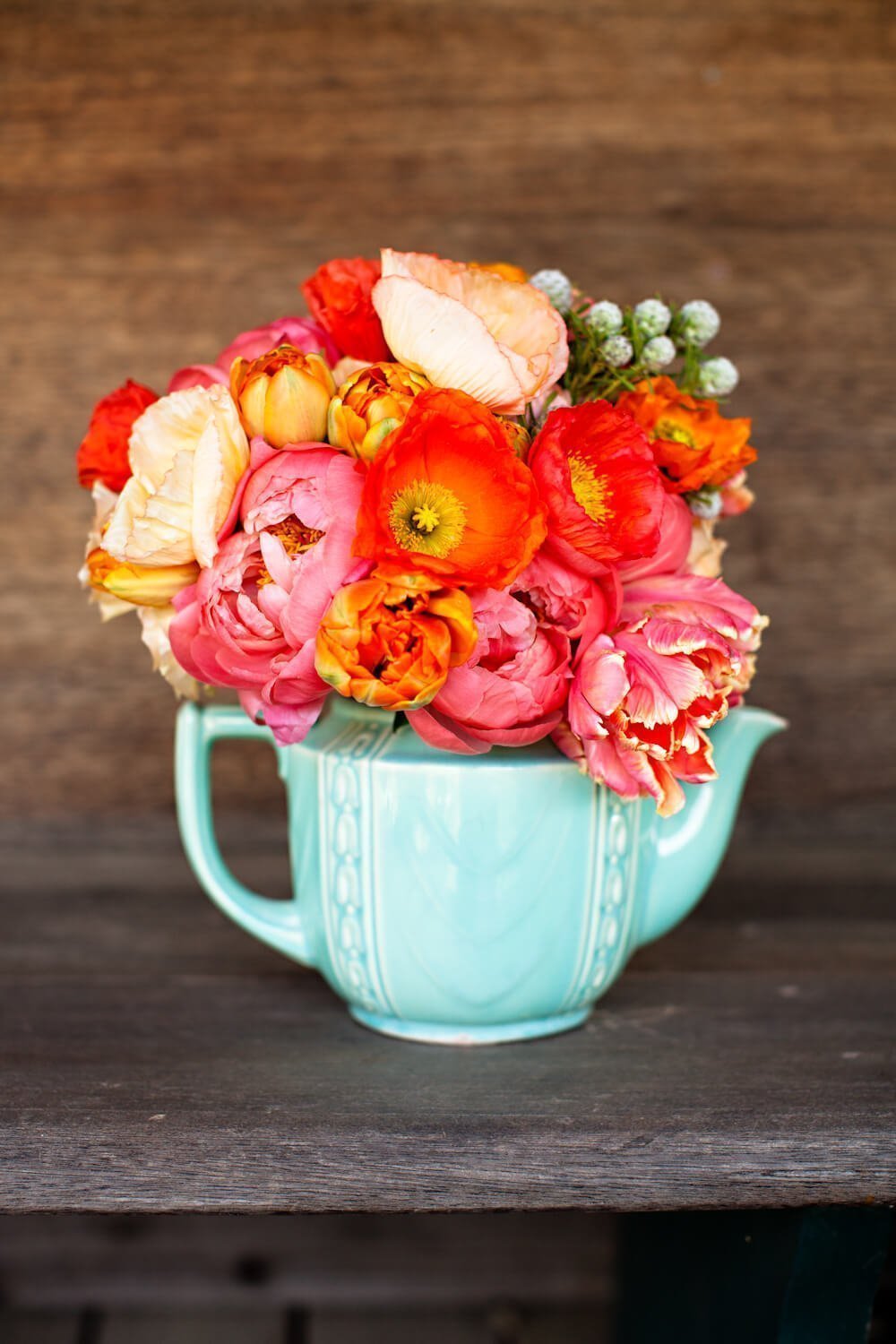 If you want to bring a pretty vintage vibe to your home, give this upcycling DIY a try! Start with an antique teapot, then add a bouquet of fresh summer flowers in contrasting colors. This bold arrangement is a great way to add a pop of color to any room!
Related: 25 Beautiful Summer Flower Arrangement Ideas to Add Color for the Season
27. Garden Buds and Spring Moss Flower Box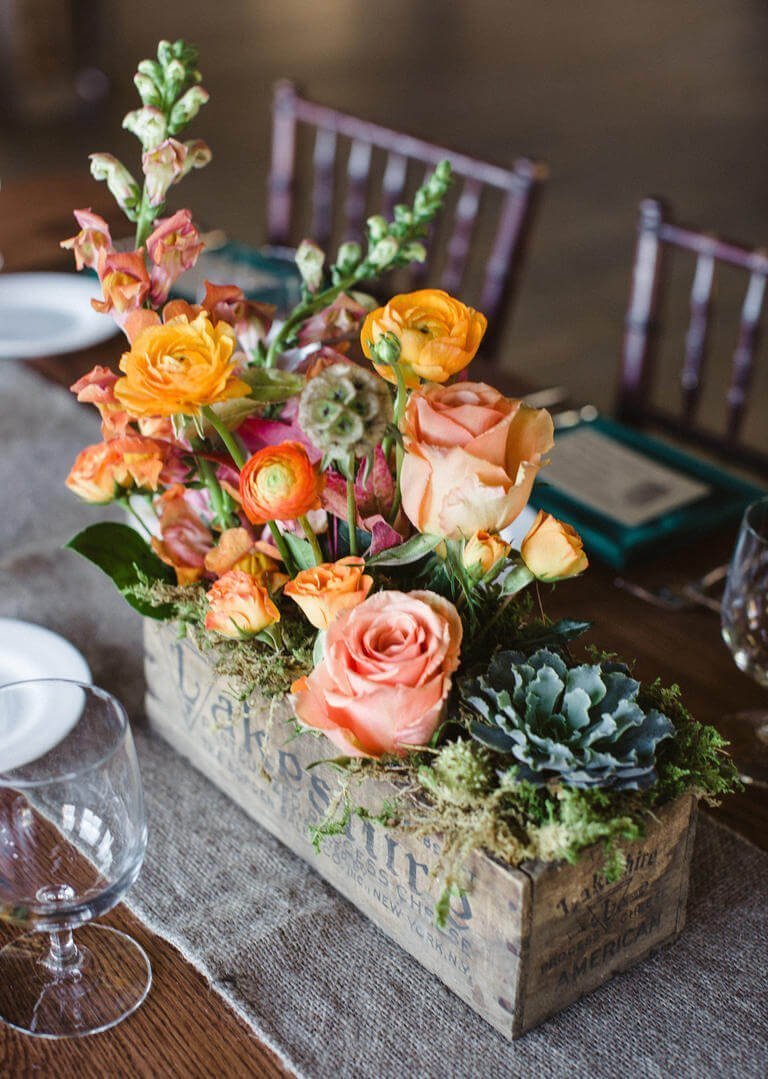 Who says flower boxes are just for windows? This project puts a rustic twist on the typical floral centerpiece while still brightening your table. An upcycled wooden box and soft moss make this floral arrangement look shabby chic, perfect for when you love flowers but don't have a super fancy decorating style.
28. Victorian Bird Cages Flower Trellis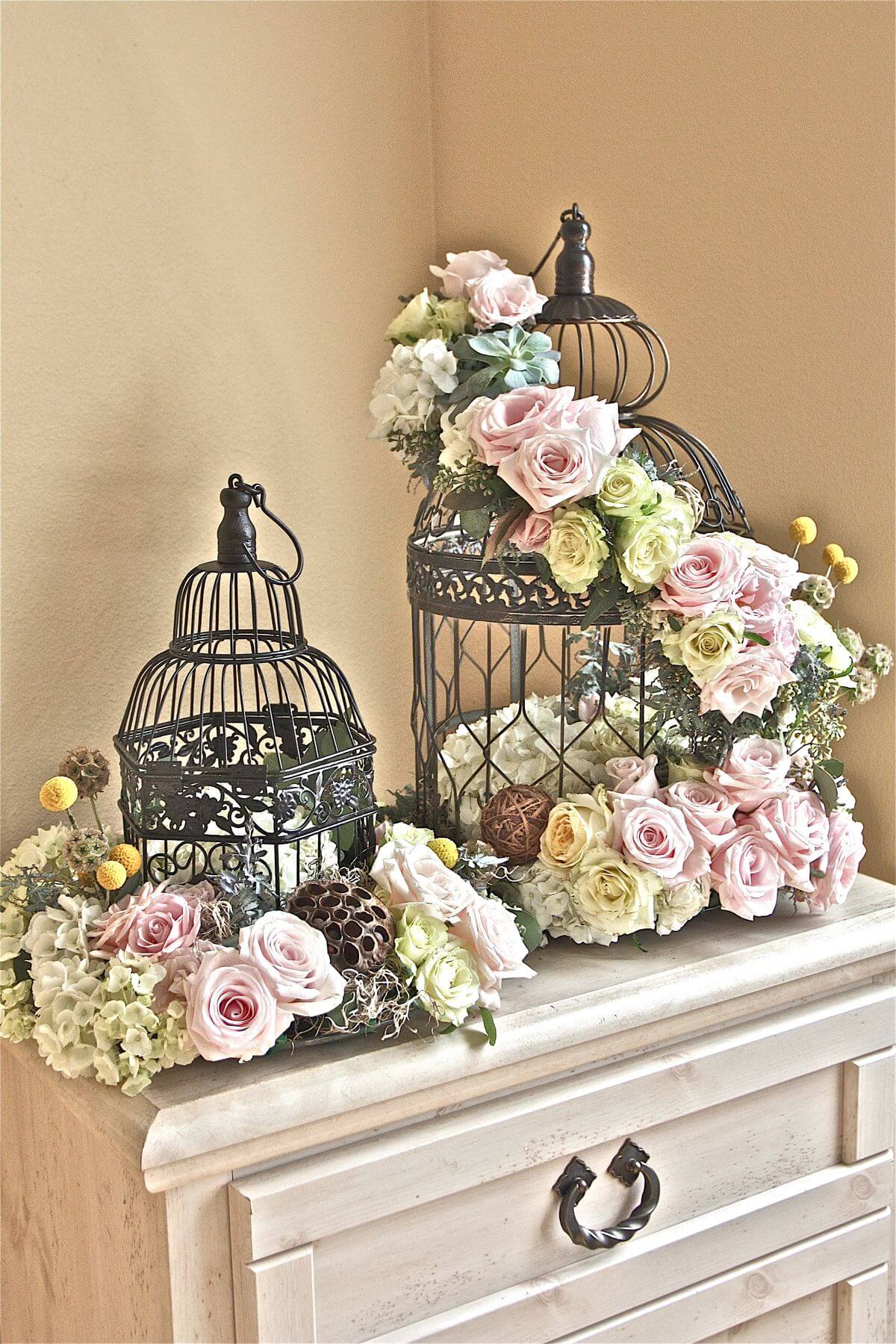 Nothing says "romantic" like fluffy, pastel rose blossoms. This display will transport you to the days of Victorian romance. Drape white and pink roses across and around some antique bird cages for a timeless arrangement. This would be so beautiful for decorating a vintage themed wedding or bridal or baby shower!
29. Bridesmaid's Bouquet Resting in Mason Jar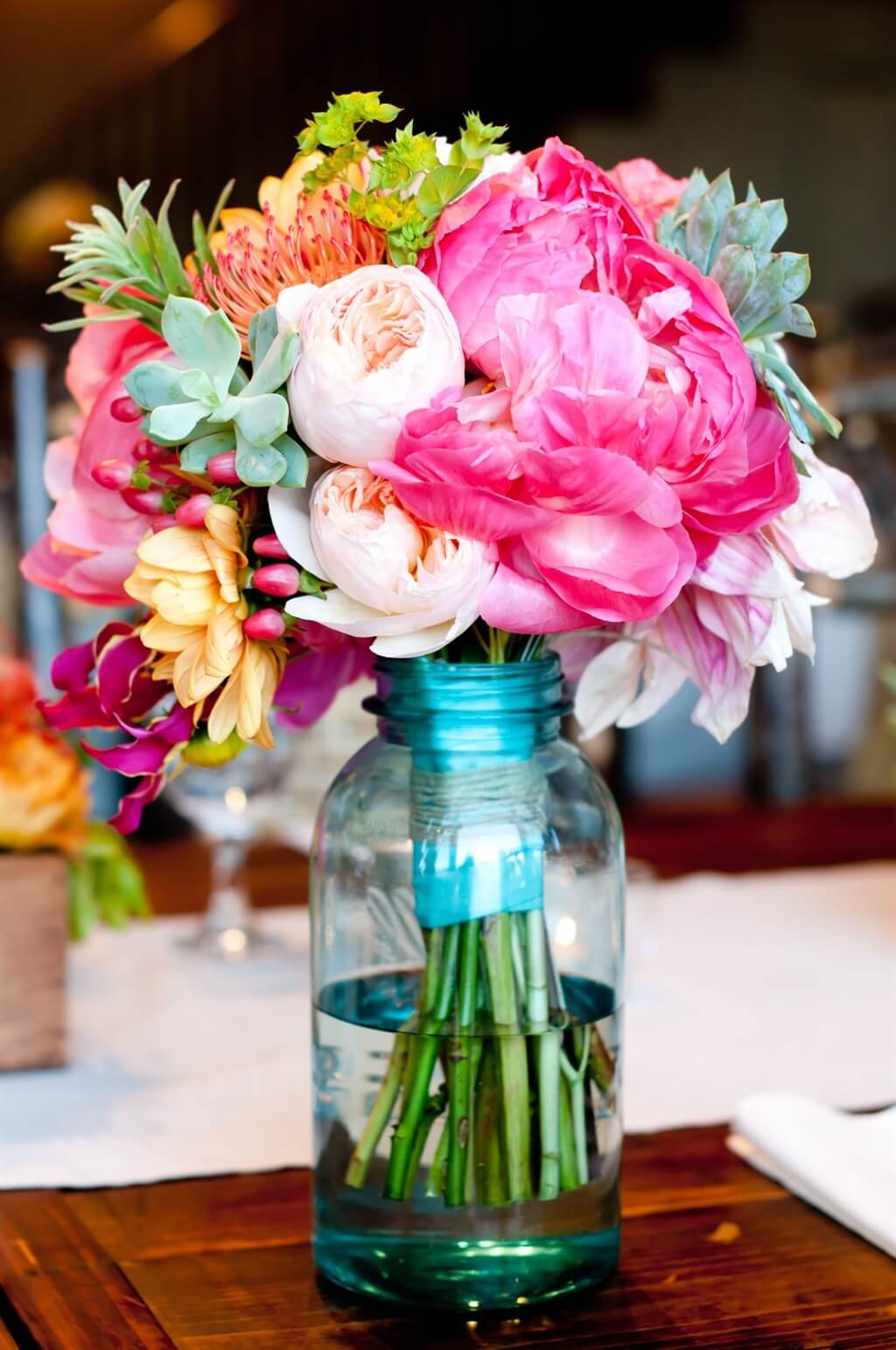 Whether you want to use this arrangement as a bridesmaid's bouquet or just to add some color to your home, this DIY screams summer! The contrast of bright pink and green shades will remind you of sunny, warm days. The varied textures, from fluffy peonies to thick succulents, adds visual interest.
30. Window Sill Forced Bulbs in Tall Tumblers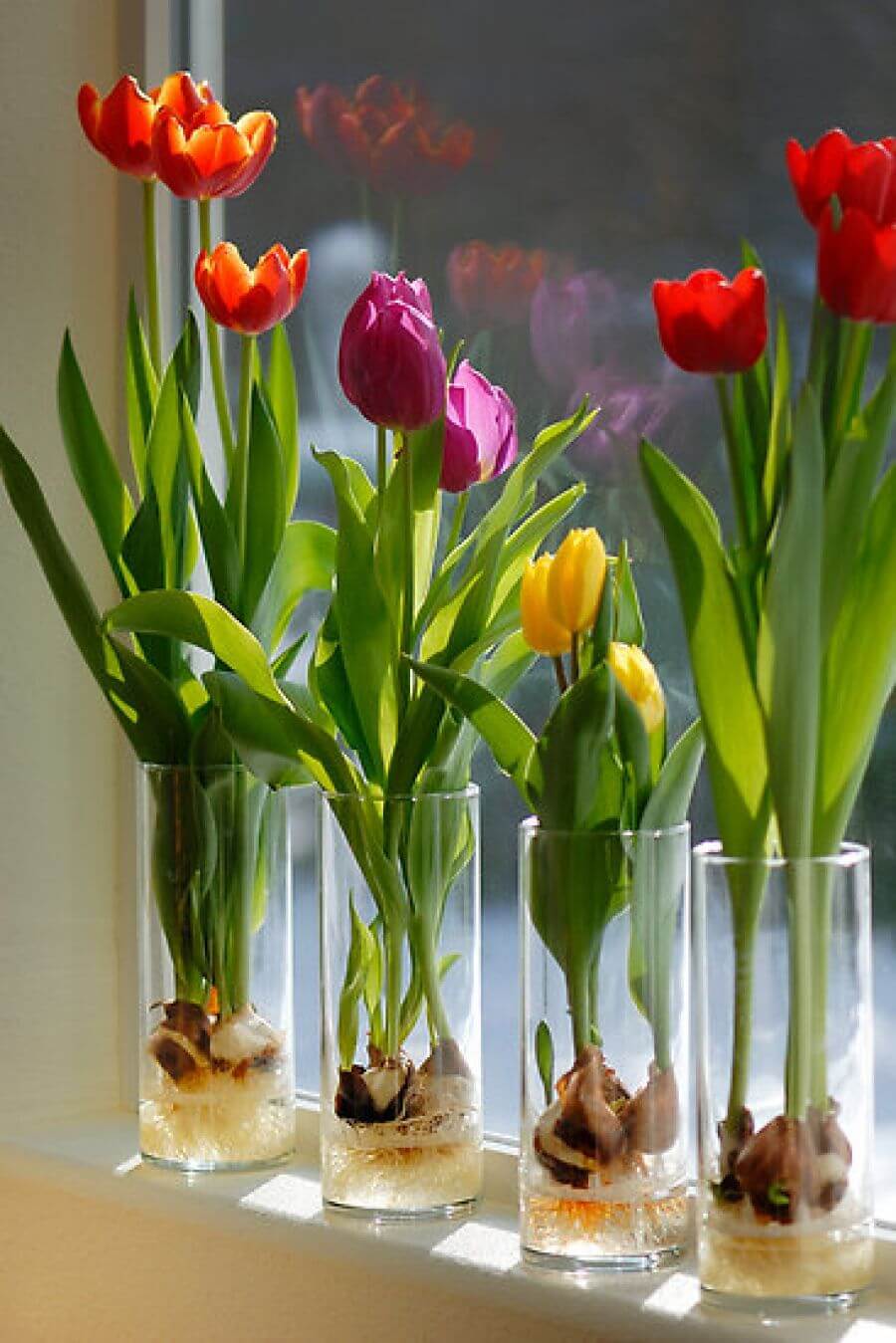 Tulips are one of the most beautiful parts of springtime. But if you don't want to plant them outdoors and pray there's not another frost that will kill your gorgeous flowers, try this DIY! "Planting" tulip bulbs in glass tumblers allows you to watch them grow from a tiny bud, plus they make colorful decorations for Easter.
31. Celadon, Pink and Ivory Arrangement in Wicker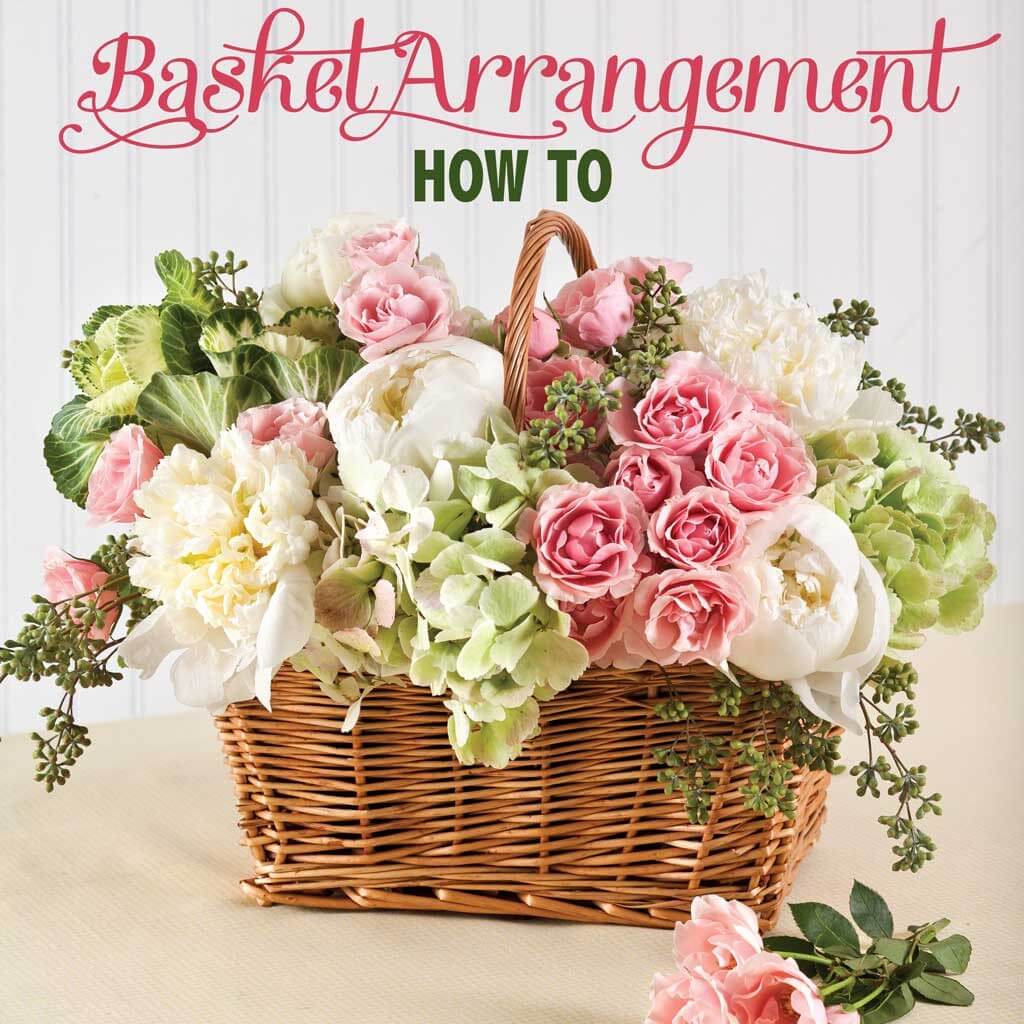 Get into the spring mood with this beautiful arrangement! It looks straight out of a magazine but is super easy to make. All you need is a large wicker basket, floral foam, and some soft spring blooms. This gorgeous basket would be perfect for decorating the table for Easter or Mother's Day dinner.
32. Entwined Collection of Wildflower Bud Bases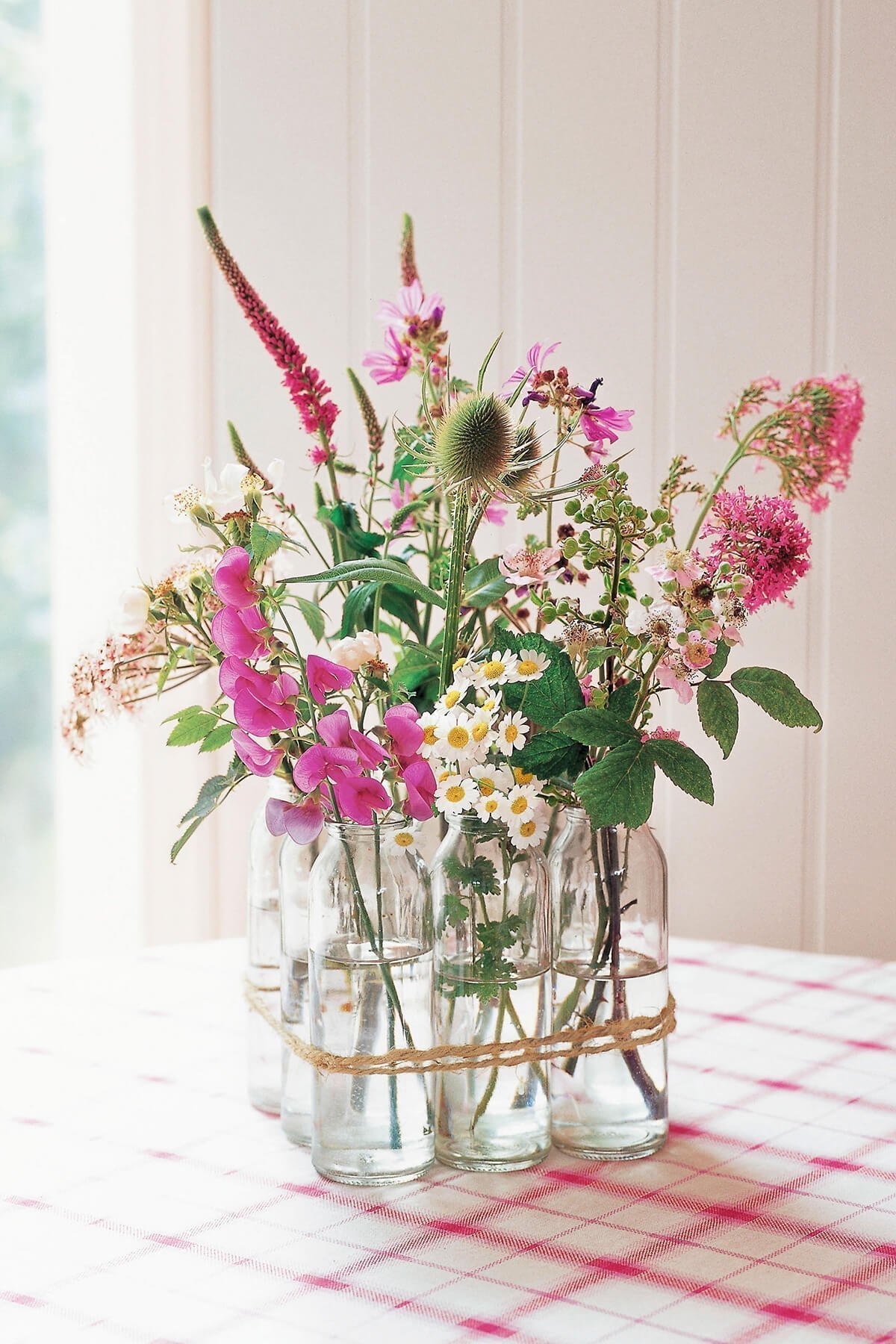 While garden flowers are stunning, wildflowers add a touch of whimsy to your home. Their varied colors and shapes make for a visually interesting arrangement. To make this project, place a few wildflowers of the same kind into a glass bottle, then repeat with another type of flower. Tie bottles together with twine for a rustic take on a bouquet.
33. Metal Cups of Cabbage Rose in Wire Basket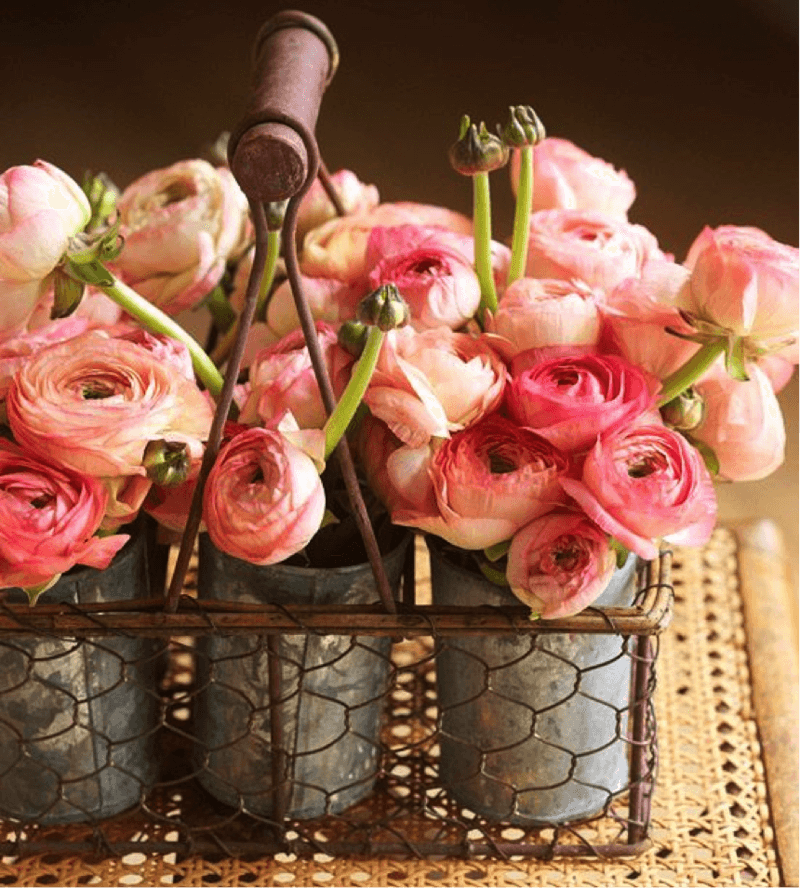 Do you love decorating in that shabby chic farmhouse style? Then this is the perfect arrangement for you! Galvanized metal cups and a chicken wire basket are rustic, but the pretty pink blooms add a contrasting touch of natural beauty. The best part is you can easily move this arrangement from room to room thanks to the basket.
34. Elegant Lantern with Flowerbox Border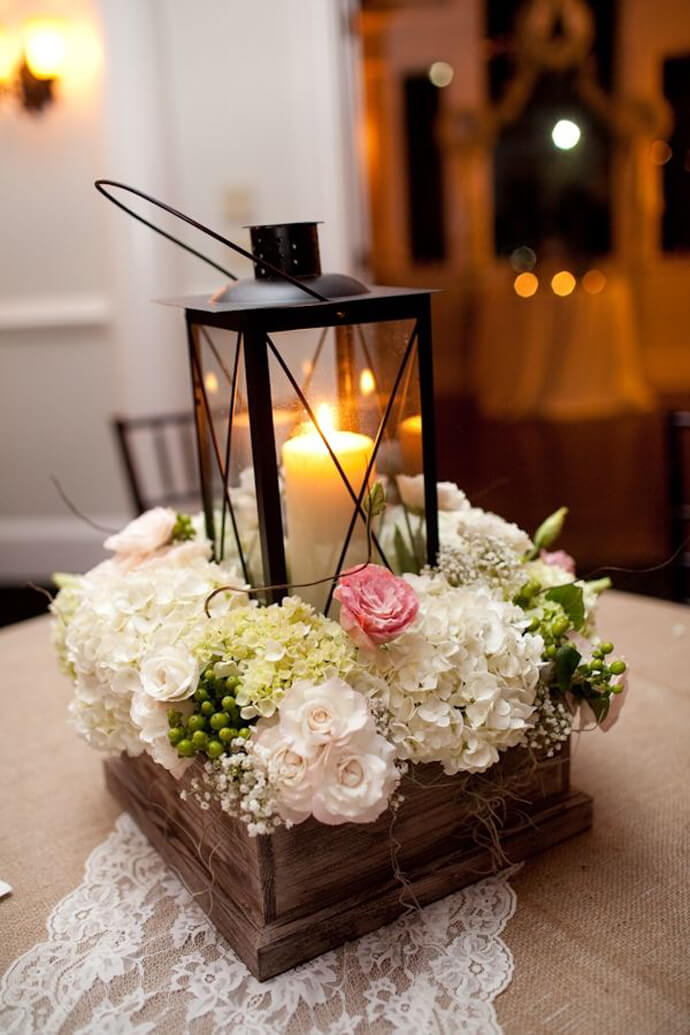 Lanterns look so elegant, especially with the soft glow from the candles inside. Set one on top of a rustic flower box full of white and pink flowers with a few green touches and you have a simple yet beautiful arrangement. This would be a gorgeous centerpiece idea for a wedding, bridal shower, or Mother's Day dinner.
35. Tipsy Teapot with Cascading Catkins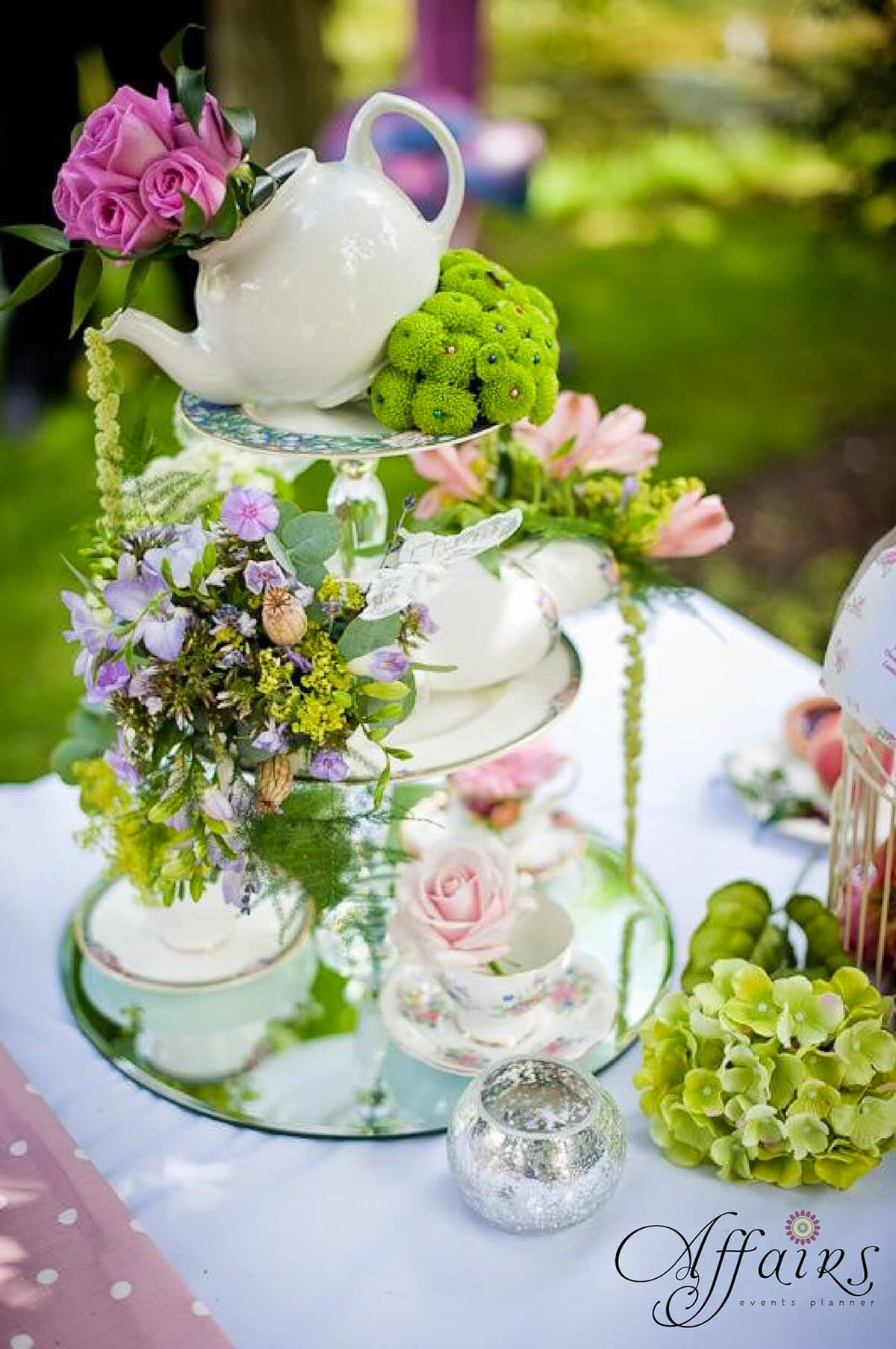 Are you preparing for a springtime tea party? This DIY project is the perfect decoration! An antique teapot, cups, and tiered cake stand present your favorite seasonal flora in a unique way. Mirrored and glass elements reflect the flowers' beauty. My favorite part is the flowers spilling out of the spout!
36. Blooms Bursting Between the Covers Bookish Centerpiece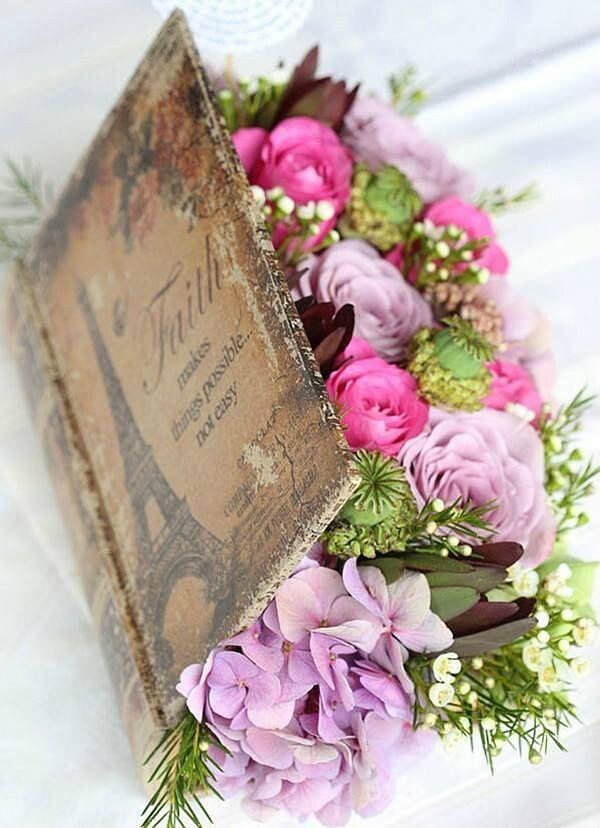 If you're a book lover, consider this DIY centerpiece idea for your wedding or fancy luncheon. To make it, rescue some old books from an antique store, then cut a hole in the pages. Tuck a collection of pink and purple flowers in between the covers as a representation of how much life lives inside of books!
37. Tropical Tree of Flowers Centerpiece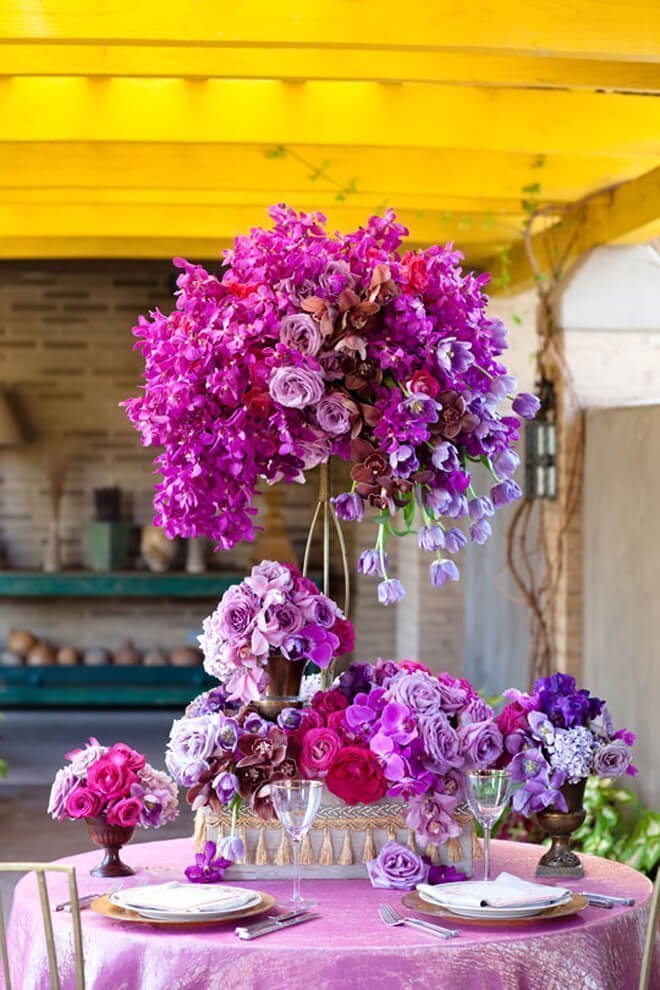 The only thing better than one flower arrangement is many arrangements in one! This project combines vases, boxes, and a "tree" of the same flower combination. With the bouquets on different visual levels, it has a real wow factor! The pretty purple and pink color scheme is reminiscent of the last light of summer sunsets.
38. Bevy of Ivory Blooms in Rustic Barrel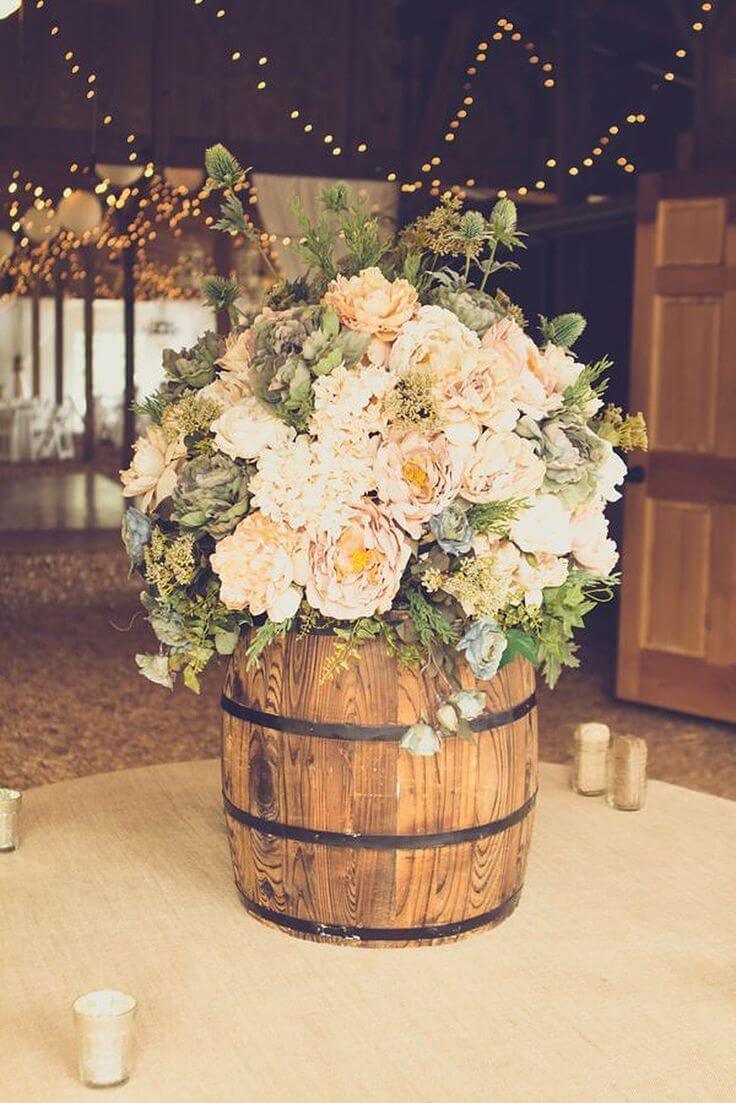 Warm wood always looks inviting. Bring that cozy feeling to your home or porch with this super easy project! Simply pop a block of floral foam into an old wooden barrel, then add your favorite spring flowers. This combination of white and green, garden and wildflowers, looks so uniquely beautiful.
39. Rosy Ruffles in Stiletto Valentine's Vase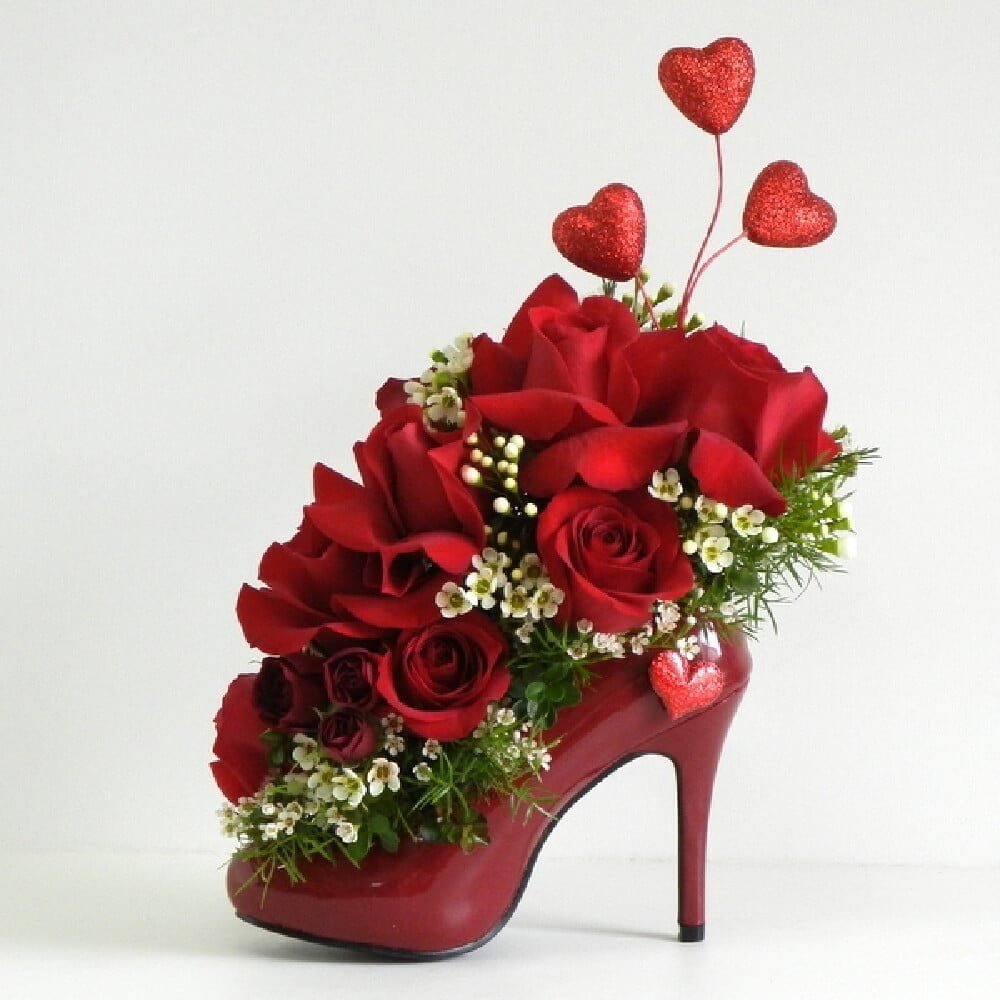 Got a pair of high-heeled shoes that have seen better days? Repurpose them into this fun Valentine's Day arrangement! The fluffy red roses are romantic, while the tiny white flowers and greenery make them really pop. This is perfect for ladies who have lost a shoe's mate but can't bear to part with it!
40. Long Stem Roses Woven into Invisible Vase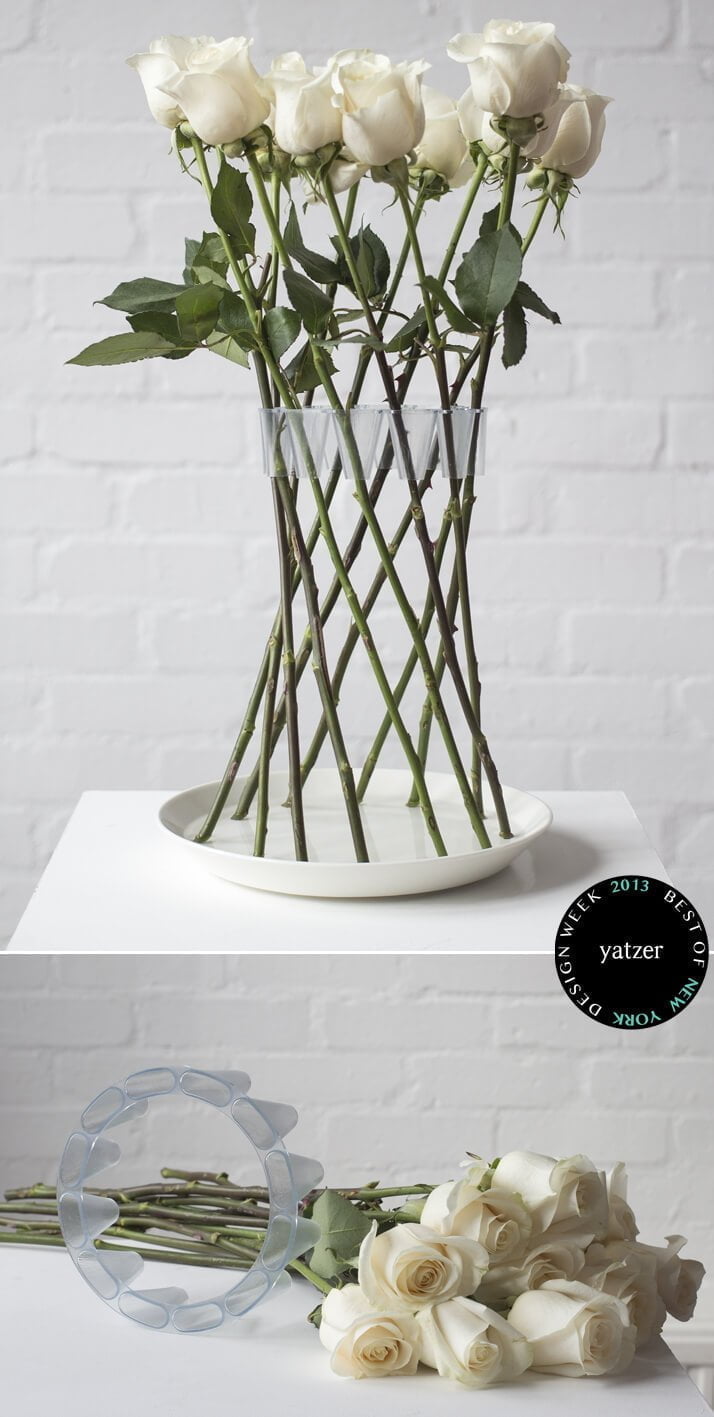 A pretty vase is a big part of making a nice flower arrangement. But this DIY allows the flowers' natural beauty to shine through without any extra fuss. The "invisible vase" holds the flowers upright without obscuring the stems. White roses and a white plate give this arrangement a beautifully minimal look.
41. Citrus Slices Encircle Lemony Blossoms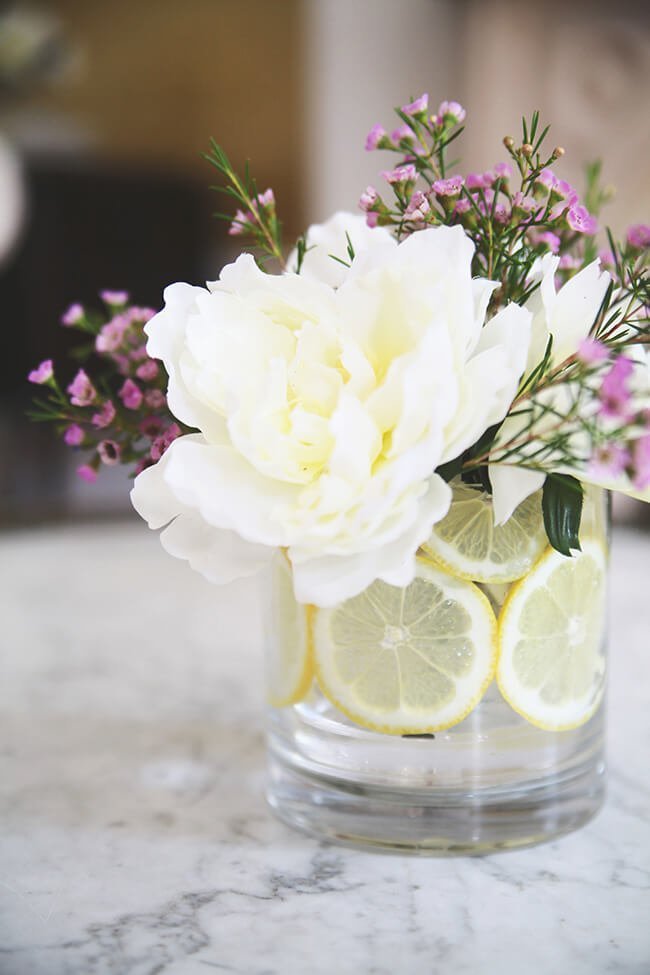 Guests coming over soon and you need to decorate fast? This arrangement is easy to put together in a pinch. To make it, place a smaller vase inside a bigger one, sliding citrus slices in between to keep them upright. Then grab a few blooms from your garden to complete the look!
42. Eastern European Tin Brimming with Purple Poppies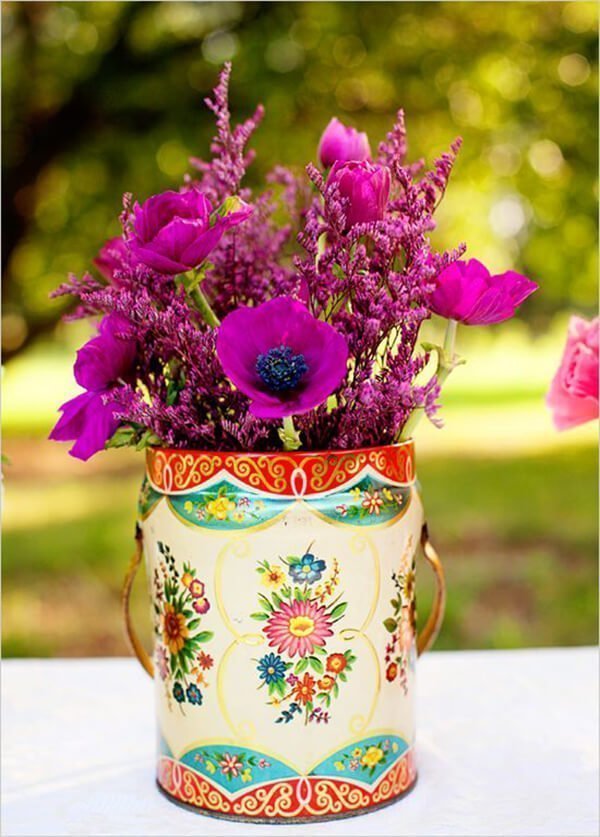 One fun way to personalize your home décor style is to celebrate your heritage. Search through antique shops (or your family's heirlooms) to find unique vessels to hold fresh flowers. Adding bright blooms that match a color on the container tie the whole arrangement together. This is sure to be a conversation piece!
43. Spring Bouquet in Weathered Watering Can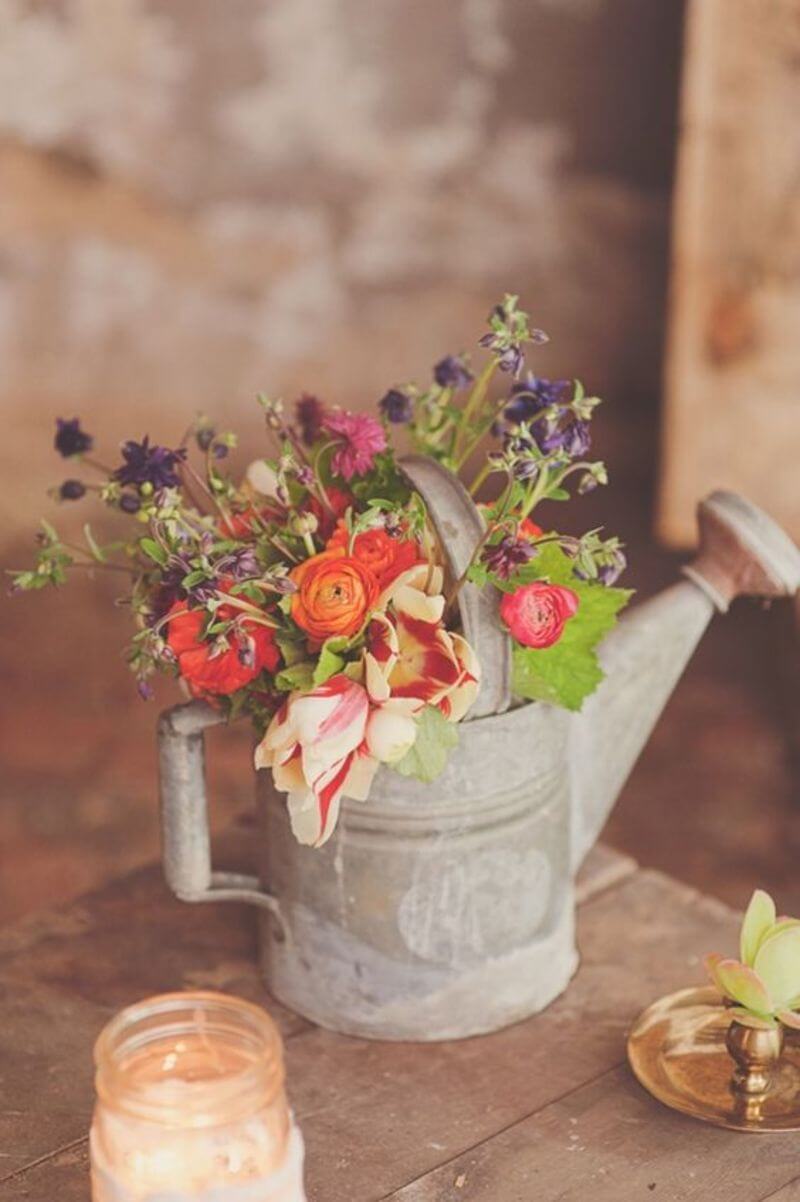 Got an old galvanized metal watering can that needs some love? Rather than throwing it out, repurpose it into an interesting flower holder. The dark metal makes the colorful summer flowers pop. There is something so fitting about a watering can holding flowers . . . it really fits a gardening theme!
44. Southern Hospitality Pineapple Posy Vase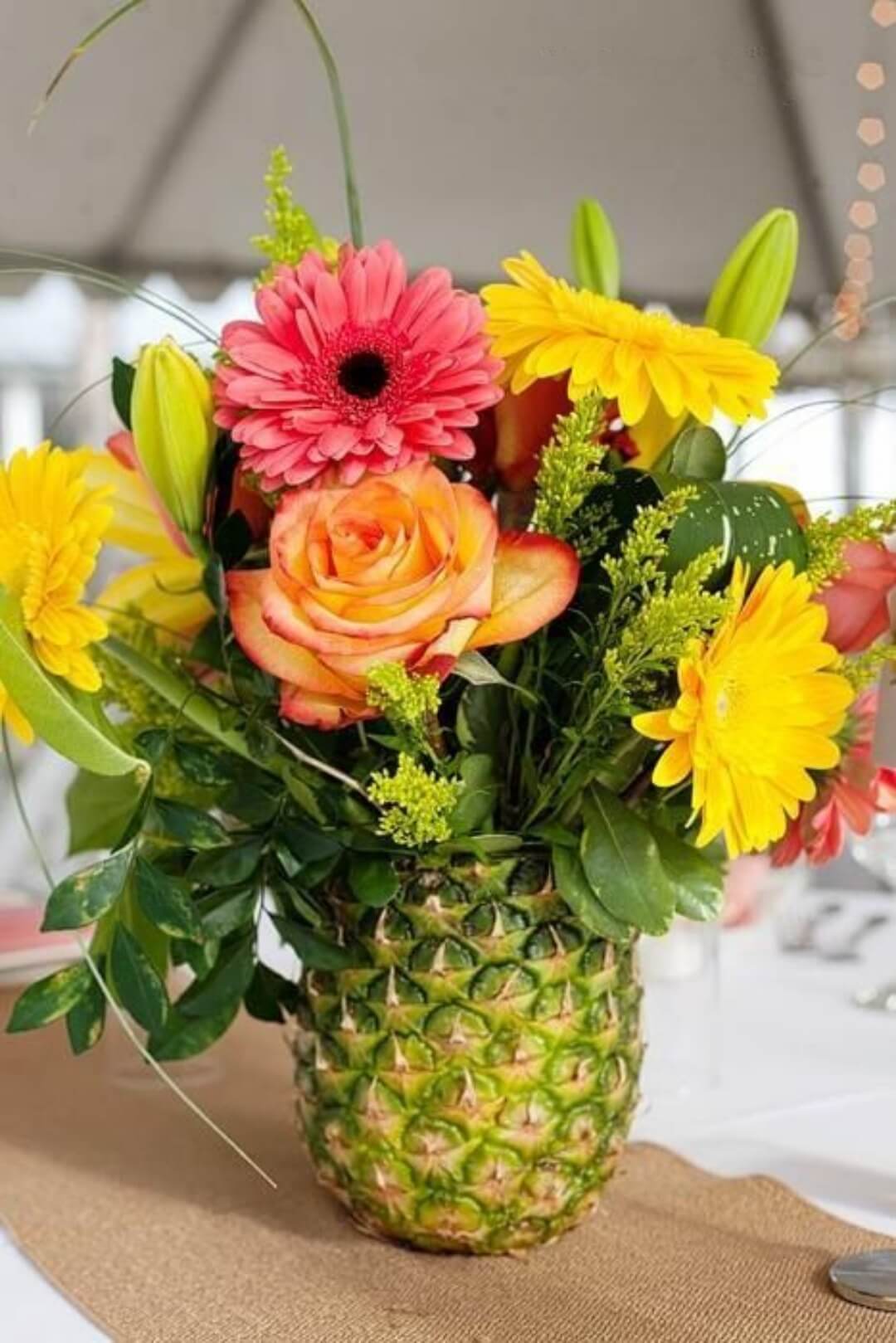 Using organic objects to hold bouquets is all the rage these days. For a super summery flower arrangement, hollow out a pineapple and turn it into a vase! Rather than throwing out the spiky shell, use it to hold bright blooms and greenery as a decoration for your next BBQ.
45. Whitewashed Mason Jar of Cerulean Dried Flowers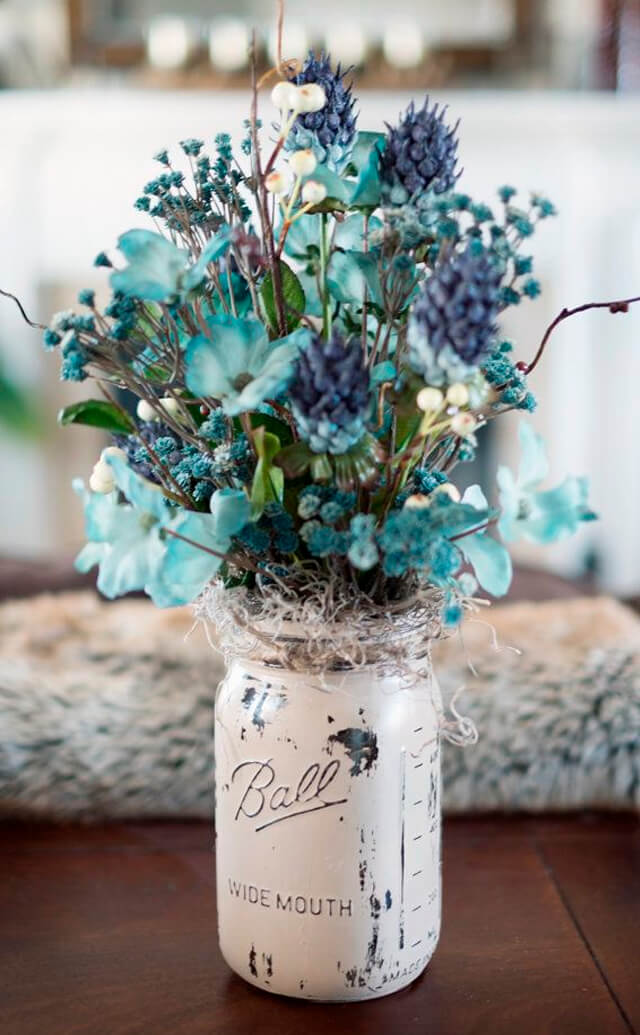 Attention Mason jar lovers! This rustic chic project is perfect for your farmhouse atmosphere. And it is super easy to make! The jar, painted white in a shabby chic style, sets the stage for the soothing arrangement of flowers in shades of blue. I love how perfectly imperfect this DIY looks!
46. Silver Teapot with Green and White Arrangement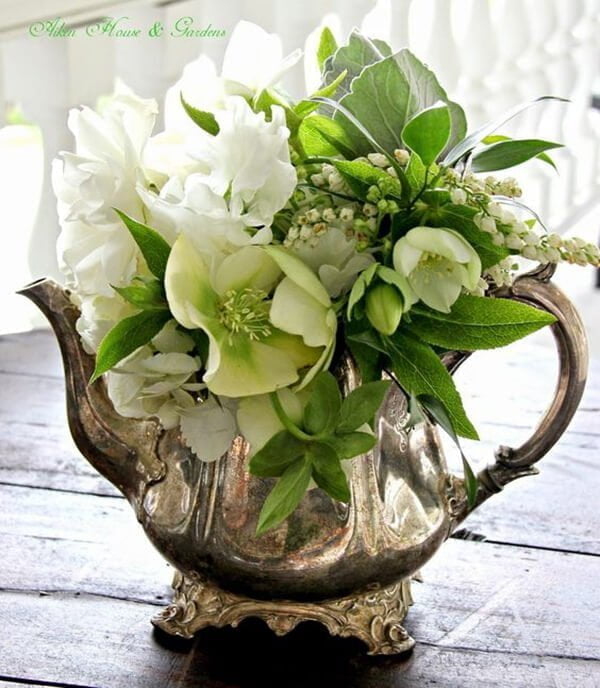 Antique silver adds a touch of elegance to any room. If you can't stand polishing your silver, it can still look just as beautiful! This arrangement uses a slightly tarnished teapot to create a vintage vibe. The green and white flowers inside provide a fresh and natural element, creating beautiful contrast.
47. Dainty Ivory Hatbox Bursting with Pink Buds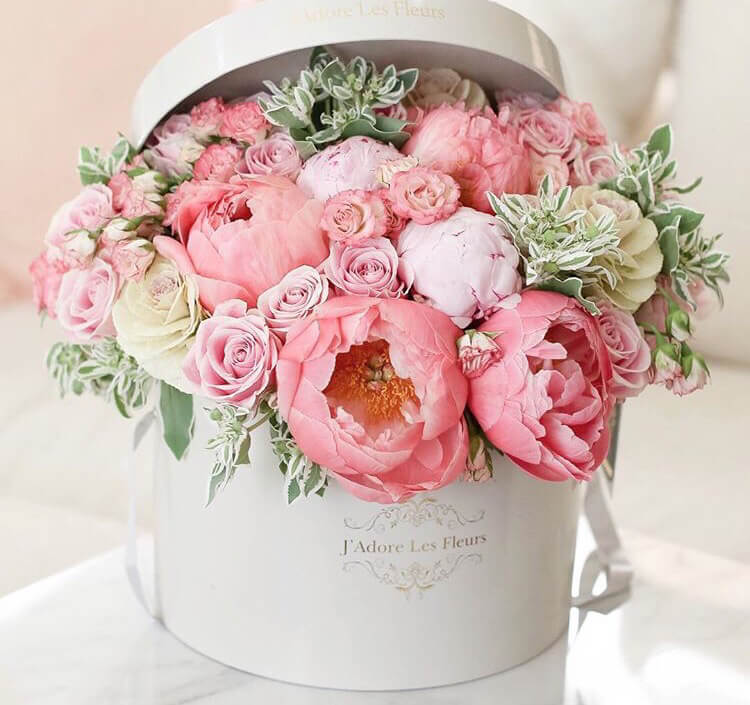 Hat boxes always look beautiful and fancy. Whether they are vintage or new, they remind you of luxury. Fill a bright white hat box with girly pink peonies and roses for a soft and feminine arrangement. This would be ideal for decorating for a birthday party or bridal shower for your best girlfriend.
48. Cuddly Carnation Terrier Nestled in Basket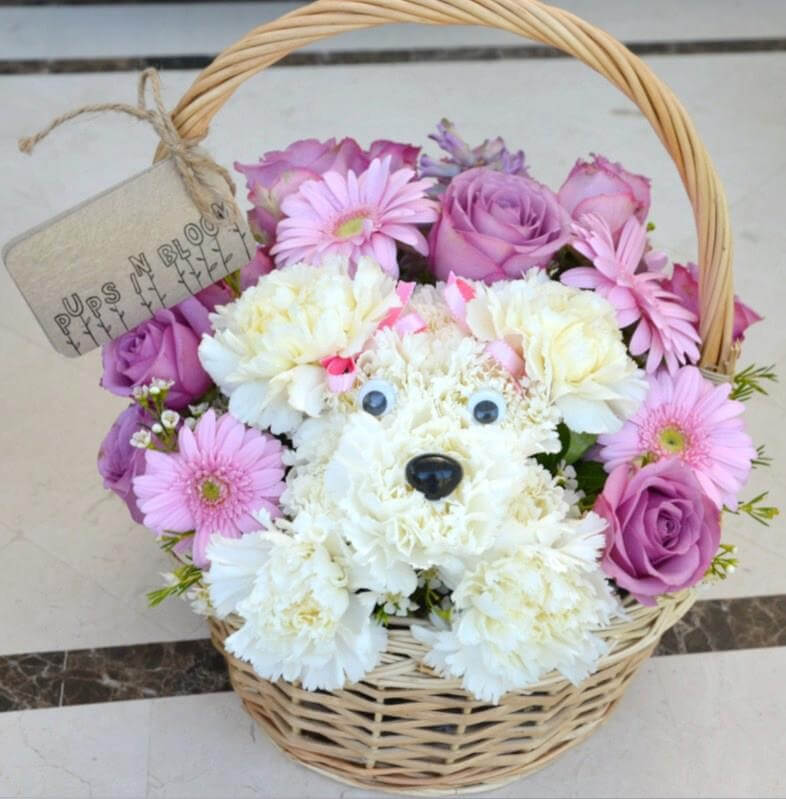 I am always amazed by what floral artists can create with plants. This adorable arrangement uses fluffy carnations to create a cute puppy! And it's not as hard to make as it seems. The purple background flowers and fun basket would make this the perfect gift for a little girl's birthday.
49. Succulents, Citrus and Leaves in Copper Containers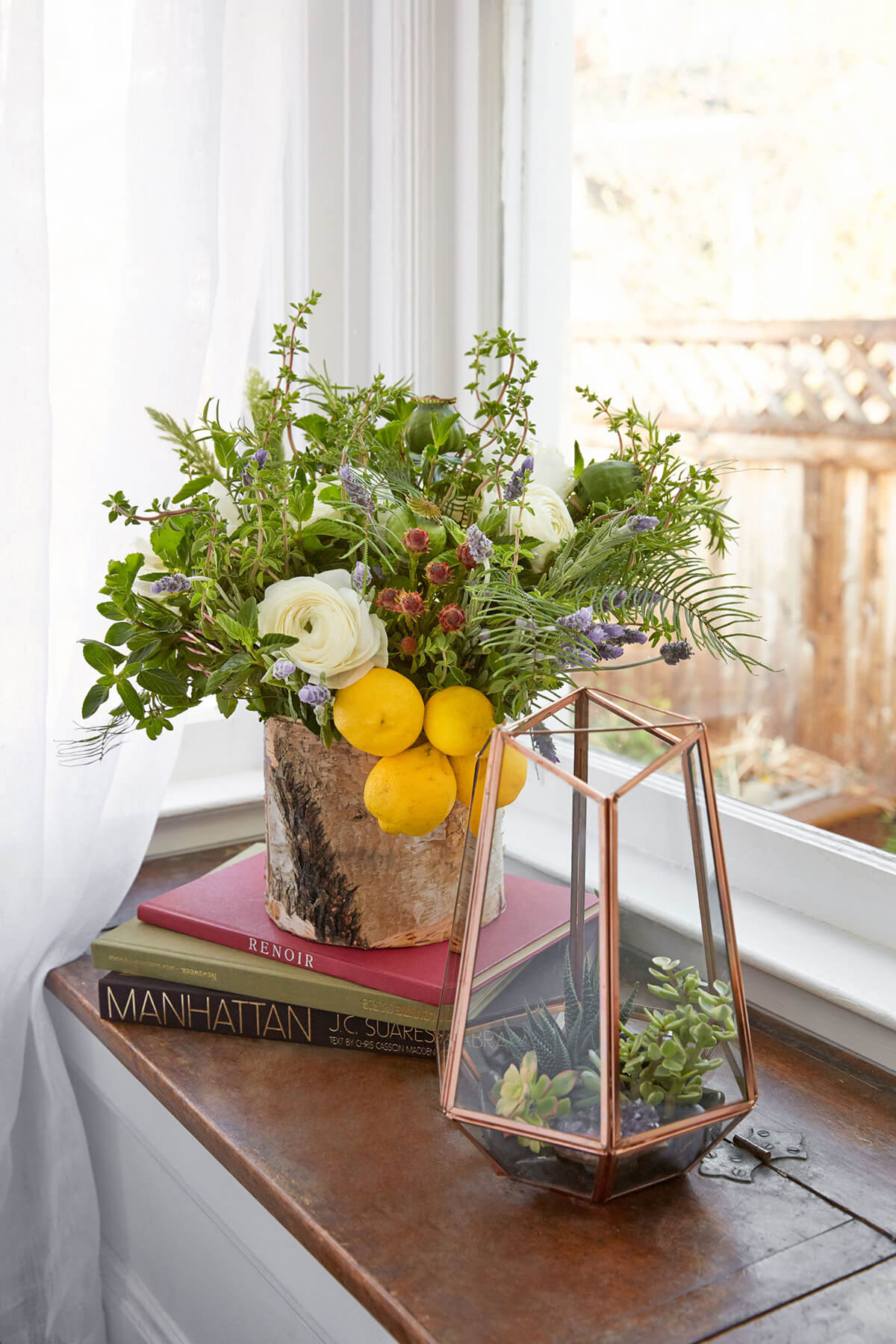 Succulents and copper elements are everywhere in home décor these days. Combine the two with this modern arrangement. Create a bouquet of your favorite greenery, adding lemons and a few white blooms for visual interest, and place them in a copper vase. Display next to a glass and copper succulent terrarium for a super trendy look.
50. Fall's Finest Pumpkin Flower Arrangement

Displaying pumpkins in the fall is fun, but this DIY takes it to the next level. Hollow out a medium sized pumpkin, pop in some floral foam, and add some flowers and berries in warm autumn colors. Tying a ribbon around it makes the display look more put-together and less rustic.
51. Woodsy Fallen Log Flower Vases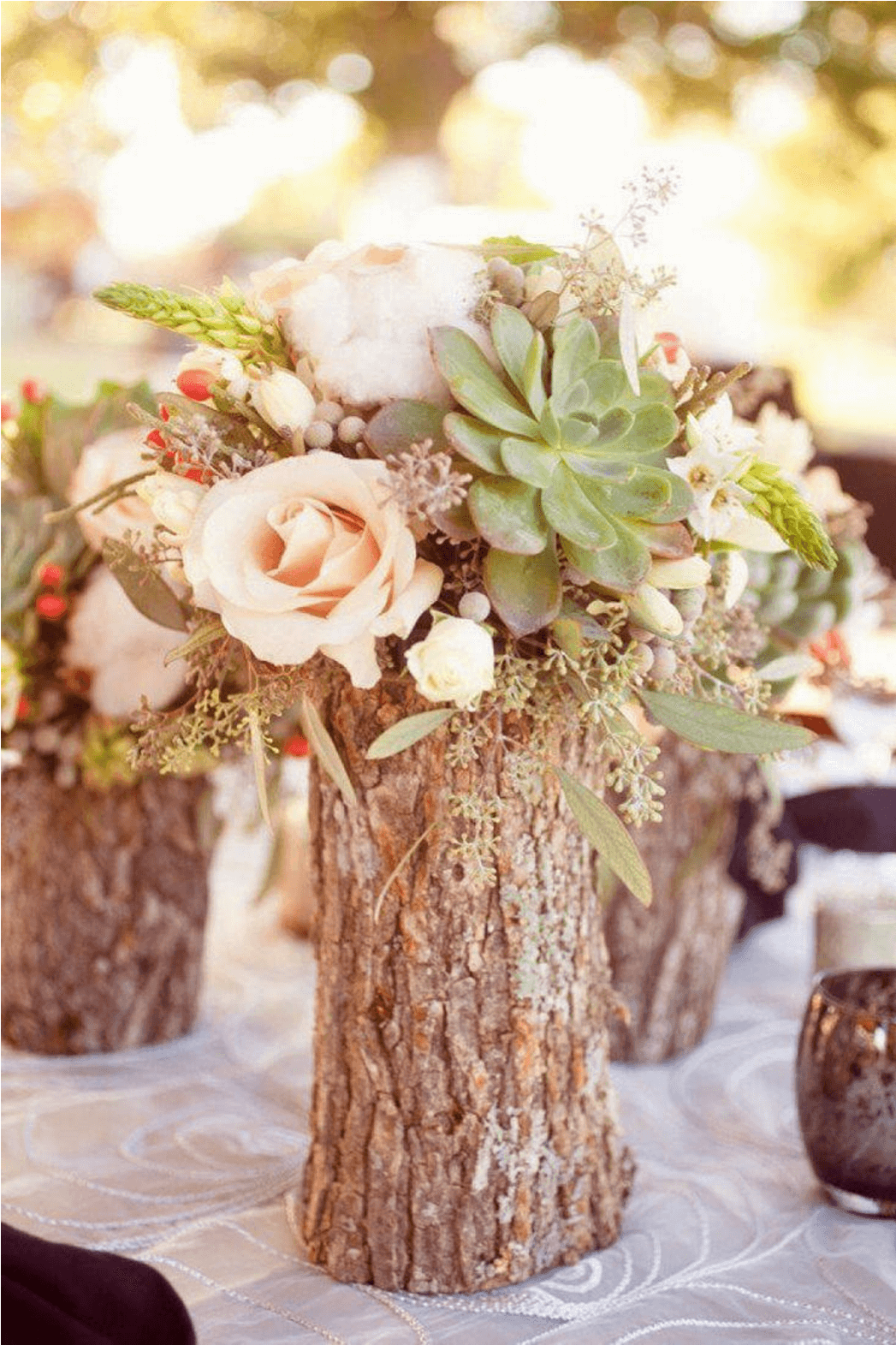 If you want to give your home or wedding that ethereal, wood nymph vibe, try this project. Gather some small logs on your next nature walk, then drill a hole in the end where you can tuck in a pretty bouquet. A soft mix of succulents, delicate greenery, and fluffy flowers looks dreamy.
52. Intense Jewel Tone Arrangement in Ivory Vase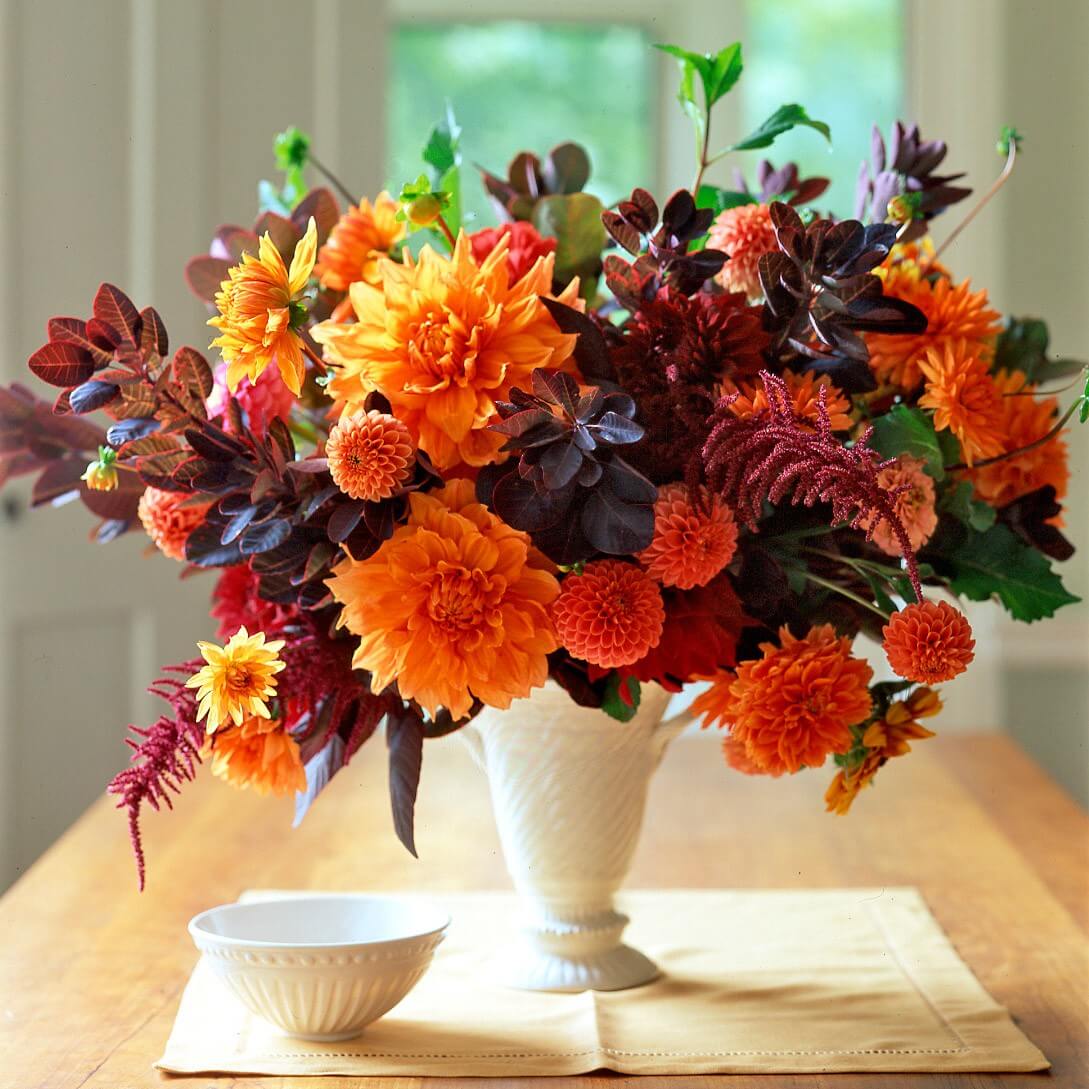 Bring the warm colors of autumn inside your home with this bold arrangement. A mix of deep reds, bright oranges, and a few touches of green reflect the natural beauty of the fall season. Arrange the flowers in a simple white vase to allow the blooms to take center stage.
53. Easter Tray of Potted Eggs and Spring Bulbs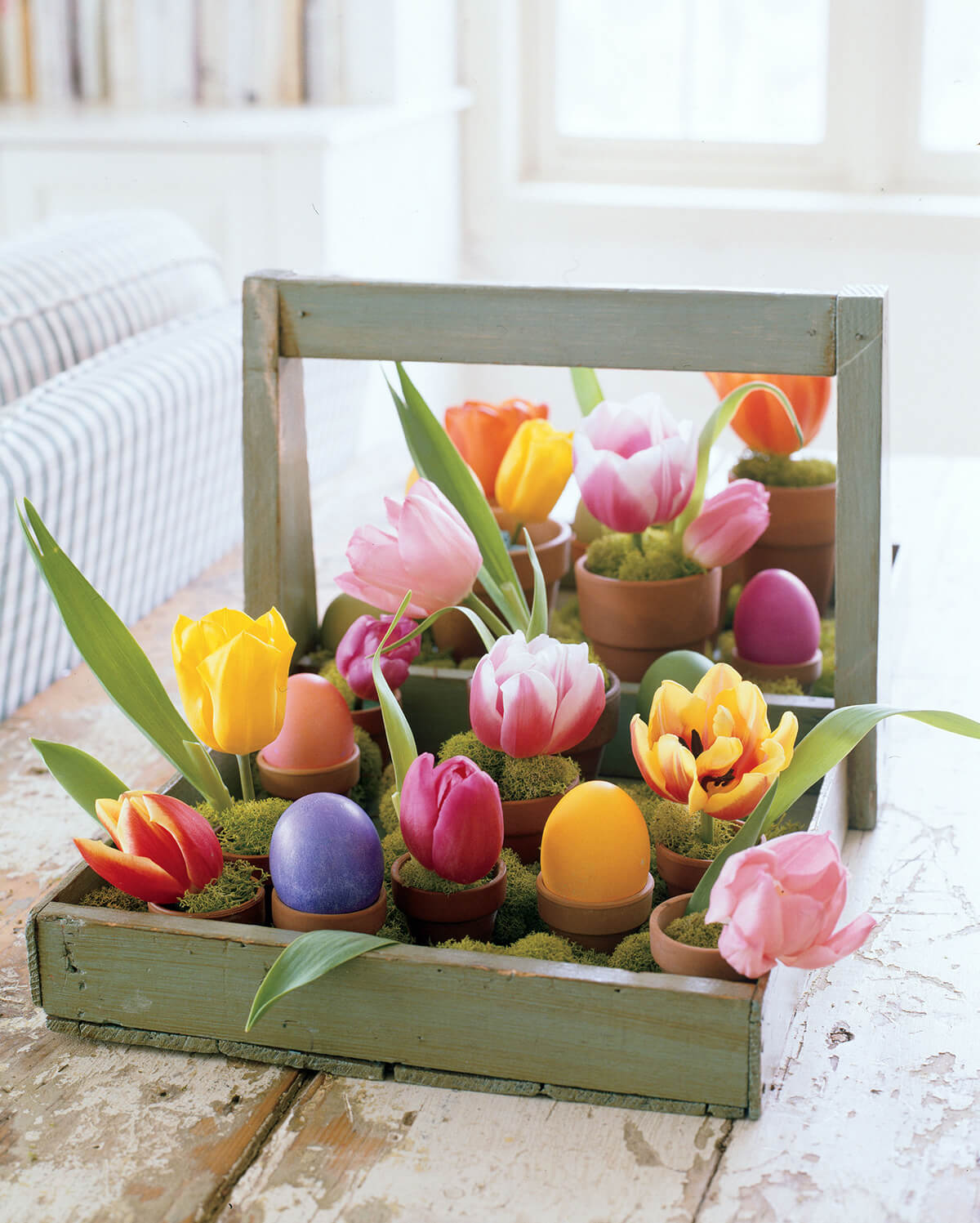 This cute and simple arrangement will have your house ready for Easter in just a few easy steps! When tucked into tiny terra cotta flower pots filled with soft moss, colored eggs and bright tulips look extra festive! Place them in a basket or tray for a complete springtime display.
54. Baby's Breath Bouquet Illuminated by Candles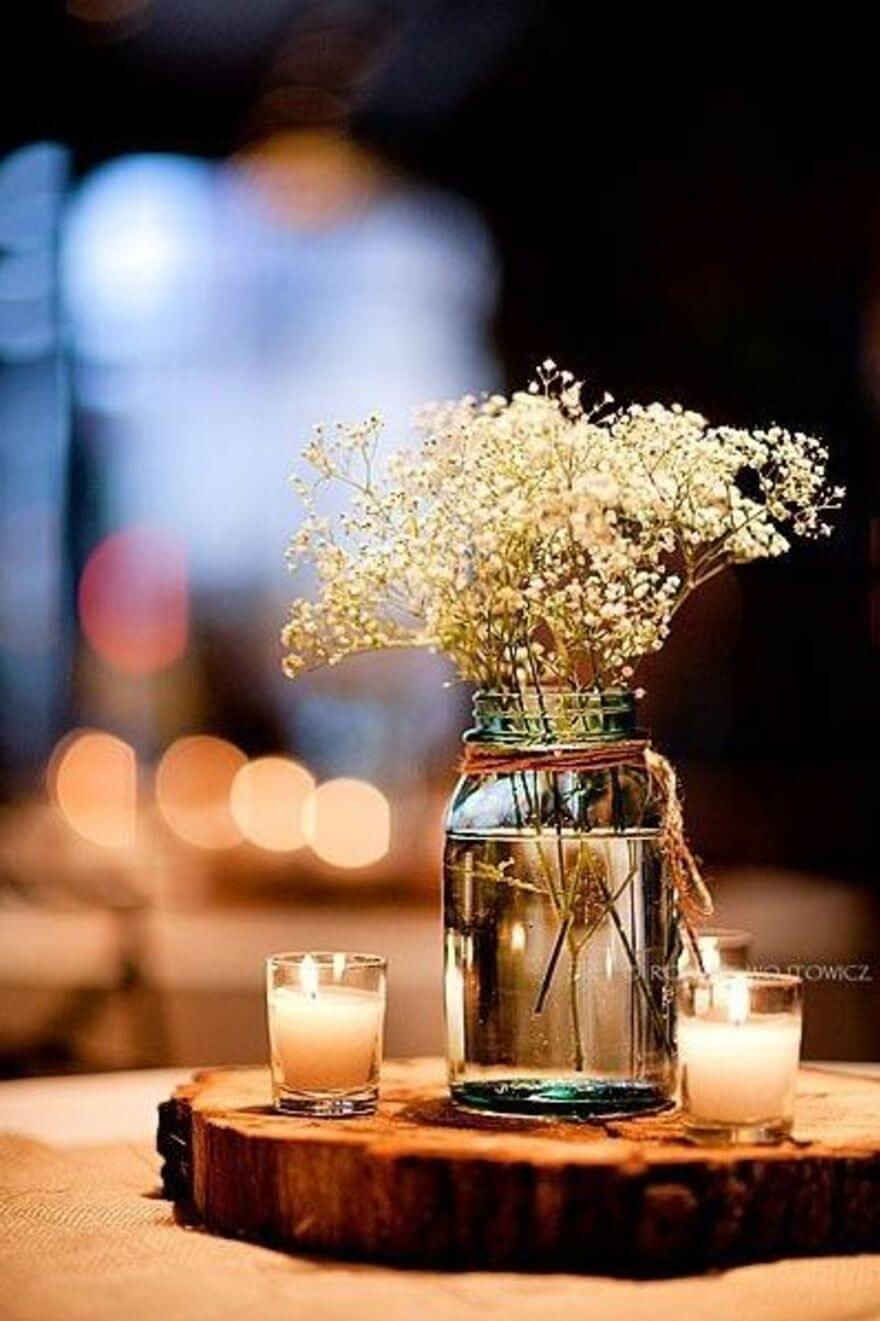 Sometimes the simplest floral arrangement looks the most beautiful. A few sprigs of baby's breath in a glass jar looks pretty and timeless. For a complete display, set the jar on a slice of wood and surround it with white candles. The soft glow of the candlelight will illuminate the flowers in a cozy way.
55. Herbal Baubles Dress Up Bare Branches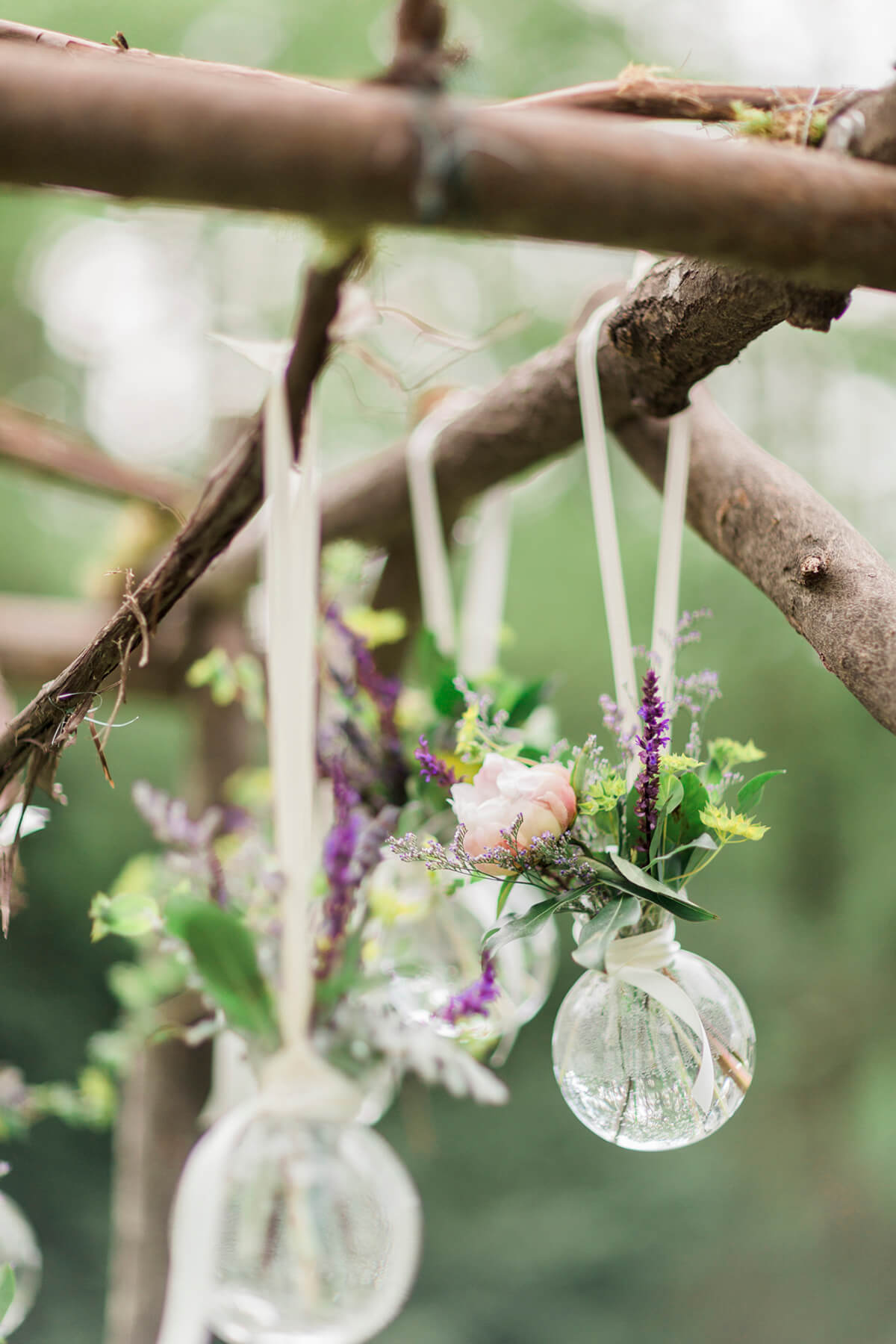 Decorating with flowers isn't just for inside your home! This unique DIY idea displays blooms in their natural habitat. Arrange flowers in glass baubles (plain Christmas balls work well), then use ribbons to hang them from tree branches. This would be a pretty way to decorate for a garden party or outdoor wedding!
56. Fuchsia Roses in Metal Bucket Picnic Centerpiece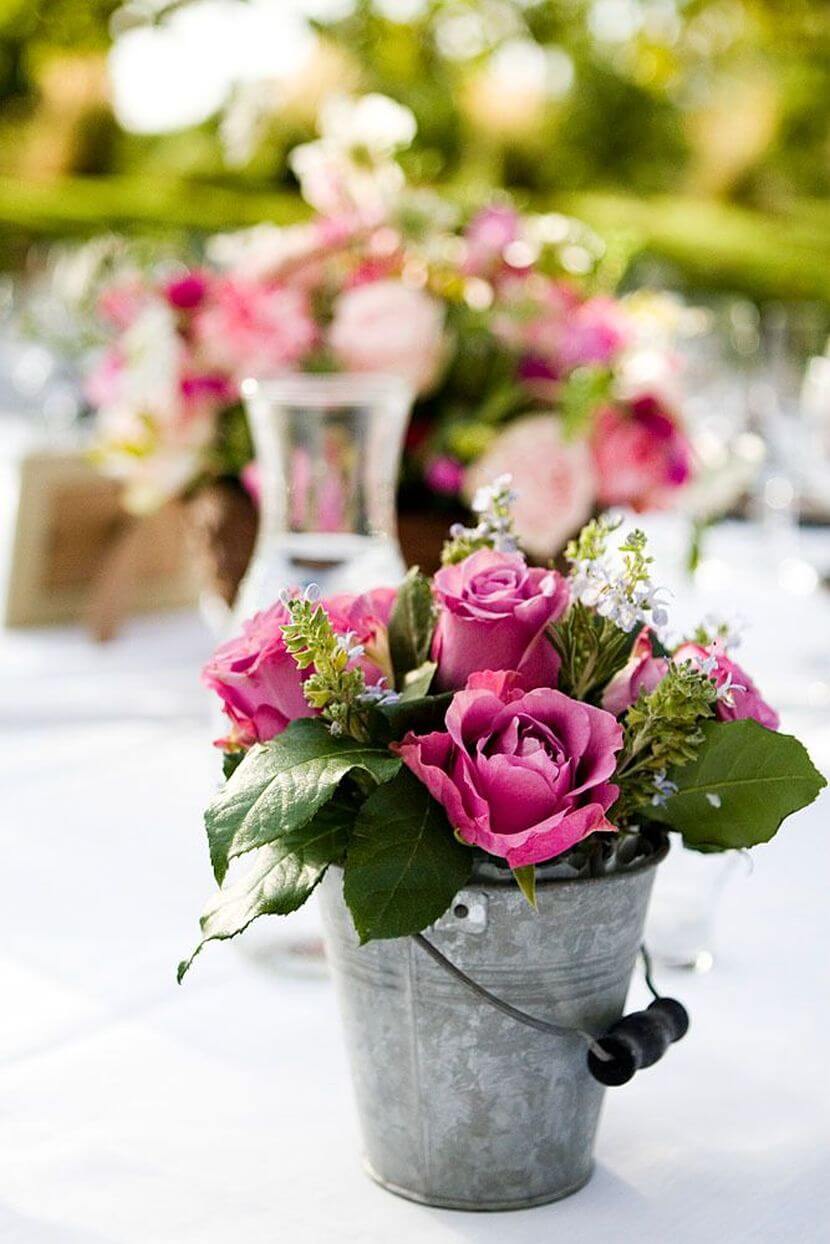 Nothing looks prettier than a contrast between chic and rustic. This DIY marries the two perfectly! Popping bright pink roses into old metal buckets is visually interesting but doesn't require much effort on your part. Use this arrangement to decorate a party table or your porch in the summer months!
57. Dreamy Orange and Cream Blossoms in Tidy Planter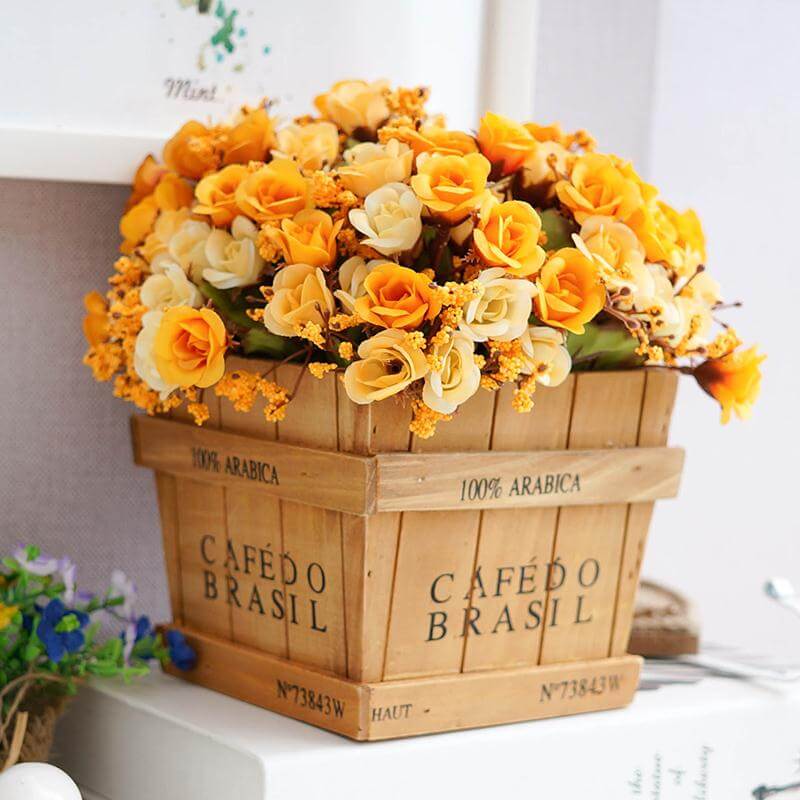 Orange and cream flowers are not your typical arrangement favorites, but they can look so cute when done right. These tiny blooms, arranged in a crisp wooden planter, look both tidy and inviting. Place this arrangement on your front porch to welcome both guests and the first signs of fall.
58. Teacup of Roses, Mums, and Austrolmaria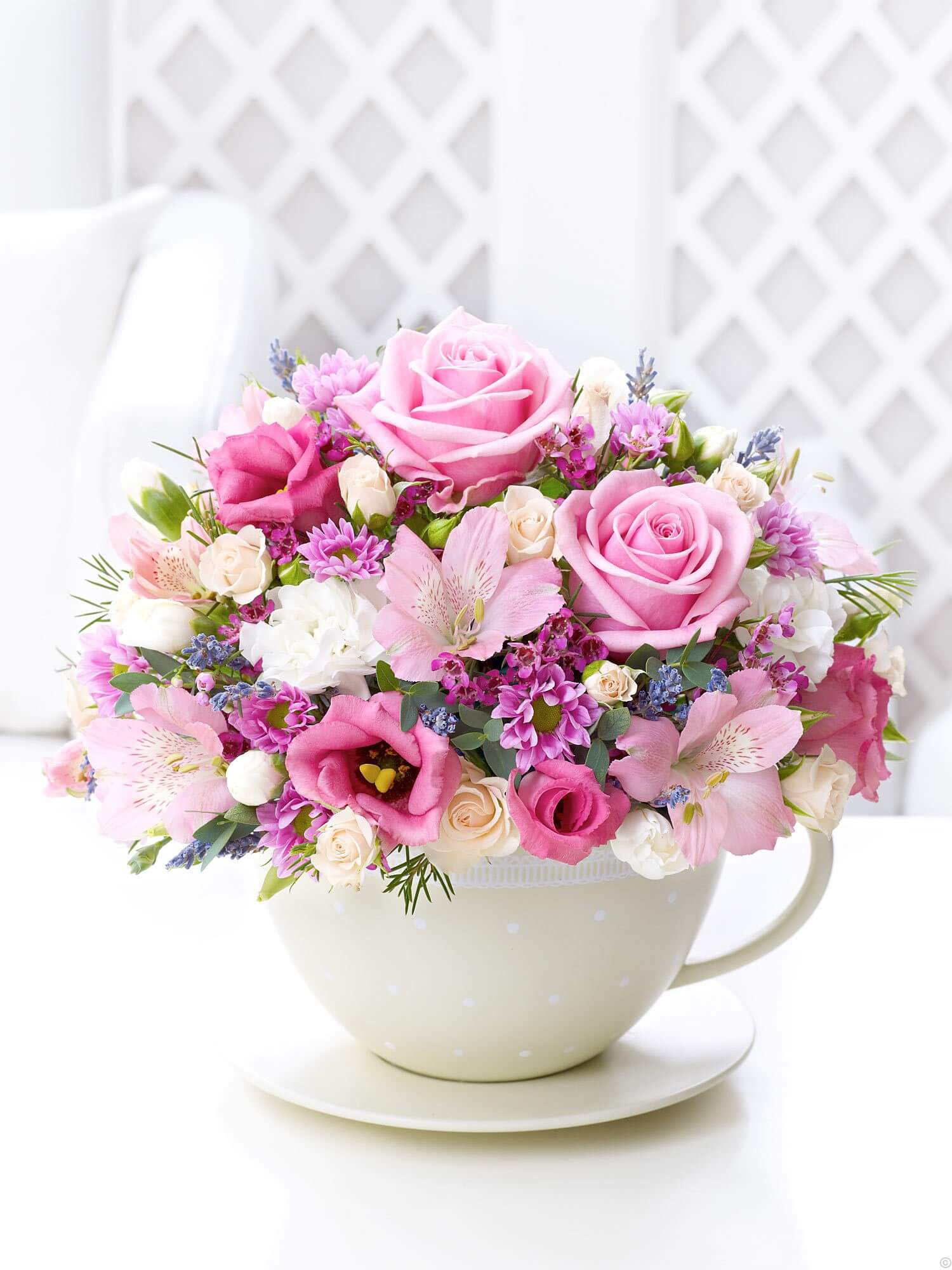 Antique teacups bring a touch of vintage charm to any room. When you add in some pretty flowers, the effect is enhanced 1000 times! Pretty pink, purple, and white blossoms look chic against the creamy white teacup. By using flowers of different shapes and sizes, this arrangement dazzles anyone who looks at it.
59. Garden Rainbow in Weathered Crate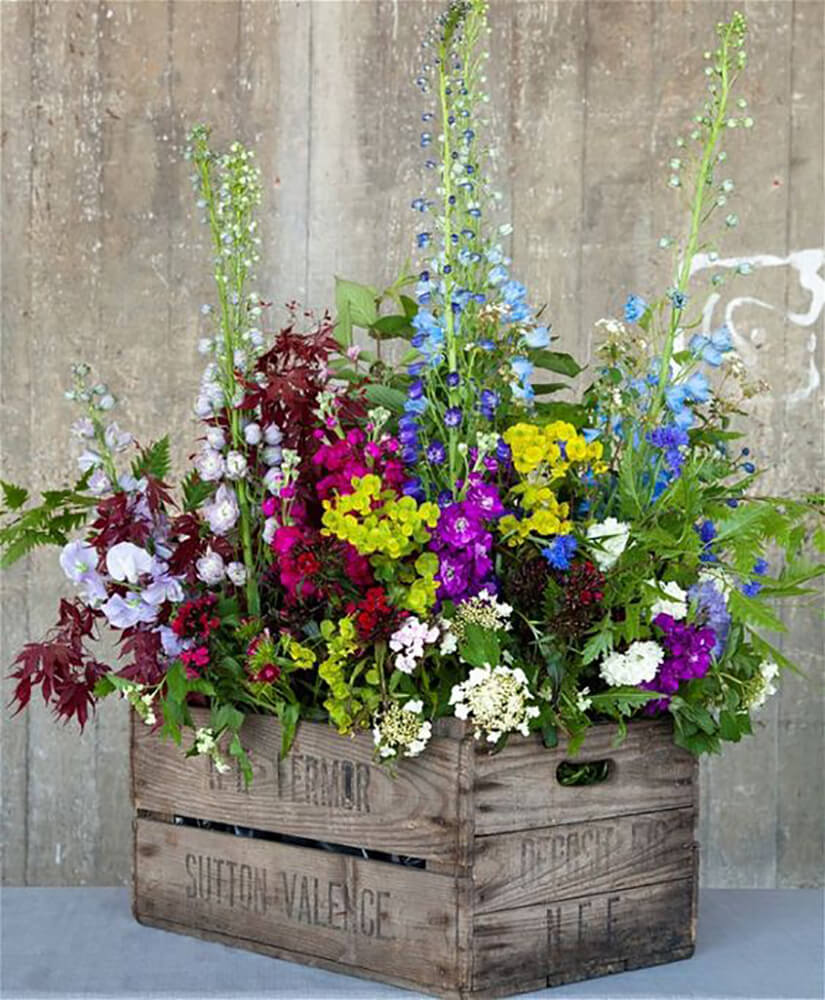 Old wooden fruit crates might look like trash at first, but filling them with a rainbow of fresh flowers gives them new life! This arrangement uses lots of greenery to help the colorful flowers pop. Show off the bounties of your garden (or a nearby meadow) with this DIY project!
60. Crimson Tulips and Vibrantly Painted Eggs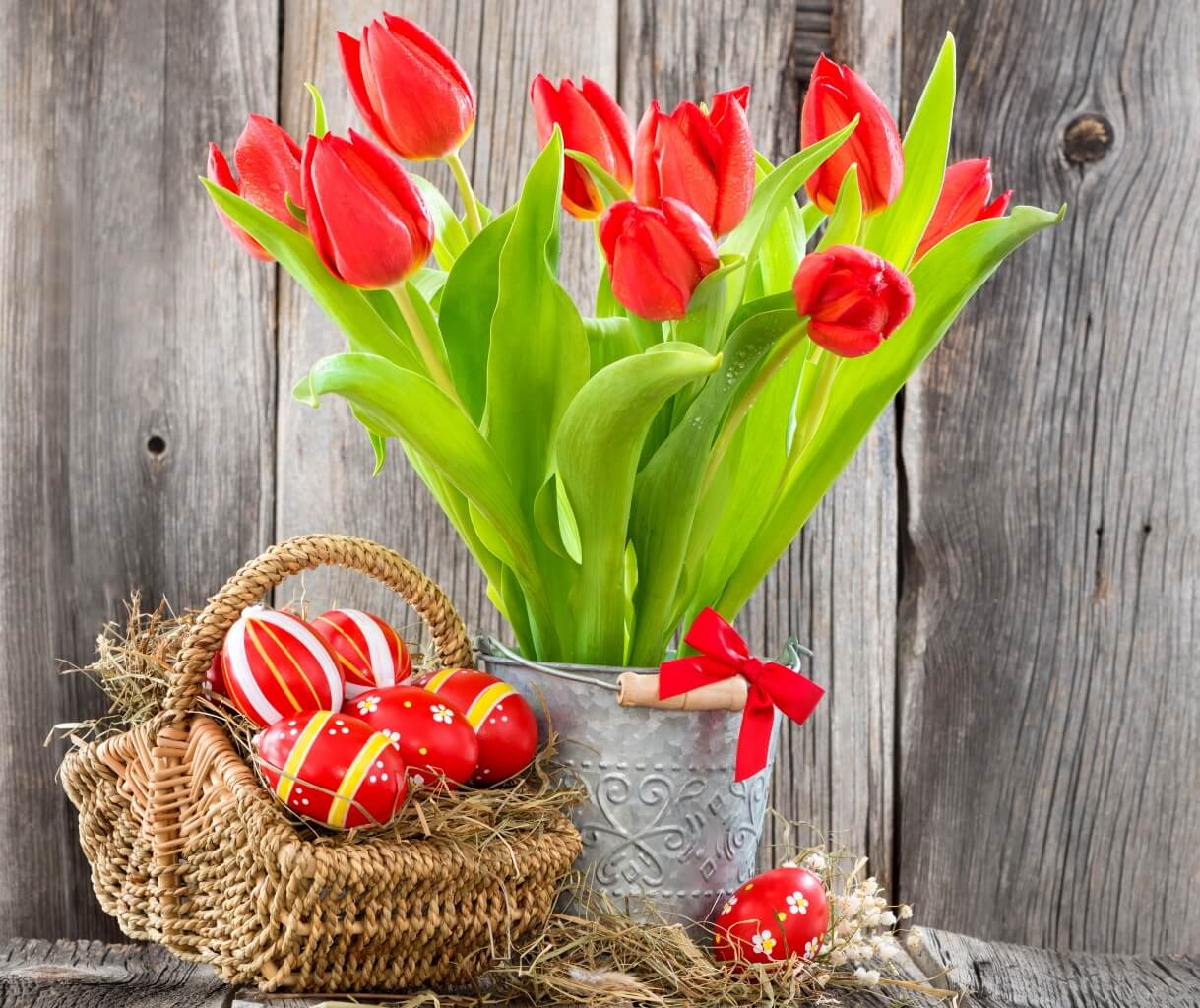 Easter just wouldn't be the same without brightly colored tulips and dyed eggs. Use them both to make a gorgeous display for the holiday! Tall tulips in a metal bucket and colorful eggs in a wicker basket look farmhouse chic when paired together. Choose one color to highlight to make the arrangement cohesive.
61. Three-tiered Stand for Mini Mason Jar Blooms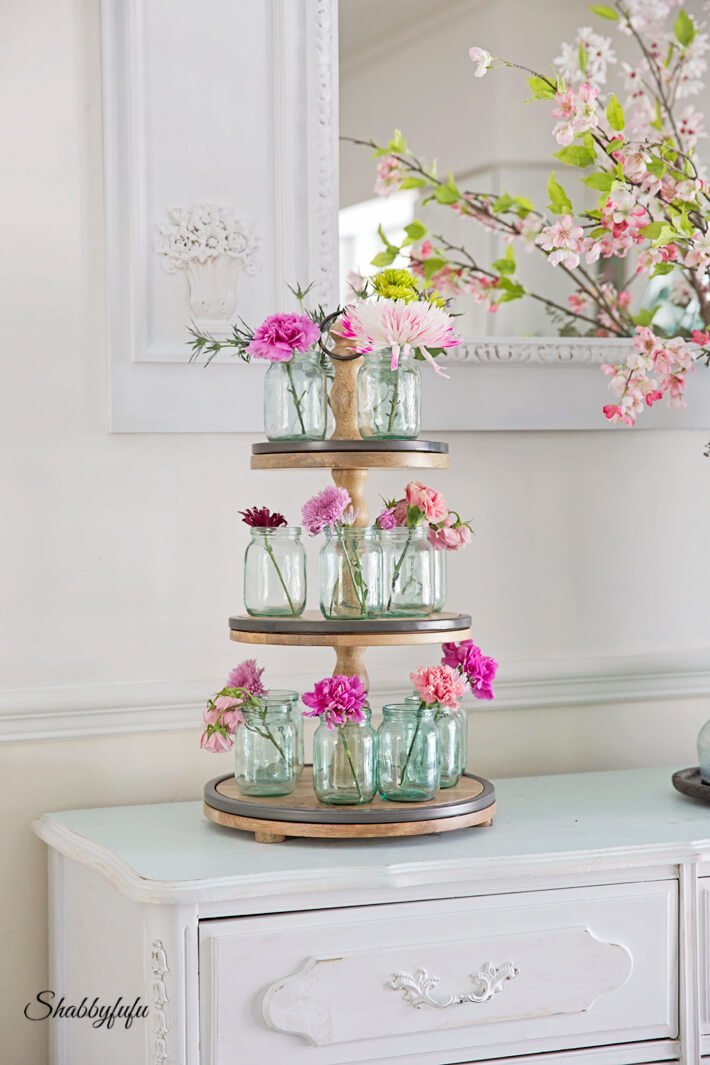 Give a tiered dessert display stand new life with this cute arrangement! Arrange glass jars on each level, adding one flower to each jar. Stick to one color family to tie the whole display together. This DIY is incredibly easy to do but will make your home look magazine worthy!