With the best DIY fall flower arrangements, you can create a stunning autumn vibe in your home that is creatively unique.
Fall is a season filled with warmth at every corner. From the warm colors to the overall cozy vibe it gives off, autumn is a beloved season for many people, and decorating for it is always fun. There are many aspects to choose from when you want to bring the season indoors, but one of the more popular choices is a flower arrangement. They are easy to use to blend with the theme you're aiming for, and you are free to use real flowers or some type of faux ones to create anything you have in mind. Another fun aspect about going this route is that it can work in any room throughout your home, adding a pleasant seasonal feel to your décor without you having to go overboard with any of your decorations.
16 DIY Fall Flower Arrangements to Reign in the Season

For those of you who enjoy being more creative, handmade fall flower decorations can be even more exciting to make. They allow you to get as artistic as possible, showing off your skills and passion to anyone who comes into your home. Alongside that, creating your own decorations gives them a far more distinctive feel than anything you may purchase at a store. But you may not know exactly where you want to start. In that case, we are here to introduce you to some DIY ideas you might not have thought of before.
These projects explore the various means you can make fall floral arrangements from using an assortment of colorful faux flowers to using different items like paper to create the appearance of flowers instead. There is enough variety in our list for anyone to find something most suitable to their needs and home décor.
1. Lush Country Flowers in Muted Blue Vase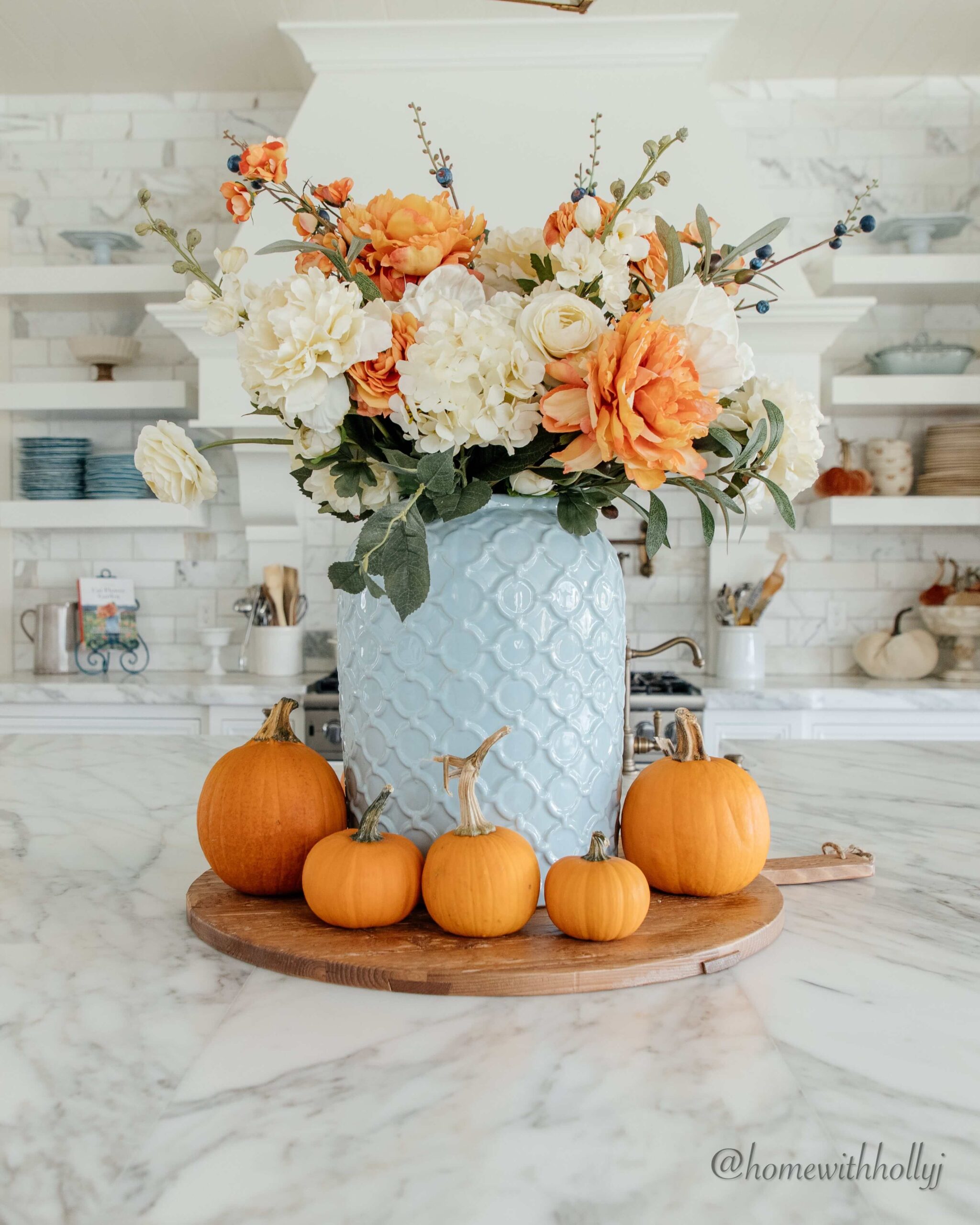 Incorporating just a hint of blue into your orange and white color palette for fall makes a dramatic and elegant statement. Placed on your kitchen island, it's certain to be the foundation for an emerging new decorating design. The lush and lively mixture of peonies, hydrangeas, and roses really come alive in this thick bouquet. Positioned in a stunning large vase that's crafted in a delicate pale blue, the color combination is as beautiful as the flowers. Wake up your home for fall with this large floral arrangement that's a perfect companion for a few miniature pumpkins.
2. Handmade Fall Flower Decorations Marigold Urn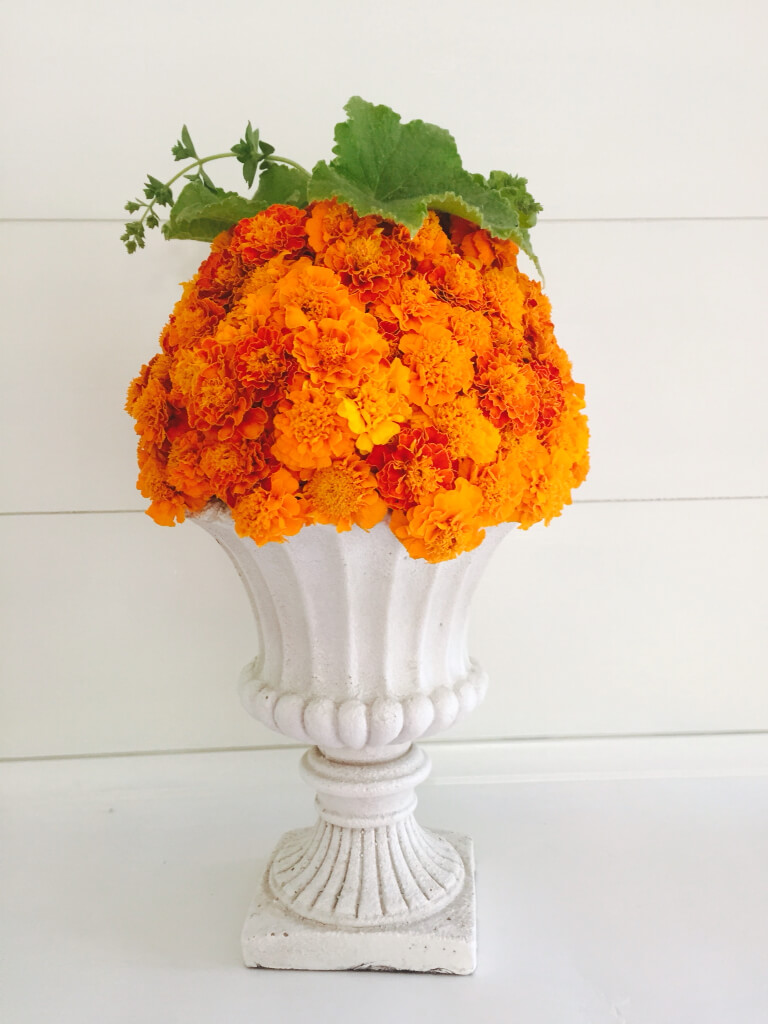 Bring a bright pop of orange into your home for autumn with this marigold urn creation. It's one of the best DIY fall flower arrangements that doesn't gain its vibrant orange flower hue from a pumpkin. With a touch of greenery at the top, it nearly resembles this seasonal squash though as it's elegantly resting on this white urn base. Using marigolds makes sense with their abundant blooms and brilliantly bright colors. Captivate the white wall space of your modern farmhouse with one of these gorgeous and unique handmade fall flower decorations.
3. Unique Dried Flower Coffee Table Terrarium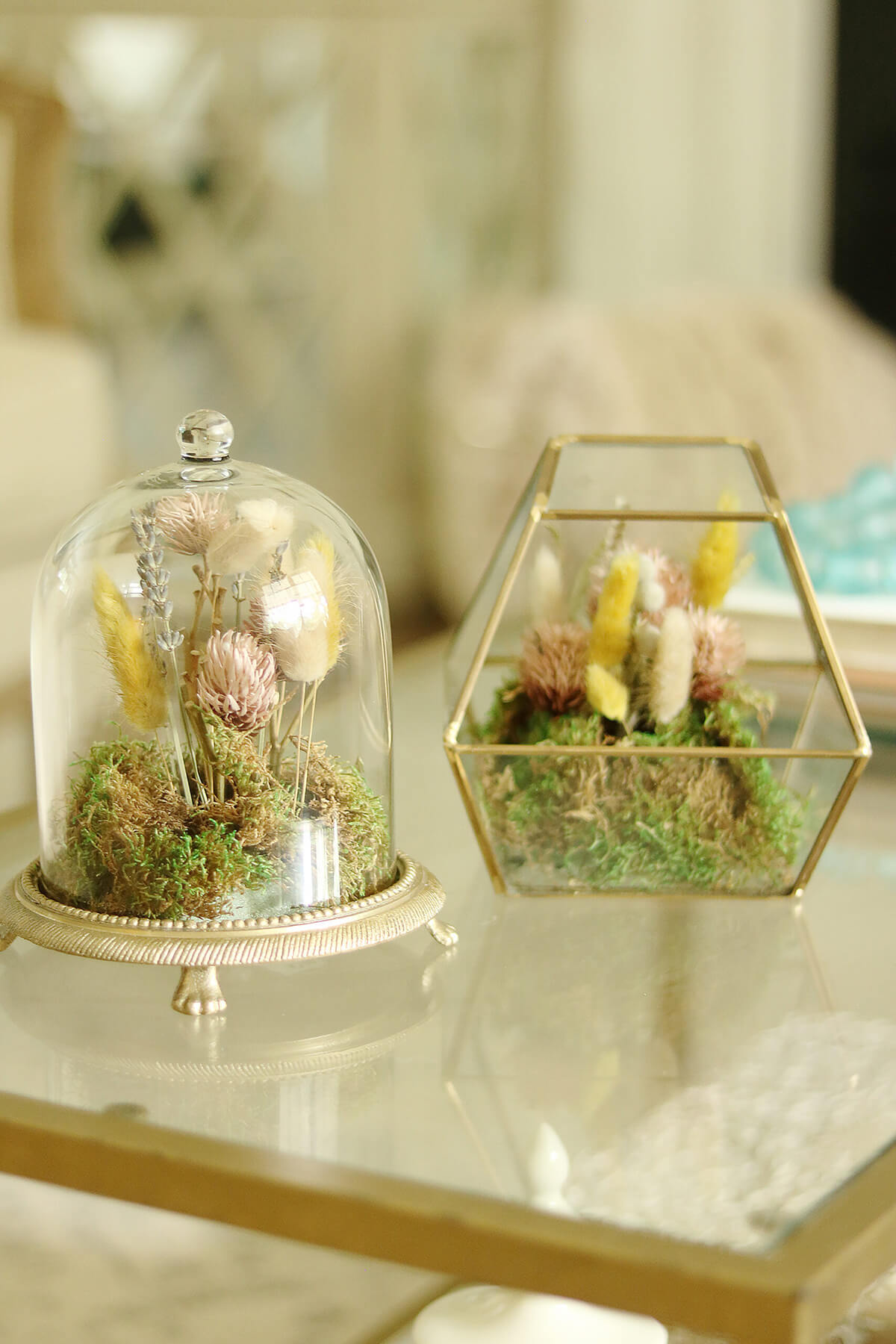 One of the best DIY fall flower arrangements comes in the form of a miniature terrarium. Here you'll find a lovely collection of dried foliage with all the fall colors you love to enhance the atmosphere in your living room. As the conversation continues, your guests will enjoy the unique touch of this fall decoration that is a much-loved turn from the traditional pumpkins and chrysanthemums so commonly used.
4. Pretty as a Pitcher Fall Floral Arrangements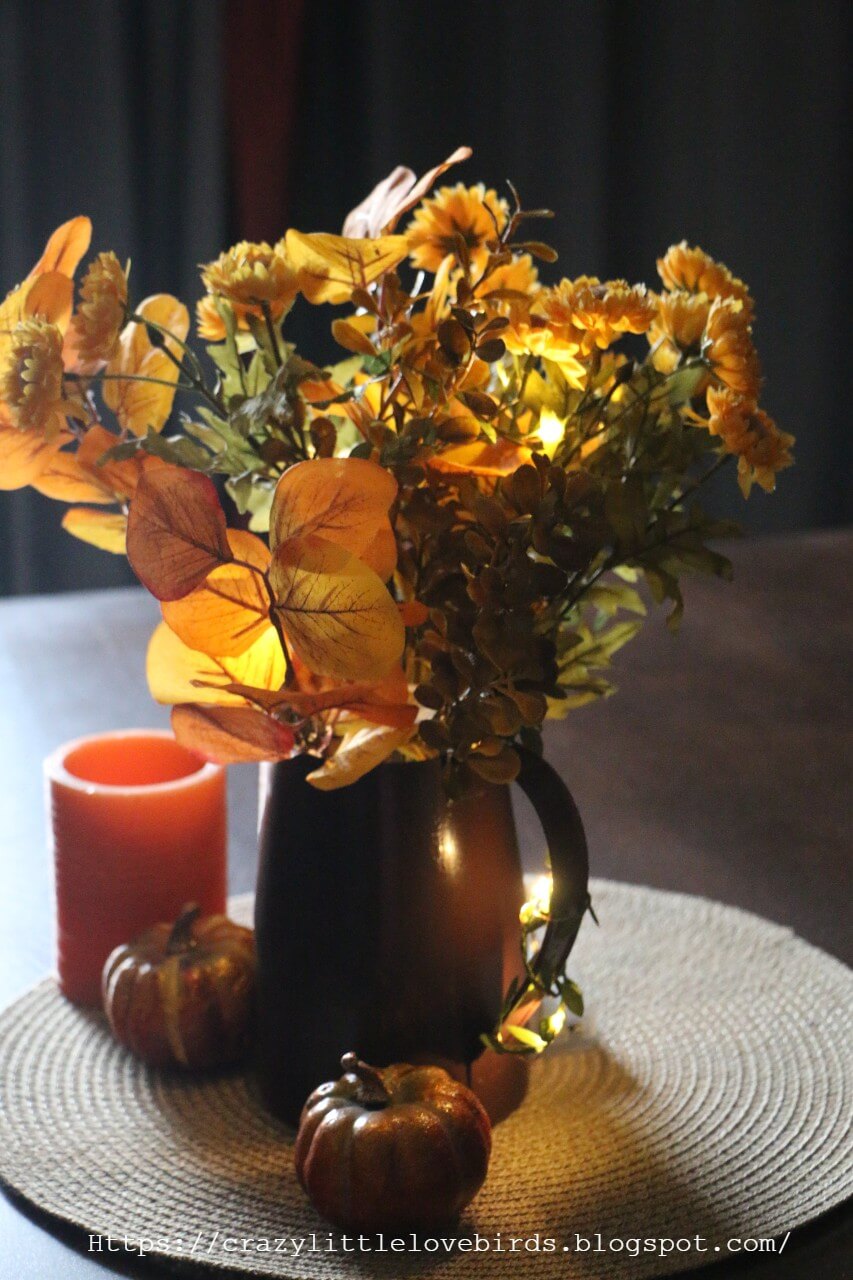 Add some seasonal beauty to your table this fall with this gorgeous red and orange-hued collection of flowers nestled in this rustic pitcher. For fall floral designs that incorporate a lighting feature, simply wrap some twinkle lights to give yours a soft, tender glow. The touch of light not only adds a glow to the room but enhances the warm hues of the fall flowers. Perch this pitcher on the entryway table or in the middle of your kitchen island for everyone to see.
5. Faux Autumn Pear Floral Arrangement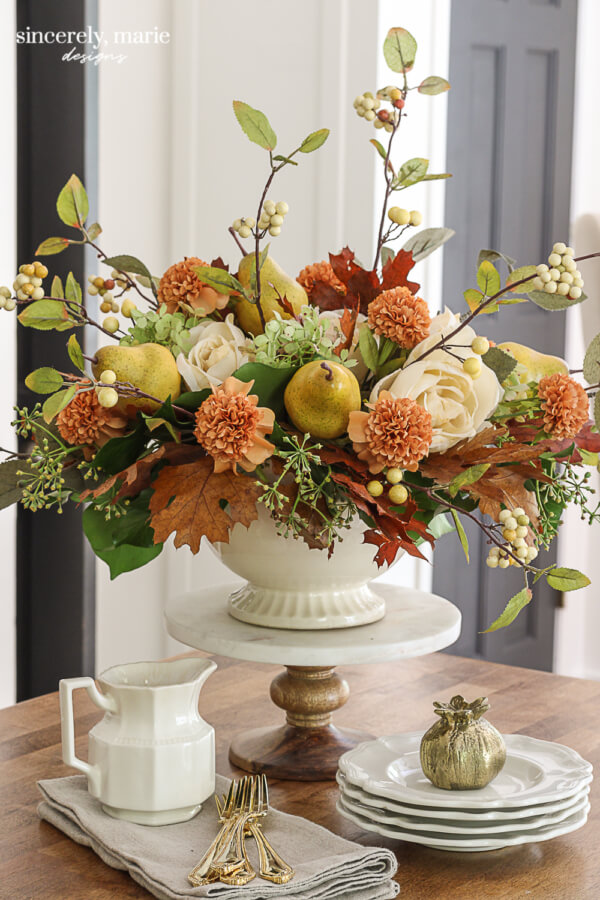 With the right pieces and a bit of patience, you can create a faux floral arrangement that looks anything but fake. This arrangement leans more toward warm tones and a cozy vibe overall, more so as you use a blend of similar colors. It is still bright enough that it will instantly bring a sense of life and joy to any meal when placed at your dining room table. There is a nice blend of faux fruit inside this arrangement too that gives it a distinctive feel and captures the attention of anyone who admires the piece.
6. Budget-Friendly Pumpkin Floral Arrangement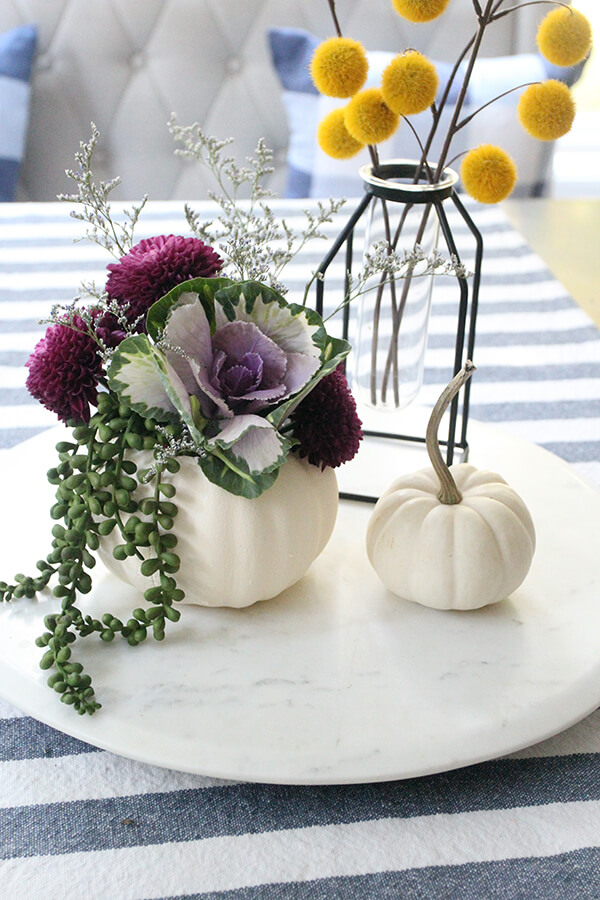 Some of the best DIY fall flower arrangements require an affordable trip to the Dollar Tree as is the case with this cute pumpkin floral arrangement. By saving money, you can make as many of these as you need to place around your house. You can get creative with this by painting the foam pumpkins any color you see that best works with fall and your personal décor. An incredible thing about these arrangements is that you can even use them year-round, changing out the flowers to fit whatever season or holiday you're in since these pumpkins don't require any messy carving or are at risk of expiring.
7. Stylish Fall Woven Basket Décor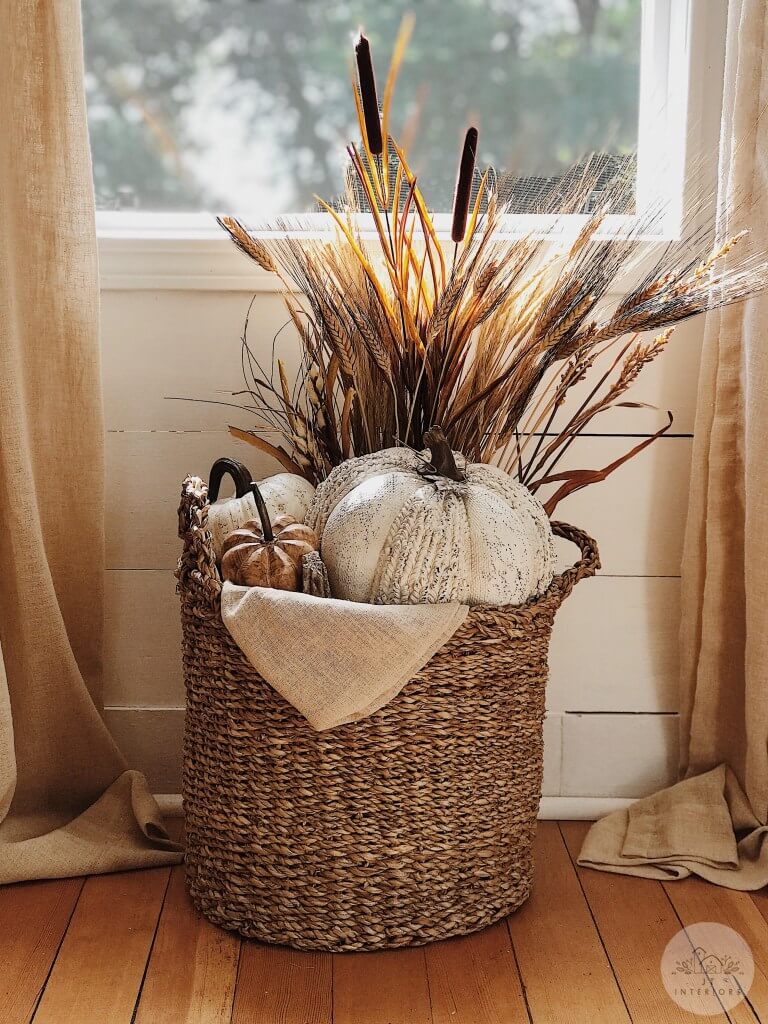 There is versatility abound when making fall floral designs for your home, and a rather distinctive way to do that is by filling up a woven basket. This type of basket easily gives off a fall vibe as it is, but once you fill it with autumn-centered items, the piece comes together more. Consider adding items such as pumpkins and wheat bundles. You can go for colored pumpkins, but white ones may fit with the overall color scheme more without making this exceptional arrangement overly bright. Depending on the size of your basket of choice, this can work well in several rooms throughout your home, especially around the entryway or even outdoors considering the items used.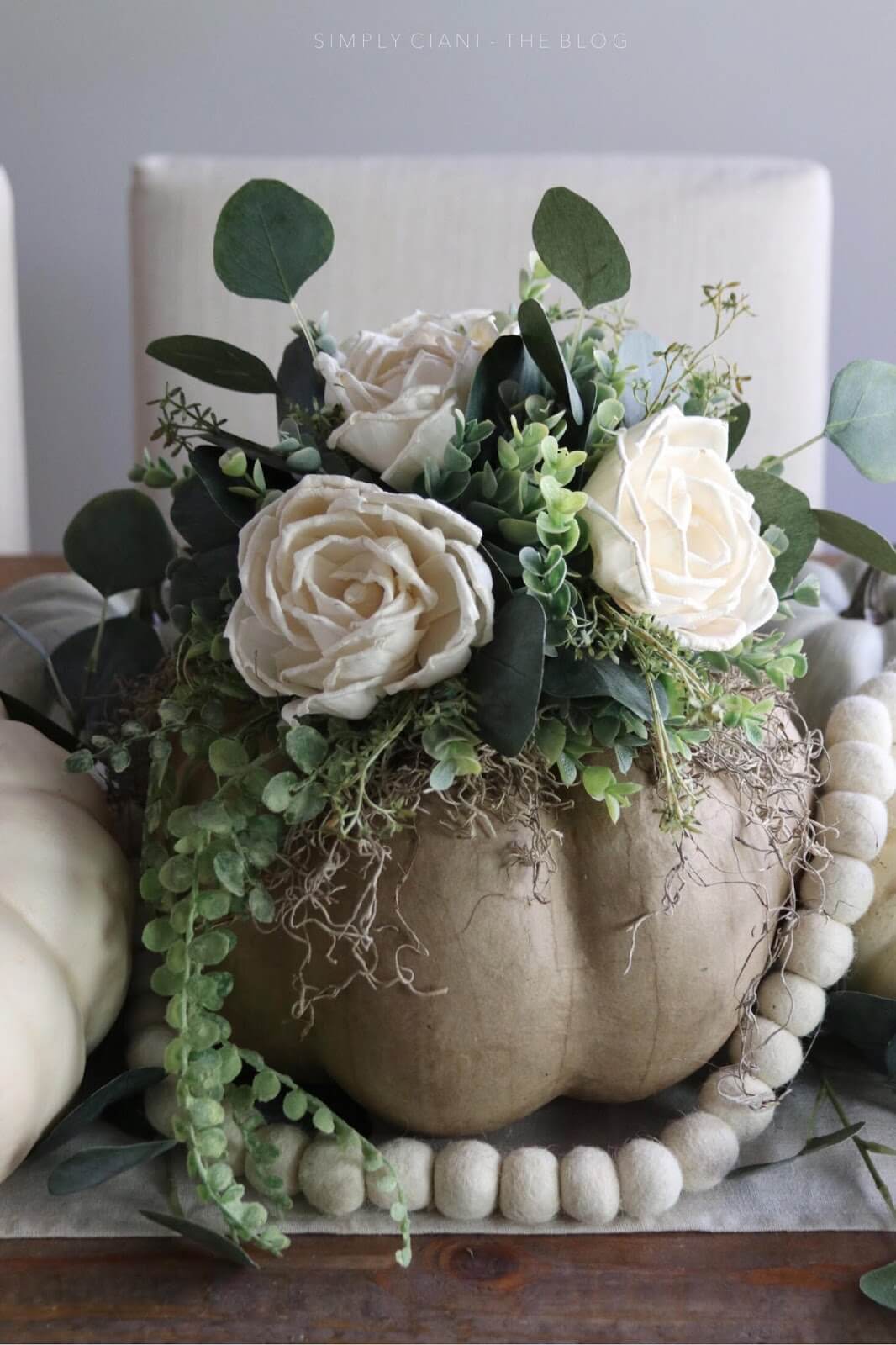 You don't have to lug in real pumpkins if you want to create a pleasant, autumn atmosphere in your home. Instead, why not try out this lovely papercraft pumpkin? Don't forget to throw in some faux greenery and flowers as well as this ensures the centerpiece will last throughout the season with ease. At the same time, the resulting arrangement still has a nice touch of realism to it, freeing you to set it up around other decorative items such as real pumpkins if you have them. It's a nice way to blend realism into the setup without having to maintain upkeep with real flowers.
9. Beautiful Pumpkin Vase Floral Centerpiece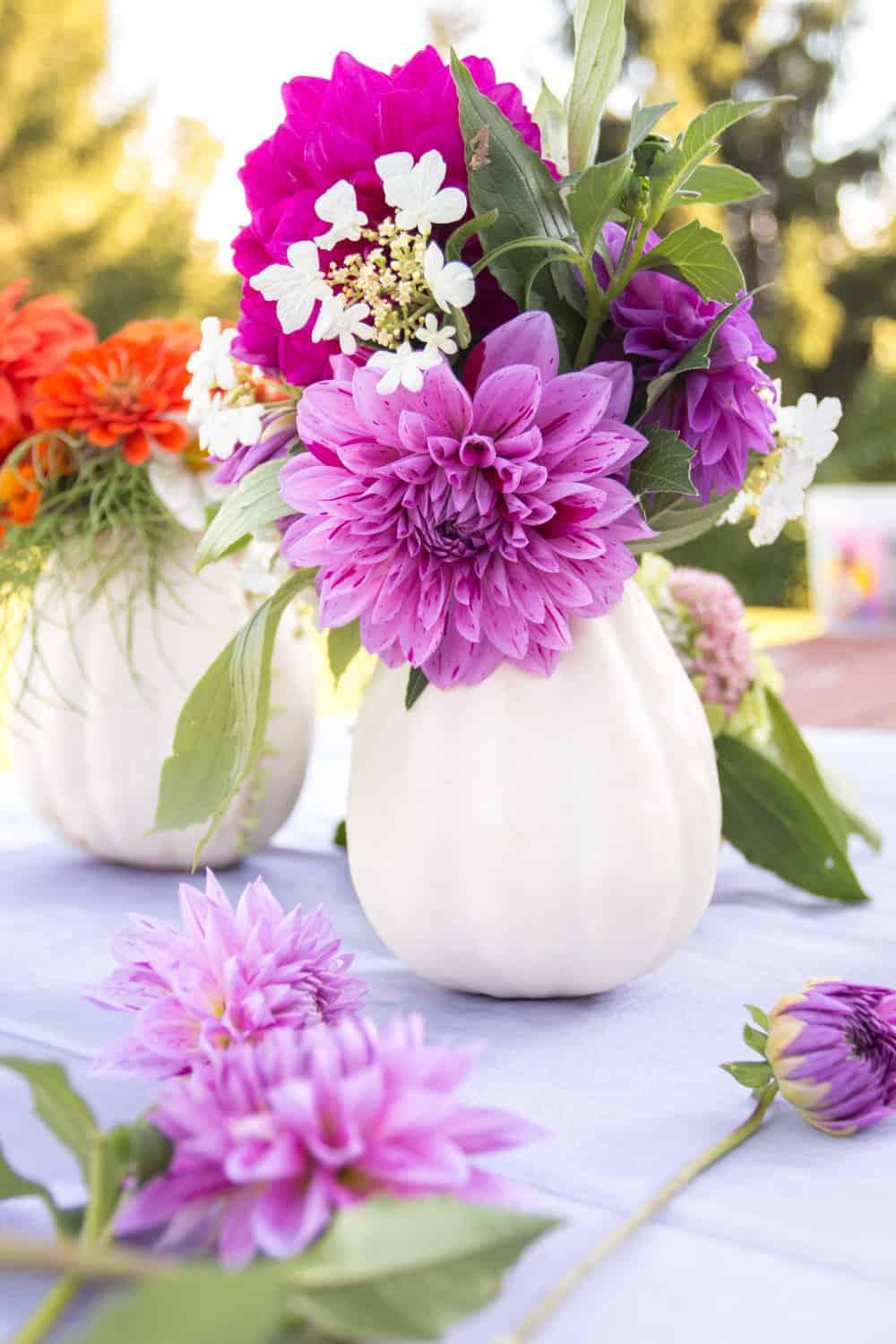 Out of all the symbols for fall, pumpkins are among the most recognizable thanks in large part to Halloween and Thanksgiving. However, you don't have to wait for those holidays to use pumpkins as decorative pieces around your home. Rather than go the usual route of carving faces or simply placing the pumpkins as-is around the porch or stairs inside the house, you can hollow some out to create a cool vase. From white to orange, any type of pumpkin will work for this project, but depending on what you choose, you can decide on a variety of flowers and colors to match along with it.
10. Rustic Hydrangea and Burlap Wreath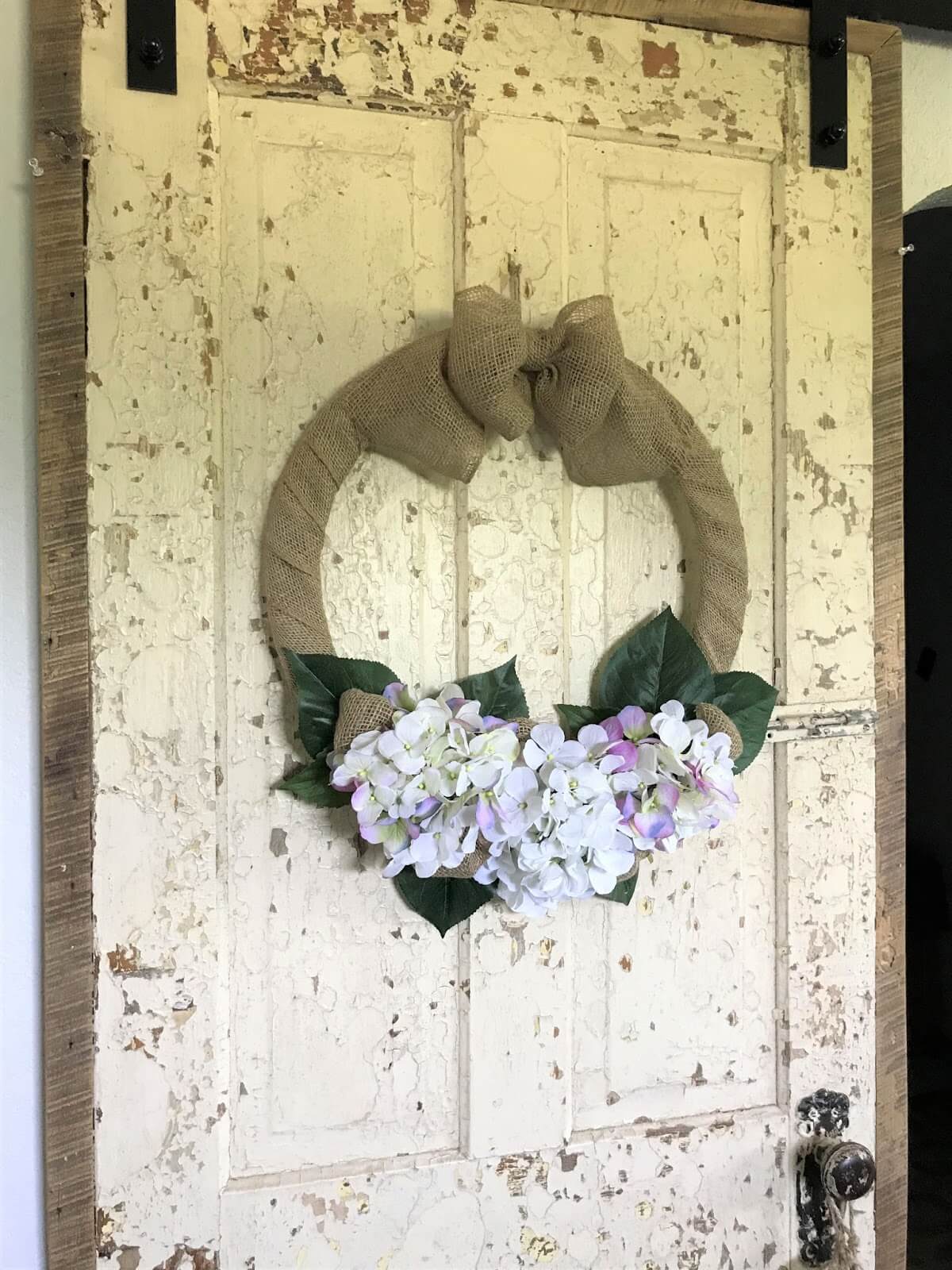 One of the best and most common ways to decorate your home for the season is with a wreath. When hung on the front door, it is the first thing people see, so it's important that it looks fitting for fall. An excellent way to do it is by using burlap material as the base for the wreath as it fits perfectly with the season at hand. Also, the burlap color gives you room to add whatever type of flowers you wish as all colors go along with the burlap style. This design works well at adding just the right amount of floral to capture your eye.
11. Easy DIY Glued Flower Bouquet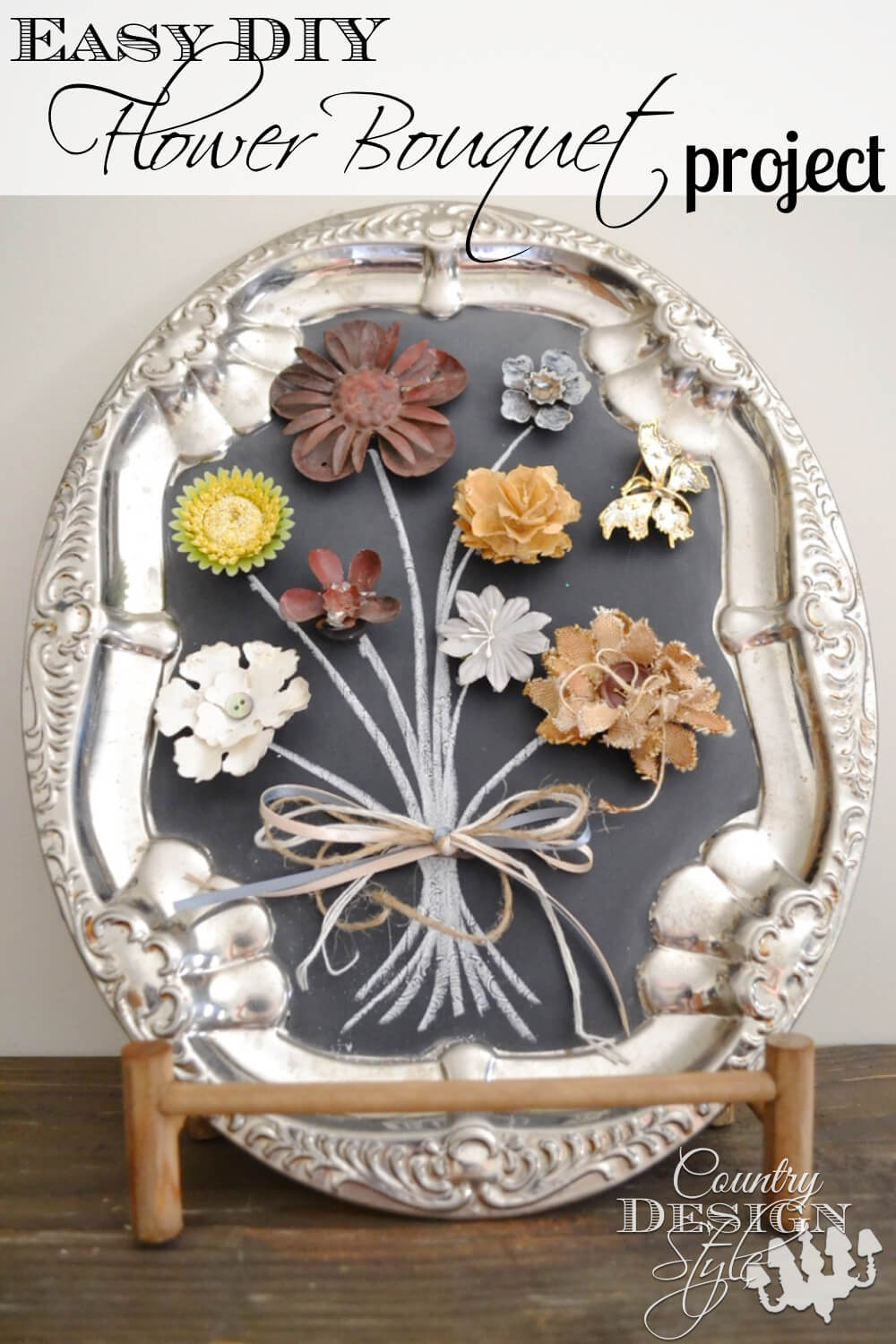 Sometimes, the best DIY fall flower arrangements involve a bit of extra artistic liberties as is the case with this standout bouquet design. You don't need to use real flowers with this. In fact, metal flowers are perfect for the job as it gives the entire design a more vintage feel. You can also aim for fabric ones to mix up the textures on the piece. Using a metal chalkboard tray further adds to this theme, which is still befitting of the fall aesthetic. Best of all, you can draw on the stems yourself, going any route you feel like to let your artistic side run wild.
12. Adorable Mason Jar Fall Flower Vases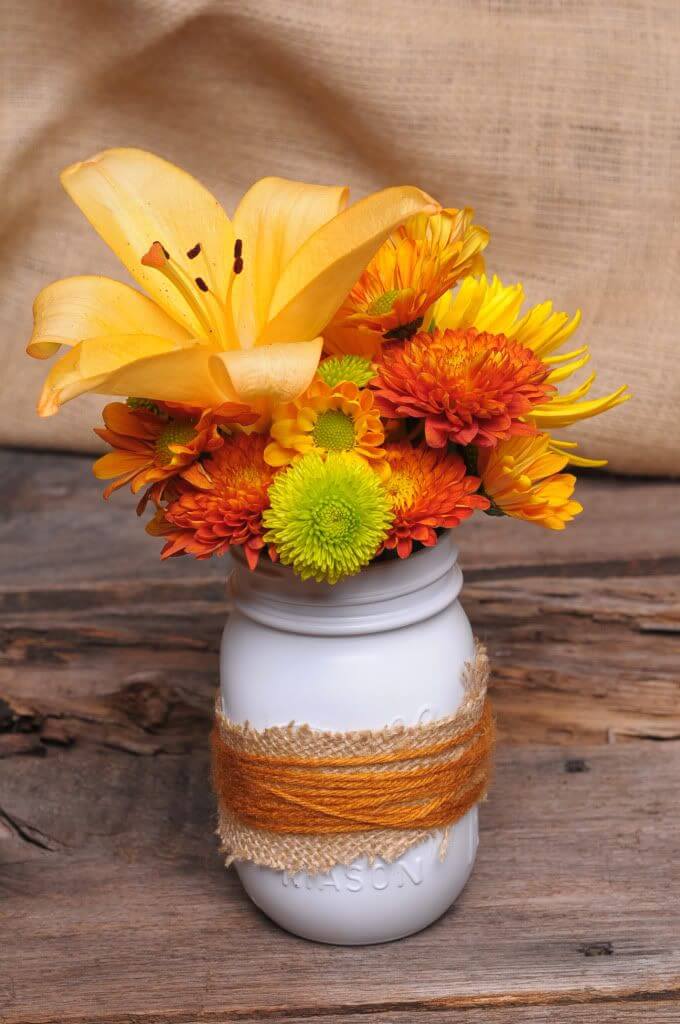 Anyone who regularly tackles DIY projects understands just how versatile and useful Mason jars are. They work incredibly well when used as a vase, and best of all, you can reuse these jar vases time and time again across different seasons. Giving them a standard white paint job helps makes them more reusable over time. Furthermore, this also gives all the freedom you need to decorate the floral arrangement with different colors and types of flowers whether real or faux. As the jars are small, you can even set up multiple ones together for a full decorative piece or at different locations around the house.
13. Relaxing Orange Pomander Floral Bouquet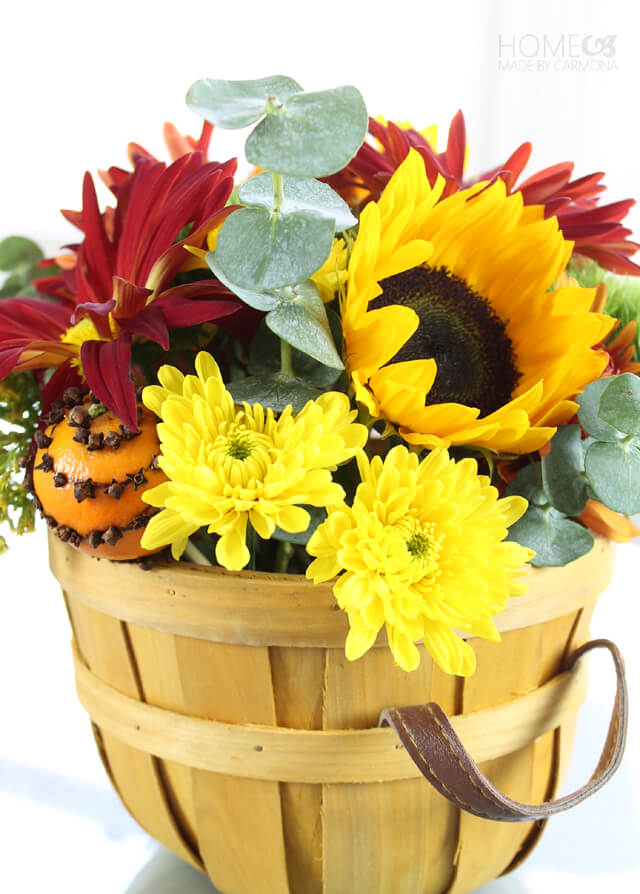 When you are seeking fall floral designs that go beyond simply adding to the aesthetic of your home, you can try out this DIY floral bouquet that successfully uses pomander. Otherwise known as clove oranges, pomander emits a great seasonal scent that will instantly transport anyone into fall whether it's time for autumn or not. This fragrance invokes feelings of warmth and everything associated with the holidays around this time of the year. You can tuck it inside a floral arrangement that features seasonal-themed flowers, and this way, it is better to match the theme overall as this gives it even more color.
14. DIY Rustic Tied Branch Vase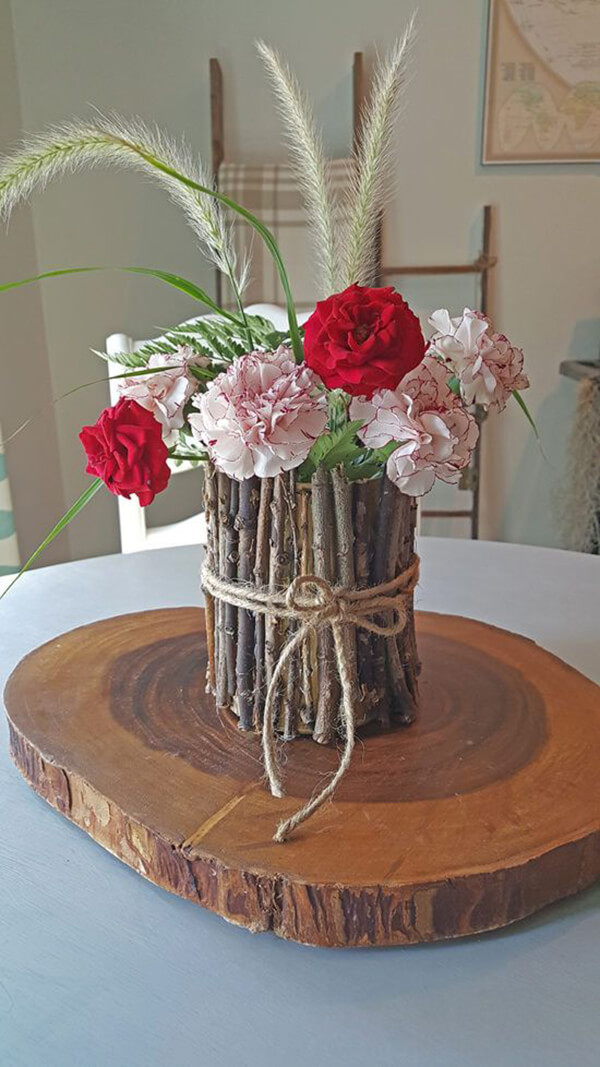 Creating fall floral arrangements that are rooted in nature is a fun and stunning way to decorate your home for the season. Those of you who want to dive full-on into your artistic side will find a project such as this as it is completely unique and creative. Using branches as the main décor of this vase is such a thrilling take on bringing nature into your home, and the project is easy enough that you can make several of these to put around your house when you're going for a specific rustic, farmhouse-like theme. From there, trim a few flowers to put inside to finish off the arrangement.
15. Colorful Farmhouse Styled Fall Vignette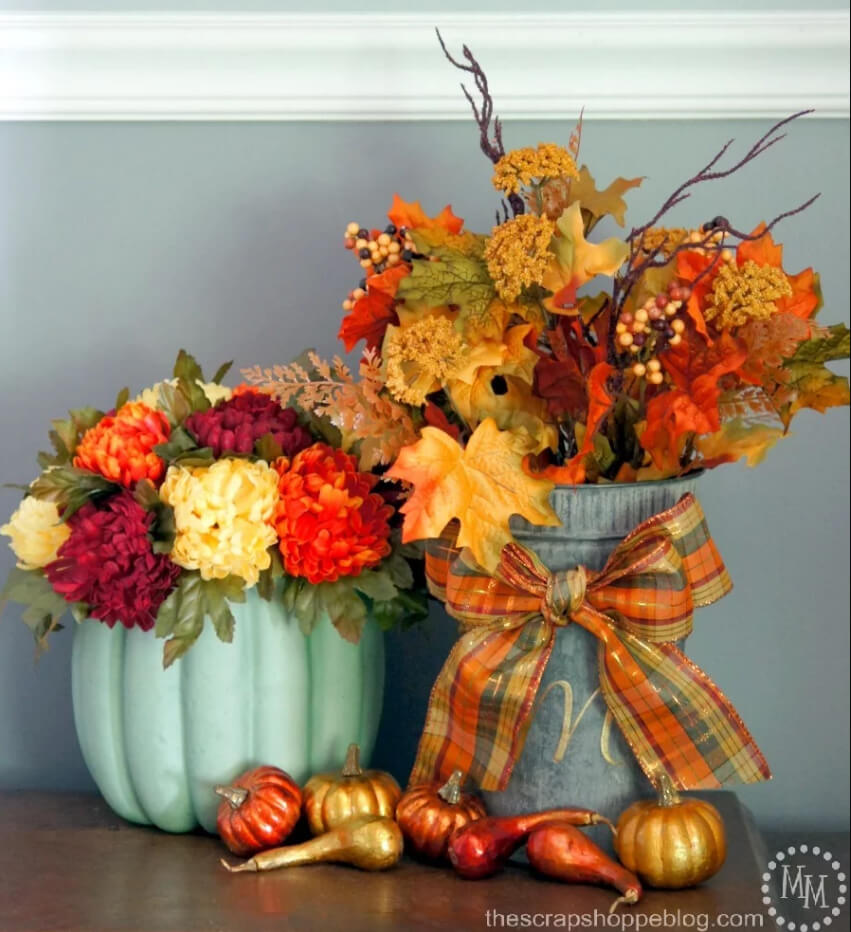 With all your supplies at hand, it should take no time to build attractive handmade fall flower decorations like this vignette. Any type of vase will do in this case, but a galvanized planter offers a certain rustic charm that fits with the autumn theme. The faux foam pumpkin also acts like the perfect vase substitution as well. It helps to somewhat match the flowers in both sections to help them better blend together. This project does call for a warmer style most fitting with fall leaves, so try out some fall bush and ribbons to align with the comforting brown and orange hues.
16. Awesome Book Page Floral Arrangement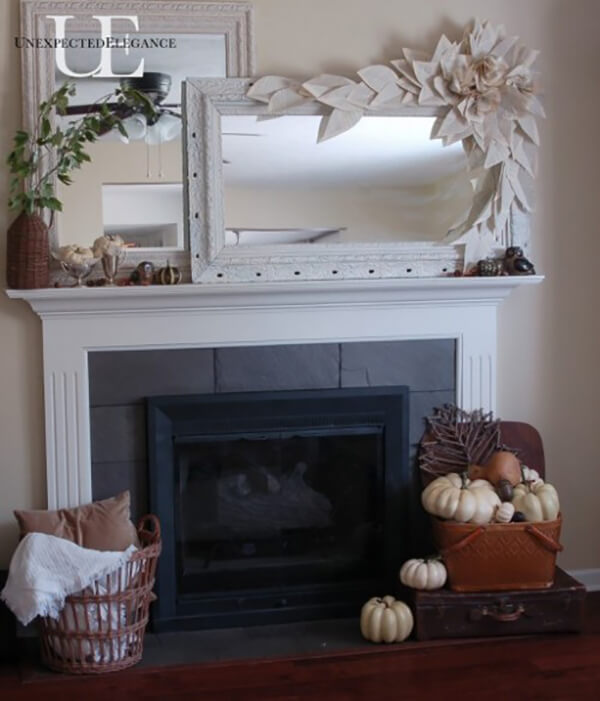 Who said you had to use flowers to create a floral arrangement? This incredible project flies in the face of all that is the most interesting way, and it also works as a lovely upcycling endeavor if you have any old books lying around. This can be a music book or your favorite piece of literature and using the pages to make a floral arrangement is the perfect way to put a piece of yourself into your décor. Thanks to the beige to the white appearance of the pages, they can blend with ease into any other fall decorations you have, allowing this arrangement to work as an ideal accent piece.
16 DIY Fall Floral Arrangements for your Next Project
Autumn is fast approaching, and with it comes fall decorations. Using flowers is an excellent means of adding some of that seasonal décor throughout your home. There are numerous ways that you can approach fall floral designs too, so decorating with this style provides a healthy amount of versatility in how you can decorate. You can bring some color to your walls by hanging up a unique arrangement. Or you can go the traditional, yet still effective route, of using an arrangement as a centerpiece.
No matter which route you wish to take, it's always nice to bring the outside fall season into your home using something as natural as flowers whether they are faux or not. That's why we intended to find a great variety of ideas for you to tackle, and these various DIY projects should excite anyone who loves getting a little creative with décor. Also, it's a fun way to personalize your decorations and make more of a statement to anyone who visits.
We hope that the ideas we discovered open new paths for you to follow to help you welcome the fall season into your home. These DIY projects are friendly too in terms of how skillful and experienced you need to be to do them.