Summer is on a slow sun-filled path to autumn, and it's time to start thinking about all of the things that wonderful season brings; back to school for the kids, Labor Day backyard cookouts, coffee on the porch in the crisp morning air, watching the leaves turn glorious colors, and a change in your light and summery décor to something more cozy and autumnal.
29 Fabulous Farmhouse Fall Decorating Ideas to Welcome the Autumn Season
We have a lovely clutch of farmhouse fall decorating ideas to spark your inner decorator spirit. Halloween and Thanksgiving give us a lot of material to work with in decorating, and the harvest and bounty themes are ubiquitous throughout the season. You'll see that farmhouse fall decorating ideas often focus on these holidays and themes. It's easy to accessorize for fall by switching out a few key pieces around your home. Change your color schemes with pillows and throws. Use fall-themed accessories in different ways, from fun to subtle to classic.
And don't forget to dry some of summer's beautiful flowers for use in your fall décor. There are hundreds of fall-friendly home accessories to put your farmhouse fall decorating ideas into play this year. We have ideas for the kitchen, hearth, front hall, bedrooms, and dining rooms that are sure to give you some inspiration.
1. Fall Means Warm Fireside Hues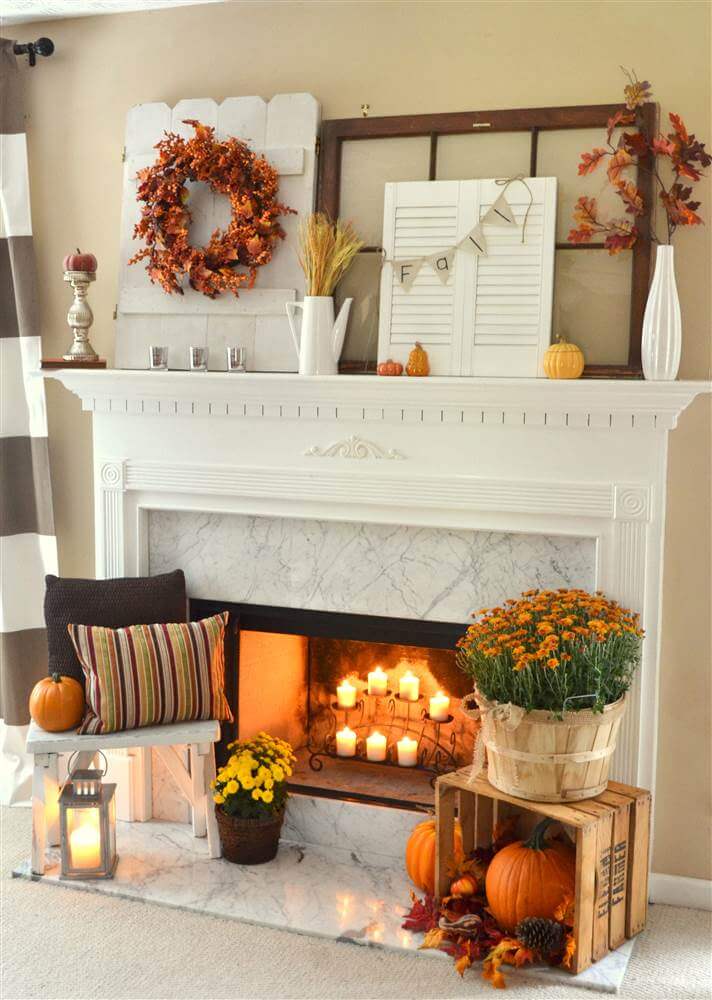 This cheerful mantel display combines several different types of decorations. On top of the mantel, there are repurposed garden gates, windows, and shutters. The mantel is accented with fall leaves and wreaths. The hearth display has a farm fresh appeal with a crate and fresh pumpkins. Softly glowing candles stand in the fireplace.
2. Dried Plants and Wreaths Evoke the Harvest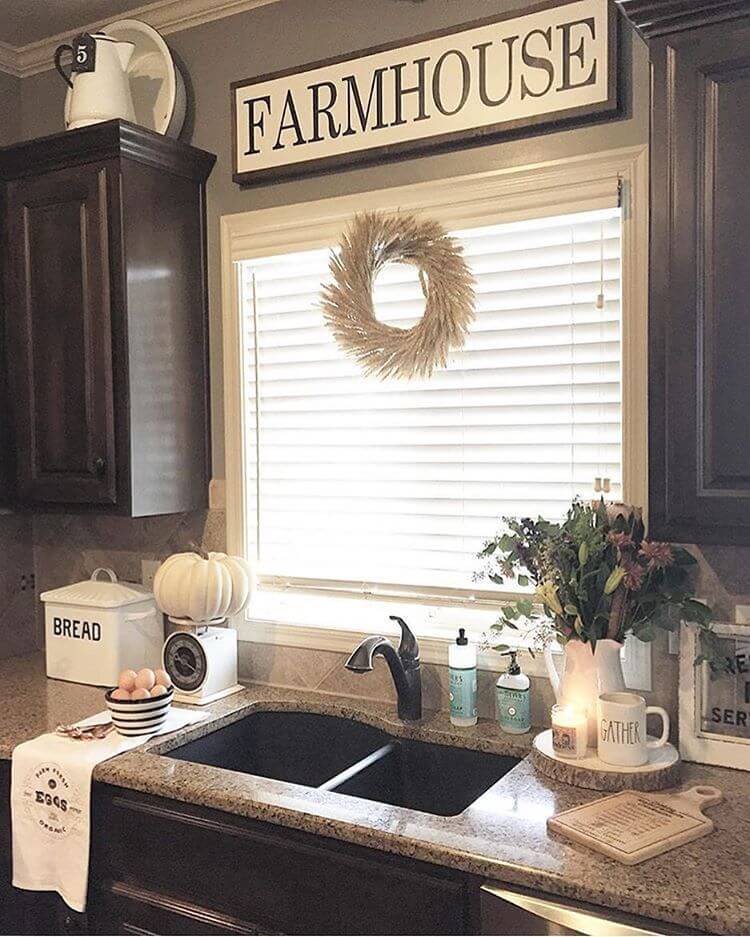 This is an example of how farmhouse décor can be updated for each season. An understated wreath of dried wheat hangs on the kitchen window, and a pitcher full of late autumn flowers stands next to the sink. A cute white pumpkin on the scale completes the scene.
3. Switch Out Your Plants and Message for the Season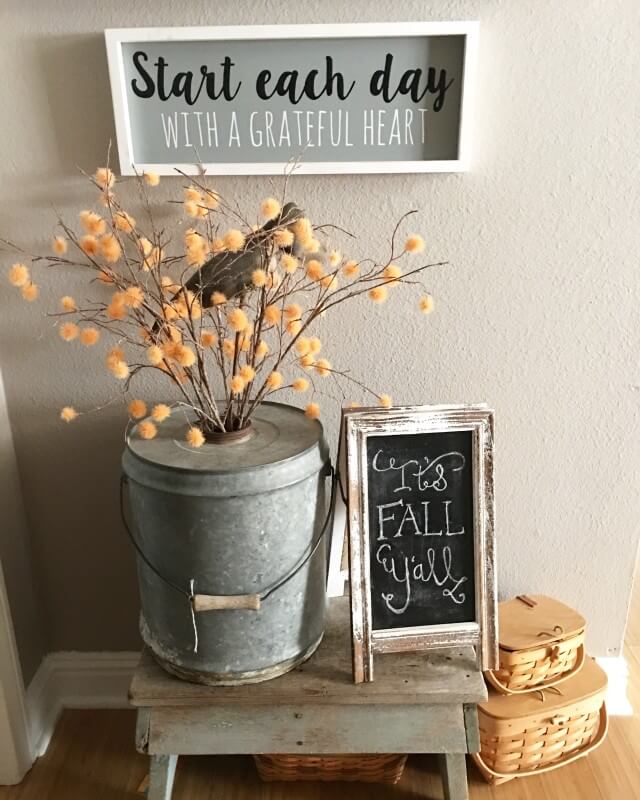 A galvanized bucket provides an oversized vase for autumn branches. A bird nestles in the branches for a cute touch. Next to the bucket, the homeowner has placed a chalkboard sign. It would be easy to change this display according to the seasons, using different filler for the vase and changing the message on the sign.
4. Front Porch Harvest Décor Glory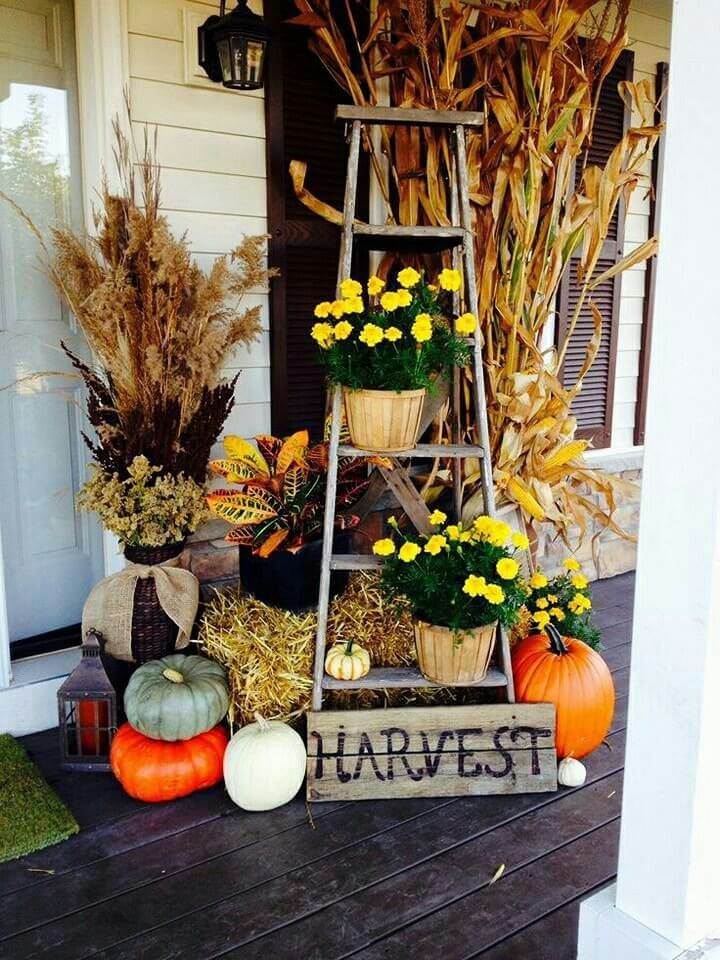 This bountiful display combines many different elements to make a pulled together design. An old ladder provides a nice place to put baskets of marigolds. A large sheaf of corn stalks stands behind the ladder. The display is completed with a variety of pumpkins, dried plants, and a candle lantern. This display will make your house stand out along your street.
5. A Stunningly Sophisticated Harvest Centerpiece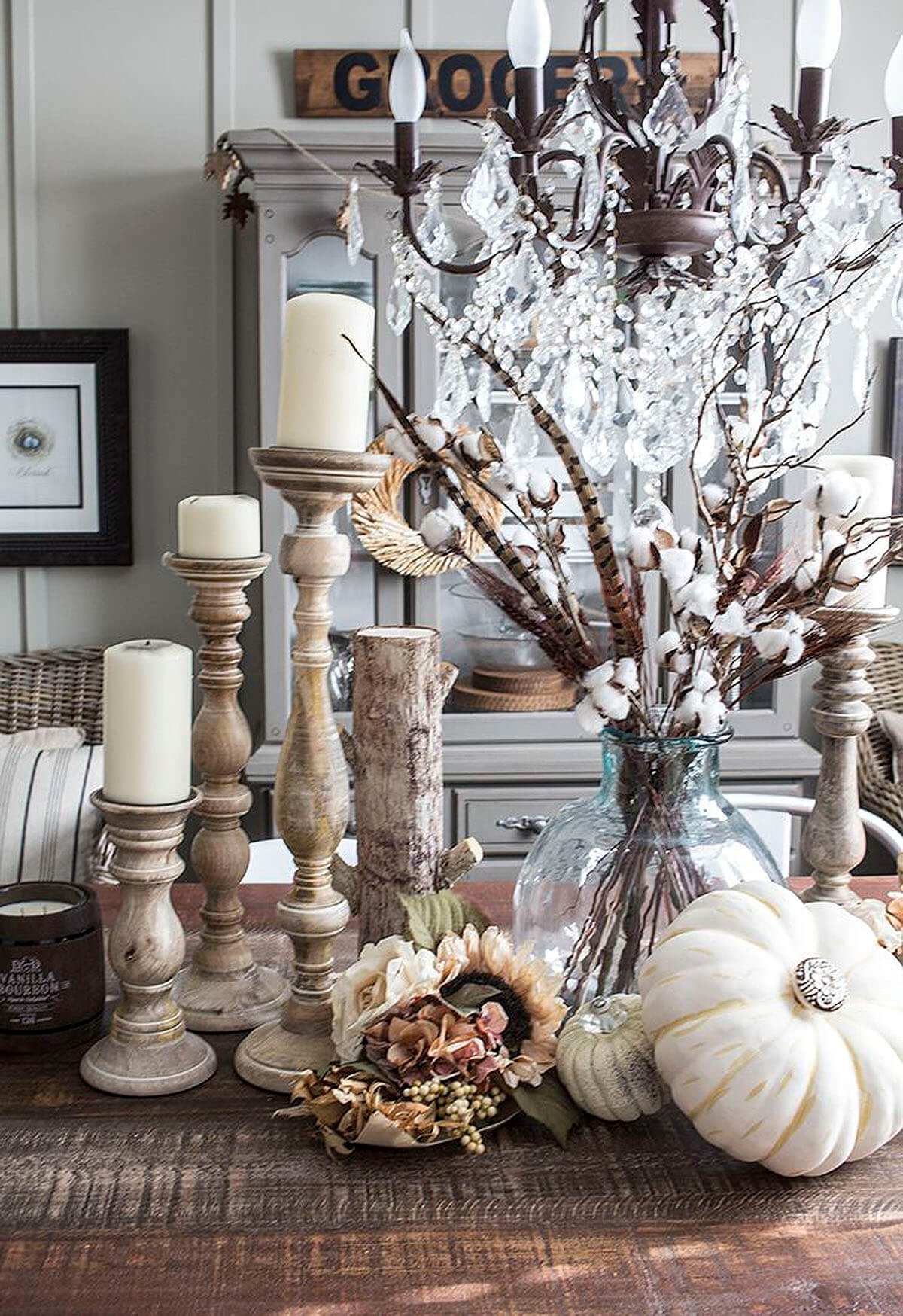 Using unique and unexpected items, this centerpiece is elegant and sophisticated. In an oversized glass vase are cotton bolls and pheasant feathers. The combination of textures makes this design special. Tall pillar candles on pedestals stand next to the vase. An assortment of pumpkins and silk flowers completes the look.
6. Dried Wreaths are Simple Fall Décor Pieces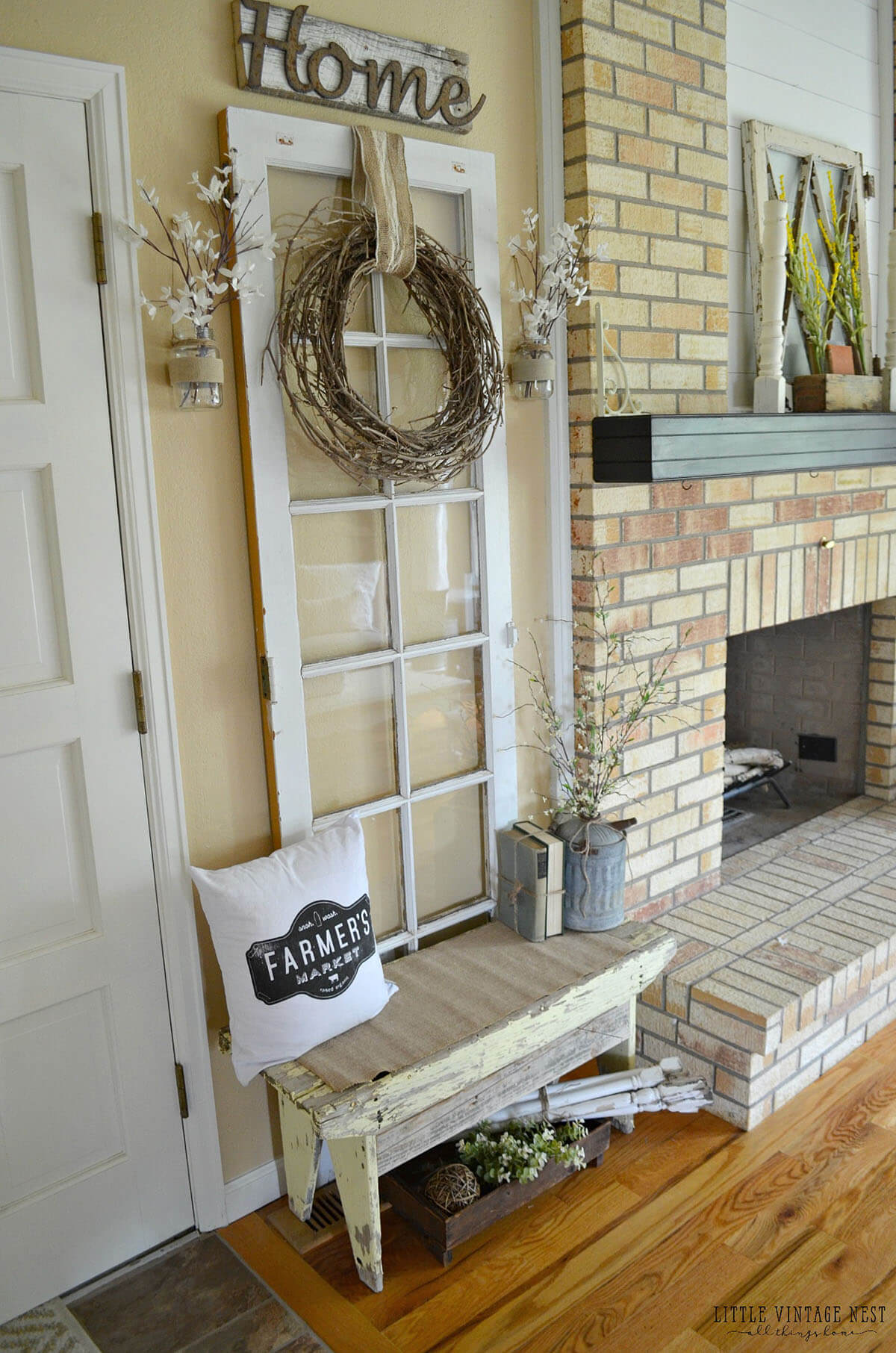 A repurposed window holds an unadorned grapevine wreath. White flowers accent the arrangement. A small side table holds a printed cushion, some old books, and a galvanized vase for more white flowers. This design is tailor made for the farmhouse style. It can be used at any time of year.
7. Cheerful Marigolds Light Up this Porch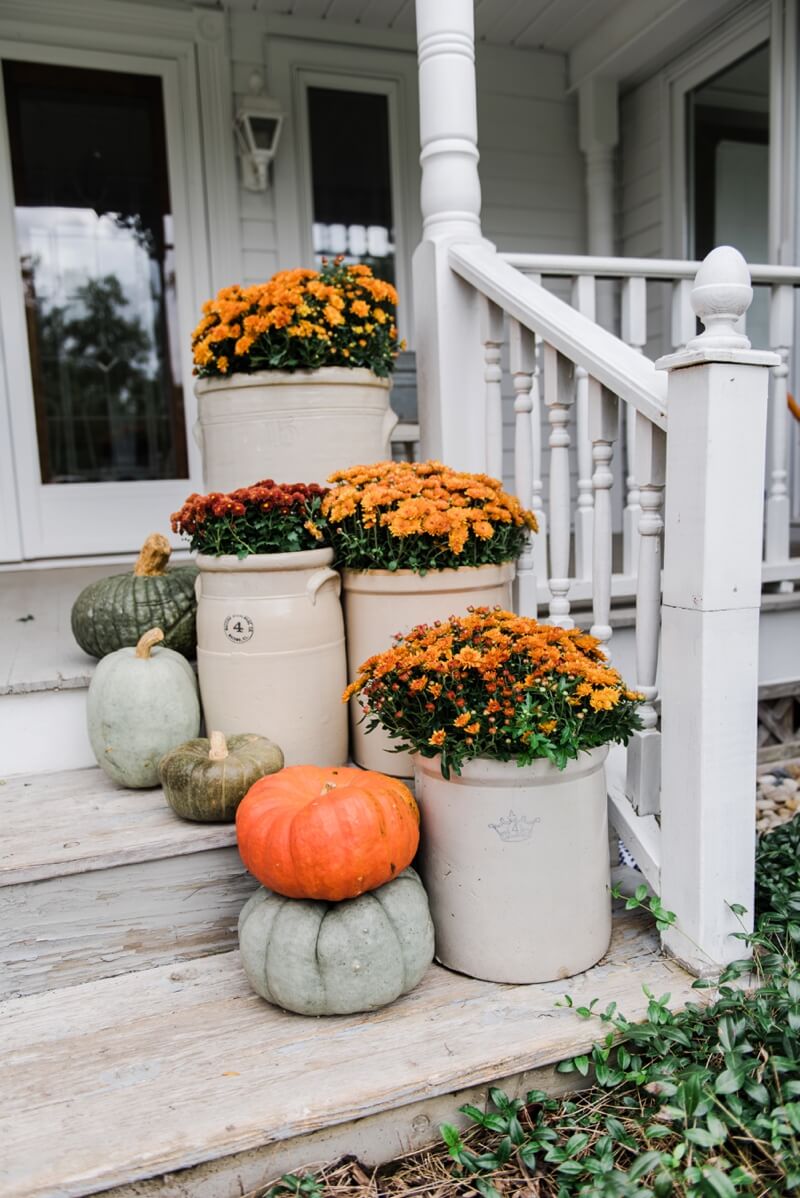 Dairy crocks hold blooming flowers. The crocks come in a variety of sizes for a mismatched display. An assortment of pumpkins and squash nestles up against the crocks. The colors of the flowers and the pumpkins blend beautifully together. This would make a cheerful accent to any farmhouse front porch in the autumn.
8. Fall Pumpkins to Match Any Color Scheme

This fall display matches the farmhouse style perfectly. A combination of white and beige plus galvanized metal gives this arrangement a timeless charm. Wheat stalks and cotton bolls stand up behind the galvanized pail. Lettering on the pail makes this design special. Pretty white pumpkins complete this display.
9. Berries and Flowers in Pretty Fall Colors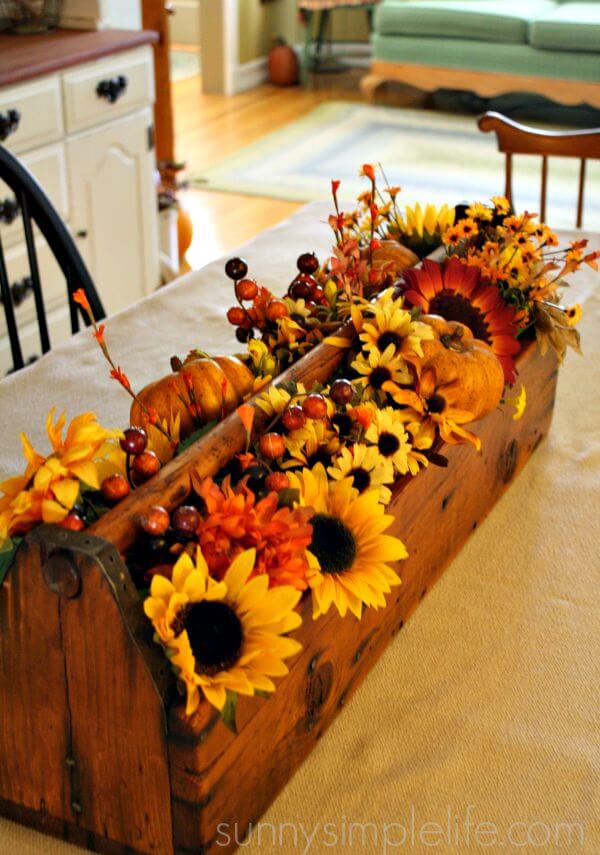 This simple handled wooden box is filled with autumn touches like berries and silk sunflowers. The rich combination of colors brings the feeling of autumn inside the home. The rustic quality of the box fits in with the farmhouse aesthetic. This would make a great centerpiece for a fall table.
10. Tiered Antique Basins as a Centerpiece for Fall's Treasures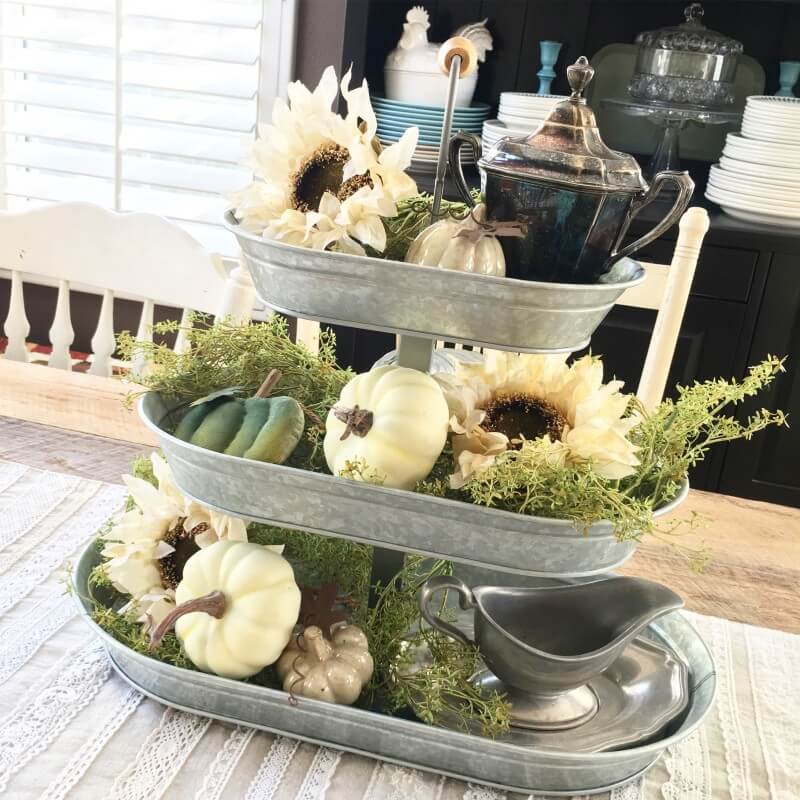 Tiered galvanized trays look great in the farmhouse kitchen. This display is done in coordinating shades of cream and green, with flowers and white pumpkins. A unique sugar bowl sits on the top shelf and a vintage gravy pitcher on the bottom. These metallic accents bring an extra dimension of farmhouse charm to this arrangement.
11. Clever Cotton Boll Wreath is Pretty and Unique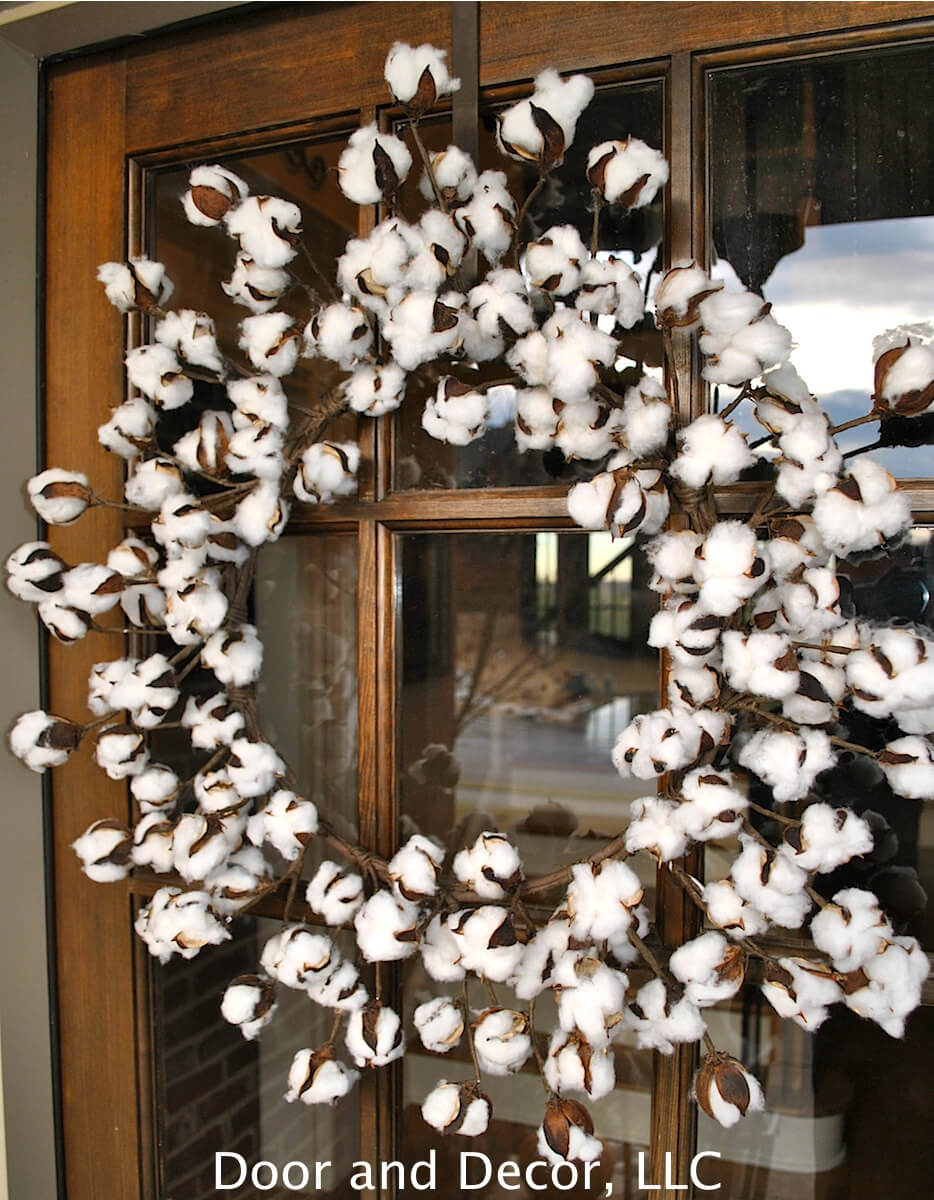 Cotton bolls are a frequent accent in the farmhouse home. The color scheme matches perfectly, and they have a charming, nostalgic quality. The soft texture makes them visually interesting. These cotton bolls are woven into a large door wreath. This wreath is understated and graceful, and welcomes guests to the farmhouse home.
13. A Few Subtle Touches of Fall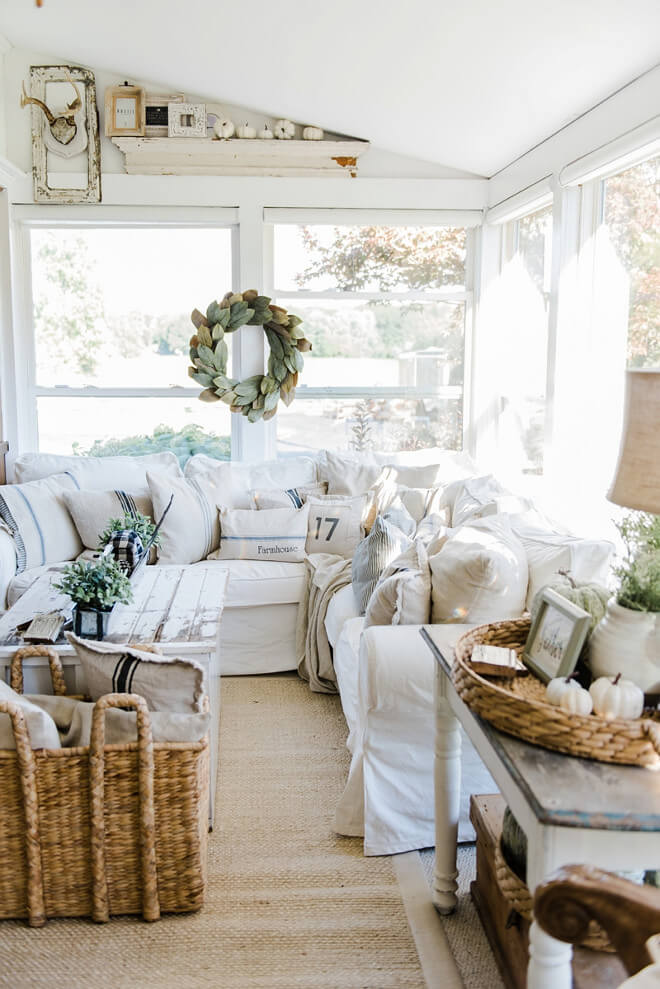 This gorgeous living room group shows that you can have beautiful farmhouse style in a small space. The inviting sectional is piled high with cushions. The fall touches in this room are subtle, from the oversized leaf wreath hanging by the windows to the tiny pumpkins in a basket.
14. Signs of Fall in a Lovely Wire Basket Display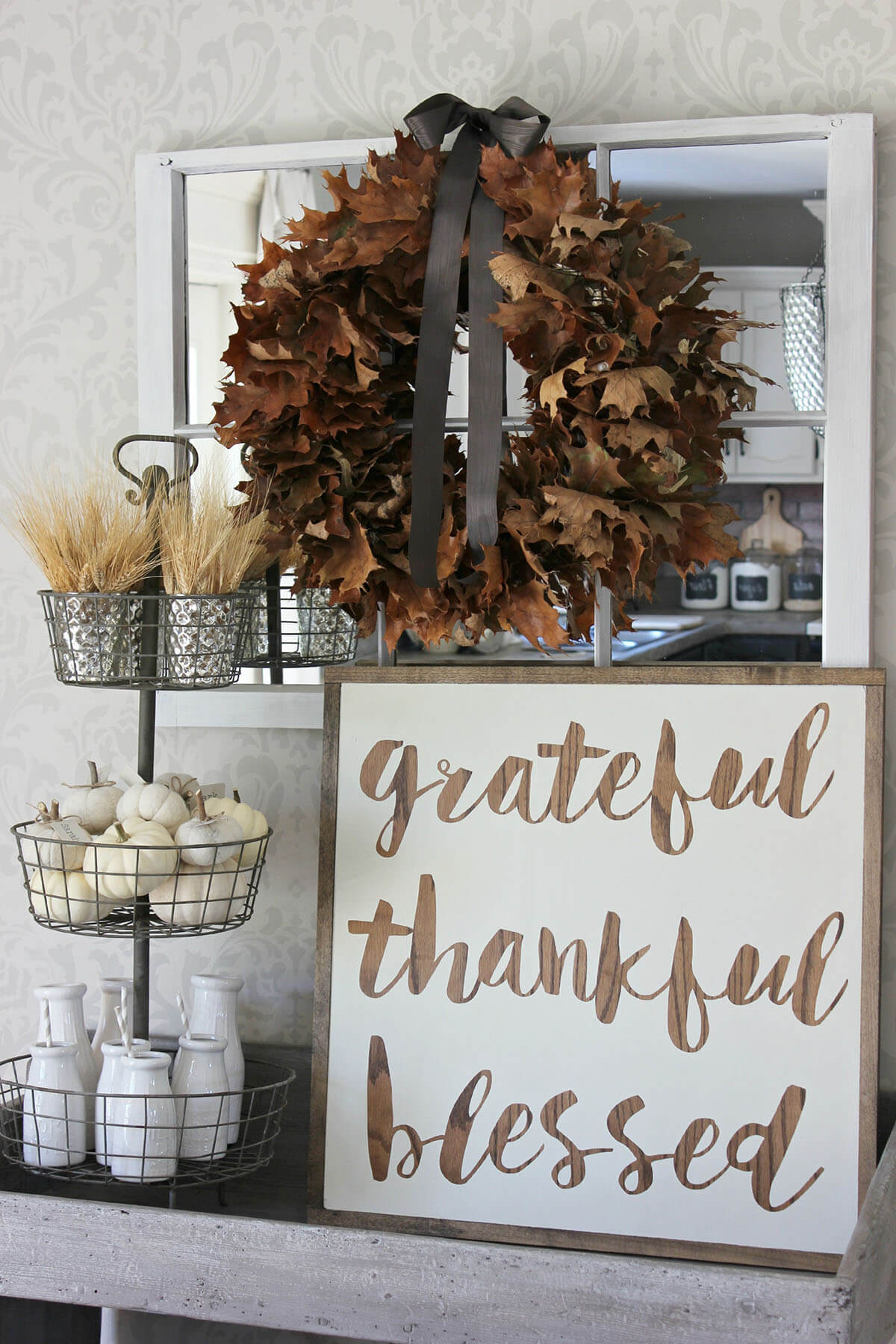 Hanging on a window frame mirror, a natural dried leaf wreath highlights this display. A tiered wire basket holds sheaves of dried grass, little white pumpkins, and vintage milk bottles. An oversized lettered sign with inspirational wording finishes this arrangement. This would make a great accent to any farmhouse kitchen.
15. Accessories Transform Your Porch Swing for Fall
Farmhouse fall décor extends onto the front porch. This porch has many decorative touches that welcome fall. The plaid throw on the porch swing provides a soft texture and appealing color. Baskets of pumpkins, dried corn, and chrysanthemums decorate the steps. A fabulous wreath hangs on the door behind the porch swing.
More farmhouse fall decorating ideas on the next page…