Summer is on a slow sun-filled path to autumn, and it's time to start thinking about all of the things that wonderful season brings; back to school for the kids, Labor Day backyard cookouts, coffee on the porch in the crisp morning air, watching the leaves turn glorious colors, and a change in your light and summery décor to something more cozy and autumnal.
60+ Fabulous Farmhouse Fall Decorating Ideas to Welcome the Autumn Season

We have a lovely clutch of farmhouse fall decorating ideas to spark your inner decorator spirit. Halloween and Thanksgiving give us a lot of material to work with in decorating, and the harvest and bounty themes are ubiquitous throughout the season. You'll see that farmhouse fall decorating ideas often focus on these holidays and themes. It's easy to accessorize for fall by switching out a few key pieces around your home. Change your color schemes with pillows and throws. Use fall-themed accessories in different ways, from fun to subtle to classic.
And don't forget to dry some of summer's beautiful flowers for use in your fall décor. There are hundreds of fall-friendly home accessories to put your farmhouse fall decorating ideas into play this year. We have ideas for the kitchen, hearth, front hall, bedrooms, and dining rooms that are sure to give you some inspiration.
1. Hand-picked Pumpkins and Cotton Farmhouse Decor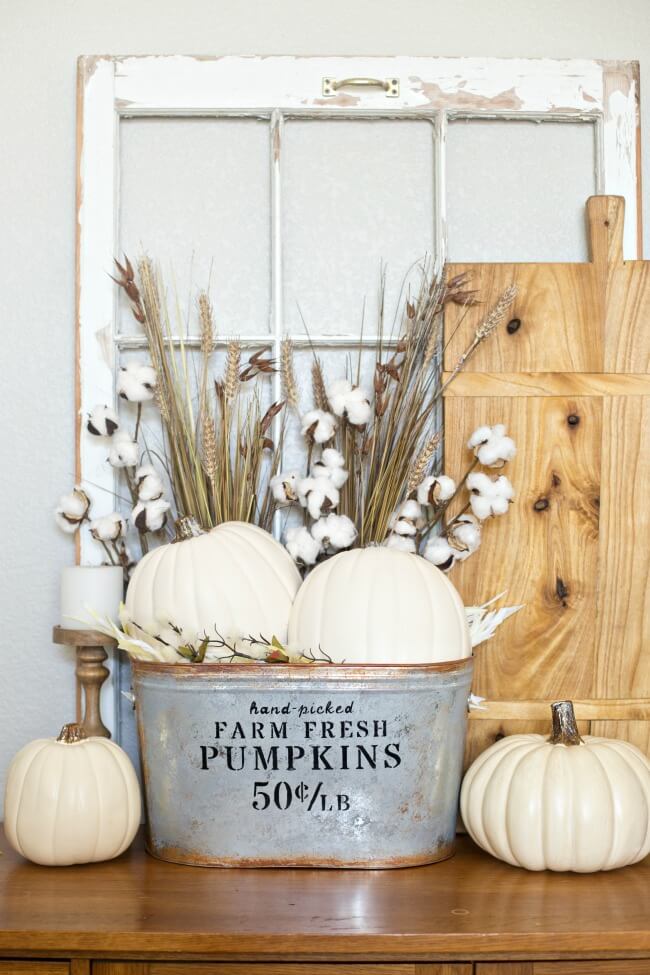 Center your focus on the harvest with these natural decorating elements that are perfect for your farmhouse fall decorating. Using an old window frame as the backdrop, your autumn arrangement will be sure to stand out without going overboard. The integration of all neutral tones creates a warm and cozy feel for this fall farmhouse design.
2. Picket Fence and Plenty of Pumpkins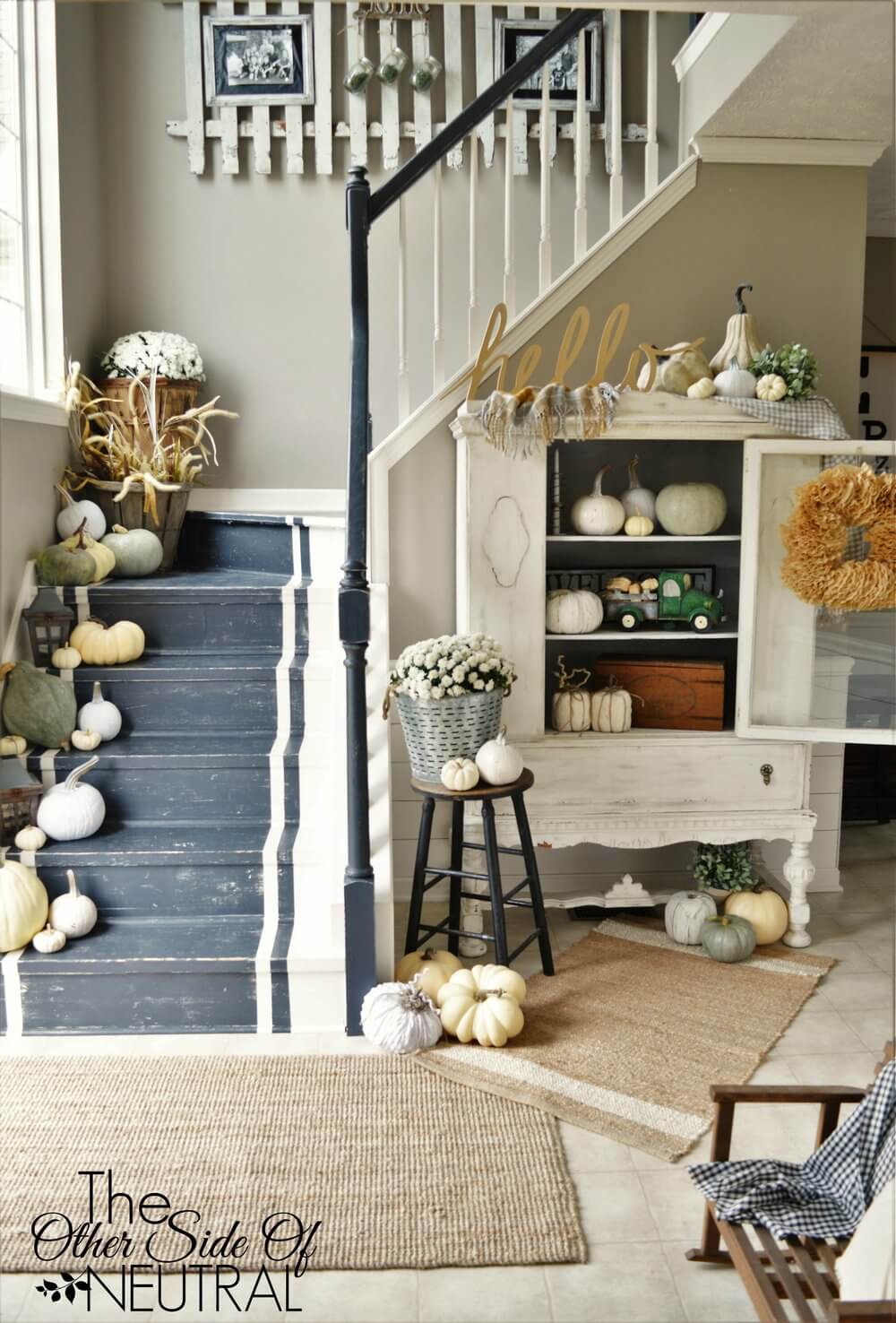 From the iconic American dream of a white picket fence and fall's pumpkin mascot, these two go hand-in-hand to create a house filled with fall flavor. Whether you enjoy roasting over a fire or making apple cider, you can bring the scents of the season to life with this collection of pumpkins, mums, and a picket fence piece that serves as a picture holder.
3. Say Hello to Fall with Farmhouse Decor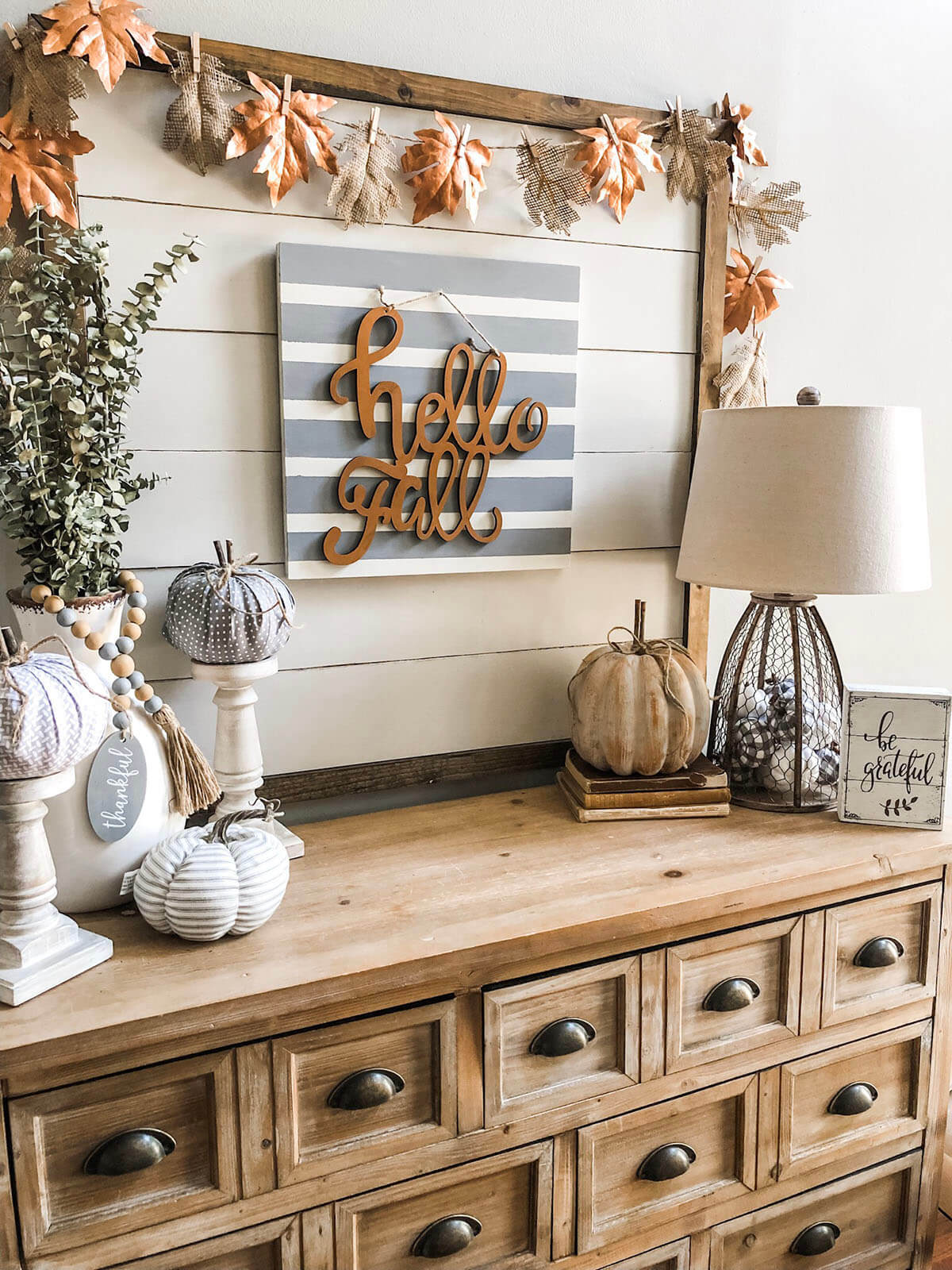 What better way to welcome everyone's favorite season than with a sign simply stating, "hello fall." This friendly fall greeting works well in nearly any place of your home. From the front door to the half bath, this classic sign is just the easy update you need to get your home ready for all of your favorite fall time get-togethers.
5. Mossy Pumpkin Farmhouse Centerpiece Display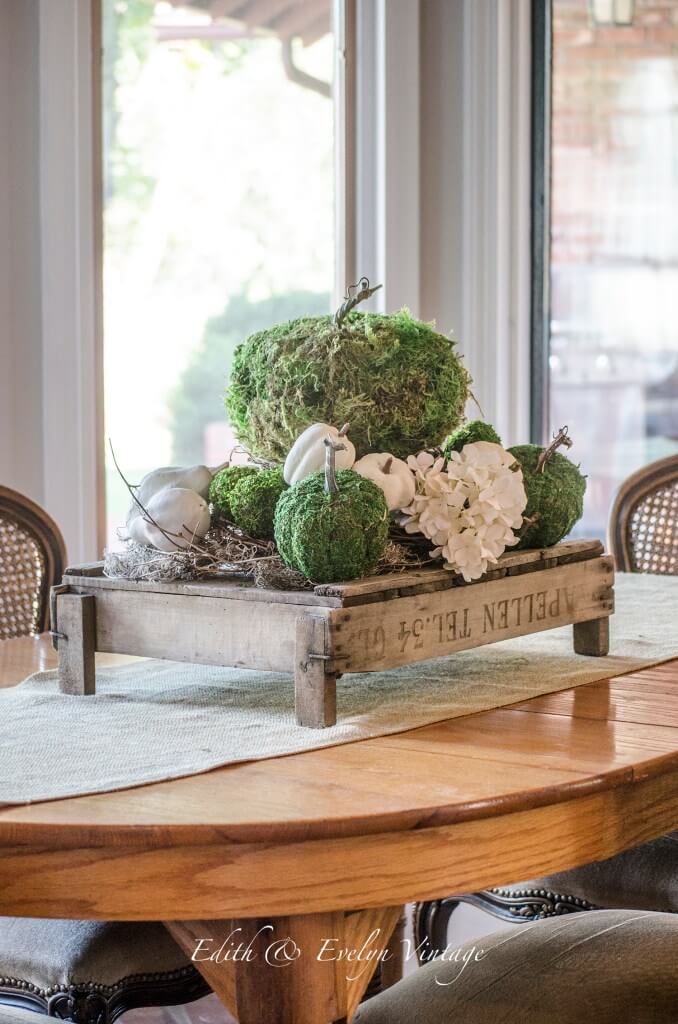 Stack some mossy pumpkins on an old wooden apple crate and voila! You've just created a new and one-of-a-kind fall farmhouse centerpiece. The rich green of the moss is just what the fall season needs to contrast its neutral and orange-red hues. This display will take you from the end of August through your Thanksgiving festivities with style and grace.
6. Traditional Farmhouse Warm Thanksgiving Decor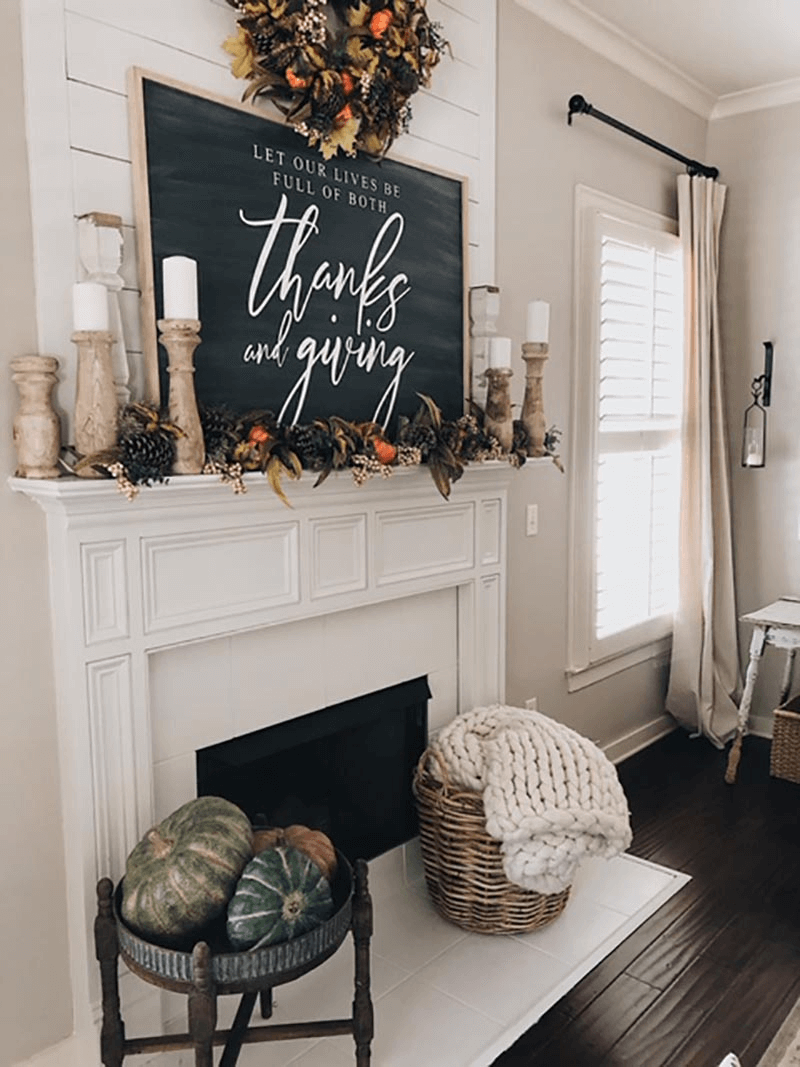 Mix the best of traditional and farmhouse decor to achieve this gorgeous warm fall decorating exhibit. The black sign draws the eye into its warm sentiment as it's set in front of the white shiplap wall. Beautiful mini orange pumpkins and rustic pinecones mingle with more greenery in the pretty harvest-friendly garland that graces the mantel and is further extended with its coordinating wreath.
7. Rustic Harvest Bushel and Pumpkin Pedestal Centerpiece
Create a rustic and cozy table to gather your family and friends this Thanksgiving. With the pumpkins proudly resting on the pedestal stands, there is still plenty of room to set all of your favorite homemade casseroles for everyone to enjoy. The gorgeous place settings further extend the warm welcome to all guests.
8. Decorative and Distressed White Faux Fireplace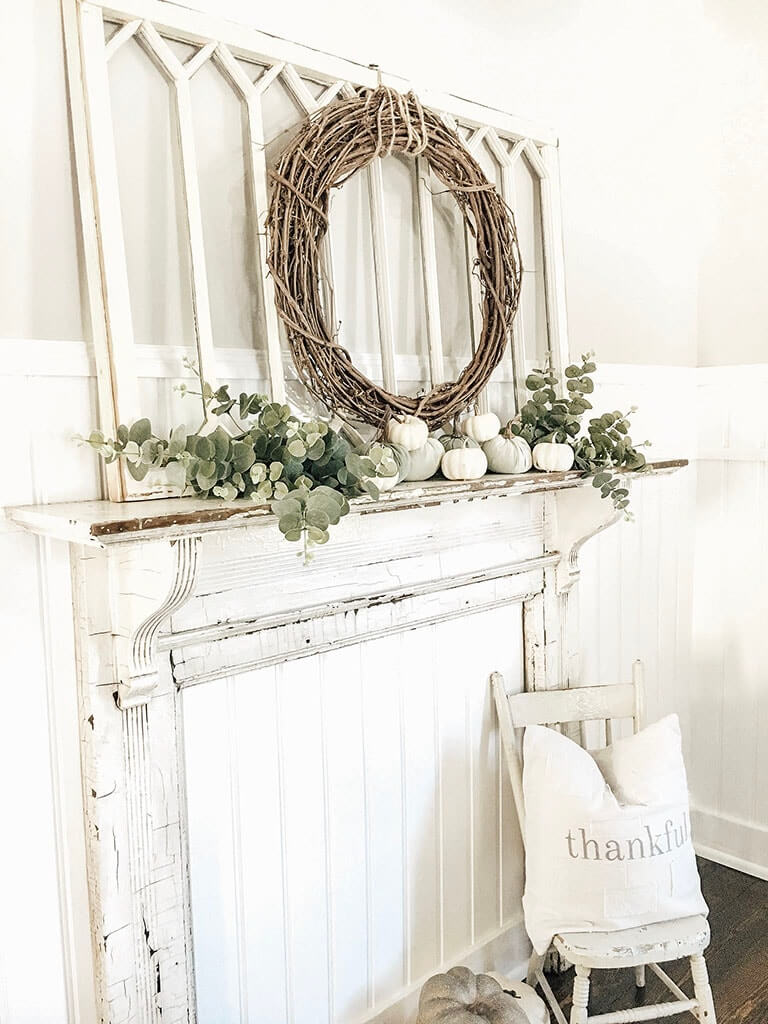 You don't need a real fireplace to feel the warmth in this faux distressed white mantelpiece. It's a great place to rest your collection of miniature white pumpkins and eucalyptus garland. A grapevine wreath looking over this display makes it a complete fall farmhouse look for your home.
9. Rough Wooden Tray for Your Fall Display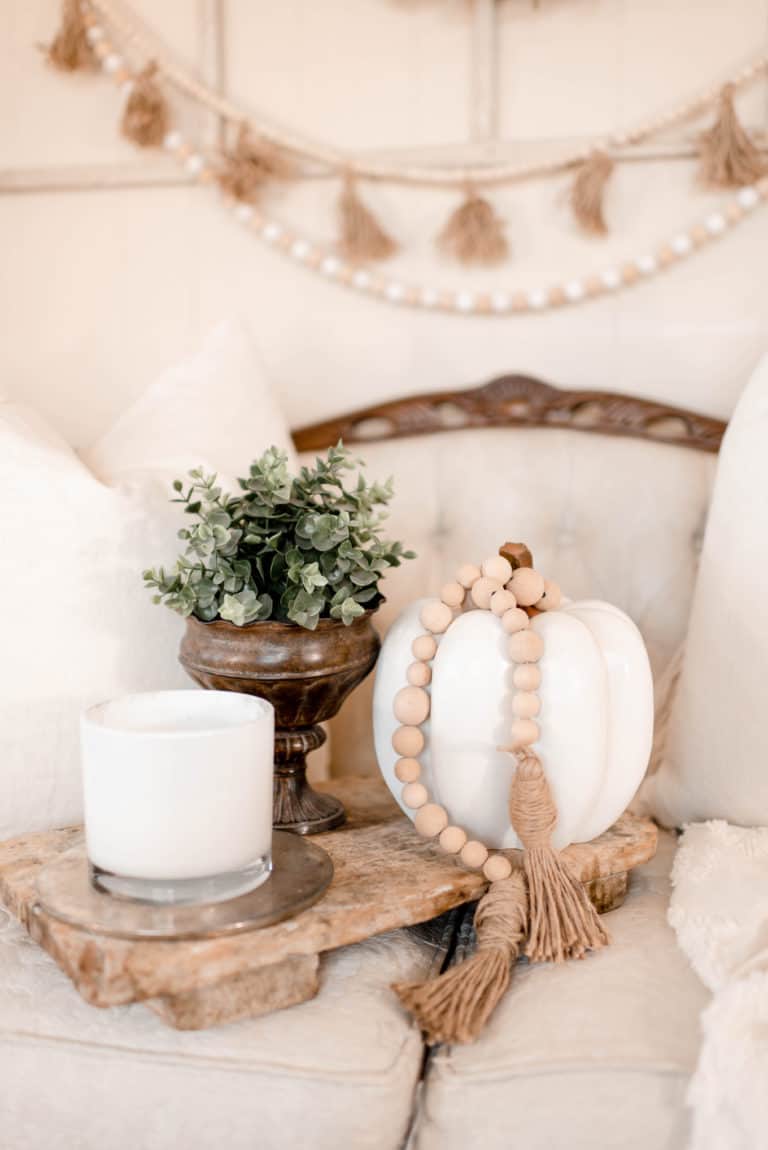 Give your favorite seat a new look this fall with a rustic decorative wooden tray filled with all of your seasonal goodies. From a small urn of succulents to a pumpkin or solitary candle, this little tray adds a big presence in your main living space. It would be a cute and friendly housewarming gift or hostess gift for your favorite friend.
10. Textured, Smooth, and Striped Plethora of Pumpkins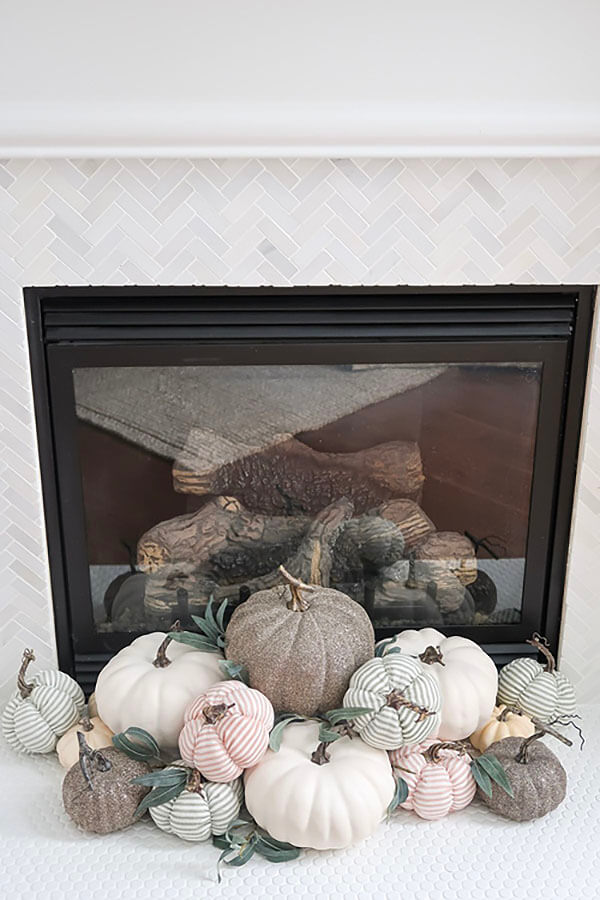 Small and medium pumpkins work together to create this visually appealing cute pumpkin harvest yield. Kids and grownups alike will enjoy this arrangement. Throw it in front of a gas fireplace or place it with your pillows on your guest bed. Toss a few on your windowsill to further extend this cute pumpkin decor.
11. Fall Bouquet Bursting with White Antler Mix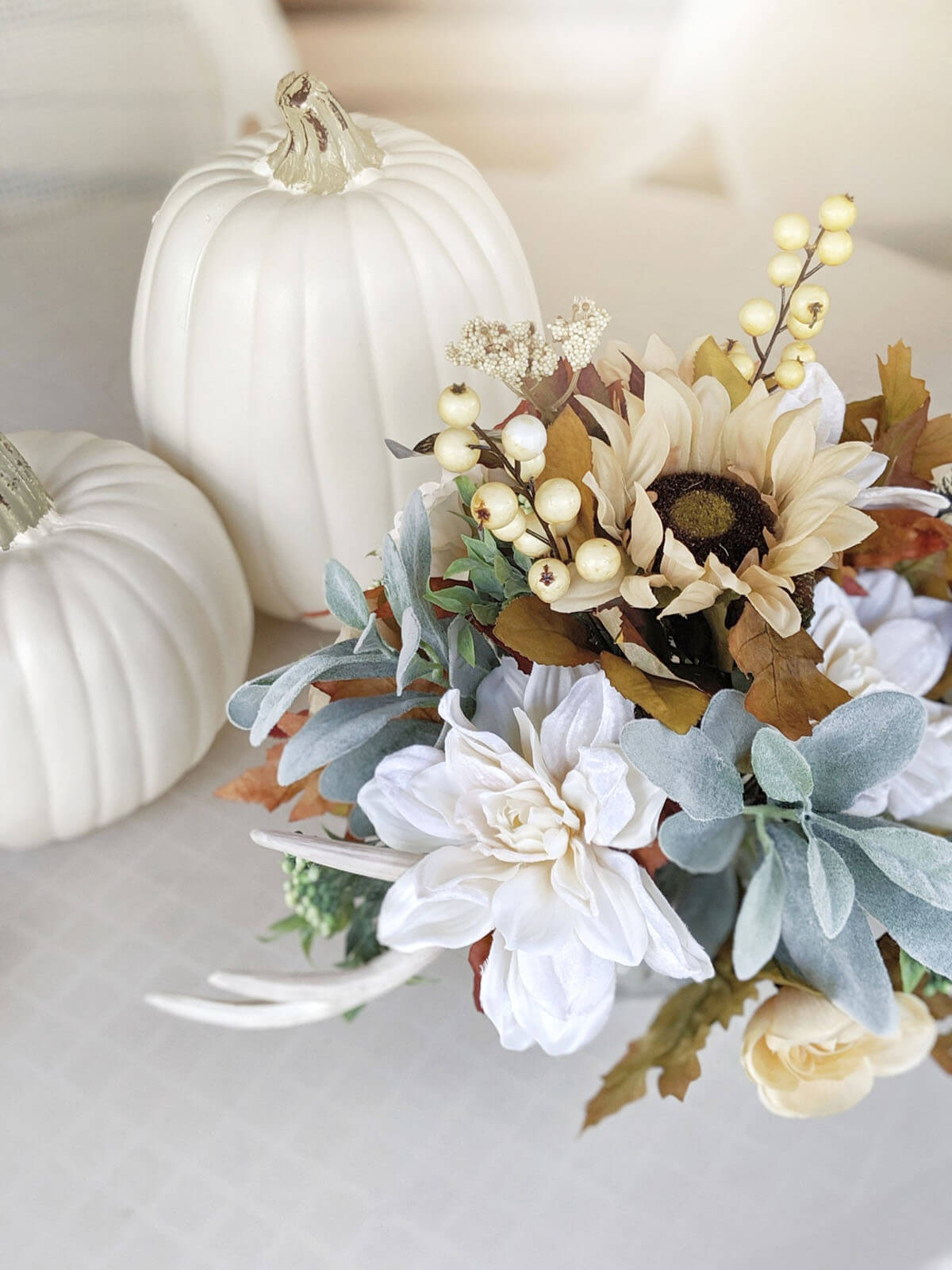 Muted green nestled into a bouquet filled with warm brown tones and accented with white work together for a fabulous fall look. The use of a small white antler gives this fall arrangement a natural element that speaks to the masculinity of this season.
13. Tons of Textures Looking for Fall Flavor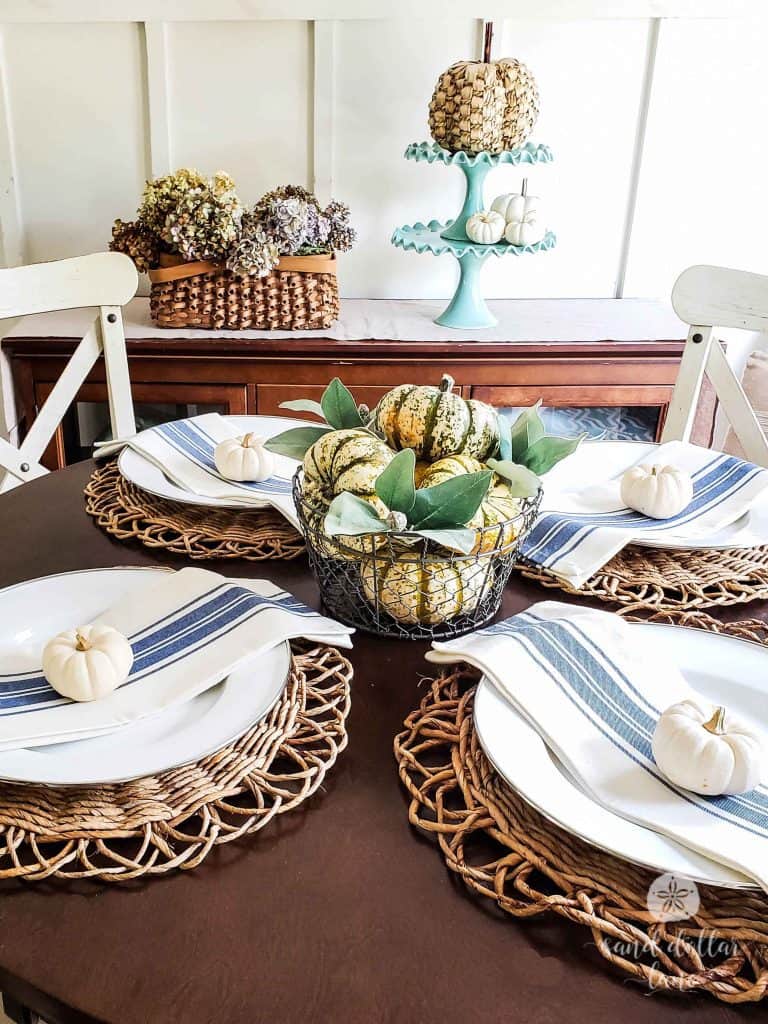 Throughout this fall look, so many textures come to life and make the space a cozy place to enjoy a hearty meal with family and friends. What a cute way to hold down your fabric napkin with a touch of the season in this tiny white pumpkin. Grab your closest friends and host an intimate meal with some seasonal favorites like chili with some apple cider or a warm apple crisp.
14. Love Simply and Be Grateful for Autumn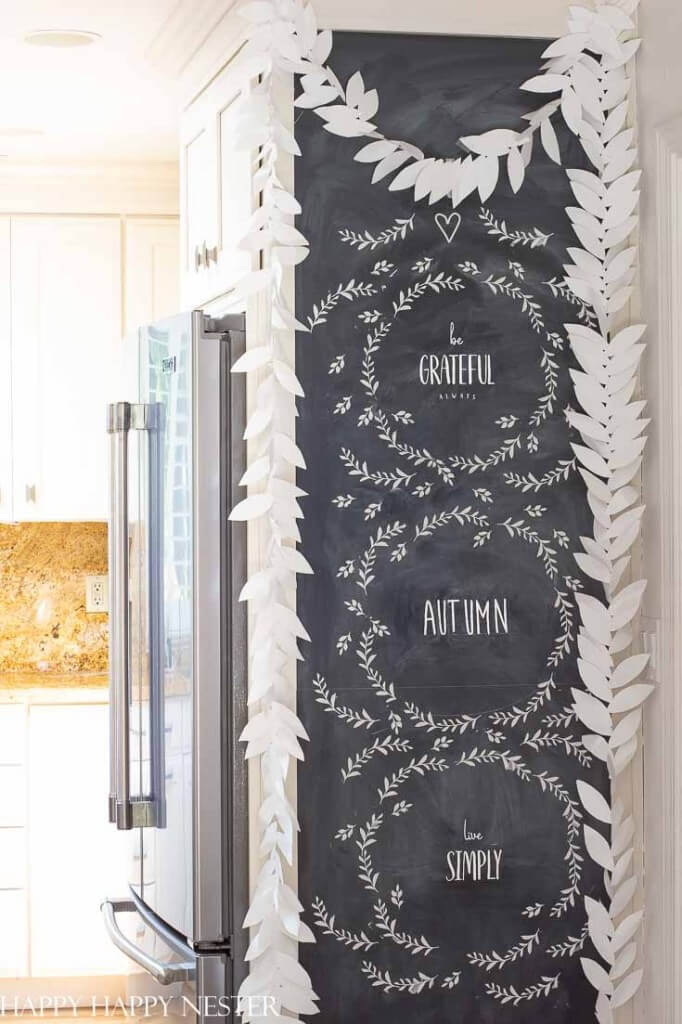 This floor to ceiling black chalkboard sign is a pretty fall decoration for your farmhouse kitchen. With whimsical leafy wreaths to set off your wording, this welcome of autumn in classic black and white works in today's modern decor.
15. Black and White Buffalo Plaid Fall Wreath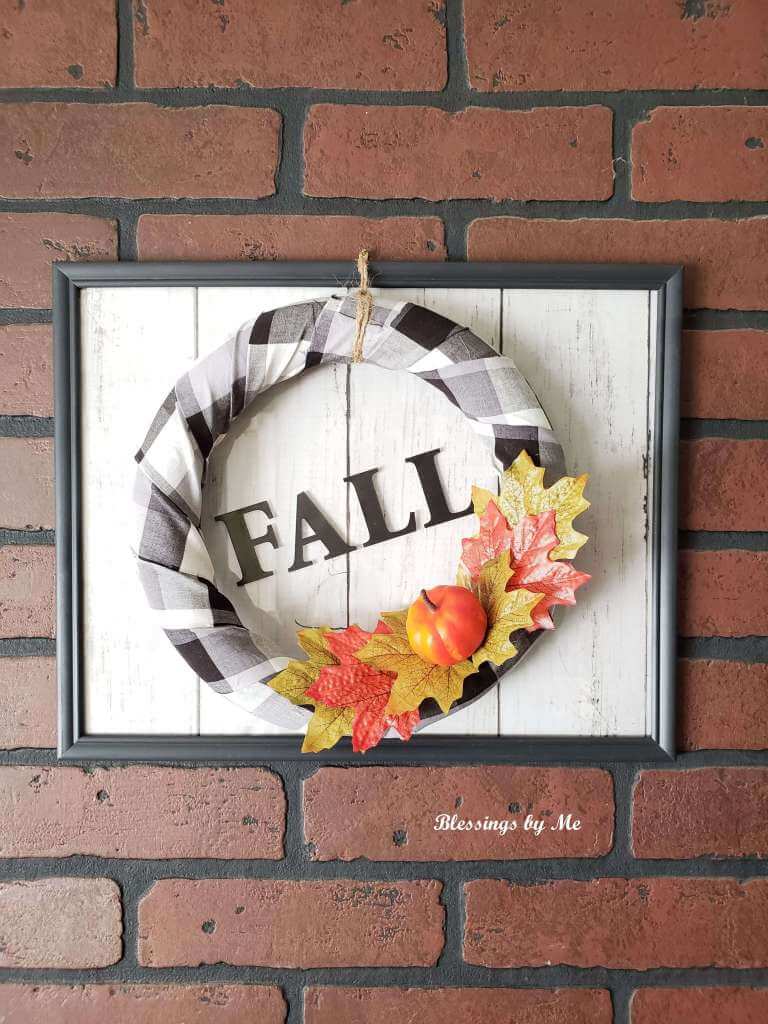 The gorgeous orange and yellow leaves and pumpkin really pop on this black and white buffalo plaid wreath. With the letters spelling out "fall" set inside this circle, it's a great way to bring a little bit of the season into your family's home. You could create this pretty wreath with some friends in a few hours spent catching up on a fun Friday night.
16. Denim and Plaid Beautiful Banner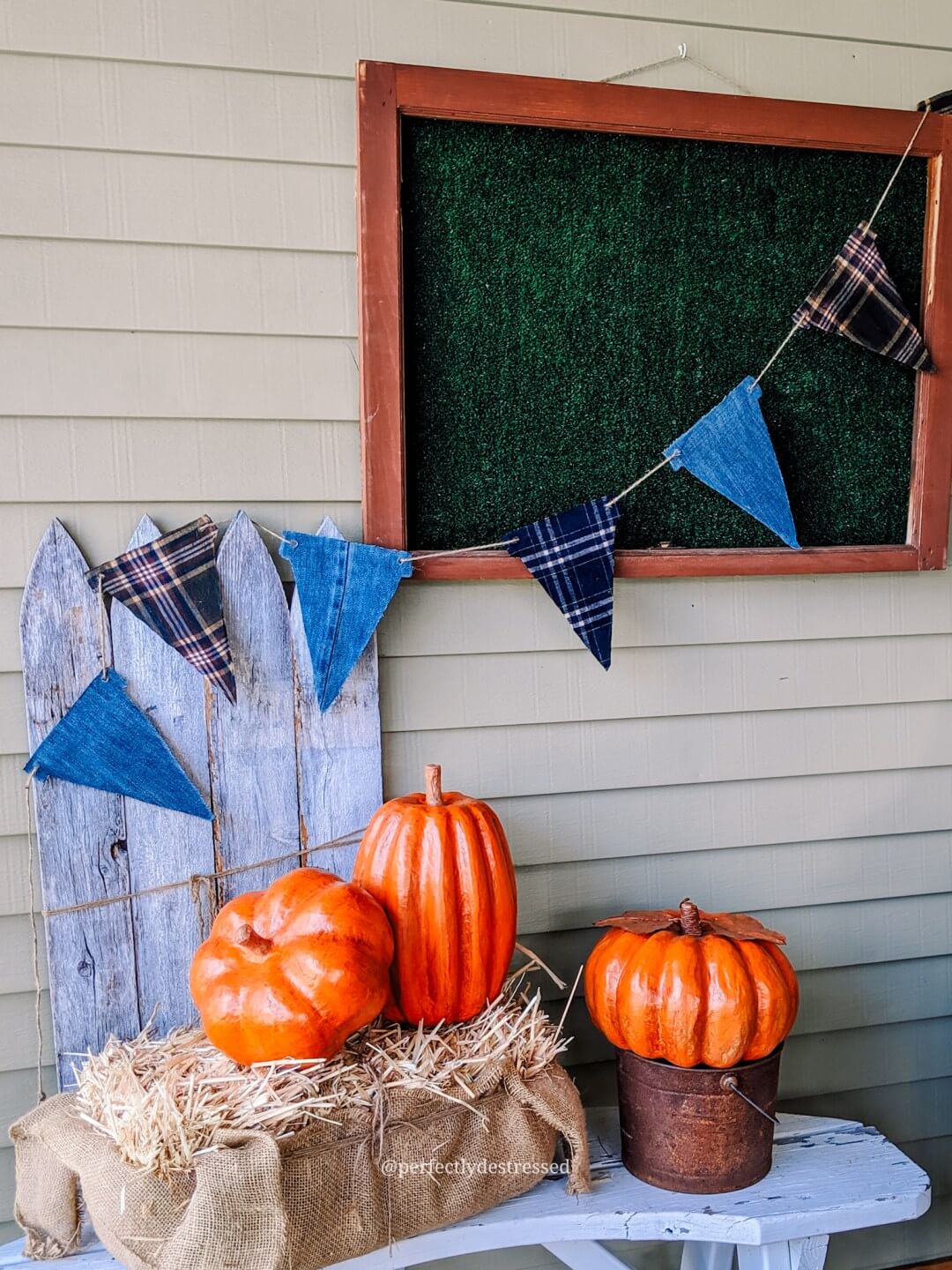 While jeans are a wardrobe staple, bring them onto the home decorating scene this fall with a lovely blue pennant banner. Your game day celebration is ready to kick off in style as you host a pigskin preview with all of your family and friends.
17. Vintage Green Old Truck Fall Print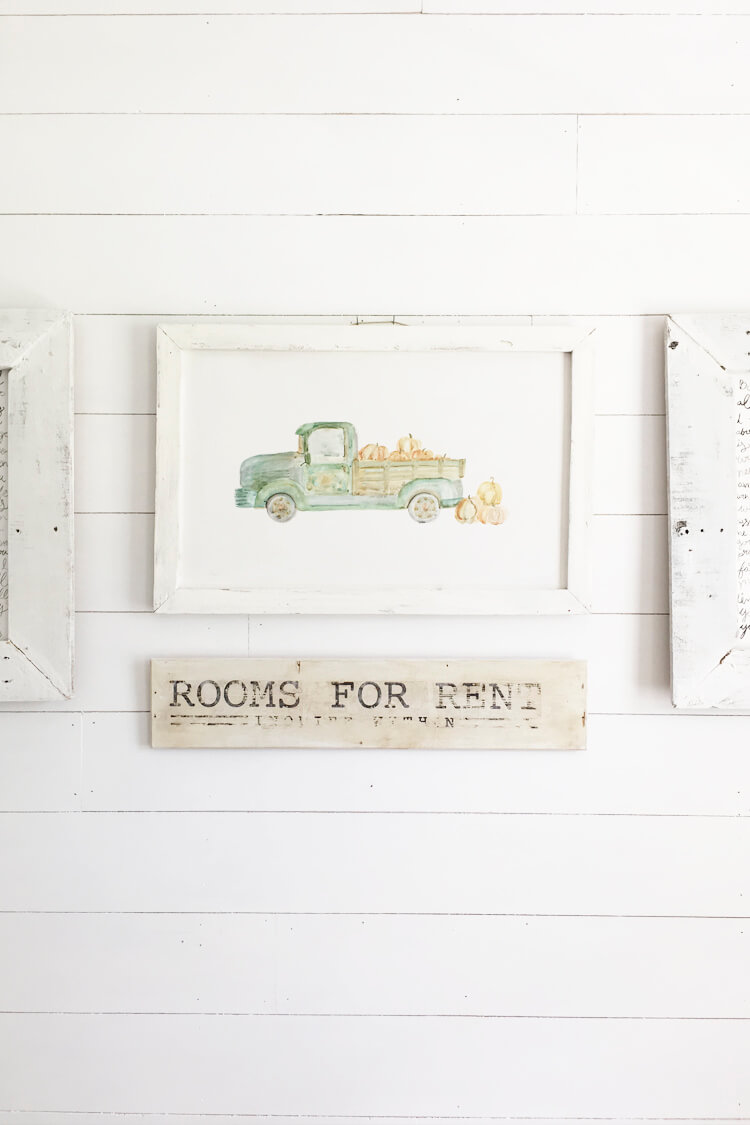 You reap what you sew, so load up your old pickup with the plump pumpkins that are ripe for the picking! These cute vintage truck decorations are popping up all over the place and add a nice nostalgic element to your favorite fall decor.
18. 100 Ways to Say Fall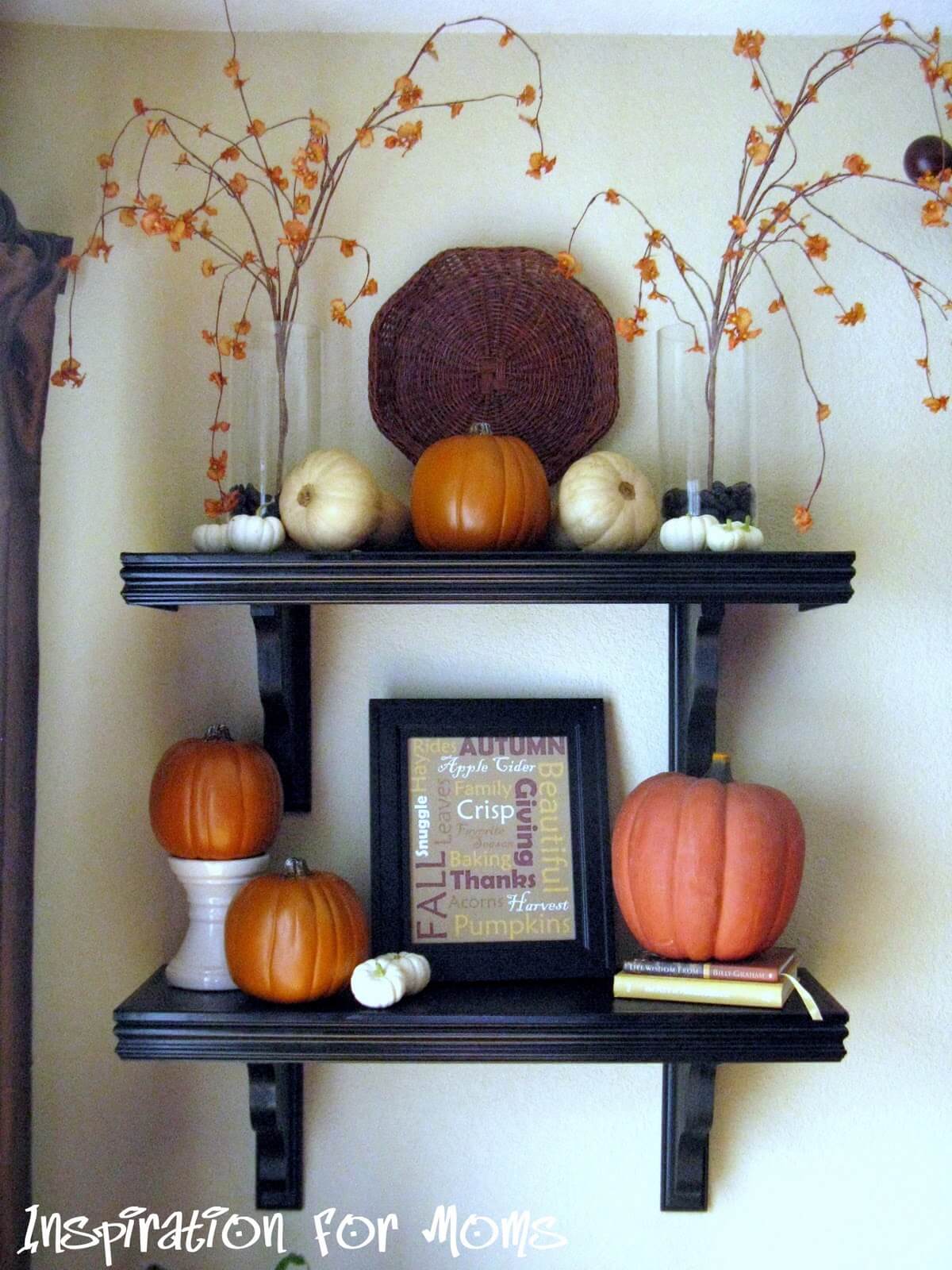 Fall brings so many warm images and memories to mind so focus your decorating around a sign that embodies all the ways to welcome this treasured time of year. Whether you say autumn or fall, you can't go wrong with the vivid orange tones in this display's pumpkins and strands of bittersweet.
19. Gorgeous Golden Leaves Brighten Up Classic White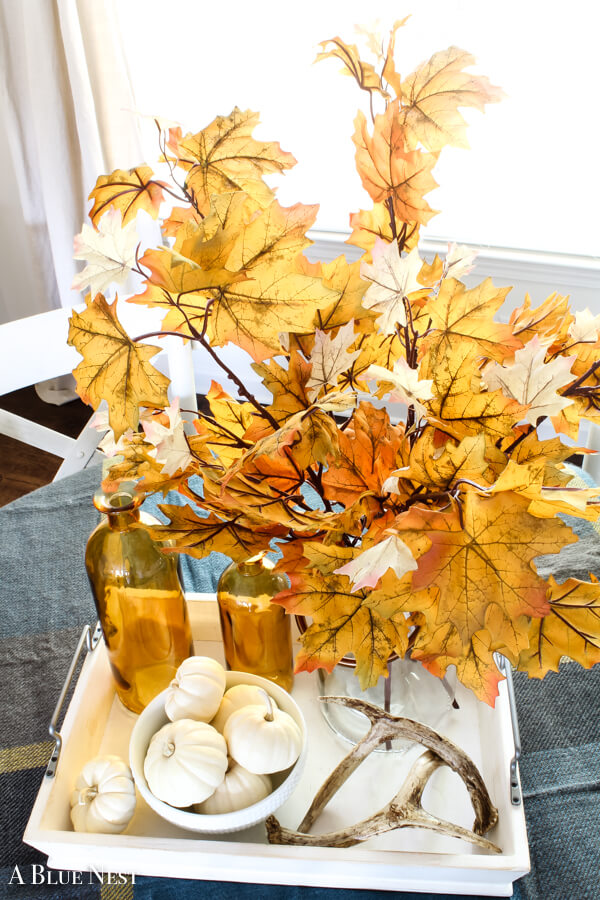 All of your timeless white decor can easily get a seasonal upgrade this fall with a gorgeous display of golden leaves. These pretty fallen gems make the most beautiful bouquet for your dining room table. Take your family on a nature hike and gather some of these great goodies to bring a little bit of the outside into the comfort of your own home.
20. Welcome to Our Patch Pumpkin Porch Sign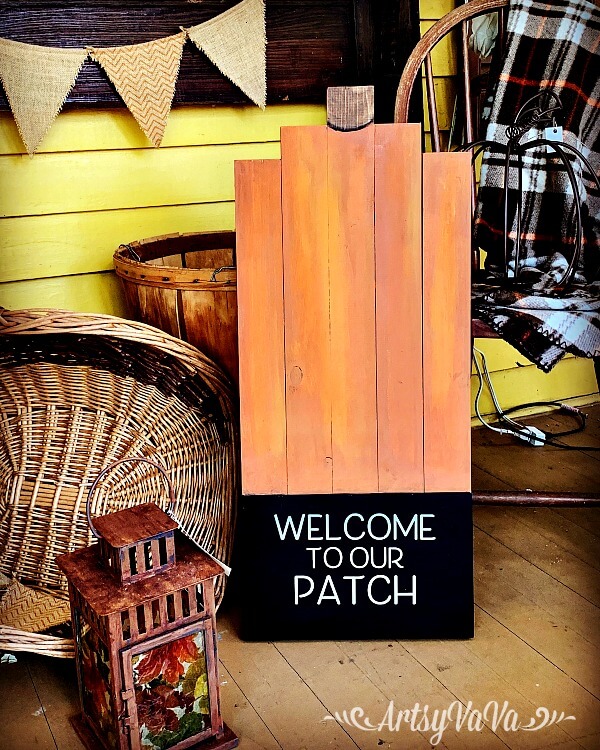 Greet your guests with a cute handmade pumpkin porch sign. Your crew will be happy to hang out at your patch this leaf-changing time of year. Be sure to keep the cider and s'mores within reach as the conversations wind their way 'till dark.
21. Metal and Burlap Pumpkin Candle Holder Centerpiece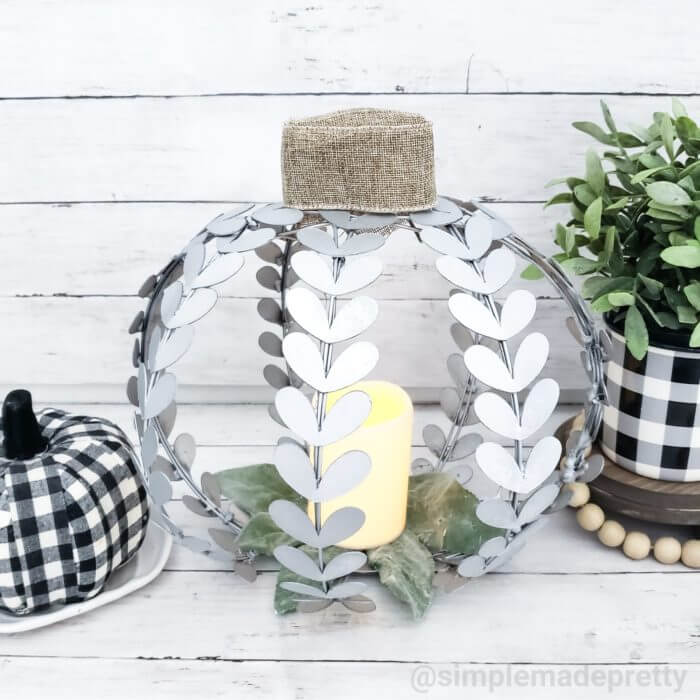 There's always room at the table for a simple and circular centerpiece. This perfectly sized pumpkin is made of metal with delicate vines that create its spherical shape. The burlap stem is a fun touch to add some texture to this perfect and simple fall centerpiece.
22. Eucalyptus with Black and White Gather Wreath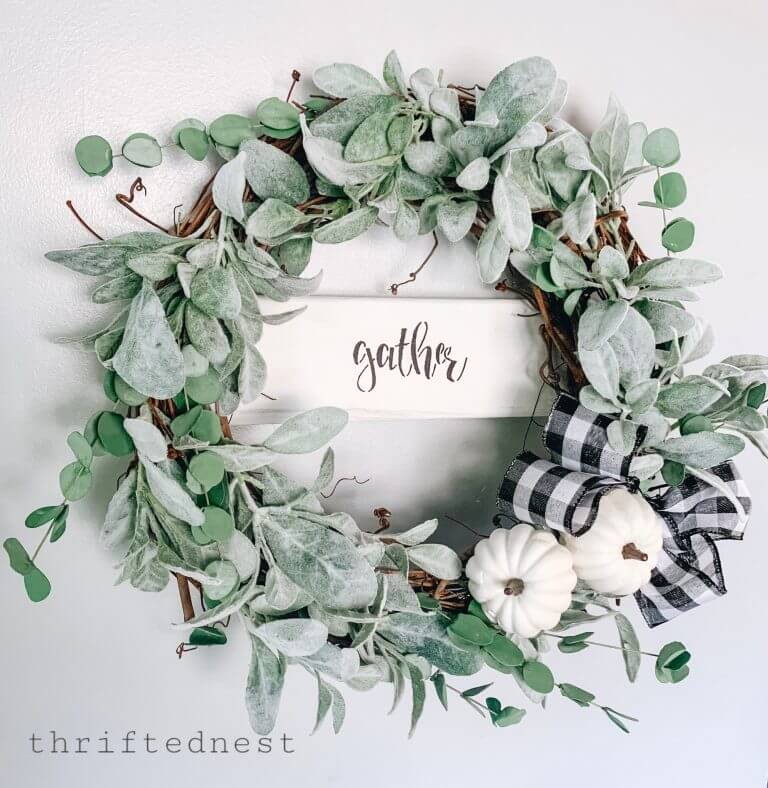 Let your peeps know where the party is at with this pretty wreath that states "gather" right in the center of it. Hanging on your front door, each person will be welcomed with the soft green leaves and trendy plaid ribbon bow. Make an extra one gift to a neighbor or close friend.
23. It's Good to be Home Cathedral Mirror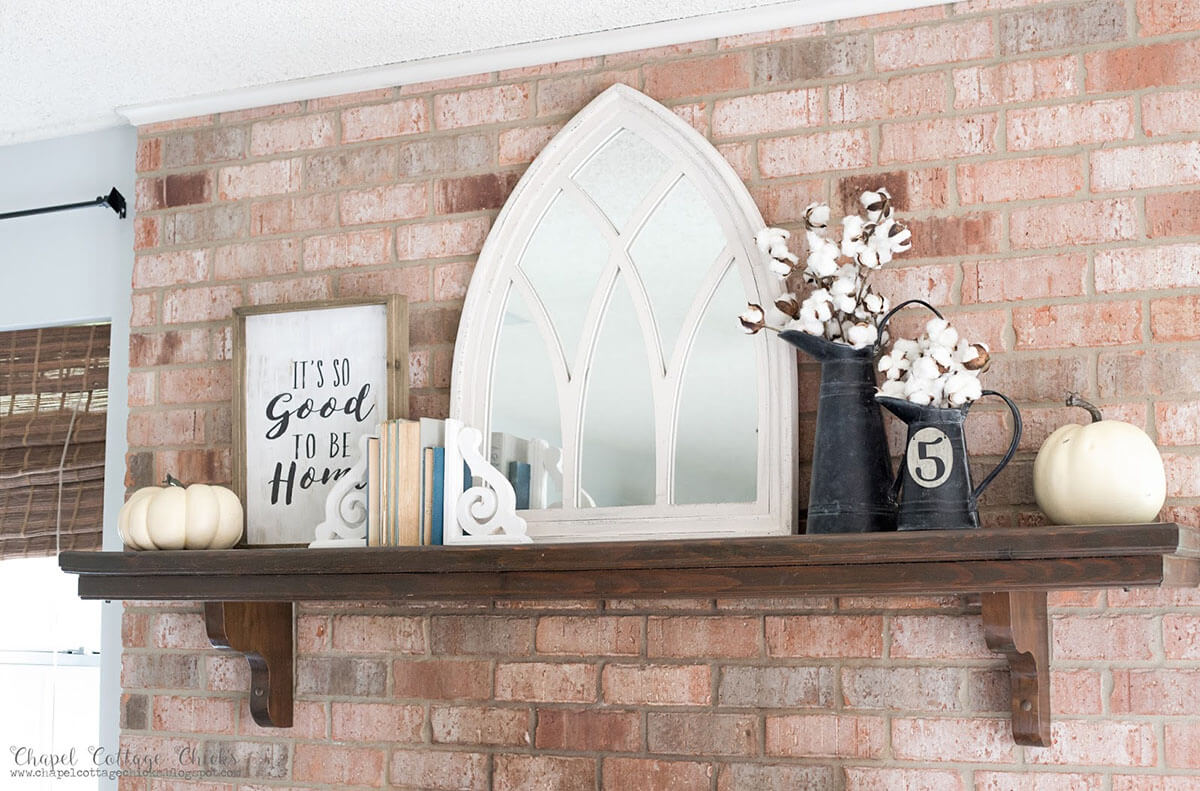 Make your house feel like a home with a mantel full of your favorite treasured items. The white cathedral mirror adds some fun lines and charm alongside the cute "it's so good to be home" handmade sign. Adding some cotton stems in an untraditional vase further cozies up the space and makes it your own.
24. Fabulous Felt and Fabric Covered Pumpkins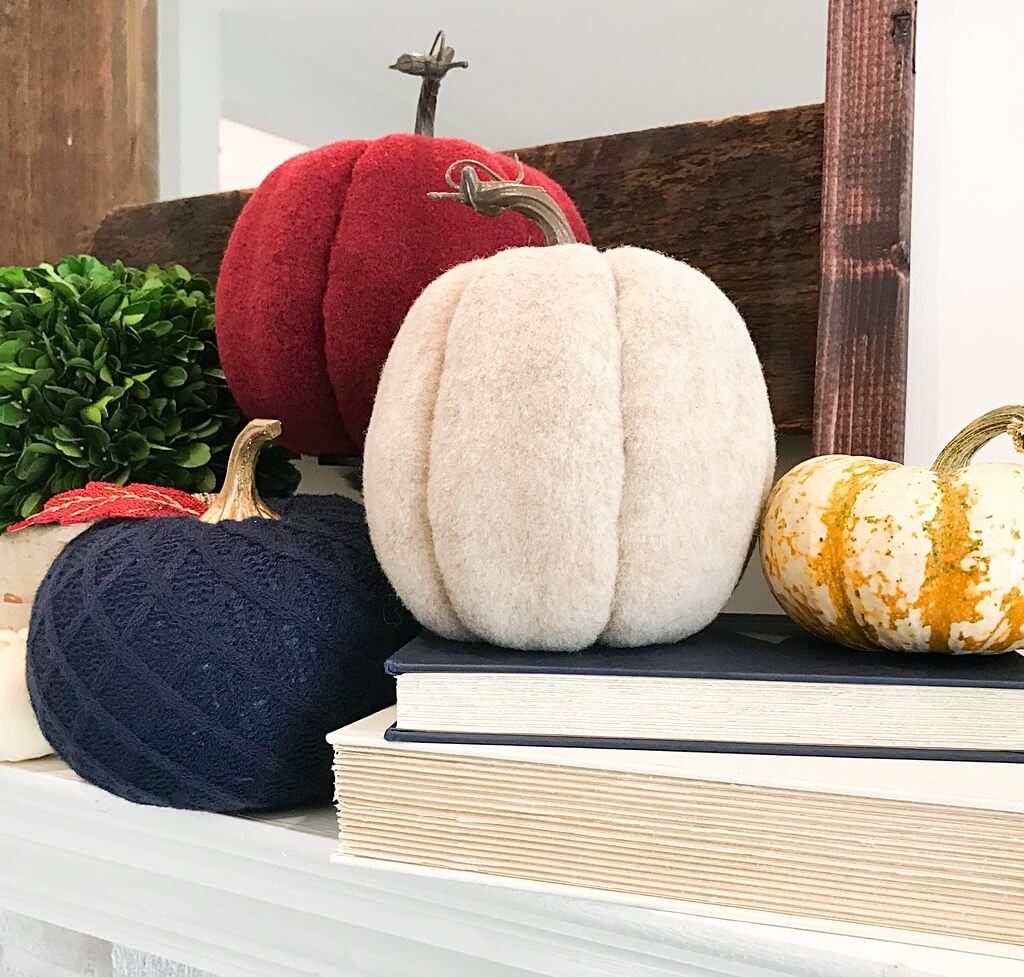 Make your pumpkins seamlessly blend into your existing decor by crafting your very own fabric-covered pumpkins. Perfect for placing on any table, mantel, or within any fall display you already have working for you, these pumpkins are right at home anywhere they go. Add a fall scented hand sanitizer in your gift bag and you have a ready-to-go fall present that's perfect for anyone on your list.
25. Spell Out Fall with Your Mason Jars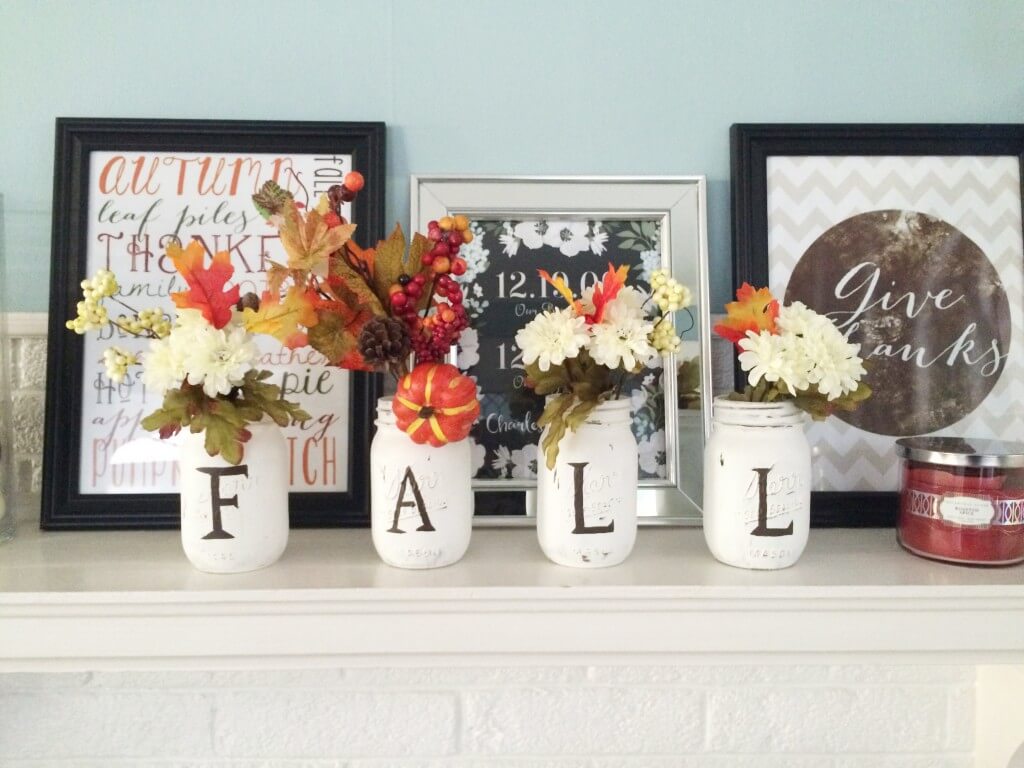 A little paint and some mason jars provide all you need to create this easy DIY display that's fantastic for fall. Using a creamy white allows all the bright and vibrant colors of fall to take center stage. It's a simple and pretty way to make your space ready to embrace the comfortable sights and scents of the season.
26. Pretty Plaid Painting Party Fun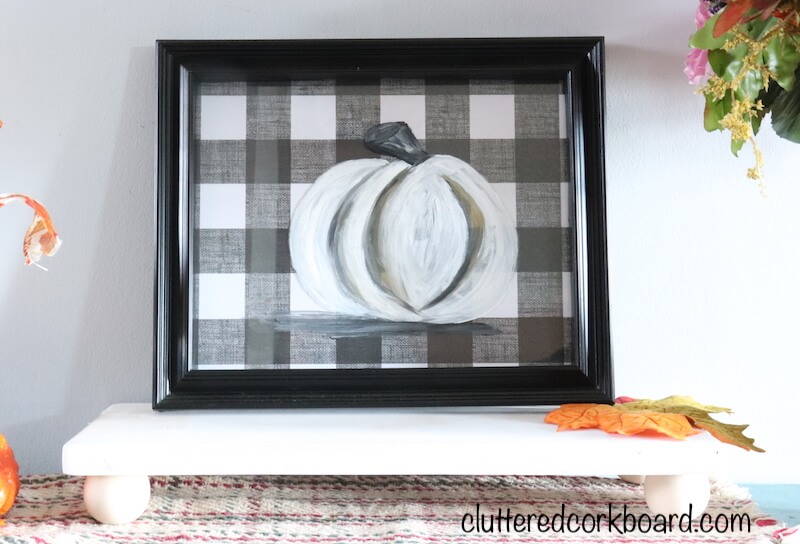 Let's have some fun with a pretty plaid painting party! Classic white and black make this hand-painted pumpkin and plaid picture a true masterpiece. Hang it on your kitchen wall or gift it to a friend for her fall birthday. The glossy black frame sets it off perfectly.
27. Small White Church Decoration Filled with Flowers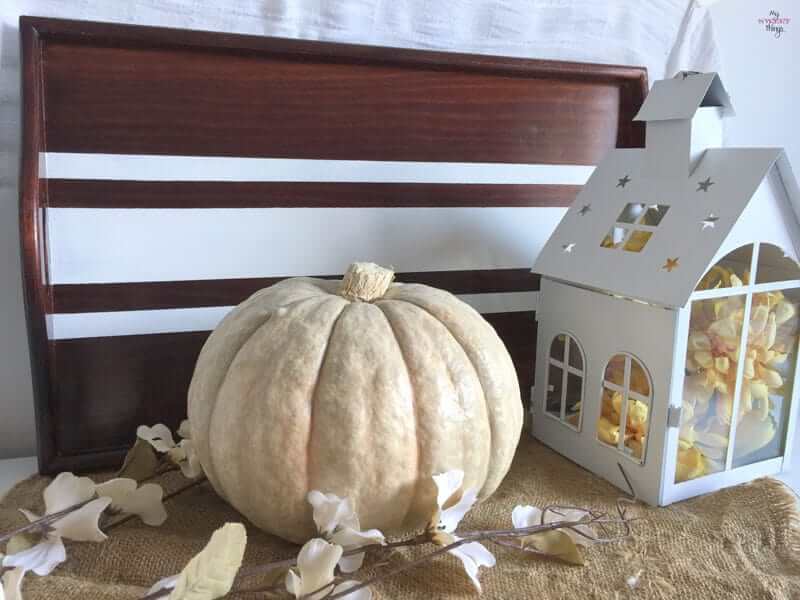 Line the table with some burlap and place some fall goodies on top. A small white church with tiny glass windows allows you to see the fall flowers stuffed inside. Placing a pumpkin in the mix is always in style and the right choice.
28. Chicken Wire Tray Background for Spilling Flowers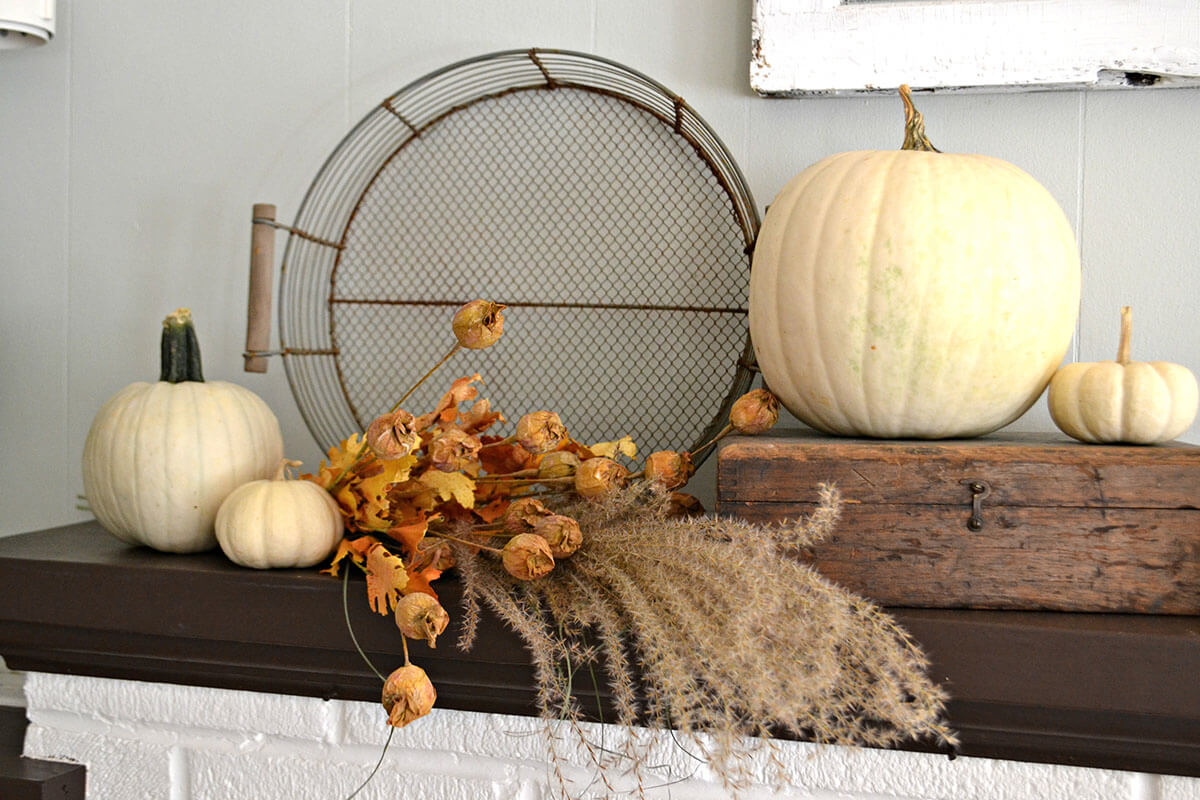 Let your fall flowers spill out onto the mantel in style as they are surrounded by pumpkins and set off with a chicken wire tray in the back. The tray turned on its side provides a fun backdrop for this fall display. Keep up the mantel with the changing seasons for your entertaining needs.
29. Rustic Pinecone and Twine Fall Garland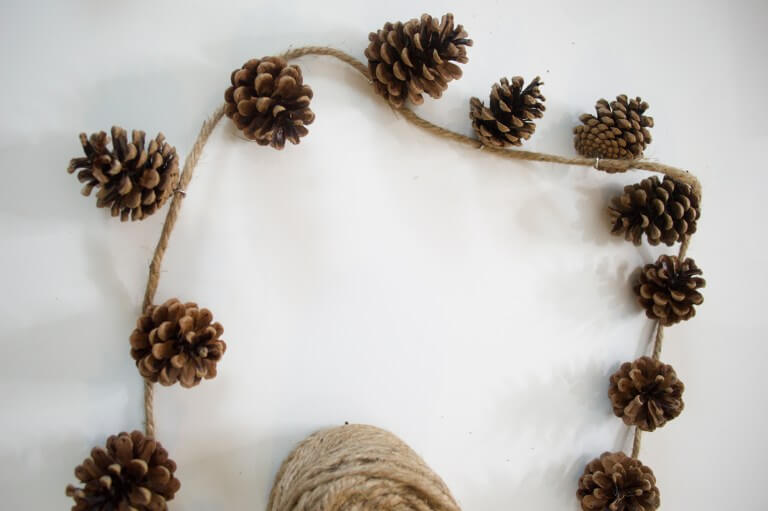 Think like a squirrel and get to gathering your goodies for the cooler weather. Your bundle of pinecones can create the perfect simple garland to use in all of your fall decorating schemes. Wrap a strand around a wreath, weave it through a curtain rod, or lay it on the mantel to infuse some rustic charm into your home this fall.
30. Hand-painted Wooden Letters to Spell Out Gather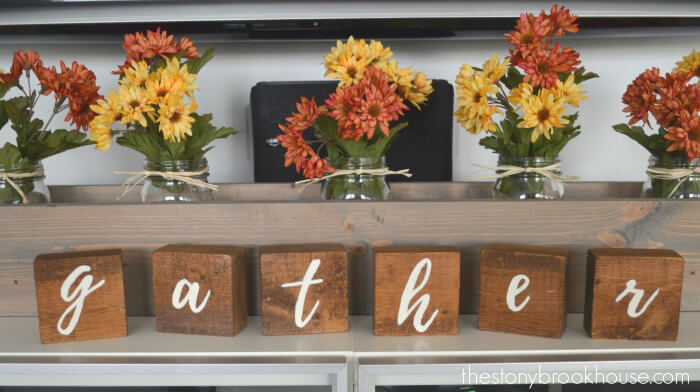 Spell out your favorite go-to word when you assemble your family and friends in the comfort of your own home. "Gather" offers a sweet sentiment as we realize the importance it bestows in these crazy times. The rich brown wood makes the white scripted letters pop and grabs your attention.
31. Coffee Table Tray with Pitcher Vase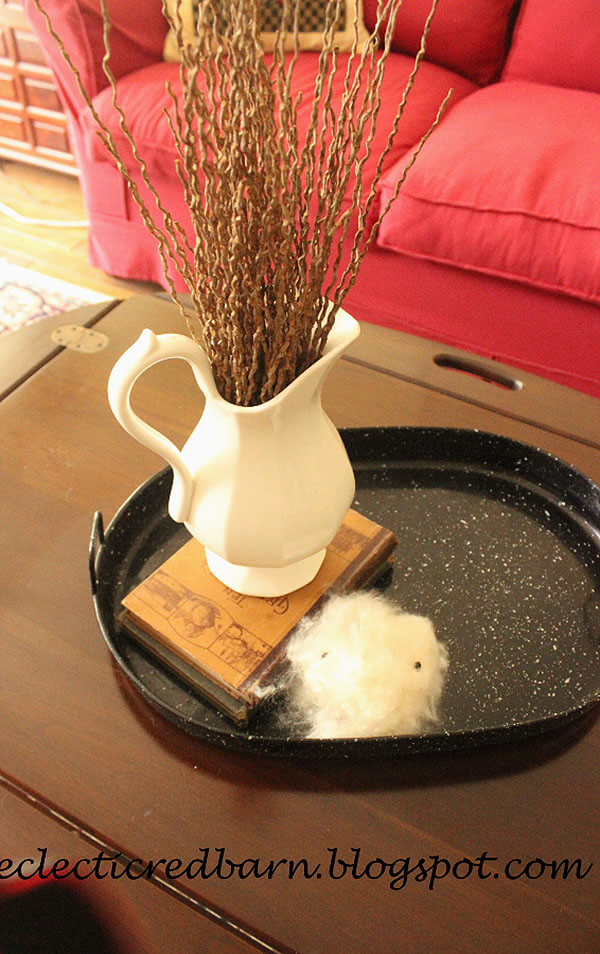 Keep all your ducks in a row as you use this coffee table tray to organize your favorite fall decorations. From a white farmhouse pitcher used as a vase to the clump of cotton, the farmhouse feeling is alive and thriving.
32. Embrace All the Feels of Fall Corner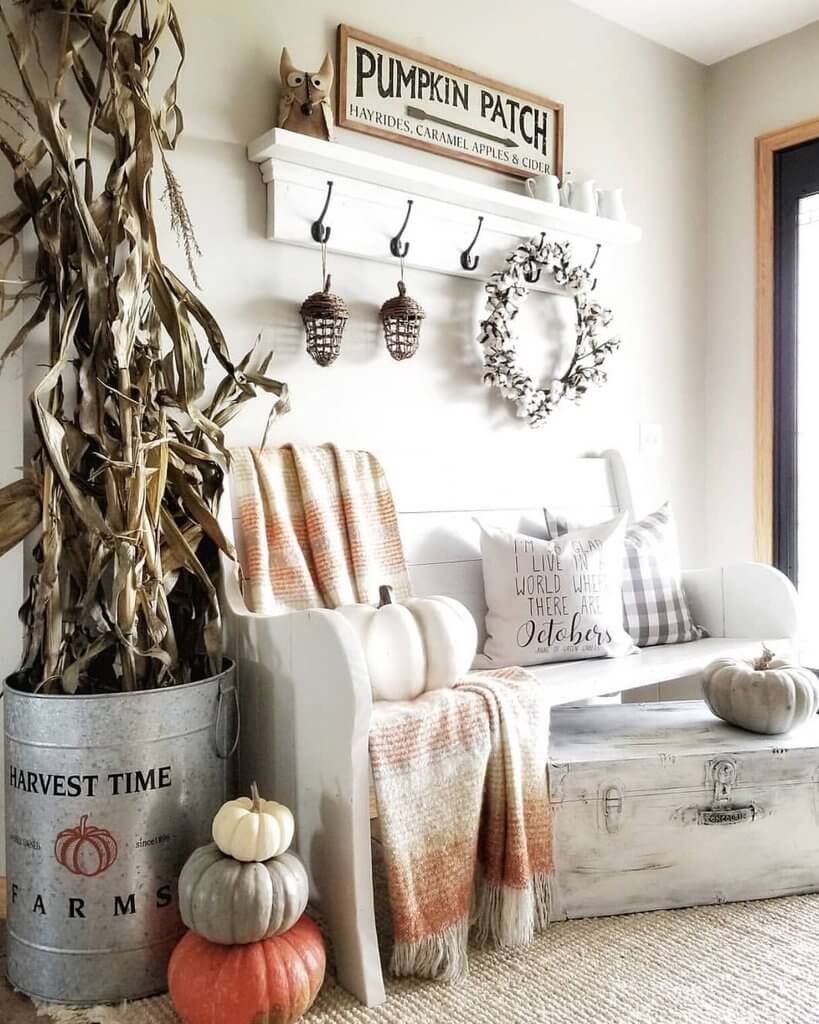 The pumpkin patch, fodder shocks, warm blankets, a cotton wreath, and woven twine acorns work their magic together to create this beautiful corner space in your home that's filled to the brim with fall. Make a dent in your book list as you enjoy the cozy comfort of fall from your own little reading nook.
33. Autumn Leaves & Pumpkins Please Fall Decor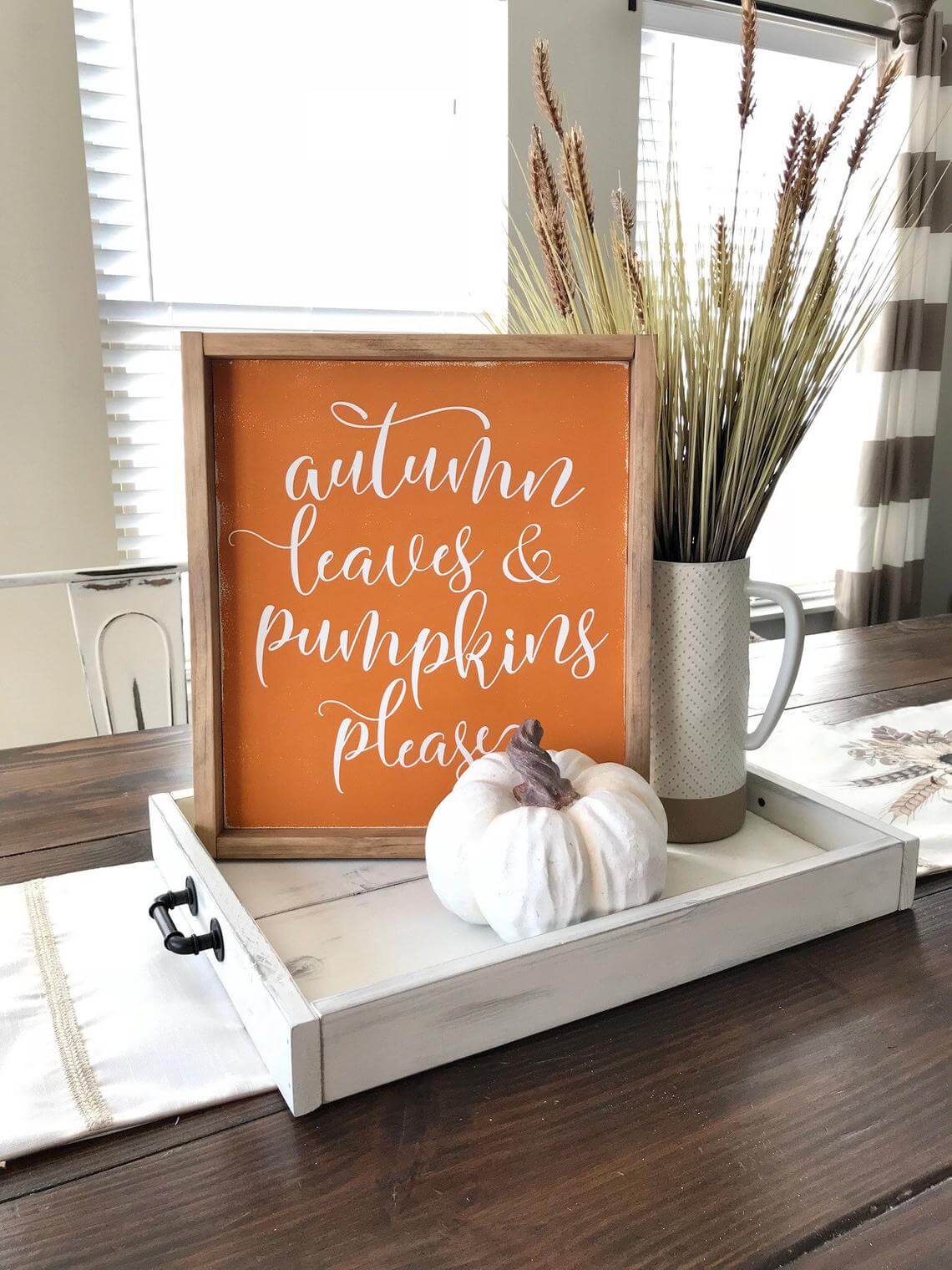 Grab some grains and fill your vase as you create an awesome autumn display beside your autumn and pumpkin sign. This dining table tray is a fun spin on the traditional floral bouquet centerpiece.
34. Oranges and Browns Warm the Fall Scene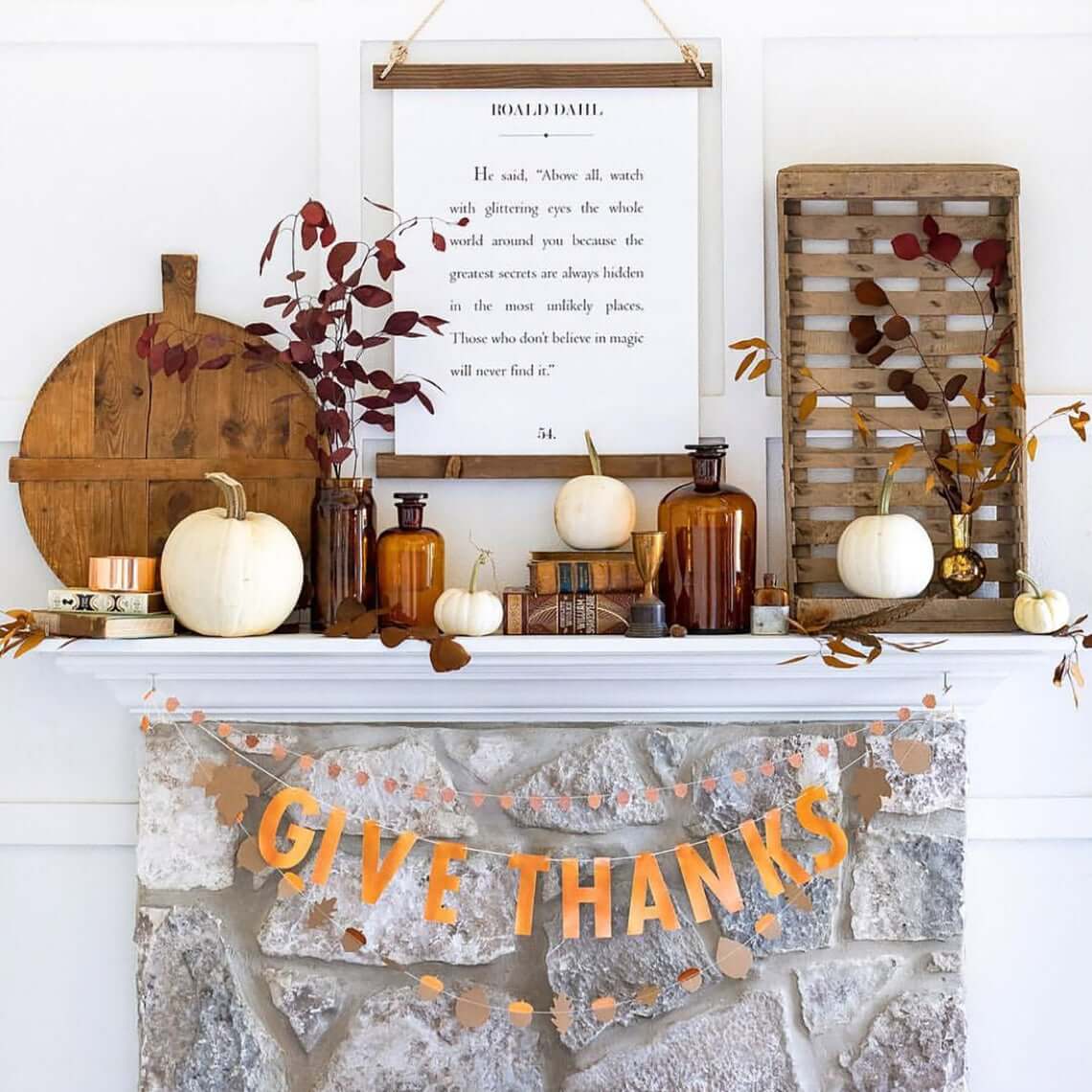 Take your blank white canvas space interior into the warmth of a bond fire with the gorgeous brown and orange hues in this fall display. The rich coppery glass bottles paired with the warm brown wooden decorations add some drama to this white scene. Leafy garland helps you and your family gives thanks to one another during your turkey day dinner.
35. Unique Great Grains Bunch Tied with Burlap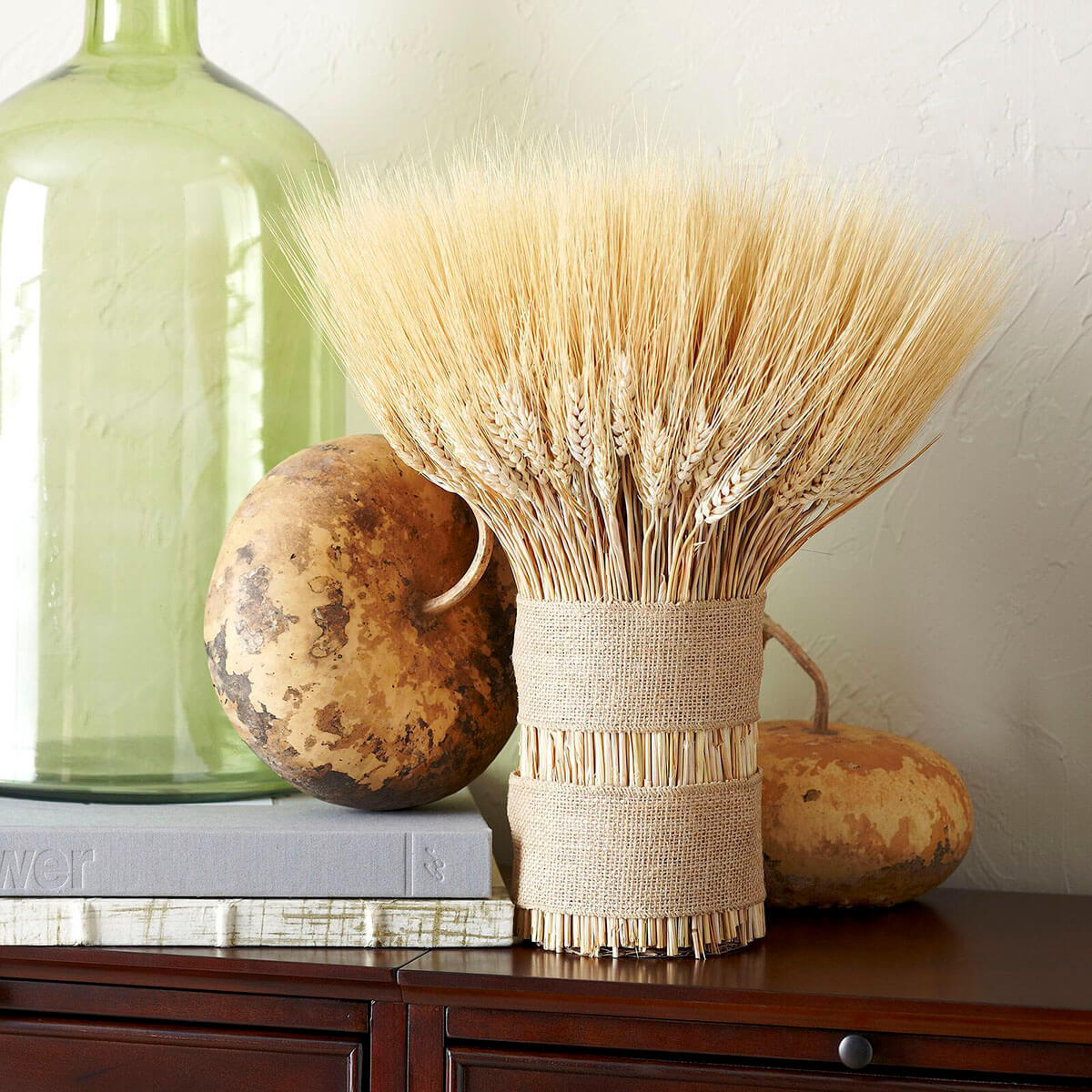 Change up your floral bouquet game with the terrific texture of this large bunch of grains. The burlap ties hold all these stems into place and keep everything neat and tidy. An outdoor fall wedding would even be a place to spot one of these beauties in the hands of some pretty bridesmaids.
36. Fall Means Warm Fireside Hues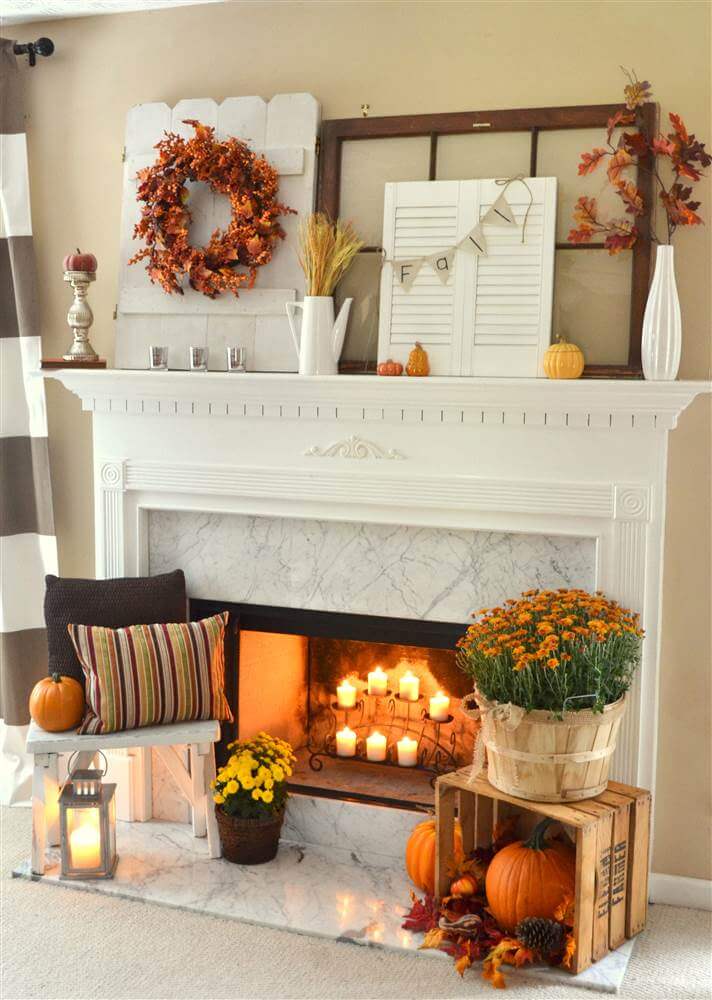 This cheerful mantel display combines several different types of decorations. On top of the mantel, there are repurposed garden gates, windows, and shutters. The mantel is accented with fall leaves and wreaths. The hearth display has a farm fresh appeal with a crate and fresh pumpkins. Softly glowing candles stand in the fireplace.
37. Dried Plants and Wreaths Evoke the Harvest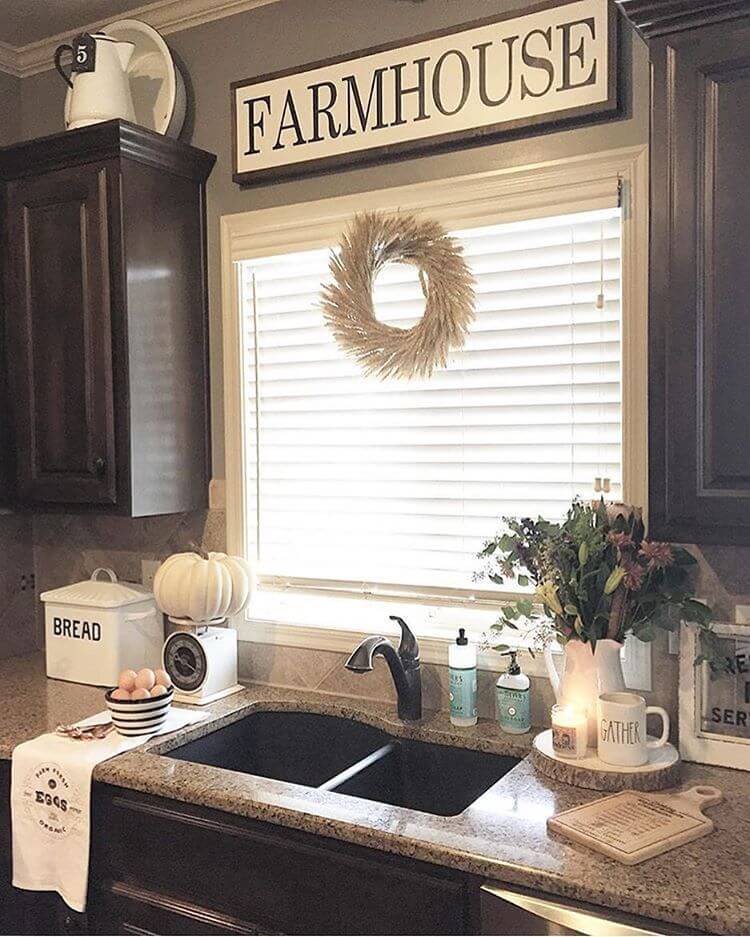 This is an example of how farmhouse décor can be updated for each season. An understated wreath of dried wheat hangs on the kitchen window, and a pitcher full of late autumn flowers stands next to the sink. A cute white pumpkin on the scale completes the scene.
38. Switch Out Your Plants and Message for the Season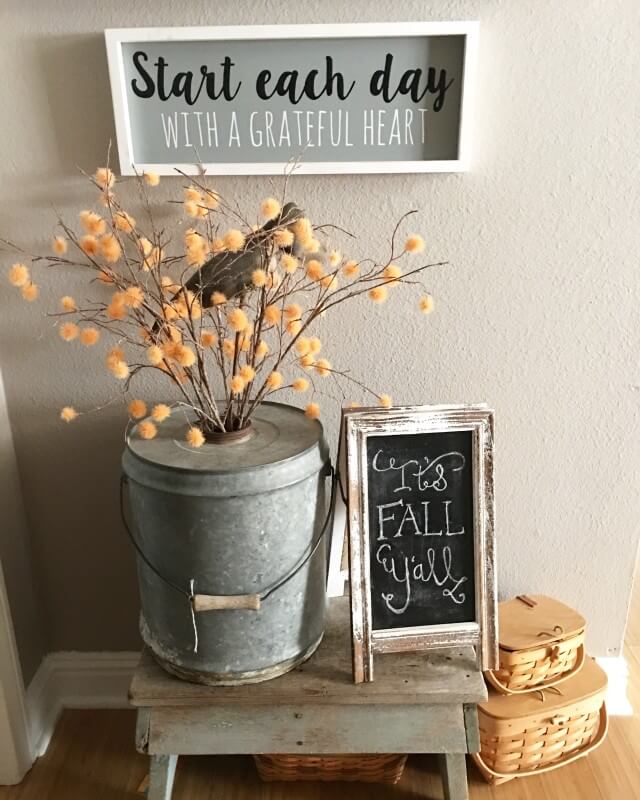 A galvanized bucket provides an oversized vase for autumn branches. A bird nestles in the branches for a cute touch. Next to the bucket, the homeowner has placed a chalkboard sign. It would be easy to change this display according to the seasons, using different filler for the vase and changing the message on the sign.
39. Front Porch Harvest Décor Glory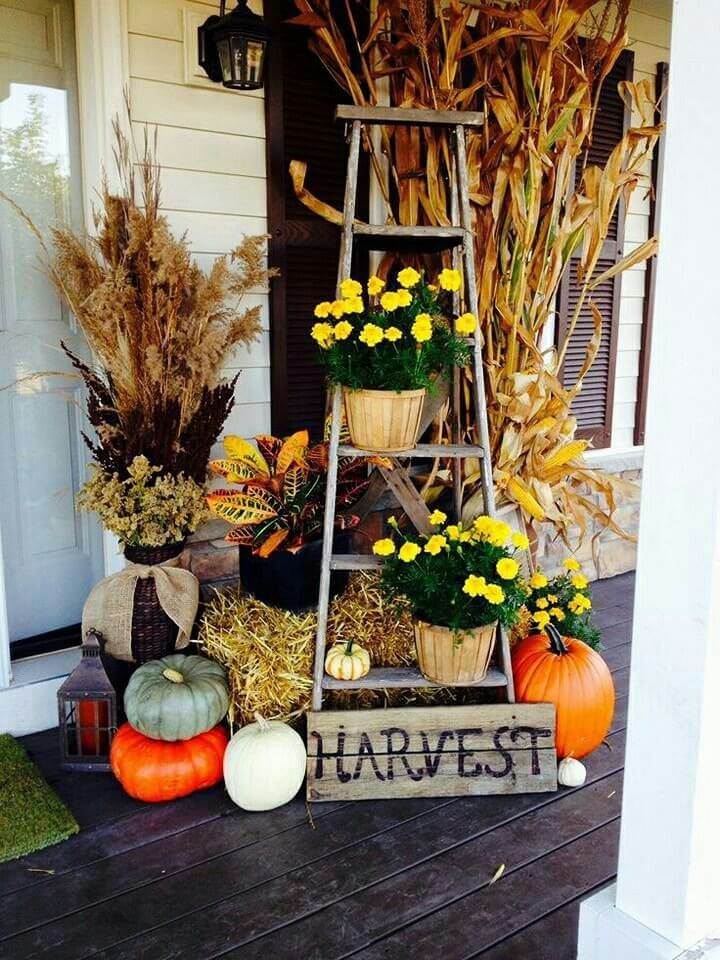 This bountiful display combines many different elements to make a pulled together design. An old ladder provides a nice place to put baskets of marigolds. A large sheaf of corn stalks stands behind the ladder. The display is completed with a variety of pumpkins, dried plants, and a candle lantern. This display will make your house stand out along your street.
40. A Stunningly Sophisticated Harvest Centerpiece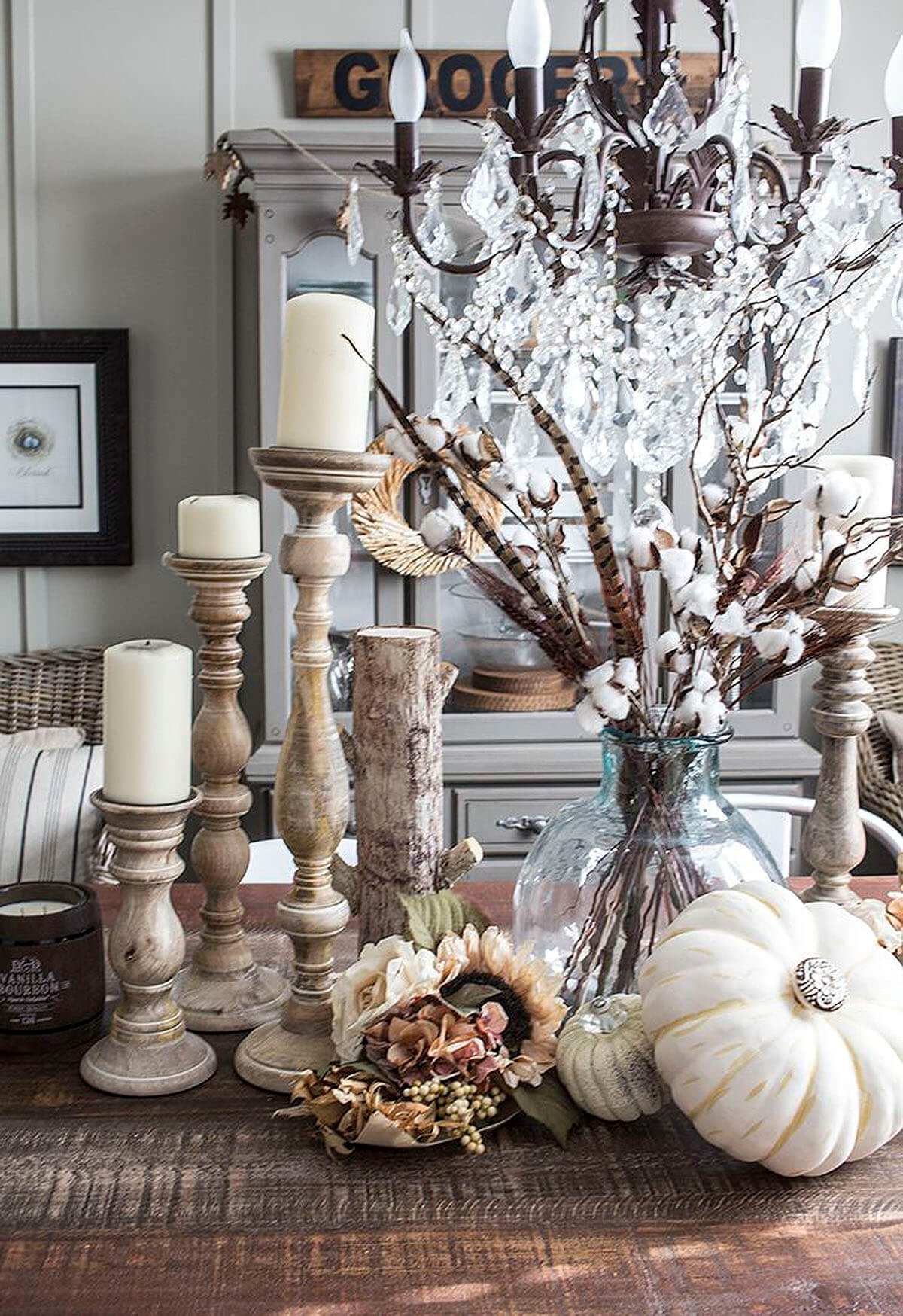 Using unique and unexpected items, this centerpiece is elegant and sophisticated. In an oversized glass vase are cotton bolls and pheasant feathers. The combination of textures makes this design special. Tall pillar candles on pedestals stand next to the vase. An assortment of pumpkins and silk flowers completes the look.
41. Dried Wreaths are Simple Fall Décor Pieces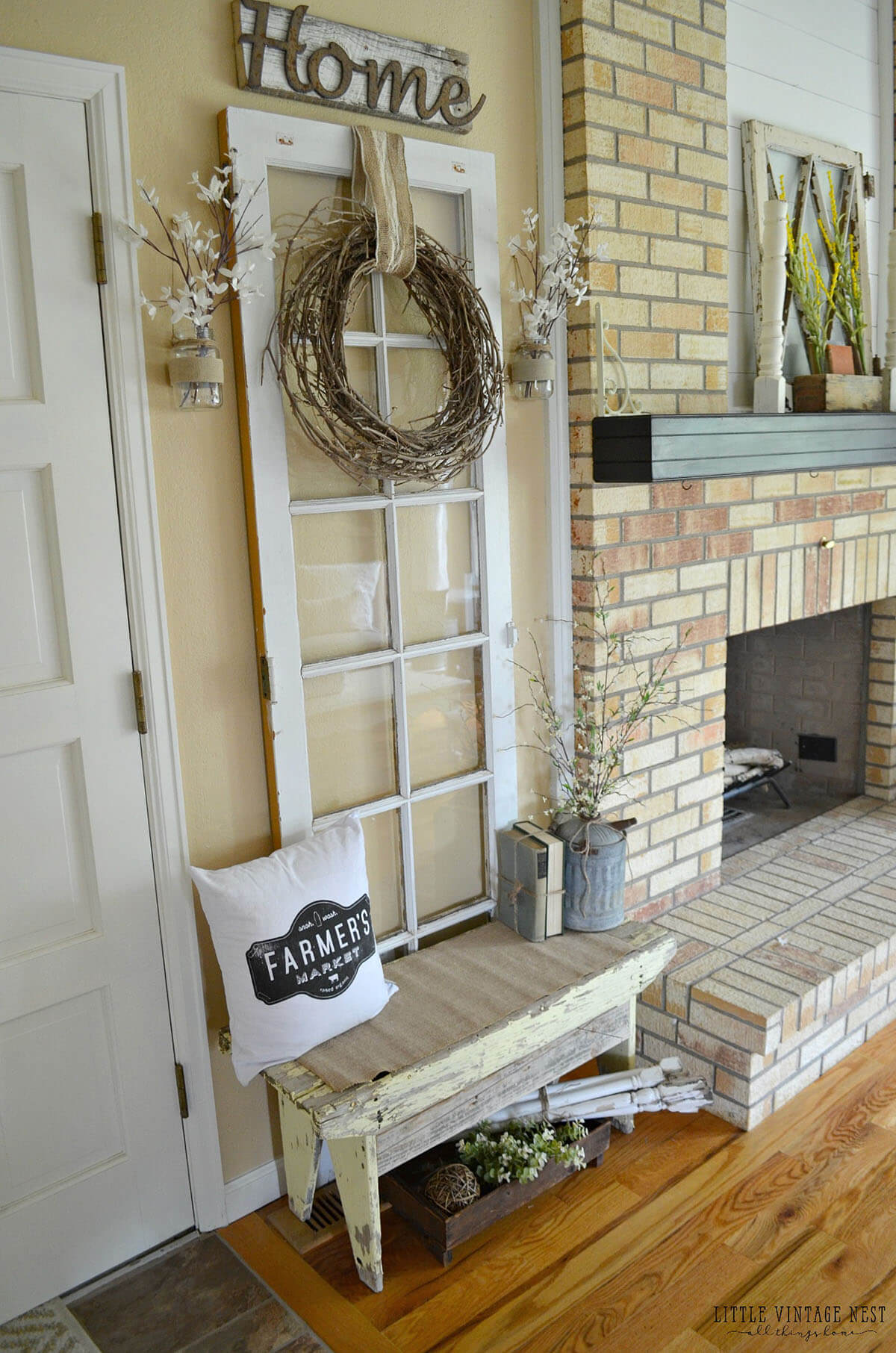 A repurposed window holds an unadorned grapevine wreath. White flowers accent the arrangement. A small side table holds a printed cushion, some old books, and a galvanized vase for more white flowers. This design is tailor made for the farmhouse style. It can be used at any time of year.
42. Cheerful Marigolds Light Up this Porch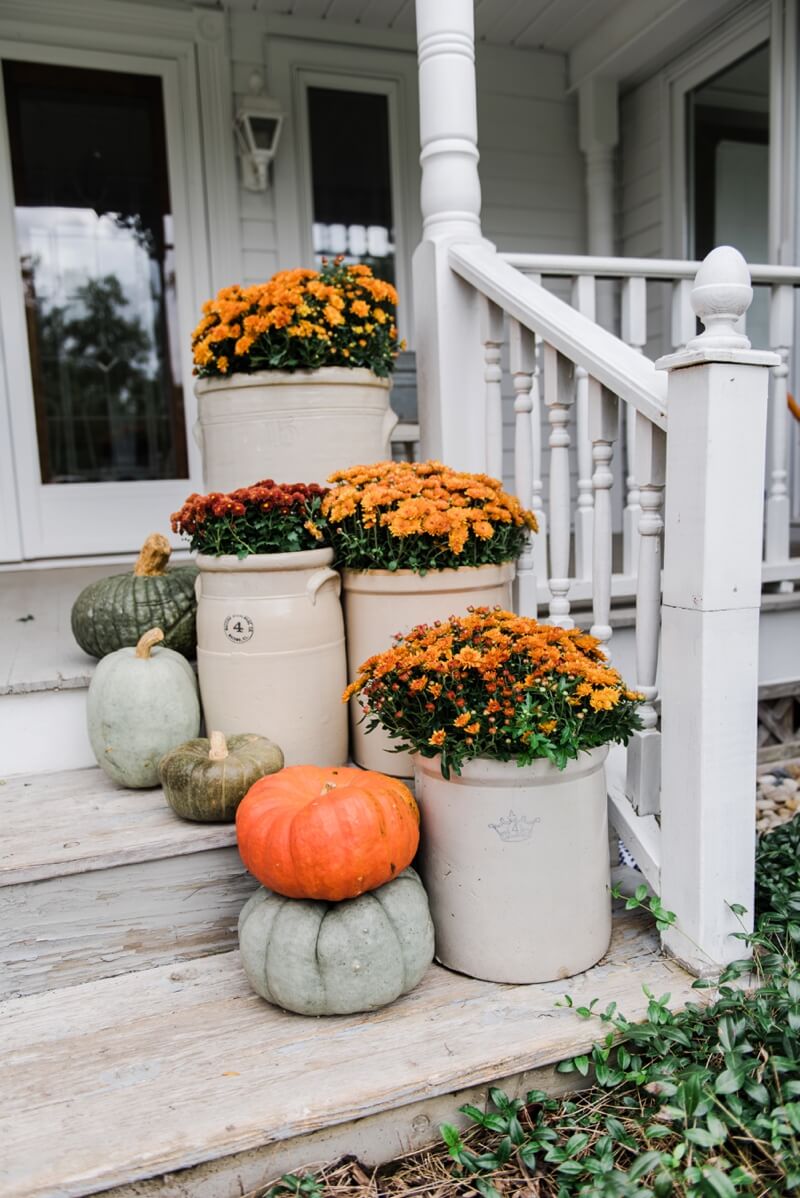 Dairy crocks hold blooming flowers. The crocks come in a variety of sizes for a mismatched display. An assortment of pumpkins and squash nestles up against the crocks. The colors of the flowers and the pumpkins blend beautifully together. This would make a cheerful accent to any farmhouse front porch in the autumn.
43. Fall Pumpkins to Match Any Color Scheme

This fall display matches the farmhouse style perfectly. A combination of white and beige plus galvanized metal gives this arrangement a timeless charm. Wheat stalks and cotton bolls stand up behind the galvanized pail. Lettering on the pail makes this design special. Pretty white pumpkins complete this display.
44. Berries and Flowers in Pretty Fall Colors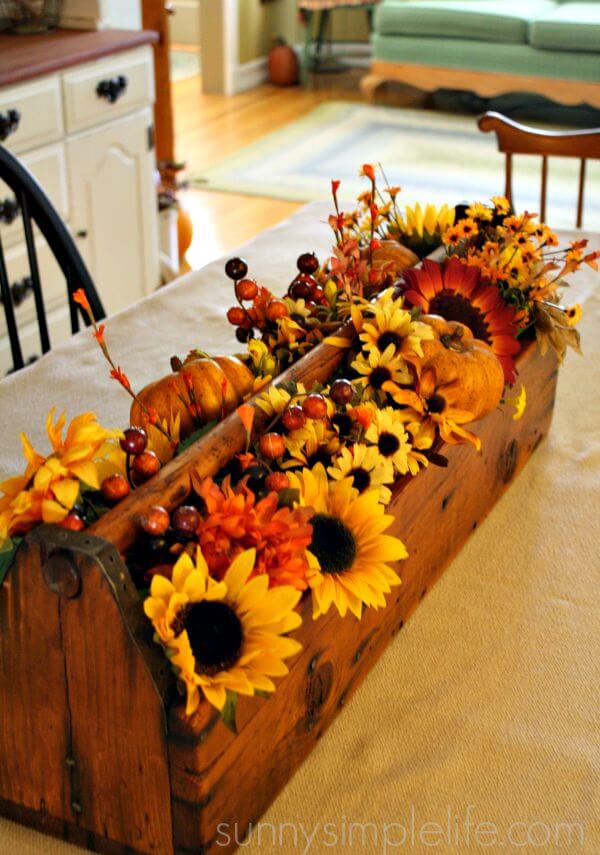 This simple handled wooden box is filled with autumn touches like berries and silk sunflowers. The rich combination of colors brings the feeling of autumn inside the home. The rustic quality of the box fits in with the farmhouse aesthetic. This would make a great centerpiece for a fall table.
45. Tiered Antique Basins as a Centerpiece for Fall's Treasures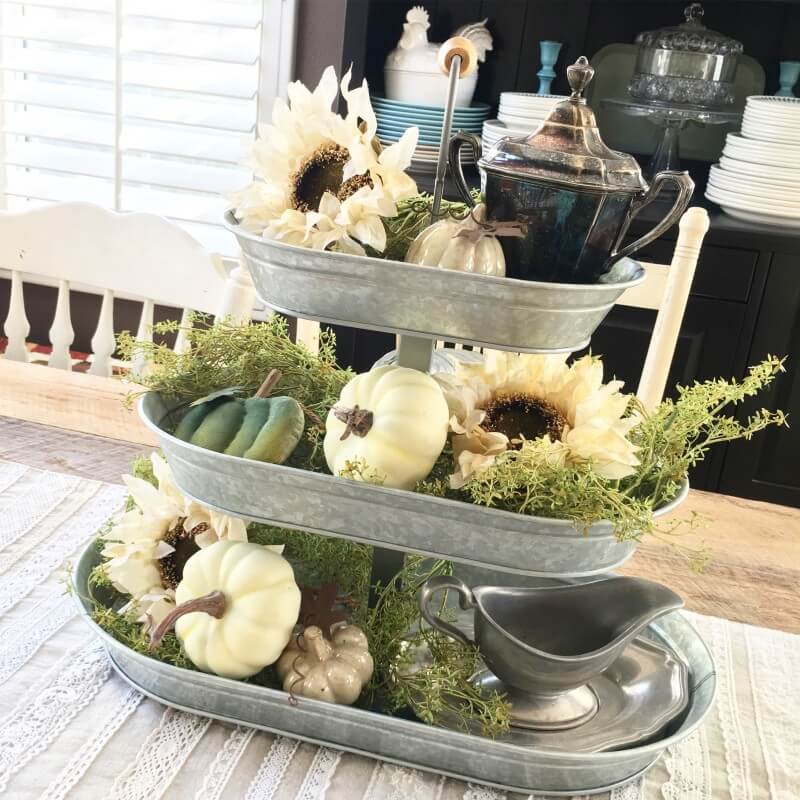 Tiered galvanized trays look great in the farmhouse kitchen. This display is done in coordinating shades of cream and green, with flowers and white pumpkins. A unique sugar bowl sits on the top shelf and a vintage gravy pitcher on the bottom. These metallic accents bring an extra dimension of farmhouse charm to this arrangement.
46. Clever Cotton Boll Wreath is Pretty and Unique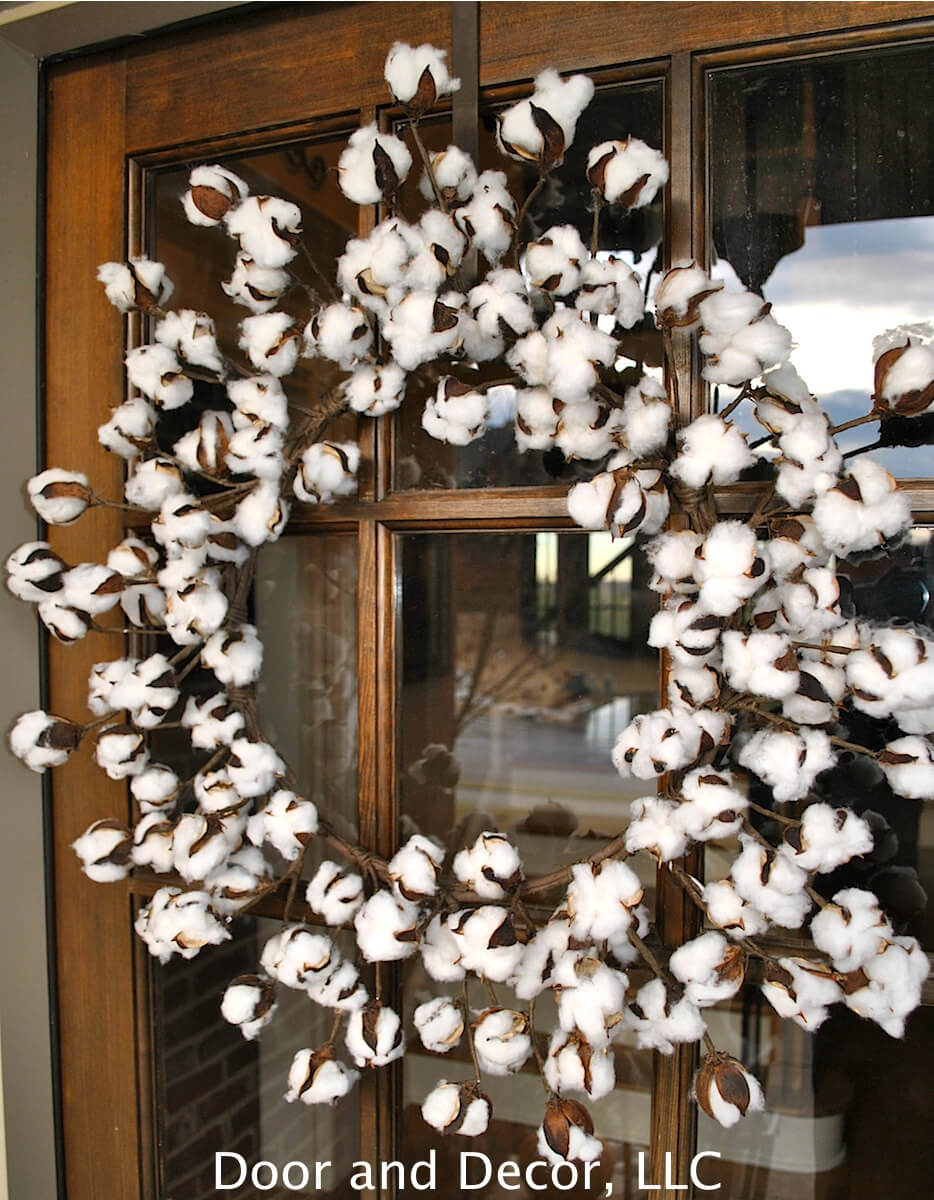 Cotton bolls are a frequent accent in the farmhouse home. The color scheme matches perfectly, and they have a charming, nostalgic quality. The soft texture makes them visually interesting. These cotton bolls are woven into a large door wreath. This wreath is understated and graceful, and welcomes guests to the farmhouse home.
47. A Few Subtle Touches of Fall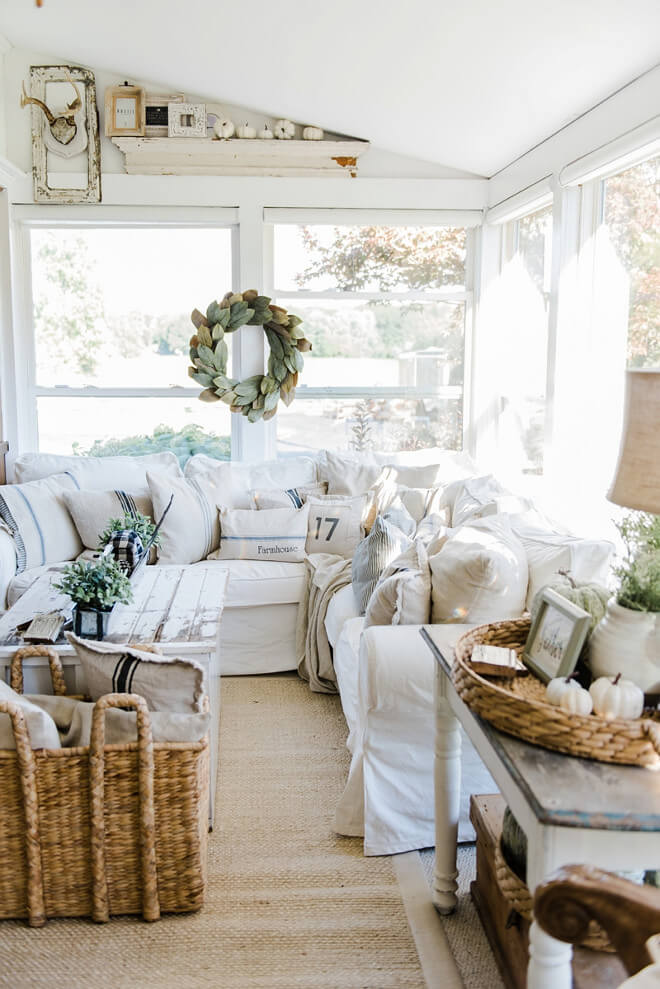 This gorgeous living room group shows that you can have beautiful farmhouse style in a small space. The inviting sectional is piled high with cushions. The fall touches in this room are subtle, from the oversized leaf wreath hanging by the windows to the tiny pumpkins in a basket.
48. Signs of Fall in a Lovely Wire Basket Display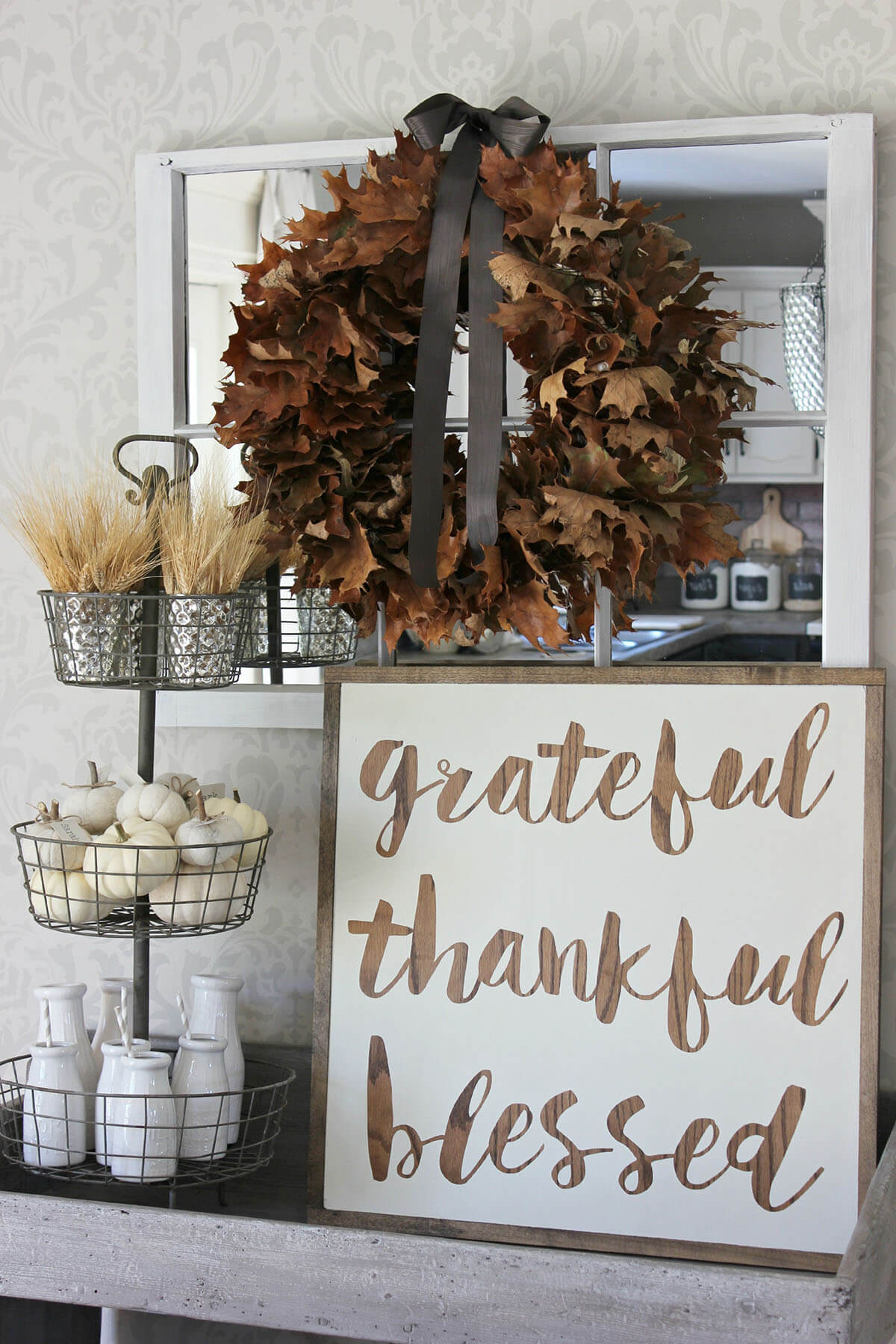 Hanging on a window frame mirror, a natural dried leaf wreath highlights this display. A tiered wire basket holds sheaves of dried grass, little white pumpkins, and vintage milk bottles. An oversized lettered sign with inspirational wording finishes this arrangement. This would make a great accent to any farmhouse kitchen.
49. Accessories Transform Your Porch Swing for Fall
Farmhouse fall décor extends onto the front porch. This porch has many decorative touches that welcome fall. The plaid throw on the porch swing provides a soft texture and appealing color. Baskets of pumpkins, dried corn, and chrysanthemums decorate the steps. A fabulous wreath hangs on the door behind the porch swing.
Our Favorite Rustic Entryway Decorations to buy on Amazon

More farmhouse fall decorating ideas on the next page…