Make your name the focal point of your interior design as you incorporate a floral letter into the place you love most. It's true that a house is simply a building, but a home is so much more! As the saying goes, "the home is where the heart is" and this rings true from one generation to the next. A home is where we feel most at ease- the place we unwind and come undone without a care in the world. So since this is the space we covet most, it makes sense to put our mark on it, and adding a decorative letter is the perfect way to do just that!
32 Perfect Ways to Decorate Your Home Using Floral Letters

The combination of a monogram and flowers is a great way to add some pretty personalization into any room. A floral letter is a fun way to enjoy the beauty of a bouquet without watering or wilting! You can choose to use one initial, a monogram trio, or your entire first or last name depending upon how you wish to use this unique home decoration. Naturally infused with hues of pinks and whites, these floral letter ideas make the most of their intrigue as accents in the home as well as on the scene at a wedding reception.
Take a quick look at these awesome ideas that could be a fun DIY project during an afternoon with the girls or as a girls' night out activity! All the girls will delight in a fun time spent catching up, noshing on some snacks, and leaving with memories and a special memento in the form of their flower-studded letter!
1. Eucalyptus and Pink Floral Name Wall Decor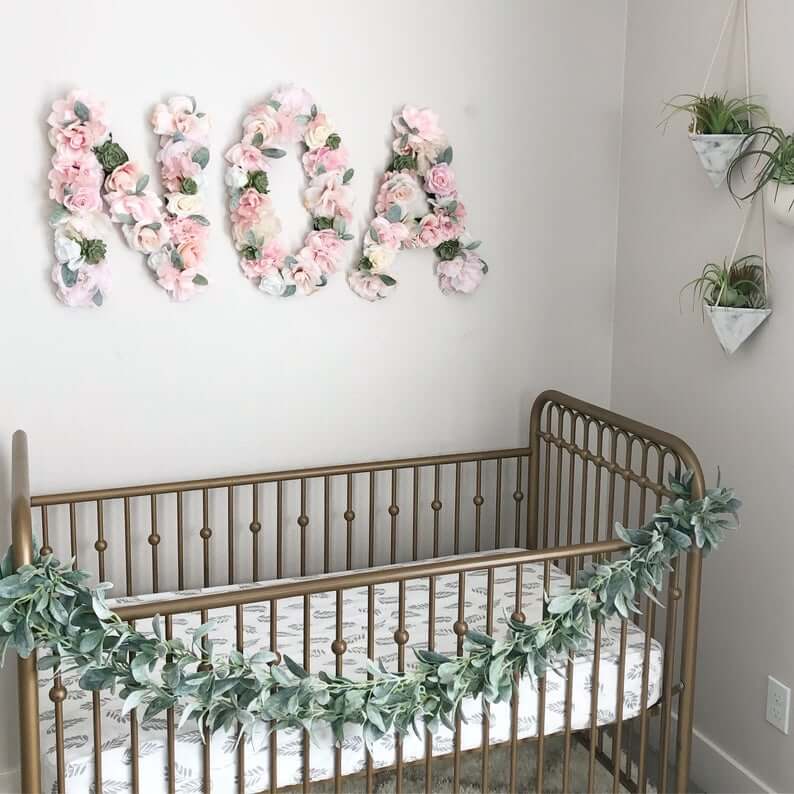 A wonderful way to perk up a pretty nursery or add a delicate touch to a wedding reception venue, this collection of floral letters to spell out a name is worth checking out! With the ability to stand alone, these letters spell out the name of your choice and take your decorating up a notch. At your reception, use these letters to spell out your new last name at the gift table. In your little one's nursery, arrange them on top of your dresser to see that special name brought to life as you nest before sweet baby calls this space home.
2. Embroidery Ring Floral Pink and Green Letter on White Linen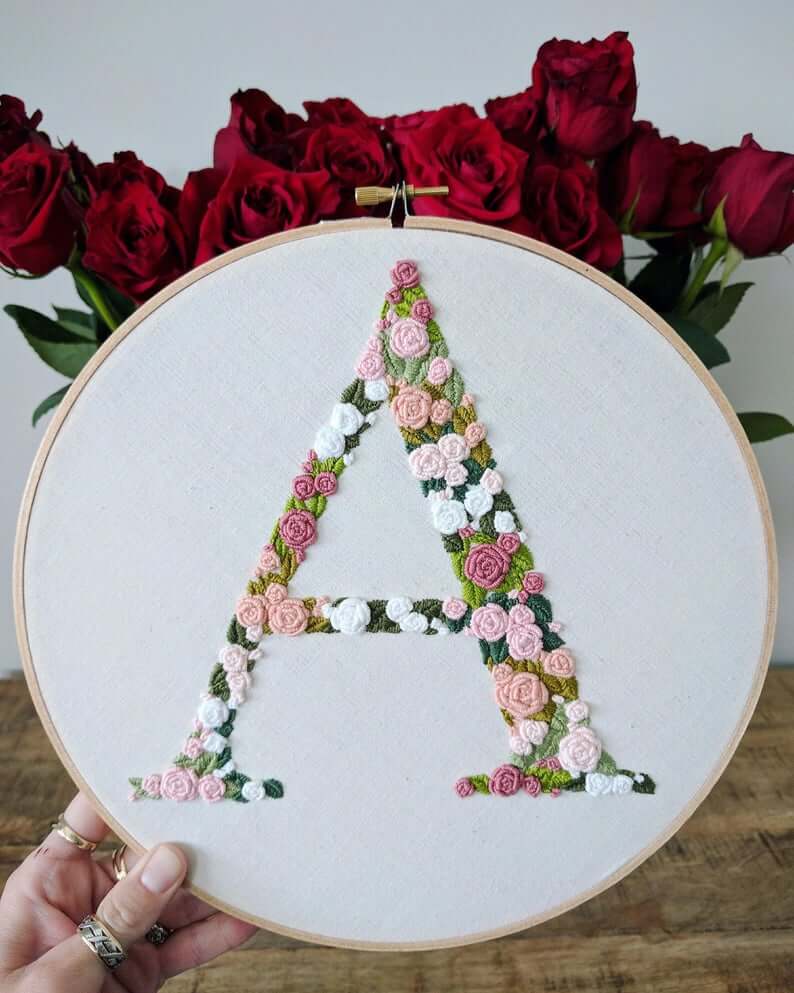 Woven on a clean and crisp white linen fabric, this floral letter adds texture and depth as one of the best flower letters DIY ideas. Each stitch of pink and green brings this display into a multi-dimensional design as it raises the buds and blooms of the background. Revisit your grandmother's handiwork and craft some of your own. Host a party or attend one if you need to learn this classic needle-and-thread skill. Your girl gang will enjoy working their magic through the fabric within this ring in order to craft a unique design element into their home's decor.
3. White Intricate Frame with Floral Letter in Center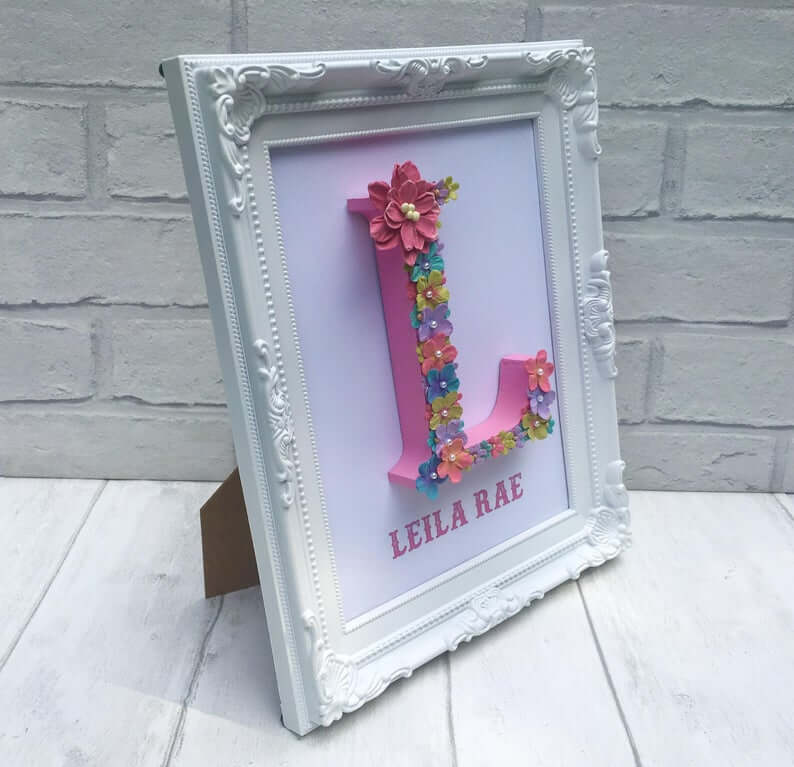 Picture this- a breathtaking white frame designed with beautiful intricate handiwork. Inside this frame and placed directly in the center is the floral letter work of art. This wooden letter has been painted pink and spruced up with the addition of adorning flower petals in light shades decoupaged with a beaded flower center. Seeming to pop out and grab you, this 3-dimensional floral letter is a fun update to the traditional floral letter displays. Incorporating the full name underneath this special letter makes this a very personal piece.
4. Lovely Pale and Muted Pink Nursery Flower Letter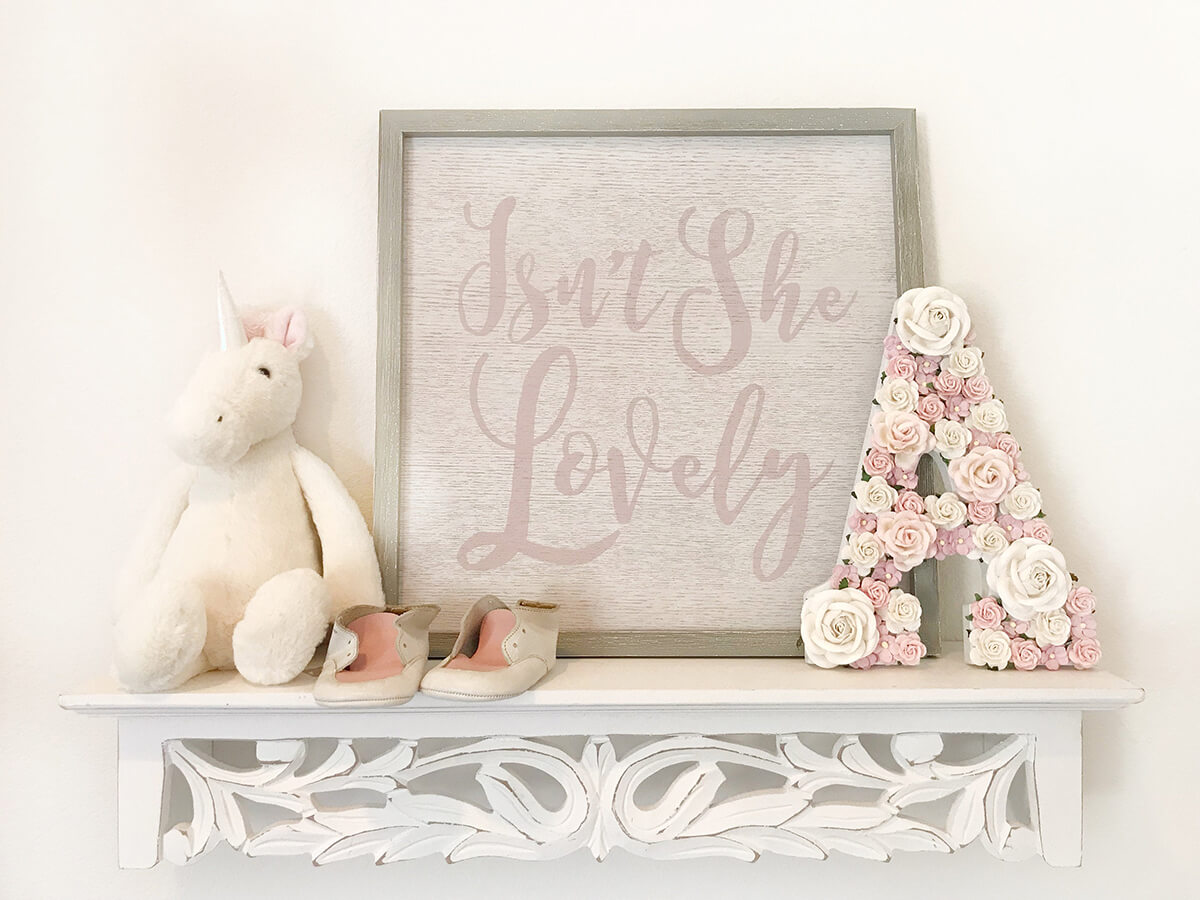 This picture-perfect pale pink letter stands on its own in terms of functionality and fun in your nursery space! Add it to the top of the dresser or on a floating shelf to put a little piece of soft and gentle serenity into your baby's new home. The use of such muted color tones makes this the best palette for your little one's space. Incorporating both larger and smaller flowers adds some interest and depth to this pretty nursery floral art piece.
5. Pretty Pink Flowerbed Background Name Sign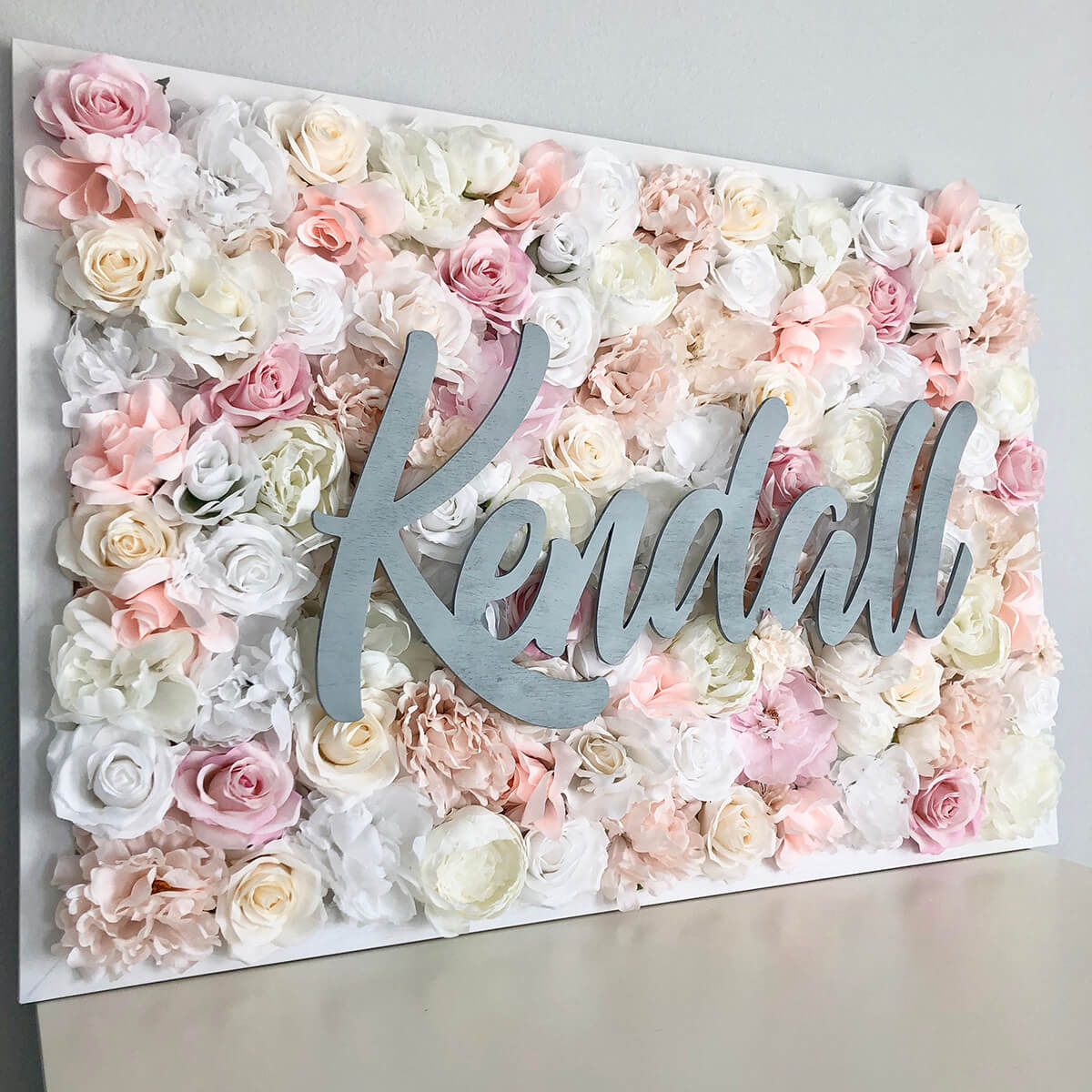 A bed of roses is not only a famous song but a cool background for your favorite floral letter ideas. Take a scripted name made out of wood and place it amid this pretty board and voila! You have a unique and awesome idea for making your floral letter sign stand out in a crowd. This is a great addition to your daughter's room, no matter if she is still in her baby crib or graduating from high school. It would also be a great wedding decoration for her special day.
6. Homemade Wide Set Floral Letter Stand Alone Display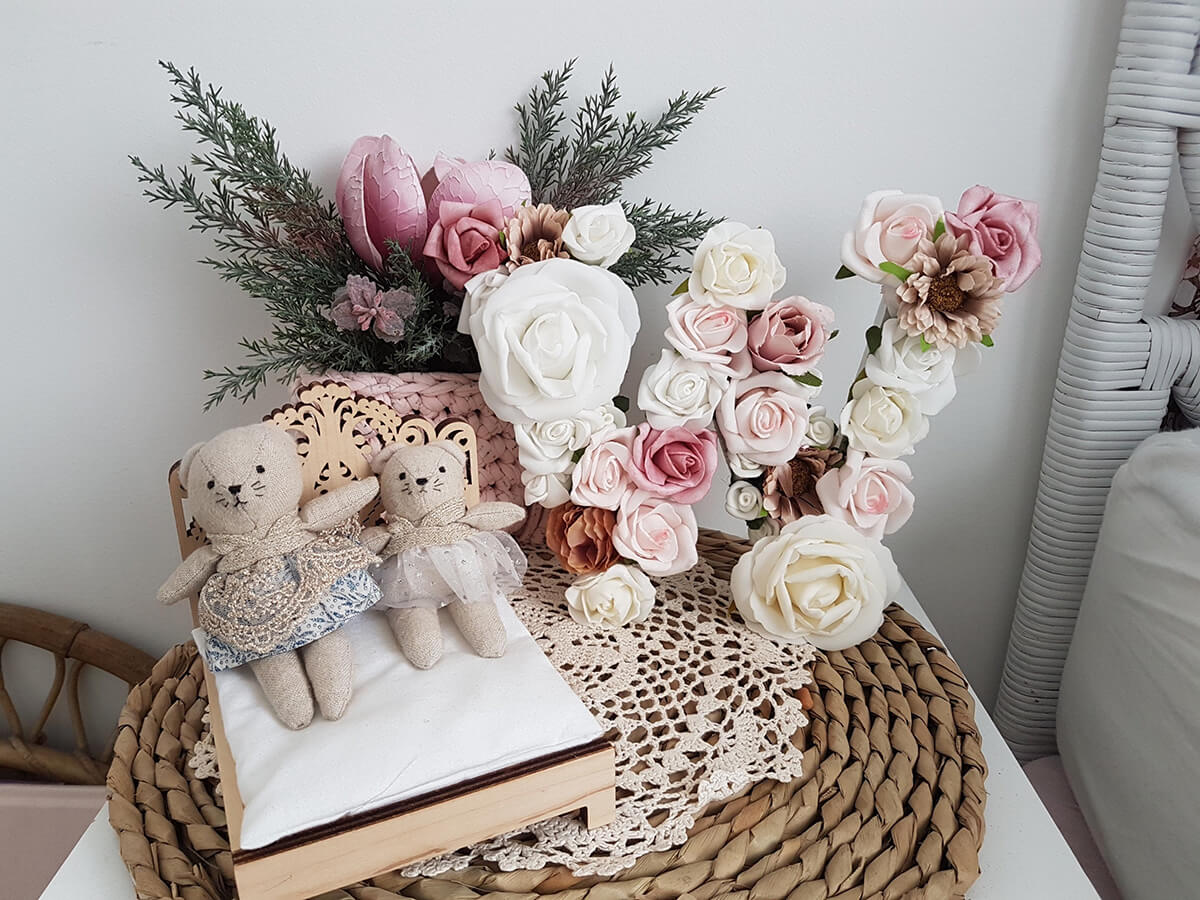 A great addition to your side table or mantel is this homemade-looking floral letter filled with love. Anytime something has that homemade feel it renders a warm and cozy feeling of love and devotion. This piece delivers with a pretty arrangement of white, brown, and light pink flowers in a variety of shapes and sizes. With the use of different sizes, this floral letter works in most any decor from traditional to cozy cottage.
7. Framed Floral Letter Painted Wall Art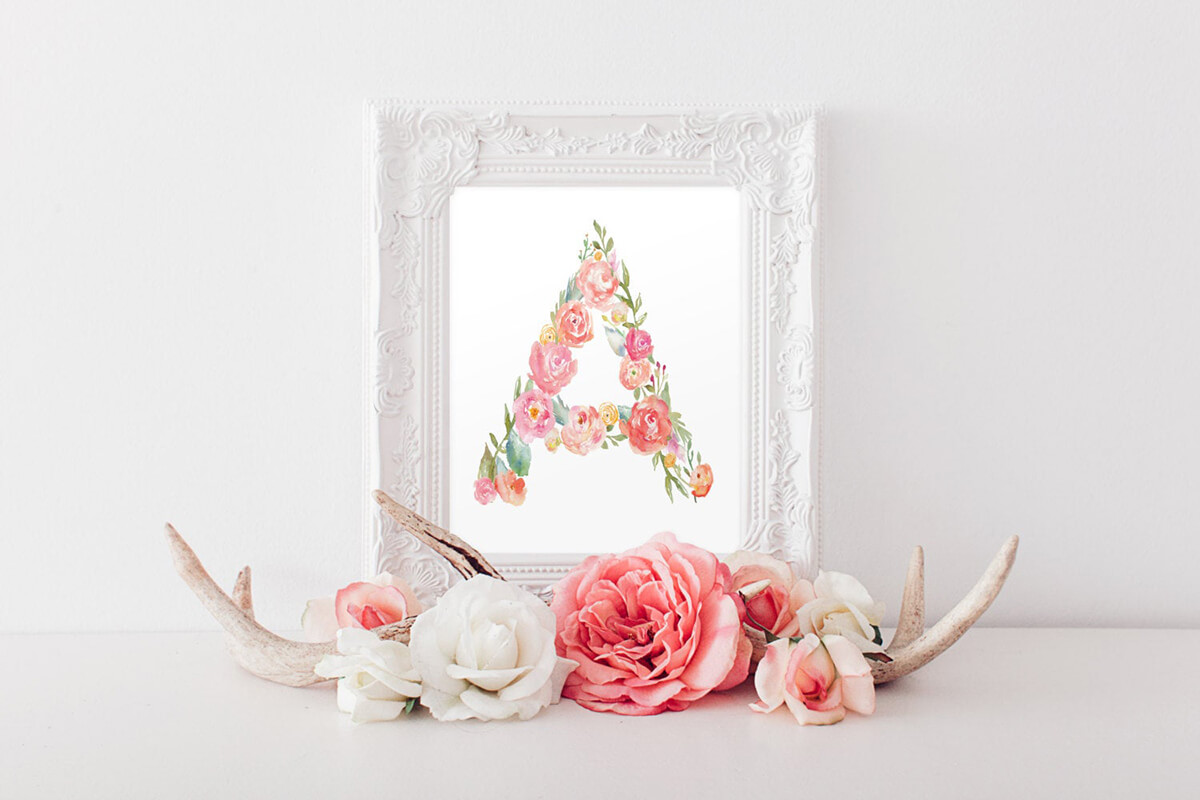 Set inside a clean and crisp white frame, this watercolor-esque painted letter rests delicately in all of its pristine beauty. The intricate molded white frame continues the painting's background color in order to maintain the clean line design so on-trend in today's design world. A variety of sweet petals and buds create a simple and pretty initial for your favorite female friend to enjoy as a gift she can display on her nightstand or desk at the office.
8. Cheerful Flowers on a White Contemporary Letter
Take a fresh coat of paint on this contemporary style letter, rough up the edges and you have a great foundation for a new floral letter artwork. Organize your favorite flowers into a cute bunch to add the right pop of color on this white canvas. Nestle your creation into the corner of your chosen letter and your floral art is complete!
9. Script Pink Peonies and Roses Floral Letter Decoration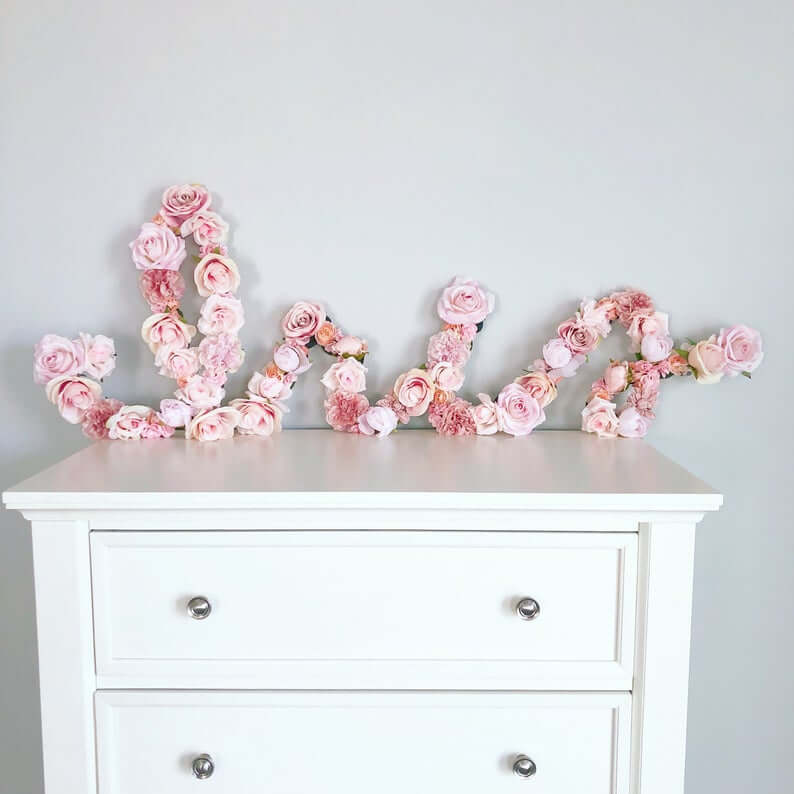 Cursive lettering makes this continuous name is a fun and frilly addition to any girl's bedroom. Full of a variety of flowers from peonies to roses, the hues of pinks make a delicate display on top or her chest of drawers as they take up residence and identify her own, personal hang out. This script floral name decoration is one of the best flower letter ideas because it works equally well in a nursery or in the newly designed teenage room. Using such a darling design element is sure to keep your little girl your baby girl a little longer.
10. Pretty Unicorn Flower Letter Design Artwork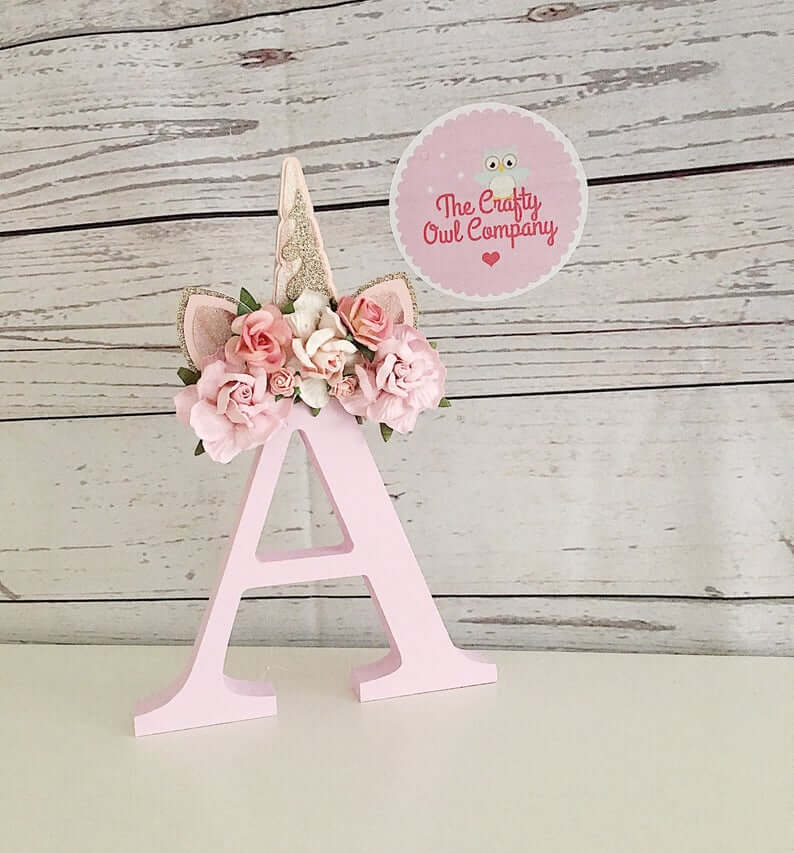 Keeping on-trend with one of the most coveted animals across the globe, this pink letter wears one of the coolest caps on the block! Resting on top of the letter is the unicorn horn adorned with lovely little flowers to complete the look. Both the unicorn ears and horn are accented with glitzy gold glitter adding to the girly appeal of this piece. Use this unicorn floral letter at your little diva's birthday party as a decoration or as the inspiration for a craft activity at the party for each young lady to make and take home as a pretty keepsake. This would also double as a gift bag favor that wouldn't end up in the trash as most do.
11. Wooden Letter Full of Hearty Succulents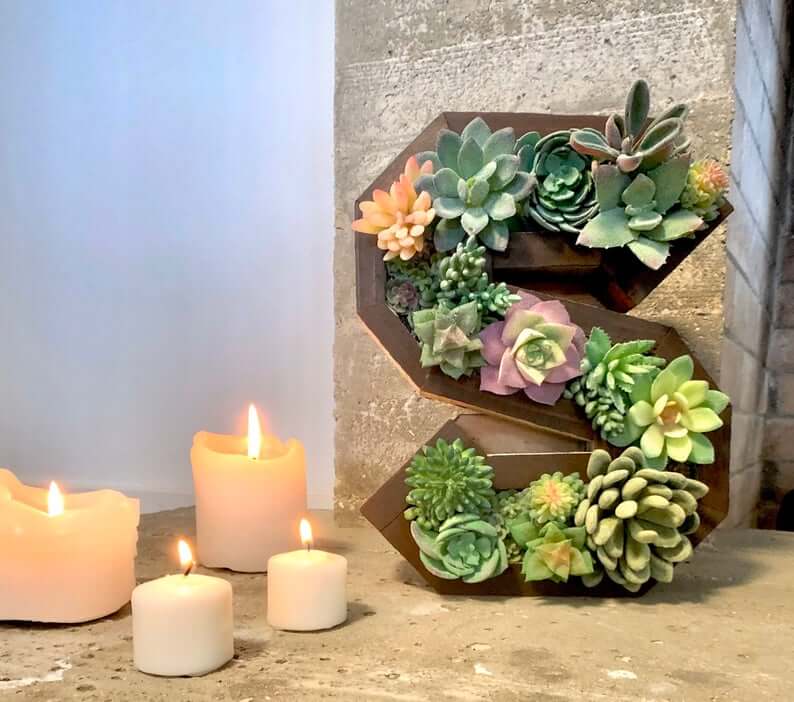 Bring two of nature's best gifts together in an original way. Wood and plants unite in this brilliant expression of nature and style. The natural wooden letter features a shallow trough to allow for the ideal resting place of these green thumb-friendly versions of succulents. Any plant lady would appreciate the thought behind such a special gift. What a wonderful way to add some "no maintenance" greenery into your kitchen or even porch space. Either way, you can't go wrong with such hassle-free beauty in our hustle and bustle world.
12. Shadow Box White Letter Surrounded with Metal Flower Twirls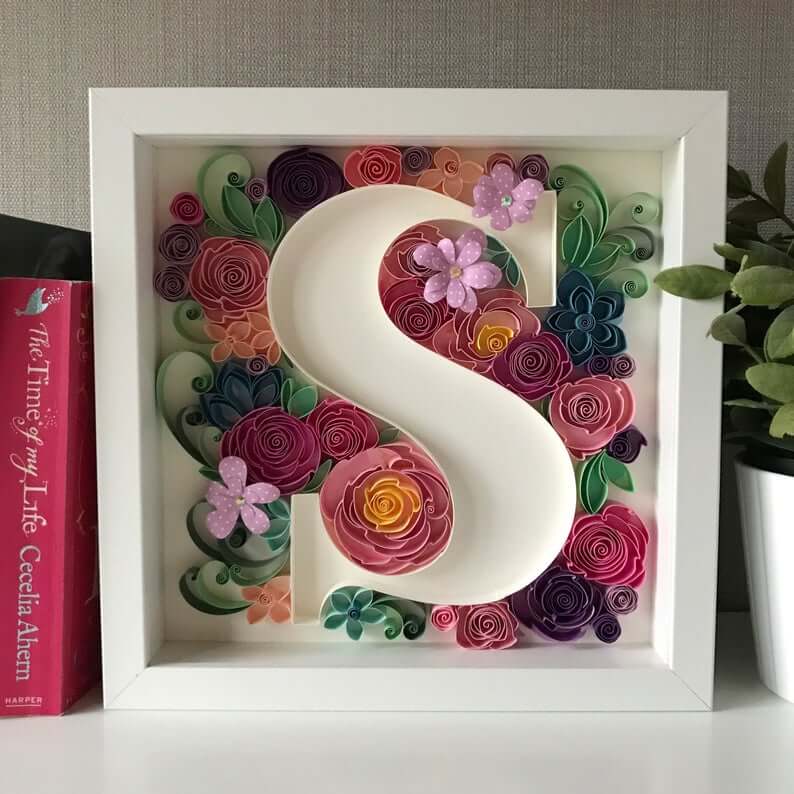 Think traditional shadow box and give it a modern update and you might just get this creative spin of a letter decoration surrounded by flowers. And these flowers aren't your typical silk friends. No sir, they are constructed from colored metal strips and skillfully bent into a variety of floral silhouettes to make this truly one-of-a-kind letter wall art piece. The clean white box and letter used to enable the metal craftsmanship to take center stage and get the attention it deserves. It's a fun addition to any modern space and adds just enough color to blend in with a contemporary motif.
13. Wooden Letter with Felt Flower Accent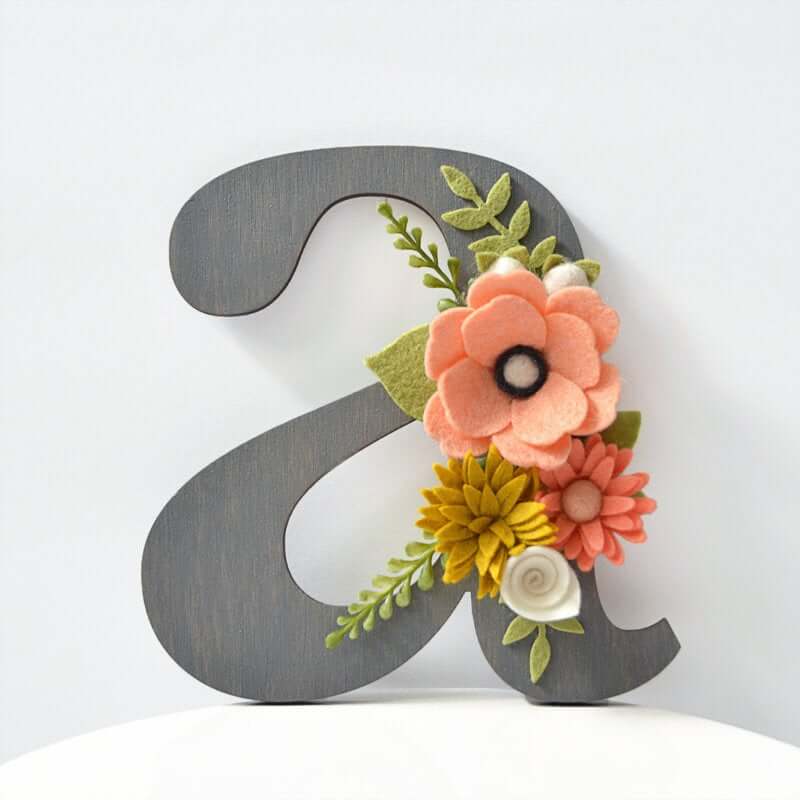 A cute and hip letter display is evident in this wooden letter artwork. The modern gray grain look of the letter is current enough to make this a modern and contemporary piece that can work in most of any space. Then the use of felt flowers arranged in a playful grouping is just enough to make this one of the best flower letters available. You could easily place this in a young couple's home or in the contemporary nursery of your little bundle of joy!
14. Light-Up Letter Infused with Pink Rose Buds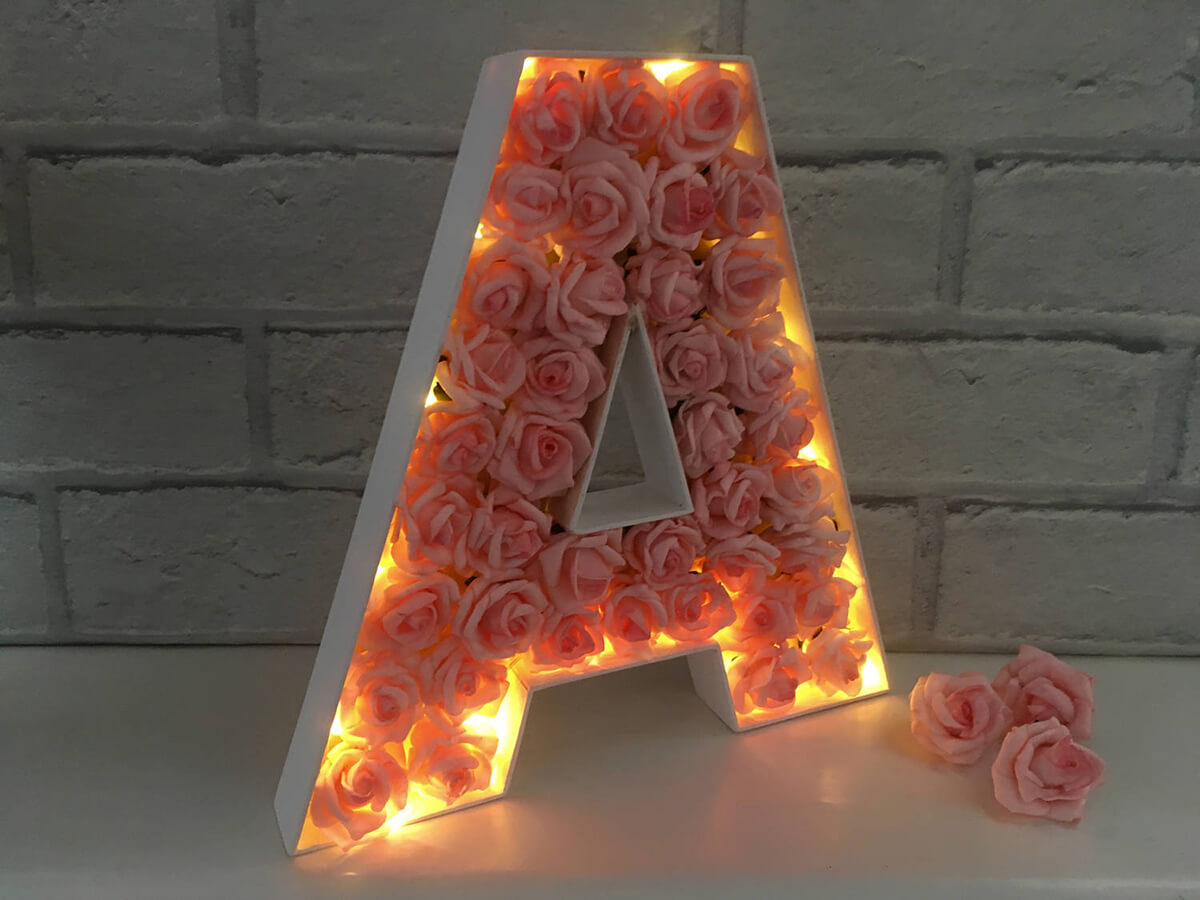 Pink rosebuds come to life housed within this illuminated letter. Display it on the nightstand or side table to light up any room you choose! The subtle glow brings the buds to life as the beauty of the buds themselves draws the eye in. Any girl would delight in this bright bud display perfectly placed in her room, dorm, or on the table at her wedding.
15. Painted Wooden Letter Accented with Floral Cluster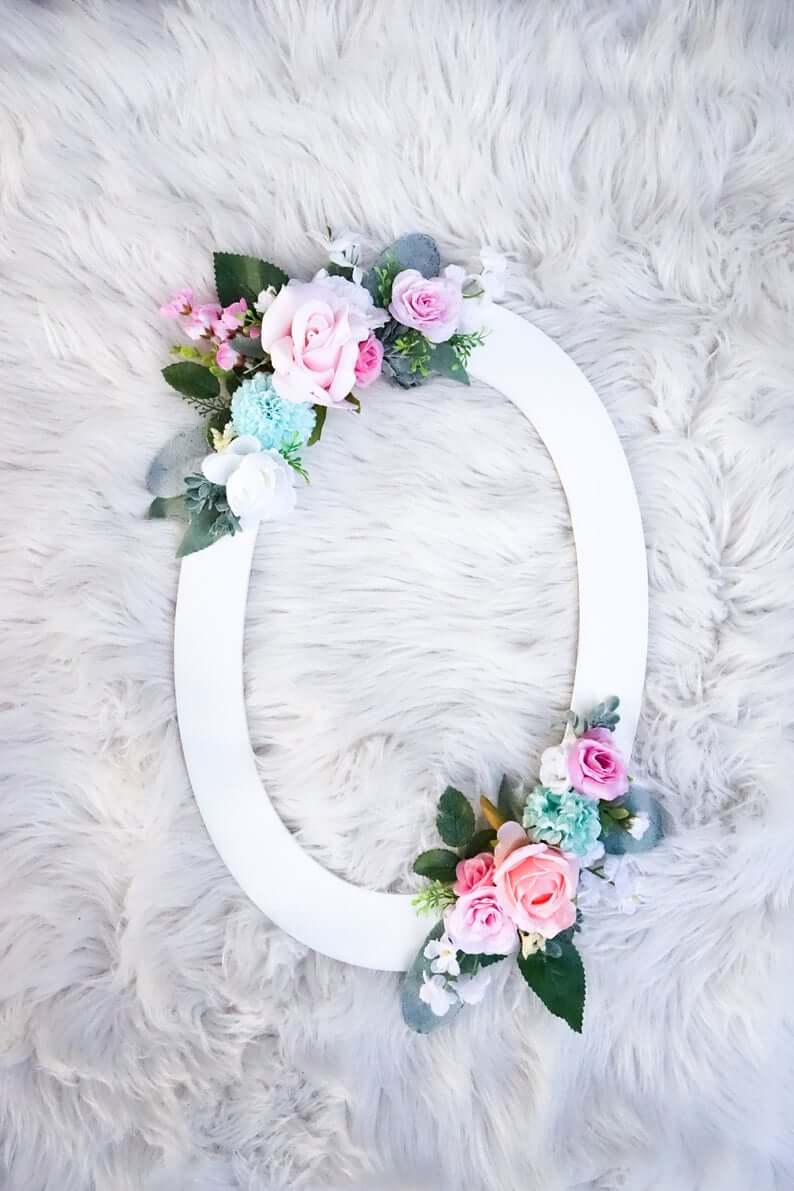 Begin with a white painted wooden letter and get ready to add some flair! It's an easy DIY project that won't turn you into a weekend warrior. This painted letter is the best foundation for putting some dainty and delicate buds and blooms into your home. Choose your favorite colors like the pastel turquoise, pinks, and greenery used here and let your inner artist out! Arrange your petal pieces along a couple of corners to seal the deal on creating this beautiful floral letter addition into your current home design plan.
16. White Metal Letter Full of Lavender Flowers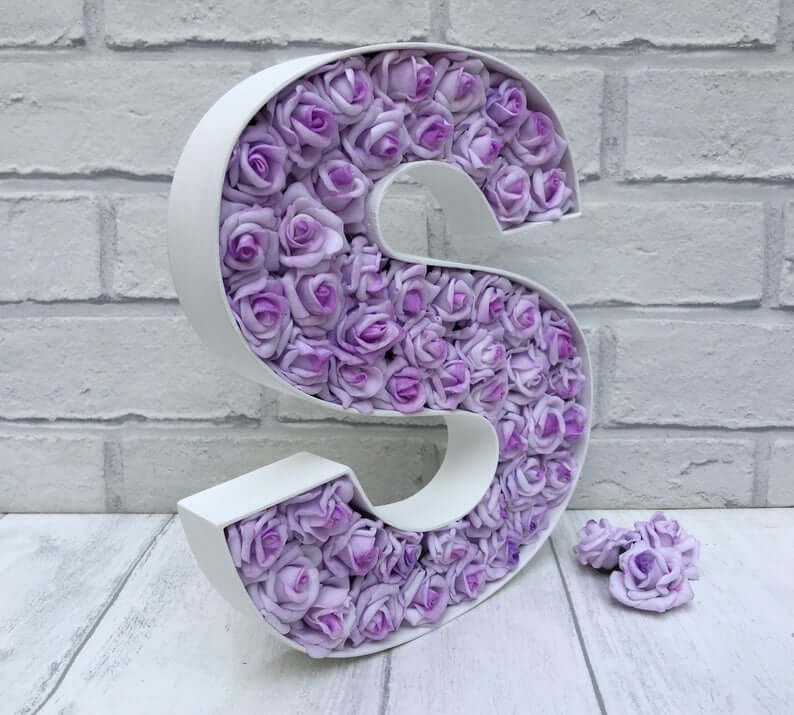 Standing alone, this metal letter works well as part of a grouping or by itself. Place it on a shelf or on top of a sofa table to add some pretty interest to your interior space. The soft and subtle purple tones in the lavender flowers give this piece a definite feminine feel. Shape your wedding reception decor around this beauty that can be brought home and into your new abode as it doubles as a fun accessory on the big day and after you get home.
17. Small Wooden Name Displayed on Large Floral Initial Wall Art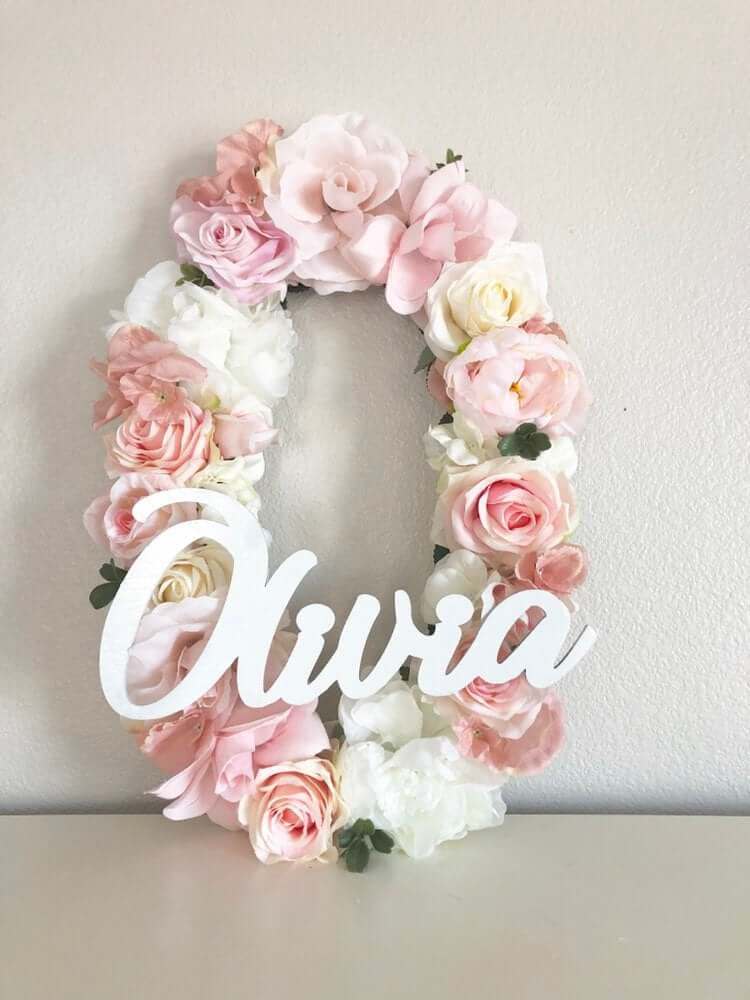 A new spin on an old classic, this large floral initial holds the wooden name at the bottom to remove the traditional wreath from the top spot indoor decor. This floral wall art piece is versatile as it looks great on your front door, but also works well in the privacy of your interior space. Use your last name and put this piece above the mantel in your family room or bedroom. Or it could be a name tag for your kids' rooms as you proudly display it on their bedroom doors. Either way, this floral name, and initial concept infuses a soft touch without being too girly making your home a little more welcoming and warm.
18. One-of-a-kind Floral Letter Birth Announcement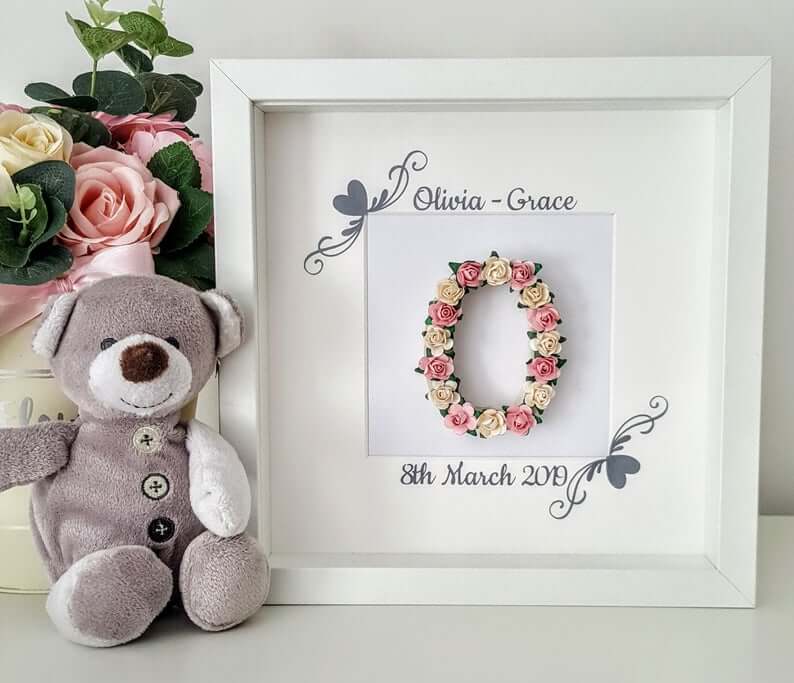 Put a new spin on an old declaration by presenting the name and date of birth in the most delicate and different way. This white frame holds the most important news of the moment! Using small flowers to create the shape of the first initial, this artwork displays the full name above and the date of birth below making it a fun way to document this miraculous moment. Pretty pink and white flowers make a pattern as they wrap around to create the letter of your choice. What a great way to welcome a new baby and give a gift that is certainly not to be duplicated at the baby shower celebration.
19. Lattice Letter Floral Vine Unique Wall Art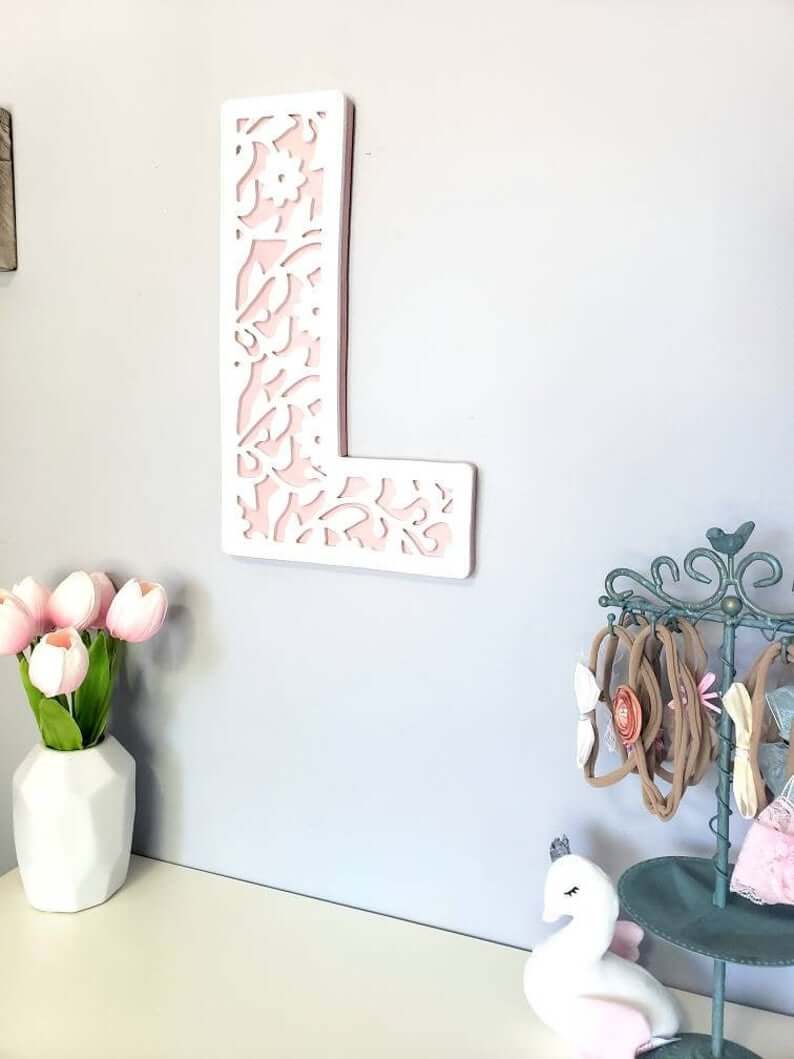 Highlight the delicate nature of being a female with this cool and original take on floral letter wall art. Designed with a letter outline and filled with intricate floral vines throughout, this lattice-like concept provides a fun way to display your initial on the wall. Add it into the decor of your modern loft space for some contemporary urban appeal or place it inside the walls on your residential cul-de-sac. Either way, you use this piece, it is certain to make a statement in its own coming-of-age style.
20. Bright Fuchsia and White Name Letters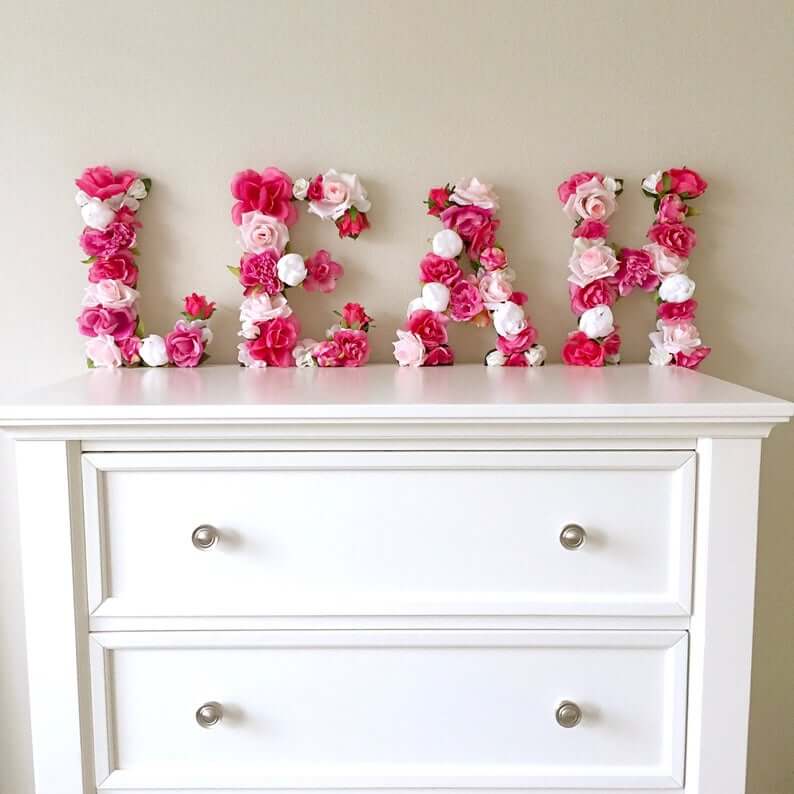 Who's room is it anyway? You'll know for sure as soon as you step inside thanks to these gorgeous blooms and buds spelling it out for you! Line them up on along the top of your chest of drawers to add some soft and sweet identification to your bedroom. Featuring an alternating pattern of blooms in bright fuchsia pink and white, the style is ideal for any girly girl! You could also choose to use your last name and put it in the master bedroom of your favorite newlyweds!
21. Plant Lady Succulent and Pink Floral Letter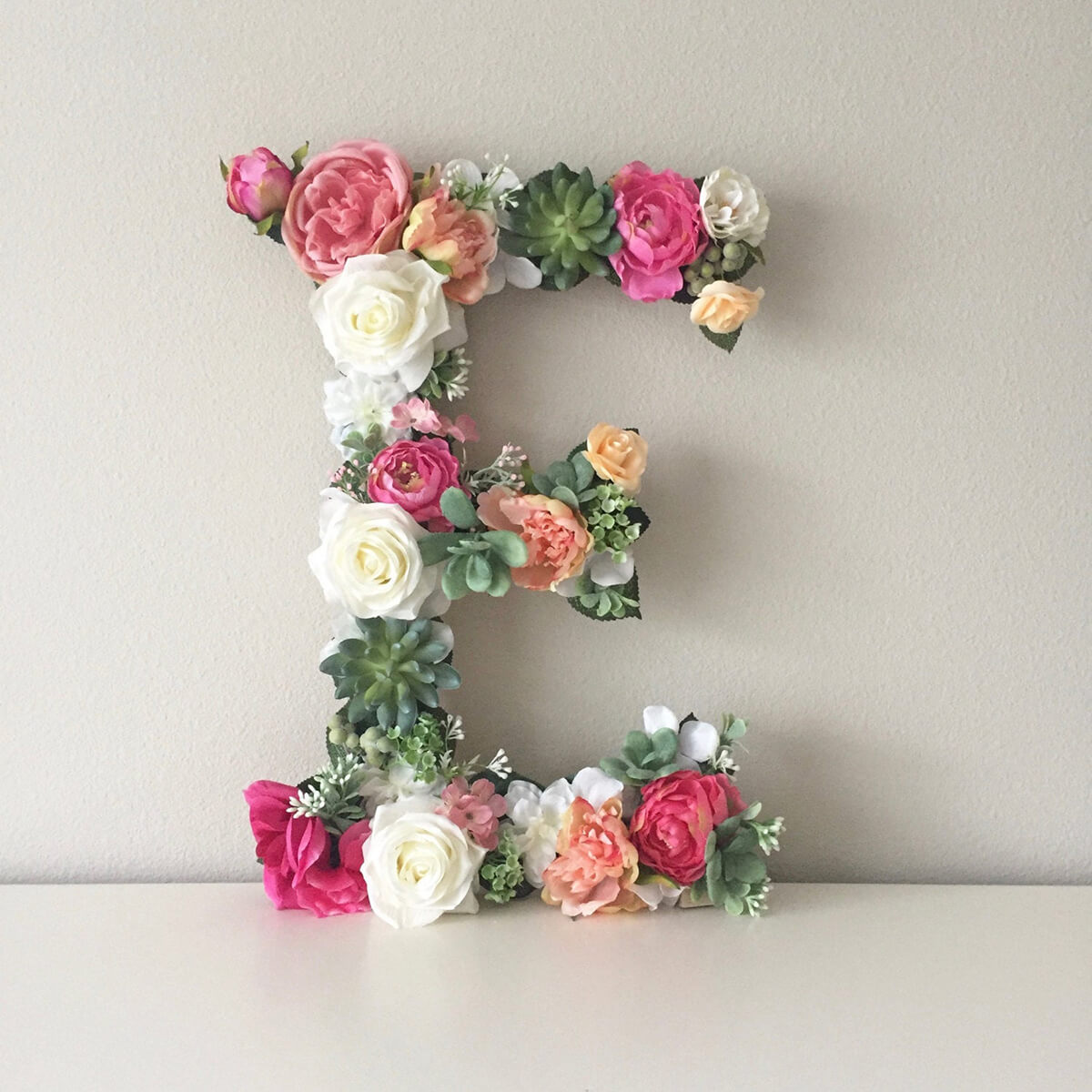 Plant ladies around the globe agree that succulents are a girl's best friend! These easy to care for and love garden goodies take center stage in this floral letter decoration. The addition of pretty pink and white flowers adds just the right pop of color into this rich and green thumb-friendly garden lover's best friend.
22. Flower Filled Initial Letter Wall Art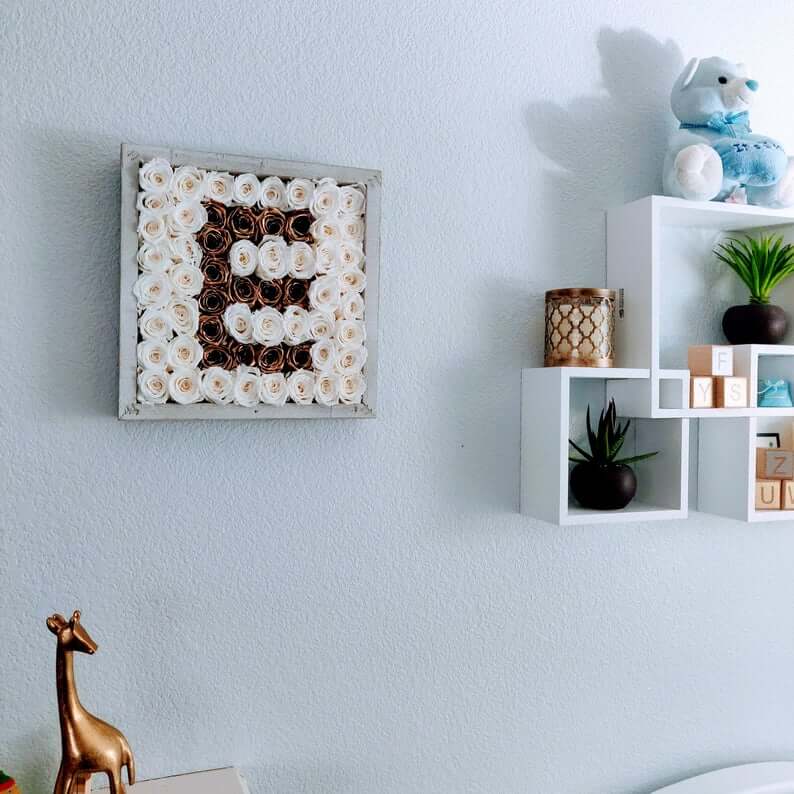 A fun way to add a delicate decoration to a little boy's nursery is with this frame filled with boxed in flowers. The letter is formed in a tea-stained brown color and surrounded by a white garden of blooms. Perk up your little one's slumber space with this sweet wall art. Little boys deserve just as much love infused into their nursery when mama is nesting and this choice of letter wall art is just the right mix of soft without being girly.
23. Natural Look and Feel White with Green Blooming Letter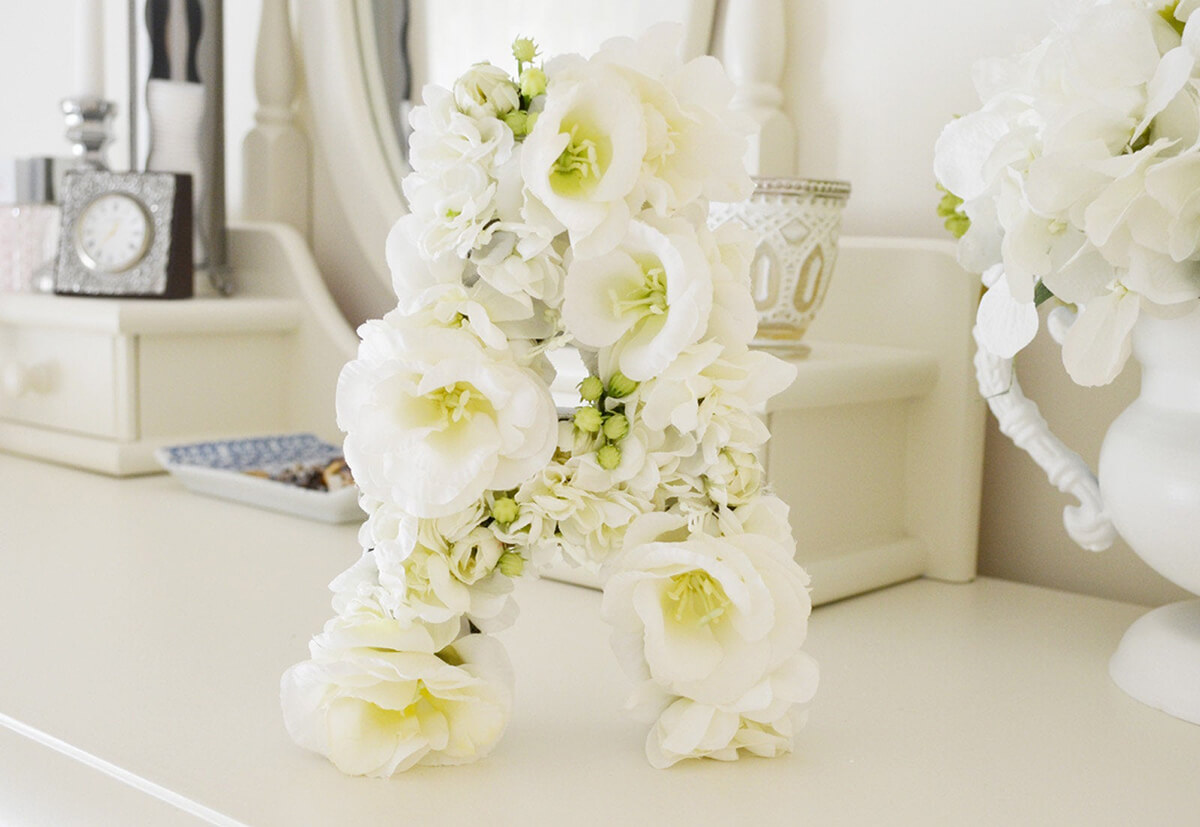 This just might be one of the most natural-looking pieces of letter art on the market. Overflowing with buds and blooms, this beautiful letter seems to be a fusion of nature's bouquet into the shape of the letter of your choice. With seemingly no other supplies used in its construction, the design of this floral letter is a visual display of poise and perfection. The use of such traditional whites and light greens adds to the real look and feel of this piece of art. Take pleasure in this wonderful decoration in the corner with your house plants or at the top of your mantel for a spring/summer time seasonal decor necessity.
24. Delicate Purple and Blue Floral Letter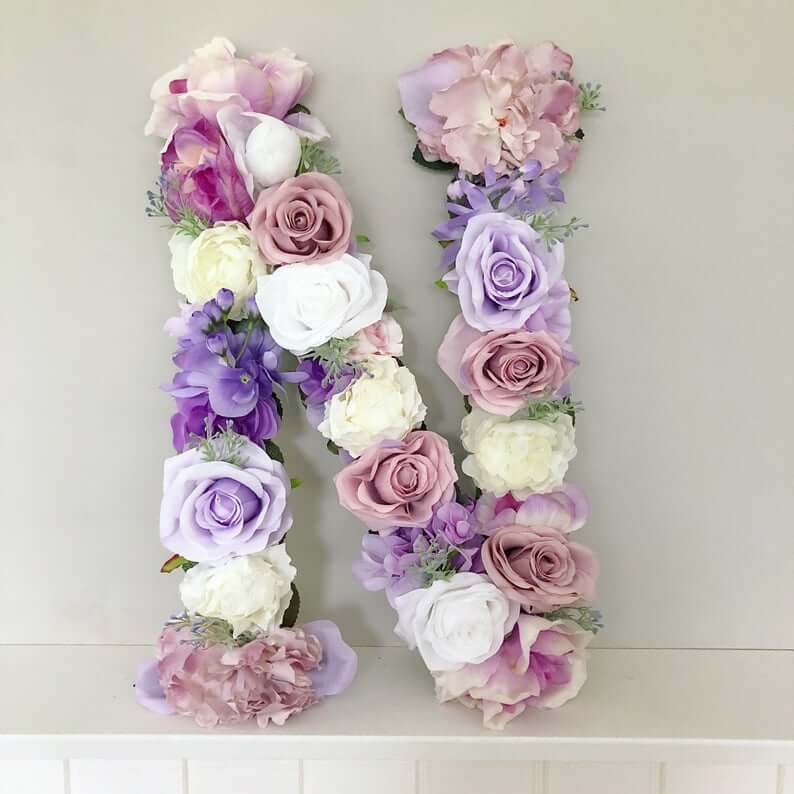 A touch of soft and sweet elegance is fashioned in the creation of this purple, blue and white floral letter. Freestanding and four-dimensional, this floral letter is a fun addition to your existing decor. Use it on your dining room buffet or in your foyer side table to put your special touch on your home. Created with medium-sized blossoms, one of the best flower letters like this one can also be used in wedding decor. Place it beside the guest book or at the bride and groom's table during the reception. It's a great decoration that doubles as a newlywed home decoration.
25. Brown Tones Abound in this Floral Letter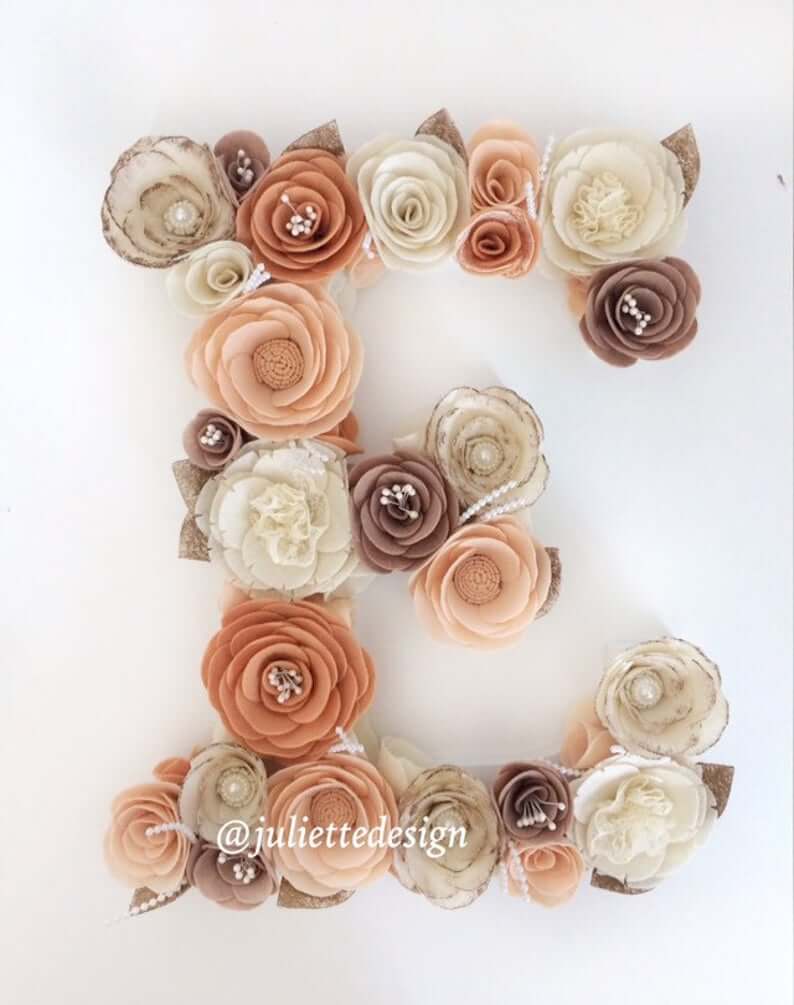 From beige to brown, the warm earthy tones of this display are the neutral pop of color you need to cozy up your home! Pearl beaded stamens and sprigs add lots of depth and texture to this elegant floral letter piece of art. The use of brown tones makes this piece a little less feminine while the beads add a nice touch of elegance to its overall feel.
26. Ribbon Hung Foam Flower Studded Letter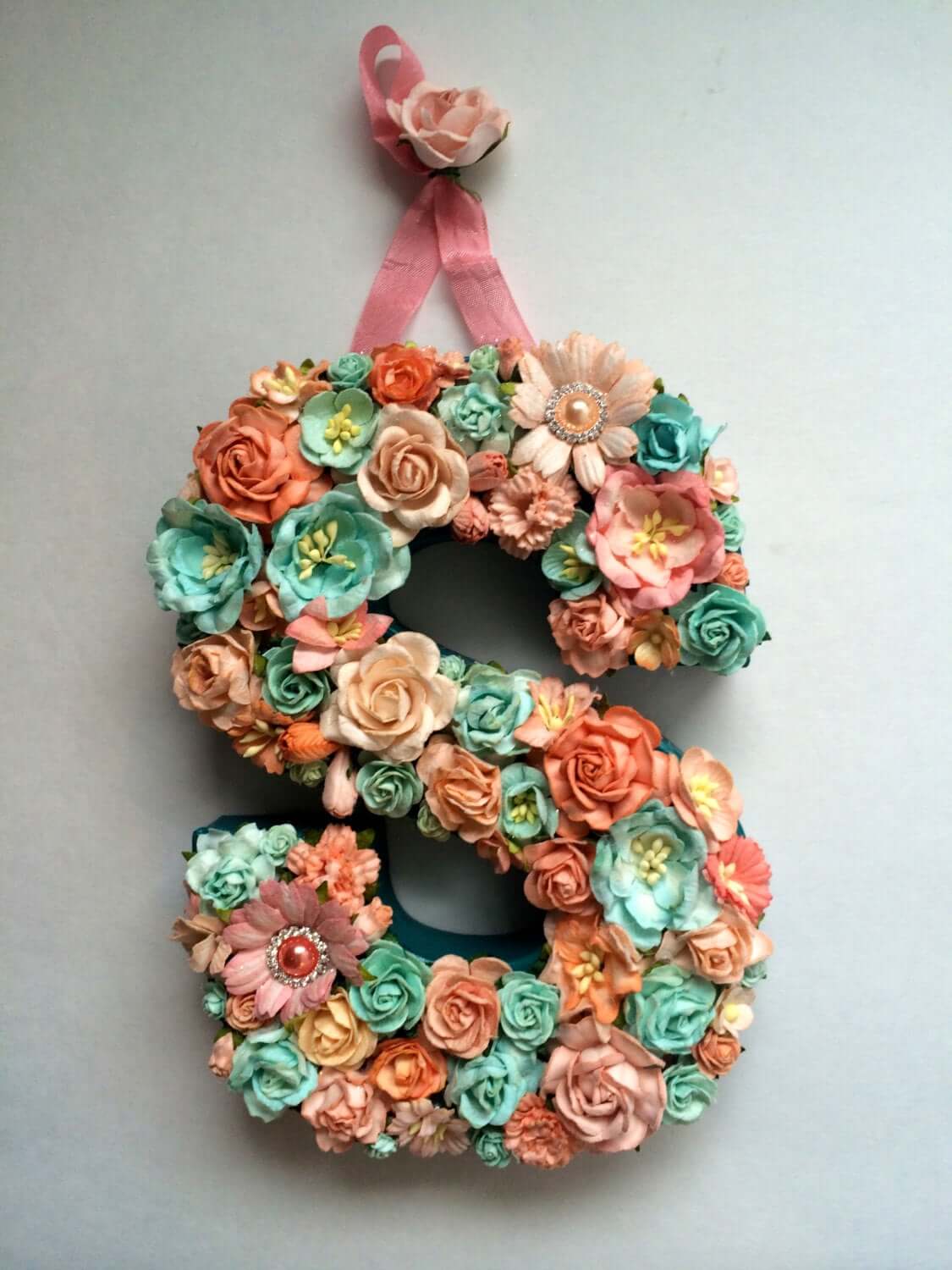 Hanging on a sheer, pink ribbon, this floral letter is suspended with a nice, delicate touch. Constructed using a foam floral wedge in the shape of the desired letter, the flowers are arranged in a perfect mix to showcase all of the colors used. The mint and seafoam green along with the hues of peaches and pinks is woven throughout to achieve a unique look and feel. Within this design are featured elements like pearl beads and placed like a brooch in the center of the blooms. Place this gorgeous letter on your entry door or on the wall in the guest bath.
27. Feminine Floral Mobile and Script Letter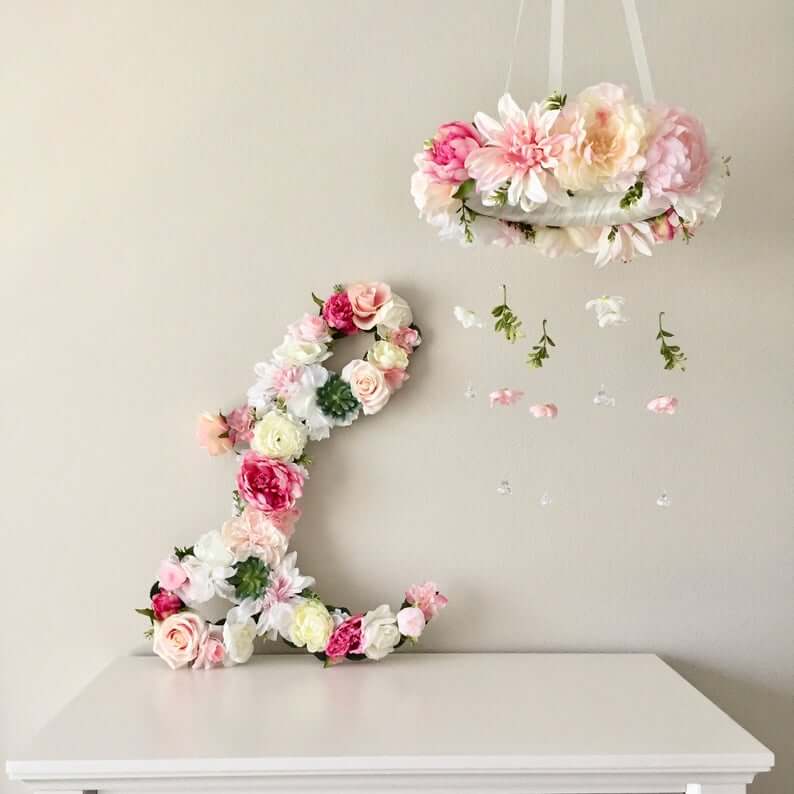 Imagine lying in the grass watching the clouds pass by on a warm summer day. This relaxing scene might come to mind when you consider the light and airy feel of this girly floral letter and mobile design. Suspended with clear strings, this delicate and airy mobile gently holds white, pink, and green floral elements in the softest and sweet way. Any expecting mama would relish in adding this beautiful arrangement into her precious little one's nursery. Place the first initial floral letter on the baby's nightstand or chest of drawers to tie the look together. This pretty combo is a great way to add some style and tranquility to the comfort and serene setting of a baby's nursery room.
28. Full Floral Blue and Pink Letter Hung on Pretty Ribbon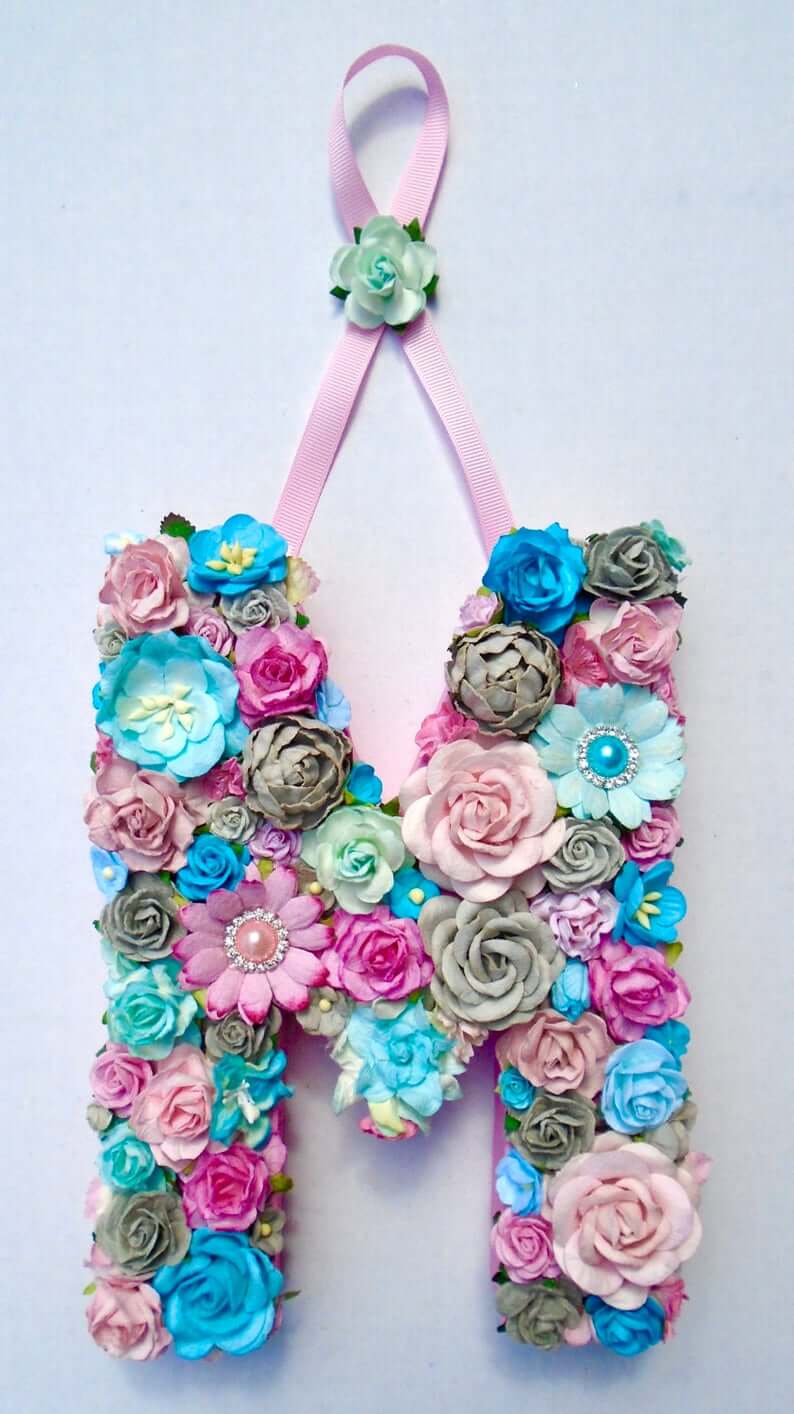 Suspended on a dainty wide pink ribbon with a cute blue flower accent, this floral letter brings hues of pink and blue together in a beautiful collaboration. Cozy and snug is how this collection of blossoms and buds feels as they are stuffed into every nook and cranny of this letter art piece. Use this instead of a wreath on your side door where everyone enters your home or place it on the inside of your house to bring in some of the fresh outdoor colors. An elegant touch of class is displayed in the use of an antique style brooch adorning the center of a select few flower blooms.
29. Floral Spring Spray and Script Letter with Big Bow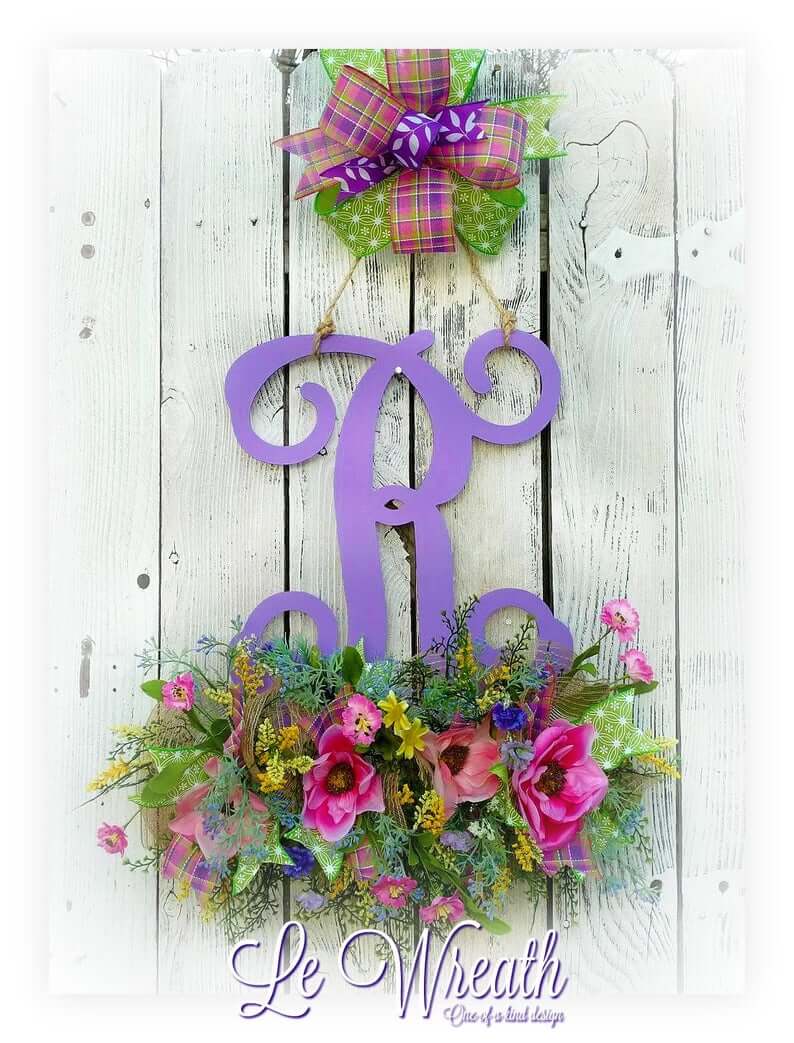 Take an old piece of fence and give it a new purpose. It makes the ideal background for this scripted letter hanging art. At the top of the piece, there is a bright and big bow finishing the top of the design. Then at the bottom sits a spring-colored spray of green, pink, and purple flora with a texture woven throughout. The fancy cursive letter is perfectly centered in this spring flower decoration that would serve as a welcoming addition to your front porch or kitchen wall.
30. Vibrant and Vivid Fruit Punch Mixed Flowers Letter Wall Art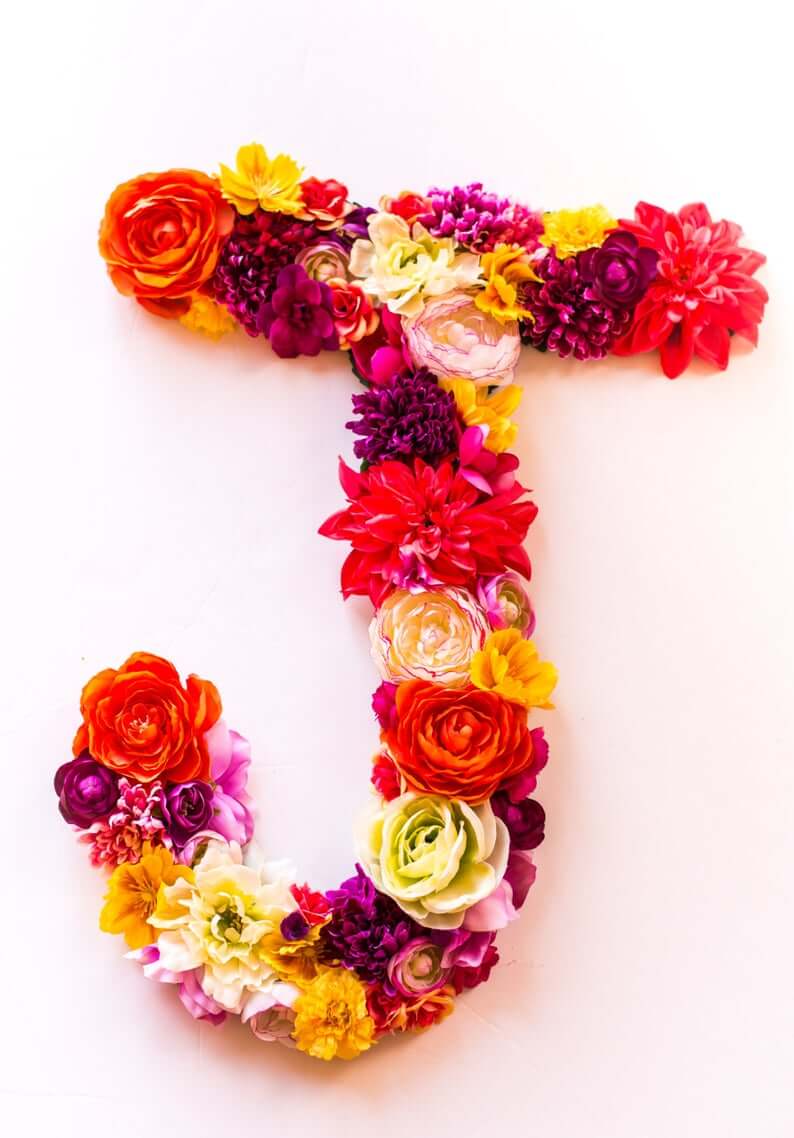 Popping off the wall and onto the design scene, this collaboration of both small and large flowers adds interest in one of the best flower letters. Infused with bright and bold tones of yellow, orange, purple and white, this floral cluster fills your letter with beauty and grace. Perhaps you could adorn your front door with this botanical bundle of flowers to welcome guests to your home. Or place it on the wall in your hallway bathroom to give guests a cheery greeting when they need to freshen up. Wherever you choose to use this flower letter design you can't go wrong!
31. Mauve and Cream Wedding Centerpiece Floral Letter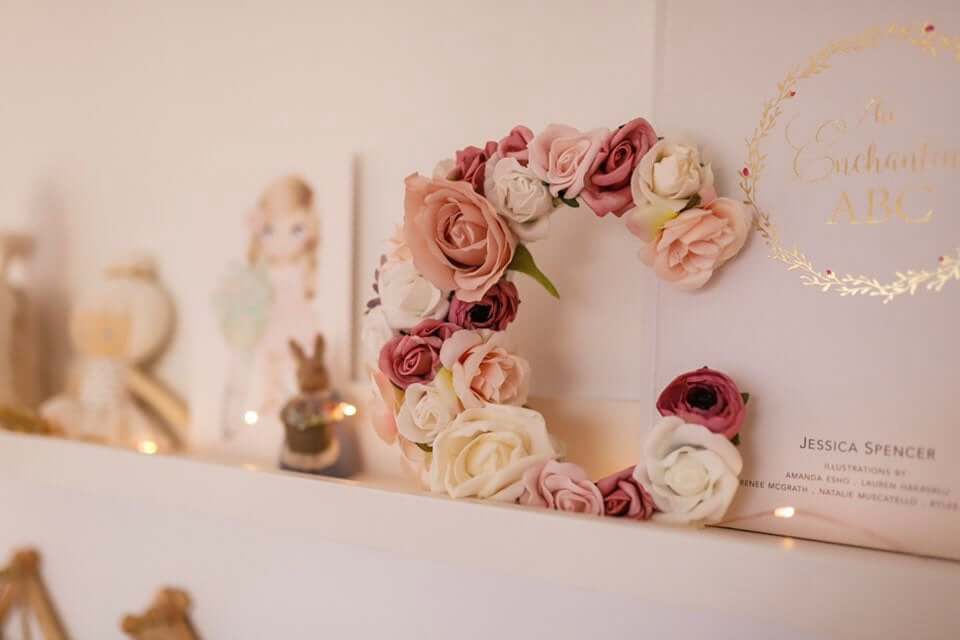 The mixed sizes of these roses create a lovely illusion in this floral letter art. By using some classic neutral tones of cream and taupe, the mauve pops just enough without overpowering the piece. What a great way to incorporate some neutral elegance into your wedding decor without taking away from the bride. It just seems like a match made in heaven when this pretty piece is paired with a scented candle. The curved lines are united in a smooth fashion as the blossoms continue and wrap from the beginning to the end of the letter.
32. Green, Pink and Gold Flower Letter Design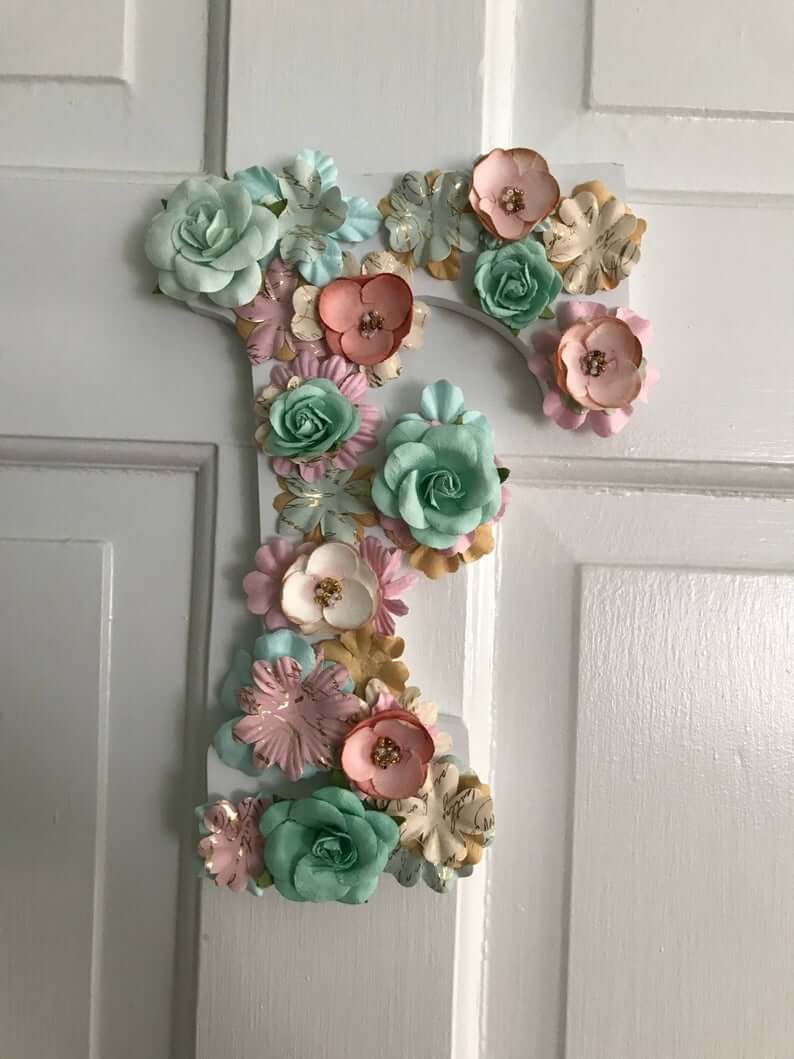 Swap out your front door wreath and pop in a fun, new way to greet your guests! This wooden white letter is strategically covered with just the right amount of flowers to still leave a little of the white visible to the eye. Using a variety of shapes and sizes, the flowers arranged are pretty in their sea foam green and light pink tones. Embellishing the centers of the blooms with beading and intertwining some tan and gold throughout makes this a focal piece worthy of replacing the front door wreath.
32 Unique Ways to Personalize Your Home with Floral Letters
So no matter if you are looking to add a touch of personalization with some spring and summer vibes into your home, accessorize an upcoming wedding and reception space or achieve a special gift that is guaranteed to be the favorite, look no further than this list of 32 amazing floral letter ideas.
Nursery room decor is always a hot topic and bringing your baby's name to life before he or she arrive adds an extra element of excitement into the space as the expecting mama spends her time nesting in her natural state. And don't think for a moment that floral letter design is only for little girls. There are several options that bring a more masculine feel to the standard feminine feel of many floral pieces of art. Some of these options offer a free standing initial or ones that can be hung on the wall, while others are a team effort with the letter and a perfectly posh baby mobile included too.
The uses don't stop in the nursery. Many of these displays are perhaps the best flower letters at the moment and can be used in a multitude of ways. For starters, replacing your traditional and over-used wreath on the front door is a logical and practical new home for these floral beauties. Greet your family and friends with a pretty spin on door decor. Or you can even add them into your interior walls to bring a little piece of the season into your home.
They can be amazing as gifts too! Whether you need to buy a close friend or a lesser known co-worker a gift, a floral letter art work is a creative way to go! Many standalone so they can easily perch themselves on a desk at home or in the office to give some style to a traditionally drab and boring work space.
Finally, what better way is there than this to blend the elements of two joining as one? The pairing of a new initial with some beautiful blooms provides a new way to use flowers in your wedding and reception design. And perhaps the best part is that these floral art letters can be transitioned into the newlyweds' home to serve as both pretty decoration and sentimental memento. Guiding guests to the signing of the guestbook or front and center as a seating marker for the new bride and groom, there are a million ways to use these pretty letters in this special time of celebration. So no matter what your purpose, have fun browsing and maybe even making some of these best flower letters and giving them a new home in your cozy space.
Our Favorite Farmhouse Storage Items to buy on Amazon