There aren't many interior design styles which are as broadly appealing as French country decor. Inspired by the centuries-old farmhouses of rural France, this aesthetic can incorporate both new objects as well as antique or repurposed vintage items.
35+ Inspiring French Country Decor Ideas for Every Budget

Although relatively loosely defined as a style, the French country aesthetic often makes use of rustic antiques, natural cotton and linen fabrics, a white or neutral color palette, and generally evokes a sense of bucolic nostalgia. Fresh cut flowers and bright green leafy houseplants such as ferns are often focal points of a room and bring in a touch of color and natural beauty.
You may notice that French country decor shares many elements with coastal, industrial, victorian, and shabby chic decor. This makes it easy to adapt the style to your local geographic design aesthetic. Additionally, the simple color palette and incorporation of both masculine industrial elements and more feminine fabrics makes is equally appropriate for both men and women. And whether you live in a modern loft, an old victorian farmhouse, or a suburban home, the comfortable homey feel of French country decor is sure to make guests and family feel welcome.
In short, French country design ideas can be incorporated into just about any style of home thanks to their wide appeal. Below are 35+ examples of French country decor to use in your own chateau, no matter how humble or grand it may be.
1. Recycled Barnwood Coffee Table and Glass Vase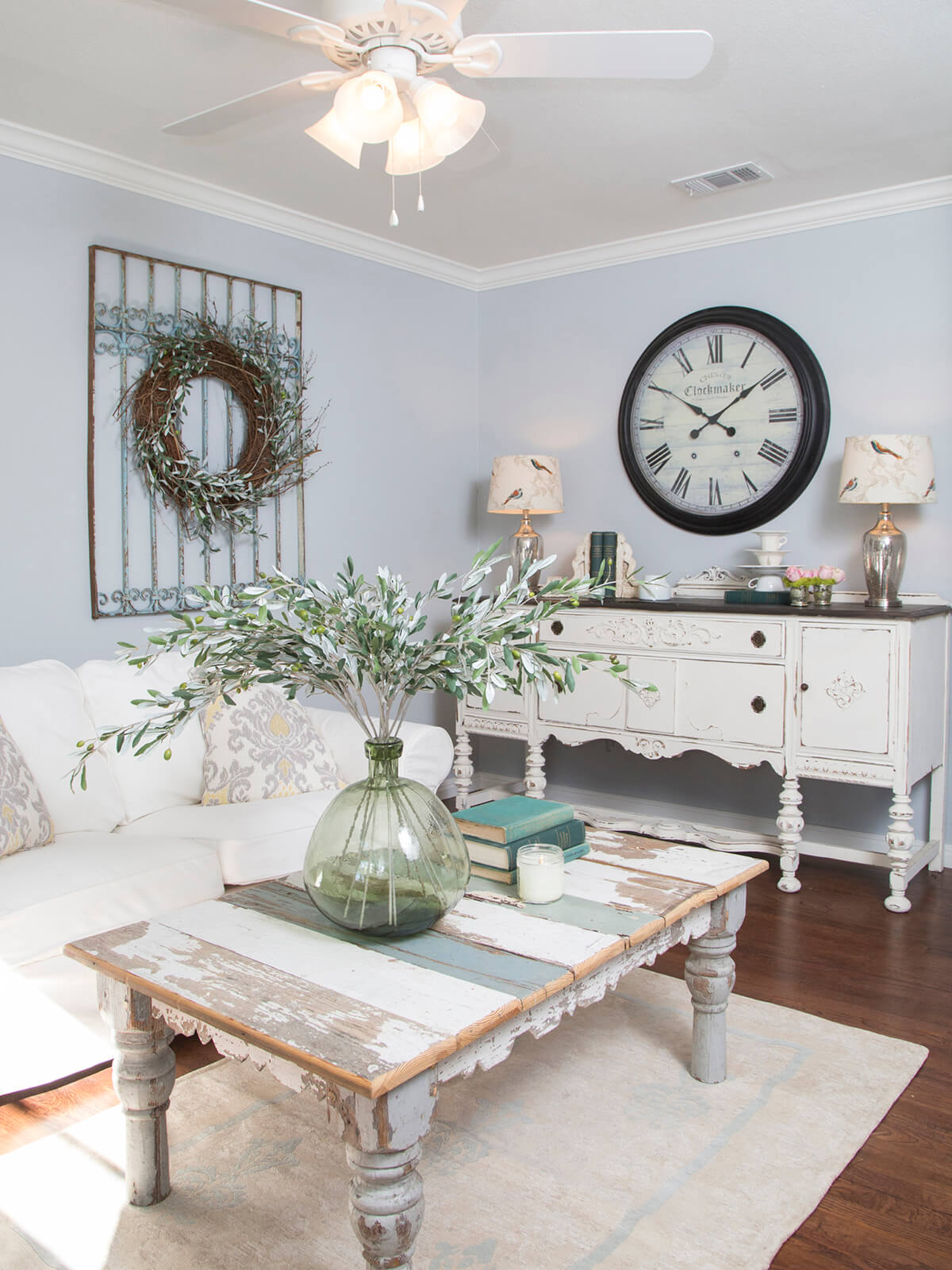 Cozy elegance with indoor lighting from double finch lamps accentuates this rustic combination of French coastal and Mediterranean charm. The recycled barnwood table is a welcome attraction that highlights the elements of wind-tossed age with new vision. Light a candle and curl up with a good book for a restful evening.
2. French Country Kitchen with Butcherblock Island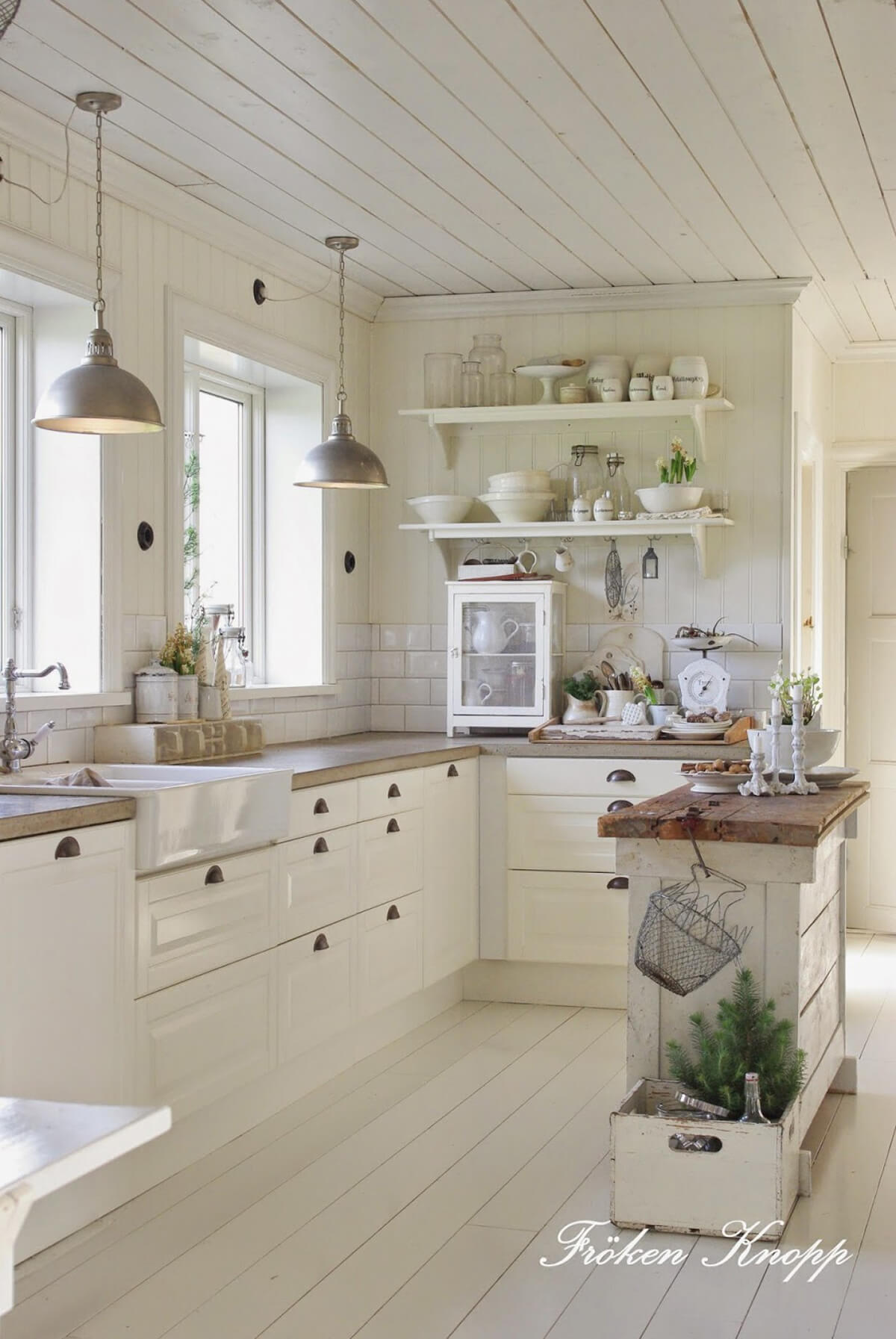 The butcher block island is a stylish centerpiece for this sparkling open cabinet and shelf space. Along with the apron skirt sink, over-sized storage drawers with easy-pull handles, and double uncovered windows, this bright kitchen is a very inviting place to get into the spirit of cooking up culinary masterpieces.
3. Springtime French Country-Inspired Foyer Display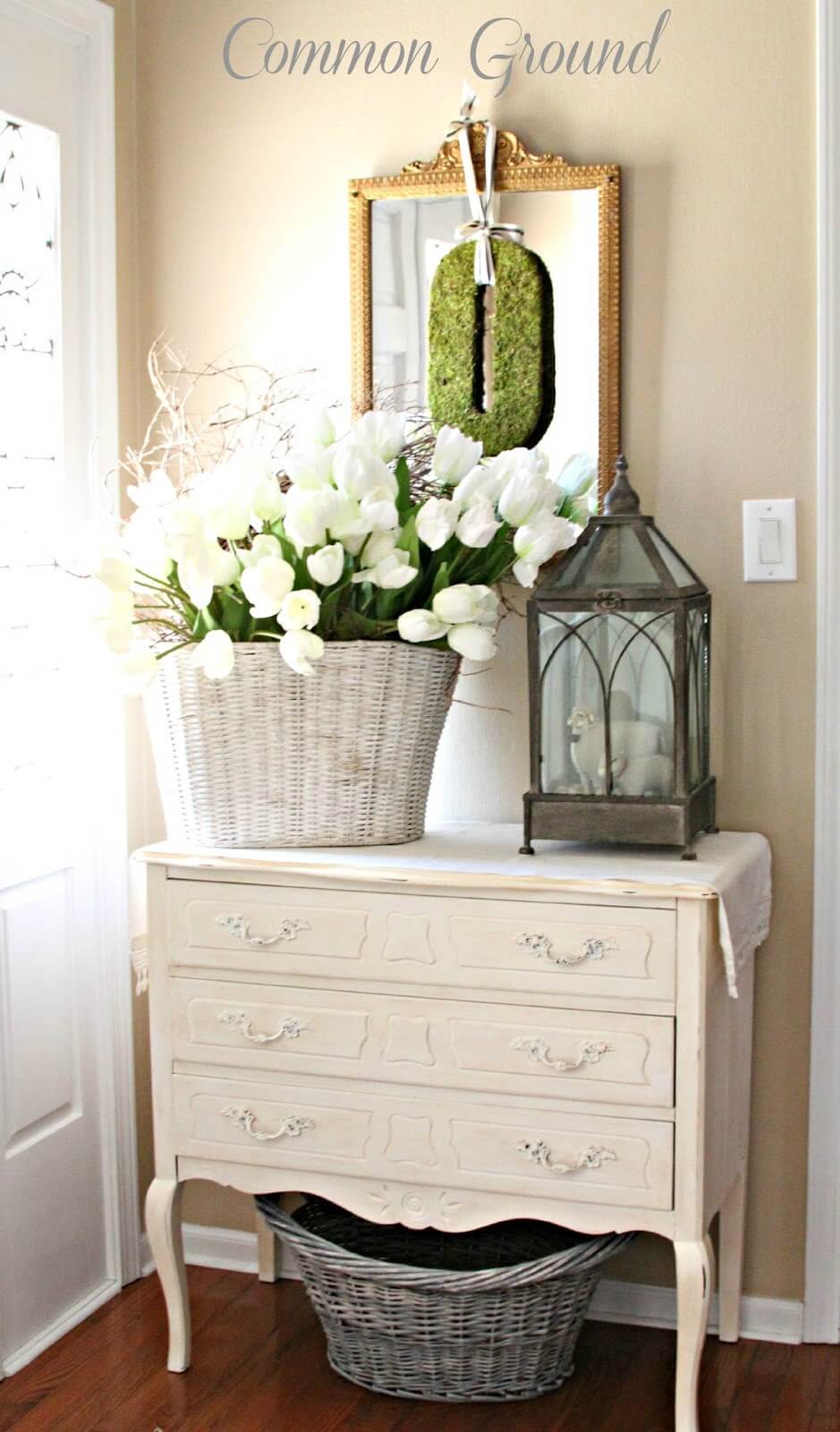 Bring back Grandma's sense of style and wonder in hearth and home with this country-inspired foyer display cabinet. Whether you decide on a basket of fresh roses or a bucket of fresh baking apples, indoors and outdoors will do a delightful dance in this space and you get to play the introductory music.
4. Recycled Wooden Shutter Display Shelf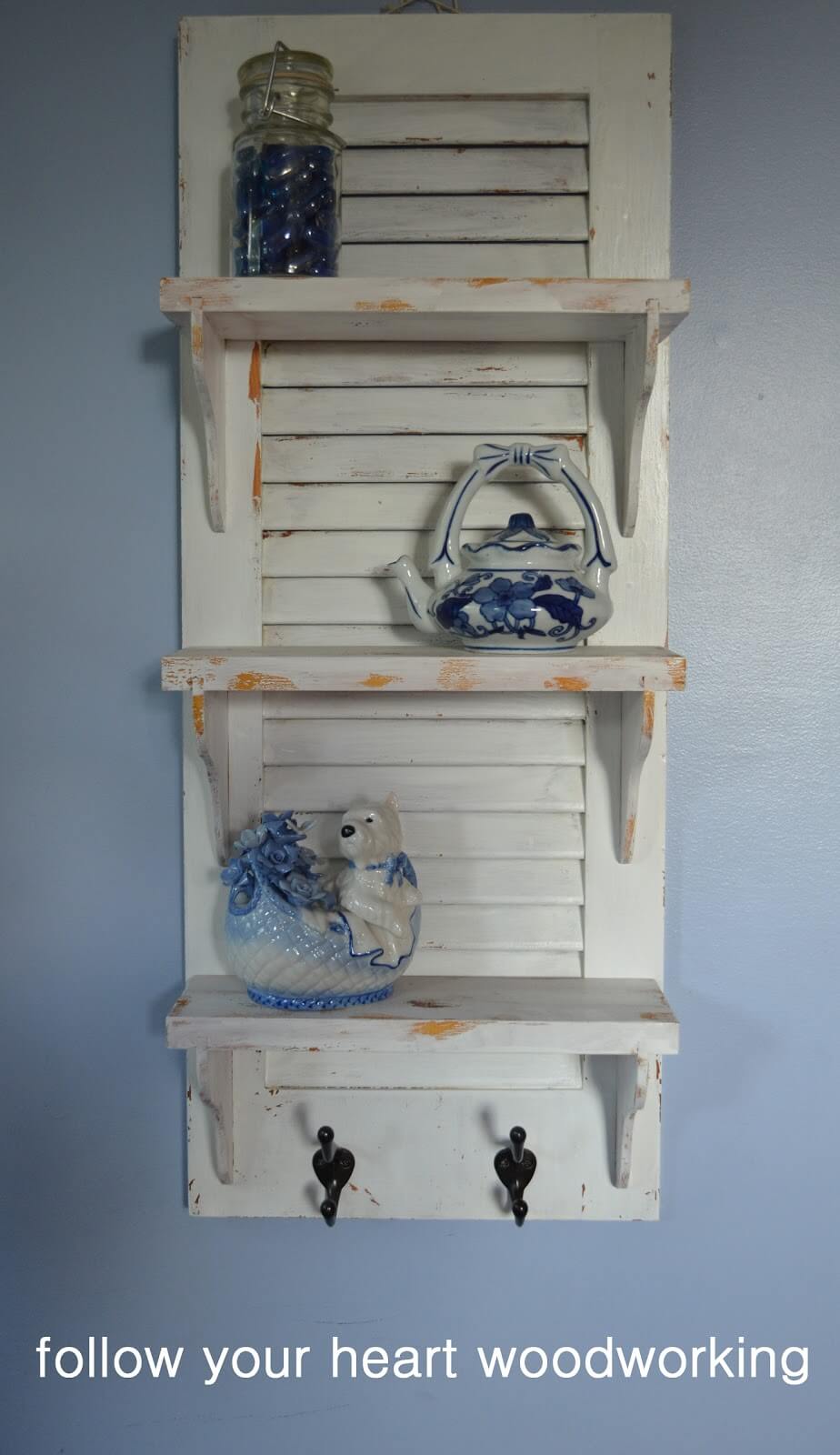 Reducing your carbon footprint can be both fun and delightfully creative. This inventive French country style recycled shutter-cum-display shelf adds a spirited influence on which to hang your coat and your hat. The beauty of this aged whimsical display is that it also doubles as a handsome and adaptable conversation piece.
5. French Country Livingroom with Fresco Wall Painting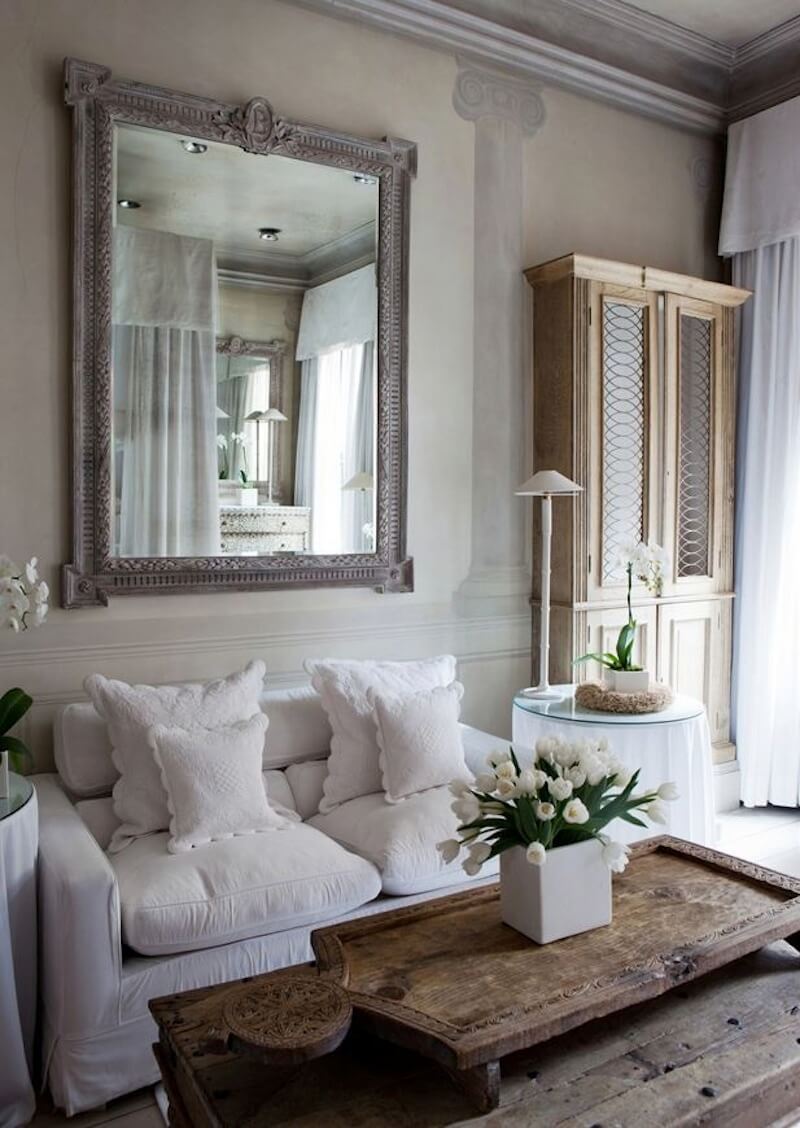 The fresco Greek columns on the wall add a gorgeously eccentric background to this French-inspired space with tall windows and a classy slim lighting feature. This is what happens when two worlds collide to bring you into a serene place to think, imagine, and drink a favorite tea or herbal beverage.
6. Grey Brick Fireplace with Potted Spring Flowers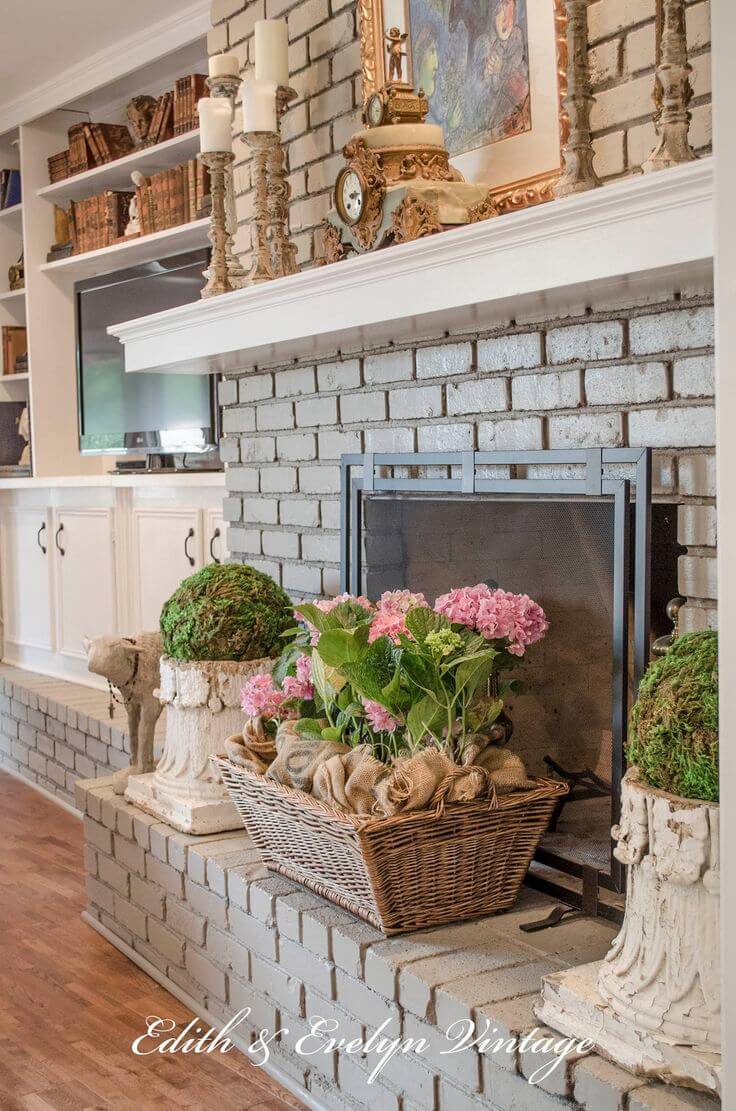 Lumiere is essential when deciding how to dress up a cool fireplace mantel in white-washed brick, especially one with a warm and inviting French theme. Pedestal flowerpots, built-ins, a framed theater-type print wall hanging, and a lovely 'curio la pendule' conjures up the imaginable world of inspired fantasy with country heartland.
7. DIY Printed Graphics on Whitewashed Terracotta Pots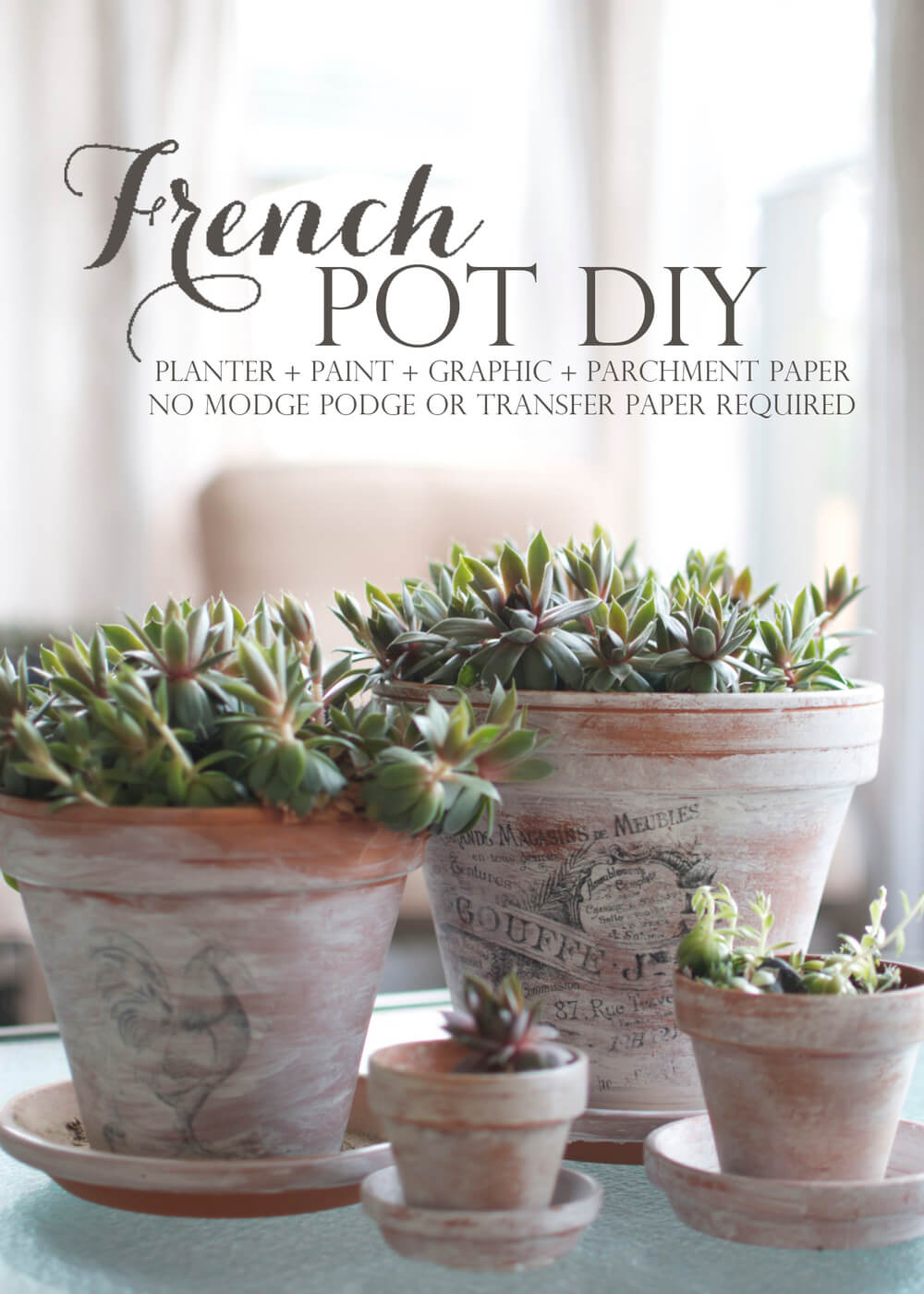 Whitewashed small, medium, and large terra cotta planter pots mounted in parchment paper are the perfect indoor décor whether just for the exciting looks or for functional formal kitchen use during fresh herb-planting and aloe-grooming season. These country-inspired and versatile pots can be the classic finishing touch or the first piece of area inspiration.
8. French Country Bathroom or Linen Closet Display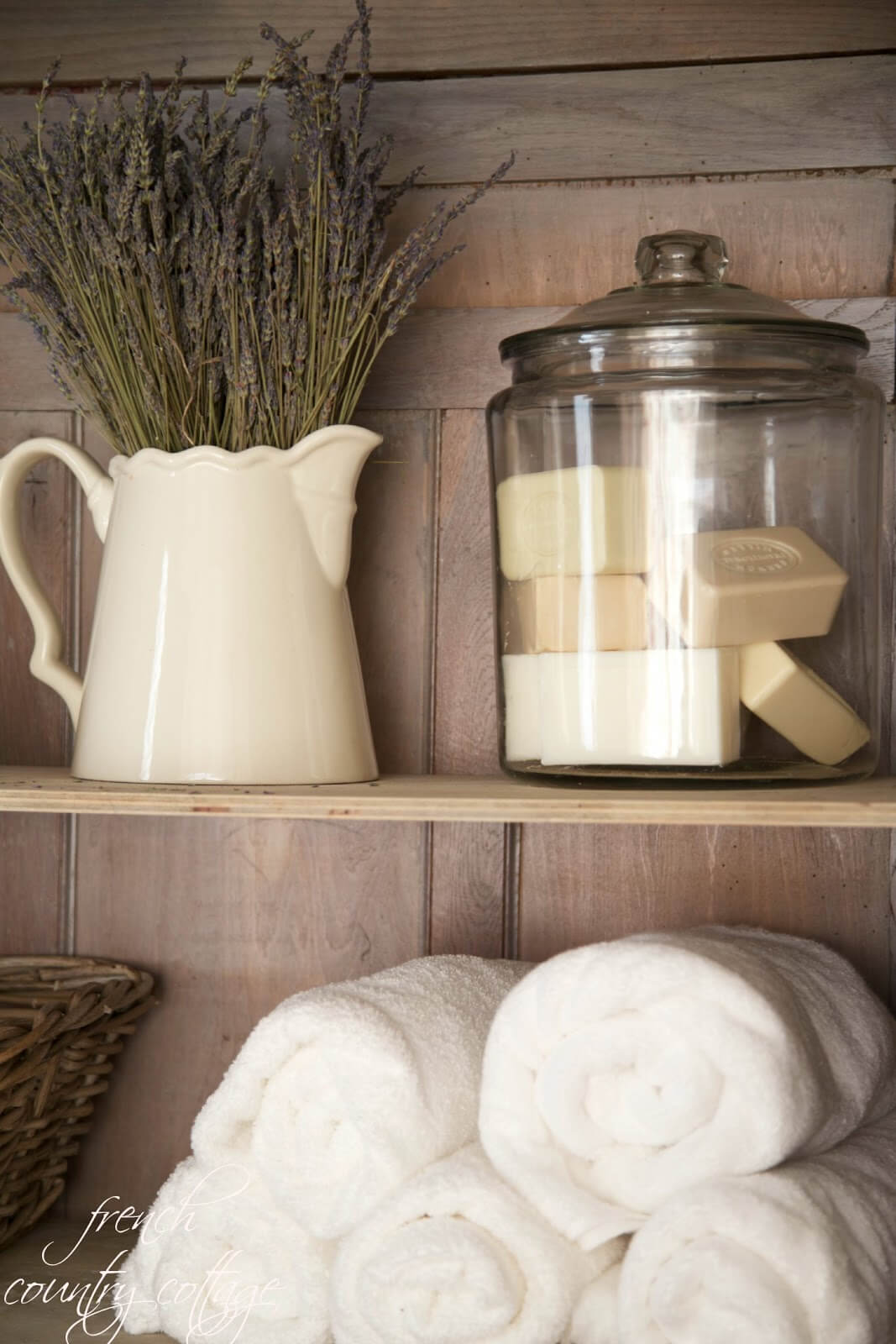 Miniature open concepts are en vogue this season, and bathroom and linen closet shelves don't have to be just a closed storage space. They can also be a charming place to let the exotic beauty of place-holding in a personal space or room be a singular story all by itself.
9. Elegant Grey Dining Room and Colorful Peonies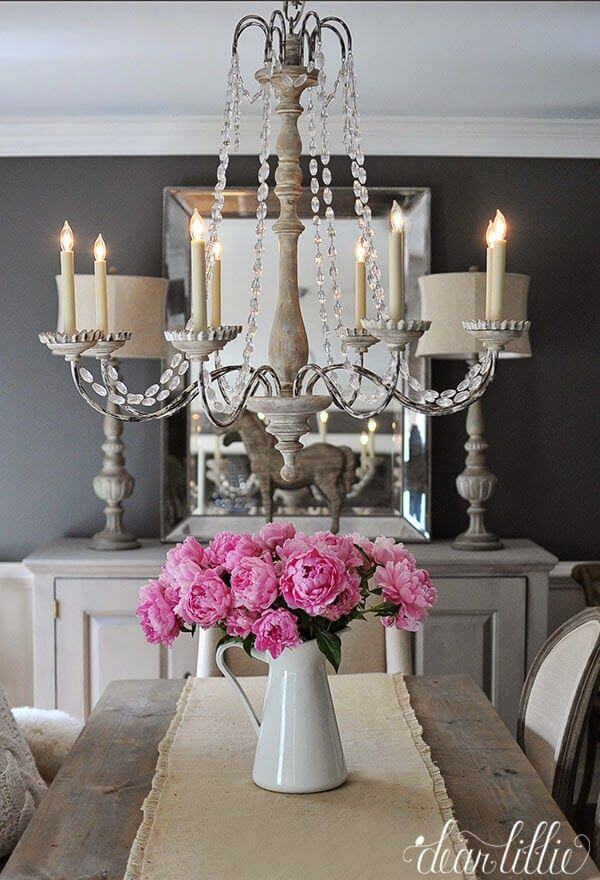 Grey is not always a drab or boring color. When used selectively and creatively, a dining space like this with nice clean lines, special draped lighting, and bright colorful fresh accents makes grey a perfect color to wrap it up, especially when capped with a linen runner and candlestick lamps.
10. Shabby Chic Wooden Coffee Table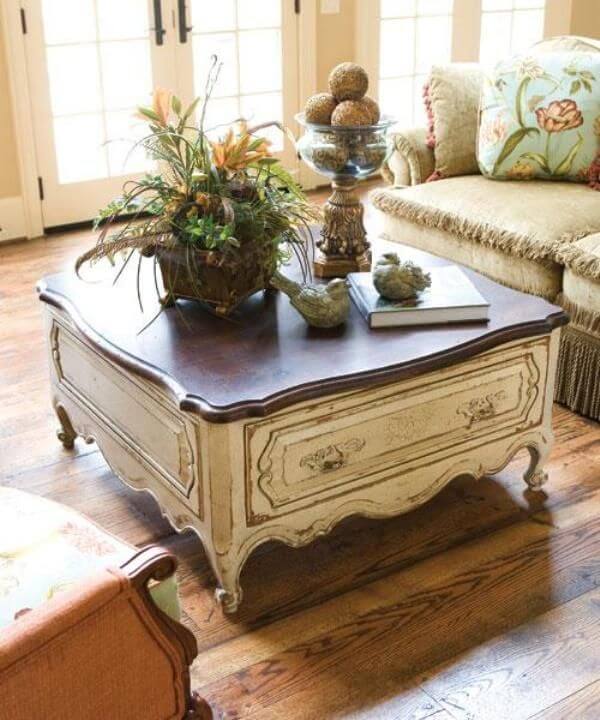 Shabby chic ain't too shabby after all, especially when it is a focal centerpiece that holds centerpieces. This aged living room coffee table, with its contrasting hues of dark and light, nice curves, old school antique-like handles, and little peg feet holds its own weight in solid beauty and class.
11. Ruffled Natural Linen Window Curtains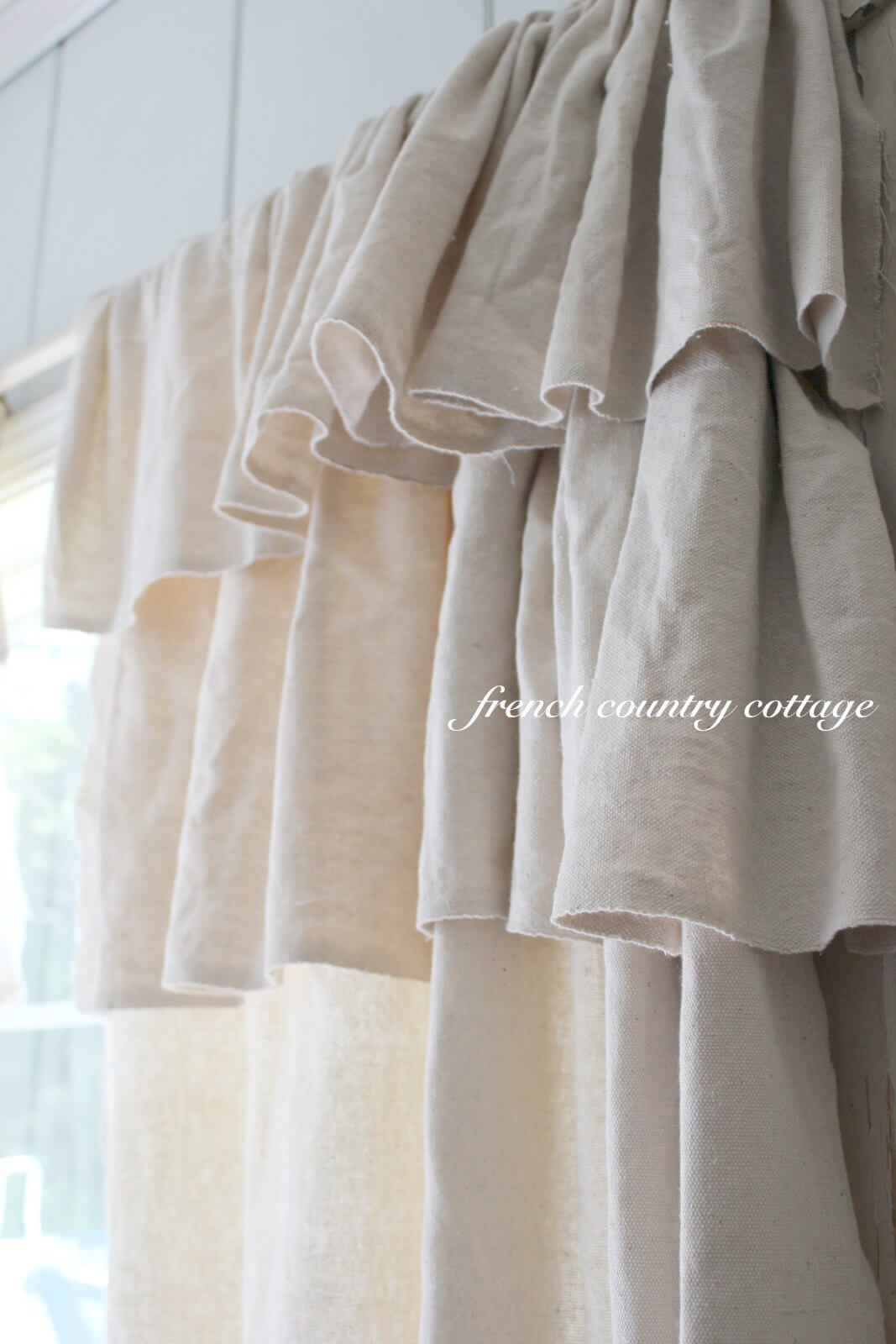 There is nothing that cools a room off more quickly or warms it up faster than breezy crisp and clean or opaque light-blocking linen curtains. These French country cottage ruffles are imaginative and bold, but also clean with cupped cuts that look wonderful in a kitchen or a small bedroom.
12. Charming Bedroom with Antique Bed Frame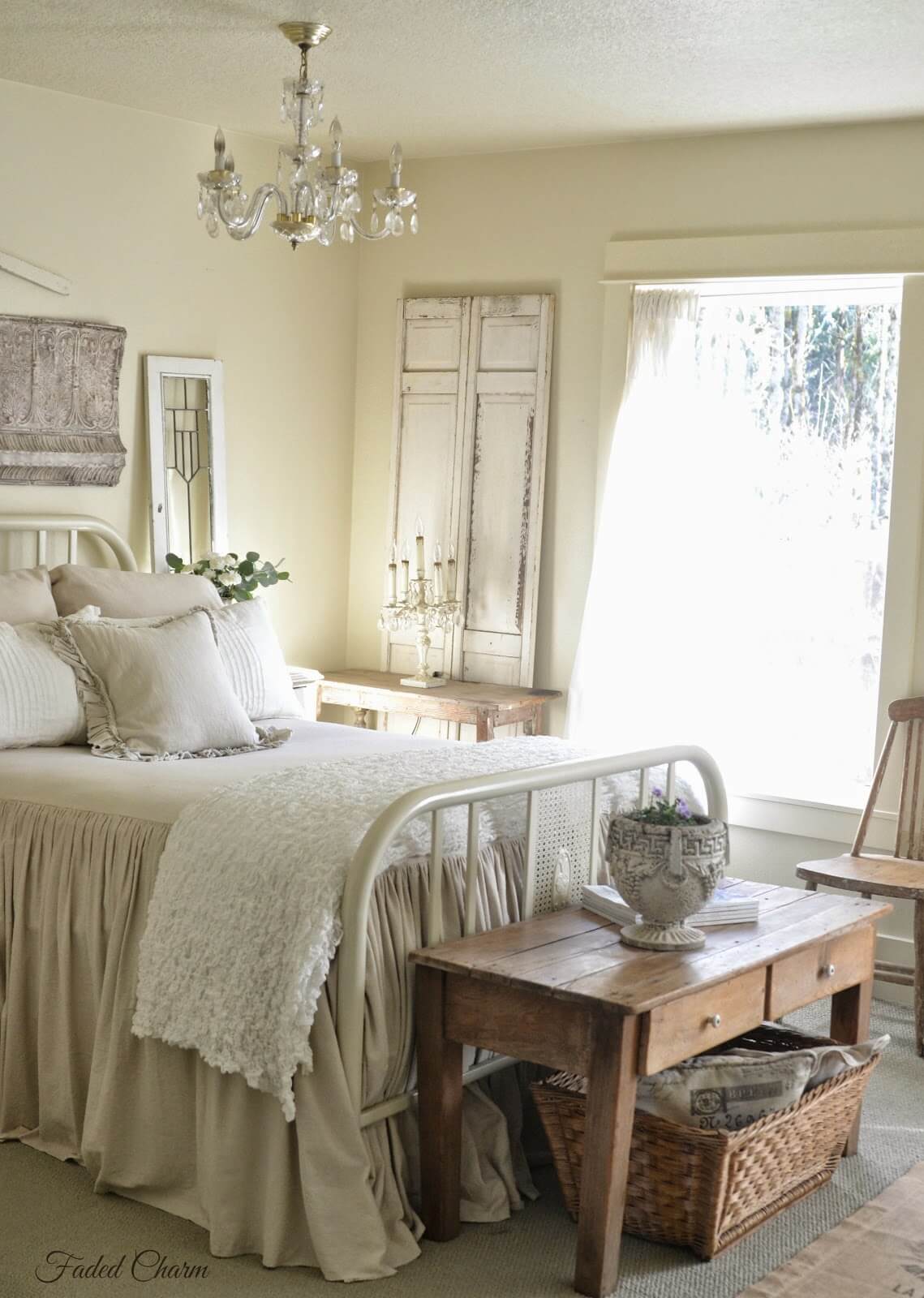 Catch lovely rays and breezy days with charmed room accents like refurbished scrap doors and clear stained-glass prop-ups. Stationery pinch-pleated drapes delicately pinned over an antique metal bed frame, shaker-style furnishings, glassy sheers and an electric candlestand can brush out a country bedroom with the stroke of an artist's brush.
13. Sweet Teapot Planter Cloche Centerpiece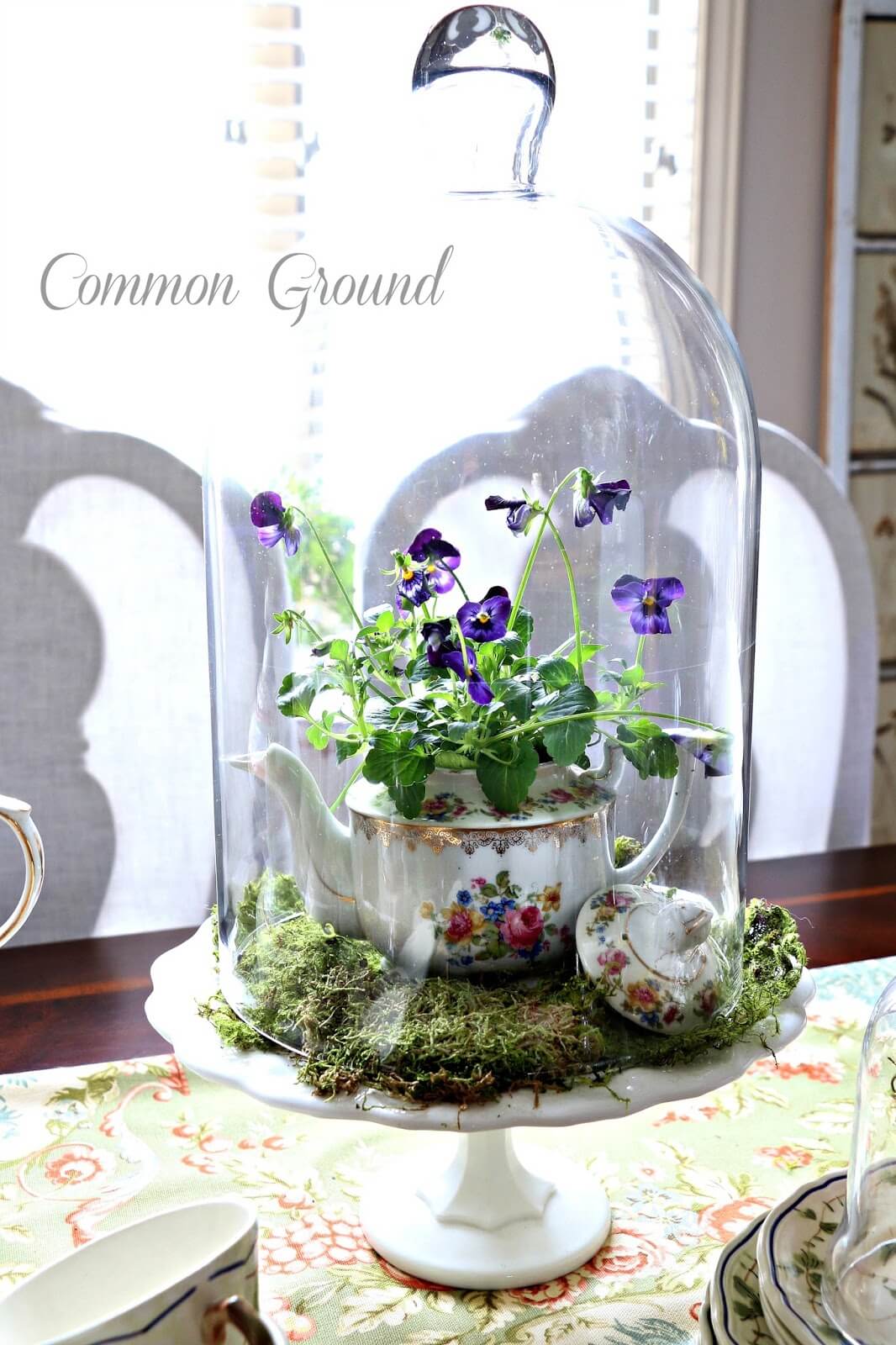 Ships in bottles and bell-shaped cloches over dainty floral antique-like teapots lined with gold highlights make for the best off-beat focused table planters. This inspirational and decorative centerpiece is an exciting conversational, especially when you can almost hear the sound of a well-tuned Carillon bell singing sweetly in the background.
14. Vintage Whitewashed Wooden Bedside Bureau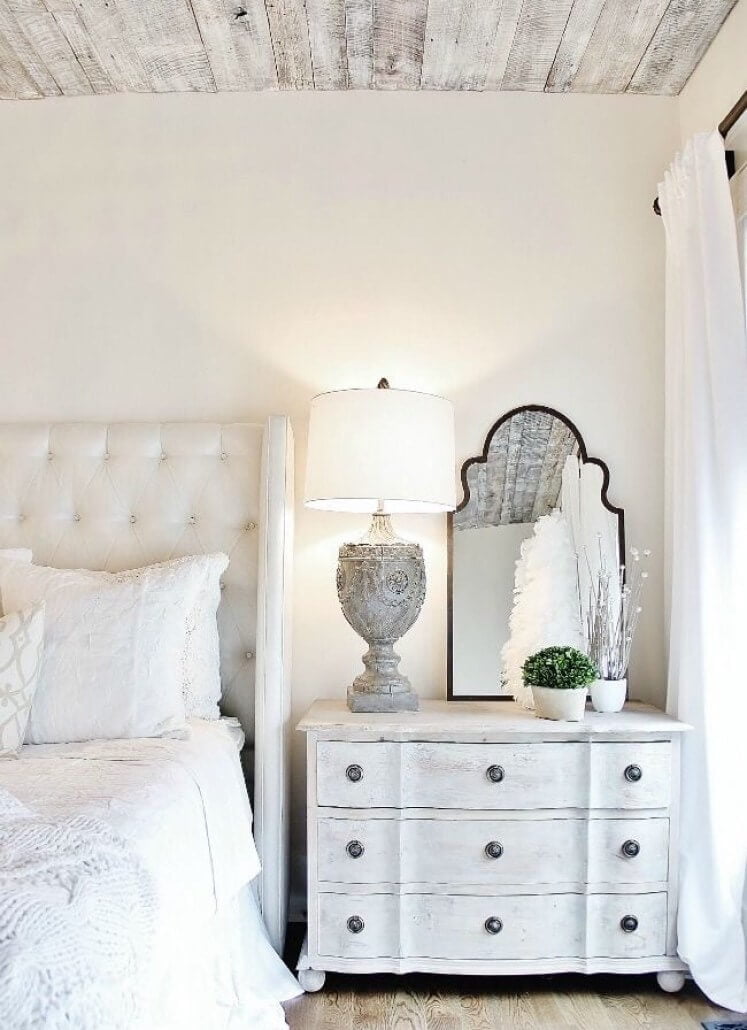 This white-washed lowboy chest is a classic masterpiece. Knobbed drawers and rollerball pedestal feet help this thing of beauty to stand on its own and make its own bold statement. Both glamorous and functional, it makes for a fabulous bedroom storage or a dining area bureau for dishes and silverware.
16. White Couch Table with Oversized Accessories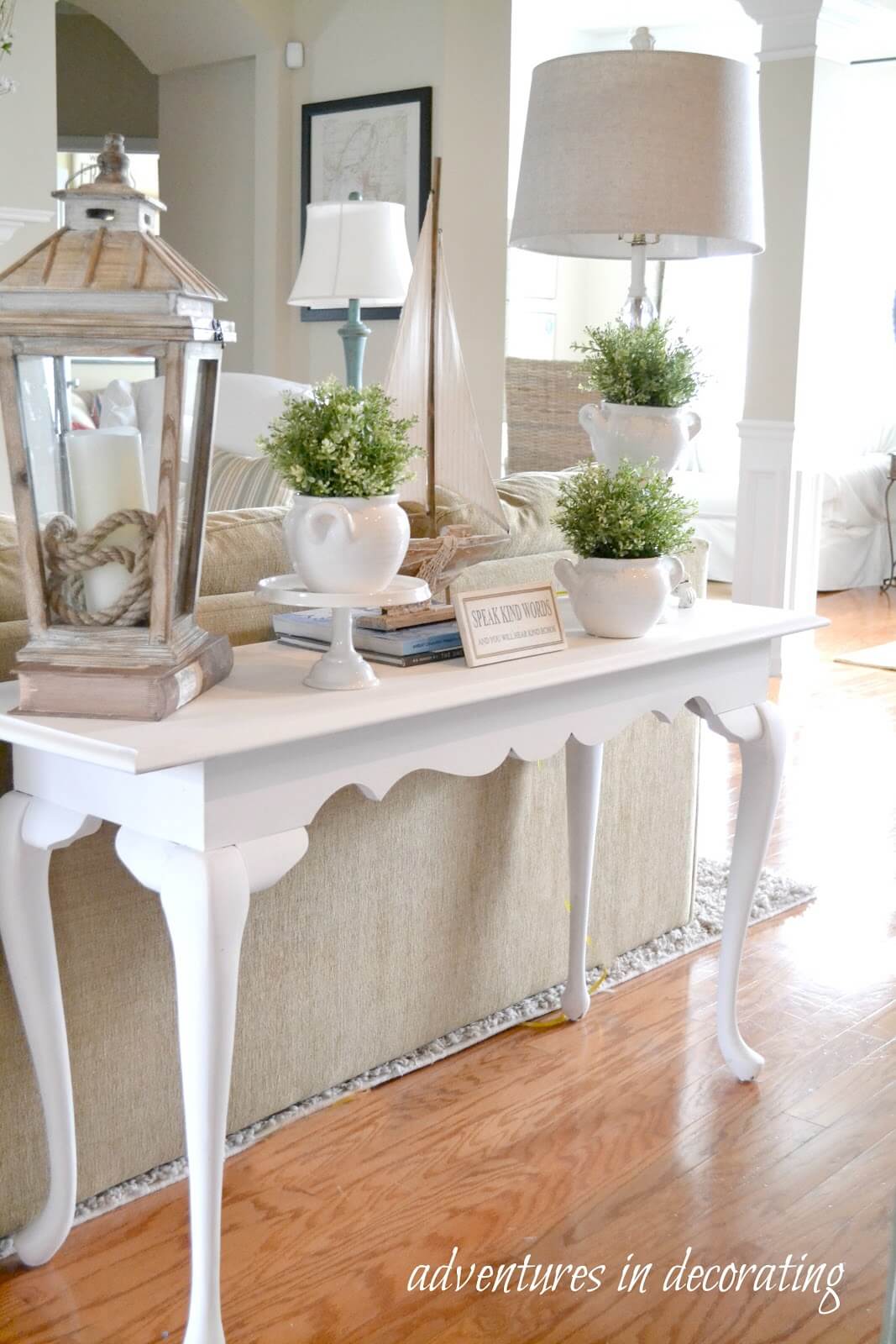 An understated long-legged couch table is just the right thing for a smooth and well-appointed living space. Filled with sterling fresh and airy country charm and top-loaded with pleasant over-sized professionally crafted accessories, this motivational couch table is quiet and attractive and solidly constructed for homes designed for kindred spirits.
17. White Wicker Chair with Blue Toile Pillow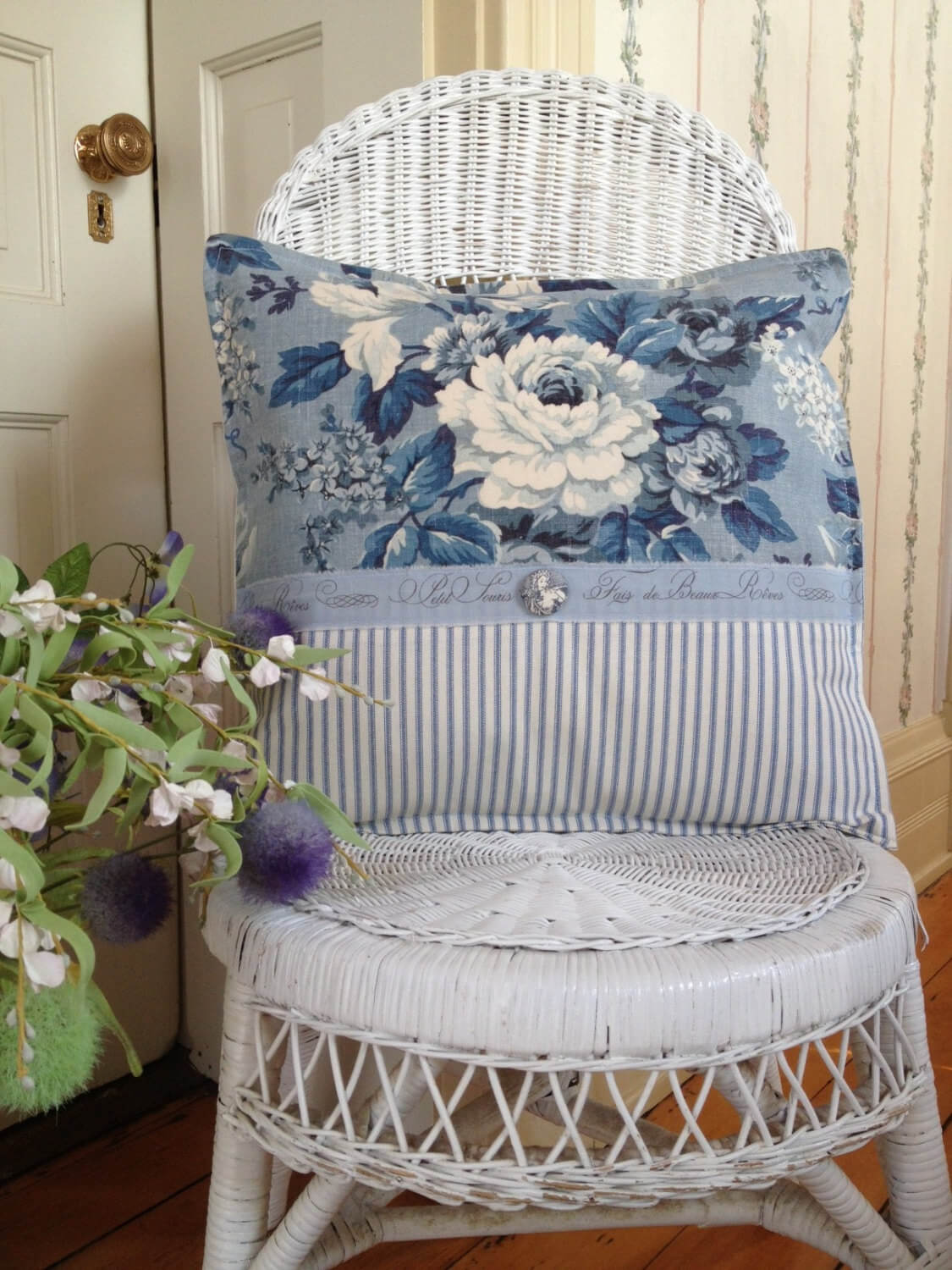 A unique vision of loveliness, this white wicker chair and blue toile pillow is functional in form and exceptionally romantic. A simple look, the two décor items are lovingly nuanced and enchanting. The complementary pillow with its large flowering effects and stripes features luxurious scroll writing and a button accent.
18. Rustic Wooden Barn Doors for Ensuite Bathroom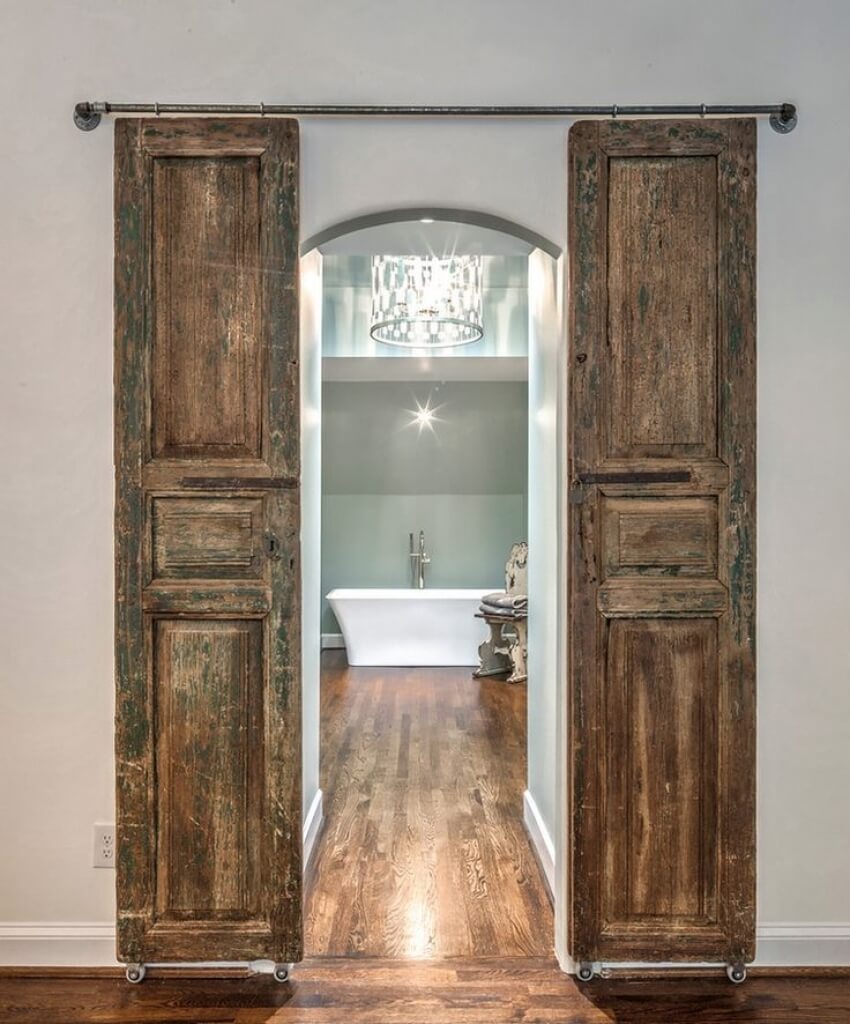 Roll-away rustic wooden barn doors are the perfect complement for an en suite bathing environment. The snazzy and upbeat look of these sophisticated weather-beaten moving doors send a distinct message about comforting private quarters as they hang in place with a reinvented shower pole brace to keep them in place.
19. Dining Room with Plush Chairs and Credenza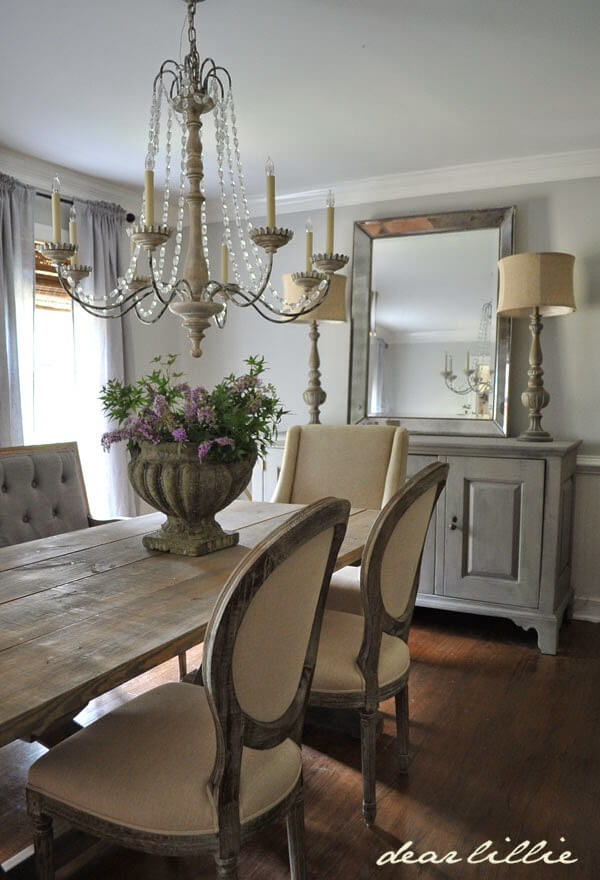 "Dear Lillie" escapes convention and goes for a nice eclectic off-center mix of both round and square chair shapes. An unfinished dining table, white-washed sideboard, and charming candlestick lamps provide classic beauty, especially when enhanced with a light-giving mirrored accent piece that provides a striking reflection to the room.
20. Cafe Style Wire Display Basket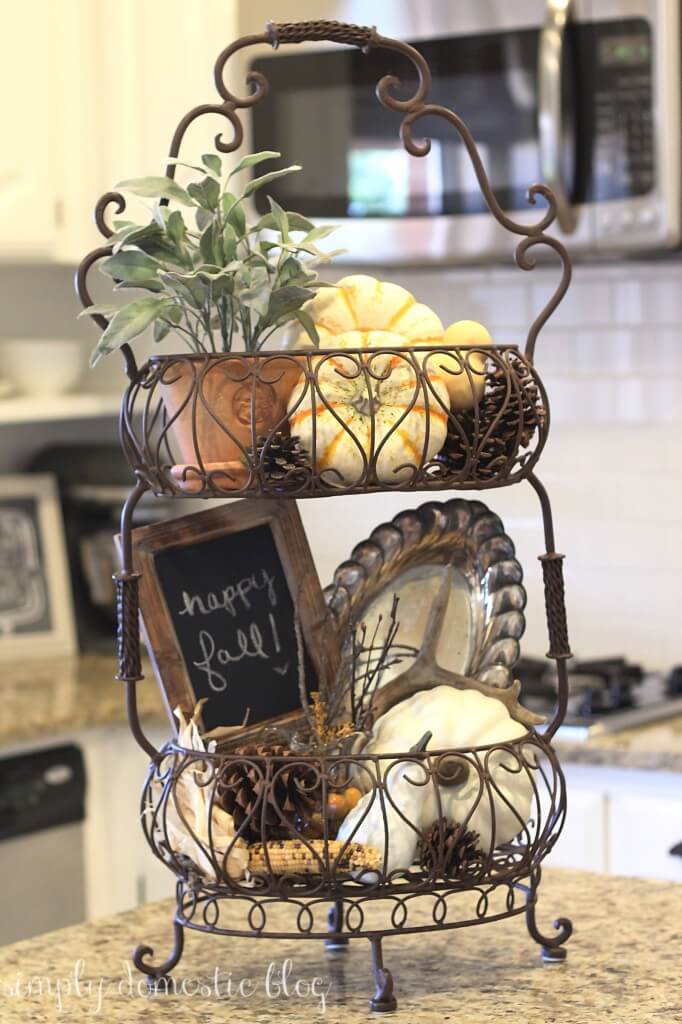 A happily domestic piece of quaint kitchen whimsy is quite a thing to blog home about. This cafe-style two-tier wired display basket with its scrolled handle and open-air embellished design is an excellent tabletop ice-breaker, especially when filled with sentimental and symbolic touches that match the season of the year.
22. French Country Decor Ideas for the Entryway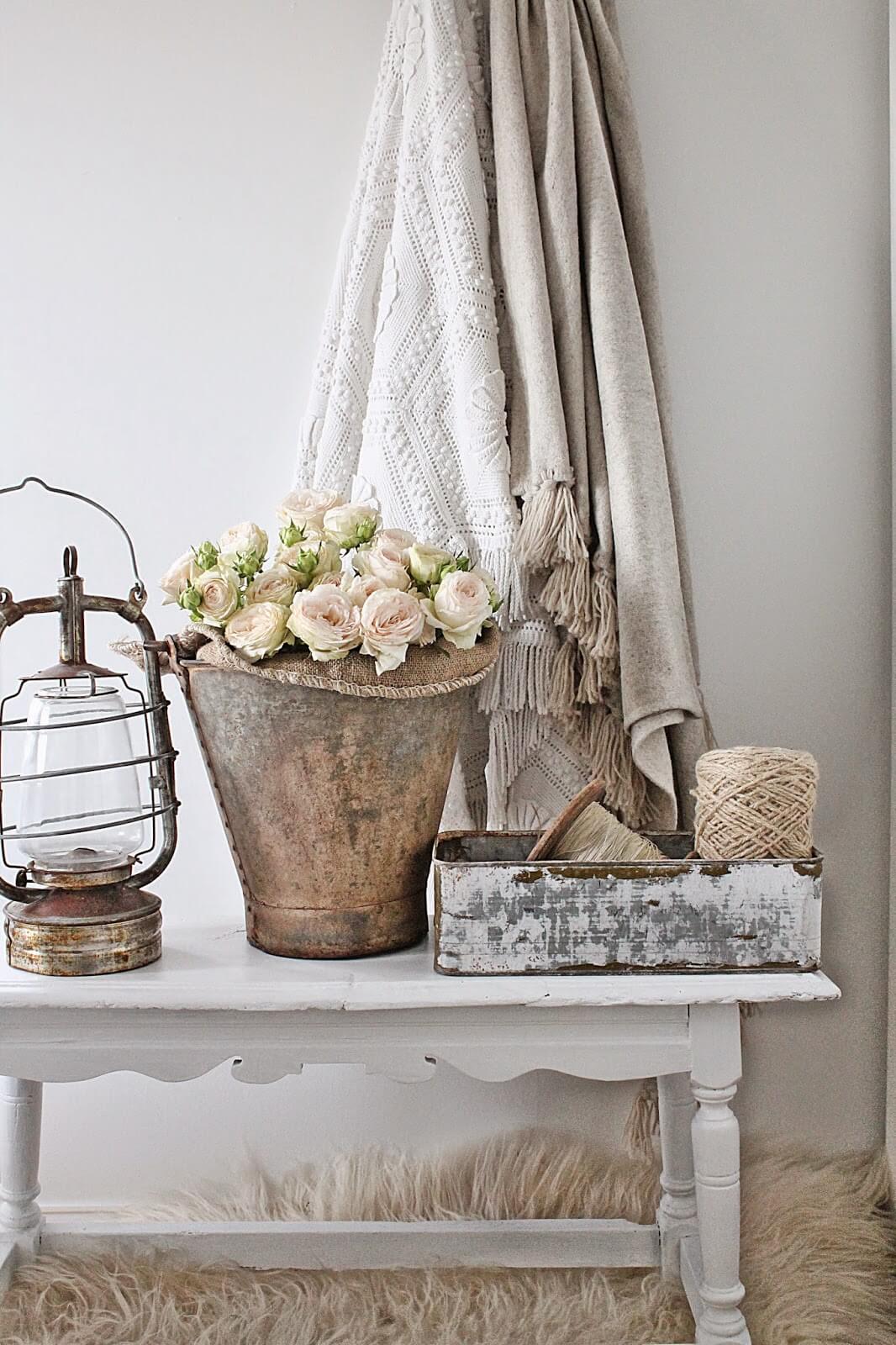 Entryways that make a statement are a matter of individual taste, but since its a passageway, be mindful of excessive clutter. Use a lovely fringed throw hanging gently on the wall, a beautiful lantern, or corner bucket of flowers, or a small wooden or tin box filled with natural-colored yarns.
23. Simple White Wicker Storage Basket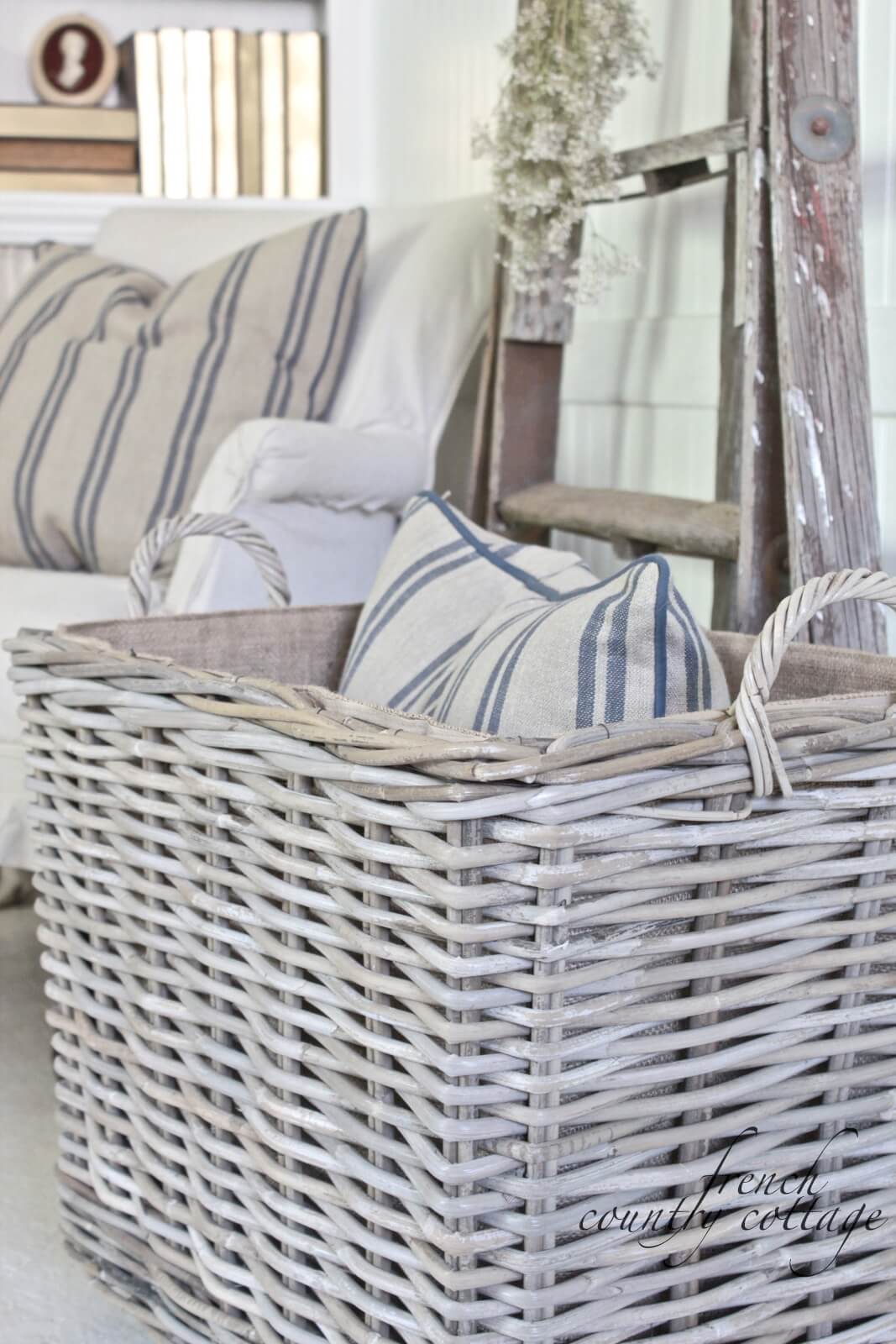 Nothing says French country esteem like white-washed baskets made of wicker. Besides being a beautiful touch in any room, including elongated bathrooms and small cottage kitchens, they can double as holders for pillows, blankets, potted flowers or herbal greenery, small umbrellas, or any needful task, or just for inviting décor.
24. White Ceramic Crock Flower Vase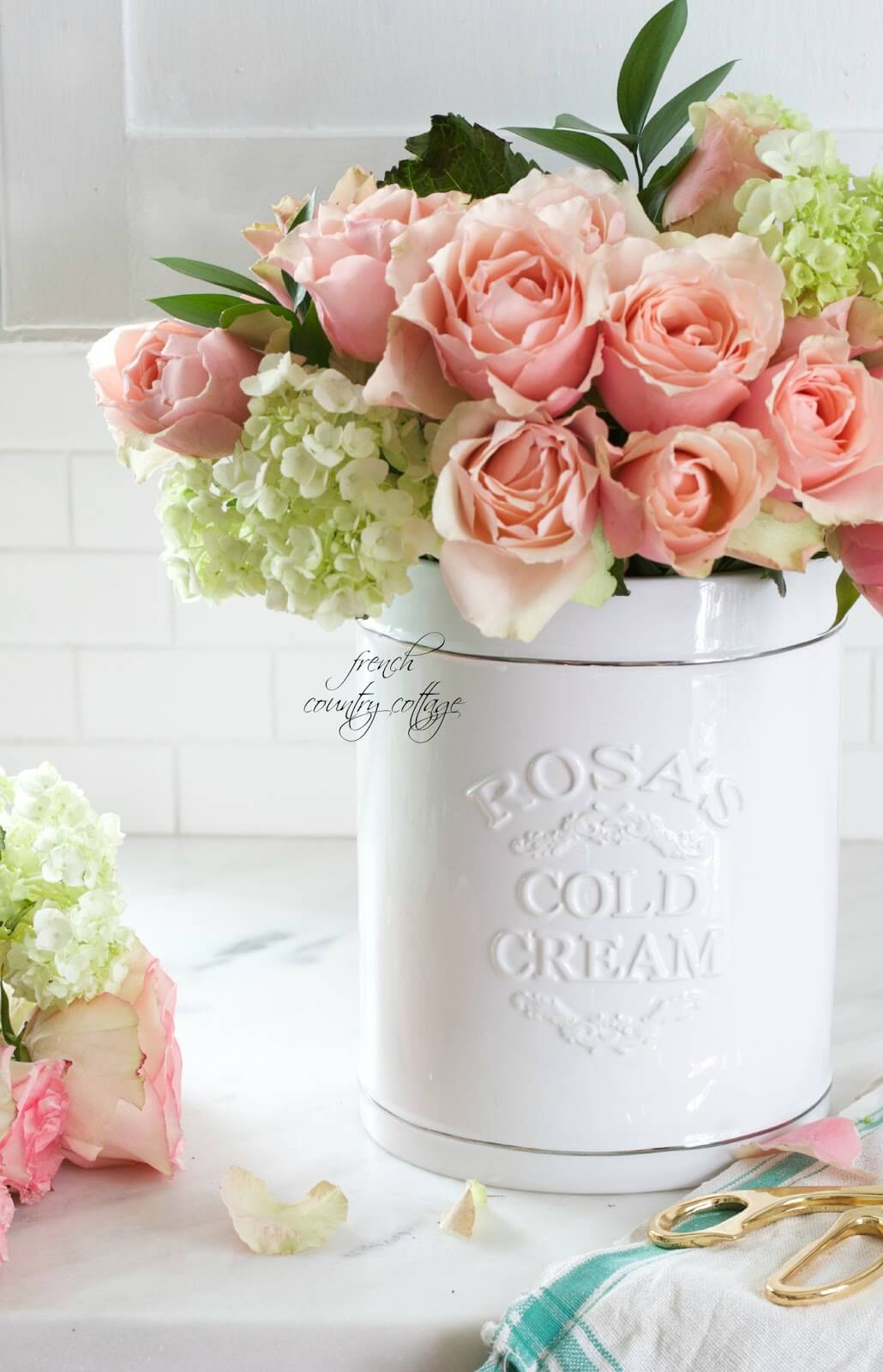 Old ceramic kitchen crocks can be splashed, covered, repainted, decoupaged, or even tinted and lined with tissue paper in order to create a unique vase for fresh or silk flowers. For in-home use or even a nice finishing touch to a country garden wedding, these crocks set a beautiful standard.
25. Painted and Antiqued Shabby Chic Armoire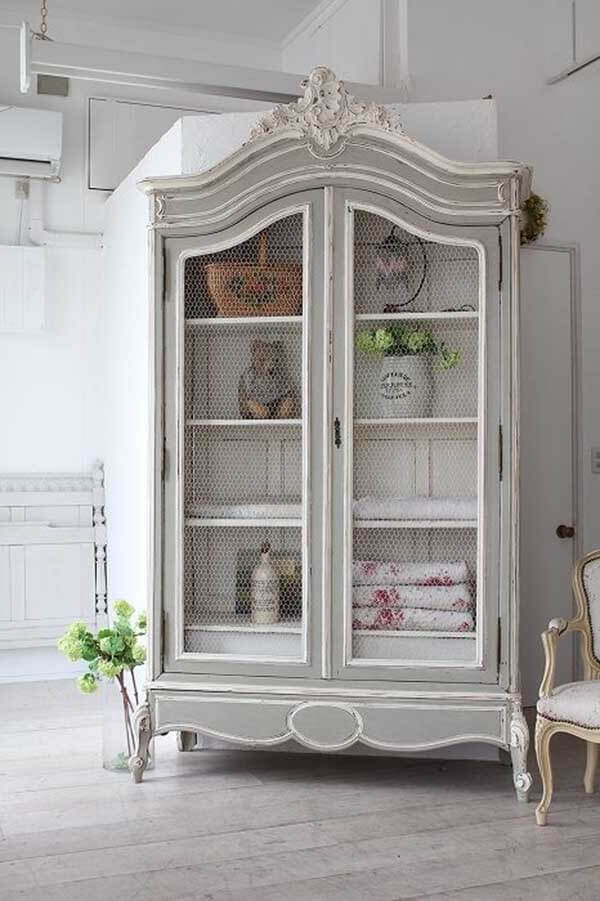 Armoires have never truly gone out of style, but now you can turn the older models found in thrift shops and antique stores into meaningful white-washed and aged restorations that brings back warm and fuzzy memories, as well as provides storehouse usefulness in just about any room in your home.
26. Rustic Wooden Kitchen Shelves with Potted Ferns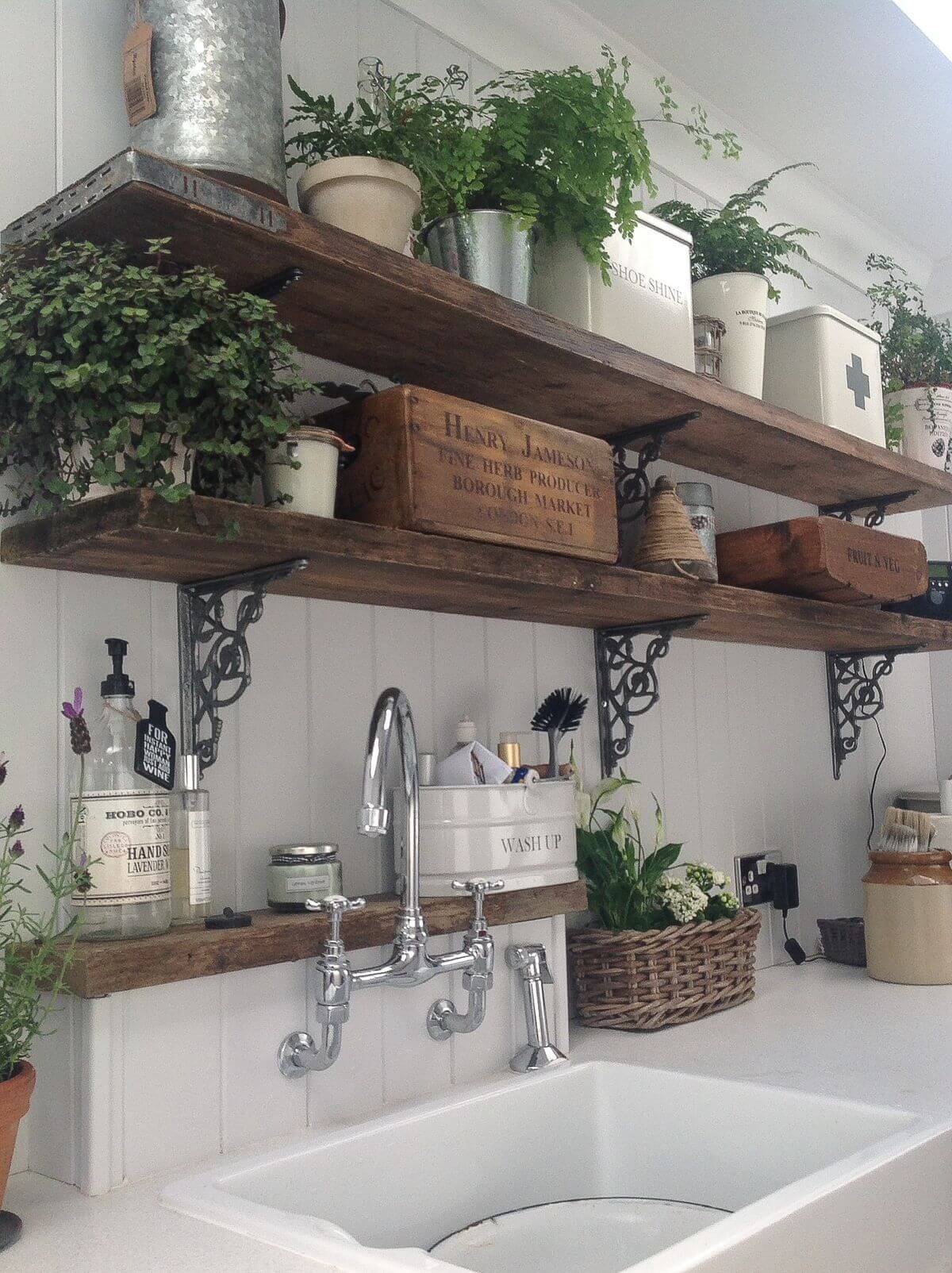 Tub'n'tin sinks with old-world fixtures mounted on them have a wow-factor all on their own, but when these antique-like boudoir or kitchen classics are topped off with the right shelving made of aged dark wood and metal hinges and scroll brackets, it's look out world! The décor ideas are endless.
27. Easy DIY Burlap Sack Bouquet Display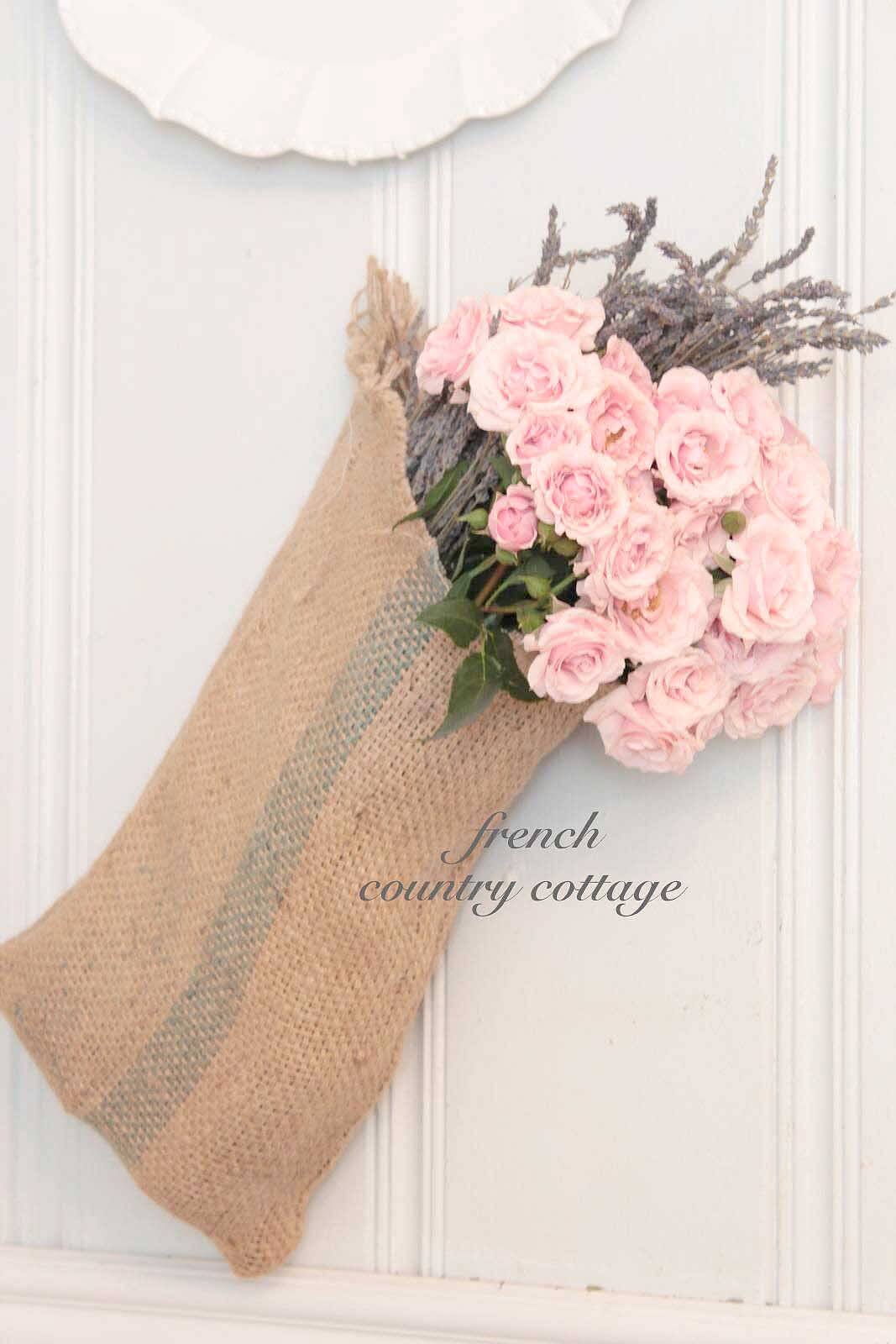 A burlap sack filled with fresh or silk flowers and vines on the wall or a sideboard table adds a touch of old country charm to spruce up a space. Small inexpensive touches can change a room into a beautiful and warm room without moving anything or buying anything new.
28. Stunning French Country Inspired Bedroom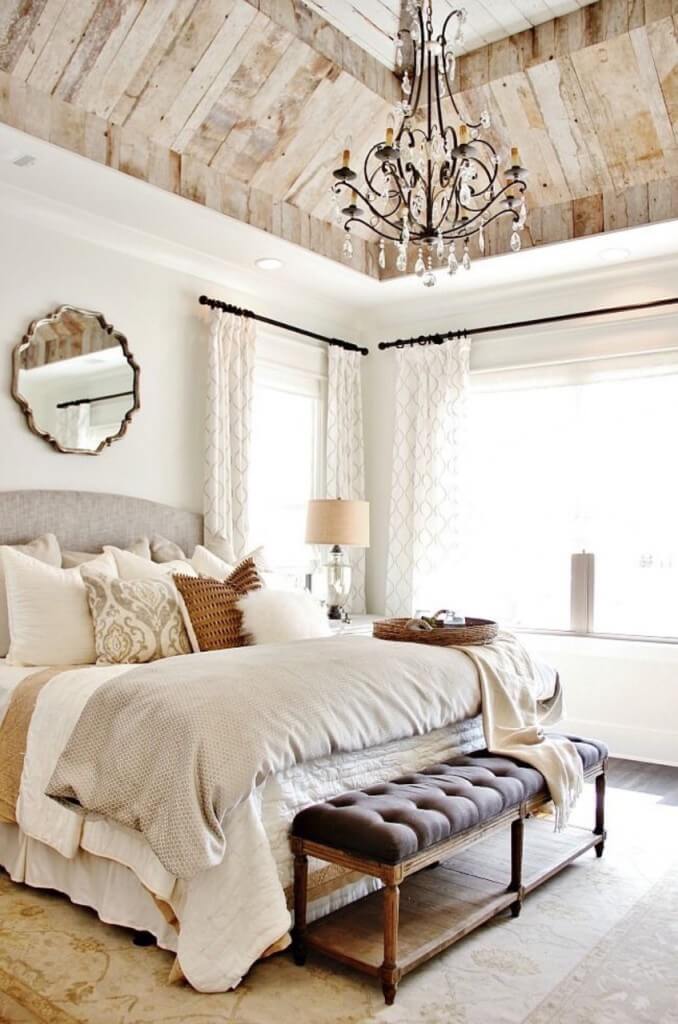 There are traditional and non-traditional spaces, but there is something uniquely special about a themed bedroom made to inspire romance or just to feng shui a lifestyle filled with grace and gratitude. Motivate yourself with built-in headboards, fluffy tall bedding, ringed window curtains, and elongated padded seating with area rug.
29. French Country Design Ideas for the Bathroom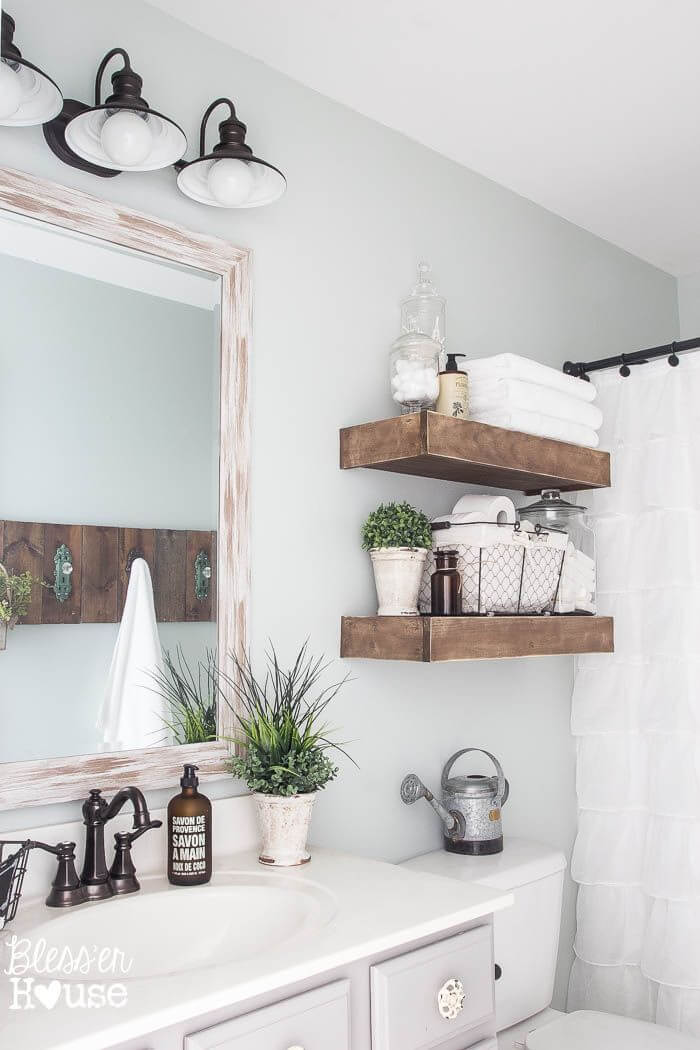 Putting French and country together inspires thoughts about bathroom décor in all of its luxurious potential. White and washed background doesn't have to mean cold and dull. Warm up your whites with splashes of wood shelving and towel hangs, living greens, brown lotion bottles, nickel fixtures and tin… instant voila!
30. French Kitchen Exposed Shelving Crockery Display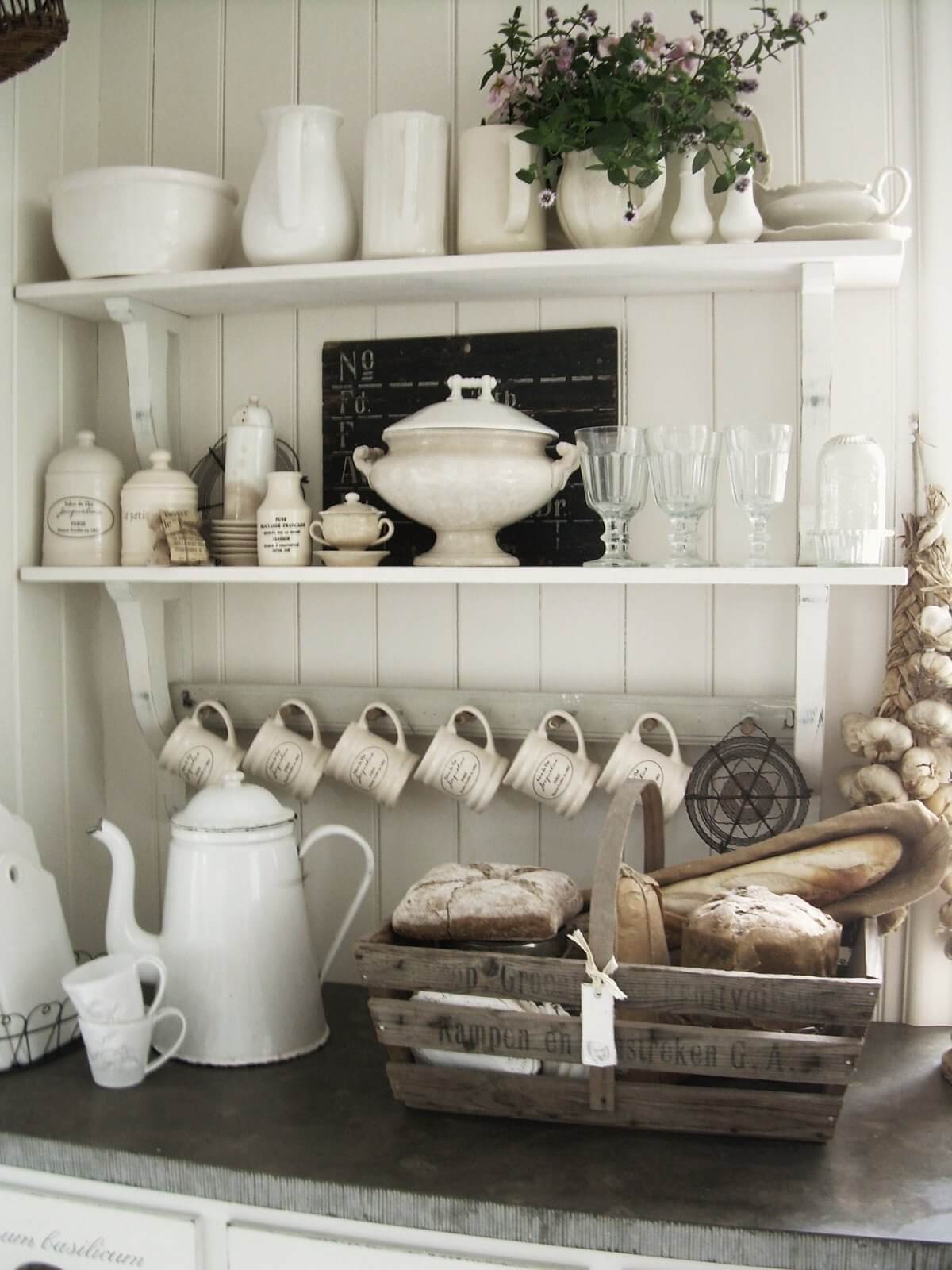 Exposed cabinet shelves, milky white jugs and crocks, black chalkboards, and simple-cut bread baskets are many of the best elements available to mold a French-inspired kitchen from scratch. With an added touch of English ivy, these natural elements find a friendly alliance with one another for a comfy kitchen display.
31. Inviting Livingroom with Striped Linen Couch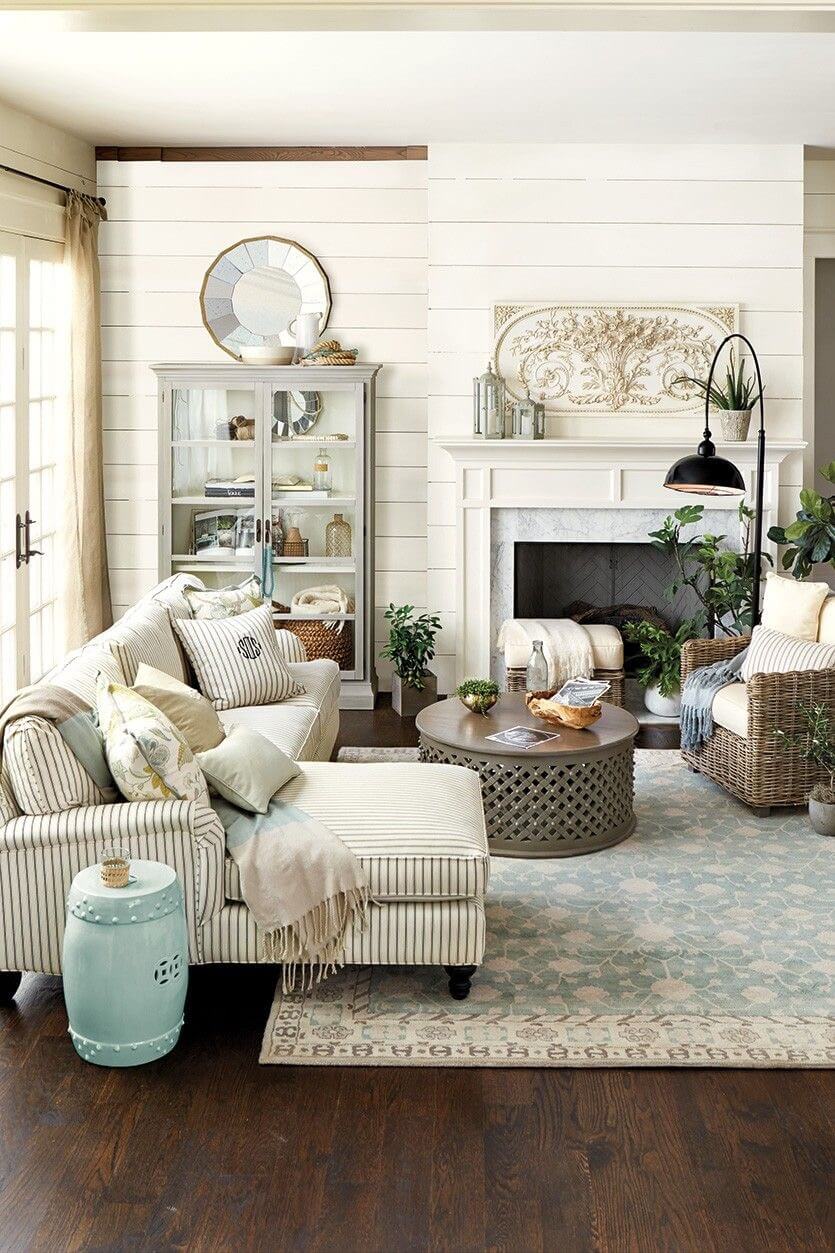 Striped linen sofas, natural wicker chairs, wheat stalk accents, and beautiful potted vines with lovely ceramics in varied hues say "Hello, I'm home" any time of day or night. Accentuate the positive in round, rectangle, and square, then add elements of wood and glass with neutral throws and pillow shams.
32. High-Ceilinged Dining Room with Fanciful Chairs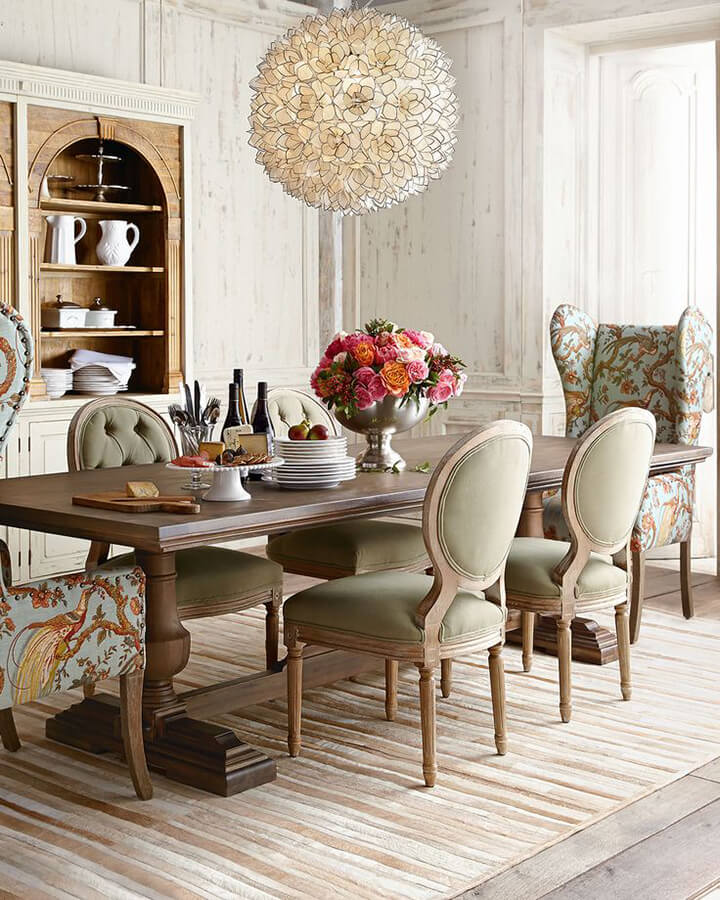 High ceilings are always a challenge, and with the proper décor and accents, anyone can feel tall and magnificent. Light-colored wood, tall wingback chairs in gold trim, as well as translucent flower petals in a large globe pendulum lighting fixture makes this room a spectacular creation in any home style.
33. Antiqued Credenza and Rustic Round Mirror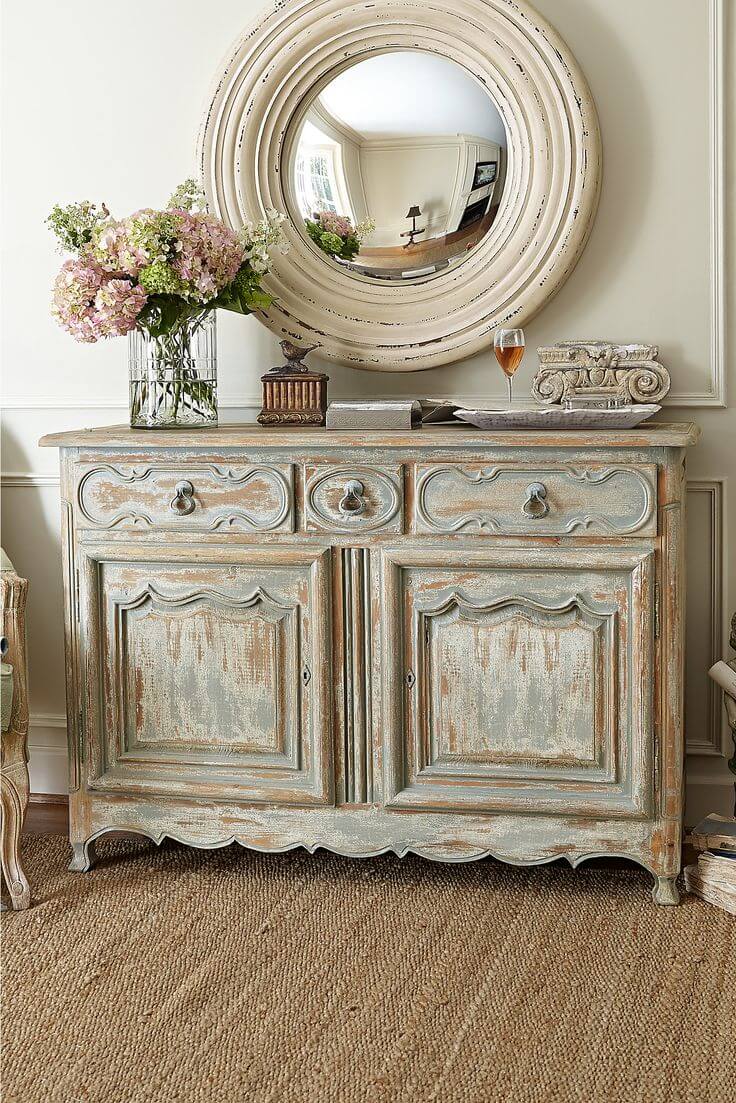 Credenzas add a classic touch of beauty and elegance anywhere they land. Rustic flairs coupled with antique-ish wood staining demands that more than one of these sophisticated pieces are around—in the foyer, in a bedroom, in a guest or reading room, or in a home office, drawing room or den.
34. Romantic White Bedroom with a Window Seat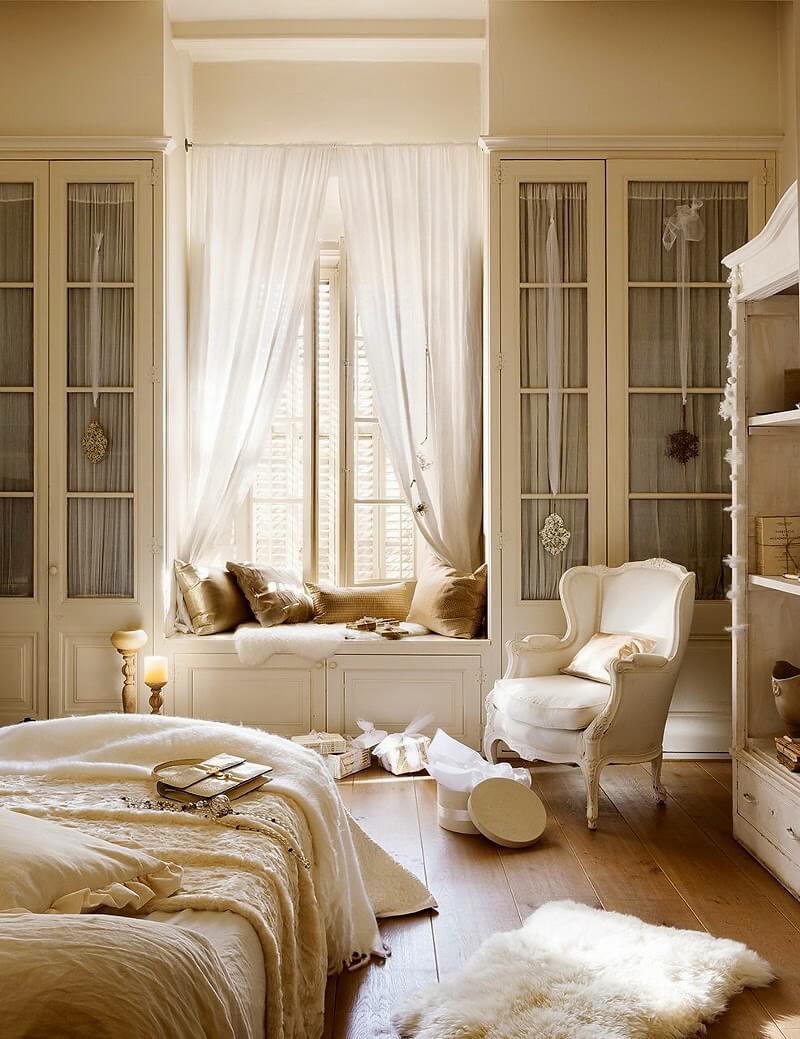 Window seats are delightfully inventive and bring out unmatched old school swagger. When deftly decorated with luxury draped sheers hanging over shuttered windows, light and air have no excuse for staying outside. Bling the window seat out with a wingback chair, some beautiful wall charms, and gold pillows and candlesticks.
35. Toile and Rustic Linen Chair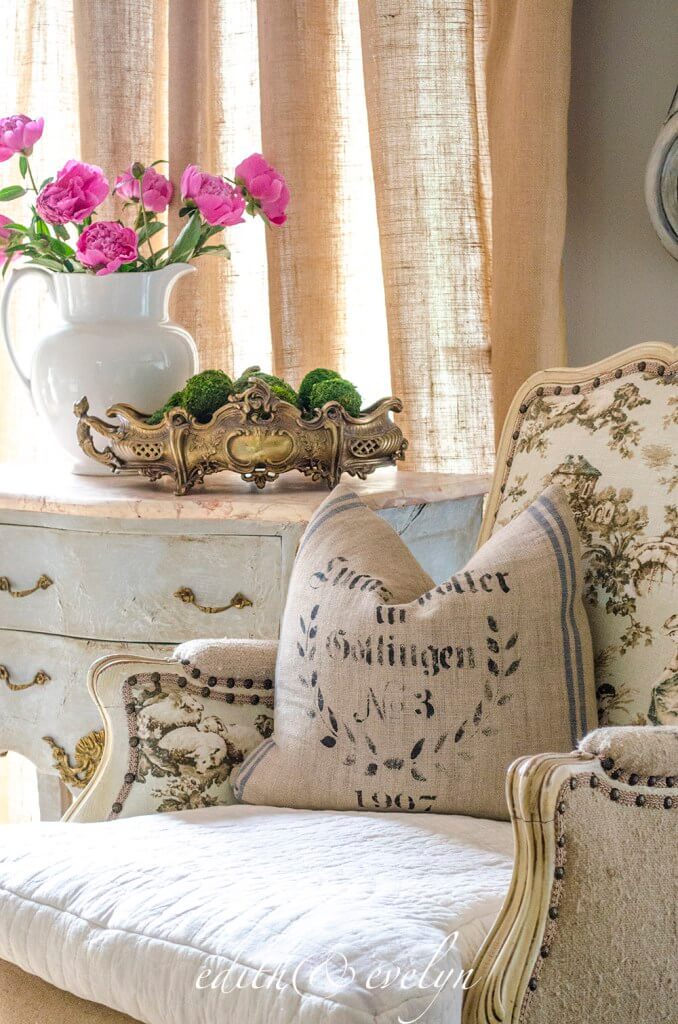 Classic, comfortable…toile fabric is a wondrous pattern for inspiring pastoral scenes of farm life, hunting, and fishing. Combined with the right rustic elements and copper accents, there is nothing sweeter than sweet than entering another realm without exiting home by taking a seat in a cool linen and cotton chair.
36. Eclectic French Kitchen with Rustic Chalkboard Sign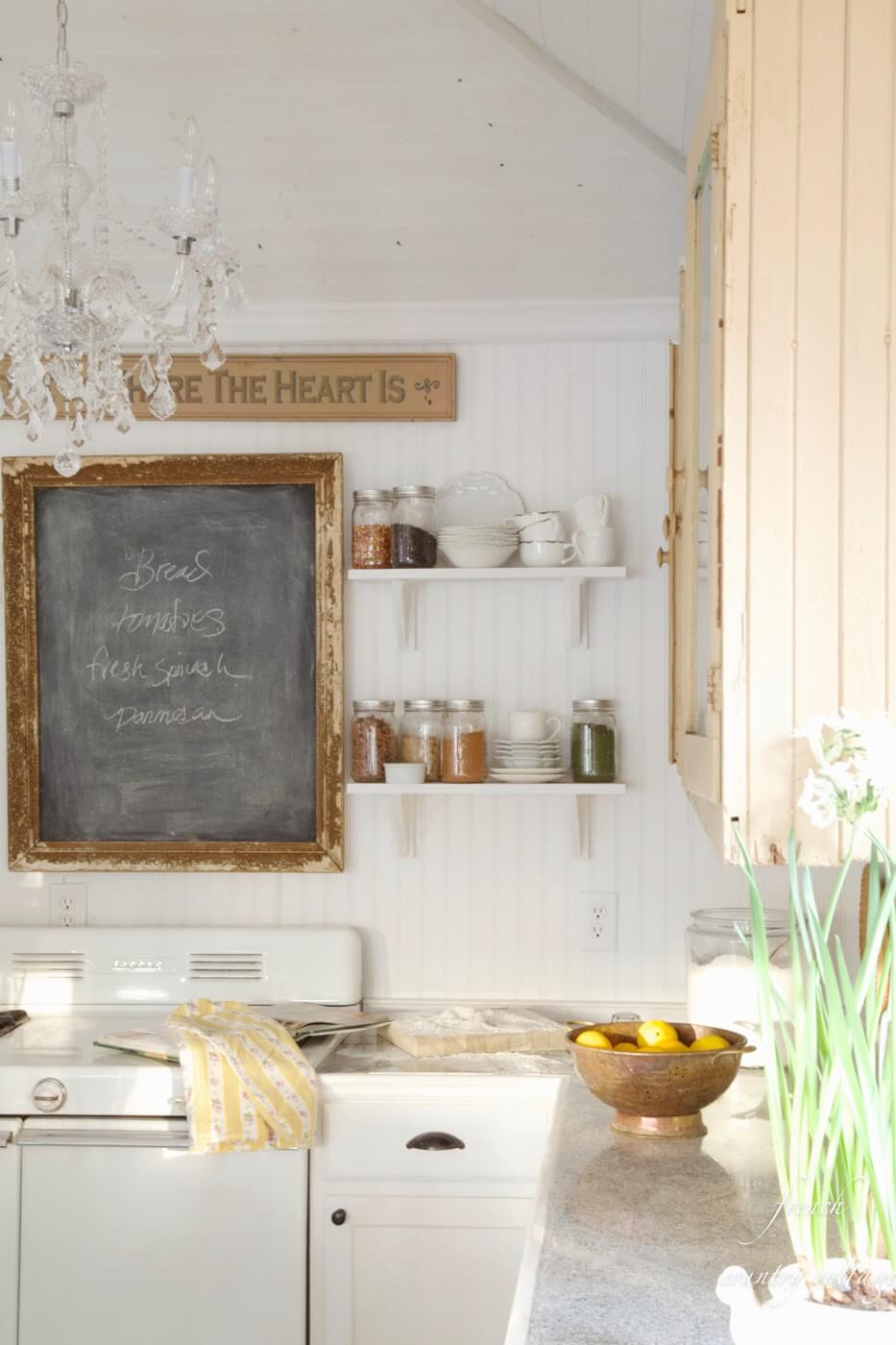 French kitchens bring visions of dusty flour boards, open cabinet shelves, glass doors, jars of canned goods, and bowls of fresh fruits and vegetables, as well as the aroma of fresh potted herbs and spices. Add in a kitchen blackboard for writing down reminders and grocery lists, and watch the kitchen magic fly.
37. Beautiful Mint and White French Kitchen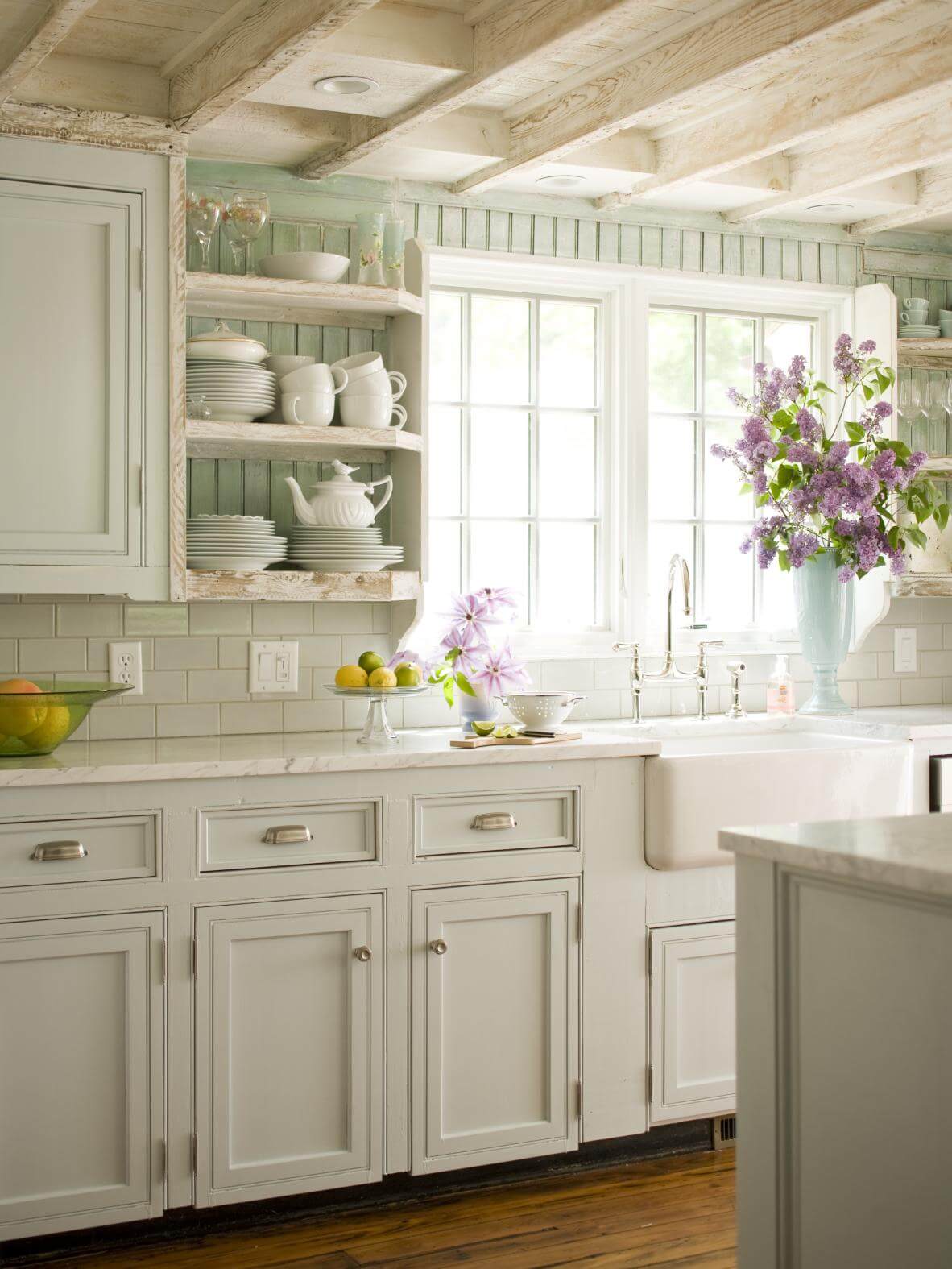 Lavender and mint are always a welcome attraction in any room, especially kitchens. Evoking strong memories of fresh and clean, coupled with long tall gooseneck sink fixtures over an apron skirt sink, open and closed cabinetry, and lots of storage, this minty-fresh kitchen inspires the greatest calling in culinary skills.
38. Elegant Buffet Against Contrasting Exposed Brick Wall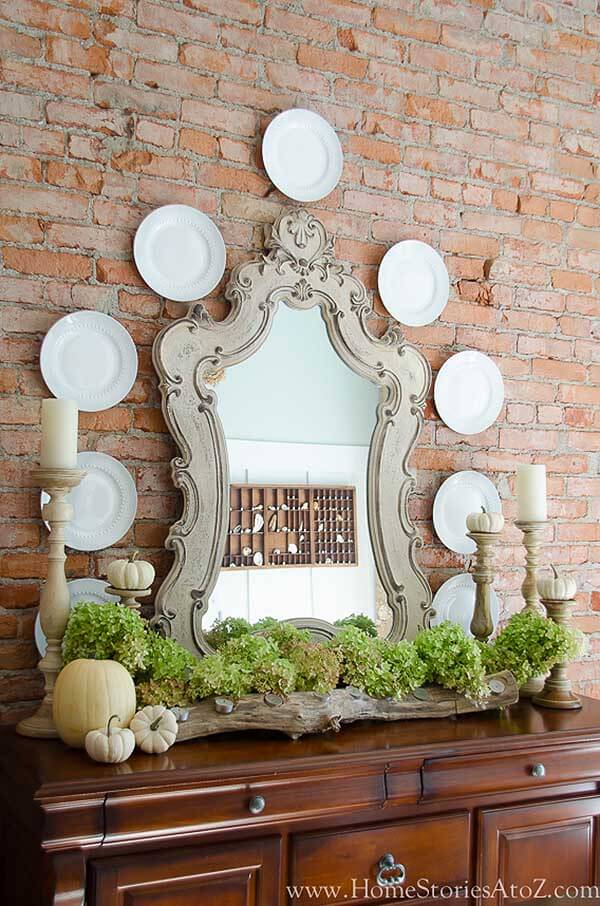 Inside some of the oldest of homes is beautiful brick covered with layers of paneled walls. Bring the brick out, clean it up, then brush it up with white matte paint and let your mind wander free with inspiration. A beautiful wood buffet, gorgeous china plates, décor gourds, framed mirrors, and driftwood planters make this wall as elegant as it is classic.
39. White Violas Planted in Antique Ceramic Dish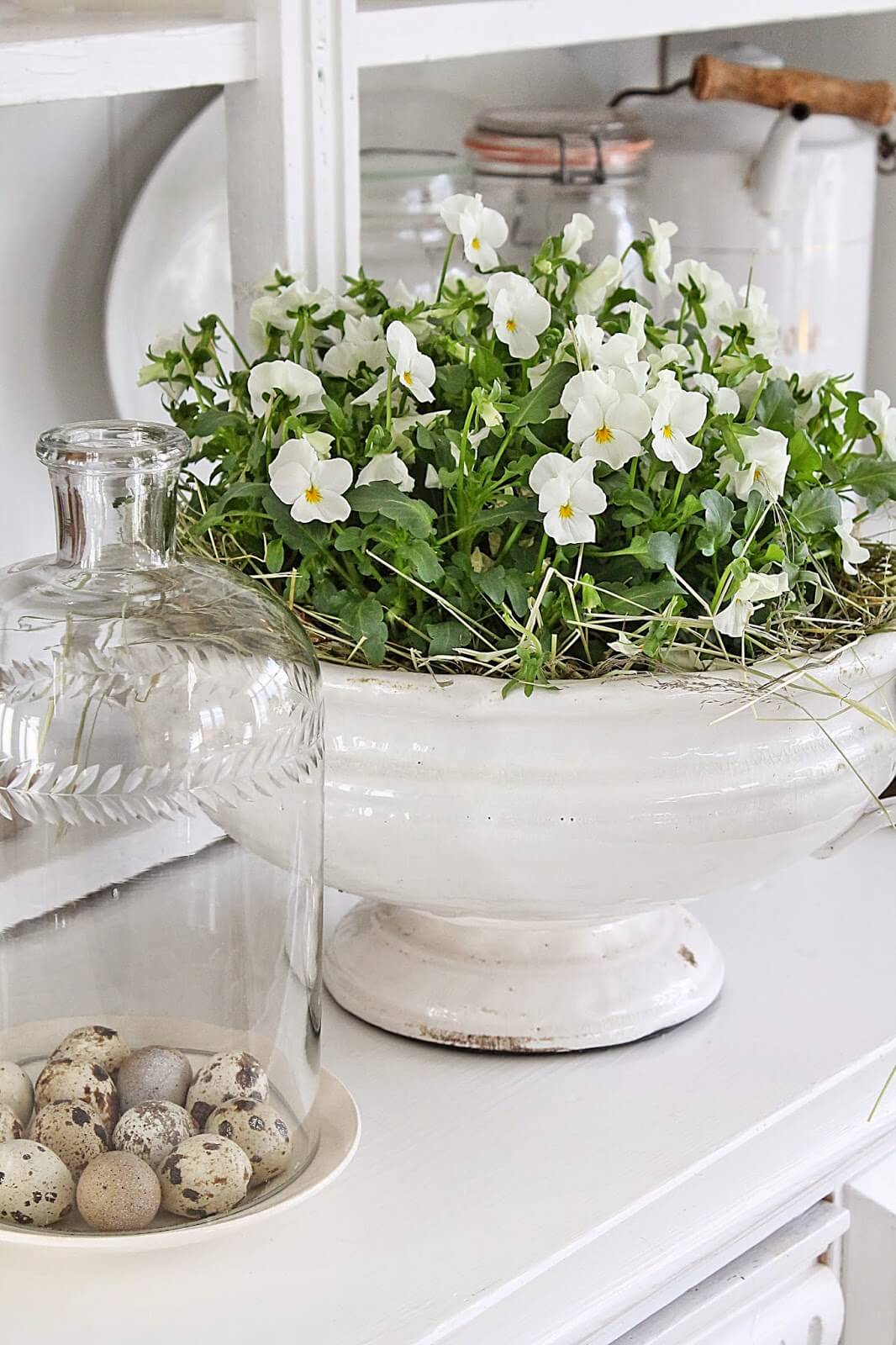 There hasn't been a time in known history when ceramic has not added a sense of completion to a room or open area, especially when ceramic pots are filled with warm herbs, tiny viola plants, marbles and/or ceramic robin eggs. Here, the robin eggs are under a glass cloche— classy.
40. Informal Round Wooden Dining Table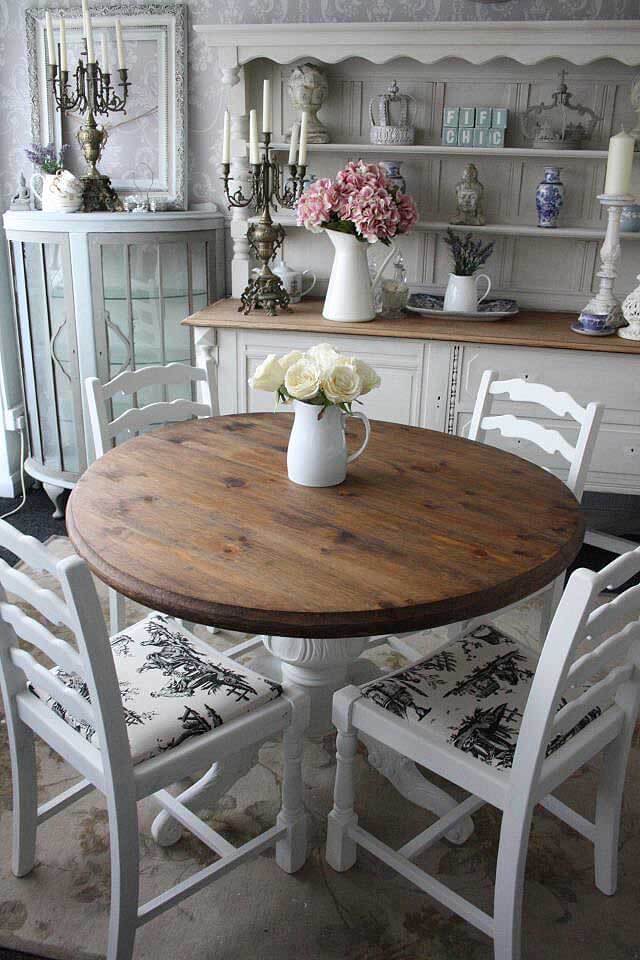 A rounded wooden dining table on a pretty white heirloom quality base demands lovely cane-back chairs with charming toile-covered seats, country-style milky white centerpieces, and cozily crafted surrounds ending in scoops of semi-circles and scallops. Cupboards and candelabras stand out against fresco walls with see-through portraits. This is extended living.
41. White Linen Couch and Barnwood Coffee Table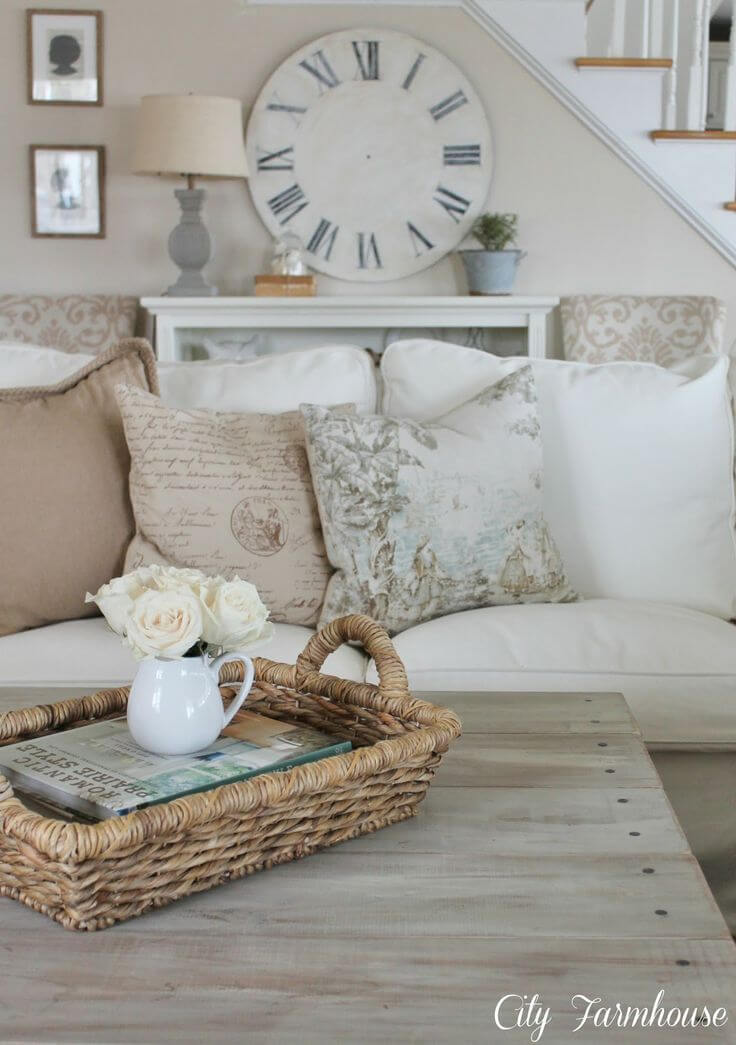 A French city farmhouse living space is cloaked in white linen and a barnwood coffee table with wicker décor accents, silhouette photos for the background accent wall, along with a large Roman numeral nature wood clock. The setting for this white linen sofa has no need of a sofa table. The background design underscores the sofa's setting.
Our Favorite Farmhouse Storage Items to buy on Amazon