21. Cactus-Free Desert Landscaping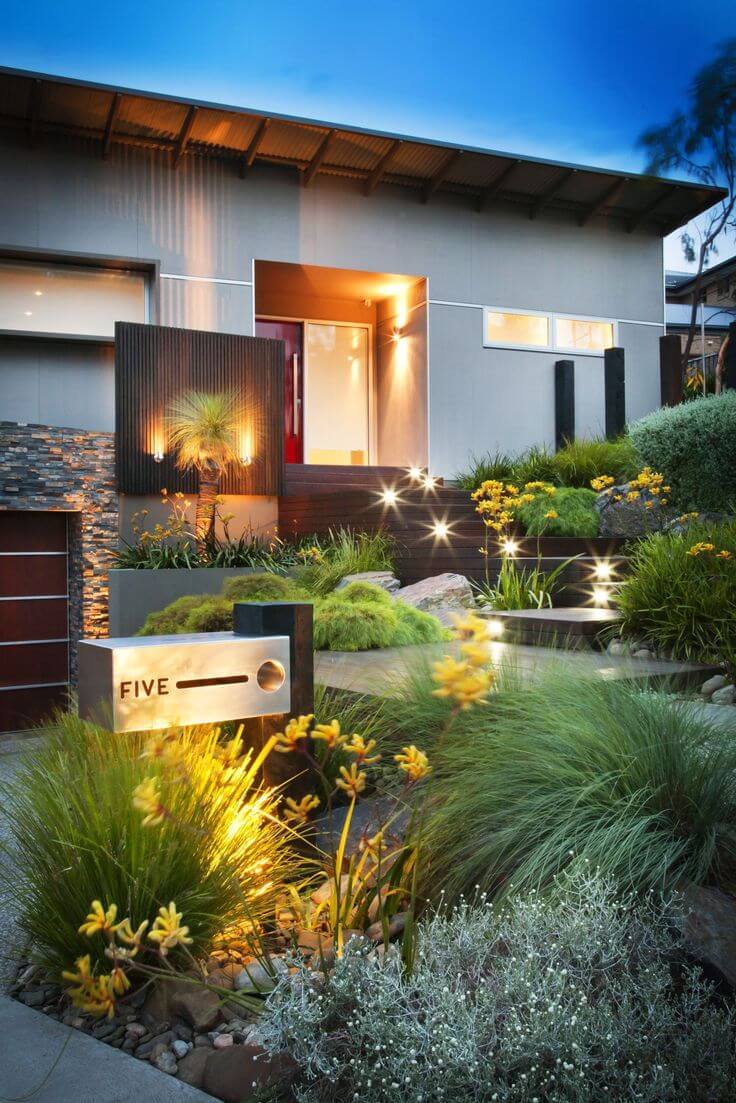 The clean look and neutral tones of a modern home are a perfect aesthetic match for this cactus-free front yard landscaping idea. Native desert plants are partnered with yellow kangaroo paw, an Australian import, to create a simple but dynamic xeriscaped landscape. While the yellow flowers of the kangaroo paw might be the most eye-catching flowers in this photo, the silvery green texas ranger bushes in the background are known for their abundant displays pink or purple flowers which appear after summer rains. Along with the silver blue foliage of the ground cover and the well-established grasses, this mixture of drought hardy plants softens the hard lines of the stairway and proves that there's more to desert landscaping than just cactus.
22. Tree Stump Planter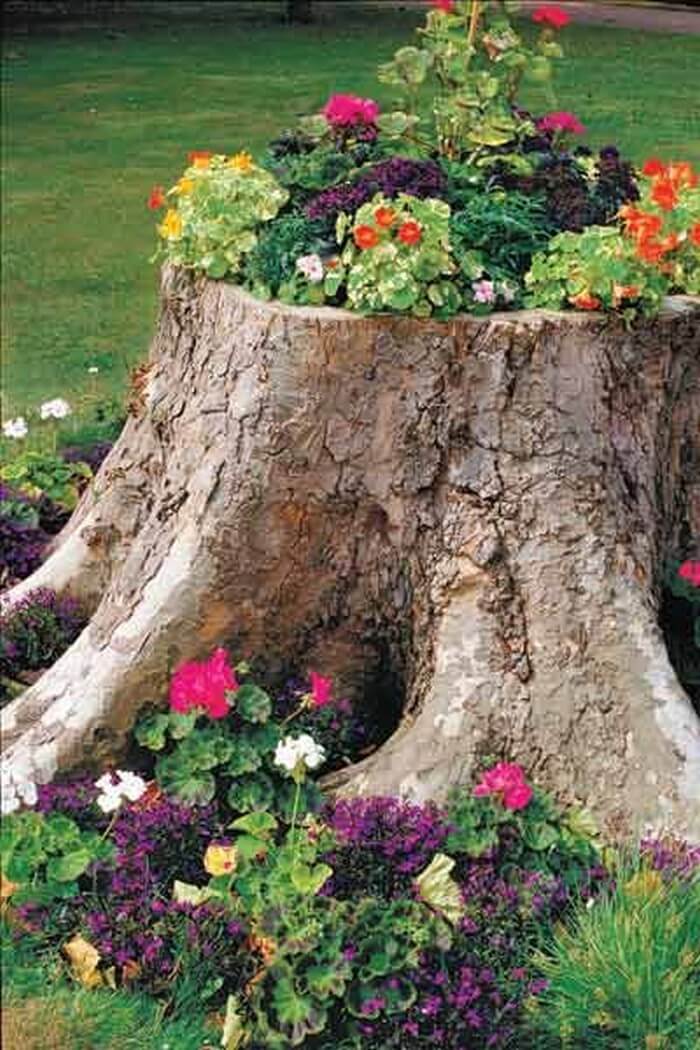 Tree stumps can be difficult and expensive to remove. Instead of ripping out a stump after a tree removal, turn an ugly eyesore into a beautiful feature of your front yard by turning it into a flower planter. Simply create a hollow in the stump, and plant with annuals. Not only will the tree stump help maintain soil moisture and provide some nutrients for your flowers, but the soil microbes and fungi that grow among the roots your flowers will break down the stump more quickly. This kind of make-do display is especially well-suited to cottage-style gardens or rustic, woodsy yards.
23. Coleus and Hosta "Flower" Beds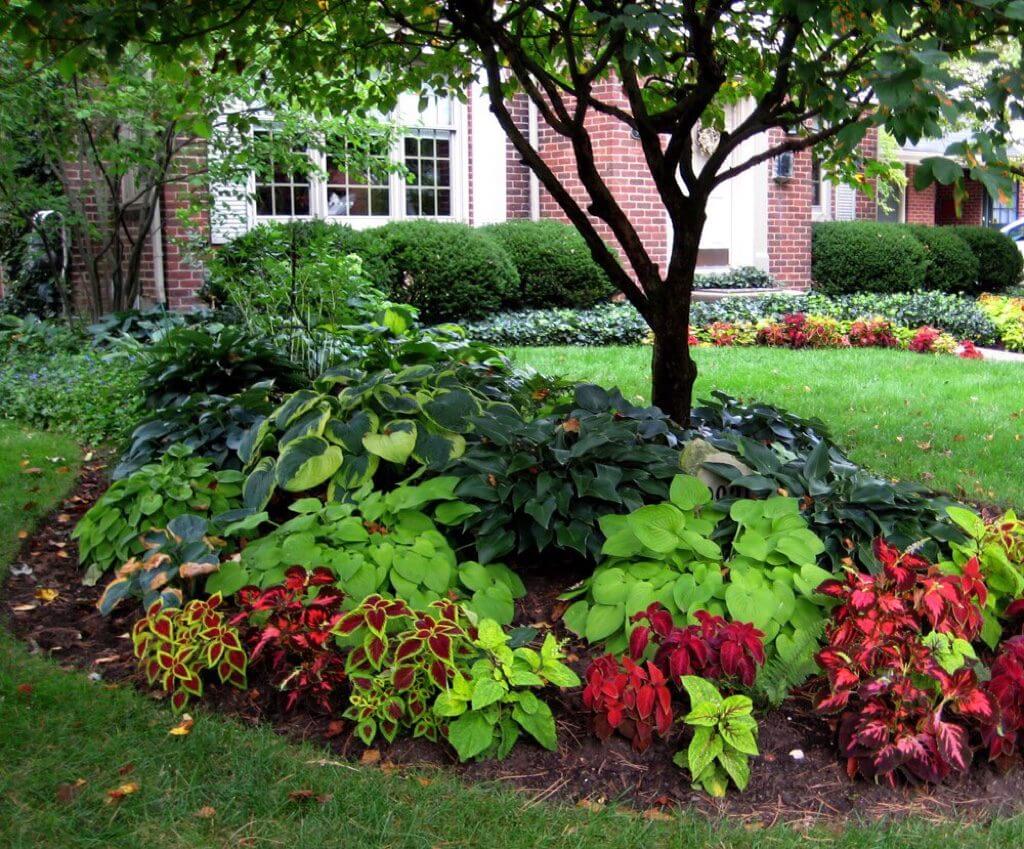 Flowers are beautiful, but many annuals have a limited life span and perennials take some effort to maintain. For a splash of color without any need for flowers, try incorporating different varieties of coleus amongst established hostas for a showy but low maintenance display. This is especially useful in shady yards or beneath trees where sun-hungry flowers may fail to thrive. Coleus come in a wide variety of color combinations from subdued variegated greens to hot pink and orange to velvety dark reds. Western gardeners should consider coral bells as a hardy, low water alternative to coleus.
24. Structured Evergreen Garden Beds with Colorful Planters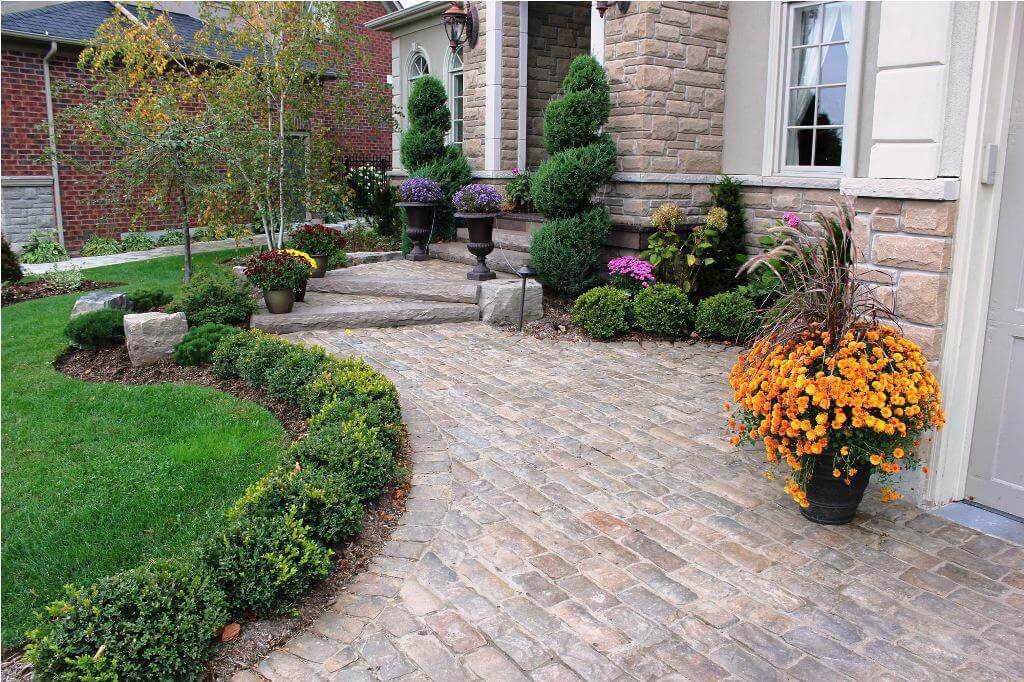 No matter what style of house or what kind of climate you have, a permanent and structural evergreen landscape with colorful planted containers makes for an easy to care for and easy to update look. The classic low boxwood hedge draws visitors eyes and feet to the front door while topiary evergreens and a white barked multi-trunked tree bring height and year-round drama to the entryway. As spring flowers fade in the planted containers, exchange them for summer favorites, then add hardy kale or mums in the fall. This style of front garden is almost universally flattering and easy to care for and is worth replicating!
25. Mini Mailbox Flower Bed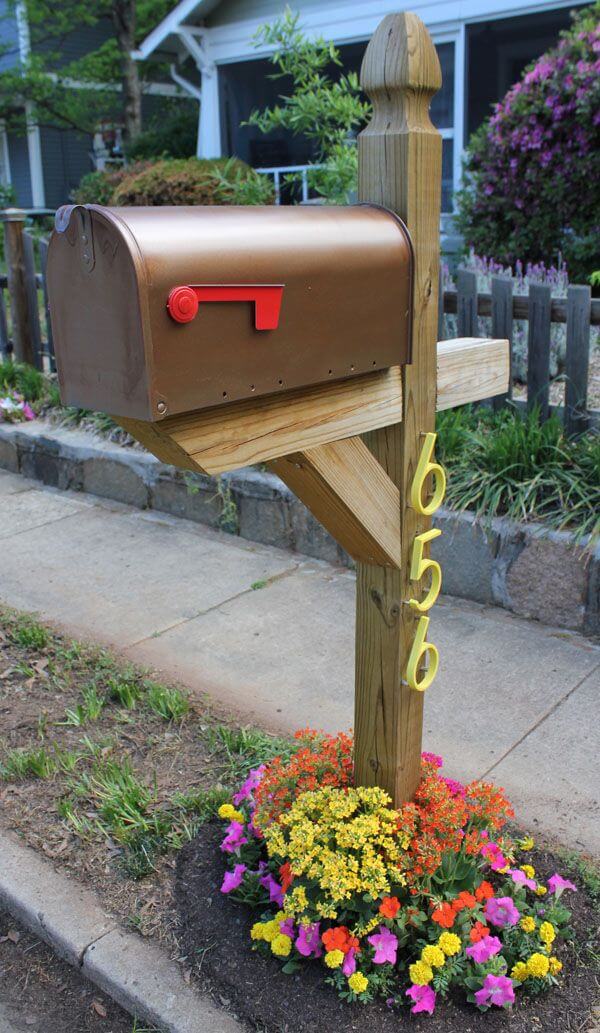 Even if your front yard is limited to a small strip of ground between the sidewalk and the road, make the most of it by planting a colorful bed of flowers at the base of your mailbox. Any number of annuals or ground covers can be used at the base to create a small but showy display which will delight your mailman and passers-by. Be aware that if your greenery blocks your driveway's line of sight or if the strip of land beside the road belongs to your local municipality and not to your property, you may be asked to remove this kind of roadside flower bed.
26. Sophisticated Japanese Garden Beds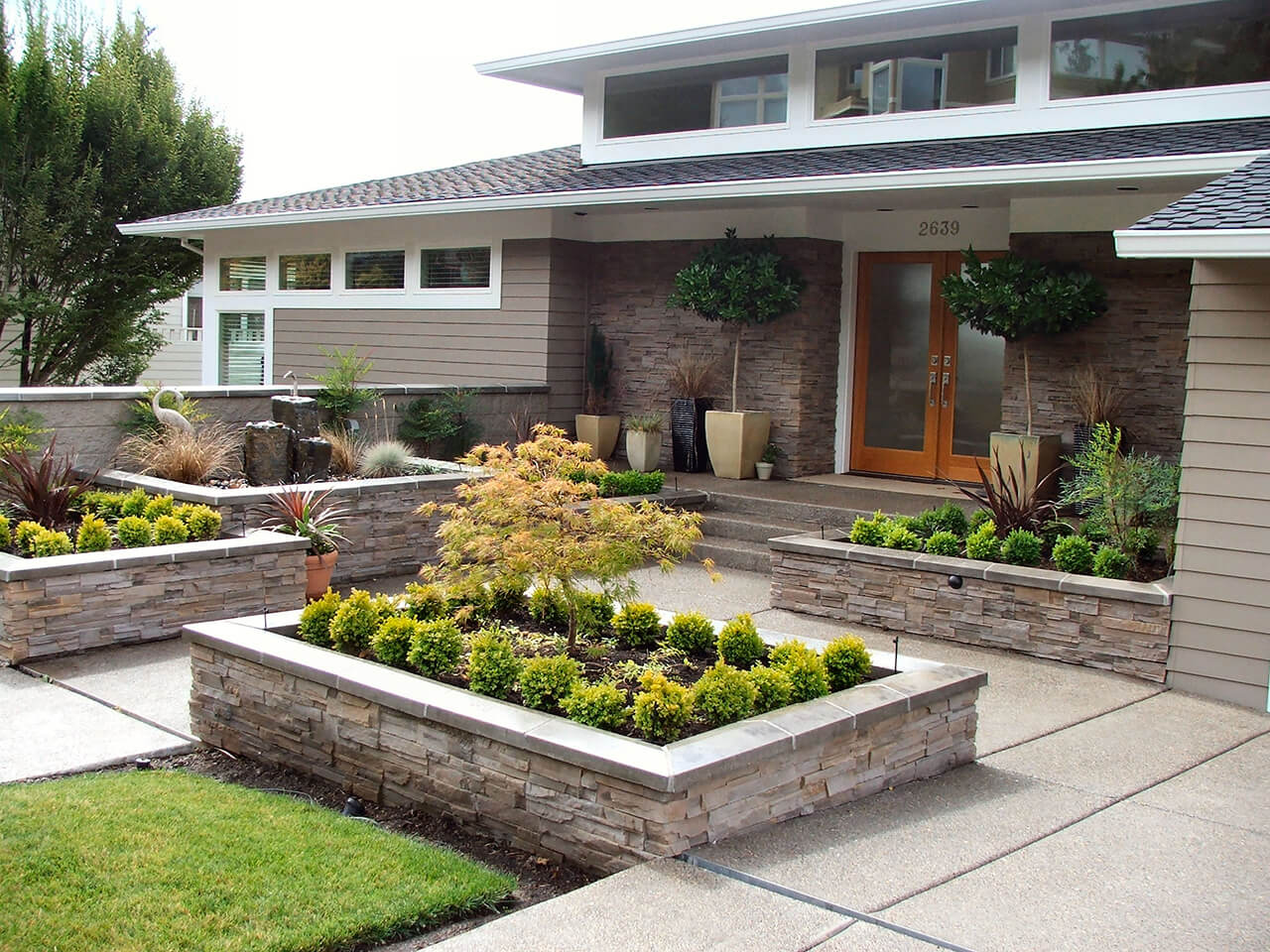 This bold look is perfect for mid-century or modern homes where the home's architecture pairs well with structured beds. In this example, the homeowner has cleverly matched stone on the walls of the house to the stone used for the garden beds. A Japanese maple takes pride of place in the central bed. These dwarf maple trees have colorful foliage which is often bronze or red year round. Other notable features include the tall planters that flank the doorway and the stone pillar fountain. Both of these elements help cut the strong horizontal lines created by the home and planting beds and pull the eye towards the entryway.
27. Sweet and Rustic Stone Edged Flowerbed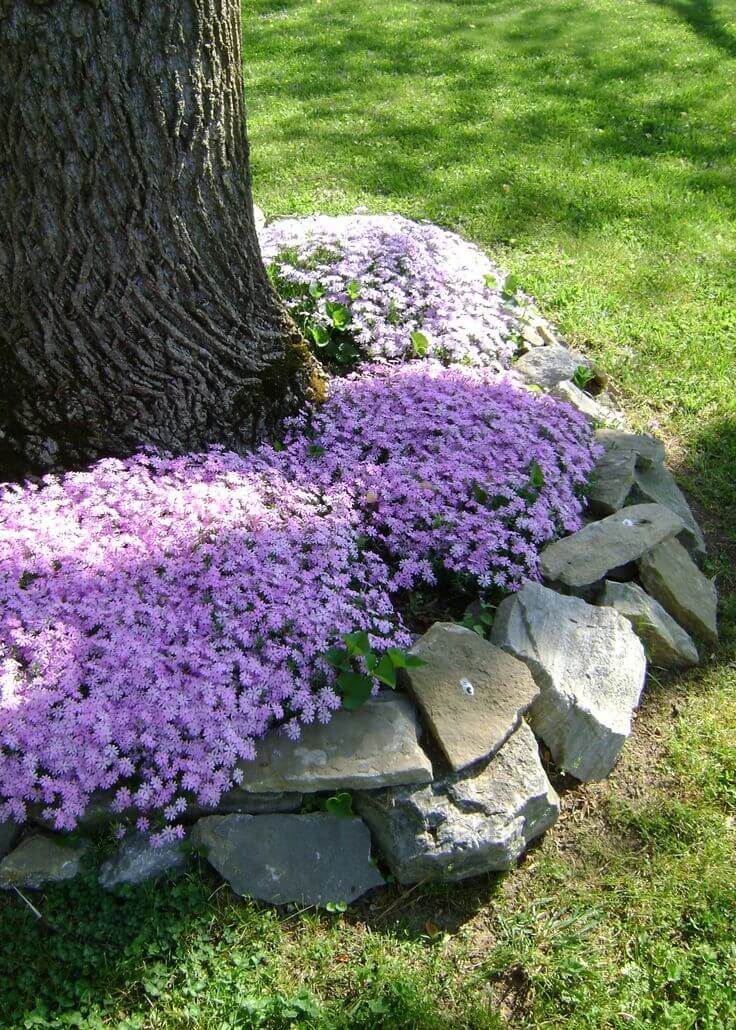 If you need a simple way to establish and define a flower bed, a shallow stacked stone retainer wall is a great option. In a sloped yard, a stone border can help sculpt the landscape and retain flat terraced sections giving you more gardening options and adding drama. In this particular example, a low stone barrier has been used to contain groundcover planted beneath a tree. Not only does this help to define the separation between the flower bed and the lawn around it, but it also makes it easier to trim the grass around the bed, giving a tidier appearance to the yard.
28. Tiered Block Beds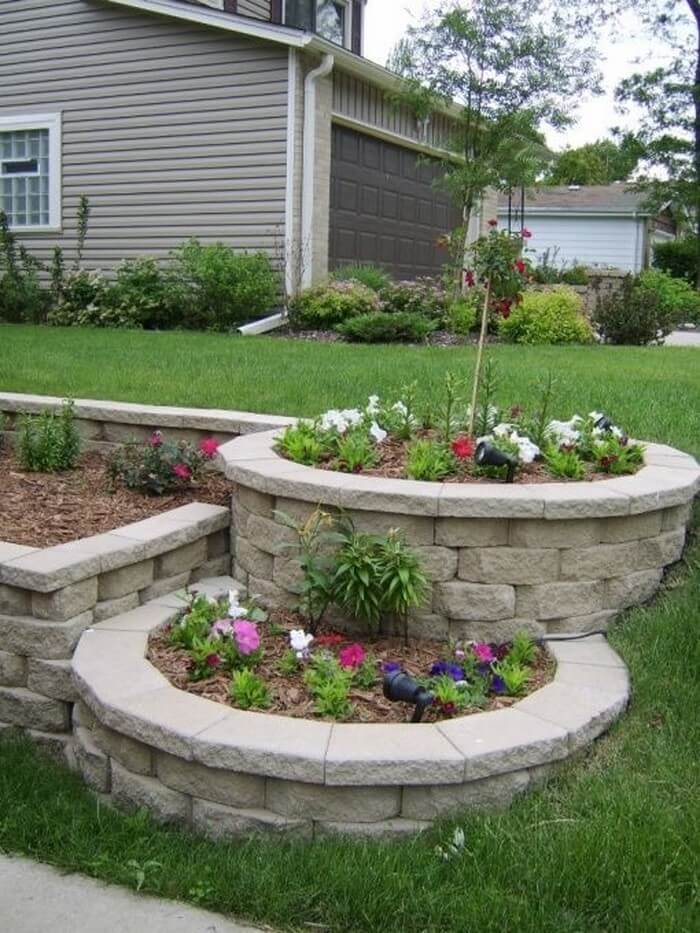 Take your garden to the next level with these sturdy and functional tiered garden beds. A sloped lawn can be tricky to maintain as they are often more difficult to mow and can develop dry or wet spots where water settles unevenly. However, they offer great opportunities for terraced beds like these. Whether you view your sloped yard as a blessing or a curse, this block wall offers a simple way to add some structure to your front garden design. Brick, natural stone, or industrial concrete walls are viable alternatives to the paver bricks used in this example.
29. Signpost and Plant Hanger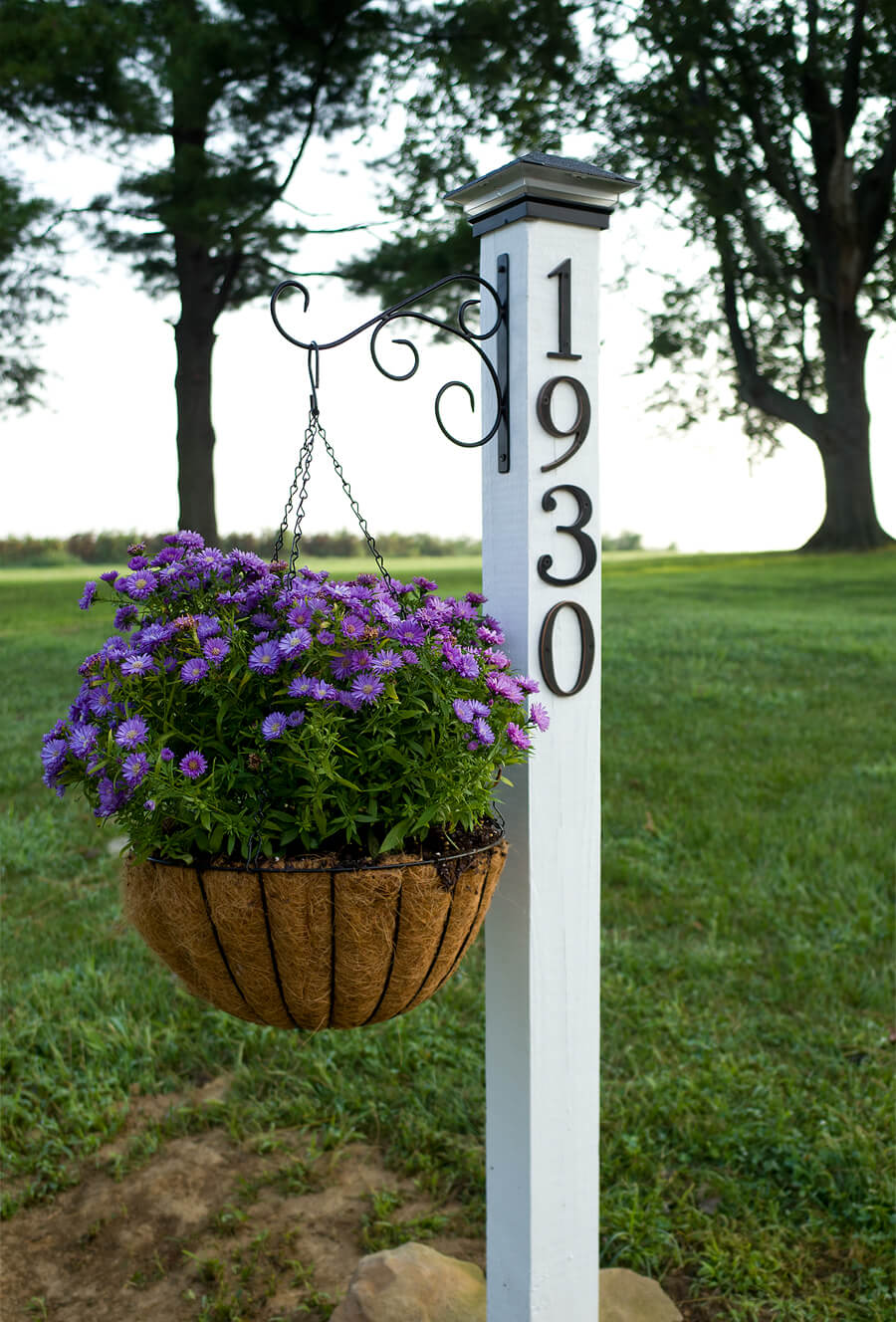 This ingenious sign post allows you to display your house number and also offers display space for a hanging basket. If the entryway to your home is set back from the road or if you have a prominent garage which blocks the view of passers-by, displaying your house number closer to the road is not only decorative but practical as well. A stained corner fence post, some inexpensive metal house numbers and a metal hanging basket arm are easily found and purchased at a home supply store. For less than the cost of a restaurant meal, you can make a creative and attractive display like the one shown here.
30. Modern Craftsman Lighted Path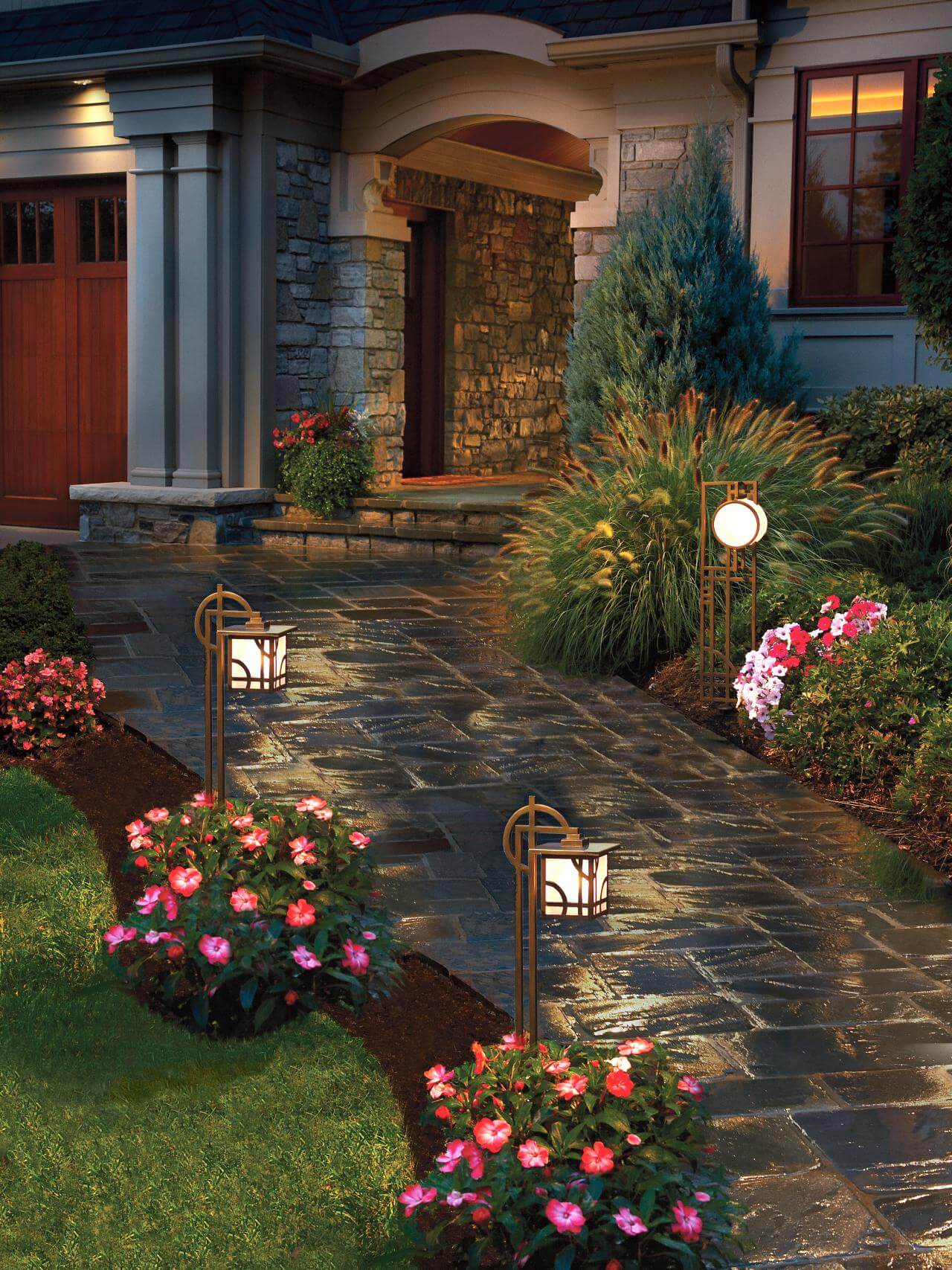 These metal garden path lights are a sleek alternative to the lantern-like pathway lights normally sold at home stores. While pathway lights aren't always necessary, they tend to offer a more welcoming feel to a home's entryway. By choosing to update this one element, you can take your landscape design up a notch. Paired with a cut flagstone path and a pleasing mix of grasses, annuals, and evergreens, this front garden idea is a solid mix of modern and classic elements.
31. Rustic Wagon Plant Stand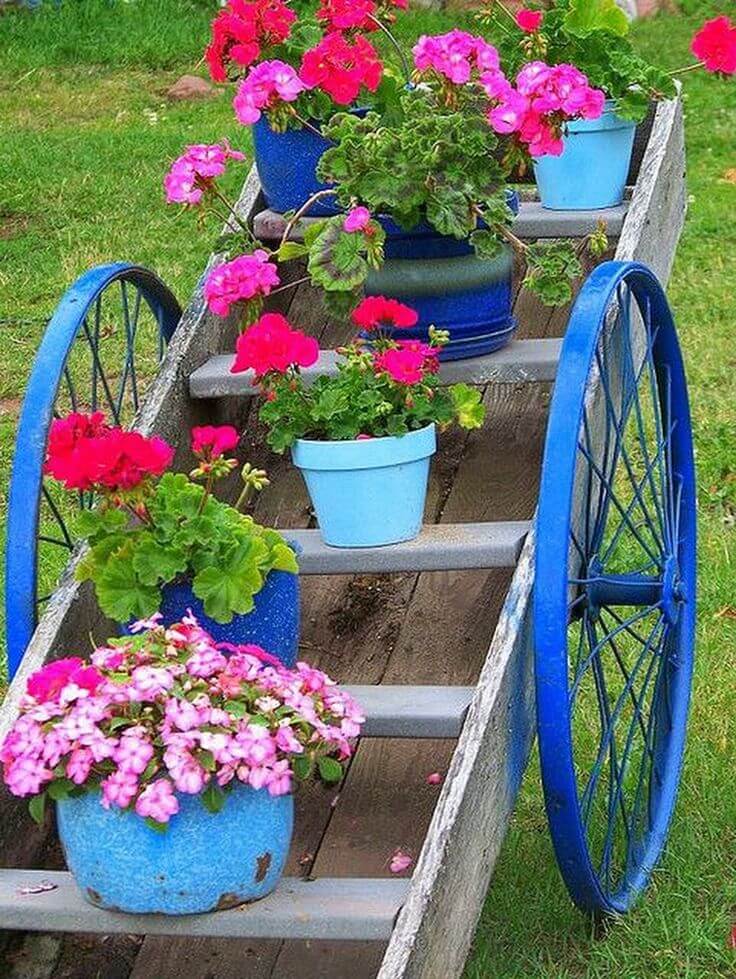 With a few modifications, you can turn an old wagon into a delightfully shabby chic plant stand. By adding a few planks to the interior to form steps or risers, you can simply place potted annuals inside for a simple but fun display. The mix of glazed pots and old enamelware cooking pots that have been recycled into planters is a thrifty and whimsical touch. This is an especially creative idea for renters who may not have permission to plant directly in the yard but still want to add some country charm to their home.
32. Modern Stepped Beds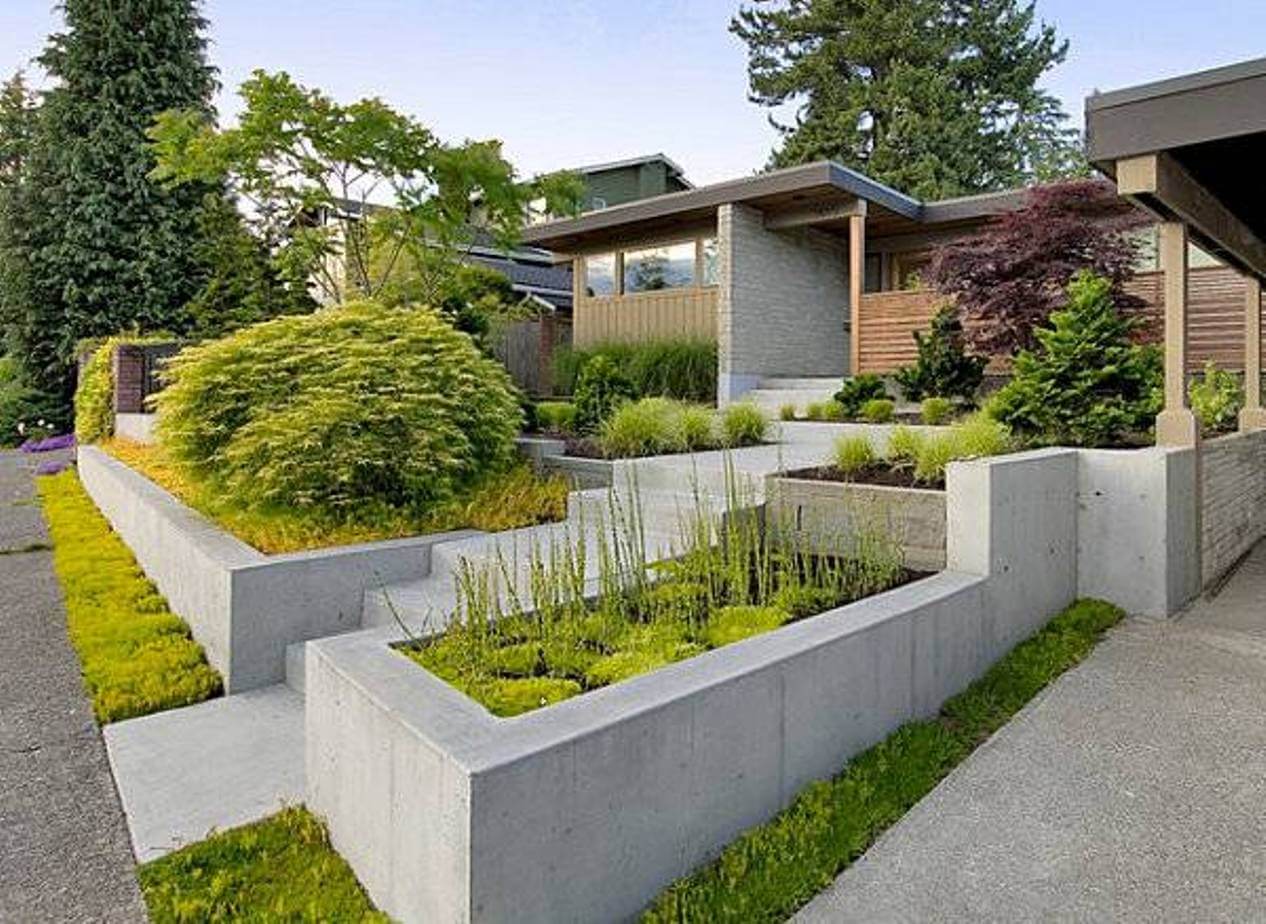 Concrete walls may not immediately spring to mind when you're planning out your front yard landscaping idea. But this clean design may change your mind. If you own a modern home or a mid-century ranch, this kind of austere stepped bed can be paired with fern-like Japanese maples for a soft but structured design. Not only do these beds compliment the lines of the house, but it also allows for the display of focused plantings. Instead of Japanese maples, you could choose shaped junipers or corkscrew willows as alternatives.
33. Sprouting Stump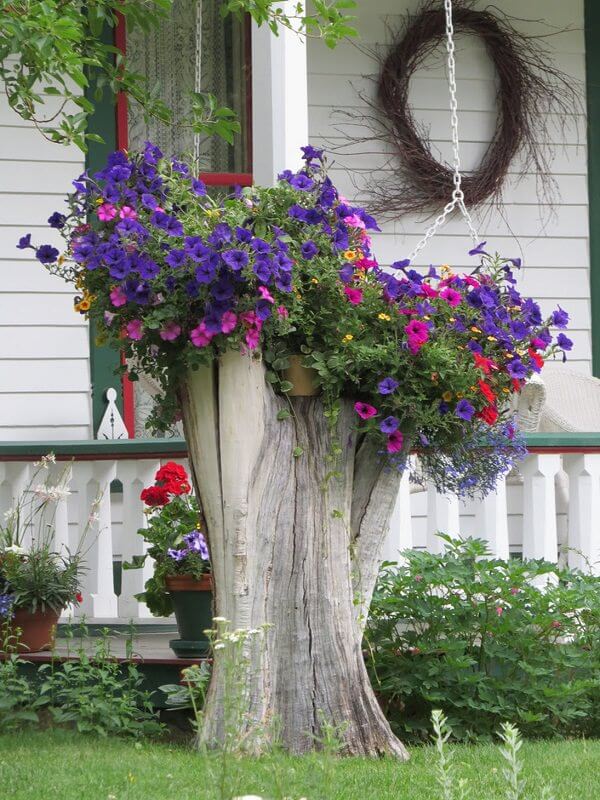 Stumped about what you should do with the dead tree in your yard? If removing a tree stump isn't practical or economic, make the best of an eyesore by giving it new life. By using a tree stump as an outdoor plant stand and display, you can instantly create an appealing display in your yard. While this front garden idea may not be suited to every yard, in the right setting, a stump can become a blessing, not a curse. Alternatively, use an attractive trailing ground cover like ivy instead of petunias as a lower maintenance option.
34. Flashy Fall Flowers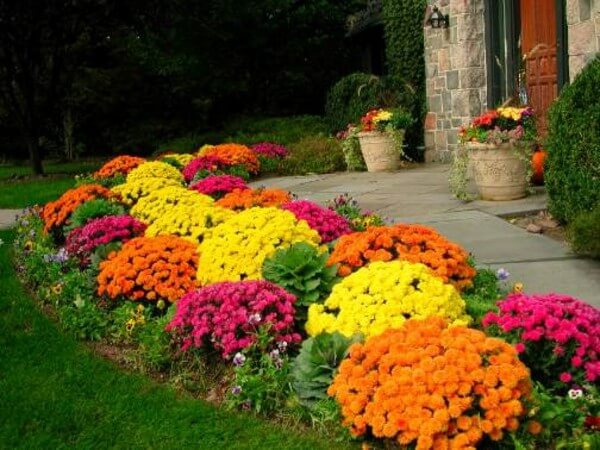 During the spring and summer, it's easy to find a wide variety of blooming plants to beautify your yard. This front yard landscaping idea makes use of cold-tolerant flowers and decorative kale to create a colorful autumn display that's sure to be the envy of your neighborhood. You can either intersperse late blooming plants with your spring and summer annuals, or you can fully replace dead and dying early bloomers when the time comes. Either way, extending the season for flowers at your home will make your front yard more inviting when the seasons change.
35. Enchanting Rose Arbor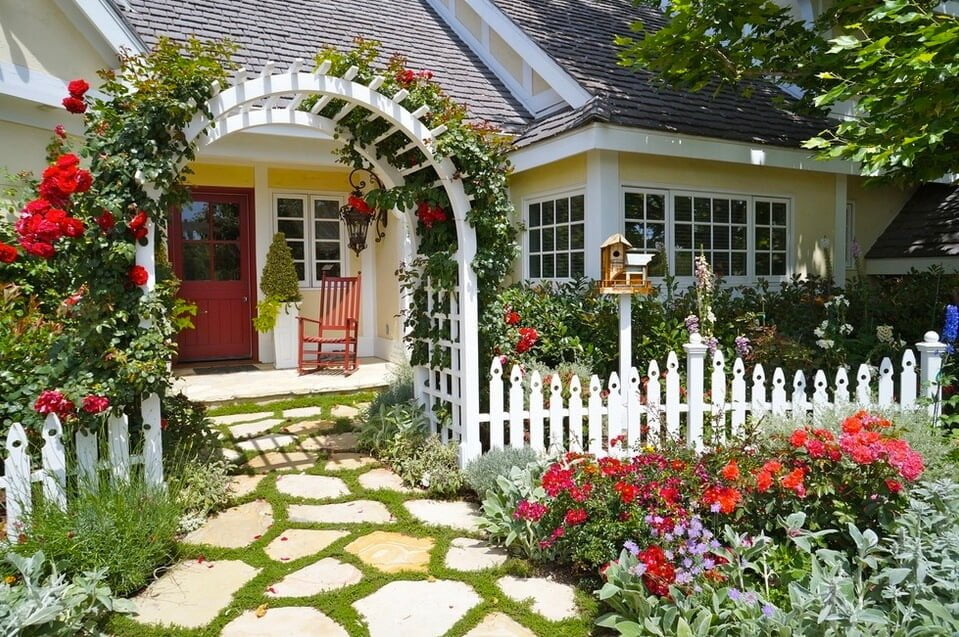 There are few things that are more romantic than roses. The white picket fence and arched climbing arbor in this garden not only help frame the entryway of the house but also lend an air of nostalgia to this home. The rough flagstone pathway and wide flower beds perfectly compliment the cottage-like feel of this front yard landscaping idea. While pink roses are always a safe choice, the bold red of the roses in the picture are a good match for the red rocking chair on the porch and even the door of the house itself.
36. Discreet Flower Bed Lighting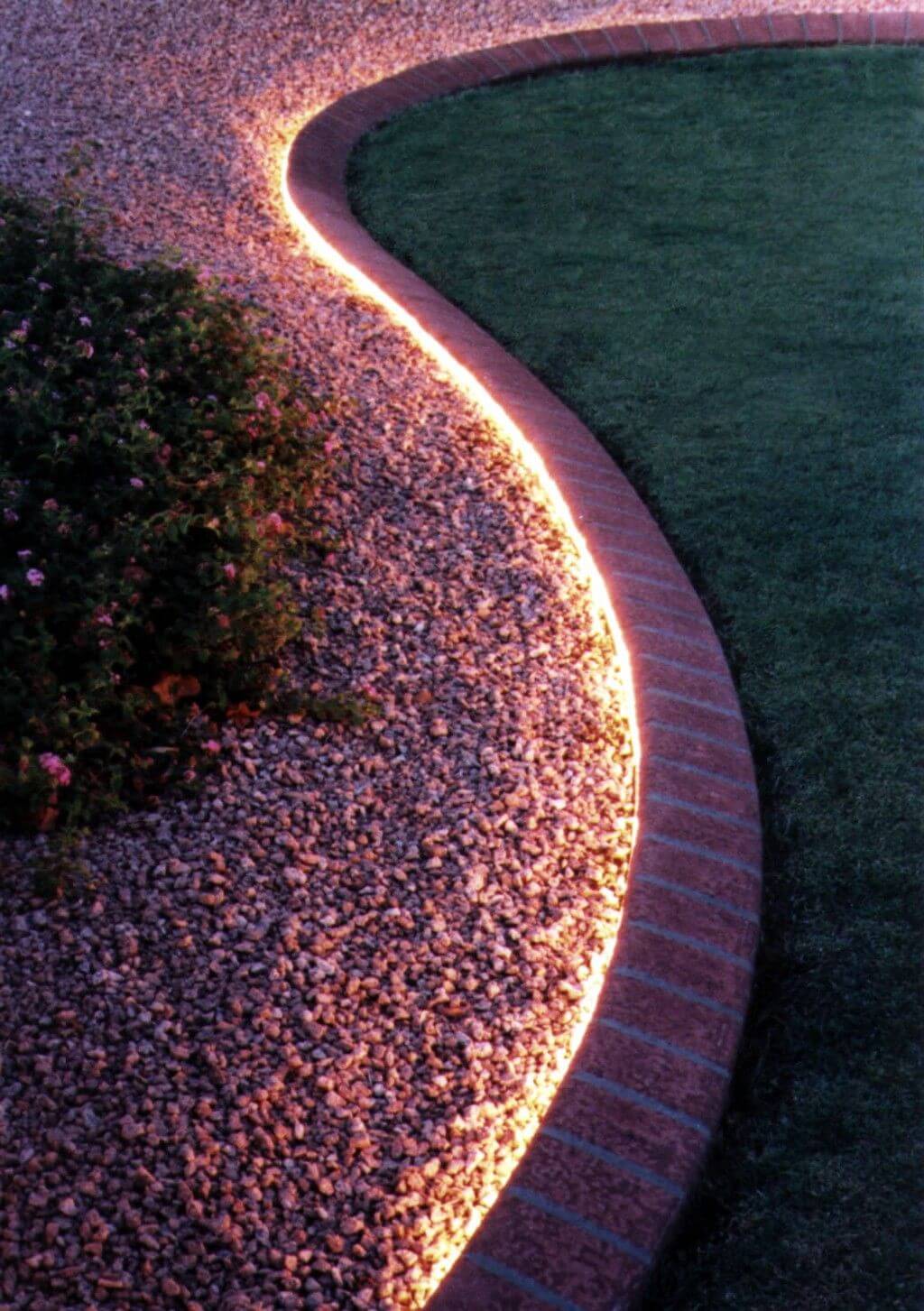 Lantern-style lighting isn't always aesthetically pleasing or practical for a front garden design. If you've been searching for an alternative light source that won't conflict with your modern landscape – or if you're simply tired of having to weed or mow around lantern lights – then this ingenious idea may be the creative solution you need. Exterior rope lights are low visibility during the day and seamlessly blend into the edge of any garden bed. At night, they cast a glow right where your visitors need it, and help define your entryway path.
More front garden and landscaping projects on the next page…