Having good storage in your kitchen is always essential, especially because of the amount of time we tend to spend there. Having all the ingredients on hand can make cooking significantly easier and is something that every home needs. Having a good amount of storage in your kitchen for your fruits and veggies doesn't only make storing them easier, but also makes the entire cooking process significantly more convenient.
14 Fruit and Vegetable Storage Ideas that You will Want in your Kitchen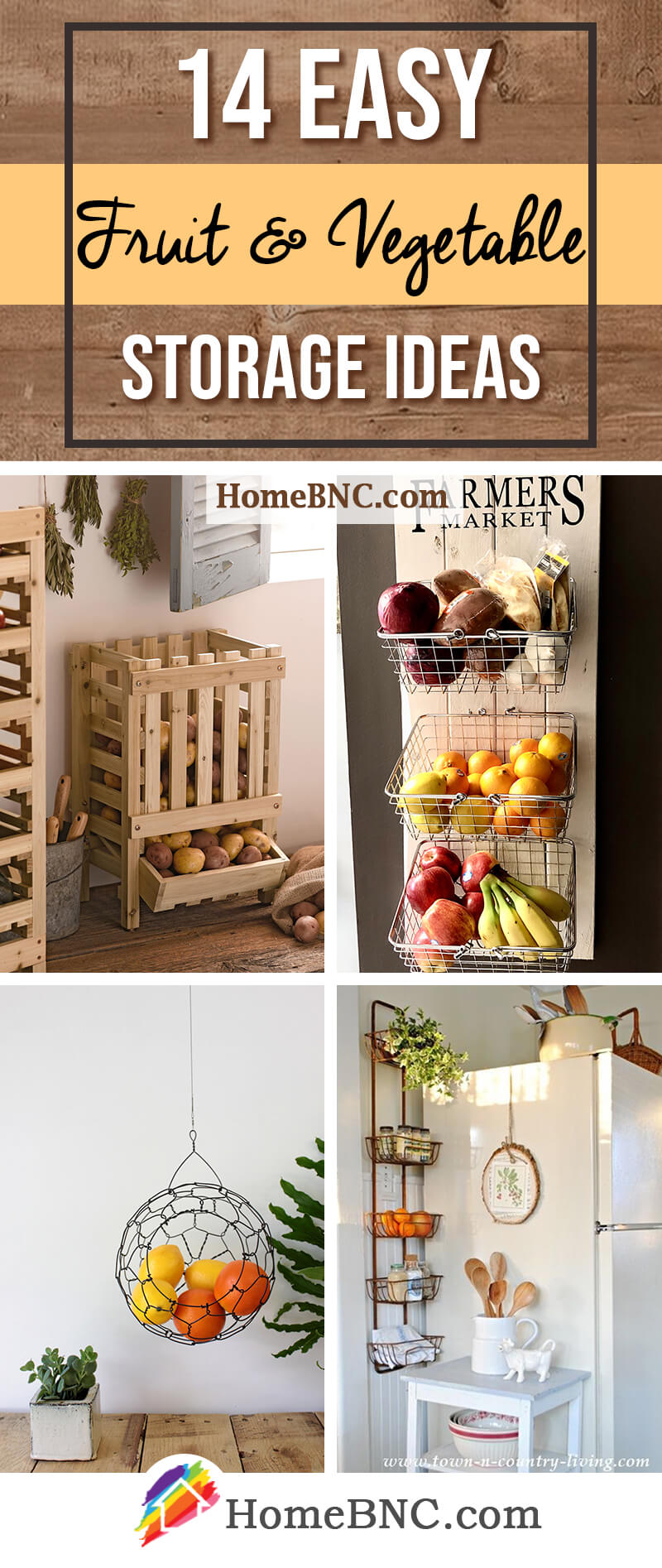 It can ensure that you keep a track of your product in a much more organized manner, and can also lead to healthier meal choices. Not to mention that produce can sometimes add its own unique touch to a kitchen when implemented in a visually appealing way. Bright colors of fruits and vegetables are great to improve the overall look of your kitchen, even if it may seem just a simple thing to do. If you are looking to vamp up your storage game, here are a few ideas that you can take inspiration from. These ideas can be modified to fit your own home and can be great when implemented in the right manner. Below are fourteen fruit and vegetable storage ideas that are versatile and easy to implement into almost any kind of kitchen setting.
1. Wooden Collapsable Vegetable Storage Crate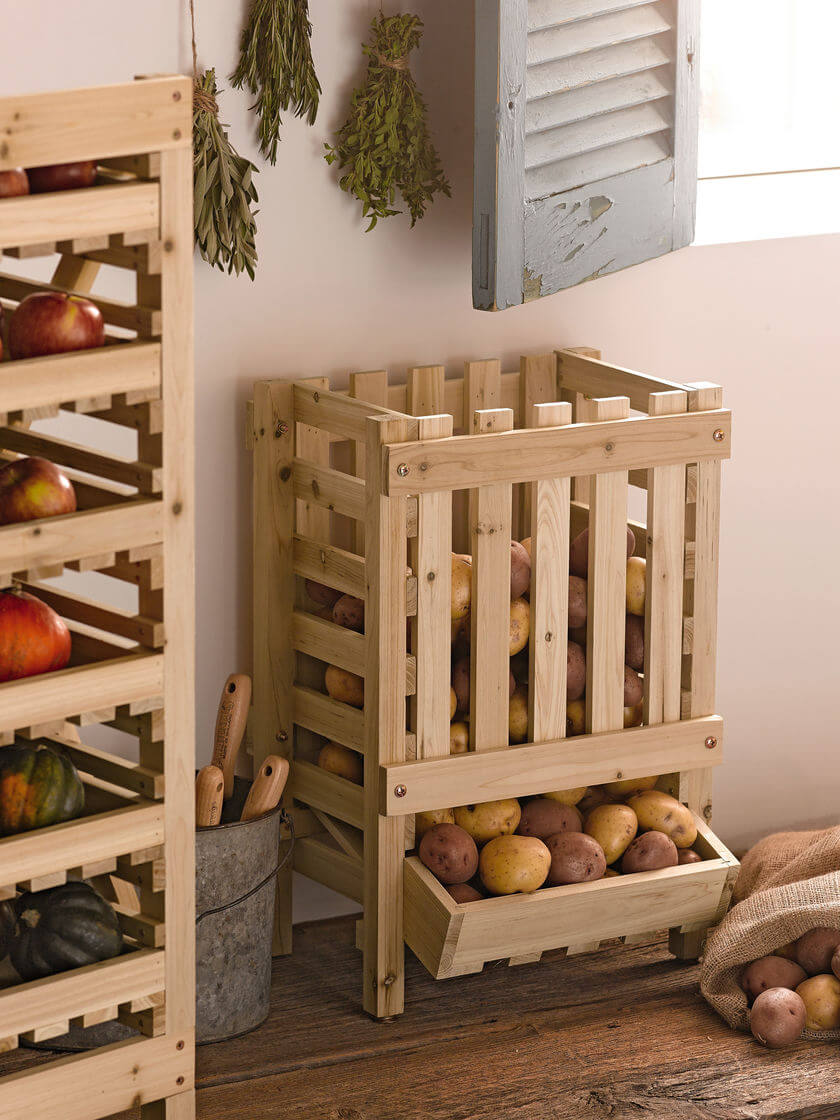 Crates are one of the most versatile pieces of home decor that one can use, and this particular one is a good example of something that is functional, and which looks good. One of the best things about these kinds of storage ideas is that it can store things which are bigger in size, and things which don't need too much space as well.
2. Kitchen Counter Fruit And Utensil Storage Cabinet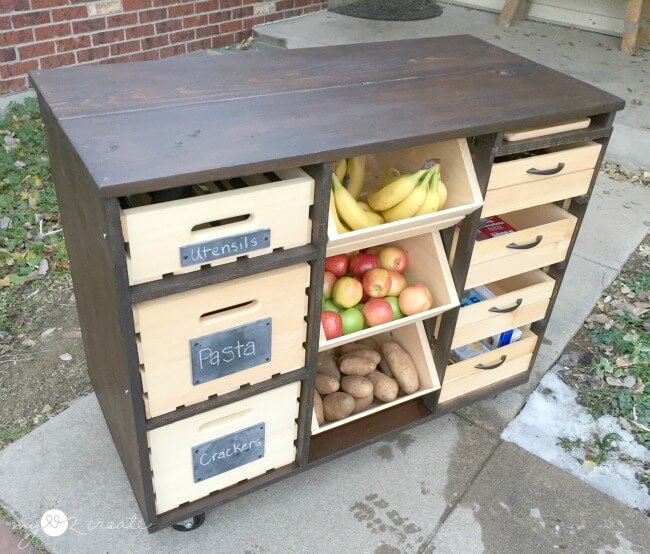 A kitchen is one part of the home that needs to have several pieces of equipment and ingredients all ready for easy use. This kitchen counter cabinet does a stellar job at that by allowing you to keep your utensils and ingredients together so that you can whip up your meals in no time and without any hassle.
3. The Framer's Market Wall Baskets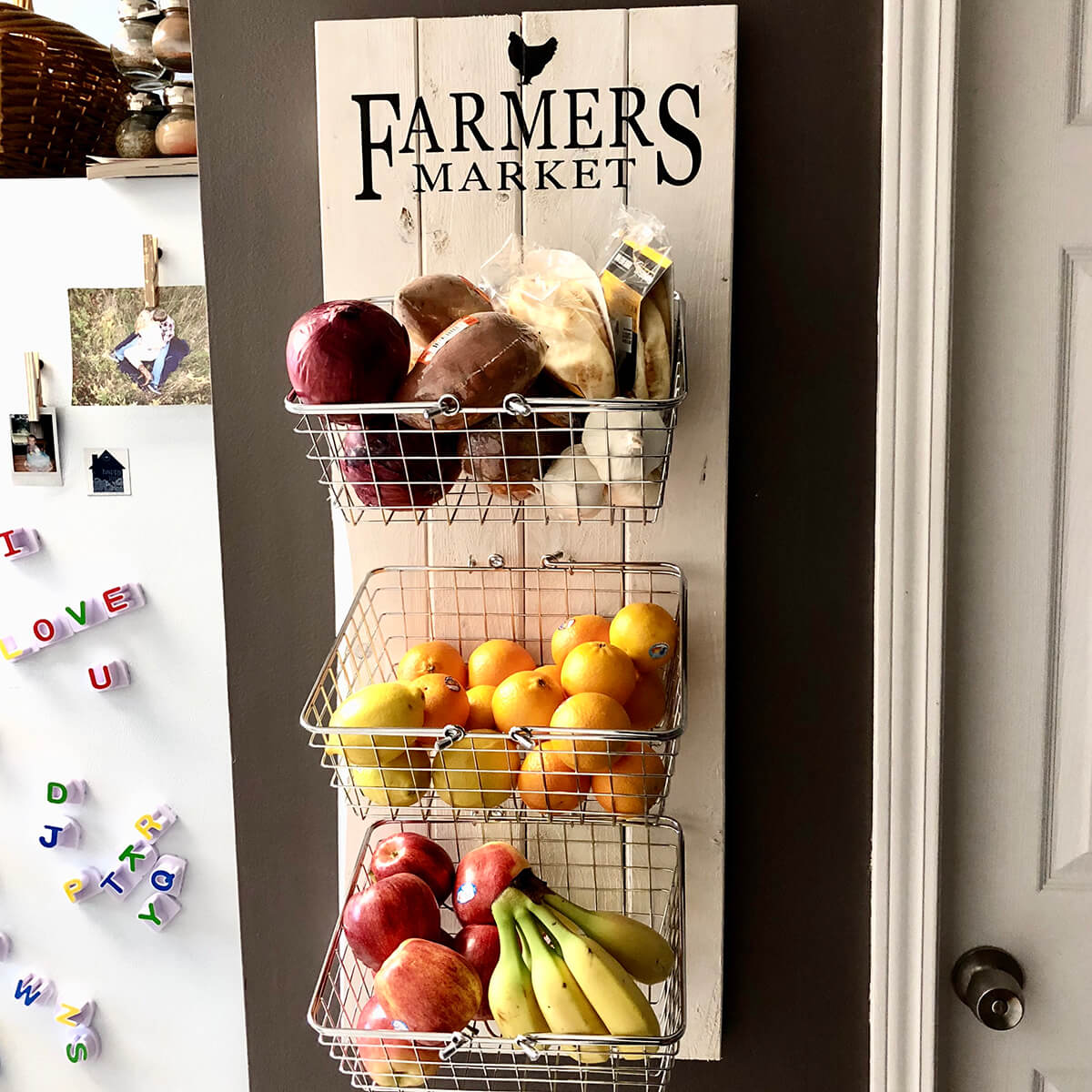 If you want to show off your beautiful farmer's market produce in all their bright hues and colors, storing them in wall baskets is the perfect way to do so. These baskets work well with all kinds of decor and can relieve some of your cabinet and floor space. These can be used to store fruits, vegetables and almost any other kind of ingredient that you may want to use in your cooking.
4. Cute and Compact Table Top Crate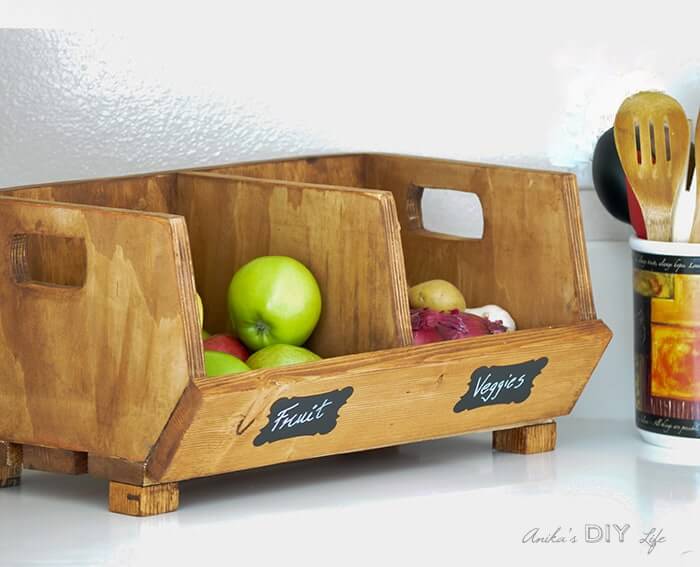 Sometimes, a small little crate is all that you need to store your fresh produce and keep it in an accessible range. This tabletop crate is big enough to hold smaller fruits and vegetables but isn't too big and doesn't take up much of your counter space. Overall, this is something that can work incredibly efficiently for any kind of kitchen.
5. Two Step Table Top Fruit And Veggie Holder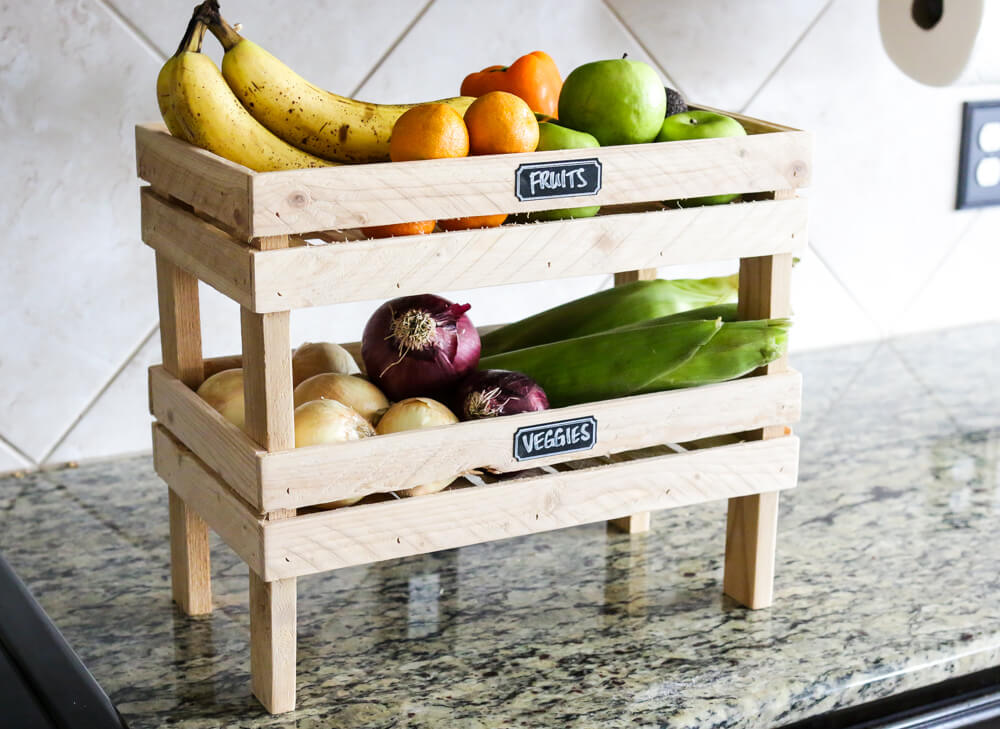 Sometimes, just a small tabletop holder is all you need to store your fruits and veggies. If you want something that is efficient but doesn't want something that will take up too much space, this is one of the storage ideas to go in for. The basket allows you to tuck it away into a corner of your kitchen and enables you to either keep it up for display or somewhere hidden to clear up your counter space.
6. Wooden Board Fruit Basket Holder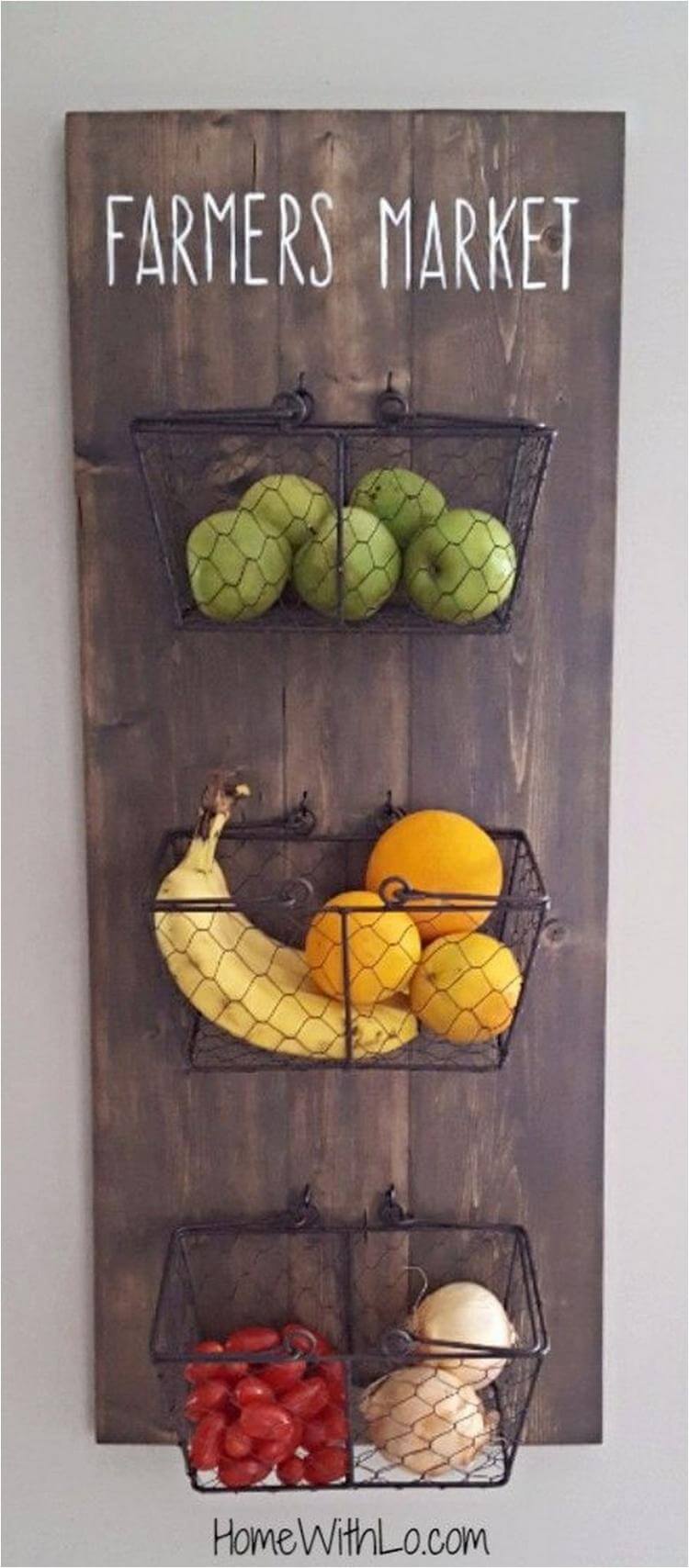 A wooden board can be an incredibly versatile piece, especially when it comes to home improvements. A simple wooden board can also be a good background when trying to find something to prop up your fruit baskets on. This enables you to store all of your fresh produce in an efficient manner and makes it seem visually appealing at the same time.
7. Stacking Metal Basket And Kitchen Storage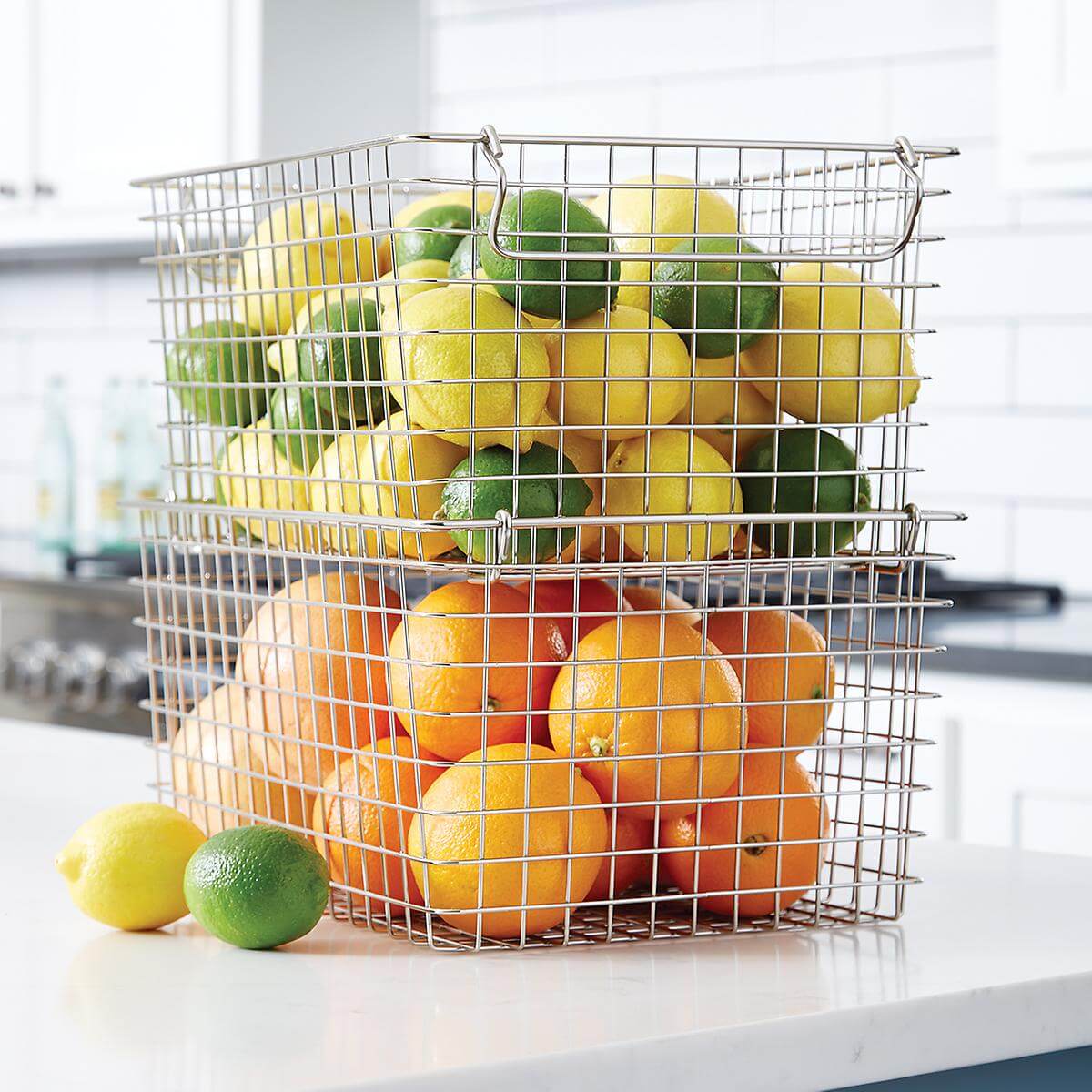 Something as simple as a metal basket can work incredibly well when placed properly in your kitchen. Even though these metal storage baskets are fairly simple and plain, they sure do add their special touch. If you want to go in for storage ideas that looks minimalistic, but which is functional at the same time, this is the kind of kitchen storage that you should go in for.
8. The Brown Bag Kitchen Storage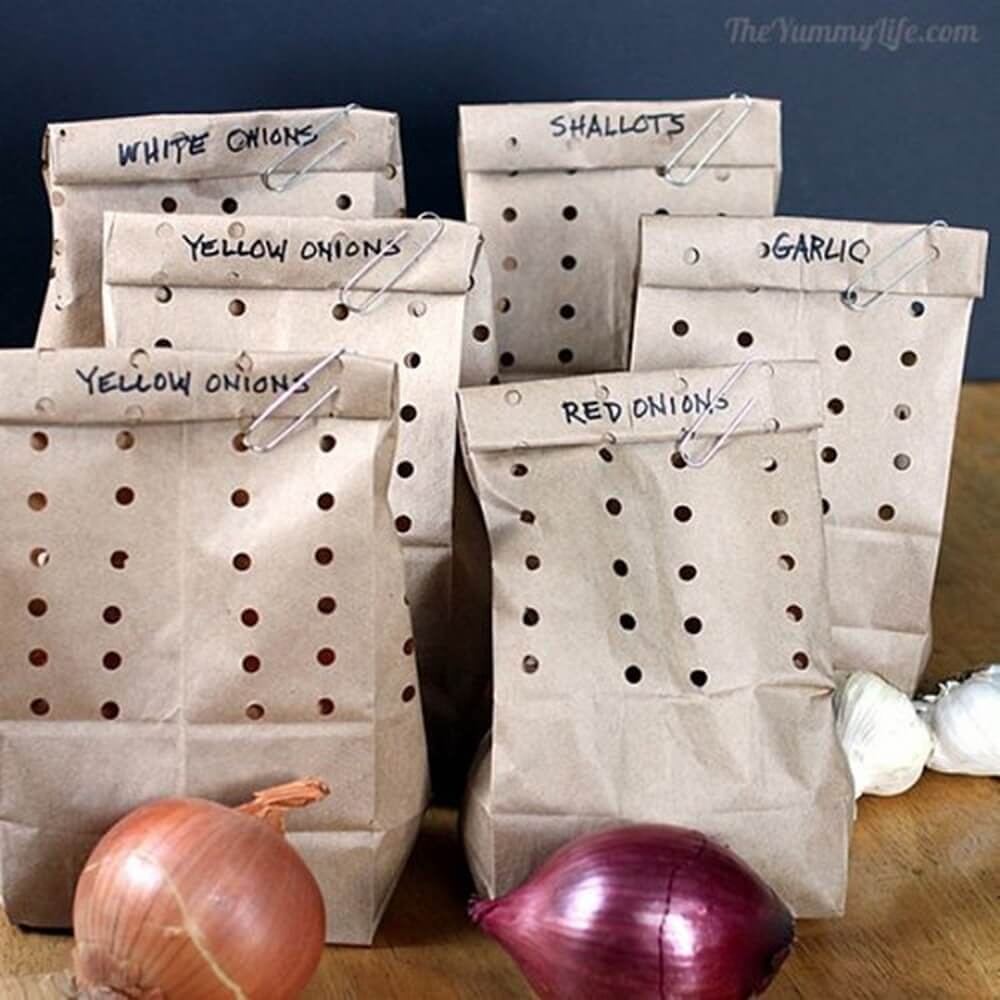 If you don't have any kind of structure to store your produce, fear not, because brown paper bags can work just as well. A good tip is to punch a few holes into the bag to let your product get the fresh air that it needs, without exposing it too much to external factors. This method can keep your produce fresher for longer, which is why it is one of the great fruit and vegetable storage ideas for your kitchen.
9. Plastic Pull Out Potato And Onion Storage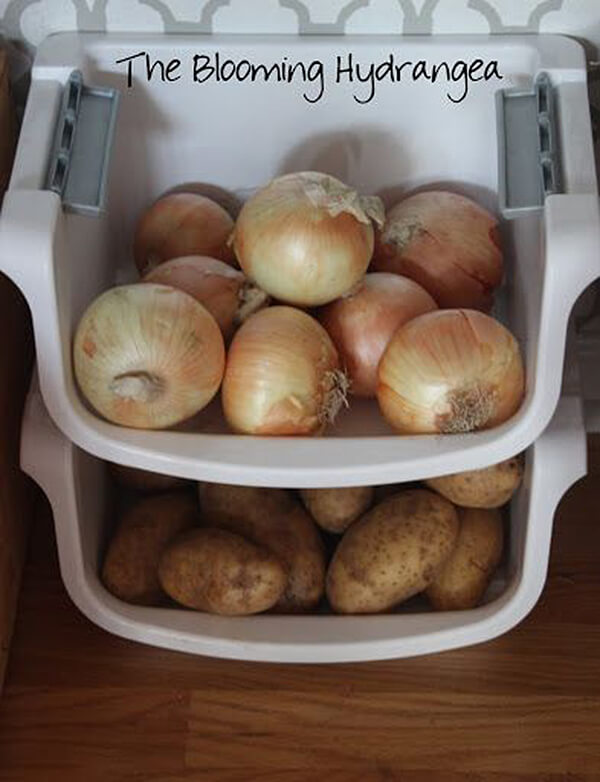 If you have ever had trouble storing your potatoes and onions, this is the storage option to go in for. This kitchen storage idea allows you to pull out your veggies so that you can look at them better and also use them better! Keeping them in the open is also better for retaining their overall freshness, which beats closed storage containers.
10. Sleek And Slide Corner Kitchen Storage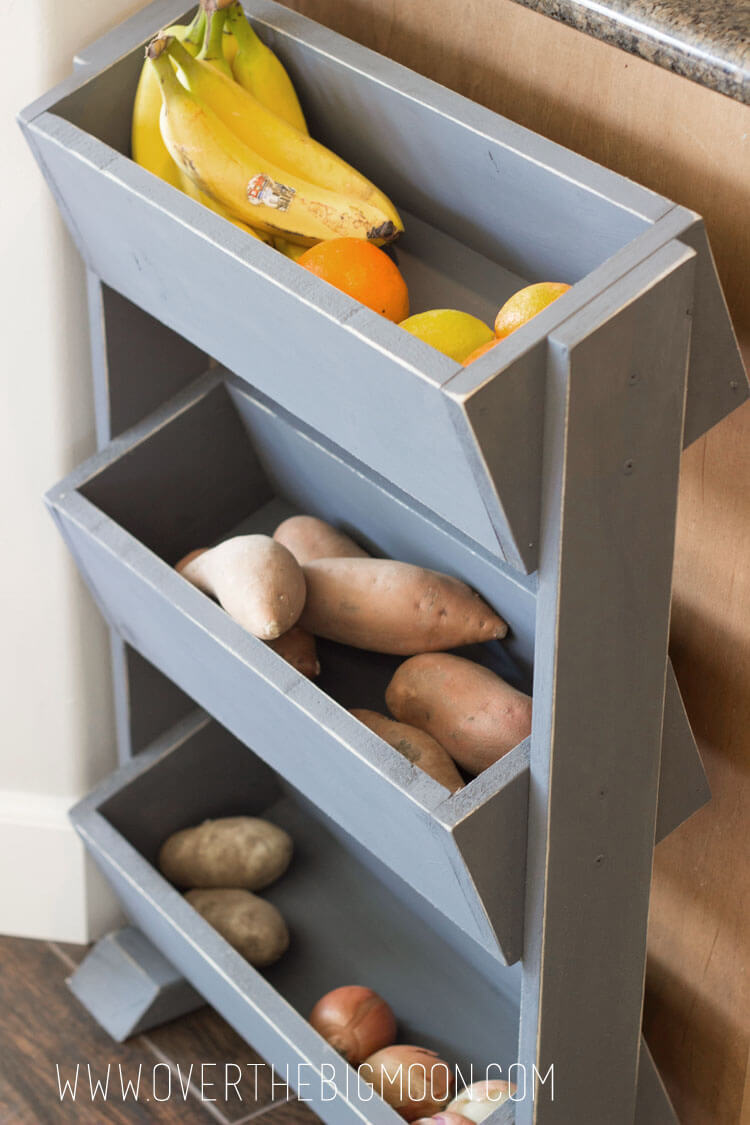 If you don't have much space in your kitchen for a proper storage unit, going in for one that is sleeker is usually the best option. This particular kitchen storage is designed in a way that lets you turn over the baskets to make taking out the vegetables and fruits a lot easier.
11. The Hanging Tree Fruit Basket
No one said that your fruit and vegetable storage had to look linear and box-like. Sometimes, your storage can work as the center of attention, and this storage piece is the perfect example of it. This storage basket is a fun and innovative way to store your fruits without taking up much space, leaving you with more room to work with inside your kitchen.
12. Industrial Themed Wall Mounted Storage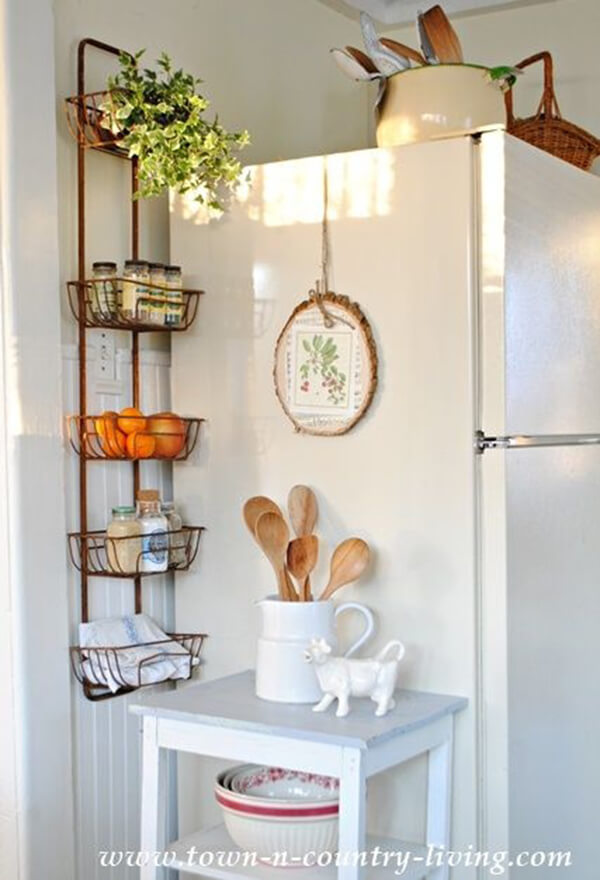 Wall mounted storages don't take up much space and give the room the illusion of being bigger. This particular piece is a great way to store all of your kitchen essentials without having to worry about any kind of messiness in your kitchen.
13. Chalkboard Kitchen Storage Baskets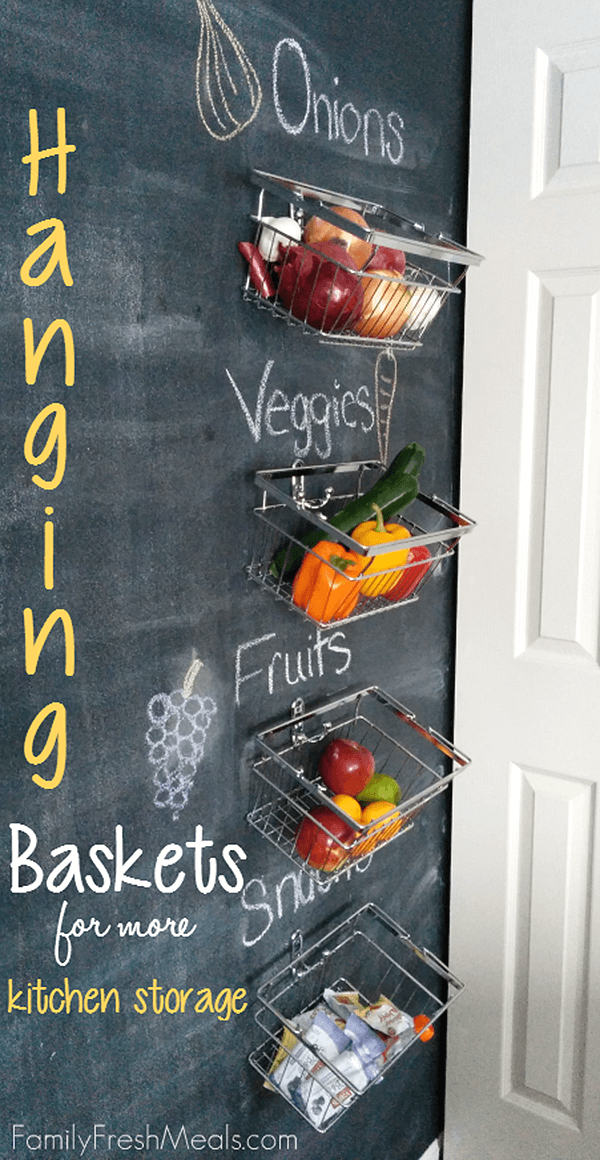 Using a chalkboard is a great way to bring in some fun and versatility into your kitchen. If you are on the lookout for something that can work well for your fruit and vegetable storage ideas, this is something that you can take inspiration from. The chalkboard allows you to draw and customize the storage area, and can also be a great place for children to showcase their chalkboard art.
14. Three Tiers Of Fruit Countertop Piece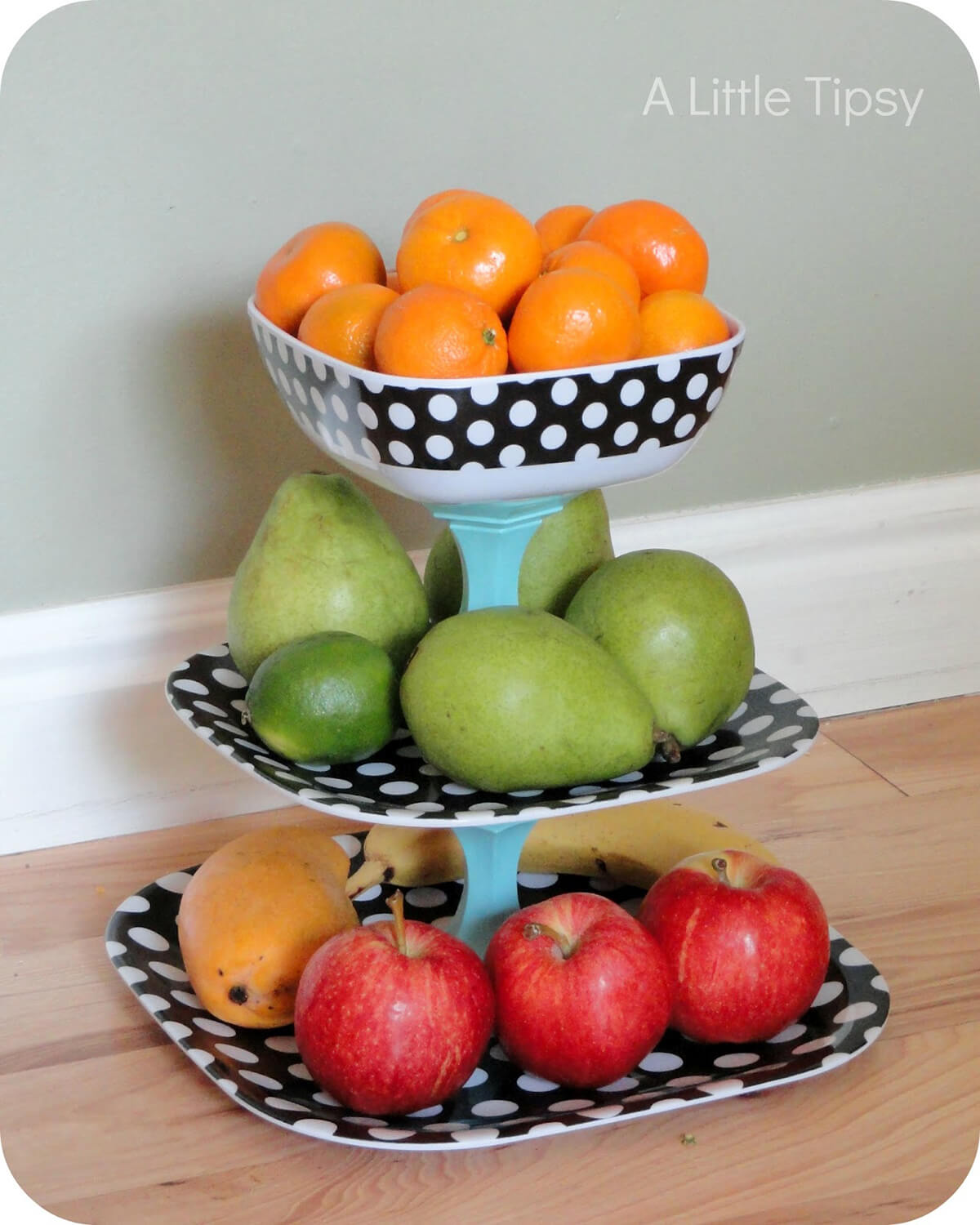 If you want your table top or counter top to look appealing and vibrant at the same time, going in for something like this beautiful polka dot piece is something that could work well for your storage needs.