There are many ways to use fruit as a theme when it comes to decorating, so we discovered some of the best fruit decor ideas to help get you started.
26 Cool Fruit Home Decor Items to Brighten Up any Room

Because there are so many routes to go down when using fruit as a theme for decoration, it can be difficult to understand where to start. More so as it can work for seasonal decorations, daily décor, or even party décor. For one thing, let's focus on the exact type of decoration that you want. You can find fruit used as a theme when decorating dishware like plates and bowls, for artwork to hang up on the wall, and even for throw pillows for the living room or bedroom. The possibilities are truly endless, so once you decide what you want, you may have an easier time determining where you want to put that. Also, keep in mind your outdoor setup too as many can work well for outside decorations.
Another important factor to consider is the current theme in the room. Fruit is a type of style on its own, but it can also work out quite well if you find a way to combine fruit home decor along with other types of decorative themes in the room. For instance, perhaps your home focuses largely on vintage items. If that is the case, then you can be on the lookout for fruit-themed items that have a bit of a classic feel to them such as older paintings. Meanwhile, contemporary rooms can even benefit from the more modern type of artwork instead.
So, if you are looking to bring some more color into your decorations, consider going down the route of fruit-themed items. To ensure everyone can find something useful no matter the current theme you have in your home, we made it a point to find versatile ideas for fruit decoration for your home to browse through.
1. Cinco de Mayo Themed Tiered Tray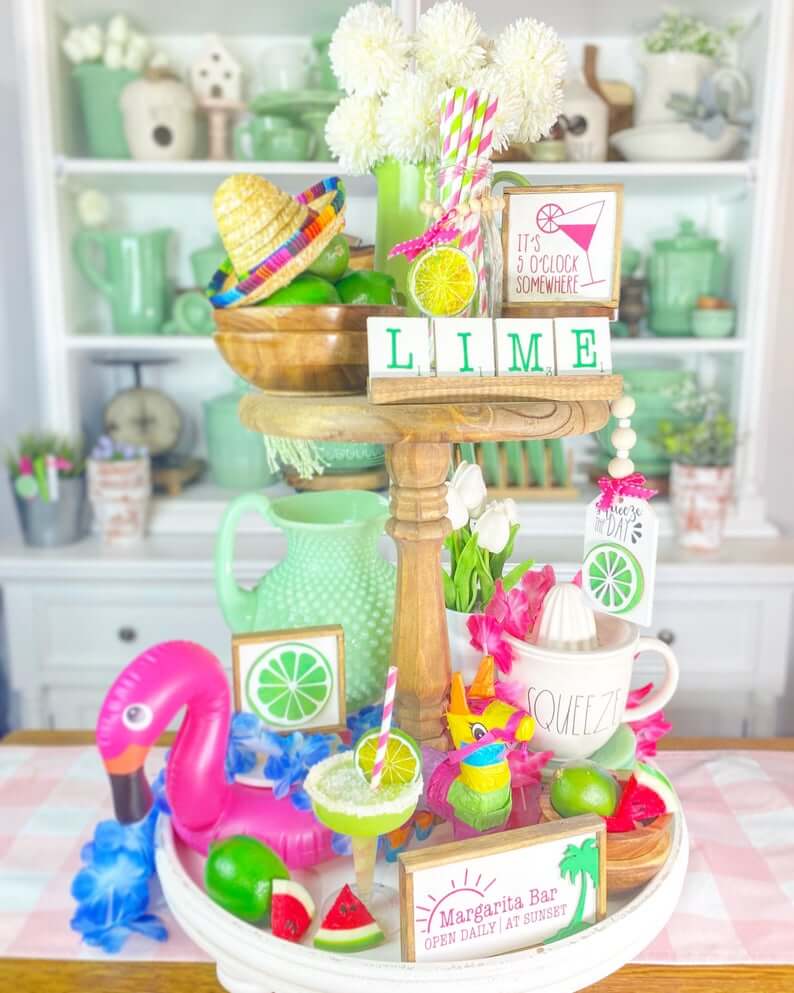 Whether you want to make a splash at your next summer party or you just like adding some more color into your home, this tiered tray is great for the job. There are so many different signs to choose from here to make this piece stand out. Of course, the lime theme is used well throughout for the margaritas. If you wish, you can even add in a few real limes to really highlight the piece more. This makes it work out even better if used at a party if you are making margaritas for your guests.
2. Hand Painted Strawberry Tag Decoration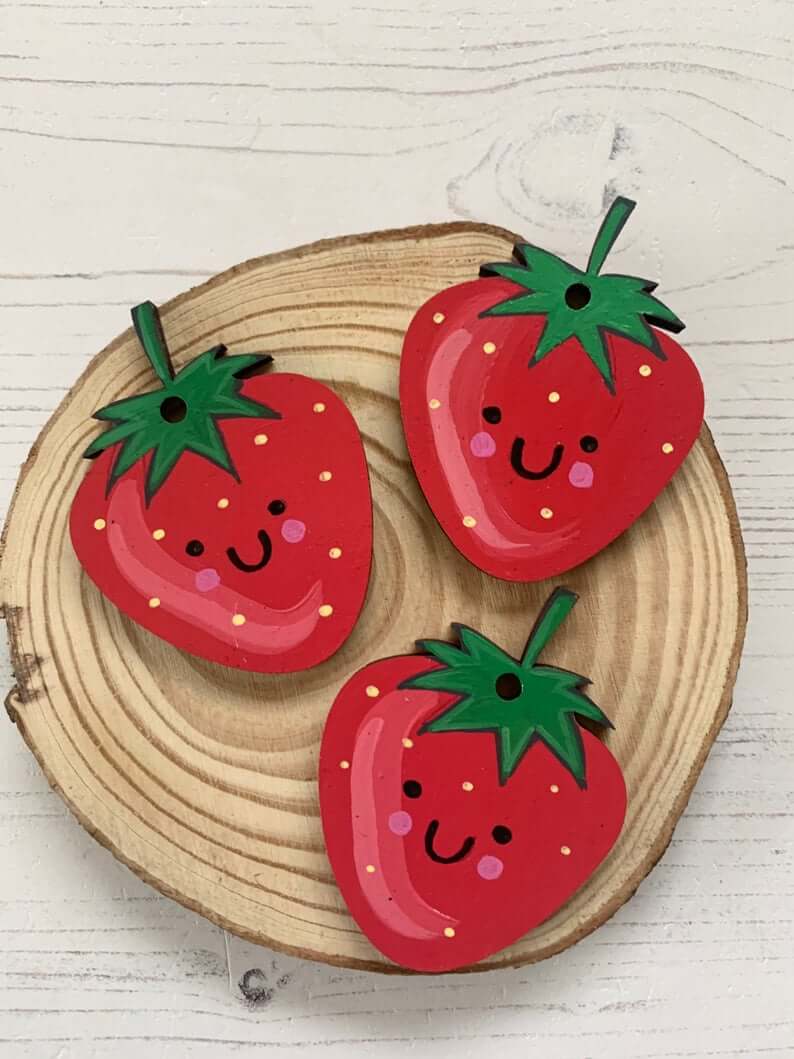 Small decorations can sometimes make the biggest impact, and these wooden tags are perfect for the job. The tags are carved in the usual shape of a strawberry so there is no denying what you're looking at. They're painted well too using bold coloring to further help them stand out. What is so pleasant about them, however, is the adorable tiny smiling face painted on each strawberry. This brings silliness to them that is fun and adorable all at once. Of course, there is a hole in each that makes them easy to use as tags for anything you wish or to just set them up as décor.
3. Set of 3 Fruit Prints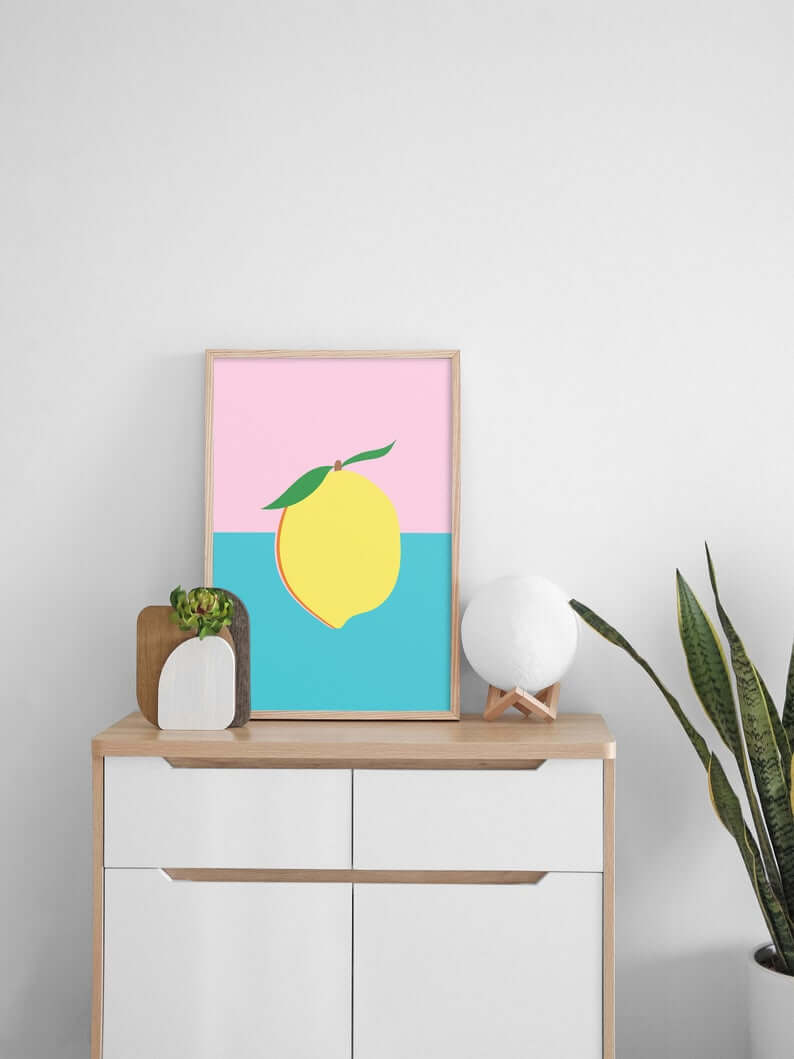 If you are looking for a way to blend fruit with art deco, then try your hand at these stunning and colorful fruit prints. With this, you get three different unframed prints that are each boldly colored using multiple hues that allow the fruits in each one to pop more. There is a lemon, an orange, and a pear. You can get all three or purchase them separately, and they are also available in multiple sizes. There is a simplicity to be found with these art prints too that help them stand out, making them great for use as fruit home decor that is more low-key and minimalistic in terms of style.
4. Strawberry Fruit Field Handknit Blanket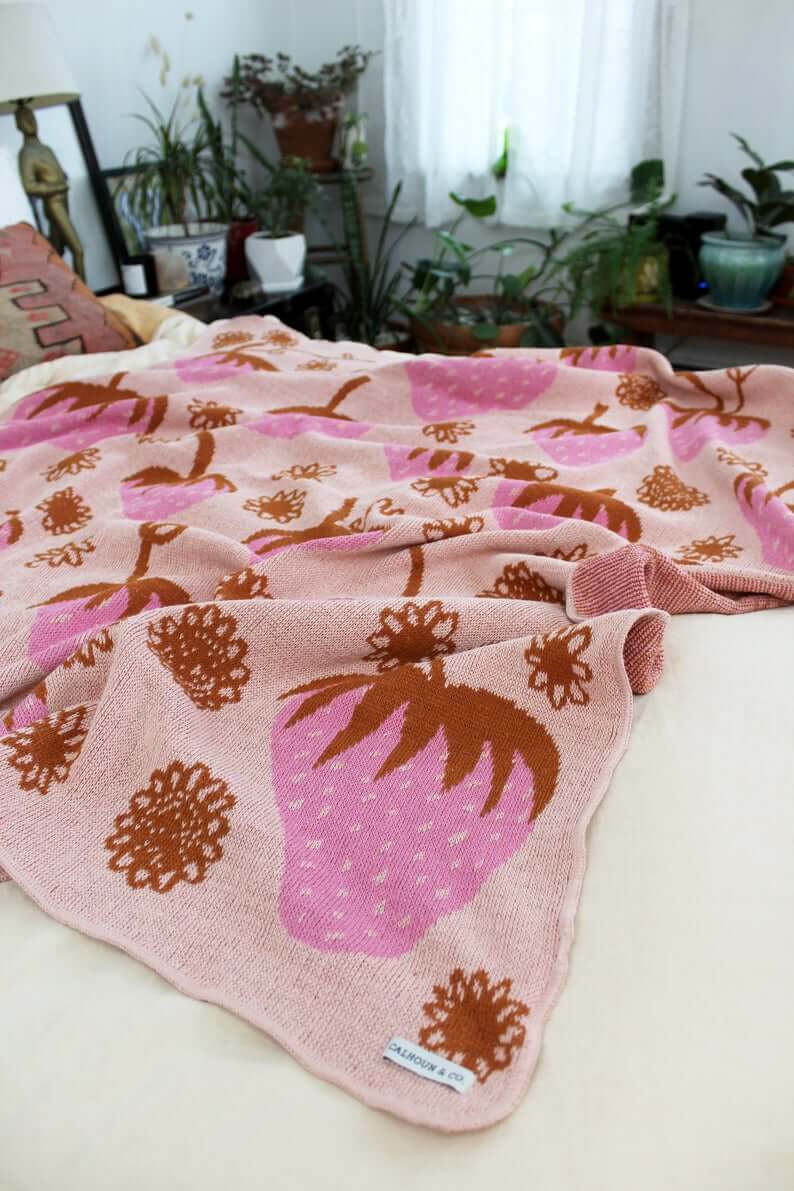 When looking for fruit decorations for your home, consider going the route of items like blankets. They can be tossed over a couch, a chair, or used for the bedroom. The sheer versatility behind them makes them useful in bringing some life and color into various rooms. On appearances alone, this knitted blanket features a pleasant pink color theme befitting that of strawberries. Even the fruits are designed with a pleasant artistic flair to them that makes them more unique without completely taking away from the natural design of the strawberry. Made from a cotton and acrylic blend, this comes in a single large size.
5. Margarita Fruit Tiered Decorative Tray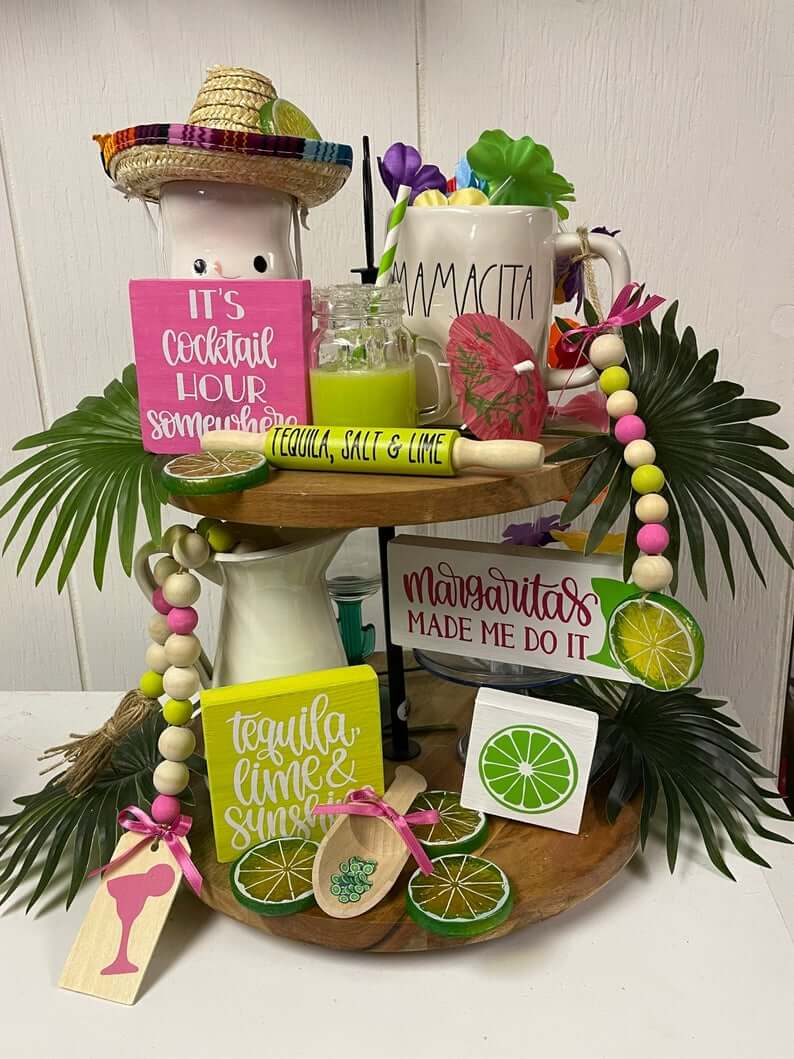 Margaritas are always a fun way to decorate when it comes time for a party, more so with a summer-themed bash. You can successfully use that with fruit to make for a colorful decorative piece as with this tiered tray design. There are a couple of different signs to choose from to add to the overall piece. Nevertheless, it makes an impact thanks to just how colorful it is. At the same time, it still has a touch of farmhouse styling to it that makes it work inside a kitchen for seasonal decoration as well as for party décor.
6. Handmade Resin Fruit Slice Coaster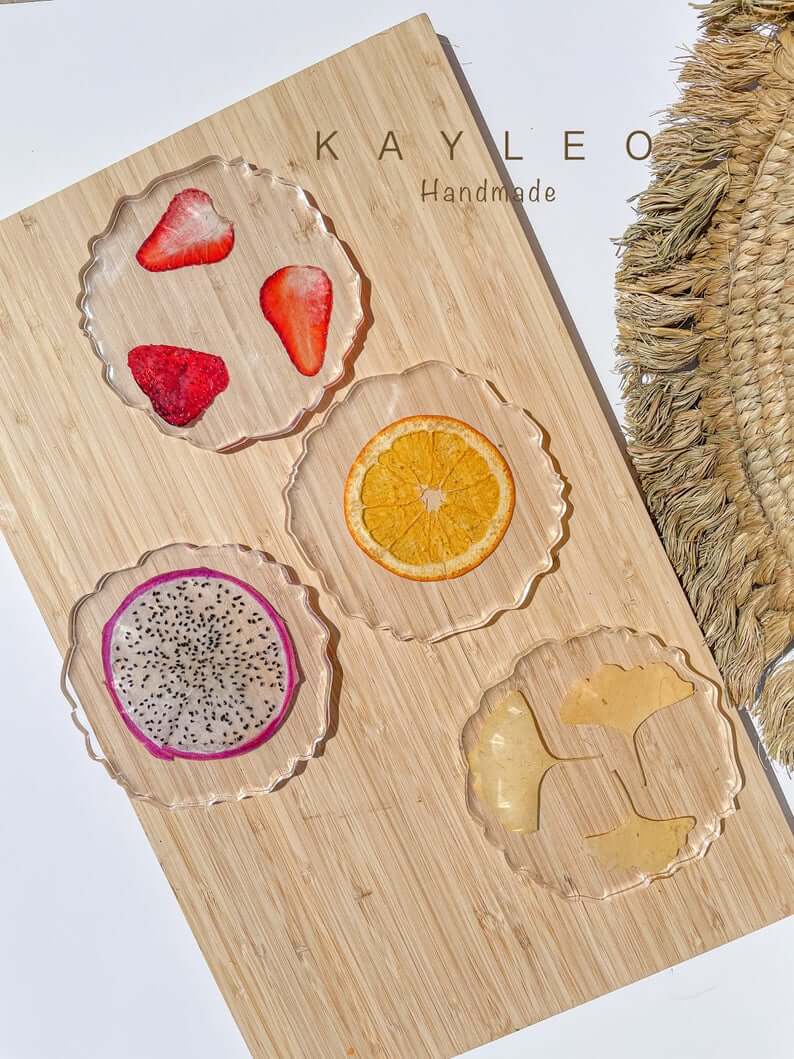 In many cases, the simplest route can be the best route when it comes to decorating using fruit, and this cool coaster design proves just that. This is made using real dried fruit slices, which allows you to use authentic products that aren't at risk of rotting away. Instead, these coasters will retain their colorful and vivid appearance thanks to the resin. You can choose from a dragonfruit slice, orange slice, ginkgo leaf, and a few slices of strawberries. Set these coasters up around the living room or dining table, making them wonderful unique place settings that are also functional.
7. Cute Fruit Shaped Plush Pillow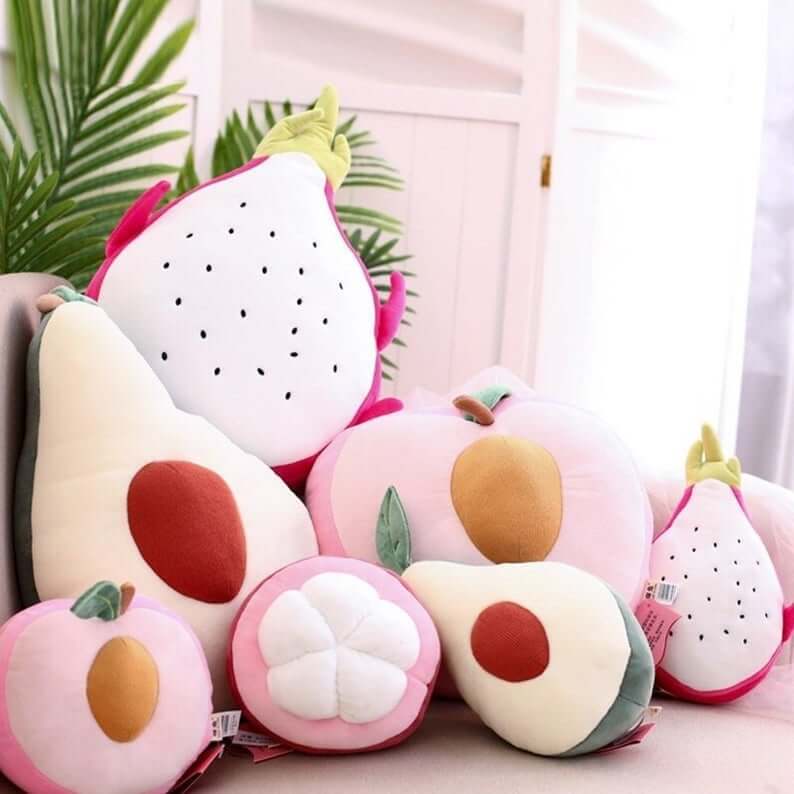 Plush pillows are always fun to use for decoration and for cuddling up to thanks to them being super soft. These fruit-themed pillows offer more joy thanks to how they not only feature the color of certain foods but their shape as well. It comes in the style of peach, dragonfruit, avocado, and mangosteen. The use of cotton makes them gentle to the touch. Combined with the overall design, and these pillows can make for great decoration in a child's room.
8. Bright and Colorful Fruit Dish Bowls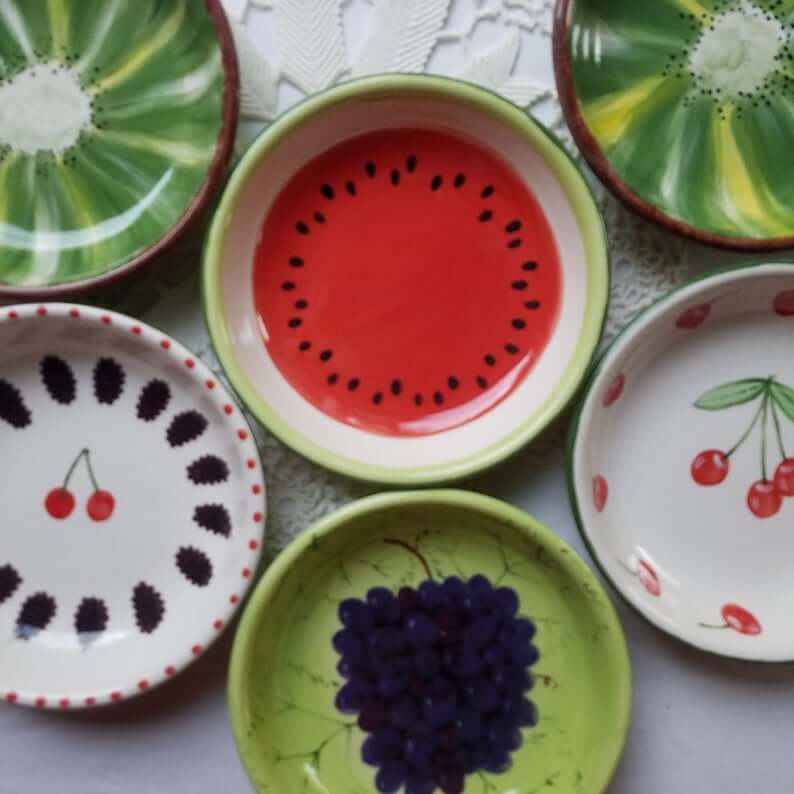 If you want to decorate using the idea of fruit without using fruit, then check out these incredible bowls. They are an amusing way to stick to the whole "food" theme. You can get these handmade and hand-painted dishes in a watermelon style, kiwi style, grape theme, cherries, or a mix of cherries and berries. Thanks to their high sides, the bowls are versatile to support numerous types of food and liquid, allowing you to use them easily in your day-to-day life from breakfast to dinner. You can even bring them out for a summer-themed party to delight your guests.
9. Cool Blueberries Spring Shiplap Sign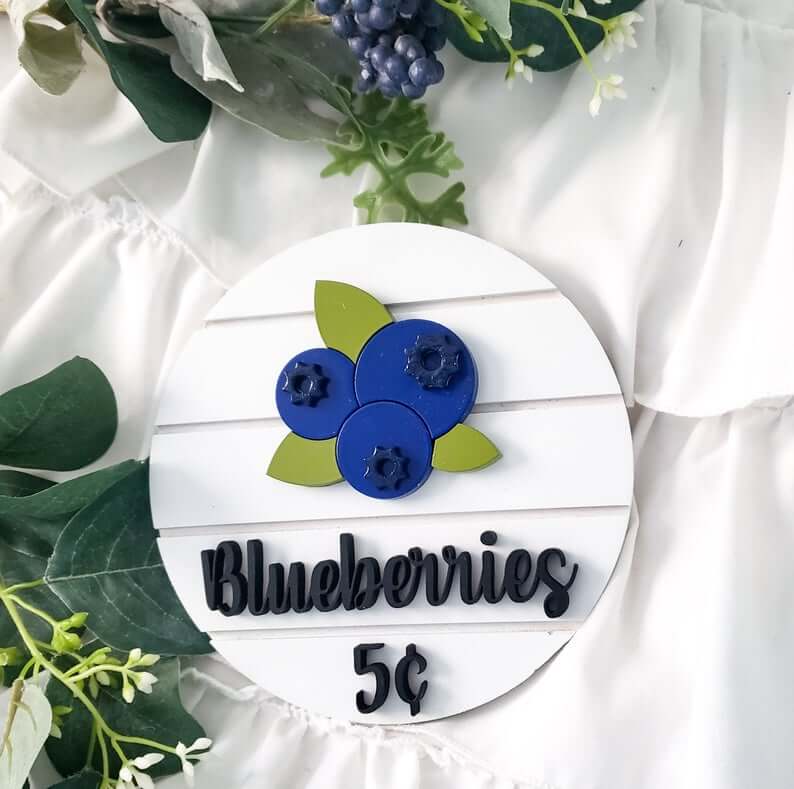 A shiplap-like sign makes for wonderful decoration in a room that centers more on a coastal or outdoor theme. The blueberries are a good size to be a focal point, and their blue coloring is vibrant enough. The overall design of the sign allows your eyes to travel downward, focusing more on the lettering of "Blueberries 5¢". You can choose to get this sign either with a finish applied or unfinished if you are in the market for something more rustic. The sign can hang just about anywhere too due to how it is designed as there isn't too much color that will allow it to overpower the rest of your décor.
10. Georgia Peach Fruit Neon Sign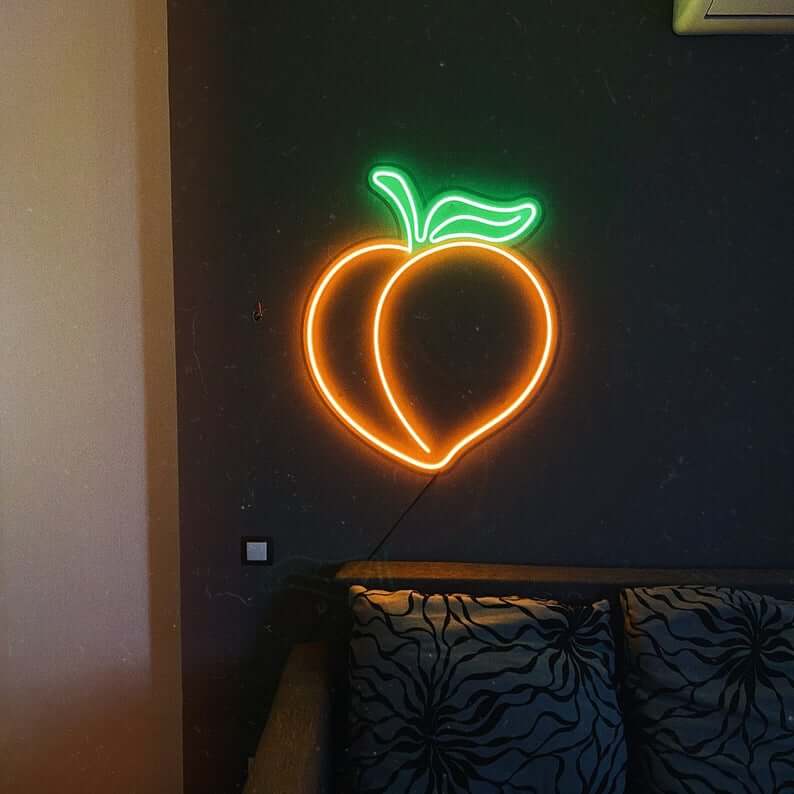 The Georgia Peach has an iconic look that is instantly recognizable, so why not bring a bit of that love into your home through this awesome neon sign? Whether you live in the state, love the state, or simply adore the aesthetic, this sign can make a powerful statement no matter where you hang it up inside your home. This is made in four different sizes too, allowing you to get the best one to suit your decorating needs. Also, this neon sign doesn't just light up in the typical orange lighting for the peach and green for the leaf. You can cycle through nine different colors and various brightness settings.
11. Crochet Fruit Slice Coaster Décor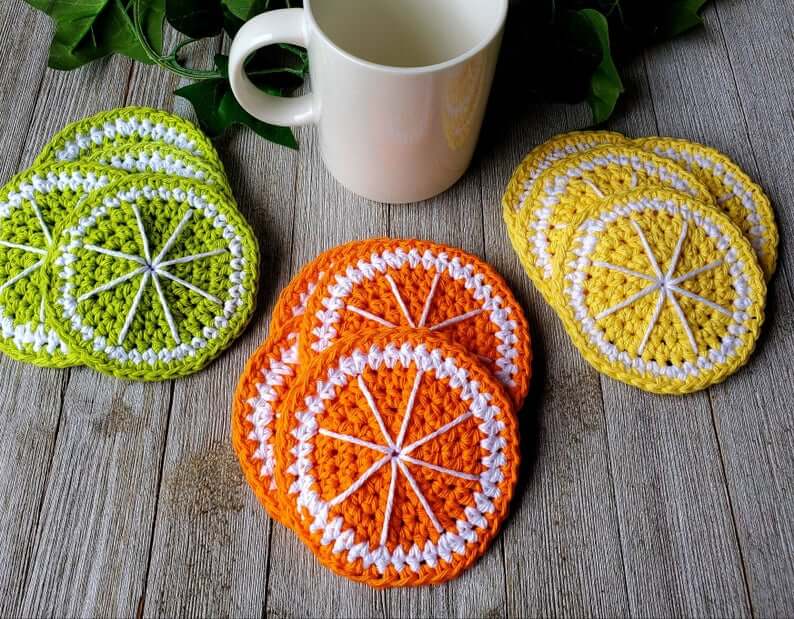 Some of the best fruit decor ideas come from something cool like coasters. However, these are not your typical coasters. Instead, they are made using crochet style. Because of the fabric, they may be more useful for pure décor rather than functionality. Nonetheless, they work just as well to set up around the table for that extra pop of color. You can choose from an orange slice, lemon slice, or lime slice. Each type share similarities in terms of styling and detailing, but they stand out based on their bold coloring choices.
12. Engraved Orange Slice Wooden Coaster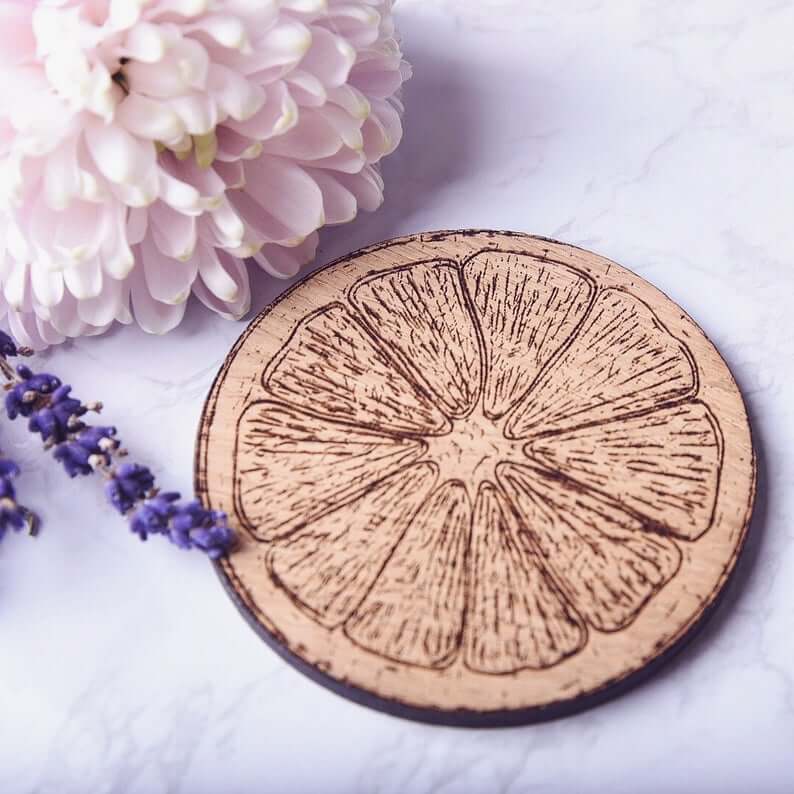 For those of you that want to go more low-key in terms of decorating, this wooden coaster can be the perfect way to go about that. There's no color to it beyond the natural brown from the wood. This way, it may better blend into various styles you already have. Also, the color is unneeded since this is beautifully carved with intricate detailing that makes it effortlessly resemble an orange slice. Not only does it look good, but it is made to last you a long time thanks to the protective varnish that will keep it safe from liquids and potential staining.
13. Colorful Lime Margarita Bead Garland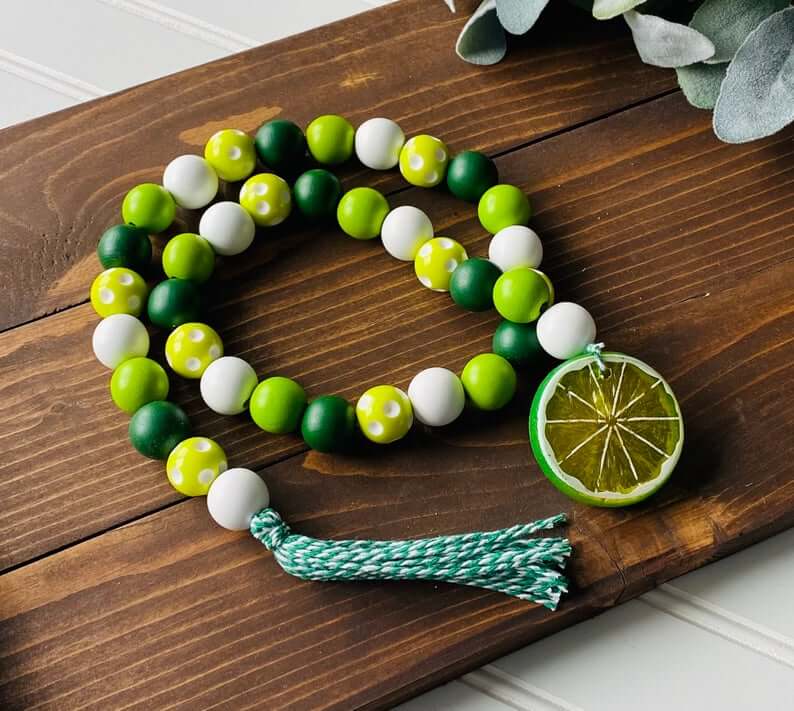 Going smaller is worthwhile when you only want some slight accent coloring with your décor. Perhaps you want to add to something you already have, or you are aiming for the more minimalistic choice. For instance, it is perfect for use in a tiered tray décor whether for permanent home decoration or for a party tray. This beaded garland has plenty of colors to stand out on its own, and it even features a cute lime tacked onto the end. It is an understated statement, so to speak, that can even be cute to carry around.
14. Citrus Fruit Slice Charm Set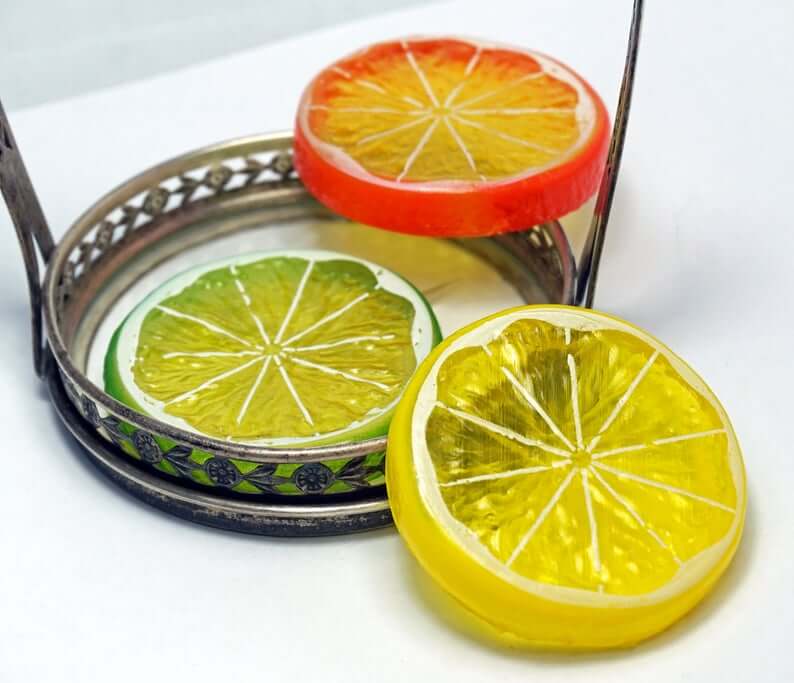 For small-scale décor or gift ideas, this charm set will certainly get people talking. Available in a lot of three or six pieces, this set features lovely painted fruit slices that anyone, even kids, can enjoy. You can use them as you see fit when it comes to decorating different rooms, adding them to larger pieces to stick with a colorful fruit theme. You can choose from lemon, orange, or lime slices. However, if you like them all and want a better blend of colors, then you can go for a mixed set. This is a good way to get more pops of color into your décor.
15. Cute Handmade Orange Fruit Pillow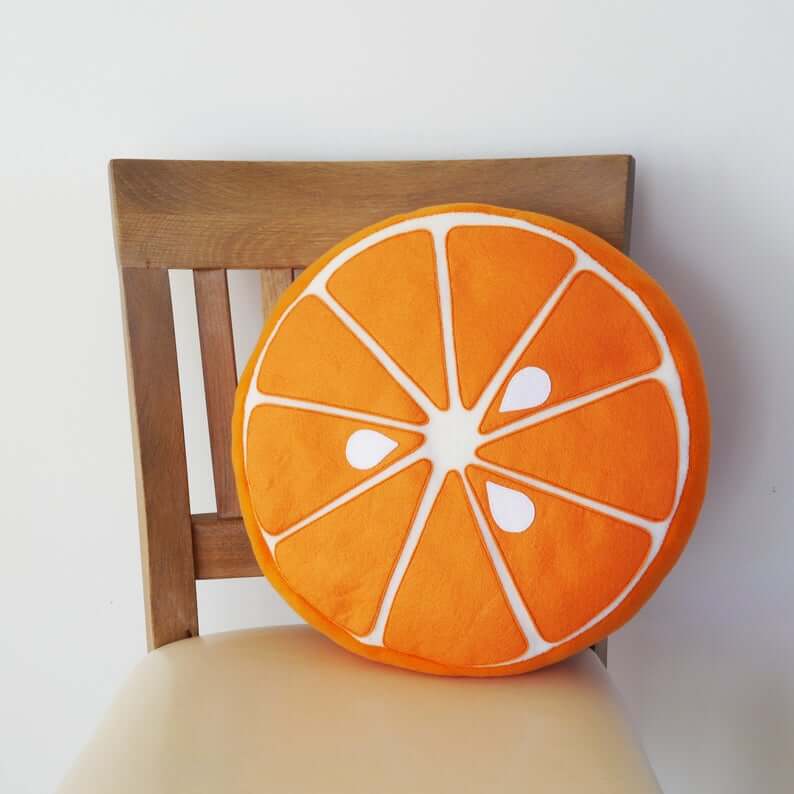 Throw pillows are always the perfect solution to add some accent color to the décor in any room. This orange fruit pillow can work out perfectly in this case. It's an ideal size so that it can fit on a chair or couch along with other similar decorative pillows. Thanks to the bold coloring of the fruit, it instantly stands out in any setting, bringing a welcoming sense of cheerfulness that can be a helpful mood booster. Another factor about this handmade pillow that makes it an ideal fruit decorative piece is that it works just as well with your outdoor furniture as it does if used inside.
16. Vintage Botanical Fruit Print 1909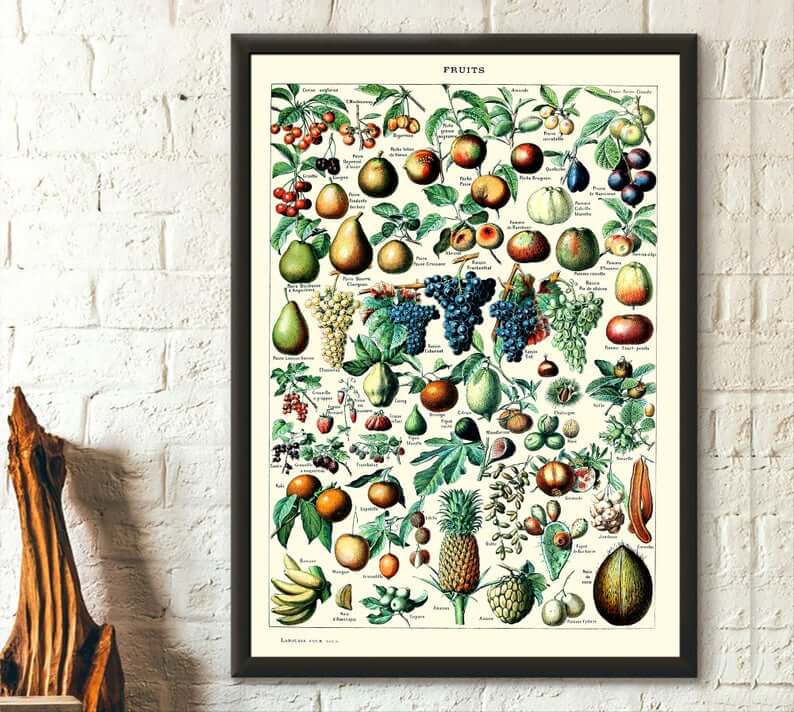 When looking for fruit decoration for your home, consider getting a piece of history with this beautiful digital restoration of the classic fruit print created by French artist Adolphe Millot. The loveliness of the original art piece remains strong in this too as more than a dozen fruit are featured and expertly highlighted. This way, each one can individually capture the attention of anyone who looks at it. Even with the restoration, the piece doesn't lose its overall vintage feel, so it's even ideal when you're going for a more old-fashioned decorative style. You can get this art piece in several different sizes.
17. Unique Strawberry Fruit Gnome Décor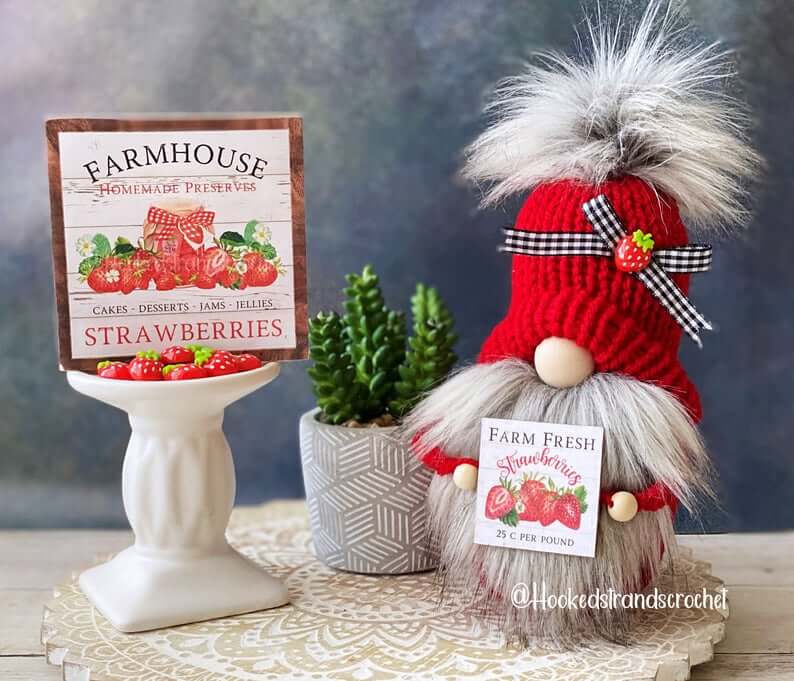 Having distinct décor is always a nice route to go down, more so when you are using fruit as a theme. The fruit itself doesn't have to even feature prominently in order to work as with this knitted gnome decorative item. It uses strawberries as a theme choice as the cute gnome is wearing an oversized red hat with a tiny strawberry on it. Besides that, it is also holding a small sign that further cements the fruit theme without overpowering the statement of gnome. There are five different types of signs you can choose from that the gnome will be holding as well.
18. Fruit of the Spirit Print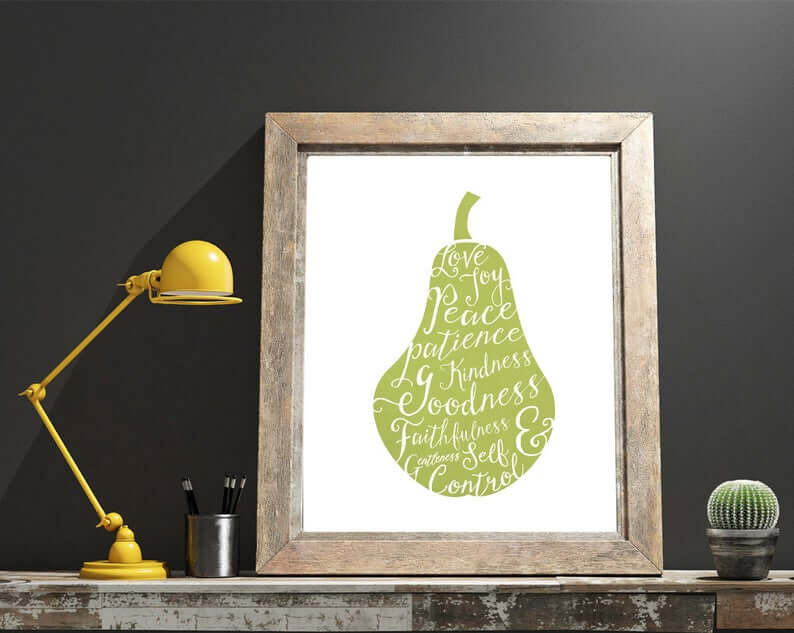 When decorating your home, it is useful to focus on the walls since they offer plenty of space to use. One way to use fruit without it being overwhelming is with this pear print. It wonderfully uses the outline of a pear with the right green coloring, but it makes it stand out thanks to the writing within the pear. There are several inspirational words throughout, so this print can hang well in any room, especially inside an office. You can find this print in multiple sizes, and you can even select the background and lettering to be either in white or gray.
19. Macrame Handmade Watermelon Wall Hanging Décor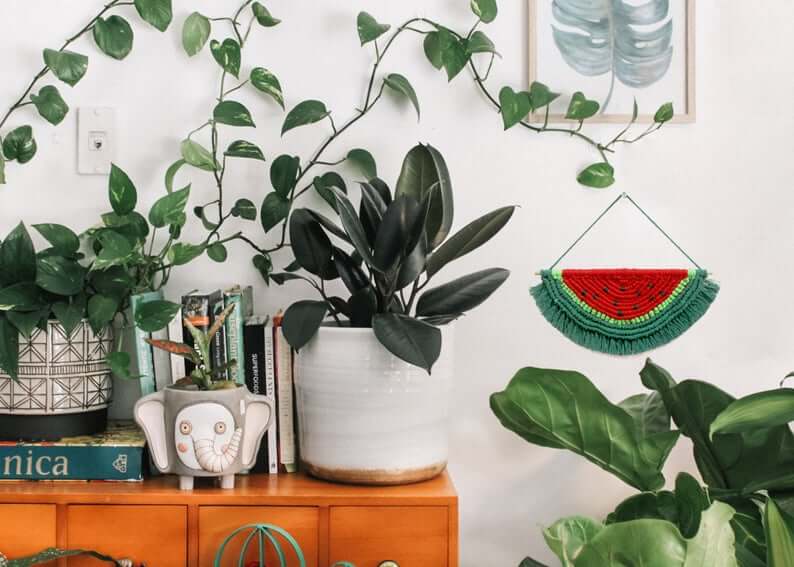 A more downhome, yet artistic, way of decorating is with macrame. This wall-hanging watermelon is a cool way to show off your love of fruit and art at the same time. It can work well in any room, but with its fun style, it may be most ideal if used in a child's room or inside a nursery to help stick to a lovely fruit theme for your baby. It's made from 100% dyed cotton fabric with the coloring easily standing out as each section of the watermelon slice is wonderfully crafted.
20. Cherry Kitchen Tea Towel Design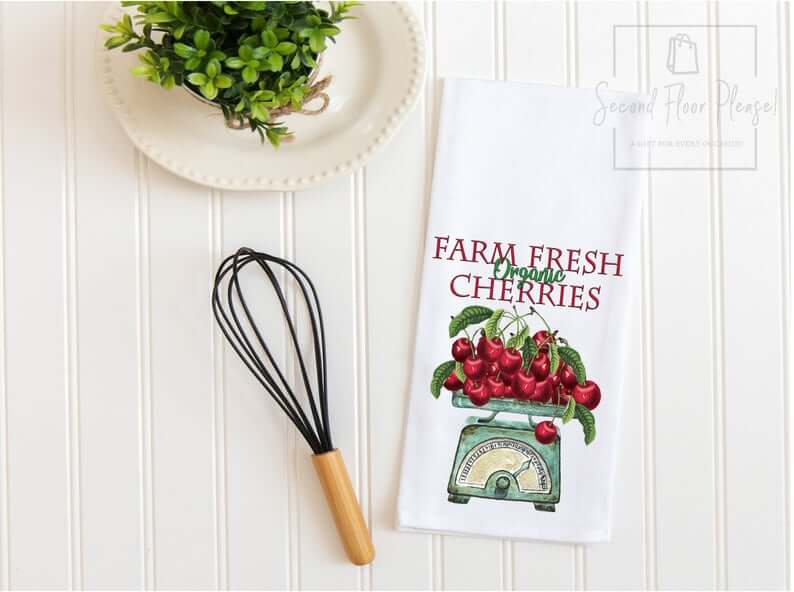 Using towels is another good way to decorate your kitchen. They aren't overtly obvious, but they offer enough of a style to help the overall fruit theme in your kitchen flow better. Also, they are functional too, making them even more useful. With this product, you can choose from two different types of towels. No matter which one you go for, they each feature well-designed and colorful fruit artwork on the front that is also slightly vintage and fun.
21. Rustic Cherry Theme Sign Décor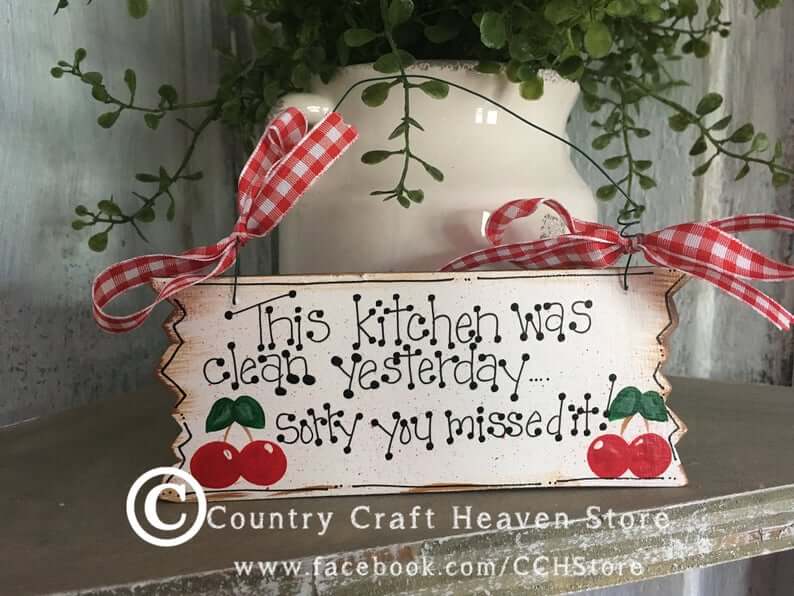 Signs are always easy and fun ways to decorate if you want a farmhouse theme, and there are plenty of ways that you can bring fruit into it all to tie everything together. This one particularly adds a nice flair of humor into the sign thanks to the statement: "This kitchen was clean yesterday, sorry you missed it!" As for the fruit portion, it features nice artwork of cherries. They don't completely take over the sign as the words are still the focal point, but they do add some lovely coloring so that it isn't bland. Also, there is a nice rustic feel to the overall style too that will further help it suit the farmhouse theme.
22. Artistic Fruit Cherries Pillow Design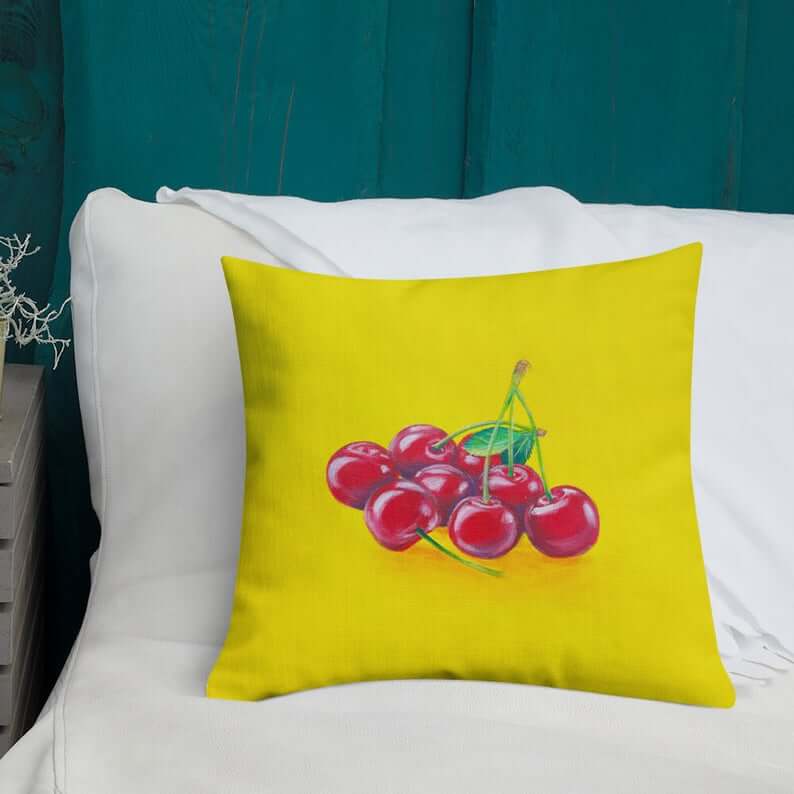 Ideal for fruit lovers, this throw pillow is as extraordinary as it is simple. It features bright coloring with one side that boasts the fruit being yellow while the other side is a darker, richer red color. This is a wonderful styling choice as the pillow looks well no matter which side is showing. However, on the yellow side, the bold red cherries expertly stand out. Using this pillow is a worthwhile way to add a splash of color to a room if you don't already have much coloring around. For instance, using it against a light-colored or white couch.
23. Yellow Lemon Kitchen Valance Décor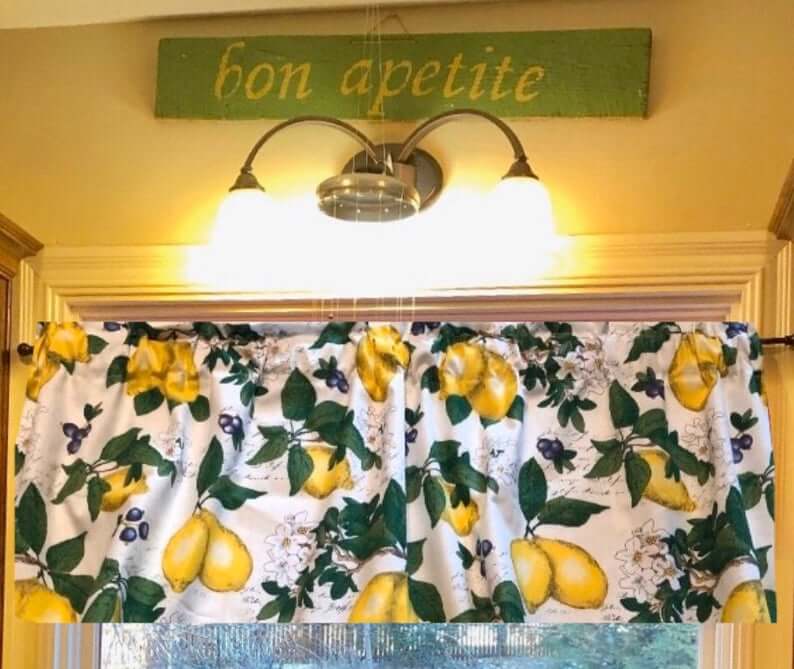 It is remarkably simple to blend farmhouse theme with fruit-styled decorating. One of the best fruit decor ideas in this case is this lovely kitchen valance that works perfectly to help accent the natural lighting in the room. The lemons on the fabric are realistically designed, and you can even notice some smaller blueberries throughout too. This allows for the piece to flow better thanks to the subtle use of different colors. Made from cotton fabric, this is even machine-washable so that it is easier to maintain over time. Also, it's available in a single size, but you can always request special sizing if needed.
24. Grape Theme Fruit Decorative Plate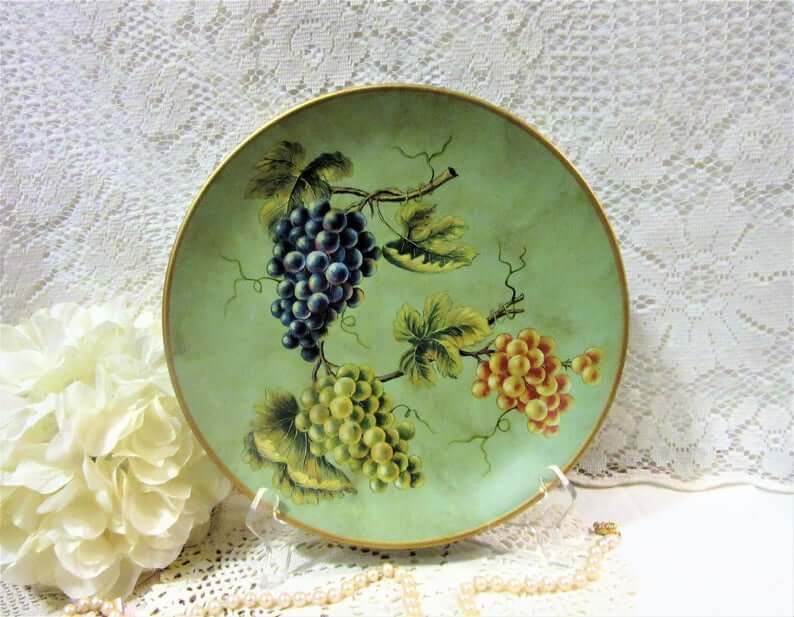 Sometimes, when you want to go the dish route when it comes to decorating, that doesn't mean you have to actually use the dishes. This decorative plate is a clear example of that. It is handmade and features three different colors and types of grapes. There is a slightly artistic touch to the grapes while still maintaining their realism, allowing them to each stand out on their own. The artwork flows well on the plate so that it works for decorating a dining room or kitchen. There is also a nice vintage styling to the overall plate and artwork too that makes it work if you have a more classic take to your decorating style.
25. Personalized Lemon Glass Cutting Board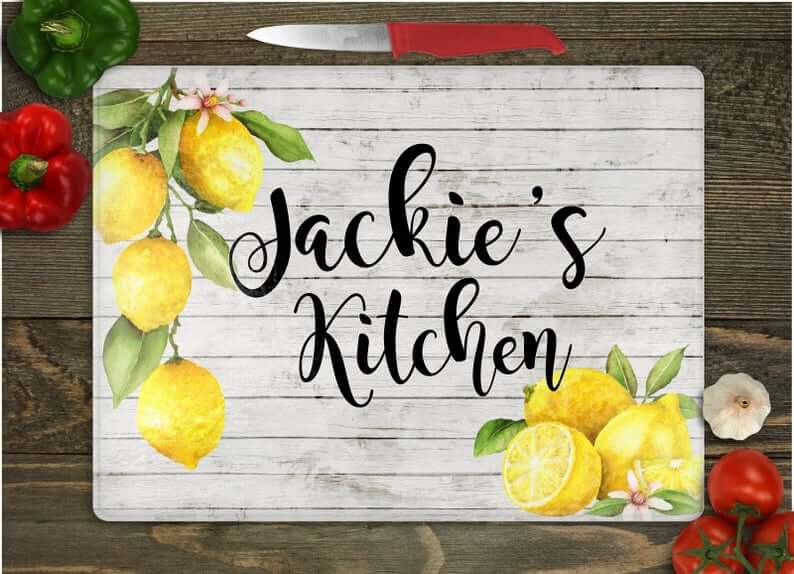 Décor can always stand out more if you go the personal route such as with this custom cutting board. Available in multiple sizes, this board will snatch anyone's attention the moment you pull it out. It's one that is worth leaving out in the kitchen in such a way that it is both decoration and functional. The board always has cute lemon designs on it, but the personalization comes into choosing what you want to be written on the board. You can also select the lettering color from more than a dozen different options, making it easy to fit this board into a kitchen that has different styles.
26. Farmhouse Style Wooden Pear Decoration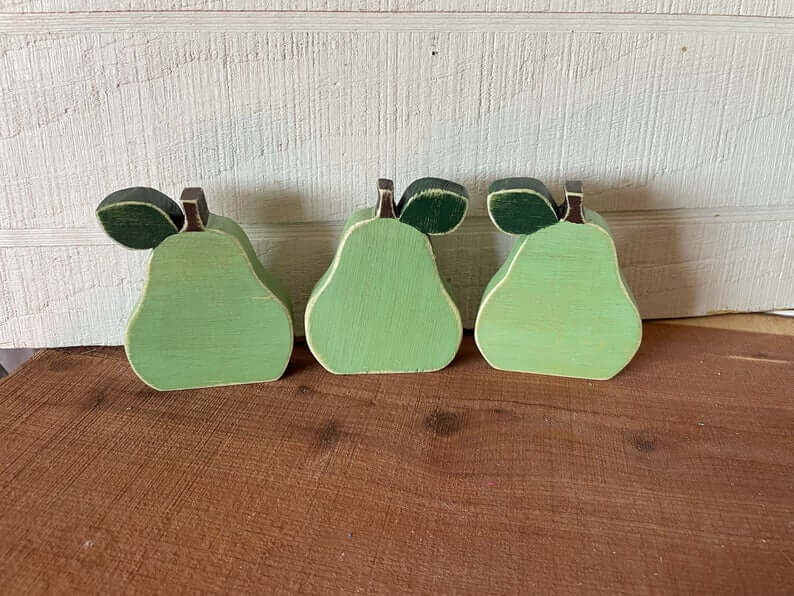 A unique way to bring in fruit decorations inside a farmhouse-styled room is with this cute wooden pair decoration. Made using pine wood, this work of art is both reliable and beautiful to look at. Although this is also hand-painted with nice green color, the piece has been sanded down. This way, it can have a more used and weathered appearance that ties it in more with the rural theme. Whether you use one purchase this in a set of two or three, the pears can easily fit into your kitchen to bring some laidback summer vibes to the room.
26 Fun Fruit Decoration for Your Home This Summer
Using fruit as a theme for decorating is such a fun choice. There are many ways that you can go about using it too as you can bring in some real fruit, preserved or otherwise, or you can opt for using the artwork of fruit as a style choice instead. Fruit is a good way to add some lovely color to your decorating, or simply to throw in some more detail to make your décor further stand out and capture attention. Due to this, there is no shortage of ways you can use it as a theme.
Additionally, fruit works well for a multitude of decorative items. Some of the best fruit decor ideas stem from something obvious like wall art or something a bit less showy like coasters. There are blankets and throw pillows that are helpful for décor that is also functional too. Or perhaps you are looking for something more specific for a summer-themed party? In this case, tiered trays are a good source of decorating while still incorporating fruit on some level.
If you are ever at a loss on where to start decorating with fruit as a base for your theme, then we hope our list of 26 fruit home decor items provides you with enough ideas to get started on your next home decorating project.