When it's time to breathe new life into your furniture, the best furniture transfer makeover ideas are just the thing that will set your home's decor apart by giving it a unique touch.
There's a constantly evolving trend of repurposing items both small and large, and furniture transfers are a major part of that makeover craze. But what exactly does a furniture transfer entail? Although it may sound different to some people, it is yet another form of upcycling, so to speak. It requires taking a pre-printed design that is attached to a backing sheet, and from there, you apply it to your furniture of choice.
18 Amazing Furniture Transfer Ideas to Help You Organize With Style

Although this process is still a bit of work when it comes to prepping the surface and anything else you may want to do to change it, a transfer tends to be a more budget-friendly option. It allows you to get an incredible design pattern on a surface without going through the process of making it from scratch. This can save you on time while still providing you with something that looks more expensive than what it is.
Now that you understand what it's all about, perhaps you're wondering where to start? Thankfully, with this type of makeover, you can use it on numerous pieces of furniture. Do you have an old dresser that's starting to look just a bit too plain lately? It is a prime surface for a furniture transfer. Depending on the size of it, you have more than enough space to work with. Also, it can be fun to give it an updated paint job beforehand and perhaps change out some of the hardware to better match the new design.
Or perhaps you want to go smaller in scale and transform a vintage chair into something more modern? There are many routes for you to take, which makes this process that much more fun. To help inspire you, take a look at some of the best furniture transfers below.
1. Transformed Refurbished Antique Wash Stand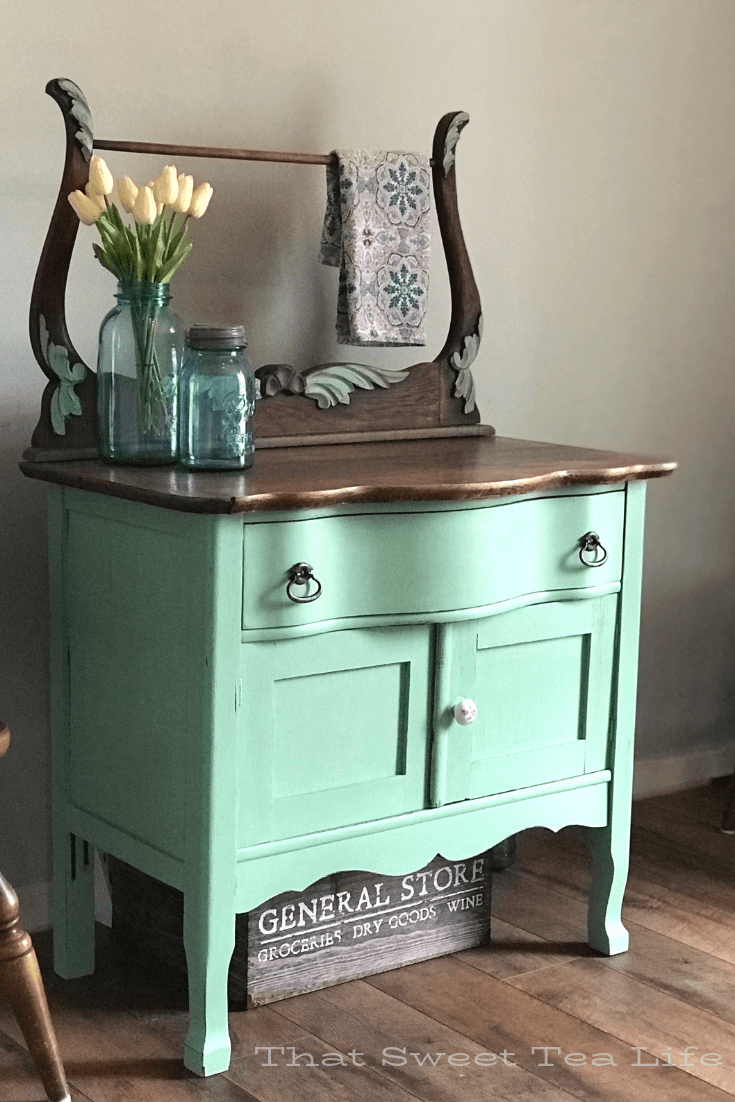 You can take a piece of antique furniture and give it a fun style that doesn't completely eliminate its vintage feel. Instead, it works to elevate it in a more sophisticated fashion. This type of furniture works great in almost any room in your house. It is large enough to gain attention in the right way, and it offers you a tremendous amount of surface area to play around with the paint job and add whatever you need to it to help it fit in with your home's theme. If you wish, you can keep a slightly weathered look in the wood on top to help it still align with its original antique look.
2. Patterned Geometric IKEA Dresser Transformation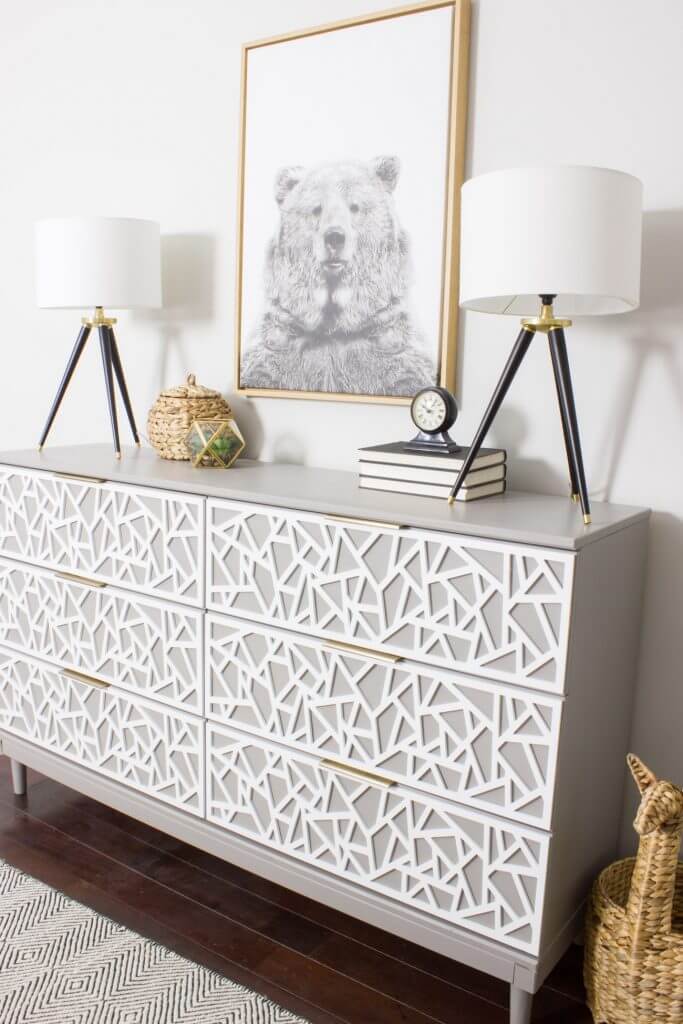 This process is yet another IKEA hack that can leave you with a piece of furniture that is more distinctive. Some of the best furniture transfers come from patterns that don't strictly adhere to the furniture in a smooth fashion. Instead, this takes a fun approach of being 3D in terms of thickness. It's an interesting method of giving your dresser that extra bit of texture. Along with that thick design, the geometric styling of it is stunning as well as it can instantly draw the eye and command attention.
3. Unique and Vintage Poster Furniture Transfer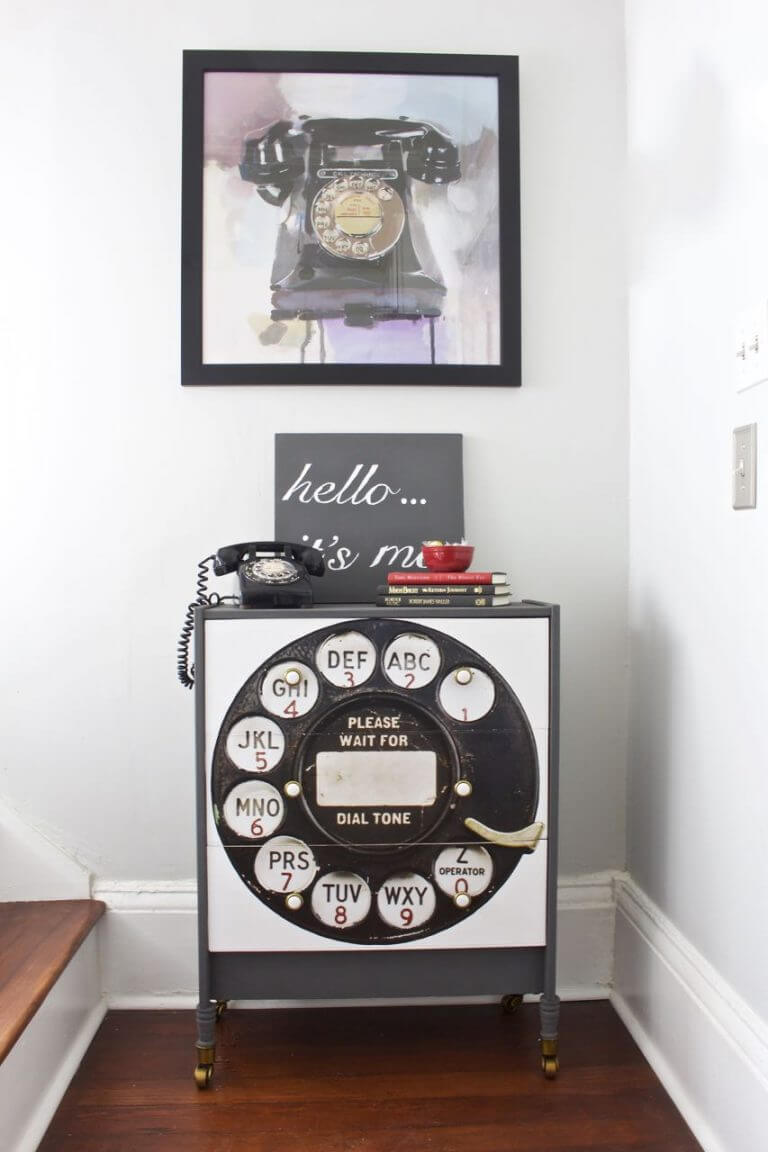 When it comes to furniture transfers, you don't just have to go the route of different patterns. Instead, you can use something that may express yourself and your room's theme a bit more like a cool vintage poster. It is a bold route to take as it will immediately catch the eye of anyone who enters the room. Also, going in this direction allows you the chance to direct everything around the furniture in a matching theme. If you use a dresser, there's plenty of space to help that transfer stand out even more by adding similar decor items on top.
4. Elegant Drilled Furniture Decor Transfers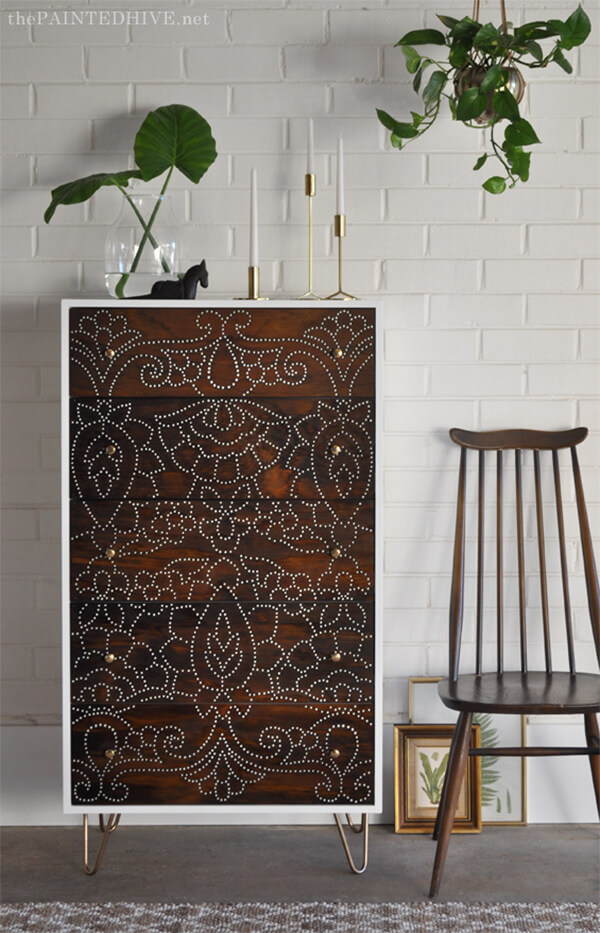 It is common to approach furniture transfers in a similar fashion that involves laying the piece down, pressing it down, and peeling off the backing to make it stick to the surface in question. However, you can still create an elegant transfer by taking a unique approach instead. Have you ever considered drilling your design in place? This is a cool permanent solution that can leave you with something that has a texture that isn't just dependent on the painting process. Going for a darker stained wood layout to put the pattern on works against a light background to help it pop even more.
5. Two-Toned Spray-Painted Old Chair Makeover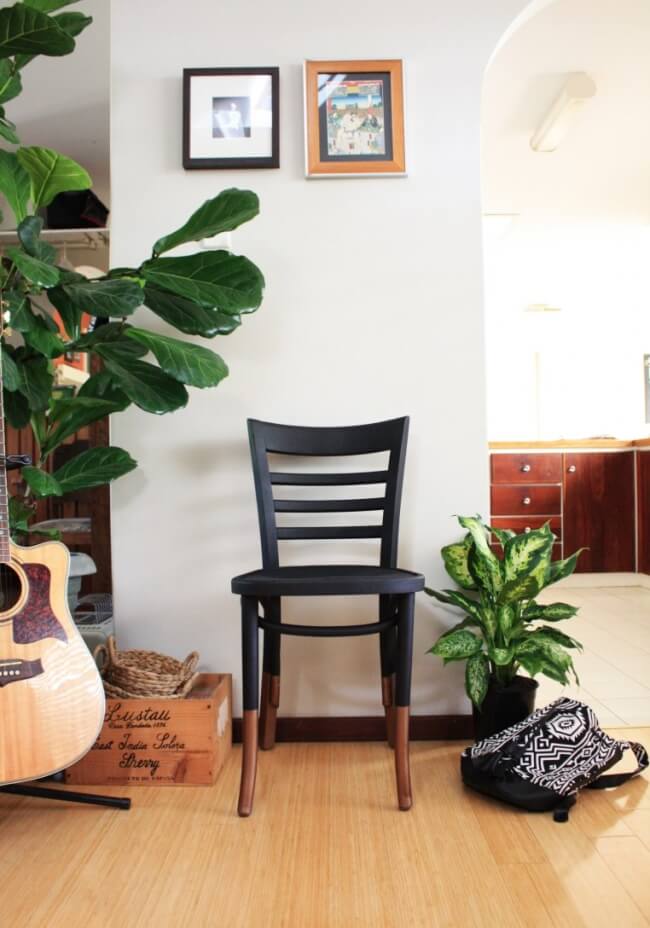 Whether you have a Thonet chair or any old chair, this makeover project can work in your favor. Spray paint comes in handy here to cover a wide surface area in little time. Not just that, but it is among the best furniture transfers that rely on two different colors used in a simple, yet effective, manner. Adding that difference around the bottom legs of the chair is a fun way to create a pattern on the chair without it being overtly obvious. In the end, your chair will look completely different than how it started in the best of ways.
6. Fun Kitchen Island IKEA Hack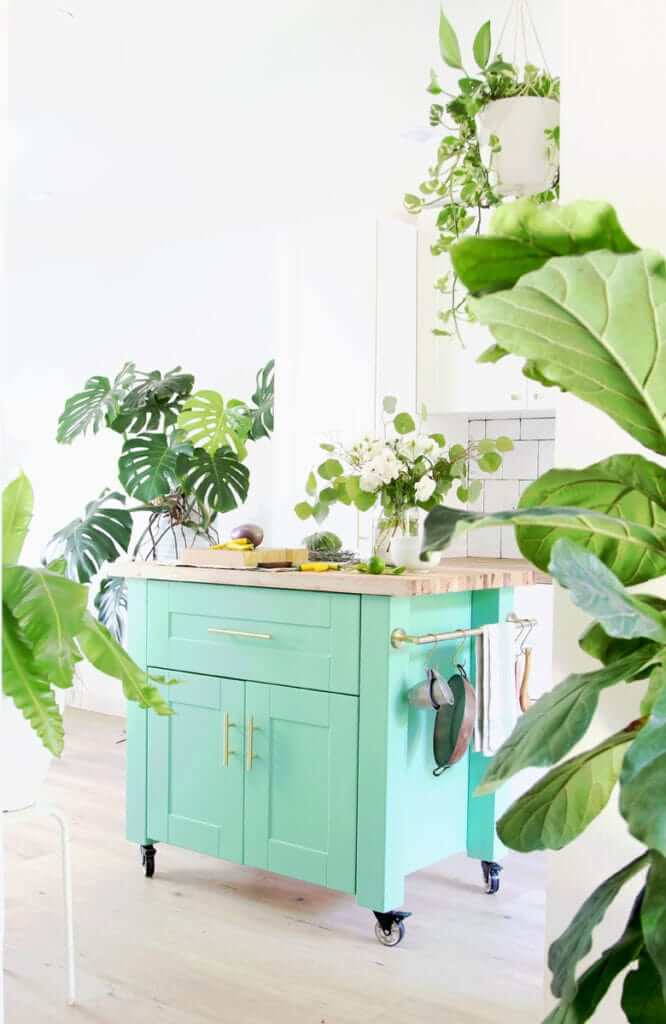 IKEA presents numerous pieces of furniture begging to be repurposed. You can transform one type of furniture into a bright and vibrant kitchen island. It is a standout choice for a kitchen that boasts a welcoming vibe. This lets you go in a particular color direction and add some incredible hardware to create a farmhouse chic appearance. Alongside that, this hack makes for quality functional decor since it is something that will see use in your home daily. It can be an extensive project, so feel free to take your time when building this to make something that you will adore to see every time you walk into the kitchen.
7. Cool Floral Pattern Dresser Transfer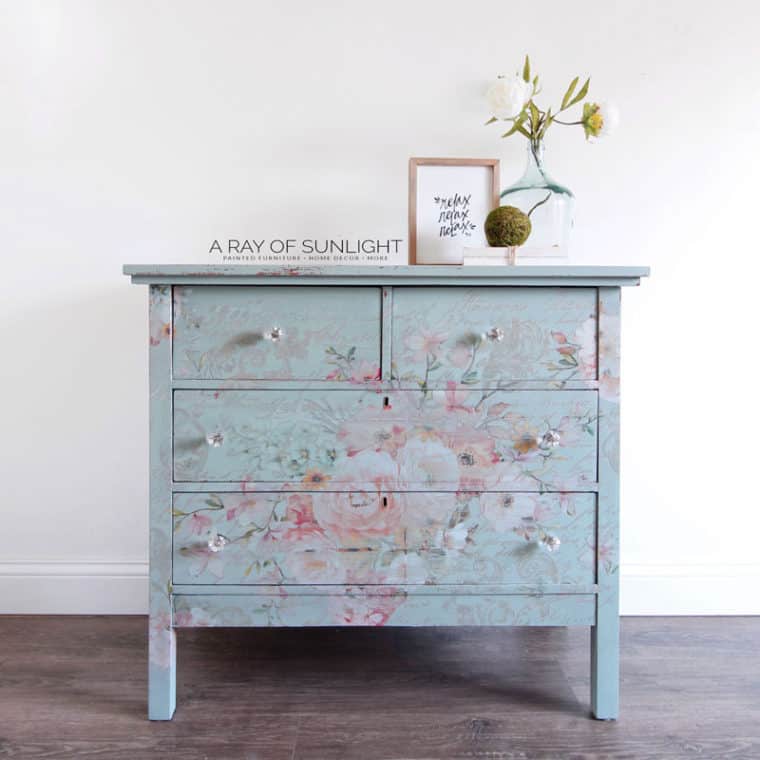 A regular unfinished dresser is a great choice for a furniture makeover project. Applying a finish to the dresser first is ideal. You can take any path here you'd like to suit your specific decor theme. Using a floral pattern transfer is a wonderful way to completely alter the look and feel of the dresser. You can leave it looking like-new, or you can opt to give it a more weathered appearance to make a faux-vintage piece of furniture. Some of the patterns may fade, but it makes for the ideal appearance when used in a rustic setting.
8. Perfect Antique Umbrella Hall Tree Makeover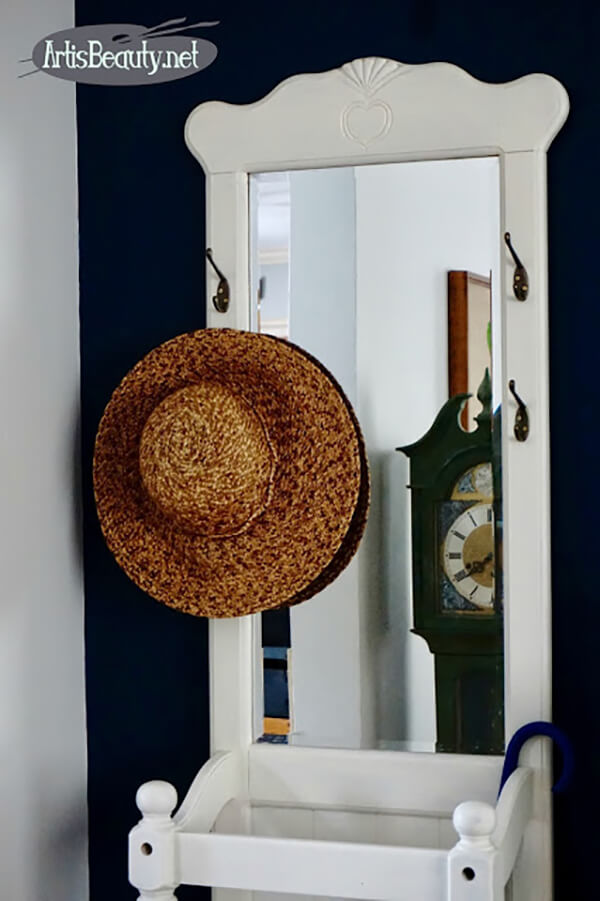 Just because it is a place to dump things or snatch items up on-the-go, that doesn't mean it can't look fabulous. Applying some antique painting over a piece of furniture that is already age can help give it a wonderful vintage look that has some chic traces to it. You don't just have to stop at the paint, however. If you want to give a typical umbrella hall tree new life, you can always apply some new hooks to it. This way, it can hold more than just umbrellas. It is a wonderful way to improve its look as much as its usefulness.
9. Repurposed Dresser to Bar Makeover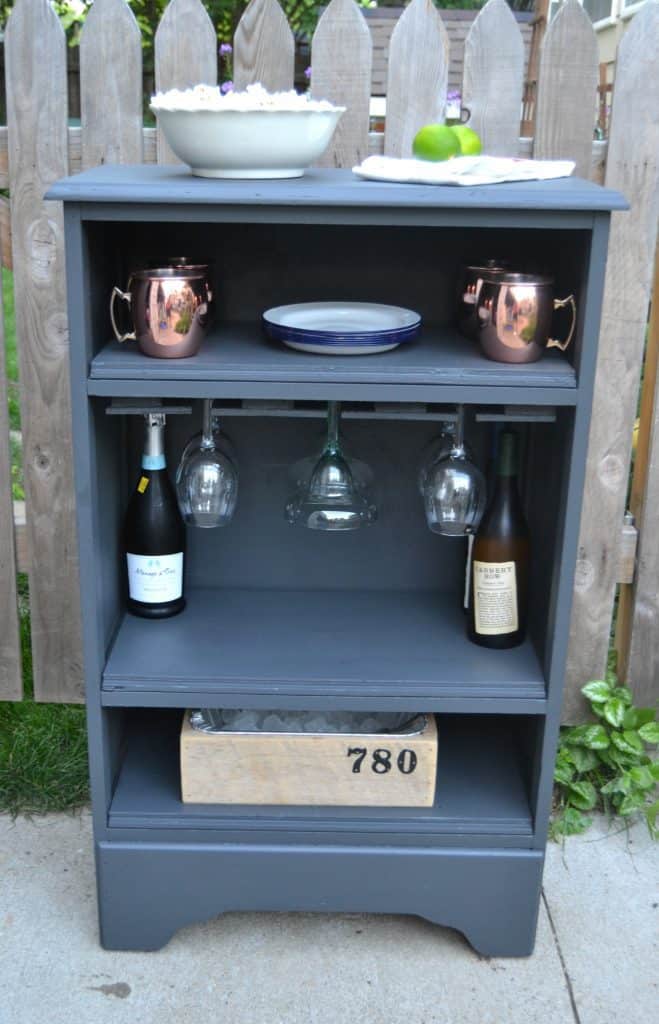 If you have a more extensive project in mind for your furniture makeover, check out this amazing dresser transformation. This is the perfect way to take something that is completely worn down and turning into a new piece of furniture. A tall dresser provides the ample space needed to create a mini bar setup that can be used indoors or outside on your deck. Depending on the height, you can have a lot of storage space available. Not only does it simply look better, but it is ideal functional decor that can help you better organize your barware so that it's always ready for company to enjoy.
10. Rustic Farmhouse Style Side Tables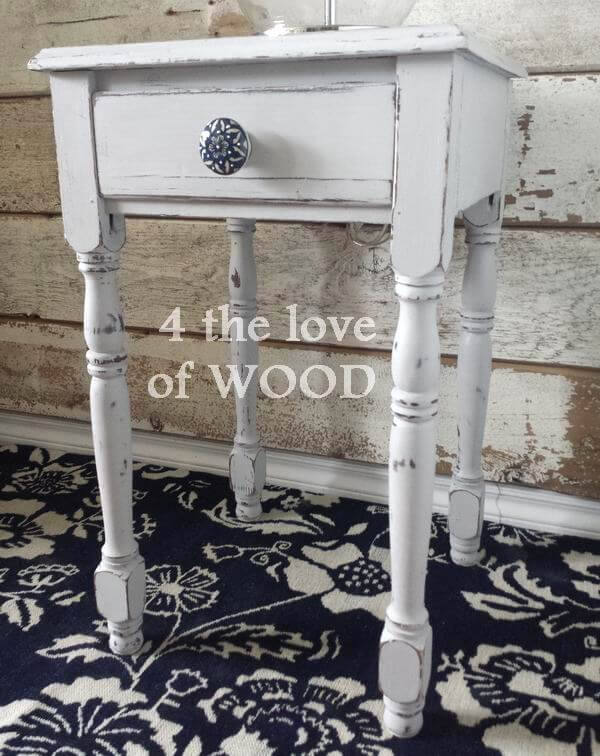 Cool and stylish furniture doesn't have to look new all the time. Instead, you can opt for an amazing rustic and vintage vibe with these side tables. They wind up having a fun weathered appearance, but there is still an indication of style with its farmhouse theme. The paint helps a lot with this as the lighter you go, the more it will stand out. Since you are going for something that looks used, there's no worry if every nook doesn't have paint on it as that further helps give it that purposeful classic appearance.
11. Beautiful and Chic Jewelry Armoire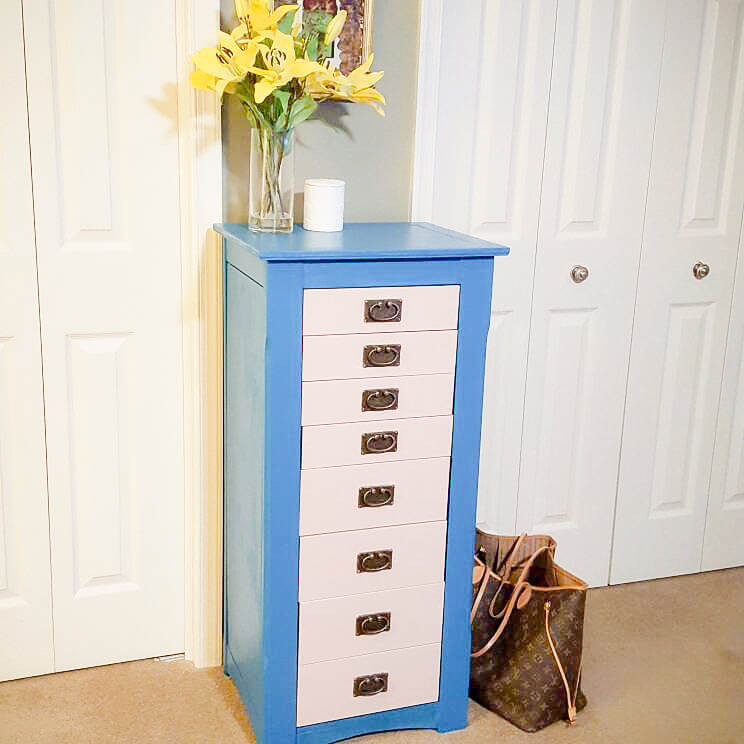 An old jewelry armoire can serve as another platform for furniture transfer ideas. You get a spacious surface to work with all around the armoire if you'd like. A good idea may be to go for two different colors. The front of the armoire doesn't have to look the same as the sides or the back. In fact, balancing out various tones by making one lighter and the other dark adds an ideal amount of variance and dimension to make the finished piece look more alive. If you have the time, you might even want to consider throwing in some new hardware to fit the chic vibe of the newly invigorated armoire.
12. Lovely Contemporary Remolded Chair Makeover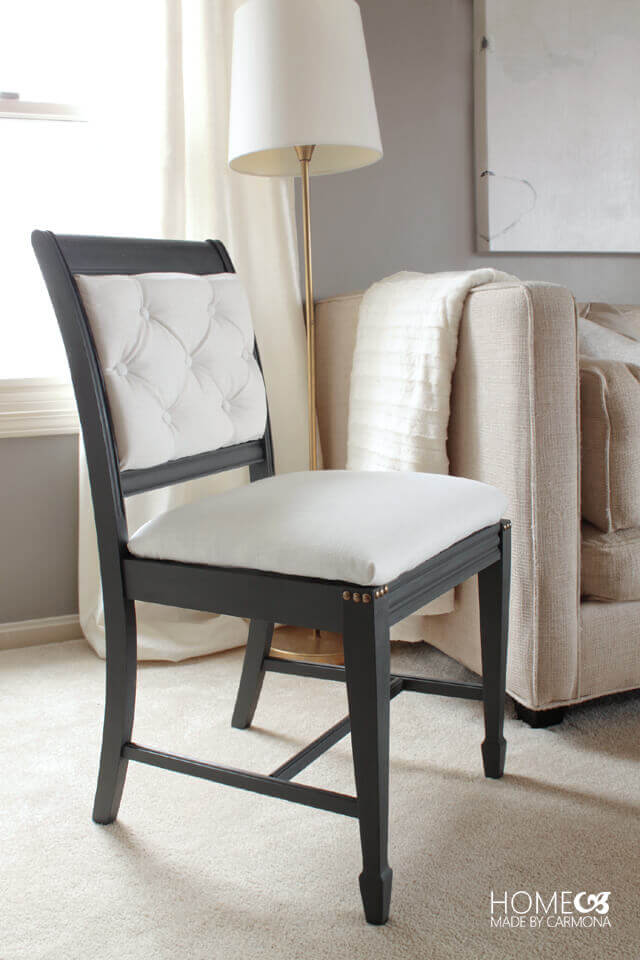 Among furniture transfer ideas, you can opt for not just painting over a chair, but also changing specific pieces like the cushion and backing. Switching out the cushion is a wonderful way not just to enhance the appearance of your newfound chair, but to simply make it more comfortable to sit in. The paint job is another nice touch as it can help your chair better blend into the dining room or any other room you've decided to use it in.
13. Stylish and Contemporary File Cabinet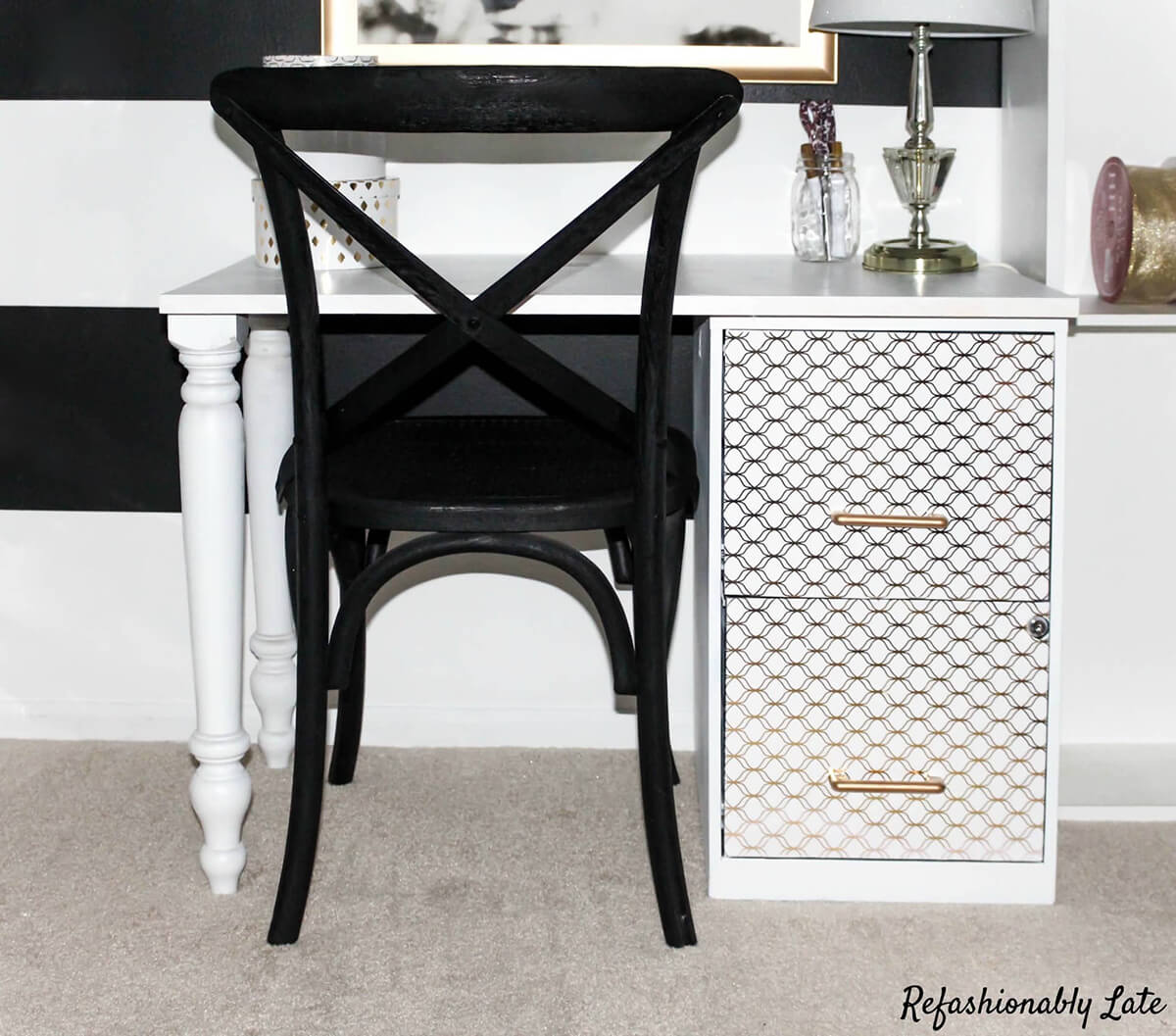 Sometimes you need the right furniture decor transfers that will highlight a more contemporary theme in your room. If you have a medium-sized to small surface area like what's found on a file cabinet, then some decorative wallpaper will be a wonderful choice. This type of transfer is effective and reliable. The result is something that can blend into your room's modern decor while still standing out. If you want to emphasize the pattern even further, consider giving the furniture a new paint job. Going a lighter route like white or even off-white is a good choice to let the pattern in the wallpaper pop.
14. Fun Outdoor Spray Paint Renovation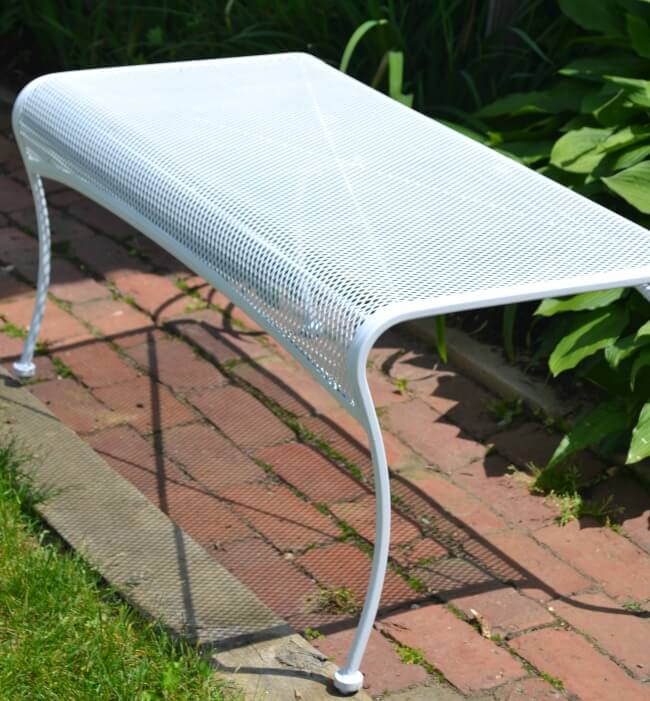 Outdoor furniture doesn't need to be forgotten if you're going on a makeover spree. With this type of furniture, you do have to take more care in your choice of materials so that they will actually hold up against weather changes. Even so, there is plenty you can do here. You can take a darker or lighter route depending on your particular style. Spray paint can make everything more efficient as the finished product winds up looking more even. It is a quicker process too so you can get done fast and admire your handiwork.
15. Stunning Painted Farmhouse Table Transformation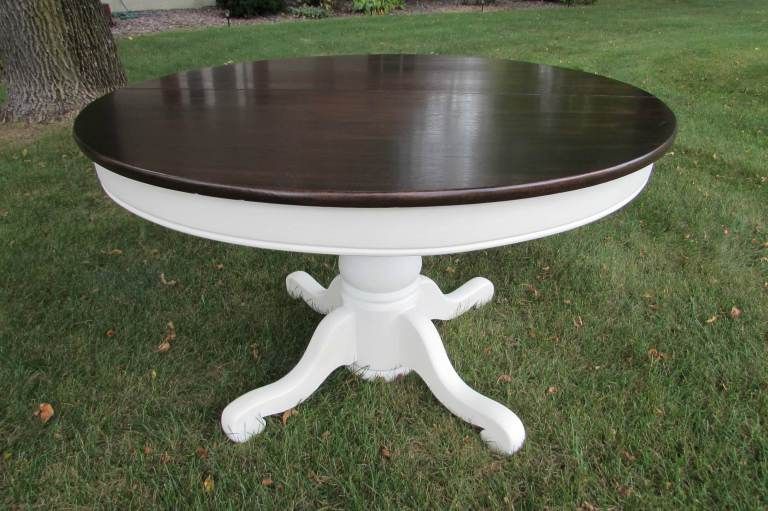 If you decide to head in a new direction for your kitchen or dining room theme, you don't have to rush out and buy a new table. With this project, you can simply adapt your current table to give it a more farmhouse-like appearance. It's incredible to see just how much paint and a new staining can completely reinvigorate a used piece of furniture. Consider giving the table a bit more dimension by going for a light chalk paint like white. This gives great emphasis to the bottom half of the table compared to the darker wooden surface on the top.
16. Dark Denim and Detailed Double Doors Console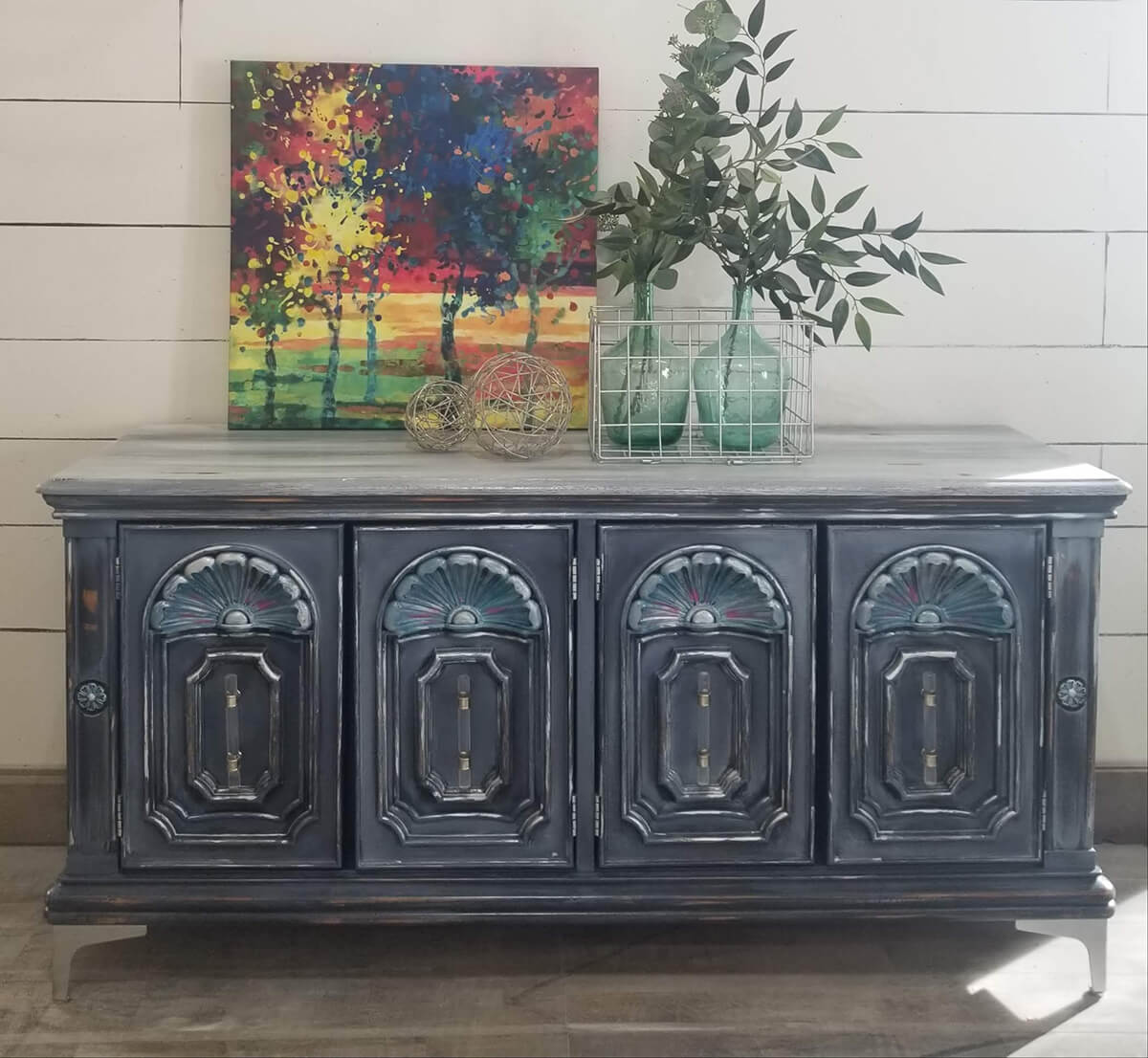 Make a bold statement in your entryway, dining room, or bedroom with this multipurpose console table. Its large-size commands notice and the gorgeous dark denim finish with pink and turquoise accents gives it a lot of originality and character. It's a great place to throw your keys and purse as you enter the home, yet makes a great modern take on the traditional buffet in the dining room. Don't forget the bedroom where this console offers a lot of storage inside the two sets of double drawers as well as providing a firm foundation for your flat-screen television.
17. Boho Chic Vintage with Floral Print Drawers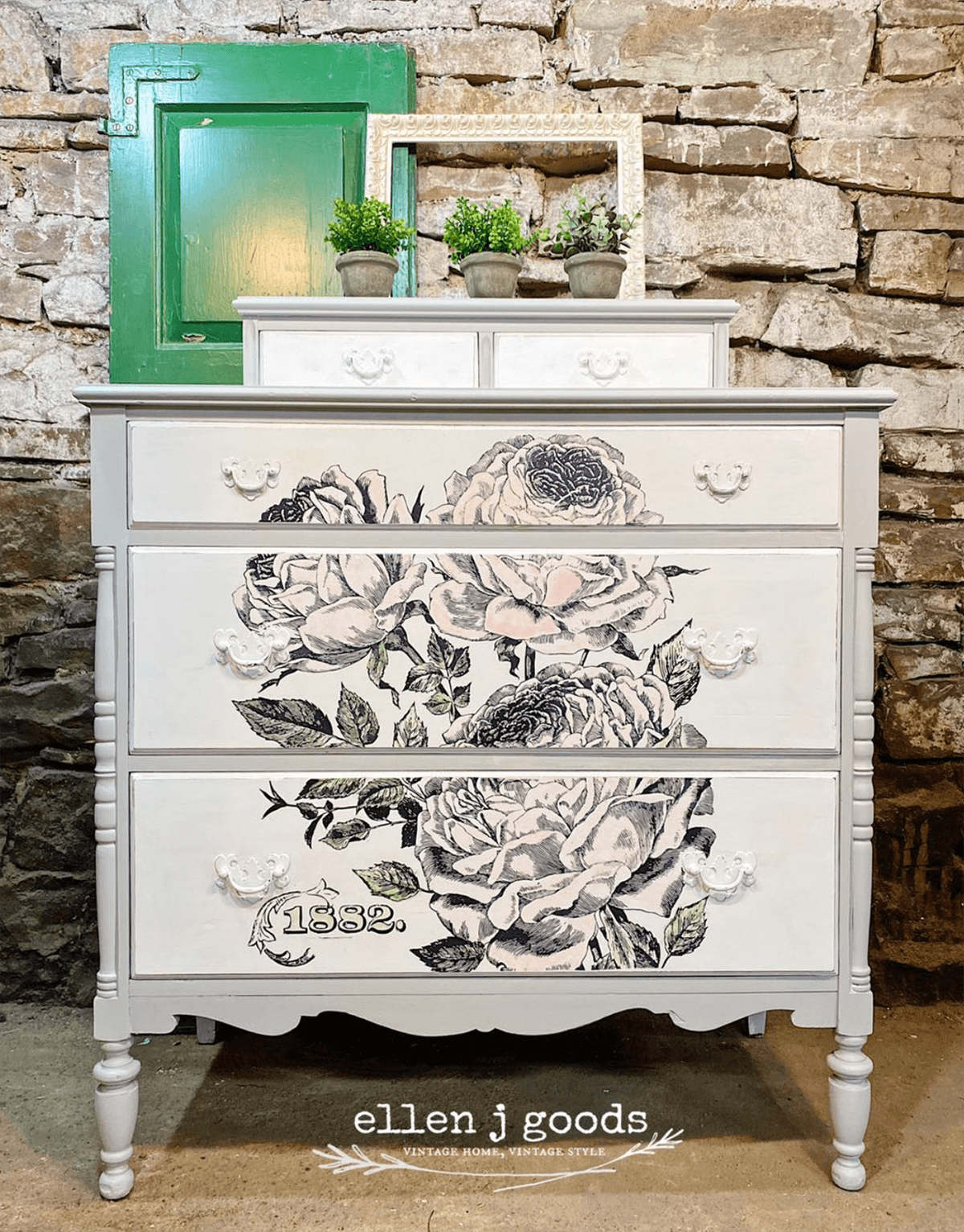 This lovely vintage chest of drawers comes back to life in a powerful way with this dainty and feminine floral print adhered to the front. The botanical bounty crafted in pale pink and green with black outlining offers a Victorian vibe for the overall beauty of this drawer system. Set on a solid white background, the finished piece projects a boho-chic charm that would be perfect in your cottage or snug in your guest bedroom. The sturdy spindle legs add more character along with the small set of drawers on top.
18. Repurposed Table Fabric Covered Ottoman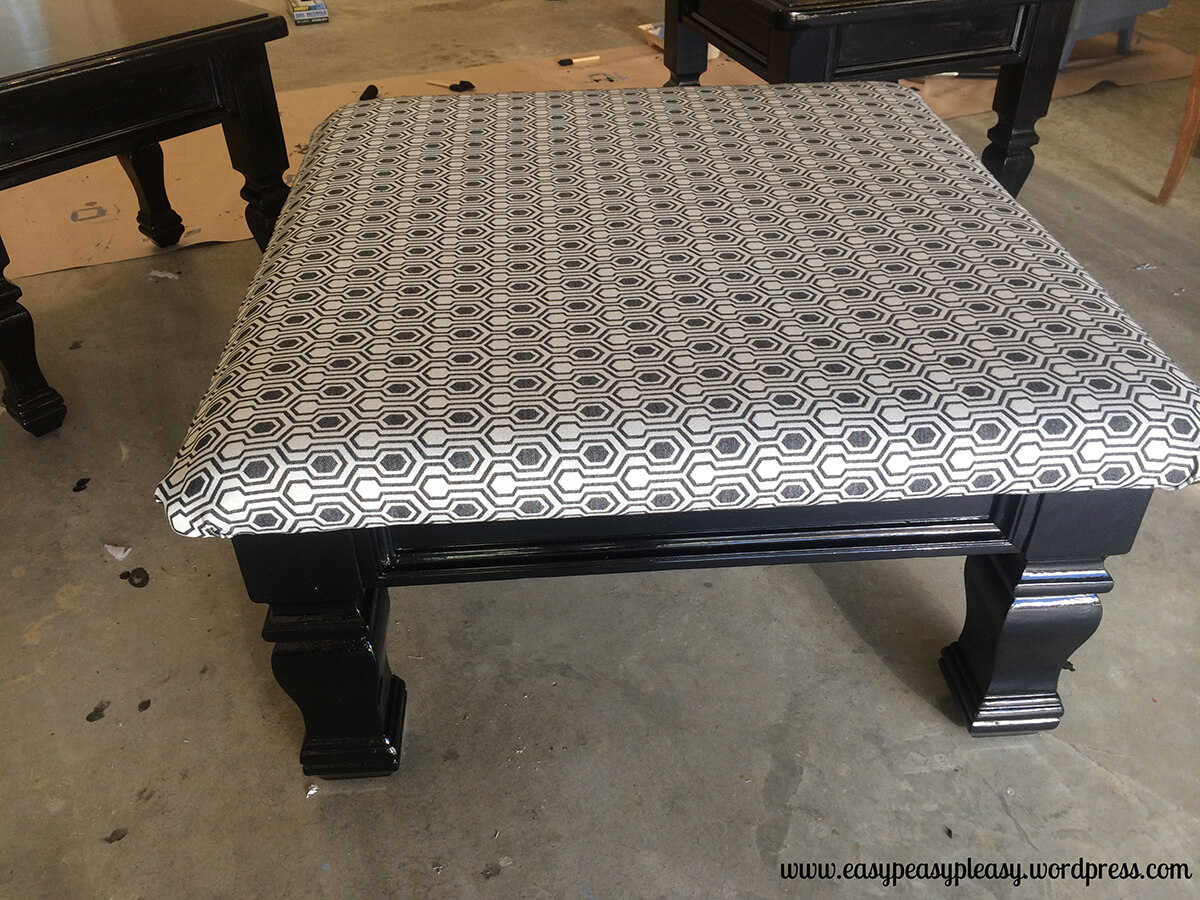 Wondering what to do with those unwanted side tables and coffee tables? Give them a new life and repurpose them into ottomans you'll want to show off inside your home. This is a fun DIY project with only a few supplies and minimal cost. What's the best part of doing it yourself? You can customize the piece to your exact specifications. Use a bold fabric that matches or coordinates with your existing pieces to achieve the look you want. This ottoman would be a welcomed addition to a comfy chair in a reading nook or to help guests take a load off in the guest room.
18 Best Furniture Transfers That Will Elevate Your Home's Decor
Many of us have old furniture that we just can't get rid of, but with the best furniture transfers project, you can don't have to throw things out anymore. Instead, you can give that aging furniture a much-needed facelift. Projects such as these take recycling to new and incredible levels. At the same time, it also gives your home a more distinctive touch now that you have decorative and functional items that no one else has.
Also, these projects can be a great way to get furniture that best suits the theme in the room so you aren't browsing countless stores to find the right item. They can work on several types of furniture too such as chairs, tables, and dressers of various sizes. Your imagination and creativity may be your only limits in this case. So, feel free to let any of these project ideas inspire your next hands-on project so you can create something that is exceptional and will capture anyone's attention in any room. This is especially true when paired with a cool-toned paint background.