We all have photos stored on our hard drives that we have been meaning to print or pictures set aside waiting to be put on display. If you have wedding photos, family portraits, or some amazing vacation photos, you might be looking for a cohesive and attractive way to hang them. Sure, you can (and should) create a photo album to commemorate those big life events, but why not show off your favorites? Every home has a blank wall that would be perfect for a gallery. From the entryway to the stairway, there are many opportunities to add a bold focal point to your home and showcase beautiful photographs, artwork, and unique items like that treasured flea market find.
32 Gallery Wall Décor Ideas to Try Out

If you're on the lookout for some beautiful gallery wall ideas or looking for a way to exhibit a cool architectural piece, you've come to the right place! You can create the perfect display whether you want a high-end presentation for professional photos or a seemingly random gallery of art and decor. We have compiled this post round-up with galleries to inspire every designer. Check out these 32 amazing gallery wall designs to draw inspiration for your very own incredible decoration!
1. Gorgeous Neutral Hallway with Rustic Elements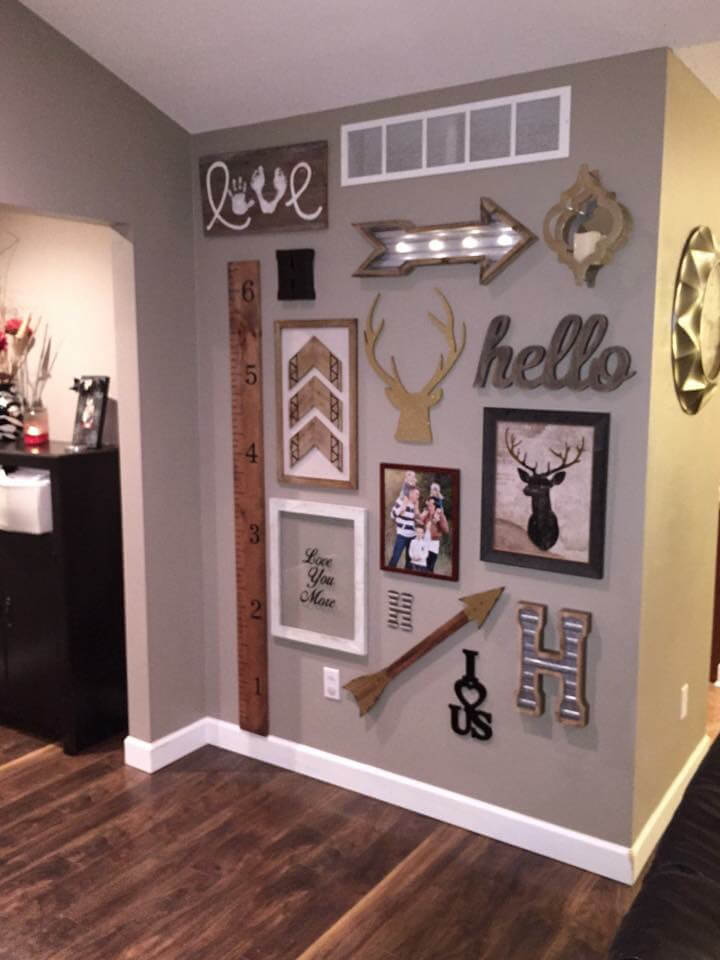 If you want to give your home a rustic touch, using rustic inspired wall decor is the way to go. Mix and match the elements with one another to make it truly stand out. Using things like illuminated wall hangings, wooden cutouts, cute lettering and a family portrait are good things to incorporate into your wall. Remember to keep in mind the color scheme while doing this.
2. Create a Cheerful Display with Bright Colors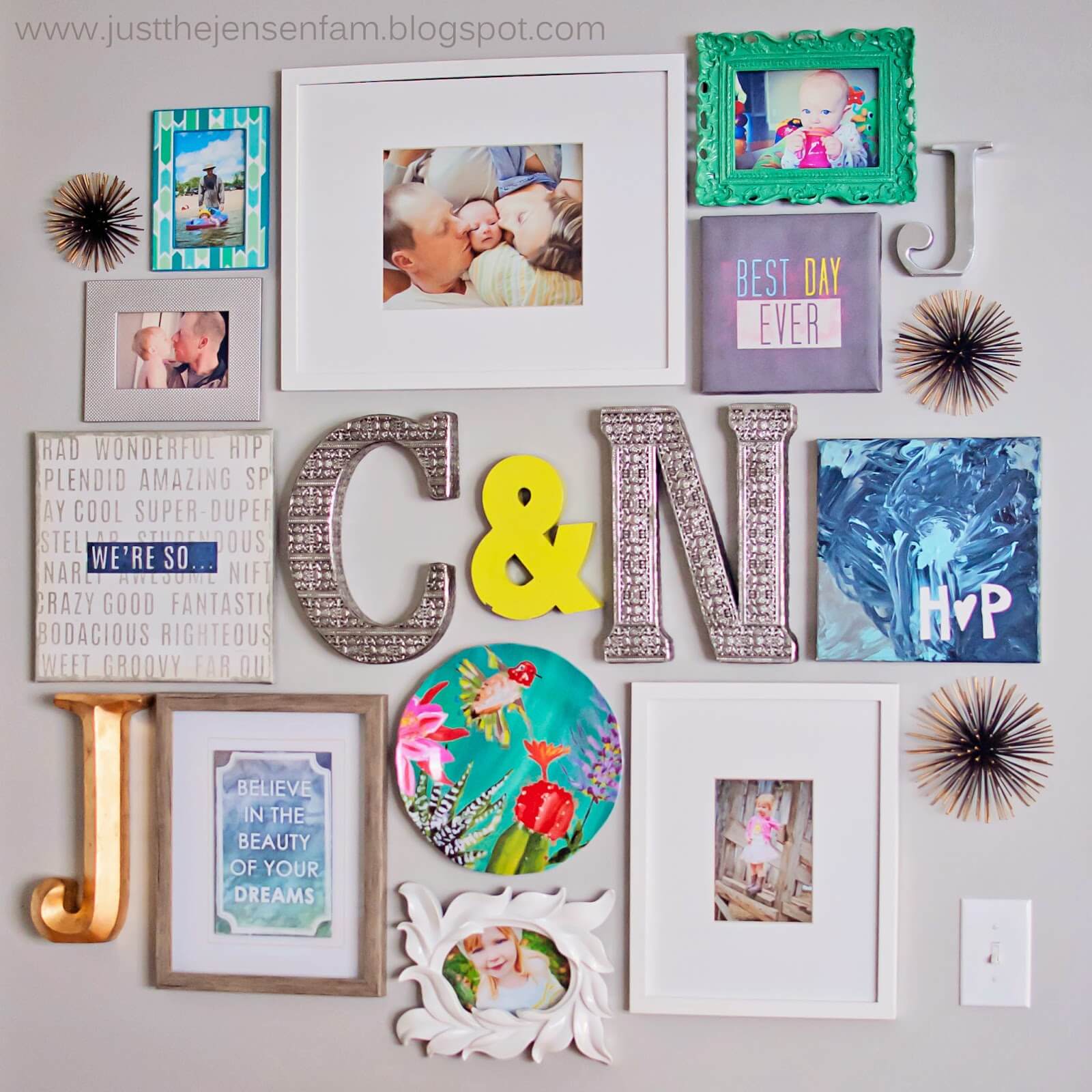 Add a bit of color to your walls with this beautiful multi-colored wall display. Hang letterings in bright colors (one for every member of the family) along with photographs in bright colored frames. Add a few inspirational quotes to complete the room and give it a personal touch. If you are going for this look, don't be afraid to use bold colors, because that is what brings out the look of the room more.
3. Special Moments Gallery Makes Time Stand Still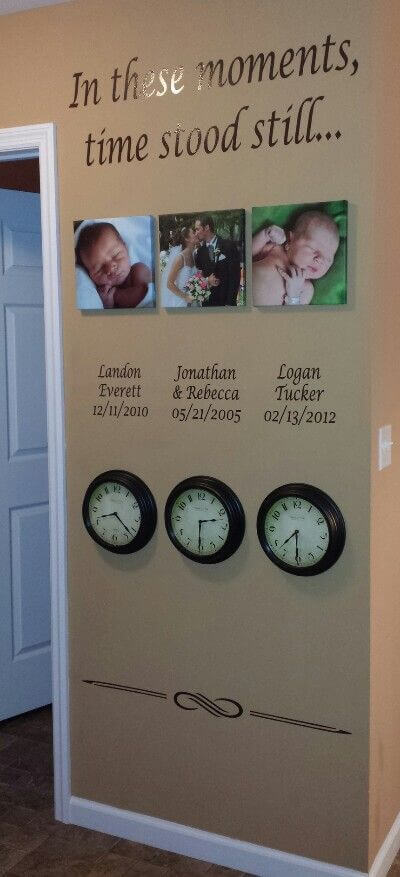 If you have a few special moments that you want to put up on your walls, place photos together with their descriptions underneath. The text in this picture is made using metallic tones, making it stand out more as compared to the rest of the wall that it is on. You can also add a few clocks below every painting to denote what time the special moment happen. Just make sure that everyone at home knows that these clocks aren't functional, lest they get late for something they need to do!
4. Suspend Multiple Frames at Different Heights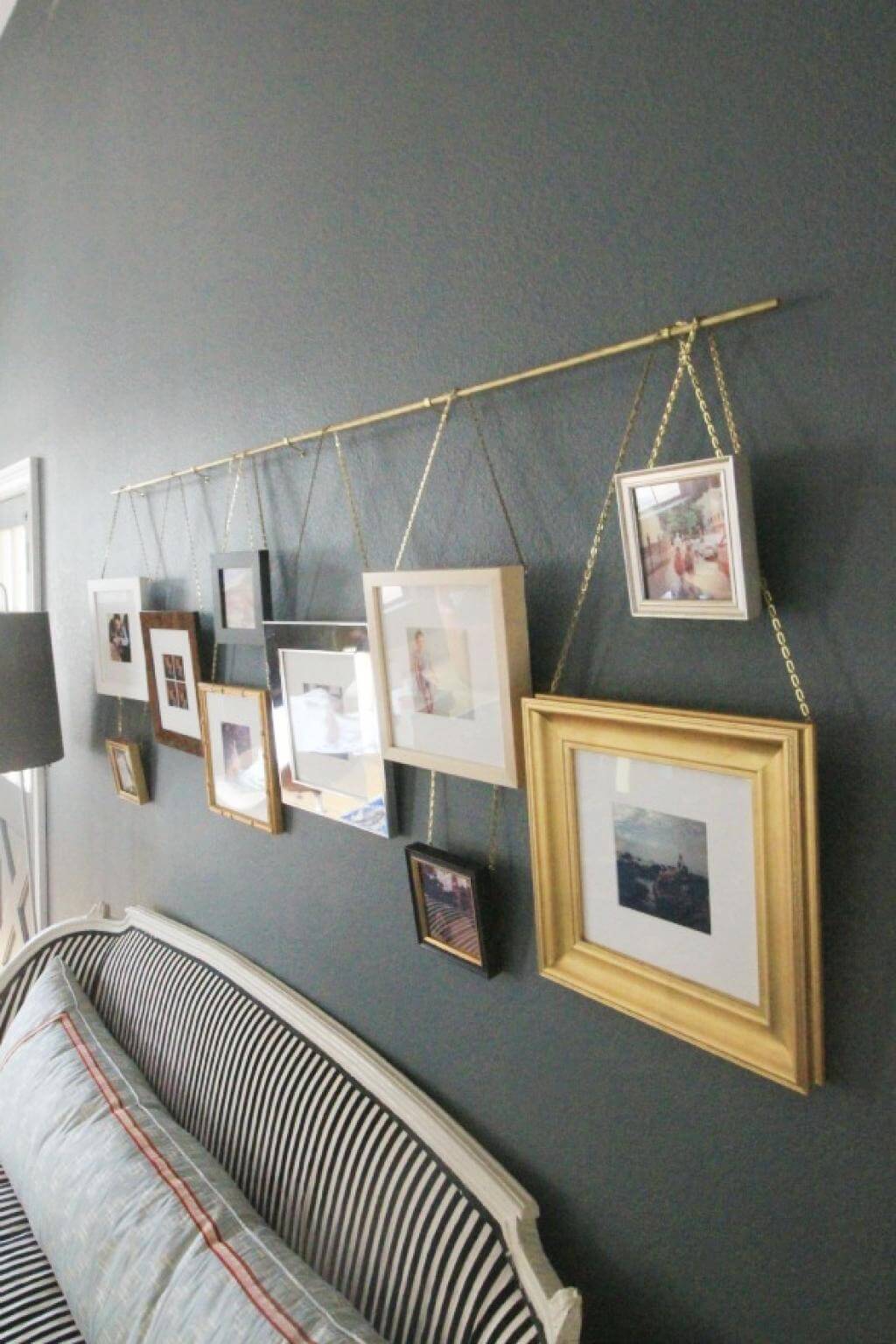 Hang your paintings in a somewhat unusual way by using a curtain rod and gold chains. It makes your home look more artistic, and makes it look more polished and well tuned. You can use frames of multiple colors and shapes, depending on what you like. Choose the color of the chains and rod depending on your room and what would go well with it. Contrasting colors always work well, especially if your wall has darker tones.
5. Funky Frames Make a Gallery Wall Pop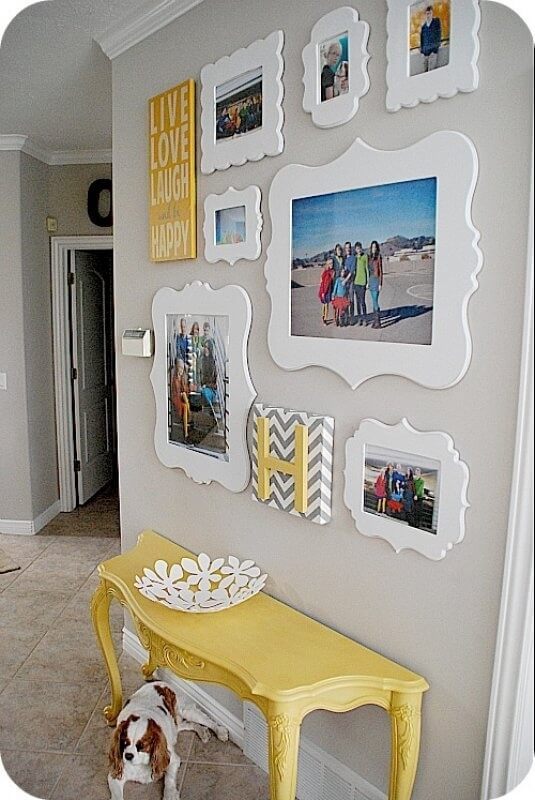 Give your wall a makeover by using intricately designed frames rather than standard border ones. They make your pictures and paintings look a lot more fresh and cool, and helps to add a few beautiful elements to the walls. You can also add a bright quote painting to add a pop of color to your wall.
6. Mixed Media for a Trendy Gallery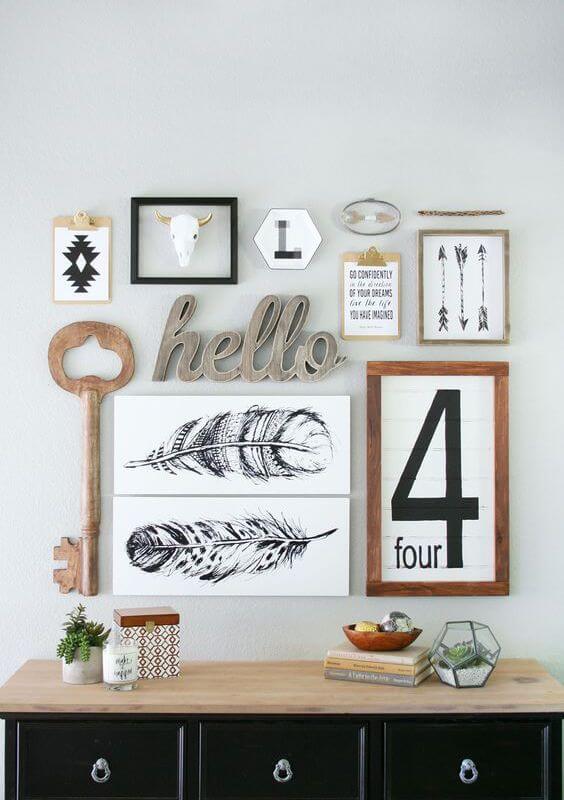 If you aren't sure of what theme to go with, work around a color scheme instead. This one uses a varying number of browns to pull the accents together and make the wall look more interesting. Combining clipboards, lettering, wooden cutouts and 3D art to make the wall look versatile.
7. Black and White Makes a Regal Statement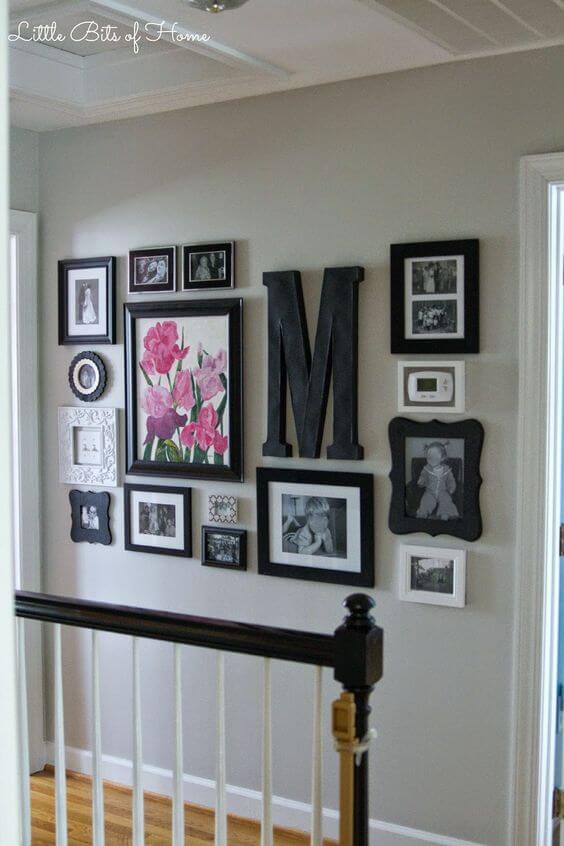 If monochrome is more of your thing, make a wall using black and white frames, paired with black and white photos. If you want to add just a little bit of color on your wall, let one large painting be colored instead of black and white like the rest. Make sure that the wall that you do it on is a monochrome hue as well.
8. Square Gallery for Museum-Quality Display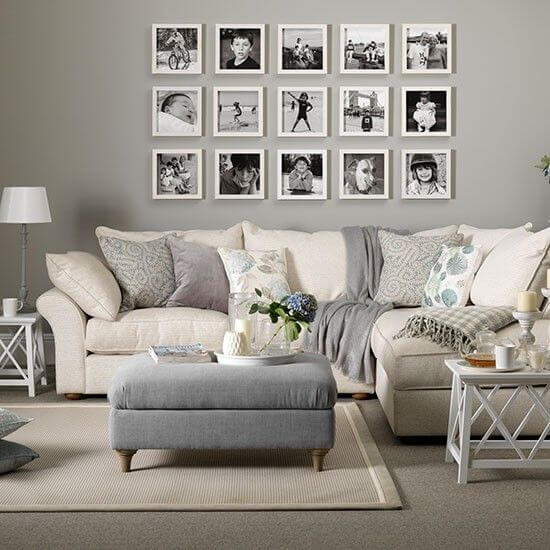 For the perfectionist who wants the entire room to look well organized and perfect, this one is for you. To incorporate a well put together gallery on your wall, multiple get square photo frames and hand them one by one as a grid. Three or four lines with the same amount of rows will work well to make it seem perfect and like a well-designed art gallery.
9. Create Your Own Family Tree Gallery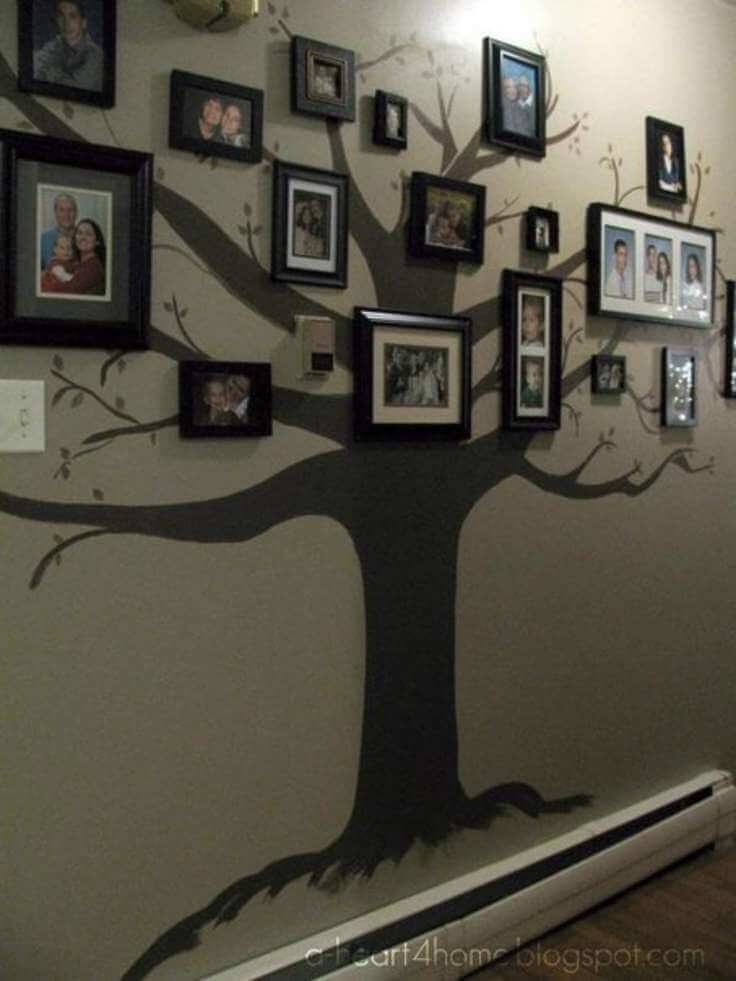 Family Trees are a great way to incorporate every single member of the family on one wall. Using a tree stencil and by placing photos of members of your family, you can easily achieve this look and elevate the look of your home. You can play around with the frames and the stencil of the tree according to your personal preferences and depend on what you like.
10. Cream Display with Antique Statement Pieces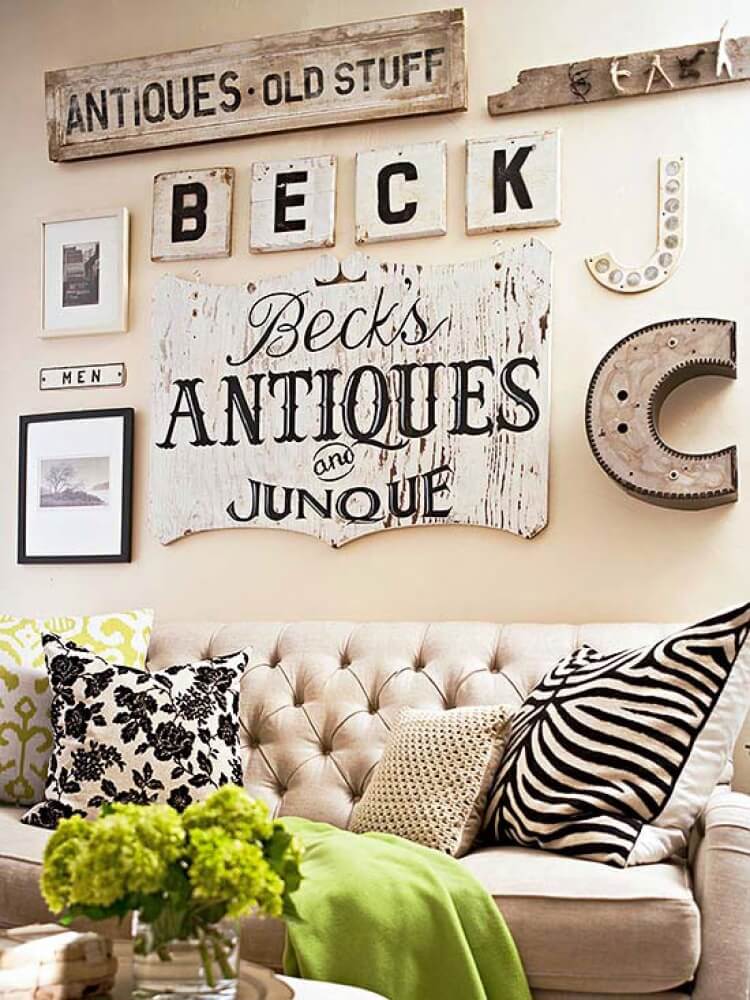 Vintage is always beautiful, and by incorporating vintage accents with one another, you can put together an appealing and eye-catching wall. You can use a mix of lettering and landscape pictures to complete the look of the wall and to give it a nice personal touch.
11. Seaside Shadowboxes Make a Gorgeous Arrangement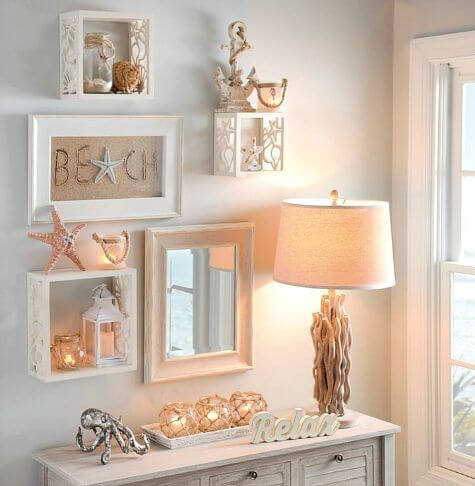 If you are lucky enough to live on the coast, having a coastal themed wall is a good way to go. Use patterned shelves with seaside shadow boxes to make your home feel incredibly beautiful. You can personalize this as you want, and put individual coastal themed items into the shelves.
12. Oversized Wall Clock from Candid Photos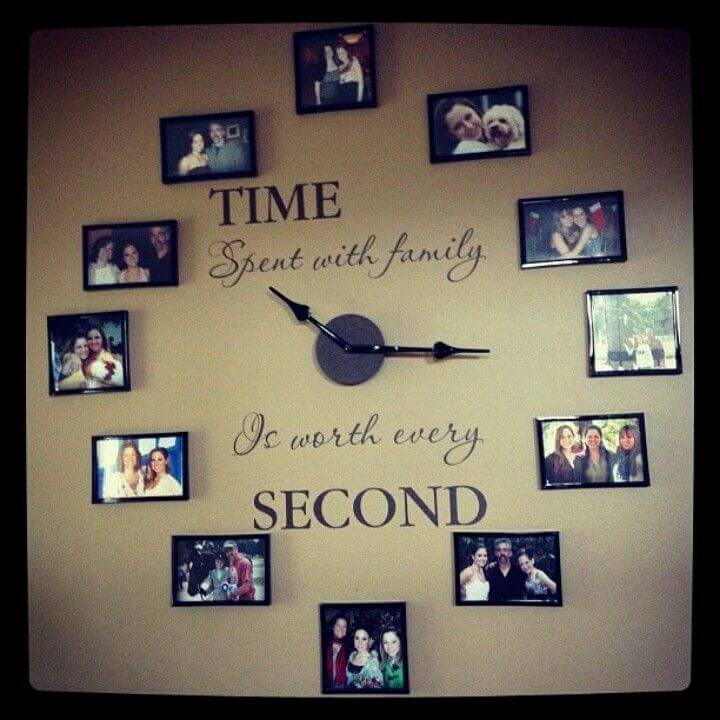 Confused whether to use your wall for your clock or your frames? Why not both them. This is incredibly simple to do, and all you need is twelve frames and place them at intervals in a circle. Fix a clock dial in the middle of the circle so that you can tell the time. It's a great way to save your timeless moments while giving you the gift of present time.
13. Powerful Message from Mixing Words and Images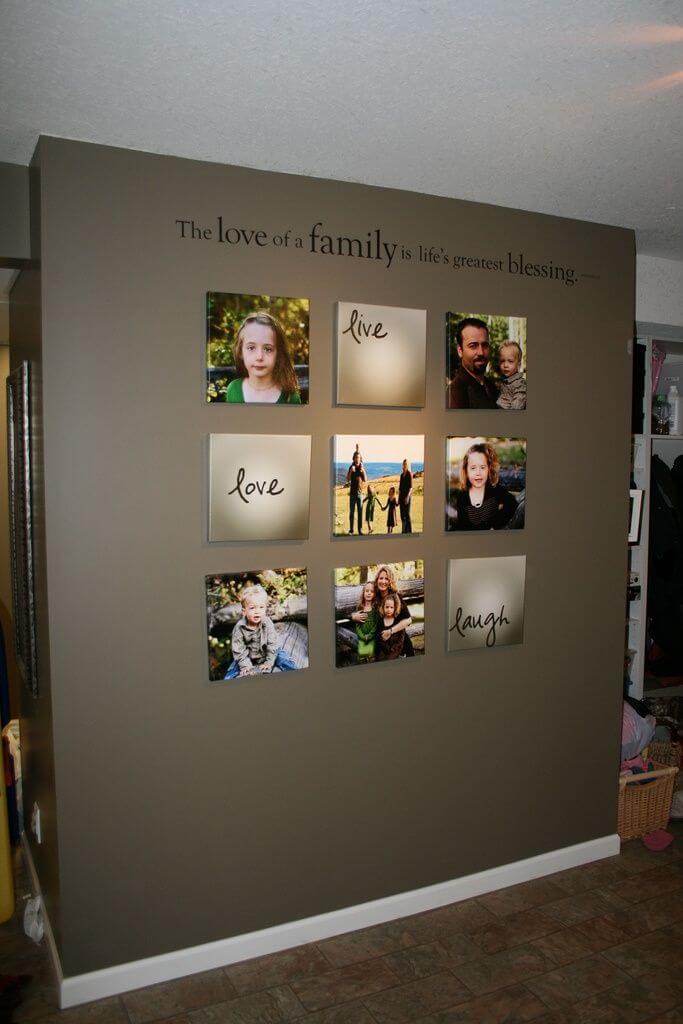 Grids are one of the simplest ways to showcase photos on walls, and mixing it up with quotes and words in between the frames is always a good idea. You can also add an inspirational quote at the top of your pictures to truly make your wall stand out.
14. Simple DIY Picture Ledge Gallery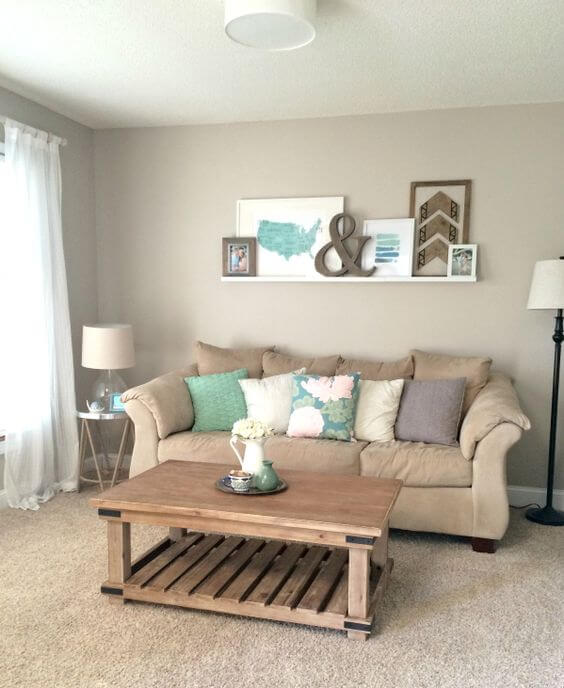 Instead of mounting paintings and pictures on a wall, make a wall shelf and let the paintings and pictures sit on it. A minimalist wall shelf always looks great, no matter what kind of home you have and what kind of textures that you have incorporated. Vary it up with frames and wooden cutouts to give it a complete look.
15. Utilize a Corner for a Bold Statement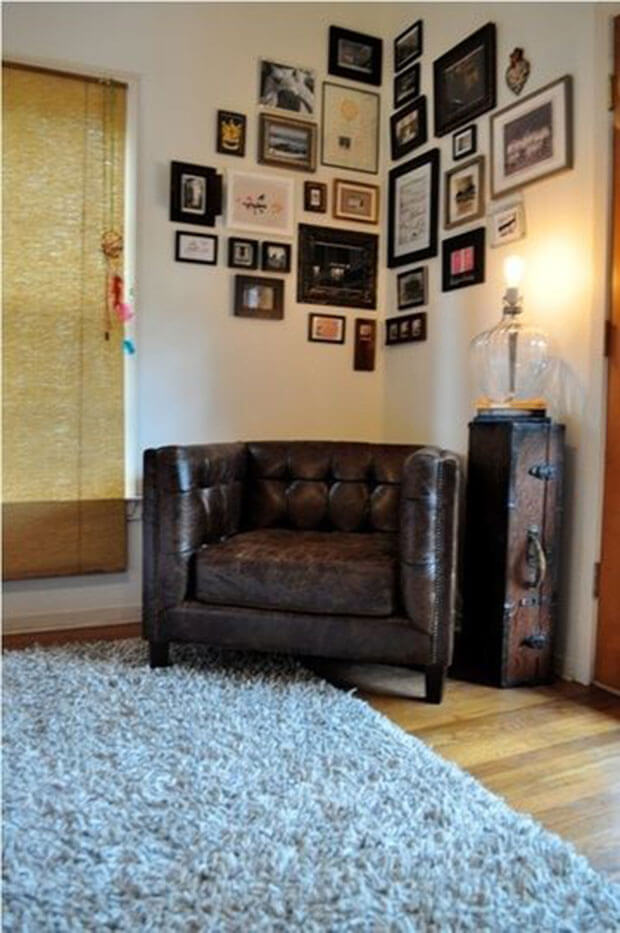 Paintings and pictures don't necessarily need to be on wall flat wall. Placing paintings on a corner wall also looks good and gives the home a unique touch like no other. A collage using frames of varying shapes, sizes and colors works well to amplify the look of your entire room.
16. Add a Chair for a Cozy Retreat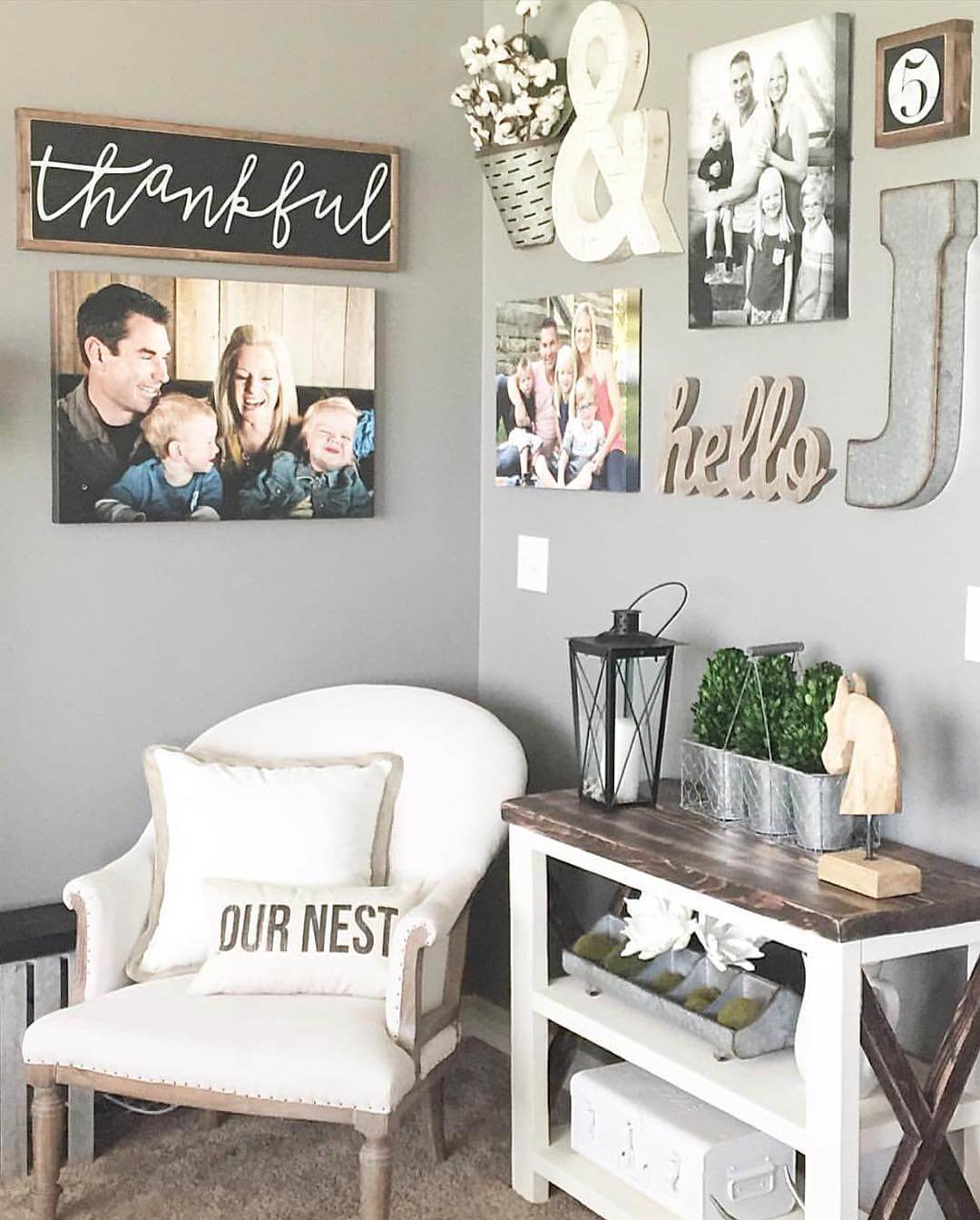 You don't need to only use one entire wall for your home. Try using two entire walls to make a more spread out art gallery of sorts to make the room look like a piece of modern art. Add a nice vintage looking chair just below the paintings to give your room an additional accent that stands out.
17. Dark Walls Make a Big Impact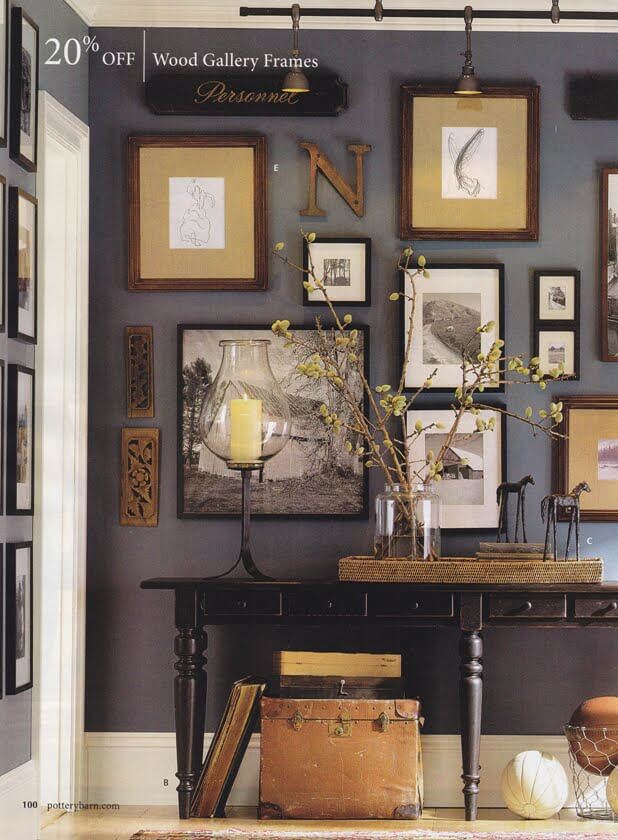 Even though a lighter color scale wall looks good, using darker colors works just as well. This wall has a mix of photo frames that are in darker tones like brown and black. The photos and paintings used in this are also in keeping with the color scheme, and help to improve the look of the wall altogether.
18. Combine Vinyl Decals and Family Photos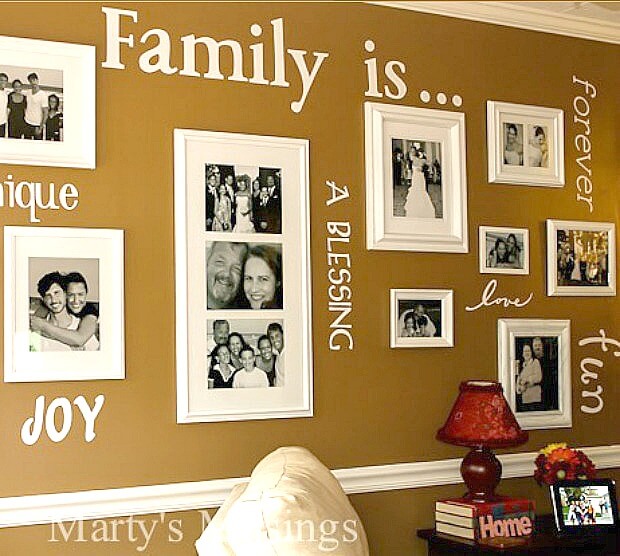 If you want to personalize your wall and add special wordings to your pictures, use vinyl decals. They are easy to find and customize as you like and will make your wall look more personalized. You can space out your pictures and frames as much as you want because closer together, it would look rather cluttered.
19. Marquee Letters Light Up the Room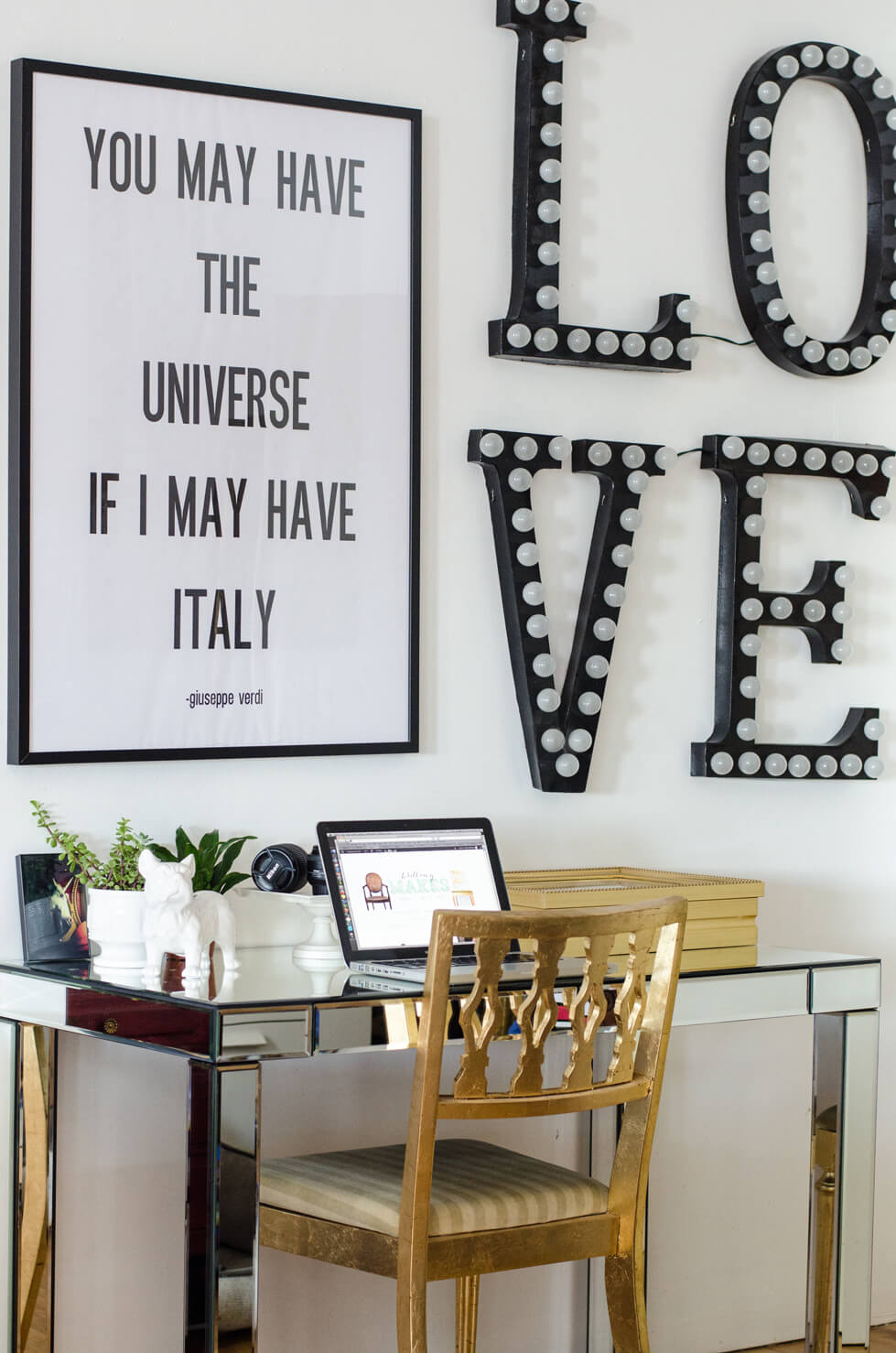 Your decor doesn't only need to be for show; it can be highly functional too. Using Marquee Letterings that light up on your wall is a good idea if you want to illuminate your room more, and make it look more welcoming. It also means that you have to invest in fewer lamps to light up your room.
20. Create a Gallery Wall in the Kitchen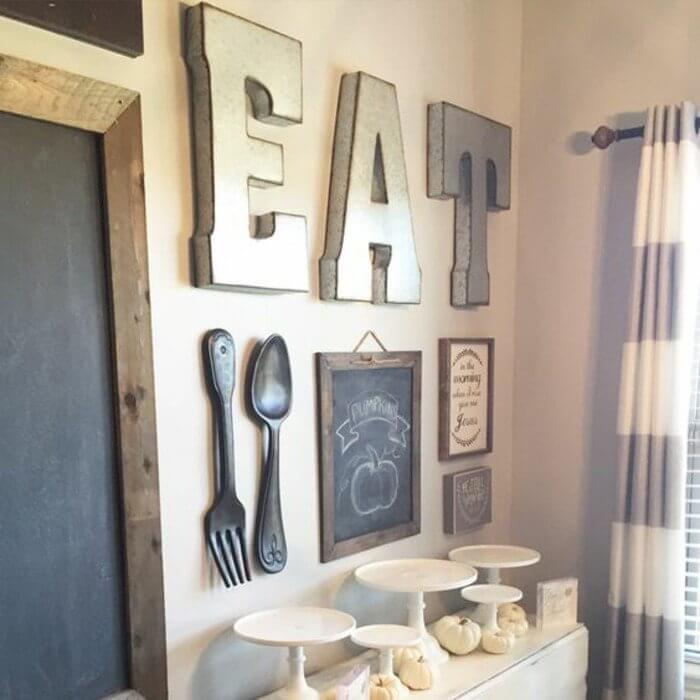 A Wall gallery isn't only for the living room or dining room; it can also be used to spice up a kitchen. Using lettering and showpiece spoons, you can create a nice food-themed wall and even add a chalkboard so that you can jot down all the important things while you prepare delicious meals.
21. Utilize the Wall Beneath the Stairs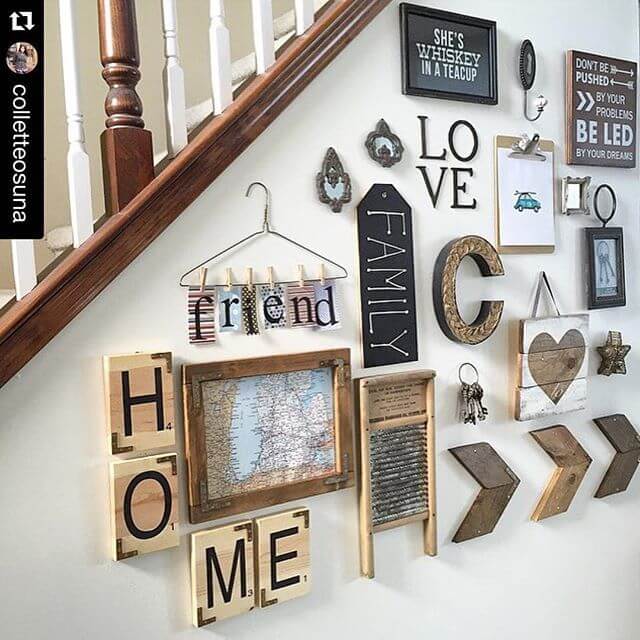 Most people don't think of personalizing the wall below the stairs, even though they absolutely should. The wall can give you ample amount of space to mix and match your decor and frames as you like. Using lettering, clipboards, wooden accents, pictures and a key holder, you can elevate the space that is left unused.
22. Fill the Space with Striking Pieces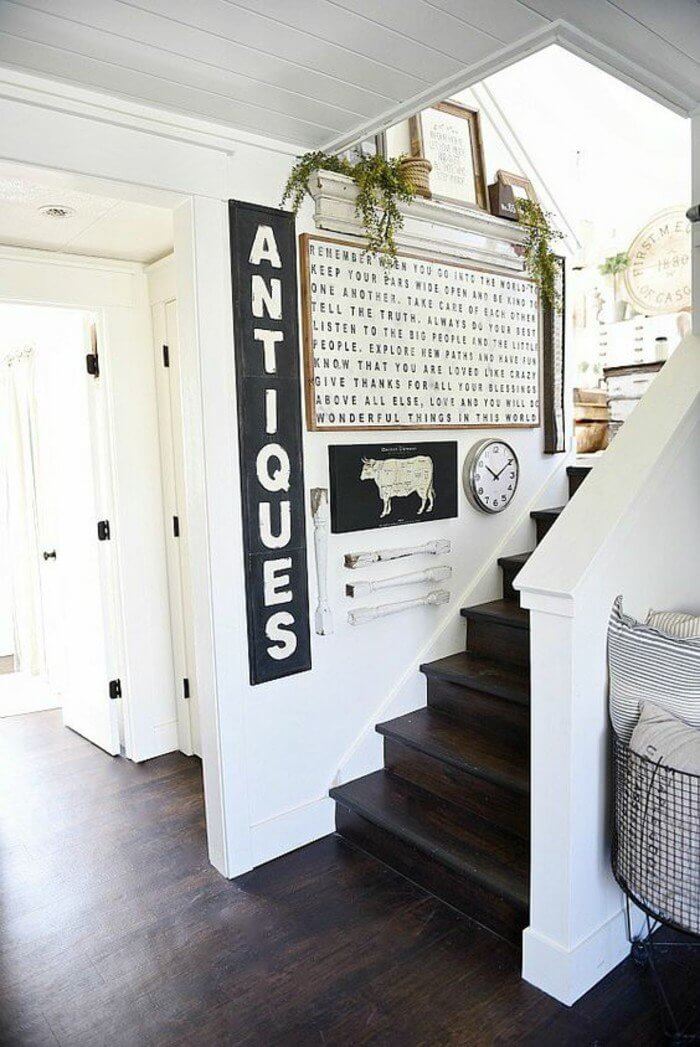 You don't need always to have multiple different frames to look nice. If you have just two or three good statement pieces, pair them up together on a wall to give it a makeover and to make it look more appealing. For this one, remember, the bigger, the better.
23. Family Portraits Centered Around Your Monogram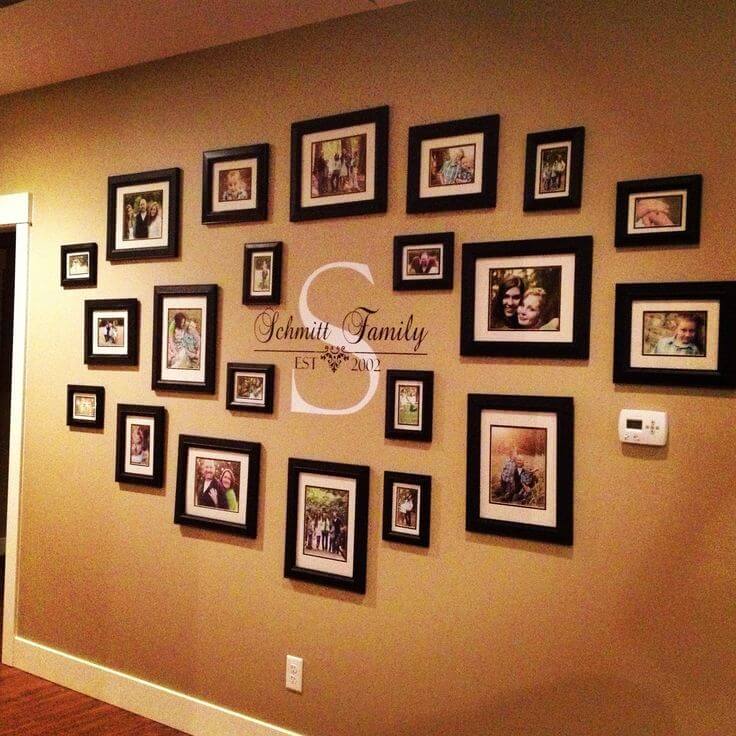 If you do like multiple small frames put together, getting a mix of ten or more paintings and placing them around a monogram of your name is an excellent way to showcase your memories while making your wall stand out and look like a work of art.
24. Curate Playful Prints for a Kids' Gallery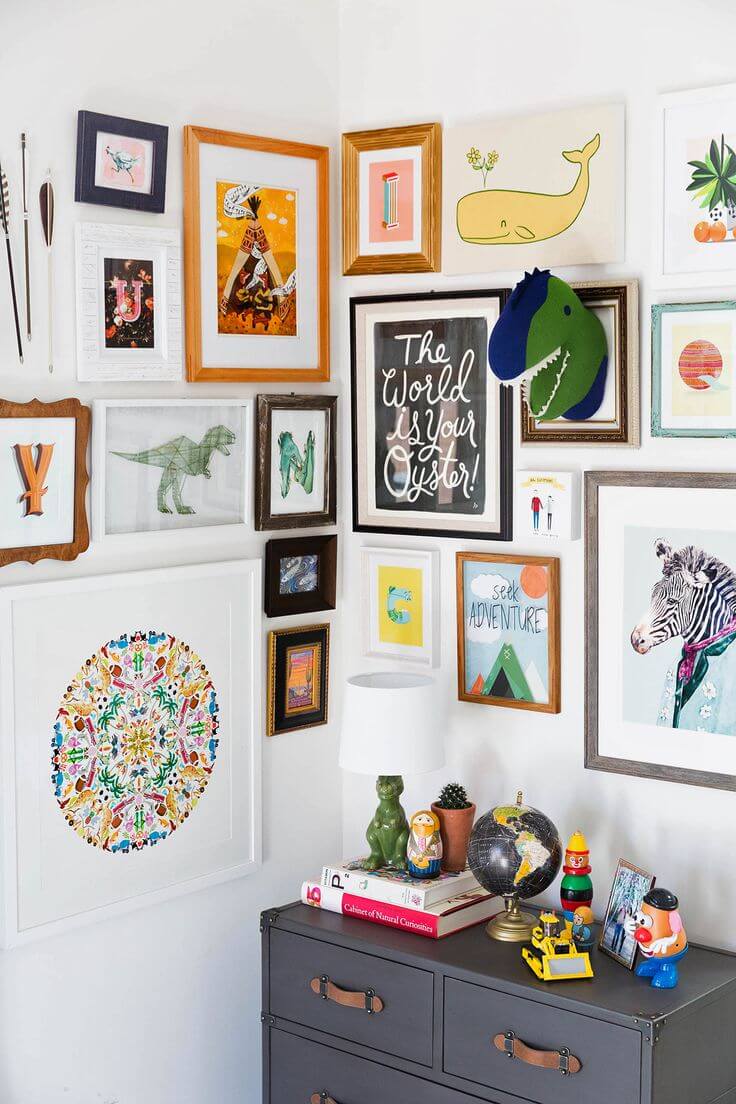 If you have a kid who likes to draw and paint, frame their paintings using fun colorful frames and create an art gallery just for them. If you want, you can also print out a few more pictures to hand up on the wall to amplify the look and make it look more organized, yet diverse.
25. Integrate Different Elements in Your Hallway Gallery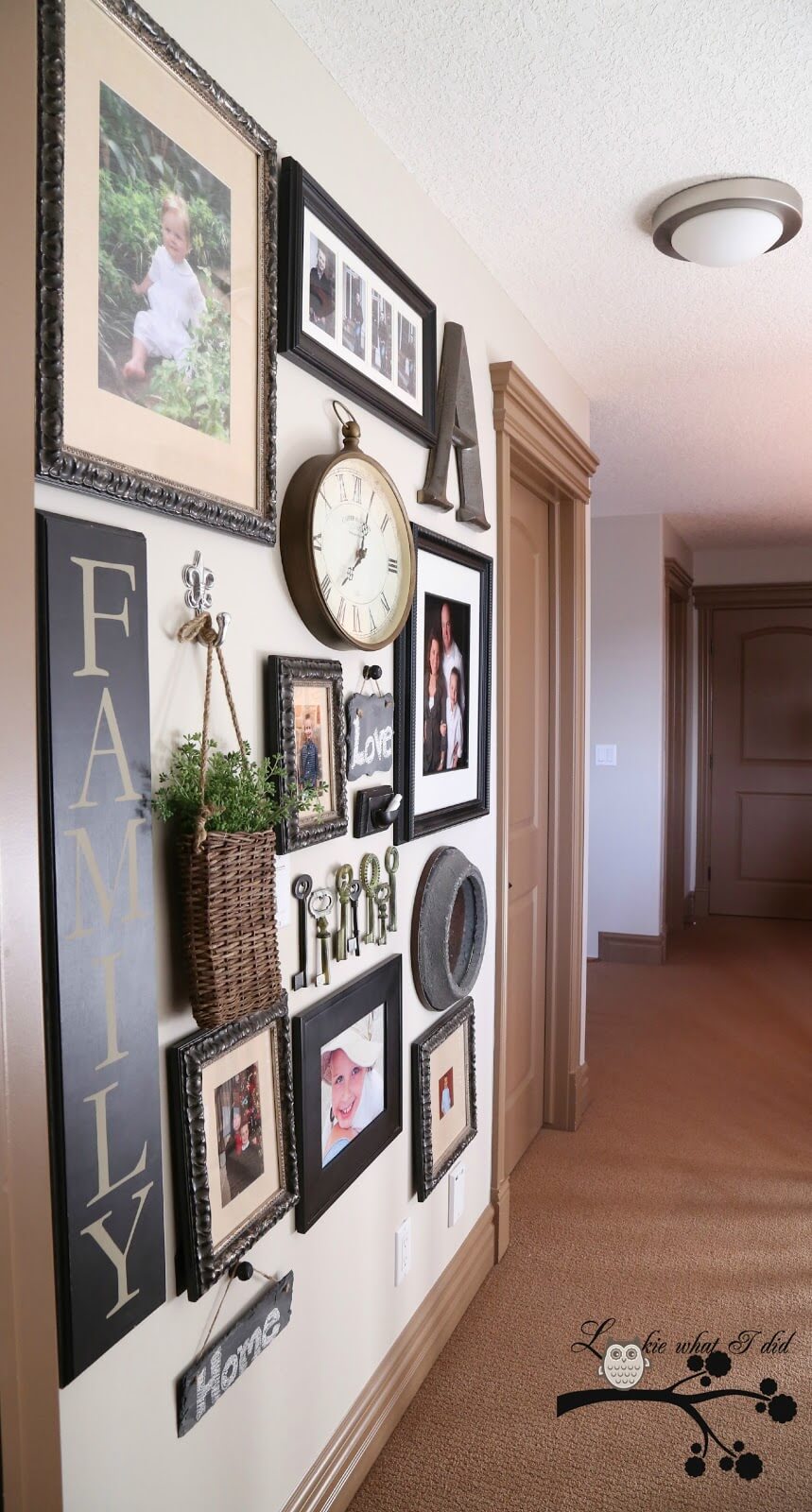 Having varied accents and textures on your wall rather than one monotonous type can add versatility to the room, making your wall stand out. Hang paintings, clocks, and a little bit of greenery in a basket for a nice complete look and feel.
26. Jumbo Scrabble Tiles Create Visual Interest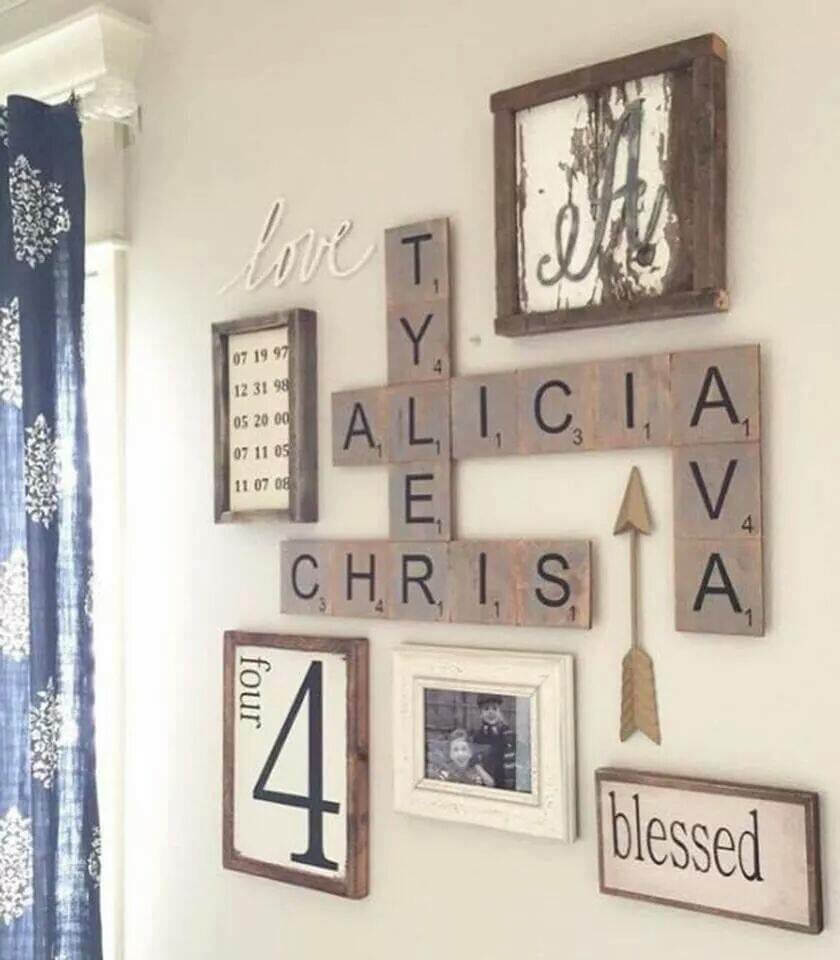 All the Scrabble lovers out there; this one's for you. Using larger wooden scrabble letters, you can add a few words or names to your wall, making it look incredibly personalized. Pair it up with a few photo frames and accents to give your otherwise plain wall a beautiful makeover.
27. Use a Soothing Pastel Palette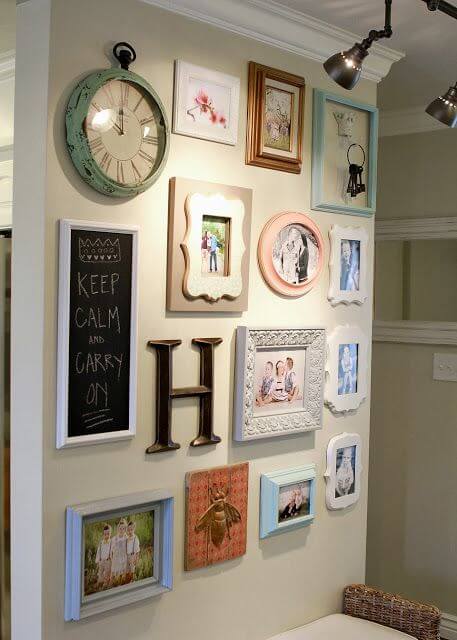 Pastel shades are one of the hottest colors right now, and what better way to incorporate them into your life than on your walls. Use a mix of pastel shades for the frames to give it a more varied look, while still looking like there is synchronicity in between them. Vary it up further by using letterings, chalkboards, and a clock.
28. Vertical Gallery Wall Decoration for Tight Spaces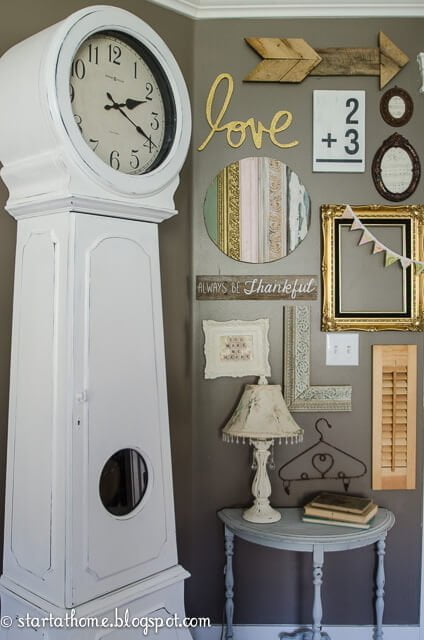 You don't need to have pictures in your frames, and something as simple as a gold plated frame can look good on a wall. Vary it up using different elements like wooden cutouts, inspirational quotes and words, and a few patterns to break the monotony of the frames. You can play around with this and add as many elements that you like.
29. Show Off Your Beach Treasures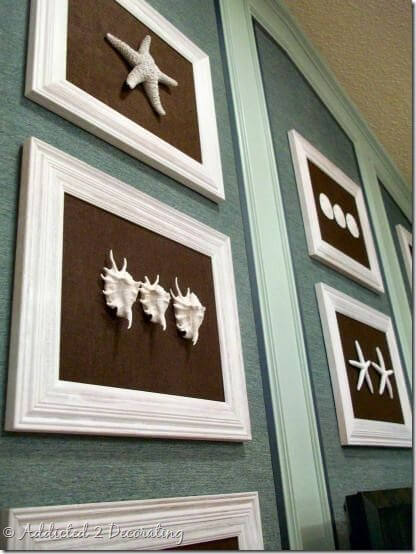 If you have a hobby of collecting shells on the seashore, why not flaunt them in a beautiful modern art gallery style wall. Use different frames for different kind of shells, and remember to use a contrasting color for the background to indeed make the shells stand out more.
30. Vintage Pieces Create an Inviting Entryway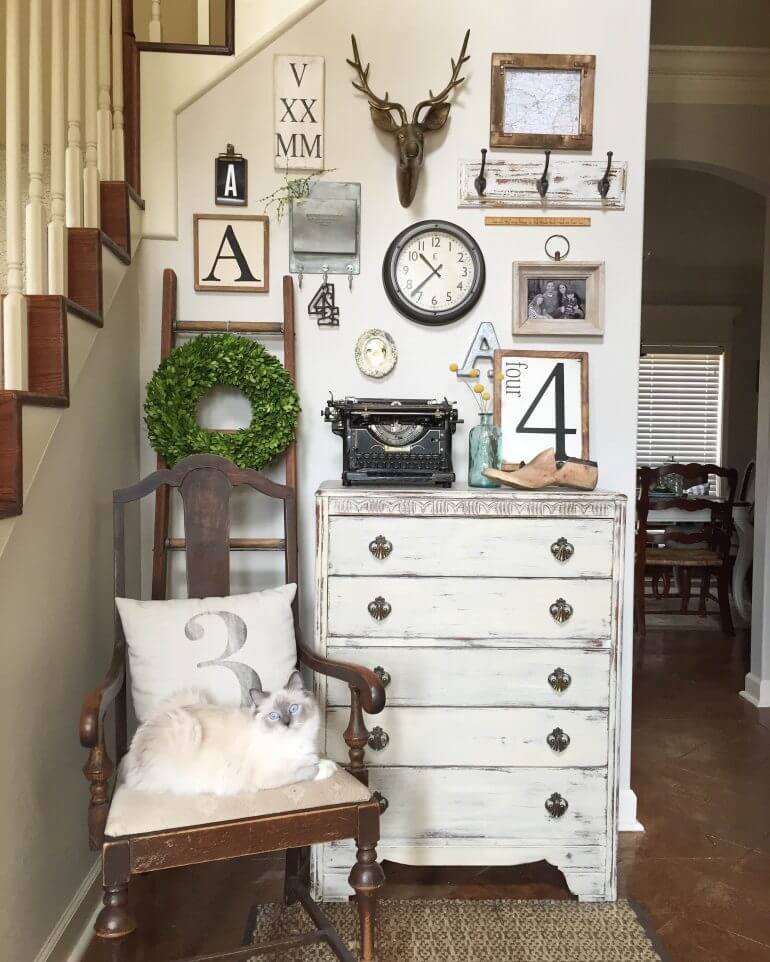 A wall gallery can also look incredibly appealing in the entryway of your home. Use varied elements of 3D art along with frames, key hangers, letterings, and just about anything that you can think of. If you are sticking to a rather sober color scheme, vary it up just a little bit with a touch of color, like this wreath in the picture.
31. Arrange Various Frames in a Square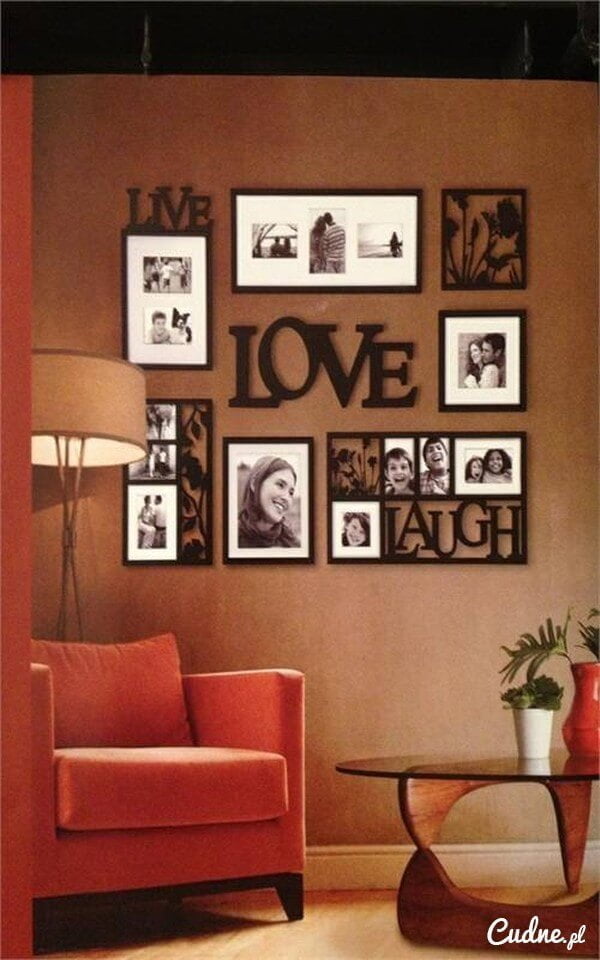 This idea works well if you have frames of the same size or varying dimensions. Placing all the home decor items in a square format is the perfectionists' dream, and it looks incredibly stunning. If you like, you could also add a few words and let in between the frames to make it look better put together.
32. Matching Cream Frames Create an Elegant Effect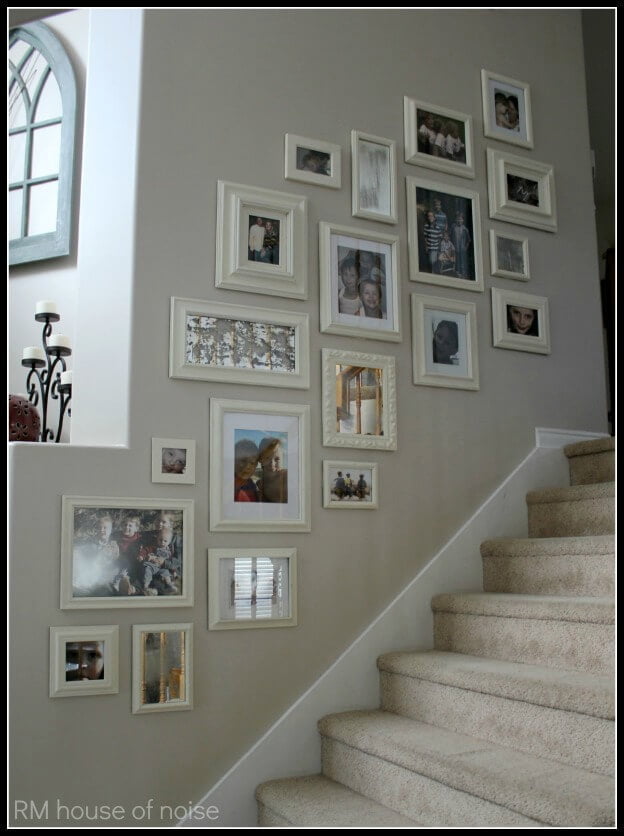 Stairway frame galleries are an increasingly popular option for people who want to make good use of this space. For an elegant look and feel, get frames that are close to the colors of the walls that you are going to be placing this on. It makes the frames blend in with the walls, while still retaining the texture that comes along with it for a beautiful effect.