Reclaimed wood is becoming a trendy material used for home decorating these days. Typically used to ship large items, pallets are such an underrated source of décor that can be used for endless projects to enhance your living space both indoors and outdoors. Pallets are also usually quite easy to come across, not to mention often free, with most being left at junkyards, beside dumpsters or even given away at your local hardware store.
27 Garden Ideas with Pallets to Upgrade Your Exterior in a Charming and Unique Way

Repurposing old pallets and creating something totally new from them can be somewhat intimidating. Surprisingly, there are so many easy projects you can create with pallets starting with simply laying them on the floor and throwing a mattress on top for a bed. Pallets are so versatile and can be transformed into almost anything you can imagine from shelves, tables and benches to garden beds, fire pits and planters.
With warmer weather right around the corner, it's time to start thinking about sprucing up your outdoor living space. What better way, than to create trendy and unique projects with pallets. It's no secret that you can create some pretty impressive furniture and décor with wood pallets. Check out these incredible ways to reuse them in your outdoor living space. The possibilities are endless, all you need is a little imagination.
1. Upcycled Pallet Planter Stand for Backyard Privacy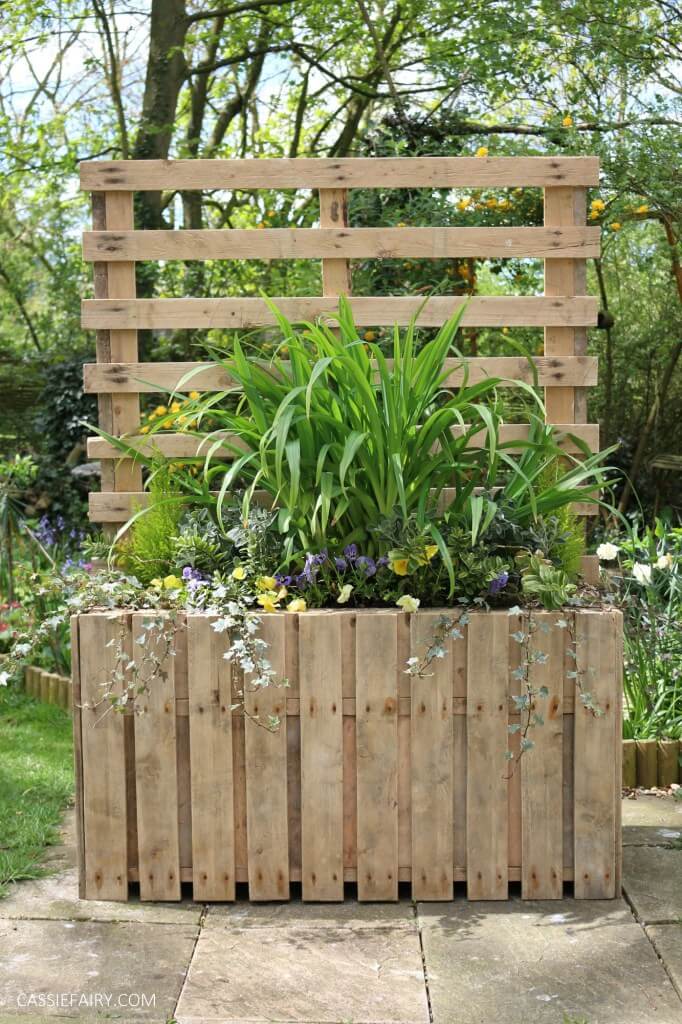 Creating a sense of enclosure in your backyard will make your space feel like a secluded and private oasis. Although you can install a privacy fence, you can also save time and money by building a super cute privacy screen using pallets. This unique pallet screen includes a built-in garden bed that you can fill with compost and your favorite flowers.
2. Expand Your Outdoor Dining Area with Pallets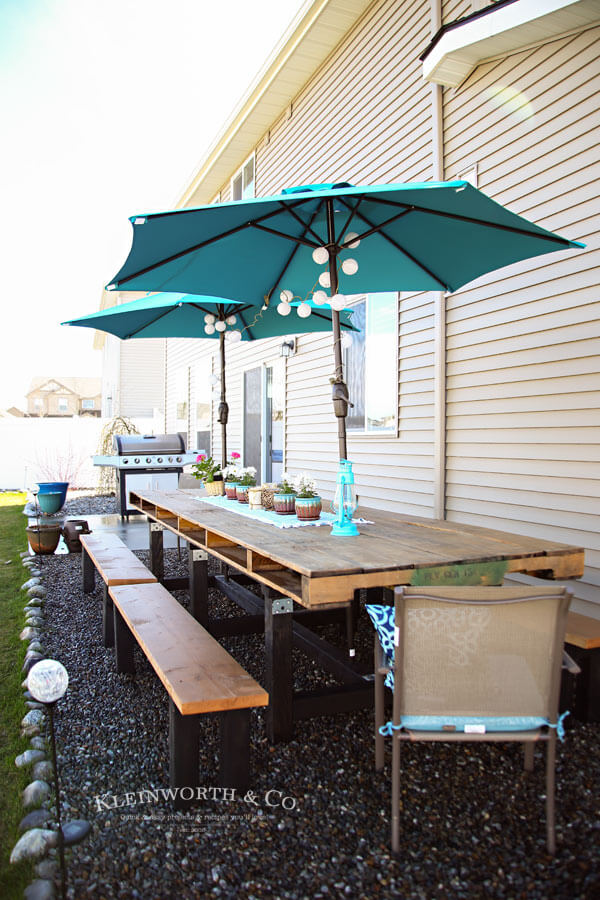 Whether you like to host large events with friends or frequently have family over during the warm summer months, it always seems to be a hassle finding plenty of outdoor seating for everyone. With a simple weekend project using pallets, you can expand your outdoor dining area that not only adds enough seating for everyone, but also gives your outdoor space a chic, trendy look.
3. A Dreamy Pallet Swing Perfect for Relaxing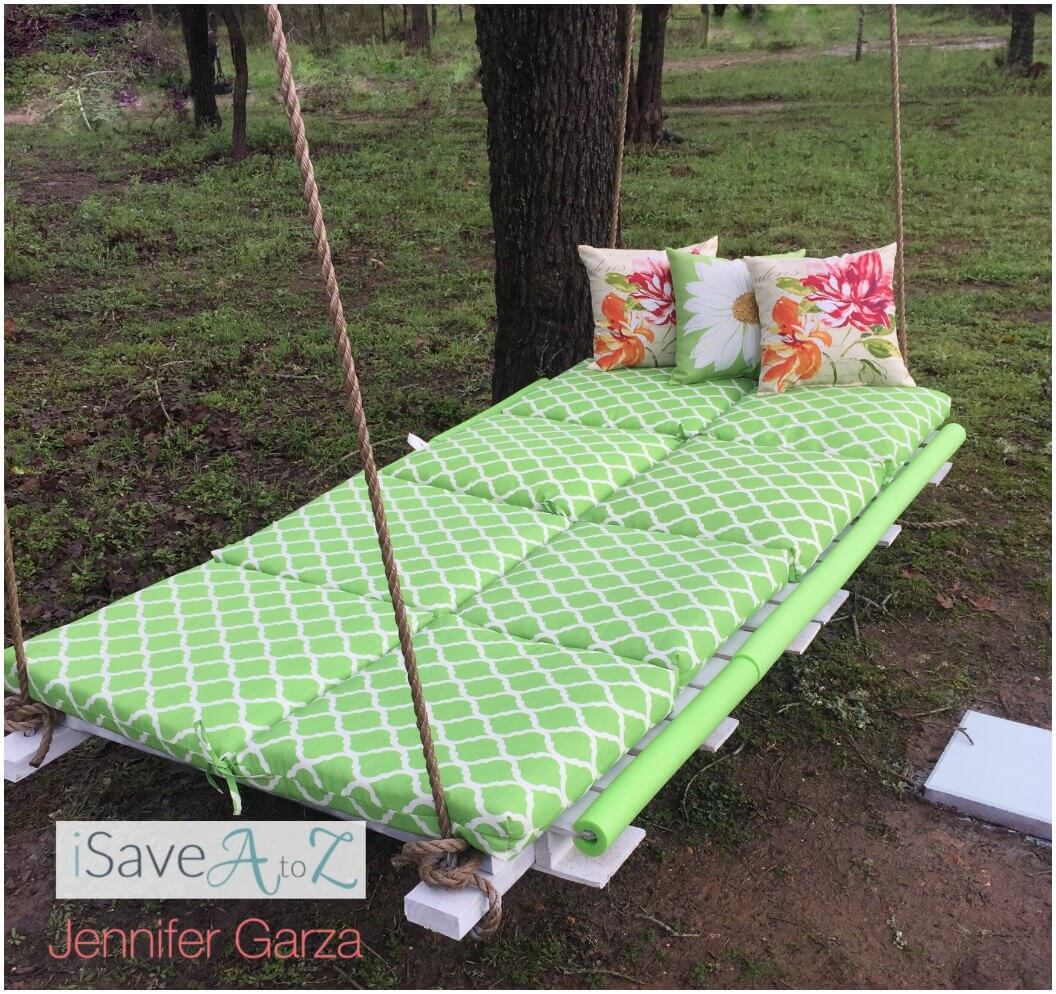 What better way to enjoy the nature of the outdoors than with an outdoor swing right in your own backyard? This pallet swing is the perfect summer DIY that requires very few supplies. This pallet swing adds the perfect touch of nostalgia to your outdoor living space. Throw on a few blankets and relax while reading a book or looking up at the stars.
4. Recycle Pallets with a Garden Bench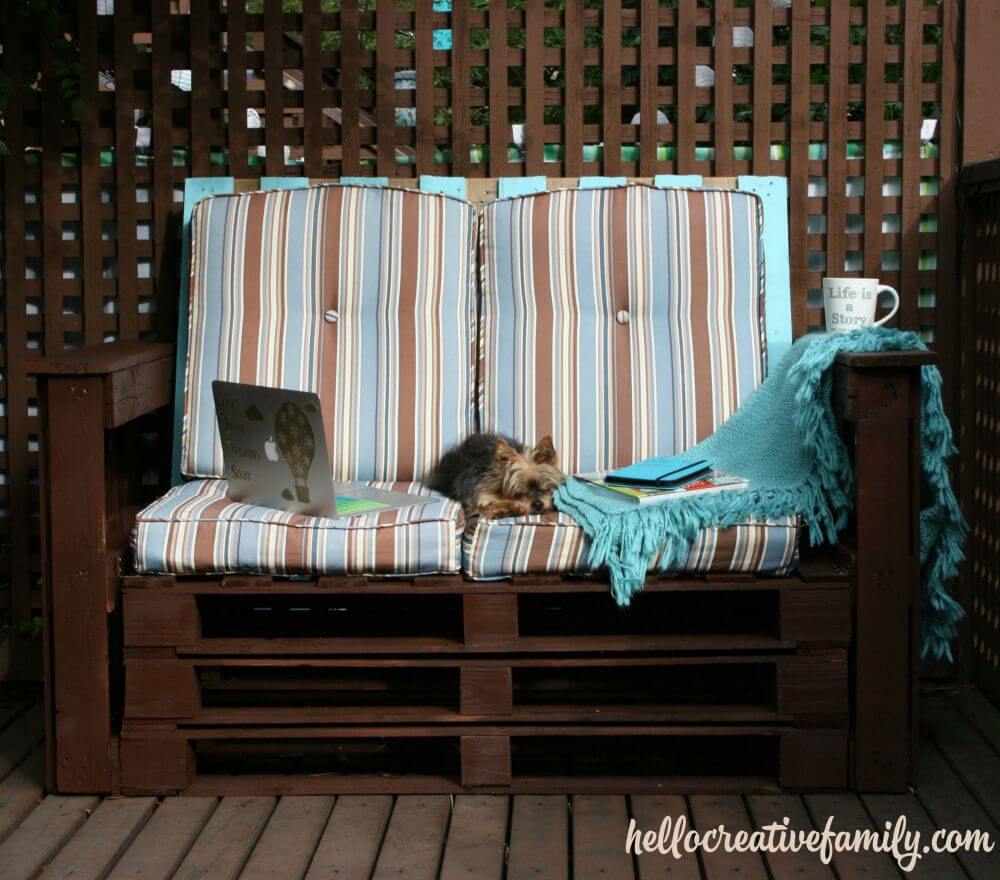 Building an outdoor garden bench out of pallets is a great way to recycle wood. This is such a cozy little addition to your backyard area and provides additional seating which is always a bonus. Liven it up with bold colorful chair cushions, built-in planters or leave a little room for storage underneath. The possibilities are endless with this versatile pallet bench.
5. An Entertainer's Dream Oversized Pallet Sectional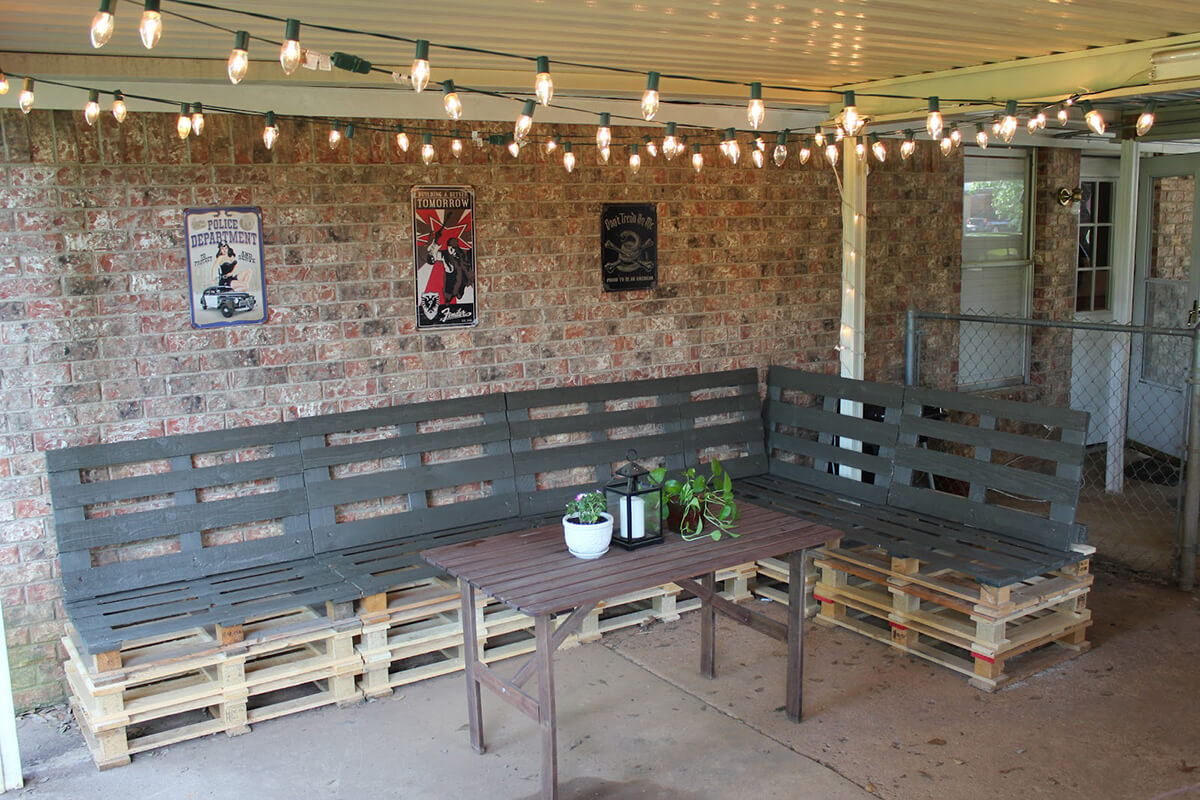 A common complaint homeowner's often have is that they don't have enough seating in their outdoor area. Whether you have a patio, deck or just a yard you can easily create enough seating by using old pallets. Combine several to make an oversized sectional. Paint the wood the color of your choice, add outdoor cushions and you have yourself the ultimate entertaining space.
6. Pallet Coffee Table and Bench for the Backyard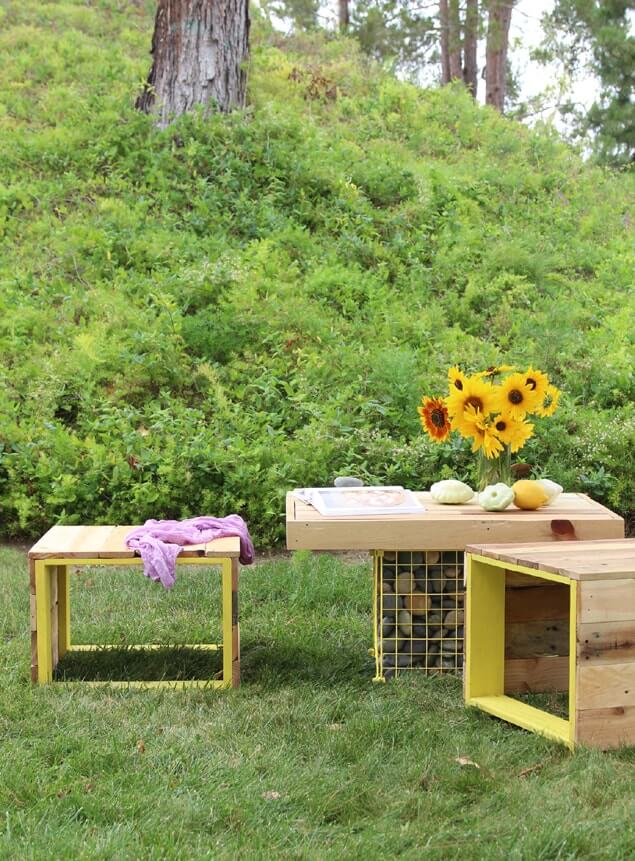 Creating unique projects out of reclaimed wood is an easy way to save money and have something that adds personality to your living space. This outdoor coffee table and bench is made from pallets and serves as a wonderful place to sit and enjoy your morning coffee or bring a game of cards outdoors to play. The metal cage filled with rock clusters adds a gorgeous touch to the base of the table.
7. Planter Box Growing Racks for Gardening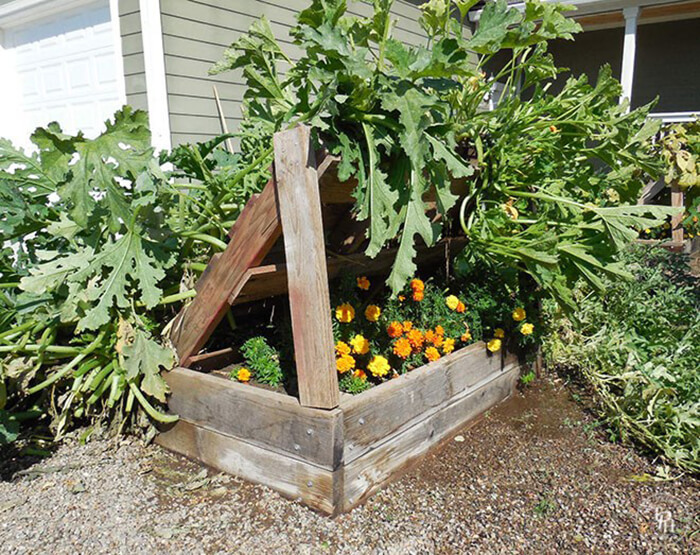 Some vegetables like tomatoes and squash need a little extra room for growing. This growing rack planter box can be easily made using pallets. It's large enough for planting a few of your favorite veggies and since it's raised, it can be moved wherever you would like. This is a wonderful way to save precious gardening space and keep your veggies from taking over.
8. Build a Pallet Deck to Extend Your Space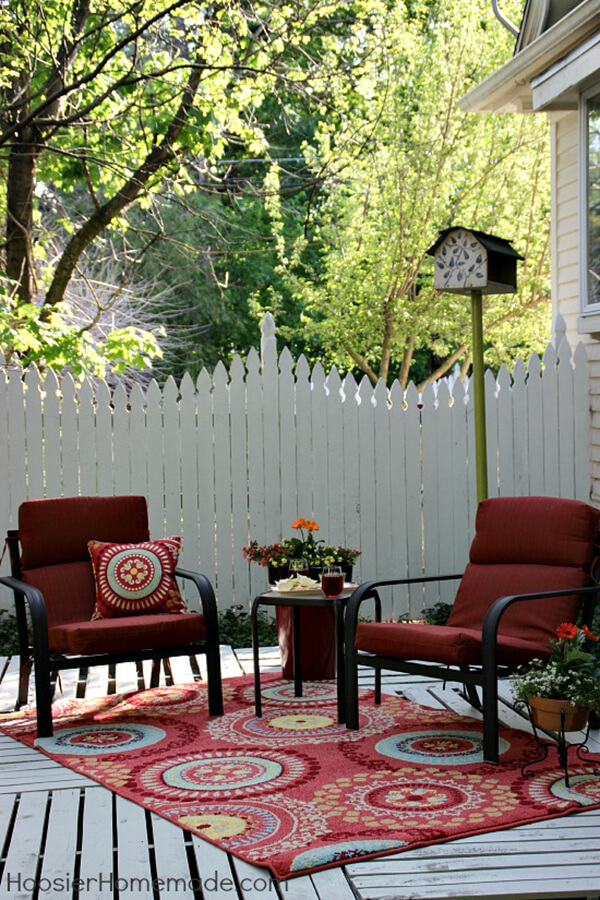 Creating the outdoor area of your dreams doesn't have to break the bank. A deck is a great way to extend your outdoor living space and add functionality, not to mention enhances the value of your home. This beautiful wood deck was built using pallets and is a genius way to save money while still looking professionally built.
9. Turn a Pallet into a Window Planter Box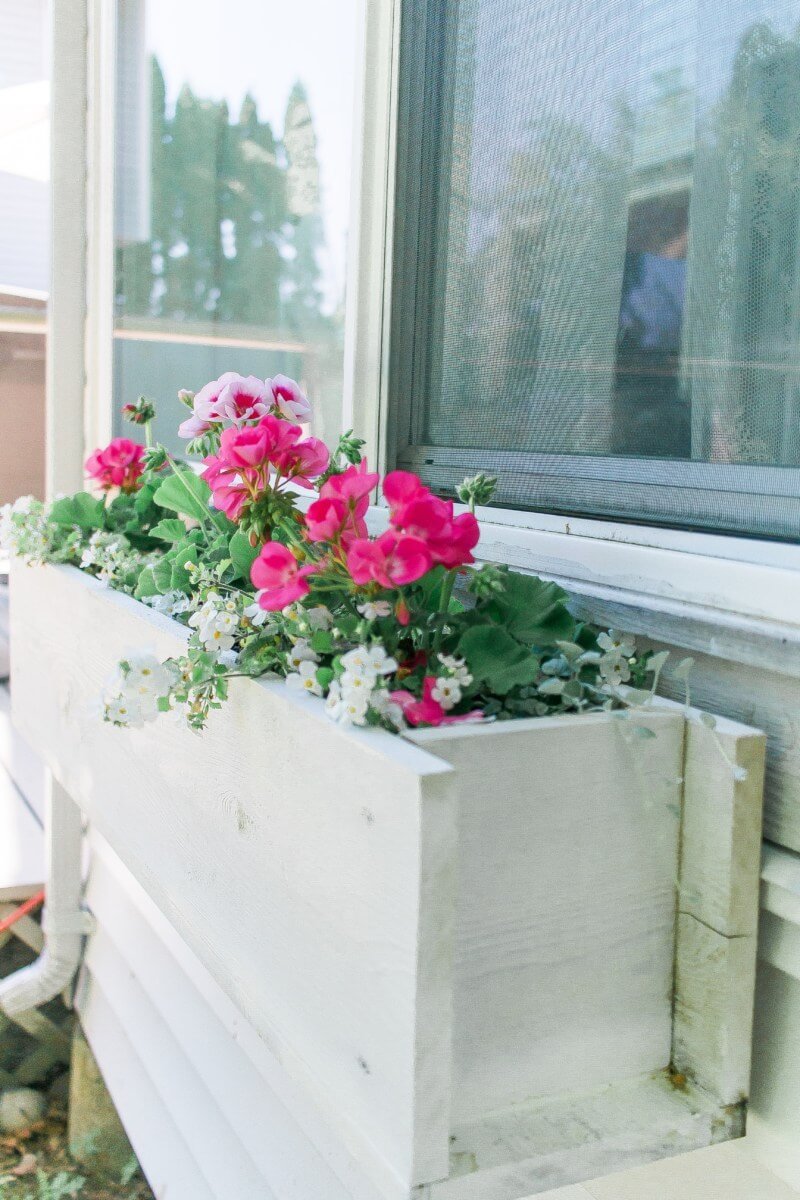 Spruce up your window décor this spring with a stunning window planter box using recycled wood pallets. These are great for gardening in small spaces and adds beautiful curb appeal and character to your home. This is a simple DIY project that you can make over the weekend and enjoy for so many years to come.
10. The Ultimate Outdoor Playhouse Project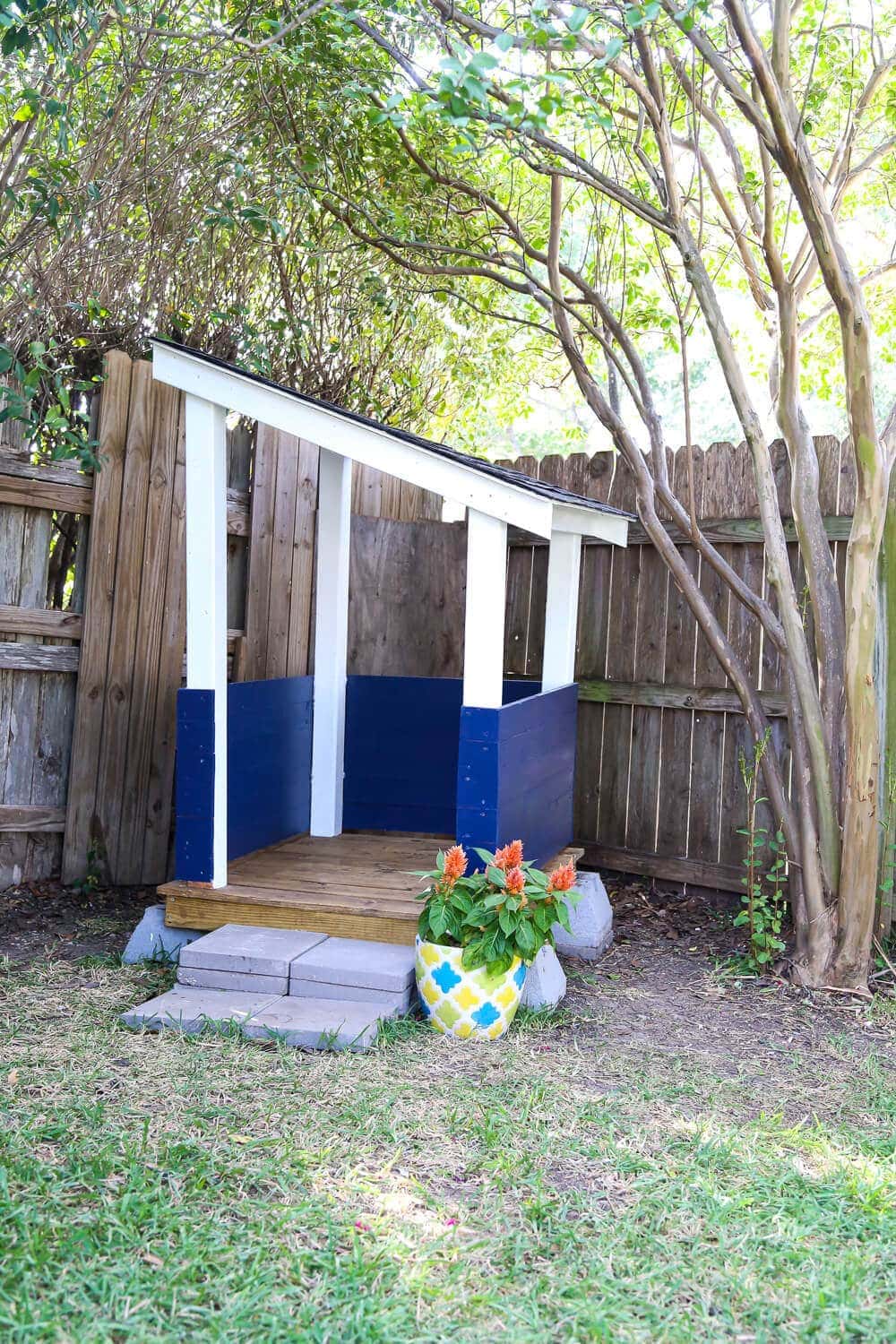 This backyard playhouse is the perfect addition if you have small children. It provides a quiet little space for your child to play and use their imagination in nature. Build the ultimate outdoor playhouse with pallets for a simple and inexpensive project that your kids will go head over heels for.
11. Personalize Your Home with a Rustic Pallet Sign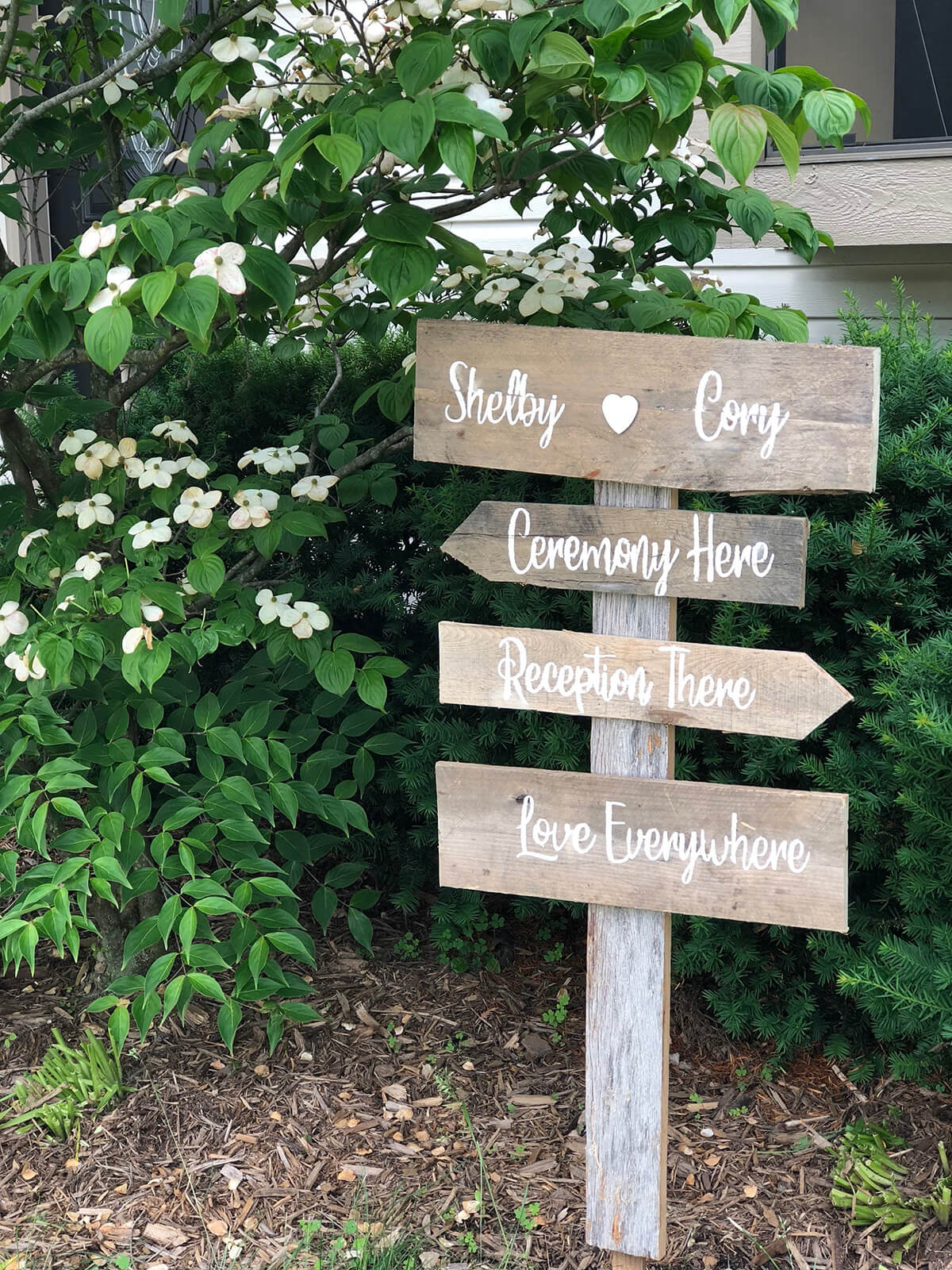 Pallet signs add a rustic touch to any home décor. This directional sign is a great way to show your guests where to go. It's perfect for hosting events or special occasions such as an outdoor wedding or reception. This pallet sign can be customized to your preference and adds so much charm to your outdoor living space.
12. Hand-Painted Americana Pallet Sign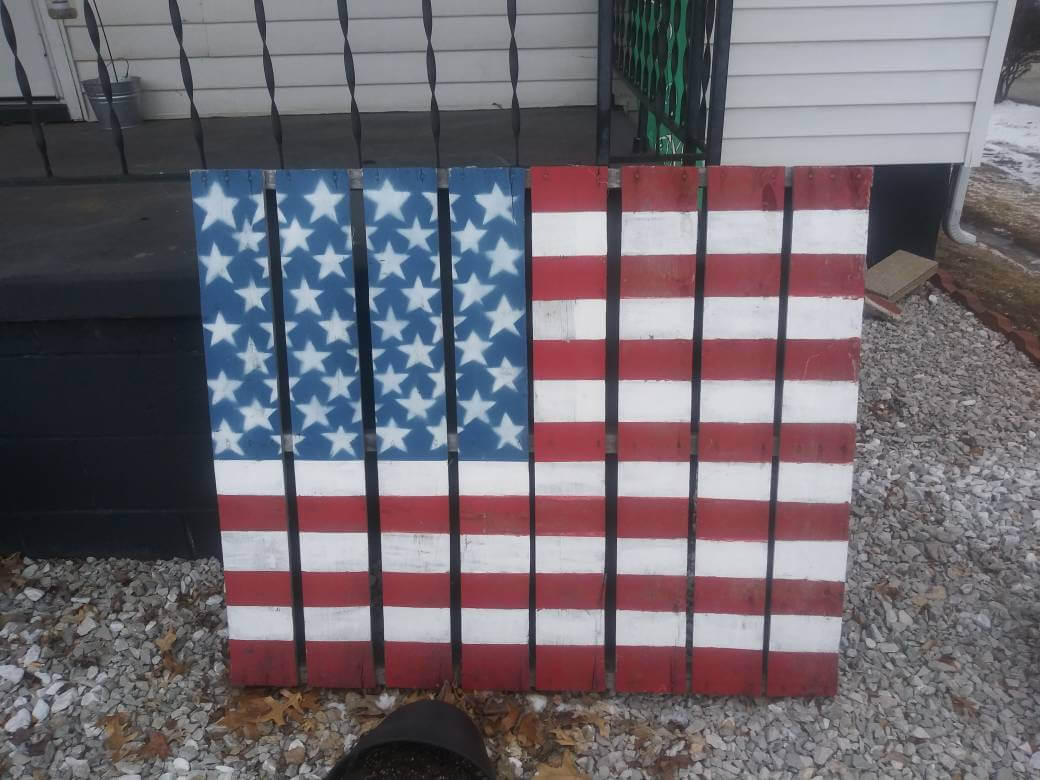 Get ready to show off your American pride with this hand-made American flag pallet sign. Place this gorgeous custom décor piece on your front porch to welcome your guests with pride or move it indoors to add some of that 4th of July spirit inside your home. This is the perfect piece for any home décor style.
13. Rustic Wood Pallet Fire Pit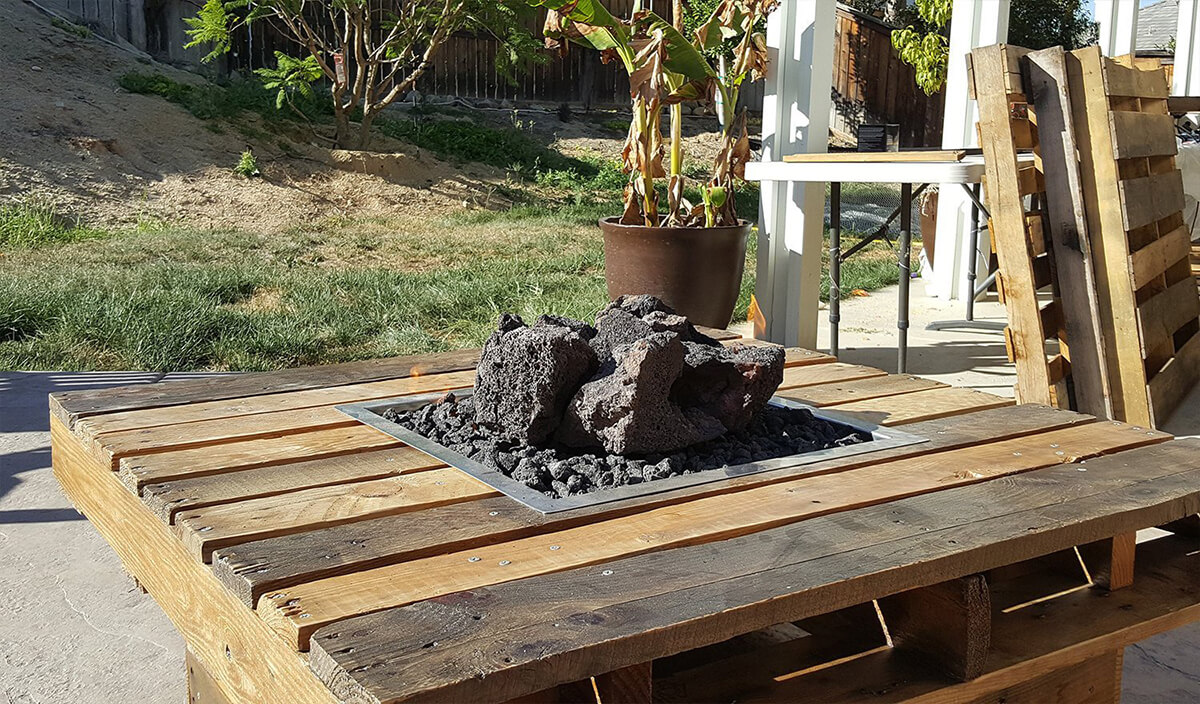 Fire pits make a great addition to your outdoor living space. They provide a comfy, cozy place to gather with family and friends. This rustic pallet wood fire pit is made to order and features a table top stand with a metal fire pit center. Get your marshmallows ready for roasting and enjoying those yummy smores!
14. Vertical Planter from Recycled Wood Pallets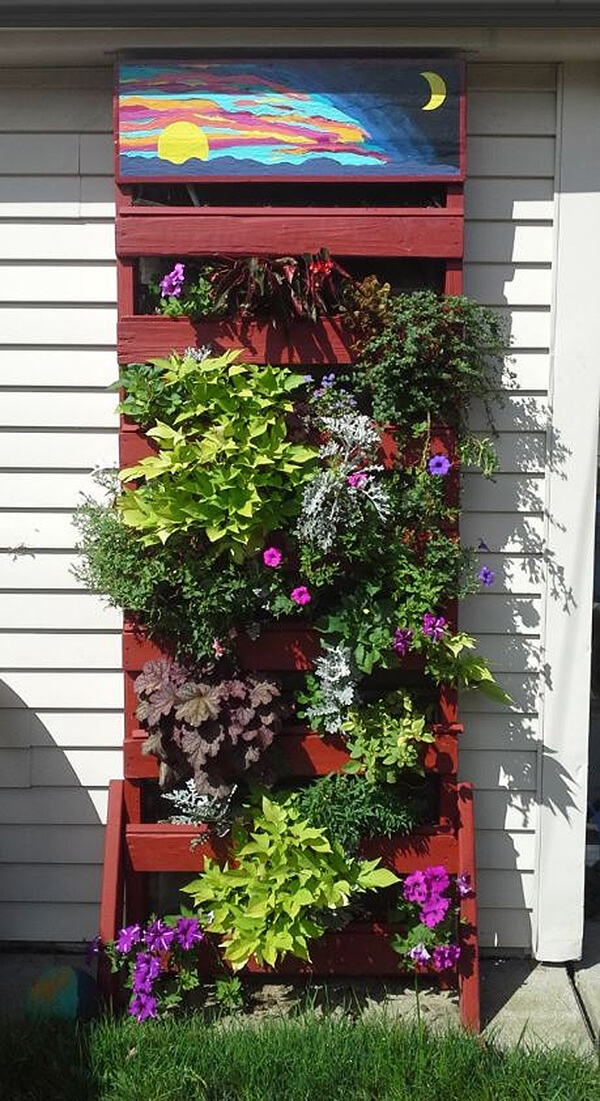 Enjoy these digital instructions to create your very own beautiful vertical planter. The PDF file includes written instructions with full color pictures and drawings to show you exactly how to recreate this gorgeous planter. The best part, you can easily move your vertical garden from place to place to switch things up each year.
15. Monogrammed Garden Sign Outdoor Décor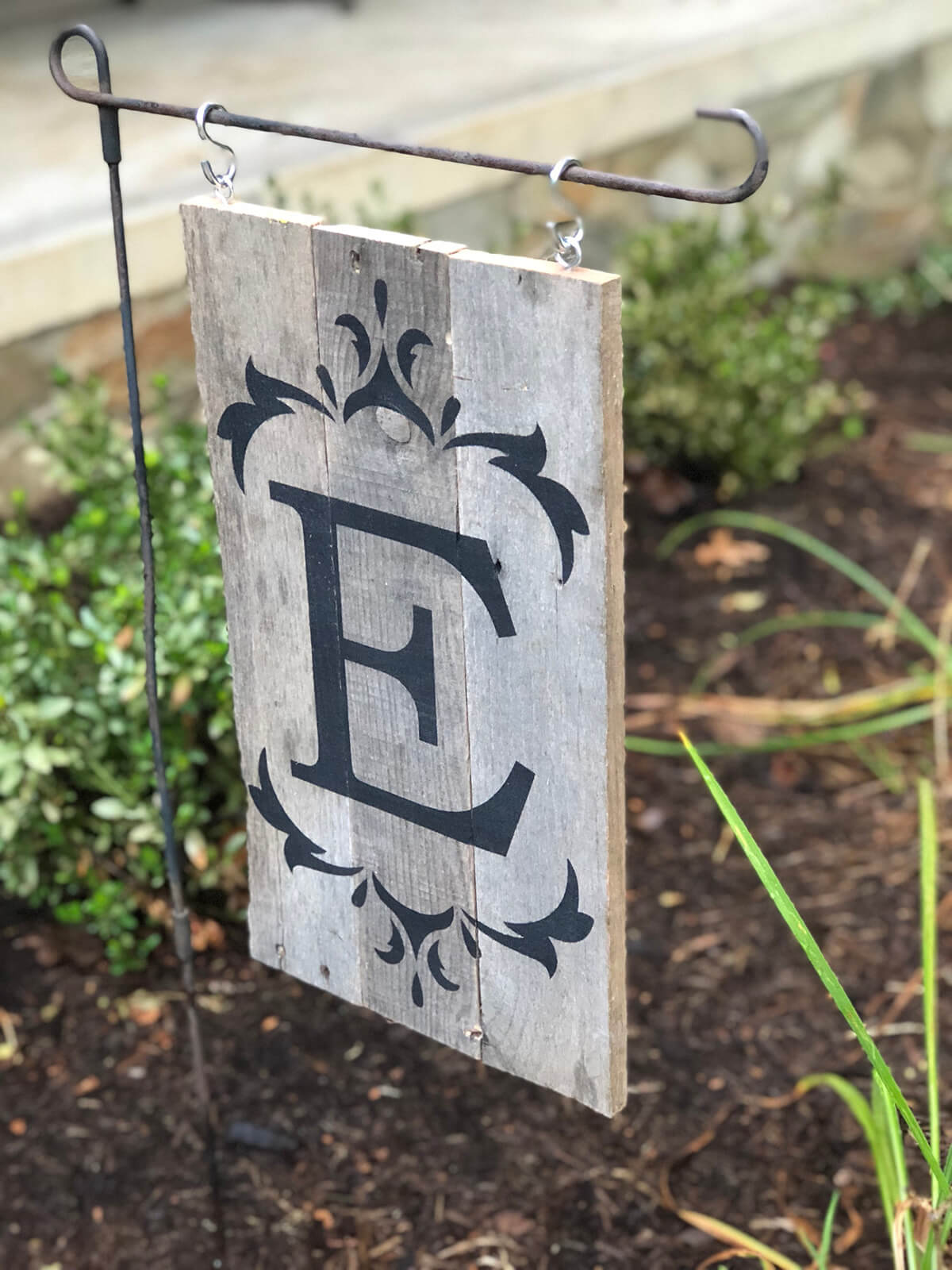 Measuring 18 inches high and roughly 3 pallets wide, this customized wooden pallet sign is the perfect feature for your outdoor space. The sign is sprayed with a clear sealant and includes hooks that are weather resistant preventing any rusting. This listing is only for the wooden sign and hooks, although you can grab a heavy-duty hanger to compliment this pallet sign within the description.
16. Refurbished Rustic Wooden Pallet Table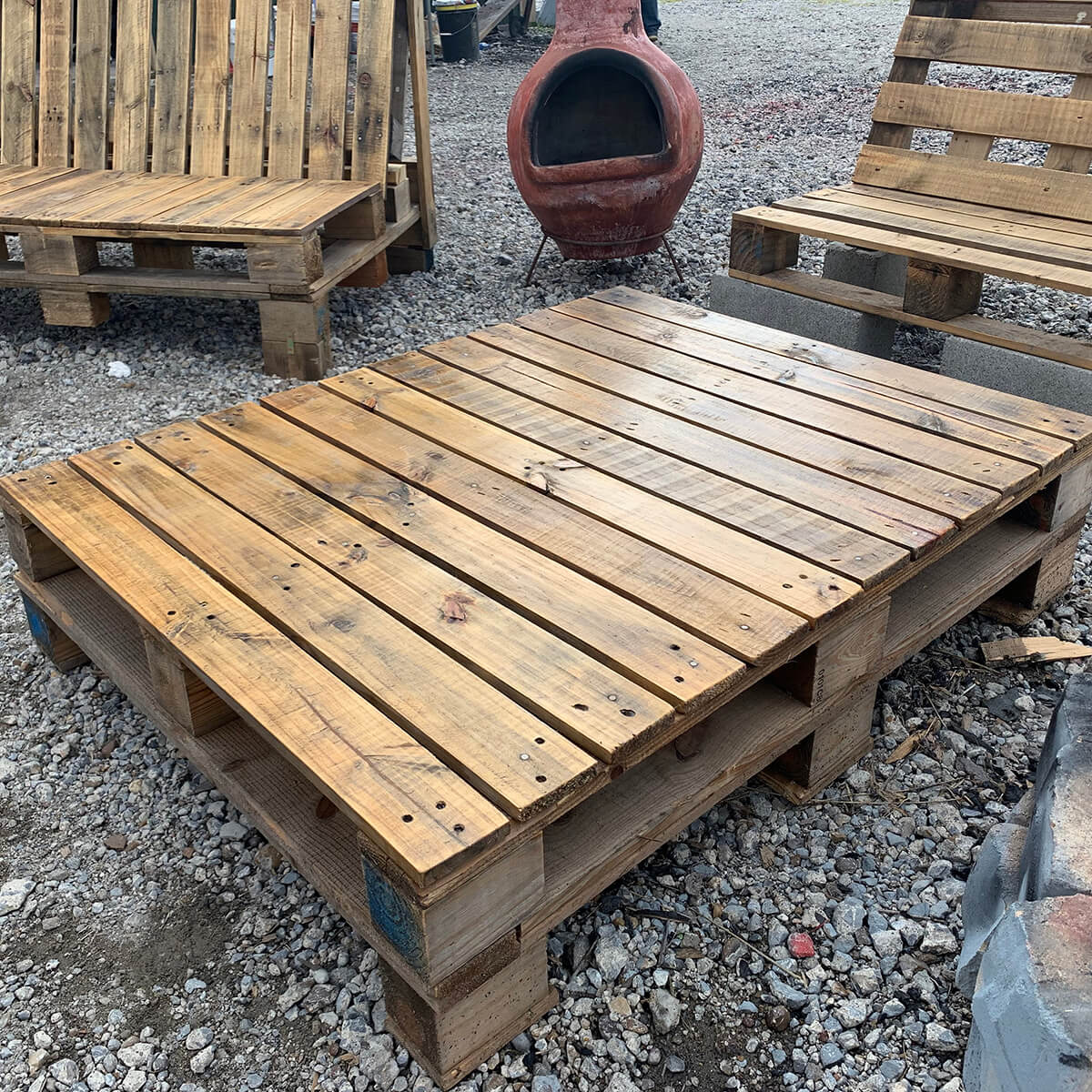 This wooden pallet table is wonderful for your outdoor garden or patio area. This sturdy piece of wood is 4×3 in size and sits 1 foot off the ground. It comes unfinished so you can paint or stain the wood to your preference and add personality to compliment your existing décor. Its large size is perfect for family gatherings, outdoor eating or even as extra seating if you need the extra space.
17. Personalized Outdoor Potting Shed Sign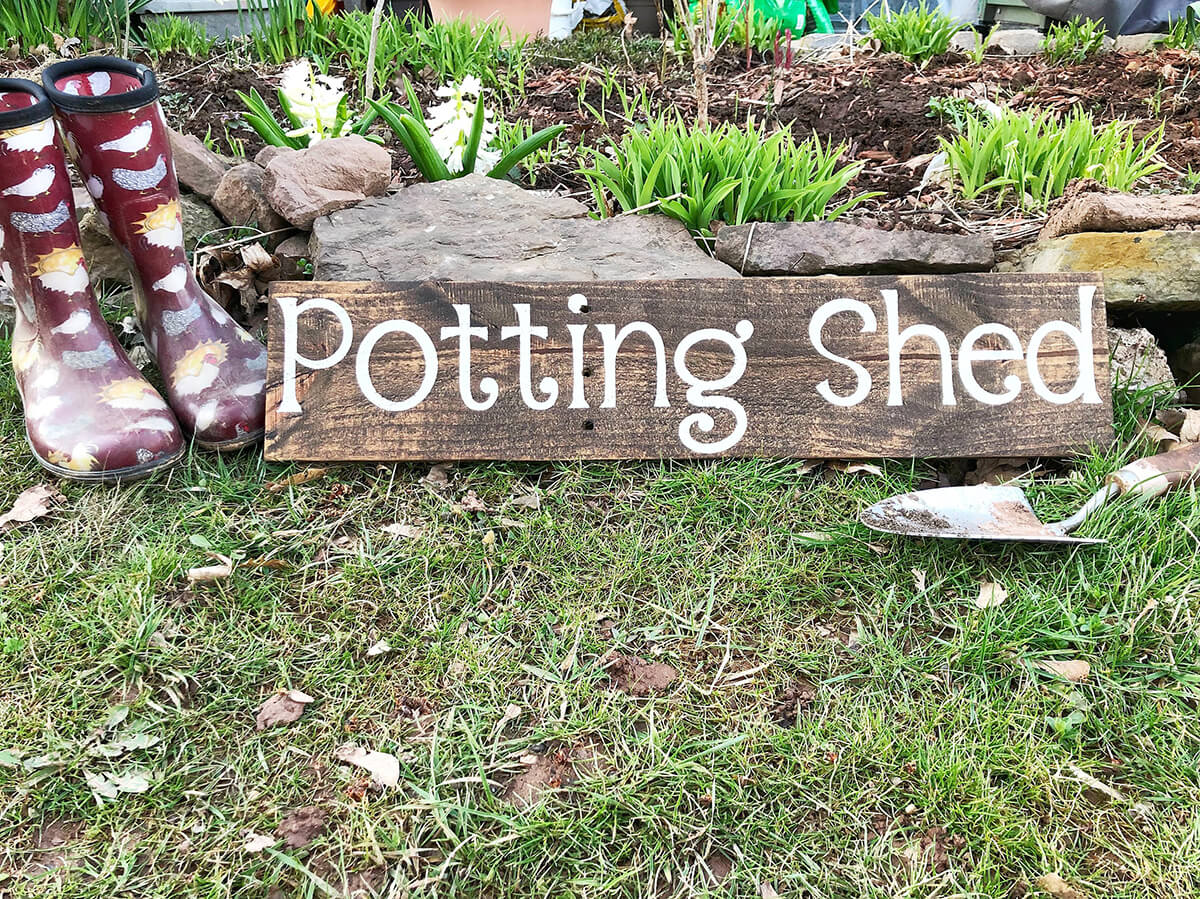 This rustic garden wood sign adds flair and personality to your outdoor area. It's handmade using reclaimed upcycled wood from pallets for a creative touch. The imperfections of this reclaimed wooden sign add character and really gives it that rustic look we all know and love. Place this decorative sign in your garden or nail it above the garage for a farmhouse feel.
18. Large Wooden Dominoes Garden Game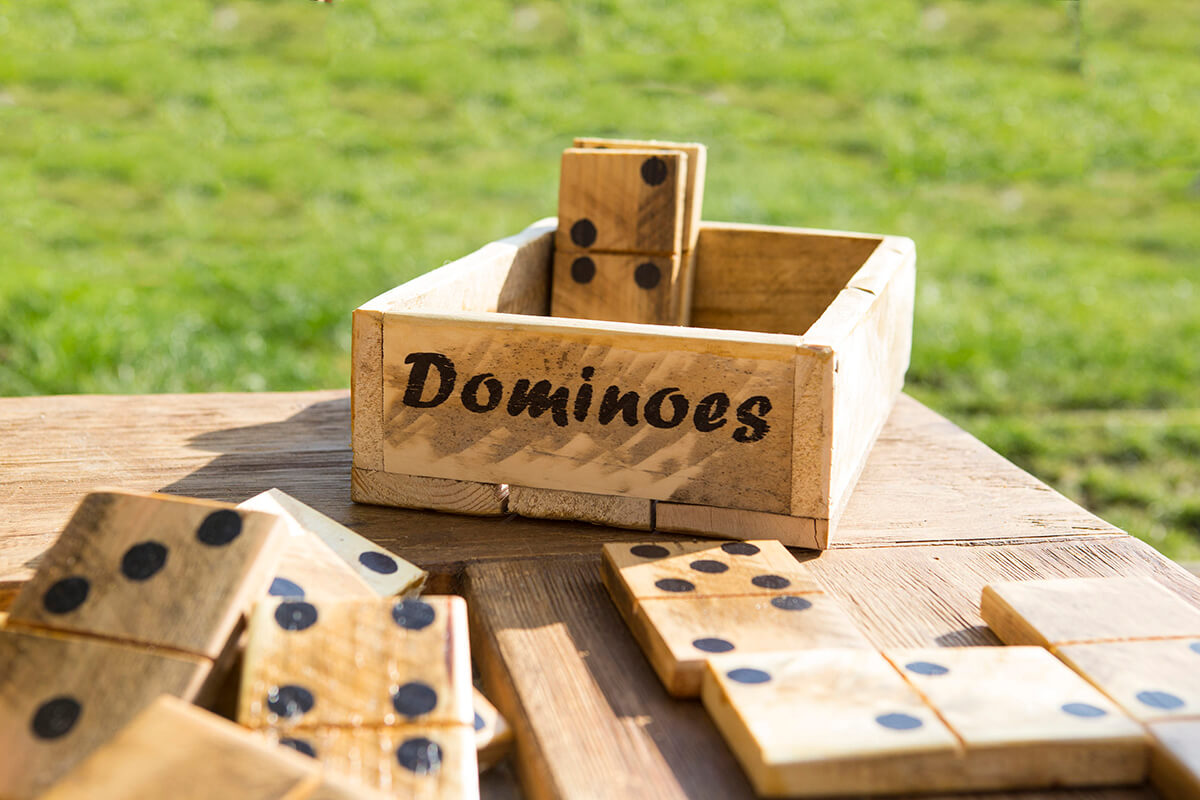 Dominoes are a classic and traditional game and now you can play it in your own backyard with these handmade oversized wooden pieces. This set includes 28 rustic tiles, each unique and charming made from wooden pallets. This is the perfect collection to have for family game nights, family barbecues or outdoor weddings and birthday parties.
19. Hanging Pallet Planter Box for Privacy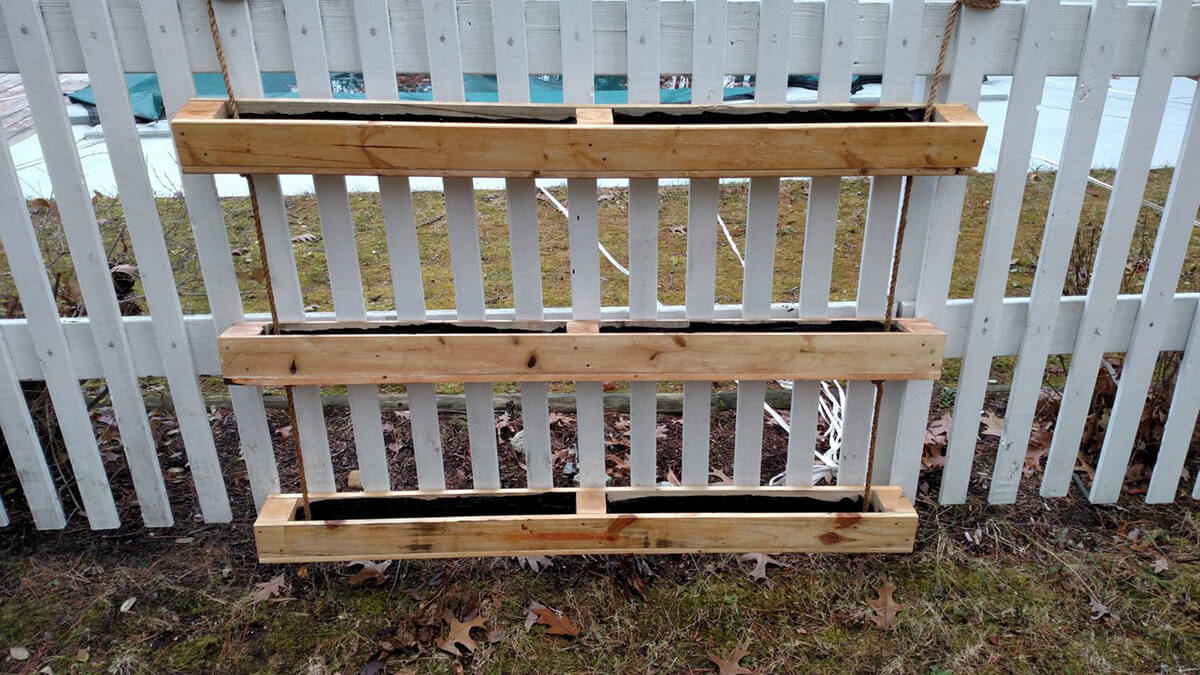 Need a bit of privacy or just want to add a rustic touch to your outdoor garden? This hanging pallet stands 3.5 feet tall and approximately 5 feet wide. The large size is perfect for a privacy screen from your neighbors and a great place to grow your plants. These planter boxes are made from 100% HT pallet wood and features a set of three boxes with rope included.
20. Reclaimed Wooden Halloween Yard Art
Ready to get your yard looking a bit more festive for the holidays? These yard décor pumpkins are made from reclaimed pallet wood with each one hand-crafted for a unique personalized touch. This listing includes a variety set of three in various sizes and color options to choose from. These would make the perfect addition to your yard this fall.
21. Hand Painted Farmers Market Pallet Sign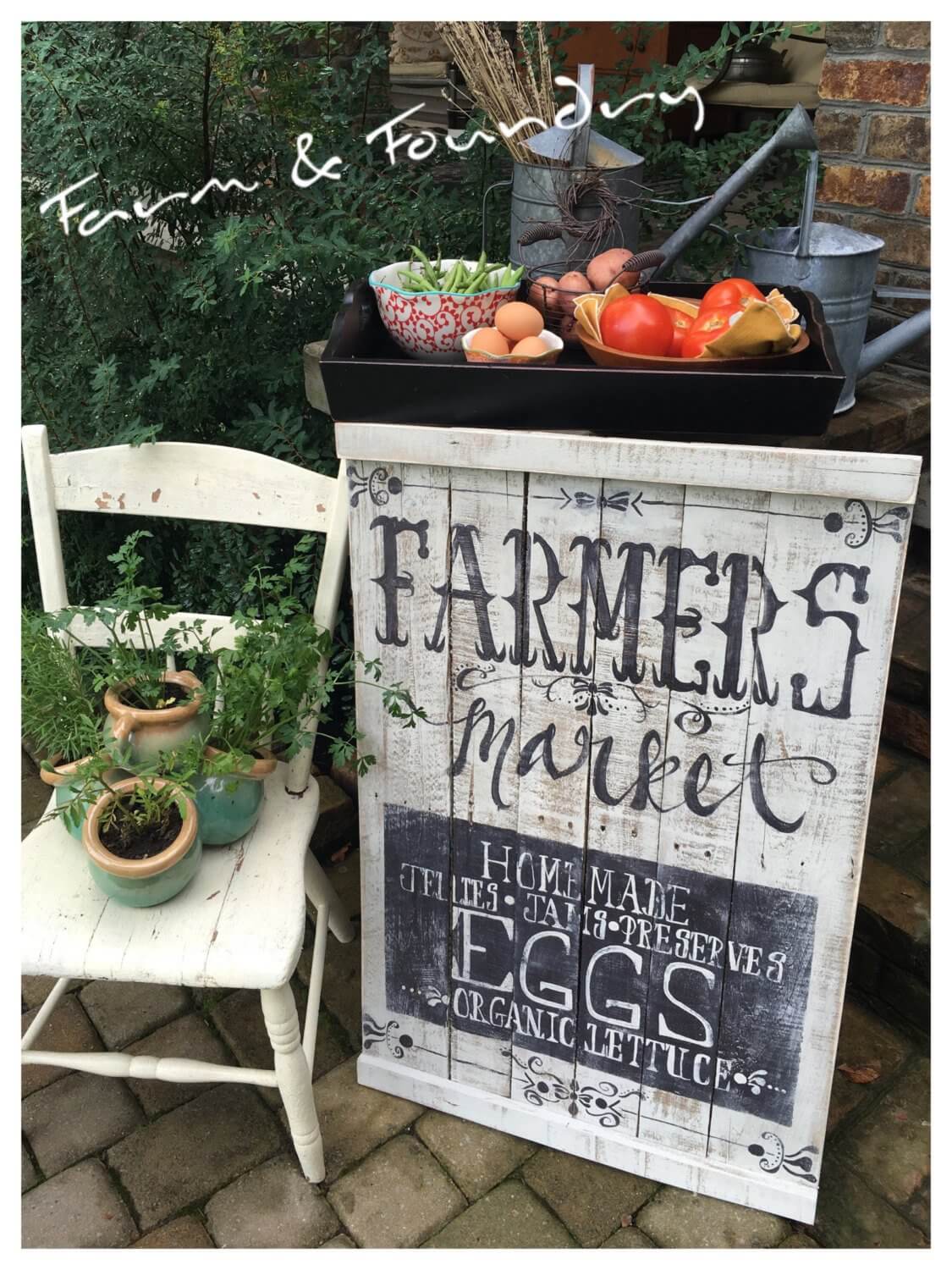 The perfect addition to your farmhouse décor, this hand painted wooden sign is approximately 24"x36" and would look stunning displayed on a shelf or mantle or hung on the wall. It's stained with natural, non-toxic stain and hand painted and distressed to give it an aged and rustic appearance. This listing includes hooks for easy hanging.
22. Potting Bench Made from Upcycled Pallets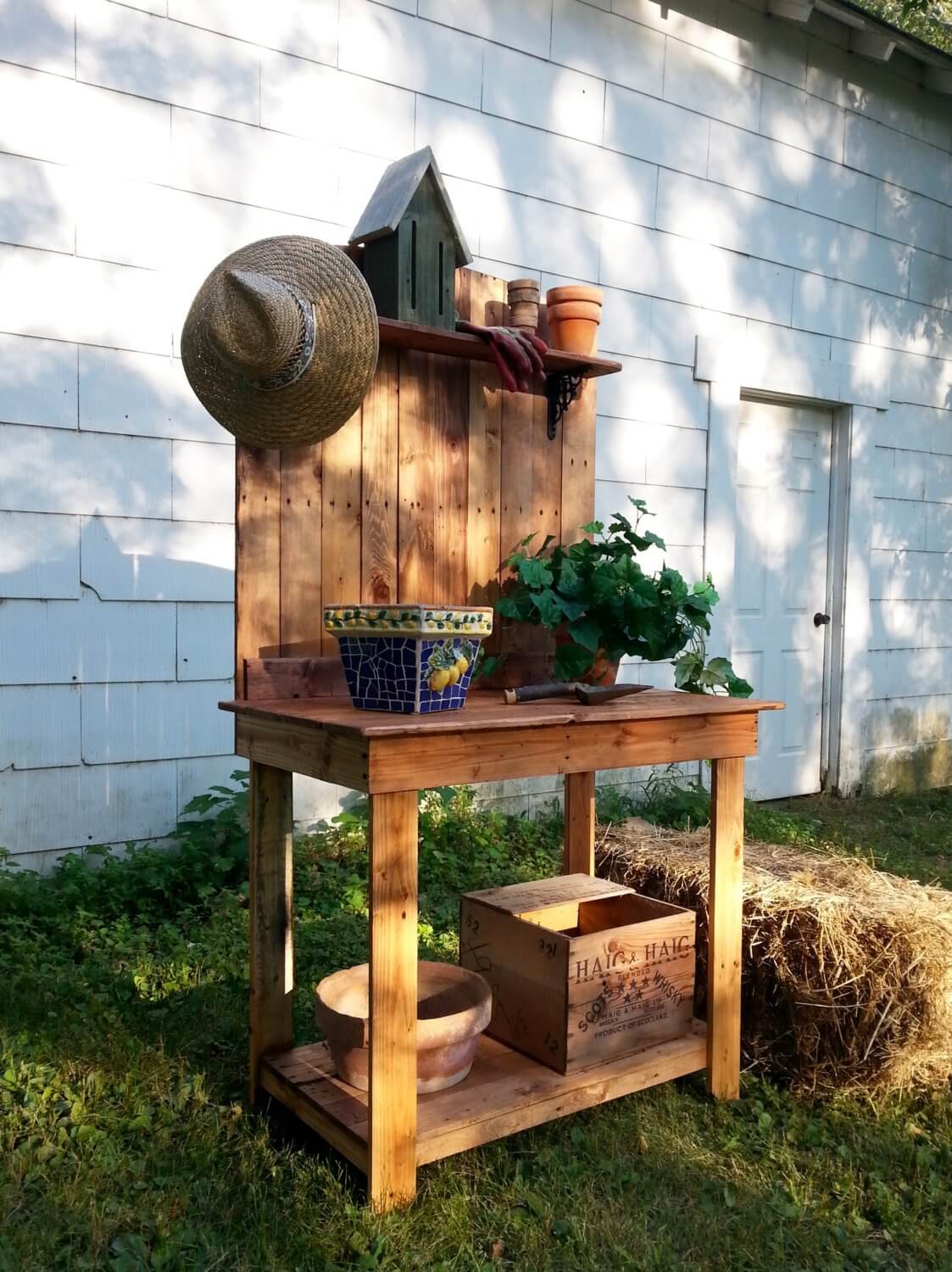 This wooden pallet potting bench is every gardener's dream. This bench is hand made using high quality Behr brand stain and sealer and upcycled pallet wood. Standing almost 6 feet tall and 3 feed wide, this potting bench would sit perfectly in your garden, deck or sunroom. Even if you aren't a gardener, you could still enjoy this wonderfully crafted bench and use it as an outdoor bar or plant display.
23. Gator Green Miniature Swing Planter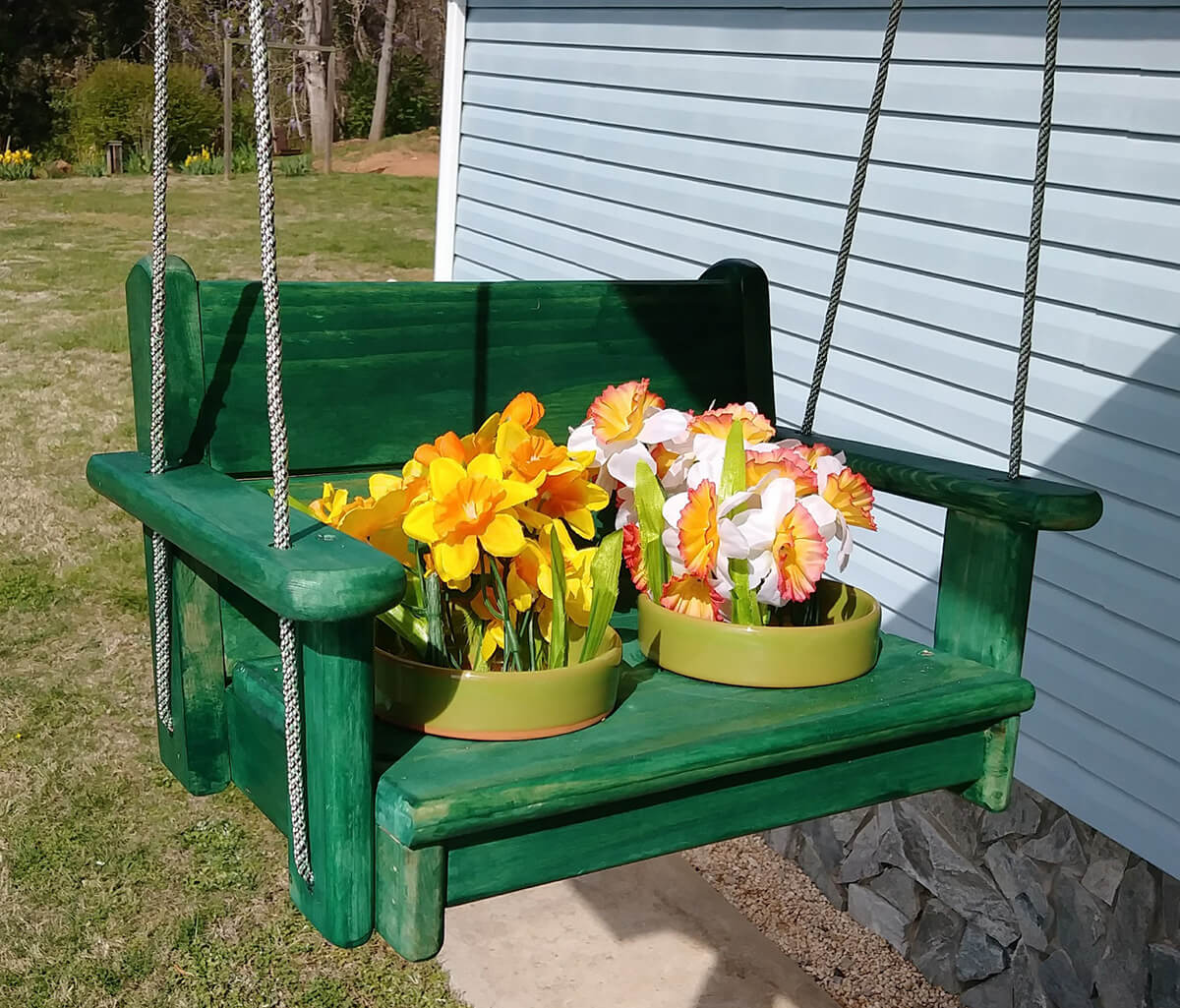 An adorable feature for displaying your beautiful plants this season, this recycled pallet wood miniature swing can be hung inside your home or out in the garden. It includes two planter pots for a nice decorative touch as well as the rope for easy hanging. Flowers are not included in this listing.
24. Incredible Tiki Bar Custom Built from Pallets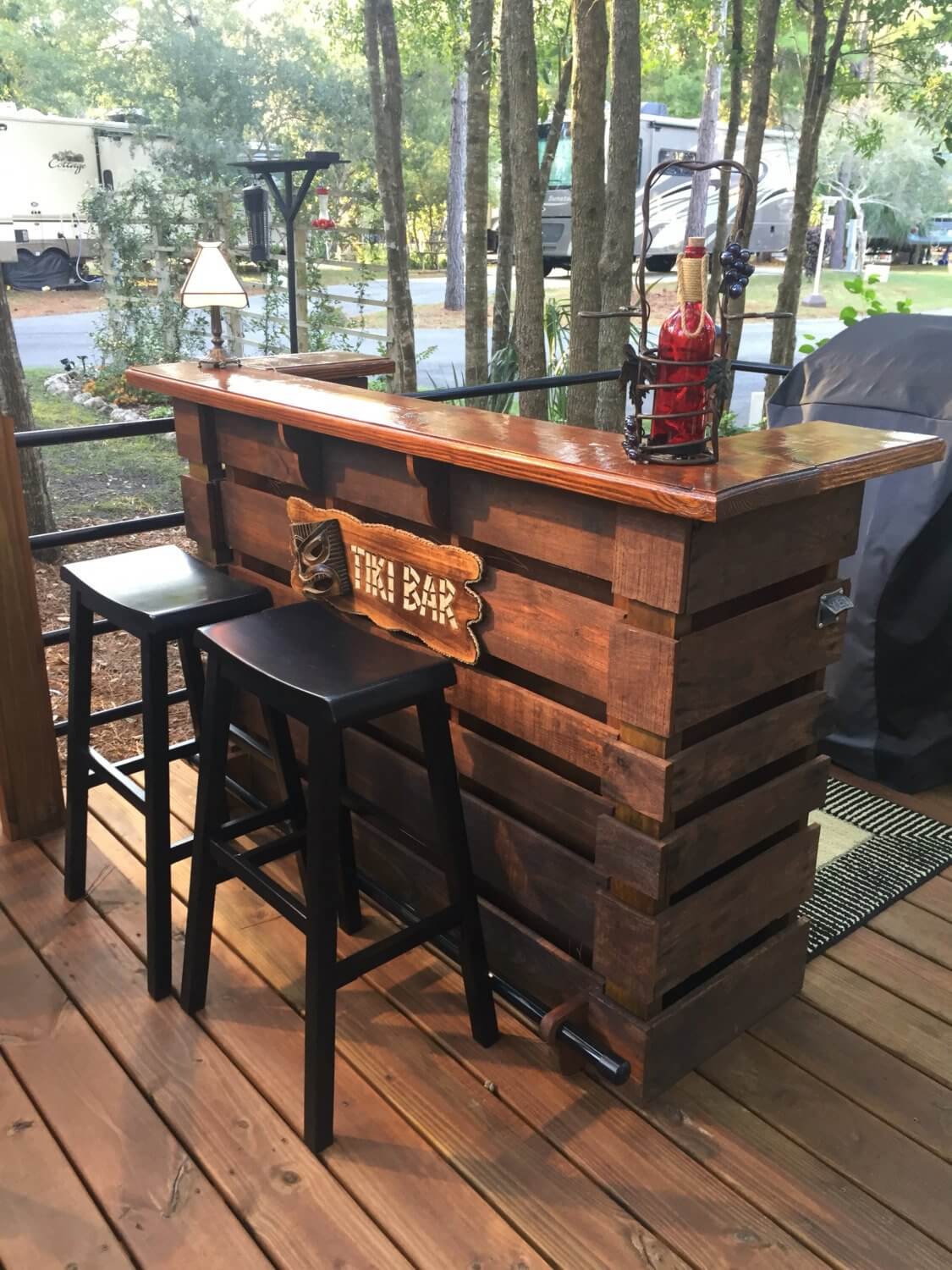 This beautifully hand-crafted tiki bar is such a stylish bar you can use indoors or outdoors. This pallet bar features a serving top, prep shelf, storage shelving and a coated steel foot rest. If you are looking for a certain size to fit a specific space in your home, this listing can be custom built to any size of your liking. Want to add gorgeous lighting? Let the builder know and they can add electrical to your custom bar. Those who have purchased this stunning bar have said that their family and friends just love it and are so pleased with their new pallet bar.
25. Comfy, Refurbished Pallet Hammock Chair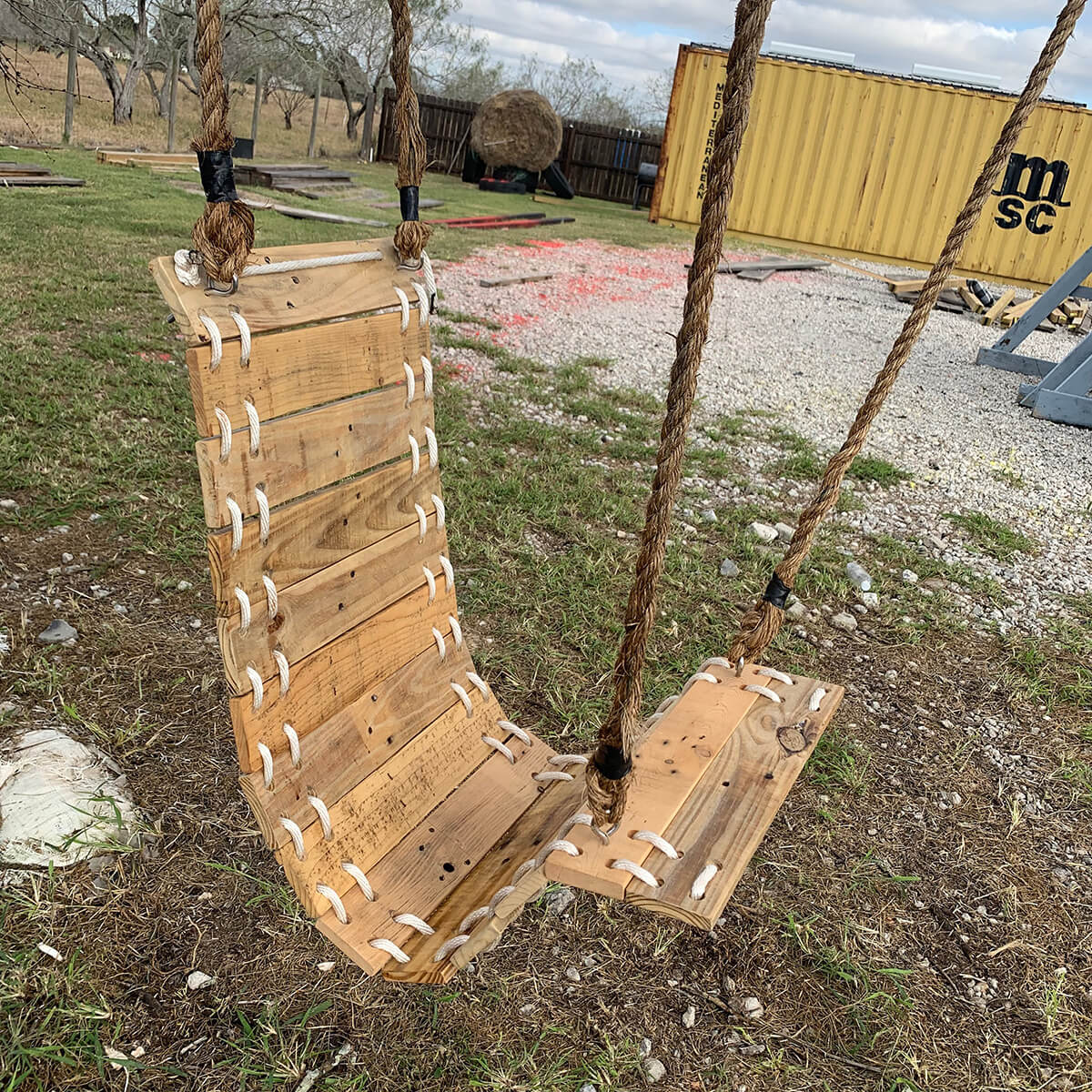 Enjoy the sounds of birds chirping on a warm summer day with this beautiful rustic hammock chair hung right in your backyard. This hand made chair is made from refurbished pallets and comes unfinished unless otherwise requested. It's best suited for individuals under 6 feet tall and holds 200-250 pounds but can be custom made to fit your needs.
26. Rustic Decorative Birdhouse with Aromatic Cedar Roof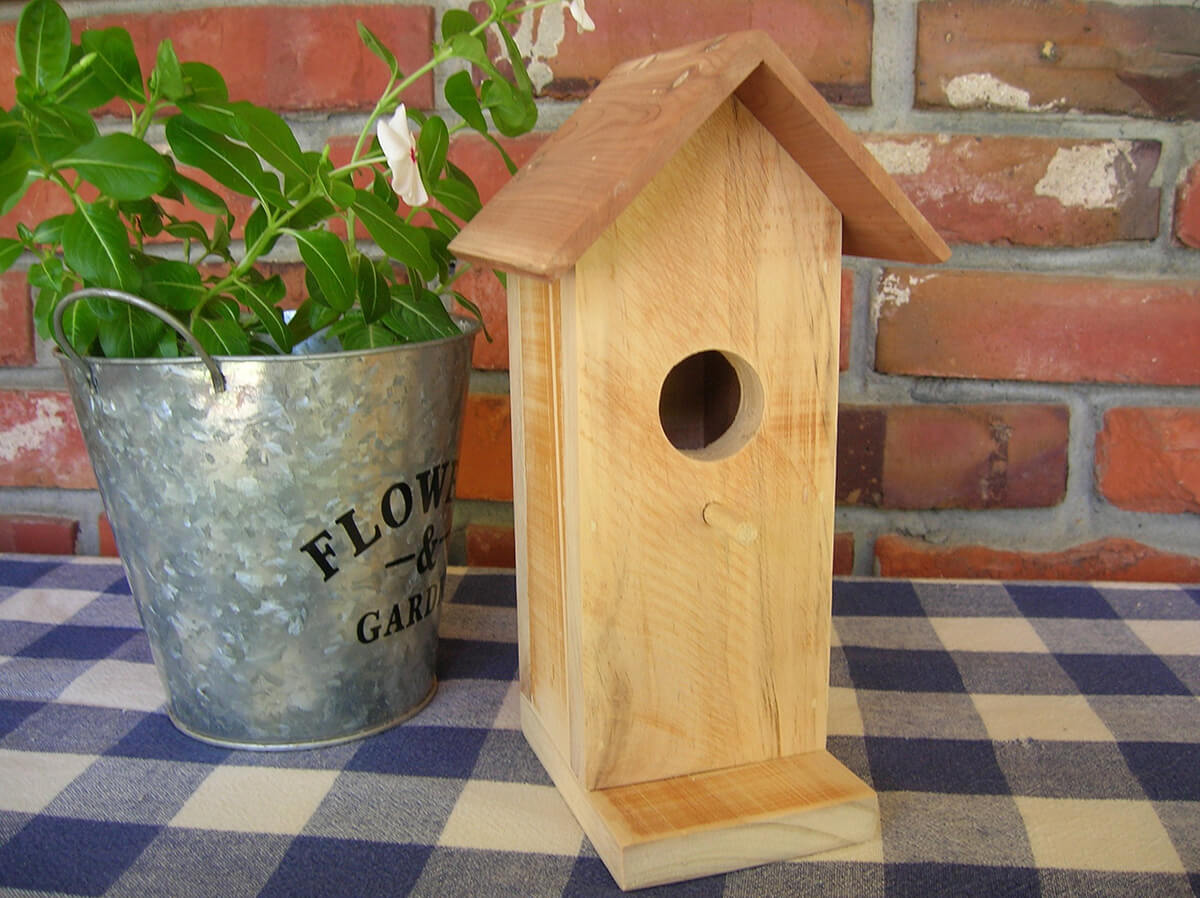 This decorative birdhouse is perfect for indoor and outdoor decorating. It's made of pallet wood and stands approximately 9" tall and 3" wide. Birdhouses are such a fun decorative piece for any home design style. This listing comes unfinished, so leave it as is for a rustic feel or paint it to add your own personalized artistic touch.
27. Personalized Pallet Home Address Sign
Enhance your home's curb appeal with this beautiful hand-made wall planter. Made with reclaimed pallet wood, this wall hanging is customizable in color, size and numbers. Fill the planter box with your favorite flowers for a bright addition that's sure to liven up the entrance of your home.
Our Favorite Outdoor Decorations to buy on Amazon