Outdoor furniture is something that makes your patio and backyard into an outdoor living area that you can enjoy with your friends and family. The more seating options that you have, the more comfort you can offer to your guests.
Unfortunately, purchasing a lot of outdoor furniture can add a big expense to your summer expenditure, but there are better ways to create a lovely seating area than making extravagant purchases which will not last more than a season.
40+ Unique Outdoor Pallet Furniture Ideas You'll Love

Using old pallets, you can create benches, tables, shelves, and even places to put some potted plants in your backyard. In this guide, we will look at 40+ different outdoor pallet furniture ideas that can help extend your living space into the backyard. Each one is unique, but it can become the focus of your next barbecue.
1. Matching Outdoor Patio Pallet Furniture Set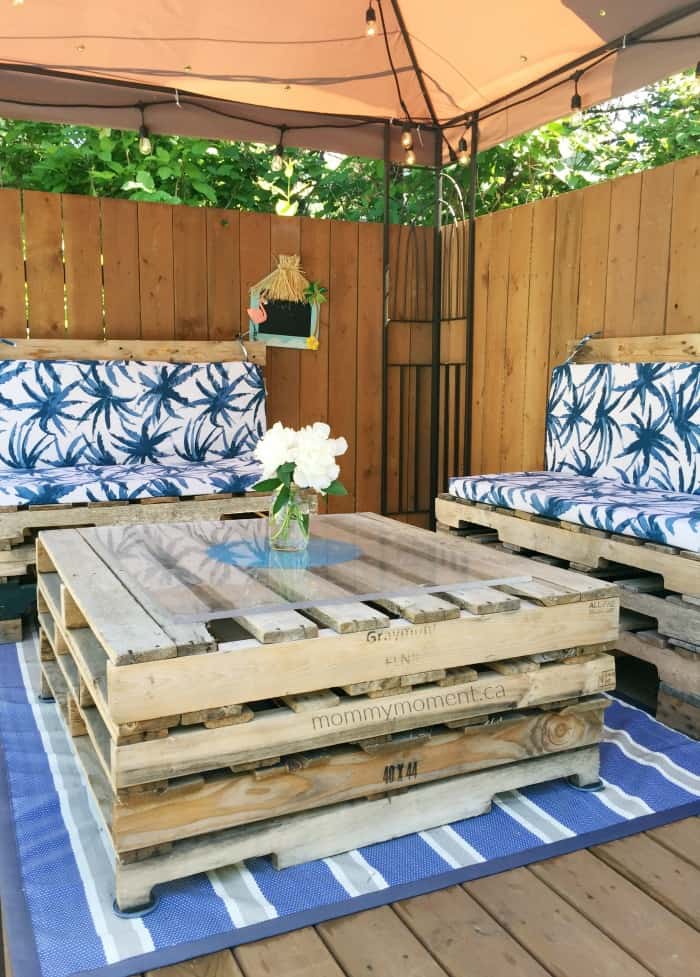 You don't have to pick and choose what furniture you want to make with pallets. Why not go for the entire patio set? The wood does well at creating couches and chairs as much as it does making a table. It gives the entire area a nice rustic feel too, and it also ensures your furniture matches for a cohesive look.
2. Upcycled Pallet Based Potting Bench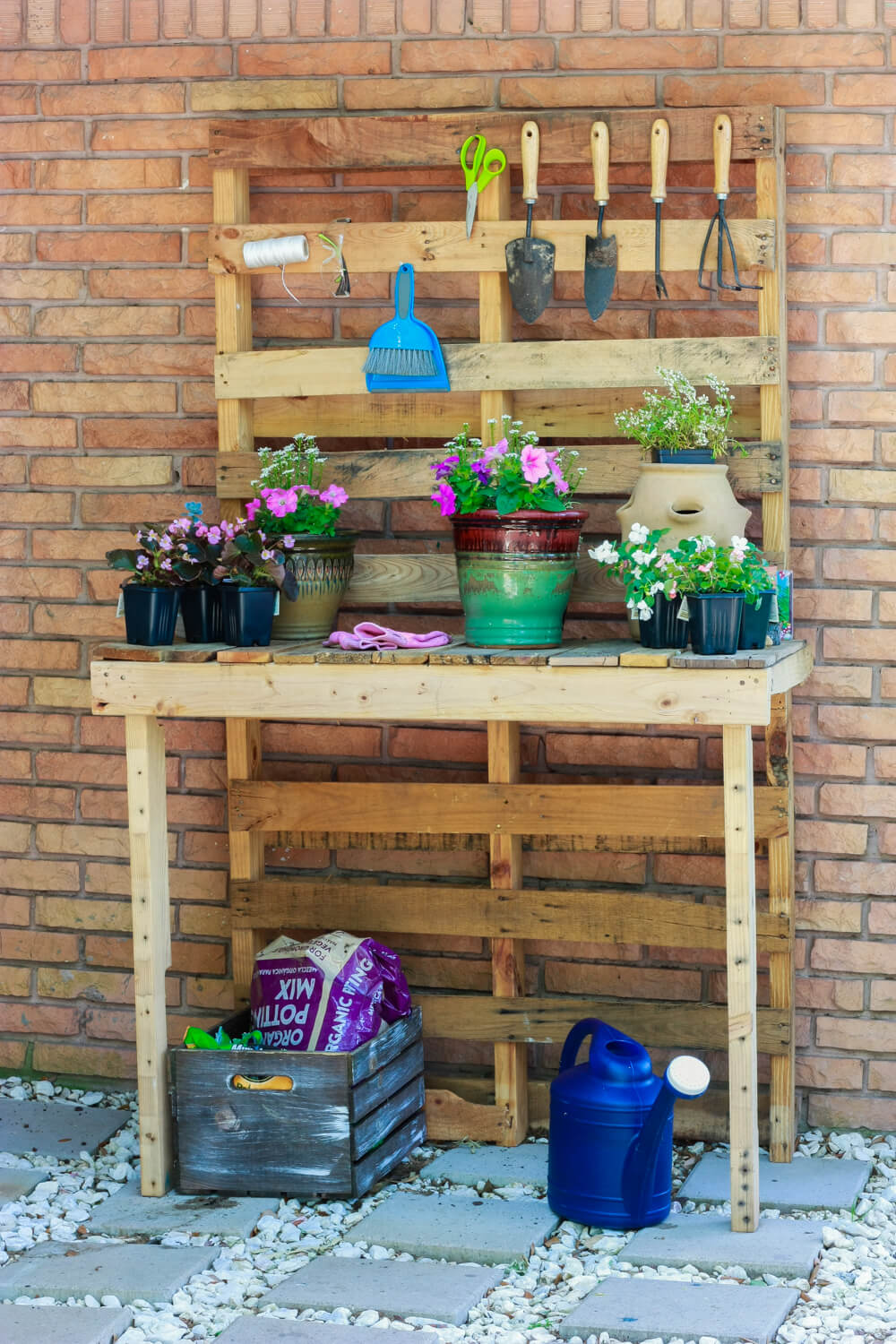 With this cool potting bench, no longer will you have to dirty up just any space when you want to pot some new plants. Using (or reusing) some pallet wood is a great choice here as it keeps this project affordable and simpler. You're given plenty of space to pot some plants as well as room to hang up all the tools you need so they're right within reach.
3. Rustic and Simple Outdoor Pallet Chairs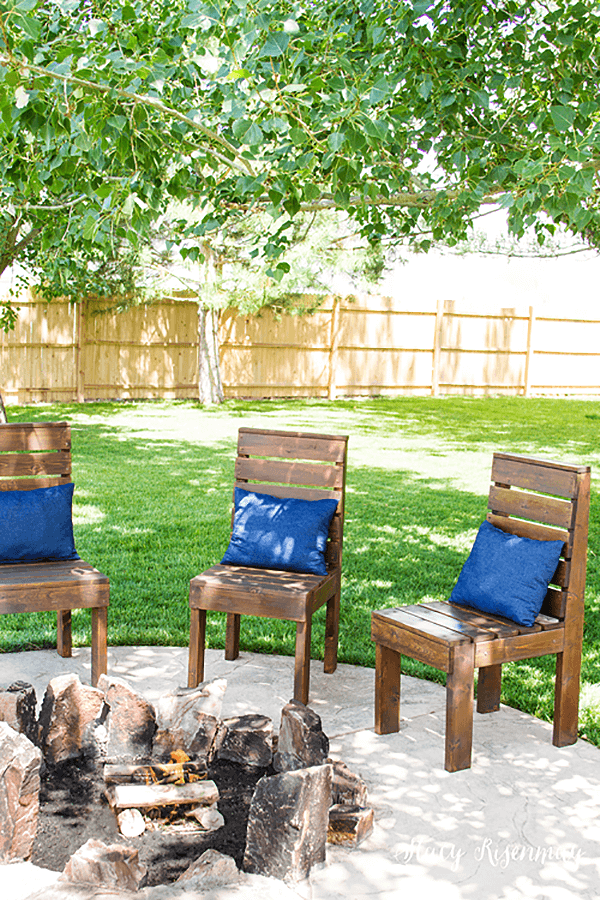 With the versatility of pallet wood, sometimes they can create the simplest-looking items. Take these chairs for instance. They look like straightforward store-bought outdoor chairs, but upon closer inspection, you can see the handmade craftsmanship that goes along with it. It's the perfect way to get the exact kind of chair design and size you want, and it's sturdier for use outdoors.
4. Outdoor Deck Pallet Wood Couch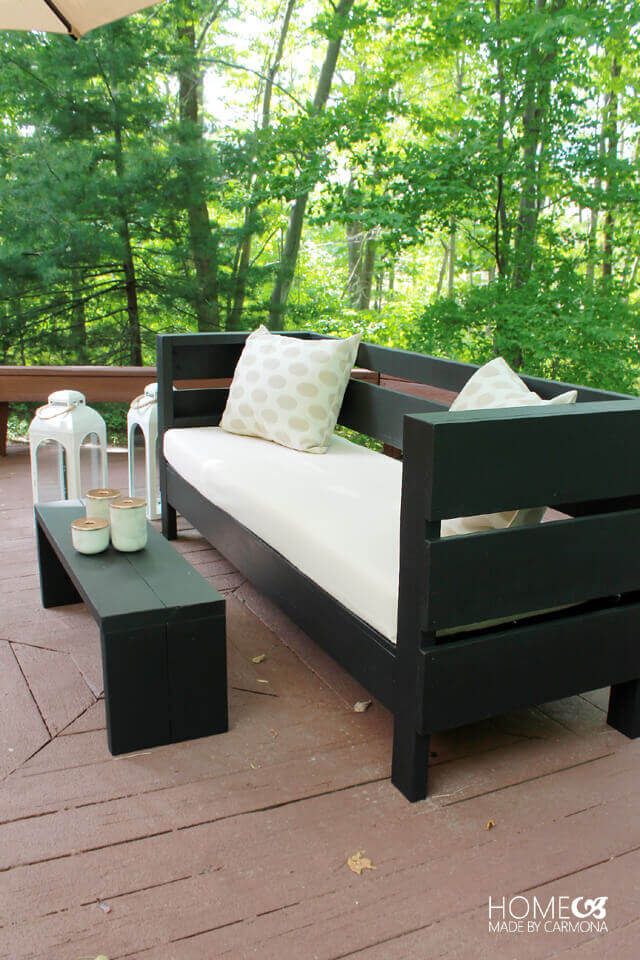 If your outdoor deck needs some furniture, consider using pallet wood to create a comfortable and spacious couch. The use of this wood makes it more reliable and less prone to moving around under different weather conditions outside. Also, it gives you room to paint it any color you'd like to match the rest of your decorations. This build even leaves room to safely hold cups of various sizes.
5. Oversized Rolling Pallet Garden Bench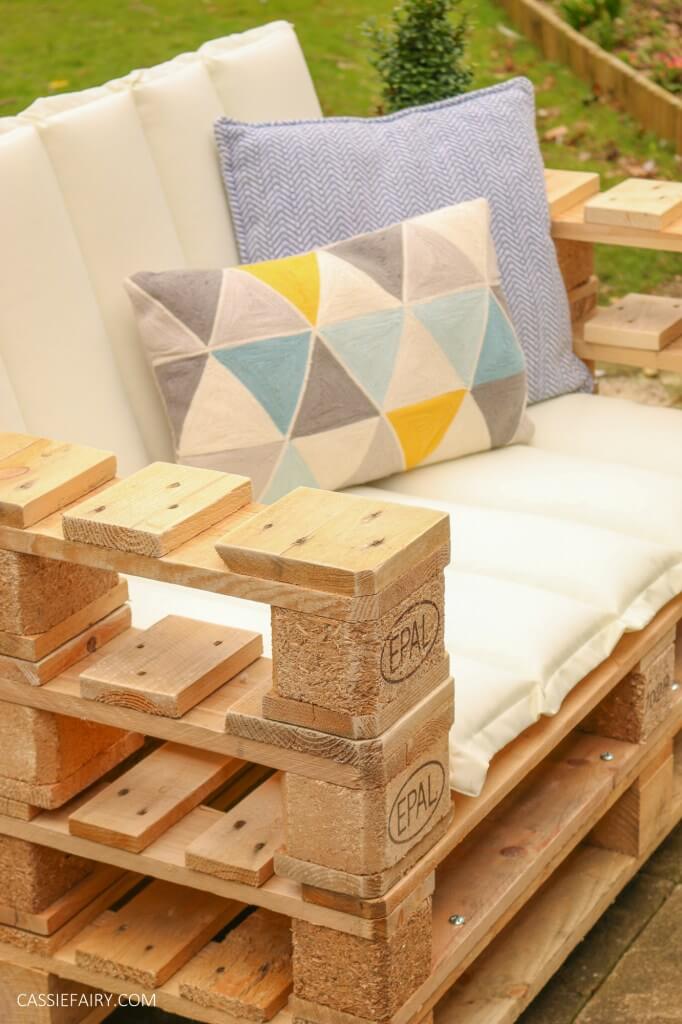 If you want a space just for you out in the garden, consider making a garden bench out of various pallets. It has the perfect outdoor style so that it won't look out of place. Furthermore, consider adding wheels or keeping wheels on if the pallet comes with it. This makes it simpler to move around as needed.
6. Rainbow Patterned Pallet Flower Garden Planter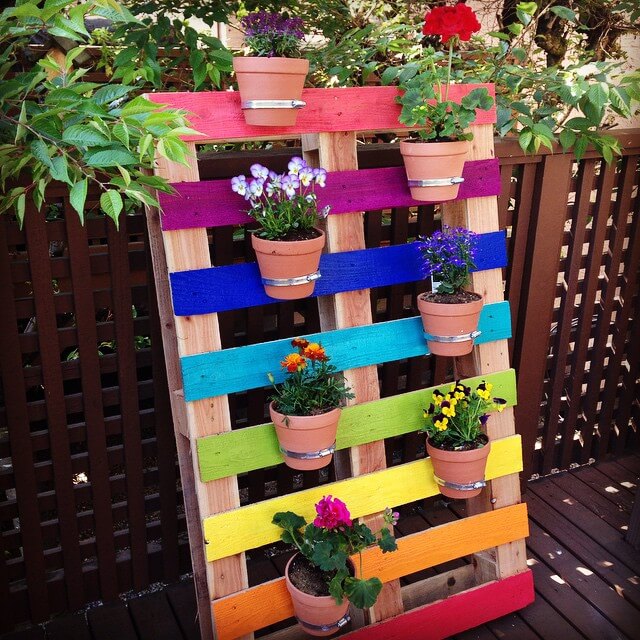 You can elevate your garden with this beautiful flower garden planter. It not only keeps your potted plants off the ground, but it does so with an eye-catching design. The pallet does well at holding them up and making sure they're secure. Feel free to give the pallet some paint too so that it stands out among the greenery from the plants.
7. Farmhouse Style Pallet Potting Bench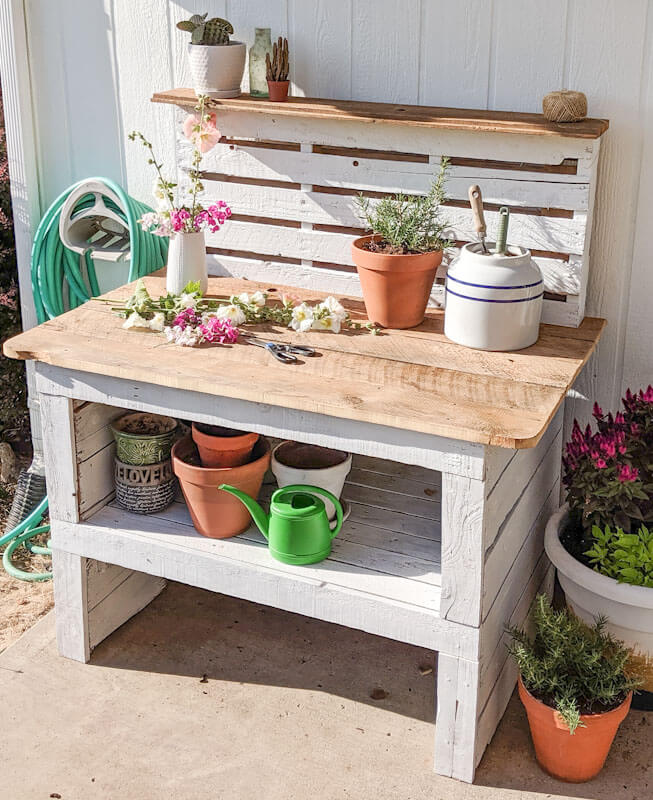 You can create a pretty potting bench that won't look out of sorts in a farmhouse-styled setting using pallets. It's nice to balance out the painted wood from the natural ones too as it can give the bench a bit more depth. The various sections in this piece also give you ample space for potting and storage so you can keep plenty of tools around.
8. Simple Painted Pallet Outdoor Bar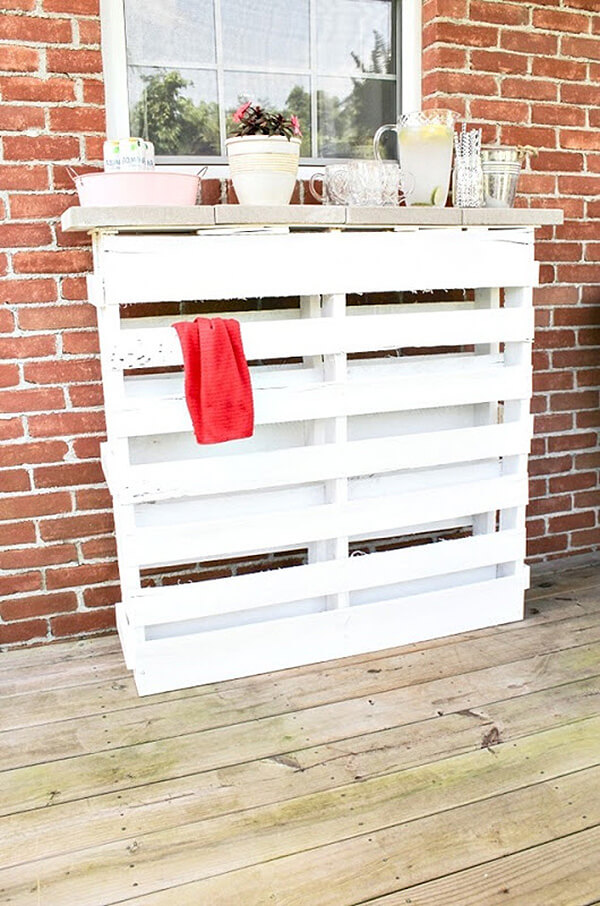 Even more compact projects can proudly stand out when given the right paint job, and that couldn't be truer than with this pallet bar. It's just the right size to support basic drink needs, and the pallet design is a good place to act as a towel holder too. Using two different colors for the paint gives it a more stylish look.
9. Incredible Repurposed Rolling Crate Storage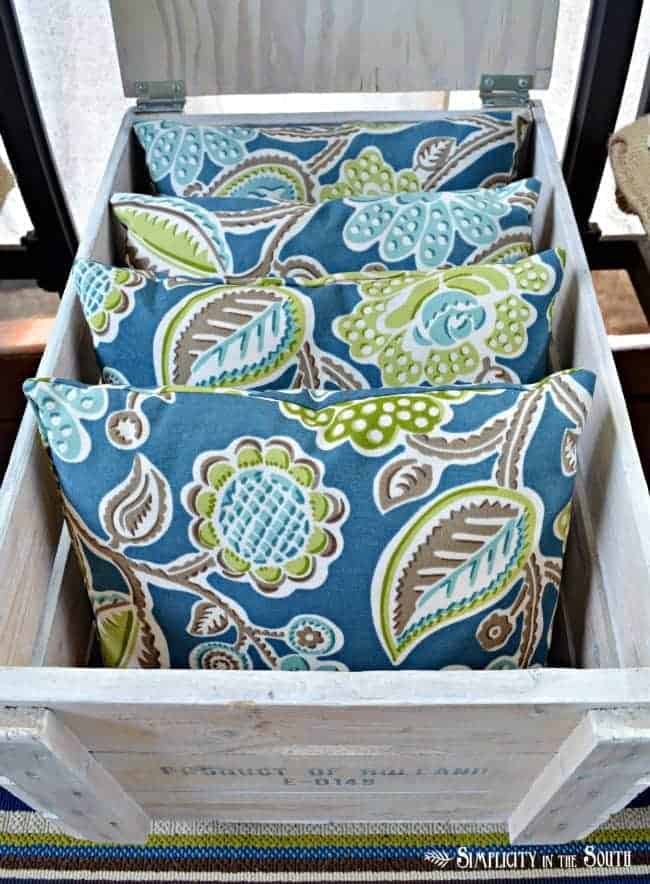 When it comes to outdoor storage, you need something that can withstand such exposure to those elements. Using pallet wood as crate storage is perfect. It can offer more than enough room to store small items you need outside, and with it being covered, it can also act as a side table.
10. Outdoor Custom Pallet Loveseat and Sofa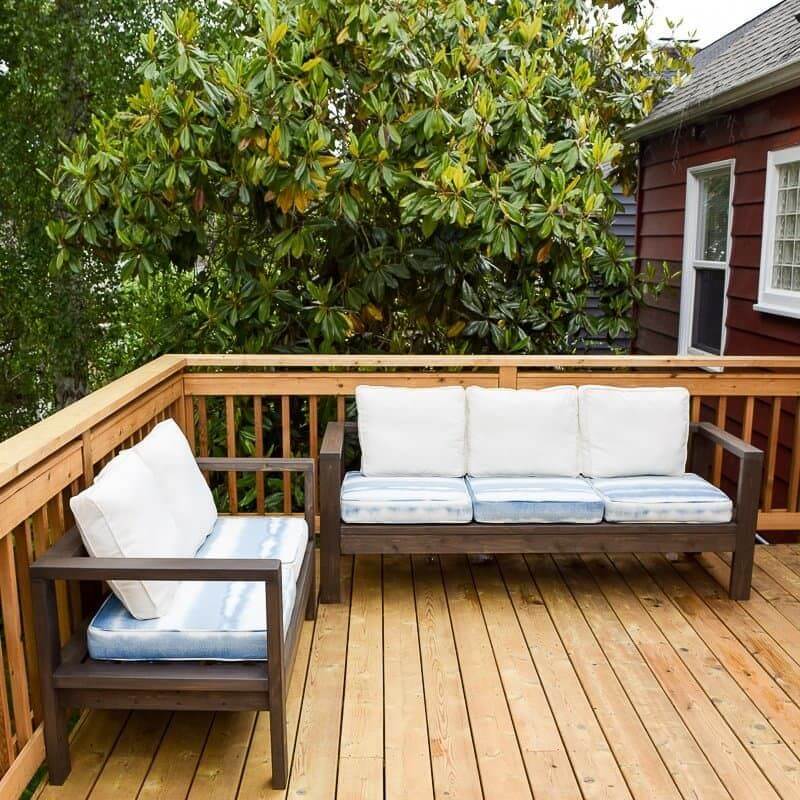 An outdoor furniture set that's reliable and comfortable doesn't need to be expensive when you make it yourself with pallet wood. The wood is sturdy enough for long-term use, but you can stretch the life of the set even further when using outdoor staining. Feel free to go as dark or as light as you wish here to best suit whatever cushions you're going to use.
11. Low-Profile Rolling Pallet Coffee Table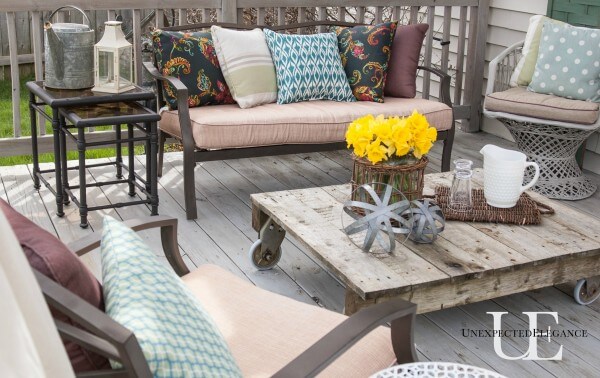 Simplicity is key here for this pallet furniture project. Sometimes all you need is something straightforward to hold your drinks when lounging outside on your patio or deck. This coffee table is spacious enough to hold some décor too so you can use it to add more color to the area as well.
12. Affordable Backyard Party Pallet Bar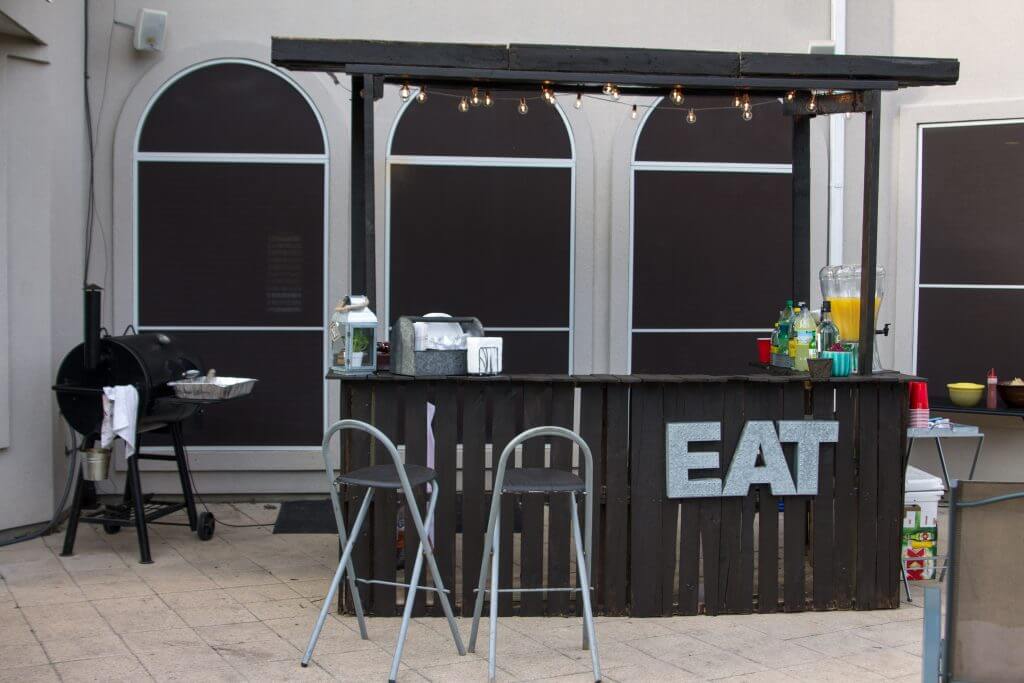 Adding in a bar whether for alcohol, food, or both is a great way to turn your backyard into a gathering place. You can build one too using appropriate pallet materials. It gives off the impression of something vintage and rustic depending on the paint you decide to use. You can also make a cool covering to hang lights from for nighttime fun.
13. Quick and Cool Window Box Makeover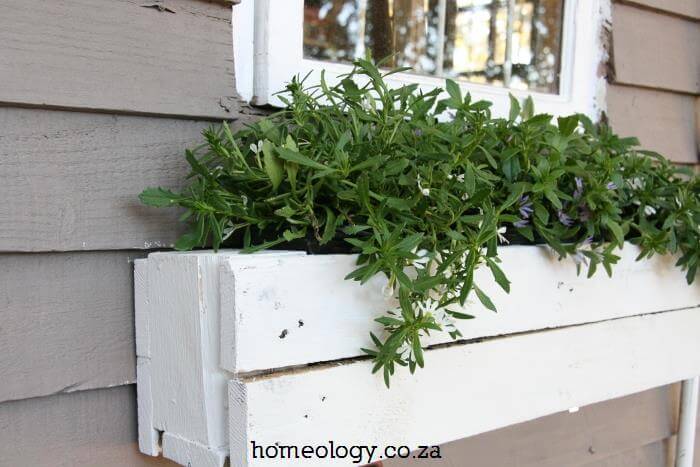 Window boxes for plants are always a great way to add some décor to the outside of your home. There's no need to go overboard either to do so with this great homemade box using simple pallet wood. Once you trim it to size and make the shape, you can paint it any way you'd like to suit your specific décor.
14. Cute Painted Pallet Porch Swing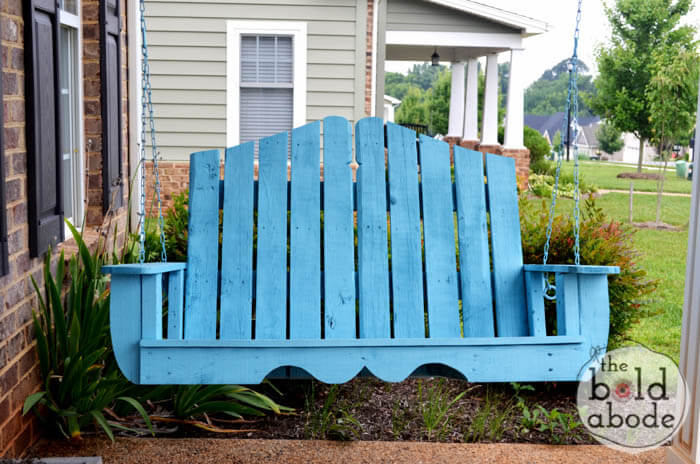 Porch swings are a cute sight, but you don't need to spend too much on one when you have some quality pallet wood. The material works out well in creating a farmhouse-like style that looks welcoming and fun. It's sturdy too, and depending on how long you make the swing, it should be able to hold multiple people with ease.
15. Smooth and Welcoming Pallet Couch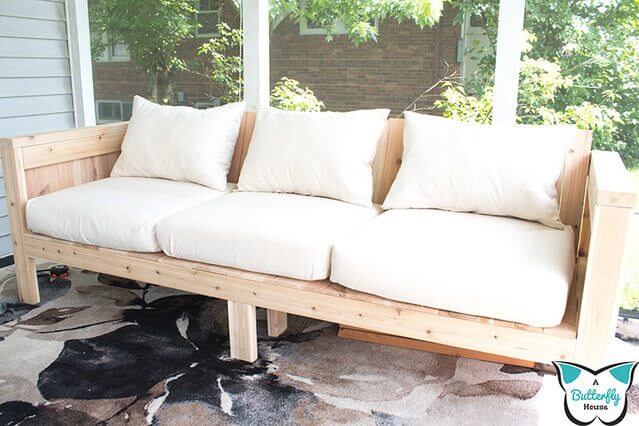 Using pallet wood to create the furniture you can sit on is a fun choice considering how durable the material is. Not only does it support you well, but it also stays in place outside even when the wind starts to pick up a bit. Make sure to sand it out so you have something that's wonderfully smooth and appealing to look at. This frees you up on adding any cushions you please since everything can match the wood.
16. Stunning Pallet Table with Succulent Holder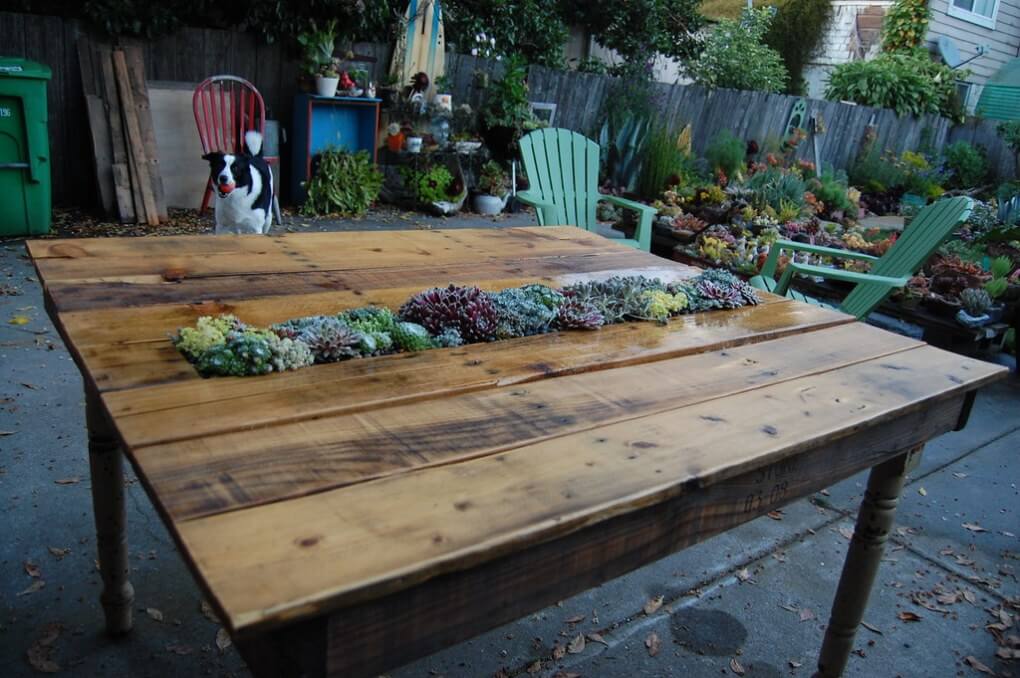 You can create a unique design using pallet wood by creating a table that's not only good to eat at, but also one that can hold your succulents in place. It is an awesome idea when you're looking to add a pop of color to your décor without needing any outside holder to keep the plants in.
17. Outdoor Wooden Chair Set with Middle Table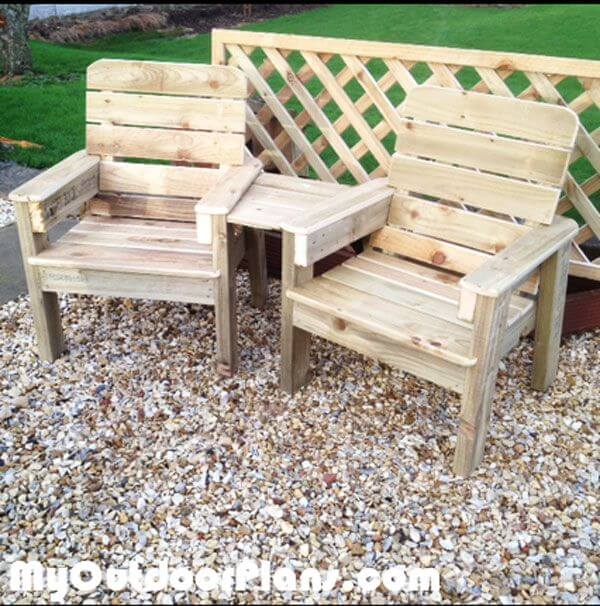 Create that cozy conversation corner where you can enjoy a cool drink and catch up with those you love most. This three-in-one outdoor furniture piece is made of wood that can be stained or painted to your preference. It positions you right where you want to be for relaxing in the backyard with family and friends.
18. Turquoise Crate Outdoor Shelf and Storage Bin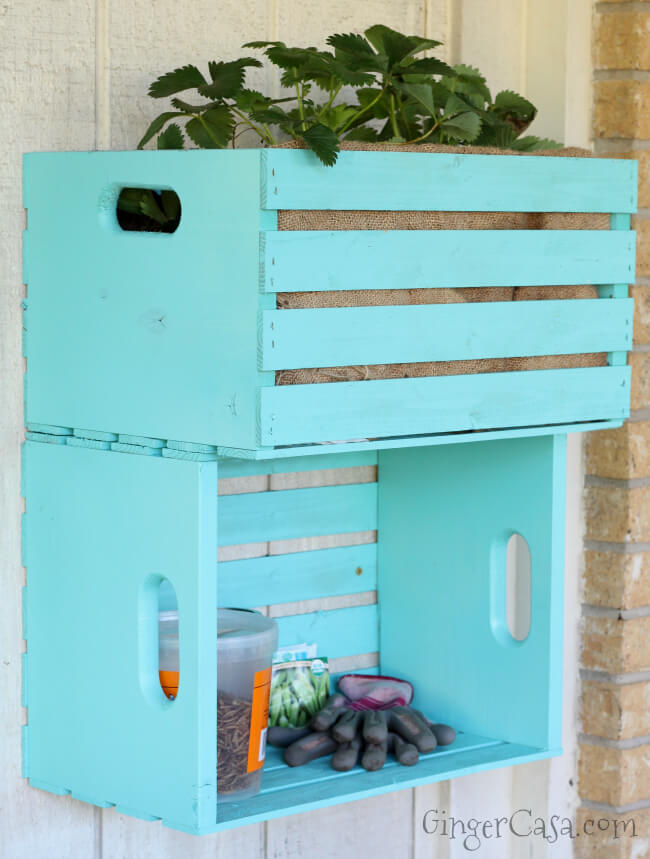 Add a splash of color along with some much-needed storage with this cute crate creation. Two crates pair up to provide you with all of the organization and space you'll need for a plant or two and your trusted gardening tools. Position one above as a bin or caddy to contain your potted plant, while the open one below acts as a deep and walled-up shelf.
19. Pallet Wood Lantern Candle Holders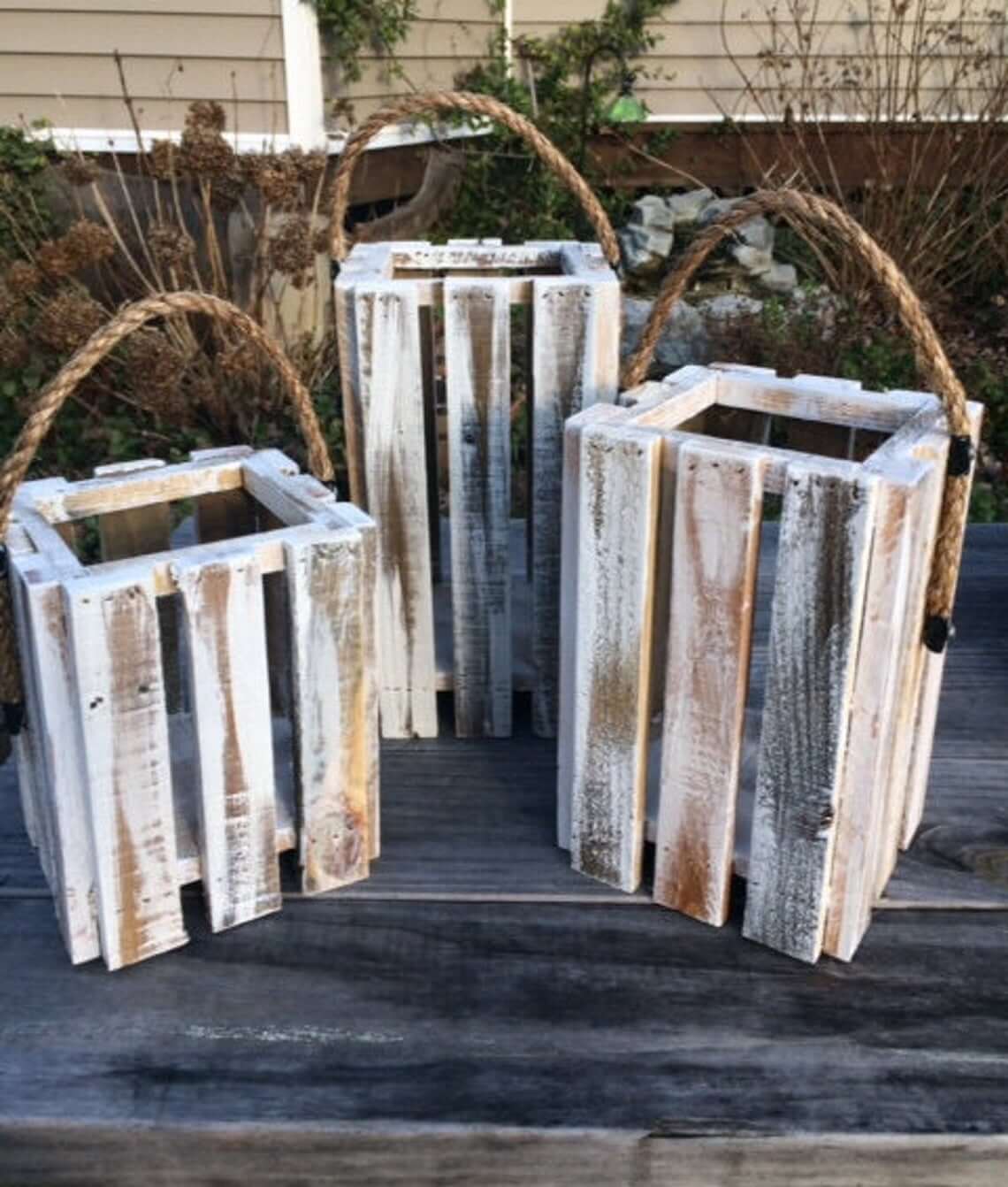 These distinctive candle holders have a pleasant rustic appearance with their weathered style. Combined with a nautical rope, and they can make the perfect décor around the home or for special outdoor occasions. This set of three comes in different sizes too for good versatility in how you set them up.
20. Cool Wooden Garden Wall Bar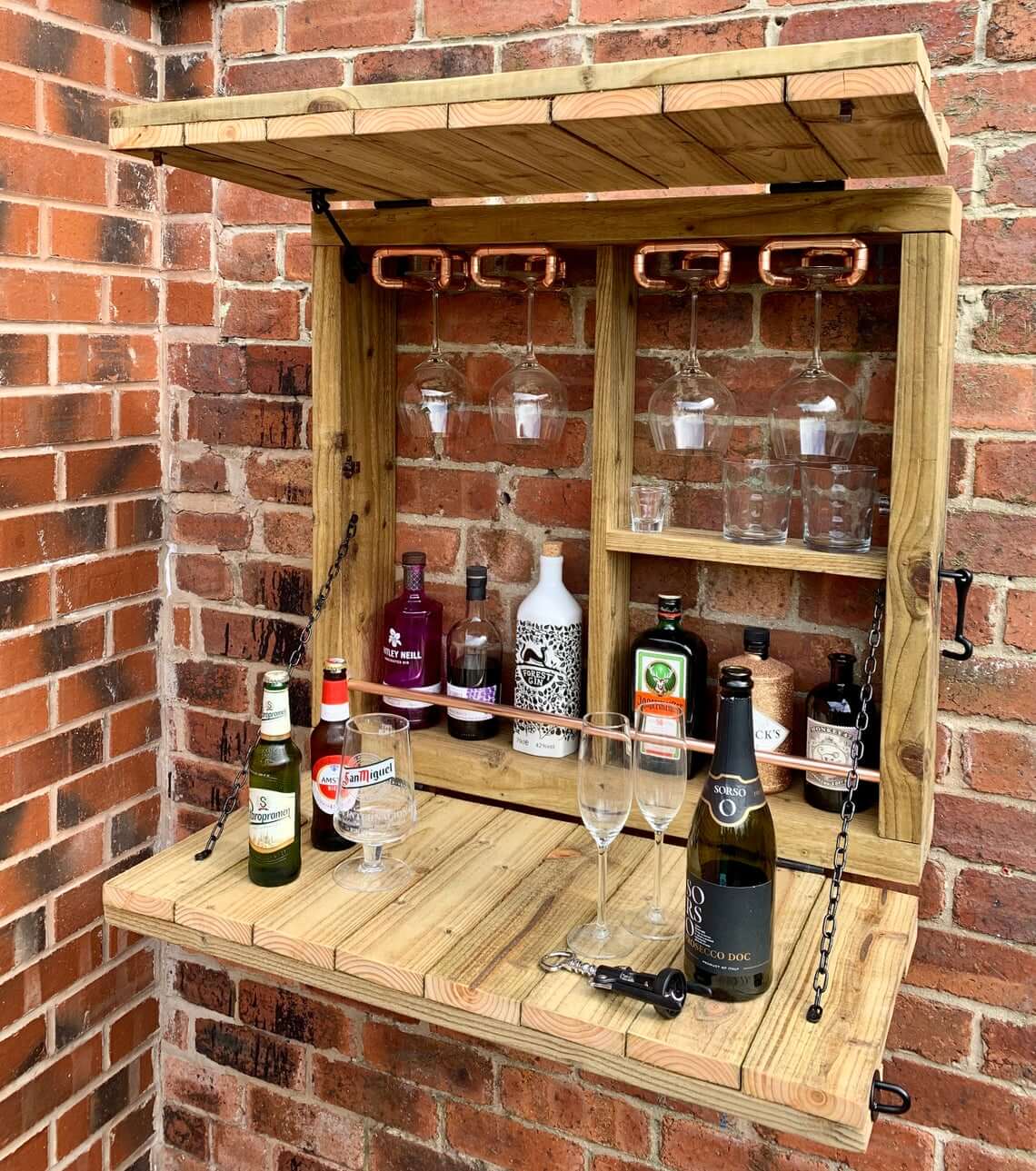 This wall bar offers a good deal of elegance while still maintaining the natural appearance and feel of the wood. There's plenty of storage room in a compact design too for multiple bottles and glassware. Also, it's the perfect furniture when space is an issue since it can fold up out of the way.
21. Half Pallet Table with Drawers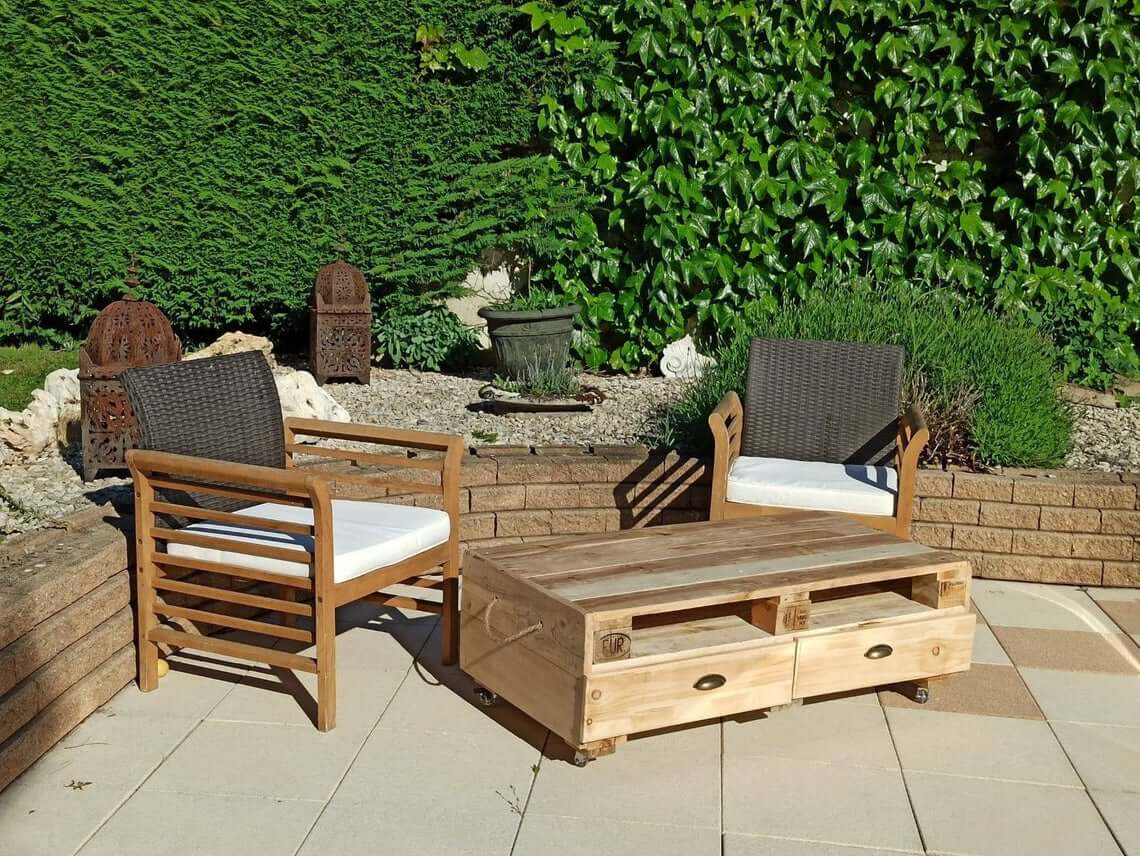 Great for use either indoors or outside, this incredible table made from pallet wood is simple yet still manages to stand out. It's compact and low enough that it can make for the perfect coffee table for your patio. The wheels allow you to move it around as needed, and the drawers are perfect for storing small items so they're well within reach.
22. Vintage Pallet Wooden Coffee Table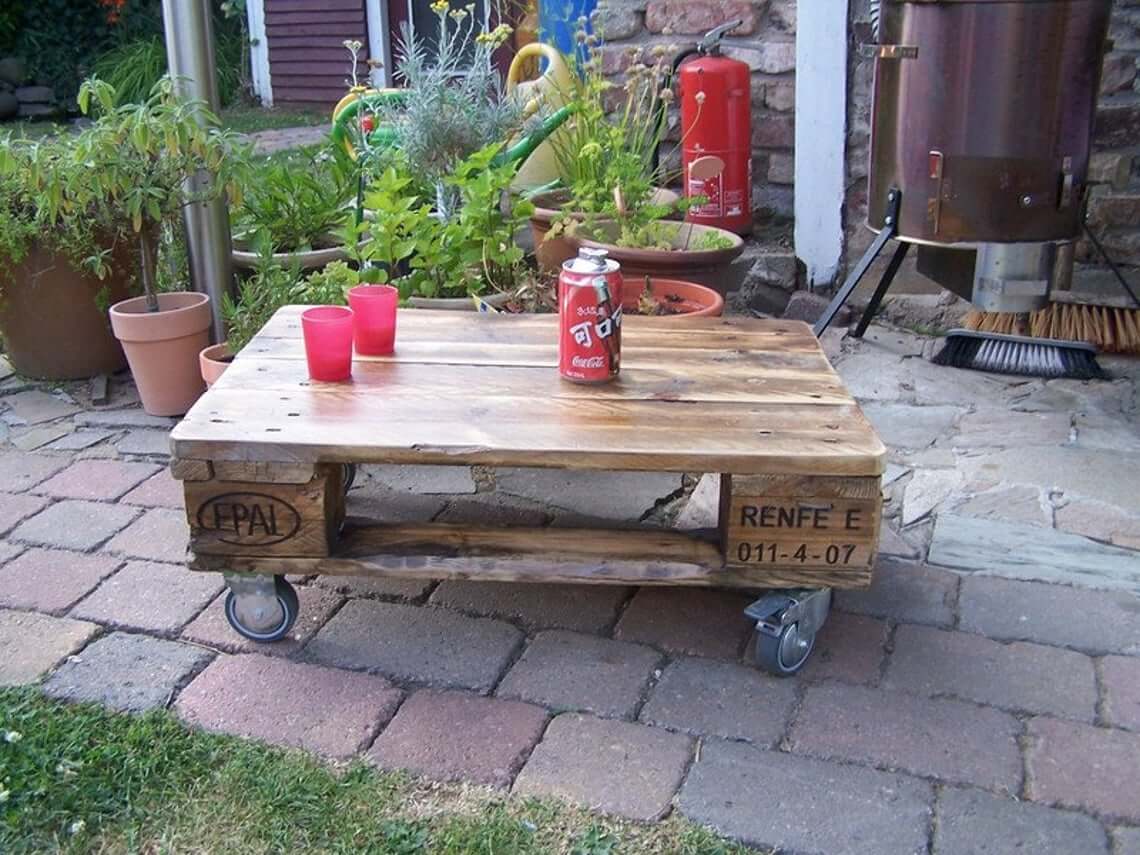 With a simple design, this coffee table does its job effortlessly. It's spacious so it can hold multiple items or decorative pieces. There are large wheels attached for stability and ease of rolling when you need to move it. Also, the darker appearance of the wood gives it an appealing industrial look.
23. Recycled Handmade Pallet Wooden Chest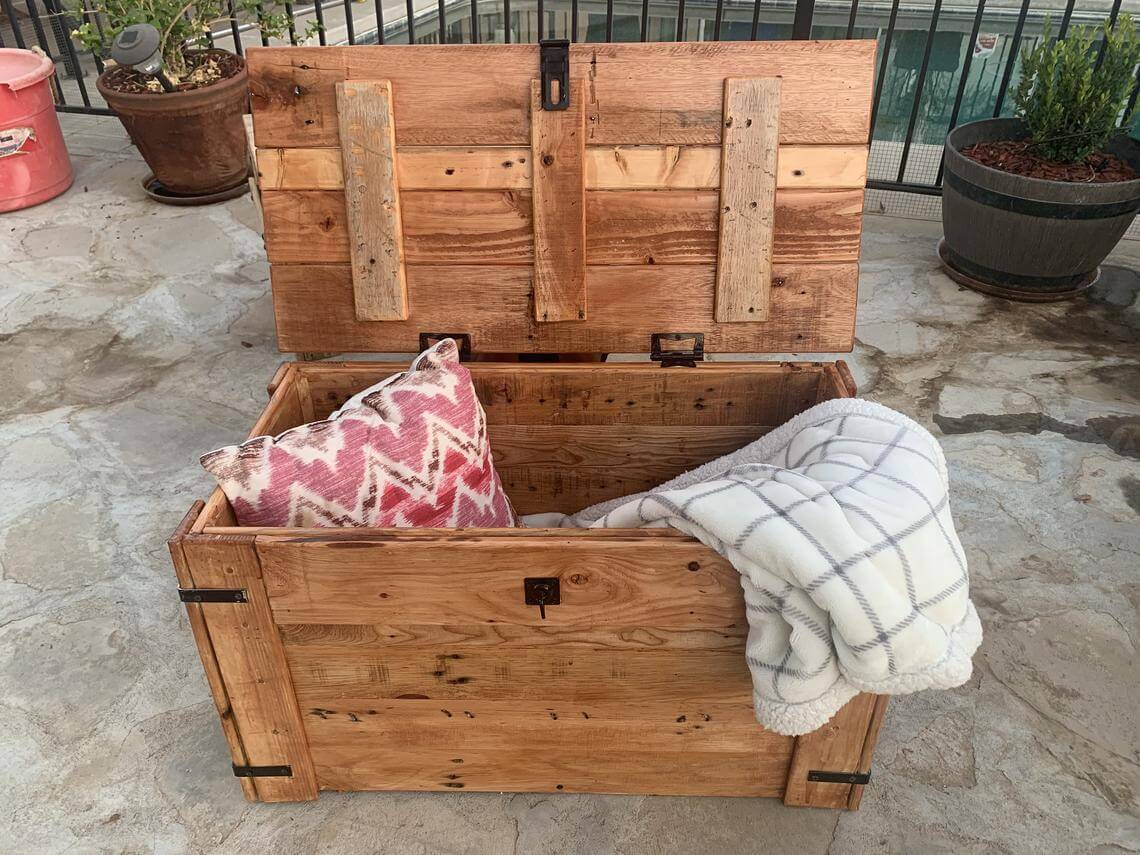 Recycled wood has never looked better than with this amazing wooden chest. It is a great size to hold any necessary outdoor items you need whether that's gardening tools or pillows and blankets for the deck furniture. Since the natural appearance of the wood is left, it gives this piece a more rustic feel.
24. Set of Outdoor Patio Pallet Furniture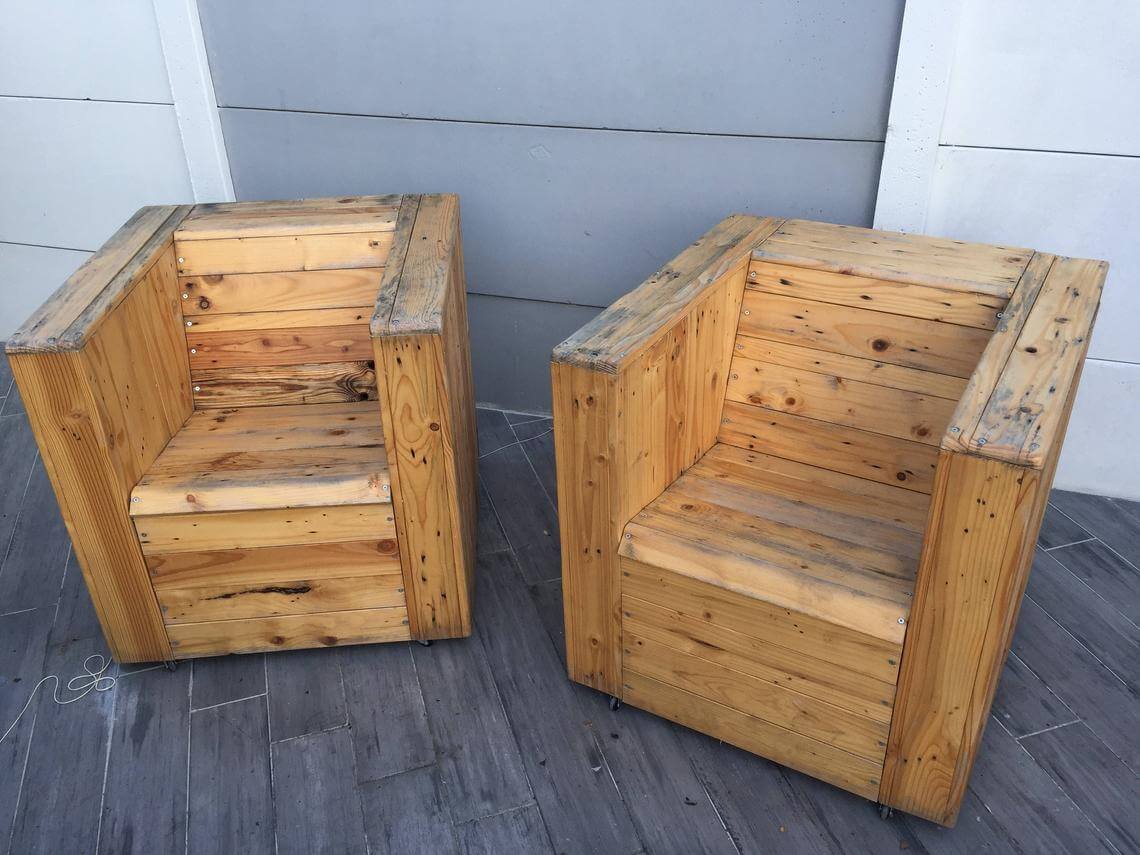 If you need to decorate your entire deck, then check out this outdoor patio furniture set. It features a multiple-level table, two chairs, and a square stool. This handmade set appears well-designed and sturdy for long-term use outside. Everything also has a nice warm and bright finish applied, giving you room to add in some extra pops of color with cushions for the chairs, décor for the table, etc.
25. A Comfortable L-Shaped Bench with Planter Potential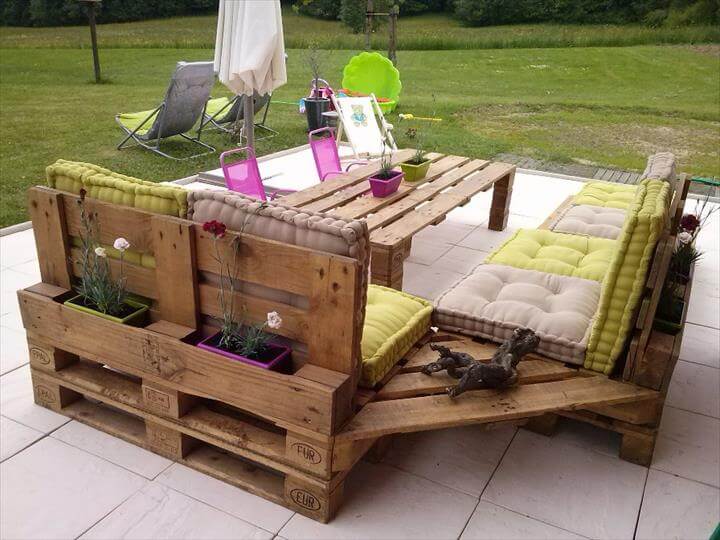 This comfortable L-shaped pallet bench is perfect for your backyard entertaining needs. This truly unique backyard couch seats a number of guests at the table to eat, drink, be merry while enjoying the festivities. In addition to its functionality this bench doubles as a planter, adding a decorative and natural feel to it. You will get years of use from this beautiful seating arrangement.
26. Cushioned Tree Swing for a Sunny Day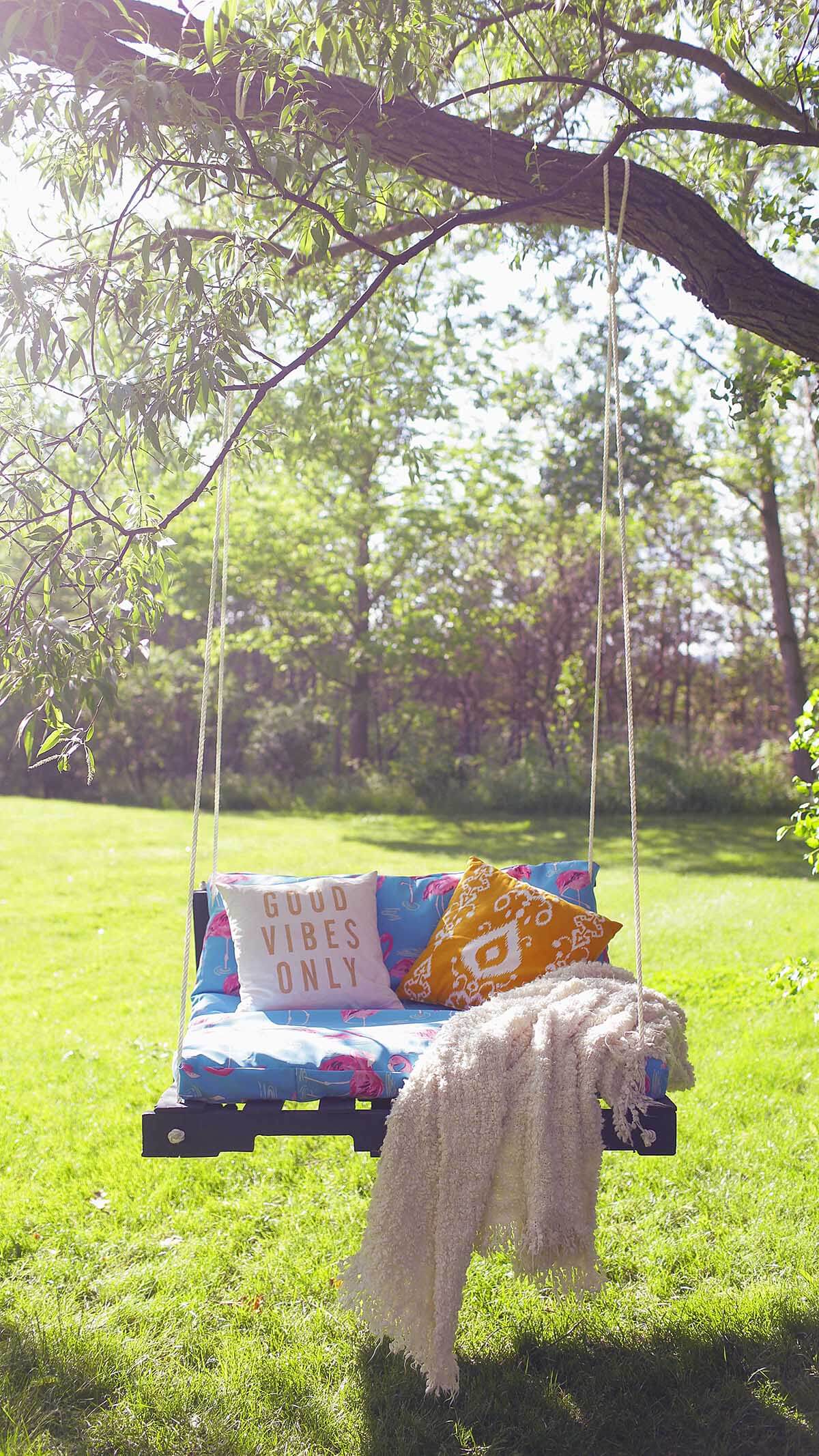 If you're looking to enjoy the shade of your favorite tree on a lovely and bright sunny day, allow this cushioned seat to swing into your life. Sturdy ropes suspend this pallet seat from a strong branch. The plush pillows bring comfort and a sense of ease as you swing the afternoon away.
27. White Finished Table with a Hardwood Top

This white finished pallet table has a classic country appearance, made functional with its wood hard-topped surface. Enjoy a glass of tea or a simple card game on this beautifully finished table. The slats beneath the table can double as storage for magazines or books for an afternoon of easy reading in your backyard. This table is a gorgeous addition to your yard space.
28. A Colorful Hanging Garden for Your Porch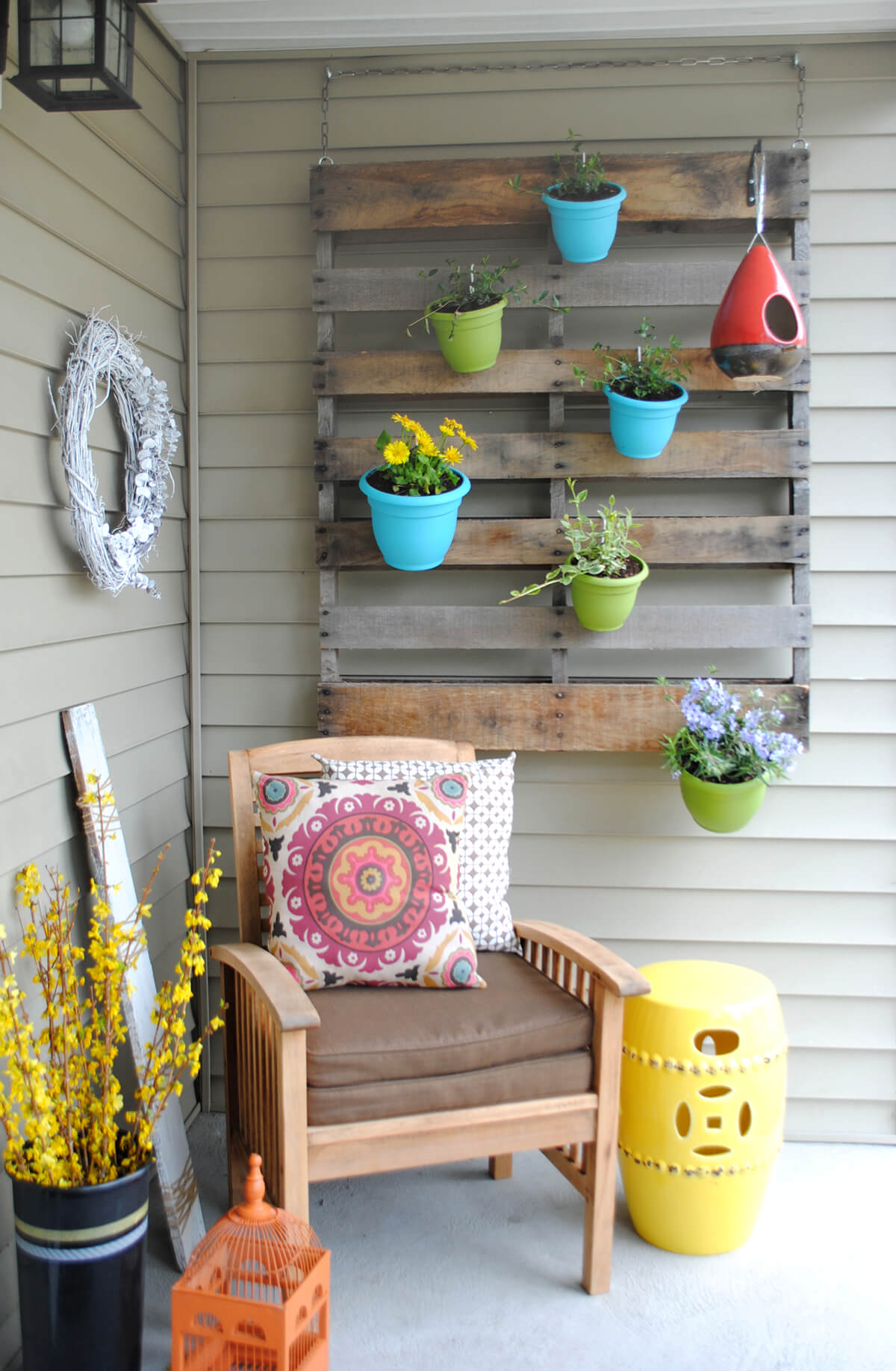 A hanging garden is unique way to display a lovely array of potted flowers right on your front porch. The basic tone of the pallet allows the color from your planted to burst forth in splendid beauty. You can also add a bird feeder to your hanging garden to attract your feathered friends to share in your idyllic porch garden.
29. L-Shaped Countertop with Plenty of Storage Space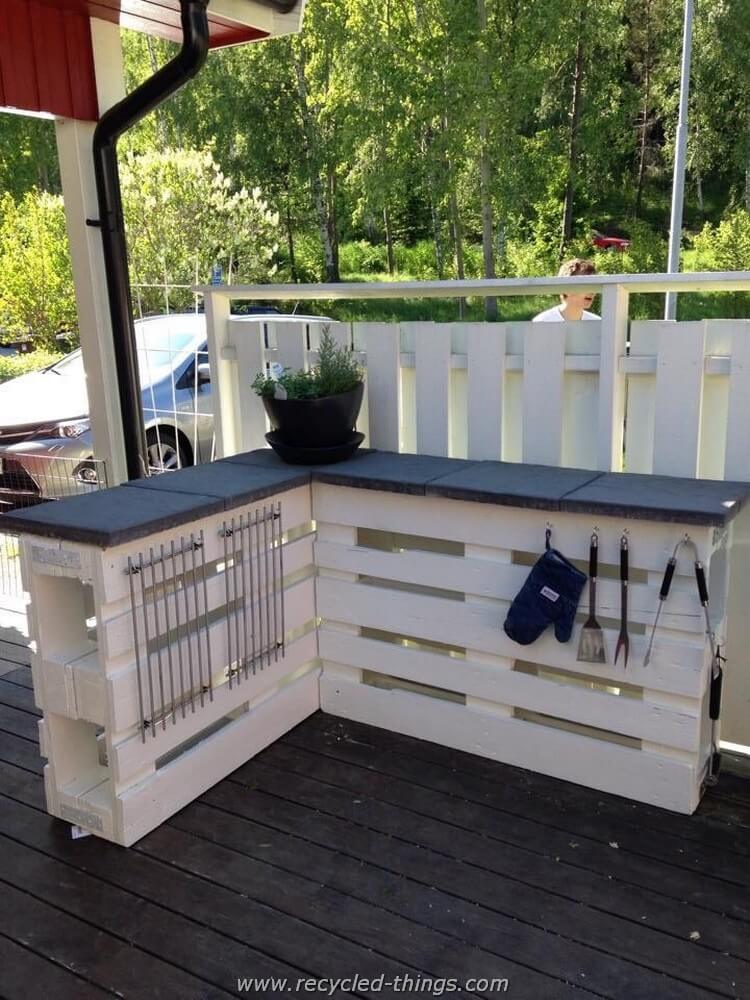 An L-shaped counter is a great way to store your grill and outdoor bar utensils. Simple attach a few hooks to the sides of your pallet table and it makes a useful place for your tongs and oven mits. The flat top can be used as a preparation surface for your marinated meats or a place to sit pitcher drinks during a backyard barbecue.
30. Reclining Seats for Your Patio or Deck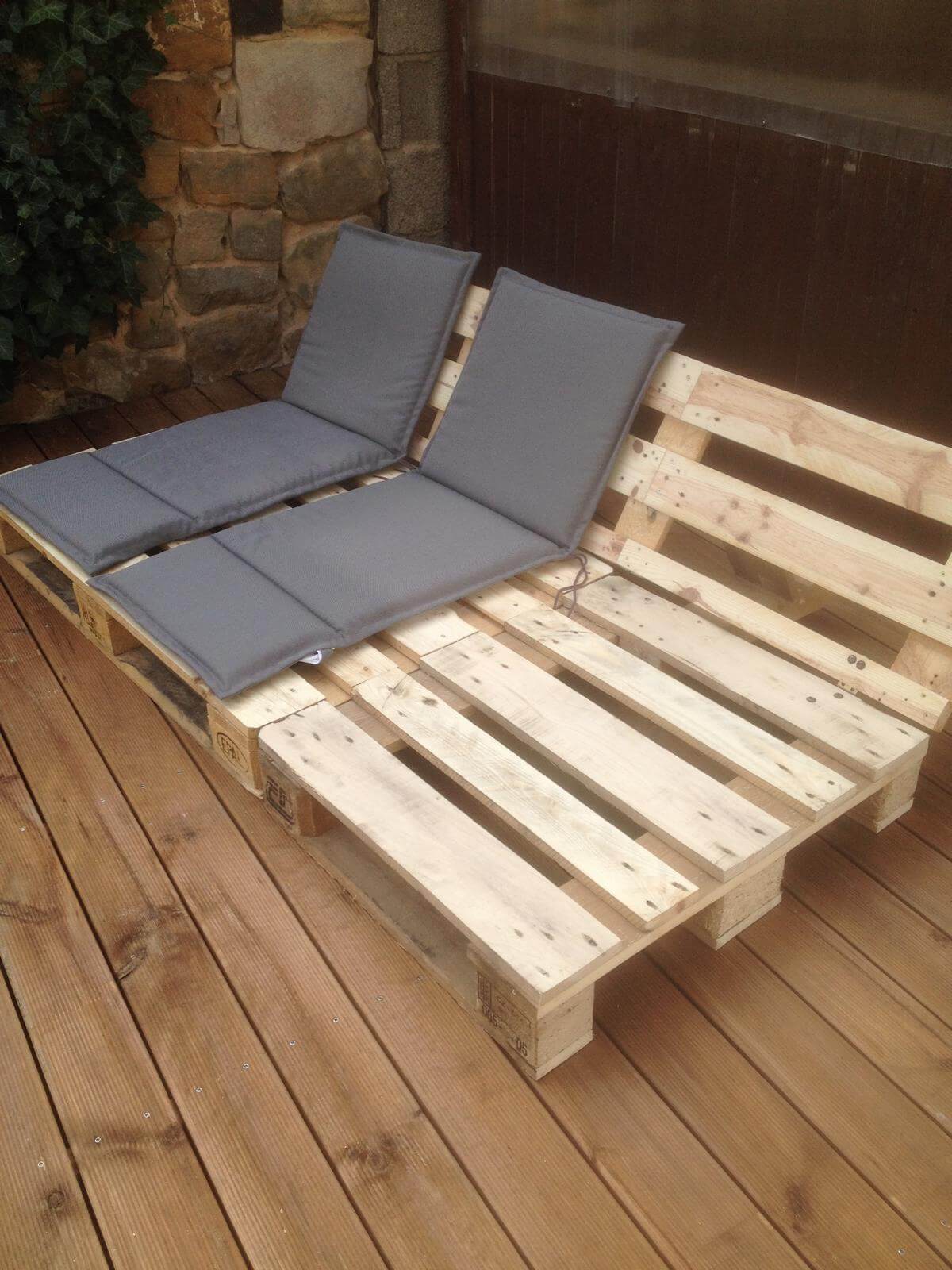 Make your patio more comfortable with this innovative take on reclining seats. This exceptional patio couch is large enough to accommodate a few people easily. Adorned with comfy cushions, you can enjoy an evening out under the stars having drinks with friends. In need of an inexpensive patio couch, this cushioned pallet will fill all your desires.
31. A Beautifully Stained Wooden End Table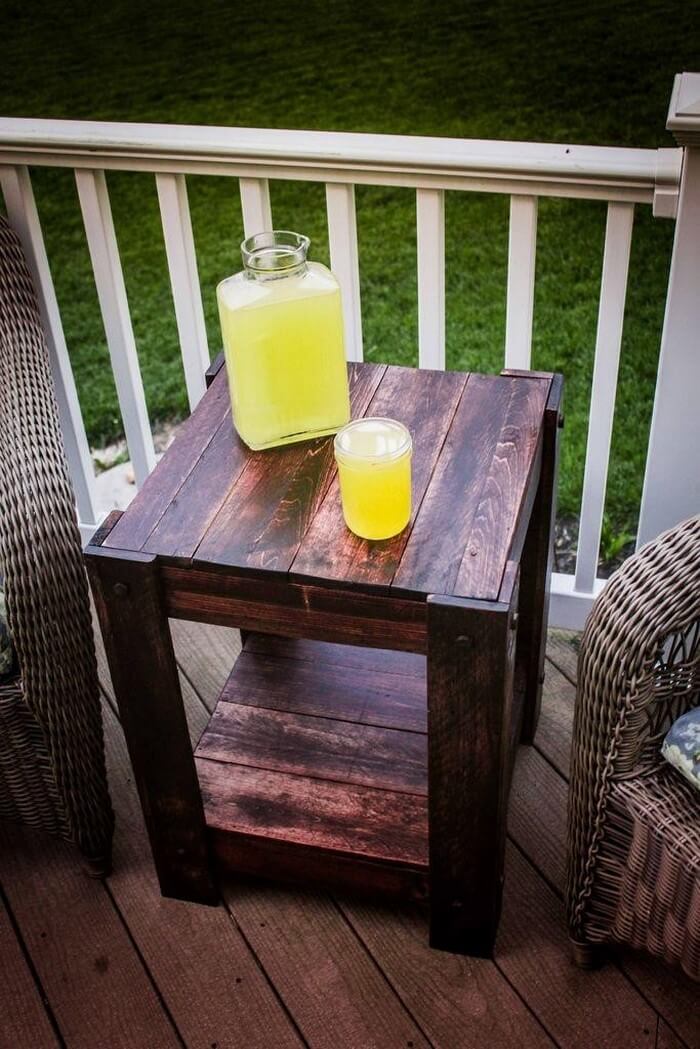 Looking as if it came from the floor of a high-end furniture boutique, this inexpensive dark stained wooden end table is a wonderful addition to your outdoor furniture set. This table provides a sturdy and beautiful surface to place your drinks or books as you enjoy a cool evening or warm afternoon outside. The finish is so perfect, no one will believe its true origin.
32. Outdoor Pallet Furniture Ideas with Wheels for Moving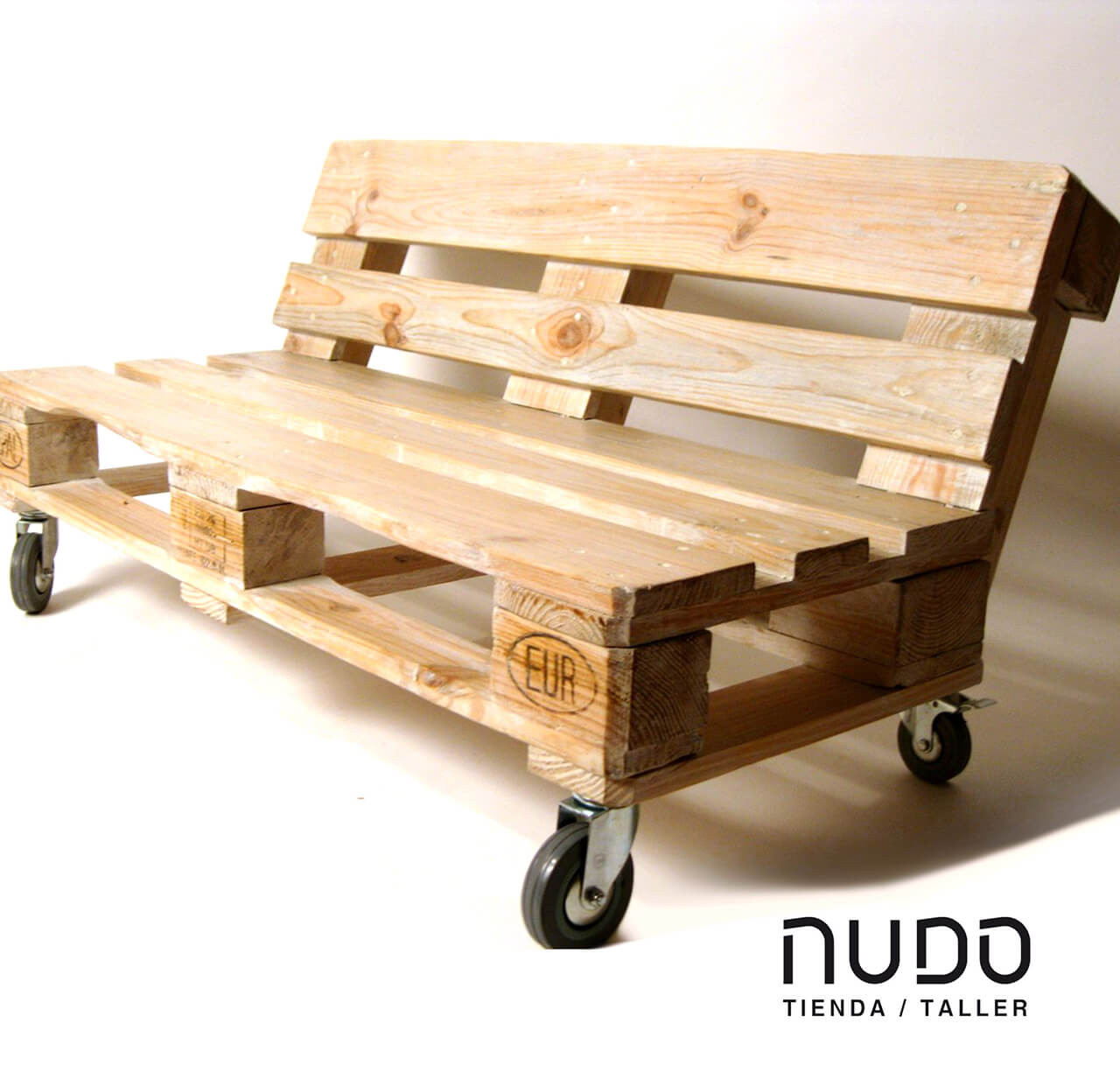 This wheeled pallet chair is a brilliant seating idea for your backyard patio. The wheels allow it to be mobile, so it can be moved to different places based on your particular needs. Place some plush, decorative cushions on it to bring an additional element of comfort, color and decor to your patio space.
33. Patio Set with a Table and Four Seats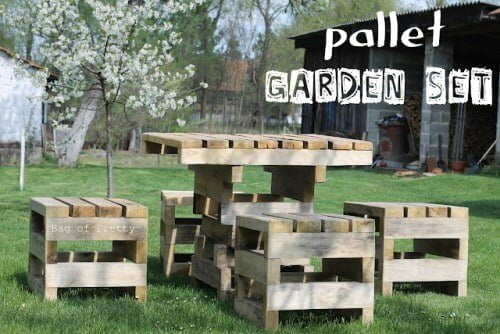 This pallet set is equipped with a table and four petite seats ready to host a quaint backyard lunch date. In a fun and creative use of pallets, this inexpensive and functional table set is perfect for a simple yard seating arrangement. Beautiful cushions on the seats will bring an added touch of style to this set.
34. Outdoor Pallet Furniture Ideas with Plush Pillows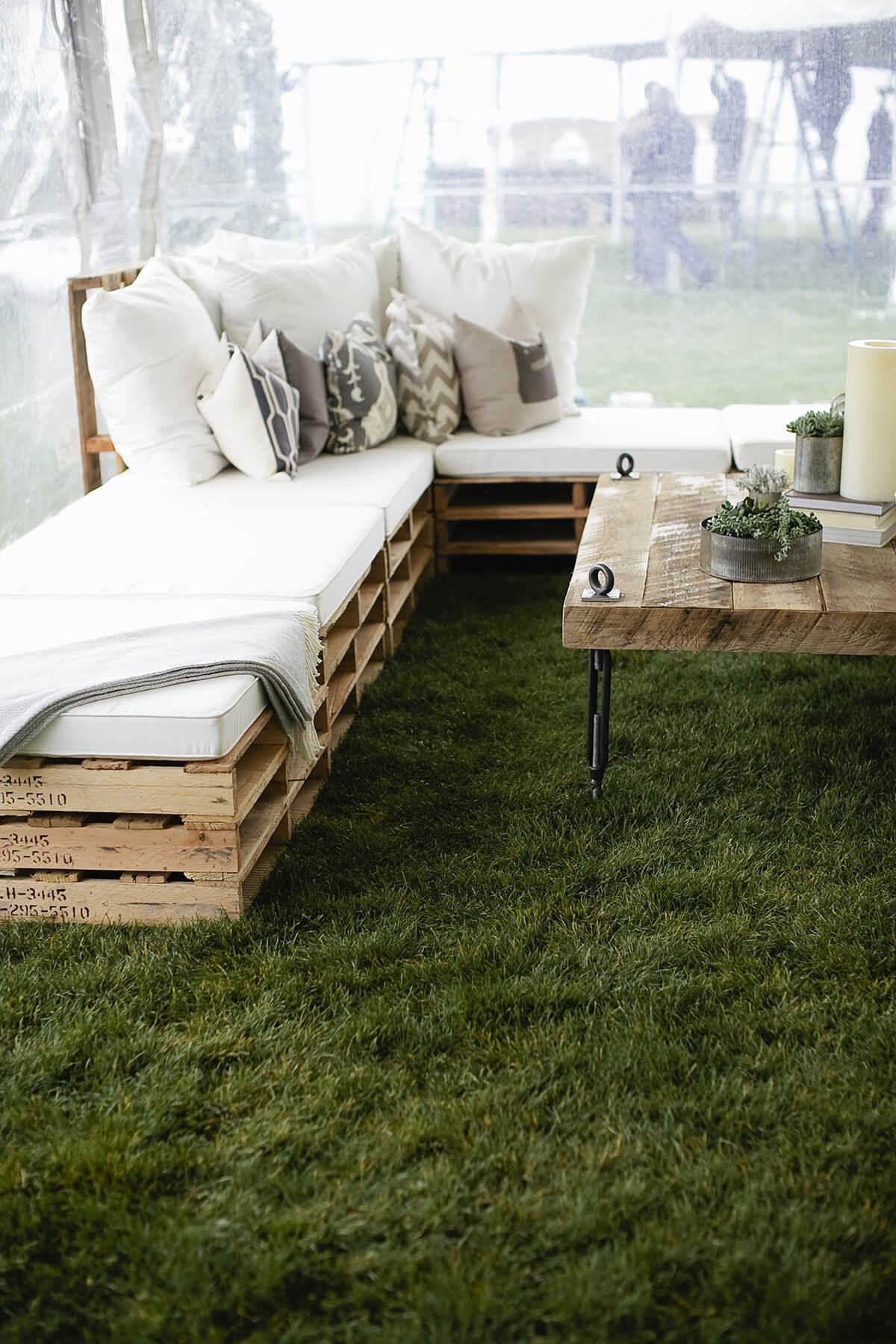 Create a beautifully classic look on your patio with this smart L-shaped cushioned seating. Large, plush pillows add an appeal of comfort to this lovely couch. The slats underneath the seating can be functionally used for storage of books, magazines and games. This piece brings beauty and practicality to your outdoor setting.
35. Stools with a Soft, Zig-Zag Patterned Cushion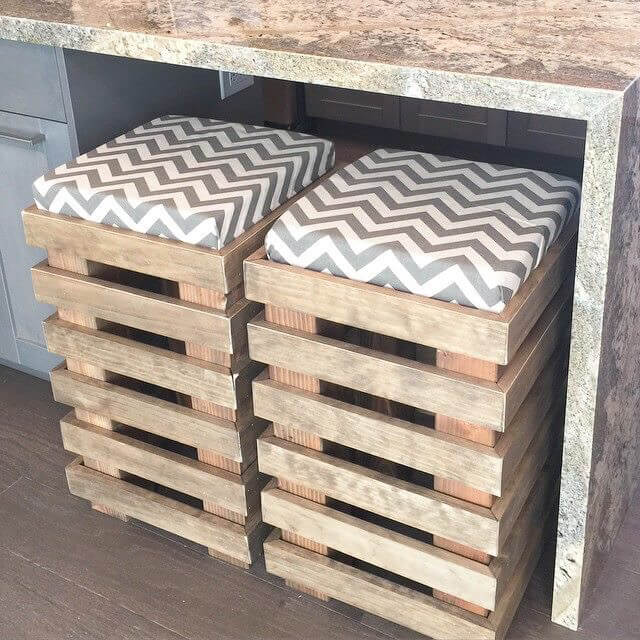 Bored of the typical bar stool look? Add character to your backyard bar stools by using pallet seating with eccentric zig-zag cushioning to give your outdoor bar a unique flare. These small stools are cute, and cozy with a striking appearance. Pull up to the bar and place your order with style!
36. A White Bench Created From Two Pallets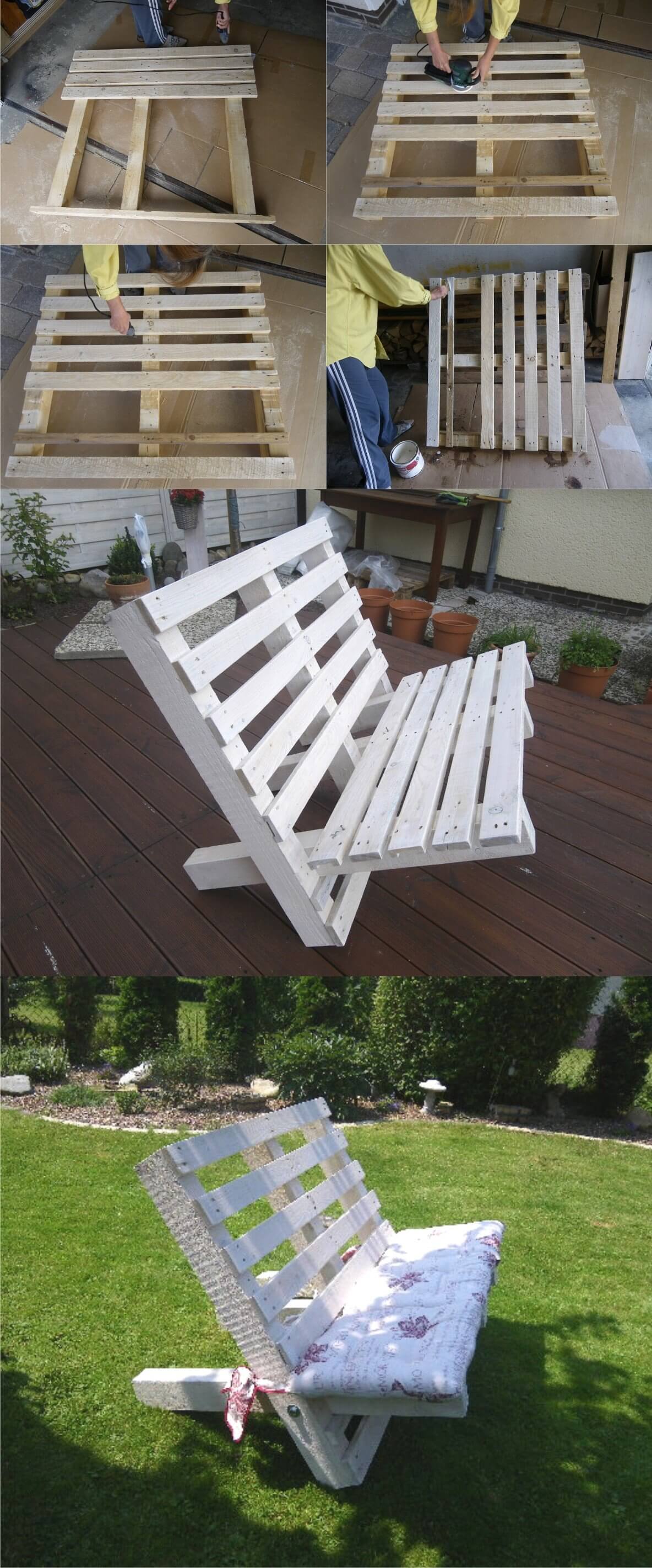 Create the feel of walking through a beautiful city park in your own backyard with this double pallet bench. The white painted finish gives the bench a classic country vibe and allows it to be decorated with a number of different colored or printed fabric cushions. You will truly enjoy the wonderful simplicity of this pallet bench.
37. A Rustic Bench with a Foot Stool Crate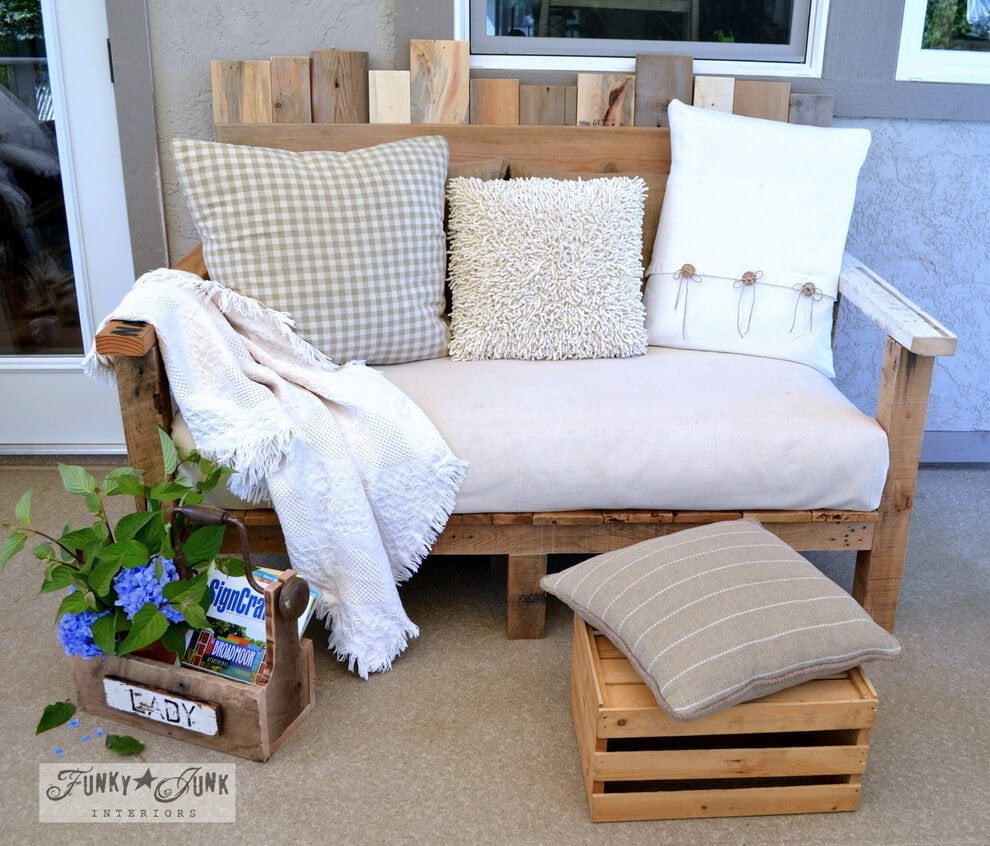 A rustic style bench is an amazingly comfortable piece to decorate your porch or patio. Created with pallets, all that is needed for this outdoor couch is a large, plush cushioned seat and a few beautiful pillows to design a cozy feel and striking look that will make you forget that you are in your own backyard.
38. An Entire Kitchen for Every Barbecue Need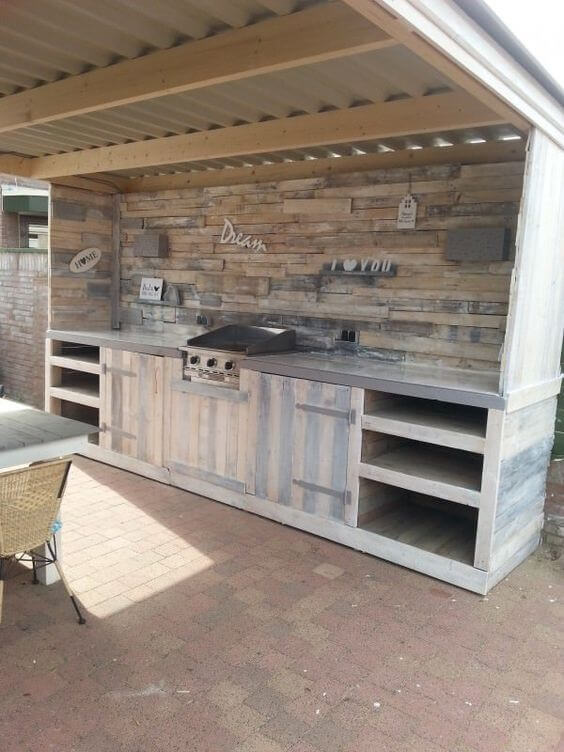 Using simple crates and a lot of ingenuity, you can put an entire kitchen, complete with a hard-top surface and working grill, on your patio. Entertain your guests in elegance for your pool parties and backyard barbecues. This piece has plenty of storage space to keep the party going for hours on end. The time and effort to build this area will definitely be worth it!
39. Beautiful Mahogany Chairs for Your Outdoor Patio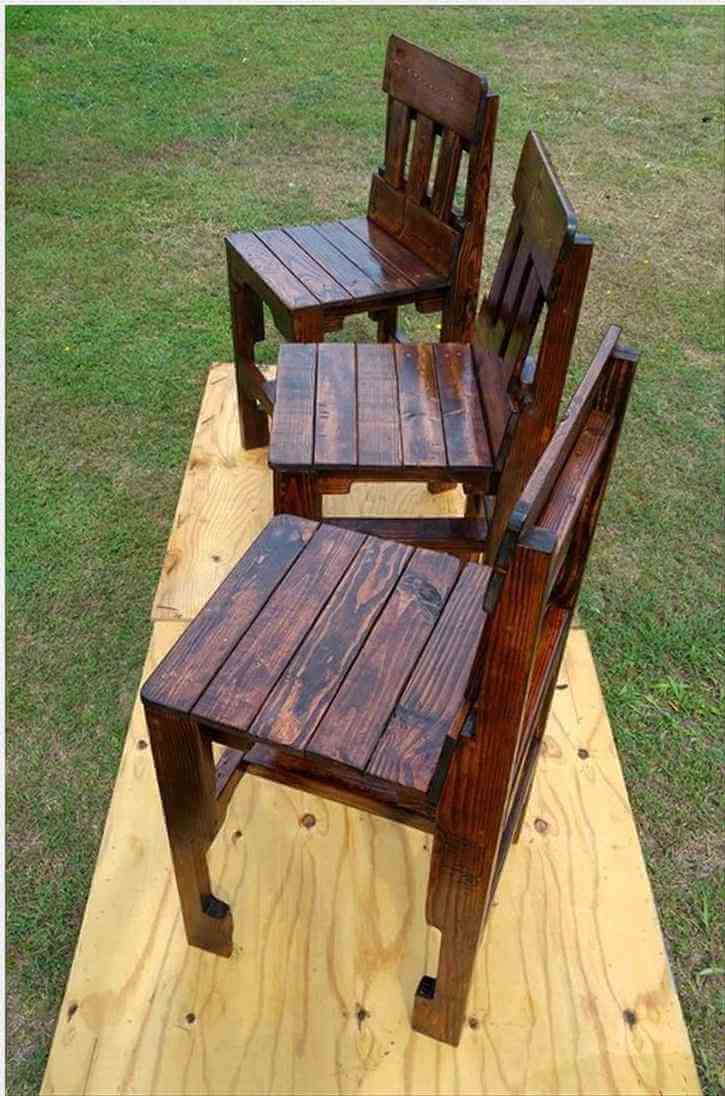 These lovely mahogany chairs are absolutely perfect for an outdoor table set. The dark finish gives them a sturdy wooden appearance for a fraction of the cost. Sitting around the right table, these chairs will complement your patio with a rustic and woodsy appeal. With good craftsmanship, these chairs will be a nice feature at many gatherings.
40. Floral Outdoor Pallet Furniture Ideas for Your Lawn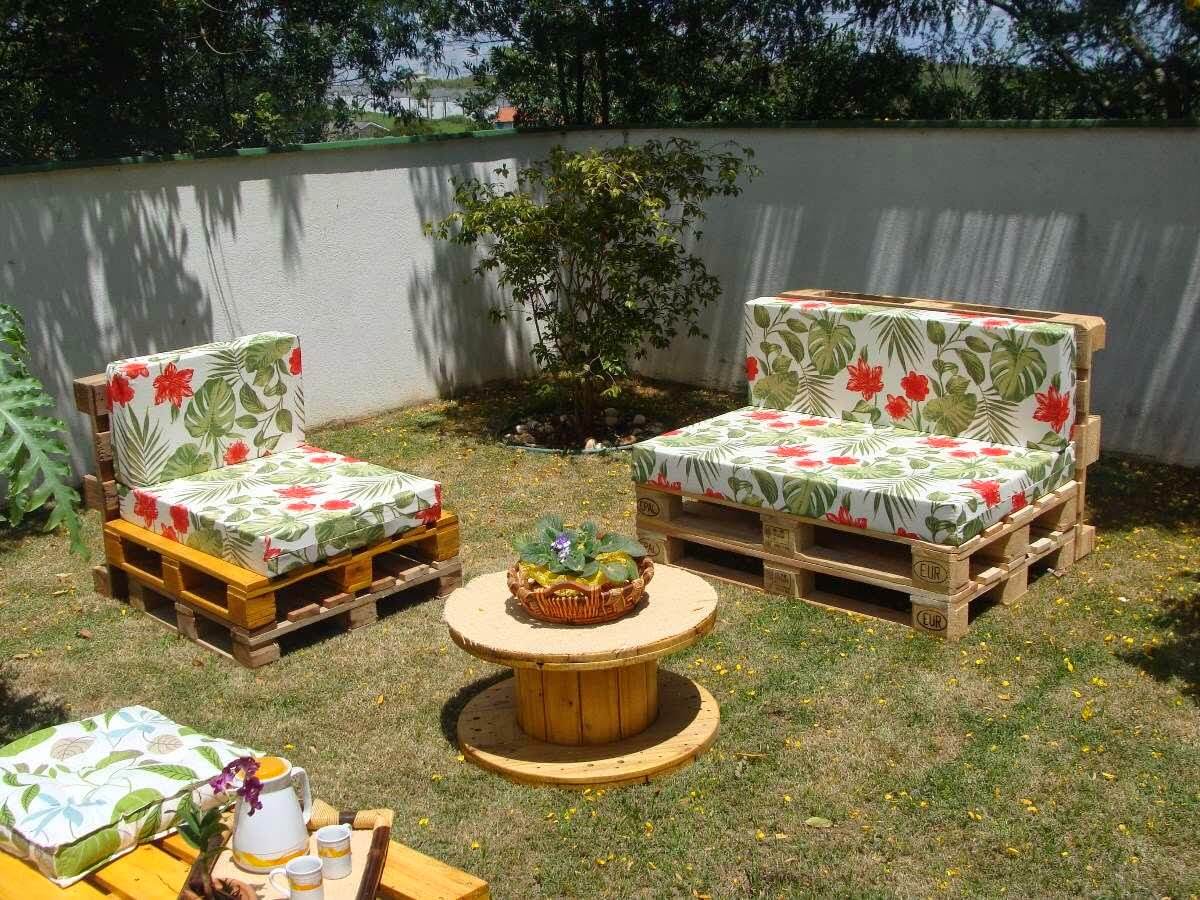 Spruce up the yard with these cute, floral patterned pallet chairs. The thickness of the cushions make for a terrific seating area to spend an entire summer afternoon lounging under the sun with a glass of lemonade. The slats underneath the seats can be used for additional storage making these chairs not only gorgeous but functional as well.
41. Narrow Wooden Counter with a Stone Surface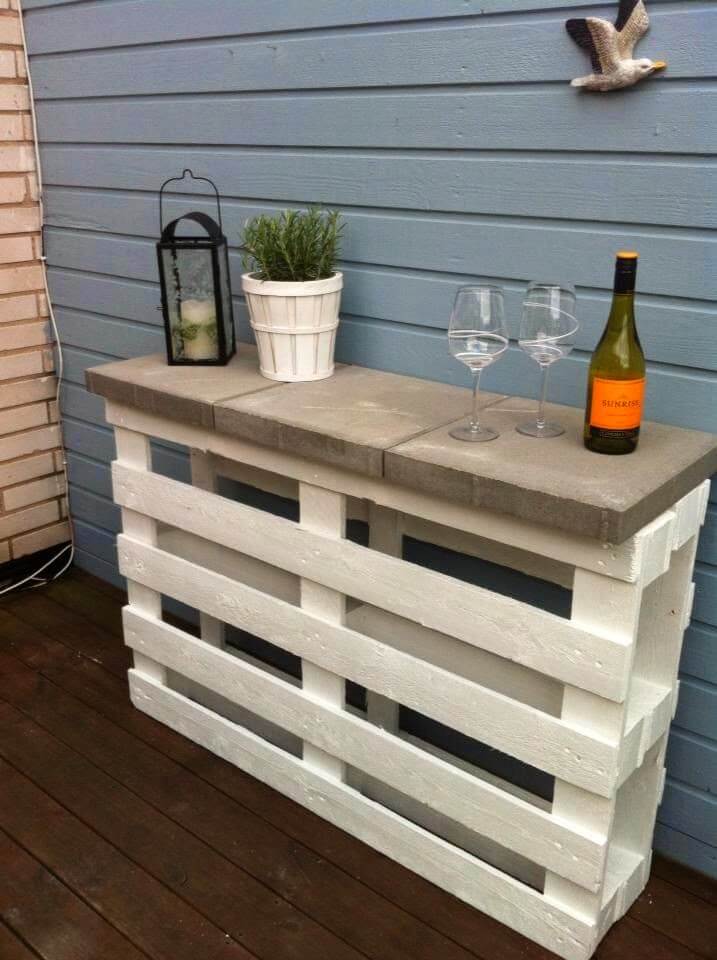 This pallet table design is a stylish and functional addition to your patio. The beautiful white finish draws in the eye adding a classic detail. The light-colored stone top surface creates a smooth space to display a plant or two while also providing a functional place for an outdoor mini bar. Cuteness and practicality in one simple piece.
42. Enclosed Seating Area with Cushions for Comfort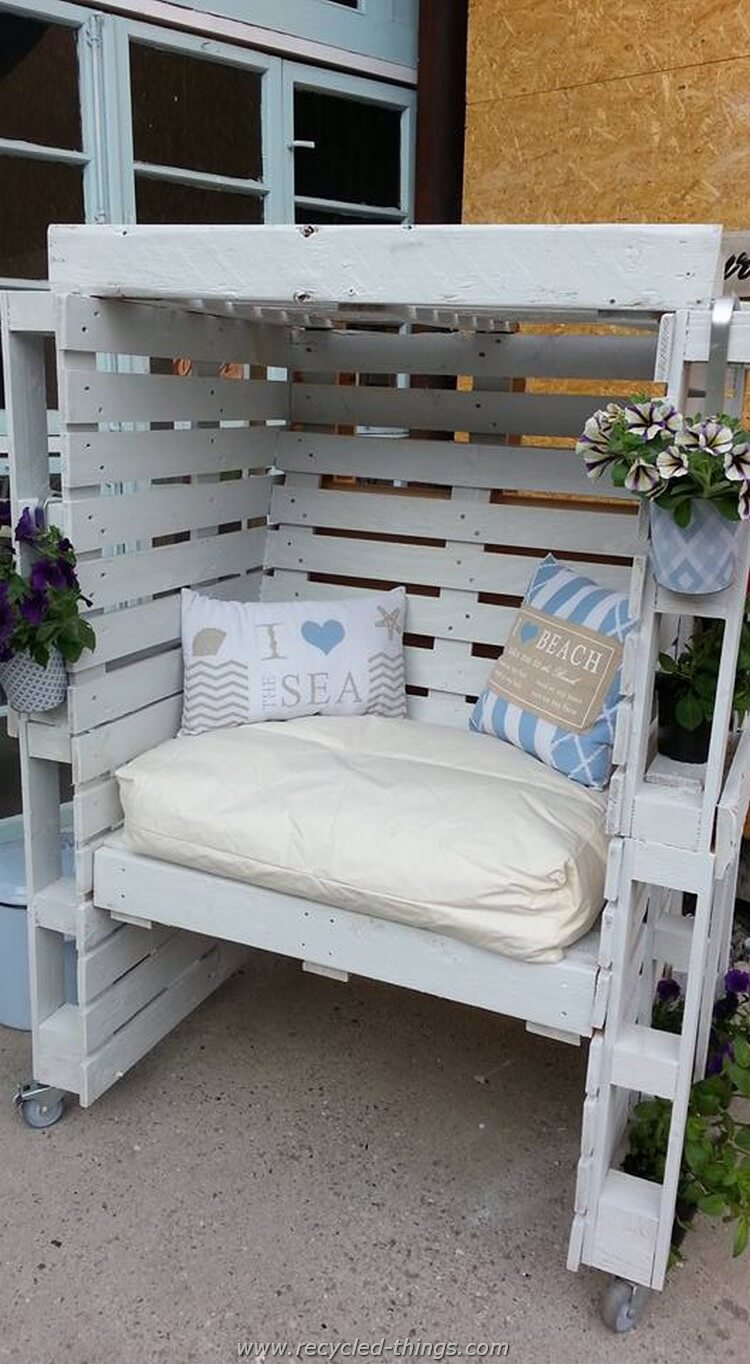 If you desire a cozy, little nook for a quiet conversation with someone you love, look no further. This enclosed seating area with thick cushions and clever decorative pillows will provide an intimate setting as you snuggle close to your significant other or your family pet. Decorative potted plants bring a natural beauty to this nook. You will truly adore this piece.
43. An Adjustable Recliner Made for Two

This adjustable recliner works well for your backyard, patio or poolside deck. You can add cushions to this seating to maximize its comfort as you recline to enjoy a night of star gazing or an afternoon tanning by the pool. This recliner comfortably seats two so be sure to bring a friend to relax with.
44. White Bench and Table for Outdoor Gatherings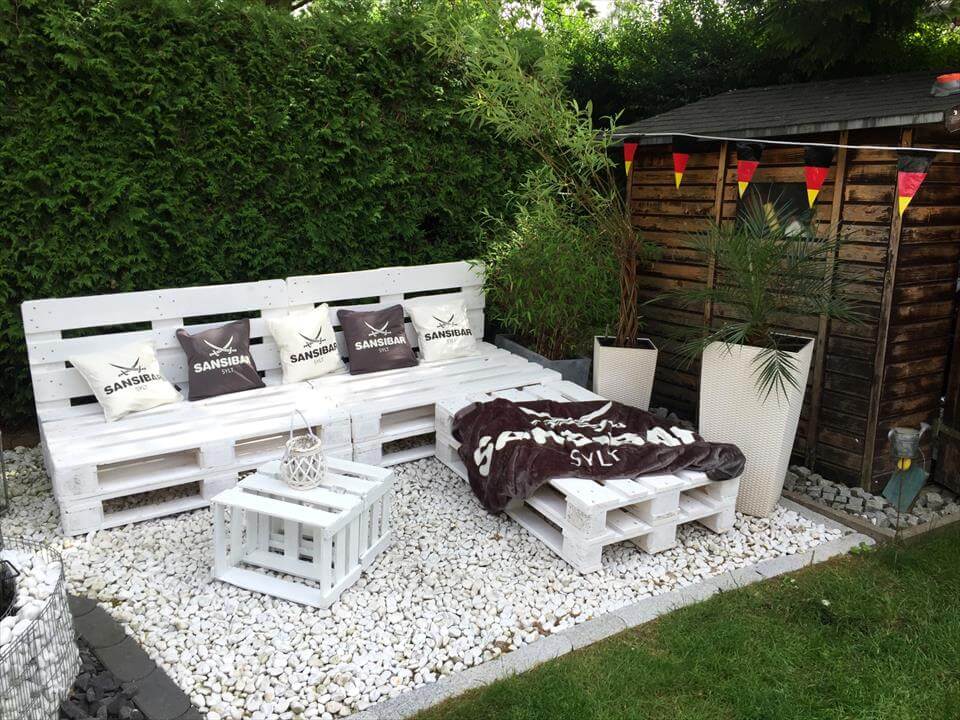 This white bench and table set is amazing for all of your backyard parties and social gatherings. The large bench seating is a quite expansive, so it is equipped to accommodate many of your closest friends and relatives easily. Surround this furniture set with a few tiki torches to create a fun, island vibe at your next party.
45. A Shaded Enclosure: Perfect for a Picnic Table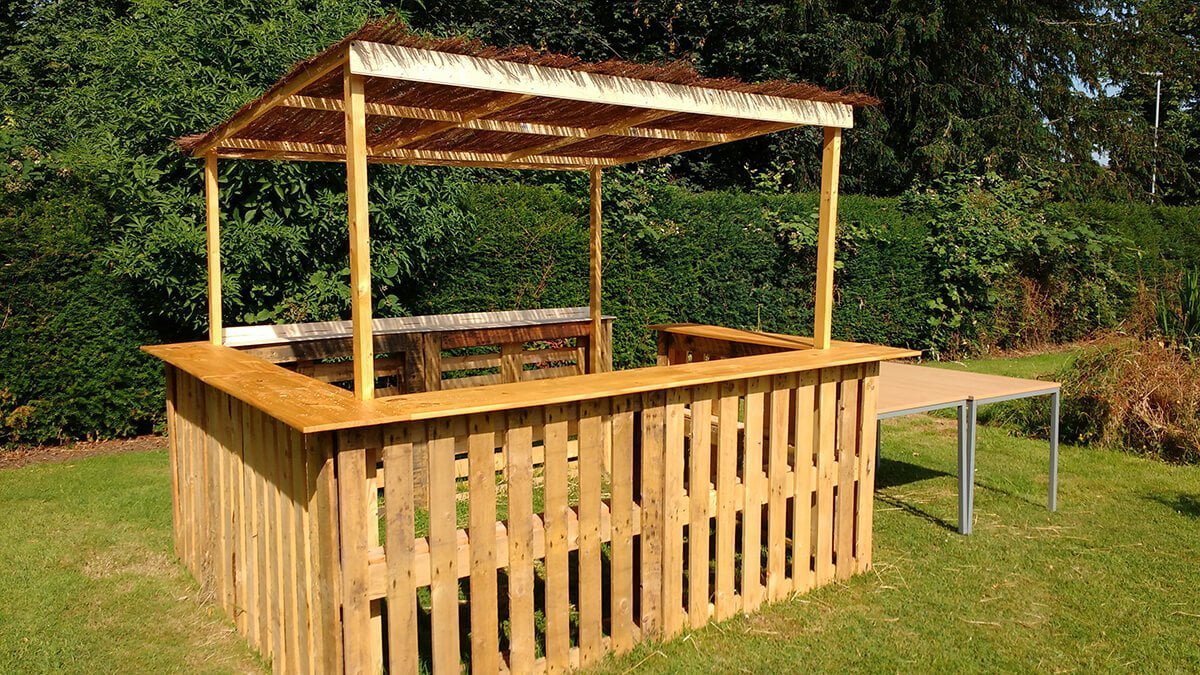 With a bit of time and effort, you can transform simple pallets into a wonderfully shaded enclosure large enough to fit an entire picnic table and chairs. You can also create a full backyard bar to entertain at birthday parties, anniversary parties and receptions. Either way, it is a lovely place providing a needed shaded area on hot summer days.
46. Mahogany Stained Picnic Table on White Pebbles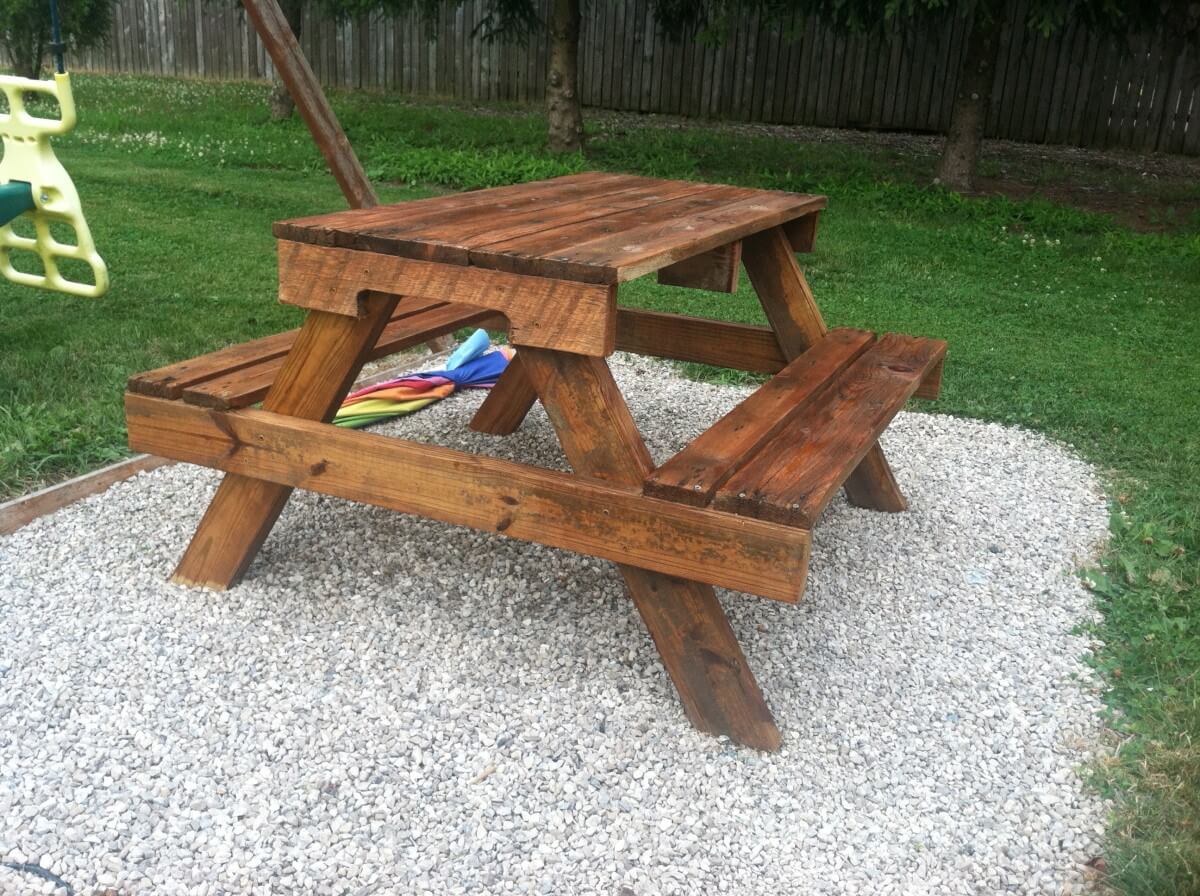 A nice addition to your yard is a magnificent mahogany stained picnic table that will stand out over clean white pebbles. The simple design of this table does not take away from its beauty and functionality. Enjoy a nice lunch and a glass of sweet tea as you watch your children play around you.
47. A Peach Hued Couch for Your Patio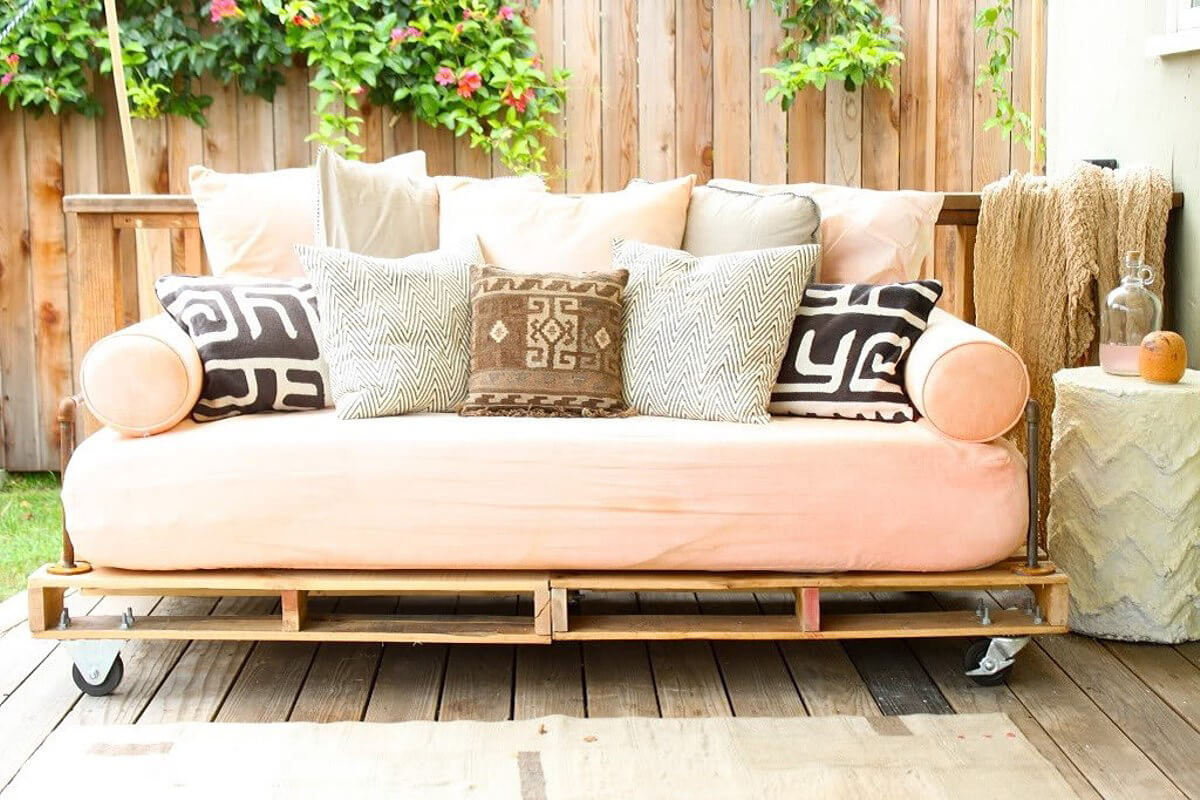 This lovely peach colored couch that doubles as a comfy outdoors day bed will add a splash of pastel colored loveliness to your patio. The wheels allow the couch to be mobile to accommodate changing design or to create more floor space for guests. Whether laying out for an afternoon nap or curling up with a book, this comfortable plush couch is sure to delight.
48. A Bright Colored Summer Outdoor Living Space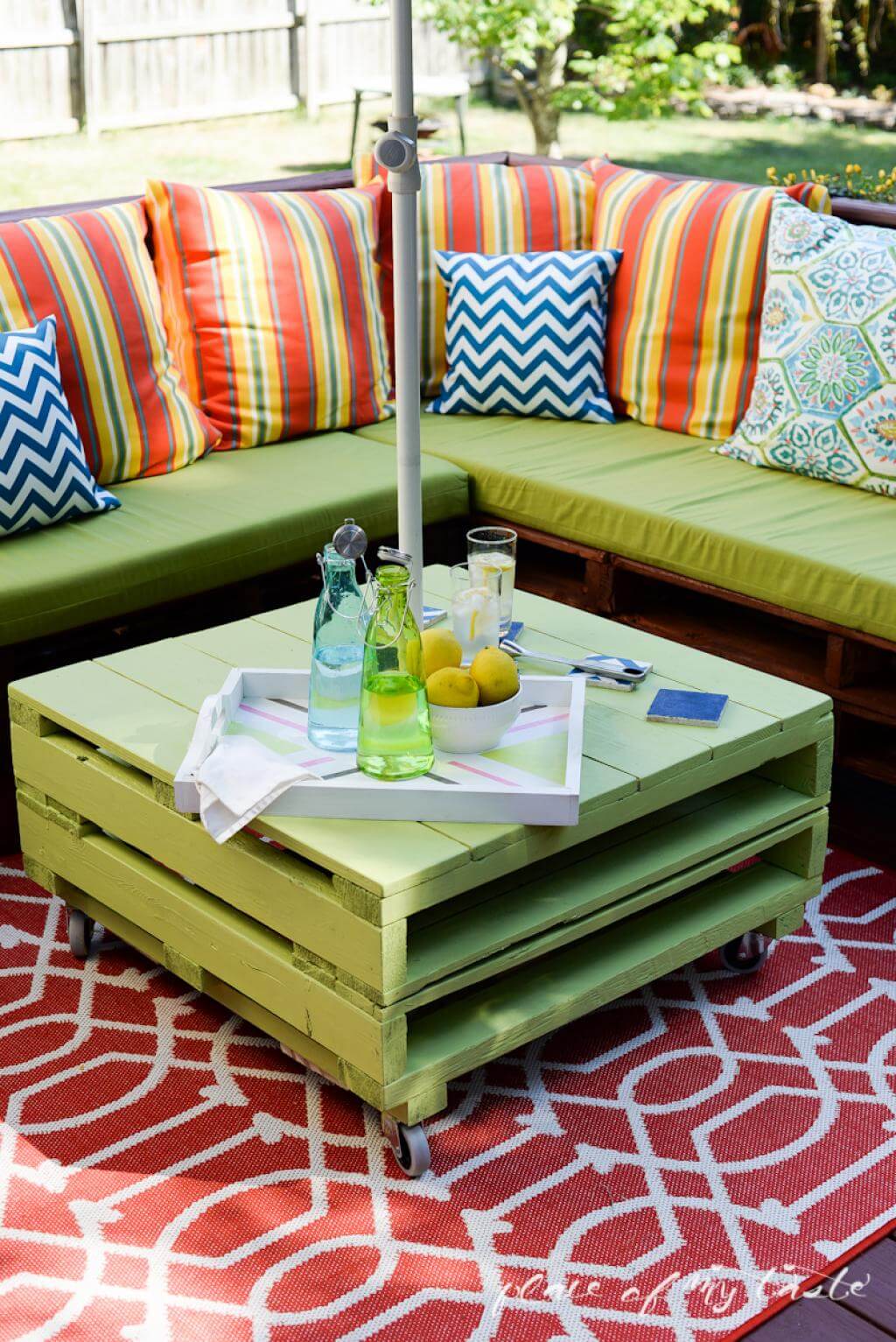 A simple and functional pallet table finished with a gentle green hue adds a bit of unique flare to your patio or porch space. A hole cut into the center of the table makes space for an expansive umbrella, particularly useful for shade if you intend to place the table in the center of your yard.
49. A Cozy Corner Shelf with Colorful Flowers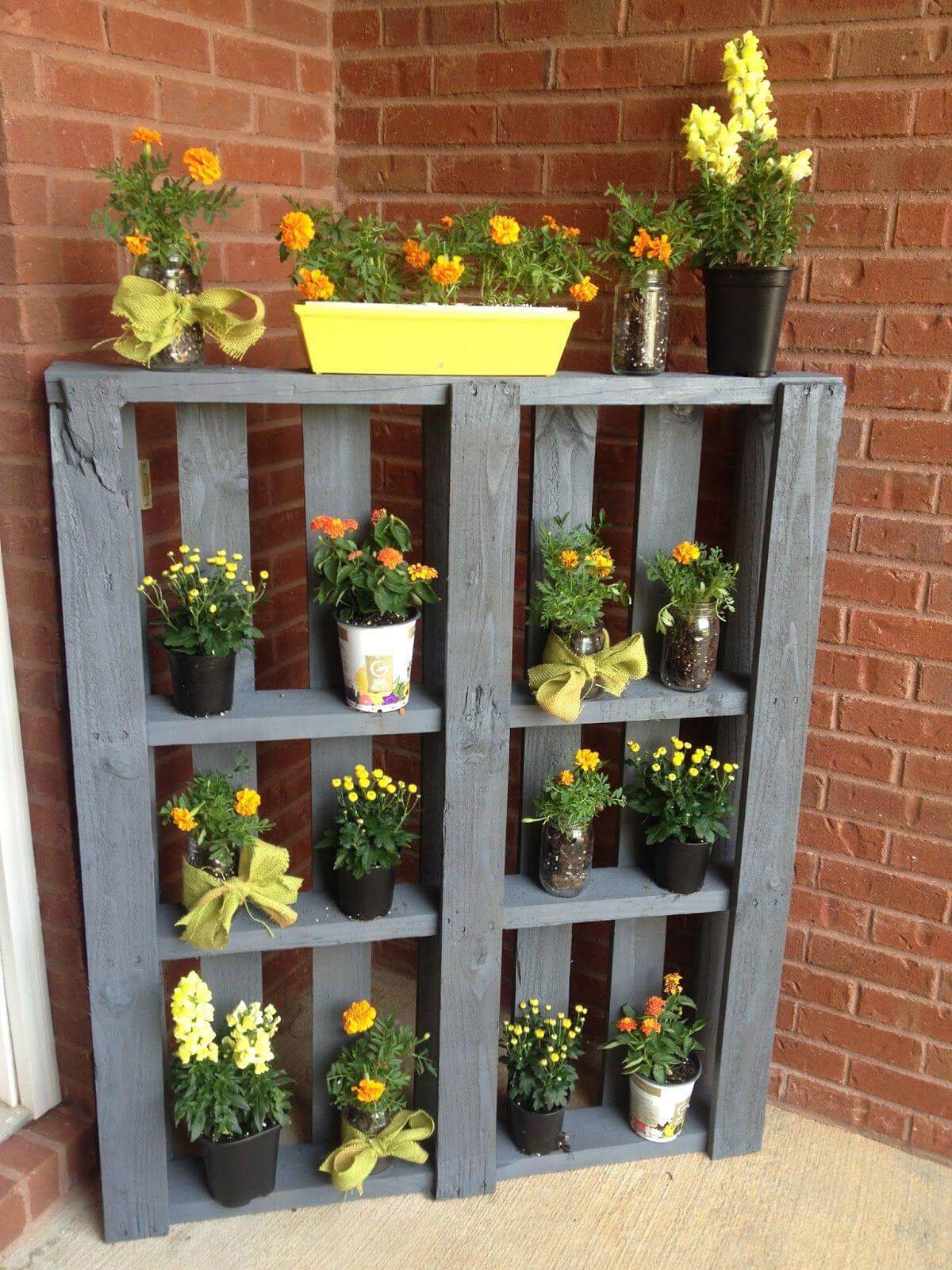 This unique pallet shelving unit provides a beautiful place to display an herb or plant garden. The blue hued paint color allows the eclectic colors from your flowers to pop out and steal the show. Place this fantastic shelving piece on your porch or patio to bring a burst of natural color to your entertaining space.
Our Favorite Farmhouse Furnitures to buy on Amazon