For any savvy gardener, planting your flowers, herbs, and other plants in the garden isn't always enough. While they may look nice growing out of the dirt, not everyone has space or opportunity for a large deposit of soil. These gardeners don't have to feel left out, however, as they can still hone their green thumb by using garden planters. These mobile and easily placeable items let you grow your plants practically anywhere. However, just because you need a planter doesn't mean you need to have a planter like everyone else.
14 Fun and Creative Garden Planter Ideas for Any Type of Garden

Instead, you should let your creativity flow. Your garden is one of the few places where you can be as spontaneous and creative as you want. Planters offer the exact same freedom if you know what to do with them. From arrangements to colors to even using non-traditional forms of garden planters, you can bring a whole new definition to what makes a garden planter a garden planter. To help you garner some craft and unique ideas for a garden planter that is perfect for either your home or your garden, consider this list. You might just find that your planters could start a whole new trend in the neighborhood.
1. Hanging Gutter Garden Planter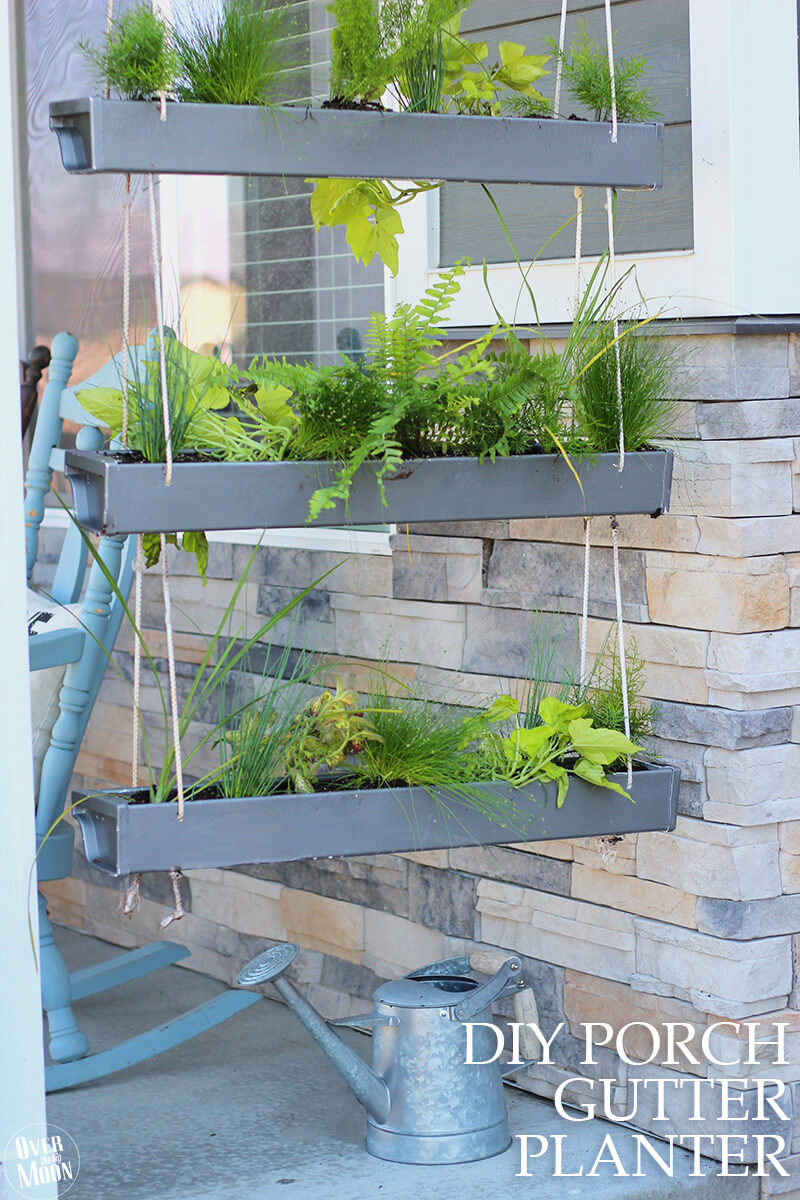 For those who have gutters that are no longer functional as gutters, you shouldn't throw them away just yet. This creative garden planter idea shows how you can repurpose those gutters into a completely unique and fun garden planter. This planter defies gravity and can basically be hung anywhere in your home. It creates a fun and interesting piece anywhere.
2. Plant Pot Welcome Wreath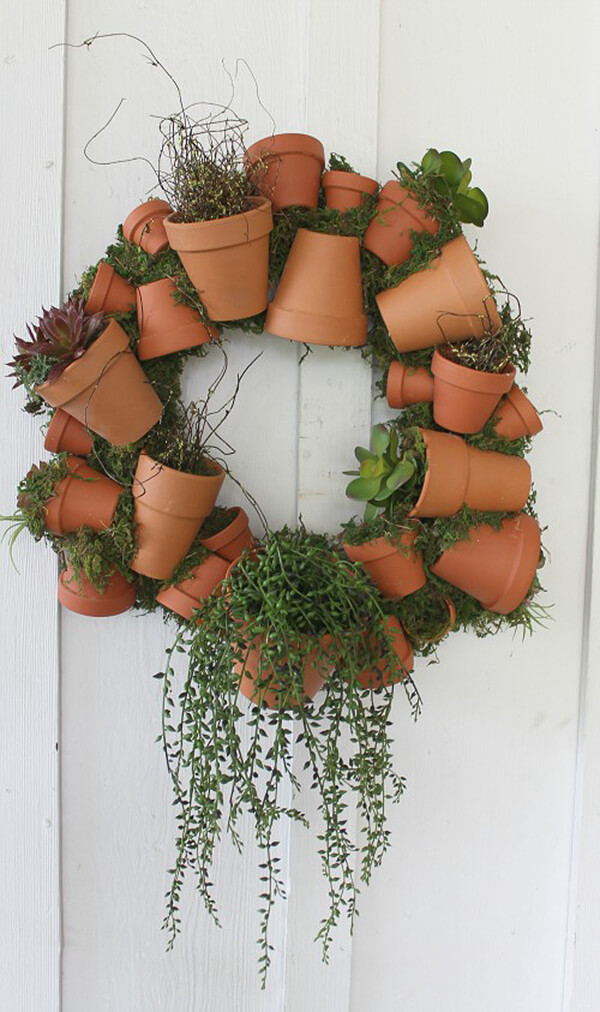 For those of you who love a good wreath, have you ever considered combining your love for gardens and wreaths? That's what this garden planter idea suggests. By using plant pots, you can carefully have this circular arrangement that somehow defies logic but also looks incredibly cool. If it wasn't enough to have pots, these pots also are filled with beautiful plants.
3. Elegant and White Garden Planter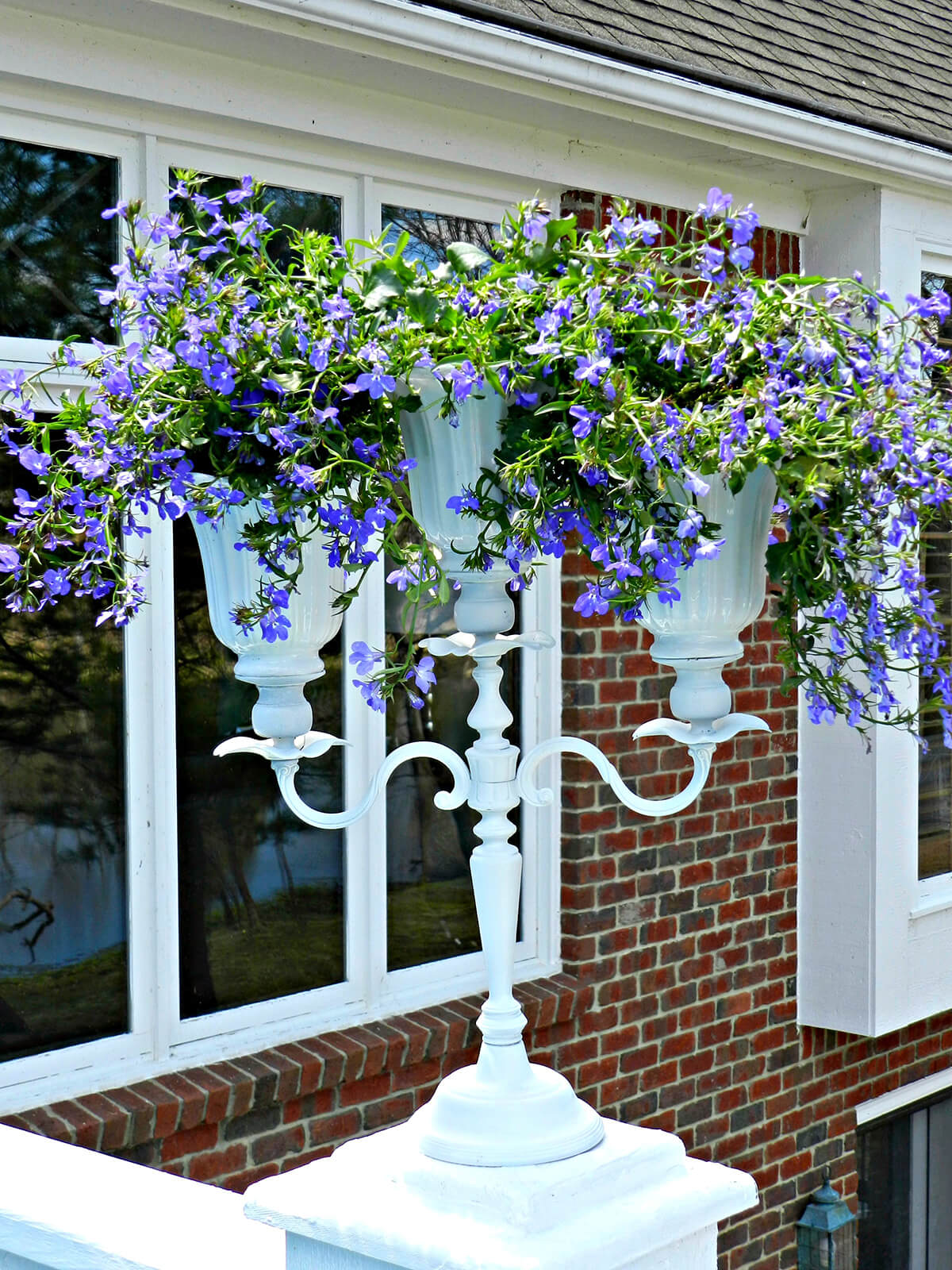 If classy elegance is more for your jive, then you may want to consider this garden planter idea. It uses a bright white to introduce that luxurious modern aesthetic. The planter itself already looks like a fancy candelabra that would be at home in any gorgeous mansion. By adding in some colorful flowers with delicate petals, this piece is elegance at its best.
4. Dark and Simple Wooden Crate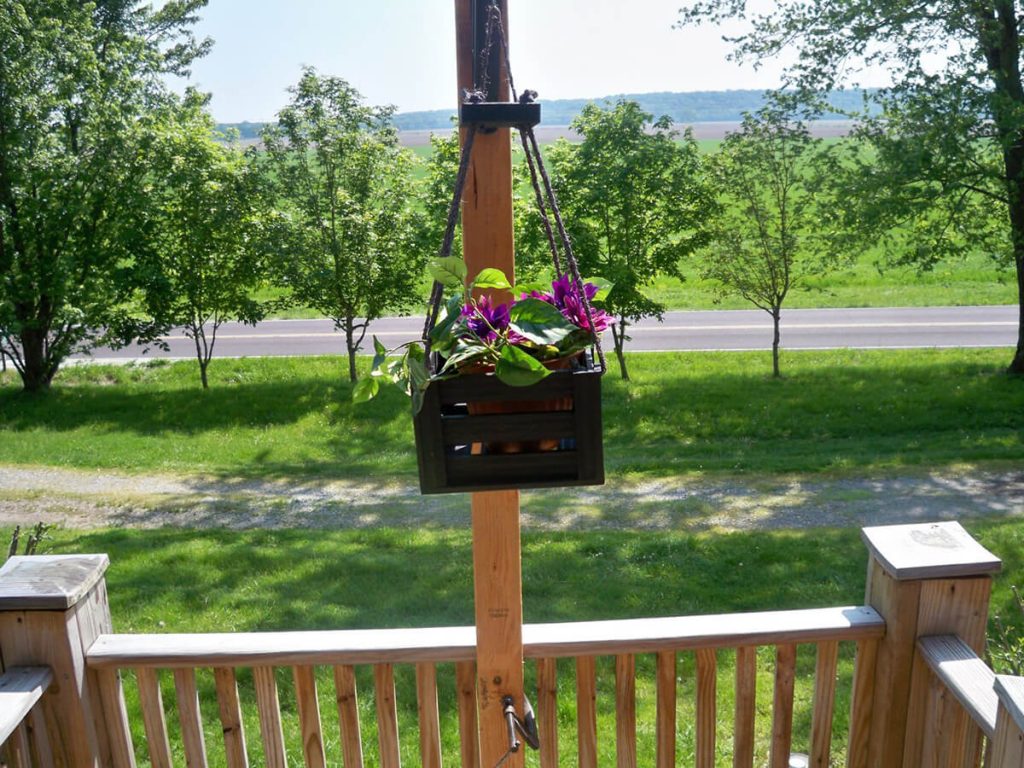 Another simple yet beautiful creative garden planter idea is this wooden crate. It's been painted a dark green that makes it look quite classy despite being just a crate. Perhaps one of the coolest aspects of this planter, however, is that it can also be hung on a porch or even within the home. That makes this a mobile planter perfect for anywhere.
5. Colorful Gutter Garden Planters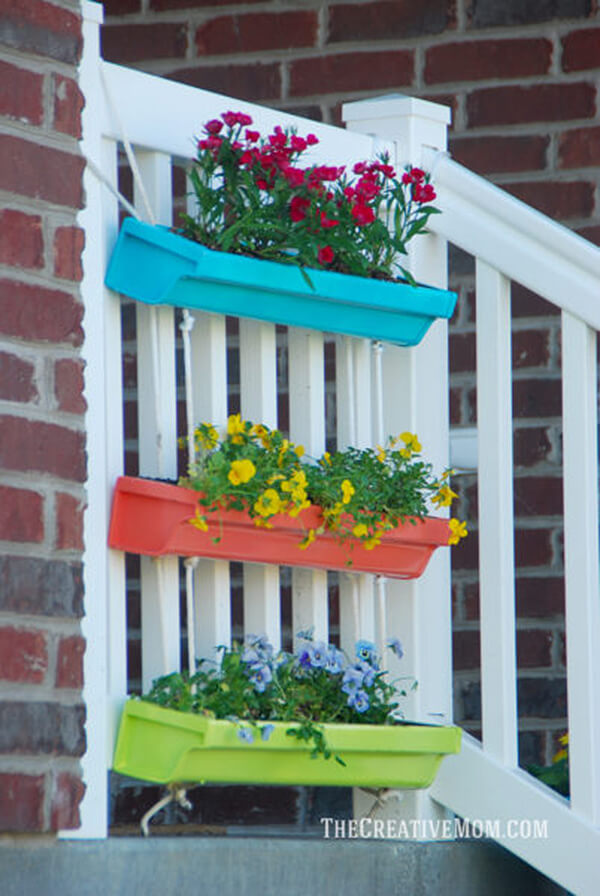 Similar to the other idea, this gutter garden planter prefers to be more playful. The use of bright colors attracts the eye immediately to the beautiful flowers within. This idea also utilizes being held up against walls or railings. You can easily cut the gutter into the appropriate size.
6. Pocket Pouch Garden Planters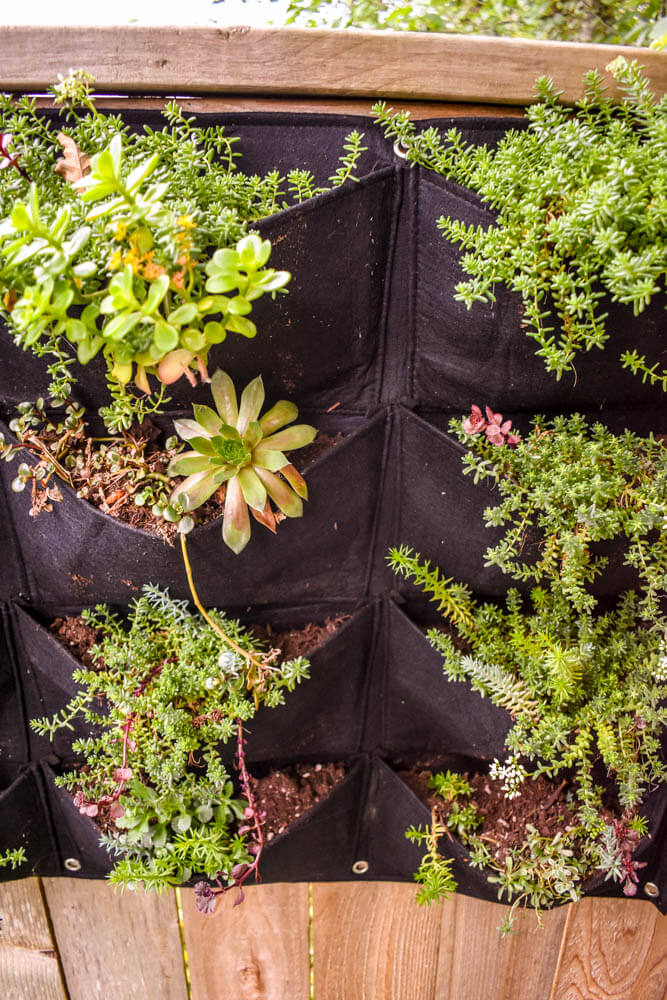 Another extremely unique and creative garden planter idea is to use a pocket pouch to house your plants. By sealing them up, you can easily fill them with nutritious soil and beautiful plants. For those who like to have fresh herbs used in their cooking, this can be an easy way to grow them in-kitchen.
7. Repurposed Bird Feeder Garden Planter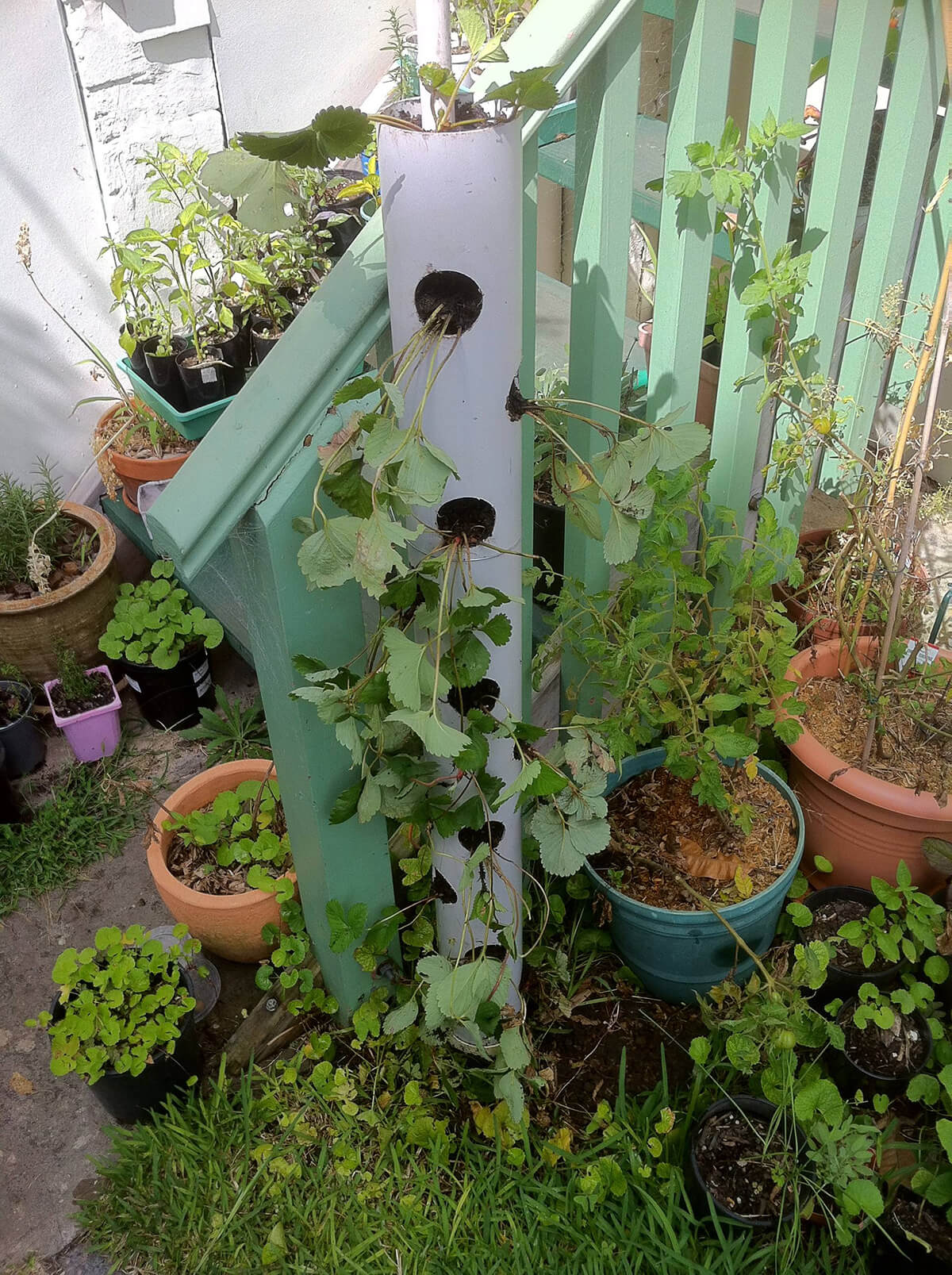 This creative garden planter idea showcases how you can repurpose a bird feeder, or even just use a large and straight pipe and drill holes within it, to create a massive garden planter. This cool looking planter almost makes it seem like the plants have started to take over. That makes this planter perfect for those who like flourishing life.
8. A Large Rack for Pots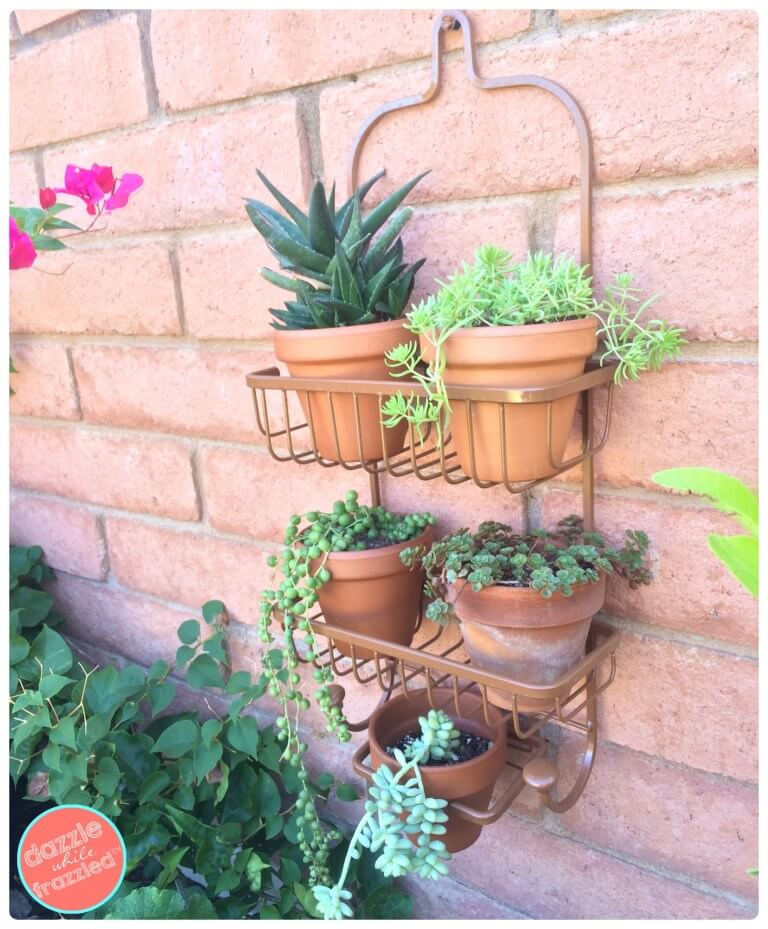 Whether you have an old shower rack that doesn't quite cut it or you find a large shower rack, then you have yourself a perfect opportunity for a garden planter. This idea shows what a good coat of paint can do to transform that rack into something appropriate for a garden. The right-sized pots can easily fit into the slots.
9. Creatively Designed Planter From an Old Drawer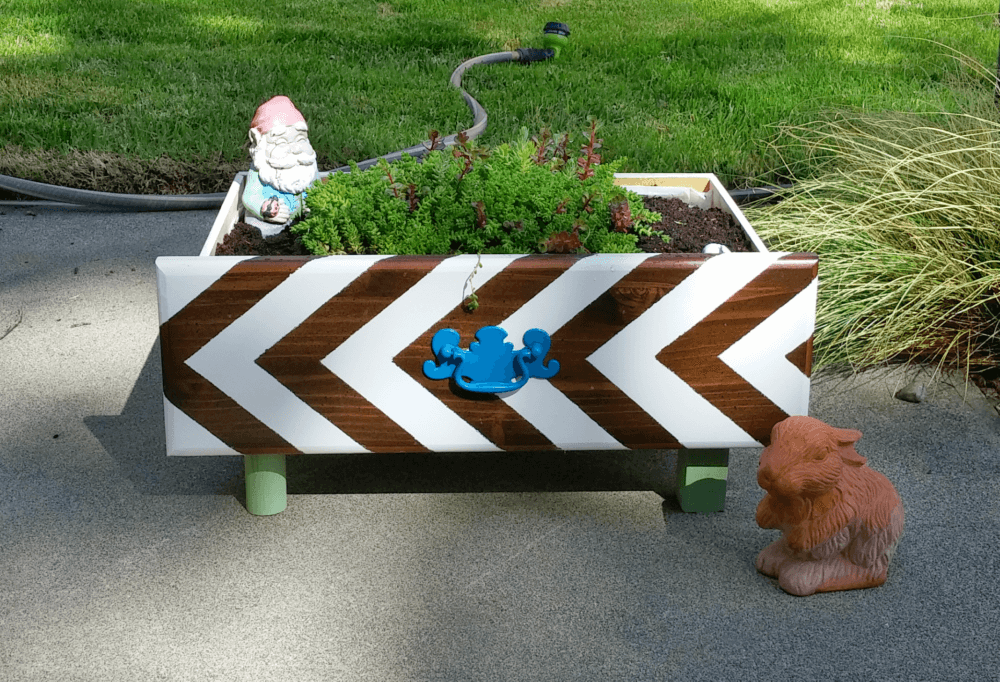 For those who love to be unique, then you have to consider this garden planter idea. An old drawer that is painted in a fun and an almost zany way is used to house the lovely plants of this garden. Using objects that don't seem like they'd belong in a garden actually serve a purpose is a fantastic idea.
10. Cabinet Shelf Filled with Plants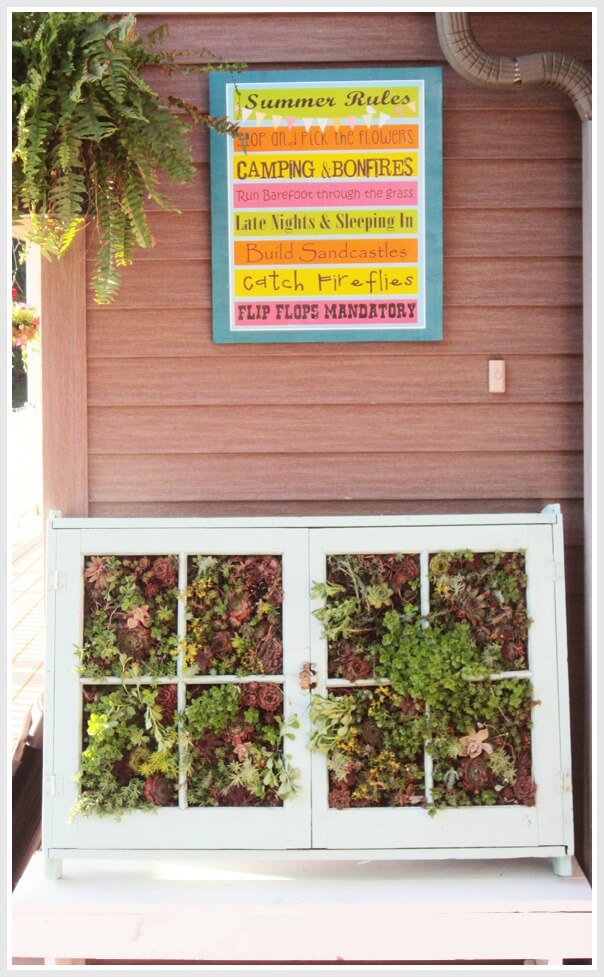 In keeping with the use of furniture in the garden, you need to consider this garden planer idea, too. By using a cabinet shelf, you can easily pop out the glass and let the plants grow through the holes to create a stunning piece. The use of white paint on the cabinet ensures that this piece looks elegant.
11. Stacked Wooden Planters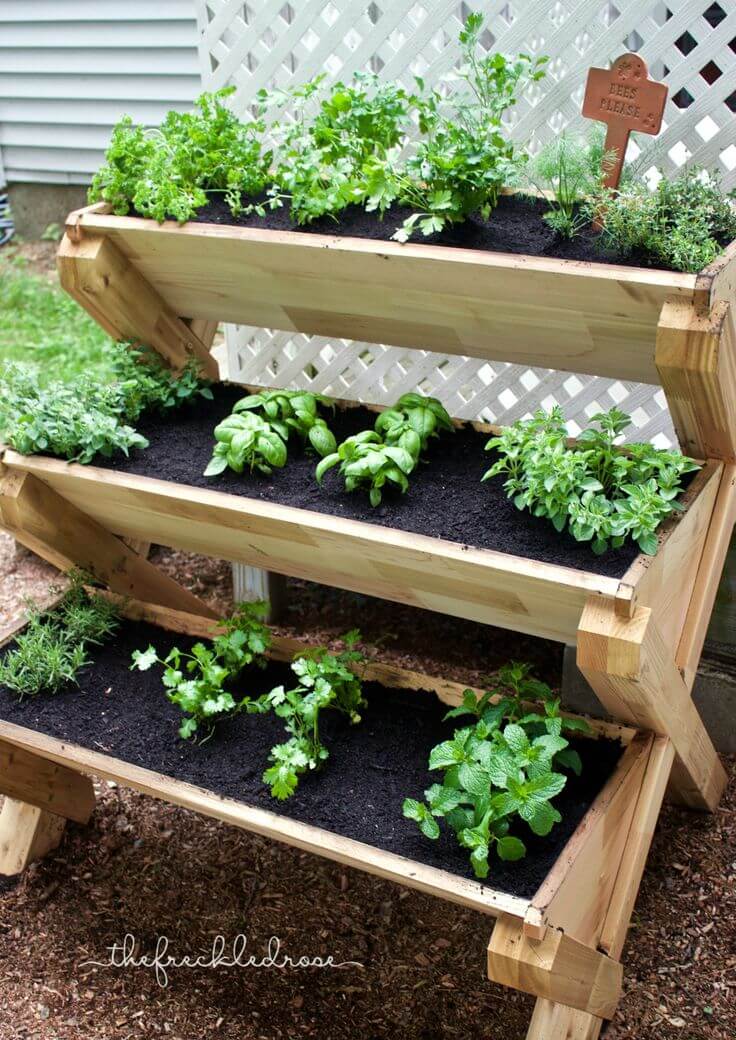 Wood always looks great in a garden. These planters are stacked almost like a wine rack. Except instead of bottles, you see rich soil and vibrant vegetation. This planter is an excellent option to instill organization within your garden by being able to easily separate out the plants. The use of Beachwood as a material also makes it look fresh.
12. Traditional Half-Cut Barrel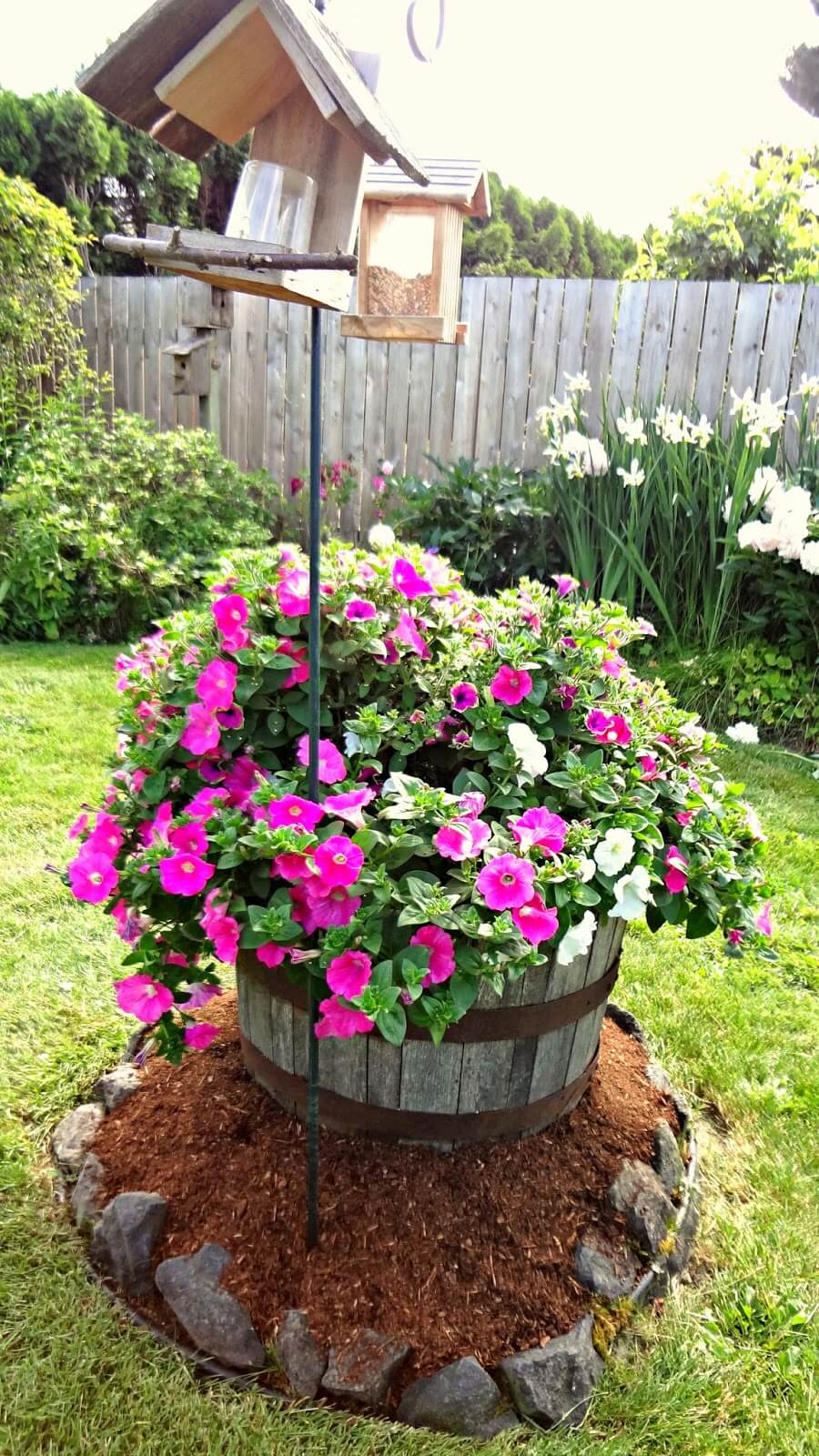 One of the staples of creative garden planter ideas is the wooden barrel. When cut in half, the barrel can be used for many storage purposes. In this instance, it has been allowed to become part of the ground and play host to this incredible blossoming bush. It looks fantastic and protects the plant's stems and roots from animals.
13. Simple and Functional Metal Bucket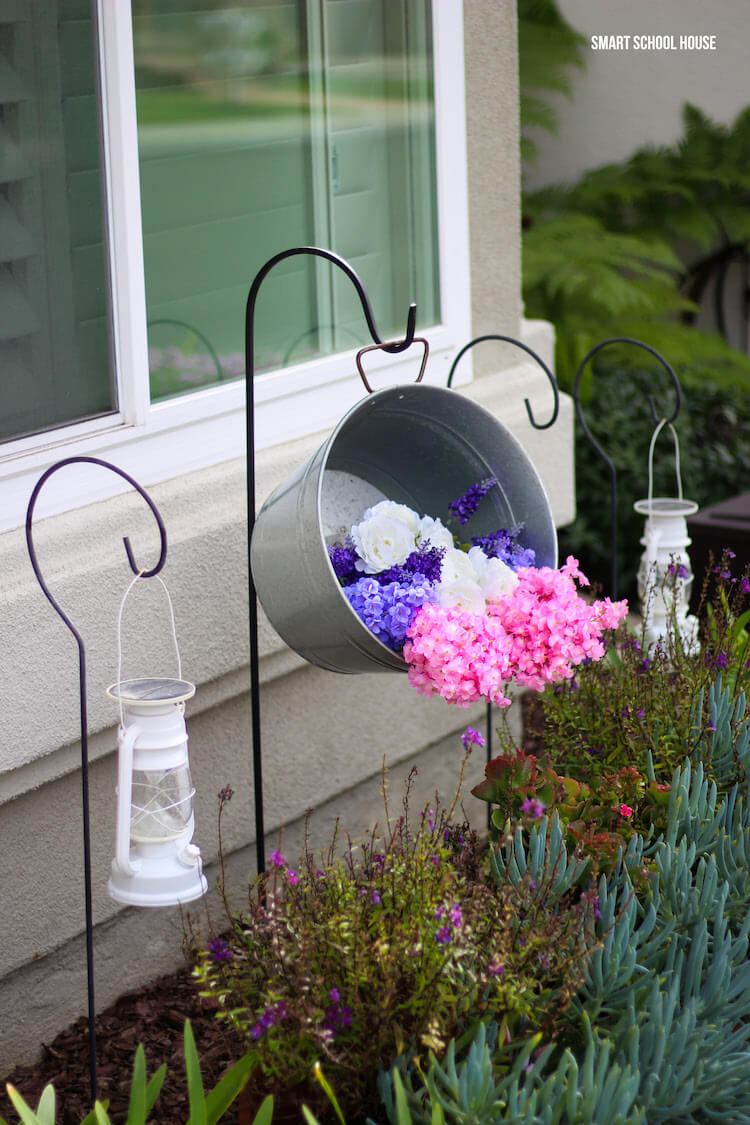 If you just need to display your flowers, then all you really need to be creative is a metal bucket and a hanger. By placing the flowers inside of the scrubbed bucket, they're allowed to take center stage. The metal bucket can be hung anywhere which makes this a great method for displaying your flowers or plants anywhere in the house or outside.
14. Wooden Wheelbarrow Planter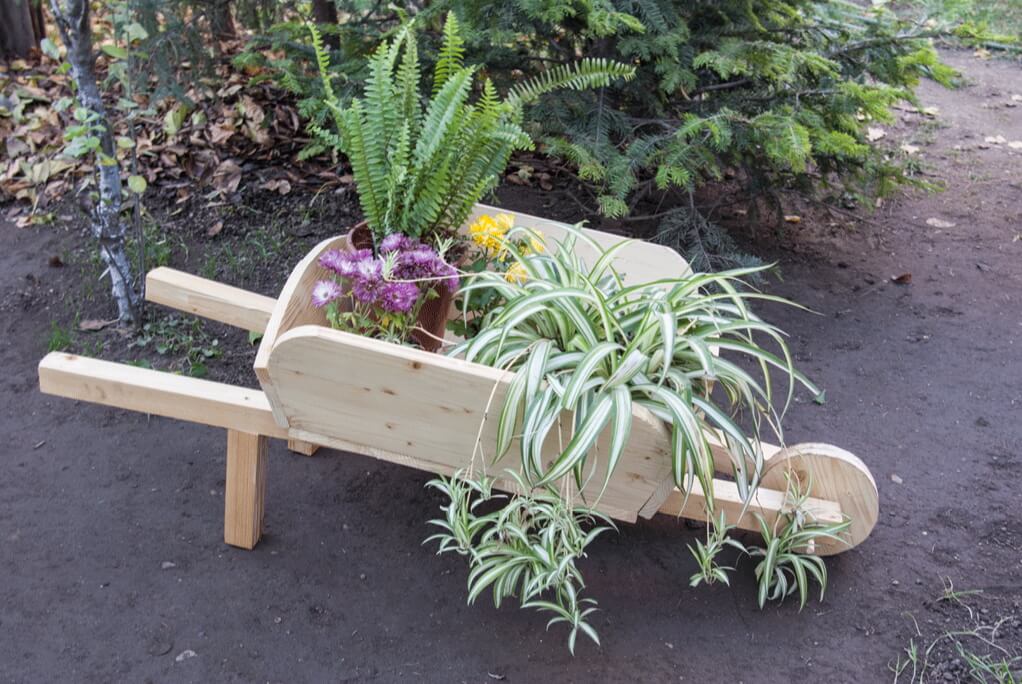 This creative planter idea serves a purpose more than just holding and displaying your plants. It also is a decorative piece in itself for your garden. The cute little wheelbarrow looks right at home in your garden. The wide bottom of the wheelbarrow also makes for a great display area.
Our Favorite Outdoor Decor Pots and Planters to buy on Amazon