As the temperatures climb and we all head outdoors, it's a great time to work your magic in your backyard with some of the best garden statues and sculptures to help wake up from a long winter's nap. First, you'll need to make a plan and that's where your vision is important. When you step out your backdoor, what do you hope to discover? A tropical paradise, a zen wonderland, or a rolling prairie meadow filled with wildflowers? Once you have your vision focused, you're on your way to making your dream come to life!
Think Outside the Box and Into the Backyard with These 25 Charming Concrete Statues

Next, explore your space to see what beautiful things you already possess. Perhaps you have some established perennials that need a little accent piece, or you might have a plain slate from which to start. Either way, you'll have an awesome idea of how many and which of the best garden sculptures to achieve your coveted look. Sometimes placing a single garden statue completes the look, while other times an array of concrete ornaments spread throughout is what you need.
If you tend to enjoy the modern and contemporary style then you might choose to surround your garden sculpture ideas with rocks like polished stones or gravel, instead of plants and flowers. This also would add a more industrial feel to the overall look of your garden. On the other hand, if you prefer a more natural style then your chosen sculpture would be best suited amid some greenery. Just be sure to place it among plants that won't overgrow the statue itself as it would be hidden from the eye.
Another awesome idea is to highlight one of your cherished and best garden statues by framing it boldly. Arranging a grouping of ornamental trees around it or placing it under a nice arbor would be the perfect way to make it stand out in your yard. Depending on how bold you want it to be, you could have a gorgeous flowering vine creeping over the exterior of the arbor with your sturdy statue featured beneath.
Don't forget to think about the size and scale of your yard. A very large lawn would require some larger pieces so the statues would be visible and not overlooked. For instance, the pieces for a fairy garden would be overwhelmed by the vast space they reside in. On the other hand, much smaller pieces would be perfect within a tiny outdoor retreat.
You might just need a special way to remember your beloved pet and you'll discover some of the best garden statues for making headstones for these tiny graves. They are a wonderful way to leave a lasting remembrance to their final resting place.
At last, you'll see how amazing your backyard becomes with these cool concrete lawn ornaments.
1. Darling Denim Duck Duo Garden Statues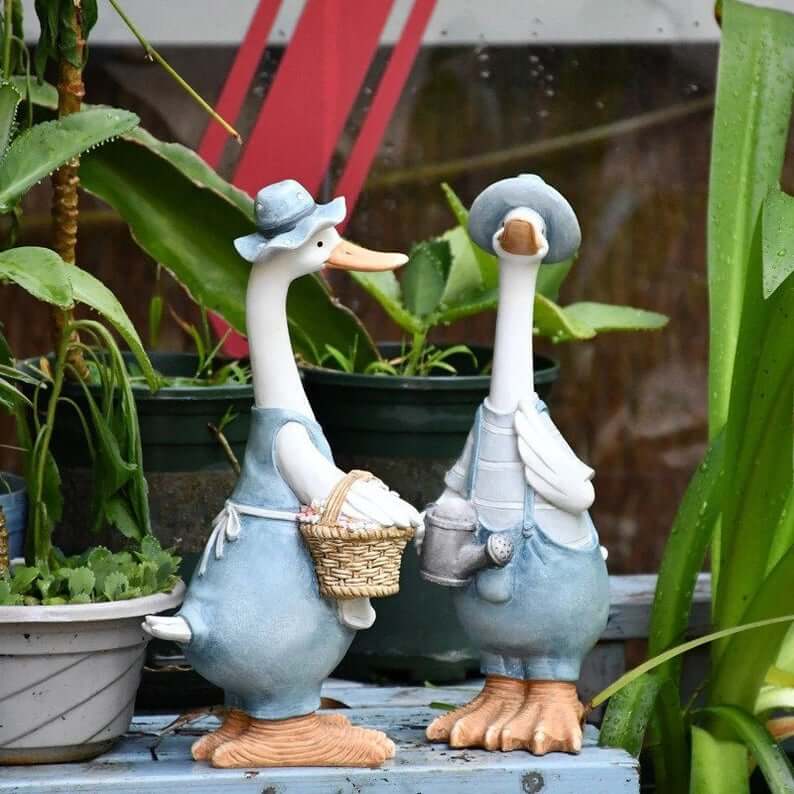 This darling duo will "quack" you up with their cuteness! Outfitted for a spring day, this pair of ducks fit the bill with their denim overalls and wide-brimmed hats. The perfect pair to place in your garden to give your outdoor space some charm and fun. Standing alone or snuggled into the confines of a full flower bed, these duck sculptures are sure to make you smile while you're enjoying the great outdoors. Whether you place them on a tabletop or set them at foot level, they will be noticed. Their charm will add delight to all of your backyard bbq guests this year.
2. Beautiful Garden Flower Fairy Sculpture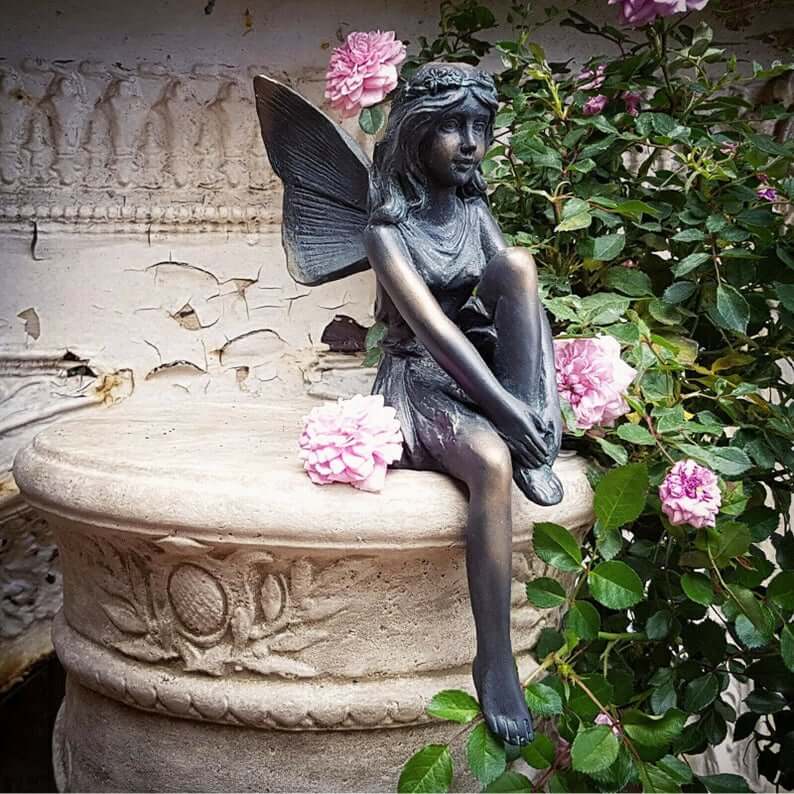 Isn't it lovely how this graceful fairy effortlessly sits on the edge, poised to perfection? With broad wings and a dainty flower halo headband, this gorgeous garden fairy is just what you need to complete your backyard oasis. Maybe she is the keeper of the tiny fairies that are housed below in your fairy garden full of miniature houses and creations. Or perhaps she sits at the edge of your porch or dangles her leg over a large decorative stone in your yard. Whatever the case, this graceful garden fairy is the gorgeous finishing touch every garden needs.
3. Bunches of Bright and Brilliant Garden Mushrooms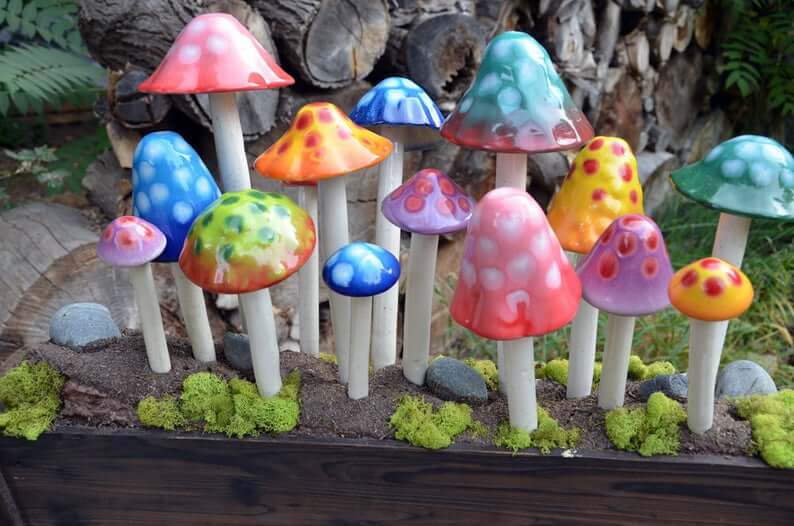 Before your flowers bloom, these vivid mushroom statues will deliver that pop of color your garden craves! In a variety of heights and capsizes, these clusters of mushrooms look amazing set as a large single grouping; however, they would be just as cute standing alone and spaced out throughout your flower garden. Their pretty caps might just attract those beautiful butterflies and songbirds that have a keen eye for bright colors. This would be a fun kid project at a picnic or party.
4. Decorative Dragonfly for Your Backyard Garden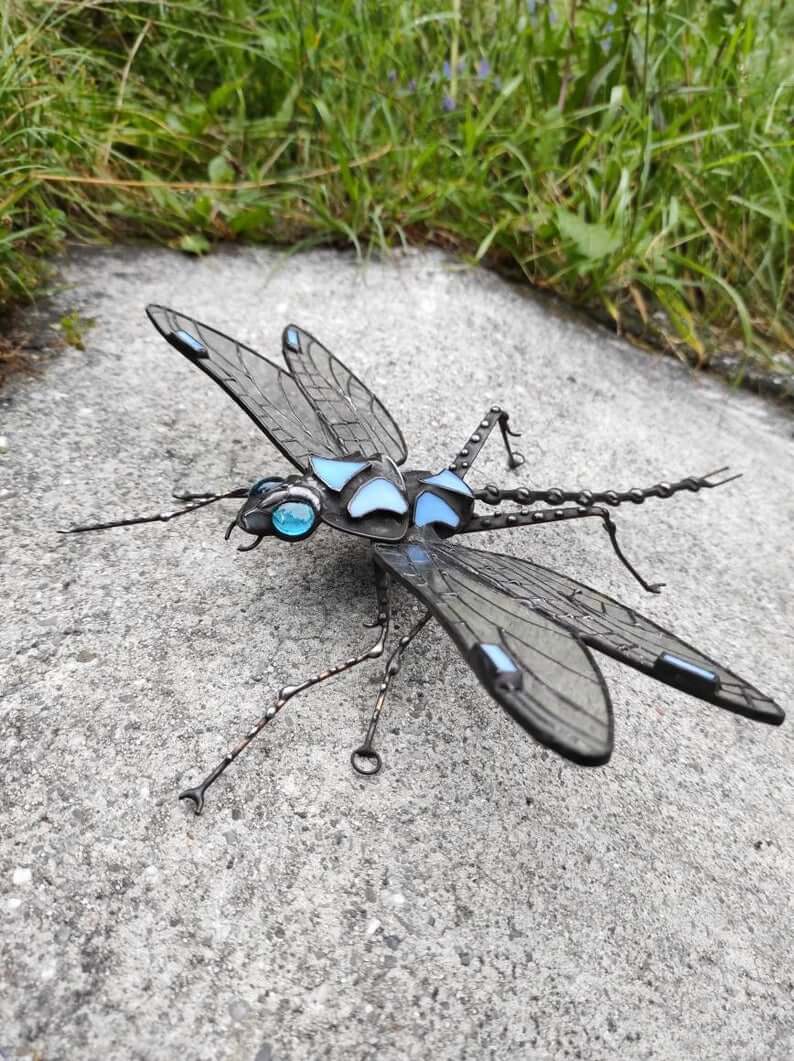 Welcome those winged friends who keep the mosquitos at bay. This decorative dragonfly pays homage to the summer's favorite flying insect. Larger-than-life, this bug-eyed creature makes a dramatic statement resting on a large stone or within the soil of a large potted plant. Use some string and you can position this guy onto a post of your pergola for extra fun. The deep and cool blue eyes come alive against the dark metal body. Give this to a friend that enjoys spending time in her backyard.
5. Timid and Timeless Tortoise Garden Statue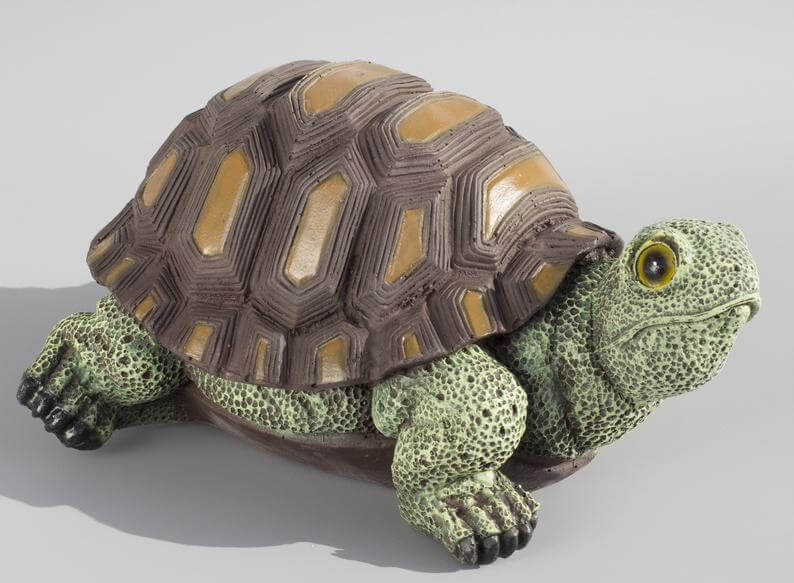 Keeping a watchful eye, this garden statue has a stern likeness to its long-living counterpart- the tortoise. Sculpted with a detailed body and shell, this tortoise beckons a slower pace to life. With his large eye keeping watch, you'll enjoy having this four-legged pokey fellow in your yard. The rich browns and lush greens enable him to blend into the natural space of your backyard.
6. Frolicking Frog on a Log Garden Sculpture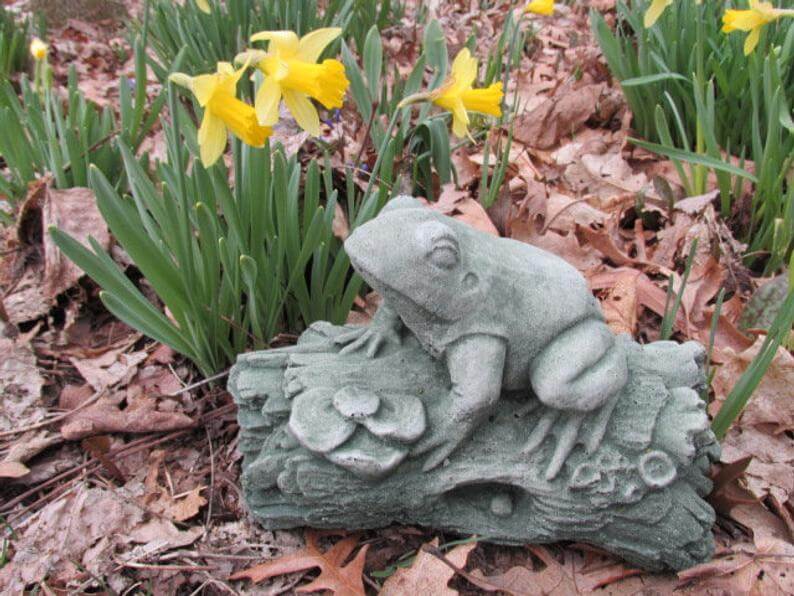 Feeling froggy? Check out this cute garden sculpture idea that incorporates both a decomposing log portion with a friendly frog. Place it next to your daffodils in the sun or nearby your ferns in the shade. While it doesn't take up much space, it certainly delivers a lot of character in channeling a common forest scene. This little concrete buddy would be the perfect companion to rest beside the koi pond in your backyard to add some extra charm.
7. When Doves Cry Concrete Birdbath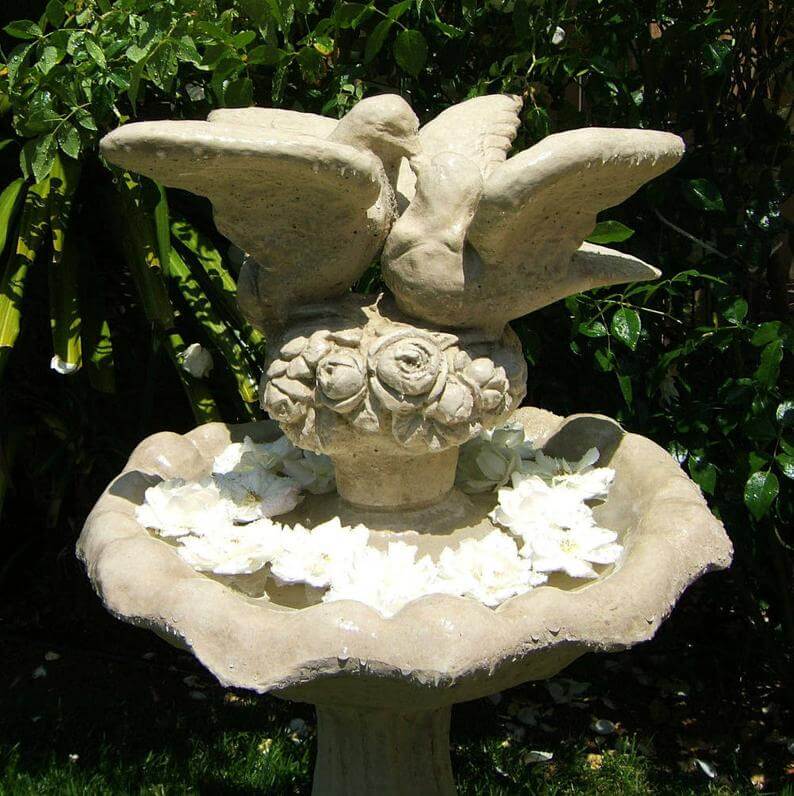 One of the best garden sculptures is one that also serves a purpose besides looking pretty. That's why this concrete birdbath is one of the top garden sculpture ideas with its classic love birds resting above a floral perch to highlight this functioning pool for your feathered friends. What a beautiful way to wish the happy couple many more years of wedded bliss as you present them with this as their wedding or anniversary gift. Solid and secure enough to stand alone, this concrete birdbath would look just as lovely peeking from an enormous butterfly or wildflower garden. At night, you could float a few tea lights to create a gorgeous atmosphere for enjoying a peaceful retreat in your backyard.
8. Bold and Proud Iridescent Peacock Garden Statue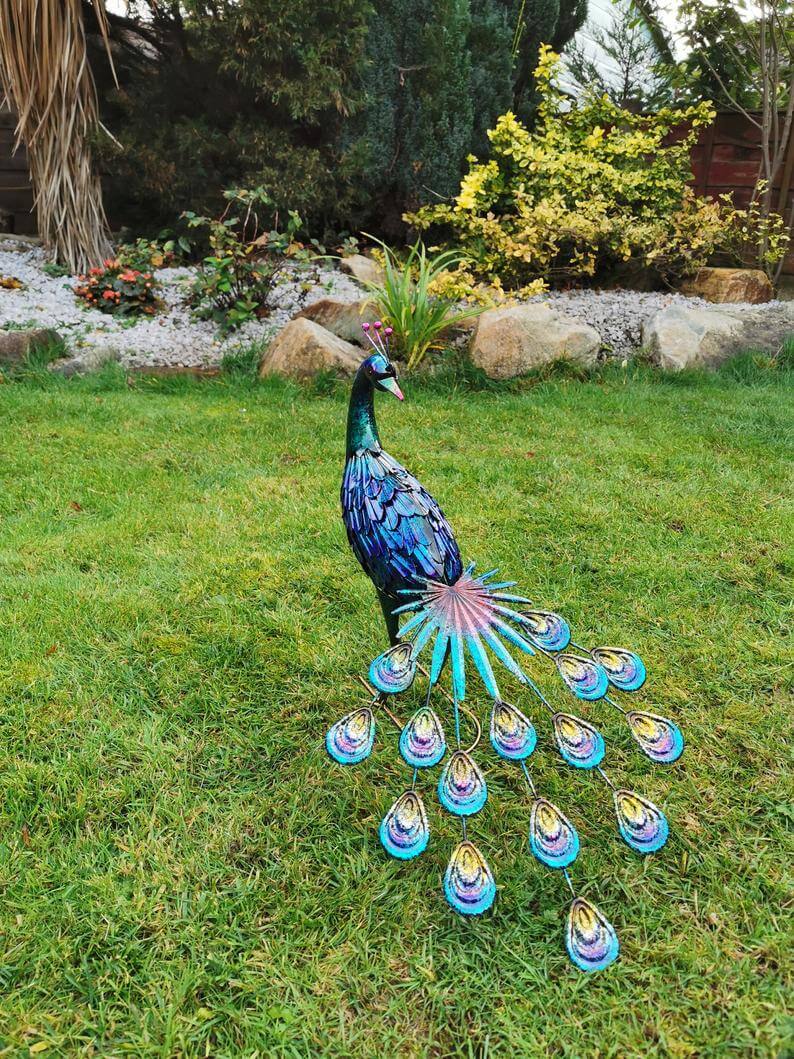 Look at this proud and pretty peacock in all of its glory! As its beautiful fan spans the yard, its beauty is radiated from head to toe. With rich purples and blues shining through the iridescent finish, this fierce feathered friend is ready to strut its stuff into your backyard oasis. The bold blues are a perfect contrast to the grand greens of your grass making this one of the best garden statues to pop in your backyard paradise. Feature it alone or arrange it in a flower bed where it overlooks your budding beauties and it will be a conversation piece either way.
9. Soft and Sweet Cuddly Concrete Bunny Statue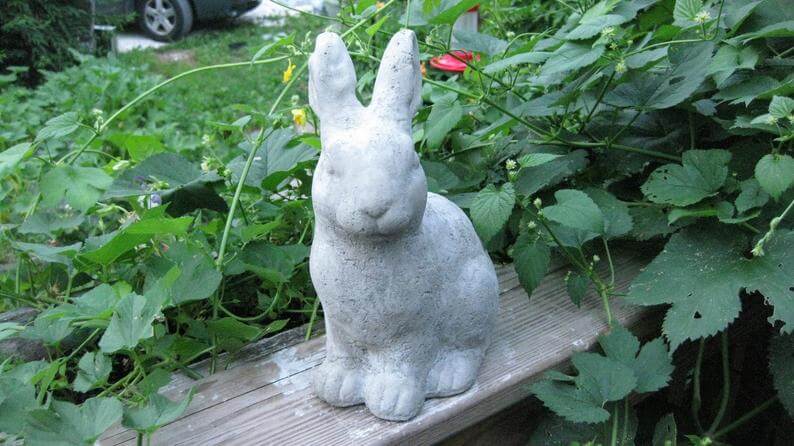 Even though he's constructed of concrete, this cute bunny certainly looks sweet enough to cuddle. With perched ears, this fuzzy nature hopper will feel right at home hopping into your backyard this season. And he's just the right size to sit on the ground in your flower bed or position on a nice resting bench. Placing him among some lush green and flowering plants would capitalize on his cuteness as his ears gently pop up from among the leaves. He makes a great gift idea for an animal-lover or 4-H advisor too.
10. Decorative and Embellished Zen Meditation Garden Sculpture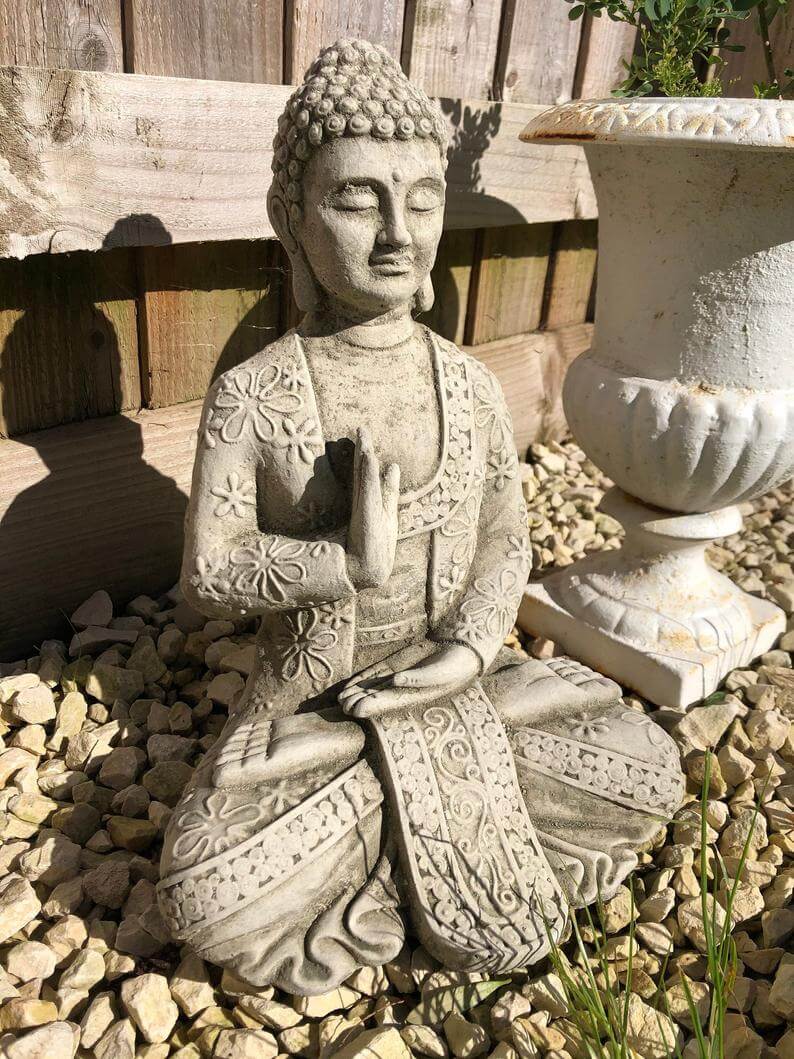 Find your inner peace as you enter a new aura when you step into your relaxation retreat in your backyard. The dynamic detail in the deep embellishments of this zen practicing robe and textured head make this one of the best garden statues for clearing your mind and de-stressing after work. Grab your yoga mat and play some soothing music as you mimic this meditation guru that now calls your garden home. From insanity to serenity, you'll soon discover a gentle inner peace where your mind is at ease and your worries melt away.
11. Dainty and Delicate Garden Guardian Angel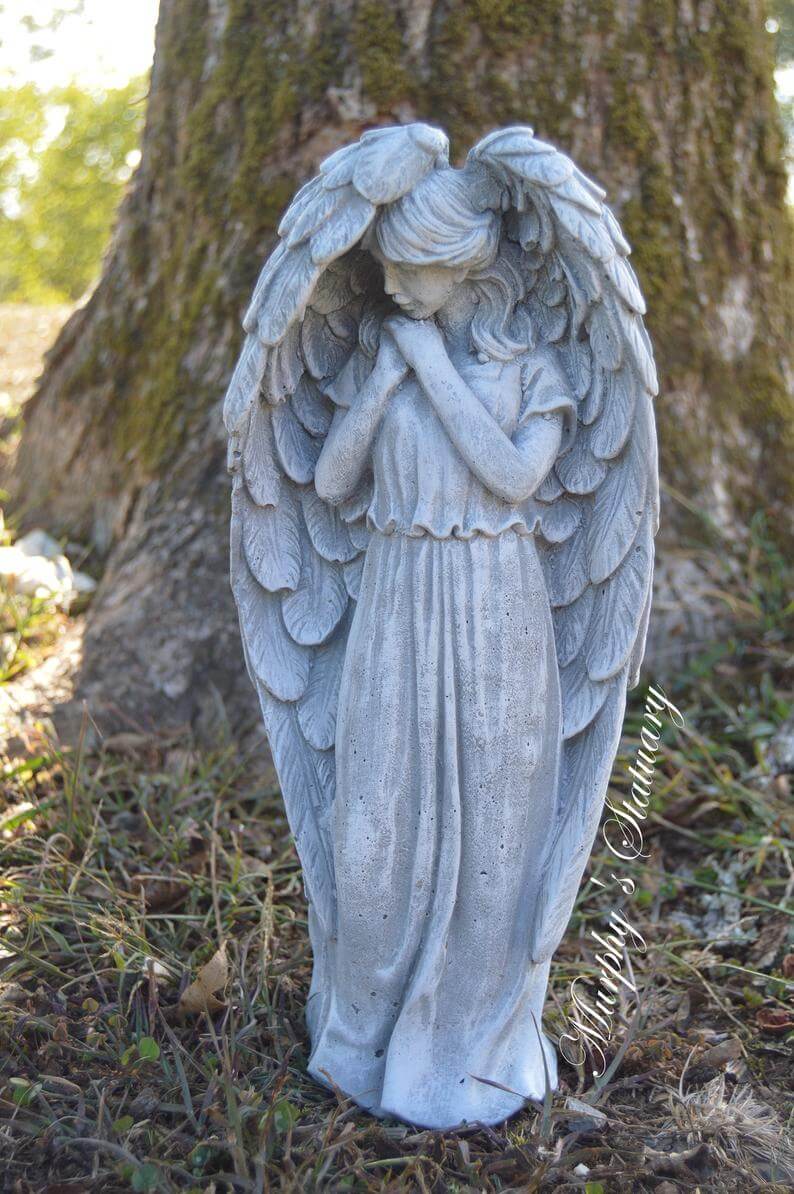 Always near, this garden guardian angel shows off her beauty and grace with her enormous wings that engulf her slender body. She cusps her hand while holding them near to her as she ponders your welfare. This is a beautiful statue for adorning a gravesite and makes a wonderful way to welcome a new baby too. Place this angel in the landscaping near the baby's window as a poignant reminder of heaven watching from above. She would look equally elegant placed in a large rose garden too where her beauty would be rivaled by the rich rose petals.
12. Sleepy Green Garden Dragon Sculpture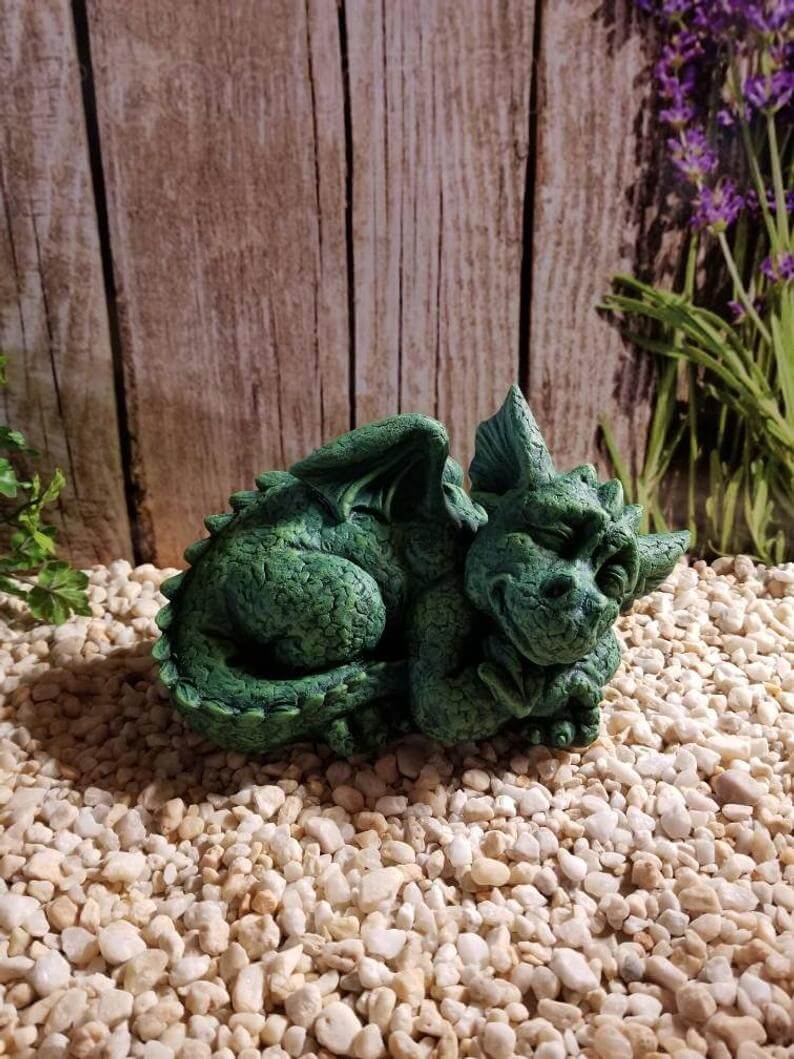 Falling asleep on the job is often frowned upon, but who wants to wake this sleeping dragon? He's curled up in such an adorable bundle that makes you forget about his sharp talons and fire-breathing breath! Placing him in your garden would add some fun and charm to the overall look. Kids would delight in trying to find him each time they run outside, so maybe move him around now and then. For any wizard-loving friend, this would be a good gift idea as it can be placed nearly anywhere.
13. Tiny and Smiling Garden Fairy Birdbath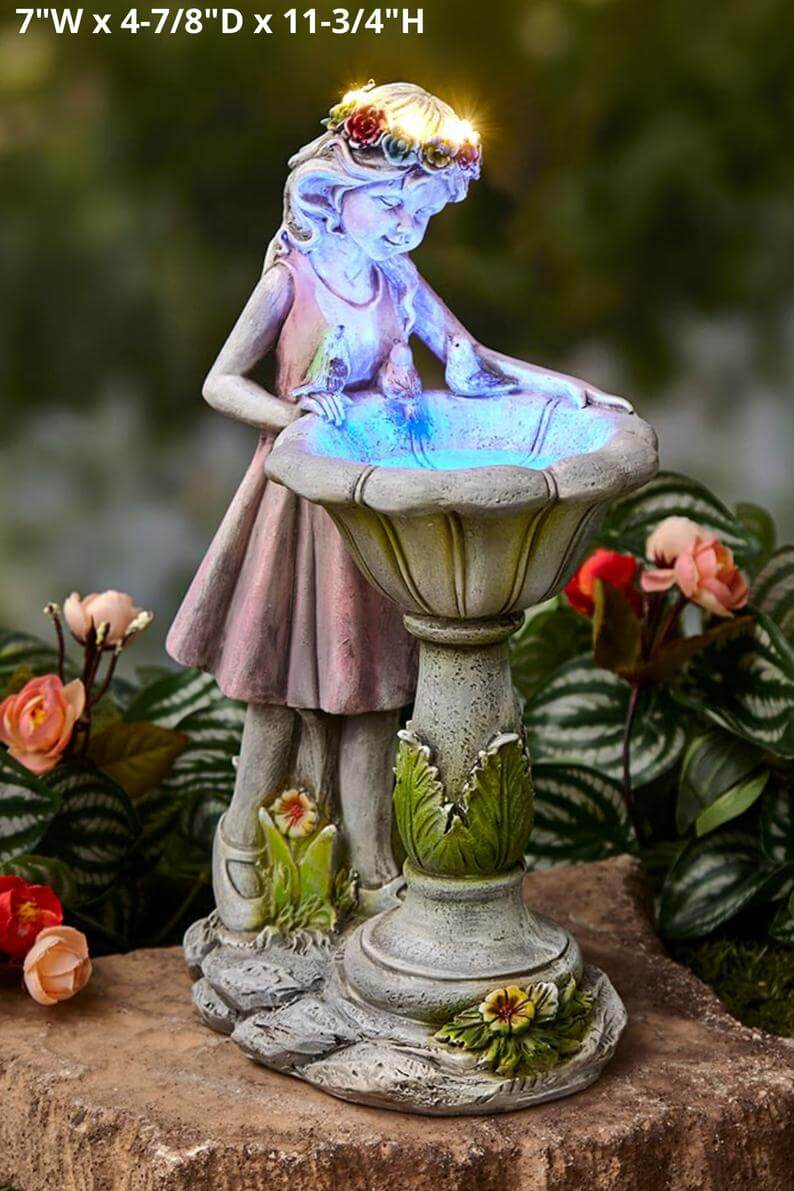 With just enough color to draw in your eye, this miniature garden fairy and birdbath are fabulous choices to add to your existing garden. Whether you already have a dedicated fairy garden or not, this tiny sculpture will fit nicely. The gentle glow from her headband and the subtle blue emanating from the bowl add a nice and unique touch to complete this garden feature. This would be a terrific idea for gifting to a young girl that's just getting into gardening as she could build her fairy garden around the feet of this statued beauty.
14. Slow and Snoozy Wins the Race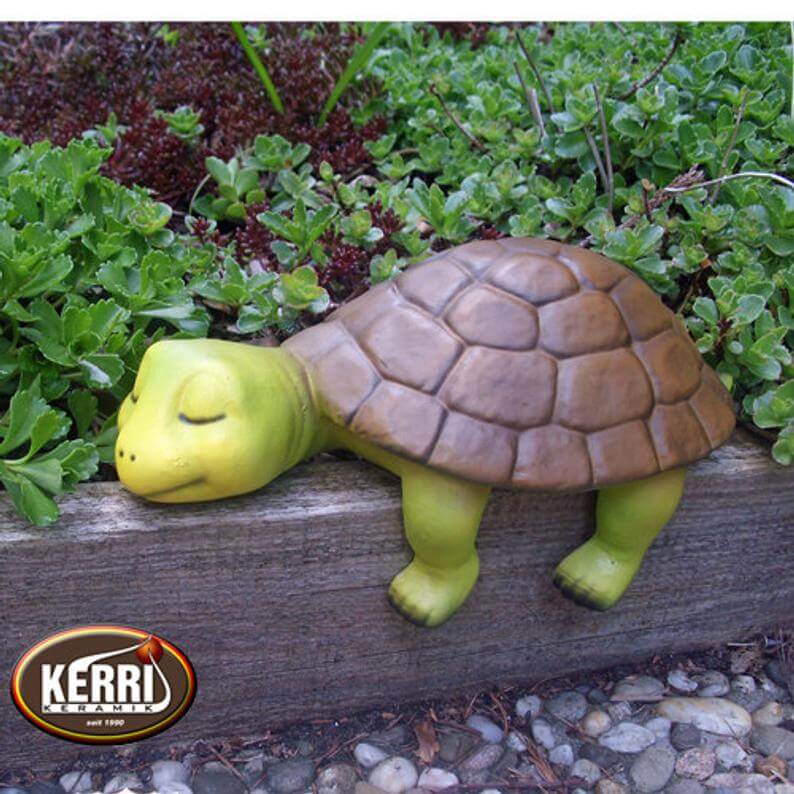 ]
You'll fall in love with this laid-back and lazy statue that will quickly become your garden's best friend. The hard-shelled sleepyhead's short and stout legs dangle from his body to create an extra dose of cuteness and charm. Rest him on your front porch ledge or let him admire your flowers from the wood edging and he's sure to feel right at home. With a gentle smile, this tortoise features a nice pop of chartreuse green contrasted with a rich and ruddy milk chocolate brown.
15. Wrinkly Rascal Seated Elephant Garden Sculpture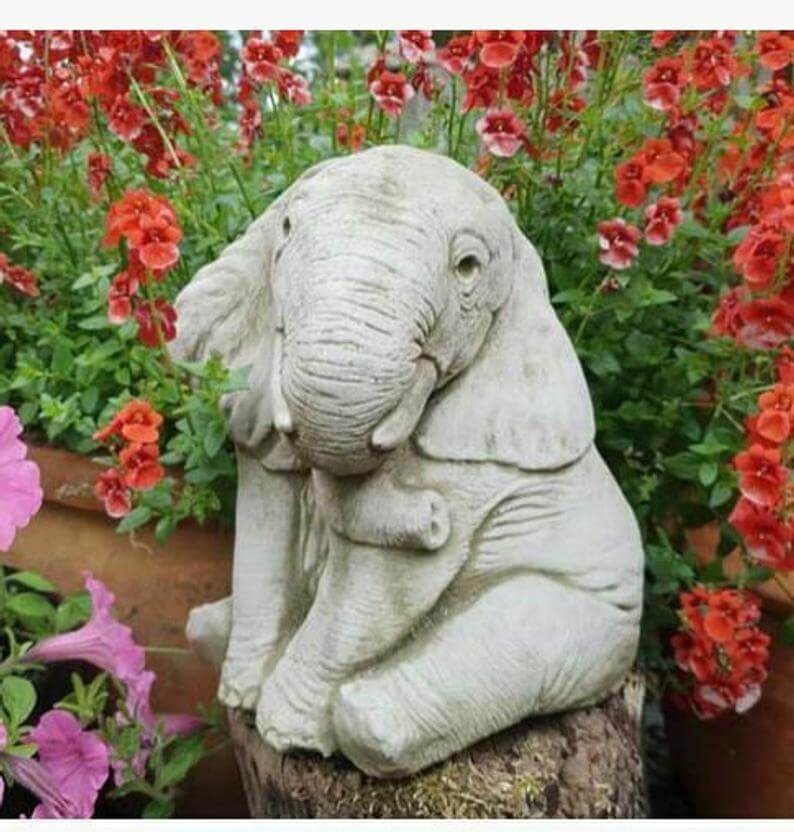 This sweet and humble little elephant is one of the most adorable and best garden sculptures with its sly grin and heartfelt eyes. Although he's completely formed of concrete, he seems to be filled with a serene and gentle spirit. Posed to perfection, he rests in a seated position with his head cocked to look right at you. Wouldn't he look wonderful relaxing on a stump in your garden or nestled in the corner of your porch? This would be an amazing gift choice for anyone who adores elephants. Surround him with lots of blooms and he'll charm his way into your heart.
16. Rainbow Wooden Mushroom Garden Ornaments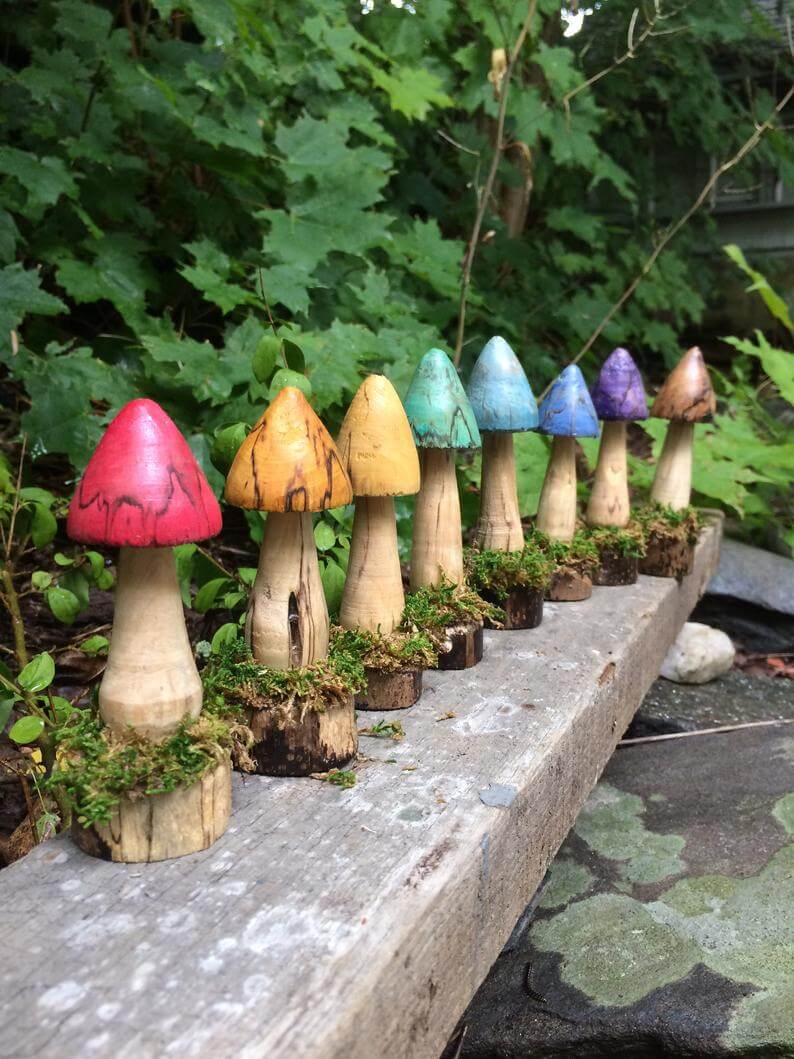 Crafted in wood that exudes lots of character, these charming mushrooms add some frolic and fun to your backyard. Perched upon a round wooden base that's trimmed with fresh live moss, they are adorable as each one showcases a different color to bring some bold pops into your garden. These would be darling set amid a fairy garden village where your creativity could go wild! Choose your favorite one to sit alone in a favorite spot in your flower bed or place it atop the side table on your front porch. They would be cute lining the steps to your door as well.
17. Dark Green Bronze Standing Heron Statue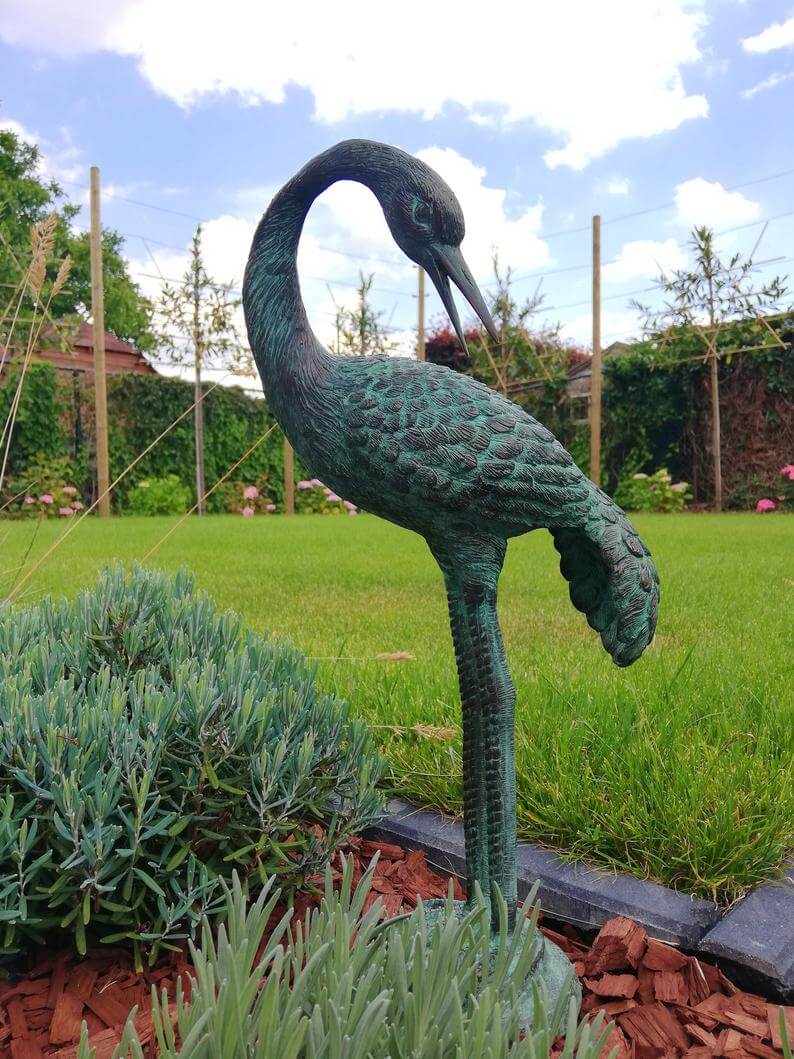 You'll enjoy the attention to detail and the beauty of this graceful bird. The craftsmanship of the bronze results in a gorgeous standing heron that adds some height in a dramatic way to your beautiful backyard garden. With artistry, this sculpture creates a feeling and sense of refinement and elegance in your lived-in and loved backyard hangout. As she stands poised with her beak open, I wonder what she's thinking. Perhaps she enjoys hanging out in the yard just as much as you!
18. Farm Friendly Duck Cast Stone Sculpture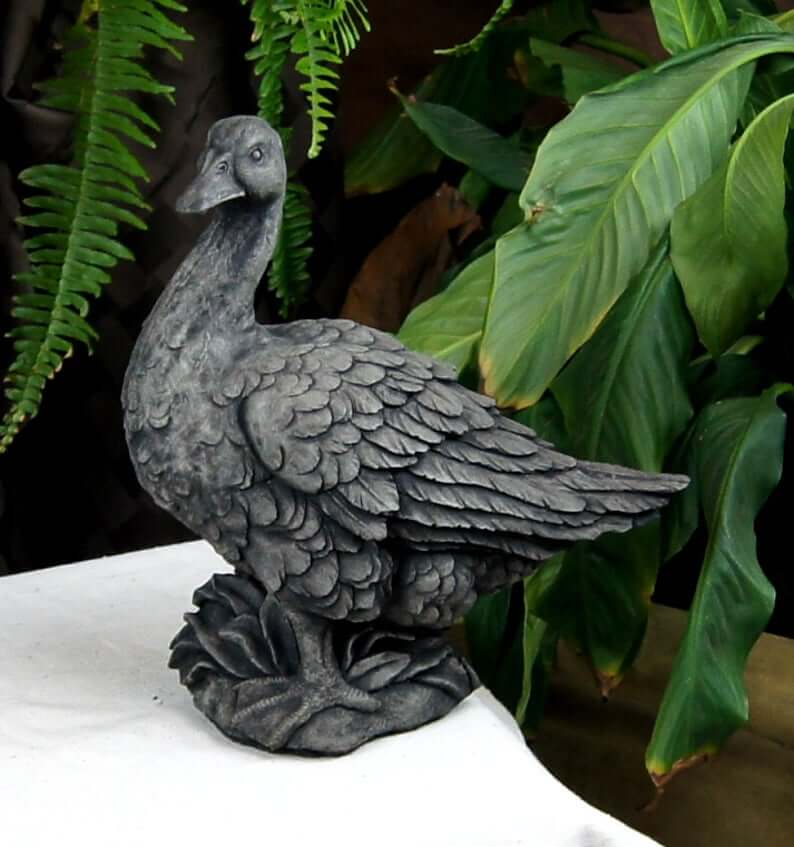 Who says you have to live on the farm to enjoy the animals? With this charming cast stone concrete duck statue, you can have one of the farmer's favorite feathered friends in your backyard even if you live in the middle of the city! Notice all of the intricate wrinkles in his webbed feet as well as the detail of each feather on his body. The craftsmanship in this duck gives him the ability to be a charming addition to your family's farmhouse goals.
19. Magnificent Mermaid Sculpture for the Garden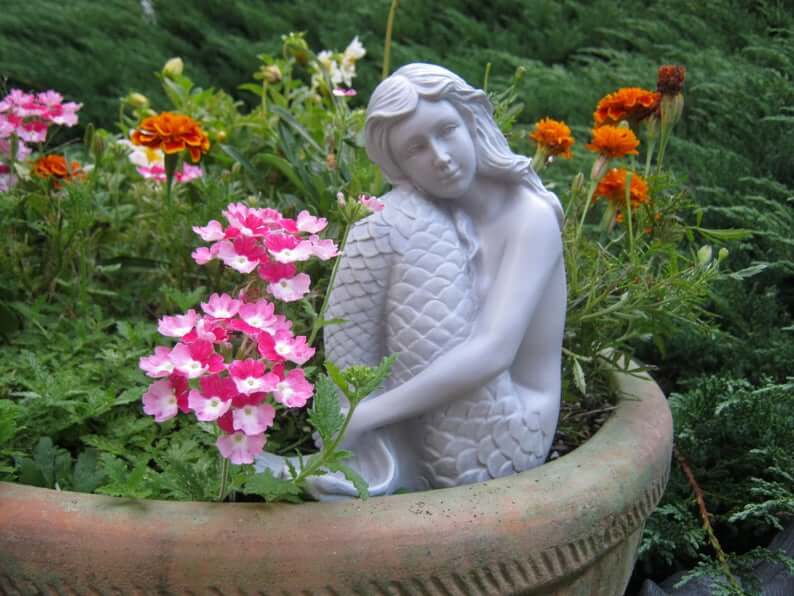 Nestled in a large potted plant, you'll discover one of the most cherished creatures from under the sea. Softly resting her head on her knees, this beautiful concrete mermaid seems to be drifting off to day-dreamland as she holds her tail close to her body. She would be the perfect outdoor accessory for a swimming pool or koi pond. The gentle flow of her hair makes her seem very natural and down-to-earth which further adds to her beauty and charm.
20. Concrete Frog Buddies Stacked Trio Garden Statues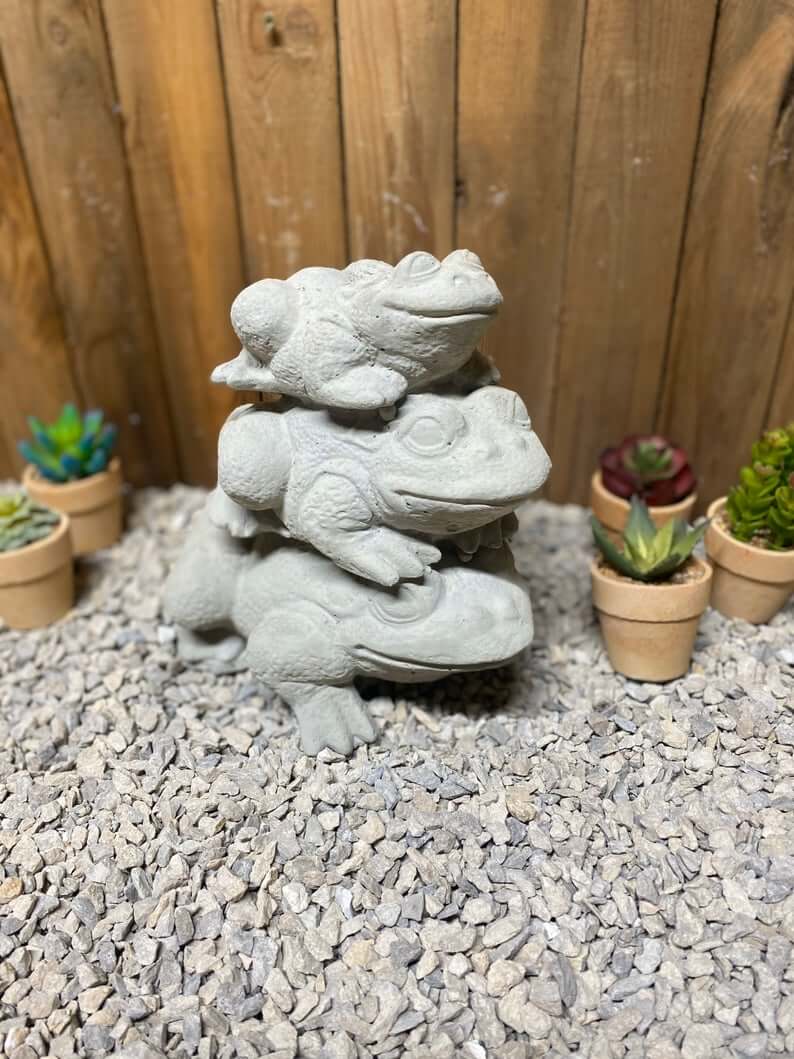 Add some fun to your garden with this trio of stacked concrete frogs. Trying their hardest to form a pyramid, this trio nearly forms their version of a totem pole. The variety in the frog's sizes simply adds to their charm. Crafted in concrete, they are ready to handle the elements of a rainy spring day. Set them at the top of your steps or amid your flower bed for all to see and enjoy.
21. Bold and Bright Orange Painted Concrete Koi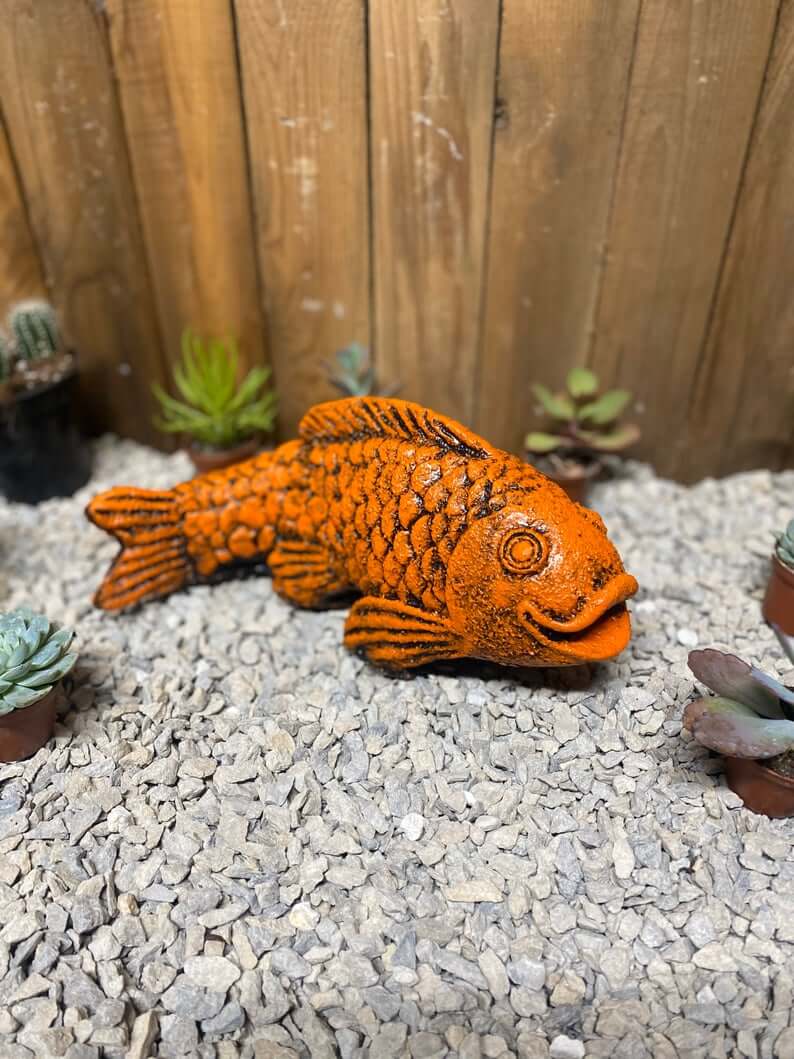 Set the mood to relaxation and inner peace as you channel the zen with this vibrant koi fish. Hand-painted in a rich and bright orange, this koi is the perfect addition to your meditation garden. Roll out your yoga mat and Namaste your cares away. This seemingly smiling fish friend will perk up your outdoor oasis for some spiritual serenity.
22. Sweet Children Catching Fireflies Garden Sculptures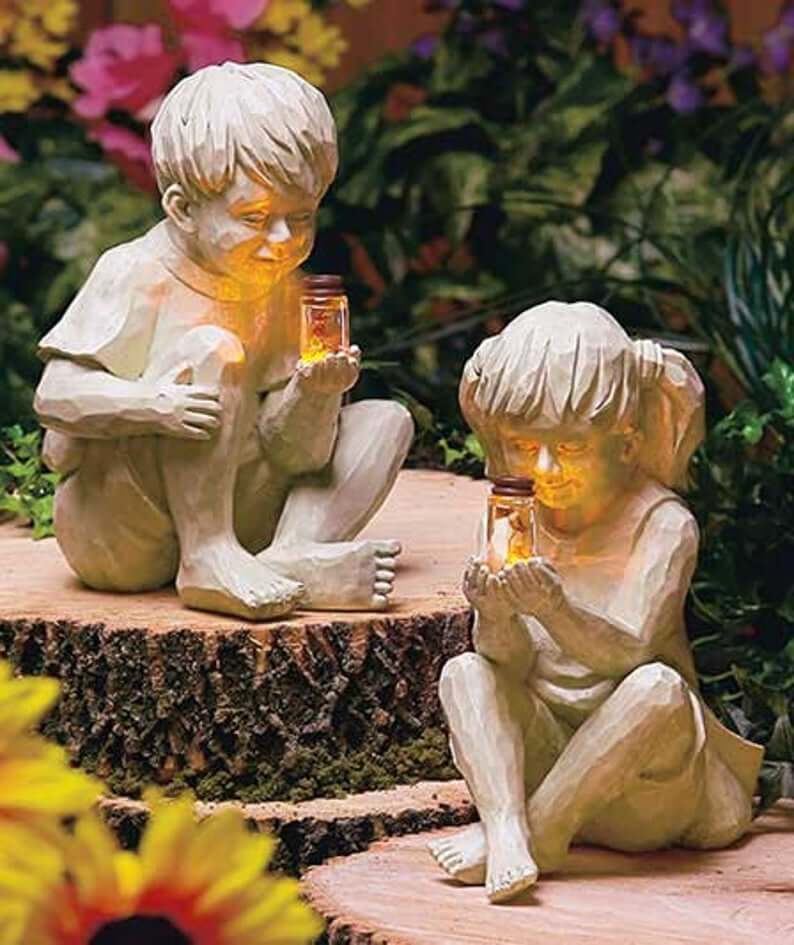 Is there anything sweeter than the memories of catching fireflies as a child? Never let this feeling go as you add this set of children to your backyard. A young boy and girl are captivated by the amber glow of these summertime bugs. With a gentle smile on their faces, this set beckons a slower way of life like the good ole' days. Set them together as a focal point of your garden or place them on the corner of your patio so everyone is sure to see their beauty and smile. And since they use the sun to power their glow, these fireflies will always keep their glow.
23. Peaceful and Purrfect Cat Nap Garden Statue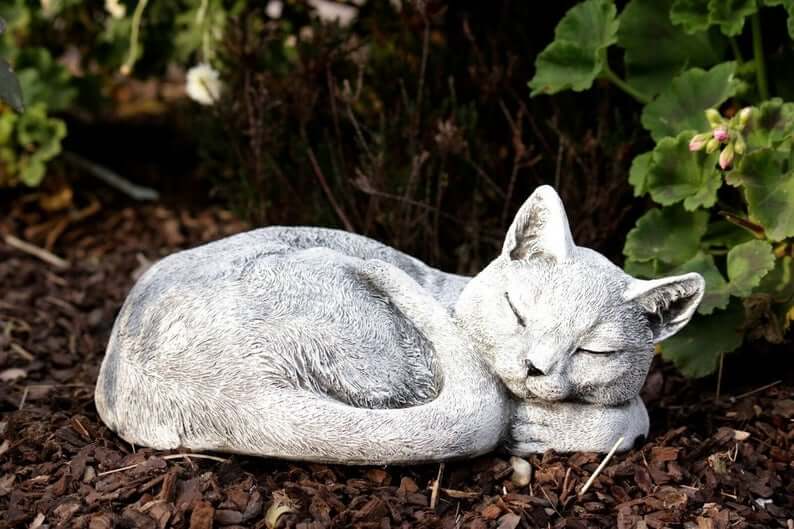 With closed eyes and curled-up tails, this cat garden sculpture looks relaxed and content. What a great way to create a memorial to your favorite feline who maxed out its nine lives. Use this as a headstone to make its burial or place it in your garden where you'll see it and always remember this frisky friend. This would make a great gift idea for a friend who's recently lost a pet cat too. Anyone who loves cats will adore this gently resting cat that's cozied up in a ball in a sweet slumber.
24. Glittery Winged Trio of Garden Fairies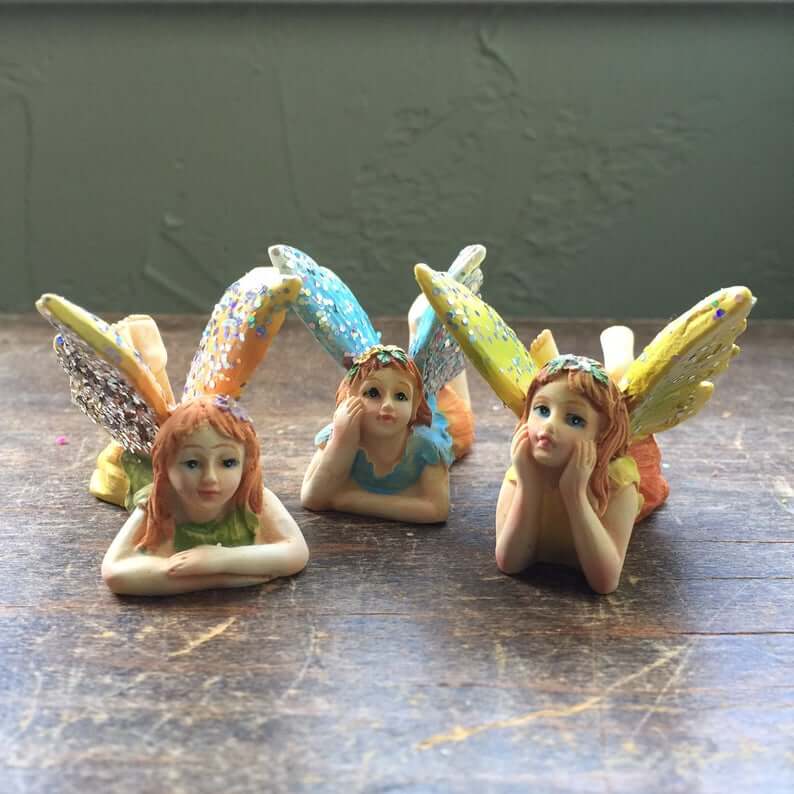 Look what just flew into your backyard! This trio of garden fairy sculptures will fill your backyard space with fun in the sun. As their sparkling glittery wings reflect the beauty of the sun, their charming faces will warm your soul. Resting on their bellies with their feet pulled up, they are positioned to steal your heart. They are the perfect size to set upon a picnic table, garden edging, or within the soil of a potted plant. Every little girl at heart would adore one or a whole trio of these lovely garden gals. Make it more fun as a craft night with the whole gang!
25. Meditation Garden Three-Tiered Pagoda Garden Sculpture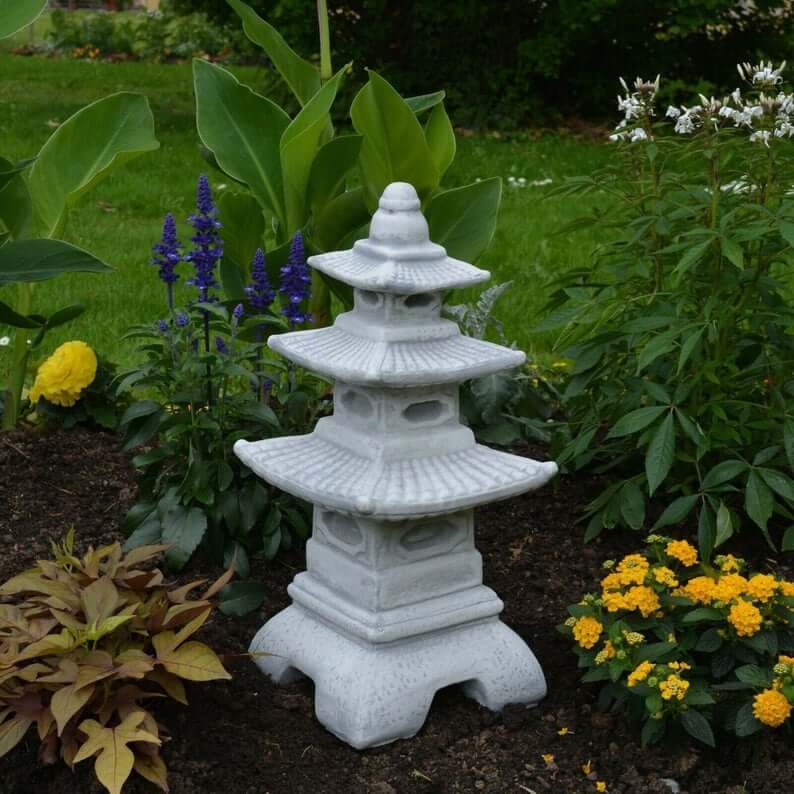 Infuse your garden with some Asian-inspired elements that lend themselves to the achievement of inner peace. Your inner circle will delight in the beauty and craftsmanship of this concrete three-level pagoda building that makes a dramatic presence within your garden. For a look that feels zen, consider adding this stunning pagoda among your ornamental grasses or position it near a high-traffic spot in the backyard so everyone is sure to see it. The details of the three roofs add so much interest and texture with their intricate designs. Let this garden sculpture be the foundation for life around your koi pond this summer.
From Zen to Party, These 25 Concrete Statues Make it Happen
Now that you've seen some of the best garden sculptures it's a good time to begin planning your unique summer oasis. If you're into morning yoga, consider dedicating a meditation haven in a corner of your backyard with a zen item like a sleeping dragon, a three-tiered pagoda building, or bright koi fish.
Maybe you seek a fun, animal-loving resting place. If so, grab a gentle rabbit, friendly frog, or sweet turtle to become a new member of your backyard garden gang. Adding some welcoming animal faces are garden sculpture ideas that bring personality and a more personable atmosphere to your outdoor space.
A unique way to embellish an existing water feature is with one of the many mermaid options to bring the heart of the sea into your backyard. Or for more of a farmhouse style, you could include a detailed single or duo of ducks to decorate your space.
Then, there is always the opportunity to create a dominant focal feature in your fairy garden with one of the best garden sculptures of a fairy that could be the keeper of your existing fairy village. As you rest for the day, the guardian angel of the guardian would oversee and keep a vigil watch.
No matter what your vision of your backyard looks like, you can easily make it happen with a little careful planning and a whole lot of charm in these concrete garden sculpture ideas. From large to small and a single item to a set, there is certain to be a concrete masterpiece pulling your heartstrings!