Why should you choose to include geometric home decor ideas when planning your home design? Well, everyone knows your home is a reflection of who you are. Our dearest treasures and our captivating inspirations draw us into our cozy nooks that transform our houses into homes. With endless access to custom and handmade pieces, it has never been easier to find the one-of-a-kind look you crave.
One way to showcase a bold and contemporary persona is with geometric home decor ideas. Whether your heart desires a bold statement piece or a unique accent, there are a variety of amazing options for bringing to life that awesome idea in your head! You can take your dining room from drab to fab or welcome guests with an eye-catching foyer space enticing them to explore even more.
28 Eye-catching Geometric Home Decor Ideas to Infuse Personality into Your Home Decor

What is a bold statement piece you may ask? Well, for starters a statement piece can stand alone. It can be the anchor decoration in the home and/or room. Often the perfect statement piece fuels the inspiration for the rest of the home. Structurally, a foyer engulfed into a double curved staircase visually stands out and drops the jaw providing that coveted "wow" factor. Such an example would be a structural statement, but here we are talking about a free-moving object such as a painting, light fixture, accessory, rug or planter that is an accent statement piece by its capacity to stand alone and wow the crowd. Thinking about geometric home decor ideas is a wonderful starting point in brainstorming the tools for making the vision come to life.
Searching for the perfect statement piece should be easy and fun! While there is no formula for the perfect find, keep in mind a few things. First, look around and see what draws you in or captures your eye. It may be an object that floods your mind with wonderful memories like a sculpture of a tractor which reminds you of spending time with your grandpa on his farm as a young girl. You can almost smell and feel the dirt in your hands. Incorporating such a piece into your home also provides a neat conversation piece when entertaining.
So if you are searching for the ideal quirky piece to add to your home, look no further. Below is a collection of some cute and unique ideas that can add that bold statement piece to your decor. No matter what room you choose to accentuate, the versatility in many of these pieces easily transitions from bedroom to office space. The bottom line is to browse with an open mind and a happy heart.
1. Personalized Art Deco Illuminated Wire Cube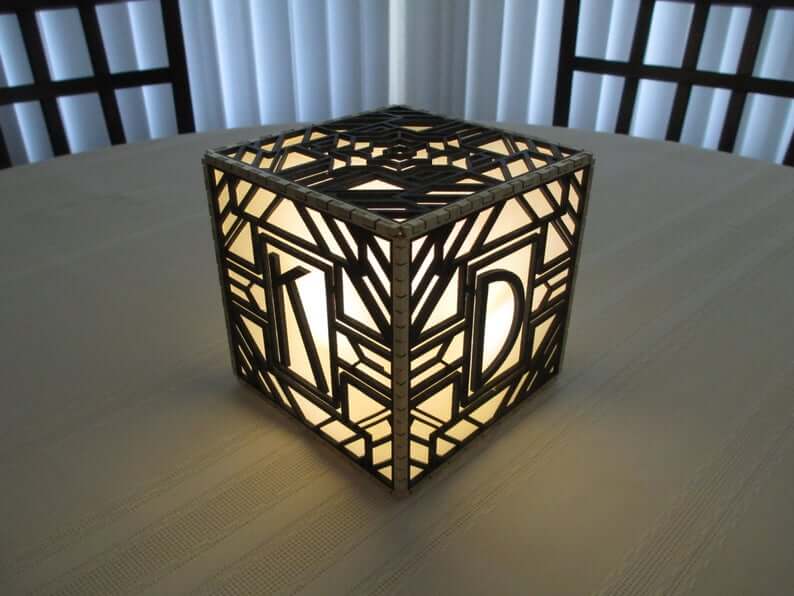 At first glance, this light feature projects images of the Great Gatsby into the mind. Its art deco inspired geometric theme filled with black lines that are brought to life with the warm glow from inside the box. Like a windowpane taken directly from the 1920s, this roaring piece adds a throwback vibe without overpowering the room. The additional flair with the ability to pick your choice of initials can make this an awesome idea for a gift or as the perfect addition for your family's home decorations. Art deco design is evidenced through the font used, tying the entire piece together. The way the long, lean lines of the font work seamlessly alongside the slanted lines of the cube, no detail has been left undone. This piece would be a good accent to a hallway with its sleek design and enchanting glow.
2. Metal Teardrop Geometric Centerpiece or Chandelier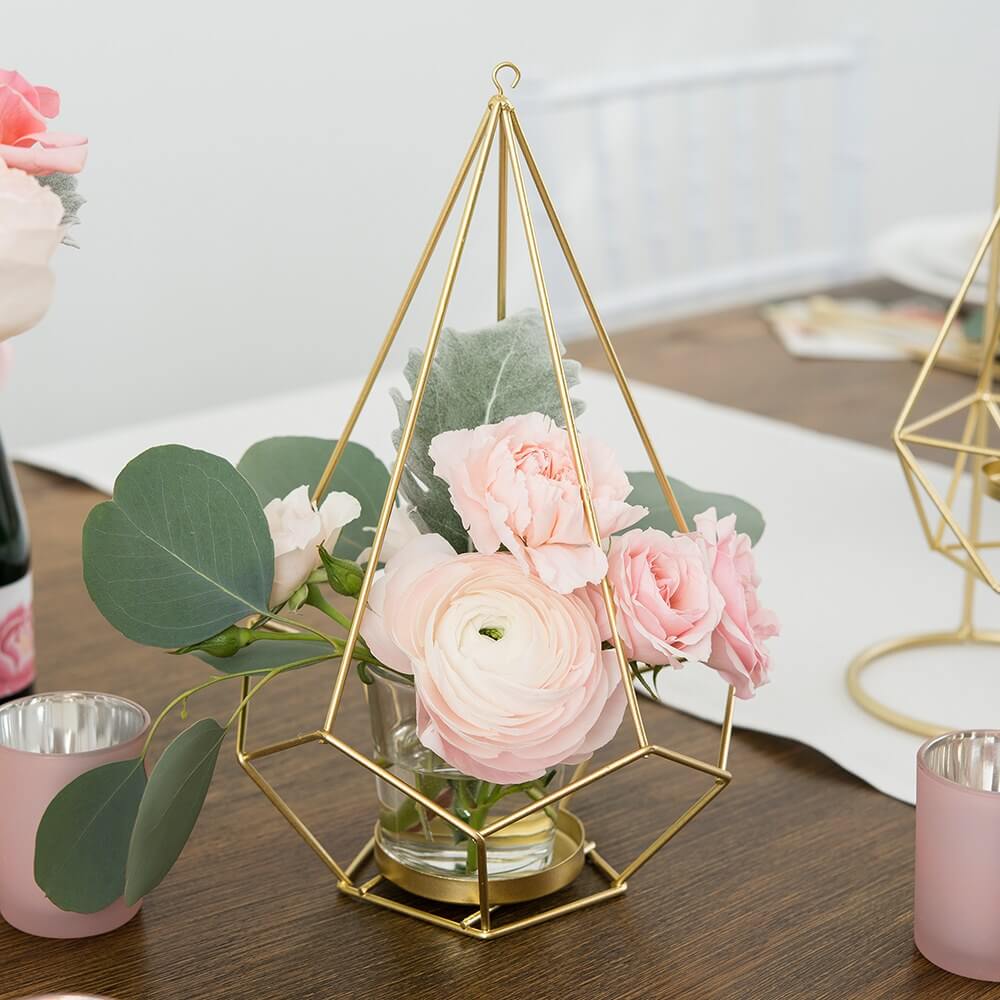 This stunning piece would be perfect as a chandelier hanging in a kitchen or bedroom of your home or simply as an elegant centerpiece at your sister's wedding. The gold color adds a modern appeal for a votive candle or cascading flower arrangement woven through its geometric design. For added interest, three of these chandeliers could be hung together on chains or ribbons of various lengths in the corner of your dining room or bathroom as well. Alone or in a trio, the metallic sheen of this geometric teardrop adds a vivid element of interest even if it's without a candle or flower. Adorning the middle of the tables in the reception hall, this teardrop would be a showstopper and such a twist from the traditional round votive holders commonly seen. Celebrate the day with a touch of elegance where this metal piece brings together the interesting sights of the wedding and weaves them into a focal point as the ideal centerpiece pleasing to any newlywed.
3. Midnight Gray Macrame Wall Hanger with Tassels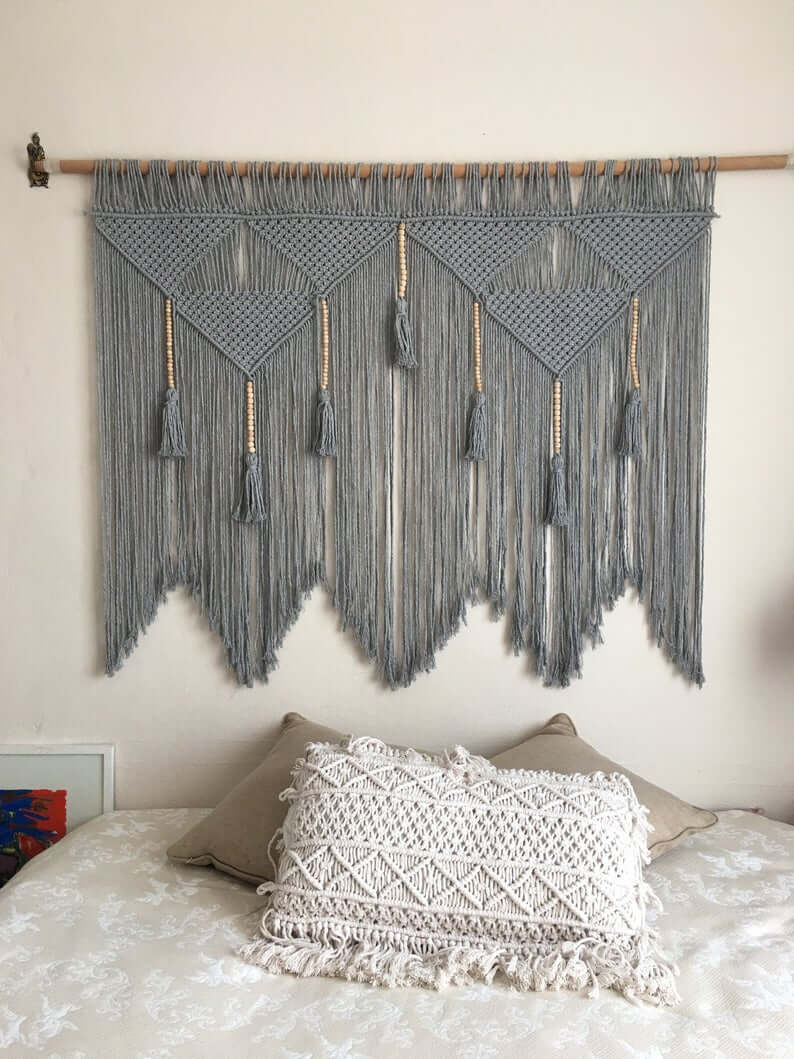 Going for that bohemian or boho-chic vibe is simple with this crocheted wall hanger. This bold piece would be best used admiring the couch in the living room or framing the head of the bed in the master bedroom. Such a statement piece could easily take the place of the popular over-sized headboards seen in magazines and stores everywhere. The cool, deep gray color blends perfectly into modern and contemporary decor and adds a special element of texture. Too often the element of texture is forgotten in design leaving much to be desired in the overall look and feel of the space. In an industrial loft, this could be the bold piece that softens the room and exudes a welcoming gesture to guests by casually inviting them to sit and stay for a while. The pairing of soft and warm macrame with hard industrial metal blends into the balance coveted by designers around the world.
4. Dangling Diamond White Metal Pendant Accent Light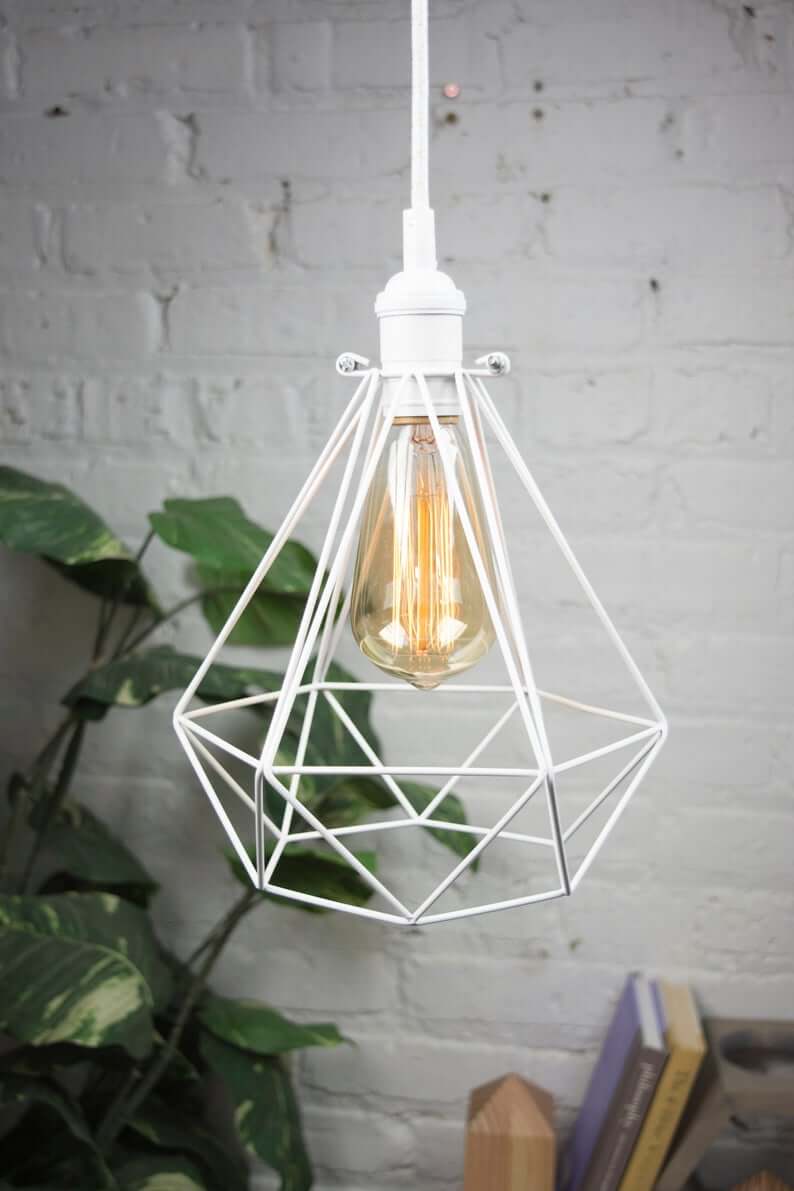 Diamonds are a girl's best friend and an awesome idea for a unique light feature in her home. Sure to spark some comments on geometric home decor ideas, this accent light would be perfect near a young teen's vanity, in the hallway half bath or even suspended above the kitchen island. For her first home of her own, any eager female chomping at the bit to her stamp on this new space would smile at this unique light fixture in her new, personal oasis.
5. Modern Hexagon Honeycomb Wall Art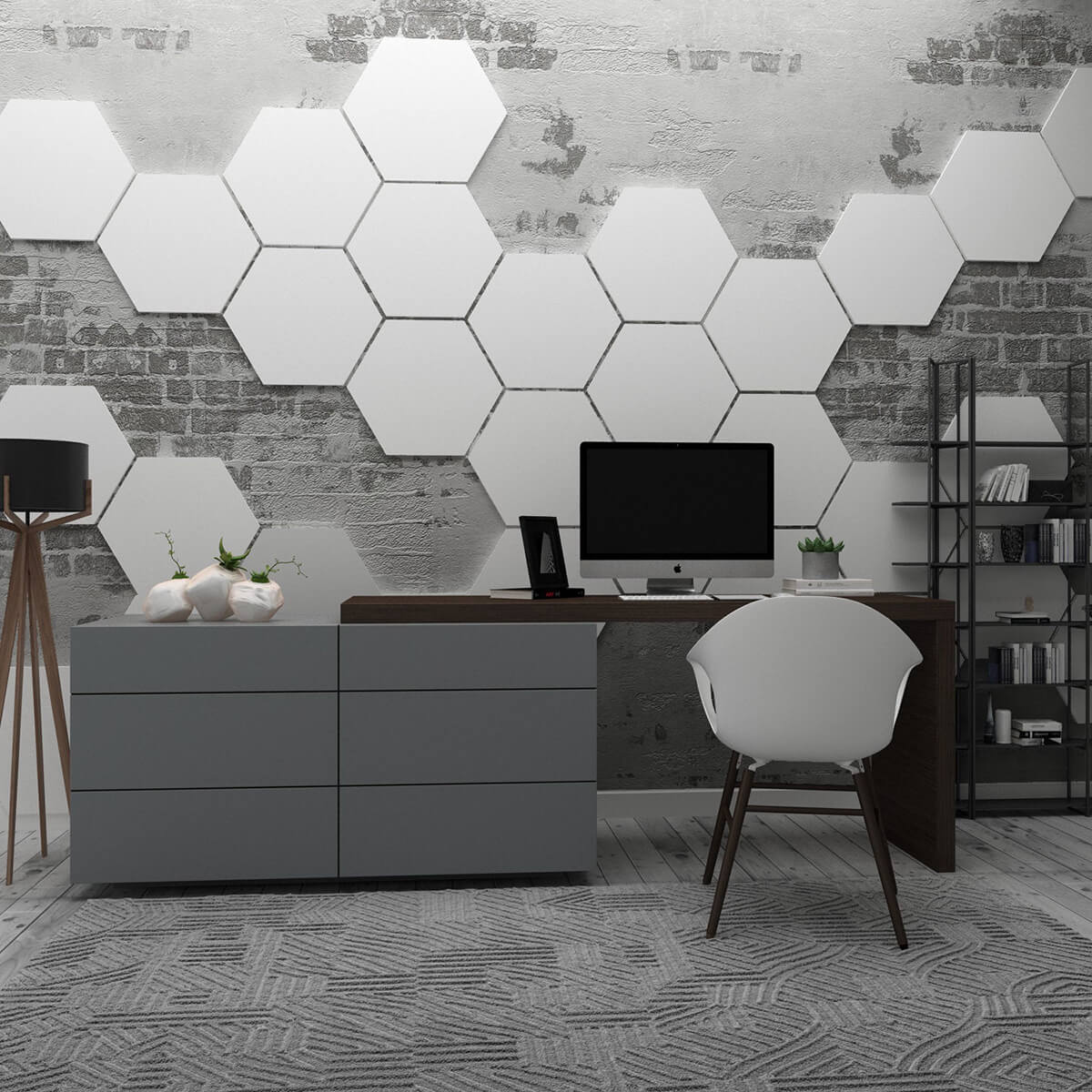 No matter if you are an intellect inspired by the laws of science or a tech-savvy electronic mogul, this white honeycomb wall art sets the background for a great workspace or home office. It could also be displayed as a cute nursery backdrop for the arrival of a new precious bundle of joy. The white gives the room an extra "pop" highlighting a feature wall or standing out in a color-filled room. These honeycomb tiles would work nicely beside gray and black or even jumping out from the use of vibrant primary or neon colors. Either way, brainiacs and babies alike will enjoy the view of this sweet six-sided artistic wall accessory.
6. Mini Geometric Succulent Planter Trio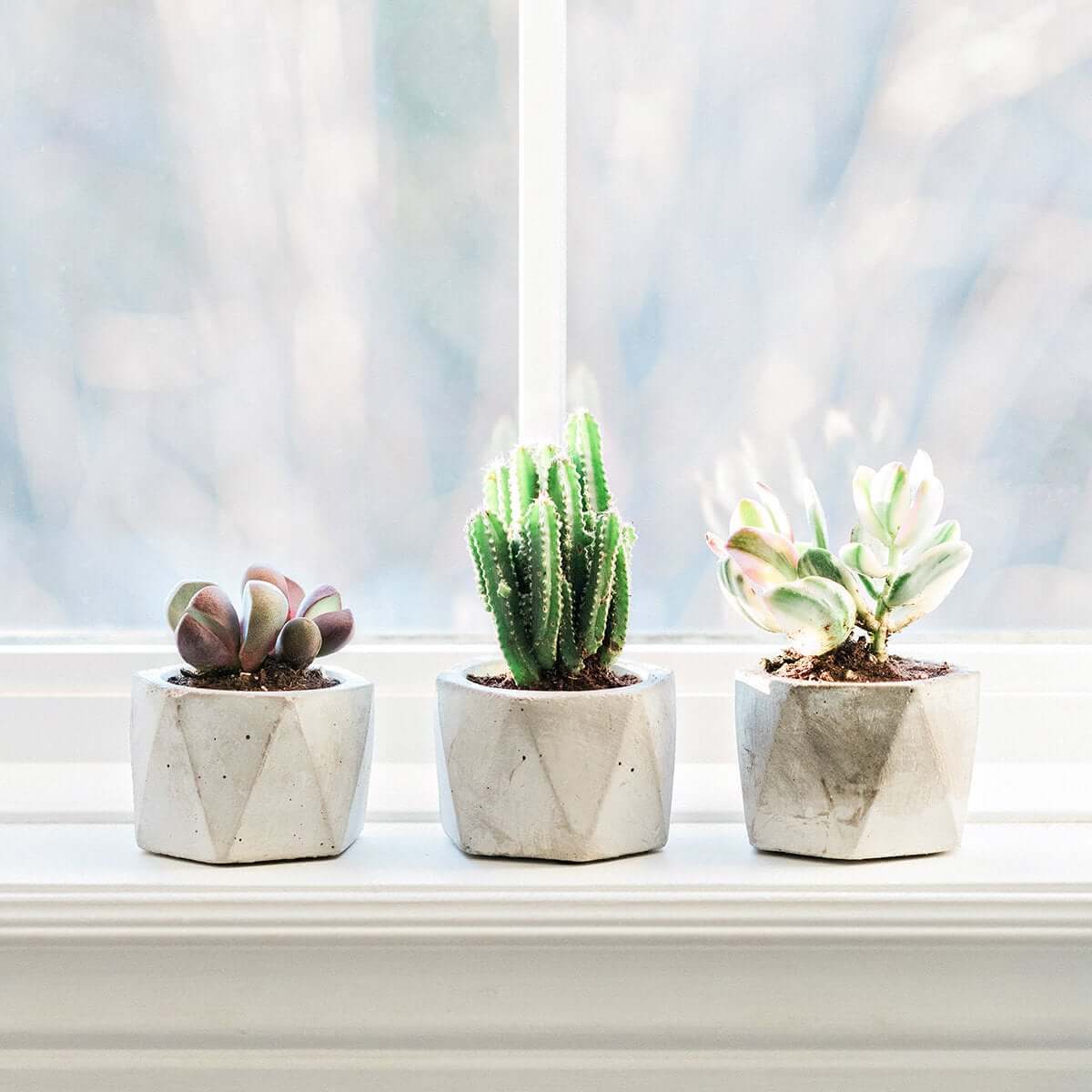 Who needs a green thumb when you can add an element of whimsy to any room with an easy-to-care-for collection of succulents? These cute miniature planters rest nicely on your kitchen windowsill or across the edge of your desk at the office. They could also be a cute natural touch to a child's room, especially one of a budding gardener. Display them together or individually and they get the job done without making you fret about forgetting to water your houseplants. Their size makes them a creative gift for use as party favors and thank yous since they add a touch of sophistication without a hefty price tag.
7. Bird in Flight Geometric Home Decor Wall Accent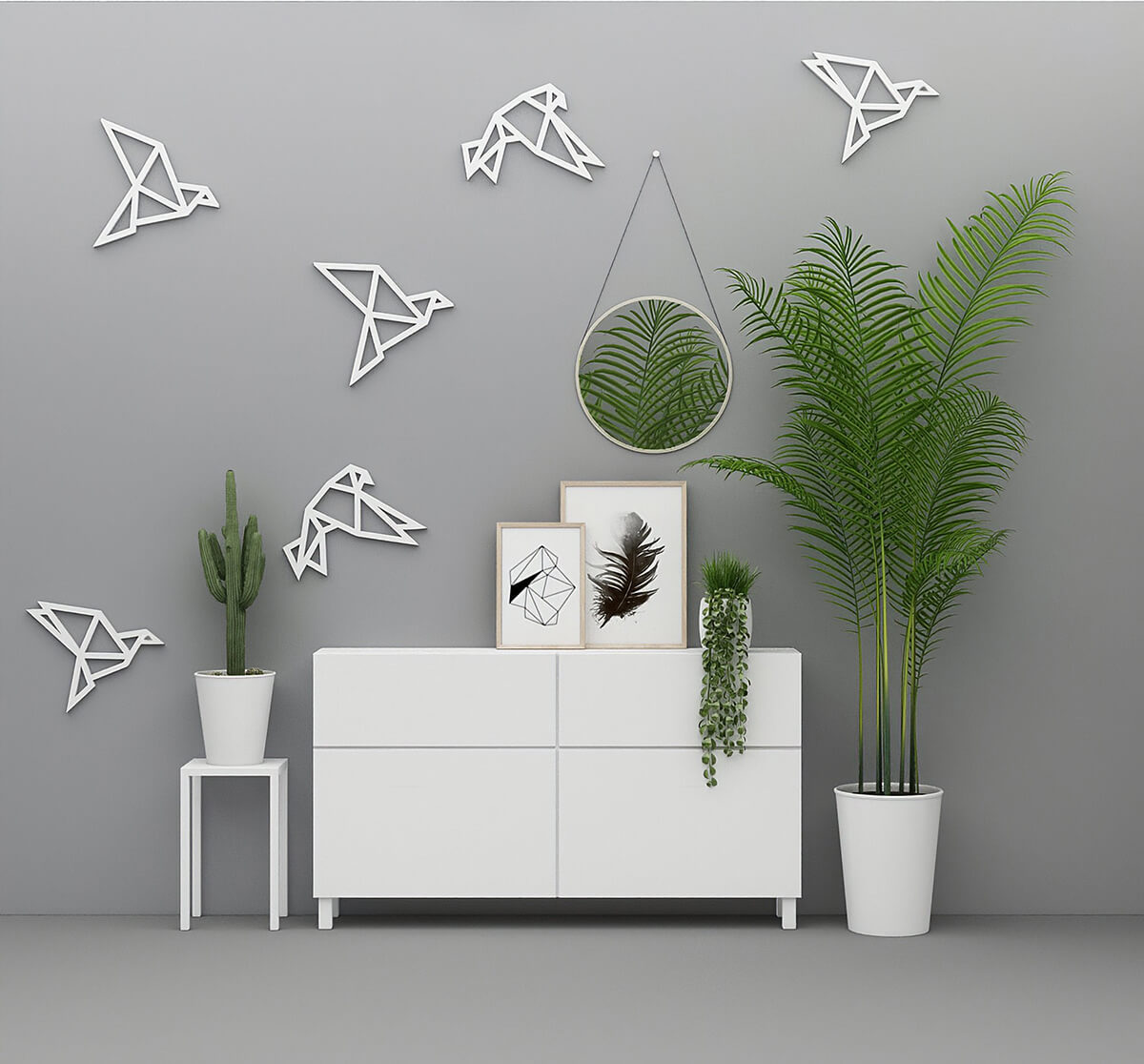 Visions of origami and the movie series Twilight swirl through the mind with these black metal bird silhouettes. From standing tall to mid-flight, these birds represent a soaring element in geometric decor ideas. Enhancing the setting of the gathering room or flying above the crib in the nursery, these bird wall accents take wings and soar into new heights as an added minimalist element in geometric home design. Using several in a large grouping, it's easy to achieve a dramatic feature wall behind your dining room buffet or bordering the homebase couch or loveseat in your favorite living area.
8. Black Rhombus Maze Focal Wall Art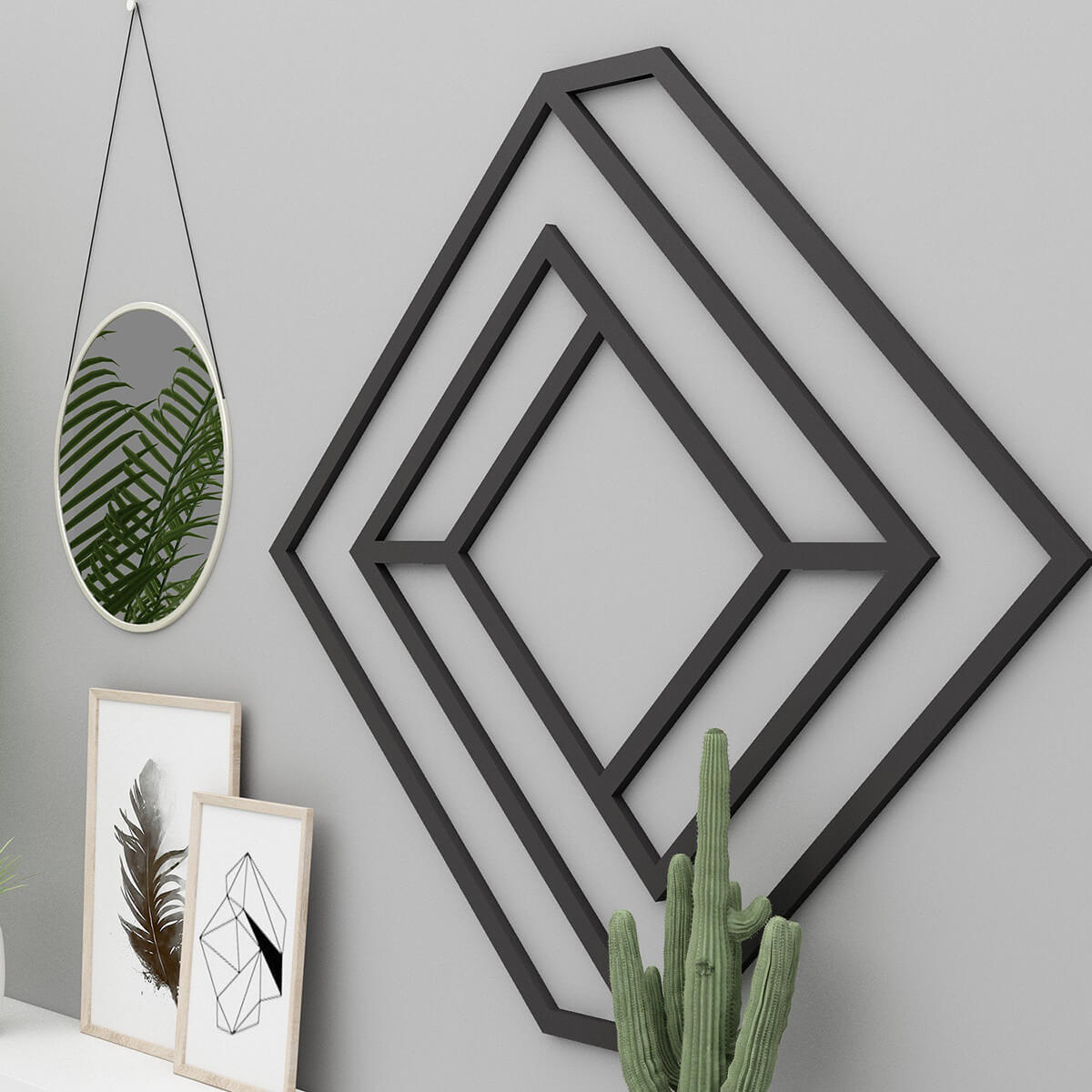 People are sure to take notice of this large wall art featuring black clean lines. This cool over-sized piece would be one of the top geometric home decor ideas for filling a space with personality. Its black finish gives a sleek design that incorporates a modern attitude without being overly dramatic. The combination of the structure and size creates a very one-of-a-kind decoration that easily takes center stage on the main wall of the home's great room.
9. Floating Octagon Planter Shelves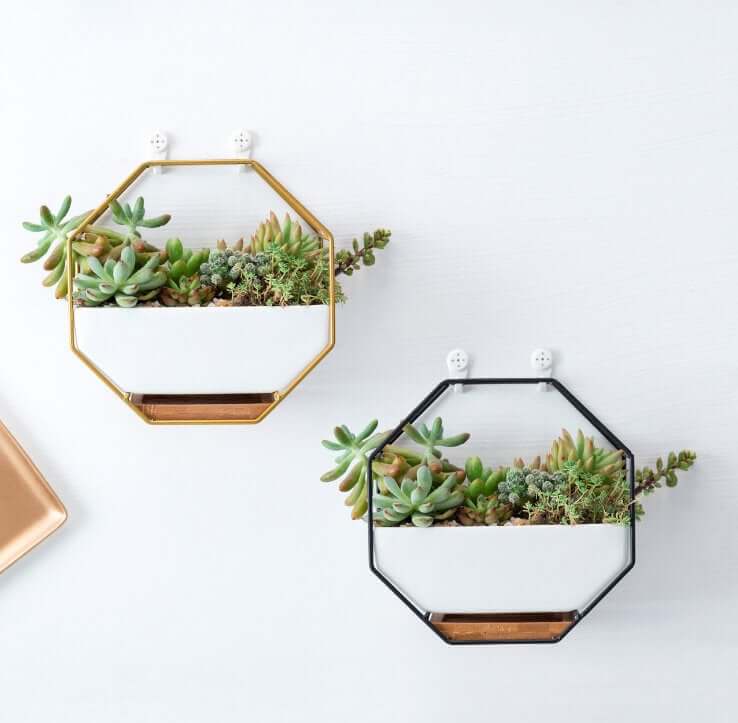 These two medium-sized wall planters seem to float on the wall. Fill them with your favorite succulents, real or fake, and add a little greenery to the walls of your home. Constructed with golden metal and a white planter box, these decorative and on-trend plant shelves work well paired or individually.
10. Powerful and Strong Lion Head Outline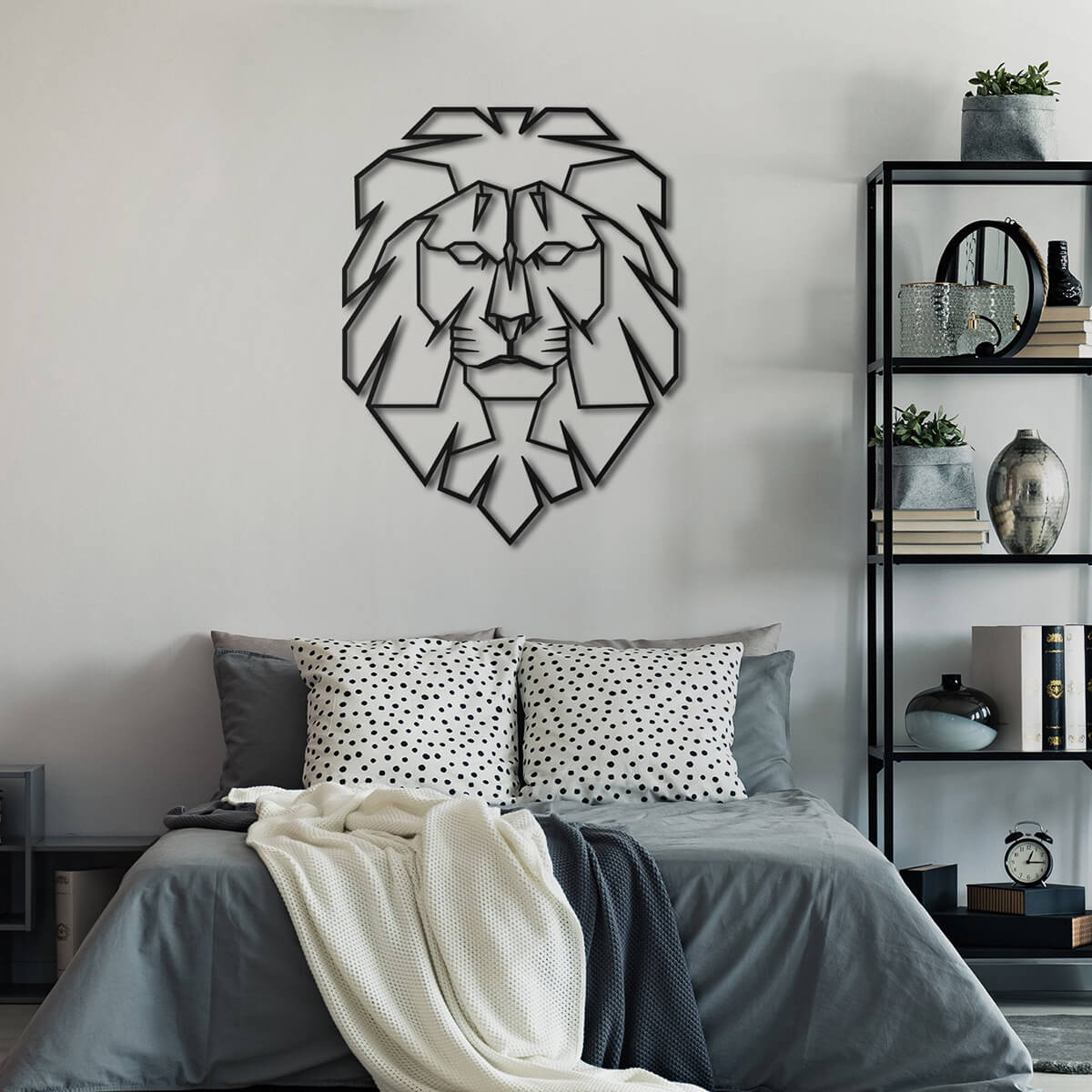 Channel your inner beast with this black metal lion headpiece. Proudly mounted on your wall, this lion projects fierce confidence and makes a bold impact on the overall design. It could be toned down a bit by using it in a child's playroom or bedroom, where it could be softened up with a touch of whimsy along with a warm color palette or animal, themed room. For added drama, it could be a striking piece of art for a boy's bedroom as he transitions from preteen to young adult.
11. Black and White Diamond Design Throw Pillow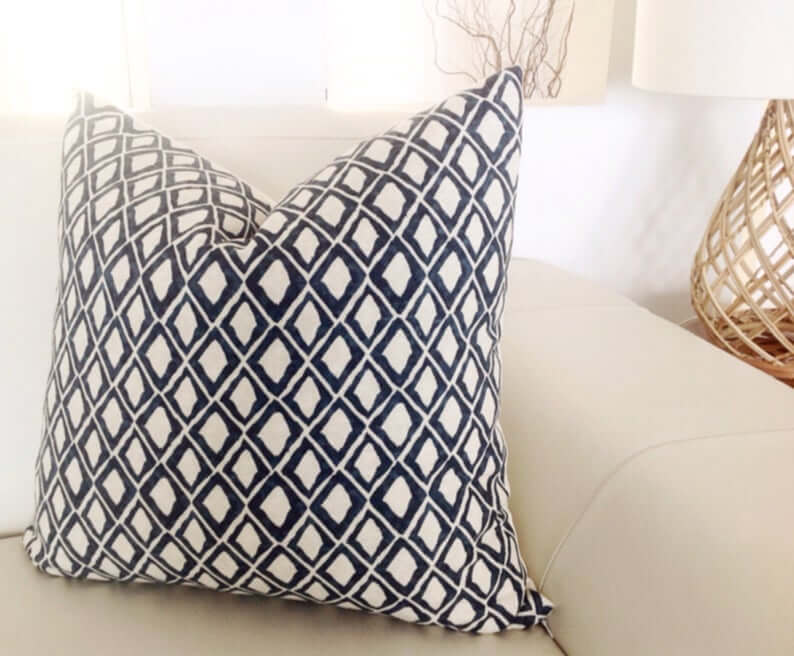 Who doesn't love a striking and comfortable element of design? It's where the best of both worlds meet on the couch. Propped up against a camel leather sofa or adorning a black futon, these pillows work well in a modern or industrial setting. The subtle yet intriguing pattern of the rhombus pairs well in traditional black and white to create a timeless look that will easily transition into the new year no matter what it holds for the style scene.
12. Twin Peaks Wood and White Mountain Set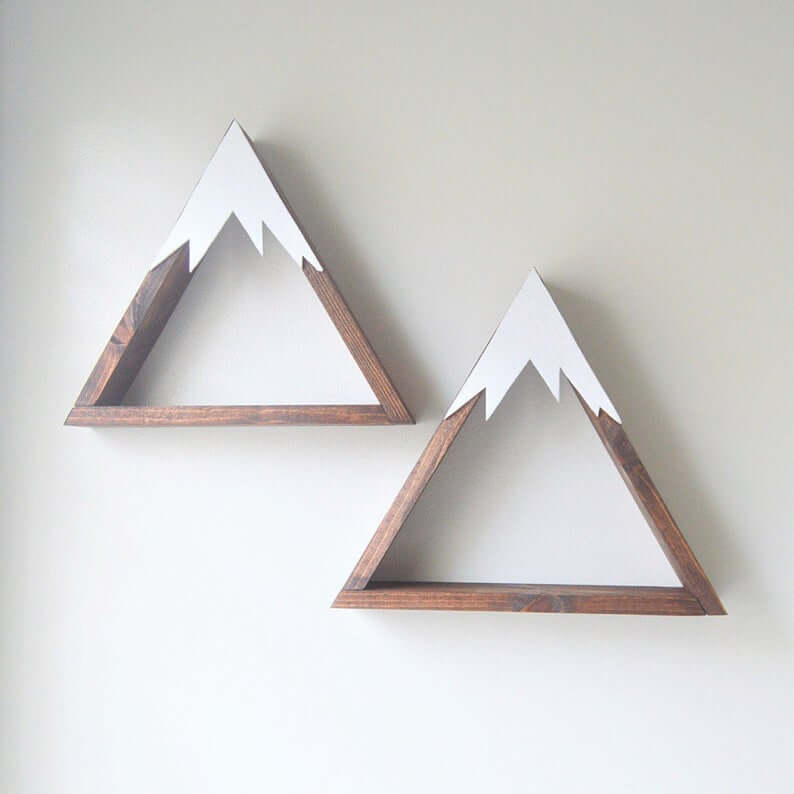 Whether you are going for a rustic or modern feel, consider bringing in the great outdoors with a miniature mountain. This cute and fun set features a wooden mountain outline topped off with a white trim highlighting its snow-capped peaks. Nestled on top of the bureau in a little boy's bedroom or on the desk in the home office, these twin peaks take interior design to a higher altitude of fun.
13. Modern Black and White Kite Tail Circle Wall Hanging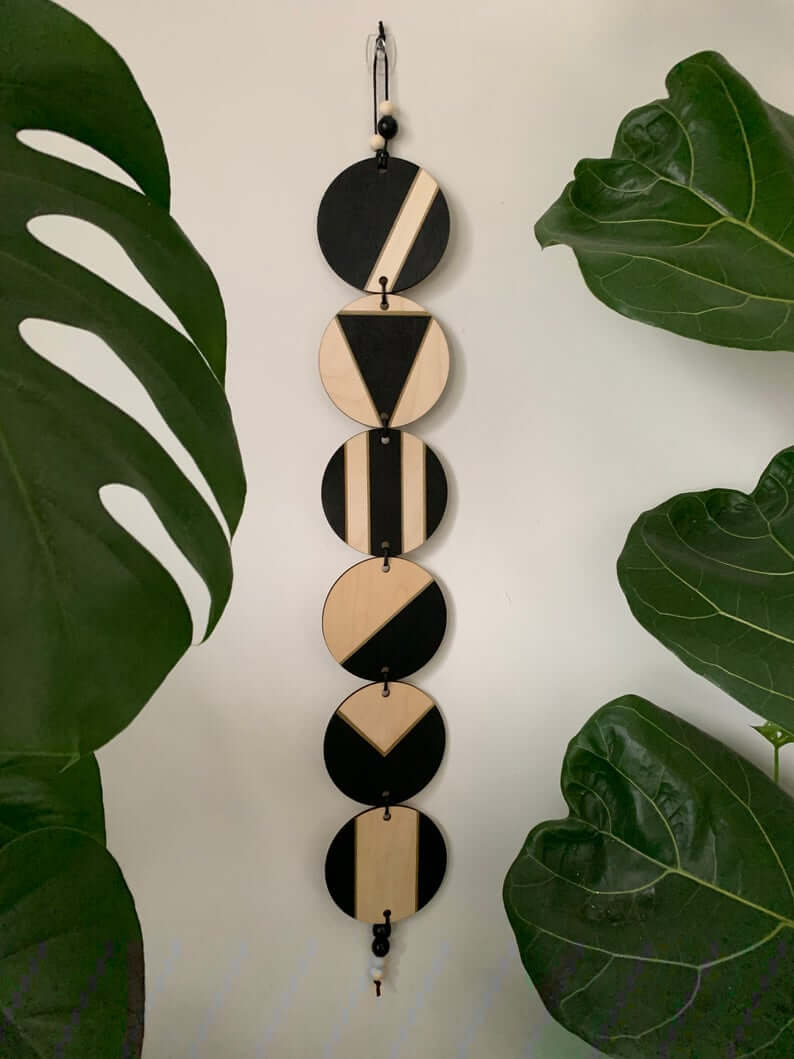 If you're looking for geometric home decor ideas, this piece is sure to please! With movement as it cascades from the hook like a traditional wind chime, the circles feature an individual highlight of a different geometric design. From stripes to triangles, each one is as special as the buyer. They drop down like the tail of a kite to create movement in a confined space.
14. Bohemian Neutral Brown Diamond Snake Pattern Rug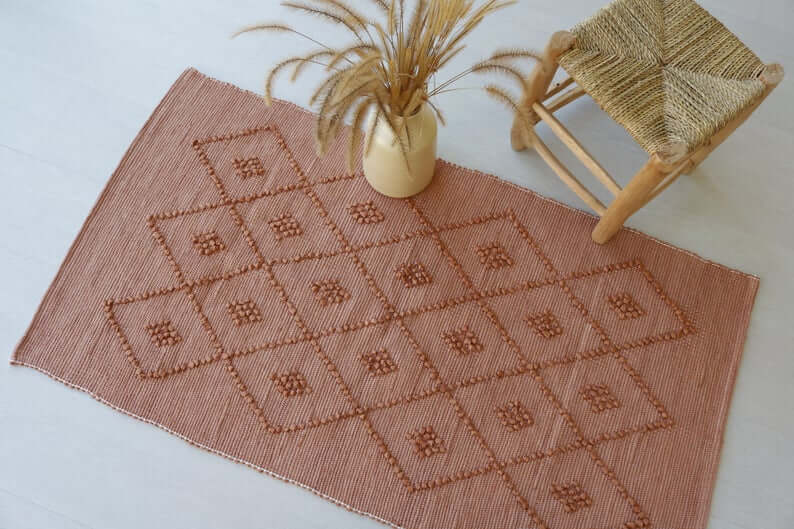 Incorporating style and utility, this boho rug hits the mark with a low-key presence. Resting beneath a natural wood coffee table or beneath a luxe ottoman, the neutral and warm tan brown of this rug blends nicely refusing to take the spotlight off of the real head-turning pieces in the room. This diamond-patterned rug knows how to serve its purpose and stay in its own lane.
15. Poinsettia Prism 3-D Wall Clock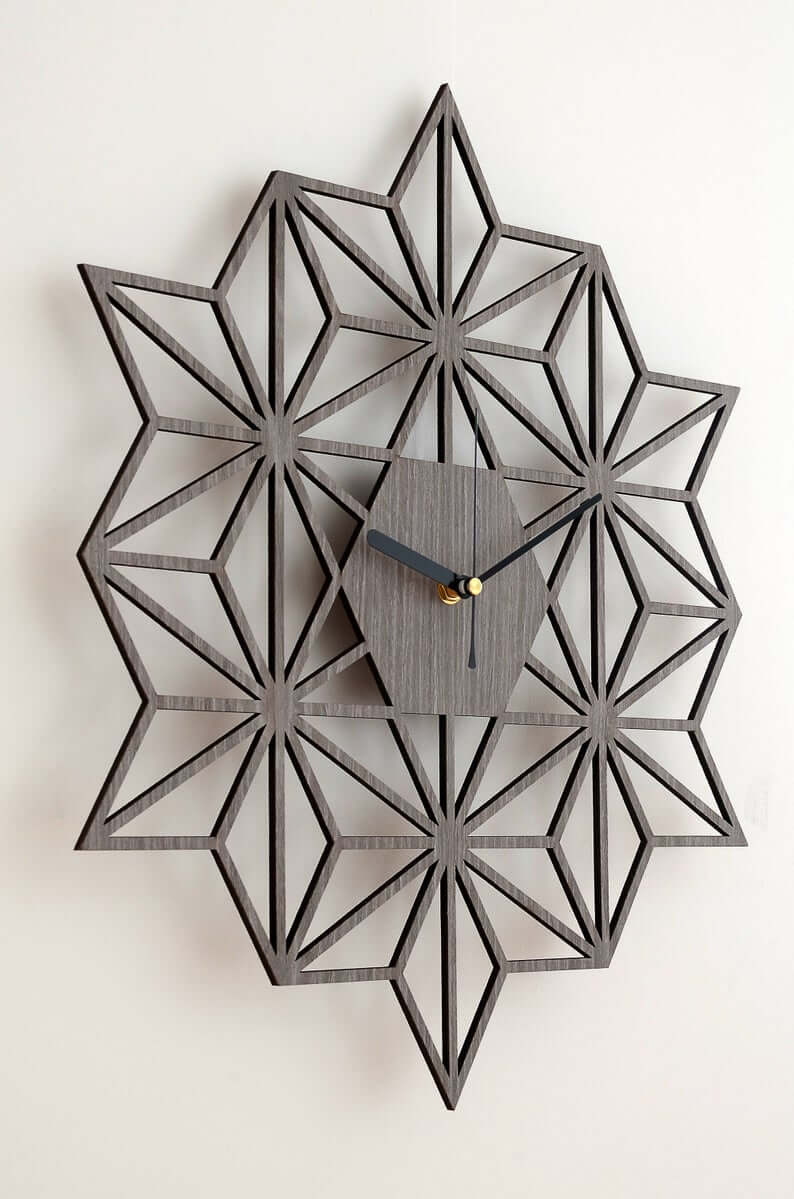 Made in a gray tone, this clock adds another dimension to the home's hallway or dining room. Providing purpose and pleasure, this clock delivers with a useful and easy-to-read clock face inside a fun geometric home decor idea.
16. Contemporary Hexagon Geo Modern Wall Print Set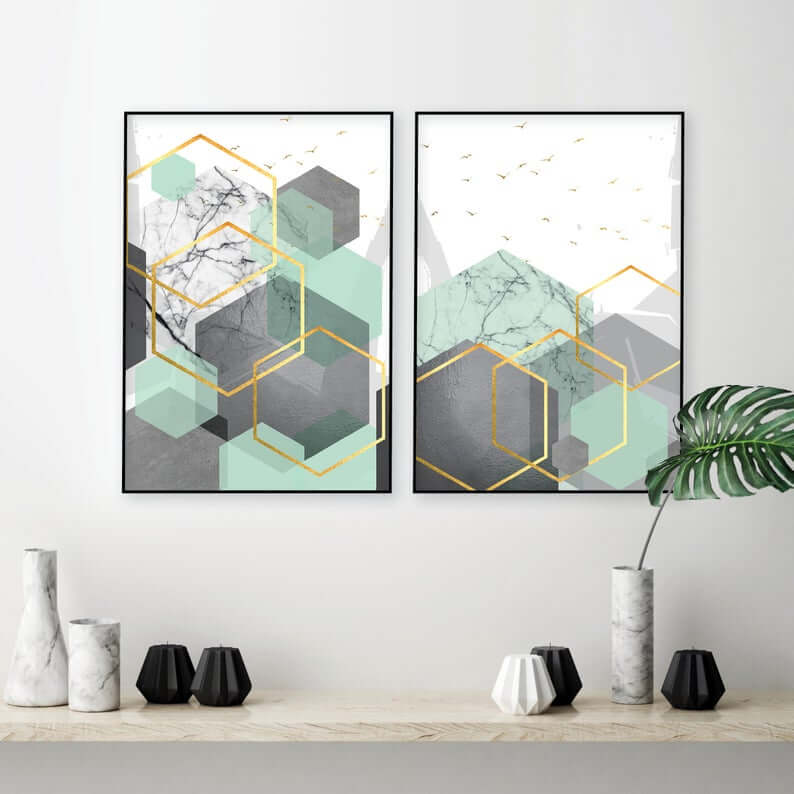 Stunning and similar, the set of hexagon prints showcase a beautiful turquoise and gray design on a plain white background. The piece features gold highlighting to accent just enough to make this piece luxurious. Such a dynamic duo would be a bold statement in a long entryway hall or within the confinement of the family's great room. Trimmed out in a thin black frame, the soft and cool tones of blue and gray appeal to both men and women alike.
17. Practical and Pretty Wooden Hexagon Shelf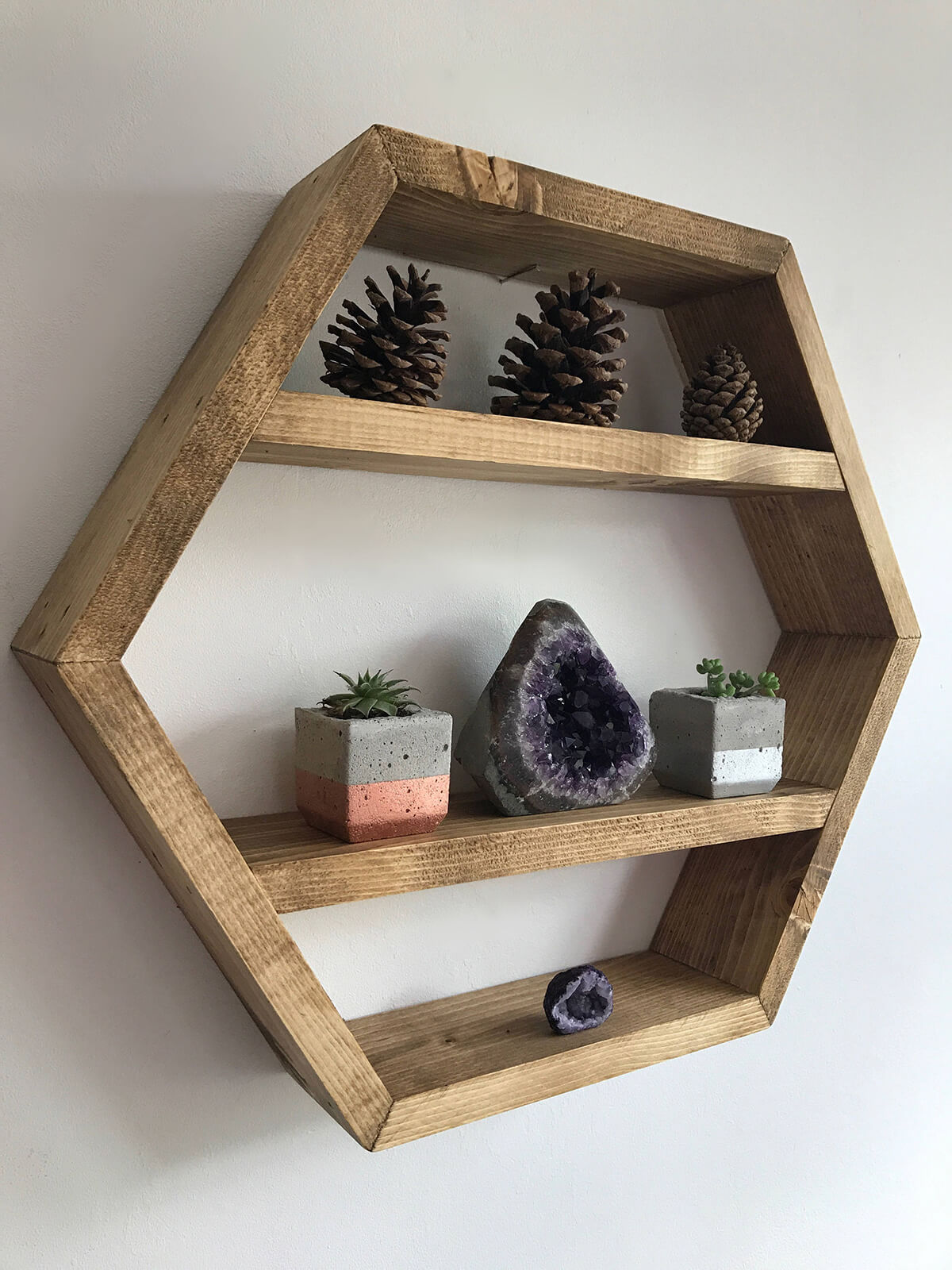 What a great place for your collection to call home? This hexagon shelf works hard at organizing and housing small trophies, nail polishes, Funko vinyls, trinket boxes and the like. The wooden hexagon shelf puts the fun in functional by creating a space for all of life's little keepsakes. Here they are clearly on display, yet out of the way!
18. Suspended Hanging Shiny White and Tan Crackled Plant Bowl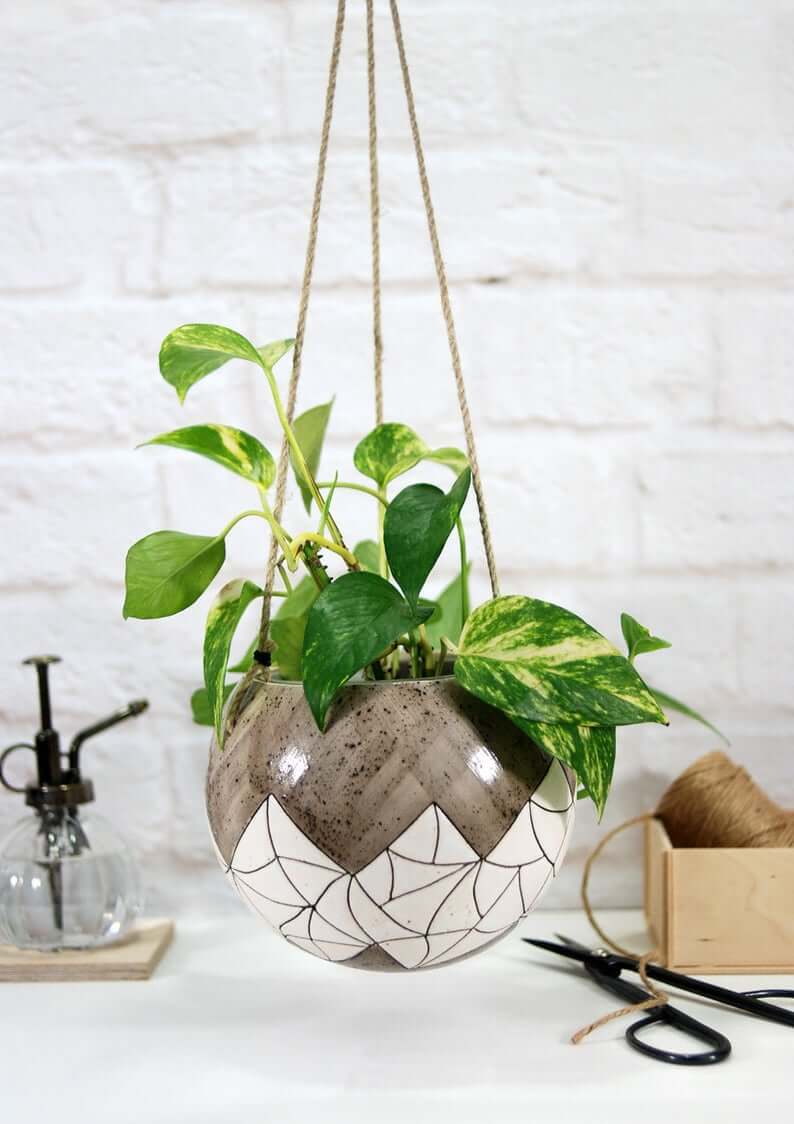 Snugly suspended from the corner ceiling, this original plant bowl provides the necessary environment for a houseplant to add interest and purify the air of your home. The sheen and shine of this bowl are sure to spark interest as it reflects the sun peeking through the window.
19. Whimsical and Geometrical Golden Fox Clock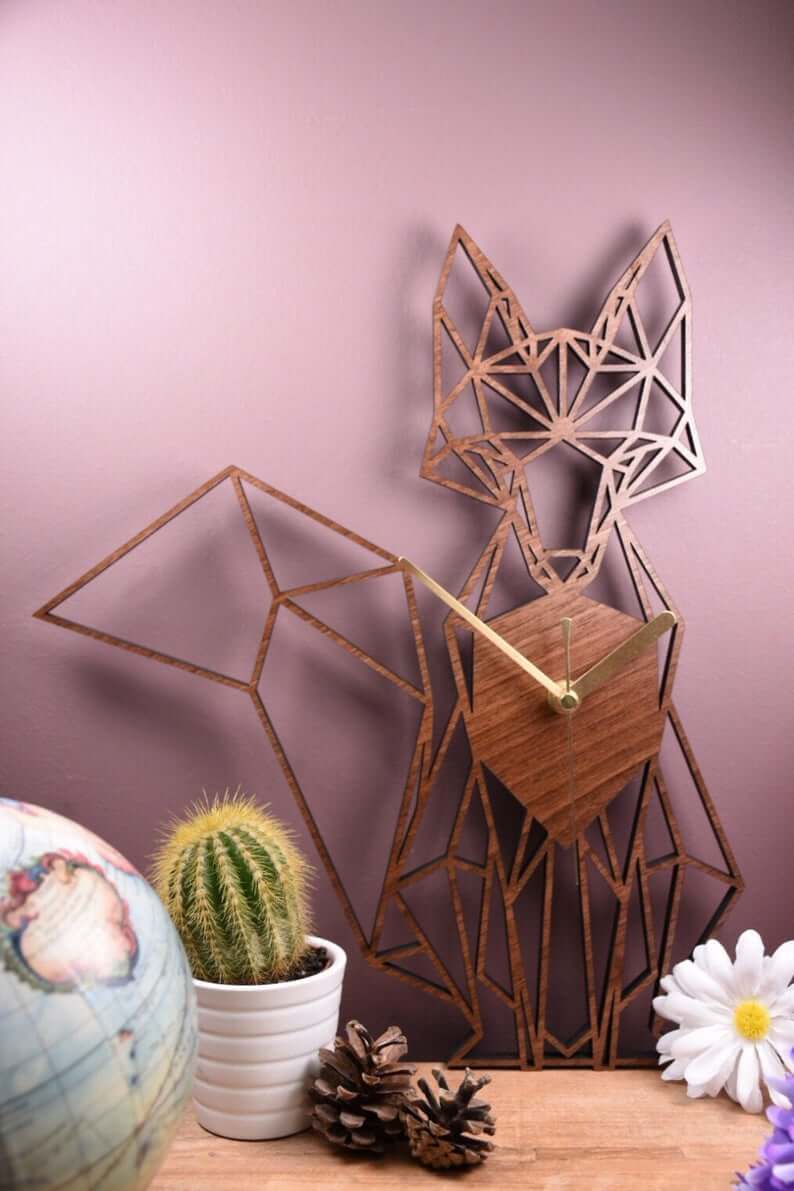 What does the fox say? In this case, he's simply your personal assistant in terms of keeping you prompt to all of your appointments, meetings, and gatherings by telling you what time it is. Paired with plaid, buffalo check or houndstooth, this golden fox would show off his masculine side within the walls of a den or home office. Mr. Fox might just be the best security guard to keep watch as you cozy up near the fireplace to lose yourself in that favorite book. Of course, he could take on a more feminine role in a giggly girly room hung on a pastel pink wall with polka dots and pretty floral prints. Just imagine this time-keeping fuss-free pet overseeing a dainty tea party.
20. Golden Honeycomb Hexagon Wall Stickers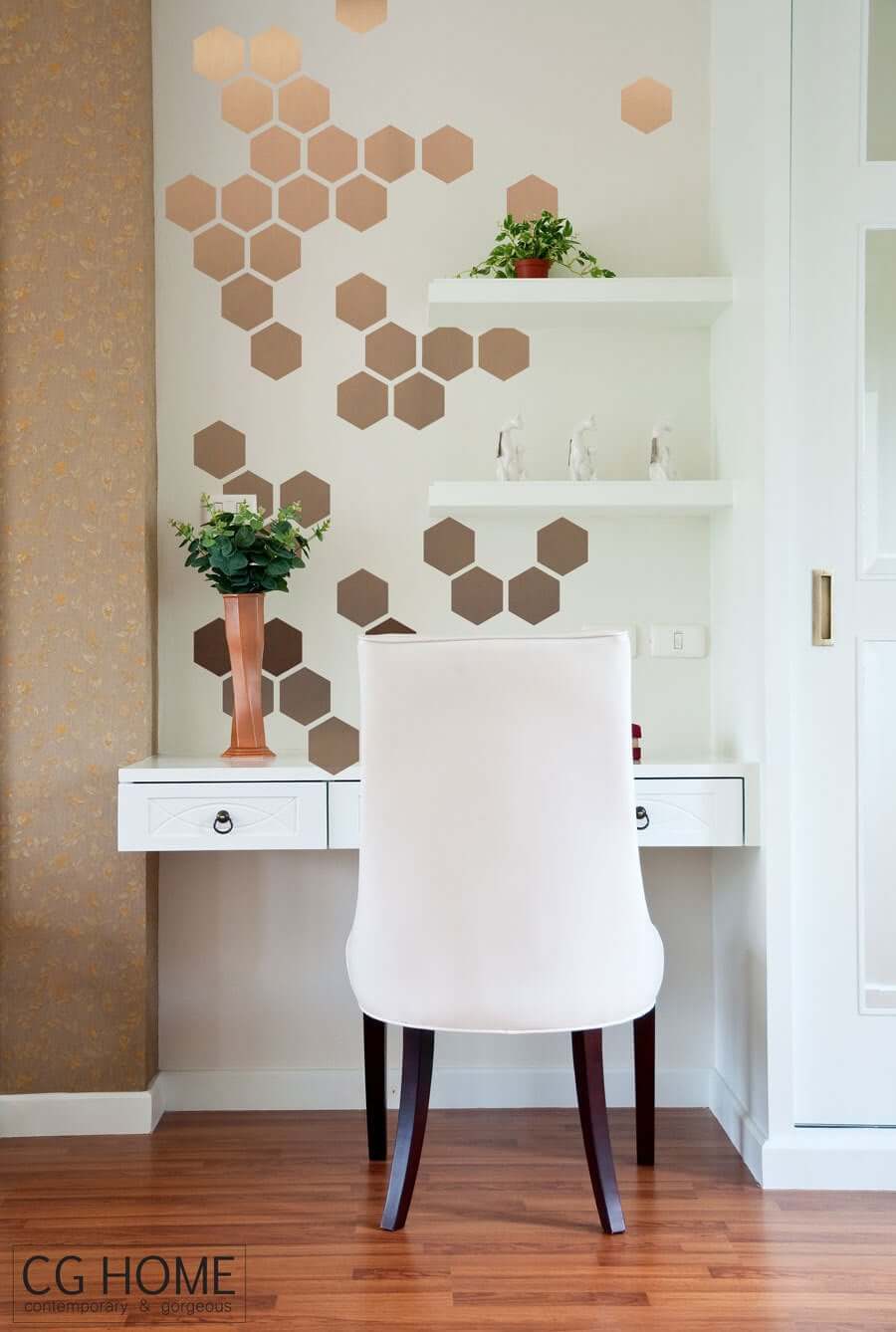 Add a sparkle to any space with a golden honeycomb pattern. These vinyl wall stickers can be placed in any arrangement and make a quick update possible in less than an hour. Perfect for the computer nook in your home or as a feature wall in your great room, these honeycombs are a modern shape with a timeless vibe. Gold exudes a luxurious addition to a neutral space while adding a warm polished feel. Sure to brighten up that dreary corner computer hub or perk up your son's video game zone.
21. Suspended Geometric Black Rhombus Plant Holder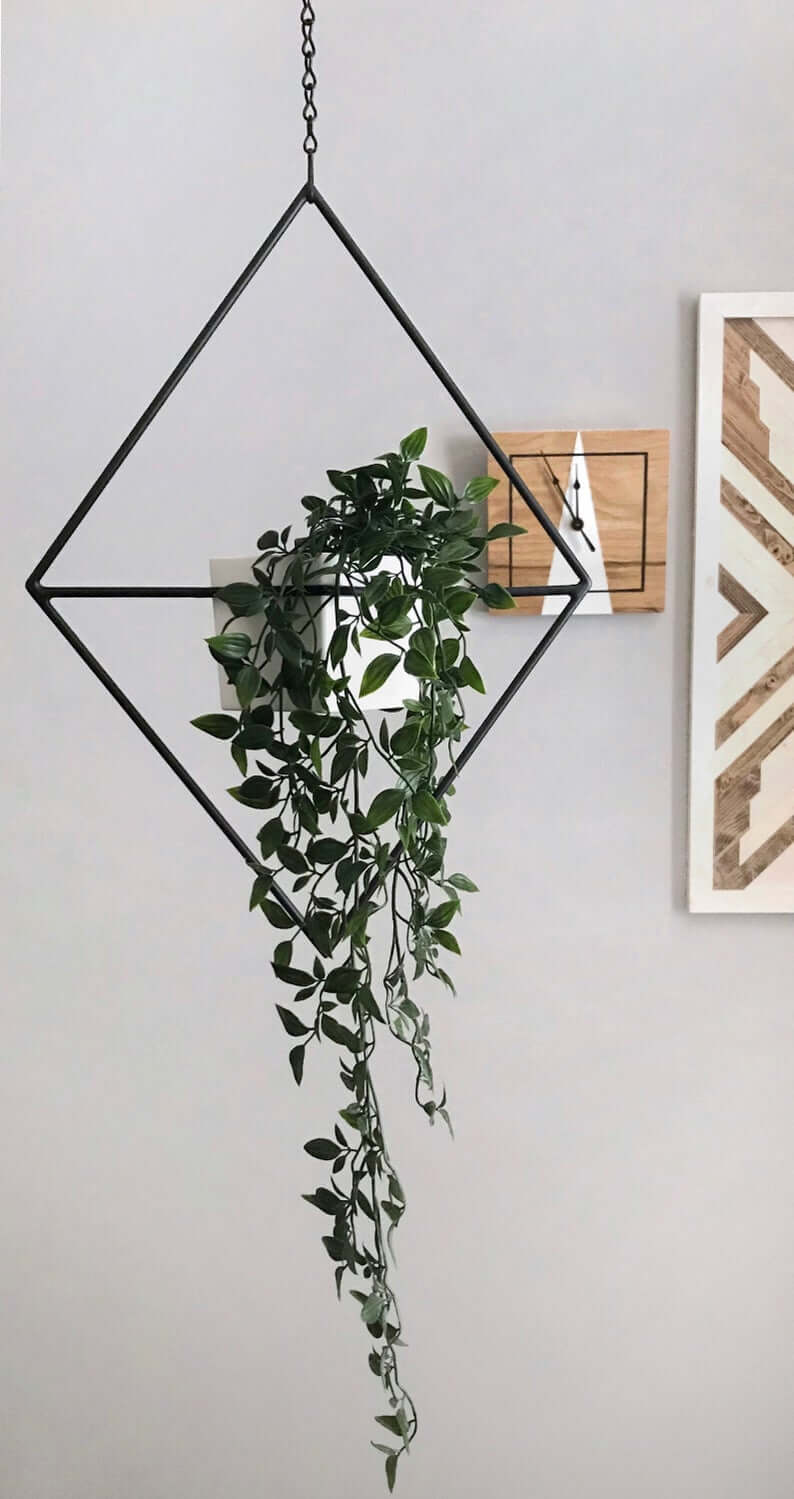 Apartment living shouldn't keep your green thumb at bay. Utilize all of that space by looking above. Hanging plants from the ceiling is a simple way to maximize space and add vertical interest to your home decor. Another brilliant benefit of using overhead space is the plant's ability to access sunlight that may have previously been inaccessible from a countertop height. Additionally, the suspension allows the plants' fronds and flowers to freely flow in a more natural way without obstruction from household objects. It also may extend its life in a safer location away from the touch of tiny toddlers or curious children.
22. Tabletop Metal Prism Orb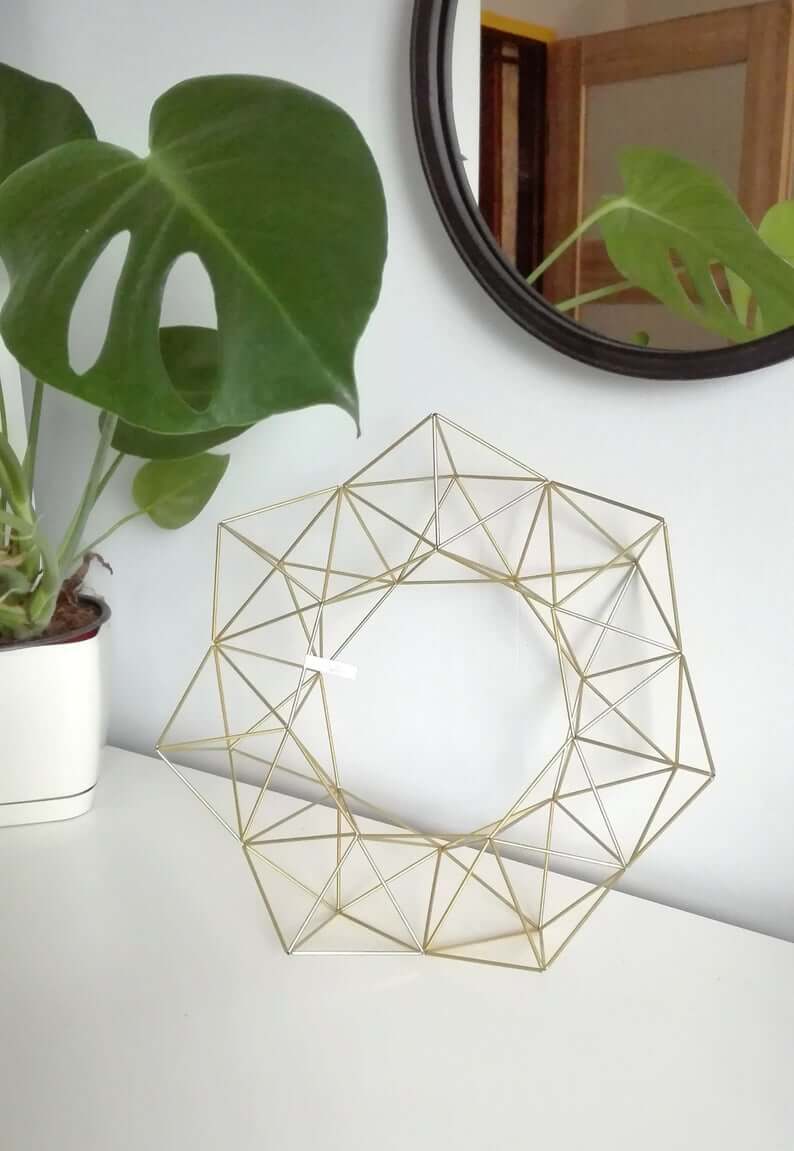 Wouldn't this look great on a nightstand or at the base of a sleek modern lamp in the living space? You might find such a modern geometric 3-D piece in a hipster's hall or a twenty-something's loft. With smooth edges and sleek lines, this wire sculpture is the perfect size to catch the eye without taking over space. While most geometrical wired structures tend to lend themselves to a sharper feeling, this prismatic orb has a softer feel with a thinner wire material. The thinner wire exudes a soft and daintiness blending quietly into the existing decor.
23. Origami Black Metal Wire Bird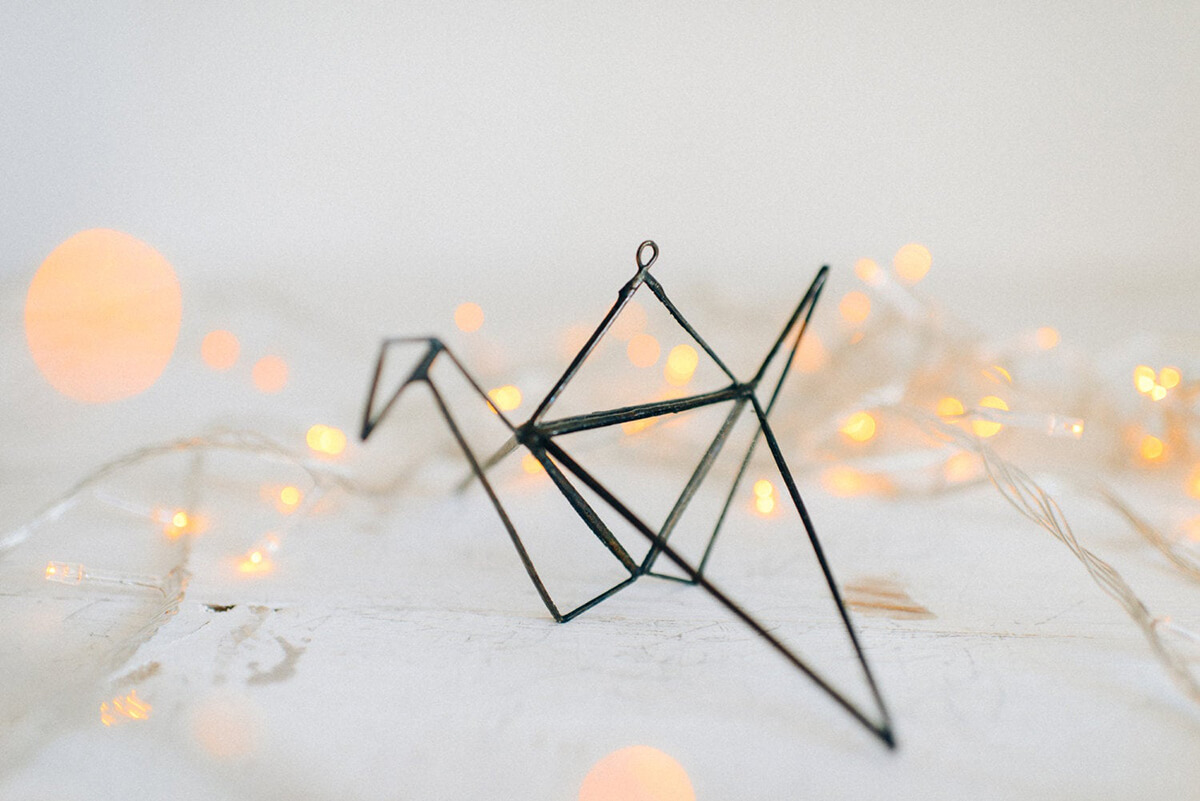 No matter if you want to add a little something to a counter or soar to new heights on your wall, this origami wire bird takes flight in the privacy of your own home. The side profile lends itself to capturing the common image of our feathered friends. What a great way to commemorate a colleague's retirement with the gift of this wire bird. Include a famous or dearly beloved quote to encourage them on their journey into this new and exciting next chapter of their life. Light shining into an artist's studio from a large window would be another ideal backdrop for this blackbird suspended on a clear string. It would seem as if time stands still as this larger than life origami pauses in mid-air.
24. Abstract Triangle Multicolored Modern Animal Pillow Case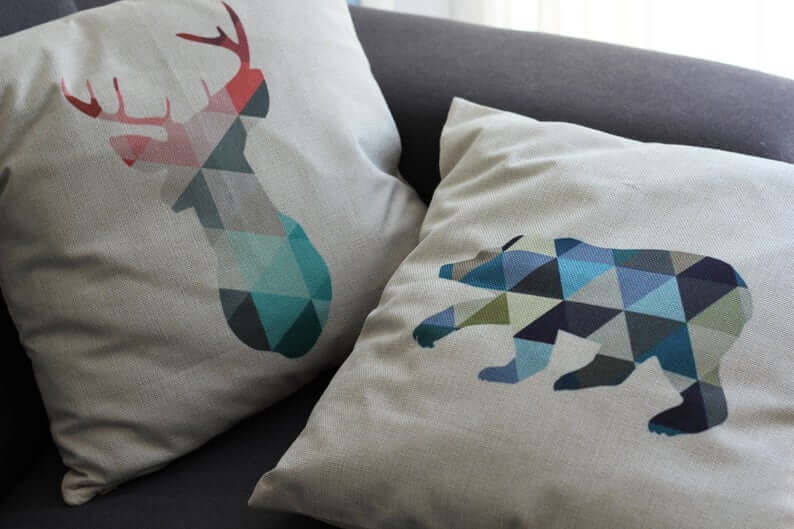 Crafted on a plain white background, this contemporary animal design is highlighted with colors and triangle shapes to visually engage the viewer. Your choice of two animals is available with a bear or deer options. This pillowcase adds a splash of color and a touch of cheer thrown on the couch or stacked on the bed.
25. Gold and Glass Terrarium Open Orb
Mini in-home gardens, or terrariums, have popped up all over the pages of the design world. From earthy and natural to modern and contemporary, these easy-to-care-for plants add that extra element of texture to complete a room. With a round opening, it is easy to add and care for the succulents nestled inside this snug sphere. Have a friend who's moving into his or her own space? What better house warming gift than this? Comfortably placed on top of a classic novel or strategically spaced on a shelf, the glass terrarium open orb plays nicely in any new space.
26. White and Tan Fabric Detailed Pair of Mountains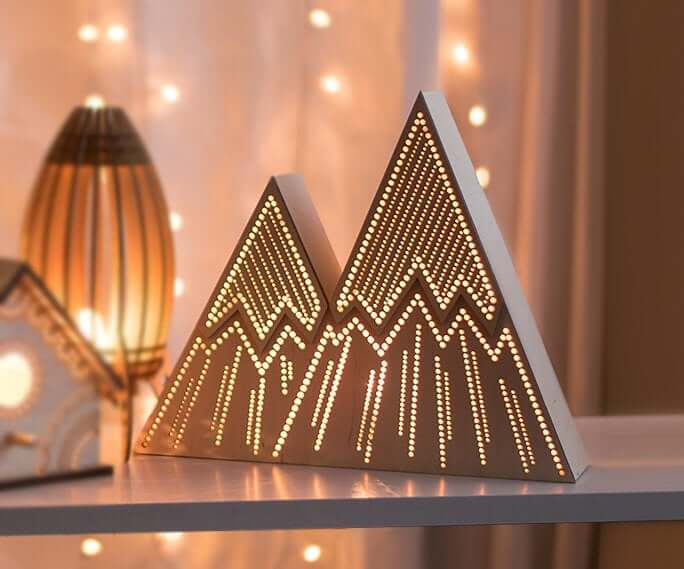 Possibly the most intricately detailed duo in the geometric home decor ideas world is this set of fabric free-standing mountains. The precision stitching of the white threading adds such a homemade and warm look to this triangular duo. Maybe your avid snow skiing son would feel right at home with a set of these on his desk. Or perhaps your bestie who moved cross-country for her dream job will take comfort in reminiscing about her former mountain home. No matter what space they call home, this set of mountain decor won't need a ski lift to reach them.
27. Off-white Modern Geometric Inspired Triangular Votive Holders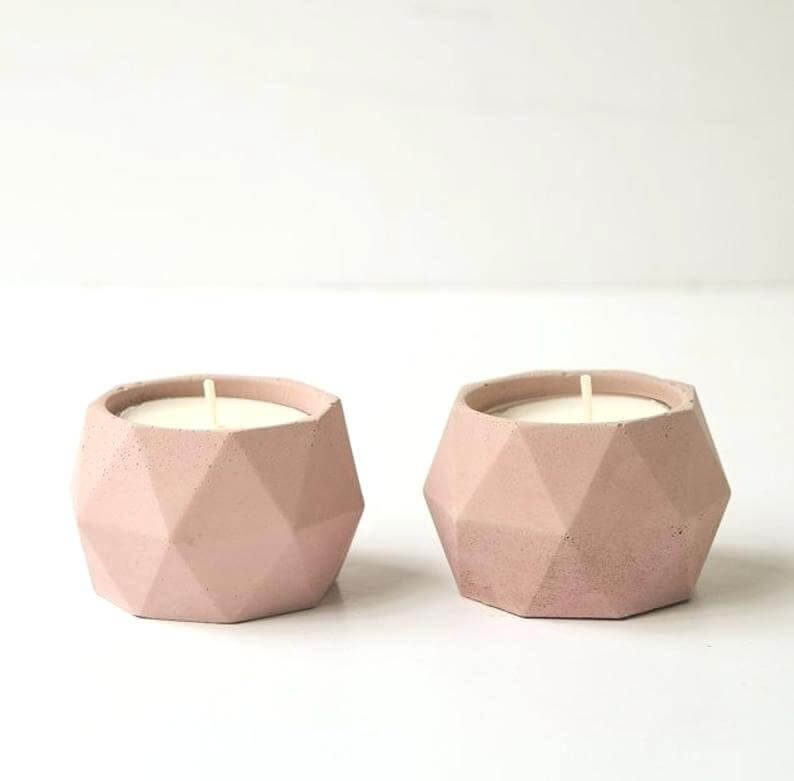 For the friend who is always hesitant to put herself out there in terms of style, this piece is a safe starting point. While they're just the right size and functional too, these votive holders are practical and show off just a hint of style for someone contemplating incorporating geometric decor ideas within her humble abode. The gentle glow from the flame of this small candle will produce soft and stimulating shadows in a dimly lit room. A piece such as this with just a hint of a contemporary modern appeal might be the nudge she needed to turn her creative ideas into reality. Maybe you are that hesitant friend, so go ahead and take a chance at adding some geometric home decor ideas into that spare bedroom this weekend.
28. The Star of the Show Wired Geometric Tabletop Centerpiece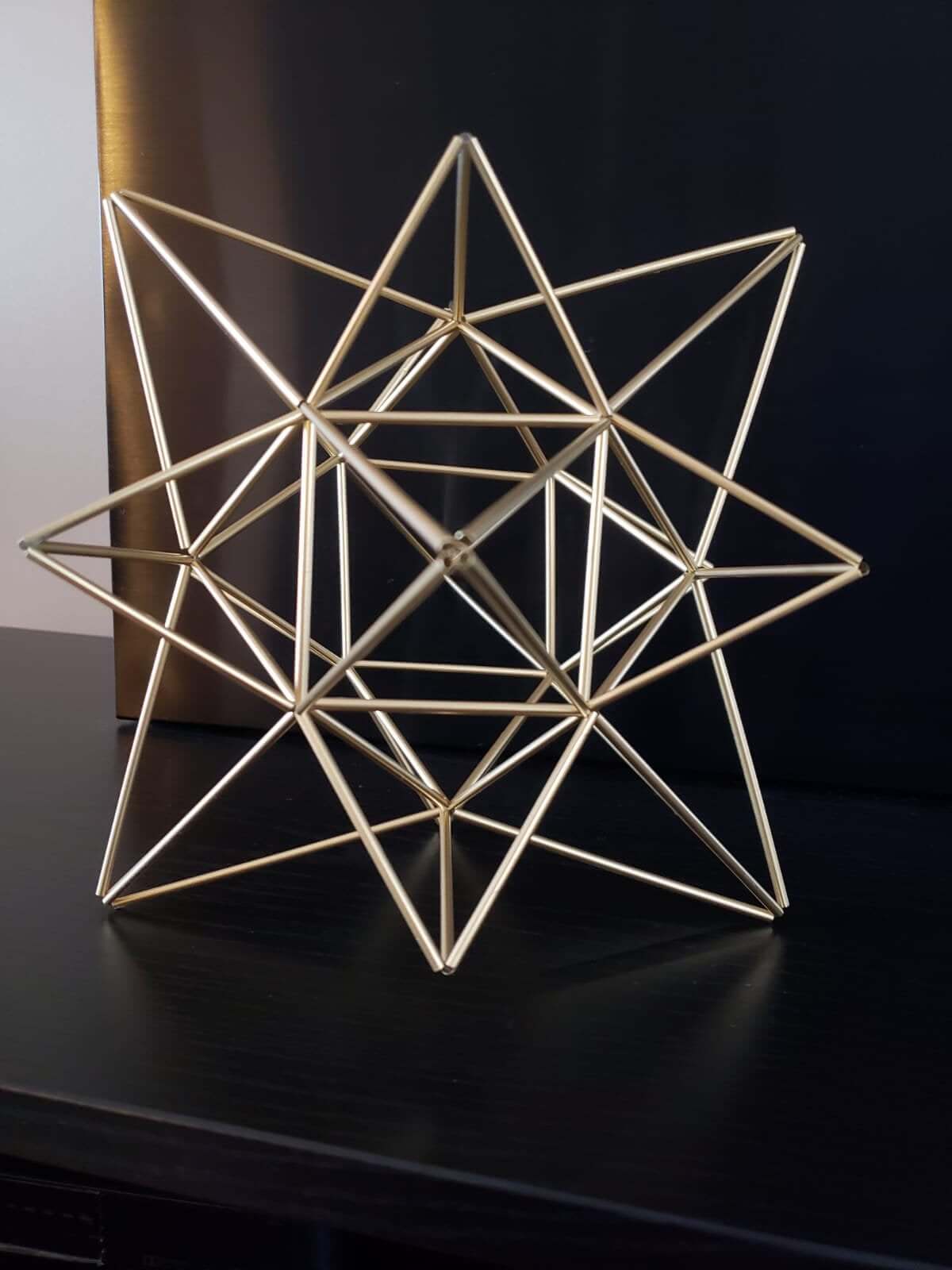 Shooting into the next level of the geometric home decor world is this attention-seeking star centerpiece. Taking center stage as a single decorative element of design or collaborating among a larger collection, this three-dimensional work of art is destined to be a focal point and topic of conversation. This celestial sky dweller could be used propping open the door to a contemporary or modern nursery, openly displayed on the glass coffee table or cuddled against the bedside light in your master or guest bedroom. Featuring 8 points, this metal star strikes a pose and rests quite quaintly on any solid and level furniture piece. Another possible option is to add some silk flowers woven throughout the triangles of the design to create a super turn-of-the-century modern wedding or graduation reception centerpiece. The sky is the limit with this star of the show as it could easily be suspended from the ceiling or a beam to add height and dimension to the room.
28 Bold Geometric Home Decor Ideas to Fuel Your Inspiration
As the list seems to never end, so do the spectacular and one-of-a-kind items being created even as this article is being read! From a good find at a local shop to special ordered home decoration, the modern woman can put her design dreams into her home in just a matter of a few clicks. With the overwhelming market flood of farmhouse-inspired items, geometric decor ideas may seem to take a back seat but they definitely don't disappoint when used. It's certainly true that beauty is in the eye of the beholder, so don't shy away from adding a variety of design styles into your personal living space at home or the office.
The smooth and clean feel of the geometric home decor ideas highlighted in this article contain many options for use. Planning for an upcoming wedding or putting your marvelous mind pictures into reality are both prime examples of times to consider geometric design elements to give that little something extra.
No matter if its the fox or lion head clock that jumps out and grabs you or the suspended diamond light, when you find a unique addition to your existing space you take a room from shabby to chic overnight. The possibilities of geometric home decor ideas are nearly without limit! With online markets and busy crafters around the globe, new ideas are always popping onto the design scene. Stay in the know with all of the new creations and never be afraid to step outside of that conservative design box!