Each pet is unique, so finding the best gift for a pet lover can be a challenge. Surprising someone with a gift to be used in their home's decoration can be nerve-racking. No one wants to commit the faux paus of giving their friend, family member, or coworker a gift that does not align with their vision of their home. Some are more versatile than others, but they all draw on one theme: devotion to a furry friend.
28 Adorable Gift Ideas for Pet Lovers that Everyone Will Love

You can ensure a relative degree of success by identifying the recipient's main style category. This will make gift-giving easier. The farmhouse is one of the most popular designs, as are mid-century modern and rustic. Many of the gifts below will fit into those categories or can be customized to fit. If you are still nervous, there are many gifts that do not need to be displayed to be appreciated.
If you have access to a high-resolution photograph of the recipient's pet, there are some great opportunities to give a one-of-a-kind gift. The pet (and, in some cases, the owner) can even be immortalized in artwork! Even without a high-resolution photograph, there are lots of options for the perfect gift, and lots of opportunities to personalize those gifts.
Gift giving is a personal experience between the giver and recipient. The gifts on this list are a starting point – there are lots of awesome ideas to make the gift just right. It should reflect the pet owner's style, his or her pet, and look good in his or her space. That sounds scarier than it is. Finding the gift that fits those requirements is a fun adventure!
1. Personalized Pet Portrait Picture Pendant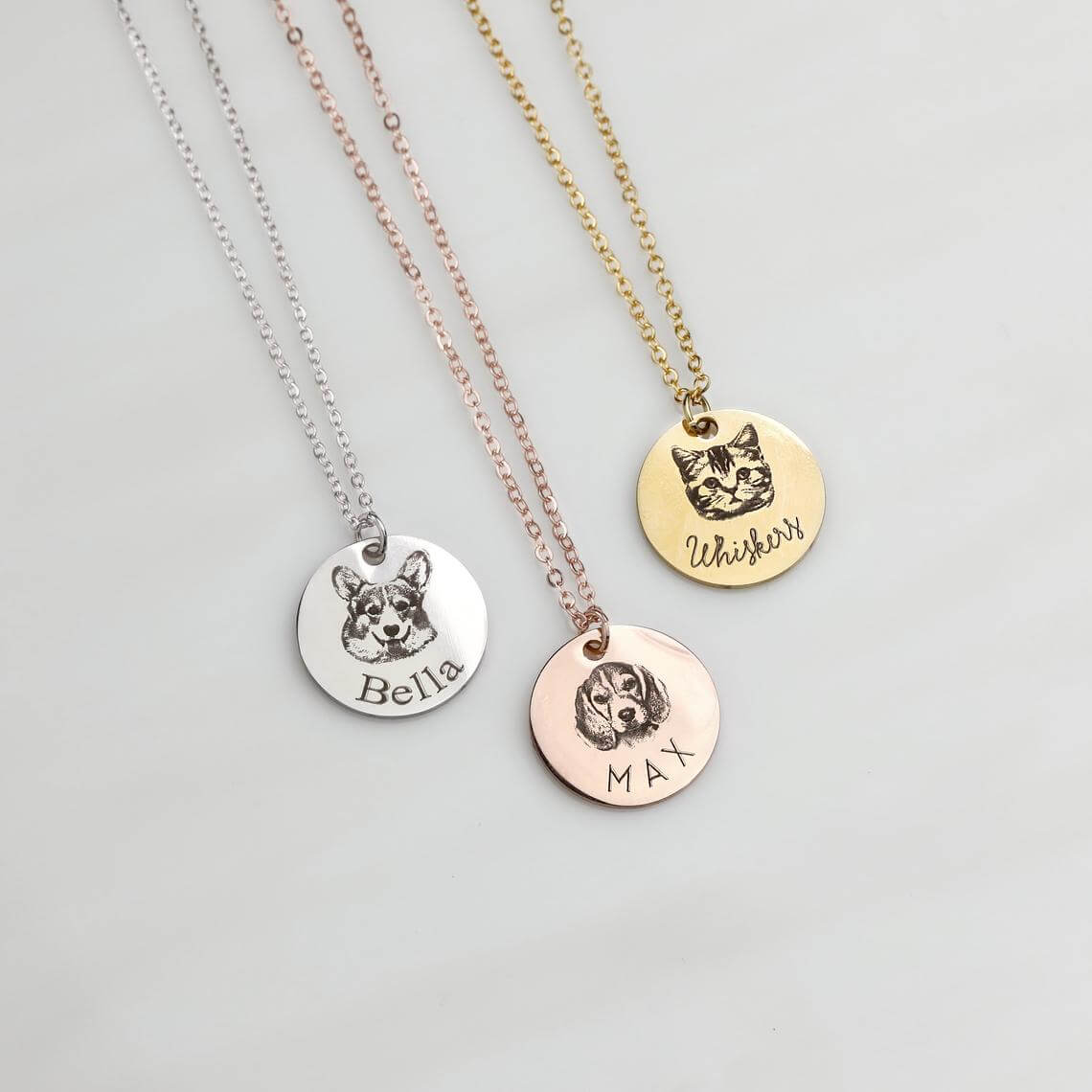 This pendant allows a pet parent to upload a picture of their pet, and then carry it around on a pendant. Since puppies and kittens do not stay small, this is a way to immortalize a pet in their youth. This is also a popular choice for pets who have crossed the rainbow bridge as a beautiful memorial for faithful friends. It comes in three finishes and can be used on necklaces, bracelets, or for any project calling for a pendant. The pet's name is inscribed at the bottom, and there are five font options to best match the pet's personality. If the pendant does not reflect the beloved pet's face exactly right, this shop is very responsive.
2. Unique Paw-Print Charm Wish Bracelet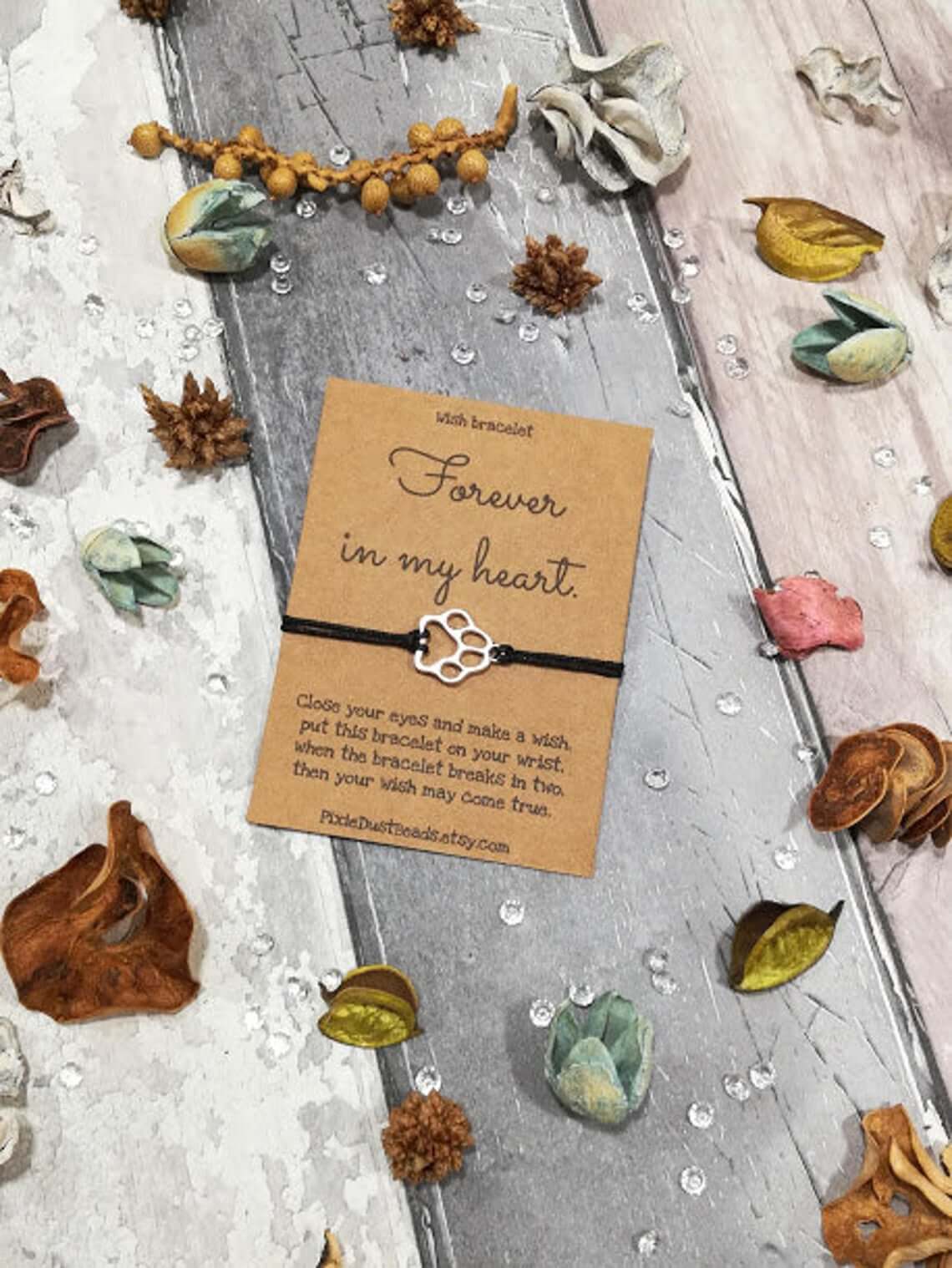 For the unfortunate occasion of a pet's death, this bracelet is the perfect gift for a dog or cat lover. Upon receiving this bracelet, a wish is made. That wish lives in the paw print charm until the cord breaks. At that time, the wish is released into the world. This bracelet could also be incorporated into a room's decoration and serve as a precious reminder of the absent pet. For a dog or cat who spent hours gazing out a window, this bracelet could be used as a curtain tieback. While nothing can ease the grief of a pet's death, this wish bracelet is a wonderful choice to express sympathy.
3. Cool Ceramic Customized Dog Bone Ornament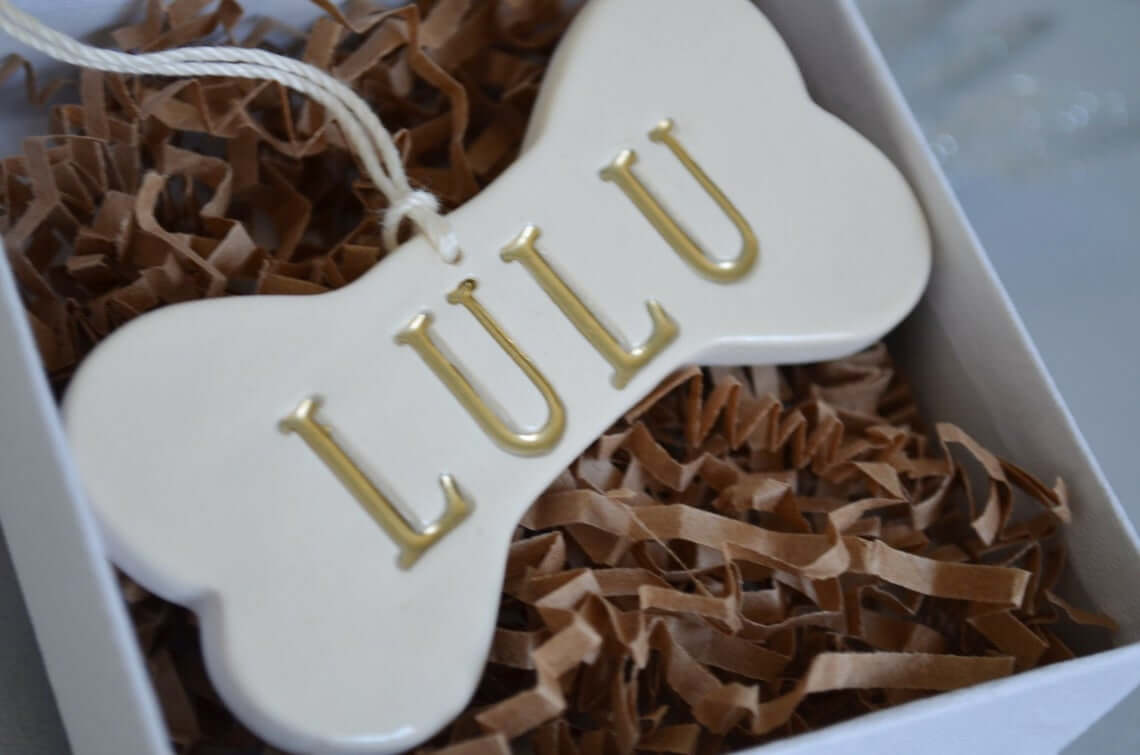 A great gift idea for any dog owner, this bone-shaped ornament is perfect either for a puppy's first holiday with a family or for a family's first holiday season without their canine companion. To ensure quality, this ceramic ornament is actually fired twice – once before it is glazed, and again after it is glazed. In addition, a white glaze and six color options for the text mean this ornament will fit seamlessly into any holiday home decoration. To display it year-round, try putting it in a shadow box with other memorabilia. What a unique way to remember a puppy's first Christmas!
4. Custom Artistic Portrait Pet Pillow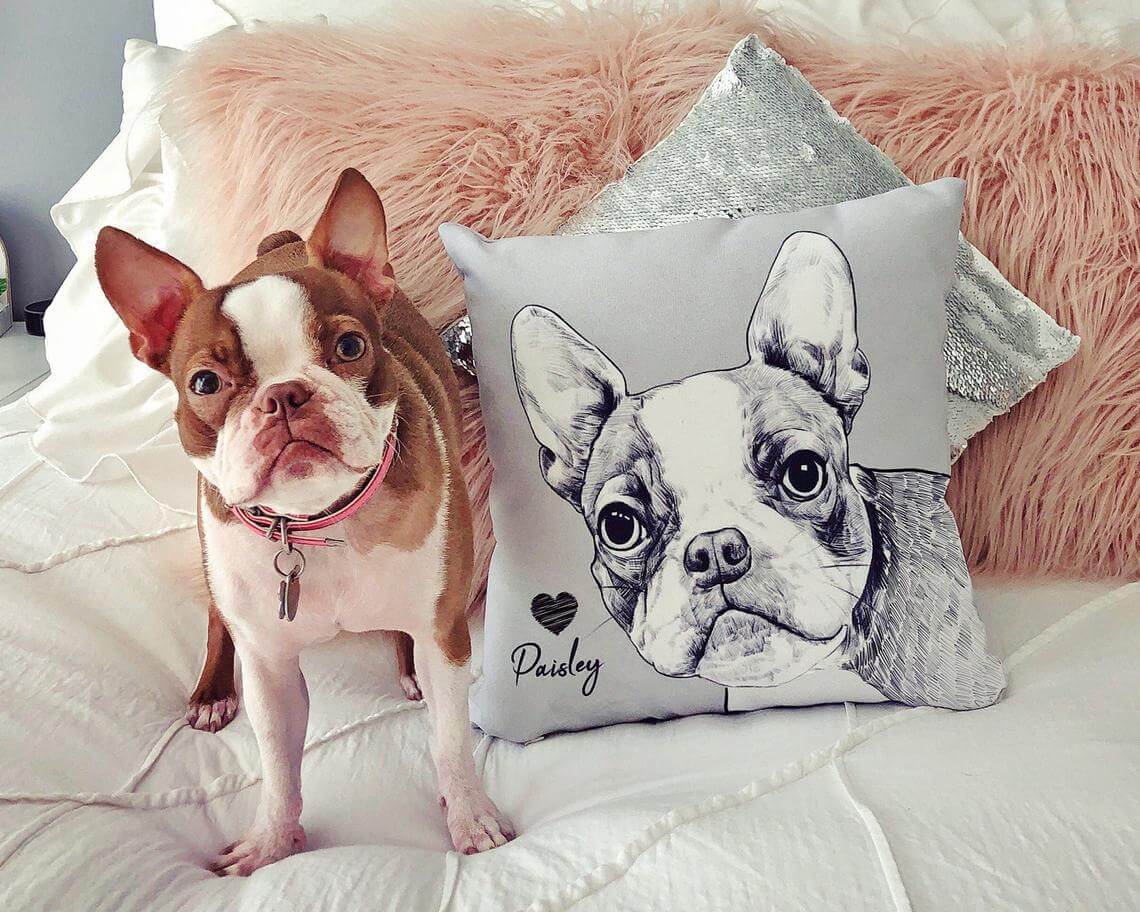 This pet pillow is artwork that lives on the couch, and takes custom pet gifts to a new level! An artist actually creates a stylized portrait of each pet for this pet pillow. Multiple pets or a pet with a pet parent are also options for this pet pillow portrait. To make sure the artwork will match the pet's personality, this shop allows for unlimited revisions. The artist's stroke-heavy style means that this pet portrait pillow will fit into an industrial home decoration theme without softening any of the edginess. Depending on the photograph and color chosen, this pet pillow will complement almost any other home decoration theme.
5. Elegant Aluminum Dog-Bone Personalized Name Tag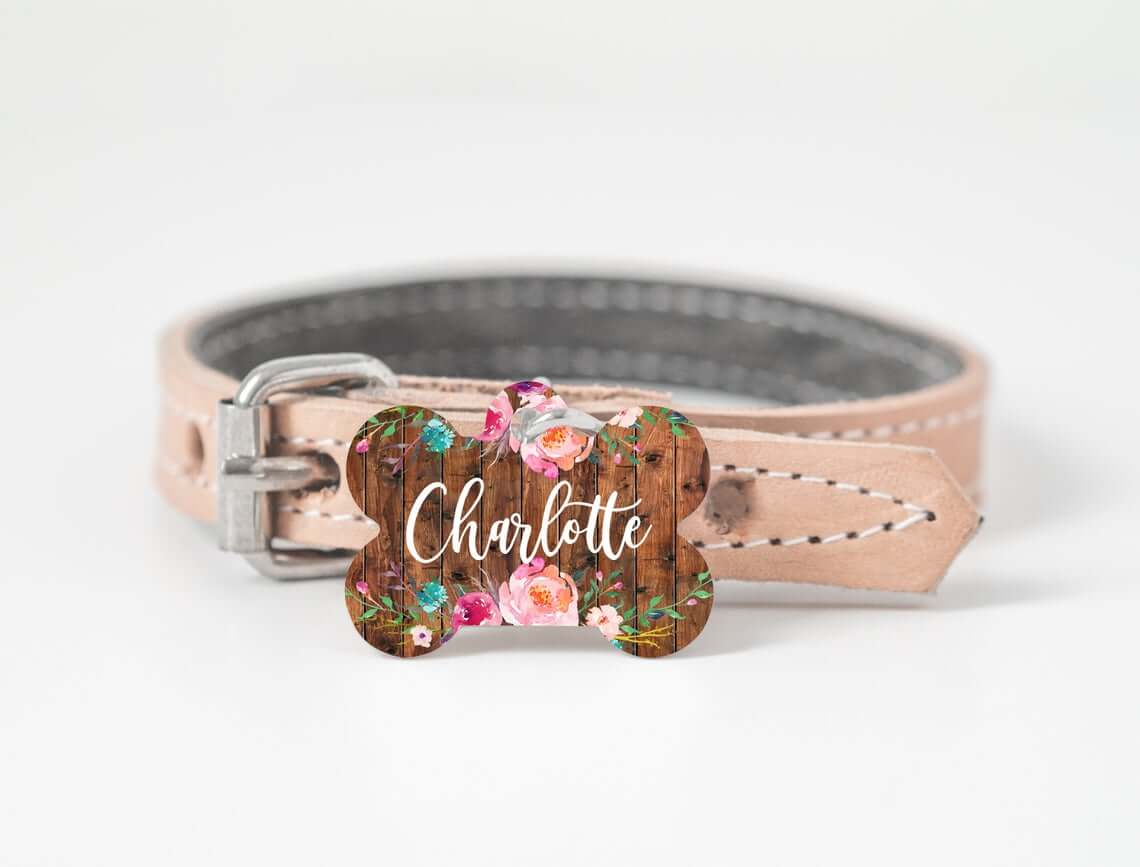 A lady needs a refined name tag, and this dog-shaped tag is more than up to that task. Across the front, the lady's name is scrolled in a font that matches her personality. The back has space for up to four lines of personalized text. Their 18 font choices include everything from calligraphic script to an easily legible sans serif font. What makes this name tag stand out are the 12 color options (out of 42) that are textures instead of solid colors. These textures include different colors of the wood, chalkboard, and even marble. With two name tag sizes, this is a great gift for any sized posh pup.
6. Puppy Print Love Metal Sign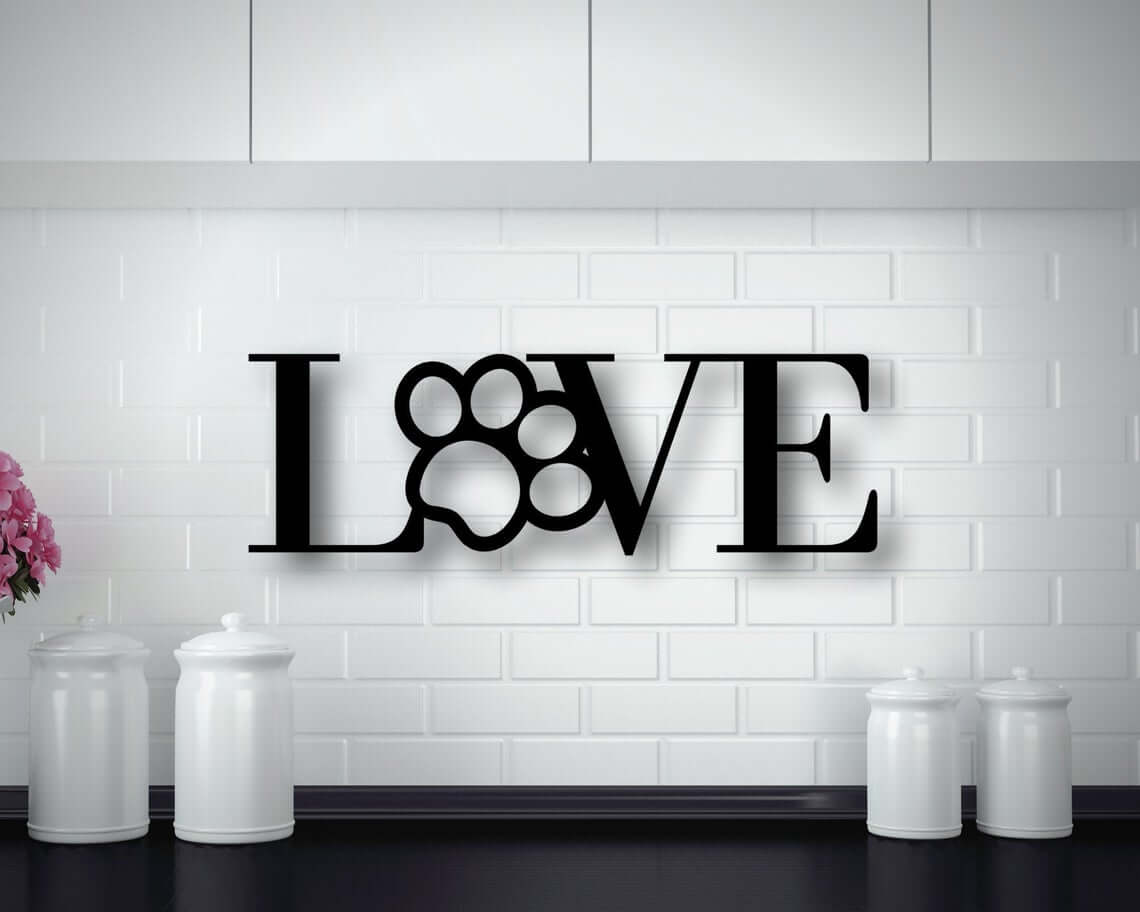 Are you looking for the best housewarming gift for pet lovers? This simple metal "Love" sign is sure to hit the mark. The classic black is the safe choice, since black blends most easily into any home's color scheme. Another option is red, which would make an eye-catching focal point. As metallics grow in popularity, the silver "Love" sign will give any home some extra sparkle. Sizes ranging from 12 inches to 30 inches long are also available, so this sign is a good option in many different spaces. It can be hung with screws, hooks, command hooks, or even magnets.
7. Paw Prints in Our Hearts Christmas Tree Ornament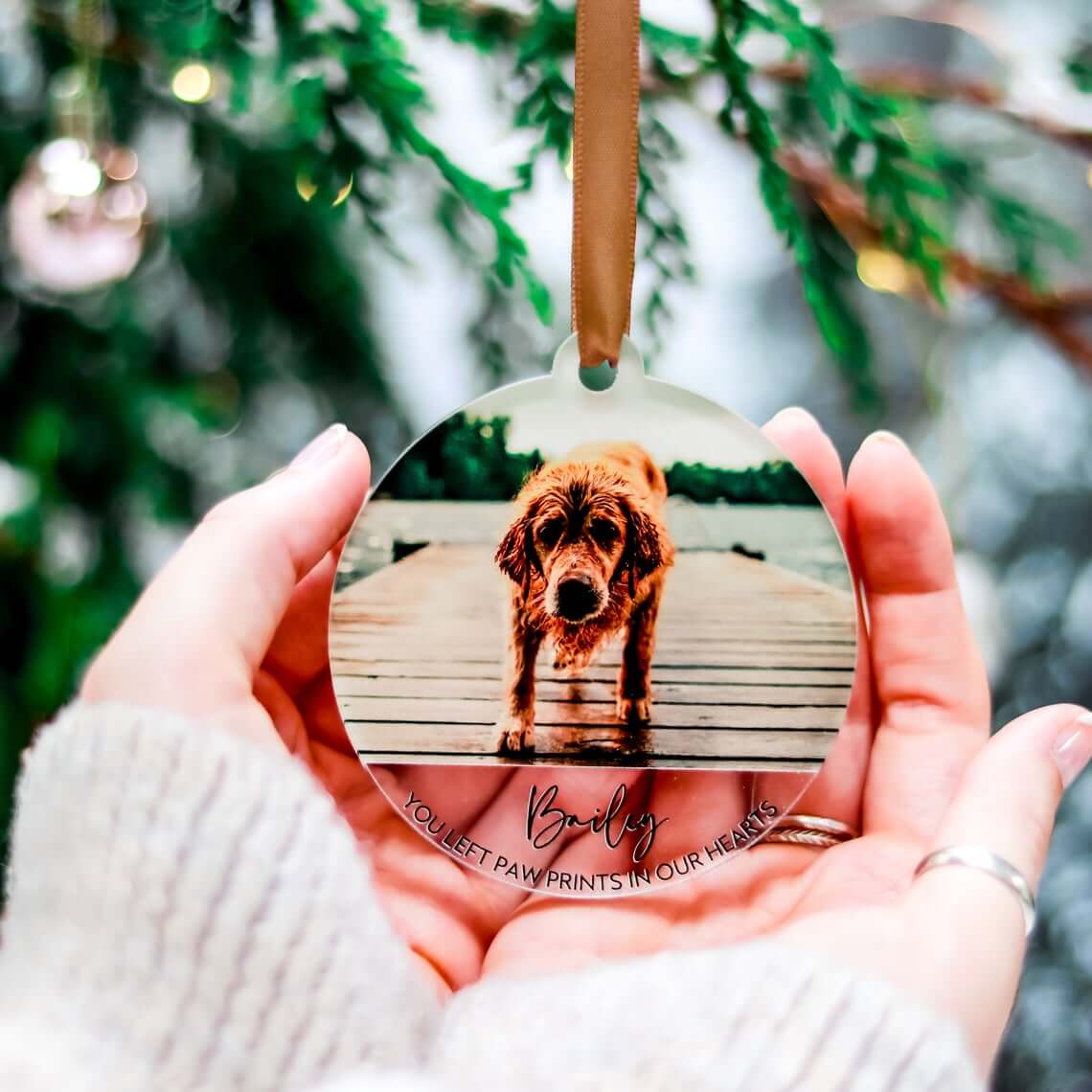 The first holiday season after a pet has passed away can be especially difficult for pet owners. These memorial tree ornaments are a way to help a pet owner remember the pet and begin moving forward. A photograph featuring the pet is uploaded and professionally printed onto PV. One of the best gifts for pet lovers who have lost a pet, this ornament is a beautiful way to savor a special memory with a pet. This ornament is a unique gift for all the pets who have left paw prints across their owner's hearts.
8. Elegant Wood Texture Wrapped Canvas Portrait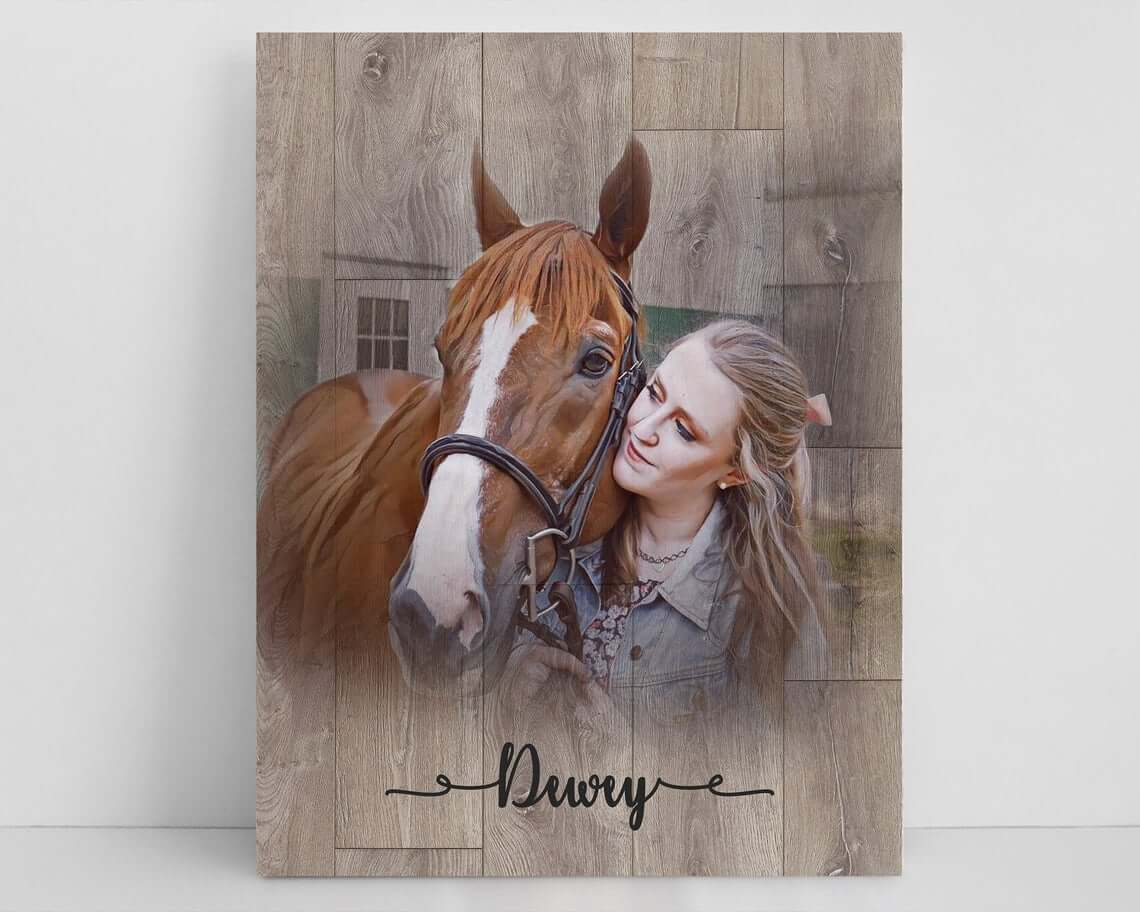 Farmhouse décor is all about finding ways to incorporate natural textures. This canvas portrait does that by taking a photograph of a pet and placing him or her on a wood background. The pet's name is inscribed across the bottom in a script-style font. The marriage of a wood texture on canvas means that this portrait will flawlessly work with farmhouse, rustic, and even French country home decoration themes. Reminiscent of driftwood, this portrait may even be a wonderful touch in a coastal-themed room. A wrapped or framed canvas is a classy way to display a pet portrait, making this one of the best gifts for pet lovers.
9. Stylized Pet Portrait Tin Campfire Mug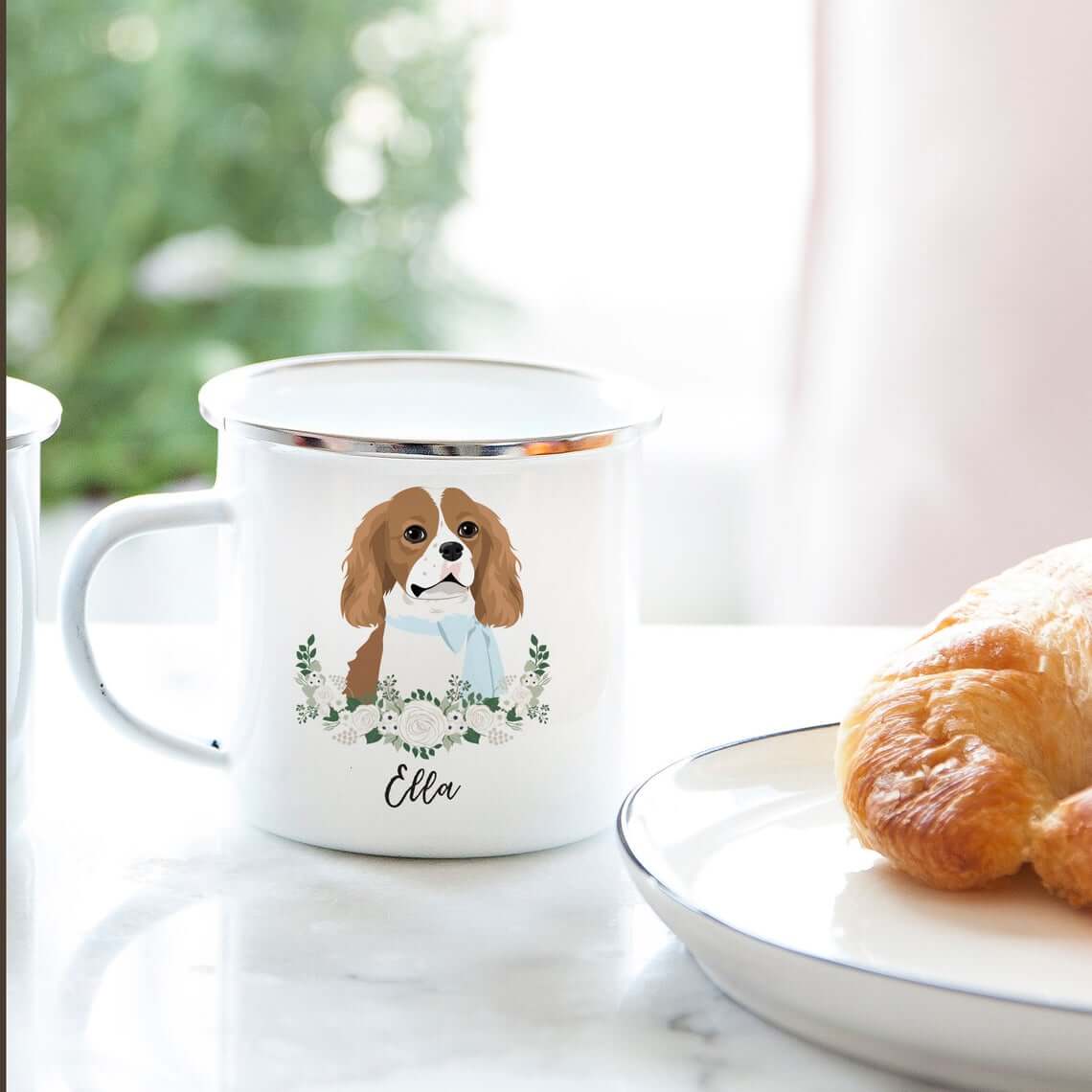 Pets and hot drinks are some of the best things in the world. The artists for this mug use photographs of pets for reference to create a stylized portrait. Then, a floral wreath and the pet's name in a calligraphic brush font are added. The artists offer three rounds of changes to make sure the design is exactly right before the mug is printed. This mug can be used as a drinking vessel or even as a design accent. Because of its classic silhouette, this tin campfire mug is a unique addition to any mid-century modern space.
10. Reversible Brown and Cream Customized Dog Blanket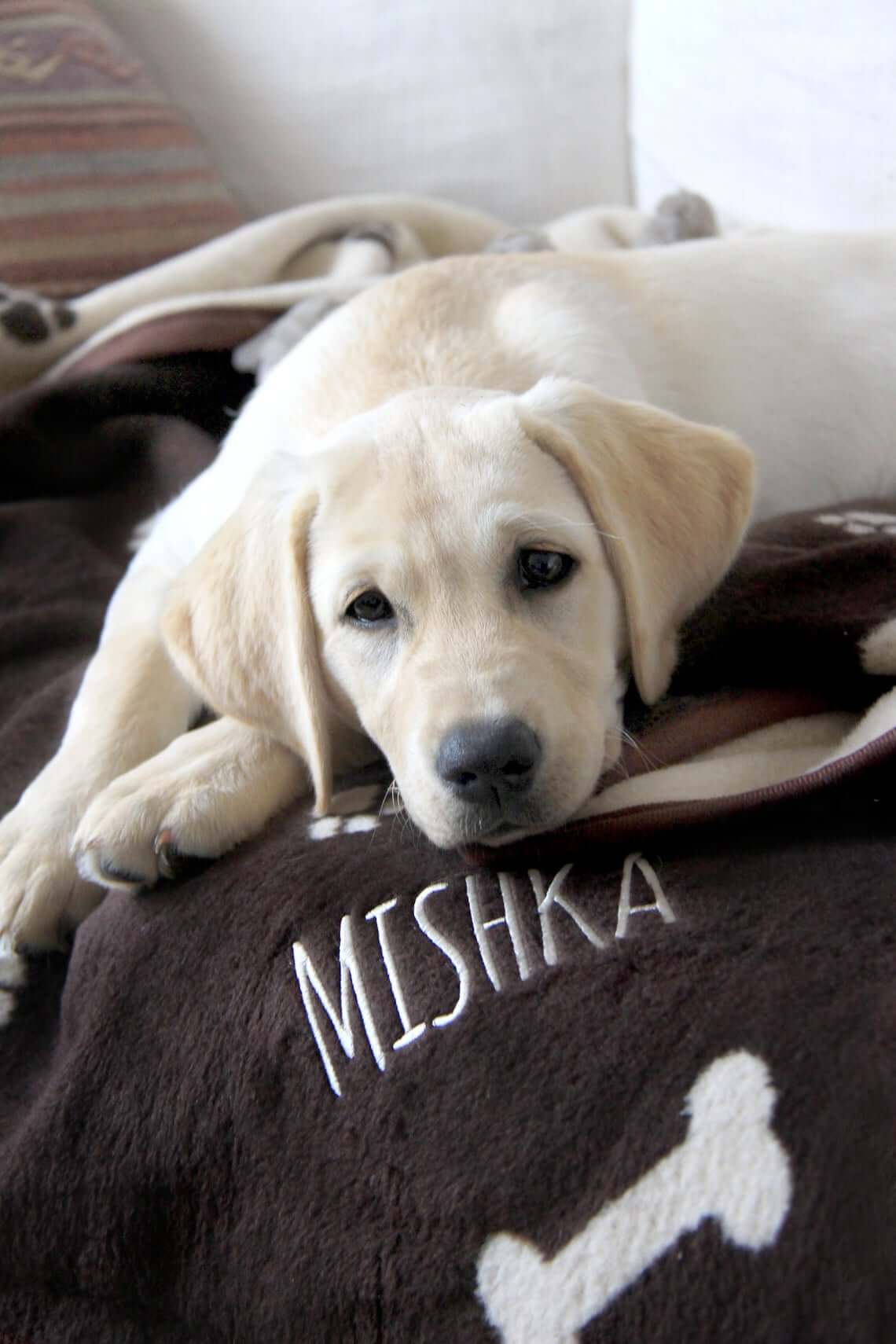 Sometimes, pet parents have to ask for non-toy gifts for their fur babies. When that happens, this blanket is an awesome idea for those pups and their parents. This blanket is soft and includes a dog bone and paw print motif in addition to the pet's name embroidered on it. The name can be embroidered on either the brown or the cream side and is spelled in an easily legible sans serif font. Brown and cream complement any room characterized by warm colors.
11. Cool Artistic Pet Portrait Mug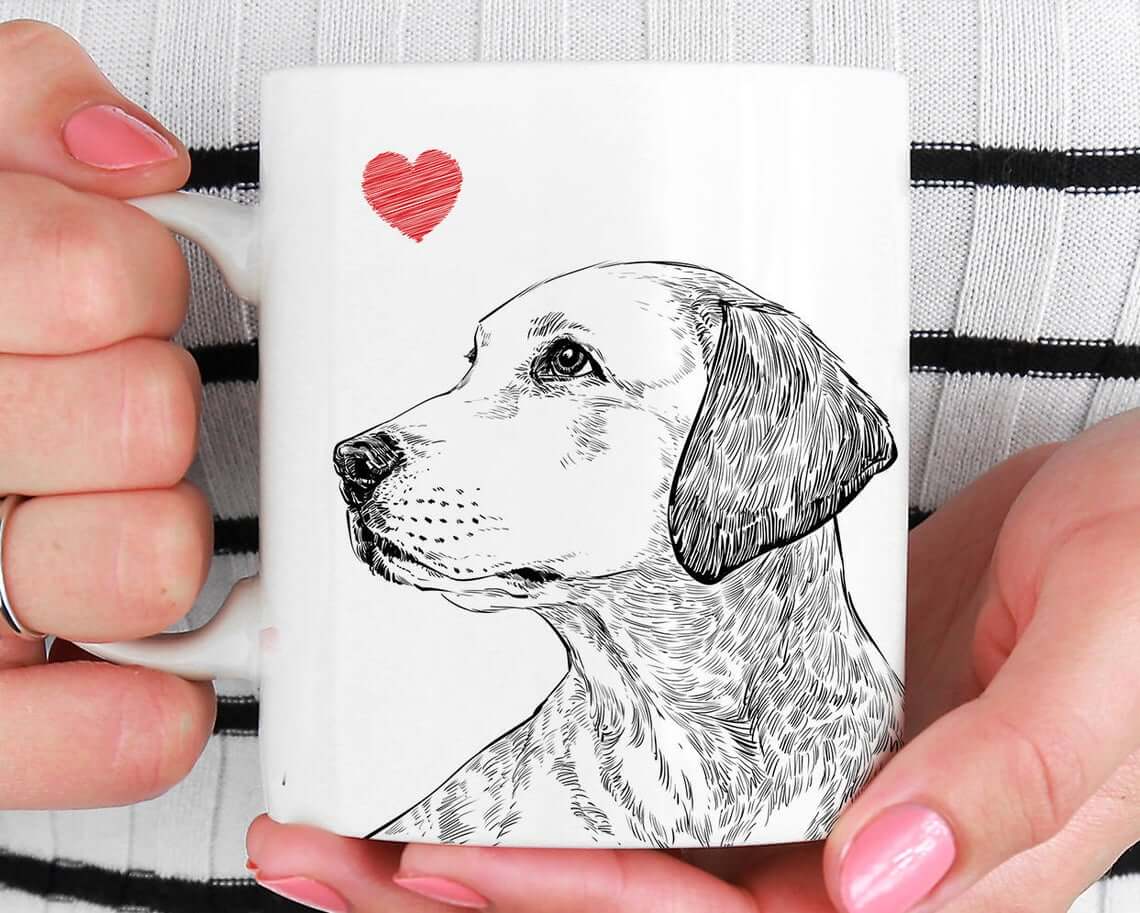 This mug transforms a pet's photograph into an immortal piece of artwork. After all, there is a reason that Mona Lisa's smile is remembered. The simple black and white strokes render this artwork timeless, and can even add energy to space. One of the best gift ideas for pet lovers, this shop allows for the purchase of a gift, and the photographs can be sent later. This allows the recipient to decide his or her favorite photo of their pet. Because this mug comes in white, black, or camp mug options, it can be further customized for the recipient.
12. Eco-Friendly Custom Portrait Phone Case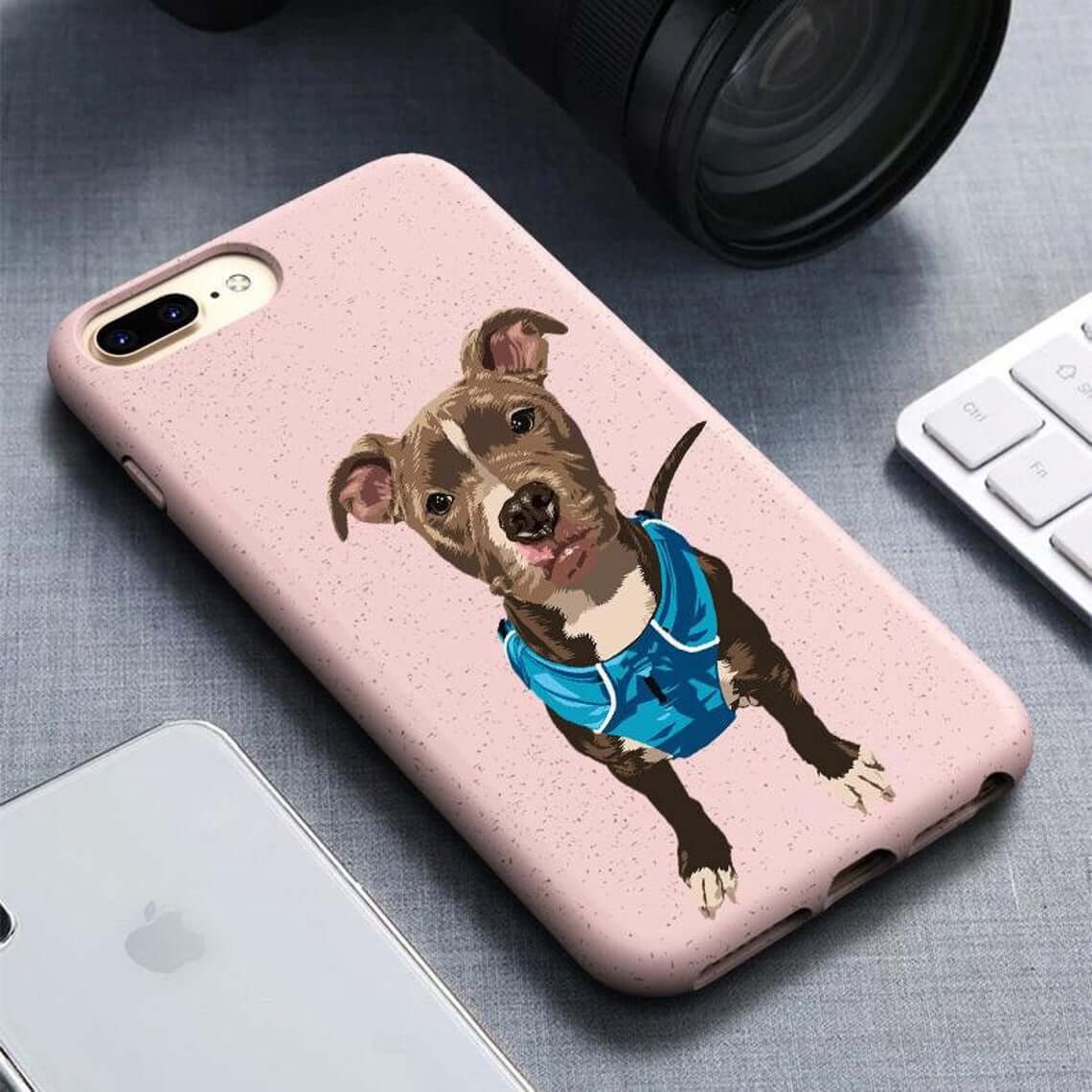 Phones travel with us everywhere, so it only makes sense to carry artwork of a cherished pet with us. Believe it or not, this sustainable phone case is actually made from wheat using a high-quality UV printing process. That means that this phone case is also biodegradable. This case fits a myriad of iPhones, as well as a Samsung Galaxy. The pet's portrait on the back is hand-drawn after the artist receives high-resolution pictures. This eco-friendly phone case is the perfect gift for a pet lover passionate about preserving the environment.
13. Laser Engraved Wooden Heart Keepsake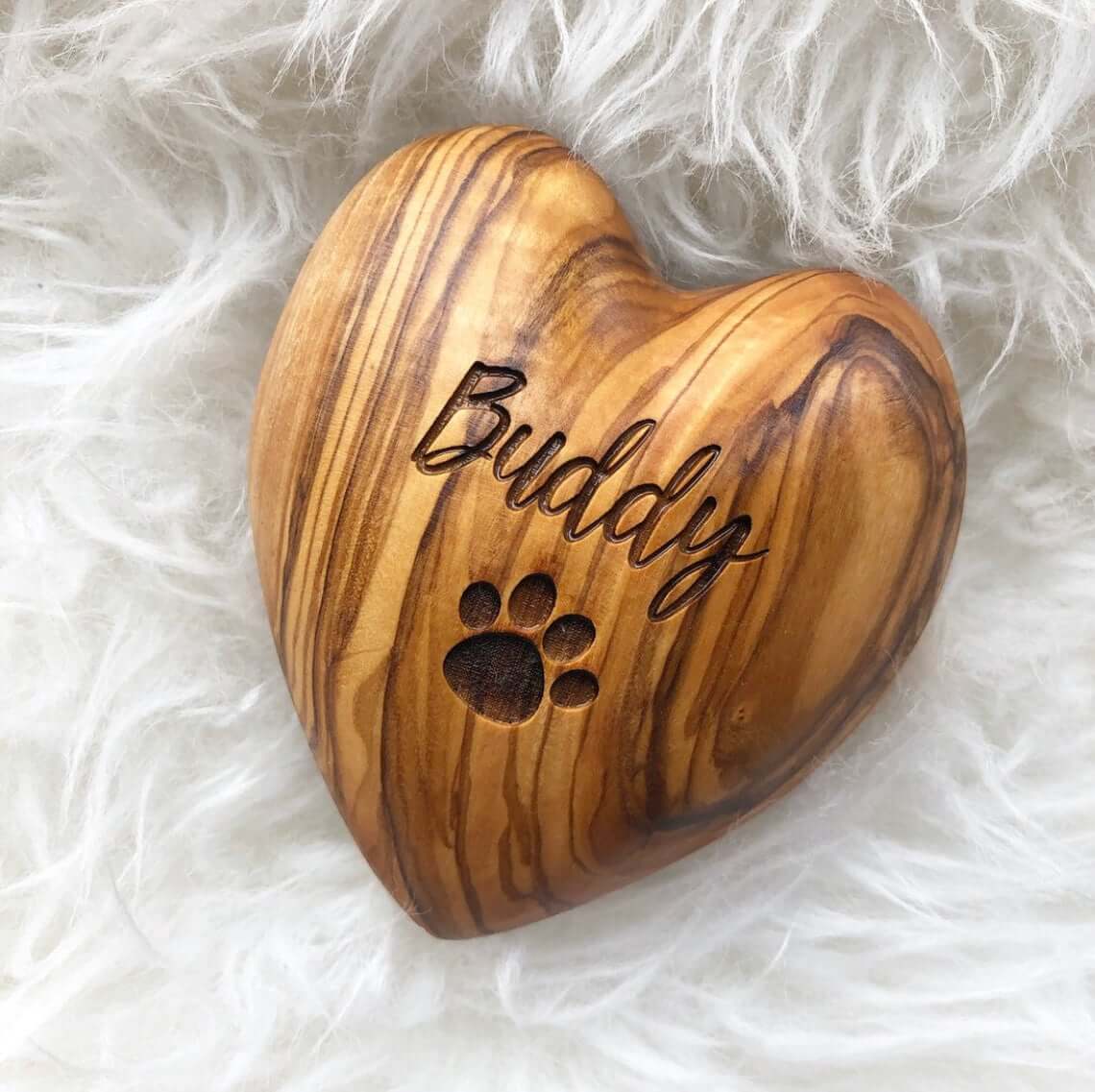 Like each pet, each wooden heart keepsake is unique. This heart is made from solid olive wood that has been engraved by a laser to include the pet's name and a paw print. There is also an option to add 50 characters to the back of the heart to add a quote or extra details. While this keepsake is designed as a pet memorial, it is one of the best gift ideas for pet lovers who are separated from their pets. This wooden heart is an awesome idea to give to students departing for university. The smooth wood is literally something to hold onto when someone is missing their furry friend.
14. Custom Watercolor Portrait Magnet Set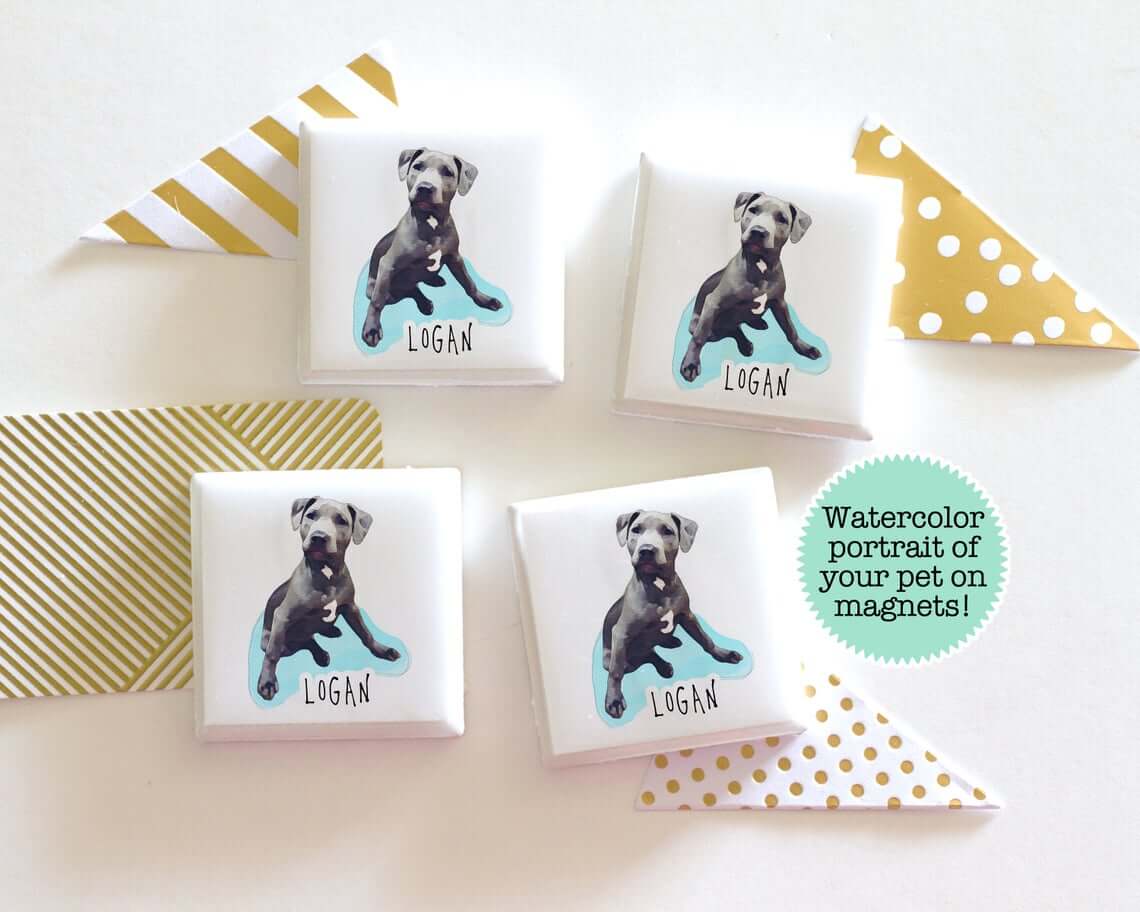 For pet lovers who are tight on space, this watercolor portrait magnet set might just fit the bill. After a photograph of the pet (or pets) is uploaded, an artist creates a watercolor portrait. The color of the shadow under the pet is customizable, to best match the pet or the pet owner's space. These magnets have a high-gloss surface, as they are porcelain tiles sealed in resin. The resin coating means they are waterproof and durable. A great housewarming or graduation present, these watercolor magnets are sure to garner compliments.
15. Floral Watercolor Cat Wall Art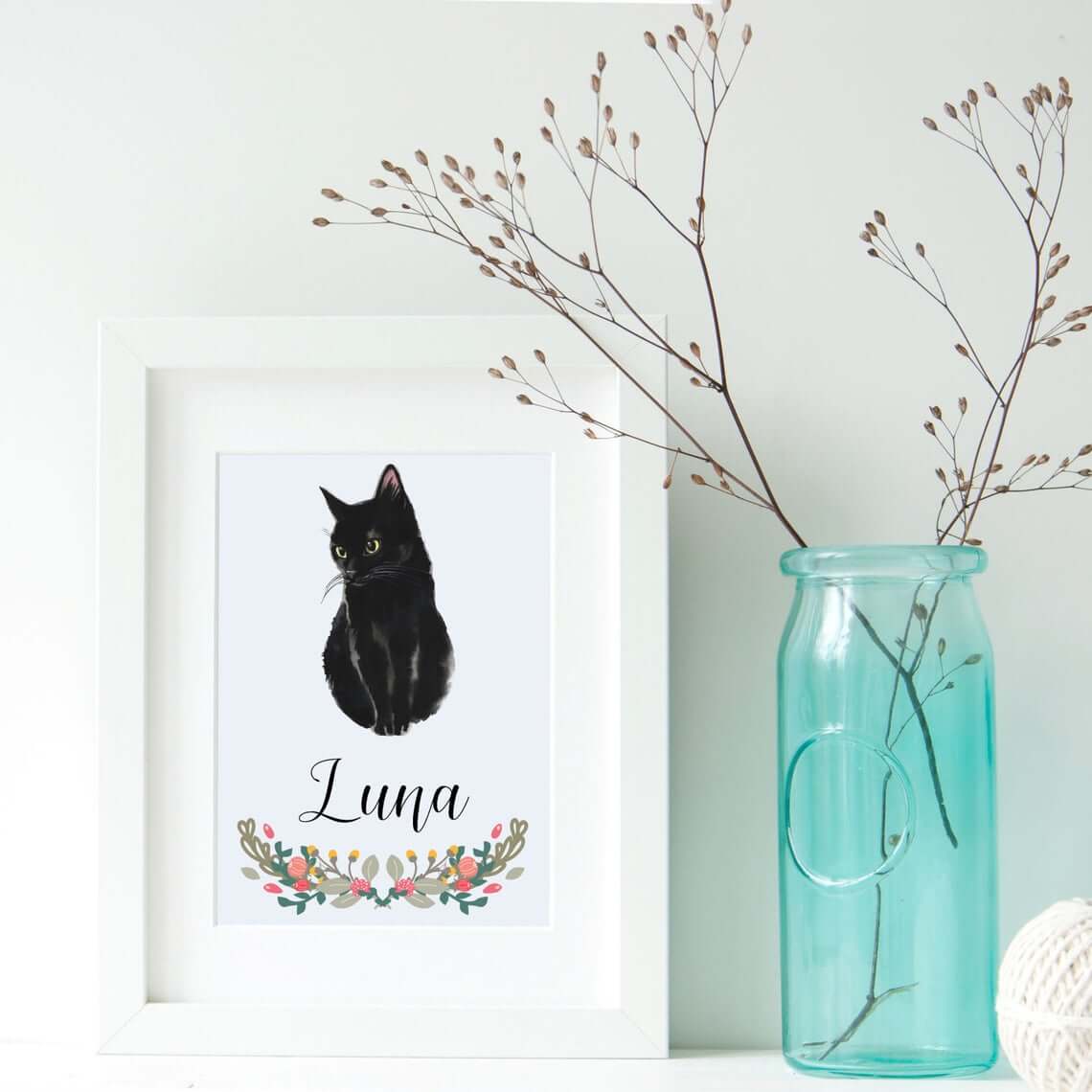 Do you need to get a coworker, family member, or friend a cat-related gift, but do not have access to a high-resolution photograph of the cat? This is the perfect gift for that tricky situation. It is a watercolor cat with the cat's name and a floral wreath underneath printed on white cardstock. There are five cat options including tuxedo, orange, tabby, tri-color, and solid black. Because it is sold without a frame, you are able to customize a frame to match the recipient's home décor. These are a great option for any room of the house and is ideal for adding some pizazz to the cat room.
16. German Shepherd Tasseled Key Fob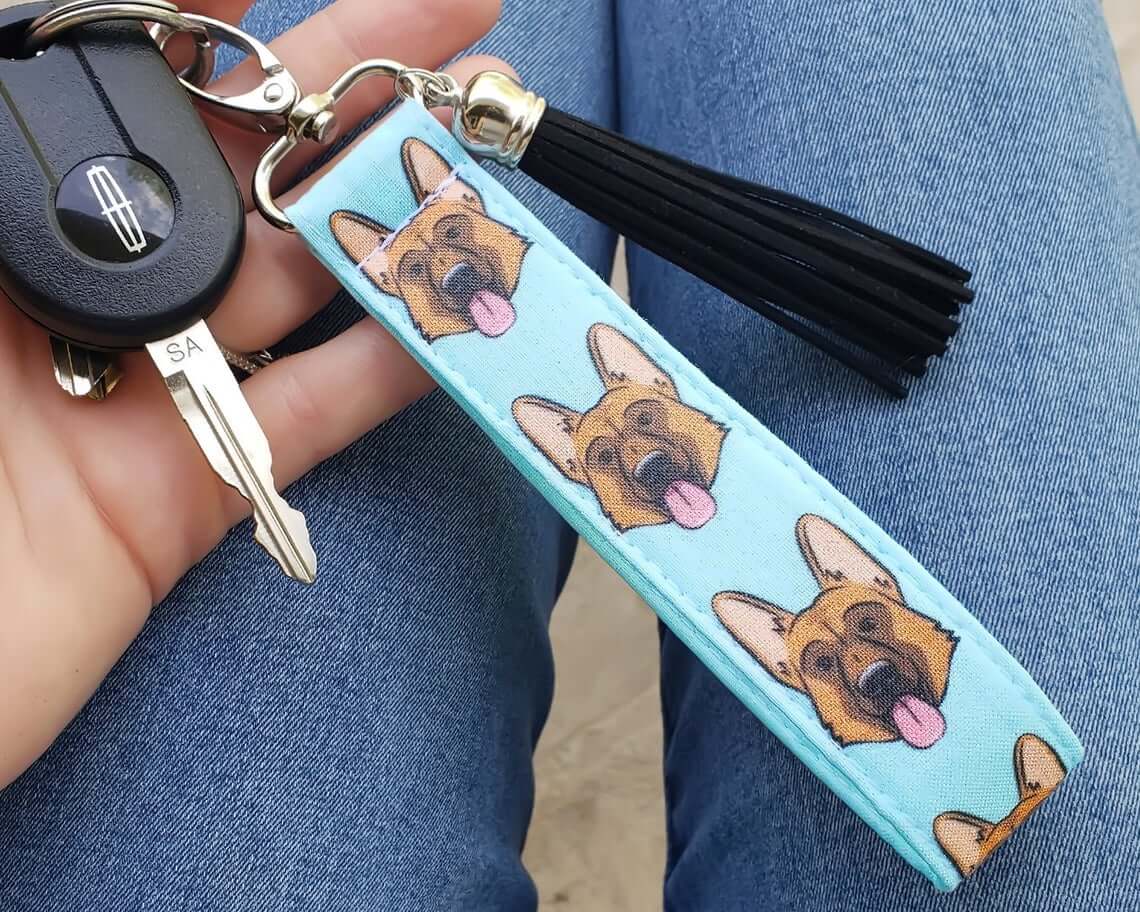 This playful German shepherd's face is sure to improve anyone's mood! The German shepherd fabric actually makes a loop to slip around the wrist, to keep keys from falling. In combination, the loop and tassel make it easier to find keys in a crowded purse. There are nine tassel color options, as well as the option for no tassel. Both tassel and fabric are looped onto a swivel hook, which means that a keyring can be quickly clipped to a purse, backpack, or even belt loop for easy access. Anyone who loves German shepherds is sure to smile when unwrapping this gift.
17. Corgi Butt Car Air Fresheners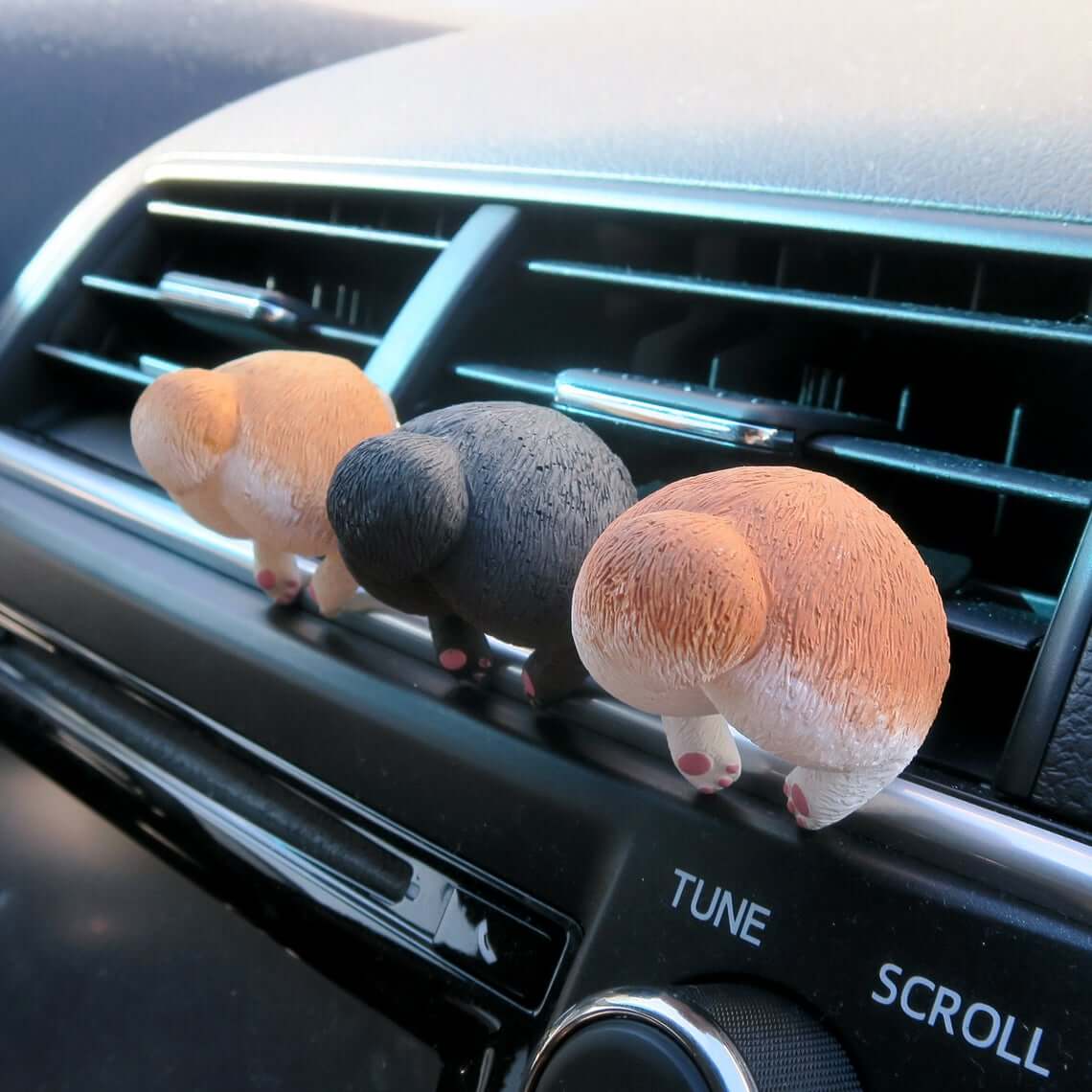 Unlike canine flatulence's unpleasant aroma, this butt-shaped air fresheners smell delightful. Some of the scents offered include coffee beans, watermelon, lavender, tropical paradise, chocolate fudge, and even spring cactus. Made from plaster, these handsome hindquarters work like a scented stone. To refresh the scent after a few months, you only need to add a few drops of scented oil from the included refill bottle. As they clip into the car vents, these car air fresheners work for most cars. These whimsical air fresheners are one of the best gifts for pet lovers and they are sure to elicit lots of laughter.
18. Outdoor Crazy Dogs Live Here Wooden Sign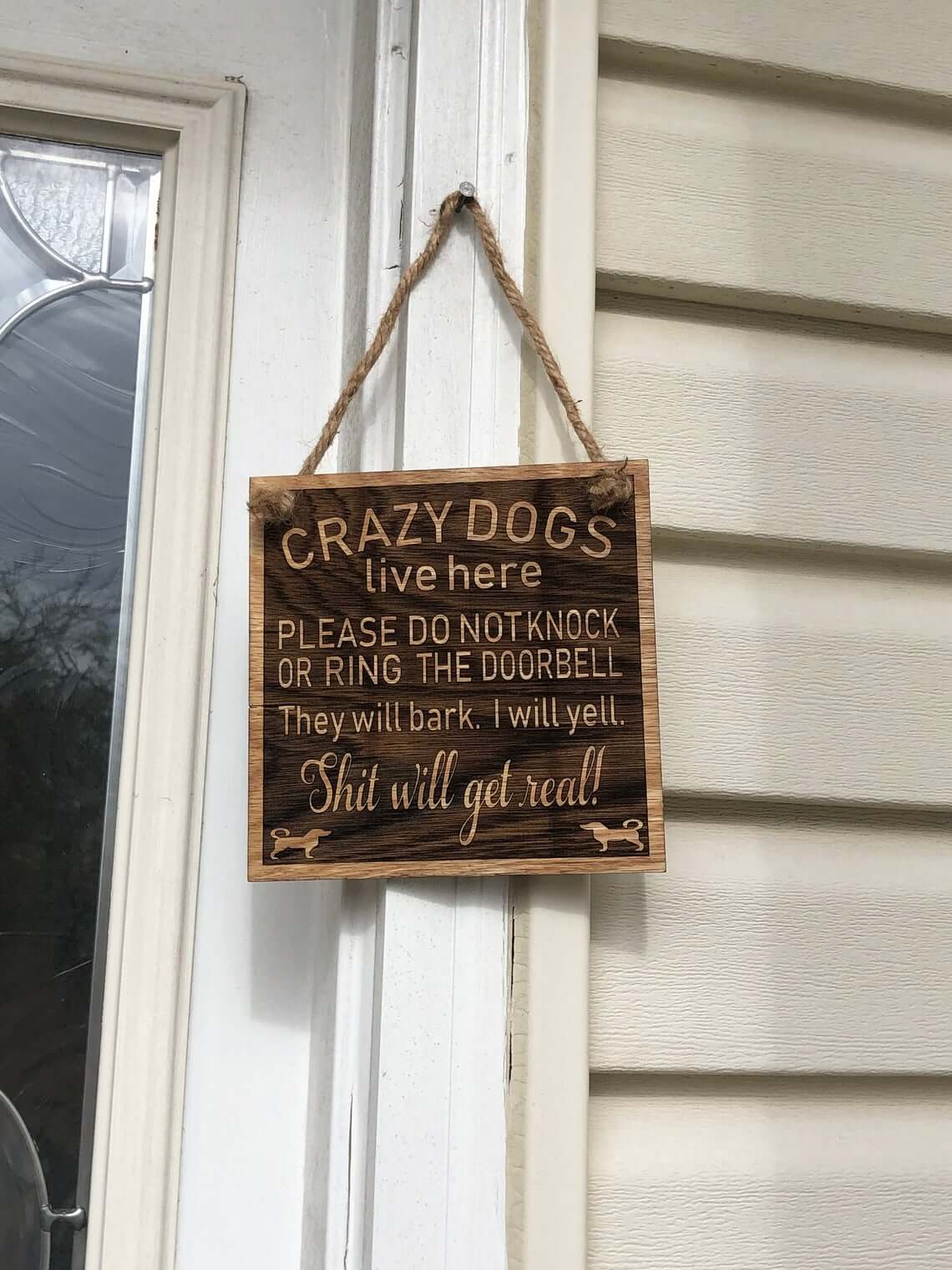 This wooden sign lives outside to let visitors know not to knock or ring the doorbell, as pandemonium is sure to ensue. There are options for multiple dogs or individual dogs. To make sure the sign will look good with the surroundings, there is also an option to choose between oak or maple wood for the sign. All the lettering and dog images are laser engraved. This is a great housewarming gift or a gift for anyone who owns boisterous dogs. It comes ready to hang because the hanging rope is included. This irreverent sign is the perfect size to hang on the doorknob or next to the door, and will hopefully reduce unnecessary barking and hollering for everyone.
19. Farmhouse Style Custom Pet Leash Holder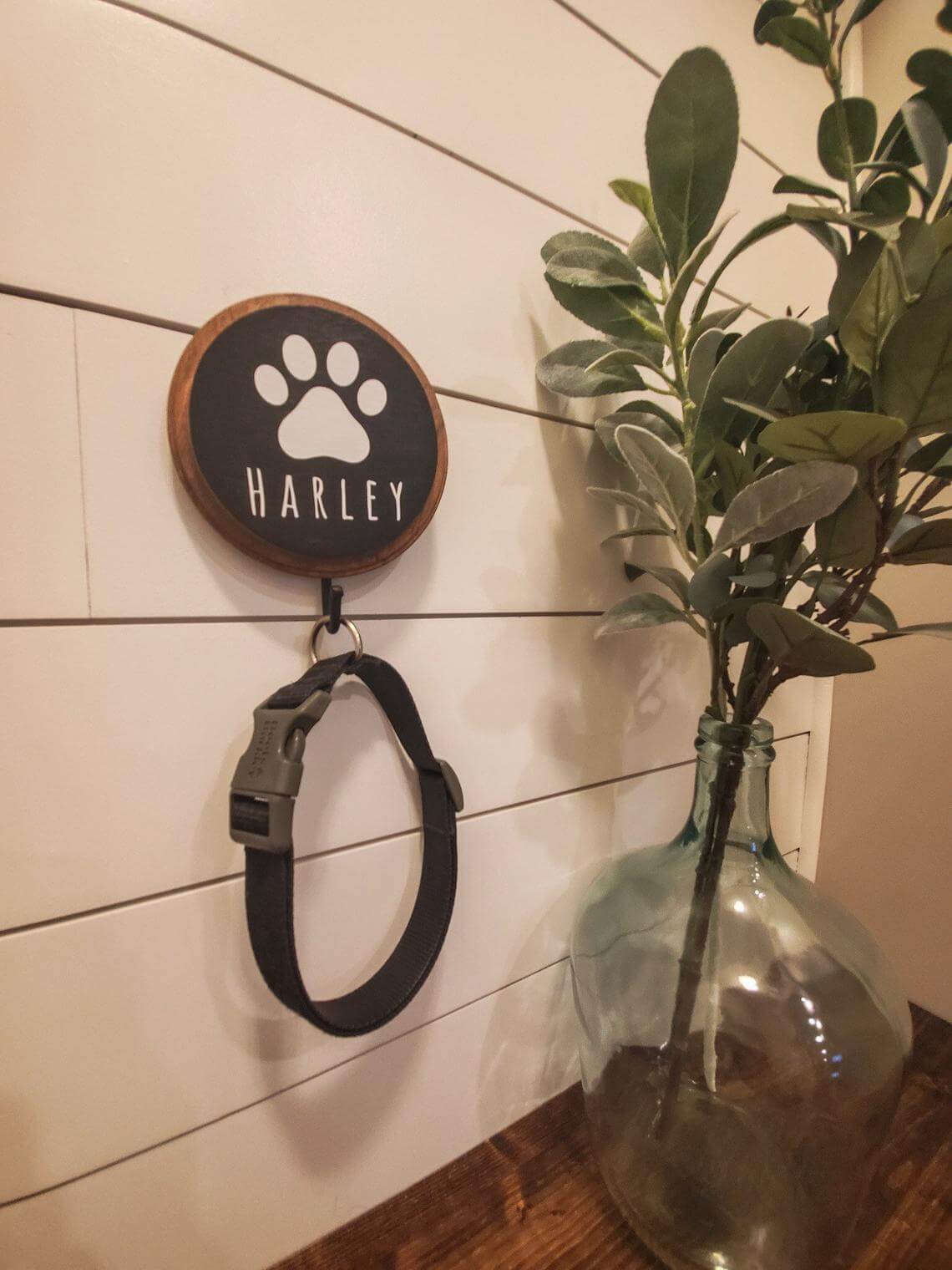 The perfect addition to a mudroom or entryway, this custom leash holder sports the pet's name and pawprint. There is a selection of wood finishes so this leash holder fits rooms with both warm and cool color schemes. This is a great way to stay organized and keep leashes and collars from getting tangled, especially if there is more than one pet. While these custom leash holders are popular for dogs, they can also be used for cat harnesses and leashes. The uses do not stop there – this custom leash holder could even be used as a key holder for people's keys.
20. Customizable Terrier Silhouette & Pet Name Tumbler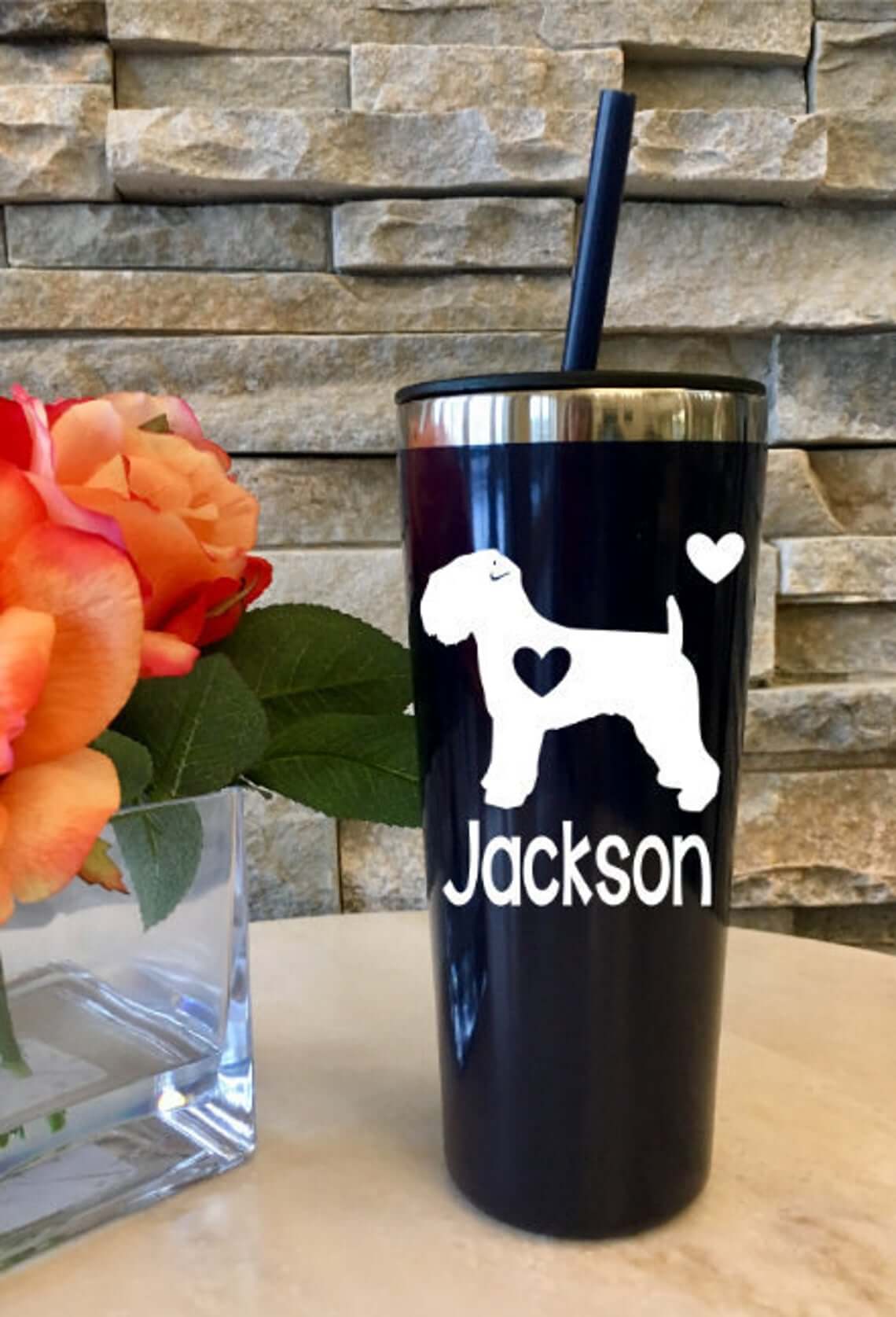 This tumbler displays the love of terriers and is ready to go for every adventure. Tumblers live in lots of environments like the home, the commute, and the office, so the need to complement any single environment is not a concern. The other thing that makes this one of the best gifts for pet lovers is that no one can ever have enough tumblers. For terrier parents who believe that all that glitters is glitter, there are two color options that include glitter. In addition to an attractive appearance, this tumbler is able to keep hot beverages warm for 12 hours and cold for 24 hours.
21. Hand-Stamped Beer Bottle Opener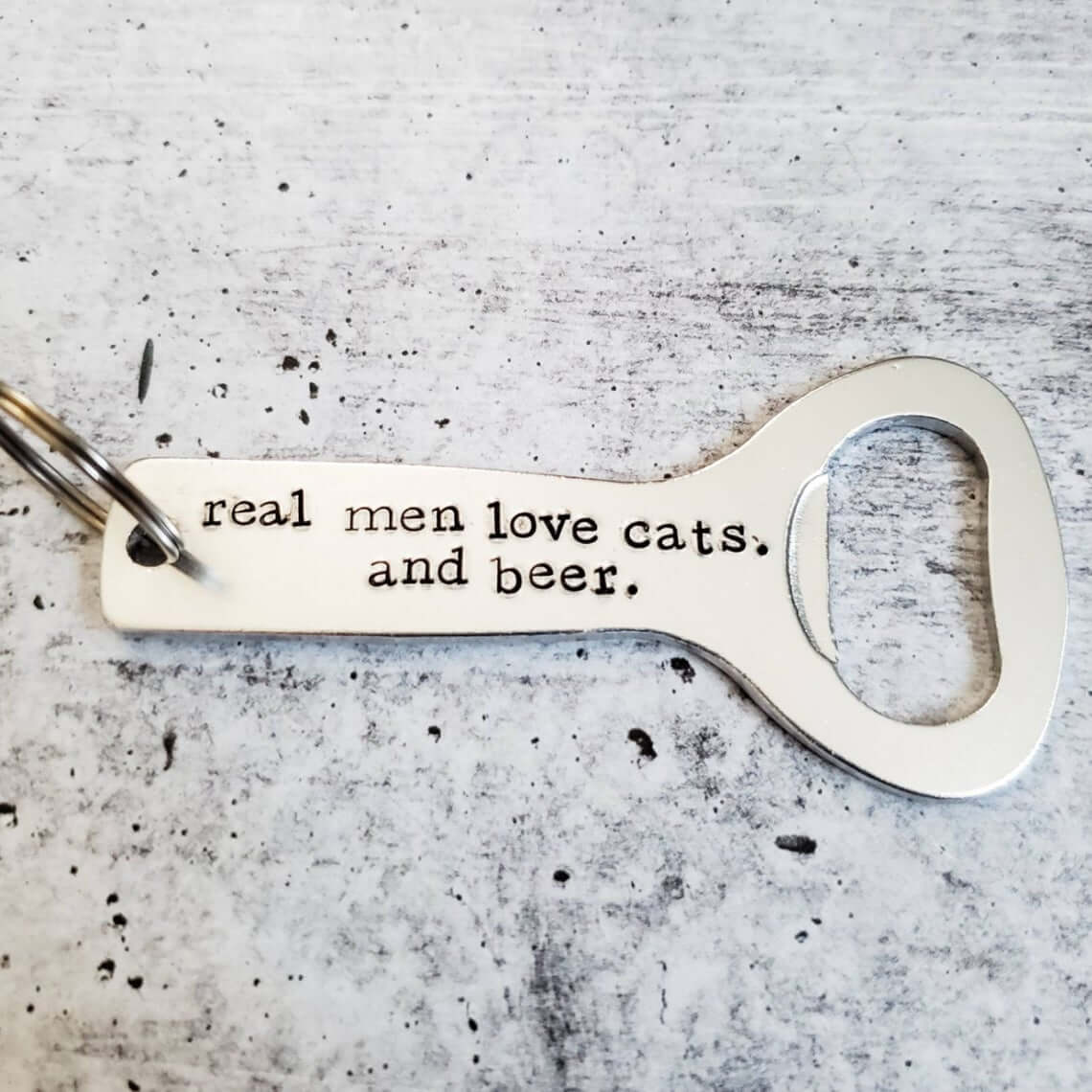 There have been plenty of ideas for pet moms, but what about pet dads? Believe it or not, this bottle opener is a good gift for both. The possibilities really open up because this bottle opener comes with an option to customize text up to 36 characters including spaces. That means this can be modified to say "Real women" or even tailored to different pets like dogs, horses, or chickens. One of the best things about these bottle openers is that they are hand-stamped, which means no two are exactly the same.
22. Chic Pug Scarf with Tassels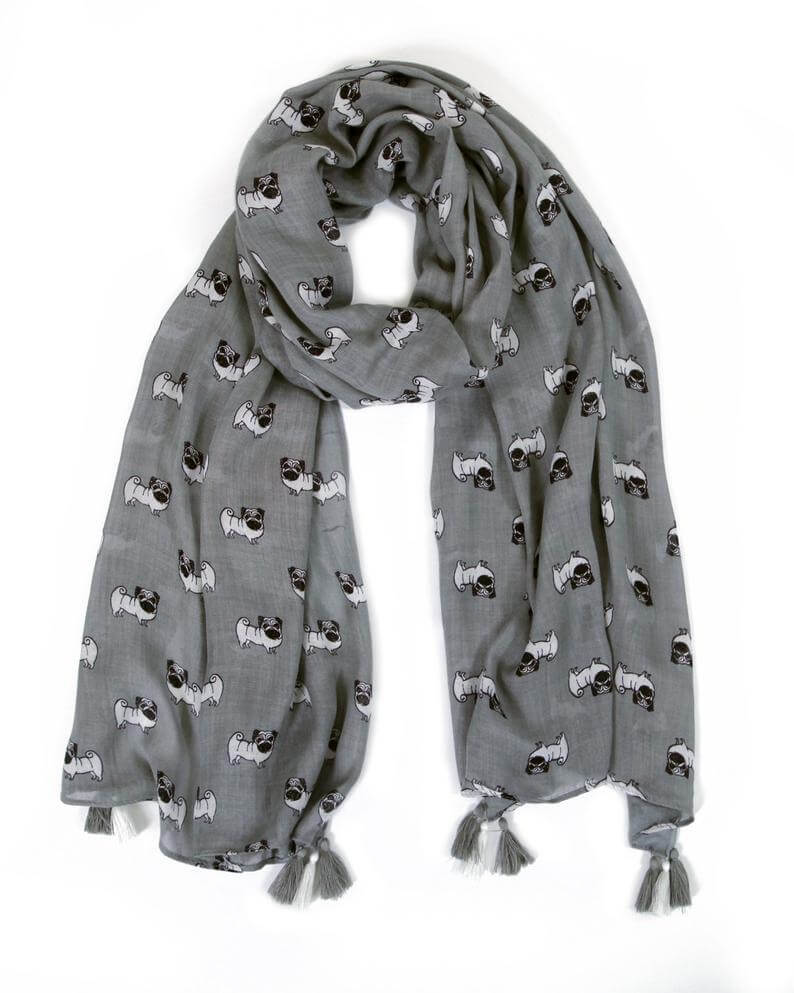 These whimsical pugs are sure to evoke smiles all around! Coming in two versatile options of black or gray, these pugs can upgrade any outfit. This scarf is soft and silky and is an awesome gift idea for any pug parents. It can even be a great gift for someone who does not wear scarves but loves pugs. It could be framed, transforming it into wall art. For pet parents who take lots of pictures of their pugs, this scarf could be used as a photo backdrop. Whether it is given as a scarf, artwork, a photo backdrop, or any other use, this scarf is a winner.
23. Stay Pawsitive Recycled Shirt and Tank Top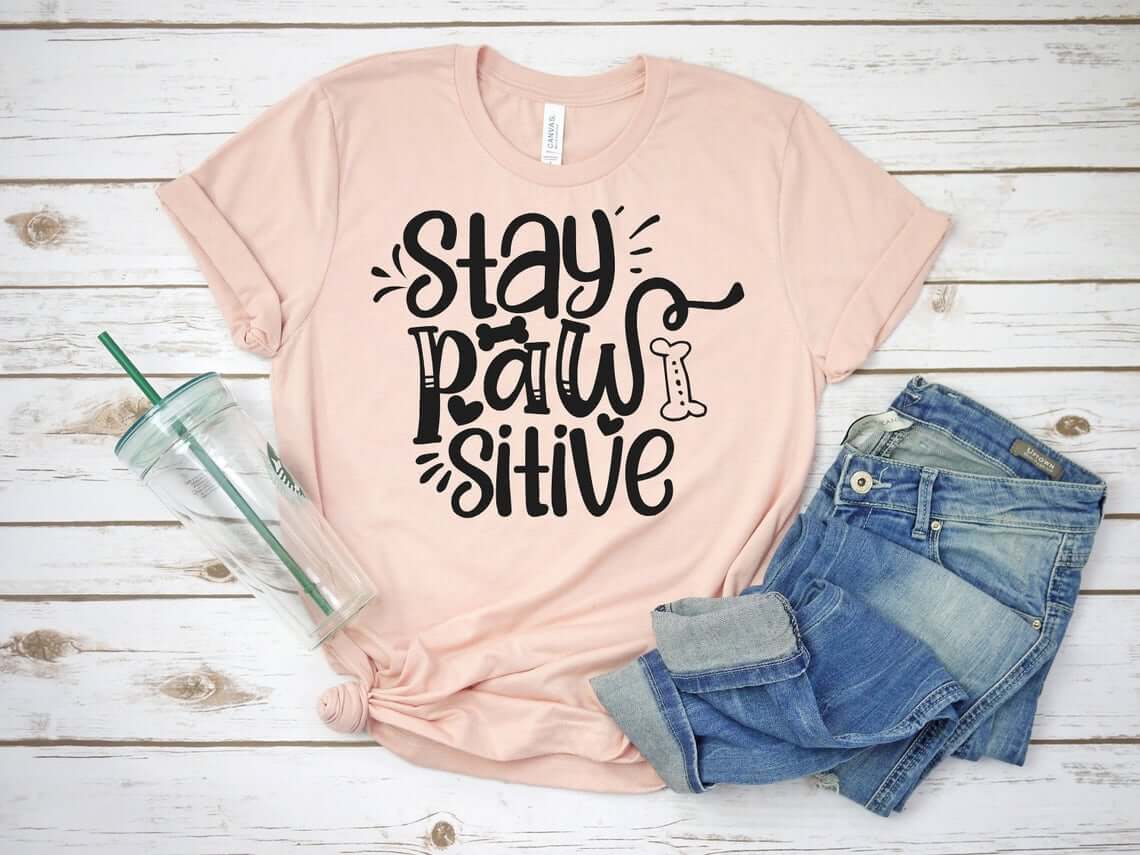 There is enough bad news in the world that we all sometimes need a reminder to stay positive. This shirt is an awesome idea for people who are good at inspiring that positivity in others. Made entirely from recycled materials, this shirt is silky smooth and good news all around. There are lots of color options, as well as the option to purchase a tank top, t-shirt, or long-sleeved shirt. Customizing the back of the shirt is an option as well, allowing for a personalized gift. This shirt prompts us to remember how dogs greet adversity with a wagging tail and a willing spirit.
24. Paw Imprint Keepsake and Picture Frame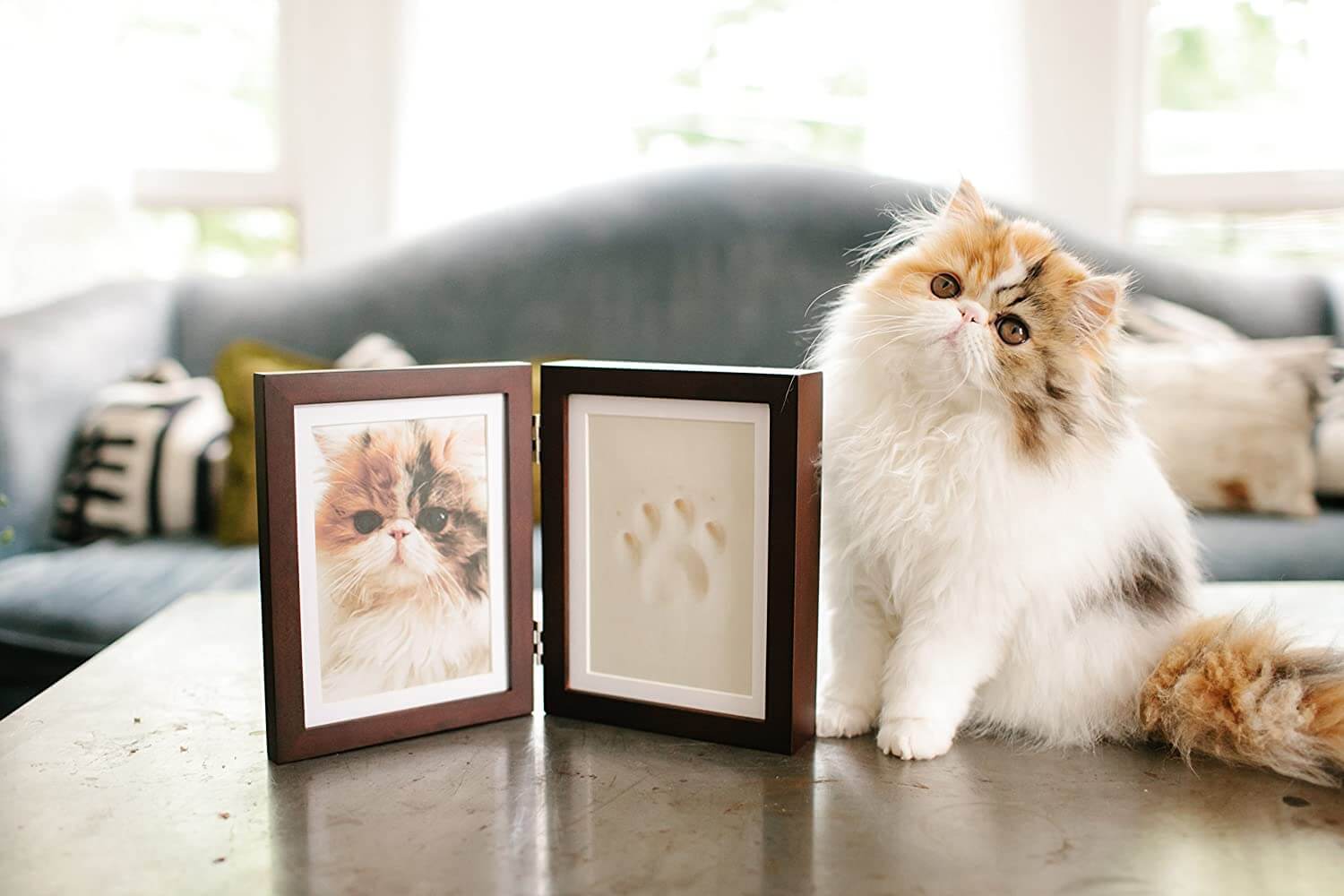 This imprint is both the gift of an indelible keepsake and a memory that the pet lover can build with his or her pet. One reason this kit is a good choice is that no complicated mixing and baking is required. The clay only needs to be rolled out, the paw pressed into it to make an impression, and then it is left to air dry. This would be a cool gift for a puppy's first Christmas, especially if there are children in the house. There is enough room for each child (or pet parent) to put his or her thumbprint next to the paw print impression. This is also a popular frame to display a paw print from a vet's office after a pet has crossed the rainbow bridge.
25. Willow Tree Angel of Comfort Dog Figurine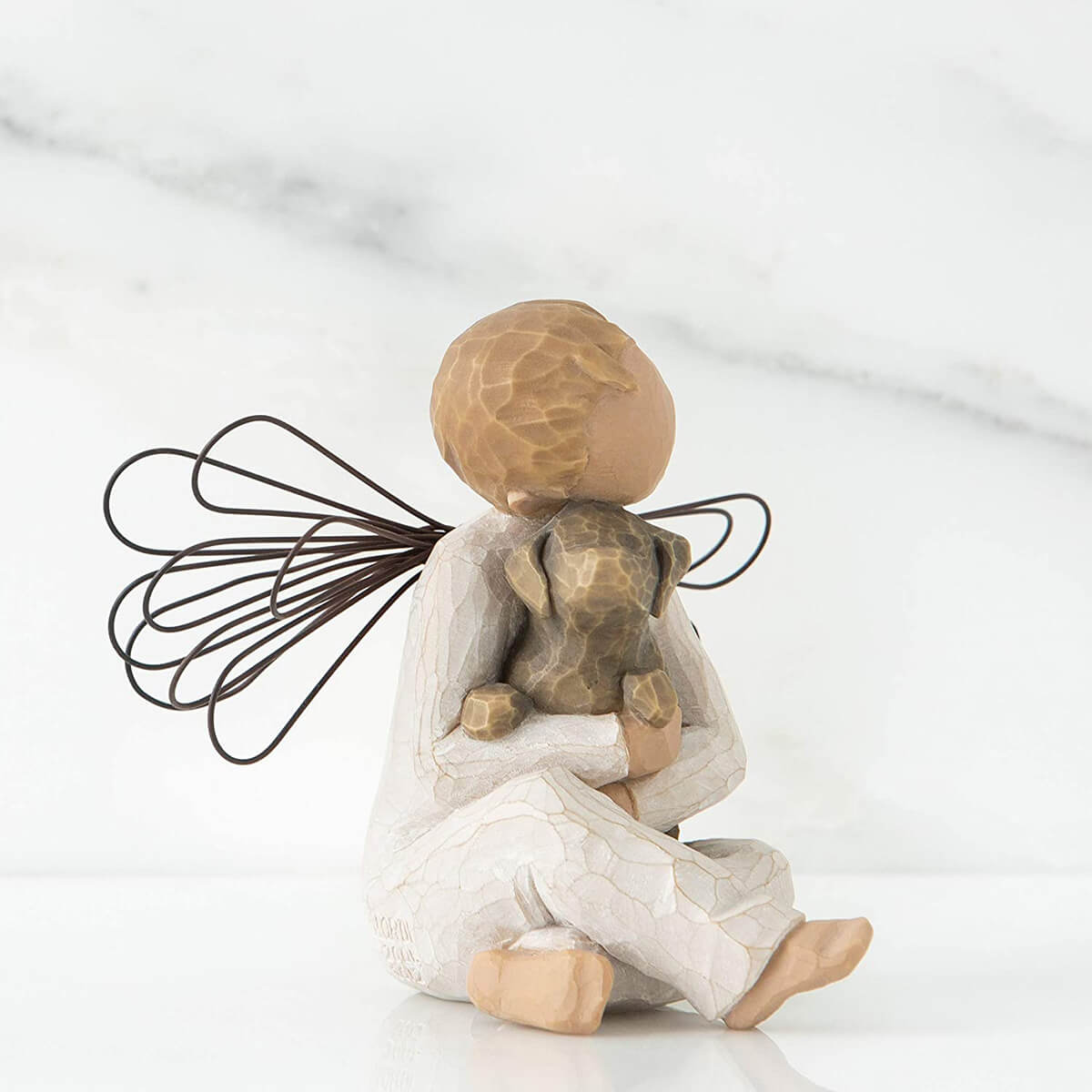 This beautiful Willow Tree figurine is the perfect gift for pet parents who are reeling from the loss. The angel is cuddling the dog, showing that he or she is receiving heavenly comfort. The wire wings and appearance of wood make it a good fit for rustic or farmhouse styles if the recipient should choose to display it. This figurine is cast from resin and then hand-painted. There is a card enclosed that reads "offering an embrace of comfort and love." If this card is removed, this figurine would make a touching Father's Day gift or even a birthday present.
26. Black and White Dog Silhouette Dish Towels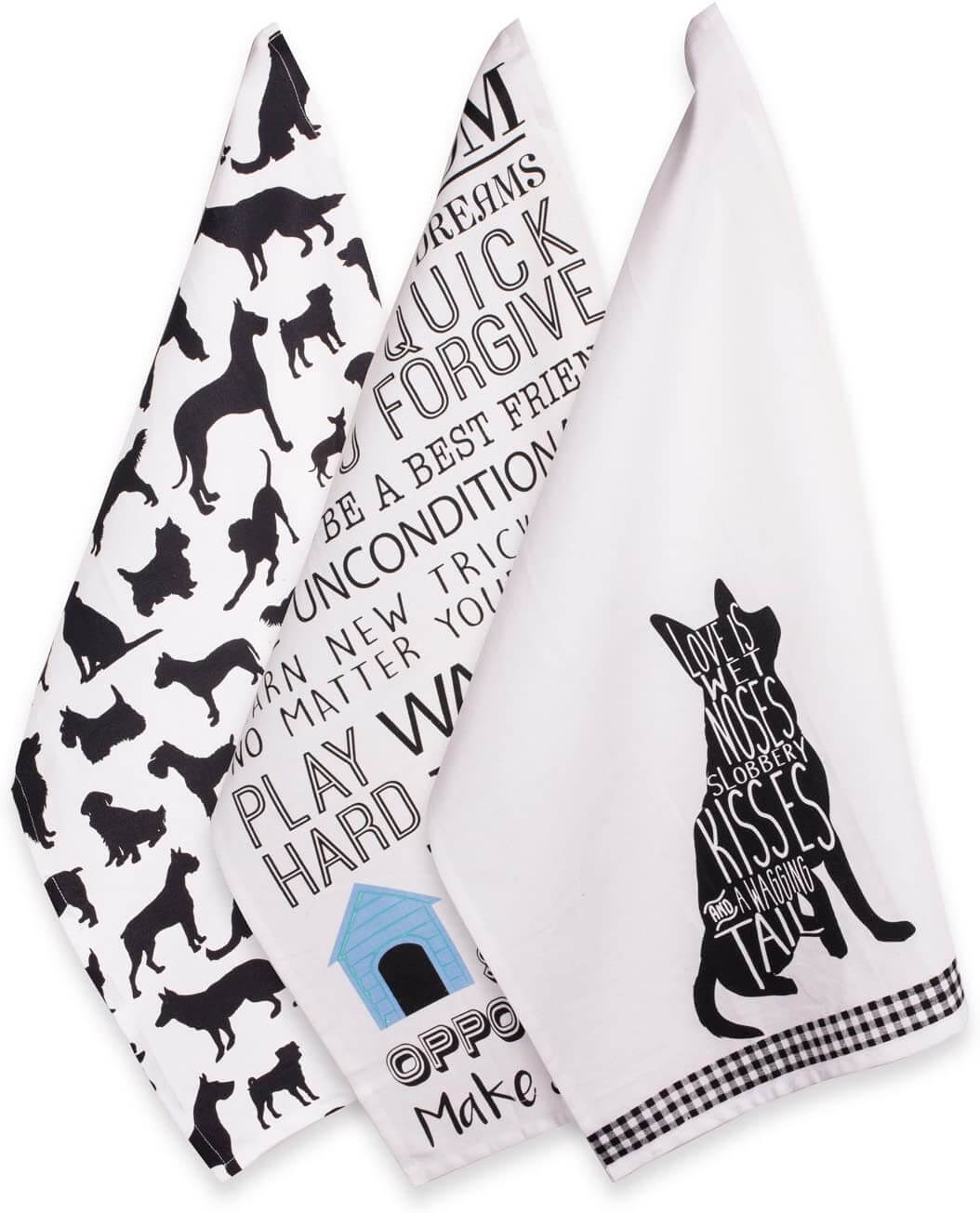 These cotton dish towels showcase many recognizable dog breeds including poodles, great Danes, retrievers, chihuahuas, dachshunds, labradors, German shepherds, bulldogs, and many more. The best thing about the classic combination of black and white is that it fits in almost any space. One idea to make this gift more personal is to pair each dog towel with solid color dish towels that are coordinated with the recipient's kitchen. To take that further, these towels could be mixed and matched with seasonal dish towels and solid color towels to personalize the gift to the person and a holiday.
27. Stylized Dachshund Fleece Blanket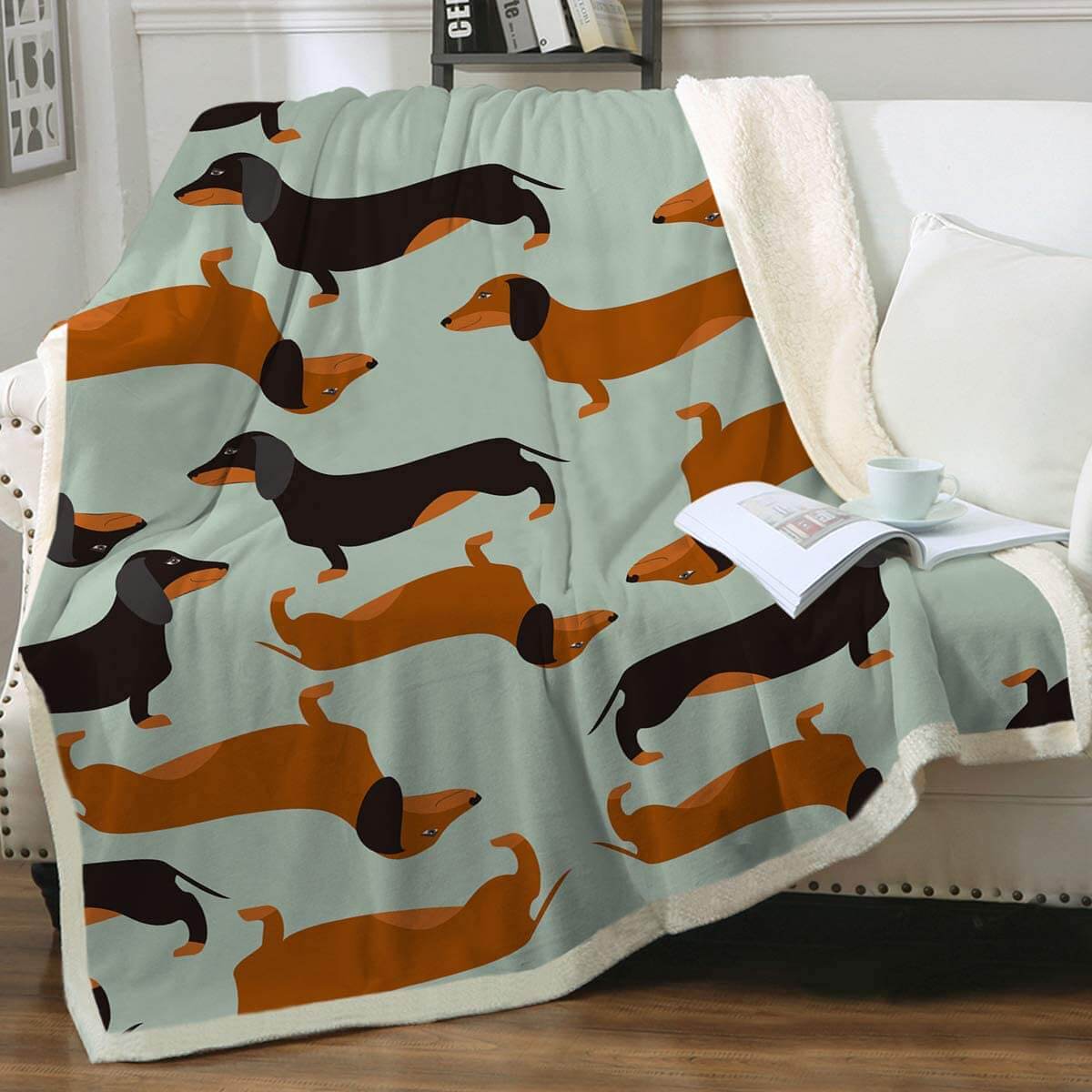 Pet cuddles in a cozy blanket are one of the best gifts for pet lovers. This blanket features stylized dachshunds on a blue background and would fit modern and Scandinavian home décor themes. It would also look at home on mid-century modern furniture. The listing includes seven other color and style options, in case blue clashes with the recipient's living space. Blankets are an awesome idea because there are never enough blankets, just like there can never be enough cuddles. For a college student or a pet parent missing his or her dachshund, this blanket is an excellent choice.
28. Vintage-Inspired Dachshund Letter Organizer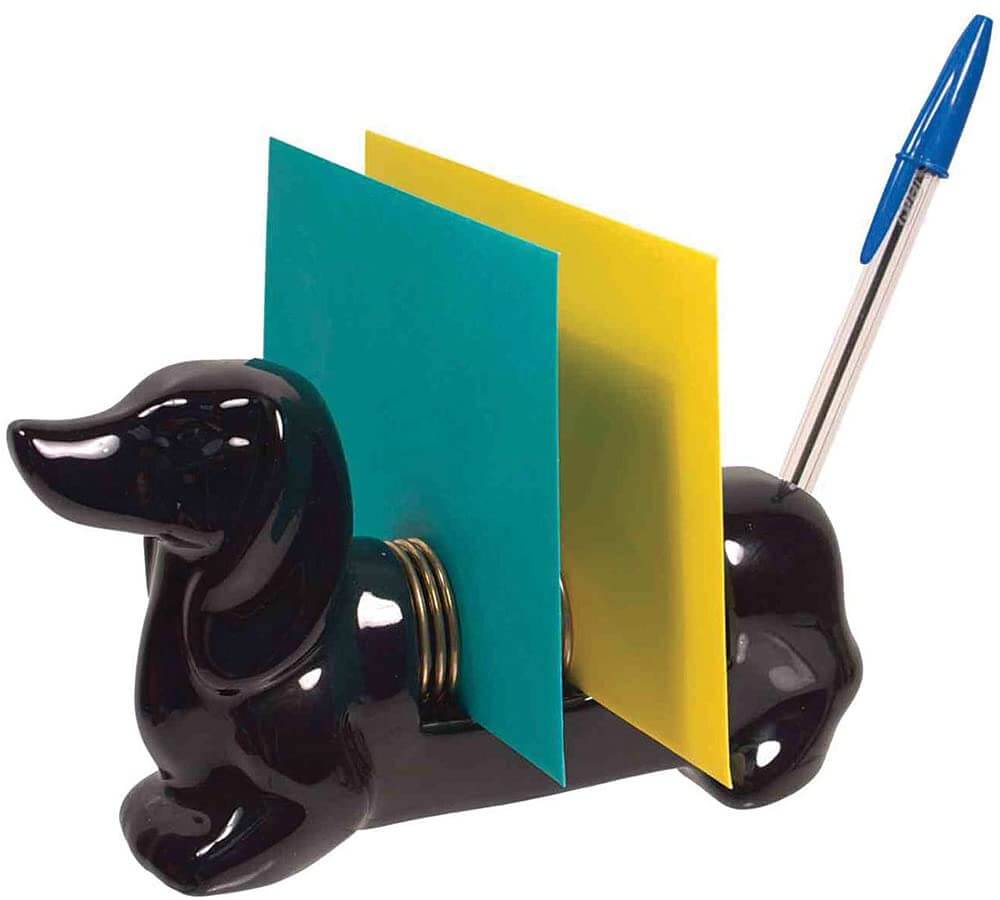 This dachshund letter organizer is a popular gift because it is functional as well as attractive. It is crafted from hand-painted porcelain with a metal spring. Anyone who grew up in the 1950s will recognize the classic design, which adds the gift of nostalgia. Because it is vintage-inspired, this dachshund would be a fantastic addition to a mid-century modern space. To further personalize this gift, consider giving it with a pen that means something special to the recipient. If you are crafty, you could even use metallic paint to add details like eyes, a collar, or even polka dots.
The Top 28 Best Gifts for Pet Lovers
Adding a pet to the family can be one of the most exciting experiences of a lifetime. Losing a faithful companion can be one of the hardest experiences. No matter the circumstances of the giving, the most important thing to remember when searching for the best gifts for pet lovers is how much a pet parent cherishes their fur babies. When considering home decoration gifts, something else to remember is: will this gift fit in their space?
Some of these gifts are best suited for a few different styles of home decoration, but many of them would be a perfect addition to any home. Of course, every space is different, and everyone's vision of their home is different. When searching for the right gift (especially in home decoration), I try to keep versatility in mind. Even if the recipient does not want to use it in the most popular or advertised way, is there a way for him or her to enjoy it?
These are some idea crumbs to help you find the perfect gift. Each pet, each pet owner, and each home is different. Luckily, many of these gifts come in many options and can be used in more ways than what is advertised.