Small bathrooms are tight and cramped, and they are often lacking in space for all the items you might need there. Unfortunately, those that have a tiny bathroom space know that storage can often be a huge issue in such tight areas.
45+ Hanging Bathroom Storage Ideas Perfect for Tight Spaces

Those that have several things to keep and store in the bathroom know that storage is an issue, especially when you barely have room for your necessities. When it comes to finding better storage options, wall hanging bathroom storage ideas are actually a great way to get extra storage for your bathroom without sacrificing actual space. Wall hangings have been known to create a more organized and efficient space.
However, if not done correctly, these can be an eyesore, which is why many people avoid them. Luckily, there are several ways to get a great wall hanging bathroom storage ideas that match your bathroom décor, give you the space you need, and don't look tacky at the same time. If you have a small space, there is no need to feel cramped or cluttered in your bathroom.
In this gallery, we will look at 45+ unique and interesting storage ideas for your bathroom walls that will turn your space into an efficient area for your needs. With these ideas you can avoid feeling cramped and finally enjoy your bathroom once again.
1. Buckets and Hooks A Plenty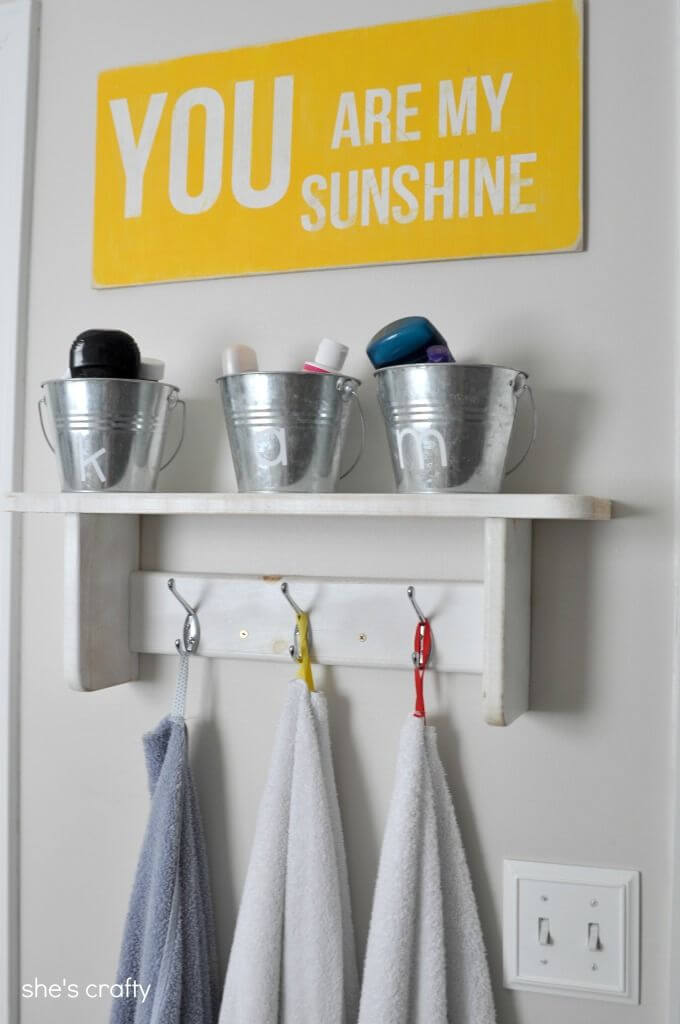 Add a little charm and a whole lot of storage in your bathroom with these cute and functional buckets and hooks. Sitting on your shelf, this trio of tin buckets is the ideal size to keep all your small items neatly in place while looking cute and put together. Each one of your kids can have their own go-to bin with all of their personal hygiene essentials. Down below, the metal hooks are perfect for hanging your towel or robe as you hit the shower.
2. Black Metal Wired Storage Shelf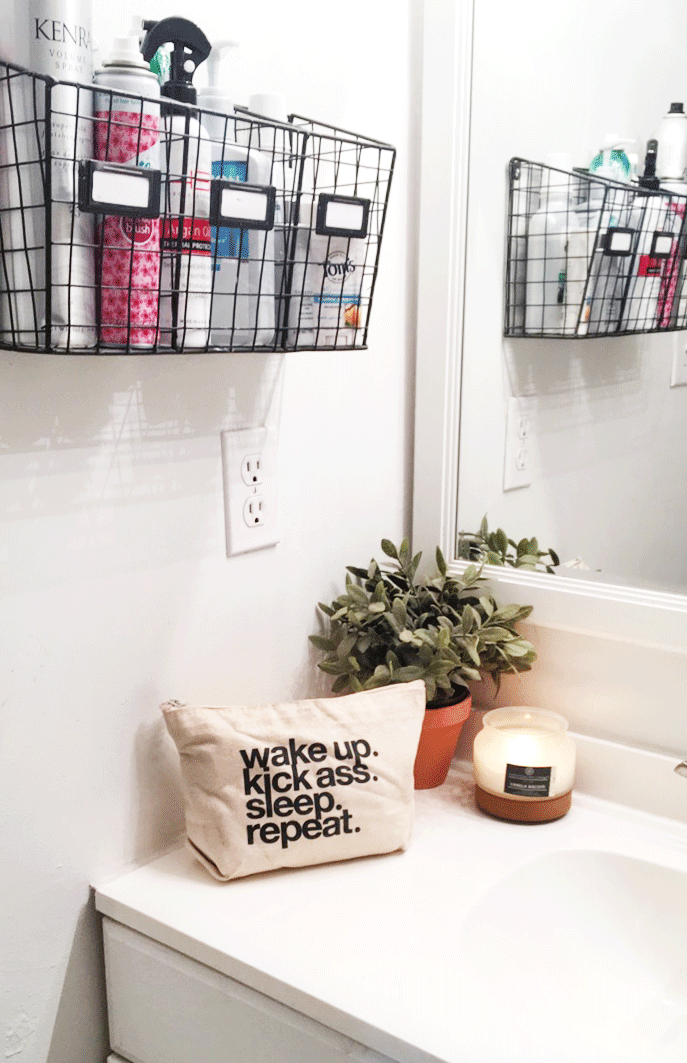 Keep those large shampoo and lotion bottles out of the way with this super cute metal wired black storage bin. Hang it in your bathroom to increase your usable counter space without hiding your everyday essential items in a cabinet. You can be even more organized by writing the name of each family member in front of his/her belongings.
3. Highlighted and Trimmed Out Bathroom Hooks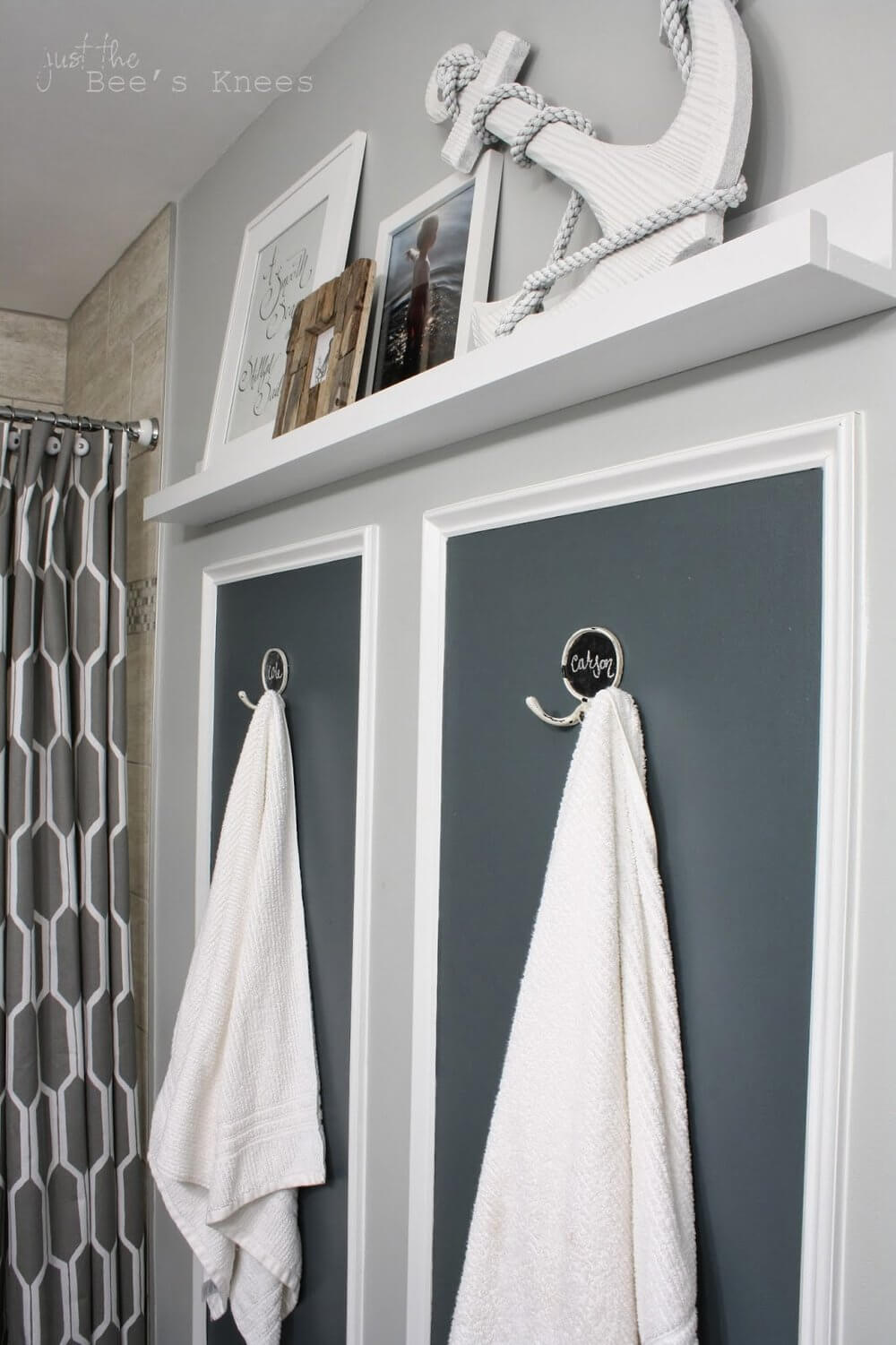 Increase the appeal of your bathroom design while incorporating some extra storage solutions. Trim out a couple of four feet by two feet rectangles to make your hanging towel feel right at home. Your hook looks cool as the star of your bathroom storage show.
4. Rustic Wooden Bathroom Storage Cabinet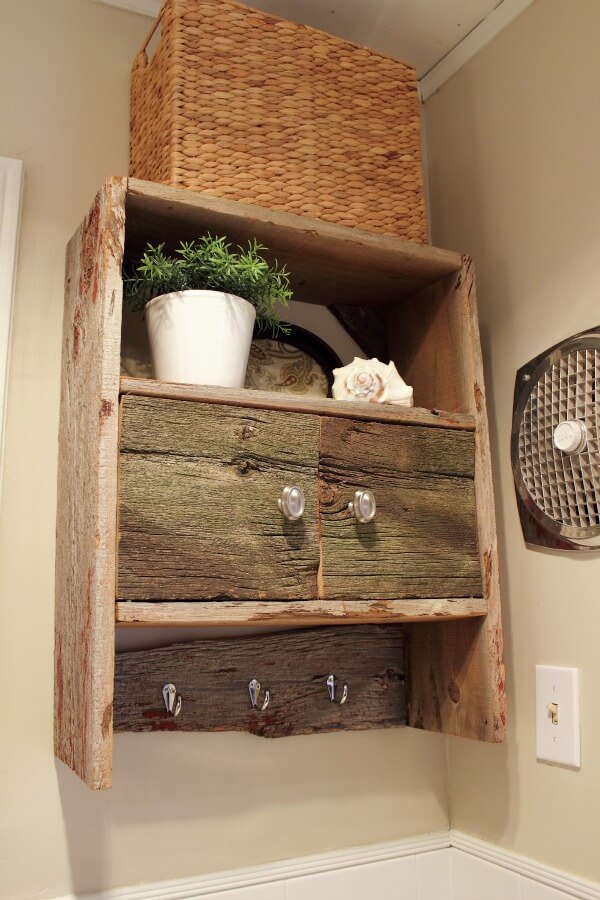 Clean up your bathroom by organizing all of those everyday essentials. From extra rolls of toilet paper to washcloths, everything gets its own place to call home in this rustic wooden cabinet. Hanging over the toilet or above the washer, this storage solution has a shelf to display some pretty decorations as well as a row of hooks at the bottom for your convenience.
6. Oversized Hanging Basket on a Hook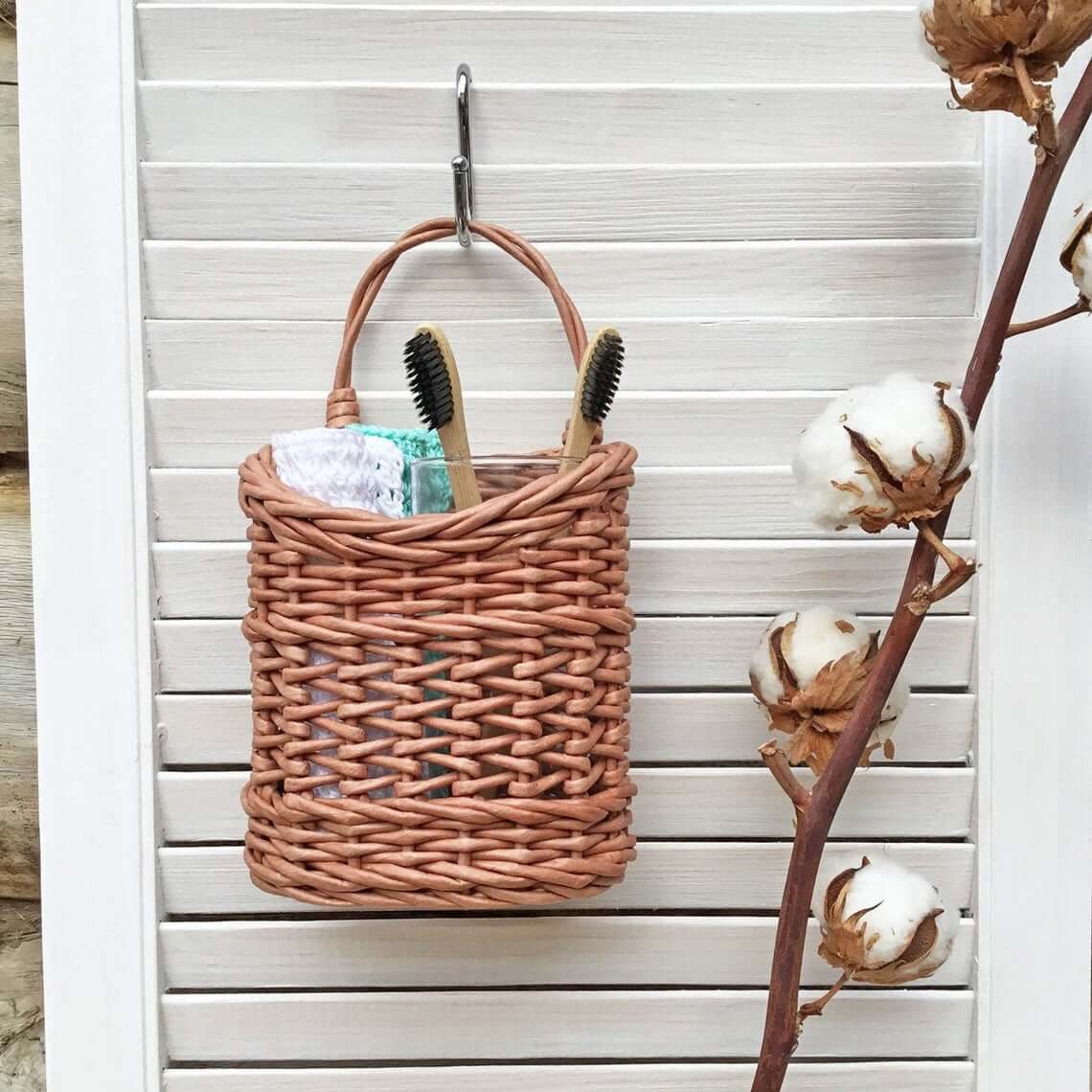 Be sure to think vertically when it comes to home storage and organization. This hanging basket hugs the wall nicely as it houses your hairbrushes and washcloths while keeping them close at hand. Having this basket hung on the wall makes your counter space a lot less messy and gives you the room you need.
7. Hanging Modern Contemporary Tiered Bathroom Shelf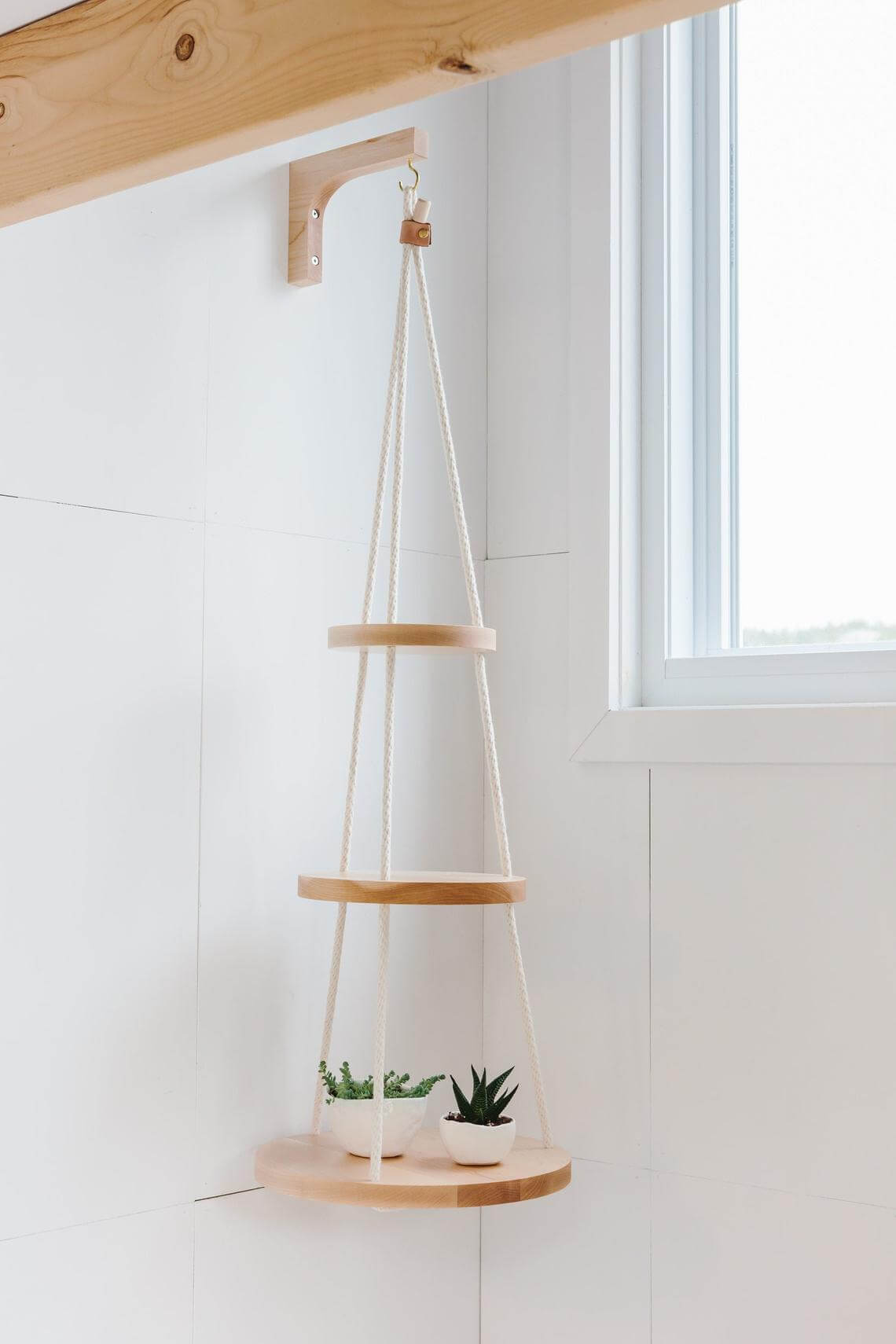 Add some style along with your storage solution when you hang this tiered shelf in your bathroom. It's an awesome way to add some sweet succulents to filter your air as well as place some fragrant soap, lotions, and other bathroom goodies. This unique shelf offers as much style as it does function so you can't go wrong when it becomes a staple in your home's bath.
8. Nautical Rope Hanging Toilet Paper Holder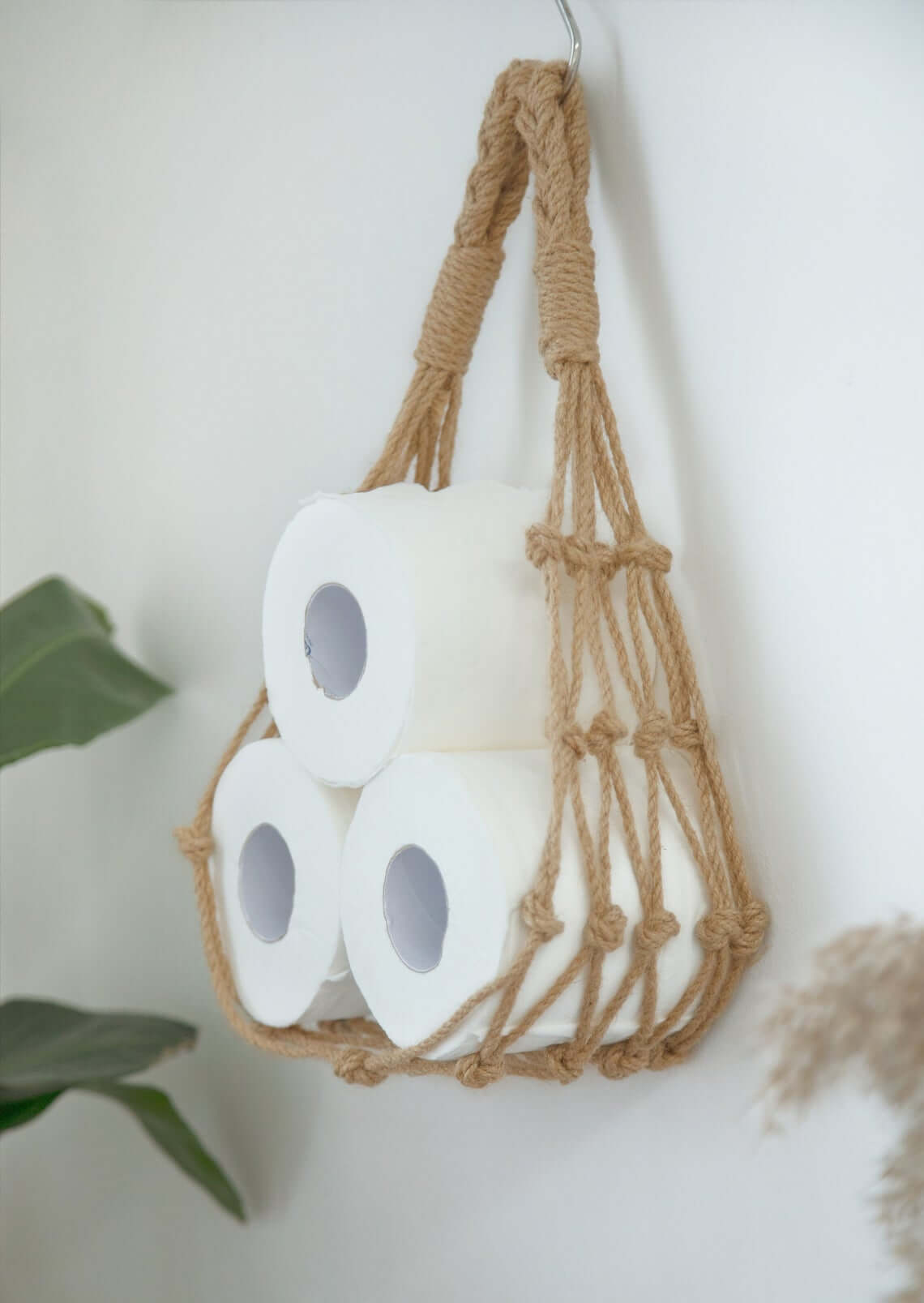 No one wants to be stuck on the toilet without toilet paper, so it's always a great idea to keep some extra rolls nearby. This nautical rope created holder does the job and lends an element of East coast living into your design. No matter if you're living at the lake or in a seaside cottage, this nautical toilet paper holder is a fun touch for your bathroom organization.
9. Woven Window Pane Tiered Hanging Trio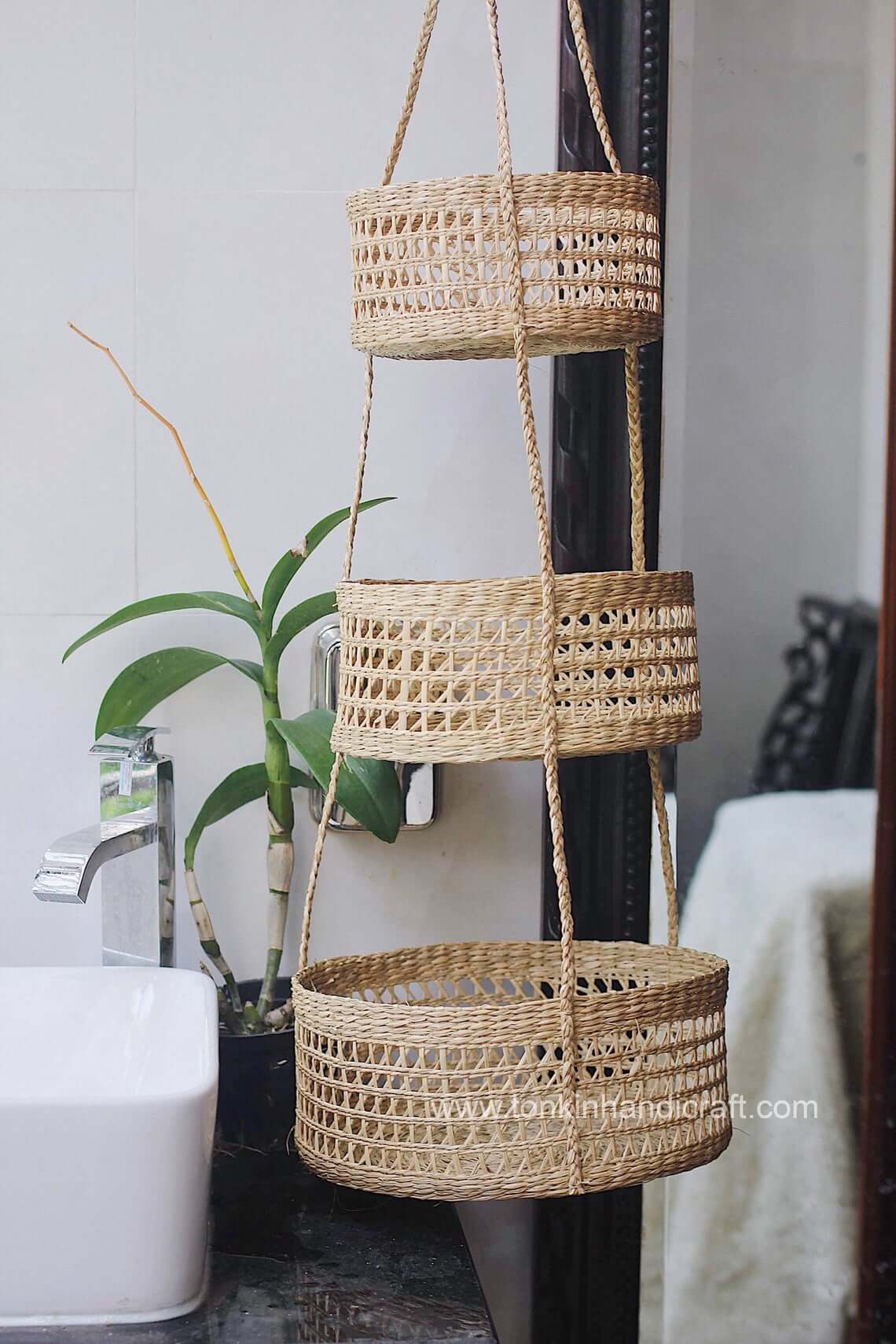 Gather all of your bathroom goodies in one place that's out of your way, but not out of sight, with this woven tiered hanging organizer. If you're short on space, this is certainly the solution for you! It has woven sides so it can hold your belongings in place, while still remaining visible to the eye. Arrange a neat circle of washcloths in the middle tier, place some soaps and lotions in the bottom, and feature a vining house plant on top to make this a storage solution and decoration all in one!
10. Basic Wood Shelf with Wrought Iron Bar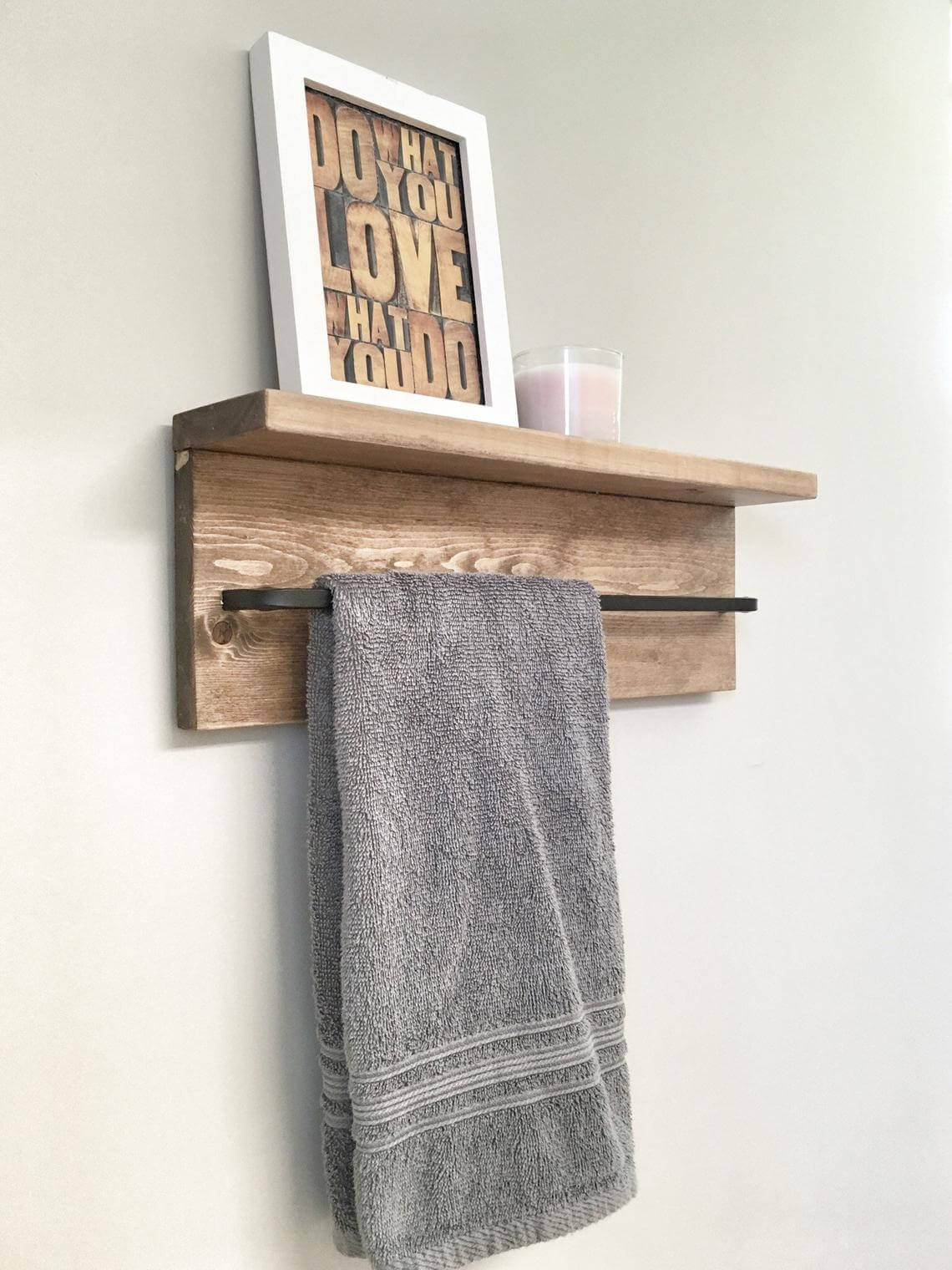 Keep it simple in the bathroom with this basic wooden shelf that's complete with a black wrought iron bar at the bottom. This bar is a great towel holder that can accommodate two comfortably. Along the top, you can choose to display some favorite decorations, plants, or use it to hold some of your extra bottles of lotion or shampoo. The simple look works in most designs and can be an easy weekend DIY project for the crafter at heart.
11. Metal and Wood Jewelry Organizer Shelf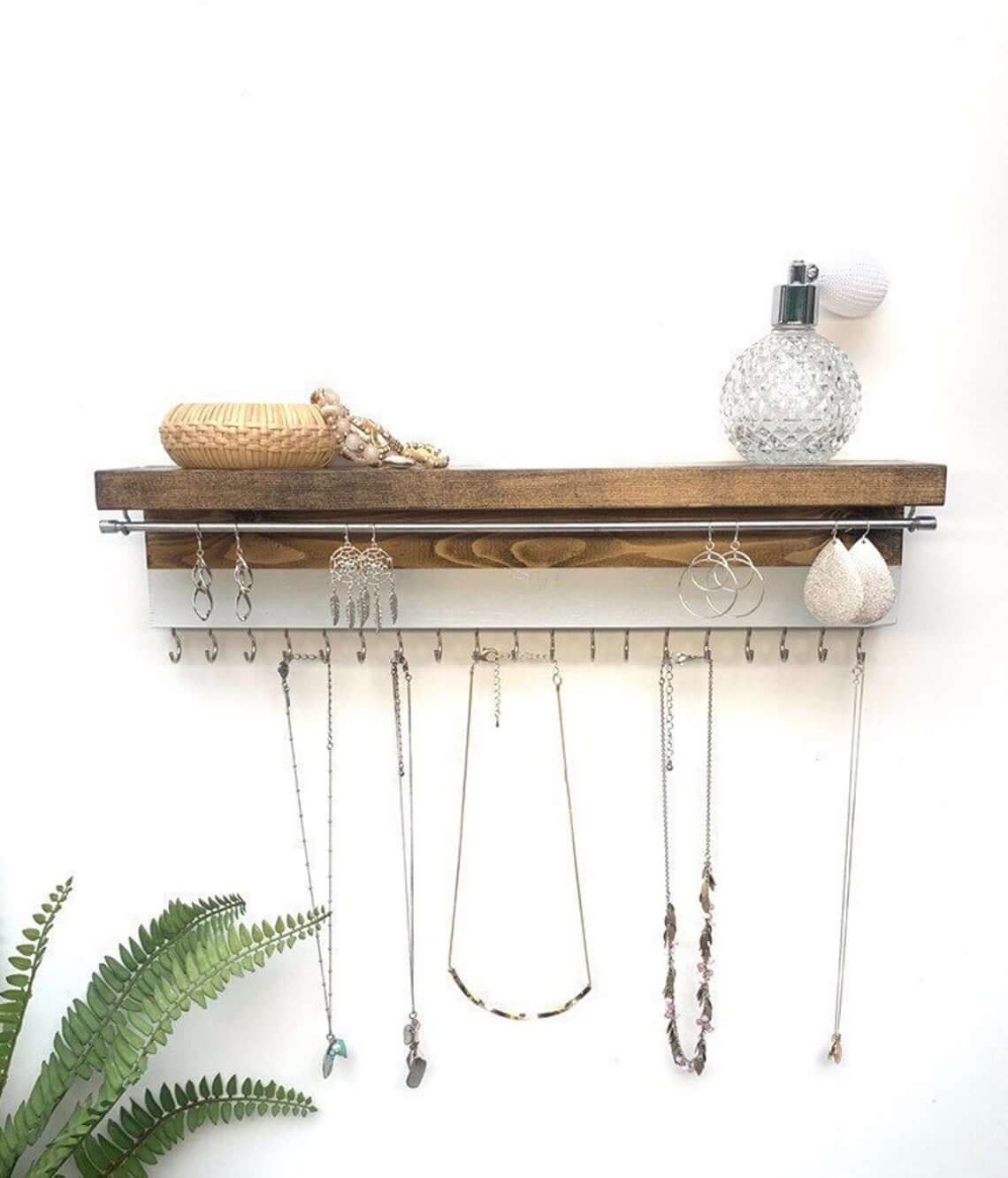 Mixing mediums has never been better than this classic combination of wood and metal. The rich brown wood grain looks perfect as it unites with this shiny, silver metal hardware to create a unique jewelry hangout. On top of the shelf, you'll find a wonderful way to showcase all of your favorite scents. Below there is a rod to hold all of your trendy, dangling earrings along with a series of hooks for all of those necklaces and bracelets.
12. Modern Farmhouse Industrial Bathroom Shelf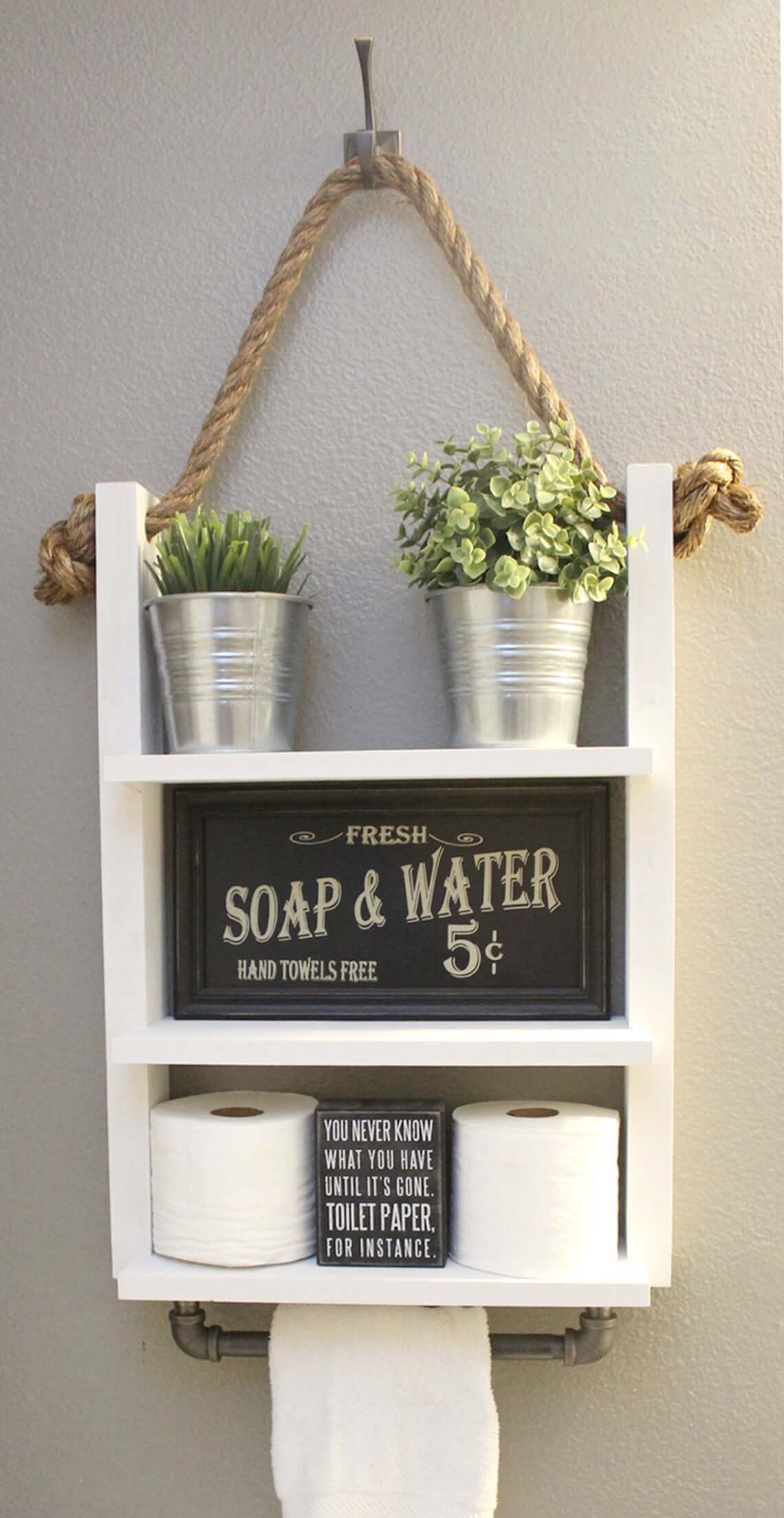 Hanging on a thick, twisted knot rope, this white clean-lined shelf gives you all the space you need to hold those extra rolls of toilet paper without sacrificing on style. At the bottom, the industrial pipe bar gives a space to hang your hand towel too. Whether you choose to accent this shelf with pretty pieces, or just use it to hold your extra toiletries is up to you. You can't go wrong with this shelf! It would even look at home in your kid's bedroom as a fun way to display ribbons and medals for your favorite runner.
13. Interesting Nautical Rope Toilet Paper Holder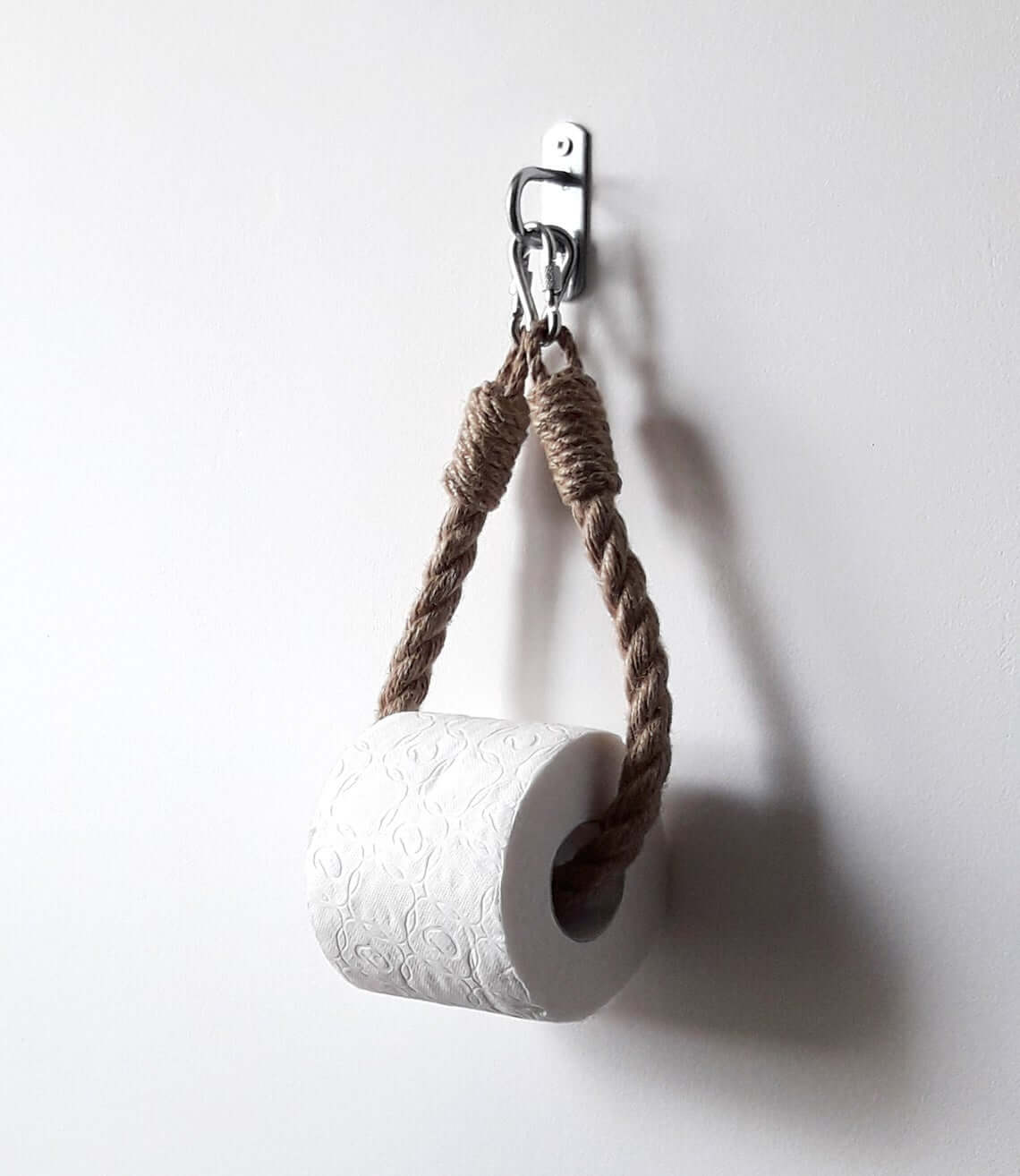 Don't let your ship sail on this one-of-a-kind toilet paper holder. This interesting twist on the traditional holder is both flattering and functional. What a perfect accent for a lakeside retreat or a lighthouse themed bath? And removing the old roll is simple by unhooking the rope at the top. It adds both texture and uniqueness to your bathroom space. The rope design would also work in a farmhouse style decor.
14. Magnificent Mason Jar Bathroom Storage Solutions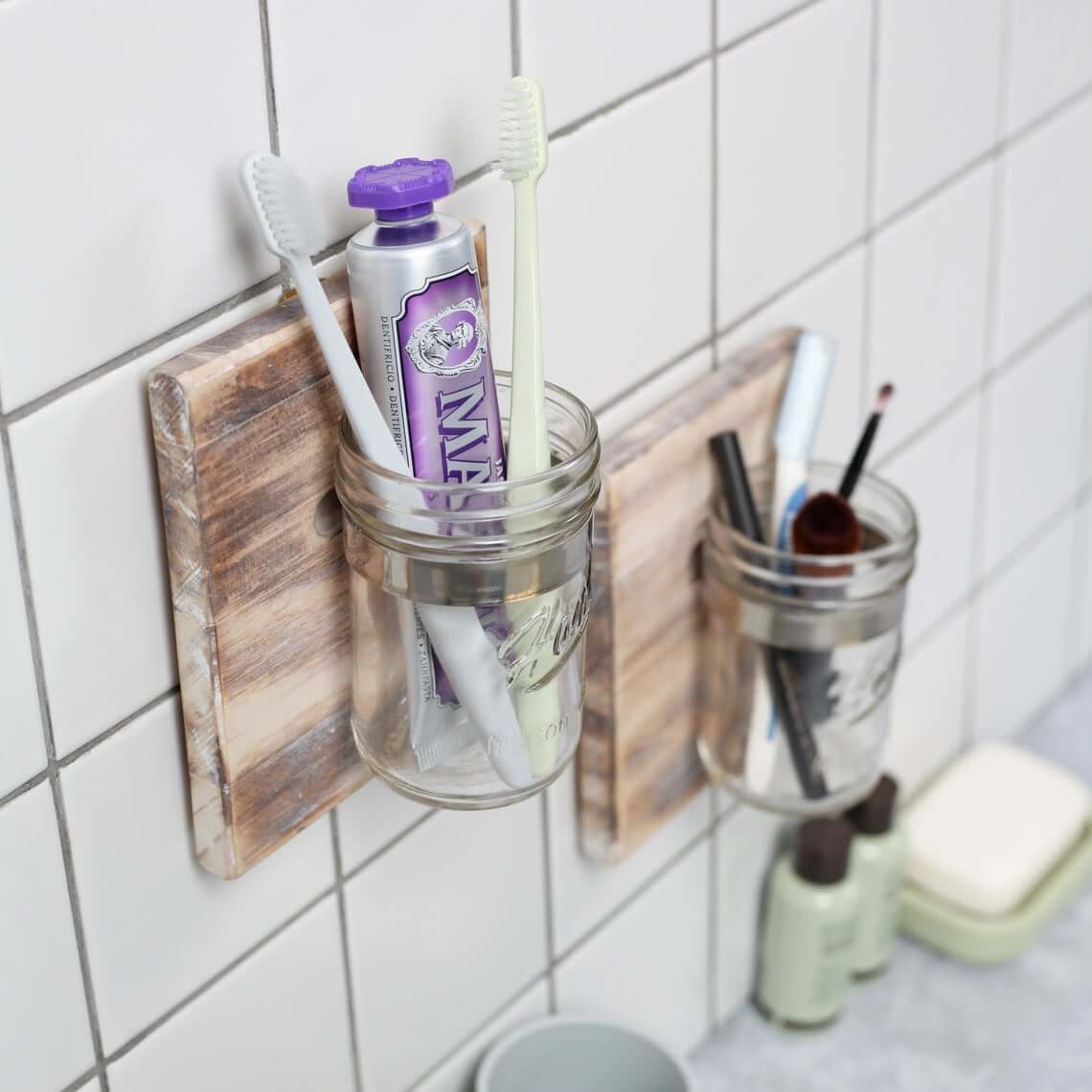 Get the most for your money while keeping your home organized with these cute and fun wooden Mason jar holders. Each family member has his or her own jar that neatly holds the entire tooth brushing or make-up supplies that are needed to kick start a great day! When everything has a place and is in its place, the whole home benefits from this organized comfort.
15. Modern and Slim Wooden Shower Caddy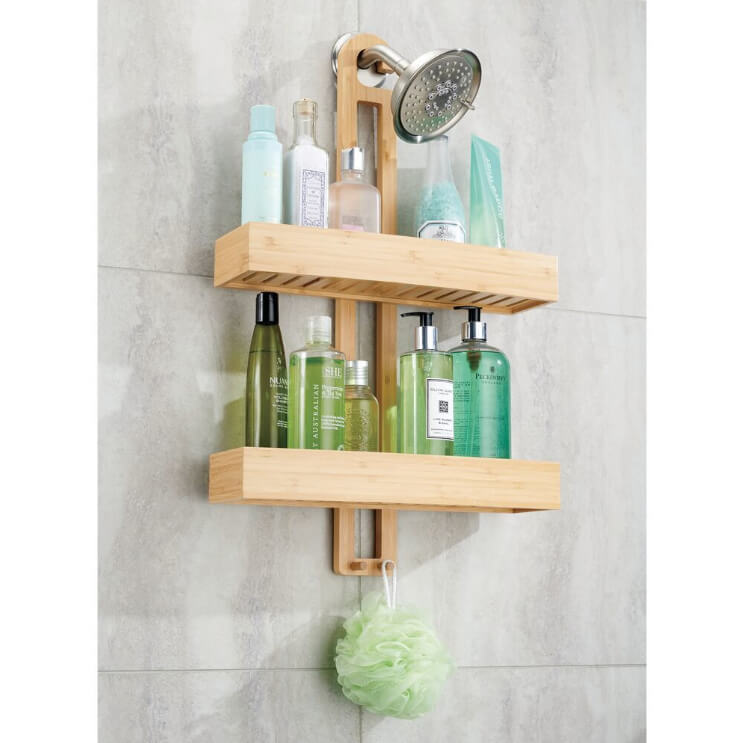 Gone are the days of jumping out of the shower soaking wet to grab your razor or favorite shampoo. With this wooden shower caddy, all of your go-to items are conveniently hanging right at your fingertips. Its slim design takes up minimal space, yet offers all the storage capacity you need.
16. Handmade and Heartfelt Crocheted Shower Bag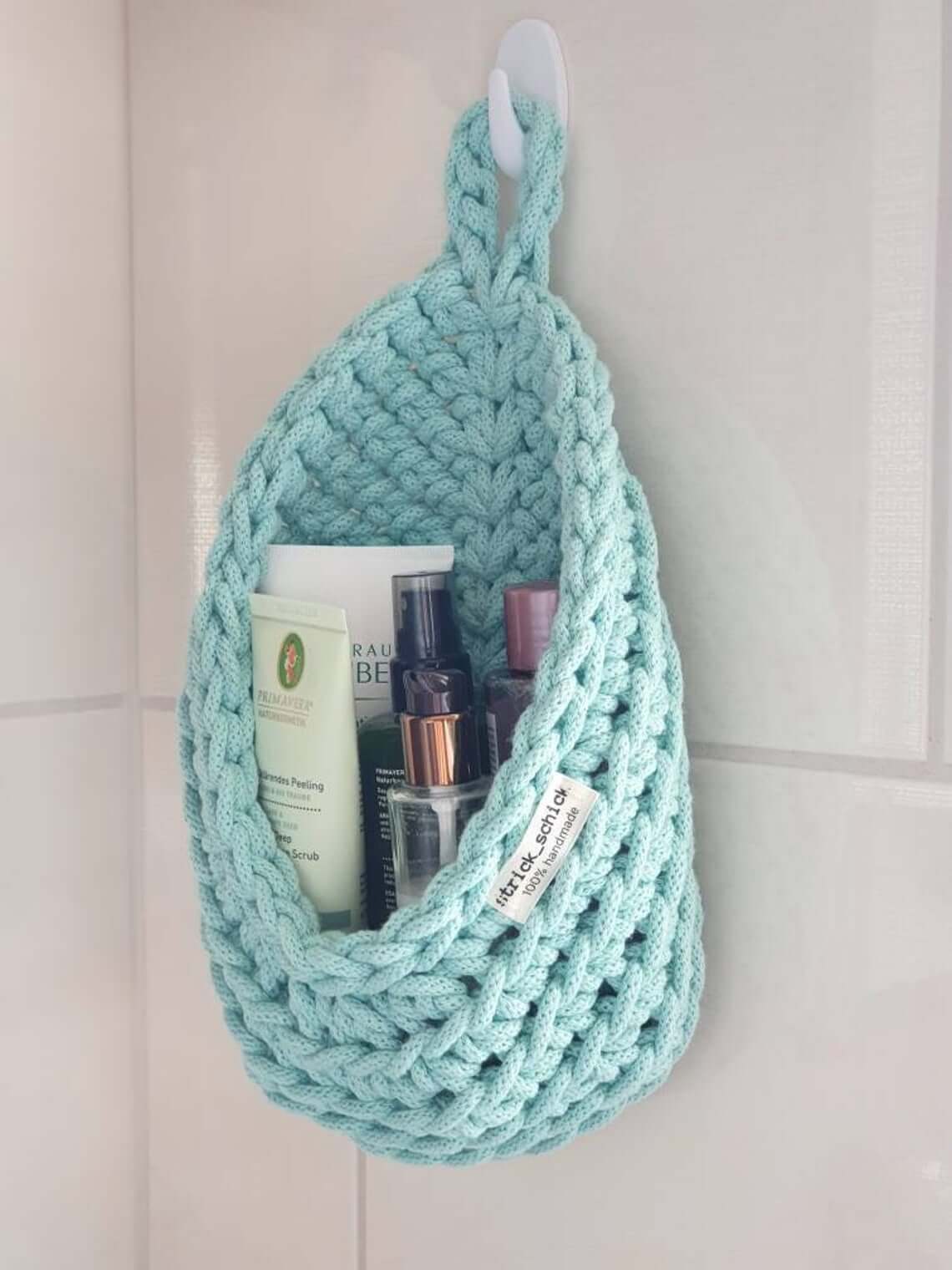 Grab and go if you need to with this cute shower bag. Handcrafted in a durable water-resistant material, this crocheted bag is cute and keeps all of your shower supplies right where you need them. The hook makes it easy to use at home, the campground, or dorm hall so it's really the perfect gift for any girl!
17. Over-the-door Gray Laundry Bag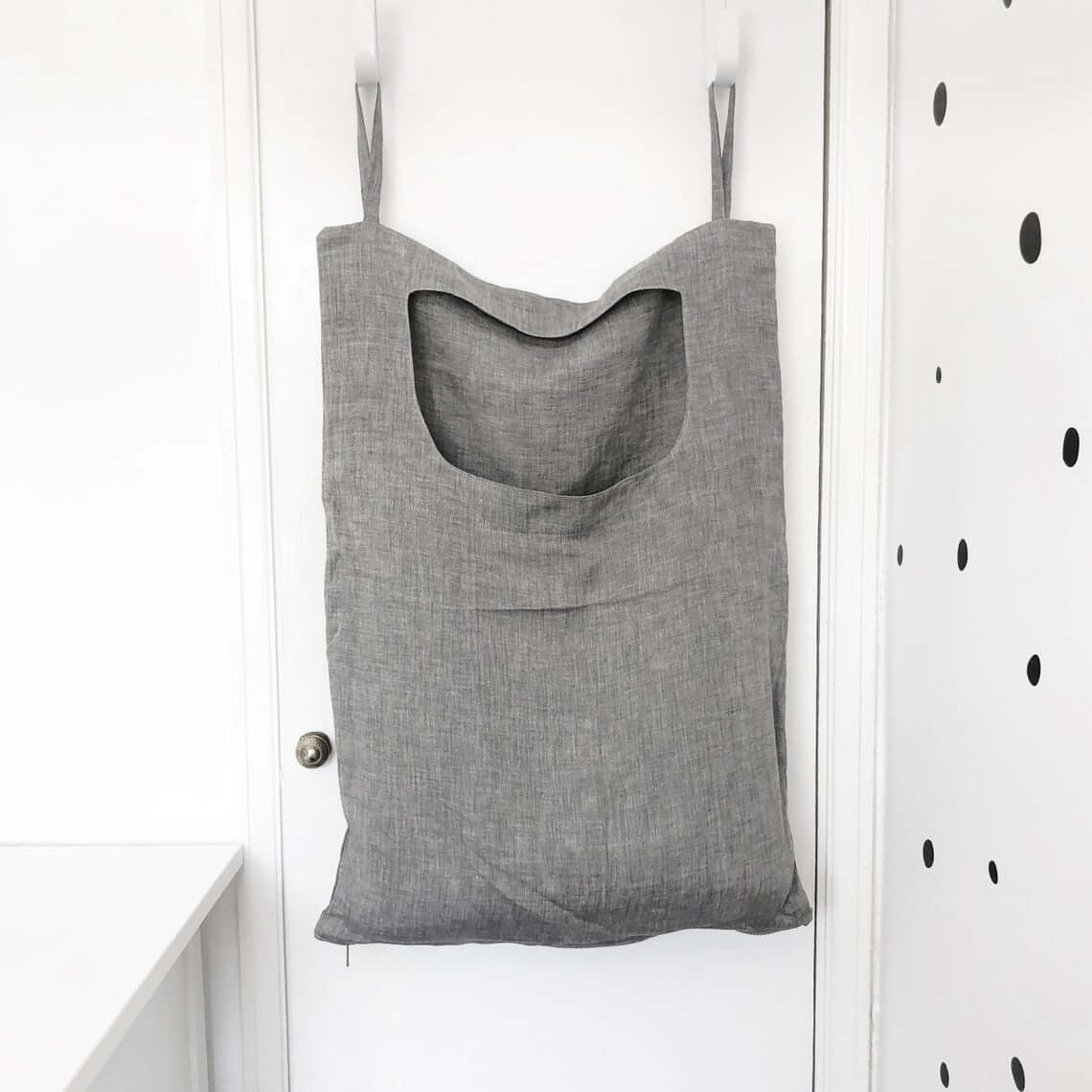 Make the most of your space by utilizing all the forgotten storage spaces and utilize this amazing over-the-door laundry bag. It's a great way to keep all of your kid's laundry in one, neat place, and grabbing the handles makes carrying it to the washing machine a breeze.
18. Geometric Patterned Storage Bins with Loop Hooks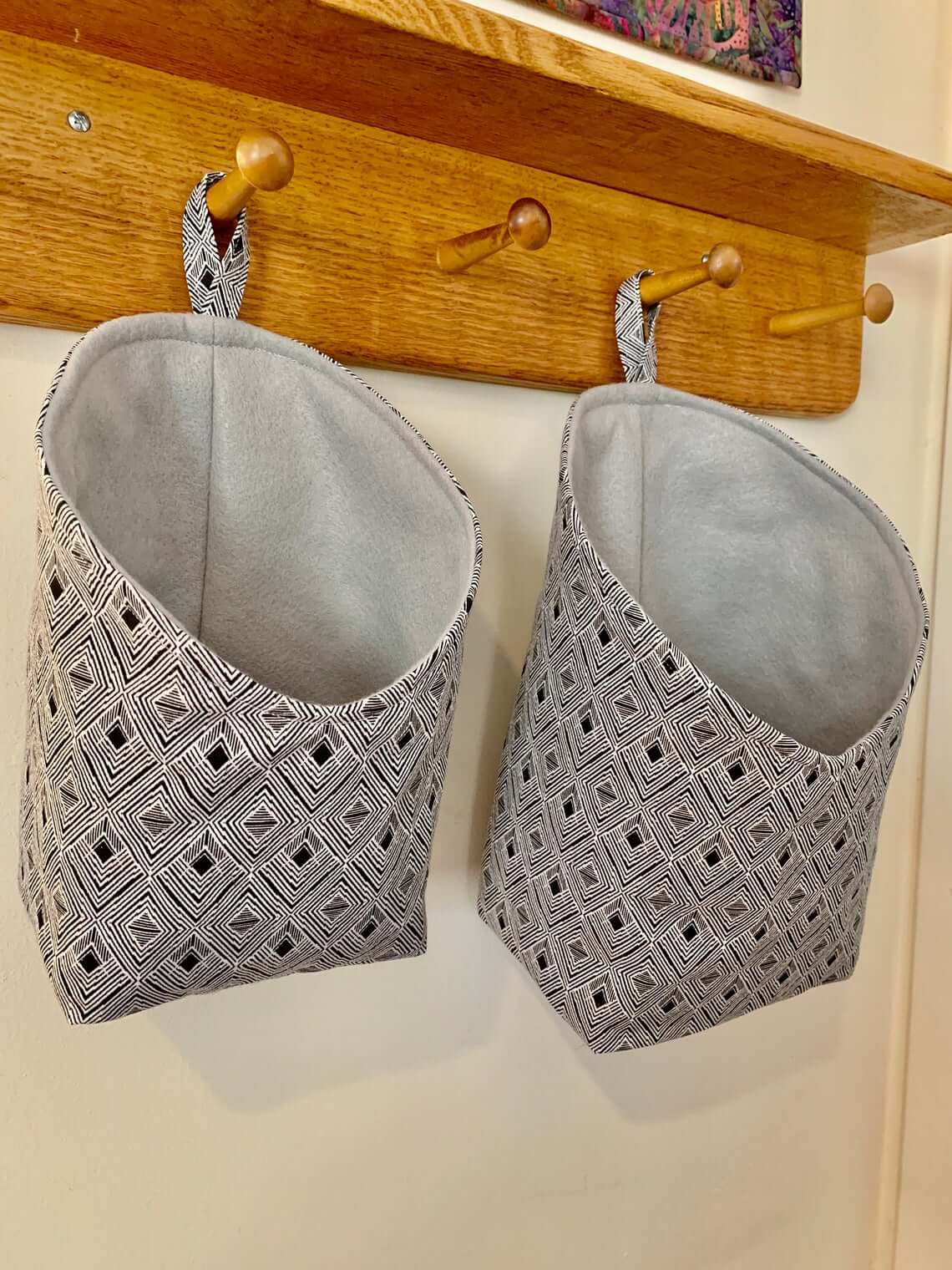 Your daughter or son will have the upper hand on the home organization as they learn to use this handy storage bin. The loop hook at the top makes it easy to carry and hang. The open-top design allows for easy use too. It's the best way to keep deodorant, brushes, body spray, hair gel, and all their everyday essentials in one convenient place.
19. Mesh Shower Rod Pocket Organizer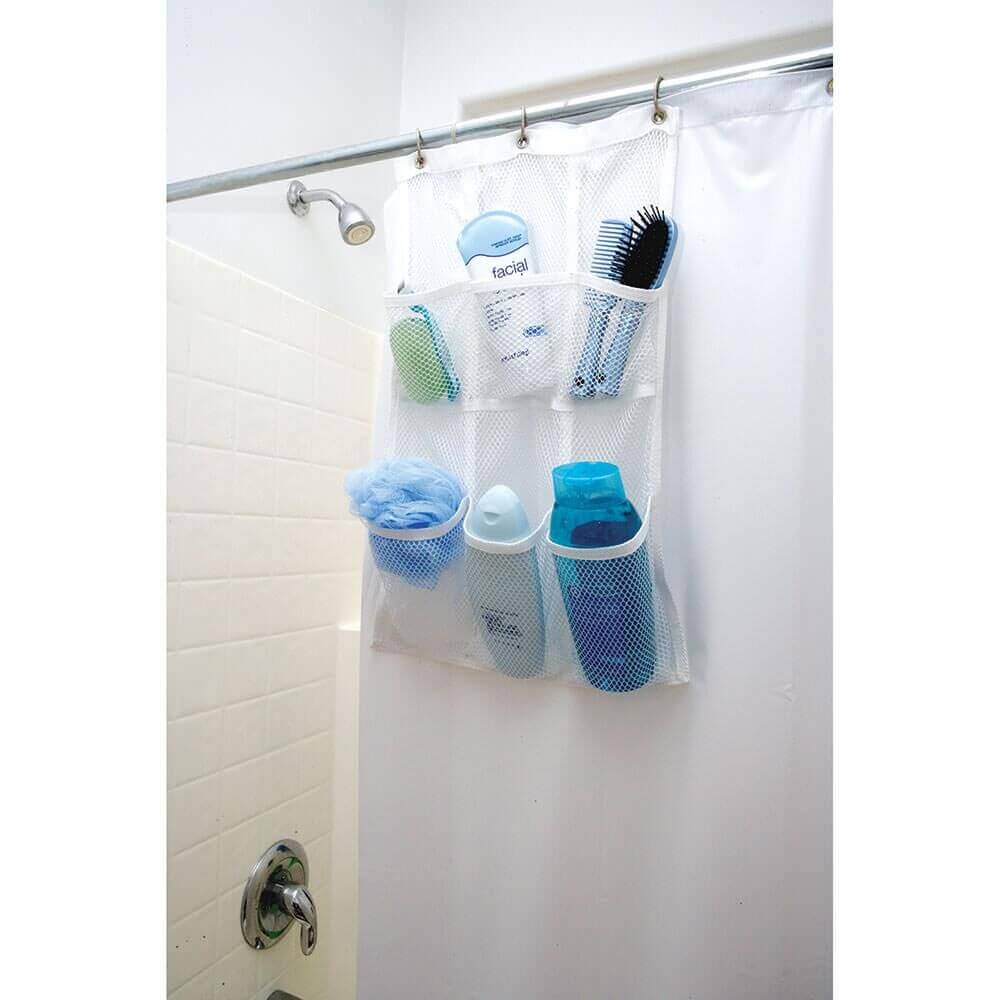 This mesh shower organizer has all the pockets you need to hold your luxurious shampoo, conditioner, soap, body wash, and shaving supplies. Crafted in mesh allows for proper draining of these wet items so you won't need to worry about mold. Your shower essentials are easy to see and ready to go every time you hop in to clean up!
20. Simple Basket Towel Swinging Organization Idea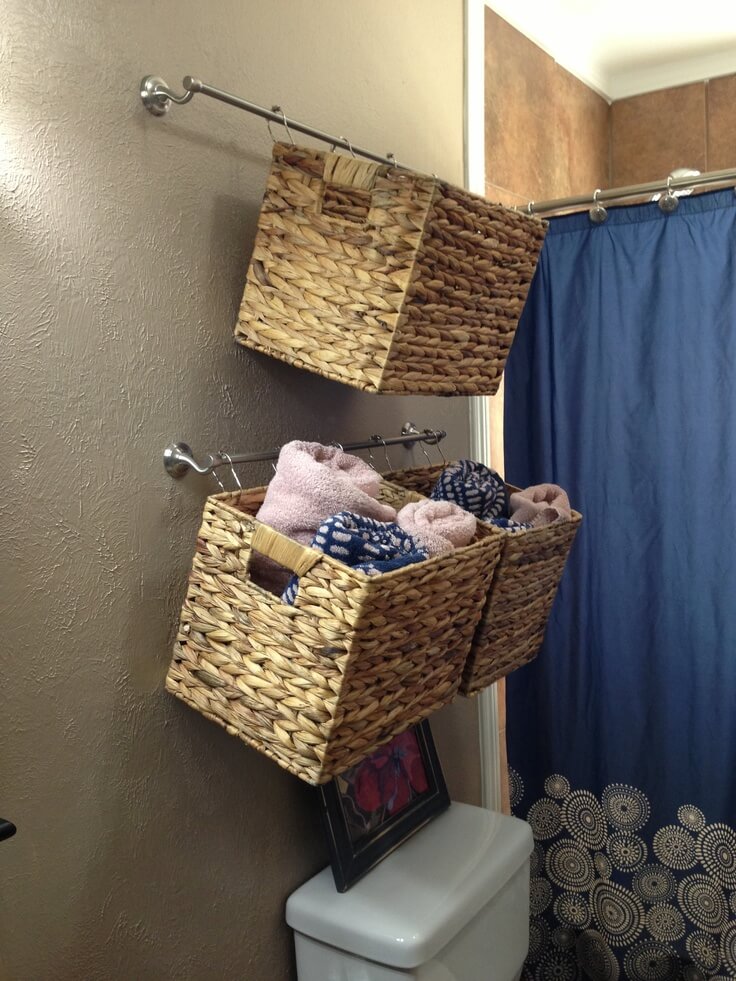 21. Long Door Hanging Bathroom Storage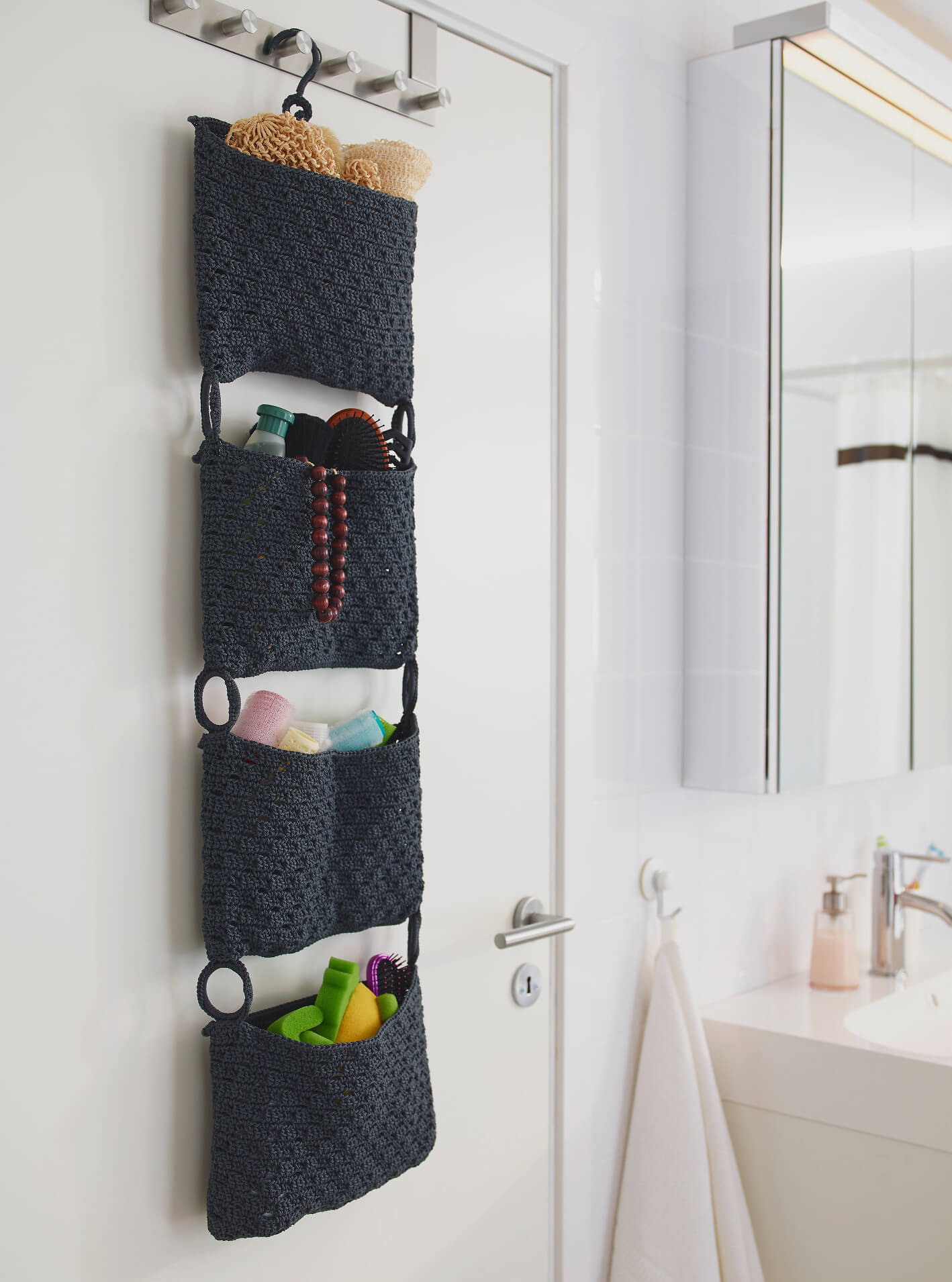 22. Adorable Wood and Chalkboard Floating Shelf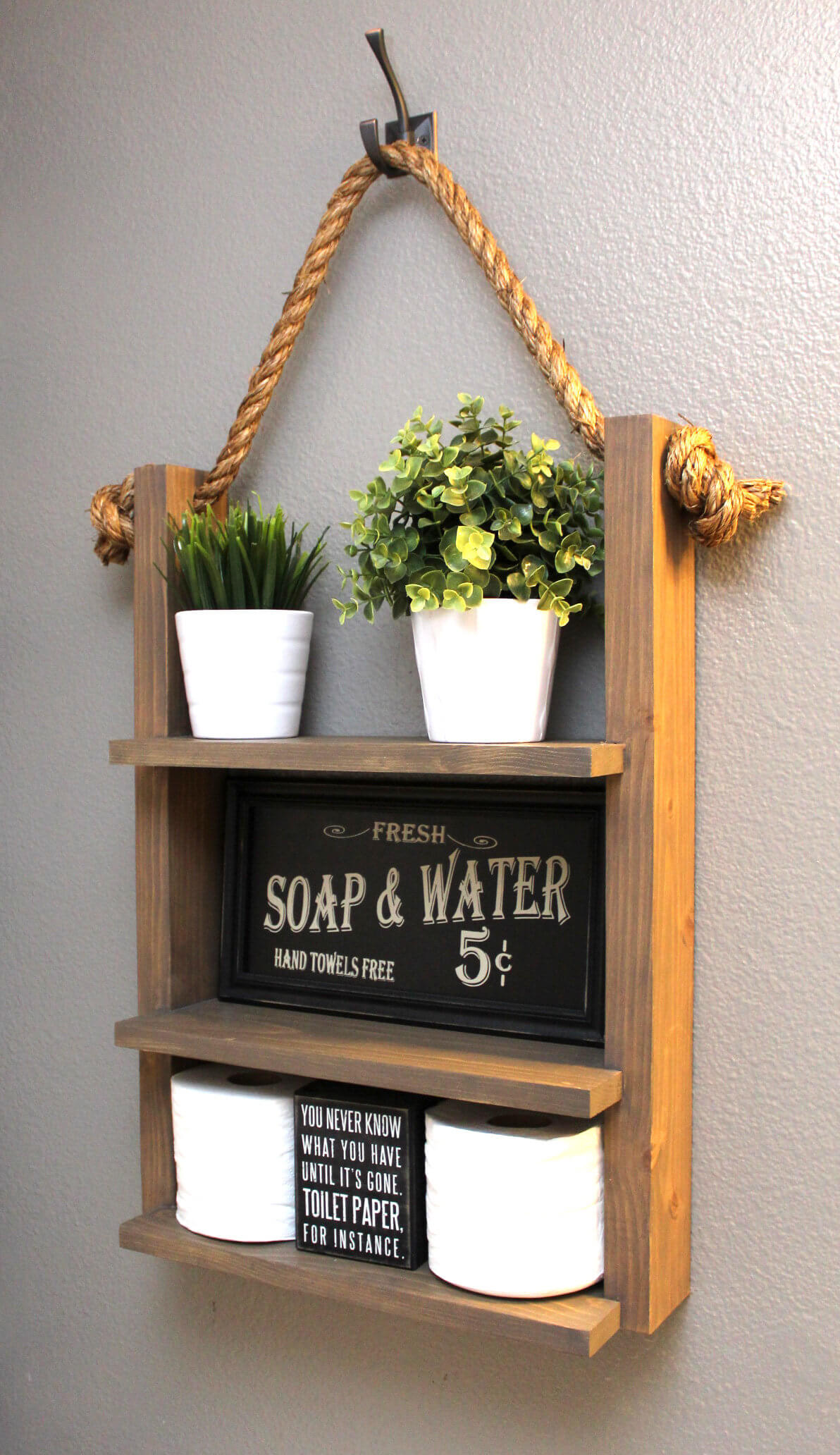 23. Minimal Wire Basket Bathroom Organizer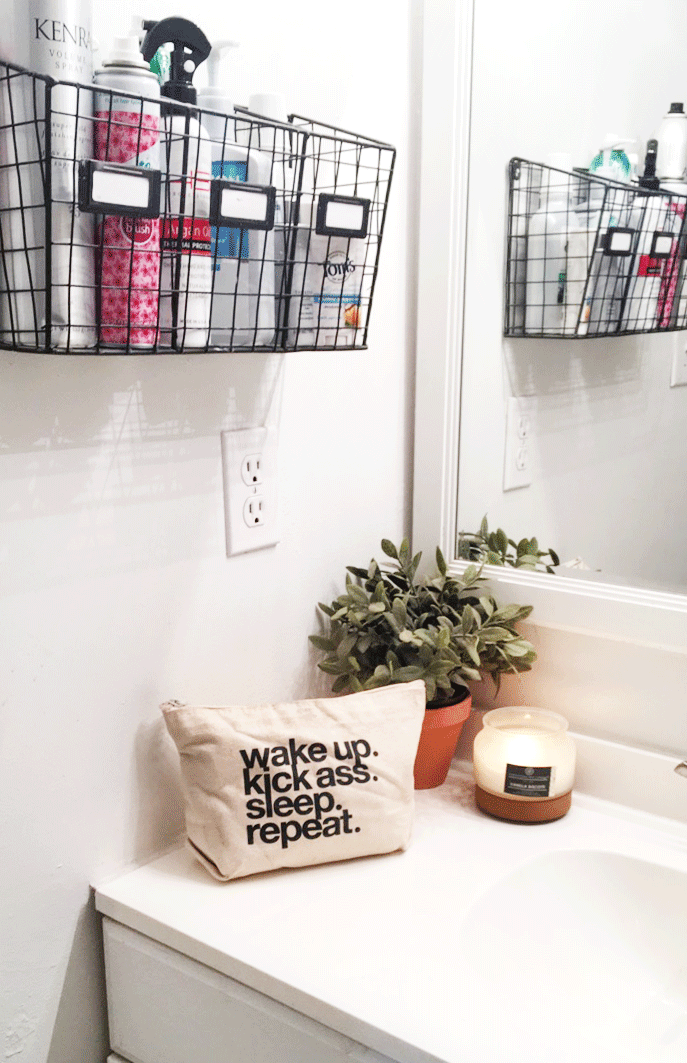 24. Curtain Rod Basket and Bucket Storage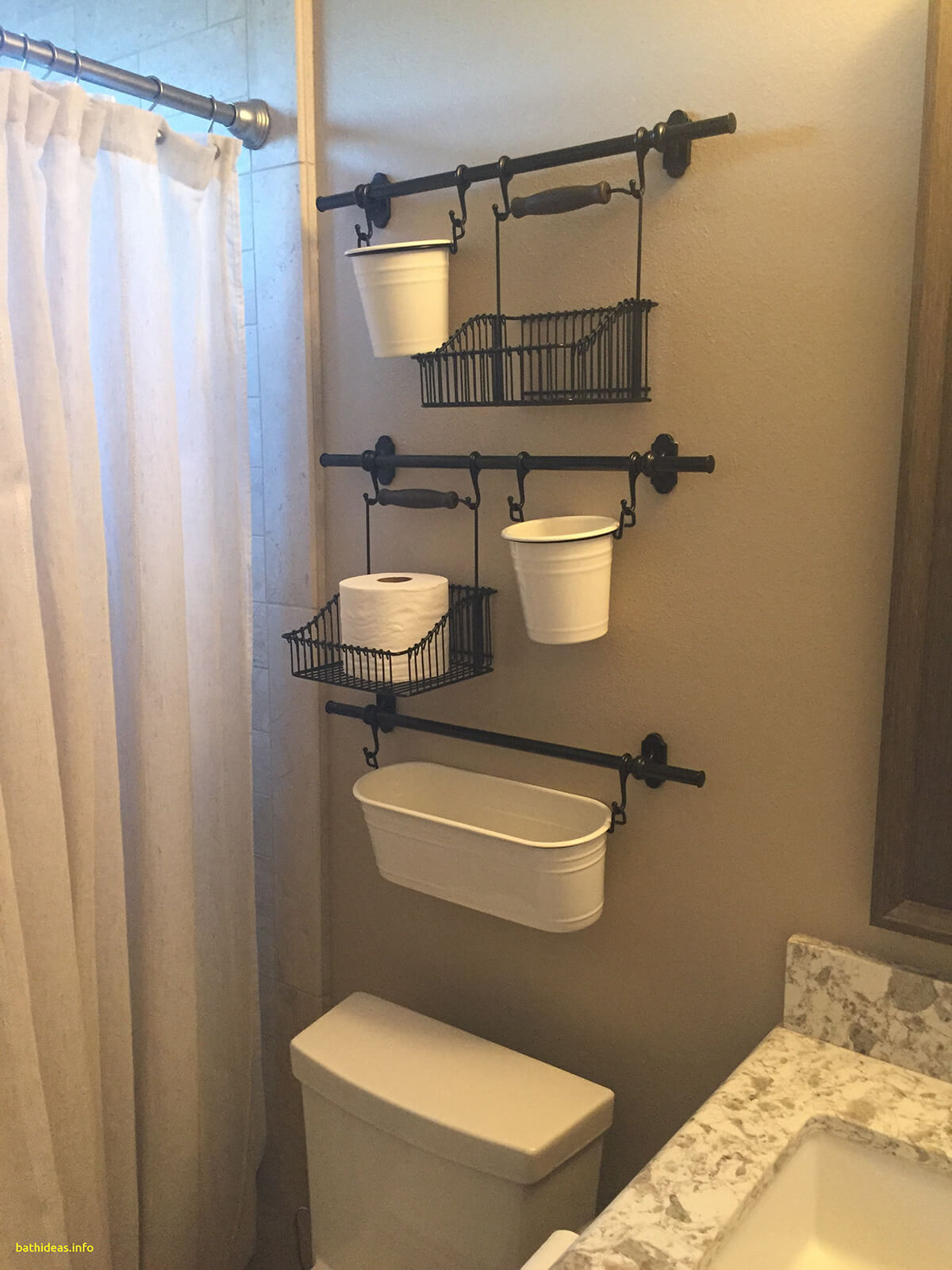 25. Coat Rack DIY Crochet Basket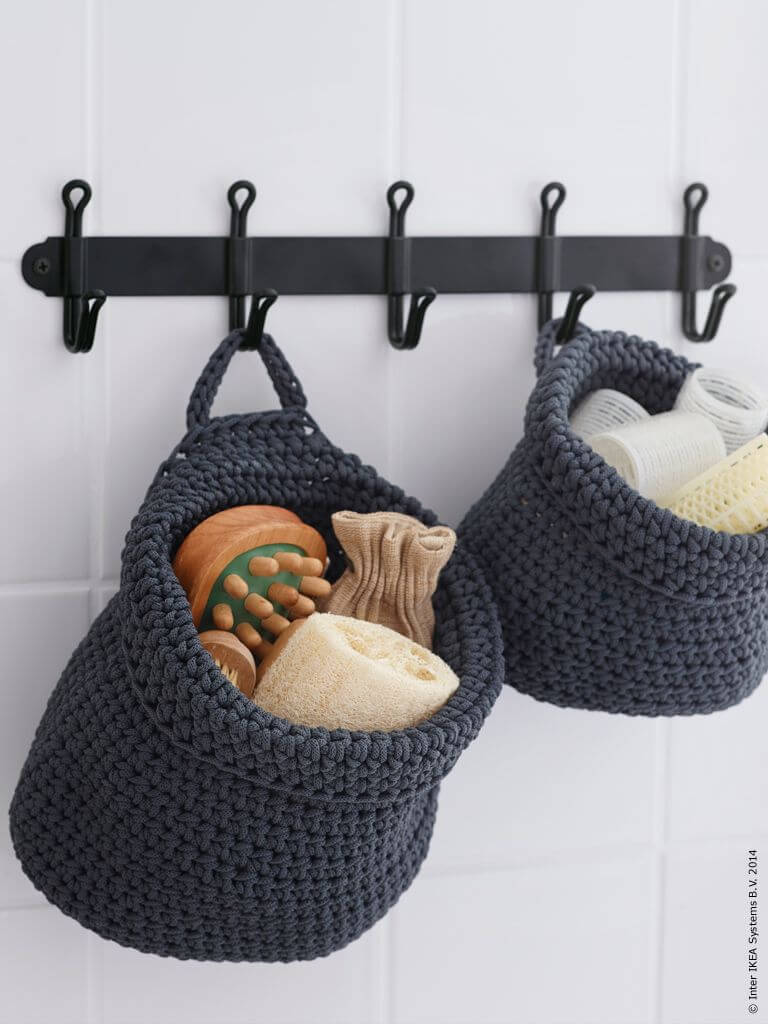 26. Cabinet Wire Basket Idea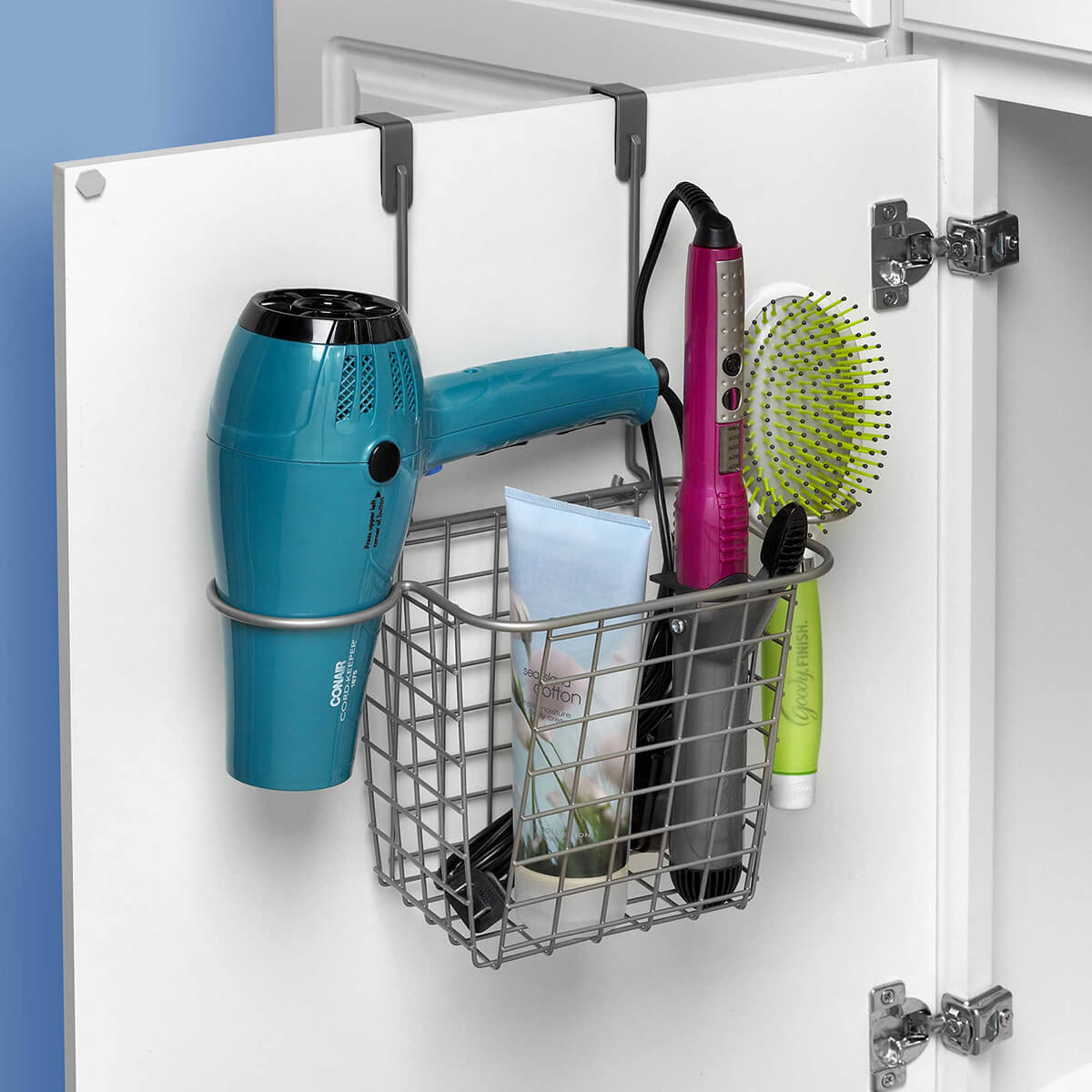 27. Pyramid Coat Rack Floating Towel Storage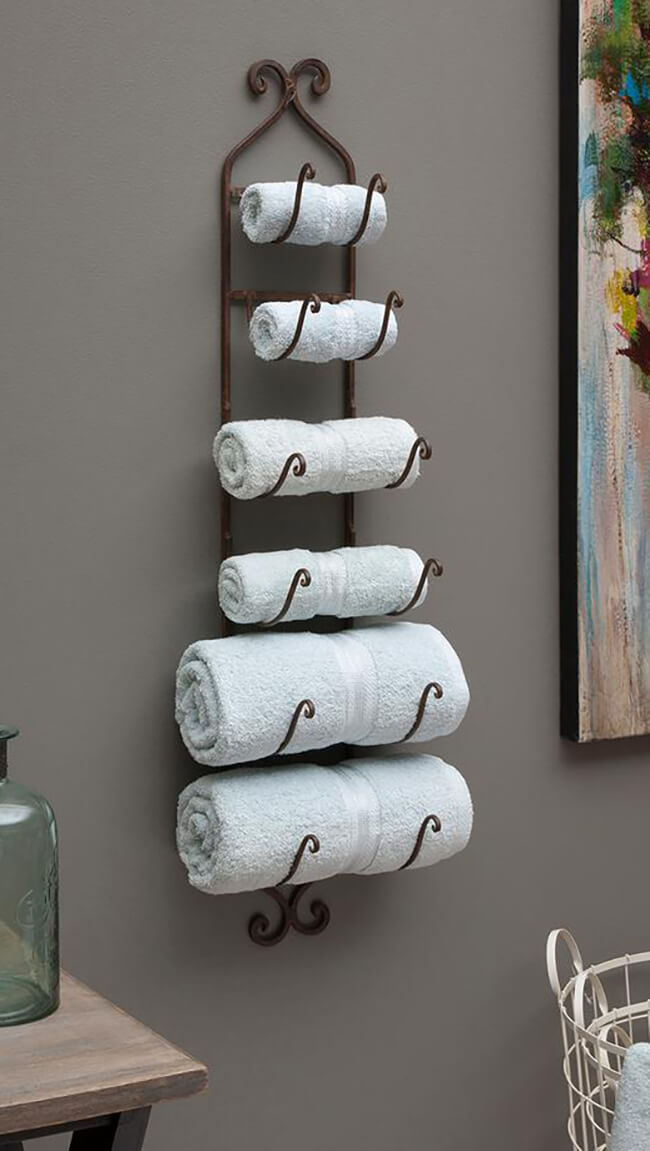 28. Woven Basket Closet Organization Idea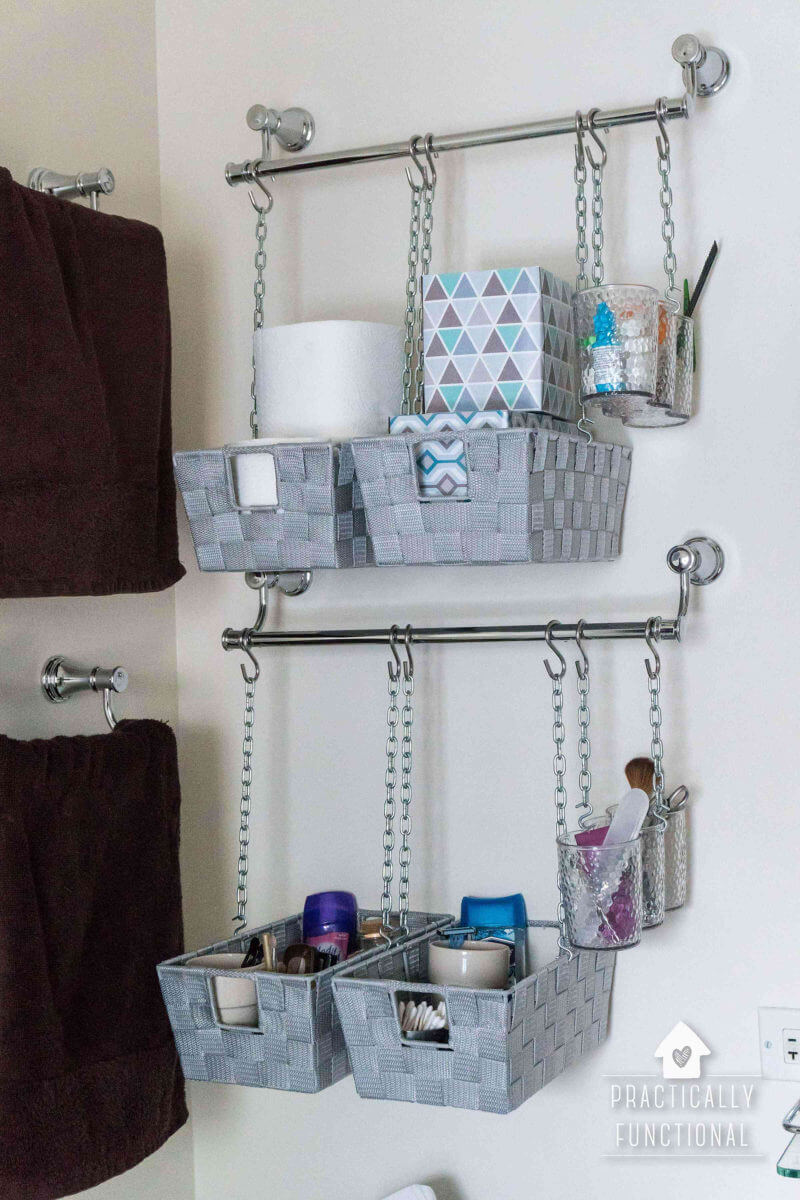 29. Bathroom Closet Swinging Buckets

30. Over the Door Closet Baskets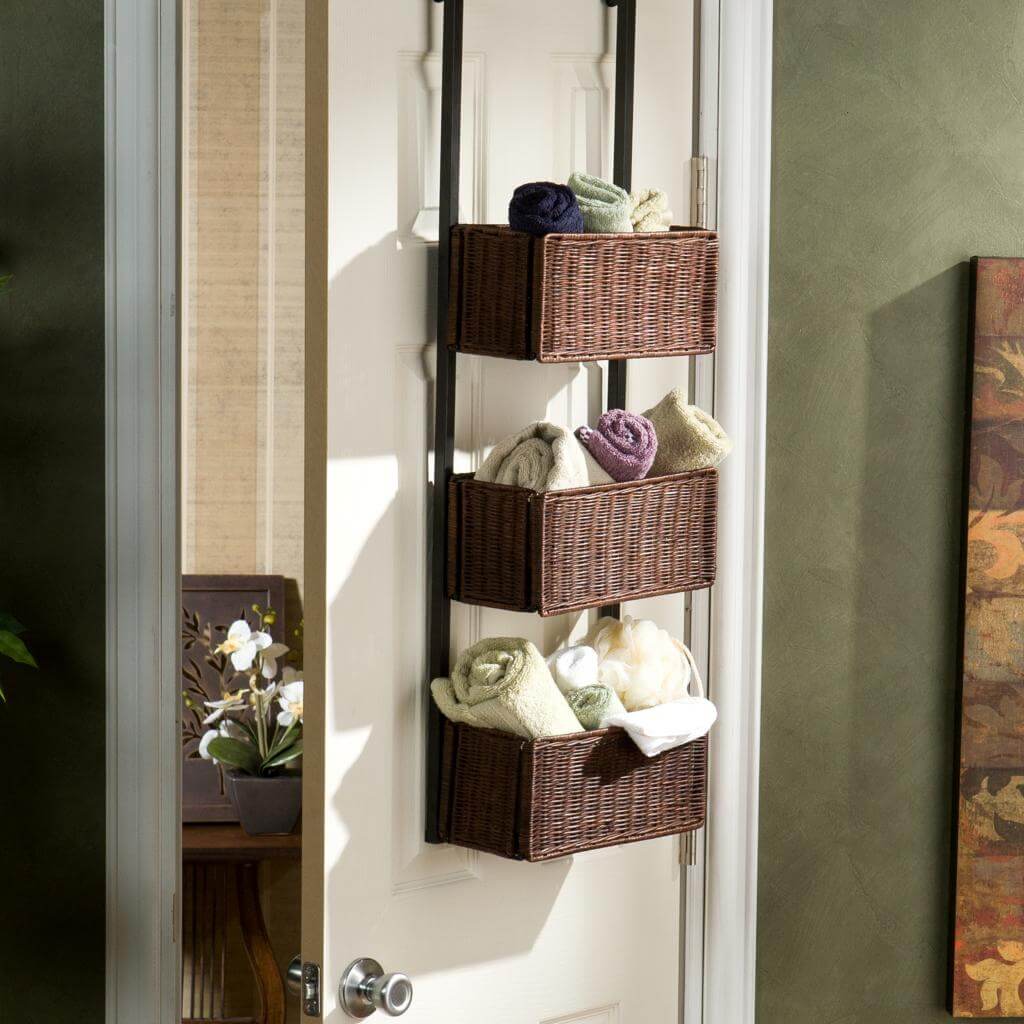 31. Wire Shower Space-Saving Idea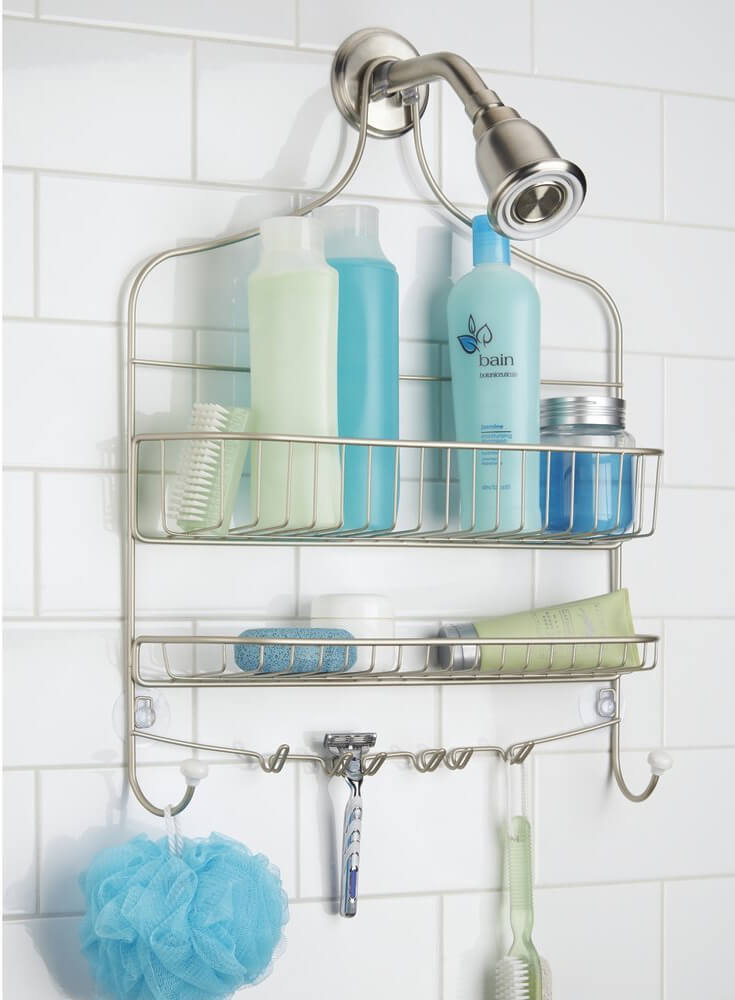 32. Corner Shower Wire Basket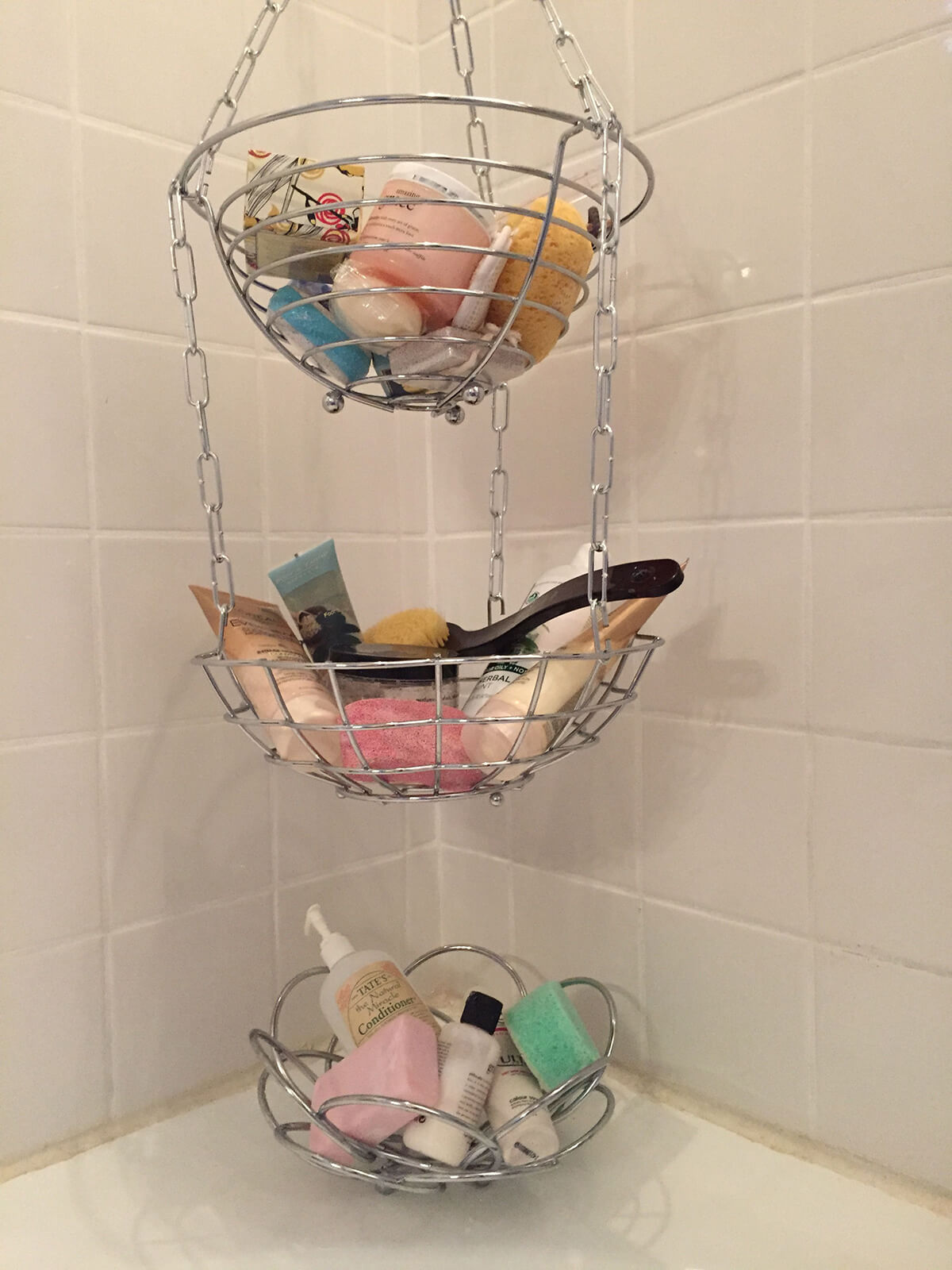 33. Floating Ladder Style DIY Towel Storage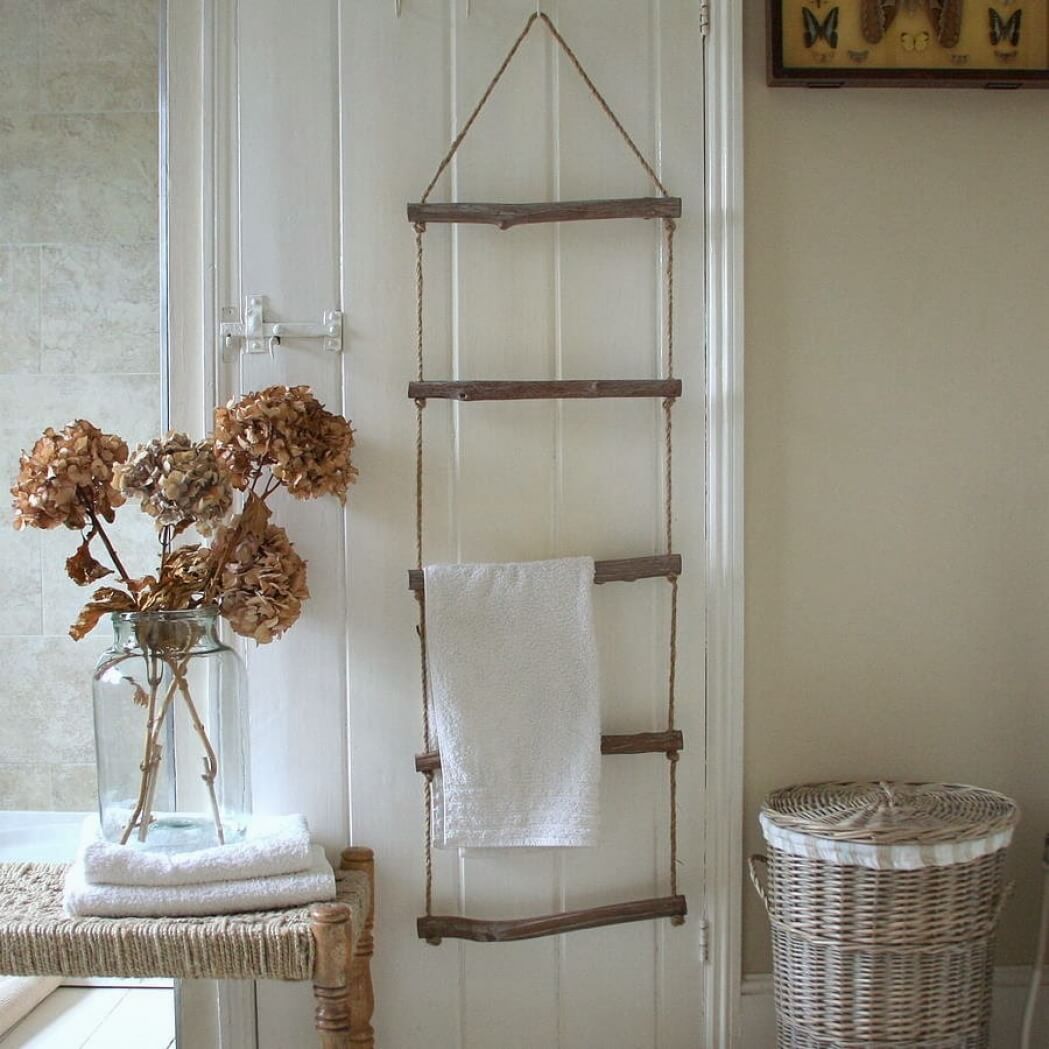 34. Curtain Rod Style Shower Organizing for Small Areas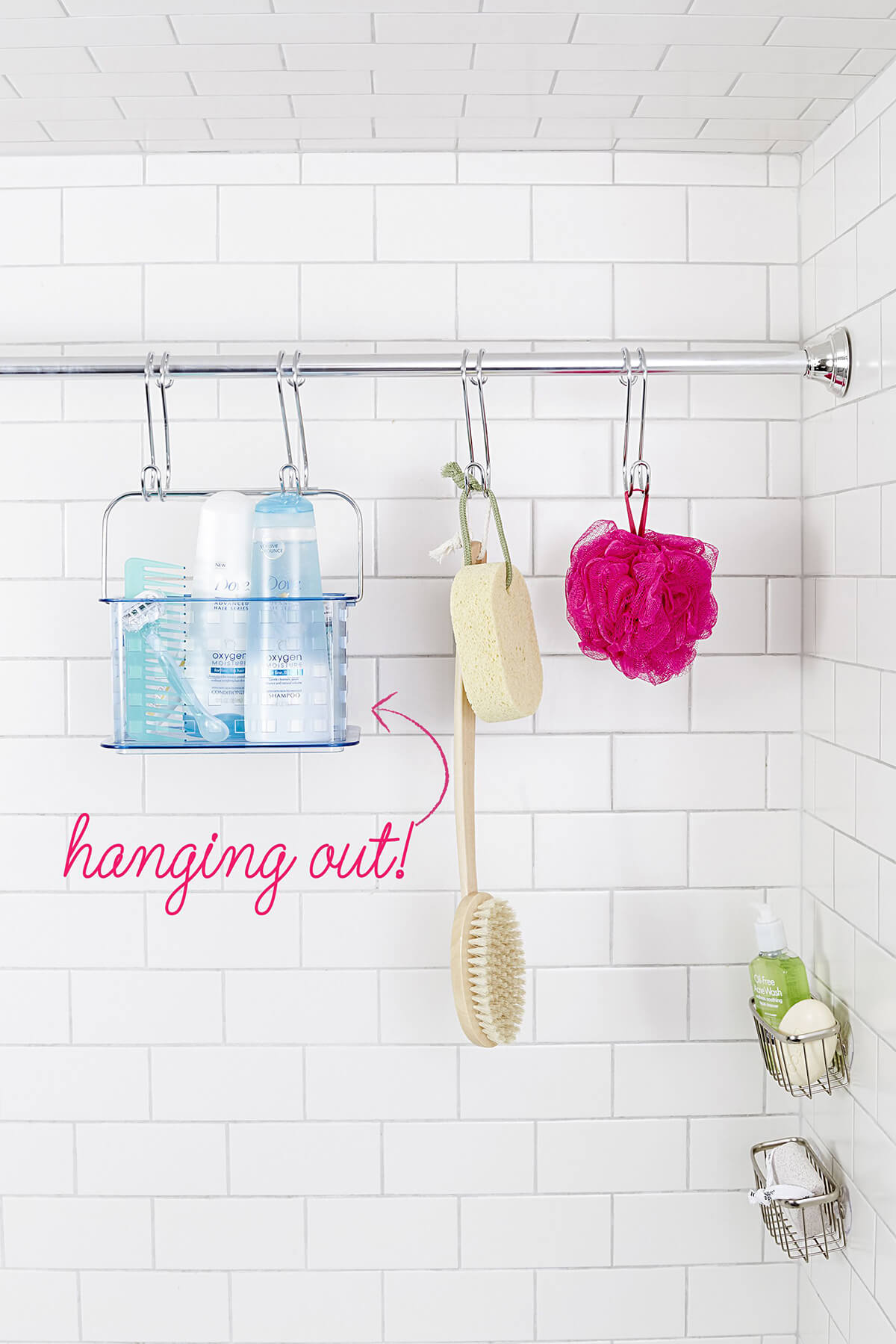 35. Simple DIY Pocket Storage for Tight Spaces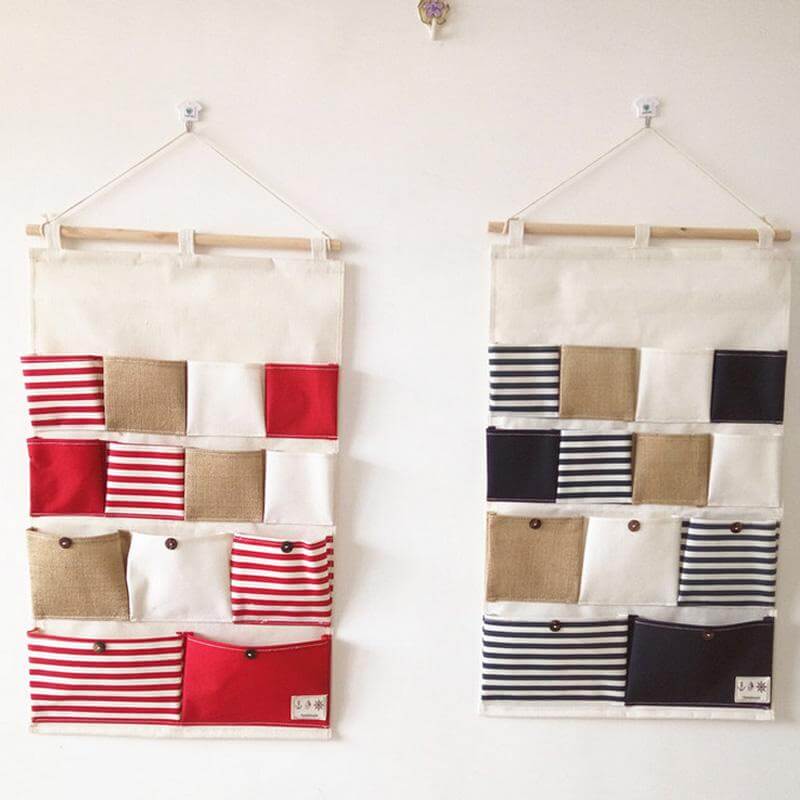 36. Rustic DIY Floating Ladder and Wire Basket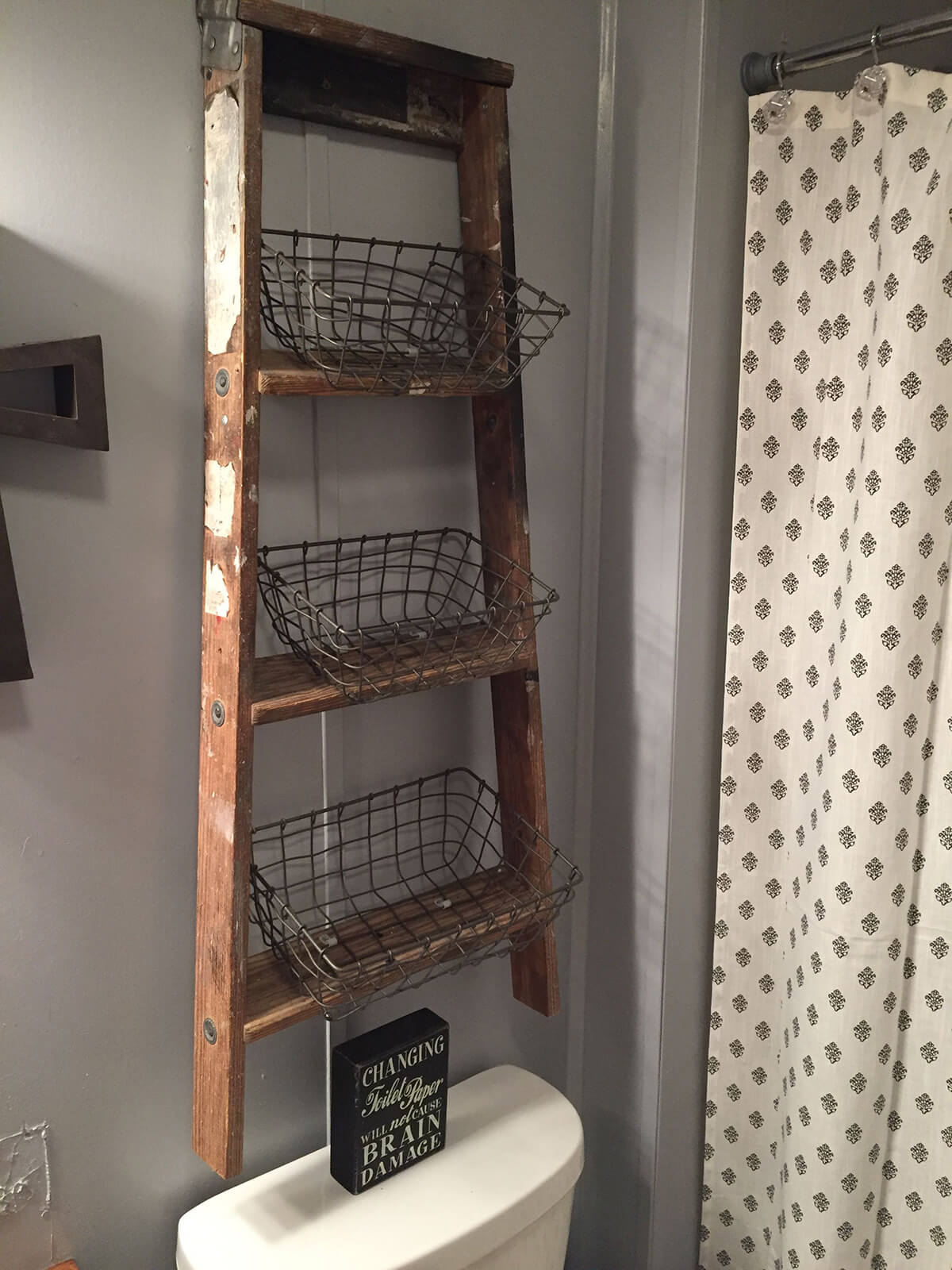 37. Wooden Planks Customizable Storage for Bathrooms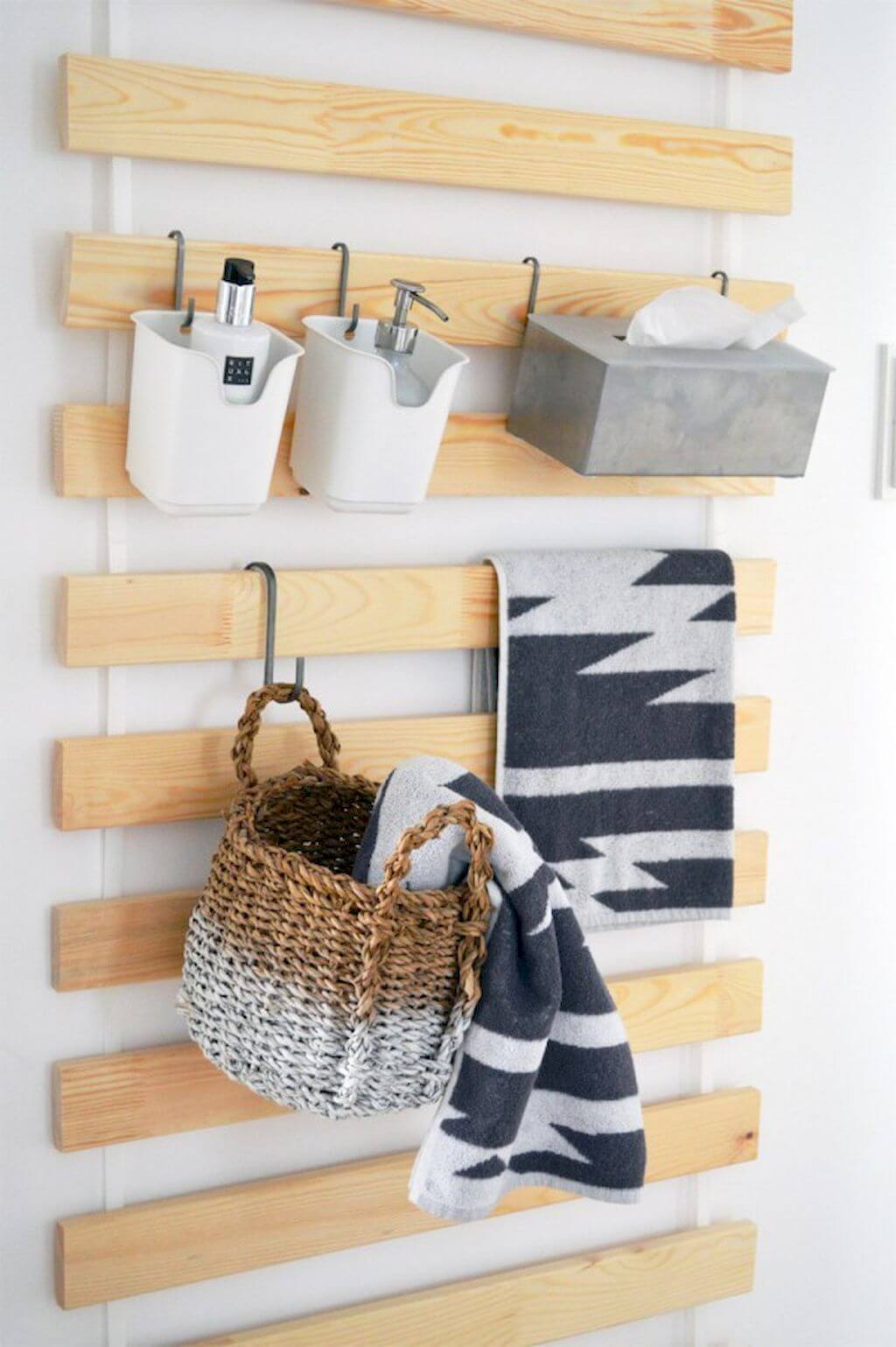 38. Plastic Basket and Suction Cup Shower Storage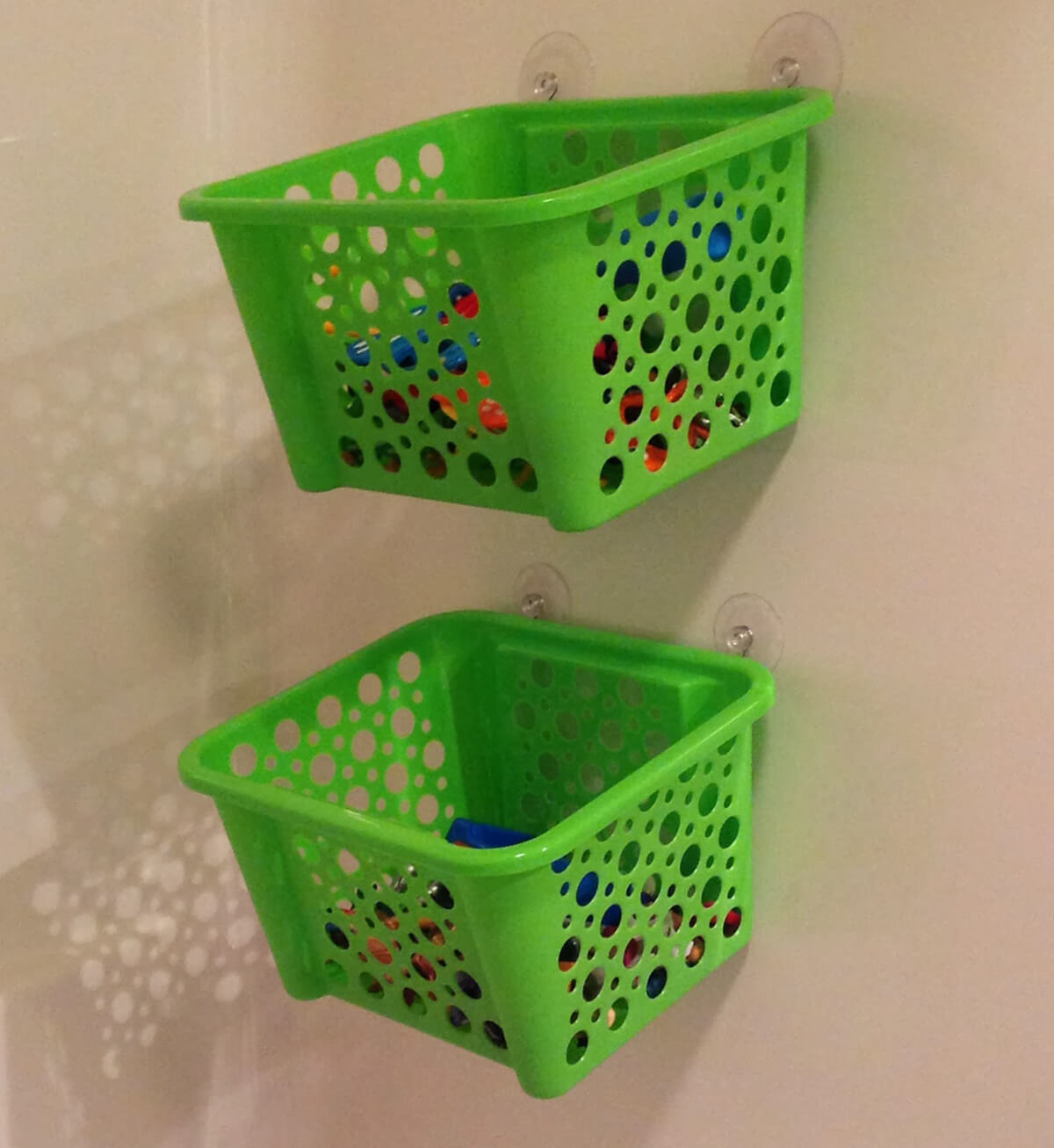 39. Plastic Bath Caddy for Small Showers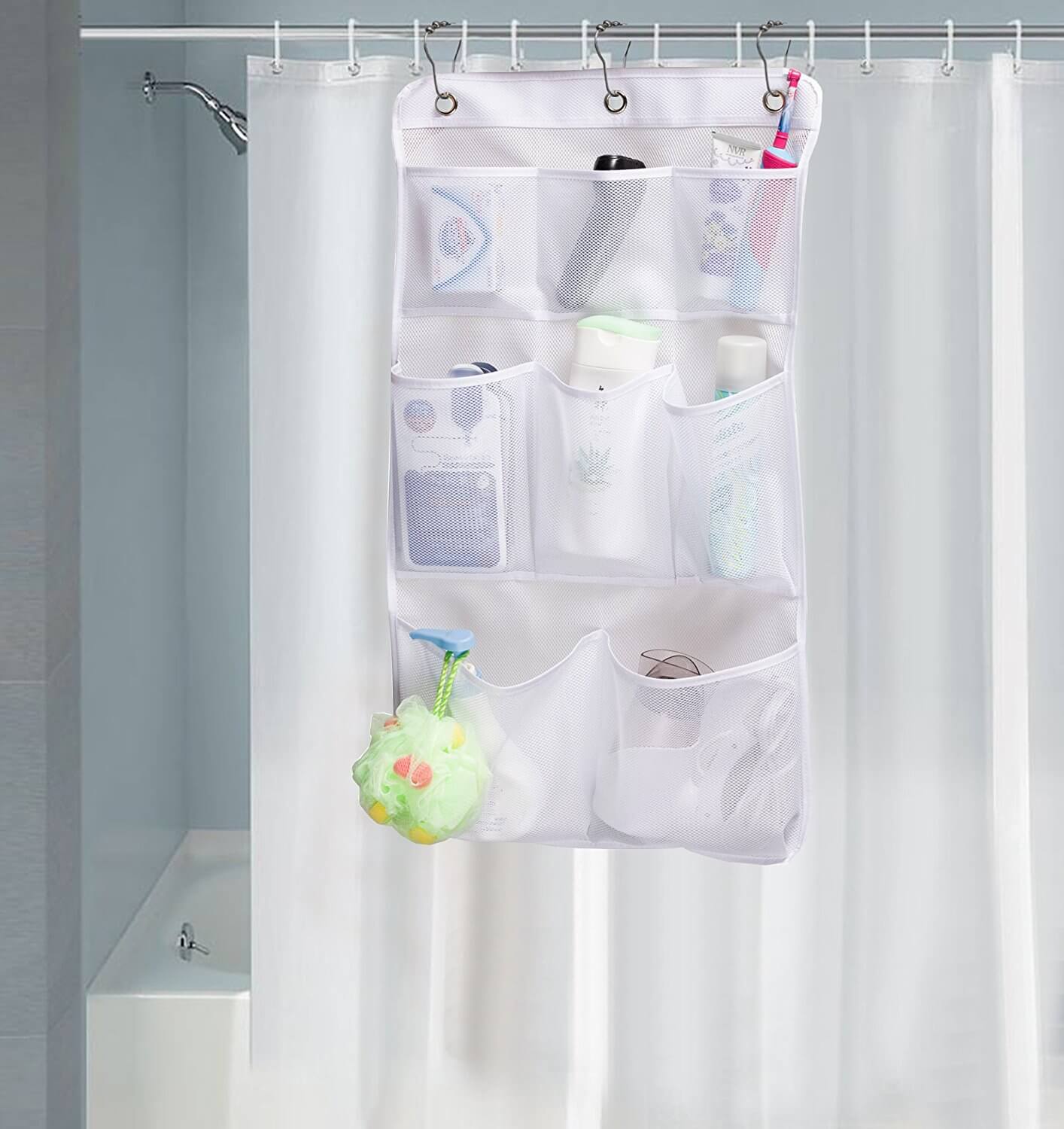 40. Simple Floating Storage Shelf for Small Spaces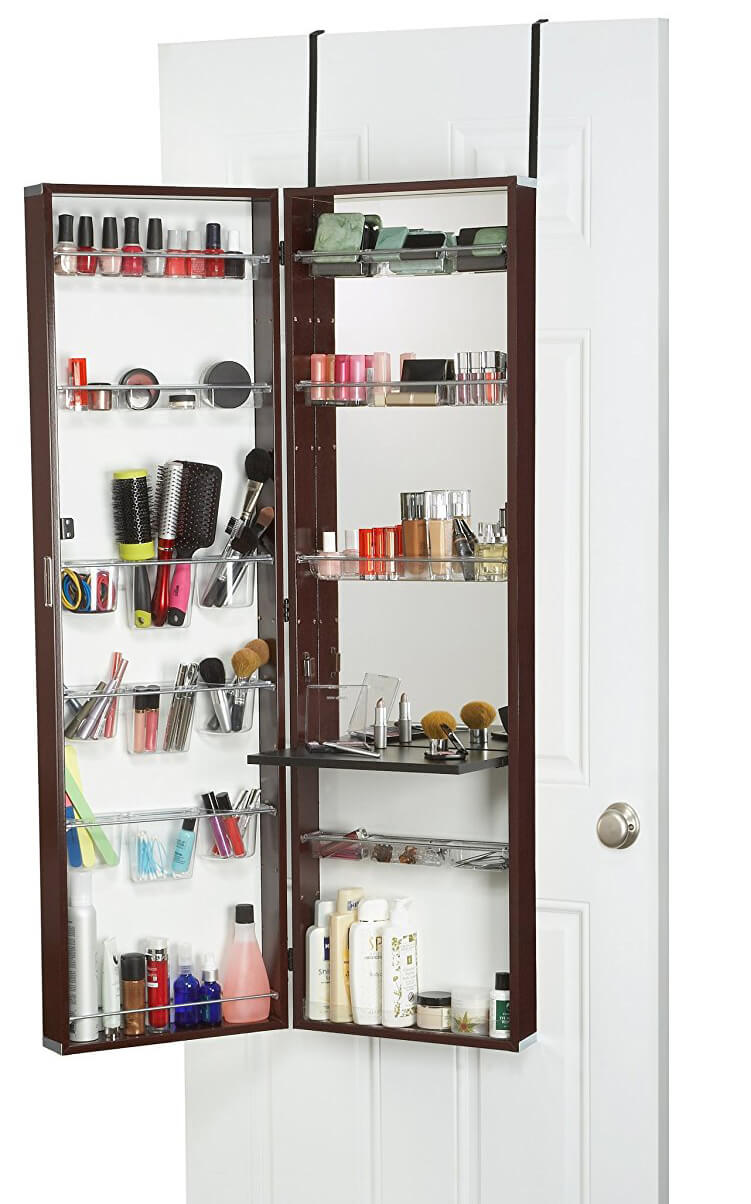 41. DIY Shower Rod Basket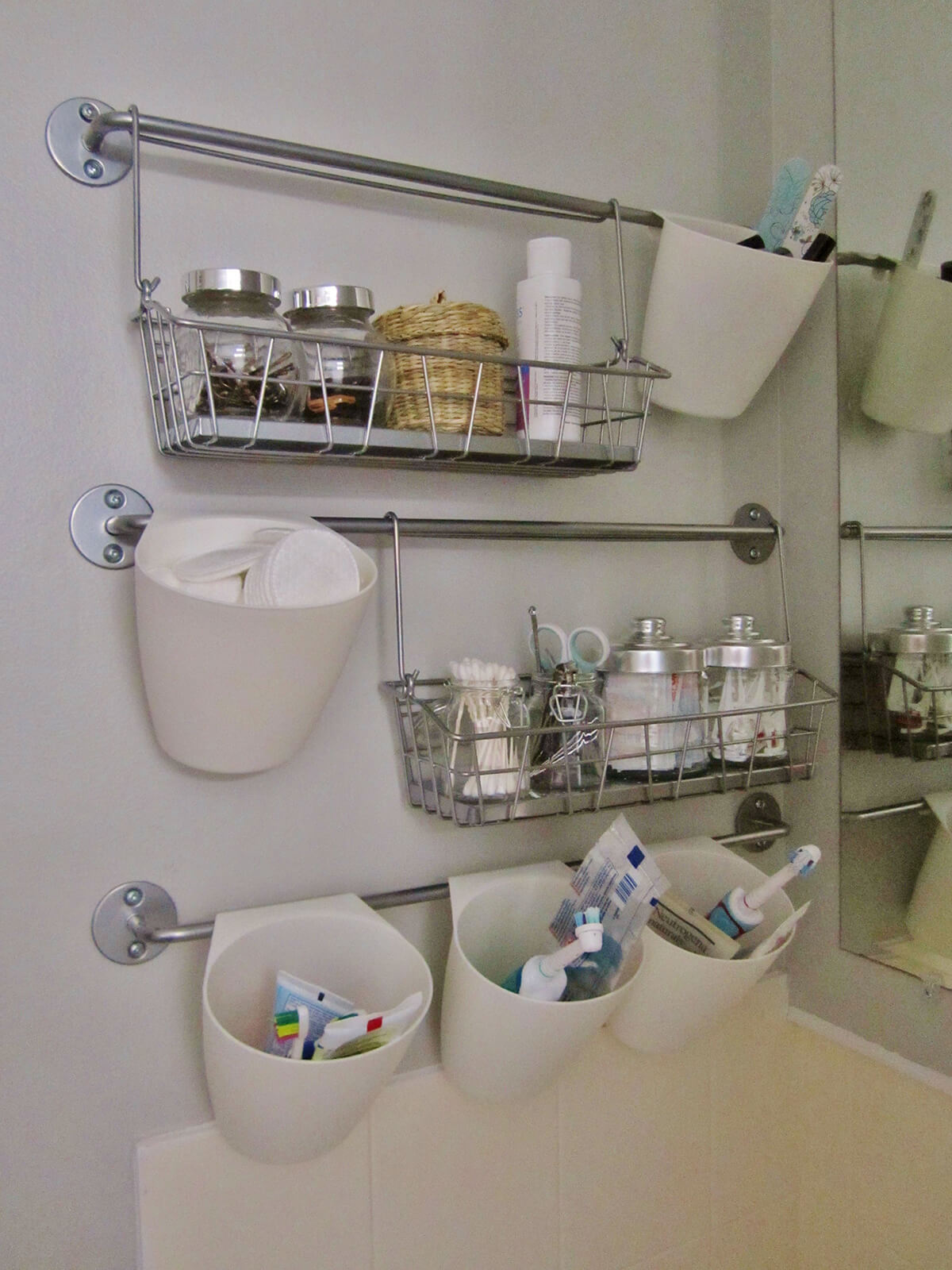 42. Two-Tiered Floating Shelf Storage Option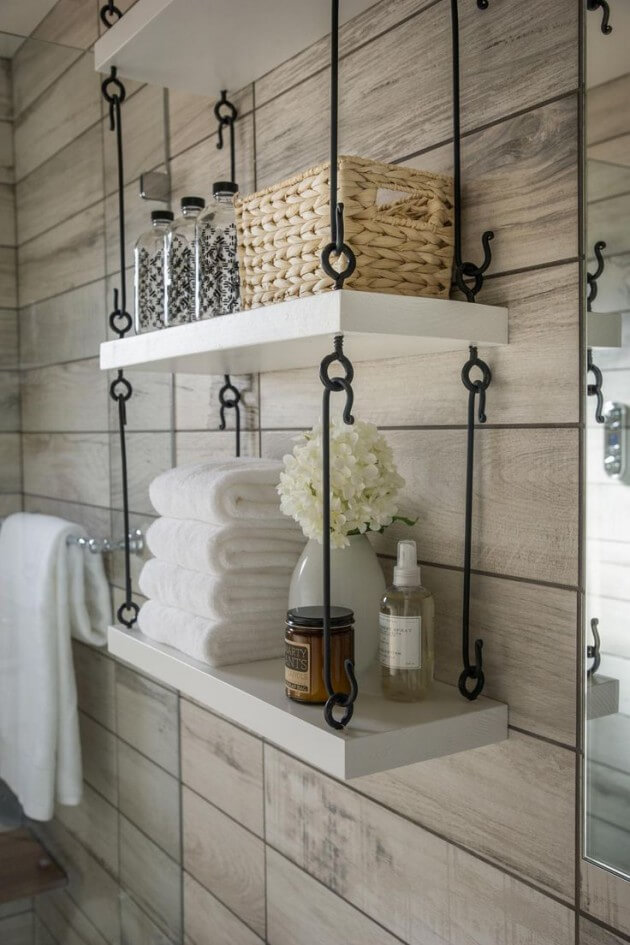 43. Wooden Ladder Floating Storage with Wire Baskets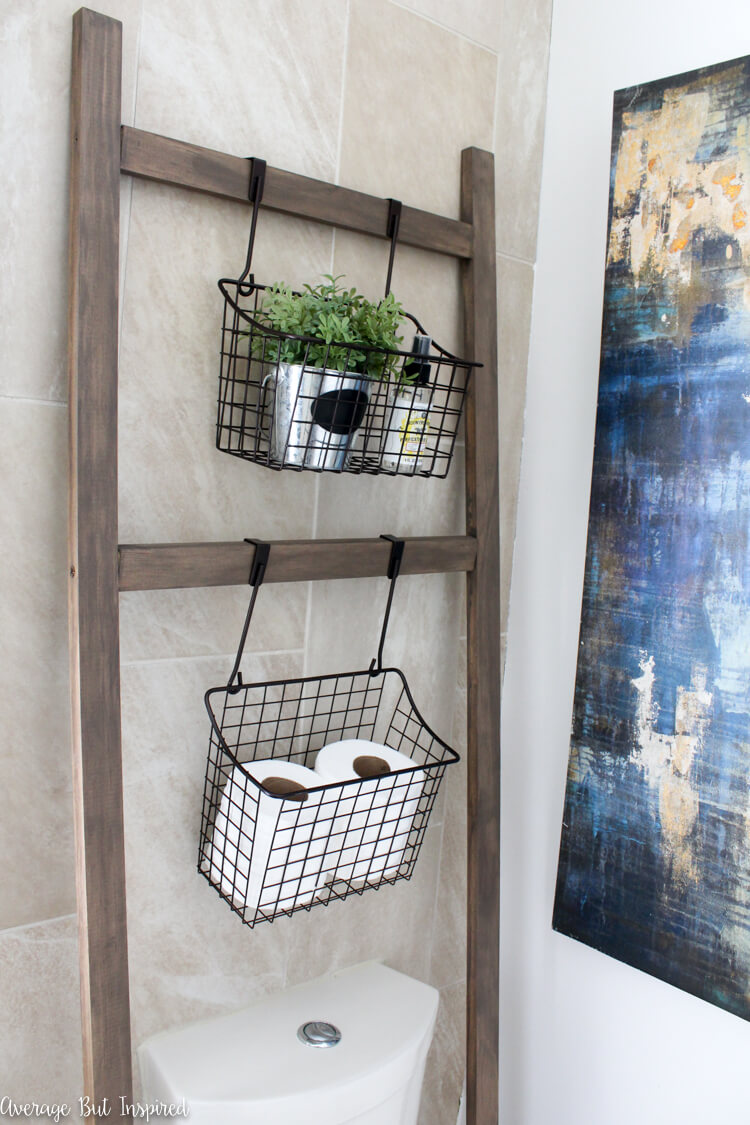 44. Curtain Rod DIY Hanging Bathroom Idea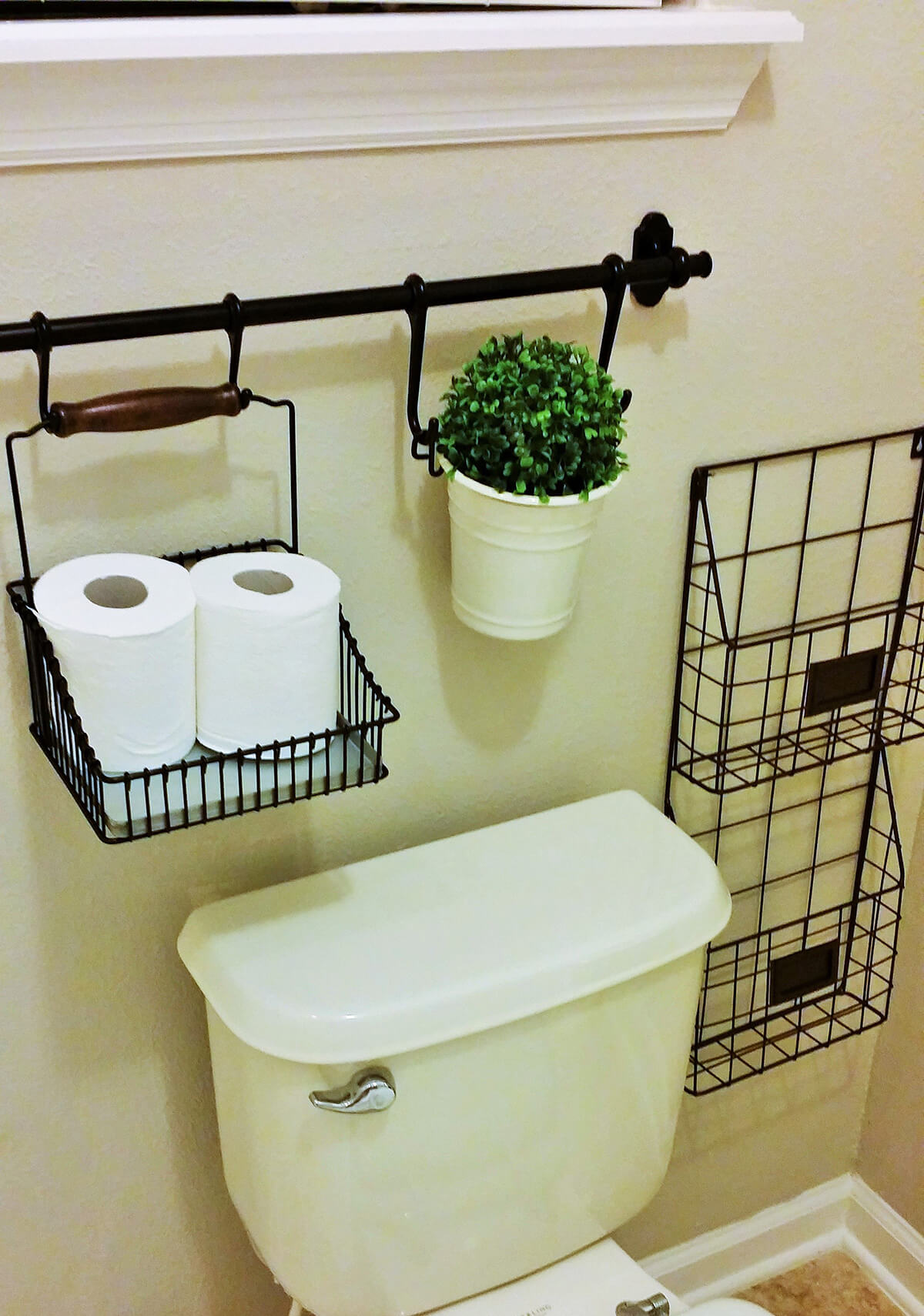 45. Wicker Basket Organization Idea for Small Spaces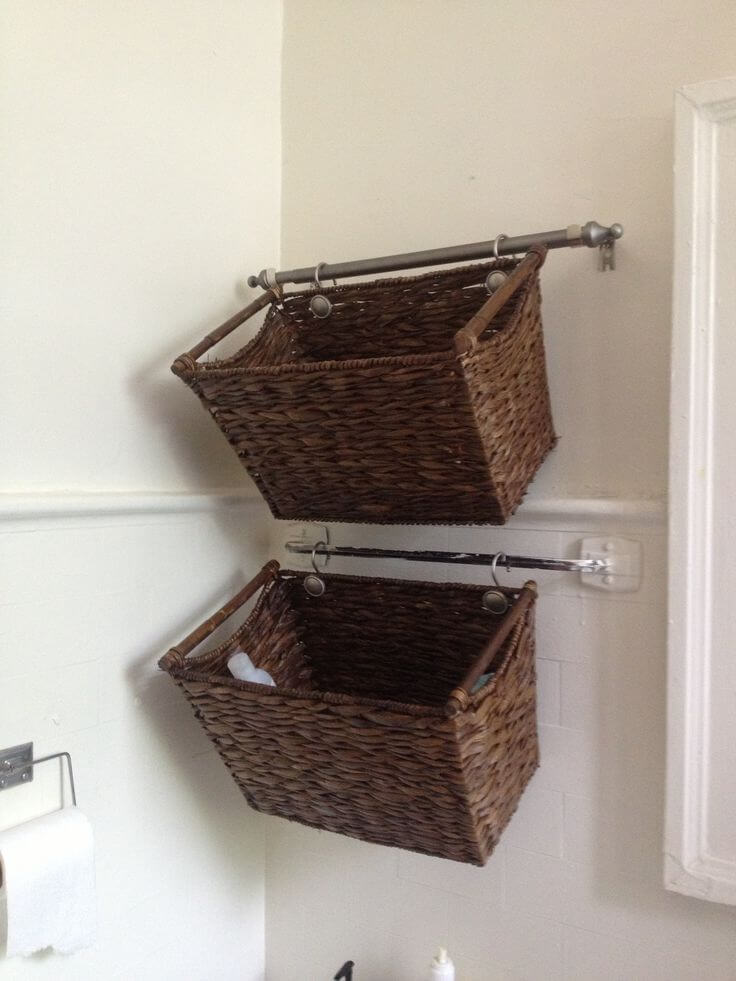 46. Tiered Towel Swinging Storage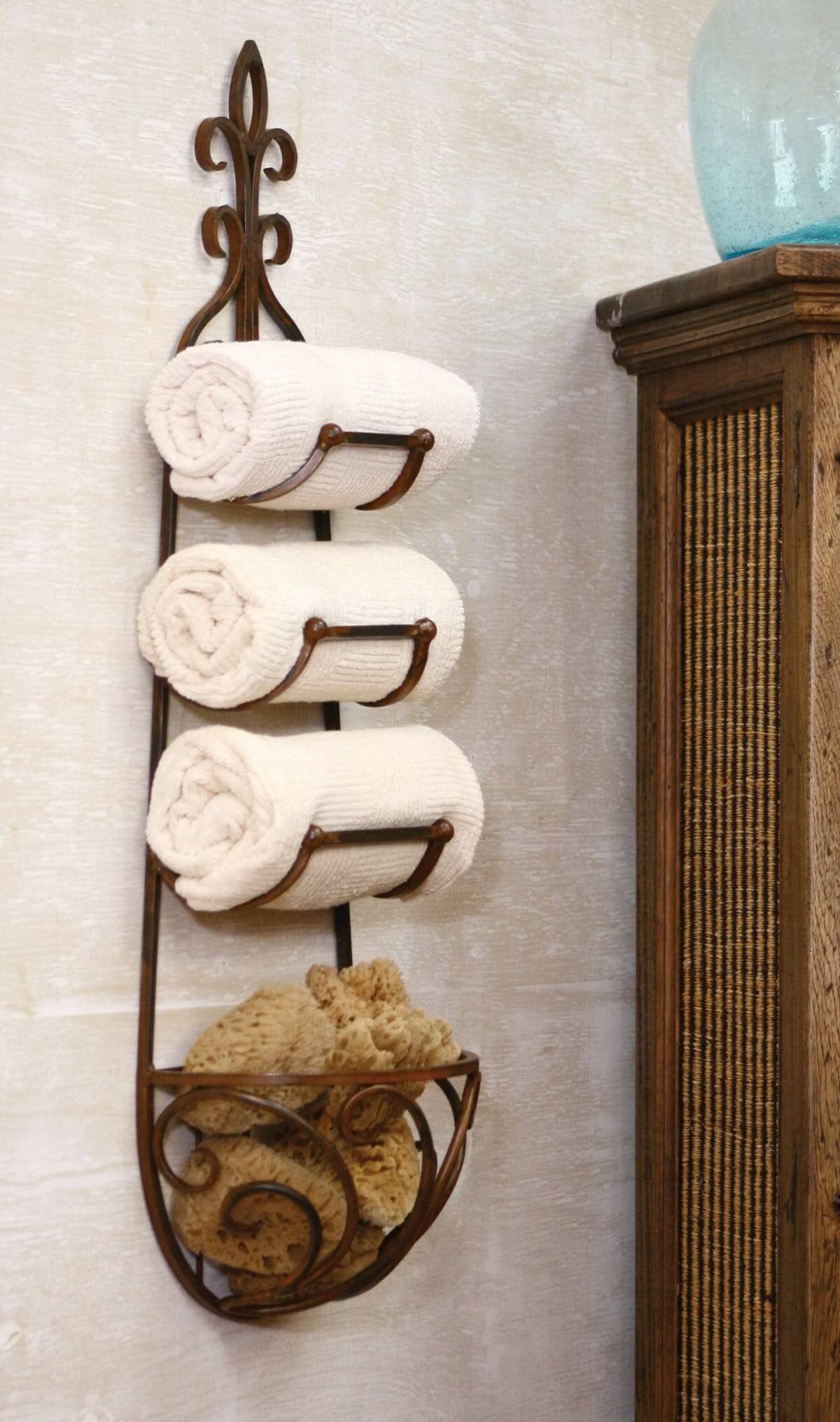 47. Floating Shelf Over the Toilet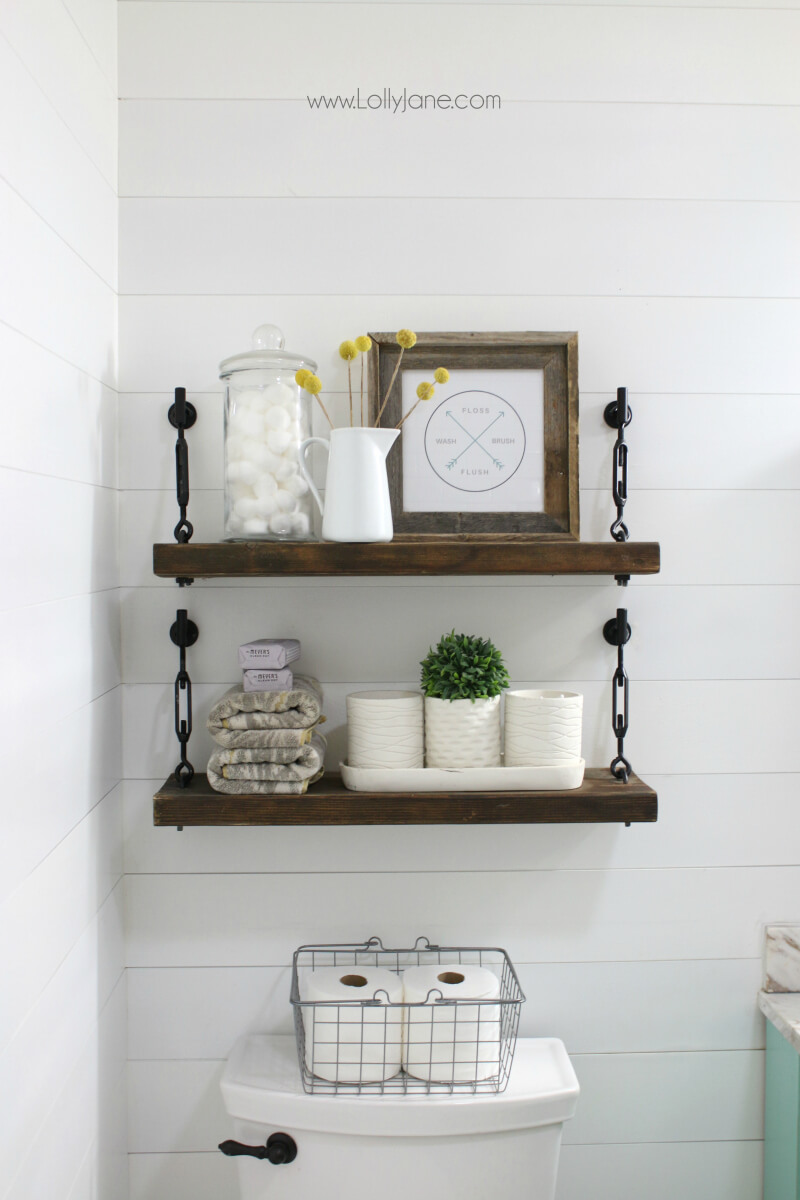 48. Metal Clip and Rod Shower Idea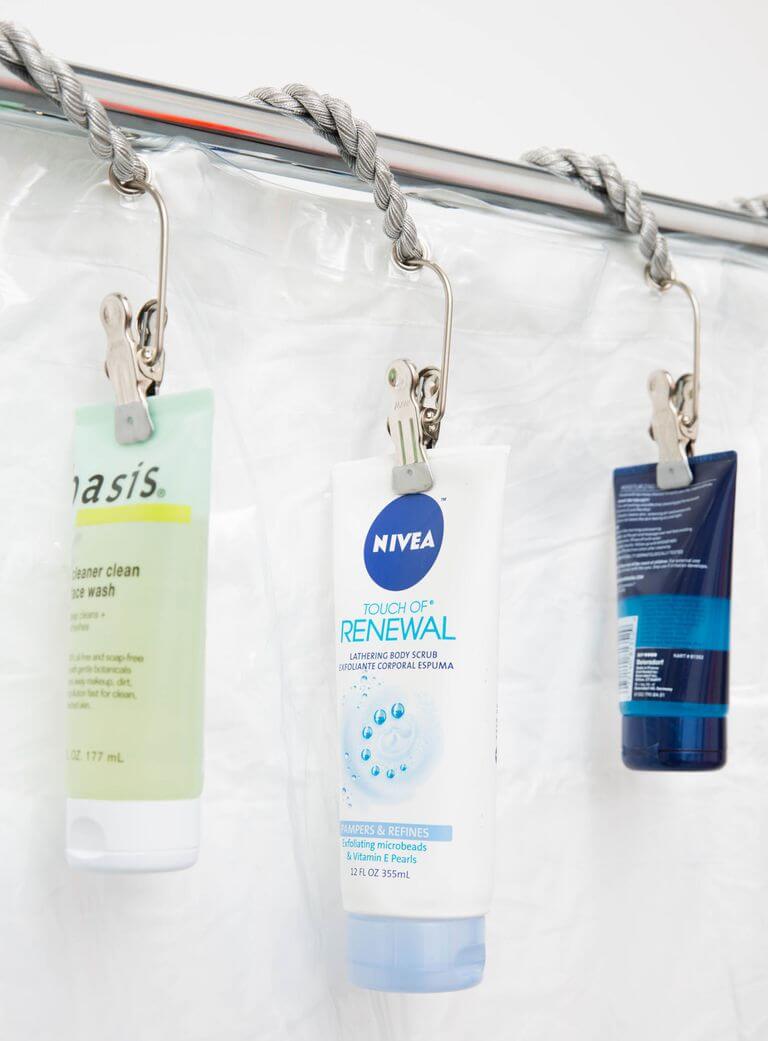 49. Coat Rack and Crochet Basket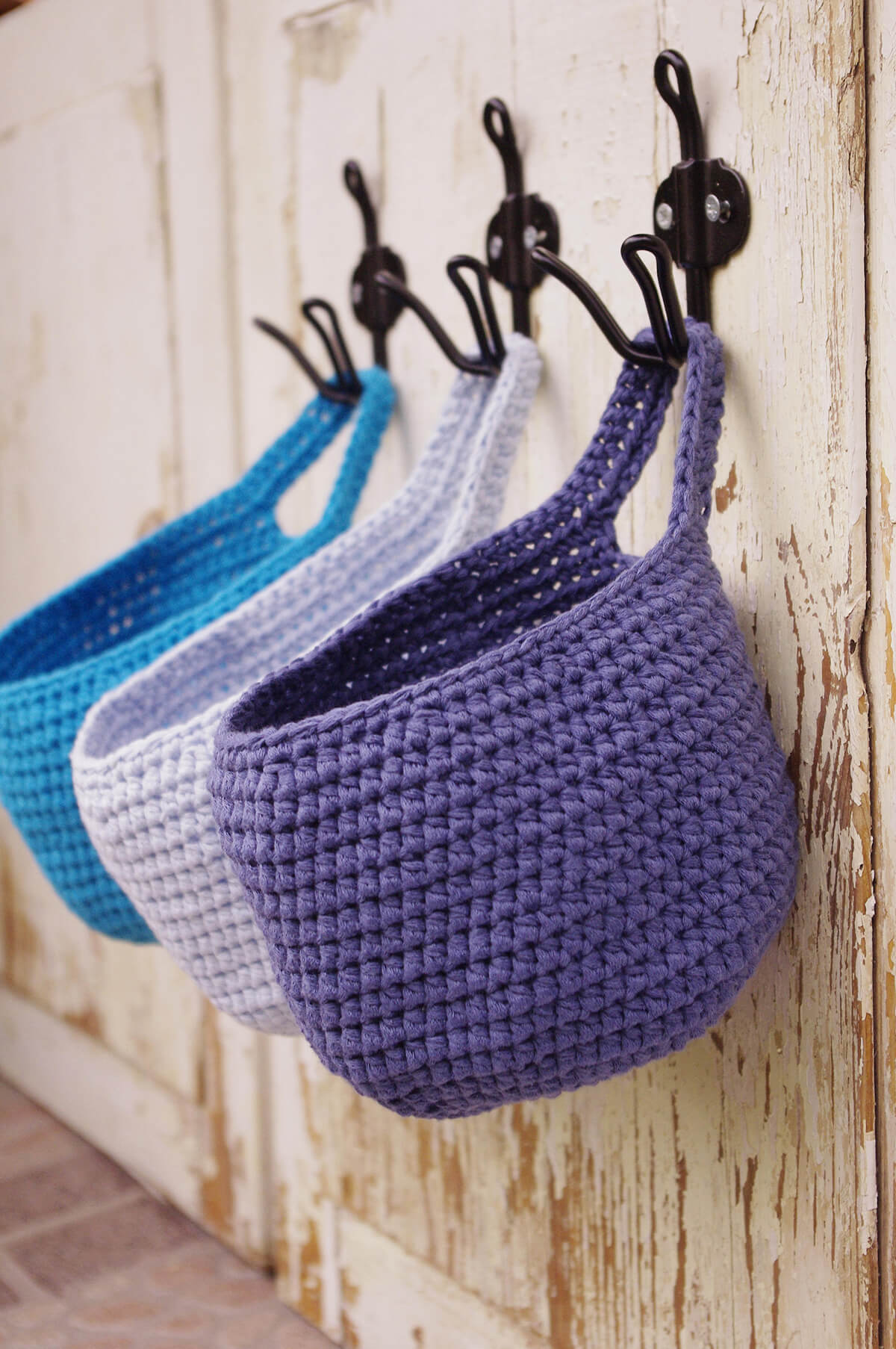 50. Wooden Plank and Metal Ring with Glass Jars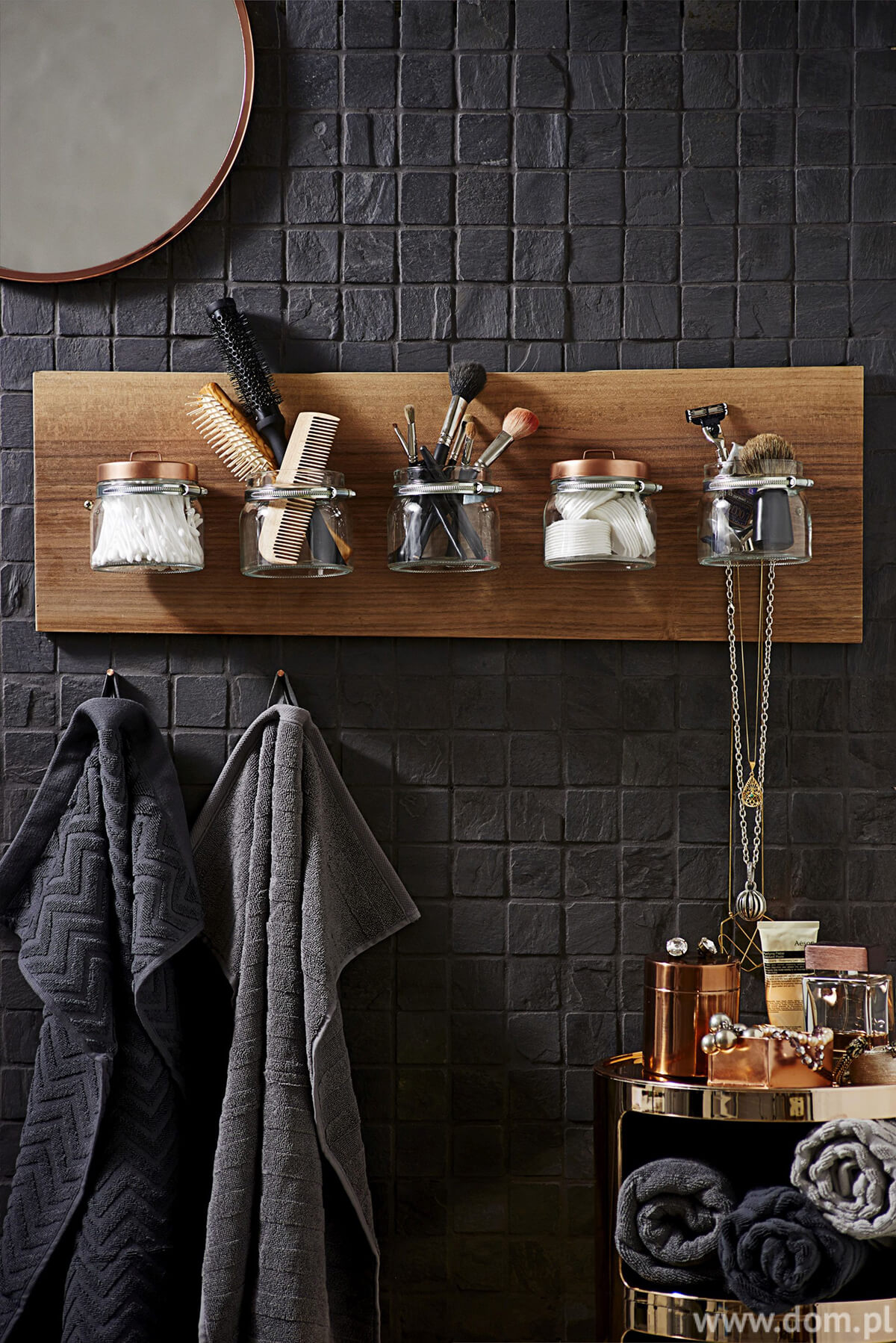 51. Metal Oval and Hook Swinging Idea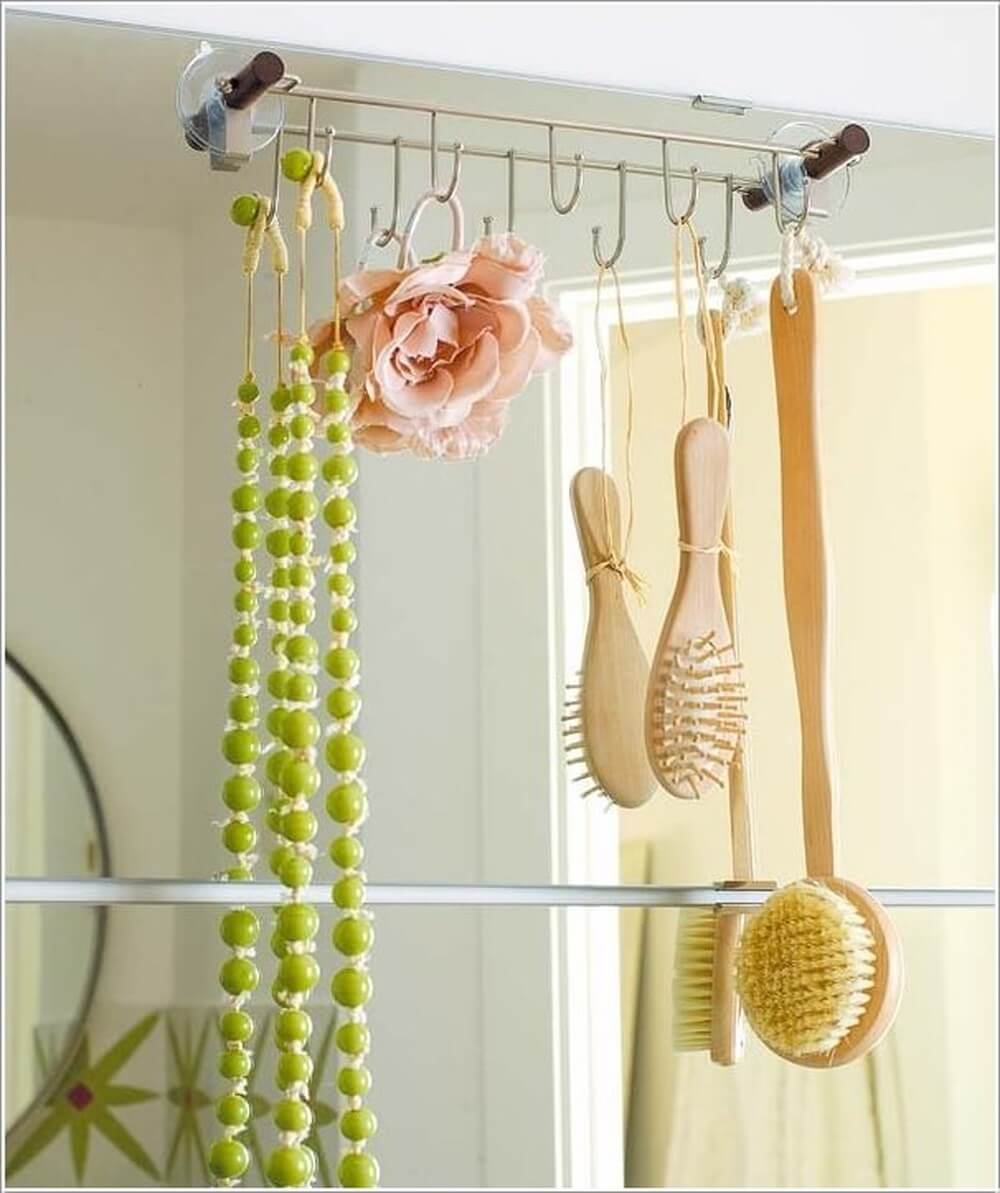 52. Circle Frame with Shelf Wall Hanging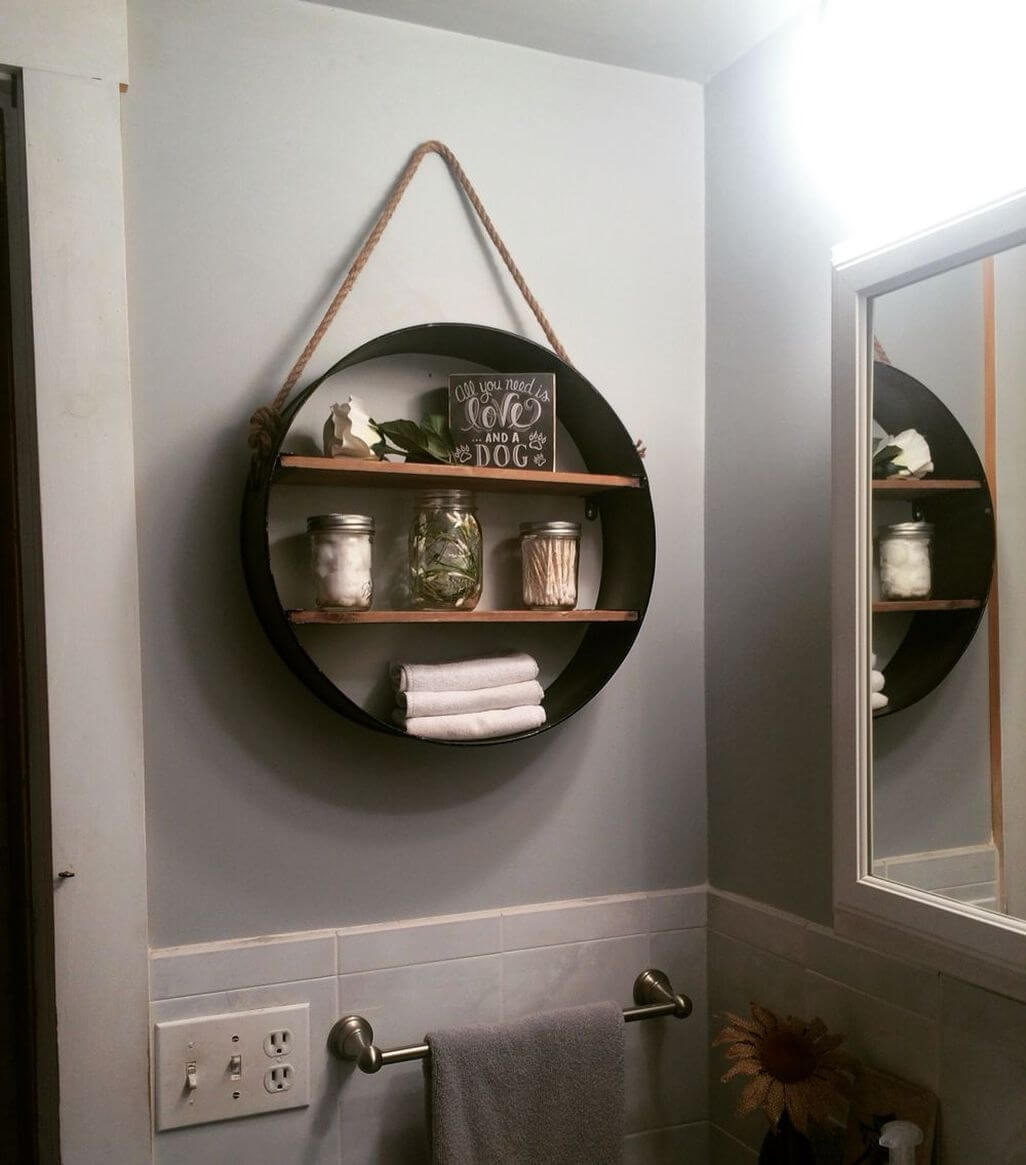 53. White Floating Shelves with Twine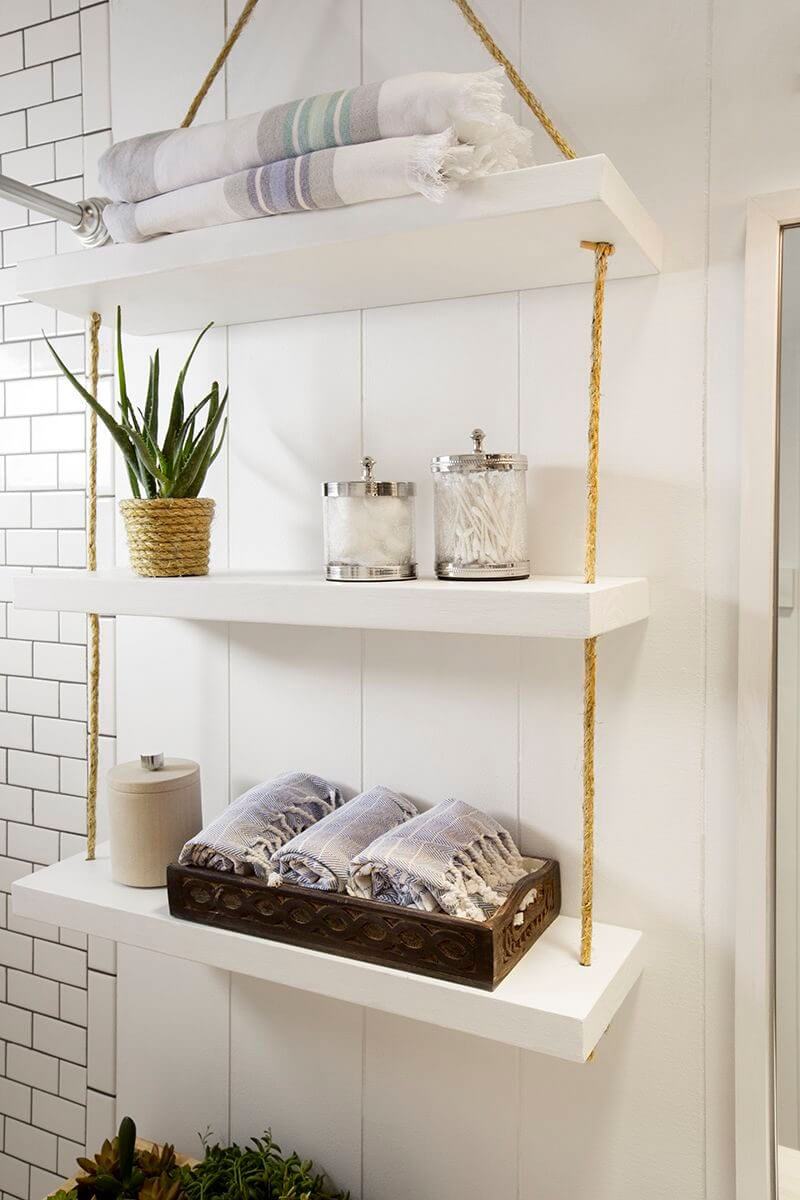 54. Curtain Rod and Wicker Basket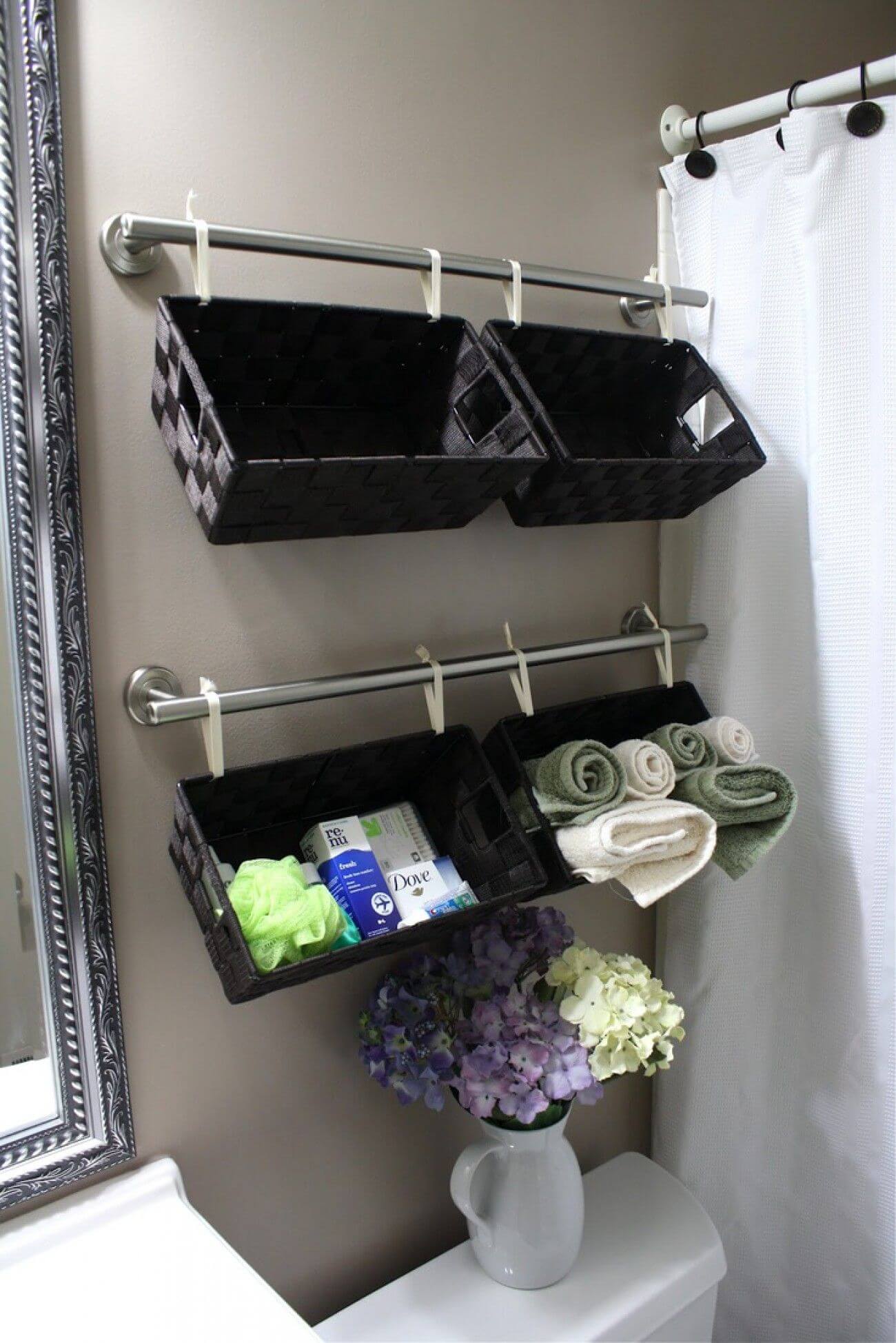 55. DIY Wire Basket on the Wall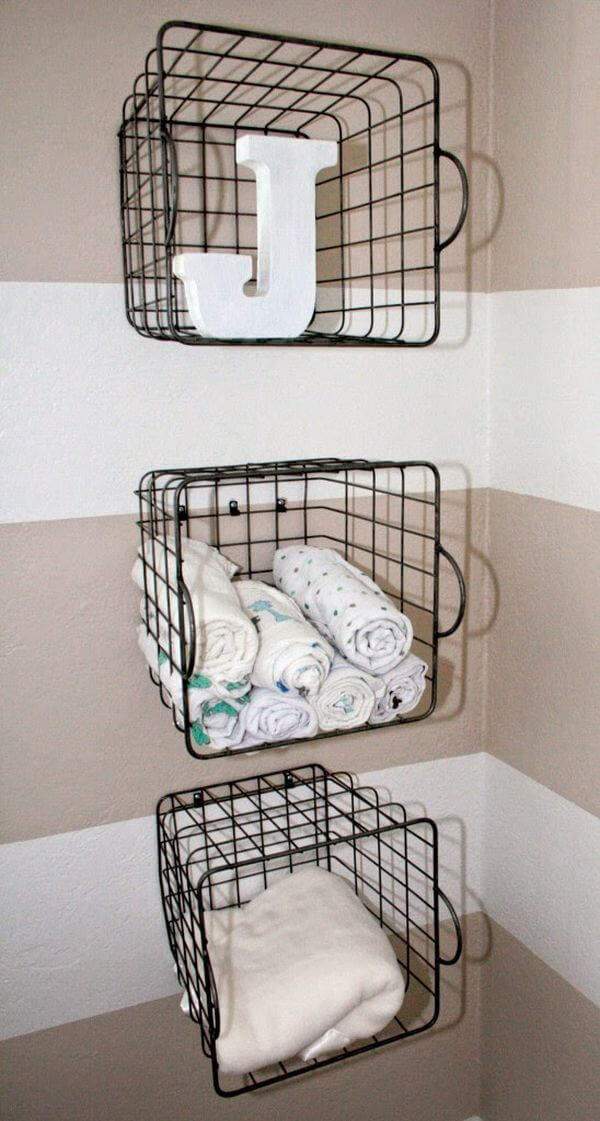 56. Hanging Shelves for Small Bathroom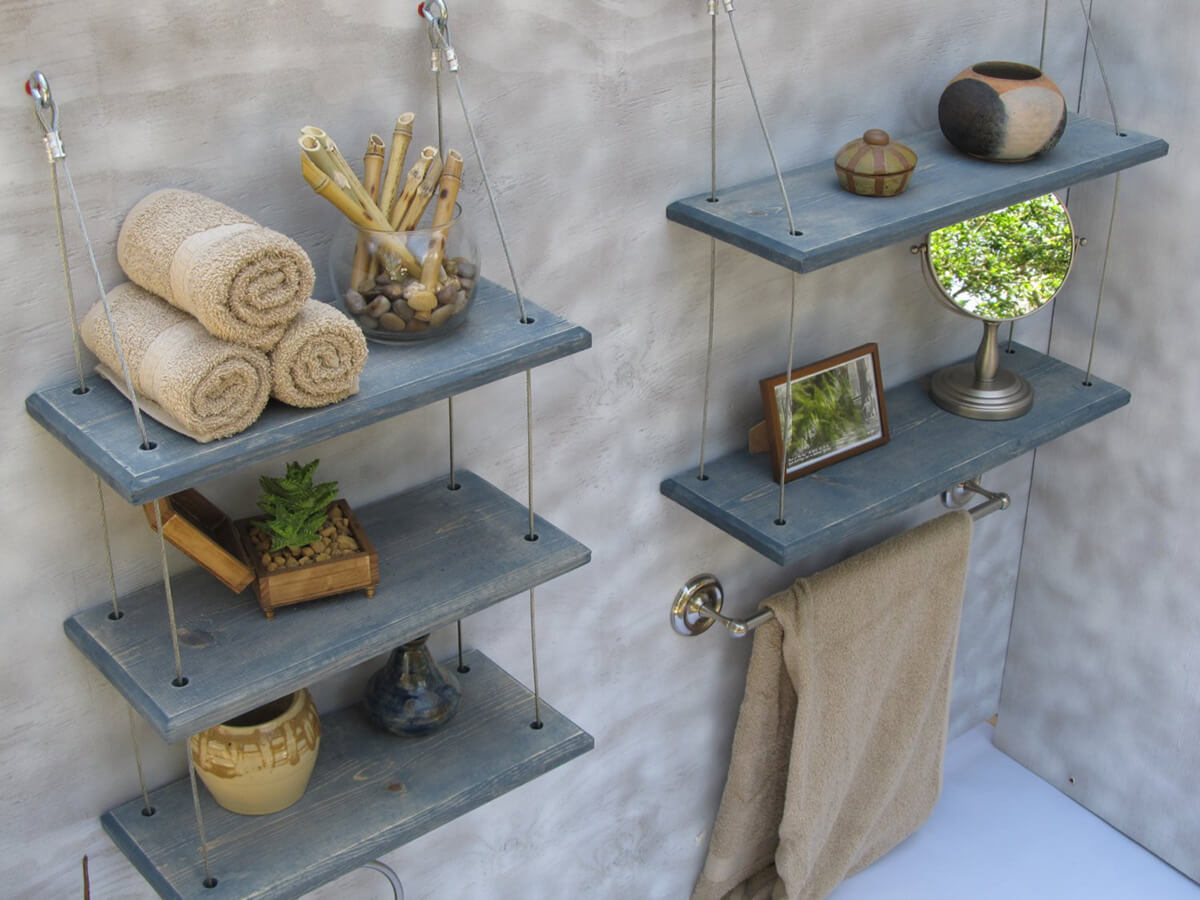 57. Simple Enclosed Shelf for Tiny Bathrooms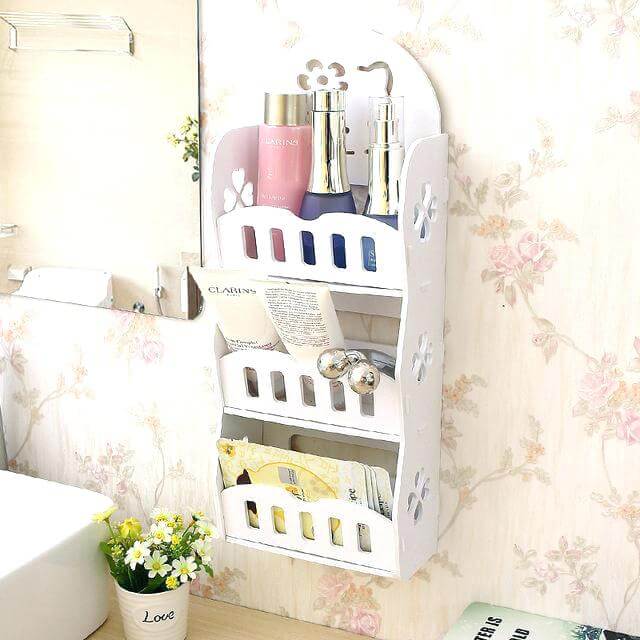 58. Customizable Curtain Rod DIY Storage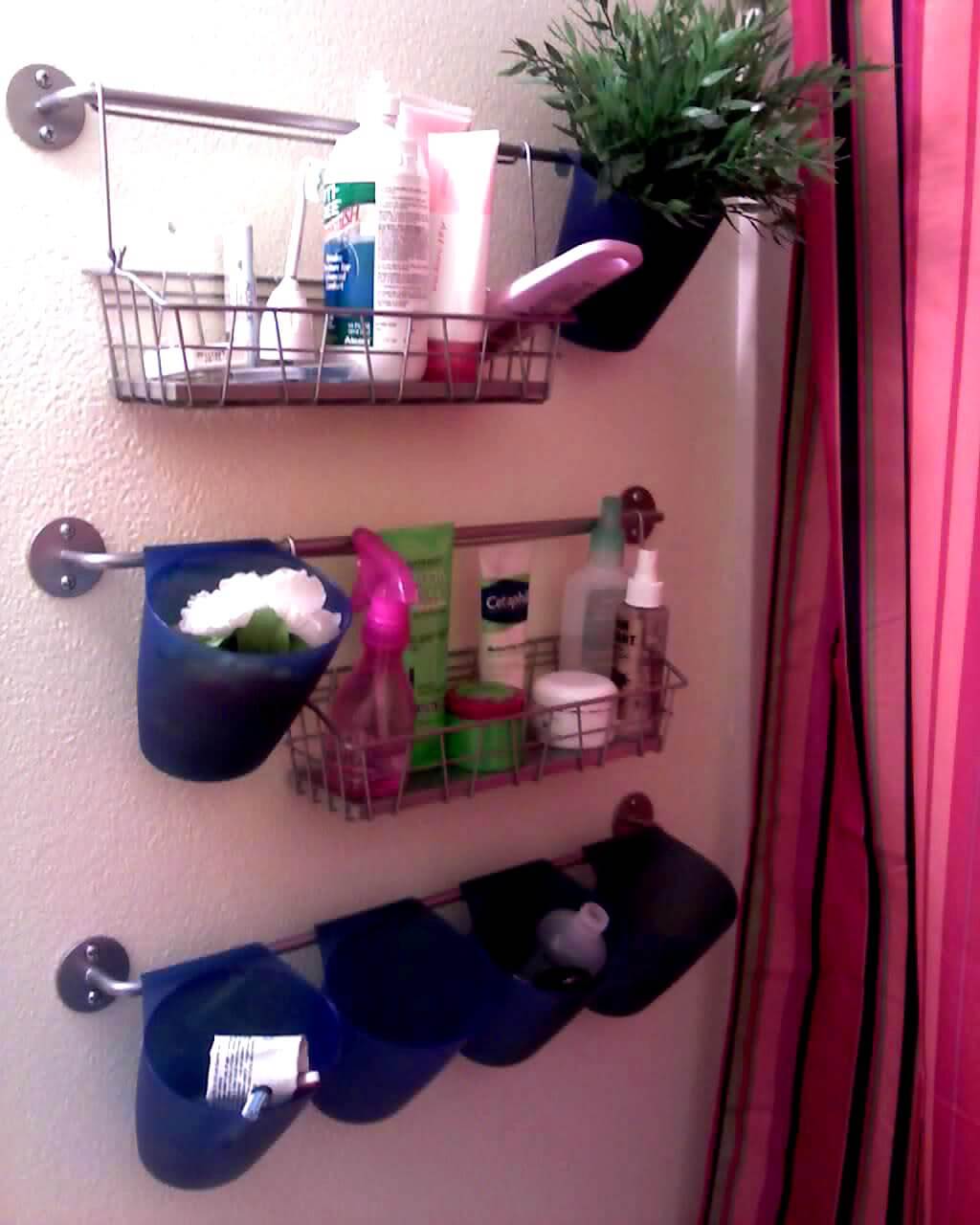 59. Rustic Ladder Shelf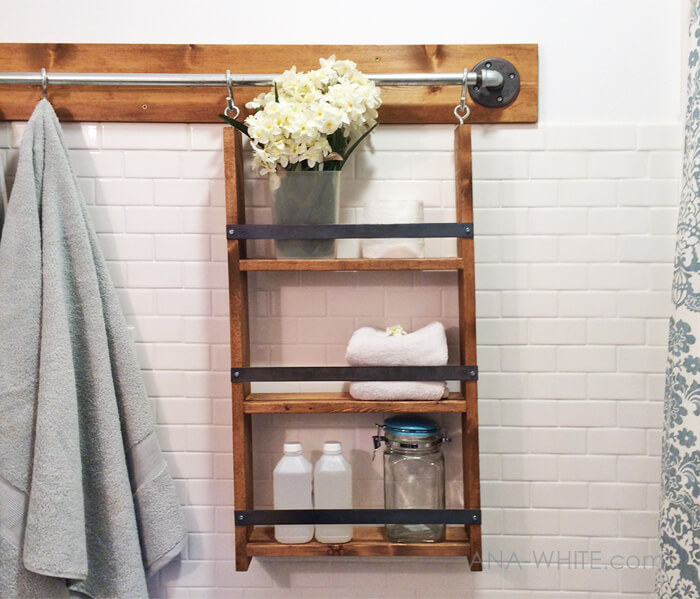 60. Wood and Rope Floating Shelf Storage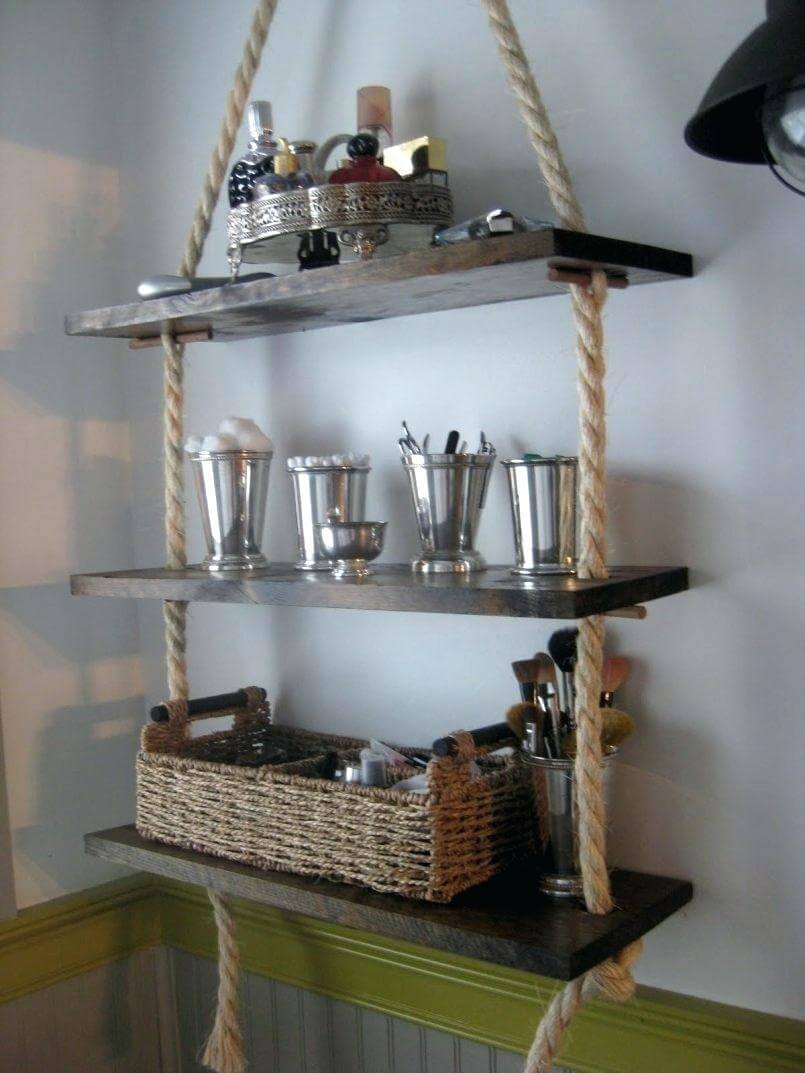 61. DIY Wood and Cotton Swinging Baskets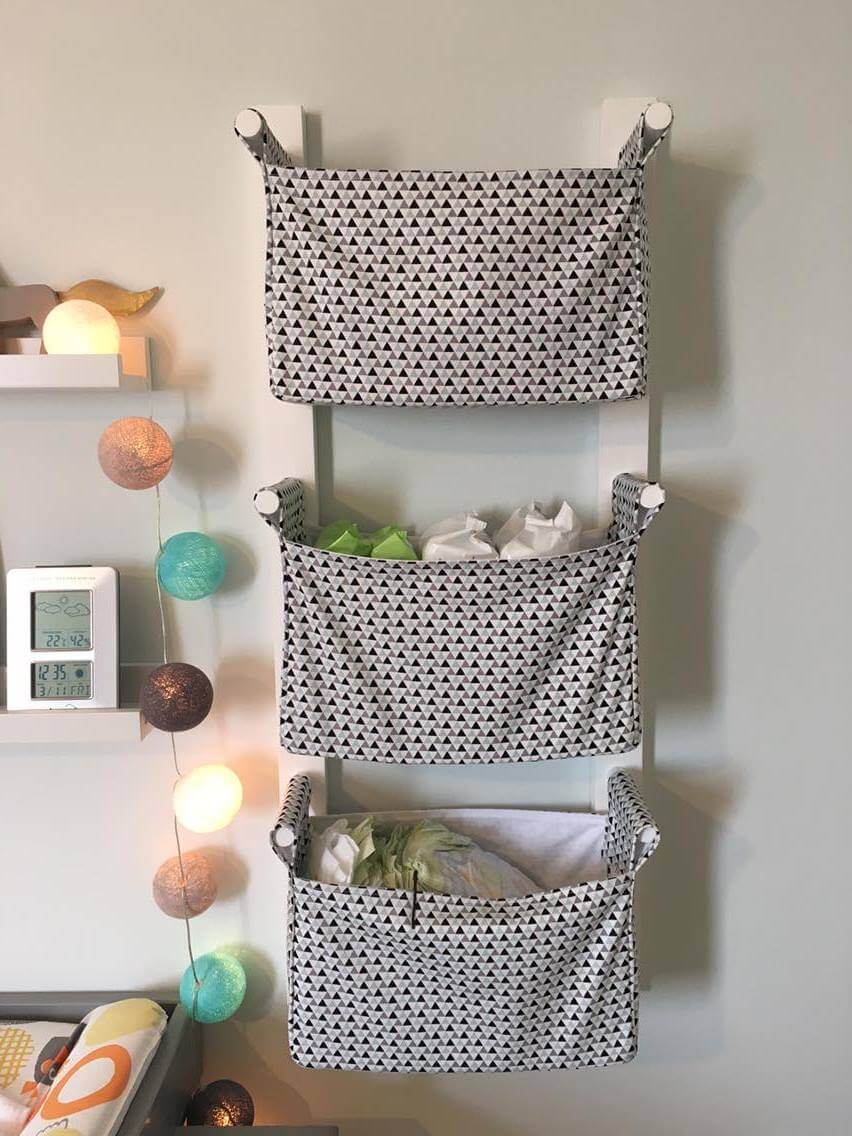 62. Metal Hanging Tins for Small Bathrooms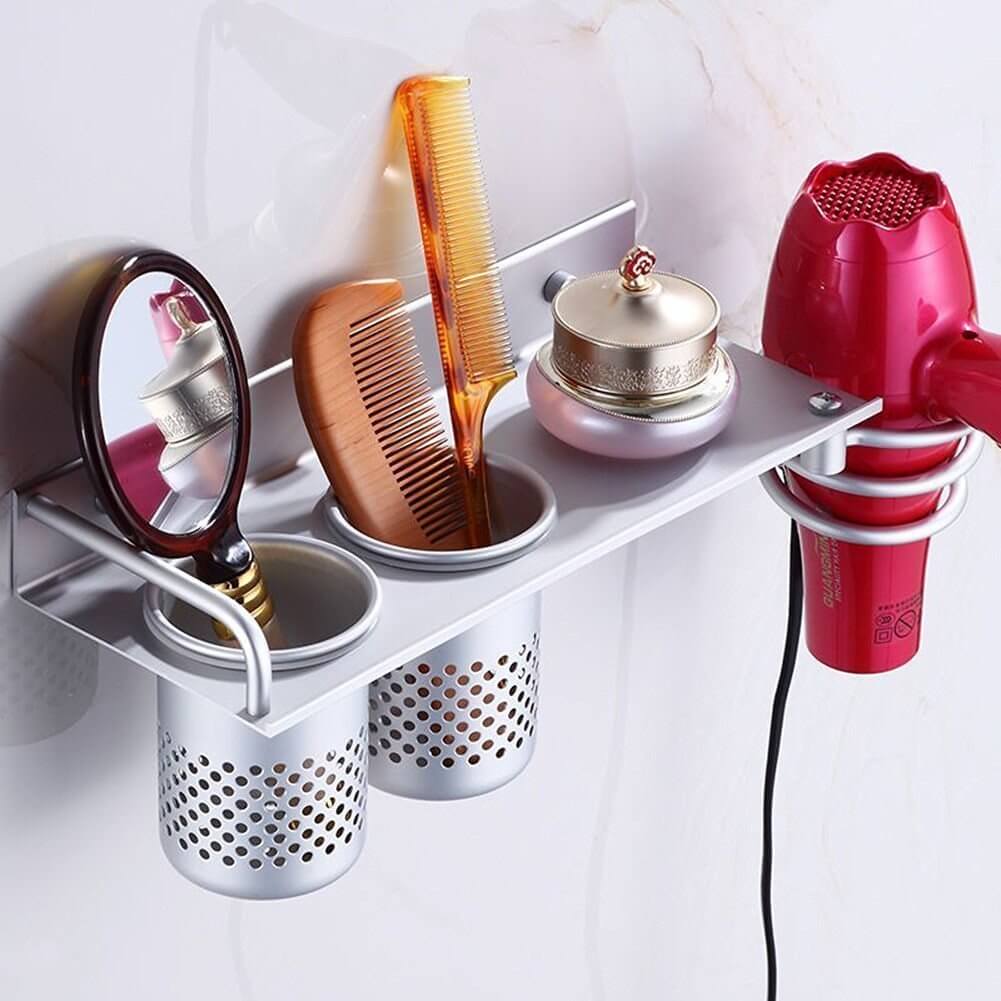 63. Wire Basket and Suction Cup Shower Storage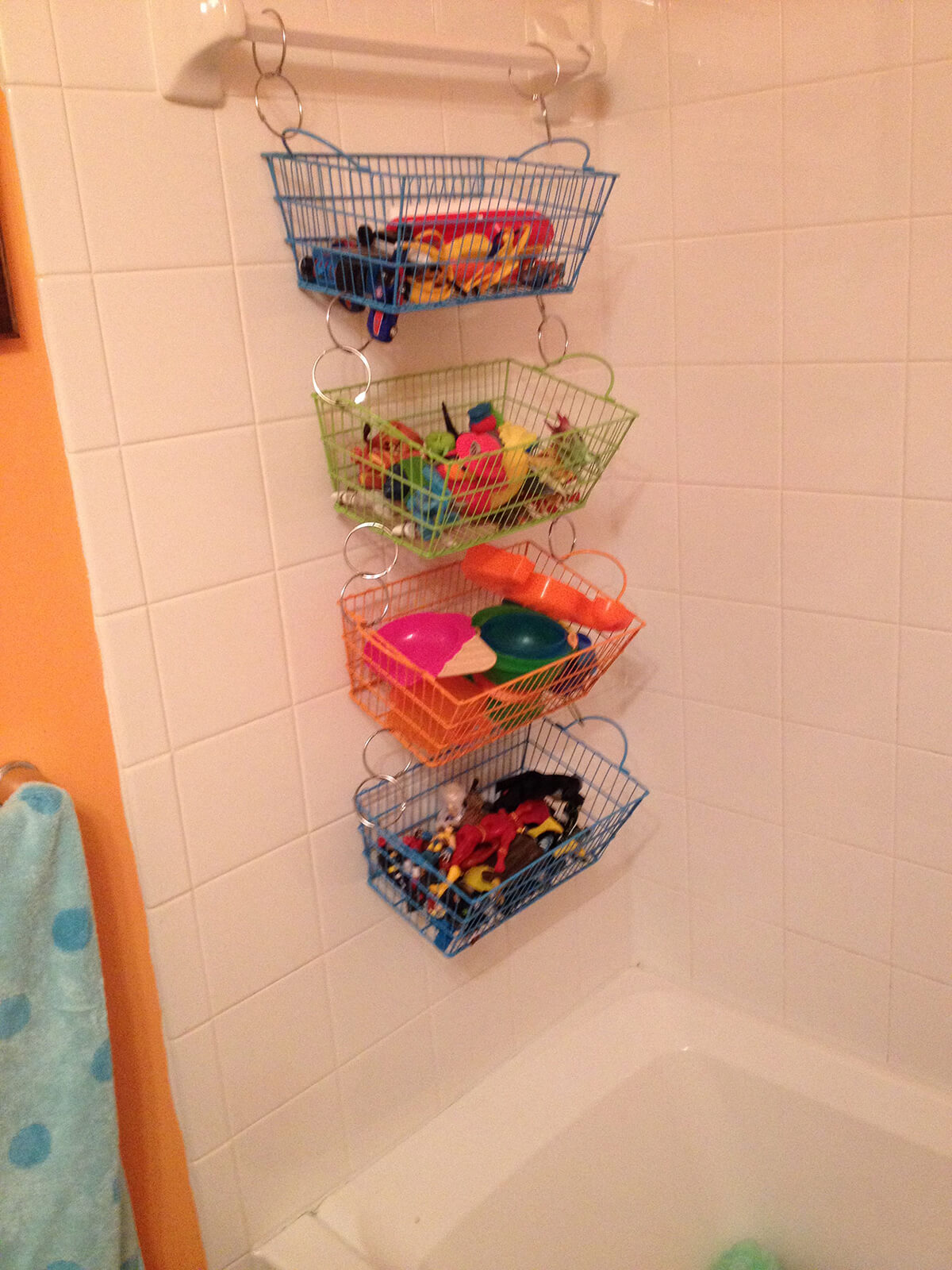 Our Favorite Farmhouse Wall Storage Items to buy on Amazon