Hanging wall vases and planters are becoming more and more popular as people realize their versatility. They can be hung in homes to showcase a stylish interior design; they can be displayed in offices and conference rooms to spruce up a lifeless corporate environment. If there's a wall, there's a way to hang plants on it.
24 Gorgeous Hanging Wall Vases and Planters that will be the Delight of Your Interior

But what if you've never experimented with these kinds of decorations before? What do you need to know to get started? Here are just a few things to consider hanging planters.
Poppies and petunias need a lot of attention, so they're the plants to fuss over in the kitchen. For the boardroom, you might prefer a bamboo plant that you can hang and completely forget about; they'll thrive on their own with minimal effort required from you.
Planters come in all shapes and sizes. Between pots, vases, tubes, jars, buckets, and boxes, you'll have your pick of containers. Just make sure that their weights can be properly supported on your ceilings and walls. Do you want tiny, delicate blossoms in stylish ceramic pots? Or would you prefer loud, colorful succulents overgrowing the reaches of a gigantic vase? There's no right or wrong answer here. It all depends on the aesthetic that you'd prefer.
This is especially important if you have children and pets. You don't want Fido nosing into flowers that will make him sneeze, so be sure to hang them in a good spot! Think about access to shade and sunlight, too. These are just a few hanging wall vases and planters that can be used to spruce up the places that you live, work and play. Feel free to take inspiration from these ideas and do something completely different. Your imagination should be as wild as the flowers that grow in your planters! Are you ready to check out some samples and get the inspiration flowing? Here we go!
1. Woven Rustic Basket With Spindly Twigs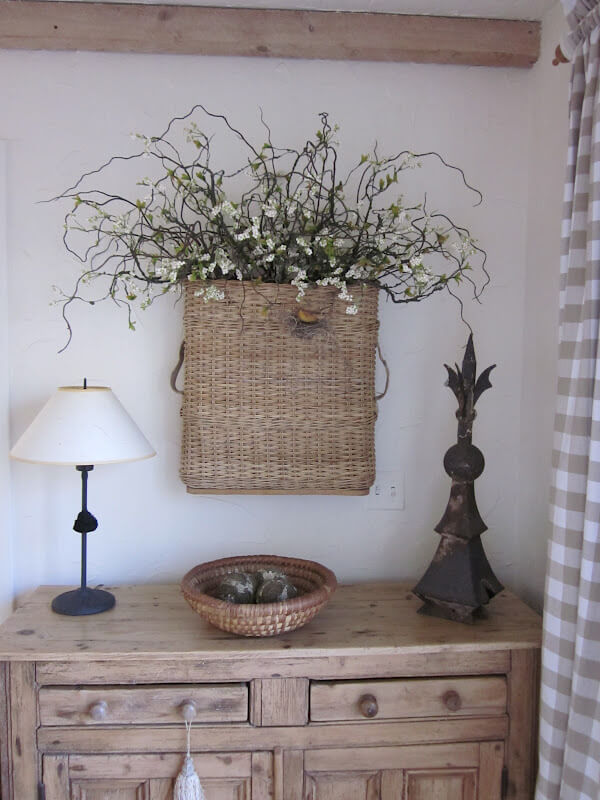 Bring some old-country charm to your home with this brown woven basket filled with slender branches. You can use both real and fake plant life, but if you opt for the real deal, you'll need to hide the soil inside of a smaller container that fits under the lip of the basket.
2. Blooming Flowers to Welcome Your Guests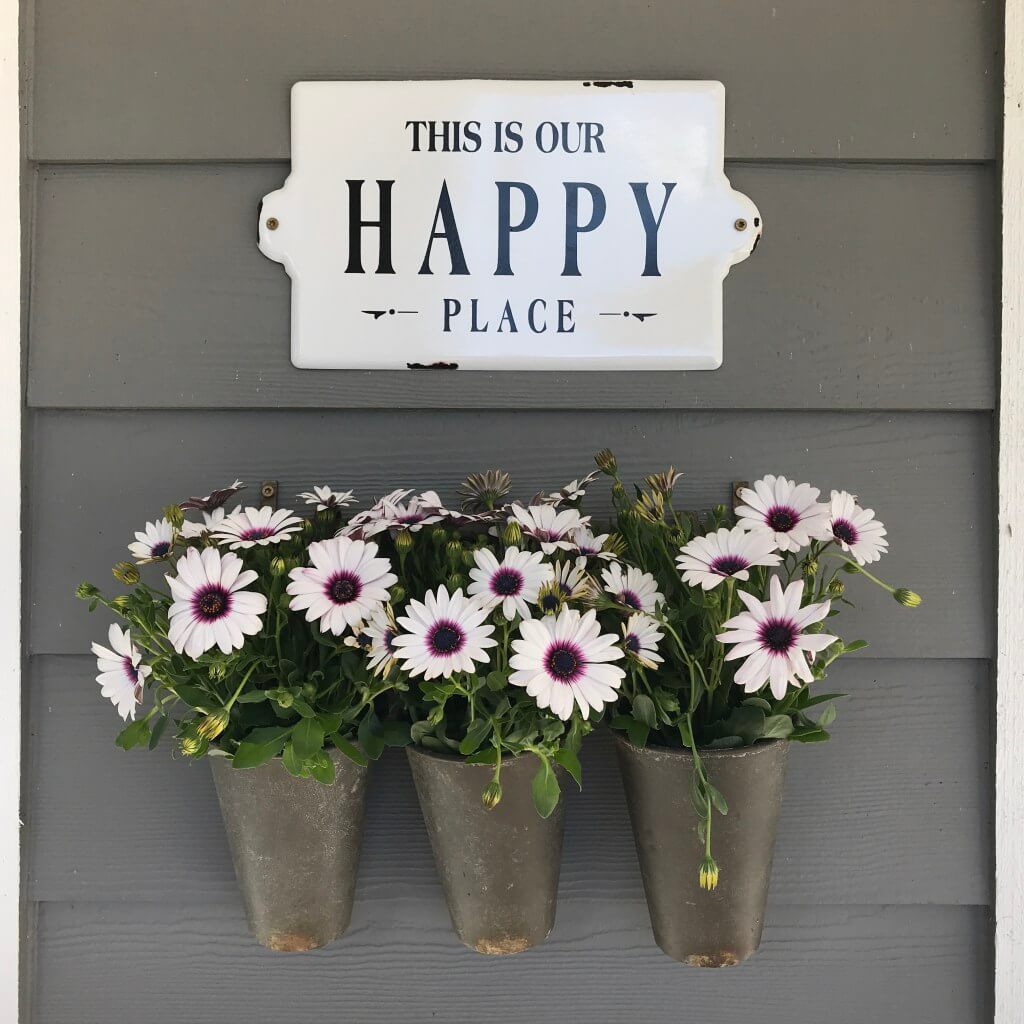 The best things come in threes, and this hanging planter offers a triple dose of both beauty and hospitality. The hand-painted sign declares "this is our happy place," and after taking a look at the cute little vases with their blooming flowers, it will certainly bring a smile to your face.
3. Gratitude Planter With Flowers and Thanks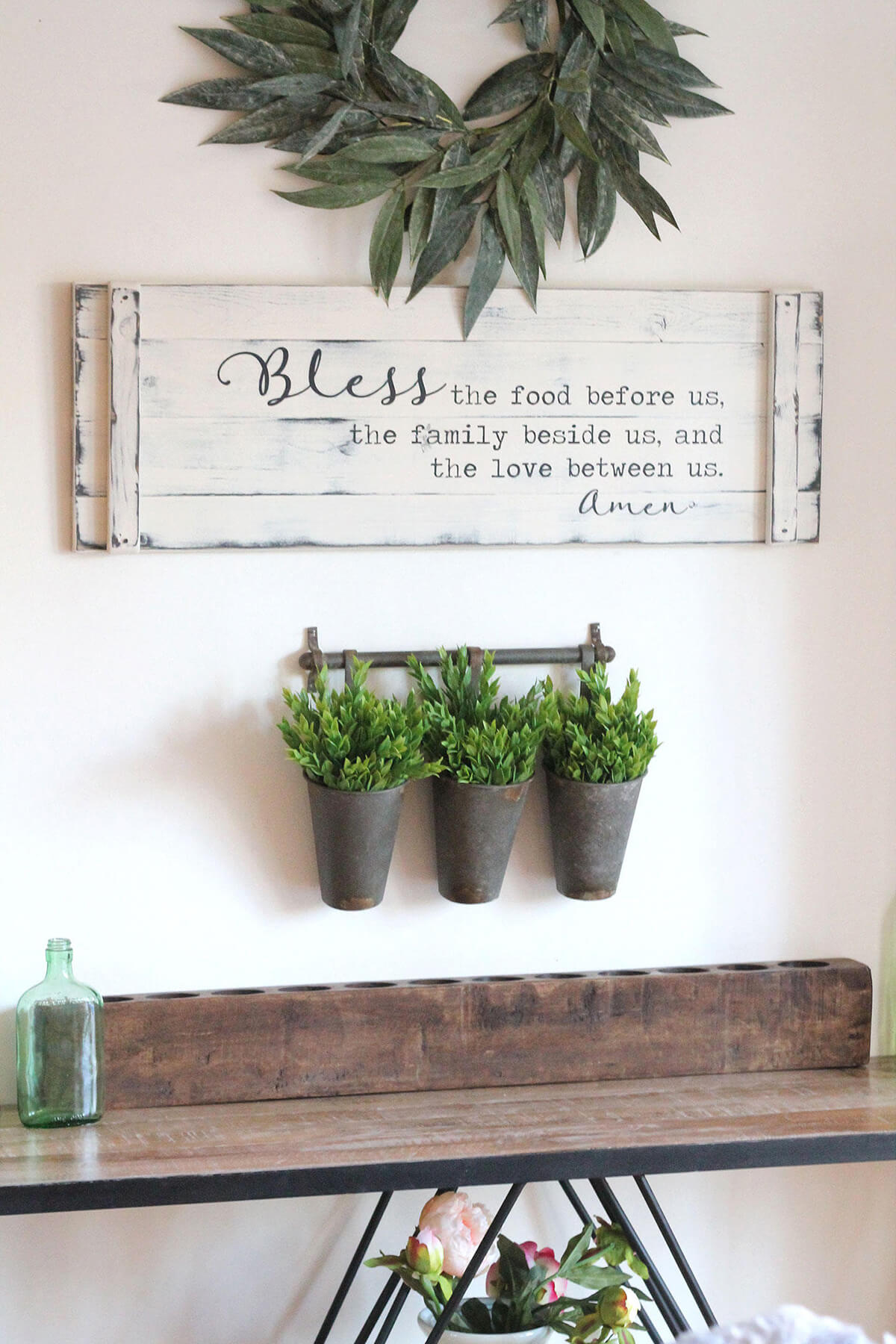 "Bless the food before us, the family beside us, and the love between us. Amen." It's a sweet message that pairs wonderfully with the side-by-side metal vases that contain vibrant green plants. If you're looking for a new centerpiece for your feature wall, this could be it! It will look especially nice in a dining room where its message can ring true.
4. Garden Flower Buckets With Rustic Charm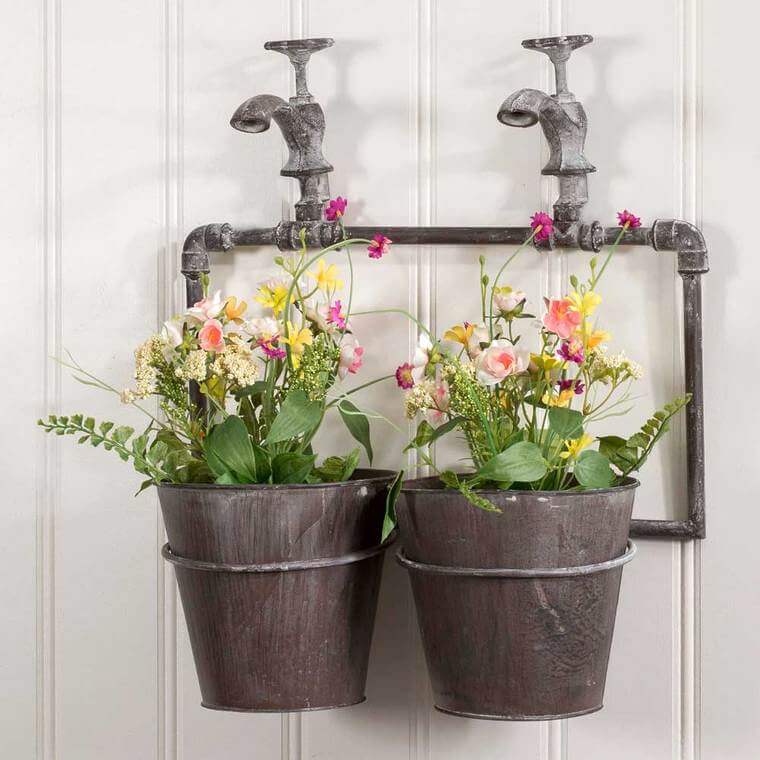 These flower buckets can bring a little piece of your garden into your kitchen, bathroom or mudroom. The colorful blossoms are arranged like bouquets in metal buckets that hang below a series of pipes and faucets. If you hook them into a sprout, they can even be functional as well as decorative.
5. Uniquely Vertical Wood Pallet Planter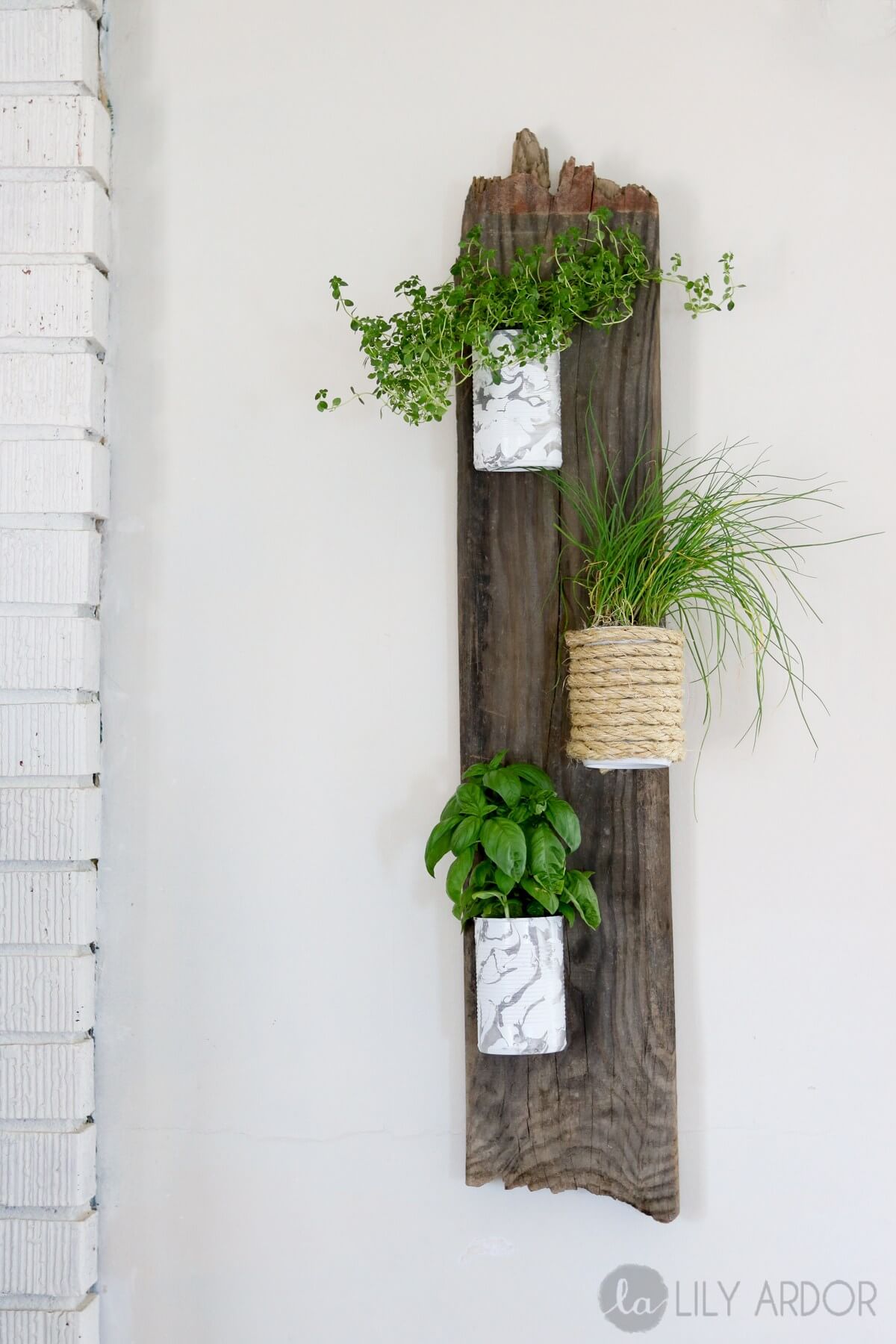 If you have any pallets left over from your last home improvement project, consider turning them into hanging wall vases and planters. The pots are secured directly to the wood, and they can be wrapped, decorated and painted with all sorts of materials. The ones featured here have a "wild west" sort of aesthetic, but you can do whatever you'd like.
6. Farmhouse Shutter Planter With Recycled Materials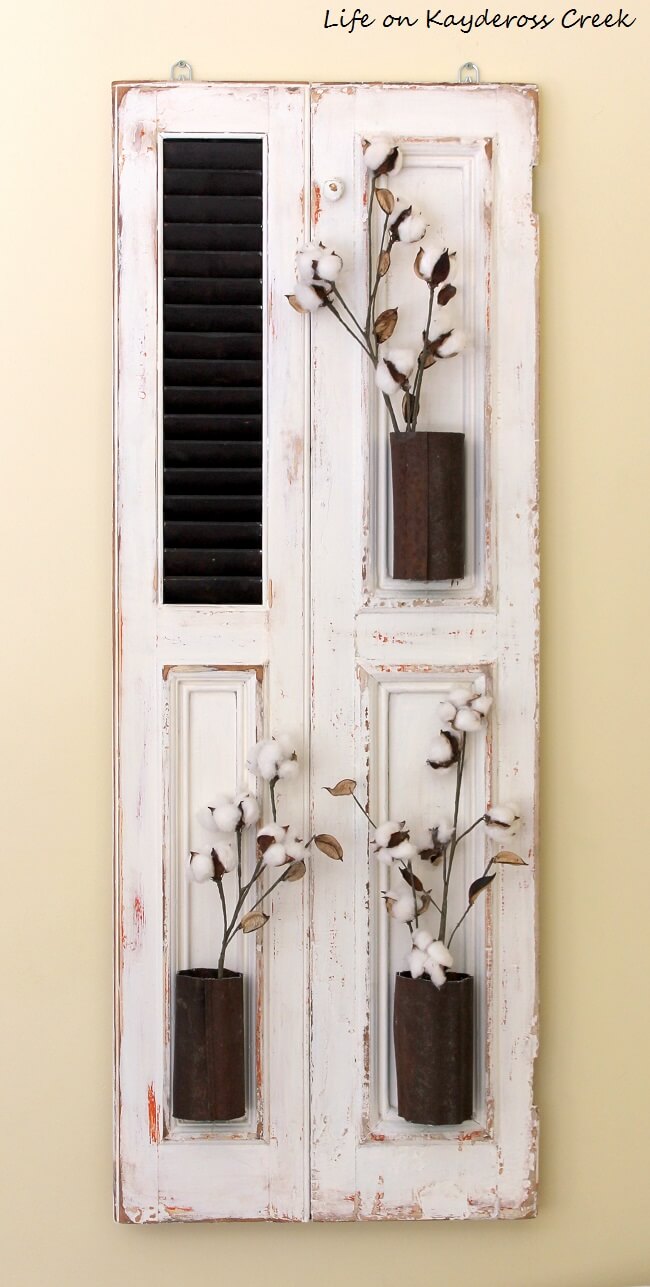 Don't throw away those old farmhouse shutters. Instead, turn them into a crafting project where you attach planters and texture pieces to the wood. The end result will be both rustic and authentic, and you'll have a beautiful new decoration for your home or garden. Your guests won't be able to resist commenting on it!
7. White Night Flowers of Purity and Innocence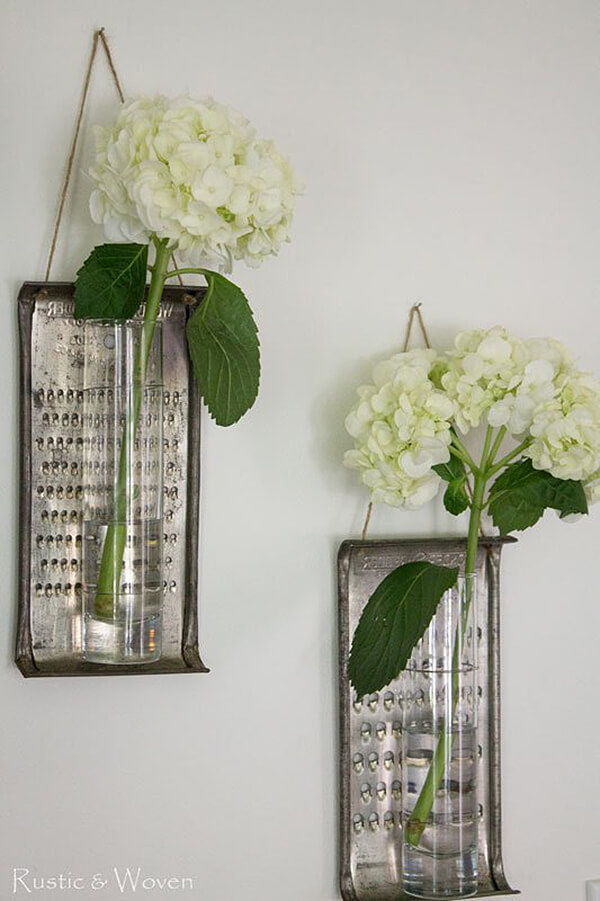 Perfect for weddings and other special occasions, these gentle white blossoms are housed in transparent glasses filled with water. They'll look great hanging from walls, windows and anywhere else that you could use something pretty and fragrant.
8. Hanging Herb Garden With Wooden Boxes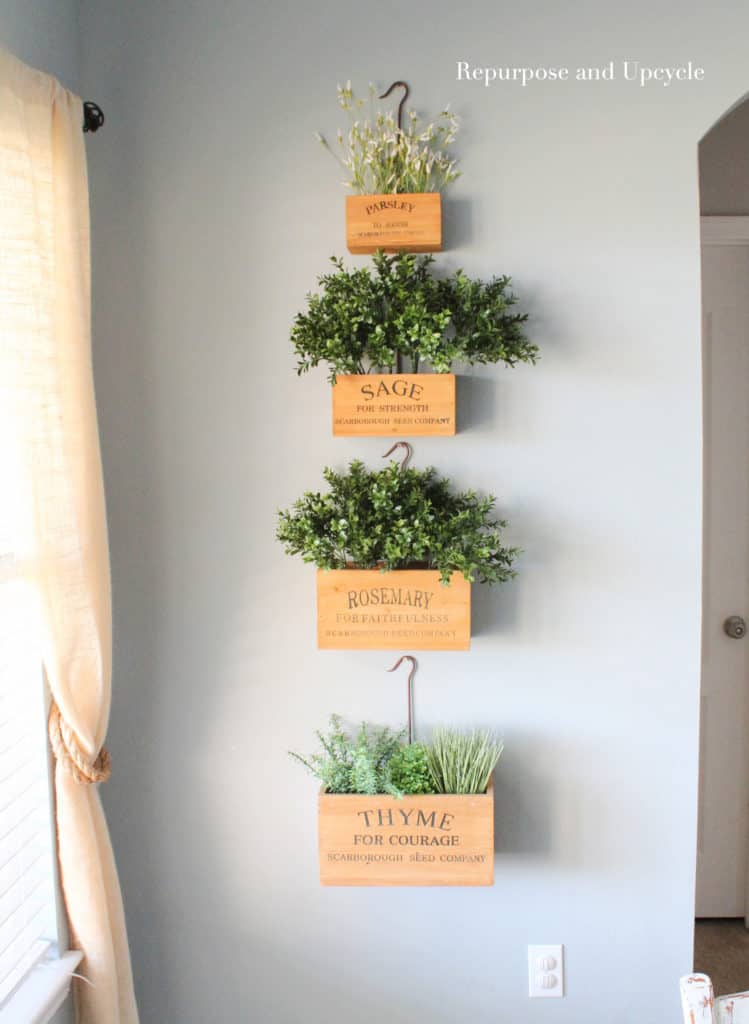 Who says that you have to grow a garden outdoors? These wooden boxes can be filled with seeds and soil before you hang them right there on your pantry wall. Before you know it, they'll be brimming with rosemary, thyme, sage, and parsley. You can cut fresh herbs for dinner in a snap.
9. Recycled Buckets and Wooden Pallets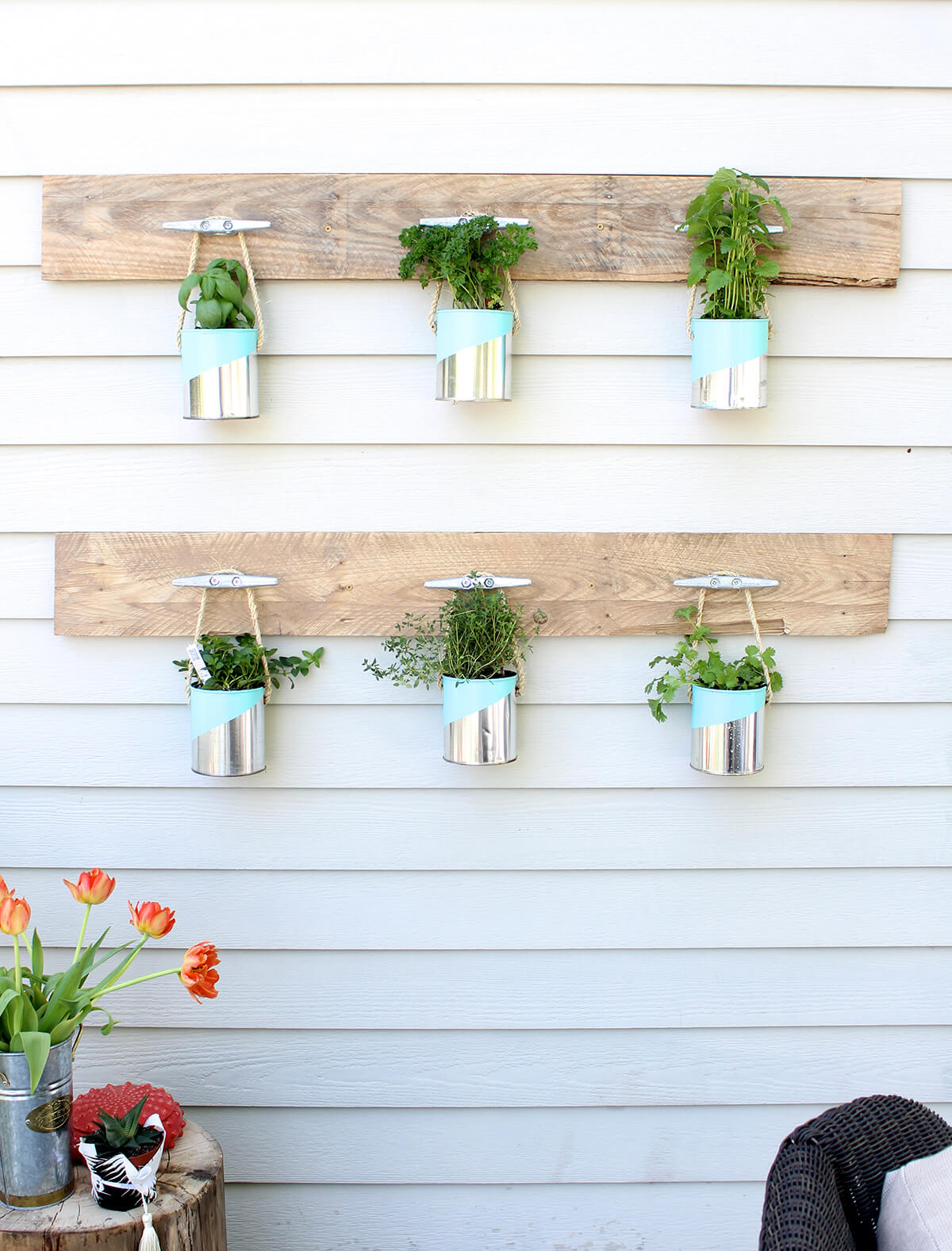 You can completely transform an old paint bucket when you decorate it with new, vibrant colors. The ones in the picture have been smoothed over with chrome paint, but any fresh color will do. After that, it's just a matter of filling them with plants and hanging them on a wooden pallet!
10. Trendy Wall Planters In Geometric Shapes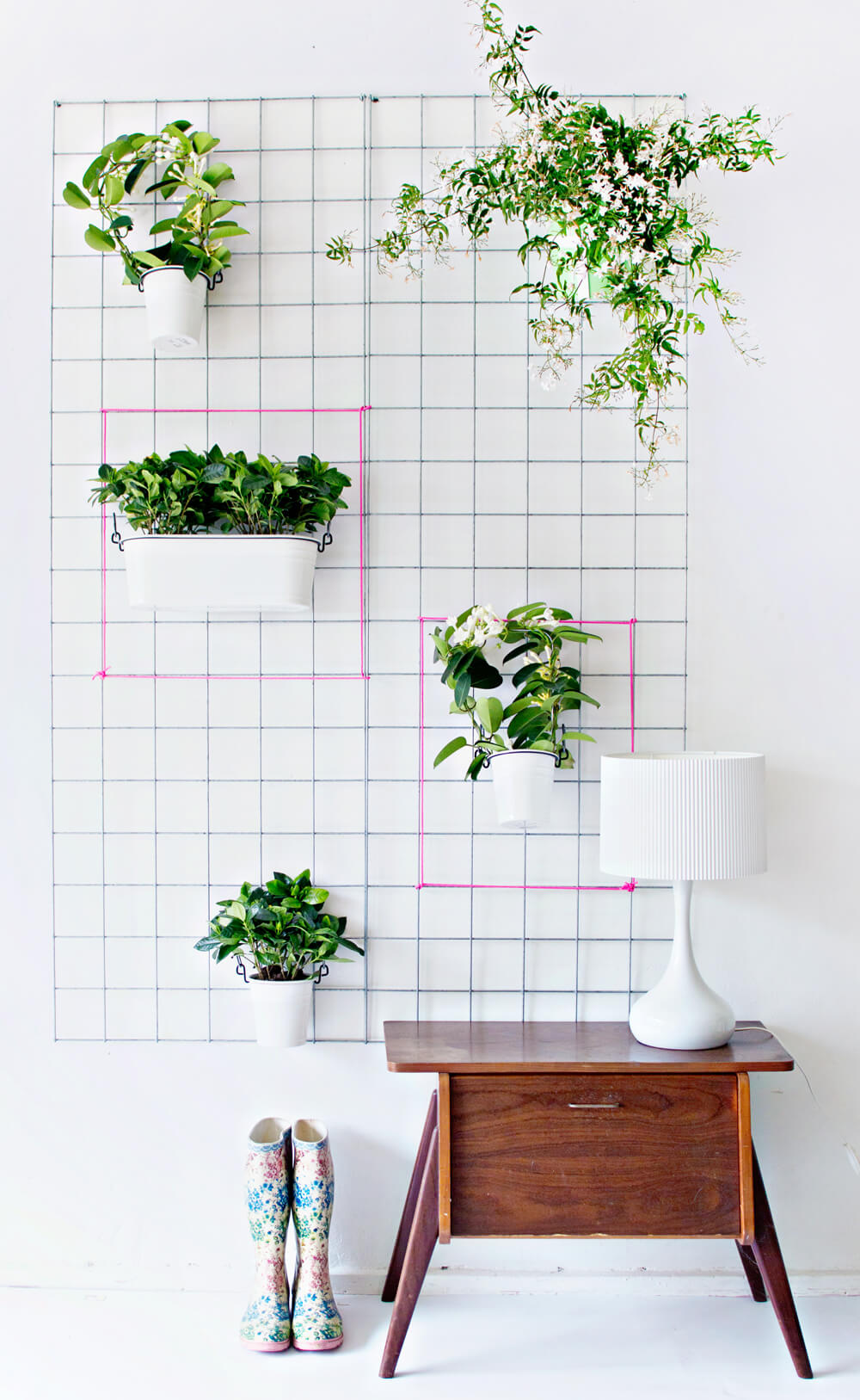 Would you like to create a conversational piece for your home or office? Consider something artfully stylish like these bright white pots hanging from a geometric wire screen. You can choose your own colors and shapes, but the aesthetic that you should be going for is fashionably minimalist.
11. Planter Fun: Do the Can-Can
These simple cans are wrapped in twine and attached to hooks before they're hung on walls, ceilings, and staircases. Again, it'll be up to you to decide what kind of style you'd like. You can decorate the cans with ribbons, bows, bells, and even paint splatters. Let your creativity run wild as you have fun with home and garden supplies!
12. Tasteful Terracotta in a Tender Display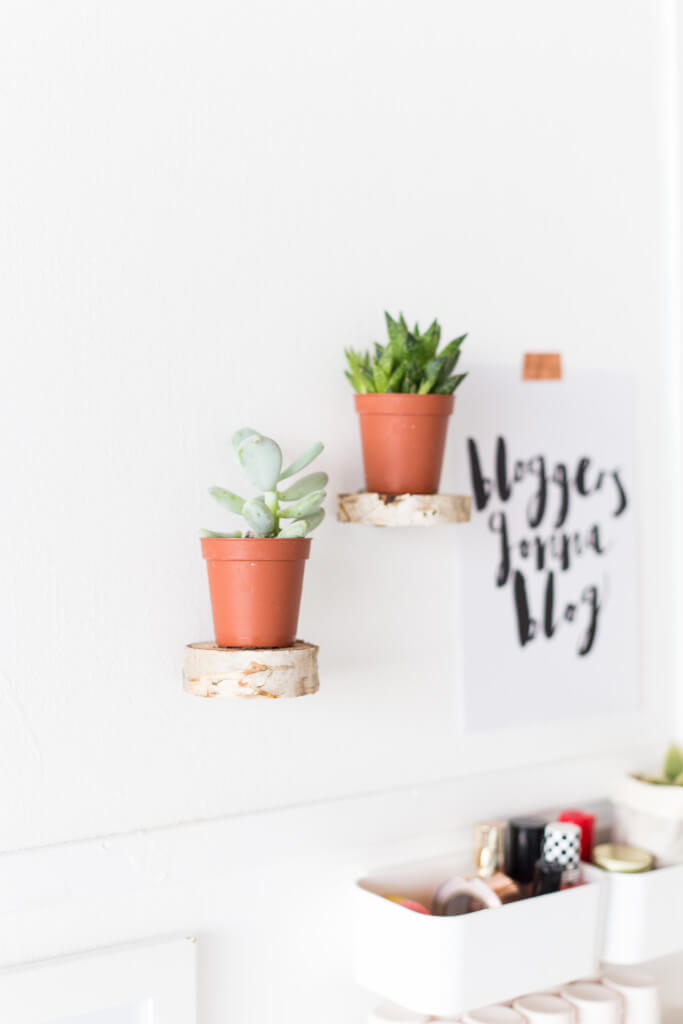 Go for a classic look with these simple terracotta flowerpots that can grow everything from orchids to cacti. For extra style points, keep them small. They'll be cute little adornments on your wall that will be sure to attract the admiration of your guests. This is especially true if you hang them with floating supports like the ones featured here.
13. Hanging by a Thread: The Planter Version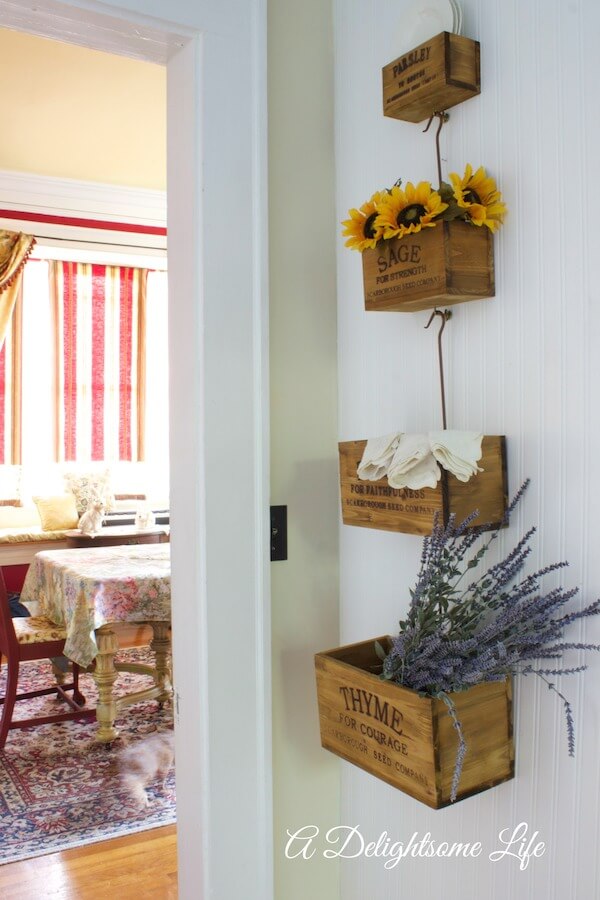 These wooden planter boxes are arranged in a straight-hanging line for maximum organizational efficiency. As you can see, they're also storing plates and linens in addition to flowers. Consider this kind of design for a multipurpose planter that will serve both functional and decorative needs.
14. Shabby Chic Wall Vases With Wooden Backdrop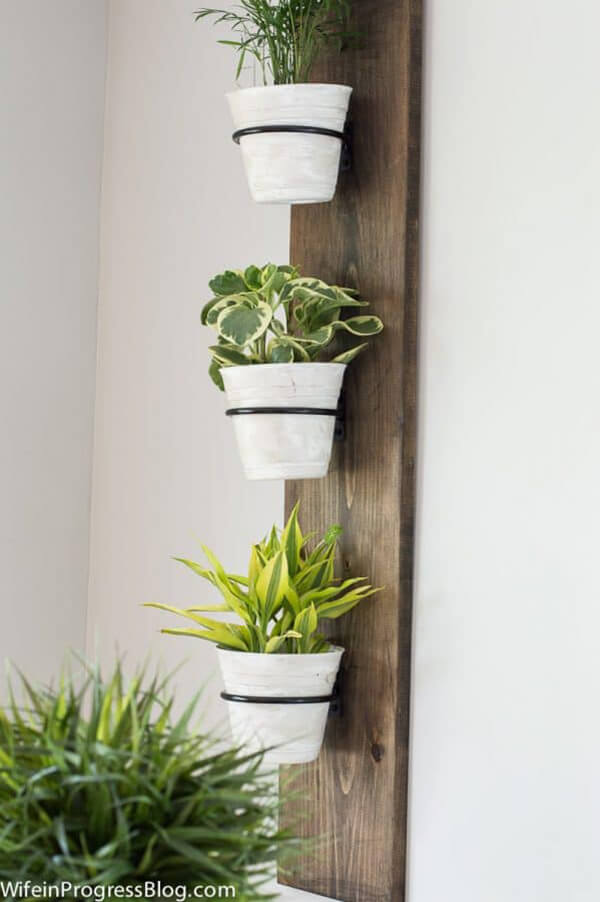 It can be hard to pull off a "shabby chic" decor, but these hanging vases are a perfect example of the look done right. They're rusted enough to be authentic but pretty enough to be stylish. They'll make a great addition to your home, office, classroom or studio, so hang them anywhere that could use a bit of "oomph."
15. Adorable and Affordable Miniature Bubble Planters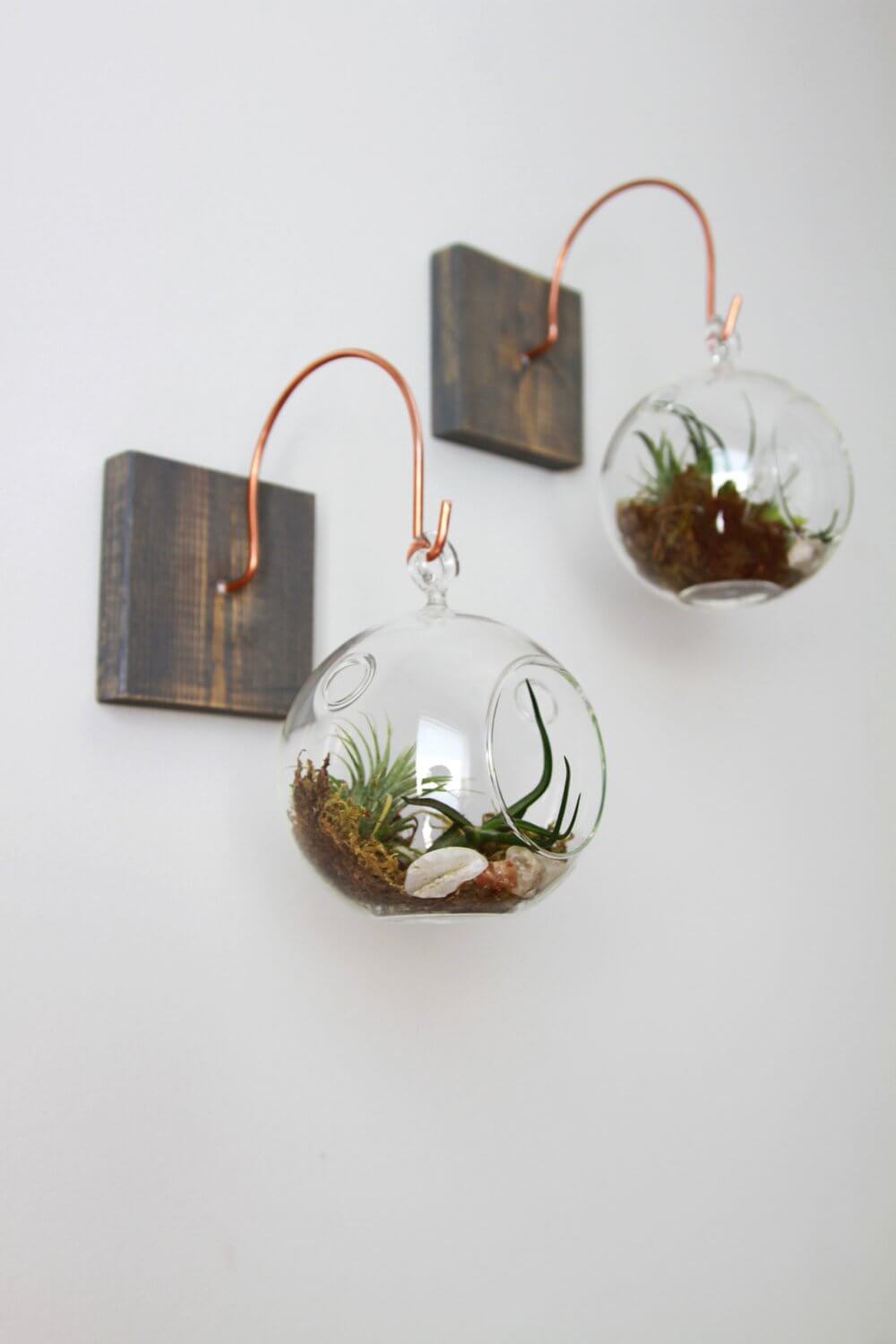 Hanging bubbles can be used for all kinds of home and office decoration, and if you add a little dirt into the mix, they can become planters as well. Best of all, they won't cost a lot of money to create or maintain. They'll fit into your budget just like they fit onto your walls.
16. Hanging Mason Jar Vases for Crafty Fun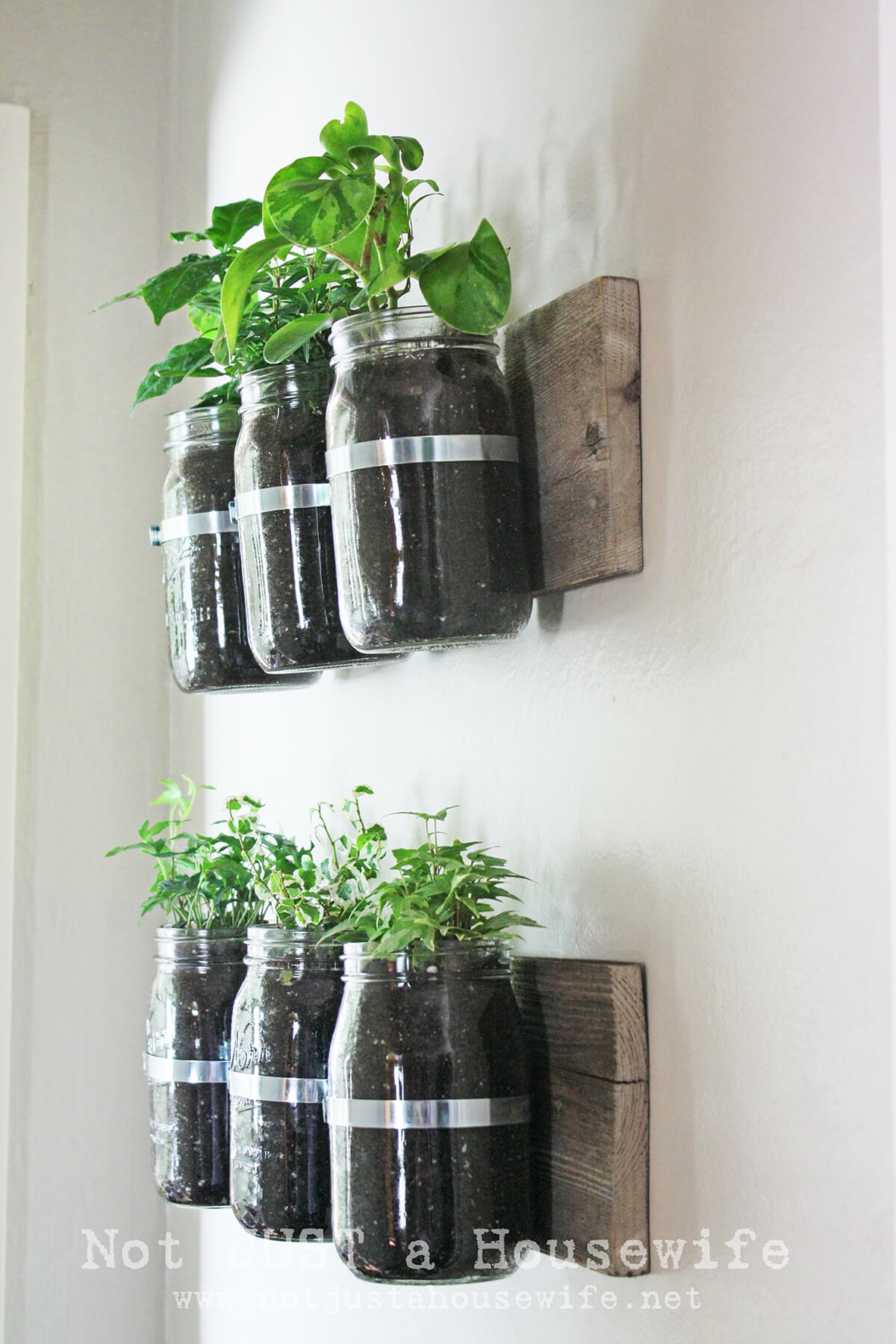 If you're the creative type, you probably already know about the millions of ways that you can use mason jars for household crafts. But did you know that you can turn them into hanging vases? They'll need to be attached to some kind of backdrop to keep them steady, but in the end, they'll work just as well as traditional flowerpots.
17. Beautifully Overflowing Wooden Hexagon Planters
There's a lot to love about these wooden hexagon planters, including the way that pink and yellow flowers will absolutely pop against their natural brown. But the coolest thing has to be the way that hanging vines can be artfully arranged to overflow from their lip. It will look like a cascade of natural beauty down your wall!
18. Homemade Windmill Planters for Artists and Designers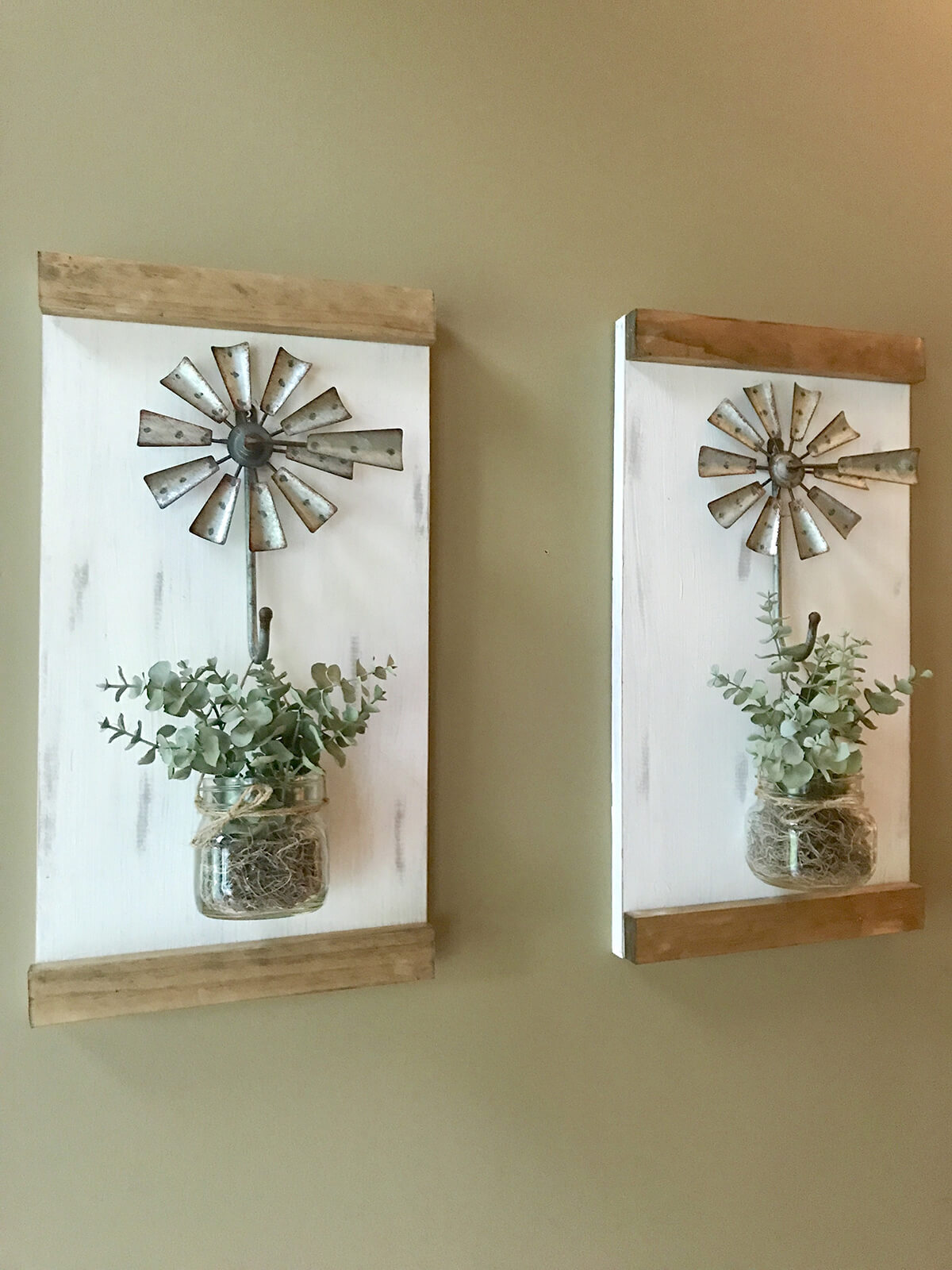 These windmill planters use tiny pieces of metal to shape the wings while the dirt-filled planters act as their bases. It's an utterly creative endeavor, so it'll definitely serve as a feature piece in homes and offices. If you're very, very careful with your design, you might even make it functional enough to spin in the breeze.
19. Transparent Tube Planters for Effortless Cool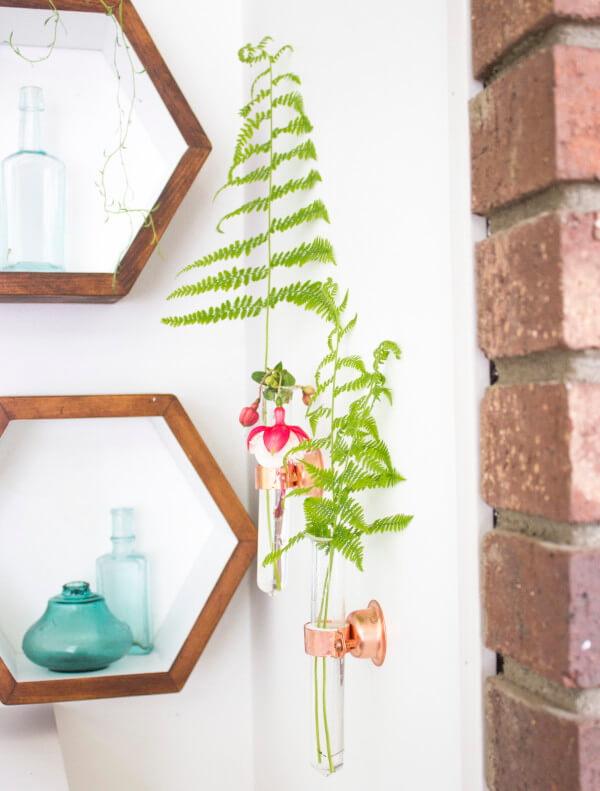 If you're interested in hanging wall vases and planters but don't have a lot of room for them, consider something like these tube planters. They're designed to be narrowly vertical in a hip, trendy way that suggests style rather than limited space. No one has to know that you looked for space-saving decor on purpose.
20. Rural Decor: Calling All Country Folks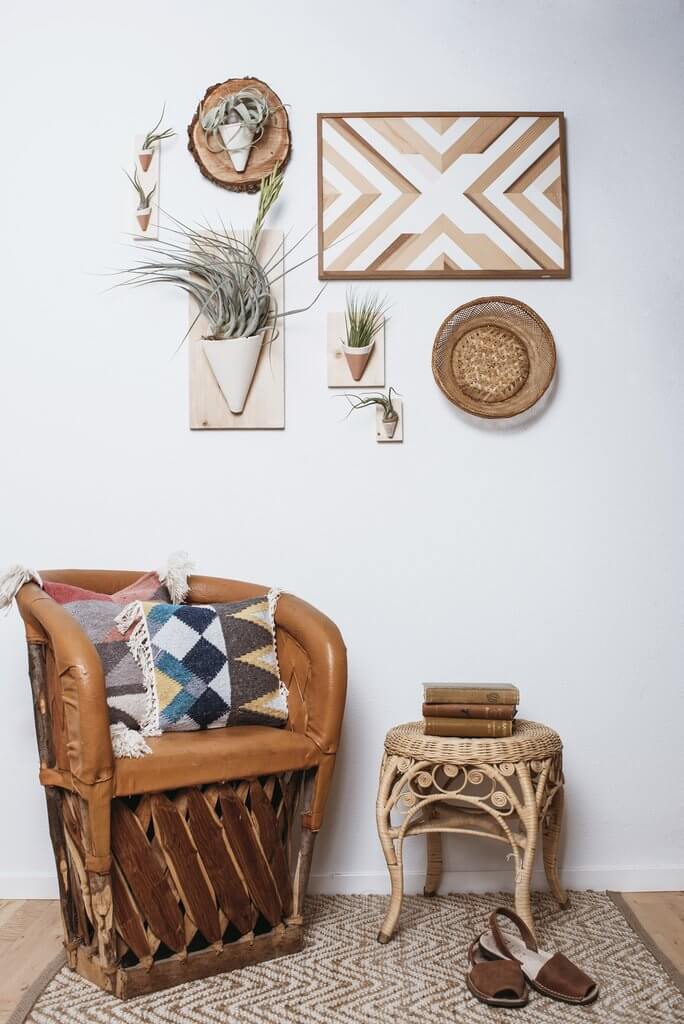 These planters don't use anything modern or metal. Instead, they utilize wooden planks and sawed-off tree stumps to provide a thoroughly rustic home decoration. Even their plants look like they belong in the wilds of a desert tundra somewhere!
21. One Small Step for Plants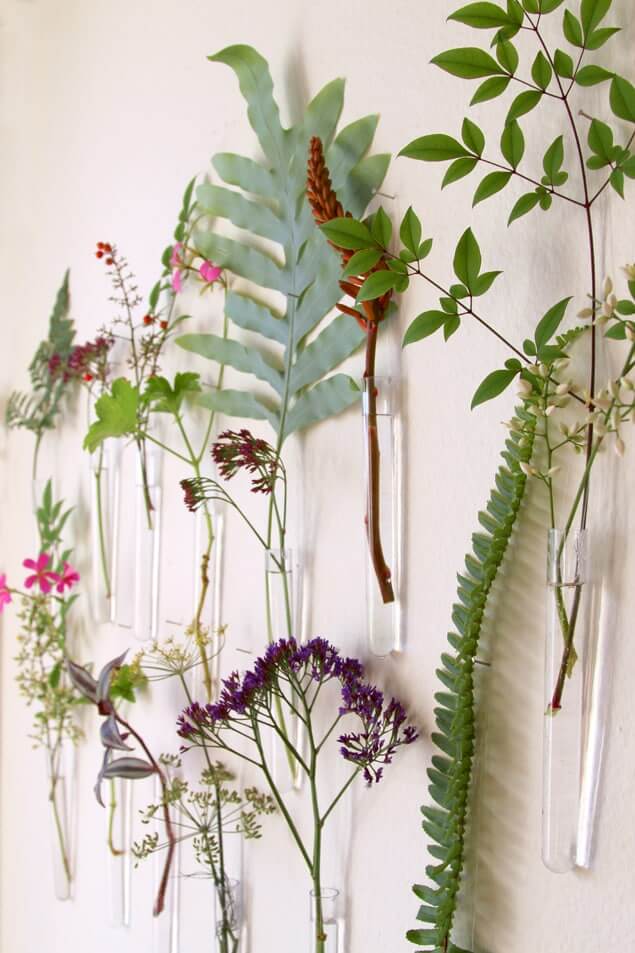 One giant leap for indoor gardens! These tube planters are only big enough to house a single stem, but when you hang a dozen of them on the wall together, they'll create a colorful and bountiful collection of your favorite flowers. You could even arrange them with a certain theme if you wanted to make a statement of some kind.
22. Simple and Elegant Clear Bottle Vase Planters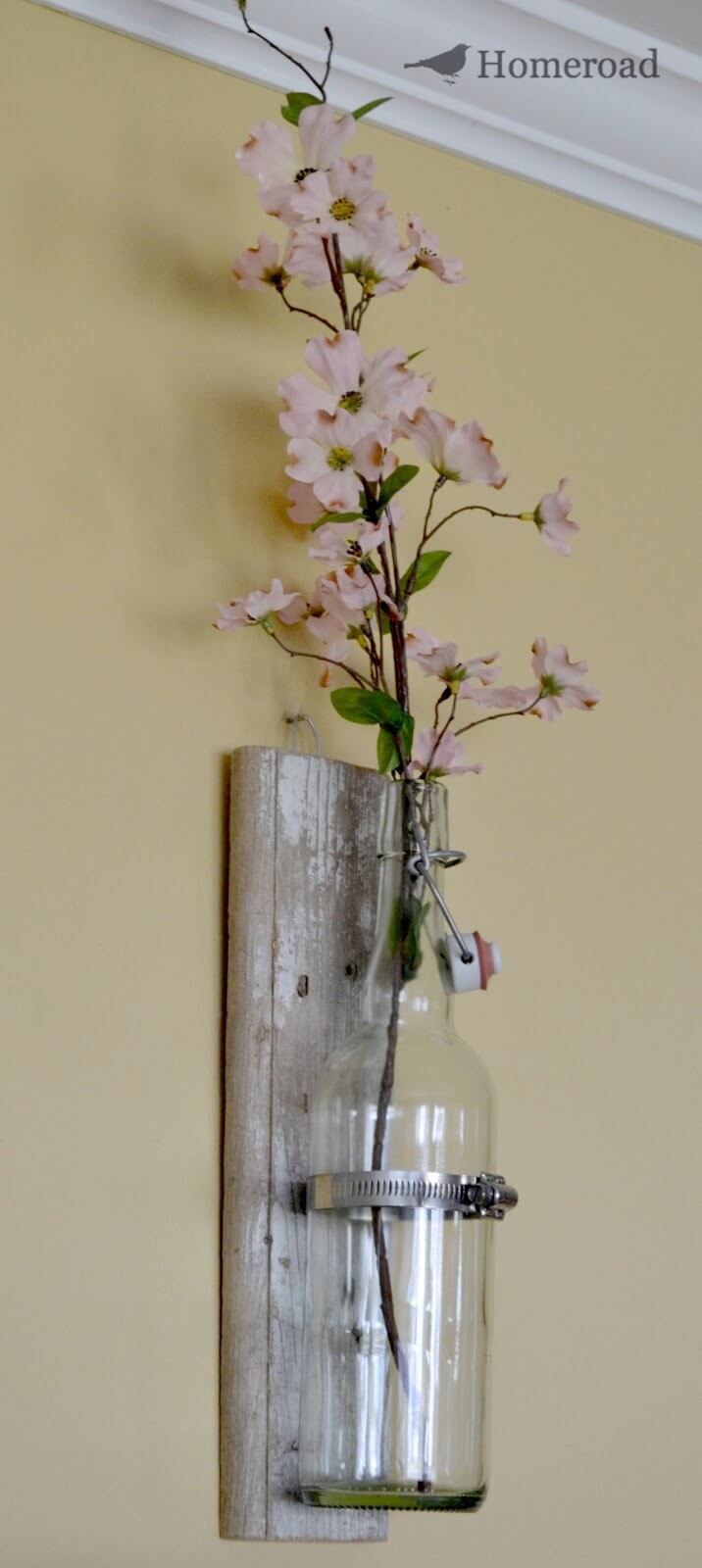 Another great decorative piece made from recycled materials, this planter re-purposes an old bottle and turns it into a wall vase. If you want real flowers, you can pluck them and put them in water. If you'd prefer the low-maintenance version, you can stick some fake flowers in the bottle. Both options have their appeal.
23. Beautiful Hanging Glass Wall Planter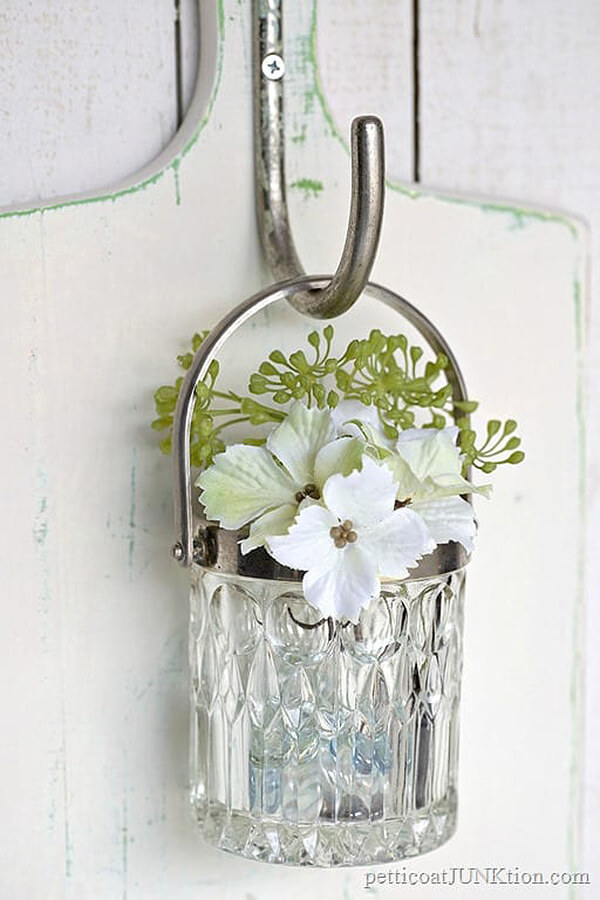 It can be tricky to work with glass elements in your crafting projects, but if you have the time to do it right, the end results will be absolutely gorgeous. Take this planter, for example. It's made of glass and metal, and beautiful flowers can be bundled inside of it for charming home decor.
24. Minimalist Wall Decorations With Plant Life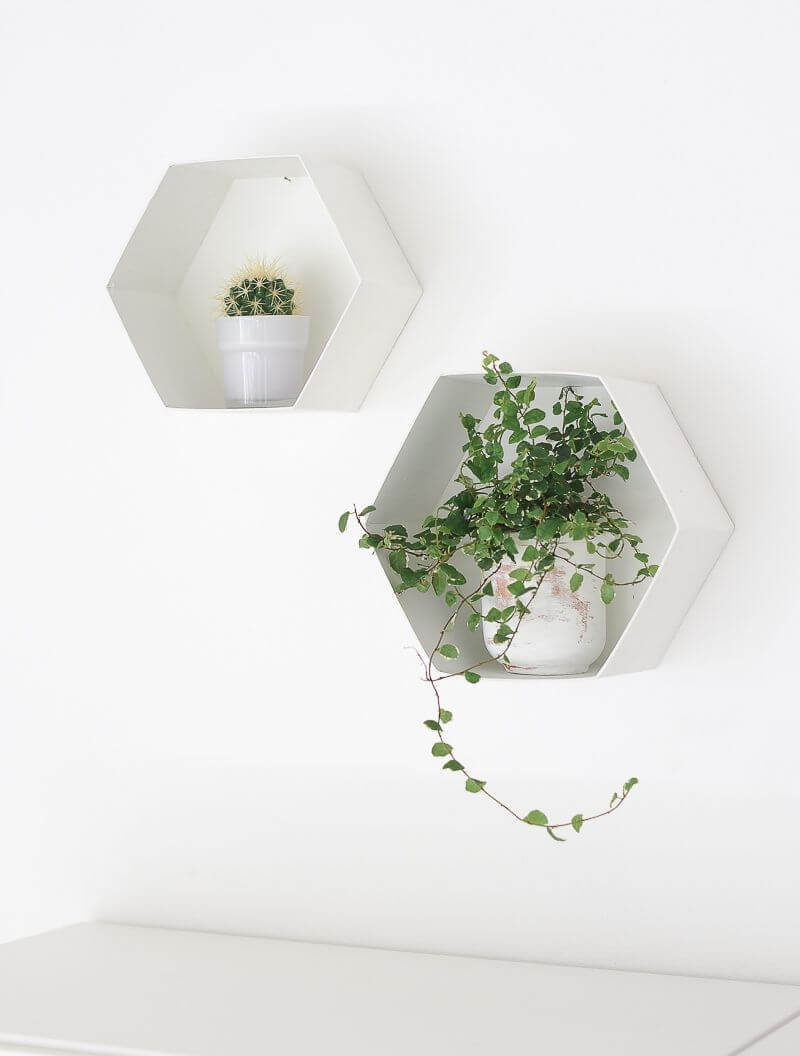 Smooth and simple, these hexagonal wall decorations are unadorned by anything but white paint. When you add a couple of shrubs, however, you can turn them into eye-popping planters that will be suitable for everything from classrooms to boardrooms. Minimalist doesn't have to mean boring!