As you start to look for the best hassocks and ottomans for your space, you'll want to learn a little bit more about them first. Ottomans and hassocks (footstools) are such a versatile piece of furniture to have in your home. They can be utilized as an end table, a footstool, a storage container and even additional seating. They come in a variety of colors, shapes and sizes which can make the buying process a bit overwhelming.
24 Stylish Hassocks and Ottomans that are Super Comfy

First and foremost, an ottoman or hassock can truly liven up your room. They add a unique touch of character no matter what room you plan on using them in. Since they serve multiple purposes, you are getting way more bang for your buck. A smaller pouf or footstool can be used as a single chair, a footstool or an end table. A larger rectangular ottoman can serve as extra seating as well as a great way to store items out of view. Other than its practical purposes, hassocks and ottomans are also great decorative accessories. Choose between bright colors, vibrant patterns, various fabrics, grommet detailing and tufted designs.
Hassocks and ottomans are generally round, square or rectangular in shape and each available in a variety of sizes. These little (or big) pieces of furniture can add unexpected shape to a space and even a fun pop of color to a room. Traditionally, ottomans come in the same material as a couch or sectional. A good way to add texture to your space if you have a fabric sofa is to add in a leather ottoman for that variation of textures. When choosing the best hassocks and ottomans for your space, think about its functionality as well as its design. Get ready to be inspired with our curated ideas for the best hassocks and ottomans on Amazon! With such a wide variety of choices, you're sure to find the perfect piece of furniture for every room in your home.
1. Folding Storage Ottoman Bench in Faux Leather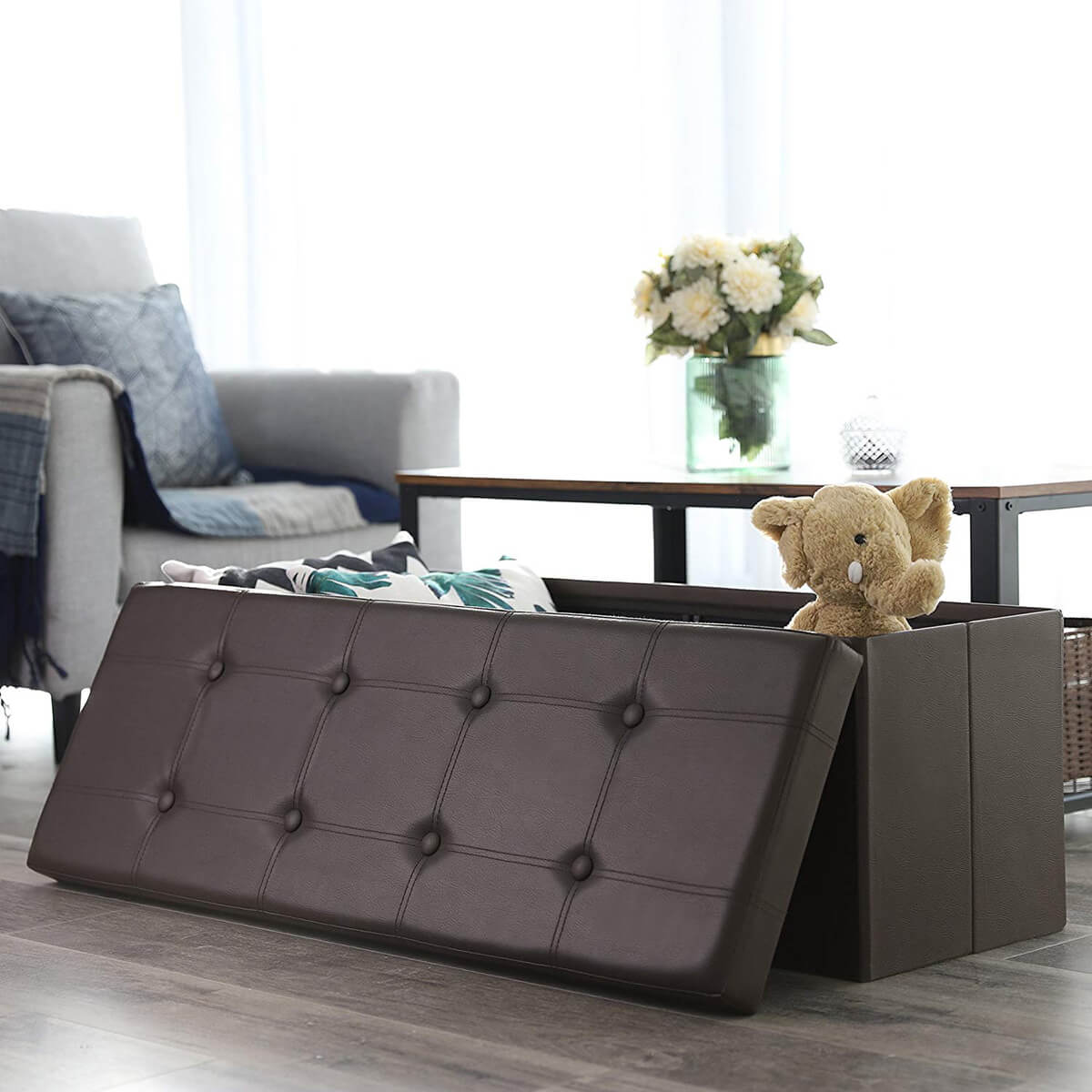 Looking for a sturdy and comfy ottoman for seating and storage? This faux leather ottoman is the best of both worlds. This ottoman bench holds over 600 pounds and can easily seat 2-3 adults comfortably. The storage chest is easy to clean and features a button-tufted top with double stitching lines for added style. The large hidden storage space inside is perfect for organizing books, clothes, toys, shoes, blankets and any other miscellaneous items. This ottoman also features a collapsible design making it easy to set up within seconds and easily fold flat when not in use. Use this folding storage ottoman as a bench, footstool, bed stool, toy chest, coffee table and more.
2. Modern Tweed Foldable Ottoman Footrest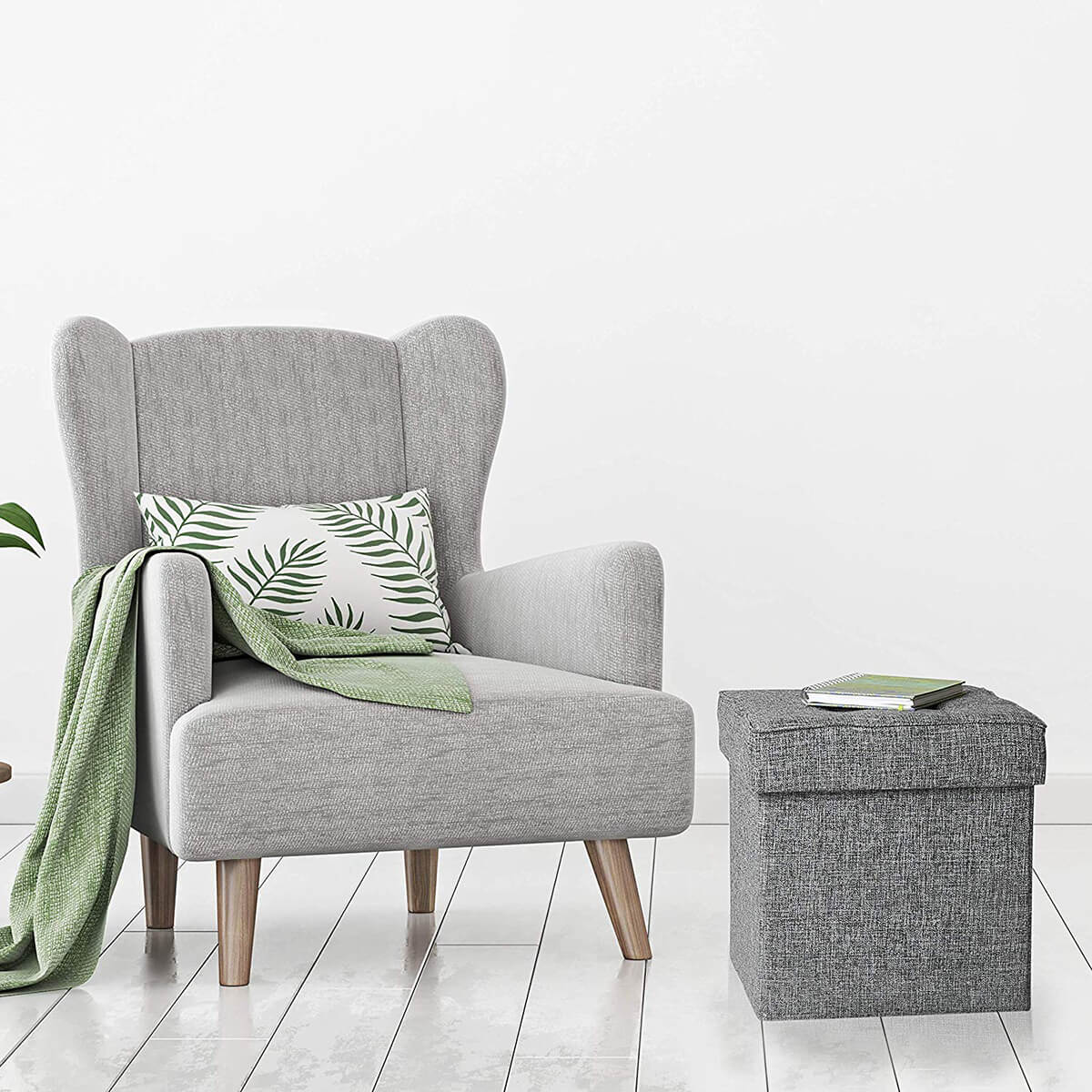 Furnish your home with this modern foldable tweed storage ottoman. This storage seat features a fully-synthetic fabric with removable cushion top to store toys, linens, blankets and more. The cushioned top lid makes for a great stool and a comfy seat that can support up to 400 pounds. The ottoman also features a stylish tufted top with button detailing. The ottoman itself is extremely lightweight, easy to handle and can be carried from room to room. The rugged woven fabric in light gray is a stylish color that fits nearly any décor style. Add two of these modern foldable ottomans to your space for a balanced look while also providing additional seating at the same time.
3. Small Faux Leather Square Ottoman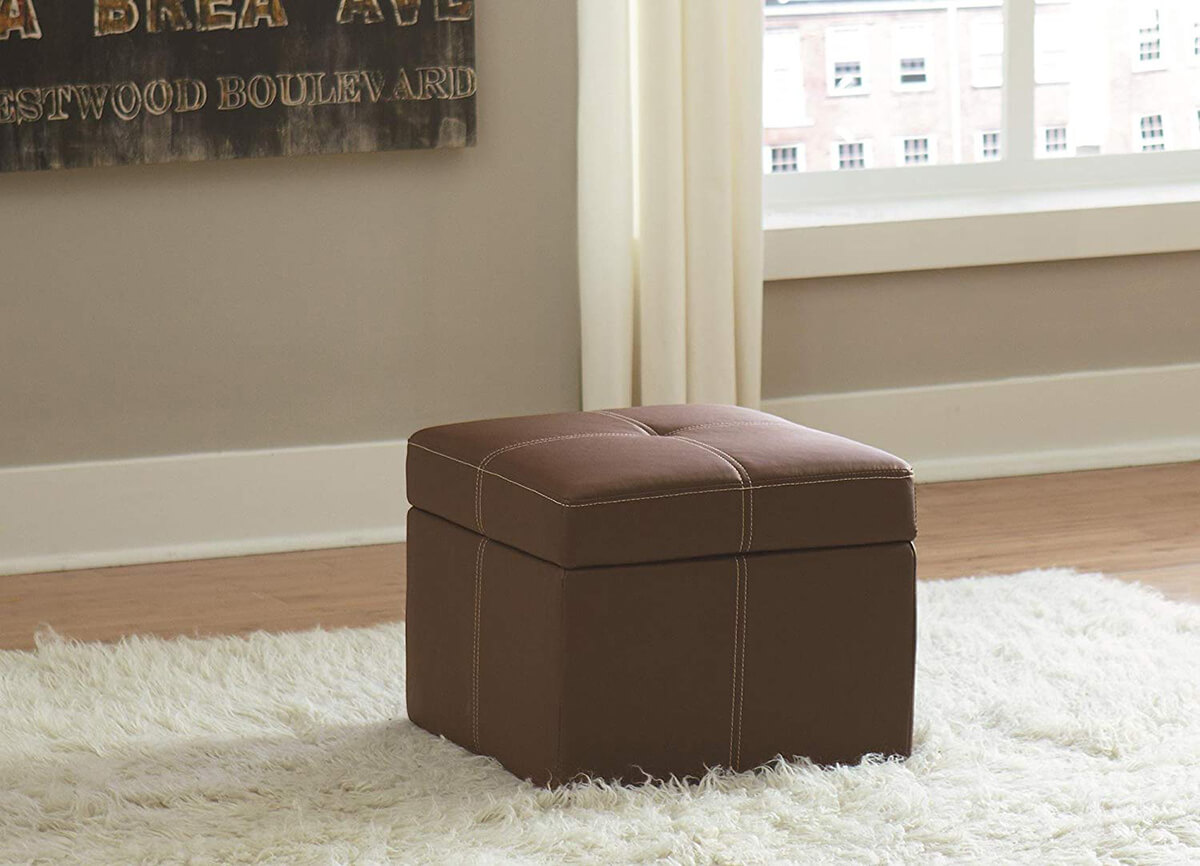 Whether you're looking for a small space saving solution or a trendy piece of furniture for your home, this small ottoman has it all. This functional, dual-purpose ottoman features a faux leather material with beautiful and trendy stitching. It's lightweight, easy to move from room to room and can hold up to 200 pounds of weight for additional seating. This brown square ottoman allows you to keep any room tidy with its open storage compartment. The top lid is on a hinge so it can raise up and down to get your blankets, toys or miscellaneous items in and out of the ottoman with ease.
4. Hand Knitted Cable Style Ivory Pouf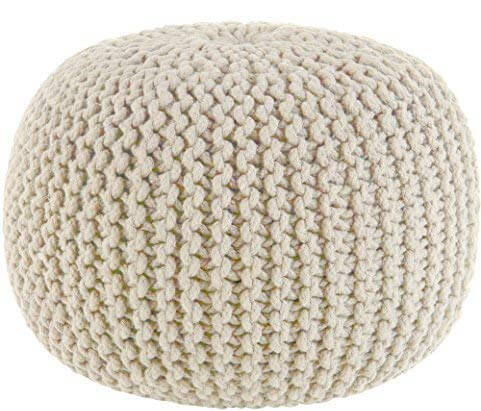 This Cotton Craft floor ottoman is a trendy footrest or beanbag chair that measures 20 inches in diameter and 14 inches tall. It's the perfect height for a playroom or nursery and would work as a footrest for smaller furniture that's lower to the ground as well. The pouf is available in a variety of colors to choose from to fit any décor style and features a hand-knit cable style design that's very trendy. This is a high-quality ottoman that's soft, yet firm. It's the perfect addition to any room of your home and only needs occasional fluffing for easy upkeep.
5. Storage Ottoman for Style and Functionality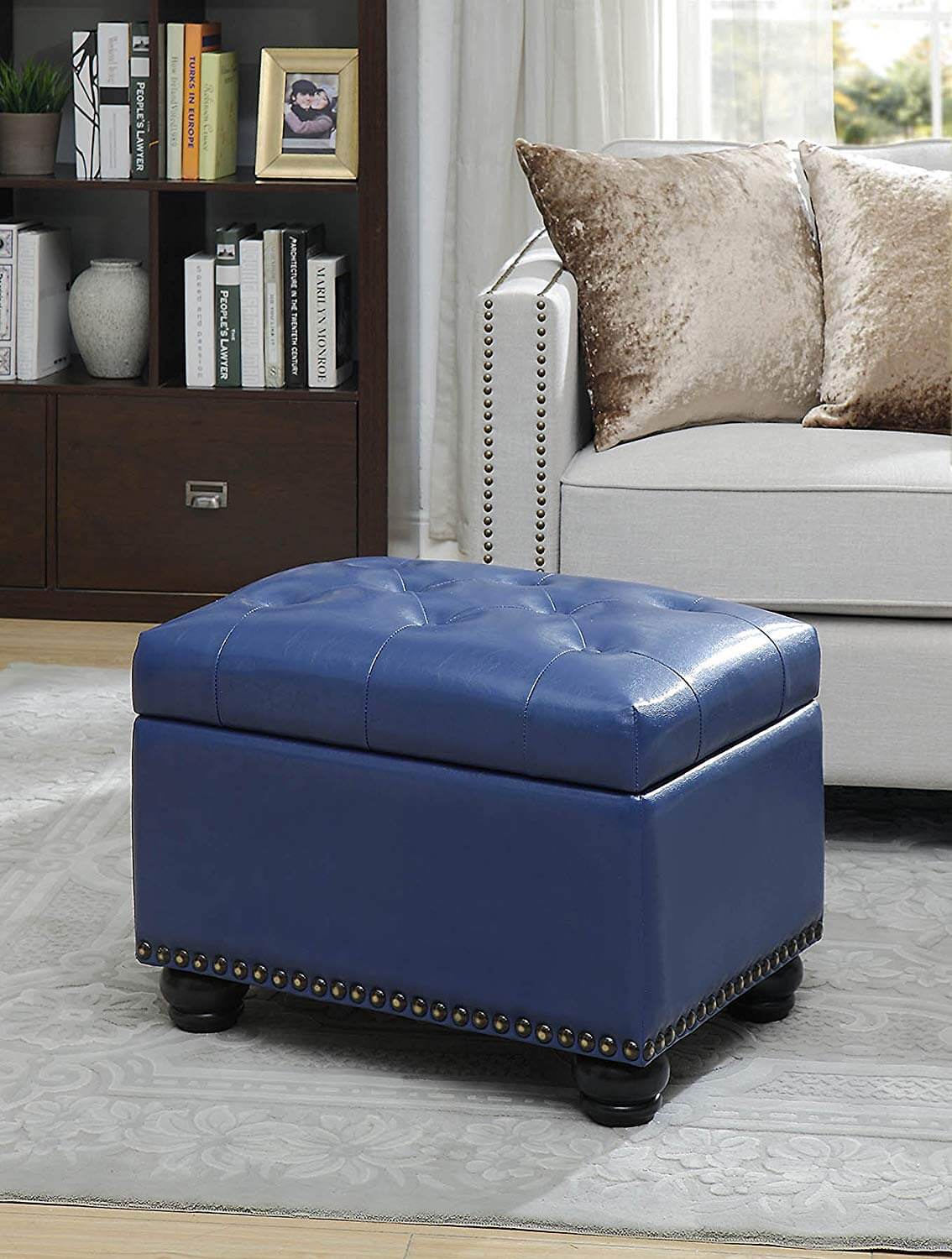 Ready to bring some style and functionality to your space? This elegant storage ottoman features a gorgeous button tufted hinged lid that pairs perfectly with the accented nail head trim. The top opens with a hinge to reveal ample storage to keep your space tidy and organized. The legs of the ottoman are solid wood to ensure that this piece of furniture is reliable and durable when used as a seat. It also comes in a variety of colors and finishes from faux leather to velvet to compliment any design style. This versatile storage ottoman provides a stylish and creative way to hide nearby essentials out of sight, seat additional guests and throw your feet up after a long day.
6. Faux Leather Folding Storage Ottoman Bench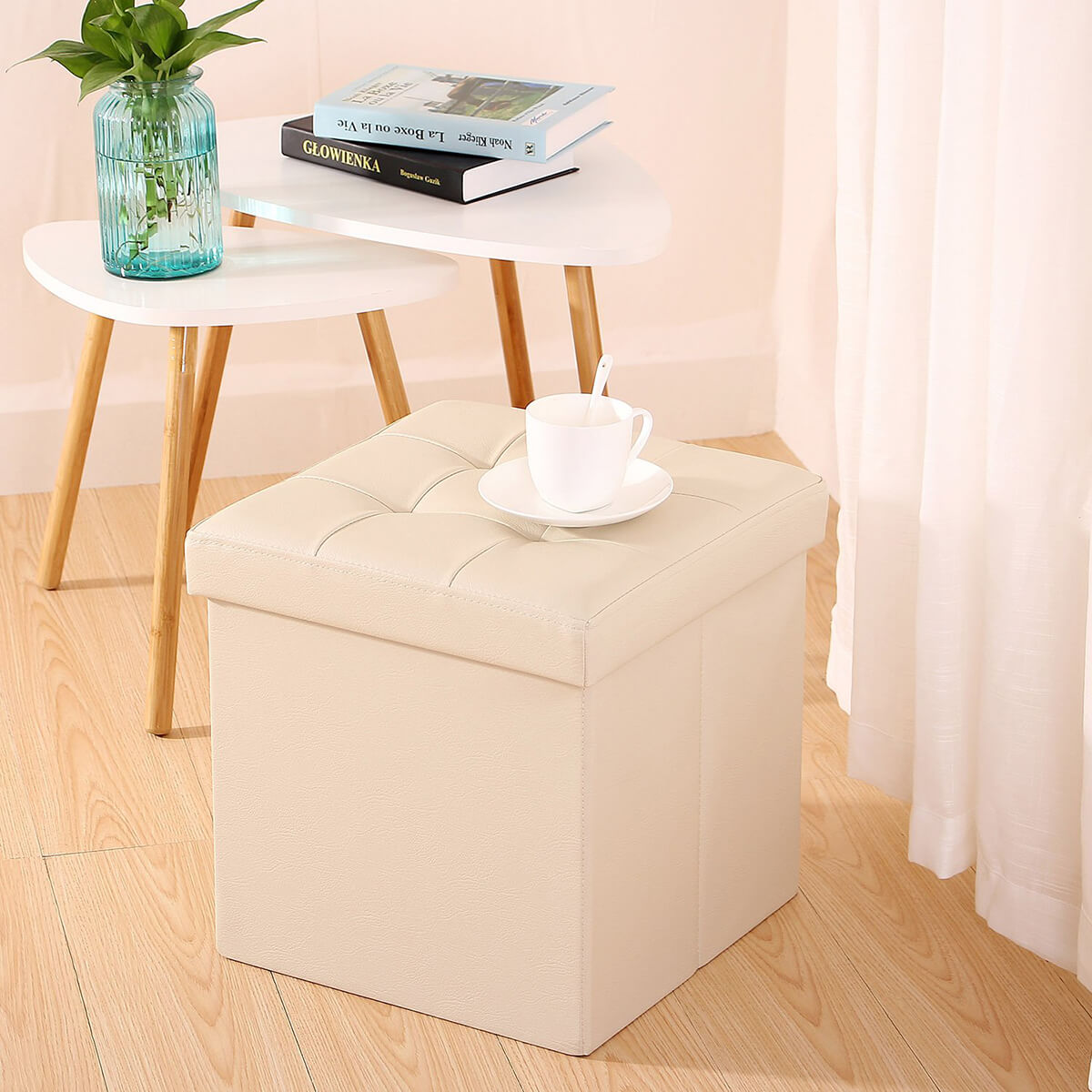 This classic faux leather ottoman not only is stylish and functional but also is wear resistant, waterproof and easy to clean. The top lid is filled with a high rebound sofa sponge for added comfort and support and comes off to easily store all your essentials inside. When not in use, you can fold it down for a space-saving solution. It can also be used as a coffee table, toy organizer, stool or footrest. The spacious hidden storage provides a stylish way to declutter your space while also designed at a comfortable height for sitting and resting your feet or legs on.
7. Padded Embroidered Floral Footstool with Storage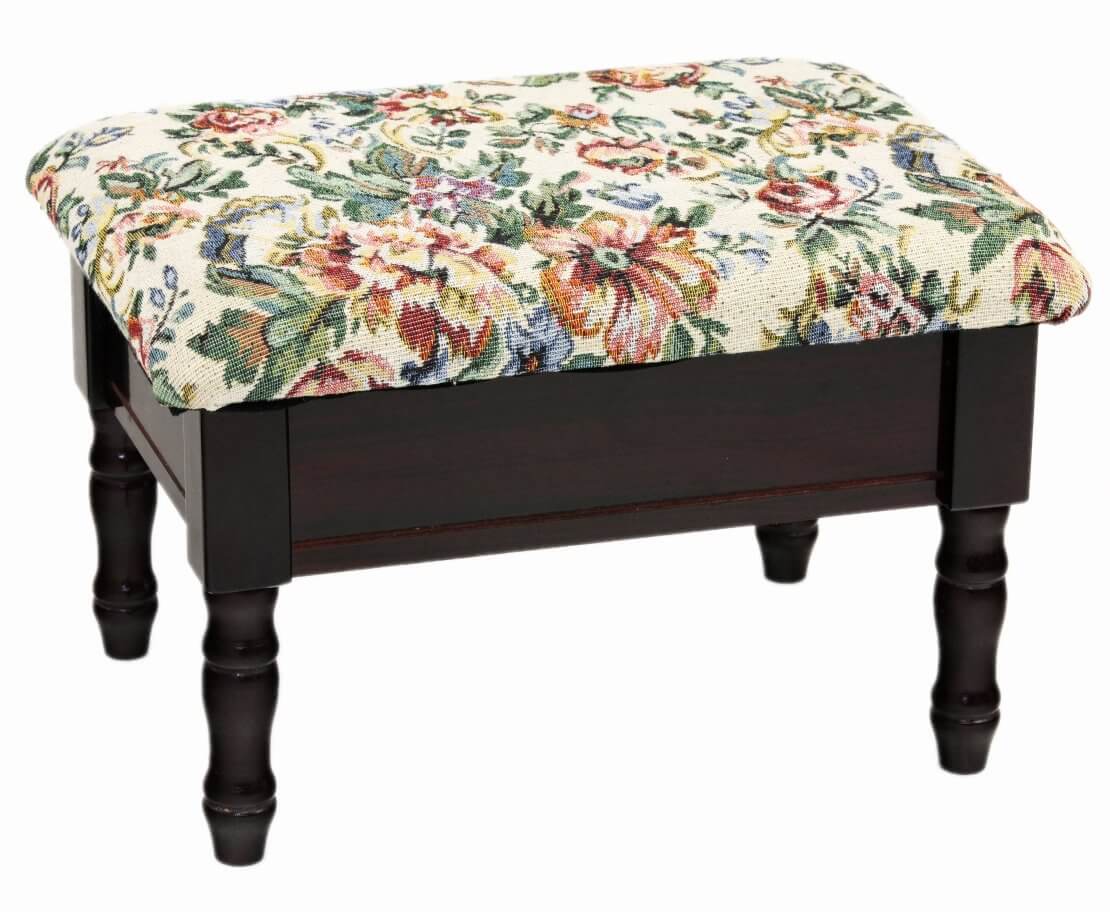 Bring a little vintage vibe into your home with this unique and comfortable floral footstool. The top of this ottoman features a comfortable padded seat with an embroidered floral fabric print. The top lifts for convenient storage space and will work well for any room of your home. The rest of the ottoman is made with hardwood and wood composite for a stylish and natural piece of furniture. This ottoman isn't meant to be used as a stepstool since it doesn't support much weight but does provide a stylish and trendy design that serves multiple purposes. The inside storage compartment is large enough to fit a remote, glasses, newspaper and any other small accessory you may want to hide out of sight.
8. Portable Folding Storage Ottoman with Handles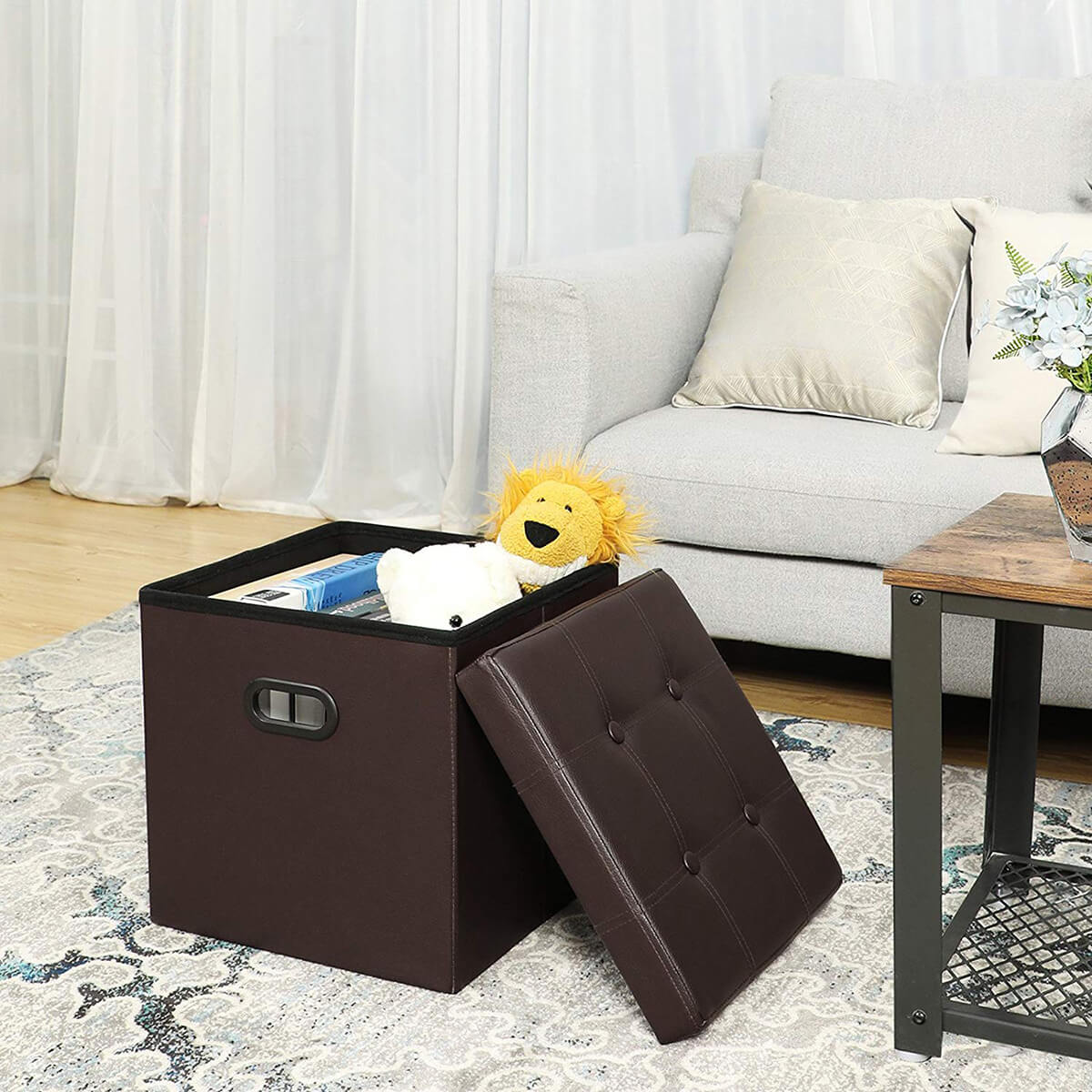 This sturdy and stylish ottoman is super easy to set up and very easy to collapse to fold flat when not in use. This is a great space saving solution that's easy to move around. The hole handles are on both sides to help you easily life and move the ottoman to any room of your home. The spacious hidden storage compartment is great for magazines, remotes and other small necessities. This ottoman features a classic button tufted appearance in a faux leather material to easily match your existing furniture. The ottoman stands about 15 inches tall and provides a comfortable height for sitting and resting your feet on.
9. Beautiful White Faux Flokati Plush Ottoman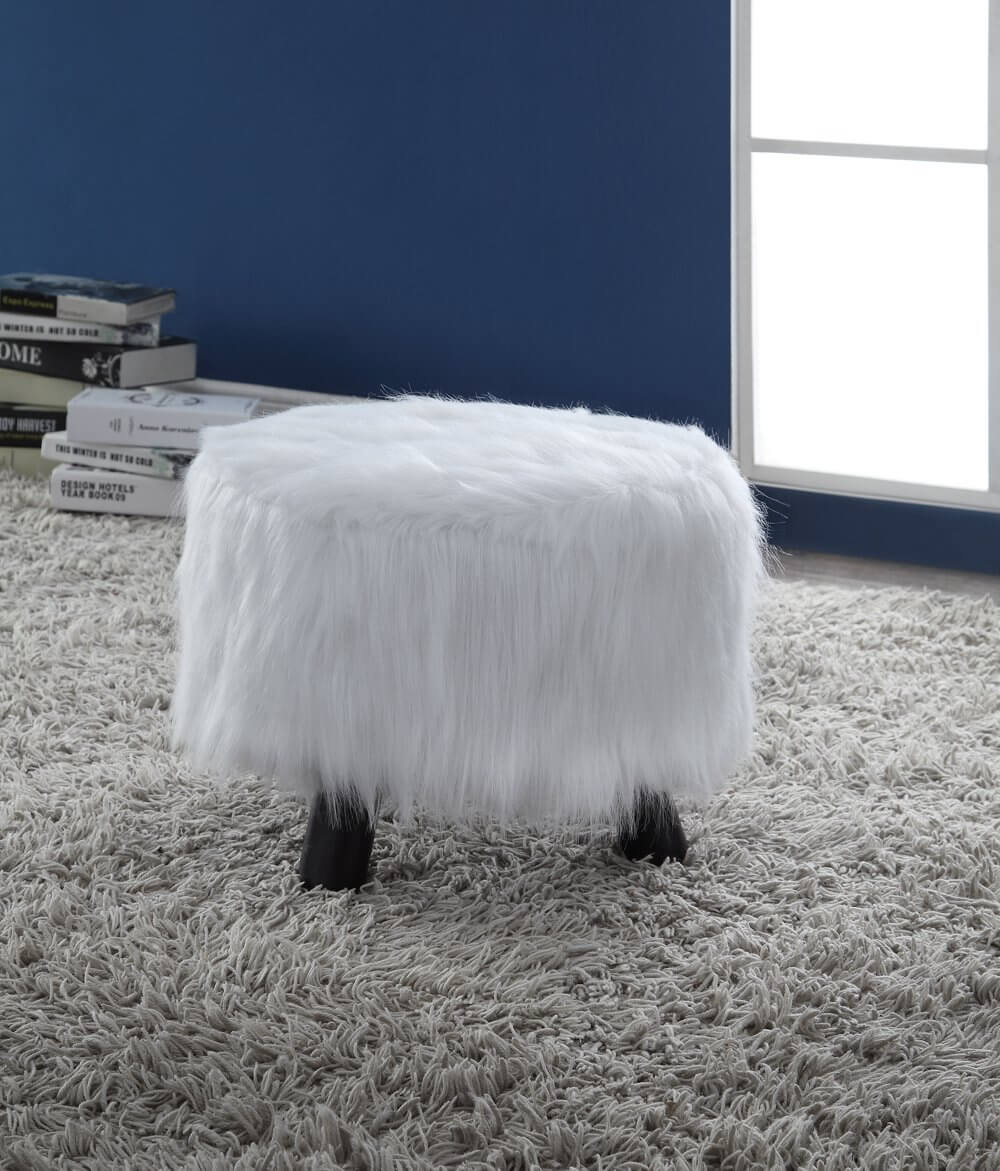 Looking to add a little texture to your space? This beautiful plush ottoman features a white faux fur top with a sturdy base. This lightweight plush ottoman looks so sleek and stylish and is perfect for nearly any space of your home. Prop it next to the coffee table, beside a larger chair, next to the kids' small table, beside your desk or even in the entryway for a small stool to sit on while taking off your shoes. This stool has a sturdy construction with black finished legs. It's so much fun for all décor schemes and a great way to add a little extra flair and texture to your space.
10. Round Leatherette Storage Ottoman with Lid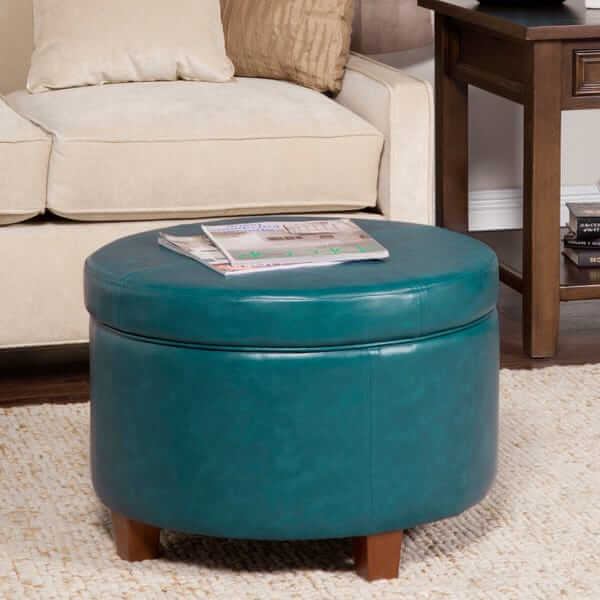 This faux leather-like ottoman is available in various colors featuring tufted buttons and decorative stitching on each seat. It has solid wood legs in a mid-tone brown finish for added support and is very easy to care for by simply wiping it down with a damp cloth. This is such a fun and playful storage ottoman that's perfect for any room in the home. Group two together for a decorative statement and for storing additional items like clothing, accessories, toys and more inside. The only assembly required for this ottoman is attaching the four wooden legs. No expert assembly required!
11. Leatherette Tufted Square Storage Ottoman with Hinged Lid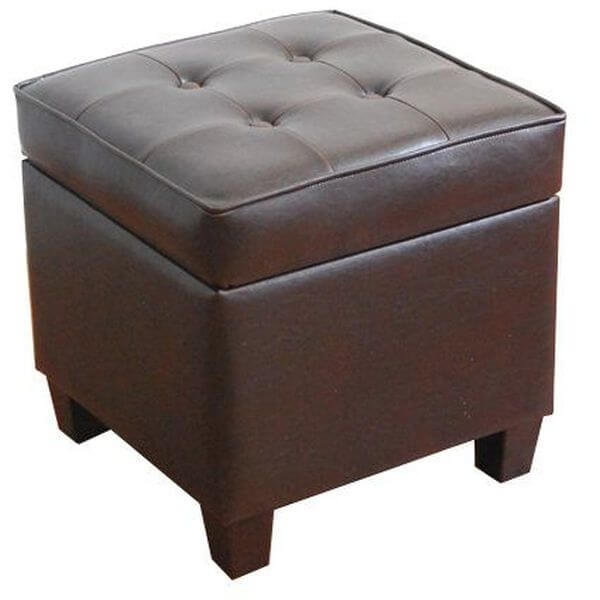 Featuring a class brown faux leather design, this button tufting, and padded storage ottoman is the perfect addition to your space. The easy to attach wooden legs are in a light cherry finish that compliments the rich brown color perfectly. This square ottoman also features a durable wooden frame that can hold up to 250 pounds making it such a functional little piece of furniture to have in your home. It's also easy to maintain by simply spot cleaning by hand to remove any visible spots or stains. The dimensions of this ottoman are 17.5 inches long and 17.5 inches tall.
12. Rectangular Faux Leather Ottoman Footrest in Black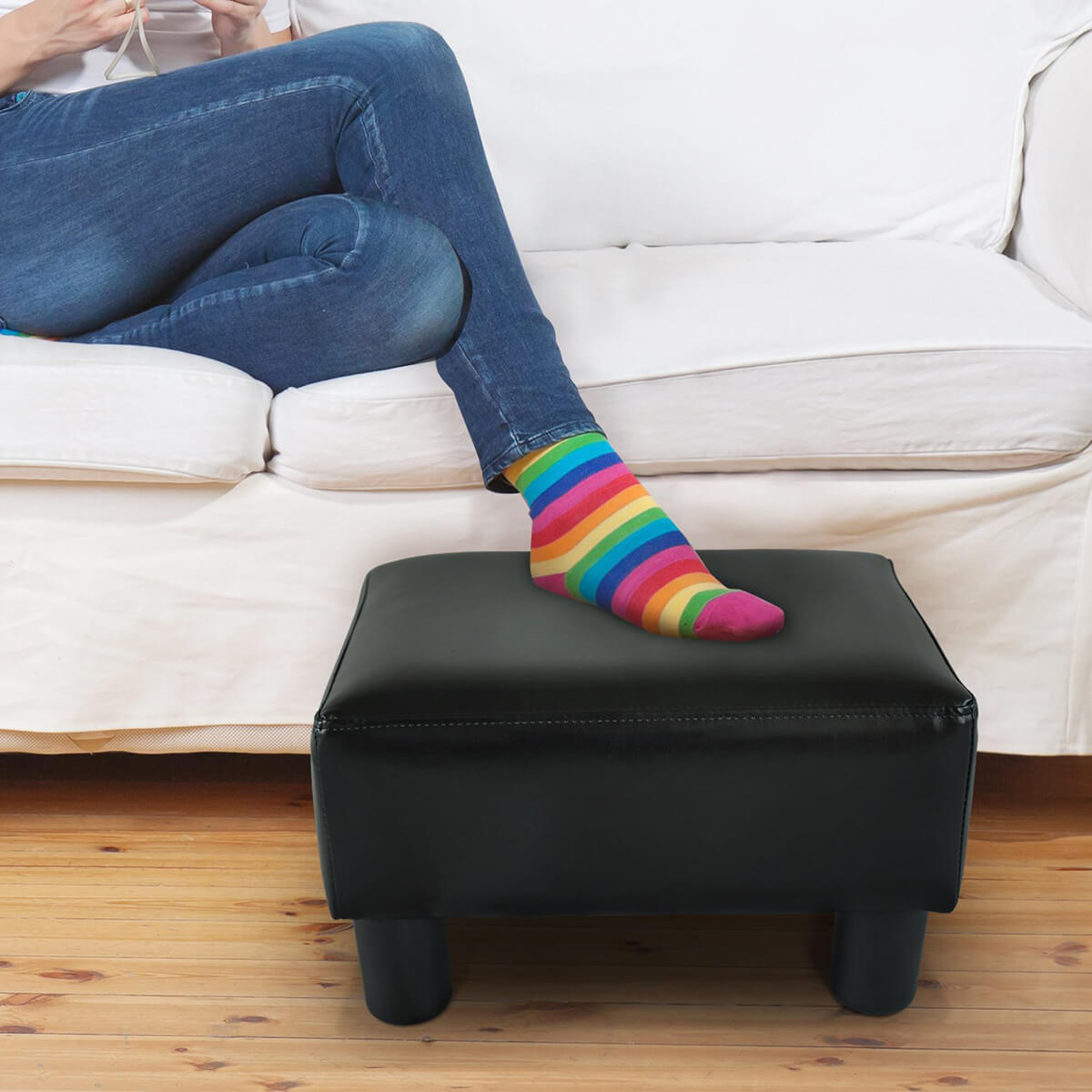 Having comfortable seating in your home is essential if you tend to host family gatherings or have frequent visitors. This rectangular faux leather ottoman provides a stylish design that compliments any home décor style and instantly enhances the look of your home. This ottoman isn't only stylish, but also very comfortable. It has a thick padded foam cushioned top for complete comfort and support. Use this rectangular ottoman in the hallway, at the foot of your bed in the bedroom, or in your living area for additional seating. Although this is a lightweight design allowing it to be easily moved and relocated as needed, it's also very durable and can hold up to 330 pounds.
13. Convenience Concepts Storage Ottoman in Velvet Taupe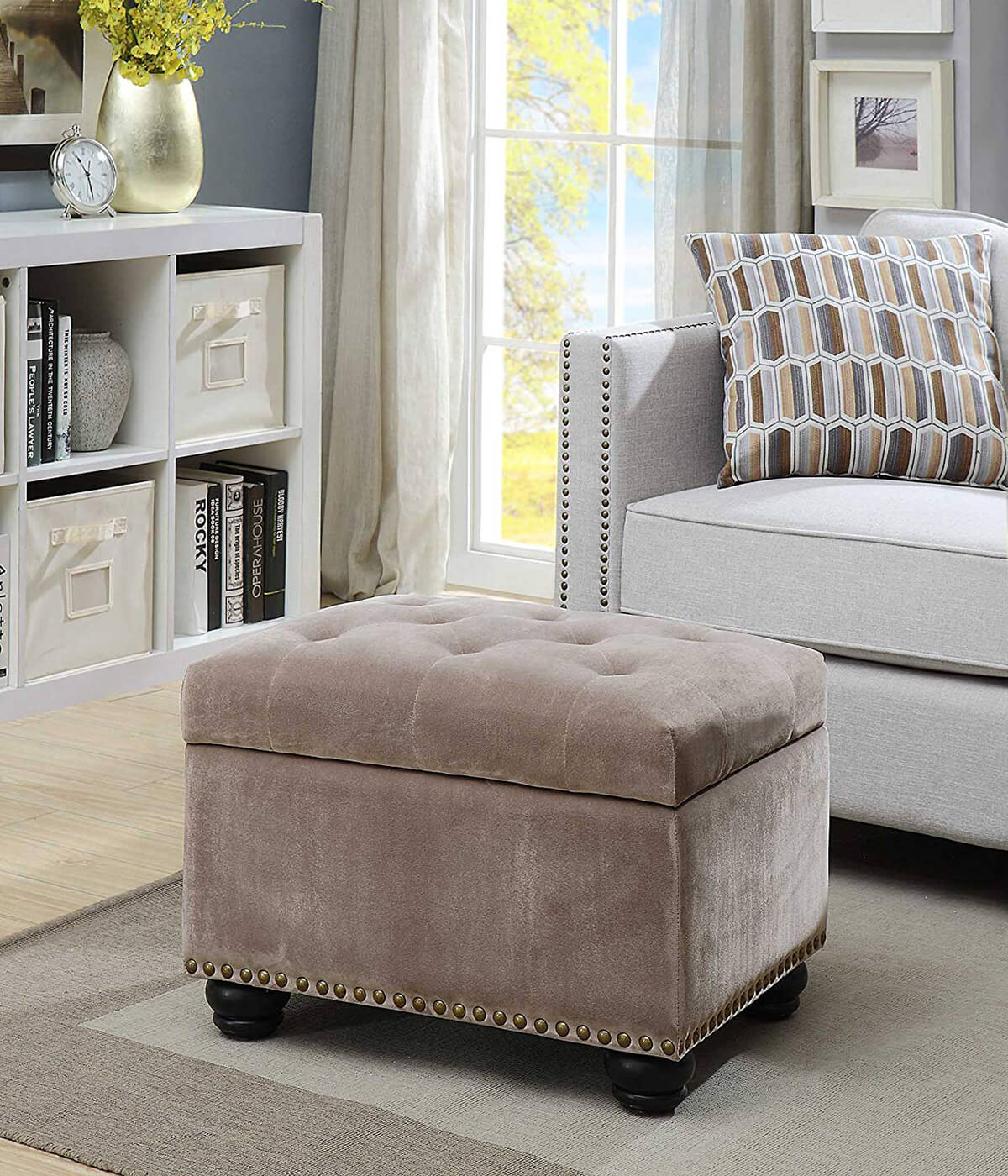 Velvet furniture is currently taking over in the home design arena. What used to be known as old-fashioned luxury, velvet is now becoming a more mainstream and modern texture to have in the home. This versatile velvet storage ottoman will instantly elevate the style of your home with its button-tufted top, decorative nail head trimmed bottom and bun-style lathed wooden feet. Not only does this ottoman provide comfort as a seat or footrest, but also the cushioned top opens to reveal a generous amount of storage space. Use it in the living room or bedroom to store seasonal throw blankets and pillows inside. Use it in the entryway to sit and remove shoes. This ottoman also has concealed hinges that lock in place to keep the ottoman open when using the storage compartment.
14. Green Velvet Storage Ottoman with Nail Head Detailing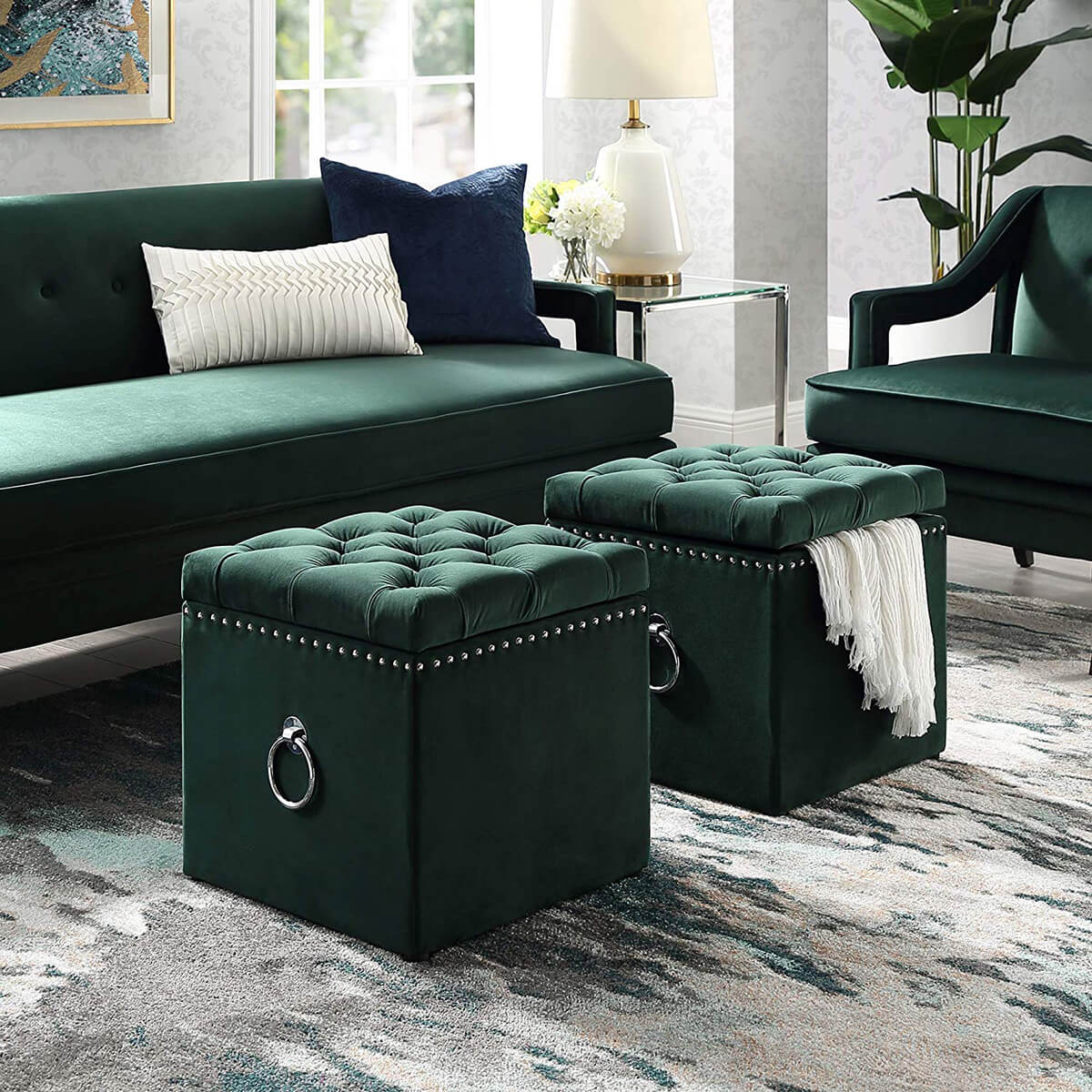 This chic, modern upholstery with velvet and linen fabric and silver or gold detailing adds a touch of texture and freshness to your space. This elegant ottoman really makes a statement and adds flair while also providing functionality. Along the bottom of the ottoman you'll notice handmade nail head trimming for a sophisticated look. The side of the ottoman features a silver ring for easy handling. The extra storage space included with this chic velvet ottoman allows you to store magazines, books, remotes, pillows, throws and more. It's such an attractive and functional piece of furniture to have in your home.
15. Urban Knit Cloudy Gray and White Pouf Set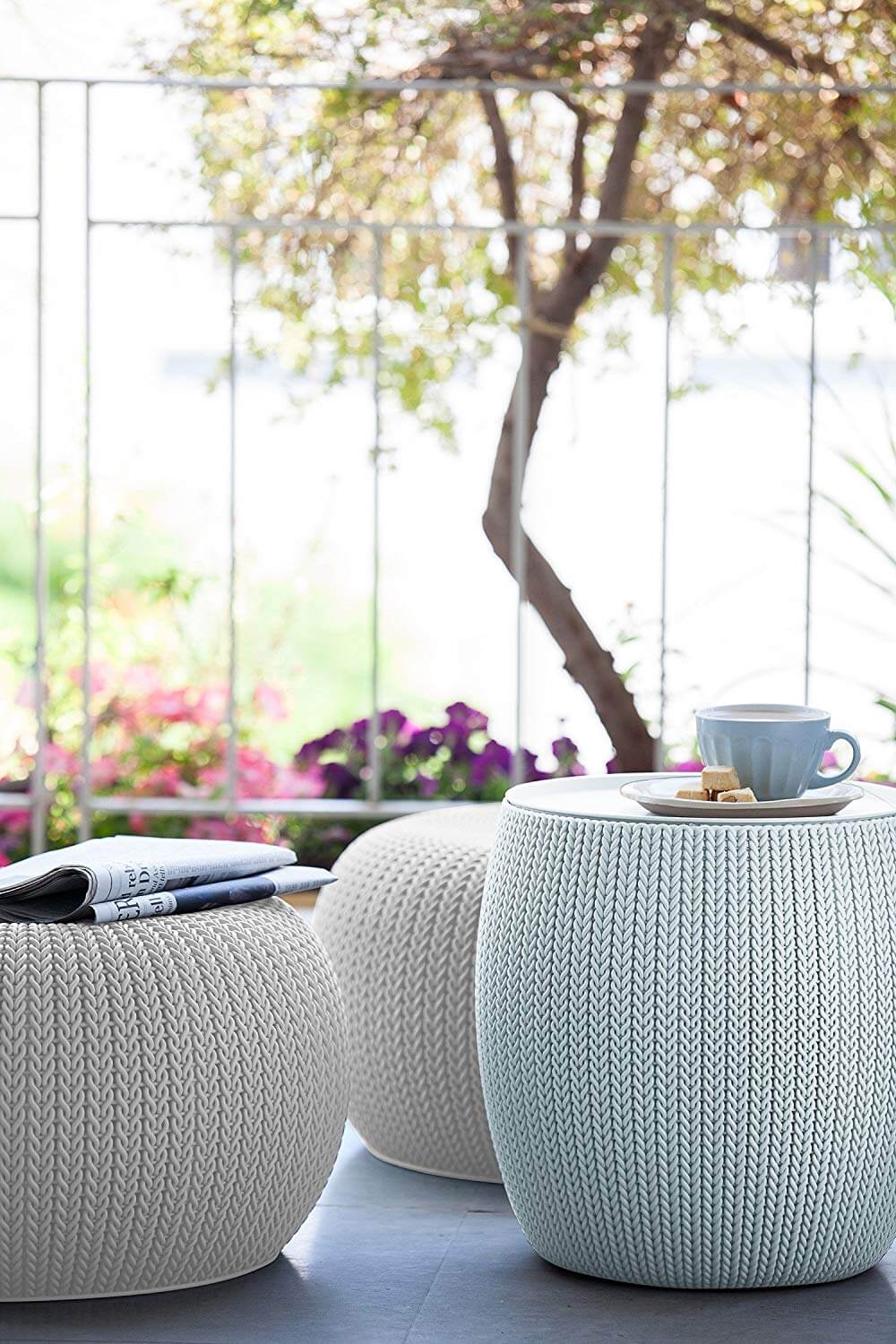 Why stop at just one hassock or ottoman? This unique set includes two seating poufs and a coordinating storage table. The table provides over 10 gallons of storage space making it perfect for keeping things organized around the house. This lightweight, compact design makes this set perfect in just about any area of your home. It's made from durable, rust-proof, all-weather polypropylene resin making it exceptionally beautiful. This cozy urban knit set is ideal for everything from outdoor patio furniture to a cozy corner of your living room. Bring them indoors and outdoors for a modern look in any space.
16. Cube Shaped 2-Piece Hassock with Lift Top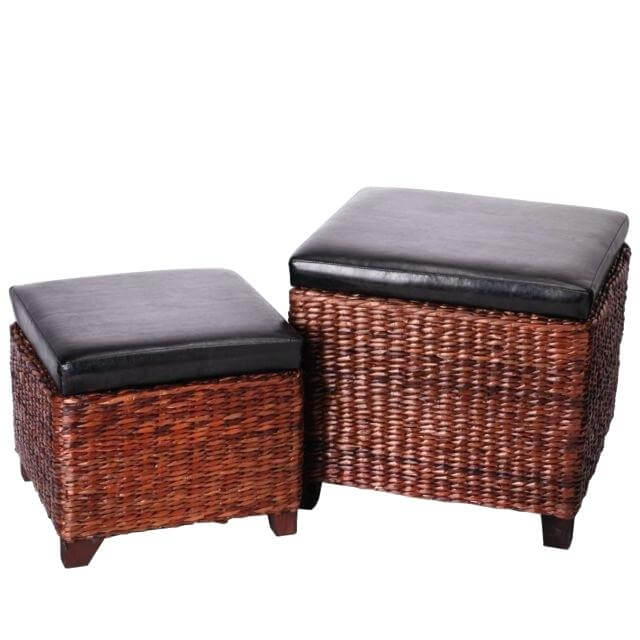 Two hassocks are better than one which is why this cube shaped stool set is so perfect! The main frame of this ottoman set is made of wicker and rattan for a strong support and added sturdiness. The tops feature a cushion cover with a dark brown high-quality faux leather material. It's both soft and comfortable to sit on or rest your feet on. This set includes one large cube and one smaller cube that easily fits into the bigger cube for a space saving solution. The large ottoman is great for storing throw blankets while the smaller ottoman is great for smaller accessories like remotes, books and headphones.
17. Round Velvet Tufted Storage Ottoman with Lid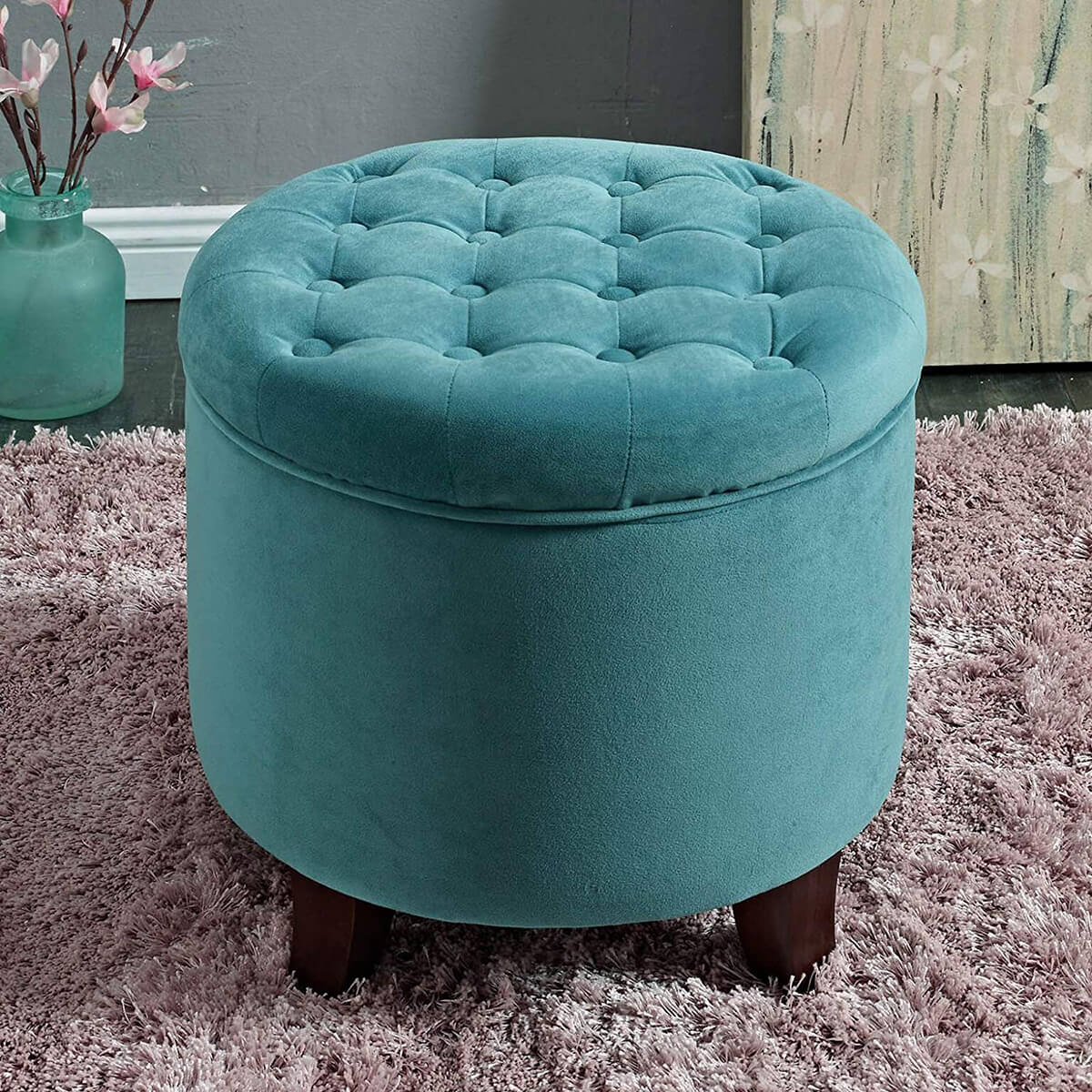 Available in several colors, this round velvet storage ottoman has such a sleek and modern design. It features a tufted button top with rustic brown wood finished legs. The seat can hold up to 250 pounds, so it works great for additional seating and features a removable lid for storage. It's such a modern and affordable functional piece of furniture to have. It can work in any room of the home and you can even group two together for a decorative statement. Use them to store books, magazines, remotes, purses, blankets and more. Choose from seven different rich velvet colors for your round trendy new ottoman.
18. Nathan James Large Foldable Storage Ottoman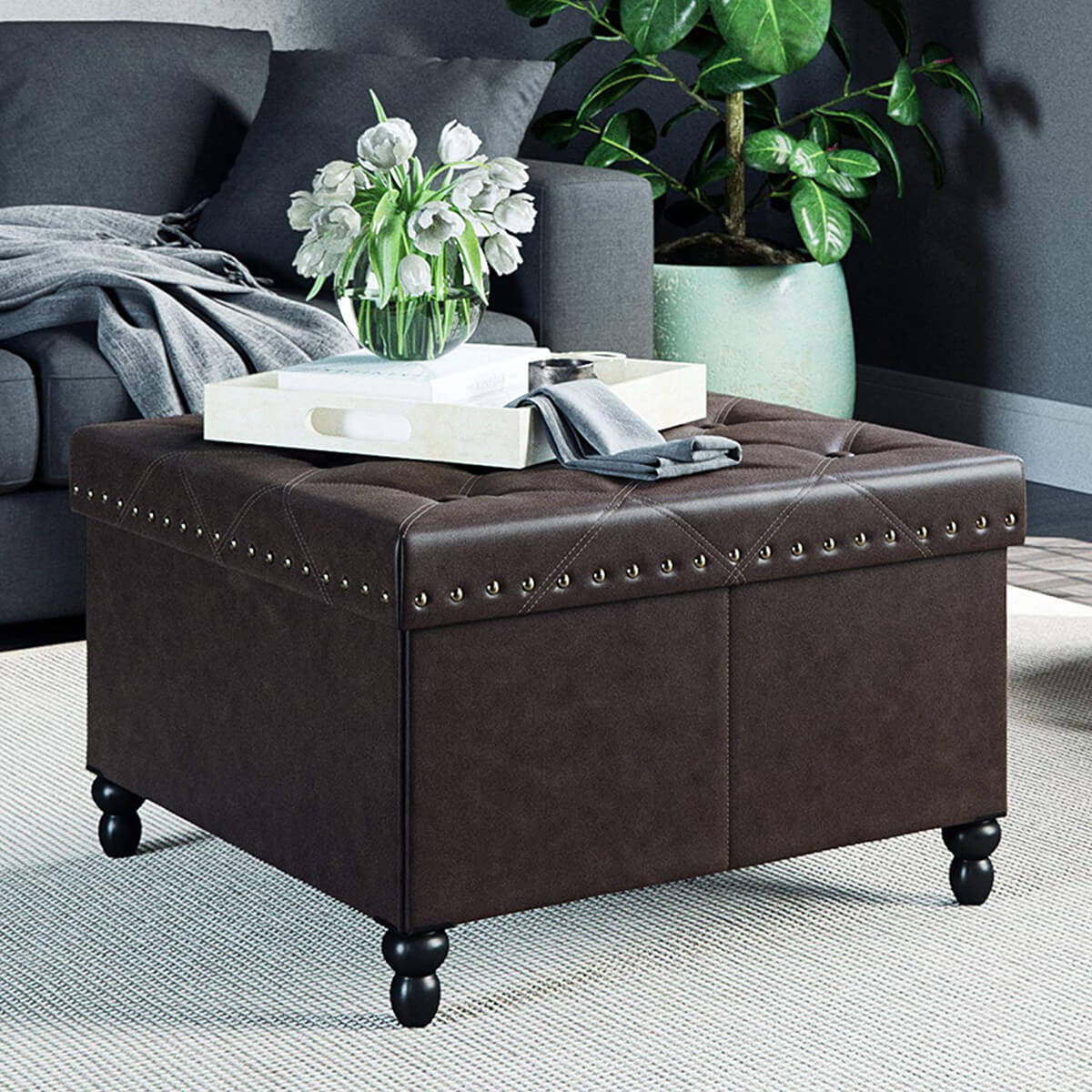 Sit in style and comfort with this thick foam cushioned ottoman that's upholstered in a brown faux leather fabric. Flip the seat lid to reveal a functional tray and storage space for books, magazines, toys or blankets. You can easily assemble this large ottoman in under 5 minutes! The modern contemporary design of this ottoman is neutral in color and will blend well in any room of your home. Use your new ottoman as a coffee table, foot stool, bench or an accent furniture piece. This ottoman is truly built to last with high-grade durable materials. The weight limit for this foldable hassock is 300 pounds making it a great piece of furniture to serve multiple purposes.
19. Round Velvet Tufted Ottoman with Removable Lid for Storage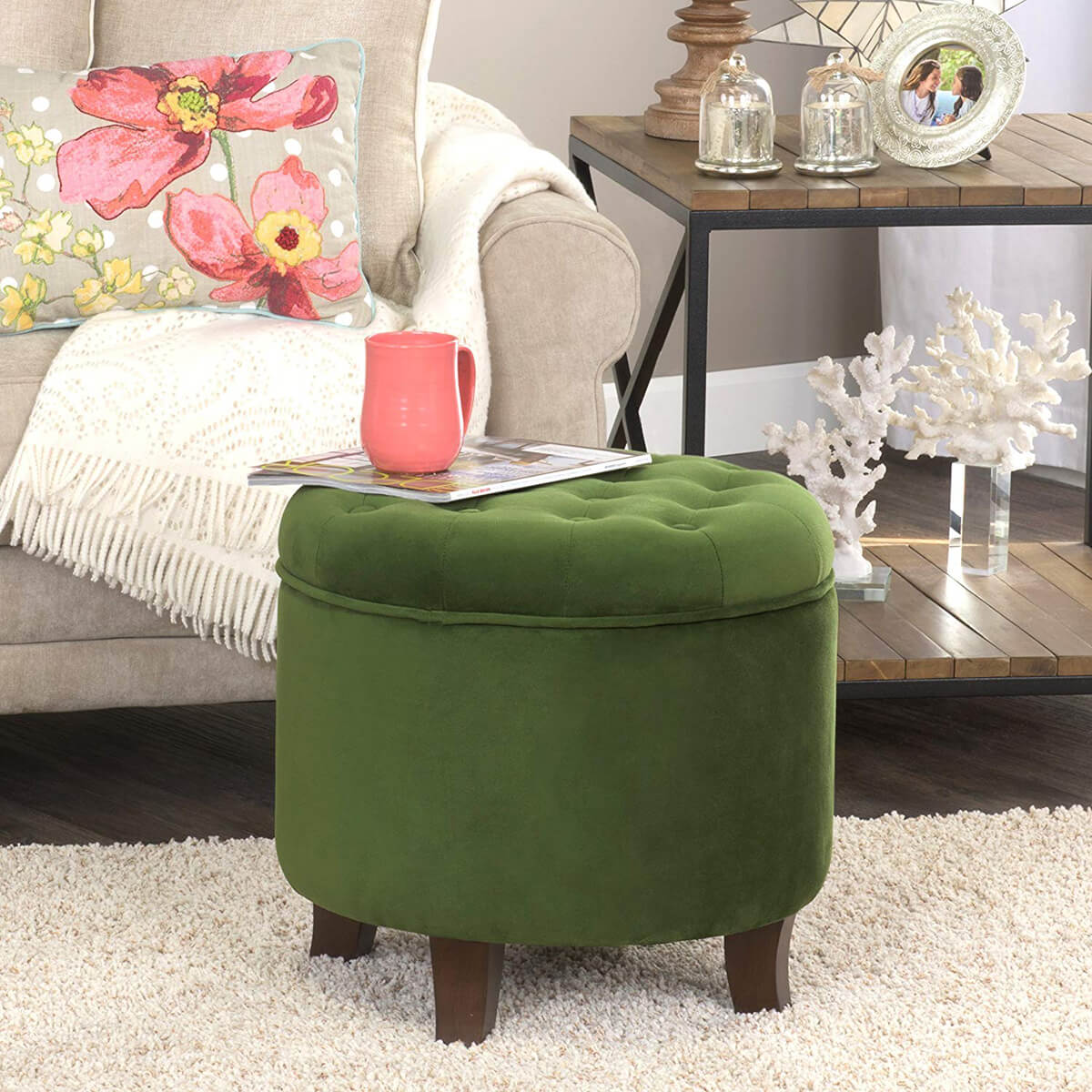 Green velvet is a gorgeous shade that can complement any room of your home quite easily. Velvet is a soft, sophisticated fabric that instantly adds a touch of glamour to your space. It's luxurious, yet versatile and creates an aesthetic that looks super trendy. This round green velvet tufted ottoman features a removable lid for storage and solid wood legs in a dark walnut finish. The footstool can hold up to 250 pounds with nearly 10 inches of deep storage space. Place two of these stunning velvet ottomans together for a nesting look that's both decorative and functional.
20. Adorable and Stylish Animal Shaped Ottoman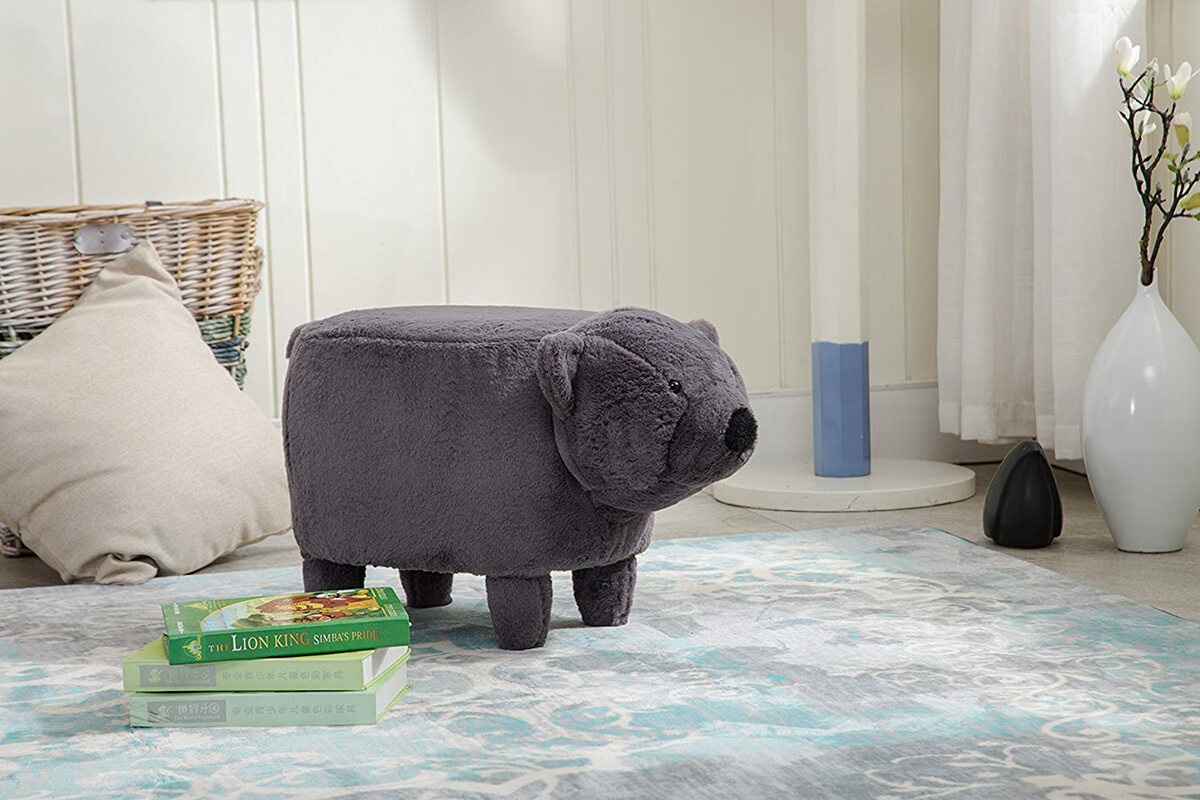 Looking for a unique and stylish ottoman for a playroom or nursery? This adorable multi-functional ottoman is designed for seating or for resting your feet and legs. This adorable animal shaped ottoman has a bear face, four legs and a little tail. It's a nice, comfortable fabric to sit on or prop your feet on. Use this adorable stool in the nursery, playroom or create a little kid's corner in your living room. This animal shaped ottoman doesn't contain any storage inside, but still is a chic and stylish addition to your playful space. The soft upholstery is sewn on, so to clean simply wipe with a damp cloth.
21. TIC Collection Faux Leather Morocco Style Ottoman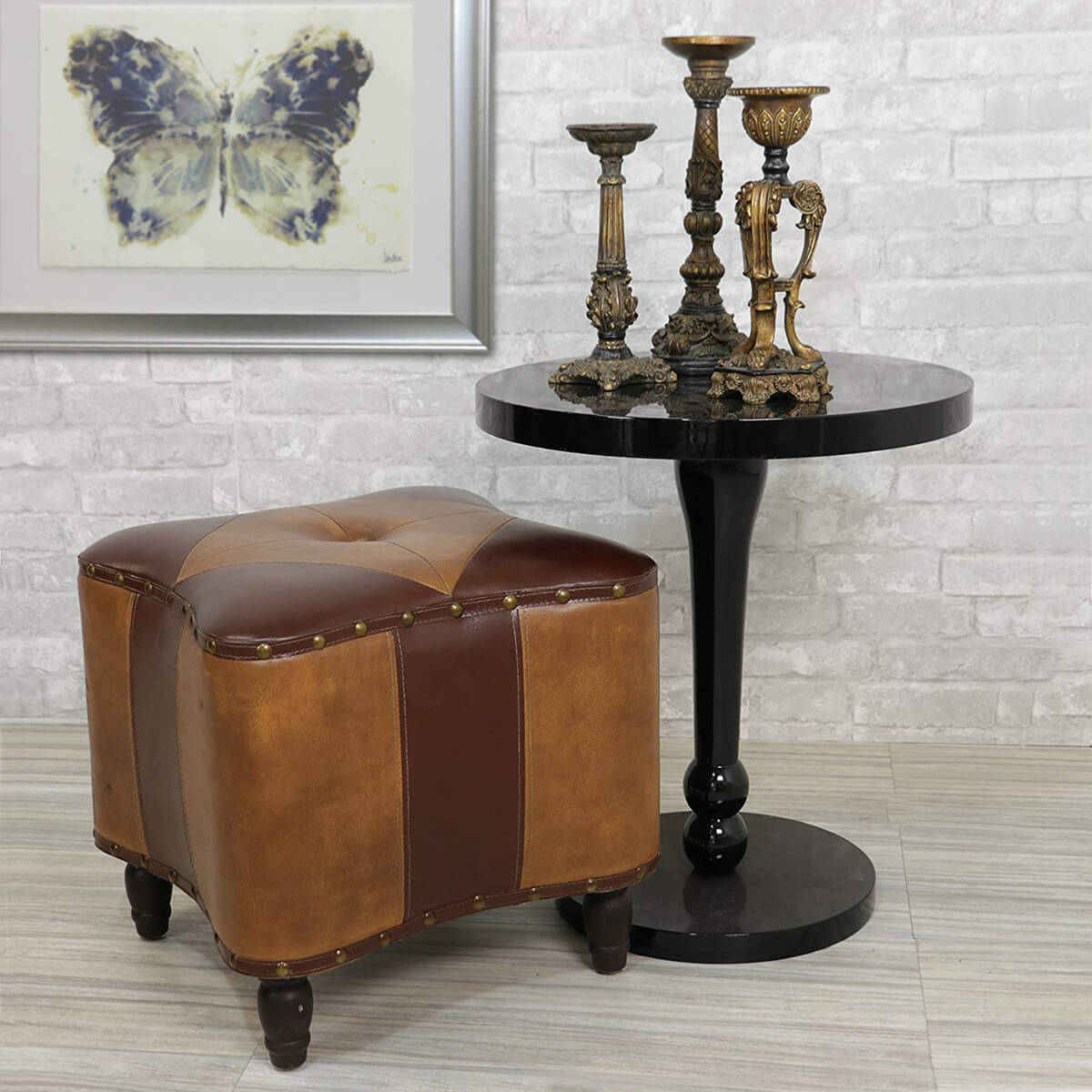 This classic ottoman features contrasting shades of rich brown, faux leather pieced together to create a beautiful morocco-graphic pattern. It also features nail head detailing and a matching covered button on the top center. It's crafted from faux leather and is made to age with use. It's a beautiful hassock with graceful wooden legs for sturdiness. This morocco style ottoman is great for rustic farmhouse décor as well as modern and traditional aesthetics. The TIC Collection brand is a leading home décor company specializing in home accessories such as lighting, wall art and mirrors. They are dedicated in creating timeless and fashion forward products like this beautiful morocco ottoman.
22. Ashley Furniture Contemporary Blue and White Pouf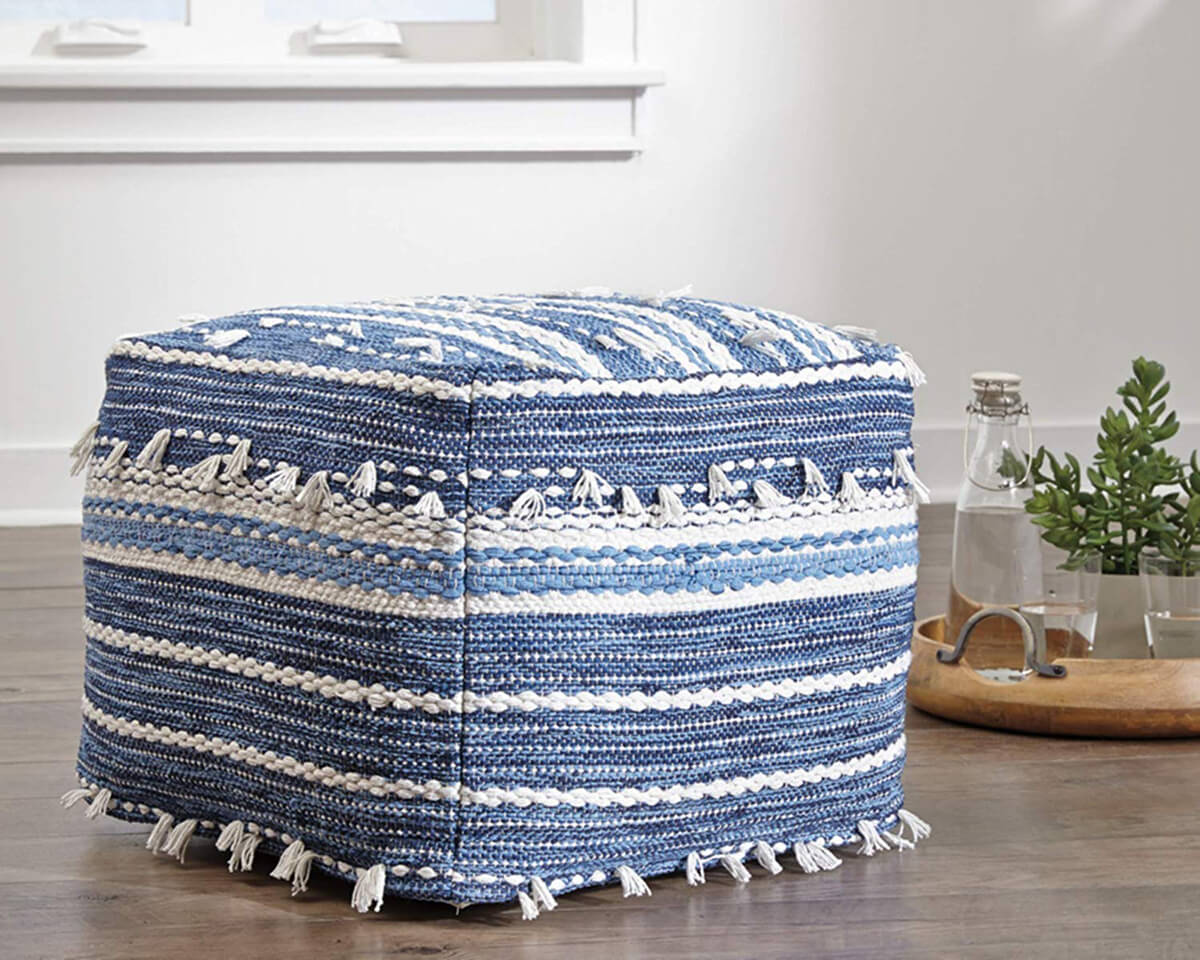 This charming and tasteful pouf features an irresistibly touchable woven texture, topped with a hand-crafted tassel design. This handmade pouf features lights shades of blue and white and stuffed with dense, shape-retaining bead filling. The filling is wrapped in a soft cotton cover to prevent any spillage. This contemporary ottoman is great for small spaces and would look fabulous in a beach themed, contemporary or shabby chic interior. These little poufs are such a great way to transform your space and add functionality to your room. Use it as a footrest, a casual table or an extra seat.
23. Unstuffed Decorative Multi-Functional Pouf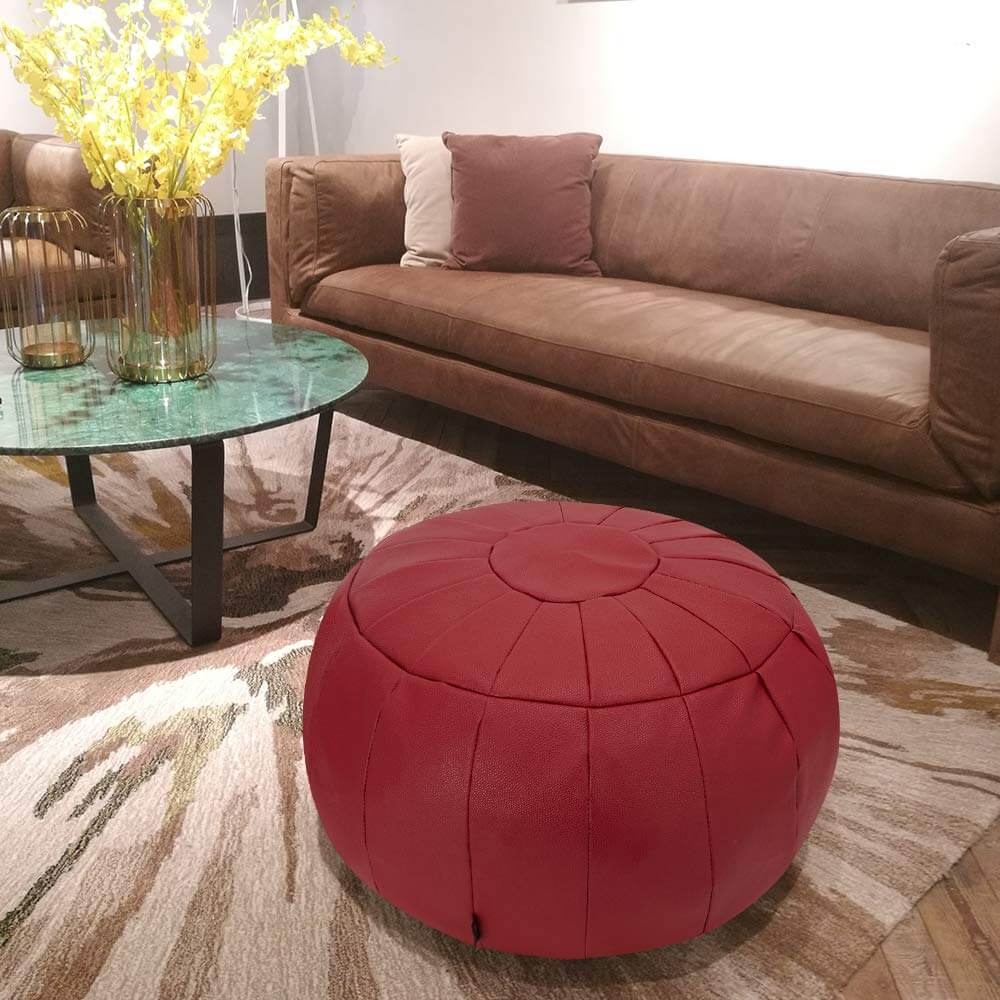 Looking for a tough and durable ottoman that provides both style and functionality? This high-quality faux leather pouf is designed to hold 220 pounds and delivers exceptional comfort. It's extremely durable for everyday use and features a bottom zipper pull to store your small soft materials in. This pouf is not stuffed, so you can use it to store your child's stuffed animals, seasonal blankets and throw pillows and any other soft materials for the inside. Once this decorative pouf is stuffed, use it as a comfy stool, footrest, mini table and more. To make things easier, simply wipe away any stains of spills with a damp cloth for simple and efficient cleaning.
24. Hand Woven Traditional Style Hassock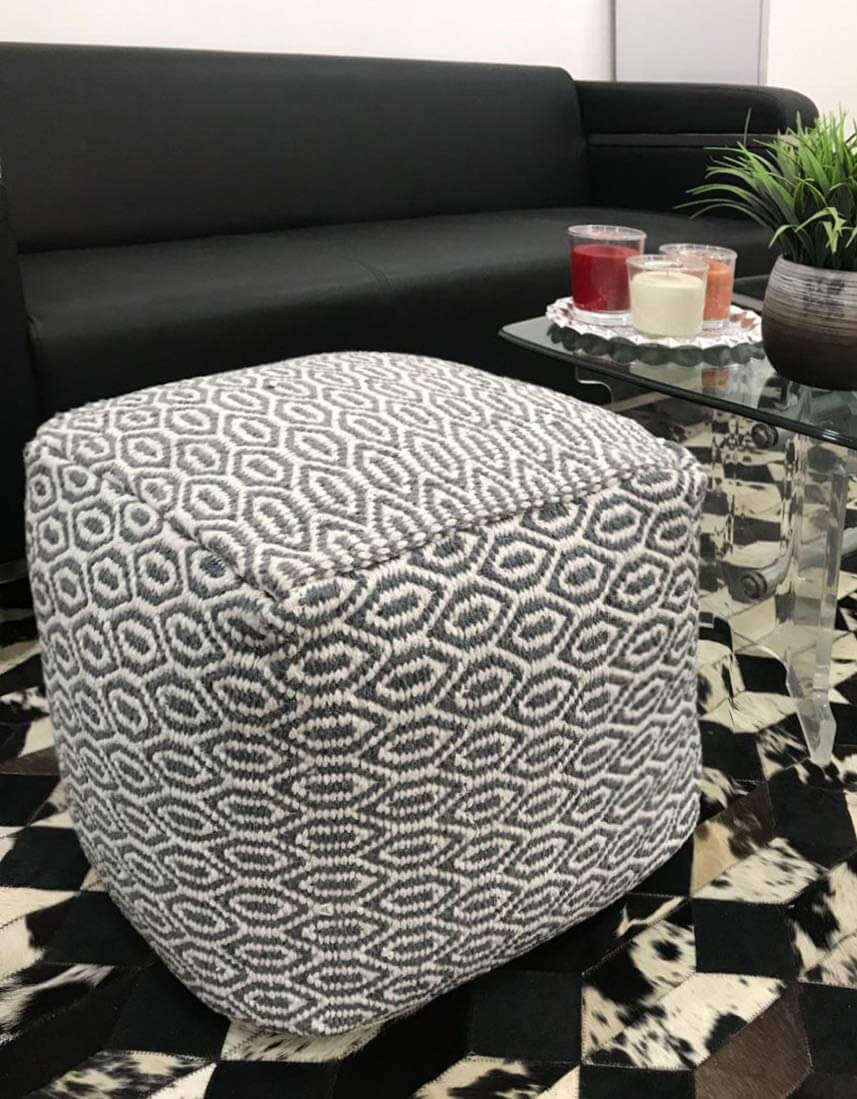 This handmade woven pouf features a chic boho design over a yarn featuring a lively motif of grey and white. It's filled with polystyrene foam beads so it's the perfect versatile piece of furniture to have in your home. Whether you need a comfy footrest, a casual place to sit or simply something pretty to look at, this pouf has you covered. Its sized perfectly to fit any room of your home. Top it with a serving tray for a unique and trendy little table to sip your coffee or seat your guests comfortably while keeping your space nice and tidy. The colors are neutral to fit any existing décor style.
24 Most Comfy Hassocks and Ottomans the Whole Family will Adore
While searching for the best hassocks and ottomans for your space, it's important to maintain the overall aesthetics you want in your home. Are you looking to add texture? Do you want to enhance your space with a bold pop of color? Do you want to provide ample seating without adding bulky furniture? Whichever footstool you choose, your personality should be reflected throughout.
With such a wide variety of hassocks and ottomans available on Amazon from brands like Home Pop, Ashley Furniture and Nathan James, you're sure to find something you love from our curated list above. These practical, yet comfy styles are super trendy and overall a great solution for spaces both big and small. Have fun playing with different shapes, designs and textiles to make your home warm and welcoming. Add a tray on top of your ottoman to create a surface to display decorative pieces on or to place your morning coffee. Style your ottoman with books or simply just put your feet up after a long day. The possibilities are endless when you start to incorporate hassocks and ottomans into your space. I hope this list has inspired you and you're ready to take on the biggest task at hand, purchasing one!