There are a million home library ideas out there and that can make designing your dream home library both exciting and challenging. People who want a library in their home tend to love their books and want to read them in the perfect atmosphere. That means creating a home library can be a very personal thing. To make the planning stages a little easier, there are a few things you should consider before you begin.
16 Stunning Home Library Ideas that Will Make You Want to Curl Up With a Book

The first thing you need to consider is your budget and skill level. If you don't have the budget for a contractor or a custom build, you will need to look at ideas that are within the scope of your skill and budget.
To do this, think outside of the box. For example, you can often find high-quality and inexpensive items at estate sales and auctions. Also, check out Facebook Marketplace and Craigslist. These are great options for you if you're on a budget or want items with a unique history or character.
How large is your library? Small libraries may not have room for the design you envision. Consider the type of shelving that will make the space functional. You may also choose to purchase items that multitask and will make the space work for you.
This is often the last thing most people consider when planning a library, but it is very important. How accessible is your space? Will you need a ladder or step ladder to reach the top shelf? If so, plan to purchase and store one in your library or incorporate it into your home library design.
Once you have a better understanding of your needs, check out the following library design ideas to help you plan and design the home library of your dreams.
1. Rustic Chic Chicken Wire Accent Bookshelves
White bookshelves that run floor-to-ceiling will make your home library appear taller than it actually is. These bookshelves will make any library feel roomier and more open. The chicken wire detail on the door is a perfect rustic accent that adds character while providing some protection for your book collection.
The pull-out drawers at the bottom of this build-in are another nice feature. They allow for dust-free storage and light protection for more valuable books. It also gives you a space to store reading accessories or a nice cozy blanket to cuddle under while you read your favorite novel.
2. The Perfect Classic Home Library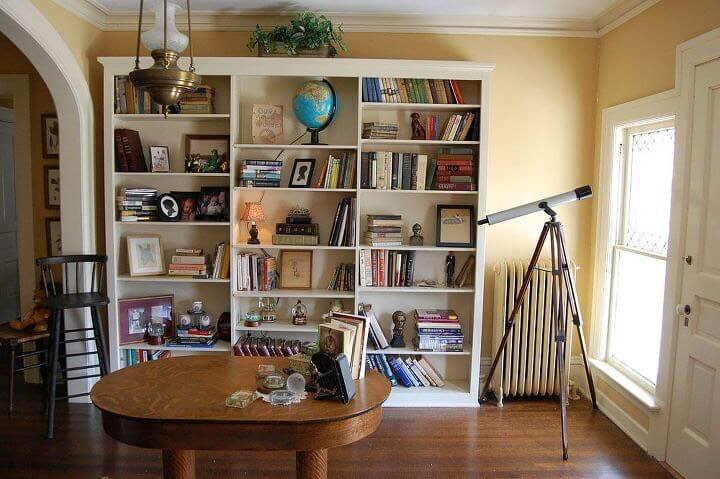 This library is one of the easiest to replicate home library ideas on this list. These classic bookshelves are perfect for nearly any space. The simple crown molding on the top of the shelf gives it a stately appearance, but it's not over-the-top or too formal for most spaces. It would also be easy to modify for any space, small or large.
The small library table, globe, and telescope all work well together in the space and make this a room that you can imagine spending many nights reading a good book, stargazing, or planning your next travel adventure. All it needs is a cozy chair near the radiator or a warm fireplace to make it absolutely perfect.
3. Simple Walnut Wall-Length Library Shelves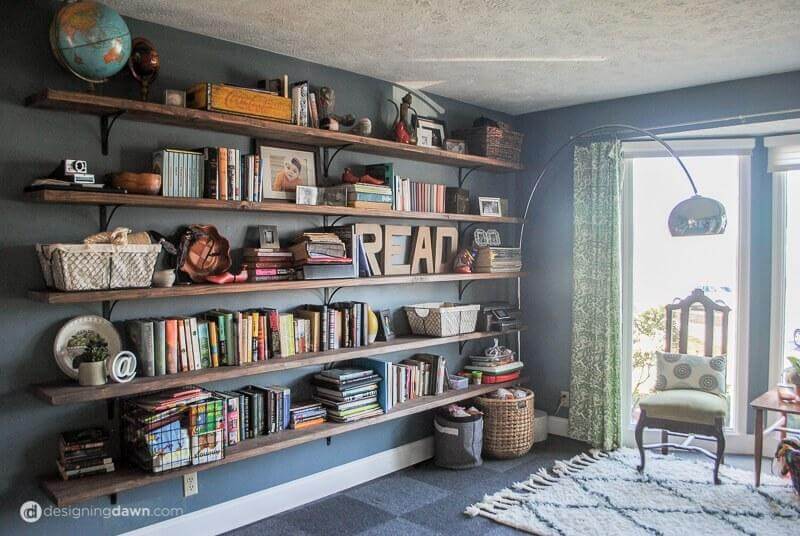 These simple wall-length bookshelves are perfect for a clean simple look without sacrificing function. The design is very rustic and masculine with walnut stained shelves and matte black steel braces for support. This design is a simple and incredibly functional and flexible home library design.
Home library ideas like this are easy to customize for use in any space. Gray stain would give these shelves a more weathered and rustic feel, for example. They could also be dressed up by using corbels in place of braces or adding moldings to the shelves. These shelves would be easy to incorporate into any home library.
4. Built-in Shelves with Attached Library Ladder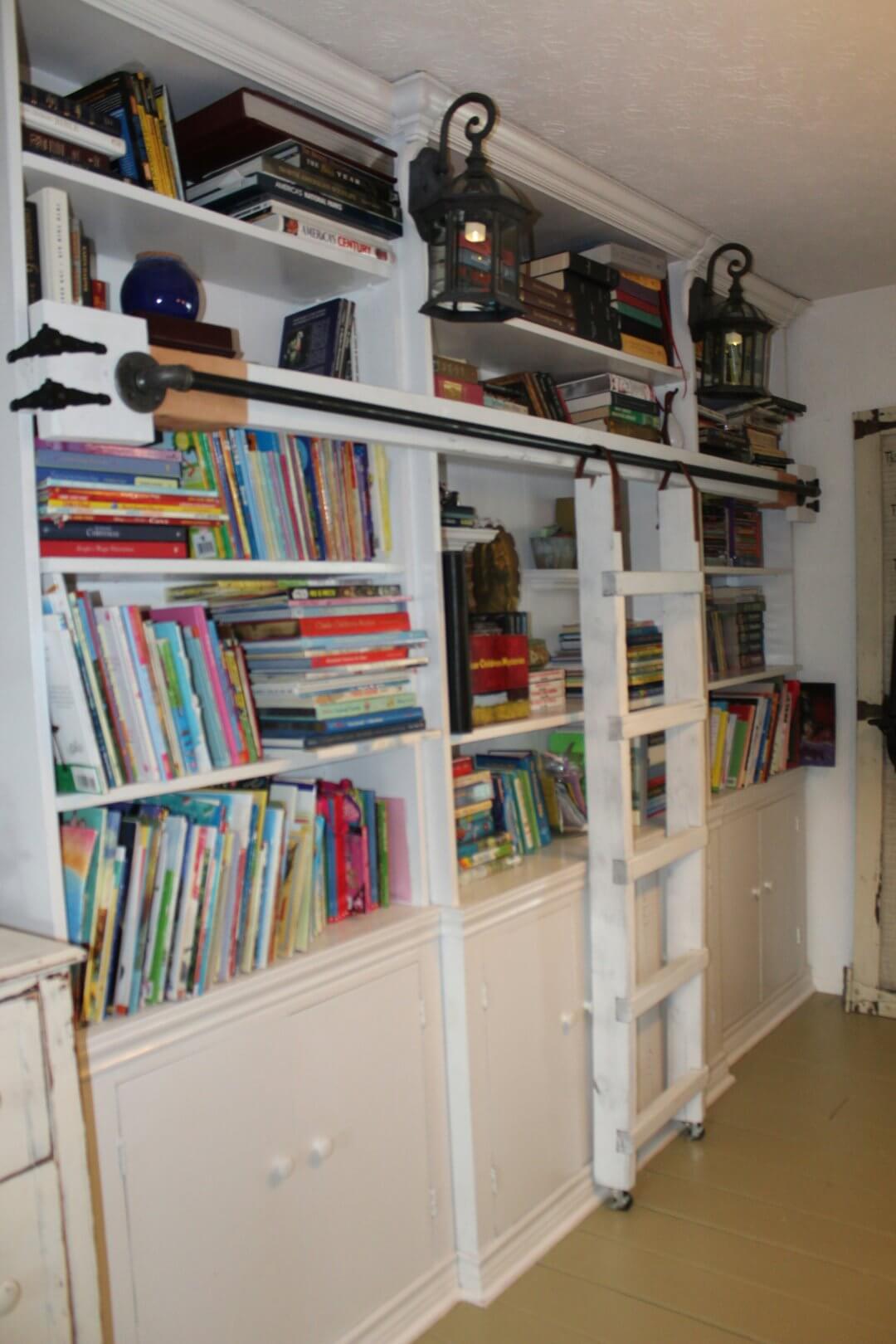 There's just something about the charm of a library ladder that makes you want to explore the books on your shelves. This beautiful built-in unit features shelves with cabinet storage below and is perfect for making your book collection easily accessible. It also offers storage below that is out of sight and out of mind.
If you are looking for unique home library decoration ideas, the attached ladder and two lanterns on the built-ins add a whimsical touch to this design. These features are not only attractive, but they are also functional and a perfect addition to any home library.
5. Cozy Corner Reading Nook Home Library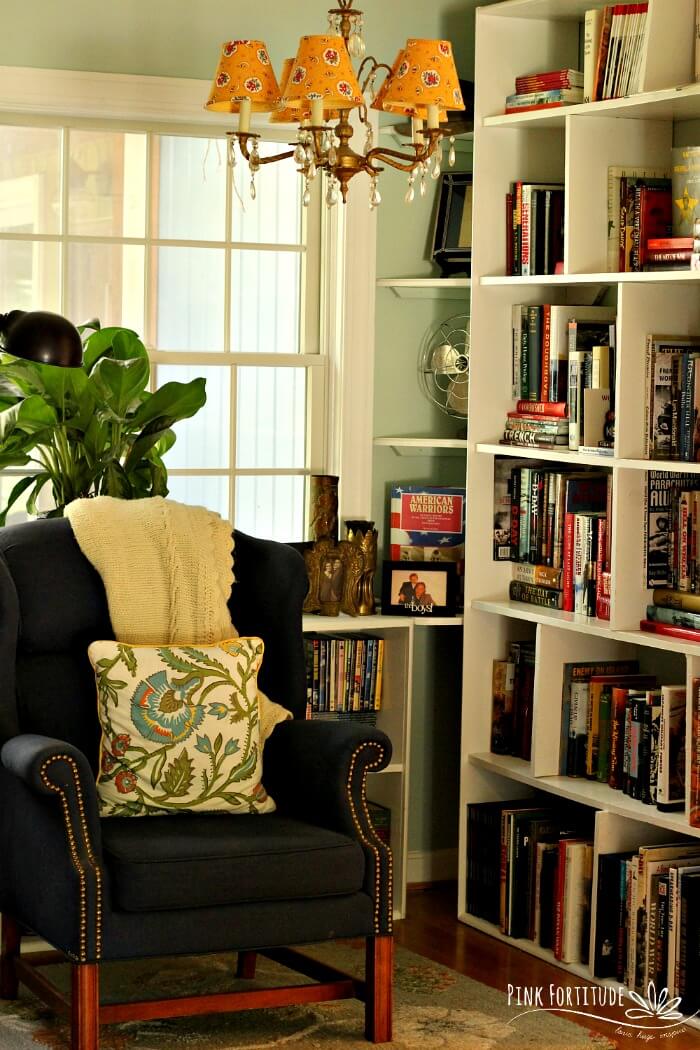 This cozy little library is perfect for any corner of your home. This design even utilizes the small space between a bookshelf and the wall by the window to create storage in this cozy reading nook. This library contains an eclectic mix of furnishings and decor to create an adorable space that begs you to read a good book.
If you are searching for home library decoration ideas, this example is chock full of great ones. The antique chandelier is the most eye-catching detail of the room with its yellow shades and teardrop crystals. The cream bookshelves complement the soothing paint beautifully and will make any book collection stand out nicely.
6. Traditional Home Office and Library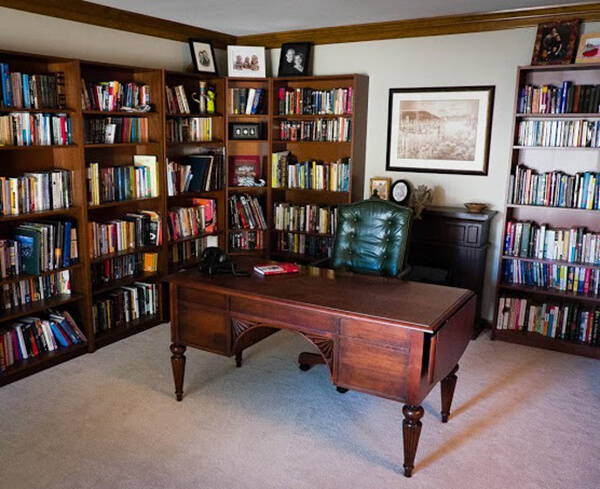 This office is the perfect space for a researcher. Not only do you have room for an expansive book collection, but there is also a desk and comfortable chair that will make working from your home library a joy. The dark shelving will bring a high ceiling down to a cozy level but may make a room appear smaller, so keep that in mind.
This design combines lighter walls and floors with dark walnut stained wood on the matching desk, shelves, and crown moldings. The atmosphere is warm and soothing, making this the perfect home library if you need to get work done.
7. Scandinavian Inspired Minimalist Home Library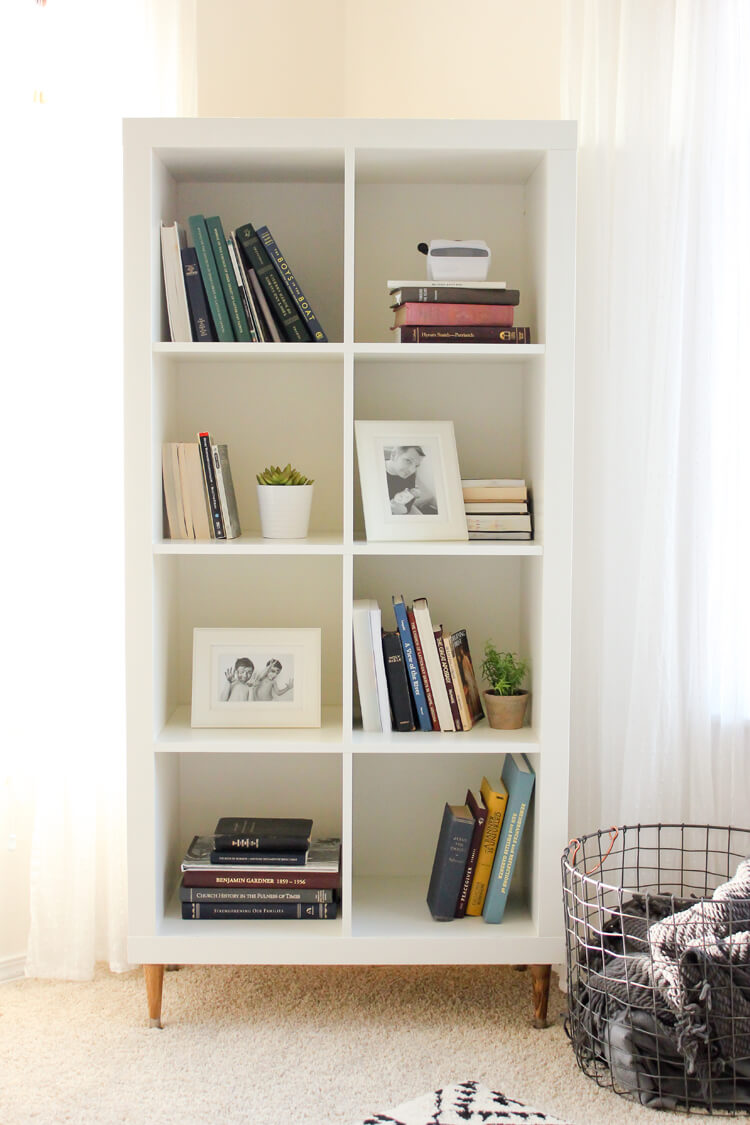 If you love the look and open feel of Scandinavian minimalist design, you will love this home library idea. The single bookshelf embraces simplicity with standard cube shelving and spindly natural wood legs. There is no overcrowding on the shelves, making the bookcase appear very open and fresh.
Sand-colored carpets, cream walls, white curtains, and a simple black basket make you feel like you are near the sea, even if you live in the city. Looking at this photo, you can almost hear the waves crashing against the rocks.
8. Home Library with Gallery Style Shelves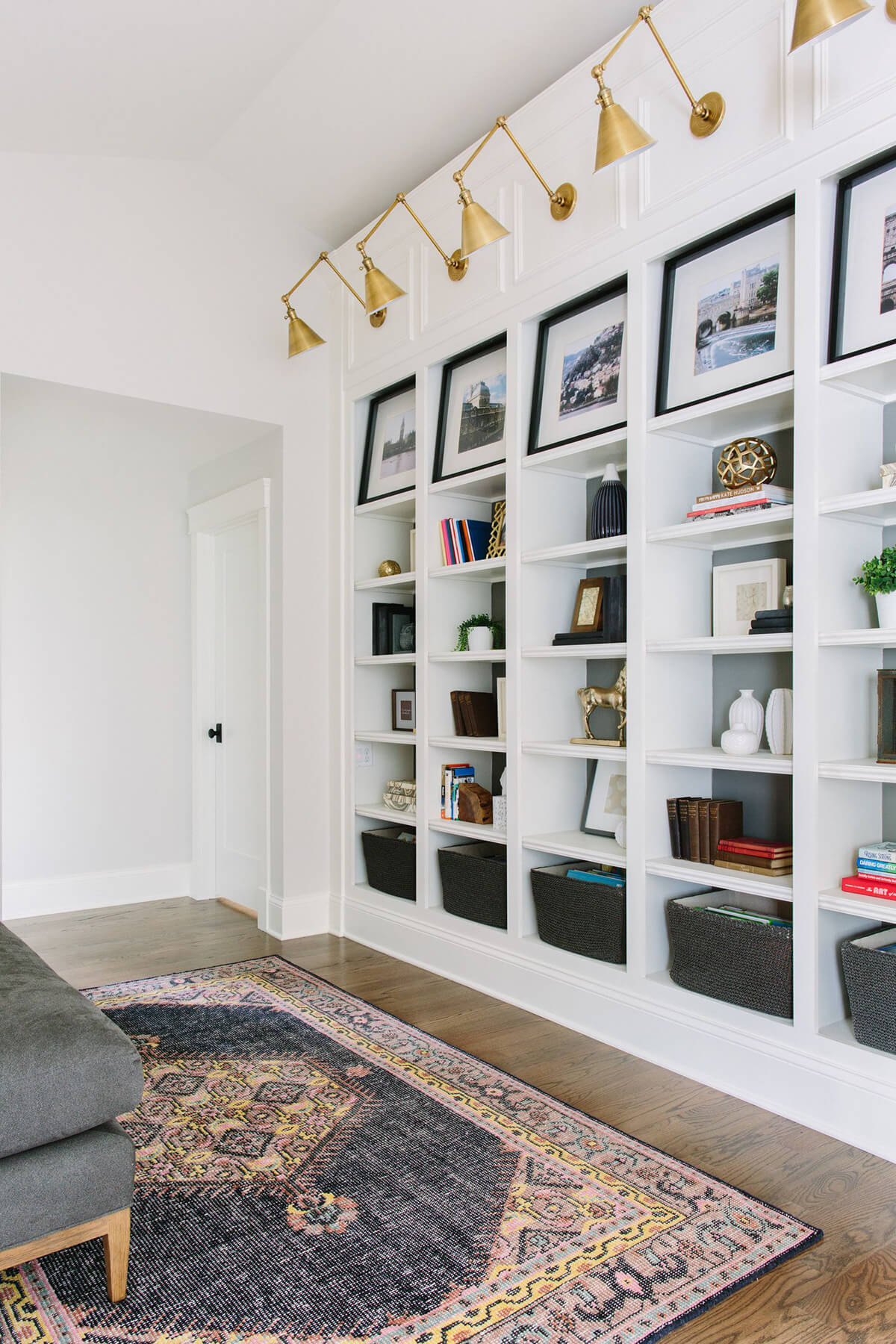 Shelving is the foundation of any good library. However, art doesn't have to take a backseat to books in this home library idea. This library has the look and feel of an art gallery with framed photos, spotlighting, and a dramatic background color on the wall behind the shelves. The books on the shelves really pop and fit in really well with the works of art surrounding them.
The white walls, brass lighting fixtures, and gray sofa are pulled together nicely by a geometric print rug. The overall look is almost art deco but has minimalist and modern elements at the same time. The results make you want to lounge on the rug and start reading a book or sketching in a sketchbook.
9. Rustic Farmhouse and Shiplap Charm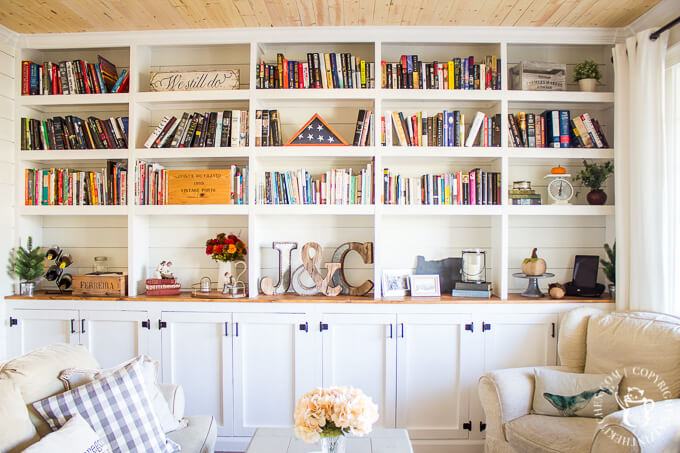 If you love the clean lines and simple textures of rustic farmhouse chic home design, you will adore this home library idea. This gorgeous library features a wall of built-ins with a shiplap wall behind them and colonial-style cabinets with a wooden countertop and hutch-style shelving.
Warm, creamy tones, bright white, and cool grays combined with galvanized steel keep this library distinctly in the rustic farmhouse design world. This is a perfect example of how you can customize home library ideas to create a library that fits well with your home's design.
10. Eclectic Drama in a Traditional Setting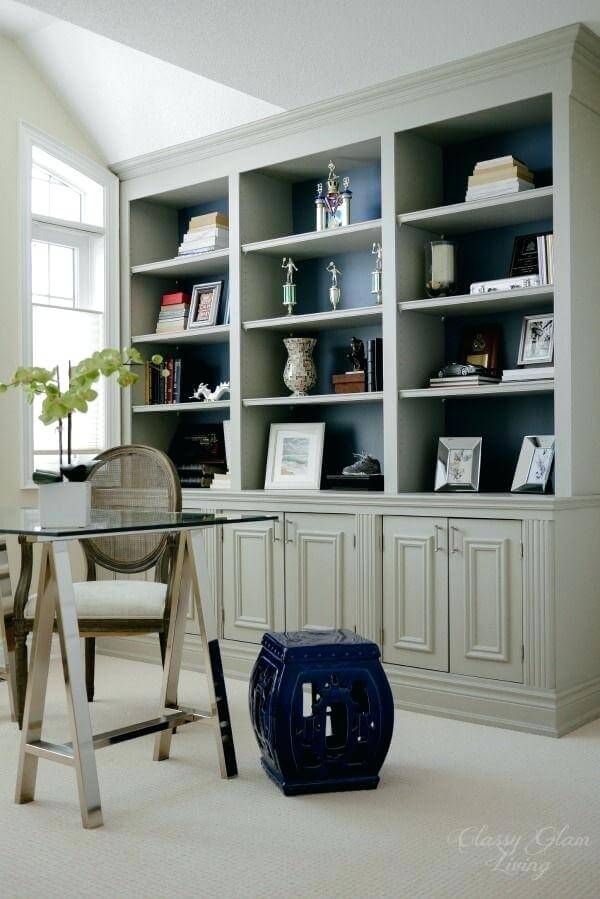 The more you look at this library, the more details you notice. A modern metal and glass table is paired with traditional dining chairs. Then you notice a dramatic navy background and the navy enamel stool in the predominantly greige room. The result is a classy and dramatic home library.
The picture frames on the shelves with polished stainless steel mirror the table legs, pulling the design elements together. The results are both contemporary and glam at the same time.
11. Rustic Library with Industrial Ladder Shelf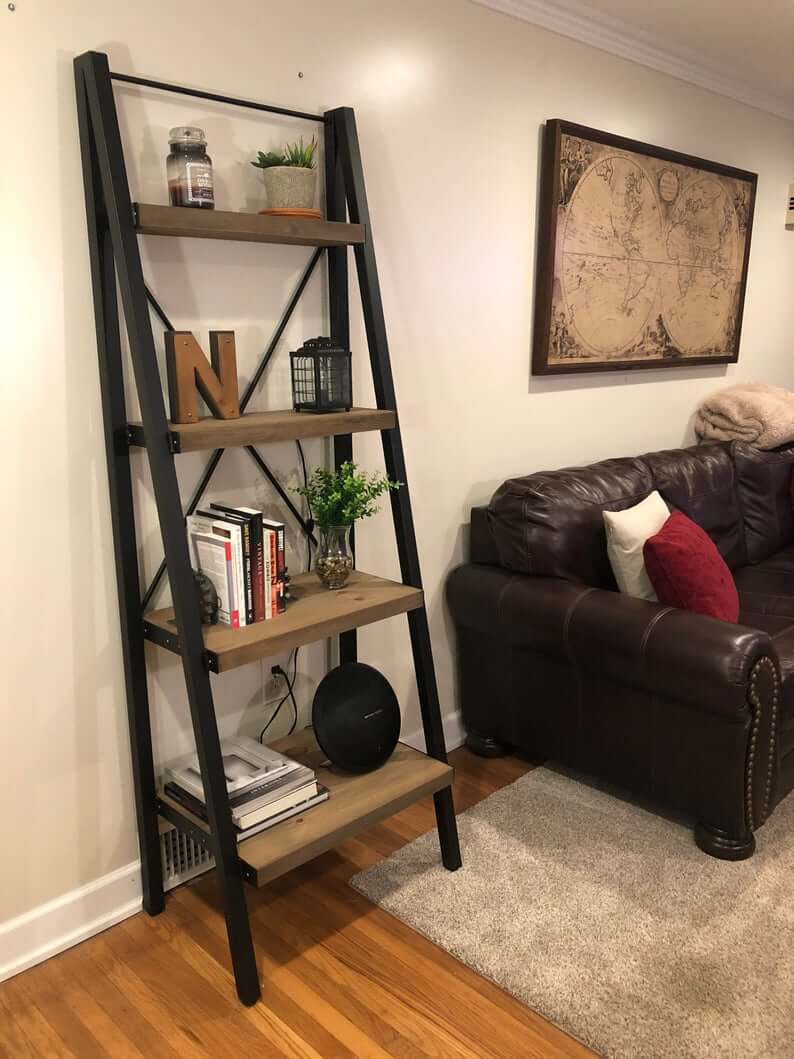 This library idea features a rustic industrial style shelf made with thick reclaimed lumber and heavy gauge steel, meaning it will be heavy and sturdy. The finish is perfectly rustic in design and pairs well will both warm and cool color schemes. In this case, it looks right at home with the antique sepia-toned map on the wall and the cozy brown sofa.
The shelf also features self-leveling feet, making it perfect for use on uneven floors which are common in industrial housing and older homes. This particular shelf would look awesome against a rustic wall in your home library. If you are looking for rustic or industrial home library decoration ideas, this one is perfect for you.
12. Modern Library with Library Ladder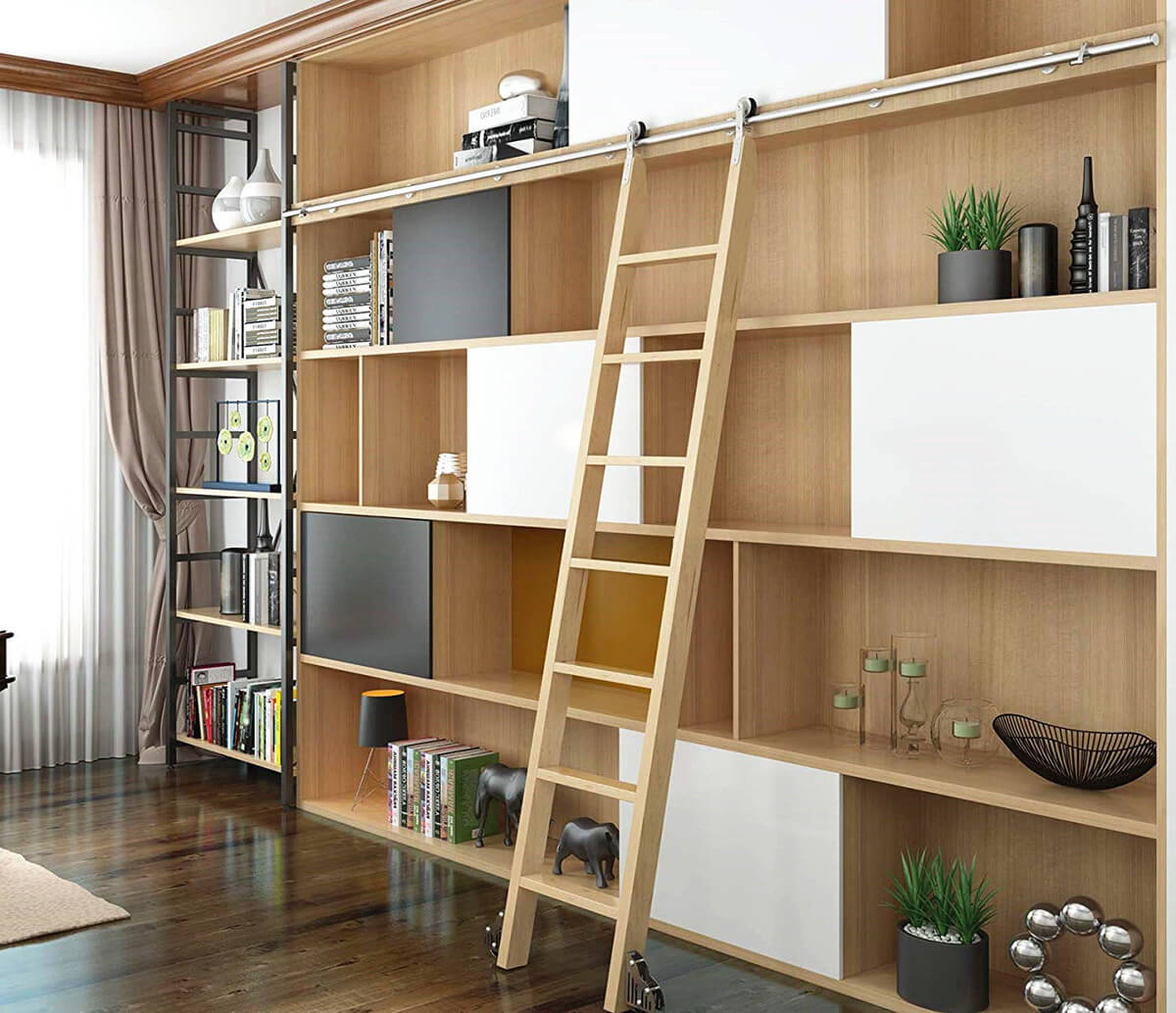 When planning your home library, this is one of the home library ideas that will inspire you. This version of the library with an attached ladder features a modern design with what appears to be prefabricated or custom shelving. To accomplish this, stainless steel hardware is attached to an upper shelf, making it easy to hang and use your library ladder to reach the top shelf.
If you already have shelves and a ladder in mind, this hardware would be easy to install to create a similar look. It comes with the rail, wheels, and everything you need to securely attach the hardware to existing shelves and a ladder. Adding a ladder to your library couldn't be any easier.
13. Behind the Door Children's Library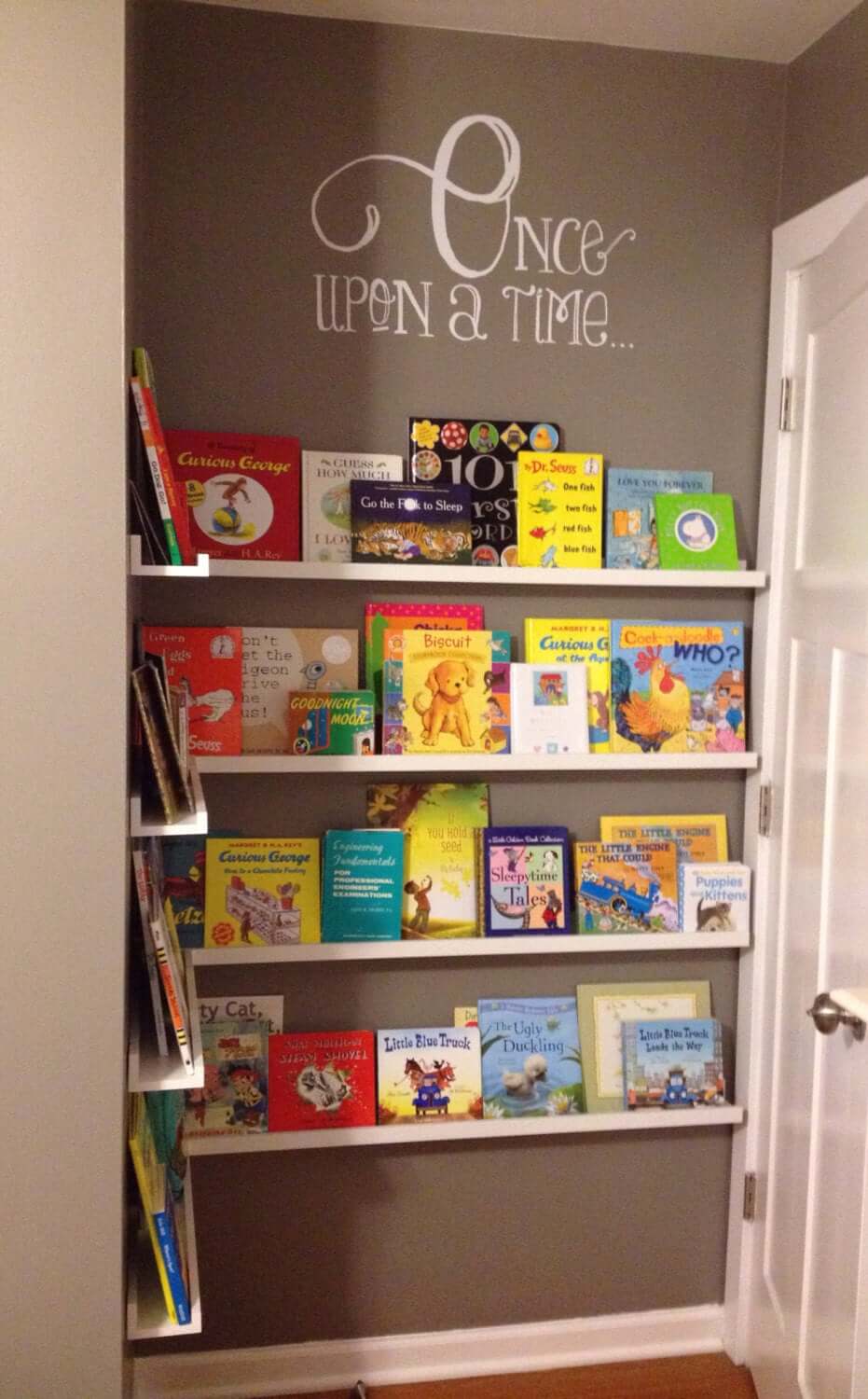 If you want to create a library that your children can easily access on their own, but you don't have floor space in their bedroom or playroom, this home library design can make it possible. Almost all doors that open into a room have empty space behind them. This idea turns that space into a functional library.
Using narrow shelves or gutters, you can install shelves like these quickly to store your child's books with the covers on open display so they can find their favorite books easily. The vinyl "Once Upon a Time" decal adds a whimsical touch to this really simple design and would be very easy to apply to your design.
14. Rustic Cedar Bookshelf Home Library Ideas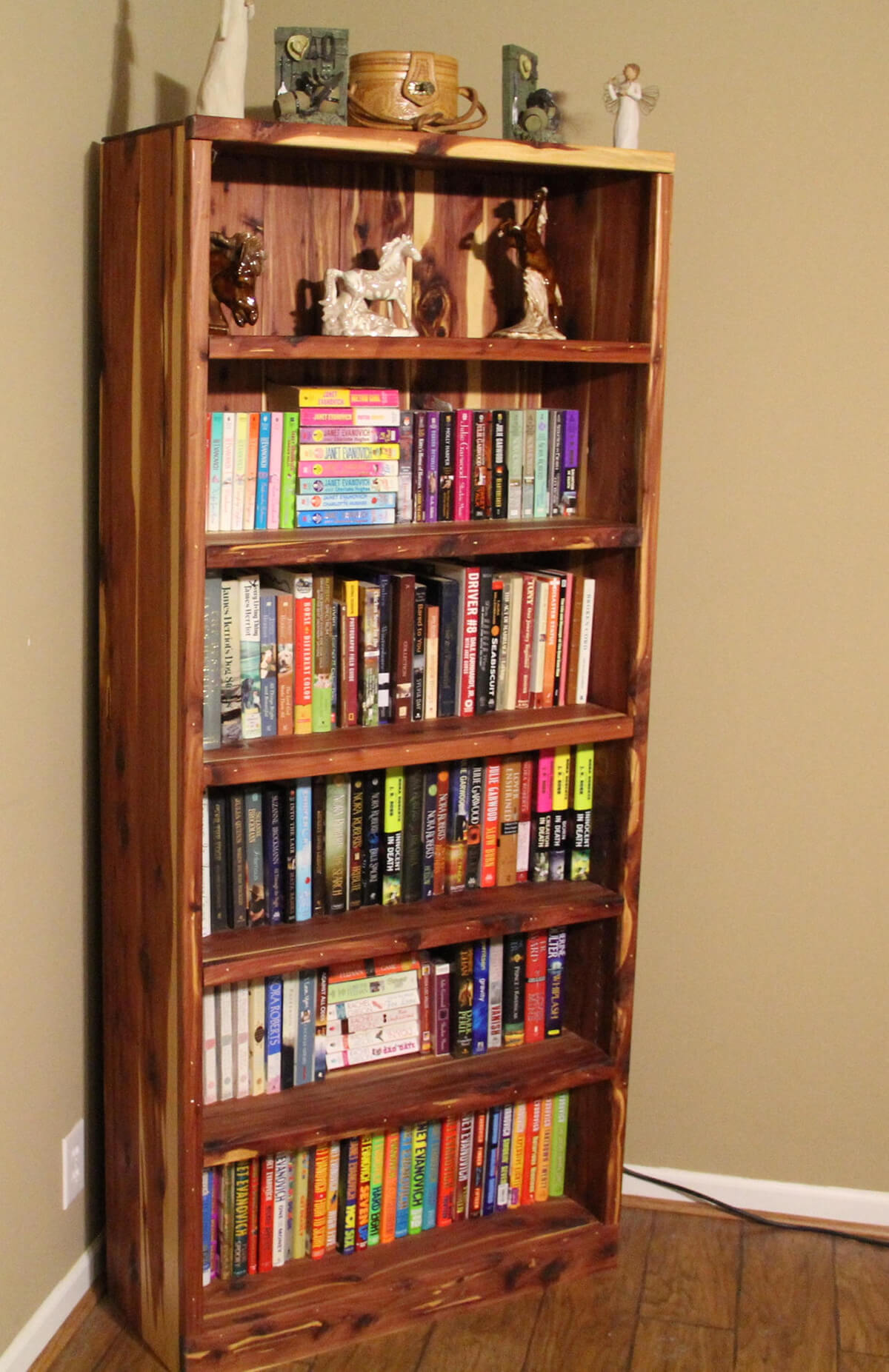 Cedar is often overlooked in libraries, but it is an incredibly durable and versatile wood that will protect your library collection. Cedar is naturally resistant to mildew and mold, making it perfect for humid climates. It also repels insects, meaning that it will deter pests that can damage your books.
This particular bookshelf would be perfect in a cabin or spare bedroom where your visitors can peruse your book collection at their leisure and you won't have to worry about the shelves holding up over time. It's also a custom order piece, meaning that it can be built to your exact specifications to perfectly fit in your home library.
15. Industrial Modern Library with Ladder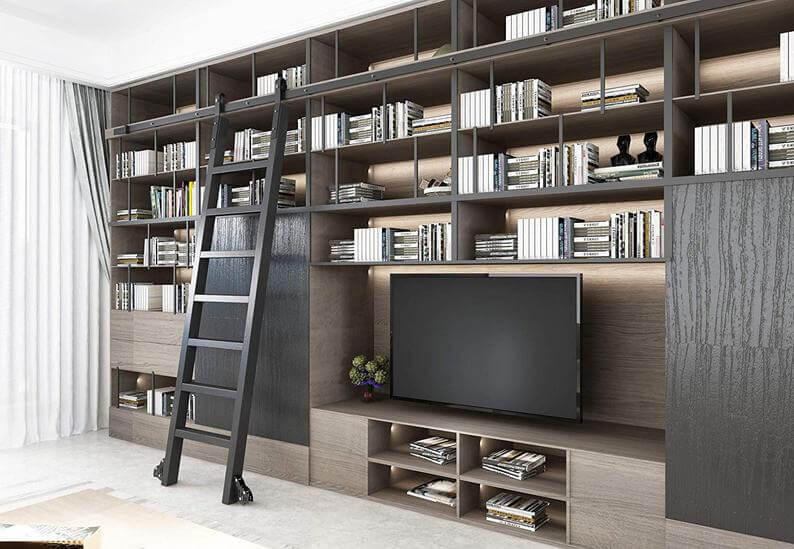 This is another beautiful home library design that incorporates a library ladder. This time, the ladder can move across the entire room with ease, thanks to rails that can measure up to 16 feet in width. The hardware would work perfectly with any industrial, farmhouse, or rustic library design.
In this case, the hardware is paired with a matte black steel ladder and shelves featuring black steel bars as accents in the design. It definitely adds a traditional finish to this modern library design.
16. Simple Children's Library with Storage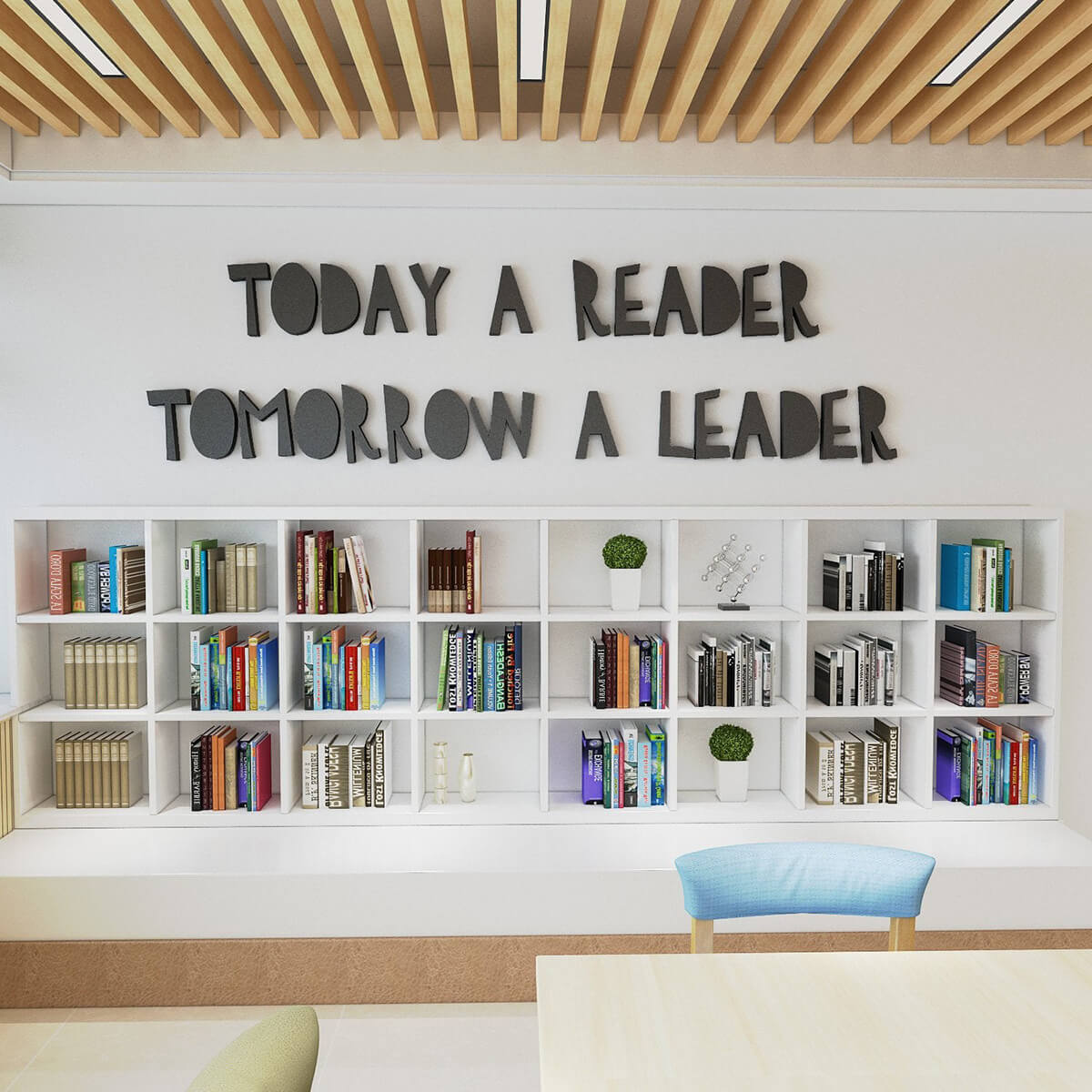 Cube shelving is perfect for any area of the home where you would like the flexibility of being able to display what you like and hide what you don't like. In this example, books are on full display, but if this design idea were in a child's room, you could easily add storage cubes to hide toys, art supplies, or for clothing storage.
The 3D letters stating "Today a reader, tomorrow a leader" is a great encouraging statement for any child's library. It adds a little interest without distracting from the items on the shelf.
16 Gorgeous Home Library Ideas that All Bookworms will Love
These home library ideas are sure to give you a starting point for your home library design. Remember to consider your budget and the space available when you look at these images and try to think of how you can make your favorite elements work for you.
Building a home library doesn't have to be difficult or expensive and should enhance the time you spend in your home. It's also important to note that you don't need a ton of space to create a functional library. Carving out a little free wall space or a corner of a room is all you need to create a home library that you can enjoy for years to come.
Once you know exactly what you want, write down a list of the items you wish to include and take it with while you shop or reference it when shopping online. If you struggle to find items that are on your list, consider handmade or custom items.
Also, be sure to check out websites like Etsy or Facebook Marketplace to see what kind of unique items you can find that will work in your library. You may be surprised by your options.
Our Favorite Rustic Chic Decorations to buy on Amazon