40. Sequins Add Sparkle to Plastic Pumpkins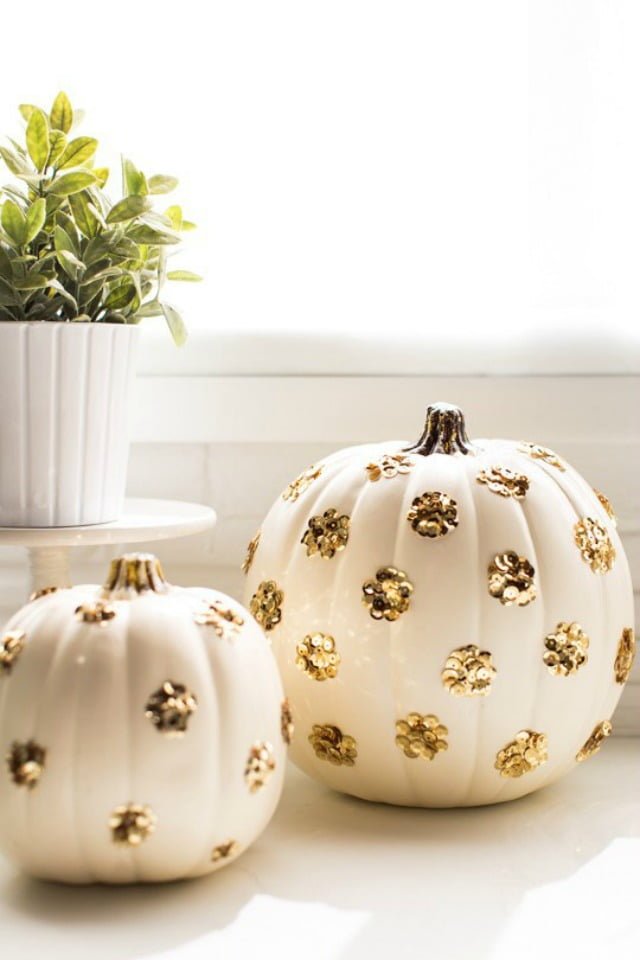 Everyone knows that simply carving a Jack-O-Lantern or layering your home with orange pumpkins can be fun, but eventually it gets boring. With this option, you can create brighter and more interesting pumpkins by simply attaching sequins to the plastic pumpkins that are available at every craft store. While this example uses a stylish gold and white, you can glue sequins of other colors to create your own expressive, interesting designs. And if you create two or three other sequin-covered pumpkins, you can display them together for a unique look.
41. Witch Shoes Can Be Colorful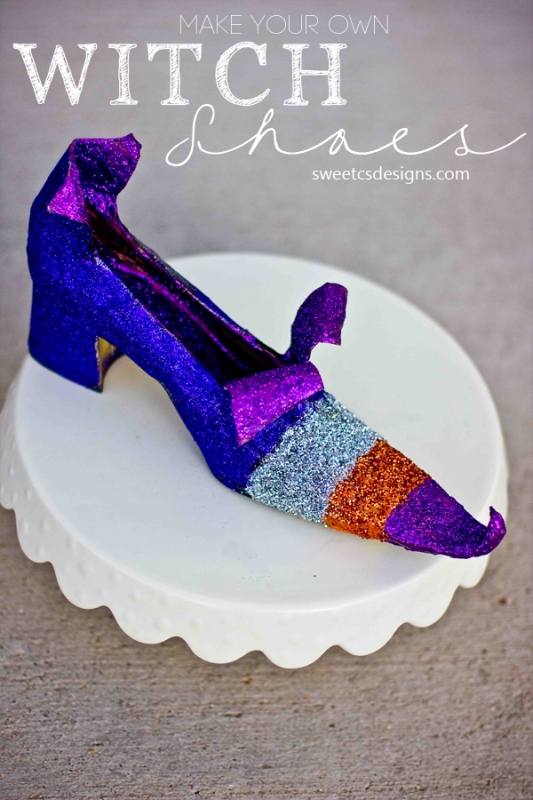 While the typical Halloween witch costume might be dark and spooky, there's no reason a pair of witch shoes can't be colorful! This interesting project rehabs a pair of old shoes and turns them into glittering, colorful shoes that make a perfect centerpiece – or festive footwear. All you need is cardboard, tape and glitter to pull of this design. They'll be guaranteed to be a fun look for a coffee table and they'd be a neat project to accompany a young girls' Halloween costume!
42. Start Spooking in the Foyer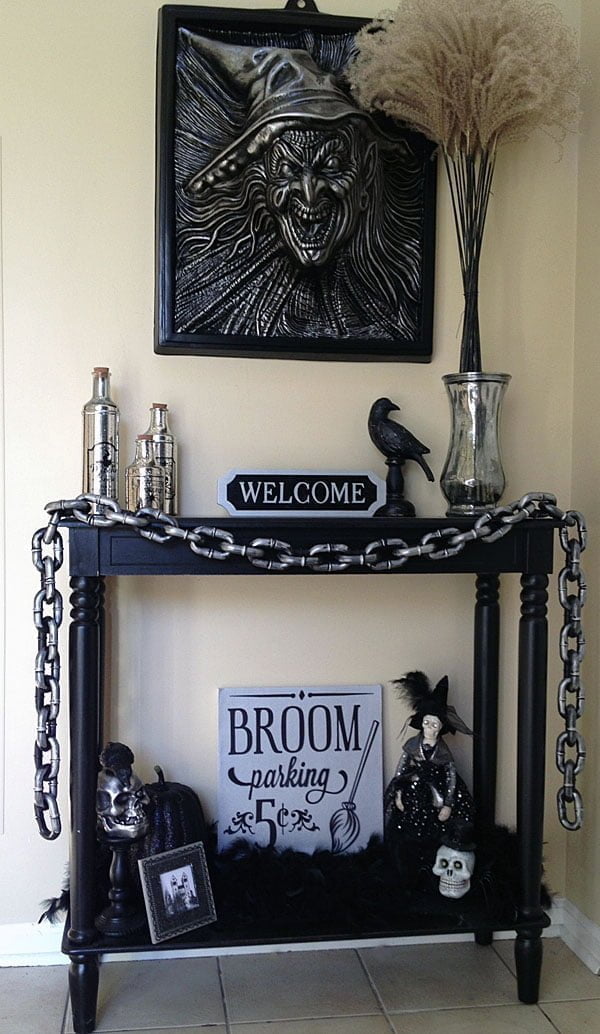 If you plan to have guests over around Halloween, it's important to make sure they experience your creepy indoor decorations from the moment they walk in the door. By throwing a few of the creepiest Halloween items you can find at just about any store together with black tulle, you can turn a table in your foyer into Spooky Central for your guests. In this example, all it took was a few skulls, a ghoulish piece of Halloween art and some old fashioned looking vases to pull off the perfect spooky look.
43. Wine Bottle Turns Into Eerie Light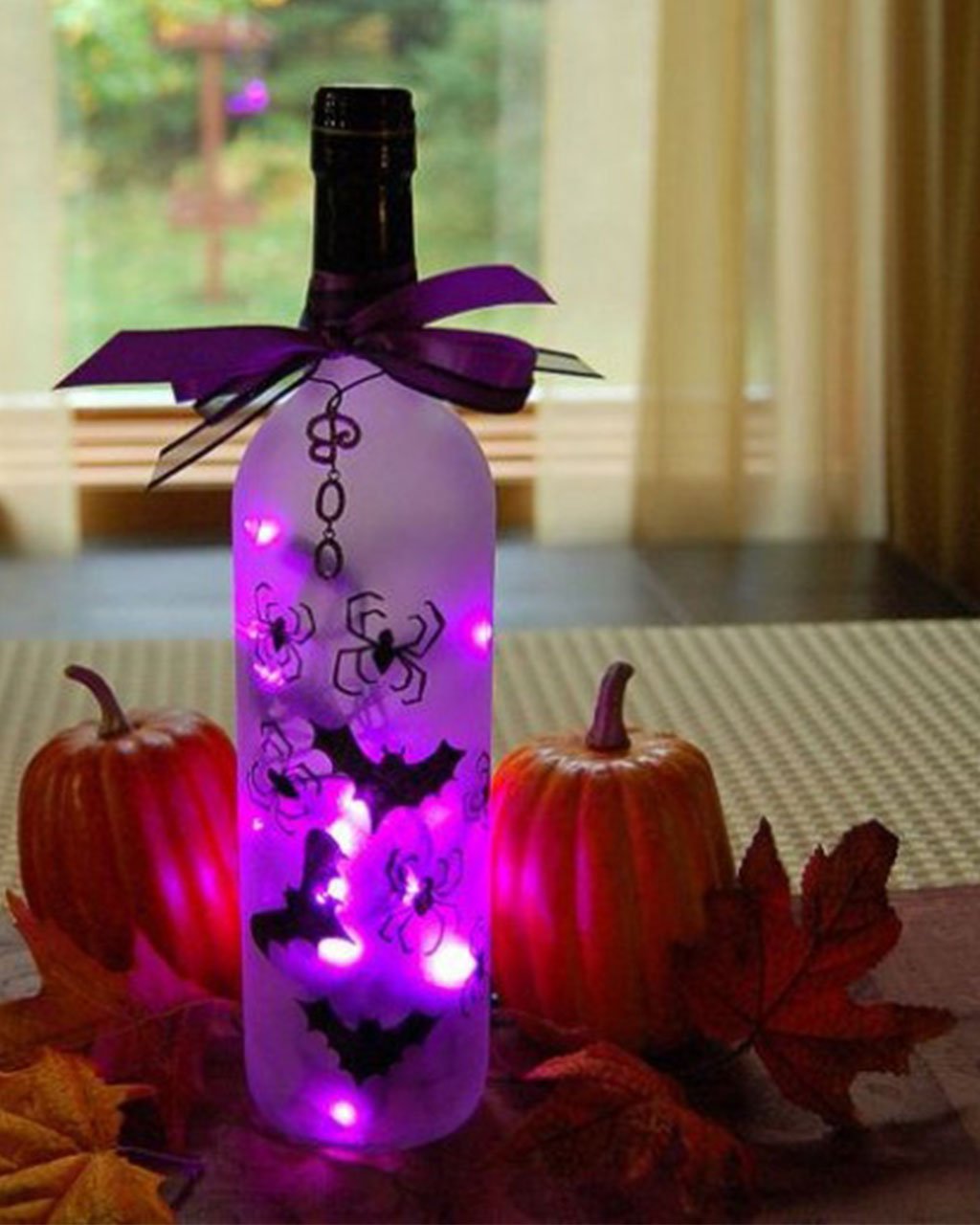 Battery powered LED lights can go a long way to make common household items become the perfect indoor Halloween decoration. By using a purple or other dark colored light inside an empty wine bottle, you can create a glowing object that is sure to frighten your family and your guests. As an added touch, using spooky silhouettes on the outside will create an even more interesting aesthetic, with the dark color of the light reflecting on the bats, spiders or witches outside the bottle. To wrap up this easy project, find a colorful, complementary bow to tie the top of the bottle.
44. Balloons Make Perfect "Parade" for Kids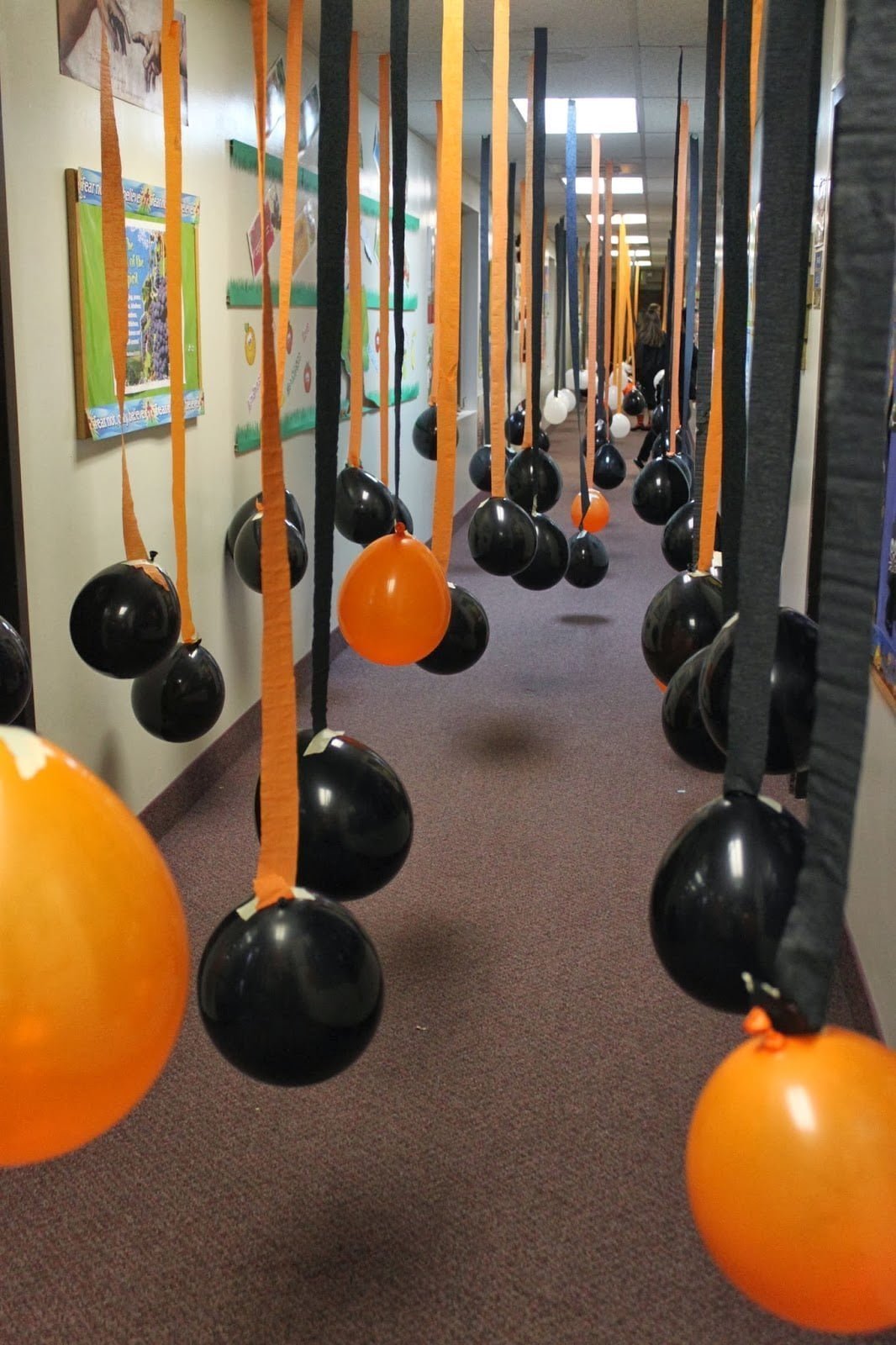 Children love the spirit of Halloween, especially the opportunity to try on costumes and explore new worlds. A cool idea that some moms have come up with is a Halloween "parade" to give kids the chance to show off their costumes together in a fun group setting. A way to make this event (or really just about any Halloween party) extra fun is by hanging balloons from the ceiling. Using streamers and holiday-appropriate colors, you can create a cute and fun setting for kids to be kids!
45. Mini-Pumpkins Can Still Make Jack-O-Lanterns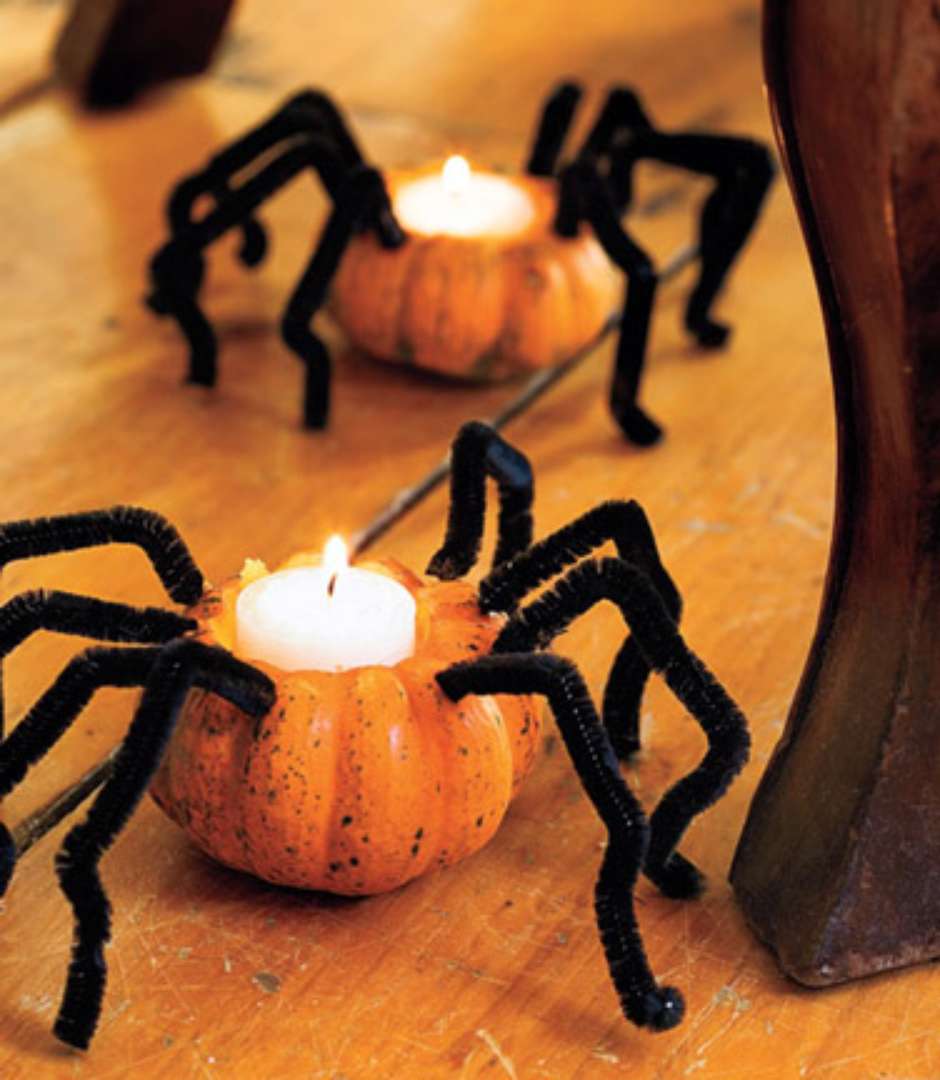 While small pumpkins are the staple of every classroom come Halloween season, they don't have to be just for kids. With a sharp carving knife, some pipe cleaners and a few votive candles, you can turn miniature pumpkins into an artistic candle in no time. Best of all, these pumpkins aren't just candle holders: The pipe cleaners gives them legs like spiders, the perfect way to mix two of the greatest parts of Halloween into one decoration.
46. Brighten Strands of Lights with Cutouts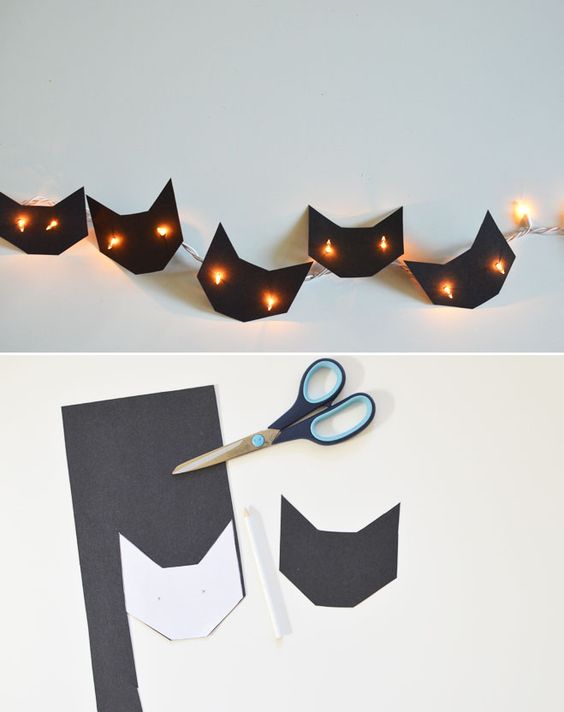 Almost any holiday is a great time to break out strands of LED lights – you can always play with different colors and motifs – but far too many people are stuck in the mentality that these only work around Christmas. To add a special Halloween twist to a basic strand of light, a few ghost or cat cutouts from construction paper or card stock work perfectly. They can easily be attached over the lights creating a fun, playful wall decoration.
47. Medieval Warmth with Book Candelabra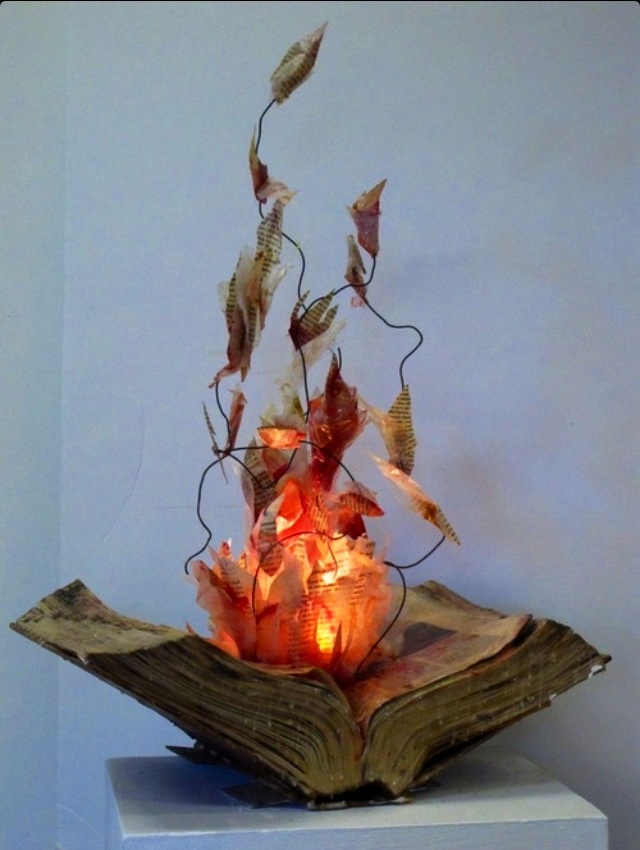 In many parts of the country, Halloween coincides with the full onset of fall: the leaves have fallen and the air has turned crisp. For many people, it's a time for backyard bonfires. With this candelabra built around an old book, you can create a perfect seasonal piece that creates warm, inviting light in any room of your house. All you need is an unused, bulky book, a candle, a few bendable wires and some loose newspaper. It's easy to create at home, and this soft light and unique base have a special quality that will impress your friends.
More Halloween indoor decoration ideas on the next page…