55. Black Cat on the Curtains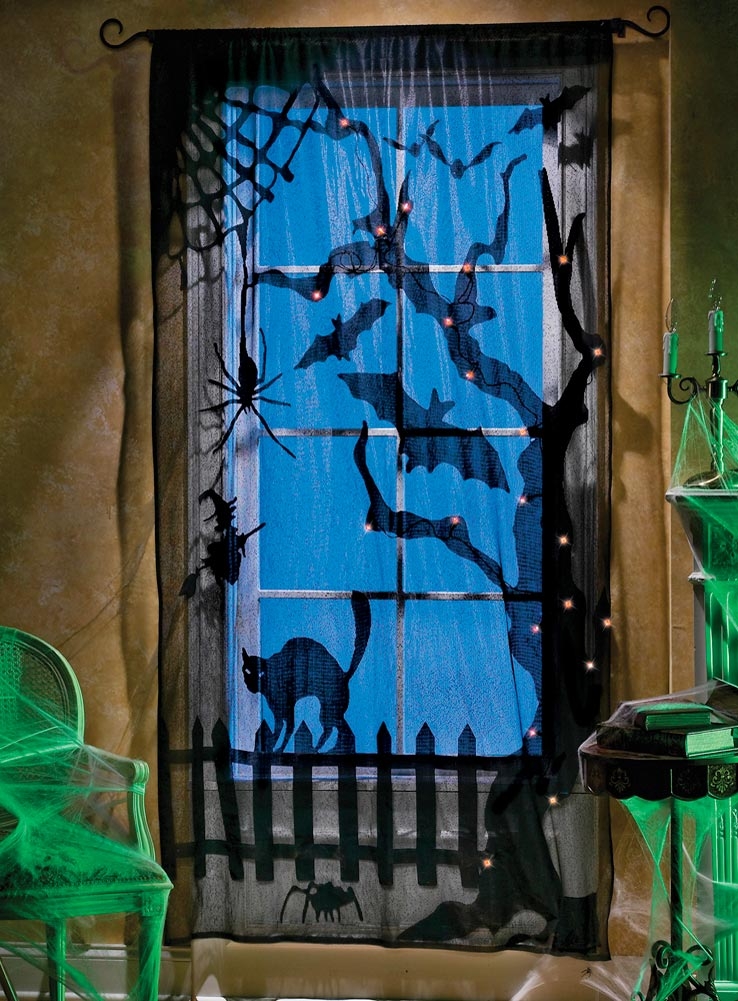 As you go about decorating your home for Halloween, it can be easy to forget about window treatments. While this project can be labor intensive, it offers a template on creating a fun lace curtain that fits perfectly in a window and adds a very seasonal feel to any room. While the LED lights are optional, creating the design to accompany the lace can be a bit of a bear. But the result is well worth it, creating a spooky scene in any window. It's perfectly neat to hang in one that neighbors and visitors can see.
56. Witch-Inspired Cauldron Serves Up Treats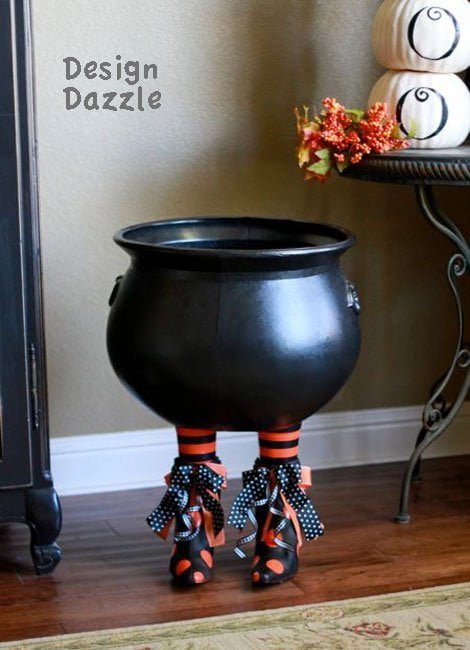 When it comes time to have trick-or-treaters visit your home, it can be a challenge to figure out what kind of container to store the candy in. After all, who really wants to talk to their neighbors handing out candy from a plastic bag? This innovative idea takes a plastic cauldron that you could pick up at any major retailer and adds a fun twist: a pair of boots, painted in bright Halloween colors, which actually support the cauldron. Best of all, this Halloween indoor decoration idea fits perfectly with the rhyme: "trick or treat, smell my feet!"
57. Staircase Decorations Add Cool Feel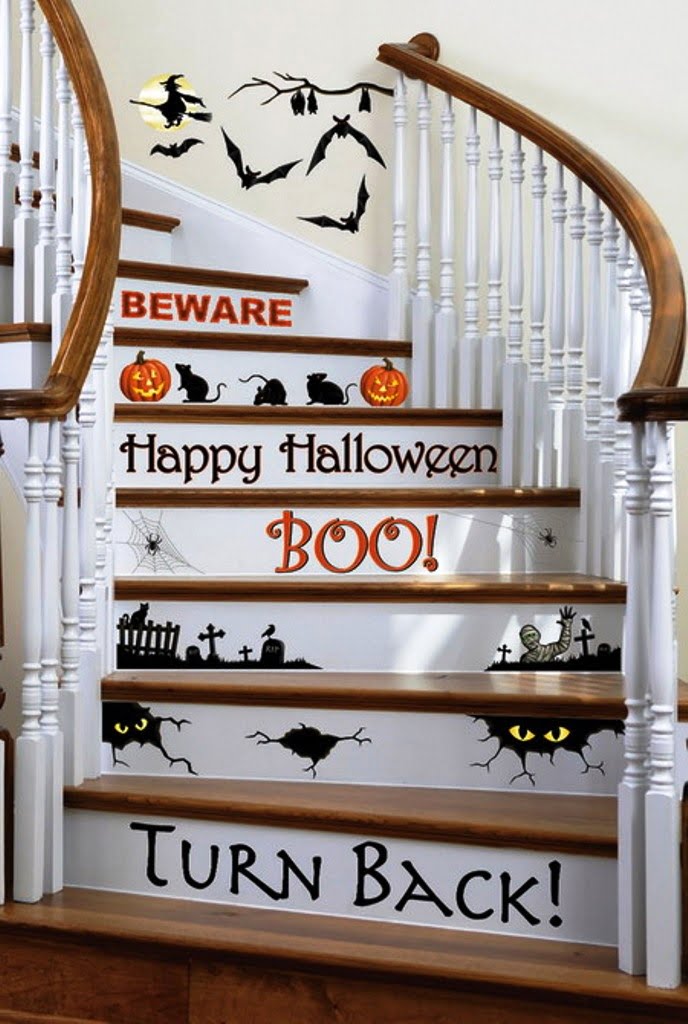 As you aim to fill your home with indoor Halloween decoration galore, you can sometimes forget about the staircase. But as this simple idea shows, it's easy to turn your stairs into a decoration all their own. By making simple cut outs of letters or images that fit the Halloween spirit and attaching them to easy stick pads, you can spell out words like "BOO" or show a flock of bats ascending your stairs.
58. Yarn Spiderwebs Transform Rooms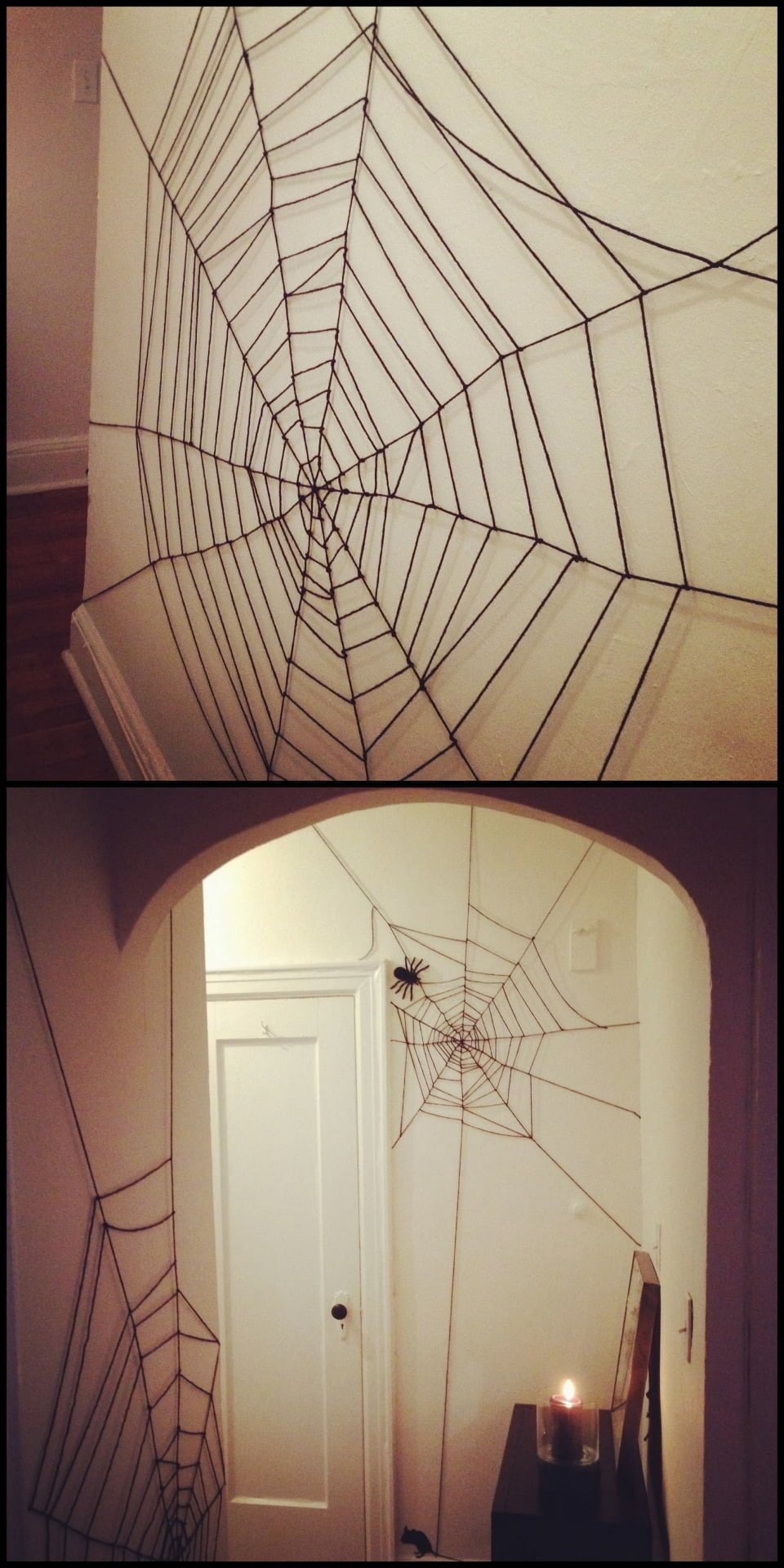 Walls are not always the first place you think of when deciding where to place an indoor Halloween decoration. This creative, easy, and fun project should make you change your mind – and fast. With easy instructions for how to create a yarn spiderweb, all you need is a few rolls of yarn. Unfurling the yarn and affixing it to the wall in the shape of a familiar object like a spiderweb is the best way to transform negative space that would otherwise go unused into a beautiful part of your Halloween-ready home! And you can accentuate the designs by adding easy to make yarn spiders.
59. Pillows Offer Comfort, Whimsy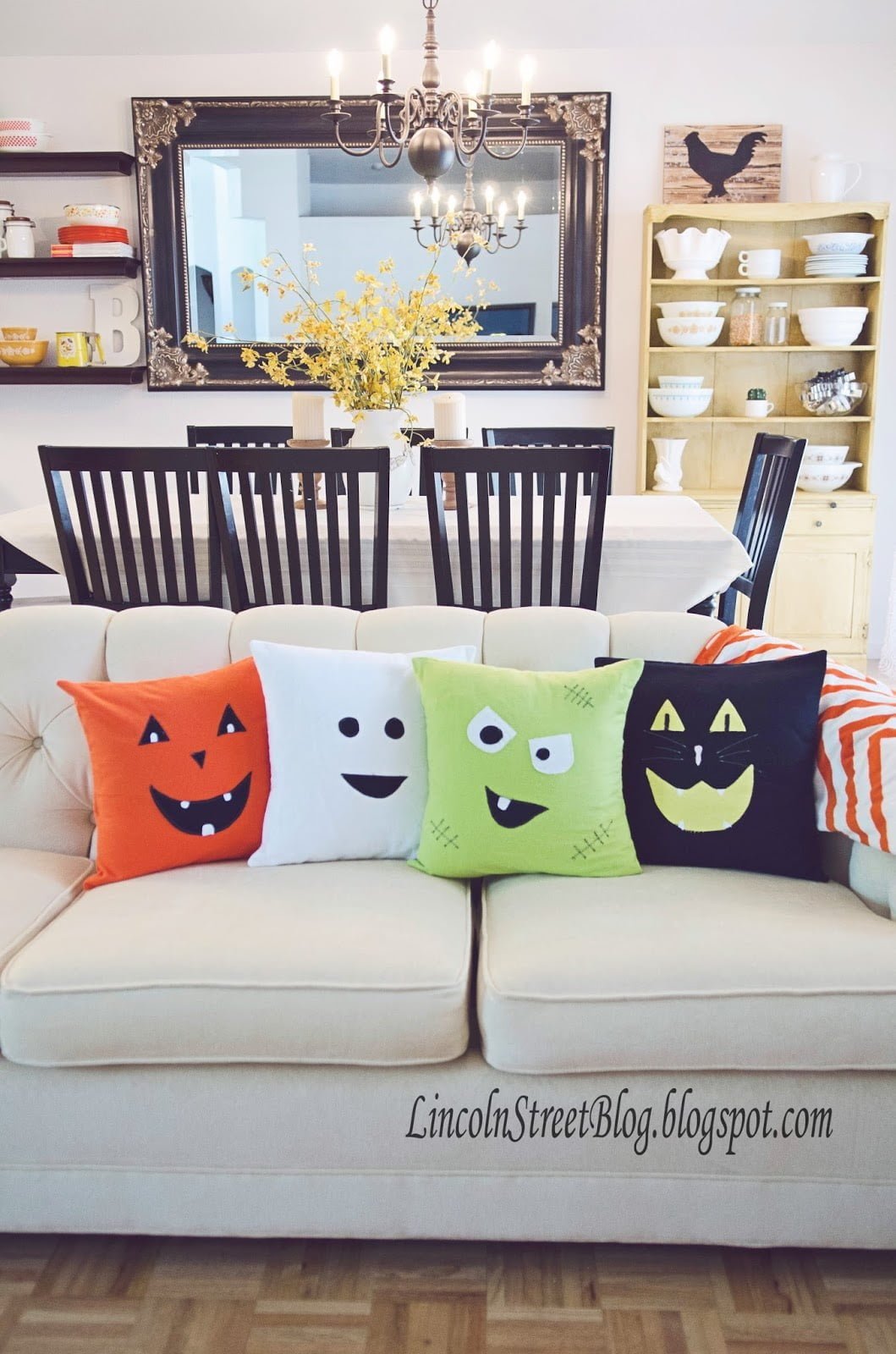 If you ever find yourself at wit's end on how to extend the Halloween theme to your sofa, there's no need to fret. With this beautiful flannel Halloween face pillows, you can add fun accents to your living room that are perfect for the season. This project isn't for beginners: It requires a relatively high skill level at stitching and sewing. But the results are incredible. You'll have soft, comfortable flannel pillows with fun designs that kids will love. And they are perfect conversation starters if you have friends over before Halloween!
60. Bat Chandelier Inspires, Delights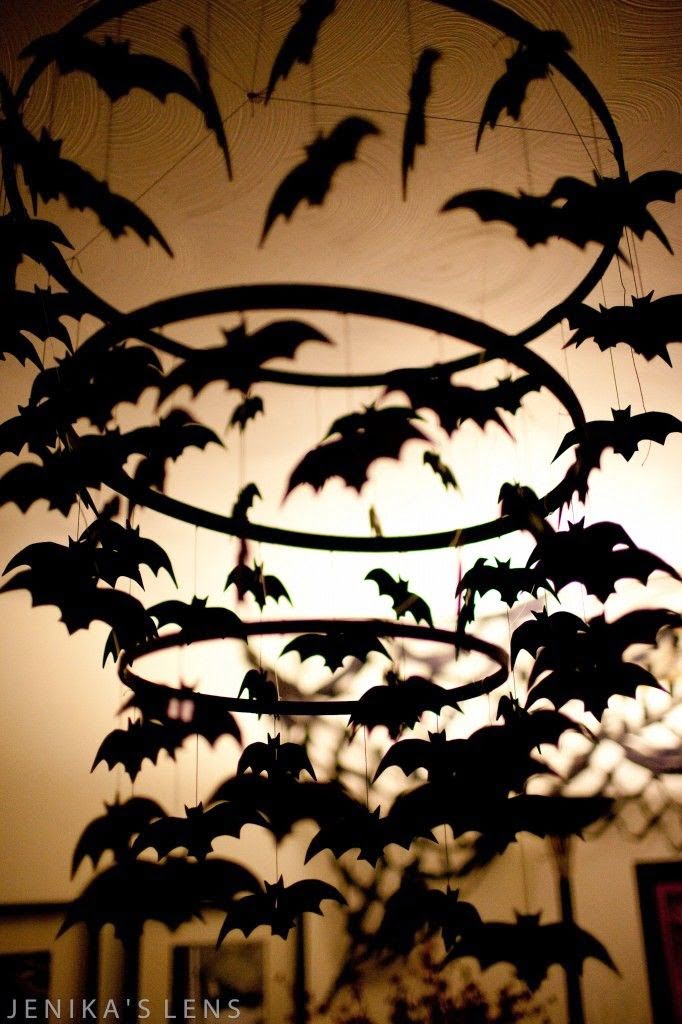 Based off a discontinued item from Pottery Barn Kids, this incredible "chandelier" looks classy and spooky, a perfect Halloween combination. Made from just sewing frames, string, fishing line and compressed foam, this versatile item can hang in virtually any room of the house. While it doesn't actually throw off light (there are no LED lights included), it does produce an eerie sensation hanging above a table or other piece of furniture. And the bats aren't the only option; if you wanted to customize, you could create one with pumpkins, substituting orange for black acrylic paint.
61. Candles Can Offer Halloween Glitz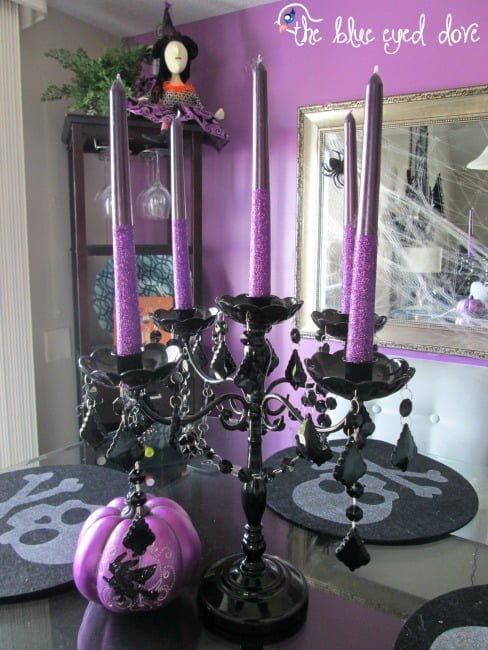 While many of the candelabra and other lighting ideas on this list are particularly intricate, sometimes the only effort needed to create an indoor decoration is a little bit of pizzazz. In this example, purple candles are wrapped in a matching glitter, helping create a shimmering veneer that adds some glitz and glamor to an otherwise spooky tablescape. Wrapping the candles with this glitter is simple, and a complementary candleholder that is black and chunky helps add to the glamorous – yet spooky – feel of this unique tablescape.
62. Ghost Town in a Mason Jar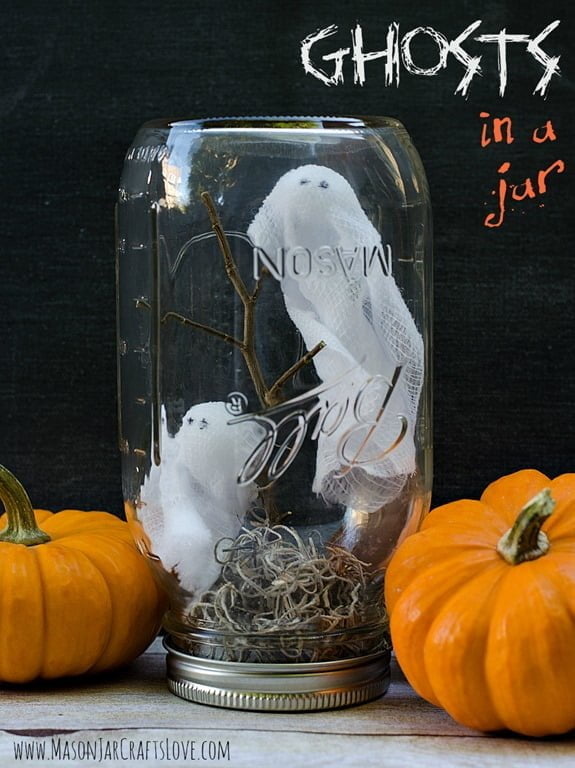 Each person who owns a set of Mason jars probably has their own Halloween indoor decoration idea. In this creative option, the result looks almost like the kind of diorama you would see in a museum. Using medical gauze and bit of Sharpie marker, you can easily create ghosts. Add some twigs from outside and you have an environment for the ghosts to call home. Turn the jar upside down and the illusion is clear: you are viewing a ghost or two who might be floating in a tree just outside the window…
63. Bedazzle Pumpkins with Glitter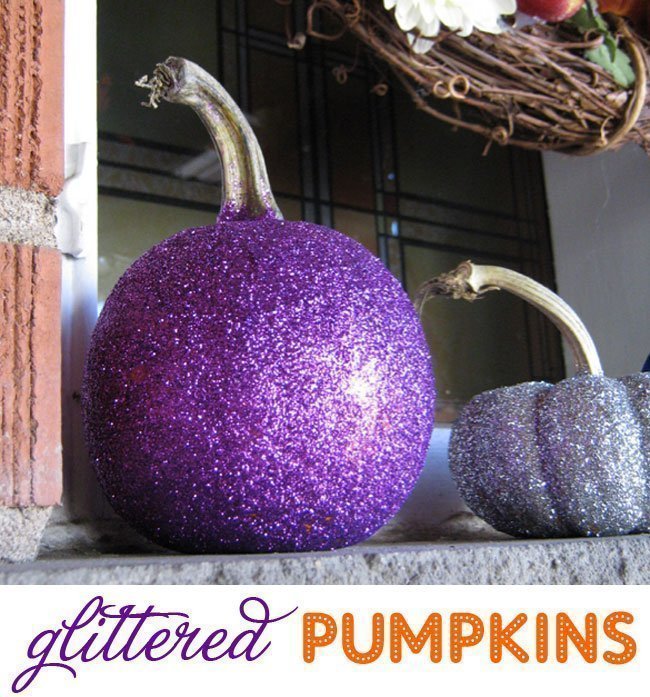 Getting creative with pumpkins is one of the best parts of Halloween. In this dynamic example, you can use the pumpkins that are sold at the grocery to create beautiful pieces that fit perfectly in every room of the house. These indoor Halloween decorations are easy to make. After picking out a pumpkin that is well shaped, you can spread a layer of white glue throughout. Cover the pumpkin with plenty of glitter – and, really, you'll need plenty to cover the entire surface of the pumpkin – and then let dry. Voila! The result is a beautiful, shiny pumpkin that attests to your creative spirit.
More Halloween indoor décor ideas on the next page…