64. Small Ghosts Accessorize Tables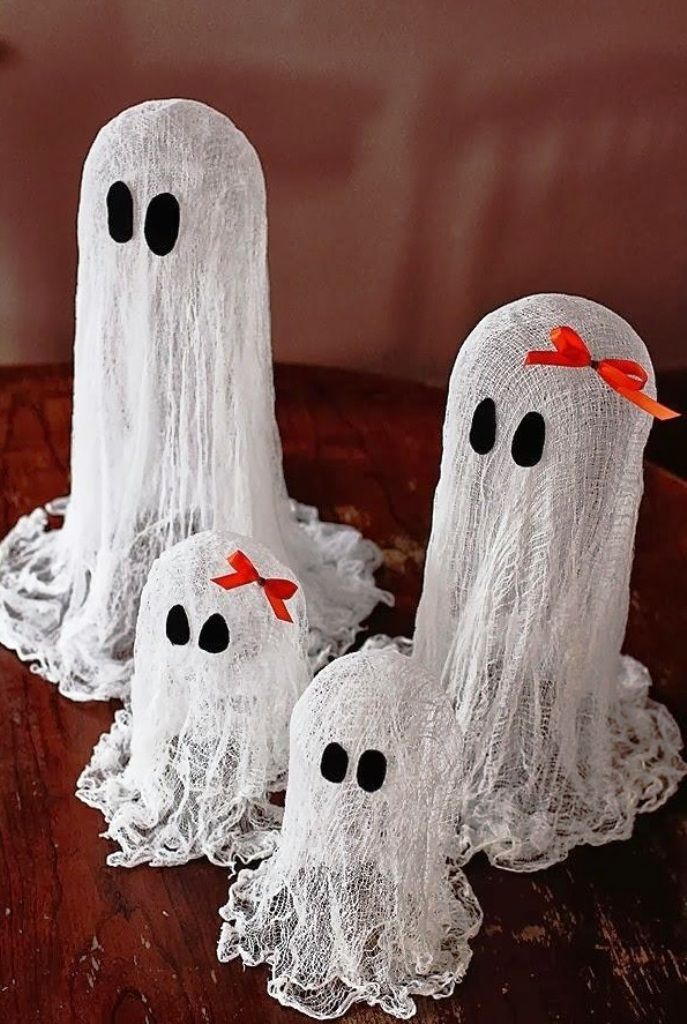 This easy project delivers a fun look with minimal expense and only slightly more effort. By taking fabric, doilies, or even some scrim (a gauze-like fabric), and using pipe cleaner to stand up right, you can create miniature ghosts that look perfect on an end table – or great for a nightstand in a kid's room. You can accessorize the ghosts with small padded black eyes or by adding bows. In fact, some families love making one for each family member and displaying them on the mantle. Either way, this project is fun, easy to customize, and provides a small indoor decoration quickly.
65. Trick Out Your Chandelier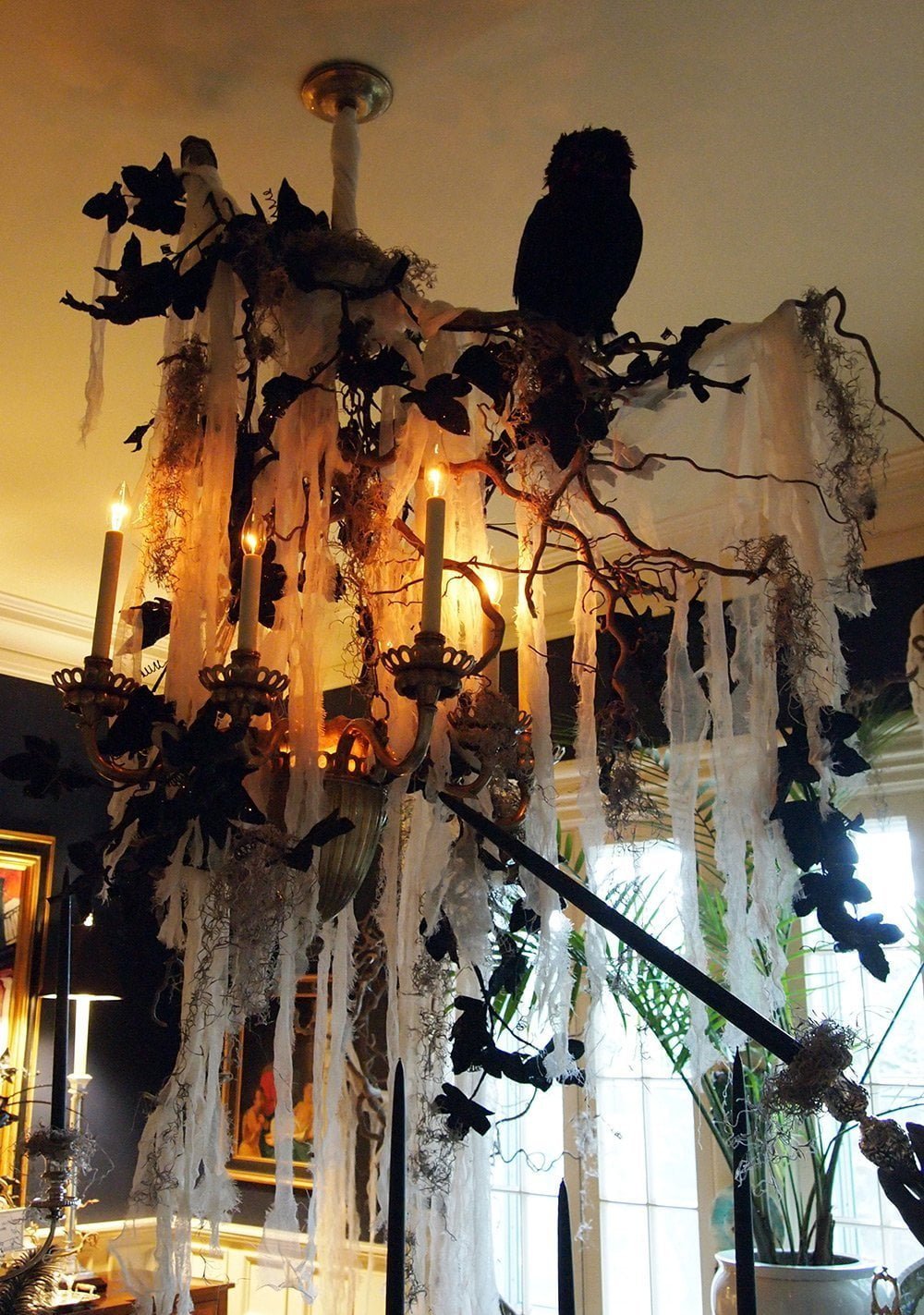 You don't have to build your own kitschy chandelier to get into the Halloween. With this indoor Halloween decoration idea, all you have to do is take some gauze-like scrim – a type of fabric available at most craft stores – and drape it around your chandelier. While this inexpensive trick only takes a few minutes, it leads to a creepy, almost other-worldly look for your dining room. You can take this idea to the next level by adding additional decorative items, such as a witches' broomstick or a stuffed crow to make the chandelier look even more like something from a worn-down haunted house.
66. Cat-Shaped Pumpkin Merges Tradition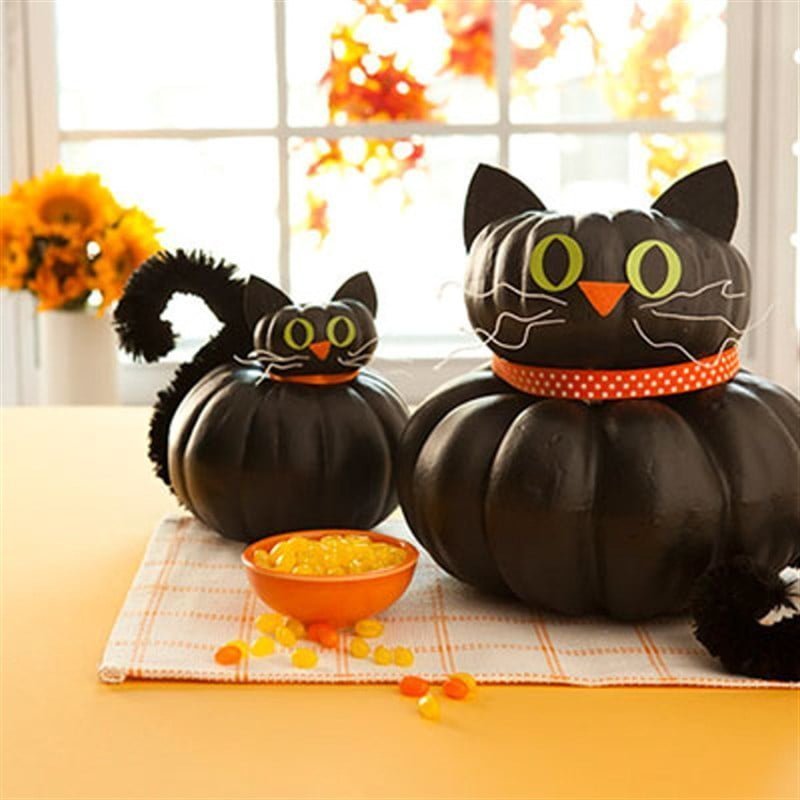 Halloween brings together all of our superstitions about black cats with the joys of seasonal pumpkins. In this creative Halloween indoor decoration idea, these two traditions are intertwined. Using simple acrylic paint and a can of black spray paint, as well as some pipe cleaners and hot glue, you can create cat-shaped pumpkins in no time. Adding accessories like whiskers and a collar can lead to an even more realistic look. Best of all, you can use these cat-shaped pumpkins to decorate your kitchen, a room that sometimes gets left out when dreaming up Halloween decoration locations.
Cats aren't the only animal that can be conjured up from a simple pumpkin. With some carving knives, acrylic paint, and black poster board, you can turn pumpkins into angry bats. It's all about the colors with these bold bat designs. Depending on the mood you want to convey, you can paint happy, angry or sad bats, just by positioning their eyes. And the wings that you create from poster board attach easily and make this project the perfect option for filling up an otherwise empty table or other surface with an innovative Halloween decoration.
68. Spiders Swarm on This Tablecloth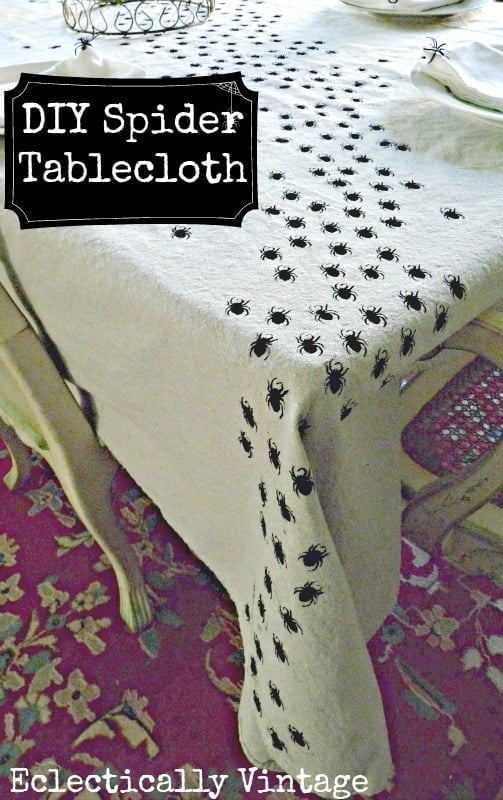 A simple dropcloth can become a whimsical, slightly spooky table accessory with this Halloween indoor decoration idea. With a self-adhesive spider stencil (Martha Stewart herself produces one of the best ones around) and a bit of satin paint, the dropcloth transforms into a spider tablecloth. And the more times you put the stencil down and repeat the spider, the bigger swarm you can build. Your creativity can direct the pattern, and it can perfectly complement Halloween place settings or tablescapes.
69. Seasonal Flowers, Gourds Complement Fireplace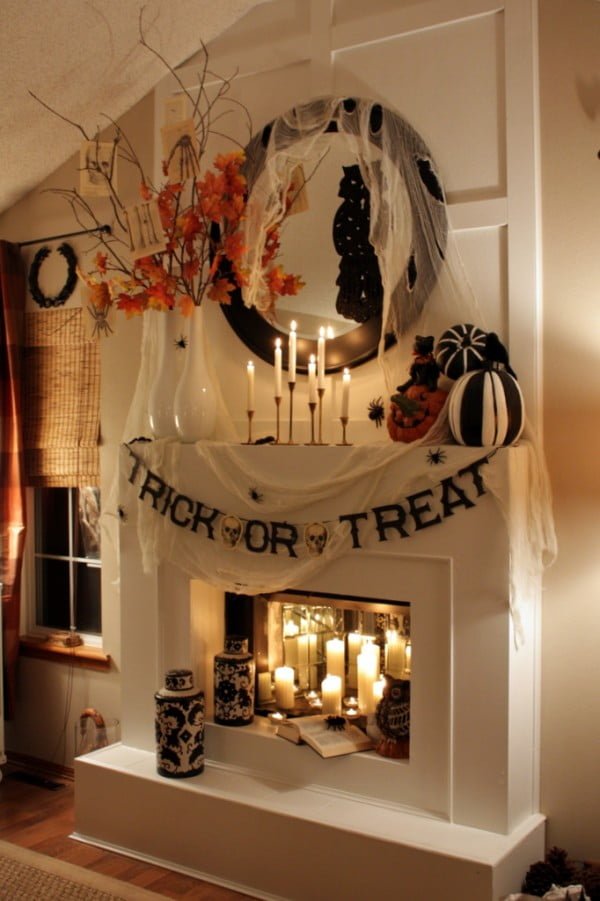 You don't have to go completely ghoulish to make a fireplace and mantle look Halloween appropriate. This creative mantelpiece idea uses seasonal flowers (even artificial seasonal flowers will work), a few live pumpkins, and large, complementary vases to create a look that would be perfect at the front door as well. The "Trick or Treat" banner across the fireplace is a nice touch, and easily customizable with any other Halloween-related message. Boo, anyone?
70. Scrim Makes Lamps Unique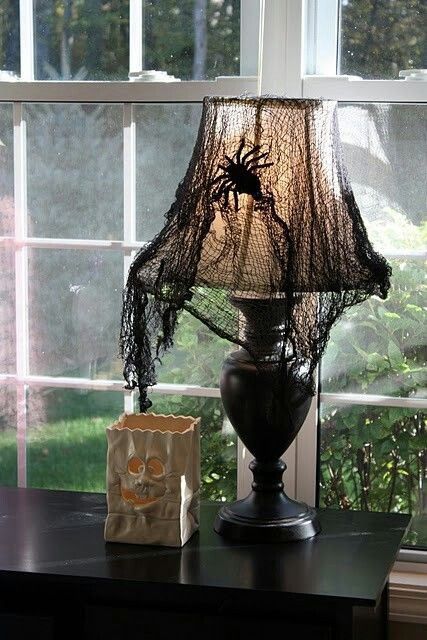 Halloween decorations can be applied to any item in your house, and lamps are no exception. In this beautiful, creative design, scrim – a gauze-like fabric – is hung over a lamp to create the illusion of a spider web. This is an easy option to make sure your lamps fit in with the overall Halloween theme. Adding a large plastic or cloth spider helps to accentuate the point of the illusion, although it is not strictly necessary. Using a dim light is particularly recommended for this sort of lamp. Unlikely harsher light bulbs, a softer light complements the scrim and produces a duller color that actually goes with the idea of a spider web covering the lamp and the lampshade.
71. Silhouettes Throw Off Spooky Fun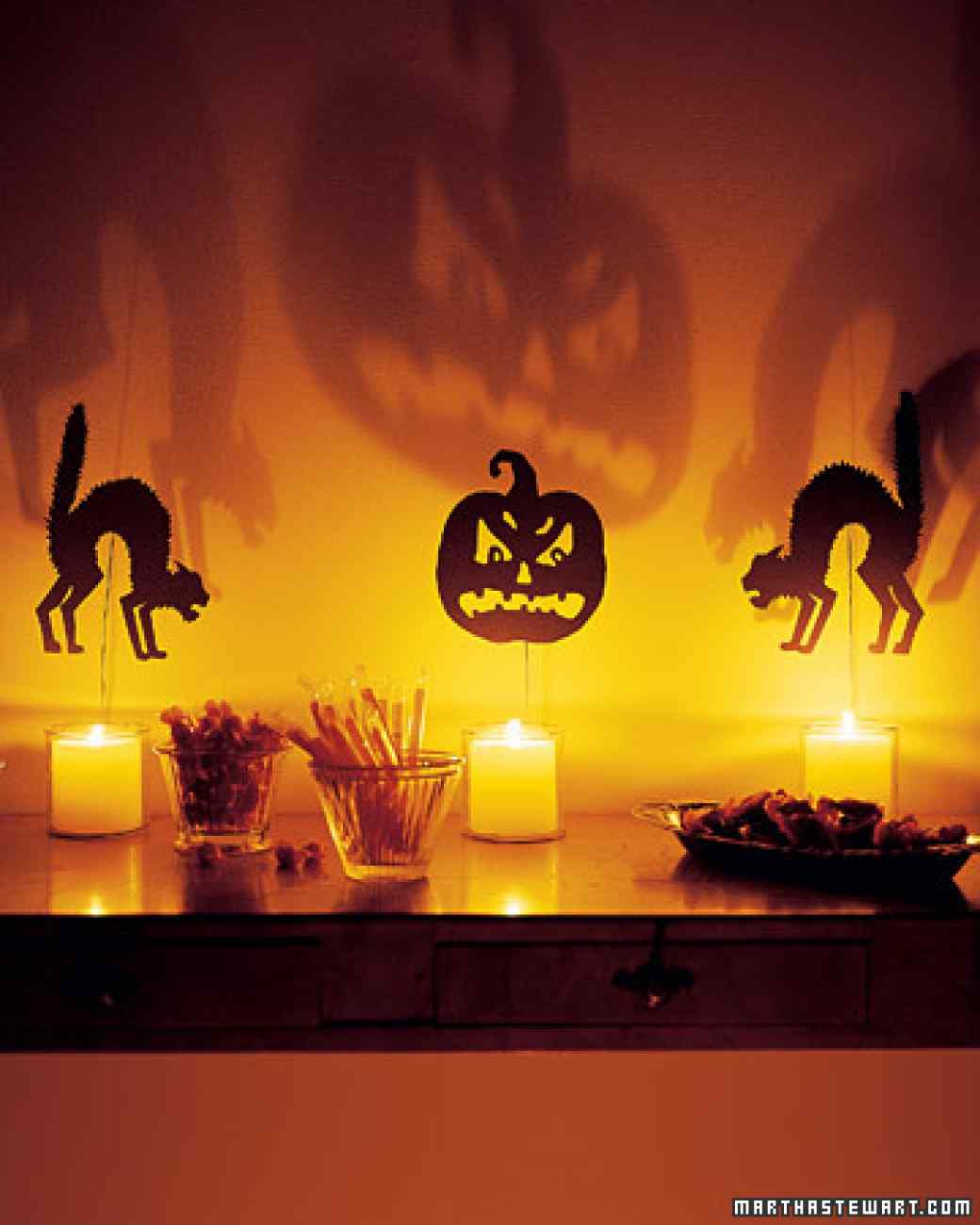 By long tradition – dating back to the Colonial period, in fact – silhouettes are an important part of celebrating Halloween. This Halloween indoor decoration idea relies on forming a silhouette with black card stock (helpful templates for the silhouette are online) and attaching it to a candleholder. Once lit, the light from the candle sends the image of the silhouette against the wall, producing an eerie image for all to see. While this is a relatively easy project, it's important to ensure that the silhouette is much higher than the candle to prevent fires. Other than that, however, this is an easy and fun idea for Halloween decorating.
72. Mirage and Mirrors Create Ghoulish Decoration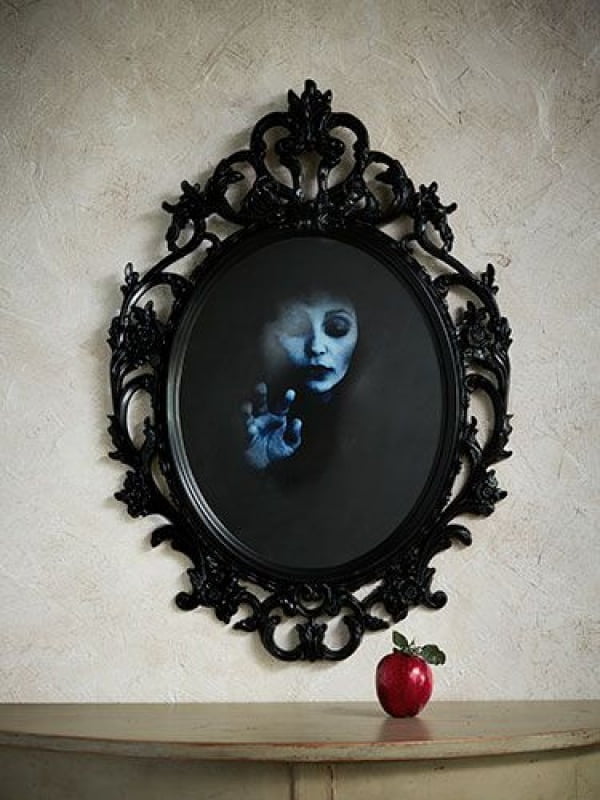 Mirrors are a part of every haunted house, and in this Halloween indoor decoration idea, you ensure that the mirror reflects a spooky image all the time. Starting with a relatively inexpensive IKEA mirror (or something similar), you can use reflective paint to blur the image and create an inverse image to fit inside the frame. While it's important to carefully follow direction to ensure the image turns out correctly, this project takes less than 90 minutes and is pretty cheap for the end result: a mirror that looks classic – and classically haunted!
These 50 Decorative Ideas Will Make Halloween At Your House The Best on the Block
Halloween is a time for spooky, cute and unique decorations. These Halloween indoor decoration ideas are designed to give you a sense of what you can pull off in your own home – and open the door for you to create your own Halloween heaven for you and your family. Most importantly, however, you should have fun with these projects. They are all designed to be relatively inexpensive and not particularly time intensive; many are do it yourself ideas that you can carry out with family, even with young kids.
Whether it's creating pumpkins that shine with glitter or decorated tablescapes that embrace the principles of haute couture, balloons that make a "pumpkin patch" for children or a city of ghosts in a Mason jar, these 50 examples can help guide you to the ideas that will work in your home. The key is to strike the right balance of cute and spooky, making sure your designs aren't too kitschy and are still stylish enough for any home. Decorating for Halloween is a great activity for the entire family – young and old alike. With each and every one of these 50 Halloween indoor decoration idea, you are armed to go forth and conquer the Halloween decorating scene, and to impress your friends along the way!