Finding a way to organize and showcase your jewelry can be tricky, which is why I've rounded up some of the best jewelry storage ideas and boxes to help you with this long overdue task. No matter how many pieces of jewelry you own, if you can't easily see them, then they can often be forgotten or hard to find when you want to wear them.
23 of the Prettiest Jewelry Storage Ideas and Boxes You'll Love

There are so many different shapes, styles and sizes when it comes to jewelry boxes. Some people prefer to have their jewelry neatly displayed as a sort of decorative piece on their dresser or nightstand while others prefer keeping their jewelry out of sight. When choosing the best storage for your jewelry, first consider where you'll be keeping it. Do you want your jewelry stored in the bathroom, on your vanity, on top of your dresser, hidden inside a drawer or someplace else?
The drawer method for storing your jewelry is the perfect way to keep your precious jewels hidden from plain sight. Utilizing a jewelry case with compartments placed inside a drawer is a fool-proof setup that's quite simple with easy access. For tabletop storage, you'll want to find a chic and stylish jewelry box that will function as both storage and décor. There are plenty of creative ideas for tabletop storage listed down below.
So, let's start untangling your jewelry and organizing them in a way that will encourage you to wear those precious pieces. These various jewelry storage ideas combine both style and functionality without breaking the bank. I'll also be sharing some great storage design ideas that will make the perfect gift for the jewelry loving lady in your life. From simple jewelry storage boxes to unique and creative mini chests, I'm sure you'll find something that suits your style.
1. Personalized Wooden Jewelry Chest with Trendy Floral Print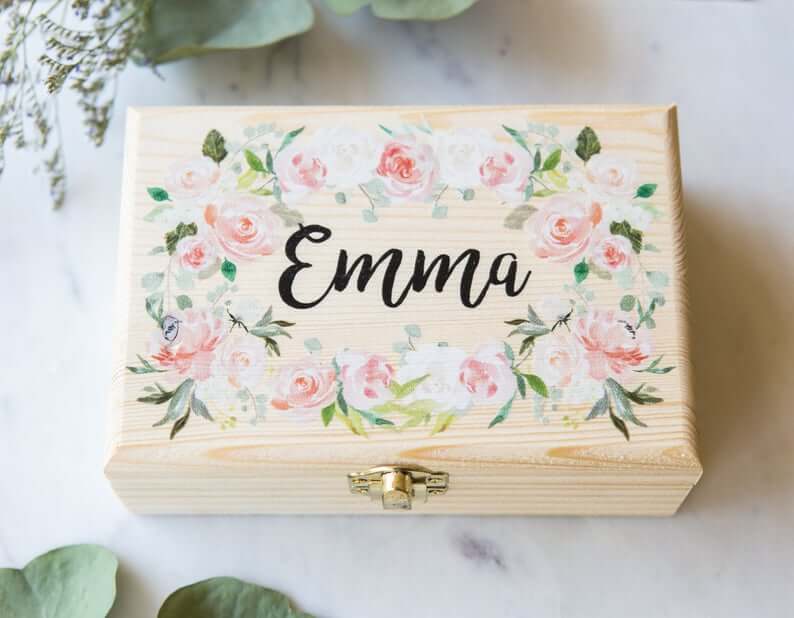 This lovely wooden box is perfect for storing jewelry inside. It features a beautiful floral design in soft pastel colors that give off a trendy romantic vibe. In the center of the floral design, you have the option to add a personalized name making this a wonderful jewelry chest to give as a gift or to even keep for yourself. This wooden jewelry storage chest measures 6 inches long and 4 inches wide with a 2-inch depth. You can easily open and close this memorable box with the gold latch that truly adds a beautiful finishing touch to this treasured chest.
2. Monogrammed Travel Jewelry Case for On-the-Go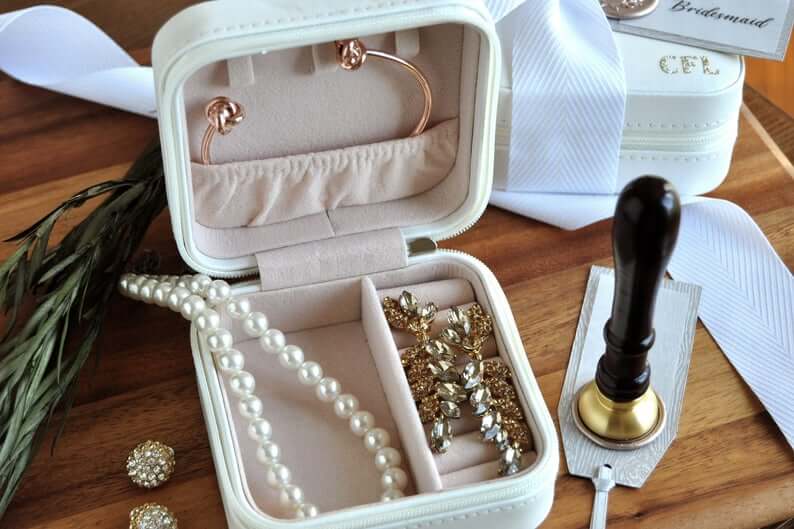 Whether you're looking for a sweet bridesmaid's gift or something to store your jewelry in while on-the-go, this beautiful leatherette monogrammed jewelry box is stunning. It features a zipper closure with velvet lining inside to keep your precious jewels safe and secure. Personalize the case by adding a monogram and choosing a glitter vinyl in your choice of color. You can also choose the luxurious satin ribbon color for a customized case perfect for any occasion. Although this beautiful box is small, it features an interior of pockets, hooks and ring holders for maximum jewelry storage space. Now you'll never have to worry about losing your precious belongings.
3. Antique Silver Engraved Jewelry Trunk for Her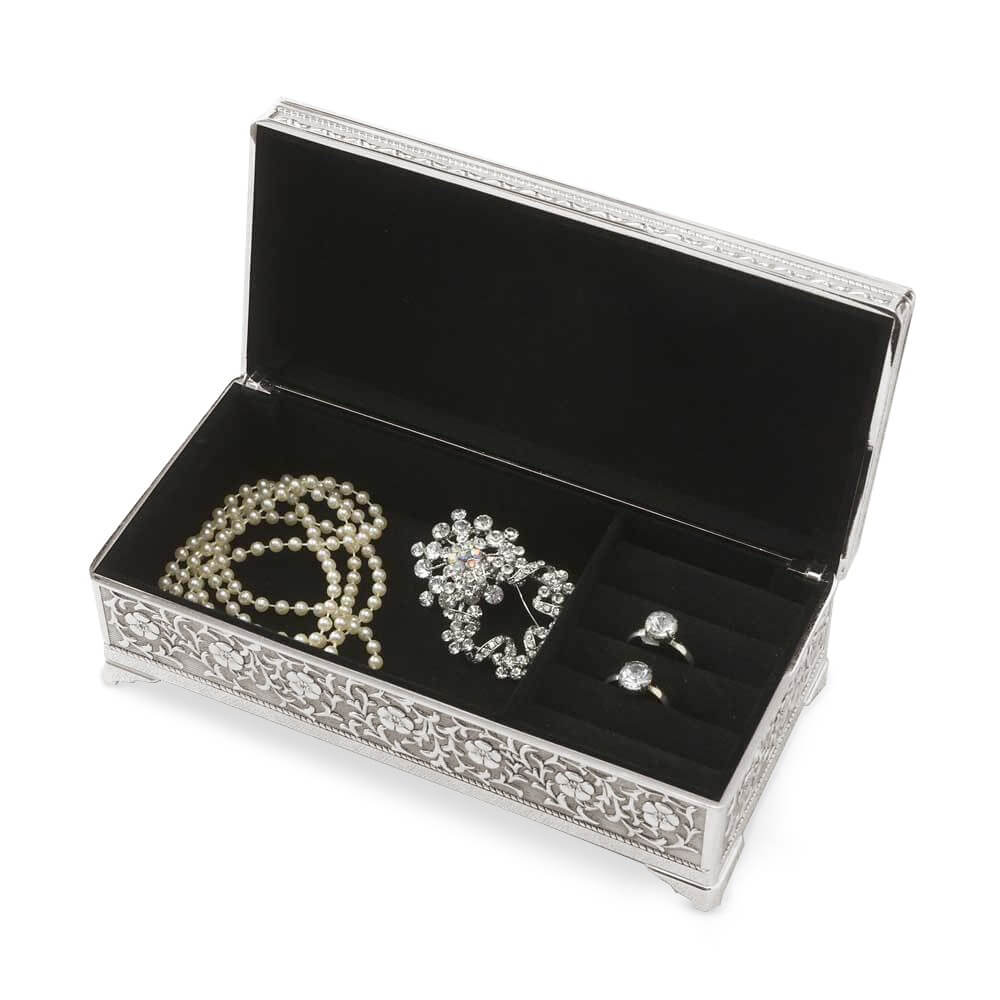 This luxurious antique silver jewelry trunk features a black velvet lining on the inside and a floral and vine motif on the outside. It measures a little over 7 inches long and nearly 4.5 inches wide. It also has a diamond shaped center on the lid where you can get your initials engraved or even a short message. The black velvet lining interior also features compartments making it easy to organize your special pieces. This gorgeous box will make a special gift for a loved one or keep it for yourself to pass down through generations along with your most precious jewels.
4. Adorable Personalized Jewelry Tower for Little Girl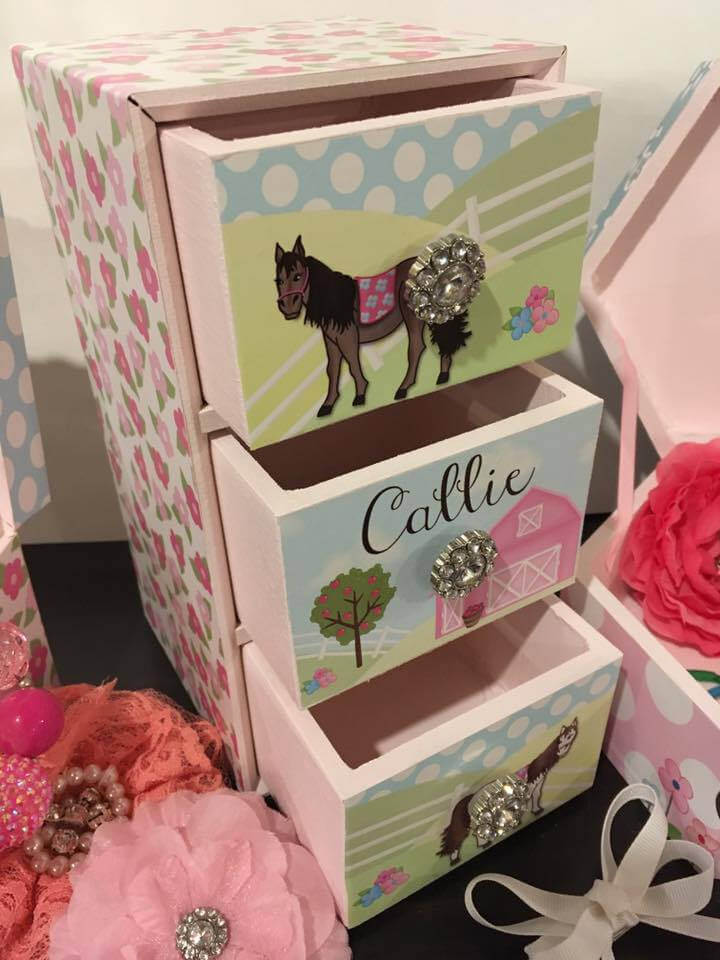 This is a little girl's dream jewelry storage design. This unique box features a tower silhouette with 3 generous sized drawers with jewel pulls. This jewelry tower is absolutely adorable with a colorful horse illustration featuring the cutest horses around a farm scenery complete with apple trees, a white picket fence and pink little barn. The middle drawer can be personalized with a name making this a lovely way to organize jewelry while also adding girly décor to a space. This jewelry tower measures 4.5 inches wide and 9 inches tall making it a lovely addition to a dresser or tabletop.
5. Chic and Trendy Rose Gold Glass Jewelry Box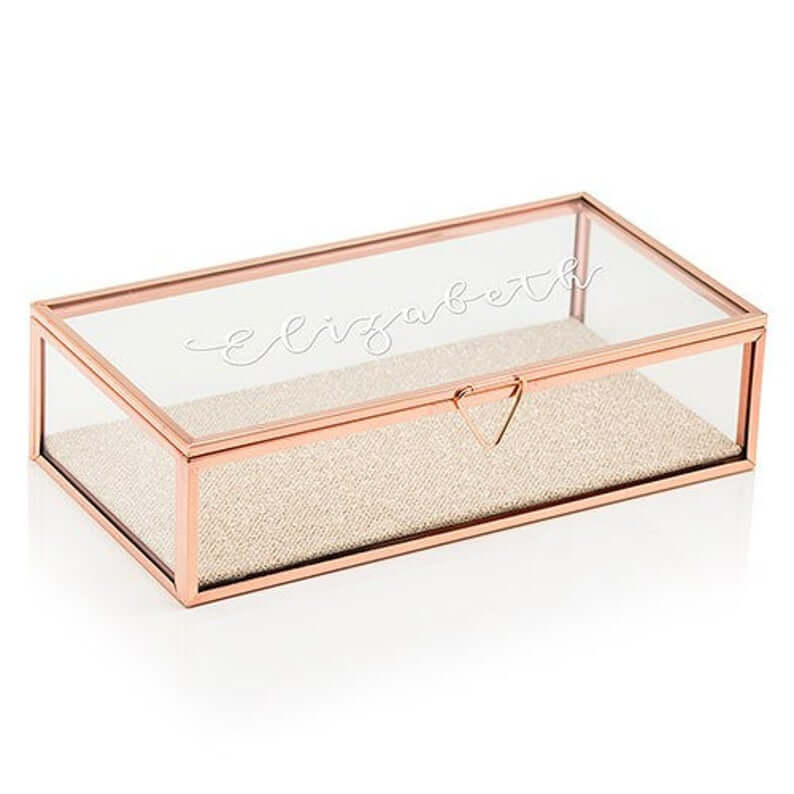 If you're looking for a chic and trendy jewelry storage design for your space, this sleek design is perfection. This personalized jewelry storage box features an elegant glass design with rose gold edges, a hinged glass lid, and a sparkly fabric bottom. It measures a little over 8 inches long and 4 inches wide making it roomy enough for all your special pieces. The personalization is included in this listing with a beautiful and elegant script font name added onto the center of the lid. Show off all your favorite jewelry pieces with this stunning rose gold box that will double as home decoration wherever you place it.
6. Majestic Owl Jewelry Chest with Mirror and Drawer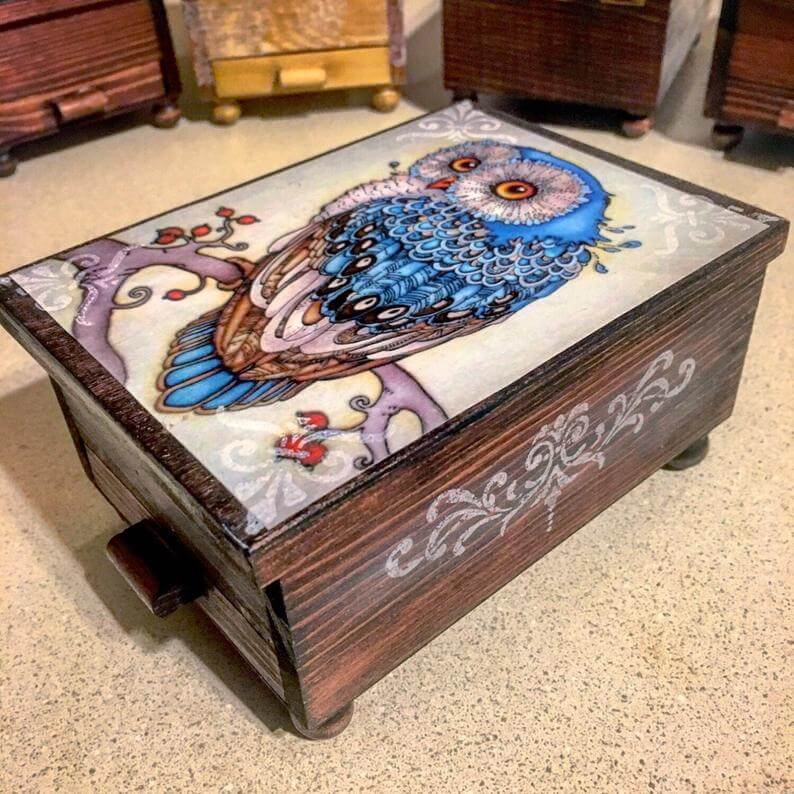 Owls are such stunning creatures. Owls have captured the imaginations of many cultures since the ancient times with their deep and piercing eyes and howling hoots. This vintage jewelry storage chest is majestic with a beautifully hand painted owl on the lid that will bring a warm and welcoming energy into any room you place it. This handmade jewelry chest also features a pull-out drawer and a lift top with a mirror on the inside. You can even add personalization to the pull-out drawer for a special touch. It's a one-of-a-kind box to store your jewelry, trinkets and other odds and ends in style.
7. Gorgeous Jewelry Travel Box with Personalization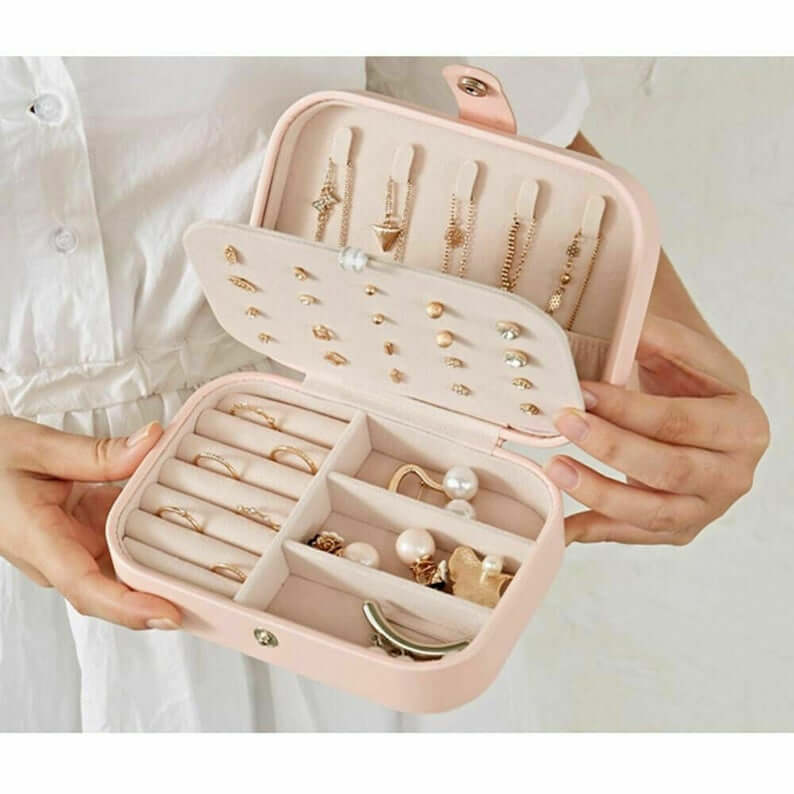 This gorgeous jewelry travel box is the perfect size for traveling. It will keep all your jewelry safe and organized when you're on the go and store all your everyday items while you're at home. It's a stylish box with a pop close fastening button so your travel box won't come open while on the move. This beautiful box also features velvet imitation ring rolls for rings, multiple sections for neat and tidy organization and pockets to tuck your favorite pieces into nicely. There are also tabs to easily hang your necklaces to prevent tangling and a thick padded layer to clip your earrings onto. Personalize this super cute jewelry travel box with your name on lid and you have yourself a beautiful custom box for all your precious gems.
8. Alice in Wonderland Decorative Keepsake Box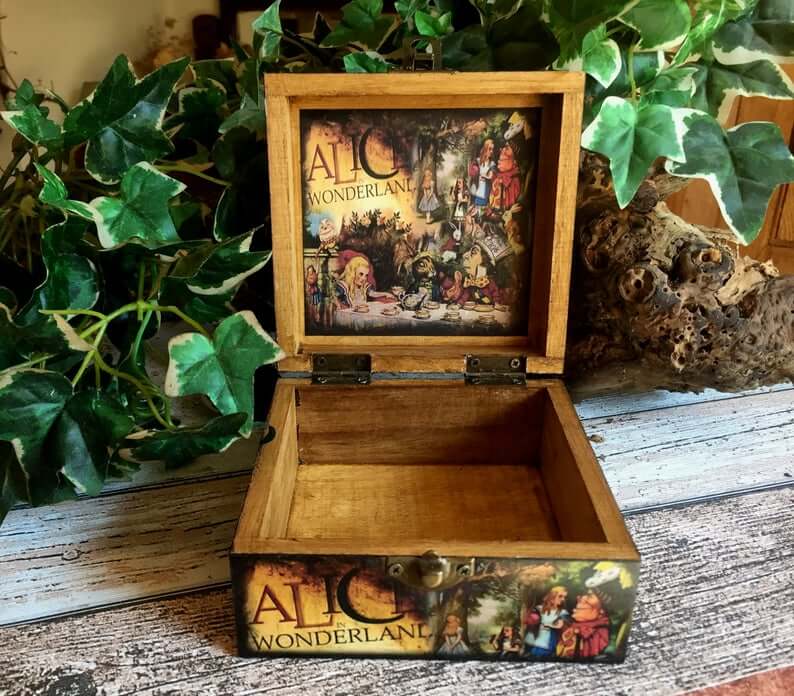 Are you an Alice in Wonderland fan? If so, this fabulous little box is perfect for keeping all your lovely things inside. This wooden box is handmade featuring a montage of images from Alice in Wonderland including The Mad Hatters Tea Party, The Cheshire Cat and Humpty Dumpty and the Duchess. The images are repeated around the sides of the box and one large image is printed on the inside lid. Fasten this beautiful box with a traditional brass clasp. This is a really cool piece of art that will look lovely on any dresser, shelf or tabletop. It's sure to spark up some conversation for anyone who sees it.
9. Personalized Glass Jewelry Box with Gold Detailing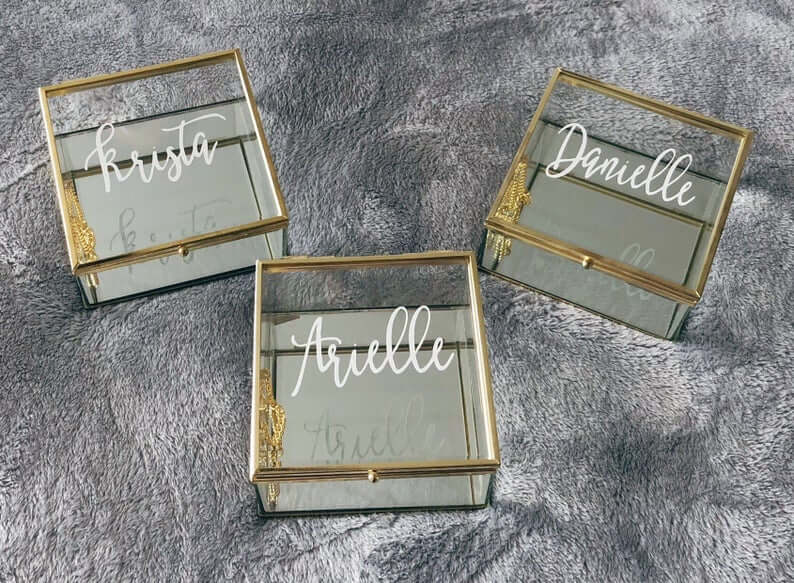 This stunning personalized glass jewelry storage box is great for holding your favorite jewelry inside. It would also make a lovely gift for a bridal party or gift for any occasion. This glass box measures 5 inches long and 5 inches wide and features a mirrored bottom for an elegant touch. The top opening features a gold chain detailing to match the gold trim that surrounds the box. Customize the box with your name, initials or a monogram that will be added to the top of the glass box using vinyl lettering in either black or white, whichever you prefer.
10. Wooden Jewelry Storage Design with Engraved Personalization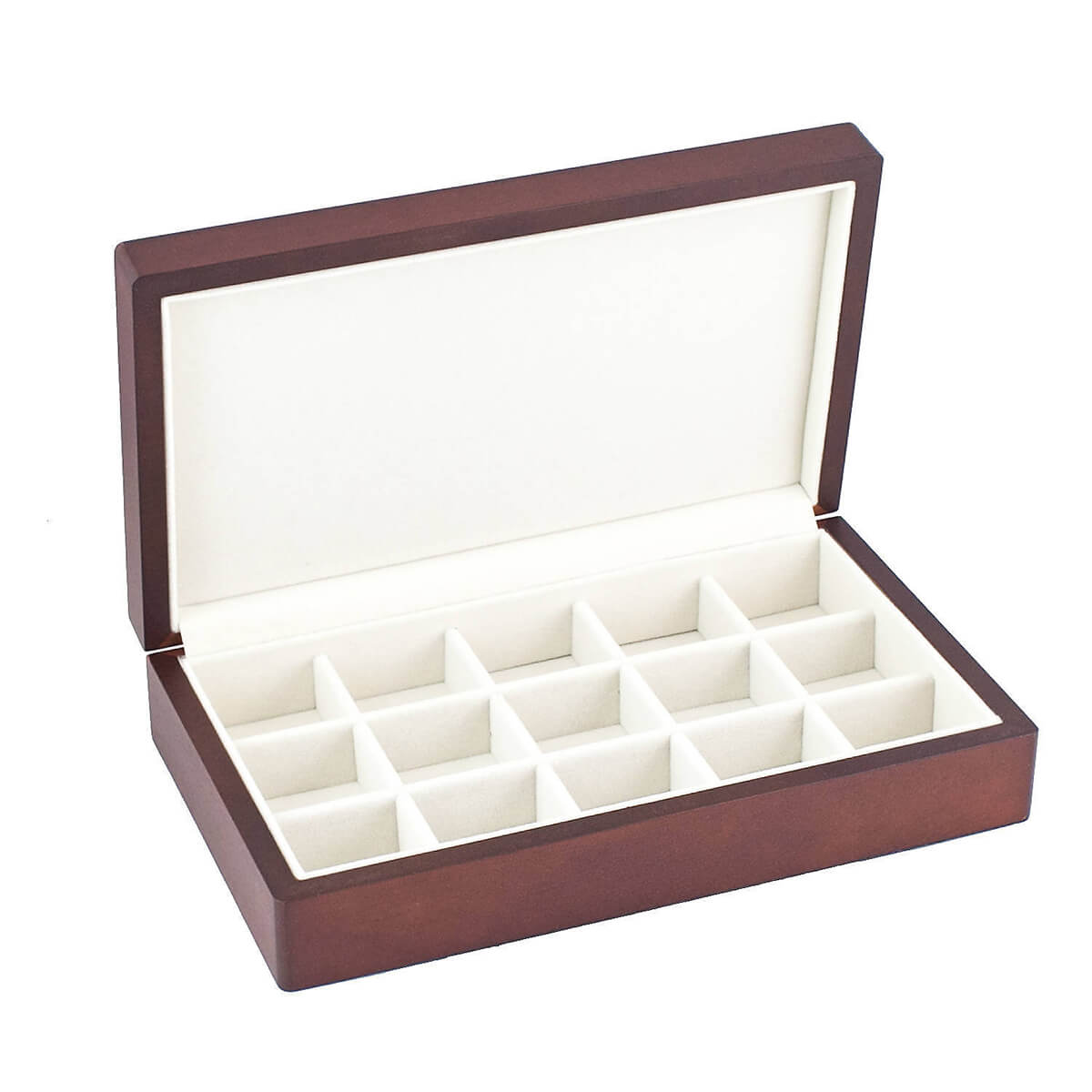 This custom jewelry storage chest features a beautiful wooden finish with a cream colored felt lining inside. The sleek vintage wooden exterior finish matches perfectly with the functional 15 slot interior. With 15 slots, you'll never run out of space for your smaller jewelry pieces. You can easily place your cufflinks, rings, earrings and other smaller jewelry items inside for simple organization. These wooden cases are built to last with high-quality wood and soft light suede inside to protect your jewelry from scuffs and scratches. Add a name, initial or short message to the top of this multipurpose box in your choice of font and engraving style for added personalization.
11. Woodland Acorn Keepsake Box with Rustic Detailing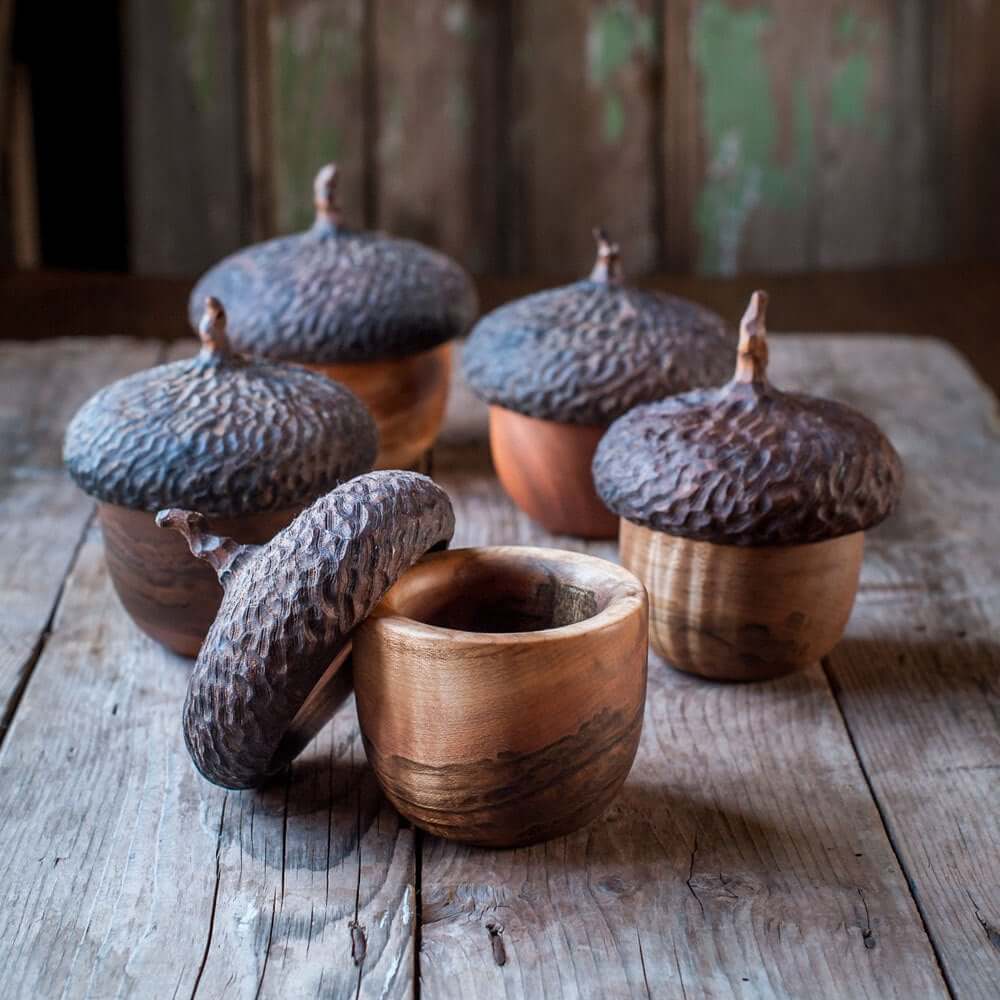 Acorns are said to bring good health and good luck into a home. This woodland acorn keepsake box is an awesome idea when it comes to storing your most prized possessions. Featuring a sweet rustic accent, it's perfect for a small table, shelf or nightstand. The base is turned from tiger maple, flame birch or cheery and the lid is turned and carved from walnut. This handmade keepsake box measures 5.5 inches tall and 5 inches wide, so it's great for storing rings, earrings, cufflinks or other smaller jewelry pieces. This will make a great conversational piece that serves multiple purposes.
12. Gorgeous Velvet Ring Box in Vintage Colors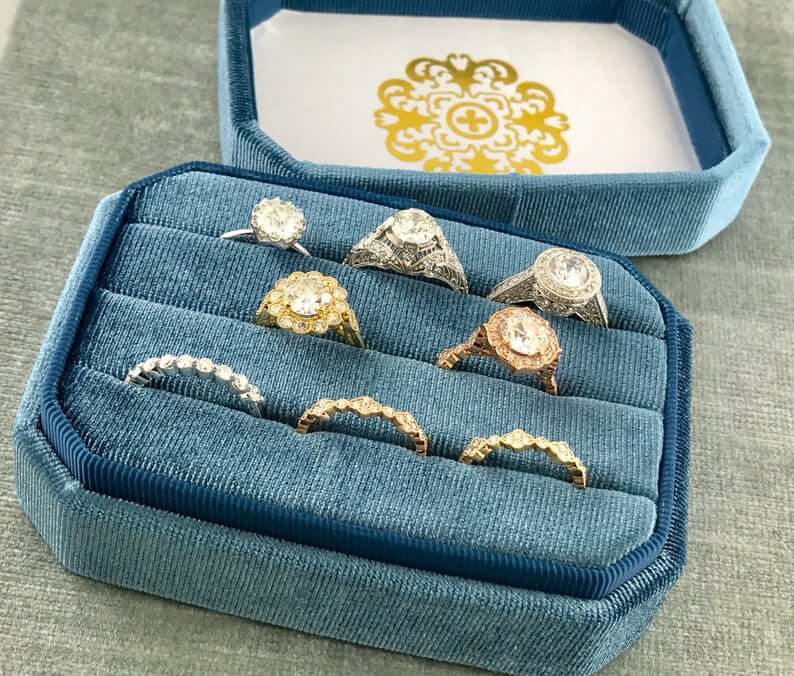 This signature handmade antique inspired ring box can hold 9 rings inside. It features an octagon shape in a variety of luscious shades of antique vintage colors. They are hand crafted with a luxurious velvet lining and exterior with accented grosgrain ribbon and gold foil detailing on the inner lid. It's the perfect box to organize and showcase your favorite rings and will look good no matter where you decide to place it. It measures 10.5 inches long and 7.5 inches wide with a depth of 4cm. It's small and compact size makes this beautiful box great for gifting or for traveling.
13. Unique Watch Case with Engraving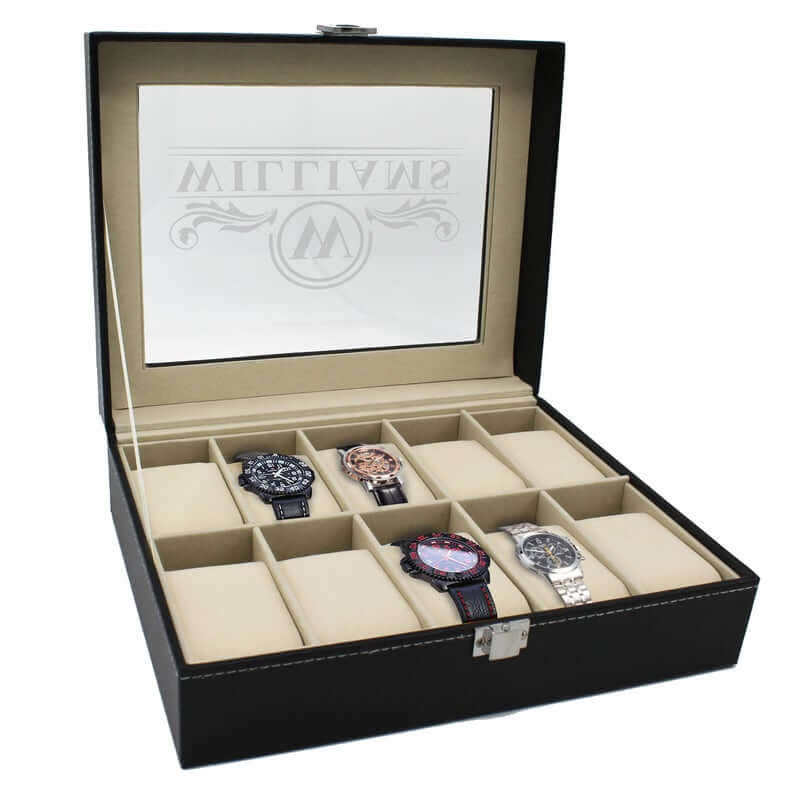 Are you a watch collector looking for an ideal storage solution to showcase and store all your favorite watches? We all know it can be rather difficult finding appropriate storage for your watches which is why this watch case is so cool. This unique watch case features a classic design in either black or brown leather with offset stitching for a more custom look. This case can hold up to 10 watches and measures 10 inches long and 8 inches wide. The interior features a soft lining, so your watches won't get scuffed or scratched when storing. Add custom engraving to the glass display making it a great personalized gift to yourself or the watch lover in your life.
14. Multi-Functional Jewelry Organizer Box with Personalization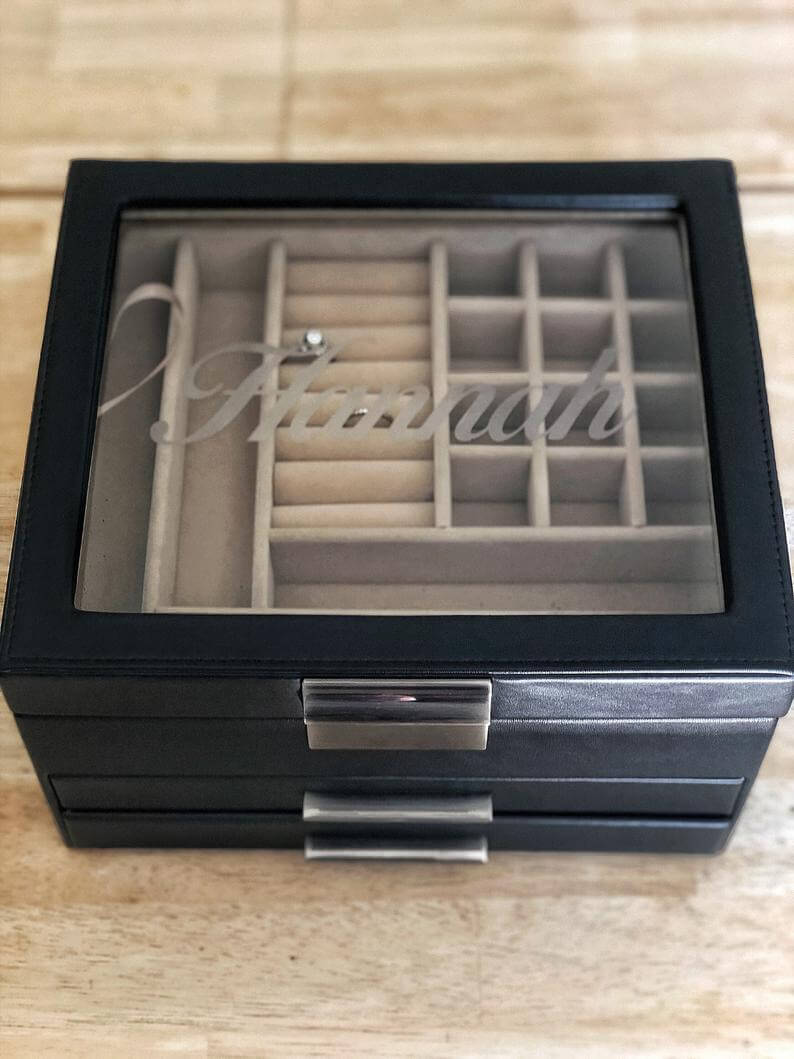 Store all your precious jewelry pieces neatly and decoratively with this personalized multi-functional jewelry organizer. This custom jewelry chest features necklace hooks, a ring tray, and convenient compartments for earrings, brooches, cuff links and other jewelry items. It also features a glass front case that can be engraved by professional sandblasting in your choice of font style. This beautiful box is handmade from PU leather and has multiple drawers making this the go-to for optimal jewelry storage. Display your new organizer on a dresser, nightstand or closet shelving. It's a great unisex jewelry solution for both his and hers storage.
15. Large Personalized Jewelry Case in Grey and White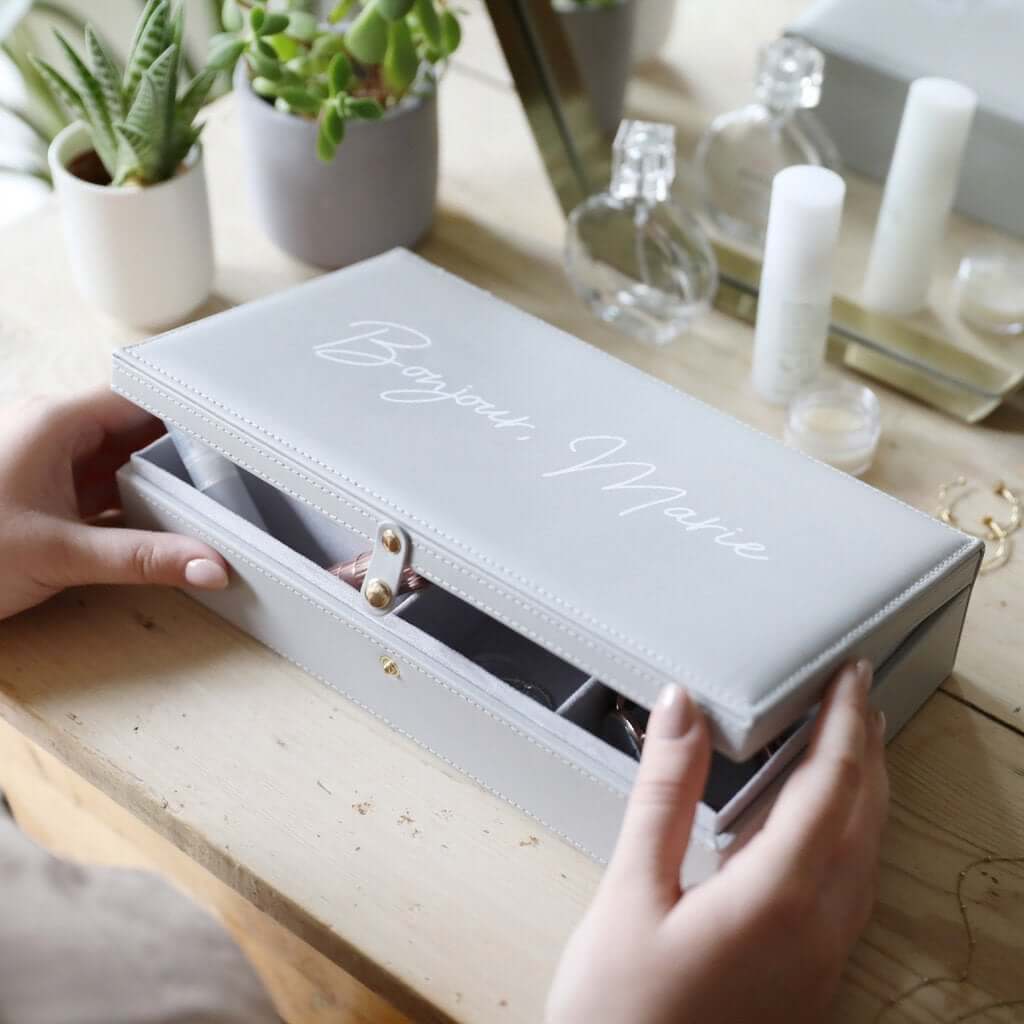 Keep your finest jewelry and accessories safe and organized with this faux leather jewelry case. Simply pop open the button-closure lid to reveal velveteen ring rolls, hooks and compartments. Choose from white and rose gold metal or grey and gold metal for button closure and add custom wording up to 15 characters long to have printed across the lid in an elegant fancy font. This is a larger jewelry case measuring over 10 inches long and over 5 inches wide. This jewelry case can be used for years and years or passed down to be treasured for generations to come.
16. Wooden Ring Box Made from a Hazel Tree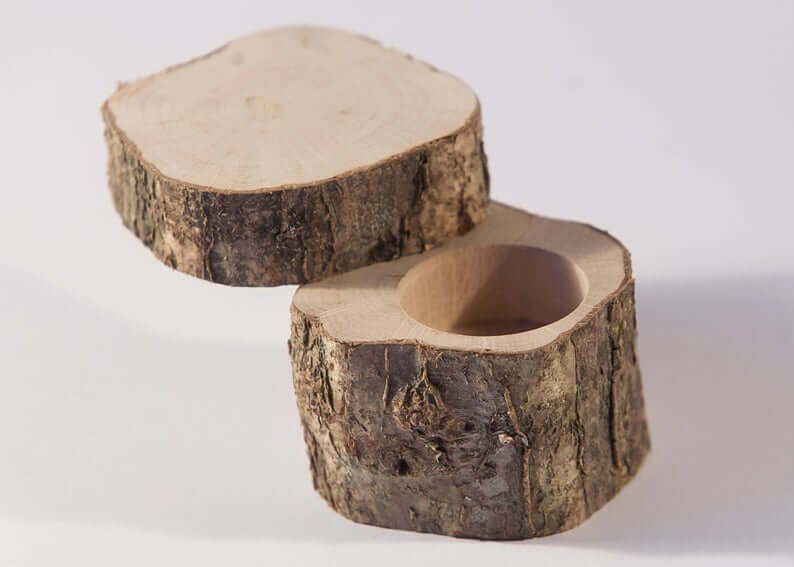 Does your home boast rustic aesthetics? This little wooden ring box will make a perfect addition to your existing home décor. Wooden decor makes lovely jewelry storage ideas for even your smallest jewelry pieces. This wooden box is made with two parts – the lid and the base. A wooden dowel is installed with skilled craftsmanship to swivel side to side to reveal the hollowed out inside. This is a small treasure box that can also be custom made into a round, oval or irregular natural shape, whichever design you like the most. You can also personalize this little treasure box with your initials, name, date or simple text burnt right into the wood.
17. Personalized Musical Jewelry Box with Twirling Ballerina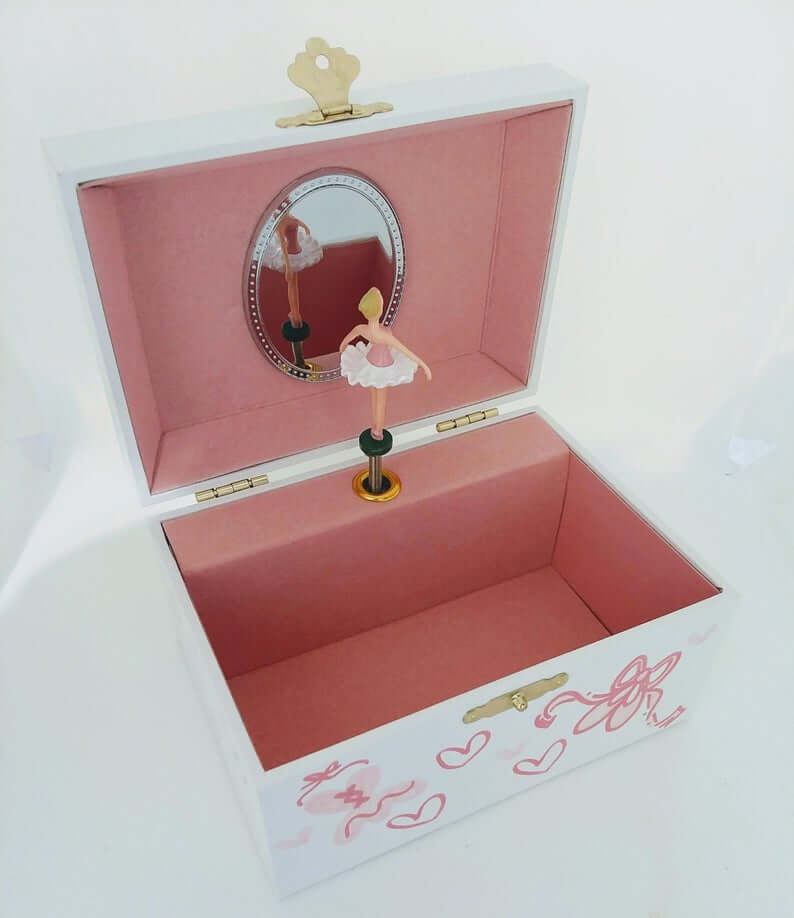 Whether you want to bring back memories from your childhood or you want to gift this to a sweet little girl in your life, this super cute personalized musical jewelry organizer is an awesome idea for storing all your jewelry inside. This personalized jewelry chest is hand-painted using lead-free oil-based paint with adorable paintings like flowers, trees, ballet slippers and other girly images. Each box also includes a pink felt liner with a beautiful ballerina that spins with the turn of a knob. This is an adorable music box that will bring you back to your childhood in an instant while also organizing your jewelry.
18. Custom Engraved Silver-Plated Victorian Trinket Box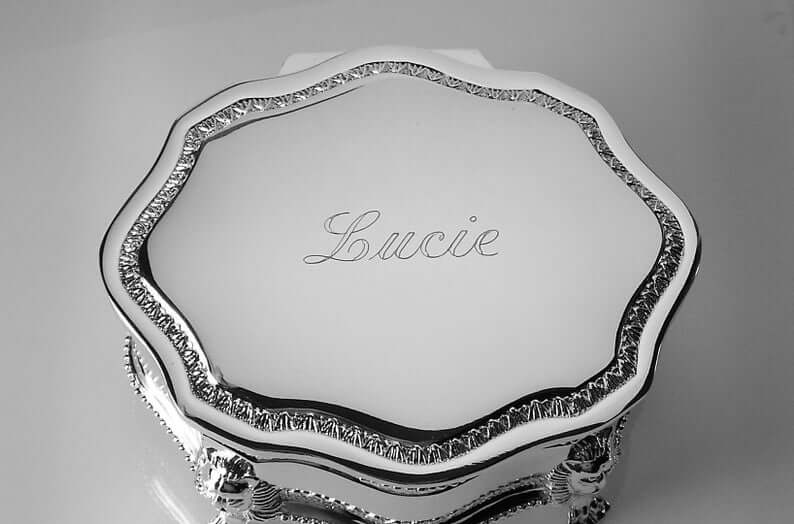 This beautiful high-polish silver plated jewelry case is fit for elegance. It comes complete with scalloped designs and lion head accents. It features a hinged lid with a dark navy-blue velvet interior to protect your most prized possessions. It also has a footed design making it look antique and regal. This keepsake box measures over 3 inches wide and 3.5 inches tall and comes packed inside a gift box. It's the cutest little jewelry storage idea to place on top of your dresser, tabletop or shelf. There's also plenty of space on the lid for engraving a name, monogram, initials or a short-personalized message.
19. Sea Turtle Themed Jewelry Organizer with Mirror and Drawer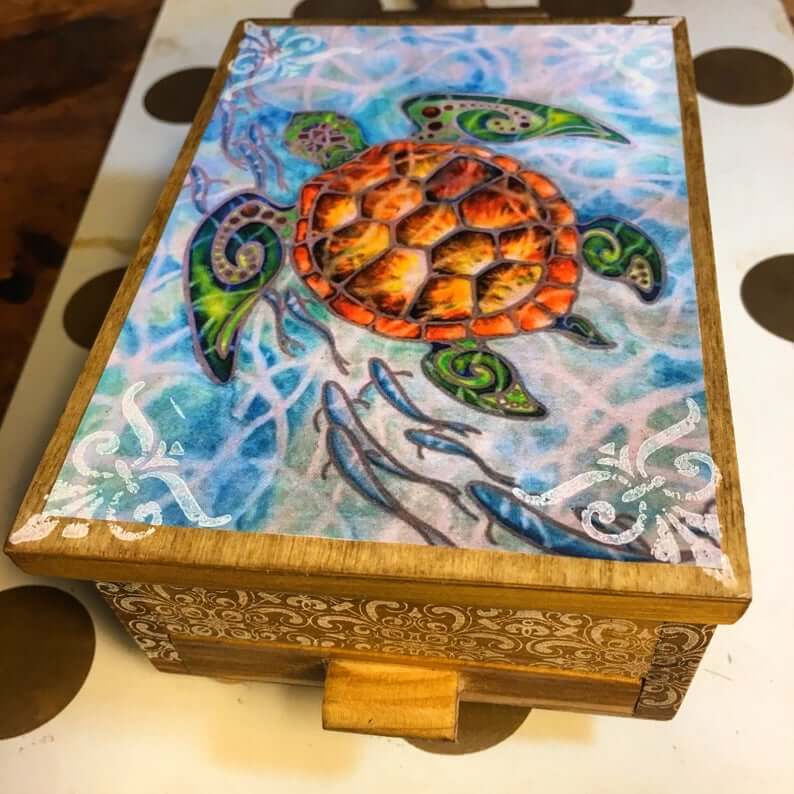 Sea turtles symbolize patience, wisdom, endurance and good luck due to their long lifespan. They are one of the oldest living animals in the world with a symbolic spiritual significance. This beautiful custom handmade box will bring a warm and welcoming energy in any room you place it in. It can be used for storing jewelry, trinkets, keys and more. Each box is decorated beautifully with a cool and unique large sea turtle design and is sanded and stained with a beautiful honey oak finish for a long-lasting shine. Each box also features a pull-out drawer and lift top case with a mirror built in for an extra touch.
20. Sleek and Sophisticated Glass Jewelry Organizer with Personalization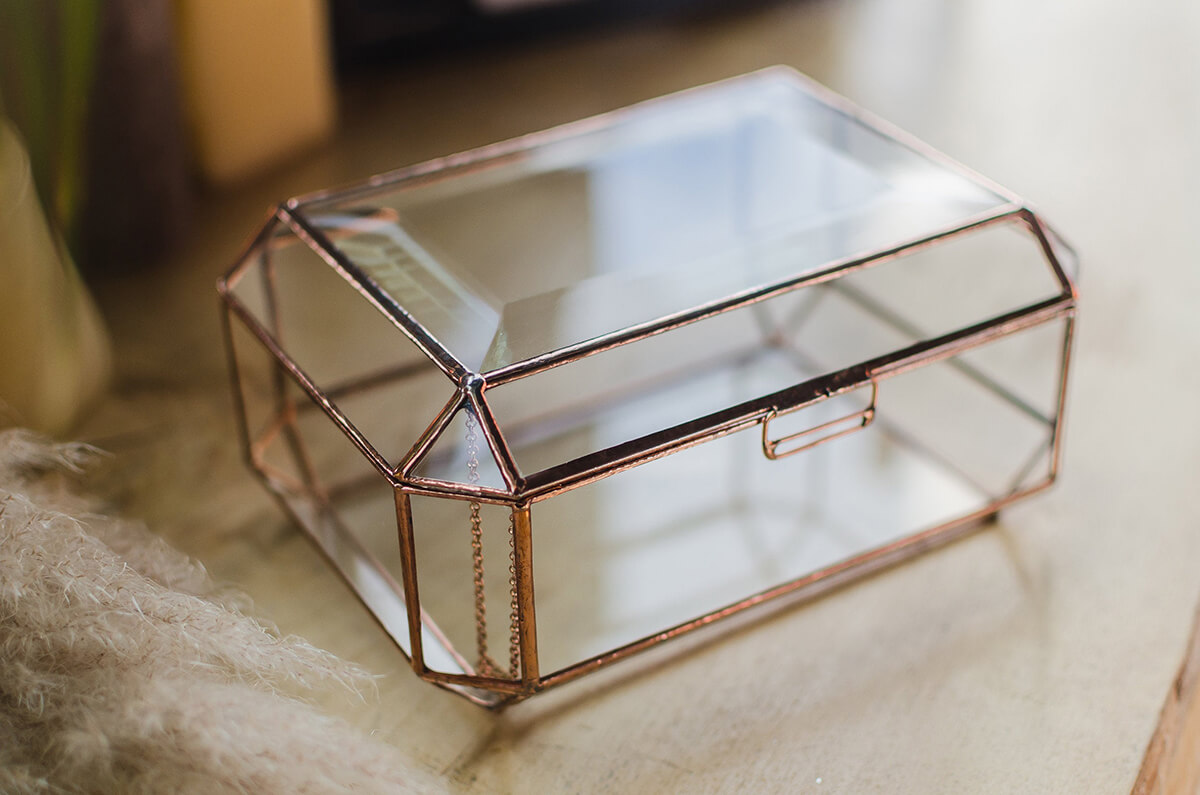 This sleek and sophisticated jewelry storage idea is made by hand using transparent glass. You can easily store your rings, earrings, brooches, necklaces and more inside this gorgeous box making it easy to find which items you want to wear. It measures 4.5 inches wide and 6.5 inches long making it a spacious box for storing your favorite pieces inside. Choose between black, copper and silver for the finishing color and for added personalization, you can get your name or short text engraved by hand on the center of the glass lid panel making it a one-of-a-kind case for your special belongings.
21. Purple Rhinestone Studded Jewelry Case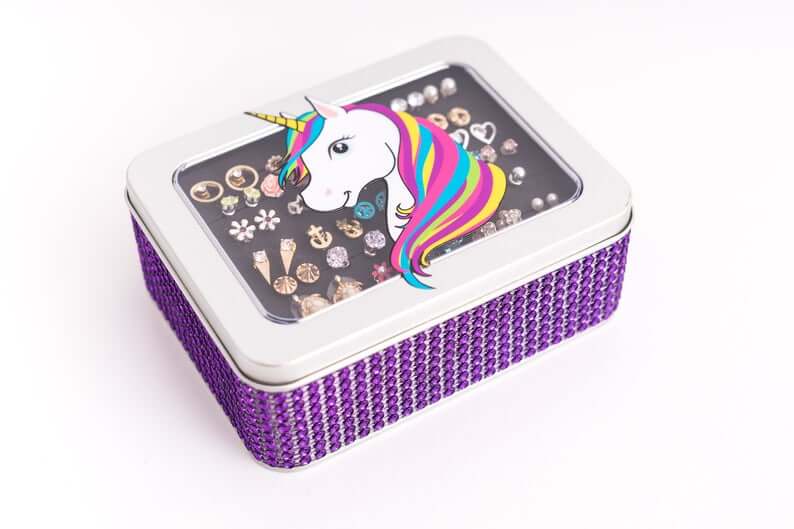 Do you or someone you know have a love for unicorns? If so, this unicorn tin is great for all girls who dream of unicorns, shimmer and shine. This tin goes above and beyond with purple ribbon sparkles and rhinestone jewels all around the exterior of this shimmery jewelry case. It also features unique custom foam inserts to securely hold your earrings, rings and smaller pieces inside. The bottom foam insert is securely glued to the bottom of the tin and features 8 pre-cut lines. There's also an additional foam insert that can be removed with 6 pre-cut lines to hold even more earrings and rings. The clear top lid allows you to easily see your jewelry making it very convenient to view all your precious pieces in one spot.
22. Concrete Box Jewelry Storage Ideas for the Minimalist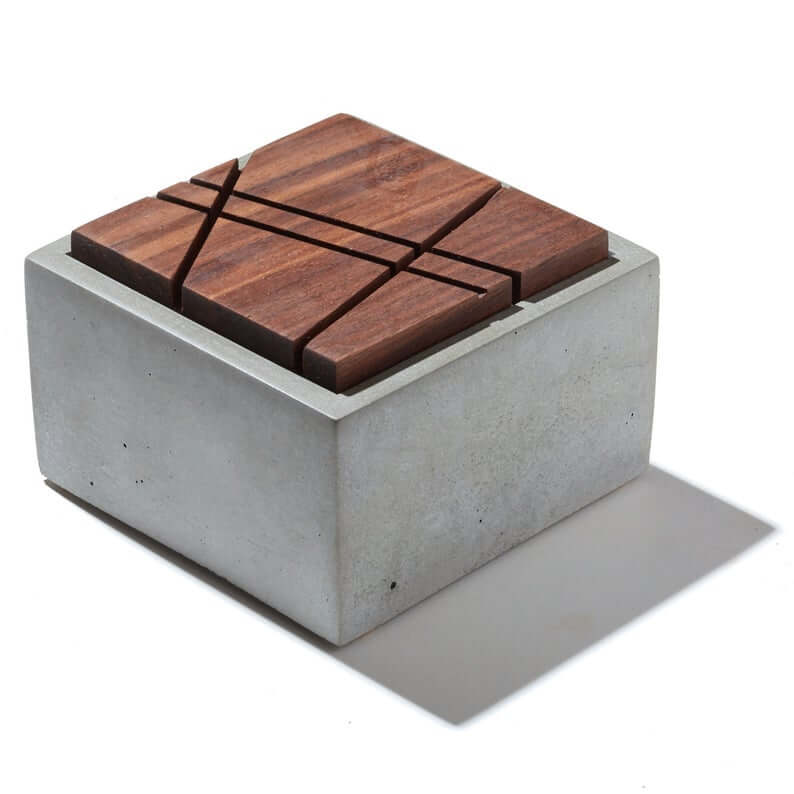 Finding a sleek and sophisticated jewelry storage design can be difficult for the true minimalist. With this beautifully handmade concrete box, now you can safely store and organize your most prized possessions inside without sacrificing your current design aesthetics. This gorgeous box features a minimalist design style with geometric wood slices for the lid. It's a great place to store jewelry or other small important items inside. It comes with a hand stamped bottom and cork pad feet, so it won't slide around easily or scratch the surface wherever you choose to place it. The lid is hand sanded and oiled with a natural finish and the solid cast concrete is sealed with a non-toxic food safe sealer. This is a beautiful box that doubles as jewelry storage and home decoration.
23. Multi-Functional Jewelry Storage Ideas for Her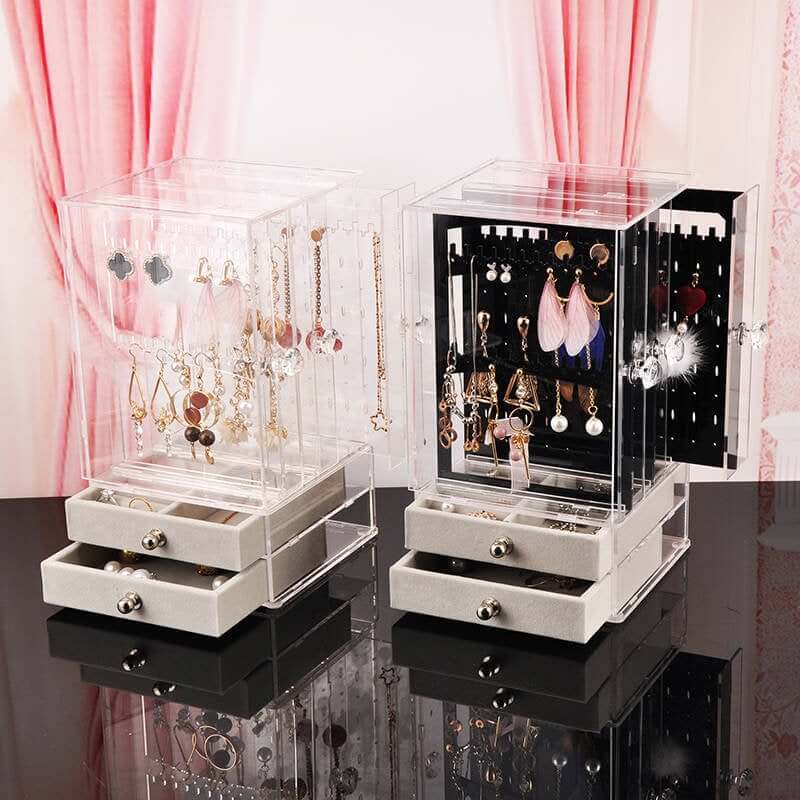 This multi-functional jewelry storage case comes in a variety of styles and designs. It's made from fabric, glass, plastic and wood to create a unique look fit for all your jewelry storage wants and needs. Choose between a sleek plastic design with pull out drawers coming out from the side of the case, a case with soft lined pull-out drawers on the bottom, wooden handles and knobs and several other incredible design options and features. There are numerous ways to hang your necklaces, clip your earrings, lay out your rings and bracelets and more. It's a compact sized storage solution that will fit your favorite jewelry pieces inside perfectly. Place it on your dresser, nightstand or closet shelf to display your pieces neatly and glamorously.
23 Jewelry Storage Ideas and Boxes that Will Blow Your Mind
Organization doesn't come natural for most people, yet most people crave a space that's neat and tidy. Even when talking about jewelry storage ideas, finding a method that works best for you and your space is key. An organized space not only looks appealing, but it can also alleviate stress and make life more efficient. The best way to organize your jewelry is by storing like items together. Keep your big statement earrings together, keep all your dainty rings together, organizing by size and category. When it comes to your necklaces, try storing them into different compartments to keep them from tangling or you can simply hang them up for a decorative display.
When thinking of good jewelry storage ideas, don't be afraid to mix and match. You can have a jewelry case housing your most treasured items, while also utilizing a smaller tray or dish for your everyday pieces. There is no right or wrong way to organize your precious jewels, but you do want to find a solution that fits your wants and needs.
I hope I've left you with some inspiration when it comes to organizing your jewelry. Whether you plan on using your jewelry storage box for home decoration, or plan to keep it out of sight, these easy organizational solutions will do wonders for your jewelry stash.
Our Favorite Farmhouse Storage Items to buy on Amazon