Many times, children's rooms are an afterthought when it comes to redecorating the house. It's important to give each child some creative freedom in designing their own room so they will feel like they have a place to shine.
26 Fantastic Kid Room Decor Ideas that your Children will Go Crazy For

Organization is a big part of these room designs. Give kids a place to put everything away, and their rooms will be much cleaner. Some of these designs use clever pegboards and hanging shelves to keep things neat.
These kids' rooms use a variety of fabrics to bring texture and color to the forefront. Sheer fabrics and tulle are especially popular in little girls' rooms. When used with light and bright metallics, these fabrics look current and up to date.
While most of these designs are intended for girls' rooms, the boys haven't been neglected. Boys' rooms feature nautical and outdoorsy themes, including a teepee play tent that any child would love. Boys are also included in the trendy practice of printing meaningful quotes and framing them around the room.
These kids' room ideas will inspire you to freshen up your home with new designs. Let your child browse through them with you and find out what he or she likes best.
1. Chalkboard Wall with Inspirational Sayings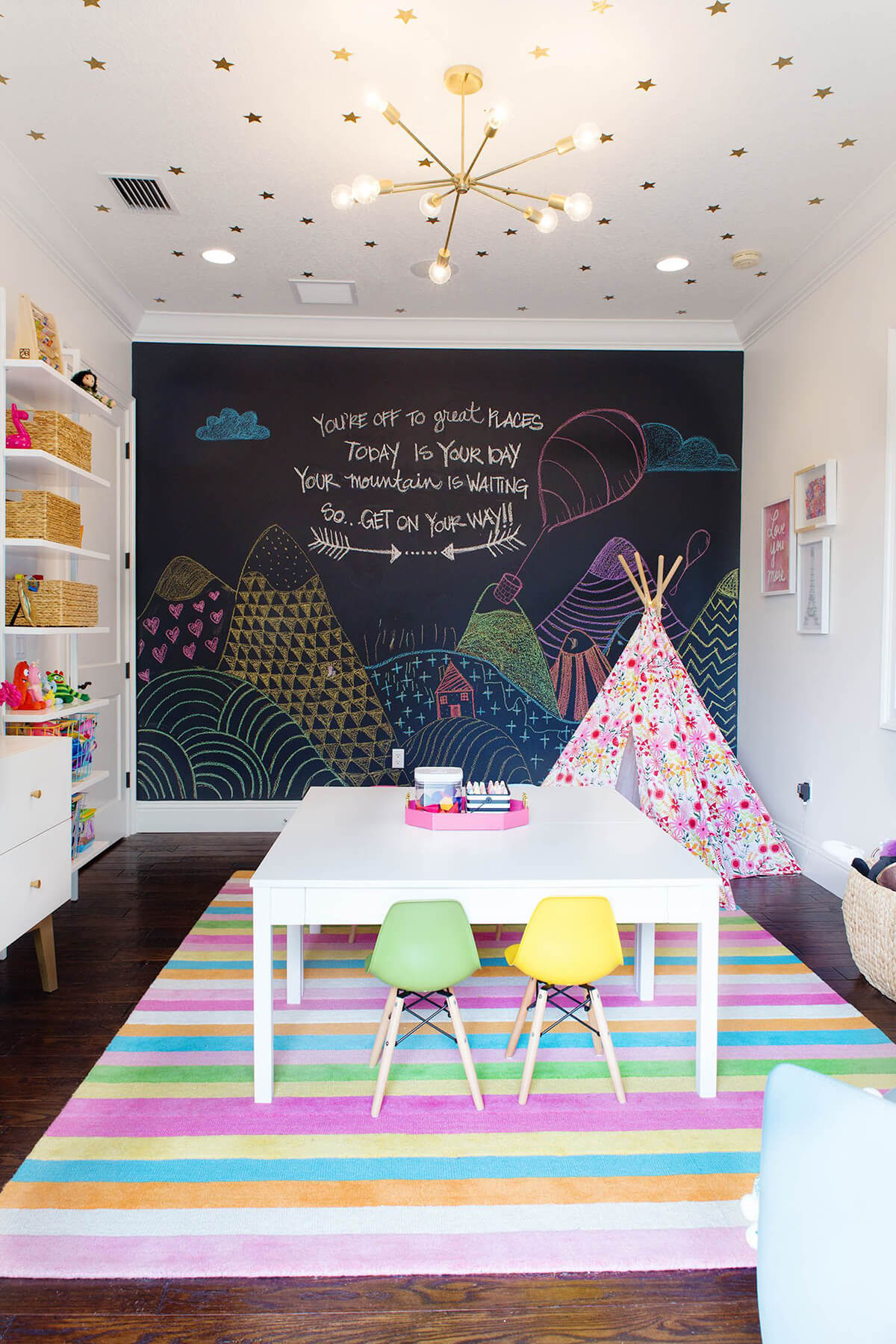 For an artistic child's room, consider creating a massive chalkboard wall. This gives a kid all the creative outlet they need, and it's not only confined to their room, but it also serves as a decorative piece. It looks great alongside white walls and light-colored furniture too since all this helps the chalkboard stand out.
2. Floating House Shelves for Little Friends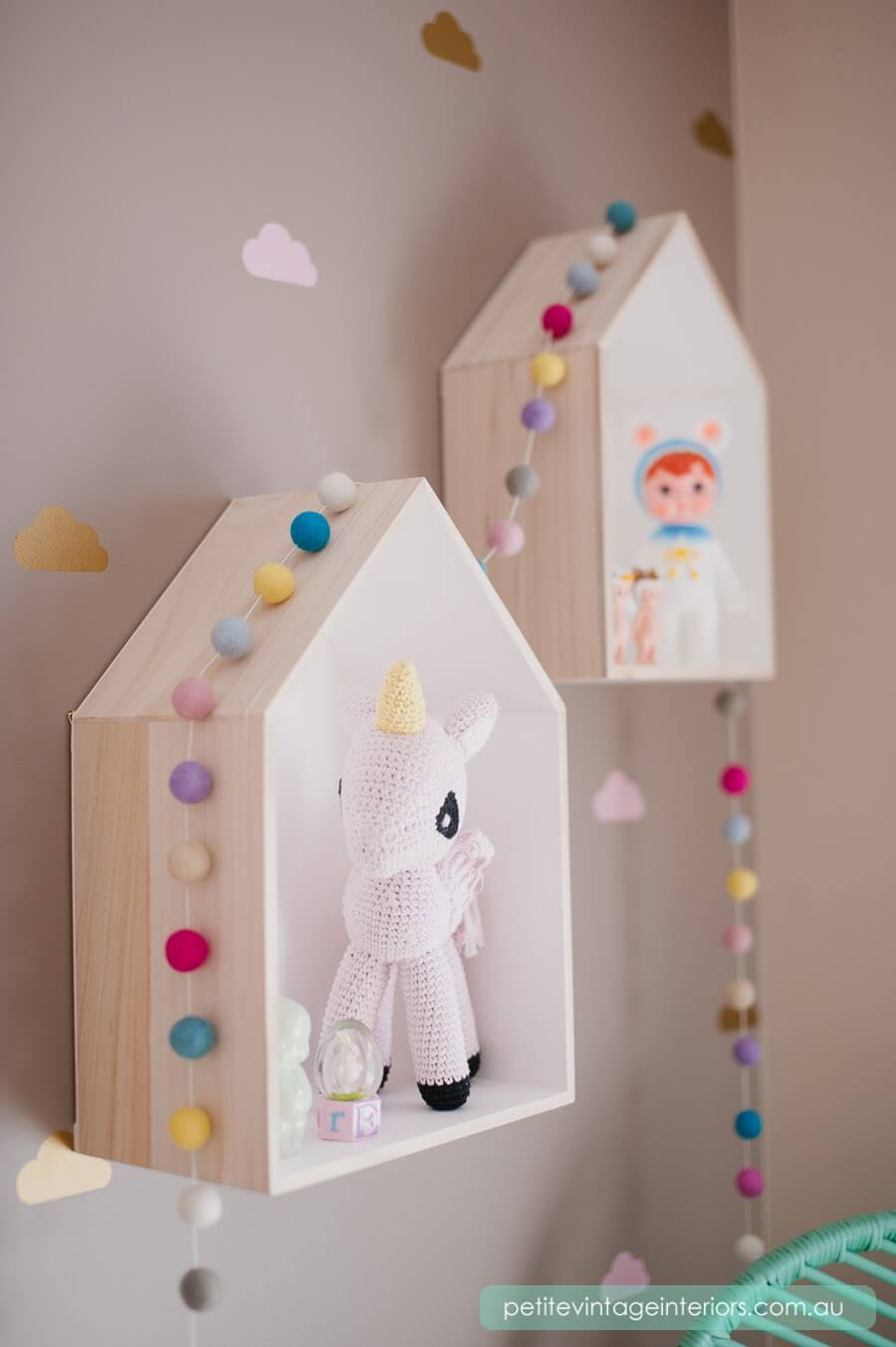 These floating shelves are perfect to serve as personal little homes for a child's adorable stuffed animal friends. The cute faux garland adds a lovely colorful touch to the shelves as well. This works out as unique decor and makes it easier for kids to reach their favorite stuffed toys too.
3. Big Bookshelf with Oversized Letters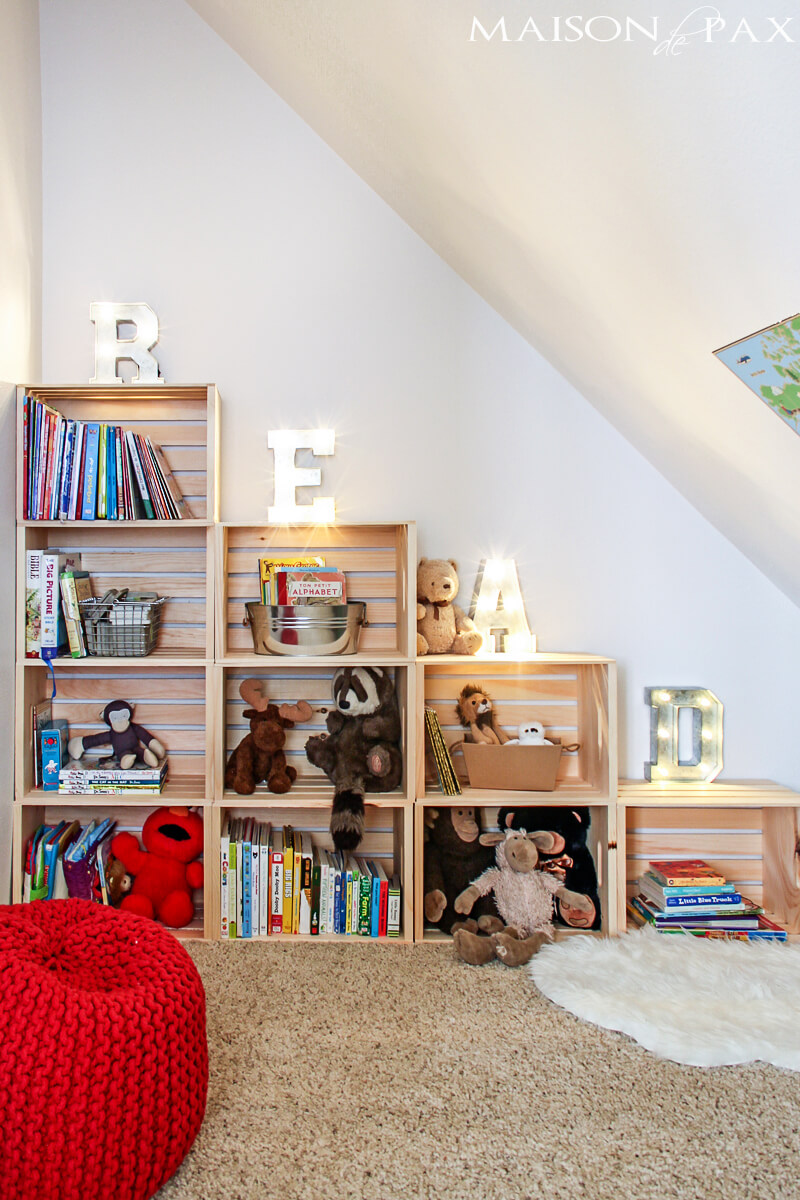 The reading-inclined child will appreciate such a distinctive and charming bookshelf. This shelf does well at balancing books with other kid-friendly items like stuffed animals. Consider the oversized letters on top of the shelves too that can spell out anything important to your child whether you spell their name or the word "read".
4. Custom Floral Wreath Door Letters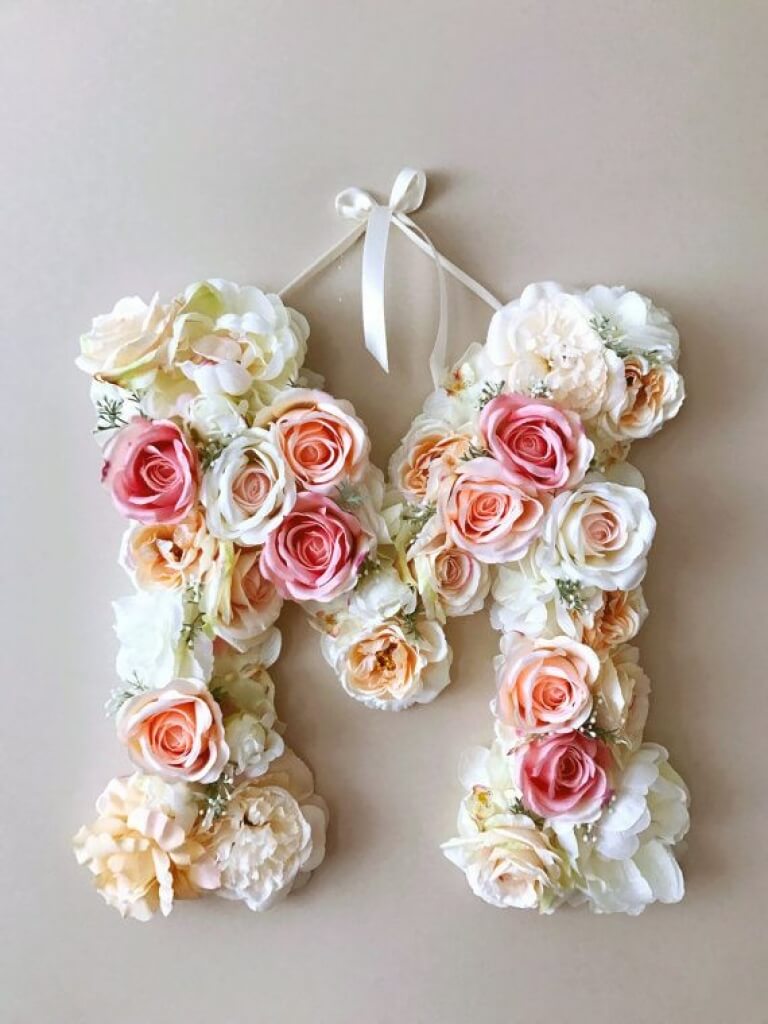 Wreaths aren't just meant to hang on your front door. Rather, the right wreath can elevate a kids' room style. This wreath features a gorgeous display of flowers of various light colors. It's easy to get a wreath such as this in the initial for the child's name, ensuring all who enter know exactly whose room that is.
5. Twinkling Star Lights from a Cloud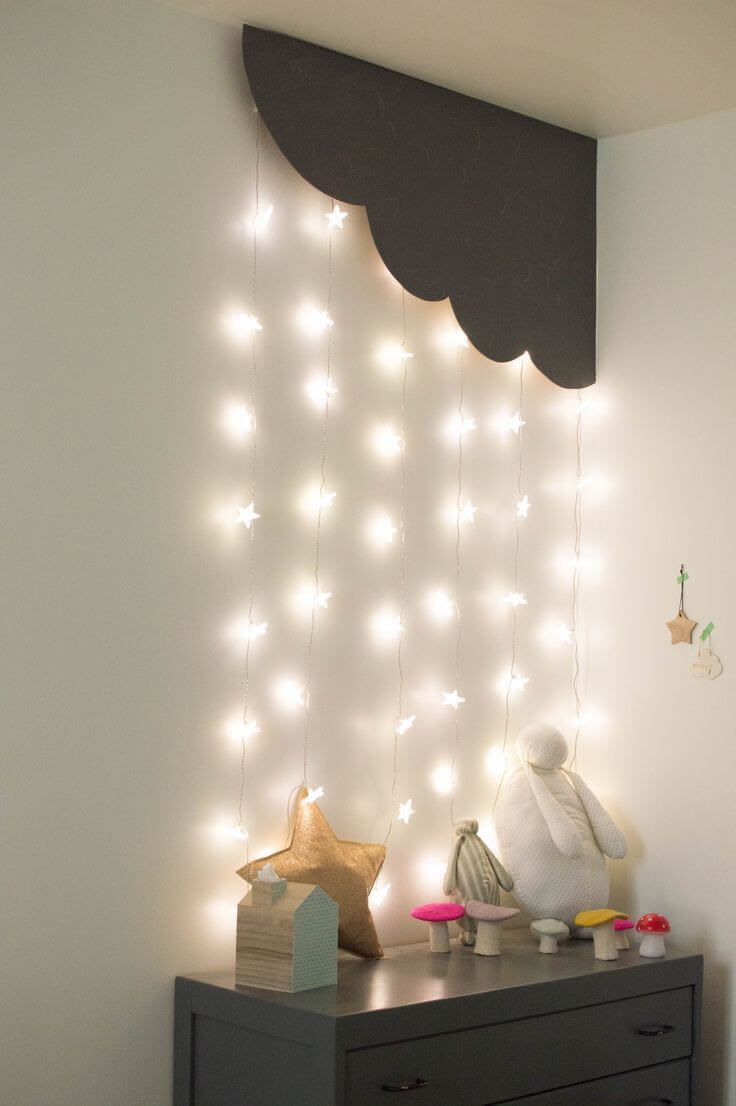 What kid doesn't enjoy fairy lights? You can give them a more unique flair though by hanging them with a cloud. This way, the entire setup can resemble the night sky, creating a peaceful and tranquil ambiance within the room that's perfect to lull a young child to sleep.
6. Rugged Sayings in Wooden Frames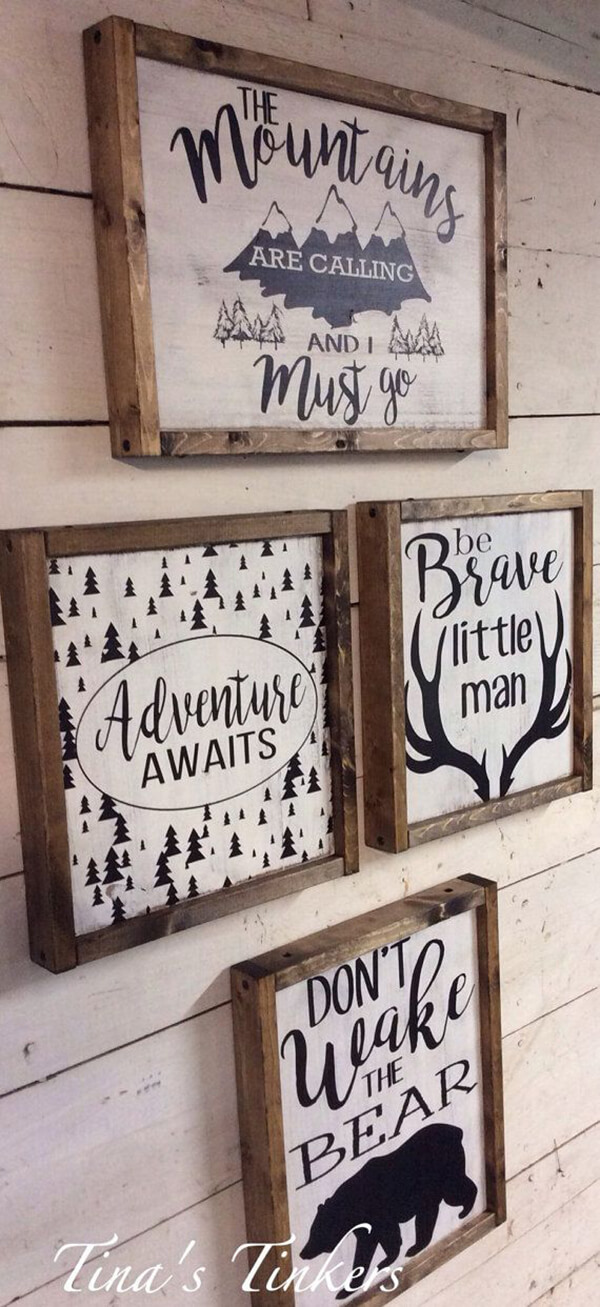 If you're aiming for a woodland theme for kids' decor theme, then consider adding some cool wall art. These signs are a great place to start. They have enough of that rustic vibe while still being kid-friendly. Hang them all together or fill up the entire space with these works of art.
7. Friendly Animals as Wall Hangings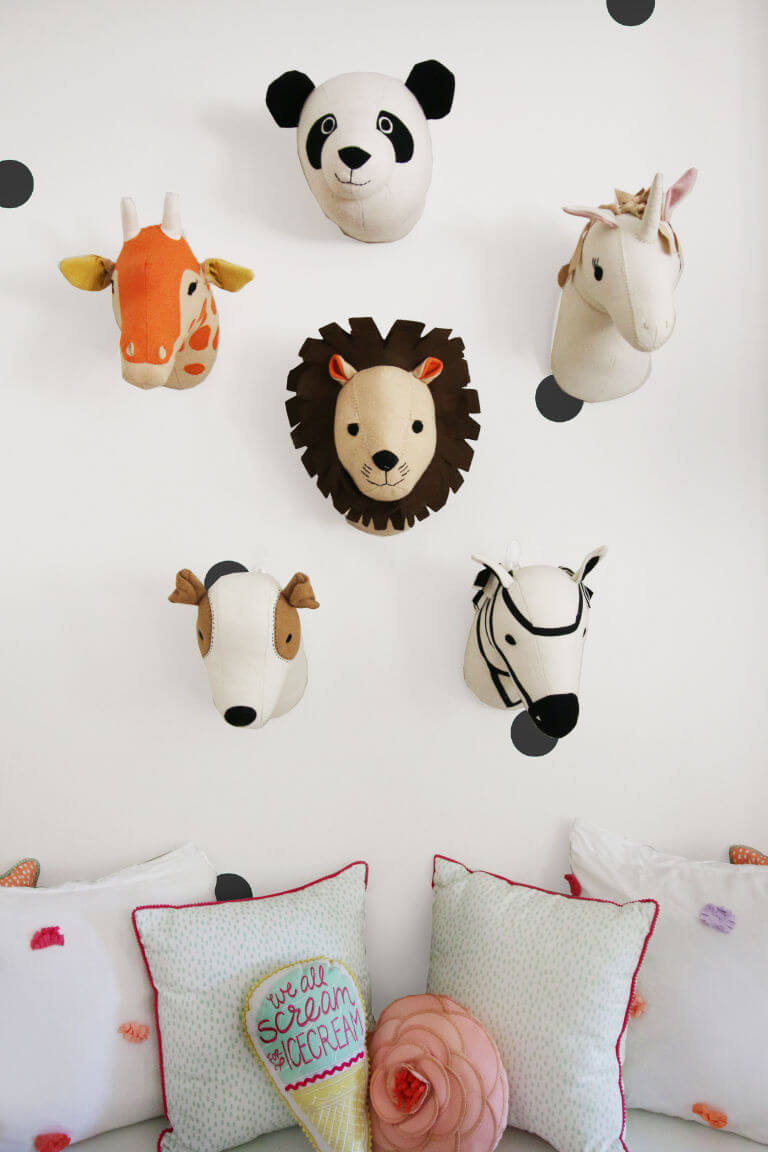 All kids' room decorations benefit from having some sort of focal point, and these stuffed animal heads do the job well. It's a cute way to show off a child's love for these incredible animals. Plus, it adds some more life and color to the walls, giving the decor in the room more movement and depth.
8. Nautical Themed Alphabet Wall Letters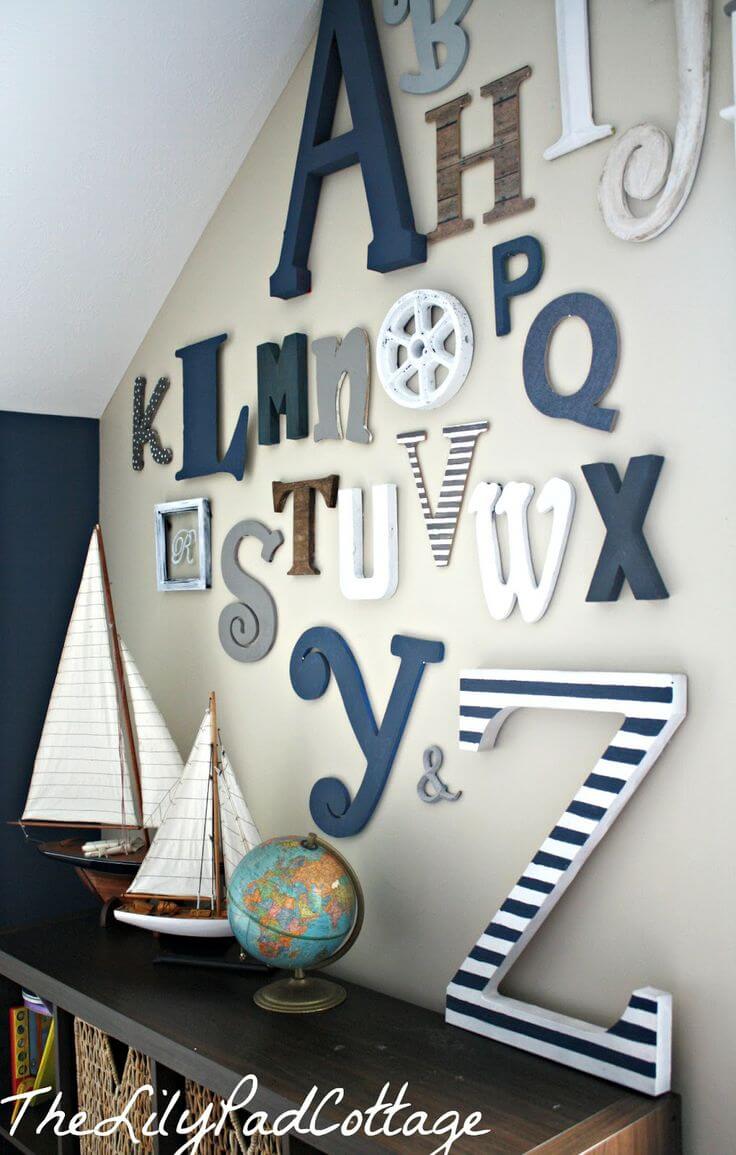 What future sailor wouldn't love an entire side of the room dedicated to the theme? Nautical is a cute style to go for with kids in general, and this alphabet wall is both helpful and pretty to look at. It makes for a creative way to help younger children learn their letters too while also keeping the room in style.
9. Puffy Cloud with Stars Over the Bed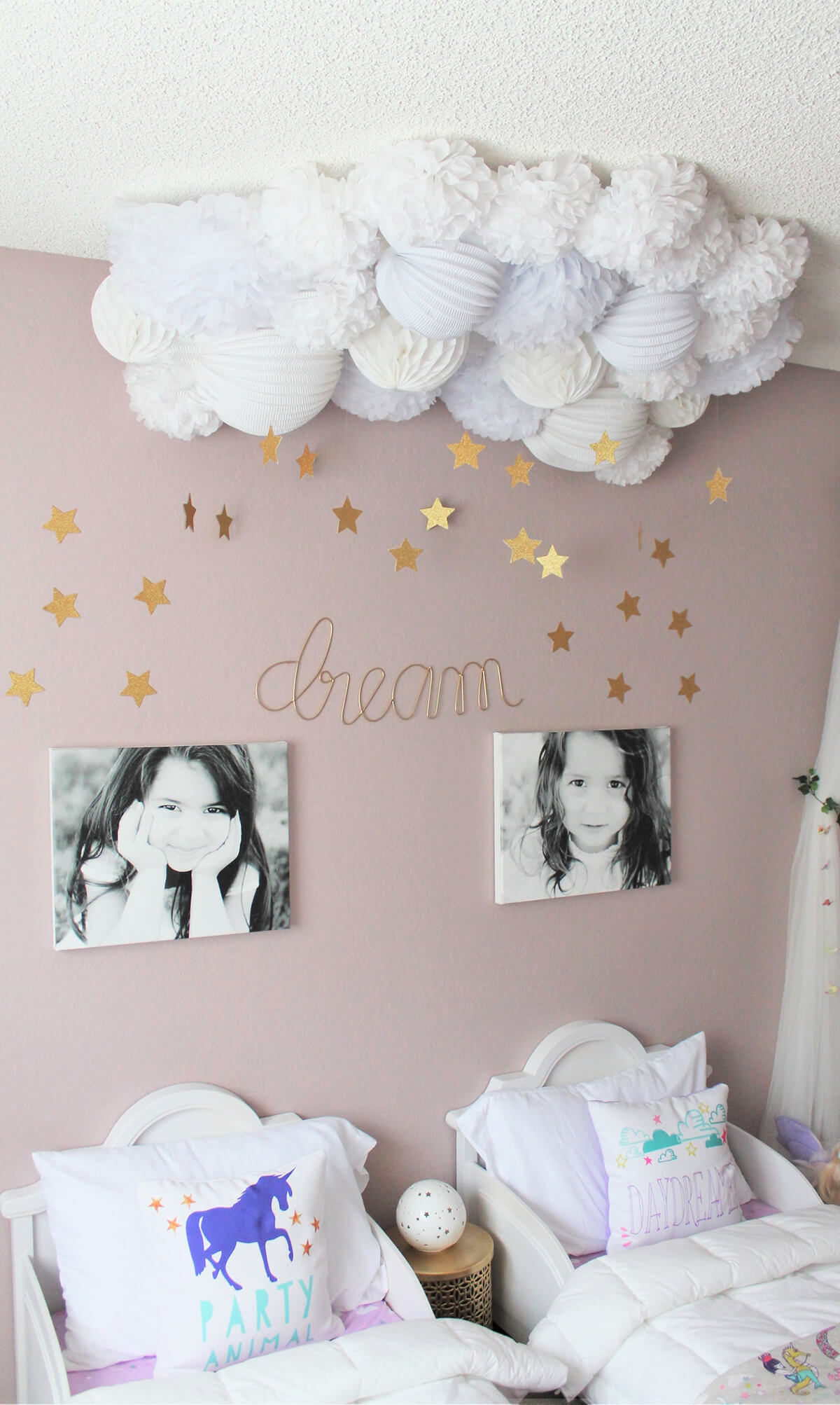 When you want to completely transport your child to a dreamland, why not do it with some stars and clouds hanging over them? The handmade clouds provide a whimsical vibe to the room, pairing well with the golden stars that hang from them. It's perfect to place above a child's bed to encourage peaceful dreams.
10. Beautifully Organized Little Girl's Desk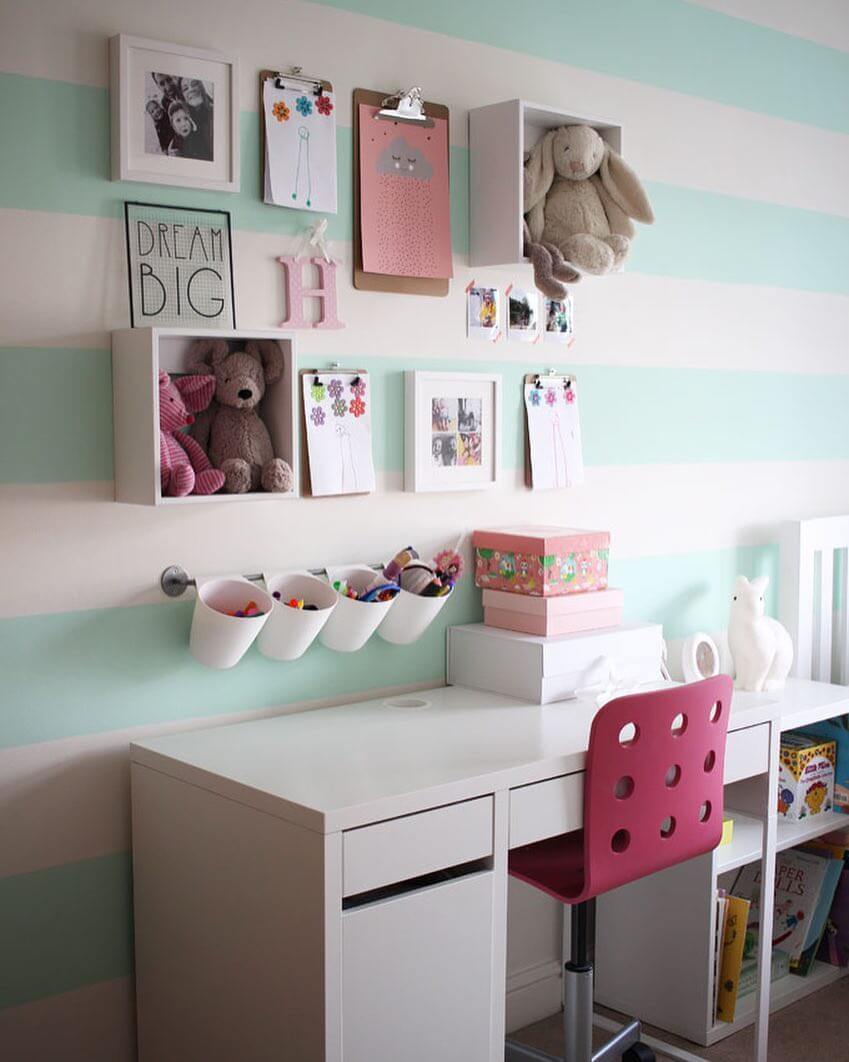 Some kids are well-organized but need a little help getting to that point. With this setup, your child will always be prepared for homework and crafts. The desk certainly gives a mature slant to the decor. At the same time, the floating shelves with stuffed animals and the framed pictures leave a sweet reminder of who this room is designed for.
11. Kid Room Decor Idea with Tutus and Unicorns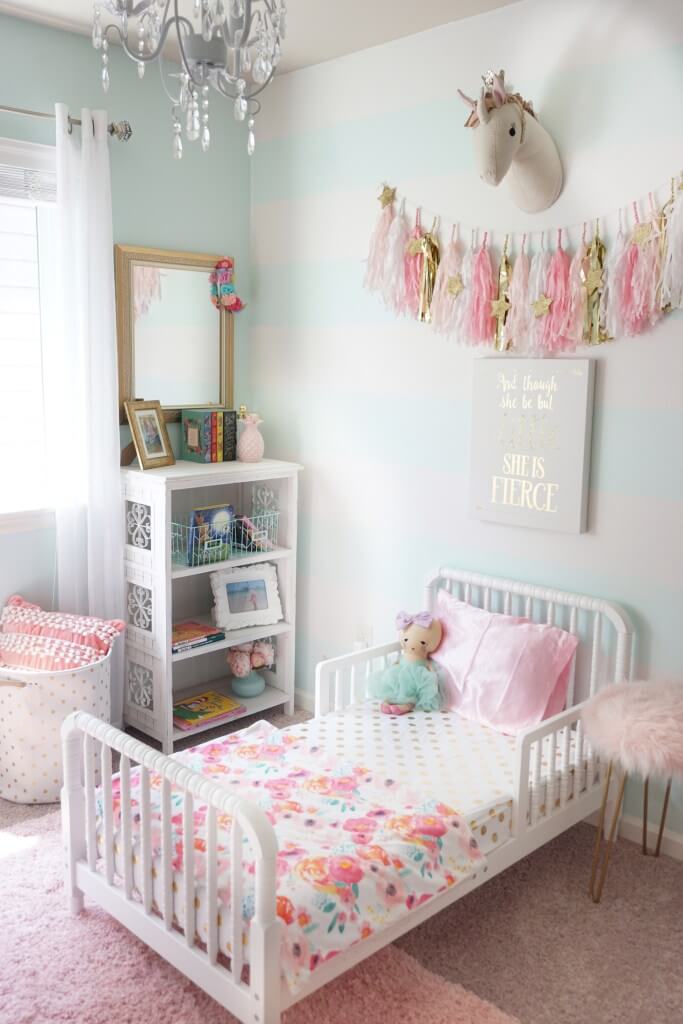 You can't go wrong when decorating with unicorns. They're perfect for kids eager for bright colors and a magical style. There are many ways to approach this too such as a stuffed unicorn head used as wall art, actual framed wall art that fits the theme, and even the cool and colorful tassel design.
12. Kid Room Decor for Outdoor Adventures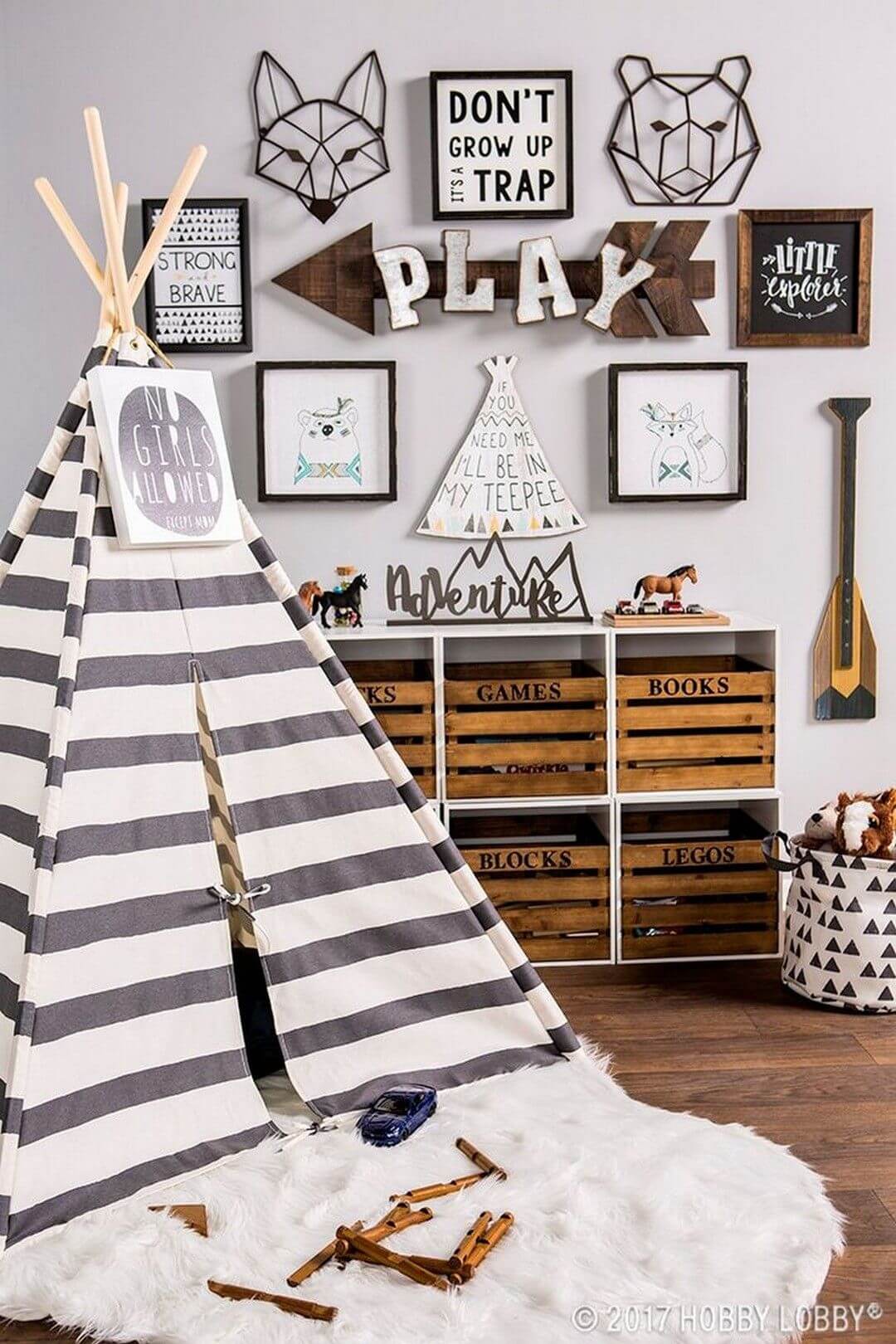 Send your outdoor-loving kid on an epic journey all within the confines of their room with this stellar layout. From the wall art to the tent, you can turn a child's room into an imaginative adventure. The neutral colors stand out too, providing great contrast throughout the room.
13. Floating Reading Canopy over a Beanbag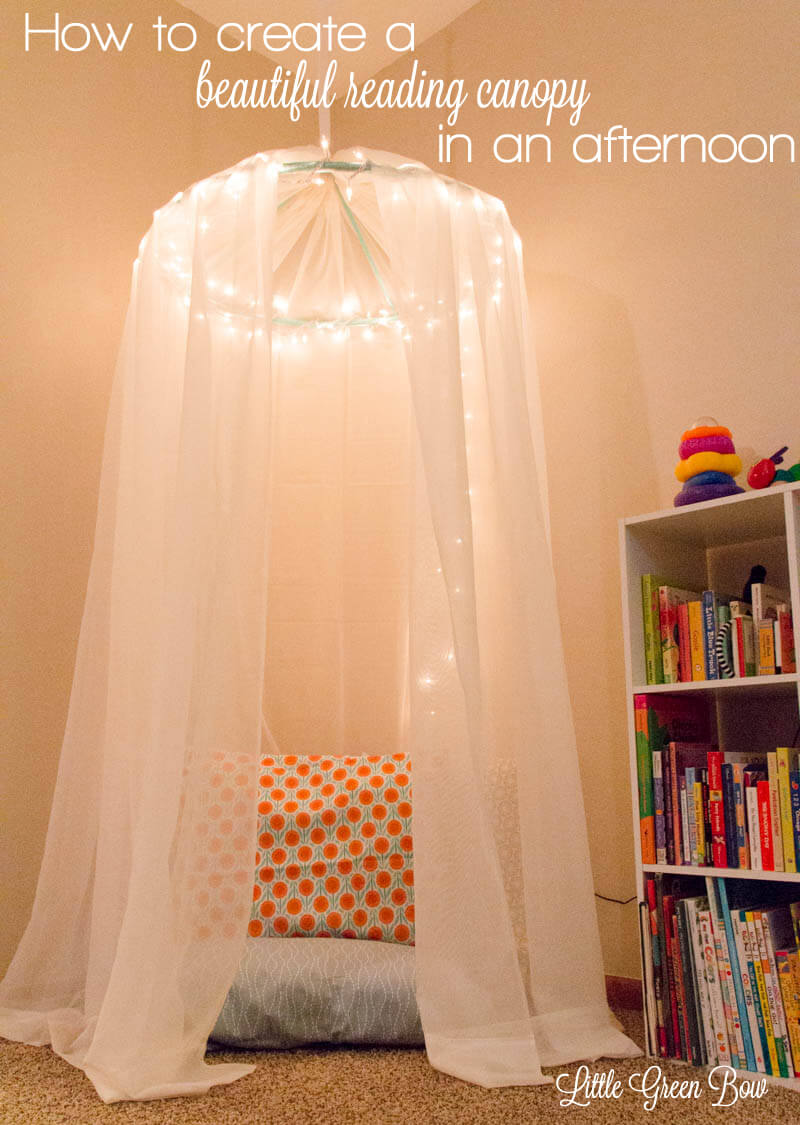 A wonderful addition to any kids' room setup is a little escape nook. Whether it's meant for reading or simply to wind down, any child will appreciate having somewhere of their own to run off to. Make it even more appealing with some beautiful fairy lights and a canopy hanging over the seating area to give off that cozy feel.
14. Bold and Contrasting Wall Letters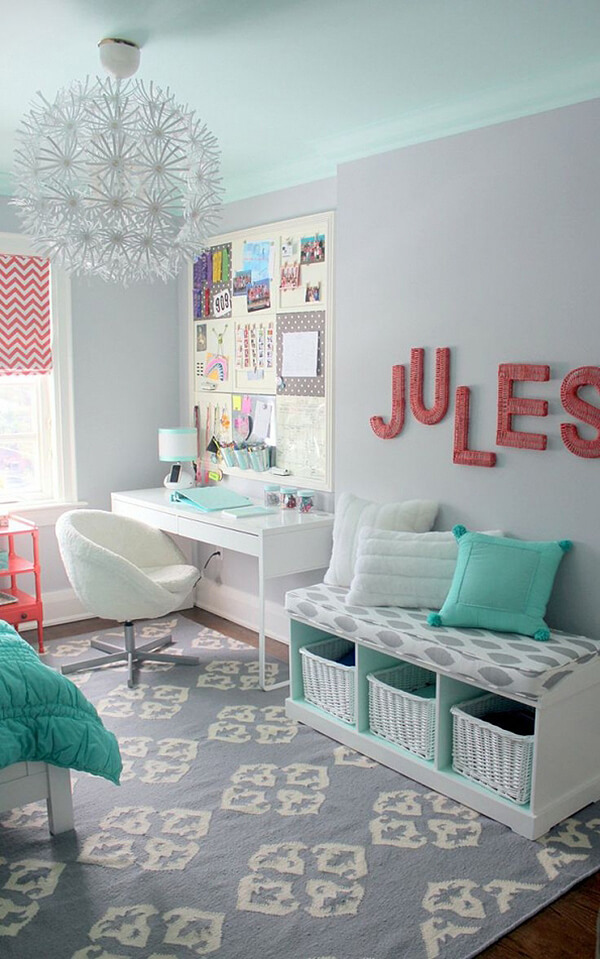 With kids' room designs meant for older children, it's easy to balance their youthfulness with a sense of maturity. The desk has all the necessities as well as a nice board filled with inspirational things to keep kids happy and content. Having a cute bench with some throw pillows further adds to the overall aesthetic.
15. Hanging Pencil Cups and Floating Shelves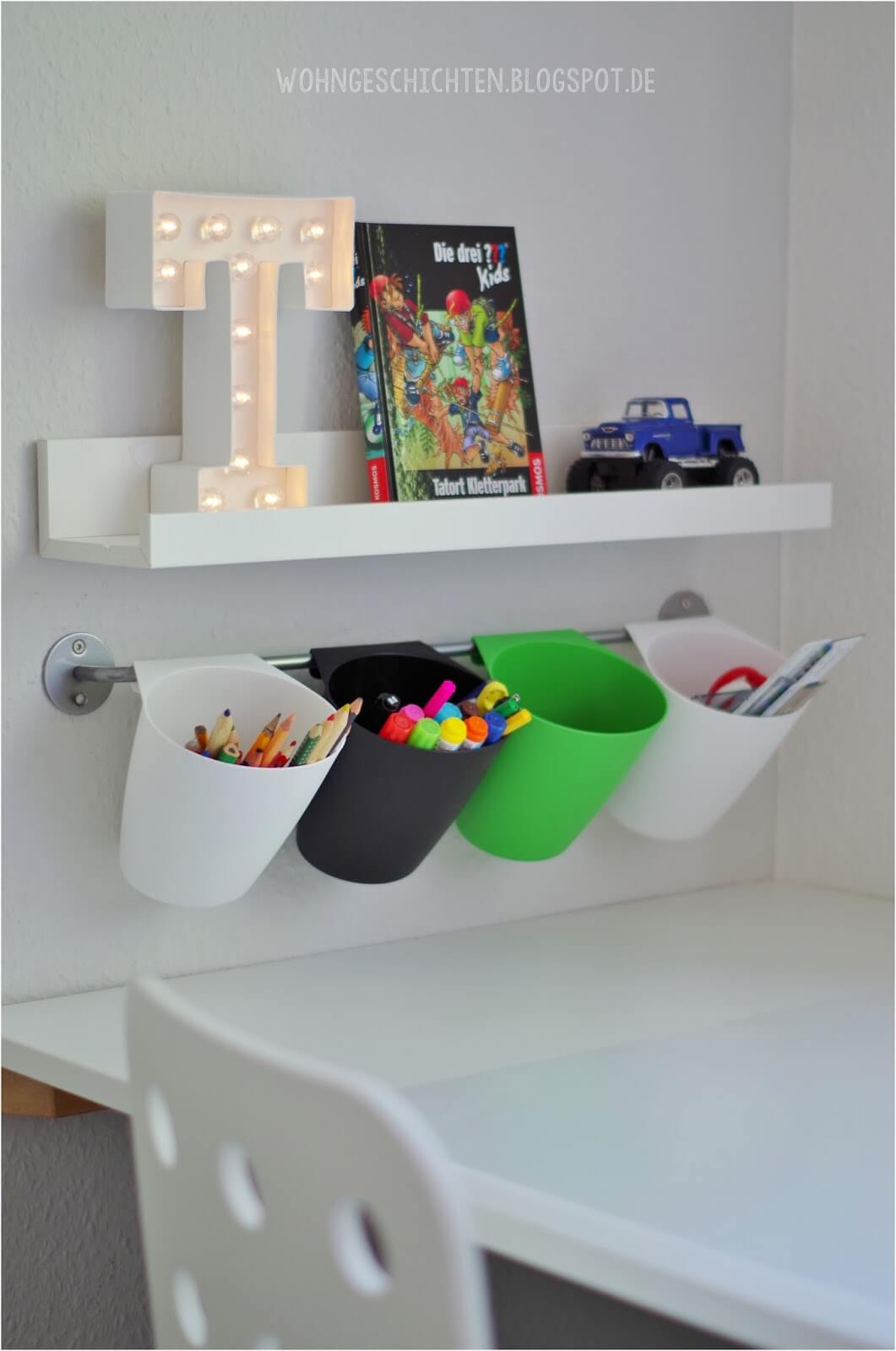 Storage is everything for some kids, and this is a unique way to approach it in a child's room that doesn't sacrifice their decor. The single floating shelf has just enough room for some minor decorations or toys. Meanwhile, the hanging pencil cups offer an easy way for the always-busy child to grab what they want while on the go.
17. Painted Crates with Matching Accessories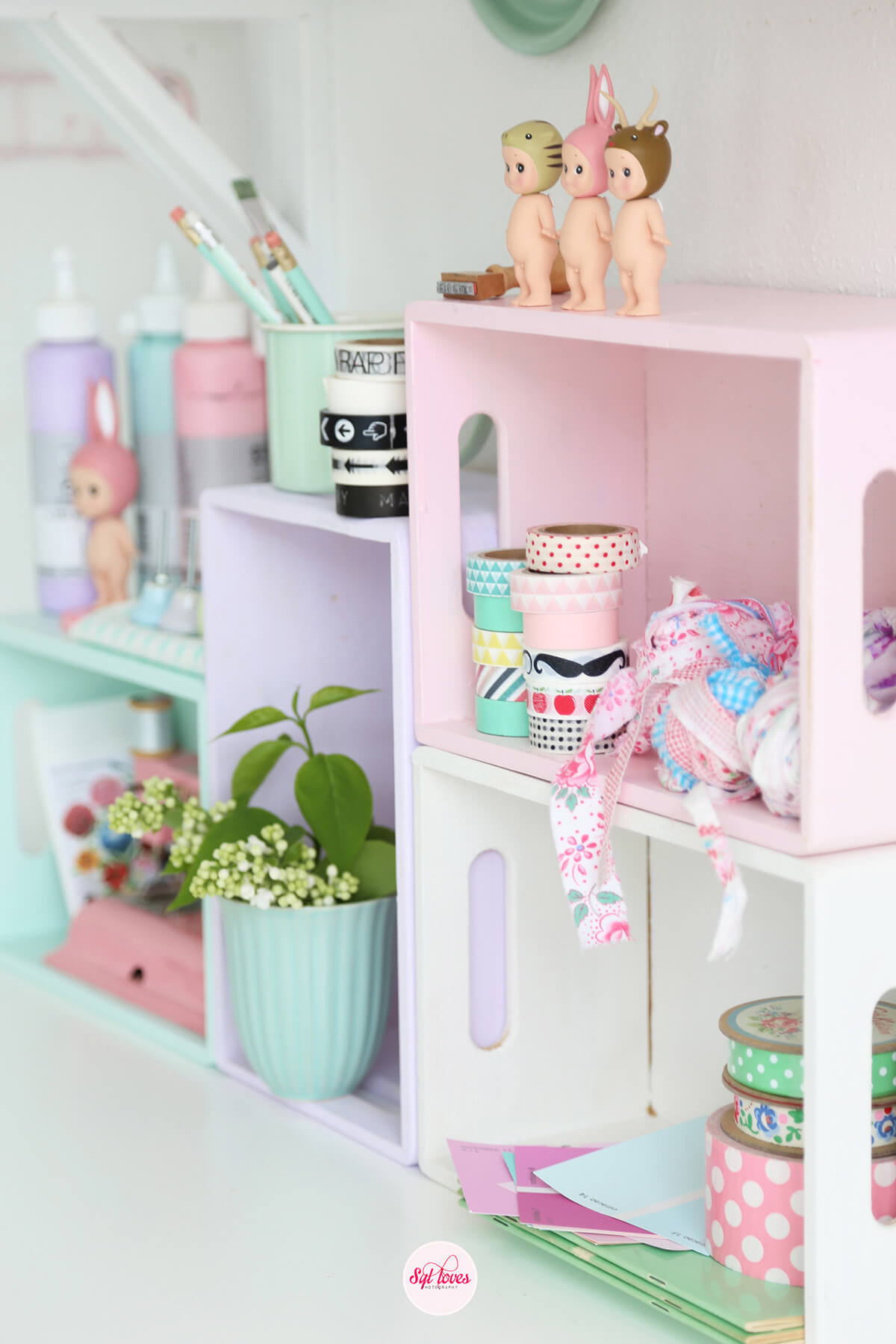 Create a fun and quirky storage area for all your child's small items and knickknacks with these sweet painted crates. They are charming and can easily add some brightness and a welcoming feel to any child's room. It works out best in an older child's room too, and it can fit anywhere such as around their desk area.
18. Bountiful Floral Frame with Bible Quote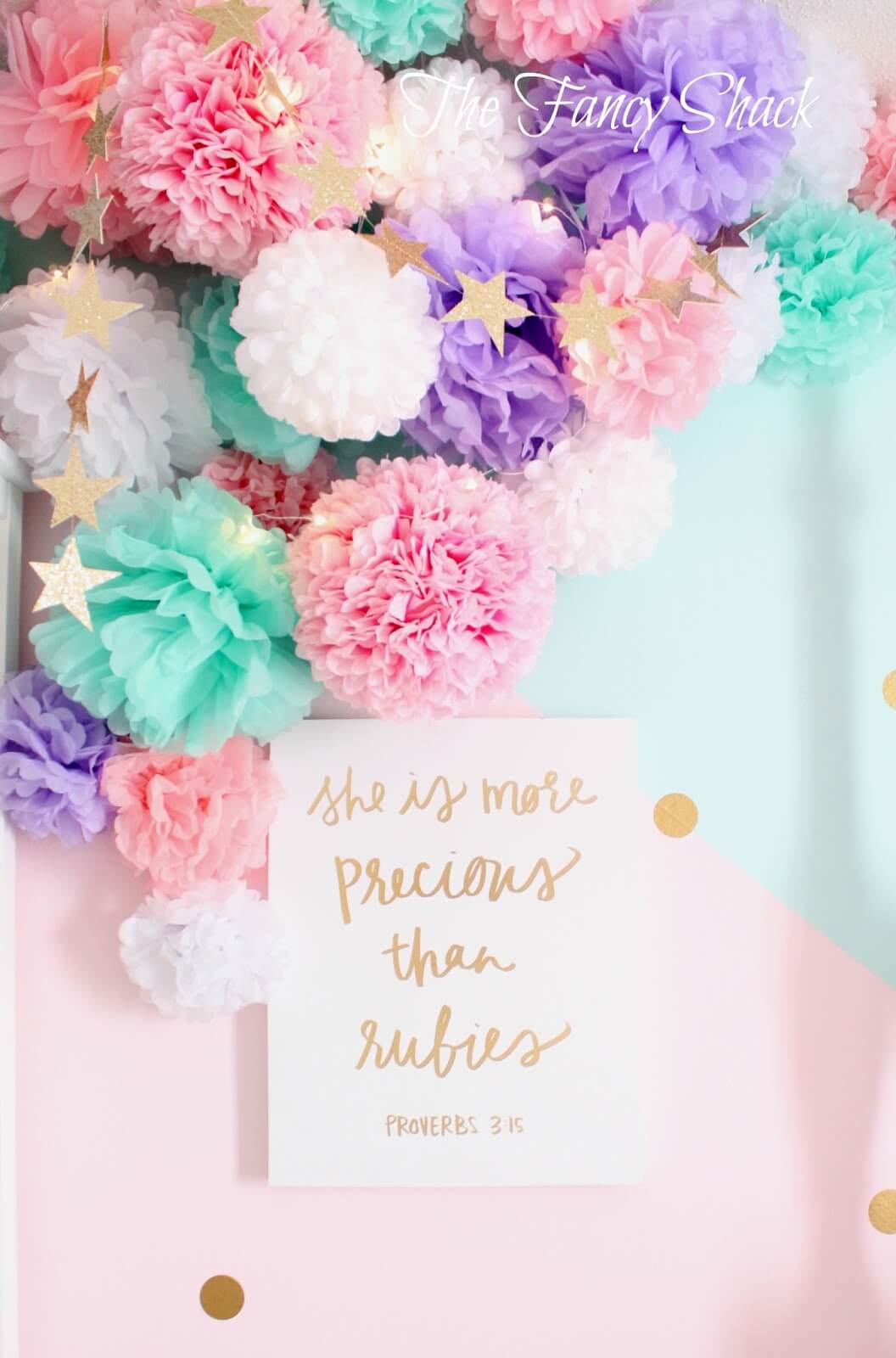 For the child that loves flowers, this is an awesome way to give them what they want color-wise without having to use actual flowers. Instead, this turns into an entire art project in the best of ways. The faux flowers are stunning, and the multitude of colors individually stand out with ease.
19. Bright and Cozy Daybed with Floral Linens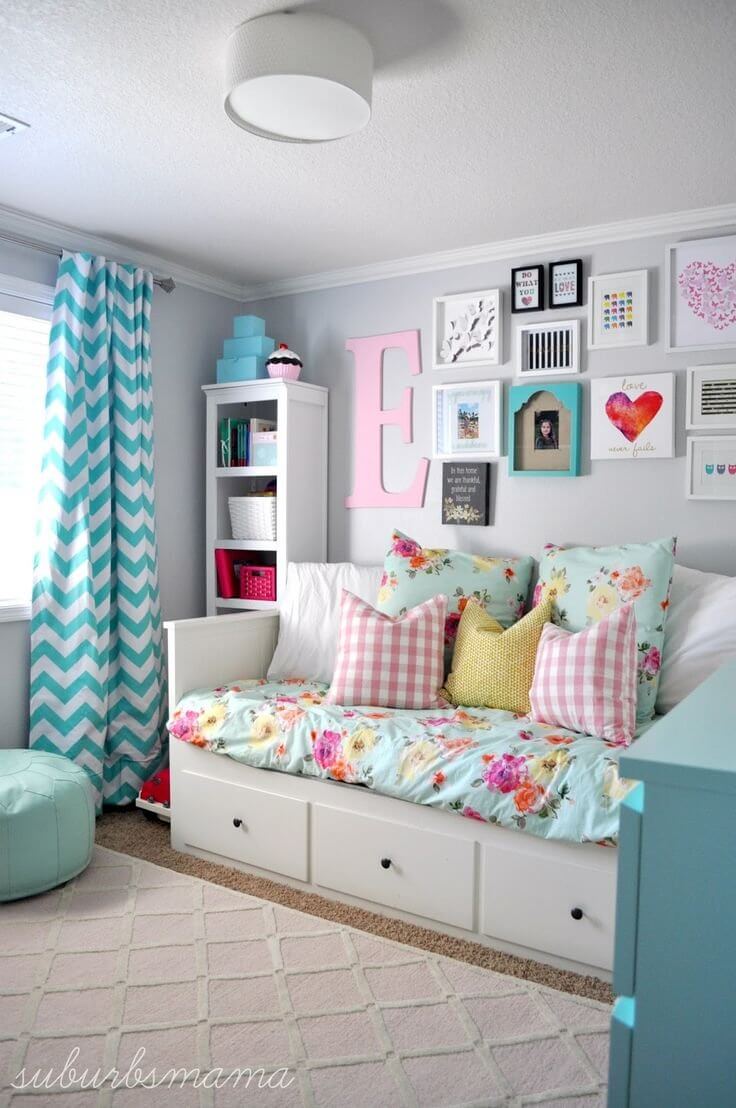 A bright room is a welcoming room for a child. This one relies well on natural lighting to shine a light on every decorative aspect in the area. There's a floral-like theme in the style such as the designs on the sheets and pillows on the daybed. The entire look is cozy, and any child would love to relax a bit in the room.
20. Shiny Pink Gold Monogram on the Wall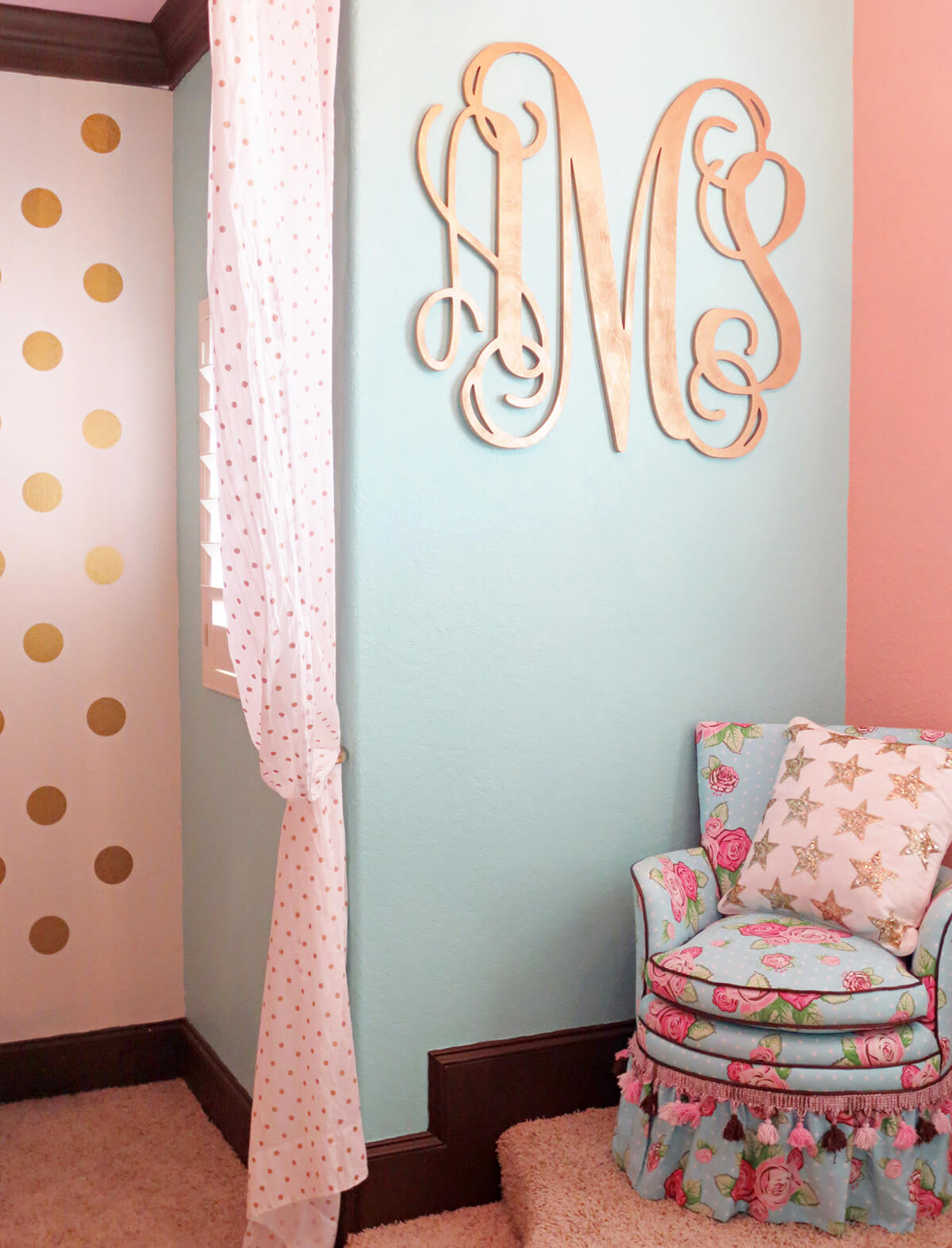 Adding an initial to the wall is a staple when it comes to kids' room decorating. However, there's a different way to approach it such as the case with this golden, oversized monogram. It can add a hint of elegance to your child's bedroom wall, and it fits in perfectly with a more chic style.
21. Perfectly Organized Girl's Desk with Pegboard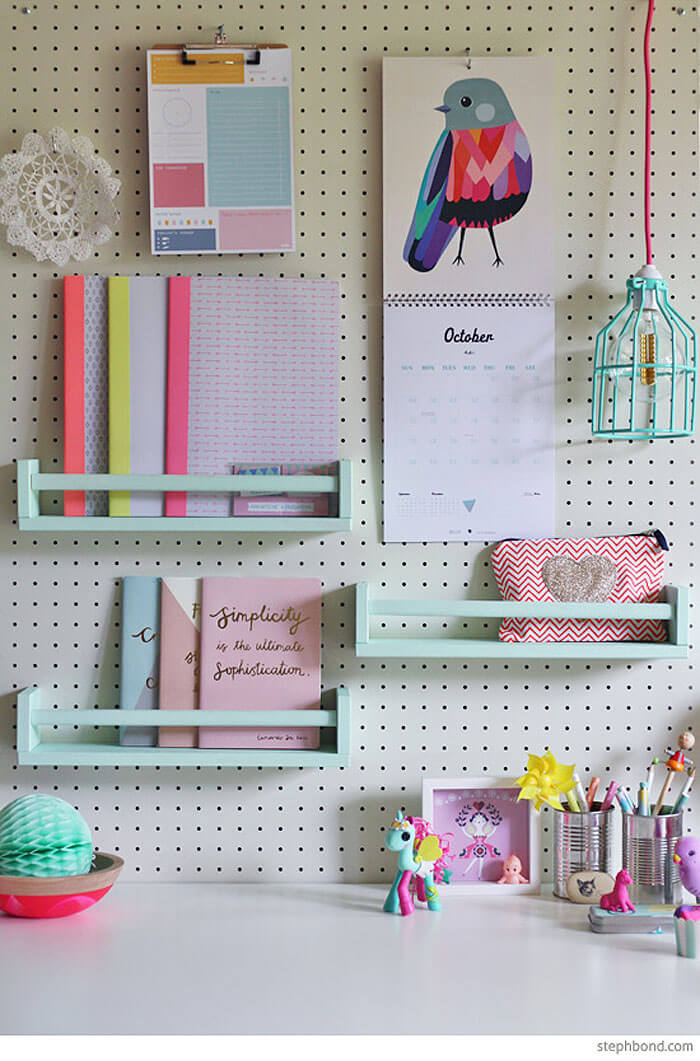 When it comes to kids' decor, a peg board can do more than you think. No matter the size you choose, your child has more than enough room to add many decorations. You can even set up shelves to hold a variety of useful and decorative items. It's perfect to hang up around a desk.
22. Kid Room Decor Idea with Heart Wall Art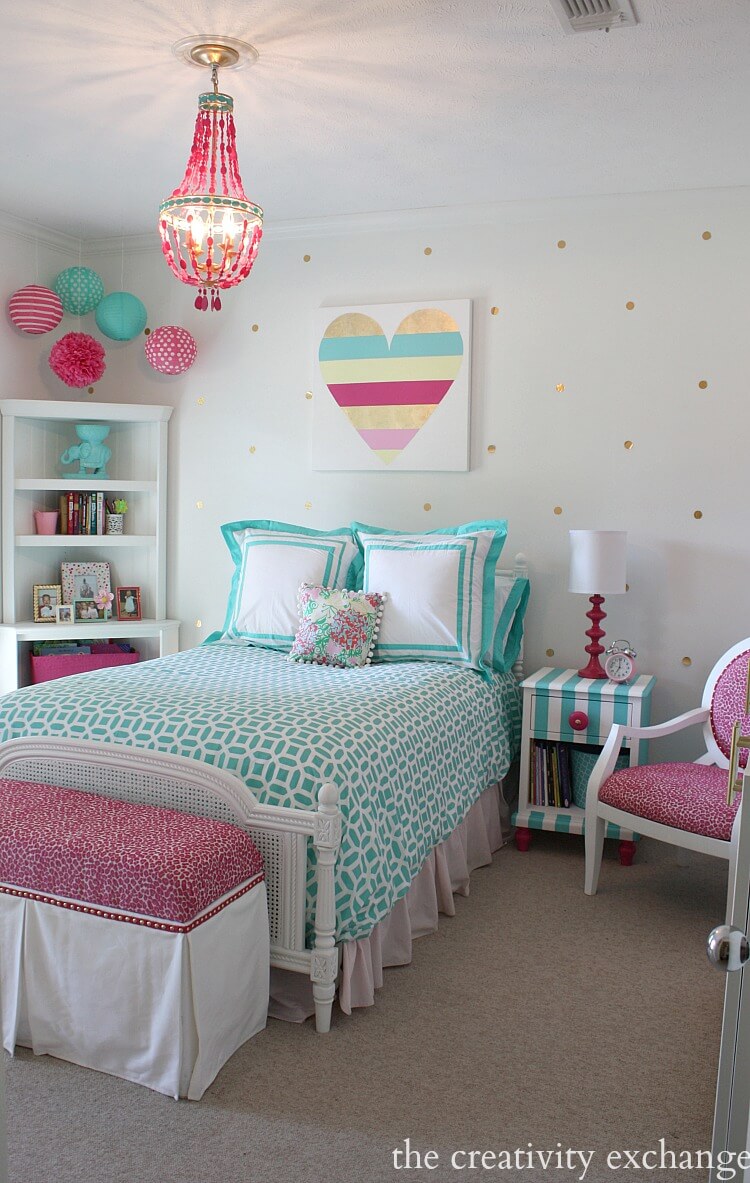 A nice method of adding color to a child's bedroom is simply by adding a bunch of accent colors throughout the entire space. Keeping the walls white, you can easily pair it with beautiful wall art like the heart design as well as colorful bedding. The flecks of gold on the wall provide some good contrast too.
23. Warm and Cozy Twin Beds for Sisters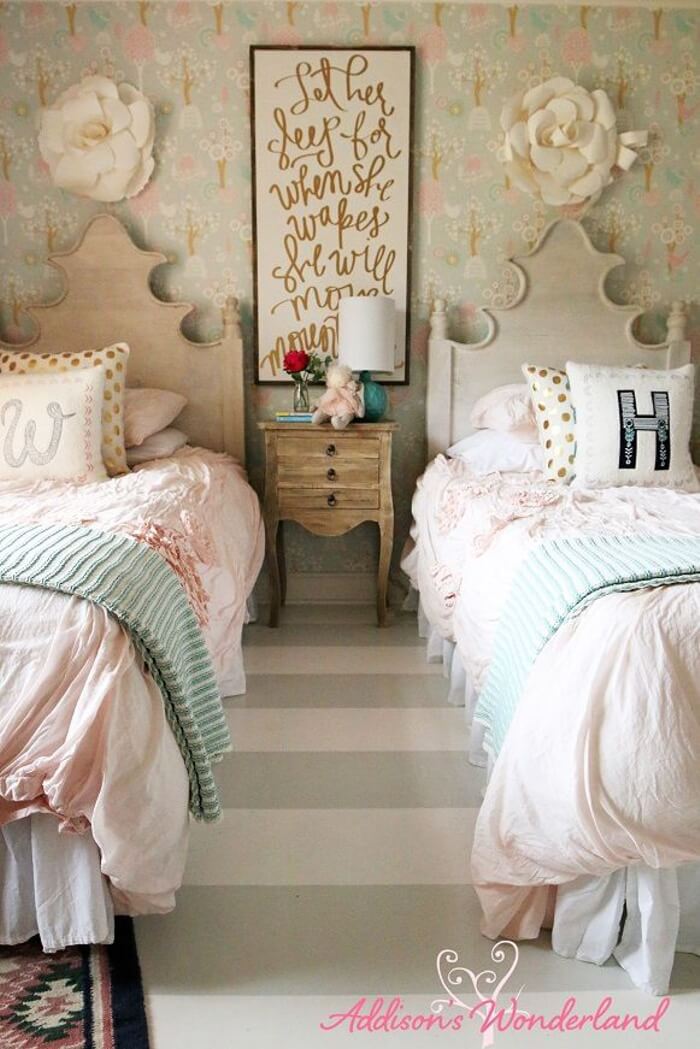 There are many kids' decor that designs a room for twins without going down the bunkbed path. This setup makes your twins seem like they're sleeping that royalty. The flowers above the bed add a charming touch. Meanwhile, the rest of the decor has a vintage chic feel to it.
25. Rustic Birch Bed and Paper Lanterns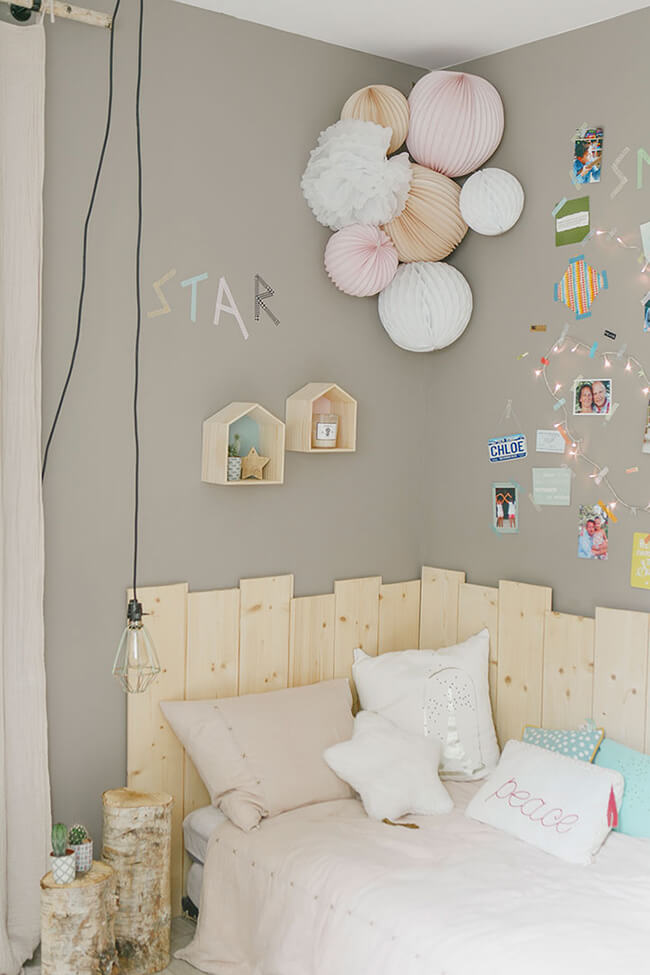 Show off rustic and woodland kids' room themes with this distinct design. This takes a cool approach thanks to the wooden fence around the bed as well as the use of logs for a nightstand. It allows you to bring a part of the outdoor world into the child's room in a stylish manner.
26. Kid Room Decor Idea with Golden Polkadots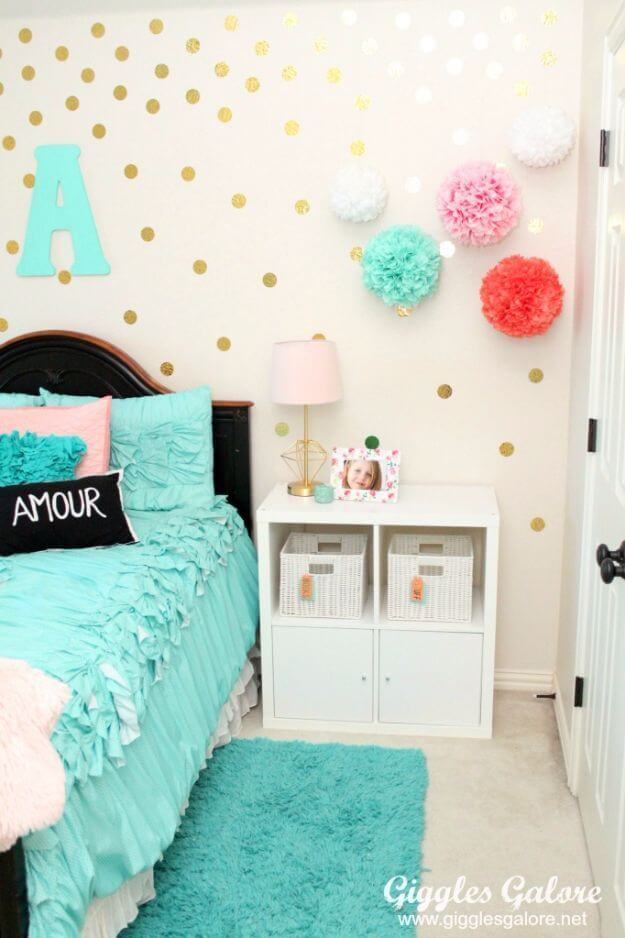 Golden polka dots on the wall makes for a good way to add color without painting the entire wall. Plus, it simply looks great with the other lighter, vibrant color tones in the room. If you take this more decorative approach to kids' room designs, also consider the giant letter initial on the wall as an extra means to add more color.