15. Small Tile Backsplash Design Idea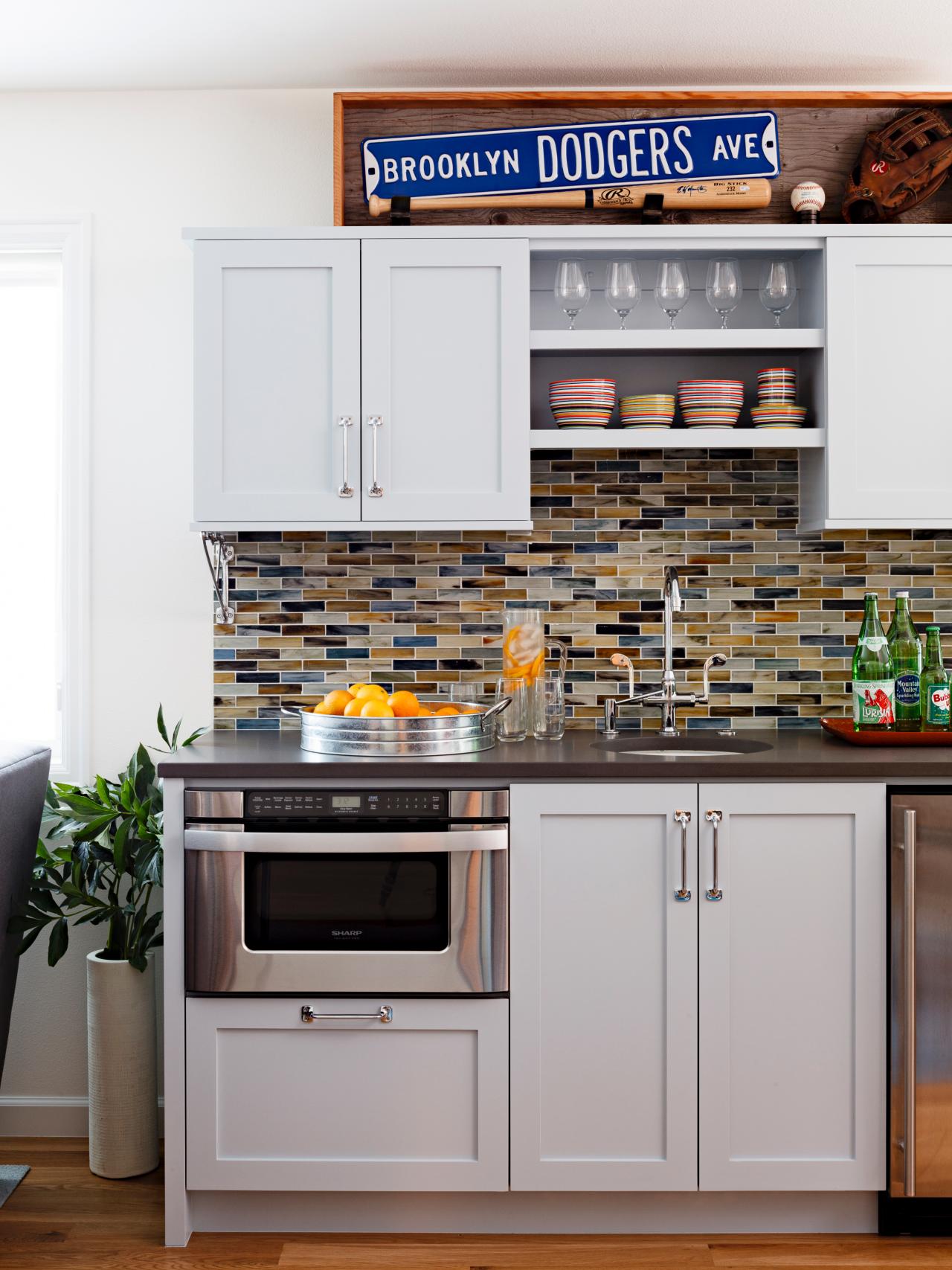 Although the tiles in this backsplash are small, the colors really stand out and blend well with other elements of the room. The different shades of blue and brown complement the colors and style of the sports memorabilia. It is important that the backsplash fits the theme of the kitchen designs and this backsplash succeeds wonderfully in this endeavor. As other rooms in the list have shown, white cabinets and stainless steel appliances are a great option for keeping it simple and not drawing too much attention away from the backsplash. The bowls have a very similar color scheme as the backsplash which is a nice touch to bring the room together.
16. Backsplash Glimmer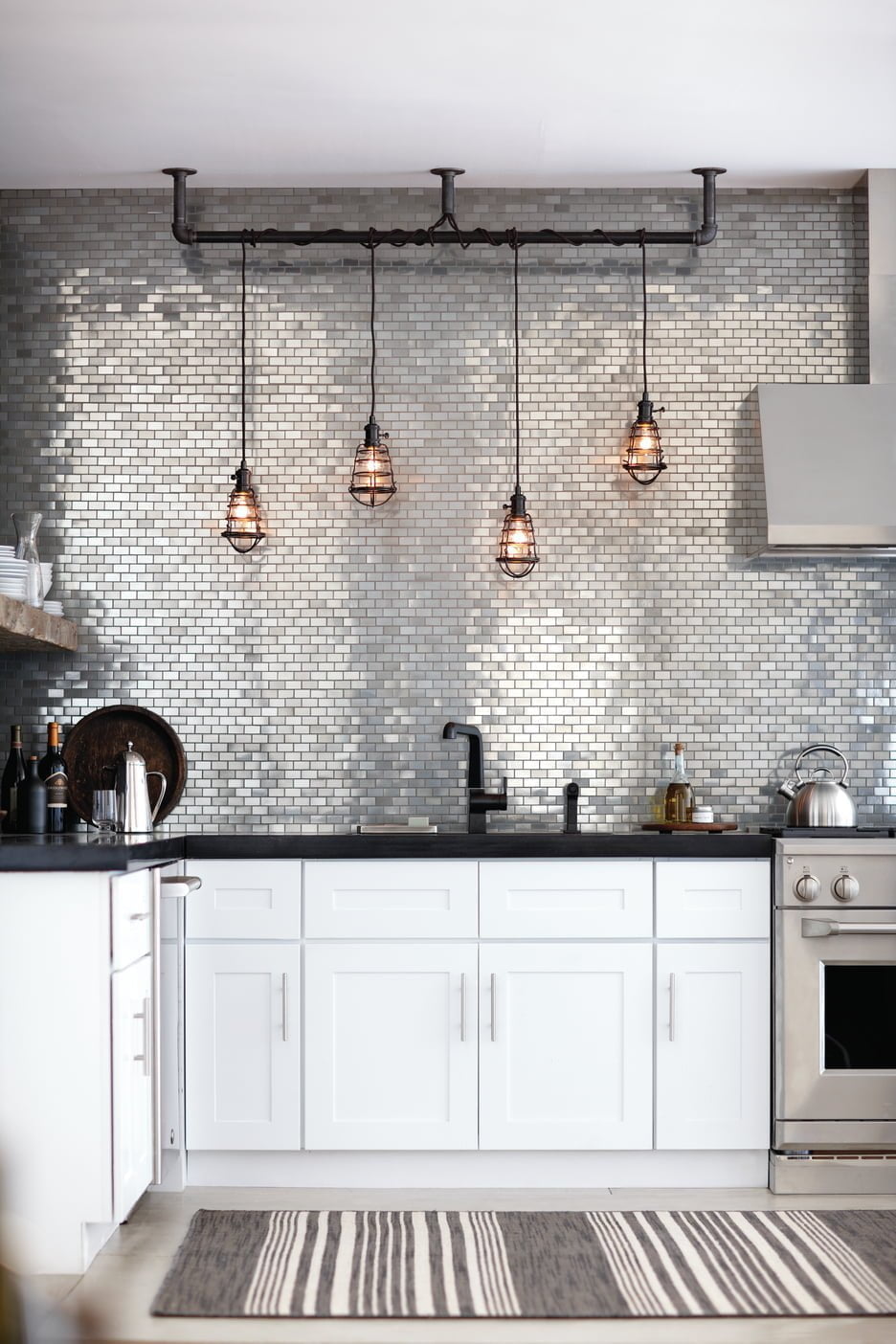 Small backsplash tiles can work in many different settings and colors. A straight-forward, vertical pattern is a great idea for small kitchens as it can give the appearance of higher ceilings and more space. The hanging lighting fixtures illuminate the kitchen tiles and make them appear to glimmer. Although it blends with the other grey features in the room, such as the rug and appliances, it remains the focal point of the room because the lighting makes it stand out. It is important to consider lighting options and how they can effect your backsplash tile ideas.
17. Spanish Style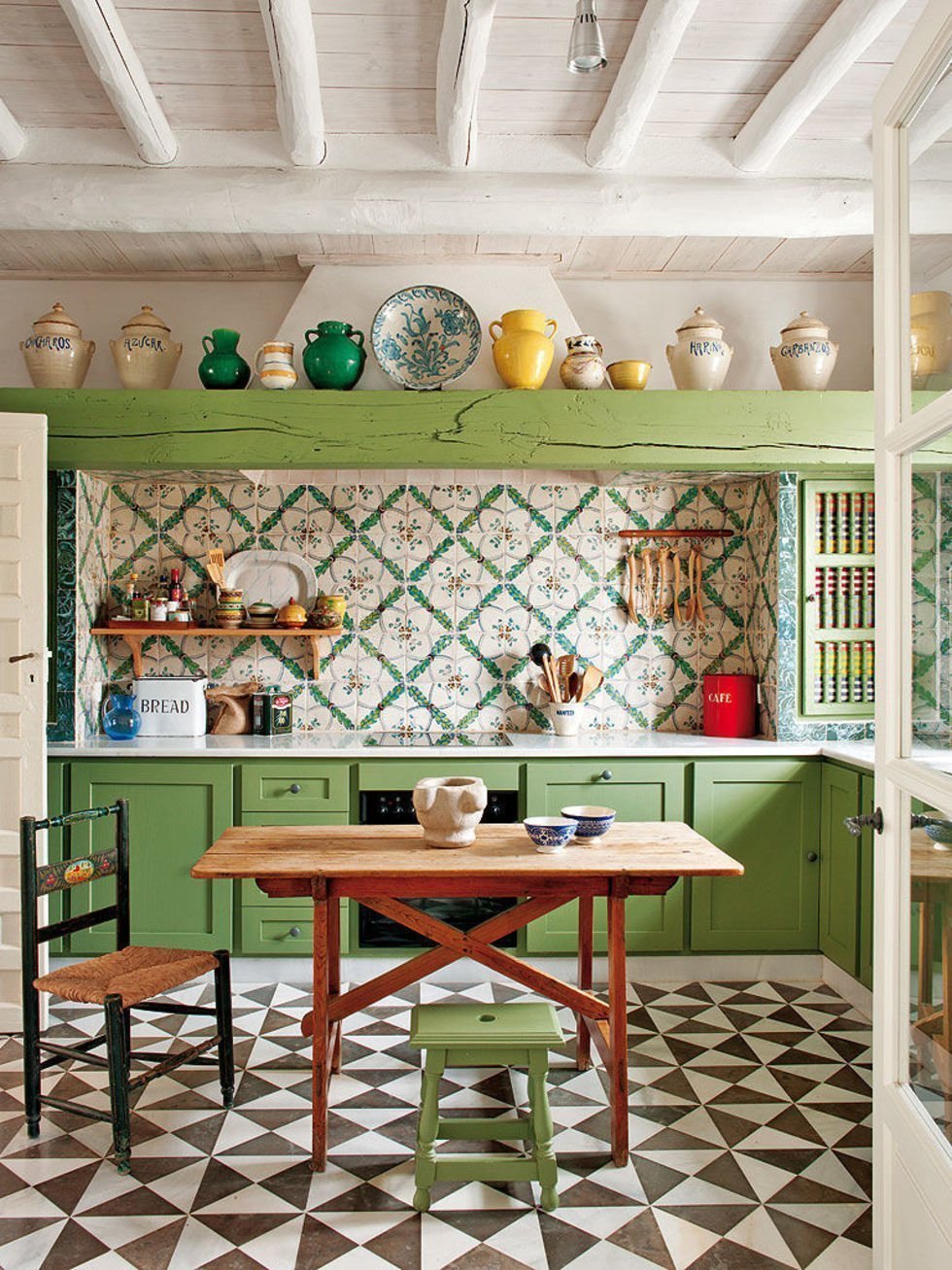 This Spanish style kitchen in green and white features tiles inspired by the nineteenth century Manises style. The kitchen exudes a very rustic, country feel. There are a lot of different patterns going on in this kitchen, but if you prefer a simpler design, there are still many features of this room that can inspire your own kitchen makeover. Green remains the dominant color throughout the room which adds some consistency to the room that would otherwise be missing.
18. Unique and Useful Kitchen Decor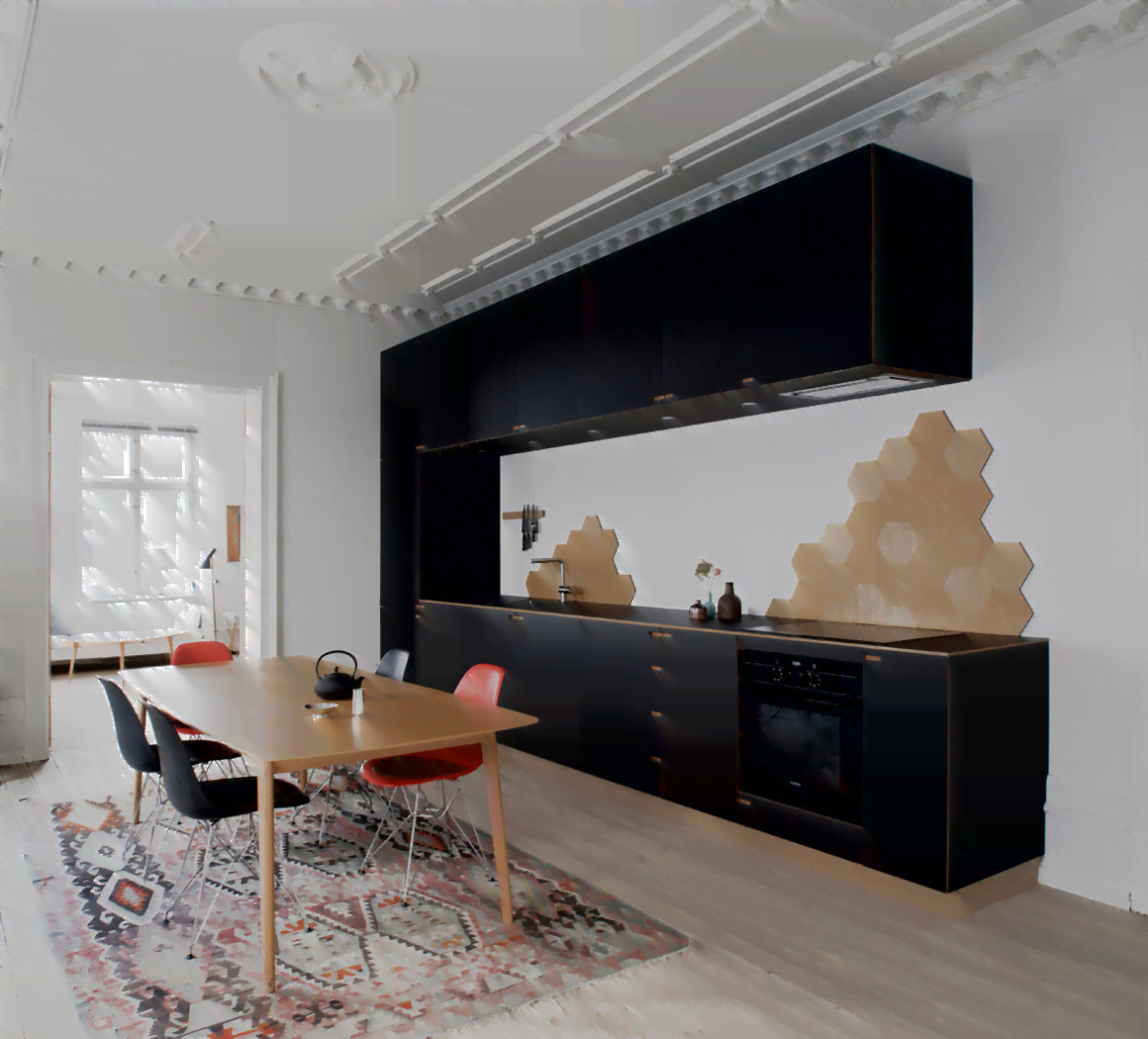 This backsplash design looks one of a kind, in addition to serving an incredibly useful purpose. Notice how it is specifically placed behind the sink and the stove top to prevent any grease or water stains. The color matches perfectly with the table and the red chairs add a pop of color to the otherwise neutral kitchen. The unique placement and pattern of the backsplash creates a very modern look in this kitchen. If you are trying to recreate this look in your own kitchen designs, you can have the tiles extend even further to the top of the shelves. It is important the tiles cover enough space to serve their practical purpose of preventing stains.
19. Seashell Style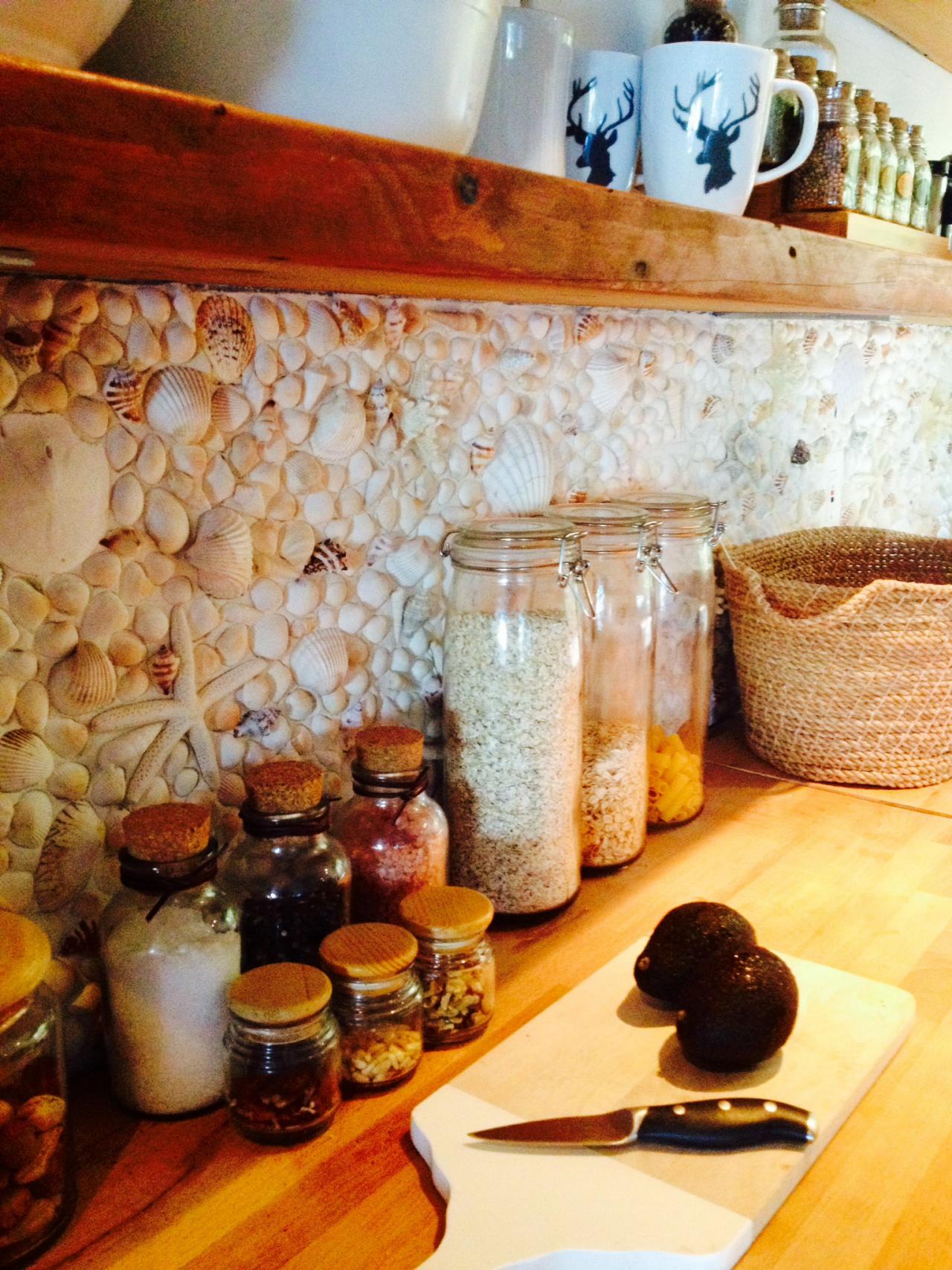 Using seashells as backsplash is a great way to personalize your kitchen and save money if you do it yourself. You can attach seashells you have collected over the years on to the wall with an all in one sanded grout which you can easily purchase online or at your local hardware store. It is important to apply a sealer over the shells to make the backsplash easier to clean and keep it in place. A beach theme and light, natural colors would look great in this kitchen.
20. Circular Backsplash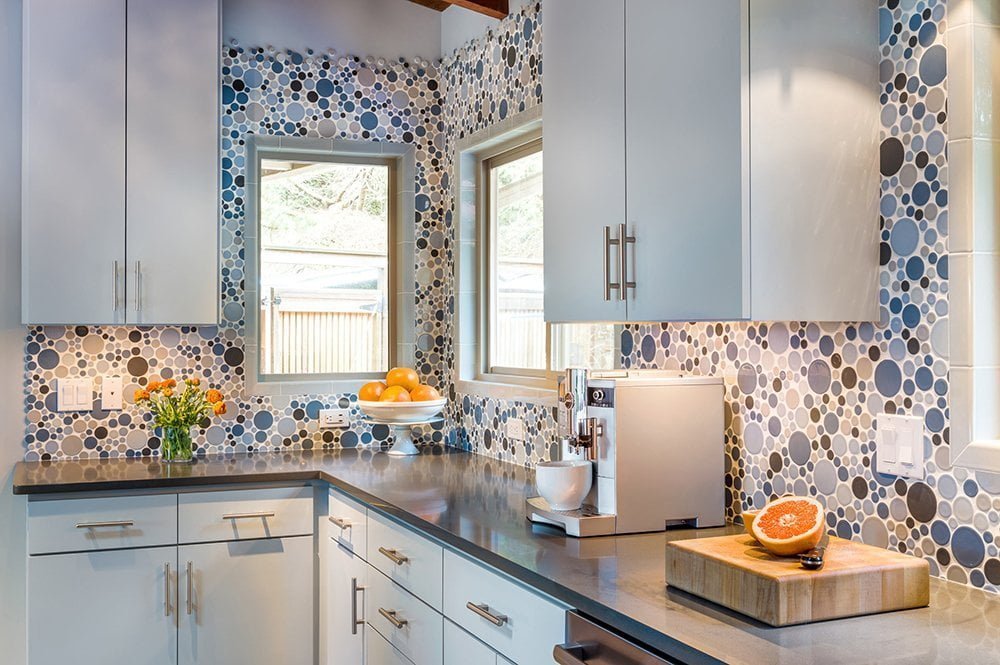 With this bubble design backsplash, you can add multiple shades of one color to your kitchen or even several different colors without creating an overpowering look. The backsplash contrasts well with the simplicity of the cabinets and counter tops. Notice how well the accents of orange compliment the blue and white. Although the orange flowers and fruit in this photo can easily be removed or replaced, you can add more permanent accessories in your accent color, such as plates or bowls. This kitchen backsplash tile creates a fun and playful look in this elegant kitchen.
21. Puppy Print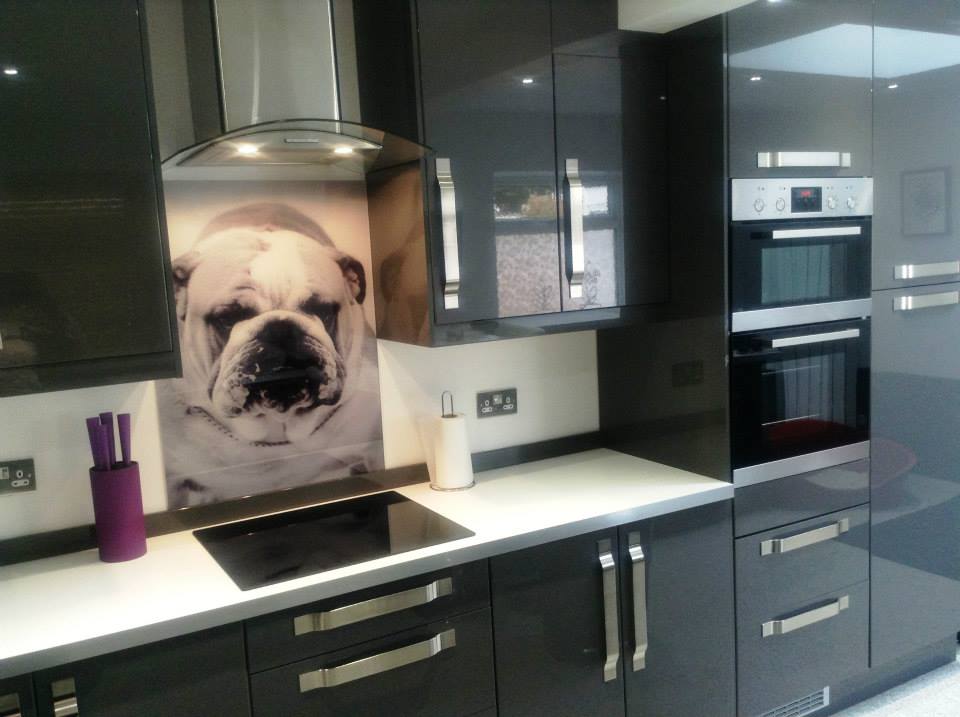 This is another great example of how to implement printed glass into your kitchen as your backsplash. The glass is customized to withstand heat up to 428 degrees Fahrenheit, so it is perfectly safe to position behind your stove top. If you would prefer to print a different picture on the glass, such as one of your family, that would look great, as well. However, if you want your kitchen backsplash to have the same effect, be sure to keep the photo in black and white to blend well with the modern and sleek look of the cabinets and counter tops.
22. Herringbone Patterns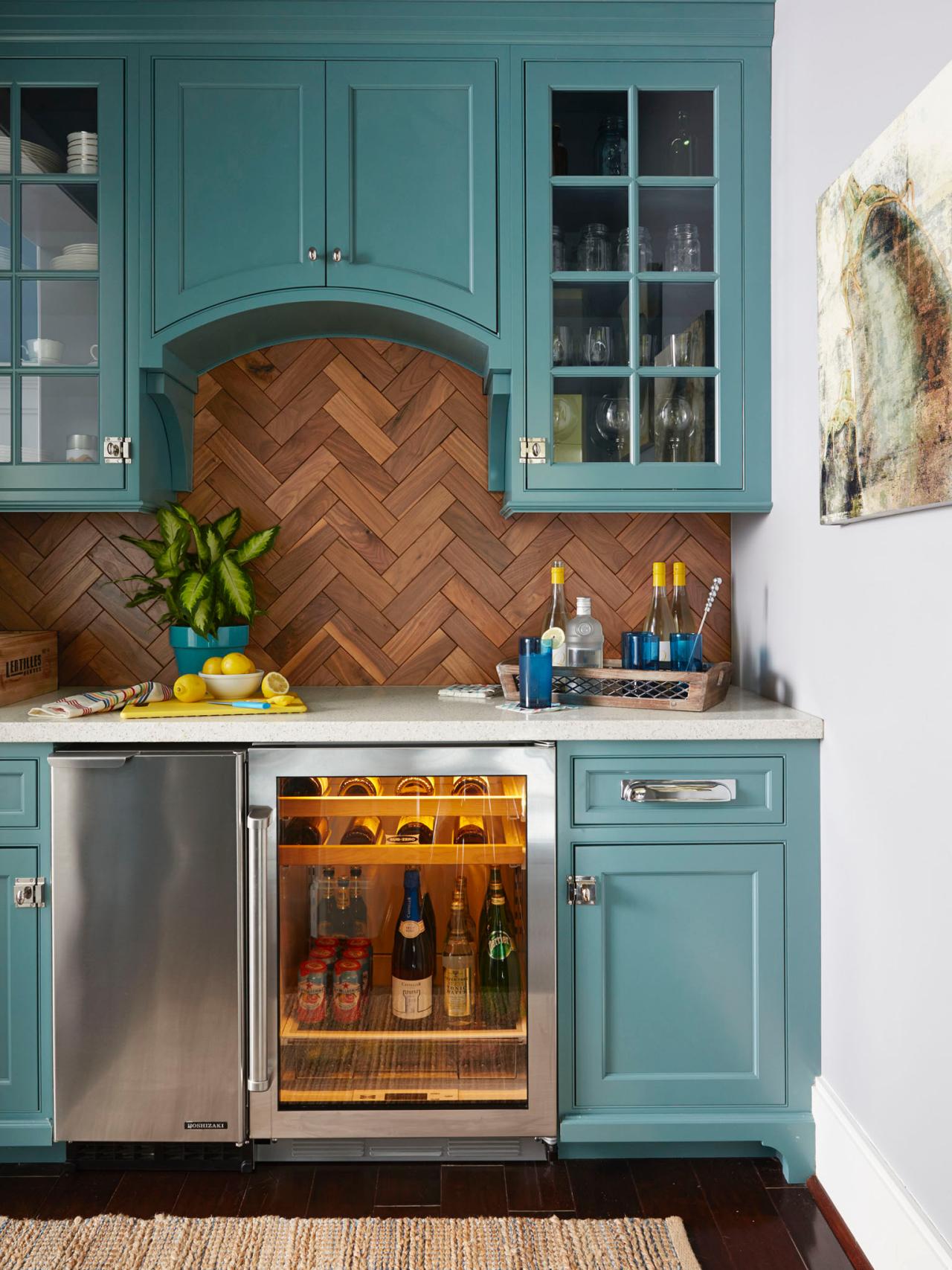 The wooden look and blue cabinets make this room appear warm, cozy, and welcoming. The shade of blue used on the cabinets is a great choice because it complements the wooden look and white walls beautifully. Kitchen backslash design ideas that feature a herringbone pattern are very popular and stylish. Herringbone looks slightly similar to chevron and you can achieve this look by placing rectangle kitchen tiles in a zigzag pattern. Your eye will immediately be drawn to this pattern and the backsplash will be the focal point of the kitchen.
23. Mirror Backsplash Tile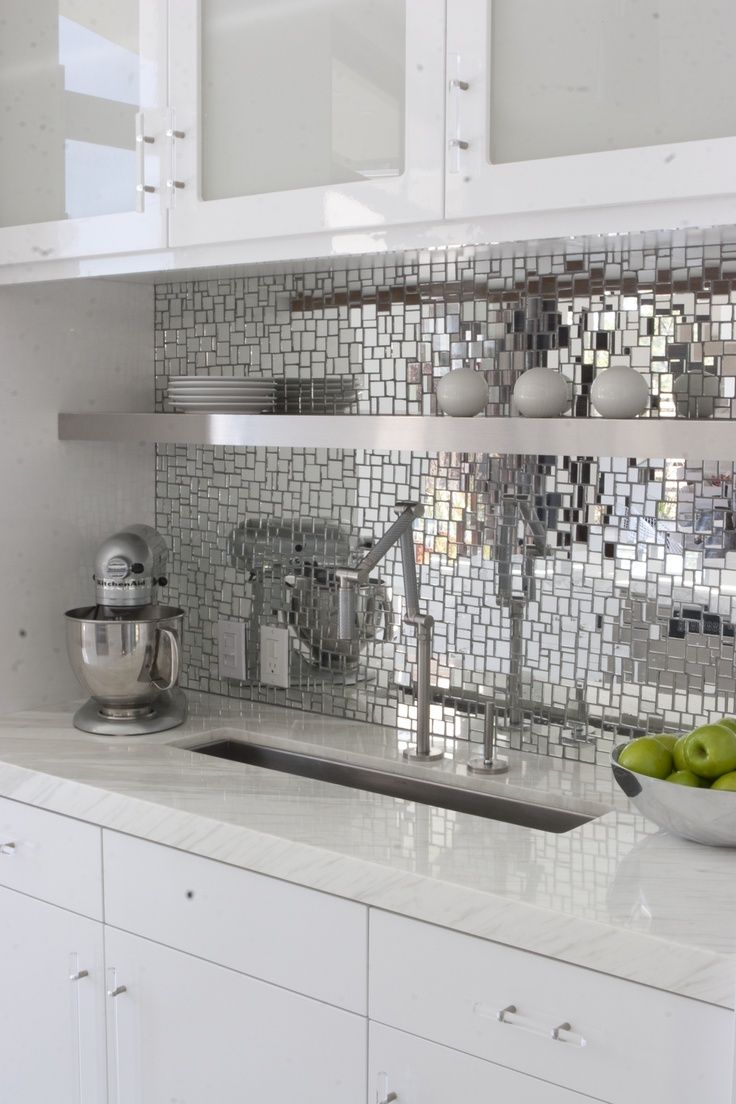 Using mirror tiles in your kitchen backsplash is an amazing way to light up the room and make it appear larger. It can also bring glitter and sparkle that will really make your kitchen come to life. White cabinets and counter tops work best with mirrored tiles to ensure the reflecting colors are not too bright or overwhelming. The jumbled, mosaic look of this particular backsplash is very unique and creative. If you are looking to save some money on your backsplash budget, it is definitely possible to recreate this look on your own. The mirrored tiles are available for purchase and you should be able to apply them with tile adhesive.
More kitchen backsplash decoration ideas on the next page…