24. Jade Green and Copper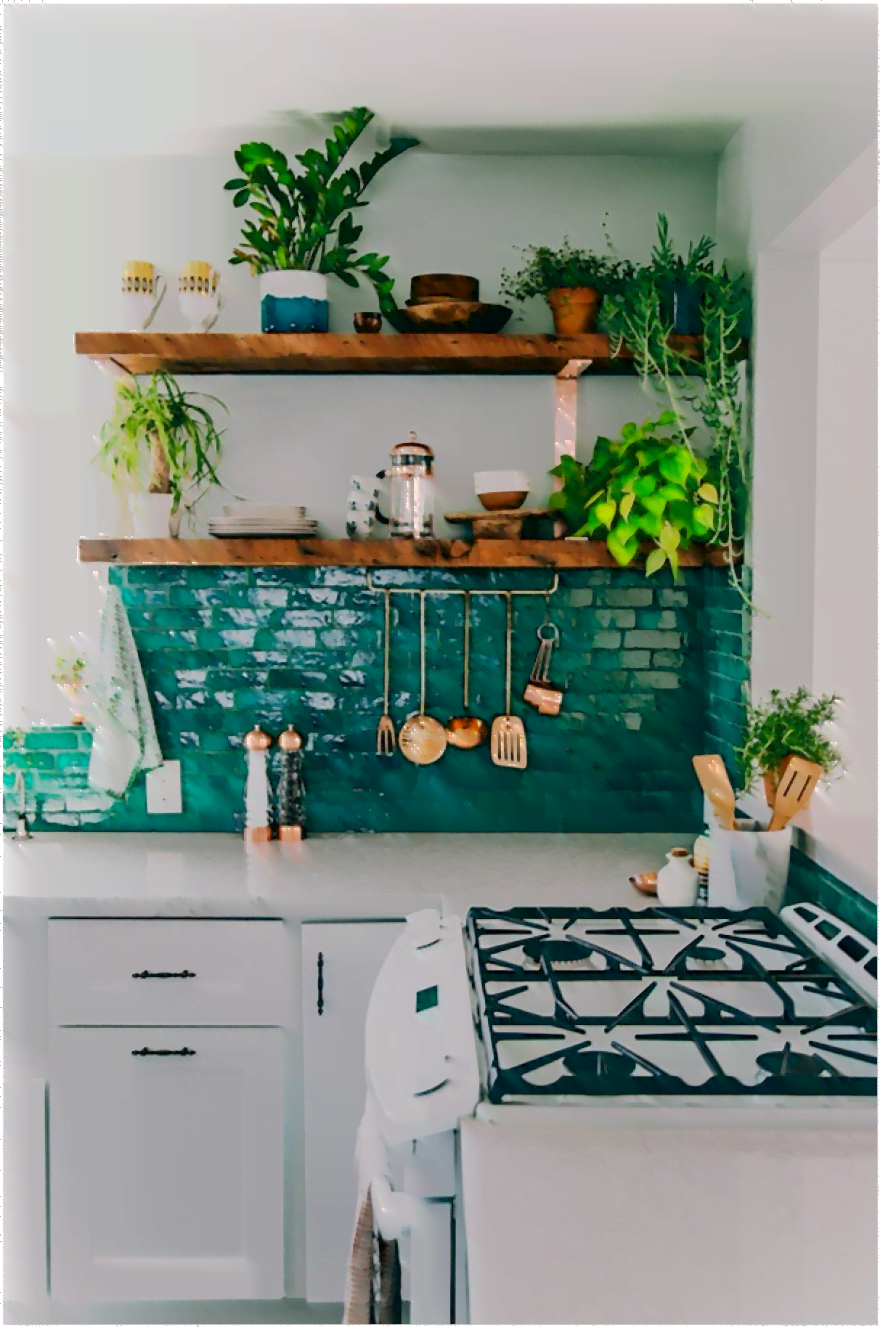 The combination of jade green and copper appliances creates a gorgeous atmosphere. The multitude of fresh and natural plants really breathes life into this kitchen and complements the jade green backsplash. The glossy look of the kitchen tiles are gorgeous, especially set against the crisp, white walls. Open wooden shelves create a very rustic, inviting feel that adds country charm to this home decor. The windows also add a lot of natural light to this earthy kitchen.
25. ZigZag Pattern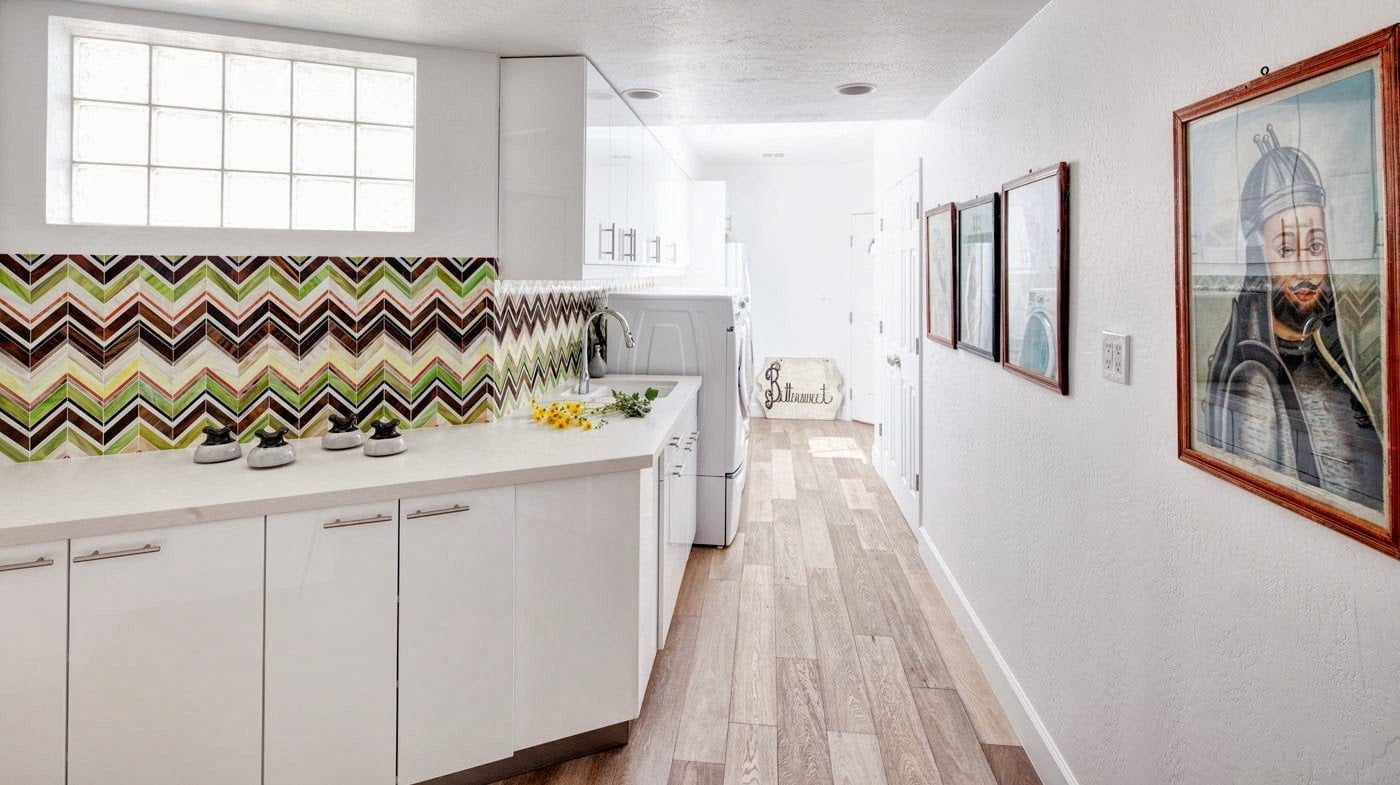 The zigzag pattern of this backsplash draws attention away from the narrow space and stands out as a focal point against the white features. A loud, bright pattern can help to define an unusually shaped space. Green and brown are very earthy colors that bring a style and theme to this kitchen and laundry room area. In a small space like this, it is important to use furniture that can attach to the walls and not take up additional space. Adding accents in green and brown would really elevate the colors of this backsplash.
26. Small Stone Backsplash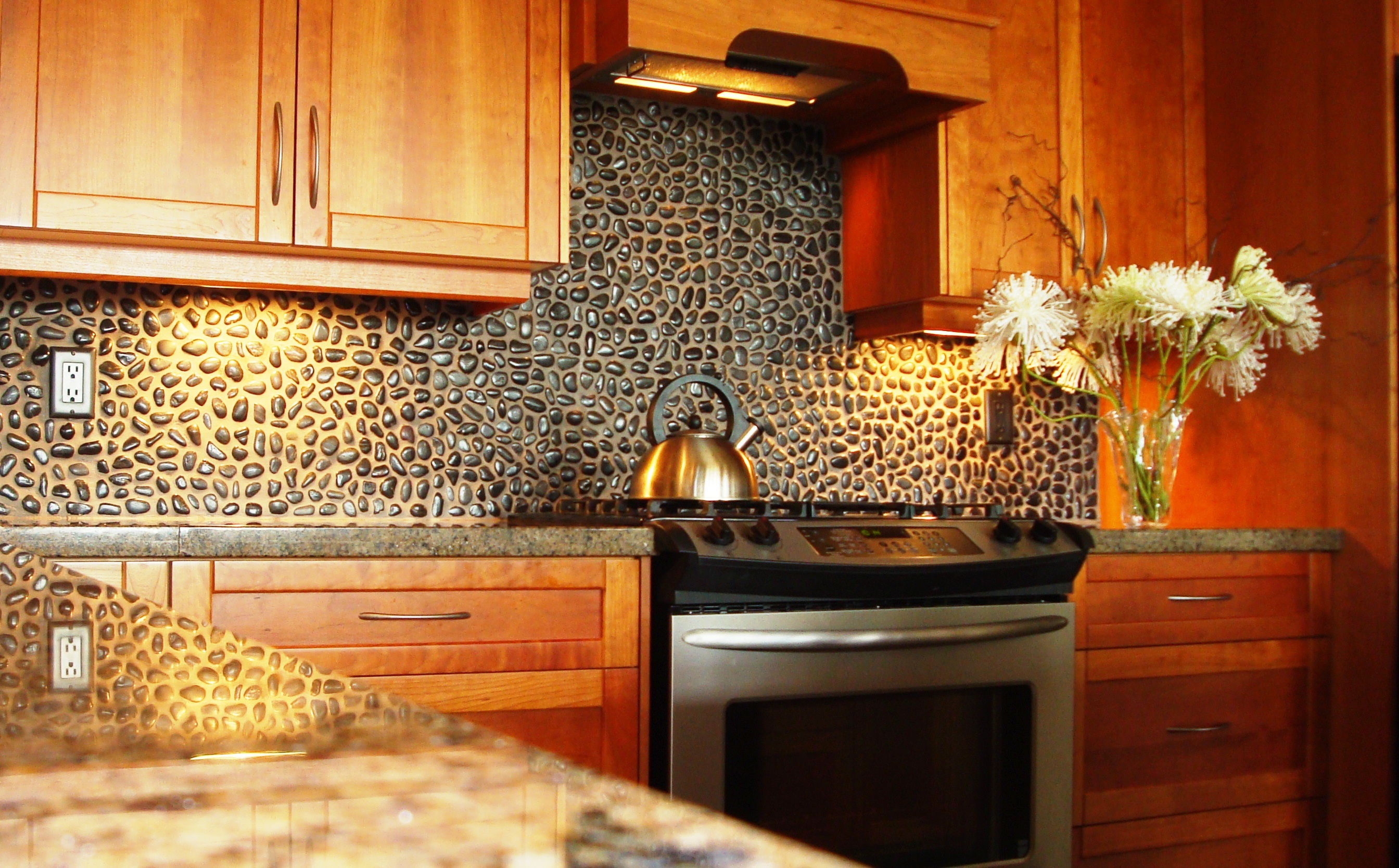 This small stone backsplash adds such character to this modern home. The lighting is perfectly placed to highlight the effects of the stone. The wooden cabinets, stainless steel appliances, and granite counter tops all create a gorgeous and warm atmosphere. It is important to apply a sealer over a backsplash of this nature in order to prevent stains and protect the look of the kitchen backsplash. The dim lighting and small stone backsplash create a very cozy and peaceful environment.
27. Floral Wallpaper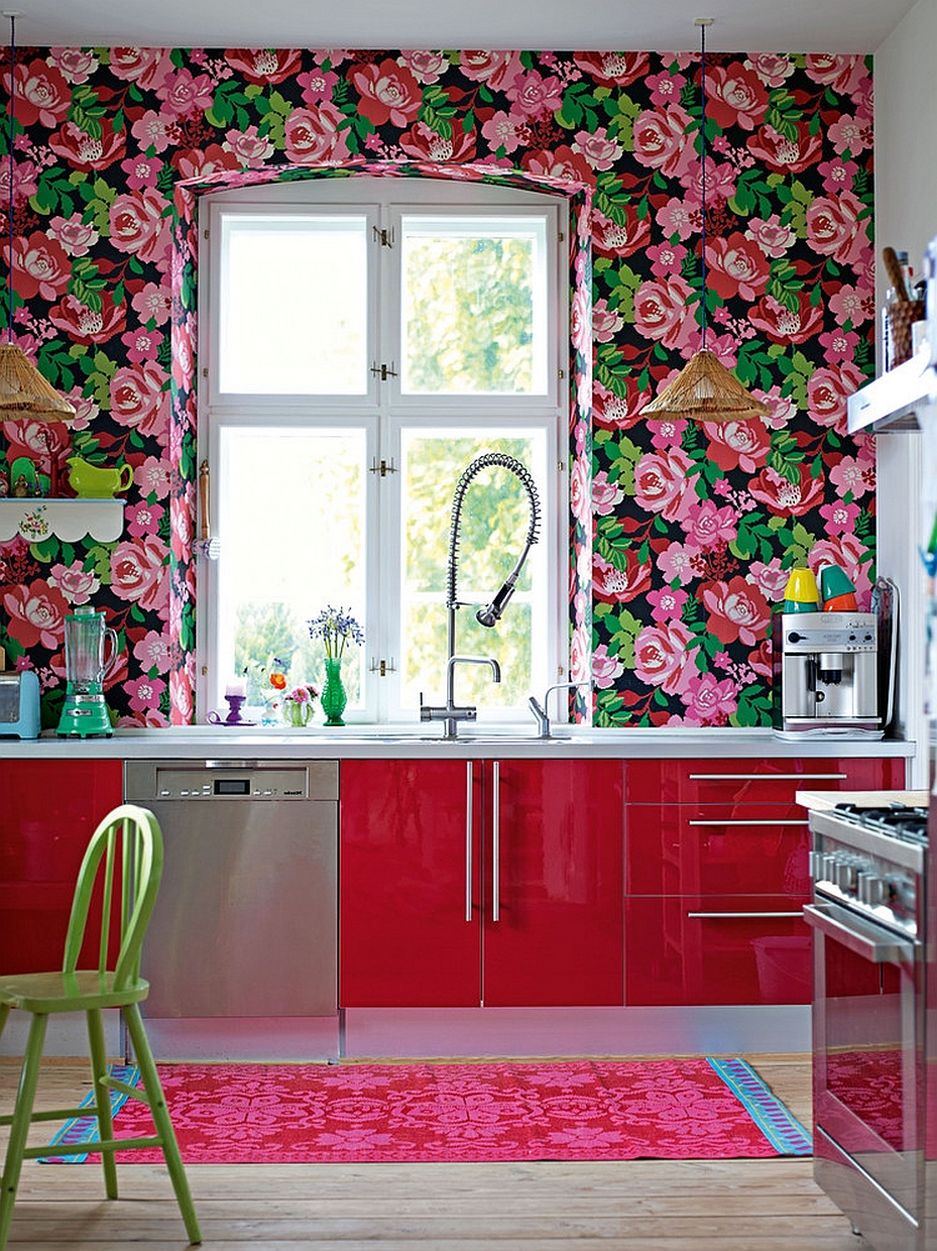 You can install a particular type of vinyl wallpaper that is cleanable and durable to use as a backsplash in your kitchen. To save on costs and create a simpler look in the kitchen, only use the wallpaper in a smaller area. Backsplash designs that use wallpaper as a focal point can be particularly stunning. Pink can be a bold and creative color that will really make your kitchen stand out. The white counter top creates a break in the color and prevents the pink from becoming too overwhelming. The green chairs are also a great way to accent a different color in the wallpaper, other than pink.
28. Traditional in Shades of Brown and Beige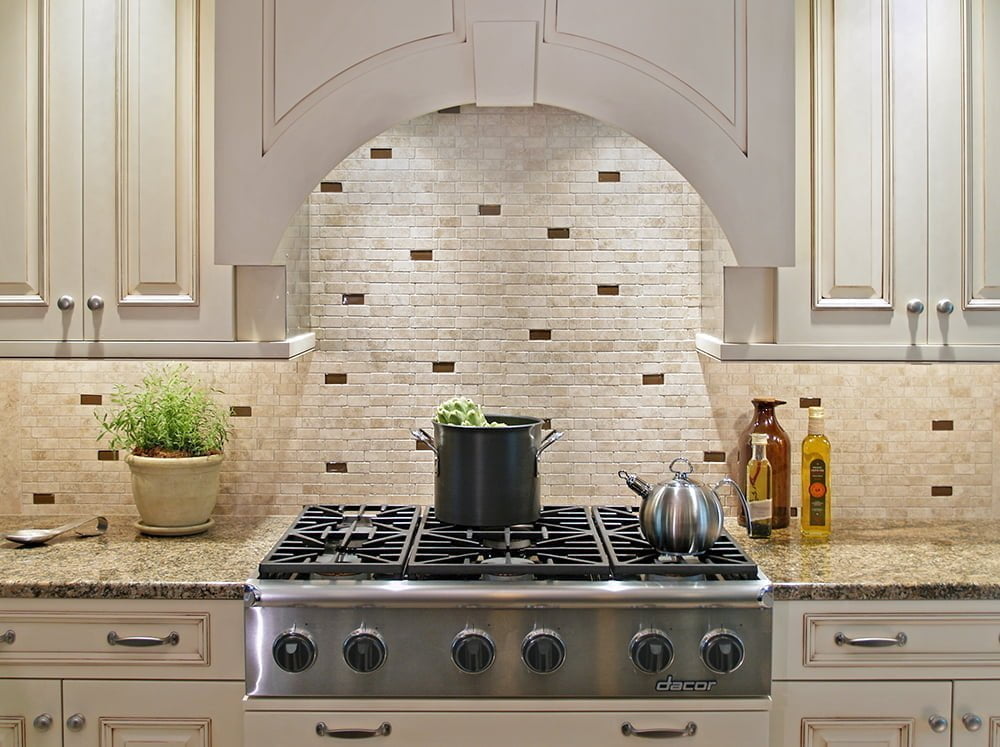 This is a very traditional and classic kitchen and backsplash design. The small subway tiles with the occasional specks of brown look great against the beige cabinets. The backsplash is in the perfect spot to protect against any grease or water stains. It works on just one wall as a focal point, but it also has an understated elegance that would be appropriate on every wall in the kitchen. You can choose to paint the walls any shade of brown, beige or white to blend with the cabinets and backsplash. A bright color on the walls might detract attention from the backsplash. However, your kitchen should express your own personal style so adding a little extra color is up to you!
29. Bright Red Backsplash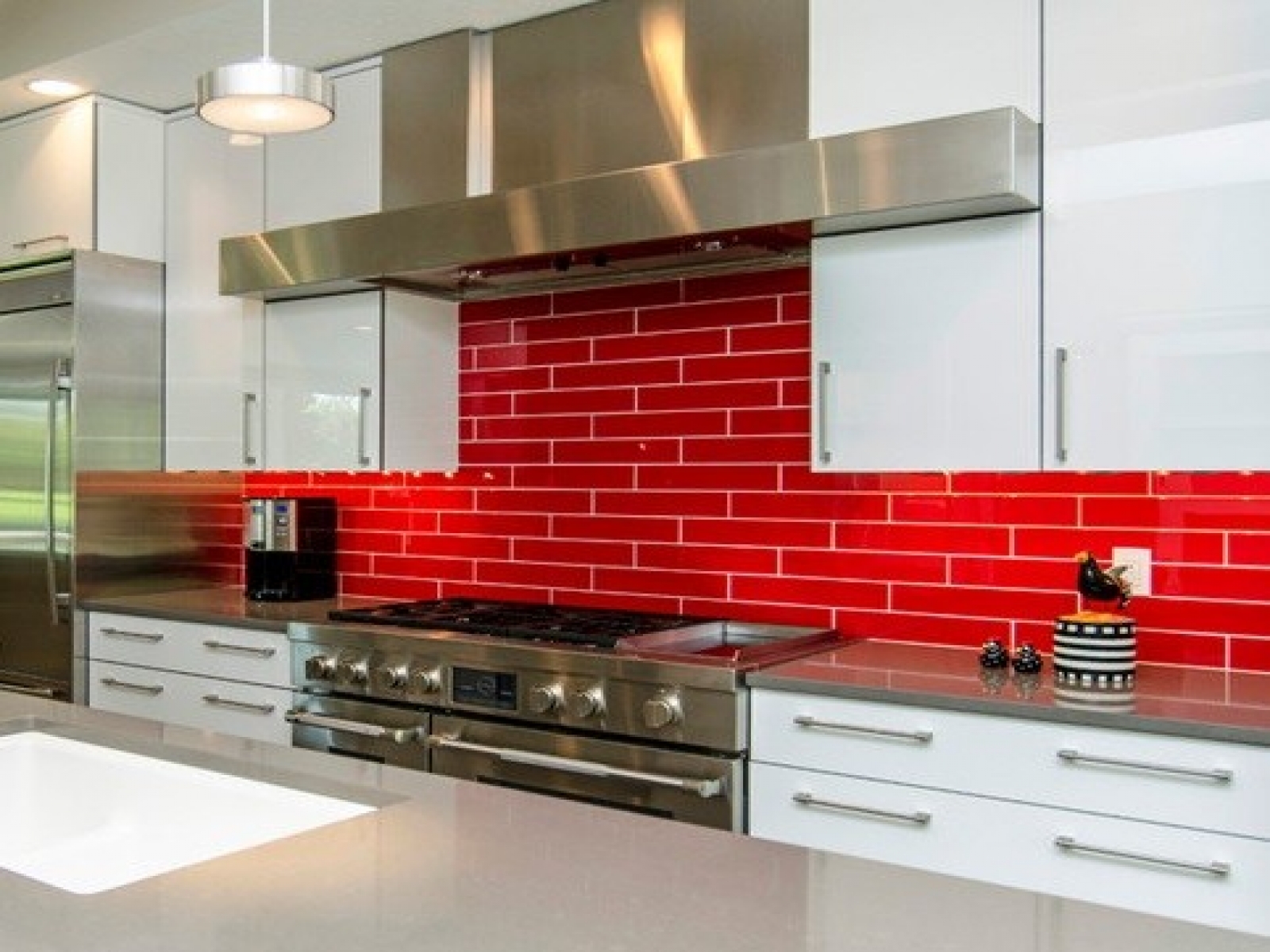 In a large kitchen with a lot of light fixtures and white features, a big and bold color such as this fire engine red can be just the thing to spice up your kitchen. Although the subway tile is rather simple, the vibrant color is what makes this backsplash truly one of a kind. The white cabinets and stainless steel appliances contrast nicely with the bright red. The glossy tiles look great in this setting, although faux brick tiles in red would work, as well.
30. Stone Wall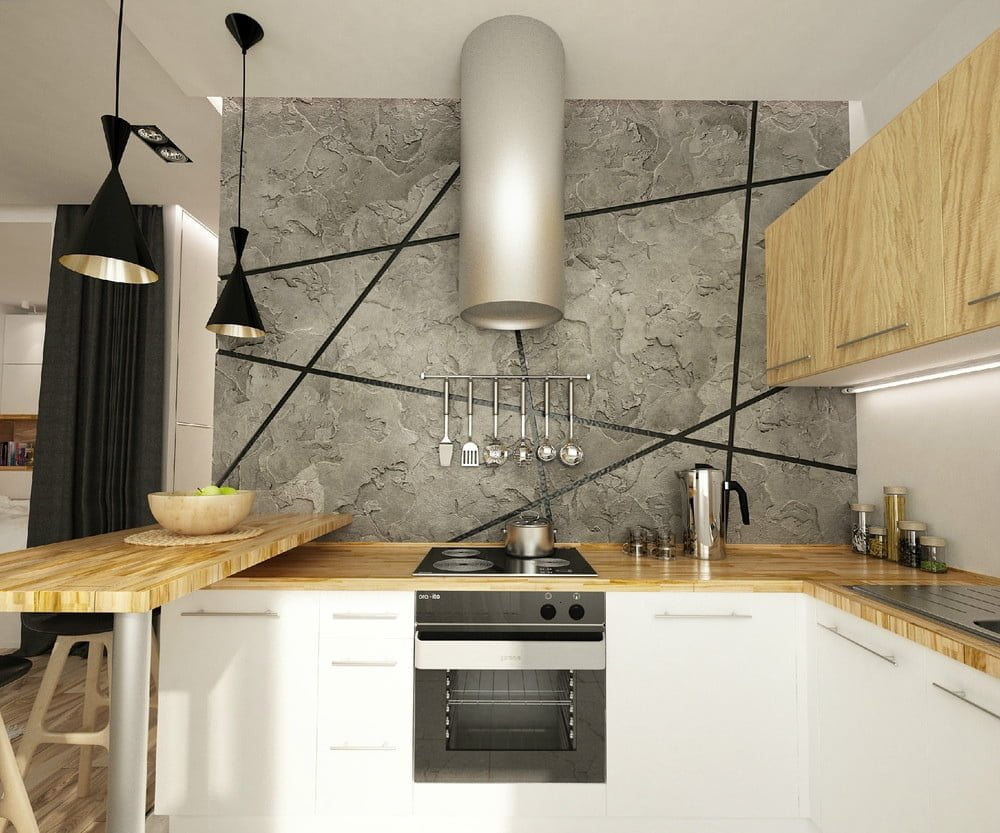 This stone wall cut into different pieces is an extremely unique kitchen backsplash. Although natural stone is a modern and trendy home design, it can require additional maintenance. Natural stone is extremely porous and can stain over time. It is therefor extremely important to seal the stone regularly to ensure the stone functions properly as a backsplash. The contrasting materials of stone and wood create a very diverse look. In this particular apartment, the stone extends as a wall around the apartment. However, the look is just as effective and glamorous if you only install it as a backsplash in your own kitchen makeover.
31. Moroccan Inspired Tile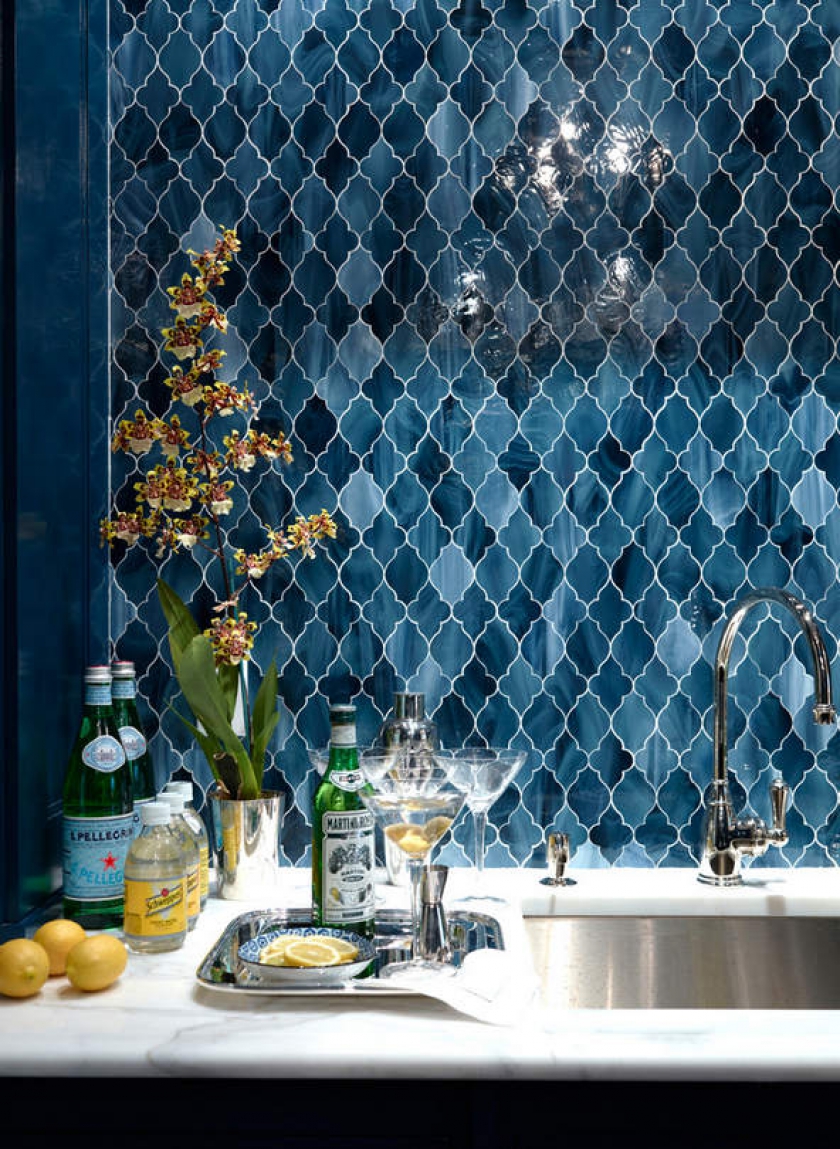 This gorgeous kitchen backsplash design is made of Aladdin tile from Waterworks. The arabesque-like shape of the tile exudes a Moroccan feel that can influence the entire theme of your kitchen. The differing shades of blue balance well against the white counter top. A wet bar backsplash generally only takes up a small part of the kitchen, but this design would work in a larger capacity, as well. This particular style would complement walls and cabinets in several colors so you can get creative when planning your own kitchen remodel.
32. Marble Slab Backsplashes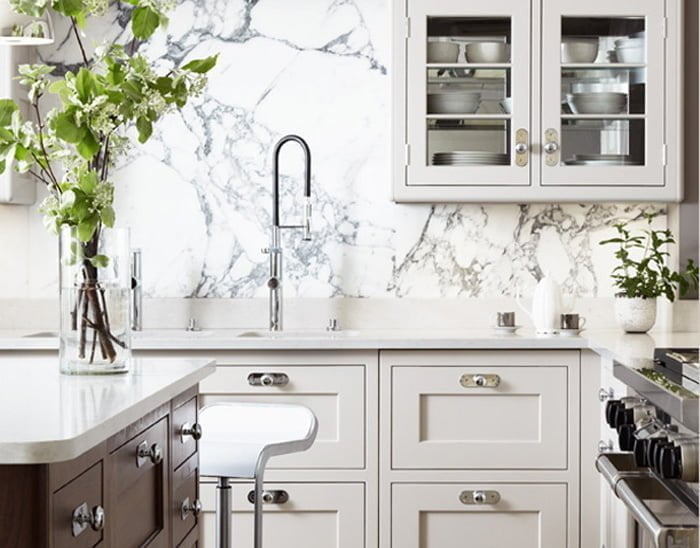 Many people decide against using marble as a backsplash because of the expense and maintenance associated with this material. There are many tiles that look similar to marble that you could use, although it can be difficult to replace the natural and gorgeous look of marble. If you are going to use marble, be sure to seal it properly to avoid staining. Additionally, it looks best when it is really able to shine, so choose simple, solid color counter tops and cabinets to allow the marble to be the focal point. Kitchen backsplash ideas that involve marble can create a very elegant environment.
More kitchen backsplash decorations on the next page…