Realizing your kitchen could use an update and actually doing something about it are two very different things. It takes real guts to take on an ambitious project like a kitchen makeover. There are all those cabinets to paint, plus you have to consider the aesthetic of the rest of the room, not to mention the rest of the house. It the prospect of freshening up your kitchen cabinets and furniture has you feeling overwhelmed, then this list is for you. Take a deep breath, get ready for some inspiration, and embrace the change as you look over these super successful updates.
The 25 Best Ways to Paint Kitchen Cabinets and Furniture to Give Your Space a New Look

Much of the hesitation in redoing wood furniture at home comes from a concern about the paint. It's true: painting over finished or varnished wood can be intimidating. But think about the reward. Instead of cooking, dining, and hosting in the same boring, outmoded, or just plain ill-advised kitchen setting, imagine the possibilities of a fresh, beautiful new look.
Each of these 25 ideas is a success story in itself. With these inspiring designs, you can feel confident that you, too, are capable of creating your own custom designer kitchen. Be sure to follow all instructions, take your time, and have fun.
1. From Bland Brown to Farmhouse Chic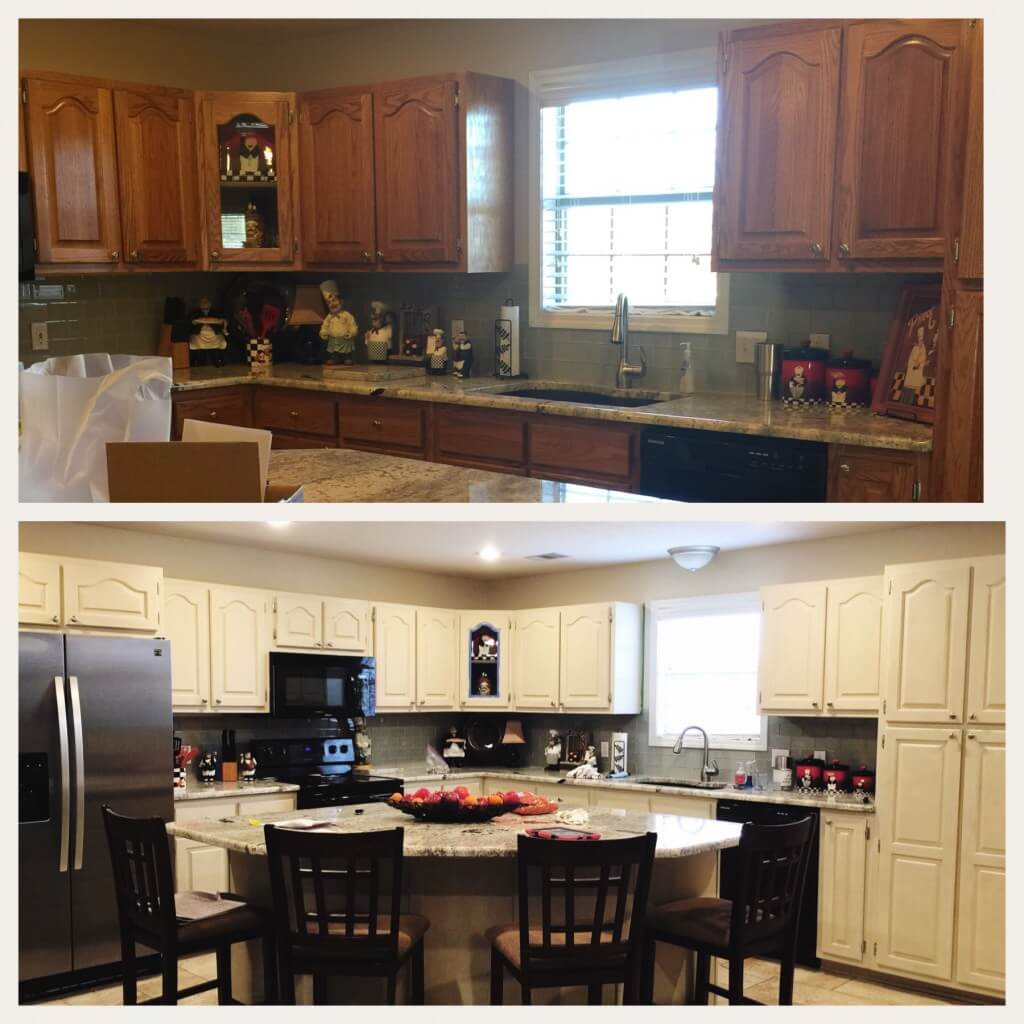 Many homes feature a standard, light grainy wood for kitchen cabinets and drawers. That kind of look, though neutral and kitchen appropriate, is not particularly interesting. If you are thinking of updating to a more contemporary farmhouse look, then the matte white featured in the after photo here is a great choice to bring your kitchen up to date.
2. Divine Dark Gray Update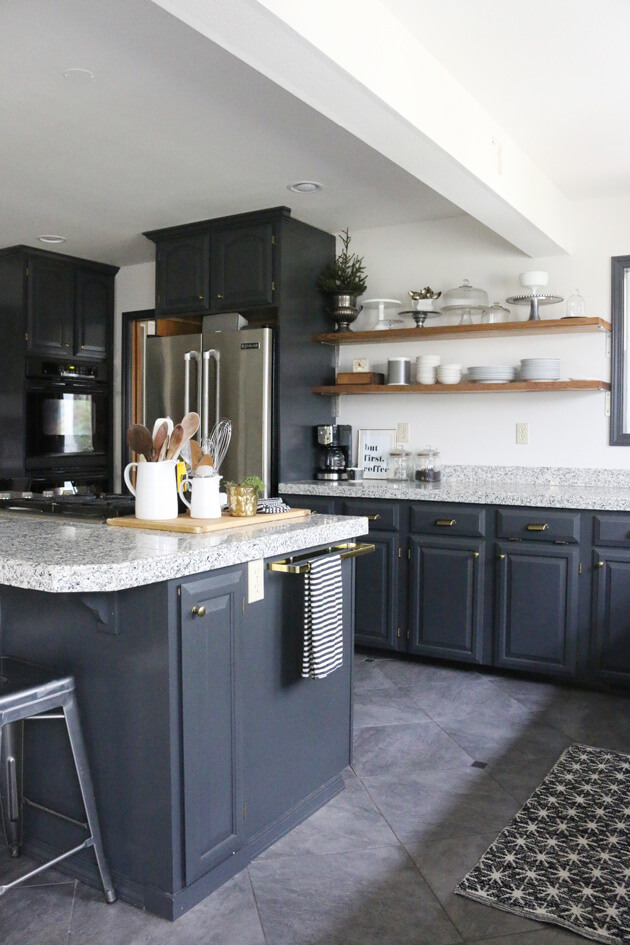 With modern kitchen appliances boasting stainless steel and with countertops and floors featuring equally industrial designs, a dark gray color for your cabinets and kitchen furniture is a solid choice. It keeps the theme on point and creates a kitchen environment where you are invited to take your cooking seriously.
3. Nearly Black Kitchen Cabinet Coloring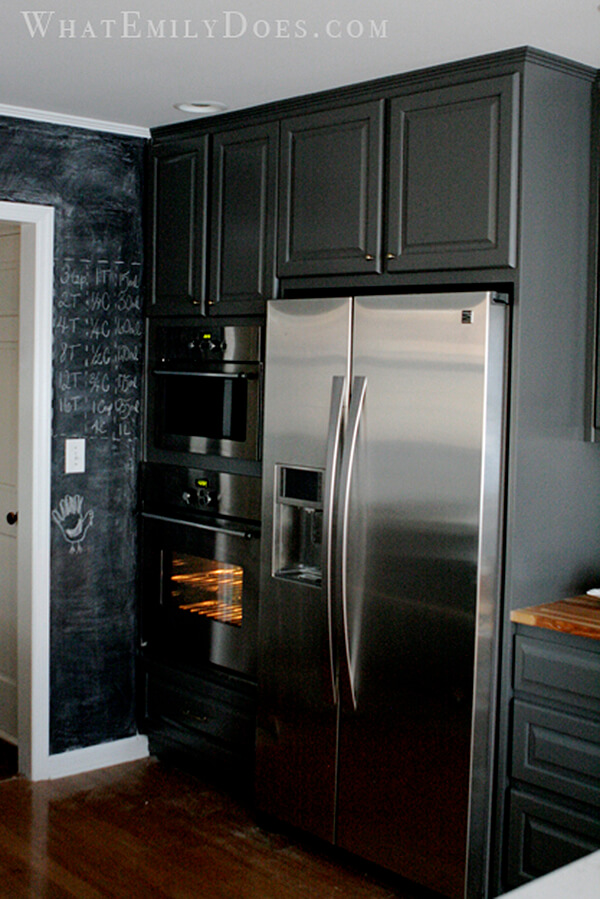 It may seem counterintuitive, but a great way to blend those stainless steel appliances into their surroundings is to incorporate very dark paints. This coloring then reflects off your shiny ovens and refrigerator to seamlessly blend everything together for a cohesive look. It is also fun to throw in a chalkboard wall, whose coloring pairs perfectly with such a design.
4. Bright White with Dark Countertops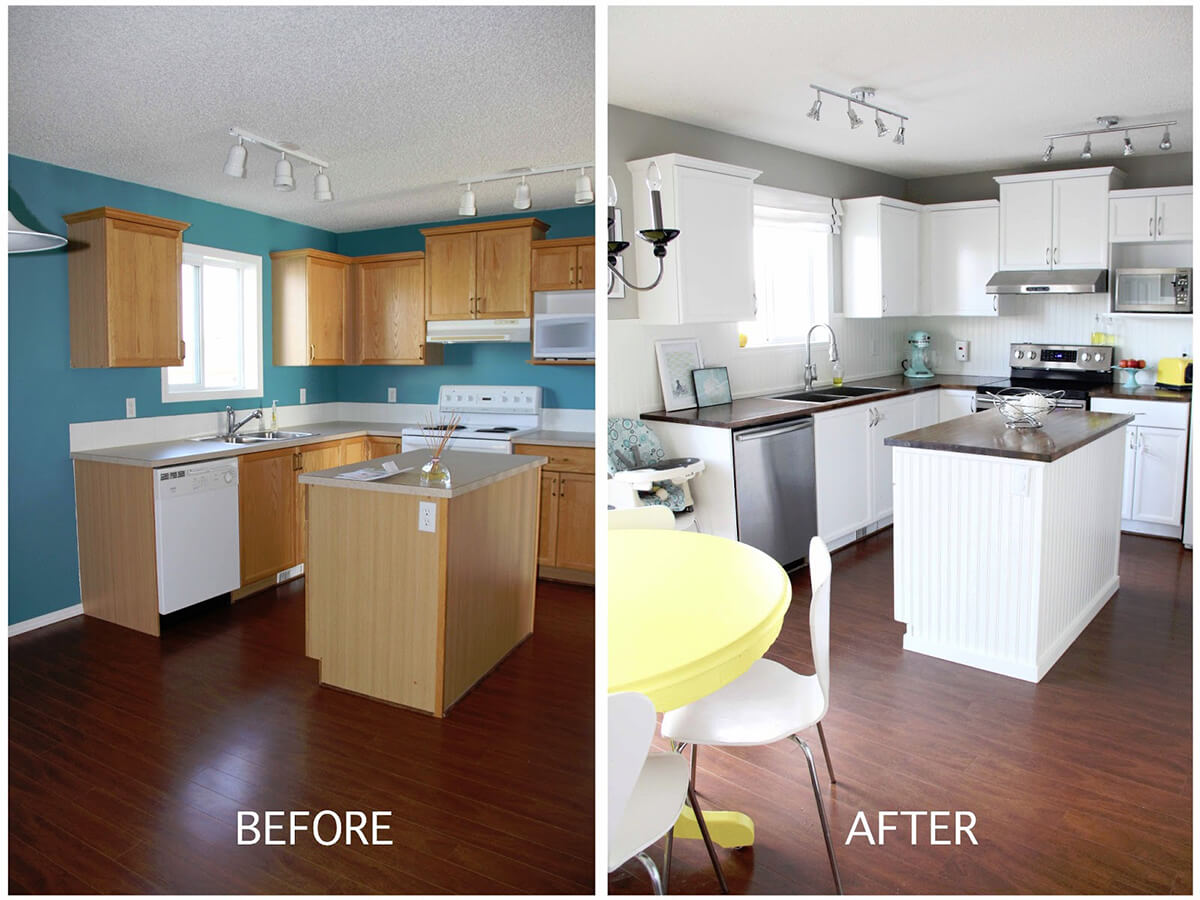 A very modern kitchen design is one that incorporates elements of dark and light, and this revamped kitchen achieves that dramatic contrast elegantly. The dark stone countertops balance perfectly with the dark natural wood floors while the bright white gives the kitchen a clean and fresh feel.
5. A Fresh Look for any Kitchen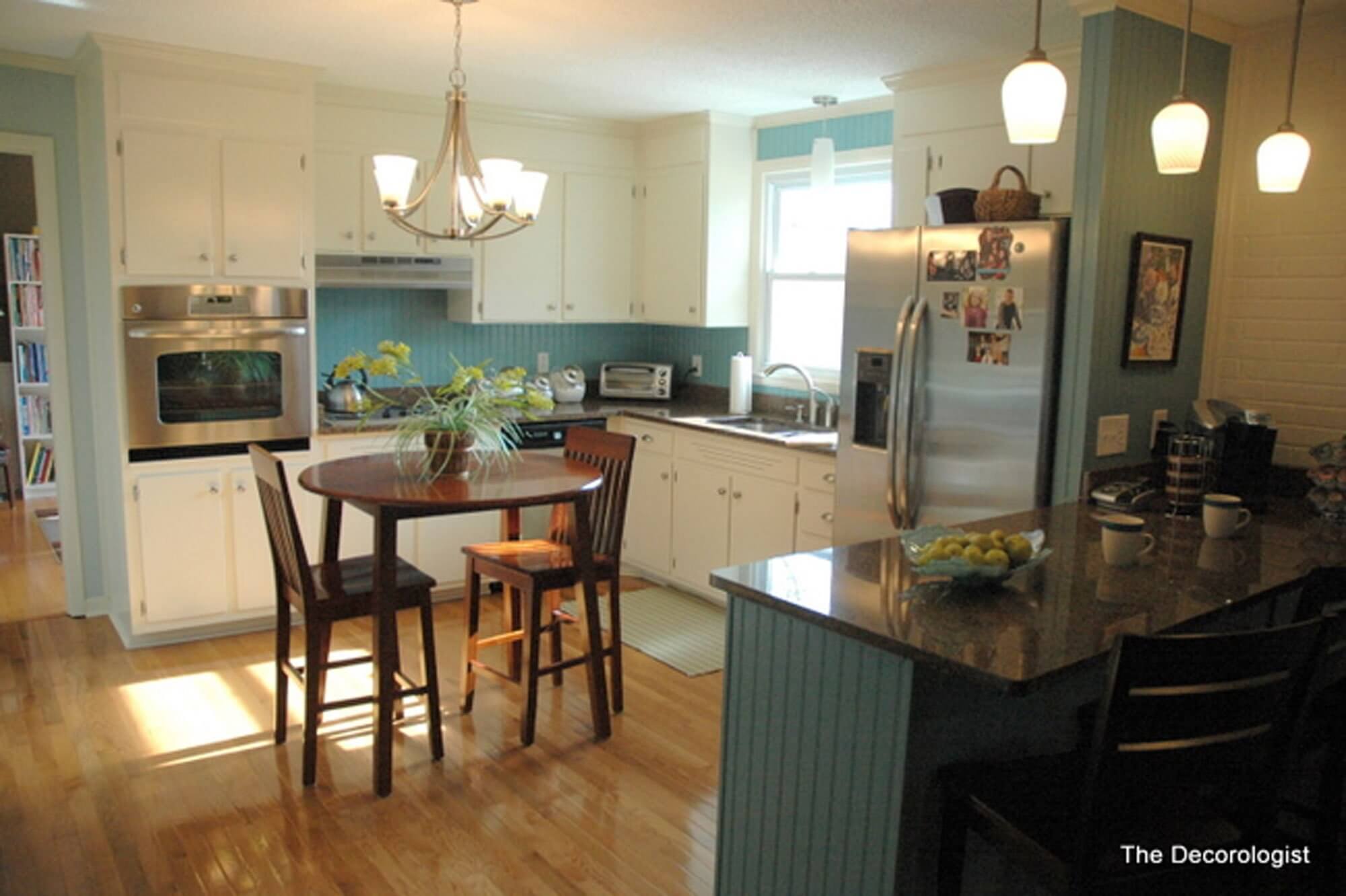 No matter the size or layout of your kitchen, this contemporary classic look will suit your space. Sometimes wood-paneled walls can feel inescapable, but as seen here, you don't have to be trapped any more. Painting over wood panels in a cool and comfortable color like this lovely blue softens the look and pairs great with fresh white cupboards.
6. Customized Drop Side Coffee Table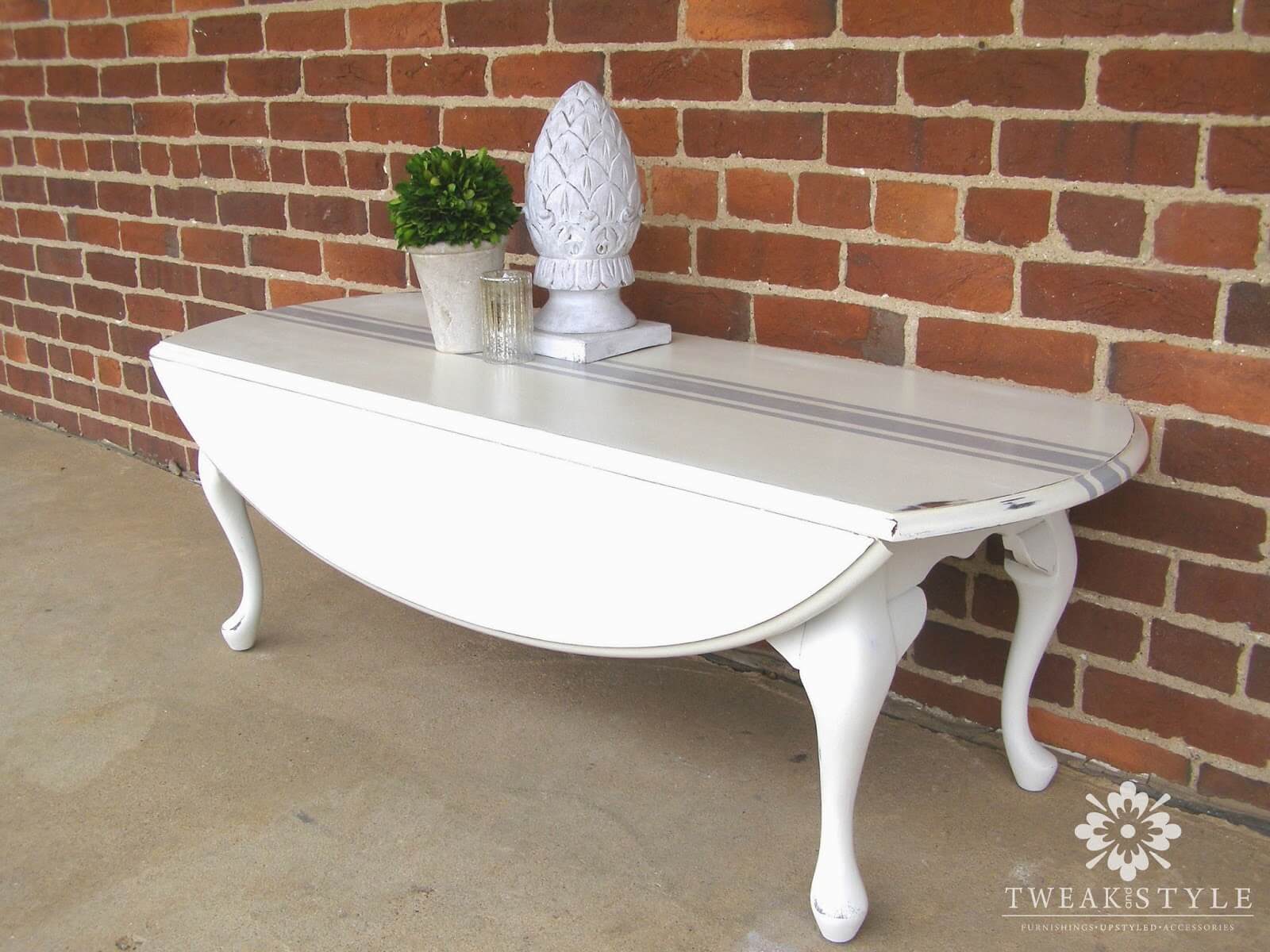 This design is versatile and easy to accomplish. You need only a bit of painter's tape and two complementing colors, and you can create this look yourself. Be sure to find a table that you love to fit your space, then consider the coloring that works best for you. This gray and white look is perfect for any farmhouse chic décor.
7. DIY Painting Kit for Kitchen Cabinets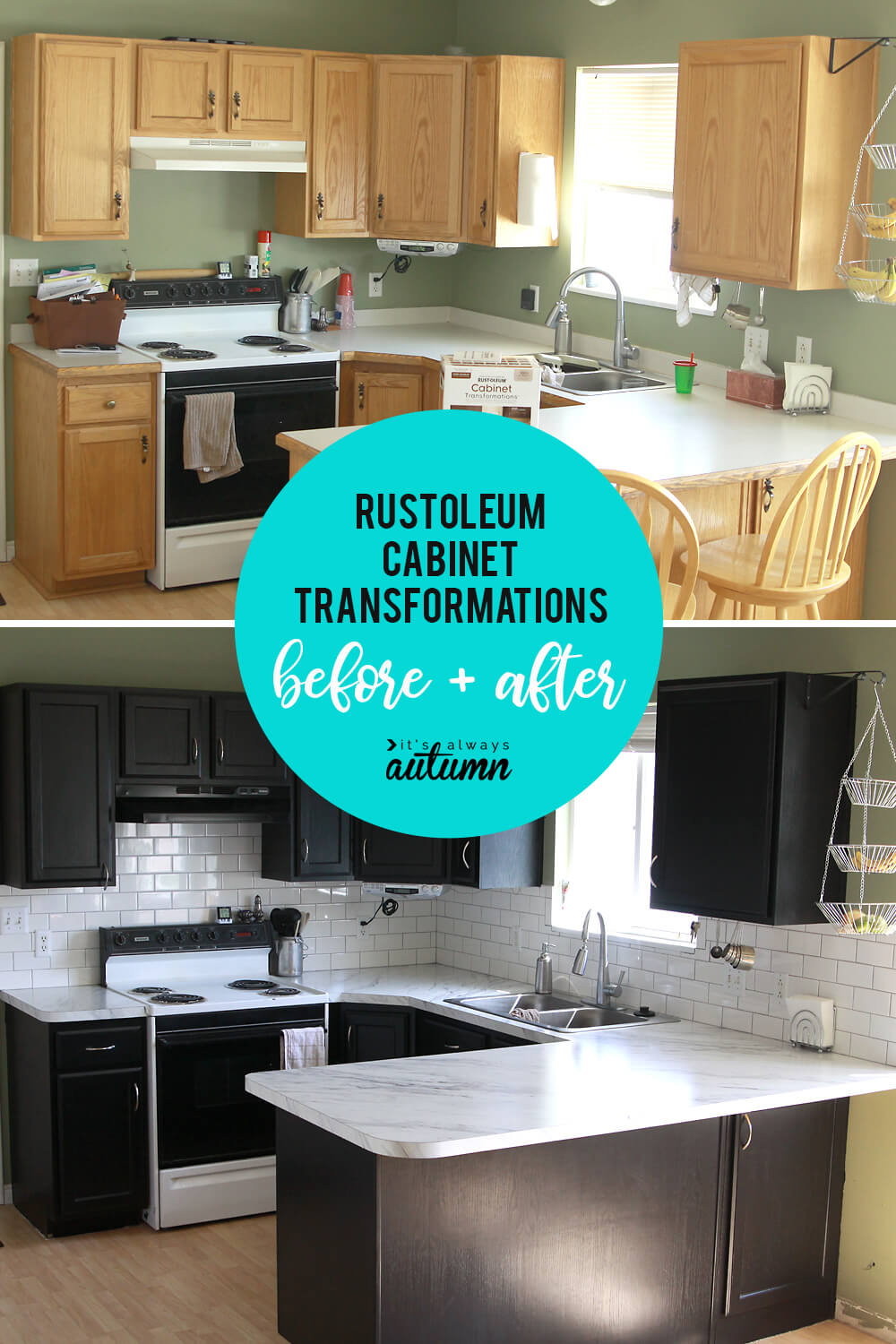 If you are intimidated by the idea of painting your own cabinets or just don't know where to start, consider purchasing an at-home kit like this one. With easy and clear instructions, you will feel like a pro in no time. A kit ensures you don't forget critical steps and provides you with all the tips and tools you need.
8. Bright and Beautiful Laminated Furniture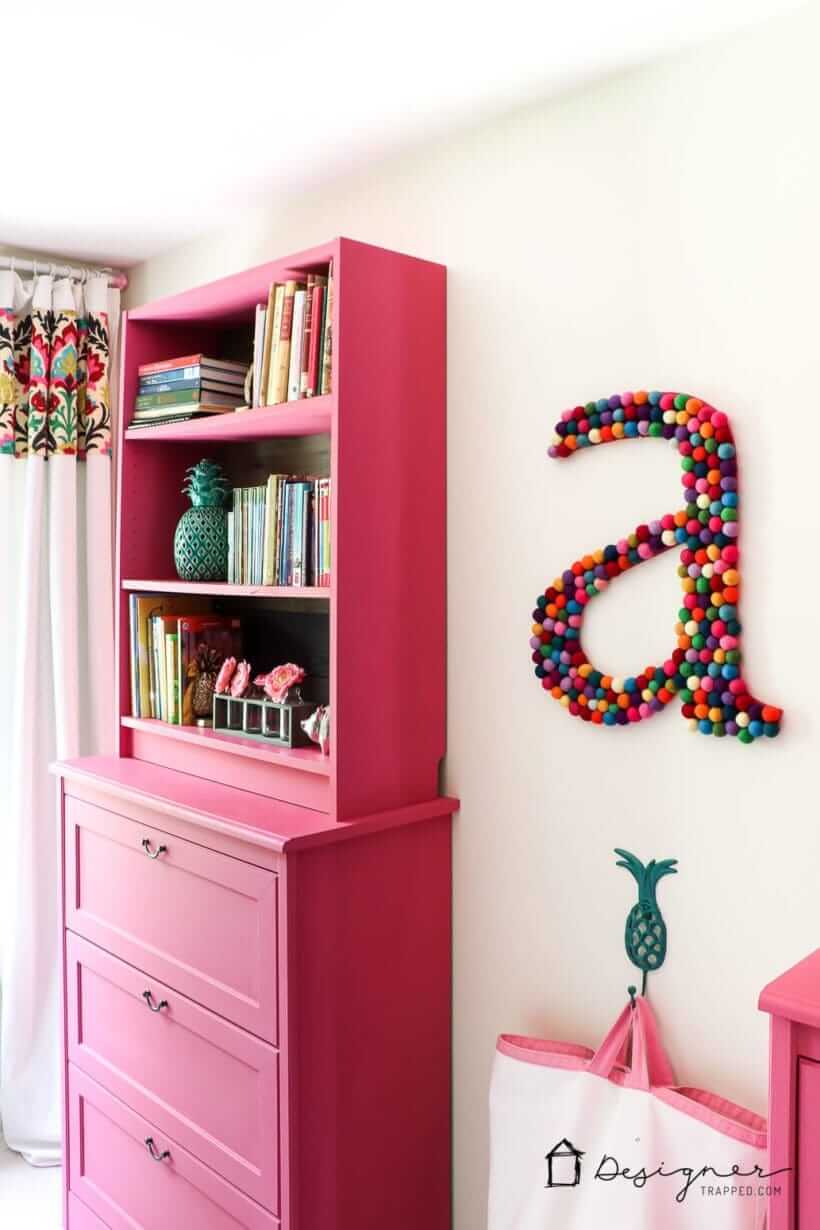 Painting laminated furniture can be tricky, but if you follow this guide, you will have no problems. The most common pitfall is not using the right paint, so be sure to get your hands on your favorite bright color, including the correct primer, and you will be able to create your own colorful masterpieces at home.
9. Amazing Steel Gray Cabinet Transformation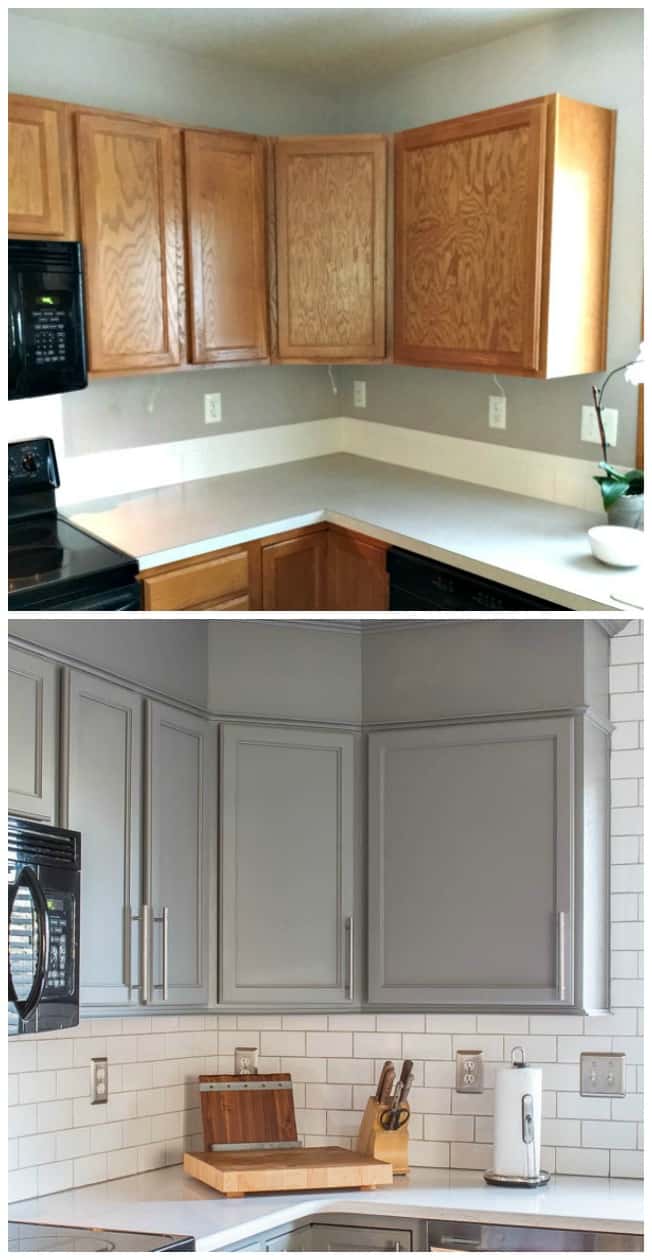 It is amazing the difference a little molding and some paint can make. These cabinets were, like many, an outdated natural wood – not too bad, but not particularly attractive, either. By simply adding a fresh coat of paint, cool steel handles, and a few other updated design elements, you have a whole new kitchen.
10. Super Modern Updated Small Kitchen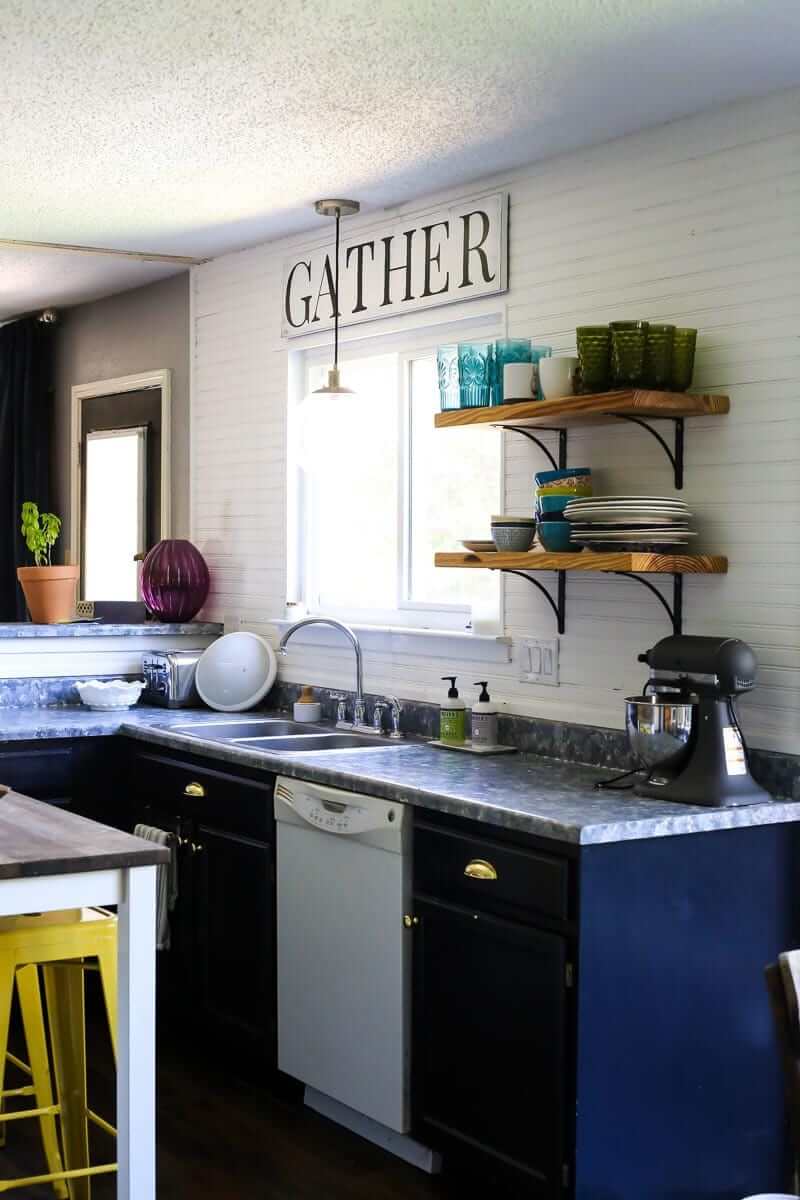 This is a prime example of how effective dark cabinetry can be even in a small space. So long as you have walls, appliances, and/or floor boards that work to brighten up your room, there is no reason to be afraid of some dark gray or even black cabinets. Together, they will create cohesion and add a touch of chic.
11. Dark Espresso Cabinets Above and Below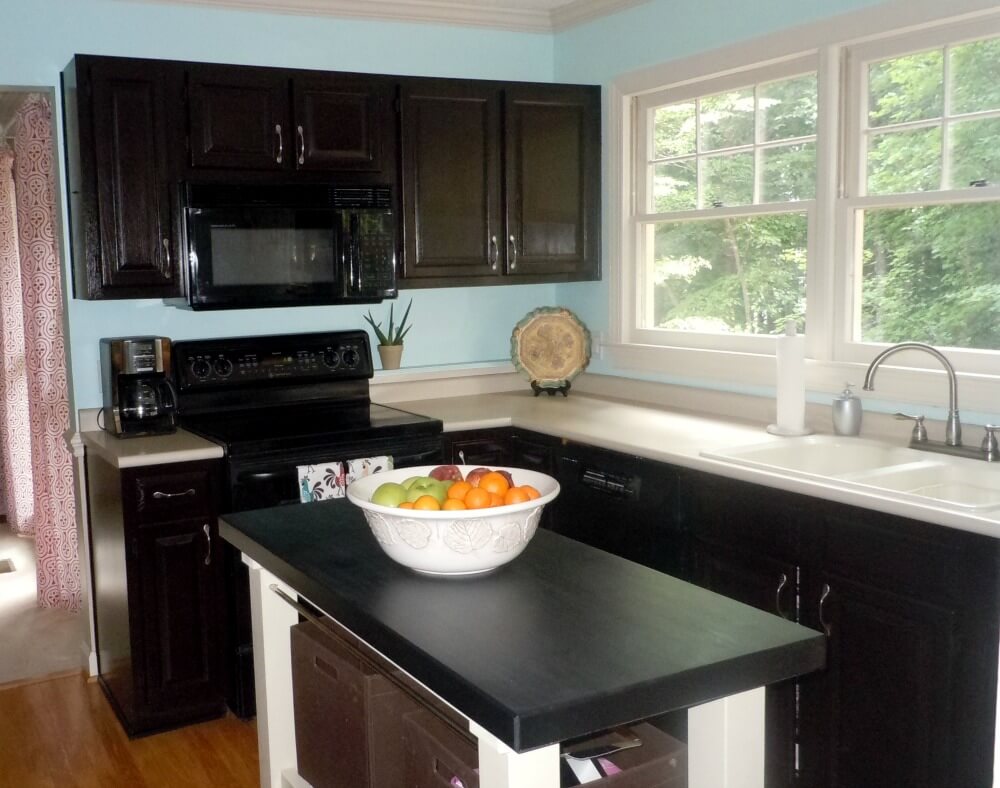 One way to add interest to your kitchen is to paint your cabinets to oppose your walls. This light blue kitchen gives a brightness to the room while the dark espresso wood gives it a more mature and grounded feel. Pairing the two together creates a balanced kitchen that is great for gathering and cooking.
12. Cool Gray for a Hip Modern Kitchen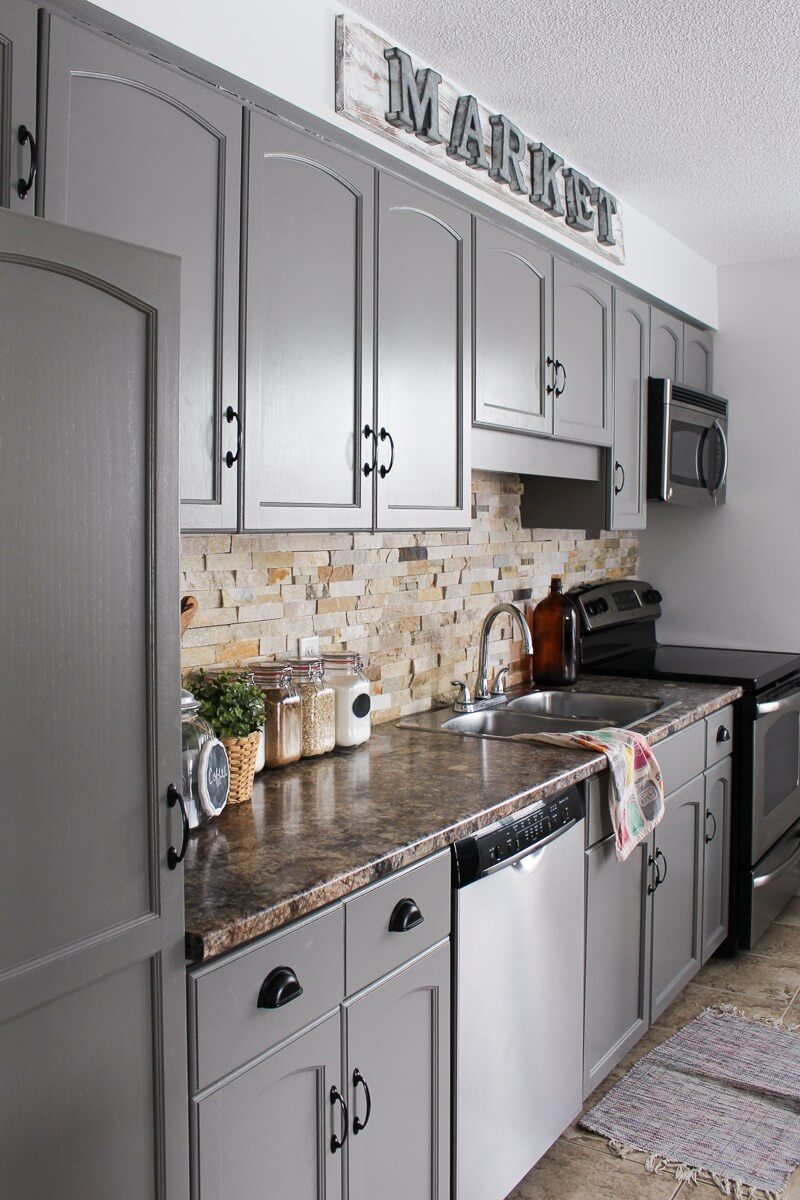 This awesome gray coloring is so cool, it has an almost blue tint. This pretty but neutral coloring is great for any home and goes well with dark or light countertops and hardwood or tile flooring. This color can offset any black appliances for a bold contrast or blend in with stainless steel for a more singular look.
13. Dramatic and Bold Black Cupboards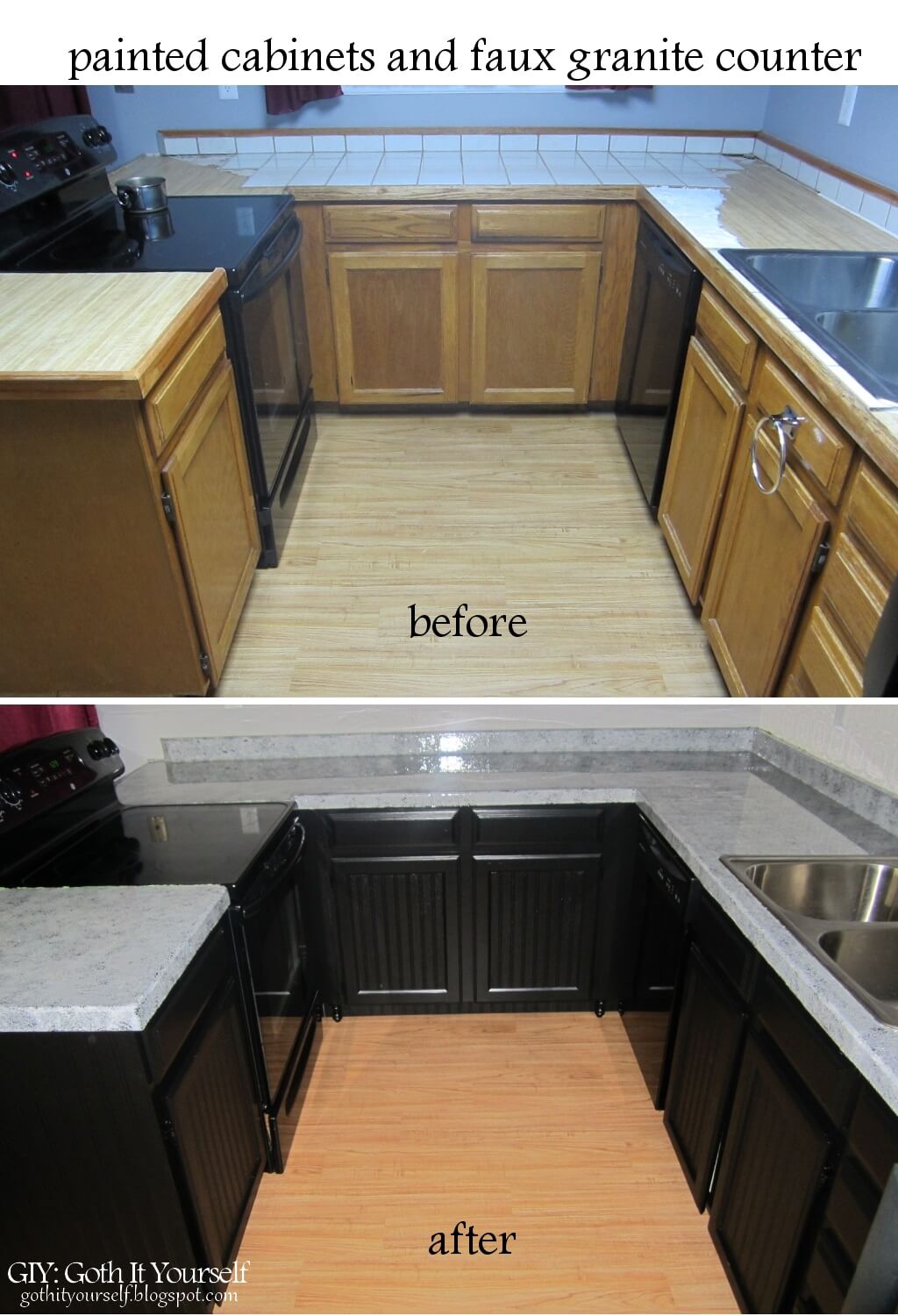 Choosing black can feel like a big choice. It is dark and can make spaces feel serious and imposing. However, when black is done well, it can be just as much an ally as a more neutral color. This design incorporates bright countertops and flooring so that the dark cabinets almost disappear beneath the contrasting tops.
14. Light and Lovely Blue Desk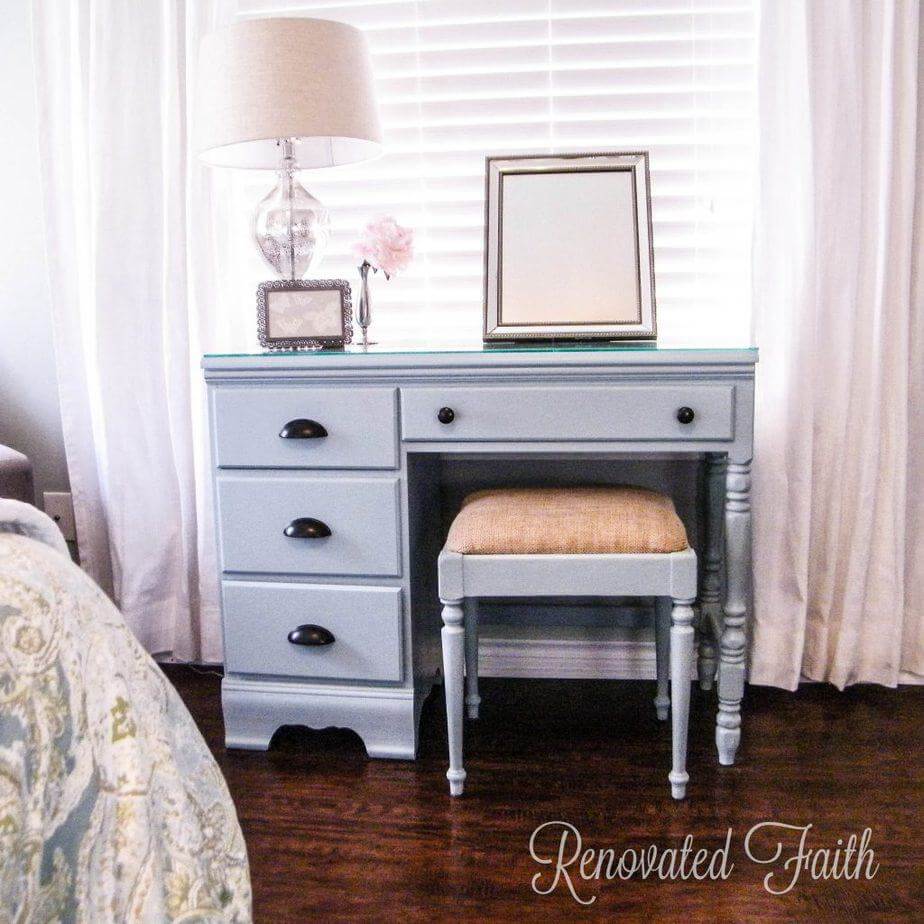 A fantastic way to bring levity to any space is to incorporate fun-colored furniture. This sky blue desk is a great example of how to bring brightness and joy without any drama. A cool shade such as this works well in neutral spaces of your home like a kitchen or dining room.
15. Updated Chic Painted Vintage Desk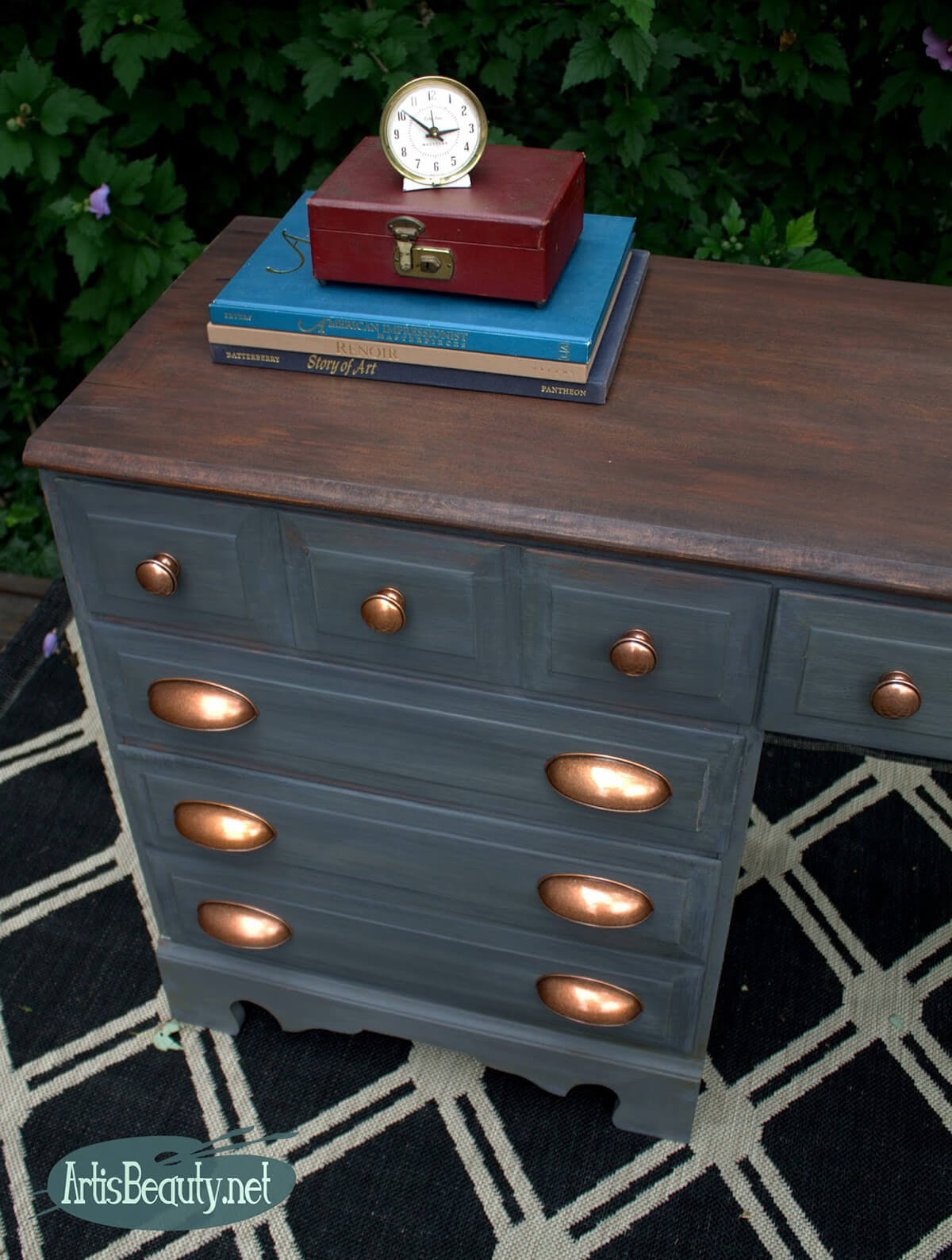 If you have a piece of furniture that you want to give a cool vintage feel, then a design like this is a superb choice. Although the desk didn't start off looking like something from Sherlock Holmes' study, with some well applied paint, a patient hand, and some awesome brass handles, it is now a fine piece in a studious home.
16. Fabulous Floral Decoupage Furniture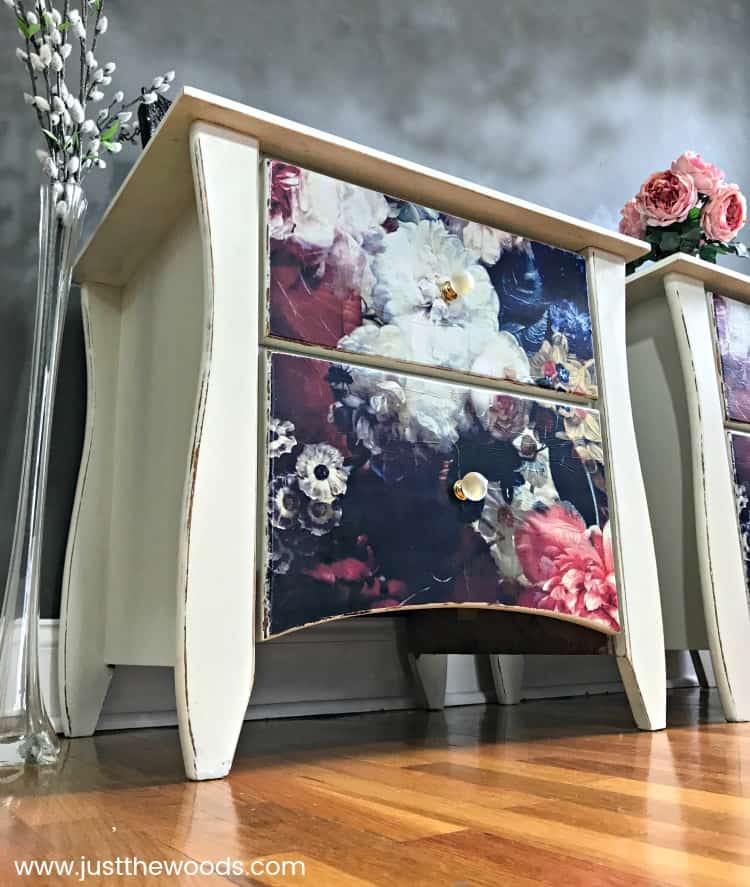 Taking something ordinary and turning it into the extraordinary is what DIY is all about. This design takes time and patience, but the payoff is tremendous, giving you in the end your own one-of-a-kind piece. Use whatever paper best suits your decorative taste and get to it. Your new dresser will be the envy of all.
17. From Standard to Farmhouse Chic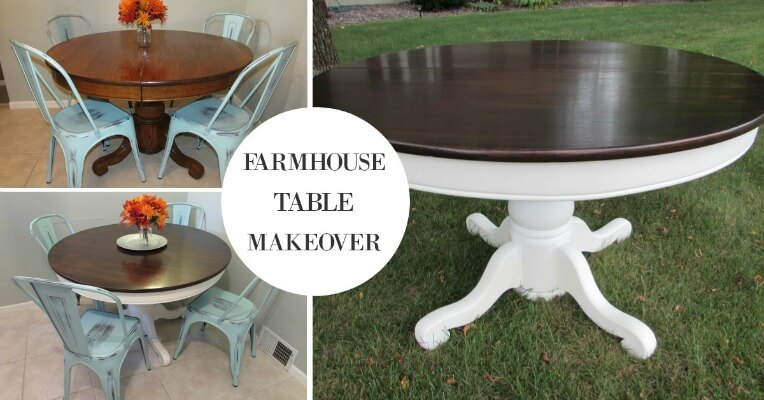 A farmhouse-style table is the perfect gathering place for families after a long day. But why pay twice as much for a design that you can create yourself using a standard wooden table? Find a table whose design you love and get to work creating the beautiful contrast of dark wood against bright white that screams farmhouse chic.
18. Distressed Antique Painted Cushion Armchair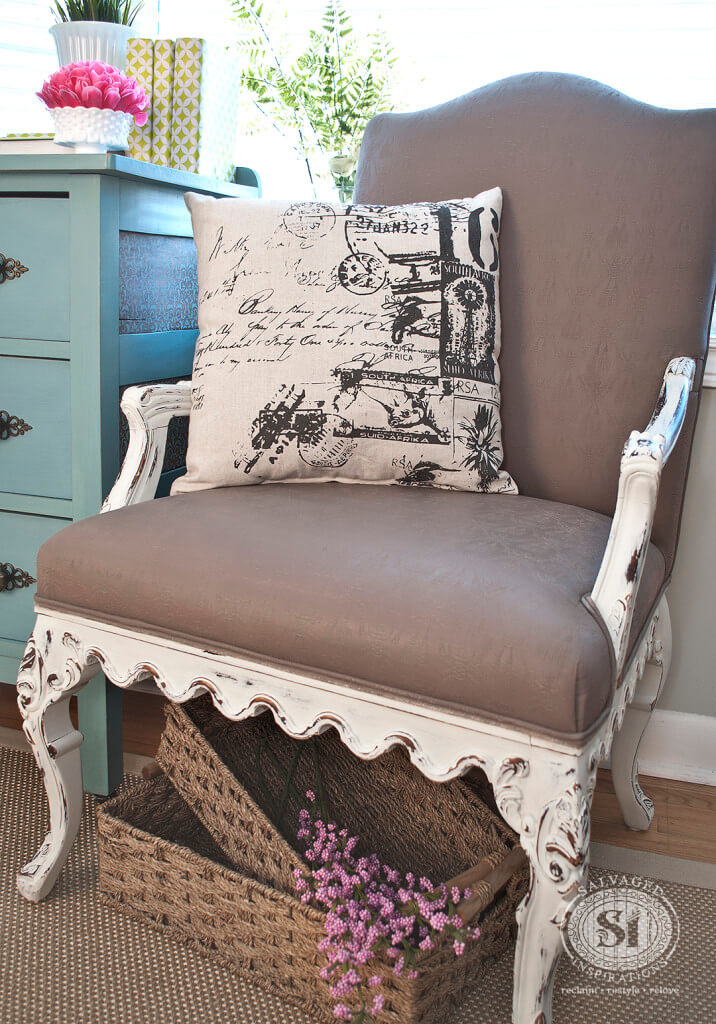 If your home has a vintage vibe, than a few pieces of distressed furniture is a must. However, finding the right fabric on that super cool chair is easier said than done. Genius solution: simply paint over it! Painting fabric is easier than it sounds and gives you the freedom to make anything work with your décor.
19. Ultra-Modern Updated Simple Chair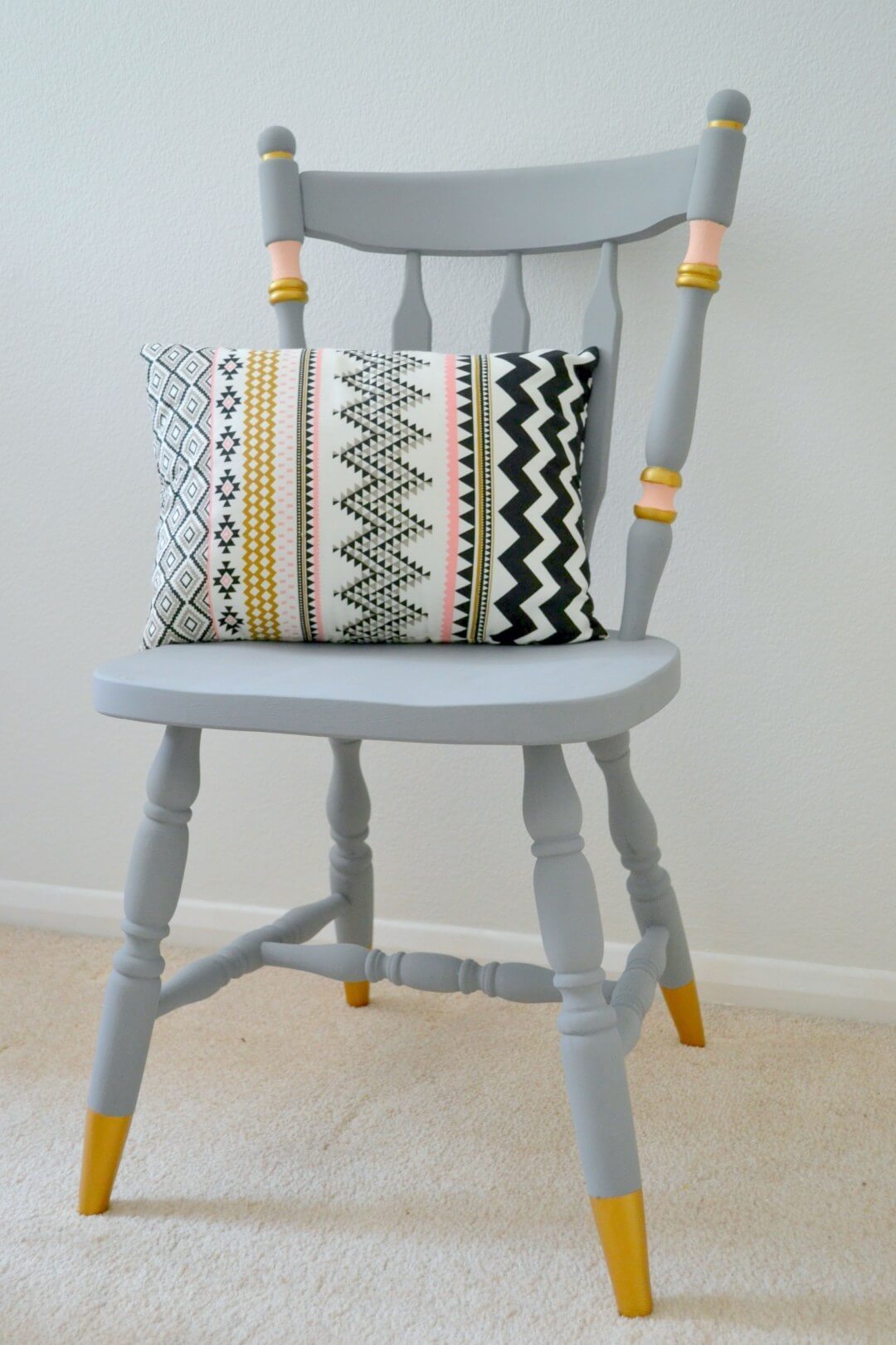 Not many people can see a plain wooden chair and think to create a masterpiece out of it, but this design is inspiration to do just that. If you find a solid, reliable wooden chair, don't throw it to the wayside before considering a cool paint job. Make yourself a whole set of creative custom chairs for a unique look.
20. Bright and Friendly Yellow Painted Desk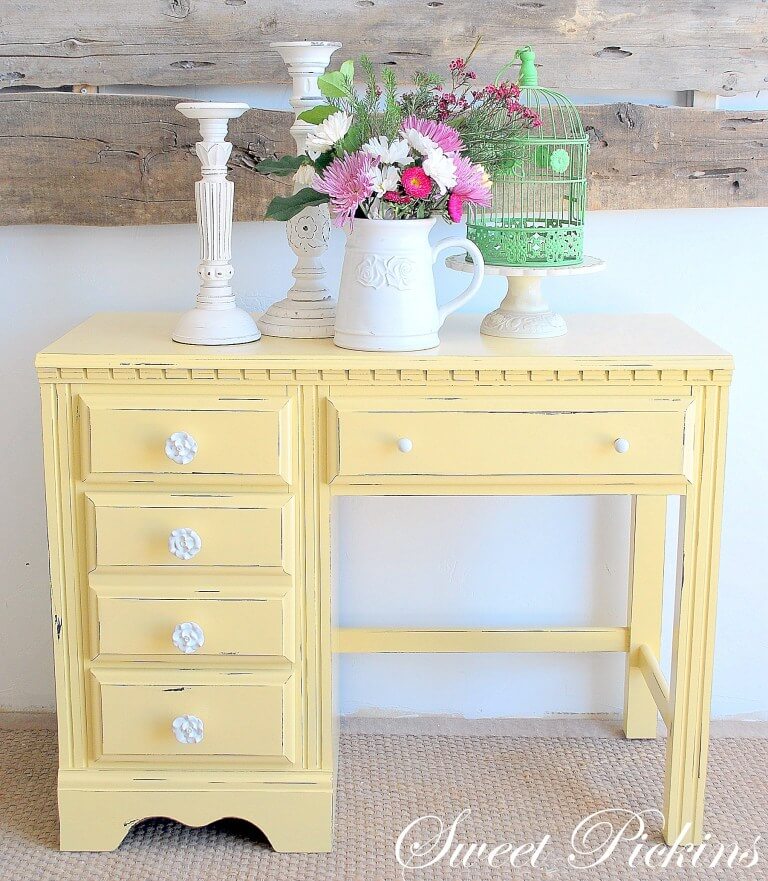 When you paint wooden furniture or cabinets, be sure to consider the knobs, too. This desk has so much personality and charm on its own, but when you add the white floral knobs, it creates a complete look. A slight distressing around the edges adds to its charming vibe.
21. From Simple Wood to Simply Chic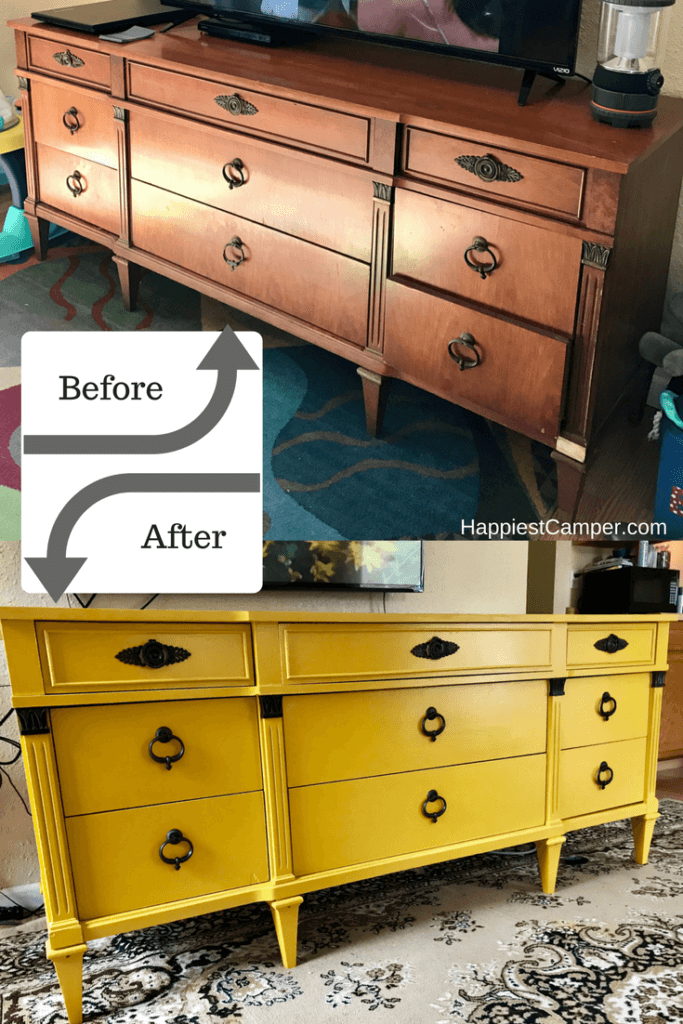 Trendy furniture can be hard to find and often costs a fortune. So why not just take that mid-century modern piece and give it a bold contemporary update? A gorgeous dresser in this style can be found at many antique shops, so keep on the lookout for something whose shape catches your eye and give it a new look.
22. Beautiful Upcycled Drexel Desk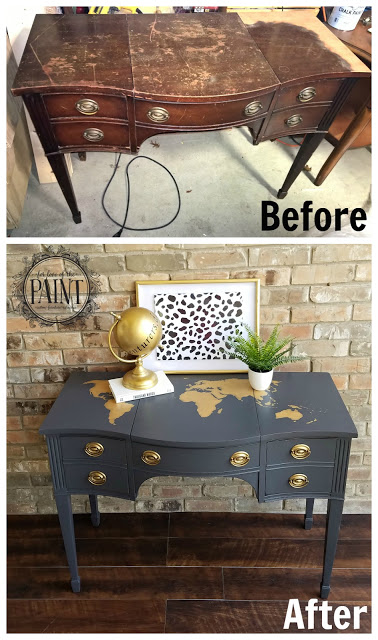 It is easy to dismiss old furniture as worn out and unusable; however, there is often a lot of life left in a piece. Using your imagination to come up with the best version of something used can be tricky, but the results can be stunning. Use this clever gray paint and old mapping as inspiration for your next desk project.
23. French Farmhouse Painted Cabinet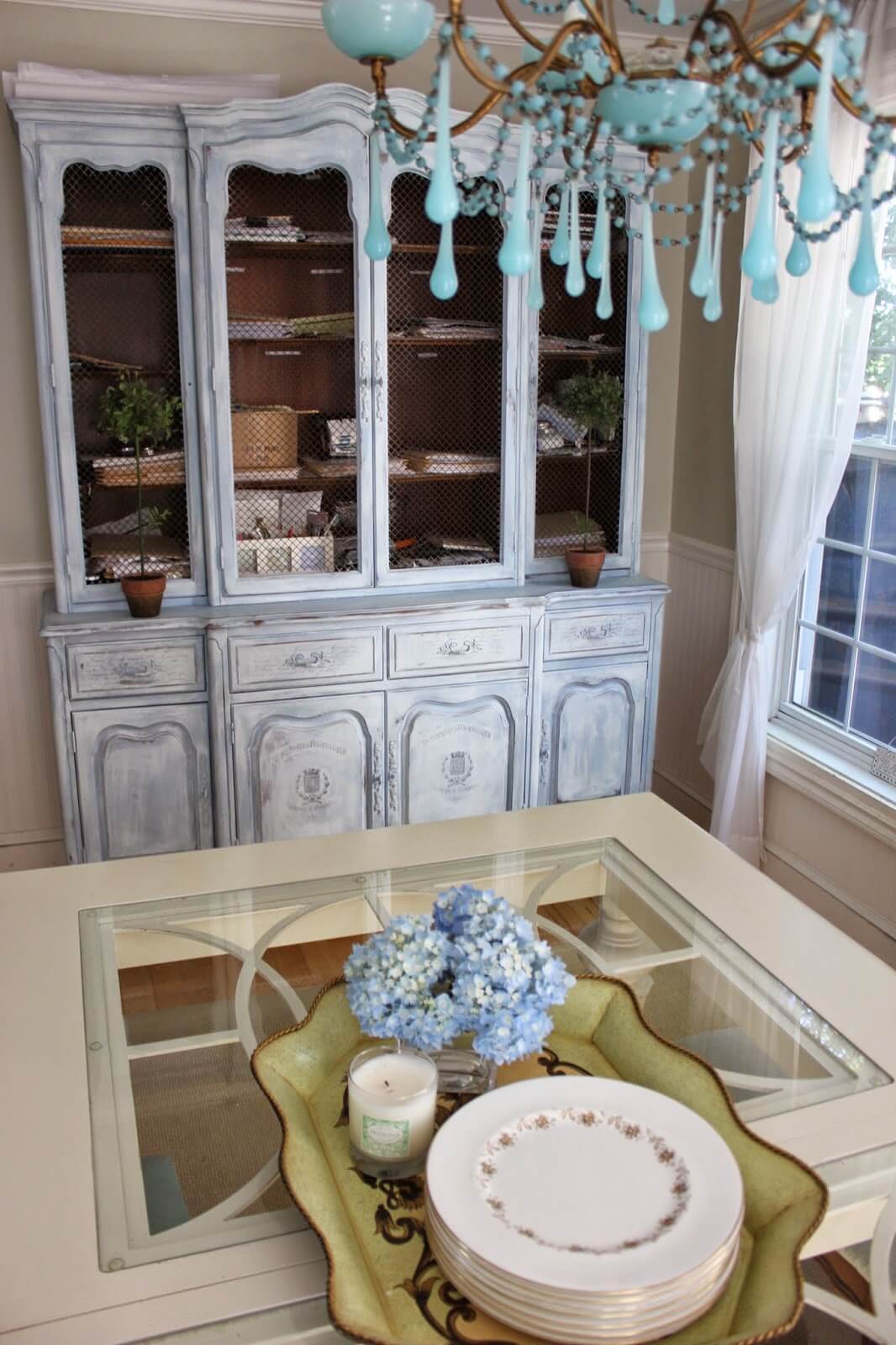 The effect of this large piece is stunning, maintaining its charm when you get in close. On each of the drawers there are graphics transferred onto the wood. Painting these large wood pieces requires some work, and adding details may feel like too much, but in the end you will be happy with all the subtleties of your pet project.
24. Don't Be Scared by Stained Furniture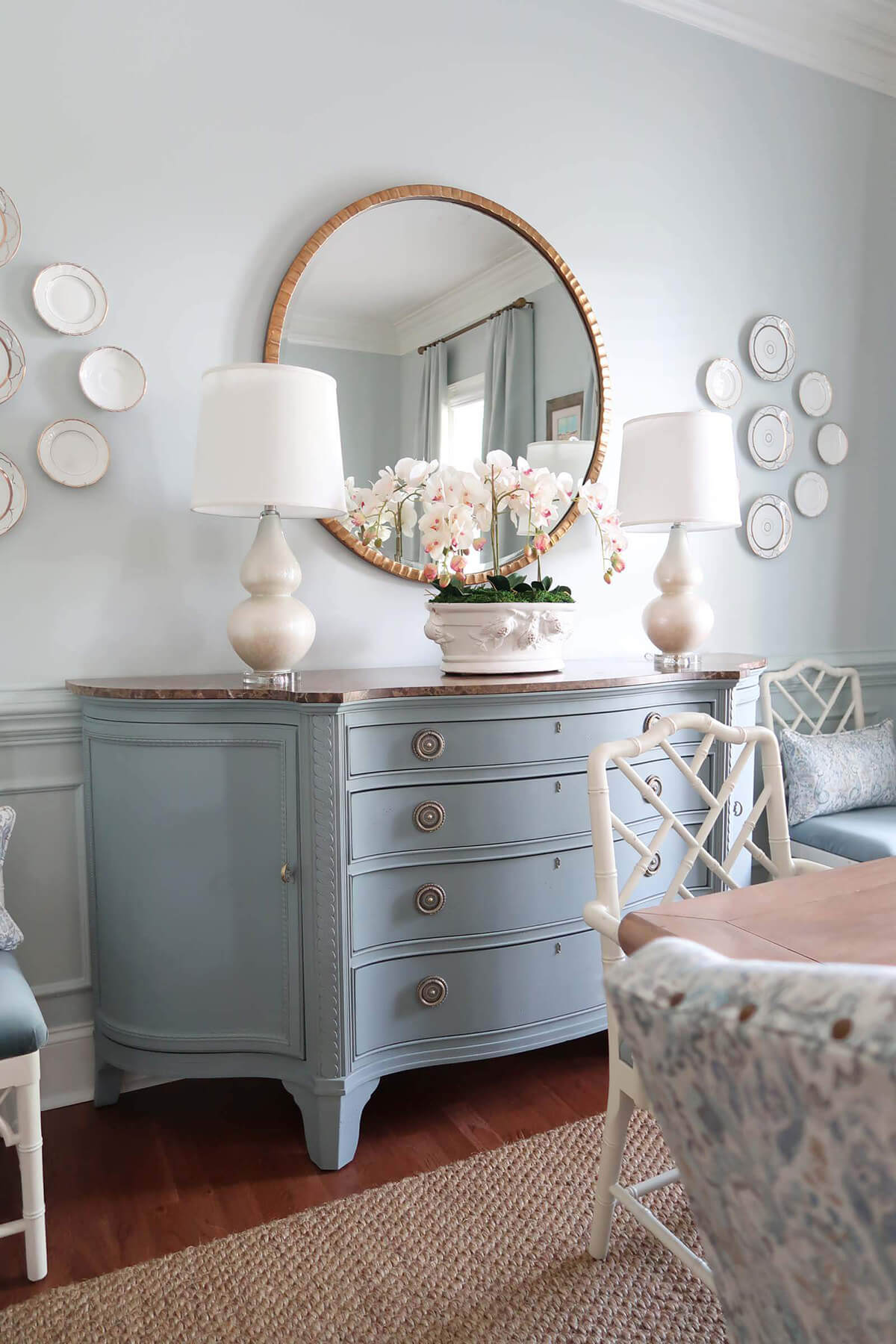 This beautiful cabinet started out with a dark stain. This may scare off some, thinking that painting over it would leave a mess or simply be impossible. However, with a little know-how you can revamp that old stained furniture into whatever you heart desires. If you are looking for that charming matte coloring, be sure to use chalk paint.
25. Drippy Paint and a Copper Finish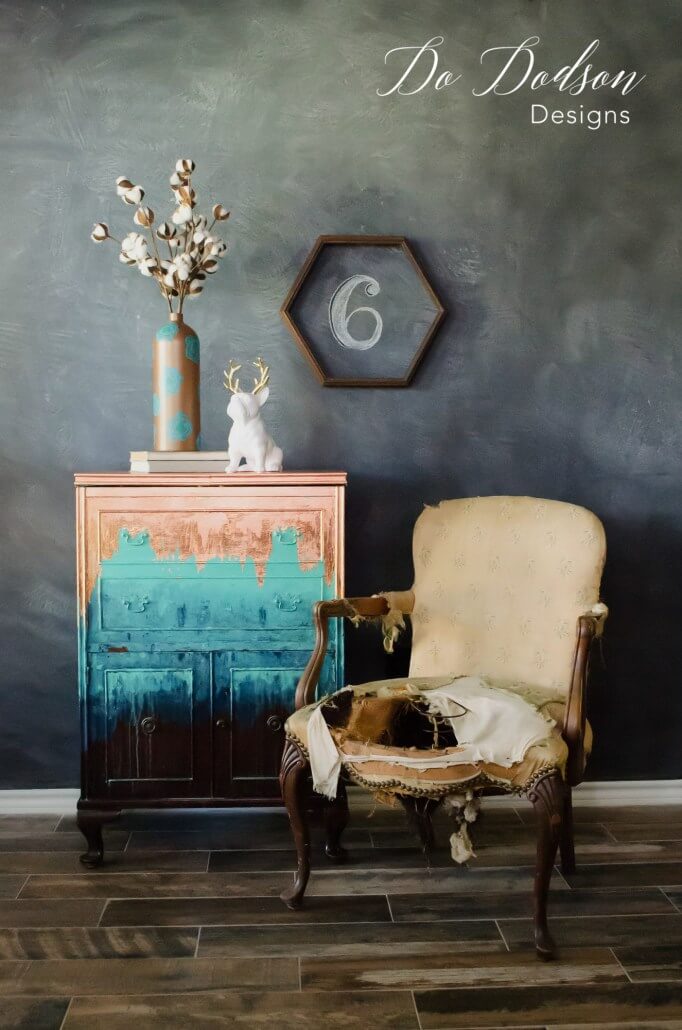 One thing to remember when you are painting your own furniture is that you can add as much personality and creativity as you want. This design incorporates both fun painting techniques along with gorgeous copper leaf for a finished piece that looks artsy and expensive. Have fun and create a unique piece for your home.
Our Favorite Farmhouse Furnitures to buy on Amazon